New Age Islam News Bureau
19 Dec 2015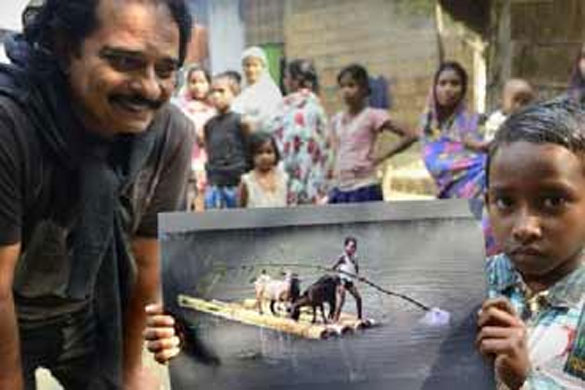 Photo: Film director Jayaraj along with 10-year-old Ashidul Islam at Kuchiani village in Morigaon district of Assam on Friday. Ashidul holds a picture of him carrying his family's goats through floodwaters to a safe place. The picture was shot in 2014 by Ritu Raj Konwar of The Hindu. Photo: Ritu Raj Konwar
-----------
India
• Don't speak against India, Nawaz Sharif tells his ministers
• Muslim Radicalisation in Digital India top on agenda
• 'Ban Muslim' remark benefits Trump, leads popularity charts at 39%
• A picture that transformed a life
• Al-Qaida's India chief comes from a family of freedom fighters
• Mamata shares stage with Muslim cleric
• Azam Khan to Muslims: 'Keep system under your control, be the force to decide poll results'
• Pune Muslim teen wanted to be IS suicide bomber, says ATS
• For Card Gracias, the saintly Mother Teresa is the best Christmas gift ever received
• Deported from Sudan, Tamil Nadu techie linked to Jaipur 'IS backer'
------------
Pakistan
• 61 outfits banned in Pakistan, Nisar tells Senate
• 23 militants killed in NWA, Khyber air strikes
• Four AQIS terrorists arrested in Karachi
• MQM invites PTI, JI to join hands for Karachi's progress
• Arms licences for PM, two SC judges,president's son slated in Senate
• Terrorism case registered against organisers of pro-Qadri rally
• Wafaqul Madaris denies seminaries responsible for extremism
• Interior minister wants to rid Islamabad of illegal seminaries
• Saieen Zahoor lends voice to Bhaag Milkha Bhaag director's next
• 'Blasphemy accusations increased after current law introduced'
• War on extremism extremely weak: activist
• Demo for Muslim unity
• Moga artist sculpts unique India-Pakistan bond
• Pak High Commissioner attends Renzushah's Sufi festival
------------
South Asia
• Bangladesh Muslim Leaders Move to Counter Islamist Militants
• ISIS is creating 'little nests' in Afghanistan, US defense chief warns
• US Defense Secretary makes surprise visit to Afghanistan
• New Afghan political group poses challenge to Ghani
• 6 injured as bombs thrown at Bangladesh navy mosque
• ADB to provide $275 million to Afghanistan for Energy Infrastructure
• Stanekzai: Daesh, Taliban receive training at military bases in Pakistan
• President Ghani apologizes to families of Maidan Wardak's shelling-victims
• JMB man involved in both incidents
------------
Arab World
• Religious leaders back anti-terror alliance
• Iraqi soldiers killed by US-led coalition airstrike in friendly fire
• Internal conflict in Egypt's Muslim Brotherhood waged online
• Two countries had no idea they were in Saudi Arabia's Muslim coalition to fight terrorism
• UN endorses Syria peace plan in rare show of unity among big powers
• Militants' Swap with Civilians of Kafria, Foua'a Set for Sunday
• King Salman vows support to Nigeria's fight against terror
• Syrian Army, Backed by Warplanes, Hits ISIL Hard in Homs
• Spokesman: US Misusing Iraqi Politicians to Disintegrate Iraq
• Syria in Last 24 Hours: Army Makes New Gains in Key Provinces
• Gov't Forces Seize Control over 8 Heights North of Syria's Lattakia
• Syrian Army Forces Fend off Terrorists' Infiltration Attempts in Sweida Province
• Militants Fleeing Lattakia Battlefields after Syrian Forces' Operations, Victories
Lebanese Media Confirms FNA Report on US Airbase Construction in Northeastern Syria
• France demands assurances Assad will leave power
• U.S. airstrike may have killed Iraqi soldiers
• Egypt rejects Europe plea for release of Irish-Egyptian teen
------------
Mideast
• Turkey kills 54 Kurdish militants in major crackdown
• Yemenis' Ballistic Missile Fire Kills Tens of Saudi-Led Aggressors in Ma'rib Province
• Turkey accuses Iraq of undermining ISIS fight
• UAE sending Colombian mercenaries to Yemen: sources
• Khomeini grandson registers for Assembly polls
• Clashes, missiles leave Yemen truce in tatters
• Iran calls for global effort to beat Isis, end Syrian war
• Israeli troops kill three Palestinians in West Bank, Gaza clashes
• Erdogan to visit on Dec. 29
------------
North America
• Crimes against Muslim Americans and mosques rise sharply: NYT
• UNSC moves to choke off IS money supply
• Social media sites don't need government to shut down terrorists
• Mother of Sikh student in US asks bomb threat charges be dropped
• Virginia school closes as parents protest over teacher's controversial Arabic assignment
• Obama says Assad must go for peace in Syria
• After terror strikes, Congress restricts visa-free travel
• Turkish FM meets UN chief in New York
------------
Southeast Asia
• PAS 'bridge builder' continues to foster Muslim-Christian ties
• China supports Saudi-led counter-terrorism efforts
• Amanah vows not to scare non-Muslims off Islam
• Islamic State supporter posts death threat against G25's Noor Farida
• Malaysia's first Shariah-compliant airline to start flying tomorrow
• Do not discriminate against converts, Dr Mahathir tells Muslims
• IGP should be more 'professional' over UiTM's anti-Christianisation seminar, former judge says
• Zahid: Home Ministry to cooporate with Jakim to probe man who claims to be 'Imam Mahdi'
------------
Africa
• AU after sending 5,000 peacekeepers to Burundi
• Niger government foils coup attempt
• Not clear if Nigeria cleric alive: Son
------------
Europe
• NATO allies to give "military package" for Turkey
• Britain: U.N. backing of Syria plan a 'great step forward'
• Russia opens black box of jet downed by Turkey
• EU leaders tackle terrorism in wake of Paris attacks
• German secret service in talks with Syrian spies
• EU leaders vow to stop refugee flows
Compiled by New Age Islam Edit Bureau
URL: https://www.newageislam.com/islamic-world-news/new-age-islam-news-bureau/dont-speak-india-nawaz-sharif-tells-his-ministers/d/105666
------------
India
Don't speak against India, Nawaz Sharif tells his ministers
Dec 19, 2015
Pakistani Prime Minister Nawaz Sharif has asked his ministers not to give anti-India statements so that the peace process is not hit, an official said.
A close aide to Sharif said on Friday that the ministers and senior officials had been asked not to issue any statement that could damage the peace process.
"There will be statements only that encourage the dialogue process rather than digging out the past. The PM has asked the close aides and cabinet members to promote peace," The Nation quoted an official as saying.
He said Sharif was optimistic about better ties with India, which would benefit the whole region.
Sharif was annoyed by statements from India that New Delhi only wanted to discuss Pakistan occupied Kashmir in talks, but understands this is not Inidan government's policy, the official added.
Sharif, the official said, wanted to give top priority to Kashmir, terrorism and trade when the two sides discuss peace.
Another official said Sharif and the military leadership were on the same page to make peace with India.
"There is no difference of opinion and both agree that there should be no compromise on the stated position on key issues," he added.
An interaction between Sharif and his Indian counterpart Narendra Modi in Paris and subsequent meeting of the National Security Advisors in Bangkok set the pace for improvement in the bilateral ties.
External affairs minister Sushma Swaraj also visited Pakistan on December 8 to attend the Heart of Asia conference.
She met Sharif and his advisor on foreign affairs Sartaj Aziz on the sidelines of the conference.
It is expected that Sharif and Modi will meet again in Switzerland in January. The two leaders will be together on January 20 to attend the 46th annual meeting of the World Economic Forum (WEF) in Davos-Klosters.
India's outgoing high commissioner to Pakistan TCA Raghavan on Thursday said the relations between the two countries were heading towards betterment.
Analysts said it was a positive development that Pakistan and India agreed to resume comprehensive dialogue to resolve all outstanding issues.
http://www.hindustantimes.com/india/don-t-speak-against-india-nawaz-sharif-tells-his-ministers/story-iqN3eUZMbrJ9r0Q1so7V3N.html
------------
Muslim Radicalisation in Digital India top on agenda
Dec 19, 2015
Rann of Katch (Gujarat), Dec 18 (PTI) Serious concern was expressed today over radicalisation of youths through social media and other online forums during a high-level meeting of country's top police brass which was attended by Prime Minister Nadrendra Modi.
After the inauguration, Union Home Minister Rajnath Singh said the activities of dreaded terrorist group ISIS have been witnessed in India and their is concern over radicalisation of youths through social media and other online forums.
Singh also said the ISIS has been trying to enhance its foothold in India's neighbourhood — in Bangladesh and Afghanistan."
It is a fact that the ISIS activities have increased globally and India is not isolated from it.
Besides, there are problems of radicalisation of youths through social media and other online forums," he said and sought concerted efforts to tackle the problem.
He was speaking at the annual three-day conference of Directors General of Police and Inspectors General of Police being organised by the Intelligence Bureau.
Referring to Punjab, the Home Minister said external forces were trying to revive the secessionist demand of Khalistan by trying to manipulate people's sentiment."
But I am sure that people of Punjab will give befitting reply to such evil design," he said.
He said security situation in Jammu and Kashmir was much better this year than the previous years as security forces have done commendable job in controlling activities of terror groups."
Better coordination among the state and central agencies is the need of the hour.
We must always be prepared for any situation or crisis," he said.
He said situation in the Left Wing Extremism affected states was fast improving but needed a multi pronged approach in tackling the situation."
Morale of our security forces is high in these areas.
The situation will improve further.
We need a multi pronged approach in LWE areas.
Development and winning the confidence of people is equally important in these areas," the Home Minister said.
http://news.niticentral.com/2015/12/18/muslim-radicalisation-in-digital-india-top-on-agenda/
------------
'Ban Muslim' remark benefits Trump, leads popularity charts at 39%
Dec 19, 2015
Leading Republican presidential candidate Donald Trump's popularity rating has soared to a new height as he gained 11 points in the last one month to have his popularity at 39%.
The 69-year-old New York-based real estate tycoon gained 11% after his comment on temporary banning entry of all Muslims into the US.
His nearest Republican rival Ted Cruz is at 18%, who is followed by Marco Rubio with 11% and Ben Carson at 9%.
The Fox News which conducted the national poll said all interviews for the new poll were done since December 15 Republican presidential debate in Las Vegas.
Trump leads in another national poll released by Public Policy Polling.
According to it, Trump has support of 34% Republican voters. He is followed by Cruz with 18%, Rubio (13%) and Jeb Bush 7%.
As per RealClearPolitics.com which maintains an average of all major national polls, Trump?s popularity rating is 33.8% which keeps him on top ahead of all Republican presidential candidates.
He is followed by Cruz with 16.6%, Rubio (12.4%), Carson (11%) and Bush (4.2%).
http://www.hindustantimes.com/world/ban-muslim-remark-benefits-trump-leads-popularity-charts-at-39/story-UQWWmm6j9oE4O8jG2RyJYI.html
------------
A picture that transformed a life
December 19, 2015
P. K. AJITH KUMAR
The photo inspired an award-winning movie & changed a 10-year-old's world
Little Ashadul Islam was surprised. He had no idea why two strangers had come to meet him at his village of Kuchani in Morigaon district of Assam on a Friday morning.
The 10-year-old was in for a bigger surprise.
One of the men presented him a gift and told him that he was going to sponsor his entire education. For ace Malayalam movie director Jayaraj, it was a meeting he was pining to have for over a year.
It was Ashadul's picture that The Hindu carried on August 22, 2014, that inspired him to make the critically acclaimed film Ottal. The frame had the famished little boy rowing to safety his family's salvaged possessions, a couple of goats, on a small plantain-trunk canoe that he steered with a tree branch through the swirling waters, in an almost surreal setting.
The movie bagged a string of awards, and also swept most of the major honours at the recently concluded International Film Festival of Kerala.
"I want to find that boy," Jayaraj had told this correspondent sometime ago. "I would like to help him in whatever way I can. Please help me find him."
The image, clicked by The Hindu's Guwahati-based Special News Photographer Ritu Raj Konwar, had made a deep impression on him and Ottal was woven around its stark poignance. Jayaraj had even replicated that particular frame in his movie, which won the National and the Kerala State awards.
"Meeting the boy today is going to remain a special moment of my life forever," Jayaraj told The Hindu over phone from Assam. "I am going to take care of all his financial needs. Besides, the charitable foundation of which I am a part will look after the health of the entire population of this boy's village."
Ashadul, indeed, can do with whatever help he receives. He comes from a very underprivileged background; both his parents are daily-labourers in a brick factory.
The photographer who shot the picture led the director to the boy. "Ritu had taken a print of the photograph with him," said Jayaraj, winner of six National film awards. "We showed it to the villagers, and they led us to the boy's father."
Sometimes a picture is worth not just a thousand words. It could be a life changer as well.
http://www.thehindu.com/news/cities/kozhikode/jayarajs-ottal-changes-ashadul-islams-life/article8006027.ece
------------
Al-Qaida's India chief comes from a family of freedom fighters
Dec 19, 2015
NEW DELHI: Almost out of the blue, intelligence agencies learnt that the elusive head of the Indian branch of al-Qaida had been born in a family of freedom fighters in Sambhal, less than 200km from the national capital. On Sunday, Sanaul Haq, 40, was unmasked as Maulana Asim Umar, the head of AQIS (al-Qaida in Indian Subcontinent) and one of the most wanted men on the security forces' list. Details of his life as a troublesome son of an Indian family are now trickling out.
TOI reported on Thursday that the most important outcome of interrogating the apprehended Mohammed Asif, training and recruitment chief of AQIS, was the revelation of Haq as the elusive head of the dreaded organisation.
Shocked perhaps, Haq's family in Sambhal in Uttar Pradesh, however, wasn't surprised. "For us, he died six years ago when the local intelligence agents told us he had joined a terrorist organization," his 70-year-old mother said on Friday.
In 2009, intelligence agents had landed at the house in Deepa Sarai village in Sambhal to inform the family that their son, missing for 14 years at the time and presumed dead, was alive and working for terrorist organisations Tehreek-e-Taliban Pakistan and al-Qaida. A bitter Irfan-ul-Haq, now 75, had promptly inserted advertisements in the newspaper disowning his son. The news was galling to a family whose forebears had fought the British during the freedom struggle.
"Sanaul was always fond of books, but one day he announced he wanted to study the Quran and Arabic at a madrassa," recalled the old man. The young student of Sambhal College explained to his family that if he studied to become a hafiz, they would reach heaven. The unconvinced father tried to dissuade the youngster, but he remained sullen and adamant.
Things came to a head one day in 1995 when he demanded Rs 1 lakh. "He wanted the money to go to Mecca for higher studies," said Irfan. "I was taken aback. I asked him to find a job to support the family or study in the local college, but he insisted he wanted to leave India. His uncle even beat him. We were all scared for him," the father added.
Their fears weren't unfounded. A few days later, Haq vanished. The family lodged a missing complaint but the son could not be located. His mother took him for dead and the family moved on. Until 14 years later, he resurfaced as a man in the ken of security forces.
Details of the AQIS head's transformation from a small-town student to the confidant of Osama bin Laden's successor Ayman al-Zawahiri were revealed to DCP (special cell) Pramod Khushwah's team by Mohammed Asif during interrogation. It was the Harkat-ul-Mujahideen (HuM) that had succeeded two decades ago in winning over Haq, talking him into leaving his village for Kashmir and then for POK.
Full report at:
http://timesofindia.indiatimes.com/india/Al-Qaidas-India-chief-comes-from-a-family-of-freedom-fighters/articleshow/50239495.cms
------------
Mamata shares stage with Muslim cleric
Dec 19, 2015
Sharing the stage with a prominent Muslim spiritual leader, West Bengal Chief Minister Mamata Banerjee on Friday listed the initiatives taken by her government for the minorities and strongly condemned incidents of violence such as the lynching at Dadri in Uttar Pradesh.
Toha Siddique, the Peerzada of Furfura Sharif, a prominent shrine for Bengali Muslims in Hooghly district, has in the past been critical of the ruling Trinamool Congress' politics.
Targeting the Bharatiya Janata Party (BJP) government at the Centre on a host of issues, Ms. Banerjee said: "You eat what you want. Let others eat what they want." She added that she also ate fish and none could prevent her from doing so.
The Chief Minister went on to question the "rising intolerance" and referred to comments made against actors Aamir Khan and Shahrukh Khan. "Why should they (leave the country)? They are also Indians," she added.
Full report at:
http://www.thehindu.com/todays-paper/tp-national/mamata-shares-stage-with-muslim-cleric/article8006556.ece
------------
Azam Khan to Muslims: 'Keep system under your control, be the force to decide poll results'
by Mohd Faisal Fareed
Dec 19, 2015
Giving a clarion call to Muslims to turn into a political force that will decide the results of the next Assembly elections in Uttar Pradesh in 2017, UP minister Azam Khan Friday urged minority community to keep the system under your control.
Elections are not far away. There will be efforts to instigate riots. The next elections will be won by your careful steps (Aapki hikmatamli sey jeeta jayega). You are going to be a political force. Keep the system under your control, Azam said.
Addressing a function in Lucknow to mark World Minorities Rights Day, Azam urged Muslims to take lessons from Bihar where BJP suffered a major electoral loss. You should take lessons from judicious thinking of people in Bihar. Our mothers and sisters took out their burqa and did not form a queue till 4 pm to prevent fascist forces from uniting…I cannot say everything openly, Azam said.
One verdict forced fascist forces indoors else they would have celebrated Diwali by burning our houses, he said adding that the Muslims are not against cow and Ganga, but when no other thing is left, then eyes turn towards us.
Hitting out at BJP, the minister said, Those who do politics on cow, have taken Rs 200 crore in donations from beef exporters. The party should tell how much money was taken in black.
In an apparent reference to the puppy analogy made allegedly by Prime Minister Narendra Modi before last year's Lok Sabha polls, Azam said, Anybody says pilla, kutta (puppy, dog).
India is home to the second largest Muslim population in world but there is a plan to keep us hungry, naked and illiterate, he said adding It is not our issue, but a misfortune for India.
On the controversy over self-proclaimed Hindu Mahasabha leader Kamlesh Tiwari's objectionable comments on Prophet, Azam said: An unknown person has become world famous…They should understand that our silence is not due to their threat but our religion stops us from replying in same words.
Lashing out at BSP president Mayawati, Azam said a video has gone viral on social media where Mayawati is seen saying that she asked her voters to support the BJP so that Muslims fall in line.
Full report at:
http://indianexpress.com/article/cities/lucknow/azam-khan-to-muslims-keep-system-under-your-control-be-the-force-to-decide-poll-results/
------------
Pune Muslim teen wanted to be IS suicide bomber, says ATS
Dec 19, 2015
A convent-educated Muslim girl radicalised by Islamic State (IS) sympathisers was mentally prepared to even serve as a suicide bomber, investigations by the Maharashtra anti-terrorism squad have revealed.
The 16-year-old student of a prominent Pune college is now being questioned and de-radicalised by the ATS after her name cropped up during the probe of an Indian Oil Corporation employee arrested from Rajasthan last week for alleged links with the IS.
Pune ATS officer Bhanupratap Barge said the girl is now being counselled with the help of her parents and clerics.
Full report at:
http://www.hindustantimes.com/india/pune-muslim-teen-wanted-to-be-is-suicide-bomber-says-ats/story-MfFtxtveJPGmmegR4kzodI.html
------------
For Card Gracias, the saintly Mother Teresa is the best Christmas gift ever received
Dec 19, 2015
Mumbai (AsiaNews) – I am delighted and overjoyed for this great gift, which is the epitome of the highest mercy.
I had a very intense friendship with Mother. We spent many long hours together on several occasions: walking around the seminary, in my office, and in many other places.
Every time we met, we shared our deepest joys and our greatest concerns. She was a dear friend of mine.
Mother is India's gift to the world, to the secular world as well as the Christian world. Everyone, without distinction of religious affiliations, loves her.
Hindus, Muslims, Sikhs, Jains, Buddhists, non-believers, even atheists love Mother intensely. They love her and her voice of compassion and passionate love for the poor and the marginalised.
Full report at:
http://www.asianews.it/news-en/For-Card-Gracias,-the-saintly-Mother-Teresa-is-the-best-Christmas-gift-ever-received-36198.html
------------
Deported from Sudan, Tamil Nadu techie linked to Jaipur 'IS backer'
By Sagnik Chowdhury
Dec 19, 2015
The 23-years-old software developer from Tamil Nadu who was deported from Sudan while attempting to reach Libya to join the Islamic State, was in touch with the Indian Oil Corporation employee arrested in Jaipur last week for spreading IS propaganda, security sources told The Indian Express.
Sources revealed that Mohammed Naseer, who was working for an IT firm in Dubai, identified IOC marketing manager Mohammed Sirajuddin by his photograph during interrogation after he was deported on December 10. A WhatsApp group called "Islam Q&A" run by a Filipino woman has emerged as a common link between the two, they added.
Based on Naseer's interrogation by the National Investigation Agency (NIA), The Indian Express has pieced together details of how the son of a Dubai-based mechanic struggled with academics even as he was drawn to jihadi ideology, his contact with IS supporters and recruiters, and his journey to Sudan.
Hailing from Thanjavur, Naseer pursued computer engineering at MNM Engineering College in Chennai between 2010 and 2014, when he started visiting a mosque run by the Tamil Nadu Thowheed Jamath, a non-political Islamic organisation. Naseer told interrogators he also attended religious lectures and began to browse the website onlinepj.com that deals with religious issues.
Sources said he also came into contact with some Nigerians who were allegedly proficient in hacking and attended a three-month course on ethical hacking at an institute for a fee of Rs 50,000.
But after Naseer failed to pass two supplementary examinations, sources said, his father, called him over to Dubai on a 90-day visa in October 2014 to search for a job. In December 2014, he joined Takmeel Global in Deira as a web developer and graphic designer on a monthly salary of 2,500 dirhams.
Naseer told interrogators that he was not happy at work and started watching videos of IS propaganda and lectures by Islamic scholars and controversial preachers such as UK-based Anjem Choudary in spare time.
Around the same time, sources said, Naseer came in contact with an IS supporter operating an account using the handle "Dawlah", who helped him join three pro-IS WhatsApp groups. One of these was "Islam Q&A" run by Karen Aisha Hamidon, who claimed to be from Manila. Also part of this group were Sirajuddin, who was arrested on December 10, a Sharjah resident named Yusha Kashmiri and an Indian named Salman Munabbar.
It was in August 2015 that Naseer, keen to travel to Syria to join IS, began communicating with the Twitter handle 'Mad Mullah', a propagandist whose profile message was: "for Hijrah (migration) to Libya, for advice".
Full report at:
http://indianexpress.com/article/india/india-news-india/deported-from-sudan-tamil-nadu-techie-linked-to-jaipur-is-backer/
------------
Pakistan
61 outfits banned in Pakistan, Nisar tells Senate
By Mumtaz Alvi
Dec 19, 2015
ISLAMABAD: Minister for Interior Ch Nisar Ali Khan told the Senate on Friday that as many as 61 outfits had been proscribed/banned while another two Al-Akhtar Trust and Al-Rashid Trust were enlisted under UNSCR 1267 on December 1, 2005.
In a written reply to a question by PPP's Senator Sehar Kamran, the minister said that a detailed report had been requested from the provinces about the question if some of the banned outfits were still working and carrying out their activities in Pakistan.
The minister informed the House that Jamaatul Daawa (JuD) had been under observation since December 1, 2005 under IInd Schedule. No outfit had been banned during 2014 while Daesh, ISIL/IS/ISIS were banned on July 15 this year.
The banned outfits include Lashkhar-e-Jhangvi, Lashkar-e-Tayyaba, Sepah-e-Muhammad Pakistan, Sepah-e-Sahaba Pakistan, Ahle Sunnat Wal Jamaat (ex-banned organisation SSP), Tehreek-e-Nifaz-e-Shariat-e-Muhammadi, al-Qaeda, Daesh/ISIL, ISIS, Khuddamul Islam, Tehreek-e-Islami, Tehreek-e-Jaafira Pakistan, Millat-e-Islamia Pakistan-ex-SSP, Khairun Nas International Trust, Islami Tehreek Pakistan (ex-TJP), 313 Brigade, Jamaiatul Ansar, Jamiatul Furqan, Hizbul Tehrir, Balochistan Liberation Army, Islamic Students Movement of Pakistan, Laskhar-e-Islam, Ansarul Islam, Haji Namdar Group, Tehrik-i-Taliban Pakistan, Balochistan Republican Army, Balochistan Liberation Front, Lashkar-e-Balochistan, Balochistan Liberation United Front, Balochistan Musila Difa Tanzeem, Shia Tulaba Action Committee, Gilgit, Markaz Sabeel Organisation, Gilgit, Tanzeem Naujuwane Ahle Sunnat, Gilgit, People's Amn Committee Liyari, Al Harmain Foundation, Rabita Trust, Anjuman-e-Imam, Gilgit-Baltistan, Muslim Students Organisation, Gilgit-Baltistan, Tanzeem Ahle Sunnat Wal Jamaat, Gilgit-Baltistan, Balochistan Bunyad Parast Army, Tehreek-e-Nifaze Amman, Tahafuz Hadoodullah, Balochistan Waja Liberation Army, Baloch Repulication Party Azad, Balochistan United Army, Islami Mujahideen, Jaish-e-Islam, Balochistan National Liberation Army, Khana-e-Hikmat, Gilgit-Baltistan, Tehrik-i-Taliban, Swat, Tehrik-i-Taliban Mohmand, Tariq Geedar Group, Abdullah Azam Brigade, East Turkmenistan Islamic Movement, Islamic Movement of Uzbekistan, Islamic Jehad Union, Tehrik-i-Taliban Bajaur, Amar bil Maroof wa Nahi anil Munkir (Haji Namdar Group), Baloch Student Organisation Azad, United Baloch Army and Jeay Sindh Muttahida Mahaz.
Full report at:
http://www.thenews.com.pk/print/82905-Rs850m-fund-for-Aman-Lashkars-embezzled
------------
23 militants killed in NWA, Khyber air strikes
Dec 19, 2015
PESHAWAR: PAF fighter jets killed 23 militants on Friday in air strikes carried out in North Waziristan and Khyber tribal regions, the military said in a statement.
"As a result of precise air strikes, six terrorist hideouts were destroyed in which 23 terrorists were killed and more than 10 injured," the statement said.
The strikes were part of a major offensive aimed at clearing the Taliban and al-Qaeda strongholds that began last year in North Waziristan.
The conflict zone is remote and off-limits to journalists, making it difficult to verify the claims, including the number and identity of those killed.
The military began the offensive in Khyber Agency in October 2014, carrying out air strikes and using artillery, mortars and ground troops.
Our Bara correspondent adds: Sources said the jet fighters carried out the air strikes on the hideouts of proscribed militant organisations Lashkar-e-Islam (LI) and Tehreek-e-Taliban Pakistan (TTP) in the Rajgal Valley in Tirah in Khyber Agency.
Six militants were killed and several sustained injuries while three of their sanctuaries were also destroyed in the strikes, the sources said. According to official sources, at least 14 militants had been killed and several of their hideouts destroyed in separate air strikes in Khyber Agency over the last one week.
BAHAWALPUR
Full report at:
http://www.thenews.com.pk/print/82909-Four-AQIS-terrorists-arrested-in-Karachi
------------
Four AQIS terrorists arrested in Karachi
By Salis bin Perwaiz
Dec 19, 2015
KARACHI: Sindh's Counter Terrorism Department (CTD) has arrested four members of the banned Al-Qaeda Indian Subcontinent (AQIS) in overnight raids, a top police official said on Friday.
Engineer Khalid Yousuf Bari, Saleem Ahmed, Mohammad Suleman Saeed and Adil Masood Butt, were apprehended in raids conducted by personnel of the anti-terror intelligence group of the CTD in Baloch Colony and Defence, said Raja Umer Khattab, in-charge of the Transnational Terrorists Intelligence Group (TTIG).
He told a news conference that the arrests of AQIS financiers and facilitators were made on information obtained during interrogation of terrorists caught earlier.
In a raid carried out in the Defence area, law enforcers arrested former PIA employee Engineer Khalid Yousuf Bari. During initial interrogation, Bari said he was earlier associated with the Tanzeem-e-Islami and after developing differences with the organisation, he joined Al-Qaeda's Dr Akmal Waheed group.
Later, he also became associated with the other Al-Qaeda members like Umer Jalal (former Karachi Ameer), Abdullah Yousuf, (the mastermind of Safoora bus carnage) Saad Aziz alias Tun Tun, Mufti Tauseef, Saleem Ahmed, Suleman Saeed and Adil Masood Butt. The group used to facilitate members of the banned outfit financially and logistically.
Bari further disclosed that he got his electronics degree from the Dawood Engineering College and also worked for the Pakistan International Airlines but was later terminated.
He said his wife was also associated with the group and she had established an organisation as "Idara-e-Al Zakirah Academy" at their residence and recruited 20 women who were financially strong. The women used to brainwash young women and they were also assigned the task of generating funds for the organisation through Zakat and donations, he added.
Khattab said police were working to bust the women's racket and had formed a team for their arrests.
Acting on information received from Bari, he said, two more raids in Defence and Baloch Colony were made where Saleem Ahmed, Mohammad Suleman Saeed and Adil Masood Butt were taken into custody.
Raja Umer Khattab said Saleem Ahmed had been involved in such practices since the year 1992 as a fundraiser and used to collect funds at mosques. Before his arrest, he had been delivering speeches at different places to instigate people to join their organisation.
Along with him, Abdullah Yousuf, the AQIS chief and mastermind of the Safoora bus attack, used to join his sermons.
Full report at:
http://www.thenews.com.pk/print/82910-Pakistan-rejects-amendments-in-WTO-agreement
------------
MQM invites PTI, JI to join hands for Karachi's progress
Dec 19, 2015
Muttahida Qaumi Movement's candidate for Karachi's Mayor Waseem Akhtar on Friday invited the rival parties Pakistan Tehreek-e-Insaf (PTI) and Jamaat-e-Islami (JI) to join hands for development of the city.
Talking to media personnel at the Karachi airport upon his arrival from London, he said that he would serve all Karachiites without any discrimination.
Akhtar, who is poised to become the mayor after his party won a majority in the recently held municipal elections, asked PTI and JI to strengthen MQM's hands for restoring powers of the local government in the best interest of the people of Karachi.
The MQM leader said that he would talk to the Sindh government on the issue, adding that his party would move court and assemblies if the matter was not resolved.
On the occasion, MQM's Senior Deputy Convener Dr Farooq Sattar said that local government and local institutions are the future of Pakistan.
Full report at:
http://www.pakistantoday.com.pk/2015/12/18/city/karachi/mqm-invites-pti-ji-to-join-hands-for-karachis-progress/
------------
Arms licences for PM, two SC judges,president's son slated in Senate
By Mumtaz Alvi
Dec 19, 2015
ISLAMABAD: Despite a ban, the issuance of arms licences to the prime minister, the son of president and two judges of the Supreme Court drew criticism from the opposition lawmakers in the Senate Friday.
In a written answer to the question by PTI Senator Muhammad Azam Swati, Interior Minister Ch Nisar Ali Khan said that his ministry had imposed a ban on issuance of arms licences on June 20, 2013. He also said there was no plan under consideration to lift ban on arms.
MQM Senator Mian Attique asked was it a fact that the Prime Minister, the son of President and two judges had been issued licences for keeping arms. Minister of State Muhammad Balighur Rehman confirmed that the ban had been relaxed for these four persons. "It was relaxed for the Prime Minister, after he was gifted a weapon and the son of President was attacked," he noted.
Muttahida Qaumi Movement (MQM) parliamentary leader Senator Col (R) Tahir Hussain Mashhadi and Mian Attique decried the relaxation of the ban for these four persons and said it was a tragedy that the government imposed ban and then itself violated it.
Mashhadi, Swati and Attique also called on the government to consider arms ban, which was rejected by State Minister Muhammad Balighur RehmanFederal Minister Lt Gen (R) Abdul Qadir Baloch also rose to say how could the ban be imposed while the criminals terrorists were free to carry out their acts.
The ministers said that a time might come at a latter stage to weigh the option but not in the given situation, when operations were on against terrorists, militants and other criminals.
Former minister and PML-N Information Secretary Senator Mushahid Ullah's remarks against the PPP-led Sindh government triggered a noisy scene by the party senators, including Mukhtar Dhamra, Sassui Palijo and Sehar Kamran, who insisted the senator must take his words back and the chair should also expunge them same.
Mushahid Ullah ignored the demand and the acting Senate Chairman Maulana Abdul Ghafoor Haideri also could not expunge the remarks, prompting the joint opposition to stage a walk-out from the House in protest.
Dhamra, however, stayed back and pointed out the lack of quorum. A count was made and the chair asked for ringing the bells for five minutes. However, Mushahid Ullah, along with another PML-N Senator Saleem Zia went to the lobbies to persuade the opposition senators to return to the House.
This he did not do on his own: he was asked by the chair as well as Minister for Railways Khawaja Saad Rafique to bring back the protesting senators. Upon their return, Mushahid Ullah apologised
Earlier, the government informed the Senate it was not afraid of anyone and had taken firm position on many sensitive issues, as a senator asked about the status of cases registered against Maulana Abdul Aziz and others.
Mashhadi, during the question hour, asked about the present status of cases registered against the local cleric and during the last year's sit-in in the federal capital.
"Members of the civil society, including females and senior citizens are arrested when they protest against the cleric but it appears the government is afraid of someone," asked the senator.
Full report at:
http://www.thenews.com.pk/print/82915-Spurious-tea-seized-two-arrested
------------
Terrorism case registered against organisers of pro-Qadri rally
Dec 19, 2015
KARACHI: Police on Friday registered a terrorism case against the organisers of a rally staged for the release of Mumtaz Qadri, the self-confessed killer of Punjab governor Salman Taseer.
The rally was organised by the Tanzeemat-i-Ahle Sunnat, an alliance of certain religious parties, demanding the release of Qadri whose appeal against the death sentence has recently been turned down by the apex court.
Vehicular traffic was suspended on the arterial M. A. Jinnah Road when scores of protesters, mostly students of seminaries, marched towards Numaish from Gurumandir causing a traffic mess on adjoining roads.
In a bid to open the road for traffic, the police baton-charged the protesters and arrested some of them.
Full report at:
http://www.dawn.com/news/1227276/terrorism-case-registered-against-organisers-of-pro-qadri-rally
------------
Wafaqul Madaris denies seminaries responsible for extremism
Dec 19, 2015
LAHORE - A central leader of the umbrella organisation for religious seminaries has vehemently rejected the allegation made by the US Congress foreign affairs committee that Pakistani madrasas are responsible for promoting extremism or terrorism.
Qari Muhammad Hanif Jallundri, secretary general of Wafaqul Madaris, said while talking to The Nation yesterday that important world powers desirous of taking over the resources of other countries were responsible for growing extremism and terrorism.
"Instead of accusing religious seminaries of Pakistan," he said, "these countries should pay attention to their own universities". He was asked to comment on US Congress foreign affairs committee resolution that Deobandi seminaries in Pakistan, financed by some Gulf states, are spreading hatred as a result of which students studying there were turning to terrorism. Maulana Jallundri said the accusers should come up with solid proofs in support of their allegations. Otherwise, he said, such utterances would have no value.
He argued that seminaries had been functioning for the past three centuries while terrorism started growing some three decades ago. Had madrasas been responsible for the phenomenon, terrorism should have been witnessed centuries ago.
According to him, the menace of terrorism started in this region when the Soviet Union invaded Afghanistan in 1979.
Full report at:
http://nation.com.pk/national/19-Dec-2015/wafaqul-madaris-denies-seminaries-responsible-for-extremism
------------
Interior minister wants to rid Islamabad of illegal seminaries
KHAWAR GHUMMAN
Dec 19, 2015
ISLAMABAD: Interior Minister Chaudhry Nisar Ali Khan wants to rid the capital city of illegal madressahs and their students. But for that, he needs across-the-board political support which he sought on the floor of the National Assembly on Friday.
Sharing the concerns of some of his fellow lawmakers about madressahs which have been unlawfully constructed on government land, the minister said, "The problem is not as simple as it looks from outside because there are 25,000 madressah students in the city." He said it wasn't the present government which allowed the extensive use of greenbelts for the construction of seminaries.
Chaudhry Nisar said it was not possible for the government to confront all the illegal madressahs through the police. "We have already seen the result of the use of force in the case of Lal Masjid where 100 students lost their lives in a military operation in 2007. Yes, there is a problem which needs to be tackled in a peaceful manner."
The minister said there were certain issues regarding these seminaries which he could not talk about publicly and would suggest an in-camera discussion. However, he added, "Whatever this house will suggest, the government will follow that course of action."
Chaudhry Nisar Ali Khan seeks political support to tackle issue in a peaceful manner
But the minister also clarified that a majority of madressahs were not involved in anti-state activities. "There have been cases when university students were found involved in terrorist acts, that doesn't warrant the closing down of their educational institutions."
Without naming the former Lal Masjid prayer leader Maulana Abdul Aziz, who was accused by members of the house of violating the rules on hate speech and challenging the writ of the state, the minister had reasons to defend his apparent inaction.
"Maulana Saheb was removed from the mosque after the military operation but was brought back. Can somebody explain why he was removed in the first place and who brought him back."
Secondly, he added, the Supreme Court had taken notice of the incident and the present government had nothing to do with it. "As of today, no case is pending against him and I assure this house that in case (Maulana Aziz) violates the law in the future, action will be taken."
Full report at:
http://www.dawn.com/news/1227325/interior-minister-wants-to-rid-islamabad-of-illegal-seminaries
------------
Saieen Zahoor lends voice to Bhaag Milkha Bhaag director's next
Dec 19, 2015
Known for hit films like Bhaag Milkha Bhaag and Rang De Basanti, Bollywood director Rakeysh Omprakash Mehra is now dramatising the tragic Punjabi folk tale of Mirza – Sahibaan in Mirzya, for which he has roped in Pakistani Sufi singer Saieen Zahoor for a song in the soundtrack.
Saieen Zahoor's vocals create the haunting aural backdrop of the film's first trailer:
The trailer offers only a glimpse of the main cast, namely Anil Kapoor's son Harshvardhan Kapoor, who plays Mirza, and Saimiyi Kher who plays Sahibaan. Both actors are making their Bollywood debut in the film.
The soundtrack of the film has been composed by the Shankar-Ehsaan-Loy trio and promises to be different as the entire film's script has been written in verse, poetry and song, reports Firstpost.
Full report at:
http://images.dawn.com/news/1174471/saieen-zahoor-lends-voice-to-bhaag-milkha-bhaag-directors-next
------------
'Blasphemy accusations increased after current law introduced'
Dec 19, 2015
ISLAMABAD: A study on 'Blasphemy in the Digital Age' has revealed that blasphemy accusations increased by almost 200 times after Gen Ziaul Haq amended the blasphemy law.
Presented by the Digital Rights Foundation (DRF) on Friday, the study drew comparisons between the period before and after the current blasphemy law was introduced in 1987. Prior to this, there had been only seven blasphemy accusations between 1927 and 1986.
Speakers said that prior to the 1987 law, the Pakistan Penal Code did not contain a specific provision for blasphemy related to Islamic holy figures.
The number of blasphemy cases has jumped to 1,335 since the current law was introduced, with the death penalty or life imprisonment as punishment and no room for pardon.
PPC sections 295-C and 298-B proscribe acts deemed to be offences against religion. Offences include: misusing religious epithets, willfully defiling the Holy Quran, deliberately outraging religious sentiments and using derogatory remarks in reference to Prophet Muhammad (PBUH).
Study calls for fair blasphemy trials and amendments to reduce abuse of blasphemy law
The event, which was organised to announce the launch of DRF's study, also included a discussion on how the misuse of the blasphemy law for personal gain has led people to fear expressing themselves on the internet.
The report aimed to examine Pakistan's blasphemy law and assess its effects on freedom of speech in the digital space. It also aimed to highlight strategies for human rights activists to strengthen the cause of freedom of expression, reform the law and better protect those accused of blasphemy.
At a workshop following the launch of the report, participants looked to the state to repeal the blasphemy law.
"We should not just talk about how to prevent abuse of the controversial law, but talk about how to abolish the blasphemy law," one participant said.
According to another, the steady rise in blasphemy accusations had made people increasingly intolerant, violent and indifferent. She said that the law was used not only against religious minorities, but also against people from other sects, socioeconomic backgrounds and even women.
Full report at:
http://www.dawn.com/news/1227317/blasphemy-accusations-increased-after-current-law-introduced
------------
War on extremism extremely weak: activist
Dec 19, 2015
ISLAMABAD - Worshippers at Red Mosque in the Pakistani capital still gather in their hundreds for Friday prayers, but the fiery sermons calling for Sharia law led by hardline cleric Maulana Abdul Aziz are now a thing of the past.
The preacher, who once led a week-long armed conflict against the army and has repeatedly called for the overthrow of the government, has now been muzzled by authorities - though technically he remains a free man and a revered figure among the Taliban.
It is this duality - where hardened resolve against groups such as the Taliban is blunted by a willingness to tolerate and even fan the flames of extremism still bubbling beneath society's surface - that activists say sums up the country's more than decade-long battle against a homegrown insurgency.
Official and public opinion was galvanised against the Pakistani Taliban in the wake of a massacre at a school in the northwestern city of Peshawar in December 2014 that left more than 150 dead - mainly children.
It was at the dun-coloured mosque at the centre of Pakistan's leafy capital that Muhammad Jibran Nasir, a 28-year-old lawyer, organised a demonstration in the wake of Aziz's refusal to condemn the attack.
That protest, which called for the cleric's arrest for inciting hate speech, snowballed into a nationwide movement among marginalised urban liberals who rallied to "Reclaim Pakistan" from the clutches of extremism.
One year on and an army-led crackdown has put the country on course to see the fewest casualties linked to extremist attacks since 2007 - the year Aziz led his brief insurrection in the capital, which later became the catalyst for the formation of the umbrella Pakistani Taliban movement.
"The country was devoid of any road map for fighting these extremist forces, but now I think they have found their way," said security analyst Imtiaz Gul.
According to Nasir, however, a military operation against extremists and government crackdown in the wake of the massacre have simply diverted attention from what lies beneath.
"The main thing is extremism - textbook reforms, madrassa reforms, mass awareness community reform cutting down the influence of the clergy in the society," he said.
"What we're doing now is stifling the growth of the cancer but we're not addressing the reason why we keep on getting cancer."
For authorities, the doublethink is strategic, with activists such as prominent feminist Marvi Sirmed accusing Islamabad of a kind of realpolitik over who it chooses to crack down on - such as clerics who preach against the army.
Meanwhile Kabul blames Pakistan's historical support for the Afghan Taliban prolonging much of the conflict wracking their country, and tensions drag on with India over disputed Kashmir and Islamabad's support for proxy groups there.
But for the Pakistani public, a Supreme Court-led shift towards a seemingly more moderate stance on issues such as blasphemy merely masks simmering intolerance that can still boil over into mob violence.
Activists have noted some improvement, particularly after the Supreme Court observed in October that calling for reform to controversial blasphemy legislation is not equivalent to committing blasphemy.
But violence against those accused of blasphemy continues unabated, with hardliners inciting attacks that often target minorities. In November, hundreds of people torched a factory after one of its workers from the minority Ahmadi sect was accused of desecration.
Meanwhile new forms of extremism continue to emerge. In April social activist Sabeen Mahmud was gunned down outside the cafe she operated in Karachi, which hosted discussions on topics from feminism to the role of minorities in society.
Full report at:
http://nation.com.pk/national/19-Dec-2015/war-on-extremism-extremely-weak-activist
------------
Demo for Muslim unity
Dec 19, 2015
LAHORE - The Tehreek-e-Hurmat-e-Rasool (THR), the Shia Ulema Council and the Majlis-e-Wahdatul Muslimeen yesterday held separate protests demonstrations in various main cities of the country.
The THR, an alliance of mainstream religio-political parties, held protests against the blasphemous remarks of Indian politician and Hindu Mahsabha leader Kamlesh Tevwary against the Holy Prophet (PBUH) while the SUC and MWM held separate protests against the killing of leader and workers of Shia Islamic Movement of Nigeria and seatrain violence in Pakistan.
The THR in a statement demanded of the international legislation against blasphemy of any religion. Rallies were held in Islamabad, Rawalpindi, Multan and Lahore condemning the blasphemy of the Prophet (PBUH).
Full report at:
http://nation.com.pk/lahore/19-Dec-2015/demo-for-muslim-unity
------------
Moga artist sculpts unique India-Pakistan bond
by Divya Goyal
Dec 19, 2015
The village of Ghal Kalan in Moga is set to witness a unique India-Pakistan bond created by one of its own.
Manjit Singh Gill (43), who left his government job to make sculptures, has used art to immortalize the great achievers of India and Pakistan.
He is now set to unveil a statue of former president Dr APJ Abdul Kalam with BRAHMOS missile in the background and another of Baba Nazmi, a famous Pakistani poet known for his revolutionary poetry at the 'Mahaan Desh Bhagat Park' in the village.
Gill says that his aim is to 'preserve the heritage and memories of undivided India.'
moga sculpture1
"I completed Dr Kalam's statue today. I want this to be an inspiration for rural children. At the same time, Baba Nazmi who raised voice against atrocities through his poetry has been given a place in my village because we want future generations to see the great personalities of undivided India. People may go to Madame Tussauds Museum in London but they will never put statues of revolutionaries and freedom fighters of India who fought against oppression. People ask me why I left government job to make these statues but I get my answer when youths come here and click photographs with our real heroes," said Manjit who is involved in sculpting with his brother Surjit Gill.
Gill said Nazmi, who lives in Karachi, recently called him to express happiness at his statue being erected in a village in Punjab in India.
Full report at:
http://indianexpress.com/article/india/india-news-india/moga-artist-sculpts-unique-india-pakistan-bond/
------------
Pak High Commissioner attends Renzushah's Sufi festival
Dec 19, 2015
NEW DELHI, Dec 18: The prestigious international Grand 5th Sufi Festival organized by Divine Abode and Marwah Studio alongwith AAFT witnessed presence of galaxy of scholars and prestigious personalities in jam packed auditorium at Noida.
Pakistan High Commissioner Abdul Basit was the chief guest while Dewan of Khawja Ajmeer Sharief Dargah Zain-ul-Aabidin and Chairman Kashmir Society Farooq Renzushah were guests of honour.
The prestigious guests included USA envoy Ivan Boekelheide, seven time Governor Bisham Narain Singh, Chief Organizers and Chairperson of Divine Abode Gulshah and the renowned media personality of country Sandeep Marwah, Chief of AAFT, Marwah Studio and Chairman Chamber of International Media.
While addressing the function, Farooq Renzushah, who is author of several literary books and well-known Novelist said that Kashmir has remained abode of Great Sufi Awaliyas since times immemorial which included Hazrat Shraf Din Bulbulshah, Hazrat Amir Kabir Syed Shah Hamdan, Sheikh-ul-Aalam, Sheikh Noor-ud-Din Wali, Hazrat Makhdoom Hamza Mehboobul Alam Sahib and thousands of others who inculcated sprit of love and humanity.
High Commissioner for Pakistan Abdul Basit highlighted element of justice in Islam, while Dewan of Ajmeer Sharief expressed his abhorrence and rejection against hate. He said world should understand that Islam is embodiment of peace and love.
Bhisham Narain Singh, who has remained Governor seven times in different states of India said that humanity can survive only in atmosphere of love.
USA envoy Ivon Boekelheide said that their is need to strengthen bonds of love. On the occasion other reverent Ulmas and scholars also underscored the importance of human love.
Globally Renowned Sufi Artist Farakh Khan presented best paintings on human love which received all round applause.
Full report at:
http://www.dailyexcelsior.com/pak-high-commissioner-attends-renzushahs-sufi-festival/
------------
South Asia
Bangladesh Muslim Leaders Move to Counter Islamist Militants
Shaikh Azizur Rahman
December 18, 2015
KOLKATA, INDIA—
Police in Bangladesh are tapping Islamic scholars and clerics to combat the rise of Islamist militancy in the country. The religious leaders are drafting a fatwa, or edict, condemning the activities of the Islamic State and Bangladeshi Islamist militant groups as "un-Islamic."
"The fatwa is to be jointly signed off by 100,000 Islamic scholars from across the country," said Maulana Fariduddin Masoud, chairman of Bangladesh Jamiatul Ulama, or BJU, a national body of Islamic scholars in the country. "It identifies IS and its local Islamist militant supporters — who are killing people and indulging in terrorist activities in Bangladesh and elsewhere — as not just the 'enemies of Islam' but also 'enemies of the Muslims.' "
BJU has taken the lead role in mobilizing the clerics and scholars for the fatwa. The group is training the country's tens of thousands of mosque leaders "in an effort to take the campaign against the Islamist militants to the grass-roots level," Masoud said.
"Through their khutbas [sermons], the mosque leaders will explain to the people how IS and other Islamists are resorting to violence and acting against the tenets of the Quran and the Hadith," he said.
Following a meeting with the leader of the BJU at the police headquarters in Dhaka on Thursday, Inspector General AKM Shahidul Hoque approved the BJU's plan to counter IS and other groups with the fatwa and the campaign using the mosques.
"Some groups are misinterpreting Islam's teachings and spreading militancy and violence in the country," Hoque said. "We are hopeful that our clerics will succeed to counter these subversive forces with their special campaign through the Friday sermons at the mosques and other Islamic programs."
Violent attacks
Bangladeshi authorities sought the cooperation of Islamic leaders amid concerns about rising Islamist militancy in the country in recent months.
Several secular bloggers and a publisher were hacked to death this year and gunmen killed two foreigners, as well.
The October bombing of a Shi'ite Muharram procession killed two people. Last month, unidentified gunmen killed the muezzin of a Shi'ite mosque in the Bogra district. In recent weeks, more than 30 Christian clergy members and aid workers in Bangladesh have received death threats.
IS and local hard-line Islamist groups like Ansarullah Bangla Team and Jama'atul Mujahideen Bangladesh claimed responsibility for the attacks and threats.
Earlier this week, Prime Minister Sheikh Hasina told an American delegation that IS did not have a foothold in the country.
Her government says domestic Islamist groups backed by opposition parties are responsible for the surge in militancy in the country.
Masoud said that, following the tactics of IS, domestic militants are brainwashing young Muslims with distorted interpretations of the Quran and Hadith and forcing them into subversive activities.
"Then the campaign through the Friday khutbas will help people understand the true spirit of Islam, which in turn will make them understand how IS and other local militant groups are acting against Islam's teachings," Masoud said.
Full report at:
http://www.voanews.com/content/bangladesh-muslim-leaders-move-to-counter-islamist-militants/3109919.html
------------
ISIS is creating 'little nests' in Afghanistan, US defense chief warns
Dec 19 2015
The Islamic State of Iraq and Syria (ISIS) terrorist group is creating 'little nests' in Afghanistan as the group has stepped up efforts to gain foothold and expand its activities in the country.
The US Secretary of Defense Ashton Carter warned regarding the emergent threat of the terror group during a surprise visit to Afghanistan on Friday.
Following a meeting with the acting Afghan defense minister Masoom Stanikzai, Carter said the threat posed by ISIS terror group is being tracked very closely.
The remarks by Carter comes shortly after the commander of the US and NATO forces in Afghanistan Gen. John Campbell said the loyalists of the Islamic State of Iraq and Syria (ISIS) terrorist group are attempting to establish a regional base in Jalalabad, the capital city of eastern Nangarhar province.
In an interview with The Associated Press, the commander of the US and NATO forces in Afghanistan, Gen. John Campbell, said Tuesday that foreign militants from Syria and Iraq had joined the loyalists of the terror group in eastern Nangarhar province and are trying to consolidate links with the leadership of the terror group based in Syria and Iraq.
Meanwhile, Pentagon released a report regarding the situation of Afghanistan on the same day, stating that overall security has deteriorated dramatically during the second half of 2015 as the country continues to face threats from both the Afghan insurgency and extremist networks, including the Taliban, the Haqqani Network, and to a lesser extent al Qaeda.
"The Afghanistan-Pakistan border region remains a sanctuary for various groups, including al Qaeda, the Haqqani Network, Lashkar-e Tayyiba, Tehrik-e-Taliban Pakistan, the Islamic State of Iraq and the Levant – Khorasan Province, and the Islamic Movement of Uzbekistan," the report said.
Full report at:
http://www.khaama.com/isis-is-creating-little-nests-in-afghanistan-us-defense-chief-warns-1828
------------
US Defense Secretary makes surprise visit to Afghanistan
Dec 19, 2015
KABUL: US Defense Secretary Ashton Carter arrived in Afghanistan Friday on an unannounced visit, officials said, with media reporting his trip was aimed at assessing the deteriorating security situation in the country.
His visit comes amid an surge in Taliban attacks across Afghanistan and mounting concerns that loyalists of the militant Islamic State group are making steady inroads in the country.
"(Carter) has landed" in Afghanistan, the Pentagon said in a brief statement.
The US embassy in Kabul also confirmed his arrival, but shared no details on the purpose of his visit.
Local media said the surprise visit, which comes after a brief stopover in Iraq, is meant to assess the fragile security situation in Afghanistan.
Fuelling those concerns is a new Pentagon report released this week detailing a surge in insurgent attacks in the second half of 2015.
This month marks a year since the US and Nato led mission in Afghanistan transitioned into an Afghan-led operation, with allied nations assisting in training local forces.
President Barack Obama in October announced that thousands of US troops will remain in Afghanistan past 2016, backpedalling on previous plans to shrink the force and acknowledging that Afghan forces are not ready to stand alone.
The Taliban briefly captured the strategic northern city of Kunduz in September in their most spectacular victory in 14 years, dealing a stinging blow to Afghan forces as they battle the insurgents on multiple fronts.
The Taliban have since then threatened several other provincial centres -- from Lashkar Gah in the south to Maimana in the northwest - fuelling concerns that Afghanistan was on the brink of a security collapse.
Obama said the United States will maintain its current force of 9,800 in the country through 2016.
Full report at:
http://www.dawn.com/news/1227189/us-defense-secretary-makes-surprise-visit-to-afghanistan
------------
New Afghan political group poses challenge to Ghani
Dec 19, 2015
KABUL - A group including figures from Afghanistan's anti-Soviet Mujahideen of the 1980s on Friday launched a new political bloc likely to increase the pressure on President Ashraf Ghani's struggling unity government.
The so-called Council for Protection and Stability in Afghanistan, many of whose members are close to former president Hamid Karzai, aims to push Ghani to meet commitments to hold parliamentary elections next year as well as a Loya Jirga, or grand assembly, on constitutional reform.
Though the group, which will not function as a formal parliamentary opposition party, says it wants to encourage reform and has no intention of trying to bring down the government.
But it could serve as a focus for discontent with Ghani's National Unity Government, which has struggled to implement all its reform pledges and has come under growing pressure as the Taliban insurgency has spread following the withdrawal of foreign troops last year.
Abdul Rab Rasoul Sayaf, a veteran of the fight against the Soviets in the 1980s who later joined the Northern Alliance movement fighting the Taliban, said the government had to honour its pledge to hold the Loya Jirga next year.
"The government must call the Loya Jirga on time and if it doesn't happen, the people will look for alternatives," he said at a gathering in Kabul to launch the new group.
The group also intends to pressure Ghani's government not to pursue peace talks involving Pakistan.
Full report at:
http://nation.com.pk/international/19-Dec-2015/new-afghan-political-group-poses-challenge-to-ghani
------------
6 injured as bombs thrown at Bangladesh navy mosque
Dec 19, 2015
CHITTAGONG - Two bombs exploded at a mosque inside a navy base in the Bangladesh port city of Chittagong on Friday, injuring six, police said, adding that two people had been arrested.
Police said the mosque inside the Isha Khan naval base in the southeastern city was packed with Muslim worshippers attending Friday prayers when several bombs were thrown.
"Of the five bombs thrown at the mosque, two exploded. They looked like small grenades. Six people were injured," Deputy Commissioner of the Chittagong Metropolitan Police (CMP) Harun Ur Rashid Hazari told AFP.
Two people were arrested at the scene but no group has yet claimed responsibility for the attack, he said.
Chittagong police chief Abdul Jalil Mandal confirmed the attack, saying the bombs were thrown towards the end of the weekly prayers. Bangladesh has been roiled by rising unrest which has seen four atheist bloggers and a publisher hacked to death this year.
Two foreigners have also been shot dead - a Japanese farmer and an Italian aid worker - while several minority Sufi Muslim leaders and two policemen have been killed.
Police blame an outlawed militant group, Jamayetul Mujahideen Bangladesh, for the recent violence while Prime Minister Sheikh Hasina's government accuses the main opposition party and its Islamist ally of trying to trigger anarchy.
The parties deny the claims.
Full report at:
http://nation.com.pk/international/19-Dec-2015/6-injured-as-bombs-thrown-at-bangladesh-navy-mosque
------------
ADB to provide $275 million to Afghanistan for Energy Infrastructure
By ZABIHULLAH MOOSAKHAIL
Dec 19 2015
The Asian Development Bank (ADB) is providing $275 million to Afghanistan for energy infrastructure.
The grant was signed between the Minister of Finance Eklil Ahmad Hakimi and ADB Country Director for Afghanistan Thomas Panella on Saturday to strengthen Afghanistan-Turkmenistan power interconnection which will improve energy supplies in country.
Earlier on 4 December 2015, ADB's Board approved a $1.2 billion grant to reinforce ongoing energy projects in Afghanistan and to provide new funds to boost energy supply, improve power sector efficiency, and promote cross border trade in energy. The funds will be disbursed in multiple tranches with the first tranche of $275 million earmarked for release in 2015, comprising cofinanced funds from the governments of Germany, the Netherlands and the United Kingdom. This first tranche includes constructing over 300 km of a 500 kilovolt (kV) transmission line connecting Sheberghan to Dashte Alwan, and over 60 km of a 220kV line from Andkhoy to Sheberghan. Support will also be given to prepare future projects, develop a business plan and tariff framework for the state power utility, Da Afghanistan Breshna Sherkat.
The remaining tranches are expected to follow through to 2025. Subsequent tranche assistance will focus on further transmission network upgrades, as well as support for domestic renewable energy projects and measures to boost both domestic gas production and imports via the Turkmenistan-Afghanistan-Pakistan-India gas pipeline. Assistance for building up the human resource capabilities of relevant agencies, and to introduce regulatory reforms, will also be provided.
"Insufficient energy supplies and a demand–supply imbalance constrain growth and income opportunities and create economic disparities that can fuel insecurity and discontent," said Thomas Panella. "This assistance will support the government's national energy supply program of more than $10 billion, which aims to expand power supply to boost economic growth and cut poverty;" confirmed the Finance Minister.
Full report at:
http://www.khaama.com/asian-development-bank-gives-275-million-to-afghanistan-for-energy-infrastructure-4400
------------
Stanekzai: Daesh, Taliban receive training at military bases in Pakistan
Dec 19 2015
The acting-Defense Minister of Afghanistan Mohammad Masoum Stanekzai says that Daesh and Taliban militants receive training at military bases in Pakistan.
Pointing to Pakistan, Stanekzai has said that foreign intelligence tries to push militants into Afghanistan to show that this is the center of terrorism.
Stanekzai, cited by Ariana news, says that Afghan forces will launch a "Winter Offensive" to respond to these threats.
His comments come after the commander of the US and NATO forces in Afghanistan Gen. John Campbell raised concern that the loyalists of the Islamic State of Iraq and Syria (ISIS) terrorist group are attempting to establish a regional base in Nangarhar province which is on the border with Pakistan.
In an interview with the Associated Press (AP) last week, Gen. Campbell said that the loyalists of the terror group in Afghanistan are also trying to consolidate links with the leadership of the terror group based in Syria and Iraq.
Ashton Carter, the U.S. Secretary of Defense also warned on Friday about the emerging threat of the terror group.
Full report at:
http://www.khaama.com/stanekzai-daesh-taliban-receive-military-training-at-military-bases-in-pakistan-4399
------------
President Ghani apologizes to families of Maidan Wardak's shelling-victims
Dec 19 2015
President Mohammad Ashraf Ghani arrived in central Maidan Wardak province on Friday to condole with families of those killed in a rocket explosion earlier this month.
He met with families of the victims and apologized to them on behalf of the security and defense forces for occurrence of the incident.
President Ghani said that perpetrators of the incidents have been detained and currently under investigation.
"We won't lose blood of our soldiers in the political arena but we want accountability too," he said.
Full report at:
http://www.khaama.com/president-ghani-apologizes-to-families-of-maidan-wardaks-shelling-victims-4398
------------
JMB man involved in both incidents
December 19, 2015
Shariful Islam, who was caught red handed during the ISKCON temple attack in Dinajpur on December 10, has confessed his involvement in the mid-November shooting of Italian Pastor Piero Parolari, according to a local police official.
He made the confessional statement before the chief judicial magistrate court on Thursday, said Redwanur Rahim, officer-in-charge of detective branch of Dinajpur police.
Shariful, an operative of banned militant outfit Jama'atul Mujahideen Bangladesh (JMB), confessed that he was among the three people who carried out the gun attack on Parolari near the BRTC bus terminal in Dinajpur town early November 18, the official said yesterday.
Shot in the back of his head, Parolari narrowly escaped death.
OC Redwanur Rahim, however, did not say whether Shariful, in his deposition, named the two other attackers or say exactly which one of the three fired at the pastor.
The official also did not say if the accused in the statement mentioned any reason behind the attack. But according to police sources, it was found in the probe that the motive was to tarnish the country's image before the international community and create anarchy.
Shariful was taken on a 10 day remand in two phases to interrogate in connection with the attack on ISKCON temple in Kaharole upazila of Dinajpur on December 10. After the gun attack, which left two people injured, locals caught Shariful with crude bombs.
Police said Shariful, son of Sakhawat Hossain of Monoharpur village under Palashbari upazila of Gaibandha, remained out of reach for eight months with family members before his detention.
Full report at:
http://www.thedailystar.net/frontpage/jmb-involved-both-attacks-189445
------------
Arab World
Religious leaders back anti-terror alliance
19 December 2015
JEDDAH: Imam and preacher of the Grand Mosque in Makkah Saleh bin Humaid said that the Kingdom achieved remarkable success in its fight against terrorism for nearly two decades in thwarting terrorist plans.
At the same time, leaders of the Islamic world responded to the Kingdom's call to participate in its war on terror.
He said in his Friday sermon that the era of Custodian of the Two Holy
Mosques King Salman witnessed several campaigns against enemies, while
the upcoming Islamic coalition embodies the first initiative of its kind
in modern history of Muslim countries joining forces against deviants.
This move promotes Islamic cohesion and values and promotes Islamic interests. This coalition will enhance stability, security and development, and at the same time, it will contribute to resolving problems. Islamic countries have the right to defend their religion and their homes.
"All Muslims look forward to this holy coalition which will unify the nation which seeks to live in peace and harmony with the full respect to different sects. At the same time, the coalition will prevent interference in the domestic affairs of Islamic states and support security in Islamic society in facing threat to their interests," he added.
In his Friday sermon at Imam Turki bin Abdullah Mosque in Riyadh, Grand Mufti Sheikh Abdul Aziz Al-Asheikh commended the Kingdom's efforts in forming the anti-terror coalition. All Muslims must play a positive role to fight terrorism which has led to incidents in several countries in the world.
Full report at:
http://www.arabnews.com/saudi-arabia/news/852671
------------
Iraqi soldiers killed by US-led coalition airstrike in friendly fire
By ZABIHULLAH MOOSAKHAIL
Dec 19 2015
A number of Iraqi soldiers have been killed and wounded in a US-led coalition airstrike near Fallujah, west of Baghdad.
A statement released by the joint operations command in Iraq which oversees war efforts against the Islamic State (IS) group, the casualties occurred during friendly fire on Friday.
According to The Guardian, citing the command, forces from Iraq's 3rd Division 55th Brigade had been advancing on Isis positions near Amriyat al-Fallujah but could not be supported by the Iraqi air force due to bad weather.
"Aerial support from international coalition aircraft was requested. The coalition conducted two strikes aimed at the enemy, which resulted in significant losses among the enemy," the statement said. "A third coalition strike carried out without taking into account the distance that had been covered resulted in injuries among our forces too. An officer and nine soldiers were killed or wounded."
Full report at:
http://www.khaama.com/iraqi-soldiers-killed-by-us-led-coalition-airstrike-in-friendly-fire-4398
------------
Internal conflict in Egypt's Muslim Brotherhood waged online
18 Dec 2015
As the Muslim Brotherhood began to legally challenge a British government report about the group's connections with radicalism which was released this week, the group's branch in Egypt seems to be suffering from an internal crisis which was largely conducted via social media.
The crisis began on Monday when the Muslim Brotherhood's deputy supreme guide, Mahmoud Ezzat, issued a final decision backed by the Brotherhood's London office to dismiss Mohamed Montasser from his position as official spokesperson of the group in Egypt for defying the group's orders and issuing statements expressing his own views.
Ezzat, whose whereabouts are unknown, also issued a decision appointing 55-year-old Talaat Fahmy as the new spokesperson for the banned group. Fahmy is believed to be outside the country.
Montasser was appointed official spokesperson of the Muslim Brotherhood in January 2015.
Following Ezzat's decision to dismiss Montasser, not less than 16 Brotherhood administrative offices, including the offices of Cairo, Giza , Fayoum, Qaloubiya and Alexandria declared they rejected the decision in a statement on Facebook, which condemned what they described as interference by the Brotherhood London branch in their internal affairs.
The Alexandria administrative office also announced on its official Facebook page on Monday that it had suspended Talaat Fahmy's membership in the Brotherhood, and referred him to investigation.
The high administrative committee of the Brotherhood in Cairo also issued a statement on the Muslim Brotherhood's official Facebook page, announcing that it did not issue a decision regarding the dismissal of Montasser from his post as official spokesperson.
The statement added that the only party involved in issuing decisions in Egypt was the high committee, a slap in the face of older generations of leading figures such as Mahmoud Ezzat.
On his official Facebook page, Montasser issued a message to those he called "the revolutionary youth and free patriots" to start implementing their plan to save their "revolution" planned in January by "bringing down the military."
The crisis moved from social media to the mainstream media when Montasser appeared on Qatar-based Al-Jazeera Mubashar television channel Monday evening, where he was described as the only official Brotherhood spokesperson.
At the same moment Talaat Fahmy appeared on the London-based Al-Hewar channel and was also described as the group's official spokesman, speaking about the Brotherhood's plans for the upcoming 25 January Revolution anniversary, and about the group's commitment to peacefulness.
Full report at:
http://english.ahram.org.eg/NewsContent/1/64/173796/Egypt/Politics-/Internal-conflict-in-Egypts-Muslim-Brotherhood-wag.aspx
------------
Two countries had no idea they were in Saudi Arabia's Muslim coalition to fight terrorism
Dec 19, 2015
Earlier this week Saudi Arabia announced a new 34-country coalition of Muslim nations to fight terrorism, but two of the key countries have said they had no idea they were involved.
The countries from Asia, Africa and the Arab world were combining their efforts to combat extremism, according to the Saudis, who have faced mounting pressure to step up efforts in addressing the threat of extremism.
Delivering the announcement on Tuesday, defence minister Mohammed bin Salman said: "Currently, every Muslim country is fighting terrorism individually... so co-ordinating efforts is very important."
The coalition is targeting extremists in Iraq, Syria, Libya, Egypt and Afghanistan.
But following the statement at least two governments have claimed they were not aware of their own involvement. Pakistan's foreign secretary, Aizaz Chaudhry, has been quoted as saying he only learnt of his country's inclusion in the alliance from news reports.
He is said to have phoned the country's ambassador in Saudi capital Riyadh - where a joint operations centre is planned - for clarification. Senior officials claimed they were not consulted beforehand.
Despite being a long-term ally of Saudi Arabia, Pakistan has refrained from joining its military exploits, instead reaffirming its position of non-involvement in Middle Eastern conflicts. In November, army spokesman Lt Gen Asim Bajwa stated: "We are not looking for any involvement outside our region."
Lebanon was also equally baffled country following the announcement, according to Lebanese media outlet Naharnet. The Prime Minister Tammam Salam reportedly welcomed the news, saying: "Lebanon is at the forefront of the confrontation with terrorism."
In contrast the foreign ministry was adamant they had no "memo or phone call mentioning this coalition." They added they had :"No knowledge whatsoever of the issue of forming an Islamic anti-terror coalition."
The office also questioned whether the move encroached on their 'constitutional jurisdiction on foreign affairs'.
Full report at:
http://timesofindia.indiatimes.com/world/middle-east/Two-countries-had-no-idea-they-were-in-Saudi-Arabias-Muslim-coalition-to-fight-terrorism/articleshow/50241992.cms
------------
UN endorses Syria peace plan in rare show of unity among big powers
Dec 19, 2015
UNITED NATIONS: The United Nations Security Council on Friday unanimously approved a resolution endorsing an international road map for a Syria peace process, a rare show of unity among major powers on a conflict that has claimed more than a quarter million lives.
The resolution gives a UN blessing to a plan negotiated previously in Vienna that calls for a ceasefire, talks between the Syrian government and opposition, and a roughly two-year timeline to create a unity government and hold elections.
But the obstacles to ending the nearly five-year civil war remain daunting, with no side in the conflict able to secure a clear military victory. Despite their agreement, the major powers are bitterly divided on who may represent the opposition as well as on the future of Syrian President Bashar al-Assad.
"This council is sending a clear message to all concerned that the time is now to stop the killing in Syria and lay the groundwork for a government that the long-suffering people of that battered land can support," US Secretary of State John Kerry told the 15-nation council after the vote.
The resolution also calls for the UN to present the council with options for monitoring a ceasefire within one month.
Talks between Syria's government and opposition should begin in early January, the resolution said, though Kerry said mid-to-late January was more likely. It also endorsed the continued battle to defeat the militant Islamic State (IS) group which has seized large swaths of both Syria and neighboring Iraq.
It was one of the strongest appeals for peace by the council, divided for years on the issue of Syria's war, since Russia and China began vetoing a series of Western-drafted resolutions on the conflict in October 2011.
The resolution came after Moscow and Washington clinched a deal on a text. The two powers have had very different views on what should happen in Syria, where IS militants control considerable territory that Western governments suspect has been a launch pad for attacks on Western nations and Russia.
Kerry made clear that there were still differences on the future of Assad, a close ally of Russia and Iran who Western countries want ousted, as well as on the question of which Syrian opposition groups will have a seat at the table in talks with the government.
"We are under no illusions about the obstacles that exist," Kerry said. "There obviously remain sharp differences within the international community, especially about the future of President Assad."
The resolution does not address Assad's fate.
Russian Foreign Minister Sergei Lavrov said of the resolution: "This is a clear response to attempts to impose a solution from the outside on Syrians on any issues, including those regarding its president."
"Champions of democracy"
French Foreign Minister Laurent Fabius said the talks between the Syrian government and opposition would only succeed if there were credible guarantees on the departure of Assad.
"How could this man unite a people that he has in part massacred?" Fabius said. "The idea that he could once again stand for elections is unacceptable to us."
Syrian Ambassador Bashar Ja'afari said Assad's government was prepared to take part in the talks in good faith.
"I reiterate the readiness of the Syrian government to participate effectively on any sincere effort where the Syrians will determine their choices through dialogue under Syrian leadership and not foreign intervention," he said, adding that all countries should coordinate with his government.
Agreement on a resolution came after a meeting of the so-called International Syria Support Group at New York's Palace Hotel.
Foreign ministers from 17 countries, including Lavrov, Kerry and other European and Middle Eastern ministers, as well as top diplomats from regional rivals Turkey, Saudi Arabia and Iran, were in New York for the meetings.
During a break in Friday's talks, Jordanian Foreign Minister Nasser Judeh said he had presented a document compiling the groups each country attending considered to be a "terrorist" organisation.
Kerry said other countries would help Jordan draw up a final list.
As with the question of Assad's fate, diplomats say it will be extremely difficult to reach consensus on a list of terrorist groups to be excluded and legitimate members of an opposition who would participate in the negotiations.
The Syria road map, which also calls for a nationwide ceasefire that would not apply to IS, Nusra Front and some other militant groups, was previously worked out in two rounds of ministerial talks in Vienna.
Full report at:
http://www.dawn.com/news/1227425/un-endorses-syria-peace-plan-in-rare-show-of-unity-among-big-powers
------------
Militants' Swap with Civilians of Kafria, Foua'a Set for Sunday
Dec 19, 2015
The Syrian army and the militants reached an agreement in September under the UN supervision, to exchange captured and surrounded militants in Zabadani city in Damascus province with civilians of the two Shiite-populated Kafria and Foua'a cities in 6 months.
According to the Lebanese Al-Akhbar daily, some 129 militants are due to leave Zabadani city in exchange for 400 civilians from Kafria and Foua'a on Sunday.
Earlier reports said that the Syrian people in the two besieged towns of Kafria and Foua'a are facing a dire shortage of foodstuff, drinking water and weapons to defend themselves against the terrorists.
"The popular resistance forces are faced with acute shortage of weapons and munitions," a field source told FNA in September.
Full report at:
http://en.farsnews.com/newstext.aspx?nn=13940928000396
------------
King Salman vows support to Nigeria's fight against terror
19 December 2015
JEDDAH: Custodian of the Two Holy Mosques King Salman has pledged support for the Nigerian government's fight against terrorist groups.
In a phone call to the country's President Mohammed Buhari, the king condemned the terrorists who had recently launched attacks in Nigeria, according to a Saudi Press Agency report on Friday.
King Salman told Buhari that such "criminal acts" were denounced by Islam and that the Kingdom rejected any foreign intervention in Nigeria, which would destabilize the country's security and stability, the report stated.
Full report at:
http://www.arabnews.com/featured/news/852581
------------
Syrian Army, Backed by Warplanes, Hits ISIL Hard in Homs
Dec 19, 2015
The Syrian forces and airstrikes destroyed ISIL positions in al-Zakah valley, al-Musk valley, North of the quarries, and South of Palmyra Citadel in the Eastern countryside of Homs on Friday.
Scores of militants were killed in the military operations.
Militants' machinegun-equipped vehicles, weapons and military equipment were also destroyed.
On Thursday, Syrian airstrikes destroyed the command posts of ISIL terrorists in the province of Homs.
The Syrian warplanes destroyed ISIL command posts in the al-Hadath village in Homs.
The airstrikes also hit the terrorists' command posts in the vicinity of the ancient city of Palmyra, Al-Quaryatayn city and Maheen town in the province.
Senior ISIL commanders were killed in the air attacks, informed sources said. Terrorists' vehicles were also destroyed.
Full report at:
http://en.farsnews.com/newstext.aspx?nn=13940928000537
------------
Spokesman: US Misusing Iraqi Politicians to Disintegrate Iraq
Dec 19, 2015
"The international spy agencies, specially of the US, have been using Iraqi politicians to support the ISIL and disintegrate Iraq," Moussavi told FNA on Saturday.
He underlined US support for the ISIL and other terrorist groups in Iraq, and said, "Iraqi joint forces have found numerous documents showing the Americans' assistance to the ISIL militarily and logistically."
His remarks came after General Vincent Stewart, the head of the Defense Intelligence Agency, claimed in September that Iraq and Syria were unlikely to emerge intact from years of war and sectarian violence.
In Iraq, the Defense Intelligence Agency boss indicated that he believes it unlikely that a government in Baghdad could hold authority over the disparate regions within the country's official borders;
Stewart claimed that he is "wrestling with the idea that the Kurds will come back to a central government of Iraq".
Also in the same month, CIA Director John Brennan echoed Stewart's idea that the borders of the Middle-Eastern countries have irreparably broken down as a result of war and sectarianism.
Full report at:
http://en.farsnews.com/newstext.aspx?nn=13940928000309
------------
Syria in Last 24 Hours: Army Makes New Gains in Key Provinces
Dec 19, 2015
Dozens of terrorists were killed and many more were wounded in the Syrian army's military operations across Syria on Friday.
Lattakia
The Syrian Army and its allies are advancing rapidly along 3 different fronts in the Northern part of the coastal province of Lattakia, military experts said Friday.
"In a matter of 2 and a half months, the Syrian army's 103rd Brigade and their allies have seized several kilometers of territory inside Jabal Al-Turkmen (Turkmen Mountains) and Jabal Al-Akrad (Kurdish Mountains), while the Turkish-backed militant groups retreat along several axes," the experts said.
Meantime, the Syrian army and popular forces discovered a large depot of weapons and ammunition and tens of military vehicles in the newly-captured Jabal al-Sayyid in the Northern part of Lattakia, battlefield sources said Friday.
"The Syrian government forces seized a large volume of military hardware, including weapons, vehicles and ammunition in the positions of the militant groups after the terrorists retreated from their strongholds in Jabal al-Sayyid," the sources said.
"The army troops found a 50-meter-long tunnel containing vehicle and equipment used by the militant groups to dig new tranches and tunnels in the battlefronts," the sources said.
The sources further added that with recapture of the Jabal al-Sayyid, the army is now in a very good position of monitoring the militants' movements in al-Mreij region.
The Syrian government forces have advanced against the militant groups across the mountainous regions in Northern and Northeastern parts of the coastal province, including along border with Turkey.
Dara'a & Sweida
The Syrian army announced a few minutes ago that a senior commander of the militant group of Jabahat Thuwar Souria was killed along with his comrades in the government forces' operation in Dara'a al-Balad, South of Syria.
"Ridha Muhannad al-Masalmeh, a senior commander of Jabhat Thuwar Souria was killed in clashes with the army and its allies," the army said.
"Al-Nusra Front's positions in al-Nazihin Camp in Dara'a al-Balad also came under attacks of the Syrian forces, which ended in the destruction of Nusra military hardware," the army added.
"A convoy of the militants' military vehicles was also targeted by the army men in Dara'a al-Mahatta," the army said.
Full report at:
http://en.farsnews.com/newstext.aspx?nn=13940928000440
------------
Gov't Forces Seize Control over 8 Heights North of Syria's Lattakia
Dec 19, 2015
"The Syrian army troops and the country's National Defense Forces (NDF) carried out a joint large-scale operation in the mountainous part of Lattakia province and pushed back the terrorist groups from Heights 652, 687.5, 526, 662.8, 427, 754.5, Syriatel Tower, Jabal al-Aswad al-Kabir and Atira village," the sources said.
"Over 25 Takfiri terrorists were killed or wounded in the Syrian government forces' operation," the sources added.
"The militant groups' military hardware also sustained heavy damage in the attacks," they said.
Full report at:
http://en.farsnews.com/newstext.aspx?nn=13940928000224
------------
Syrian Army Forces Fend off Terrorists' Infiltration Attempts in Sweida Province
Dec 19, 2015
"The militants' offensive on the government positions near Tha'ala village was repelled by the Syrian soldiers, who had been previously informed of the attack by the intelligence sources," the army said.
"As soon as the militant groups reached the nearby areas of the village, the army's artillery units shelled them heavily," the army added.
"In the meantime, the army soldiers opened heavy fire on the militants with their machineguns and did not allow them to reach the village," the army said.
"The militant groups sustained a heavy death toll as a result of heavy artillery shelling and machineguns' fire of the Syrian forces, fled the battlefront after leaving behind their military Full report at:
http://en.farsnews.com/newstext.aspx?nn=13940928000399
------------
Militants Fleeing Lattakia Battlefields after Syrian Forces' Operations, Victories
Dec 19, 2015
The Syrian army alongside the country's National Defense Forces (NDF) launched massive operations in mountainous regions of the Northern and Northeastern parts of the province, recapturing vast territories and killing or wounding many militants, the sources said.
"The militants are hopeless and their commanders are not able any more to reorganize the defeated forces," the source further added.
"The militants have only two ways to choose, being killed or wounded in the battlefields or fleeing," the sources said.
"The government authorities have announced that will pardon those militant who turn themselves in to the Syrian forces," they pointed out.
Military analysts believe that the eye-catching victories of the pro-government forces against the militant groups in the mountainous regions of Lattakia in winter time are indebted to the strong will of the Syrian soldiers, the NDF and Hezbollah fighters to route out militancy and terrorism in the country.
They further added that very good back up of the ground forces by the Syrian and Russian Air Force is another factor behind the continued defeats of the militant groups.
The Syrian Army announced on Friday that its forces alongside the country's popular fighters, backed up by the Russian fighter jets' bombardments, have gained back over 56 villages, towns and heights from the militant groups across the coastal province of Lattakia in only 68 days.
Full report at:
http://en.farsnews.com/newstext.aspx?nn=13940928000276
------------
Lebanese Media Confirms FNA Report on US Airbase Construction in Northeastern Syria
Dec 19, 2015
US Air Force specialists are working to reconstruct and equip a disused airbase in northern Syria, the Lebanese daily Al-Akhbar reported.
Abu Hajar airport is located in Hasakah province in northeastern Syria, which is under the control of Kurdish People's Defense Units (YPG). The Syrian government has not given the US permission to have a base in Syria or carry out airstrikes there, the report which was also covered by Sputnik News said.
Full report at:
http://en.farsnews.com/newstext.aspx?nn=13940927000786
------------
France demands assurances Assad will leave power
19 December 2015
French Foreign Minister Laurent Fabius on Friday demanded that talks on Syria's future yield assurances that President Bashar al-Assad will leave power.
"There must be safeguards regarding the exit of Bashar al-Assad," Fabius told the U.N. Security Council after the adoption of a resolution endorsing a peace process.
The resolution calls for a ceasefire and peace talks to begin in early January, but it does not address the contentious issue of Assad's future.
France, the United States and other Western powers hold Assad responsible for the killing of civilians during the nearly five-year war in Syria and accuse him of fomenting extremism that led to the rise of the ISIS group.
"How could somebody bring together a whole people when he has massacred so many?" Fabius asked.
Full report at:
https://english.alarabiya.net/en/News/middle-east/2015/12/19/France-demands-Assad-exit-assurances.html
------------
U.S. airstrike may have killed Iraqi soldiers
19 December 2015
The U.S. military said it is investigating an American airstrike that may have inadvertently killed Iraqi soldiers near the city of Fallujah.
In a brief statement, the U.S. military headquarters in charge of the war effort in Syria and Iraq said that one of several airstrikes it conducted Friday against ISIS targets may have resulted in the death of Iraqi soldiers. It did not say how many may have been killed, but other officials said the Iraqis initially reported that about 10 may have died.
The U.S. statement said the airstrikes were in response to requests and information provided by Iraqi security forces on the ground near Fallujah, which is in ISIS group control. It said the airstrikes were done in coordination with Iraqi forces. It said the U.S. will investigate what happened and has invited the Iraqis to participate.
Full report at:
https://english.alarabiya.net/en/News/middle-east/2015/12/19/U-S-strike-may-have-mistakenly-killed-Iraqi-soldiers.html
------------
Egypt rejects Europe plea for release of Irish-Egyptian teen
19 December 2015
Egypt has rejected a plea from the European Parliament to release an Irish-Egyptian teenager detained during a pro-Islamist protest in Cairo two years ago, and the Foreign Ministry said Friday the request amounted to a "violation of the independence" of its judiciary.
In a harsh statement, Cairo also called on the European body to reconsider its approach to similar cases in the future.
The exchange came ahead of the start of trial for Ibrahim Halawa, who along with 494 defendants faces charges of murder and vandalism.
The defendants were all arrested in a 2013 protest in the Egyptian capital's central Ramsis Square against the military's overthrow of Islamist President Mohammed Morsi and the violent dispersal in August that year of a sit-in by Morsi's supporters in Cairo's Rabaa al-Adawiya square, when hundreds of people were killed.
The ministry also dismissed allegations that Halawa was tortured in custody and is on hunger strike. It refuted Europe's claim that he may face the death penalty, saying that Egyptian law does not impose capital punishment on offenders under 18.
Halawa, who holds dual Egyptian and Irish nationalities, was 17 at the time of his arrest; now he is 19.
Full report at:
https://english.alarabiya.net/en/News/middle-east/2015/12/19/Egypt-rejects-Europe-plea-for-release-of-Irish-Egyptian-teen.html
------------
Mideast
Turkey kills 54 Kurdish militants in major crackdown
December 19, 2015
DIYARBAKIR - Turkish security forces have killed 54 Kurdish militants during a major operation to root out Kurdistan Workers Party (PKK) rebels from two urban centres, official media said on Friday.
"Fifty-four terrorists have been neutralised" in in the southeastern towns of Cizre and Silopi, the state-run Anatolia news agency said, using the customary official euphemism for the killing of Kurdish militants.
The operation began on Tuesday, with 25 militants killed in first two days.
But the latest figure more than doubled the number of casualties, implying a heavy toll during Thursday's fighting inside the towns.
The vast operation, which is now in its fourth day and reportedly involves some 10,000 troops, is centred on two towns - Cizre and Silope, both of which are in the Kurdish-dominated Sirnak province where the military has imposed blanket curfews.
The government says the operation is needed to eliminate militants who were effectively taking over the towns by building barricades and digging trenches.
But Kurdish activists have accused the army of acting with impunity and turning large parts of the towns to rubble.
Full report at:
http://nation.com.pk/international/19-Dec-2015/turkey-kills-54-kurdish-militants-in-major-crackdown
------------
Yemenis' Ballistic Missile Fire Kills Tens of Saudi-Led Aggressors in Ma'rib Province
Dec 19, 2015
An ammunition depot and two Apache helicopters of the pro-Saudi aggressors were also destroyed in the Yemeni ballistic missile strikes in Southern Yemen.
At least 90 Saudi and UAE military men as well as forces loyal to the former fugitive president Mansour Hadi were killed in the attack on Saudi-led forces' military camp in the Ma'rib province.
Also on Friday, the Yemeni army and popular forces conducted several retaliatory missile attacks against Saudi Arabia's Key military bases and positions in Jizan province, inflicting heavy losses on the kingdom's forces.
Yemen's Tochka ballistic missiles hit the Saudi army's gathering centers in Jizan province yesterday.
The Yemeni forces also fired a Qaher-I missile at Saudi forces' bases in Najran on Friday.
The missile attacks came in response to the violation of truce by the Saudi bomb strikes.
On Tuesday, the Yemeni missiles destroyed the command center of Saudi border guards in Asir province.
Meantime, the Yemeni missiles hit the Saudi governmental buildings in al-Rabou'a region of Asir province.
The Yemeni army also fired 52 rockets at the border regions of Alab, al-Sheibani, al-Hazar and al-Thurein in Asir province.
On Monday, Yemeni forces hit Jizan airport in Southern Saudi Arabia with their new surface-to-surface ballistic missiles.
"The Qaher-I missile precisely hit the target, the Jizan airport; the third such missile used in the past 24 hours to target military positions in Southern Saudi Arabia," Yemeni military sources told FNA.
The first Qaher-I ballistic missiles targeted Khalid bin Abdulaziz air base in Asir province in Southwestern Saudi Arabia on Sunday.
The second ballistic missile hit the Saudi-led coalition's command headquarters in Sha'ab al-Jen region near Bab al-Mandeb in Ta'iz province. Over 150 coalition servicemen, including 23 Saudi troops, 9 UAE officers and soldiers, seven Moroccan officers and 42 Blackwater troops were killed in the second attack.
Qaher-I is an updated version of a Russian-made surface-to-surface missile.
The burnt bodies of 146 Saudi-led military troops have been transferred to the city of Aden and Saudi Arabia has sent a warship to Ta'iz to transfer the wounded from Bab al-Mandeb region.
The Saudi-led forces sustained heavy casualties in the Yemeni army's missile attack on the Bab al-Mandeb region in Southwestern Yemen.
Last Friday, the Yemeni army and popular forces conducted several retaliatory attacks against key military bases and positions in two Saudi provinces, inflicting heavy losses on the kingdom's forces.
Yemeni forces fired 13 missiles at al-Jamarak region in the Saudi province of Jizan, killing at least two Saudi military men.
On December 9, the Yemeni forces launched missile attacks on the Saudi military bases in Jizan province with their new home-made missiles named 'Cry'.
The Yemeni missiles destroyed al-Ain al-Harreh and al-Salah military bases in Jizan province, inflicting heavy losses on the Saudi army.
The Yemeni army and popular forces also hit al-Ramzeh military center in Jizan province, killing tens of Saudi military men and their vehicles.
The Yemeni forces also hit several Saudi military centers in the Southern parts of Al-Khuba region.
Full report at:
http://en.farsnews.com/newstext.aspx?nn=13940928000342
------------
Turkey accuses Iraq of undermining ISIS fight
19 December 2015
Turkey accused Iraq on Friday of undermining the global fight against ISIS militants by taking its complaint about the deployment of Turkish troops in northern Iraq to the United Nations Security Council.
The 15-member council met on the issue on Friday at the request of Iraq and Foreign Minister Ibrahim al-Jaafari who asked the body to adopt a resolution demanding Turkey withdraw its troops immediately.
Jaafari signaled the request for council action was a last resort. "Iraq has spared no effort to exhaust all diplomatic channels and bilateral negotiations with Turkey, in order to withdraw its forces that are unauthorized in Iraq," he said.
Turkey deployed around 150 troops in the Bashiqa area earlier this month with the stated aim of training an Iraqi militia to fight ISIS. Turkey withdrew some troops this week, moving them to another base inside Iraq's Kurdistan region, but Baghdad said they should pull out completely.
Full report at:
https://english.alarabiya.net/en/News/middle-east/2015/12/19/Turkey-accuses-Iraq-of-undermining-ISIS-fight-.html
------------
UAE sending Colombian mercenaries to Yemen: sources
Dec 19, 2015
BOGOTA: The United Arab Emirates has secretly sent some 300 Colombian mercenaries to fight for it in Yemen, paying handsomely to recruit a private army of well-trained, battle-hardened South American soldiers, sources told AFP.
The sources, who spoke on condition of anonymity, said the Colombians' experience fighting leftist guerrillas and drug traffickers in their home country made them attractive recruits for the UAE, whose relatively inexperienced army is part of an Arab coalition helping Yemen's government fight a war against Huthi rebels.
"Colombian soldiers are highly prized for their training in fighting guerrillas," one source, a Colombian former army officer, told AFP in Bogota.
"Colombians have so many years of experience in war that they can take it."
The presence of Colombian troops in Yemen's bloody conflict further complicates what is already a messy proxy war pitting Iran, which backs the rebels, against a United States (US)-backed Arab coalition led by rival regional heavyweight Saudi Arabia.
Since the rebels began seizing large swaths of territory in July 2014, the conflict has left 6,000 dead and 28,000 wounded, many of them civilians, according to the United Nations (UN).
Colombian soldiers are frequently recruited by international private security firms for jobs in places like Iraq, Afghanistan and Sudan.
The source, a 48-year-old man who left the army in the late 1990s, was himself formerly employed by Blackwater, the controversial US company now known as Academi that was contracted by the Pentagon to provide military and security services in Iraq.
He was hired in 2004, amid what he called a "boom in the recruitment of Colombians to fight in Iraq," and has since worked in Afghanistan, the UAE, Qatar and Djibouti.
Latin Americans were popular with firms like Blackwater, he said: in all, 1,500 Colombians, 1,000 Peruvians, 500 Chileans and 250 Salvadorans were contracted in Iraq between 2004 and 2006.
He said that from around 2010 the UAE began recruiting Colombians for a private army it was forming at a base in the middle of the desert called Zayed Military City.
Prized as special forces commanders or Blackhawk helicopter pilots, the Colombians are paid around $3,300 a month — five times less than equivalent American contractors, but a small fortune by Colombian standards, he said.
"They were not recruited for combat missions. It was for security and protection missions. So they are not considered mercenaries," he said.
Extra $120 a day
But a month ago about 300 of the 3,000 Colombians recruited so far by the UAE "decided voluntarily" to go fight as full-fledged mercenaries in southern Yemen, based in the port of Aden, the source said.
Their deployment came after 30 Emirati soldiers were killed in Yemen in a missile attack blamed on the rebels.
The source said the UAE initially planned to send 800 Colombians but met resistance from the recruits, who complained that fighting in Yemen was beyond the scope of their original contracts.
Full report at:
http://www.dawn.com/news/1227422/uae-sending-colombian-mercenaries-to-yemen-sources
------------
Khomeini grandson registers for Assembly polls
December 19, 2015
DUBAI - A grandson of Iran's Ayatollah Ruhollah Khomeini registered on Friday for February's election of the Assembly of Experts, the clerical body that chooses the supreme leader, state broadcaster IRIB reported.
Full report at:
http://nation.com.pk/international/19-Dec-2015/khomeini-grandson-registers-for-assembly-polls
------------
Clashes, missiles leave Yemen truce in tatters
December 19, 2015
ADEN - A Yemen ceasefire appeared to have collapsed Friday as government forces captured two towns from rebels and an allied Arab coalition accused insurgents of escalating the conflict by firing ballistic missiles.
The truce has been repeatedly violated and the Saudi-led coalition warned it was close to abandoning the agreement, aimed at helping parallel UN-sponsored peace talks which opened Tuesday in Switzerland.
Delegates at the peace talks being held behind closed doors did not meet Friday as the rebels snubbed a morning meeting.
"Last night, they already expressed reservations," said a member of the government delegation, requesting anonymity.
Forces loyal to President Abedrabbo Mansour Hadi and allied tribesmen on Friday captured Hazm, the capital of northern Jawf province, after making significant gains in the neighbouring region of Marib, tribal sources said.
On Thursday, government troops captured the border town of Haradh after crossing over from Saudi Arabia, where they have been trained and equipped, military sources said.
About 1,000 soldiers are involved in the operation in Haradh, an official said, adding that "intensive fighting took place" in the town, which has a population of around 25,000 people.
He said dozens of renegade troops loyal to ousted president Ali Abdullah Saleh and allied with the Iran-backed Huthi rebels had been killed.
The advancing force has reached just a few kilometres (miles) away from the Red Sea port of Midi, which has been under rebel control since 2010, military sources said.
Also on Friday, pro-Hadi forces captured Jabal al-Salb area in Nihm district, sources in the pro-government Popular Resistance militia and witnesses said.
It was the loyalists' first territorial advance in Sanaa province.
The coalition, meanwhile, said Saudi air defences had intercepted a ballistic missile fired from Yemen and that a second missile struck a desert area east of the Saudi city of Najran.
It warned that the ceasefire would not hold if such violations persisted.
Although the alliance wants the Switzerland peace talks to succeed, "it will not adhere to the truce for long given the threat to the kingdom's territory", it said.
A spokesman for troops loyal to Saleh acknowledged firing two ballistic missiles.
But contrary to the coalition claim of shooting down a missile over Marib, Brigadier General Sharaf Luqman said a Tochka missile hit a base for "mercenaries" in Marib.
He said another missile, a Qahir-1, targeted an assembly point for "aggression forces" in Najran, adding that the missiles were launched in retaliation for coalition truce violations.
Clashes have been common along the border with Saudi Arabia, where rebel strikes have killed more than 80 people since March when the coalition campaign in support of the government began.
In 2014, the Huthis advanced from their northern strongholds before occupying government buildings in Sanaa in September that year and forcing Hadi into exile in Saudi Arabia months later.
Full report at:
http://nation.com.pk/international/19-Dec-2015/clashes-missiles-leave-yemen-truce-in-tatters
------------
Iran calls for global effort to beat Isis, end Syrian war
December 18, 2015
Iran has called on the US and Britain to "join hands" with Tehran in a common effort to defeat Islamic State and end the war in Syria.
In an intervention that will boost the chances of success of Friday's UN security council talks on Syria, Mohammad Javad Zarif, Iran's foreign minister, pledged support for a "concerted international effort" to win what he says has become a globally significant "existential battle".
"All must join hands to put into effect an immediate end to the bloodshed and vigorously focus on promoting an inclusive intra-Syrian political process, bringing together all Syrians," Zarif writes in an opinion piece published by the Guardian. "We must close ranks in the fight against extremist violence and terror, while abstaining from letting rage come in the way of necessary collective reflection and wisdom for a rational and joint response."
Zarif says the International Syria Support Group (ISSG), a panel of western and regional countries overseeing the peace process Iran was recently invited to join, has a crucial, collective role in ending the scourges of war and terrorism.
"Make no mistake: for the past four years, Syria has been ground zero in nothing short of a paramount fight for our future. I say 'our' – repeating the theme of a recent message by [Iran's supreme leader] Ayatollah Khamenei, who called the menace of perverted extremism 'our common worry' – because the world's fate is common," he said. "No one is immune from the consequences of the outcome of the existential battle that we need to fight."
Zarif's offer to join forces with the west comes at a critical moment: the UN and the ISGG member countries meet in New York in a bid to meet the 1 January deadline, set in Vienna last month, for beginning direct, formal talks between the regime of Syria's president, Bashar al-Assad, and opposition groups.
Iran, with Russia, is Assad's main backer, and has long maintained that only the Syrian people should decide how long he continues in power. The US and Britain, Saudi Arabia and its Gulf allies, and the main opposition parties insist Assad must step aside as part of a phased transition to a new national unity government.
In his remarks Zarif makes no mention of Assad, who is accused of killing tens of thousands of his people during nearly five years of bloody civil war, nor does he repeat Iran's previous insistence that the Syrian leader must remain in office pending new elections. Instead, he calls for an immediate ceasefire without preconditions.
What is needed urgently, he writes, is "dialogue between the Syrian government and the opposition groups who reject terrorism, a concerted and genuine international effort to uproot extremist violence, and a global campaign to address the humanitarian catastrophe now, and to rebuild Syria once the flames of war subside".
Iran has sent Revolutionary Guard troops and armed militia from its Lebanese ally, Hezbollah, to fight alongside Assad's army. But recent reports in the US have suggested it has begun to pull back its forces and may be reducing its overall military involvement as the peace process picks up speed.
Although it is unclear what Zarif means in practice by "joining hands", his remarks suggest Iran may be open in future to cooperation on the ground on security issues in Syria as well as on political and diplomatic considerations.
His offer will also encourage those in Barack Obama's administration who argued, against Israeli objections, that resolving the nuclear dispute could lead to a broader rapprochement with Iran, resulting in Tehran playing a more constructive, collaborative role in regional affairs.
Full report at:
http://nation.com.pk/international/18-Dec-2015/iran-calls-for-global-effort-to-beat-isis-end-syrian-war
------------
Israeli troops kill three Palestinians in West Bank, Gaza clashes
18 December 2015
Israeli soldiers shot dead a Palestinian who tried to ram them with a car and another who took part in a violent demonstration in the occupied West Bank on Friday, the military and medical officials said.
In the Gaza Strip, Israeli army fire killed another Palestinian during a border protest, medics said.
A campaign of stabbings, shootings and car-rammings by Palestinians has killed 19 Israelis and a U.S. citizen since October. Israeli forces or armed civilians have killed at least 117 Palestinians, 69 of whom authorities described as assailants.
The army said a motorist tried to run over Israeli soldiers during a violent demonstration by Palestinians near the West Bank town of Silwad. An Israeli police spokeswoman said the Palestinian had a knife with him in the car.
In the West Bank city of Ramallah, medical officials said a Palestinian was shot and killed by Israeli troops during a violent protest.
Full report at:
https://english.alarabiya.net/en/News/middle-east/2015/12/18/Police-Attempted-W-Bank-car-ramming-Palestinian-attacker-shot.html
------------
Erdogan to visit on Dec. 29
19 December 2015
RIYADH: Turkish President Recep Tayyip Erdogan will visit the Kingdom on Dec. 29. He will meet with Custodian of the Two Holy Mosques King Salman and discuss means of strengthening relations between the two countries politically, economically, militarily and culturally.
Full report at:
http://www.arabnews.com/saudi-arabia/news/852661
------------
North America
Crimes against Muslim Americans and mosques rise sharply: NYT
December 19, 2015
WASHINGTON - Hate crimes against Muslim Americans and mosques across the United States have tripled in the wake of the terrorist attacks in Paris and San Bernardino, California, with dozens occurring within just a month, according to new data.
The spike includes assaults on hijab-wearing students; arsons and vandalism at mosques; and shootings and death threats at Muslims-owned businesses, an analysis by a California State University research group said.
President Obama and civil rights leaders have warned about anecdotal evidence of a recent Muslim backlash, particularly in California. But the analysis is the first to document the rise, amid a crescendo of anti-Islamic statements from politicians.
"The terrorist attacks, coupled with the ubiquity of these anti-Muslim stereotypes seeping into the mainstream, have emboldened people to act upon this fear and anger," said Brian Levin, a criminologist at California State University, San Bernardino.
Levin runs a hate-crimes research group at the university, the Center for the Study of Hate and Extremism, which produced the analysis and provided the results to The New York Times. In recent years, there has been an average of 12.6 suspected hate crimes against Muslims in the United States a month, based on F.B.I. data analysed by the research group.
But the rate of attacks has tripled since the attacks in Paris on Nov. 13 by Islamic State operatives, with 38 attacks regarded as anti-Islamic in nature, according to the analysis, which was based on reports from the news media and civil rights groups.
Eighteen of the episodes have come since the shooting in San Bernardino on Dec. 2 by a Muslim couple who were supporters of the Islamic State, also known as ISIS or ISIL, which left 14 people dead.
The frequency of the recent attacks has not reached the levels seen in the immediate aftermath of the terrorist attacks of Sept. 11, 2001, when there were hundreds of attacks on Muslims, and some Sikhs mistaken for Muslims, but Mr. Levin said they were similar types of hate-crime attacks.
"I'm saddened by this but not surprised," he said. "Whenever we see intergroup conflicts making headlines, we often see a spike in hate crime accompanying it."
A week after the Paris attacks, a sixth-grade girl in the Bronx was reportedly attacked by three boys who tried to take off the hijab she was wearing, punched her and called her "ISIS."
Full report at:
http://nation.com.pk/international/19-Dec-2015/crimes-against-muslim-americans-and-mosques-rise-sharply-nyt
------------
UNSC moves to choke off IS money supply
December 19, 2015
UNITED NATIONS - The United Nations Security Council (UNSC) on Thursday moved to squeeze money-making schemes of the Islamic State and other terrorist groups, urging a stronger international effort to block the terror group's profits from oil, antiquities, human trafficking, shakedowns and other illicit activities.
The unanimous vote, in a first-ever meeting of finance ministers, US Treasury Secretary Jack Lew, who presided over the 15-member body, added IS to an existing resolution that identifies the world's most dangerous terror organisations. The updates require United Nation member countries to move more forcefully to stem IS funding sources, freeze the assets and travel of IS members, and share information about the group's support networks.
"Preventing and disrupting financial flows must be at the centre" of the fight against ISIS, said Je-Yoon Shin, who heads the UN' Financial Action Task Force, which sets international standards on countering terrorist financing.
The updated resolution, co-sponsored by the US and Russia, also calls on countries to criminalise financial transactions related to terrorism, not just terrorist activity, and adopt international standards to counter terrorist financing and report back to the UN on their progress. It called for enhanced actions, from closing financial system loopholes to stopping the abuse of charitable causes, as well as updating the existing ISIL and Al-Qaeda Sanctions List.
It stressed that already existing resolutions mandating States to ensure that financial assets are not transferred to terrorists by persons within their territory "shall also apply to the payment of ransoms to individuals, groups, undertakings or entities on the ISIL (Da'esh) and Al-Qaeda Sanctions List regardless of how or by whom the ransom is paid."
The resolution called for increased international cooperation in sharing information and closer collaboration with the private sector to identify suspect transactions.
The Council also called on member states to promote enhanced vigilance by persons within their jurisdiction to detect any diversion of explosives and raw materials and components that can be used to manufacture improvised explosive devices or unconventional weapons, including chemical components, detonators, detonating cord, or poisons.
"They (the terrorists) are agile and have been far too successful in attaining resources for their heinous acts," the UN chief told the Council at the start of the debate. "As Da'esh and other terrorist groups disseminate their hateful propaganda and ratchet up murderous attacks, we must join forces to prevent them from acquiring and deploying resources to do further harm," he stressed.
"We know the challenge before us. Terrorists take advantage of weaknesses in financial and regulatory regimes to raise funds. They circumvent formal channels to avoid detection, and exploit new technologies and tools to transfer resources. They have forged destructive and very profitable links with drug and criminal syndicates – among others. And they abuse charitable causes to trick individuals to contribute," the UN chief said.
He noted that progress has been made over the years in identifying and limiting various methods of terrorist financing, with Member States ratifying the International Convention on the Suppression of the Financing of Terrorism and adopting legislation to criminalize terrorist financing and strengthen regulatory systems. "Still, more needs to be done," Ban stated. "Terrorists continue to adapt their tactics and diversify their funding sources. Today, Da'esh runs a multi-million dollar economy in territories under its control. Da'esh terrorists raise money through the oil trade, extortion, undetected cash couriers, kidnapping for ransom, trafficking of humans and arms and racketeering," he said.
Full report at:
http://nation.com.pk/international/19-Dec-2015/unsc-moves-to-choke-off-is-money-supply
------------
Social media sites don't need government to shut down terrorists
December 13, 2015
FOLLOWING THE terrorist attacks in Paris and San Bernardino, Calif., President Obama and French officials have said they want U.S. technology companies to do more to resist becoming terrorist tools. Congress, too: Sen. Dianne Feinstein (D-Calif.) quickly reintroduced a bill that would require social media firms to report "any terrorist activity" — vaguely defined — to U.S. authorities.
But when it comes to cracking down on social media, governments must tread carefully.
Advocates for strong intervention cite child pornography as an analogy. Social media sites use special software that compares uploaded photos against a database of images kept at the National Center for Missing & Exploited Children. The system can automatically block offending material.
But weeding out terrorism-related communications is significantly harder. For one thing, groups such as the Islamic State continually produce content, and the system can block only material it knows to look for. Videos, too, are harder to weed out than still images. More importantly, there are legitimate reasons someone might share material that contains an image of, say, an Islamic State attack: It's news. Sometimes there is a clear line between content that serves to recruit, retain and train would-be terrorists and material that is part of a debate about current events that are brutal but can't be ignored. Sometimes finding the line requires more judgment than an algorithm can exercise. Sometimes an uncomfortable balance must lean on the side of free speech.
States such as Russia use the pretext of combating extremism to justify all sorts of censorship. According to a former Facebook staffer interviewed by Reuters, Russian-speaking Facebook users repeatedly tagged pro-Western Ukrainian accounts for hate speech in an apparently coordinated effort to have their pages limited or removed. On a smaller and less nefarious scale, overzealous law enforcement officers in Western countries would also likely get the balance wrong sometimes.
In this context, Ms. Feinstein's bill is worrying. Important debate will be inhibited if people fear that Facebook will report them for typing the wrong keywords. To avoid legal liability, social media companies might overreport — or, conversely, do less monitoring for terrorist content in order to claim that they are not government tools that add names to watch lists. Because these are public forums, the government can largely see what's on them. In fact, it may be more productive to focus on getting more information about possible terrorist activity flowing more quickly to the social media companies hosting it. They can then evaluate whether users are violating terms-of-service agreements.
Full report at:
https://www.washingtonpost.com/opinions/social-media-sites-dont-need-government-to-shut-down-terrorists/2015/12/11/90c5fe86-a029-11e5-8728-1af6af208198_story.html
------------
Mother of Sikh student in US asks bomb threat charges be dropped
Dec 19, 2015
The mother of a Sikh middle school student accused of threatening to detonate a bomb at his Texas school is asking police to drop charges, saying that her son never made such a threat.
Armaan Singh, 12, was arrested Dec. 11 after police said he admitted to making the threat while they were questioning him without his parents present. He spent three days in juvenile detention before being released and placed under house arrest with ankle monitor. He also was suspended from school.
His mother, Gurdeep Kaur, said a classmate asked whether a battery in Armaan's backpack was a bomb, and that he said it wasn't, but the classmate told the teacher he said it was.
There was no bomb in the backpack.
Kaur said the family didn't learn of Armaan's arrest until hours after it happened. She told The Associated Press that she panicked when he didn't come home from school, and after searching the apartment complex, they went to the school to look for him. She said they called the principal, who told them Armaan had been taken into custody.
"She told them that he was with the police but she didn't know which facility," said Arlington schools spokeswoman Leslie Johnston.
Kaur said the family finally learned Armaan was in the detention center four hours after his arrest when they called police.
She said when they arrived at the detention center late Friday, Armaan, who has had three open-heart surgeries, asked to be taken home. But she said there was no judge available to arrange his probation.
Full report at:
http://indianexpress.com/article/world/world-news/mother-of-sikh-student-in-us-asks-bomb-threat-charges-be-dropped/
------------
Virginia school closes as parents protest over teacher's controversial Arabic assignment
Dec 19, 2015
A rural Virginia school district canceled classes and a holiday concert after being flooded with angry messages over a school calligraphy lesson that involved copying a Muslim statement of faith in Arabic.
Tens of thousands of emails and Facebook posts have been received, some "threatening and very profane in nature," said Augusta County Sheriff Randall D. Fisher. No specific threats have been made, though Fisher said he has dedicated an investigator to comb through the messages as a precaution.
Augusta County school officials said in a statement that they canceled the events, including athletics and a fundraiser, as a cautionary measure after consulting law enforcement and the school board.
Anger over the lesson has escalated since a teacher at Riverheads High School gave students an assignment that involved practicing calligraphy and writing a statement in Arabic —the Shahada, a profession of faith recited in Muslims' daily prayers. It is omnipresent in religious imagery, often appearing on the walls of mosques and in religious art, but also on the flags of groups such as the Islamic State.
As part of a study of the Middle East, a teacher instructed her students to copy a Muslim statement of faith written in Arabic and intended to show the complexity of calligraphy, the school superintendent told the News Leader newspaper.
The statement translated to: "There is no god but Allah and Muhammad is the messenger of Allah." The teacher's lesson was drawn from instructional material that also includes Judeo-Christian assignments.
At a forum Tuesday, one parent said the assignment promoted a false religious doctrine, while other parents expressed outrage. Some demanded the teacher be fired.
A Facebook group supporting LaPorte had more than 2,000 members on Friday. Many commenters defended LaPorte and the school district.
LaPorte said she had received overwhelming support from former students, colleagues and others in the community.
"All I want now is time for our community to heal," she said in an email to Reuters.
School officials said the aim of the lesson was to illustrate the complexity of the written Arabic language, not to promote any religious system.
"We regret having to take this action, but we are doing so based on the recommendations of law enforcement and the Augusta County School Board out of an abundance of caution," the school district statement said.
Full report at:
http://indianexpress.com/article/world/world-news/virginia-school-forced-to-close-over-teachers-controversial-arabic-assignment/
------------
Obama says Assad must go for peace in Syria
Dec 19, 2015
WASHINGTON: United States President Barack Obama on Friday reaffirmed US insistence that Syria's President Bashar al-Assad step down, warning there can be no peace in Syria without a legitimate government.
"I think that Assad is going to have to leave in order for the country to stop the blood(shed), for all the parties involved to be able to move forward in a nonsectarian way," Obama said at a year-end news conference.
"He has lost legitimacy in the eyes of the country."
Obama spoke as US Secretary of State John Kerry and Russian Foreign Minister Sergei Lavrov held a meeting of foreign ministers in New York to discuss a political settlement to the nearly five year-old war.
A UN draft resolution was to be presented at the UN Security Council later in the day that calls for Syrian peace talks to begin in early January.
Obama said Assad's remaining in power, after having chosen to "slaughter" his people rather than pursue an inclusive political transition, "is not feasible."
"As a consequence, our view has been that you cannot bring peace to Syria, you cannot get an end to the civil war unless you have a government that it is recognised as legitimate by a majority of that country. It will not happen," he said.
Full report at:
http://www.dawn.com/news/1227379/obama-says-assad-must-go-for-peace-in-syria
------------
After terror strikes, Congress restricts visa-free travel
December 19, 2015
WASHINGTON - Congress on Friday tightened the program that allows millions of foreign nationals to travel visa-free to the US, as lawmakers demand heightened security following terrorist attacks in Paris and California.
The restrictions were part of a sprawling federal spending bill and tax relief package that easily passed the Senate shortly after earlier clearing the House and now heads to President Barack Obama's desk for his signature. It bars people who are citizens of the 38 countries that participate in the Visa Waiver Program (VWP) and who are also dual nationals from Iran, Iraq, Syria and Sudan from using the visa-free system. It also prevents those who have travelled to those four countries since 2011, or to a country Washington has listed as supporting terrorism, from participating, deeming them a risk and requiring them to apply for a standard visa.
Meanwhile, US authorities arrested Thursday a man who bought the assault rifles used in the San Bernardino massacre that left 14 people dead, charging him with plotting terror attacks with Syed Farook, who was behind the rampage. Enrique Marquez, 24, was charged with conspiring with Farook - a longtime friend and former neighbor - to commit two terrorist attacks in 2011 and 2012, though neither plot was ever carried out.
The effort reflects calls by US lawmakers and authorities to reduce security vulnerabilities in the aftermath of the deadly terror strikes last month in Paris, where some of the attackers were French and Belgian nationals who could have traveled unrestricted to the United States to carry out attacks. The affected foreign nationals will not be barred from travelling to the US, but they will be required to obtain a visa prior to their visit through standard means, which includes a face-to-face interview at a US consulate.
About 20 million people each year come to the United States without a visa for stays of less than 90 days, including about 13 million Europeans.
They apply online, presenting biographical data through the Electronic System for Travel Authorization, or ESTA, and pay a small fee.
European diplomats, led by European Union ambassador to Washington David O'Sullivan, have warned of potential retaliation against the United States, arguing the program is based on reciprocity.
Full report at:
http://nation.com.pk/international/19-Dec-2015/after-terror-strikes-congress-restricts-visa-free-travel
------------
Turkish FM meets UN chief in New York
19 December 2015
Turkish Foreign Minister Mevlut Cavusoglu held face-to-face talks with UN Secretary-General Ban Ki-moon in New York on Friday.
According to diplomatic sources, Cavusoglu and Ban discussed the outcome of Friday's international talks on Syria, as well as conflicts in the Middle East and the Cyprus peace process.
Ban stressed on the importance of a political transition process on the path to achieving a political solution to the Syrian conflict, which has left more than 250,000 victims dead since 2011.
Full report at:
http://www.worldbulletin.net/america-canada/167557/turkish-fm-meets-un-chief-in-new-york
------------
Southeast Asia
PAS 'bridge builder' continues to foster Muslim-Christian ties
BY LOOI SUE-CHERN
19 December 2015
The man who facilitated a visit by a group of Catholic priests to a mosque in Kepala Batas on Monday anticipated backlash but, so far, has not received any.
He said he expected negative comments over the visit organised by the Penang PAS Lajnah Dakwah bureau, of which he is deputy chairman, once news of it got out.
"I know there are some negative remarks about the visit but thankfully, the response has been mainly good," he told The Malaysian Insider.
The visit to Masjid Abdullah Fahim in Bertam was led by Penang Bishop Sebastian Francis himself.
Present were the mosque imam, Penang PAS leaders and representatives from the Penang Islamic Council.
The priests were given a tour of the mosque and given a demonstration on how Muslims performed ablutions and their prayers.
There were no discussions on heavy topics, such as the "Allah" issue or the recent controversy surrounding Universiti Teknologi Mara which conducted an anti-Christian seminar in its Malacca campus.
Rahman, who is Tasek Gelugor PAS division national unity committee chief, said it was sort of a "payback" visit because whenever the party held engagements with the churches, these were always at churches.
With his good relationship with Bishop Francis, he suggested the mosque visit and tour, which was received positively by the latter.
"It was a visit to foster friendship, promote better understanding and mutual respect between our communities. It also gave us the chance to extend our Christmas greetings to the priests," said the PAS grassroots leader.
Rahman, a 59-year-old businessman, has good ties with Catholic churches in the northern states and his friendship with Sebastian even saw the latter attending his son's wedding in his kampung about three years ago.
Rahman has been the man behind many meetings between PAS and churches. He fixed the meeting between Sebastian and the late PAS spiritual leader Datuk Nik Abdul Aziz Nik Mat two years ago in Penang.
Last month, he also arranged a meeting between former Archbishop of the Roman Catholic Archdiocese of Kuala Lumpur Tan Sri Murphy Pakiam and Francis with Kelantan Menteri Besar Datuk Ahmad Yakob.
Rahman was also behind interfaith dialogues between PAS leaders and Christians in churches, although he has kept a low profile as he is not an office-bearer in the party central leadership or an elected rep.
However, he was always part of the PAS delegation whenever former PAS central leaders, such as Datuk Dr Mujahid Yusof Rawa and Dr Dzulkefly Ahmad, spoke at dialogues with parishioners.
Both Mujahid and Dzulkefly have since left PAS for Amanah, but Rahman is continuing the struggle to foster peace and harmony with communities of other faiths.
Rahman, who began engaging churches three years ago, admitted that it was not so easy to organise such a visit like the one on Monday because not all imams were open to the idea of having non-Muslims tour their mosques, let alone priests in their cassocks.
He said he once heard a complaint from a church councillor that non-Muslims were barred from entering a mosque, and he felt hurt.
"In other Muslim countries like Jordan, people of other faiths are welcomed to visit mosques. I want to show that we are not like that.
"I want to show people that we can all be brothers. That is my motto," he said, adding that even during the time of Prophet Muhammad, negotiations with non-Muslims were also done in mosques.
Full report at:
http://www.themalaysianinsider.com/malaysia/article/pas-bridge-builder-continues-to-foster-muslim-christian-ties
------------
China supports Saudi-led counter-terrorism efforts
December 18, 2015
ISLAMABAD: China expressed has expressed its willingness to support Saudi Arabia-led efforts to combat terrorism and strengthen regional cooperation for peace, said Foreign Ministry Spokesperson Hong Lei's Regular Press Conference today.
To a question, the spokesman said, "China supports the efforts made by Saudi Arabia and other countries in combating terrorism, and hopes that the international community can enhance communication and coordination to join hands in fighting terrorism and jointly maintain international and regional peace and stability."
Full report at:
http://nation.com.pk/international/18-Dec-2015/china-supports-saudi-led-counter-terrorism-efforts
------------
Amanah vows not to scare non-Muslims off Islam
BY SIRA HABIBU
7 December 2015
PETALING JAYA: Parti Amanah Rakyat has vowed not to create fear of Islam among non-Muslims by focusing on punitive actions such as hudud laws.
Its secretary-general Anuar Tahir said that while the party professed to be an Islamist party, its focus would be on the larger objective of syariah such as peace, harmony and safeguarding human dignity.
"We do not want to frighten people with the punishment aspects of the religion. Thus our focus will be more on the broader aspect of syariah that promotes freedom of expression, freedom of association and the right to live in peace and harmony.
"We will also be pushing for usury-free banking system, among others," he said.
Anuar said within three months of it being established, Amanah had successfully set up 119 divisions and attracting members, which also included non-Muslims.
He said so far Amanah had attracted more than 50,000 new members, of which 5% were non-Muslims.
Full report at:
http://www.thestar.com.my/news/nation/2015/12/07/amanah-vows-not-to-scare-nonmuslims-off-islam/
------------
Islamic State supporter posts death threat against G25's Noor Farida
BY BOO SU-LYN
December 19, 2015
KUALA LUMPUR, Dec 19 — A man with a Facebook profile picture showing him in a shirt with the Islamic State (IS) logo has posted a death threat against G25 representative Datuk Noor Farida Ariffin on the social networking site amid controversy over her criticism of khalwat laws.
Facebook user Al Mujahid Arman also has a previous profile picture that shows a man holding an assault rifle with a flag bearing the logo of the terrorist group in the background.
"Halal darahnya untuk di bunuh," Al Mujahid said in a December 11 comment on a poster posted in the Facebook community called "Bongkar Ajaran Sesat" (Expose Deviant Teachings).
The English translation is: "It's permissible to shed her blood".
The poster posted by the Bongkar Ajaran Sesat Facebook community administrator on December 10 showed a picture of Noor Farida and listed 10 teachings it attributed to the spokesman of the pro-moderation group of retired Malay senior civil servants, implying that she was "deviant" by calling her "Bonda Pin".
Among the teachings it accused Noor Farida of perpetuating was permitting unmarried Muslim couples to be in close proximity (khalwat), permitting Muslims to drink whisky, allowing cross-dressing and protecting the rights of the lesbian, gay, bisexual and transgender (LGBT) community.
Noor Farida told Malay Mail Online in an immediate response that she would lodge a police report on the death threat.
"The police should nab him," she said.
The former Sessions Court judge has received a backlash from conservative Malay-Muslim leaders over her recent call to review Shariah laws that prohibit khalwat, with some even warning G25 that it may be declared deviant if it continues perpetuating such views. The police are also investigating Noor Farida for sedition over her statement on khalwat laws.
A man also recently threatened on his Facebook page to break into Noor Farida's home and rape her.
Full report at:
http://www.themalaymailonline.com/malaysia/article/islamic-state-supporter-posts-death-threat-against-g25s-noor-farida
------------
Malaysia's first Shariah-compliant airline to start flying tomorrow
December 19, 2015
KUALA LUMPUR, Dec 19 — Malaysia's first Shariah-compliant airline Rayani Air is scheduled to begin operations tomorrow, with its maiden flight from klia2 here to its home base in Langkawi.
Local broadcaster Astro Awani reported Rayani Air managing director Jaafar Zamhari as saying that the airline, which he said is full service like national carrier Malaysia Airlines, only serves halal food and does not serve alcohol.
"It is compulsory for our Muslim women cabin crew to wear hijab and for non-Muslim to wear a decent uniform," Jaafar was quoted saying at a press conference yesterday.
"We also recite doa (prayers) before the departure of each flight, we have a 'no-alcohol' policy, and we provide food and beverages that are halal," he added.
Full report at:
http://www.themalaymailonline.com/malaysia/article/malaysias-first-shariah-compliant-airline-to-start-flying-tomorrow
------------
Do not discriminate against converts, Dr Mahathir tells Muslims
18 December 2015
Dr Mahathir, who is the patron of the Muslim Welfare Organisation of Malaysia (Perkim), said Muslims should treat new converts as brothers.
"There should be no discrimination. Sometimes we feel that they are 'second- class Muslims'. That is wrong. There is no difference between one Muslim and another except from the view of 'taqwa' (piety or fear of Allah).
"That (taqwa) is the only thing that differentiates us," he told reporters after delivering a speech at the Perkim Multiracial Muslim Regional Seminar in Putrajaya today.
Full report at:
http://www.themalaysianinsider.com/malaysia/article/do-not-discriminate-converts-dr-mahathir-tells-muslims
------------
IGP should be more 'professional' over UiTM's anti-Christianisation seminar, former judge says
BY MAYURI MEI LIN
December 19, 2015
KUALA LUMPUR, Dec 19 — National police chief Tan Sri Khalid Abu Bakar should have been more "neutral" and "professional" when he said there was nothing wrong with the police speaking at an anti-Christianisation forum at a public university, a former judge said today.
Retired Court of Appeal judge Datuk Mohd Hishamudin Mohd Yunus also said Universiti Teknologi Mara (UiTM) should not be promoting religious division, but should instead be encouraging students to learn about other faiths.
Full report at:
http://www.themalaymailonline.com/malaysia/article/igp-should-be-more-professional-over-uitms-anti-christianisation-seminar-fo
------------
Zahid: Home Ministry to cooporate with Jakim to probe man who claims to be 'Imam Mahdi'
December 19, 2015
MIRI, Dec 19 ― The Home Ministry is ready to cooperate with the Islamic Development Department of Malaysia (Jakim) to stop the activities of an Indonesian, Muhammad Zubir Amir Amir Abdullah who claimed to be Imam Mahdi (the Messiah to come at the time of the Last Judgement to save the world).
Deputy Prime Minister Datuk Seri Dr Ahmad Zahid Hamidi said that the ministry was fully aware and respect that religion was a state matter, but if it was asked to take appropriate action against the man, it was ready to do so.
"I wish to state that deviant teachings among Muslims began to spread when there is liberalisation policy by desired by some NGOs (non-governmental organisations).
"To me, we should not be trying to compromise as the matter of faith is something which must be held by Muslims, when a person claimed that he is Imam Mahdi or someone like that, they are trying to deflect the faith of Muslims," he told reporters after launching the Immigration Day 2015 here today.
Full report at:
http://www.themalaymailonline.com/malaysia/article/zahid-home-ministry-to-cooporate-with-jakim-to-probe-man-who-claims-to-be-i
------------
Africa
AU after sending 5,000 peacekeepers to Burundi
Dec 18, 2015
The African Union (AU)'s Peace and Security Council has proposed to dispatch 5,000 peacekeepers to Burundi amid the deadly violence that has killed hundreds in the country.
According to an unnamed diplomat, the decision was made late Thursday. Burundi says a peacekeeping mission is not needed.
"We have authorized the deployment of a 5,000-man force for Burundi whose mandate includes the protection of civilians," the diplomat from a member state of the council said.
The proposal, which is still a draft, should first receive the approval of the UN Security Council.
The move marks the first time that the AU is invoking Article 4 of its charter, under which it is entitled to deploy a force without a country's consent.
The diplomat said the East African Standby Force (EASF) would make up the mission, called the African Prevention and Protection Mission in Burundi. The force is to be tasked with protecting civilians and paving the way for dialogue in Burundi.
The current political crisis in Burundi is rooted in a conflict between supporters of President Pierre Nkurunziza and his opponents who say his re-election in July for a third term violated the constitution.
Last week, nearly 90 people were killed when armed men attacked three military facilities in the capital, Bujumbura.
Full report at:
http://www.presstv.ir/Detail/2015/12/18/442237/Burundi-African-Union-EASF-peacekeepers
------------
Niger government foils coup attempt
18 December 2015
The government of Niger has foiled a coup attempt, the country's president has announced.
In an address on national television, Nigerien President Mahamadou Issoufou described the alleged coup attempt as "treason". He added that an investigation was underway and the situation in the country remained in his control.
"The government had an unfortunate attempt to thwart destabilization. The aim of these individuals ... was to overthrow the democratically-elected government," the president said.
He did not reveal the identity of the alleged coup plotters, but he did say that all but one of the culprits involved had been arrested. He also said the government was going to identify all the people involved in "this crazy adventure".
A security source told Anadolu Agency on condition of anonymity that several senior military officers involved faced arrest in the case.
The latest alleged coup attempt comes only two months before the presidential election in Niger. This is the second time since 2011 that Issoufou claimed having escaped a coup attempt.
Full report at:
http://www.worldbulletin.net/africa/167528/niger-government-foils-coup-attempt
------------
Not clear if Nigeria cleric alive: Son
Dec 18, 2015
Ibrahim al-Zakzaky's son says his family has not been able to contact the Nigerian Shia leader since his arrest by the country's forces earlier in the week.
"We are concerned [Mr. Zakzaky may not be alive]. We want a doctor to speak to him who we can trust," New York-based news agency Sahara Reporters, which tracks developments in Nigeria, cited the son as saying in a Thursday report.
The news agency also said that Zakzaky's family has not been able to speak to any officials who have had contact with the Shia cleric.
Nigerian forces raided the house of the head of the Islamic Movement of Nigeria in the country's northern city of Zaria, in Kaduna state, on Sunday and arrested him after reportedly killing individuals attempting to protect him, including one of the movement's senior leaders and its spokesman. According to media reports, dozens of people are believed to have been killed in the raid.
Full report at:
http://www.presstv.ir/Detail/2015/12/18/442179/Nigeria-Zakzaky-Zaria-Buratai-Islamic-Human-Rights-Commission
------------
Europe
NATO allies to give "military package" for Turkey
19 December 2015
NATO allies have decided to provide Turkey with increased air defense following the downing of a Russian warplane on Nov. 24.
"NATO Allies have just decided on a tailored package of assurance measures for Turkey in view of the volatile situation in the region," a NATO official told Anadolu Agency on Friday.
The package includes enhanced air policing and increased naval presence, including port calls, exercises and maritime patrol aircraft, in the Eastern Mediterranean.
"We will continue to augment Turkey's air defenses with defensive anti-missile systems," the official said. "Allies will also deploy aircraft to support Turkey's air defenses on a bilateral basis."
Full report at:
http://www.worldbulletin.net/europe/167553/nato-allies-to-give-military-package-for-turkey
------------
Britain: U.N. backing of Syria plan a 'great step forward'
19 December 2015
The U.N. Security Council's backing for a plan to end the civil war in Syria is a "great step forward" for resolving the crisis, British Foreign Secretary Philip Hammond said Saturday.
The plan could potentially bring about a ceasefire as early as January.
The U.N. Security Council gave its unanimous support Friday to the plan which would summon rebels and President Bashar al-Assad's regime to the negotiating table.
"Syria has for too long been the world's biggest humanitarian and security crisis," Hammond said in a statement issued in London.
Full report at:
https://english.alarabiya.net/en/News/world/2015/12/19/Britain-U-N-backing-of-Syria-plan-a-great-step-forward-.html
------------
Russia opens black box of jet downed by Turkey
Dec 19, 2015
MOSCOW: In the presence of foreign experts, Russian officials on Friday opened the damaged black box of a warplane shot down by Turkey last month, promising a transparent probe into the incident.
Officials warned that the memory card sustained damage as they opened the orange-painted flight recorder, with British and Chinese experts observing the procedure.
Wearing lab coats and gloves, technicians used screwdrivers, drills, and even a vacuum cleaner as they opened the device under the watchful eyes of military personnel and dozens of journalists in a live national television broadcast.
"Our specialists extracted the memory card, but unfortunately it sustained mechanical damage," said Sergei Bainetov, the deputy head of flight safety in the Russian armed forces, without elaborating on whether flight data could have been lost.
"The commission will discuss the situation calling upon international observers," he added.
The military said the black box had sustained damage, including multiple scratches and dents, but had not been exposed to the fire at the crash site. The black box's findings will be revealed on Monday, the air force said.
Full report at:
http://www.dawn.com/news/1227298/russia-opens-black-box-of-jet-downed-by-turkey
------------
EU leaders tackle terrorism in wake of Paris attacks
18 December 2015
EU leaders vowed on Friday to step up the fight against terrorism in the wake of the Paris attacks, wrapping up a dramatic 2015 plagued by a series of crises.
Leaders of the bloc's 28 member states assembled in Brussels for their last summit of a year which opened with the threat of a Greek exit from the euro and ended with a refugee crisis of historic proportions as well as Britain facing its own possible "Brexit" from the European Union.
"I am under no illusions," said European Commission head Jean-Claude Juncker as he arrived for the second day of the talks when asked on his hopes for a smoother 2016.
This year was also marked by deadly attacks in Paris but also in Copenhagen, with the threat by violent and often homegrown extremists affecting all of Europe.
"I have never lived such a year that starts with terror and finishes with terror, that is marked by fear and deep crises," said European Parliament head Martin Schulz after the first day of talks.
The extremist violence began in January with the shocking assault by French nationals against satirical newspaper Charlie Hebdo in Paris, followed by another assault in Copenhagen only a few week later, and then the November attacks in the French capital in which 130 people were killed.
The 28 leaders on Friday were to discuss ways to better pitch the battle against ISIL after the massacres.
In a draft of the summit conclusions leaders vowed to press on with a series of proposals made in February that have since remained stuck in the EU's legislative pipeline.
These measures, which include a controversial plan to track airline passenger names in close coordination with the United States, "need to be urgently implemented", the statement said.
European authorities have grappled with revelations that several of the extremists behind the attacks were already known to police and had travelled freely across Europe in the months before their assaults.
- 'Good progress' -
On Thursday British Prime Minister David Cameron laid out his plans at a summit dinner on how he intended to keep Britain in the EU in return for a difficult reform deal with his European partners.
He appealed to them to work with him on his demands including a freeze on benefits for EU migrants, before he holds a referendum on a possible "Brexit" by the end of 2017.
"Really good progress has been made but it is going to be tough," Cameron told a news conference.
EU President Donald Tusk said the other 27 leaders agreed to work for a compromise despite reservations and would finish the talks at a summit in February.
Germany's powerful Chancellor Angela Merkel held open the possibility that the EU's founding treaties could be changed at a later date to accommodate Conservative leader Cameron's demands.
Full report at:
http://www.worldbulletin.net/europe/167539/eu-leaders-tackle-terrorism-in-wake-of-paris-attacks
------------
German secret service in talks with Syrian spies
18 December 2015
Germany's foreign intelligence service BND has resumed cooperation with the Syrian secret service in the fight against extremists, according to a newspaper report Friday.
The BND did not immediately comment on the report by Bild newspaper which comes as Berlin and other Western governments shun official cooperation with Syrian President Bashar al-Assad over his regime's abuses.
The mass-circulation daily, citing unnamed "informed sources", said BND agents had been travelling regularly to Damascus for talks with their Syrian counterparts and that the service wanted to reopen an office there.
A spokeswoman for Chancellor Angela Merkel also declined comment at a press conference on any operational details of the BND's activities.
Bild said the aim of the contact was to exchange information on extremists, and to open a channel of communication in the event of a crisis, such as a German Tornado pilot being shot down over territory held by extremists.
Germany has deployed Tornado surveillance aircraft and other non-combat military support to the US-led coalition fighting the extremist ISIL group, which controls wide areas of Syria and Iraq.
Full report at:
http://www.worldbulletin.net/europe/167543/german-secret-service-in-talks-with-syrian-spies
------------
EU leaders vow to stop refugee flows
18 December 2015
EU heads of government on Friday vowed to step up measures to stem the flow of refugees coming to the 28-nation bloc.
Facing the worst refugee crisis since World War II, the EU responded with plans to set up a new border and coast guard force and improving cooperation with neighboring non-EU states.
"Implementation is insufficient and has to be speeded up," the European Council said in a statement. "For the integrity of Schengen to be safeguarded it is indispensable to regain control over the external borders."
The Schengen zone is Europe's border-free area that encompasses most EU members.
After meeting in Brussels on Thursday and Friday, EU leaders agreed to conduct systematic checks on their country's borders and to step up measures against human trafficking.
The EU summit followed the European Commission's unveiling of the new European Border and Coast Guard, which will have more resources and greater powers than Frontex, the current EU-wide border force.
Full report at:
http://www.worldbulletin.net/europe/167549/nato-allies-to-give-military-package-for-turkey
URL: https://www.newageislam.com/islamic-world-news/new-age-islam-news-bureau/dont-speak-india-nawaz-sharif-tells-his-ministers/d/105666
New Age Islam, Islam Online, Islamic Website, African Muslim News, Arab World News, South Asia News, Indian Muslim News, World Muslim News, Womens in Islam, Islamic Feminism, Arab Women, Womens In Arab, Islamphobia in America, Muslim Women in West, Islam Women and Feminism