New Age Islam News Bureau
6 Nov 2015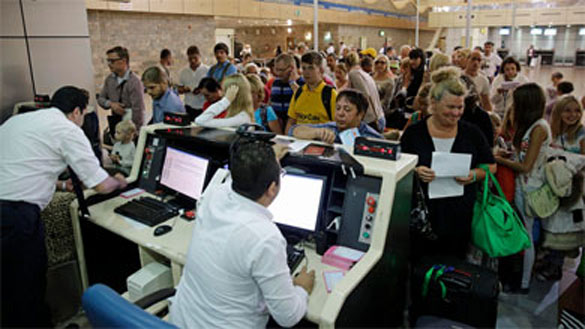 Russian tourists check in as they prepare to depart for St.Petersburg, Russia from Sharm el-Sheikh International Airport, south Sinai, Egypt, Thursday, Nov. 5, 2015 (File photo: AP)
--------------
India
• Don't Misinterpret Quran to Have More Than One Wife, Says Gujarat HC
• Extremism, Intolerance Not an Expression of a Religion Called Islam: Vice President
• Saeed Mirza in new set of 24 artists to return national awards over FTII row, intolerance
• Two Indian brothers indicted in US for supporting al-Qaida
-------
Arab World
• 80 Jaish Al-Islam Terrorists Killed in Damascus Countryside
• ISIL Emir, Abul Talha al-Lubnani, and Four of His Aides Killed in Anbar
• Russian Warplanes Destroy Major ISIL Fortified Area near Palmyra
• Bomb attack kills 7 volunteer Iraqi fighters, injures 20 others
• Bomber kills 9 on Lebanon border with Syria
• Muslim Association concerned with Auckland man's ISIS support claims
• Chemical weapons used by rebels in Syria: OPCW
• Syrian Army, Hezbollah Retake Dozens of Checkpoints in Murak
• Militants Suffer Heavy Losses in Aleppo, Retreat from Vast Territories
• Syrian Forces Regain Control of Several Villages in Lattakia
• Syrian Forces Push Back Terrorists from More Territories in Homs
• Syrian Forces Gain Ground in Damascus Countryside
---------
Mideast
• Yemeni Missiles Rain down on Several Saudi Provinces
• Saudi Fighter Jet Shot Down in Yemen's Sana'a
• PKK Declares End to Unilateral Truce in Turkey
• Obama, Netanyahu eye arms deal to mend ties
• Russia urges Iran presence in next round of Vienna talks on Syria
• S Africa set to discuss refinery with Iran
---------
North America
• UKIP Peer Accused of Divisiveness after Calling on Muslim Leaders to 'Clarify Modern Meaning of Islam'
• US Sees Taliban as Reconciliation Partners: Pentagon
• Syrian-Americans Push To Privately Host Refugees In The U.S.
• US Backs Action against Terrorist Groups
• White House Hints At Controversial Gitmo Closure
• Canada ready to settle 25,000 Syrian refugees: PM
---------
Europe
• Britain Authorizes Flights to Bring Tourists Home from Sharm el-Sheikh
• France to Deploy Aircraft Carrier in Anti-ISIS Fight In Syria, Iraq
• US, UK bomb claims upset Egypt
• Bosnian imam jailed for recruiting Islamic State fighters
• UK: Loud protest mars Egypt's Sisi visit
• EU lawmakers call for speeding up Turkey's accession
• Spanish ex-PM defends decision to back Iraq war
--------
Pakistan
• Jamaat e Islami Wants Uphold of Pakistan's Islamic Ideology
• Taliban Faction Challenges New Chief Mansour
• Pakistan ready to take back own migrants illegally arriving in EU
• Rangers chief meets MQM and JI delegations ahead of LG polls
• Pakistan regrets slow global response to refugee crisis
• Pakistan becomes favourite destination for foreign investors: Pervaiz
• JuD to challenge ban on its media coverage
--------
South Asia
• 'Amnesty International Does Not Care About War Martyrs'
• 'Hard To Believe US Strike On Afghan Hospital a Mistake'
• Afghanistan to buy military helicopters from India, move likely to anger Pakistan
• Prominent religious cleric killed in Ghazni province of Afghanistan
• Can the idealist Afghanistan & realist Pakistan cooperate?
• For Myanmar's Muslims, little to cheer about historic election
---------
Southeast Asia
• 'Haram' to welcome Obama, Hizbut Tahrir tells Putrajaya, Malaysian Muslims
• Mahathir Mohamad questioned over alleged plot to oust Malaysia PM
---------
Africa
• Islamists to Gain As Nidaa Tounes Split Looms
• African Union Warns About Threat of Burundi Crisis to Region
• South Sudan warring sides violating peace deal: UN experts
• Burundi risks sliding into civil war
• UN Libya envoy's secret role revealed
Compiled By New Age Islam News Bureau
URL: https://www.newageislam.com/islamic-world-news/new-age-islam-news-bureau/don't-misinterpret-quran-to-have-more-than-one-wife,-says-gujarat-hc/d/105192
---------
India
Don't Misinterpret Quran to Have More Than One Wife, Says Gujarat HC
Nov 06, 2015
In a strongly-worded order, the Gujarat high court on Thursday said the Quran was being misinterpreted by Muslim men to have more than one wife and the provision of polygamy was being misused by them for "selfish reasons".
The high court also said that time has come for the country to embrace the uniform civil code.
Justice JB Pardiwala made these observations while pronouncing the order related to section 494 of IPC, which deals with punishment for having more than one wife.
The petitioner, Jafar Abbas Merchant, had approached the high court to quash an FIR against him filed by his wife who alleged that he got married to another woman without her consent.
In the FIR, she invoked section 494 of IPC (marrying again during lifetime of husband or wife) against Jafar.
In his plea, Jafar, however, claimed that the Muslim Personal Law allows Muslim men to marry four times and hence the FIR against him does not stand legal scrutiny.
In the order, Pardiwala noted "the Quran is being misinterpreted by Muslim men to have more than one wife."
"When the Quran allowed polygamy, it was for a fair reason. When men use that provision today, they do it for a selfish reason. Polygamy finds mention in the Quran only once, and it is about conditional polygamy," the order said.
"Muslim Personal Law does not permit a Muslim to treat one wife cruelly, drive her out of the matrimonial home and then get married for the second time. However, there is no law in this country which takes care of this situation. There is no uniform civil code in this country," it said.
The high court put the onus on the government to do the needful with regards to the uniform civil code.
"On the basis of modern, progressive thinking, India must shun the practice and establish uniform civil code," stated the judgment.
The court further observed that the permission to have four wives under Muslim Personal Law violates Constitutional provisions.
"Polygamy and the unilateral Talaq without the wife's consent offends Article 14 (equality before law for all) and Article 15 (the state's non-­discrimination on grounds of caste, religion, sex, etc). If the state tolerates this law, it becomes an accomplice in the discrimination of the female, which is illegal under its own laws," the court in its order.
While mentioning several verses of the Quran as well as statements of noted scholars, the HC said "it is abundantly clear that notwithstanding there is no codification by the legislation of marriages amongst the Muslims, polygamy is not encouraged and is an exception and not a rule. It is not the fundamental right of a Muslim to have four wives."
The court also gave a verdict in favour of Jafar and removed section 494 from the FIR, as being a Muslim; he is governed by the Muslim Personal Law, which allows him to have more than one wife, and not under the IPC.
"In view of the above, so far as the offence punishable under Section 494 of IPC is concerned, I am left with no other option but to accept the submission that Jafar cannot be prosecuted for the offence punishable under Section 494 of IPC. To this extent, the petition will have to be allowed and is, accordingly, allowed," stated the order.
http://www.hindustantimes.com/india/don-t-misinterpret-quran-to-have-more-than-one-wife-says-gujarat-hc/story-6503LcVjBhxbwG7KtrNztI.html
---------
Extremism, Intolerance Not an Expression of a Religion Called Islam: Vice President
06th November 2015
ON BOARD AIR INDIA ONE: Urging for greater religious tolerance and communal harmony in society, Vice President Mohammad Hamid Ansari, who returned from a five-day visit to Indonesia late on Thursday night, said extremism and intolerance in any form does not have or find expression in the spirit of a religion called Islam.
"Extremism is a political aberration for whatever reasons, valid or less valid. The whole world knows from us (India) about plurality of society. Indonesia is another example of a country learning from us. Nowhere, is the performance for promotion of communal harmony, religious tolerance and plurality of society 100 percent, the aspiration for it, however, is 100 percent, the vice president said in response to a question on the reason why Indian society is accepted the world over for its plurality during an interaction with media on board the special aircraft that was en route to New Delhi.
He stated that communal amity and religious tolerance had constitutional import and were core values enshrined in Indian society, and there was no question of debating on them.
Replying to another question as to the content of his discussions with representatives of Muslim civil society in Jakarta, Indonesia, earlier in the week, Ansari said that in the Indonesian system, there are two very large social, not political groupings of the community with very high levels of membership, running into hundreds of thousands, and both of them were committed to the values enshrined in the Constitution of Indonesia, and worked within its framework.
He said the representatives had mainly expressed their concern as to why the phenomenon of extremism is inextricably and unexplainably linked with or related to a peace-promoting religion like Islam.
""I expressed the view that there was and is a public perception emanating out of Western countries and others that somehow the agenda relating to Islam is being set in West Asia and I conveyed to them, that 50 percent of Muslims live in Arab countries and 70 percent live in Asia. Indonesia has the largest Muslim population in the region, followed by India, Bangladesh is third, Pakistan is fourth, and followed by Turkey, Iran and China (where the numbers are fuzzy). So out of the 70 percent (Muslims in Asia) 60 to 65 percent are from these five to six countries, and these are not committed nor are their Muslim populations committed to an agenda of extremism, either in terms of religion, or in political life," Ansari said.
"So, instead of looking at Islamic societies in terms of actual functioning and or looking at countries in West Asia who have their own political background and who have their own political problems in a contemporary sense, why not look at those countries; why not look at India or Indonesia and see how they have managed it (not committing to an agenda of extremism or religious intolerance)," he added.
The vice president said India's commitment to plurality and religious tolerance is "self-evident".
""it is written down in the text of our Constitution as the Fundamental Rights. No political party says that intolerance is their agenda; everybody's agenda on tolerance is the same. I am talking about the proclaimed agenda. If there is a shortcoming on this, then that is another matter," Ansari said.
http://www.newindianexpress.com/nation/Extremism-Intolerance-Not-an-Expression-of-a-Religion-Called-Islam-Says-Ansari/2015/11/06/article3116405.ece
------------
Saeed Mirza in new set of 24 artists to return national awards over FTII row, intolerance
by Dipti Nagpaul
November 6, 2015
Twenty-Four more filmmakers, writers, cinematographers among others have announced their decision to return their national awards to protest against "the threat to the academic culture at the Film and Television Institute of India (FTII)" and "the horror at people being attacked and killed for their beliefs".
The decision was announced at a press conference on Thursday. The list includes veteran filmmakers Saeed Mirza, Kundan Shah, writer Arundhati Roy, cinematographer Satya Rai Nagpaul, documentary filmmakers Madhushree Dutta, Sanjay Kak and Ajay Raina.
Last week, 12 filmmakers, including Dibakar Banerjee and Anand Patwardhan, had made a similar announcement.
"In response to the students' call to the filmmaking fraternity, 12 of our colleagues lent strength to their protest by announcing their intention last week to return their national awards. Their gesture was a plea to the government, to take notice of the students' demands and resolve the issue. It was also a protest against the growing intolerance in the country," said a joint statement issued by the new group of filmmakers. "We watched with disappointment how the ruling party's leaders and supporters abused these filmmakers and belittled their gesture. This has been the consistent response of the powers that be, towards the writers, academics, scientists, filmmakers, historians and artists who have expressed their dismay over the increasing climate of intolerance. Rather than see our fellow filmmakers mocked, we have decided to stand with them and yet again bring public attention back to the manner in which the current government is responding to dissent and debate," they said. They, however, added that each of them had their own reason for returning the award. For instance, Mirza, who was FTII's chairperson till Gajendra Chauhan's appointment, blamed the previous regimes too. "The forces that lay in the shadows at the time of our independence have emerged into the sunlight. They are in power both at the overt and covert levels. Will my handing over a national award change things around? Frankly, I don't know. All I know is I have to raise my voice against this state of affairs," he said. While expressing concern over FTII, most of them added that they were also concerned about a clampdown on any form of dissent. Asked about the timing of their decision, amid questions on why they had not returned the awards after the anti-Sikh riots, Shah, known for his political satire Jaane Bhi Do Yaaro, said: "We made a mistake that we didn't return the awards before. Do we have to repeat that mistake now and remain quiet?"
http://indianexpress.com/article/india/india-news-india/protesting-against-ftii-crisis-24-artists-return-their-national-awards/
------------
Two Indian brothers indicted in US for supporting al-Qaida
Nov 6, 2015
WASHINGTON: Two Indian brothers are among four men who have been indicted by a US federal court on charges of providing material support to slain al-Qaida leader Anwar al-Awlaki, prosecutors said on Thursday.
The two Indians are Yahya Farooq Mohammad, 37, and his brother Ibrahim Zubair Mohammad, 36. The other two are Asif Ahmed Salim, 35, and his brother Sultane Room Salim, 40.
All four men have been indicted on one count of conspiracy to provide and conceal material support and resources to terrorists, one count of providing material support and resources to terrorists and one count of conspiracy to obstruct justice.
Farooq and Ibrahim also face an additional count of conspiracy to commit bank fraud in terms of thousands of dollars.
"According to the allegations in the indictment, Farooq Mohammad, Ibrahim Mohammad, Asif Salim and Sultane Salim conspired to provide and did provide material support to Anwar al-Awlaki in response to his calls to support violent jihad," said assistant attorney general John Carlin.
The department of justice said Farooq was an engineering student at Ohio State University between 2002 and 2004. In or around March 2008, he married a US citizen.
His brother Ibrahim studied engineering at the University of Illinois Urbana-Champaign from 2001 through 2005. In 2006, he moved to Toledo, Ohio, and also married a US citizen.
He became a lawful permanent resident of the US in or around 2007, federal prosecutors said.
The other two accused - Asif Salim is a US citizen who studied at Ohio State University between 2000 and 2005. He became a resident of Overland Park, Kansas, in 2007.
His brother, Sultane Salim, is also a US citizen who resided in the Chicago-area from 2006 through 2012, until he moved to the Columbus-area.
According to the indictment, from January 2005 through January 2012, the four conspired to provide money, equipment and other assistance to al-Awlaki.
They made various financial transactions in 2008 and 2009, and communicated about raising funds for a trip to the Middle East.
Farooq and Ibrahim obtained money by opening credit cards and withdrawing money with no intention of repaying the amounts obtained from the financial institutions, federal prosecutors alleged.
The indictment further alleges that on July 22, 2009, Farooq travelled with two others to Yemen to meet al-Awlaki.
They were unable to meet with al-Awlaki so instead travelled to Sana, Yemen, to meet with one of his associates.
Farooq and his two fellow travellers gave the associate approximately $22,000 to be given to al-Awlaki.
http://timesofindia.indiatimes.com/india/Two-Indian-brothers-indicted-in-US-for-supporting-al-Qaida/articleshow/49682501.cms
------------
Arab World
80 Jaish Al-Islam Terrorists Killed in Damascus Countryside
Nov 05, 2015
Earlier today, a unit of military engineering unit combed the area close to the international highway and dismantled explosives planted by terrorists to secure the highway in Harasta area completely before reopening it to public trafficking.
Army sources said over 80 Jeish al-Islam terrorists were killed and tens of others were injured in the surrounding area of al-Aman Bellah gas station, farms and quarries area.
Another army unit carried out operations against terrorists' positions and hideouts in Jobar and Zamalka neighborhoods, killing scores of militants.
On Wednesday, the Syrian Army announced that its troops have taken back new areas in Harasta town and its surrounding regions in the strategic province of Damascus after engaging in fierce clashes with militant groups.
Full report at:
http://english.farsnews.com/newstext.aspx?nn=13940814000750
------------
ISIL Emir, Abul Talha al-Lubnani, and Four of His Aides Killed in Anbar
Nov 05, 2015
The so-called Emir of the ISIL terrorist group, Abul Talha al-Lubnani, and four of his aides were killed in al-Jarayeshi battles in Northern Anbar on Wednesday.
The Iraqi forces also regained control of the strategic bridge of al- Jarayeshi, an ISIL supply routes, in Northern Anbar.
All ISIL strategic supply routes to the centre of Anbar province have been cut, sources said, adding that the Iraqi forces are advancing towards the center of the province.
Full report at:
http://english.farsnews.com/newstext.aspx?nn=13940814000451
------------
Russian Warplanes Destroy Major ISIL Fortified Area Near Palmyra
Nov 05, 2015
"In the past two days, aircraft from the Russian air group in Syria have conducted 81 sorties and hit 283 [terrorist] targets in the provinces of Aleppo, Damascus, Deir Ezzur, Idlib, Lattakia, Raqqa, Hama and Homs," the Russian Defense Ministry spokesman said.
A Su-24 bomber destroyed an ISIL fortified area near the city of Palmyra, Maj. Gen. Igor Konashenkov said.
"In the area of Tadmur in the province of Homs, a Su-24 bomber destroyed a major ISIL fortified area, as well as a tank firing position, a Zu-23 anti-aircraft gun and a mortar battery. The destroyed fortified area was located over 30 kilometers away from ancient Palmyra."
A Russian Su-25 attack aircraft destroyed a Nusra Front ammunition depot with anti-tank missiles.
Full report at:
http://english.farsnews.com/newstext.aspx?nn=13940814000880
------------
Bomb attack kills 7 volunteer Iraqi fighters, injures 20 others
Nov 6, 2015
At least seven Iraqi fighters from the pro-government Popular Mobilization Units have lost their lives when unidentified terrorists launched a surprise attack against their contingent in the country's northern province of Tikrit.
A security source, requesting anonymity, said a group of gunmen driving vehicles rigged with explosives rammed into the forces' base on the outskirts of the oil-rich city of Baiji, located about 210 kilometers (130 miles) north of the capital, Baghdad, late on Thursday, leaving seven people dead, Arabic-language al-Baghdadia satellite television network reported.
The source added that as many as 20 Popular Mobilization fighters also sustained injuries in the assault.
No group has claimed responsibility for the attack, which comes as Iraqi forces are engaged in large-scale military operations to liberate the western province of Anbar from Daesh terrorists.
Earlier in the day, Iraqi government forces launched a barrage of artillery rounds on terrorist strongholds in the al-Siddiqiyah district of Anbar, killing scores of Daesh Takfiris and destroying 10 pickup trucks that had heavy machineguns mounted on.
Iraqi fighter jets also struck a Daesh arms depot in the city of Ramadi, situated about 110 kilometers (68 miles) west of Baghdad, on Thursday, destroying a considerable amount of munitions and killing an unspecified number of militants.
Iraqi warplanes also bombarded five Daesh warehouses in Sijariya district, which lies east of Ramadi, killing and injuring several Takfiri terrorists.
Moreover, Iraqi military aircraft launched an aerial attack against Daesh members in Ramadi, killing five terrorists and injuring seven others.
Seven Daesh extremists were also killed and eleven others wounded, when Iraqi jets hit al-Mal'ab region of Anbar Province.
Full report at:
http://www.presstv.ir/Detail/2015/11/06/436517/Iraq-Tikrit-Popular-Mobilization-Units-Anbar-Daesh
------------
Bomber kills 9 on Lebanon border with Syria
November 06, 2015
BEIRUT : A roadside car bomb killed at least nine people and wounded four others in northeast Lebanon on Thursday, in an area close to the Syrian border where violence has spilled over from the war next door, security sources said.
The blast ripped through a commercial area of the Sabil neighbourhood of the town of Arsal. Emergency services were working to rescue people from the rubble, local media said.
Militants linked to the conflict across the border in Syria have carried out attacks in and around Arsal in the past.
Security sources said the blast was likely to have targeted an independent religious society made up of Syrian scholars. The head of the society, Sheikh Othman Mansour, was among the dead, the sources said.
Lebanon's National News Agency said the society had been involved in negotiations for the release of Lebanese soldiers still being held by Islamist militants after being captured when fighters overran Arsal last year.
Militants from al Qaeda's Syria branch, the Nusra Front, were involved in the clashes that led to the soldiers' capture.
Syria's civil war has regularly spilled over into Lebanon, which shares a more than 300 km (190 mile) border with its bigger neighbour, and is still rebuilding after its own 15-year civil war.
Full report at:
http://nation.com.pk/international/06-Nov-2015/bomber-kills-9-on-lebanon-border-with-syria
------------
Muslim Association concerned with Auckland man's ISIS support claims
November 6 2015
A south Auckland man who has posted photos of himself posing with the Islamic State flag and a gun has been criticised by the New Zealand Muslim Association.
On his Facebook page Harun Abdul-Majeed SaifuAllah says he hopes Islam will one day dominate the world.
His Facebook page is dominated by quotes from the Quran, and discussions he has with friends, telling them, "Allah will always make the believers triumph".
He has reportedly said he supports the views of ISIS "100 per cent".
The page has since been taken down.
Islamic State has had a stronghold on parts of the Middle East, including Iraq and Syria, for several years and has taken responsibility for acts of terror there.
New Zealand troops are in Iraq training Iraqi soldiers to fight ISIS.
The 23-year-old Manukau man reportedly changed his name from William Ringo Ratapu-Howard, but also goes by the name of Wiremu Curtis.
He converted to Islam two years ago and was stopped at Auckland Airport in May 2014 as he tried to board a flight to Qatar.
At the time he claimed he had been invited to the country by its government and denied any wrong doing, claiming he was targeted because he was "young and Muslim".
Internal Affairs Minister Peter Dunne cancelled his passport based on information provided by the SIS, saying he believed on "reasonable grounds" that Curtis was a threat to national security because of "regular contact with overseas and New Zealand-based individuals supporting terrorism, you have booked imminent travel to countries of security concern and you intend to engage in or facilitate an act of terrorism overseas."
New Zealand Muslim Association president Ikhlaq Kashkari said SaifuAllah was using "our religion name" for untoward purposes.
Kashkari had been having discussions with the Auckland Muslim community and nobody had met SaifuAllah or recognised him, he said.
"We're as concerned as anybody would be, if not more. We're a peaceful country and we'd like to keep it like that," he said.
"We are New Zealanders, so in terms of security, we are all concerned, and more so being Muslims. Is he genuine or not? I doubt it. A lot of these people are attention seekers and media sensationalises it," he said.
"These people, I don't know if they fully comprehend what statements like this do. Nine out of 10 times they're not genuine and all they do is create panic."
The association supported the government whenever a purported extremist came to their attention, but it was up to the government and police to do something about it, he said.
"The government knows who these people are, and they need to be hard on that...and take appropriate action."
Full report at:
http://www.stuff.co.nz/auckland/73773716/muslim-association-concerned-with-auckland-mans-isis-support-claims
------------
Chemical weapons used by rebels in Syria: OPCW
06 November, 2015
ALEPPO: Chemical weapons experts have determined that mustard gas was used in a Syrian town where the self-styled Islamic State (IS) insurgents were battling another rebel group, according to a report by an international watchdog seen by Reuters.
A confidential October 29 report by the Organisation for the Prohibition of Chemical Weapons (OPCW), a summary of which was shown to Reuters, concluded "with the utmost confidence that at least two people were exposed to sulfur mustard" in the town of Marea, north of Aleppo, on August 21.
"It is very likely that the effects of sufur mustard resulted in the death of a baby," it said.
The findings provide the first official confirmation of use of sulfur mustard, commonly known as mustard gas, in Syria since it agreed to destroy its chemical weapons stockpile, which included sulfur mustard.
The report did not mention IS, as the fact-finding mission was not mandated to assign blame, but diplomatic sources said the chemical had been used in the clashes between IS and another rebel group taking place in the town at the time.
"It raises the major question of where the sulfur mustard came from," one source said.
"Either the IS gained the ability to make it themselves, or it may have come from an undeclared stockpile overtaken by IS. Both are worrying options."
Syria is supposed to have completely surrendered the toxic chemicals 18 months ago.
Their use violates United Nations Security Council (UNSC) resolutions and the 1997 Chemical Weapons Convention.
In a statement to Reuters, State Department spokesman John Kirby said the OPCW released three reports to member states on October 29, adding "two of these reports are very disturbing. The OPCW has confirmed chemical weapons use in one investigation, and concluded likely use in a second."
In addition to the incident involving the mustard agent, Kirby said, the OPCW confirmed that toxic chemicals, probably containing chlorine, were used in opposition-controlled territory in Idlib Province.
"Witnesses reported hearing helicopters overhead at the time the chemical munitions exploded. Only the Assad regime has helicopters," he said, referring to Syrian President Bashar al-Assad's government.
Full report at:
http://www.dawn.com/news/1217864/chemical-weapons-used-by-rebels-in-syria-opcw
------------
Syrian Army, Hezbollah Retake Dozens of Checkpoints in Murak
Nov 05, 2015
The Syrian troops and Hezbollah forces entered Murak after Russian airstrikes hit positions of militants, and killed a large number of the terrorists.
Field sources also said that the forces managed to take full control over dozens of checkpoints in the town after killing tens of Takfiri terrorists.
On Wednesday, the Takfiri militants fighting in Hama province came under heavy airstrikes by the Syrian air force, and suffered heavy losses in the attacks.
Syrian warplanes targeted terrorists' concentration centers in Latmin, al-Lihaya, near Morek and al-Banah in the Northern countryside of Hama, and killed a number of militants and destroyed their machinegun-equipped vehicles.
Full report at:
http://english.farsnews.com/newstext.aspx?nn=13940814000308
------------
Militants Suffer Heavy Losses in Aleppo, Retreat from Vast Territories
Nov 05, 2015
The army destroyed ISIL positions, weapons and ammunition and vehicles in an area in the vicinity of the Air Force Academy.
The army troops also killed and injured a group of terrorists from the al-Nusra Front and other affiliated groups in the villages of Berneh, Tal Haddiyeh, Doulamah and Khan Touman in the Southwestern countryside of Aleppo. Tens of the militants' machinegun-equipped vehicles were also destroyed.
The army, backed up by the Syrian airstrikes, destroyed positions of Takfiri terrorists in the neighborhoods of al-Rashideen 4, al- Sheikh Khuder, Salah Eddin, al-sheikh Said and Bustan al-Qaser.
Full report at:
http://english.farsnews.com/newstext.aspx?nn=13940814000608
------------
Syrian Forces Regain Control of Several Villages in Lattakia
Nov 05, 2015
The Syrian forces took full control over the villages of Mafraq Beit Abu Reesha, Khirbat Jubb Al-Za'rour and Khandaq Al-Khamou in Lattakia.
A large group of Takfiri terrorists were killed and their vehicle, weapons and ammunition were destroyed in the operations.
Earlier reports said Al-Fark Mountain in the Northern part of the province of Lattakia was regained by the Syrian Army troops after fierce clashes with the militant forces on Wednesday.
The Syrian government forces carried out massive operations against the militant groups in the Northern territories of Lattakia and pushed back the terrorists from al-Fark mountain.
This strategic mountainous region is now under full control of the Syrian army.
The militant groups sustained heavy casualties in the army offensive.
Full report at:
http://english.farsnews.com/newstext.aspx?nn=13940814000333
------------
Syrian Forces Push Back Terrorists from More Territories in Homs
Nov 05, 2015
According to the Arabic-language al-Mayadeen television, the Syrian army and al-Hasna tribesmen are advancing from al-Bayda village towards al-Hazm al-Awsat area in Homs countryside.
Earlier, the Russian fighter jets bombed ISIL positions near Palmyra in Homs province, reports said.
Russian Mi-24 gunships pounded ISIL positions near Palmyra, and inflicted heavy losses on the terrorists.
There were no more details immediately available.
Full report at:
http://english.farsnews.com/newstext.aspx?nn=13940814000580
------------
Syrian Forces Gain Ground in Damascus Countryside
Nov 05, 2015
On Wednesday, the Syrian army retook full control over al-Aman Bellah gas station and buildings near Harasta highway in Damascus Countryside, informed sources said.
The sources said a large number of Takfiri terrorists were killed in the liberating operations.
Militants' vehicles, weapons and ammunition were also destroyed.
Also on Wednesday, the Syrian Army announced that its troops have taken back new areas in Harasta town and its surrounding regions in the strategic province of Damascus after engaging in fierce clashes with militant groups.
Full report at:
http://english.farsnews.com/newstext.aspx?nn=13940814000246
------------
Mideast
Yemeni Missiles Rain down on Several Saudi Provinces
Nov 05, 2015
Yemeni forces struck positions in al-Qaran district in Saudi Arabia's province of Jizan, killing several Saudi forces and destroying their military equipment Wednesday evening.
Yemen's Ansarullah fighters also attacked several key Saudi military positions in the provinces of Asir and Najran.
Meanwhile, the Yemeni forces regained control of the Hesn ul-Matrab military camp, a highly strategic site in the province of Shabwah in Yemen, which was under the control of supporters of the fugitive former president of Yemen, Abd Rabbuh Mansour Hadi.
Earlier on Wednesday, the Yemeni army and popular committees have intensified their retaliatory attacks against Saudi Arabia, killing a group of the kingdom's soldiers, reports said.
The Yemeni forces fired rockets at targets in the Saudi region of Jizan, and killed a large number of soldiers.
The news comes as the Arabic-language al-Mayadeen television said Saudi Arabia launched new airstrikes on Safia Tamesh area in Sanhan district in the Yemeni capital, Sana'a.
Earlier reports said Yemen's Ansarullah fighters and army troops killed a ranking Saudi commander and dozens of his forces in the province of Ta'iz.
The Yemeni forces took control of a military base that had been occupied by Saudi forces in Ta'iz province a while ago, and killed a senior Saudi commander and his troops deployed in the base.
Saudi troops later launched a counter-offensive to take back the base, but they failed and escaped the region after losing a number of their vehicles.
Meanwhile, Ansarullah fighters also pounded a base in the Saudi border region of Jizan in a massive missile attack.
The Yemeni army also launched missile attacks on military bases in Zahran in the Asir border region of Saudi Arabia.
Yemeni Popular Committees fired a number of missiles at Saudi bases in the al-Khubah district in Jizan.
Full report at:
http://english.farsnews.com/newstext.aspx?nn=13940814000358
------------
Saudi Fighter Jet Shot Down in Yemen's Sana'a
Nov 05, 2015
According to the Arabic-language al-Mayadeen television, the warplane was brought down in Bilad al-Rous district in Sana'a.
The Saudi fighter was targetted by the Yemeni army anti-air missile defense system and hit al-Laham mountain.
On Saturday, the Yemeni army and popular forces shot down two spying aircraft of the Saudi-led coalition forces as they were running reconnaissance missions in two different parts of the province of Saa'da.
The Saudi-led coalition plane was targeted by the Yemeni army while flying over Sahar region in Saa'da province on Saturday.
Meantime, a separate report said that the Yemeni popular forces have also downed a spying drone in al-Zaher region.
No other details have been released on either incident yet.
On October 29, a Saudi military plane used for airdropping arms cargoes for the terrorists and Saudi troops was shot down in the province of Ta'iz.
The Saudi-led coalition's logistics plane was hit while flying over the mountainous area of Sabr in Ta'iz province.
In the past 7 months tens of drones and fighter jets of the Saudi-led coalition have been shot down by the army and popular forces in different Yemeni provinces, including Saa'da, Ma'rib, Jizan, Dhamar and Sana'a.
On October 16, the Yemeni army and popular forces hit a strategic military air base in Asir province in Southern Saudi Arabia with Scud missiles, killing tens of high-ranking Saudi officers and commanders and destroying over two dozen F-15 fighter jets and Apache helicopters.
At least 66 high-ranking Saudi army officers, including two senior commanders, were killed when the Yemeni missiles hit Khamis Mushait air base in Asir province in retaliation for the kingdom's aggression against their nation.
The Yemeni forces also destroyed 17 F-15 fighter planes and 9 Apache helicopters.
The Yemeni forces also shot down a Saudi fighter jet in the Northeastern parts of the country in March.
Full report at:
http://english.farsnews.com/newstext.aspx?nn=13940814000475
------------
PKK declares end to unilateral truce in Turkey
November 06, 2015
ISTANBUL : The rebel Kurdistan Workers' Party (PKK) said Thursday that it had torn up a unilateral truce in Turkey after a surge in deadly violence since the country's weekend election.
Its announcement comes after several days of Turkish air raids against the PKK in both southeastern Turkey and across the border in northern Iraq and a spate of deadly clashes.
"The unilateral state of inaction has ended due to the AKP (Justice and Development Party) government's latest attacks," the PKK said in a statement carried by the pro-Kurdish news agency Firat.
"After the election, the AKP has demonstrated it is going to be a war government," said the PKK, considered a terrorist organisation by Ankara and its Western allies.
President Erdogan had vowed on Wednesday that Ankara would press ahead with its military campaign against the rebels in a conflict that has plagued Turkey for more than three decades.
About 45,000 people have been killed since the PKK launched an armed campaign for greater autonomy in southeastern Turkey in 1984.
Violence flared up in July between the guerrillas and government forces after a deadly bombing against activists in a Kurdish majority town, shattering a 2013 ceasefire reached after secret talks between Ankara and the PKK's jailed leader Abdullah Ocalan. The PKK had however said after the devastating suicide bombings on a pro-Kurdish peace rally in Ankara last month that it would suspend all attacks, except in self-defence - a move seen as aiming to ease tensions ahead of last Sunday's poll.
Emboldened by its surprise election victory, the AKP has since gone on the offensive against both the Kurdish rebels and opponents of Erdogan, including critical media.
"The operations against the terrorist organisation inside and outside the country are continuing in a determined fashion," Erdogan said on Wednesday.
"There will be no break.
We will keep on," he said in his first major policy speech since the AKP's win, which was also a major personal victory for the man who has dominated Turkish politics for more than a decade.
"We will keep on fighting until the terrorist organisation buries their weapons under concrete and its members surrender and leave the country.
Turkish war planes pounded PKK targets in the southeastern Kurdish-majority town of Yuksekova on Wednesday, the army said, the third straight day of air strikes since the vote.
The military said 31 Kurdish militants were killed in the raids, but the figures could not be independently verified.
One Turkish policeman was also killed in clashes with PKK fighters on Thursday in Silvan, another southeastern town, where a curfew was declared this week, security sources told AFP.
Another four militants were killed in clashes with Turkish security forces in the southeast this week.
Full report at:
http://nation.com.pk/international/06-Nov-2015/pkk-declares-end-to-unilateral-truce-in-turkey
------------
Obama, Netanyahu eye arms deal to mend ties
6 November 2015
Barack Obama and Benjamin Netanyahu will hold a post-row summit on Monday, hoping a massive 10 year defense deal will help them move beyond a bitter public fight that shook a decades-old alliance.
After acerbic clashes over the U.S.-backed nuclear deal with Iran, the two leaders will discuss a deal expected to be worth more than $30 billion which will include a string of advanced weaponry systems, officials said.
The deal will not be finalized during the summit and would only come into effect after a current accord expires in 2017.
Precision munitions
But Obama and Netanyahu are expected to discuss commitments that could see Israel get more than the 33 hi-tech F-35 jets already ordered, precision munitions and a chance to buy V-22 Ospreys and other weapons systems designed to ensure Israel's military edge over its neighbors.
The weapons said to be under discussion reflect the prominence of Iran in U.S. and Israeli military thinking.
The F-35 is the only aircraft able to counter the S-300 surface-to-air missile system that Russia has suggested it may sell to Tehran.
Officials said Israel may also seek to ensure that other U.S. allies in the region do not get the F-35.
The White House has so far rebuffed Arab Gulf states' requests to buy the planes.
But while Israel has been offered some bunker-busting bombs, divisions over how to handle Tehran may put the sale of 30,000 pound "Massive Ordnance Penetrators" that could be used to target Iranian nuclear sites off the table.
"This is not something that has been raised in the context of the MoU discussions," said senior Obama national security aide Ben Rhodes referring to the deal, known formally as a memorandum of understanding.
During his last trip to Washington in March, the Israeli prime minister found the door of the White House slammed firmly shut, with Obama refusing to meet him.
The White House had been infuriated by Netanyahu's decision to appear in Congress at Republicans' invitation and urge US lawmakers to vote against a deal to curb Iran's nuclear program.
Full report at:
http://english.alarabiya.net/en/News/middle-east/2015/11/06/Obama-Netanyahu-eye-arms-deal-to-mend-ties.html
------------
Russia urges Iran presence in next round of Vienna talks on Syria
Nov 6, 2015
Russia has emphasized the need for the participation of Iran in the next round of the international peace talks in Vienna, Austria, which are aimed at finding a solution to the deadly crisis gripping Syria.
In a Thursday phone conversation with his Iranian counterpart Hossein Amir-Abdollahian, Russian Deputy Foreign Minister Mikhail Bogdanov underlined the Islamic Republic's fundamental role in the diplomatic efforts to end over four years of violence in Syria, calling for Iran's presence in the upcoming Vienna summit, IRNA reported.
During the talks, the two senior diplomats also exchanged views on ways to facilitate intra-Syrian dialog on the crisis free from foreign meddling, stressing the necessity for various Syrian groups to take part in such national negotiations.
Amir-Abdollahian and Bogdanov also discussed the chaotic situation in Yemen, which has been under Saudi military strikes since late March, saying urgent measures should be taken to resolve the Yemeni and Syrian crises.
The first round of the talks on Syria was held in the Austrian capital of Vienna on October 30. Senior diplomats from a number of countries, including Iran, as well as envoys from the United Nations (UN) and the European Union (EU) were present in the event.
Senior diplomats attend a conference on the Syrian conflict in Vienna, Austria, October 30, 2015. (Photo by AFP)
The participants agreed on respecting Syria's national unity and sovereignty as well as eradicating the terrorist groups operating in the Arab country. However, they remained at loggerheads over the role President Bashar al-Assad would play in Syria's political process.
While certain Western and non-Western countries insist that Assad cannot be part of any future government in Syria, Iran and Russia say only Syrian people are to decide about such internal Syrian issues.
Full report at:
http://www.presstv.ir/Detail/2015/11/06/436505/Iran-Russia-Mikhail-Bogdanov-Hossein-AmirAbdollahian-Syria-Vienna-Conference-
------------
S Africa set to discuss refinery with Iran
Nov 5, 2015
South Africa's deputy president will visit Iran to explore opportunities for co-operation in the energy sector with a view to attracting investment into a refinery Pretoria is planning to build, his office said on Thursday.
South Africa is considering building an oil refinery that will process Iranian crude to bolster its petrol supply and reduce its dependence on foreign companies.
Pretoria has said it will resume oil imports from Tehran "tomorrow" if sanctions are lifted but without its own refinery, it would have to rely on foreign oil companies who own refineries in Africa's most developed economy.
South Africa relied on Iran as the biggest supplier of oil before sanctions on Tehran in 2012 dried up exports of about 380,000 barrels per day to the country.
Officials in Tehran said in September that an initial agreement has been signed between the two countries for crude oil sales, pending the lifting of sanctions on Tehran for exports to resume.
Full report at:
http://www.presstv.ir/Detail/2015/11/05/436461/S-Africa-set-to-discuss-refinery-with-Iran
------------
North America
UKIP Peer Accused of Divisiveness after Calling on Muslim Leaders to 'Clarify Modern Meaning of Islam'
05/11/2015
A UKIP peer today called on the Government to fund a special council for Muslim leaders to "clarify the modern meaning" of Islam and "cast the extremists out".
Lord Pearson, a former UKIP leader, told the House of Lords he had produced a "short summary" of Islam as he spoke about the "the seriousness of our domestic situation."
His suggestion that there should be an "open debate" on the accuracy of his report, and the need for Muslim leaders to "clarify" their religion was criticised by peers from all sides of the Chamber.
Lord Pearson began his remarks by claiming that "where there is contradiction in the Qur'an, its later, more violent verses outweigh its admirably peaceful early texts."
Addressing Tory minister Lord Ahmad, he continued: "Together with some Qur'anic scholars I have written a short summary of Islam which I will send to him and we are asking the Guardian newspaper to hold an open debate as to its accuracy.
"Given the seriousness of our domestic situation couldn't the Government itself sponsor a council of our Muslim leaders in which they could clarify the modern meaning of their religion and cast the extremists out of Islam?"
Lord Ahmed said he "look[ed] forward to receiving the noble Lord's summary of the great religion of Islam" before adding: "Perhaps in his reflection he would have also noted that with the exception of one verse in the Holy Qur'an, every verse in the holy Qur'an starts with the words 'In the name of God, the gracious most merciful', which underlines the true sentiments and principle of that religion."
Former Tory chancellor Lord Lamont blasted the UKIP peer's call for the Government to sponsor a "council of Muslim leaders" as "totally inappropriate".
Fellow Tory peer Baroness Mobarik also poured cold water on the idea, and said: "Such a debate as he advocates could be divisive and further exacerbate the current rise in Islamophobia.
Full report at:
http://www.huffingtonpost.co.uk/2015/11/05/UKIP-islam-muslim-lord-pearson_n_8477918.html
------------
US Sees Taliban as Reconciliation Partners: Pentagon
ANWAR IQBAL
06 November, 2015
WASHINGTON: The US Department of Defence has said that it's no longer conducting counter-terrorism operations against the Taliban in Afghanistan because it views the group as an important partner in its efforts for restoring peace in the war-ravaged country.
"What we're not doing (is) counter-terrorism operations against the Taliban," Pentagon spokesman Navy Captain Jeff Davis told a Wednesday evening news briefing in Washington.
"We actually view the Taliban as being an important partner in a peaceful Afghan-led reconciliation process. We are not actively targeting the Taliban," he added.
'No institutional presence of IS in Pak-Afghan region'
The briefing, however, focused on US efforts to defeat the Middle East-based terrorist group IS (the self-styled Islamic State) which also has some presence in the Pak-Afghan region.
Capt Davis said that some "lone wolves" in Pakistan and Afghanistan were using the IS brand to raise their stature but the group did not have an institutional presence in the region.
He said the IS had a "pretty good" command and control system in Iraq and Syria but those claiming to represent the group in Afghanistan and Pakistan did not have the command and control relationship with the main IS.
Full report at:
http://www.dawn.com/news/1217770/us-sees-taliban-as-reconciliation-partners-pentagon
------------
Syrian-Americans Push To Privately Host Refugees In The U.S.
11/05/2015
NEW YORK, Nov 5 (Thomson Reuters Foundation) - Syrian-American Lina Sergie Attar, a mother of two, has a spare bedroom in her suburban Chicago home, which she would like to use to host a Syrian refugee family.
But like many Syrian-Americans willing to pay out of their own pockets to care for resettled refugees directly, she cannot.
For although the United States has promised to resettle at least 10,000 Syrian refugees in the coming year, this can only happen through government channels at present, prompting calls for change as the refugee crisis escalates.
"I would absolutely host a family in my home if I could have that option," said Attar, 40, who lives with her husband and pre-teen daughters in upscale Lake Forest, Illinois.
If she lived a few hours drive further north in Canada, it could be a different story. The system there allows so-called private sponsorship of refugees.
As winter arrives, advocates in the United States are calling for a system like that in Canada where private citizens can buttress government efforts by footing the bill themselves.
Under the U.S. model, private donations can be made to non-government groups working with authorities to host refugees. But there is no way people can pick up the tab without going through this system.
Attar, who heads the Karam Foundation, a non-profit group providing aid for Syrians, supports the calls for a private sponsorship program in the United States.
One of the 170,000-strong community of U.S. residents of Syrian descent, Attar was raised in Syria but earned graduate degrees at the prestigious Rhode Island School of Design and Massachusetts Institute of Technology.
Her parents, both physicians, left Aleppo in 2012 due to the conflict and moved to Lake Forest with just four suitcases.
This year, after taking a smuggler's boat from Syria, her cousins trekked to Germany from Greece, sending photo updates of their blistered feet to worried relatives around the globe.
PEOPLE WANTING TO GET INVOLVED
Syria's war, which erupted in 2011, has killed some 250,000 people, uprooted 11 million from their homes and created more than 4 million refugees in a country of about 23 million people.
Since 2011, the United States has admitted some 1,900 Syrian refugees, according to the U.S. Department of State.
Meanwhile Canada has resettled roughly 2,600 Syrian refugees since the start of the conflict, mostly through private sponsorship, officials said. They joined the ranks of the more than 40,000 Canadians of Syrian descent.
For the duration of the sponsorship period, 12 months or until refugees become self-sufficient, Canadians who act as sponsors commit to providing them with a range of care, from lodging to clothing and introducing them to the community.
An organization called 'Lifeline Syria' is trying to help bring 1,000 Syrians to the Toronto area as permanent residents. More than 300 groups have formed to help through private sponsorship in just five months, the group said.
"The people are just lining up to try to get involved," said spokesman Peter Goodspeed.
"How to sponsor a Syrian" was the top query relating to the Syrian refugee crisis in Canada according to search engine Google for one 24-hour period in early September.
Niskanen Center, a libertarian think-tank in Washington D.C., is promoting private sponsorship in the United States.
"Even if this program is small, it will be a significant contributor to dealing with this issue," said David Bier, its director of immigration policy.
Among the politicians who support private sponsorship is Congressional Democrat John Conyers, whose Michigan district has been home to generations of Arab-born people.
But others in Washington oppose Syrians coming into the United States, saying they pose a security risk.
Full report at:
http://www.huffingtonpost.com/entry/syrian-americans-push-to-privately-host-refugees-in-the-us_563b7967e4b0b24aee4920ad?section=india&adsSiteOverride=in
------------
US Backs Action against Terrorist Groups
06 November, 2015
WASHINGTON: Taking action against terrorist groups is fundamental to addressing the scourge of terrorism, says the US State Department while commenting on Pakistan's decision to ban media coverage of extremist outfits.
On Nov 2, Pakistan's electronic media watchdog Pemra banned media coverage of three key extremist groups, Lashkar-e-Taiba, Jamaatud Dawa and Falah-i-Insanyat.
Pemra also attached with the order a list of 60 proscribed groups and 12 others on its watch list, indicating that the ban also applied to them.
At the State Department's briefing on Wednesday afternoon, an Indian journalist called the ban a violation of freedom of expression and asked spokesman John Kirby to condemn it.
Also read: Who asked Pemra to ban JuD, others?
"We're certainly aware of those reports, and I would refer you to the government of Pakistan for information on its decision," said the US official. "We obviously continue to urge steps to constrain militant groups operating in the region, including these two in particular – JUD and LeT."
Mr Kirby reminded the journalist that LeT was a designated foreign terrorist organisation. "We absolutely believe that taking actions against them are fundamental to addressing the scourge of terrorism. There's no question where we are on that," he said.
US President Barack Obama also discussed the issue with Prime Minister Nawaz Sharif during a meeting at the White House on Oct 22.
Full report at:
http://www.dawn.com/news/1217801/us-backs-action-against-terrorist-groups
------------
White House Hints At Controversial Gitmo Closure
6 November 2015
The White House said Thursday that if Congress blocks new plans to close the notorious Guantanamo Bay prison, President Barack Obama may resort to a controversial executive order to get the job done.
With time running out for the 44th president to fulfil an incomplete election campaign promise, he looks increasingly likely to bypass lawmakers who have blocked the facility's closure.
"I'm certainly not going to take anything off the table," White House spokesman Josh Earnest said when asked about possible executive action.
He said Obama would do "everything that he can to make progress" towards Guantanamo's closure, which Earnest described as a "national security priority."
Obama is expected within days to put forward a plan to Congress that would allow Guantanamo to close.
Created to hold terror suspects after the September 11, 2001 attacks, Guantanamo became notorious for harsh interrogation techniques and because many prisoners are, or were, held for years without being charged.
Obama is expected within days to put forward a plan to Congress that would allow Guantanamo to close.
Created to hold terror suspects after the September 11, 2001 attacks, Guantanamo became notorious for harsh interrogation techniques and because many prisoners are, or were, held for years without being charged.
As of now, the facility is home to 112 inmates.
The new closure proposal, drafted by Obama's top counter terror advisor, Lisa Monaco, and Defense Secretary Ash Carter would lift congressional restrictions on transferring detainees to the United States.
Inmates who cannot be released or transferred abroad would be housed at a U.S. facility like Fort Leavenworth, Kansas or the Navy Brig in Charleston, South Carolina.
But that plan looks increasingly unlikely to pass muster in the Republican controlled Congress, raising the prospect of executive action, which would ignite a political firestorm.
In 2009 Obama issued an executive order to close the camp, prompting a furious Congress to pass rules that made the transfer of detainees to U.S. soil all but impossible.
The White House has long said those rules are unconstitutional as they impinge on executive power. But it has tried to have them overturned rather than engage in a damaging political fight.
In a sign of the anger that unilateral action might provoke, Republican Senator Pat Roberts said Wednesday he would block the nomination of any Obama government appointee if the White House moves ahead.
Full report at:
http://english.alarabiya.net/en/News/world/2015/11/06/White-House-hints-at-controversial-move-to-close-Gitmo.html
------------
Canada ready to settle 25,000 Syrian refugees: PM
06 November 2015
Canada's new prime minister Thursday vowed to make good on campaign promises to resettle 25,000 Syrian refugees by the beginning of next year and bring home fighter jets battling the ISIL group in Iraq and Syria.
In his first interview since taking office on Wednesday, Justin Trudeau told the Radio-Canada network: "The goal is still to have 25,000 Syrian refugees in Canada before January 1."
Several government ministries have been mobilized to achieve this goal in such a short time, Trudeau said, adding the federal government would have to work closely with Canada's provinces and municipalities.
Full report at:
http://www.worldbulletin.net/america-canada/166072/canada-ready-to-settle-25000-syrian-refugees-pm
------------
Europe
Britain authorizes flights to bring tourists home from Sharm el-Sheikh
6 November 2015
Flights to bring British tourists home from the Egyptian Red Sea resort of Sharm el-Sheikh will resume Friday, but passengers will only be allowed to carry hand luggage, the British government announced.
"The government has decided, in consultation with the airlines, that flights from Sharm to the UK will resume tomorrow," a spokeswoman for Prime Minister David Cameron said.
"The additional security measures will include permitting passengers to carry hand baggage only and transporting hold luggage separately."
Flights to Britain were suspended on Wednesday night after the government determined it was possible a bomb had brought down a Russian flight that had just departed Sharm el-Sheikh last Saturday, killing all 224 people on board.
Passenger flights to Sharm el-Sheikh from Britain remain suspended, and the Foreign Office advises against all but essential travel to or from the Egyptian resort by air.
British airlines, easyJet and Monarch said they were planning a total of 15 flights on Friday to repatriate some of the 20,000 British tourists currently in the resort.
Charter flight operator Thomson Airways said flights would "will operate under special security measures mandated by the UK Government" with large check-in luggage transported separately.
Full report at:
http://english.alarabiya.net/en/News/middle-east/2015/11/06/Britain-authorizes-flights-to-bring-tourists-home-from-Sharm-el-Sheikh.html
------------
France to deploy aircraft carrier in anti-ISIS fight in Syria, Iraq
5 November 2015
France will deploy its aircraft carrier to support operations against ISIS in Syria and Iraq, President Francois Hollande said on Thursday, bolstering Paris' firepower in the region amid international efforts to launch Syrian peace talks.
The carrier is usually accompanied by an attack submarine, several frigates, refuelling ships, as well as fighter jets and surveillance aircraft.
"The aircraft carrier will enable us to be more efficient in coordination with our allies," Hollande said at the inauguration of the new defence ministry headquarters in Paris
French warplanes struck their first targets in Syria at the end of September. It was the first country to join the U.S.-led coalition in Iraq and has also provided limited logistical support to Syrian rebels it considers moderate, including Kurds.
However, Hollande's government has faced criticism at home for his Syria policy with some saying Paris has lacked flexibility and cohesion on the crisis.
A meeting on Thursday of France's defence cabinet, which includes key ministers and officials from the intelligence services and military, aimed to outline how France will proceed over the next months in Syria and Iraq on both a political and military level.
Full report at:
http://english.alarabiya.net/en/News/middle-east/2015/11/05/France-to-deploy-aircraft-carrier-in-anti-ISIS-fight-in-Syria-Iraq.html
------------
US, UK bomb claims upset Egypt
6 November 2015
CAIRO/MOSCOW: Russia and Egypt on Thursday dismissed suggestions by Britain and the United States that a bomb was likely to have brought down a Metrojet flight packed with Russian vacationers leaving an Egyptian resort, saying the claim was premature.
Intercepted communications played a role in the tentative conclusion that Daesh's Sinai affiliate planted an explosive device on the plane, said a US official briefed on the matter, preferring anonymity.
US Representative Michael McCaul, the Republican chairman of the House Homeland Security Committee, said on Fox news that evidence so far indicated a Daesh attack "with an explosive device in the airplane."
McCaul said if Daesh was behind the attack, it should cause Russia to rethink its focus in Syria and use its weapons against the militant group rather than to support President Bashar Assad. He also called for tougher US efforts against the militant group.
"I think that we need to step up this war on terror against Daesh because if it's a Russian airline today it could be an American airline tomorrow," McCaul told Fox.
A spokesman for Russian President Vladimir Putin, Dmitry Peskov, insisted that aviation investigators were working on all possible theories as to why the Airbus A321-200 carrying 224 people crashed Saturday. He said naming just one possibility was mere speculation.
British Foreign Secretary Philip Hammond spoke of a "significant possibility" the crash was caused by a bomb and Britain immediately suspended all flights to and from Sharm El-Sheikh. The move stranded hundreds of tourists in Egypt.
In London, British Prime Minister David Cameron said the crash was "more likely than not" caused by a bomb. He said he had "every sympathy" with the Egyptians, who rely so on heavily on tourism, but that he had to "put the safety of British people first." In a telephone call, Putin told Cameron it was important that assessments of the cause of the crash be based on information from the official investigation.
Egyptian officials condemned Britain's travel ban as an overreaction. Tourism Minister Hesham Zaazou said Britain's decision was unjustified and called for an immediate rethink. "The decision is unjustified and carries a lot of question marks."
Russian Foreign Ministry spokeswoman Maria Zakharova said that if Britain had information about the bomb, it's "really shocking" that it hasn't shared it with Russia.
Full report at:
http://www.arabnews.com/featured/news/831301
------------
Bosnian imam jailed for recruiting Islamic State fighters
5 Nov 2015
* Bosnian cleric sentenced to seven years in prison
* At least six of his followers killed in Syria, court says
* Prosecution and defence lawyers to appeal the verdict (Adds details and quotes)
By Daria Sito-Sucic
SARAJEVO, Nov 5 (Reuters) - A Bosnian Muslim cleric was sentenced to seven years in jail on Thursday for recruiting fighters to join Islamic State in Syria and Iraq, under a new law aimed at stopping people becoming militants in the Middle East.
Husein Bosnic, known as an unofficial leader of the ultra-conservative Salafi movement in Bosnia, was arrested last year and was among 17 others on trial in Bosnia for suspected links with militant groups in Syria and Iraq.
Bosnic, sporting a long beard but not dressed in his trademark Salafi robes, showed no emotion as the verdict was read in court. He was guarded by special forces officers in balaclavas, who also acted as security outside the court house.
None of his supporters were there for the verdict.
"Defendant Husein Bosnic is guilty of ... consciously, during 2013-14 from the position of religious authority, publicly inciting, recruiting people and organising a terrorist group," the chairman of the court council, Amela Huskic, said.
Prosecution and defence lawyers both said they would appeal, and Bosnic's lawyer, Adil Lozo, said the trial was "politically fabricated".
Huskic said that mitigating factors in Bosnic's favour were that he was married with 17 children and had no previous convictions, but she also said he had shown no remorse and maintained that he was only interpreting Islam.
In his lectures held in Salafi strongholds in western and northern Bosnia and published on YouTube, Bosnic had promoted and spread Islamist radicalism, citing selective parts of the Koran to convince believers that killing so-called infidels, or non-Muslims, would absolve them of any previous sins, she said.
Full report at:
http://www.trust.org/item/20151105113534-1rygb
------------
UK: Loud protest mars Egypt's Sisi visit
06 November 2015
A large group of demonstrators outside 10 Downing Street is continuing to register its protest against Abdel Fattah el-Sisi's visit to London as he meets with British Prime Minister David Cameron.
Several protesters could be seen Thursday carrying banners and chanting slogans against Sisi and his regime.
"Cameron invite refugees not dictators", "Stop butcher el-Sisi", "Cameron shame on you, British values where are you?" were some of the messages given out by the protesters, who came not only from the U.K., but all over Europe.
A family of five from Spain was among a group of anti-Sisi demonstrators. Nadia, 21, said that they did not want Sisi in Britain or in Spain, and instead only wanted Egypt's first democratically-elected President Mohamed Morsi back.
The head of the Egyptian Revolutionary Council, Maha Azzam, also joined the protests against Sisi's visit. Azzam said that Cameron should clearly tell Sisi that human rights violations in Egypt were unacceptable.
"His presence here is seen as a violation of British values, a violation of international law. He is seen as a man who kills his own people. He is responsible for the imprisonment over 40,000 political prisoners.
Full report at:
http://www.worldbulletin.net/europe/166059/uk-loud-protest-mars-egypts-sisi-visit
------------
EU lawmakers call for speeding up Turkey's accession
05 November 2015
With the end of Turkish elections, European Parliament members say it is time to advance talks on Turkey's accession into the European Union.
"As the legislative elections are now behind, I think the moment has come for the EU and Turkey to engage consistently into accession talks," Cristian Dan Preda, lawmaker for the Christian Democrats, said.
"New chapters of negotiations should be opened in the following months, including in the area of justice and fundamental freedoms," Dan Preda said.
Parts of Turkey's EU accession procedure that comprises reforms in economic, political, judicial and other areas under so-called "chapters" have been blocked. Chapter 23 on judiciary and fundamental rights, and chapter 24 on justice, freedom and security, were blocked by the Greek-Cypriot administration despite the European Commission and European Parliament calling for them to be opened.
"It is time for the EU to also advance in the enlargement negotiations with Turkey and open new chapters," Victor Bostinaru, lawmaker for the Socialists and Democrats, said.
"Negotiations can only allow us to identify the problematic areas and start discussing the solutions," Bostinaru said.
Out of 35 chapters, 14 chapters have been opened and 17 remain blocked, including chapter 17 on economic and monetary policy, and chapter 26 on education and culture.
The Cyprus issue remains a major obstacle to Turkey's EU accession process.
Turkish Cypriot President Mustafa Akinci and Greek Cypriot leader Nicos Anastasiades resumed talks on reunifying the island following Akinci's election in April. Negotiations were resumed following a two-year hiatus in February 2013 but stalled in October last year after a row over mineral exploration around the island.
Kati Piri, Turkey rapporteur for the European Parliament, said that a solution to the Cyprus issue would result in the opening of many chapters for Turkey's EU accession.
However, Piri underlined that opening chapters on justice, home affairs and media freedom would speed up the accession talks.
"The [European] Parliament has always been in favor of opening those chapters which deal with justice and home affairs [and] media freedom…[what] would be helpful in order to accelerate that process is if we could also see some positive developments in that field in Turkey," she said.
- Refugee action plan
Faced with the worst migrant crisis since World War II, the EU is in the process of negotiating with Turkey on a refugee action plan, under which the 28-nation bloc has offered Turkey funds to reduce the flow of asylum seekers coming into Europe in exchange for easier visa travel rules for Turkish citizens seeking to visit Europe.
"We have to acknowledge the crucial Turkish role in hosting millions of Syrian refugees," Bostinaru said. "EU has to continue to support the efforts of Turkey and strengthen the EU-Turkey cooperation on the management of the crisis."
The Turkish government, according to official figures, has so far spent $7.6 billion on caring for around 2.5 million refugees it hosts inside the country.
Full report at:
http://www.worldbulletin.net/europe/166051/eu-lawmakers-call-for-speeding-up-turkeys-accession
------------
Spanish ex-PM defends decision to back Iraq war
05 November 201
Former Spanish Prime Minister Jose Maria Aznar - an enthusiastic supporter of the 2003 Iraq war - has claimed his country emerged a "winner" from the conflict.
Aznar's view of the war 12 years on emerged in a letter to Jose Manuel Garcia-Margallo, Spain's current foreign minister and a political ally of Aznar.
"In terms of influence and international support for our goals, Spain emerged a winner," Aznar wrote in the letter, dated Aug. 12 and included in a book by Garcia-Margallo published this week.
Aznar, who, along with George W. Bush and Tony Blair, was one of the loudest cheerleaders for the invasion, claimed he supported the war "out of pro-Atlantic conviction, because it was strategically good for Spain".
He went on to say that "political reciprocity" played a role in his decision. "You cannot ask a friend for help, and later deny that same friend aid when he requests it," he wrote.
Aznar, who ran Spain from 1996 to 2004, added: "We did what the majority of other European countries did, but our visibility was heightened because we had a non-permanent seat on the UN Security Council."
Jose Ignacio Torreblanca, head of the European Council on Foreign Relations' Madrid office, said Aznar's actions were steered by relations with other leading EU nations as well as a desire to boost Spain's and his own international standing.
"I think that Aznar did this out of intuition and emotion in a sense because his relationships with France and Germany were not good," he told Anadolu Agency. "In fact he probably thought that Europe needed a shake-up."
Torreblanca said Aznar felt Spain was being marginalized by the Franco-German axis in Europe.
"It was very personal and instinctive and going to Camp David was giving him an incredible international role which he hadn't had before… so this was a great moment for him," he said.
"It was the construction of an international image which was attractive to him personally and politically."
Should ask forgiveness
Javier Couso, a Spanish MEP whose journalist brother was killed in Iraq, condemned Aznar's comments.
"I think the words of Aznar are completely wrong and he should, at the very least, ask for forgiveness not only for the negative consequences brought on by his decisions but also because he completely went against public opinion," he told Anadolu Agency.
Aznar and his conservative People's Party government supported the war despite the opposition of more than 90 per cent of Spaniards and huge anti-war demonstrations across the country.
Last month, Blair gave an interview in which he offered a qualified apology for going to war. He said he was sorry for poor intelligence and planning and accepted the link between the war and the rise of ISIL but said he was happy to have ousted Saddam Hussein.
Blair's former spokesman Alastair Campbell noted in his diaries, published in 2007, that Blair and Aznar were united in their enthusiasm for war in the face of domestic opposition.
Campbell wrote that Aznar joked with Blair that only 4 per cent of the public supported the invasion - "roughly the number you could get in a poll for people who believed Elvis was alive".
However, Torreblanca warned against expecting any apology from Aznar.
"Even though Iraq didn't turn out well for Spain with the bombings or the United States… I don't think its Aznar's style to apologize," he said. "His apology would be an admission of domestic failure since he didn't really make the big military decisions."
The war led to ongoing violence in Iraq as the country slipped into chaos and sectarian violence.
Full report at:
http://www.worldbulletin.net/europe/166036/spanish-ex-pm-defends-decision-to-back-iraq-war
------------
Pakistan
Jamaat e Islami wants uphold of Pakistan's Islamic ideology
05 November 2015
LAHORE: Ameer, Jamaat e Islami, Pakistan, Senator Sirajul Haq, has alleged that the government was negating the two nation theory by talking of a liberal Pakistan.
Addressing the central executive of the National Labour Federation here on Thursday, he said that it was nothing short of a tragedy that the Prime Minister, head of the party that created this country, was shattering into pieces, the two nation theory which gave birth to this country.
He said that the constitution titled this country as an Islamic Republic of Pakistan. He said that the Premier was talking o a liberal Pakistan on the US dictation.
Sirajul Haq counselled the Prime Minister not to utter things that were in conflict with the constitution. He recalled that some time back, the Prime Minister had stated that Pakistan and India had the same culture and that the borders between the two countries were unnecessary. Such statements were not befitting for the head of the Pakistan Muslim League that created this country, he added.
The JI chief said it was an irony that India was killing innocent Pakistani citizens in unprovoked cross border firing every day and Indian Premier Modi's hostile attitude was the greatest obstacle in the regional peace. Hindu extremism was at its height and Indian Muslims were being forced to leave that country.
Full report at:
http://www.brecorder.com/top-news/108/259471-ji-wants-uphold-of-countrys-islamic-ideology.html
------------
Taliban faction challenges new chief Mansour
November 06, 2015
AFPBAKWAH - A breakaway faction of the Afghan Taliban has appointed its own leader, in the first formal split in the militant movement under new leader Mullah Akhtar Mansour, posing a fresh hurdle to potential peace talks.
Mullah Mohamed Rasool was named the leader of the faction in a mass gathering of dissident fighters this week in the remote southwestern province of Farah, according to an AFP reporter who attended the meeting.
It was unclear whether the new group can rally wide support but its emergence exposes simmering rifts within the movement since the announcement of longtime leader Mullah Omar's death in late July.
"Mansour is not our Amir-ul-Momineen," Rasool told the gathering of dozens of fighters in remote Bakwah district, referring to the respected Islamic title of "commander of the faithful".
"We don't accept him as our leader. He was not elected lawfully in accordance with Sharia to lead the group," said Rasool, wearing glasses and a black turban and flanked by heavily armed fighters.
Splits emerged at the top of the Taliban following the appointment of Mansour as replacement for Omar, the movement's founding leader whose death was confirmed this summer.
Many in the movement were unhappy the death had been kept secret for two years - during which time annual Eid statements were issued in Omar's name.
Others said the process to choose Mansour, believed to be too close to Pakistan's establishment, as his successor was rushed and even biased.
Among Mansour's opponents were members of Omar's family, though the dead leader's son and brother recently pledged allegiance to the new chief, according to Taliban officials.
The emergence of the new group was unlikely to threaten Mansour, who appears to have bolstered his position with a spate of Taliban military successes, including the recent stunning three-day occupation of northern Kunduz city.
But analysts warn that it bodes ill for any potential peace talks, which have stalled since the announcement of Omar's death.
"The rise of this hardline group marks the first split in the militant movement since Omar's death," said Waheed Mujhda, an Afghan analyst and former foreign ministry official during the 1996-2001 Taliban regime. "It could attract more hardline fighters and make any future peace talks more complicated for the Afghan government," Mujhda told AFP.
The Taliban have so far not commented on the rise of Rasool, who was believed to be close to Omar and served as the governor of southwestern Nimroz province during the group's rule.
He appointed four deputies - Mullah Baz Mohammad Haris, Abdul Manan Niazi, Mansoor Dadullah and Shir Mohammad Akhundzada - but did not reveal the number of followers his group has.
Full report at:
http://nation.com.pk/national/06-Nov-2015/taliban-faction-challenges-new-chief-mansour
------------
Pakistan ready to take back own migrants illegally arriving in EU
06 November, 2015
LUXEMBOURG: Pakistan has expressed readiness to accept its citizens who illegally arrived in the European Union (EU), EU foreign policy chief Federica Mogherini said Thursday, Russian news agency Sputnik reported.
After a meeting with Adviser to the Prime Minister on Foreign Affairs Sartaj Aziz, Mogherini told reporters that Pakistan expressed a readiness to cooperate.
"We already have bilateral agreements between EU and Pakistan for return and readmission." she added.
"I found readiness and willingness to cooperate in an operational way to make sure that returns are happening for real, and this is something that we will follow up in the coming weeks," she said.
The EU foreign policy chief emphasised the need for smooth implementation of the agreement.
The EU has been struggling with a massive influx of over 710,000 migrants since the beginning of 2015 as hundreds of thousands of people fleeing conflict-stricken regions are seeking asylum in the bloc.
Full report at:
http://www.dawn.com/news/1217869/pakistan-ready-to-take-back-own-migrants-illegally-arriving-in-eu
------------
Rangers chief meets MQM and JI delegations ahead of LG polls
06 November, 2015
KARACHI: Delegations of the Muttahida Qaumi Movement and Jamaat-i-Islami called on the Rangers director general on Thursday and discussed issues relating to the Karachi operation and the upcoming local government elections.
Despite having their own media wings, neither the MQM nor the JI issued any official statement regarding the meeting of their respective delegations with Major General Bilal Akbar, the director general of Pakistan Rangers, Sindh.
Representatives of the two parties whom Dawn spoke to preferred to remain tight-lipped about the outcome as well as matters discussed in the meetings.
The MQM said that its delegation was led by its parliamentary party head in the national assembly Dr Farooq Sattar and comprised MNA Kanwar Naveed Jameel and others.
The JI said that its delegation was headed by its Sindh chief Dr Mairajul Huda Siddiqui.
The only statement issued on Thursday was from a Rangers' spokesperson, who stated that in the meetings, which were separately held, the participants exchanged views about the matters related to the Karachi operation and security arrangements for the upcoming local government elections.
Full report at:
http://www.dawn.com/news/1217712/rangers-chief-meets-mqm-and-ji-delegations-ahead-of-lg-polls
------------
Pakistan regrets slow global response to refugee crisis
November 06, 2015
UNITED NATIONS - Pakistan has underscored the need for "greater attention" on conflict resolution and prevention as part of efforts to resolve the massive refugee crisis, while regretting the "slow and inadequate" international response to this tragedy.
"These massive human movements are the consequence of conflicts, persecution as well as poverty and injustice," Ambassador Maleeha Lodhi permanent representative of Pakistan to the UN, told the General Assembly's Third Committee, which deals with social, humanitarian and cultural questions.
Speaking in a debate on humanitarian questions, she brought into sharp focus the tremendous human suffering resulting from today's huge forced displacement and called for a "humane" response.
"The international community has ignored massive human suffering in the past and the current crisis could mark a new flag of shame," Ambassador Maleeha Lodhi warned.
The Pakistani envoy said that the Third Committee must thoroughly review this humanitarian crisis, and make clear and actionable recommendations to the General Assembly to address this dire situation.
With 60 million displaced people globally, 2015 would be remembered for the largest number of refugees and migrants losing their lives in pursuit of safety, Maleeha Lodhi said.
"The journeys of escape for these people have often turned into journeys of death.
She regretted that more than half of the total refugee population were children, who suffered from lack of proper nutrition and access to education.
They were also exposed to heightened risks of child labour, sexual abuse and other forms of exploitation, Maleeha stated.
Full report at:
http://nation.com.pk/national/06-Nov-2015/pakistan-regrets-slow-global-response-to-refugee-crisis
------------
Pakistan becomes favourite destination for foreign investors: Pervaiz
November 06, 2015
ISLAMABAD : Minister for Information, Broadcasting and National Heritage Senator Pervaiz Rashid Thursday said that Pakistan had become a favourite destination for foreign investors due to investment-friendly policies of the present government.
Addressing a joint press conference along with Board of Investment (BoI) Chairman Miftah Ismail here, he said honesty, corruption-free policies and transparency were prerequisite for investment and Pakistan had all these qualities to attract foreign investment. Businessmen invested in those countries only where they thought that their investment was safe and that they would get a level-playing field, he added.
Talking about inward foreign remittances, the minister said the same had registered an increase in last two years, besides foreign exchange reserves had swelled and inflation rate decreased. These indicators, he said, clearly showed that Pakistan had an investment-friendly environment and all international surveys certified that.
Full report at:
http://nation.com.pk/national/06-Nov-2015/pakistan-becomes-favourite-destination-for-foreign-investors-pervaiz
------------
JuD to challenge ban on its media coverage
November 05, 2015
LAHORE: The Jamatud Dawa decided to challenge the ban on its media coverage in the Lahore High Court today.
According to JuD sources, a meeting of the organization said it was the question of the freedom of speech and expression, which had been guaranteed by the Constitution, and the government could not deny this right to the JuD.
The ban, the JuD official said, had been imposed by the government to please its "foreign masters", including India.
He said the ban could not be imposed on an organization which had no political agenda and which talked only of Pakistan.
The PEMRA banned a few days ago media coverage of proscribed organisations, including the Lash­kar-e-Taiba (LeT), Jamaatud Dawa (JuD) and the Falah-i-Insaniat Foundation (FIF).
Following the Dec 2001 attack on the Indian parliament, the government of Pakistan banned LeT on January 14, 2002. After the proscription, the organisation continued to operate, first under the banner of JuD and then the FIF.
Full report at:
http://nation.com.pk/national/05-Nov-2015/jud-to-challenge-ban-on-its-media-coverage
------------
South Asia
'Amnesty International does not care about war martyrs'
November 06, 2015
Slamming Amnesty International (AI) for its "controversial statement" over the trial of two war crimes convicts, the Sector Commanders' Forum-Liberation War'71 said the rights body does not care about the martyrs of the liberation war rather it upholds the view of the defence in the Bangladesh war crimes trial.
"To draw any equivalence between the freedom fighters who fought for the fundamental democratic rights of their nation, and the war criminals, who trampled the electoral verdict and attacked unarmed civilians systematically and brutally, is no doubt a wilful blindness on the part of Amnesty International," said the Forum in a letter to AI and its Secretary General Salil Shetty.
"To raise the issue in the context of the ongoing trials is also a deliberate provocation," reads the letter sent on November 4, condemning the rights watchdog's press release issued on October 27, and asked to withdraw its statement or rectify it with suitable words of logic.
The Forum yesterday organised a press conference at the Jatiya Press Club where its Secretary General Haroon Habib read out the sent letter.
"By issuing a statement like this, the Amnesty International had also commented on a sub-judice matter, which we consider a clear interference into the judicial process of a sovereign country," said Haroon Habib, who on behalf of the Forum signed the letter.
"Your press release, sadly has clearly reflected the views of the defence in the Bangladesh war crimes trials. The statement also made us believe that AI didn't care about the history of Bangladesh Liberation War when three million people were butchered and nearly half a million women were raped," reads the letter.
Full report at:
http://www.thedailystar.net/country/amnesty-international-does-not-care-about-war-martyrs%E2%80%99-168361
------------
'Hard to believe US strike on Afghan hospital a mistake'
November 06, 2015
KABUL : Medical aid group Medicins Sans Frontieres (MSF) said on Thursday it was hard to believe a US strike on an Afghan hospital last month was a mistake, as it had reports of fleeing people being shot from an aircraft.
At least 30 people were killed when the hospital in Kunduz was hit by the strike on Oct.
3 while Afghan government forces were battling to regain control of the northern city from Taliban forces who had seized it days earlier.
The United States has said the hospital was hit by accident and two separate investigations by the US and NATO are underway but the circumstances of the incident, one of the worst of its kind during the 14-year conflict, are still unclear.
MSF General Director Christopher Stokes told reporters the organisation was still awaiting an explanation from the US military.
"All the information that we've provided so far shows that a mistake is quite hard to understand and believe at this stage," he said while presenting an MSF internal report on the incident.
The report said many staff described "seeing people being shot, most likely from the plane" as they tried to flee the main hospital building.
"From what we are seeing now, this action is illegal in the laws of war," Stokes said.
"There are still many unanswered questions, including who took the final decision, who gave the targeting instructions for the hospital.
"
Several Afghan officials have suggested Taliban fighters were using the hospital as a base, a claim that MSF firmly rejects.
It says the facility was under its control at all times and there were no armed fighters present either before or during the attack.
The hospital was treating wounded combatants from both sides as well as civilians, but the group says it always maintained a strict policy of neutrality between the two sides.
"Treating wounded combatants is not a crime," Stokes said.
Full report at:
http://nation.com.pk/international/06-Nov-2015/hard-to-believe-us-strike-on-afghan-hospital-a-mistake
------------
Afghanistan to buy military helicopters from India, move likely to anger Pakistan
November 6, 2015
Afghanistan is poised to acquire four attack helicopters from India to help it fight a growing Taliban insurgency, a small but significant deal marking a shift in Kabul's search for allies that is likely to anger Pakistan.
Soon after he took over, Afghan President Ashraf Ghani held off military assistance from India while he courted Pakistan's political and military leadership to end years of mutual hostility and steer the Taliban, many of who live in Pakistan, toward negotiations.
But a wave of bombings in Kabul that Ghani said were plotted in Pakistan, followed by the Taliban encircling major cities including briefly taking over Kunduz in the north, has prompted a scramble to shore up support in the region.
Afghan National Security Adviser Mohammad Hanif Atmar is due in New Delhi this weekend to finalise the transfer of the Russian-made Mi-25 helicopters, said sources in New Delhi and Kabul who are involved in the plans.
Afghan forces badly need air power to reverse gains by the Taliban and in particular helicopter gunships that have range as well as firepower, the officials said.
While the United States has agreed to supply Afghan forces with light McDonnell Douglas MD 530 helicopters, which can be fitted with weapons, many Afghan officers prefer the bigger, sturdier Russian machines. Atmar will be discussing with his Indian hosts the fight against terrorism as well as air force equipment issues, the Afghan National Security Council said in a Twitter post. "We are going to give them the helicopters, this is a one-off arrangement," said an Indian security official, speaking on condition of anonymity because of the sensitivity of the matter. The supply of the assault helicopters will be the first offensive weapon to Afghanistan since India signed a strategic partnership agreement with Kabul in 2011 that riled old enemy Pakistan. It has donated light helicopters, vehicles and provided military training in the past. An Afghan source confirmed the plan to induct Mi-25s from India, saying Kabul was looking to regional players to help it fight the Taliban. "We are the ones who are fighting the Islamic State, al Qaeda and the Taliban, everyone else is only talking," the source said. "But terrorism is everyone's problem." Atmar will also be discussing a proposal to train Afghan Special Forces in counter insurgency schools in India, the Afghan source said, in addition to about 1,000 Afghan army officers who visit India for training each year. WATCHED VERY CLOSELY Pakistan's foreign ministry declined to comment on the Afghan plan to obtain attack helicopters from India, saying it was a matter between those two countries. The military did not respond to a request for comment. Pakistan, bordered by India to the east and Afghanistan to the west, has in the past frowned on Indian military assistance to Afghanistan, seeing it as part of a plan to undermine its stability from the rear. It has said New Delhi must limit itself to economic assistance. "This kind of deal will definitely be watched very closely here and people will be concerned about this," said Ejaz Haider, a Lahore-based security analyst. "Because it will be seen as linking up with the steadily deteriorating relations between Afghanistan and Pakistan." Afghanistan has sought military hardware not only from India but also Russia directly. Earlier the United States had purchased smaller helicopters from Russia for its air force but that stopped after Moscow's military intervention in Ukraine. "They (Afghan air force) have been going to many nations – it's not just been to Russia. Full report at:
http://indianexpress.com/article/world/world-news/afghanistan-to-buy-military-helicopters-from-india-move-likely-to-anger-pakistan/
------------
Prominent religious cleric killed in Ghazni province of Afghanistan
Nov 06 2015
A prominent religious scholar was assassinated by the anti-government armed militants in the restive southeastern Ghazni province of Afghanistan.
According to the local government officials, the incident took place in the provincial capital of Ghazni province on Friday morning after a magnetic bomb went off in the vehicle of Maulavi Jilani Urfani.
Deputy provincial police chief Asadullah Shujae confirmed the incident and said the blast happened in Shamir area of Ghazni city.
No group including the Taliban militants has so far claimed responsibility behind the incident.
Ghazni is among the volatile provinces in southeastern Afghanistan where anti-government armed militants are actively operating in its various districts and frequently carry out insurgency activities.
Full report at:
http://www.khaama.com/prominent-religious-killed-in-ghazni-province-of-afghanistan-1678
------------
Can the idealist Afghanistan & realist Pakistan cooperate?
Nov 05 2015
It seems that Afghanistan and Pakistan are perennially unwilling to see eye to eye. The conflict between the two neighbor states has become a protracted conflict. As the regional situation is further deteriorating, it becomes necessary to question whether there is hope for cooperation and de-escalation of the conflict. To this end, it is necessary to analyze the growing narrative of animosity that is spurring from within both nations. In particular, it begs to question what images both countries have of each other?
It doesn't take long to see that the varnished narrative in both nations is one of mistrust and misinterpretation. These perceptions partly developed because of legacies started 150 years ago when the region was controlled by the British Empire and partly because of the alliance system under the city states rulers prior to the British Presence.
It could be more than these two and that is all about modern definition of power; how to apply virtues and vices to survive and win. It can be said in the Machiavellian sense that men have always been ungrateful and deceivers. They always shunt danger and are greedy for profit. Perhaps this is why both countries are trying not to be good. Are Afghanistan and Pakistan really trying not to coexist? Are Afghanistan and Pakistan ready to embrace the unvarnished truth of the current condition or continue to perpetuate an imaginary conception of each other?
No need to go far in the history of conflict in the region between the old city states when they were friends on Wednesday, enemy on Thursday and again friends on Friday praying together, but let's look at the very recent history of both countries policies and decision making process since mid-20th century. Pakistan since its birth and Afghanistan were on the road towards virtual rapture; neither real friends nor real enemies, reacting towards incidents.
Pakistan blames Afghanistan for playing a dubious role during creation of Pakistan; tried to stop Pakistan from membership of United Nations. Later on, Afghanistan became the center of pakhtoonistan separatist movement and acted aggressively along borders with a military move in September 1960. Finally, According to Pakistan, Afghanistan has always favored the other neighbors over Pakistan, namely Iran and India.
Afghanistan claims that the Afghan attitude and the government of Afghanistan policy have always been friendly towards Pakistan. For instance, during three Pakistan wars Afghanistan stayed neutral with strong sympathy to Pakistan. In 1969-1971 in spite of great internal turmoil in Pakistan, Afghanistan did not attempt to destabilize the internal security of Pakistan, but Pakistan has always dishonored its words and promises such as commitments in Geneva Accord, Islamabad Accord, Peshawar Accord and transit agreement with Afghanistan.
The reality of the last four decades in the region has been completely different from the above narratives. The Soviet Union military intervention in Afghanistan changed the power politics and the ability of both countries. Pakistan embraced political realism and survival mentality in Machiavellian sense: perceiving the international system as is. For Pakistan politics and power became a zero-sum game and their politicians adapted themselves competitively to this short, nasty and brutish environment.
Afghanistan on the other hand has looked at the international system in ultra-liberal perspective and framed its worldview idealistically. Its politicians having more faith on the so called international community rather than its internal power. Afghanistan has strived to integrate into the international system by relying first on Former Soviet Union and recently the United States; talking of idealist agendas that are foreign to the nation, liberal reforms before traditional values, radical change that would somehow bring peace and prosperity to the whole nation.
Full report at:
http://www.khaama.com/can-the-idealist-afghanistan-realist-pakistan-cooperate-4087
------------
For Myanmar's Muslims, little to cheer about historic election
November 6, 2015
SITTWE: In a refugee camp outside Myanmar's provincial capital Sittwe, Soe Hlaing was holding a pink card, the most coveted of the rainbow of documents indicating citizenship status, which gives him a vote in Sunday's historic election.
But the 44-year-old Muslim said he will not be exercising the right, in protest against the disenfranchisement of most of the 1.1 million Rohingya Muslims amongst whom he lives.
Soe Hlaing is a Kaman Muslim, not a Rohingya. The Kaman are one of Myanmar's recognized 135 ethnic groups and entitled to full citizenship rights by birth, unlike the persecuted Rohingya.
But Soe Hlaing ended up in a refugee camp with mainly Rohingya during brutal anti-Muslim violence in 2012. Since entering the camp, the authorities have subjected him to the same restrictions on freedom of movement as his Rohingya neighbors.
"Unless everyone can vote, I will not vote," he said, sitting outside his rattan home in the Ohn Daw Gyi camp on the outskirts of Sittwe. Even his wife, he said, was left off the camp's short voter list.
As Myanmar heads to the polls on Nov. 8 the plight of its Muslim minority remains a blot on what is billed as the country's first free and fair election for 25 years.
The opposition National League for Democracy (NLD) is widely expected to do well in the election, but the milestone for political reforms an NLD victory would represent will be lost on much of the Buddhist-majority country's Muslims.
Radical Buddhist monks have stoked anti-Muslim tensions in the run-up to the election and the NLD is not fielding any Muslim candidates for fear of intimidation.
There are very few Muslim candidates standing for any party, even though Muslims make up about five percent of the 51 million population.
About 150 people are eligible to vote out of nearly 100,000 Muslims living in 20 camps surrounding Sittwe, the Rakhine capital, according to the state's election commission chair, Aung Myat.
Some 2,000 Kaman, according to figures compiled by the United Nations, ended up trapped in refugee camps in Rakhine following anti-Muslim violence in 2012.
There is no reliable figure for the Kaman population in Myanmar, but thousands live in Rakhine State.
"It's a sad indictment of the widespread anti-Muslim sentiment that is not just aimed at the Rohingya," said David Mathieson, a senior researcher on Myanmar at Human Rights Watch in Yangon.
Deeply disappointed
Many Rohingya held temporary citizenship documents known as white cards until February, when President Thein Sein abruptly announced the cards would be nullified.
That stripped the Rohingya of the right to vote. Many Muslim candidates were also disqualified from standing as candidates this year.
The Arakan National Party (ANP), a powerful organization of ethnic Rakhine Buddhists, maintains that Rohingya are illegal immigrants from Bangladesh, despite many living in Myanmar for generations.
It led the successful lobbying of the national government to have them disenfranchised, to the dismay of the United Nations.
Full report at:
http://www.freemalaysiatoday.com/category/world/2015/11/06/for-myanmars-muslims-little-to-cheer-about-historic-election/
------------
Southeast Asia
'Haram' to welcome Obama, Hizbut Tahrir tells Putrajaya, Malaysian Muslims
BY AIZYL AZLEE
November 6, 2015
PUTRAJAYA, Nov 6 — The local chapter of a hardline Islamist group claimed today that it would be "haram" for the Putrajaya and Muslims here to welcome United States President Barack Obama when the latter arrives in Kuala Lumpur later this month for his second visit to Malaysia.
The group, Hizbut Tahrir Malaysia (HTM), labelled Obama an "enemy" of Islam, citing the deaths of Muslims in Iraq, Afghanistan, as well as in the ongoing Syrian conflict, which they blamed on the US president's administration.
"We hope that Muslims, specifically in Malaysia, realise that Obama is Islam's enemy. Many of our brothers and sisters have been killed in Iraq and Afghanistan.
And now, as a result of the cooperation, the permission and the instruction of the US, we see Russia has invaded Syria and have dropped their bombs in Syria, killing many Muslims there," HTM spokesman Abdul Hakim Othman told reporters outside the prime minister's office here this afternoon.
"And we hope Muslims in Malaysia realise that they are our enemy and that it is haram to welcome them."
The group handed over a memorandum to the Prime Minister's Department today to state its objection to Obama's scheduled visit this month.
In the memorandum, HTM pointed out that two visits by a US president in two years was out of the ordinary. The pro-caliphate movement also warned of Obama allegedly bringing with him agenda that could endanger Muslims here, and Malaysians in general.
It listed four official reasons for its rejection of the US president's visit, including a claim that Obama is the leader of an imperialist country that shows hostility towards Muslims in the name of countering terrorism; and another claim accusing the world leader of backing Zionist Jews.
Full report at:
http://www.themalaymailonline.com/malaysia/article/haram-to-welcome-obama-hizbut-tahrir-tells-putrajaya-malaysian-muslims
------------
Mahathir Mohamad questioned over alleged plot to oust Malaysia PM
Nov 6, 2015
Police in Malaysia have questioned former Prime Minister Mahathir Mohamad, who is being investigated for remarks against the country's current prime minister.
An aide for Mahathir said police questioned the country's longest-serving revered leader at his office on Friday. He did not give specific details about the meeting.
Police had said before that they sought a statement from Mahathir over his recent remarks that urged the toppling of Prime Minister Najib Razak.
Mahathir has become the harshest critic of Razak, who is facing his worst political quandary since rising to power following revelations that he has hundreds of millions of dollars in his bank accounts.
A probe by Malaysia's Anti-Corruption Commission said the money was political donation from an unknown supporter in the Middle East. But criticism has not subsided.
In August, Mahathir called for a "people's power" movement to oust the prime minister after attending an anti-government demonstration organized by the Coalition for Clean and Fair Elections in Kuala Lumpur.
Full report at:
http://www.presstv.ir/Detail/2015/11/06/436518/Malaysia-Mahathir-Mohamad-Najib-Razak
------------
Africa
Islamists to gain as Nidaa Tounes split looms
Nov. 04, 2015
TUNIS: After weeks of sharp disputes between its leaders, Tunisia's ruling party is on the verge of breaking up, which could allow Islamist rivals to usurp it as the biggest bloc in parliament.
Tensions between two wings of Nidaa Tounes, whose name means Call of Tunis, spilled over into violence last week when a party meeting descended into open fighting with fists and sticks at a luxury hotel at the beach resort of Hammamet.
A split within Nidaa Tounes could trigger political instability in the country that launched the first of the Arab Spring revolutions in 2011.
Unlike peers such as Libya and Syria, Tunisia has made a successful transition to democracy – an achievement recognized last month by the Nobel Peace Prize committee. But key economic reforms have yet to be launched, and two deadly attacks this year have highlighted the threat posed by Islamist militants.
Thirty-two of Nidaa Tounes' 86 lawmakers have already threatened to break away in protest at what they see as attempts by President Beji Caid Essebsi, who founded the secular party in 2012, to impose his son Hafhed as its leader. The president's office rejects those accusations.
Losing those seats would leave the Islamist movement Ennahda, with 67 seats in the 217-member parliament, as the biggest faction in the governing coalition.
"Division means Nidaa Tounes will not be the majority party in parliament, and Ennahda will be the first power," said Abada Keffi, a senior figure in Nidaa Tounes.
Another top party official, Bochra Ben Hmida, told Reuters: "We may have to resort to establishing a new party. ... This is very likely now that dialogue has become impossible."
The political disputes have emerged at a sensitive moment for Tunisia as it looks to tackle reforms to cut subsidies and public spending in order to curb its deficit and meet the demands of lenders, including the International Monetary Fund.
Local elections next year are also influencing party agendas.
After the uprising that ousted autocrat Zine al-Abidine Ben Ali, long-suppressed Islamists emerged as a political force and Ennahda won elections held later in 2011.
That galvanized opponents, including leftists, former regime figures and opponents of political Islam, to form a single bloc and try to capture popular discontent with Ennahda's early performance.
Nidaa Tounes emerged as a political force in 2013 to lead popular protests against the Ennahda government, forcing the Islamists to step down and make way for a non-partisan transitional government and new elections.
It beat Ennahda in elections last year and went on to form a coalition with its rival. But cracks began to emerge over the party's structure, direction and appointments after Essebsi senior was elected president and stepped down as its leader.
Insiders say Nidaa Tounes is now split into two wings, one led by Hafhed Caid Essebsi and the other by Mohsen Marzouk, a former leftist activist and the party's secretary-general. "After what happened, continuing with the one party without a split has become very difficult," Marzouk told local media after the violence at the party conference. "It's unfortunate."
The camp led by the president's son is pushing for a larger role through a party restructuring. But Marzouk's wing resists what some see as a hereditary transfer of power and a return of the autocratic style of the Ben Ali era.
Allies of the president, though, dismiss claims they are looking to force his son into a position of influence.
Full report at:
https://www.dailystar.com.lb/News/Middle-East/2015/Nov-04/321502-islamists-to-gain-as-nidaa-tounes-split-looms.ashx
------------
African Union warns about threat of Burundi crisis to region
Nov 5, 2015
The African Union (AU) has warned that the continuation of the political crisis in Burundi poses a major threat to both the country and the region.
AU Commission chief Nkosazana Dlamini-Zuma made the remarks in a statement on Thursday, calling on the conflicting sides in the country to work to resolve their differences peacefully.
Dlamini-Zuma warned that if the conflict continues, the situation will "create conditions for more instability, with devastating consequences for Burundi and the whole region."
She also said the situation could send the country back into a civil war and called on leaders in Burundi to "demonstrate the sense of responsibility that the situation demands and to place the interests of the Burundian people above any other consideration."
The AU official also repeated threats of "targeted sanctions" previously made by the union against some of the warring sides' leaders.
Full report at:
http://www.presstv.ir/Detail/2015/11/05/436400/Burundi-AU-Nkosazana-DlaminiZuma
------------
South Sudan warring sides violating peace deal: UN experts
Nov 5, 2015
Experts from the United Nations (UN) say crimes such as killings, rapes, and abductions continue in South Sudan despite a peace deal reached between the government and rebels.
A panel of experts reported to the UN Security Council (UNSC) on Wednesday that both sides to the South Sudan conflict were violating a ceasefire agreement reached in August.
The UN experts cited "numerous credible reports" of "killings, rapes, displacements, burning of villages, and abductions of women and children," with more than 50 cases of rape having been reported for the month of October alone.
In their report, the experts told the UNSC that both government forces and rebels were "actively expanding their stockpiles of arms and ammunition," in clear violation of the deal that was reached on August 26 in neighboring Ethiopia.
They also warned that the Unity and Upper Nile states are at risk of being exposed to an escalation of violence as the rainy season comes to an end.
The panel added that the humanitarian crisis in the African country was worsening with some 3.9 million people currently being threatened with famine.
Full report at:
http://www.presstv.ir/Detail/2015/11/05/436358/South-Sudan-UN-experts-peace-deal
------------
Burundi risks sliding into civil war
06 November 2015
After months of violence, troubled Burundi risks sliding into civil war, a leading think tank has warned, issuing a "conflict alert" after a string of battles between gunmen.
"Burundi again faces the possibility of mass atrocities and civil war," the Brussels-based International Crisis Group (ICG) warned in a report issued late Thursday.
"Escalating violence, increasingly hardline rhetoric and the continued stream of refugees (more than 200,000) indicate that divisions are widening, and the 'national dialogue' is doing little to relieve the mounting tensions," the group said.
The United Nations has also warned that Burundi risks sliding back into conflict after a dramatic rise in killings, arrests and detentions.
The central African nation has seen months of violence triggered by President Pierre Nkurunziza's successful bid to win a third term in office, with the government calling the gangs of gunmen "criminals".
This week, Nkurunziza issued an ultimatum to gunmen to lay down their weapons, while Senate president Reverien Ndikuriyo warned that police would soon go to "work" and asked district officials to identify "elements which are not in order", the ICG said.
"The language is unambiguous to Burundians and chillingly similar to that used in Rwanda in the 1990s before the genocide," the ICG said.
Some 200 people have been killed in Burundi since violence broke out in April, according to the UN.
Full report at:
http://www.worldbulletin.net/africa/166069/burundi-risks-sliding-into-civil-war
------------
UN Libya envoy's secret role revealed
05 November 2015
The Chief of UN Mission in Libya Bernardino Leon has been offered a job by the UAE, the Guardian revealed Wednesday.
The UAE announced that Leon would take over as head of the academy, a state-backed thinktank founded last year to promote the UAE's foreign policy and strategic relations and train its diplomats.
Emails seen by the Guardian show Leon was offered the role of director general in June, a move followed up by talks about increasing his housing allowance a month later.
Leon's new job in the UAE calls into question his impartiality as the UN's chief peacemaker.
The UAE is seen as a strong backer of Tobruk parliament.
Just five months after he was appointed as its mediator in Libya, he sent an email dated 31 December 2014 to the UAE's foreign minister, Sheikh Abdullah bin Zayed, from his personal account.
In it he tells the UAE that, because of the slow progress of peace talks, Europe and the US were asking for a "plan B… a classical peace conference... This is, in my opinion, a worse option than a political dialogue… because it will treat both sides as equal actors."
Leon goes on to say that his plan is to "break a very dangerous alliance" between the wealthy merchants of Misrata and the rebel forces that keeps the GNC afloat. He says he wants to reinforce the HOR.
Full report at:
http://www.worldbulletin.net/africa/166039/un-libya-envoys-secret-role-revealed
------------
URL: https://www.newageislam.com/islamic-world-news/new-age-islam-news-bureau/don't-misinterpret-quran-to-have-more-than-one-wife,-says-gujarat-hc/d/105192