New Age Islam News Bureau
10 Apr 2017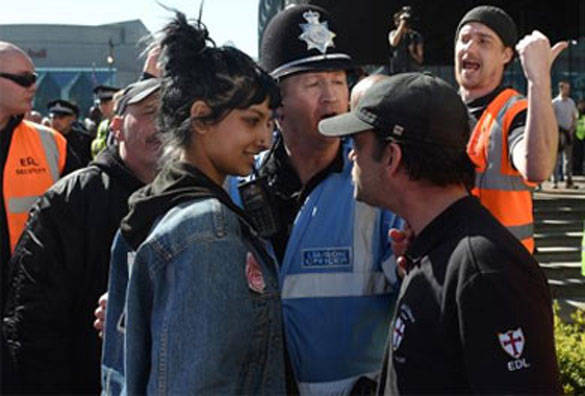 ISIS claimed responsibility for the church bombings in Egyptian cities Alexandria and Tanta. (AFP)
----
• 'Don't Get Confused Over Arabisation and Islamisation'
• Egypt's Sisi Declares Three-Month State of Emergency
• 44 Killed As IS Bombs Two Egypt Churches
• Muslims Donate Land, Money to Build Hindu Temple in Bihar
• Western Forces Presenting Islam as Terrorist Religion: Rabbani
Southeast Asia
• 'Don't Get Confused Over Arabisation and Islamisation'
• Malaysia: 'We're Like Taliban Country, But Our Leaders Wear Expensive Suits'
• Borneo church seeks clarification on use of 'Allah'
• Online hate speech fuels Islamophobia in China
• Malaysia puts high hopes on one halal certification with Indonesia
• Indonesia Condemns Palm Sunday Bomb Attacks in Egypt
--------
Arab World
• Egypt's Sisi Declares Three-Month State of Emergency
• 44 Killed As IS Bombs Two Egypt Churches
• Sadr Becomes First Iraqi Shi'ite Leader to Urge Assad to Step Down
• Iraqi troops kill 30 Daeshi bombers in west Mosul
• Several Sudanese, UAE Troops Killed in Yemen's Rocket Attacks in Ta'iz Province
• Who were the suicide bombers behind Egypt's deadly church attacks?
• Saudi Arabia's highest religious body condemns twin Egypt church attacks
• U.S. attack on Syria air base crosses 'red lines', says Assad allies
• Idlib: US-Made Arms Depot Destroyed in Syrian Airstrike
--------
India
• Muslims Donate Land, Money to Build Hindu Temple in Bihar
• Misuse of 'Triple Talaq' Created Legal Issues: Secretary AIMPLB
• Army foils infiltration bid along LoC in Keran sector, four terrorists killed
• India Inc Gears Up To Combat Terror, Crime
• Jammu & Kashmir: Four infiltrators killed by Army in Kupwara district
• Modi government unwilling to endorse any move that will weaken Bangladesh PM Sheikh Hasina
• Bangladesh PM Sheikh Hasina prays for peace, stronger ties at Ajmer Dargah
--------
Pakistan
• Western Forces Presenting Islam as Terrorist Religion: Rabbani
• Operation Radd-Ul-Fasaad: 5 'Terrorists' Killed In DG Khan
• Saudis execute three Pakistanis
• Nawaz bars PML-N leaders from making controversial comments about Raheel Sharif
• Security forces foil bid to smuggle explosives, weapons from Afghanistan
• Raheel-led Islamic alliance will help counter terrorism: Imam-e-Kaaba
• Encounter with CTD kills terrorist: explosives recovered
• US role a must in Russia-initiated Afghan talks, says Fatemi
• Christians celebrate Palm Sunday
--------
Mideast
• Erdogan: 'Sick Man' Europe Collapsing, Turkey 'Growing'
• Israel Will Continue To Treat Injured Syria Militants: Netanyahu
• Toll in clashes at Lebanon Palestinian camp rises to 5
• Turkey says Russia must stop insisting on Assad's leadership in Syria
• Houthi militias are raiding what's left of Yemen's treasury
• US missile strikes against Syria strategic mistake: Ayat. Khamenei
• Iran, Syria military top brass discuss US strikes in Syria
--------
Europe
• UNICEF Urges Myanmar to Release Detained Rohingya Children
• Norway raises threat level after bomb found, Russian arrested
• Second suspect arrested over Stockholm truck attack
• Islamic fintech firm becomes first to get UK regulatory approval
--------
South Asia
• 3 Al-Qaeda Network Members Killed In Paktika Province of Afghanistan
• Air strike kills two Haqqani commanders in Ghazni
• Fundamentalists demand govt remove compulsory Mongol Shobhajatra in schools
• Russia reacts at alleged support to the Afghan Taliban
• Afghanistan reacts at Pakistani allegations over India's destructive role
--------
Africa
• Christians Are Frustrating Fight against Terrorism In Nigeria – Islamic Scholar
• Bombing near army chief's convoy kills 15 in Mogadishu
• South Africa to re-think nuclear expansion program
• Cameroon: Islamic Solidarity Games - Preparations Hot up
--------
North America
• Quebec City Man to Become Canada's First French-Speaking Muslim Military Chaplain
• In the Trump era, one U.S. Muslim investor tries a louder voice
• Outside anti-Islam event, protesters ask for acceptance
• For U.S. citizen at border, 'the fear of coming home'
Compiled by New Age Islam News Bureau
URL: https://www.newageislam.com/islamic-world-news/dont-get-confused-arabisation-islamisation/d/110715
--------
'Don't Get Confused Over Arabisation and Islamisation'
Bernama | April 9, 2017
BANGKOK: The Muslim community in Thailand should not be confused with the process of Arabisation and the demands of Islamisation in pursuing their religious faith.
Global Movement of Moderates Foundation (GMM) chief executive officer Nasharudin Mat Isa said Arabisation was a trend that not only happened in Malaysia but also in the region.
"What should be enlivened is the process of Islamisation and not Arabisation, because not all Arabs are Muslim," he said when met by Bernama after delivering his keynote address at a seminar on moderation at Chulalongkorn University.
The seminar, with the title "Moderation Islamic Approach to Face the Global Transition on Asean-Thailand" was attended by Islamic academicians in Thailand, as well as Malaysian Ambassador to Thailand Nazirah Hussain and former Asean secretary-general Surin Pitsuwan.
Nasharudin, who was appointed GMM chief executive officer in 2015, said many people wanted to be Arabs thinking that "Arab is Islam and Islam is Arab".
The Malays, he said, were rich in culture that did not contradict Islamic teachings.
"For as long as the culture (practised) does not contradict the syarak (Islamic teachings), it is not prohibited in Islam," he added.
Meanwhile, Surin, who was former Thai foreign minister, in his speech at the seminar, said Malaysia and Indonesia were now faced with the problems of Arabisation of their culture.
http://www.freemalaysiatoday.com/category/nation/2017/04/09/dont-get-confused-over-arabisation-and-islamisation/
--------
Egypt's Sisi Declares Three-Month State of Emergency
9 April 2017
President Abdel Fattah al-Sisi declared a three-month state of emergency in Egypt following twin church bombings that killed dozens of people in two cities on Sunday.
Under the country's constitution, Sisi will have to put the measure before parliament, which is stacked with his supporters, for approval within a week.
Sisi announced the "state of emergency for three months" in a defiant speech at the presidential palace after a meeting of the national defense council.
He also announced the formation of a supreme council tasked with confronting terrorism and extremism in Egypt. During the speech after Sunday's aftermath in Alexandria and Tanta, Sisi also called on the international community to hold to account states that have supported terrorists during the past few years.
ISIS has claimed responsibility for the church bombings in the Nile Delta cities of Alexandria and Tanta in which at least 44 people were killed.
https://english.alarabiya.net/en/News/middle-east/2017/04/09/Egypt-s-Sisi-declares-three-month-state-of-emergency-.html
--------
44 Killed As IS Bombs Two Egypt Churches
April 10, 2017
TANTA - The Islamic State group claimed responsibility for bombing two Egyptian churches as worshippers gathered to mark Palm Sunday, killing at least 44 people in the deadliest attacks on the Coptic Christian minority in recent memory.
The attacks followed a Cairo church bombing in December and came weeks before a planned visit by Catholic Pope Francis intended to show support for Egypt's Christian minority.
The first bombing struck the Mar Girgis church in the city of Tanta north of Cairo, killing 28 people, the health ministry said.
"I just felt fire grabbing my face. I pushed my brother who was sitting next to me and then I heard people saying: 'explosion'," a wounded witness in hospital told state television.
Emergency services had scrambled to the scene when another blast rocked Saint Mark's church in Alexandria where Coptic Pope Tawadros II had been leading a Palm Sunday service.
Sixteen people including three police officers were killed in that attack, which the interior ministry said was caused by a suicide bomber who blew himself up when police prevented him from entering the church.
The ministry said Tawadros was unharmed, and a church official said he had left before the bombing.
The private CBC Extra channel aired footage of the Alexandria blast, with CCTV showing what appeared to be the entrance of the church engulfed in a ball of flame and flying concrete moments after a security guard turned away a man.
At least 78 people were wounded in Tanta and 40 in Alexandria, the health ministry said.
Officials denounced the violence as an attempt to sow divisions in Egypt, and Francis sent his "deep condolences" to Tawadros.
IS claimed its "squads" carried out both attacks, in a statement by its self-styled Amaq news agency published on social media.
There were bloodstains on the floor of the church in Tanta, next to shredded wooden benches. State television reported that the interior minister sacked the provincial head of security and replaced him after the attack.
President Abdel Fattah al-Sisi declared a three-month state of emergency in Egypt following twin church bombings. Sisi announced the "state of emergency for three months" in a defiant speech at the presidential palace after a meeting of the national defence council.
Sisi also ordered military deployments to protect "vital and important infrastructure" after Islamic State group bombings hit two churches. "President Sisi... has decided to order the military to deploy protection units to guard vital and important infrastructure in all the republic's provinces," a statement from the presidency said.
On March 29, the Mar Girgis church's Facebook page said a "suspicious" device had been found outside the building that security services removed.
"I heard the blast and came running. I found people torn up... some people, only half of their bodies remained," said Nabil Nader, who lives in front of the Tanta church.
Worshippers had been celebrating Palm Sunday, one of the holiest days in the Christian calendar, marking Jesus's triumphant entrance to Jerusalem.
Francis, who is due to visit Cairo on April 28-29, offered prayers for the victims. "Let us pray for the victims of the attack unfortunately carried out today," he said in an Angelus prayer. "May the Lord convert the heart of those who sow terror, violence and death and also the heart of those who make weapons and trade in them."
Copts, who make up about one tenth of Egypt's population of more than 92 million and who celebrate Easter next weekend, have been targeted by several attacks in recent months.
Jihadists and Islamists accuse Copts of supporting the military overthrow of Islamist president Mohamed Morsi in 2013, which ushered in a deadly crackdown on his supporters.
In December, a suicide bombing claimed by IS killed 29 worshippers in Cairo. The group later released a video threatening Egypt's Christians with more attacks.
The bombing of the church within a compound that also holds the seat of the Coptic papacy was the deadliest attack against the minority in recent memory.
A spate of jihadist-linked attacks in Egypt's restive Sinai Peninsula, including the murder of a Copt in the city of El Arish whose house was also burned, led some Coptic families to flee their homes.
About 250 Christians took refuge in the Suez Canal city of Ismailiya after IS released a video in February calling for attacks on the minority.
Reacting before Sunday's second bombing, Foreign Ministry spokesman Ahmed Abu Zeid called the Tanta attack "a failed attempt against our unity".
"Terrorism hits Egypt again, this time on Palm Sunday," he tweeted.
Prime Minister Sherif Ismail also condemned the attack, stressing Egypt's determination to "eliminate terrorism".
The Cairo-based Al-Azhar, an influential Sunni Muslim authority, said it aimed to "destabilise security and... the unity of Egyptians".
Egypt's Copts have endured successive attacks since Morsi's ouster in July 2013. More than 40 churches were attacked nationwide in the two weeks after the deadly dispersal by security forces of two pro-Morsi protest camps in Cairo on August 14 that year, Human Rights Watch said.
In October 2011, almost 30 people -- mostly Coptic Christians -- were killed after the army charged at a protest outside the state television building in Cairo to denounce the torching of a church in southern Egypt.
A few months earlier, the unclaimed New Year's Day bombing of a Coptic church killed more than 20 people in Egypt's second city Alexandria.
http://nation.com.pk/international/10-Apr-2017/44-killed-as-is-bombs-two-egypt-churches
--------
Muslims Donate Land, Money To Build Hindu Temple In Bihar
April 9, 2017
Patna: Muslim villagers in Bihar have set a new example for society by donating land and money for an old Hindu temple. The incident has come as a harbinger of hope amid reports of attacks on the Muslim members by cow vigilante groups.
Reports said the Hindu villagers from Bakhri village in central Bihar's Begusarai district were worried after an old temple dedicated to monkey deity Hanuman was in a state of disrepair. Also, the temple did not have sufficient space as a result of which the devotees faced a lot of trouble while offering prayers when their numbers swelled during any religious event.
Recently, the local villagers planned renovations of the temple but were facing a financial crunch.
Witnesses said when the local Muslim villagers came to know about their problems, they came forward and offered all kinds of help. While Mohammad Tuffail Ahmad, Mohammad Salim and Qari Ahmad donated land for temple expansion, there were others from the community who happily donated money. There were also others who decided to give their time to help construction along.
Reports said when the local district superintendent of police Ranjit Kumar Mishar came to know about the whole story, he rushed to the villagers and showered lavish praises on them for this rare gesture. "You have set a new example for the society through your act of communal harmony. We salute your gesture," Mishra told the villagers.
This is the second time that Muslims had come to the aid of the Hindus. Muslim villagers in a show of communal harmony have also donated land to build the world's largest Hindu temple that will have the capacity to accommodate more than 20,000 devotees at a time. The temple is coming up at Kesaria in East Champaran district.
"Muslims have not only donated land but they have also provided land at nominal rate for [the] construction of world's largest Hindu temple. But for their help, it would have been difficult for us start the project," Acharya Kishore Kunal, secretary of cash-rich Mahavir Mandir Trust, which is undertaking the temple construction project, has gone on record to say.
http://gulfnews.com/news/asia/india/muslims-donate-land-money-to-build-hindu-temple-in-bihar-1.2008562
--------
Western forces presenting Islam as terrorist religion: Rabbani
Tariq Saeed
Peshawar
Chairman Senate Raza Rabbani Thursday cautioned the Muslim Ummah against the conspiracies being hatched by the Western countries which, he said, have teamed up to present Islam as a terrorist religion of the world.
"Western countries are working to bring majority Muslim states down and portraying Islam as a religion that promotes terrorism and this is most unfortunate that they are succeeding in their designs," Mian Raza Rabbani lamented while addressing the centenary celebrations of Jamiat Ulema-e-Islam-F at Azakhel some thirty kilometers from here on Saturday.
The grand convention that was kicked off on Friday, it may be recalled was also addressed by the Imam-e-Ka'ba Sheikh Saleh bin Muhammad Ibrahim, Saudi religious affairs minister Saleh bin Abdul Aziz Al-Sheikh. The religious scholars from India, Nepal, Bangladesh, Middle East and other countries are taking part in the convention.
The Chairman Senate strongly condemned US strike on Syria and asked the government to call a joint Parliament session and hold consultations regarding Pakistan's stance on the matter. "The government's stance should be in line with the country's interests. The government should present its stance in the United Nations after holding consultations," Rabbani said. He maintained that conspiracies against Islam have been carried out through master scheme, adding that, Islam is being presented as terrorist religion in the world.
"Western forces want to create chaos and infighting between Muslim countries," he said and urged the convention to send a clear message to the world that Muslims are united and they will defeat every conspiracy against them.
Raza Rabbani acknowledged that the centenary celebrations convention being held under the auspices of JUI bore great importance in the wake of internal and external conditions facing the country.
Leader of opposition in the National Assembly Syed Khursheed Shah, addressing the convention, said that Pakistan was the fortress of Islam. He said that it was the responsibility of the all the political forces of Pakistan to come up with solutions for challenges faced by the Islamic world adding the Muslim Ummah was required to forge complete unity in its ranks to frustrate the nefarious designs of the forces conspiring against the Islam.
http://pakobserver.net/western-forces-presenting-islam-terrorist-religion-rabbani/
--------
Southeast Asia
Malaysia: 'We're Like Taliban Country, But Our Leaders Wear Expensive Suits'
Nawar Firdaws
April 10, 2017
PETALING JAYA: While many would see the adage "treating others as one would like to be treated" as the best way to achieve fairness and justice, some leaders in Malaysia don't seem to think that way, says Zaid Ibrahim.
The former defacto law minister believes that some Malaysian Muslim leaders, political or religious, define fairness and justice as the way that best suit their interests alone.
"Their absolute control of political power has enabled them to distort the meaning of being fair and just. To them, fair and just are no longer an ethical principle that stands on its own.
"It's only relevant and applicable if they so decide. Usually, if they disagree with you, with what you say or what you do, they will say it is against Islam.
"They play God every day. They seem to know everything that needs to be known about sins and punishment, and they probably know how God would behave."
This practice is what Zaid said he labelled as "religious bigotry", which has become the country's national ideology.
He was speaking at the third annual Day of Solidarity talk yesterday, themed "Pilgrimage Towards Justice and Peace". It was organised by the Malaysian Council of Churches and the Conference of Religious Major Superiors (Roman Catholic Church).
Also present were social activist Marina Mahathir and lawyer Ambiga Sreenevasan, who is president of the national human rights society, Hakam.
Zaid, who this year became DAP's latest high profile member, claimed that a high number of Muslim leaders in Malaysia, have played up religious issues to divide the public.
Hence, these leaders ignore the positive sides of humanity, emphasising instead on issues of sin and punishment, he said.
"They don't care that the Muslims are the poorest lot in the country, or that the Muslims are left far behind the others. They just want to dominate.
"Today, we are like a Taliban country, except our leaders wear expensive suits."
He added the fact that Muslims being the majority in the country, or that Islam already has a special position, is not enough to comfort these leaders.
"So if you think religious bigotry and extremism will destroy this country, you must act now.
"I still think Malaysia can be saved, but you must not have too much fear. This is the year of the election, so you have to play your part.
"You just have to help the good people, and finish off the bad ones."
http://www.freemalaysiatoday.com/category/nation/2017/04/10/were-like-taliban-country-but-our-leaders-wear-expensive-suits/
--------
Borneo church seeks clarification on use of 'Allah'
V Anbalagan | April 10, 2017
KUALA LUMPUR: A Sabah church which remains adamant on using "Allah" in religious publications wants the home ministry to explain how the word could cause public disorder and confusion for Muslims.
Sidang Injil Borneo (SIB) said the ministry's prohibition on the church from using the word by non-Muslims raised a constitutional issue.
In an affidavit affirmed by SIB Sabah branch president Rev Jerry Dusing, the church said it had a legitimate expectation to use the word in their religious education and the Bible.
In 2015, ministry official Barkiya Shahiruddin affirmed an affidavit to prevent the church from using the word "Allah".
In its application filed on Dec 8, the church now also wants to cross examine Barkiya on the affidavit.
Lawyer Lim Heng Seng said High Court judge Hanipah Farikullah has instructed the ministry to file an affidavit in reply within two weeks from today.
"My client wants to question the officer to determine the veracity of the contents in the affidavit," he told reporters after a case management before Hanipah.
He said the cross-examination was important in the interest of justice of this particular case.
Full report at:
http://www.freemalaysiatoday.com/category/nation/2017/04/10/borneo-church-seeks-clarification-on-use-of-allah/
--------
Online hate speech fuels Islamophobia in China
Apr 10, 2017
The flood of angry anti-Muslim rhetoric on social media was the first sign of how fiercely the suburban middle-class homeowners in this central China city opposed a planned mosque in their neighborhood. It quickly escalated into something more sinister.
Soon a pig's head was buried in the ground at the future Nangang mosque, the culmination of a rally in which dozens of residents hoisted banners and circled the planned building site. Then the mosque's imam received a text message carrying a death threat: "In case someone in your family dies, I have a coffin for you — and more than one, if necessary."
"How did things get stirred up to this point?" the imam, Tao Yingsheng, said in a recent interview. "Who had even heard of the Nangang mosque before?"
On the dusty plains of the Chinese heartland, a bitter fight over a mosque exemplifies how a surge in anti-Muslim sentiment online is spreading into communities across China, exacerbating simmering ethnic and religious tensions that have in the past erupted in bloodshed.
It's also posing a dilemma for the ruling Communist Party, which has allowed Islamophobia to fester online for years as part of its campaign to justify security crackdowns in its restive region of Xinjiang.
"It's let the genie out of the bottle," said James Leibold, a professor at La Trobe University in Australia who has tracked the growth of anti-Muslim hate speech on China's internet.
Interviews with residents and an examination of social media show how a few disparate online complaints by local homeowners evolved into a concerted campaign to spread hate.
Key to it was an unexpected yet influential backer: a Chinese propaganda official, 2,500 kilometers away in Xinjiang, whose inflammatory social media posts helped draw people into the streets on New Year's Day, resulting in a police crackdown.
Nangang mosque
A stone inscription outside its gate shows the original Nangang mosque was established in the 1780s by members of the Hui minority, the descendants of Silk Road traders who settled across China centuries ago. In its present form, the mosque has served the area's 4,500 Hui for decades, its domed silhouette partially hidden by overgrown shrubs in the countryside beyond Hefei's last paved boulevards.
Over the past 10 years urbanisation has come to Hefei, with sprawling development reconfiguring the landscape and its demographic flavor, and Hui leaders had been pushing for years to relocate their mosque to a more convenient urban location.
City planners in November finally selected a site adjacent to the newly built Hangkong New City condominiums, with its $200,000 two-bedroom units, faux-Mediterranean stylings and a Volvo dealership across the street. The project's homeowners overwhelmingly members of China's ethnic Han majority began complaining on China's popular microblog, Weibo.
Some complained the mosque would occupy space promised for a park. Others warned that safety in the area would be compromised.
Others were more blunt: Han residents were uncomfortable that a center for Hui community life would be less than 100 meters (300 feet) from their building, a homeowner who later identified himself in messages to the AP by his surname, Cheng, wrote in a petition posted in December.
"And the less said about what happens on Eid al-Adha, the better," Cheng wrote, referring to the Islamic holiday in which animals are slaughtered for a sacrificial feast. "It's absolutely shocking."
The story soon caught the attention of Cui Zijian, a boyish-looking propaganda official in Xinjiang who writes about the threat of religious extremism on his Weibo account with nearly 30,000 followers.
On December 16, Cui suggested homeowners lobby local officials to block the construction, adding: "If that doesn't work, then how about pig head, pig blood."
Cui followed that a few hours later with another post repeating the four Chinese characters for pig blood and pig head over and over, attracting hundreds of reposts. While Cui was criticized by some on Weibo, a larger number — including at least one other government propaganda official — took his post as their cue to hurl abuse at the Hui.
Social Media in play
The mosque dispute was just the latest flashpoint for an increasingly active anti-Muslim social media movement in China.
A video of a Hui girl reciting the Quran in Arabic sparked outrage last May over so-called terrorist infiltration of Chinese schools, prompting officials to announce a "strict ban" on religion on campuses. Online activists derailed a Hui official's effort to regulate the halal food industry, arguing that religion was creeping into the officially atheistic Chinese state.
Han Chinese, who make up 95% of the population, have long grumbled about the dozens of China's officially recognised minority groups receiving advantages on the hyper-competitive college entrance exams or exemptions from family-size limits, but online abuse has increasingly targeted Muslims.
The rise in Islamophobia comes as Chinese have been buffeted by news of militant attacks in Europe, while at home, violence in Xinjiang and elsewhere has been blamed on Muslim separatists.
Beijing has responded to the bloody, years-long insurgency from Muslim Uighur minorities in Xinjiang with further restrictions on Islamic expression, a move rights groups warn could potentially radicalize moderate Muslims. Such policies have also drawn vows of retaliation from the Islamic State and al-Qaeda.
Ethnic hostility can only deepen, scholars say, when the government stops discussion of the plight of Muslims or ethnic policies while allowing anti-Muslim rhetoric and hate speech to go unchecked. In 2014, Uighur scholar Ilham Tohti, who had founded a website to host debates about ethnic tensions in Xinjiang, was sentenced to life in prison on separatism charges.
Government censors go after descriptions of abuses against Muslims, but "it doesn't take long whatsoever to find incredibly Islamophobic things that seem to be not censored at all," said William Nee, China researcher at Amnesty International, which has appealed for Tohti's release.
Political observers say the recent rise of a faction within the Communist Party advocating for a hard-line approach on religious affairs has coincided with the rise of government-linked commentators who openly warn about the danger of Islam.
"Interest groups have actively promoted Islamophobia in interior regions in order to create a nationwide environment that justifies Xinjiang's anti-terrorism campaign," said Ma Haiyun, a history professor specialising in China's Muslims at Frostburg State University in Maryland. "There's an Islamophobic movement that aims at creating chaos and even conflicts at the local level."
After briefly moderating his remarks about the Nangang mosque, the propaganda official, Cui, renewed his criticism in February with an essay arguing that his professional and patriotic duty was to resist extremism. His online speech about Muslims was part of the job, he said.
"For that, we are labeled Muslim-smearers," wrote Cui, who did not respond to repeated requests for comment. "But it is those who instigate a fear of Islam, precisely the terrorists and the extremists, who are the ones smearing Muslims."
Reached in March, an official at the propaganda department where he worked refused to comment on Cui's involvement in the controversy. But Cui now appears to be even better positioned to influence discourse: The official said Cui was transferred in February to work in the cyberspace administration, the agency in charge of censoring online speech.
Protests
Tao, the 50-year old imam, recalled the day in December when he heard his mosque was suddenly the subject of thousands of posts and hundreds of comments on Weibo, a service he barely used. He soon found himself soothing local Hui who approached him, shaken by what they were seeing online.
"They said people were planning to hang a pig's head outside our mosque. I said, 'Then we'll remove it.' They said people will bury a pig's head in the ground. I said 'Why can't we just dig it up?'" Tao said.
After protesters followed through with the threat at the New Year's Day demonstration, police detained two protest leaders for two weeks and summoned others for questioning, according to residents. Since then Han indignation has gave way to quiet seething.
"People have been scared into silence," said Cheng, the Han tea seller.
During a recent visit to Hangkong New City, homeowners repeated the government's mantra that ethnic unity was important, but complained that officials sacrificed their interests to appease a minority.
Full report at:
http://www.hindustantimes.com/world-news/online-hate-speech-fuels-islamophobia-in-china/story-w3amkblVGRtvSQJZ89CiKM.html
--------
Malaysia puts high hopes on one halal certification with Indonesia
April 10, 2017
Viriya P. Singgih
Malaysia is putting high hopes on the planned unified halal certification with Indonesia, the country with the world's largest Muslim population, in a bid to strengthen halal trade relations between the two countries.
At present, Indonesia only directly accepts Malaysian halal certificates for industrial goods, such as palm oil.
However, Malaysian end-user products must undergo various tests to obtain another halal certificate from the Indonesian Ulema Council (MUI) and halal logo from the Food and Drug Monitoring Agency (BPOM) before being marketed in Indonesia.
To address the issue, Malaysian and Indonesian authorities are reviewing their halal certifications to avoid inefficient imports and exports in the long run.
"We have been collaborating very closely because we want to sell more products to Indonesia and, of course, we also welcome Indonesian products in Malaysia," Malaysian International Trade and Industry Minister Mustapa Mohamed told reporters on the sidelines of the 2017 Malaysia International Halal Showcase (Mihas) in Kuala Lumpur on Wednesday.
"Some challenges have not been resolved. Indonesian authorities recognize our halal certification, but there are some additional tests that our people have to go through."
The MUI's Food and Drug Analysis Agency (LPPOM) deputy director, Muti Arintawati , said her side had planned to simplify halal certification for Malaysian end-user products imported into Indonesia.
"We may not need to conduct an audit at the production location. Instead, we can just audit the documents of those products. Nonetheless, this plan has yet to be officially agreed to," Muti told The Jakarta Post over the phone on Friday.
In August last year, Malaysian Prime Minister Najib Razak said he was committed to boosting trade between the two neighboring countries to US$30 billion in the near future.
Total trade between Malaysia and Indonesia has seen a declining trend to $14.31 billion in 2016 from $24 billion in 2013 amid the global economic crisis, as shown by data from Indonesia's Trade Ministry.
"Indonesia is huge, of course. It's a very big market. […] The issue here is that there are some technical issues in regard to the acceptance of halal," Abu Bakar Koyakutty, senior director of the market access and international partnership division at the Malaysia External Trade Development Corporation (Matrade), told The Jakarta Post on Tuesday.
"There are different standards on halal. If we can resolve the issue, we see there's a huge potential."
According to a 2016 study published by Salaam Gateway, a business intelligence platform that is a joint effort between the Dubai Islamic Economy Development Center and intelligence and research agency Thomson Reuters, one of problems facing halal regulatory standards globally is that there is no unified standard.
For instance, it states there is a significant variance between the standards of the Department of Standards Malaysia (DSM) applied in Malaysia and the standards of the Emirates Authority for Standardization and Metrology (ESMA) applied in the United Arab Emirates.
Full report at:
http://www.thejakartapost.com/news/2017/04/10/malaysia-puts-high-hopes-on-one-halal-certification-with-indonesia.html
--------
Indonesia Condemns Palm Sunday Bomb Attacks in Egypt
April 10, 2017
Jakarta. Indonesia has condemned the Palm Sunday bomb attacks on churches in Egyptian cities of Tanta and Alexandria, the Ministry of Foreign Affairs said in a statement on Monday (10/04).
Reuters reported at least 44 people were killed and more than 100 injured in the twin attacks, for which Islamic State has claimed responsibility.
The attacks happened a week before Coptic Easter and in the same month that Pope Francis is scheduled to visit Egypt.
Following the incident, the country has declared a three-month state of emergency.
As of Monday, there had been no reports of any Indonesian casualties, the ministry announced.
"Indonesia stands in solidarity with the government and people of Egypt in this challenging time," its statement said.
Full report at:
http://jakartaglobe.id/news/indonesia-condemns-palm-sunday-bomb-attacks-egypt/
--------
Arab World
Sadr becomes first Iraqi Shi'ite leader to urge Assad to step down
April 10, 2017
Iraq's influential Shi'ite cleric Moqtada al-Sadr called on Syrian President Bashar al-Assad to "take a historic heroic decision" and step down, to spare his country further bloodshed.
Sadr, who commands a large following among the urban poor of Baghdad and the southern cities, is the first Iraqi Shi'ite political leader to urge Assad to step down.
But his call was wrapped in kind words about the Syrian president and condemnation of the U.S. strikes carried out on a Syrian airbase on Friday, in retaliation for a chemical attack on civilians in a rebel-held area of Syria.
Sadr said the U.S. strikes would "drag the region to war" and could help "the expansion of Daesh," the militant Islamic State group, which controls parts of Iraq and Syria.
Iraq's Shi'ite-led governments have maintained good relations with the Syrian government throughout the six-year Syrian civil war. Sadr is the only Iraqi Shi'ite leader to keep some distance from Iran, a main backer of Assad along with Russia.
"I think it would be fair for President Bashar al-Assad to offer his resignation and step down in love for Syria, to spare it the woes of war and terrorism ...and take a historic, heroic decision before it is too late," Sadr said in a statement.
The Shi'ite-led Iraqi government issued a statement on Friday that reflected the difficult balancing act it maintains between its alliance with the United States and with Shi'ite Iran. It condemned the chemical attack, without naming Assad, calling instead for an international investigation to identify the perpetrator.
The statement also criticized "the hasty interventions" that followed the chemical attack, in an apparent reference to the U.S. strikes.
A U.S.-led coalition has been providing air and ground support to Iraqi forces battling Islamic State, allowing them to recapture most of the cities they had overrun in 2014 in Sunni areas of northern and western Iraq.
http://nation.com.pk/international/09-Apr-2017/sadr-becomes-first-iraqi-shi-ite-leader-to-urge-assad-to-step-down
--------
Iraqi troops kill 30 Daeshi bombers in west Mosul
Apr 9, 2017
Iraqi security forces have killed at least 30 Daesh bombers during operations to liberate western Mosul from the Takfiri terrorists.
According to Colonel Hashim Fadel, the terrorists were killed when the forces of the elite Counter-Terrorism Service raided a building which was being used as a headquarters in the district of Souq al-Maash.
Iraqi forces have been carrying out operations in the Old City area for several weeks, but they have faced tough resistance, and the progress has been slow.
They are currently advancing through the city's maze-like streets towards the al-Nuri mosque, where Daesh's leader, Abu Bakr Al-Baghdadi, announced the forming of the group's so-called caliphate in 2014.
"We, the snipers team, are stationed at the defensive lines. Our duty is to provide cover for advancing troops. We are in full control and we are monitoring the enemy's movements and we are providing the headquarters with the coordinates and, thanks to God, the advances are ongoing," said Iraqi sniper Abdul Qader Nadhim Hussein.
Meanwhile, the commander of the Mosul operations, Rasheed Yarallaha, has stressed that the military's priority was keeping civilians safe and avoiding damage to the city's infrastructure.
"It is too difficult to give a specific time for the end of battles in Mosul because fighting is going on in densely populated areas in which more than 400,000 citizens are still living in under the control of Daesh. Frankly speaking, I won't sacrifice with the safety of the people," he said.
Full report at:
http://www.presstv.ir/Detail/2017/04/09/517419/iraq-mosul-security-snipers
--------
Several Sudanese, UAE Troops Killed in Yemen's Rocket Attacks in Ta'iz Province
Apr 09, 2017
The Saudi-led troops' concentration centers and military positions in Ta'iz province's al-Mukha region were hit by several Katyusha rockets which resulted in the death of a number Sudanese and UAE troops.
The Yemeni forces' attacks came in response to the ongoing airstrikes by the Saudi-led fighter jets on civilians across Yemen.
In relevant remarks on Wednesday, informed military sources disclosed that the Yemeni army and popular forces had hunted down tens of Saudi-led forces in the Southern part of the kingdom over the past three months.
"At least 120 Saudi troops have been shot dead by snipers of the Yemeni army and Ansarullah in Jizan, Najran and Assir provinces in January, February and March," the Arabic-language al-Massira TV network quoted an informed military source as saying.
The Yemeni snipers killed 74 Saudi-led troops in 22 military bases in Jizan, another 35 forces in nine military bases in Najran and another 10 Saudi-led troops in eight military bases in Assir province.
In a relevant development in late March, the Yemeni army and popular forces inflicted heavy losses on the Riyadh-led troops in an attack on their military base in the Southern part of the kingdom.
"A large number of the Saudi-led forces were killed and injured in the Yemeni forces' attacks on al-Beit al-Aswad in Jizan province," the Arabic-language media quoted an informed source as saying.
The source noted that al-Qavieh and al-Beit al-Abyaz military bases in Jizan province also came under Yemeni army attacks.
Also in late March, the official spokesman of the Yemeni Armed Forces, Brigadier General Sharq Luqman, underlined that the country is in possession of advanced missiles which can hit the Saudi capital.
"We have been able to develop our weapons and make progress so that they can hit the Saudi capital," Luqman told al-Mayadeen news channel.
Noting that Borkan-2 missile was the first missile which could target King Salman airbase, he said that new missiles are underway.
Luqman said that after hitting Riyadh, the war in Yemen will enter a new stage and all equations will change.
Reports said earlier in March that Yemen's popular forces and their allies in the country's army fired a long-range ballistic missile at an airbase in the Saudi capital Riyadh, marking the second such attack on the city.
Full report at:
http://en.farsnews.com/newstext.aspx?nn=13960120000954
--------
Who were the suicide bombers behind Egypt's deadly church attacks?
10 April 2017
The suicide bombers behind the blasts which targeted two churches in Egypt on Sunday were identified as Abu Ishaq and Abu al-Baraa al-Masri, Al Arabiya TV's correspondent in Cairo reported.
Abu Ishaq al-Masri is allegedly responsible for targeting the church in Alexandria. He was born in September 1990 in Manyat Al Kamh. He holds a Bachelor Degree in Commerce.
He worked as an accountant in Kuwait for four months then he traveled to Turkey then to Syria on December 26, 2013. He later returned to Sinai.
The man responsible for the blast at the church in Tanta was identified as Abu al-Baraa al-Masri. He was born on December 13, 1974 in the town of Abu Tabel in Kafr El Sheikh.
He has an industrial secondary school diploma, and he is married and has three children.
The two bomb blasts hit Coptic churches in Egypt, killing at least 44 and injuring more than 100 others as the Coptic community was marking Palm Sunday.
Full report at:
https://english.alarabiya.net/en/News/middle-east/2017/04/10/Who-were-the-suicide-bombers-behind-Egypt-s-twin-blasts-.html
--------
Saudi Arabia's highest religious body condemns twin Egypt church attacks
10 April 2017
Saudi Arabia's highest religious body has condemned the twin church attacks in Egypt claimed by ISIS, saying the bombings represented a "criminal act considered forbidden by Islamic consensus".
The Council of Senior Scholars released their statement on Twitter on Sunday after ISIS attack two churches in Tanta and Alexandria that left at least 44 people dead and 100 others injured.
"These bombings have violated several tenants of Islam; from treachery to sin and aggression," the body said.
"Every Muslim who believes in God and the Last Day judgment is innocent (of these attacks) except those who will carry their sin from deviating in their thought and belief," the body added.
Full report at:
https://english.alarabiya.net/en/News/gulf/2017/04/10/Saudi-Arabia-s-highest-religious-body-twin-Egypt-church-attacks.html
--------
U.S. attack on Syria air base crosses 'red lines', says Assad allies
April 10, 2017
A joint command center made up of the forces of Russia, Iran and militias supporting Syrian President Bashar al-Assad on Sunday said the U.S. strike on a Syrian air base on Friday crossed "red lines" and it would respond to any new aggression and increase its support for its ally.
The United States fired dozens of cruise missiles at a Syrian air base on Friday from which it said a deadly chemical weapons attack had been launched earlier in the week, escalating the U.S. role in Syria and drawing criticism from Assad's allies including Russia and Iran.
"What America waged in an aggression on Syria is a crossing of red lines. From now on we will respond with force to any aggressor or any breach of red lines from whoever it is and America knows our ability to respond well," said the statement published by the group on media outlet Ilam al Harbi (War Media).
U.S. Secretary of State Rex Tillerson, meanwhile, blamed Russian inaction for helping fuel the chemical weapons attack it had reacted to, saying Moscow had failed to carry out a 2013 agreement to secure and destroy chemical weapons in Syria.
He said the United States expected Russia to take a tougher stance against Syria by rethinking its alliance with Assad because "every time one of these horrific attacks occurs, it draws Russia closer into some level of responsibility."
Rebels and residents in northwestern Idlib province said jets believed to be Russian conducted eight raids on Sunday on the town of Khan Sheikhoun where the chemical attack took place but no casualties were reported.
Raids hit several other rebel-held towns including Saraqeb and Sarmin in the province, where the rebels and activists said incendiary bombs were dropped.
The death toll from an air strike on Saturday on the rebel-held town of Urum al-Joz in Idlib province rose to 19 people, including six children, activists and residents said.
In the southern city of Daraa, jets believed to be Russian escalated strikes on Free Syrian Army (FSA) and jihadist groups on Saturday and Sunday in an attempt to roll back their gains in the Manshiya district where battles have been raging for nearly two months.
PUTIN, ROUHANI SPEAK
Russian President Vladimir Putin and Iran's Hassan Rouhani said in a phone call that aggressive U.S. actions against Syria were not permissible and violated international law, the Kremlin said on Sunday.
The two leaders also called for an objective investigation into an incident involving chemical weapons in Syria's Idlib and said they were ready to deepen cooperation to fight terrorism, the Kremlin said in a statement on its website.
Syrian army forces had been losing ground across the country until Russia intervened militarily in September 2015, propping up Assad and protecting its own interests in the region.
Assad has also drawn heavily on foreign Shi'ite militias sponsored by Iran, led by Lebanon's Hezbollah group, for his most important gains since the Russian intervention.
The joint command center also said the presence of U.S troops in northern Syria where Washington has hundreds of special forces helping the Syrian Democratic Forces (SDF) to oust Islamic State was "illegal" and that Washington had a long-term plan to occupy the area.
Full report at:
http://nation.com.pk/international/10-Apr-2017/us-attack-on-syria-air-base-crosses-red-lines-says-assad-allies
--------
Idlib: US-Made Arms Depot Destroyed in Syrian Airstrike
Apr 09, 2017
The Arabic language al-Hadath news website reported that as a first massive response to the Thursday missile strikes, the Syrian warplanes took off from Shayrat airbase and targeted a huge depot of American arms and munitions of the Al-Nusra Front (also known as Fatah al-Sham Front or the Levant Liberation Board) in al-Qasaniyeh settlement in Jisr al-Shughour region in Southern Idlib, destroying the entire weapons stocked in there and killing a number of militants at and around the depot.
Well-informed sources in Northern Syrian reported earlier today that the Syrian Army troops have opened heavy fire at an American reconnaissance plane in Northern Hasaka, forcing the US plane to leave the country's airspace.
The sources said that the intense fire of the special forces forced an American reconnaissance plane to leave the region after approaching the army troops' positions in Qamishli border city.
Meanwhile, a military source confirmed the report, stressing that the US reconnaissance aircraft was flying over the Syrian Army Base in Qamishli and distanced itself from the region after it came under fire.
Local officials confirmed on Friday that several civilians were killed and several more were wounded in the US raid on a Syrian airfield in Homs province.
Governor of Homs province Talal Barazi told reporters that the US strike on a Syrian airfield led to civilian casualties in a village near the base, as well as the airbase itself, adding at least five people were killed and seven wounded.
Two civilians and three military personnel were killed in the strike, AP reported, citing the governor.
The American missile attack on Syria won't topple its government or change the policies of Damascus, he said after a barrage of 59 Tomahawk cruise missiles targeted a Syrian airfield.
"The Syrian leadership and Syrian policy will not change," Barazi said in a phone interview with Syrian state television. "This targeting was not the first and I don't believe it will be the last."
He added that Shayrat airbase would be rebuilt and would continue to play a role in fighting terrorists.
Barazi told Reuters that firefighting and rescue operations were under way at the Shayrat airfield after the US attack, but he believed that there were not many casualties on the ground.
Barazi said Washington's escalation of the conflict in Syria only served terrorist groups such as ISIL.
The governor said that the base played a significant role in the recent capture of the city of Palmyra from ISIL.
The Syrian state TV called the attack "American aggression".
On Friday, US warships in the Eastern Mediterranean fired 59 Tomahawk missiles at the Syrian airfield, with Pentagon claiming that it was used in a chemical weapons attack against a rebel-held town in Idlib province on Tuesday.
The retaliation came before the UN or the OPCW, the chemical weapons watchdog, could investigate the incident. Washington sided with the rebel-linked activists, which accused Damascus of killing civilians with toxic gas.
The Russian Foreign Ministry reminded US on Thursday that all chemical weapons were taken out of Syria in mid-2014 with Washington's assistance.
The ministry said that Russia considers US Vice President Mike Pence's statements claiming that Moscow and Damascus allegedly did not fulfill obligations to destroy Syrian nuclear arsenal to be groundless, Sputnik reported.
Pence had no grounds to say that the 2013 deal on the Syrian chemical weapons' destruction failed.
The ministry said that Russia-US cooperation on the issue was overall and quite successful.
Moscow said that it was premature to accuse the Syrian government of using chemical weapons in Idlib, adding that Russia insists on conducting a full-fledged probe into the issue.
Full report at:
http://en.farsnews.com/newstext.aspx?nn=13960120001219
--------
India
Misuse Of 'Triple Talaq' Created Legal Issues: Secretary AIMPLB
April 10, 2017
Jaipur: The misuse of 'triple Talaq' created legal issues leading to the matter landing in the Supreme Court for adjudication, Secretary of All India Muslim Personal Law Board and convener of Babri Masjid Action Committee Zafaryab Jilani said today.
He said the board has been making efforts since 1985 to ensure that Muslim men understand the concept and follow the Shariyat rules for 'triple Talaq' for divorce.
Misusing 'triple Talaq' is a sin, he said.
"We cannot accept any change in Shariyat as it is based on the principles of Allah. It has been prevalent for more than 1450 years and it will continue to exist," said Jilani.
It is not the first time that Shariyat is being attacked.
"We cannot accept any change in it as it comes straight from the Quran," he said while addressing a gathering at Karbala Maidan here.
http://www.siasat.com/news/misuse-triple-Talaq-created-legal-issues-muslim-leader-1171049/
--------
Army foils infiltration bid along LoC in Keran sector, four terrorists killed
Apr 10, 2017
NEW DELHI: Army on Monday foiled infiltration bid on the Line of Control (LoC) in Keran sector of north Kashmir's Kupwara district. In the operation a four terrorists were killed, the operation is still in underway.
Army spokesman said the infiltration bid was foiled along LoC in Keran.
"A group of militants attempting to infiltrate was intercepted Sunday night by alert troops deployed on the Line of Control. In the ensuing encounter four terrorists were gunned down," official said.
Full report at:
http://timesofindia.indiatimes.com/india/army-foils-infiltration-bid-along-loc-in-keran-sector-four-terrorists-killed/articleshow/58102443.cms
--------
India Inc gears up to combat terror, crime
Apr 10, 2017
BENGALURU: From MNCs to domestic corporates and startups, more and more companies in India are equipping their staff with techniques to prevent crime and also combat terror.
While a handful of firms such as Pinkerton, Guardwell Detective Services and Netrika Consulting Private have been in the business of training firms on employment screening and detection of fraud for some time, concepts of prevention of crime and techniques to deal with terror are now growing, garnering good response from clients.
We have trained at least 100 firms, including the likes of Flipkart and Reliance Securities on crime prevention and our specialised course, Certified Anti Terrorism Specialist (CATS), has picked up pace with even institutions like RBI having opted for it," said Sanjay Kaushik, MD, Netrika Consulting.
Companies are opting for customised courses that focus on specialised areas — criminal investigations, suspicious behaviour assessment, criminal profiling, terrorism, political violence, persons of interest (surveillance), with theoretical and practical classes.
Saturday saw the conclusion of a three-day training programme on crime prevention in Bengaluru, which saw participation from representatives of IT firms Oracle, Capgemini, CA Technologies and IBM, along with others like Hero MotorCorp.
Netrika said similar programmes have been held in Mumbai, Delhi, Gurgaon, and Chennai, among other cities, where firms like PayPal, Godrej, Vodafone, Bosch, MYLAN and Bajaj Automobiles have participated.
Full report at:
http://timesofindia.indiatimes.com/business/india-business/india-inc-gears-up-to-combat-terror-crime/articleshow/58100447.cms
--------
Jammu & Kashmir: Four infiltrators killed by Army in Kupwara district
April 10, 2017
At least four infiltrators, believed to be Pakistani, were killed by Indian Army personnel in Keran area of Jammu Kashmir's Kupwara district. A search operation is underway to determine if there are any more infiltrators in the area.
A defence spokesman said that a group of militants tried to infiltrate from across the Line of Control (LoC) in Keran sector but troops foiled their bid. Security forces are have been put on high alert to thwart any incident of violence in the Valley.
The infiltration bid comes a day after Kashmir saw violence during a by-poll to the Lok Sabha seat of Srinagar. At least eight people were killed and several injured. The violence had a serious impact on the voter turnout with barely seven per cent turning up to cast their vote. This is the lowest in thirty years.
Full report at:
http://indianexpress.com/article/india/jammu-kashmir-pakistan-infiltrators-killed-by-army-in-kupwara-district-4607002/
--------
Modi government unwilling to endorse any move that will weaken Bangladesh PM Sheikh Hasina
Apr 10, 2017
NEW DELHI: West Bengal chief minister Mamata Banerjee's proposal for sharing waters of five other rivers, flowing from the northern part of the state into Bangladesh, instead of Teesta, has found no takers in either the central government or Bangladesh so far.
The proposal made on Saturday during two meetings involving Prime Ministers Narendra Modi and Sheikh Hasina received a lukewarm response from both these leaders.
Any compromise on the part of Hasina on the proposed agreement to share waters of Teesta, which has been pending for five years, will weaken her position ahead of the election in 2019, according to officials in both Delhi and Dhaka. The Modi government is unwilling to endorse any move that will weaken Hasina, India's strongest ally in the region, and Modi himself gave a public assurance on Saturday that the deal will be concluded in the near future.
Banerjee had initially mooted the proposal during the India-Bangladesh delegation-level talks on Saturday morning in Hyderabad House in Delhi, followed by her informal meeting with Hasina at Rashtrapati Bhavan in the evening.
She emphasised that since there was little water in Teesta river, even in April, there is a need to look at alternative proposals too. For this, she said, other transnational rivers could be diverted to attend to Bangladesh's water needs. "Your problem is water, not Teesta. I am willing to look at any alternate proposal to address your issues," she was quoted as telling Hasina in the presence of Modi.
She later reiterated this proposal at the Rashtrapati Bhavan in the evening, people familiar with the matter told ET. She also assured that Torsa river can be allowed to flow unhindered to Bangladesh.
Full report at:
http://timesofindia.indiatimes.com/india/modi-government-unwilling-to-endorse-any-move-that-will-weaken-bangladesh-pm-sheikh-hasina/articleshow/58102612.cms
--------
Bangladesh PM Sheikh Hasina prays for peace, stronger ties at Ajmer Dargah
Apr 10, 2017
AJMER: Bangladesh Prime Minister Sheikh Hasina visited Ajmer's Khwaja Moinuddin Chishti Dargah on Sunday amid high security.
The PM reportedly offered prayers for the prosperity and harmony of her country, and for strong bilateral ties with India. She also offered a chaadar at the 13th century Sufi saint Moinuddin Chishti's tomb, and spent over 15 minutes inside the crypt.
PM Hasina's visit was monitored by several platoons of police forces, who had vacated the Dargah before she arrived there. Authorities had blocked the road leading to the Dargah to enhance security, and had to manage the Mahavir Jayanti procession by Jain community.
On her arrival, PM Hasina was welcomed by the Dargah's management committee dewan Zanial Ali Khan, who presented an honour letter to her.
Full report at:
http://timesofindia.indiatimes.com/india/bangladesh-pm-sheikh-hasina-prays-for-peace-stronger-ties-at-ajmer-Dargah/articleshow/58100538.cms
--------
Pakistan
Operation Radd-ul-Fasaad: 5 'terrorists' killed in DG Khan
10-Apr-17
LAHORE: Five terrorists were killed and another was arrested during a joint operation by Punjab Rangers and security agencies in Chhera Thal area of Dera Ghazi Khan on Sunday.
"A special intelligence-based operation (IBO) under Operation Radd-ul-Fasaad was launched in the Chhera Thal area," the Inter-Services Public Relations (ISPR) said.
According a press statement issued by the Rangers, a security personnel was martyred during the shootout. "Sepoy Kamran embraced shahadat, while DSR Haroon sustained injuries. They have been evacuated to CMH Multan by an army helicopter," the Rangers said.
The operation still continues to flush the area of terrorists who were involved in heinous crimes, including murdering policemen.
"Almost 35 FIRs had been registered against them in various police stations. Chhera Thal is a small border town, 40 kilometres south-west of Fort Munroe in Dera Ghazi Khan. It is a tribal area of the Punjab, where the writ of law enforcement agencies is nonexistent and hardened criminals had dug in and developed safe havens," the statement said.
"Sepoy Kamran Afzal, the son of Muhammad Afzal, a resident of Jaranwala, embraced shahadat early in the morning during an operation in the tribal belt area of the Punjab. The brave soldier of Pakistan Rangers (Punjab) had eight years of service. He had recently completed his anti-terrorist training. As part of Special Operations Rangers Troops (SORT), he was posted in DG Khan to take part in operations against terrorists," the statement said.
Larkana: Separately, the Counter Terrorism Department (CTD) started a search operation against terrorists in Sukkur and Larkana divisions on Sunday.
Larkana CTD SP Abdullah Ahmed said that the operation had been launched in Sukkur-Larkana divisions after security agencies received information that terrorists had entered into Sindh from Balochistan.
He said that the security had been tightened. "CTD officials have started searching hotels, restaurants, rented houses, passenger coaches coming from both sides of Sindh- Balochistan," he said.
"The terrorists are from the Hafeez Birohi group, who is involved in Sehwan, Shikarpur, Jacobabad blasts in which several innocent people were killed," he said.
Police had carried out 205 search operations in Sukkur-Larkana divisions during last nine months, in which nine terrorists were arrested and 11 were killed.
Earlier on Saturday, at least 10 suspected terrorists were killed in an 'encounter' with the CTD in Lahore's Manawan area. Among those killed was Anwarul Haq, the alleged facilitator of The Mall suicide bomber.
Fifteen people, including DIG Captain (r) Syed Ahmed Mubeen and SSP Zahid Akram Gondal, had lost their lives in the attack. During interrogation, Haq had revealed that he had brought the suicide attacker to Lahore and had later taken him to The Mall where he blew himself up. The CTD had later arrested four more terrorists from various areas of the province based on the information provided by Haq. CTD officials said that they were taking Haq and the four other suspects to Manwan late on Saturday to recover explosives hidden there. "Their accomplices attacked the police party and tried to free the terrorists. When CTD personnel returned fire, 10 terrorists were killed, including Anwarul Haq, Attaul Rehman, Imam Shah and Irfan Khan. The rest of those killed are yet to be identified," CTD officials said.
Also on Saturday, Quetta police on Saturday seized an explosive-laden vehicle in Chaman and arrested three people, including a suspected suicide bomber.
Police said the terrorists were planning to launch a major terrorist attack in the area, adding that a team of the bomb disposal squad had been sought to defuse the explosives. The vehicle, they said, was coming from Afghanistan.
On March 1, at least four people were injured in an explosion on Quetta's Sariab Road which targetted a security forces' convoy.
http://dailytimes.com.pk/pakistan/10-Apr-17/operation-radd-ul-fasaad-5-terrorists-killed-in-dg-khan
--------
Saudis execute three Pakistanis
April 10, 2017
JEDDAH - Saudi Arabia on Sunday executed three Pakistani nationals convicted of smuggling heroin, bringing the number of executions in the kingdom to 26 this year.
The state-run SPA news agency said the three had been found guilty of "smuggling quantities of heroin in their stomachs".
It named the three men as Mohammed Ashraf Shafi Mohammed, Mohammed Aref Mohammed Anayt and Mohammed Afdal Asghar Ali. All three are Pakistani citizens.
SPA reported 153 people being executed in the ultra-conservative kingdom last year, a number confirmed by London-based rights group Amnesty International.
Among those executed was Shiite cleric Nimr al-Nimr, a high-profile figure behind a string of Shiite protests in 2011 demanding reform in the Sunni-ruled kingdom. Amnesty reported 158 death penalties in the country for 2015, the highest annual rate in the past two decades.
Full report at:
http://nation.com.pk/national/10-Apr-2017/saudis-execute-three-pakistanis
--------
Nawaz bars PML-N leaders from making controversial comments about Raheel Sharif
April 10, 2017
Prime Minister Nawaz Sharif has barred all PML-N leaders from making any controversial statements about former army General (retd) Raheel Sharif, Radio Pakistan reported via twitter.
In a series of tweets earlier on Sunday, Radio Pakistan stated that the premier has taken notice of the statements being made against general (retd) Raheel Sharif.
The prime minister also noted that the whole country paid accolades to the former chief of army staff for his illustrious career.
Late last month, PML-N leader and Federal Minister for States and Frontier Regions (Safron) Lt Gen (retd) Abdul Qadir Baloch said that if former army chief Gen Raheel Sharif were to accept the appointment as head of a 39-nation military alliance of Muslim states he would become controversial.
"If Raheel Sharif takes up the appointment, he will become controversial and I feel it might lessen the respect he has earned," said Baloch while speaking on DawnNews programme Doosra Rukh.
More recently, Sindh Governor Muhammad Zubair was under the spotlight for statements about Raheel Sharif that caused some controversy.
"His [Sharif's] job as chief of the Saudi-led alliance is also being seen as something extraordinary – when it should be his prerogative as a normal person," Zubair said.
Full report at:
https://www.dawn.com/news/1325960/nawaz-bars-pml-n-leaders-from-making-controversial-comments-about-raheel-sharif
--------
Security forces foil bid to smuggle explosives, weapons from Afghanistan
SYED ALI SHAH
April 10, 2017
Security forces said they had foiled a major terrorism bid after the apprehended a vehicle laden with explosives and weapons close to the Pak-Afghan border in Chaman on Saturday morning.
A security official, who declined to be named, told Dawn that the seizure was made during a raid conducted by security forces near the border with Afghanistan.
Bomb disposal experts were called in to defuse the explosives inside the vehicle.
One suspect was arrested and shifted to an undisclosed location for interrogation.
Security officials said the 'terrorists' had planned to smuggle the weapons and explosives to Quetta, the provincial capital of Balochistan, for a "major terror attack".
"The timely information [we received helped us] foil [the] terror bid", an official said.
"An investigation is underway," he said, refusing to provide further information about the identity of the accused.
Security officials were unwilling to disclose the quantity of explosives and the number of weapons seized in the raid, citing the ongoing investigation.
Full report at:
https://www.dawn.com/news/1325701/security-forces-foil-bid-to-smuggle-explosives-weapons-from-afghanistan
--------
Raheel-led Islamic alliance will help counter terrorism: Imam-e-Kaaba
10-Apr-17
PESHAWAR: General (r) Raheel Sharif's experience and vast knowledge will play a pivotal role in countering terrorism, said Imam-e-Kaaba Sheikh Saleh Bin Mohammad Al Talib on Sunday.
In an interview, he said: "After retirement, army officers are free to work in any capacity. Leading a Muslim alliance will only bring prestige to the people of Pakistan." He said that all the 39 member countries had joined hands to eradicate terrorism from the world.
"Pakistan is now a peaceful country as they have bravely curbed the menace of terrorism. All the credit goes to Gen (r) Raheel Sharif, the government of Pakistan and people of Pakistan," he said.
Earlier, Imam-e-Kaaba Sheikh Saleh Bin Mohammad Al Talib addressed the concluding session of the three-day Jamiat Ulema-e-Islam-Fazl (JUI-F) centennial celebrations. Pakhtunkhwa Milli Awami Party central leader Mahmood Khan Achakzai also addressed the gathering.
Al Talib said that terrorist elements were sabotaging peace of the world through their own interpretation of religion.
"Islam is the only religion which adheres to the principles of morality and peace to lead the world and that is why it is the most popular religion of the world," he said. He said that defense of Haramain Sharifain (the two holy mosques) was the joint responsibility of Muslim Ummah. "In this regard, the unflinching support of Pakistan will always be honoured," he said.
Shiekh Salih Bin Mohammad said that the enemy wanted to misguide the Muslims from the right path of Islam. "We should not give up the Sunnah of the Holy Prophet (peace be upon him)," he said.
He said that terrorism paralysed the economy and social structure of a country and religious seminaries must play their role in identifying such elements and thwarting their ideology.
"Pakistan has the capability to be a leader of the Muslim Ummah and defend their ideological and geographical frontiers," he said.
Full report at:
http://dailytimes.com.pk/pakistan/10-Apr-17/raheel-led-islamic-alliance-will-help-counter-terrorism-imam-e-kaaba
--------
Encounter with CTD kills terrorist: explosives recovered
10-Apr-17
SUKKUR: During an encounter with Counter Terrorism Department, one terrorist was killed while two managed to flee.
The incident took place during snap checking on Sukkur Shikarpur link road when security personnel signaled three men on a motorcycle to stop, upon which they opened fire on the security personnel, said SP Irfan Samon.
He further informed that the snap checking was being conducted on credible intelligence about terrorists entering Sindh from Baluchistan.
In retaliatory fire, one terrorist was killed, while two of his accomplices managed to flee from the scene.
Full report at:
http://dailytimes.com.pk/pakistan/10-Apr-17/encounter-with-ctd-kills-terrorist-explosives-recovered
--------
US role a must in Russia-initiated Afghan talks, says Fatemi
April 10, 2017
ISLAMABAD - Pakistan has said that Russia-sponsored international talks on Afghanistan must involve the United States for bringing peace to the war-torn country, because Washington is the "biggest stakeholder" there.
Moscow plans to host this week (April 14) a new expanded round of multi-nation "consultations" it has recently launched with the stated goals of developing a "regional approach" for promoting Afghan security and a government-led national reconciliation with the Taliban. But the US administration has already refused to take part in the conference, questioning Russian intentions and motives.
Talking to a private TV channel, PM's Assistant on Foreign Affairs Tariq Fatemi stopped short of admitting the absence of Washington will not allow the multi-nation process to achieve its mission. "They (US) have their troops present [in Afghanistan], they have invested one trillion dollars there, they are the biggest stakeholder, they have lost hundreds of their soldiers, so they have their interests there," Fatemi explained.
While Afghanistan, Pakistan, Iran, China, India were represented in the last round of talks in Moscow earlier this year, former Soviet Central Asian states have been invited for the first time to attend the April 14 conference.
"We hope and desire that when any such peace initiative will enter into a next stage, America will have to be made part of it," Fatemi said when asked whether the Russian-initiated process could bring peace to Afghanistan without Washington.
Pakistan believes Russia is "positively" using its influence with the Taliban to encourage them to join peace talks and Islamabad is supportive of any such efforts, Fatemi insisted. "Russia has told us its major concerns are that if civil war conditions are there in Afghanistan, it can become a centre for terrorist organisations like Islamic State, or Daesh, who will then try to infiltrate into bordering Central Asian states," he elaborated.
The Taliban's attacks on rival IS fighters in a bid to prevent them from establishing a foothold in the country apparently encouraged Russia to support the insurgent group. But Afghan President Ashraf Ghani on Sunday again warned Moscow against maintaining contacts with the Taliban, reported Voice of America (VOA).
"Anyone who thinks they can help themselves by helping the enemy of their enemy is mistaken. Anyone who thinks that they can differentiate between good and bad terrorism is mistaken," Ghani said.
Full report at:
http://nation.com.pk/national/10-Apr-2017/us-role-a-must-in-russia-initiated-afghan-talks-says-fatemi
--------
Christians celebrate Palm Sunday
April 10, 2017
TOBA TEK SINGH-Palm Sunday which marks the commencement of the "holy week" leading to Easter was observed here by Christian community on Sunday. A procession was brought out by the Christians, which marched through different roads, carrying and waving palm fronds. The Christian community leaders said that Palm Sunday is celebrated to commemorate Jesus Christ's arrival to Jerusalem when people had greeted him with waving palm leaves. It also symbolises the victory of good over evil.
http://nation.com.pk/national/10-Apr-2017/christians-celebrate-palm-sunday
--------
Mideast
Erdogan: 'Sick man' Europe collapsing, Turkey 'growing'
Apr 9, 2017
Turkish President Recep Tayyip Erdogan has blasted at "crazy" European leaders for alleged opposing Turkey's upcoming referendum on expanding his powers, saying Ankara will reconsider its bid for membership in the European Union (EU) after holding the plebiscite, casting new doubts about Turkey's decades-long membership drive.
"You have seen what happened in Europe. Why did they go crazy? Why did they go berserk? They saw what this system will bring to Turkey. Turkey is leaping, growing. This makes them go crazy," Erdogan said at a pro-government rally in the western province of Izmir on Sunday, referring to Germany and the Netherlands that have prevented Turkish ministers from campaigning on their soils for a "Yes" vote in the April 16 referendum.
"Europe will pay for what they have done. God willing, the question of the European Union will again be on the table after April 16," Erdogan further said. He also labelled Europe as a "sick man", using the jibe that 19th century European politicians and leaders used to describe the aging Ottoman Empire.
"They said a century ago that we were the 'sick man'. Now they are the 'sick man'. Europe is collapsing," the Turkish leader added, claiming the European economy has weakened year after year. Earlier, he had described Europe as a "Nazism" and "rotting" center.
The referendum is aimed at abolishing the office of the prime minister and giving more executive powers, including issuing decrees, declaring emergency rule, appointing ministers and state officials and dissolving the parliament, to the currently largely ceremonial position of president in Turkey. Critics say the vote would give the president dictatorial powers.
Erdogan also reiterated that after the next week's plebiscite he would revive the capital punishment "without hesitation" – if it was passed by parliament – a move that would automatically terminate the EU membership bid.
Last month, European Commission President Jean-Claude Juncker warned that the measure was a "red line" in Ankara's stalled bid.
Turkey has been attempting to become part of the EU for decades. Formal EU accession negotiations, however, began in 2005. The process has been mired in problems, and only 16 chapters of the 35-chapter accession procedure have been opened for Ankara so far.
In November last year, the European Parliament suspended the accession talks with Ankara over concerns regarding human rights and the rule of law following the July 15 coup attempt against Erdogan, which Ankara claims was organized by US-based cleric Fethullah Gulen. In January, Turkey called on the EU to resume the negotiations.
http://www.presstv.ir/Detail/2017/04/09/517409/Turkey-Erdogan-EU-referendum-crazy
--------
Israel will continue to treat injured Syria militants: Netanyahu
Apr 9, 2017
Israeli Prime Minister Benjamin Netanyahu says the Tel Aviv regime will continue to provide medical treatment to Takfiri militants fighting to topple Syrian President Bashar al-Assad.
Speaking before a weekly cabinet meeting in the occupied Jerusalem al-Quds on Sunday, Netanyahu stated that Israel would continue treating wounded militants as part of what he alleged to be a "humanitarian effort."
The Israeli prime minister also repeated his regime's full support for a recent missile strike by the US military against a Syrian air base.
The Pentagon said 59 Tomahawk cruise missiles were fired at the Shayrat airfield from two warships in the Mediterranean early on April 7. US officials claim that a chemical attack in the town of Khan Shaykhun, which reportedly left over 80 people dead, on April 4, had been launched from the airfield .
Israeli Prime Minister Benjamin Netanyahu says the Tel Aviv regime will continue to provide medical treatment to Takfiri militants fighting to topple Syrian President Bashar al-Assad.
Speaking before a weekly cabinet meeting in the occupied Jerusalem al-Quds on Sunday, Netanyahu stated that Israel would continue treating wounded militants as part of what he alleged to be a "humanitarian effort."
The Israeli prime minister also repeated his regime's full support for a recent missile strike by the US military against a Syrian air base.
The Pentagon said 59 Tomahawk cruise missiles were fired at the Shayrat airfield from two warships in the Mediterranean early on April 7. US officials claim that a chemical attack in the town of Khan Shaykhun, which reportedly left over 80 people dead, on April 4, had been launched from the airfield.
Full report at:
http://www.presstv.ir/Detail/2017/04/09/517369/Israel-Prime-Minister-Netanyahu-treatment-Syria-militants-US-missile-attack-Shayrat-airfield-Homs
--------
Toll in clashes at Lebanon Palestinian camp rises to 5
April 10, 2017
SIDON - The toll in two days of clashes in a Palestinian refugee camp in Lebanon rose to five on Sunday, medics said, as local factions worked to implement a security plan. Clashes erupted in the camp late Friday as Palestinian factions participating in a joint security force begun deploying throughout the area in the southern city of Sidon.
They came under fire from a local Islamic extremist group in part of the camp, prompting clashes that Lebanese and Palestinian medics said Sunday have now killed five people and wounded at least 30, mostly civilians. Among the dead were two civilians, two members of the joint Palestinian security force and one member of the extremist group, the medical sources said.
The fighting has prompted security measures outside the camp, which Lebanese security forces do not enter by long-standing agreement. An adjacent highway has been cut and patients moved from the Sidon governmental hospital next to the camp.
Palestinian officials in the camp called Sunday on remaining members of a group led by a local extremist to surrender with their weapons. And around noon, the intensity of the clashes decreased after earlier fighting that sent clouds of black smoke up from the camp. Ain al-Hilweh is home to multiple armed factions, and has been plagued by intermittent clashes between them as well as against smaller extremist groups.
Full report at:
http://nation.com.pk/international/10-Apr-2017/toll-in-clashes-at-lebanon-palestinian-camp-rises-to-5
--------
Turkey says Russia must stop insisting on Assad's leadership in Syria
April 10, 2017
Turkey remains committed to a ceasefire in Syria, but Russia must stop insisting that Bashar al-Assad should remain as leader of the country, Ankara's foreign minister said on Sunday.
Mevlut Cavusoglu, in live comments on state broadcaster TRT Haber, also said that he told his Russian counterpart that Moscow did not take the necessary steps in the face of breaches in the Syrian ceasefire.
http://nation.com.pk/international/09-Apr-2017/turkey-says-russia-must-stop-insisting-on-assad-s-leadership-in-syria
--------
Houthi militias are raiding what's left of Yemen's treasury
9 April 2017
Houthi militias are continuously draining funds from what is left of Yemen's treasury, sources from inside the capital Sanaa confirmed.
At least 750 bln Yemeni rials were taken by Houthi militias from the assets of the General Authority for Insurance and Pensions in the state's central bank without the permission or authority, sources said.
The Houthis are seeking to take what is left of the $200 million in the state's treasury for they say are their "war efforts" and transferring it to the Directorate of Maran in Saada, a stronghold of the militias.
Full report at:
https://english.alarabiya.net/en/News/gulf/2017/04/09/Houthi-militias-are-raiding-what-s-left-of-Yemen-s-treasury.html
--------
US missile strikes against Syria strategic mistake: Ayat. Khamenei
Apr 9, 2017
Leader of the Islamic Revolution Ayatollah Seyyed Ali Khamenei says the recent missile strikes by the US military against a Syrian army air base were a "strategic mistake."
The Leader made the remarks in a New Year meeting with senior commanders of Iran's Armed Forces on Sunday.
"What the Americans did was a strategic mistake and error and they are repeating the [same] mistakes as their predecessors," the Leader said.
"Former American officials created Daesh [terrorists] or helped them, and the current officials are also strengthening Daesh or a group similar to it," the Leader added.
Elsewhere in his remarks, Ayatollah Khamenei warned that the threat posed by such terrorist groups would backfire on Americans in the future, adding, "Europe is currently in trouble for the wrong step that it took for bolstering Takfiris, and [European] people are not secure at [their] homes and on the street, and America is repeating the same wrong step."
The Leader then noted that the Americans were quite apt to committing crimes and acts of aggression as they had already carried out such measures in other parts of the world.
Ayatollah Khamenei said some Western countries fully supported the former Iraqi dictator, Saddam Hussein, during the eight-year imposed war against Iran (1980-88), adding that "hypocrite" European governments, which are now claiming that chemical weapons have been used in Syria, gave tons of chemical weapons to Saddam to use them in attacking the Iranian city of Sardasht and the Iraqi city of Halabjah.
Ayatollah Khamenei also warned against the enemy's plot to undermine the morale of the Iranian officials, nation and the Armed Forces, saying that the enemy was trying to create a feeling of weakness among Iranians through psychological tactics.
Full report at:
http://www.presstv.ir/Detail/2017/04/09/517384/Iran-US-Syria-Leader-Ayatollah-Seyyed-Ali-Khamenei-Armed-Forces
--------
Iran, Syria military top brass discuss US strikes in Syria
Apr 9, 2017
The military brass of Iran and Syria say the US missile strikes against a Syrian airfield will fail to bear any fruit, stressing that terrorists and their allies are on the verge of final collapse.
In a telephone conversation on Sunday, Chief of Staff of the Iranian Armed Forces Major General Mohammad Baqeri and his Syrian counterpart, General Ali Abdullah Ayoub, said the US attack was aimed at boosting the morale of terrorists and their defeated allies.
Baqeri strongly condemned US airstrikes against Syria as "a blatant aggression against an independent and sovereign country" and a breach of international law.
"The terrible chemical incident in [the Syrian town of] Khan Shaykhun was a suspicious incident and a plot against the Syrian government and nation," he added.
Like Syria and Russia, Iran also believes that it is necessary to conduct a field investigation into the chemical attack by an impartial group, he added.
At least 86 people were killed in a gas attack in Khan Shaykhun in Syria's Idlib Province. Anti-Damascus militants and Western countries rushed to blame Syrian government for the incident without providing any evidence to support their accusations.
The Iranian military official further stated that the US missile attacks on Syria were an attempt by the White House and its allies to promote aggression and revive terrorists.
Baqeri emphasized that the Iranian nation and Armed Forces were confident that the Syrian government and people would ultimately emerge triumphant against the Takfiri terrorists backed by arrogant powers.
The Syrian military official, for his part, commended Iran's support for his country's government, nation and army in their fight against terrorists and their sponsors.
He added that the US airstrikes had strengthened the motivation of Syrian popular fighters and army forces to defeat terrorists.
Using the Idlib tragedy as a pretext, US President Donald Trump ordered the country's warships in the Mediterranean to carry out a missile attack on Syria. They launched a barrage of 59 Tomahawk missiles against Shayrat Airfield in Syria's Homs Province early on Friday.
Full report at:
http://www.presstv.ir/Detail/2017/04/09/517376/Iran-Syria-US-Armed-Forces-Mohammad-Baqeri-Ali-Abdullah-Ayoub
--------
Europe
Unicef urges Myanmar to release detained Rohingya children
April 10, 2017
UNITED NATIONS - The United Nations Children's Fund (UNICEF) has called for the release of the Rohingya children detained by Myanmar's government as part of a heavy-handed crackdown on the Muslim minority group in Rakhine State.
The international body made the plea to Myanmar's de facto leader Aung San Suu Kyi on Saturday after detailing the plight of around a dozen minors being held in the Buthidaung prison in the restive Rakhine. "There are some children that are detained in prison, so those are the cases that we're raising," Justin Forsyth, the agency's deputy executive director, said at the end of a brief trip to the Southeast Asian country. "Any child that's detained is an issue for us."
"The reality is if you don't address these issues, particularly for these communities, then it will come back to haunt them, which is partly what has happened," Forsyth said. Nearly 75,000 people have fled from the Muslim-majority northern part of Rakhine to Bangladesh since Myanmar's military launched a crackdown there in October 2016, according to the UN report. In a televised interview with British media last week, Suu Kyi expressed opposition to labeling the ongoing crackdown against the country's Muslim minority group as ethnic cleansing despite widespread reports of abuses against them. The crackdown was launched after a deadly attack on the country's border guards on October 9, 2016 left nine policemen dead. The government blamed the Rohingya for the assault.
There have been numerous accounts by eyewitnesses of summary executions, rapes, and arson attacks against Muslims since the crackdown began. The military has blocked access to Rakhine and banned journalists and aid workers from entering the zone. The United Nations has warned that the ongoing human rights violations against the Rohingya Muslims in Rakhine could be tantamount to "crimes against humanity."
Hundreds of people have been killed and tens of thousands have been forced from their homes to live in squalid camps in dire conditions in Myanmar, Thailand, Malaysia, and Indonesia.
http://nation.com.pk/international/10-Apr-2017/unicef-urges-myanmar-to-release-detained-rohingya-children
--------
Norway raises threat level after bomb found, Russian arrested
April 10, 2017
OSLO - Norway's intelligence agency raised the national threat level on Sunday after a 17-year-old Russian was arrested on suspicion of placing a homemade bomb in central Oslo. The domestic intelligence agency PST said an attack was now "probable" rather than "possible", because of the risk of a copycat attack after recent assaults in Stockholm, Saint Petersburg, London, Berlin and Nice.
The new threat level will be in place for two months. "It's not clear whether the 17-year-old young man intended to commit a terrorist attack," PST chief Benedicte Bjornland told reporters.
The teen's lawyer, Aase Karine Sigmond, said her client rejected the allegations, as well as claims in the media that he was an Islamic State (IS) sympathiser. "It was a boy's prank," she told broadcaster NRK.
The intelligence agency was trying to determine whether he had acted alone. The incident came after a deadly truck attack that left four people dead and 15 injured in Stockholm in neighbouring Sweden. The main suspect in that attack, a 39-year-old man from Uzbekistan, had shown an interest in jihadist groups like IS and had had his permanent residency application rejected, police said Sunday.
Norwegian police had earlier announced that they had carried out a controlled explosion overnight Saturday and that they had made an arrest. Police had cordoned off part of Oslo's busy Gronland district and evacuated local bars and restaurants after the device was discovered Saturday evening.
The device turned out to be a "primitive explosive device" with the capacity to cause only "limited" damage, said another PST official, Signe Alling.
The suspect had arrived in Norway in 2010 with his family, which had sought asylum. He was already known to intelligence circles.
Full report at:
http://nation.com.pk/international/10-Apr-2017/norway-raises-threat-level-after-bomb-found-russian-arrested
--------
Second suspect arrested over Stockholm truck attack
9 April 2017
A second suspect was arrested Sunday in connection with the Stockholm truck attack that killed four people and injured 15, a district court said.
"I can confirm that a second person has been arrested," Stockholm district court judge Helga Hullman told AFP.
The new suspect, whose identity was not disclosed, is being investigated about a "terrorist crime (by committing) murder," Karin Rosander, spokeswoman at the Swedish Prosecution Authority told public broadcaster SVT.
The prosecution has until Wednesday to ask a court to remand the suspect in custody, Rosander said.
A first suspect has been officially identified as a 39-year-old man from Uzbekistan and "applied for a permanent residency permit in 2014", a request later rejected, police said Sunday.
On Friday, the 39-year-old is alleged to have barrelled a stolen beer truck several hundred metres (yards) down the bustling pedestrian street Drottninggatan in the heart of Stockholm.
The vehicle mowed down shoppers before slamming into the facade of the busy Ahlens department store. The motive for the attack is not known.
Full report at:
https://english.alarabiya.net/en/News/world/2017/04/09/Second-suspect-arrested-over-Stockholm-truck-attack.html
--------
Islamic fintech firm becomes first to get UK regulatory approval
Apr 10, 2017
By Jemima Kelly | LONDON
A London-based Islamic financial technology start-up has become the first company of its kind to be given regulatory approval in the UK, as Britain seeks to position itself as a hub for both fintech and Islamic finance.
Yielders, a firm that allows retail investors to get exposure to the property market with as little as 100 pounds, became the first Islamic fintech firm to be given full authorisation by Britain's Financial Conduct Authority earlier this month.
Its approval comes at a time when Britain is trying to hold onto its status as a global centre for finance and innovation as it severs ties with its biggest trading partner, the European Union.
London has long sought to position itself as a global hub for Islamic finance, going as far as issuing a sovereign Islamic bond in 2014. Last week the Bank of England said it would develop a sharia-compliant liquidity tool for use by Islamic banks, underscoring efforts to attract business from the Middle East and South East Asia.
Britain has also in recent years pushed itself as a centre for fintech, and was ranked as the global number one fintech hub by consultancy EY in a report last year.
Yielders founding director Irfan Khan said that in conversations over the past two years with the FCA and the Department for International Trade, it had become clear that the UK government wanted to make Britain a premier destination for Islamic fintech.
"They (the UK government) believe that outside the Middle East, the UK is the capital of fintech for Islamic finance," he said. "There's certainly movement in the UK to try to promote Islamic fintech, and for fintech firms in the UK to show the route forward for a lot of the Middle Eastern market."
Yielders also had to get approval from Britain's Islamic Finance Council, which asked a sheikh, Abu Eesa, to certify that the company's business practices were compliant with sharia law. That included certifying that there was no borrowing or nothing that could be construed as gambling involved.
Full report at:
http://uk.reuters.com/article/uk-britain-islamic-fintech-idUKKBN17C0FM
--------
South Asia
3 Al-Qaeda network members killed in Paktika province of Afghanistan
Apr 09 2017
At least three Al-Qaeda network members were killed during an airstrike in southeastern Paktika province of Afghanistan.
The Ministry of Defense (MoD) spokesman Dawlat Waziri said the airstrike was carried out in the vicinity of Jani Khel district.
This comes as the US Department of Defense confirmed the death of a high level Al-Qaeda network leader who was killed in Paktika province last month.
The Al-Qaeda leader killed in the airstrike was identified as Qari Yasin with the Department of Defense saying he was a senior terrorist figure from Balochistan, Pakistan, had ties to Tehrik-e Taliban and had plotted multiple al Qaida terror attacks, including the Sept. 20, 2008, bombing on the Marriott Hotel in Islamabad that killed dozens of innocent people, among them U.S. Air Force Maj. Rodolfo I. Rodriguez and Navy Cryptologic Technician Third Class Petty Officer Matthew J. O'Bryant.
Full report at:
https://www.khaama.com/3-al-qaeda-network-members-killed-in-paktika-province-of-afghanistan-02537
--------
Air strike kills two Haqqani commanders in Ghazni
April 10, 2017
Aminullah Amarkhail, Ghazni's Police Chief said Sunday that two Haqqani network commanders were killed during an Afghan Air Force air strike in Ghazni province.
The strike was carried out on Saturday evening and targeted insurgent hideouts in Parch village of Gero district, the Afghan media reported.
Two Haqqani network commanders, Rashed and Mohammad Gul Nafiz, were killed in the operation, said Amarkhail.
Full report at:
http://nation.com.pk/international/09-Apr-2017/air-strike-kills-two-haqqani-commanders-in-ghazni
--------
Fundamentalists demand govt remove compulsory Mongol Shobhajatra in schools
April 09, 2017
Mongol Shobhajatra began in 1989 as a resistance to military dictatorship by teachers and students of the Faculty of Fine Arts, Dhaka University using traditional folk art to usher in the Bangla New Year.
Since the government has made Mongol Shobhajatra compulsory in every school in the country, fundamentalist Islamic parties and organisations including Jamaat-e-Islam and Hefazat-e-Islam has been protesting the government's decision for the past one week.
Nayeb-e-Ameer of Jamaat-e-Islami, Mujibur Rahman in a press release said: "The constitution begins with Bismillahir Rahmanir Rahim and Islam is our state religion so isn't the compulsory celebration of Pohela Boishak with Mongol Shobhajatra contradictory to the constitution?"
Recognised by Unesco as an Intangible Cultural Heritage of Humanity, Mongol Shobhajatra has long been a contentious issue for Islamic fundamentalists in Bangladesh who claim it is not Bangla culture but a vestige of Hindu culture that is incompatible with Muslim majority Bangladesh.
Mongol Shobhajatra began in 1989 as a resistance to military dictatorship by teachers and students of the Faculty of Fine Arts, Dhaka University using traditional folk art to usher in the Bangla New Year.
In his statement Mujibur also alleged the government was forcing students to bring out Mongol Shobhajatra to please some vested interest quarters.
Much of the rhetoric about Mongol Shobhajatra consistently circles around conspiracy theories.
"Influential atheist groups are conspiring to remove Islam and Islamic culture from Bangladesh," Islami Oikya Jote Secretary General Mufti Fayzullah told Dhaka Tribune told during a demonstration on April 7, after Friday prayers, protesting the government's decision.
Full report at:
http://www.dhakatribune.com/bangladesh/2017/04/09/fundamentalists-demand-govt-remove-compulsory-mongol-shobhajatra-in-schools/
--------
Russia reacts at alleged support to the Afghan Taliban
Apr 10 2017
The Embassy of Russia in Kabul has reacted towards the remarks of the Afghan officials regarding the alleged support of Moscow to the Taliban group.
According to a statement by the Russian Embassy, some senior Afghan officials are accusing Russia of supporting the Taliban group, emphasizing that such allegations are made without any proof or evidence.
The growing frustrations among the Afghan officials follow amid reports that Moscow is providing support to the Taliban group.
The American officials also expressed regarding the growing attempts by Moscow to strengthen links with the Taliban group.
The American defense secretary James Mattis said Washington is concerned regarding the ties between Moscow and Taliban group.
He said Washington is informed regarding the ties between two but did not comment further regarding the alleged supply of weapons to the group by Russia.
In the meantime, the Afghan government reacted at Moscow's stance regarding the Taliban demands for the full withdrawal of the foreign forces from the country.
Presidential spokesman Shah Hussain Murtazawi told reporters earlier this month that no one has the right to dictate terms or issue instructions regarding the presence of the foreign forces in the country.
Full report at:
https://www.khaama.com/russia-reacts-at-alleged-support-to-the-afghan-taliban-02540
--------
Afghanistan reacts at Pakistani allegations over India's destructive role
Apr 09 2017
The Afghan defense officials reacted at the allegations of a Pakistani official regarding the alleged destructive role of India, calling it as baseless.
General Dawlat Waziri, spokesman for the Ministry of Defense in response to the allegations of the Pakistani official, said that New Delhi has no military presence in Afghanistan, rejecting the misunderstanding of Islamabad claiming that the country is fuelling anti-Pakistan feelings with its presence in Afghanistan.
He said India is only providing training and study opportunities to the Afghan army cadets and that New Delhi has military
presence in Afghanistan.
Pakistan's Defence Minister Khawaja Mohammad Asif, on Thursday, said that the state was serious about improving relations between Pakistan and Afghanistan.
Speaking to a private news channel, the minister claimed the strained relations between the two countries was due to Indian influence on Afghanistan's side, according to The Express Tribune newspaper.
India has played a major role in the reconstruction of Afghanistan since the fall of the Taliban regime and has invested over $2 billion in various reconstruction and infrastructure projects.
Full report at:
https://www.khaama.com/afghanistan-reacts-at-pakistani-allegations-over-indias-destructive-role-02536
--------
Africa
Christians are frustrating fight against terrorism in Nigeria – Islamic scholar
April 9, 2017
A prominent Islamic scholar, Ahmad Gumi, on Saturday alleged that the refusal of Christians to join forces with Muslims was frustrating the fight against terrorism.
Gumi, who made the remark while speaking at the Centre for the Study of Christian-Muslim Relations in Kaduna, said it was unfortunate that Christians misinterpreted the move of the federal government to enlist Nigeria in the coalition of Islamic nations fighting terrorism.
The scholar noted that the lack of trust between Christians and Muslims had denied the country the opportunity to benefit from other countries in the fight against terrorism.
Gumi said, "Saudi Arabia, which is the heart of Islam, wanted a coalition of Muslim state to fight terrorism. Terrorism destroys Muslims more than any other people. This terrorism was mentioned 1,400 years before it happened.
"The prophet said before the end of time, you will find youths claiming to be Muslims using the Qur'an to kill people. It was even mentioned in Islamic books that terrorism would come.
"Fighting terrorism, I am telling you, can only be effectively be done by Muslims themselves. So, when you see Muslims coming together to fight terrorism, and you you hear Christians voices saying 'Nigeria should not join this force because it means we are Islamising Nigeria', this is wrong!
"We need the Muslims to come together to fight this terrorism, but we don't get the cooperation of our Christian citizens because of lack of understanding of what Islam is all about.
Full report at:
http://dailypost.ng/2017/04/09/christians-frustrating-fight-terrorism-nigeria-islamic-scholar-ahmad-gumi/
--------
Bombing near army chief's convoy kills 15 in Mogadishu
Apr 9, 2017
A car bomb has exploded outside a military base in the Somali capital, Mogadishu, killing at least 15 people and injuring several others.
Police said that the bomb exploded near Somalia's Defense Ministry compound in Mogadishu on Sunday.
The car bomb targeted Somalia's new military chief Gen. Mohamed Ahmed Jimale and senior officials leaving the base in a convoy.
Jimale, who had just been sworn into office, survived the car bomb attack.
Major Hussein Nur, a military official, confirmed that several people had lost their lives in the fatal blast.
"At least 15 people mostly civilians died in the blast," Nur said, adding, "We do not know the exact figure of casualties. All the people on board the ruined minibus perished. Soldiers and other private security guards also died."
Abdifitah Halane, a spokesman for Mogadishu's mayor, said, "What happened here was a painful tragedy - the blast struck two packed minibuses and no one survived."
"There is flesh and blood everywhere," he added.
Some media reports said at least five soldiers are among those killed in the explosion.
A huge cloud of smoke billowed over the scene and heavy gunfire was heard in the troubled area.
Somalia's al-Qaeda-linked al-Shabab militant group claimed responsibility for the latest attack.
"The car bomb was targeting senior military officials but by good luck their car was not hit. Their car turned a minute before the blast," al-Shabab's spokesman for military operations said.
On Thursday, Somalia's new President Mohamed Abdullahi Mohamed declared the country a war zone, instructing the military to prepare a new offensive against al-Qaeda-linked al-Shabab extremists.
Full report at:
http://www.presstv.ir/Detail/2017/04/09/517375/Somalia-Mogadishu-Mohamed-Ahmed-Jimale--alShabab
--------
South Africa to re-think nuclear expansion program
Apr 9, 2017
South Africa's ruling party on Sunday said the government will have to re-think its costly and highly contentious nuclear expansion program following last week's relegation of the country's creditworthiness to junk.
Within days of each other the world's two major rating agencies Fitch and Standard & Poor's downgraded South African sovereign debt to junk status after President Jacob Zuma's dramatic ministerial shake-up that saw respected finance minister, Pravin Gordhan, axed.
In 2010 South Africa formulated plans to expand its nuclear power fleet, plans estimated to cost around one trillion rand ($73 billion).
Two Sunday newspapers cited a confidential document that stated that the country's power utility Eskom would in June invite bids for the construction of four plants with a combined capacity of 9,600 megawatts.
The successful bidder would then be named in March next year, according to the City Press and the Sunday Times.
But ANC's head of economics Enoch Godongwana told reporters that "conditions have changed. It was before we were declared junk status."
"Surely in the light of the junk status we will have to ... revise our expenditure patterns as government."
"If we do nuclear we must do it ...at a scope and pace which is affordable."
Godongwana did not rule out Africa's most advanced economy sliding into recession.
"Are we anticipating a recession? That's a possibility," he said.
When Fitch announced it had downgraded South Africa to non -investment level on Friday, it cited "recent political events, including a major cabinet reshuffle" that would "weaken standards of governance and public finances."
It said differences over the "expensive nuclear program preceded the dismissal of a previous finance minister, Nhlanhla Nene, in December 2015 and in Fitch's view may have also contributed to the decision for the recent reshuffle."
Fitch added it was of the view that under the new cabinet the nuclear program "is likely to move relatively quickly."
Full report at:
http://www.presstv.ir/Detail/2017/04/09/517379/South-Africa-ANC-Zuma-Standard--Poors--Finance-Minister-reshuffle-nuclear-reactor
--------
Cameroon: Islamic Solidarity Games - Preparations Hot up
7 APRIL 2017
By Elizabeth Mosima
A press conference on the state of preparedness of Cameroon for the competition took place in Yaounde on April 5, 2017.
The fourth edition of the Islamic Solidarity Games will take place in Baku, Azerbaijan, from May 12 to 22, 2017. Cameroon as usual will be part of the competition. Ahead of this important event preparations have reached fever pitch at the different sports federations in the country. A press conference to brief journalists on the state of preparedness of Cameroon for the competition took place in Yaounde onApril 5, 2017. Speaking at the occasion, the President of the Cameroon Olympic and Sports Committee, Kalkaba Malboum said preparations are going on smoothly and all is being done to ensure a successful participation of Cameroonian athletes in the competition. Cameroon will present 69 athletes in eight sports disciplines. These include weightlifting, athletics, volleyball, wrestling, boxing, judo, taekwondo and football.
Full report at:
http://allafrica.com/stories/201704100152.html
--------
North America
Quebec City man to become Canada's first French-speaking Muslim military chaplain
Apr 05, 2017
By Kim Garritty
Moroccan-born Jalal Khaldoune is set to become one of Canada's only four Muslim military chaplains, and the first Muslim chaplain who speaks French.
It's like a dream come true, the environmental scientist told CBC.
Khaldoune moved to Quebec City in 2001 to do his PhD at Université Laval after completing his master's degree in Switzerland.
He worked in various scientific roles both at the university and for the federal government in the ensuing years. He became a citizen in 2005.
But he wanted to do something else, he said — something he considered both prestigious and a way to give back to Canada, the place he has called home for the last 16 years.
"I'm completely satisfied with the life here in Quebec, so why not? I feel myself part of the country," Khaldoune said. "I can participate by helping others and also supporting people."
Becoming a military chaplain seemed the perfect fit, he said.
When Khaldoune enlisted, he was 40 — what some might consider an advanced age for basic training.
"I did training with young people, and I succeeded," he said. "Better than half of the platoon, believe me."
Sharing faith's richness
Khaldoune will offer spiritual guidance to members of the forces of all faiths, as well as to those who are atheist or non-practising.
"The aim is to serve everyone."
He said he's looking forward to breaking down prejudices or poorly understood ideas of what it means to be Muslim.
How Quebec City is mending the emotional scars left after the mosque attack
"For me, it's a richness," he said. "I want to share this richness with others, to show them that a Muslim is someone who is open, someone who is tolerant, someone simple, someone who is free, like you."
Khaldoune is now completing his master's of theology degree and will be finished in two semesters.
He expects to be posted somewhere in Quebec, but he says it will be up to the Canadian Forces to decide where he ends up.
http://www.cbc.ca/news/canada/montreal/muslim-military-chaplain-quebec-1.4052860
--------
In the Trump era, one U.S. Muslim investor tries a louder voice
Apr 10, 2017
By Ross Kerber
Shareholder activism is rare in Islamic finance, but one wealth manager has staked out new territory as the most outspoken voice among Muslim investors in the United States.
Working from an office in Falls Church, Virginia, Bashar Qasem was the only Islamic financial representative among religious shareholder advocates who sent a letter in February to protest U.S. President Donald Trump's travel ban.
It was only one of a number of such moves since 2015, when Qasem's Azzad Asset Management firm started weighing in on issues like worker safety, climate change and lobbying disclosures.
This direct advocacy will test whether many U.S. Muslim investors will support the sort of faith-based shareholder activism common among other religious groups even as many cite safety concerns or have experienced bullying.
Qasem said his clients seemed to welcome his growing public role. Most are Muslim, and about half are immigrants. "Most of them, they feel it's about time," said Qasem, who grew up in Jordan, moved to the United States in 1987 and became a citizen in 1996.
So far Qasem's strategy appears to be helping to differentiate his firm at a time when the popularity of cheaper index-tracking products is rising.
Azzad's assets increased 11 percent in 2016 to $487 million at year-end. Growth included $5.7 million into the firm's mutual funds, the third consecutive year of inflows.
By contrast, the Amana family of mutual funds, which Morningstar says is the largest in U.S. Islamic finance at $2.9 billion of assets, has had three years of investor withdrawals, which it blames partly on the rise of passively managed products.
Laila El-Haddad, who writes about food and Palestinian politics, said Qasem's outspokenness helped draw her to his firm. "Given the choices between two Islamic investment companies," she said, "we would definitely opt for the one taking this approach."
TESTING INVESTORS' FAITH
Funds involved in Islamic finance are sometimes classified as "Sharia-compliant," or adhering to religious precepts such as avoiding investments in alcoholic beverage companies and businesses making or receiving interest payments.
Qasem said he preferred the term "Halal investing," referring to the Arabic word for "permitted" investments.
Islamic finance assets stood at $2 trillion worldwide in 2015, up from $1.7 trillion in 2012, according to the latest Thomson Reuters data.
The much smaller $4.6 billion U.S. Islamic finance sector, however, has grown little in recent years. Only a few institutions, mostly community banks, have significant Islamic lending practices.
Ibrahim Warde, an adjunct professor at Tufts University's Fletcher School, said the slow growth reflected both U.S. regulations that make some Islamic products difficult to offer and some Muslim financial executives' desire to avoid drawing attention, given the public mood.
"There's this question of keeping a low profile," he said.
Sheraz Iftikhar, managing partner of New York wealth manager Arch Global Advisors, said his clients, who are mainly Muslim, had not changed their investment strategies lately.
"It's too early to see a change in Muslim investor sentiment," said Iftikhar.
Typical of Qasem's recent efforts is a measure that Azzad co-filed in January, calling on Google parent Alphabet Inc (GOOGL.O) to adopt "Holy Land Principles" that would lead U.S. companies doing business is Israel to hire more Palestinian Arabs.
Azzad spokesman Joshua Brockwell said Alphabet told the firm it would hold a vote on the measure at its annual meeting.
Full report at:
http://www.reuters.com/article/us-usa-islam-investing-idUSKBN17C0AT
--------
Outside anti-Islam event, protesters ask for acceptance
April 9, 2017
Dozens of protesters lined the sidewalks outside a Sioux Falls hotel Sunday night where a pair of speakers gave private presentations about the dangers of Islam.
The interfaith coalition of nearly 70 people yelled out to passing cars and hoisted signs that asked for an end to hate and a greater emphasis on acceptance in Sioux Falls.
Inside the conference center at the Hilton Garden Inn South Tennessee radio host and author Brannon Howse and Spokane, Wash.-based Pastor Shahram Hadian, an Iranian-born former Muslim who's converted to Christianity, delivered talks to attendees. Hadian's talk was titled "Sabotaging America: Islam's March Towards Supremacy." Howse's was called "Genesis to Revelation: A Biblical Worldview Briefing on the Past, Current and Future World Events."
Neither event was open to the press.
Hadian planned to speak on the importance of "extreme vetting of Muslim immigrants," the event's registration page said, due to the "clear and present threat ISIS poses to America as they have boasted of placing their terrorists among the refugees flooding into America."
More:Anti-Islam speakers: We are not anti-Muslim
Hadian's messages, which paint Islam as a religion of violence, have drawn criticism from Islamic groups as representing a message of intolerance. In February, Hadian's ministry was listed as a hate group by the Southern Poverty Law Center, which tracks hate group activity in the U.S.
Hadian and Howse have said that criticism of their messages is unwarranted and that they do not promote anti-Muslim ideals.
Outside the conference hall Ismael Mulamba, 32, stood alongside Ali Elkafifi, 14, holding a sign that said, "No hate in SF." The two men booed as a man in a pickup truck drove by and shouted out the window that Islam is evil and that Muslims worship a false god.
"We are all sons of God, whether we're Muslim, Christian, Jewish, Hindu," Mulamba said. He then looked toward the hotel and said, "They preach loving your neighbor as yourself, but the reason they are there is to promote hate and fear."
Elkafifi added, "What makes them better than us?"
More:'I worry about my kids'; Muslims air concerns at hate crime forum
For an hour and a half the group sang, cheered and spoke about the importance of respect for one another's religions. At one point Muslim protesters bowed in prayer and others protected them, circling around them while still holding their signs.
Taneeza Islam, an immigration attorney and event organizer, said she thought it was important to make a public display in support of the Sioux Falls Muslim community. She said the group's message of love was apparent Sunday.
Full report at:
http://www.argusleader.com/story/news/politics/2017/04/09/outside-anti-islam-event-protesters-ask-acceptance/100169946/
--------
For U.S. citizen at border, 'the fear of coming home'
Apr 9, 2017
By Tim O'Shei
She was blasting the car stereo, singing Ariana Grande.
He was gripping the steering wheel, navigating the darkness on the southeastern end of the QEW. He was not in a singing mood on this chilly January night. Hours ago, at a lecture near Toronto with an Islamic scholar, he had been wearing a traditional, flowing Muslim thobe.
Now, though, he was wearing pants and a button-down. The picture of non-descriptiveness. The thobe was tucked in the trunk.
Akram Shibly and his fiancée Kelly McCormick were about to cross the Lewiston-Queenston Bridge back into the United States. They had done this three days earlier, and it didn't go well. But McCormick, who is white and Catholic, figured this time would be fine. Shibly wasn't as certain.
He is Muslim.
For the 15 years since 9/11, Muslims – including those like Shibly, who are U.S. citizens – have complained of long waits and more deeply probing questions by American officials at borders. Though President Trump's executive orders that constituted what some called a "Muslim ban" have heated up the conversation over how outsiders are treated when coming (or not coming) here, that's not Shibly. He is not an outsider; he's a passport-carrying, natural-born American citizen with a clean criminal record.
As a little boy he fancied becoming president, even asked his barber to give him a JFK-styled cut. He was in the third grade when two planes struck the twin towers and reality toppled that dream.
Today he's an American whose faith, name and life experiences make him feel more likely to get pulled in for secondary questioning at the border. Which is why, with the border approaching, Shibly said to his fiancée, "If they ask for my phone again, I'm not giving it to them."
* * *
The organization responsible for conducting inspections is U.S. Customs and Border Protection, a 60,000-person federal agency that patrols the edges of the country and has the authority to examine anybody, and anything, coming in. That ranges from electronic equipment to unusual-looking bugs on imported fruit. And it can include any person — especially ones they deem worthy of deeper questioning.
It's a job with "a heavy burden," said one officer. The sheer notion of making a mistake by letting a bad guy slip through can be haunting.
"The person who wishes to cause harm to our country or our communities only has to get in once," said Aaron Bowker, public affairs officer for CBP's Buffalo Field Office, "but to keep the country safe from that person, our officers have to be right every time."
Technology helps: At the border crossings in the Buffalo-Niagara region, a device instantly reads the chip embedded in every passport, enhanced license or Nexus card in a car, feeding names and other information to a computer before the vehicle even reaches the inspection booth. Other devices capture license plate information, take a photo of the passengers, and scan the car for radioactivity. If all the technology works smoothly, the officer in the booth has this information before you put your car in park. Sometimes, the computer in the booth commands a secondary inspection. But usually it's based on the officer's judgment, which is driven by experience, training and instinct.
Steven MacMartin, who spent 31 years working for the Department of Homeland Security and the former U.S. Customs Service, offers a hypothetical: You're in a booth, charged with protecting the border of the United States, and you have three cars with distinctly different sets of passengers. One is a group of elderly women coming from a bingo game. Another is members of a youth hockey team that was playing a game in Canada. The third car has two men who are Muslim.
"What they're thinking is, 'I have to do my job,' " said MacMartin, who now runs the Homeland Security program at Medaille College. (He was unfamiliar with the Shibly situation until The News described it for him.) "Which of those three cars should I search more?"
And though the officer in this example has the authority to follow his instinct, he also realizes his every move can be scrutinized.
"The law enforcement officer in that situation … is already at a disadvantage because he can't go into his job full speed ahead," MacMartin said. "He's already thinking, 'I could get in trouble here.' And that's a shame."
Hassan Shibly, Akram's older brother and a civil rights attorney, sees the shame differently. "Before I see this as Muslims getting targeted," he said, "I see it as Americans getting targeted."
There's shame, there's blame, but above all, there's complication. Border inspections are imperfect. Border inspections are human.
* * *
At midday on Jan. 1 Shibly was coming home from Toronto. His fiancée McCormick was with him. They were heading to the Shibly family's home in Williamsville, where they were planning to meet with Akram's siblings to go skiing. First, though, they had to pass through the Canadian-U.S. border.
At the inspection booth, Shibly handed over his U.S. passport. The officer asked him to pop the trunk. The trunk was loaded with camera equipment, but that was easily explained: Shibly is a filmmaker. He has a company, True Intent Productions, and been away for 10 days in Toronto, shooting footage at the Reviving the Islamic Spirit convention.
But then they were asked to exit the car.
Inside the inspection building, Shibly and McCormick were handed forms that asked for their family history, email and social media information, and cellphone passwords. He handed in his forms, but left the password question blank.
Soon he was called forward to talk to an inspector who starts asking him about his travels. He recalled the questioning like this:
Why did you go to Lebanon?
Oh my grandpa lives in Lebanon. I was going to see family.
Why did you go to Jordan?
Oh, we went to do some humanitarian work.
Why did you go to Saudi Arabia?
I went to do my Umrah – my religious pilgrimage.
"I gave her (the agent) the truth," said Shibly, who as a child visited his family's home country, Syria, nearly every summer until about six years ago, when violence made it too dangerous. "It was just interesting to me, the way she felt so suspicious about me traveling."
Shibly was asked about his films (along with corporate work, he makes short videos and mini-documentaries to combat Islamaphobia) and his social media. He was again asked for the password to unlock his cellphone. He refused to give it.
[CAIR complaint]
"Do you have something to hide?" the agent reportedly said, according to a letter of complaint later written by Shibly's brother Hassan, the attorney. "If not, then unlock your phone."
Shibly relented, unlocked the phone, and handed it over. After what seemed like an hour, Shibly and McCormick got their devices back and were told they were free to go.
"I was literally singled out and targeted, I believe, because of my name, because of who I was coming into this country," he said. "Apparently it's not just me. It's a trend."
At home, Akram finally met up with his brother, Hassan, 30, who is the executive director of the Florida chapter of Council for American Islam Relations. In the car, on the way to skiing, Hassan – with his brother and McCormick in the background – shot and uploaded a Facebook video that quickly gained thousands of views. It served as a warning to the Muslim American community: Customs officials can, and will, search your electronics. They'll ask about your social media, your political beliefs, even your religious beliefs.
"You know how it is," Hassan said into the camera.
* * *
This is a battle Hassan Shibly has been fighting since his freshman year of college at the University at Buffalo. That's when, like his younger brother, he was detained with his family coming back from the 2004 Reviving the Islamic Spirit convention in Toronto.
"That night we pull up to the primary inspection booth and they tell my mom and I to go in for a random inspection," Hassan Shibly said. "My mom was like, 'What do you mean, random?' I joked, 'Mom, "random" means they saw your headscarf.' But I didn't think that would be the case. I was joking."
Hassan, his mother, Sawsan Tabbaa, an orthodontist, and his two younger siblings – including Akram, then 11 – entered the secondary inspection building. Several other Muslim families – Shibly remembers it as a few dozen – were inside. Tabbaa and Hassan Shibly were held for four hours. They were patted down, fingerprinted, photographed, and questioned about the 13,000-person conference where, legal proceedings later revealed, the U.S. government had reason to believe some people with terrorist ties may have been in attendance.
Later, Tabbaa and Hassan Shibly were part of a lawsuit against the government, Tabbaa v. Chertoff (as in then-Secretary of Homeland Security Michael Chertoff). They contended that their constitutional rights were violated. They lost the initial case and an appeal; in fact, the CBP provided copies of the case to The News as an example of the courts upholding the government's broad search authority at the border.
The case motivated Hassan Shibly to become a civil rights attorney. From his position as the head of CAIR in Florida, he has become a national figure in the American Muslim rights movement. He works late into the night sending emails, writing letters, filing complaints, posting on social media and giving interviews. He runs forums, delivers speeches and looks for opportunities far outside Florida to push his cause. A recent example: When the son of the late boxer Muhammad Ali and his ex-wife were questioned about their Muslim religion by Homeland Security officials, Shibly worked with Ali's lawyer and political types to set up a forum in Washington, D.C.
When Hassan Shibly gives lectures, he sometimes asks how many people in the room have been stopped for secondary inspection. "Every time," he said, "at least half the people raise their hand."
But when he asks how often those people file complaints, the number is minuscule. He estimates it at 1 percent.
"People are too scared," he said. "They came back home and forget about it, whatever. People aren't filing the complaints they should be."
* * *
On Jan. 4, 2017, three days after Akram Shibly's detention at the border, his anger was just starting to ease. He and McCormick headed back to Canada. They dined at a Middle Eastern restaurant in Mississauga, and attended a lecture by a noted Islamic scholar. Shibly wore his traditional Muslim thobe for the lecture, but afterward tucked it in the trunk. He thought blue khakis and a button-down would attract less attention at the border. During the drive back to the U.S., McCormick was relaxed and playful, singing karaoke and using her hairbrush as a microphone. Shibly was quiet.
It was minutes before midnight when they pulled into the inspection booth. The officer took their passports and sent them inside. This time, in the middle of the night, Shibly and McCormick recalled the building being mostly empty, save for the officers on duty. One of those officers told the couple where to sit. Shibly pulled out his phone and texted his brother Hassan, who was now back in Florida, at 11:45 p.m.:
Akram: Well here we go again… I'm in the room.
Hassan: Which border? Lewiston?
Akram: Yes.
Hassan: Let them know your brother knows the CBP commissioner and has already reached out to the headquarters. Do not answer questions.
Akram: Copy. They haven't summoned me yet.
Hassan wrapped the conversation by telling his brother he had called and spoken with a supervisor. "Keep me posted," he told Akram.
During that conversation, one of the officers ordered Shibly to put his phone away. From where Shibly sat, several signs prohibiting the use of phones were visible. He told the officer he had to finish texting his family, then put the phone in the right front pocket of his pants.
The officers huddled. One of them asked Shibly to hand over the phone. Shibly refused. With McCormick watching, three of the officers approached Shibly – he says they "charged" – and removed the phone. One of the officers grabbed his neck from behind; a second grabbed his legs; and the third removed the phone from his right pocket.
Shibly was livid. "I'm an American citizen," he recalls saying. "You're violating my civil rights."
He also recalls asking, "If I was not Muslim, would I be treated this way?"
About five minutes after his phone was taken, Shibly recalls being sent into a back room with another officer — not one of the three who took his phone. This officer told Shibly they knew who he was and had seen his brother's video. The officer also told Shibly a report would be filed because physical force was used.
Meanwhile, out in the waiting area, McCormick was sitting alone, staring at a TV. An officer asked if she wanted a glass of water while she waited. McCormick declined.
"That's called being white for you," she said later, recounting the story with Shibly. "I'm offered a glass of water while you're getting tackled."
After the conversation in back, Shibly was told his car would be searched and he would then be able to leave. The search happened quickly, and in the wee hours of Jan. 5, Shibly and McCormick were heading home. He recorded a second video and posted it to Facebook.
"These incidents," he said, "have put the fear of coming home in me."
When asked by The News for CBP's response, Bowker responded in an email that the agency is aware of the allegations, which are under investigation, and declined to discuss specifics. He noted that Hassan Shibly threatened litigation.
"This is not the first time Hassan has tried to challenge CBP's border search authority," Bowker said, and then referenced the Tabbaa v. Chertoff case decisions, noting that federal courts found CBP's actions, "including (Hassan Shibly's) detention for a few hours, a pat-down search, fingerprinting, and photographing, were lawful border searches and part of the routine border inspection process. These two decisions remain controlling law in our area."
Hassan Shibly would like to change that. When that case was filed, he was a college student. Now – and in large part, because of it – he's a lawyer.
"If this type of case were to be brought now, I think we'd have a much different and a better outcome, quite frankly," he said, adding that in the current climate, one much further removed from 9/11, "I think courts would look at this a little more rigorously."
Asked if he's developing such a case right now, or hoping one may emerge, he texted this response: "They are in the works."
* * *
The most frequent recipient of Hassan Shibly's complaints is the CBP commissioner, who leads the agency's 60,000 employees. For the past three years, until Trump's inauguration on Jan. 20, that was R. Gil Kerlikowske, an Obama appointee who also happened to be Buffalo's police commissioner in the 1990s. (Kerlikowske, who retired and is now a fellow at Harvard University, has been replaced by Acting Commissioner Kevin K. McAleenan.)
"We tried pretty hard to have an open dialogue," said Kerlikowske, who came to know Hassan Shibly when the commissioner took part in a Florida forum on CBP-Muslim relations.
That dialogue may air the problems, which are emotionally charged on both sides, but it doesn't solve them easily – if at all. For example, Hassan Shibly has complained about questions posed to Muslims Americans such as, "Are you a devout Muslim?" and "Are you Sunni or Shia?"
Kerlikowske acknowledged that in his view, CBP officers shouldn't be asking questions about a person's religion. "That would be the last thing that they should be doing," he said.
Wiping away that practice, however, is difficult. Kerlikowske points out that most Americans may not even know somebody who is Muslim. That includes "a lot of people at Customs and Border Protection." The lack of wide understanding complicates an already difficult problem.
Full report at:
http://buffalonews.com/2017/04/09/grappling-fear-coming-home/
--------
URL: https://www.newageislam.com/islamic-world-news/dont-get-confused-arabisation-islamisation/d/110715
New Age Islam, Islam Online, Islamic Website, African Muslim News, Arab World News, South Asia News, Indian Muslim News, World Muslim News, Women in Islam, Islamic Feminism, Arab Women, Women In Arab, Islamophobia in America, Muslim Women in West, Islam Women and Feminism