New Age Islam News Bureau
11 Aug 2018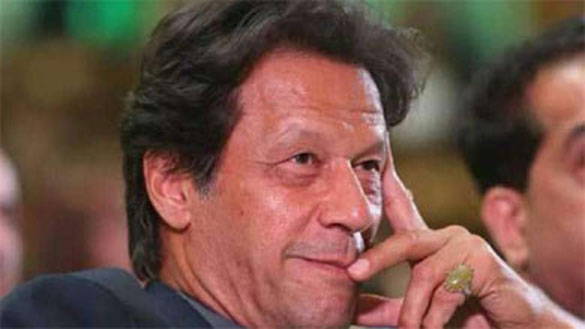 PTI chief Imran Khan will take oath as prime minister on August 18, said the party's senator, Faisal Javed, on Friday.
-----
• Don't Bring Madrasas under RTE Ambit: All India Muslim Personal Law Board
• Saudi Arabia's King Salman Hosts 1,000 Pilgrims from Palestine
• President Erdogan: US Has Dollars, 'We Have Our God'
• Imran to Take Oath as PM on August 18: PTI
• British Museum to Hand over Looted Antiquities to Iraqi Embassy
India
• Don't Bring Madrasas under RTE Ambit: All India Muslim Personal Law Board
• Indian Government Collecting Data on Nikah Halala and Polygamy: Sources
• She Wasn't Hindu After Marrying A Muslim, Says Delhi Temple Head Who Denied Shradh for Dead Woman
• Imran Khan Calls to Resume Dialogue with India On All Issues
• Terror funding case: Delhi HC seeks NIA response on businessman's plea
• Gujarat: Congress, BJP Spar over Goat Shed Ahead Of Bakr-Id
• Indian envoy & Imran Khan discuss terror, Kashmir
• Rajya Sabha: Triple Talaq Bill Stuck Again
--------
Arab World
• Saudi Arabia's King Salman Hosts 1,000 Pilgrims from Palestine
• UN Envoy: Saudi Arabia Has 'Legitimate Interest' In Yemen Peace Talks Success
• Syrian air defences confront 'hostile target' near Damascus - state media
• Air strikes kill 14 civilians in north Syria: Monitor
• New protests witnessed in Baghdad, other provinces across Iraq
• Nearly 30 civilians dead in heavy bombing on north Syria: monitor
• 50 scholarships granted to Pakistani students to study in Saudi universities
--------
Mideast
• President Erdogan: US Has Dollars, 'We Have Our God'
• UNSC Calls For 'Transparent' Inquiry Into Saudi-Led Strike in Yemen's Sa'ada
• Israeli bullets take two more Palestinian lives in Gaza
• Israeli minister urges assassination of Hamas leaders
• Senior PKK terrorist killed in anti-terror operation in Turkey's Diyarbakir
• Israel says 'surprised' by Colombia's recognition of Palestine
--------
Pakistan
• Imran to Take Oath as PM on August 18: PTI
• Incentives Sought For Mosques Issuing Fatwas against Power Theft
• PPP baulks at backing PML-N 'hardliner' as Punjab CM
• US cuts military training programme for Pakistan
• Kapil Dev, Gavaskar, Sidhu and '92 champions invited to oath-taking ceremony: PTI
• Saudi Arabia announces scholarships for students in Balochistan
• Afghan envoy seeks Pakistan cooperation for peace
• CTD claims arresting two accomplices of Mastung bomber
--------
Europe
• British Museum to Hand over Looted Antiquities to Iraqi Embassy
• Boris Johnson 'To Face Probe' Over Islamophobic Remarks
• UK Muslim convert admits plotting carnage with Oxford Street attack
• Muslims in UK fear attack after Johnson remarks
--------
North America
• Reports Suggest Canada Seeking Help to Resolve Dispute with Saudi Arabia
• US Suspends Military Training Programs for Pakistani Officers
• Trump doubles tariffs on Turkish steel and aluminium, says relations 'not good'
• Amatul-Wadud holds event to address Muslim attacks
--------
Southeast Asia
• Jokowi Boosts Islamic Credentials by Joining Hands with Top Cleric
• New Evidence Emerges Of China Forcing Muslims into 'Reeducation' Camps
• Now, Umno veep calls for party to distance itself from Najib
• Malaysia's ex-PM Najib in court over money linked to Saudi family
--------
South Asia
• Taliban, Kabul Govt Both Claim Embattled Afghan City
• US Launches Airstrikes as Taliban Attack Afghan City
• UNHCR urges Asia-Pacific leaders to show 'solidarity' with Rohingyas
• Deadly airstrikes target Taliban militants in Helmand province
• Taliban's bid to attack outposts in Kabul foiled: Silab Corps
• Ghani chairs high level meeting of Commander-in-Chief after Ghazni city attack
--------
Africa
• Nigeria's Problems Need Spiritual Solutions —Cleric
• Row over Algerian Education Minister's Nobel Prize Comments
• Suspected al Shabaab militants kill five soldiers in Kenya's Lamu
• UN Security Council condemns Boko Haram attacks
Compiled by New Age Islam News Bureau
URL: https://www.newageislam.com/islamic-world-news/dont-bring-madrasas-under-rte/d/116105
--------
Don't bring madrasas under RTE ambit: All India Muslim Personal Law Board
11th August 2018
HYDERABAD: A day after the National Advisory Committee (NAC) on the Right to Education (RTE) Act had recommended to the Central government that religious minority institutions such as madrasas be brought under the ambit of the law, heads of religious institutions from the city opposed the move, saying that it would infringe on their independence.
Speaking to Express, All India Muslim Personal Law Board secretary Khalid Saifullah Rahmani said, "It is an attack on the sovereignty of madrasas. If it is brought under RTE, the government will interfere in their working.
Madrasas are protected under Articles 29 and 30 of the Constitution. We had protested against such a move in the past and will do so again if warranted."
On Thursday, the advisory committee cited lack of diversity in subjects taught at madrasas and advocated applicability of the Act to those religious schools. "The irony is that while missionary schools follow fundamental syllabi like normal schools and have become elitist, madrasas are just imparting religious education," a member said.
It is not just minority organisations but madrasa managements also fear that the right of children to free and compulsory education under the Act will end their autonomy.
In a conversation with Express, Mufti Mohammed Hassan Uddin, director of Jamiat ul Mominat madrasa in the city, said, "We follow the state government's syllabus and also teach subjects like science and mathematics." However, Jameela Nishat, chief functionary of Shaheen's Women Resource and Welfare Organisation, held a different view, saying, "Madrasas should be brought under the RTE Act. Most madrasas in the country teach only Islamic studies.
The study there is actually memorising. What happens in the end is that the students, who mainly come from marginalised families, don't learn anything which could help them get jobs." An official of the state Minority Welfare Board said on condition of anonymity, "Anything that benefits stake-holders, in this case chidlren, should be supported."
http://www.newindianexpress.com/cities/hyderabad/2018/aug/11/dont-bring-madrasas-under-rte-ambit-all-india-muslim-personal-law-board-1856203.html
--------
Saudi Arabia's King Salman hosts 1,000 pilgrims from Palestine
August 10, 2018
RIYADH: Saudi Arabia's King Salman has announced the Kingdom will host 1,000 female and male pilgrims who are relatives of Palestinian martyrs this Hajj season.
The initiative is part of the Custodian of the Two Holy Mosques Hajj Guests Program, annually supervised by the Ministry of Islamic Affairs, Call and Guidance.
In a statement, Sheikh Dr. Abdullatif bin Abdulaziz Al Al-Sheikh, Minister of Islamic Affairs, Call and Guidance, said that this year's guests are coming from the continents of Asia, Africa and Europe, noting that as many as 43,547 female and male pilgrims have benefited from this program since its inception 22 years ago.
http://www.arabnews.com/node/1354271/saudi-arabia
--------
President Erdogan: US has dollars, 'we have our God'
Aug 10, 2018
President Recep Tayyip Erdogan has called on Turks to "have no worries" after the national currency lira hit a new record low amid political tensions with the US.
The lira plunged to as low as 6 against the US dollar on Friday, a day after a Turkish delegation returned from talks in Washington with no apparent solutions to their simmering crisis.
Erdogan, who has already said his country is facing an "economic war", told supporters in the Black Sea province of Rize late on Thursday that there were "various campaigns being carried out" against the country.
"Don't heed them. Don't forget, if they have their dollars, we have our people, our God. We are working hard. Look at what we were 16 years ago and look at us now," he said.
Relations between the two NATO allies have taken a turn for the worse amid dispute over the detention in Turkey of US evangelical pastor Andrew Brunson on terrorism charges.
US President Donald Trump wrote on Twitter late last month that his country "will impose large sanctions on Turkey for their long time detainment of Pastor Andrew Brunson."
Erdogan responded by announcing to freeze the assets in Turkey of US ministers of "justice and interior," in tit-for-tat response to US sanctions.
Ankara and Washington also disagree over their military interventions in the Syria war, Turkey's plan to buy missile defense systems from Russia and the US conviction of a Turkish state bank executive on sanctions-busting charges in January.
The standoff has triggered a selloff in the lira amid investor concerns about the direction of the country. Erdogan called on citizens last week to convert their hard currency and gold into lira in order to prop up the plunging currency with a "domestic and national stance."
Erdogan wants banks to lend cheap credit to fuel growth. He has presented an economic action plan for the next 100 days.
Ankara is turning towards China to overcome what Erdogan said were "subjective evaluations" from ratings agencies. Erdogan said China, Mexico, Russia and India will be new markets for his country's exports.
The new economic action plan calls for Turkey to issue a renminbi bond and borrow from China to proceed with 400 new infrastructure and other showpiece projects whose value is estimated at $9 billion.
Turkey's ties with the US have soured over Washington's refusal to extradite Fethullah Gulen, who is accused of masterminding a 2016 coup against President Erdogan.
https://www.presstv.com/Detail/2018/08/10/570737/Turkey-Erdogan-lira-dollar-United-States-Brunson-Iran
--------
Imran to take oath as PM on August 18: PTI
Syed Irfan Raza
August 11, 2018
ISLAMABAD: Putting an end to speculation about the election of prime minister expectedly on Independence Day, the Pakistan Tehreek-i-Insaf (PTI) on Friday declared that Imran Khan would take the oath as the country's 21st prime minister on Aug 18.
After a meeting of senior party leaders at Mr Khan's residence in Banigala, the PTI also announced the names of Asad Qaiser, Chaudhry Sarwar and Chaudhry Pervaiz Elahi for the positions of National Assembly speaker, Punjab governor and Punjab Assembly speaker, respectively.
While no decision has been made for the Punjab chief minister's slot, the PTI decided to call a grand meeting of parliamentarians of the party and its allies on Monday evening after they would have been administered the oath by the speaker of the previous assembly, Sardar Ayaz Sadiq of the PML-N.
The PTI claims to have secured a simple majority in the NA by having the support of 180 MNAs.
PTI spokesman Fawad Chaudhry while speaking to Dawn on Friday said: "It has been decided by the party that Imran Khan will take the oath as prime minister of Pakistan on Aug 18. The decision was taken in a meeting of senior party leaders at his residence in Banigala."
The official date of the oath of the prime minister is announced by the NA speaker. The inaugural session of the assembly will commence on Aug 13 when all the MNAs will be administered the oath while the election of speaker and deputy speaker will be held on Aug 15 or 16.
Addressing the media after the party's meeting, PTI vice chairman Shah Mehmood Qureshi announced that former speaker of Khyber Pakhtunkhwa Assembly Asad Qaiser had been nominated for the position of NA speaker. He said ex-governor of Punjab, Chaudhry Sarwar, had been nominated for the same slot, while Pakistan Muslim League-Q (PML-Q) leader Chaudhry Pervaiz Elahi would be supported for the office of Punjab Assembly speaker.
The PTI on Friday also appointed focal persons to have close liaison with the parliamentarians of the party and its allies as well as independent candidates.
Asad Qaiser
Even for the PTI leaders, the nomination of Mr Qaiser as NA speaker was unexpected, as many people believed that someone from the PTI's core group would be selected for the position. The names of Dr Arif Alvi and Shafqat Mehmood were circulating in the media.
Mr Qaiser, who hails from the Swabi district, was an educationist before entering politics. He was a leader of Pasban, an offshoot of Jamaat-i-Islami, before joining the PTI in 1996.
He was made PTI's KP chapter president in 2008. In the previous general election, he had won both the NA and provincial assembly seats. However, he was asked to retain his provincial assembly seat. He was reportedly running for the chief minister's position but the slot was given to Pervez Khattak and he was elected as the KP Assembly's speaker — a position he retained during the whole term of the PTI.
In the July 25 polls, Mr Qaiser maintained his record by winning one seat each in the NA and the KP assembly. This time, however, Imran Khan asked him to vacate his provincial assembly seat as the PTI needed maximum seats in the National Assembly to form its government at the Centre.
Chaudhry Sarwar
Born in Faisalabad, Chaudhry Sarwar moved to Scotland, in the 70s and joined politics there after a successful business career. In 1997, he was elected MP from Glasgow Govan.
In 2013, however, Mr Sarwar left British politics and returned to Pakistan. He joined the PML-N and was made Punjab governor the same year following the party's electoral victory. However, he quit the party after developing some differences with the top leadership of the PML-N and joined the PTI. He was elected senator on a PTI ticket in March.
Pervaiz Elahi
The PML-Q leader and former deputy prime minister has been nominated as Punjab Assembly speaker. The PML-Q, which won four NA seats, had earlier announced its support for the PTI both at the Centre and in Punjab.
During Gen Musharraf's regime, Mr Elahi had served as the chief minister of Punjab.
At the press talk, Mr Qureshi thanked the party allies namely PML-Q, Balochistan National Party, Muttahida Qaumi Movement, Awami Muslim League and others for supporting the PTI. He said the PTI wanted to have a meeting with all parliamentarians of the PTI and allied parties to chalk out the future line of action. In this connection, he added, a grand meeting of parliamentarians would be held on Aug 13.
He said the PTI would support BAP president Jam Kamal for the slot of Balochistan chief minister.
Mr Qureshi said the PTI also made some senior party leaders as focal persons to have close coordination with the parliamentarians. For this, he said, Mr Khattak would look after the KP and Fata region; Mr Alvi would take care of parliamentarians elected from Sindh. Shafqat Mehmood would coordinate with MNAs from central Punjab, Chaudhry Sarwar would coordinate with members from west Punjab, while Amir Kiyani would coordinate with north Punjab and he himself would coordinate with members from south Punjab.
Asked about the delay in commencement of the NA session and subsequent election of the PM, Mr Qureshi said: "It was because of some legal compulsion and the process of finalisation of election results by the ECP.
"I hope this whole process will move forward within the legal framework and the president will fulfil his role in the best possible manner."
https://www.dawn.com/news/1426329/imran-to-take-oath-as-pm-on-aug-18-pti
--------
British Museum to hand over looted antiquities to Iraqi embassy
9 Aug 2018
The British Museum is returning to Iraq a collection of looted antiquities up to 5,000 years old, after identifying the exact temple they came from in a unique piece of archaeological detective work.
The eight objects will be handed to the Iraqi embassy on Friday during a private ceremony at the London-based museum from where they will return to Iraq.
The main items of the collection are three clay cones.
It also includes a polished, yellowish river pebble, a fragmentary white gypsum mace-head, a white marble amulet pendant in the form of a reclining bull or buffalo and a red marble square stamp seal or amulet depicting two similar animals facing in opposite directions.
Trail of crime
The items were confiscated by British police in May 2003, a few months after the US-led invasion of Iraq, from a now-defunct dealer in London who failed to provide any paperwork for them.
Normally the detailed provenance of such items would be hard to establish, but three of them, fired clay cones, carried Sumerian inscriptions that gave a clue to their origins.
In a remarkable coincidence, they were identical to cones found on a site in the ancient city of Girsu, now known as Tello, in southern Iraq, where the British Museum has been training Iraqi archaeologists since 2016.
"The broken objects the robbers left next to the looting holes were broken cones with exactly the same inscription that we have on the cones that were seized," said the team's lead archaeologist, Sebastien Rey.
Identical cones were also found in the walls of a site at the Eninnu temple - pinpointing the looted items' source with a level of accuracy that Rey said was "completely unique".
"We could have an idea that maybe these objects came from southern Iraq, but to be able to narrow it down to the particular site, and even to the particular holes - this is extremely rare," he told AFP news agency.
The marbles in the collection both date back to 3000 BC, whereas the cones are believed to be from about 2200 BC.
The identical cuneiform inscriptions on the cones reference the god the temple was built for and the king who built it.
Similar cones have been found in many other sites, but Rey said that until the Tello excavation began in 2016, no one really knew what they were for.
Finding them in their original positions inside temple walls led experts to conclude they were votive objects, dedicated to the gods by Mesopotamian kings.
'Exceptional efforts'
Iraq's ambassador to the United Kingdom, Salih Husain Ali, praised the museum's staff for their "exceptional efforts" in identifying the antiquities.
"Such collaboration between Iraq and the United Kingdom is vital for the preservation and the protection of the Iraqi heritage," he said in a statement issued by the museum.
"The protection of antiquities is an international responsibility and in Iraq, we aspire to the global cooperation to protect the heritage of Iraq and to restore its looted objects."
https://www.aljazeera.com/news/2018/08/british-museum-hand-looted-antiquities-iraqi-embassy-180809140724223.html
--------
India
Indian Government Collecting Data on Nikah Halala and Polygamy: Sources
10th August 2018
NEW DELHI: The centre has started collecting data on the incidents of Nikah Halala and polygamy--Muslim practices whose validity has been challenged in the Supreme Court.
While the government has given indications of opposing the two practices, it is yet to present its official position before the court and statistics regarding the prevalence of these practices will help in strengthening its stance against the two practices, sources said.
Official sources added that the government is also studying the prevalence of these practices in other countries in order to understand the relevance of these practices among the Muslim society worldwide.
While polygamy allows a Muslim man to have four wives, 'Nikah Halala' is a controversial practice which forbids a divorced couple from remarrying until the woman marries someone else, consummates her new marriage and gets divorced or widowed.
The PILs challenging the validity of the two practices is likely to be heard next month by the Supreme Court.In that hearing, the government is likely to point out that many countries, including those that have large Muslim population, have undertaken reforms and regulated polygamy and divorce laws.
Sources in the know of the matter said that the government is preparing a list of countries which have either banned polygamy or have regulated the controversial practice to avoid its misuse.
Afghanistan, Morocco, Algeria, Tunisia, Turkey, Indonesia, Iran and even neighbouring countries like Pakistan, Bangladesh and Sri Lanka are some of the countries where polygamy has either been banned or regulated by the law, sources said.
Pertinently, the government had carried out a similar exercise even when it strongly opposed in court the practice of instant triple Talaq which was eventually banned by the Supreme Court as violative of women's right to equality under the Constitution.
In March this year, a three-judge Supreme Court bench led by Chief Justice Dipak Misra had issued notices to the union government and the attorney general on a petition filed by Delhi-based woman, Sameena Begum, who alleged that she was subjected to cruelty in her marriage over dowry and eventually dumped by the first husband.
She claimed that her second husband, a married man, divorced her illegally through triple talaq. Besides Sameena, several others have also approached the court challenging the validity of these practices.
http://www.newindianexpress.com/nation/2018/aug/10/centre-collecting-data-on-nikah-halala-and-polygamy-sources-1855864.html
--------
She wasn't Hindu after marrying a Muslim, says Delhi temple head who denied shradh for dead woman
August 10, 2018
A Muslim husband wants to perform a ritual for his dead Hindu wife and a temple society in a New Delhi Bengali-dominated neighbourhood has not allowed because they believe the woman was no longer a Hindu after her marriage even as she hadn't given up her faith.
Imtiazur Rahman, who is based in Kolkata, lost her wife Nivedita Ghatak in the capital after she suffered from multiple-organ failure last week — 20 years after the couple married in accordance with the Special Marriages Act that allows inter-faith wedding of couples irrespective of their individual faith. Ghatak was cremated as per Hindu rites at Delhi's Nigam Bodh Ghat but the family could not perform shradh — a set of Hindu rituals performed for the deceased.
Rahman, who works as assistant commissioner, commercial taxes in the West Bengal government, said he had booked an August 12 slot at Kali Mandir Society in the Bengali-dominated Chittaranjan Park after paying Rs 1,300 for the ceremony on Aug 6. But he was later told by the temple society that his booking has been cancelled "for obvious reasons".
Ashitava Bhowmik, the president of the temple society, told IANS that Rahman's request could not be taken up for "more than one reason". He alleged that Rahman "concealed his identity" and made the booking in his daughter Ihini Ambreen's name "which doesn't sound like Arabic or Muslim".
Bhowmik said "we got to know about his religious identity when a priest got suspicious and asked him about gotra" — the lineage which forms an important factor in determining Hindu ancestry. "Obviously, he had no answers. Muslims don't follow gotra system. His wife can no longer be considered a Hindu after marrying the Muslim because a woman adopts the surname and belief system of her in-laws and becomes a part of that society," Bhowmik told IANS. Unapologetically, he said, "It was done in keeping with and respecting the Hindu traditions and rites."
Asked since it was the last wish of the woman, who followed the Hindu belief system, Bhowmik said "who knows the man has some ulterior motive and could bring in 50-100 of his relatives inside the temple and start praying Namaz" there. "What will we do in that case? Should we allow that?" he asked. Being probed further that it was only the temple society's hypothetical fear, Bhowmik said if Rahman was too keen on performing the ritual of his wife he should do that at his home. "Why insist on a temple in Delhi? Why doesn't he do it at his home in Kolkata?"
Full report at:
https://indianexpress.com/article/india/she-wasnt-hindu-after-marrying-a-muslim-says-temple-head-of-c-r-park-who-denied-shradh-ritual-for-dead-woman-delhi-5300307/
--------
Imran Khan calls to resume dialogue with India on all issues
Aug 10, 2018
Cricketer-turned-politician Imran Khan, expected to be sworn in as Pakistan's new premier next week, on Friday called for the resumption of dialogue with India on all outstanding issues, including Kashmir.
Khan made the remarks during a meeting in Islamabad with Indian envoy Ajay Bisaria, who congratulated the Pakistan Tehreek-e-Insaf (PTI) chairman on his electoral success. Bisaria briefed the "PTI leadership on India's concerns about terrorism and cross-border infiltration", said a statement from the Indian mission.
PTI spokesman Fawad Chaudhry said Khan had called for the resumption of bilateral talks. "He (Khan) said if we won't talk, how will we resolve issues. One incident of terrorism should not hamper talks," Chaudhry said.
A PTI statement said Khan "discussed the need to restart dialogue between Pakistan and India on all outstanding issues, including Kashmir". He expressed concern over "human rights violations" in Kashmir during the 30-minute meeting.
Khan also expressed the hope that the Saarc Summit will be "held soon in Islamabad". Islamabad was to host the summit in November 2016 but it was cancelled after New Delhi decided to stay away from the meet following a string of attacks blamed on Pakistan-based terror groups.
The PTI statement quoted Bisaria as saying that Prime Minister Narendra Modi's phone call to Khan had given rise to "new optimism in India that relations would move forward positively".
Khan welcomed the positive message from the Indian government and "reiterated his hope for both countries to move forward for the betterment of the people of the subcontinent".
The Indian high commission's statement said Bisaria discussed "a range of issues focusing on prospects of the India-Pakistan relationship".
Bisaria also presented Khan a cricket bat signed by the Indian team. Senior PTI leaders, including vice chairman Shah Mehmood Qureshi, spokesman Fawad Chaudhry and Shireen Mazari, were present during the meeting held at Khan's residence at Bani Gala.
Modi had congratulated Khan during a phone call on July 30 and said India desires progressive relations with Pakistan. Modi also reiterated his vision of peace and development in the neighbourhood.
Full report at:
https://www.hindustantimes.com/india-news/imran-khan-calls-to-resume-dialogue-with-india-on-all-issues/story-zMSLp5tP3xboOPnTVA91lO.html
--------
Terror funding case: Delhi HC seeks NIA response on businessman's plea
August 10, 2018
The Delhi High Court on Friday asked the National Investigation Agency (NIA) to respond to Kashmiri businessman Zahoor Ahmad Shah Watali's plea challenging the rejection of his bail plea by a trial court in a terror funding case.
A bench of Justice S. Muralidhar and Justice Vinod Goel listed the matter for August 21.
Watali has challenged the trial court's June 8 order to reject Watali's bail plea.
Watali, arrested on August 17 last year, was charge-sheeted by NIA on January 18 along with Pakistan-based terrorist leaders Hafiz Saeed, Syed Salahuddin, seven Kashmiri separatist leaders and others in a case of alleged terror funding in the Kashmir Valley.
They were charge-sheeted under stringent anti-terror laws for hatching a conspiracy with Saeed and Salahuddin to wage a war against India to secede Jammu and Kashmir.
The separatists, who were arrested on July 24, 2017, are Aftab Hilali Shah alias Shahid-ul-Islam, Ayaz Akbar Khandey, Farooq Ahmad Dar alias Bitta Karate, Nayeem Khan, Altaf Ahmad Shah, Raja Mehrajuddin Kalwal and Bashir Ahmad Bhat alias Peer Saifullah.
Full report at:
https://www.thestatesman.com/india/terror-funding-case-delhi-hc-seeks-nia-response-businessmans-plea-1502671589.html
--------
Gujarat: Congress, BJP Spar over Goat Shed Ahead Of Bakr-Id
August 11, 2018
A temporary structure built to house goats for sale ahead of Bakr-Id has become a flashpoint between the Congress and BJP with the latter demanding removal of the structure. Local Congress corporators have opposed the BJP's demand, saying it would be removed after Eid.
For the last six years, goat traders from Maharashtra and Rajasthan have been coming to Surat to sell goats on the eve of Bakr-Id. The traders halt at Omnagar society, where over 400 Muslim families live. The society's residents allow the traders to tie their goats and sell it to people in the common open plot of society. However, near the common open plot there is another plot owned by Surat Municipal Corporation (SMC) which has also been covered to accommodate the goats. To protect the goats from the rain, the traders with permission of the society president Kamruddin Qureshi had built the structure with bamboos and covered with a tin shed.
BJP councillor of Dumbhal area Vijay Chaumal wrote a letter to Chief Minister Vijay Rupani and the municipal commissioner on Friday, accusing Muslims of having "illegally encroached upon the SMC's plot". Congress councillor of the neighbouring area Aslam Cyclewala also wrote a letter on Friday to Rupani seeking his intervention. His letter said that "since the last six years the traders of Maharashtra and Rajasthan have been coming to Surat to sell their goats to the people of Surat and the animals are purchased by Muslims of Surat for qurbani (sacrifice). Some BJP leaders are trying to damage the peaceful atmosphere of the city by opposing it".
Omnagar society president Kamruddin Qureshi said, "With the consent of all the 400 families residing in our society, we have given permission for the traders to tie their goats and sell it here."
Talking to The Indian Express, Chaumal said, "We got complaints from the people so we made representations and Congress is trying to politicise it."
Full report at:
https://indianexpress.com/article/india/gujarat-congress-bjp-spar-over-goat-shed-ahead-of-bakr-id-5301438/
--------
Indian envoy & Imran Khan discuss terror, Kashmir
Omer Farooq Khan and Sachin Parashar
Aug 11, 2018
ISLAMABAD/ NEW DELHI: Indian high commissioner Ajay Bisaria met the Pakistan Tehreek-e-Insaf (PTI) chairman Imran Khan at his residence in Islamabad on Friday and congratulated the prime minister-in-waiting over his victory in the general elections last month. TOI had exclusively reported on Friday that Bisaria was going to call on Khan.
As reported by TOI, while Bisaria raised the issue of crossborder terrorism and infiltration, Khan spoke about the Kashmir issue and alleged human rights violations by Indian forces in the Valley. Bisaria tweeted that he had na positive and constructive discussion with Khan. Bisaria also gifted a cricket bat signed by the entire Indian cricket team to Khan.
Bisaria also felicitated Khan on behalf of Prime Minister Narendra Modi. Khan called for early resumption of the Saarc process and appealed to India to attend the next summit which to be held in Islamabad. Bisaria and Khan discussed a wide range of issues and prospects of India-Pakistan relationships. According to PTI sources, the duo specifically focused on matters of mutual interest. Khan, sources added, stressed the need to restart a dialogue between the two countries on all outstanding issues, including Kashmir.
"India is confident that relations with Pakistan will take a turn for the positive," Bisaria noted, adding that "the telephonic conversation between Modi and Khan has given birth to this new hope". Since winning the polls, a range of dignitaries from different countries have met Imran Khan at his residence and congratulated him on his party's electoral success.
Several heads of states and leaders wished him on his success on telephone. On July 30, the Indian PM had called Khan and cheered him on his victory. The most significant aspect of Modi's conversation was his unambiguous willingness to improve ties with Pakistan.
"India desires progressive relations with Pakistan", Modi was quoted as saying. Both countries, Modi said, should evolve a joint strategy to develop and strengthen better ties. In response, the cricketer-turned-politician said that both neighbours should move towards conflict resolution through dialogue.
Full report at:
https://timesofindia.indiatimes.com/india/indian-envoy-imran-khan-discuss-terror-kashmir/articleshow/65360447.cms
--------
Rajya Sabha: Triple talaq Bill stuck again
August 11, 2018
Twenty-four hours after the Cabinet cleared amendments to The Muslim Women (Protection of Rights on Marriage) Bill, 2017 — popularly known as the triple talaq Bill — the government attempted to push through the Bill in Rajya Sabha on Friday, the last day of the monsoon session. However, it could not be taken up for consideration and passage because of lack of consensus among parties.
Sources said that Leader of Opposition Ghulam Nabi Azad and other Opposition leaders told Chairman M Venkaiah Naidu that no Bill can be taken up in Parliament without discussion and allocation of time by the Business Advisory Committee beforehand. Besides, it was pointed out that the sense of the House had to be taken for doing away with private members' business on Friday afternoon.
Highlights from the last day of the monsoon session of Parliament
Hours after the Bill was cleared by the Cabinet, the government listed it for consideration and passage, to the surprise of the Opposition. Opposition sources claimed the government also wanted to extend the session, but dropped the plan for lack of consensus.
In fact, the government had listed three Bills for consideration and passage, of which two — The Insolvency and Bankruptcy Code (Second Amendment) Bill, 2018 and The Commercial Courts, Commercial Division and Commercial Appellate Division of High Courts (Amendment) Bill, 2018 — were discussed and passed after private members' business was over.
In the morning, TMC member Derek O'Brien raised the issue in the House through a point of order. He said that according to rules, precedents and conventions, "Friday afternoons, during Private Members' Resolutions, legislative business will not be taken up after 2.30 pm. It is nothing new." Asking the Chairman to take the sense of the House, he said, "Please consider taking up private members' business only at 2.30 pm and not doing backdoor legislative business."
To this, Minister of State for Parliamentary Affairs Vijay Goel said it was agreed in the meeting of the Business Advisory Committee (BAC) that legislative business would be taken up as the House was adjourned for a day as a mark of respect for late DMK leader Karunanidhi. However, O'Brien and Congress deputy leader Anand Sharma said there was no such agreement in the BAC meeting. Goel alleged that the Opposition was creating a din in the House as they did not want the triple talaq Bill to be taken up for passage.
With the Congress adamant, the government dropped the plan to push through the triple talaq Bill. Finance Minister Piyush Goyal met Azad and Congress deputy leader in Rajya Sabha Anand Sharma at Azad's chamber and conveyed the government's decision. Goyal also requested the Congress to allow passage of the Insolvency and Bankruptcy Code Bill. While the Congress agreed, O'Brien walked out of the House after the Chairman announced that two Bills would be taken up after the private members' business.
"On the day Karunanidhiji expired, I had called a meeting here after having a word with the Leader of Opposition, and in that meeting it was suggested that on Friday we will have legislative business rather than private members' business. I have now decided that we will have private members' business now, and after that we will have two Bills on which there is broad consensus. That is the understanding," Naidu said.
The issue, however, triggered a war of words. Parliamentary Affairs Minister Ananth Kumar said Congress president Rahul Gandhi was responsible for the triple talaq Bill not getting parliamentary nod in the monsoon session. He said the Congress had supported the Bill in Lok Sabha but not in the Rajya Sabha due to its double standards. Law minister Ravi Shankar Prasad also blamed the Congress.
"The true double standard of the Congress has been exposed today in Rajya Sabha. After the proposed amendments, no concern whatsoever was left unattended. Yet the Congress held it back," Prasad said. "What is indeed tragic is that the Congress is least concerned about the issue of insaaf for the triple talaq victims and focussed solely on its vote bank."
"Congress voted for the triple talaq Bill in Lok Sabha as it is but now it is objecting in Rajya Sabha. This is a textbook case of hypocrisy and double standard," Prasad said after the Rajya Sabha was adjourned sine die.
Full report at:
https://indianexpress.com/article/india/parliament-monsoon-session-triple-talaq-bill-stuck-again-5301188/
--------
Arab World
UN envoy: Saudi Arabia has 'legitimate interest' in Yemen peace talks success
August 10, 2018
LONDON: The UN envoy to Yemen has said Saudi Arabia has a legitimate interest in a stable southern border as he laid out his expectations for peace negotiations next month.
Martin Griffiths last week invited the warring parties in Yemen to negotiations in Geneva in a bid to resume peace talks to end the conflict.
The diplomat has spent weeks shuttling between the different sides in a bid to avoid an assault by government forces on the port of Hodeidah, which is held by the Houthi militia.
He also met with officials from the Saudi-led Arab coalition, which is supporting the forces of the internationally recognized government in their battle against the Iran-backed Houthis.
In an interview, Griffiths said the talks must prioritize negotiations between Yemenis but that Saudi Arabia has a legitimate interest "in a country which does not launch attacks on Saudi soil and where there is no foreign interference."
Iran has been widely blamed for stoking the conflict in Yemen and supplying weapons and missile technology to the Houthis, who seized the capital Sanaa in 2014. Ballistic missiles have been fired dozens of times into the Kingdom's territory.
The Houthis have also targeted shipping in the busy maritime lanes off the Yemen coastline, including two Saudi oil tankers last month.
Griffiths said it was "crucial," not just for the region, but for Europe as well that there was a "safe passage of trade going through the Red Sea."
"Stability in Yemen is not just for Yemenis and this is why the resolving of the Yemeni conflict is so strategic," he said.
Griffiths was speaking as tensions increased in Yemen this week, with a string of missiles fired into Saudi Arabia and coalition airstrikes hitting the Houthi leadership and missile launch sites in Saada province. The coalition said on Friday it would immediately investigate an attack on a bus which killed 29 children in Saada on Thursday.
Griffiths said the talks on Sept. 6 are for the two sides to "agree on issues needed to stop the war and restore a legitimate government to Yemen."
They will be "consultations leading to negotiations" that aim to create a political transition with a government of national unity that includes all the parties.
He also said they must agree on the complete withdrawal and disarmament of all armed groups in Yemen.
Griffiths faces an uphill struggle in the talks with several previous rounds of negotiations ending in stalemate.
The envoy said they had learned a lot of "good and bad" lessons from those talks, including from negotiations in 2016 in Kuwait.
He acknowledged there has also been changes in Yemen, particularly in the south where there have being increasing calls for independence.
However, Griffiths said the future of the south would not be negotiated in this process but will be part of a discussion by Yemenis during the transition period.
"We do not support any separation unless it is the result of a due process of agreement within that member state, he said. "The unity of Yemen is important.
"If you had Yemen to break up today it will be disastrous."
Originally published in Asharq Al-Awsat
http://www.arabnews.com/node/1354246/middle-east
--------
Syrian air defences confront 'hostile target' near Damascus - state media
11 August 2018
Syrian state media said early on Saturday that air defenses had confronted a "hostile target" breaching Syrian air space west of the capital Damascus.
State news agency SANA, quoting its correspondent, said there were reports of "air defences confronting a hostile target breaching the skies above the area of Deir al-Asha'ir in the Damascus countryside."
https://english.alarabiya.net/en/News/middle-east/2018/08/11/Syrian-air-defences-confront-hostile-target-near-Damascus-state-media.html
--------
Air strikes kill 14 civilians in north Syria: Monitor
10 August 2018
Air strikes killed at least 14 civilians and wounded dozens more on Friday in a rebel-held town in northern Syria, a war monitor said.
The Syrian Observatory for Human Rights could not say whether the raids on Orum al-Kubra in Aleppo province were carried out by regime or allied Russian aircraft.
"A series of air strikes on the town killed 14 civilians, including three children, and left dozens of people injured," said Observatory head Rami Abdel Rahman.
"The toll may rise... because people are trapped under the rubble," Abdel Rahman told AFP.
The strikes came as heavy bombardment slammed into the neighboring province of Idlib, held by jihadists and rebels.
Full report at:
https://english.alarabiya.net/en/News/middle-east/2018/08/10/Air-strikes-kill-14-civilians-in-north-Syria-Monitor.html
--------
New protests witnessed in Baghdad, other provinces across Iraq
10 August 2018
Protests broke out again in Baghdad as on Friday as well as central and southern Iraqi provinces where demonstrated decried lack of public services and job opportunities besides demanding that a new government is appointed quickly.
Protestors in provinces such as Basra, Dhi Qar, Najaf, al-Diwaniyah, Karbala, Babil, and the capital Baghdad, turned Friday into a day of demonstrations in front of government buildings and in public squares.
They raised slogans related to lack of public services and called for dissolution of provincial councils, holding corrupt officials accountable, and amending the constitution.
Full report at:
https://english.alarabiya.net/en/News/middle-east/2018/08/10/Iraq-new-protests-in-Baghdad-and-other-provinces-carrying-new-slogans.html
--------
Nearly 30 civilians dead in heavy bombing on north Syria: monitor
August 10, 2018
BEIRUT: Heavy bombardment killed nearly 30 civilians across northern Syria on Friday, a monitor said, in some of the fiercest shelling of rebel-held areas there in months.
The air strikes and barrel bombs targeted the key opposition-held province of Idlib in Syria's northwest and a rebel town in the adjacent province of Aleppo.
Idlib is the largest chunk of territory still in rebel hands, and President Bashar Assad has warned it would be his next target.
The province's southwest was shelled heavily on Thursday and the bombing the next day "moved further east," leaving 11 civilians dead, according to the Syrian Observatory for Human Rights.
"Air strikes by Russian warplanes and barrel bombs from Syrian helicopters hit southern parts of Idlib province today in very heavy shelling," Observatory head Rami Abdel Rahman said Friday.
"It's the most intense bombing since Idlib was declared a de-escalation zone last year," he told AFP.
The shelling left eight civilians dead in the main town of Khan Sheikhun, and another three including a child died in nearby Al-Tah.
The White Helmets, a rescue force operating in opposition-held areas of Syria, said its volunteers were responding to a bombing blitz on both Khan Sheikhun and Al-Tah.
A White Helmets rescuer in Khan Sheikhun told AFP that residential districts had been hit.
Hours later, air strikes pummelled the main rebel town of Orum Al-Kubra in the neighboring province of Aleppo, the Observatory said, without being able to immediately identify if they were Syrian or Russian.
"The death toll is now at 18 civilians including three children, and dozens of people injured," said Abdel Rahman.
Rebels have lost swathes of the territory they once controlled in Syria to regime forces over the last few months, including three areas that had been designated as "de-escalation zones" last year.
Assad's troops now appear to have set their sights on the last such area, Idlib.
The Britain-based Observatory said regime reinforcements, including troops and equipment, had been amassing around the southwestern part of Idlib for several days.
But a full-fledged assault would be devastating for the estimated 2.5 million people living in Idlib, many of them rebels and civilians bussed out of other areas that came back under regime control.
The United Nations appealed Thursday for talks to avert "a civilian bloodbath" in the province, which borders Turkey.
"The war cannot be allowed to go to Idlib," said Jan Egeland, head of the UN's humanitarian taskforce for Syria.
Around 60 percent of Idlib is held by Hayat Tahrir Al-Sham (HTS), which is led by Al-Qaeda's former Syria affiliate.
Rival factions control most of the rest, but Syrian troops have carved out a small southeastern part.
Full report at:
http://www.arabnews.com/node/1354221/middle-east
--------
50 scholarships granted to Pakistani students to study in Saudi universities
August 10, 2018
JEDDAH: Saudi Arabia's Ambassador to Pakistan Nawaf Al-Maliki announced that 50 scholarships have been allocated for Pakistani students to study in Saudi universities, according to the Saudi Press Agency.
The announcement came during his meeting with Senate Chairman Muhammad Sadiq Sanjrani in Islamabad on Friday, in the presence of the cultural attaché to the Saudi embassy in Pakistan, Dr. Ali Housawi.
The ambassador said during the meeting that Saudi Arabia will handle all expenses related to studies and accommodation for the Pakistani students who will receive the scholarships, and that the number of scholarships for Pakistani students will double next year.
He added that the Kingdom attaches great importance to its relationships with Pakistan and its people and it will spare no effort in standing with Pakistan and offering help and support to the country.
Sanjrani thanked the Kingdom for granting the scholarships to the students and noted that students from Baluchistan will be candidates to study in the Kingdom's universities.
He said that Pakistan is proud of its relationships with Saudi Arabia, which is based on longstanding historical ties with deep roots in common religious and cultural values, along with a consensus vision regarding most regional and international issues. He added these contribute to strengthening security, regional and global peace and benefits the Islamic nation.
He praised the pioneering role the Kingdom is playing in supporting regional and global security and peace, standing with Islamic countries, serving Islam, Muslims and the Islamic nation's matters and unifying Muslims' decisions, under the leadership of King Salman and Crown Prince Mohammed bin Salman.
Full report at:
http://www.arabnews.com/node/1354311/saudi-arabia
--------
Mideast
UNSC calls for 'transparent' inquiry into Saudi-led strike in Yemen's Sa'ada
Aug 10, 2018
The United Nations Security Council (UNSC) has called for launching a "credible and transparent" investigation into a recent airstrike by the Saudi-led military coalition that killed dozens of schoolchildren in northern Yemen.
The call was made during a closed-door Security Council meeting on Friday, a day after Saudi-led warplanes attacked a school bus in a market, killing at least 50 civilians, mainly schoolchildren, and wounding 77 others in Yemen's northwestern province of Sa'ada.
"They expressed their grave concern at these, and all other recent attacks in Yemen. They called for a credible and transparent investigation," British UN Ambassador Karen Pierce, council president for August, said after a senior UN official briefed the 15-member council on the brutal strike.
Pierce added that the council "will now consult with the UN and others as to how the investigation can best be taken forward."
A few hours after that attack, UN Secretary General António Guterres denounced the deadly aerial aggression and called for an independent investigation into the case.
The bus targeted by the coalition forces was carrying a group of young schoolchildren attending summer classes of the Holy Qur'an, Yemen's al-Masirah television network reported.
The Saudi-led coalition, in a defiant statement, has described the massacre as a "legitimate action" to target missile launchers used by Houthi Ansarullah fighters to target the southern Saudi city of Jizan.
Saudi Arabia and some of its allies launched a brutal war, code-named Operation Decisive Storm, against Yemen in March 2015 in an attempt to reinstall Yemen's former president, Abd Rabbuh Mansur Hadi, a staunch ally of Riyadh, and crush the Houthi Ansarullah movement, which is a significant aid to the Yemeni army in defending the country against the invading forces. The movement has also been running state affairs in the absence of an effective administration during the past three years.
The imposed war initially consisted of a bombing campaign but was later coupled with a naval blockade and the deployment of ground forces into Yemen.
Some 15,000 Yemenis have been killed and thousands more injured since the onset of the Saudi-led aggression.
The Saudi-led aggression has also taken a heavy toll on the country's infrastructure, destroying many hospitals, schools, and factories. The United Nations has already said that a record 22.2 million Yemenis are in dire need of food, including 8.4 million threatened by severe hunger.
Several Western countries, the United States and Britain in particular, are also accused of being complicit in the ongoing aggression as they supply the Riyadh regime with advanced weapons and military equipment as well as logistical and intelligence assistance.
https://www.presstv.com/Detail/2018/08/10/570798/Yemen-UNSC-Saudiled-bus-children-Saada
--------
Israeli bullets take two more Palestinian lives in Gaza
Aug 10, 2018
Israeli forces have opened fire on Palestinians taking part in a protest in the area between the occupied territories and the besieged Gaza Strip, leaving two people killed.
The Gaza Health Ministry said Abdullah al-Qotati, a young medic, was killed by Israeli fire east of the city of Khan Yunis in the southern part of the Gaza Strip on Friday.
The spokesmen for the ministry, Ashraf al-Qidra, added that Israeli forces also killed 55-year-old Ali Saeid al-Aloul east of the city of Rafah in southern Gaza.
According to the ministry, at least 307 Palestinians, including medics and journalists, were also injured during the protest.
Tensions have been running high near the fence since March 30, which marked the start of a series of protests dubbed "The Great March of Return." Palestinian protesters demand the right to return for those driven out of their homeland.
The clashes in Gaza reached their peak on May 14, the eve of the 70th anniversary of Nakba Day, or the Day of Catastrophe, which coincided this year with Washington's relocation of the US embassy from Tel Aviv to occupied Jerusalem al-Quds.
Israeli fire has taken the lives of nearly 160 Palestinians since March 30. Nearly 15,000 Palestinians have also sustained injuries, of whom at least 360 are reportedly in critical condition.
On June 13, the United Nations General Assembly adopted a resolution, sponsored by Turkey and Algeria, condemning Israel for Palestinian civilian deaths in the Gaza Strip.
Gaza has been under Israeli siege since June 2007, causing a decline in living standards as well as unprecedented unemployment and poverty.
Israel has also launched several wars on the Palestinian sliver, the last of which began in early July 2014 and ended in late August the same year. The Israeli military aggression killed nearly 2,200 Palestinians and injured over 11,100 others.
Full report at:
https://www.presstv.com/Detail/2018/08/10/570792/Israeli-fire-Palestinians-Gaza
--------
Israeli minister urges assassination of Hamas leaders
Aug 11, 2018
Israeli culture and sport minister has called for the assassination of the leaders of Hamas Palestinian resistance movement, stressing that Israel should reinstate its policy of targeted assassinations.
Miri Regev told a recent meeting of local leaders of Israeli communities near the Gaza Strip that the Palestinian resistance movement's senior officials should "live in fear".
"We must go back to the policy of targeted assassinations of leaders of this murderous terrorist group," she added, referring to Hamas.
Other Israeli politicians likewise called on the Israeli leadership to come down harder on Hamas, which controls Gaza and has defended the enclave against three Israeli wars.
Leader of Israeli party Zionist Union Avi Gabbay, who was visiting the city of Sderot in the west of Negev Desert, was recently quoted by media as saying that Israel had "a strong army and weak politicians," who would not intensify the regime's aggression.
The current regime "doesn't know how to deter a terrorist organization or to negotiate," he added.
Israel has assassinated many Hamas figures over the past years.
Last March, it assassinated Mazen Fuqaha, one of the group's senior figures, in Gaza. The victim was shot with four bullets to his head.
In 2010, Israel had itself embroiled in an international scandal when its operatives used false European and Australian passports to assassinate senior Hamas figure Mahmoud al-Mabhouh in the United Arab Emirates.
Oren Hazan, an Israeli lawmaker from Likud Party, also recently said, "We are not hitting Hamas hard enough for fear of an ongoing conflict, even though we are deep inside one".
"If we would have hit them, they wouldn't have allowed themselves to shoot 200 rockets in one day. So enough with the stories that we hit them hard. The public isn't stupid, and neither is Hamas," he added.
Besides staying prepared to take the territory under wholesale warfare, Israel regularly strikes Gaza, saying it needs to target Hamas.
Earlier in the week, Israeli raids on the coastal enclave killed three Palestinians who included a pregnant mother and a toddler.
Israel ramped up attacks on March 30, shortly after Gazans began weekly rallies near the territory's fence in support of their right to return to their homeland.
The demonstrations and Israeli offensives especially hiked on May 14, the anniversary of the Nakba Day in 1948, when Israel claimed existence after a deadly war against Arab territories.
Full report at:
https://www.presstv.com/Detail/2018/08/11/570815/Israel-Hamas-Gaza-assassination
--------
Senior PKK terrorist killed in anti-terror operation in Turkey's Diyarbakir
Aug 10, 2018
Turkish security forces have killed a high-ranking member of the Kurdistan Workers' Party (PKK) militant group during a counter-terrorism operation in the country's Kurdish-populated southeastern province of Diyarbakir.
The Turkish General Staff, in a post published on its official Twitter page, announced that Ahmet Dorak, better known by the nom de guerre Sahin, was "neutralized" during an offensive in the Kocakoy region of the province on August 2.
The Turkish military generally uses the term "neutralize" to signify that the militants were killed, captured or surrendered.
Separately, the Turkish military stated that at least five PKK terrorists were "neutralized" during anti-terror operations in Iraq's northern semi-autonomous Kurdistan region.
The military said Turkish military aircraft targeted the quintet in the Hakurk region.
On August 4, a Turkish police officer lost his life and eight others sustained injuries when PKK militants detonated a bomb as a military vehicle was travelling along a road in the country's southeastern province of Hakkari.
PKK militants regularly clash with Turkish forces in the Kurdish-dominated southeast of Turkey attached to northern Iraq.
Turkey, along with the European Union and the United States, has declared the PKK a terrorist group and banned it. The militant group has been seeking an autonomous Kurdish region since 1984.
A shaky ceasefire between the PKK and the Turkish government collapsed in July 2015. Attacks on Turkish security forces have soared ever since.
Over the past few months, Turkish ground and air forces have been carrying out operations against PKK positions in the country as well as in northern Iraq and neighboring Syria.
Full report at:
https://www.presstv.com/Detail/2018/08/10/570780/Senior-PKK-terrorist-killed-in-antiterror-operation-in-Turkeys-Diyarbakir
--------
Israel says 'surprised' by Colombia's recognition of Palestine
Aug 10, 2018
Israel says it is surprised by Colombia's decision to recognize the Palestinian state, demanding explanation from Bogota.
A day after President Ivan Duque was inaugurated in Bogota, it was revealed that the outgoing government of Juan Manuel Santos had recognized a Palestinian state last week.
"I would like to inform you that in the name of the government of Colombia, President Juan Manuel Santos has decided to recognize Palestine as a free, independent and sovereign state," Colombia's Foreign Ministry said.
Israeli Prime Minister Benjamin Netanyahu unexpectedly canceled a planned trip to Colombia to attend the inauguration of Duque, who took office on Tuesday.
"We are surprised by the report in the media and are waiting for explanations from the new administration, which is checking into the subject," Israel's foreign ministry said Thursday.
Duque has said he wanted to improve his country's good relations with Israel, even openly mulling the idea of moving his country's embassy to Jerusalem al-Quds.
His government said it would study the implications of Santos's last-minute decision on the Palestinians, but acknowledged that it was legal.
The State of Palestine has been recognized by more than 135 United Nations member states.
Colombia had long refrained from recognizing Palestine out of deference to Washington but it has sought to chart a more independent foreign policy in recent years.
The development comes amid international outcry over the Knesset's ratification of the "national law" which has been called racist, riding roughshod on the rights of Arabs living in Israel.
'Israeli ethnic cleansing'
An Arab member of the Israeli parliament who resigned last month after the approval hit out at the legislation in an interview with the Middle East Eye news portal, saying it is a precursor to "ethnic cleansing."
"There is ethnic cleansing in this law that allows building Jewish-only towns without any Arabs. This is more than what the Arabs could absorb. All of that comes over human rights," said Zouheir Bahloul.
The law institutionalizes the "inferior status" long experienced by Arabs, he added. "My resignation is an outcry that we will not accept laws that chase the Arab presence" from Israel, he added.
The Knesset adopted the bill on July 19 declaring the occupying entity "the nation-state of the Jewish people."
Full report at:
https://www.presstv.com/Detail/2018/08/10/570750/Israel-Colombia-recognition-Palestine-Bahloul-nationstate-law
--------
Pakistan
Incentives sought for mosques issuing fatwas against power theft
AUGUST 11, 2018
In an innovative proposal, a sub-committee of the Senate Standing Committee on Power suggested on Friday to incentivise mosque administrations to issue fatwas (religious decrees) against pilferers.
The committee proposed that the mosques who issued such fatwas should be waived of any charges for the first 400 units of electricity consumed at their premises.
The fatwas should highlight the repercussions of stealing electricity, according to the recommendations put forth in the proposal. The sub-committee observed in its recommendation that in the last six months alone, the national exchequer had incurred a loss of Rs40 billion due to power theft. The loss was owed to the supply of power to feeders where 80 per cent of the power was unaccounted. The Senate sub-committee said that a federal subsidy through Zakat or funds of the Benazir Income Support Programme must be provided for such feeders.
The committee also observed that load shedding had to be done on an equitable basis 'as directed by the Chief Justice in a suo motu case', and recommended that Pakistan Electric Power Company (Pepco) should evaluate the cost of provision of two free hours electricity on feeder having theft/loss of more than 80 per cent as well as the savings incurred by suspending supply for the remaining 22 hours in a 24-hour cycle.
https://dailytimes.com.pk/281471/incentives-sought-for-mosques-issuing-fatwas-against-power-theft/
--------
PPP baulks at backing PML-N 'hardliner' as Punjab CM
August 11, 2018
LAHORE: The Pakistan Muslim League-Nawaz claims that the Pakistan Peoples Party has declined to support it in the race for forming its government in Punjab if the former ruling party pitched any 'hawk' for the slot of chief minister.
"We were told by the former prime minister Yousuf Raza Gilani-led PPP committee that the party will not support our candidate if he happens to be a hawk," a PML-N leader privy to the development told Dawn.
Requesting not to be named, he said that they were advised to field a candidate acceptable to 'all' and suggested naming a person like outgoing Punjab Assembly speaker Rana Muhammad Iqbal instead of Hamza Shahbaz or any other hardliner for the coveted slot of provincial chief executive.
"We were tempted by hinting that Rana Iqbal may also attract some votes of Rajput clan from the rival parties."
A PPP leader from southern Punjab admits that they had given the suggestion but only in good faith.
The PPP has six MPAs-elect in Punjab and PML-N 130. The latter says many of the 28 independents elected to the Punjab Assembly would have joined the PML-N had the PPP assured of its help in time improving the numbers in favour of the N League.
Full report at:
https://www.dawn.com/news/1426328/ppp-baulks-at-backing-pml-n-hardliner-as-punjab-cm
--------
US cuts military training programme for Pakistan
Anwar Iqbal
August 11, 2018
WASHINGTON: US military institutions are struggling to fill the 66 slots they had kept aside for officers from Pakistan for the next academic year, as the Trump administration refused to provide funds for their training, official sources said.
The fund for training Pakistani officers came from the US government's International Military Education and Training Programme (IMET) but no funds were made available for Pakistan for the next academic year.
Dawn first learned about the suspension from the US National Defence University (NDU), Washington, which has had reserved seats for Pakistani officers for more than a decade now. The outgoing Pakistani officers, however, were told that the university has been asked to fill the positions for the next year with officers from other nations.
The NDU is one of several US military institutions that train officers from Pakistan. The Trump administration announced early this year that it was suspending security assistance to Pakistan over differences on Afghanistan but indicated that training programmes for military officers will continue.
The cancellation of slots kept aside for Pakistani officers, however, shows that the suspension now also applies to training programmes.
The United States had severed security ties with Pakistan in early 1990s as well over the country's nuclear programme but US officials later acknowledged that it was a mistake. They argued that the severance created a situation which allowed the Taliban, Al Qaeda and other terrorist groups to develop roots in Pakistan.
Pakistani officers have been receiving military training and education in the United States since early 1960s, which were suspended in the 1990s but restored after the Sept 11, 2001 terrorist attacks.
The decision to suspend military training for Pakistani officers was also reported by an international news agency, Reuters, which observed that both the US and Pakistani officials were criticising the move, privately.
"US officials said they were worried the decision could undermine a key trust-building measure. Pakistani officials warned it could push their military to further look to China or Russia for leadership training," the report added.
Dan Feldman, a former US special representative for Afghanistan and Pakistan, called the move "very short-sighted and myopic".
"This will have lasting negative impacts limiting the bilateral relationship well into the future," Mr Feldman told Reuters.
A State Department spokesperson told journalists in Washington that the IMET cancellations were valued at $2.41 million so far. At least two other programmes have also been affected, the spokesperson said.
Previously, it was not just Pakistan that valued the training and education its officers received in the US.
US military institutions also proudly owned training officers who assumed senior positions after returning home, such as the former army chief, Gen Ashfaq Parvez Kayani, and Lt Gen Naveed Mukhtar, the current director general of the Inter-Services Intelligence.
"This is an unfortunate and ultimately counterproductive decision. There are certainly ways to send a strong message to Pakistan, but this isn't the way to do it," Michael Kugelman, an expert of Pakistan affairs at a Washington think tank, the Wilson Center, told Dawn.
"This move could squander what little goodwill and trust remains in the military-to-military relationship, and it reduces the likelihood that Pakistan will act in the ways that Washington would like it to act."
Mr Kugelman noted that there was a long history of educational and training cooperation between the US and Pakistani militaries, and this cooperation had withstood the pressures and tensions of the relationship.
Full report at:
https://www.dawn.com/news/1426335/us-cuts-military-training-programme-for-pakistan
--------
Kapil Dev, Gavaskar, Sidhu and '92 champions invited to oath-taking ceremony: PTI
August 10, 2018
Fahad Chaudhry
Pakistan Tehreek-i-Insaf (PTI) Central Additional Information Secretary Faisal Javed Khan said on Friday that Indian cricket legends Sunil Gavaskar, Kapil Dev, Navjot Sidhu have been invited to prime minister-in-waiting Imran Khan's impending oath-taking ceremony.
The 1992 World Cup-winning cricket team has also been invited to witness their captain take oath, Javed told DawnNewsTV.
According to Javed, the oath-taking will take place on August 18. However, no official notification confirming the development has been issued as yet.
A similar announcement regarding inviting Indian cricketers and celebrities to the ceremony had earlier been made by PTI Information Secretary Fawad Chaudhry. However, it was later said that Khan had opted for an austere ceremony and decided against inviting foreign dignitaries and celebrities to the planned oath-taking.
https://www.dawn.com/news/1426185/kapil-dev-gavaskar-sidhu-and-92-champions-invited-to-oath-taking-ceremony-pti
--------
Saudi Arabia announces scholarships for students in Balochistan
Nadir Guramani
August 10, 2018
Saudi ambassador Nawaf bin Said Al-Malki during a meeting with Senate Chairman Muhammad Sadiq Sanjrani on Friday announced that 50 scholarships sponsored by the Saudi government would be granted to students of Balochistan.
According to the Senate spokesperson, the scholarships will be granted to students wishing to pursue undergraduate and graduate studies.
All expenses incurred by the students during the course of their education will be paid for by the Saudi government and the students will also be provided a monthly stipend, according to the spokesperson.
At the conclusion of the 11th session of the Pakistan-Saudi Arabia Joint Ministerial Commission (JMC) in January this year, it was agreed between the two countries to encourage cooperation in the fields of scientific research, exchange of scholarship and experiences in health teaching and medical staff and exchange of student visits.
https://www.dawn.com/news/1426191/saudi-arabia-announces-scholarships-for-students-in-balochistan
--------
Afghan envoy seeks Pakistan cooperation for peace
August 11, 2018
ISLAMABAD: The Afghan amba­ssador on Friday asked Pakistani authorities to extend "full cooperation" for peace in Afghanistan under commitments given to Kabul.
Afghan Ambassador Dr Omar Zakhilwal conveyed this message to Chief of the Army Staff Gen Qamar Javed Bajwa during a meeting at the General Headquarters amidst escalating violence in Afghanistan.
Relations between the two countries had till recently been on a positive trajectory.
The two neighbours also signed a new bilateral ties' framework — called the Afghanistan-Pakistan Action Plan for Peace and Solidarity (APAPPS) — under which they agreed to discuss political and diplomatic issues and matters pertaining to economy and trade, refugee repatriation, military and intelligence cooperation.
"This afternoon called on Pak Army Chief Gen Qamar Javed Bajwa discussing regular as well as some important current issues including need for full cooperation as per APAPPS and other bilateral commitments which in turn help with our peace efforts and reduction of violence," Ambassador Zakhilwal tweeted after his meeting.
Mr Zakhilwal, a diplomatic source claimed, carried an important message from the Afghan government. The ambassador was in Kabul till yesterday.
Ambassador Zakhilwal had in a conference hosted by the Jinnah Institute last month sounded very positive about APAPPS and said that irritants and acrimony in Pak-Afghan relations had reduced and better cooperation between the two sides was being observed. Similarly, the corps commanders conference of the Pakistan Army held earlier this month too had appreciated the progress being made on bilateral front with Afghanistan under APAPPS. The Inter Services Public Relations (ISPR) had on that occasion in its statement noted that: "Forum expressed satisfaction on progress of military level engagements with Afghanistan for regional peace especially through Afghanistan Pakistan Action Plan for Peace & Stability (APAPPS)."
Full report at:
https://www.dawn.com/news/1426322/afghan-envoy-seeks-pakistan-cooperation-for-peace
--------
CTD claims arresting two accomplices of Mastung bomber
August 11, 2018
The Sindh police's Counter-Terrorism Department (CTD) on Friday claimed to have arrested the father and brother of Mastung bomber and on their pointation two more suspects, stated to be aides of the bomber, were also apprehended.
Separately, the CTD also arrested three suspects including two alleged 'hit-men' reportedly belonging to Lyari gang-war and Muttahida Qaumi Movement's London faction.
Talking to media persons, CTD SSP retired Captain Parvez Ahmed Chandio said police acted on a tip-off and arrested Muhammad Nawaz and Haq Nawaz from Banaras area, who, according to police, were planning to flee to Afghanistan.
After the deadly suicide bombing at an election rally in Mastung, Balochistan, on July 13 in which over 150 people including election candidate Siraj Raisani were killed, both the suspects went in hiding.
Muhammad Nawaz is the father of bomber Hafeez Nawaz, while Haq Nawaz is his brother.
During the initial probe, Muhammad Nawaz told police that his three sons including the bomber, his wife and four daughters had moved to Afghanistan on May 29.
He told the police that initially his 'bomber' son was associated with TTP's Fazlullah group, but later on he joined 'Daud Mehsud group.'
On pointation of the arrested father and son of the bomber, the police conducted raids in Manghopir area and Old Subzi Mandi and arrested two suspects, Sheeraz alias Saifullah and Wali Ahmed alias Abu Ubaid.
"They are accomplices of the suicide bomber," claimed the CTD official.
They belonged to Jaishul Adl outfit based in Afghanistan.
"They got training from Panjgur in Balochistan and Afghanistan on different occasions," believed Chandio. The held suspects also studied at the same seminary where the suicide bomber studied.
Besides, CTD SSP Naveed Ahmed Khowaja said that another team of the CTD arrested Syed Muhammad Zohaib alias Zohaib Pathan who was associated with Shahid Bikak group linked with Lyari gang-war elements.
During the initial probe, the held suspects 'confessed' to killing 19 people in the metropolis. Sindh government has announced Rs2 million head money on his arrest.
Moreover, the CTD arrested another suspect Shakir alias Bunti who was associated with MQM's London faction.
He had killed assistant sub-inspector Gohar Abbas in 2012.
Full report at:
https://www.dawn.com/news/1426212/ctd-claims-arresting-two-accomplices-of-mastung-bomber
--------
Europe
Boris Johnson 'to face probe' over Islamophobic remarks
10 Aug 2018
Former British foreign secretary, Boris Johnson, will face an investigation following Islamophobic comments about Muslim women who wear the face veil, according to a report by the Evening Standard newspaper.
Johnson compared women wearing the veil with bank robbers or letter boxes in an article for the right-leaning Daily Telegraph.
The Conservative MP will face an investigatory panel for a possible breach of his party's code of conduct, the first step in disciplinary action that has been called for by a number of Conservative MPs and independent organisations.
The comments prompted severe criticism from within his own party, including Prime Minister Theresa May, and led to questions about whether he was pandering to the far right by stoking Islamophobia.
Johnson left May's cabinet in July in a dispute over her plan for leaving the European Union, which he says he finds too soft.
He is considered a frontrunner to replace May should she resign, and has support among Conservative supporters to the right of the prime minister.
Johnson is reported to have recently secretly met US far-right ideologue Steve Bannon, a former adviser to US President Donald Trump.
Bannon has come out in support of the MP, saying in July that "now is the moment" for Johnson to challenge May.
If found to have broken the Conservatives' code of conduct, he could face expulsion from the party.
A hundred Muslim women who wear the niqab had written to Brandon Lewis, the chairman of the Conservative Party, demanding that Johnson be kicked out of the party.
"Our decision to wear the niqab or burka is not an easy one, especially given the hate that many of us experience on a regular basis. Nevertheless we do so because we believe it is a means to get closer to God," the women said in a letter.
Lewis and Theresa May have both criticised Johnson for his remarks and have urged him to apologise but he has so far refused to do so.
The Muslim Council of Britain (MCB) has welcomed the party's decision to launch an inquiry into the former foreign secretary's comments, a statement published on Thursday said.
"While the choice of panelists are for the Party to decide, to avoid accusations of a whitewash, the group should include people who are aware of the seriousness of the issue and its effect on society," Harun Khan, secretary general of the MCB said.
https://www.aljazeera.com/news/2018/08/boris-johnson-face-probe-islamophobic-remarks-180810055526003.html
--------
UK Muslim convert admits plotting carnage with Oxford Street attack
August 10, 2018
LONDON: A Muslim convert has admitted plotting to kill more than 100 people by driving a truck into pedestrians on London's Oxford Street, the capital's major shopping thoroughfare.
Lewis Ludlow, 26, had planned to rent the vehicle and plough it into shoppers in the bustling retail district, which attracts large numbers of tourists, during the busiest time of the week, prosecutors said.
He had also considered attacking London's Madame Tussauds wax museum and St Paul's Cathedral.
"Lewis Ludlow considers himself a soldier fighting for Daesh (Islamic State) in the UK," Deb Walsh from the Crown Prosecution Service (CPS) said in a statement on Friday.
"To that end, he planned to drive a van into shoppers at Oxford Street hoping to kill over 100 people. He is a serious danger to the public and accepted his guilt when faced with the prosecution's case against him."
The CPS said Ludlow's mobile phone was found in the storm drain of his home in Rochester, southeast of London, which had photographs showing he had carried out hostile reconnaissance in central London. There was also a picture of a handwritten oath of allegiance to Islamic State (IS).
It also had videos in which Ludlow called himself "the Eagle", and spoke of his hatred of non-believers.
He was under 24-hour armed police surveillance when he was arrested and a number of torn-up notes which were found suggested Ludlow was actively involved in preparing an attack, with information about the cost of hotels near Oxford Street and renting a truck, prosecutors said.
Full report at:
http://www.freemalaysiatoday.com/category/world/2018/08/10/uk-muslim-convert-admits-plotting-carnage-with-oxford-street-attack/
--------
Muslims in UK fear attack after Johnson remarks
August 11, 2018
Hate crimes against Muslim women in Britain could jump after former Foreign Minister Boris Johnson likened burqa-wearers to "letter boxes" and "bank robbers," activists said on Thursday.
Anti-hate crime groups said the comments by Johnson, who resigned last month, would encourage Islamophobic and sexist abuse at a time when attacks were already on the rise. "This inflammatory language will in fact motivate and fuel hate crimes, particularly towards visibly Muslim women who wear the veil or the hijab," Sajda Mughal, who runs the JAN Trust charity, told the Thomson Reuters Foundation. She said that her group, which works with marginalized women, had already taken three calls in the last two days from hijab-wearing women who reported being called "letter boxes."
A top Conservative known for flamboyant phrasing and eccentric stunts, Johnson is facing an internal Conservative investigation over his remarks, which have reignited a debate over religious facial coverings and split his party. Some 100 Muslim women who wear the niqab or burqa have written to Brandon Lewis, chairman of the Conservative Party, demanding that Boris Johnson be kicked out of the party. The letter, revealed by Sky News, says that an apology by the former foreign secretary would be insufficient and that more should be done to prevent others in the party from following suit.
"We speak as free women who are able to speak for ourselves and make our own choices," the signers said, as reported by Anadolu Agency (AA).
The Muslim Council of Britain (MCB) has welcomed the Conservative Party decision to launch an inquiry into the former foreign secretary over his recent Islamophobic remarks, a statement said Thursday.
Full report at:
https://www.dailysabah.com/europe/2018/08/11/muslims-in-uk-fear-attack-after-johnson-remarks
--------
North America
Reports suggest Canada seeking help to resolve dispute with Saudi Arabia
10 August 2018
Canada is quietly nudging allies, including Germany and Sweden, for help in resolving its row with Saudi Arabia, a Canadian senior official has reportedly said.
The senior official, who asked not to be named, told AFP on Thursday that Ottawa is working quietly through specific diplomatic channels to arrive at a solution.
According to reports, Canada Foreign Minister Chrystia Freeland spoke to her counterparts in the two European nations, seeking their help and advice on how to resolve the dispute.
The Canadian government source added that his country plans to reach out to the United Arab Emirates and Britain in order to help in resolving the dispute.
On Monday Saudi Arabia announced recalling its Ambassador to Canada for discussions, while asking the Canadian Ambassador in Riyadh to leave the Kingdom within 24 hours.
Saudi Arabia also decided to freeze all new trade and investment transactions between the Kingdom and Canada, while retaining its rights to take further actions.
https://english.alarabiya.net/en/News/gulf/2018/08/10/Canadian-source-Ottawa-asks-for-help-to-resolve-dispute-with-Saudi-Arabia.html
--------
US suspends military training programs for Pakistani officers
Aug 11, 2018
The United States has suspended the military and educational training of scores of Pakistani officers, a move that could negatively affect more than a decade of bilateral military relations between Washington and Islamabad.
A US State Department spokesperson said on Friday the effective suspension of Pakistan from the US government's International Military Education and Training program (IMET) would close off places that had been set aside for 66 Pakistani officers this year.
The spokesman added that the places would either be unfilled or given to officers from other countries.
Pakistani officers have reportedly been excluded from programs at the War College, the US army's premier school for foreign officers, in the upcoming academic year as well as training courses at the US Naval War College and Naval Staff College.
The State Department official said the IMET cancellations were valued at $2.41 million and at least two other programs had also been affected following the US decision.
It remains unclear what level of military cooperation still continues outside the IMET program between top US and Pakistani military chiefs.
The Pentagon and the Pakistani military declined to comment directly on the Trump administration's decision, but officials from both countries privately criticized the move.
US officials expressed concern that the move could undermine a key trust-building measure between the two sides. Pakistani officials, for their part, warned the decision could push their military to further look to China or Russia for training.
Calling the move "very short-sighted and myopic," Dan Feldman, a former US special representative for Afghanistan and Pakistan, said, "This will have lasting negative impacts limiting the bilateral relationship well into the future.
Earlier this year, the US president Donald Trump threatened to cut off foreign aid to Pakistan, accusing Islamabad of harboring extremists.
Trump said in his first tweet of 2018 that Washington had "foolishly given Pakistan more than $33 billion in aid over the last 15 years," and the country had rewarded the past US aid with "nothing but lies & deceit."
Pakistan later summoned David Hale – the US ambassador to Pakistan – over Trump's controversial remarks.
Washington has long accused Islamabad of allowing militants and terrorist groups to operate relatively freely in Pakistan's porous border regions to carry out operations in neighboring Afghanistan.
The US claims that Afghan Taliban militants and their allied Haqqani network that target American troops in Afghanistan are allowed to shelter on Pakistani soil.
Full report at:
https://www.presstv.com/Detail/2018/08/11/570820/US-military-training-Pakistani-officers-IMET
--------
Trump doubles tariffs on Turkish steel and aluminium, says relations 'not good'
Aug 10, 2018
US President Donald Trump has announced to double steel and aluminum tariffs on Turkey, saying relations between Washington and Ankara "not good" as tensions mount between the two countries.
"I have just authorized a doubling of Tariffs on Steel and Aluminum with respect to Turkey as their currency, the Turkish Lira, slides rapidly downward against our very strong Dollar!" Trump said on Twitter.
"Aluminum will now be 20 percent and Steel 50 percent. Our relations with Turkey are not good at this time!" he added.
The United States is the world's biggest steel importer. Washington slapped tariffs of 25 percent on steel and 10 percent on aluminum in March for imports from several countries, including Turkey.
Trump's announcement came shortly after Turkish President Tayyip Erdogan called on Turks to help defend the country against the US-launched economic war against his nation. Erdogan appealed to Turks to exchange dollars and gold for Turkish lira to support the plunging currency.
The lira plunged to as low as 6 against the US dollar on Friday, a day after a Turkish delegation returned from talks in Washington with no apparent solutions to their simmering crisis.
Erdogan said that there were "various campaigns being carried out" against the country.
Turkey vows retaliation
In response, the Turkish Trade Ministry said on Friday that additional steel and aluminium tariffs were against the rules of the World Trade
Organisation (WTO).
"Turkey expects other member countries to abide by international rules," the ministry said in a statement.
Meanwhile, the country's Foreign Ministry said that such a move "will be harming our relationship as allies," noting, "As with all measures taken against Turkey, the necessary response will be given."
Relations between the two NATO allies have taken a turn for the worse amid dispute over the detention in Turkey of US evangelical pastor Andrew Brunson on terrorism charges.
Trump wrote on Twitter late last month that his country "will impose large sanctions on Turkey for their long time detainment of Pastor Andrew Brunson."
Erdogan responded by announcing to freeze the assets in Turkey of US ministers of "justice and interior," in tit-for-tat response to US sanctions.
Full report at:
https://www.presstv.com/Detail/2018/08/10/570781/Trump-doubles-tariffs-on-Turkish-steel-and-aluminum
--------
Amatul-Wadud Holds Event To Address Muslim Attacks
August 11, 2018
SPRINGFIELD — Congressional candidate Tahirah Amatul-Wadud said Friday that she's ready to move beyond what she called "issues of great distraction" regarding her Muslim faith.
"During this campaign, I have been confronted by religious intolerance, slander and hate," said the Springfield attorney, adding that people have been "raising questions about my religion, religious affiliation, and my values as a progressive candidate."
Amatul-Wadud is challenging longtime Springfield incumbent Congressman Richard Neal in the Massachusetts 1st Congressional District.
She made the remarks at a press conference Friday at the Hilton Garden Inn in downtown Springfield after an article in a Worcester newspaper questioned her work as a lawyer, and separate reports about an anonymously written Islamophobic flyer that had been mailed to some households in the region over the last 10 days.
At Friday's press event, Amatul-Wadud addressed the Worcester Telegram and Gazette article published Thursday that connected her to Muslims of America Inc. Amatul-Wadud has represented the organization in federal court. The article claimed that the founder of Muslims of America, Pakistani Muslim cleric Sheik Mubarek Gilani, and his followers had expressed anti-LGBTQ and anti-Semetic views.
"A reporter challenged me to condemn opinions posted by a Muslim community," Amatul-Wadud said. "The reporter recognized that these writings were not authored by me, promoted by me, discussed or even spoken about by me. Still the reporter deliberately gave these writings to my campaign endorsers in an attempt to alarm them and force them to question their support and relationships with me."
Amatul-Wadud also addressed Islamaphobic flyers that were sent to some households. She said she predicted that she would be the target of Islamophobic attacks when she announced her campaign.
"I didn't know what it would look like but I knew it would come, and it has," she said.
Amatul-Wadud called on candidates for political office to condemn "bigotry." She said she has not personally heard from Neal.
In a Friday statement, Neal reiterated comments he made last week after news about the flyers broke.
"I vigorously condemned the Islamophobic mailers and I just as clearly and unequivocally condemn any Islamophobic, anti-Semitic, racist and homophobic hate speech," Neal said in the statement. "There is no room in our state or our country for intolerance, ignorance and bigotry."
At the event, Amatul-Wadud said that it was "time to move beyond these distractions" to focus on her campaign and fighting for religious freedoms.
She said she has a strong history of standing up for religious freedom and tolerance, including providing legal counsel to numerous groups of all religions. She said it was not her job to interpret religious texts and beliefs, but to protect people's rights to worship. She credited her desire to fight religious intolerance with her childhood.
"My upbringing has enriched me with the agency and authority to stand up for religious freedoms at a time when attacks on worshippers grew increasingly bloody and violent," Amatul-Wadud said.
Amatul-Wadud said she was fighting for a "universal goal" which she said is to "live good lives, work hard, and raise our families in peace."
On Friday, she received an endorsement from the Bernie Sanders-allied Our Revolution national organization.
Full report at:
https://www.gazettenet.com/Amatul-Wadud-holds-event-to-address-Muslim-attacks-19409078
--------
Southeast Asia
Jokowi boosts Islamic credentials by joining hands with top cleric
August 11, 2018
As Mr Joko Widodo, 57, seeks a second five-year term, the reform-minded President is pairing up with renowned cleric Ma'ruf Amin, 75, to boost his Islamic credentials.
Mr Joko, who began his political career as mayor of Solo in Central Java, vowed to achieve 7 per cent annual economic growth in his 2014 campaign. However, South-east Asia's largest economy has managed to grow by only around 5 per cent a year during his tenure, although the jobless rate has fallen to its lowest level in two decades.
The track record of the former furniture businessman is also saved by his ambitious infrastructure push to connect the sprawling archipelago of over 17,000 islands, and a series of business-friendly reforms.
Mr Joko said he shares a similar vision with Dr Ma'ruf on how to carry out economic empowerment in the nation of 260 million people.
"We share the view that as the country with the biggest Muslim population in the world, we must address poverty and inequality by strengthening the economy of the umat (Muslim community) nationwide," Mr Joko said after submitting their nomination at the General Elections Commission yesterday.
Dr Ma'ruf, the supreme leader of the country's largest Muslim organisation Nahdlatul Ulama, with 40 million members, has experience in the syariah economy, with past roles in various Islamic financial institutions. An Islamic boarding school he founded runs a syariah-based micro-bank.
The chairman of the Indonesian Ulema Council also stole the limelight when he condemned former Jakarta governor Basuki Tjahaja Purnama, an ethnic Chinese Christian and an ally of Mr Joko, as a blasphemer for allegedly insulting the Quran during the Jakarta gubernatorial election campaign last year. He later testified in Basuki's trial.
Mr Joko began to build a closer relationship with the Islamic cleric after the massive protest against Basuki last November. The attempt has been seen by many as the President's effort to approach Muslim groups and quash the image in some circles that he is anti-Islam. This might prevent a repeat of racial and religious tensions in the lead-up to next April's presidential polls.
Dr Siti Zuhro of the Indonesian Institute of Sciences said Mr Joko's move would not be an effective tool to win Muslim voters.
"Indonesia's Muslim community has varied, rather than monolithic, aspirations, and the diversity is reflected in various voter behaviours. There is no guaranteed measure to lure Muslim voters," she said.
https://www.straitstimes.com/asia/se-asia/jokowi-boosts-islamic-credentials-by-joining-hands-with-top-cleric
--------
New evidence emerges of China forcing Muslims into 'reeducation' camps
August 10, 2018
ZHARKENT, Kazakhstan — First-of-its-kind courtroom testimony here has corroborated allegations that the Chinese government has built a network of internment camps in western China where Muslim minorities are held without charge for "reeducation."
Sayragul Sauytbay, an ethnic Kazakh Chinese national, said she crossed from China's Xin­jiang region to Kazakhstan without proper papers after being forced to work at a camp where around 2,500 ethnic Kazakhs were being held for indoctrination.
"In China, they call it a political camp, but really it was a prison in the mountains," she told a court last month packed with Kazakh villagers, reporters and a few tight-lipped Chinese diplomats.
Interviews by The Washington Post with 20 other people in Kazakhstan familiar with the experiences of ethnic Kazakhs in China, including three former detainees and more than a dozen people who say they believe a family member is in detention, provided similar accounts of the camps, with additional details.
Taken together, their statements provide new evidence of extralegal detention and forced indoctrination in Xinjiang, revealing how the government, which has been predominantly targeting ethnic Uighur Muslims, also is detaining members of other, mostly Muslim groups, including Kazakhs.
People who have recently arrived here from China told of villages with checkpoints and countless security cameras and scanners where those suspected of having foreign ties can be interrogated, held without charge and sent to "reeducation centers" indefinitely.
At these camps, Muslim minorities spend their days singing propaganda songs such as "Without the Communist Party, There Would Be No New China," and their nights in crowded cells, they said. One man released from a camp said he had been waterboarded.
In April, Laura Stone, acting U.S. deputy assistant secretary of state for China, said at a briefing in Beijing that "at least" tens of thousands of Chinese Muslims are in detention. Experts at a July 26 hearing in Washington held by the Congressional-Executive Commission on China — a body created by Congress in 2000 with a legislative mandate to monitor human rights and rule of law — suggested the number could be hundreds of thousands or more.
Heather Nauert, a State Department spokeswoman, in April criticized "the increasing levels of repression in Xinjiang." She said, "We are concerned about the widespread detentions and the unprecedented levels of surveillance."
Chinese officials have repeatedly dodged questions about the internment allegations. At a July 23 hearing at the court in Zharkent, a Chinese diplomat declined to answer questions about Sauytbay's case.
Asked to comment on The Post's findings, specifically allegations of extralegal detention and torture, China's Ministry of Foreign Affairs sent a short statement.
"I only want to emphasize that at the moment, the overall situation of Xinjiang society is stable, the momentum of its economic development is good and ethnic groups live in harmony," the statement read.
Sauytbay, who was in court on charges that she had entered Kazakhstan illegally, testified that she feared for her safety should she be deported back to China: "That I am discussing this camp in an open court means I am already revealing state secrets."
A fraught history
Sauytbay grew up in Xinjiang's far northwest, among ethnic ­Uighurs, Kyrgyz and some Han Chinese, according to her husband, Uali Islam.
Sauytbay's husband, Uali Islam, and their daughter at his house in Baidibek, Kazakhstan. Islam had taken the couple's son and daughter to live in Baidibek after officials in Xinjiang, where they used to live, began cracking down on Muslim minorities. (Izturgan Aldauev/For The Washington Post)
As children, they were educated in Kazakh and Chinese, but in the past decade, a government-led shift toward Chinese-language education meant their children are not totally comfortable in Kazakh, Islam said. That bothered the couple.
The fraught relationship between the Communist Party and Muslim minorities took a sharp turn for the worse when violence shook Urumqi, the regional capital, in 2009.
After attacks by Uighurs in the years that followed, the government declared a "people's war" on terrorism, launching ever more stringent security measures.
"You cross from one road to another, and they check you again," Islam said of their hometown.
Sauytbay, who had a government job in education, had her passport seized by local officials, her husband said. In recent years, some ethnic minorities in China have had their passports confiscated or been prevented from getting new passports, according to a report by Human Rights Watch and two interviewees.
In 2016, officials asked for the passports of Sauytbay's husband and children, and they decided it was time to leave for Kazakhstan. Sauytbay would follow.
"She said, 'I'm a woman and member of the Communist Party — they won't do anything to me. Maybe things will settle down and I can join you,' " Islam recalled.
In early 2017, she told him, she was informed that she was being transferred to what was described to her as an "education center." That spring, she arrived to see that it was actually an internment camp housing thousands of Kazakhs.
Sauytbay told her husband the "education" was "all about the party." Guards locked everyone in a room, blasted propaganda from speakers and made them sing Communist Party songs.
Eventually, Sauytbay fled to Kazakhstan. "She said," he recalled, " 'I came here; I saw my children — now I can die.' "
Islam looks through family photos at his home. His wife said the internment camp where she was held housed thousands of Kazakhs. (Izturgan Aldauev/For The Washington Post)
A photo shows Islam and Sauytbay on their wedding day. (Izturgan Aldauev/For The Washington Post)
Sauytbay in a family photograph. (Izturgan Aldauev/For The Washington Post)
Detained without trial
A recent analysis by China Human Rights Defenders, an advocacy group, found that, according to government data, 21 percent of criminal arrests in China last year took place in Xinjiang — even though the population is just 1.5 percent of the country's total. Arrests jumped more than eightfold last year: from 27,404 in 2016 to an estimated 227,882 in 2017.
Those numbers do not include residents sent to the camps. Interviews here with separated families and former camp detainees indicate that detention without trial and mass internment are happening outside the penal system.
Kurmanjan Silam, 37, said her father, Madinam Silam, has been missing for months.
He was born in Xinjiang in 1948 and worked for the government for 40 years before becoming a resident of Kazakhstan, she said. This past spring, he was called back to his hometown to take care of some pension-
related paperwork.
She has not heard from him since. Her mother told her over the phone that her father had been taken for education. "She told me not to call back, not to look for him," Kurmanjan Silam said.
Sapila Taqash said her 50-year-old son, Zheniskhan Baghdal, who works in entertainment, was taken from his home in Urumqi more than a year ago. "They said they found something on his phone and took him away," she said.
She tried to find out when and how he was sentenced, only to conclude that there was no charge or trial.
"If he had been tried, I would have gotten a paper saying he was tried," she said. "We don't know the sentence, don't even know if he is alive or not, or how he's feeling. How has nobody seen him since?"
Akikat Kaliolla, 34, was born in Xinjiang, worked as a musician in Beijing and Shanghai but then moved to Kazakhstan and married.
After several earlier visits, his parents and both of his brothers came to Kazakhstan in June 2017 to celebrate his child's first birthday, he said.
Now, he said, they have disappeared back in China. Relatives there won't talk to him.
Amanzhan Seiituly was born in China but became a citizen of Kazakhstan, traveling back and forth between the countries for years.
He flew to Beijing in February for a business trip but was stopped at the airport and interrogated about his connections in Kazakhstan.
"They were asking everything about what I do in Kazakhstan: How many relatives in China? What do they do? Do they have houses? What do the houses cost? Do you have a car? What did it cost?"
After trying to escape, he was forced to fly to Xinjiang and was driven by police to his hometown, ostensibly to take care of paperwork, he said. He spent days at the local police station before being transferred, without trial, to a detention facility that officials called an education center, he said.
From there, he was taken to another camp, he said. Each day, inmates were forced to sit for hours and sing — "The Communist Party is good. The Communist Party is good," as one refrain went.
His account was echoed by Orynbek Koxebek, who was released with him in March after spending months in various forms of detention.
Koxebek, who was born in China but is now a Kazakh citizen, said he returned to Xinjiang to see his parents and was called in by local authorities in November 2017 to discuss his citizenship paperwork.
He was interrogated, then sent for "reeducation" — in his case, literacy classes because he could not read or write Chinese.
Koxebek said, as well, that he was waterboarded. His was not the first allegation of torture in the camps: Another detainee previously interviewed by The Post, Kayrat Samarkand, said he had been strapped for hours to a device called the "tiger chair."
The guards also taunted them, Koxebek said. "They told me, 'If you don't learn Chinese, you will be in prison for five years,' " he recalled. "I didn't think I would ever be released."
When he was, officials told him not to talk about what happened — and for months, he did not.
But over time he began to realize, he said, "somebody has to speak out."
A Kazakh 'tightrope'
The detention of its citizens in China has forced Kazakhstan's government to "walk a tightrope" between the demands of its people and the dictates of one of its most important trading partners, said Maya Wang, a Hong Kong-based China senior researcher at Human Rights Watch.
In May, Kazakhstan's Ministry of Foreign Affairs said it had raised the subject with the Chinese side and called for the release of Kazakhs with dual citizenship.
Islam and his children hold signs last month calling for the release of his wife during her trial. On Aug. 1, a court ruled she will be reunited with her family, not deported back to China. (Izturgan Aldauev/For The Washington Post)
Coverage of Sauytbay's trial led Zhang Wei, the Chinese consul general in Almaty, Kazakhstan, to make a rare public comment. "This year, we've noticed different individuals zealously campaigning about the so-called 'problems of the ethnic Kazakhs from Xinjiang,' " he told local media.
"They've done this on the Internet and out in public, openly and secretly, inventing unfounded accusations with the evil intent of staining Xinjiang's image, grossly interfering in China's internal affairs and baselessly criticizing the Chinese government," he said.
A judge disagreed.
On Aug. 1, after weeks of campaigning by activists, Sauytbay was released from custody and spared immediate deportation. Judge Dinara Quiqabaeva suspended Sauytbay's six-month sentence because of the "exceptional circumstances" of her case.
Outside the courthouse, Sauytbay was mobbed by supporters shouting "Long live Kazakhstan!"
But her fight is not over. Beijing could still press for extradition, lawyers said.
Full report at:
https://www.washingtonpost.com/world/asia_pacific/new-evidence-emerges-that-china-is-forcing-muslims-into-reeducation-camps/2018/08/10/1d6d2f64-8dce-11e8-9b0d-749fb254bc3d_story.html
--------
Now, Umno veep calls for party to distance itself from Najib
09 August 2018
KUALA LUMPUR, Aug 9 ― Datuk Seri Mohamed Khaled Nordin has joined the growing chorus within Umno's ranks for the party to distance themselves from Datuk Seri Najib Razak.
The Umno vice-president echoed similar remarks made by secretary-general Tan Sri Annuar Musa and division chief Datuk Seri Johari Abdul Ghani.
In a press statement today, Mohamed Khaled said Umno can no longer afford to rely on its past while allowing someone who is under trial for various accounts of corruption and money laundering to hold so much influence over the party.
"It (moving forward and reforming) will be made more impossible when Umno still lives in its own labyrinth, reminiscing the past and allows a man who is under a legal trial to be significantly involved in the party.
"Yes, we should treat him (Najib) with honour and respect. But we also should move on from what has passed. It is Najib Razak who is on trial, not Umno," said Mohamed Khaled.
Agreeing with his colleague Johari, the former minister said that the Malay-based party must retreat to the very philosophy and foundation that the party was built upon; a party that upholds the Malay interests and at the same time, does not look down on other races for its quest to power.
Mohamed Khaled quoted sociologist Shaharuddin Maaruf, who had concluded that the Malay elites are not ashamed of their wrongdoings which runs contrary to the teachings of Islam.
He also quoted Muslim philosopher Jalaluddin al-Afghani who had once argued that religion is important because it instills feelings of shame.
"By 'shame' here it refers to the ability of the Muslims to hold back from committing injustices, in any form prohibited by God, and pushes them to seek enlightenment and progress through knowledge.
"Reflecting upon the arguments above, Shaharuddin Maaruf concluded that the Malay elites are not ashamed of their wrongdoings. They take pride in their lawlessness and do not advocate for right, virtuous achievements," he said.
"They are not ashamed of committing multiple shades of injustices, like social greed and opportunism to name a few," Mohamed Khaled observed.
He reminded members of the party that the narratives they used to subscribe to and their rejection by voters was evident in GE14 as well as the Sg Kandis by-election.
The party veteran added that the party cannot afford to remain delusional simply because they commanded the confidence of 46 per cent of the Malay voters, saying that Umno needs to look the demography of their Malay supporters and what values they subscribed to.
He said the party must cater to all Malays despite their background and more importantly to Malaysians as a whole.
"He (Johari Abdul Ghani) also stated that his intention is to see a strong, inclusive, credible and dependable Umno in the future and to reform is the only way we can acquire back such values.
"His contention is clear. This is not just Najib Razak in the limelight, this is more than what he has done, or allegedly did, the perception that surrounded the allegations and how it costed the party.
"This is about the survival of Umno as a whole, as a Malay, and should be a Malaysian institution. A body that stands for the many and fights for principles shared by the masses.
"This is also about, in my opinion, what Umno must be, post GE14 and PRK Sungai Kandis is the manifestation of the party and its reluctance in adjusting to the new reality," he said.
He said that if the party continues to be in denial while being unable to admit its mistakes and discredit the injustices and corruption it has committed in the past, it can never move on.
"You give me some when you were in power, therefore I shall not hold you accountable to your wrongdoings, forever". This narrative must go and must be replaced by the real feeling of 'shame' against wrongdoings and injustices.
Full report at:
https://www.malaymail.com/s/1660883/now-umno-veep-calls-for-party-to-distance-itself-from-najib
--------
Malaysia's ex-PM Najib in court over money linked to Saudi family
Aug 10, 2018
Former Malaysian Prime Minister Najib Razak has appeared in court for a pre-trial hearing on corruption and money laundering charges.
Najib was charged with three counts of money laundering on Wednesday as part of a probe into money missing from state fund 1Malaysia Development Berhad (1MDB).
The charges were related to transfers of 42 million ringgit ($10 million) from a former 1MDB unit into Najib's personal bank account.
The country's new government has been adamantly looking for answers regarding how billions of dollars went missing from 1MDB during Najib's 10-year term in office.
Prime Minister Mahathir Mohamad has reopened an investigation into the scandal, which broke in 2015, after media reports said hundreds of millions of dollars from 1MDB were diverted to Najib's personal accounts.
Najib and his wife, Rosmah Mansor, have been barred from leaving Malaysia after he was ousted from power in a shock election defeat in May.
Last month, Najib was arrested and charged with abuse of power and criminal breach of trust. He was later freed on bail.
On Wednesday, Najib pleaded not guilty to money laundering charges. He has claimed that any funds transferred to his personal bank account were donations by a Saudi royal family.
Saudi officials have confirmed the payment saying $681 million was transferred to the Malaysian premier accounts as a "genuine donation".
Full report at:
https://www.presstv.com/Detail/2018/08/10/570742/Malaysia-Saudi-Najib-Corruption-Court
--------
South Asia
Taliban, Kabul govt both claim embattled Afghan city
August 11, 2018
KABUL: Both Taliban and government forces claimed they were in control of the eastern Afghan city of Ghazni Saturday, after insurgents stormed the provincial capital, triggering fierce fighting.
Afghan officials said they were in control of Ghazni late Friday with authorities in Kabul saying security forces were conducting a clearance operation targeting Taliban fighters who had taken up positions in residential homes.
But information about who controlled the city was difficult to confirm with power and mobile services cut to the area after the Taliban destroyed a telecommunications tower, according to Ghazni MP Shah Gul Rezaye.
"The central government in Kabul said the situation in Ghazni was under their control, but we managed to contact officials in Ghazni who said that fighting was underway in areas surrounding Ghazni," said the parliamentarian.
Rezaye said additional reinforcements had been rushed to Ghazni late Friday, after US forces deployed attack helicopters and launched at least one drone strike to push back the Taliban fighters.
The Taliban, however, claimed victory saying their fighters were now in control of Ghazni after routing Afghan forces.
"Last night, our mujahideen have completely conquered a battalion in Ghazni, seizing weapons and ammunition and four pickup trucks," said Taliban spokesman Zabihullah Mujahid in a message to journalists Saturday.
"Our mujahideen are protecting the city of Ghazni."
The insurgents frequently exaggerate their battlefield gains and downplay losses incurred during clashes.
Ghazni — less than two hours by road from Kabul — has been under increasing danger from massing Taliban fighters for months with reports suggesting insurgents had already infiltrated the city.
The attack, which began late Thursday, was the latest attempt by the Taliban to seize an urban center and comes as pressure mounts on the insurgents to enter peace talks with the government to end the nearly 17-year-old war.
http://www.arabnews.com/node/1354471/world
--------
US launches airstrikes as Taliban attack Afghan city
August 10, 2018
US forces launched airstrikes Friday to counter a major Taliban assault on an Afghan provincial capital, where terrified residents cowered in their homes amid explosions and gunfire as security forces try to beat the insurgents back.
Officials said Afghan special forces were also being deployed to the southeastern city of Ghazni after the latest attempt by the Taliban to capture an urban centre, with the assault coming as pressure builds on the insurgents to enter peace talks.
At least one Afghan soldier has been killed and seven others wounded in the fighting, provincial governor spokesman Arif Noori said.
Civilian houses and army checkpoints have come under mortar attack and the bodies of dozens of Taliban fighters are in the streets, he added.
The Taliban began the attack late Thursday from several positions around the city, provincial police chief Farid Ahmad Mashal said.
Residents who spoke to AFP said power has been cut to the area since fighting erupted, with heavy gunfire ringing out across the city and a government building set on fire.
"We are scared for our life. The Taliban are roaming everywhere in and around the city," shopkeeper Mohammad Haleem told AFP.
Another resident, Yasan, said the Taliban were using loudspeakers at the mosque to warn residents to stay in their homes.
"Heavy explosions and gunfire can be heard. We are terrified," Yasan wrote in a Facebook post.
The US said that the city remained under government control.
"US Forces responded with close-air support this morning in #Ghazni," the official account for US Forces in Afghanistan tweeted Friday.
"Afghan forces held their ground and maintain control of all govt. centers. Another failed attempt by Taliban to seize terrain, while creating strategically inconsequential headlines," it continued.
A spokesman for President Ashraf Ghani said the Taliban had suffered heavy casualties in the onslaught and confirmed the airstrikes.
"Commando forces are on their way, and black hawks are hitting important enemy targets," wrote Shahhussain Murtazawi in a post on social media.
Police special forces have also been deployed to help block the Taliban advance on the city, an Afghan security official said.
The Taliban issued a statement claiming to have captured "most of the government buildings inside the city".
"So far 140 enemy forces have been killed or wounded," the group said.
The Taliban frequently exaggerate their battlefield gains and downplay losses incurred during fighting.
Growing pressure
Afghan forces have been struggling to hold back the resurgent militant group since the withdrawal of NATO combat troops at the end of 2014.
In May the Taliban attacked the western city of Farah. After a day of intense fighting, Afghan commandos and US air strikes drove the group to the outskirts of the city.
The insurgents have also so far ignored an offer by Ghani in February of unconditional peace negotiations.
However there are tentative signs that diplomatic efforts to bring the insurgents to the table for peace talks may be starting to bear fruit.
The Taliban has long insisted on direct talks with the United States. Washington has repeatedly refused, saying negotiations must be Afghan-led.
But Washington indicated a change in its longstanding policy in June when US Secretary of State Mike Pompeo said the United States was prepared to "support, facilitate and participate" in talks.
Pompeo also said the role of foreign forces in Afghanistan would be on the table.
Last month Taliban representatives met US officials for talks in Qatar.
Anticipation has also been mounting about the possibility of a government ceasefire announcement for the Islamic holiday of Eid-al Adha later this month.
Full report at:
https://nation.com.pk/10-Aug-2018/us-launches-airstrikes-as-taliban-attack-afghan-city
--------
UNHCR urges Asia-Pacific leaders to show 'solidarity' with Rohingyas
August 10, 2018
Head of the UN refugee agency (UNHCR) Filippo Grandi has urged the government representatives and the business leaders from the Asia-Pacific region to offer more support and protection for over 700,000 Rohingyas who have fled violence and discrimination in Myanmar's Rakhine State over the past year.
"I urge you to consider what support your Governments could pledge in solidarity with Bangladesh until solutions are found for refugees," he said addressing ministers of 26 countries in Bali, Indonesia, at the Seventh Ministerial Conference of the Bali Process recently.
He said they need also to work towards comprehensive solutions for the people of Rakhine State, so that they are not forced to move in the first place.
The Bali Process is a forum made up of 48 Governments and four international organizations - including UNHCR, the International Organization for Migration (IOM) and the UN Office on Drugs and Crime (UNODC) - which was set up to enable dialogue and discussion on issues relating to people-smuggling, human trafficking and related cross-border crime.
In March 2016, the Bali Declaration was adopted, highlighting the need for a comprehensive collective approach to resolve statelessness, invest in inclusive development, and expand safe pathways so that refugees and migrants would have legal alternatives to putting their lives at risk while on the move.
Since late August 2017, widespread and systematic violence against Myanmar's mainly Muslim minority Rohingya has forced hundreds of thousands to flee their homes in Rakhine state for Bangladesh, according to UN News Centre.
Prior to that, well over 200,000 Rohingya refugees were sheltering in vast, makeshift camps in Bangladesh as a result of earlier displacements.
Grandi urged governments to move "from consultation to action on the commitments they made" in the Declaration, asking them to consider how they could share Bangladesh's refugee burden.
"Could your government support, for example, construction of hospitals in Bangladesh," he asked
He said that will treat refugees but also improve the health care of local people.
"Can we conceive of development, trade, and migration-related measures to help the people and Government of Bangladesh shoulder the responsibility of hosting some 900,000 refugees, such as expanding guest worker quotas for Bangladeshis that would increase remittances, or reducing tariffs on garment exports from Bangladesh?"
The UNHCR chief also stressed that the "real solution" lies in Myanmar itself, and he appealed for regional support to address the root causes of displacement in Rakhine: for example, investing in infrastructure that connects communities instead of dividing them, and providing expertise on resolving statelessness and intercommunal conflict.
The High Commissioner also addressed business leaders of major corporations who attended the Conference as part of the Bali Process Government and Business Forum, a public-private partnership to expand legal labour migration and combat human trafficking.
Full report at:
https://www.thedailystar.net/news/rohingya-crisis/unhcr-urges-asia-pacific-leaders-show-solidarity-rohingyas-1618765
--------
Deadly airstrikes target Taliban militants in Helmand province
Aug 11 2018
Several Taliban militants were killed during the airstrikes conducted by the US forces in southern Helmand province of Afghanistan.
According to the local officials, the latest airstrikes were carried out on Taliban hideouts in the vicinity of Nahr Siraj district.
The officials further added that the airstrikes left at least 19 militants dead while a number of weapons belonging to the militants were also destroyed.
The provincial government media office in a statement confirmed the airstrike and the death toll of the Taliban militants during the airstrikes.
The statement further added that the airstrikes were carried out in the western parts fo 611 Road, leaving at least 19 militants dead.
According to the provincial government, a number of heavy and light weapons belonging to the militants were also destroyed during the same airstrikes.
Full report at:
https://www.khaama.com/deadly-airstrikes-target-taliban-militants-in-helmand-province-05739/
--------
Taliban's bid to attack outposts in Kabul foiled: Silab Corps
Aug 11 2018
The Afghan Military says the armed forces have foiled Taliban's bid to carry out coordinated attack on security outposts in Sarobi district of Kabul.
The 201st Silab Corps of the Afghan Military in the East said a group of Taliban militants were attempting to carry out attack on army outposts in Uzbin Dara area of the district on Friday.
The statement further added the armed forces carried out operations against the hideout of the militants based on intelligence tip as they were planning the attack, leaving at least two of the militants dead and another militant wounded.
According Silab Corps, the militants killed during the operation have been identified as Mohammad Gul and Syed Karim while another militant identified as Asadullah has sustained injuries.
The anti-government armed militant groups including Taliban militants have not commented regarding the report so far.
This comes as the Taliban militants have stepped up efforts during the recent months to increase their insurgency activities in Kabul's Sarobi district.
Full report at:
https://www.khaama.com/talibans-bid-to-attack-outposts-in-kabul-foiled-silab-corps-05738/
--------
Ghani chairs high level meeting of Commander-in-Chief after Ghazni city attack
Aug 10 2018
President Mohammad Ashraf Ghani chaired a high level meeting of the Commander-in-Chief meeting after a coordinated attack by the Taliban militants in Ghazni city, the provincial capital of southeastern Ghazni province of Afghanistan.
The Office of the President, ARG Palace, in a statement said the high level meeting of the Commander-in-Chief of the armed forces was organized and chaired by President Ghani in the Ministry of Defense.
The statement further added that the meeting was attended by leadership of the national defense and security institutions and the security situation of Ghazni, Farah, and Zabul provinces were reviewed.
The officials in Ghazni province shared information regarding the latest security upheavals and said the militants have suffered heavy casualties during the latest operations, according to ARG Palace.
Hailing the bravery of the national defense and security forces, the Commander-in-Chief of the armed forces and instructed the relevant security and defense officials to step up efforts to increase coordination, specifically regarding the security situation of Ghazni, ARG Palace added in its statement.
Full report at:
https://www.khaama.com/ghani-chairs-high-level-meeting-of-commander-in-chief-after-ghazni-city-attack-05737/
--------
Africa
Nigeria's problems need spiritual solutions —Cleric
August 11, 2018
The challenges facing Nigeria can only get lasting solutions through spiritual warfare and not political alignment and realignment.
What Nigeria needs now is for all religious bodies in Nigeria, both Muslim and Christian, to come together and fight a common enemy by engaging in spiritual warfare.
Making this assertion in Lagos today, Rev. Matthew B. Cyrus of the Celestial Church of Christ (CCC), Jedidah Kingdom, insisted that only spiritual solutions can check what he called demonic forces masquerading as herdsmen/farmers conflict, ritual killings, kidnapping and so on.
Rev. Cyrus, who claimed to have been on the prayer mountain since May, said President Muhammed Buhari should declare a one-day holiday to enable Christians and Muslims to fast and pray for the rejuvenation and transformation of the country.
He said: "God told me He was ready to solve Nigeria's problems the way He solved the problems of Children of Israel during the reign of King Jehoshaphat of Judah."
Rev Cyrus said God told him that current alignment and realignment in the country's political firmament was a good omen, adding that "there can be no peace in the country as long as darkness and light dwell together".
He said Nigeria's socio-economic challenges would be a thing of the past as soon as the spiritual solutions were applied in its totality.
http://thenationonlineng.net/nigerias-problems-need-spiritual-solutions-cleric/
--------
Row over Algerian education minister's Nobel Prize comments
10 August 2018
Algerian Higher Education Minister Al Taher Hajjar stirred uproar in Algeria and sparked anger within education circles after he underestimated the value of winning a Nobel Prize, claiming that it will not add to Algerian universities, which are poorly ranked globally.
During a press conference earlier this week, Hajjar defended Algerian universities and their worldwide rank and said: "There are some major universities and research centers that rely on the Nobel Prize and other certifications but what will it benefit me when an Algerian student gets the Nobel Prize, even if we get ten of them?"
"We have dozens of researchers who have the Nobel Prize, what will this add to the education in Algerian universities?" he asked.
Commenting on inquiries that the Algerian universities have low global rankings, Hajjar sarcastically blamed this on ranking centers not counting the Nobel prizes that Algerians won during the colonial period.
Hajjar also said that top Algerian intellectuals should not have a special status in the country.
"A genius is a genius wherever he is, because he's a genius in an ordinary high school among his friends, with his family and among the people of neighborhoods, small cities and towns."
Hajjar's statements surprised Algerians who took to social media to mock the minister's stance and criticize him.
Activist Mohammad Bouzeid said: "The minister deserves a Nobel Prize for stupidity due to his unfortunate and backward statements which only frustrate students and reinforce poor education."
"Who will win a Nobel Prize with such poor education, poor universities and a state that's not qualified to encourage and appreciate the talented and support researchers and scientists?" Bouzeid inquired.
Another activist wrote on Twitter: "Doesn't the minister know that winning the Nobel Prize is a reflection of the level of his university and of education in his country?" He also condemned Hajjar for not recognizing that Algerian universities were better under colonization.
Blogger Abdulrahman Dawry said Hajjar's statements reflected "Hajjar's ignorance because a Nobel Prize would (help) Algerian universities improve their image and ranking in the world."
Full report at:
https://english.alarabiya.net/en/News/north-africa/2018/08/10/Algerian-minister-s-says-Nobel-Prize-won-t-add-to-education-sparks-anger.html
--------
Suspected al Shabaab militants kill five soldiers in Kenya's Lamu
10 August 2018
Five Kenyan soldiers were killed in an attack claimed by the Somali group al Shaabab in Lamu County on Kenya's north coast on Wednesday, a senior official said.
The local government official in the county, who asked not to be named, said the attack occurred between the areas of Majengo and Bodhei. He said five soldiers were killed after their truck ran over an improvised explosive device.
"We heard a blast. Shortly after, KDF (Kenya Defence Forces) choppers were patrolling in the air," the official told Reuters.
Kenya Defence Forces spokesman Lieutenant Colonel Paul Njuguna told Reuters that six soldiers were injured, two critically, in the explosion but none were killed.
It was not immediately clear why the accounts of the KDF and the county official differed.
Abdiasis Abu Musab, al Shabaab's spokesman for military operations, said the group was behind the attack on the KDF convoy, and put the number of those killed at nine.
Kenyan officials say the group often exaggerates casualty figures.
The al Qaeda-linked al Shabaab aims to topple Somalia's U.N.-backed government and impose its own strict interpretation of Islam. They have intensified attacks in Kenya since it sent troops into Somalia in 2011.
Full report at:
http://www.defenceweb.co.za/index.php?option=com_content&view=article&id=52726:suspected-al-shabaab-militants-kill-five-soldiers-in-kenyas-lamu&catid=3:Civil%20Security&Itemid=113
--------
UN Security Council condemns Boko Haram attacks
August 11, 2018
The UN Security Council said it remained concerned at the security and humanitarian situation caused by the Boko Haram terrorists and other armed groups in Nigeria, Cameroon and Chad.
In a Presidential Statement, the 15-member body regretted that Central African countries were beset by ongoing terrorist activity, instability and the effects of climate change, and asked Secretary-General Antonio Guterres to review the work of the UN Regional Office for Central Africa (UNOCA), and recommend areas for improvement.
The presidential statement read: "The Security Council strongly condemns all terrorist attacks carried out in the region, including those perpetrated by Boko Haram and the Islamic State in Iraq and the Levant (ISIL, also known as Daesh).
"These attacks have caused large-scale and devastating losses, have had a devastating humanitarian impact including through the displacement of a large number of civilians in Nigeria, Cameroon and Chad, and represent a threat to the stability and peace of West and Central Africa.
"The Council notes with particular concern the continuing use by Boko Haram of women and girls as suicide bombers, which has created an atmosphere of suspicion towards them and made them targets of harassment and stigmatisation in affected communities, and of arbitrary arrests by security forces.
"The Council emphasises the need for affected States to counterterrorism in all its forms and manifestations, including by addressing the conditions conducive to the spread of terrorism, in accordance with obligations under international law, in particular international human rights law, international refugee law and international humanitarian law".
The Security Council welcomed the support provided by UNOCA and the UN Office for West Africa and Sahel (UNOWAS) for the development of a joint regional strategy to address the root causes of the Lake Chad Basin crisis through regular contact with regional leaders.
The Council encouraged partners to increase security assistance to Lake Chad Basin Commission countries, and humanitarian and development support across the region for those affected by Boko Haram activities.
"The Security Council remains deeply concerned at the grave security situation and related violations and abuses of human rights in parts of Central Africa, in particular the continuing terrorist activities of Boko Haram and other terrorist groups in the Lake Chad Basin," it said.
"The Security Council expresses its ongoing concern at continued tensions linked to disputed electoral processes, social and economic difficulties, and conflicts between farmers and herders," the statement added.
The 15-member Council noted that UNOCA's priorities would include to work closely with UNOWAS to address transregional issues such as maritime security in the Gulf of Guinea, conflict between farmers and herders, and combatting Boko Haram.
The UN Security Council committee on al Qaeda sanctions blacklisted and imposed sanctions on the Islamist militant group Boko Haram in 2014 after the insurgents kidnapped more than 200 Chibok schoolgirls.
Full report at:
http://thenationonlineng.net/un-security-council-condemns-boko-haram-attacks/
--------
URL: https://www.newageislam.com/islamic-world-news/dont-bring-madrasas-under-rte/d/116105
New Age Islam, Islam Online, Islamic Website, African Muslim News, Arab World News, South Asia News, Indian Muslim News, World Muslim News, Women in Islam, Islamic Feminism, Arab Women, Women In Arab, Islamophobia in America, Muslim Women in West, Islam Women and Feminism