New Age Islam News Bureau
14 May 2019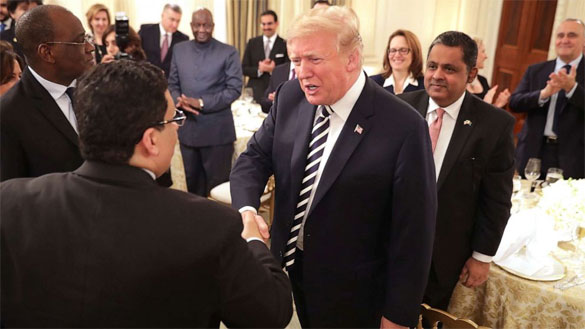 Chip Somodevilla/Getty Images, FILE
President Donald Trump greets guests while hosting an Iftar dinner in the State Dining Room at the White House, June 6, 2018, in Washington.
-------
• Donald Trump Hosted His Second Annual Iftar Dinner at the White House And Said It's 'Been A Very Rough Time' For Muslims Around The World
• Donald Trump Cites Ramzan as Time of 'Hope, Tolerance And Peace'
• In a Heartwarming Gesture, Hindu Family Donates Land for Muslim Burial Ground in Assam
• At Tihar Jail, 150 Hindu Prisoners Observe Roza In Solidarity With Muslim Inmates
• Pakistan: Two Firebrand Clerics, Khadim Hussain Rivzi and Pir Afzal Qari Get Bail in Sedition Case
• Churchgoers Cowed By Islamist Bullies in Bangladesh
• Ramadan unites Christians and Muslims in Egypt
• New App Assesses Islamic Preachers in Gaza
• New Zealand Seeks Global Support for Tougher Measures on Online Violence
North America
• Donald Trump Hosted His Second Annual Iftar Dinner at the White House And Said It's 'Been A Very Rough Time' For Muslims Around The World
• Donald Trump Cites Ramzan as Time of 'Hope, Tolerance And Peace'
• American Nazis protested a Holocaust remembrance event. A university's scholarship is part of the reason why.
• Trump: It would be big mistake for Iran to try anything against US
• EU warns against 'military escalation' over Iran
• AFCENT confirms first B-52 bombers' mission in anti-Iran deployment
• Diyanet Mosque in US suffers large-scale damage
--------
India
• In a Heartwarming Gesture, Hindu Family Donates Land for Muslim Burial Ground in Assam
• At Tihar Jail, 150 Hindu Prisoners Observe Roza In Solidarity With Muslim Inmates
• ISIL Claims 'Province' In India, Officials Call It 'Propaganda'
• Strong Polling In Areas Dominated By Muslims Could Influence Results In Delhi
• Iranian foreign minister on India visit to lobby support against US
• SC junks plea to advance voting time for Ramzan
• Two suspected LeT terrorists arrested
--------
Pakistan
• Pakistan: Two Firebrand Clerics, Khadim Hussain Rivzi and Pir Afzal Qari Get Bail in Sedition Case
• With Economy in Doldrums, Pakistan Army's Imran Khan Project Is Failing
• Pakistan's Roadside Iftar Feeds Thousands in Ramadan
• Four policemen martyred, 11 others injured in Quetta blast
• Pakistani man executed in Saudi Arabia for smuggling heroin
• Panel approves plan for Nanak's birth anniversary
• MQM-P explains why it insists on more administrative units in Sindh
• Gwadar attack terrorist not a missing person: Mengal
--------
South Asia
• Churchgoers Cowed By Islamist Bullies in Bangladesh
• Taliban Train Sights on Aid Groups, an Ominous Turn in Afghanistan
• At least 13 militants killed in S. Afghan clashes
• Sri Lanka clashes kill one; imposes nationwide curfew after mosques attacked
• Eight al-Qaeda linked militants charged with LGBT murders in Bangladesh
• Taliban shadow district chief among 6 killed in U.S. airstrike in Herat province
• 4 killed, 20 wounded in back to back explosions in Jalalabad city
• Taliban's charity collector arrested in Logar province
--------
Arab World
• Ramadan unites Christians and Muslims in Egypt
• ISIS Threatens To Burn Makhmour Farmers' Grain Fields If They Fail To Pay 'Taxes'
• Isil Extremists Using Instagram to Promote Jihad and Incite Support For Terror Attacks On The West
• Idlib: People Resist Tahrir Al-Sham's Forced Recruitment Against Syrian Army
• Syrians refuse to send sons to join militant ranks in Idlib battles
• Daesh remnants wage hidden war of raids, killings
• Wives of ISIS fighters find camps safe haven, fear violence from Iraqis outside
• They Were 'Comrades in Arms' Against ISIS. Now the US Is Eyeing the Exit
• Syrian army 'kills terrorists' in Idlib countryside
• Iraqi troops kill 3 Islamic State suicide bombers in Salahuddin
• White Helmets, Tahrir Al-Sham Terrorists Preparing to Produce Video on False-Flag
--------
Mideast
• New App Assesses Islamic Preachers in Gaza
• Gaza Matches Hezbollah, Can Fire 1,000 Missiles a Day: Israel
• Houthis' withdrawal from key Yemeni ports prelude to final solution: Iran
• Over one million Palestinians in Gaza not having enough food by June: UNRWA
• Data shows Israeli settlements boosted after Trump election
• Economic conditions 'suffocating the joy of Ramadan' in Gaza
• Iran may attack Israel if U.S. standoff escalates: Israeli minister
• Houthi rebels claim to begin withdrawal from key Yemen ports
• Turkey assessing a delay at US request in taking delivery of Russian missile
• Veteran Palestinian negotiator says denied US visa for first time
• Yemeni drones launch retaliatory raids against vital Saudi facilities: Al-Masirah
• Turkey detains 46 ex-policemen over affiliation to Gulen movement
--------
Europe
• New Zealand Seeks Global Support for Tougher Measures on Online Violence
• UN Chief Meets NZ Mosque Victims, Decries Online Hate
• British mosque security heightened as Ramadan is in full swing
• France joins New Zealand to host summit to banish extremism on social media
• EU calls for calm, warns US-Iran of conflict 'by accident'
• French report calls for more access to Facebook algorithms as Macron meets Zuckerberg
• British FM warns about 'risk of conflict' between US, Iran
• E3 foreign ministers to discuss Iran's nuclear announcement in Brussels
• Turkish, Russian leaders discuss Idlib over phone
--------
Southeast Asia
• Malaysian Cops Foil Bid by Terror Cell to Attack Non-Muslim Places Of Worship during Ramadan
• Islamic State Could Exploit Local Issues to Advance Ideology In Malaysia, Analyst Says
• Malaysia police arrest 4 linked to ISIS bomb plot
• Asyraf Wajdi denies being involved in Yapeim scandals
• Four arrested in Malaysia suspected of plotting Ramadan attacks
• NU at peak of powers after backing the right horse
• Indonesia remembers victims of bombings
--------
Africa
• Gunmen Kill at Least 6 in Church Attack in Burkina Faso
• Al-Shabab Claims Responsibility for Targeted Blast
• Somalia: Army Kills Militants During Operation, Says Commander
• One officer, three protesters killed following clashes in Sudan capital Khartoum
• Sudan's Bashir charged over 'killing' of protesters
• 5 killed, 15 injured in anti-regime protests in Sudan
Compiled by New Age Islam News Bureau
URL:https://www.newageislam.com/islamic-world-news/donald-trump-hosted-his-second/d/118594
--------
Donald Trump Hosted His Second Annual Iftar Dinner at the White House And Said It's 'Been A Very Rough Time' For Muslims Around The World
May 13, 2019
President Donald Trump hosted his second annual iftar dinner Monday night at the White House and said it's "been a very rough time" for Muslims around the world.
The dinner, which breaks the daily fast of Ramadan for Muslims around the world, was attended by various Muslim diplomatic leaders. He cited the devastating attacks on Muslims killed in New Zealand, Sri Lanka, California and Pittsburgh.
"In their blessed memory, we resolve to defeat the evils of terrorism," he said.
Trump's speech Monday night emphasized world peace.
"We thank god that America is a place founded on beliefs that citizens of all faiths can live together in safety and live together in freedom," he said
And then he ended his address with a Muslim blessing, "Wish all the people around the world Ramadan Kareem."
His tone Monday night was a shift from previous occasions.
Earlier in the day, Trump joined top House Republicans in attacking Rep. Rashida Tlaib, D-Mich., for her recent comments on the Holocaust and Israel.
"Democrat Rep. Tlaib is being slammed for her horrible and highly insensitive statement on the Holocaust," Trump said in a tweet. "She obviously has tremendous hatred of Israel and the Jewish people. Can you imagine what would happen if I ever said what she said, and says?"
In an interview Saturday on Yahoo's podcast "Skullduggery," Tlaib, one of the first two Muslim women in Congress, spoke about her support for a one-state solution to the Israeli-Palestinian conflict. Tlaib fought back on Monday saying Trump and top-ranking GOP lawmakers had deliberately misconstrued her words to "spread falsehoods rooted in hate."
During his presidential campaign, Trump called for a "complete and total shutdown" of Muslims entering the United States. And in June 2018, the Supreme Court ruled that a travel ban is "squarely within" the president's authority. The third iteration came after two previous attempts by the administration to bar immigration to the United States from certain foreign countries had been blocked.
And last month, Trump rebuked Rep. Ilhan Omar, D-Minn., over remarks she made about Israel and its American supporters at a Council on American-Islamic Relations event.
Omar, who was elected alongside Tlaib as the first women Muslim members of Congress in U.S. history, continues to speak out against Israel, attracting the scorn of Republicans and Democratic colleagues alike.
She responded to Trump on Twitter.
"No one person -- no matter how corrupt, inept, or vicious -- can threaten my unwavering love for America," she wrote, without naming Trump directly. "Thank you for standing with me -- against an administration that ran on banning Muslims from this country -- to fight for the America we all deserve."
https://abcnews.go.com/Politics/president-donald-trump-hosts-2nd-iftar-dinner-amid/story?id=63005219
--------
Donald Trump cites Ramzan as time of 'hope, tolerance and peace'
May 14, 2019
WASHINGTON: President Donald Trump celebrated the month of Ramzan on Monday evening as a time when people join forces in "pursuit of hope, tolerance and peace."
Trump held an iftar dinner for ambassadors and members of the diplomatic corps representing Muslim-majority nations.
The dinner breaks the daylong fast that Muslims follow during Ramzan.
They have been held regularly at the White House since the Clinton administration as a form of outreach to the Muslim world.
Trump said it's been a rough period recently for people of all faiths. He cited attacks on Muslims in New Zealand, Christians in Sri Lanka and Jews in California and Pittsburgh.
"In their blessed memories, we resolve to defeat the evils of terrorism and religious persecution so that all people can worship without fear, pray without danger and live by the faith that flows from their heart," he said.
House earlier, Trump had harshly criticized one of two Muslim women in Congress, Democratic Rep. Rashida Tlaib of Michigan, claiming in a tweet that "she obviously has tremendous hatred of Israel and the Jewish people. Can you imagine what would happen if I ever said what she said, and says?"
Republicans have seized on her use of the words "calming feeling" when she thinks of the "tragedy of the Holocaust," the suffering of her Palestinian ancestors and the state of Israel.
The remark instantly ignited an online fight, with Republicans incorrectly describing Tlaib's words as reflecting her feelings about the genocide that cost millions of lives. Democrats defended Tlaib, saying her words have been twisted and turned into a "right-wing smear campaign.
https://timesofindia.indiatimes.com/world/us/donald-trump-cites-ramzan-as-time-of-hope-tolerance-and-peace/articleshow/69318616.cms
--------
In a Heartwarming Gesture, Hindu Family Donates Land for Muslim Burial Ground in Assam
May 13, 2019
North Lakhimpur: Amidst the election battle afflicted with communal undertones, the reports of a Hindu family donating their land for a Muslim burial ground brings a sense of relief that our foundational basis of harmony and fraternity yet exists.
Breaking all religious barriers and communal animosity, a Hindu family have donated 0.84 acres of land to the Nahar Pukhuri Kabrastan (graveyard), which is located near the North Lakhimpur railway station in Assam. The donor family has been recognized as that of late Karunakanta Bhuyan which stays at Gorehaga village.
The governing body of the graveyard felicitated the donor family on May 4, with the chairman, Dr. Hamidur Rahman, expressing his gratitude to all the people involved in this noble cause.
It is significant to note that the burial ground shares its border with a Hindu crematorium.
Earlier in 2017, there were reports of a Muslim family donating 1,905 square feet of their land for the expansion of Hanuman temple in Sheopur, Madhya Pradesh. Javed Ansari, the donor, had said "I have donated this land to Hanuman Mandir to send out a message of communal harmony. I believe that such gestures will increase brotherhood between the Hindu and Muslim communities."
Recently, in Assam, a group of locals, cutting across religious lines, were tirelessly helping the Muslims shift the 100-year old, two-storeyed minaret in Puranigudam area in Nagaon district after there was a fear of its demolition for the expansion of the National Highway (NH)-37.
While the entire nation is plagued with insecurity, with the brutal Babri Masjid massacre yet fresh in mind and the Gyanpith mosque of Kashi feared to be next in line, such selfless gestures give a hope that no matter how much the religious fanatics try, love will always prevail.
https://www.sabrangindia.in/article/heartwarming-gesture-hindu-family-donates-land-muslim-burial-ground-assam
--------
At Tihar jail, 150 Hindu prisoners observe roza in solidarity with Muslim inmates
May 14, 2019
At least 150 Hindu prisoners are observing Roza (fasting) inside Tihar jail, a senior prison officer said. Jail officers said the number of Hindu prisoners who are fasting has increased this year.
Last year, 59 Hindu prisoners kept the month-long fast.
"Of the 16,665 prisoners spread across different jails of Tihar, at least 2,658 prisoners — that include both Hindus and Muslims — are observing Roza. We have made special arrangements for them. This year, the number of Hindu inmates fasting has increased to thrice the number compared to last year," said a jail spokesperson.
In the first week of May, most Hindu prisoners lodged in different jails met their respective jail superintendents and informed them that they, too, would fast during Ramzan. The jail superintendents were, at the time, taking a headcount of the prisoners observing Roza to make the arrangements.
Jail officers said the Hindu prisoners gave different reasons why they were observing the fast. "Most of them said they were doing it in solidarity for their Muslim friends. Maybe they did not want to admit that they are turning to religion after coming to prison. We have observed that 80%-90% of inmates become religious inside prison. Religion is a way of finding peace. A few said they believe they could be released early if they pray to God," a senior jail officer, who did not wish to be named, said.
Another jail officer said every year they see a similar trend during Navratri — the nine-day Hindu festival. During Navratri, a large number of Muslim prisoners fast with the Hindu inmates. " This is common not only in Tihar but across other prisons as well," said the jail officer.
For this year's Ramzan, prison officials have made special arrangements such as allowing religious heads to come to the prison and pray with the inmates. The jail administration has also stocked dates and rooafza- commonly taken by those fasting in Ramzan—which can be bought from the jail canteen.
https://www.hindustantimes.com/india-news/at-tihar-jail-150-hindu-prisoners-observe-roza-in-solidarity-with-muslim-inmates/story-5bqVBJR3RjBojdwdTsfdKP.html
--------
Pakistan: Two Firebrand Clerics, Khadim Hussain Rivzi And Pir Afzal Qari Get Bail In Sedition Case
May 14, 2019
Ashfaq Ahmed
Dubai: Pakistan's two firebrand religious leaders who had been booked under sedition and terrorism charges late last year, have been granted bail against surety bond of Rs 5million (Dh130,000) each.
Khadim Hussain Rivzi, Chief of Tehreek-e-Labbaikh Pakistan (TLP), and Pir Afzal Qari, Patron-in-Chief of the TLP were arrested after launching protests against the government on the acquittal of Asia Bibi who was serving jail on blasphemy charges.
The Supreme Court ruled against the charges and acquitted Asia Bibi, who was also allowed to leave the country earlier this month.
Both Rizvi and Qadri were granted bail after Asia Bibi left the country to join her family in Canada.
Rizvi and Qadri were taken into "protective custody" by the state during a crackdown in November 2018, after the TLP announced it would observe martyrs' day on November 25, 2018.
The arrests followed weeks after the TLP led three-day protests across the country against Asia Bibi's acquittal, according to Dawn, an English daily in Pakistan.
Qadri, who had been booked under sedition and terrorism charges, had resigned from the TLP on May 1 citing health issues and, on the court's earlier directions, issued a public apology for his remarks.
The two-member bench, comprising of Justice Qasim Ali Khan and Justice Asjad Javed Gharal granted the bail till July 15.
The high court pronounced the judgement it had reserved on May 10, on bail pleas filed by Rizvi and Qadri, and rejected an apology submitted by Qadri over incendiary remarks he made during a protest against the Supreme Court's acquittal of Asia Bibi.
The two leaders moved the high court for bail after an anti-terrorism court in Lahore had rejected their request in a case lodged against them for launching a violent protest against the acquittal of Asia Bibi.
Notorious case
The blasphemy case against Asia Bibi is considered the most notorious case in the country as it led to murder of Punjab governor Salman Taseer by his own security guard.
As the governor of Punjab, Taseer had visited Asia Bibi in the prison prison in 2010.
In a televised press conference, with Asia sitting veiled beside him, Taseer had appealed to the president of Pakistan to pardon her.
Only a few weeks later, Taseer was assassinated in broad daylight by his own security guard.
In the middle of Islamabad's busy Kohsaar market, Malik Mumtaz Hussain Qadri, a young police commando, shot the governor 27 times at point-blank range.
Overnight, Qadri became a hero to millions. Handing himself over to the authorities, Qadri told the police he did not have any regrets over killing Taseer — that it was his religious duty.
Protest actions
Qadri was sentenced to death, and hanged to death in 2016, triggering protest across the country by the TLP leadership.
Asia Bibi was acquitted of blasphemy charges by the Supreme Court on October 31, 2018, after spending nine years in jail on death row. The ruling sparked country-wide protests by religio-political groups especially by the TLP.
After she was released from a Multan women's prison on November 7 last year, she was flown to Islamabad via special aircraft, and then taken to an undisclosed location amid tight security until her departure to Canada last week.
The allegations against Asia Bibi were made in June 2009 when she was labouring in a field and a row broke out with some Muslim women she was working with.
She was asked to fetch water, but the Muslim women reportedly objected, saying that as a non-Muslim she was unfit to touch the water bowl.
A few days later, the women went to a local cleric and put forward the blasphemy allegations, which Pakistan's Supreme Court threw out for lack of evidence.
https://gulfnews.com/world/asia/pakistan/pakistan-two-firebrand-clerics-get-bail-in-sedition-case-1.1557823442673
--------
Churchgoers cowed by Islamist bullies in Bangladesh
May 14, 2019
In January, a group of masked men blocked some Catholic villagers who were heading home from a church liturgy about 80 kilometers west of the Bangladeshi capital of Dhaka and gave them a beating so severe at least one was hospitalized.
The man was so traumatized by the attack that when he was discharged, he sought refuge in another church-run sanctuary near his home in Uthali of Manikganj District for a month.
Other villagers were too scared to revisit the church until police were deployed there and started conducting patrols in its vicinity, according to Father Thomas Corraya, who reported the mob attack to the authorities.
"Things are much better now and we've been assured of more support from the police," said the prelate, who serves as the resident priest for around 600 Catholics in Uthali.
However, he admitted he is still wracked with fear whenever he sets off for faraway villages to offer pastoral services — never knowing if he will return home unscathed or in one piece, if at all.
Radical Islamist anger
All of the victims in the January attack had recently converted from Islam. Some had reportedly received death threats from local Muslims after the church welcomed 12 new Catholic converts in November.
Father Corraya said Uthali had been a "troublesome area" for a long time before the beatings occurred.
"Our constitution guarantees freedom of religion and anyone can convert to whatever religion as they wish," he said.
"The problem is that Bangladesh is a Muslim-majority country and when Muslims convert to other religions, it offends the sentiment of other Muslims."
Mizanur Rahman, the chief of Shibaloy police station, under whose jurisdiction Uthali falls, said his investigation had not concluded the attack was motivated by anger over the victims' recent conversion.
"That being said, we are ready to assist the Church and Christian community in the area. Police have been deployed to secure the Church and Christians will be protected."
Converting to other faiths is legal and nothing new in this part of the world, said Father Albert T. Rozario, a Supreme Court lawyer and legal adviser of Dhaka Archdiocese, which covers Uthali.
"Once upon a time, all people in this land were Hindus, and then they embraced other faiths including Islam, Christianity and Buddhism," he said. "People are free to choose and practice their faith, but everything must be done the right way and not through proselytizing for material gain."
He said few people convert to Catholicism and the number remains roughly the same each year.
"We don't encourage it, unless people approach us and follow due procedure," Father Rozario noted.
Christians account for less than one percent or 600,000 of the country's 160 million people. Catholics numbered about 350,000 as of 2017.
A small community
In Uthali, the church's congregation has grown in recent decades thanks to an influx of migrant workers and converts from Islam and Hinduism thanks to the preaching of Protestant and Catholic missionaries.
The Bangladesh Baptist Fellowship Church operated in the area from 1988-1997 but is believed to have shut down due to heavy opposition from local Muslims.
Catholic missionaries from the Milan-based Pontifical Institute for Foreign Missions (PIME) stepped in to fill the vacuum the following year and remained active there until 2015.
During that period, missionaries set up a new church, two schools and two hostels to strengthen the Catholic Church's presence in the area.
Local diocesan priests replaced PIME missionaries in 2015, at a time when Bangladesh was experiencing a rise in Islamic militancy.
Extremists pledging allegiance to global terror outfits like Al-Qaeda and the so-called Islamic State have murdered about 50 people including atheist writers, liberal academics, gay activists, foreigners and religious minorities in various parts of Bangladesh since 2013.
They have also issued death threats to Catholic bishops, priests, other Christian leaders, and aid workers based in various parts of Bangladesh.
In 2015, church officials had to transfer Father Dominic Rozario from Uthali to the capital Dhaka after masked men raided his church at night looking after him.
Their motive remains unknown, but it is presumed the priest's missionary activities in Uthali and other parts of Dhaka Archdiocese made him a target.
In November of that year, an Italian priest was shot in northern Bangladesh — the third attack on foreigners in months.
"In every country, minority communities face various threats from the dominant group," Father Albert Rozario said.
"This is something we have to live with. We remain vigilant and seek protection from the authorities when we need it."
https://www.ucanews.com/news/churchgoers-cowed-by-islamist-bullies-in-bangladesh/85142
--------
Ramadan unites Christians and Muslims in Egypt
10/05/2019
A group of Muslims and Christians have come together in Egypt to give their time to help the needy of society.
In the Cairo district of Masr El-Qadima, they are putting together Ramadan boxes, filled with basic food items and provisions, which have been donated by volunteers.
For the past three years, landlord Atef William has been hosting the activities of an organization called "Helm Establ Antar", meaning the dream of Establ Antar, the area where it takes place.
"We are all equals, we are Egyptians," he says. "I was brought up not to differentiate between people on the basis of religion."
Much like Masr El-Qadima, the middle-class district of Shobra is considered to have a high level of social coexistence with friendly residents.
Gamil Banayouty is a Christian. He organises an iftar tent that has been set every Ramadan for the last 40 years. He works alongside elderly men who were teenagers when the activity first started.
"Our Ramadan table is called the National Unity Media, and it's open to everyone - Muslims, Christians, we don't differentiate," he explains. "As for me, I've been attached to the month of Ramadan since the October War [1973 Arab–Israeli War]. I was an officer, and we were fighting during Ramadan, and I could not not fast with my soldiers. "
Banayouty and his neighbours are very proud to have kept the iftar activity going for such a long time and they continue to reap the reward of the unity it brings between their community.
https://www.euronews.com/amp/2019/05/10/ramadan-unites-christians-and-muslims-in-egypt?fbclid=IwAR3ozS26plZMWyw4n_TlIDWFwZFKi8BDspAgjKnxWurbKWuQii_ocaawDp0
--------
New app assesses Islamic preachers in Gaza
Rasha Abou Jalal
May 13, 2019
GAZA CITY, Gaza Strip — Gazans can now search for their preferred Islamic preachers and rate their Friday sermons. The Information Technology Department at the Hamas-affiliated Ministry of Religious Endowments in the Gaza Strip launched April 29 "Al-Khotaba wal-Wiaz" ("Preachers and Sermons") smartphone application.
The app, which is currently only available on Google Play, allows users to assess the performance of preachers and post feedback on Friday sermons, which are considered the most significant weekly religious event for Muslims. Efforts are currently underway to make the app available for iPhone users in the App Store.
According to Nael al-Dahshan, planning and policy director at the Ministry of Religious Endowments, the app allows users to track their preferred preachers and locate the mosque in which they are leading Friday prayers.
Dahshan told Al-Monitor that preachers are evaluated by a system of one to five stars: unacceptable (one star), acceptable (two stars), good (three stars), very good (four stars) and excellent (five stars), which is also available on the platform Khotaba that was launched by the ministry in January 2018.
App users can also receive a reminder on Thursday evening of Friday prayers and the name of the mosque where their favorite preacher will deliver the sermon. In addition, a reminder of the five daily prayers can be activated, with the option to set the azan (call to prayer) as the reminder ringtone. Attending the Friday sermon is a religious obilgation in Islam.
Yousef Farhat, director of the ministry's Department for Preaching and Guidance, told Al-Monitor that the app includes a biography of each preacher indicating his certificates of Islamic studies and years of experience, "which helps worshippers choose a preferred preacher."
He said, "Most importantly, the app — aimed at improving preachers' performance — allows the Ministry of Religious Endowments to learn more about each preacher and how the public is receiving the weekly religious sermons. When a preacher gets more than one negative feedback at more than one mosque, the ministry will form a special committee to follow up on the evaluation."
Farhat added, "When a preacher fails to deliver a strong, convincing sermon and gets negative feedback on the app, the ministry will surely let him go. We will not keep any unqualified preachers."
He explained that Friday sermon preachers ought to demonstrate in-depth knowledge in Islamic and general culture, a high-level of memorization of the Quran and the prophet's hadith or sayings, a convincing eloquent style and a complete distance from partisan and political speeches in favor of certain political parties.
"This app is great as it allows worshippers to rate preachers and give feedback of their performance right after the end of the sermon to the Ministry of Religious Endowments," Ismail al-Aklouk told Al-Monitor. "Sometimes during the sermon, preachers provide false historical or Islamic information. Many worshippers feel the urge to correct them but interrupting the sermon is not permissible."
Aklouk believes that the app serves both worshippers and preachers, as it allows users to assess sermons and it is an opportunity for the preachers to see the worshippers' ratings and feedback.
Sameh al-Bazm told Al-Monitor, "The internet has contributed to the enrichment of religious content on religious websites. Preachers are no longer the only source of religious and faith information. Today worshippers look for distinctive preachers who manage to reinvent themselves and with a deep Islamic culture [whose sermons they decide] to listen to during Friday prayers."
Bazm said, "There is growing dissatisfaction among worshippers toward preachers who mix politics and religion and use their platforms to support or defend a certain political party from a very personal perspective, which is getting really annoying."
He added that the app is very useful to track the best-ranking preachers who distance themselves from partisan and political discourse and to submit a complaint about politically charged sermons or extremist and hate speeches upholding negative messages, such as ostracizing non-Muslims, for instance.
Kayed Murtaja, a resident of Gaza City, told Al-Monitor that he is surprised by the Gaza authorities' interest in launching an app to assess the religious performance of preachers and to develop religious institutions. However, he would like to see apps developed for other government services, too.
"I am all for a religious app given the religious nature of Palestinian society, but why not launch similar apps to develop other government services and to assess the performance of public workers in the different public departments, especially in the ministries of Education and Health," he noted.
According to the Department for Preaching and Guidance, the Gaza Strip has 888 mosques and 1,341 preachers, 965 of whom hold Islamic religious certificates and 376 various other academic degrees.
https://www.al-monitor.com/pulse/originals/2019/05/mosques-islamic-preachers-application-smartphone.html
--------
New Zealand Seeks Global Support for Tougher Measures on Online Violence
By Charlotte Graham-McLay and Adam Satariano
May 12, 2019
WELLINGTON, New Zealand — Prime Minister Jacinda Ardern of New Zealand will attempt this week to use the terrorist attack that killed 51 Muslim worshipers in Christchurch mosques in March to demand that the biggest internet platforms do more to stamp out violent and extremist content.
Ms. Ardern will be in France with President Emmanuel Macron to sign an agreement they crafted called the "Christchurch Call" that asks the social media giants to examine the software that directs people to violent content, and to share more data with government authorities and each other to help eradicate toxic online material, according to officials from New Zealand and France involved in drafting the proposal.
The accused gunman's use of social media to live stream his rampage in New Zealand and to share a hate-filled manifesto crystallized the vulnerability of internet platforms to extremist and violent views.
Ms. Ardern's effort adds momentum to a global push to curb the power of the world's largest internet platforms.
But even as policymakers agree that something needs to be done, there's little consensus on what to do. From London to New Delhi, governments are drafting laws with differing approaches to regulating the internet, raising concerns in some quarters that the rules may, in some cases, go too far and hinder free expression.
Ms. Ardern has argued that a coordinated global approach is needed. The signing of the Christchurch Call was organized around a meeting of digital ministers from the Group of 7 nations this week in Paris.
Representatives from Facebook, Google, Microsoft and Twitter are among those scheduled to attend the summit on Wednesday hosted by Mr. Macron and Ms. Ardern. Facebook, Google and Microsoft said they would sign the pledge. Twitter declined to comment.
A number of nations are expected to sign on to the nonbinding pledge, including Britain, Canada, Jordan, Senegal, Indonesia, Australia, Norway and Ireland, according to officials involved in drafting the accord. The United States, which has been reticent to regulate the internet out of concerns it will harm free speech, is not among the expected signers.
The pledge does not contain enforcement or regulatory measures. It will be up to each country and company to decide how to carry out the commitments, according to two senior New Zealand officials involved in the drafting, who spoke on the condition of anonymity because the exact wording of the pledge was still being finalized.
Social media companies will be left with the thorny task of deciding what constitutes violent extremist content, since it is not defined in the accord.
"We share the commitment of world leaders to curb the spread of terrorism and extremism online," Nick Clegg, Facebook's vice president for global affairs, said in a statement. "These are complex issues and we are committed to working with world leaders, governments, industry and safety experts at next week's meeting and beyond on a clear framework of rules to help keep people safe from harm."
Mark Zuckerberg, Facebook's chief executive officer, was in France last week to meet with Mr. Macron to discuss internet regulation. France has proposed laws that would appoint a new government regulator to oversee internet platforms and punish companies for hosting hate speech and violent content.
Ms. Ardern has been attempting to build a global consensus on reining in violence and extremism social media since the March 15 attacks, in which the Australian man accused of the shooting — who faces dozens of murder and attempted murder charges — broadcast part of the massacre live on Facebook.
Earlier this month, she said she wanted action that went beyond "takedown policies that are enforced through government regulation."
"So much of what we're trying to do is about preventing these platforms being used in that way at all," Ms. Ardern said.
While the pledge isn't enforceable, Ms. Ardern and Mr. Macron hope an accord tied to the Christchurch massacre will prod the internet companies into action. If improvements aren't made, the officials said, tougher mandatory regulations loom.
The pledge asks for several commitments from technology companies, including robust enforcement of their terms of service, reducing the risks of live streaming and sharing research about the software that flags objectionable content. Versions of the gunman's video have remained on Facebook and Instagram since the attacks.
The social giants must also promise to re-evaluate their algorithms that direct users to extremist content, and commit to redirecting people looking for extremist material. Instagram has deployed that measure to help users searching images of self-harm.
Under the agreement, governments must make a range of promises, including adopting and enforcing laws that ban objectionable content — as New Zealand did in the wake of the attacks by making the possession or sharing of the gunman's video a crime — and setting guidelines on how traditional media outlets can report terrorism without amplifying it.
New Zealand officials visited the United States for meetings at the White House and the State Department to urge the administration to join the pact. Officials also visited the headquarters of technology companies, said a senior New Zealand official who attended the meetings.
Concerns from American officials included how the pledge would affect First Amendment rights to free speech, several officials said. Ms. Ardern has said she was deliberately avoiding a broader debate about hate speech to focus the pledge narrowly on violent content.
"This isn't about freedom of expression; this is about preventing violent extremism and terrorism online," she said last month. "I don't think anyone would argue that the terrorist had a right to live stream the murder of 50 people."
Correction: May 13, 2019
An earlier version of this article said misstated Australia's expected position on the new measures. It is expected to sign on to the nonbinding pledge.
Charlotte Graham-McLay reported from Wellington, New Zealand, and Adam Satariano from London.
https://www.nytimes.com/2019/05/12/technology/ardern-macron-social-media-extremism.html
--------
North America
American Nazis protested a Holocaust remembrance event. A university's scholarship is part of the reason why.
May 12, 2019
(CNN)For the past five years, Joyce Griffis and Congregation Chaim B'Derech have held a Holocaust March for Remembrance in Russellville, Arkansas. It's always been solemn and peaceful.
This year's march was supposed to be like all the others; attendees would march down Main Street, listen to speeches and offer prayers to commemorate and remember the 6 million Jews murdered by the Nazis during World War II.
Except white supremacists showed up holding Nazi flags, marching down an otherwise deserted sidewalk and signs that read, "The Holocaust didn't happen but it should have," while screaming references to Holocaust victims as "your imaginary 6 million."
The white supremacists carried crosses -- at least one was stained red -- alongside a picture of Jesus.
About 10 to 15 protesters tried to disrupt the event; they were outnumbered by the roughly 50 people attending the Holocaust Remembrance march.
They marched for Holocaust victims but were flanked by Nazi flags
Griffis said she had heard rumors that her event in remembrance of Holocaust victims would be protested by white supremacists. Two days before the event, the rumor became reality -- the police chief in Russellville, some 77 miles northwest of Little Rock, called telling her there would be protesters while she and others gathered to remember.
Although Griffis admits that it did make her nervous, there was never any thought of canceling the event.
"If I were the only person there, I would be there," she told CNN. "That is why the Holocaust happened in the first place -- good people saying nothing."
She estimates about 50 people attended her event along with roughly 10 to 15 protesters -- many of whom wore face coverings, according to video from the event.
Arkansas State Police troopers escorted the remembrance marchers as they made their way through the roughly half-mile route around the center of Russellville.
As they marched, the white supremacist group followed with Nazi flags and placards in hand. Amateur video from the march shows one protester flashing a white power hand sign.
CNN sent protest organizer Billy Roper a number of questions in the days after the protest, but he has not responded. On his blog, he says he organized his group to protest what he called an "anti-Christian Holocaust Remembrance March."
Protesters tried to shout down Jewish WWII vet
Returning to the event's main stage, the speeches Griffis had organized began as the protesters' yelling continued.
Beryl Wolfson, 96, a Jewish WWII veteran, was first to speak. He saw the horrors of the Holocaust directly as he helped liberate the Nazi concentration camp at Dachau in Germany .
"We opened up the boxcars and there were bodies of men, women and children stacked up in those boxcars," Wolfson said slowly, recounting his experience.
As he spoke on Sunday, protesters holding flags emblazoned with the same Nazi swastika as the banners he had helped tear down decades earlier tried to interrupt his speech with shouts and megaphones.
They called the next speaker, Arkansas Tech University English professor Sarah Stein, out by name.
"I have never had an experience like that, but I knew that I had to speak for my people and for all people who white supremacists would wish to oppress or destroy altogether," she told CNN later. "I stood up to them for the same reason I'm standing against the scholarship at my university."
Arkansas Tech scholarship controversy is part of white supremacist protest
The scholarship that Stein referred to was the focal point of Roper's call for others of a like mind to join him in marching, shouting and sloganeering against the Holocaust remembrance group.
Controversy over the new scholarship at Arkansas Tech University in Russellville named for a now-deceased professor, Michael Link, has grown into a groundswell of opposition from the Anti-Defamation League and Jewish leaders.
Link purportedly taught that Holocaust denial is a valid historical viewpoint.
CNN has obtained a 2005 confidential letter sent to the university president at the time, Robert Brown, from James Moses, a history professor at the school. The letter accuses Link of assigning materials during a graduate seminar that said that the Holocaust never happened.
In an email to CNN, Moses confirmed he wrote the letter. Although Moses said he didn't know Link's intent with the assignment when he sent the letter, he assumed the worst and he wanted to get the administration's attention so they'd "derail" the seminar. Moses told CNN that when Link was confronted, he "denied any attempt to deny the Holocaust," and instead claimed he was trying to "offer the widest possible range of views on the event."
The administration was "not satisfied" with Link's explanation, according to Moses, so it took action. He says that Link was "disciplined in as severe a means as was available short of his firing."
Moses says Link -- who was tenured at the time -- was removed from the graduate faculty and barred from teaching any courses the following semester.
The graduate seminar did continue, but the Holocaust was removed as a topic and the disturbing reading material was removed from the course, according to Moses.
The university refused to confirm that Link was disciplined following the letter, saying it doesn't confirm, deny or comment on personnel disciplinary matters.
Moses stressed this was the only accusation against Link he knows of. He said he believes Link's intent in 2005 was "probably" to present Holocaust denial as a legitimate, "valid historical viewpoint."
Current university president Robin E. Bowen told CNN in a statement that the university does not condone teaching anti-Semitism or Holocaust denial.
"Multiple generations of Arkansas Tech University students learned history from Dr. Michael Link," the university said in a statement announcing the scholarship for the professor who taught for 51 years until his death in 2016. "Provisions in his will and estate plan have ensured that his influence at ATU will continue well into the future."
And so a scholarship bearing Link's name will be awarded annually to a senior history major who has financial need.
That's why Sarah Stein is helping lead the fight against the scholarship, and why Roper and his men singled her out as she spoke at the Holocaust remembrance .
University says it will keep the scholarship
Arkansas Tech has come under increased pressure after the Anti-Defamation League, state Jewish leaders and more than 40 Holocaust scholars wrote a letter on April 18 to the university, asking that school officials reconsider the scholarship, which has yet to be awarded.
The 2005 letter and Link's own writing were cited in that letter.
Student protesters also have demanded the university to reverse its decision, according to CNN affiliate KLRT.
"Accurately assessing the entirety of another person's life after it is complete is a difficult, and perhaps impossible, task," Bowen told CNN in a statement. "We have taken the concerns seriously and have reviewed the evidence at hand. Through our process, we have not found evidence supporting the claims against the late Dr. Michael Link."
There are no plans to return the funds, the university says, and the name of the scholarship will remain.
https://edition.cnn.com/2019/05/11/us/american-nazis-arkansas-tech-trnd/index.html
--------
Trump: It would be big mistake for Iran to try anything against US
13 May 2019
US President Donald Trump warned on Monday Iran would "suffer greatly" if it targeted US interests after Washington deployed an aircraft carrier and more jet fighters at a time of rising tensions with Tehran.
"We'll see what happens with Iran. If they do anything, it will be a very bad mistake," Trump told reporters at the White House. "If they do anything they will suffer greatly."
Trump's comments came after the United Arab Emirates reported four commercial vessels had been sabotaged on Sunday near Fujairah emirate just outside the Strait of Hormuz. Iran sought to distance itself from the incident.
Washington withdrew last year from a 2015 pact between Iran and global powers aimed at reining in Tehran's nuclear plans. Since then, the United States has ratcheted up sanctions on Iran, saying it wanted to reduce its oil exports to zero.
Full report at:
https://english.alarabiya.net/en/News/gulf/2019/05/13/Trump-It-would-be-big-mistake-for-Iran-to-try-anything-against-US.html
--------
EU warns against 'military escalation' over Iran
May 13, 2019
The European Union strongly advises avoidance of any "military escalation" against Iran as the United States keeps piling pressure on the Islamic Republic and trying to force other countries to follow suit.
EU foreign policy chief Federica Mogherini made the remarks in Brussels on Monday after a meeting of the bloc's foreign ministers. The summit was crashed by US Secretary of State Mike Pompeo, who reportedly tried to sell Washington's hard line on the Islamic Republic.
Mogherini, however, argued that "maximum restraint and avoiding any escalation on the military side" would be "the most responsible" course of action.
"Pompeo heard that very clearly today from us, not only from myself, but also from the other ministers of EU member states," she added. The top US diplomat had to shave a day off a planned visit to Russia to jet into the summit.
"We are living in a crucial delicate moment," Mogherini noted, adding, "We, as you know, as the European Union, always encourage dialog and diplomatic engagement. This has always been our commitment. This is what we are practicing, including with Iran."
Pompeo is the alleged brain behind the administration of US President Donald Trump's policy of "maximum pressure" against Iran. The policy also has National Security Adviser John Bolton as the person trying his best to escalate it into military conflict.
Employing the approach, the US left a multi-lateral nuclear deal with Iran, which has the UK, France, Russia, China, and Germany as its other signatories, last year. It then reinstated the sanctions that had been lifted under the accord. The moves came while the deal had been ratified in the form of a United Nations Security Council resolution, making Washington culpable for violating international law.
Washington has also been trying to reduce Iran's oil exports to "zero," and sent an aircraft carrier strike group, a bomber squad, an amphibious assault ship, and a Patriot missile battery to the Middle East to try to stack up pressure on Tehran.
The Europeans have, time and again, declared that they would be staying true to the deal and make up for the US' withdrawal from the agreement.
Mogherini likewise said, "There is full determination on the European Union's side, and also all the member states expressed that today very clearly on continuing to implement it at full the nuclear deal with Iran."
Iran, however, has complained about Europe's failing to act on its verbal support for the deal by continuing trade with Iran despite the US sanctions.
On May 8, Iran's President Hassan Rouhani announced a decision made by the Supreme National Security Council, the country's top security body, to suspend the implementation of some of the Islamic Republic's commitments under the multinational agreement.
The EU official claimed the Brussels meeting saw the ministers addressing ways to conduct financial transactions with the Islamic Republic despite the bans.
In January, the UK, France, and Germany announced the Instrument in Support of Trade Exchange (INSTEX), a non-dollar direct payment channel with Tehran.
Full report at:
https://www.presstv.com/Detail/2019/05/13/595876/Iran-European-Union-warning-military-escalation-United-States-Pompeo
--------
AFCENT confirms first B-52 bombers' mission in anti-Iran deployment
May 13, 2019
The B-52H Stratofortress bombers, sent to the Middle East amid the United States' anti-Iran deployment, have carried out their first mission, says the US Air Forces Central Command.
AFCENT said in a brief statement on Monday that the mission was launched from a US base in Qatar Sunday.
"This was the first mission of the Bomber Task Force deployed to U.S. Central Command area of responsibility in order to defend American forces and interests in the region," read the statement, released along with purported images of the mission.
The announcement came as US officials were stepping up rhetoric against Tehran in the wake of US unilateral pressure.
Islamic Revolution Guards Corps (IRGC) aerospace division General Amir Ali Hajizadeh asserted Sunday that the US forces stationed in the Persian Gulf "will be hit on the head" if they make a mistaken move.
No 'happy people' in Iran, Trump threatens
President Donald Trump has, for his part, claimed Iranians "will suffer greatly" if "they do anything" against the US.
"We'll see what happens with Iran, if they do anything it will be a very bad mistake if they do anything. I'm hearing little stories about Iran if they do anything they will suffer greatly we'll see what happens with Iran," Trump said at a meeting with Hungarian Prime Minister Viktor Orban in the Oval Office of the White House. "We'll see what happens. It's going to be a bad problem for Iran if something happens I can tell you that, they're not going to be happy, they are not going to be happy people. You can figure it out yourself. They know what I mean by it."
An anonymous US official has also been quoted by Reuters throwing baseless accusations against Tehran in the wake of a "sabotage operations" against tankers near the United Arab Emirates.
The official acknowledged that Washington has no conclusive proof showing that Tehran carried out attacks against the four tankers.
"This is what Iran does ... The sort of thing you could see Iran doing ... It fits their M.O. (modus operandi)," the official reportedly said on condition of anonymity.
Acting Defense Secretary Patrick Shanahan told reporters Friday that the US was sending a Patriot missile battery and the USS Arlington amphibious transport dock to the region.
Full report at:
https://www.presstv.com/Detail/2019/05/13/595877/US-B52s-conduct-first-antiIran-mission
--------
Diyanet Mosque in US suffers large-scale damage
Betul Yuruk
14.05.2019
NEW YORK
An arson attack over the weekend on a mosque in the U.S. state of Connecticut caused "large-scale damage," an official Turkish body said Monday.
In a statement, the Religious Services Attache of the Turkish Consulate General in New York said an investigation is underway into the fire at Diyanet Mosque in the city of New Haven and efforts are continuing to catch the perpetrators.
The fire occurred around 4 p.m. Sunday, the seventh day of Ramadan, a holy month during which Muslims fast and pray. Fasting is one of the five pillars of the religion of Islam.
A reward of up to $2,500 has been offered for any information that leads to the arrest or conviction of the perpetrators, according to officials.
The statement said the fire started at the mosque's entrance and reached the third floor through the exterior side of the building.
"There was no loss of life or injury in the fire, but it is determined that the mosque has suffered large-scale damage. Tons of water used to put out the fire [also] caused damage to the building's unburnt part," it said.
The incident saddened the Turkish community in the United States, primarily in New Haven, the statement added.
Turkish Foreign Minister Mevlut Cavusoglu called the arson "heinous" and said the perpetrators should be identified and "sentenced swiftly".
Full report at:
https://www.aa.com.tr/en/americas/diyanet-mosque-in-us-suffers-large-scale-damage/1477535
--------
India
ISIL claims 'province' in India, officials call it 'propaganda'
12 May 2019
The Islamic State of Iraq and the Levant (ISIL, also known as ISIS) has claimed for the first time that it has established a "province" in India, a claim that police in India-administered Kashmir have described as "pure propaganda".
The ISIL claim followed a clash between armed rebels and security forces in the disputed Kashmir region in which a fighter with alleged ties to the group was killed on Friday.
Late on Friday, ISIL's Amaq News Agency said in a statement that it called the new province "Wilayah of Hind", and also claimed the group inflicted casualties on Indian army soldiers in the town of Amshipora in India-administered Kashmir's Shopian district.
The ISIL statement corresponded with an Indian police statement on Friday that an armed rebel called Ishfaq Ahmad Sofi was killed in an encounter in Shopian, Reuters news agency reported on Saturday.
"This is pure propaganda. The militancy part of the ISIL is over in Kashmir completely. However, the ideological inclination is there to some extent," a senior police official in India-administered Kashmir told Al Jazeera on condition of anonymity.
The police officer added that Sofi was the last ISIL fighter in Kashmir. "One more was there but he joined another armed group," he said.
Rita Katz, director of the SITE Intel Group that tracks armed fighters, told Reuters that the ISIL claim "should not be written off".
"The establishment of a 'province' in a region where it has nothing resembling actual governance is absurd, but it should not be written off," said Katz.
"The world may roll its eyes at these developments, but to jihadists in these vulnerable regions, these are significant gestures to help lay the groundwork in rebuilding the map of the ISIL 'caliphate'."
Claim to bolster standing?
ISIL's statement establishing the new province appeared to be designed to bolster its standing after the group was driven from its self-styled "caliphate" in Iraq and Syria in April, where at one point it controlled thousands of miles of territory.
ISIL has stepped up hit-and-run raids and suicide attacks, including taking responsibility for the Easter Sunday bombings in Sri Lanka that killed at least 253 people.
Sofi had been involved in several rebel groups in Kashmir for more than a decade before pledging allegiance to ISIL, according to a military official and an interview given by Sofi to a Srinagar-based magazine sympathetic to ISIL, Reuters said.
He was suspected of several grenade attacks on security forces in the region, police and military sources said. "It was a clean operation and no collateral damage took place during the exchange of fire," a police spokesman said in the statement on Friday's encounter.
The military official said it was possible that Sofi was the only fighter left in Kashmir associated with ISIL.
Separatists have for decades fought an armed conflict against Indian rule in Muslim-majority Kashmir. The majority of these groups want independence for Kashmir or to join India's archrival Pakistan.
They have not, like ISIL, sought to establish an empire across the Muslim world.
Nuclear powers India and Pakistan have fought two wars over Kashmir, and came closer to the brink of a third earlier this year after a suicide attack by a Pakistan-based group killed at least 40 paramilitary police in the Indian-administered portion of the Himalayan territory.
A spokesman for India's home ministry, which is responsible for security in India-administered Kashmir, did not respond to a request for comment, Reuters said.
https://www.aljazeera.com/news/2019/05/isil-claims-province-india-officials-call-propaganda-190512092230131.html
--------
Strong polling in areas dominated by Muslims could influence results in Delhi
May 14, 2019
NEW DELHI: While Delhi registered an overall turnout of 60.5% in the Lok Sabha polls — lower than the 65.1% seen in 2014 — in what could have a significant impact on the results, the constituencies with a sizeable population of Muslims saw an impressive voting percentage.
While Ballimaran reported 68.3% polling, Matia Mahal and Seelampur were not far behind at 66.9% and 66.5%, respectively. Trilokpuri polled 65.4%, Mustafabad 65.2%, Babarpur 62.1% and Chandni Chowk 59.4%. Okhla was one of the exceptions, recording a much lower 54.8% turnout.
Much of the Muslim vote is likely to go to either Congress or AAP, but insiders in both parties are worried about a vote-split actually helping BJP. At the same time, Congress is confident of doing well, assuming that people would prefer voting for a national party with the larger picture in the mind.
Some voters TOI spoke to said that while the AAP government in Delhi had done some good work, national agendas mattered more in the Lok Sabha elections. But there were some who claimed that they had gone for the Arvind Kejriwal-led party because of the development work done by it in the capital.
Experts, meanwhile, blamed a "weakening connect" between voters and candidates for the dip in the overall figures. "Leaders have overshadowed candidates during campaigning and local issues have not been highlighted properly. Also, heat could have forced many people to stay home," said Ravi Ranjan, who teaches political science at DU.
The highest turnout was seen in North East Delhi constituency at 63.45% whereas New Delhi was at the bottom with a disappointing 56.9%. North East has large pockets of unauthorised colonies populated by migrants from Bihar and eastern UP.
New Delhi, on the other hand, is a predominantly urban constituency, dominated by government employees, traders and middle-class voters.
Shakur Basti, under Chandni Chowk constituency, populated mainly by working middle-class, traders and slum voters, saw the highest turnout among all assembly segments at 68.7%. Delhi Cantonment was at the other extreme, at 42.1%.
The middle-class vote is likely to be divided between the three parties. Those voting for BJP have been attracted by the Modi factor and the party's pitch of a strong leadership for national security. Others have appreciated the work done by AAP government in education and health sectors. Congress, on the other hand, is banking on "change" at the central level.
Full report at:
https://timesofindia.indiatimes.com/india/strong-polling-in-areas-dominated-by-muslims-could-influence-results/articleshow/69314990.cms
--------
Iranian foreign minister on India visit to lobby support against US
May 13, 2019
Iranian foreign minister Javad Zarif arrived in New Delhi late on Monday on an unscheduled visit to lobby for India's support in the face of rising tensions between Iran and the US, people familiar with developments said.
Zarif last visited India in January, and the current trip was organised at short notice at Tehran's request, the people cited above said. Zarif will meet external affairs minister Sushma Swaraj on Tuesday morning before leaving India in the afternoon.
India has been hit by the US decision to end exemptions to sanctions on Iranian oil imports. Tehran was among New Delhi's top three energy suppliers, providing 23.6 million tonnes of oil last year, or about 10% of the country's energy needs.
The sanctions were imposed after President Donald Trump withdrew the US from the 2015 nuclear deal between Iran and world powers. Last week, Iran said it would begin enriching uranium at higher levels within 60 days if the world powers failed to agree on new terms for the nuclear deal.
The US sanctions on Iranian oil imports and the tensions between Tehran and Washington are expected to figure in talks between Zarif and Swaraj. Zarif is expected to brief the Indian side on his country's position on the tensions.
Iranian ambassador Ali Chegeni said last week that while India will decide on future oil imports according to its national interests, New Delhi is not expected to ignore a reliable energy supplier such as Tehran.
Chegeni also said India, as a country that welcomed the Iran nuclear deal and as a "big partner of the US", should "defend the deal" and talk to the Americans about the need to protect the arrangement.
The Iran-US tensions spiked after Washington said Tehran was preparing for some kind of an attack and dispatched warships, including an aircraft carrier, and B-52 bombers, to the region. Iran has vowed to retaliate if it is attacked.
Full report at:
https://www.hindustantimes.com/india-news/iranian-foreign-minister-on-india-visit-to-lobby-support-against-us/story-6adPRX86yfWOAj3zwtBcfL.html
--------
SC junks plea to advance voting time for Ramzan
May 14, 2019
New Delhi: The Supreme Court on Monday refused to entertain a petition seeking advancement of voting time from the scheduled 7 am to 4.30-5 am to allow Muslims to vote before beginning their Ramzan fast.
A bench of justices Indira Banerjee and Sanjiv Khanna dismissed a plea by advocate Mohd Nizamuddin Pasha who had challenged Election Commission's refusal to accede to his request. He said given the heatwave conditions, it would be better if the voting time was advanced to 4.30-5am so that Muslims who fasted during Ramzan could vote early.
Full report at:
https://timesofindia.indiatimes.com/india/sc-junks-plea-to-advance-voting-time-for-ramzan/articleshow/69316232.cms
--------
Two suspected LeT terrorists arrested
May 13, 2019
JAMMU: Two youngsters suspected to be terrorists from South Kashmir with intensions of joining the Lashkar-e-Taiba (LeT) were arrested early on Monday in Ramban district. One AK-47 rifle, ammunition and Indian currency was also recovered from their possession.
Police sources said the arrest was made during a joint operation by Police Component (Gool), 58 Rashtriya Rifles and 9 Para (special forces) at about 3.30am in the Hara area of Gool, following a tip-off about suspicious movements in the area.
The two youngsters have been identified as residents of Awantipore in Pulwama and Malipura in Kulgam. "Sources confirmed that both intended to join terrorist cadre of Lashkar-e-Taiba," said Lt Col Abhinav Navneet, PRO (Defence) Udhampur.
Police sources said they were acting on the instructions of Naveed (alias) Abu Talla, an active militant of LeT.
"The timely apprehension of suspected terrorists and recovery of war-like stores has thwarted the nefarious design of terrorist organization to spread the 'Arc of Terrorism' south of Pir Panjal Range," Col Navneet stated.
One AK-47 rifle, 30 rounds and a magazine, and Rs 8771 in Indian currency were recovered from their possession, cops said.
Full report at:
https://timesofindia.indiatimes.com/india/two-suspected-let-terrorists-arrested/articleshow/69313994.cms
--------
Pakistan
With economy in doldrums, Pakistan Army's Imran Khan project is failing
May 13, 2019
Pakistan's government and its army handlers are in a disarray. And the reason is not some concerted domestic political opposition or foreign pressure; it is the sheer incompetence of the army's political protégés and the outfit's ignominious tradition of biting off more than it can chew.
Pakistan's economy is in a virtual free-fall and the blame for it rests squarely with the army, which had upset the applecart of democracy by engineering former Prime Minister Nawaz Sharif's ouster in 2017. Within a span of the past few weeks, finance minister Asad Umar – touted for a decade as the economics whiz-kid – was unceremoniously shown the door, the State Bank of Pakistan's governor eased out and the chairman of Federal Bureau of Revenue was fired.
In the face of a massive economic turmoil, cricketer-turned-politician Imran Khan's Pakistan Tehrik-e-Insaf (PTI) government, which was virtually installed into power by the country's powerful army last year through a stolen election, is running around like a chicken with its head cut off. Most, if not all, economic indices are headed in the wrong direction. The GDP growth has taken a nosedive from 5.4% in 2017 to 3.9% in 2019, while inflation skyrocketed from 4.2% in 2017 to 9.4% now and is projected to hover above 7% for the next fiscal year as well.
The measly economic growth puts Pakistan at number six among its South Asian peers – a notch above Sri Lanka and Afghanistan – but behind even Nepal and Bhutan. The country has consistently trailed India and Bangladesh on economic growth and human development indicators for years on end. About a quarter of the country's over 220 million population is living below the national poverty line and over 22 million children remain out of school.
Faced with about $18 billion in fiscal shortfall, the PTI and the army approached the issue with hyper-nationalist posturing; the government first claimed that it won't seek assistance from the International Monetary Fund (IMF) and then dithered over it for months. The civil-military combine had put great hopes in the so-called all-weather friends China, the Saudis and the UAE for a bailout. But they were not able to get even half the amount needed to bridge the country's financial gap and remain current on its circular debt and imports payments.
With public debt at 70% of the GDP, foreign exchange reserves sitting at a paltry $9 billion, poor exports and high imports, falling expatriate remittances, plunging stock market, a struggling industrial sector grappling with infrastructure nightmares like water and power supply, and faltering cotton-driven agroeconomics, the hyper-patriotic, chest-thumping Imran Khan and his backers went begging the IMF – for the 22nd time in the country's history! And not just that, they agreed to install a new financial team that is essentially IMF and World Bank officials on deputation to Pakistan to carry out its harsh terms for the facility that is still being negotiated.
What is lost on Khan and his task-masters, however, is that changing faces does not change the fundamentals of the economy. First and foremost, the key to economic development is political stability. By tripping democracy every step of the way and toppling even the weak democratic governments, the Pakistan army has repeatedly created uncertainty and chaos. And if there is one thing that the market economy despises more than a recession, it is uncertainty.
Consumer confidence and spending, domestic industry, agriculture and stock markets, as well as the foreign investment, all dwindle when a pall of political uncertainty goes up over a country. Add to it the domestic Islamist terrorism problem – entirely a blowback of the army's disastrous policy of using jihadists to prosecute its foreign policy – raging for a decade and a half, and the country doesn't exactly look like the Xanadu that foreign investors would make a beeline for.
The perpetual state of Cold War with Afghanistan and India, and the army's refusal to allow free trade with both, hampers not only the domestic entrepreneurs seeking new markets but also disincentivises foreign investors. Political volatility, teeming extremists and friction with neighbours along with the perennial water, power, raw material and skilled labour shortages, have sunk Pakistan to 136 out of 190 in the World Bank's Ease of Doing Business rankings.
The flagship China-Pakistan Economic Corridor (CPEC) project with a purported $60 billion Chinese loans and investment, and a key component of China's Belt and Road Initiative (BRI), is increasingly looking like a road to nowhere. What was trumpeted as an economic miracle in the works, has piled on external debt with little to show in terms of infrastructure development and job creation. The current-account deficit grew to over 5% of the GDP, thanks partly to borrowing under CPEC contracts.
While even Khan's government has murmured about the opaque nature of the CPEC projects and its viability in the context of massive debt burden, it is not at liberty to openly discuss it, because of the army's, which has remained the mover and shaker of the project, overarching goal is security ties with China. From enabling Pakistan's nuclear weapons programme to shielding the Pakistani jihadi terrorists, China has pulled the army's chestnuts out of many geopolitical fires. And to this end, the army is willing to compromise on the viability of an economic mega-project in the name of national interest and security, which ironically it has anointed itself to define.
Moreover, without opening up the trade with India and Afghanistan, the CPEC might remain the pie in the sky or debt-trap which Pakistan may find itself difficult to extricate from. Like the army's monumental blunders in both all-out and proxy wars with the neighbours and against its own people, the CPEC is a far cry from being the economic game-changer that it was touted to be.
The problem with the army's obsession with becoming the sole arbiter of national interest and security is that it has arrogated itself the right to dictate domestic and foreign policies to suit that rather nebulous creed in which Pakistan and Islam are somehow in perpetual danger and the army is the only saviour they have. These twin delusions of paranoia and grandeur are actually feigned and self-serving to justify the outfit's chokehold on the country and its resources.
Additionally, anyone questioning these khaki masters of disasters is smeared as a traitor, sell-out and even outside the pale of Islam. By shutting out dissenting voices, alternative points of view and critical assessments, the junta has become a rather inbred clique that marches on from blunder to blunder.
The army's Imran Khan project was another such blunder, in which both the army and Khan convinced each other that if somehow they get rid of the traditional political forces – whom they labelled corrupt – they can put Pakistan on the path to economic prosperity. The double-trouble was convinced that politicians have hundreds of billions of dollars stashed away abroad, which the PTI would somehow retrieve with the wave of a magic wand. Needless to say, that particular bravado came to a naught.
The PTI then launched a scheme for overseas Pakistanis to buy dollar bonds called Pakistan Banao (Build Pakistan), which also fell flat. As the maxim goes, then indecision has its own delays, and days are lost lamenting o'er lost days. All these gimmicks and demagogy delayed the inevitable: seeking the IMF bailout.
It is highly likely that the IMF will yet again throw Pakistan an economic lifeline, but perhaps at more stringent terms and closer monitoring than it might have done eight months ago. The IMF formula is rather well known, with its insistence on recalibrating power prices upwards, removing subsidies, propping up exports and broadening the tax base and stopping haemorrhaging through evasion. At this late stage, it might break the free-fall but is unlikely to stop the slide.
With food commodities and energy prices rising, an element of public unrest, which could morph into even an agitation against the PTI government, remains a real possibility. While the PTI ended up eating a humble pie, the real egg is on the army's face, whose pet project Imran Khan is about to go belly up. Unfortunately, in its political engineering experiments, the army has brought Pakistan at the brink of bankruptcy and caused immense grief to its toiling masses.
https://www.business-standard.com/article/international/with-economy-in-doldrums-pakistan-army-s-imran-khan-project-is-failing-119051300316_1.html
--------
Pakistan's roadside iftar feeds thousands in Ramadan
13th May 2019
By Aamir Latif
KARACHI, Pakistan (AA): As the sun begins to fade in the Muslim holy month of Ramadan, volunteers start fixing traditional delicacies and drinks on scores of tables at different points of Karachi's main University Road. Others roll large plastic mats on the stony footpaths and fill them with food.
Motorists pull over hurriedly and join small crowds of people of all ages already gathered around the tables or occupying the plastic mats. As the call for maghrib (sunset) prayer resounds from a nearby Mosque, they break their fast.
Another group of volunteers hand packets of food and bottles of water and juice to the fasting people sitting in their vehicles and public transport, who do not opt to stop.
Some 50 meters away, a different group of volunteers makes preparations for dinner to be served soon after iftar (fast-breaking). This all creates a brief traffic jam at this portion of the road.
Every Ramadan, hundreds of stalls are set up at the corners of city roads by relief organizations, and local residents where homeless people, vendors, rickshaw and taxi drivers, laborers, beggars and even those who do not fast are served free food and drinks for the whole month.
At several points, dinner is also served.
A few individuals had started to arrange roadside iftar during Ramadan for needy people in Karachi — home to over 15 million people and the country's commercial capital — two decades ago, which now has become a tradition.
In no time, this tradition was adopted by scores of other cities including the capital Islamabad, where roadside iftar stalls feed tens of thousands of people during Ramadan.
So much so, the country's tiny Sikh community has been hosting iftar for Muslims in historic Qissa Khawani Bazaar and several other points in northwestern Peshawar city for the last several years.
"This is my sixth year to break the fast here", Abdul Hameed, an Afghan refugee, told Anadolu Agency at a roadside stall on the University Road in Karachi.
Hameed together with his other colleagues work as a scavenger in the city's eastern district far from his residence, and cannot afford to buy iftar.
"Mostly, we cannot reach home on time due to traffic jams and scanty transport. This (roadside stall) has resolved the iftar issue", he added.
The fasting people are served traditional delicacies — including samosa (a deep-fried triangular savory pastry filled with potato and spices), pakora (deep-fried spicy snacks made from gram flour), fruit chaat, dates, and juices.
For dinner, Biryani (a spicy mixture of rice and meat) is the favorite dish of the people of Karachi.
"At least in Ramadan, we fully fill our stomach", Hameed said in a lighter vein as his colleagues laughed loudly.
Abdullah, a rickshaw driver is another regular visitor of this site during Ramadan.
"It's hard for me to go home [for iftar] and come back to work. Here, I get good and enough food, and save money that I spend on my family," he told Anadolu Agency.
Act of kindness
Zar Mohammad, one of the organizers, said he together with his friends and philanthropists, has been arranging free iftar meals for the last 20 years in a row.
"From first to last (evening) of Ramadan, we break our fast with these people here. sometimes our families also join us," Zar Mohammad, who is also a prayer leader at a Mosque, told Anadolu Agency.
About finances, Mohammad said the friends and families themselves, area shopkeepers, philanthropists and even common citizens, all chip in to arrange the event during the holy month.
"We do not have to run here and there for finances. A month before (Ramadan), we simply start to chip in and by the end of the month, we have plenty of funds to manage this all," he said, adding: "It has become a set tradition now. People trust us, and hand over huge amounts even without disclosing their names."
Around 1,000 people, including travelers, are served every day during Ramadan at this point, according to Mohammad.
Bhopal Singh, who arranges iftar in Qissa Khawani Bazaar in Peshawar said he was pursuing the mission of his late father who worked for interfaith harmony in Muslim-majority Pakistan.
"For the last four years, I had been arranging iftar for my Muslim brothers here. But this year, we have changed the strategy due to security threats," Singh told Anadolu Agency, referring to threats received by the organizers last year from some militant groups that objected to their gesture.
"Unfortunately, some elements do not want interfaith harmony here," he regretted, saying "Therefore, this year we are distributing ration among needy Muslims, and arranging iftar for prisoners in jail to avoid any mishap".
Monis Shaikh, a student of commerce faculty at Zulfikar Ali Bhutto University in Karachi, was excited as it was his first day as a volunteer.
"This is our first day to serve here," Shaikh said, with a nervous smile on his face pointing at a group of 8-10 students who were given instructions by an organizer.
The group plans to volunteer throughout the remaining days of Ramadan.
Full report at:
http://muslimnews.co.uk/news/south-asia/pakistans-roadside-iftar-feeds-thousands-ramadan/
--------
Four policemen martyred, 11 others injured in Quetta blast
May 14, 2019
Four policemen were martyred while 11 others were injured in a blast in Quetta's Mini Market area on Monday.
The blast took place near a police mobile which was also damaged in the explosion. Soon after the attack, security forces arrived at the scene and cordoned off the area.
Deputy Inspector General (DIG) Quetta Abdul Razzak Cheema confirmed the death toll and said that explosives were planted in a motorbike. He said that the explosion targeted police personnel, adding that the crime scene had been secured and investigations were ongoing.
The injured were taken to Civil Hospital for medical treatment emergency was declared. Medical Superintendent (MS) Dr Saleem confirmed that four policemen embraced martyrdom in the wake of the incident.
He said that 11 wounded persons were brought to the hospital, out of which two were in a precarious condition.
Chief Minister Balochistan Jam Kamal Khan condemned the blast and expressed over the loss of lives in its wake. "Efforts are being made to sabotage peace under a wicked conspiracy," he said in a statement. "Those creating instability would be fought back with full force."
The chief minister vowed to improve security arrangements by reviewing them altogether. He also directed concerned authorities to provide best medical facilities to the wounded persons.
The blast comes only two days after three terrorists stormed the Pearl Continental Hotel in Gwadar.
Four hotel employees ─ three staffers and a security guard ─ were killed and a navy soldier was martyred, while six people ─ including two army captains, two navy soldiers, and two hotel employees ─ were injured as gunmen stormed the luxury hotel.
The attackers were killed by the security forces during the clearance operation which went on for hours. Upon the completion of the clearance operation, the security officials retained the bodies of the terrorists for identification.
The attack was claimed by the banned Balochistan Liberation Army.
In the aftermath of Gwadar attack, the Balochistan government tightened security across the province. Chief Minister Jam Kamal chaired a high-level meeting today to review security arrangements in Gwadar and other parts of the province.
The army's media wing thanked the media for its responsible reportage during the operation, which "denied the terrorists of possible live updates" and "facilitated the security forces in smooth execution of the operation".
Full report at:
https://www.pakistantoday.com.pk/2019/05/13/four-policemen-martyred-11-others-injured-in-quetta-blast/
--------
Pakistani man executed in Saudi Arabia for smuggling heroin
May 14, 2019
RAWALPINDI: Saudi Arabia has executed a Pakistani man for smuggling heroin, said the Anti-Narcotics Force (ANF).
Imran Haider, son of Ghulam Hussain, who travelled from Sialkot to Jeddah on Dec 12, 2013, was caught by the Saudi police for possessing 500 grams of heroin.
The case was finalised recently in which Imran was sentenced to death. The punishment for carrying drugs — even in a small quantity — in Saudi Arabia is death.
Earlier, the ANF seized 56.180kg of narcotics worth Rs174.74 million, arrested 16 culprits, including three women, and impounded three vehicles. The seized drugs included 46.200kg of hashish, 7.650kg of heroin, 3,025 Xanax tablets and 1.940kg Amphetamine (Ice).
The ANF conducted 15 counter-narcotic strikes in two weeks.
It arrested a resident of Hangu from the Islamabad International Airport's parking area and recovered 5kg of hashish from his possession.
The ANF recovered 6kg of hashish near Kamra Bus Stop, GT Road in Attock from a resident of Upper Dir.
It arrested a resident of Peshawar after recovering 14.4kg of hashish from his car near Golra Morr, Kashmir Highway, Islamabad.
Full report at:
https://www.dawn.com/news/1482175/pakistani-man-executed-in-saudi-arabia-for-smuggling-heroin
--------
Panel approves plan for Nanak's birth anniversary
May 14, 2019
LAHORE: The Punjab Religious Tourism Committee has accorded approval to hold annual celebrations according to the master plan on the 550th birth anniversary of Baba Guru Nanak.
The committee, led by Punjab Governor Chaudhry Sarwar, advised that the Kartarpur Corridor should be completed within the stipulated period. Punjab Finance Minister Hashim Jawan Bakht convinced the committee about the unhindered delivery of funds for the payments of acquired land in Kartarpur and for promotion of religious tourism including preservation of national heritage.
The religious tourism committee met at Governor's House and discussed issues pertaining to promoting religious tourism and national heritage. The meeting was attended by Federal Education Minister Shafqat Mehmood, Adviser to PM Ameen Aslam, Punjab Finance Minister Hashim Jawan Bakht, Religious Affairs Minister Syed Sayedul Hasan Shah Bukhari, Auqaf Department Secretary Zulfiqar Ahmad Ghuman, Secretary Services Abdullah Sumbal, Iftikhar Shah of PNDP, Commissioner Lahore Dr Mujtaba Paracha, DC Nankana Raja Mansoor, representative of Nespak Brig. Atif Hameed, representatives of FWO and the officials of Evacuee Trust Property Board attended the meeting.
During the meeting, Pakistan Railways CEO Aftaab Akbar briefed the committee about the steps taken, to facilitate Sikh Pilgrimage at Nankana Sahib and the renovations being carried out at railway stations to make travelling attractive. He assured the committee that the work would be completed before November this year.
The committee was also briefed about the development projects and the security arrangements being carried out for Kartarpur Corridor.
The committee also highlighted the need to revisit the security arrangements at Data Darbar and all other religious sites of minorities to prevent unwanted incidents. The committee condemned the terrorist attack near Data Darbar.
Speaking at the meeting, the governor said Pakistan had a potential to generate revenue of $3.8 billion annually from tourism sector alone. The incumbent government has decided to promote tourism in general and religious tourism in particular.
Full report at:
https://www.dawn.com/news/1482159/panel-approves-plan-for-nanaks-birth-anniversary
--------
MQM-P explains why it insists on more administrative units in Sindh
May 14, 2019
HYDERABAD: Muttahida Qau­mi Movement-Pakistan (MQM-P) on Monday reiterated its stance on creating more administrative units in Sindh, explaining that it was demanding the arrangement in order to ensure development and progress of all communities living in the province.
Speaking at a press conference at the local press club along with many other senior party leaders, MQM-P's parliamentary party lea­der in the Sindh Assembly Kan­war Naveed Jamil said that his party never disliked Sindh, its culture and its people. "We firmly believe that Sindh is a land of rich culture while our party's griev­ance is against the biased govern­ment of Pakistan Peoples Party (PPP) that seeks to deny Urdu-speaking people their due share in jobs and development. PPP is not serving Sindhi-speaking people either."
Mr Jamil, who is also the party's deputy convener, was accompa­nied by MPAs Rashid Khilji, Nad­eem Siddiqui and Nasir Qureshi, acting Hyderabad Mayor Sohail Mashhadi, Masood Mah­mood, Zafar Siddiqui, Rashid Khan and senior party leaders.
Mr Jamil said that PPP's "atrocities" against the people of Hyderabad continued unendingly.
He showed stacks of files to media personnel and said the files pertained to 5,000 jobs that had been earmarked for Hyderabad, but not a single resident of Hyder­abad and Qasimabad was recrui­ted. He said these jobs were avail­able in different departments and the files contained full particulars of candidates inclu­ding their CNIC numbers, places and departments.
Likewise, he said, in Karachi not a single resident of that city was appointed there as jobs were doled out to other people.
Regretfully, he added, the jobs were sold in 75 per cent of cases. He said that it was a fit case for National Accountability Bureau (NAB).
The MQM-P leader said that 10 years down the road, the PPP government had not executed a single development scheme for Hyderabad which had been capital of Sindh for years.
He said it showed PPP's biased attitude, adding that no college or hospital was built whereas billions of rup­ees were spent by Sindh govern­ment otherwise.
Mr Jamil observed that whenever PPP formed its govern­ment ethnic tension was seen, be it the government of [PPP founder chairman] Zulfikar Ali Bhutto or his daughter Benazir Bhutto. Recalling the Pucca Qila operation of May 1990, he said that police tried to invade it during Benazir Bhutto's government. The then MQM health minister got a medi­cal college approved for Hyder­abad in the PPP-MQM coalition but the project remained incom­plete to date.
He complained that it was not the issue of funds or seriousness but "parochial approach". He said that even Benazir Bhutto flyover which he had started as the district nazim remained incomplete to date because it passed through the midst of Hyderabad to connect National Highway with the bypass.
Mr Jamil pointed out that the trauma centre here was built in the district government period but its equipment was shifted.
Insisting that MQM loved Sindh, its people and its culture, he said it was he who had built a monument of Housh Mohammad Sheedi. Had a sculpture not been forbidden in Islam, he would have built the same as well, he said. However, he added, PPP even sold the land where Housh Mohammad Sheedi had fought a battle against the British in Dubbo.
He pointed out that a private housing scheme was launched where this battle was fought. "The place should have been preserved as a heritage site; Sheedi's mauso­leum could hardly be saved on a private land by diverting road," he said.
The senior MQM-P leader also noted that four sewerage treat­ment plants were built but they remained dysfunctional. "Hydera­bad city doesn't get water from Phuleli Canal for its residents but a treatment plant was built there to keep the canal contamination-free and provide clean water to the people of Badin and Tando Mohammad Khan."
He alleged that Rs2,000bn belonging to Sindh was stomached by chief ministers, ministers and Omni Group.
He noted that those who talked about the National Finance Commission (NFC) Award were not able to utilise the funds released to their ministries.
He said that it was because of MQM that NFC Award was not announced during the Musharraf government without its due settle­ment.
He accused PPP government of selling wheat stocks worth Rs11bn. He also alleged that heritage buildings of Hyderabad had been destroyed for their [PPP leaders'] personal greed and construction-related interests.
Mr Jamil said that Urdu-speaking people had been tolerating "injustices" for 70 years and had been made to live like slaves. He said that MQM had hugged [PPP co-chairman] Asif Ali Zardari when he approached the party and in return MQM delegation offered fateha on the grave of [former chief minister] Syed Abdullah Shah, the father of incumbent Chief Minister Syed Murad Ali Shah, as a goodwill gesture.
He said PPP always heightened ethnic tension otherwise people like Ghaus Ali Shah, Muzaffar Shah, Jam Sadiq and Arbab Ghulam Rahim also served as chief ministers in Sindh.
He said that MQM-P believed in integrity of Sindh but conditions of cities — be it Thatta, Jamshoro or Karachi — were worsening.
Full report at:
https://www.dawn.com/news/1482073/mqm-p-explains-why-it-insists-on-more-administrative-units-in-sindh
--------
Gwadar attack terrorist not a missing person: Mengal
May 14, 2019
KARACHI: Akhtar Mengal, president of his own faction of the Balochistan National Party (BNP-M), has refuted claims that a Baloch 'missing person' was among the gunmen who attacked a hotel in Gwadar on Saturday.
In a statement posted on Twitter on Sunday, Mr Mengal said that the person identified as Hammal mentioned in the missing persons list given to the government belonged to Kohlu and the terrorist identified as Hammal killed in the Gwadar attack belonged to Kech Makran.
"Hammal is a traditional Baloch name and there are thousands named after it. Not everyone named Hammal can be a missing person or a terrorist," he wrote, calling people to not spread lies in the holy month of Ramazan.
Full report at:
https://www.dawn.com/news/1482176/gwadar-attack-terrorist-not-a-missing-person-mengal
--------
South Asia
Taliban Train Sights on Aid Groups, an Ominous Turn in Afghanistan
By Rod Nordland
May 13, 2019
KABUL, Afghanistan — A Taliban attack on two aid organizations last week, the deadliest episode in a recent surge of violence against humanitarian workers in Afghanistan, is a signal to many that as peace talks falter, the insurgents are lashing out against so-called soft targets.
Wednesday's attack killed three workers for CARE, the American aid group, and at least six others, most of them civilians. Aid workers said the true death toll was 13. In either case, it was the single biggest loss of life among the country's 2,000 nongovernmental organizations in over a year.
The bombing, which struck CARE and Counterpart International offices, came as the sixth round of peace negotiations between the Taliban and Americans limped to an end in Qatar. The Afghan government was excluded from the talks, which ended after seven fitful days with a sense of fading optimism.
The Taliban vowed that the assault on the aid groups would not be their last.
Even before the attack, casualties among aid workers had started to rise after several years of decline. Through April, five aid workers had been killed, 12 injured and 18 abducted this year in Afghanistan, according to the United Nations' humanitarian coordinator, Toby Lanzer.
Also worrisome for humanitarian groups is the Taliban's continued refusal to give the International Committee of the Red Cross, by far the biggest aid organization in the country, safe passage through areas they control.
In April, the insurgents issued a statement saying that the Red Cross, which has worked on both sides of the conflict's front lines, and the World Health Organization would be barred from Taliban areas because of what they called "suspicious" activities.
The Red Cross operates ambulance services, orthopedic clinics, hospitals, prison visitations and other activities benefiting all sides in Afghanistan. The World Health Organization carries out polio vaccinations; some Taliban-dominated areas are among the few places in the world where the disease has not been wiped out.
Last Monday, the Red Cross sent its vice president, Gilles Carbonnier, to meet with the Taliban in Doha, Qatar, on the sidelines of peace talks with the Americans, but there was no apparent breakthrough. A Taliban statement expressed the obvious: "Both sides stressed that Afghanistan needs a great deal of humanitarian aid and attention."
Roya Musawi, a spokeswoman for the Red Cross in Afghanistan, said, "We are in dialogue about resumption of our activities for the people affected."
The peace talks in Qatar between the Taliban and the Americans proved briefer than earlier efforts, ending with little apparent progress.
"The current pace of talks isn't sufficient when so much conflict rages and innocent people die," the American negotiator Zalmay Khalilzad said Thursday in a Twitter post.
In attacking the headquarters of Counterpart International, an American organization, in Kabul, Afghanistan, the day before, the insurgents accused it of engaging in anti-Islamic activity. Counterpart, which receives funding from the United States Agency for International Development, is one of numerous nongovernmental organizations that provide development services to governments by contract.
As it happened, no one from Counterpart was killed. Its staff members had taken refuge in armored safe rooms. But across the street at the offices of CARE, which has operated in Afghanistan since 1966, three employees were among the dead.
The Taliban immediately doubled down.
"The Kabul attack on Counterpart is not the last attack," Zabihullah Mujahid, the Taliban spokesman, said on Twitter.
In a telephone interview, Mr. Mujahid denied that any of the dead were civilians and said that if anyone from CARE had been killed, it was accidental.
"In the attack, many foreigners and their slaves were killed," Mr. Mujahid said. "In fact, they did not allow reporters to go to the scene and report the facts."
In fact, Afghan and foreign journalists did go to the scene, and none of the dead were foreigners. Only one of those killed was from the Afghan security forces, a member of an elite police rapid response unit, and aid workers in the area identified all of the others as civilians.
The insurgents' statement also complained that Counterpart's mixing of men and women in its projects had "resulted in rampant moral corruption," raising another concern for aid groups. Such mixing is commonplace in aid organizations, especially those funded by the international community.
A day after the attack in Kabul, the Taliban closed a dozen clinics run by an Afghan aid group, Ahead, in Nuristan Province, according to Zakiullah Storay, the head of the provincial health department.
The year 2013 saw a high point in attacks on aid workers, both worldwide and in Afghanistan, according to Aidworkersecurity.org, a database funded by U.S.A.I.D. The United Nations said there were 237 attacks on Afghan aid workers in 2013 through November, with 36 killed. Many of those deaths were in remote rural areas and were attributed to cross-fire and accidents.
Then in January 2014, insurgents struck Taverna du Liban, a Kabul cafe popular with foreigners, killing 21 people of 10 nationalities, many of them diplomats and aid workers. The attack led to the departure of some aid groups, and a widespread shift to using Afghan citizens in projects rather than foreigners.
The number of aid groups working in the field in Afghanistan declined to 159 last year, from 223 in 2013, according to United Nations data. In the intervening years, attacks steadily decreased after relief groups took greater precautions and insurgents pledged not to attack them.
Still, Afghanistan remained one of the three most dangerous countries for aid workers, according to the United Nations.
Attacks on aid workers began increasing again last year, a trend noted at the time by Mr. Lanzer, the United Nations humanitarian coordinator. On Saturday, Mr. Lanzer said that pattern had continued.
"I'm as concerned today, if not more so, than I was in August of last year," he said.
It was unclear whether the increase was the result of a shift of Taliban tactics, or just the greatly increased tempo of the war this year, as both sides pushed to improve their positions at the negotiating table.
Mr. Lanzer said he had often spoken to Taliban officials about the protection of humanitarian workers.
"Consistently in all my conversations they have said aid organizations will not be targeted," he said. "So I think what happened this week is of particular concern. But I would also add that any attack by any parties to the conflict that results in civilian casualties cannot be justified."
An official at one relief organization, who said he was not permitted to speak publicly about the attack, said that most groups still believed they would not be targeted. This aid worker cited Counterpart's involvement in political activities like Afghan elections as the reason last week's attack may have been distinct.
The aid group Oxfam was among several that refused to make a distinction between their work and that of Counterpart.
"We strongly denounce any attack on NGOs serving Afghans, as we see this as an attack on Afghans themselves," its country director, Ruby Ajanee, said.
So far, Mr. Lanzer said, there has been no sign of aid workers' leaving Afghanistan or cutting back on their activities.
"My ethos as humanitarian coordinator is that nongovernment and U.N. agencies are here as professionals and we will stay to continue to protect and deliver the aid that the people of this country require," he said.
Fiona Gall, head of Acbar, an organization that represents aid groups in Afghanistan, said, "Giving aid is a neutral act."
Follow Rod Nordland on Twitter: @RodNordland.
Fahim Abed and Thomas Gibbons-Neff contributed reporting from Kabul, and Zabihullah Ghazi from Jalalabad, Afghanistan.
https://www.nytimes.com/2019/05/13/world/asia/afghanistan-taliban-aid-workers.html
--------
At least 13 militants killed in S. Afghan clashes
2019-05-12
KABUL, May 12 (Xinhua) -- At least 13 Taliban militants were killed after clashes erupted between police and militants in Afghanistan's southern province of Kandahar on Saturday, Ministry of Interior Affairs said Sunday.
"Afghan National Police came in contact with militants in Nadir Khan village, Maruf district, Kandahar province; the clashes left 13 militants dead and nine others wounded," the ministry said in a statement.
There were no casualties on the side of national police, the statement added.
Fighting rages across the war-torn country and clashes between security forces and Taliban have been continuing in at least 25 out of the country's 34 provinces since early April when Taliban launched a yearly rebel offensive.
Full report at:
http://www.xinhuanet.com/english/2019-05/12/c_138052458.htm
--------
Sri Lanka clashes kill one; imposes nationwide curfew after mosques attacked
MAY 13, 2019
KINIYAMA, Sri Lanka (Reuters) - One person was killed in Sri Lanka on Monday as police fired tear gas at mobs attacking mosques and Muslim-owned shops and imposed a curfew after the worst outbreak of sectarian violence since the Easter bombings by Islamist militants.
The April 21 attacks, claimed by Islamic State, targeted churches and hotels, mostly in Colombo, killing more than 250 people and fuelling fears of a backlash against the island nation's minority Muslims.
An officer at the Marawila hospital police said a 42-year old man admitted to the hospital with stab wounds had died. A Resident from the area who helped transport the victim to hospital identified him as Mohamed Ameer Mohamed Sally.
Residents in Muslim parts of North Western Province said mobs had attacked mosques and damaged shops and businesses owned by Muslims for a second day.
"There are hundreds of rioters, police and army are just watching. They have burnt our mosques and smashed many shops owned by Muslims," a resident of Kottampitiya area told Reuters by telephone, asking not to be identified for fear of reprisals.
"When we try to come out of our house, police tell us to stay inside."
Police imposed a nationwide curfew until from 9 p.m. (1530 GMT) to 4 a.m., spokesman Ruwan Gunasekera said.
Prime Minister Ranil Wickremesinghe said in a statement that acts of sabotage were hampering an investigation by security forces and warned that "if the racism rises up ... and peace is disturbed the country will be destabilized".
"The intention of these groups who are causing violence is to cause disruption in public life, and destabilize the country," he said.
Wickremesinghe said he had given powers to the security forces to take strong action against those disturbing the peace.
Authorities also imposed a temporary ban on social media networks and messaging apps including WhatsApp after a clash in another part of the country was traced to a dispute on Facebook.
A police source said police had fired tear gas to disperse mobs in some places in North Western Province.
Muslims make up nearly 10 percent of Sri Lanka's 22 million people who are predominantly Sinhalese Buddhists.
A Reuters reporter saw a mob of several dozen young Sinhalese men wielding sticks and rods in what appeared to be a standoff in the town of Madulla in North Western Province.
Many anxious Muslims were hunkering down at home but young men, some of them carrying rods, were still zipping around on motorbikes, despite regional curfews from 2 p.m. before the nationwide curfew was imposed.
MOSQUE RANSACKED
Glass was strewn across the Abrar mosque in the town of Kiniyama that was attacked overnight. All the windows and doors of the soft-pink building were smashed and copies of the Koran were thrown onto the floor.
A mosque official said the attacks were triggered when several people, including some Buddhist monks, demanded a search of the main building after soldiers had inspected a 105-acre (43-hectare) lake nearby.
Authorities suspect lakes and wells are being used as hiding places to conceal weapons.
A 34-year-old man who was at the mosque said about 150-200 came toward the mosque with rods and swords on Sunday but the Muslims who were in the mosque persuaded them to go away with the help of the police.
But they came back and this time there were about 1,300 people. The Muslims, huddled in the mosque, asked the police to fire in the air to disperse the mob, but the police said the people wanted to inspect the mosque for weapons.
Then the crowd surged into the mosque and ransacked it, the witness said.
"They destroyed and burned Korans, broke every glass window and door and urinated on the water storage which Muslims used to take ablution," he said.
Police spokesman Gunasekera did not respond to a request for comment on the incident. But in an emailed statement he said there had been some damage to property in Hettipola area of Kurunegala district but no injuries reported.
The police source said police also fired in the air the Hettipola area.
Several dozen people threw stones at mosques and Muslim-owned stores and a man was beaten in the Christian-majority town of Chilaw on the west coast on Sunday in the dispute that started on Facebook, police sources and residents told Reuters.
Authorities said they arrested the author of a Facebook post, identified as 38-year-old Abdul Hameed Mohamed Hasmar, whose online comment "1 day u will cry" people said was interpreted as threatening violence.
"Social media blocked again as a temporary measure to maintain peace in the country," Nalaka Kaluwewa, director general of the government information department, told Reuters on Monday.
Full report at:
https://www.reuters.com/article/us-sri-lanka-blasts-socialmedia/sri-lanka-blocks-social-media-after-worst-anti-muslim-unrest-since-easter-bombings-idUSKCN1SJ02I
--------
Eight al-Qaeda linked militants charged with LGBT murders in Bangladesh
Joe Wallen
13 MAY 2019
Eight members of an al-Qaeda affiliated terrorist group have been charged with the murder of two pioneering Bangladeshi LGBT advocates.
Xulhaz Mannan and Mahbub Tonoy, both 35, were hacked to death with machetes in April 2016 after a mob gained entry into Mannan's house in Dhaka by pretending to be parcel couriers.
Mannan was the editor of the country's first LGBT magazine Roopbaan and organised its first pride rally – the Rainbow Rally – an annual protest for recognition of LGBT rights.
Each of the eight charged men belongs to Ansar al-Islam, a militant group which has carried out violent attacks on Bangladeshi civil society figures it deems 'enemies of Islam'.
Its victims have included atheist journalists, members of religious minorities and foreign aid workers.
The LGBT community has experienced its most brutal vilification.
The group was behind the murder of Avijit Roy in 2015 – a secular blogger who published a book in Bengali on homosexuality.
It is also believed to have behind the murder of liberal writers Faisal Arefin Dipan and Shahjahan Bachchu.
Ansal al-Islam is known to receiving financial and logistical support from al-Qaeda while many of its original members were trained by the group in Afghanistan.
Al-Qaeda said it had encouraged the killings because Mannan and Tonoy – who both also worked for the United States Agency for International Development (USAID) – aimed to 'promote homosexuality' in Bangladesh.
The Bangladeshi government has done little to protect its vulnerable LGBT community.
Prime Minister Sheikh Hasina represents the traditionally secular Awami League party but she has adopted a hard line religious policy to appeal to an increasingly Islamised electorate over the past decade.
Her government upholds the British colonial law which criminalises same-sex relationships and she has turned a blind-eye to human rights abuses.
According to Human Rights Watch, the LGBT community is regularly harassed by the Bangladeshi police.
In one incident in 2017, 28 members of the country's transgender community, known as hijra, were arrested and paraded in front of the media.
On-going hostile attitudes towards members of the LGBT community from both religion and state has seen many activists flee the country.
Full report at:
https://www.telegraph.co.uk/news/2019/05/13/eight-al-qaeda-linked-militants-charged-lgbt-murders-bangladesh/
--------
Taliban shadow district chief among 6 killed in U.S. airstrike in Herat province
13 May 2019
The shadow district chief of Taliban for Parchaman district of Herat province was killed along with five other militants in a U.S. airstrike which was carried out in the vicinity of Shindand district.
Informed military sources said Monday that an airstrike was carried out in Shindand district of Herat province killing 6 Taliban fighters.
In the meantime, the 207th Zafar Corps in a statement said the shadow district chief of Taliban for Parchaman Hafiz Abdulhaq was among those killed.
The statement further added that the airstrike was carried out by coalition forces in support of the Afghan armed forces.
According to 207th Zafar Corps, a Toyota Corolla type vehicle was targeted in teh vicinity of Aab Khurmai area of Shindand.
Full report at:
https://www.khaama.com/taliban-shadow-district-chief-among-6-killed-in-u-s-airstrike-in-herat-province-03960/
--------
4 killed, 20 wounded in back to back explosions in Jalalabad city
14 May 2019
At least 4 people were killed and 20 others were wounded in a series of explosions in Jalalabad city, the provincial capital of eastern Nangarhar province.
Provincial governor Shah Mahmood Miakhel said the explosives were planted in a number of Rickshaws which were detonated among civilians on Monday evening.
Miakhel further added that four civilians were killed and 8 others were wounded in the explosions.
According to Miakhel, the health condition of a number of wounded civilians has been reported as critical and there are fears that the death toll may further rise.
No individual or group including Taliban has so far claimed responsibility for the explosions.
Full report at:
https://www.khaama.com/4-killed-20-wounded-in-back-to-back-explosions-in-jalalabad-city-03967/
--------
Taliban's charity collector arrested in Logar province
13 May 2019
A key Taliban group member who was involved in collecting Zakat (Charity) to fund the operations of the group was arrested in central Logar province.
The Ministry of Interior (MoI) in a statement said the suspect was arrested during an operation of the Special Unit of Afghan Police.
The statement further added that the operation was conducted in Mohammad Agha district of the province late on Sunday night.
The detained individual has been identified as Abdullah who is also accused of having role in several other criminal incidents including armed robberies and harassing the local residents, the Ministry of Interior added.
Full report at:
https://www.khaama.com/talibans-charity-collector-arrested-in-logar-province-03964/
--------
Arab World
ISIS Threatens To Burn Makhmour Farmers' Grain Fields If They Fail To Pay 'Taxes'
May 14, 2019
ERBIL (Kurdistan 24) – As the harvesting season begins, Islamic State members have warned farmers in the disputed town of Mahmour that they would need to pay taxes to prevent their grain fields from being set on fire, a farmer told Kurdistan 24 on Sunday. A delegation of farmers from Makhmour on Sunday visited the parliament of the autonomous Kurdistan Region to present their concerns to the top Kurdish legislative body.
"Now it is harvesting time, and Da'esh [ISIS] has become a source of threats on Mount Qarachukh," Nasih Rahman, a farmer from Makhmour, told Kurdistan 24 at the Kurdistan Parliament.
"They [ISIS militants] threaten our farmer brothers and those who own livestock of burning the grain fields in the area should the farmers refuse to pay a tax," Rahamn said.
The delegates met with both the parliamentary committees of Agriculture and Irrigation and Article 140 of the Iraqi Constitution, the latter which focuses on disputed territories claimed by the Kurdistan Regional Government (KRG) and the federal government of Iraq.
Following the meetings, the committee members and farmers held a joint press conference.
"We reached an agreement to increase the number of firefighters in those areas. We also agreed to visit the region in the nearest future to meet with local officials in Makhmour and discuss these threats," Osman Kani Kurdayi, the head of the Agriculture and Irrigation Committee, told reporters.
Makhmour is a disputed territory located on the outskirt of the Kurdistan Region's capital, some 60 kilometers southwest of Erbil.
The town used to be jointly administered by the two governments since the fall of the Iraqi authoritarian regime in 2003.
Following the emergence of the Islamic State in 2014, throughout many disputed areas, the Kurdish Peshmerga forces held their frontline and prevented militants and sleeper cells from entering their territory despite the terrorist organization controlling adjacent land.
Security in those areas, however, significantly deteriorated after Iraqi forces backed by Shia militias, in response to the Kurdistan Region's September 2017 independence referendum, overran Kirkuk and other disputed territories and drove Kurdish forces out.
Since October 2017, Iraqi forces have been in charge of protecting the area, but locals question their abilities.
Residents described the Islamic State militants as fearless and out in the open, approaching people and forcing them to pay taxes or give them livestock.
Over the past years, the US-led coalition along with Peshmerga forces and Iraqi troops have launched several military operations to eliminate sleeper cells hiding on Mount Qarachukh.
In the past few months, dozens of villages in Makhmour have been evacuated, with residents warning of the reemergence of the Islamic State in the area.
http://www.kurdistan24.net/en/news/1c26467d-8423-4792-bb71-574a482240d4
--------
Isil extremists using Instagram to promote jihad and incite support for terror attacks on the West
Charles Hymas
11 MAY 2019
Isil extremists are using Instagram to promote jihad and incite support for terror attacks on the West, an investigation by The Telegraph has found.
They are circumventing the platform's security checks to post images and text celebrating the killings of "kafir" (unbelievers) accompanied by images of dead soldiers and beheadings as well as threatening terrorist atrocities on the scale of the Sri Lankan suicide bombings that claimed 253 lives.
Full report at:
https://www.telegraph.co.uk/news/2019/05/11/isil-extremists-using-instagram-promote-jihad-incite-support/
--------
Idlib: People Resist Tahrir Al-Sham's Forced Recruitment Against Syrian Army
May 13, 2019
Tahrir al-Sham has formed a new formation called 'Popular Resistance Brigades' to force civilians to join the terrorist group for battle with the Syrian Army in Northern Syria.
Meantime, the Arabic-language Al-Watan newspaper reported that the residents of Idlib province have told Tahrir al-Sham terrorists and their commanders that they will refrain from dispatch of their sons to the battlefronts against the Syrian Army in Hama and Idlib fronts.
The report pointed to huge losses sustained by the terrorists in the recent battle with the Syrian Army and lowering of their morale, and said that Tahrir al-Sham has sent its militants who have recently relocated to Idlib from Eastern Ghouta, Dara'a and other regions in Southern Syria to the battlefront.
Meantime, Tahrir al-Sham has reportedly arrested a large number of people to send them to different parts of Idlib, including Ariha, Jabal al-Zawiya, Harem, Salqin and Sarmin to fight against the Syrian Army.
In a relevant development on Sunday, the Syrian Army spread to the borders of Idlib province after advancing in Northwestern Hama and regaining control over several towns and villages.
The Syrian Army troops backed by artillery units and air force engaged in clashes with the terrorists North of Qala al-Maziq in Northwestern Hama, taking control of the towns of Bab al-Taqa, al-Sharia, al-Arimeh and al-Jamazieh.
The Syrian Army troops also managed to take control of the towns of Meidan Ghazal and al-Mostariheh in Jabal Shahshabou axis.
A military source pointed to deployment of the Syrian Army's units in al-Sharia town, and said that the Syrian Army troops arrived in Southern borders of Idlib province after making recent advances.
Full report at:
http://en.farsnews.com/newstext.aspx?nn=13980223000613
--------
Syrians refuse to send sons to join militant ranks in Idlib battles
May 13, 2019
Families in Syria's northwestern province of Idlib reportedly refuse to send their sons to join the ranks of foreign-sponsored Takfiri militant groups in battles against Syrian army troops.
The pro-government and Arabic-language al-Watan newspaper, citing unnamed sources close to the so-called National Front for the Liberation of Syria – an alliance of militant factions supported by Turkey, reported on Monday that local residents have informed the Jabhat Fateh al-Sham Takfiri terrorist group, formerly known as al-Nusra Front, that they will not let their sons be involved in operations against Syrian government forces in northern and northwestern districts of the western-central province of Hama as well as the southern sector of Idlib, where fierce clashes are underway.
The sources added that Jabhat Fateh al-Sham is putting militants who have fled from Eastern Ghouta area in the suburb of the capital Damascus as well as the southern city of Dara'a and sought refuge in Idlib on the frontlines in the current battles.
Al-Watan further noted that the extremists have launched an arrest campaign in Idlib over the past few days to round up the men who have refused to fight alongside them.
The campaign has affected people in the towns of Ariha, Salqin and Sarmin in addition to Jabal al-Zawiya and Harem districts.
Under a deal reached following a meeting between Turkish President Recep Tayyip Erdogan and his Russian counterpart Vladimir Putin in the Black Sea resort city of Sochi on September 17, 2018, all militants in a demilitarized zone, which surrounds Idlib and also parts of the adjacent provinces of Aleppo and Hama, were supposed to pull out heavy arms by October 17, and Takfiri groups had to withdraw by October 15 last year.
The National Front for the Liberation of Syria is the main Turkish-backed militant alliance in the Idlib region, but the Takfiri Hayat Tahrir al-Sham (HTS) terrorist group, which is a coalition of different factions of terror outfits, largely composed of the Jabhat Fateh al-Sham, holds a large part of the province and the zone.
The HTS, which is said to be in control of some 60 percent of Idlib province, has yet to announce its stance on the buffer zone deal.
It is estimated that between 10,000 and 15,000 members of different factions of armed groups, which Syria, Russia and Turkey consider terrorists, are active in the volatile province, which is home to around three million inhabitants.
Syrian army deals hard blows to terrorists in northern Hama
Meanwhile, Syrian soldiers, backed by allied fighters from popular defense groups, have carried out a major operation against Takfiri militants in the northern part of Hama province.
Syria's official news agency SANA reported that Syrian soldiers and their allies shelled the position of Jabhat Fateh al-Sham terrorists on the outskirts of Muhardeh city, killing and injuring a number of the Takfiris in the process.
Separately, Syrian troops and allied fighters targeted vehicles belonging to Kata'ib al-Ezza (Brigades of Glory) terrorists in al-Lataminah town, located 39 kilometers northwest of the provincial capital city of Hama, destroying a number of them.
Full report at:
https://www.presstv.com/Detail/2019/05/13/595868/Syrians-refuse-to-send-sons-to-join-militant-ranks-in-Idlib-battles
--------
Daesh remnants wage hidden war of raids, killings
May 13, 2019
BADOUSH, IRAQ: It was a chilly January evening, and Khadija Abd and her family had just finished supper at their farm when the two men with guns burst into the room.
One wore civilian clothes, the other an army uniform. They said they were from the Iraqi army's 20th Division, which controls the northern Iraqi town of Badoush. In fact, they were Daesh group militants who had come down from the surrounding mountains into Badoush with one thing on their mind: Revenge.
Around 13 more gunmen were waiting outside. The terrorists pulled Khadija's husband and his two brothers into the yard and shot them dead, leaving them in a pool of blood — punishment for providing information to the Iraqi military.
"How can we live after this?" Khadija said. The three brothers were the providers for the entire family. "They left their children, their livestock, their wives, and their elderly father who doesn't know what to do now."
A year and a half after Daesh was declared defeated in Iraq, the militants still evoke fear in the lands of their former so-called caliphate across northern Iraq.
The terrorists, hiding in caves and mountains, emerge at night to carry out kidnappings, killings and roadside ambushes, aimed at intimidating locals, silencing informants and restoring the extortion rackets that financed Daesh's rise to power six years ago.
It is part of a hidden but relentless fight between the group's remnants waging an insurgency and security forces trying to stamp them out, relying on intelligence operations, raids and searches for sleeper cells among the population.
The militants' ranks number between 5,000 and 7,000 around Iraq, according to an Iraqi intelligence official.
"Although the territory once held by the so-called caliphate is fully liberated, Daesh fighters still exhibit their intention to exert influence and stage a comeback," said Maj. Gen. Chad Franks, deputy commander-operations and intelligence for the US-led coalition.
In towns around the north, Iraqi soldiers knock on doors in the middle of the night, looking for suspects, based on intelligence tips or suspicious movements. They search houses and pull people away for questioning.
In February, Human Rights Watch accused authorities of torturing suspects to extract confessions of belonging to Daesh, an accusation the Interior Ministry has denied. Detainees are pushed by the thousands into what critics call sham trials, with swift verdicts — almost always guilty — based on almost no evidence beyond confessions or unaccountable informants' testimony. The legacy of guilt weighs heavily especially on women and children, who face crushing discrimination because of male relatives seen as supporting Daesh.
AP journalists embedded with a battalion of the 20th Division last month and witnessed several of its raids at Badoush.
Badoush, on the Tigris River just outside the city of Mosul, is a key battleground because it was once one of the most diehard Daesh strongholds.
In the summer of 2014, it was a launching pad for the militants' blitz that overran Mosul and much of northern Iraq. Daesh built a strong financial base by extorting money from the owners of Badoush's many industrial facilities. Security officials estimate two-thirds of its population — which numbered around 25,000 before the war — were at one point members or supporters of the group.
Now the population is divided. Residents who suffered at the hands of Daesh or lost loved ones to the group are suspicious of neighbors they believe still support the militants. Within families, some members belonged to the group and others opposed it.
Full report at:
http://www.arabnews.com/node/1496576/middle-east
--------
Wives of ISIS fighters find camps safe haven, fear violence from Iraqis outside
May 11-2019
ERBIL (Kurdistan 24) – Many wives of Islamic State fighters in Iraq say displacement camps are the safest place for them to avoid violent retribution or other persecution at the hands of other Iraqis and also that they are very concerned about the fate of their children, many of which have been denied crucial identity documents.
The Hassan Sham camp, located on the outskirts of the Kurdistan Region's Erbil, is one of the facilities that host thousands of displaced Iraqis, among them a high percentage of the women.
One who gave her name only as Menal was married in Mosul and had three boys and a daughter before the emergence of the Islamic State in 2014. After it took over the city, she said, various events led to her divorcing her husband and marrying an American fighter for the extremist group, with whom she had another daughter.
"I had to marry him because I had no one to take care of my children," Menal told Kurdistan 24 on Friday. "My husband was an ISIS cleric and now he is arrested and sentenced by the court."
She said that she has little hope for her future and that of her children because she cannot go back to Mosul as she could be murdered for being an Islamic State wife.
Menal is also worried about her youngest child, stating that the girl has no official birth documents and as a result would be deprived of many rights, including being allowed to attend school.
Sakine is another woman in the camp, originally from Syria. She married a former Iraqi soldier in 2012 who served under the authoritarian rule of Saddam Hussein before joining the Islamic State in 2014.
"I have so much fear that I will be killed should I leave this camp because my husband was not just a normal ISIS fighter, but also occupied the lands of his uncles," Sakine told Kurdistan 24 in Hassan Sham camp.
"I can't go back to Syria because I will have no rights there either," she added.
There is major controversy about how to deal with families of Islamic State fighters and those who lived under their rule. Local security forces and residents of areas liberated from its brutal rule are hostile toward families with a perceived connection to the group and say they will not allow their return to the region to live among the general population.
Now, Iraqi officials are pushing for the creation of a new detention camp aimed at isolating as many as 30,000 Iraqis who were captured in the last territory Kurdish forces liberated from the Islamic State in Syria in late March.
"The goal is to select a special place to contain those people," said one official, as quoted by The Washington Post recently. "It's for security reasons, but also to keep them alive. If they return to their areas, they'll be singled out for revenge attacks by people who lost relatives to the Islamic State."
Last week, Human Rights Watch (HRW) slammed the move and stated that the Iraqi government's proposed plan to confine families of members of the Islamic State is a violation of international law.
"Detaining families not accused of any crimes is a form of collective punishment that will fuel resentment and put the lives of thousands of people on endless hold," said Lama Fakih, deputy Middle East director at HRW.
In late April, the Norwegian Refugee Council (NRC) warned that an estimated 45,000 children born under Islamic State rule who are already housed in various displacement camps in Iraq are missing civil documentation and may face total exclusion from Iraqi society, including being barred from attending school, denied access to healthcare, and deprived of their most basic rights.
Full report at:
http://www.kurdistan24.net/en/news/3d6955a2-e23d-471d-a524-b584f4973366
--------
They Were 'Comrades in Arms' Against ISIS. Now the US Is Eyeing the Exit
By Ben Hubbard and Eric Schmitt
May 12, 2019
RMEILAN, Syria — Dressed in camouflage and sipping tea, the Syrian commander who emerged as America's closest ally in the battle that defeated Islamic State looked to an unsettling future.
The commander, the Kurdish leader of the Syrian Democratic Forces, known by the nom de guerre Mazlum Kobani, praised his alliance with the United States in a rare interview recently and said he hoped American troops would stay in Syria.
But if they do not, he said, he is still fully prepared to defend his militia's hard-fought gains during years of fighting the terrorist group.
"We were comrades in arms — we are on the same front fighting ISIS," he said of the Americans, sitting in a furnished trailer in a compound that once belonged to the Syrian state oil company.
Now he is worried about a swift withdrawal, pointing to the American departure from Iraq in 2011, which was followed by the rise of Islamic State.
"They must not make the same mistake," he warned.
As the commander of the American-backed militia that fought the Islamic State, Mazlum now oversees forces controlling one-third of Syria and sits at the nexus of clashing international interests in the jihadists' former lands.
The Syrian government has threatened to take the territory back — by force, if necessary. Thousands of Islamic State fighters have gone underground to launch new attacks and plot their comeback.
And neighboring Turkey, which has fought Kurdish separatists at home for decades, is openly hostile to the Syrian Kurds along its border who have gained territory, sophisticated weapons and powerful alliances as a result of Syria's eight-year civil war.
That puts Mazlum and the Kurdish forces that form the backbone of the S.D.F. at a crossroads. They have a historic militancy toward Turkey, but also an interest in preserving the power they have gained in Syria, said Dareen Khalifa, a senior Syria analyst with the International Crisis Group who has met with Mazlum in Syria.
Then there is the United States.
Mazlum owes most of his strength to the American presence in eastern Syria. But Washington's commitment is uncertain and its plans have changed so frequently that no one — including him — knows how long the American forces will stay put.
Soldiers attached to the Syrian Democratic Forces, checking IDs at a checkpoint on the outskirts of the northern city of Manbij.
"They have gained in Syria what they are not going to be able to get anywhere else," Ms. Khalifa said of the S.D.F., "so they want to preserve that," Ms. Khalifa said.
Those gains include a greatly expanded territory under their political control, where the group hopes to maintain its own administration.
So far, the United States has not used its relationship with Mazlum to push for a longer-term accommodation between Turkey and the Syrian Democratic Forces.
"The U.S. has refused to acknowledge the problem and therefore has refused to act on it," Ms. Khalifa said.
An Essential American Ally
The partnership between Mazlum's forces and the United States was born of necessity during a crisis.
In 2014, after seizing large parts of Syria and Iraq, the Islamic State surrounded the Kurdish town of Kobani in northern Syria, along the Turkish border. To fend off the assault, the United States armed the region's main Syrian Kurdish militia while bombing heavily from the air.
The strategy worked, and the United States found a new partner in Syria, the Kurdish militia known as the People's Protection Units, or Y.P.G. The militia was a Syrian offshoot of the Kurdistan Workers' Party, or P.K.K., which has long fought for Kurdish autonomy in Turkey.
Unlike Syria's Arab rebels, the Kurds were happy to fight the Islamic State instead of the Syrian government. And as a secular movement, they raised no concerns that they might harbor sympathies with Islamist extremists.
With backing from the United States and its allies, the group pushed the jihadists from other parts of Syria and built ties with other militias. In 2015, under prompting from the United States, it rebranded itself as the Syrian Democratic Forces — a mix of Kurdish, Arab and other fighters.
In the process, Mazlum became essential to the United States.
"We tend to go to Mazlum for everything," said one American official who has worked with the militia leader. But the partnership suffered a blow in December when President Trump said he was withdrawing the 2,000 American troops from eastern Syria.
Since then, American plans have changed repeatedly, most recently calling for a drawdown to 1,000 troops followed by a reassessment. Mazlum said he hoped the United States would remain to help take on the Islamic State fighters who have gone underground and to oversee a restructuring of the S.D.F. into an internal security force.
But he will have to reckon with his immediate neighbors, especially if the United States leaves. Negotiations with the Syrian government about reuniting the northeast with the rest of the country have gone nowhere, he said, and the Trump administration has discouraged further talks.
Photographs commemorate the men and women from Kobani, a Kurdish Syrian town, who died in the fight against ISIS.
And the more powerful Mazlum's forces get, the more they scare Turkey, which has threatened to send troops across the border to get rid of what it considers a growing security threat. Meanwhile, Kurdish fighters have dug extensive tunnels near the border to fight back in case the Turks attack.
Mazlum said that he needed more support from the United States-led coalition, not less, but that his forces would survive regardless.
"Of course it will be hard," he said. "But if we end up on our own, we'll continue the war as we did in the time before the coalition."
Two Radically Different Views of the Same Person
Mazlum Kobani, who is 52, remains a mysterious figure, with basic facts about him subject to debate, including his real name. When asked directly, he acknowledged that he that he had been a longtime member of the P.K.K., which the United States and Turkey consider a terrorist organization.
That is history, he said.
"The Turks are focused on the period before 2011," he said, "but we are looking ahead."
He offered only snippets about his background, saying he was arrested repeatedly by the Syrian government and later went to Europe for "political work," followed by "military work" in Iraq.
Officials from the United States and Turkey speak about him as if describing two different people.
"He is a very educated, savvy politician and a very effective front-line soldier," said another American official who has worked with Mazlum. "He is the head of a highly disciplined and, to some degree, ideological movement that is centrally controlled and has a long history of fighting."
Turkey focuses on that history. Officials in the Turkish Foreign Ministry provided documents about his background, which included overseeing an armed wing that launched deadly attacks on Turkish security forces. Officials in Iraq provided similar details. Can Acun, a researcher with SETA, a pro-government think tank in Turkey, said Mazlum's history raised concerns that his forces could use Syria as a base for future attacks on Turkey. The fact that he was supported by the United States, Turkey's NATO ally, only made it worse.
"Turkey doesn't want northeast Syria to become a safe zone for the P.K.K.," Mr. Acun said.
More than a half-dozen American officials who have worked with Mazlum acknowledged his ties to the P.K.K. "Life is complicated in the Middle East," the second United States official said.
Full report at:
https://www.nytimes.com/2019/05/12/world/middleeast/syria-sdf-us-islamic-state.html
--------
Syrian army 'kills terrorists' in Idlib countryside
May 13, 2019
(CNN)The Syrian army is launching "intensive strikes on dens of Jabhat al-Nusra," a group formerly affiliated with al Qaeda, in a village in southwestern Idlib province Sunday, Syrian state media is reporting.
The escalation in violence in Syria's last rebel-held province in recent weeks has prompted the displacement of more than 180,000 people in the territory and killed more than 120 people, according to the UN Office for the Coordination of Humanitarian Affairs (OCHA).
Three hospitals were bombed on Saturday in Syria's northwestern Idlib and Hama, bringing the total to 16 in the past two weeks alone, the Union of Medical Care and Relief Organizations (UOSSM) said Saturday.
But SANA, the country's state-run news agency, stated Saturday that the army's operations destroyed multiple sites purportedly belonging to Jabhat al-Nusra in the southern Idlib countryside.
The army killed and injured "a number of terrorists who had breached the de-escalation zone agreement through repeated attacks on military points and safe towns," SANA reported.
The international community has frequently accused the Syrian government of indiscriminate bombing in its fight against rebels since the start of the country's civil war. Hundreds of thousands of civilians are believed to have died in government offensives.
According to UK-based monitoring group the Syrian Observatory for Human Rights (SOHR), there has been a heavy escalation of shelling and barrel bombs targeting Hama and Idlib in the last few days.
SOHR also reports that against the backdrop of the heavy bombing, Jabhat al-Nusra are worsening the situation for displaced civilians by preventing them from putting up tents.
The UN announced Friday that since April 28 fighting has escalated between government forces and non-state armed groups (NSAGs) in northwest Syria.
The organization noted that on May 8, Syrian forces began ground operations against NSAGs "impacting on civilian populations, infrastructure and service provision in northern Hama and southern Idleb governorates."
The White Helmets volunteer rescue group, known as the Syria Civil Defense, has since stated that escalating attacks have led to numerous deaths and injuries among civilians.
"Another 12 civilians were killed today; more stories and hopes were left behind," the group tweeted Saturday. "More than 40 people were injured in brutal bombing by Russian and regime jets for the 14th day in a row on #Idlib and #Hama."
The United Nations Security Council was briefed Friday on the worsening situation in northwest Syria. 11 out of its 15 members -- including the US, France and Britain -- jointly condemned the killing of civilians in the region and warned of a potential humanitarian disaster.
"We are alarmed by the displacement of over 150,000 persons as well as the targeting of population centers and civilian infrastructure, including hospitals and schools," Marc Pecsteen de Buytswerve, Belgium's ambassador to the UN, said following the meeting.
The bombardment on Idlib, which is being supported by Russia, was also condemned by Turkey, which previously signed an agreement with Russia to create a demilitarized zone in the province.
"Humanitarian problems grow each day and it is increasingly showing a tendency to turn into a catastrophe," said Hulusi Akar, the Turkish defense minister, according to the state-owned Anadolu Agency.
Full report at:
https://edition.cnn.com/2019/05/12/middleeast/syria-idlib-hama-strikes-jabhat-al-nusra-intl/index.html
--------
Iraqi troops kill 3 Islamic State suicide bombers in Salahuddin
by Mohammed Ebraheem
May 12, 2019
Salahuddin (IraqiNews.com) – Iraqi troops killed on Sunday three Islamic State suicide bombers and destroyed 10 terrorist hotbeds in Salahuddin province.
"A joint force of Salahuddin Operations Command and al-Hashd al-Shaabi (Popular Mobilization Forces) carried out a preemptive military operation in the depth of Hamrin Mountains in Salahuddin province, killing three Islamic State suicide bombers," Al-Madar News quoted the media center of al-Hashd al-Shaabi as saying in a press statement.
The troops "also destroyed 10 Islamic State hotbeds containing explosive belts, ammunition and foodstuffs," the statement added.
Iraq declared the collapse of Islamic State's territorial influence in November 2017 with the recapture of Rawa, a city on Anbar's western borders with Syria, which was the group's last bastion in Iraq.
IS declared a self-styled "caliphate" in a third of Iraq and neighboring Syria in 2014. A government campaign, backed by a U.S.-led international coalition and paramilitary forces, was launched in 2016 to retake IS-held regions, managing to retake all havens, most notably the city of Mosul, the group's previously proclaimed capital.
Full report at:
https://www.iraqinews.com/iraq-war/iraqi-troops-kill-3-islamic-state-suicide-bombers-in-salahuddin/
--------
White Helmets, Tahrir Al-Sham Terrorists Preparing to Produce Video on False-Flag
May 13, 2019
The White Helmets are preparing video clips from fake chemical attacks on civilians in Jisr al-Shughour region in Western Idlib, local sources in Idlib Province said.
The sources noted that for preparing the false-flag attack, the White Helmets in cooperation with Tahrir al-Sham terrorists have sent a number of gas capsules containing chemical substances to the region.
Meantime, the terrorists intend to prepare the grounds for the attacks by the West, specially the US, on the Syrian soil by carrying out a false-flag chemical attack to blame it on the Syrian Army as the Syrian Army continues its strategic advances in Northwestern Hama.
In a relevant development in late April, media reports said that Tahrir al-Sham al-Hay'at terrorists and pro-militant White Helmets had fully prepared to launch false-flag chemical attack in Idlib Province.
Tahrir al-Sham and other terrorist groups have coordinated with the White Helmets in Jorjnaz town in Ma'arat al-Numan region in Southern Idlib, the Arabic-language al-Mayadeen TV network quoted local sources in Idlib as saying.
The sources pointed to the terrorists' attempt to launch false-flag chemical attacks in Idlib at the order of their foreign sponsors, and said that the terrorists intend to use chlorine gas against civilians, including children who have been kidnapped from different regions of Idlib in recent years.
Full report at:
http://en.farsnews.com/newstext.aspx?nn=13980223000402
--------
Mideast
Gaza matches Hezbollah, can fire 1,000 missiles a day: Israel
May 13, 2019
Israeli officials have concluded that resistance groups in the besieged Gaza Strip now match their Lebanese counterpart Hezbollah in terms of missile prowess.
According to a new report by the Israeli new site Walla, Israeli military experts have confirmed after extensive research that Hamas and Islamic Jihad can launch a barrage of 1,000 missiles a day in case of future conflicts.
That's significantly higher than the resistance groups' impressive tally of firing around 700 rockets and missiles at Israeli targets during a two-day standoff earlier this month.
The sheer number of the rockets was enough to overwhelm Israeli missile systems and force Prime Minister Benjamin Netanyahu to agree to yet another truce agreement to prevent a further escalation last week.
But the threat is not limited to missiles and rockets. Maj. Gen. Herzi Halevi, the head of the Israeli military's Southern Command, admitted that his forces were preparing to face a wide variety of weapons including Kornet-type anti-tank guided missiles, drones and balloon-borne bombs.
Hamas carried out its first ever drone attack against Israel during the recent confrontation. Israeli media stated that a Hamas drone had fired a missile at an Israeli military convoy but the extent of damage and possible casualties were not clear.
Israeli media had reported earlier that the regime was considering building a wall near the Gaza fence to prevent Kornet attacks like the one that destroyed an Israeli armed vehicle during the recent battles.
The Gaza escalation erupted last Friday following the deaths of four Palestinians in an Israeli air raid on the coastal sliver of land and the regime's live fire targeting Gaza protesters.
Israeli warplanes struck some 350 sites in Gaza, claiming the lives of 27 Palestinian people.
In response, the Palestinians fired some 700 rockets at the occupied lands between Saturday morning and early Monday morning, killing four Israelis and injuring 200 others.
'Israel alarmed'
Precision and high destructive power were two other factors that left Israeli officials and military experts aghast after the recent conflict.
Yoni Ben-Menachem, a well-known Israeli journalist, wrote that Israel was amazed how accurate and powerful the latest Palestinian missiles had become.
"What was surprising about the Palestinian missiles in the two-day war was their destructive power," he was quoted as saying by Palestinian media.
The missiles fired by Hamas and Islamic Jihad hit their targets in Israel with high accuracy, Ben-Menachem added.
During the recent flare-up, the al-Quds Brigades, the armed wing of the Palestinian Islamic Jihad movement, unveiled its latest domestic missile by firing it at targets in the Israeli occupied territories.
The resistance group released a video on Sunday which showcased the new missile, dubbed Badr 3, before cutting to footage of it being launched at positions in the city of Ashkelon, which is located 50 kilometers (31 miles) south of Tel Aviv.
The missile carried a 250-kilogram (551 lb) warhead, a major leap from its predecessor which had a much smaller 40-kilogram warhead.
The al-Quds Brigades warned Israel that "what is coming next will be even greater."
https://www.presstv.com/Detail/2019/05/13/595826/Israel-Gaza-Palestine-missile-power-Hezbollah-Hamas-Islamic-Jihad-Badr
--------
Houthis' withdrawal from key Yemeni ports prelude to final solution: Iran
May 13, 2019
Iran has hailed the unilateral withdrawal of Houthi forces from key ports of Yemen's western province of Hudaydah, once again reaffirming the Islamic Republic's support for the Stockholm agreement.
Iranian Foreign Ministry Spokesman Abbas Moussavi on Monday said the unilateral withdrawal of the military forces of the Ansarullah-led government, known as the National Salvation Government of the Republic of Yemen, from the ports of Hudaydah, Ras Isa and Salif was a constructive move.
He added that the implementation of the Stockholm agreement would pave the way for achieving a political, inclusive and final solution to the Yemeni crisis.
The United Nations said on Sunday that the withdrawal of Houthi forces from the three key ports in Yemen is proceeding "in accordance with established plans" for a second day, as the Saud-backed former government still refuses to pull out its besieging forces from Hudaydah in line with an accord the two sides reached in Sweden last year.
Yemen's Houthi Ansarullah movement is in control of the ports, which have been under a tight siege by the country's former Saudi-backed government, led by ex-president Abd Rabbuh Mansur Hadi, since June last year.
In December 2018, representatives from the Houthi Ansarullah movement and the Riyadh-sponsored government of Hadi reached the truce deal during UN-mediated peace talks in Sweden.
Under the deal, they agreed on the withdrawal of their troops and the deployment of UN monitors to Hudaydah, a lifeline for millions of Yemenis.
Elsewhere in his remarks, the Iranian spokesperson said, "The Sana'a government's move to save the Stockholm deal signifies the Yemeni National Salvation Government's determination and commitment to dialog and honoring its obligations on the one hand, and indicates the Saudi-backed coalition's obstructionism and lack of commitment to this agreement on the other hand."
Moussavi pointed to many acts of obstructionism by forces backed by the Saudi-Emirati coalition and said, "The United Nations and influential countries must exert pressure on the coalition to live up to its obligations and stop its acts of obstructionism aimed at halting the implementation of the Stockholm agreement."
Leading a coalition of its allies, Saudi Arabia invaded Yemen in March 2015 in an attempt to reinstall Hadi, who had resigned amid popular discontent and fled to Riyadh, and to crush the Houthi Ansarullah movement, which has been significantly helping the Yemeni army against a Saudi-led military coalition for the past four years.
The imposed war initially consisted of an aerial campaign, but was later coupled with a naval blockade and the deployment of ground mercenaries to Yemen. Furthermore, armed militia forces loyal to Hadi, in line with invaders, launch frequent attacks against Yemeni people in regions held by Houthis.
The aggression is estimated to have left 56,000 Yemenis dead.
Late in April, Iran dismissed US Secretary of State Mike Pompeo's claims of Tehran's negative role in the implementation of a ceasefire deal between Yemen's warring sides in the port city of Hudaydah, saying Washington's "blame game" is meant to cover up the Saudi-Emirati crimes in the war-torn country.
Full report at:
https://www.presstv.com/Detail/2019/05/13/595844/Hudaydah-Iran-Moussavi-Houthis-withdrawal
--------
Over one million Palestinians in Gaza not having enough food by June: UNRWA
May 13, 2019
The United Nations Relief and Works Agency for Palestine Refugees in the Near East (UNRWA) has warned that it will not be able to provide food to more than one million Palestinian refugees in the besieged Gaza Strip if it cannot raise at least an additional $60 million by next month.
"At a time when Muslims around the world are observing the holy month of Ramadan, often characterized by the festive nature of its Iftars, in Gaza, more than half the population depends on food aid from the international community," UNRWA said in a statement released on Monday.
The statement added, "Unless UNRWA secures at least an additional US$60 million by June, our ability to continue providing food to more than one million Palestinian refugees in Gaza, including some 620,000 abject poor -- those who cannot cover their basic food needs and who have to survive on US$1.6 per day -- and nearly 390,000 absolute poor -- those who survive on about US$3.5 per day – will be severely challenged."
Furthermore, Matthias Schmale, director of UNRWA Operations in Gaza, said, "This is a near ten-fold increase caused by the blockade that [led] to the closure of Gaza and its disastrous impact on the local economy, [and] the successive conflicts that razed entire neighborhoods and public infrastructure to the ground."
'Israel's siege behind deteriorating situation in Gaza'
Meanwhile, Palestinian Prime Minister Mohammad Shtayyeh has blamed the continued Israeli siege on the Gaza Strip for the deterioration of the situation in the coastal enclave.
"The world must not forget that the issue of the Palestinians is not only a humanitarian one, but also a political," Shtayyeh said in Jerusalem al-Quds on Sunday.
The Gaza Strip, the senior Palestinian official noted, has been suffering from an Israeli siege for more than 12 years and this is aimed at serving a US plan to pass the so-called "deal of the century," end any chance of a "two-state solution" and turn the Palestinian issue into just a humanitarian one.
The Gaza Strip has been under an Israeli blockade since June 2007. The blockade has caused a decline in the standard of living as well as unprecedented levels of unemployment and unrelenting poverty.
Palestinians have held weekly rallies along the Gaza border to protest the siege on the enclave and demand the right for refugees to return to their homes they fled during the 1948 creation of Israel.
More than 270 Palestinians have been killed by Israeli forces ever since anti-occupation protest rallies began in the Gaza Strip on March 30, 2018. Over 16,000 Palestinians have also sustained injuries.
The Gaza clashes reached their peak on May 14, 2018, on the eve of the 70th anniversary of Nakba Day (Day of Catastrophe), which coincided with a US decision to relocate its embassy from Tel Aviv to occupied East Jerusalem al-Quds.
On June 13, 2018, the United Nations General Assembly adopted a resolution, sponsored by Turkey and Algeria, which condemned Israel for Palestinian civilian deaths in the Gaza Strip.
The resolution, which had been put forward on behalf of Arab and Muslim countries, garnered a strong majority of 120 votes in the 193-member assembly, with 8 votes against and 45 abstentions.
Full report at:
https://www.presstv.com/Detail/2019/05/13/595840/Over-one-million-Palestinians-in-Gaza-may-not-have-enough-food-by-June-UNRWA-warns
--------
Data shows Israeli settlements boosted after Trump election
May 14, 2019
JERUSALEM: Israel's government went on a spending binge in its West Bank settlements following the election of President Donald Trump, according to official data obtained by The Associated Press.
Both supporters and detractors of the settlement movement have previously referred to a "Trump effect," claiming the president's friendlier approach to the settlements is leading to additional West Bank construction.
While the new Israeli figures obtained in a freedom of information request do not prove a direct connection, they indicate this process may already be underway, showing a 39% increase in 2017 spending on roads, schools and public buildings across the West Bank.
Hagit Ofran, a researcher with the anti-settlement monitoring group Peace Now, said it appears that Trump's election has emboldened Israel's pro-settler government.
"They are not shy anymore with what they are doing," she said. "They feel more free to do whatever they want."
Nabil Abu Rdeneh, spokesman for Palestinian President Mahmoud Abbas, offered even sharper criticism. "This proves that the current US administration encouraged settlement activities," he said.
Since capturing the West Bank and east Jerusalem in the 1967 Mideast war, Israel has settled some 700,000 of its citizens in the two areas, which are considered occupied territory by most of the world. The international community has objected to Israel's moving people into settlements in those territories as both illegal and a deliberate obstacle to any future Palestinian state.
The Palestinians, who claim both the West Bank and east Jerusalem as parts of their future state, consider the settlements illegal land grabs. Scores of fast-growing settlements control strategic hilltops and swaths of the West Bank, making it increasingly difficult to partition the territory.
For decades, the international community and the US have expressed concern over the settlements while doing little to halt their construction. But since taking office, Trump, whose inner circle of Mideast advisers have longstanding ties to the settler movement, has taken a different approach. The White House has urged restraint but refrained from the blanket condemnations of its Republican and Democratic predecessors.
"The Trump administration is undoubtedly the most friendly American administration of all time," said Oded Revivi, the chief foreign envoy of the Yesha settlers' council. "In contrast, the Obama years were extremely hard for Israel. Now we are making up for lost ground."
The government statistics, released by Israel's Finance Ministry, showed Israeli spending in the West Bank in 2017, Trump's first year in office, rose to 1.65 billion shekels, or $459.8 million, from 1.19 billion shekels in 2016.
The 2017 figures were the highest in the 15 years of data provided by the Finance Ministry, though spending also climbed in 2016. At the time, President Barack Obama, a vocal critic of the settlements, was a lame duck, and relations with Prime Minister Benjamin Netanyahu were cool.
In contrast, the lowest year of Israeli spending was 2009, when both Netanyahu and Obama took office, when it was 760.7 million shekels. The data included only the first half of 2018, so full-year comparisons were not available.
The ministry released the data after two years of requests from the AP, which received backing early this year from "The Movement for Freedom of Information," a legal advocacy group that assists journalists.
The figures include only government spending, so construction and purchases of private homes are not included. Israel also does not include items like police, education, health and military spending, saying such services are provided to all Israelis regardless of where they live.
In addition, spending in east Jerusalem is excluded. Israel considers the area part of its capital, although the vast majority of the world does not recognize its annexation.
But even with these caveats, the data provide a valuable snapshot of Israel's priorities. The figures include spending on public construction projects, such as roads, schools, social centers, synagogues, shopping malls and industrial parks. They also include special development grants for local governments and mortgage subsidies.
The areas with the strongest growth in 2017 were in school construction, which jumped 68%, and road construction, which rose 54%.
Revivi, who is also mayor of the Efrat settlement near Jerusalem, said the spending was badly needed.
He said that school spending was legally required because of the fast-growing population. He also said that roads in the West Bank have been in "dire condition" for years, and there is a drastic need for improvements.
Netivei Yisrael, the public company that oversees road construction, said it carries out its projects at the instruction of the Transportation Ministry. In the West Bank, these projects often allow settlers to bypass Palestinian villages to minimize friction.
In a statement, the company said it is "proud to lead a long line of projects throughout Israel, including Judea and Samaria, with the goal of improving safety for travelers and saving lives."
Israel's Education Minister Naftali Bennett declined to comment, while Transportation Minister Israel Katz did not respond to a query. Both men are strong supporters of the settlements. Netanyahu's office also did not answer a request for comment.
But Peace Now's Ofran said that road construction has deeper implications. She said new roads bring easier commutes and a better quality of life for settlers, drawing more people.
"We see it very immediately, after the opening of a road, a big boom in construction along the road," she said. "I think the investments we have these years in the roads are dramatic and will allow the expansion of settlements dramatically. That is very much worrying."
After winning re-election last month, Netanyahu is in the process of forming a new coalition that also is expected to have close ties with the settlers.
In recent months, both Peace Now and settler advocates have released reports claiming that Trump's policies have laid the groundwork for a settlement boom in the near future.
In a statement, the US Embassy in Jerusalem repeated the White House policy. "While the existence of settlements is not in itself an impediment to peace, further unrestrained settlement activity doesn't help peace," it said.
The new data added to Palestinian distrust of the US, boding poorly for a new peace plan the administration says it is preparing.
The Palestinian Authority cut off ties with the White House after Trump recognized Jerusalem as Israel's capital in December 2017 and subsequently moved the American Embassy to the contested city. US cuts of hundreds of millions of dollars of aid for the Palestinians have further poisoned the atmosphere.
Claiming the Trump administration is unfairly biased, the Palestinians already have said they will reject any US peace plan.
Abu Rdeneh, the Palestinian spokesman, said the numbers are "another reason why we think that the US plan is unfair."
The Finance Ministry data is collected each year and shared with the US, which under a policy going back to President George H.W. Bush deducts the sum from loan guarantees for Israel.
Full report at:
http://www.arabnews.com/node/1496751/middle-east
--------
Economic conditions 'suffocating the joy of Ramadan' in Gaza
May 14, 2019
GAZA CITY: Ramadan has arrived under very harsh conditions in the Gaza Strip, the result of the 13-year siege and waves of Israeli military escalation, as well as the internal division that has existed since mid-2007.
Gazans began the first day of Ramadan by burying the victims of Israeli airstrikes, which targeted hundreds of homes and public and private facilities over two days.
Israeli military escalation has increased the suffering of the Gazans, who have been denied the joy of Ramadan due to widespread poverty, high unemployment, the salary crisis and the inability of citizens to purchase items.
Employee Mohammed Sultan said that he was unable to provide for his seven-member family because of the delay in paying employees' salaries in Gaza.
"We received the last salary about a month ago, and we expected to get our salaries before the month of Ramadan, but that did not happen," Sultan said.
Employees of the Palestinian Authority (PA) led by President Mahmoud Abbas are no longer better off than their Hamas counterparts.
Since March 2017, the PA has deducted more than 60 percent of the salaries of about 50,000 of its employees in Gaza. The PA says the measure is due to a financial crisis, but Palestinian factions and employees see it as "sanctions" to pressure Hamas "and to destabilize the Gaza Strip since it took control of the Gaza Strip in mid-June 2007."
"We did not feel the month of Ramadan, nor did we feel happy," said Amal Al-Sattari, an employee of the PA.
"We lost the holy month and we did not feel it because of the salary crisis and our inability to shop for the needs of Ramadan, as we always used to do."
"How are we going to provide iftar and suhoor? And we do not have one shekel in our house. It's a real tragedy," she said.
Al-Sattari, who is raising six children after her husband's death seven years ago, asked how her children could be responsible for the political differences that were causing such suffering.
"Instead of taking into consideration our circumstances for the month of Ramadan, paying our full salaries, the PA increased the deduction rate, and about 40 percent of our salaries were paid to us a few days before Ramadan," she said.
The suffering of workers is even more severe, with 52 percent unemployment and more than half of Gaza's 2 million people dependent on humanitarian aid from UN and other charities.
"We have received Ramadan and the refrigerator is empty, and my sons cry, they want the lantern of Ramadan," said Mohamed Allawi, a construction worker who is unemployed.
"The lowest price for the Ramadan lantern is NIS5 ($1.40), and if I had (the money), food and drink would be the first (items) to buy. We are in a situation that does not allow us and our children even a simple joy."
Allawi said: "People everywhere are thinking about cooking the best food in Ramadan, and our iftar was beans and some rice on the first day, the same as the day before."
Adnan Ahmed was forced to borrow money from a friend before Ramadan for shopping and celebrating with his nine-member family.
Adnan, a cleaner in a hospital in the southern Gaza city of Rafah, said that he and many of his acquaintances had to sell their wive's jewelry to overcome the economic crisis. However, the crisis went on longer than expected and there was nothing left to be sold.
Mohammed Saleh, a cheese seller, complained of customers' reluctance to buy, despite the cheapness and variety of goods offered, adding that he had been hoping for an economic rebound by the end of Ramadan.
Saleh said: "Although I arrived early on the first day of Ramadan and wanted to offer different types of cheeses, which are usually more popular in Ramadan, this was not enough to attract customers because of the deteriorating economic conditions of most people."
He added that although many people visited the market, the majority could not afford to buy anything.
It was no different for the seller of sweets and nuts, Mohamed Taha, who confirmed that for the third year in a row, Ramadan was one of the most difficult times for the people of Gaza, because of poverty and unemployment. The situation had deteriorated more with the salary crisis of employees at the Palestinian Authority.
He said that he had been selling in the market for many years, but had not seen a recession like the one that was currently being experienced.
Full report at:
http://www.arabnews.com/node/1496626/middle-east
--------
Iran may attack Israel if U.S. standoff escalates: Israeli minister
MAY 12, 2019
JERUSALEM (Reuters) - An Israeli cabinet minister warned on Sunday of possible direct or proxy Iranian attacks on Israel should the stand-off between Tehran and Washington escalate.
The United States has increased economic and military pressure on Iran, with President Donald Trump on Thursday urging its leaders to talk to him about giving up their nuclear program and saying he could not rule out an armed confrontation.
Israeli Prime Minister Benjamin Netanyahu's government, which supports Trump's hard tack against its arch-foe, has largely been reticent about the spiraling tensions.
Parting with the silence, Israeli Energy Minister Yuval Steinitz said that, in the Gulf, "things are heating up".
"If there's some sort of conflagration between Iran and the United States, between Iran and its neighbors, I'm not ruling out that they will activate Hezbollah and Islamic Jihad from Gaza, or even that they will try to fire missiles from Iran at the State of Israel," Steinitz, a member of Netanyahu's security cabinet, told Israel's Ynet TV.
Hezbollah and Islamic Jihad are Iranian-sponsored guerrilla groups on Israel's borders, the former active in Syria as well as Lebanon and the latter in the Palestinian territories.
The Israeli military declined to comment when asked if it was making any preparations for possible threats linked to the Iran-U.S. standoff.
Full report at:
https://www.reuters.com/article/us-usa-iran-israel/iran-may-attack-israel-if-us-standoff-escalates-israeli-minister-idUSKCN1SI05S
--------
Houthi rebels claim to begin withdrawal from key Yemen ports
May 12, 2019
SANAA, Yemen (AP) — Yemen's Houthi rebels on Saturday began a long-delayed withdrawal of forces from the port facility in the key city of Hodeida, the group said, following the terms of a December cease-fire aimed at alleviating the world's worst humanitarian crisis. The government described the Houthi claim as a "farce."
Mohammed Ali al-Houthi, the head of the rebels' Supreme Revolutionary Committee, said the pullout from Hodeida, as well as the two smaller ports of Salif and Ras Issa, began in the morning.
But leading Yemeni negotiator Ahmed al-Kawkabani told The Associated Press late Saturday that his team "won't recognize any redeployment outside what the U.N. proposed," which includes the removal of land mines, inspections and and end of all military presence at the port.
The country's bloody civil war erupted in September 2014, when Shiite Houthi rebels swept into the capital city of Sanaa. A Saudi-led coalition soon intervened to back the government of President Abed Rabbo Mansour Hadi. The cease-fire in Hodeida, which halted months of heavy fighting in the city, called for the mutual withdrawal of rebel and government forces from the city's port, and the two smaller ports in the province.
Sadek Dawad, a government negotiator, said he welcomed the "first step of the first phase of redeployment" of rebel forces in the area. He urged the U.N. to verify and watch the pullout. He also called for the removal of land mines laid by the Houthis.
The information minister of Yemen's internationally recognized government, Moammer al-Iryani, warned of "attempts by the (Houthi) Militia to mislead" the U.N. Security Council before an expected meeting next week.
The U.N. Mission to Support the Hodeida Agreement said Saturday it was monitoring "the initial unilateral redeployment" of Houthi rebels form the ports, which is to be completed on Tuesday.
Hodeida is the main international entry point for 70 percent of imports and humanitarian aid to Yemen, where the four-year civil war has killed an estimated 60,000 people and pushed much of the country to the brink of famine. Nearly two thirds of Yemenis are in need of some sort of aid and 3 million displaced. Thousands have died of malnutrition, preventable diseases and epidemics.
British Foreign Minister Jeremy Hunt welcomed the Houthi pullout from the ports. "We appear to be approaching implementation of the mutual redeployment of forces - a key step to ending this brutal war," he tweeted.
Kurt Tjossem, the International Rescue Committee's regional director for the Horn and East Africa, said in a statement "it is crucial that the force redeployments move forward and are verified and are followed by sustained commitment by all parties to make good on their Stockholm obligations."
An official from the internationally recognized government said officials would meet with the head of the U.N. operation monitoring the cease-fire, Lt. Gen. Michael Lollesgaard, later Saturday. The official spoke on condition of anonymity as he was not authorized to speak with the media.
Lollesgaard said Friday that the Houthis' withdrawal from the three ports marked the first practical step toward realizing the cease-fire. He added that the Houthis must commit to following fully through with the redeployment, which is expected to take place over three days.
Lollesgaard said the full implementation of the Hodeida deal remains instrumental to ensuring life-saving humanitarian access inside Yemen.
The U.N.-brokered deal was vague on who will control Hodeida's strategic ports after the sides withdraw, saying a "local force" would take over without specifying further.
The pullout was scheduled to take place two weeks after the cease-fire went into force on Dec. 18. But a lack of trust between the government and the Houthis hampered agreement on details of the withdrawals. Each side has accused the other of violating the Hodeida cease-fire, and fighting has continued in other parts of the country.
The agreement in Sweden also included a prisoner exchange between the two sides, which has yet to be carried out.
Also on Saturday, fighting continued in the southern Dhale province, which had been under the control of forces loyal to the internationally recognized government.
The rebels' Health Ministry said in a statement an airstrike by the Saudi-led coalition killed six children and a woman in the district of Qaaraba. The statement said the airstrike also wounded 17 people, including 11 children.
A spokesman for the Saudi-led coalition didn't respond to calls seeking comment.
Full report at:
https://apnews.com/41f0a962e6c847ebbcb555ed59ce99bb
--------
Turkey assessing a delay at US request in taking delivery of Russian missile
14 May 2019
Turkey is assessing whether to delay taking delivery of the S-400 Russian missile defense system, currently scheduled for July, after a new request from the United States, a source familiar with the matter said on Monday.
The move would be a rare detente in months of escalating tensions between the two NATO allies, which have been at loggerheads over Turkey's planned purchase of the Russian system, which the United States opposes.
Full report at:
https://english.alarabiya.net/en/News/middle-east/2019/05/14/Turkey-assessing-a-delay-at-US-request-in-taking-delivery-of-Russian-missile.html
--------
Veteran Palestinian negotiator says denied US visa for first time
13 May 2019
A veteran Palestinian negotiator said on Monday she had been denied a US travel visa for the first time and viewed it as retaliation for her criticism of the Trump administration and Israel.
US diplomats did not immediately respond to the allegations by Hanan Ashrawi, a member of the executive committee of the umbrella Palestine Liberation Organization (PLO) who took part in interim peace talks with Israel dating back decades.
Since they boycotted the Trump administration over its recognition of Jerusalem as Israel's capital in late 2017, the Palestinians have seen cuts to US funding that have contributed to economic distress in the occupied West Bank and the Gaza Strip.
"It is official! My US visa application has been rejected. No reason given," Ashrawi said on Twitter. She posited that "this administration has decided I do not deserve to set foot in the US".
Ashrawi gave as possible reasons her "vocal critic(ism) of this administration & its underlings" and her "(zero) tolerance for the Israeli occupation in all its manifestations as a most pervasive form of oppression, dispossession & denial".
Palestinian Foreign Minister Riyad al-Maliki said last week that the United States seems to be crafting a plan for a Palestinian surrender to Israel instead of a peace deal.
Ashrawi has sparred publicly with Jason Greenblatt, a Trump envoy and an architect of the peace plan, saying on Twitter on Sunday that he is a "self-appointed advocate/apologist for
Israel".
In February, Greenblatt tweeted that Ashrawi was "always welcome" to meet him at the White House. A month later, after Ashrawi condemned Israeli military strikes in Hamas-ruled Gaza, he tweeted to her: "Stop hurting Palestinians w/bad judgment".
Speaking to Reuters, Ashrawi said she had applied for a B-1/B-2 visa, which is for either business or tourism travel to the United States. She described the rejection as a first for her.
"Most of my life, I've been going back and forth, meeting people, speaking everywhere. This is new," she said. "They (the Trump administration) are trying to punish us."
Full report at:
https://english.alarabiya.net/en/News/middle-east/2019/05/13/Veteran-Palestinian-negotiator-says-she-was-denied-US-visa-for-first-time.html
--------
Yemeni drones launch retaliatory raids against vital Saudi facilities: Al-Masirah
May 14, 2019
Seven drones run by Yemeni armed forces have reportedly carried out attacks against vital Saudi facilities in response to the Riyadh regime's ongoing acts of aggression against Yemeni people.
A Yemeni military source told al-Masirah TV on Tuesday that the extensive military operation was conducted in retaliation for Saudi Arabia's deadly military aggression and the siege of the impoverished Arabian Peninsula state.
The source did not, however, specify the targets or the time of the strikes.
Full report at:
https://www.presstv.com/Detail/2019/05/14/595889/Yemen-drones-Saudi-facilities
--------
Turkey detains 46 ex-policemen over affiliation to Gulen movement
May 13, 2019
Turkish security forces have arrested dozens of former police officers on suspicion of affiliation to a movement led by US-based opposition cleric Fethullah Gulen, whom the Ankara government accuses of having masterminded the July 2016 coup attempt against President Recep Tayyip Erdogan.
Police sources, speaking on condition of anonymity, said 46 people were detained in operations across the country on Monday.
The sources added that the arrests were made after prosecutors in the capital Ankara issued arrest warrants for 64 suspects.
During the 2016 botched putsch, a faction of the Turkish military declared that it had seized control of the country and the government of Erdogan was no more in charge. The attempt was, however, suppressed a few hours later.
Ankara has since accused Gulen of having orchestrated the coup. The opposition figure is also accused of being behind a long-running campaign to topple the government via infiltrating the country's institutions, particularly the army, police and the judiciary.
Gulen has denounced the "despicable putsch" and reiterated that he had no role in it.
"Accusations against me related to the coup attempt are baseless and politically-motivated slanders," he said in a statement.
The 78-year-old cleric has also called on Ankara to end its "witch hunt" of his followers, a move he says is aimed at "weeding out anyone it deems disloyal to President Erdogan and his regime."
Turkish officials have frequently called on their US counterparts to extradite Gulen, but their demands have not been taken heed of.
Turkey has been engaged in suppressing the media and opposition groups suspected to have played a role in the failed coup.
Tens of thousands of people have been arrested in Turkey on suspicion of having links to Gulen and the failed coup. More than 110,000 others, including military staff, civil servants and journalists, have been sacked or suspended from work over the same accusations.
Full report at:
https://www.presstv.com/Detail/2019/05/13/595849/Turkey-detains-46-expolicemen-over-affiliation-to-Gulen-movement
--------
Europe
UN chief meets NZ mosque victims, decries online hate
May 14, 2019
CHRISTCHURCH: UN Secretary General Antonio Guterres warned hate speech was spreading online "like wildfire" at a meeting with victims of the Christchurch mosque shootings Tuesday, vowing the world body will lead efforts to extinguish the problem.
Guterres visited the Al Noor mosque, one of two Muslim centers in the New Zealand city where a self-described white supremacist killed 51 people in a March 15 shooting that the attacker live-streamed on Facebook.
The UN chief is traveling the South Pacific to highlight the impact of climate change but said he also wanted to show his support for Christchurch's Muslim community during Ramadan.
"I know there are no words to relieve the hurt and sorrow and pain, but I wanted to come here personally to transmit love, support and total and complete admiration," he said.
He told victims of the worst mass shooting in modern New Zealand history that there had been "a dangerous upsurge in hatred" as social media was exploited to promote bigotry.
"Hate speech is spreading like wildfire in social media. We must extinguish it," the Portuguese diplomat said.
"There is no room for hate speech — online or offline."
He highlighted a previously announced plan for his special adviser on genocide prevention Adama Dieng to combat online extremism.
He said Dieng's mission was to "bring together a United Nations team to scale up our response to hate speech and present a global plan of action."
His remarks come as New Zealand Prime Minister Jacinda Ardern, who hosted Guterres when he arrived in Auckland on Sunday, embarks on her own quest to tame social media in Paris this week.
Ardern will co-host a meeting of world leaders and tech firms to promote a "Christchurch call" aimed at curbing online extremism.
She has been highly critical of social media giants in the wake of the Christchurch killings, saying they should be "taking ownership and responsibility over their platforms."
http://www.arabnews.com/node/1496731/world
--------
British mosque security heightened as Ramadan is in full swing
Taylor Heyman
May 13, 2019
British Muslims are to witness increased police presence around mosques and gain more funding to secure places of worship over the Islamic holy month of Ramadan after high profile attacks prompted a review of the threat.
Home Secretary Sajid Javid announced the roll out of a new £5 million fund would help places of worship gain security training and share best practice to protect their worshippers.
"There can be no doubt that people have been targeted because of their religion in terrorist attacks around the world, but also in vile hate crimes on the streets of this country – sledgehammer attacks on mosques, a Christian preacher spat at in the street, and a brick thrown through the glass door of a synagogue," Mr Javid said.
"I condemn all these attacks with every fibre of my being. "
Monitor Tell Mama recorded a 593 per cent rise in reports of Islamophobia in the UK in the week following the Christchurch terror attack which killed 49 Muslims during Friday prayers in March. Mosques in the British city of Birmingham have reported recent incidents of damage with a sledgehammer and spray paint.
As much of the new funding will not be released until after Ramadan, when traditionally mosques are busy and vulnerable to greater threat, Mr Javid promised "increased activity" of police.
Muslim communities have been taking their own action to prepare for the increased risk of attack over the holy period.
"The mosques in Ramadan are very busy," says Shaukat Warraich, CEO of Fatih Associates.
"Mosques are generally open in Ramadan 24 hours a day, which is a high risk situation when the far-right are openly saying 'we should be targeting mosques'" says Shaukat Warraich, CEO of Faith Associates.
The group has been working closely with the Community Security Trust (CST), an organisation with a focus on the Jewish community, to help formulate security measures and train volunteers.
"CST has assisted other faith communities with advice and support regarding security at their places of worship for many years, based on our long experience protecting the UK Jewish community from antisemitism and terrorism," a spokesperson from CST told The National.
"The demand for this help has increased significantly since the recent terrorist attacks in New Zealand and Sri Lanka, and we are working with partners in other faith communities to assist where we can."
Mr Warraich has been on a roadshow around the UK hosting mosque leaders and organisers on how to keep their congregations safe during the holy month.
He says a "cultural shift" is needed in British Muslim communities when it comes to protecting themselves, saying they are beginning to recognise that despite the government's willingness to help, it "hasn't got a bottomless pit of money".
"Before you had the situation where everyone is welcome, doors are open, no checking, just come and use the facility," he told The National.
"Now what we're advising is yes, be open, but be more vigilant. Look at your CCTV, think about what protective measures you have in place and instead of investing in a brand new chandelier or a swanky new speaker system, why don't you reinvest that into some protective security?"
Mike Bluestone, director of security service provider Corps Security, says measures don't have to cost the earth to be effective. In fact, trained volunteers can buy crucial time in the event of an attack if security personnel cannot be funded.
"We're not talking here about people playing 007 or Rambo, we're talking about people on the doors, just welcoming guests, welcoming arrivals. They know the faces, they know who to let in."
Using people who are already familiar to congregants to play a lookout role retains the open atmosphere while providing a level of protection, he says, and other measures such as panic buttons, CCTV monitoring, suitable doors and clear procedures can assist not only in saving lives in the event of attack, but identifying individuals on reconnaissance missions.
"Mosques, synagogues, churches and temples all require security policies and simple to understand security operations procedures for the benefit of that community," he told The National.
"In some cases they're more sophisticated and may be drafted in a way that you'd find in corporate offices, in smaller communities, they might just be a list of do's and don'ts."
What's important, Mr Bluestone says, is vigilance and involving the community – for instance members of the congregation who are doctors or nurses – in contingency plans.
"Unarmed civilians cannot stop armed attackers... but they can be spotted, perhaps further away from the place of worship than might be expected. That gives people a bit of time because what effective security is about, and it's not just for holy places, this applies to offices or industry or wherever is your creating barriers along the way.
The more you can delay the attacker, the more time you give to the authorities, the armed police response and provide the support that's needed and that kind of threat."
There may not be a "bottomless pit", but funding for security for places of worship has been increased in the wake of the Christchurch attack, in which a gunman killed 49 people at two New Zealand mosques.
The fund will make £1.6m available to places of worship from July. Since the scheme launched in 2016, more than £1.5 million has been awarded to 63 churches, 49 mosques, five Hindu temples and 16 gurdwaras. In order to qualify for the scheme, places of worship must be evaluated by a Police Counter Terrorism Security Advisor (CTSA) or Police Designing Out Crime Officer, who will then make recommendations on appropriate safety measures.
Mr Warraich says places of worship getting their hands on this funding used to be a cumbersome process, but is set to more streamlined in July's round.
Full report at:
https://www.thenational.ae/world/europe/british-mosque-security-heightened-as-ramadan-is-in-full-swing-1.860824
--------
France joins New Zealand to host summit to banish extremism on social media
May 13, 2019
Facebook's Mark Zuckerberg and US President Donald Trump are expected to be the notable absentees in a Paris summit on social media on Wednesday, where global leaders and technology company executives will seek agreement on regulations to curb violent extremism online.
The summit comes two months after a gunman killed 50 people at two mosques in Christchurch in New Zealand. Original footage of the live stream was viewed about 4,000 times and 1.5 million copies of the video had been taken down within the first 24 hours before being removed from Facebook.
New Zealand Prime Minister Jacinda Ardern and French President Emmanuel Macron, who will co-chair the meeting, will push for a pledge — entitled the "Christchurch Call" — that will set a common framework for stopping violent extremist content from spreading online.
Ms Ardern, who has been widely acclaimed for her compassionate reaction in the aftermath of the attack and for a prompt gun law reform, said in a New York Times op-ed that "a terrorist attack like the one in Christchurch could happen again unless we change".
"Our aim may not be simple, but it is clearly focused: to end terrorist and violent extremist content online. This can succeed only if we collaborate," she said. "This is not about undermining or limiting freedom of speech. It is about these companies and how they operate."
Mr Zuckerberg did not confirm his attendance, despite meeting with Mr Macron on May 10 and expressing his willingness to collaborate.
"Lawmakers often tell me we have too much power over speech, and frankly I agree," Mr Zuckerberg said in an op-ed on the Washington Post, adding that Facebook was "creating an independent body so people can appeal our decisions" about what is posted and what is taken down.
He also said he would be in favour of a new set of rules that apply to all websites and tech companies, so that it's easier to stop "harmful content" from spreading quickly across platforms.
Mr Macron has been promoting the idea of regulatory bodies in every European country applying a common set of rules for the removal of extremist content. The meeting is expected to tackle the thorny issue of what content should be considered harmful.
France will be hosting the G7 Digital Summit this summer, which will delve into issues including digital technology and artificial intelligence. These commitments reflect the president's desire to make France "the country that regulates" the new economy, to "reconcile technology and common good".
UK Prime Minister Theresa May, Canadian Prime Minister Justin Trudeau, European Commission President Jean-Claude Juncker, Irish Prime Minister Taoiseach Leo Varadkar, Norwegian Prime Minister Erna Solberg, Senegalese President Macky Sall, and King Abdullah II of Jordan are expected to attend.
Ms Ardern said talks were "ongoing" with the US, where most of these large firms are based, but it was likely President Donald Trump would not be making the trip.
She dismissed the idea that the absence of the Facebook chief and of the American president would compromise the effectiveness of the meeting.
"What is much more important to me is Facebook's ultimate commitment to this call to action,'' she told media in New Zealand. "It's not about who is physically there on the day. It's what we actually generate as a result." Ms Ardern is also scheduled to hold one-on-ones with Canada's Justin Trudeau and Britain's Theresa May.
The EU drew harsh criticism in April, when it amended its online copyright rules to prevent users from uploading copyrighted materials. Critics accused the European parliament committee of turning the web into a tool for surveillance and control.
Striking a balance between freedom of speech and the prevention of extremism will require careful consideration of what is defined as abhorrent violent material.
In her op-ed, Ms Ardern said that the aim "may not be simple," but the group rallying on Wednesday are aware of the urgency of the problem and the need to find a solution. "We can quantify the reach of this act of terror online, but we cannot quantify its impact," Ms Ardern said. Eight thousand people who saw the video called mental health support lines in New Zealand, according to the prime minister.
Full report at:
https://www.thenational.ae/world/europe/france-joins-new-zealand-to-host-summit-to-banish-extremism-on-social-media-1.860883
--------
EU calls for calm, warns US-Iran of conflict 'by accident'
May 14, 2019
BRUSSELS (AP) — European foreign ministers urged the United States and Iran to show restraint Monday amid fears of tensions tipping them easily into armed conflict, while Secretary of State Mike Pompeo briefed his counterparts on the threats Washington sees emanating from the Islamic republic.
The foreign ministers of Britain, France and Germany, joined by the European Union's foreign policy chief, made the appeal after Saudi Arabia said two oil tankers were sabotaged Sunday off the coast of the United Arab Emirates, one as it was heading to pick up Saudi oil to take to the United States.
Washington has warned shipping companies that "Iran or its proxies" could be targeting maritime traffic in the Persian Gulf region and said it was deploying an aircraft carrier and B-52 bombers there to counter alleged threats from Tehran.
European countries that were co-signatories to a nuclear accord between Tehran and six world powers have been racing to salvage the deal since the U.S. pulled out last year. The foreign ministers of Britain, France and Germany, parties to Iran agreement, and EU foreign policy chief Federica Mogherini, who supervises the way the 2015 agreement is enacted, met in Brussels on Monday.
"We are very worried about the risk of a conflict happening by accident, with an escalation that is unintended really on either side but ends with some kind of conflict," British Foreign Secretary Jeremy Hunt told reporters.
"What we need is a period of calm to make sure that everyone understands what the other side is thinking," Hunt said.
In withdrawing from the nuclear accord, the U.S. said the agreement did nothing to stop Iran from developing missiles or destabilizing the Middle East. The Europeans insist the agreement was never meant to address those issues but has been effective in curbing Tehran's nuclear ambitions.
Tensions mounted last week, when Iranian President Hassan Rouhani gave the remaining signatories 60 days to come up with a plan to shield his country from sanctions imposed by U.S. President Donald Trump after the U.S. withdrew from the deal.
French Foreign Minister Jean-Yves Le Drian described the remarks suggesting that Iran might renege on the agreement as "very worrying," given that the EU is still respecting the deal and trying to keep financial supply lines open to Tehran to bolster its economy.
U.S. Iran envoy Brian Hook told reporters traveling with Pompeo that in Brussels, the secretary of state "shared information and intelligence with allies" since "Europe shares our concerns about stability in the Gulf and the Middle East."
"The secretary wanted to share some detail behind what we have been saying publicly. We believe that Iran should try talks instead of threats. They have chosen poorly by focusing on threats," Hook said.
Mogherini said Pompeo "heard clearly" in Brussels that "we are living a crucial, delicate moment, where the most responsible attitude to take is, and we believe should be, that of maximum restraint and avoiding any escalation on a military side."
She and Hook said the reported attacks on the two tankers had been discussed, but neither linked the incidents to Iran.
German Foreign Minister Heiko Maas said the Europeans underlined to Pompeo the importance of nuclear deal.
"I don't see that there's a better one, or any proposals for a better agreement," Maas said. "That's why I think it's responsible to hold onto what one has and do everything to prevent the situation there from escalating further."
As the U.S. sanctions bite, domestic pressure is increasing on Rouhani to demonstrate that Iran can still benefit from an agreement based on providing it with economic opportunities in exchange for limiting nuclear development.
Maas said the Europeans "are working on the assumption that Iran won't withdraw step by step from this treaty, but rather meet all of its commitments."
Despite the tensions, the Europeans insist only the International Atomic Energy Agency can judge whether Iran remains in compliance with the nuclear agreement.
Inspectors from the agency have issued more than a dozen reports showing Tehran has held up its end of the deal so far. A new report is due at the end of May.
Full report at:
https://apnews.com/833861467c51489893550a3a2d454de2
--------
French report calls for more access to Facebook algorithms as Macron meets Zuckerberg
10/05/2019
French authorities should have more access to Facebook's algorithms to audit its policies on hate speech, a report concluded. The French report was published hours before Facebook's Mark Zuckerberg and President Macron met Friday.
It comes after Facebook has been heavily criticised by politicians and the public for its failure to more rapidly remove footage of the March shooting attack in Christchurch, New Zealand from its network. Fifty people were killed in the assault, with the shocking footage of it circulating online for days.
French president Emmanuel Macron, who met Facebook founder and Chief Executive Mark Zuckerberg on Friday, commissioned the report. He wants France to take a leading role in tech regulation, seeking to strike a balance between what he perceives as the United States' laissez-faire stance and China's iron grip on the Internet.
The Facebook chief said after the meeting with Macron that he was "encouraged" and "optimistic" about the regulatory framework being suggested by France for the social media giant and other online platforms.
"I am hopeful that it can become a model" that can be used "across the EU", Zuckerberg said.
Report recommends independent regulator
The 33-page report, co-written by a former head of public affairs for Google France, recommends increasing oversight over the world's largest social media network and allowing an independent regulator to police the efforts of large tech companies to deal with hate speech.
The report calls for laws allowing the government to investigate and fine social networks that don't take responsibility for the content that makes them money.
The report comes after Facebook allowed a team of French regulators to spend six months inside the company monitoring its policies. This represents a "half-time" assessment from their time at the American giant which started in January.
"The inadequacy and lack of credibility in the self-regulatory approach adopted by the largest platforms justify public intervention to make them more responsible," the report said.
Companies like Facebook cannot simply declare themselves to be transparent, it added, noting that checking the integrity of the algorithms they use was a particularly complex task.
French lawmaker Laetitia Avia told FRANCE 24, "the government has been working mostly on the repression and prevention of hate speech."
"The bill proposes […] that the French broadcast regulator, the CSA, could evolve and also do digital regulation", she explained.
"There is a big problem about the hegemony of such big companies that rule all the digital area today," said Avia, a member of Macron's La République En Marche (LREM) party.
"Because what users really need here is protection", she added. "And I think they [Edit: Facebook] have the money and the people they need [...] this fight against hatred a priority."
Zuckerberg slammed by one of Facebook founders
This week, Chris Hughes, one of the founders of Facebook with Zuckerberg while they were at Harvard, wrote in a long opinion piece in the New York Times that he believed the company was too powerful and needed to be broken up. He added that Zuckerberg has turned Facebook into an innovation-suffocating monopoly and lamented the company's "slow response to Russian agents, violent rhetoric and fake news."
France's parliament, where Macron's ruling party has a comfortable majority, is debating legislation that would give the new regulator the power to fine tech companies up to 4% of their global revenue if they don't do enough to remove hateful content from their network.
"Our goal is to move ... towards proper regulation," a source close to the Finance Ministry said.
Facebook's decision to allow the team of French regulators inside the company was the first time the wary company had opened its doors in such a way.
The regulators did not have access to confidential corporate information, the finance ministry official said. The French task-force has also been holding meetings with Facebook in the United States.
Internet regulation
Zuckerberg's visit comes notably amid concern about hate speech and disinformation around this month's European Parliament elections.
Next week, the leaders of France and New Zealand will meet tech leaders in Paris for a summit seeking to ban acts of violent extremism and terrorism from being shown online.
Facebook has faced challenges over privacy and security lapses and accusations of endangering democracy.
'A new model for content regulation'
Full report at:
https://www.france24.com/en/20190510-france-facebook-law-mark-zuckerberg-president-macron-internet-regulation-internet
--------
British FM warns about 'risk of conflict' between US, Iran
May 13, 2019
Britain's Foreign Minister Jeremy Hunt warns about the risk of a conflict between the United States and Iran as a result of "unintended escalation."
"We are very worried about the risk of a conflict happening by accident with an escalation that is unintended," Hunt said on Monday in Brussels, where he has traveled for a European Union foreign ministers' meeting.
However, he claimed that such an escalation would be accidental "on either side," apparently underplaying the United States' actions that have led up to the current rise in regional and international tensions.
Since its inauguration, the administration of US President Donald Trump has been leading a policy of "maximum pressure" against Iran.
The policy has Secretary of State Mike Pompeo as its alleged mastermind and National Security Adviser John Bolton as the person who is trying his best to escalate it into military conflict.
Under the policy line, the US left a multi-lateral nuclear deal with Iran, which also has the UK and others as its signatories, last year.
It then reinstated the sanctions that had been lifted under the accord.
The moves came while the accord had been ratified in the form of a United Nations Security Council resolution, making Washington culpable for violating international law.
Washington has also been trying to reduce Iran's oil exports to "zero," and sent an aircraft carrier strike group, a bomber squad, an amphibious assault ship, and a Patriot missile battery to the Middle East to try to stack up pressure on Tehran.
Hunt went on to say that "what we need is a period of calm, so that everyone understands what the other side is thinking and most of all to make sure we don't put Iran back on the path to nuclearization."
On Wednesday, Iran's President Hassan Rouhani announced a decision made by the Supreme National Security Council (SNSC), the country's top security body, to suspend the implementation of some of the Islamic Republic's commitments under the multinational agreement.
He said the move was aimed at reminding the nuclear deal's other parties that responsibility for honoring the deal did not lie entirely on Tehran.
The Europeans have, time and again, declared that they would be staying true to the deal and make up for the US withdrawal one way or another without committing to their words, he said.
Rouhani said Europe has succeeded in promoting the deal in word, but has fallen short of putting its words into action, especially in the area of economy.
Hunt said, "If Iran becomes a nuclear power, neighbors are likely to want to become nuclear powers, this is already the most unstable region in the world."
He added, "We'll be sharing those concerns with my European counterparts, with Mike Pompeo."
Full report at:
https://www.presstv.com/Detail/2019/05/13/595835/Britain-warning-conflict-United-States-Iran-jeremy-Hunt-nuclear
--------
E3 foreign ministers to discuss Iran's nuclear announcement in Brussels
May 13, 2019
The foreign ministers of France, Germany, and the UK are to meet in the EU headquarters in Brussels later on Monday to discuss Iran's recent decision to stop implementing parts of its commitments under the 2015 nuclear deal.
During the meeting, which will also be attended by EU Foreign Policy Chief Federica Mogherini, the top diplomats will discuss their response to the deadline Iran gave Europe for the implementation of their commitments under the deal.
French Foreign Minister Jean-Yves Le Drian, British Foreign Secretary Jeremy Hunt, German Foreign Minister Heiko Maas, and Mogherini will also discuss progress on their efforts to ensure that trade with Iran will continue despite the US sanctions against the Islamic Republic.
On May 8, Iran announced that it would stop exporting excess uranium and heavy water, setting a 60-day deadline for the five remaining parties to the deal – France, the UK, Germany, China, and Russia – to take practical measures toward ensuring Iran's interests in the face of the American sanctions.
In reaction, Mogherini and the E3 foreign ministers released a joint statement, rejecting the deadline given by Iran, while reiterating their commitment to the implementation of the nuclear deal, officially known as Joint Comprehensive Plan of Action (JCPOA).
Iranian Foreign Minister Mohammad Javad Zarif later criticized the EU statement, regretting that the bloc was demanding that Tehran unilaterally abide by a multilateral accord, which has already been abrogated by Washington.
Iran has warned that it has put a "step-by-step" withdrawal from the JCPOA on its agenda.
Iranian Deputy Foreign Minister for Political Affairs Abbas Araqchi said in an interview on Wednesday, "We have not left the JCPOA so far, but we have put such a move on our agenda and that would happen step-by-step."
Full report at:
https://www.presstv.com/Detail/2019/05/13/595800/Iran-European-union-germany-france-uk-mogherini
--------
Turkish, Russian leaders discuss Idlib over phone
Zafer Fatih Beyaz |
14.05.2019
Turkish President Recep Tayyip Erdogan discussed the latest developments in Idlib, Syria in a phone call Monday with his Russian counterpart Vladimir Putin.
Erdogan voiced concern over ceasefire violations in the past two weeks by forces of the Bashar al-Assad regime in the Idlib de-escalation zone, Turkey's Presidential Communications Director Fahrettin Altun said on Twitter.
Erdogan also noted that targeting civilians, schools and hospitals could not be considered fighting against terrorism.
He stressed that the Assad regime aimed to sabotage Turkish-Russian cooperation in Idlib and to harm the spirit of the Astana agreement, noting that rising tensions in the region would jeopardize the formation of a Constitutional Committee in Syria and the political process.
While the two leaders reaffirmed their commitment to the Sochi Agreement, Erdogan said the attacks would harm their mutual goals.
Erdogan and Putin agreed last September to turn Idlib into a de-escalation zone in which acts of aggression would be strictly prohibited.
Syria has only just begun to emerge from a devastating conflict that began in 2011 when the Assad regime cracked down on demonstrators with unexpected severity.
Full report at:
https://www.aa.com.tr/en/europe/turkish-russian-leaders-discuss-idlib-over-phone/1477497
--------
Southeast Asia
Malaysian Cops Foil Bid By Terror Cell To Attack Non-Muslim Places Of Worship During Ramadan
Melissa Darlyne Chow
May 13, 2019
PETALING JAYA: Bukit Aman's counter-terrorist division has thwarted a move by a terror cell to kill several high-profile personalities as well as attack several non-Muslim places of worship and entertainment outlets.
Inspector-General of Police Abdul Hamid Bador said four men, comprising one Malaysian, two Rohingya nationals and an Indonesian, were arrested in swoops carried out in Terengganu and the Klang Valley between May 5 and 7.
Hamid said the operations were carried out after the division detected an Islamic State wolf pack planning to kill the personalities as well as launch the attacks.
"The four suspects admitted to being members of the wolf pack and were ready to launch attacks in Malaysia in the first week of Ramadan to avenge the death of fireman Muhammad Adib Mohd Kassim, who died during the Seafield temple riots last year.
"At the same time, they were planning the murders on the personalities they claim to not have defended Islam but have instead insulted Islam," he told a press conference here today.
He said the arrests led to the seizure of a Czech-made 9mm pistol and 15 bullets, as well as six improvised explosive devices (IEDs) each measuring 18cm.
"These weapons were acquired from a neighbouring country," he said.
Hamid said the 34-year-old Malaysian arrested in Kuala Berang, Terengganu, on May 5 is the mastermind behind the planned attacks and the leader of the cell.
He said the second man arrested is a UNHCR card holder, aged 20, and supports the Arakan Rohingya Salvation Army. He was also planning an attack on the Myanmar embassy in Kuala Lumpur and jihad in Rakhine state.
The 49-year-old Indonesian was also planning a jihad in Syria.
Hamid said police were tracking down three other members of the cell – Syazani Mahzan and Muhamad Nuurul Amin Azizan, both 27, from Bedong, Kedah, and Fatir Tir, an Indonesian whose last known address is in Banting, Selangor.
He declined to reveal who the targeted personalities were.
"They (the cell members) had been communicating through a Whatsapp group. The cell had been active since January," he said.
Asked whether the four had any military training, Hamid said with the mastermind having successfully secured the weapons and IEDs from a neighbouring country, "the process of carrying out the planned attacks becomes very easy".
He said the pistol and bullets were meant to shoot and kill the personalities while the bombs were meant for churches and temples.
"You can just take the weapons to wherever you need to go and use them. To make a bomb go off, you don't need any fancy or high tech devices.
"These IEDs are high powered, designed to kill and to cause severe injuries. Similarly with the Czech-made pistol and the 15 bullets. The aim is to kill," he said.
On how the weapons had been brought into the country, Hamid said this could have been either by sea or by land. He cited Malaysia's geographical location of having long and wide borders, which are porous.
"You see how easy it is for illegal immigrants to come in, smuggling in weapons is just as easy. The weapons can be hidden in cars, lorries, trucks or boats. You name it. It is that easy," he said.
https://www.freemalaysiatoday.com/category/nation/2019/05/13/cops-thwart-new-bid-by-terror-cell-to-attack-non-muslim-places-of-worship/
--------
Islamic State could exploit local issues to advance ideology in Malaysia, analyst says
14 May 2019
BY TERENCE TANG
KUALA LUMPUR, May 14 ― The Islamic State (IS) may be using local controversies as platforms for its extremist ideology, said an International Islamic University Malaysia (IIUM) lecturer.
Commenting on the arrest of four IS cell suspects who allegedly planned revenge attacks on non-Muslims for the death of fireman Muhammad Adib Mohd Kassim injured during the Seafield temple riots, Ahmad El-Muhammady told the South China Morning Post the development was "extremely worrying",
"The involvement of foreigners in a local issue indicates Daesh's capability to exploit foreigners and local issues to advance their ideology.
"It's a new game in the new Malaysia, which could potentially escalate I hate to say this. Isis may capitalise on the perception that Islam is under threat in Malaysia," Ahmad said using the group's other names.
He said rising racial and religious tension here created an unsurprising opening for such extremist groups.
Ahmad, who is also reportedly a police advisor on tackling radicalisation, then expressed concern that there may be more such cells here operating outside of the police's knowledge.
He also advised the government to proactively resolve racial and religious issues.
"Craft narratives of unity, harmony and coexistence. Organise more interfaith dialogue," Ahmad was quoted as saying, adding that the government should allocate more financial resources for programmes to tackle extremism and terrorism.
The Royal Malaysia Police disclosed yesterday that they arrested three foreigners and one Malaysian who were allegedly planning terror attacks and assassinations in Malaysia during the Muslim fasting month of Ramadan.
Full report at:
https://www.malaymail.com/news/malaysia/2019/05/14/islamic-state-could-exploit-local-issues-to-advance-ideology-in-malaysia-an/1752631
--------
Malaysia police arrest 4 linked to ISIS bomb plot
MAY 13, 2019
Malaysian police said Monday, May 13 that they have arrested four militants linked to Islamic State who were in possession of explosives and planned to attack non-Muslim places of worship.
The suspects – a Malaysian who led the group, two Rohingya from Myanmar and one Indonesian – were detained last week in raids around Kuala Lumpur and in eastern Terengganu state.
Malaysia's national police chief Abdul Hamid Bador described them as an "Islamic State cell" and said they planned to "assassinate high-profile individuals and attack Hindu, Christian and Buddhist places of worship in Malaysia."
He did not give any details about who the high-profile individuals were. Police also seized six improvised explosive devices, a pistol and 15 bullets, he said.
The planned attacks were to avenge the high-profile death of a Muslim fireman during riots at an Indian temple outside Kuala Lumpur last year, police said.
One of the Rohingya admitted supporting the Arakan Rohingya Salvation Army, a militant group blamed for attacks in Myanmar that sparked an army crackdown, and had also planned to target the Myanmar embassy in Kuala Lumpur, police said.
The second Rohingya was a 25-year-old laborer who admitted to being militant with ties to ISIS, police said.
The Rohingya are a Muslim minority that have long faced persecution in their Buddhist homeland.
Police are hunting for three more members of the suspected terror cell who allegedly planned to attack entertainment outlets.
Authorities in Muslim-majority Malaysia regularly announce ISIS-related arrests but it is rare for police to seize explosives or weapons.
Malaysia practices a moderate brand of Islam and has not seen any notable terror attacks in recent years.
But security forces are on alert for militants from Malaysia and other parts of the region heading to the country after ISIS lost the last of its territory in the Middle East.
Full report at:
https://thedefensepost.com/2019/05/13/malaysia-arrests-4-isis-bomb-plot/
--------
Asyraf Wajdi denies being involved in Yapeim scandals
13 May 2019
BY TERENCE TANG
KUALA LUMPUR, May 13 — Umno Youth chief Datuk Asyraf Wajdi Dusuki today denied any involvement in the alleged scandals concerning the Malaysian Islamic Economic Development Foundation (Yapeim).
Asyraf in a statement said he was never involved in any management aspects of Yapeim or received any rewards from the foundation during his tenure as deputy minister in the Prime Minister's Department in charge of religious affairs.
"For the record, the Yapeim issue was raised in Parliament and it was addressed because the agency was being monitored by the Prime Minister's Department," Asyraf said, sharing a YouTube clip of a November 2015 Parliament sitting where he spoke on the matter.
The former deputy minister had then proposed that a task force be formed to evaluate the management aspects of religious agencies, which would be known as the Religious Agencies Management Special Committee.
"This proposal was approved by (then) Minister in the Prime Minister's Department Datuk Seri Jamil Khir Baharom and had gotten the full support of the prime minister at the time, Datuk Seri Najib Razak," Asyraf added.
He said the committee to manage Yapeim had comprised academics, high-ranking government officials, accountants, lawyers and the Pertubuhan Perbankan Islam Malaysia chief executive officer (CEO).
Following the committee's formation, Asyraf said Department of Islamic Development Malaysia (Jakim) had also issued a guideline on syariah-compliant management.
The committee had proposed that Yapeim be made the first agency to be corrected in terms of its management, which included the introduction of a new trust deed that is more comprehensive and in line with international management standards, he added.
According to Asyraf, the guideline's importance was also stressed upon when the new minister and deputy minister in the Prime Minister's Department took over last year.
"I have often stressed that these agencies must be seen as 'whiter than white', as the rakyat have high hopes and faith in religious-based institutions," he said.
"If there are any parties who try to use such slander to prevent me from voicing out issues concerning the rakyat, then you are wrong," Asyraf said, adding that he will continue to remain steadfast in highlighting the people's issues.
Full report at:
https://www.malaymail.com/news/malaysia/2019/05/13/asyraf-wajdi-denies-being-involved-in-yapeim-scandals/1752489
--------
Four arrested in Malaysia suspected of plotting Ramadan attacks
May 14, 2019
Malaysian police have detained four men suspected of plotting a wave of killings and attacks in and around the capital during the Muslim holy month of Ramadan, police said on Monday.
The Southeast Asian nation has been on high alert since gunmen allied with Islamic State carried out a series of attacks in Jakarta, the capital of neighbouring Indonesia, in January 2016.
The four suspects are two Rohingya Muslims from Myanmar, an Indonesian and a Malaysian, Inspector General of Police Abdul Hamid Bador told reporters.
Dubbed the "wolf pack" cell, he said its members had planned to launch large-scale attacks during the first week of Ramadan to avenge a Muslim fireman who was allegedly beaten to death during a racially charged riot at a Hindu temple in November.
The fireman's death angered majority Malay Muslims, some of whom had accused Hindu leaders of inciting the riot through racial remarks.
"This cell had also planned an operation to assassinate high-profile personalities accused of insulting and failing to uphold Islam," Abdul Hamid said in a video recording of a press conference seen by Reuters.
He declined to identify the targets of the planned killings.
Muslims all over the world fast during daylight hours during Ramadan.
One of the Rohingya suspects, a 20-year-old waiter, told police he was a supporter of the Arakan Rohingya Salvation Army (ARSA), an insurgent group said to be behind a number of killings and attacks in Myanmar's Rakhine state, Abdul Hamid said.
The man possessed a UNHCR identification card issued by the U.N. refugee agency, he said.
Police also seized a gun and six homemade explosives during the arrests.
The Rohingya have for years fled persecution in Myanmar, which denies them citizenship as they are seen as illegal immigrants from Bangladesh. They often arrive on Southeast Asian shores in rickety boats seeking asylum.
Full report at:
https://www.thejakartapost.com/seasia/2019/05/14/four-arrested-in-malaysia-suspected-of-plotting-ramadan-attacks.html
--------
NU at peak of powers after backing the right horse
May 14, 2019
Islamic mass organization Nahdlatul Ulama (NU) has had a major influence on politics and government since its founding in 1926, but the results of the 2019 presidential election might have put it in a stronger position of power than ever before. NU, which claims to have over 60 million members, making it the largest Muslim organization in Indonesia, publicly backed President Joko "Jokowi" Widodo's reelection bid, and managed to place senior NU cleric Ma'ruf Amin in the hotly contested vice-presidential slot. With Jokowi all but certain to secure a second term, experts and analysts predict that the organization is set to dominate the political scene more than it ever has before. "It looks like NU's decision to back Jokowi has paid off," Indonesia Political Review executive director Ujang Komarudin told The Jakarta Post on Monday. While...
Full report at:
https://www.thejakartapost.com/news/2019/05/13/nu-at-peak-of-powers-after-backing-the-right-horse.html
--------
Indonesia remembers victims of bombings
May 14, 2019
SURABAYA: An Indonesian church on Monday remembered the victims of suicide bombings carried out by a Daesh-inspired family, one year on from the attacks that highlighted the extremist group's global reach.
On May 13 last year, a family of six — including two girls aged nine and 12 — blew themselves up at the Santa Maria Catholic Church and two other churches in Surabaya during Sunday morning services, killing over a dozen congregants and wounding scores more.
Several hundred people gathered at the Santa Maria church on Monday for a memorial prayer session and to hear survivor accounts of the bloodshed.
"I have learned to move on and not be traumatized by the attacks because that's what they (terrorists) want," said Desmonda, a Christian woman who survived last year's bombings.
Daesh claimed the Surabaya bombings and the families were linked to local extremist group Jamaah Ansharut Daulah (JAD), which supports Daesh.
Ines Andi, a hijab-wearing Muslim, also attended Monday's one-year anniversary, which comes weeks after Daesh claimed similar suicide attacks on churches and hotels in Sri Lanka that killed more than 250.
"As a Surabayan who was born and raised here, I was shocked to hear about the bombings — more so because the perpetrators were Muslim," the 27-year-old said.
"So I want to show my solidarity with the victims and hope that this will never happen again. People envy Indonesia for its diversity so we should preserve it," she added.
It has been a long road to recovery for many Christians who make up about 10 percent of Indonesia's 260 million citizens.
The coordinated Surabaya attacks were the deadliest in years for a country that has struggled with militancy since the 2002 Bali bombings killed over 200 people, including scores of tourists
"It's hard to overcome the trauma even though it has been a year," Rachmat Harjono Tengadi said after a service on Sunday at the Indonesian Christian Church.
The 56-year-old was struck by shrapnel after a mother and her two young daughters, dressed in body covering burqa veils, blew themselves up outside the church.
"Even now if I see somebody wearing a black burqa, my heart feels sick," Tengadi said.
Tengadi's church opted not to hold a special memorial on Monday's anniversary over fears it could be painful for congregants.
Full report at:
http://www.arabnews.com/node/1496656/world
--------
Africa
Gunmen Kill at Least 6 in Church Attack in Burkina Faso
May 12, 2019
OUAGADOUGOU, Burkina Faso — Gunmen killed a pastor and five congregants at a Roman Catholic church in northern Burkina Faso on Sunday, the authorities said, in the second attack on Christians in two weeks in a nation increasingly overrun by jihadists.
Congregants were leaving the church around 9 a.m. local time in the town of Dablo, about 124 miles from the capital, Ouagadougou, when about 20 men circled them and opened fire, leaving at least six dead, according to a government statement.
"These terrorist groups are now attacking religion with the macabre aim of dividing us," the statement said.
The mayor of Dablo said the attackers burned the church, looted a pharmacy and some others stores and left. A government spokesman said the gunmen also destroyed all places serving alcohol.
There was no immediate claim of responsibility, though violent Islamic extremism has been increasingly destabilizing the country.
The killings come about a month after gunmen fatally shot a pastor and five congregants in April at a Protestant church, also in the north, suggesting the violence was taking a religious turn.
Burkina Faso, in West Africa, has a history of tolerance and religious groups have historically lived together peacefully and intermarried. The violence on Sunday took place not far from the volatile border with Mali. Groups based in the neighboring country seek to extend their influence over the Sahel, the arid scrubland south of the Sahara.
The shooting also occurred days after a raid led by French armed forces rescued four hostages in northern Burkina Faso — including two Frenchmen, an American and a South Korean — as the kidnappers were attempting to take them to Mali, the French authorities said. Two French soldiers died in the overnight raid.
The authorities said that five teachers were shot to death in a separate attack on Friday. Extremists have also targeted foreigners, abducting and killing a Canadian geologist this year.
In December, the government in Burkina Faso declared a state of emergency in several northern provinces bordering Mali because of deadly Islamist attacks, including in the region where the assault on Sunday took place.
Armed groups "have every interest in troubling or going against the good understanding between religions," said Rinaldo Depagne, West Africa project director for the International Crisis Group, which advocates for global peace. "We have observed this strategy in other countries in the region and in the world," he added.
About 55 percent to 60 percent of Burkina Faso's population is Muslim, roughly 20 percent to 25 percent is Christian, and the rest follow indigenous religions, according to the State Department of the United States.
Burkina Faso, a landlocked former French colony that was once called Upper Volta, has played a central role in Western efforts to counter Islamist militants in West Africa.
The nation was tossed into political turmoil in 2014, when President Blaise Compaoré was ousted after days of mass protests against his plans to modify the Constitution and remain in power. In the face of revolt on the streets, he fled the country, ending 27 years in power.
Initially, the military took control, with Lt. Col. Isaac Zida proclaiming himself leader of the impoverished country. The move drew broad censure from other African countries and from Western nations.
Under pressure to cede to civilian rule, the military joined an electoral college of 23 mainly civilian representatives, which named Michel Kafando, a former foreign minister and onetime ambassador to the United Nations, as interim president. Roch Marc Christian Kaboré has served as president since 2015.
https://www.nytimes.com/2019/05/12/world/africa/burkina-faso-church-attack.html
--------
Al-Shabab Claims Responsibility for Targeted Blast
May 12, 2019
Harun Maruf
The Turkish Embassy in Mogadishu says a Turkish citizen was killed Sunday following an explosion near the city's busy K-4 junction.
The embassy told VOA Somali the victim was an engineer working for a Turkish company.
Witnesses told VOA Somali there was an explosion in the vehicle the victim was riding in. The explosion is believed to have been from improvised explosive device planted in the car.
The al-Shabab militant group claimed responsibility for the attack, claiming the engineer was working at the Turkish military training facility in Mogadishu.
Full report at:
https://www.voanews.com/a/al-shabab-claims-responsibility-for-targeted-blast/4914067.html
--------
Somalia: Army Kills Militants During Operation, Says Commander
12 MAY 2019
Somali National Army (SNA) has said its troops have killed 15 al-Shabaab militants in confrontation with Somali army in Middle Shabelle region.
The commander of the 27th battalion of Somali National Army (SNA), Mohamed Ahmed Teredishe said the troops defeated al-Shabaab fighters in deadly battle which took place on Saturday.
He stated they destroyed al-Shabaab bases during the operations against the group's fighters in the region.
The commander called on the public to collaborate with forces in the fight against al-Shabaab fighters.
Al-Shabaab has not commented on the destruction of its bases in Middle Shabelle region.
In recent Months, Somali forces backed by African Union Mission in Somalia (AMISOM) have stepped up offensives against al-Shabaab in Lower and Middle Shabelle regions.
Full report at:
https://allafrica.com/stories/201905130247.html
--------
One officer, three protesters killed following clashes in Sudan capital Khartoum
14 May 2019
One officer and three protesters were killed and many protesters wounded in the Sudanese capital late on Monday, Sudan's state TV said, as crowds of demonstrators remain camped at a sit-in outside the army complex.
Earlier, heavy gunfire was heard in Khartoum late into the evening, and the transitional military council said a military police officer had been killed and many protesters wounded.
Violence flared after the military council and opposition groups said they had agreed to a power structure for the country's transition following the ouster of President Omar al-Bashir last month.
The council accused armed groups unhappy with progress towards a political deal of opening fire at protest sites. Protesters said counter-revolutionaries linked to the former regime were inciting violence.
Earlier, paramilitary forces patrolled the streets, using tear gas and gunshots to disrupt protests blocking roads.
The Transitional Military Council (TMC) and the Declaration of Freedom and Change Forces opposition alliance were due to meet on Tuesday to discuss two key sticking points: the military-civilian balance of power in transitional bodies, and the length of the transition before elections.
Full report at:
https://english.alarabiya.net/en/News/middle-east/2019/05/14/One-officer-three-protesters-killed-following-clashes-in-Sudan-capital-Khartoum.html
--------
Sudan's Bashir charged over 'killing' of protesters
13 May 2019
Sudan's ousted president Omar al-Bashir has been charged over the killings of protesters during the anti-regime demonstrations that led to the end of his rule, the prosecutor general announced Monday.
"Omar al-Bashir and others have been charged for inciting and participating in the killing of demonstrators," the office of Sudan's acting prosecutor general Al-Waleed Sayyed Ahmed said.
The charges against Bashir came during an investigation into the death of a medic who had been killed during a protest in the capital's eastern district of Burri.
Full report at:
https://english.alarabiya.net/en/News/middle-east/2019/05/13/Sudan-s-Bashir-charged-over-killing-of-protesters.html
--------
5 killed, 15 injured in anti-regime protests in Sudan
Omer Erdem
14.05.2019
Armed groups attacked anti-regime protesters and government troops Monday outside army headquarters in Sudan's capital, leaving five dead and 15 injured
Protesters were attacked by unidentified men armed with guns and sticks, said the Central Committee of Sudanese Doctors in a statement.
The opposition Freedom and Change Alliance claimed intelligence units and militia groups of the former regime were behind the attack.
Calling on people to peacefully gather in front of army headquarters in Khartoum and across the country to support the protesters, the alliance urged the army to carry out its duty and protect the demonstrators.
Some demonstrators claimed the attackers were from the Rapid Support Forces (RSF) militia backing the Sudanese Army.
According to a statement by the Military Transitional Council (MTC), four soldiers, including an officer, were killed in the attack.
It said the attack was carried out by groups who are "disturbed by the results" achieved with the Freedom and Change Alliance and were trying to prevent an agreement from being reached.
Protests outside army headquarters are ongoing.
On April 11, the Sudanese army announced the "removal" of President Omar al-Bashir following months of popular protests against his 30-year rule.
The MTC is now overseeing a two-year "transitional period" during which it has pledged to hold presidential elections.
Full report at:
https://www.aa.com.tr/en/africa/5-killed-15-injured-in-anti-regime-protests-in-sudan/1477531
--------
URL:https://www.newageislam.com/islamic-world-news/donald-trump-hosted-his-second/d/118594
New Age Islam, Islam Online, Islamic Website, African Muslim News, Arab World News, South Asia News, Indian Muslim News, World Muslim News, Women in Islam, Islamic Feminism, Arab Women, Women In Arab, Islamophobia in America, Muslim Women in West, Islam Women and Feminism