New Age Islam News Bureau
10 Jan 2017
• Disturbing ISIS Video Shows Kids Beheading and Shooting Prisoners
• 'It's Easy to Brand Any Muslim a Terrorist': Exonerated 'Terrorist' Irshad Ali
• Kathleen Parker: If Obama is a Muslim, is Trump a Russian spy?
• In Pakistan, the Blasphemy Law Is Being Used For Political Purposes
• ISIS Propaganda Chief Lived & Married in Britain after Converting To Islam
Arab World
• Disturbing ISIS Video Shows Kids Beheading and Shooting Prisoners
• Over 250 Saudi-Backed Militias Killed, 400 Others Injured in Tough Battle in Ta'iz Province
• Syria: Turkish Officers, Terrorists Hold Secret Meeting Northwest of Aleppo
• UAE removes 'Persian Gulf' from school book
• Suicide truck hits Egypt security post in Sinai, killing 10
• Saudi boy, 13, returns home to find father, brother killed in blast
• Daesh Takfiris cut off water to thousands of civilians in Mosul
• Syrian Army Scores More Victories against Terrorists in Eastern Damascus
• US-Led Coalition Warplanes Destroying Syria's Infrastructures
• Aleppo: Syrian Army Readying for Imminent Operation to Liberate Al-Bab
--------
India
• 'It's Easy to Brand Any Muslim a Terrorist': Exonerated 'Terrorist' Irshad Ali
• Mumbai University Bars Bearded Muslim Student from Boxing Event
• No Band, Baaja and Baraat, Islamic Body Tells Muslims
• Pakistan, separatists thwarted peace process: Mehbooba Mufti
• In first cross-LoC strike of 2017, terrorists kill 3, escape under mist cover
• NIA court moves to declare 4 accused proclaimed offenders
--------
North America
• Kathleen Parker: If Obama is a Muslim, is Trump a Russian spy?
• Muslim Community Works to Build 'Bridges Of Peace'
• The Latest: Father of slain Muslim soldier protests nominee
• U.S. increases support for Turkish military operations in Syria
• Canadian teen who wanted to join Islamic State sentenced to house arrest
--------
Pakistan
• In Pakistan, the Blasphemy Law Is Being Used For Political Purposes
• 10 Things to Know About 'Muslim NATO', Headed By Pakistan's Former Military Head
• PPP, JI to oppose reinstatement of military courts
• Govt asked to explain Gen Sharif's post in Saudi-led alliance
• Experts warn against standstill in Pak-Afghan ties
• Gen Nicholson praises Operation Zarb-e-Azb
• Afghans push for Taliban 'safe zone' to outflank Pakistan
• Afghanistan, Pakistan trade volume takes a dive: APJCCI
--------
Europe
• ISIS Propaganda Chief Lived & Married in Britain after Converting To Islam
• The 'Forgotten' Army of 400,000 Muslim Soldiers Who Fought For British Freedom in World War I
• Bosnian Serbs provoke Muslims, celebrate divisive 'national holiday'
• Morocco: HM the King Launches Projects to Preserve Historical Heritage of Old Medina in Marrakech
--------
South Asia
• 43 Militants Killed In 17 Provinces In Past 24 Hours, MoI Claims
• U.N. Rights Envoy Visits Myanmar amid Border Violence, Report Of Abuse
• 19 Taliban insurgents killed in Helmand province
• Top militant leader Qari Saifullah Akhtar killed in Afghanistan
• Suicide attack rocks Lashkargah city in South of Afghanistan
• 10 militants join peace process in Kunduz city
• 65,000 Rohingya flee from Myanmar to Bangladesh following crackdown: UN
--------
Southeast Asia
• Bitcoin, PayPal Used to Finance Terrorism, Indonesian Agency Says
• Myanmar Warns Its Workers in Malaysia after Five Hacked to Death
• Police shoot dead three 'terror' suspects in Xinjiang
• We are devoted Muslims, not offended by Ahok's statement: Thousand Islands residents
• Prosecutors to present 5 witnesses against Ahok at Tuesday's hearing
• Bantul to replace Catholic official after protests from Muslims
--------
Mideast
• Turkey Begins Debate on New Erdogan Presidential Powers
• UN Seeks $813m to Support Palestine Refugees
• Did Iran's arms to Hezbollah violate a UN embargo?
• 4 killed, 17 injured in attack in Israel
• Israeli troops kill Palestinian in refugee camp
• Iran to revoke citizenship of those holding dual nationalities
• Turkey calls on EU to resume membership negotiations
--------
Africa
• Castle Attack Exposes Jordan's Vulnerability to ISIS Threat
• 5 terrorists, 3 civilians die in bomb attacks in northeastern Nigeria
• Suicide bombers, civilians killed in Nigeria
• Italy reopening embassy in Libya two years after closure
• Boko Haram attacks Nigeria military base
• Air force piles pressure on Boko Haram
Compiled by New Age Islam News Bureau
URL: https://www.newageislam.com/islamic-world-news/new-age-islam-news-bureau/disturbing-isis-video-shows-kids-beheading-and-shooting-prisoners/d/109669
--------
Disturbing ISIS video shows kids beheading and shooting prisoners
10 January 2017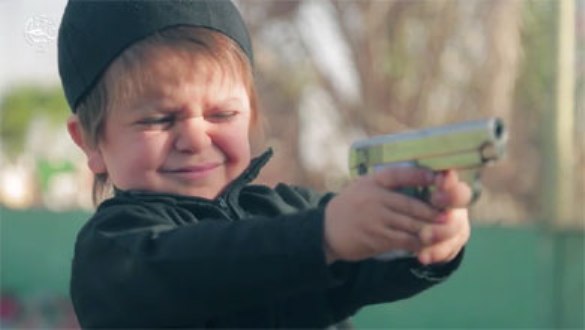 The child screws up his face as he goes to shoot
A shocking ISIS video released this week has shown children beheading and shooting three male prisoners.
One of the victims, appearing to be from the Kurdish group PKK, speaks to the camera before he is killed in an abandoned amusement park by one of the children.
The children, who look to be at toddler age and around 10 years old, are filmed wearing army style uniforms while killing their victims in footage allegedly filmed in Deir ez-Zor, Syria.
One boy is seen beheading a victim with a knife, while a younger boy is seen squeezing his eyes shut as shoots another prisoner.
https://english.alarabiya.net/en/News/middle-east/2017/01/10/Disturbing-ISIS-video-shows-kids-beheading-and-shooting-prisoners.html
--------
'It's Easy To Brand Any Muslim A Terrorist': Exonerated 'Terrorist' Irshad Ali
January 9, 2017
It does not take much to brand any suspect as a terrorist. But it can take years to ascertain the veracity of the allegations. The media, as well as society, don't wait for any trial to pass their verdict. However, there is hardly a whimper if the accused if finally proved innocent after years of judicial struggle.
Few can recount the horror of facing false charges of terrorism as well as Irshad Ali. A driver by profession, Irshad is lucky to have survived the ordeal he faced for years.
His story is that of an unjust system, a society with a religious bias that does not think twice before labelling a citizen a criminal and a terrorist. This inept system simply incarcerates people when it fails to justify this discrimination.
Even if a person manages to pass judicial scrutiny, this system never cares to fix responsibility for injustice meted out to such victims.
Irshad Ali was tortured for months; his judicial travails lasted for almost five years. Can the security agencies and their officers compensate for Ali's trauma? Or that of his wife Shabana, who aged before her time in trying to make ends meet for her family?
Irshad lives in Delhi's Nangloi area. One of the houses in a deserted slum area of Indira Enclave is his address. This place can only be reached through a mud path.
Dirty drainage water welcomes any visitor to the house. Irshad's son and niece stand hand-in-hand as Catch arrives to meet the man.
On one side of this small house lies a cemetery. The rest of the surrounding land is barren.
The house Irshad and family live in
Irshad, 41, was born in Delhi. His father, Mohammed Yunus, worked as a clerk with a lawyer who practised at Delhi's Tis Hazari Court.
Irshad was sent to his ancestral village Paigambarpur in Bihar's Darbhanga at an early age for studies. He studied Quran at the Ahmaddiyah Salafia madrasa. However, the strict discipline at the madrasa proved too much for him and he quit studies in 1991 to come back to Delhi.
Irshad's elder brother Naushad is a murder convict. He has been lodged in Tihar Jail for the past 25 years. Two of his six sisters were already married when he returned from Darbhanga.
Soon, Irshad began sharing the responsibility of earning family's livelihood with his father.
In 1996, Irshad's father bought an old autorickshaw for him.
1996-2001: LIFE AS AN AUTO DRIVER
Irshad used to regularly visit his brother Naushad in Tihar Jail while driving the autorickshaw. He became acquainted with Naushad's friends in jail, who would send letters to their homes through Irshad. It was the beginning of Irshad's misery, as his favours to jail inmates were noticed by the Delhi Police.
In 1996, Delhi Police ACP Rajbir Singh took Irshad and his father into custody. The father and the son were brought to the Maurice Nagar Police Station, where they were tortured in front of each other. Irshad was frequently asked to reveal his links with terrorists.
This was Irshad's first experience of police torture. He was hung upside down and petrol was often poured into his private parts.
"Besides violence, the police would make every effort to humiliate us. The agony went on for 10 days," Irshad recalls.
ACP Rajbir Singh, the man who picked up Irshad and his father, is arguably one of the most controversial officers in the history of Delhi police. He started his career in 1982 as a sub-inspector and rose to the rank of ACP in just 13 years. He made a name for himself as an encounter specialist. He was the man who led the controversial encounter of two alleged terrorists at Delhi's Ansal Plaza on 3 November 2002. Singh is said to have carried out over 50 encounters before being killed by a Gurgaon-based property dealer in 2008. The killer was known to Rajbir Singh.
Coming back to Irshad's sordid saga, his freedom lasted only for four months, as he was again taken into custody by Crime Branch ACP Ravi Shankar. This time, he was tortured at Chanakyapuri Police Station. The crime branch wanted him to confess his ties with the jihadis.
However, he was soon released for want of any evidence. Irshad's life dragged on for the next five years. He was now married to Shabana, and became father to a son.
2001-2005: WORKING AS A SECRET AGENT
Irshad's third brush with the law enforcement agencies was not pleasant either.
In November-December 2001, he was rounded up by the Intelligence Bureau (IB). IB sleuths kept him at an undisclosed location. He was tortured continuously for three days in a sound-proof room. According to Irshad, one of the senior IB officers told his subordinates, "why do you torture this man? He can be of great use."
Irshad claims he was given an offer to become an informer. He had little option but to accept.
IB officers then left him outside Lakshmi Nagar metro station. They even gave him Rs 500 to reach home.
This was the beginning of Irshad's life as an undercover agent. He was asked to hand over letters sent by Tihar Jail inmates on a regular basis.
IB officers believed these letters could potential provide leads to some major criminal activity.
To Irshad's misfortune, this did not happen. Nevertheless, he was paid Rs 5,000 per month for his services.
Meanwhile, Irshad also started working as a secret agent for Delhi Police's Special Cell. Irshad says he felt proud whenever he contributed to solving a case. The police torture he had faced was now a thing of the past. He even roped in his cousin Maurif Kamar to work surreptitiously for these agencies.
While Irshad was proving a valuable asset for the Delhi Police, he could not do much for the IB. The letters he was handing over from Tihar Jail convicts were not giving any valuable leads to the IB officers. He would regularly meet some of these officers and even socialise with them. One of the senior officers would convince him to do something for the country. Irshad knew this officer as 'Shyam uncle'.
In 2003, Irshad was introduced by IB officers to Imtiyaz and Faiyaz, both of whom worked as secret agents in Kashmir. He was asked to penetrate Pakistan-based jihadi groups. In the opinion of IB sleuths, Irshad was a befitting man for this task, due to his Salafi madrasa background.
Irshad was provided with a cell phone and a few numbers of Pakistani agents. His job was to remain in touch with these contacts and report to his superiors in IB. According to Irshad, IB officers made at least 90 calls and sent dozens of messages on this cell phone during these two years. These calls and messages would later prove to be vital evidence in proving his innocence.
However, Irshad could not give any substantial leads during this time. This prompted his IB handlers to convince him to go to Pakistan. He ventured out to infiltrate the border in 2004, but was caught in the border area of Jammu by Military Intelligence. He was yet again tortured for four days.
Army officers would not believe that he was working for the IB. Delhi-based IB officers had to visit Jammu to convince their counterparts in the military and secure Irshad's release.
2005-2006: FACING TERRORISM CHARGES
Irshad's case study reveals he failed to get any clinching lead from his Pakistani contacts. He was then asked to make a passport and enter Pakistan through legal means.
But the fate of agents like Sarabjit Singh made him change his mind, and refuse to follow suit. His handlers had already clarified that he would be his own in case of any contingency in Pakistan. Instead, Irshad chose to continue his work as an informer within the country.
In the meantime, a proposal by one of IB's officers, Majid Deen, alienated Irshad from his job. Irshad was purportedly told by Majid: "Work does not happen on its own, one has to finish it. We have to prepare scapegoats for sacrifice."
Irshad was instructed to visit Muslim-dominated areas and incite the Muslim youth for training in Pakistan. The game was to arrest these youths once they came back to India. This would accomplish the 'good work' that the IB wanted to carry out.
Irshad says he was opposed to the idea of framing innocent youth. "I refused and started evading the IB officers," he says.
Newspaper cuttings from when Irshad and his cousinNewspaper cuttings from when Irshad and his cousin were arrested.
In December 2005, he refused to take his salary of Rs 5,000. He was called by Majid Deen on 12 December. He was asked to come to meet at Hotel Maurya near Delhi's Dhaula Kuan. He was picked up from there. For days, Irshad had no idea about his whereabouts.
His cousin Maurif Kamar was also arrested a few days later. However, the IB cops forgot to blindfold Maurif at the time of his arrest. He managed to see a signage on the road near Raj Ghat area before the sleuths could correct their mistake. His vehicle stopped two-three minutes later and Maurif was lodged in a cell.
Both the cousins were kept in custody until the first week of February. Irshad speculates their cell was situated near the Red Fort. Poetic symposiums are organised in Red Fort premises every year around Republic Day. The sound of such symposiums reached Irshad's cell in January 2006. "I would stay awake all night in my cell and listen to the poems being recited," Irshad reminisces.
"I was told in the cell that cops were preparing for my encounter. It was the punishment for refusing to work with the IB."
His captors told him: "Did we feed you for this? We were going to kill you, but changed our decision at the last moment. Now, languish in jail for some years. Write to us from jail when you are ready to work again for us. We will get you released in two-four years."
After being kept in this cell for two months, Irshad and Maurif were taken to Karnal bypass on 9 February 2006. They were photographed here, and later, presented before the media as suspected terrorists of the jihadi group Al-Badr.
Most of the media outlets published the version put out by the Delhi Police's Special Cell. None of the crime reporters bothered to independently verify these claims.
Irshad was transferred to Tihar Jail. Here, he would regularly meet his brother Naushad, along with other inmates. It was here that he came across Afzal Guru. Once Irshad narrated his ordeal to Guru. The latter reportedly laughed and said: "This torture is nothing. I was locked up in a bathroom and people would repeatedly urinate on my head."
2009-2016: BATTLE TO PROVE INNOCENCE
Newspaper cuttings from when the CBI closure repor
Newspaper cuttings from when the CBI closure report cleared the cousins.
Maurif Kamar's brother had approached the Delhi High Court for his release. The court doubted the Special Cell's story and ordered a CBI inquiry.
The CBI documented Irshad's story with evidence in its closure report filed on 11 November 2008. A Special Cell personnel had allegedly threatened the CBI team that was investigating Irshad's case. As a result, the CBI was forced to appeal for the security of its investigators.
In 2009, Irshad got bail based on the CBI's closure report. The court eventually gave him a clean chit on 22 December 2016.
In Irshad's absence, Shabana cooked meals for labourers to feed the family. She smiles when one mentions the acquittal of her husband. But, she still cannot find words to narrate her sufferings when Irshad was in jail. All she says is: "Whatever he has said is sufficient."
EXONERATED, BUT WHAT DOES THE FUTURE HOLD?
The Indian Express published Irshad's story on 28 December. "The CBI stated that charges are false, I thought there would be an outcry. But we won't get even a sorry," Irshad was quoted as saying by the paper.
The news item motivated a retired judge to visit Irshad's home. He wanted to apologise to him. But Irshad was in Jaipur that day.
Irshad's wife Shabana told this reporter that the judge left after saying 'sorry'. He even left his phone number and contact address before departing.
Irshad was an autorickshaw driver before going to jail. He was also paid Rs 5,000 per month by the IB. Now, he has become a cab driver. He earns around Rs 7,000 every month.
His elder son has completed his ninth grade, but Irshad has no money to continue his education. Irshad says he will soon get his son employed as an autorickshaw driver.
Translated by Deepak Sharma, edited by Shreyas Sharma
http://www.siasat.com/news/its-easy-brand-any-muslim-terrorist-exonerated-terrorist-irshad-ali-1104916/
--------
Kathleen Parker: If Obama is a Muslim, is Trump a Russian spy?
Jan 9, 2017
First, a history refresher: For the past nine years, a smattering of Americans, most recently led by our now president-elect, have insisted that Barack Obama is a Muslim born in Kenya.
For years, Donald Trump was unrelenting in his insistence that Obama prove beyond existing proof that he was born in Hawaii and not in the African country of his biological father. That Obama said he is a Christian wasn't enough to persuade Trump's followers, who apparently know a Christian when they see one.
Further, there is no logical basis for assuming that a young boy briefly raised in a given country - say, Indonesia - necessarily would adopt the dominant religion of that country. He might, however, observe that though people worship in different ways, we're all essentially the same. Never mind the cruel and absurd assumption that being a Muslim means that one is, ipso facto, a "bad person."
Respecting others despite differences is, generally speaking, the hallmark of an enlightened soul, as well as a desirable disposition in a leader. Yet, those who sided with Trump interpreted Obama's gentle touch toward the world's 1.6 billion Muslims as evidence of a hidden agenda to advance Islam in America - notwithstanding Obama's rather robust drone operations, which eliminated quite a few bad actors who happened to be, or said they were, Muslims.
Noteworthy is that these same Obama doubters weren't bestirred to suspicion when then-President George W. Bush visited a mosque immediately after 9/11. Nor, thus far, have they expressed any concern about Trump's cavalier denial of Russia's cyberattack on the U.S.
Given this history and recent evidence, isn't it about time Trump be declared a Russian spy?
No, I don't really think he's a spy because, unlike the man himself, I'm not given to crazy ideas. But what's with this double standard? Under similar circumstances, how long do you think it would have taken for Obama to be called a traitor for defending a country that tried to thwart our democratic electoral process?
Seconds.
How surreal to realize that the man who soon will become president was long committed to a rumor soaked in paranoia and propagated by conspiracy theorists whose pursuit of truth stops at the point where facts and willful ignorance collide.
How perfectly terrifying.
And now? What is so obviously a conspiracy of Russian leadership, hackers and spies, Trump dismisses as lousy intelligence. And he "knows" this how? Why would he do such a thing? Is it that he's so thin-skinned he can't tolerate anyone thinking that he might have benefited from the cyberattack? Or is it that he knew about it in advance and doesn't want to be found out? This is how conspiracy theories get started. Then again, sometimes a conspiracy is just a conspiracy - and a fool is just a fool.
http://www.sj-r.com/opinion/20170109/kathleen-parker-if-obama-is-muslim-is-trump-russian-spy
--------
In Pakistan, the blasphemy law is being used for political purposes
Tom Hussain
January 9, 2017
Once again, Pakistan finds itself mired in controversy over its colonial-origin blasphemy law, a perennial feature of the human rights calendar because of its propensity for being misused against non-Muslim minority communities and Muslims who take up a humanitarian stance on their behalf.
The issue flared in the lead-up to the January 4 anniversary of the death of Salman Taseer, the governor of populous Punjab province, who was murdered six years ago by a police bodyguard.
The assassin, Mumtaz Qadri, deemed Taseer to have endorsed the insults against the Prophet Mohammed allegedly made by a Christian village girl, Aasia Bibi. She was charged with – and subsequently convicted of – blasphemy after claims levelled by Muslim neighbours with whom she had previously quarrelled. A personal vendetta was clearly a factor, as it has been in most blasphemy cases, prompting the governor to call for a presidential pardon and to deride the enabling law as oppressive.
In turn, the assassination provided a pretext to the Pakistani Taliban to kidnap his son Shahbaz Taseer and sell him to the Islamic Movement of Uzbekistan, a group whose members' loyalties are split between Al Qaeda and ISIL. He survived more than four years of often brutal captivity in North Waziristan and Afghanistan to return home last March.
Now, another of the governor's sons, Shaan Taseer, has received death threats for a Christmas message to Pakistani Christians in which he criticised the continued abuse of the blasphemy law and called for prayers for its victims. Parallel to that, religious activists who had championed Qadri, the assassin, intimidated the chief of a police station in registering a charge of blasphemy against him.
Presenting themselves as religious scholars affiliated with the Barelvi school of Hanafi Sunni Muslim thought in the subcontinent, the activists are seeking the death sentence for Shaan Taseer.
They can do so because the law prescribes capital punishment for words, actions or images that can conceivably be seen to represent an insult to the Prophet Mohammed.
The law's sweeping character is the first of many indications that it is political, not Islamic, in both its origins and application.
The blasphemy law currently in force in Pakistan evolved from a law enacted by British colonialists in 1860 to discourage violence between rival religious groups in pre-partition India. As such, it did not discriminate between faiths.
A separate clause dealing specifically with blasphemy against the Prophet Mohammed was introduced in 1986 by Gene Zia-Al-Haq, who postured his military dictatorship as Islamist and nurtured militant jihadism for geopolitical ends in Afghanistan.
It ignores the long-standing consensus among Islamic jurists that only Muslims are liable to be tried for blasphemy under the Islamic laws they believe in. This view was endorsed by the founders of the Barelvi school – to which the accusers of the Taseer family claim affiliation – and the Deobandi school of Hanafi thought, which together account for most Sunni Muslims. The same interpretation has been offered by the founder of the Salafi movement that emerged there in the 20th century.
The law is further tainted by the introduction of a mandatory death sentence for blasphemy, based on a single, discredited 15th-century interpretation of the teachings of Imam Abu Hanifa, founder of the Hanafi school of Islamic jurisprudence.
And, of course, there remains the law's propensity to be misused for vendettas. Islam clearly considers the levelling of false accusations to be a heinous sin.
On the other hand are the activists who have employed intimidation and mob violence and sanctioned murder. They claim Islam grants them impunity, irrespective of the Supreme Court's conviction of Taseer's assassin and ruling that his call for reforms to the blasphemy law does not constitute blasphemy.
The court's verdict was endorsed by cleric-politicians of Islamist parties in parliament and on a state council that vets legislation for compliance and contradictions with Islamic law.
Yet the same cleric-politicians have blocked reforms to the law, such as the inclusion of a clause for punishment of those found to have levelled false accusations of blasphemy. The government, fearful of political implications, has vowed not to make any changes to its draft.
This reflects the fatal flaw in Pakistan's efforts to defeat the extremists who have justified their war against the country by invoking falsified interpretations of Islam. The counterterrorism campaign launched in 2014 is a success inasmuch as it has deprived terrorists of territory and destroyed their network.
However, it has done very little to counter their narrative. Even those extremists officially recorded as having been involved in terrorism have been allowed space to conduct political activities, as long as they don't pose an active armed threat to the state and, to some extent, they tone down their public rhetoric.
To evade blame, the competing arms of the state have even pointed fingers at each other. The result is that the law is being politicised.
Tom Hussain is a journalist and political analyst in Islamabad
http://www.thenational.ae/opinion/comment/in-pakistan-the-blasphemy-law-is-being-used-for-political-purposes
--------
ISIS propaganda chief lived & married in Britain after converting to Islam
9 Jan, 2017
The most senior Westerner in the Islamic State (IS, formerly ISIS/ISIL) terrorist organization lived in Britain for some years and even married a British woman in a small town in the north of England.
Propagandist Yahya Abu Hassan, the author of several articles urging IS supporters to carry out attacks on Western capitals, was identified last December as US-born John Georgelas.
The 33-year-old was once married to a British citizen and lived in the UK throughout his teens and early 20s.
It is believed that Georgelas met Joya Choudhury through a Muslim dating website in 2003. They tied the knot in Rochdale, near Manchester, the following year.
The couple lived in London but moved to the US in 2006, before resettling in Syria in 2013, where the husband was to take up a place in IS ranks.
Georgelas previously lived near Cambridge when his father, Timothy Georgelas, was posted there as a US air force doctor.
It is believed that he converted to Islam in 2001 after befriending a group of Muslim students in college. Georgelas then took the name Yahya and travelled to Damascus, Syria, to study Arabic.
Two years later, he met Choudhry online and flew to London to marry her in a secret Muslim vow exchanging ceremony. By the time they were officially married, the couple are said to have surrounded themselves with Islamist preachers and advocates of jihad. According to the Sunday Times, Georgelas told his friends in 2013 that he was going to Turkey to help refugees. He took his pregnant wife and three small children along.
It is unclear how much Choudhury knew about her husband's plans to join Islamic State in Syria, but Georgelas' mother is said to have called Choudhury's older siblings in London that summer to say: "Joya is in Turkey with the kids and they are very sick. You have to save them."
Choudhury was eventually smuggled back to Turkey with her children and brought to London to recover from the tribulations of their months in Syria.
Her relationship with her family deteriorated, however, and she moved to the United States, where the Georgelas family now takes care of the couple's four children. Choudhury now describes herself on social media as a "left-wing libertarian." She obtained a divorce in 2014.
https://www.rt.com/uk/373113-isis-propaganda-chief-married/
--------
Arab World
Over 250 Saudi-Backed Militias Killed, 400 Others Injured in Tough Battle in Ta'iz Province
Jan 09, 2017
At least 250 militias loyal to former fugitive President Mansour Hadi were killed in fierce clashes with the Yemeni army troops and popular forces.
Moreover, over 400 other Saudi-backed mercenaries were injured in tough battle in Zobab and Kahboub regions of Ta'iz province.
In a relevant development on Sunday, the Yemeni army and popular forces repelled massive ground attacks by the Saudi-led coalition troops, backed by aerial and naval support, on Zobab and Kahboub regions of Ta'iz province.
"The Saudi-led coalition soldiers staged large-scale attacks on Zobab and Kahboub regions in Western Ta'iz, but despite having the aerial and naval backup of the coalition they were pushed back by the Yemeni forces," the Arabic-language al-Ahd news website quoted an unnamed Yemeni military source as saying.
The source noted that the Yemeni army and popular forces destroyed 15 military vehicles of the Arab coalition and destroyed the coalition's military positions in the surrounding areas of Kahboub and Zobab regions.
Also on Sunday, the Yemeni army and popular forces continued their advances against the Saudi-backed militias in several fronts in Ta'iz province and seized back more strategic regions.
The Yemeni forces seized back several districts in Jabal al-Anin region of Ta'iz province.
The Yemeni army and popular forces also advanced against the Saudi-backed militias in al-Mazabi region in the town of Maqbaneh in Ta'iz province.
The Yemeni forces are now preparing to penetrate al-Nobeh region in Marnabeh town.
http://en.farsnews.com/newstext.aspx?nn=13951020000542
--------
Syria: Turkish Officers, Terrorists Hold Secret Meeting Northwest of Aleppo
Jan 09, 2017
The Arabic language al-Akhbar reported that the Turkish officers in a secret meeting with Jeish al-Fatah's representatives in Dar al-Izza region vowed to provide them with new arms.
Al-Akhbar added that the Turkish officers in the meeting said that a large volume of advanced weapons will be delivered to Jeish al-Fatah.
Jeish al-Izzah Commander Jamil al-Saleh said that Turkey has told other rebels in Idlib that Ankara will provide them with new cargos of arms to open new fronts in Northern Hama as well.
Full report at:
http://en.farsnews.com/newstext.aspx?nn=13951020000868
--------
UAE removes 'Persian Gulf' from school book
Jan 10, 2017
DUBAI - The United Arab Emirates has ordered the removal from a textbook of the term "Persian Gulf" for the waterway that is the subject of a bitter naming dispute with Iran, a newspaper reported Monday.
The UAE education ministry stepped in after complaints that the book was using that name instead of "Arabian Gulf" that Arab countries use to describe the body of water, Emirat Al-Youm said.
The ministry said the fourth grade textbook, which featured a map with the name, had been on "trial and will be corrected in future prints," the daily reported.
The authorities would distribute stickers to "cover the mistake," it added.
The United Nations and international maps generally refer to the stretch of water between the Arabian Peninsula and Iran as the "Persian Gulf", the term used by ancient Greek geographer Ptolemy.
Full report at:
http://nation.com.pk/international/10-Jan-2017/uae-removes-persian-gulf-from-school-book
--------
Suicide truck hits Egypt security post in Sinai, killing 10
Jan 10, 2017
EL-ARISH: A suicide bomber driving a garbage truck packed with explosives rammed his vehicle into an Egyptian security checkpoint outside a police building in northern Sinai on Monday, killing at least 10 people and wounding 22, officials said.
According to security and medical officials, the attack in the city of el-Arish in the Sinai Peninsula was followed by smaller explosions as militants wearing black masks fired rocket-propelled grenades at the troops around the checkpoint.
Three floors of the police building were blown out, the officials said, adding that so far, bodies of 10 people — all but one of them policemen — have been retrieved from the rubble but that they fear the death toll could rise further. The wounded were taken to hospital.
At the checkpoint, two officers survived unharmed, the officials said. There were unconfirmed reports that a number of security personnel were seized and abducted by the gunmen.
The garbage truck had been stolen days earlier from the municipality of el-Arish, the officials said, adding that the militants had built in metal plates to enforce the truck. They spoke on condition of anonymity because they were not authorized to talk to reporters.
Later Monday, Egypt's Interior Ministry released footage showing an attacker driving what appears to be a white garbage truck. The video shows the attacker collapsing after coming under fire.
In a statement on the ministry's Facebook page, the security authorities claim they managed to foil the attack before the car bomb exploded at the checkpoint and that security forces killed five of the attackers and wounded three others. It also said seven policemen were killed, along with civilian, and that six policemen and six civilians were wounded.
Full report at:
http://nation.com.pk/international/09-Jan-2017/eight-police-killed-in-attack-in-north-sinai
--------
Saudi boy, 13, returns home to find father, brother killed in blast
9 January 2017
Jawad Al-Malki, 13-year-old Saudi boy, was inconsolable when he arrived at King Abdul Aziz International Airport in Jeddah after several months of medical treatment abroad.
Jawad was sent abroad for treatment by the Saudi government after he was seriously injured in a suicide bombing at Ataturk Airport in Istanbul seven months ago.
When he arrived at the Jeddah airport on Friday he was looking for his father. Little did he know that his father and elder brother died in the suicide attack in which he was badly injured. His mother and two sisters were also injured in the explosion.
Jawad was the last member of the Taher Al-Malki family to return home after receiving medical treatment abroad at the expense of the Saudi government. Jawad's grandfather Abdullah Al-Malki told Okaz/Saudi Gazette that Jawad had brain injuries and so he suffered partial paralysis.
Family tragedy
He said the family is going through a tough time since the attack. Jawad's father and brother died. His mother was in critical condition after the explosion because she suffered serious stomach injuries.
Full report at:
https://english.alarabiya.net/en/News/middle-east/2017/01/09/After-surviving-terror-attack-Saudi-boy-loses-father-brother.html
--------
Daesh Takfiris cut off water to thousands of civilians in Mosul
Jan 10, 2017
Daesh terrorists have cut off water supply to dozens of liberated areas in Mosul to keep civilians under control as the Iraqi army and allied fighters renew their push to expel the extremists out of their last urban stronghold.
Nineveh provincial council member Hossam al-Abbar told Arabic-language al-Sumaria television network on Monday that Daesh terrorists have cut water to 30 neighborhoods in the eastern flank of the city, located some 400 kilometers north of the capital Baghdad.
Abbar added that only 10 liberated districts have access to potable water intermittently.
He further noted that water stations in al-Ghabat neighborhood, which nurture western Mosul, are still under Daesh control, and that the terror group has turned off the pumps which send water toward liberated neighborhoods in the city.
The official said Daesh has ordered its members to target areas retaken from them with mortar shells and artillery rounds.
Abbar also urged the Ministry of Municipalities and Public Works plus Ministry of Finance to allocate a certain budget as well as tankers to supply drinking water to Mosul neighborhoods.
An Iraqi soldier patrols a street in Mosul next to al-Salam hospital after recapturing the area from Takfiri Daesh terrorists on January 9, 2017, during an ongoing military operation against the militants. (Photo by AFP)
Zuhair Hazem al-Jabouri, an official with Mosul's energy and water department, said last month that "Daesh is depriving people of drinking water in eastern Mosul. They want to force people to retreat with them in order to use them as human shields."
Iraq kills top Baghdadi aide
Amid army advances in and around Mosul, a high-ranking aide to Daesh ringleader Ibrahim al-Samarrai aka Abu Bakr al-Baghdadi has been killed in a precision airstrike carried out by the Iraqi Air Force in the central part of the city.
Full report at:
http://www.presstv.ir/Detail/2017/01/10/505575/Takfiri-Daesh-militants-cut-off-drinking-water-Iraq-Air-Force-airstrike
--------
Syrian Army Scores More Victories against Terrorists in Eastern Damascus
Jan 09, 201
The army men pushed militants back from the town of Harazma, inflicting major losses on the terrorists.
Field sources said that the army men are now carrying out mop-up operation in the newly-freed town and its surroundings, adding engineering units have started defusing bombs and landmines planted by the militants across the town.
The remaining pockets of terrorists have fled towards adjacent towns.
The sources added that fierce clashes are now underway between the army soldiers and militants near the strategic Farzat hill that overlooks the towns of al-Nashabiyeh and Hawsh al-Salehiyeh.
Full report at:
http://en.farsnews.com/newstext.aspx?nn=13951020000671
--------
US-Led Coalition Warplanes Destroying Syria's Infrastructures
Jan 09, 2017
The sources said that the warplanes pounded an oil refinery that had been previously abandoned by the ISIL terrorist group.
The sources added that the fighter jets in several combat flights bombed a center selling oil, gasoline and gasoil in the town of Khasham in Eastern Deir Ezzur, setting fire at 3 large tankers, killing nine civilians and wounding several more.
Most of the injured are in critical situation.
Local sources said on Sunday that at least 11 civilians, including five children, were killed and several more were wounded in the attacks of the US-led coalition's warplanes on two villages in the Northern and Western countryside of Raqqa city in Northeastern Syria.
The sources said that two civilians were killed in the village of Qazban and nine others, including five children, were killed in the village of al-Sweidiyeh al-Kabireh after the coalition fighter jets bombed the villages heavily.
Full report at:
http://en.farsnews.com/newstext.aspx?nn=13951020000597
--------
Aleppo: Syrian Army Readying for Imminent Operation to Liberate Al-Bab
Jan 09, 2017
The sources said that while the Turkish army and Ankara-backed terrorist groups from one side and the Kurdish forces from another side are advancing towards al-Bab, the army has reinvigorated its military power in the village of Faah in Southwestern al-Bab.
The army has also boosted its military presence in regions South-East of al-Bab near the Kuweires airbase, the sources added.
They pointed out that hundreds of army soldiers have been deployed in areas surrounding the town in the recent months, adding that the Kuweires airbase will be the platform for launching the attack on ISIL in al-Bab.
Also, the Syrian army and Russian air force launched heavy attacks on ISIL positions in Aleppo last week, inflicting major losses on the terrorists.
Full report at:
http://en.farsnews.com/newstext.aspx?nn=13951020000521
--------
India
Mumbai University bars bearded Muslim student from boxing event
Jan 10, 2017
The University of Mumbai (MU) pulled out a Muslim student from a boxing competition because he refused to shave off his beard.
Sayyed Imran Ali is a national-level taekwondo and kick-boxing player and a second-year BCom student at GR Patil College in Mumbra. When he reached University Sports Pavilion in Marine Lines for his match last Monday, the university officials told him that he won't be allowed to compete unless he shaves off his beard.
They cited a rule by International Amateur Boxing Association (AIBA), which prohibits beards and moustaches, body piercings and accessories during a bout.
"[Indian Boxing] Federation requires boxers to be clean-shaven before every match," said Uttam Kendre, director, MU's department of physical education and sports.
The federation follows the technical rules set by AIBA.
Imran Ali, a Mumbra resident who sports a goatee, said he was unaware of the rule as this was his first competitive boxing.
"I have been participating in kick-boxing, karate and taekwondo competitions at the state and the national level for the past seven years. My small beard was never an issue," said the boxer, who runs a martial arts training centre in Mumbra.
Jay Kowli, general secretary of International Boxing Federation and former pugilist, said amateur boxers are bound by AIBA rules. "The rules are different for kick-boxing, taekwondo and boxing. If you don't agree with the rules, you shouldn't box."
While amateur boxers are required to be clean-shaven, there is no such rule for professional boxing, governed by World Boxing Federation.
http://www.hindustantimes.com/mumbai-news/mumbai-universi-bars-bearded-muslim-student-from-boxing-event/story-BxY7wI4i4hAALqJ2z0s5NN.html
--------
No Band, Baaja And Baraat, Islamic Body Tells Muslims
Jan 10, 2017
NAGPUR: After anti-kite flying appeal, city's Islamic organization Assaqafatur Razaviya of Satranjipura has asked Muslims to avoid "splurging on matka party (singing paeans to groom), playing musical band, video shooting and crackers during marriage celebrations.
On December 26, TOI had reported about the organization's anti-kite flying campaign to dissuade Muslim youths from the 'vice'. As part of the campaign, the organization, that draws its ideology from Barelvi movement, had pasted posters outside several masjids across the city beside spreading the message through discourses.
In the latest move, the organization has citied Holy Quran's verse 31 of Chapter 7 Al-Araf. "Allah fizool karchnewalo ko pasand ni karta (God doesn't like people who splurge)," reads the poster issued by the organization.
"Quran Shareef and Hadith both forbid splurging on useless activities. Making images is also a sin. Playing music, bursting crackers, matka party are all waste of money," president of the organization Maulana Ateeque-ur-Rehman told TOI.
Rehman added that the organization has been holding seminars and sermons every Sundays in nearby towns like Warora, Walsa, Chhindwara and Seoni to promote austerity in marriages.
"Our mission is to make people realize that wealth is God's gift and should be used wisely. Instead of splurging on marriages, the money can be put to better use like education, treatment of poor and welfare of economically backward," Rehman added.
Quranic scholar Abdul Gafoor Parekh said, "In my view, this should be appreciated by everyone."
Former director of Archeological Survey of India, GS Khawaja, said, "In Islam, all such acts which distract one from obligatory duties and servitudes like namaz and roza are illicit and forbidden. If such an appeal has been made by the followers of Maulana Ahmed Raza, then I support the cause."
Khawaja added that video shooting during marriages too should be avoided as it may give rise to obscenity. He said, "According to social anthropology, ancestor worship began because of images. By banning video shooting or photography, you can prevent idol worship which is forbidden in Islam."
Abdul Ahad, director of Central India College of Business Management and Studies, said, "Everyone should avoid spending lavishly on weddings, which, I feel, has become a norm now. Even the Prophet (Peace be upon him) had advised against spending on such wasteful activities."
Full report at:
http://timesofindia.indiatimes.com/city/nagpur/no-band-baaja-and-baraat-islamic-body-tells-muslims/articleshow/56429292.cms
--------
Pakistan, separatists thwarted peace process: Mehbooba Mufti
Jan 9, 2017
JAMMU: Jammu and Kashmir chief minister Mehbooba Mufti on Monday blamed Pakistan, and the separatists for derailing the dialogue process by shutting doors on the All Party Delegation, saying the preparations for the Valley unrest were done beforehand.
The preparations for the five-month long unrest in Kashmir were made in advance and when the triggers like separate Kashmiri Pandit Colony and Sainik Colony did not work, the killing of Burhan Wani triggered the unrest, she said.
"The Prime Minister Narendra Modi went to Lahore and it was followed by Pathankot terrorist attack and today in Jurian. Entire nation had their eyes on those (separatists) doors and the nation was breathless to see the outcome and several senior leaders went to meet them. They could have opened the doors," Mehbooba said while replying to the discussion on the Kashmir unrest in the state Assembly.
She said that had the separatists opened their doors, it could have led to the start of a dialogue.
"A message would have gone and they (separatists) would have told the All Party Delegation what they have done in the past and what steps have they taken to resolve the issue," she said.
Referring to the unrest in Kashmir, which left several people dead and many injured, the chief minister said that the unrest took place under a "well-planned conspiracy".
"Earlier they used the issue of separate Kashmiri Pandit Colony and then Sainik Colony to trigger the unrest but when they failed, this (Burhan Wani's killing) provided them the trigger they wanted to instigate unrest," Mehbooba said.
"Preparations (for the unrest) were made in advance as from the very next day slogans were being raised in the mosques and large number of CDs was distributed," she said.
"Some elements" used small kids as shield and pushed them inside security force camps and police stations, she added.
It is easy to say that security forces could have exercised restrain but when a mob attacks a police station with petrol bombs, stones and axes, it becomes difficult to exercise restraint, Mehbooba said.
Claiming that said that the injured were not allowed to go to hospitals, she said that pregnant ladies were asked to show their baby bumps to prove their pregnancy to got the hospitals.
"Many school children did not go to the school in uniform as they feared they would be attacked. Several students who went to give examinations were accompanied by their mothers who were carrying doctor's prescriptions to show them (protesters) that they were going to see the doctors. They were so much scared," she added.
The Chief Minister said that she wants the walls of hate to fall down and let hearts meet.
"Despite several provocations, Union Home Minister Rajnath Singh went to Pakistan but was it the way they should have treated him like this," Mehbooba said.
370 people were arrested under the Public Safety Act (PSA) and the government will review their cases but the process had to be shelved due to the unrest and will begin soon. There were 138 others who were lodged in jails, she said.
Apealing to the Opposition to help her "heal" the wounds of the people, she said, "I strongly feel that the situation was not sudden and going on for several years. My request is that be it 2010 or 2016 it should not have happened, either on your time or ours. Help us to heal the wounds of the people and to bring them out of this," she said.
On the allegations that preparations were not made to handle the situation post the Burhan Wani encounter, Mehbooba said that the encounter happened all of sudden and immediately curfew was declared but it could not be fully imposed as large number of security forces were deployed for the Amarnath yatra.
Full report at:
http://timesofindia.indiatimes.com/india/pakistan-separatists-thwarted-peace-process-mehbooba-mufti/articleshow/56419158.cms
--------
In first cross-LoC strike of 2017, terrorists kill 3, escape under mist cover
by Arun Sharma , Praveen Swami
January 10, 2017
INTELLIGENCE AND police services have warned that the terrorists responsible for killing three people in Monday morning's attack on a road-construction crew near Akhnoor, the first cross-Line of Control strike in the New Year, could carry out further strikes on civilian or military installations around the nearby city of Jammu, government sources told The Indian Express.
The 1.30 am strike, preceded by Research and Analysis Wing warnings issued last week, sparked off searches by multiple Army and police units that were continuing as darkness fell. "It's like they have disappeared into the mist," said an officer familiar with the operation.
Intelligence officials in New Delhi said the failure to locate the terrorists could also mean they had gone back the way they came, across the LoC. "A two-way crossing of the LoC after a fire-exchange would obviously suggest there are some very serious issues with security, which need to be addressed," said a senior government officer.
Army sources said the terrorists entered the first barracks inside the General Reserve Engineering Force detachment stationed at Battal — a hamlet outside the village of Jourian, scene of one of the major tank battles of the 1965 war, and perched on a strategically key axis on the LoC. The terrorists opened fire on the four men inside the barracks, and then set fire to equipment, said sources.
The casualties, Army officials said, would have been substantially higher, had ten other workers housed there, all local residents, not still been away on their weekend break.
"A vehicle had reversed into the gate of the barracks complex last week, destroying it completely. There was no guard posted there, either," said an official.
In a second barracks some metres away, ten other men survived by locking themselves inside the building. "We heard the terrorists shouting abuses in Punjabi against India for more than half an hour, as they broke open the locks on adjoining buildings," police sources quoted one of them as saying.
Police identified those killed as Ramesh Topno, from Jharkhand, and Salman Khan and Abdul Aziz, both from Uttar Pradesh. A fourth man, Uttar Pradesh resident Abdul Aziz, sustained gunshot injuries. All four were employed on daily wages, said sources in the J&K government.
Following the exchange of fire, local residents told The Indian Express that a grenade explosion was heard outside Battal near a spring where troops fill water, before the terrorists disappeared into the woods behind the village.
Local military units, Army sources said, responded to the exchange of fire early, with troops from a company of the Madras Regiment, stationed some 500 metres away, calling in support from their parent unit and elements of an Engineering detachment opening fire in the direction of the terrorists.
Defence Ministry public relations officer Manish Mehta said the Army had "cordoned off the entire area" following the attack, blocking routes of exit and entry.
"It's possible that this early response led the attackers to leave the scene quickly," said a military officer familiar with the operation, noting that the terrorists had left three hand grenades, four loaded magazines of ammunition and a bottle filled with a liquid suspected to be the incendiary trinitroglycerine.
Government sources said that military units had been advised to be on high alert following a Research and Analysis Wing alert issued last week, warning of an infiltration attempt involving the Jaish-e-Muhammad, to be launched across the LoC from the region near the Pakistani city of Sialkot, west of Jammu.
RAW had issued similar alerts before the terrorist attacks on the IAF base in Pathankot and the XVI Corps Headquarters Nagrota, both involving the Jaish-e-Muhammad — and both proved accurate.
Full report at:
http://indianexpress.com/article/india/in-first-cross-loc-strike-of-2017-terrorists-kill-3-escape-under-mist-cover-akhnoor-border-firing-4467208/
--------
NIA court moves to declare 4 accused proclaimed offenders
January 10, 201
A SPECIAL designated court of the National Investigation Agency (NIA) issued the proclamation notice to four accused in the Pathankot attack, including Pakistan-based terror outfit Jaish-e-Mohammed chief Masood Azhar, his brother Abdul Rauf and two alleged handlers, Shahid Latif and Kashif Jan, on Monday. JeM was accused of carrying out the terror attack on the Pathankot airbase on January 2, 2016. By issuing the proclamation notice, the process of declaring all the accused as proclaimed offenders (PO) began.
The court has fixed March 9 for the next hearing in the case. The court may take a decision regarding this then. The proclamation notice was issued under Section 82 of the Criminal Procedure Code under which the court sends a legal notice to the accused to appear in court within 30 days. If the accused fails to appear within the stipulated time, the court declares him PO.
Full report at:
http://indianexpress.com/article/india/nia-court-moves-to-declare-4-accused-proclaimed-offenders/
--------
North America
Muslim community works to build 'bridges of peace'
January 9, 2017
Islam Understood, a nation-wide campaign by the Ahmadiyya Muslim Community, is making a stop Jan. 14 in Sarnia.
The open house, set for noon to 4 p.m. at the downtown Sarnia Library Branch, is one of several planned for more than 40 communities across the country as part of an effort to address misunderstandings around Islam and "create bridges of peace," according to a news release.
"There's a lot of things happening in the media these days, and they have been happening over a number of years," said Hanan Sobhi, Imam of the Ahmadiyya Muslim community in Scarborough.
"And they paint this very radical and extreme picture of Islam."
In 2016, the Muslin sect that promotes peace celebrated 50 years in Canada.
Over the last few years, it has held several information open houses in Sarnia, as well as other communities around the country.
In larger centres, where there are large Muslim populations, residents are more likely to know a member of the religion and have the opportunity to speak with them, Sobhi said.
"In smaller towns, and far off places, they don't have the same opportunity," he said.
"This is our faith outreach, to build bridge so that people can share what their feelings are, what their thoughts are," speak with Muslims, "and remove some of those misconceptions that might build up in people's minds."
Last April, the Ahmadiyya Muslim Youth Association held an open house at the Sarnia Public Library on the topic of women in Islam.
It followed an earlier open house the youth organization held in Sarnia in 2016, and another the community held in the city in March 2015.
In its news release, the community said atrocities and acts of violence carried out by terrorists across the globe have created misunderstandings around Islam, leading to Islamophobia and a rise in hate crimes and hateful rhetoric.
Just before Christmas, 12 people died in a truck attack on a market in Berlin.
Two days after the attack, the Ahmadiyya Muslim Community in Canada issued a statement condemning the act.
"We are deeply saddened by the attack that took place in Berlin and we pray for the rapid recovery of the wounded," Lal Khan Malik, national president of the Ahmadiyya Muslim Jama`at Canada, said in the statement.
"Islam forbids all forms of terror and extremism. As Muslims, we are taught that killing even one innocent person is akin to killing all of mankind."
Sobhi said the name of Islam "means peace," and the Ahmadiyya community is working to show it is a peace-loving religion.
"There is a reason why 1.6 billion people in the world go towards it, to find that peace," he said.
"If there's a few people in the world who using it a tool to create havoc, that is not the real picture of Islam."
The community's outreach efforts appear to be having "a huge impact," Sobhi said.
"Many people are interested. They come and some of the places we are holding these events, we have made friends."
That, he added, has led to community representatives being invited back to take part when faith-based activities are being held, "to show the Islamic side," Sobhi said.
Anyone interested in hearing more about Islam, "or just wanting to have a different perspective, or learn some new things, we would welcome them to come out and get a chance to met their Muslim neighbours," he said about the Jan. 14 open house in Sarnia.
http://www.theobserver.ca/2017/01/09/muslim-community-works-to-build-bridges-of-peace
--------
The Latest: Father of slain Muslim soldier protests nominee
January 09, 2017
WASHINGTON (AP) -- The Latest on Congress (all times local):
1:15 p.m.
The father of a Muslim American soldier killed during combat in Iraq is urging senators to reject President-elect Donald Trump's choice for attorney general.
Khizr M. Khan (KY'-zur M. kahn) says in a letter Monday to leaders of the Republican-led Senate Judiciary Committee that Sen. Jeff Sessions, an Alabama Republican, won't protect the "sacred right" of Americans to vote.
Khan is raising an episode from nearly 30 years ago when Sessions confronted and denied allegations that he'd made racist comments as a U.S. attorney under President Ronald Reagan. The Judiciary Committee denied Sessions a federal judgeship in 1986, and civil rights advocates have since raised objections to his positions on voting rights, hate crime prosecutions and immigration.
"Sadly, Mr. Sessions has not demonstrated a greater understanding that the right to vote should transcend partisan interests," Khan says.
Khan's speech about his son, U.S. Army Capt. Humayun Khan, at the Democratic National Convention criticized the anti-Muslim rhetoric of then-Republican nominee Trump.
___
1 p.m.
Senate Democrats plan an evening talk-a-thon from the chamber's floor to attack Republicans' plans for eviscerating President Barack Obama's health care law.
Monday's speeches come with the expectation that the Senate will hold a final vote this week on a budget that would prevent Democrats from using a filibuster to block a future bill dismantling Obama's law.
Full report at:
http://www.news-sentinel.com/news/us-and-world/The-Latest--Father-of-slain-Muslim-soldier-protests-nominee
--------
U.S. increases support for Turkish military operations in Syria
January 9
U.S. aircraft have begun regular aerial intelligence surveillance in support of Turkey's offensive against the Islamic State in northwestern Syria, in anticipation of increased U.S. support for the flailing Turkish military operation around the town of al-Bab.
The increased support comes after weeks of U.S. military and diplomatic talks with Turkish counterparts, and Russian airstrikes backing the Turkish offensive.
U.S. support to ground troops, including airstrikes and equipment in addition to surveillance, would be similar to what the United States now provides to Syrian groups battling the militants, potentially including assistance from Special Operations advisers whose participation in the offensive has thus far been limited to an area inside the Syrian border about 10 miles north of al-Bab, according to administration and defense officials.
U.S. strikes over al-Bab would require an intensive effort to de-conflict American flights with those of Turkey and Russia, whose forces are also bombing there. "Flying anywhere in Syria is complicated. Flying up in that area where everyone seems to be flying would require some work," one defense official said. "I wouldn't say we aren't worried about it."
The officials, who spoke on the condition of anonymity, were not authorized to discuss the operations.
Decisions to increase support come as the Obama administration is also in the final stages of weighing direct weapons shipments to U.S.-backed Syrian Kurdish forces moving toward the Islamic State's de facto capital of Raqqa.
Turkey, which considers the Kurdish People's Protection Units, or YPG, a terrorist group allied with Turkey's own Kurdish separatists, has warned the United States against aiding the group. Weapons shipments to the YPG, which composes the majority of what the United States calls the Syrian Democratic Forces, are now funneled indirectly through Iraq in deference to Turkish concerns.
Arming the Kurds is one of a handful of national security decisions the administration will have to make in the next two weeks on what it sees as important, ongoing operations that it fears President-elect Donald Trump will alter or discontinue.
Turkish Foreign Minister Mevlut Cavusoglu said Monday that ending cooperation with the YPG was one of Turkey's two main expectations of the United States, along with extradition of Muslim cleric Fethullah Gulen, the U.S. permanent resident who Turkey says orchestrated last summer's Turkish coup attempt.
Turkish President Recep Tayyip Erdogan said he believes U.S.-Turkish relations will "gain momentum" after Trump's Jan. 20 inauguration. Remarks by Erdogan and Cavusoglu, to a conference of Turkish ambassadors in Ankara, were reported by the Anadolu news agency there.
U.S.-Turkey relations have been strained over both the Gulen and YPG issues, as well as Obama administration criticism of the arrests of tens of thousands of alleged Gulen supporters in the wake of the failed coup attempt.
Michael T. Flynn, Trump's designated White House national security adviser, wrote in an op-ed published on Election Day that he believed the United States should agree to the extradition — still under consideration by the Justice Department — and should back off criticism of a key ally in the fight against the Islamic State. Obama's policy toward Turkey, Flynn wrote, was "unwise."
As tension between Washington and Ankara has increased, Turkey's relations with Russia have improved. In recent weeks, Russian airstrikes came to the rescue of Turkish forces bogged down outside al-Bab. Erdogan and Russian President Vladimir Putin negotiated a partial cease-fire in Syria's civil war — in which they have been on opposite sides for years — without U.S. participation.
Full report at:
https://www.washingtonpost.com/world/national-security/us-increases-support-for-turkish-military-operations-in-syria/2017/01/09/08760aae-d6be-11e6-9f9f-5cdb4b7f8dd7_story.html?utm_term=.2bb5421f9e73
--------
Canadian teen who wanted to join Islamic State sentenced to house arrest
Jan, 10 2017
Montreal: A Canadian teenager who wanted to join the Islamic State group and reportedly promoted attacking government buildings was sentenced to six months of house arrest and two years' probation, prosecutors said. The 17-year-old male will live with his grandparents, wear an electronic bracelet and be subjected to a curfew.
The teenager — who hails from Manitoba and can't be named under Canadian law — will participate in counseling and be banned from using computers.
Active on Twitter, he pleaded guilty last September to encouraging an offence related to terrorism.
Full report at:
http://www.firstpost.com/world/canadian-teen-who-wanted-to-join-islamic-state-sentenced-to-house-arrest-3196270.html
--------
Pakistan
10 things to know about 'Muslim NATO', headed by Pakistan's former military head
Jan 10, 2017
Pakistan's recently retired army chief General Raheel Sharif will become the first head of a Saudi Arabia-led military alliance of Islamic countries, put together to fight Islamic State and other terror outfits gaining stronghold in the region.
According to reports, the Riyadh-headquartered military grouping which has been dubbed as the "Muslim NATO" in sections of the media is comprised of 39 countries in Asia and MENA (Middle-East North Africa) regions with predominantly Muslim populations.
The announcement of General Raheel Shareef heading the organisation was made by Pakistan's defense minister Khwaja Asif during an interview with a local TV channel last week.
Here are 10 things about the Muslim military alliance that you need to know:
The idea of Islamic Military Alliance to Fight Terrorism (IMAFT) was first mooted by Saudi Arabia in 2015 to counter the growing reach of ISIS in the region. Among several times, Pakistan was reportedly invited to this group during the Riyadh led air-strike campaign in Yemen against Iran-backed Houthi rebels, who had overran large swathes of the country with little resistance faced from Yemen's government forces. Originally, the military group had 34 members.
Pakistan had reportedly refused to participate in the Saudi Arabia-led military campaign in Yemen, with many Pakistan-watchers believing that Islamabad's close energy cooperation with Iran held it back from joining a military venture with Saudi Arabia.
On the other hand, Saudi Arabia is one Islamabad's largest benefactors and has provided aid to the tune of $1.5 billion in recent years, which put Islamabad in a quandary as to which side to go on. Saudi Arabia and Iran are strategic and religious rivals, with both the powers claiming leadership of the Islamic world.
Pakistan, which has one of the strongest armed forces among Islamic countries, has in the past also been wary of sending its troops to overseas military campaigns. According to a Pakistani defense expert quoted by The Guardian, the "guiding principle" of Pakistani troops, who have been serving in Saudi Arabia since 1960s, has always been that they would serve only within the territorial boundaries of Saudi Arabia.
According to some news reports, Islamabad's decision to join IMAFT has been met with criticism from the Shia Muslim community of Pakistan, which makes up around 20 percent of the population of the South Asian country. The move risks further worsen the Shia-Sunni divide in the Pakistani landscape. According to a news report, banned Sunni group Ahle Sunnat Wal Jamaat has expressed support for Shareef's appointment as head of the group.
Whether the group will operate on the lines of UN Peacekeeping Force or follow a NATO like command is not known yet. Doubts have also been raised over the objectives behind the military group, which is basically led by Sunni Arab monarchies hostile to Iran, Syria and Yemen.
The IMAFT, should it decide to do the bidding of a few Gulf monarchies, could led to political tensions and possibly military confrontation in the Middle East as the idea may not be welcomed by Shiite powers in the region led by Iran.
Some Twitter users were of the view that Pakistan's entry into the grouping would result in support for the country against arch-rival India on the Kashmir dispute.'
According to an AFP report from back in March 2016, the lion's share of funding for the new military group will come from oil-rich Saudi Arabia.
Beside Pakistan and Saudi Arabia, other major powers in the IMAFT include Turkey, the UAE, Oman, Bangladesh and Nigeria.
http://www.inuth.com/world/south-asia/10-things-to-know-about-muslim-nato-headed-by-pakistan-former-military-head/
--------
PPP, JI to oppose reinstatement of military courts
MUHAMMAD BILAL
Jan 10, 2017
Chairing a consultative meeting of opposition parties regarding the revival of military courts, opposition leader Khursheed Shah on Tuesday said the Pakistan People's Party (PPP) will oppose the reinstatement of military courts.
The veteran politician chaired a consultative meeting of opposition parties a day after the federal government initiated consultations to introduce a constitutional amendment reinstating the controversial courts for a period of time all political parties agreed upon.
Also in attendance at the meeting were Pakistan Tehreek-i-Insaf (PTI) senior leader Shah Mahmood Qureshi and PTI's chief whip in the National Assembly Shireen Mazari, PPP's Naveed Qamar, and Jamaat-i-Islami's Tariqullah.
Speaking to journalists about the PPP's stance on the revival of military courts, Shah said, "This has been our point of view since day one."
The JI declared that they, too, would oppose the reinstatement of military courts.
PTI's Qureshi said the PTI would first listen to the government's point of view on the subject and then present its own.
Later today, the opposition parties are expected to hold a meeting with National Assembly Speaker Ayaz Sadiq.
Pakistan had legalised military court trials of terror suspects for a period of two years in January 2015, soon after the terror attack on Peshawar's Army Public School in Dec 2014, in which 144 people, most of them children, were killed by Tehreek-i-Taliban Pakistan militants.
Full report at:
http://www.dawn.com/news/1307557/ppp-ji-to-oppose-reinstatement-of-military-courts
--------
Govt asked to explain Gen Sharif's post in Saudi-led alliance
IFTIKHAR A. KHAN
Jan 10, 2017
ISLAMABAD: Senate Chairman Mian Raza Rabbani directly asked the government on Monday whether former army chief Gen Raheel Sharif had sought permission from the federal government or taken it into confidence over his reported appointment as commander of the 39-nation Saudi-led military alliance.
Asking Defence Minister Khawaja Asif to keep in mind the rules for a retired officer seeking an appointment, he asked whether "a no objection certificate was issued and the federal government was taken into confidence?" The government is expected to respond tomorrow (Wednesday).
"I heard your statement on TV and you were not clear yourself," Mr Rabbani remarked, addressing the defence minister, adding that a contradictory statement from PM's aide Dr Musaddiq Malik had made the matter even more ambiguous.
The Senate chairman also asked the Ministry of Foreign Affairs to clarify what would be the implications of the decision in terms of foreign policy and its effect on a decision, taken at the joint sitting of parliament, not to become part of any such alliance.
Dar hopeful ex-COAS will fulfil constitutional and legal requirements before accepting the offer
There has so far been no official confirmation of the fact that Gen Sharif will assume command of the alliance. During a Geo News programme on Friday, Khawaja Asif had indirectly confirmed the appointment.
On Monday, Finance Minister Ishaq Dar indicated the government is unaware of the general's reported decision.
In a Samaa TV programme, Mr Dar expressed ignorance about the Saudi offer to Gen Sharif. He, however, felt certain that Gen Sharif would consult the government and fulfil legal and constitutional requirements before taking any decision on leading the military coalition.
He revealed that Saudi Arabia wanted Gen Sharif to head the coalition while he was army chief. "Basically when he was in service, the government of Saudi Arabia wanted him to head the coalition forces of Islamic countries while discharging his duties as COAS.
"It was consensus among Prime Minister Nawaz Sharif, the government and the then COAS that it would be a conflict of interests," Mr Dar said, adding that it was not fair for him to head a coalition force comprising 34 or 39 countries while being the COAS. Also on Monday, the upper house unanimously adopted an amendment to the National Counter Terrorism Authority (Nacta) law, which makes it obligatory for the authority's executive committee to meet at least once in three months to oversee the implementation of the National Action Plan (NAP).
The authority has two principal bodies, namely the board headed by the prime minister for policy guidelines, and the executive committee headed by the interior minister for the implementation of those policies.
The amendment moved by PPP Senator Farhatullah Babar makes it mandatory for the executive committee to meet and oversee policy implementation involving all stakeholders in all provinces.
Full report at:
http://www.dawn.com/news/1307517/govt-asked-to-explain-gen-sharifs-post-in-saudi-led-alliance
--------
Experts warn against standstill in Pak-Afghan ties
HASAN MANSOOR
Jan 10, 2017
KARACHI: Experts from Pakistan and Afghanistan on Monday welcomed Islamabad's decision to extend Afghan refugees' period of stay and said that tackling trust deficit between the two neighbours and improving security situation were crucial for bilateral relations.
They said the momentum to make 'terrorist' outfits weaker in Pakistan was increasing and advised Islamabad and Kabul to focus on improving bilateral trade.
These views were expressed by members of the Pakistan-Afghanistan Joint Committee during their third workshop in Karachi. The workshop was part of Beyond Boundaries II, a track I.5/II dialogue series undertaken by the Centre for Research and Security Studies in partnership with the Women Peace and Security Organisation of Afghanistan to foster better understanding and cooperation between civil society members of the two neighbours, soothe bitter context and address the trust deficit between Afghanistan and Pakistan.
They said border management was important to ensure to and fro movement of goods and people between the two countries and also to monitor militants' movement across the porous border.
Terrorism can't be defeated by terrorism, say participants of a track-II workshop from both countries
They said there should not be standstill on bilateral relations and the two countries should cooperate in the fields of security, sports, media, education, arts and culture for peaceful future.
Ann Wilkens, former ambassador of Sweden to Pakistan and Afghanistan, while chairing the meeting, said: "Afghanistan and Pakistan have a great potential. Having served in both countries as ambassador, I love Afghanistan and Pakistan equally and want to see them as friendly neighbours always."
Khalid Pashtoon, a member of the Afghan parliament, said: "We must appreciate efforts of Afghan military which is in the process of training but still able to recoil Taliban attacks. We fear a possible spring offensive and Daesh attacks this year. We must also appreciate the increasing momentum in Pakistan to make terrorist outfits weaker."
He said there were no issues between Afghanistan and Pakistan at people-to-people level. "Both countries need to build on the commonalities such as religion, cultural values, food, music, language, etc. The main concerns on both sides should be considered to reach an acceptable conclusion."
Muzammil Shinwari, former Afghan deputy minister for trade and commerce, praised Pakistan's decision to extend the period of stay for Afghan refugees. "There is a dire need to tackle the longstanding trust deficit and improve security situation between the two countries. Both countries should focus on improving bilateral trade. The transit trade has also dropped down which can affect the bilateral trade."
He thanked the Pakistan Cricket Board for inviting Afghan players to Pakistan.
Wazhma Frogh, adviser to the Afghan defence ministry, said the media could play a key role; nevertheless, it needed right piece of information to properly serve its purpose of public information and improving their perceptions.
"You cannot defeat terrorism by terrorism," said Elay Ershad, a member of the Afghan parliament, while underpinning the importance of dialogue for peace. "Afghanistan is not willing to support any initiative which is against its national security."
Dr Shoaib Suddle, former inspector general of police, said blame game was the core issue between Afghanistan and Pakistan which must be resolved as other regional actors tried to take advantage of it.
"Positive progress is being made on the issue of border management. Border management becomes extremely important given the movement of goods and people between the two countries. This is also critical from the point of view of terrorists' movement across the two countries through the porous border."
He said the main concern on the Islamabad side was that Afghanistan's relations with Pakistan and other regional countries should be 'independent'. The bilateral issues should be resolved in a more holistic manner. The new Pakistani army chief's conversation with [Afghan President] Ashraf Ghani and his deputy Abdullah Abdullah is a positive development.
Full report at:
http://www.dawn.com/news/1307535/experts-warn-against-standstill-in-pak-afghan-ties
--------
Gen Nicholson praises Operation Zarb-e-Azb
10-Jan-17
ISLAMABAD: Commander Resolute Support Mission (RSM) and US Forces in Afghanistan, General John W Nicholson visited Miranshah, North Waziristan Agency and hailed the gains of Operation Zarb-e-Azb by the Pakistan Army.
Inter-Services Public Relations (ISPR) spokesman Major General Asif Ghafoor said in a statement that the visiting general had a meeting with Chief of Army Staff (COAS) General Qamar Javed Bajwa.
The COAS praised the role of the International Security Assistance Force (ISAF) and presently RSM for peace and stability in Afghanistan. Gen Bajwa acknowledged continuous support of RSM to enable the Afghan National Security Forces (ANSF) for enhancing the capacity and capability to independently tackle security challenges in Afghanistan. COAS emphasized the requirement of the Pakistan-Afghan bilateral border security mechanism for which RSM could play a vital role.
Later, General Nicholson and General Bajwa visited Miranshah. The visiting general was briefed by the general officer commanding Operation Zarb-e-Azb and progress on the socio-economic activities, including return of TDPs. The visitors were taken to Miranshah Bazaar where they saw the developmental work being undertaken by the Pakistan Army.
Full report at:
http://dailytimes.com.pk/pakistan/10-Jan-17/gen-nicholson-praises-operation-zarb-e-azb
--------
Afghans push for Taliban 'safe zone' to outflank Pakistan
January 10, 2017
KABUL: Afghan officials are pushing to create a "safe zone" for Taliban insurgents in a bid to wean them away from traditional sanctuaries inside Pakistan, in a radical and contentious strategy to de-escalate the conflict.
The plan underscores desperation in Afghanistan for out-of-the-box solutions to tackle the 15-year insurgency, as peace bids repeatedly fail and US-backed forces suffer record casualties in stalemated fighting.
If implemented, the strategy — aimed at undercutting Pakistan's influence over the Taliban — could, for better or for worse, be a game changer in a strife-torn nation where ceding territory to insurgents is seen as tantamount to partition.
"I urge the Taliban to return to Afghanistan. We should make a safe zone for them and their families," Kandahar police chief Abdul Raziq told a gathering of religious scholars and tribal elders last month.
"We can no longer rely on foreign governments and embassies to end the war. The Taliban belong to this country, they are sons of this soil."
That Raziq, arguably the most powerful commander in southern Afghanistan and long one of the staunchest anti-Taliban figures, would suggest such an idea amplified the shockwaves it created.
"The government shouldn't be giving safe zones to terrorists," warned former Helmand governor Sher Mohammed Akhundzada, while some observers dismissed the strategy as "illogical" as the Taliban already control vast swathes of Afghan territory.
Raziq did not respond to repeated requests for an interview, but a senior security official told AFP the government's goal "is to bring the Taliban from Pakistan to Afghanistan".
"We will separate a territory for them to come with their families. Then whether they want to fight or talk peace, they will be relieved from the pressure of Pakistan," he said, speaking anonymously.
Seen by many Afghans as the biggest obstacle to lasting peace, Islamabad has long been accused of playing a "double game" in Afghanistan: endorsing Washington's war on terrorism since the 9/11 attacks, while nurturing militant sanctuaries.
After years of official denial, a top Pakistani official in 2016 admitted for the first time the Taliban enjoys safe haven inside his country, which Islamabad uses as a "lever" to pressure the group into talks with Kabul.
However, Pakistan has hosted multiple rounds of talks ostensibly to jumpstart a peace process — without result.
The "safe zone" strategy appears to have taken shape as prominent Taliban figures call to make the insurgency independent of Pakistan's powerful intelligence agency, which they accuse of manipulating the group.
"The presence of our movement's key decision makers and institutions inside Pakistan means they can impose things that are against the interests of our movement and Afghanistan," Sayed Tayyeb Agha wrote in a letter last year to Taliban leader Haibatullah Akhundzada.
"To be able to make independent decisions, our leadership… should leave Pakistan," the former head of the Taliban's political commission added in the letter seen by AFP.
Afghanistan's National Security Council did not officially confirm the government strategy, saying only: "The Taliban are allowed to relocate to Afghanistan under state protection."
The Afghan security official said the government was in contact with Taliban leaders over the proposal, a fact corroborated by militant sources in Pakistan.
He refused to specify the potential location for the safe zone, and whether it will be immune from aerial bombardment or ground assault, but insisted no areas with military installations will be handed over.
Speculation that the government was furtively trying to cede territory recently grew when local media cited secret military documents revealing Afghan forces were planning to retreat from two Helmand districts during a winter lull in fighting.
Afghan officials dismissed the report, while also rejecting longstanding claims that the Taliban leadership council — Quetta Shura — has relocated to Afghanistan.
But multiple insurgent sources told AFP that prominent members, including the Taliban's military chief Ibrahim Sadr, recently moved to an undisclosed location in Afghanistan.
"Ibrahim also urged Haibatullah to come to Afghanistan but he refused," a top Quetta Shura member told AFP.
Full report at:
http://nation.com.pk/national/10-Jan-2017/afghans-push-for-taliban-safe-zone-to-outflank-pakistan
--------
Afghanistan, Pakistan trade volume takes a dive: APJCCI
Jan 10, 2017
KABUL : Afghanistan and Pakistan Joint Chamber of Commerce and Industries (APJCCI) has said trade relations between Afghanistan and Pakistan have decreased and stressed if the two countries do not revise their trade relations agreement, trade challenges between the two countries will continue.
Afghanistan Chamber of Commerce and Industries (ACCI) meanwhile urged government to review the Afghanistan-Pakistan Trade and Transit Agreement (APTTA). They suggested the current agreement be scrapped and a new one be drawn up between the two countries to include Tajikistan and India.
According to APJCCI statistics, last year's trade value between the two countries dropped by $1 billion USD to $1.5 billion USD. In 2015 it was $2.5 billion USD.
"If the APTTA is not extended, the volume of trade between the two countries will decrease more and more," said Ahmadullah Afghan, head of APJCCI.
Meanwhile, the Ministry of Commerce and Industries (MoCI) also said more customer cooperation, the ease of transit through Karachi and Qasim Khan Ports, allowing Afghan trucks to Waga Port and including Tajikistan and India in the APTTA are issues that need to be looked at.
Full report at:
http://nation.com.pk/international/10-Jan-2017/afghanistan-pakistan-trade-volume-takes-a-dive-apjcci
--------
Europe
The 'forgotten' army of 400,000 Muslim soldiers who fought for British freedom in World War I
Jan 10, 2017
These are the heroes you never learned about in school - the hidden army of the British empire.
More than 400,000 Muslims gave up their lives to fight in World War One but shocking research suggests most Brits have no idea.
A study reveals just 22 per cent of people knew an army of Muslims fought in the war - only two per cent of which were aware of the full extent of their sacrifice.
This means around 78 per cent of the public are clueless about the tens of thousands who stood side by side with British soldiers.
These worrying figures come from a survey conducted by racial integration think-tank British Future.
Avaes Mohammad, who works for the organisation as a project co-ordinator, is now taking matters into his own hands by attempting to educate children about the role Muslims from India played in the Great War.
Assisted by historian Jahan Mahmood, Avaes is giving history lessons to children, reports the Birmingham Mail .
The youngsters will then interview descendants of soldiers who fought in the war.
The project is one of four across the country that makes up "An Unknown And Untold Story – The Muslim Contribution To The First World War".
It is run by British Future and New Horizons In British Islam, with funding from the Heritage Lottery Foundation .
"Almost one-and-a-half million men from India took part in the war," says Avaes. "That is more than all the other Empire countries put together.
"They fought on the Western Front, in the trenches, when the Germans were making great advances and they were instrumental in solidifying the British force.
"We should not forget their contribution, because remembering it is so important to our contemporaries.
"Commemoration is a force of good in the community because it brings people together.
"It gives a sense of belonging in this country. It gives young people a stake in this country."
At the outbreak of war, the Indian army was 1.3 million strong, with the ranks including 100,000 Sikhs and 800,000 Hindu troops.
Of that massive force, 62,060 were killed in action. They gave their lives at epic battles such as the Somme and Ypres.
Hundreds were killed in a gallant, but futile, engagement at Neuve Chappelle.
More than 1,000 of them lost their lives at Gallipoli and nearly 700,000 sepoys fought in Mesopotamia.
Yet they arrived on the muddy, cold battlefields ill-prepared, clad in tropical uniforms and wholly ignorant of the mechanised conflict into which they had been plunged.
"For many," said 36-year-old Avaes, "it would be their first interaction with the British.
"The landscape and climate were completely different. It was raining and they were in their tropical uniforms. They weren't prepared for battle in Europe.
"It was a new kind of war. It was the first time some had seen an aircraft, the first time they had seen machine guns.
"In a letter, one described them as like dragons because they sounded like dragons.
"He also wrote about crocodile-like weapons. He was referring to U-Boats."
One letter to relatives painted a vivid picture of the pain and suffering: "The shells are pouring like rain in the monsoon," wrote the sepoy.
"The corpses cover the country like sheaves of harvested corn."
Eight Indian nationals received the highest military honour for their bravery, the Victoria Cross, but one has become the torchbearer of the campaign to remember their legacy.
Khudadad Khan, of the 129th Duke of Connaught's Own Baluchis, was the first Indian soldier to receive the VC.
Khan, a Sepoy, single-handedly stemmed a German attack during the first battle of Ypres on October 31, 1914.
The newly arrived Baluchis were rushed to the frontline to thwart the enemy's bid to capture the ports of Boulogne and Nieuport.
It proved a slaughter, with two companies of the Baluchis bearing the brunt of the main German attack near the village of Gheluvelt, Hollebeke.
Khudadad's machine gun team continued to strafe the Kaiser's men until he was the only man to survive bullets and bayonets.
He was left for dead, but managed to crawl back to his regiment under the cover of night.
Thanks to Khudadad's bravery, the Germans were held up long enough for reinforcements to arrive.
Despite the severity of his injuries, the hero lived to a ripe old age, dying in Mandi Bahauddin, Pakistan, in 1971.
"Because it was the first VC, it has become symbolic of the way the Muslims had engaged, with dedication, absolute courage and valour," said Avaes.
"It was said if a man fell, you should not go back to the battlefield to pick him up. But it was quite common for Muslim soldiers to go back because that is part of the culture. They would not leave their own unburied."
Reaction among Tommys to the Indian khaki contingent was mixed.
"They were not considered cannon fodder by white officers," stressed Avaes. "Those officers went over-the-top with them.
"How they were treated is difficult to assess. For example, Brighton Pavilion was turned into a hospital for Indian soldiers and the conditions were very good and the men were visited by royalty.
"But the Kitchener Hospital, also in Brighton, was likened to a workhouse, with barbed wire around the perimeter.
"That was to stop Indians going into town. Fraternisation with white women was severely frowned on."
http://www.mirror.co.uk/news/uk-news/forgotten-army-400000-muslim-soldiers-9589884
--------
Bosnian Serbs provoke Muslims, celebrate divisive 'national holiday'
10 January 2017
Bosnian Serb leaders commemorated their autonomous republic's national holiday in freezing cold on Monday, defying a Constitutional Court ban and stoking the ethnic tensions that drove Bosnia's 1992-95 war.
Banja Luka, the Serb Republic capital, was festooned with Serb red, blue and white flags and billboards that read "Right to Celebrate". Jan. 9 marks the date in 1992 when Bosnian Serbs declared independence after boycotting a referendum in which Bosniaks (Muslims) and Croats voted to secede from Serbian-led federal Yugoslavia, triggering war in which 100,000 were killed.
Policemen, firemen, athletes and workers marched along Banja Luka's streets while Serb members of the Bosnian army stood aside, after being warned by the Sarajevo-based defence ministry and by NATO that their presence would be deemed illegal.
The son of wartime Bosnian Serb military commander Ratko Mladic, who is on trial for genocide at a U.N. tribunal in The Hague, stood on a stage in Banja Luka's main square along with the Orthodox Church Patriarch and politicians from Serbia.
"The Serb Republic will not stay inside Bosnia" unless the region is granted greater powers, Bosnian Serb President Milorad Dodik said. He accused Bosnian central authorities in Sarajevo and their Western backers of trying to usurp autonomous powers granted to the Serb Republic under the 1995 Dayton peace treaty.
"The Serb Republic is determined to live its life as a state," said Dodik. He has long advocated Bosnia's dissolution, putting him at odds with Western powers that invested thousands of troops and billions of euros in keeping Bosnia intact.
The Serbs' brinkmanship over the holiday is widely seen as part of an attempt by Dodik to test the limits of his freedom of manoeuvre against post-war Bosnia's fragile central authorities. He denounced the Sarajevo court ban on marking the holiday.
During Monday's ceremony, the Serb component of the Bosnian national army saluted the Serb member of Bosnia's tripartite presidency, Mladen Ivanic before the parade. His Bosniak counterpart, Bakir Izetbegovic, criticized the gesture and said he would seek an investigation.
Full report at:
https://english.alarabiya.net/en/News/world/2017/01/10/Bosnian-Serbs-provoke-Muslims-celebrate-divisive-national-holiday-.html
--------
Morocco: HM the King Launches Projects to Preserve Historical Heritage of Old Medina in Marrakech
9 JANUARY 2017
Marrakech — HM King Mohammed VI launched, on Monday in Marrakech, several projects aimed at preserving the historical heritage of the old medina of Marrakech and reinforcing its tourist and international character.
The Sovereign thus launched the program of restoration and enhancement of the tourist and spiritual circuits of the ancient medina of Marrakech, as well as the construction projects of the «Merstan» urban health center, the reconstruction of the first aid centers of the "Moroccan Red Crescent" in Jamaâ El Fna and El Mellah district, and the restoration of the "Ben Youssef" Medersa.
In line with the objectives of the Development Plan "Marrakech, City of Permanent Renaissance", these projects reflect the special interest granted by the Sovereign to the preservation and enhancement of the historical heritage of several cities in the Kingdom, and His firm determination to safeguard the different strata of the national memory.
They also testify to the will of HM the King, Commander of the Faithful, to highlight the intangible, spiritual, cultural and architectural capital of the city of Marrakech, to consolidate the place of this City-Museum as a flagship tourist destination of Morocco, and to promote the living conditions of its inhabitants.
The program of restoration and enhancement of the tourist and spiritual circuits of the old medina of Marrakech provides for restoring and enhancing the tourist circuit from "Dar El Bacha" to "Ben Youssef", especially through the renovation and embellishment of the facades of the buildings along this circuit.
The 100-million dirham program also concerns the spiritual circuit of the seven Saints (Sidi Youssef Ben Ali, Cadi Ayyad Ben Moussa, Sidi Abdelaziz Tebbaâ, Abderrahmane Ben Abdallah Assouhaili, El Abbas Assabti, Sidi Ben Slimane Al Jazouli, and Abdallah El Ghazouani)
In addition to this program, the old medina of Marrakech will witness the achievement of several projects aimed at improving the conditions of the population's access to the basic services and preserving the heritage of the ancient medina of Marrakech.
In this regard, the Ben Youssef medersa, an architectural gem built in the heart of the old medina near the Ben Youssef Mosque, will be restored.
This project, which will be carried out for a budget of 61 million dirhams, testifies to the will of HM the King, Commander of the faithful, to preserve the cultural and civilizational heritage of the ancient cities of Morocco.
Other projects launched today are related to the construction of the "Merstan" urban health center in Sidi Ishaq (3 Million dirhams), the reconstruction of the "Moroccan Red Crescent" first aid centers in Jamaâ El Fna and El Mellah district (4.95 million dirhams).
HM King Mohammed VI chaired the signing ceremony of the convention on the financing, restoration and enhancement of the tourist and spiritual circuits of the ancient medina of Marrakech.
Full report at:
http://allafrica.com/stories/201701100288.html
--------
South Asia
43 militants killed in 17 provinces in past 24 hours, MoI claims
Jan 10 2017
At least 43 militants were killed in various provinces during the joint operations conducted by the Afghan National Defense and Security Forces (ANDSF), the Ministry of Interior (MoI) said Tuesday.
"In past 24 hours, Afghan National Defense and Security launched nine Counter-Terrorism joint operations to clear some of the areas from terrorists and enemies of peace and stability of Afghanistan," a statement by MoI said.
The statement further added that the operations were conducted in Kabul, Nangarhar, Kapisa, Khost, Ghazni, Kandahar, Zabul, Oruzgan, Helmand, Nimroz, Herat, Farah, Sar-e-Pul, Faryab, Badakhshan, Baghlan and Kunduz provinces.
As a result 43 armed militants were killed, 40 wounded and 30 others were arrested by Afghan National Defense and Security Forces," MoI said, adding that "Also, during these operations, Afghan National Police discovered and confiscated light and heavy rounds of ammunition and 12 different types of IEDs."
The anti-government armed militant groups including the Taliban insurgents have not commented regarding the report so far.
The Afghan security forces are busy conducting their annual counter-terrorism operation which launched in response to the rampant Taliban-led insurgency being waged as part of their spring offensive.
http://www.khaama.com/43-militants-killed-in-17-provinces-in-past-24-hours-moi-claims-02645
--------
U.N. rights envoy visits Myanmar amid border violence, report of abuse
Jan 10, 2017
U.N. human rights envoy Yanghee Lee has arrived in Myanmar on a 12-day visit amid growing concern about reports of abuse of members of the Rohingya Muslim minority in a government security crackdown.
Attackers killed nine police officers on Oct. 9 in a coordinated assault on posts near Myanmar's border with Bangladesh. Authorities say members of the Rohingya minority carried out the attacks and launched a security sweep.
Since then, at least 86 people have been killed and the United Nations says about 34,000 civilians have fled across the border to Bangladesh.
Residents and refugees accuse the military of killing, raping and arbitrarily detaining civilians while burning villages in northwestern Rakhine State.
The government led by Nobel Peace Prize winner Aung San Suu Kyi denies the accusations and insists a lawful counter-insurgency operation is underway.
Lee would visit the north of Rakhine State, where the military operation is taking place, the commercial hub Yangon, the capital Naypyidaw and Kachin State in the north, where government forces are battling autonomy-seeking ethnic Kachin guerrillas, the Office of the United Nations High Commissioner for Human Rights said in a statement.
"The events of the last few months have shown that the international community must remain vigilant in monitoring the human rights situation," in Myanmar, Lee, the U.N. special rapporteur on human rights in Myanmar, said in the statement.
Suu Kyi, a former political prisoner and champion of democracy in then military-ruled Myanmar, came to power in April after a landslide election win, installing her confidant, Htin Kyaw, as president.
However, increasing violence in border regions has raised questions about Suu Kyi's commitment to human rights and ability to rein in the military, which retains a major political role.
The government has restricted aid to northern Rakhine State, where most people are Rohingya Muslims denied citizenship in Myanmar, and prevented independent journalists from visiting.
Full report at:
http://nation.com.pk/international/09-Jan-2017/u-n-rights-envoy-visits-myanmar-amid-border-violence-report-of-abuse
--------
19 Taliban insurgents killed in Helmand province
Jan 10 2017
At least 19 Taliban insurgents were killed in separate operations in southern Helmand province of Afghanistan, the Ministry of Defense (MoD) said Tuesday.
According to MoD, at least 14 of the militants were killed in Greshk district and 10 others were wounded.
MoD further added that 5 militants were killed in a separate operation conducted in Garamser district and a vehicle of the militants was destroyed.
The anti-government armed militant groups including the Taliban insurgents have not commented regarding the report so far.
T he United States announced last week to deploy around 300 soldiers in this province to train, advise and assist the leaders of the Afghan National Army.
The decision by US Marines to deploy forces to Helmand comes as the province has been witnessing firece clashes during the recent months as the Taliban group attempted take control of the strategic parts Helmand as part of their deadly spring offensive.
Task Force Southwest, led by Brig Gen Roger Turner, "will train and advise key leaders within the Afghan National Army 215th Corps and the 505th Zone National Police," a statement published by the corps on Friday read.
Full report at:
http://www.khaama.com/19-taliban-insurgents-killed-in-helmand-province-02643
--------
Top militant leader Qari Saifullah Akhtar killed in Afghanistan
Jan 10, 2017
ISLAMABAD: Qari Saifullah Akhtar, a former suspected Al Qaeda militant and founder of the banned Harkat-ul-Jihad-Al Islami group, has been gunned down in Afghanistan.
According to reports, Akhtar was killed during a clash with Afghan security forces in Birmil area of Paktika province bordering Pakistan. Sources said his family has been informed that he has been killed.
Hailing from Chishtian, Qari Akhtar was an active leader of militants based in Afghanistan and Pakistan. He has previously worked as advisor of slain Taliban leader Mullah Omar, and was believed to have close ties to former Al Qaeda chief Osama bin Laden. In 2008, Akhtar was arrested from Lahore in connection with the October 18 suicide bombing at Karachi's Karsaz area the previous year that narrowly missed former Prime Minister Benazir Bhutto but killed about 150 others.
In her book, which was published in February 2008, Bhutto had narrated in detail the suicide attacks targeting her welcome procession as well as the involvement of Qari Saifullah Akhtar in the assassination bid.
Among other high-profile attacks, Akhtar has also been linked to two assassination attempts against former President Gen (retd) Pervez Musharraf.
He was arrested and extradited from the United Arab Emirates on August 7, 2004 on charges of plotting the twin suicide attacks on General Musharraf in Rawalpindi in December 2003.
Full report at:
http://nation.com.pk/international/10-Jan-2017/top-militant-leader-qari-saifullah-akhtar-killed-in-afghanistan
--------
Suicide attack rocks Lashkargah city in South of Afghanistan
Jan 10 2017
A suicide blast rocked Lashkargah city the provincial capital of southern Helmand province of Afghanistan.
Eyewitnesses in the area are saying that the blast has likely taken place close a compound of the security forces.
Preliminary reports indicate at least 6 people were killed in the attack and several others were wounded.
The local government officials have not commented regarding the casualties so far.
Helmand is among the volatile provinces in southern Afghanistan where the Taliban insurgents openly operate in its various districts and frequently conduct insurgency activities.
Full report at:
http://www.khaama.com/suicide-attack-rocks-lashkargah-city-in-south-of-afghanistan-02644
--------
10 militants join peace process in Kunduz city
Jan 09 2017
A group of ten militants joined peace process in the strategic Kunduz city in North of Afghanistan, local officials said Monday.
Provincial police chief General Abdul Hamid Hamidi said the militants were actively operating in various parts of Kunduz city before they joined peace process.
According to the local officials, the security situation of Kunduz city will improve as the militants join peace process.
The officials called on other militants to renounce violence and join peace process.
The anti-government armed militant groups including the Taliban insurgents have not commented regarding the report so far.
Kunduz is among the relatively volatile provinces in northern Afghanistan where the Taliban group launched several attacks this year as part of their spring offensive to capture the strategic Kunduz city.
In the meantime, the Afghan forces are busy conducting their clearance operations in the vicinity of Kunduz city and other districts of the province.
The Ministry of Interior (MoI), earlier said top Taliban leader who was leading the deadly battle in northern Kunduz province was killed during an ambush of the Afghan security forces.
Full report at:
http://www.khaama.com/10-militants-join-peace-process-in-kunduz-city-02641
--------
65,000 Rohingya flee from Myanmar to Bangladesh following crackdown: UN
10 January 2017
At least 65,000 Rohingya have fled to Bangladesh from Myanmar – a third of them over the past week – since the army launched a crackdown in the north of Rakhine state.
The figure, released by the UN, marks a sharp escalation in the numbers fleeing a military campaign which rights groups say has been marred by abuses so severe they could amount to crimes against humanity.
They also come the same day the UN's human rights envoy for Myanmar, Yanghee Lee, began a 12-day visit to probe violence in the country's borderlands that will take her to the army-controlled area.
"Over the past week, 22,000 new arrivals were reported to have crossed the border from Rakhine state," the UN's relief agency said in its weekly report.
"As of 5 January, an estimated 65,000 people are residing in registered camps, makeshift settlements and host communities in Cox's Bazaar" in southern Bangladesh, said the Office for the Coordination of Humanitarian Affairs.
The exodus of Rohingya from northern Rakhine began after Myanmar's army launched clearance operations while searching for insurgents behind deadly raids on police border posts three months ago.
Escapees from the persecuted Muslim minority in Bangladesh have given harrowing accounts of security forces committing mass rape, murder and arson.
The stories have cast a pall over the young government of Aung San Suu Kyi, with mainly Muslim Malaysia being especially critical.
Myanmar's government has said the claims of abuse are fabricated and launched a special commission to investigate the allegations.
Last week it presented its interim report denying accusations of "genocide and religious persecution" and saying there was insufficient evidence that troops had been committing rape.
Full report at:
https://www.theguardian.com/world/2017/jan/10/65000-rohingya-flee-from-myanmar-to-bangladesh-following-crackdown-un
--------
Southeast Asia
Bitcoin, PayPal Used to Finance Terrorism, Indonesian Agency Says
Jan. 10, 2017
JAKARTA—Islamic militants based in the Middle East used bitcoin and online-payment services such as PayPal to fund terrorist activities in Indonesia, the world's largest Muslim-majority nation, an official with the country's financial-transactions agency said Monday.
Among the alleged donors is Bahrun Naim, a Syrian-based Indonesian who police say is involved with Islamic State and has helped coordinate attacks back home, said Kiagus Ahmad Badaruddin, chairman of the Indonesian Financial Transactions Report and Analysis Center, an independent agency that reports directly to President Joko Widodo.
"They used virtual money because that would make it harder for us to track the transaction," Mr. Badaruddin said. He didn't disclose the amount that had been sent into Indonesia to fund terrorist activity.
The agency said it is coordinating with the central bank, financial-services authority and Ministry of Communications and Informatics to ferret out cases, Mr. Badaruddin said. Government data showed an increase in detecting terrorism-financing cases from 12 in 2015 to 25 last year.
The agency said Islamic militants sent the money to their terror cells across Indonesia, largely in Java, through PayPal and bitcoin exchanges. Since internet access is limited in rural areas, they would have to change virtual money back to cash to pay for the real-life transactions, the agency said.
PayPal Holdings Inc. didn't immediately respond to a request for comment. While the Indonesian central bank doesn't recognize bitcoin as a legal form of currency, it has gained popularity in recent years among the country's 85 million internet users, who largely use it to pay for online services such as Web hosting. The virtual currency is an encrypted computer code that can be transferred between users, making it difficult to trace.
Indonesia was rocked last January when assailants who authorities said were organized by Mr. Naim launched an attack in Jakarta, leaving eight people dead, including four attackers. Authorities killed five people and arrested more than a dozen in sweeps of suspected militants alleged to be plotting attacks during the recent holidays.
Indonesia has been tracking suspected militants with links to Islamic State and monitored increasingly concealed financial movements and communications. Militants are believed to have received bomb-making lessons, among other instructions, from Mr. Naim through messaging app Telegram.
http://www.wsj.com/articles/bitcoin-paypal-used-to-finance-terrorism-indonesian-agency-says-1483964198
--------
Myanmar Warns Its Workers in Malaysia After Five Hacked to Death
Jan 10, 2017
Yangon/Kuala Lumpur. Myanmar said on Monday (09/01) it had sent out safety instructions to its workers in Malaysia after attackers hacked five of them to death with swords, weeks after it barred workers from going there, partly because of security fears.
Tension between the Southeast Asian neighbors has risen in recent months over the fate of Myanmar's stateless Rohingya Muslim minority, with Malaysia accusing Myanmar of genocide over its treatment of them.
Myanmar rejects reports of abuses by its security forces against the Rohingyas in the course of a crackdown launched after attackers killed nine Myanmar policemen in border posts near the Bangladesh border on Oct. 9.
On Thursday, four masked men wielding swords attacked Myanmar workers after they had left a factory in the Serdang district on the outskirts of the Malaysian capital, Kuala Lumpur. Five were killed and two wounded.
Malaysian police said seven Myanmar men had been detained shortly after the attack and they did not see any "religious motivations" behind it. They gave no more details.
Mostly Buddhist Myanmar stopped its workers going to Malaysia in December, after Najib Razak, prime minister of the predominantly Muslim country, described Myanmar's treatment of the Rohingya as "genocide" and called for foreign intervention.
Labor-short Malaysia hosts about 147,000 Myanmar workers, according to Myanmar data.
The spokesman for he Myanmar president's office, Zaw Htay, said safety instructions had been issued to Myanmar workers in Malaysia and illegal Myanmar workers there were urged to contact the embassy, state media quoted him as saying.
Myanmar was working with Malaysian authorities to investigate the attack and the ban on workers going to Malaysia would remain in force, he said.
Nyunt Win, deputy director general at Myanmar's Ministry of Labor, Immigration and Population, said security worries had been one reason for the ban on workers going to Malaysia.
"There are several reasons for the ban on Myanmar migrant workers going to Malaysia, including security concerns and the fact that they are trying to stir up political troubles against Myanmar," Nyunt Win said. He did not elaborate.
Last week, Malaysia's top counterterrorism official told Reuters in an interview that Myanmar faced a growing danger of attacks by foreign supporters of Islamic State recruited from Southeast Asian networks in support of the Rohingyas.
Malaysian authorities detained a suspected IS follower planning to go to Myanmar to carry out attacks, the head of the Malaysian police counterterrorism division, Ayob Khan Mydin Pitchay, said, adding that Myanmar targets outside Myanmar were also at risk.
http://jakartaglobe.id/international/myanmar-warns-workers-malaysia-five-hacked-death/
Protesters Vow Tiananmen Crackdown Memorial at Hong Kong Palace Museum Site
Hong Kong. Hong Kong democracy activists on Monday (09/01) vowed to use the site of a controversial museum intended to display national treasures from Beijing's Palace Museum to commemorate instead China's bloody crackdown on student-led protests in 1989. The Hong Kong Palace Museum, announced late in December as part of celebrations marking the 20th anniversary this year of the former British colony's return to Chinese control, is the latest source of tension between pro- and anti-Beijing forces.
Lee Cheuk-yan, of the Hong Kong Alliance in Support of Patriotic Democratic Movements of China, said he aimed to host activities around the museum to remind people of events outside the palace walls of the Forbidden City on June 4, 1989.
Hong Kong is ruled under a "one country, two systems" formula that gives it wide-ranging freedoms not seen in mainland China, including the right to hold a candlelight vigil to commemorate the Tiananmen crackdown.
"When we look at this Palace Museum, what it reminds us of is not what is inside, but what happened outside in 1989, when tanks rolled into Tiananmen Square, when the People's Liberation Army fired on its own people," said Lee, a former legislator and organizer of the annual commemoration vigil.
Full report at:
http://jakartaglobe.id/international/protesters-vow-tiananmen-crackdown-memorial-hong-kong-palace-museum-site/
--------
Police shoot dead three 'terror' suspects in Xinjiang
Jan 10, 2017
BEIJING - Chinese police shot dead three "violent terror" suspects in the western Xinjiang region, the government said on Monday. The govt says separatists in Xinjiang, home to the Muslim Uighur minority, aim to form their own state called East Turkestan, and have links with militants abroad, including in Asia and the Middle East. Security officers in the southern Xinjiang city of Hotan, a one-time Silk Road outpost considered part of the Uighur heartland, encountered violent resistance late on Sunday while pursing three members of a "violent terror gang", the Xinjiang govt said on the Tianshan Net official news site.
Indonesia's President Joko Widodo reproached his military chief in a meeting last week amid concerns the commander was "out of control" after he unilaterally suspended defense cooperation with Australia, two sources briefed on the meeting said.
Widodo's intervention highlights alarm about General Gatot Nurmantyo, who promotes the notion that Indonesia is besieged by "proxy wars", in which foreign states seek to undermine the nation by manipulating non-state actors.
Analysts and some of Widodo's aides are also concerned that Nurmantyo is laying the groundwork for an expansion of the military's role in civilian affairs in the world's third-largest democracy and may have political ambitions himself.
Widodo, the first president from outside the military and political establishment, needed to move quickly to demonstrate his authority as the country's commander-in-chief, one senior government official said.
"With Gatot, the feeling is like he's a little out of control," he said.
Nurmantyo declared a rupture in military ties after an Indonesian officer found "offensive" teaching material while on a language training course in Australia late last year.
The material suggested that Indonesia's Papua province should be independent and mocked the nation's state ideology, Pancasila, according to Nurmantyo.
CAUGHT OFF GUARD
One of the officials told Reuters Widodo and others in the government were caught off guard when local media reported Nurmantyo's announcement of the suspension in military ties with Australia.
While the general was not formally reprimanded, the official said, Widodo served him a warning during a meeting at a presidential palace in Bogor, outside Jakarta.
The meeting was confirmed by another senior government aide, who also spoke on condition of anonymity.
Nurmantyo declined requests to be interviewed and a military spokesman declined to comment on the meeting.
Full report at:
http://nation.com.pk/international/09-Jan-2017/indonesia-s-president-moves-to-rein-in-out-of-control-military-chief
--------
We are devoted Muslims, not offended by Ahok's statement: Thousand Islands residents
January 9, 2017
Residents of the Thousands Islands say they did not feel offended by a statement Jakarta Governor Basuki "Ahok" Tjahaja Purnama made about a verse from the Quran, rejecting an accusation by a leader of the Islam Defenders Front (FPI) who claimed that they were "less Muslim".
"Novel? He said Islam in Thousand Islands is not Islam. Only two non-Muslims are on the islands," one of the residents, Saadah, told kompas.com on Sunday, referring to Novel Bamukmin, the secretary-general of the FPI's Jakarta chapter.
Saadah said that the residents of Pramuka Island, one of the many islands in the regency, were devoted Muslims.
(Read also: 'Ahok should not make fuss about my personal background': FPI leader)
Al Makmuriah Great Mosque board chairman Faturrahman, 70, said many non-Muslim residents lived in peace and harmony on the islands and that some of them converted to Islam without any coercion.
"My friend converted to Islam. He used to be a principal of a junior high school," said Faturrahman, who was former teacher and has been living on Pramuka Island since 1970.
Both Faturrahman and Saadah, who attended the event on the island in September when Ahok made his subsequently controversial statement, claimed that what Ahok said was not insulting and did not defame Islam.
Full report at:
http://www.thejakartapost.com/news/2017/01/09/we-are-devoted-muslims-not-offended-by-ahoks-statement-thousand-islands-residents.html
--------
Prosecutors to present 5 witnesses against Ahok at Tuesday's hearing
January 10, 2017
Prosecutors are set to present five witnesses to testify against non-active Jakarta Governor Basuki "Ahok" Tjahaja Purnama in the fifth hearing of his blasphemy trial, which will take place at the Agriculture Ministry's auditorium, South Jakarta, on Tuesday.
Ahok's lawyer Fifi Lety Indra said the witnesses were Darussalam Kota Wisata Mosque organizer H. Ibnu Baskoro, secretary-general of Muhammadiyah's youth wing Pedri Kasman, Bogor Islam Forum secretary H. Willyudin Abdul Rasyid, ustadzah (female Islamic teacher) Irena Handono and lawyer Muh Burhanuddin.
"The witnesses are individuals who have denounced Ahok to the police for blasphemy," Fifi told The Jakarta Post on Tuesday.
On Jan. 3, in the previous hearing, prosecutors presented four witnesses, namely Islam Defenders Front (FPI) member Novel Bamukmin, Sharia Advocate chairman Gus Joy Setiawan, FPI Jakarta head Muchsin and Anti-blasphemy Forum head Syamsu Hilal to testify against Ahok.
Full report at:
http://www.thejakartapost.com/news/2017/01/10/prosecutors-to-present-5-witnesses-against-ahok-at-tuesdays-hearing.html
--------
Bantul to replace Catholic official after protests from Muslims
January 9, 2017
The Bantul regency administration in Yogyakarta decided on Monday to replace the Catholic district head of Pajangan, Yulius Suharta, after protests from Pajangan district residents. The residents of Pajangan district are mostly Muslims.
Bantul Regent Suharsono said the decision was made after a meeting with figures from Pajangan district and the Bantul Council on Monday. In the meeting, most party factions on the Bantul Council agreed to replace Yulius with a Muslim.
"We're moving him to Bambanglipuro district, where the number of non-Muslims is higher," Suharsono said after the meeting.
He said the protests from the residents were related to an incident where a Muslim group, Indonesian Jihad Forum (FJI), protested the unveiling of a new, large statue of Jesus, called Patung Wajah Kerahiman, at Yakobus Alfeus Church in Pajangan in October last year.
The regent said the residents were still emotional because the ceremony for the statue involved Muslim women.
In October, a picture of the women, all wearing hijabs and posing with the statue, went viral.
Full report at:
http://www.thejakartapost.com/news/2017/01/09/bantul-to-replace-catholic-official-after-protests-from-muslims-1483968029.html
--------
Mideast
Turkey begins debate on new Erdogan presidential powers
Jan 10, 2017
ISTANBUL - Turkey's parliament on Monday began debating a controversial new draft constitution aimed at expanding the powers of the presidency under Recep Tayyip Erdogan, which is expected to be put to a referendum by the spring.
The new constitution, which would replace the basic law drawn up after Turkey's 1980 military coup, seeks to establish for the first time a presidential system for ruling the modern republic created from the ashes of the Ottoman Empire.
Critics have claimed the move is part of a power grab by Erdogan - Turkey's premier from 2003-2014 and then president - for one-man rule in the wake of the failed coup in July.
But Erdogan and the ruling Justice and Development Party (AKP) say the presidential system would bring Turkey into line with countries such as France and the United States and is needed for efficient government.
The debates on the 18-article new constitution began after the draft was agreed by a parliamentary commission. The two readings are expected to last 13-15 days.
Turkey on Monday urged the European Union to revive stalled negotiations on Ankara joining the bloc, saying without it Europe was "incomplete" and calling for visa-free travel for its citizens immediately.
"The EU is still a strategic choice for our country," President said Recep Tayyip Erdogan, while insisting Ankara would not blindly accept the EU's "inconsistent policies and double standards towards our country".
Turkish Foreign Minister Mevlut Cavusoglu said he wanted more chapters in the accession talks to be opened "by lifting artificial obstacles to our EU membership".
A "chapter" is a specific area of negotiation, ranging on issues from human rights to economic cooperation. Cavusoglu did not specify which chapters he meant.
He also said Turkey expects "visa liberalisation for Turkish citizens to be provided immediately", a reference to EU commitments on visa-free travel for nearly 80 million Turkish citizens made in March under an EU-Ankara deal to curb migrants entering Europe.
A small group of protesters rallied outside the parliament building in Ankara ahead of the debate, but police broke up the gathering using pepper spray on the demonstrators.
The AKP needs more than 330 votes - a three fifths majority - for the bill to be submitted to a referendum for voters' approval.
However, the November 2015 election left the AKP short of a super majority in parliament and it is relying on the support of the opposition right-wing Nationalist Movement Party (MHP), the fourth largest in the legislature.
Once approved by parliament, a referendum is expected to take place within 60 days, indicating a date in late March or early April.
Pro-government newspapers have predicted a thumping victory for the ruling party although other commentators have been more cautious.
The new constitution is opposed by the biggest opposition party, the Republican People's Party (CHP), whose deputy chairman Bulent Tezcan said it would restore powers "to the palace" taken away from the Ottoman Sultan a century ago.
"It will be the dissolution of all that our republic has achieved," he said, criticising the draft as paving the way for "one man dictatorship".
But AKP lawmaker Halil Firat, who helped draw up the proposed new constitution, said it would make clear the roles of government and president.
"Stability will be achieved. Decision-making will be quick."
Under the proposed new constitution, the president would not have to sever links with a political party, as is the case now even though Erdogan co-founded the AKP.
It is also expected to lead to the creation of the posts of vice presidents and the abolition of the office of prime minister.
There would no longer be a formal cabinet but there will be ministers. The president will have the power to appoint and fire ministers.
The draft law says the president would be elected for a five-year term and serve for a maximum of two mandates.
If Erdogan's existing time as president is not counted, it would mean in theory he could stay in office until 2029, with the next elections due in 2019.
Parliamentary elections would be held every five years - not four as at present - and on the same day as presidential polls. Both elections would be scheduled to take place on November 3, 2019.
Along with a slew of terror attacks, the political uncertainty has been one of the factors pressuring the Turkish lira which has lost 18 percent in value against the dollar over the last three months.
Analysts at Renaissance Capital said almost all decisions in Ankara had been seen through the prism of Erdogan's dream of creating the executive presidency and a victory could allow much-needed stability.
"This is why Erdogan ultimately achieving his objective of an executive presidency is potentially the difference between a very strong 2017 for Turkish assets and a very weak one," they said.
http://nation.com.pk/international/10-Jan-2017/turkey-begins-debate-on-new-erdogan-presidential-powers
--------
UN seeks $813m to support Palestine refugees
Jan 10, 2017
UNITED NATIONS - With Palestinians in the Occupied Palestinian Territory - including East Jerusalem - and those who have fled the conflict in Syria, facing humanitarian crises, the United Nations Relief and Works Agency for Palestine Refugees in the Near East (UNRWA) Monday launched an $813 million emergency aid appeal.
"Palestine refugees are among the worst affected by the conflict. Over 95 per cent of those who have remained in Syria - 430,000 - are in critical need of sustained humanitarian assistance," Pierre Krahenbuhl, the Commissioner General for UNRWA, said while launching the appeal.
He said that the fact that 917,000 people are now in need of food assistance, a tenfold increase since 2000, is a "scandal."
Of the requested $813 million, $402 is targeted for Palestine refugees in Gaza and the West Bank, including East Jerusalem. This would allow nearly one million refugees in Gaza to receive food aid and provide rental assistance to 6,500 families who lost their homes during the 2014 hostilities as well as repairs for more than 50,00 families whose homes have been damaged or destroyed. It would also cover food insecure refugees in the West Bank and East Jerusalem.
Among refugees in occupied Palestinian territory, the rate of unemployment is 43.2 per cent in Gaza and 19.5 per cent in the West Bank. Hundreds of thousands are food insecure and children, especially those in Gaza, require psychosocial support due to trauma.
The remaining $411 million in the request is intended to provide humanitarian assistance, protection, and basic services to 430,000 Palestine refugees inside Syria, 30,000 who have fled to Lebanon, and almost 17,000 who are now in Jordan due to the ongoing conflict. Some 95 per cent of Palestine refugees from Syria are in dire need of sustained humanitarian assistance. In Lebanon, 50 per cent live in camps and 85 per cent living in Jordan are categorized as vulnerable or extremely vulnerable.
Full report at:
http://nation.com.pk/international/10-Jan-2017/un-seeks-813m-to-support-palestine-refugees
--------
Did Iran's arms to Hezbollah violate a UN embargo?
9 January 2017
The United Nations chief expressed concern to the Security Council that Iran may have violated an arms embargo by supplying weapons and missiles to Lebanese Shiite group Hezbollah, according to a confidential report, seen by Reuters on Sunday.
The second bi-annual report, due to be discussed by the 15-member council on Jan. 18, also cites an accusation by France that an arms shipment seized in the northern Indian Ocean in March was from Iran and likely bound for Somalia or Yemen.
Most U.N. sanctions were lifted a year ago under a deal Iran made with Britain, France, Germany, China, Russia, the United States and the European Union to curb its nuclear program. But Iran is still subject to an arms embargo and other restrictions, which are not technically part of the nuclear agreement.
ALSO READ: Understanding Hezbollah's history as a 'proxy of Iran'
The report was submitted to the Security Council on Dec. 30 by U.N. Secretary-General Ban Ki-moon before he was succeeded by Antonio Guterres on Jan. 1. It comes just weeks before U.S. President-elect Donald Trump, who has threatened to either scrap the nuclear agreement or seek a better deal, takes office.
"In a televised speech broadcast by Al Manar TV on 24 June 2016, Hassan Nasrallah, the Secretary-General of Hezbollah, stated that the budget of Hezbollah, its salaries, expenses, weapons and missiles all came from the Islamic Republic of Iran," Ban wrote in the report.
"I am very concerned by this statement, which suggests that transfers of arms and related materiel from the Islamic Republic of Iran to Hezbollah may have been undertaken contrary (to a Security Council resolution)," Ban said.
When asked by the United Nations to clarify the issue, Iran's mission to the United Nations said "measures undertaken by the Islamic Republic of Iran in combating terrorism and violent extremism in the region have been consistent with its national security interests and international commitments."
Under a Security Council resolution enshrining the deal, which came into effect a year ago, the U.N. secretary-general is required to report every six months to the council on any violations of sanctions still in place.
"Since 16 January 2016, I have not received any report on the supply, sale, transfer or export to the Islamic Republic of Iran of nuclear-related items undertaken contrary to the (resolution)," Ban wrote.
Full report at:
https://english.alarabiya.net/en/News/middle-east/2017/01/09/Did-Iran-s-missiles-to-Hezbollah-violate-a-UN-embargo-.html
--------
4 killed, 17 injured in attack in Israel
Jan 10, 2017
JERUSALEM : A Palestinian truck driver rammed his vehicle into a crowd of Israeli soldiers at a popular Jerusalem tourist spot, killing four people and wounding 17 others in the deadliest single attack of more than a year.
The attack came at a time of heightened tensions in Jerusalem, where Palestinians have warned of dire consequences if incoming President Donald Trump follows through on his promise to move the U.S. Embassy to the city.
Visiting the attack site, Prime Minister Benjamin Netanyahu said there was strong evidence the attacker was a supporter of the Islamic State group and suggested a link to previous vehicle attacks in Europe.
Full report at:
http://nation.com.pk/international/09-Jan-2017/4-killed-17-injured-in-attack-in-israel
--------
Israeli troops kill Palestinian in refugee camp
10 January 2017
Israeli troops in the occupied West Bank shot dead a Palestinian during an operation to arrest suspected militants, the army said on Tuesday morning.
A military statement said that no soldiers were injured in the incident at Al-Fara Palestinian refugee camp, northeast of the city of Nablus.
"An assailant, armed with a knife attempted to stab soldiers on operational activity to arrest suspects," the English-language statement said.
"Forces called the attacker to halt and, upon his continued advance, fired toward him, resulting in his death."
It added that others in the camp hurled explosives and shot at the soldiers.
Since October 2015, 248 Palestinians, 40 Israelis, two Americans, a Jordanian, an Eritrean and a Sudanese have been killed, according to an AFP count.
Most of the Palestinians killed were carrying out attacks, according to Israeli authorities. Others were shot dead during protests or clashes, while some died in Israeli air strikes on the Gaza Strip.
Many analysts say Palestinian frustration with the Israeli occupation and settlement building in the West Bank, comatose peace efforts and their own fractured leadership have helped feed the unrest.
Full report at:
https://english.alarabiya.net/en/News/middle-east/2017/01/10/Israeli-troops-kill-Palestinian-in-refugee-camp.html
--------
Iran to revoke citizenship of those holding dual nationalities
9 January 2017
Iran will revoke the citizenship of any national who happens to be holding another foreign citizenship, state-media reported.
The announcement was made by the Iranian judiciary and coincides with the controversy over Iranian officials holding dual nationalities who are accused of espionage.
The Speaker of the Committee of National Security Affairs in the Iranian Parliament Hussain Naqvi Hussaini was cited in Mizzan news agency saying: "According to Iranian law, holding a dual citizenship is akin to a crime."
"Citizenship would be withdrawn from Iranians holding dual nationalities'', pointing out to a blurring legal point in identifying the (US) green card, residency, and dual citizenship,' he added.
Full report at:
https://english.alarabiya.net/en/News/middle-east/2017/01/09/Iran-to-revoke-citizenship-of-those-holding-duel-nationalities-.html
--------
Turkey calls on EU to resume membership negotiations
Jan 9, 2017
Turkey has called on the European Union to resume negotiations on Ankara's accession to the 28-member bloc, after the talks halted following a failed military coup last July.
Turkish President Recep Tayyip Erdogan made the plea on Monday, saying, "The EU is still a strategic choice for our country," insisting that Ankara would not blindly accept the EU's "inconsistent policies and double standards towards our country."
Foreign Minister Mevlut Cavusoglu also called for the lifting of "artificial obstacles" to Turkey's EU membership, and said Ankara expected "visa liberalization for Turkish citizens to be provided immediately."
"We've played an important role in Europe's past and will do so in the future," Cavusoglu said, adding, "A Europe without Turkey is incomplete."
Turkey has been trying to become an EU member since the 1960s. Formal EU accession talks began in 2005, but the process has been plagued by problems.
The EU has opened 16 out of the 35 chapters required for Turkey to join the 28-nation bloc, but only one of them has so far been concluded.
The remarks by the two senior Turkish officials came less than a month after Members of the European Parliament (MEPs) approved a motion urging the European Commission and member states' governments to halt Turkey's EU membership negotiations in response to Ankara's "disproportionate repressive measures" after the last July coup attempt.
Turkish President Recep Tayyip Erdogan delivers a speech during a meeting with Turkish ambassadors at the Presidential Complex in Ankara, on January 9, 2017. (Photo by AFP)
The EU membership talks were part of a deal struck between Turkey and the bloc last March to limit the flow of refugees to Europe. Under the agreement, Turkey vowed to take back rejected asylum seekers and patrol borders. In return, the EU pledged financial aid, visa-free travel for Turkish nationals and progress in Turkey's long-stalled EU membership talks.
Turkey-US relations likely to better under Trump
Meanwhile, both Erdogan and Cavusoglu said on Monday that they were convinced ties between Ankara and Washington would improve under the government of incoming US President Donald Trump.
"I believe we will accelerate dialogue when Mr. Trump takes office. I believe we will reach a consensus with Mr. Trump, particularly on regional issues, and make rapid headway," Erdogan said during a meeting with Turkish ambassadors in Ankara.
The Turkish foreign minister, for his part, said he thought the US would "not continue to make the same mistakes it has previously made," and that, "Turkey and the US are two strategic partners, with potential power to create positive effects in a wide geographical region."
Full report at:
http://www.presstv.ir/Detail/2017/01/09/505516/Turkey-EU-accession-talks-July-coup
--------
Africa
Castle attack exposes Jordan's vulnerability to ISIS threat
Jan 10, 2017
KARAK, Jordan (AP) — Bullet marks on the thick walls of a Crusader fortress and shattered windows of nearby tourist restaurants — damage from a recent shooting rampage — bear witness to Jordan's vulnerability to attacks by Islamic extremists.
Some say the assault on Karak Castle by Jordanian followers of the Islamic State group could signal a more aggressive campaign to destabilize the pro-Western kingdom. A senior security official said the Karak attackers had planned multiple attacks in Jordan on New Year's Eve.
The government dismisses IS as a fringe phenomenon and says Jordan's security forces can contain any threat — but the Dec. 18 shooting set disconcerting precedents.
It marked the first time IS claimed an attack on a civilian site in Jordan, a spot popular with tourists. A Canadian woman and two local residents were among 10 people killed.
The four shooters were sons of Jordanian tribes, traditionally a pillar of support for the monarchy. Local media said they were college-educated men in their late 20s and early 30s, underscoring the appeal of IS ideology among some Jordanians.
The security establishment, meanwhile, faced rare criticism over its failure to prevent the attack, with more than one-third of parliament members calling for a vote of no-confidence in the interior minister.
Marwan Shehadeh, an expert on militants, said the Karak shooting signaled "a remarkable change" in IS tactics. "The year 2017 will be the year of great security challenges in Jordan," he said.
Government spokesman Mohammed Momani said Jordan, a member of the U.S.-led military coalition against IS, is a target, but has countered threats because of social cohesion and what he said are well-trained security forces.
"We know we have been successful in stopping them on many other occasions," he said. "If you look at what is happening in countries around us ... you see our ability to preserve our stability and security."
Jordan's confrontation with IS goes back to 2014, when the kingdom began carrying out air strikes as part of an international campaign to dislodge IS from neighboring Syria and Iraq where the militants captured large areas.
But Jordan's military strikes have not kept the militants from its borders, and have made the kingdom a target.
Last year, seven IS supporters and a Jordanian officer were killed in a shootout during an arrest raid. In June, IS sent a car bomb from Syria that killed seven Jordanian troops. Lone gunmen carried out three separate attacks at Jordanian security installations, with five Americans among the dead. Jordanian officials have remained silent about the attackers' motives.
As IS comes under growing pressure in Syria and Iraq, a gradual retreat there might generate an even stronger incentive for the group to carry out mass attacks elsewhere to affirm its relevance.
Jordan is a logical target because of the visible presence of Western installations and foreigners, said David Schenker of the Washington Institute for Near East Policy.
The U.S. is providing $1.6 billion in economic and military support to its beleaguered ally in 2017.
Still, any U.S. concerns about Jordan may be overshadowed by the turmoil next door, said Schenker. "The narrative here in Washington is that the threat is pretty large, but that Jordan can handle it," he said.
Jordan has clamped down on suspected IS sympathizers since 2014, with several hundred serving prison terms and five recently sentenced to death.
After the Karak shooting, security forces detained dozens more people. Twenty-two hard-line preachers who refused to pray for the Karak victims will be punished, said Religious Affairs Minister Wael Arabiyat.
Critics say Jordan fails to address the wider causes of the militants' appeal among Jordanians, hundreds of whom have been fighting in the ranks of IS in Iraq and Syria.
Musleh Tarawneh, a Karak legislator who led the recent push in parliament to dismiss the interior minister, noted that unemployment in his district has risen to 25 percent and that university graduates can't find jobs. "Islamic State found a way to enter the Jordanian tribes through poverty and unemployment," he said.
The rise in unemployment is a result of long-term trends that could take years to reverse, including an economic slump caused in part by regional instability. The Karak shooting dealt another setback to an already struggling tourism industry, once a vital sector of Jordan's economy.
Last week, damage inflicted by the gunmen in Karak was still visible.
Glass shards from a window shattered by gunfire covered the floor of the Shehab Restaurant at the castle gate. Linda Vatcher, a retired Canadian teacher, had stood in front of the restaurant when the white pickup carrying the four assailants screeched to a halt near her and assailants opened fire, killing her, said Jamal Saoub, a witness.
At nearby King's Castle restaurant, four tourists from France and Italy were eating lunch when the shots rang out, with at least two bullets piercing the glass door of the dining room, said waiter Abdel-Al Ibrahim, 52.
The attackers held off the security forces for hours, firing from slits in the castle walls before they were killed.
There has been speculation that the Karak cell targeted the castle spontaneously, after its hideout was discovered earlier that day. Atef al-Saoud, the head of the Public Security Directorate, said last week that the cell had planned to carry out New Year's Eve attacks with five explosives belts.
Individual tourists from the United States, Italy and Switzerland seemed undeterred, walking outside the castle last week, a day before it reopened.
They said they felt safe since the probability of a second attack in the same spot is low. They also said that attacks by militants can happen anywhere, pointing to recent incidents in Berlin and Istanbul.
Emily Clymer, 31, a U.S. academic from Bethlehem, Pennsylvania, said she feels safer in the Jordanian capital, Amman, where she works, than in the United States. Jordanian security forces "take precautions, they react quickly," she said.
http://nation.com.pk/international/09-Jan-2017/castle-attack-exposes-jordan-s-vulnerability-to-isis-threat
--------
5 terrorists, 3 civilians die in bomb attacks in northeastern Nigeria
Jan 9, 2017
Five suspected members of the Boko Haram Takfiri terrorist group and three civilians have been killed after the terrorists detonated their explosive vests in Nigeria's northeastern province of Borno, police say.
According to deputy superintendent Victor Isuku, two separate attacks, one by a female duo and the other by three men, were conducted in the eastern outskirts of the provincial capital Maiduguri, some 10 kilometers apart from each other, late on Sunday.
He added that the three male assailants, wearing explosive-laden vests, approached a military checkpoint while firing assault rifles. One of them detonated his explosives, killing all three plus a pro-government anti-terror fighter.
Some two hours later, two female bombers set off their explosives, killing themselves and two unidentified people passing close by them.
Nobody has so far claimed responsibility for the deadly attacks but they bear the hallmarks of the ultra-violent group.
In recent months, army troops and civilian fighters in Nigeria have managed to foil many bomb attacks involving terrorists wearing explosive vests before the assailants were able to reach heavily-populated targets and detonate their bombs of their own accord.
Last month, however, two women, with Boko Haram, killed 57 people and injured 177, including 120 children, after they detonated their explosive vests at a bustling market at Madagali, the capital city of the neighboring province of Adamawa.
At dusk on Saturday, a group of Boko Haram terrorists launched an attack on a military base in the town of Buni Yadi, in the northeastern province of Yobe, leading to an "intense battle", which killed at least five soldiers, including a newly-deployed captain.
The attack, however, was "repelled" by army troops, said Lieutenant George Okupe, a spokesman for the Buni Yadi base.
The town, situated some 65 kilometers from the provincial capital Damaturu, fell into the hands of the terror group in February 2014 after terrorists launched a deadly night assault on a boys' boarding school, torching the building while students were asleep. At least 43 students lost their lives in the arson attack.
The government troops, however, regained the control of the town in a bloody battle in March last year, after Boko Haram terrorists had sacked the town.
Soldiers of the 7th Division of the Nigerian army prepare to leave Maiduguri in a heavily armed convoy on the road to Damboa in the northeastern state of Borno, Nigeria, March 25, 2016. (Photo by AFP)
Boko Haram terrorists started their reign of terror in 2009 with the aim of toppling the Nigerian government. In their heyday in early 2015, they managed to control an area in the country's northeast as vast as Belgium, but they lost most of that territory over the last year as the Nigerian government, along with troops from some affected neighboring countries such as Chad and Cameroon, launched a joint military campaign to eradicate the militant group.
Full report at:
http://www.presstv.ir/Detail/2017/01/09/505481/Nigeria-Boko-Haram-Borno-Yobe-bomb-Buni-Yadi
--------
Suicide bombers, civilians killed in Nigeria
09 January 2017
At least three female suicide bombers were killed late Sunday in Nigeria's northeastern Maiduguri city as local vigilante fired at them before they could detonate explosives attached to their bodies, according to an official.
"We killed two of them at an area called Muna garage in Maiduguri. We fired at them because they failed to stop for routine search. One other detonated the explosive vest on her body before she could reach the checkpoint. Three civilians got injured," Abba Umaru, a member of the government-backed vigilante group said early Monday.
Police have confirmed the incident but did not give further details. The country's relief agency National Emergency Management Agency (NEMA) has confirmed that eight persons were killed in the multiple blasts, including four suicide bombers and "four innocent victims."
But a NEMA official, who asked not to be named, said the explosions included one at Muna and another (two) at Kaleri area of the town.
"At least five civilians and the two suicide bombers died in the Kaleri explosions. There were injuries too," he told Anadolu Agency.
These come a day after six soldiers - including a captain - were killed in an ambush by Boko Haram militants.
Full report at:
http://www.worldbulletin.net/africa/182888/suicide-bombers-civilians-killed-in-nigeria
--------
Italy reopening embassy in Libya two years after closure
Jan 10, 2017
Italy is sending its ambassador back to Libya, its foreign ministry said on Monday, making it the first Western diplomatic mission to reopen in the divided country.
Italy closed its embassy in Libya in 2015 as rival factions descended into a conflict which has let people smugglers operate with impunity and Islamic State establish a firm foothold.
The foreign ministry said in a statement the ambassador would present his credentials to the local government on Tuesday. A ministry spokeswoman said he would then start work in Tripoli almost immediately, having received the approval of U.N.-backed Prime Minister Fayez Seraj's government in December.
"The Italian ambassador is returning to Tripoli after two years. A great gesture of friendship to the Libyan people. Now more controls on migrant departures," Foreign Minister Angelino Alfano wrote on Twitter.
More than half a million migrants have arrived on Italy's southern shores in the past three years, many packed into boats by traffickers based in Libya.
Italy, which once counted Libya as a colony, has set up a military hospital near the western city of Misrata and leads the European Union's Mediterranean mission which began training the Libyan coastguard in October.
The foreign ministry also said it would work to improve trade links and promote investments in infrastructure and energy.
Full report at:
http://nation.com.pk/international/10-Jan-2017/italy-reopening-embassy-in-libya-two-years-after-closure
--------
Boko Haram attacks Nigeria military base
2017-01-09
Kano - At least five soldiers were killed in a surprise weekend attack by Boko Haram Islamists on a military base in northeast Nigeria, senior officers told AFP on Monday.
A group of Boko Haram fighters launched an attack on the army facility in the town of Buni Yadi at dusk on Saturday, leading to an "intense battle", one officer said on condition of anonymity.
"We lost five soldiers in the attack, including a captain who was recently deployed to Buni Yadi," he said, asking not to be identified as he was not authorised to speak to the media.
"We are still trying to have a sense of the casualties on the part of the terrorists as their bodies are scattered in the bush."
The Boko Haram gunmen are believed to have regrouped after Nigeria's military chased them out of the group's Sambisa Forest stronghold in the neighbouring state of Borno last month.
Nigeria's military and government maintains the Islamic State group affiliate is a spent force because of sustained pressure that has driven them out of swathes of captured territory.
Security threat
Last month, Abuja said the insurgency, which began in 2009, was in its final stages, a year after President Muhammadu Buhari said the group was "technically" defeated.
But questions will be asked about how the rebels were able to attack such a sizeable military base and inflict casualties and the extent to which they pose a security threat.
Such attacks have been a common feature of the insurgency, with Boko Haram in the past regularly over-running military bases and seizing weaponry.
A spokesman for the Buni Yadi base, Lieutenant George Okupe, said: "There was indeed an attack in Buni Yadi by terrorists which was repelled.
"I cannot confirm any casualty for now. All I can say is that some soldiers are missing in action."
Full report at:
http://www.news24.com/Africa/News/boko-haram-attacks-nigeria-military-base-20170109
--------
Air force piles pressure on Boko Haram
09 January 2017
Abuja - Nigerian Air Force (NAF) has intensified operations against Boko Haram terrorists and other violent criminals in the country.
Operations strengthened this past weekend with aerial patrols over the Sambisa Forest in a renewed effort to combat terrorists who might have escaped the latest onslaught against the insurgents from regrouping.
The over 60 000 km2 forest in the Borno State is being patrolled day and night by NAF Intelligence, Surveillance and Reconnaissance (ISR) aircraft to deny insurgents the opportunity to regroup and launch attack against host communities.
Elsewhere, NAF has deployed ISR platforms for surveillance activities over Kafanchan, Katab, Samaru and Zonkwa, among other troubled areas in southern part of Kaduna State, including the Kaduna metropolis.
Full report at:
http://www.news24.com.ng/National/News/air-force-piles-pressure-on-boko-haram-20170109
--------
URL: https://www.newageislam.com/islamic-world-news/new-age-islam-news-bureau/disturbing-isis-video-shows-kids-beheading-and-shooting-prisoners/d/109669
New Age Islam, Islam Online, Islamic Website, African Muslim News, Arab World News, South Asia News, Indian Muslim News, World Muslim News, Womens in Islam, Islamic Feminism, Arab Women, Womens In Arab, Islamphobia in America, Muslim Women in West, Islam Women and Feminism, Moderate Islam, Moderate Muslims, Progressive Islam, Progressive Muslims, Liberal Islam