New Age Islam News Bureau
18 June 2022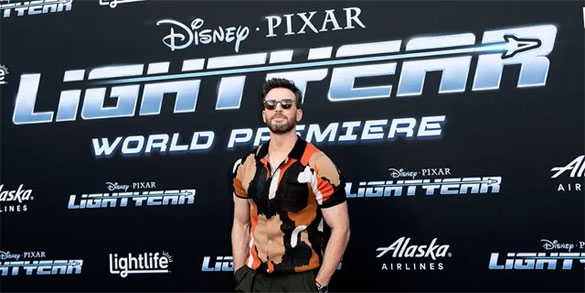 • Protecting the Beliefs and Rights of the People Is Now 2nd Phase of Jihad, Says Anas Haqqani of the Islamic Emirate of Afghanistan
• Iran's Qasem Soleimani Killed to Stop Plot against 500 Americans: Former US Secretary Of State
• British Columbia Imam Continues To Deliver Anti-Semitic Sermons
• Muslim Rights Concern, MURIC, Reacts as Lagos Loses Hijab Battle at Supreme Court
Southeast Asia
• Philippine Security Forces Detain Abu Sayyaf Executioner Of Canadian Hostages
• Malaysia: Concerns of Rising Intolerance
• WTO strikes landmark deals package after marathon talks
• Zahid pleads not guilty to another amended charge
--------
South Asia
• A Delegation of Pakistani Clerics Arrives in Kabul to Negotiate with the TTP
• The Taliban Arrests Six People for Allegedly Excavating Historical Sites Illegally
• 'No Choice' Says Afghan Journalist Whose Photo On Street Went Viral. Taliban Offers Him Job
• Myanmar, Bangladesh discuss repatriation of Muslim refugees
• Afghanistan's NRF claims shooting down Taliban's chopper in Panjshir province
• Attack on Sikh temple in Afghan capital Kabul wounds two: Officials
• Casualties as explosion targets mosque in northern Afghanistan
• One killed, several wounded in Kunduz mosque blast
--------
North America
• US seeks close ties on human rights, Afghan refugees
• Man on plane grounded in Argentina a captain in Iran terror force, says Paraguay intel chief
• US never carried out its obligations under JCPOA: Analyst
--------
Europe
• Film tells of Bosnian Muslims and Jews saving one another in wars
• Greek PM in Cyprus talks on latest war of words with Turkey
• Türkiye, Bosnia Herzegovina to improve strong relations: Bosnian Foreign Minister
• Sweden takes measures against PKK-related social media posts in Stockholm
• Agreement with MP supporting YPG/PKK terrorists to expire soon, says Swedish premier
--------
Africa
• 2023 presidency: PFN outlines actions it will take against Muslim-Muslim ticket
• Head of Libya's High Council of State set to meet UN envoy in Egypt
• Somali military repulses al-Shabaab terrorist attack, kills 47
--------
India
• India Slams China for Putting 'Technical Hold' On Listing Pakistan-Based LeT Deputy Chief as 'Global Terrorist'
• Jammu: Curfew in Bhaderwah Continues For Ninth Day, Security Heightened Outside Mosques before Friday Prayers
• Hizb duo killed in Anantnag encounter
• Friday Namaz Passes off Peacefully in U.P.'S Agra, Other Districts of Zone
• Friday Prayers Pass Off Peacefully In Prayagraj
--------
Pakistan
• Pakistan Remains On FATF 'Grey List' For Now, But Nears Possible Exit
• No Change in Policy towards India, Bilawal's Remarks on Re-Engagement 'Portrayed Incorrectly', Says Pakistan
• Pakistan launches diplomatic effort to get out off FATF grey list: Report
• Karachi police register FIRs against Saad Rizvi, Mustafa Kamal on terror charges over poll-related violence
• Pakistan seeks US support for IMF programme revival
• Pakistan's Ailing Musharraf Set To Return Home From Dubai: Report
--------
Arab World
• Saudi Crown Prince to Visit Turkey in First since Khashoggi Murder
• UAE concerned by Iran nuclear program, seeks reassurances
• Drone strike kills three in Iraqi Kurdistan: Officials
• UAE minster attends St. Petersburg Forum highlighting bilateral relations with Russia
• UN chief calls on Lebanon to respect Hague court's verdict on Hariri killing
• Iraq decries latest Turkish drone strike in Kurdistan region, vows response after investigation
• Report: Russia warns to strike US-allied militants in Syria's al-Tanf region
--------
Mideast
• Israel PM Looks into Forming Alternative Gov't with Netanyahu
• President Rayeesi: Decision to Impose News Sanctions on Iran Proves US Untrustworthiness
• Gaza rocket into Israel breaks two-month lull
• PKK terrorists dug cross-border tunnel between Iraq, Syria, says official
• Amid Live Fire Training, US 'Begs' Israel to Halt Violence during Biden Visit
• At least 78 Palestinians injured after Israeli forces attack protests in West Bank
• Palestinians hold funeral of three young men killed by Israeli forces
Compiled by New Age Islam News Bureau
URL: https://newageislam.com/islamic-world-news/disney-lightyear-malaysia-muslim-same-sex/d/127272
--------
Disney's 'Lightyear' Banned In Malaysia, Muslim Countries over Same-Sex Kissing Scene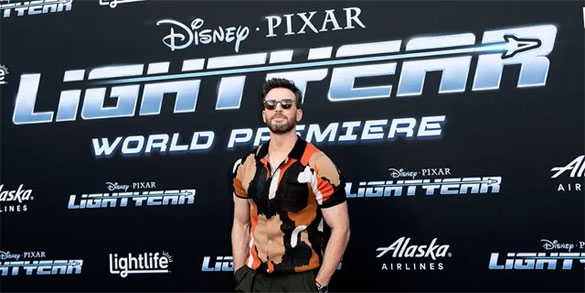 June 17, 2022
Malaysia and other Muslim countries have banned "Lightyear" from playing in theatres after Disney refused to cut a same-sex kissing scene from the animated film.
The Disney Pixar film was released in theatres on June 17.
Malaysia's Film Censorship Board said it approved the movie with parental guidance for those under 13 on the condition of modifications. Scenes and dialogues that it "found to contain elements promoting the LGBT lifestyle, which violate key aspects of the Guidelines on the Film Censorship," were ordered to "be cut and muted."
"However, the film distributors did not agree to comply with the instructions" and decided instead to cancel the screening, the board said, adding that it would not compromise on any LGBTQ scenes.
The statement did not specify which scenes violated censorship guidelines.
Authorities across much of the Muslim world have barred "Lightyear" from being played at cinemas because it includes a brief kiss between a lesbian couples.
Many Muslims consider gay and lesbian behaviour sinful and many Muslim-majority nations criminalize same-sex relationships. The United Arab Emirates also announced it would ban the Pixar animated feature from showing in movie theatres because of the kiss.
The same-sex kiss occurs in the first 30 minutes of the film. The moment occurs between the character Alisha Hawthorne (Uzo Aduba) and her partner.
The scene has received criticism in the United States as well.
"Lightyear" star Chris Evans called people in the U.S. criticizing the scene "idiots" in a recent interview.
"The real truth is those people are idiots," Evans said during an interview with Reuters Television.
"There's always going to be people who are afraid and unaware and trying to hold on to what was before. But those people die off like dinosaurs. I think the goal is to pay them no mind, march forward and embrace the growth that makes us human."
Source: Fox News
Please click the following URL to read the text of the original story:
https://www.foxnews.com/entertainment/lightyear-banned-malaysia-muslim-countries-same-sex-kissing-scene
--------
Protecting the Beliefs and Rights of the People Is Now 2nd Phase of Jihad, Says Anas Haqqani of the Islamic Emirate of Afghanistan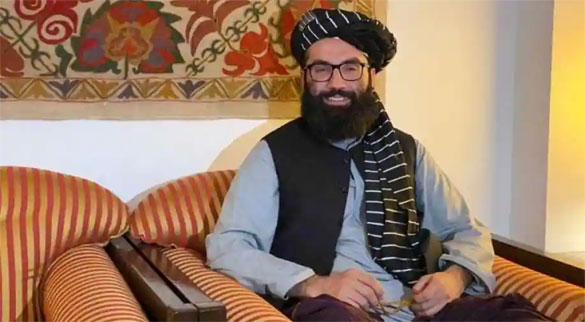 The scion of Afghanistan's feared Haqqani network Anas Haqqani Photograph :( WION)
----
June 17, 2022
Anas Haqqani, a prominent member of the Islamic Emirate of Afghanistan (IEA), said Friday that while the protection of the current system was Jihad, the Islamic Emirate had not made sacrifices over the years to attain a position of power, but rather to be in a position to protect the beliefs and rights of the people.
Haqqani also said that the IEA is now in its "second phase of Jihad" and that they need to "protect the system".
Speaking to residents of Ghorband, during a visit to Parwan province, Haqqani emphasized that sacrifices made by the IEA were made to protect the beliefs, honor, religion, country and rights of the people, and not to attain a position of power.
The Islamic Emirate must pay attention to and address the needs of the Mujahideen so that they do not think the Islamic Emirate has forgotten them, he said adding "because our joint goal is to protect and practice Sharia."
Haqqani said: "The goal of all the leaders of the Islamic Emirate is to serve and protect the rights of Afghans in accordance with Sharia."
During his visit, Haqqani stressed the importance of protecting the system as a Jihad against infidels.
He also said current officials do not consider themselves superior to the people.
"Now that the Islamic Emirate has succeeded, we must not forget our duty as a citizen. We must not forget and we must all roll up our sleeves for the development of the country and not forget the sacrifices of Jihad."
Source: Ariana News
https://www.ariananews.af/protecting-system-is-now-2nd-phase-of-jihad-says-haqqani/
--------
Iran's Qasem Soleimani Killed to Stop Plot against 500 Americans: Former US Secretary Of State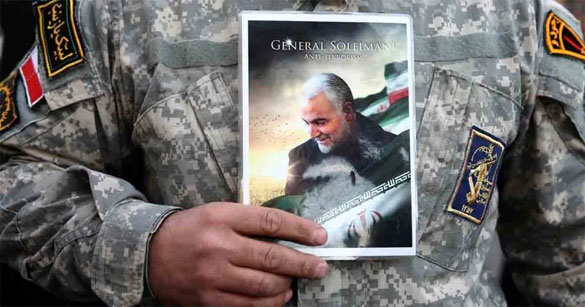 Iran's former top military commander Qassem Soleimani
-----
Beyza Binnur Dönmez
18.06.2022
Iran's former top military commander Qassem Soleimani was killed to stop a plot against 500 Americans, according to former US Secretary of State Mike Pompeo.
"General Soleimani was engaged in a plot to kill another 500 Americans. We had the opportunity to take down that plot, and we did," Pompeo said in an interview with Al Arabiya published Friday.
Asked about the circumstances behind the Soleimani's killing despite the warnings, he said: "Much like the warnings that said if you want to withdraw from the JCPOA (Joint Comprehensive Plan of Action - Iran nuclear deal) there will be war, and much like the warnings that said if the United States moves its embassy from Tel Aviv to Jerusalem there will be war, there were warnings that said if you strike at General Soleimani there will be war."
"Well, we didn't just do one of those or two of those. We did each of those three things and there was no war," he said.
Asked whether it was a fast decision made by the government, he said "we had been working to protect our assets in Iraq, our people in Syria and in fact, Americans all across the world for an awfully long time."
"We had been watching what the Quds Force was up to," he said. "And so in that sense, it was a project that we had been engaged in continuously and then we had this opportunity to stop what was an imminent attack on US resources, US assets, US people and ... the president made the decision to just do that."
Soleimani was killed in a US drone strike Jan. 3, 2020.
Iranian regime 'evil theocrats' aiming to destroy US, Israel
Pompeo said the Iranian regime is made up of "evil theocrats" who are aiming to destroy the US and Israel.
"We know who the Iranian regime is. These are evil theocrats intent on the destruction of the nation of Israel and the United States of America. We ought not to be negotiating to figure out how much money to give them in exchange for an ephemeral promise for just a moment to slow down their enrichment and weapons program," he said, regarding US President Joe Biden's approach to Iran and a possible return to the Iran nuclear deal.
Talks between Iran and world powers in Vienna to salvage the 2015 nuclear deal, known as the JCPOA, have been stalled amid key disagreements between Tehran and Washington.
The US walked out of the deal in May 2018 and reinstated sanctions on Iran. In response, Tehran ramped up its uranium enrichment process from 3.65% stipulated in the deal to 60%.
"We know they (Iran) lied about the history of that program the first time. Why would we negotiate with someone who has lied about their nuclear program is beyond me," said Pompeo.
Regarding a resolution adopted by the UN nuclear agency urging Iran to fulfill its obligation to the Treaty on the Non-Proliferation of Nuclear Weapons (NPT), Pompeo said it was "good" but should have been done "months ago."
Iran has been "in violation of the NPT for an awfully long time," he said. "The question isn't what resolution someone will sign at a cocktail party. It's what is the enforcement mechanism that one is prepared to use in order to ensure that Iran comes back into compliance with the NPT."
Source: Anadolu Agency
Please click the following URL to read the text of the original story:
https://www.aa.com.tr/en/americas/iran-s-qasem-soleimani-killed-to-stop-plot-against-500-americans-pompeo/2616707
--------
British Columbia Imam Continues To Deliver Anti-Semitic Sermons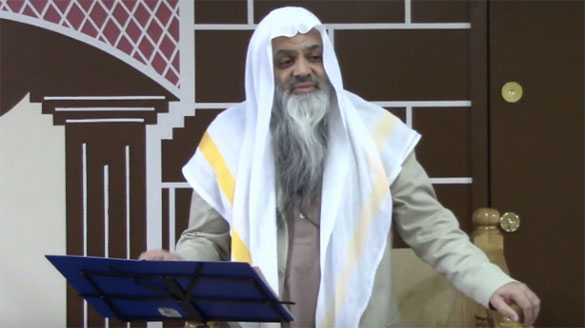 Sheikh Younus Kathrada delivers a sermon at the Muslim Youth of Victoria in British Columbia (YouTube screenshot)
-----
17.06.22
A Victoria, British Columbia imam has continued to deliver extreme anti-Semitic sermons to followers in the city, even after videos of his hateful rhetoric were published by a watchdog organization, according to B'nai Brith Canada.
Younus Kathrada, the head of an organization called Muslim Youth of Victoria, was recently exposed yet again by MEMRI TV "pray[ing] for Allah to bring annihilation upon the criminal and plundering Jews."
In a previous May 2021 video posted by MEMRI, Kathrada said that Muslims' "enmity towards the Jews is just and sensible" and said, "Oh Allah, give strength to Islam and Muslims to humiliate the infidels and the polytheists."
B'nai Brith Canada recently submitted a formal criminal complaint to the Victoria Police Department (VPD), regarding Kathrada's latest hateful speech.
The VPD responded in an email to B'nai Brith, saying that the video of Kathrada's sermon will be reviewed by a specialized officer.
"The Victoria PD and several other agencies on Vancouver Island are very much aware of Kathrada's statements and are monitoring him," the email said.
B'nai Brith Canada CEO Michael Mostyn said: "It is important that this extremist hate-monger is being vigorously investigated after this latest hate incident. It's appalling that such noxious hate speech against Jews is allowed to continue in Canada, and we hope Kathrada will now face criminal charges."
B'nai Brith noted that Kathrada, who has been denounced by the local Muslim community, has been the subject of criminal complaints that they made to law enforcement in the past, starting in 2004.
The advocacy group listed other hateful incidents involving Kathrada, including an October of 2019 speech in which he advised congregants not to vote in the Canadian federal election, arguing that all Jewish and Christian candidates were "filthy" and "evil." In January of that year, Kathrada suggested that wishing Christians a Merry Christmas was a sin worse than murder.
This was followed by an April 2020 sermon, where he called for the annihilation of atheists and victory for jihad.
In November 2020, Kathrada was reported to the police by B'nai Brith for statements comparing Jews to monkey and pigs and calling for their destruction. In August 2021, he described Christians and Jews as 'our enemies' who were trying to "spend mountains of gold to drive us away from Islam."
"The insults and the ruthless rhetoric that this person has hurled at the Jewish people and others over the years transcend acceptable behaviour, particularly for a religious leader, and is clearly hate-motivated," Mostyn said. "Our country cannot allow any individual or group preach with such venom."
Source: Israel National News
Please click the following URL to read the text of the original story:
https://www.israelnationalnews.com/news/355108
--------
Muslim Rights Concern, MURIC, Reacts as Lagos Loses Hijab Battle at Supreme Court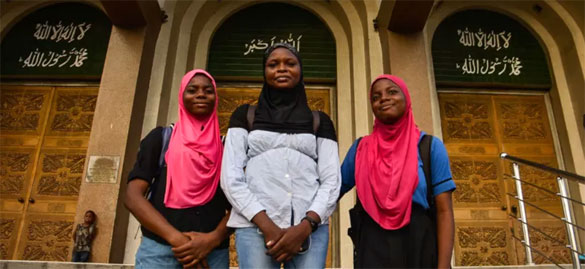 GETTY IMAGES/ BBC.com
----
June 17, 2022
By Don Silas
The Muslim Rights Concern, MURIC, on Friday hailed the judgment of the Supreme Court of Nigeria for upholding the sanctity and constitutionality of the hijab.
In a judgment delivered on Friday, the Supreme Court approved the use of hijab in public schools in Lagos State.
In a statement by its Director, Professor Ishaq Akintola, MURIC said, "The Supreme Court of Nigeria in its judgment yesterday, Thursday, 16th June, 2022, approved the use of hijab by Muslim students. The apex court dismissed the appeal by the Lagos State Government and upheld the earlier judgment of the Court of Appeal which held that the ban on hijab was discriminatory against Muslim students.
"The court upheld that the ban violated the Muslim students' rights to freedom of thought, conscience, religion, the dignity of human persons, and freedom from discrimination guaranteed by the 1999 Constitution of the Federal Republic of Nigeria.
"Seven justices of the Supreme Court sat on the matter. Five of them supported the judgment while two opposed it. The lead judgment was read by Justice Kudirat Kekere-Ekun. Other justices on the panel were Justice Olukayode Ariwoola, Justice John Inyang Okoro, Justice Uwani Aji, Justice Mohammed Garba, Justice Tijjani Abubakar, and Justice Emmanuel Agim.
"This is the moment of truth. Divine truth has overwhelmed social truth. No matter how long, the truth will prevail in the end. MURIC hails this judgment. We salute the courage of the honourable justices who stood by the sanctity of the Constitution and the inviolability of our font et origo.
"Once again, this pronouncement has infused hope in the Nigerian judiciary. The justices have refused to be swayed by religious sentiment. They stuck to the facts of the case and relied on the supremacy of the Nigerian Constitution. This is evident in the constitution of the panel: only three of them are Muslims while the remaining four are Christians. Yet five of them were in favour.
"We call on the Lagos State Government (LASG) to immediately implement the letter and spirit of this judgement. It becomes imperative for LASG to issue a circular on the approval of hijab in all its public schools without any delay. MURIC had earlier demanded the issuance of this circular but LASG ignored our demand to date.
"But the highest court in the land has now spoken and LASG cannot afford to delay it because this is a constitutional matter and an issue of great public interest. Had it been freely given had been good, but it has been delayed until the victims of oppression and persecution can no longer express gratitude to LASG for having their Allah-given fundamental human rights restored by the Supreme Court.
"Let this serve as an eye-opener and a warning to religious fanatics and Muslim-haters wherever they may be, particularly those who often snatch the hijab from the heads of female Muslim students in public, those who have been humiliating our daughters, and those who have been beating them mercilessly. Judgement day is here.
"We can see the doors of South West prisons opening to admit culprits of contempt of this Supreme Court pronouncement. After all, it is well known that there is no appeal for Supreme Court judgement. It is the last bus stop. All public school authorities, hardliner principals, and classroom teachers in Kwara, Oyo, Osun, Ogun, Ondo, Ekiti, Edo, etc, are advised to take note.
"We give thanks to Almighty Allah, the Most Powerful, the Wisest, the Greatest, the Inimitable, the Indefatigable, the Invincible, the Judge of all judges, King of all kings and Master of all masters. We reaffirm our faith in the oneness of Allah and the prophethood of Muhammad (Peace and Mercy of Allah be upon him).
"MURIC congratulates Nigerian Muslims, particularly all Islamic organisations in the country. Special encomiums go to the team of Muslim lawyers who fought the case. They are our frontline soldiers. We salute their tenacity. We pray that Allah will reward them in this world and in the Hereafter. It has been a hard-won victory and a long road to triumph.
"Before we lift our fingers from the keyboard, we dedicate this victory to the undisputed leader of Nigerian Muslims, the Sultan of Sokoto and the President General of the Nigerian Supreme Council for Islamic Affairs, Alhaji Muhammadu Sa'd Abubakar for his wise counsel and his unwavering belief in peaceful approach at all times. We thank Allah that this victory came in his lifetime."
Source: Daily Post Nigeria
Please click the following URL to read the text of the original story:
https://dailypost.ng/2022/06/17/islamic-group-reacts-as-lagos-loses-hijab-battle-at-supreme-court/
--------
Southeast Asia
Philippine security forces detain Abu Sayyaf executioner of Canadian hostages
June 18, 2022
MANILA: Two notorious militants from the Abu Sayyaf Group, including the executioner of Canadian hostages, were detained on Friday after surrendering to the Philippine security forces, the military said.
Ben Quirino, alias Ben Tattoo, 41, and his brother Almujer Yadah, 55, were sub-leaders of the militant outfit that operates in the country's south, and has gained notoriety for extortion, assassinations and kidnappings for ransom.
Both men have been linked to several killings, including of two Canadian nationals who were abducted from an upscale resort on Samal island in 2015 and taken captive to the group's stronghold in Jolo, Sulu province.
The Canadians were killed in 2016 after a $6.4 million ransom was not paid. Tattoo filmed himself beheading the captives.
He was also involved in the kidnapping of Arab News Asia bureau chief Baker Atyani in 2012.
Atyani, who was working for Al-Arabiya News Channel at the time, was held captive by ASG for 18 months.
Yadah was responsible for ASG's logistics and food supplies.
"We consider these two as the most notorious ASG leaders to have surrendered considering the number of cases that have been filed against them — from kidnapping for ransom, murder and many more," Maj. Gen. Ignatius Patrimonio, commander of the 11th Infantry Division designated to fight militancy in Sulu, told Arab News.
"They got tired of running from pursuing military forces. Besides, they no longer have the support of the local populace; their group has been badly decimated and their brothers killed."
Formed in 1991, ASG emerged as a splinter group of the Moro National Liberation Front, a movement seeking autonomy for Filipino Muslims in the south of the country. It was initially influenced by Al-Qaeda, but since the early 2000s has been involved mainly in criminal activity. In 2014, some of its factions pledged allegiance to Daesh.
ASG's strength has been declining since 2018 when the Philippine military stepped up a crackdown on Daesh affiliates. Data from the 11th Infantry Division shows that the number of active militants in the group has fallen from about 300 in 2019 to an estimated 100.
Brig. Gen. Benjamin Batara Jr., commander of the 1103rd Infantry Brigade, which has jurisdiction over Tattoo and Yadah's hometown of Patikul, told Arab News the military has been tracking the pair since last year, with the help of police, intelligence and local governments.
But the key to how we were able to reach out to them was their families and community leaders," he said. "Apparently, they were already under pressure because of continuous military and police operations, and a series of surrenders of their fellow Abu Sayyaf members."
Source: Arab News
Please click the following URL to read the full text of the original story:
https://www.arabnews.com/node/2105746/world
--------
Malaysia: Concerns Of Rising Intolerance
June 18, 2022
By Muzliza Mustafa
When one of Malaysia's powerful sultans recently slapped the religious affairs minister with a rare rebuke for saying Muslims shouldn't participate in a Japanese cultural festival because it had un-Islamic elements, the incident cast a spotlight on growing intolerance here.
"Hands off," the Sultan of Selangor indicated. "[U]nderstand the difference between religion and culture," he said via Facebook in publicly scolding Minister Idris Ahmad, of the Islamic Party PAS, which is a partner in the country's ruling coalition.
A potential diplomatic to-do was averted, but the incident has left observers worrying about a climate of fundamentalism in this religiously and racially mixed Islamic-majority nation. The mood in Malaysia is filled with a pandemic-driven economic malaise as the country faces the prospect of a general election months away or next year.
There is cause for concern, says Asrul Hadi Abdullah Sani, deputy managing director at market advisory firm Bower Group Asia.
"Malaysia is regressing, and the intolerance that we see here is worrying. We are becoming far too right [wing] nowadays," Sani told BenarNews.
"In Malaysia, religion and race are being used to gain political mileage by some parties. … Today is about Bon Odori, what will be next?"
Malaysia is nearly 64 percent Muslim and slightly more than half of the population is ethnic Malays, who generally practice Islam. Other communities include ethnic Chinese and Indian Malaysians.
Bon Odori is a Japanese cultural event with roots in Buddhism, but experts quoted in Malaysian media say the tradition, celebrated in Malaysia since the mid-1970s, has shed its religious meaning. Celebrations of Bon Odori are scheduled for next month in Shah Alam, Selangor state, and in Penang.
Earlier this month, Minister Ahmad, from the conservative Malaysian Islamic Party (PAS), advised Muslims to not join the festival because, he said, it contained elements from other religions. Despite the Selangor sultan's admonition to Ahmad, his and PAS' stance on Muslim attending the festival remains the same, local media reported on Thursday.
'Little Napoleons'
In some other cases, PAS has not even needed to step in, and fellow ideologues have done the job. Take the case of Ramli Ibrahim, a Malay Muslim and renowned practitioner of the Indian dance form Odissi, which conservative Muslims frown upon as un-Islamic.
In June 2021, the Universiti Teknologi Malaysia canceled Ramli's talk on art transcending race, after the campus's Islamic Center advised against it.
The dancer said the center was an arm of the federal Department of Islamic Development (JAKIM), which plays a key role in the planning of Islamic affairs and is part of the Prime Minister's Office.
In a Facebook post, Ramli lashed out at the center, known as Pusat Islam in Malay.
"The Pusat Islam is the moral policing/vigilante body for many of the government and even quasi-government institutions. They represent the effective arm of JAKIM to control/define what is permitted to be 'fed' to the populist/students/staff etc.," he wrote.
"An Islamic/fascist body, controlled by little Napoleons, it filters the level of intelligence and what the rakyat [public]/students/audience can endeavor to be exposed or strive to learn from."
Political analyst Bridget Welsh described JAKIM as having "an annual budget of approximately $300 million and thousands of staff involved in monitoring social behavior."
The academic with the University of Nottingham Malaysia and other critics say JAKIM is responsible for creating religious schisms in Malay society.
"The state's administration of Islam has been seen to encroach on the rights of non-Muslims and many Muslims, especially in Muslim minority sects that have been targeted by state authorities," Welsh wrote in an August 2020 publication for the Carnegie Endowment for International Peace.
"At the same time, the growth of the country's religious bureaucracy has created a constituency with a vested interest in promoting religion, particularly the conservative interpretations of the faith predominant among state clerics…," she wrote.
Ramli described the climate as a decline into medievalism.
"Malaysia is regressing in certain aspects … This intolerance is worrying," Ramli said.
"JAKIM is controlling cultural activities of many educational institutions in Malaysia and I find that also as a form of regression."
Ramli and Welsh both blame the state education system.
"In public education, religious classes often take up almost half the school day, and students are segregated by religion for these courses, creating resentments," Welsh wrote.
"The number of Islamic religious schools has grown exponentially, with many students growing up without friends from other communities."
Source: Eurasia Review
Please click the following URL to read the full text of the original story:
https://www.eurasiareview.com/18062022-malaysia-concerns-of-rising-intolerance-analysis/
--------
WTO strikes landmark deals package after marathon talks
June 18, 2022
GENEVA: The World Trade Organization concluded a landmark bundle of deals Friday covering fishing subsidies, food insecurity and Covid-19 vaccines following hectic round-the-clock talks.
WTO director-general Ngozi Okonjo-Iweala said trade ministers had struck an "unprecedented" number of agreements that would affect the lives of people everywhere.
The talks in Geneva began Sunday and had been due to wrap up on Wednesday.
But instead, the WTO's 164 members went through two straight nights before getting the package over the line at around 5am Friday.
"DEAL!" tweeted EU trade commissioner Valdis Dombrovskis after the conference went nearly 36 hours into overtime.
The WTO's 12th ministerial conference (MC12) reeled in a deal to halt harmful fisheries subsidies after more than two decades of negotiations, and also reached agreements on e-commerce, responding to pandemics and reforming the organisation itself.
"Not in a long while has the WTO seen such a significant number of multilateral outcomes," Okonjo-Iweala said.
"The package of agreements you have reached will make a difference to the lives of people around the world."
But she acknowledged that "there were many moments when I feared we would come out of MC12 with nothing at all".
As negotiations dragged on, delegates at one point had even danced to songs like "I will survive" and "Final Countdown" to blow off steam, US ambassador Maria Pagan told reporters.
Fish deal netted
The fisheries deal was the last one to get over the line, with negotiators hammering out the final points into the early hours of Friday.
Talks toward banning subsidies that encourage overfishing and threaten the sustainability of the planet's fish stocks had been going on at the WTO since 2001.
The text was watered down significantly, but Okonjo-Iweala insisted it was better to get an agreement rather than keep negotiating for years to come.
Dombrovskis acknowledged to reporters that the agreement fell short of what the EU would have wanted, but "we decided that taking this first step … was better than not getting any agreement".
US trade representative Katherine Tai also hailed the agreement, as "a positive step forward", highlighting that countries had committed to continue talks towards a more ambitious text.
Myron Brilliant, head of international affairs at the US Chamber of Commerce, highlighted the importance of moving forward on banning harmful fisheries subsidies.
"This is a rare case where trade rules could make a huge contribution to addressing a major environmental problem," he said.
Consensus
The fisheries agreement marks the first large multilateral deal agreed at the WTO in nearly a decade.
Okonjo-Iweala, who took over in March 2021, hinged her leadership on breathing new life into the sclerotic organisation.
She wanted to prove that the organisation could still make itself relevant in tackling the big global challenges.
The former foreign and finance minister of Nigeria positioned herself as someone who can bang heads together and get business done.
"I prefer to talk less and do more," she said Friday.
As for why the discussions went on so long, some delegations accused India of being intransigent on every topic under discussion at the WTO – where decisions can only pass with the agreement of every member.
But Indian Commerce and industry minister Piyush Goyal insisted: "India is not a roadblock on anything… We were the ones who actually helped create the sole consensus."
Patents waiver
The second major issue on the table was the plan for a Covid-19 vaccine patents waiver, aimed at providing more equitable access to the jabs.
After months of wrangling, and talks going down to the wire this week to win over some major players in pharmaceutical manufacturing to a compromise text, the US and China finally clinched the deal by agreeing on which countries would benefit from the waiver.
China provided a binding commitment not to take advantage of the waiver.
Tai hailed the deal, saying it would "get more safe and effective vaccines to those who need it most".
This agreement shows that we can work together to make the WTO more relevant to the needs of regular people.
The pharmaceutical industry organisation IFPMA however voiced "deep disappointment" at the deal, warning that "dismantling" patent protections would strangle innovation.
Public interest groups meanwhile condemned the deal for not going far enough.
"It is a technocratic fudge aimed at saving reputations, not lives," said Max Lawson of the People's Vaccine Alliance, while the Doctors Without Borders charity labelled it a "devastating global failure".
WTO members also agreed to help ease supply shortages that some countries faced during the pandemic.
With Russia's war in Ukraine fuelling a global food security crisis, ministers agreed on the importance of not imposing export restrictions.
Source: Free Malaysia Today
Please click the following URL to read the full text of the original story:
https://www.freemalaysiatoday.com/category/business/2022/06/18/wto-strikes-landmark-deals-package-after-marathon-talks/
--------
Zahid pleads not guilty to another amended charge
June 16, 2022
SHAH ALAM: Former deputy prime minister Ahmad Zahid Hamidi pleaded not guilty at the High Court here to another amended charge of corruption over the foreign visa (VLN) system.
Judge Yazid Mustafa ordered the amended charge to be read out to Zahid, 69, after allowing deputy public prosecutor Abdul Malik Ayob's application to amend the third charge, which involved the change of currency from 15,000 in euros to 15,000 in Swiss francs.
As soon as the amended charge was read out to him through an interpreter, Zahid made the plea of not guilty.
According to the amended charge, Zahid is charged as the home minister with obtaining for himself 15,000 in Swiss francs from Ultra Kirana Sdn Bhd (UKSB) in connection with his official work.
He is alleged to have committed the offence at No. 389, Jalan Bayu Nyaman, Country Heights, Kajang, in May 2016.
The amended charge, framed under Section 165 of the Penal Code, carries imprisonment of up to two years, or a fine or both, if convicted.
Zahid is facing 33 charges of receiving bribes amounting to S$13.56 million from UKSB as an inducement for himself in his capacity as a civil servant and the then home minister to extend the contract of the company as the operator of the One-Stop Centre in China and the VLN system as well as to maintain the agreement to supply VLN integrated system paraphernalia to the company by the ministry.
For another seven counts, Zahid is charged as home minister to have obtained for himself S$1.15 million, RM3 million, 15,000 Swiss francs and US$15,000 in cash from the same company in connection with his official work.
Source: Free Malaysia Today
Please click the following URL to read the full text of the original story:
https://www.freemalaysiatoday.com/category/nation/2022/06/16/zahid-pleads-not-guilty-to-another-amended-charge/
--------
South Asia
A Delegation of Pakistani Clerics Arrives in Kabul to Negotiate with the TTP
By Saqalain Eqbal
17 Jun 2022
According to the Pakistani media, Pakistan is sending a 13-member religious scholar delegation to Kabul to continue and accelerate the talks with the Tehrik-e-Taliban Pakistan (TTP), also known as, Pakistani Taliban.
The Pakistani Express Tribune newspaper reports that the delegation will fly to Kabul in the coming days.
Consistent with the reports, the delegation will engage and negotiate with the Taliban leaders to persuade them to extend the ceasefire mediated by the Taliban in Afghanistan.
The delegation to Kabul is said to finish the work of Pakistani tribal elders who were unable to persuade Pakistani Taliban leaders to cooperate with the government.
According to the Express Tribune, the delegation would try to persuade the TTP to withdraw their demand for the rollback of previous FATA reforms that were approved by Pakistan's parliament and to abandon their claimed "jihad" against the Islamic Republic of Pakistan.
The Tehreek-e-Taliban Pakistan has acknowledged the delegation's visit, according to the Express Tribune.
The Afghan Taliban hosted the Pakistani government's initiation of peace talks with the Pakistani Taliban at the Intercontinental Hotel in Kabul, which resulted in a temporary ceasefire.
On May 18, Taliban spokesman Zabihullah Mujahid said that Kabul has brokered a temporary ceasefire between the Tehreek-e-Taliban Pakistan and Islamabad.
Zabihullah Mujahid said that the Tehreek-e-Taliban Pakistan and Islamabad had agreed to a temporary ceasefire after the Afghan interim administration mediated between them.
Source: Khaama Press
Please click the following URL to read the full text of the original story:
https://www.khaama.com/a-delegation-of-pakistani-clerics-arrives-in-kabul-to-negotiate-with-the-ttp-77834/
--------
The Taliban Arrests Six People for Allegedly Excavating Historical Sites Illegally
By Saqalain Eqbal
17 Jun 2022
Six people have been arrested in Badghis province on grounds of illegal excavation of ancient sites and smuggling of historical relics, according to Taliban provincial security officials.
The men were arrested by Taliban intelligence forces on Wednesday, June 15, while digging and excavating in the Kariz area of Badghis province's Qadis district, according to the Bakhtar news agency.
The men had procured a weapon and two antiquities detectors, according to Baz Mohammad Sarwari, the Taliban's Director of Information and Culture in Badghis province.
During the initial interrogations, the detainees confessed to excavating and smuggling artifacts, according to Sarwari.
The Taliban arrested four persons in Badghis last week on charges of antiquities excavating and trafficking.
Source: Khaama Press
Please click the following URL to read the full text of the original story:
https://www.khaama.com/the-taliban-arrests-six-people-for-allegedly-excavating-historical-sites-illegally-67484/
--------
'No choice' says Afghan journalist whose photo on street went viral. Taliban offers him job
VANDANA MENON
17 June, 2022
New Delhi: A tweet showing former Afghan journalist Mosa Mohammadi selling food on a pavement has gone viral, highlighting the state of journalism in Afghanistan. The photo, posted by fellow journalist and activist Nilofar Ayoubi, is a stark contrast to his days as a newsreader when he appeared before the camera clad in a blazer and tie.
Forced to work as a daily labourer after regime change in Afghanistan, Mohammedi has turned his back on journalism. "I was left with no other choice but to work whatever job I could get to be able to provide for my family," Mohammadi told ThePrint. "I tried [for jobs in] all media sectors—even NGOs and the private sector, and got no response. So, I was left with only one choice—daily labour." He has been at home since the day his pictures were posted on social media.
Mohammadi has been in journalism since 2011, having worked as a news reader at several Afghan media outlets like Arman FM, Radio Salam Watandar, Jahan TV, and Ayna TV.
Financial troubles
Mohammadi had just started his new job at Ariana News, one of Afghanistan's largest independent news channels, when it began having financial trouble. Ariana News broadcasts some of Afghanistan's most popular programs, such as the investigative political show Haqiqat (The Truth). It has also aired various Indian soaps.
One month into his new job, Mohammadi was laid off along with other colleagues. The timing coincided with rising inflation and the Taliban coming to power. "I am married, and I was jobless for 6-7 months at home," Mohammadi said. Then things took a turn for the worse when his mother's health deteriorated. Already battling high blood pressure and a heart condition, she had a fall and broke her leg, he said. "Problems and difficulties piled up. A brother of mine is a government employee—a clerk—and he couldn't afford to help at home. I wasn't able to provide for my family and parents either, as I still have to pay off the debt I incurred from marriage expenses," said Mohammadi.
No to journalism
As Ayoubi's tweet gained traction online, the Taliban's Director General of National Radio and Television, Ahmadullah Wasiq, had his say. He tweeted that he would give Mohammadi a job but did not specify what the role would be.
Wasiq also underscored the need for Afghan professionals in the tweet. He is currently serving as the acting director for intelligence and deputy central spokesperson of the Islamic Emirate of Afghanistan.
In response to whether he will consider the Taliban's offer, Mohammadi told ThePrint that he has decided to leave the industry and stop working in media. He's open to anything but working in journalism. However, he says he's grateful for Ayoubi's support and her tweet, which went viral on 15 June.
"We have many stories like this, but only some of them go viral," said journalist Ayoubi, who first put out the tweet while at the National Dialogues Conference in Helsinki. She said she saw his story being shared on a Facebook group. "I was upset and tweeted with full frustration," she said.
Source: The Print
Please click the following URL to read the full text of the original story:
https://theprint.in/features/no-choice-says-afghan-journalist-whose-photo-on-street-went-viral-taliban-offers-him-job/1000682/
--------
Myanmar, Bangladesh discuss repatriation of Muslim refugees
June 17, 2022
A fifth meeting of the Myanmar-Bangladesh joint working group on repatriation of Muslim refugees was held via video conferencing on Tuesday, according to reports from the junta-run newspaper Myanma Alin.
Permanent Secretary U Chan Aye of the regime's Foreign Ministry and Secretary Masud Bin Momen of the Bangladeshi Foreign Ministry reportedly attended the meeting.
The two sides discussed challenges in the verification process, and plans to start repatriating those who have been verified by the Myanmar side. They also discussed plans for resettlement of voluntary returnees, and trust-building, reported state-run media.
The Myanmar side is said to have discussed measures to ensure security and rule of law in Arakan State, including renovation of transit camps and houses in villages where returnees will be resettled; plans to create jobs and provide education and healthcare services to returnees; and cooperation with partner countries, including ASEAN and UN agencies in the repatriation process, said the report.
More than 700,000 Muslims fled to Bangladesh as of September 2017, after the Myanmar military launched disproprtionte "clearance operations" in response to attacks by the Arakan Rohingya Salvation Army on border guard police outposts in August of that year.
The now-ousted National League for Democracy (NLD) government led by Daw Aung San Suu Kyi tried in vain to repatriate Muslim refugees in the years prior to its ouster.
The regime is planning to bring back 700 Muslims initially, repatriating 150 per week. They will be accommodated at transit camps in Taungpyo Letwe, Nga Khuya, and Hla Poe Kaung in Maungdaw, U Hla Thein, spokesman of the regime's Arakan State Administration Council, told DMG.
Source: BNI Online
Please click the following URL to read the full text of the original story:
https://www.bnionline.net/en/news/myanmar-bangladesh-discuss-repatriation-muslim-refugees
--------
Afghanistan's NRF claims shooting down Taliban's chopper in Panjshir province
18 June, 2022
Kabul [Afghanistan], June 18 (ANI): Afghanistan's National Resistance Front (NRF) on Thursday claimed that it had shot down a Taliban helicopter and captured four of the group's members in the country's Panjshir province, local media reported.
Sibghatullah Ahmadi, the Director of Strategic Communications and the spokesperson for the NRF, confirmed the news of the shooting of the Taliban's helicopter in Panjshir province's Arezoo valley, according to Khama Press.
Taking to Twitter, Sibghatullah Ahmadi said, "The brave forces of the National Resistance Front shot down a Taliban occupiers helicopter in the Arezoo valley of Panjshir".
NRF also released pictures and videos of the helicopter in support of its claim, which soon went viral on the internet, reported Khaama Press.
Ahmadi further claimed that all the captured members of the "downed" helicopter are "in good condition" and treated in accordance with "Islamic instructions and humanitarian law".
According to sources, the NRF forces have killed two Taliban militants in the operation, which is said to have included firing small and heavy bullets.
Although several freelance journalists contend to have received the confirmation of the Taliban officials on the matter, officials from the Taliban regime in Kabul have yet to officially confirm or deny the incident.
The NRF has reorganized its forces in Panjshir province in recent weeks and launched attacks on Taliban positions.
Earlier, on May 30, the National Resistance Front claimed that they have killed over 15 Taliban fighters in an ambush in Panjshir province.
Ali Maysam Nazari, the National Resistance Front's head of foreign relations, said that their people have killed more than 15 Taliban fighters on the outskirts of Panjshir.
The Taliban have yet to make any comment on the resistance's claim.
Earlier in May, in a statement, Sebghatullah Ahmadi, a spokesman for the National Resistance Front, claimed that 22 Taliban militants had been killed in battles with the front, but local Taliban leaders in Panjshir refuted the claims, saying that only three had been wounded, reported Khaama Press.
Source: The Print
Please click the following URL to read the full text of the original story:
https://theprint.in/world/afghanistans-nrf-claims-shooting-down-talibans-chopper-in-panjshir-province/1001685/
--------
Casualties as explosion targets mosque in northern Afghanistan
June 18, 2022
An explosion has ripped through a mosque in Afghanistan's northern Kunduz province, killing at least one worshipper and wounding seven others.
Dozens of people had gathered inside the mosque in the district of Imam Sahib for Friday prayers when an explosive device that had been planted there went off, said Obaidullah Abedi, the Taliban-appointed spokesman for the Kunduz police chief.
There was no claim of responsibility for the attack and an investigation was underway.
Lately, the regional affiliate of the Daesh group, known as Daesh-Khorasan Province, has increased attacks on mosques and minorities across the country.
Daesh affiliate, which has been operating in Afghanistan since 2014, is seen as the greatest security challenge facing the country's new Taliban rulers.
Following their takeover when they seized power in Kabul and elsewhere in the country last August, the Taliban have launched a sweeping crackdown against the Daesh headquarters in eastern Afghanistan.
Last month, a similar attack at a mosque in the capital of Kabul killed at least five people and wounded 22.
Source: Trt World
Please click the following URL to read the full text of the original story:
https://www.trtworld.com/asia/casualties-as-explosion-targets-mosque-in-northern-afghanistan-58075
--------
One killed, several wounded in Kunduz mosque blast
June 18, 2022
KABUL: A bomb blast at a mosque in northern Afghanistan killed at least one worshipper and wounded seven others during Friday prayers, police said.The explosion occurred in the northern province of Kunduz in a district where dozens of worshippers had been killed in April in a similar bomb attack.
Provincial police spokesman Qari Obaidullah Abedi said one worshipper had been killed in Friday's blast at the Alif Birdi mosque in the Imam Shahib district. "The explosives were placed inside the mosque. The blast occurred when worshippers were offering Friday prayers," he told AFP.
Source: The News Pakistan
Please click the following URL to read the full text of the original story:
https://www.thenews.com.pk/print/967129-one-killed-several-wounded-in-kunduz-mosque-blast
--------
North America
US seeks close ties on human rights, Afghan refugees
Anwar Iqbal
June 18, 2022
WASHINGTON: US Under Secretary of State Uzra Zeya has said that Washington is looking forward to a close partnership with Pakistan on human rights and support for Afghan relocation efforts and refugees.
At a State Department news briefing on Thursday afternoon, spokesperson Ned Price expanded the horizon of this partnership, adding that Washington was looking to "advance that partnership in a manner that serves our interest and our mutual interests as well".
Ms Zeya, who looks after civilian security, democracy, and human rights at the State Department, expressed these views at a meeting with Pakistan's Ambassador Masood Khan on Thursday.
She said in a tweet that she had "constructive conversation" with Ambassador Khan to "discuss human rights and Pakistan's critical support for Afghan relocation efforts and refugees".
An embassy statement said that both agreed to strengthen Pakistan-US relations in diverse areas through frequent exchanges on issues of mutual interest.
Responding to Ms Zeya's tweet, Ambassador Khan said the two sides would work to promote bilateral dialogue and cooperation to forge closer ties.
Ambassador Khan also welcomed the OIC-State Department's dialogue on 23-24 May, in Washington, to promote dialogue between the United States and OIC nations.
Under Secretary Zeya also represented the United States at the OIC-CFM Council of Foreign Ministers Conference in Islamabad in late March.
In her talks in Islamabad, she underlined the enduring ties and partnership between Pakistan and the US and commended Pakistan for offering dignity and safety to Afghan refugees for over 40 years.
At the State Department briefing, spokesperson Price said US officials have had several meetings with the representatives of the new setup since they came to power in April.
One important meeting, he said, was between Foreign Minister Bilawal Bhutto-Zardari and US Secretary of State Antony Blinken in New York last month.
"Secretary Blinken (met) his Pakistani counterpart face-to-face in his position for the first time. It was a very good, constructive discussion regarding the full range of issues, including the issue of food security," he said. The two leaders also discussed Russia's invasion of Ukraine and its consequences, he added.
Source: Dawn
Please click the following URL to read the full text of the original story:
https://www.dawn.com/news/1695403/us-seeks-close-ties-on-human-rights-afghan-refugees
--------
Man on plane grounded in Argentina a captain in Iran terror force, says Paraguay intel chief
June 18, 2022
ASUNCION, Paraguay: Paraguay's intelligence chief said Friday that one of the men aboard a plane grounded near Buenos Aires since last week had ties to Iran's Quds Force, contradicting Argentina's government.
Captain Gholamreza Ghasemi did not merely share a name with a member of the Force — the foreign operations arm of Iran's Revolutionary Guards — but is in fact the same man, intelligence chief Esteban Aquino told AFP.
The Guards are listed as a terrorist organization by the United States.
Aquino contradicted Argentina's Security Minister Anibal Fernandez, who said this week there were no Quds Force members on the plane, and Ghasemi merely shared a name with someone on the wanted list.
A Boeing 747 cargo plane, reportedly carrying car parts, has been held at an Argentine airport since Wednesday of last week. Its 14 Venezuelan and five Iranian crew members have been prevented from leaving the country pending investigations.
On Monday, Argentine officials raised suspicions of a link between the flight and the Revolutionary Guards.
Paraguay on Tuesday said it had information that seven crew on the plane, when it stopped there in May, were Quds Force members.
The plane belongs to Emtrasur, a subsidiary of Venezuela's Conviasa, which is under US sanctions.
Iran has said the plane was sold by Iran's Mahan Air to a Venezuelan company last year.
Mahan Air is accused by the United States of links with the Revolutionary Guards.
The plane arrived in Argentina from Mexico on June 6. It tried to fly to Uruguay two days later, but the country refused it entry and it returned to Argentina where it has been grounded ever since.
Source: Arab News
Please click the following URL to read the full text of the original story:
https://www.arabnews.com/node/2105766/world
--------
US never carried out its obligations under JCPOA: Analyst
Friday, 17 June 2022
The US administration never carried out its obligations under the 2015 Iran deal, officially known as the Joint Comprehensive Plan of Action (JCPOA), and failed to submit the treaty for Senate ratification, according to an American political analyst.
Charles Dunaway made the remarks in an interview with Press TV on Friday after Iranian President Ebrahim Raeisi said the world must give Iran the right not to trust the US because of its inconsistent actions.
"On the one hand, the Americans are sending the message that they are ready to negotiate, but on the other hand, they are adding to the sanctions. The world should give us the right not to trust them," he told a group of people in Tehran on Friday.
His remarks came after the administration of US President Joe Biden on Thursday imposed a new round of sanctions on Iranian petrochemical producers as well as a network of Chinese, Emirati and Indian companies over what the US Treasury described as facilitating the export of Iran's oil.
The US Treasury Department said in a statement that the new restrictive measures were aimed at piling up pressure on Iran amid stalled negotiations aimed at reviving the 2015 Iran deal.
On Friday, Iranian Foreign Minister Hossein Amir-Abdollahian also reiterated Tehran's resolve to continue talks on the revival of the 2015 multilateral agreement but called for an end to Washington's "sanctions lunacy" and the International Atomic Energy Agency's "politicized approach" over the country's nuclear program.
Amir-Abdollahian said the Iranian administration is abiding by a December 2020 parliamentary law, which obligated the Atomic Energy Organization of Iran (AEOI) to further reduce the country's nuclear commitments to the 2015 Iran deal in response to the US withdrawal from the agreement.
"In some ways the JCPOA represented a turning point in US diplomacy. Since the demise of the Soviet Union with the US elites sensing their 'unipolar moment', the US primarily negotiated with weak nations or nations whose governments were led by pro-US interests. In those cases, the US simply dictated terms, issued threats, and demanded assent," said Dunaway.
"With Iran, a larger, more powerful and fiercely proud nation, that was not possible. The Obama administration took a different route: it agreed to some Iranian demands in order to declare a diplomatic victory, but simply never carried out its obligations under the treaty. The Obama administration also failed to submit the treaty for Senate ratification, thus removing any constitutional commitment to the agreement for subsequent governments," he added.
"President Obama knew that the JCPOA would never be ratified by the Senate due to pressure from the Zionist lobby. President Biden's team is aware that any new agreement cannot be ratified either. Therefore as a practical matter, no agreement between the US and Iran can be guaranteed beyond January 2024, and it is highly unlikely that the Zionist-dominated Congress would permit a serious reduction in sanctions," he stated.
"The advanced age of President Biden means he is unlikely to be nominated for a second term, and the Democratic Party has no plausible candidate to oppose the Republicans, particularly if Donald Trump runs again. If the JCPOA were to be revived, it will be killed in 2024," he said.
"The US simply cannot negotiate a lasting diplomatic agreement with any of its designated 'enemies'. The neoconservatives dominate the leadership of both parties and they are committed to total US hegemony over the world. Any agreement with Russia, China, Cuba, Venezuela or Iran could not be ratified and would likely be rejected by the next administration. The neoconservatives are also dedicated Zionists and oppose any agreement with Iran that does not meet with the approval of the Zionist regime," Dunaway noted.
"As the Russians have said, the US is not agreement-capable. The Biden administration only entered negotiations to keep up appearances and stall for time while the Israeli regime acts with ever-increasing belligerence and impunity against those who threaten its apartheid regime. The recent murder of Shireen Abu Akleh, the bombing of Damascus airport, the threat against the residence of the Syrian President, and the increasing violence of the occupation show that the Israeli regime has been given carte blanche by the US. The US is more likely to support a military attack on Iran than a peace agreement," the analyst said.
Source: Press TV
Please click the following URL to read the full text of the original story:
https://www.presstv.ir/Detail/2022/06/17/684085/US-never-carried-out-its-obligations-under-2015-Iran-deal
--------
Europe
Film tells of Bosnian Muslims and Jews saving one another in wars
June 17, 2022
By Daria Sito-sucic
SARAJEVO, June 17 (Reuters) - In a traditional Muslim house in the old quarter of Sarajevo, a film has revived two different periods of war during which Bosnian Muslims saved Jews from Nazis and then 50 years later Jews rescued Muslims from Bosnia's besieged capital.
Sabina Vajraca, a U.S.-based film director who herself was a refugee from Bosnia's 1990s war, says she wants her short film to remind the world of the goodness of ordinary people during times of conflict in Europe and the Middle East.
In May, Vajraca's script won the Holocaust Film Contest held by the Claims Conference, the Jewish organisation which secures compensation for Holocaust survivors.
"Evil keeps coming back over and over and wars keep happen over and over and the whole message of this film is that when such an event happens, will you remember your humanity and save others or will you become small and fearful and only think of yourself," Vajraca said in an interview with Reuters.
The film "Sevap/Mitzvah" (A Good Deed) is based on the true story of Muslim woman Zejneba Hardaga and her family who hid the Jewish Kabiljo family at their home, risking their own lives, and helped them escape Nazi-occupied Sarajevo in the 1940s and then move to Israel.
The Hardagas were recognized as Righteous Among the Nations by the Israeli Holocaust museum Yad Vashem, based on testimony provided by the Kabiljo family. The honorific is awarded to non-Jews who helped Jews escape persecution in the Holocaust.
Fifty years later, during the 1992-95 siege of Sarajevo by separatist Bosnian Serb forces, the Jewish community helped the Hardagas leave Sarajevo using fake Jewish identity cards and the Kabiljo family secured them a refuge in Israel.
"Zejneba Hardaga is the first Muslim woman in the world who was recognised as Righteous Among Nations," said Eli Tauber from the Sarajevo Jewish community.
Tauber, who wrote a book about 54 Bosnians who were honoured as Righteous for saving Jews during the World War Two, said that Zejneba Hardaga also helped his grandparents to leave Sarajevo at that time.
"She gave my grandmother a veil and pantaloons to disguise herself as a Muslim woman... and gave my grandfather the money to buy tickets and run away from Sarajevo," he recalled.
Source: Reuters
Please click the following URL to read the full text of the original story:
https://www.reuters.com/lifestyle/film-tells-bosnian-muslims-jews-saving-one-another-wars-2022-06-17/?rpc=401&
--------
Greek PM in Cyprus talks on latest war of words with Turkey
17 June, 2022
Greek Prime Minister Kyriakos Mitsotakis said Friday he preferred diplomacy to rhetoric in handling long-running disputes with Turkey over airspace, maritime borders and oil exploration in the Aegean Sea.
Mitsotakis made his comments on a visit to close ally Cyprus, which has had no diplomatic relations with Turkey since the aftermath of its 1974 occupation of the north of the island.
Mitsotakis said his talks with Cypriot President Nicos Anastasiades were intended to coordinate "our action in the face of the recent unrest in the eastern Mediterranean."
He said the best defenses for Greece and Cyprus "against any revisionist sentiments" were international law, strong regional alliances and the "rules of good diplomatic practice."
Greece and Turkey have been locked in an escalating war of words over Ankara's claims that Athens has been deploying troops to islands near their maritime border in numbers that violate post-war peace treaties.
Mitsotakis made no direct mention of Turkey in his comments but issued veiled criticism of an announcement by Turkish President Recep Tayyip Erdogan earlier this month that he would no longer hold bilateral meetings with Greek leaders as provided for in a 2010 agreement between the two sides.
"We will soon be able to return to calmer waters, always keeping open channels of communication, which even in the most difficult times... should never be closed," the Greek premier said.
On Thursday, NATO Secretary General Jens Stoltenberg had urged the two countries, which are both alliance members, to resolve their differences in a "spirit of trust."
Source: Al Arabiya
Please click the following URL to read the full text of the original story:
https://english.alarabiya.net/News/world/2022/06/17/Greek-PM-in-Cyprus-talks-on-latest-war-of-words-with-Turkey-
--------
Türkiye, Bosnia Herzegovina to improve strong relations: Bosnian Foreign Minister
Mustafa Talha Öztürk
18.06.2022
BELGRADE, Serbia
Türkiye and Bosnia and Herzegovina are constantly working to improve already strong relations, Bosnian Foreign Minister Bisera Turkovic said before an official visit of Turkish Foreign Minister Mevlut Cavusoglu to Sarajevo.
Turkovic told Anadolu Agency that Cavusoglu's visit is proof of cooperation and good relations between the two countries.
"We mutually nourish our relations strongly. We are constantly working to improve our relations. We have many agreements signed with Turkey and we are very pleased with it," she said, adding that an agreement will be signed during the visit.
Turkovic expressed concerns about the crisis in Ukraine spreading to the Western Balkans, saying that the war in Ukraine affected Bosnia and countries in the region.
''Most of the region is not a member of the EU or NATO. Bosnia and Herzegovina will never be destroyed despite separatist rhetoric,'' she said.
Bosnian leaders accept an agreement Sunday that ensures the country's functionality and EU path.
The document, Political agreement on principles for ensuring a functional Bosnia and Herzegovina that advances on the European path, was accepted by 12 participants in a meeting, while two refrained.
"The step taken is very important for Bosnia and Herzegovina to get candidate status. Considering the situation in Ukraine spreading to the Western Balkans, the EU membership path is a key factor for the stability and security of Bosnia and Herzegovina,'' said Turkovic.
Political dispute
Bosnia-Herzegovina is currently embroiled in a political conflict between Bosniaks and Serbs living in the country.
The dispute erupted after Valentin Inzko, then-high representative, amended the criminal code in July to ban the denial of genocide and the glorification of war criminals.
Bosnian Serb lawmakers in response said they would boycott the country's institutions.
Milorad Dodik denounced the amendments and pushed for controversial separatist moves in the Republika Srpska parliament.
Source: Anadolu Agency
Please click the following URL to read the full text of the original story:
https://www.aa.com.tr/en/europe/turkiye-bosnia-herzegovina-to-improve-strong-relations-bosnian-foreign-minister/2616709
--------
Sweden takes measures against PKK-related social media posts in Stockholm
Seda Sevencan
18.06.2022
Sweden has taken steps for posts on social media that picture the YPG/PKK terror organization's so-called flag and its convicted ringleader, Abdullah Ocalan, that were projected onto buildings in Stockholm, according to the Foreign Ministry.
"Messages and images that we have reason to believe are manipulated have been circulating on social media, asserting that Sweden supports PKK. Relevant measures have been taken," the ministry said in a statement.
"This is a deliberate and malicious influence campaign with the clear aim of obstructing Sweden's accession to NATO," it said.
Sweden has denounced the PKK terror group and condemns terrorism in all its forms, it noted.
Foreign Minister Ann Linde has never expressed any support for the terror group and strongly rejects the manipulated video and the PKK, it added.
YPG/PKK-linked social media accounts shared images showing the organization's so-called flag and its leader's picture projected onto the historic City Hall in Stockholm.
The accounts also posted the images on the wall of the Globen Avicii Arena Sports Hall.
Türkiye's Ambassador to Stockholm, Hakki Emre Yunt, told Anadolu Agency that he confirmed the incident during his morning meeting with the diplomatic police.
"Police confirmed the image on the Globen Avicii Arena Sports Hall in Stockholm. Police also stated that the image projected on the historic city hall in Stockholm is most likely correct," said Yunt.
Sweden and Finland formally applied to join NATO last month -- a decision spurred by Russia's war on Ukraine, which began Feb. 24.

But Türkiye, a longstanding member of the alliance, has voiced objections to the membership bids, criticizing the countries for tolerating and even supporting terrorist groups.
Source: Anadolu Agency
Please click the following URL to read the full text of the original story:
https://www.aa.com.tr/en/europe/sweden-takes-measures-against-pkk-related-social-media-posts-in-stockholm/2616664
--------
Agreement with MP supporting YPG/PKK terrorists to expire soon, says Swedish premier
Atila Altuntas
17.06.2022
STOCKHOLM
The Swedish prime minister on Friday said that the agreement signed with an independent deputy Amineh Kakabaveh, who is a supporter of the YPG/PKK terrorist organization, will expire soon.
Magdalena Andersson told SVD newspaper that Kakabaveh's parliamentary term would end in three months, thus the agreement with her would lose its validity.
"This is an agreement between the Social Democratic Party and an MP. This agreement will expire when Kakabaveh's parliamentary term expires soon," Andersson said.
There will be no negotiations with Kakabaveh in the additional budget talks which were postponed to next week, she added.

Andersson needed 175 out of 349 parliamentary deputies to form a government and was elected prime minister on Nov. 24 by one vote, including Kakabaveh's. In return for this vote, an agreement was signed between the ruling Social Democratic Party and Kakabaveh to support the YPG/PKK terror group.
Evaluating the arms embargo against Türkiye, she said decisions are made on a case-by-case basis.
There is currently no arms embargo on Türkiye from Sweden, she claimed, and said that they are in constant contact with Türkiye to resolve some questions about how her country is working to fight terrorism.
Opposition parties accused the Social Democratic government of jeopardizing the NATO process by continuing the deal with Kakabaveh.
On June 15, Kakabaveh called on the Swedish government not to export arms to Türkiye, saying that otherwise, she would vote against the government in the budget negotiations.

Sweden and Finland formally applied to join NATO last month – a decision spurred by Russia's war on Ukraine, which began on Feb. 24.

But Türkiye, a longstanding member of the alliance, has voiced objections to the membership bids, criticizing the countries for tolerating and even supporting terrorist groups.
Source: Anadolu Agency
Please click the following URL to read the full text of the original story:
https://www.aa.com.tr/en/europe/agreement-with-mp-supporting-ypg-pkk-terrorists-to-expire-soon-says-swedish-premier/2616338
--------
Africa
2023 presidency: PFN outlines actions it will take against Muslim-Muslim ticket
June 17, 2022
By Nsikak Nseyen
The Pentecostal Fellowship of Nigeria, PFN, has warned against a Muslim-Muslim ticket ahead of the 2023 presidential election.
National President of PFN, Wale Oke, who gave the warning, vowed to mobilize its members against voting for any party with Muslim-Muslim ticket in the 2023 election.
Declaring Sunday, June 26, 2022 a PVC Day in all its churches nationwide, Oke after the National Executive Council (NEC) meeting in Lagos, on Thursday, said members would be made mandated to show their PVCs before entering the church and those without PVC would be directed to go out and get theirs before the deadline.
Oke further stated that PFN is not kicking against Muslim-Muslim ticket due to religion but on the basis of fairness and equity.
According to him, the 2023 election carries the potential to unite Nigeria across ethnic and religious lines and can scatter the nation if things are not done properly.
"A Christian-Christian and Muslim-Muslim ticket will not work for Nigeria. Muslim-Muslim ticket is unfair, it means over 54 percent of the Christian populace will be marginalized.
"If all that the church has said and a party did not listen to our counsel, they will meet us at the poll, we will be waiting for them," he warned.
"The voters' apathy that has been the issue will not count in this election. After PVC Sunday, we will deliberate and provide a clear direction for the church in collaboration with CAN so that we can deliver block votes to a candidate that will unite this nation, a party that will not encourage the killing of Deborah.
"We will give all parties a fair chance. We are setting a high-powered member committee to meet with all parties on how they will deal with insecurity and others.
Source: Daily Post Nigeria
Please click the following URL to read the full text of the original story:
https://dailypost.ng/2022/06/17/2023-presidency-pfn-outlines-actions-it-will-take-against-muslim-muslim-ticket/
--------
Head of Libya's High Council of State set to meet UN envoy in Egypt
Muhammed Artima
17.06.2022
TRIPOLI, Libya
Head of Libya's High Council of State Khalid Al-Mishri will meet with UN special adviser on Libya, Stephanie Williams, in the Egyptian capital, Cairo, on Friday, according to a Libyan source.
Al-Mishri "will meet with Williams and the outcome of the talks will determine his meeting with (Parliament Speaker Aguila) Saleh," said the source in the joint constitutional committee between the two assemblies.
The source, who preferred anonymity due to restrictions on speaking to the media, said al-Mishri and Williams will discuss "controversial articles that were not agreed upon by the two sides."
The High Council of State, which acts as a senate, is a rival to east Libya-based House of Representative (parliament).
The two sides are still at odds over a number of constitutional articles, including allowing military personnel and dual nationals to run in elections.
On Thursday, Al-Mishri said he was invited by Williams to hold talks with Saleh in Cairo.
The third and last UN-sponsored Libya talks kicked off in Cairo on Sunday in an effort to reach consensus on the constitutional framework to hold long-awaited elections in the North African nation.
Source: Anadolu Agency
Please click the following URL to read the full text of the original story:
https://www.aa.com.tr/en/africa/head-of-libya-s-high-council-of-state-set-to-meet-un-envoy-in-egypt/2616309
--------
Somali military repulses al-Shabaab terrorist attack, kills 47
Mohammed Dhaysane
17.06.2022
MOGADISHU, Somalia
Somali forces backed by Galmudug regional forces on Friday repulsed an attack by al-Shabaab terrorist organization on a major military base in central Somalia.
A total of 47 terrorists were killed in the operation, Somali military radio said quoting officials.
Al-Qaeda-backed al-Shabaab launched the attack in Bahdo, a small town located 632 kilometers (392 miles) from the capital Mogadishu.
Residents told Anadolu Agency loud explosions were heard and the fight went on for hours.
"Both sides used heavy weaponry and I saw dead soldiers as well as civilians. This attack was the fiercest," said a resident and eyewitness who spoke to Anadolu Agency over the phone on condition of anonymity.
Source: Anadolu Agency
Please click the following URL to read the full text of the original story:
https://www.aa.com.tr/en/africa/somali-military-repulses-al-shabaab-terrorist-attack-kills-47/2616235
--------
India
India slams China for putting 'technical hold' on listing Pakistan-based LeT deputy chief as 'global terrorist'
Jun 18, 2022
NEW DELHI: India slammed China for double standards on the fight against terrorism as the latter blocked a joint India-US proposal to list Pakistan-based terrorist Abdul Rehman Makki under the UNSC Al-Qaeda (Dae'sh) and ISIL Sanctions Committee, also known as the UNSC 1267 Committee. India and the US have already listed Makki, deputy chief of UN-proscribed Lashkar-e-Taiba (LeT), as a terrorist under their domestic laws.
As official sources said, this isn't the first time that China has used its veto to put on "technical hold" the proposed listing of a well known terrorist. In the past, it had repeatedly blocked proposals to designate as 'global terrorist' Maulana Masood Azhar, chief of Pakistan-based and UN-proscribed terrorist entity Jaish-e-Mohammed (JeM).
Government sources described the decision by China as "extremely unfortunate" given the overwhelming evidence against Makki. Moreover, it runs counter to China's claims of combating terrorism, they said.
"China should reflect on its response that signals double standards on combating terrorism. Protecting well known terrorists from sanctioning in this manner will only undermine its credibility and risk exposing even itself more to the growing threat of terrorism," said a source.
India and the US jointly proposed on June 1 to list Makki. According to Indian authorities, Makki is the deputy Amir/chief and head of the Political Affairs of Lashkar-e-Toiba (LeT) /Jamat ud-Dawa (JuD), which itself is a UN-proscribed terrorist entity.
Regrettably, on June 16, as official sources said, China placed a "technical hold" on the proposal to list Makki and this measure (which can last for up to 6 months at a time) blocks the adoption of the listing proposal till the hold is withdrawn.
Makki is also said to have served as head of LeT's foreign relations department and is a member of Shura (governing body) as well as member of JuD's central and proselytising teams. "He is the brother-in-law of LeT/JuD chief Hafiz Muhammad Saeed, who is a UN-proscribed terrorist," said the source.
Makki in the past has been involved in raising funds, recruiting and radicalising youth and planning attacks in India, particularly in Jammu and Kashmir.
"While Makki was holding leadership positions in LeT and JuD, LeT has been responsible for and had involvement in prominent attacks in India such as the 26/11 Mumbai terror attack, Red Fort attack on December 22, 2000, Rampur CRPF Camp attack on January 1 , 2008, Khanpora (Baramulla) attack on May 30, 2018, Srinagar attack on June 14, 2018 and Gurez/Bandipora attack on August 7, 2018," added the source.
Source: Times Of India
Please click the following URL to read the full text of the original story:
https://timesofindia.indiatimes.com/india/india-slams-china-for-putting-technical-hold-on-listing-pakistan-based-let-deputy-chief-as-global-terrorist/articleshow/92291877.cms
--------
Jammu: Curfew in Bhaderwah continues for ninth day, security heightened outside mosques before Friday prayers
June 17, 2022
Bhaderwah: Curfew continues in Bhaderwah town of Jammu and Kashmir's Doda for the ninth straight day as additional forces have been deployed outside mosques across the district before the Friday prayers as a precautionary measure, officials said.
The curfew in Bhaderwah town was imposed on 9 June following communal tension in the wake of protests over the controversial remarks on Prophet Muhammad by now-removed BJP spokesperson Nupur Sharma and some social posts by local right-wing activists in her support.
The curfew was relaxed twice for a total of five hours in the town - from 9 am to 12 pm and 3 pm to 5 pm - on Thursday and this period passed off peacefully without any untoward incident, police said.
Officials said senior police and civil officers reviewed the situation and decided to continue the curfew without any relaxation in the town to ward off any trouble during the Friday prayers.
"A decision to relax the curfew will be taken later in the day after the peaceful culmination of the Friday prayers," an official said, adding additional forces were deployed outside mosques across Doda district as a precautionary measure to maintain law and order.
One person was arrested and nine others detained for creating communal tension over the past week following registration of three FIRs at the local police station.
A lookout notice was also pasted at the house of an accused who is evading arrest despite raids at several places in Bhaderwah, the officials said.
Assuring full cooperation to the administration, Anjuman-e-Islamia sought the arrest of all those behind fanning communal hatred.
"People from only one community were arrested or detained so far but those belonging to other communities, who provoked the people through social media posts, have been let off. One among them has sought an anticipatory bail," an office-bearer of the religious group said.
Meanwhile, in Jammu district, too, policemen were deployed in strength outside mosques with a direction to not allow any street protest after the Friday prayers, officials said.
Source: Firstpost
Please click the following URL to read the full text of the original story:
https://www.firstpost.com/india/jammu-curfew-in-bhaderwah-continues-for-ninth-day-security-heightened-outside-mosques-before-friday-prayers-10805341.html
--------
Hizb duo killed in Anantnag encounter
Jun 18, 2022
SRINAGAR: Two Hizbul Mujahideen terrorists — one of them involved in killing a sarpanch and his wife in Anantnag last year — were shot dead in an overnight anti-terror operation in Hangalgund area of south Kashmir's Anantnag district on Friday.
The slain terrorists were identified as Junaid Ahmed Bhat and Basit Ahmed Wani, both from Anantnag. Junaid had been active since June 10, 2018, while Basit had been operating since August 18 2021, IGP (Kashmir Range) Vijay Kumar said. Basit was involved in the murder of sarpanch Ghulam Rasool Dar and his wife, a panch, on September 9, 2021, in Anantnag, added the IGP.
A joint team of the Army, CRPF and J&K Police laid a cordon in the area on Thursday afternoon and was evacuating civilians when holed-up terrorists opened fire and lobbed grenades at the security forces around 4.15pm, said a defence spokesperson.
Source: Times Of India
Please click the following URL to read the full text of the original story:
https://timesofindia.indiatimes.com/india/hizb-duo-killed-in-anantnag-encounter/articleshow/92289235.cms
--------
Friday namaz passes off peacefully in U.P.'s Agra, other districts of zone
By Hemendra Chaturvedi
Jun 17, 2022
Friday namaz passed off peacefully in eight districts of Agra zone. Besides adequate security arrangements, special efforts were made at sensitive districts, including Aligarh, Firozabad and Hathras, which had witnessed protests after Friday namaz last week.
In the week following June 10, police and administrative officials in these districts had held meetings with peace committees and Muslim clerics to ensure peace. The day began early this Friday as police force in the eight districts of Agra zone were mobilised to ensure peace during and after namaz.
In Agra, around 350 civil policemen and recruits undertook a parade at the police lines under supervision of Agra SSP Sudhir Kumar Singh. Later, they moved for foot patrolling in sensitive areas within limits of Mantola, Rakabganj, Sadar, Shahganj and Shahganj police station of Agra city under the SSP.
"We are happy that assurances given by elderly Muslims and religious heads for cooperation were fulfilled. Those coming for namaz at various mosques, including Jama Masjid in Agra, returned after offering prayers and there was no report of any protest in the district," said senior superintendent of police (SSP), Agra, Sudhir Kumar Singh who was himself present at Jama Masjid.
In a late-night development on Thursday, the Shahar Mufti of Aligarh made a videographed appeal to Muslims to return to their homes after offering Friday prayers. People took note of his appeal and the lock city remained peaceful.
Likewise, Firozabad police were much relieved after peaceful conduct of Friday 'namaz'. SSP Firozabad Ashish Tiwari thanked all, including Muslim clerics, representatives of political parties, community policing, factory owners and district administration.
Source: Hindustan Times
Please click the following URL to read the full text of the original story:
https://www.hindustantimes.com/cities/lucknow-news/friday-namaz-passes-off-peacefully-in-u-p-s-agra-other-districts-of-zone-101655486245066.html
--------
Friday prayers pass off peacefully in Prayagraj
Jun 18, 2022
PRAYAGRAJ: Friday prayers passed off peacefully in the Old City areas of Atala and adjoining localities like Kareli, Noorullah Road and Roshanbagh that were like a fortress. Amidst heavy police presence, Muslims started arriving at the mosques in an orderly manner and preferred to leave immediately after prayers.
"The Friday prayers passed off peacefully and no untoward incident was reported from anywhere. The situation is to be normal and security personnel on the alert," said district magistrate (DM) of Prayagraj Sanjay Kumar Khatri. Accompanied by senior superintendent of police (SSP) j Ajay Kumar, the DM patrolled the Old City with heavy police force.
Most mosques including Masjid Abu Bakr, Munna Masjid, Wasiulla Masjid and Umar Masjid saw slightly lower turnout as compared to regular Friday prayers.
"Most mosques witnessed only around 80% to 85% attendance as many people opted to offer the prayers at home. Immediately after prayers, people left for their homes," said Moinuddin Ansari, corporator of Atala area.
Caretaker of Atala Badi Masjid Rizwan Ansari said there were seven mosques in Atala area alone and prayers were offered in all of them except Ansar Masjid. "Around 10 to 20 volunteers were deployed at all mosques. They ensured that the namazis did not assemble outside after the prayers and returned to their homes and shops immediately after prayers. The volunteers also kept an eye on outsiders offering prayers at local mosques in Atala. After prayers, the namazis performed dua for peace in Prayagraj and other places and people were urged not to believe in rumours and take part in any protests etc," he said.
To note, Atala Badi Masjid Imam Ali Ahmad was arrested by police for being involved in inciting the youths for violence
Earlier, locals woke up to heavy presence of policemen backed by provincial armed constabulary (PAC) and rapid action force (RAF) personnel in riot gear manning all the main streets of the area and even patrolling the narrow by-lanes to check unnecessary gatherings that could lead to problems.
With prohibitory orders under section 144 that prevent any large gatherings in the area, most shops in the Shaukat Ali road of Muslim-dominated Atala area continued to remain closed for the seventh consecutive day with residents also preferring to remain indoors, waiting for time of the Friday prayers to draw near before heading towards the mosques.
However, much to the relief of the locals, small shops in by-lanes opened later to allow people to make essential purchases.
To ensure peace, the old city areas of Prayagraj had been divided in to 20 zones and 50 sectors. Besides security personnel, a total of 20 zonal magistrates, including five for each of the four police stations of the Old City, including Kareli, Khuldabad, Kotwali and Shahganj, besides 12 sector magistrates for every police station of the area too remained stationed. Two additional sector magistrates kept an eye on the outlying areas ready to act if needed. "We had a total of 50 sector magistrates are on duty, informed the DM.
Source: Hindustan Times
Please click the following URL to read the full text of the original story:
https://www.hindustantimes.com/cities/lucknow-news/friday-prayers-pass-off-peacefully-in-prayagraj-101655492726598.html
--------
Pakistan
Pakistan remains on FATF 'grey list' for now, but nears possible exit
Jun 18, 2022
ISLAMABAD: In a possible reprieve for Pakistan, the global terror watchdog, FATF, has approved an on-site visit to Pakistan to verify its action against terrorist-financing and money laundering. Pakistan will for now remain on the grey or increased monitoring list even though the on-site visit is seen as the first step towards removal from the same.
Members of former Prime Minister Imran Khan-led Pakistan Tehreek-i-Insaaf (PTI) claimed credit for the FATF's announcement on Friday that Pakistan had met all 34 items on two separate action plans paving the way for the country's possible exit from the grey list of the watchdog.
The global money laundering and terrorist financing watchdog said in its statement that Pakistan will be taken off the grey list if it successfully passes the on-site visit.
"Pakistan's continued political commitment to combating both terrorist financing and money laundering has led to significant progress. In particular, Pakistan demonstrated that TF (terrorist financing) investigations and prosecutions target senior leaders and commanders of UN-designated terrorist groups and that there is a positive upward trend in the number of ML (money laundering) investigations and prosecutions being pursued in Pakistan, in line with Pakistan's risk profile. In addition, Pakistan also largely addressed its 2021 action plan ahead of the set times," said the global body in a statement. There was no response from the Indian government to the development.
Following the development, former PM Imran Khan said "FATF repeatedly praised the work and political will my govt demonstrated".
He said when PTI's government came to power in 2018, it faced the "direct prospect of blacklisting" by the body, adding that the country's compliance history with the FATF was also not favourable.
"I constituted a FATF coordination committee headed by key minister Hammad Azhar. The committee had representation from all government departments and security agencies relevant to our FATF action plan. The officers worked day and night in the first instance to avoid blacklisting," Khan said.
"FATF repeatedly praised the work and the political will my government demonstrated. We not only averted blacklisting, but also completed 32 out of 34 action items. We submitted a compliance report on the remaining two items in April based on which FATF has now declared Pakistan's Action Plan as completed," he added.
Hammad Azhar shared a picture of himself standing with officers, saying that Pakistan's hard work on completing the 34-action items was a result of the "teamwork of officers that worked day and night in different government departments. They are the real heroes!"
Former finance minister Shaukat Tarin said the "removal" was another feather in the cap of Hammad Azhar, who was the former energy minister and also the government's top coordinator for efforts on anti-money laundering and counter-terror financing.
When minister of state for foreign affairs Hina Rabbani Khar, who represented Pakistan's team at FATF's latest plenary session in Berlin, was asked on how much credit she would give to the previous government, she replied: "Whoever wants to take credit can do so. Our job is to work for Pakistan, we will continue to work and we don't care about who gets the credit and who doesn't."
Source: Times Of India
Please click the following URL to read the full text of the original story:
https://timesofindia.indiatimes.com/world/pakistan/pakistan-remains-on-fatf-grey-list-for-now-but-nears-possible-exit/articleshow/92291717.cms
--------
No change in policy towards India, Bilawal's remarks on re-engagement 'portrayed incorrectly', says Pakistan
Jun 17, 2022
ISLAMABAD: Pakistan on Friday said there was no change in its policy towards India, as it sought to clarify Foreign Minister Bilawal Bhutto-Zardari's strong pitch for re-engaging with New Delhi, asserting that his remarks were "portrayed incorrectly".
Bilawal on Thursday said cutting ties with India would not serve Pakistan's interests as Islamabad was already "internationally isolated and disengaged".
Responding to media queries and press reports on Bilawal's remarks, the Foreign Office in a statement said, "There is no change in Pakistan's policy on India on which there is national consensus. Pakistan has always desired cooperative relations with all its neighbours, including India. We have consistently advocated constructive engagement and result-oriented dialogue to resolve all outstanding issues, including the core Jammu and Kashmir dispute."
Bilawal's remarks, the statement said, were "interpreted out of context" and "portrayed incorrectly".
Addressing the Founding Day ceremony at the Institute of Strategic Studies in Islamabad, Bilawal had said that engaging with India and especially with its people was in the interest of Pakistan, which was apparently a feeler to test Indian response as Islamabad has been insisting that it would not talk to New Delhi until it reversed its unilateral steps in Kashmir.
"We have our issues with India. Pakistan and India have a long history of war, conflict. Today, where we have serious disputes, the events of August 2019 cannot be taken lightly," he had said.
The ties between India and Pakistan nose-dived after New Delhi abrogated Article 370 of the Constitution to revoke the special status of Jammu and Kashmir on August 5, 2019.
India's decision evoked strong reactions from Pakistan, which downgraded diplomatic ties and expelled the Indian envoy.
The Foreign Office statement said the onus "remains on India to take the necessary steps to create an enabling environment conducive for meaningful and result-oriented dialogue".
The statement said the foreign minister clearly articulated his perspective on India's actions in Kashmir since August 5, 2019.
His remarks are better understood in the overall context of his key message of conflict resolution that he emphasised in his address at the think-tank event, it said.
On the Kashmir issue, Bilawal in his address had said it has formed a "cornerstone of any conversation that I've had since becoming the foreign minister".
Bilawal, 33, assumed charge as Pakistan foreign minister in April.
"In May, we had the delimitation commission and then just recently, the Islamophobic remarks of officials create an environment in which engagement is very difficult for Pakistan, if not impossible," the minister said, referring to re-engaging with India.
Bilawal asked those present at the think tank event whether cutting ties with India was serving Pakistan's interests, be it on Kashmir, be it on the rising Islamaphobia or the emphasis on Hindutva narrative in India.
"That I, as foreign minister of Pakistan, as the representative of my country, not only don't speak to the Indian government but I also don't speak to the Indian people. Is that the best way to communicate or achieve Pakistan's objective?" the minister explained.
India has repeatedly told Pakistan that Jammu and Kashmir "was, is and shall forever" remain an integral part of the country.
Source: Times Of India
Please click the following URL to read the full text of the original story:
https://timesofindia.indiatimes.com/world/pakistan/no-change-in-policy-towards-india-bilawals-remarks-on-re-engagement-portrayed-incorrectly-says-pakistan/articleshow/92287675.cms
--------
Pakistan launches diplomatic effort to get out off FATF grey list: Report
Jun 17, 2022
ISLAMABAD: Pakistan has launched a massive diplomatic effort to get off the grey list of global money laundering and terrorist financing watchdog FATF, a media report said on Tuesday.
Pakistan has been on the grey list of the Paris-based Financial Action Task Force (FATF) since June 2018 for failing to check money laundering, leading to terror financing, and was given a plan of action to complete it by October 2019.
Since then, the country continues to be on that list due to its failure to comply with the FATF mandates.
Pakistan needs the votes of Turkey, China, and Malaysia to get off the list, and all three countries have assured the Pakistani authorities of full support for the purpose, the News International reported.
The decision on Pakistan's status on the list will be taken during the current meeting being held from June 14 to 17 in Berlin, Germany, official sources were quoted by The News International on Tuesday.
According to sources, during the recent visits of Prime Minister Shehbaz Sharif, Foreign Minister Bilawal Bhutto Zardari and Minister of State for Foreign Affairs Hina Rabbani Khar to different countries, important discussions took place regarding FATF.
Pakistan has implemented almost all points of the FATF Action Plan, except for the penalties, and Pakistan has made prosecutions and all relevant legal amendments, the report added.
The FATF meeting in Berlin will continue until June 17 and on the final day of the meeting, the forum will decide whether or not to keep various countries on its black and grey lists.
With Pakistan's continuation on the grey list, it is increasingly becoming difficult for Islamabad to get financial aid from the IMF, the World Bank, the Asian Development Bank (ADB) and the European Union, thus further enhancing problems for the country.
Pakistan has so far avoided being on the black list with the help of close allies like China, Turkey and Malaysia.
The FATF is an inter-governmental body established in 1989 to combat money laundering, terrorist financing and other related threats to the integrity of the international financial system.
Source: Times Of India
Please click the following URL to read the full text of the original story:
https://timesofindia.indiatimes.com/world/pakistan/pakistan-launches-diplomatic-effort-to-get-out-off-fatf-grey-list-report/articleshow/92279734.cms
--------
Karachi police register FIRs against Saad Rizvi, Mustafa Kamal on terror charges over poll-related violence
Imtiaz Ali
June 17, 2022
Karachi police on Friday registered at least four cases against Pak Sarzameen Party (PSP) Chairman Mustafa Kamal and head of Tehreek-e-Labbaik Pakistan (TLP), Saad Hussain Rizvi, and hundreds of their party activists under murder and terror charges, a day after violent clashes between the political parties during NA-240 by-elections.
One person was shot dead and 10 others were injured as violence erupted in Karachi on Thursday during the NA-240 (Korangi Karachi II) by-election, with competing political parties pointing fingers at each other.
The PSP had accused TLP workers of firing at its party chairman Syed Mustafa Kamal during a media talk, adding that the party's central leaders were also injured.
According to police, the party heads had been nominated in the FIRs for causing violence during the by-poll on Thursday. They said two of the cases were registered on complaints of presiding officers of the Election Commission of Pakistan while the remaining were filed on behalf of the state at Landhi and Korangi police stations.
"Police have detained 258 suspects including some security guards present during the violence," a spokesperson of the Karachi police said.
Landhi police have registered a case on terror charges against the PSP and TLP chiefs and others over the killing of a 65-year-old man identified as Saifuddin.
SHO Landhi Police Station, Mohammed Amin Mughal, in his complaint, said he was patrolling an area in Landhi when the clashes between the PSP and TLP workers erupted.
At 5pm, armed TLP workers led by Saad Rizvi came to Landhi no.6 area where the PSP workers were already gathered. "The TLP workers resorted to firing, resulting in the killing of a passerby and injuries to others."
He said the firing triggered panic and chaos in the area. "In the meantime, the PSP workers led by Mustafa Kamal also resorted to firing, causing injuries to some persons standing nearby who were later shifted to different hospitals."
Landhi police also registered another FIR on the complaint of ECP's presiding officer, Shahid Ali, against the PSP chief and over 50 people on terror and other charges.
The FIR said around 50 to 60 workers led by Kamal arrived at the polling station in Landhi no. 6 and roughed up the election staff and subjected him to verbal abuse.
They also tore apart election material and beat up people standing outside the police station and resorted to firing as well.m, according to the report.
In another FIR registered at the Landhi Police Station on the complaint of presiding officer Ghulam Hashim, around 400-500 PSP workers have been booked over terror and other charges.
The complainant said he was performing his duty at PS-51 in Landhi when around 400 to 500 PSP workers arrived there at 4:30pm.
"They beat me up and also thrashed other staff and tore apart election material," said the PO, adding that it created fear. He said the violence caused by the PSP workers also halted the election process briefly.
Source: Dawn
Please click the following URL to read the full text of the original story:
https://www.dawn.com/news/1695297/karachi-police-register-firs-against-saad-rizvi-mustafa-kamal-on-terror-charges-over-poll-related-violence
--------
Pakistan seeks US support for IMF programme revival
June 18, 2022
ISLAMABAD: Pakistan has sought support from the United States for the revival of the International Monetary Fund (IMF) programme as the global lender has not yet agreed to a staff-level pact despite the tough measures by the government.
According to details, Finance Minister Miftah Ismail and Minister of State for Finance Ayesha Pasha met with US Ambassador Donald Blome and sought Washington's support for the revival of the IMF programme.
Blome was apprised that the government has proposed fiscal consolidation equal to 2.2 percent of Gross Domestic Product (GDP) in difficult circumstances.
The US ambassador was informed that despite three rounds of talks and several virtual contacts, the IMF did not even share the draft of the Memorandum for Economic and Financial Policies (MEFP) with Pakistan.
The US is the largest shareholder in the IMF and has in the past too played a role in helping Islamabad complete the fund's programme reviews. The Ministry of Finance did not officially comment on the article.
Officials have claimed that the memorandum forms the basis of any staff-level agreement and without finalization of the MEFP no formal staff-level agreement can be signed.
Pakistani officials further said that after the increase in petroleum prices and electricity tariffs, it was hoped that the global lender would be ready for staff-level negotiations.
"However, the IMF is now demanding to withdraw tax incentives and collection of Rs150 billion additional revenue from the salaried class," the officials added. The government has already massively increased fuel prices and abolished all subsidies.
PML-N-led coalition government on Wednesday has jacked up petrol price by Rs24 per litre. The announcement was made by Finance Minister Miftah Ismail, citing government was not in a position to bear more subsidies anymore.
Last week, the IMF country head said that "an important principle underpinning these (power sector) reforms is that all stakeholders contribute in an equitable manner to reduce the circular debt, between the government, IPPs and consumers, while protecting the most vulnerable consumers".
She had also said that Pakistani authorities "should be cognizant of the limited fiscal space available to clear any outstanding arrears of the sector stakeholders, and thus there should be a trade-off between this and other government priorities, and the potential to unlock lower capacity payments for electricity as part of the aforementioned burden sharing across stakeholders".
Pakistan owes around Rs300 billion to the Chinese IPPs and the IMF was keeping track of every payment made to them.
The government is making all-out efforts to revive the programme and has taken many unpopular steps, but still remains short of the IMF's expectations, said a senior Pakistani negotiator.
The sources said that if no breakthrough is achieved in the next couple of days, the Secretary Finance and the Minister for Finance may dash to the United States to meet the top management of the IMF.
The coalition government had hoped that after increasing the petroleum products prices and starting the process for approval of increase in electricity prices, the IMF may agree to reach a staff level agreement.
However, the IMF also wants not only a reversal of cut in the income tax rates for the salaried class but is seeking to pass on an additional burden of Rs125 billion on the salaried people. The government has now worked out a new proposal that entails reversing Rs47 billion tax relief and then passing on additional burden of Rs18 billion to the salaried class, the sources added.
The previous government had committed to increase the taxes on the salaried class with effect from July and also agreed to share the draft of the personal income tax reforms with the IMF by end of February 2022. The PTI did not fulfill its commitments.
The government has already massively increased the fuel prices and abolished all subsidies. But the IMF is now seeking reintroduction of the petroleum levy and sales tax over and above the existing prices, said the sources.
Source: Pakistan Today
Please click the following URL to read the full text of the original story:
https://www.pakistantoday.com.pk/2022/06/18/pakistan-seeks-us-support-for-imf-programme-revival/
--------
Pakistan's Ailing Musharraf Set To Return Home From Dubai: Report
June 18, 2022
Dubai: Pakistan's former military leader Pervez Musharraf, who has been living in Dubai since 2016, is expected to return to Pakistan soon.
As per sources, Musharraf is expected to return to Pakistan via an air ambulance and his treatment will continue in the country after the ex-dictator's health deteriorated last week, reported Geo News.
The sources also confirmed that Musharraf's family are on-board regarding the decision. His family has decided to shift him to Pakistan.
The former president has been in the United Arab Emirates (UAE) for the last six years getting medical treatment.
After the news of Musharraf's ill health, Pakistan Muslim League- Nawaz (PML-N), a major stakeholder in the coalition government, and the military leadership had said that the former president should be brought to the country if he wants to come back, reported Geo News.
PML-N supremo Nawaz Sharif last week asked the coalition government to facilitate Musharraf if he wishes to return to Pakistan, adding that he does not have any "personal enmity or tussle" with the ex-dictator.
"I have no personal enmity or tussle with Pervez Musharraf. I do not want anyone else to suffer the traumas that I have to endure for my loved ones," the three-time prime minister stated on Twitter.
Director-General Inter-Services Public Relations (ISPR) Major General Babar Iftikhar also said the military leadership believes that the former army chief should return to Pakistan.
"In such a situation the institution and leadership's stance is that Pervez Musharraf should return," said DG ISPR during an interview with a private television channel.
Earlier, Musharraf expressed his desire to spend the "rest of his life" in his home country, local media reported.
Source: ND TV
Please click the following URL to read the full text of the original story:
https://www.ndtv.com/world-news/pakistans-ailing-musharraf-set-to-return-home-from-dubai-report-3077884
--------
Arab World
Saudi crown prince to visit Turkey in first since Khashoggi murder
Jun 17, 2022
ISTANBUL: Saudi Crown Prince Mohammed bin Salman will visit Turkey next week, a Turkish official said Friday, as Ankara and Riyadh heal a bitter rift following the 2018 murder of journalist Jamal Khashoggi in Istanbul.
It is Prince Mohammed's first visit to Turkey since the brutal killing of Saudi insider-turned-critic Khashoggi inside the kingdom's consulate, which shocked the world and dealt a heavy blow to ties between the regional rivals.
The kingdom's de facto ruler is expected to visit the capital Ankara on June 22 but details of the trip will be announced "over the weekend", a senior Turkish official told AFP.
The two countries will sign several agreements during his trip as Turkey looks to non-Western partners for financial support as soaring inflation bites.
Turkish President Recep Tayyip Erdogan had already paid his visit in late April to Saudi Arabia since the murder, where he met the prince before travelling to Mecca.
Saudi agents killed and dismembered Khashoggi, who wrote for the Washington Post, in October 2018. His remains have never been found.
Turkey angered Saudi Arabia by vigorously pursuing the case at the time, opening an investigation and briefing international media about the lurid details of the murder.
Erdogan previously said the "highest levels" of the Saudi government ordered the killing, although he has never blamed the crown prince directly.
But with ties on the mend, an Istanbul court halted the trial in absentia of 26 Saudi suspects linked to Khashoggi's death, transferring the case to Riyadh in April.
Turkey already had strained relations with Saudi Arabia because of its support to Qatar during the 2017 Riyadh-led blockade on the Gulf state but relations were frozen for more than three years after Khashoggi's killing.
Saudi Arabia responded at the time with an unofficial boycott of Turkish imports, putting pressure on Turkey's economy.
Turkish exporters complained their goods were stuck at Saudi customs for longer than was necessary.
Now with inflation reaching 73.5 percent in May and a cost-of-living crisis a year before a presidential election, Erdogan needs backing from Gulf countries, experts say.
"Turkey's main concern would be getting Saudi funding to resupply central bank coffers that are dangerously low," Asli Aydintasbas, a fellow at the European Council on Foreign Relations, told AFP.
The Turkish lira lost 44 percent of its value against the dollar in 2021, while the central bank has pumped billions of dollars to prop up the currency.
In the past 18 months, Turkey has also sought to repair relations with powerful countries in the region like Israel and the United Arab Emirates.
For the Saudi crown prince, the pariah status in the West after Khashoggi appears to be a thing of the past with US President Joe Biden heading to the Middle East next month and an expected stop in Saudi Arabia where the two men will meet.
Source: Times Of India
Please click the following URL to read the full text of the original story:
https://timesofindia.indiatimes.com/world/middle-east/saudi-crown-prince-to-visit-turkey-in-first-since-khashoggi-murder/articleshow/92280296.cms
--------
UAE concerned by Iran nuclear program, seeks reassurances
17 June, 2022
The United Arab Emirates urged Iran on Friday to provide reassurances on the peaceful nature of its nuclear program after the International Atomic Energy Agency denounced Tehran's lack of cooperation.
"There are concerns," said the permanent representative of the UAE to the IAEA, Hamad al-Kaabi.
In response to an AFP question during a press conference on the Emirates' own nuclear program, he called on Iran to "closely cooperate with the IAEA" and "provide reassurances to regional and international countries regarding the peacefulness of its nuclear program."
Iran has a nuclear power plant outside the coastal city of Bushehr, as well as a controversial uranium enrichment program.
Kaabi's statements come after Iran disconnected some IAEA cameras monitoring its nuclear sites this month, shortly after the US and its European allies pushed through a resolution at the UN agency denouncing Tehran's lack of cooperation.
A 2015 deal with world powers gave Iran relief from sanctions in return for guarantees that it could not develop a nuclear weapon - something Tehran has always denied wanting to do.
The United States unilaterally withdrew from the nuclear agreement in 2018 under then-president Donald Trump, before imposing biting sanctions on the Islamic republic. Iran in turn began reneging on its own commitments.
US President Joe Biden has said he is ready to again embrace the deal so long as Iran also respects its own pledges under it.
Washington's Secretary of State Antony Blinken in April said the "breakout time" for Iran to develop a nuclear bomb, if it so chooses, is "down to a matter of weeks" after the deal had pushed it beyond a year.
Source: Al Arabiya
Please click the following URL to read the full text of the original story:
https://english.alarabiya.net/News/middle-east/2022/06/17/UAE-concerned-by-Iran-nuclear-program-seeks-reassurances
--------
Drone strike kills three in Iraqi Kurdistan: Officials
17 June, 2022
Three people were killed on Friday in an unclaimed drone strike on a vehicle in Iraq's autonomous northern region of Kurdistan, medical and security officials said.
The drone "targeted a civilian car" in the city of Kalar in southeastern Kurdistan, said the security source, who spoke on condition of anonymity.
"Three people were killed and a fourth, a Kurd from Syria, was seriously wounded," said the source, who was unable to further identify the victims.
A medical official at Kalar's hospital gave the same number of casualties.
There was no immediate claim of responsibility for the drone strike.
The attack comes two months after Turkey launched an air and ground offensive in northern Iraq targeting separatist Kurdistan Workers' Party (PKK) bases and training camps.
Designated as a terrorist group by Ankara and its Western allies, the PKK has been waging an insurgency against the Turkish state since 1984 that has claimed tens of thousands of lives.
Following the Kalar drone attack, Turkey's defence ministry said it had neutralised "six PKK terrorists" in the area where its military operation is taking place.
Source: Al Arabiya
Please click the following URL to read the full text of the original story:
https://english.alarabiya.net/News/middle-east/2022/06/17/Drone-strike-kills-in-Iraqi-Kurdistan-Officials
--------
UAE minster attends St. Petersburg Forum highlighting bilateral relations with Russia
17 June, 2022
The UAE's Minister of State for Artificial Intelligence and Digital Economy attended the St. Petersburg International Economic Forum where bilateral relations between the Gulf country and Russia were highlighted, the official Emirates News Agency (WAM) reported on Friday.
Minister Omar bin Sultan al-Olama attended the 25th session of SPIEF, which is smaller in size this year due to the Ukraine war and the barrage of sanctions against Russia.
The UAE, however, has remained neutral in face of the rising sanctions over Russia's invasion, with Russia's Foreign Minister Sergei Lavrov saying that the Gulf Cooperation Council (GCC) countries will not join the West in imposing sanctions on Moscow over the conflict in Ukraine during a meeting with the group in June.
Gulf countries continue to call for a political solution, with the UAE calling for an immediate halt to the fighting as early as February.
During the event, al-Olama highlighted the "depth and width of the UAE-Russia relations and the importance of strengthening ties towards more joint cooperation in the economic fields," WAM reported.
Al-Olama also reportedly met with several Russian ministers and officials to explore and review strengthening economic cooperation.
Additionally, an agreement of intent was signed to "organize UAE's participation as the guest of honor at the forum's next edition in 2023," WAM reported noting the SPIEF's capacity to open up wider trade development and investment partnerships between the two countries.
A new MoU between the UAE and the Eurasian Economic Commission will see cooperation in customs, financial markets, transportation, agro-industrial sector, industry, intellectual property, information and communication technology, in addition to digital transformation of the economy, WAM reported.
The trade minister from the UAE is expected to attend the four-day event according to a report by the Associated Press on Wednesday.
As of early June, about 2,700 business representatives from 90 countries were expected to attend, the AP reported, far below the 13,500 participants from 140 countries reported last year.
The forum, often characterized as Russia's analogue of the World Economic Forum in Davos, Switzerland, aims to portray the country as orderly and full of attractive opportunities for clever and adventurous investors.
This year's program carries the theme to an extent that is overly optimistic for Russia's straitened circumstances.
While some of the speakers are from China, Denis Pushilin, leader of the Ukrainian separatist Donetsk People's Republic also announced he planned to attend.
A Taliban representative was also expected, although Russia formally designates the Taliban as a terrorist group.
Source: Al Arabiya
Please click the following URL to read the full text of the original story:
https://english.alarabiya.net/News/gulf/2022/06/17/UAE-minster-attends-St-Petersburg-Forum-highlighting-bilateral-relations-with-Russia
--------
UN chief calls on Lebanon to respect Hague court's verdict on Hariri killing
June 18, 2022
NEW YORK: UN Secretary-General Antonio Guterres has called on authorities in Beirut to respect the decision of the Special Tribunal for Lebanon, which on Thursday imposed life sentences on two members of Hezbollah for involvement in the 2005 bombing that claimed the life of former prime minister Rafik Hariri.
Hariri was killed on Feb. 14, 2005, by a suicide bomber who targeted his armored convoy on the Beirut waterfront. The blast killed 21 other people and injured 226.
The attack triggered nationwide protests that drove Syrian troops out of Lebanon after almost 30 years of military deployment in the country.
Salim Ayyash was convicted by the STL in 2020 and sentenced to life imprisonment for his part in the assassination, but the tribunal ruled that there was insufficient evidence to convict Habib Merhi and Hussein Oneissi. Prosecutors appealed against the acquittal and in March both men were found guilty.
All three men were tried, convicted and sentenced in their absence. They remain at large and are unlikely to serve any time in jail because Hassan Nasrallah, the leader of Iran-backed Hezbollah, does not recognize the authority of the court and refuses to hand them over.
Guterres said his thoughts "are with the victims of the Feb. 14 attack, and their families." He also expressed his "deep appreciation for the dedication and hard work of the judges and staff involved in this case throughout the years."
Noting "the independence and impartiality of the Special Tribunal for Lebanon," he called on Lebanese authorities "to respect the decision of the Tribunal."
Farhan Haq, a spokesperson for the UN in New York, told Arab News that the organization "welcomed the progress and the work being done by the Special Tribunal for Lebanon and we believe that this is a case where the people of Lebanon deserve justice."
The STL was established at The Hague in the Netherlands in 2009 in line with a UN Security Council resolution. It eventually tried four suspects in absentia, one of whom, Assad Sabra, was acquitted.
Source: Arab News
Please click the following URL to read the full text of the original story:
https://www.arabnews.com/node/2105701/middle-east
--------
Iraq decries latest Turkish drone strike in Kurdistan region, vows response after investigation
18 June 2022
Baghdad has condemned Turkey for its deadly drone strike in Iraq's semi-autonomous Kurdistan region, pledging "necessary steps" in response to the attack.
The Iraqi Foreign Ministry said in a statement on Friday that such actions "represent violation of Iraq's sovereignty and a threat to the security of ordinary people, several of whom lost their lives and sustained injuries as a result of the attack."
"This attack undermines the security of Iraq and stability of its people, and requires a unified stance to be confronted," the statement added.
The ministry also pledged "necessary steps after completion of a thorough investigation into the attack."
On Wednesday, a Turkish drone struck a security base belonging to the Protection Force of Ezidxan, which is aligned with the so-called Kurdistan Communities Union and backed by the Kurdistan Workers' Party (PKK) militant group, in the Snune sub-district of Sinjar in the Iraqi Kurdistan region.
According to the Kurdish-language Kurdistan 24 television news network, the attack left at least six people dead and injured several others. However, some other media outlets put the death toll at four.
Turkish military base in northern Iraq comes under rocket attack
Meanwhile, a number of BM-21 Grad rockets have reportedly targeted a military base in Iraq's northern province of Nineveh, which houses Turkish forces involved in ongoing military operations against purported PKK positions in the semi-autonomous Kurdistan region.
Lebanon's Arabic-language al-Mayadeen television news network reported that the projectiles hit Zilkan base in northern Iraq's Bashiqa region early on Saturday.
Sabereen News, a Telegram news channel associated with Iraqi anti-terror Popular Mobilization Units – better known by the Arabic name Hashd al-Sha'abi – reported that five 122mm Grad rockets had slammed into the base.
Turkey launched a new cross-border incursion into Iraq, codenamed Operation Claw-Lock, in April. The air-and-ground military attacks target suspected PKK positions in the Zab, Basiyan, Avasheen, and Korajiwar districts in the Kurdistan region.
In response, Baghdad summoned Turkish ambassador Ali Riza Guney and handed him a "strongly worded" protest note, calling the operation a blatant violation of Iraq's sovereignty.
Ankara summoned the Iraqi charge d'affaires too, informing the official that those military operations will continue if Baghdad doesn't take action against PKK members.
Militants of the PKK — designated as a terrorist group by Turkey, the United States and European Union — regularly clash with Turkish forces in the Kurdish-dominated southeast of Turkey attached to northern Iraq.
A shaky ceasefire between the PKK and the Turkish government collapsed in July 2015. Attacks on Turkish security forces have soared ever since.
Source: Press TV
Please click the following URL to read the full text of the original story:
https://www.presstv.ir/Detail/2022/06/18/684096/Iraq-decries-latest-Turkish-drone-strike-in-Kurdistan-region,-vows-response-after-investigation
--------
Report: Russia warns to strike US-allied militants in Syria's al-Tanf region
17 June 2022
Russia has reportedly warned American occupation forces that it is going to conduct airstrikes against Washington-allied Takfiri terrorists in southeastern Syria after a roadside bomb targeted Russian military forces in the country.
Two unnamed US defense officials were quoted as saying by CNN that the warning, which came earlier this week, led the US to quickly call on the militants to move their positions and to ensure that no American forces were in close proximity.
The Russians achieved their goal of "sending a message" to the United States that they can strike without being worried about retaliation, one official said.
The incident happened in the vicinity of the strategic al-Tanf region, near the borders of Iraq and Jordan.
The strikes were conducted against positions where the US-backed so-called Maghawir al-Thawra terrorists were operating. There were no immediate reports of casualties, but the property is believed to have been damaged.
Last month, the foreign intelligence service of the Russian Federation (SVR RF) said US occupation forces deployed in Syria's al-Tanf region were providing military support to Takfiri Daesh terrorists and training them for field operations in Ukraine.
According to a report published by Russia's Arabic-language RT Arabic television news network, approximately 500 Daesh terrorists and militants from the Caucasus and Central Asian countries were undergoing training at the camp to carry out acts of sabotage and terrorist attacks against units of the Russian armed forces, both inside Syria and in the east European country.
A number of captured Daesh terrorists have already confessed to close cooperation with US military forces stationed at al-Tanf base in the central Syrian province of Homs in carrying out various acts of terror and sabotage.
During confessions broadcast on Syria's state-run television network in May 2020, several terrorists revealed that they were instructed by American forces to target Syrian government troops in and around the ancient city of Palmyra, the Tiyas Military Airbase – also known as the T-4 Airbase, the Shaer gas field as well as nearby oil wells.
Syria's official news agency SANA, citing local sources on condition of anonymity, reported last April that a number of Daesh terrorists were being trained at the US military base in the al-Shaddadi town of Syria's northeastern province of Hasakah on how to fire rocket-propelled grenades (RPGs), shoulder-launched rockets as well as anti-armor and anti-aircraft missiles.
Source: Press TV
Please click the following URL to read the full text of the original story:
https://www.presstv.ir/Detail/2022/06/17/684061/Repot--Russia-warns-US-forces-about-airstrikes-on-its-allied-militants-in-southeastern-Syria
--------
Mideast
Israel PM looks into forming alternative gov't with Netanyahu
Abdelraouf Arna'out
17.06.2022
JERUSALEM
Israeli Prime Minister Naftali Bennett is considering the possibility of forming an alternate government with opposition leader and former premier Benjamin Netanyahu, according to local media on Friday.
Bennett met late Thursday with his political advisers, including Aron Shaviv in the headquarters of the Defense Ministry in Tel Aviv.
The Israeli Public Broadcasting Corporation (KAN) said the meeting discussed the possibility of forming an alternate government between Bennett and Netanyahu.
Bennett's office confirmed the meeting but denied discussing the topic of forming an alternate government.
Bennett's government has lost its parliamentary majority following withdrawals of lawmakers from the coalition that formed the government last year.
Source: Anadolu Agency
Please click the following URL to read the full text of the original story:
https://www.aa.com.tr/en/middle-east/israel-pm-looks-into-forming-alternative-gov-t-with-netanyahu/2616465
--------
President Rayeesi: Decision to Impose News Sanctions on Iran Proves US Untrustworthiness
2022-June-17
"Sanctions must be neutralized; I wonder about why the Americans on the one hand send a message that telling they are ready for an agreement, but on the other hand, they add to the the list of sanctions," the Iranian president said on Friday.
"We do not trust America; they break their promises," he added.
President Rayeesi said that when the Americans officially declare that they have scandalously failed in the Maximum Pressure Campaign against Iran, it means that the Islamic Revolution is stepping on the path towards victory and progress.
"When we declare that we do not trust America, the world must admit that we are right when we say the Americans do not stick to their promises," the Iranian president further said.
President Rayeesi's remarks came after Washington threatened Tehran with more sanctions if the JCPOA revival talks fail.
Last Wednesday, the US and three European countries of Britain, Germany, and France offered an anti-Iran draft resolution to the IAEA Board of Governors based on allegations made by the Zionist regime on Iranian nuclear activities.
The anti-Iran resolution was approved with 30 votes in favor, two votes against (Russia and China), and three abstentions (India, Libya, and Pakistan).
In reaction to the approval of the resolution, Iran halted certain collaborations with the IAEA, which were beyond safeguard agreements and were conducted by Iranians to show their good faith.
Source: Fars News Agency
Please click the following URL to read the full text of the original story:
https://www.farsnews.ir/en/news/14010327000356/Presiden-Rayeesi-Decisin-Impse-News-Sancins-n-Iran-Prves-US
--------
Gaza rocket into Israel breaks two-month lull
18 June, 2022
Palestinian militants fired a rocket into southern Israel early Saturday, shattering a two-month lull that prevailed along Gaza-Israel fence in contrast to soaring tensions in the West Bank.
The Israeli military said aerial defense systems intercepted the projectile, which activated warning sirens in the southern coastal city of Ashkelon. There were no reports of casualties.
No Palestinian group claimed responsibility for the rocket fire. Israel usually blames the militant Hamas group for any violence emanating from the coastal enclave it controls.
An Israeli military raid in the West Bank early Friday, in which three Palestinian militants were killed and eight wounded, could have triggered the rocket attack from Gaza.
Source: Al Arabiya
Please click the following URL to read the full text of the original story:
https://english.alarabiya.net/News/middle-east/2022/06/18/Gaza-rocket-into-Israel-breaks-two-month-lull
--------
PKK terrorists dug cross-border tunnel between Iraq, Syria, says official
17.06.2022
ERBIL, Iraq
The PKK terrorist organization has dug a tunnel under the northern Iraq-Syria border to transport weapons, explosives, and members, according to an Iraqi Kurdish official.
Some 300,000 concrete blocks were used in the construction of the tunnel that stretches from under the Sinjar region in northwestern Iraq to Hasakah in Syria, said Halef Halil, an official of the Kurdistan Democratic Party (KDP).
"The PKK dug a 12-kilometer (7.4 miles) tunnel between the valley of the mountainous Bare region of Sinjar and the al-Hol region of Syria's Hasakah province," he told Anadolu Agency.
Halil went on to say that the terrorist organization was preparing to send a large number of militants to Syria, adding that pro-government Hashd al-Shaabi militias were aware of the PKK's activities but has not interfered.
"The Hashd al-Shaabi and the PKK are both linked to a state in the region ... Both are making efforts to prevent the deal on Sinjar between Erbil and Baghdad from being implemented," he noted.
In October 2020, the Iraqi federal government and Kurdish Regional Government (KRG) in northern Iraq signed an agreement to preserve security in Sinjar by the Iraqi federal security forces in coordination with the KRG Peshmerga forces.
Halil also asserted that the Hashd al-Shaabi provide military and food for the PKK terrorists, as well as their monthly salary.
Haydar Shesho, an Ezidi military commander in northern Iraq, also pointed out the close cooperation between the two groups.
The PKK cannot use any road in the region without the approval of the Hashd al-Shaabi, said Shesho, adding that the militia knew of the PKK's cross-border tunneling.
He also underlined that the PKK had dug 300-400 meters (about 985-1,310 feet) of tunnels under Sinjar's mountainous regions.
The PKK terrorist organization managed to establish a foothold in Sinjar in 2014 under the pretext of protecting the Ezidi community from Daesh/ISIS terrorists.
Sinjar has a strategic position as it is some 120 kilometers (74 miles) from Mosul, a regional urban center, and is also near the Turkish-Syrian border.
The terror group aims to create a corridor between PKK/YPG terrorists in northern Syria and Iraq's northern Qandil region.
Source: Anadolu Agency
Please click the following URL to read the full text of the original story:
https://www.aa.com.tr/en/middle-east/pkk-terrorists-dug-cross-border-tunnel-between-iraq-syria-says-official/2616179
--------
Amid live fire training, US 'begs' Israel to halt violence during Biden visit
18 June 2022
Palestinian activists in the US have blasted a White House request that Israel avoid any provocative actions in the occupied West Bank ahead of President Joe Biden's visit next month.
This came on Friday after the Axios news website reported that Washington had asked Israel to halt home demolitions, evictions of Palestinians and any decisions on illegal settlement building "until after Biden's visit" in mid-July.
"The Biden administration doesn't want us to create any crisis in the West Bank... They want quiet and calm," Axios quoted a senior Israeli official as saying.
The activists said the request highlights the "magnitude of this administration's weakness" and its inability to come up with a coherent policy towards Palestinians.
Several Palestinian-Americans told Middle East Eye that the plea was not a surprise and cemented in their view how the Biden administration and previous US governments view Palestinians living under Israeli occupation.
"If these comments indicate anything, it's that the Biden administration has neither a vision nor a plan to deal with the situation in the occupied Palestinian territories," Osama Abuirshaid, executive director of American Muslims for Palestine (AMP), told MEE.
Abuirshaid underlined that Biden appears to be "begging for some kind of Israeli calm … so as not to cause him any embarrassment."
Axios said despite the reported request, Israeli leaders could not make any such promises, citing "the domestic political complexities of halting such actions."
"Unfortunately, even this humiliating plea may fall on deaf ears. The Israeli government is fully aware of the magnitude of this administration's weakness and can care less about the US president's embarrassment or loss of political capital despite unfettered US support to Israel," Abuirshaid said.
The Palestinian activists also told the Middle East Eye about decades of unfruitful US-led negotiations around their future, saying they do not see tangible policy being pursued by the Biden administration in relation to the occupied Palestinian territories.
"Until now, it has not been possible to talk about a political approach by the Biden administration towards the Palestinians," Abuirshaid said.
"This administration has yet to offer Palestinians a new horizon. Instead, it demands Palestinians to preserve Israel's security and ensure calm, while continuing to willingly turn a blind eye to Israel's crimes and provocations."
Iyad el-Baghdadi, a Palestinian human rights campaigner, censured Biden in a post on his Twitter handle as a "deeply racist man who cares more about having a pleasant trip to an apartheid regime than about Palestinian human rights."
Since Biden came into office, as the UN data show, Israel has demolished more than 1,200 Palestinian-owned structures in the occupied West Bank and rendered more than 1,600 Palestinians homeless.
More than 20,000 Palestinian-owned housing units are at risk of demolition in the occupied al-Quds.
Israel has already occupied thousands of acres of Palestinian agricultural lands to construct and expand new illegal settler units in various areas in the West Bank.
The Tel Aviv regime also plans to force out Palestinian families from the Sheikh Jarrah neighborhood in an attempt to replace them with settlers. That plan sparked days of fighting between Gaza-based Hamas and the Israeli regime in May last year.
More than 600,000 Israelis live in over 230 settlements built since the 1967 Israeli occupation of the Palestinian territories of the West Bank and al-Quds.
All Israeli settlements are illegal under international law. The United Nations Security Council has condemned Israel's settlement activities in the occupied territories in several resolutions.
Palestinians want the West Bank as part of a future independent state, with East al-Quds as its capital.
Israel to begin live fire training during Palestinians' forced expulsion
The Israeli occupation forces said on Friday that they would conduct a live-fire military exercise in the south of al-Khalil (Hebron) in the occupied West Bank starting next week, with the Palestinian residents saying the move was as an attempt to force them out of their homeland.
The drills, which will include light arms training, are scheduled to take place from Monday until Wednesday in Masafer Yatta, a Palestinian community where more than 1,000 Palestinian are facing imminent expulsion.
Palestinians living in Masafer Yatta said the use of live fire — the first in the area after 20 years — is a scare tactic to facilitate their eviction by pushing them out.
"This will not be the only military training they conduct, they will do it constantly and move from one location to another," Palestinian activist Jamal Juma told Middle East Eye.
"So this is a way they think is a smart way, instead of loading these people in trucks and throwing them outside. They destroy the Palestinian resources, take it over so the Palestinians will be blocked in a densely populated area, isolated in ghettos, another [manifestation] of the apartheid system."
Source: Press TV
Please click the following URL to read the full text of the original story:
https://www.presstv.ir/Detail/2022/06/18/684099/Palestinian-activists-White-House-request-Joe-Biden-West-Bank-
--------
At least 78 Palestinians injured after Israeli forces attack protests in West Bank
17 June 2022
At least 78 people were injured after Israeli forces attacked protest rallies against the regime's settler-colonial activities in the northern part of the occupied West Bank on Friday.
The protests, which have become a weekly affair, erupted in and around the West Bank city of Nablus after Friday prayers, with Israeli regime forces using indiscriminate force to quell them.
The Palestine Red Crescent Society, a humanitarian organization working under the aegis of the International Red Cross, said at least 78 protesters were injured, including international solidarity activists.
Reports said protests took place in the villages of Beit Dajan, Qaryut, and Kafr Qaddum, and the neighboring governorate of Qalqilia.
According to the Palestinian Information Center, Palestinians marched through the villages in support of their cause of liberation from the Israeli occupation and aggression.
Israeli forces, it said, confronted the protesters with live bullets, tear gas canisters, and sound grenades.
Elsewhere in the West Bank, Israeli settlers attacked Palestinian farmers, who were tilling their land.
A 64-year-old farmer was reportedly injured as a result of the settlers' savagery east of the city of al-Khalil (Hebron) in the southern part of West Bank.
It came after three young men were killed by Israeli forces in an attack on the Jenin refugee camp in the northern part of the West Bank in the wee hours of Friday morning.
Palestinians marched through the refugee camp after the raid, carrying the bodies of the slain men and calling for undaunted resistance against the occupying regime.
The Palestinian resistance movement Hamas, reacting to the latest Israeli raid, warned that the Tel Aviv regime "will pay for its crimes" and that Jenin "will remain unbreakable."
Later in the day, hundreds of Palestinians took part in funeral ceremonies of the three slain men.
The Israeli regime occupied the West Bank in 1967 in a Western-backed war. Ever since it has dotted the territory with hundreds of settlements that are deemed illegal by the international community.
Israeli reconnaissance balloon falls in Gaza
An Israeli reconnaissance balloon fell over Beit Hanoun in the northern Gaza Strip on Friday afternoon, with reports claiming that the Israeli forces attacked the area shortly afterward.
The Palestinian resistance fighters seized the balloon, reports said, amid speculation that it could result in a significant information breach.
Some reports suggested that the balloon had been shot down by the resistance fighters Palestinians, forcing the Israeli military to fire warning shots.
Israeli forces then infiltrated Gaza's border with the occupied territories to "restore" the balloon, but were forced to retreat after resistance fighters confronted them with live fire, Quds News Network said.
Source: Press TV
Please click the following URL to read the full text of the original story:
https://www.presstv.ir/Detail/2022/06/17/684088/Israel-attack-protest-Nablus
--------
Palestinians hold funeral of three young men killed by Israeli forces
17 June 2022
Hundreds of Palestinians have held the funeral of three young men killed by Israeli forces in an attack on the Jenin refugee camp in the northern part of the West Bank.
The Friday aggression came amid growing tensions in the occupied territories.
Palestinian medical sources identified the victims as 23-year-old Youssef Nasser Salah, Baraa Kamal Lahlouh, 24, and Laith Salah Abu Srour, the same age.
Palestinians marched through the refugee camp after the Friday raid, carrying the bodies of the slain men and calling for undaunted resistance until full liberation of all Palestinian territories, and the establishment of an independent Palestinian state with East al-Quds as its capital.
The Palestinian resistance movement Hamas, reacting to the latest Israeli raid, warned that the Tel Aviv regime "will pay for its crimes" and that Jenin "will remain unbreakable."
Hamas said such attacks will only strengthen the resolve of Palestinians to keep resistance against the Israeli occupation.
Source: Press TV
Please click the following URL to read the full text of the original story:
https://www.presstv.ir/Detail/2022/06/17/684080/Funeral-Palestinians-West-Bank-Israel
--------
URL: https://newageislam.com/islamic-world-news/disney-lightyear-malaysia-muslim-same-sex/d/127272
New Age Islam Islam Online, Islamic Website, African Muslim News, Arab World News, South Asia News, Indian Muslim News, World Muslim News, Women in Islam, Islamic Feminism, Arab Women, Women In Arab, Islamophobia in America, Muslim Women in West, Islam Women and Feminism