New Age Islam News Bureau
26 Dec 2018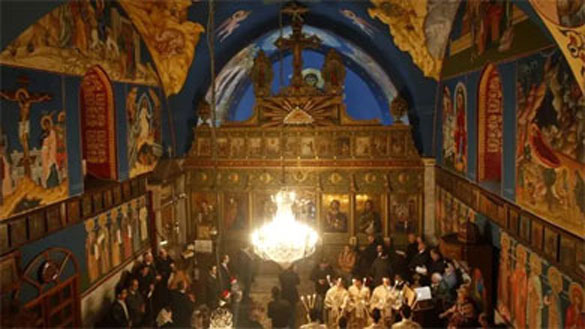 The church Saint Porphyrius's archaeological features show on its walls, which were built from ancient limestone, giving it warmth in the winter and coolness in the summer. (File photo: AFP)
------
• Differences of Opinion Are a Blessing in Islam, says, PAS Sec-Gen
• Sectarianism Is the Region's Biggest Menace, 'Rescue Muslim Countries from Conspiracies, Turmoil 'says Egypt's Grand Mufti
• Bangladesh: 30 Journos Attacked In Dhaka Ahead Of Polls
• Where Do We Go Now, Ask Muslims Barred From Offering Prayers in Noida Public Park
• Christmas Spirit Lights up Poor Christian 'Colonies' In Muslim-Majority Pakistan
• Saint Porphyrius: The Story behind Largest Church in Gaza
Southeast Asia
• Differences of Opinion Are a Blessing in Islam, says, PAS Sec-Gen, while Wishing Merry Christmas
• Jokowi's VP Candidate Ma'ruf Amin Posts Rare Christmas Greeting
• DPM: No place for fake news, messages that stoke religious hatred in New Malaysia
--------
Arab World
• Sectarianism Is the Region's Biggest Menace, 'Rescue Muslim Countries from Conspiracies, Turmoil 'says Egypt's Grand Mufti
• Al-Azhar's Grand Imam: We Support Saudi Arabia against US Senate Decision
• New details emerge about Saddam's arrest, those who gave him up
• Iraqi Christians celebrate Christmas one year after Daesh defeat
• Two dead, 11 wounded in car bomb in northern Iraqi city Tal Afar
• US establishes two new military bases in Anbar province: Iraqi official
• Over 1,000 Refugees Return Syria from Neighbouring Lebanon
• SDF Advancing against ISIL in Eastern Syria in Spite of US' Pullout
--------
South Asia
• Bangladesh: 30 Journos Attacked In Dhaka Ahead Of Polls
• For Bangladeshi Christians, a Long Road to Communal Harmony
• Death Toll from Attack by Gunmen, Suicide Bomber in Afghan Capital Soars To 43
• 31 Taliban militants killed, wounded in Faryab clash and airstrikes
• Top Taliban leader killed in Herat drone strike
• Senior Haqqani Network leader killed in Paktika airstrike
--------
India
• Where Do We Go Now, Ask Muslims Barred From Offering Prayers in Noida Public Park
• Khalid Rasheed Farangi Mahali against Namaz at Public Places sans Permission in Noida
• City Sufi Leaders Oppose Pakistan-Based Body Meet In Hyderabad
• Triple talaq bill to face Lok Sabha test on December 27, BJP issues whip to MPs
• Ayodhya verdict should not be hurried, says Babri Masjid Action Committee
• Plea against stay of non-Muslim victims of religious persecution
• US withdrawal from Afghan will have implications in Kashmir: Former J&K DGP
--------
Pakistan
• Christmas Spirit Lights up Poor Christian 'Colonies' In Muslim-Majority Pakistan
• 'JUI-F Won't Allow Govt to Abolish Blasphemy Punishment'
• COAS Joins Christian Community for Christmas Celebrations
• Tough times likely for Pakistan as global watchdog expands monitoring of terror funding to state sponsors
• Former MQM leader Ali Raza Abidi shot dead in Karachi's DHA
• Outgoing year sees terrorism rear its ugly head in Karachi again
--------
Mideast
• Saint Porphyrius: The Story behind Largest Church In Gaza
• Israel approves construction of some 1,300 new settler units
• Saudi ambassador says kingdom protected Yemen from becoming 'failed state'
• Israeli raids target Iranian weapons depots near Damascus
• How Houthis are misusing military uniforms to ensure Hodeidah presence
• Who will succeed Shahroudi, the Iranian cleric billed as Khamenei's successor?
• Turkey resolute in fighting terror, needs no permission from Israel: Ankara
• Turkey warns France against supporting Kurdish YPG militants
--------
Africa
• Italy, Russia Do Not Oppose Role for Seif al-Islam Gaddafi in Libya's Future
• Sudan's Bashir: Traitors took advantage of protests to vandalize
• Libya, Algeria slam Turkey over arms shipment
• Three dead in Libya's foreign ministry attack in Tripoli
• 37 protesters killed by police in Sudan protests: Amnesty
• Nigerian army says 14 personnel killed in Boko Haram ambush
--------
Europe
• Swedish TV warns Muslim immigrants of Vitamin D deficiency
• Pope Assails Greed, Pilgrims Celebrate Christmas in Bethlehem
• Pope hopes for peace in Yemen, Syria and other flashpoints
• London's Ahmadiyya Muslims launch food drive for winter
--------
North America
• Muslim Academicians from US, Canada Visit Turkey
• Cash-strapped USA is in no position to attack Iran: Analyst
Compiled by New Age Islam News Bureau
URL: https://www.newageislam.com/islamic-world-news/differences-opinion-blessing-islam-says/d/117272
--------
Differences of Opinion Are a Blessing in Islam, says, PAS Sec-Gen
25 Dec 2018
PETALING JAYA: PAS secretary-general Takiyuddin Hassan has sent out festive greetings to all Malaysians in conjunction with Christmas.
"I wish a Merry Christmas to all Malaysians who celebrate it, may we all be in peace and harmony in our beloved country.
"A large number of my classmates at the Universiti Malaya law faculty are non-Muslims, we are still friendly to this day as a family, and frequently contact each other and meet for reunions.
"Differences of opinion are a blessing in Islam," Takiyuddin said in a statement on Tuesday (Dec 25).
"In Sabah, I hope we can all celebrate the festival together, and for those who have converted from Christianity to Islam, you should still visit, respect and spend time with your parents and family," he said in a statement here on Monday (Dec 24).
He said if everyone was aware of this, and respects one another, there would not be chaos in society.
Mustaqim also urged everyone to visit one another during festive seasons or celebrations to strengthen ties as a community.
Takiyuddin and Mustaqim's stance is in contrast to PAS Youth chief Muhammad Khalil Abdul Hadi, who had warned Muslims not to celebrate Christmas as it is against the teachings of Islam.
Sinar Harian had on Monday reported Muhammad Khalil as reminding Muslims not to be part of the celebrations because it was an acknowledgement of the Christian religion.
"Christmas has an element of syirik (idolatry) which is against Islam's teaching. They claim that God had a child, which is against our beliefs as Muslims.
"They celebrate Christmas with such elements and claim that Prophet Isa (Jesus) is the son of God," he reportedly said during a lecture in Kuala Terrengganu on Sunday (Dec 23) night.
https://www.thestar.com.my/news/nation/2018/12/25/pas-secgen-wishes-merry-christmas-says-differences-of-opinion-are-a-blessing-in-islam/
--------
Sectarianism Is the Region's Biggest Menace, 'Rescue Muslim Countries from Conspiracies, Turmoil 'says Egypt's Grand Mufti
December 25, 2018
JEDDAH: Sectarianism is the region's biggest menace, according to one of the most senior Islamic scholars in the Muslim world.
Shawki Allam, Egypt's grand mufti, made the statement at a two-day conference on Islamic unity, which was organized by the Muslim World League (MWL) in Makkah on Wednesday.
Allam reiterated that Saudi Arabia remained the "heart of Islam" and commended the MWL for holding the conference amid times of hardship in the Muslim world.
"The challenges and dangers engulfing us are too great to ignore," he said. "We call on scientists, thinkers and researchers from East to West to find ways to rescue Muslim countries from the turmoil and conspiracies they are being subjected to. Division, sectarian strife and conflict can be quelled through our adherence to the tenets of the Holy Qur'an."
Allam emphasized that scripture abolishes all forms of discrimination, which includes tribalism and racism, and warned against intolerance exacerbating an already dire level of disunity.
"Rivalry and division have destroyed any sense of brotherhood, which is the essence of Islam," he said.
http://www.arabnews.com/node/1425811/saudi-arabia
--------
Bangladesh: 30 journos attacked in Dhaka ahead of polls
25.12.2018
By Md. Kamruzzaman
DHAKA, Bangladesh
Four days ahead of the parliamentary elections, at least 10 journalists were wounded in an attack in the Bangladeshi capital, according to the victims on Tuesday.
The incident took place on Monday night when a group of mask-wearing attackers raided a local hotel in capital Dhaka, which was hosting 30 journalists for the election coverage.
Speaking to Anadolu Agency, Mizan Malik, investigation editor of the local daily Jugantor, said that nearly 40 people -- wearing masks, wielding iron rods and hockey sticks -- attacked the journalists at the hotel rooms.
Among the injured, Malik said the attackers also vandalized 16 vehicles of the journalists, including of Jamuna tv, a private broadcaster of Bangladesh.
"We know for whom you come here. You instantly leave here," an attacker shouted when raided the hotel, said Malik.
Both of the media institutions are owned by the husband of Salma Islam, a parliament member who runs for the elections as an independent candidate from Nawabganj area.
Arch rival of Islam is Salman F Rahman, a candidate of ruling Awami League party. Rahman is also the political advisor of Prime Minister Sheikh Hasina.
Apurba Alauddin, a Jamuna tv journalist, told Anadolu Agency that they informed the local police against any undesirable incident when the ruling party candidate set up an election tent at the ground floor of the hotel on Monday.
The local police officer Golam Mostafa said they are investigating the incident.
Independent candidate Islam called for immediate identification and exemplary punishment for the attackers to create a convenient electoral environment.
The elections will be held on Dec. 30 amid increasing violence across the country and grave concerns from the political circles that the country's election commission unable to ensure level playing field.
Election Commission Secretary Helal Uddin Ahmed told Anadolu Agency that they did not receive any complaint yet about the attack on journalists.
"On receiving a complaint we will order local administration to take action," he said.
Saiful Alam, president of Bangladesh's National Press Club, told Anadolu Agency that it was a coward attack on media.
Since the formal electoral campaign began on Dec. 10, Bangladesh has witnessed gross violence in different parts of the country.
It left hundreds of supporters, mostly backing the opposition alliance, injured. Dozens of opposition candidates were also attacked allegedly by ruling party supporters backed by the police forces.
Despite the military deployment across the country on Monday, the unrest prevails in Bangladesh.
At least two people were killed, over 50 sustained wounds in separate attacks targeting election campaigns nationwide yesterday. Vehicles of some heavyweight opposition candidates were also vandalized.
https://www.aa.com.tr/en/asia-pacific/bangladesh-30-journos-attacked-in-dhaka-ahead-of-polls/1348375
--------
Where Do We Go Now, Ask Muslims Barred From Offering Prayers in Noida Public Park
December 26, 2018
Noida: Nouman Akhtar, Adil Rashid and Ehsaan Alam just need a piece of ground where they can gather as a community, spread their prayer mats and offer Friday congregational prayers in peace.
They had been doing the same every Friday for over five years at a public park in Sector 58, Noida, until district authority and Noida police put a stop to it. "We don't want to fight with anyone; we just want to pray peacefully," Akhtar said.
He is the imam who has presided over Friday prayers at the park in question since February 2013. But after the District Magistrate denied permission to offer namaaz at the park earlier this month and the sector 58 police station subsequently issued a directive prohibiting the practice on Monday, Muslims who live and work in Sectors 57, 58, 59 and 60 are now left without a place to pray.
"There is no mosque in a five-kilometre radius; the park was the only place for us. Now where do we go?" asked Alam. He works at a garment factory in Sector 58 and has been praying at the park for five years.
The park is surrounded by tech firms and garment factories. All employees in nearby factories and businesses get a half an hour break at 1 PM every day. Every Friday, Muslim workers, most of whom are employed in garment export businesses in nearby Sectors get an additional 15 minutes to offer Friday prayers.
Sector 58 police station sent a notice to these factories and other firms in Sector 58 and adjoining localities on Monday, advising them to deter their employees from any religious activity at the District Authority park, including Muslim employees praying at the park, or be held liable.
Alam doesn't know where the hundreds of Muslims who peacefully gathered at the park must go now.
"Hamare office mein bhi notice bhej di. Ab hum kya kahin bhi namaaz na padhein ( They even sent a notice to our offices. Can we not pray anywhere now?" asked Alam.
What started as a gathering of a half a dozen Muslims looking for a place to sit together and offer namaaz, the congregation now has over a thousand Muslims who meet every Friday at the park during their break from work. "We are all mostly labourers from different parts of Uttar Pradesh, Bihar and West Bengal. Since this park was the only available open space in the area, it became our place to pray every Friday and the community grew," Alam said.
According to Rashid, the organiser of the prayer group christened as the Mohammadiya Trust, even Muslim policemen from the area came and offered prayers with them.
District Authority and police, however, insist that the group did not have requisite permission to congregate and pray at the public park. The District Magistrate and Senior Superintendent of Police addressed the matter at a press conference at the DM residence in Sector 27 on Tuesday.
"For permission, you must first see whose land is it. The park is a Noida Authority land and the request for permission did not have an NoC from the Noida Authority," DM Brajesh Narayan Singh said.
The Magistrate's office had denied the group permission to pray earlier this month. Singh also sought to downplay the matter which is now under spotlight, with many calling it a case of religious discrimination. "This is a small localised incident related to law and order. We have only taken lawful steps in line with previous Supreme Court judgment," Singh said.
Referring to a 2009 Supreme Court order that had prohibited religious activities without the requisite go-ahead, Singh said the directive was not designed for one community. "This is applicable for all religions. This is not a mala fide directive; this is a bona fide process," Singh said. "If they had permission from police and authority, they would be allowed to continue such activity," he added.
The directive that was drafted by the SHO at Sector 58 police station has also left businesses in a fix, the people from prayer group said. The notice had said if the directive was flouted, the employers of Muslim workers would be held liable. Ajay Pal Sharma, SSP, Noida Police, said the missive to companies was just meant to inform. "The notice to companies is just for information so the people can know that there is no permission at the park (to offer prayers)," Sharma said at the press conference.
DM Singh also sought to clarify that the companies in the area did not have any liability in the matter, and he would hold talks with the firms to allay any fears about the notice. He, however, went on to say that the concerned officer, Sector 58 SHO Pankaj Rai, had taken 'appropriate action'.
Curiously, the District Authority and local police have sprung into action only recently after an unknown man had allegedly threatened Akhtar and others at the park, demanding them to stop praying at the spot.
"We have been praying for over five years and there was no problem up till now," Akhtar, the Imam said.
Trouble started on December 7, a Friday, when a man came up to the prayer group in the park and said they could not pray there any longer. "He started recording our video on the phone and threatened us, saying that if we continued to pray at the park, we would have problems," Alam, who was present at the park at the time, said. According to him and the imam, the person refused to identify himself and only said he was a resident of Bishanpura in Noida.
According to Rashid, the man claimed he had shut down Islamic activities in other areas of Noida as well. "He said he had stopped namaaz in Sector 16 and he had gotten the loudspeakers taken down from Medina Masjid in Khoda colony as well. He made a video of us and said he would make it viral. He was trying to show us in a bad light," Rashid said.
Bhan Singh Dami, a security guard at Techcraft, an IT services firm across the road from the park, said the man who objected to Muslims praying at place was from the Bajrang Dal. "He told me he was from the Bajrang Dal. But he didn't give out his name," Dami said.
After the alleged incident, Rashid and Akhtar, wrote to the DM office and Noida police seeking permission to pray and for security.
On December 14, when they came to the park to pray, they saw police waiting for them. "We thought they had come to provide us protection, but instead they told us to stop praying," Alam said.
Police allowed them to pray that day, but said they were not allowed to gather at the park for namaaz henceforth. Akhtar and Rashid were also detained by Sector 58 police personnel after they were called for a discussion at the station on 18 December.
A disagreement between authorities and Rashid led to their arrest under Section 151 of the Indian Penal Code for continuing an assembly of five or more persons after it has been commanded to disperse. They were later granted bail on December 22.
Sector 58 police and the Magistrate's office said they had received complaints about the Friday prayers from the area. The District Magistrate also said there was a law and order aspect to the issue as well as the spot was a public park meant for public purposes. "People want to use the park as a park," Singh said.
Rai, SHO of Sector 58 police station, said that in addition to workers from nearby companies, Muslims from other areas were coming to pray at the park as well. "There were complaints from the area. If there was no complaint why would we go and check?" Rai said. "The directive is for all religions. But since Namaaz was going on, we mentioned it in the notice. If a Hindu group was gathering there, we would stop them too," Rai added.
Rashid, however, believes it to be a case of discrimination and said there were communal forces behind the move to stop them from praying. "This started when that man came and threatened us. He had a big teeka on his forehead. With no place to go for prayer, Rashid said he will prepare a new application for the Magistrate's office, requesting a space to offer prayers.
The DM agreed that the absence of a mosque in the area poses an issue for the community, but called it a separate problem that needed a separate solution. "Everyone is free to practise their religion. If a new application comes it will be considered," he said.
https://www.news18.com/news/india/now-where-do-we-go-ask-muslims-in-noida-barred-from-offering-prayers-in-public-park-1983541.html
--------
Christmas spirit lights up poor Christian 'colonies' in Muslim-majority Pakistan
By Pamela Constable
December 25, 2018
ISLAMABAD, Pakistan — The floor was hard and the night was growing cold, but the magic of the Christmas pageant — livened by comic scenes and peppy music — kept the audience members spellbound as they huddled in an outdoor church tent.
Mothers craned their necks to see which preschool angel was theirs. People cheered the exotic-looking wise men and booed the swaggering King Herod. They clapped along with "Jingle Bells," hushed in wait for the manger scene and burst into applause when Mary held up her swaddled baby.
The message of Christmas had special resonance this season among Pakistani Christians, an old but often persecuted minority of about 3 million in a country of 208 million that is 95 percent Muslim. Many labor at low-level jobs and reside in self-contained "colonies" anchored by small churches.
The Nativity drama Sunday evening was held in France Colony, one of a dozen poor Christian neighborhoods in the capital. It was bustling with creativity. Families set up miniature creches, and volunteers constructed elaborate life-size tableaux of snowmen, shepherds and stars, illuminated by thousands of tiny bulbs strung amid tree branches.
"Christmas means everything to us," said Asif Mushtak, 36, a government clerk, whose children were decorating a tree on their roof. "People here have limited resources. Mostly they bring each other cakes. What is important is the message: Jesus taught love, so hatred should end, among all people and religions."
Children perform the Christmas story in the Christian neighborhood of France Colony in Islamabad. (Sarah Caron for The Washington Post)
Two months ago, the Pakistan Supreme Court acquitted Asia Bibi, a Christian woman imprisoned for nine years on charges of blasphemy. The verdict set off several days of rioting by Muslim extremists. Their leaders demanded that Bibi be hanged, called for the overthrow of the government and urged soldiers to mutiny.
Officials did little at first to quell the unrest, leaving Christian communities worried for their safety. Bibi was put into protective custody, where she still remains. But early this month, the extremist leaders were arrested and charged with various offenses, belatedly signaling that religious minorities — and the law — were to be respected.
"This is the first Christmas after the release of Asia. It is a matter of great joy for Christians," said Tahir Naveed Chaudhry, chairman of the All Pakistan Minorities Alliance. He said the verdict "has strengthened the trust of Christians and other minorities in this society. I only wish she could be reunited with her family and celebrate Christmas with them."
Two weeks ago, the State Department listed Pakistan as one of the world's top three abusers of religious rights, along with China and Saudi Arabia. The finding cited Pakistan's harsh laws that make blasphemy punishable by death and singled out the Bibi case.
Pakistan strongly rejected the U.S. action, but in a speech Saturday, Prime Minister Imran Khan said the government must do more to "protect our minorities," reiterating that religious freedom was a central tenet of the country's founding father, Mohammed Ali Jinnah.
In past years, churches across Pakistan have been periodically attacked by Islamist militants, and Christians as well as other minority members often have been falsely accused of blasphemy for insulting Islam or the prophet Muhammad, which alone can lead to jailing or lynching.
Pakistani Christians mingle outdoors. (Sarah Caron for The Washington Post)
A tunnel of lights illuminates the entrance to a Christian community on Christmas eve. (Sarah Caron for The Washington Post)
"When we celebrate Christmas, the foremost thing in our mind is peace for our society and protection for Christians and other minorities," Chaudhry said. "Fortunately, the law and order situation is better now, so we are celebrating this year with our minds more free of concern."
In France Colony and several other Christian communities, residents seemed hesitant to speak about the Bibi case, but several said they felt that Christians were being better respected and accepted now, as Pakistani Muslims have become better educated about other beliefs.
"When I was growing up, we learned about the prophet Muhammad in school, but other children didn't learn much about us," said Rafaqat Massih, 40, a chauffeur whose family lives in a cheerfully decorated one-room flat. "Now, Muslim people want to know more and discuss with us. We used to feel it was not safe to talk about religious topics, but now we feel better."
In the past few years, competition has grown among Christian colonies to put on the most spectacular outdoor displays, and more Muslim visitors and politicians come to see them. On Tuesday, Pakistan's army chief, Gen. Qamar Javed Bajwa, attended Christmas services at a church in Rawalpindi city, where he spoke about Christian contributions to Pakistan's health care, education and defense.
In France Colony, a labyrinth of steep, narrow alleys perched on the edge of a trash-filled ravine, the bright holiday lights on Christmas Eve temporarily masked the gritty reality of daily life.
By Christmas Eve, the neighborhood was ablaze with color, and festive music blared from loudspeakers. A grotto next to a culvert strewn with garbage had been transformed into a winter wonderland, with white crystals covering the ground and multicolor bulbs dangling from bamboo thickets.
As midnight approached, families with small children thronged to marvel at the scenes. TV crews reported live in front of snowmen and miniature volcanoes. At one community entrance, a tunnel of lights welcomed visitors, while a police detail patrolled on foot nearby.
In addition to publicly showcasing their faith, celebrating Christmas also binds and uplifts struggling Christian communities. Alcoholism is a common problem among working-class men there, and many Pakistani Muslims, whose faith prohibits drinking, view it as a Christian vice.
Rafaqat Massih, 40, and his wife, Sobia, 33, right, celebrate Christmas Eve with their family at home. (Sarah Caron for The Washington Post)
Young people mingle after a prayer service on Christmas Eve. (Sarah Caron for The Washington Post)
As the festive spirit grew more raucous on Christmas Eve, some young men wandered through the alleys of France Colony, sipping from bottles. But others took pride in pitching in on holiday projects, and groups of boys with badges were assigned to guard every display and guide visitors through them.
"We want everyone to get involved and feel the spirit, and not to celebrate too zealously by taking drugs or drinking too much," said Daniel Kohkar, 15, who gathered branches with friends to build an outdoor manger.
The Nativity drama in the tent, put on by members of the United Prayer Fellowship Church, took months of work and practice. The wise men and shepherds, who dressed in colorful costumes and performed choreographed songs, were all local men. The angel Gabriel, who had to make numerous speeches wearing enormous wings, was 17.
The play was accompanied by a keyboard player, a group of singers with harmoniums and tablas playing traditional Pakistani qawwali music with a driving beat, and recorded tapes of sheep bleating, flute solos and pounding drums. The stage curtain was made of two bedsheets.
"Let's all encourage our brothers and sisters with applause," the church pastor, the Rev. Manuel Faiz, pleaded when the between-act arrangements took too long and children began to fidget. "Please be patient. There's only one more scene to go."
But each time the curtain was pulled back, and the wise men pointed excitedly to a new star or King Herod strode about waving his sword, the fidgeting stopped. And when the baby Jesus finally made his appearance, amid a chorus of joyful voices, every face in that frigid tent lit up with awe.
https://www.washingtonpost.com/world/asia_pacific/christmas-spirit-lights-up-poor-christian-colonies-in-muslim-majority-pakistan/2018/12/25/525d75e6-0239-11e9-958c-0a601226ff6b_story.html
--------
Saint Porphyrius: The Story behind Largest Church in Gaza
25 December 2018
Christians in Gaza celebrated Christmas in the Church of Saint Porphyrius this year, one of the oldest and biggest churches in Gaza.
The church's archaeological features show on its walls, which were built from ancient limestone, giving it warmth in the winter and coolness in the summer.
Saint Porphyrius holds a special place in Christians' hearts, especially Palestinian ones, since he was the fighter of polytheistic religions that had followers all over Gaza and the Levant.
The finely educated saint was afflicted with a serious malady of the legs, which drove him to leave his meditation spot in the Jordanian wilderness to go to Jerusalem and pray for healing.
Christmas cheer at Jesus's traditional birthplace of Bethlehem
During his time in Jerusalem, it is said that he went into trance, where he saw Jesus Christ and came out of trance to find himself healed.
Following the death of Gaza's bishop in year 395, priest Porphyrius was summoned to take the role to protect Christians there from pagan harassment.
In Gaza there were only three Christian churches, but there were a great many pagan temples and idols. However, with Saint Porphyrius' presence, the city saw the baptism of 237 men, 35 women, and 14 children.
Through good relations with the Roman Emperor and Empress, Saint Porphyrius was granted an edict in 401 ordering the destruction of pagan temples in Gaza and the restoration of privileges to Christians.
The emperor also gave the saints money for the contruction of a new church in Gaza, to be built on the site of the chief pagan temple; This church is what is known today to be The Church of Saint Porphyrius.
https://english.alarabiya.net/en/features/2018/12/25/Church-of-Saint-Porphyrius-The-man-who-performed-miracles-and-fought-pagans-in-Gaza.html
--------
Southeast Asia
Jokowi's VP candidate Ma'ruf Amin posts rare Christmas greeting
December 25, 2018
In a rare event, the non-active chairman of the Indonesian Ulema Council (MUI), which is seen as the guardian of Islamic orthodoxy, has sent a Christmas greeting to Christians throughout the country.
Ma'ruf Amin, who is running alongside incumbent Joko "Jokowi" Widodo in the 2019 presidential election, is seen wishing all the nation's Christians a "Merry Christmas and Happy New Year" in a 22-second clip of what appears to be a official campaign video. The video immediately sparked religious and political controversy.
Indonesian Muslims have long been divided over whether saying "Selamat Natal" (Merry Christmas) is religiously permissible.
Some believe that doing so would compromise their strict monotheistic belief, arguing that Christians celebrated the birth of Jesus Christ as God Incarnate. Others argue that Jesus is Islam's Prophet Isa so there is nothing wrong with celebrating the birth of an Islamic prophet.
During his active stint as chairman of the MUI, the Islamic body in charge of issuing fatwas, Ma'ruf previously exercised caution in his response when asked if he would wish Christians "Merry Christmas", given the ongoing and prolonged debate.
"The issue is debated, [so] it's better not to say it," he said in December 2012 as reported by tempo.co. He reiterated his stance in 2016 as reported by tribunnews.com, that "I would rather not say ['Merry Christmas']" if disagreements existed on the issue.
The MUI has never declared Christmas greetings as haram, although it clearly stated that Muslims were forbidden from taking part in Christmas Mass and donning Christmas attire in the fatwas it issued in 1981 and 2016.
Responding to questions about Ma'ruf's Christmas well-wishes, MUI general secretary Anwar Abbas said the council had yet to take a stance on the issue.
"The MUI has never issued a fatwa on it," Anwar said.
President Jokowi, who is facing negative campaigns attacking his Muslim credentials, picked Ma'ruf as his running mate in August, shortly before officially registering his 2019 candidacy.
https://www.thejakartapost.com/news/2018/12/25/jokowis-vp-maruf-amin-posts-rare-christmas-greeting.html
--------
DPM: No place for fake news, messages that stoke religious hatred in New Malaysia
25 Dec 2018
PETALING JAYA: The government will not hesitate to take action against those who threaten the unity of Malaysians of different religions, says Deputy Prime Minister Datuk Seri Dr Wan Azizah Wan Ismail.
"Fake news, inflammatory messages that stoke religious hatred have no place in Malaysia Baharu (New Malaysia).
"The government will not hesitate to take action against those who threaten the peace and harmony in this country," said Wan Azizah in her Christmas message on Tuesday (Dec 25).
The Woman, Family and Community Development minister also said that in celebrating other's religious festivals, there is unity.
"Freedom of religion in this country has its best expression in people coming together to share in the religious celebrations of each other," she said when attending a Christmas celebration at the Luther Centre on Tuesday (Dec 25).
Accompanying her were Primary Industries Minister Teresa Kok and Hannah Yeoh, who is Wan Azizah's deputy in the Women, Family and Community Development Ministry.
On a lighter note, Wan Azizah talked about how her convent education instilled in her the values that she carries today, adding that she can also quote The Lord's Prayer.
"I entered the convent at Primary 1 and as a seven year old, I was mesmerised by the blue eyed Irish nuns," she said.
Wan Azizah also quoted from the Quran, calling for dialogue to overcome problems.
"The Al-Quran encourages using the power of discussion and dialogue to solve problems.
"The most important element in Islam, however, is to advise or deliver the message in a wise and prudent way, according to the circumstances of the moment," she said.
Full report at:
https://www.thestar.com.my/news/nation/2018/12/25/dpm-no-place-for-fake-news-messages-that-stroke-religious-hatred-in-new-malaysia/
--------
Arab World
Al-Azhar's Grand Imam: We support Saudi Arabia against US Senate decision
25 December 2018
The Grand Imam of al-Azhar Dr. Ahmed el-Tayeb released a statement on Tuesday confirming affirming that his institution, Arab and Islamic nations support the Saudi Arabia against the decision issued recently by the US Senate against the Kingdom.
"We will never allow any penetration that could affect this strong and solid relationship between the Kingdom and Egypt at any level," he was quoted as saying by the Saudi Press Agency.
Al-Tayeb extended thanks to Saudi King Salman bin Abdulaziz Al Saud for the generosity accorded to him during his recently-concluded official visit to Saudi Arabia.
"(He) pointed out that his meeting with the king affirmed the monarch's great love for Egypt and his keenness on permanent relations between the two sisterly countries, noting that the continuous cooperation between them should be increased to face the challenges against the Arab and Islamic nations," the SPA statement read.
https://english.alarabiya.net/en/News/gulf/2018/12/25/Al-Azhar-s-Grand-Imam-We-support-Saudi-Arabia-against-US-Senate-decision.html
--------
New details emerge about Saddam's arrest, those who gave him up
25 December 2018
To mark 12th anniversary of the execution of former Iraqi President Saddam Hussein, the US magazine ESQUIRE published what it said were new details of the operation known as Red Dawn, during which US forces found the late president hiding in a farm near Tikrit in early December, 2003.
ESQUIRE reported that two business men, one of them is known as Hadooshi, and the other Mohammed Ibrahim al-Muslit, had revealed important information about Saddam Hussein's presidential security apparatus which eventually led to his arrest.
After US forces bombed the Hadooshi Farm in Tikrit, they found "huge buried boxes" with $10,000 bundles of hundred-dollar bills in Chase Manhattan Bank wrappers.
The other buried treasure was huge amounts of jewelry belonging to Saddam's wife, Sajida Talfah, adding up to "about half a dozen garbage bags full of gems."
US forces bombed the farms of the businessmen, and a nine-year-old boy led them to arrest Muslit, who finally surrendered and told them where Saddam Hussein was hiding, ESQUIRE reported.
Full report at:
https://english.alarabiya.net/en/features/2018/12/25/New-details-emerge-about-Saddam-s-arrest-those-who-gave-him-up.html
--------
Iraqi Christians celebrate Christmas one year after Daesh defeat
December 25, 2018
BAGHDAD: Iraqi Christians quietly celebrated Christmas on Tuesday amid improved security, more than a year after the country declared victory over Daesh militants who threatened to end their 2,000-year history in Iraq.
Christianity in Iraq dates back to the first century of the Christian era, when the apostles Thomas and Thaddeus are believed to have preached the Gospel on the fertile flood plains of the rivers Tigris and Euphrates.
Iraq is home to many different eastern rite churches, both Catholic and Orthodox, traditionally a sign of the country's ethnic and religious diversity.
But war and sectarian conflict shrank Iraq's Christian population from 1.5 million to about 400,000 after the US-led invasion in 2003. Following the onslaught of Daesh in 2014 and the brutal three-year war that followed their numbers have fallen further, though it is not known exactly by how much.
In Baghdad, Christians celebrated mass on Tuesday morning — declared a national holiday by government — in churches decorated for Christmas. Once fearful, they said they were now hopeful, since conditions had improved.
"Of course we can say the security situation is better than in previous years," said Father Basilius, leader of the St. George Chaldean Church in Baghdad where more than a hundred congregants attended Christmas mass.
"We enjoy security and stability mainly in Baghdad. In addition, Daesh was beaten."
Iraq declared victory over the militants more than a year ago, but the damage done to Christian enclaves on the Nineveh Plains has been extensive.
In Qaraqosh, a town also known as Hamdaniya which lies 15 km (10 miles) west of Mosul, the damage is still visible.
At the city's Immaculate Church, which belongs to the Syrian Catholic denomination and has not yet been rebuilt since the militants set it on fire in 2014, Christians gathered for midnight mass on Monday, surrounded by blackened walls still tagged with Daesh graffiti.
Dozens of worshippers prayed and received communion, and then gathered around the traditional bonfire in the church's courtyard.
Before the militant onslaught, Qaraqosh was the largest Christian settlement in Iraq, with a population of more than 50,000. But today only a few hundred families have returned.
Faced with a choice to convert, pay a tax or die, many Christians in the Nineveh Plains fled to nearby towns and cities and some eventually moved abroad.
Full report at:
http://www.arabnews.com/node/1425746/middle-east
--------
Two dead, 11 wounded in car bomb in northern Iraqi city Tal Afar
25 December 2018
At least two people were killed and 11 wounded on Tuesday by a car bomb in the northern Iraqi city of Tal Afar, a former ISIS stronghold, the military said.
Tal Afar, about 80 km (50 miles) west of Mosul, experienced cycles of sectarian violence between Sunnis and Shiites after the US-led invasion of Iraq in 2003, and produced some of ISIS's most senior commanders.
The city, which had about 200,000 residents, came under the militants' control when ISIS overran swathes of Iraq's north in 2014.
It fell to Iraqi Security Forces, backed by the US-led coalition, in August 2017, the last area to be retaken in the north before fighting moved to the Syrian border. A heavy security presence has remained since then and the city has been mostly quiet.
https://english.alarabiya.net/en/News/middle-east/2018/12/25/Two-dead-11-wounded-in-car-bomb-in-northern-Iraqi-city-Tal-Afar.html
--------
US establishes two new military bases in Anbar province: Iraqi official
Dec 25, 2018
The US Army has set up two new military bases in Iraq's western province of Anbar, an Iraqi official says, days after Washington announced the pullout of American forces from Syria.
"The US Army has established two new military facilities in uninhabited parts of the province," Turkey's official Anadolu news agency quoted Farhan al-Duleimi, a member of Anbar's provisional council, as saying on Tuesday.
The move comes less than a week after US President Donald Trump announced his unexpected decision to pull all the 2,000 American ground troops out of the war-ravaged Syria. He said on Wednesday that the withdrawal would be slow and gradual, without providing a timetable.
According to al-Duleimi, the first base had been established in the northern Rumana sub-district in al-Qaim district, in the vicinity of the Syrian border, some 360 kilometers west of the provincial capital Ramadi.
The second base, he added, had been set up east of the city of al-Rutbah, about 310 kilometers west of Ramadi and less than 100 kilometers from the Syrian border.
The official added that the American bases were purportedly intended to assist Iraqi forces "secure the country's borders and prevent infiltrations by the Daesh terrorist group."
"Scores of US soldiers are currently stationed at the two bases, along with drones and other equipment," added al-Duleimi, without providing further details.
The central government in Baghdad and Washington have yet to comment on al-Duleimi's statement, but if confirmed, the total number of US bases in Anbar will reach four.
Nearly 5,000 American troops have remained in Iraq since Washington, leading a military coalition, began its so-called anti-terror operations in the Arab country in 2014 with the declared aim of defeating the Takfiri Daesh terrorist group, which managed to overrun roughly two-thirds of Iraq, mainly in the country's north and west, in June that year.
Late last year, Baghdad declared that the military presence of Daesh in Iraq had come to an end following a three-year conflict that ended with the fall of the Daesh-held city of Mosul. The terror group lost all its urban strongholds in the Arab country but its remnants launch sporadic terror attacks against government troops and civilians alike.
Full report at:
https://www.presstv.com/Detail/2018/12/25/583957/Iraq-Anbar-US-base
--------
Over 1,000 Refugees Return Syria from Neighbouring Lebanon
Dec 25, 2018
Lebanon's official National News Agency reported that the return of refugees took place in the Southern Lebanese cites and districts of Tripoli, Arsal, Tyre and Nabatieh, and under the supervision of Lebanon's General Security in cooperation with the United Nations High Commissioner for Refugees (UNHCR).
Refugees returned home using buses sent by Syrian authorities, and arrived at al-Zamrani, Jdeidat Yabous, al-Dabbousiya border crossings from Lebanese territories on Monday afternoon.
The refugees underwent medical checks and anti-polio vaccines were administered to children. They were then transferred to Syria's Northern and central provinces of Idlib and Homs in addition to other areas in the crisis-stricken Arab country.
On December 16, over 1,000 Syrian refugees returned to their homeland from different areas in Lebanon, including Nabatieh, Bekaa, Tripoli and Shabaa.
Arabic-language Elnashra online independent newspaper reported that the return of refugees took place under the supervision of Lebanon's General Security in cooperation with the Lebanese army.
"Lebanon's General Security is keen on continuously securing a voluntary return of Syrian refugees to their towns," Colonel Khattar Nasreddine, head of the Public Security Information Division in northern Lebanon, said.
Full report at:
http://en.farsnews.com/newstext.aspx?nn=13971004000481
--------
SDF Advancing against ISIL in Eastern Syria in Spite of US' Pullout
Dec 25, 2018
SOHR said that the SDF managed to advance against ISIL near the small towns of al-Sha'afah and al-Sousah in Southeastern Deir Ezzur.
It further added that most of the ISIL gunmen had already left positions.
Clashes between the SDF and the remaining pockets of the ISIL are underway in the region.
In the meantime, SDF Spokesman Rami Abdul Rahman said heavy fighting is underway between his forces and the ISIL near al-Sah'afah and al-Sousah, adding that the SDF managed to capture a key village in the region.
The US president announced last week that his government in resolved to pull forces out of Syria.
SOHR reported on Monday that tens of vehicles started relocating the fleeing people from Eastern Deir Ezzur that was under the US-backed militias' control.
It further said that it was the largest mass relocation of civilians from regions that were near ISIL's positions on the Eastern bank of the Euphrates River.
SOHR went on to say that the vehicles have thus far transferred almost 4,000 civilians.
In the meantime, people in the border town of Qamishli in Northern Hasaka poured into the streets and demanded the Syrian Army to enter their town, local sources disclosed.
Full report at:
http://en.farsnews.com/newstext.aspx?nn=13971004000819
--------
South Asia
For Bangladeshi Christians, a Long Road to Communal Harmony
Faisal Mahmud
Dhaka: Despite comprising just 0.5% of Bangladesh's 160 million citizens, the Christians of Bangladesh were rarely made to feel anxious about their identity. The community's contributions to the country's history are noteworthy. Even today, schools and hospitals run by Catholic missionaries provide a lifeline for poor communities.
But Dhiriti Rani Gomez, a 34-year-old housewife from Barisal, now feels like "a Christian" in a predominantly Muslim land. "I never felt like a member of a minority community in the country for the greater part of my life. But in the last few years, that feeling has changed," said Gomez.
The country has a tradition of tolerating religious and other minorities. Peace and harmony were aplenty. However, a string of brazen attacks on the Christian community in the last few years has dented this reputation.
Now, people like Gomez feel the "need" for peace and harmony.
Gomez's notion of communal harmony prevailing among different faiths was punctured in May 2016. A group of people backed by a large industrialist allegedly attacked a Christian community in Barisal and took possession of their land illegally.
Some landless Christian families began living on 2.5 acres of land owned by the Bangladesh Baptist Church Sangha in 2000. Later, a colony was built there.
"After that attack, things have changed in Barisal among the Christians," Gomez told The Wire, "We now feel like a small community."
In fear of religious extremism
The Barisal incident is not the only instance of violence that the community has faced. In other places around the country, several killings of Christians have been reported. Death threats from hardline Islamist groups have also been reported over the past two years.
In 2016, Hossain Ali, 68, a Christian convert and Sunil Gomes, 72, a grocer, were hacked to death by unidentified people in two separate incidents. They later claimed to be members of the ISIS.
In November 25, 2015, at least ten priests from different churches received death threats, allegedly from people who wanted to establish Shariah law in Bangladesh.
The Bangladesh government, time and again, insists that the ISIS didn't have a foothold in Bangladesh. It said homegrown militants were behind the killings and threats.
Bangladesh's first cardinal, Patrick D' Rozario, said that as a predominantly Muslim population, Bangladeshis are peace-loving as Islam teaches them to be so.
"No religion teaches you to be hostile towards any living being," said the Cardinal, "Hostility only comes if religion is used for political purpose."
Nirmol Rozario, president of the Bangladesh Christian Association, said about 30 threats were issued against churches and priests within a span of three months beginning from December 2015.
"It was a scary time for us," said Rozario, "But now the situation has improved."
Rozario believes the Gulshan terror attack worked as a wakeup call for the government. After the attack, the government cracked down on suspected militants, some of whom were killed and hundreds more arrested.
"We want to live in peace. Both Islam and Christianity are religions of peace", said Rozario.
Priest Kamal Korayia, who acted as the coordinator for Pope Francis's much talked about visit to Bangladesh last year, told The Wire that Christians live in complete harmony with other religions of Bangladesh.
"I don't think there is a problem between any faiths now," he said.
Better situation in the capital
Christians living in the capital city of Dhaka, meanwhile, are safer than the ones living in the countryside.
At Mohakhali Christian Para – the largest Christian neighbourhood of Dhaka – Christians and people from other religions live in communal harmony.
In 81 buildings of the para (neighbourhood), all owned by the Christian landlords, there are Muslim and Hindu tenants. Tonmoy Lennard Cruz, a resident of the para, told The Wire the area is peaceful and harmonious.
"We participate in Eid festivities and go to the pooja mondop set up by the Hindus. They also celebrate Christmas," said Tonmoy. "These have been long traditions."
On occasions, he said, tensions are rife among the residents when they hear news about Christians being persecuted in the countryside.
"But our communal bonding here is well enough to overcome that tension," he added.
https://thewire.in/south-asia/for-bangladeshi-christians-a-long-road-to-communal-harmony
--------
Death toll from attack by gunmen, suicide bomber in Afghan capital soars to 43
25 December 2018
The death toll from a Christmas Eve attack in the Afghan capital has climbed to 43, the Health Ministry said Tuesday, as police and rescue workers combed through the smoldering public welfare building where the gunmen held out for eight hours against security forces.
A suicide bomber detonated his explosives-laden vehicle outside the building Monday before at least three gunmen stormed in, rampaging through the office complex hunting for victims. Some employees managed to barricade themselves inside offices while police quickly evacuated more than 350 people.
Health Ministry spokesman Wahid Majro says 40 people were killed and 29 were wounded. An earlier, higher toll provided by the ministry included the attackers.
No one immediately claimed the attack, but the Taliban and a local ISIS affiliate have carried out a relentless wave of assaults on government targets in recent years.
Abdul Jalil, an employee who spoke to reporters Tuesday from his hospital bed, was on the second floor when the gunmen entered.
"They came in and they were shooting at everyone. They were shooting at the closed doors. If anyone was there they shot them," he said.
Jalil said he jumped from a second-story window and broke his leg. He managed to crawl 50 meters (yards) to a perimeter gate where security personnel helped him to safety. Jalil said at least five of his co-workers jumped with him from the window, and he saw his boss jump from a third-story window.
Khalil Rahman, who escaped unhurt, said "it was a massacre. We didn't know where to run."
He told reporters outside the charred building that he still could hear the sounds of the screaming.
"It was chaos. Everyone was running everywhere, trying to hide. Why would they kill us? We are Muslims. We are not Russians or Americans," Khalil said. He said he worked for the same public welfare department during the five-year rule of the Taliban, which ended with the 2001 US-led invasion.
Full report at:
https://english.alarabiya.net/en/News/world/2018/12/25/Death-toll-from-attack-by-gunmen-suicide-bomber-in-Afghan-capital-soars-to-43.html
--------
31 Taliban militants killed, wounded in Faryab clash and airstrikes
Dec 22 2018
At least ten militants were killed during a clash and airstrikes in northern Faryab province of Afghanistan, the Afghan Military said Saturday.
The 209th Shaheen Corps of the Afghan Military in the North in a statement said the Afghan Air Force carried out airstrikes in Sari Hawz area of Pashtun Kot district, leaving at least 2 militants dead.
The statement further added that five militants also sustained injuries and four of their motorcycles were destroyed.
A clash also broke out between the Taliban militants and the security forces in Jat Arkalik and Nawdri villages of Qaisar district, leaving 8 militants dead and 16 others wounded, the 209th Shaheen Corps added.
The anti-government armed militant groups including Taliban have not commented regarding the report so far.
Full report at:
https://www.khaama.com/31-taliban-militants-killed-wounded-in-faryab-clash-and-airstrikes-02975/
--------
Top Taliban leader killed in Herat drone strike
Dec 25 2018
A top local leader of Taliban was killed in a drone strike conducted in western Herat province of Afghanistan, the local security authorities said Tuesday.
According to a statement released by the provincial police commandment, at least four people, including Javid alias Mawladad, the shadow military chief of Taliban for Zawal district were killed in the airstrike.
The statement further added that the airstrike was carried out in the vicinity of Azizabad area of the district.
A vehicle operated by the militants was also totally destroyed in airstrike, the provincial police commandment added.
The anti-government armed militant groups including Taliban have not commented regarding the killing of the group's district military chief so far.
Full report at:
https://www.khaama.com/top-taliban-leader-killed-in-herat-drone-strike-02998/
--------
Senior Haqqani Network leader killed in Paktika airstrike
Dec 25 2018
A senior leader of the Haqqani terrorist network has been killed in an airstrike in southeastern Paktika province of Afghanistan, the Ministry of Interior (MoI) said Tuesday.
According to a statement released by MoI, Saifullah, the military commission chief of Haqqani terrorist network who was killed in Barmal district.
The statement further added that Saifullah was also in charge of providing logistics support to the fighters of the terrorist network.
Saifullah was killed in the airstrike which was conducted on Monday in the vicinityfo Margha Village, MoI added in its statement.
"Saifullah, the military and logistic head of Haqqani Terrorist Network killed along with six others after Air Forces struck a militants' hideout in Margha village, Barmal district, eastern Paktika province, yesterday," the statement by MoI said.
According to MoI, the group was involved in planning and coordinating suicide attacks in Paktika and neighboring provinces.
Full report at:
https://www.khaama.com/senior-haqqani-network-leader-killed-in-paktika-airstrike-02999/
--------
India
Khalid Rasheed Farangi Mahali against Namaz At Public Places Sans Permission In Noida
Dec 26, 2018
Prominent Muslim cleric and member of the All India Muslim Personal Law Board Khalid Rasheed Farangi Mahali said on Tuesday that Muslims should avoid offering Namaz at places where it inconveniences others. He was reacting to a police order issued to companies and offices in Noida Sector 58, directing them to tell their employees that they must not gather for prayers at a public park in the area.
"People must adhere to the directions of the local administration when it comes to using public spaces for offering Namaz," Maulana Khalid Rasheed said.
"It is best that one offers Namaz either inside one's home or at a designated place such as a mosque," the Muslim scholar said.
UP Shia Waqf Board chairman Syed Waseem Rizvi also said that people must seek permission before using public spaces for prayers. "One cannot offer namaz at a public space without seeking permission from the authorities concerned. Offering namaz at public places without proper permission is not allowed in Islam," Rizvi said.
Maulana Shahabuddin, a prominent Barelvi cleric, said it is a matter of faith but people should make sure that nobody is disturbed when they practice their religion.
https://www.hindustantimes.com/noida/muslim-cleric-against-namaz-at-public-places-sans-permission-in-noida/story-SD3Y5kXP0OTaybbAJyVEkJ.html
--------
City Sufi leaders oppose Pakistan-based body meet in Hyderabad
Dec 26, 2018
HYDERABAD: Local Sufi Muslim leaders have demanded that the police cancel permission for a two-day congregation (Sunni Ijtema) here of the Dawat-e-Islami, a Pakistan-headquartered religious organisation, because the organisation, they allege, has terror links.
Preparations for the congregation at Mir Alam Idgah in Hyderabad, to start December 29, have been going on at a brisk pace.
Hyderabad ulema and Sufi leaders said on Tuesday they would approach a court if permission for the Sunni Ijtema was not withdrawn. According to them, the Dawat-e-Islami holds views which are against the beliefs of majority Muslims in Hyderabad and India. They said even the Pakistan government had restricted the Dawat-e-Islami from preaching to soldiers in the Pakistan army.
The Sufi leaders feared that the meeting would disturb peace in Hyderabad and create a wedge between Sunnis and Shias.
Posters of Dawat-e-Islami founder Maulana Mohammad Ilyas Attar Qadri against the backdrop of the historic Charminar have been pasted at different places in the old city.
Maulana Syed Auliya Hussaini Murtaza Pasha, founder-president of the Sunni United Forum of India, told TOI that though Dawat-e-Islami of Pakistan follows the Barelvi school of thought, the religious views its followers hold are different from those of the mainstream Barelvi sect of Sunni Islam. "Hyderabad has been a shining example of inter-faith harmony and permission to organisations like Dawat-e-Islami, which are linked to terror activities, will vitiate the peaceful atmosphere," he said, demanding that the police stop the organisers from holding the Sunni Ijtema.
Stating that the views of Dawat-e-Islami on the Caliphate and the succession of the Caliphate are contrary to majority Sunni belief, Maulana Syed Aale Mustafa Quadri, president of the All-India Ulema and Mashaik Board, Telangana and AP, said the proposed meeting would create differences among Sunnis and Shias. "People influenced by Dawat-e-Islami teachings have been linked to terror activities, including murderous assaults in Pakistan," he said.
Maulana Mustafa Quadri, also an executive member of the World Sufi Forum, said India has the world's largest number of Islamic scholars. "Indian Muslims do not need Pakistani religious scholars to preach to them," he said.
However, Abdul Khayyum Attari, one of the organisers of the Sunni Ijtema, told TOI that only Indian religious scholars would address the congregation. "We are a peace-loving organisation. No Pakistani scholar has been invited," he said.
Full report at:
https://timesofindia.indiatimes.com/india/city-sufi-leaders-oppose-pakistan-based-body-meet-in-hyderabad/articleshow/67249546.cms
--------
Triple talaq bill to face Lok Sabha test on December 27, BJP issues whip to MPs
Dec 26, 2018
The ruling Bharatiya Janata Party (BJP) on Tuesday issued a whip to its Lok Sabha members asking them to be present when Parliament's winter session resumes two days later. The whip followed Union minister Narendra Singh Tomar's announcement that the central government would push the Muslim Women (Protection of Rights on Marriage) Bill, 2018, that seeks to criminalise the practice of instant divorce among a section of Muslims.
The whip indicated the government's intent to pass the bill even as many Opposition parties have serious reservations about it.
The bill, which was tabled last week, provides for a three-year jail term for those found guilty of following the practice. It would supersede an earlier bill that the government had managed to get passed in Lok Sabha in December last year. The previous bill sought to make instant divorce a punishable, cognisable and a non-bailable offence.
The government was forced to issue an ordinance or executive order to criminalise the practice in September 2018 after failing to have the earlier bill passed in the Rajya Sabha. The revised bill includes bail provisions as part of attempts to soften some aspects of the proposed law.
Opposition Congress leader Shashi Tharoor last week opposed the fresh bill saying "it has no procedural safeguards to prevent its misuse".
He added that the bill "conflates civil law with criminal law by criminalising a wrong form of divorce and by criminalising an act which is already legally null and void".
The Supreme Court had banned the instant divorce, calling the practice "unconstitutional" in August 2017.
Tharoor called the proposed law "an attempt in creating a class-specific legislation on the grounds of religion, instead of focusing on the larger issue of mistreatment and desertion of wives and dependents".
The Congress, which has 47 members in the Lower House , is likely to aggressively reiterate its demand for a joint parliamentary committee (JPC) probe into the Rafale aircraft deal, days after the Supreme Court ruled out any court-monitored probe into it. The Congress or other Opposition parties had not issued any whip until Tuesday evening. A Congress functionary said, "It is not our issue. We want a JPC on Rafale before anything else."
Full report at:
https://www.hindustantimes.com/india-news/triple-talaq-bill-to-face-lok-sabha-test-on-december-27-bjp-issues-whip-to-mps/story-qBPmLZUQ1PGQzWsTwGKHXK.html
--------
Ayodhya verdict should not be hurried, says Babri Masjid Action Committee
Nelanshu Shukla
December 26, 2018
Ahead of the next hearing in the Ram Janmbhumi-Babri Masjid title suit in the Supreme Court on January 4, the Babri Masjid Action Committee (BMAC) has said the verdict should be delivered only after examining all documents. It said no urgency should be made on this issue.
The committee has also passed a proposal that it will move the Supreme Court if the government brings in a law in Parliament to facilitate construction of Ram temple in Ayodhya.
In a statement, BMAC mentioned that all members who participated in the meeting were of the opinion that the verdict in this case should only be delivered after all documents, evidences related to this case are properly examined and arguments of all litigants are heard.
Speaking to India Today TV, BMAC convener and member of All India Muslim Personal Law Board (AIMPLB) Zafaryab Jilani said, "The meeting was called in Lucknow on Tuesday to discuss the development in the Ayodhya title suit case. The recent statements made by UP Chief Minister Yogi Adityanath, VHP and RSS leaders on this issue were also discussed. The committee has passed a proposal to approach the Supreme Court immediately if the government decides to bring legislation in Parliament for Ram temple construction."
"I think the heckling of top BJP leaders and pressure for Ram temple construction is a well-planned strategy. It is only being done to polarise the Hindu votes ahead of the 2019 Lok Sabha elections. If the BJP leaders want to expedite the hearing in the SC, then the government has to move an application before the court, which has not been done so far," added Jilani.
In a meeting earlier this month, the AIMPLB has also decided to approach the Supreme Court if the government attempts to bring legislation to facilitate construction of Ram temple.
Babri masjid litigant Iqbal Ansari, who was part of the meeting, said "It has been decided in the meeting that the verdict of the top court in this case should be accepted by everyone. The politics on this issue shouldn't take place."
This meeting has come at a time when top BJP leaders, including Union minister Prakash Javadekar, have said that the Centre wants the Ram Janambhoomi-Babri Masjid title suit hearing to be heard on a day-to-day basis.
The meeting was attended by 70 members from different parts of the state, including AIMPLB members at the Islamia College in Lucknow.
Full report at:
https://www.indiatoday.in/india/story/ayodhya-verdict-should-not-be-hurried-says-babri-masjid-action-committee-1417318-2018-12-26
--------
Plea against stay of non-Muslim victims of religious persecution
Dec 26, 2018
A PIL has been filed in the Supreme Court challenging the Centre's notification regularising entry and stay of Hindu, Sikh, Buddhist, Jain, Christian and Parsi victims of religious persecution in Pakistan, Bangladesh and Afghanistan compelled to seek shelter in India.
Filed by "Forum Against Citizenship Act Amendment Bill", the PIL questioned the validity of the Passport (Entry into India) Amendment Rules, 2015, the Foreigners (Amendment) Order, 2015, and an order dated December 23, 2016, issued by the Ministry of Home Affairs. The amendments violated right to equality and went against secular character of the Constitution, it said.
These rules exempted persons belonging to minority communities in Bangladesh and Pakistan i.e. Hindus, Sikhs, Buddhists, Jains, Parsis and Christians forced to come to India because of religious persecution on or before December 31, 2014, from the application of provisions of the Foreigners Act, 1946. Under the amended rules, persecuted Hindus, Sikhs, Buddhists, Jains, Parsis and Christians may continue to stay in India without valid documents or with expired documents, including passport or other travel documents.
The PIL said the amended rules violated the basic structure of the Constitution. It was against secularism as "illegal immigrants" were granted citizenship only on the basis of religion pursuant to the impugned legislation.
"The subordinate legislation impugned herein are, however, unprecedented, in the sense that never before has religion been specifically identified in the citizenship law as the ground for distinguishing between citizens and non-citizens. It has introduced religion as a new principle into the citizenship law and can be conveniently branded as 'communally motivated humanitarianism'," the petition read.
Full report at:
https://www.tribuneindia.com/news/nation/plea-against-stay-of-non-muslim-victims-of-religious-persecution/704092.html
--------
US withdrawal from Afghan will have implications in Kashmir: Former J&K DGP
Dec 25, 2018
PUNE: Asserting that India should adopt a "clear-cut roadmap" to tackle the Kashmir issue, former DGP of Jammu & Kashmir K Rajendra Kumar has said the US pulling out troops from Afghanistan will have implications in the Valley and terrorist outfits may feel emboldened.
During his speech, Kumar also said that there is a need to send a stern message to Pakistan for its support to militancy.
"A stern message needs to be sent to Pakistan in terms of retaliation. We need to make it more costly for Pakistan because today Pakistan is not feeling the pinch it should feel," said Kumar.
He said India should deal strongly with Pakistan as far as training camps and terrorist launchpads are concerned.
"Now USA is existing Afghanistan. It has its implications in Kashmir. It is a matter of time that we will be feeling its implications in the Valley. After the US withdrawal, the terrorists organisations would feel pumped up, emboldened," he said.
Seeing America's withdrawal as a "sign of victory", terrorist outfits can feel that New Delhi can also be defeated, so there is an urgent need for India to adopt a "clear-cut roadmap" to deal with terrorism in Kashmir, he asserted.
The US is planning to withdraw 7,000 troops from Afghanistan. The American troops contribute to training and advising local forces fighting the Taliban and the Islamic State group.
Underling Pakistan's active role in spreading terrorism in the Valley, the former IPS officer said Pakistan is not only sponsoring terrorism but also sending its nationals to Kashmir in the garb of fighting jihad.
"No matter which government is in power, Pakistan continues to sponsor terrorism in the Valley," he said.
He said militancy in Kashmir started with local terrorist organisations but now it is tilting towards Islamic extremism.
"The Valley has a rich history of Sufism but over the years it has moved towards Wahabism," he said, adding that efforts should be made to take Kashmir back to Sufism.
Suggesting measures, he said the state needs stringent laws to deal with anti-national forces, a concrete policy to encourage youths to give up militancy.
The surrender policy must ensure that youth who give up militancy are gainfully employed and discouraged from returning to the menace, he said. He also called for political outreach and empowerment of the civil society.
Full report at:
https://timesofindia.indiatimes.com/india/us-withdrawal-from-afghan-will-have-implications-in-kashmir-former-jk-dgp/articleshow/67241777.cms
--------
Pakistan
'JUI-F won't allow govt to abolish blasphemy punishment'
December 26, 2018
TIMERGARA: Jamiat Ulema-i-Islam-F Senator Maulana Ataur Rehman has said the Pakistan Tehreek-i-Insaf government wished to abolish the punishment of hanging on blasphemy, but his party would not let it do so.
He was addressing the 'Sheikh ul Hind' conference at Talash here on Sunday.
Jamiat Tulba Islam (JTI), a student wing of JUI-F, arranged the event.
Ataur Rehman, who is brother of party chief Maulana Fazlur Rehman, said Sheikh Mehmood ul Hassan was a history maker who led the Muslims of India before partition. He said countless Muslims sacrificed their lives during the 1857 freedom movement against the British rulers.
He said the JUI-F followed the thought and philosophy of Sheikh Mehmood ul Hassan and was committed to protecting the new generation from the western civilisation.
The Maulana insisted that the present government was following the Jewish agenda, saying the PTI had introduced the culture of dancing, singing and disrespecting opponents. He said despite attempts the government and its institutions had failed to file anti-corruption cases against the JUI-F leadership.
WOMEN VOTE: Unlike the past, women voters took active part in the recently held LG by-elections in the Lower Dir district. An official of the election commission said except one ward the percentage of women voters remained over 20pc.
Noor Said Khan Khattak, the district election commissioner, said 17 per cent of women exercised their right to vote in Rabat ward, 26pc in Toormang ward, 20pc in Koto ward, 11pc in Haya Serai ward and 30pc in Munjai ward.
He said percentage of women voters in Kotkay Maidan ward remained only 5.71pc, and according to ECP rules, its result would be declared void. He said only 428 women out of 7,489 took part in the voting.
POLYTHENE BAGS: A private educational institution in Talash arranged an awareness walk against the use of polythene bags.
The school's students, teachers and citizens walked on the roads while carrying banners and placards inscribed with slogans against the use of polythene bags.
Timergara tehsil nazim Riaz Mohammad led the walk.
Addressing the gathering, Riaz Mohammad, school's principal Abdul Wakil, tehsil councillor Manzoor Ahmad and others said polythene bags were dangerous for environment.
They said use of polythene bags caused soil pollution and several diseases.
https://www.dawn.com/news/1453617/jui-f-wont-allow-govt-to-abolish-blasphemy-punishment
--------
COAS joins Christian community for Christmas celebrations
Dec 26, 2018
RAWALPINDI: Chief of Army Staff (COAS) General Qamar Javed Bajwa on Tuesday joined the Christian community at Christ Church, Rawalpindi to participate in Christmas celebrations, Inter-Services Public Relations (ISPR) reported.
According to the military's media wing, Gen Bajwa wished a Merry Christmas to the entire Christian community in Pakistan and acknowledged the role of Christians not only towards the creation of the country but also for their contributions towards its progress.
The military chief also appreciated the role of various institutions in the fields of education, health and public welfare being managed by Christian community across the country, the communique stated further.
Full report at:
https://www.pakistantoday.com.pk/2018/12/25/coas-joins-christian-community-for-christmas-celebrations/
--------
Tough times likely for Pakistan as global watchdog expands monitoring of terror funding to state sponsors
Dec 26, 2018
NEW DELHI: The global watchdog on terrorism financing, financial action task force (FATF), is expanding its monitoring jurisdiction from terror groups to states who support terrorism, a development that will increase scrutiny of Pakistan that has already attracted the body's criticism.
A public statement by the FATF after its recent October plenary said for the first time that it would monitor states that fund terrorism, a move with implications for Pakistan that was put on the organisation's "Grey List" in June for failing to act credibly against terror financing.
In October, a public statement by FATF observed, "the funding of terrorism or the resourcing of a terrorist entity by any State remains incompatible with the FATF standards. The FATF will remain diligent in identifying new risks associated with the financing of ISIL, Al Qaeda and their affiliates and will continue to take robust measures to ensure that these terrorist financing risks are mitigated."
In 2018 too, FATF broadened its monitoring of terror financing with regard to Islamic State (ISIL) to include Al Qaeda and its affiliates, which would include terror groups that expressly target India such as Lashkar-e-Taiba and Jaish-e-Mohammed as they are listed under the UN Security Council's resolution 1267.
In October, Pakistan submitted a 27-point action plan to be implemented in 15 months. After Pakistan was placed on the Grey List, Pakistan made a high-level commitment to work with FATF "to address its strategic counter-terrorist financing-related deficiencies." Though Pakistan technically has over a year, any progress it makes — or doesn't — will be discussed in the AsiaPacific group meetings in January and the plenary in February.
Pakistan got a reprieve from China, which has blocked UNSC sanctions on the JEM chief Maulana Masood Azhar from 2016.
Azhar was part of the terrorist-for-hostage swap that ended the Kandahar hijacking in 1999. That is a sore point between India and China and has also led Pakistani authorities to relax curbs on terror leaders like LeT's Hafiz Saeed who continue to operate freely. As the US plans its exit from Afghanistan, Pakistan can expect, according to diplomatic sources, to come under pressure regarding its support to Taliban and other terror groups in Afghanistan like the Haqqani Network.
According to the FATF statement, its internal investigations found ISIL would use oil revenues to fund its operations. But, after its defeat on the ground, ISIL is moving to other means — "self-funding, crowd-funding, contributions from family" to extortion, kidnapping and looting to funding small terror cells and lone actors.
Regarding Al Qaeda, the FATF in its public statement notes the "resurgence" of AQ and linked entities in some areas, who depend on financing by "sympathisers". The statement says, "in some regions Al Qaeda and affiliates are now moving from stable funding to one-time payments for specific terror acts or military operations." According to sources, these would describe recent terror attacks in Afghanistan.
Full report at:
https://timesofindia.indiatimes.com/world/pakistan/tough-times-likely-for-pakistan-as-global-watchdog-expands-monitoring-of-terror-funding-to-state-sponsors/articleshow/67249524.cms
--------
Former MQM leader Ali Raza Abidi shot dead in Karachi's DHA
December 25, 2018
Former Muttahida Qaumi Movement (MQM) leader and ex-MNA Syed Ali Raza Abidi was shot dead in Karachi's DHA neighbourhood on Tuesday evening, Deputy Inspector General (DIG) South Javed Alam Odho said. He was 46.
Two unidentified assailants riding a motorcycle opened fire on Abidi's car near his residence on Khayaban-e-Ghazi street in DHA's Phase V, according to Station House Office Gizri Asad Mangi.
Abidi was alone in his car when the attack took place and was taken to PNS Shifa hospital by his father, Akhlaq Abidi.
The former MQM leader succumbed to his injuries during treatment, SSP South Pir Muhammad Shah said.
A postmortem examination showed that Abidi sustained four bullet wounds — two on his chest, one on his neck and as many on his arm.
Police and Rangers personnel cordoned off the site of the attack and are collecting evidence.
Sindh Inspector General of Police (IGP) Dr Syed Kaleem Imam took notice of the incident and sought a report from police authorities. Sindh Chief Minister Murad Ali Shah also took notice of the incident and sought an investigative report.
Former MQM-Pakistan chief Farooq Sattar while talking to reporters after Abidi's demise said "[he] was like my children".
"We had raised him with our own hands, he was Pakistan's future. With what cowardice and coldness he was targeted and martyred."
'Expert killers'
CCTV footage of the incident, seen by Dawn.com, shows Abidi's car approaching and then stopping at his residence's gate. Just before the gate is opened, however, two motorcycle-riding assailants stop by Abidi's car. One of the attackers, wearing a cap, gets off the bike and opens fire from the driver's side.
"The attackers were expert in target killings," Raja Umar Khattab, a senior official of Sindh Police's Counter-Terrorism Department, told Dawn. He noted that the shooter had targeted Abidi within a span of just 10 seconds.
The assailants had been closely following Abidi's car, Khattab added.
A politician and restaurateur
Abidi was elected to the National Assembly in the 2013 general elections from Karachi's NA-251 constituency on an MQM ticket.
In November 2017, he had opposed Sattar and Pak Sarzameen Party (PSP) Chairman Mustafa Kamal's short-lived alliance, and even announced that he was resigning from his NA seat as "this is not what I believed in and stood for".
Abidi was one of the leaders who had stood with former convener Sattar in the buildup to the 2018 elections when MQM-P was subject to an internal power battle.
He contested the July 25 elections from Karachi's NA-243 constituency, but was defeated by Prime Minister Imran Khan.
In September this year, Abidi tendered in his resignation from the MQM-Pakistan's "basic membership" citing "personal reasons".
Abidi studied marketing at Boston University in the United States and also attended Iqra University in Karachi, according to his Facebook profile. He was the owner of the famous Karachi eatery, 'Biryani of the Seas'.
He was quite active on Twitter, with his last tweet coming just four hours before the fatal attack on him.
This is the second incident of violence aimed at political parties or personalities in Karachi within a span of three days.
On Sunday, two workers of the PSP — which is an MQM offshoot — were shot dead and two others injured in an attack by armed pillion riders on the party's office in Rizvia Society.
Full report at:
https://www.dawn.com/news/1453528/former-mqm-leader-ali-raza-abidi-shot-dead-in-karachis-dha
--------
Outgoing year sees terrorism rear its ugly head in Karachi again
Imtiaz Ali
December 26, 2018
KARACHI: Although terrorism and targeted killings committed by banned sectarian outfits have been decreasing in the metropolis since 2013 because of a continuous operation by the security forces, there have been three major acts of terrorism, including the deadly attack on the Chinese consulate, during 2018 which were allegedly perpetrated by sub-nationalist groups, it emerged on Tuesday.
The city also witnessed a 'bomb attack' on a gathering of a political party and killing of workers of another political party, and the police apprehended that 'political killings' might emerge as another challenge for them in the near future.
Three policemen were also shot dead in the outgoing year, but the TTP claimed responsibility for the killing of one policeman while the two other policemen might have fallen victim to "sectarianism or revenge killing", said police officials.
Attack on Chinese consulate
The gun-cum-grenade attack by three militants linked to the banned Balochistan Liberation Army on the Chinese consulate in Clifton was considered a major act of terrorism in 2018, which claimed the lives of two policemen and two visa applicants, father and son, before all attackers were eliminated.
Police's Counter-Terrorism Department (CTD) officer-in-charge of the Transnational Terrorism Intelligence Group (TTIG) Raja Umar Khattab told Dawn that "significant progress" had been made in the case.
Mr Khattab, who is investigating the case, recalled that the CCTV footage obtained from outside the consulate showed that one of the attackers after being shot at and wounded by policeman posted there crawled towards the wall of nearby house.
"The attacker opened a burst on himself from his Kalashnikov after being injured apparently to avoid arrest by law enforcers who had arrived at the scene," said the CTD official while sharing the CCTV footage.
Of the two other attackers who proceeded to the reception room of the consulate, one was killed at a "close range" as per the medical report, indicating the possibility that he also committed suicide by shooting himself to death to avoid arrest, opined Mr Khattab.
"It was a suicide mission," added the official.
The BLA claimed responsibility even when the operation was going under way. "The attack on the Chinese consulate was RAW-inspired to target CPEC," said the TTIG chief.
He claimed that they had "proofs" that the planning of the attack on the foreign mission was carried out abroad and funds were also provided from abroad. "We have evidences that the China consulate attackers were in contact with their masters abroad," he said.
He also believed that the bomb attack under Quaidabad flyover, which claimed the lives of two teenage vendors, and the car 'bomb explosion' in Defence were also 'foreign-inspired' terror acts.
Mr Khattab suggested that the modus operandi and type of explosives used in the Quaidabad incident indicated the involvement of Sindhi sub-nationalist groups. "There was a link between Sindhi and Baloch sub-nationalist groups and they were being operated from abroad."
As for the Defence explosion, he said the CCTV footage obtained from the area showed that two suspects driving a car and a motorbike arrived there and parked the car on a plot to carry out the explosion through gas cylinders. Later on, they left the place on the motorbike.
"There was a lot of resemblance in all these three terror acts," said the official.
He recalled that around two and half years back, the Sindhi sub-nationalist group had carried out an act of terrorism near the parking plaza in Saddar in which the both attackers were killed when an improvised explosive device attached to a motorbike exploded "accidentally".
Different teams were working on these three terror acts and Mr Khattab was hopeful that they would "eliminate" the threat posed by sub-nationalist groups in the city.
Killing of policemen
Three policemen, including a traffic police official, were shot dead in the city during 2018.
The banned Tehreek-i-Taliban Pakistan in a video claimed the responsibility for the killing of a Gulberg police official, Shakir Ali.
For the killing of another policeman, Syed Ahmed Abbas Rizvi, in New Karachi, the CTD official cited two possible motives. He might have fallen victim to "sectarianism" as being member of the Shia community. In the same area, two members of the banned Ahl-i-Sunnat Wal Jamaat were shot dead by gunmen riding a motorcycle and the policeman's killing might have been carried out in "revenge".
Secondly, Mr Khattab recalled that Abbas Rizvi was also a "witness" in a criminal case against two sectarian militants and he had been appearing in the case for the previous three and half years owing to which the held accused could not get bail.
The TTIG head said the killing of traffic police official Mohammad Rafiq off the Superhighway was also a terror act and they suspected the involvement of the "sleeper cell" of banned militant outfits.
Raja Umar Khattab, who has extensively investigated terror acts in the city for the last several years, said the banned TTP and AQIS had been "weakened" due to the continuous operation by the security forces while the Ansarul Sharia Pakistan had been "almost wiped out".
In the recent past, these three militant groups openly targeted police mobiles and carried out IED explosions, but their capacity to challenge the law enforcers and carry out bomb blasts had been "significantly reduced".
The TTP or the AQIS now make "soft target" such as a lone policeman.
However, Mr Khattab apprehended that Afghanistan-based IS, or Daesh, still posed a challenge.
"The IS prefers specific targets such as shrines in Sindh and Balochistan," said the official.
Fear of killings on political grounds
The city also witnessed a 'low-intensity bomb' attack during a function organised by the MQM-P in Gulistan-i-Jauhar, which caused injuries to eight persons, and the police suspected "internal rifts" behind the incident.
Furthermore, two workers of the Pak Sarzameen Party were shot dead and two others were wounded in an attack on the party's office in Rizvia Society on Dec 23.
Mr Khattab apprehended that "political killings" might increase in the city in the future. He said during interrogation of a suspect belonging to the 'South Africa network' and others recently, it had transpired that certain elements were allegedly planning "political killings" in the metropolis.
Besides, "differences" have been intensified among different groups, which might give rise to targeted killings on political grounds.
964 personnel 'counter-terror force' established
The CTD official said that to enhance the capacity of the police, the army had trained 964 policemen who would be made members of the 'counter-terror force' recently established by the Sindh CTD to fight terrorism.
Full report at:
https://www.dawn.com/news/1453544/outgoing-year-sees-terrorism-rear-its-ugly-head-in-karachi-again
--------
Mideast
Israel approves construction of some 1,300 new settler units
Dec 25, 2018
Israeli officials have approved plans for the construction of roughly 1,300 homes in the West Bank, irrespective of the international outcry against the Tel Aviv regime's land expropriation and settlement expansion policies in the occupied Palestinian territories.
On Tuesday, the High Planning Subcommittee of Israel's so-called Civil Administration gave the green light for 1,289 units in 23 different projects.
A total of 744 homes obtained final approval for construction, while 545 others had their plans cleared ahead of being considered for a final okay.
Israeli authorities are slated to pass the construction of 418 homes on Wednesday, with 294 gaining final approval for construction and 192 clearing the earlier planning stage.
Less than a month before US President Donald Trump took office, the United Nations Security Council adopted Resolution 2334, calling on Israel to "immediately and completely cease all settlement activities in the occupied Palestinian territories, including East Jerusalem" al-Quds.
About 600,000 Israelis live in over 230 illegal settlements built since the 1967 Israeli occupation of the Palestinian territories of the West Bank and East Jerusalem al-Quds.
Palestinians want the West Bank as part of a future independent Palestinian state with East Jerusalem al-Quds as its capital.
The last round of Israeli-Palestinian talks collapsed in 2014. Among the major sticking points in those negotiations was Israel's continued settlement expansion on Palestinian territories.
Trump backtracked on Washington's support for a "two-state solution" earlier this year, saying he would support any solution favored by both sides.
"Looking at two-state or one-state, I like the one that both parties like. I'm very happy with the one both parties like. I can live with either one," the US president said during a joint press conference with Israeli Prime Minister Benjamin Netanyahu in Washington on February 15.
https://www.presstv.com/Detail/2018/12/25/583967/Israel-approves-construction-of-some-1300-new-settler-units-in-occupied-West-Bank
--------
Saudi ambassador says kingdom protected Yemen from becoming 'failed state'
25 December 2018
Saudi ambassador to Yemen Mohammed Said Al Jaber said Saudi Arabia's help to Yemen's legitimate government on the military and diplomatic fronts has made the recent negotiations feasible noting that if the Kingdom had done nothing, Yemen would have become a "failed state, divided between an Iranian proxy force and other terrorist groups, including Al Qaeda and ISIS."
In in an op-ed entitled "The Saudis Want Peace in Yemen" published in The Wall Street Journal on Sunday, Jaber said that "he found renewed hope" in the recent negotiations in Sweden between the Houthis and the delegation of Yemen's legitimate government. However, he added: "As someone who has attended every mediation effort, I see the agreements reached in Sweden as encouraging. But words are not enough. The Houthis have repeatedly violated cease-fires and ignored their negotiators' promises."
Jaber said the Kingdom wants Yemen to make the most from this new chance for peace, noting that "this means no more rationalizing of Houthi violations, whether the orders come from Sana'a or Tehran."
He added that the Kingdom's aim in Yemen is restoring unity and stability under legitimacy.
"Saudi Arabia's goal in Yemen is the restoration of Yemen's unity, independence, sovereignty and stability, under a legitimate and recognized government that can serve the Yemeni people. This month's diplomatic progress, almost unthinkable until recently, should inspire optimism in everyone. We must all work together to bring peace to Yemen," he added.
Full report at:
https://english.alarabiya.net/en/News/gulf/2018/12/25/Saudi-ambassador-says-kingdom-protected-Yemen-from-becoming-failed-state-.html
--------
Israeli raids target Iranian weapons depots near Damascus
26 December 2018
Syria's air defenses have responded to a number of air raids in the vicinity of Damascus, Syrian media reported Tuesday night.
Al Arabiya's correspondent said that the Israeli raids near Damascus were carried out from Lebanon's airspace.
The director of the Syrian Observatory for Human Rights said that Israeli raids were targeting weapons storage areas of Iranian militias and Hezbollah positions in the countryside of Damascus.
Rami Abdulrahman told Al Arabiya's sister channel Al Hadath that Israeli raids targeted the western and southern suburbs of Damascus.
State television Al-Ekhbariya carried a breaking ticker saying air defenses had intercepted missiles. But it only referred to "hostile targets" in a later report.
Lebanese state-run National News Agency said Israeli war planes performed mock raids above southern Lebanon.
Full report at:
https://english.alarabiya.net/en/News/middle-east/2018/12/26/Syrian-air-defenses-intercept-hostile-targets-near-Damascus.html
--------
How Houthis are misusing military uniforms to ensure Hodeidah presence
25 December 2018
During the start of his mission to monitor the ceasefire in Hodeidah, Retired Dutch general Patrick Cammaert was seen sitting with a member of the Houthi militia leader who was wearing a uniform belonging to the Yemeni army.
The militant leader in question is Abu Ali al-Kahlani, who was photographed wearing a Yemeni military uniform with the rank of colonel. He is currently on a wanted list and has worked on the personal protection team of Houthi militia leader Abdulmalik al-Houthi.
Al-Kahlani is just another example of how the militants are presenting themselves to the UN mission as the local authority charged with protecting the security in Hodeidah.
According to sources in Hodeidah, the militias have begun a series of early measures to reinforce its presence by ordering their elements to wear the Central Security and police uniforms, painting their vehicles and cars with the military colors, deploying fighters with the military uniforms in police stations and Hodeidah port.
Full report at:
https://english.alarabiya.net/en/News/gulf/2018/12/25/How-Houthis-are-using-military-uniforms-to-ensure-Hodeidah-presence.html
--------
Who will succeed Shahroudi, the Iranian cleric billed as Khamenei's successor?
25 December 2018
After conflicting reports of his fate, Iranian authorities finally announced on Monday the death of the Head of the Expediency Council Ayatollah Mahmoud Hashemi Shahroudi, in a hospital in the capital Tehran after a struggle with the disease.
Iranian human rights groups accuse Shahroudi, who died at the age of 70, of overseeing 2,000 executions during his tenure as chief justice during a period of 10 years (1999-2009). He was a close ally to Supreme Leader Ayatollah Ali Khamenei and was considered a potential successor by observers.
Shahroudi cut off a visit to Germany for treatment in January when Iranian and German activists filed a complaint against him for "crimes of murder and crimes against humanity".
Demonstrators gathered in front of the International Center for Neurology in Hanover and protested against Shahroudi and the Iranian regime. They accused him of carrying out death sentences, arbitrary arrests, torture of critics and political prisoners, and in some cases executions of young men under the age of 18 when he was chief justice.
The former German MP, Volker Beck, filed a complaint against Shahroudi, and called on the judicial authorities in the state of Lower Saxony in Germany to arrest him and try him on charges of murder, human rights violations and crimes against humanity.
Human rights groups say he has contributed to arbitrary arrests of political activists, banned dozens of newspapers, and many journalists and bloggers faced long imprisonment sentences because of him.
In addition to his positions is the judiciary and the Council of Expediency Discernment, he was considered a Shiite reference in Iran and Iraq. He was born in the Iraqi city of Najaf in 1948 and studied in its Houza. He moved to Iran after the revolution in 19179 and joined the Association of Combatant Clergy.
He was the head of Islamic Supreme Council of Iraq before it was led by Mohammad Baqir al Hakim. The organization was the most powerful Shiite opposition group loyal to Iran and he co-founded and supervised it throughout the 1980s until the fall of the Iraqi regime in 2003.
With the death of Shahroudi, a number of prominent political and religious figures are being named in the country as potential successors, namely Ebrahim Raisi, the former presidential candidate.
Full report at:
https://english.alarabiya.net/en/features/2018/12/25/Who-will-succeed-Shahroudi-the-Iranian-cleric-billed-as-Khamenei-s-successor-.html
--------
Turkey resolute in fighting terror, needs no permission from Israel: Ankara
Dec 25, 2018
Turkey says it is determined to continue its "fight" against terrorism, stressing that Ankara does not need any "permission" from the Israeli regime to fight terror.
"It is out of the question for Turkey to get permission or consent from Israel" to fight against terrorism, Turkey's English-language Hurriyet Daily News newspaper on Tuesday quoted Turkish Presidential spokesman Ibrahim Kalin as telling reporters the day before.
He said Ankara would equally need no permission from any "country" in the world to carry out its anti-terror operations.
Kalin's comments came after Israeli Prime Minister Benjamin Netanyahu, in a Twitter post on Sunday, attacked Turkish President Recep Tayyip Erdogan over Ankara's counterterror operations in northern Syria, calling him "the occupier of northern Cyprus."
The Turkish leader hit back at Netanyahu in a tweet, saying the Israeli premier is heading "state terror."
Netanyahu "may have confused his language. Rather, he wanted to say that they are invading Palestine and murdering women and children," Erdogan added, calling the Israeli prime minister as "the voice of the tyrants."
Furthermore, Turkey's Foreign Minister Mevlut Cavusoglu on Monday likened Netanyahu to Kurdistan Workers' Party (PKK) militants, which Ankara views as terrorists.
Elsewhere in his remarks, Kalin described as "historic" the December 14 "telephone call" between Erdogan and President Donald Trump of the United States that "led" to Washington's decision to pull out its 2,000 ground troops from Syria.
The spokesman added that Trump's decision was made as a "result" of Erdogan's convincing argument over the phone with the US leader.
He said that Erdogan told the US president "loud and clear" that Ankara and Washington did not need the Syrian Kurdish militants of the People's Protection Units (YPG) to fight against the Takfiri Daesh terrorist group, two groups in war-ravaged Syria that Turkey lists as terrorist organizations.
Late last year, Washington infuriated Ankara by announcing a plan for the formation of a Kurdish militant force in Syria near the Turkish border. The plan prompted Turkey to launch a cross-border military operation code-named Operation Olive Branch on January 20 inside the Arab country with the declared aim of eliminating YPG from northern Syria, particularly the Afrin region.
The US-backed YPG, which controls swathes of Syria's northern border region, forms the backbone of the so-called Syrian Democratic Forces (SDF), an anti-Damascus alliance of predominantly Kurdish militants supported by Washington.
Ankara views the YPG as the Syrian branch of the outlawed Kurdistan Workers' Party (PKK), which has been fighting for an autonomous region inside Turkey since 1984.
Turkey, which has long been exasperated by the US support of the YPG Kurdish militants in Syria, warmly welcomed Trump's abrupt decision and stressed that both Ankara and Washington were coordinating to ensure there is no "authority vacuum" once the American troops withdraw.
Damascus has given a degree of authority to the Kurdish regions to run their own affairs. Washington, however, used the power vacuum to establish a foothold in those regions with the help of militants.
However, Ankara is strongly against recognizing the territory on its border, fearing it will stoke the separatist ambitions of Kurds in Turkey.
A US-led military coalition has been conducting airstrikes against what are said to be Daesh targets inside Syria since September 2014 without any authorization from Damascus or a United Nations mandate.
The military alliance has repeatedly been accused of targeting and killing civilians. It has also been largely incapable of achieving its declared goal of destroying Daesh.
Full report at:
https://www.presstv.com/Detail/2018/12/25/583940/Israel-Erdogan
--------
Turkey warns France against supporting Kurdish YPG militants
Dec 25, 2018
Turkey has warned France against supporting US-backed People's Protection Units (YPG) in northern Syria, in the wake of US President Donald Trump's decision last week to withdraw American troops from the war-ravaged Arab country.
"If France is staying to contribute to Syria's future, great, but if they are doing this to protect the (militants), this will bring no benefit to anyone," Turkish-language Hurriyet daily newspaper quoted Foreign Minister Mevlut Cavusoglu as saying on Tuesday.
Turkey considers the YPG a terrorist organization and an extension of the outlawed Kurdistan Workers' Party (PKK), which has been fighting for an autonomous region inside Turkey since 1984.
Cavusoglu further noted that Ankara has "the power to neutralize Daesh alone" amid speculations that the US exit from Syria would influence the military campaign against the Takfiri terrorist group.
The top Turkish diplomat then criticized French "support" of the YPG, which he said was "no secret."
He also slammed French officials' meetings with senior officials from the political wing of the so-called Syrian Democratic Forces (SDF), which has YPG as its backbone, in Paris last week.
Cavusoglu said the US withdrawal "should not serve the YPG's separatist agenda."
Separately, Turkish President Recep Tayyip Erdogan said on Tuesday that a Turkish delegation would head to Moscow "today or tomorrow" to discuss the planned US troops pullout from Syria.
Erdogan added he expected to meet his Russian counterpart Vladimir Putin for face-to-face talks about the issue.
'Turkey's preparation for operation in east of Euphrates going as planned'
Meanwhile, Turkish Defense Minister Hulusi Akar said preparations for a military operation campaign in the eastern bank of the Euphrates River against Kurdish YPG militants are proceeding as planned.
"Everything has been planned and programmed. Everything is going according to it [the plan] and in line with the schedule," Akar told reporters ahead of the ruling Justice and Development Party's (AKP) parliamentary group meeting in the capital Ankara on Tuesday.
He noted that talks will be held with US officials within the next few days on a roadmap for Manbij.
"Work on the Manbij roadmap is continuing intensively," Akar pointed out.
He said Turkish military officials are in contact with their US counterparts, adding that further information on the roadmap's timetable will be released once it is finalized.
The northern Syrian town of Manbij, which lies in mainly Arab territory west of the Euphrates, has been a major bone of contention between Ankara and Washington.
Turkey has complained over the slow implementation of a deal reached with the United States in June, which would see the YPG ousted from the town and moved back to the eastern bank of the river.
Over the past few days, the Turkish military has been sending reinforcements to frontline areas with YPG militants in northern Syria.
Full report at:
https://www.presstv.com/Detail/2018/12/25/583932/Turkey-warns-France-against-supporting-Kurdish-YPG-militants
--------
Africa
Italy, Russia Do Not Oppose Role for Seif al-Islam Gaddafi in Libya's Future
25 December, 2018
Italy and Russia announced that they do not oppose a return to Libyan political life by Seif al-Islam al-Gaddafi, the son of later ruler Moammar.
An official in the Italian government had stated that Rome "cannot claim that Seif al-Islam has no right to pursue a leadership role in his country."
It cannot oppose his return to politics if he enjoys popular support, he added. "This is democracy."
He made his remarks in wake of a surprise visit paid to Libya by Italian Prime Minister Giuseppe Conte over the weekend.
Russian Deputy Foreign Minister Mikhail Bogdanov, meanwhile, said that Seif al-Islam should play a role in Libya.
The RIA news agency said that one of Seif al-Islam's representatives had delivered a letter from him to Moscow earlier this month in which he had set out ideas for the political future of Libya and that he was in regular contact with Russia.
"We support everyone. We believe that nobody should be isolated or excluded from a constructive political role," RIA cited Bogdanov as saying.
"That's why we are maintaining contacts with all groups who are based in the west, east and south of the country ... Seif al-Islam has the backing of specific tribes in specific areas of Libya and all this should be part of the overall political process with the participation of other political forces."
https://aawsat.com/english/home/article/1519216/italy-russia-do-not-oppose-role-seif-al-islam-gaddafi-libya%E2%80%99s-future
--------
Sudan's Bashir: Traitors took advantage of protests to vandalize
25 December 2018
Sudanese President Omar al-Bashir said on Tuesday that "some traitors, infiltrators and agents have exploited the living hardship and conditions to vandalize" and that "mercenaries are working to sabotage in service of the enemies of Sudan".
His statements come a day after he vowed to carry out broad economic reforms amid days of protests that have gripped the country.
Riot police deployed heavily around Sudan's capital Tuesday as protesters threatened to march on Bashir's palace to call for his resignation following days of deadly demonstrations.
Sudan is mired in economic difficulties including an acute foreign currency shortage and soaring inflation.
The crisis has worsened despite the lifting of an economic embargo by the United States last October.
Inflation is running at close to 70 percent and the Sudanese pound has plunged in value, while shortages have been reported across several cities including Khartoum.
Full report at:
https://english.alarabiya.net/en/News/middle-east/2018/12/25/Sudan-s-Bashir-Traitors-took-advantage-of-protests-to-vandalize.html
--------
Libya, Algeria slam Turkey over arms shipment
25 December 2018
The Turkish arms shipment that was delivered to Libya threatens the country and region, charged an Algerian security official.
He told the daily al-Watan newspaper that the purpose of such activity is to not only destabilize Libya, but send such an arsenal to unstable regions, including Algeria.
The rockets and 48 million rounds of ammunition that were recently discovered on the Algerian-Libyan border are "a real declaration of war against us," he continued.
"The military and security forces are on highest alert to confront any attempt to undermine our security," he stressed.
Al-Watan also quoted official sources as saying that a plot was underway to destabilize the Maghreb countries, wondering whether the chaos plaguing the Middle East will spread to Africa.
Last week, Libyan authorities at al-Khoms port announced the discovery of two containers that were loaded with arms from Turkey.
Turkish Foreign Minister Mevlut Cavusoglu had also arrived in Libya Saturday for a surprise visit where he held talks with head of the Government of National Accord (GNA) Fayez al-Sarraj.
Meanwhile, media aide to the parliament speaker Fathi al-Mariami condemned Cavusoglu's visit, saying it aims at "covering up for the weapons shipment that was headed to terrorist and outlawed groups."
Full report at:
https://english.alarabiya.net/en/News/middle-east/2018/12/25/Libya-Algeria-Slam-Turkey-over-Arms-Shipment.html
--------
Three dead in Libya's foreign ministry attack in Tripoli
25 December 2018
Three people were killed following suicide attackers hitting the headquarters of Libya's foreign ministry in Tripoli on Tuesday, according to Libyan security officials.
They say a second suicide bomber was shot dead by guards before he could detonate his explosive vest.
The officials, who spoke on condition of anonymity because they were not authorized to brief the media, say at least seven other people were wounded in Tuesday's attack.
No one immediately claimed the attack, which bore the hallmarks of ISIS.
Libya has been a haven for extremists since a 2011 uprising toppled dictator Moammar Gadhafi. The country is split between rival governments, each backed by an array of local militias.
https://english.alarabiya.net/en/News/north-africa/2018/12/25/Gunmen-attack-HQ-of-Libya-s-foreign-ministry-in-Tripoli.html
--------
37 protesters killed by police in Sudan protests: Amnesty
Dec 25, 2018
Amnesty International says it has received "credible reports" that Sudan's security forces have shot dead nearly 40 protesters in clashes during anti-government demonstrations that erupted last week in many parts of the country.
The international rights group said in a statement late Monday it "has credible reports that 37 protesters have been shot dead by the security forces in five days of anti-government demonstrations."
Sarah Jackson, Amnesty's director for East Africa, the Great Lakes and the Horn, said the use of lethal force by security forces against unarmed protesters was "extremely troubling."
"The fact that the security forces are using lethal force so indiscriminately against unarmed protesters is extremely troubling," she said. "With dozens already dead, the government must rein in this deadly use of force and prevent more unnecessary bloodshed."
Demonstrations have expanded to a dozen cities across the country since last week in the wake of a move by the government to triple the price of a loaf of bread.
Sudanese authorities say eight protesters have been killed so far. Sudan's main opposition leader Sadiq al-Mahdi on Saturday put the death toll at 22.
On Tuesday, police used tear gas and fired in the air to disperse thousands of protesters attempting to march on the presidential palace.
Video clips purported to show crowds of several hundred people gathering on the roadside, heading toward the palace on the bank of the Blue Nile in the heart of Khartoum. Large numbers of security forces were deployed across much of Khartoum Tuesday in anticipation of the march, with soldiers riding in all-terrain vehicles.
The protest was called by an umbrella of independent professional unions and supported by the country's largest political parties, Umma and Democratic Unionist. The organizers want to submit a petition demanding that President Omar al-Bashir, who has been in power since he seized power in a 1989 military coup, step down.
Tuesday's march follows nearly a week of protests initially sparked by rising prices and shortages of food and fuel. The public display of anger later escalated into calls for Bashir to go.
Full report at:
https://www.presstv.com/Detail/2018/12/25/583937/Sudan-Khartoum-Sarah-Jackson-Amnesty-Bashir-Sadiq-alMahdi
--------
Nigerian army says 14 personnel killed in Boko Haram ambush
Dec 26, 2018
As many as 14 Nigerian military and police personnel have been killed in an ambush by armed Boko Haram group, the army said in a statement.
According to the army statement issued on Tuesday, security forces were on escort duty when they were attacked on Monday just outside Damaturu town in Yobe state in the north of Nigeria.
The statement signed by army spokesman Colonel Onyema Nwachukwu said efforts to pursue and "eliminate" the Boko Haram group are ongoing.
Since the group launched its campaign in 2009, Boko Haram has killed more than 20,000 people and forced two million others to flee their homes in northeast Nigeria.
Nigeria's military has been fighting the group since then and despite the government's insistence that it is near defeat, northern Nigeria is still beleaguered by heavy fighting.
Over the years, Boko Haram, which wants to form a breakaway state, has kidnapped thousands of adults and children.
The Boko Haram continued threat is a major issue for President Muhammadu Buhari as he seeks a second term in the upcoming election in February.
Full report at:
https://www.aljazeera.com/news/2018/12/nigerian-army-14-personnel-killed-boko-haram-ambush-181225193220449.html
--------
Europe
Swedish TV warns Muslim immigrants of Vitamin D deficiency
Dec 26, 2018
In a latest attempt to dissuade migrants and refugees from settling in the Scandinavian countries, a Swedish national broadcaster has raised the challenges posed by frigid, dark weather conditions for dark-skinned people and Muslim women.
The darkness of the Nordic countries during the winter can lead to Vitamin D deficiencies for people with dark skin and "Muslim women who wear all-covering clothing," according to national broadcaster STV, as reported by the Sputnik International. The number of Muslims living in Sweden has been estimated at around 800,000 or roughly 8 percent of the country's population. At over 90,000, the Somalis are the largest population group from Africa living in Sweden.
Sweden, one of Europe's most liberal countries, took in more asylum seekers than any other European country per capita in 2015. Since then, worries over immigration have grown in the country, as it explains some of the Sweden Democrat's gains in the latest elections.
The rising anti-immigrant hatred has boosted Swedish far-right for elections. The Sweden Democrats, a party with white supremacist roots, won 17.6 percent, about 5 percentage points more than four years ago. It was the biggest gain made by any party. The Sweden Democrats' success follows a rise in popularity of other far-right parties in Europe amid growing anxiety over national identity, the effects of globalization and fears over immigration boosted by conflicts in the Middle East and Africa. Tough measures against immigrants go against the grain for many in Sweden, a country of 10 million which once called itself "a humanitarian superpower" that generously welcomed migrants fleeing conflict.
The Sept. 9 election produced a hung parliament with the left-leaning side and the center-right bloc each securing about 40 percent, leading to months of complex coalition talks. Unless parties on the center-left and center-right break rank with their blocs, it is likely to be impossible to form a stable government without some kind of support from the Sweden Democrats, who want the country to leave the EU and freeze immigration. All attempts at forming a government have been without the anti-immigrant Sweden Democrats. Other parties have refused to cooperate with the party despite its increased vote in the election.
https://www.dailysabah.com/europe/2018/12/26/swedish-tv-warns-muslim-immigrants-of-vitamin-d-deficiency
--------
Pope assails greed, pilgrims celebrate Christmas in Bethlehem
DECEMBER 26, 2018
Pope Francis assailed the "insatiable greed" of today's consumerism at the Vatican and pilgrims crowded into the church at the traditional site of Jesus's birth in Bethlehem on Tuesday as Christmas celebrations began worldwide.
Thousands attended mass on Monday night at the Vatican's Saint Peter's Basilica, where Pope Francis, the head of the world's 1.3 billion Catholics, offered his Christmas homily.
"An insatiable greed marks all human history, even today, when, paradoxically, a few dine luxuriantly while all too many go without the daily bread needed to survive," the 82-year-old pope said.
Pope Francis will deliver his sixth "Urbi et Orbi" address on Tuesday, Christmas Day — when Christians celebrate the birth of Jesus Christ — to pilgrims gathered in Saint Peter's Square.
Visitors from across the world gathered in Bethlehem on Christmas Eve ahead of midnight mass, queueing to see the grotto where Jesus is believed to have been born and taking in a festive parade.
In the "little town" in the occupied West Bank, the Palestinian scouts and a bagpipe band paraded in Manger Square across from the Church of the Nativity, built where Christians say Mary gave birth to Jesus.
Crowds, some wearing Santa hats or holding balloons, looked on at the square decked out with a giant Christmas tree and a manger as carols in Arabic played through speakers.
"It's a great opportunity to be in such a symbolic location for Christmas," said Lea Gudel, a 21-year-old French student studying in Jerusalem, who was in Manger Square on Monday morning.
Later in the day, musical groups took the stage at Manger Square in front of the Christmas tree, illuminated as night fell, to sing Christmas carols.
This year, visitors were also able to view the Church of the Nativity's newly restored mosaics dating to the Crusader era after they were recently cleaned and repaired in a major project.
The first church was built on the site in the fourth century, though it was replaced after a fire in the sixth century.
A newer and more spacious church, St. Catherine, is located next door to the basilica and is where midnight mass is held.
Hundreds of worshippers crowded into the stone church for the mass led by the Catholic archbishop for the Holy Land, Pierbattista Pizzaballa.
Palestinian president Mahmud Abbas was among dignitaries in attendance.
Pizzaballa in his homily spoke of a "responsibility of caring for the city and the land where we live."
"Not to own or occupy it, but to transform it from a simple urban area of private services and personal interests, to an area and place that provides the experience of communion, peace, relationship and sharing."
Lights out in Washington
Bethlehem, located near Jerusalem but cut off from the city by Israel's separation barrier, has seen an increase in visitors this season after several down years due to unrest linked to the Israeli-Palestinian conflict. Palestinian tourism officials and hotel operators have reported their strongest season in years.
"This year is much more calm, much better than last year," said Abeer Nasser, a Palestinian from the nearby town of Beit Sahour celebrating in Bethlehem with her son and daughter.
"Every year I feel more in the mood to celebrate despite the political situation," the 37-year-old added, referring to the Israeli occupation.
Beyond Bethlehem, Christians worldwide were beginning to mark Christmas after a year in which leaders warned over violence against fellow worshippers.
On Friday, Pope Francis said "new extremist groups spring up and target churches, places of worship, ministers and members of the faithful."
This year's celebrations come after a year of tumult, much of which has come from Washington, where the festive spirit was dampened when the national Christmas tree went dark on the third day of a US government shutdown.
The US National Park Service said that it would remain unlit and closed to the public "until further notice," with checks being made for damage following an attempt by an intruder on Friday to climb the tree.
The tree, whose spectacular lights were switched on at a ceremony attended by US President Donald Trump earlier this month, became a forlorn symbol of the dysfunction gripping Washington two years into his presidency.
In Britain, Queen Elizabeth II will call for respect and civility in a Christmas message delivered with the country badly divided over its impending exit from the EU.
Full report at:
https://dailytimes.com.pk/337301/pope-assails-greed-pilgrims-celebrate-christmas-in-bethlehem/
--------
Pope hopes for peace in Yemen, Syria and other flashpoints
25 December 2018
Pope Francis used his Christmas message Tuesday to appeal for peace in conflict zones such as Syria and Yemen.
"My wish for a happy Christmas is a wish for fraternity. Fraternity among individuals of every nation and culture. Fraternity among people with different ideas... Fraternity among persons of different religions," he said in his traditional "Urbi and Orbi" (To the City and to the World) address in Saint Peter's Square.
The pontiff said he hoped a truce in conflict-ravaged Yemen would end the war.
"My thoughts turn to Yemen, in the hope that the truce brokered by the international community may finally bring relief to all those children and people," he said.
The Pope also evoked the war in Syria, from where US President Donald Trump has decided to pull out some 2,000 troops in a controversial decision, arguing that ISIS has been defeated.
"May the international community work decisively for a political solution... so that the Syrian people, especially all those who were forced to leave their own lands and seek refuge elsewhere, can return to live in peace in their own country," he said.
Full report at:
https://english.alarabiya.net/en/News/world/2018/12/25/Pope-hopes-for-peace-in-Yemen-Syria-and-other-flashpoints.html
--------
London's Ahmadiyya Muslims launch food drive for winter
25 December, 2018
Around 6.00pm on Friday evening, December 21, Baitul Futuh mosque in Morden is domineering and still. The lights have been turned out in Britain's largest Muslim place of worship, belonging to the Ahmadiyya Muslim Community (AMC), a relatively new sect of the faith having been incepted just before the turn of the 20th century.
Leaving the daunting structure, I'm led to another more lively wing of the complex, where the Ahmadiyya Muslim Youth Association (AMYA) are busily preparing drums of food to package and haul into central London as part of a massive drive over the winter period.
Over 1,000 AMYA members across 148 chapters throughout the country are planning to volunteer between December 15 and January 1 in order to help fight loneliness and serve other vulnerable people, visiting hospitals and care homes, spending time with the elderly, giving out flowers, gifts and cards and distributing food to the homeless.
In some places such as Yorkshire, AMYA taxi drivers are offering free taxi services to help the elderly get to prayer services. Others are holding blood drives and working with local charities to support tree planting sessions. The campaign plans to end on New Year's Day with a massive cleaning initiative, where volunteers will be picking up litter from the streets.
The initiative not only comes at a season of heightened vulnerability, it's taking place where the statistics in England, and Britain, are stark.
According to Age UK, there are 1.2 million chronically lonely older people in the UK, over 2.2 million people aged 75 and over live alone in Great Britain, a figure which has increased over the last 20 years. Last year, the age related charity released research to show that nearly one million people feel lonelier at Christmas.
When it comes to homelessness, estimated numbers vary – charity Crisis estimate 20,000 in England and Shelter has said there are 320,000 homeless people in Britain. In any case, organisations believe numbers to be a lot higher than the government-estimated rough sleeping counts, which was last recorded to be 4,751 in England, according to the Office for National Statistics. Almost 600 people living on the streets died in England and Wales last year.
Sabah Ahmedi, an AMC Imam, explains that what they're doing is linked to their faith: "Islam teaches that loyalty to your nation is part of your faith. So looking after those who are part of your nation, is part of Islam." He adds that they do it on a weekly basis – Ahmedi speaks among the crowd of volunteers that Friday evening, where children and adults between seven and 60 years' old had joined in the effort to help cook, pack and then go on to distribute the food.
But with Christmas being that time of year that's focused on family, those already lonely could be hit harder, Ahmedi says by having a big holiday drive, those people "can also feel they are part of something and belong somewhere."
"I remember one gentleman saying that what some of the youth were doing was actually 'saving our lives'," pipes up Qamar Zafar, one of a pair of twins who also both graduated as Imams recently, by relieving some of the loneliness felt.
He admits some people are a little sceptical when they're seen approaching with their beards and other hallmarks of the faith, that they're half expected to start preaching. But he insists that's not what they do at all, although "it serves a dual purpose," Zafar says because it dispels the negative image people have about Muslims.
Although inadvertently there seems to be a third goal as well. As we await for the cars to be loaded with food and donated clothes, Zafar points to some of the members, making reference that they'd had a hard time lately.
With some having lost loved ones or who were in need of medical attention, he says the community acts as a support network for them and getting involved in the charity work distracts them from their own personal challenges.
AMC describes itself as a revival movement in Islam, started in 1889 and present in over 200 countries with tens of millions of members. It's the only Islamic organisation with a living Khalifa, Mirza Masroor Ahmad, and they believe the Messiah has already come in the person of Mirza Ghulam Ahmad, who lived 1835-1908.
Being quite big on charity and missionary work, the Imams who graduate, like Sabah and Qamar, who at 24 represent the millennial contingent, go overseas to help out.
The Ahmadiyya are also widely known to be persecuted, particularly in Pakistan and India where they're not considered Muslims. While in the West, discrimination is not so acute, Zafar says there have been some clerics who've written against the community and when it comes to integration with mainstream Muslims, he says, they don't seem to want to know.
On reaching Charing Cross, the AMYA team park up and join a seemingly popular spot, near adjacent to the main train station off the Strand.
Doris Portilla is another volunteer who comes to the area every last Friday of the month with her church. For Christmas they were front and centre among the numerous other volunteers and those who they'd come to try and help, giving out hot food and clothes.
The rest of Portilla's group catches quite a bit of attention with the music blaring, dancing in yellow high vis vests and Santa hats.
"We are celebrating Christmas, it's Jesus birthday," she explains. "Everything we bring is homemade, we believe sharing is love."
While Portilla and fellow church goers occupy the space every month she admits that over the ten years they've been coming, they see a lot of groups at this time of year.
In fact, having been served up a number of offerings, some of those sleeping rough on the streets politely decline AMC's food as they had received enough for the night.
"That's something you'd never see at any other time of year," says Zafar.
AMYA are still pushing forward however. Kashif Khan, AMYA's Welfare Officer, says their Christmas drive this year is the biggest they're attempting. Last year they managed to feed around 4,000 people in December while this year their target for distributing food is 7,000 – 1,500 on Christmas Day alone. Ambitious, but Khan says they have more volunteers now too.
"We're trying to get more of our younger volunteers involved," he says, giving them first hand experience of how tough it is on the streets and a sense of responsibility.
While some may be overwhelmed by the effort, others are deeply appreciative, either as their first meal of the night or something to save for later, and also for just being around.
Walking through the subways of Charing Cross station, where some have taken shelter from the bite of a December chill in England, they meet a man and woman clearly settled in for more than the night.
Full report at:
https://www.alaraby.co.uk/english/society/2018/12/25/londons-ahmadiyya-muslims-launch-food-drive-for-winter
--------
North America
Muslim academicians from US, Canada visit Turkey
25.12.2018
A group of Muslim academicians teaching at universities in the U.S. and Canada visited Turkey and attended a conference on Tuesday.
Turkish Deputy Foreign Minister Yavuz Selim Kiran also attended the conference, which was jointly organized by Turkey's Center for Strategic Research (SAM) and Turken Foundation.
Speaking at the conference Kiran said Turkey is closely following the U.S.'s investigation into Fetullah Terrorist Organization's (FETO) activities.
FETO and its U.S.-based leader Fetullah Gulen orchestrated the defeated coup of July 15, 2016 in Turkey, which left 251 people martyred and nearly 2,200 injured.
Ankara accuses FETO of being behind a long-running campaign to overthrow the state through the infiltration of Turkish institutions, particularly the military, police, and judiciary.
"We hope that the investigations will reveal the evil and unlawful attempts of this terror network," Yavuz Selim Kiran said at the conference.
Kiran added that the FETO is continuing to "spread its poison" in the U.S.
He said Turkey encourages all Muslim organizations in the U.S. to act in coordination.
"We place utmost importance at increasing contacts between American Muslims and Turkey," the deputy foreign minister said.
"We strongly believe that you will disseminate real message of Islam and its universal values, which is a religion of peace," he added.
"Turken Chaplain Bridges" project of Turken Foundation aims to introduce Turkish culture to Muslims in the universities of the U.S. and Canada.
As part of the project which will continue till Jan. 2, 2019, the 40-member delegation arrived in Turkey.
https://www.aa.com.tr/en/turkey/muslim-academicians-from-us-canada-visit-turkey/1348678
--------
Cash-strapped USA is in no position to attack Iran: Analyst
Dec 25, 2018
The presence of a US destroyer in the Persian Gulf has been described as an "insignificant" show of force to Iran by the United States.
A US aircraft carrier accompanied by a fleet of warships entered the Persian Gulf for the first time since 2001.
Tehran University Professor of political science, Hamed Mousavi, said in an interview published by RT on Tuesday that the presence of the US fleet in the Persian Gulf was considered a provocative move; however, it lacked any real significance.
"I don't think we are going to see a military confrontation. But bringing the aircraft carrier, a nuclear armed aircraft carrier near Iranian waters is trying to provoke Iran and also threaten Iran," the faculty member said, adding that, "The significance is, right now at least, more of a threat rather than actual military confrontation."
The professor said that the presence of the fleet aimed to exert pressure on Iran.
"I think it is part of a larger strategy of the Trump administration trying to pressure Iran. This administration, since taking to office nearly two years, has been trying to pressure Iran via sanctions and via threats and now bringing the aircraft carrier very near to the Iranian waters is very provocative," he said.
Mousavi downplayed the move as mere bluffs by the cash-strapped US government.
"There is discussion within Iran over whether the US, under the Trump administration, is ever going to attack Iran. And I don't think that is going to happen because the US is essentially in no position to make any new major wars because the US right now has a public debt of around $22 trillion. And public opinion in the US is very much against starting a new war," he argued.
Iran has repeatedly warned US forces that trespassing in Iranian territorial waters would be warded off with a strong response.
The US 5th Fleet is currently deployed in the Persian Gulf with carriers, ships, strike aircraft, sailors and marines and has been involved in occasional confrontations with Iranian forces.
Full report at:
https://www.presstv.com/Detail/2018/12/25/583960/Iran-US-Persian-Gulf-Fleet-Hamed-Mousavi
--------
URL: https://www.newageislam.com/islamic-world-news/differences-opinion-blessing-islam-says/d/117272
New Age Islam, Islam Online, Islamic Website, African Muslim News, Arab World News, South Asia News, Indian Muslim News, World Muslim News, Women in Islam, Islamic Feminism, Arab Women, Women In Arab, Islamophobia in America, Muslim Women in West, Islam Women and Feminism