New Age Islam News Bureau
12 Nov 2013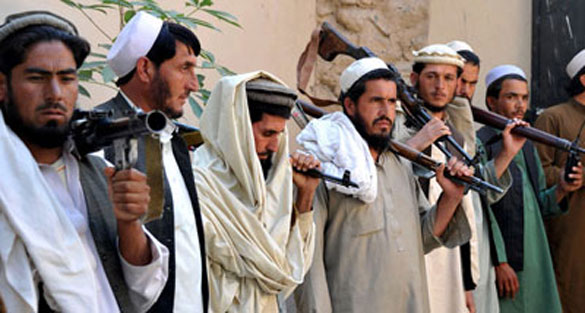 Taliban fighters (AFP Photo/Noorullah Shirzada)
-----------
North America
• Despite Repeated Warnings, US 'Subsidising' Afghan Companies With Ties to Terrorism
• The secret diary of Abu Zubaydah, from student to hard-line Jihadi and CIA torture
• Waheed's decision to stay "has endangered the right to elect a leader of their choice": US
Europe
• Pair of Islamic converts joined 'Muslim patrol' to impose Sharia Law in London
• France seeks India's support on Iran nuclear deal
• Greek Supreme Court puts Sharia law before civil law
• Israel and Saudi Arabia pressure France to sabotage Iran deal
• Russia denies Iran to blame for nuclear talks failure
• Egypt detains Syrian refugees and coerces them out of the country
Africa
• Al-Salaam School in Gilgil teaches radical Islam, Investigator says
• Kenya Westgate attackers were suicide squad: Somalia's Shebab
• Libya's Mufti rails against militias
• Libyan prime minister warns of foreign intervention to end chaos
• Three Ethiopians immigrants killed in Saudi Arabia
Arab World
• Western-backed Syrian opposition names cabinet for rebel areas
• Salafis try their hand at religious politics
• Jordan vetoes Israeli request to allow Jewish prayer on Temple Mount
• Egyptian Copts 'Scream' against discrimination
• Muslim Brotherhood's Islamic project associated with violence: Egypt's Nour Party
• Sunni sheik killed in northern Lebanon
Southeast Asia
• Armed Islamic enforcement officers soon if proposal approved, says Minister
• Apologise for making a fuss over Allah issue, PAS tells Putrajaya
• Hadi denies allegations of Muslim Brotherhood link
South Asia
• China's Uighurs blame violence on Police abuses, not jihad
• Maldives police, thugs clash with pro-democracy protesters
• Human Rights calls for travel ban on those responsible for Maldives' "judicial coup d'état"
• Afghan Taliban condemn killing of Haqqani network leader
Mideast
• President Gül presents Medal of Honor to Azerbaijani President Aliyev
• Single-minded Islamic Jihad grows in Gaza's shadows
• Greece not taking positive steps on Muslim minority issue, says Turkish minister
• Iran's foreign minister blames West for breakdown of nuclear talks
• Yemen jails crew over arms shipment 'from Iran'
Pakistan
• Jamiat Ulema-e-Islam-Sami extends support to PTI to stop NATO supplies
• Pakistan plans to restore Sikh, Hindu religious monuments
• Pakistani Taliban's choice of leader signals an ominous turn
• Pakistan: Deter Escalating Attacks on Shia Muslims
• Plan for Taliban talks shelved for now: Nisar
• ISPR should have taken its grievance to defence ministry: JI
• I'm not anti-US, anti-India, says Imran
India
• Saudi authorities willing to go the extra mile for Indians, says Consul-General
• Salman Khurshid assures Bangladesh FM of land border deal
• India backs Iran's 'uranium enrichment' right
• India calls for resolution of crisis in Maldives
Compiled by New Age Islam News Bureau
URL: https://newageislam.com/islamic-world-news/despite-repeated-warnings,-'subsidising'-afghan/d/24394
-----------
North America
Despite Repeated Warnings, US 'Subsidising' Afghan Companies With Ties to Terrorism
November 12, 2013
American taxpayers have unwittingly paid more than $150 million to companies throughout the Middle East that are known to have helped finance terrorist attacks on US soldiers stationed in Afghanistan, according to a new internal US government report.
At least 43 companies based in Afghanistan were found to have ties to terrorist networks according to findings by the Special Inspector General for Afghanistan Reconstruction (SIGAR), the leading US oversight authority on reconstruction in Afghanistan. SIGAR's report seems to suggest that the very groups being targeted by the US through counter-insurgency operations sometimes become the beneficiaries of the federal government through contracted work.
"It's like the United states government is subsidising the Taliban, Al-Qaeda, the Haqqani network, those groups that are trying to shoot and kill our soldiers," Senator Jeanne Shaheen (D-NH), a member of the Senate's Armed Services and Foreign Relations committees, told ABC News. Sheehan was among a group of senators who wrote a letter to the Army in 2012 "expressing concern about where US dollars were going.
Perhaps the most notable example is a road construction company partly owned by one of the leaders of the anti-American Haqqani network. US lawmakers designated the Haqqani network as a foreign terrorist organization in September 2012 after the Islamist insurgent group was blamed for an attack on the US Embassy in Kabul that claimed 16 lives in 2011.
A classified military investigation reportedly found evidence that the company worked "in facilitation and operation of the Haqqani network" and, as a result, "approximately $1-2 million per month flow[s] to Haqqani network to finance its activities."
A representative for the company told ABC News the construction company was not involved with the Haqqani network and suggested the military had mistaken it with another company.
Yet the Pentagon has refused to stop granting these companies contracts, saying that such an action would violate the companies' right to due process. John Sopko, Special Inspector General for Afghanistan Reconstruction, said he has encouraged the Department of Defense to cut ties only to be rebuffed.
"The reason they've given us is that it's not fair to these contractors that the evidence that we've presented, and this is evidence collected by the United States government, is classified," Sopko said. "That's the absurdity of it. We can probably attack them via drone on Monday and we'll send them a contract on Tuesday."
An Army representative refused comment to media outlets, pointing reporters to a statement claiming the Army conducts an extensive vetting process and claims it takes allegations of terroristic activity very seriously.
"I am deeply troubled that the US military can pursue, attack, and even kill terrorists and their supporters but that some in the US government believe we cannot prevent these same people from receiving a government contract," Sopko wrote in a previous report to Congress as quoted by ABC. "I feel such a position is not only legally wrong, it is contrary to good public policy and contrary to our national security goals in Afghanistan."
A similar SIGAR report from earlier this year blamed the funding issues on sloppy contracting regulations and a number of US officials who simply refused to believe the evidence they were presented with.
That report, published in April, identified a long and complicated process in which "millions of contracting dollars could be diverted to forces seeking to harm US military and civilian personnel in Afghanistan and derail the multi-billion dollar reconstruction effort."
http://rt.com/usa/warnings-us-subsidizing-afghan-terrorism-571/
-----------
The secret diary of Abu Zubaydah, from student to hard-line Jihadi and CIA torture
Nov 12 2013
The private diaries of Abu Zubaydah, who is currently one of the most prominent remaining detainees in Guantanamo Bay, have been revealed by Al Jazeera.
They offer a remarkable and personal picture of how al-Qa'ida grew from its origins in the mujahedin struggle against the Soviet occupiers of Afghanistan into the organisation that carried out the 2001 attacks against the US.
They track Zubaydah's journey from a student to a hardened jihadi.
The diaries, reportedly obtained by journalist Jason Leopold from a former intelligence officer, cover more than a decade. They start in 1990 when Zubaydah - a Saudi-born Palestinian - was a 19-year-old student in computer sciences in Mysore, India, a few months before he travelled to join the Afghan civil war that followed the Soviet departure. They end days before his capture in Faisalabad, Pakistan, in March 2002.
At the time, he was regarded by the CIA as the third-ranking figure in al-Qa'ida, behind only Osama Bin Laden and the group's current leader, Ayman al-Zawahiri. His lawyers, however, strenuously denied that he was ever a member of al-Qa'ida.
Zubaydah was held to be one of the planners of the 9/11 attacks and of virtually every other major attack perpetrated by al-Qa'ida before that, including the 1998 US embassy bombings in East Africa.
He was taken to a CIA "ghost site" in Thailand and waterboarded 83 times in a bid to extract information about future terrorist operations.
He was among the first al-Qa'ida detainees subjected to the "enhanced interrogation techniques" that had just been approved by George W Bush's Justice Department.
Later the Bush administration revised its view of Zubaydah's importance as it became clear he was more of a bureaucrat within al-Qa'ida than a frontline operative. Even so, he was mentioned no less than 52 times in the final report of the 9/11 Commission on the 2001 attacks, published in 2004.
The secret and highly personal dairies, with their numerous mentions of bin Laden and other al-Qa'ida figures, suggest a meticulous record keeper. Their contents, which are being revealed for the first time, provided the basis for holding many of the prisoners at Guantanamo, of whom 160 remain.
According to Al Jazeera America, the documents - a copy of the government's English translation of the diaries - were obtained from a former US intelligence official who worked with the CIA and FBI on al-Qa'ida issues.
There are six volumes of the 1990-2002 diaries, excerpts from the first of which were published by Al Jazeera.
Zubaydah is believed to have compiled more diaries while being held by the CIA, in which he is said to describe in detail his torture. Since 2006 he has been held at Guantanamo Bay, although he has not been charged with any crime.
The loss of his diaries, now formally the property of the Pentagon, appears to have affected him deeply. In March 2007, he told a review tribunal that the CIA's refusal to honour what he claimed was a promise to return them had caused him to have 40 seizures. That mental anguish, Zubaydah said, "is bigger than what the CIA (did to) me".
He also likened the withholding of the notebooks to the kidnapping of a child, claiming that after his transfer to Guantanamo, he had "asked 20 hours a day" about when they would be returned.
EXTRACTS: THE MAKING OF A JIHADI
Zubaydah resolves to go to Afghanistan
6 January 1991
Yesterday, and only yesterday, I decided to go to Afghanistan. I believe that I have talked to you about a plan to go to Afghanistan before, which was unsuccessful. However, this time it is different [the rest of the sentence is crossed out and illegible]. I have decided to visit the place, receive training and come back to conclude my education. The intent is bona fide, God willing. Almost everything is ready except that I am scared of the circumstances. Yet I trust in God. And we seek refuge in Him.
Arriving in Peshawar to begin jihadi training
19 January 1991
We arrived yesterday morning; we are in Peshawar.
The system here, as we have learned later on, is as follows:
First: the services office; it is an office that handles jihad matters and Arab mujahedin's organisation as well as support to both Arab and Afghani mujahedin. From that office branches many houses for the incoming mujahedin from outside Afghanistan, Arabs and others. The spiritual atmosphere here is good.
Some came to train for a short period and go back just to be prepared. Others are here for jihad and until God decides for something to be done. Some are young; their beards or moustache have not appeared yet. Others are old in their fifties or more. Also, the idea of settling here is enticing me and I cannot seem to control it.
His brother tries to convince him to return home
1 May 1991
My brother, Mahir, came finally. In short, we sat together and talked. He talked about many things that are somehow frustrating; the mother, the father, the brothers and parents' obedience and, in addition to few quick fatwas created by his emotions. Anyway, we both do not and will not understand each other.
Also, dear Hani, we sat by the stream that runs through the camp. He was reading my father's letter to me; I gave it to him to read it. He said, "Read your father's letter; it is better for you." He meant what they are suffering from because of me. I smiled and ripped it before his eyes while he is shocked and hurt and his face became gloomy. I tried explaining to him the importance of sacrifice for the sake of the religion and he tried, may God bless him, to explain to me the importance of having the parents' approval for jihad.
Explosives training
17 May 1991, Khaldan Camp, Afghanistan
Yesterday, the group and I began a special course in explosives. The morning exercise line-up begins at 6am; jogging, fast-pace running, mountain climbing and special exercises. As you notice, most of the ideas I'm dealing with now at the jihad level are practical and they were the same ideas but unorganised and not fully clear. Perhaps, life's stress and order prevented from enhancing them practically or even from thinking about them; such as caliphate and Islamic principles.
At the front, under attack
3 July 1991, Gardez, Afghanistan
I, rather, we the explosives group, are in Gardez now at the back line since last Friday. Airplane shelling, and one of the shells landed in the heart of the camp; but praise God, no one was injured. Continuous artillery shells, digging ditches, carrying rocks from the mountain, dirt, sweat and exhaustion; a true mental relaxation, God willing and oh God!
At the front
7 July 1991, Gardez, Afghanistan
Today is Sunday and the time now is perhaps 12.30pm.
Place: The big tent which houses more than l5 people. The planes are hovering around us; they strike one time and other times they don't; however the artillery shells are continuous.
Running to the ditches and face down on the ground, but I am relatively cool and don't run to the dugout and don't even go face down on the ground sometimes; as a matter of fact, I don't know why.
http://www.independent.co.uk/news/world/middle-east/the-secret-diary-of-abu-zubaydah-from-student-to-hardline-jihadi-and-cia-torture-8929831.html
-----------
Waheed's decision to stay "has endangered the right to elect a leader of their choice": US
By JJ Robinson | November 12th, 2013
The US government has said it is deeply concerned by President Mohamed Waheed's "unprecedented decision" to remain in power past the mandate of his presidency, which expired on November 10.
"This action has endangered the Maldivian people's right to elect a leader of their choice," stated the US Embassy in Colombo.
"The democratic process must be supported by quickly concluding a free, fair, transparent and inclusive runoff election that results in the prompt inauguration of the new president. In the lead up to the November 16 second round vote, it is important to avoid violence and for the police and military to show restraint and respect the human rights of all Maldivian citizens," the US Embassy stated.
Cabinet ministers revealed yesterday that Waheed had arrived at the President's Office late on Sunday evening prepared to resign and hand over power to the Speaker of Parliament, as stipulated by Article 124 of the constitution, but claimed to have convinced him otherwise. His Vice President, Waheed Deen, had resigned that morning.
Minivan News understands that defence chiefs arrived at the President's Office prior to Waheed's address to the nation, initially scheduled for 10:30pm on Sunday. The address was delayed an hour, before Waheed appeared and said he would resign on November 16, the date scheduled for the delayed run-off vote.
"Many Maldivians, international organisations and countries are pressuring me to resign and temporarily hand over the government to the People's Majlis Speaker. On the other hand, even more citizens want me to stay on, to continue with administration of the country, to carry out my duty," Waheed claimed.
After making the statement, Waheed and his wife were escorted off Male to the presidential retreat of Aarah, as violent protests erupted in the capital.
Canadian Minister of Foreign Affairs Minister John Baird slammed the Supreme Court's "disappointing" decision to delay the run-off vote until after the expiry of the presidential term, which he said "undermines both the Maldives' constitution and the people's faith in elections."
"The term of the current government has now expired without a newly elected government to replace it. This is the case despite two free and fair elections over the last two months," Baird remarked.
Transparency Maldives echoed these concerns, stating it was "deeply concerned that the people of the Maldives have been denied the right to elect a President before the constitutional five-year term of the incumbent government expired on 11 November 2013."
Transparency conducted the largest election observation with 400 observers across the country and at overseas polling booths, and praised the Elections Commission's conduct of the revote on November 9 as peaceful, credible and "well-administered despite challenges."
Terming the Maldive's current situation a "constitutional crisis", Transparency said it was "regrettable that political actors failed to find a democratically inclusive solution to the constitutional crisis that respects the spirit of the Constitution. The spirit of the Constitution reflects the basic democratic principle that state power must always lie with the people and their elected representatives."
http://minivannews.com/politics/waheeds-unprecedented-decision-to-stay-has-endangered-the-maldivian-people%E2%80%99s-right-to-elect-a-leader-of-their-choice-us-71469
----------
Europe
Pair of Islamic converts joined 'Muslim patrol' to impose Sharia Law in London
Nov 12 2013
A pair of Islamic converts joined a 'Muslim Patrol' in east London to impose Sharia Law, threatening to stab people they believed to be anti-Islamic and confiscating their alcohol.
Ricardo McFarlane, 26, and a 23-year-old man who cannot be named for legal reasons, joined convert Jordan Horner, 19, of Walthamstow, east London, roaming the streets in the early hours of the morning last December and this January.
The group confronted members of the public whom they suspected were non-Muslims berating them for their alleged anti-Islamic behaviour.
They threatened to 'kill non believers' and 'shank' - stab - them and uploaded videos to Youtube criticising non-Muslims for being inappropriately dressed.
The campaign against Western culture culminated when Horner assaulted two men in Tower Hamlets when the 'patrol' confronted them.
Around 4am on January 6 of this year Horner, McFarlane and the 23-year-old approached a group of five men walking along the street, snatched cans of beer out of their hands before emptying them into the gutter.
Horner demanded: 'Why are you poisoning your body? It is against Islam. This is Muslim Patrol. Kill the non-believers.'
One then told another to 'go get the shank' in reference to a knife but as the group of men started walking away Horner threw punches hitting at least two of the men.
He and a 23-year-old also threatened a man and two doctors Claire Coyle and Robert Gray around the Bethnal Green Road and Great Eastern Street areas of east London on December 19 last year and January 13 this year.
At an earlier hearing at Thames Magistrates Court in July prosecutor Kehinde Adesina said during the January 6 incident Horner and his extremist pals took to the streets to enforce Sharia Law in what they call being on 'Muslim Patrol'.
The prosecutor said: 'Prior to the incident there were some videos uploaded to Youtube about people being inappropriately dressed in east London.
'Between 4am and 5am a group of five male friends were out drinking enjoying a night out. They had cans of beer in their hands.
'The group were approached by Mr Horner and some other men in Muslim dress. They took the beer can out of one of the men's hands and poured it out.
'Then they said the words "why are you poisoning your body? It is against Islam. This is Muslim Patrol. Kill the non believers".'
She said: 'The victims describe the main aggressor as being ginger with a ginger beard.
'And one victim said the white ginger male punched him in the jaw.
'It was a group attack and a religiously aggravated assault.'
Today at the Old Bailey McFarlane, 26, who overslept and was two hours late, refused to stand up.
At an earlier hearing McFarlane denied ABH on January 6 and the counts were ordered to lie on file.
The 23-year-old man who cannot be named for legal reasons, also refused to stand and denied affray on December 19 of last year and January 13 when he confronted the two doctors.
But he admitted using threatening, abusive or insulting words or behaviour under section four of the public order acts on both occasions.
He had denied ABH and affray on January 6 and the counts were ordered to lie on file.
At the same hearing Horner, who uses the Islamic name Jamaal Uddin, pleaded not guilty to causing ABH to Sam Cox on January 6 of this year when his jaw was broken.
However he admitted causing ABH to James Forward and Patrick Kavanagh.
He also denied affray on December 19 of last year and January 13 of this year but admitted section four of the public order acts offences.
McFarlane of Camberwell, south east London, was warned he faces a custodial sentence but had his conditional bail renewed.
Judge Rebecca Poulet QC addressing his barrister Susan Meek said: 'He must understand the court does consider this passes the custody threshold.
'Whether I or another judge uses that option will be open to them. I want him to understand that.
'It's noted he was late today but you were frank and told me he has not been late in the past. I will allow him bail. If there are conditions, one of the conditions is he must not be late.'
He has six previous convictions for criminal damage in March 2012 when he painted over women on advertising hoardings around London's east end.
The 23-year-old of Finsbury Park, north London, who has convictions for section 4 offences in April of last year, handling stolen goods and dishonesty, was remanded back into custody.
Today prosecutor Alexander Chalk said: 'The significant change is the Crown is not seeking a trial against the 23-year-old in respect to the allegations involved on January 6.
'Otherwise everyone has admitted offences reflected on this indictment.'
Horner, the 23-year-old and McFarlane are all due to be sentenced on December 6.
http://www.dailymail.co.uk/news/article-2500727/Pair-Islamic-converts-joined-Muslim-patrol-impose-Sharia-Law-London-confiscated-alcohol-threatened-stab-non-believers.html#ixzz2kPhqEXKh
-----------
France seeks India's support on Iran nuclear deal
Indrani Bagchi, TNN | Nov 12, 2013
NEW DELHI: In the crosshairs of international criticism for allegedly pulling the plug on a deal with Iran, France says it is looking for a "credible" agreement. With the next meeting between Iran and the P5+1 slated to be held in Geneva on November 20, France says it is looking for a "credible" agreement.
France's ambassador to India, Francois Richier, told TOI that Paris "has an independent position" on the issue. French foreign minister Laurent Fabius raised two important points that proved to be the killed in this round: future of the Arak heavy water reactor and the fate of the existing enriched uranium stockpile that Tehran has collected so far.
Full report at:
http://timesofindia.indiatimes.com/world/europe/France-seeks-Indias-support-on-Iran-nuclear-deal/articleshow/25609767.cms
-----------
Greek Supreme Court puts sharia law before civil law
Nov 12 2013
The Greek Supreme Court has annulled the last will and testament of a deceased Greek Muslim man as it was not compliant with sharia law. The decision overturns the rights of Greek minority Muslims in Thrace to prepare wills under Greek civil law.
Demeter Simeonidou, a Muslim man that lived in Thrace, had prepared his will in accordance with Greek civil law, leaving all his assets to his wife. The will was challenged by the deceased man's sister who claimed a share of his assets, claiming that the Islamic law of succession does not recognize the right of a Muslim to make a public will.
Full report at:
http://www.digitaljournal.com/article/361916#ixzz2kPhvhyIO
-----------
Israel and Saudi Arabia pressure France to sabotage Iran deal
Nov 12 2013
Paris - The election of the reformist Iranian president Hassan Rouhani and his strong diplomatic efforts to hammer out a deal with western powers on outstanding issues over Iran's nuclear program led many observers to expect a rapprochement with Tehran.
A rapprochement with Iran that led to removal of some sanctions could be of benefit not only to Iran but to western business interests. However, Israel is staunchly opposed to any deal with Iran, so much so that it has threatened an attack should the present deal be accepted:
A French member of parliament telephoned French Foreign Minister Laurent Fabius in Geneva at the weekend to warn him that Prime Minister Benjamin Netanyahu would attack Iran's nuclear facilities if the P5+1 nations did not stiffen their terms on a deal with Iran, Israel's Channel 2 News reported Sunday.
Full report at:
http://www.digitaljournal.com/article/361939#ixzz2kPjwegS4
-----------
Russia denies Iran to blame for nuclear talks failure
Nov 12 2013
Russia on Tuesday denied Iran was to blame for the failure to agree a historic deal on its nuclear programme at talks in Geneva, implying the fault was due to disunity among the six world powers.
"The draft joint document suited the Iranian side. But since decisions at negotiations are taken by consensus, it was not possible to make a final deal," a foreign ministry source said in comments carried by all Russia's main news agencies.
Full report at:
http://english.ahram.org.eg/NewsContent/2/8/86222/World/Region/Russia-denies-Iran-to-blame-for-nuclear-talks-fail.aspx
-----------
Egypt detains Syrian refugees and coerces them out of the country
Nov 12 2013
Egyptian authorities detain Syrian refugees under difficult conditions and coerce them to leave the country, said Human Rights Watch (HRW) in a report issued Monday.
The New York-based rights group said Egypt held over 1,500 refugees from Syria, including children as young as two months old, leaving them little choice between facing detention in over-crowded local police stations, returning to their war-torn country or seeking illegal migration on smugglers' boats to Europe.
Full report at:
http://english.ahram.org.eg/NewsContent/1/64/86159/Egypt/Politics-/HRW-report-Egypt-detains-Syrian-refugees-and-coerc.aspx
-----------
Africa
Al-Salaam School in Gilgil teaches radical Islam, Investigator says
Nov 12 2013
Nakuru, Kenya: Most parents who had enrolled their children at Al-Salaam Integrated School in Gilgil, Nakuru County were unaware of exactly what their children were being taught.
An Investigator with the Anti-Terrorism Police Unit has told The Standard that for the past eight months the Islamic curriculum at the school, that was shut down by the government on Tuesday, was based on pure Wahhabism - a radical form of Islam.
" Wahhabism-exported from Saudi Arabia, teaches children that all those who are not Wahhabi are non-believers," said an officer privy to the investigations and who sought anonymity.
Full report at:
http://www.standardmedia.co.ke/?articleID=2000097044&story_title=al-salaam-school-in-gilgil-teaches-radical-islam-investigator-says
-----------
Kenya Westgate attackers were suicide squad: Somalia's Shebab
Nov 12 2013
Gunmen who massacred at least 67 people in Kenya's Westgate mall in September were special suicide commandos, Somalia's Shebab insurgents said Tuesday, rubbishing reports the men had tried to escape.
Members of a "martyrdom brigade", the gunmen were "brothers who have volunteered to enter into enemy ranks and cause havoc before being killed by the enemy," the Al-Qaeda-linked Shebab said in the latest issue of their online magazine.
While not specifically saying they had died, the Shebab dismissed initial reports by Kenya's army chief, Julius Karangi, that the men had attempted to flee.
"Karangi even had the audacity to claim that the martyrdom-seeking mujahedeen were seeking to abscond and escape from the mall," the magazine read.
Full report at:
http://english.ahram.org.eg/NewsContent/2/9/86231/World/International/Kenya-Westgate-attackers-were-suicide-squad-Somali.aspx
-----------
Libya's Mufti rails against militias
Nov 12 2013
TRIPOLI – Libya's Grand Mufiti, Sheikh Sadeq Al-Ghariani, yesterday condemned the armed violence that shook Tripoli on Thursday night, leaving two men dead and a further 29 injured.
In a sermon, Ghariani condemned what he termed the "blind tribal allegiances" of some regions. He called on tribal elders, including from Misrata, Zintan and Tajoura, to disown armed militias from their cities and regions. Misrata officials already made such a move on Friday.
Full report at:
http://www.saudigazette.com.sa/index.cfm?method=home.regcon&contentid=20131112186395
-----------
Libyan prime minister warns of foreign intervention to end chaos
Nov 12 2013
Tripoli - Libyan Prime Minister Ali Zeidan told Libyans that foreign powers might intervene to end chaos in the country if militias were not brought under control of the government.
The warning was aimed at rallying people to support his campaign against militias. However, many militias provide security for different areas of the government. Zeidan said:
"The international community cannot tolerate a state in the middle of the Mediterranean that is a source of violence, terrorism and murder".
The government is already under fire because Islamic militias believe, no doubt correctly, that the Libyan government at the very least sanctioned the US kidnapping of the Al Qaeda suspect Anas al-Libi. Zeidan was even kidnapped recently by a militia group for a few hours only to be rescued without violence by other militias.
Full report at:
http://www.digitaljournal.com/article/361953#ixzz2kPjmOJJQ
-----------
Three Ethiopians immigrants killed in Saudi Arabia
Nov 12 2013
Three Ethiopians have been killed in Saudi Arabia when violence broke out between police and illegal immigrants preparing to return home, Ethiopian officials said Tuesday.
Each year, large numbers of Ethiopians move to the Middle East looking for jobs, often as domestic workers. Saudi Arabia is among the preferred destinations.
"The act of killing innocent civilians is uncalled for, we condemn that," Foreign Ministry spokesman Dina Mufti told reporters, saying he had been informed of the death of three Ethiopian citizens.
Full report at:
http://english.ahram.org.eg/NewsContent/2/8/86236/World/Region/Three-Ethiopians-immigrants-killed-in-Saudi-Arabia.aspx
-----------
Arab World
Western-backed Syrian opposition names cabinet for rebel areas
Nov 12 2013
The Western-backed Syrian National Coalition opposition grouping named a provisional government on Tuesday for rebel-held areas after three days of heated discussions in Istanbul, and despite Western opposition, coalition members said.
The United States and other Western backers of the coalition are hoping that proposed peace negotiations in Geneva will produce an interim administration as a way out of the civil war, which began in 2011.
Full report at:
http://english.ahram.org.eg/NewsContent/2/8/86234/World/Region/Westernbacked-Syrian-opposition-names-cabinet-for-.aspx
-----------
Salafis try their hand at religious politics
Nov 12 2013
For many religious puritans politics is profane, but for others it can be a blessing. Over the past three years the ultraconservative Salafis, a Sunni Islamist group that adopts a strict interpretation of Islamic teachings, have become a major winner as a result of the "Arab Spring." However, since the downfall of the Muslim Brotherhood in Egypt, Salafism has been struggling to maintain its image as a sacred ideology.
Salafism's upsurge in Egypt and throughout the Middle East after the uprisings ranks as one of the key moments in political Islam over the past century. This is not only because it ended the hegemony of veteran Islamists, such as the Muslim Brotherhood, as well as other former radical and violent Islamists, such as al-Gama'a al-Islamiyya and the Islamic Jihad Organization (IJO), but also because it revealed the changes taking place within the discourse and ideology of Salafi movements and groups. Salafis had shunned politics for decades, as they believe that involvement in the political sphere is religiously prohibited. However, they quickly became important players in post-Mubarak Egypt, with many of their leaders immersed in everyday politics. They thus shifted their discourse and activities from the sacred, or religion, to the profane, or politics.
Full report at:
http://www.washingtonpost.com/blogs/on-faith/wp/2013/11/05/salafis-try-their-hand-at-religious-politics/
-----------
Jordan vetoes Israeli request to allow Jewish prayer on Temple Mount
Nov 12 2013
The top Jordanian government official responsible for the custodianship of religious holy sites in Jerusalem is quoted in local press on Tuesday as saying that he is "adamantly opposed" to any Jewish worship atop the Temple Mount.
Abd Al-Nasser Nassar, who serves as Amman's top legal adviser for Islamic and Christian property in Jerusalem, is quoted as telling the Jordanian daily al-Rad that his government rejected an Israeli request to allow for Jews to pray in a small, designated area atop the site.
In the peace treaty signed between the two governments nearly 20 years ago, Israel acknowledged the Hashemite Kingdom's "special role" in the custodianship of the holy sites in Jerusalem. In any final-status arrangement, the Israeli government pledged to "give high priority to the Jordanian historic role" when weighing any deal.
Full report at:
http://www.jpost.com/Diplomacy-and-Politics/Report-Jordan-vetoes-Israeli-request-to-allow-Jewish-prayer-on-Temple-Mount-331443
-----------
Egyptian Copts 'Scream' against discrimination
Nov 12 2013
As the drafting committee entrusted with creating Egypt's new constitution, which is to be put to a national referendum next month, races against time to conclude its final product, concern runs high in most rights quarters about what the expected bill would bear for civil, political and other liberties.
Despite the active engagement of the Coptic church in the committee, representing the vast majority of Egyptian Christians, serious concerns remain in numerous Coptic quarters about the new bill's ability to attend to the grave citizenship issues that have plagued them in past decades – not least of which those added during the Muslim Brotherhood's one-year rule and its now suspended 2013 constitution, on whose drafting committee the liberal forces and representatives of the Coptic church had walked out.
Full report at:
http://english.ahram.org.eg/NewsContent/1/64/86202/Egypt/Politics-/Egyptian-Copts-Scream-against-discrimination.aspx
-----------
Muslim Brotherhood's Islamic project associated with violence: Egypt's Nour Party
Nov 12 2013
Leading Nour Party member Nader Bakkar defended the Salafist party against what he described as "rumors" spread by the Muslim Brotherhood, insisting that the Muslim Brotherhood's mission is marred by "violence" and "defamation."
In an interview with Al Arabiya TV channel on Monday, Bakkar said that the Muslim Brotherhood's "Islamic project" was characterised by violence, insult, and defamation, and that the group "twisted the Egyptian peoples' arm" for the sake of its own agenda.
"The Nour Party and the Salafist Call took the side of the people and the state on 30 June because they feared the collapse of Egypt's state institutions," Bakkar added, defending the Salafist party's decision on 3 July to support the ouster of Islamist president Mohamed Morsi, who hails from the Muslim Brotherhood.
Full report at:
http://english.ahram.org.eg/NewsContent/1/64/86197/Egypt/Politics-/Muslim-Brotherhoods-Islamic-project-associated-wit.aspx
-----------
Sunni sheik killed in northern Lebanon
November 12, 2013
Masked gunmen riding a motorcycle assassinated a Sunni sheik on Tuesday in Tripoli in northern Lebanese, media reports said.
The two attackers opened fire at Sheik Saad El-Deen Ghieh's car as he was driving by in Tripoli, 85 kilometers north of Beirut, reported the official National News Agency. Ghieh was taken to hospital and died shortly afterward.
Soldiers were deployed to the area to prevent fighting following the attack. Tripoli has long been the scene of sectarian clashes related to the Syrian civil war, with two neighborhoods split between supporters and opponents of Syrian President Bashar Assad's government.
The Bab Tabbaneh district is largely Sunni Muslim, as are Syria's rebels who have led the uprising against Assad's rule. The Jabal Mohsen neighborhood is dominated by residents of Assad's Alawite sect, a Shiite offshoot.
Street battles have killed scores of Tripoli residents, and two car bombs outside Sunni mosques in August killed at least 50 people.
http://www.thehindu.com/news/international/world/sunni-sheik-killed-in-northern-lebanon/article5343555.ece
-----------
Southeast Asia
Armed Islamic enforcement officers soon if proposal approved, says Minister
Nov 12 2013
Islamic enforcement officers from the Department of Islamic Development Malaysia (Jakim) may soon carry firearms if a proposal for them to be armed is approved, according to a report today.
Minister in the Prime Minister's Department Datuk Seri Jamil Khir Baharom said the move was in light of the recent murder of a religious officer in Kuantan.
"This is among the measures being considered to ensure the safety of the officers," said Jamil, as quoted by the Star Online.
Full report at:
http://www.themalaysianinsider.com/malaysia/article/armed-islamic-enforcement-officers-soon-if-proposal-approved-says-minister
-----------
Apologise for making a fuss over Allah issue, PAS tells Putrajaya
Nov 12 2013
PAS has demanded that Putrajaya apologise to Muslims for creating an issue over the use of the word Allah by Christians in Malaysia.
PAS vice-president Datuk Mahfuz Omar said statements by government officials have only increased religious tension in the country, following the Court of Appeal's ruling on October 14 upholding the Home Ministry's ban on the use of the word Allah by Catholic weekly, Herald.
Full report at:
http://www.themalaysianinsider.com/malaysia/article/apologise-for-making-a-fuss-over-allah-issue-pas-tells-putrajaya
-----------
Hadi denies allegations of Muslim Brotherhood link
Nov 12 2013
KUALA LUMPUR, Nov 12 — Datuk Seri Abdul Hadi Awang denied today a newspaper report that claimed the PAS president was given a senior post in Egypt's Muslim Brotherhood.
Hadi refuted a front-page report published by Egyptian paper Al-Wathan last Sunday that said he has been appointed as the secretary-general of the oldest and most influential Islamist group in the strife-torn country.
"I wholly refute the news that claimed that I was appointed as the new secretary-general in the Muslim Brotherhood," Hadi told reporters at the Parliament lobby here today.
"PAS is also looking at taking the appropriate action against the Al-Wathan paper, according to the law," he added.
Full report at:
http://www.themalaymailonline.com/malaysia/article/hadi-denies-muslim-brotherhood-link#sthash.9frJH56B.dpuf
--------
South Asia
China's Uighurs blame violence on Police abuses, not jihad
AFP | Nov 12, 2013
HOTAN, China: China has blamed a fiery attack in Tiananmen Square on "terrorists" from Xinjiang backed by international militants, but residents say that rather than jihadism, violence is driven by cultural repression, corruption and police abuses.
The dusty city of Hotan on the edge of the Taklamakan desert is 3,300 kilometres (more than 2,000 miles) and a world away from Beijing's Forbidden City, the symbolic heart of Chinese power.
Armed security personnel in camouflage and police vans patrol the streets in the city whose two million strong population is 96 percent Uighur, a mainly Muslim ethnic minority concentrated in Xinjiang.
Full report at:
http://timesofindia.indiatimes.com/world/china/Chinas-Uighurs-blame-violence-on-abuses-not-jihad/articleshow/25631769.cms
-----------
Maldives police, thugs clash with pro-democracy protesters
By Leah Malone | November 11th, 2013
Riot police, protesters and thugs brutally clashed during demonstrations last night, after President Mohamed Waheed declared he would stay in power beyond the conclusion of his presidential term.
Waheed's decision half an hour before the expiry of his term prompted people to take to the streets in Male'.
While the majority of protesters were Maldivian Democratic Party (MDP) supporters, other political parties were also demonstrating to demand the constitution be upheld and Shahid be sworn in as president, a protest participant told Minivan News.
Full report at:
http://minivannews.com/politics/maldives-police-thugs-clash-with-pro-democracy-protesters-71389
-----------
Human Rights calls for travel ban on those responsible for Maldives' "judicial coup d'état"
By JJ Robinson | November 12th, 2013A
The Asian Centre for Human Rights (ACHR) has recommended the international community impose travel and other restrictions against President Mohamed Waheed, Police Commissioner Abdulla Riyaz and Supreme Court Justices Ahmed Abdulla Didi, Abdulla Saeed, Adam Mohamed Abdulla and Ali Hameed Mohamed.
"The time has come to ensure that all those who subvert democracy and the rule of law are held accountable by denying visas as well as any association including employment opportunities by the United Nations and other inter‐governmental organisations," stated the regional NGO, which has special consultative status with the UN's Economic and Social Council. (ECOSOC).
In a damning report 12-page report on the current situation, ACHR declared that the Supreme Court should not have entertained the Jumhoree Party (JP)'s "frivolous petition" to delay the run-off polls after the November 9 revote, as the party had placed third and was not even contesting the poll the following day.
Full report at:
http://minivannews.com/politics/asian-centre-for-human-rights-calls-for-travel-ban-on-those-responsible-for-maldives-%E2%80%9Cjudicial-coup-detat%E2%80%9D-71494
-----------
Afghan Taliban condemn killing of Haqqani network leader
2013-11-12
KABUL: The Afghan Taliban on Tuesday condemned the killing of a senior Haqqani network leader but said his death would not have any impact on the militants' campaign of violence.
Unidentified gunmen reportedly gunned down Nasiruddin Haqqani, the eldest son of the group's founder, as he bought bread on the edge of Islamabad on Sunday evening.
Haqqani was the chief financier of the Haqqani militant network, which is affiliated with the Afghan Taliban and fighting US-led and Afghan forces in Afghanistan.
They have been blamed for spectacular attacks on Afghan government and Nato targets across Afghanistan, as well as for kidnappings and murders.
"We condemn the cowardly act of the defeated enemy and tell them that these kinds of terrorist actions will not have any negative impact on the current jihadi activities," the Taliban said in a statement.
Full report at:
http://www.dawn.com/news/1055876/afghan-taliban-condemn-killing-of-haqqani-network-leader
-----------
Mideast
President Gül presents medal of honor to Azerbaijani President Aliyev
Nov 12 2013
Turkish President Abdullah Gül has presented the State Medal of Honor to Azerbaijani President İlham Aliyev, who is in Ankara for an official visit.
Aliyev received the State Medal of Honor from Gül at a ceremony today in Ankara as he came to Turkey for a two-day visit. Aliyev and his wife, Mihriman Aliyeva, were welcomed by Gül and his wife, Hayrünnisa Gül, at Çankaya in an official ceremony.
Full report at:
http://www.hurriyetdailynews.com/president-gul-presents-medal-of-honor-to-azerbaijani-president-aliyev.aspx?pageID=238&nID=57780&NewsCatID=338
-----------
Single-minded Islamic Jihad grows in Gaza's shadows
12 November 2013
Reuters
Hours after Israeli special forces killed Mohammed Assi in a shootout last month in the occupied West Bank, the Palestinian militant groups Hamas and Islamic Jihad both tried to cloak themselves in his legacy.
Underscoring their shared Islamist credentials, the two groups quickly claimed the dead man as one of their own, proud to take responsibility for a Tel Aviv bus bombing in 2012 that he helped carry out and that wounded several Israelis.
Assi's memory mirrors a much broader competition between the two groups, both of which are deemed terrorist organisations in the West, to attract supporters and kudos in the Palestinian territories.
Hamas, with robust political and military wings, rules the Gaza Strip and is clearly the senior Islamist party. Islamic Jihad has no ambition to govern, but it is quietly putting on muscle and has become the go-to group for both Iran and Syria.
This makes it increasingly dangerous for Israel and a possible threat for Hamas on the Palestinian militant landscape - although the group's exclusive focus on fighting the Jewish state means it is not challenging Hamas for control of Gaza.
Full report at:
http://english.alarabiya.net/en/perspective/features/2013/11/12/Single-minded-Islamic-Jihad-grows-in-Gaza-s-shadows-.html
-----------
Greece not taking positive steps on Muslim minority issue, says Turkish minister
Nov 12 2013
Greece has yet to take a positive step on meeting the demands of the country's Muslim minority, according to Turkish Health Minister Mehmet Müezzinoğlu, who is currently paying a visit to the neighboring country.
Müezzinoğlu, who was born in Greece, said he did not expect a short-term solution to the issue. "Unfortunately Greece has not taken a positive step on the problems of minorities so far. We have observed the good intention in talks but in practice we haven't seen any action," Müezzinoğlu said in the Komotini province of western Thrace.
Full report at:
http://www.hurriyetdailynews.com/greece-not-taking-positive-steps-on-minority-issue-says-turkish-minister.aspx?pageID=238&nID=57776&NewsCatID=351
-----------
Iran's foreign minister blames West for breakdown of nuclear talks
12 November 2013
Iranian Foreign Minister Mohammad Javad Zarif on Tuesday lashed out at the U.S., saying that divisions between Western powers accounted for the failure of nuclear talks in Geneva last week.
The United States, the European Union and Iran worked intensively together for months on a proposal to help end the 10-year stand-off over Iran's nuclear program. But talks in Geneva between Tehran and six world powers ended Sunday without an agreement.
Zarif said blaming Iran only served to undermine confidence in the negotiations which are set for another round on Nov. 20, in response to remarks made by U.S. Secretary of State John Kerry in Abu Dhabi on Monday.
Full report at:
http://english.alarabiya.net/en/News/middle-east/2013/11/12/Iran-s-foreign-minister-blames-West-for-breakdown-of-nuclear-talks.html
-----------
Yemen jails crew over arms shipment 'from Iran'
Nov 12 2013
A Yemeni court on Tuesday sentenced crew members of a vessel intercepted with an arms shipment allegedly from Iran to between three and 10 years in prison.
The court in the main southern city of Aden jailed three defendants for six years and four others for one year, an AFP correspondent in the special court reported.
Another man was given a three-year jail term while a ninth, who remains at large, was handed a 10-year term.
Full report at:
http://english.ahram.org.eg/NewsContent/2/8/86233/World/Region/Yemen-jails-crew-over-arms-shipment-from-Iran.aspx
---------
Pakistan
Jamiat Ulema-e-Islam-Sami extends support to PTI to stop NATO supplies
November 12, 2013
NOWSHERA / PESHAWAR: A common adversary has brought the Pakistan Tehreek-e-Insaf (PTI) and Jamiat Ulema-e-Islam-Sami (JUI-S) closer.
In an unprecedented move, Khyber-Pakhtunkhwa (K-P) Minister for Information Shah Farman on Monday sought the support of JUI-S in halting Nato supplies after November 20 – the deadline set by the provincial government to push the centre to do the same.
In a meeting with JUI-S central deputy secretary Maulana Hamidul Haq and Ameer Maulana Sayed Muhammad Yousaf Shah at Darul Uloom Haqqania in Akora Khattak, Farman urged them to lend PTI support in order to put an end to US drone strikes. In response, the JUI-S leaders promised full support to the ruling party.
Leaders of the two parties have decided to soon hold a meeting to chalk out a plan for maintaining law and order and holding local government elections in the province.
Undeterred
Full report at:
http://tribune.com.pk/story/630628/a-friendship-of-convenience-jui-s-extends-support-to-pti-to-stop-nato-supplies/
-----------
Pakistan plans to restore Sikh, Hindu religious monuments
PTI | Nov 12, 2013
LAHORE: Pakistan plans to conserve and restore a Sikh 'Samadhi' and a Hindu temple, two important historical monuments located near the Lahore Fort, at a cost of Rs 22 million, a media report said.
The Samadhi of Bhai Vasti Ram, a spiritual guide to Maharaja Ranjit Singh, and the temple of Jhingar Shah Suthra, a Hindu mendicant of Mughal emperor Aurangzeb's time, are the two monuments which are planned for restoration, the Dawn reported.
Quoting officials of Punjab archaeology department, it said work on both the projects would start in January next year to be completed in 2016.
Full report at:
http://timesofindia.indiatimes.com/world/pakistan/Pakistan-plans-to-restore-Sikh-Hindu-religious-monuments/articleshow/25636679.cms
-----------
Pakistani Taliban's choice of leader signals an ominous turn
By Aoun Sahi and Mark Magnier
Nov 12 2013
ISLAMABAD, Pakistan — The appointment of Mullah Fazlullah as head of the Pakistani Taliban signals a significant shift for the militant organization into a potentially more uncompromising, violent group based increasingly on ideology rather than tribal ties, analysts said.
Fazlullah, a hard-liner from Pakistan's Swat Valley, was named Thursday after his predecessor was killed days earlier by a U.S. drone strike as he emerged from a meeting at a mosque in lawless North Waziristan near the Afghan border.
Full report at:
http://www.latimes.com/world/la-fg-pakistan-taliban-
-----------
Pakistan: Deter Escalating Attacks on Shia Muslims
Nov 12 2013
(New York) – The Pakistani government should urgently act to prevent deadly sectarian attacks on Pakistan's Shia Muslims that escalate during the Muslim holy month of Moharram.
In recent years, Sunni extremist groups affiliated with the Taliban and al-Qaeda in Pakistan have claimed responsibility for attacks that have killed dozens of Shia during Moharram, particularly on Shia processions marking Ashura, the 10th day of Moharram, which in 2013 is on November 15.
"Pakistan's besieged Shia citizens should be able to participate in Ashura processions without fear of predictable attack while the government just looks on," said Ali Dayan Hasan, Pakistan director at Human Rights Watch. "The Pakistani authorities need to put all necessary security measures in place to protect the Shia population. Arresting extremist group members responsible for past attacks would be an important first step."
Full report at:
http://www.hrw.org/news/2013/11/11/pakistan-deter-escalating-attacks-shia-muslims
-----------
Plan for Taliban talks shelved for now: Nisar
2013-11-12
ISLAMABAD: The National Assembly heard on Monday the government virtually shelving, for now, its plan to revive a disrupted peace effort with Taliban insurgents, ending a heated six-day debate without even endorsing a previous mandate in this regard given by an all-party conference.
Interior Minister Chaudhry Nisar Ali Khan succeeded in soothing angry opposition lawmakers, so they came to the sitting without their condition of Prime Minister Nawaz Sharif's presence being met, but he appeared helpless on another key issue, saying no dialogue could make headway until the United States stopped drone strikes at suspected militant hideouts in the tribal belt.
Full report at:
http://www.dawn.com/news/1055713/plan-for-taliban-talks-shelved-for-now-nisar
-----------
ISPR should have taken its grievance to defence ministry: JI
Nov 12 2013
LAHORE: Jamaat-i-Islami's General Secretary Liaquat Baloch said on Tuesday that stopping drone attacks and blocking Nato supply had become public opinion, adding that the Inter-Services Public Relations (ISPR) should have lodged its complaint relating to the statement of JI's chief with the Defence Ministry, DawnNews reported.
Speaking to media representatives in Mansoora, Lahore, Baloch said every political party had the right to express its view point and this was what the JI did.
He further said that it was a chink in the armour of a democratic government that the army could question a leader of a political party.
Full report at:
http://www.dawn.com/news/1055862/ispr-should-have-taken-its-grievance-to-defence-ministry-ji
-----------
I'm not anti-US, anti-India, says Imran
November 12, 2013
LAHORE: The United States is hypocritical: whereas the country is going ahead with holding talks with the Afghan Taliban, it is stopping Pakistan from doing the same with the Tehreek-e-Taliban Pakistan.
This was stated by Pakistan Tehreek-e-Insaf chairman Imran Khan in an interview with Express News programme 'To the Point.'
The PTI chief said guiding the nation towards the right direction in difficult times like these is very important. He criticised the US for their double standards whereby the Americans have a different set of rules for their own people.
The Americans set the discourse in the Pakistani media, the PTI chief alleged, adding that he has been told by the Americans themselves that they are pouring a lot of money into the country's media.
Full report at:
http://tribune.com.pk/story/630847/interview-im-not-anti-us-anti-india-says-imran/
-----------
India
Saudi authorities willing to go the extra mile for Indians, says Consul-General
November 12, 2013
Faiz Ahmad Kidwai, Consul-General of India, Jeddah, Kingdom of Saudi Arabia, is the man on ground zero as the Nitaqat law takes effect. During the Nitaqat grace period, he was in the thick of things as the country's representative in Jeddah, the second largest city in the Kingdom after Riyadh and a commercial hub with a large Indian diaspora. Jeddah is also the principal gateway to Mecca. In interviews done over e-mail and phone with Krishnadas Rajagopal, he recounts the anxieties of immigrants, hard work of his staffers and some heart-rending cases of immigrants his Consulate witnessed.
Full report at:
http://www.thehindu.com/news/national/saudi-authorities-willing-to-go-the-extra-mile-for-indians-says-consulgeneral/article5340499.ece
-------------
Salman Khurshid assures Bangladesh FM of land border deal
TNN | Nov 12, 2013
NEW DELHI: Even as Bangladeshi Prime Minister Sheikh Hasina moves to create an all-party government for the elections, foreign minister Salman Khurshid assured visiting Dipu Moni he would introduce a constitutional amendment on the land boundary agreement during the winter session of Parliament.
Officials said Khurshid met his Bangladeshi counterpart on the sidelines of the ASEM summit here. "They also discussed various other issues of bilateral interest, specifically including the implementation of the agreement for power sharing and the benefits accruing to the ordinary people from it," they added.
http://timesofindia.indiatimes.com/india/Salman-Khurshid-assures-Dipu-Moni-of-land-border-deal/articleshow/25609209.cms
-----------
India backs Iran's 'uranium enrichment' right
Nov 12 2013
New Delhi : Going beyond its traditional approach of stating its conventional position, India has for the first time gone a step ahead to articulate support for Iran's right to "uranium enrichment" — a contentious issue between Tehran and the international community — for peaceful use of nuclear power.
This was put in a joint statement of the Russia-India-China (RIC) trilateral meeting — at the last minute — on Monday since Russian foreign minister Sergei Lavrov briefed External Affairs Minister Salman Khurshid and Chinese foreign minister Wang Yi on Sunday.
Lavrov is learnt to have explained there is no restriction on enrichment for Iran, if it is for peaceful uses. Sources said Indian interlocutors signed the statement which "recognized Iran's right to peaceful uses of nuclear energy, including for uranium enrichment under strict IAEA safeguards and consistent with its international obligations."
Full report at:
http://www.indianexpress.com/news/india-backs-iran-s--uranium-enrichment--right/1193835/
----------
India calls for resolution of crisis in Maldives
Nov 12 2013
Male : India has sought a quick second round of presidential elections in the Maldives even as the outgoing President Mohammed Waheed defied international pressure and declared that he will stay on until his successor is sworn in.
As the political crisis in the Maldives deepened, the Indian High Commission said it was disappointed that the run-off for the presidential elections was not held Sunday as scheduled and hoped that a newly elected President is sworn in at the earliest, a statement released here said.
"It is also a matter concern that as the government ends its term today, no interim arrangement acceptable to all stakeholders to run the country is in place," Sunday's statement said.
Full report at:
http://www.indianexpress.com/news/india-calls-for-resolution--of-crisis-in-maldives/1193773/
-----------
URL: https://newageislam.com/islamic-world-news/despite-repeated-warnings,-'subsidising'-afghan/d/24394