New Age Islam News Bureau
5 Apr 2018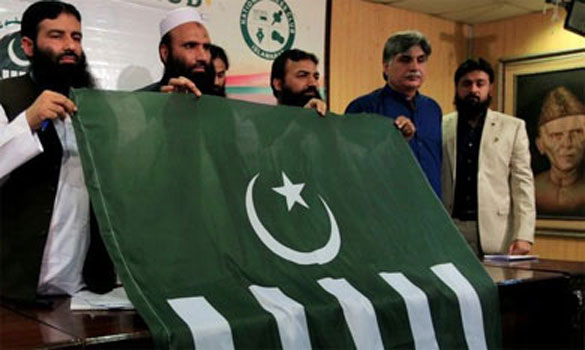 Despite being on US terrorist list, MML vows to contest elections The Milli Muslim League (MML) is controlled by Islamist leader Hafiz Saeed, who has a $10 million US bounty on his head.
----
• Despite Being on US Terrorist List, MML Vows To Contest Elections
• Move to End Polygamy Divides Indian Muslims
• Islamic State Militants Renew Loyalty Pledge to 'Caliph' Baghdadi
• Houthi Militias Pushing Women, Children to the Frontlines
• Terror from the Skies: Age of the Jihadist Drone Has Arrived, Says US Expert
• Taliban's Spiritual Father Maulana Sami Reacts at Kunduz Airstrike
Pakistan
• Despite Being on US Terrorist List, MML Vows To Contest Elections
• PPP Won't Allow 'B-Team of Taliban' To Come into Power
• Dubai Police Chief's Stinging Tweets on Pakistan More Than Outburst; Reveal Islamabad's Unsteady Relations with Saudi-Led GCC Bloc
• Fazl, Durrani grabbed land meant for Kargil martyrs: PTI
• UN Lists Dawood as Terrorist Based in Pakistan, Mentions Karachi Address
• Hundreds Stage Sit-In Supporting Radical Pakistani Cleric
• Soldier martyred, two terrorists killed in Balochistan
• Qaeda, TTP, Daesh posing serious threat to Punjab: CTD head
--------
India
• Move to End Polygamy Divides Indian Muslims
• At The Receiving End in One Rajasthan Town, Dalits Say May Embrace Islam
• Maldives declines to send ministry team for India's Defence Expo
• Attacks on dalits, Muslims on the rise: Cong.
• Government plans 14,000 bunkers to shield civilians from Pakistan fire
--------
Arab World
• Islamic State Militants Renew Loyalty Pledge to 'Caliph' Baghdadi
• Trump Decides To Keep US Troops in Syria 'A Little Longer'
• Qatari Commando Officer Tweets His Pride For ISIS Suicide Bomber
• Serbia sentences seven for Syria-related 'terrorism'
• Syrian Army Sends More Troops, Equipment to Southern Damascus
• Heavy Infighting Erupts among FSA Militants in Southern Syria
• Egypt sentences 35 to life on terror charges
• Iraq may operate against ISIS inside Syria, expert says
• Macron urged to press Saudi crown prince into ending Yemen conflict
--------
Mideast
• Houthi Militias Pushing Women, Children to the Frontlines
• Arab League Calls for Security Council Probe into Israel's Killings In Gaza
• Iran, Russia, Turkey Reiterate Resolve to Annihilate Terrorist Groups in Syria
• Resistance sole way to heal Palestinian wounds, says Ayatollah Khamenei
• After Gaza bloodshed, B'Tselem urges Israeli troops to disobey shooting orders
• Israeli forces arrest 10 Palestinian fishermen off Rafah coast over alleged attack
--------
North America
• Terror from the Skies: Age of the Jihadist Drone Has Arrived, Says US Expert
• Settlement Close In Suit Accusing NYPD of Spying On Muslims
• Qatar army chief-of-staff meets officials in Washington
• Report urges Canada to accept Rohingya refugees
• Trump urges end to GCC rift in Saudi, Qatari calls
--------
South Asia
• Taliban's Spiritual Father Maulana Sami Reacts at Kunduz Airstrike
• Adviser to Bangladesh PM Urges Re-Sanctioning Of Myanmar
• Local Taliban leader blown by own explosives in Laghman
• Rohingya refugees move out of harm's way in Bangladesh
• Missing Hindu lawyer's body found in Bangladesh; wife arrested
• Pakistani planes conduct airstrike in Dangam district
--------
Southeast Asia
• Indonesian Muslims Defy Extremism by Marking Holy Week
• Police Investigate Reports of Blasphemy in Sukmawati's Poem
• Indonesian, Jordanian Universities United In 'Spreading True Image Of Islam'
• Tearful Sukmawati apologizes for offending Muslims
• Islamic groups report Indonesian politician for reciting 'blasphemous' poem
• Singapore pastor apologises to Muslim leaders for US preacher's alleged statements on Islam
--------
Africa
• Muammar Qaddafi's Son Found Not Guilty of Murder of Libyan Footballer
• Rape and Torture Charges for Jihadist Police Chief of Timbuktu
• Ugandan president confirms 8 soldiers killed in Somalia
• How Danjuma exposed conspiracy between Islamists, FG – Christian Elders
--------
Europe
• France, U.S. Committed to Wiping Out Islamic State: France
• Number of Salafists in Germany has doubled in past five years
• Daesh collapse means defeat of US regional policy: Iran defence chief
Compiled by New Age Islam News Bureau
URL: https://www.newageislam.com/islamic-world-news/despite-being-terrorist-list-mml/d/114831
--------
Despite being on US terrorist list, MML vows to contest elections
April 5, 2018
KARACHI: A Pakistani political party placed on the US list of foreign terrorist organisations has vowed to continue its political activities and participate in upcoming elections.
The Milli Muslim League (MML) is controlled by Islamist leader Hafiz Saeed, who has a $10 million US bounty on his head. The group shot to prominence after fielding a candidate in a September 2017 by-election to fill a seat vacated by deposed prime minister Nawaz Sharif.
The US State Department on Tuesday termed MML an alias for militant organisation Lashkar-e-Taiba (LeT), or Army of the Pure, blamed for a bloody 2008 attack in India.
"We clearly state that on US announcements we will not discontinue our political activities at any cost," MML President Saifullah Khalid said, reading from a statement in Karachi.
"Milli Muslim League will fully participate in the 2018 elections and will field candidates from across Pakistan."
Saeed is the founder of LeT, which is also on the US terrorist list and blamed by the United States and India for a four-day militant attack on Mumbai in 2008 in which 166 people were killed.
Saeed has repeatedly denied involvement in the attack.
Images of Saeed appeared on MML campaign posters during rallies held in two major Pakistani cities leading up to by-elections last year.
The party was subsequently barred from participating in polls by Pakistan's electoral commission, a decision that was overturned by the courts.
"We have confidence in our higher judiciary … MML will be registered and it will emerge as a big national party in future," Khalid said.
Khalid termed the U.S. decision a violation of basic human rights and an open intervention in Pakistan's internal affairs, asking for the State Department to bring evidence before the courts.
"Make no mistake: whatever LeT chooses to call itself, it remains a violent terrorist group. The United States supports all efforts to ensure that LeT does not have a political voice until it gives up violence as a tool of influence," the US State Department said in a statement.
Under pressure from the United States, the United Nations and international institutions to crack down on terrorist financing, Pakistan drew up secret plans last December for a "takeover" of charities linked to Saeed.
Saeed has since taken the government decision to court.
Saeed's freedom in Pakistan, where he holds rallies, has been a thorn in Pakistan's relations with old rival India and the United States.
https://www.pakistantoday.com.pk/2018/04/05/despite-being-on-us-terrorist-list-mml-vows-to-contest-elections/
--------
Move to End Polygamy Divides Indian Muslims
April 5, 2018
A new confrontation between religious and social organizations has broken out in India as its top court seeks the government's response to a move to ban polygamy among Muslims.
The Supreme Court of India on March 26 decided to examine the validity of polygamy and several other Muslim marital practices while hearing a petition by two women's organizations and pro-Hindu Bharatiya Janata Party (BJP) leader Ashwini Upadhyay.
The petitioners said the prevalent practices of polygamy and Nikah Halala were unconstitutional and should be declared illegal. The court now awaits the government's response before deciding whether to proceed further on the issue. Nikah Halala involves a female Muslim divorcee marrying someone else, consummating the marriage and then getting a divorce in order to make it allowable to remarry her previous husband.
The petitioners also said Nikah Mutah (temporary marriage) and Nikah Misyar (the renouncing of marital rights such as living together, the wife's rights to housing and maintenance money, and the husband's right to homekeeping and access) do not respect women's dignity and rights but only provide sexual pleasure for men and should be declared illegal.
Several Muslim groups described the move as interference in the religious affairs of Muslims.
Maulana Khalid Rashid Farangi, a member of the All India Muslim Personal Law Board, said it is unfortunate that polygamy is being considered unlawful when live-in relationships are becoming a trend in India.
"The constitution guarantees minority communities including Muslims [the freedom] to follow their own personal laws, but the internal matters of Muslims are now being questioned. This has caused anxiety among Muslims as Islamic laws are presented in completely the wrong manner in the court," said the cleric.
Irfan Yaseen, a Muslim student in New Delhi, said the way in which the personal laws of Muslims are being targeted one by one is fishy.
He suspects the governing BJP is trying to erode "all Islamic principles and practices and present them in a way that they look anti-human and anti- women."
He said the government cannot ban what Islam has permitted as it would cause a lot of anxiety among Muslims.
Yaseen said the government could have asked Muslim religious organizations to reach a consensus over whether practices like polygamy should be restrained.
However, several women's organizations have welcomed the move to ban polygamy.
Zakia Soman from Bharatiya Muslim Mahila Andolan (Indian Muslim women's movement) said the plan is "a ray of hope" for Muslim women who have been victims of polygamy. She said no government data is available about how many women have been victimized by such practices.
Sabiha Yaseen, a women's activist in New Delhi, said rackets were run in the name of Nikah Halala where a woman who wants to remarry her husband after divorce is asked to pay a huge amount so that she could be married to a man for one night. "This is highly unfortunate and needs to be stopped," she said.
She said the government has been taking serious measures to end the sad plight of Muslim women.
Last August, the Supreme Court banned instant verbal divorce or triple talaq, a practice that allows Muslim men to divorce their wives by just saying the word talaq (divorce) three times.
The court asked the government to pass a bill to ban the practice, but the issue is pending in parliament after opposition parties objected and demanded the case be sent to a select committee.
Across all religious communities in India, more women remain divorced than men, according to census data. However, the percentage is higher among Muslims. For every Muslim man living divorced, four women remain divorced.
Muslims account for 172 million or 14 percent of India's population, followed by Christians at 29 million or 2.3 percent. Hindus account for 966 million or 80 percent.
https://www.ucanews.com/news/move-to-end-polygamy-divides-indian-muslims/81973
--------
Islamic State Militants Renew Loyalty Pledge to 'Caliph' Baghdadi
April 4, 2018
BAGHDAD (REUTERS) - Islamic State militants have restated their loyalty to the group's leader Abu Bakr al-Baghdadi, in what is believed to be their first public pledge of allegiance to him since his "caliphate" in Syria and Iraq collapsed last year.
The group continues to carry out bombings, ambushes and assassinations in both countries, as well as in Libya. However, Baghdadi's whereabouts have been unknown since the cross-border "caliphate" he declared in 2014 disintegrated with the fall of Mosul and Raqqa, its strongholds in Iraq and Syria respectively.
"To infuriate and terrorise the infidels, we renew our pledge of loyalty to the commander of the faithful and the caliph of the Muslims, the mujahid sheikh Abu Bakr al-Baghdadi al-Hussaini al-Qurashi may god preserve him," militants said in a statement posted on their social media groups.
Hisham al-Hashimi, who advises several governments including Iraq's on Islamic State affairs, said this was the first known pledge of loyalty to Baghdadi since Iraqi forces recaptured Mosul in July and an alliance of Kurdish and Arab militias took Raqqa in November, in both cases backed by a U.S.-led coalition.
There have been conflicting reports over whether Baghdadi, an Iraqi, is still alive.
However, Hashimi told Reuters that he was believed to be hiding in the vast desert area that straddles the Syria-Iraq border,
U.S. airstrikes killed most of his top lieutenants, including Islamic State's "war minister" Abu Omar al-Shishani, "governor of the Iraqi region" Abu Muslim al-Turkmani, group spokesman Abu Mohammed al-Adnani and "governor for Syria" Abu Ali al-Anbari.
https://www.usnews.com/news/world/articles/2018-04-04/islamic-state-militants-renew-loyalty-pledge-to-caliph-baghdadi
--------
Houthi militias pushing women, children to the frontlines
4 April 2018
Commander of the Yemeni army in Saada, Brigadier Obeid Al-Othila, said that the Houthi militias are in a state of confusion as a result of their entrapment in the first stronghold and the approach of the National Army from the hometown of the rebel leader in Maran at the center of the directorate.
This comes as the Arab coalition fighters raided several positions of the coup militias.
Al-Othila said in a statement to Al Arabiya's correspondent that the Houthis in Sadaa have pushed women and children to the frontlines, after they recruited men and children following an increasing pressure by Yemen's army and the coalition forces.
A lot of progress has been achieved in various fronts, within a broad military operation called "cutting the snake's head" which was launched months ago, and intensified in the past two days.
The commander added that the national army forces achieved field victories, on Wednesday during the night, in positions on the fronts of Kataf and Razah and al-Dhahir, the army controlled the vast areas of mountains, and recovered areas taken by the Houthi militias.
He also pointed out that the Houthis have suffered during the past two days heavy losses of approximately 350 militants dead and wounded, while many others were captured.
The army also recovered large quantities of medium and light weapons and ammunition held by the Houthi militias.
Arab coalition aircrafts raided an air defense camp at Hudayda airport.
Coalition aircrafts also destroyed five military vehicles and reinforcements belonging to the militias in Al-Yispel area in Al Bayda coming from al-Sawdeya and al-Wahbeya area in al-Bayda Directorate.
They also targeted Houthi positions off al-Khubba in Jazan area, in addition to intense hovering of the coalition fighters over various locations in Saada, particularly al Baq'e, Baqem and al-Dhahir.
https://english.alarabiya.net/en/News/gulf/2018/04/04/Houthi-militias-push-women-and-children-to-the-fronts-of-war-zones.html
--------
Terror from the skies: age of the jihadist drone has arrived, says US expert
April 5, 2018
Britain must prepare to face the threat of Islamic State terrorists using drones to attack buildings and other landmark targets, a security expert will warn in a book published next month.
Nicholas Grossman said that IS had already used drones packed with explosives in Syria and that no terror group had done more to exploit the new technology.
He said options for protecting against the danger included using electrical repulsion systems.
But he warned that if the use of drones for commercial deliveries and other purposes becomes more common it will become increasingly difficult to stop terrorists using drones to destructive effect.
There are already concerns about the potential risk that such devices could pose to aircraft if they stray into flight paths, and the possibility that out-of-control drones could injure people. But in his book Drones and Terrorism, Mr Grossman, an academic from the University of Illinois, warns that the "age of the drone terrorist" has arrived, with IS and other extremist groups already using them for attacks in conflicts overseas.
He says the technology is likely to be exploited further to mount attacks in Western cities. "As drones become more commonplace in cities, they will become less conspicuous, making it easier for a terrorist to case or attack a target," he writes.
"Electronically repelling drones from restricted airspace, or forcing them to land, would protect landmarks, airports, government buildings or other potential targets … [but] of course someone will find a way around any anti-drone technology.
"Perhaps the biggest danger is to airports. If a terrorist could fly a drone into a jet engine during take-off or landing, they could inflict mass ­casualties."
The warning echoes similar comments by former Scotland Yard counter-terrorism chief Richard Walton. He told the Standard last month that vigilance was needed about potential attacks using drones because "there are very few methodologies used by terrorist organisations in their war zones that don't at some stage come over here".
Mr Walton added that both IS and al-Qaeda, which had not gone away, remained "globally networked organisations" capable of organising attacks.
A recent report by the London Assembly suggested that the "controlled use of drones should be explored" in planning for the future transport needs of the capital.
https://www.standard.co.uk/news/world/drones-are-the-new-jihadist-terror-weapons-says-us-security-expert-a3805201.html
--------
Taliban's Spiritual Father Maulana Sami reacts at Kunduz airstrike
Apr 05 2018
The Jamiat Ulema-e-Islami Chief Maulana Samiul Haq, famous as Taliban's Spiritual Father, has reacted at the deadly airstrike in Kunduz province amid reports both the Taliban and civilians have suffered casualties in the raid.
He has term the airstrike as an act of barbarism and has said the attack on religious scholars, seminary students and civilians was a sheer act of terrorism.
Maulana Samiul Haq has also claimed that the attack was continuation of policies of US President Donald Trump as he warned that such incidents were a threat to international peace.
The Jamiat Ulema-e-Islami Chief has also claimed that US was trying to sabotage the peace in Muslim counties and create civil war like situation there.
This comes as the Ministry of Defense officials are saying that the airstrike was carried out a main stronghold of the Taliban group in Dasht-e-Archi district which was also being used as the training camp by the group.
According to the defense officials, the raid was conducted based on accurate intelligence information and as a result several Taliban insurgents including eighteen of their leaders were killed.
In regards to the civilian casualties, Gen. Radmanish said the Afghan army helicopters attacked the the compound with rockets but the civilians sustained casualties from small fire arms.
According to Gen. Radmanish, the Taliban militants initially opened fire on army helicopters after their base was attacked with rockets and later opened fire on civilians.
https://www.khaama.com/talibans-spiritual-father-maulana-sami-reacts-at-kunduz-airstrike-04806/
--------
Pakistan
PPP won't allow 'B-team of Taliban' to come into power
APRIL 5, 2018
LARKANA: Pakistan People's Party (PPP) Chairman Bilawal Bhutto Zardari Wednesday said that the 'estranged brother of Taliban', Imran Khan, is just an extension of Nawaz Sharif.
"People of Pakistan have the choice to opt for either the legacy of Zia-ul-Haq or Zulfikar Ali Bhutto. There is a third one too, who is waving the flag of hypocrisy and whose agenda is U-turns. Taliban's long-lost brother Imran Khan is just an extension of Nawaz," the PPP chief told a huge gathering on the occasion of 39th death anniversary of Zulfikar Ali Bhutto at Garhi Khuda Bux. "We won't allow B-team of extremists to come into power at this delicate juncture," he added.
The PPP chief accused Imran Khan and Nawaz Sharif of belittling one another in their aim to get in power and make money. "Currently, all the political investors have gathered at Jaati Umra and Bani Gala palaces. They fear only PPP because we are the party of masses," he said. "We had put their arrogance to dust in the past and will again push this greedy bunch against the wall. We see Nawaz Sharif and Imran Khan fighting. This fight is actually a war between political investors," he added.
Bilawal said Nawaz Sharif and Imran Khan have spent 32 and 22 years in politics respectively but none have succeeded in reducing the impact Zulfikar Ali Bhutto made in just 11 years."Fight between Nawaz Sharif and Imran Khan is a fight between hypocrites for power and contracts. They want power and their ideology is just money and their struggle being deception and lies," he said. "Imran and Nawaz's politics and hypocrisy is one and the same. If Nawaz and Imran had done any work for the welfare of the people, they wouldn't have been doing propaganda against us," he added.
Bilawal said that Nawaz Sharif's 'respect for vote' campaign is a joke with the nation. "Someone who in his life never respected the vote or sanctity of the parliament is nowadays a torchbearer of it," he said, adding that his party has always respected judiciary despite being adversely affected from its decisions. "PPP has never got justice from the courts … but did we wage war against it? We do raise our voice against it but with respect. We still demand justice for the judicial murder of Zulfikar Ali Bhutto," he said.
"Masses don't care about Mujhe Kiyun Nikala. They want their problems resolved and PPP is the only party which is busy resolving these problems, including the provision of basic necessities of health, education and clean water facilities," Bilawal said. He claimed that Punjab Chief Minister Shehbaz Sharif and Imran Khan didn't inaugurate even a single hospital in Punjab and Khyber Pakhtunkhwa in the past five years, while the Sindh government opened 517 new health facility centres in the same period.
Speaking about his late grandfather, Bilawal said Bhutto was the first person to stand for democracy in the country, adding that the country before Bhutto's martyrdom had tolerance and Pakistan after his martyrdom is plagued with terrorism. "If there was any successful foreign policy of Pakistan, it was SZAB's. He had no weapon but won war against India on a table in the shape of Simla Accord. It was only Bhutto who raised voice for Kashmiris. If Pakistan is a nuclear state today, it's the milestone achievement of Bhutto. If labourers and peasants have any rights today and if you have a passport today, it's because of SZAB. Pakistan was crawling without a constitution for 26 years and if we have a unanimous constitution today, it is also because of SZAB."
Earlier, addressing the gathering, former president Asif Ali Zardari said that a truce with Nawaz Sharif was not possible under any circumstances. "I am aware of Mian Sahab's ability. He is part of the opposition and the government simultaneously, but he isn't willing to accept the election of his returning officers (ROs)."
"Supporting Raza Rabbani for the slot of Senate chairman was a political move by Nawaz Sharif. It was fortunate that Raza Rabbani stood with us," Zardari said, adding that Nawaz Sharif was not a politician and should leave politics. "People's Party will ensure that he [Nawaz] leaves politics," he said.
"No matter what happens, a truce with Nawaz Sharif is not possible. The war will continue and it will be a long war. We will hold them accountable for the past 40 years. This time [during general elections] we shall appoint our own chief minister in Punjab no matter who we have to enter into an alliance with," he said. He also accused the ruling party of joining hands with the establishment to conspire against the PPP.
https://dailytimes.com.pk/224015/ppp-wont-allow-b-team-of-taliban-to-come-into-power/
--------
Dubai Police chief's stinging tweets on Pakistan more than outburst; reveal Islamabad's unsteady relations with Saudi-led GCC bloc
Ashok K Singh
Apr 05, 2018
Senior Dubai Police official Dhahi Khalfan's tweets calling names to Pakistanis has brought out in the open, the simmering tensions between UAE and Pakistan.
Khalfan, head of Dubai's General Security, called Pakistanis living in the UAE smugglers, drug peddlers and criminals. In a series of tweets, Khalfan even called upon Dubai authorities to stop hiring Pakistanis.
(Pakistanis pose a serious threat to the Gulf societies for the drugs they bring with them... There must be very strict measures against them at the outlets..)
(Pakistanis pose a serious threat to the Gulf societies for the drugs they bring with them... There must be very strict measures against them at the outlets..)
(Why are the Indians disciplined? While idleness, criminality and smuggling in the Pakistani community are rampant)
Khalfan, who has a reputation for being tough and abrasive, took to the micro-blogging site after some Pakistani nationals were arrested by Dubai Police on charges of smuggling drugs. His comments prompted several Pakistanis to respond with regret and anger, while many others pleaded with Khalfan not to humiliate Pakistan.
The question is why did Khalfan hit out at Pakistanis, who form a large part of expatriate population in the UAE? Were his tweets merely an outburst in reaction to the arrest of Pakistani nationals or is there something more to it?
Khalfan may be a maverick but as the top security official he won't fly off the handle on issues that can affect Dubai's bilateral relations with Pakistan. His tweets reflect the mistrust that has crept into Pakistan's relation with Gulf countries, especially UAE and even Saudi Arabia. It is indicative of a subtle change in Pakistan's equations with its traditional allies in the Gulf Cooperation Council (GCC).
As far as Pakistan-UAE relations are concerned, two issues seem to be the main reasons behind the building mistrust and mutual suspicion. One is related to trade and business, the other is purely strategic.
Many strategic analysts attribute the increasing deterioration in relations between Dubai and Pakistan to development of Gwadar port with the aid and investments of China. UAE feel Gwadar can emerge as a serious rival to Dubai's Port Rashid and Port Jabel Ali.
Gwadar happens to be more strategically located than Dubai ports to attract international trade, as it will provide links to China as well as Central Asia. In the long run, after its full potential is realised through execution of China-Pakistan Economic Corridor (CPEC), Gwadar is also being billed as a rival to Dubai ports in terms of becoming an international business hub.
Dubai's long-term apprehension is that Gwadar will replace it as the hub of international business and trade in Gulf and West Asia. Most of the container traffic to West and Central Asia is presently routed through Dubai ports. That will no longer be the case once Gwadar gets going.
Besides, the growing warmth in ties between India and the UAE with Narendra Modi's pivot to the Gulf is also understood to be in the backdrop of UAE-Pakistan rivalries besides other matters of strategic importance.
One of the strategic issues affecting Pakistan's relations with the UAE and Dubai is related to the rivalries within the Gulf Cooperation Council (GCC). The mutual mistrust between the two seems to have arisen following the rift between Saudi Arabia, UAE, Bahrain and Egypt on one side and Qatar on the other. In June 2017, the Saudis and the other three countries imposed air and land blockade on Qatar. They cut off all ties and withdrew their diplomats from Qatar accusing it of promoting terrorism among many other issues.
Pakistan finds itself caught between the rival Gulf blocs despite its traditional patron-client relations with Saudi Arabia and the fact that Saudi royals have bankrolled Pakistan for a long time.
Pakistan has also announced to send additional troops to Saudi Arabia on "training and advise" missions in a bid to assuage the ruffled feelings of Saudi Arabia.
The war in Yemen led by Saudi Arabia against the Iranian-backed Houthi insurgents brought immense pressure on Pakistan to send troops to join the Saudi forces. With a view to avoid getting caught between Saudi and Iranian rivalries, Pakistan managed to wriggle out of the situation but the issue still rankles in Riyadh and Abu Dhabi.
Despite Pakistan's placatory gestures, it finds itself on the horns of a dilemma in dealing with sensitive Gulf matters on many counts.
On the Saudi-Qatar dispute, it's a tougher call for Pakistan because Turkey has thrown its weight behind Qatar against Saudi-UAE combine. Turkey's president Recep Tayyip Erdogan wishes to emerge as Ottoman sultan in West Asia and become the leader of Sunni Muslims, an ambition that has riled Saudi Arabia and the UAE.
Turkey and Pakistan have always had cozy bilateral relations but Erdogan has further strengthened them. Turkey's troops joined the Pakistan National Day parade in Islamabad in March 2017 along with Chinese troops. Erdogan has stood with Pakistan on issues on which even China abandoned it. Most recently, Turkey opposed the Financial Action Task Force (FATF)'s decision to put Pakistan on the watch list for terror financing even after Saudi Arabia backed down under US pressure and China stood aside.
It may also be recalled that Erdogan called for multilateral dialogue on Kashmir during his visit to India in April-May last year. Erdogan's position on Kashmir enhances Turkey's importance for Pakistan.
Turkey's proximity to Qatar, where it has stationed its troops, has upset both Saudi Arabia and UAE. But UAE has been more vocal against Turkey and its leaders have often traded barbs with Turkish leaders in media and on social media platforms. Turkey is also a factor in warming of Pakistan's relations with Iran.
Full report at:
https://www.firstpost.com/world/dubai-police-chief-dhahi-khalfans-stinging-tweets-on-pakistan-more-than-outburst-reveal-islamabads-unsteady-relations-with-saudi-led-gcc-bloc-4418471.html
--------
Fazl, Durrani grabbed land meant for Kargil martyrs: PTI
Ikram Junaidi
April 04, 2018
ISLAMABAD: Pakistan Tehreek-i-Insaf (PTI)'s central leader Shafqat Mahmood on Tuesday alleged that JUI-F chief Maulana Fazlur Rehman and former Khyber Pakhtunkhwa chief minister Akram Khan Durrani had illegally taken over 1,200 kanals of land allocated for families of martyrs and demanded that the matter should be investigated by the National Accountability Bureau (NAB).
Speaking at a news conference at the National Press Club here, Mr Mahmood, who is also the head of the PTI's anti-corruption cell, said that in 2001 the KP government had given 140,624 kanals (17,578 acres) of land to Pakistan Army in Dera Ismail Khan for families of Kargil martyrs, and other deserving serving and retired officials of the army.
"As per terms and conditions signed by the KP government and the GHQ, only legal heirs of the martyrs and deserving army personnel were entitled to the allotment. However, in 2002 when the Muttahida Majlis-i-Amal (MMA) government came to power in KP and Mr Durrani became the chief minister, they both managed to get 600 kanals of land each and transferred the land in the names of their front men," he said.
"In 2008 when the Awami National Party and Pakistan Peoples Party formed the government in KP, the Revenue Minister Makhdum Zada Mureed Kazim from D.I. Khan also started efforts, like Maulana Fazl and Mr Durrani, to get the share in the land. In 2010-11, Mr Kazim illegally got allotted 150 kanals of land to his front men.
"In 2009/10, the NAB, KP, started an inquiry into the illegal allotment of the land to Maulana Fazl and Mr Durrani. Later, a second inquiry was started against Mr Kazim," he said.
Mr Mahmood said that NAB not only arrested Mr Kazim, but he had been facing the case since then, but Maulana Fazl and Mr Durrani were neither arrested nor cases against them were pursued or taken up because they politically managed them.
He urged the current chairman of NAB to look into the issue and explain why cases were not pursued against the two leaders.
"Mr Durrani has a number of properties in different areas of the country and his property does not match with his known sources of income so NAB should initiate cases against both personalities because they have deprived families of martyrs from their due rights," the PTI leader alleged.
He said that allegations should be investigated so that the land was handed over to the deserving people.
He, however, did not reply to the question if the KP government would officially take up the matter with NAB.
Earlier, Mr Mahmood said that Maulana Fazl had been enjoying the status of the chairman of the Kashmir Committee for over a decade, but he has done nothing for the Kashmir cause.
Full report at:
https://www.dawn.com/news/1399454/fazl-durrani-grabbed-land-meant-for-kargil-martyrs-pti
--------
UN Lists Dawood as Terrorist Based in Pakistan, Mentions Karachi Address
April 4, 2018
New Delhi: The United Nations Security Council updated its consolidated list of terrorists and individuals on Wednesday and named Dawood Ibrahim and Hafiz Saeed, among hundreds of other Pakistan-based outfits and individuals.
The list is yet another blow to Pakistan as the US Department of State on Tuesday updated its sanctions list to include terrorist Hafiz Saeed and members of his political parties in it.
Identified as an Indian national but holding several Pakistani passports, the UN has even mentioned Dawood's address as Karachi, along with details of his family members. He is the most wanted terrorist in India, with direct links to several terror cases, including the 1993 Mumbai blasts.
In the UN list, accessed on Thursday, Hafiz Saeed finds mention as the leader of Lashkar-e-Taiba (LeT). His close aide Zaki-ur-Rehman, identified by the UN as chief of operations of LeT finds himself on the list too. Other LeT members include Haji Muhammad Ashraf, Mahmoud Bahaziq, Arif Qasmani, Mohamed Yahya Mujahid, Abdul Salaam, Zafar Iqbal, wanted by the Interpol.
This sanctions list comes a day after the US designated Milli Muslim League (MML), the political front of Hafiz Saeed-led Jamaat-ud Dawa, as a foreign terrorist organization.
In a simultaneous move, seven members of MML central leadership body were also designated as foreign terrorists by the US. The US also added Tehreek-e-Azadi-e-Kashmir (TAJK) to the list of terrorist groups. TAJK is said to be a front of the Lashkar-e-Toiba (LeT), which according to the Trump administration, continues to operate freely inside Pakistan.
Full report at:
https://www.news18.com/news/world/over-130-terrorists-related-to-pakistan-on-un-sanctions-list-1707759.html
--------
Hundreds stage sit-in supporting radical Pakistani cleric
Apr 4, 2018
LAHORE (PAKISTAN): About a thousand supporters of a radical Pakistani cleric have staged a sit-in in Lahore after a court declared him a fugitive over violent rallies in Islamabad last year, in which five people were killed.
Wednesday's sit-in was organized by Khadim Hussain Rizvi, a controversial cleric who led rallies in Islamabad in November, forcing the then law minister to quit over an omitted reference to Islam's Prophet Muhammad in a parliamentary bill.
That protest disrupted life in Islamabad for three weeks and ended with an accord with the government following clashes with police.
Authorities then assured Rizvi that action would be taken against those responsible for mistakes in the bill.
Full report at:
https://timesofindia.indiatimes.com/world/pakistan/hundreds-stage-sit-in-supporting-radical-pakistani-cleric/articleshow/63616474.cms
--------
Soldier martyred, two terrorists killed in Balochistan
April 5, 2018
RAWALPINDI: A soldier of the Frontier Corps (FC) Balochistan was martyred, while two terrorists were killed during intelligence-based operations (IBOs) in Balochistan, the military's media wing Inter-Services Public Relations (ISPR) said on Wednesday.
According to the ISPR statement, security forces conducted IBOs in Dasht, District Turbat and Dera Bugti areas as part of the countrywide Operation Radd-ul-Fasaad and in support of the 'Khushhal Balochistan' programme.
"In the exchange of fire that ensued, FC Balochistan soldier Naik Irfan embraced martyrdom," said the ISPR.
Full report at:
https://www.pakistantoday.com.pk/2018/04/04/soldier-martyred-two-terrorists-killed-as-fc-acquires-arms-and-ammo/
--------
Qaeda, TTP, Daesh posing serious threat to Punjab: CTD head
Imran Mukhtar
April 05, 2018
ISLAMABAD - The head of Punjab Counter Terrorism Department Wednesday said that three militant organisations, including Tehreek-e-Taliban Pakistan-Fazalullah Group, Al-Qaeda and Islamic State, are posing a serious threat to the province.
Addressing a panel discussion at the Islamabad International Counter Terrorism Forum (IICTF)-2018, Additional Inspector General (AIG) of Police and head of Punjab CTD Rai Tahir told the audience that these three militant organisations had become a major challenge for the law enforcement and the CTD in Punjab. The National Counter Terrorism Authority (NACTA) is hosting the first ever three-day International Counter Terrorism Forum.
With regard to the threat posed to Punjab by these militant organisations, he said the TTP-Fazalullah Group was at the top as it had been found involved in at least last three terrorist incidents in the province. "Then second is Al-Qaeda and third one is Daesh or IS," he said.
He also said that Punjab was facing the threat of blowback of those militants who had been fighting in Syria and now returned to Afghanistan. "Al-Qaeda had a link with TTP-Fazalullah," he said adding they had some information that some members of TTP-Fazalullah had met with Al-Qaeda militants in the camps of Afghanistan where the later had convinced the former to carry out attacks in Pakistan on its behalf.
Responding to question at the end of the panel discussion titled "Responding to extremism and terrorism through effective policies and economic development", Punjab CTD head said that security paradigm of the country took a new turn after the Peshawar's Army Public School terrorist attack in 2014 and the whole nation including the law enforcement became united against the menace of terrorism. He said that Punjab had become a hub of banned Lashkar-e-Jhangvi (LeJ), an offshoot of banned Sipah-e-Sahaba Pakistan (SSP) because of the rise of sectarian violence in 1990's. "The entire leadership of LeJ had either been put behind the bars or eliminated through police operations," he said. "Punjab CTD in connivance with the Intelligence Bureau (IB) has made a remarkable job to end terrorism," he said adding that the CTD was also working effectively with the other intelligence agencies. "We have got space back from terrorists in Punjab," he said.
Rai Tahir said that since 2014 after APS carnage, more than 2,000 terrorists had been put behind the bars and the conviction rate in Punjab had increased from 42 per cent in 2015 to 72 per cent in 2017 due to efforts of CTD and provincial prosecution department. "For the first time, Punjab has got registered 103 cases of terror financing and out of these, convictions had been done in 39 cases," he added. He said that Punjab CTD had also identified 1,600 websites containing hate material and a complaint had been launched with Pakistan Telecommunication Authority (PTA) and out of these, 900 had been blocked.
Mubarak Zeb, Deputy Inspector General of Police (DIG) of CTD Khyber Pakhtunkhwa, told the audience that a number of militant groups operating from Afghanistan had been found involved in terrorist activities in the province. He said that the mastermind and facilitators of terrorist attack on the Peshawar's Directorate of Agriculture Institution had been traced out and most of them had been nabbed.
"The police only got a receipt of purchase of battery bearing the name of Sohail from a rickshaw that was used in the attack and after scrutiny of Facebook accounts with the name of Sohail residing in the area of Peshawar, the police succeeded to arrest him," he said.
He added the arrest of Sohail led to the arrest of all other masterminds, perpetrators and facilitators of the attack. He said that the facilitators of the attack were also running a ring of kidnappers.
Earlier, National Security Advisor Lt General (Retd) Nasir Khan Janjua, while addressing the 2nd day's plenary session of IICFT-2018, said that besides many sacrifices and contributions, unfortunately Pakistan was still accused of being supporting Taliban and Haqqanis.
He stressed that Pakistan was being wrongly accused of playing a double game. He said that US accused Pakistan of supporting Afghan Taliban and Haqqani Network and these militant groups accused them of supporting "infidel US". He implicitly said that if Pakistan had some influence over Afghan Taliban then it might had succeeded to stop terrorist attacks of Tehreek-e-Taliban Pakistan inside its territory as Afghan Taliban had also influence over the TTP. He said Taliban carried out attacks on Pakistan in reaction to becoming ally of the United States.
The NSA told the audience that terrorism required international and global response as it could not be fought individually or a state or group of countries.
"Despite losing children, senior leadership and thousands innocent people in war against terrorism, our resilient is intact," he said. He said that Pak-Afghan border was one of the most difficult areas of the world having height, at one point, is 24 thousand feet. "Let the international community come and show how to fight in this difficult terrain," he said.
He said unfortunately the US and its allied forces abandoned Afghanistan after the collapse of former Soviet Union (USSR) resulting in creation of vacuum. Later the vacuum was filled by radical groups which caused 9/11, he added.
Janjua said Pakistani leadership devised the National Action Plan (NAP) to tackle the menace of terrorism, adding all the provinces and other stakeholders contributed well and stood like a rock. He said various operations including Zarb-e-Azb and Raddul Fasaad were launched to get the required results and now Federally Administered Tribal Areas (FATA) and others areas had fully been cleared from terrorists.
He said Karachi operation had also normalised life in the port city. He said that Pakistani flags were burnt in Balochistan and they were facing 5th insurgency in the province. We adopted the policy of love instead of force and now Balochistan was re-sounding with slogans of "long live Pakistan", he said.
Full report at:
https://nation.com.pk/05-Apr-2018/qaeda-ttp-daesh-posing-serious-threat-to-punjab-ctd-head
--------
India
At the receiving end in one Rajasthan town, Dalits say may embrace Islam
by Deep Mukherjee
April 5, 2018
AN 8-FEET statue of Bhimrao Ambedkar marks Jatav Basti, home to several thousand Scheduled Caste families in Hindaun city, in Rajasthan's Karauli district. A day after an upper caste mob tried to attack the settlement, groups of angry men are gathered around the statue vowing to "convert to Islam" if similar incidents continue.
"They checked our identity cards to make sure we were Dalits before they thrashed us. They were all from upper castes and didn't even spare the women," said Ashwini Jatav, taking off his shirt and showing his bruised back.
The mob, provoked by the Bharat Bandh held by SC/ST outfits on Monday, attacked houses of two Dalit politicians — Rajkumari Jatav, the BJP MLA from Hindaun, and the Congress's Bharosi Lal Jatav, who represented the seat earlier — located near the Jatav Basti. The politicians were not at home at the time of the attack.
A day later, a large number of police personnel were deployed near the burnt houses. Hindaun remained under curfew for most part of the day, with the Internet suspended. Armed police personnel patrolled the streets where debris of destroyed vehicles lay around.
While Ashwini claimed that many of the assaulters were members of Hindu fundamentalist groups, police denied this. "At this moment, there is no evidence to indicate involvement of Hindu fundamentalist groups. Preliminary investigation suggests there was an anti-Jatav sentiment among other castes who also accused the Jatav community of molesting a few women during Bharat Bandh. We are investigating all these accusations and counter-accusations," said Additional Director General of Police, Law and Order, N R K Reddy.
He added that the mob wanted to proceed towards the Jatav settlement but was dispersed by police. But by that time, they had already torched the houses of the two politicians. The Dalits say they were beaten up near Station Road, the main road in the city, with several shops on both sides of the road.
Other members of the Jatav community said "anti-social" elements were behind the violence.
In statements given to the local media, BJP MLA Rajkumari Jatav appealed to people to cooperate in maintaining law and order.
Pushpendra Jatav said while they had participated in the Bharat Bandh, "ours was a peaceful protest". "We were specifically targeted by the upper castes, who united against us… If this goes on, we will have no choice but to convert to Islam," said the 47-year-old.
"We are anyway not counted as Hindus. We are still ignored," added Chandramohan Jatav, 40, another resident of the settlement,
Ashwini said they were afraid to talk too much. "If they can burn the houses of the MLA, who are we? Upper caste people have police, administration… even most of the media tells their story."
While Monday's Bharat Bandh too had seen violence, with protesters uprooting railway tracks and damaging public property, Nathilal Jatav, a community elder, said they had only wanted a peaceful demonstration and "anti-social elements" were behind what happened. Appealing for calm, he added, "There was no intention to resort to violence or to damage property."
Karauli District Collector Abhimanyu Kumar said the situation was under control now. About Tuesday's violence, he said, "A rally was called in protest against Monday's violence where protesters tried to force traders to close their shops. The situation went out of control."
Additional DGP B L Soni, who came to the spot after the violence, said, "Curfew was relaxed between 1 pm and 6 pm on Wednesday and further decision will be taken after reviewing the situation. We have appealed to all the communities to restore peace."
However, before that, the relatives of the more than 40 people held for Tuesday's violence are demanding that the accused be set free, insisting they are innocent. "My two nephews, Santosh and Ashok Khandelwal, were picked up from our house. They were just watching the protests from home," said Lalita Mittal.
The brothers are in their 30s and while one works as an electrician, the other is a cloth salesman.
Rajendra Jain, who has also been arrested, is a painter. His elder brother Subhash Chand Jain said, "We have no idea when he will be released."
http://indianexpress.com/article/india/dalit-bharat-bandh-protests-rajasthan-hindaun-bjp-mla-house-fire-5123746/
--------
Maldives declines to send ministry team for India's Defence Expo
Apr 5, 2018
NEW DELHI: Maldives has declined to send a ministerial-level delegation to India's Defence Expo, which is being held from April 11 to 14 at Thiruvidanthai near Chennai, while China is yet to respond to the invitation. Male has told New Delhi that it would not be possible for its defence minister to lead a delegation to the DefExpo, a biennial event, since he would be travelling abroad around that time. "A similar invitation was extended to China but we are yet to hear from them," said an official on Wednesday.
Apart from 677 exhibitors, which include 154 foreign arms companies, 47 official delegations from different countries have confirmed their participation in the DefExpo. "These include 18 ministerial-level delegations," he said, while admitting participation of foreign companies had gone down by 10% from the last DefExpo in Goa in 2016.
Maldives, incidentally, had also refused to participate to join the multi-national 'MILAN' naval conclave, a congregation of littoral navies conducted biennially by Indian Navy at the Andaman and Nicobar Islands, which was held in mid-March this year.
India's bilateral relations with Maldives have nose-dived after it criticised the Abdulla Yameen government for imposing a 45-day emergency in the archipelago earlier this year, though it ignored calls for military intervention from opposition parties in the island nation.
As was first reported by TOI on Wednesday, Maldives has also asked India to take back one of its Dhruv Advanced Light Helicopters deployed in the country, with pilots and ground crew to help in casualty evacuation and search-and-rescue missions.
Full report at:
https://timesofindia.indiatimes.com/india/maldives-declines-to-send-ministry-team-for-indias-defence-expo/articleshow/63619522.cms
--------
Attacks on dalits, Muslims on the rise: Cong.
APRIL 04, 2018
Telangana Pradesh Congress Committee general secretary Gadugu Gangadhar has criticised the attacks on dalits and Muslim minorities and said they were on the rise in the last four years after the BJP-led NDA formed government at the Centre.
Finding fault with the Centre and Prime Minister Narendra Modi for their silence on the Supreme Court's recent ruling on the SC, ST (Atrocities Prevention) Act-1989, he alleged that the government's influence on the judiciary increased over a period of time. He said that the ruling was an affront to the rights of the dalits.
The rule prevailed hitherto under the 1989 Act that if a dalit was attacked or insulted by other than any dalit person, first FIR must be registered, was diluted with the latest ruling, he said. He opined that the SCs and STs were feeling unsafe in the wake of the latest development.
Full report at:
http://www.thehindu.com/news/cities/Hyderabad/attacks-on-dalits-muslims-on-the-rise-cong/article23437568.ece
--------
Government plans 14,000 bunkers to shield civilians from Pakistan fire
Apr 5, 2018
NEW DELHI: The government will build 13,029 bunkers for individual households in five border districts in Jammu & Kashmir - Samba, Poonch, Jammu, Kathua and Rajouri - who face the wrath of shelling from Pakistani forces. Another 1,431 large community bunkers will be built, each of which can accommodate 40 people in these districts.
The state-owned National Buildings Construction Corporation (NBCC) will build these bunkers in areas that lie within 3 kilometres from the border and are first in line of sight from international border or line of control (LoC). While each individual bunker of 160 sq feet will be enough to accommodate 8-10 persons, every community bunker can provide shelter to about 40 persons.
In 2017, in addition to the 15 Army soldiers and four BSF jawans who were killed in ceasefire violations, 12 civilians also lost their lives and 79 were injured.
The ministry of home affairs has given the work worth Rs 416 crore to NBCC. "Pre-cast construction methodology shall be used for this. Strategically located casting yards will be used to fabricate RCC components, which shall be transported by trailer/ tractors and the bunkers will be erected by cranes and labourers. We will plan in such a way that each bunker is completed in maximum 2-3 days," NBCC chairman and managing director A K Mittal told TOI.
In Samba, 2,515 individual and eight community bunkers will be built. Similarly, in Jammu 1,200 individual and 120 community bunkers will be constructed. A maximum of 4,918 individual and 372 community bunkers will be built in Rajouri. In Kathua, 3,076 individual bunkers will be constructed. Poonch will get the maximum number of 688 community bunkers and will get another 1,320 individual bunkers.
"It's a prestigious and challenging project for us. We will meet the time line, which will be set by the J&K government. While we are building World Trade Centre in South Delhi we are also engaged in road and fencing works in Assam, Meghalaya, Mizoram and Tripura on Indo-Bangladesh border and in Gujarat on Pakistan border," Mittal said.
Full report at:
https://timesofindia.indiatimes.com/india/government-plans-14000-bunkers-to-shield-civilians-from-pakistan-fire/articleshow/63619130.cms
--------
Arab World
Trump decides to keep US troops in Syria 'a little longer'
4 April 2018
President Donald Trump agreed in a National Security Council meeting on Tuesday to keep US troops in Syria a little longer but wants them out relatively soon, a senior administration official said on Wednesday.
Trump did not approve a specific withdrawal timetable, the official said. He wants to ensure Islamic State militants are defeated but wants other countries in the region and the United Nations to step up and help provide stability in Syria, the official said.
"We're not going to immediately withdraw but neither is the president willing to back a long-term commitment," the official said.
https://english.alarabiya.net/en/News/middle-east/2018/04/04/Trump-decides-to-keep-US-troops-in-Syria-a-little-longer-.html
--------
Qatari commando officer tweets his pride for ISIS suicide bomber
4 April 2018
Qatar's interior ministry has included 27 individuals and entities in a state-issued terror blacklist, seen by Al Arabiya, which mostly includes Qatari citizens and national entities.
In a search for one of the men on the terrorist list, Mohammad Jaber Salim Mushaab, who was scarcely known, it was found that only two Qatari citizens are recorded to similar full names.
One was a Qatari military officer, Jaber bin Salim al-Mushaab, while the other was his brother, Mohammad bin Salim al-Mushaab, an employee at Qatar Petroleum.
A search of their personal Twitter and Instagram accounts found that it was none other than their uncle, Mohammad Jaber Salim Mushaab, who was on the blacklist.
The common denominator between these three names was evidence, obtained by Al Arabiya, of their support of ISIS and al-Qaeda.
However, the most prominent name that deserved to be looked at, although not included in the list, is that of Jaber al-Mushaab, a lieutenant in Qatar's military commando force.
Jaber used to correspond with a Saudi youth on social media, in particular one who went by the name "Sympatique" - a star of social networking platform Kik – who joined ISIS to fight in their ranks abroad before returning to Saudi Arabia and surrendering himself to authorities.
In tweets dated Aug. 13, 2013, the Qatari lieutenant congratulated the young Saudi man for joining ISIS.
"Thank God for bringing you to the most noble place for you to carry out jihad. This is an honor in this world and the hereafter," Jaber tweeted.
Another tweet read: "I can vouch for your kindness, O Sympatique. It is enough that you are known worldwide as confident in God's mercy on you, O enemy of Shiites."
In a separate tweet, he praised the death of one of his family members, Abdel Mohsin bin Hezam Alnadilah Marri, who had fought along ISIS.
Good news, jihadis have taken over half of the army. They are now on Baghdad Street in the center of Damascus," Jaber tweeted.
One of the tweets by the Qatari internal security forces' officer commended Hajaj al-Ajami, a prominent funder of extremist groups in Syria and who is on international terror lists as well as on the ones issued by the Anti-Terror Quartet compromising of Saudi Arabia, Bahrain, the United Arab Emirates and Egypt.
During a conversation on Twitter with his cousin Salem al-Shamleh, an ISIS member who was then-present in Syria, Rashed al-Mushaab, a cousin of the Qatari officer, threatened Saudi Arabia and Bahrain with terror attacks.
Qatari ISIS members
Al Arabiya also came across a photo of Ali Bin Saeed al-Hawl, a consultant of Qatar's defense minister, and Ali bin Saleh al-Kahleh, a Qatari citizen who was detained in the United States for 15 years after he was convicted in 2003, following the September 11, 2001 terror attacks, of supporting al-Qaeda. The photo with Kahleh was taken after his release from prison in 2015.
The most prominent name was Abu Abdulaziz al-Qatari, whose real name is Mohammed Youssef Othman. Abu Abdulaziz, who is originally a Palestinian-Jordanian, participated in fighting the Soviet Union then moved to Iraq and settled there. He was among the founders of Ansar al-Islam group. In 2003, he began working with Abu Musab al-Zarqawi. He then moved to live in Qatar.
Al-Qatari worked from Qatar to financially and logistically support extremists and then moved from Qatar to Syria in 2011 to join Ahrar al-Sham then Nusra Front. He later formed Jund al-Aqsa organization.
This is in addition to Tariq al-Harzi, aka Abu Umar al-Tunisi, who went to Iraq to join extremist groups in 2003. He was killed by an airstrike by the US-led coalition in 2015.
Full report at:
https://english.alarabiya.net/en/features/2018/04/04/Qatari-commando-officer-tweets-his-pride-for-ISIS-suicide-bomber.html
--------
Serbia sentences seven for Syria-related 'terrorism'
04th April 2018
BELGRADE: A Belgrade court sentenced Wednesday seven people to up to 11-year jail terms for joining jihadist groups and recruiting fighters for the Syrian war, in the first such trial in Serbia.
The defendants were "found guilty of terrorism charges as well as financing terrorism and recruiting and training fighters" to go to Syria, the special tribunal for organised crime said in a statement.
They were accused of fundraising money in the Balkans region and western Europe to finance, recruit and train a number of Serbian citizens for the Islamic State and Al-Nusra Front groups in Syria.
Four defendants denied charges. Another three were tried and sentenced in absentia. According to local media, they are believed to have been killed in Syria.
The men received jail sentences ranging from seven to 11 years.
The defence attorneys said they would appeal the verdict.
Around 1,000 people from the western Balkans are estimated to have left to fight in Syria and Iraq since 2012.
Full report at:
http://www.newindianexpress.com/world/2018/apr/04/serbia-sentences-seven-for-syria-related-terrorism-1797064.html
--------
Syrian Army Sends More Troops, Equipment to Southern Damascus
Apr 04, 2018
Military sources said that the army has forwarded a large number of its soldiers and a large volume of equipment from Jobar region in Eastern Ghouta to the contact lines with ISIL to purge Hajar al-Aswad neighborhood and parts of Yarmouk Refugee Camp and al-Tazamon region of the remaining pockets of the ISIL terrorists.
In the meantime, peace talks are underway between the army and militants deployed in the towns of Yalda, Beit Saham and Bebeila in the Southern countryside of Damascus city.
Also in February, the army sent fresh forces and more military equipment to the Yarmouk Palestinian Refugee Camp in the Southern countryside of Damascus amid intensified infighting between terrorist groups in the camp.
Sources said that hundreds of fresh forces and a large volume of equipment and several military vehicles were forwarded by the army to the Yarmouk camp.
Full report at:
http://en.farsnews.com/newstext.aspx?nn=13970115000940
--------
Heavy Infighting Erupts among FSA Militants in Southern Syria
Apr 04, 2018
The FSA-affiliated terrorist groups of Syria's Thowar Front and Liwa al-Mo'ataz Brigade exchanged heavy fire in the small town of Kharab al-Shaham in Western Dara'a.
The infighting broke out after one of the members of Liwa al-Mo'ataz Brigade was killed by the gunmen of Syria's Thowar Front.
Tension among terrorist groups started intensifying after the Syrian Army and Russian military gave an ultimatum to the militants in Dara'a province to surrender to the government forces.
A military source reported on Sunday that most of the army units that participated in Eastern Ghouta offensive were to partake in the operations in Southern Syria.
The source added that the primary objectives would be to secure the main highway from Dara'a to Damascus and retake Quneitra province.
Full report at:
http://en.farsnews.com/newstext.aspx?nn=13970115001141
--------
Egypt sentences 35 to life on terror charges
4 April 2018
Egypt has sentenced 35 alleged Muslim Brotherhood members to life in prison for allegedly forming "terrorist cells" to attack security forces and state institutions.
The Sohag Criminal Court in central Egypt sentenced another 155 defendants to three to 15 years in prison on similar charges, including plotting to kill public figures and security officials, and joining an outlawed group, a reference to the Brotherhood.
Wednesday's verdict can be appealed, and 124 suspects who remain at large will be re-tried once they are apprehended.
The Brotherhood won a series of free elections after Egypt's 2011 uprising, and a senior Brotherhood figure, Mohammed Morsi, was elected president in 2012.
Full report at:
https://english.alarabiya.net/en/News/middle-east/2018/04/04/Egypt-sentences-35-to-life-on-terror-charges.html
--------
Iraq may operate against ISIS inside Syria, expert says
4 April 2018
Iraq may carry out special forces operations against ISIS militants in neighboring Syria to stop them infiltrating back into Iraq, an expert close to the Baghdad government said on Wednesday.
While troops could be dropped into Syria, the plan did not at this stage involve sending ground forces over the border, Hisham al-Hashimi, who advises several governments on ISIS, including Iraq's, told Reuters.
Prime Minister Haider al-Abadi declared victory in Iraq over the militant group in December, but on Sunday he described the militants' presence in Syria as a real danger.
With Baghdad on good terms with Syrian President Bashar al-Assad, Abadi stressed that any operations would be limited.
"Our plan is to move from fighting terrorism in Iraq to fighting terrorism in the region ... We are not trespassing over our border or attacking neighbouring countries," he told a news conference, adding that the plan was being discussed by the Iraqi military leadership.
Last year Iraqi warplanes carried out at least one strike on ISIS targets inside Syria, in coordination with the US-led anti-ISIS coalition and with the approval of the Syrian government.
Iraq also good relations with Iran and Russia, Assad's main backers in the seven-year Syrian civil war, while it receives at the same time strong support from the coalition.
Abadi declared the victory five months after US-backed Iraqi forces dislodged ISIS militants from Mosul, their de facto capital in the north of the country.
This put an end to the cross-border "caliphate" they declared in 2014 but ISIS continues to carry out ambushes, assassinations and bombings across Iraq.
Full report at:
https://english.alarabiya.net/en/News/middle-east/2018/04/04/Iraq-may-operate-against-ISIS-inside-Syria.html
--------
Macron urged to press Saudi crown prince into ending Yemen conflict
Apr 4, 2018
Ten human rights groups have urged French President Emmanuel Macron to press Saudi Crown Prince Mohammed bin Salman to end the aerial and naval blockade on Yemen and working out a diplomatic solution to the devastating three-year-old conflict in the impoverished Arab country.
"The bombing of civilians in Yemen must stop and we call on all sides in the conflict to stop them immediately," Anne Hery of Handicap International said on Wednesday.
She added, "Ahead of the visit of Crown Prince Mohammed, President Macron has a choice: protect civilians or sell weapons."
Jonathan Cunliffe, Director of Middle East operations for Action Against Hunger, also said, "France has to have a larger discussion not just about the sale of arms, but the blockade of this country. That strategy hasn't worked."
The de facto Saudi ruler is arriving in Paris on Sunday for a three-day visit, and French lawmakers and rights groups expect Macron to suspend weapons sales to Saudi Arabia and the United Arab Emirates (UAE), which are involved in the ongoing bombardment campaign against Yemen.
"Prince Salman deserves neither the Legion d'Honneur nor the red carpet, he deserves sanctions," Benedicte Jeannerod, director of Human Rights Watch in France, said.
Late last month, legal non-governmental organization Droit Solidarite and Aser, which specializes in armament issues, argued that France was breaking international law by providing weapons for the Saudi-led aggression against war-ravaged Yemen and subsequently committing war crimes there.
Lawyers acting for the two NGOs have already posted a letter to the office of Prime Minister Edouard Phillipe demanding the export licenses to Saud Arabia and the UAE to be suspended.
Aser and Droit Solidarite will take their case to France's highest legal authority, known as the Conseil d'Etat, in case the Paris government fails to meet their May 1 deadline.
Their action comes as Norway has suspended arms exports to the United Arab Emirates.
The German government has also said that it would "immediately" stop weapons exports to anyone participating in the war in Yemen.
France, which is the world's third-biggest arms exporter, has sold Caesar artillery guns and ammunition, sniper rifles and armored vehicles to Saudi Arabia and the UAE.
The Yemeni Ministry of Human Rights announced in a statement on March 25 that the Saudi-led war had left 600,000 civilians dead and injured since March 2015.
The United Nations says a record 22.2 million Yemenis are in need of food aid, including 8.4 million threatened by severe hunger.
A high-ranking UN aid official recently warned against the "catastrophic" living conditions in Yemen, stating that there was a growing risk of famine and cholera there.
"After three years of conflict, conditions in Yemen are catastrophic," John Ging, UN director of aid operations, told the UN Security Council on February 27.
He added, "People's lives have continued unraveling. Conflict has escalated since November driving an estimated 100,000 people from their homes."
Full report at:
http://www.presstv.com/Detail/2018/04/04/557427/Macron-MBS-Salman-France-Yemen-war
--------
Mideast
Arab League calls for Security Council probe into Israel's killings in Gaza
Apr 4, 2018
The Arab League (AL) has condemned Tel Aviv's "crimes against humanity" in Gaza, demanding that the United Nations and the International Criminal Court (ICC) launch investigations into Israel's recent killings of unarmed Palestinian protesters.
The pan-Arab body convened at the regional grouping's headquarters in Cairo on Tuesday on an ad hoc basis to address Israel's attacks on anti-occupation Palestinian demonstrators on March 30.
Gazans on that day marched to the fence separating the enclave from Israeli-occupied lands at the start of a six-week protest, dubbed "The Great March of Return."
The mass protest, however, turned violent when Israeli military forces used lethal force to disperse the crowd. Besides the 18 killed, some 1,500 Gazans were injured.
Israel had previously deployed military vehicles and special forces, including 100 snipers, to Gaza's border. The regime's forces had also been authorized to shoot at the demonstrators.
"The AL condemns the Israeli obvious, systematic, and large-scale crimes against the defenseless Palestinian civilians that are considered war crimes and crimes against humanity according to the international humanitarian law and the international human rights law," a final statement said.
The Arab League also backed a request by the Palestinian Hamas resistance movement to sue Israel at the ICC for its crimes against Gazans.
Addressing the meeting, Arab League Secretary General Ahmad Aboul Gheit called on the United Nations Security Council to form an international commission to investigate Israel's killings.
"Going to the UN General Assembly to provide protection to the Palestinian people and form an investigation commission will be an option if the Security Council continues to fail," he added.
The Security Council held an emergency meeting over the mass killings by Israeli forces on Saturday, but failed to condemn the regime as the US hindered a final statement against its ally.
Aboul Gheit's second-in-command Saeed Abu Ali stressed that the deaths had been caused after Israel deployed weapons against unarmed people.
Also addressing the meeting, Palestinian Ambassador to Cairo Diab al-Louh said the US is "encouraging" Israel to continue committing "heinous crimes" against defenseless Palestinians.
Israel "has occupied more than 60 percent of the West Bank, builds illegal settlements, and continues to impose a crippling blockade on Gaza," he added.
The regime has defended its bloodshed in Gaza and even threatened a more violent response to future protests on Gaza's border.
The Israeli minister for military affairs, Avigdor Lieberman, has rejected calls for a probe into the killing of Palestinians by the regime forces, saying, "We shall not cooperate with any commission of inquiry."
The Palestinian protests are to reach their high point on May 15, the anniversary of Israel's Western-backed war of 1948, during which it expelled Palestinians from their homeland before proclaiming existence.
http://www.presstv.com/Detail/2018/04/04/557370/Palestine-Israel-Arab-League-Gaza-Strip
--------
Iran, Russia, Turkey Reiterate Resolve to Annihilate Terrorist Groups in Syria
Apr 04, 2018
"The three heads of state expressed their satisfaction in the outcomes of the first year of the Astana meetings held since January 2017, underlined that the Astana format had been the only effective international initiative that had helped reduce violence across Syria and had contributed to peace and stability in Syria, giving impetus to the Geneva process in order to find a lasting political solution to the Syrian conflict," a joint statement issued at the end of the tripartite meeting in Ankara said on Wednesday.
Iran's Hassan Rouhani, Russia's Vladimir Putin and Turkey's Recep Tayyip Erdoğan further reaffirmed their determination to continue their active cooperation on Syria for the achievement of lasting ceasefire between the conflicting parties and advancement of the political process envisaged by the UN Security Council Resolution 2254.
Rouhani, Putin and Erdogan also emphasized their strong and continued commitment to the sovereignty, independence, unity, territorial integrity and non-sectarian character of Syria. They highlighted that none of the actions, no matter by whom they were undertaken, should undermine these principles, confirmed by relevant UN resolutions and by the will of the representatives of all segments of the Syrian society. They rejected all attempts to create new realities on the ground under the pretext of combating terrorism and expressed their determination to stand against separatist agendas aimed at undermining the sovereignty and territorial integrity of Syria as well as the national security of neighboring countries.
The presidents expressed their conviction that the Syrian National Dialogue Congress, which was convened in Sochi on 30 January 2018, constituted an important milestone in paving the way for the political process, reiterated their commitment to follow up on the results of the Congress, reflecting the will of representatives of all segments of the Syrian society, in particular the agreement to form a Constitutional Committee, supported by the UN Secretary-General and the international community. They reaffirmed their support to facilitate the beginning of the Committee's work in Geneva as soon as possible with the assistance of the United Nations Secretary-General's Special Envoy for Syria and in coordination with three guarantor states.
The presidents called upon the representatives of the Government of the Syrian Arab Republic and the opposition committed to the sovereignty, independence, unity, territorial integrity and non-sectarian character of Syria as well as the international community to support the results of the Syrian National Dialogue Congress.
The Iranian, Russian and Turkish presidents expressed their conviction that there could be no military solution to the Syrian conflict, and that the conflict could be ended only through a negotiated political process.
They reiterated the necessity to assist the Syrians in restoring the unity of their country and in achieving a political solution of the ongoing conflict through an inclusive, free, fair and transparent Syrian-led and Syrian-owned process based on the free will of the Syrian people and leading to a constitution enjoying the support of the Syrian people, and free and fair elections with the participation of all eligible Syrians under appropriate UN supervision.
They reaffirmed their determination to continue their cooperation in order to ultimately eliminate DAESH/ISIL, Nusra Front and all other individuals, groups, undertakings and entities associated with Al-Qaeda or DAESH/ISIL as designated by the UN Security Council in Syria and underscored the success of their collective efforts in the fight against international terrorism.
Underlining that, in the fight against terrorism, separating the above-mentioned terrorist groups from the armed opposition groups that had joined and would join the ceasefire regime bore utmost importance with respect to preventing civilian casualties, the three heads of state welcomed the UN Security Council Resolution 2401 in response to the grave humanitarian situation all across Syria, including in Eastern Ghouta, Yarmouk, Foua and Kefraya, Idlib Governorate, Northern Hama Governorate, Rukhban and Raqqa, and strongly urged the conflicting parties to comply with the provisions of the said Resolution, including by refraining from ceasefire violations.
They also underscored their joint determination to speed up their efforts to ensure calm on the ground and protect civilians in the de-escalation areas as well as to facilitate rapid, safe and unhindered humanitarian access to these areas and emphasized that the creation of de-escalation areas was temporary as provided for by the Memorandum of 4 May 2017.
They called upon the international community, particularly the UN and its humanitarian agencies, to increase its assistance to Syria by sending additional humanitarian aid, facilitating humanitarian mine action, restoring basic infrastructure assets, including social and economic facilities, and preserving historical heritage.
The three welcomed the convening of the first meeting of the Working Group on the release of detainees/abductees and handover of the bodies as well as the identification of missing persons in Astana on 15 March 2018 with the participation of three guarantors as well as the UN and ICRC, and emphasized the importance of the effective functioning of the Working Group which would help build confidence between the conflicting parties.
Full report at:
http://en.farsnews.com/newstext.aspx?nn=13970115001210
--------
Resistance sole way to heal Palestinian wounds, says Ayatollah Khamenei
Apr 4, 2018
Leader of the Islamic Revolution Ayatollah Seyyed Ali Khamenei says resistance is the sole way to save the oppressed Palestinian nation.
In response to an earlier letter from Ismail Haniyeh, the head of the political bureau of the Palestinian resistance movement of Hamas, Ayatollah Khamenei on Wednesday reaffirmed Iran's unwavering support for Palestine and Palestinian fighters, and noted that strengthening the resistance front in the Muslim world and intensifying the fight against the occupying regime of Israel and its supporters were the solution to the Palestinian issue.
"The path of negotiation with the deceitful, liar and usurper [Zionist] regime is a big unforgivable mistake that will delay victory for the Palestinian nation and will bring about nothing but loss for the oppressed nation," the Leader said.
"Undoubtedly, fighting and resistance are the only way out for the oppressed Palestine and the sole remedy for healing the wounds of this brave and proud nation," Ayatollah Khamenei added.
The Leader said the Islamic Republic felt duty-bound to fully support Palestine.
Ayatollah Khamenei also underlined the need for the Islamic unity in the face of recent Zionist atrocities against Palestinians.
"Today, a return to dignity and power of the Islamic Ummah exclusively hinges on resistance against the global arrogance and its malicious plots," the Leader said, noting that the Palestinian issue was the top priority of the Muslim world.
The nations and especially the zealous youths in the Muslim and Arab countries as well as the states that feel responsible for Palestine must take this great task very seriously and force the enemy to retreat to the point of demolition through their epic and wise fight, the Leader said.
This came amid Israel's recent killings of more than a dozen Palestinian protesters in the besieged Gaza Strip.
On March 30, Gazans marched to the fence with the occupied lands at the start of a six-week protest, dubbed "The Great March of Return," demanding the right to return for Palestinians driven out of their homeland.
The first day of the demonstrations turned violent after Israeli forces used tear gas and live fire against the Palestinians, killing 18 and injuring almost 1,500 others.
Prior to the mass demonstration, the Israeli military had deployed special forces, including 100 snipers to Gaza's border, and authorized its forces to open fire on unarmed protesters.
Full report at:
http://www.presstv.com/Detail/2018/04/04/557443/Iran-Leader-Ayatollah-Khamenei-Israel-Palestine-Gaza
--------
After Gaza bloodshed, B'Tselem urges Israeli troops to disobey shooting orders
Apr 5, 2018
An Israeli rights group has called on the regime's troops to disobey the military's "manifestly illegal" shoot-to-kill orders, which led to the deaths of 18 unarmed Palestinian protesters in the Gaza Strip last week.
In a rare step on Wednesday, B'Tselem launched a media campaign urging Israeli soldiers to disobey open-fire orders against Palestinian demonstrators who approach the Gaza-Israel border unless they pose an imminent threat to soldiers' lives.
"As long as soldiers in the field continue to receive orders to use live fire against unarmed civilians, they are duty-bound to refuse to comply," the group said, adding, "Yet obeying patently illegal orders is a criminal offense."
On March 30, Gazans marched to the fence separating the enclave from Israeli-occupied lands at the start of a six-week protest, dubbed "The Great March of Return."
The mass protest, however, turned violent when Israeli military forces used lethal force to disperse the crowd. Besides the 18 killed, some 1,500 Gazans were injured.
Israel had previously deployed military vehicles and special forces, including 100 snipers, to Gaza's border. The regime's forces had also been authorized to shoot at the demonstrators.
However, footage that circulated online afterwards showed that those who were shot posed no threat to Israeli troops.
Human Rights Watch reported Tuesday that it had reviewed a number of the videos, which show a demonstrator shot in the leg while praying and a man shot while throwing a rock.
Other videos reviewed, the HRW, "appear to show demonstrators shot while slowly walking toward the border empty-handed or holding only a Palestinian flag or retreating from the border."
B'Tselem further said, "The use of live ammunition against unarmed persons who pose no danger to anyone is unlawful. It is even more blatantly unlawful in the case of soldiers firing from a great distance at demonstrators located on the other side of the fence that separates Israel from the Gaza Strip."
It said Israel is bound by international norms for the use of live fire, adding that simply approaching the fence and even damaging it does not provide grounds for using lethal force while the forces had other options for dispersing the crowds.
The group said it would be publishing notices in major Israeli newspapers and take other steps to publicize its campaign.
The appeal by B'Tselem comes as fresh demonstrations are expected along the Israeli-Gaza border this Friday.
During an Army Radio interview on Wednesday, Israel's Minister of Military Affairs, Avigdor Liberman, called B'Tselem's move a "seditious campaign," saying he had spoken to legal advisers in its ministry about taking action against the group.
Liberman had threatened on Tuesday that Israeli forces would continue targeting Palestinian protesters in Gaza with live fire despite international condemnation.
"Anyone who comes close to the fence will endanger their lives," Liberman said during a visit to the border in which he tried to discourage participants in the "Great March of the Return" from trying to cross into Israel.
He dismissed criticism of the shoot-to-kill policy by the UN and European countries.
Palestinians say this is not a new policy but part of a larger Israeli plan to commit more massacres against peaceful demonstrators.
Arab League urges ICC to probe Gaza killings
On Wednesday, the head of the Arab League called on the International Criminal Court (ICC) in The Hague to investigate the deaths of Palestinians killed in Gaza since Friday.
During an official visit to the Portuguese capital Lisbon Ahmed Aboul Gheit said Palestinians are demanding their rights "and they will not be forgotten or diminished."
He said the Arab League also supports UN Secretary-General Antonio Guterres' call for an independent investigation of the killings by Israeli forces.
Full report at:
http://www.presstv.com/Detail/2018/04/05/557477/Israeli-rights-group-BTselem-Gaza-Arab-League-Israeli-minister-of-military-affairs-Liberman
--------
Israeli forces arrest 10 Palestinian fishermen off Rafah coast over alleged attack
Apr 4, 2018
Israeli naval forces have detained ten fishermen off the coast of the besieged Gaza Strip over allegations that they planned to carry out a missile attack and hostage-taking against a military ship.
Israel's internal spy agency, Shin Bet, announced in a statement that the detainees were from the city of Rafah, located 30 kilometers (19 miles) south of Gaza City, adding that they were sailing outside a designated fishing zone off the blockaded enclave.
The statement alleged that one of the Palestinian fishermen, identified as 24-year-old Amin Juma, was a member of the Islamic Jihad resistance movement.
Shin Bet further claimed that Juma was assigned to collect information so that Palestinian fighters would launch an attack against an Israeli naval vessel using an anti-ship missile, and then take sailors on board hostage to exchange them with Palestinian prisoners.
On February 25, Israeli naval forces opened fire on a Palestinian fishing boat off the coast of the besieged Gaza Strip, killing a fisherman and injuring two others.
About 4,000 fishermen work in Gaza, half of whom live below the poverty line.
Israel imposed a limit of three nautical miles on fishing in the waters off the Gaza shore until August 2014, when Palestinian fishermen were allowed to go out six miles.
Under a ceasefire agreement reached between Israelis and Palestinians following a deadly 50-day Israeli war in August 2014, Tel Aviv agreed to immediately expand the fishing zone off Gaza's coast, allowing Palestinian fishermen to sail as far as six nautical miles off the shore.
Under the Oslo peace accords, the fishing zone is supposed to extend to 20 nautical miles, but it has shrunk over the years as the Tel Aviv regime has imposed greater restrictions.
Over the past few years, Israeli forces have carried out more than a hundred attacks on Palestinian boats, arresting dozens of fishermen and confiscating several boats.
Full report at:
http://www.presstv.com/Detail/2018/04/04/557415/Israeli-forces-arrest-10-Palestinian-fishermen-off-Rafah-coast-over-alleged-attack
--------
North America
Settlement close in suit accusing NYPD of spying on Muslims
April 4, 2018
NEW YORK — Muslim groups that accused the New York Police Department of illegally spying on them in New Jersey after the Sept. 11 attacks appear on the verge of settling a civil rights lawsuit against the city.
In an order filed last month in federal court in Newark, U.S. District Judge William Martini said the parties had notified him they had reached an agreement. He gave them 60 days to finalize the deal, the details of which were not disclosed.
Islamic community leaders, the lead plaintiff and the plaintiff's lawyers were scheduled to make an announcement about the case Thursday. Neither side commented Wednesday.
The suit was filed in 2012 following reports by The Associated Press that revealed how the NYPD infiltrated Muslim student groups and put informants in mosques as part of a broad effort to prevent terrorist attacks. The effort crossed state lines into New Jersey, where the department collected intelligence on ordinary people at mosques, restaurants and schools starting in 2002, the AP reported.
In 2014, Martini ruled the surveillance program was a legal way to fight terrorism, rejecting the claim it was unconstitutional because it focused on religion, national origin and race. An appeals court revived the suit in 2015 by reversing the decision. Settlement talks began in 2016.
Federal judges have approved settlements in two other suits making similar allegations by Muslim groups in New York City that the NYPD's tactic violated their civil rights.
https://www.washingtonpost.com/national/religion/settlement-close-in-suit-accusing-nypd-of-spying-on-muslims/2018/04/04/046a4adc-380c-11e8-af3c-2123715f78df_story.html
--------
Qatar army chief-of-staff meets officials in Washington
04 April 2018
Qatari Military Chief-of-Staff Ghanim bin Shahin al-Ghanim on Tuesday met with a number of U.S. military officials in Washington.
Among the U.S. officials who met with al-Ghanim were Joseph Francis Dunford, the chairman of the joint chiefs-of-staff; Gen. Stephen W. Wilson, the vice chief-of-staff for the U.S. Air Force; and Robert Karem, the assistant defense secretary for international security affairs.
At the meetings, the two sides discussed "means of enhancing bilateral relations in the defense and military fields", according to Qatar's official QNA news agency.
Other issues of mutual concern were also discussed, including ongoing efforts to combat terrorism and extremism.
Al-Ghanim also met with several officials from major U.S. defense manufacturers, along with researchers from the U.S. Business Executives for National Security, an influential NGO.
Full report at:
http://www.worldbulletin.net/america-canada/200671/qatar-army-chief-of-staff-meets-officials-in-washington
--------
Report urges Canada to accept Rohingya refugees
04 April 2018
The special envoy investigating the plight of the Rohingya Muslims issued a report Tuesday that encouraged Canada to accept refugees displaced by persecution in Myanmar.
The report by former Ontario premier and Toronto MP Bob Rae, also recommended sanctions and prosecution against those in Myanmar who are behind the crisis that has forced Rohingya to flee for their lives to Bangladesh.
There is proof "to support the charge that crimes against humanity have been committed," the report stated.
Rae, who was appointed special envoy by Prime Minister Justin Trudeau, traveled extensively in the region in February and released his report at a news conference in Ottawa.
He visited Bangladesh refugee camps, where hundreds of thousands of Rohingya are living in deplorable conditions.
While he was refused permission by Myanmar officials to go to Rakhine State, the home territory of the Rohingya, Rae said he saw enough of the wanton destruction of villages to convince him of the persecution.
"Words cannot convey the extent of the humanitarian crisis people currently face in
Bangladesh and Myanmar," the report stated. "In addition to accounts of shooting and military violence, I also heard directly from women of sexual violence and abuse at the hands of the Myanmar military and of the deaths of children and the elderly on the way to the camps."
Rae made 17 recommendations to help ease the plight of the Rohingya who have been called the most persecuted group on the globe.
They included that "Canada should signal a willingness to welcome refugees from the Rohingya community" from Myanmar and Bangladesh and also encourage other countries to do the same.
Myanmar officials should also help the Rohingya return home, but under close scrutiny so the refugees would be safe from the military and mobs in Myanmar that is predominately a Buddhist country.
Rae also suggested countries, including Canada, should hit "targeted economic sanctions" those who are behind the violence.
"Canada should be actively working with like-minded countries to identify the individuals or parties that should be subject to sanctions," he wrote. "Canada should also continue its arms embargo and should seek a wider ban on the shipment of arms to Myanmar."
Another recommendation is to prosecute those who have caused "the forcible and violent displacement of more than 671,000 Rohingya from Rakhine State in Myanmar."
While Canada has already committed more than CAN$45 million in aid to the Rohingya, Rae suggested more was needed and CAN$150 million be given in the next four years.
He said Canada should raise the crisis at the Commonwealth Heads of Government meeting in London later this month, as well next month at the G7 summit in Canada.
The Canadian government will review the report and decide on what action to take.
The Rohingya, described by the UN as the world's most persecuted people, have faced heightened fears of attack since dozens were killed in communal violence in 2012
Since Aug. 25, 2017, more than 750,000 refugees, mostly children and women, have fled Myanmar and crossed into Bangladesh after Myanmar forces launched a crackdown on the minority Muslim community, according to Amnesty International.
At least 9,000 Rohingya were killed in Rakhine state from Aug. 25 to Sept. 24, according to Doctors Without Borders. In a report published on Dec. 12, 2017, the global humanitarian organization said the deaths of 71.7 percent or 6,700 Rohingya were caused by violence. They include 730 children below the age of 5.
Full report at:
http://www.worldbulletin.net/america-canada/200666/report-urges-canada-to-accept-rohingya-refugees
--------
Trump urges end to GCC rift in Saudi, Qatari calls
04 April 2018
President Donald Trump urged the rulers of Saudi Arabia and Qatar to resolve an ongoing dispute that has upended unity in the Gulf, the White House said Tuesday.
Trump and Qatari Emir Tamim bin Hamad al-Thani discussed the Gulf Cooperation Council (GCC). He thanked al-Thani "for his commitment to help restore GCC unity and emphasized that it is critical to end the Gulf dispute" as well as al-Thani's "continued commitment to counter terrorist financing and extremism" during the bilateral call.
"The President and the Emir agreed on the importance of regional unity to address security threats and to ensure the prosperity of the people in the region," the White House said.
Trump "emphasized the importance of resolving the Gulf dispute and restoring a united Gulf Cooperation Council to counter Iranian malign influence and defeat terrorists and extremists" during a call with Saudi King Salman on Monday, the White House said in a separate readout.
During that call, Trump and Salman further agreed on "reinvigorating" efforts to find a political resolution to the war in Yemen, and Trump "expressed solidarity with Saudi Arabia following the Iranian Islamic Revolutionary Guard Corps (IRGC)-enabled Houthi ballistic missile attacks against civilian targets in Saudi Arabia on March 25", the White House said.
"The leaders discussed a range of regional issues, including the importance of achieving a comprehensive peace between Israelis and Palestinians and opportunities to strengthen the American-Saudi strategic partnership," it added.
Last summer, a Saudi-led bloc of states -- including the United Arab Emirates, Egypt and Bahrain -- collectively severed relations with Qatar, accusing Doha of supporting terrorist groups in the region.
The four-nation bloc threatened to impose further sanctions on Qatar if the latter failed to comply with a long list of demands, including the closure of Doha-based broadcaster Al Jazeera.
Full report at:
http://www.worldbulletin.net/america-canada/200665/trump-urges-end-to-gcc-rift-in-saudi-qatari-calls
--------
South Asia
Adviser to Bangladesh PM urges re-sanctioning of Myanmar
April 5, 2018
DHAKA: The international community should re-impose sanctions on Myanmar for its "mass killing, genocide and ethnic cleansing" of Rohingya Muslims, the Bangladeshi prime minister's foreign affairs adviser, Gowher Rizvy, said on Wednesday.
Speaking at an international conference on "The Rohingya Refugee Crisis: Toward Sustainable Solutions" at Dhaka University, he said: "We have to re-impose sanctions because they were removed as a goodwill gesture and in reaction to responsible behavior coming from Myanmar."
Foreign policy experts and diplomats from 11 countries — including India, Thailand, the US, the UK, Sweden, Singapore, Malaysia and Bangladesh — participated in the conference, organized by the university's Center for Genocide Studies (CGS), BRAC University and Action Aid Bangladesh.
"While Dhaka engages with Myanmar in bilateral dialogue… it's also critical for the international community to be deeply engaged with the issue," said Professor Imtiaj Ahmed, director of the CGS.
Munshi Faej Ahmed, chairman of the Bangladesh Institute of International and Strategic Studies, told Arab News: "The EU and US have already imposed sanctions on Myanmar. Canada is considering the same."
He added: "It's the international community's responsibility to bring to justice those who've committed grave human rights violations."
The international community should find a sustainable solution to the crisis, he said, adding that Bangladesh's priority "is the repatriation of the Rohingya with dignity."
But the UN High Commissioner for Refugees (UNHCR) says the situation in Rakhine state is not yet favorable for Rohingya to be repatriated.
"The solution to this crisis lies in Myanmar," said Caroline Gluck, the UNHCR's senior public information officer in the Bangladeshi district of Cox's Bazar.
"Several hundred refugees from Myanmar continue to enter Bangladesh every week, seeking protection and safety. This indicates that the situation is still not safe for people to return," she added.
"Any repatriation must be voluntary, safe and dignified. Systems must be set up to protect returnees, ensure rehabilitation, reconstruction and development assistance, (and) build legal and judicial capacity to create conditions for reconciliation," Gluck said.
"We have yet to see specific steps taken in Myanmar to solve the issue of citizenship, or address the causes of conflict and communal tensions, although these were among the key recommendations of the Rakhine Advisory Commission, set up by the former UN Secretary-General Kofi Annan and endorsed by the Myanmar government."
http://www.arabnews.com/node/1279316/world
--------
Local Taliban leader blown by own explosives in Laghman
Apr 04 2018
A local Taliban leader was killed along with another militant in a premature explosion triggered by an Improvised Explosive Device in eastern Laghman province of Afghanistan.
The provincial government media office in a statement said the two militants were looking to plan an Improvised Explosive Device on a roadside frequented by the Afghan forces in Alisheng district.
The statement further added that the explosives went off prematurely as they were busy planting it, leaving two people dead, including a local leader of the Taliban identified as Sayeda Gul.
According to the governor's office, the militants killed in the explosion were involved in major terrorist related activities in this province.
The anti-government armed militant groups frequently use explosives materials for the roadside bombings and car bombings to target the government staff and security personnel.
However, in majority of such incidents the ordinary civilians are targeted besides such bombings incur casualties to the security personnel and in some cases the Taliban militants themselves are killed or wounded.
A total of 10,453 civilian casualties – 3,438 people killed and 7,015 injured – were documented in the 2017 Annual Report released last month by the UN Assistance Mission in Afghanistan (UNAMA) and the UN Human Rights Office.
Full report at:
https://www.khaama.com/local-taliban-leader-blown-by-own-explosives-in-laghman-04804/
--------
Rohingya refugees move out of harm's way in Bangladesh
April 4, 2018
Bangladeshi authorities have started moving thousands of Rohingya refugees to higher ground to avert loss of lives in the upcoming monsoon season.
About 10,000 refugees living in "crushing zones" in several camps in Cox's Bazar have been moved to higher ground in recent weeks, while 100,000 will be moved before June, said Muhammad Abul Kalam, commissioner of the state-run Refugee Relief and Repatriation Commission.
Monsoon deluges reach a peak in July and August.
"We have identified 100,000 refugees who built shelters in flood-risk zones that cannot withstand flooding and imminent landslides. They are being relocated to extended portions of the existing camps for safety," Kalam told ucanews.com.
Earthworks and soil solidification are being done to make the shelters sustainable.
Cox's Bazar, Bangladesh's most popular tourist district, shelters about one million refugees who fled a deadly military crackdown in their homeland in Rakhine State of Myanmar.
Desperate refugees settled in up to 12 formal and informal camps by cutting down trees. Most live in makeshift shelters made of bamboo and tarpaulin standing on soft soil.
Mazharul Islam, disaster management officer at Catholic charity Caritas Chittagong, said it would collaborate with the government and other aid groups.
"The main concerns are the safety of human lives and the sustainability of refugee shelters. We are aware of the possibility of cyclones and flooding in coming months, so we are ready to support the government initiative," Islam told ucanews.com.
Rohingya refugees welcomed the government plan.
Muhammad Hamid, 30, lives on a hilltop at Balukhali refugee camp with his six-member family. They moved to the area from Maungdaw in Rakhine in January.
"We settled here as there was no space in the camps. Our majhi [block leader] informed us that we would be moved to another site for safety to avoid natural disasters. We are ready to move out as we realize flooding might cause landslides and we all would die," Hamid told ucanews.com.
Jamir Uddin, 60, came to Cox's Bazar from Maungdaw in late January with his 12-member family. They live in two tents set up on a hilly slope in Balukhali camp.
"When we came here, all the spaces were occupied already, so we started living here despite the risks. It's good that Bangladesh's government has decided to move us to a different place, otherwise we might get killed in flooding or landslides in the monsoon season," he told ucanews.com.
Island gets ready for refugees
In 2016, Bangladesh's government announced it was planning to relocate hundreds of thousands of refugees to Thengar Char, a remote island in the Bay of Bengal.
Rights groups and the international community criticized the decision as media reports suggested the island was uninhabitable and prone to flooding during high tides and monsoons.
The government put the plan on the back burner but didn't scrap it. Measures are underway to make the island suitable for human living, said Muhammad Rezaul Karim, chief government officer at Hatiya, which covers Thengar Char.
The island is about 25 kilometers from Hatiya town or a two-hour boat journey from the mainland.
"It is true the island is prone to cyclones and flooding, but efforts are in place to make it livable. Some pontoons and helipad have been set up and the coastguards are overseeing security," Karim told ucanews.com.
"High-ranking officials have been monitoring the progress of development but we don't know when Rohingya might be relocated here."
George Soros and the Open Society Foundations on April 2 announced an emergency assistance fund of US$10 million to help the Rohingya and host communities in Bangladesh.
The fund includes a donation of US$8 million to BRAC, an international development and humanitarian organization based in Bangladesh, while US$2 million will go to help other projects that support the Rohingya.
"The Rohingya people have already suffered serious abuses in Myanmar, and unless exceptional measures are taken, their suffering will continue in Bangladesh when the monsoon season starts this month," said Soros, founder and chair of the Open Society Foundations. "The more people are moved out of harm's way, the better the chances of the remaining ones to survive."
Full report at:
https://www.ucanews.com/news/rohingya-refugees-move-out-of-harms-way-in-bangladesh/81974
--------
Missing Hindu lawyer's body found in Bangladesh; wife arrested
April 4, 2018
Bangladesh's police on Wednesday recovered the bloodstained body of a prominent Hindu lawyer who went missing on Friday and arrested four persons, including his wife, suspecting their link to the murder. Ratish Chandra Bhowmik, who fought the state's case in high-profile murder trials against Islamist extremists, went missing after he left his home in northwestern Rangpur district on Friday morning.
When the 58-year-old lawyer did not return home and his mobile phone was found switched off, his family reported about his disappearance to police and the Hindu community leaders.
"Their confessional statements led us to the dead body from an under construction building near Bhowmik's own house," said Benazir Ahmed, Director General of police anti-crime Rapid Action Battalion. He added that the lawyer's wife, a school teacher, and one of her arrested colleagues were directly involved in the murder pointing figure to their extramarital relations.
Police earlier launched a massive campaign amid huge protests to trace out Bhowmik suspecting militant links to his disappearance on early Friday as he fought major murder trials against them as a key prosecution lawyer.
Police said the mobile phone records gave them the clue to the murder leading to his wife's arrest.
Bhowmik's disappearance came two weeks after seven operatives of outlawed Jamaatul Mujahideen Bangladesh (JMB) were sentenced to death for murdering the caretaker of a Sufi shrine in November 2015.
Earlier, he appeared as a key prosecutor against five JMB extremists, who too were sentenced to death for the murder of Japanese farmer Hoshi Kunio in the same year.
Bhowmik was also a crucial witness to the trial of senior Jamaate-Islami leader ATM Azharul Islam who was eventually sentenced to death by a special tribunal for committing crimes against humanity siding with the Pakistani troops during Bangladesh's 1971 Liberation War.
Full report at:
http://indianexpress.com/article/world/missing-hindu-lawyers-body-found-in-bangladesh-wife-arrested-5123159/
--------
Pakistani planes conduct airstrike in Dangam district
Apr 05 2018
The local officials in eastern Kunar province confirm that the Pakistani planes have conducted an airstrike along the Durand Line in Dangam district of Kunar.
Deputy provincial governor Gul Mohammad Bidar confirmed the airstrike and said a high peak was targeted in the airstrike but no one was hurt in the raid.
Bidar further added that the latest violation by the Pakistani air forces has taken place amid ongoing artillery shelling.
He also added that the provincial government has prepared a report regarding the artillery shelling and airstrike and has been sent to the central government.
The Ministry of Defense and the central government officials have not commented in this regard so far.
A spokesman for the Ministry of Defense (MoD) Gen. Dawlat Waziri had earlier said that the border forces do not need a permission to respond to the incursions.
He said they (border forces) have already been granted permission to act and respond to the artilley shelling in a similar manner.
This comes as Kunar governor's spokesman Abdul Ghani Mosamim also confirmed the shelling and said at least two civilians were wounded in Dangam district.
According to Mosamim, the artillery shells landed in three districts of Kunar including Dangam, Shiltan, and Sarkano districts.
Full report at:
https://www.khaama.com/pakistani-planes-conduct-airstrike-in-dangam-district-04805/
--------
Southeast Asia
Indonesian Muslims defy extremism by marking Holy Week
April 2, 2018
Muslims across Indonesia joined Christians in celebrating Holy Week, providing a welcome boost to those trying to preserve and promote religious tolerance amid growing fears of extremism.
Many photos and videos showing Muslims at churches were posted on social media over Easter.
At St. Francis Xavier Cathedral Parish in Ambon, in Maluku province, dozens of young Muslims performed dances during a procession on Good Friday attended by Bishop Petrus Canisius Mandagi of Amboina and other religious leaders.
Bishop Mandagi said the presence of Muslims showed a determination among people to maintain a brotherhood among different religious communities.
"This is an example of where religion becomes a unifying tool and this religious celebration becomes a bridge to strengthening relations," he told ucanews.com on Easter Sunday.
Saidin Ernes, from the Ambon branch of the Ulema Council — Indonesia's top Muslim clerical body — said they wanted to "show that there is a strong fraternal relationship between religious believers in Maluku," especially among Muslims and Christians.
A photo showing Muslim youths at the Christ the Redeemer Catholic Church in Sentani, Papua was also circulated online.
They held banners that read Happy Easter for Christians. "Let us both maintain the integrity of our fellow religious believers."
In Central Java, students from State Institute of Islamic Religion in Salatiga sang at the Java Christian Church during Easter celebrations on April 1.
Meanwhile, in Jakarta, Governor Anies Baswedan attended Easter celebrations with thousands of members of the Indonesia Bethel Church.
Father Antonius Benny Susetyo, an outspoken activist priest said the governor's presence, "gives us hope that the commitment to preserve unity remains strong in society."
Bonar Tigor Naipospos, deputy chairman of the Setara Institute for Democracy and Peace said the governor's attendance would have significant influence "despite a wave of conservative and anti-diversity revivalism," sweeping some parts of the country through extremist groups such as the Islamic Defenders Front .
"We need such examples to educate the public, that differences of beliefs should not make us hate and demean each other," he said.
"We can then be optimistic that there are always groups that take care of diversity," he said.
Holy Week in Indonesian churches this year focused on maintaining diversity through the national ideology under the theme, "Implement Pancasila: We are Diverse, We are Indonesia," in response to growing intolerance among hard-line groups, especially since the Jakarta governor election last year which was marked by sectarian divisions and hate speech.
https://www.ucanews.com/news/indonesian-muslims-defy-extremism-by-marking-holy-week/81948
--------
Police investigate reports of blasphemy in Sukmawati's poem
April 4, 2018
The National Police are investigating reports of blasphemy allegedly committed by Sukmawati Soekarnoputri, an official confirmed on Wednesday.
Police spokesperson Insp.Gen.Setyo Wasisto said two reports of blasphemy implicating the daughter of founding father Sukarno had been filed with the Jakarta Police and the National Police's Criminal Investigation Department (Bareskrim).
"Our responsibility is to carry out an investigation. We have to first gather evidence and then follow up," Setyo said as quoted by kompas.com.
He said that during the pre-investigation process, the police would collect evidence and question witnesses.
He further said the police would also consider settling the case out of court.
Sukmawati has been accused of insulting Islam after reading her poem titled Ibu Indonesia (Mother Indonesia) during Indonesia Fashion Week (IFW) in Jakarta last Thursday.
"I don't know sharia [Islamic law], but I know the konde [traditional bun] of Mother Indonesia is so beautiful, more beautiful than your niqab. I don't know sharia, but I know that the ballad of Indonesian mothers is so beautiful, more melodious than your adzan," the poem reads.
The poem triggered outrage from various groups. Lawyer Denny Andrian Kusdayat, Hanura Party politician Amron Asyhari and the East Java chapter of Indonesia's largest Islamic organization, Nahdlatul Ulama (NU), have filed criminal reports against Sukmawati.
The United Islam Forum (FUIB) has also reported Sukmawati to the Jakarta Police and will file a similar report with Bareskrim.
Full report at:
http://www.thejakartapost.com/news/2018/04/04/police-investigate-reports-of-blasphemy-in-sukmawatis-poem.html
--------
Indonesian, Jordanian universities united in 'spreading true image of Islam'
Apr 05, 2018
AMMAN — A delegation headed by the rector of the As-Syafiiyah Islamic University in Jakarta, Indonesia, Masduki Ahmad, on Tuesday took part in a forum between Jordanian and Indonesian academics with the Imdad Media Centre, with the aim of discussing further cooperation in the field of higher education.
Organised in cooperation with the Literature and Culture Salon, the meeting was attended by several professors and university presidents in addition to former ministers and ambassadors.
Ahmad expressed willingness to increase the cooperation between As-Syafiiyah Islamic University and several Jordanian institutions and signed agreements with the University of Islamic Sciences, Al Isra University, Al-al-Bayt University, the University of Jordan, the Jordanian University of Science and Technology and Yarmouk University.
The agreements involve a number of scholarships for students to engage in exchange programmes as well as research cooperation deals between Jordanian and Indonesian professors, Chairman of the Imdad Media Centre Nabil Al Sharif told The Jordan Times.
"Students based in Indonesian universities are appreciated, respected and welcome," the rector said, thanking the Jordanian government for "its great cooperation in welcoming Indonesian students in Jordanian universities and simplifying all procedures for them".
Several speakers outlined the efforts that shall be exerted by countries concerned with the image of Islam, discussing ways of cooperation to "protect the true reality of Islam from the distorted image being spread across the world in this context of extremism".
Sharif stressed: "Jordan and Indonesia share an understanding of Islam as a religion of moderation, tolerance and peace," pointing out that "Jordan has taken several initiatives in order to project the right image of Islam, and it is essential to provide such initiatives with exposure to the world."
Full report at:
http://www.jordantimes.com/news/local/indonesian-jordanian-universities-united-spreading-true-image-islam'
--------
Tearful Sukmawati apologizes for offending Muslims
April 4, 2018
Sukmawati Soekarnoputri, the daughter of late founding father and Indonesia's first president Soekarno, conveyed her apology to all Indonesian Muslims over her poem entitled "Ibu Indonesia" (Mother Indonesia), which is alleged to have insulted Islam.
The poem enraged various Muslim groups as parts of the work said the niqab (a full face veil worn by some Muslim women) was not as beautiful as the konde (Indonesian hair bun) and the adzan (call to pray) was not as melodious as traditional ballads.
"Since this literary work has sparked controversy, especially among Muslims, I apologize to all Muslims who feel offended by this poem," said Sukmawati, who spoke in tears during a press conference in Cikini, Central Jakarta, on Wednesday.
Sukmawati said she had no intention of insulting Islam, asserting that she just wanted to promote the concept of Islam Nusantara as the true Islam in Indonesia.
While insisting that she was a proud Muslim, Sukmawati explained about her father who was an important figure in both Muhammadyah and Nahdlatul Ulama, the two biggest Islamic organizations in Indonesia.
The public uproar began when Sukmawati read out her poem during the celebration of 29 years of the work of Anne Avantie, an Indonesian fashion designer. The event was part of a string of events held during the 2018 Indonesian Fashion Week.
"The fashion show's theme was 'Cultural Identity'. The poem was in accordance with the theme," Sukmawati said. "The words in the poem were a reflection of my artistic point of view."
Full report at:
http://www.thejakartapost.com/news/2018/04/04/tearful-sukmawati-apologizes-for-offending-muslims.html
--------
Islamic groups report Indonesian politician for reciting 'blasphemous' poem
APRIL 4, 2018
JAKARTA (Reuters) - Hardline Islamic groups on Wednesday filed a blasphemy complaint against a daughter of Indonesia's first president, accusing her of reciting a poem insulting Islam and prompting fresh concerns over intolerance in the world's most populous Muslim-majority country.
Sukmawati Sukarnoputri, a politician, is the third daughter of Indonesia's founding father Sukarno and the younger sister of Megawati Sukarnoputri, who leads President Joko Widodo's ruling party.
Indonesia is a secular country with significant Christian, Hindu, Buddhist and other religious minorities, but a rise of hardline, politicized Islam and stricter interpretations of the religion have undermined its reputation for tolerance in recent years. The Islamic Defenders Front (FPI) was among an alliance of hardline groups that reported Sukmawati, as she is usually known, to police over the poem. The same alliance last year accused Jakarta's former Christian governor of blasphemy and spearheaded mass rallies that led to his ouster and jailing, a ruling that many believed was politicized and unjust.
"It's clear there is an insult toward the teachings of Islam in the poem," said Eggi Sudjana, a lawyer and an adviser to the alliance.
"We hoped that Ahok's case would be the last one, but now there are others who dare to insult Islam again," he said, referring to the ex-Jakarta governor Basuki Tjahaja Purnama by his nickname.
Sukmawati apologized for reading the poem, which appeared to favor traditional Indonesian culture and beliefs over conservative Islamic customs like the full veil, in public.
"The poem is a reflection of my concern about the sense of nationalism...and to honor our motherland's rich cultural traditions and diversity," a tearful Sukmawati told a news conference in Jakarta on Wednesday.
"I apologize to Islamic people in Indonesia, especially to those who feel offended by the poem," said Sukmawati, whose family remains highly influential in Indonesia.
FPI's Novel Bamukmin said the alliance appreciated the apology but would not withdraw its complaint.
"There will be no mercy for those who blaspheme," he said.
Rights activists feared the controversy was a sign that religious tolerance and freedom of expression are being eroded in the world's third-largest democracy.
"It's creating an atmosphere of fear," said Andreas Harsono of Human Rights Watch. "People never know when someone could report them to the police for blasphemy against Islam."
Suspects can be jailed for up to five years under the blasphemy laws, which have been criticized by rights groups as draconian and vulnerable to abuse.
Full report at:
https://www.reuters.com/article/us-indonesia-blasphemy/islamic-groups-report-indonesian-politician-for-reciting-blasphemous-poem-idUSKCN1HB1FI
--------
Singapore pastor apologises to Muslim leaders for US preacher's alleged statements on Islam
04 Apr 2018
SINGAPORE: A local pastor apologised to Muslim leaders on Wednesday (Apr 4) over alleged anti-Islamic comments made by a foreign Christian preacher in Singapore last month.
Pastor Yang Tuck Yoong is the founder of Cornerstone Community Church, which organised the three-day Kingdom Invasion 2018 conference at which American Lou Engle spoke.
During Mr Engle's sermon on Mar 13, the Christian preacher seemed to suggest that Islam was a threat to Christianity, an online publication reported.
The Ministry of Home Affairs (MHA) is investigating these claims and Cornerstone had filed a police report on the article.
Addressing a group of Muslim community leaders which included Singapore's Mufti, Dr Fatris Bakaram, Mr Yang promised that Mr Engle would not be invited to speak in Singapore again. Prior to this, he had spoken at the same conference in 2016 and 2017.
"We came to apologise and to make right amongst the communities. We understand that the statements were quite hurtful to quite a few people," Mr Yang told reporters after the meeting. "We were disappointed with the statements (made by Mr Engle)."
Noting that Mr Engle had made "some insensitive remarks deemed as hurtful to Muslims", Dr Fatris said Mr Yang had requested the meeting and was sincere in apologising.
"The response by the Muslim leaders was that we want to move on and look forward to more constructive and healthy relationships (with other religions)," he added.
In response to media queries, police said Mr Engle left Singapore shortly after the conference ended. "The police have requested him to come back to Singapore for an interview. As investigations are ongoing, we are unable to comment further," they added.
Mr Yang confirmed Mr Engle was back in the US, though the two had a phone conversation on Good Friday. "I said 'Mr Engle, what you have said has caused us a lot of problems and it would be that you cannot come back to Singapore'," Mr Yang revealed. "He accepted it."
Said Mr Yang: "We realised we didn't do our due diligence as well as we should have. We should have been more stringent. We should have gone back further to check a bit more on his background."
Mr Engle is known for airing his anti-gay views in the US and overseas. At a 2010 rally in Uganda, he spoke in support of the government's efforts to criminalise homosexuality.
"Lou Engle was known more for his call to prayer and gathering people to fast. When we invited him, that's what we invited him to teach on," Mr Yang explained. "He was not known for his anti-Muslim rhetoric."
"When we invited him for the first few years, it was great. It was very good. But this year, something just happened. I don't know why he said what he said."
Pressed by reporters, Mr Yang later admitted that due to a "slip-up" this year, Mr Engle had not been read an "advisory" on what not to say.
"These conferences are so busy, everyone is running to and fro, and the person who was supposed to say this to him forgot," said Mr Yang. "We (usually) reinforce this ... with the speakers - in Singapore, you cannot speak against other religions, you cannot speak against the Government - and they know this."
Moving forward, Cornerstone will "have to be extremely vigilant" in inviting foreign preachers and rejecting "anybody with a past history of saying anything bad about any religions", he stressed.
"First thing we've got to do is check the Internet, trawl a bit more to find out everything about what a person stands for. Two, we want to make sure when they come to Singapore we read to them the advisory - that this is what we stand for and we don't allow you to create any problems," Mr Yang declared.
"Third, we're going to make them sign a legal statement that they won't do all of this. We will tighten up all our protocols and processes … What's more important to us is to maintain harmony in Singapore."
Later that evening Cornerstone posted a statement of apology on its Facebook page, expressing "deep regret" that Mr Engle's speech had "been the cause of considerable distress and misunderstanding, particularly among the Muslim community".
"Cornerstone Community Church will not tolerate any foreign preacher we have invited espousing insensitive and extreme views in our multi-racial, multi-religious society," the statement read. "As a church, we do not condone any speech or actions that foster ill will between communities."
When asked if the Muslim community had expressed outrage over Mr Engle's statements, Dr Fatris commented: "Hurtful words really hurt. But I'm very glad to see that our society ... (is) very measured … We did not react in a destructive way. People expressed anger, yes, but we are a nation that has resolved to work for our future rather than be stuck in what happened yesterday."
Minister-in-charge of Muslim Affairs Yaacob Ibrahim, meanwhile, said he appreciated that Mr Yang has apologised and taken responsibility for inviting Mr Engle to preach in Singapore.
"Words matter, and words that sow discord and ill will among the various communities have no place in Singapore," Dr Yaacob said in a Facebook post.
"Our willingness to forgive reflects the Singapore way, and what is important is that we continue to uphold mutual respect and harmony for our common good."
Pastor Yang's apology comes a year after an imam, Nalla Mohamed Abdul Jameel Abdul Malik, also said sorry to leaders of different faiths for stating: "Grant us help against the Jews and the Christians".
Full report at:
https://www.channelnewsasia.com/news/singapore/cornerstone-church-pastor-apologises-over-lou-engle-statement-10104680
--------
Africa
Muammar Qaddafi's Son Found Not Guilty of Murder of Libyan Footballer
4 April 2018
A Libyan appeals court cleared one of the sons of late leader Muammar Qaddafi on Tuesday of charges of murdering a footballer before Libya's 2011 uprising, the justice ministry said.
Saadi Qaddafi, who has been held in the capital Tripoli since his extradition from Niger in 2014, was found not guilty of "murder, deception, threats, enslavement and defamation of the former player Bashir Rayani," a statement from the ministry said.
He was fined 500 Libyan dinars ($377) and given a suspended one-year prison sentence for drinking and possession of alcohol in the 2006 case, the statement said.
Saadi Qaddafi, who under his father had a career as a footballer in Libya and Italy and was also a special forces commander, still faces other charges in Tripoli relating to the 2011 NATO-backed revolt.
He fled to Niger during the uprising, in which his father was overthrown and killed.
One of Rayani's children, Ali Alreany, told local media he would appeal against Tuesday's ruling.
"My family and I won't be silent, no matter how long injustice lasts in this country," he wrote on his Facebook page.
Courts in the Libyan capital have issued death sentences against another of Qaddafi's sons, Saif al-Islam, and officials from the former regime.
Saif al-Islam was held captive for years in the western town of Zintan. His current whereabouts are unclear.
https://english.alarabiya.net/en/News/north-africa/2018/04/04/Muammar-Qaddafi-s-son-found-not-guilty-of-murder-of-Libyan-footballer.html
--------
Rape and Torture Charges for Jihadist Police Chief of Timbuktu
By MARLISE SIMONS
APRIL 4, 2018
PARIS — A jihadist fighter from Mali was brought before the International Criminal Court on Wednesday to face charges of rape, torture and sexual slavery, crimes that prosecutors say were perpetrated while he was the head of the police during a jihadist occupation of the ancient city of Timbuktu.
At the hearing in The Hague, prosecutors said that Al Hassan Ag Abdoul Aziz Ag Mohamed Ag Mahmoud, 40, had committed crimes against humanity and war crimes in 2012 and 2013 by abusing, whipping and torturing residents who violated strict religious laws.
He forced young women to marry jihadist fighters, "which led to repeated rapes and sexual enslavement of young women and girls," they said.
Officials say girls were forced into marriages, some lasting only a few days or a few weeks, in an attempt to provide a justification for their being forced to have sex. "If a girl ran away, she would be tracked down and brought back," said a lawyer working on the case, who spoke on condition of anonymity because he was not authorized to discuss the details. "Children were born from these forced marriages."
The case has renewed a focus on continuing abuses by Islamist extremists, including those who have attacked ancient sites of religious and cultural significance. Timbuktu, now a Unesco World Heritage Site, has been a renowned center of Islamic civilization for centuries.
It is also expected to draw heightened attention to the deteriorating security situation in large parts of sparsely inhabited and parched regions of sub-Sahara Africa, where armed rebel groups, including jihadists and criminal gangs, often hold sway.
The situation in Mali and the larger Sahel region have increased in importance for the West, as not only poverty but also jihadist violence have forced people to flee. Traffickers have brought thousands of migrants to the Mediterranean coast, using it as a springboard to cross over to Europe.
In 2012, sweeping across northern Mali, the armed groups seized control of Timbuktu and other towns and "imposed their vision of religion, through terror, on a local population who did not adhere to it," the warrant for Mr. Al Hassan's arrest said.
Mr. Al Hassan, who had about 40 jihadist police officers under his control, took part in the lashings of men and women and also played a role in the destruction of local shrines of Muslim saints that were deemed idolatrous, according to court documents. Mr. Hassan was not asked to enter a plea at the hearing.
Asked if he had anything to say, he complained that he was held in a single cell with a camera, which he said violated his privacy and his dignity.
He is the second member of the Ansar Dine jihadist group to appear before the court at the request of the government of Mali, where most people practice a moderate form of Islam.
In 2016, Ahmad al-Faqi al-Mahdi pleaded guilty to smashing Timbuktu's holy shrines and was sentenced to nine years in prison. He was also ordered to pay close to $3 million in reparations.
The arrival of Mr. Al Hassan last weekend was a boon for the court, which is winding up its current cases. It has multiple investigations underway, but a large staff of prosecutors and judges could run out of work if the world's first international criminal court cannot get hold of more fugitives.
Created in 2002 to deal with war crimes, crimes against humanity and genocide, the court depends on governments to enforce its arrest warrants; at least 12 warrants are outstanding, and more are believed to exist but remain under seal.
Mr. Al Hassan was arrested a year ago by French troops tracking jihadists in the north of Mali. His capture was fortuitous, as he was not the target of the operation.
Handed over to the Malian authorities, Mr. Al Hassan was detained until the court prepared and issued a sealed arrest warrant asking him to surrender. Last Saturday, he was sent to The Hague.
The Mali cases have their roots in 2012, when armed rebels and homegrown Islamic jihadists set up a ministate in Northern Mali around Timbuktu that lasted about a year.
In 2013, French and Malian forces pushed them out of the towns where they had held sway. But until today, the state has had little control over large areas of northern and central Mali.
Peacekeepers and police officers from the United Nations who are now stationed in Mali concede that they cannot control the country's vast terrain or fully suppress jihadist or other rebel groups.
Western diplomats say that the security situation in Mali has steadily deteriorated and jihadists have stepped up their activities.
They say the jihadists continue to offer weapons and money to young men in the vast and impoverished desert region. And the groups can move with relative ease across the borders where Mali, Burkina Faso and Niger meet.
In January, amid growing concern, defense ministers from the Sahel, as well as France, met in Paris in the latest push to step up antiterrorism operations in the vast region.
They said they hoped to have a new military force in place this year drawn from troops in the region — including Chad, Mauritania, Mali, Niger and Burkina Faso — to work alongside United Nations peacekeepers and the French military mission in Mali.
Full report at:
https://www.nytimes.com/2018/04/04/world/africa/hague-jihadist-police-chief-timbuktu.html?mtrref=www.google.co.in&gwh=95995670621D5DEAE46363ED2A1CE0FF&gwt=pay
--------
Ugandan president confirms 8 soldiers killed in Somalia
04 April 2018
Uganda's President Yoweri Museveni said Tuesday that Sunday's attack by Al-Shabaab killed eight Ugandan soldiers in Somalia.
Al-Shabaab attacked three African Union Mission in Somalia (AMISOM) bases in Lower Shabelle region killing dozens. The military coalition has been fighting Al-Shabaab in the region for more than a decade.
In a tweet the Ugandan president said: "Unfortunately, two vehicles of the enemy entered one of the three sites attacked. One vehicle was detonated and killed eight of our soldiers. May their souls rest in eternal peace."
He added: "Our soldiers in Somalia heroically gave serious blows to Al-Shabaab, killing 36 of them and destroying six vehicles full of explosives. This was because they were alert.
Full report at:
http://www.worldbulletin.net/africa/200656/liberias-justice-minister-steps-aside-in-oil-probe
--------
How Danjuma exposed conspiracy between Islamists, FG – Christian Elders
April 5, 2018
By Amos Tauna
The National Christian Elders Forum (NCEF) on Wednesday saluted what it called the courageous and timely intervention of Gen. T. Y. Danjuma, who had called on Nigerians to defend themselves against the complicity of security forces and Islamist terrorists in the country.
In a statement titled: 'Gen. T. Y. Danjuma: Self Defense Is Legal', the forum stated that the, "Public statement is finally putting a seal on the long known conspiracy between the Islamists in the current Federal Administration and Islamist insurgents in the country".
The statement issued and signed by the Forum's Chairman and the Secretary, Solomon Asemota, SAN, and Pastor Bosun Emmanuel, respectively, noted that "such a conspiracy could exist is confirmed by the flagrant violation of the Federal Character Principle in the Constitution by the Buhari Administration."
The statement made available to DAILY POST averred that the NCEF, had repeatedly decried the concentration of the entire security infrastructure in Nigeria in the hands of Muslims from the North.
"All the key positions in Ministry of Defense, Ministry of Interior, State Security Services, Police, Customs, Immigration, Office of National Security Adviser, Army, Civil Defense, Prisons, are held by Muslims from the North. This is a total violation of the Constitution of which the Buhari Administration should be totally condemned and thoroughly rebuked.
"The NCEF stands with Gen. Danjuma and the Christian Elders support him totally that Nigerians should make adequate arrangements to defend themselves since it is clear that the security services have become tools of Islamists in the promotion of Sharia Ideology over and above Democracy which is the authentic ideology of Nigeria.
"This conflict between Sharia and Democracy was smuggled into the 1999 Constitution making Nigeria the only country in the world with dual conflicting ideologies. Nigerians must begin to question the insertion of Sharia into the 1999 Constitution and demand a Constitution in which Democracy is the only National Ideology. All the current distress in the country is traceable to the dual ideologies in the 1999 Constitution.
"Nowhere is the unconscionable intolerance and narrow mindedness of Sharia proponents manifested as in the abduction of innocent children on account of their faith.
"While the nation is still nursing the wounds of the abduction of Chibok girls, the Islamists abducted another set of school girls in Dapchi and released over 100 of them who professed Islam as their religion and retained in captivity Leah Sharibu on account of her Christian faith.
"The 15 years old, Leah Sharibu, the only girl among the Dapchi girls still in custody of the Islamist terrorists due to her retaining her Christian faith represents Nigerian's very own Rosa Park.
"She is still in detention for proclaiming Christ and she is telling Christians that it is hard to be a follower of Christ; that she should not be alone; that she is suffering like Christ to remind all Christians that Christ suffered for one Church of Christ, so that humanity can have life more abundantly; and that Christians in Nigeria should be one in the Spirit of Christ.
"In the circumstance every Nigerian has a moral duty to pray and press for her release from the promoters of Jihad and intolerance.
"The National Christian Elders Forum insists that there is a moral burden on President Buhari to ensure that Leah Sharibu is delivered from her abductors alive and well.
"The continued abduction of Leah Sharibu, on account of her Christian faith, after all the other girls have been released because they are Muslims, further underscores the grave danger that Sharia ideology poses to the Nigerian state.
"Nigerians should bear in mind that the country was given Independence with the Founding Fathers agreeing that Democracy shall be the National Ideology.
"The Founding Fathers of Nigeria agreed that for a multi-cultural, multi-religious, and multi-ethnic society, an all inclusive ideology that would guarantee Justice, Equity, and Fairness would be required.
"Democracy was adopted as the National Ideology to provide equity, freedom and liberty for all. Democracy is in sharp contrast to Sharia which is discriminatory on religious grounds and highly intolerant of other beliefs or culture.
"With the Military incursion into governance, Islamists of northern Nigeria worked through the various Muslim Military Dictators to progressively compromise the secularity of the Nigerian State culminating in the 1999 Constitution which is a Military imposition on the country.
"With the overthrow of General Gowon in 1975, the Islamists launched stealth Jihad in Nigeria and the nation is witnessing the combination of stealth and violent Jihad geared to transform Nigeria into an Islamic Sultanate.
"The NCEF has stated repeatedly that it is not possible for three ethnic nationalities (Fulani, Hausa and Kanuri) to imagine that they could impose their religion, culture and political leadership on the remaining 386 ethnic nationalities in the same country.
"For a very reserved and conciliatory Elder statesman like Gen. Danjuma to speak in the way that he did, it should be clear to all discerning persons that the situation is hitting a boiling point. There is still time for sanity to prevail.
"The NCEF is also amazed at the impudence of the Sharia Council represented by Yusuf Rigachikun, and Abdulrahman Hassan who called for the prosecution of Gen. Danjuma. It is very unfortunate the lawlessness and impunity which Islamists have introduced into the Nigerian State.
"The Christian Elders wonder how any man of good conscience and good will could condemn a call for people to defend themselves yet, would not condemn the aggressors who kill, maim and destroy lives at will all over the country.
"The Sharia Council might have been taken seriously if it had called for the prosecution of the following people, just to mention a few.
"Garus Gololo the leader of Miyetti Allah Cattle Breeders Association in Benue state who on 4th January, 2018 told BBC that the New Year genocide in Benue State was a reprisal attack for the theft of cows. Usman Ngelzerma who on 12th January, 2018 said Fulani herdsmen attacked Guma and Logo because the herdsmen were fined by livestock guards. Bello Bodejo, the National President of Miyetti Allah Cattle Breeders Association who said the cause of the attacks on Benue State was because the State enacted Anti-Open Grazing law.
"Meanwhile, there is sufficient evidence to prove that the Government of President Muhammadu Buhari was well briefed by the Taraba State Government about the attacks in Taraba State but ignored the warnings."
"Governor of Taraba State, Darius Ishaku, speaking through Bala Dan Abu, his Senior Special Assistant on media said, 'The case against the military in Taraba is that of outright collusion against the people which has made it easy for the Fulani militia to kill and destroy property. It is also a case of disrespect for the Office of the Governor of Taraba State.'
"He said Governor Ishaku also wrote President Muhammadu Buhari on January 26, 2016 to complain about threat to peace and security in Taraba State.
"In that letter signed by Governor Ishaku himself, he lamented the devastating effects of internal conflicts involving the Fulani and Tiv, which led to the sacking of 200 settlements in the Gassol, Bali, Ibi, Donga and Gashaka local government areas by herdsmen.
"The governor informed the presidency about the concerns raised by some traditional rulers in the state concerning the influx of Fulani militia and about the attacks on their communities.
"Letters of complaints from the traditional rulers whose communities suffered from these attacks were also attached and forwarded to the Presidency". "Copies of this letter were sent to the National Security Adviser, Chief of Staff to the President and the Inspector-General of Police," he said.
"The widely publicized report on social media and which was investigated and confirmed to the effect that a chopper dropped arms in a village near Wukari was downplayed by the security agencies.
"Despite efforts by the Taraba State Government to get the military to act, they never did. Since then, the arms and ammunition brought into the state have been used against the people in various communities in the state by the herdsmen.
"The present Operation Ayem Akpatuma in the state has also been discriminatory. While cutlasses and knives have been taken away from the people, the herdsmen have been left with AK-47 rifles. Through these various acts of deliberate mischief on the part of the military, thousands of people have been killed and a lot more may be killed unless the military turns a new leaf.
"In view of the foregoing, the unfortunate statement by the Sharia Council is an open indication that the current genocide going on in Nigeria is deliberate, intentional, and Government complicit.
"Those who condemn residents for securing their houses yet do not condemn the thieves raiding them are undoubtedly the thieves. These are very worrisome signals in a Federation that is grossly divided and wobbling economically due to mismanagement.
"The current state sponsored insecurity is pushing Nigeria off the brink of the precipice and the NCEF is surprised that educated people in the North are unable to read the handwriting on the wall," the statement explained.
The NCEF advised the Government of President Buhari "to immediately dismantle the current discriminatory appointments in Security and Education and ensure new appointments in compliance with Section 14 (3) of the Constitution."
It suggested that the federal government should "commence the implementation of the 2014 National Conference, Set up a Truth and Reconciliation Commission as the basis of providing healing, reconciliation and forgiveness in Nigeria, Set up machineries to develop a new Constitution for Nigeria based on Democracy as the only National Ideology.
"As an immediate step, a return to the 1963 Republican Constitution which was the Constitution negotiated by the Founding Fathers of Nigeria should be considered.
"However, if the Buhari Administration fails to take immediate corrective measures to stabilize Nigeria and restore justice, equity and fairness, particularly to stop the reckless murder of Nigerians by Islamist insurgents, then all Nigerians must prepare to embark on civil disobedience and "shut down" the country.
"Nigeria belongs to all citizens and it is the highest act of treachery, betrayal and treason for elected officials to use the instrument of government to promote sectional interests at the cost of the lives of other citizens."
"As Elders, we witnessed Nigeria pre and post independence. What we are seeing presently, is a nightmare compared to the glorious dreams of the Founding Fathers on 1st October 1960.
"During the Colonial era, Traditionalists, Christians and Muslims all lived in peace and harmony. It is disturbing that after independence, Nigerians are unable to live together in peace. We do not want to believe that the British should be invited to come back and rule us.
Full report at:
http://dailypost.ng/2018/04/05/danjuma-exposed-conspiracy-islamists-fg-christian-elders/
--------
Europe
France, U.S. Committed to Wiping Out Islamic State: France
April 4, 2018
PARIS (REUTERS) - France and the United States are committed to stamping out Islamic State, Emmanuel Macron's office said on Wednesday after the French president spoke with his U.S. counterpart Donald Trump.
"France and the United States are determined to pursue their actions within the international coalition to fight to the end this terrorist organization," the Elysee Palace said in a statement
"Nothing should distract us from the objective of preventing Islamic State's resurgence in the region and allowing an inclusive political process in Syria," it added.
https://www.usnews.com/news/world/articles/2018-04-04/france-us-committed-to-wiping-out-islamic-state-france
--------
Number of Salafists in Germany has doubled in past five years
04.04.2018
The number of Salafists in Germany has increased twofold since 2013, the interior ministry said Wednesday, surpassing December's "all-time high."
The number of individuals classified as Salafists by regional authorities in state offices for the Protection of the Constitution reached 11,000, the ministry said, confirming an earlier report from German newspaper Tagesspiegel.
Five years ago the German intelligence agency BfV placed this number at 5,500 — half of the current total.
Salafism is a fundamentalist Islamic ideology. Security authorities see Salafism as a potential entry point to Islamist terrorism.
Just under 5 million Muslims live in Germany, meaning that the current number of Salafists makes up roughly 0.22 percent of Germany's total Muslim population.
Fast growth in Berlin, Hamburg, eastern states
Security figures pointed out that while the rate of growth of the Salafist scene had slowed, "stagnation or even a reduction was not yet in sight," Tagesspiegel said.
The sources also told the paper that the Salafist scene's fastest growth was taking place in Germany's smaller states, such as the city-states of Berlin and Hamburg.
Michael Kiefer, an expert on extremism at the Institute for Islamic Theology at the University of Osnabrück, told DW that he believed the number of Salafists in Germany would decrease due to "Islamic State" (IS) defeats in Iraq and Syria.
"IS was built on a propaganda model extolling the foundation of a caliphate. This project has collapsed," he said.
"When we assume that the activity of IS in 2013-14 worked to mobilize (radicals), then we can also say that the group's hard defeat will work to demobilize support," he said.
Adherence to Salafism in the former East German states has also grown, though the total numbers remain low. The Brandenburg Interior Ministry reported a current total of 100 Salafists in the state, an increase of 20 people from 2016.
Full report at:
http://www.dw.com/en/number-of-salafists-in-germany-has-doubled-in-past-five-years/a-43243111
--------
Daesh collapse means defeat of US regional policy: Iran defence chief
Apr 4, 2018
The Iranian defense chief says the defeat of the Daesh terrorist group is equal to the defeat of the US's regional policy, and thus the collapse of the Takfiri outfit could be followed by a fresh wave of hostilities in the region fueled by extra-regional powers.
Brigadier General Amir Hatami made the remarks in an address to the Moscow Conference on International Security (MCIS) on Wednesday.
"The defeat of Daesh means the defeat of America's regional policy and thus we should expect that this defeat would probably mark the beginning of a new era of hostilities and regional tensions," with regional and extra-regional powers competing to consolidate their presence in conflict zones, he added.
Hatami warned that despite the fall of Daesh, the terror outfit's Takfiri ideology is still alive and poses a threat to the world.
The threat of Daesh, the minister added, could still re-emerge anywhere in the world as long as the US and Western governments continue to arm the region's aggressive states under multi-billion-dollar deals and as long as Washington refuses to end its "unwise" regional policies, which are based on "opportunism."
Iran remains strongly opposed to US unilateralism and hegemony as well as the Zionist regime's destructive and destabilizing policies that contribute to the spread of extremism and violence, Hatami said.
Any attempts directed at interventionism, aggression and disintegration of countries run counter to the interests of regional nations and government, the Iranian defense minister added.
The Islamic Republic, he said, favors a joint political initiative to resolve the Syria crisis and welcomes regional cooperation meant to end the suffering of the people of Yemen.
'Daesh remains global threat'
The conference opened with a statement by Russian President Vladimir Putin, who said Daesh has been completely defeated in Syria, but the Takfiri terrorist group still maintains its "destructive potential" to target different regions across the globe.
"Despite its military defeat, this terrorist group (Daesh) retains its significant destructive potential, it can change its tactics and launch attacks in different countries and regions in the world," Putin said.
Other extremist outfits also "pose a great danger" to the world, he added.
The Russian president further underlined the need for international cooperation to combat terrorism and block its development.
"It is necessary to think together about new forms of multilateral cooperation that would allow us to consolidate the gains made in the fight against terrorism and to prevent the further spread of this threat," he said.
Daesh started a campaign of terror in Iraq and Syria in 2014, occupying territory in the two Arab countries and establishing a self-proclaimed "caliphate" there.
Soon, the Iraqi and Syrian armies galvanized to retake Daesh-held territory and the terrorist group was gradually stripped of all the land it had occupied in the two Arab countries.
At the Damascus government's request, Iran and Russia have been assisting Syria in its fight against terrorists.
Tehran gives the Syrian army military advisory assistance, while Moscow provides air cover to its ground operations against terrorists.
The Iraqi army also receives such assistance from Iran.
'US after Syria oil'
Syrian Deputy Defense Minister Mahmoud al-Shawa also addressed the conference, saying the US is trying to gain control over Syrian oil fields and is helping Daesh for this purpose.
Washington has "decided to invent various pretexts to justify keeping the illegal presence of their bases and troops on Syrian soil in order to establish control and domination over the oil fields in order to separate Syria," Shawa said.
Full report at:
http://www.presstv.com/Detail/2018/04/04/557388/Russia-Vladimir-Putin-Daesh
--------
URL: https://www.newageislam.com/islamic-world-news/despite-being-terrorist-list-mml/d/114831
New Age Islam, Islam Online, Islamic Website, African Muslim News, Arab World News, South Asia News, Indian Muslim News, World Muslim News, Women in Islam, Islamic Feminism, Arab Women, Women In Arab, Islamophobia in America, Muslim Women in West, Islam Women and Feminism