New Age Islam News Bureau
28 Apr 2017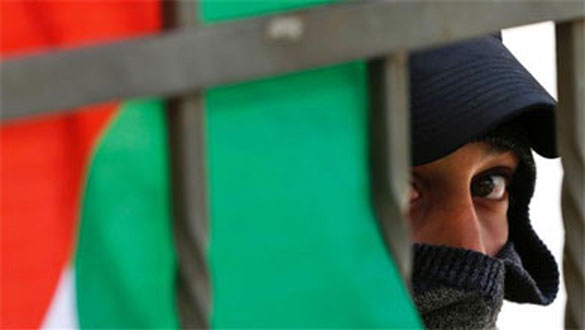 A masked Palestinian protester is seen during clashes with Israeli forces following a protest in support of Palestinian prisoners on hunger strike in Israeli jails, near the Israeli settlement of Beit El, north of the occupied West Bank city of Ramallah, on April 27, 2017. (Photos by AFP)
-----
• Deport Zakir Naik For The Sake Of Malaysia: Islamic Renaissance Front
• Amid Azaan Controversy, Muslim Man Wages Lone Battle Against Loudspeakers
• Tens of Saudi Mercenaries Killed in Yemeni Army Operations in Marib
• Confession Of Militant Renews Pain Of APS Attack Victims' Parents
• Key ISIS Leader Among 45 Killed In Nangarhar Province
Southeast Asia
• Deport Zakir Naik For The Sake Of Malaysia: Islamic Renaissance Front
• Malaysia PM Warns Uneven Growth Could Fuel Extremism, Instability in SE Asia
• Malaysia's Zilzar.com aims to be the Alibaba of the Muslim world
• Malaysia: Nationalist group raises spectre of historic May 13 racial riot
• US continues resettlement of Rohingya Muslims
--------
India
• Amid Azaan Controversy, Muslim Man Wages Lone Battle Against Loudspeakers
• 'Sajjan Jindal Secretly Meets Nawaz Sharif In Pakistan's Murree, Violates Visa', Says Pakistani Media
• Matter of concern that even after 8 years 26/11 perpetrators enjoy freedom in Pak: India
• Terrorists attack army camp, kill Captain, two other soldiers
• 'Terror module ring leader drawn to IS through FB'
--------
Arab World
• Tens of Saudi Mercenaries Killed in Yemeni Army Operations in Marib
• ISIL Appoints Belgian Emir in Deir Ezzur after Heavy Infighting
• 10 dead after strikes on rebel-held hospitals in Syria
• Iraqi volunteer forces liberate Hatra city southwest of Mosul
• Al-Nusra's Defence Lines in Eastern Damascus Shattered after Army's Extensive Advance
• ISIL Withdraws from Strategic Region in Homs
• Syrian Army Wins Control of Key Energy Field in Homs
• At UN, US calls for pressure on Russia to try to end Syria war
• President Assad outlines US, Israeli plots against Syria
--------
Pakistan
• Confession Of Militant Renews Pain Of APS Attack Victims' Parents
• Glorification Of Terrorists Can't Be Allowed: Pemra
• 5 terrorists killed in Mand encounter
• Police Arrest 22 After Lynching Of Pakistani Student Falsely Accused Of Blasphemy
• Pakistan refuses ADB loan for railway as China becomes sole financier
• 'Return of Afghans should be in line with international principles'
• Three terrorists gunned down in Khanewal
• Mashal murder report: ISI, MI, FIA men included in JIT, SC informed
--------
South Asia
• Key ISIS Leader Among 45 Killed In Nangarhar Province
• Taliban Launches Spring Offensive, Vows To Carry Out More Attacks
• Ex-Afghan defence officials appointed as ambassadors after base attack
• Two US troops killed in Afghanistan
• Children pay the price in Afghan conflict: UN
• Janakantha journo sued for hurting religious sentiment
• Taliban leader supervising suicide attacks killed in Wardak
• ISIS leaders among 8 killed in Afghan forces operations in Nangarhar
--------
Europe
• Belgium Regrets Backing Saudi Arabia On UN Rights Panel
• Erdogan Actions 'Severely Hit' EU-Turkey Ties: Merkel
• Suspected Islamic radical shoots two policemen on French island
• Russia escalates violations of religious freedom
• German soldier, posing as refugee, held in attack plot
• Teen admits plotting 'Elton John' bomb attack
• Armed British police arrest man with knives near May's office
--------
Mideast
• Iran: Nine Border Guards Killed After Clashes With 'Balochi Terrorists'
• Palestinian Begin Mass Hunger Strike In Support Of Prisoners
• Israel strikes arms depot near Damascus airport
• All 78 saved as Russian spy ship sinks off Turkey
• Israeli missile shoots down 'target' over Golan
• Yemen govt calls for change in relief routes after Houthi pillaging
• Two Saudi sergeants killed in explosion in Yemen
• UN envoy eyes new Yemen peace talks before Ramadan
• Two Saudi soldiers killed patrolling near Yemen border
• Hamas warns of 'explosion' in Gaza over power cuts
--------
Africa
• Al-Shabab Shoots Dead Senior National Security Officer In Somalia
• Uganda: Police Seeks Shs 200bn for Surveillance Cameras
• Nigeria: Saraki, El-Rufai Stopped Me From Becoming Buhari's Running Mate - Tinubu
• Gambia: IOU Commemorates 10 Years of Success
--------
North America
• Trump Complains Saudis Not Paying Fair Share For U.S. Defence
• Sharing perspective: CAL hosts inter-religious forum addressing "Islam in America"
Compiled by New Age Islam News Bureau
URL: https://www.newageislam.com/islamic-world-news/deport-zakir-naik-sake-malaysia/d/110948
--------
Deport Zakir Naik for the sake of Malaysia: Islamic Renaissance Front
April 27, 2017
Malay-Muslim scholars and thinkers regrouped under the Islamic Renaissance Front (IRF) are not in favor of the presence of Islamic preacher Zakir Naik in Malaysia, and his involvement in local political matters.
In a long article entitled "Zakir Naik's Appeal and the Quagmire of Inter-Religious Relations in Malaysia" published on June 17, 2016, by Singaporean based interfaith group Left Right and Center creator Mohamed Imran Mohamed Taib.
In the article, Mohamed Imran explained the reasons why Zakir is diverting from the real issues of 'comparative religion' debates, into that of a politically charged engagement in Malaysia.
He said Zakir's presence in Malaysia may have bad fallout on the country's religious harmony.
He urged for the replacement of the 'confrontational' religious education with one that builds approaches, reconcile and create a sense of respect for each other, to accept diversity and difference. and the desire to jointly pursue the common good in a spirit of peace, justice and equality between religious and non-religious communities.
This with the desire to jointly pursue the common good in a spirit of peace, justice and equality between religious and non-religious communities.
"While politics can often derail this process, it is important to work towards building a community that can fight the tide effort to seed the dispute.
He said these actions may not be carried out by outright prohibition, which would instantly make them martyrs in religion classes and strengthen the "conspiracy theory" against Islam.
"In contrast is the strong effort to show that the relationship between religion will be harmed if Zakir Naik is left unchecked.
http://www.theindependent.sg/deport-zakir-naik-for-the-sake-of-malaysia-islamic-renaissance-front/
--------
Amid Azaan Controversy, Muslim Man Wages Lone Battle Against Loudspeakers
April 27, 2017
Bollywood singer Sonu Nigam's tweets questioning the use of loudspeakers in mosques for Azaan has opened a huge debate countrywide over its use at religious places, but amid all the cacophony here's a story of Babu Khan, who has been relentlessly waging a lone battle against loudspeakers on mosques.
Since 1992, 66-year-old Mohammed Ali alias Babu Khan has been fighting battle against loudspeakers atop mosques. Khan stays in one of the most sensitive areas in Mumbai - Behrampada. This locality has been in the centre of communal tensions in the infamous Mumbai riots of 1992, and it's here, that he has successfully persuaded his community men and clerics against the use of loudspeakers.
A LONE BATTLE
Babu Khan persuades his people by telling them how the use of loudspeakers is not Islamic.
"In Quran 'Allah Pak' says that "azaan" is a 'nada'. You just have call people for namaz. That's about it. Till wherever the sound reaches is your responsibility, not beyond that. Hazrat Bilal used to give 'nada' in Madina and it used to reach people, and the entire Madina used to congregate for namaz. Those period there were no loudspeakers. Today's azaan is not happening as per the guidelines of Nabi. It is ruled by brain and not faith. Using loudspeaker is not right as per Shariyat," Babu Khan explains with full conviction.
A devout Muslim, Babu Khan has so far has succeeded in persuading seven mosques from areas like Behrampada, Tagore Nagar in Bandra to take off loudspeakers. He even successfully persuaded his distant relatives in 3 villages of Madhya Pradesh to do the same.
Initially reluctant, the ones around Babu Khan have now accepted his logic, but the battle hasn't been easy -- especially fighting against his own people. He had to move the Bombay High Court.
64 FATWAS TO PROVE HIS POINT
He fought his own case and even got 64 Fatwas to prove his point. He further insists that his fight is not against the religion, but against the additional and unwanted practices attached to the religion.
"I told the court that use of loudspeakers in not part of Islam. Rather than any benefit, it is only doing harm to the religion. Even after hearing the azaan, 90 % of people do not turn up for namaz, whoever comes, only comes out of their own problems. So what's the use of calling people over loudspeakers," he adds.
And ask him about the recent Sonu Nigam controversy, Babu Khan defends Sonu Nigam's stand with full conviction calling him Allah ka banda.
"I am not fighting the battle. Allah is making me do it. He has sent you, He asked Sonu Nigam to raise his voice. Allah showed him the way. Today muftis are issuing fatwas against him asking to shave off his head, garland him with footwear. Will Allah give such fatwas? Is he (Sonu) not an Allah ka banda?, says an angry Babu Khan.
http://indiatoday.intoday.in/story/azaan-controversy-babu-khan-muslim-sonu-nigam-loudspeakers-on-mosques/1/940131.html
--------
Tens of Saudi Mercenaries Killed in Yemeni Army Operations in Marib
Apr 27, 2017
The source said that Saudi Colonel Abdullah al-Rashidi and 7 forces loyal to fugitive president Mansour Hadi were killed by the Yemeni soldiers in Seravah region of Marib.
Also a large number of Saudi-backed mercenaries were killed in Wadi al-Rabi'a and Koufal and al-Mokhaddara bases in Seravah region.
A source said that 10 other forces loyal to Hadi were also killed in other regions of Marib.
According to the source, the Yemeni army and popular committees' missile and artillery attacks in al-Sodais base and near al-Tal'a base in Najran province also left a number of Saudi forces dead and wounded.
Reports said earlier this month that the Yemeni army forces in joint operation with the popular forces killed 384 elements of the Saudi-led forces in the month of April alone.
The death toll includes Sudanese mercenaries, soldiers of the Saudi-led coalition and the local Yemeni troops fighting on behalf of Hadi.
In addition, 1029 Saudi-backed troops suffered injuries and wounds, roughly half of which were defined as critical. Meanwhile, 10 troops were taken captive by the popular forces while the latter destroyed a total of 27 armored vehicles.
The source did not specify the casualties among the forces og the Yemeni army and the popular committees fighting in support of the government which controls the Yemeni capital in September, 2014.
Meanwhile, attacks by the Yemeni Army and popular forces continue to plague three Southern provinces of Saudi Arabia, as the ongoing clashes in Yemen are specially intense in Taiz, Marib, and Bayda at the moment.
http://en.farsnews.com/newstext.aspx?nn=13960207000810
--------
Confession of militant renews pain of APS attack victims' parents
SADIA QASIM SHAH
Apr 28, 2017
PESHAWAR: The confession of Ihsanullah Ihsan, a former commander of banned Tehreek-i-Taliban Pakistan (TTP), is of no interest to Auragzeb Khan and his wife, who lost their son in one of the country's most gruesome terror massacres — Army Public School attack.
His disclosure as to how Indian and Afghan intelligence agencies are funding terrorist outfits, responsible for so many attacks, is of no solace or interest to them.
It won't bring back their son, Hassan Zeb, who was among the 144 victims including children and staff killed in the attack on Army Public School on December 16, 2014.
TTP had claimed responsibility for the attack and spurred policymakers to formulate National Action Plan. Not only moratorium on death penalty was lifted but military courts were also set up to try terrorists.
Aurangzeb and his wife plead TV channel not to show Ihsanullah Ihsan on screen
"We will not forget you," was the public outcry on social media and during public protests after the tragedy jolted the nation.
The parents of APS attack victims formed a forum to continue to fight for justice, however, as the time passed the public participation shrank and became limited to vigils and days observed to remember the APS tragedy.
It was confession on TV channels or media of a former commander associated with TTP and till recently with its more lethal splinter group Jumaat-ul Ahrar as its central spokesperson, Ihsanullah Ihsan, that refreshed the pain of the parents of APS attack victims.
"Please don't show him on TV. It kills us," Aurangzeb, who obviously seemed hurt and depressed, pleaded to those airing Ihsanullah Ihsan's confession on TV channels.
He had switched off TV after seeing the former militant speak as he did not want his wife's blood pressure to shoot up.
"Just hang him and his likes, if not for APS but for hundreds killed at markets and public places in terror attacks. Hang him in Army Public School," he said. He added that no one, not even government or military, had the right to pardon such criminals.
Aurangzeb said that they should be tried in military courts set up after Army Public School massacre as part of National Action Plan.
"I want them to be punished with slow death so they would feel the pain we are feeling," suddenly Hassan's mother, who was lying on a bed in a corner, rose to speak of her pain when she heard her husband talking.
The small house spoke of its inmates' depression and lack of care as things were scattered around. A small room, decorated and full of photographs of their slain son Hassan Zeb, was the only room in the house that seemed to have been kept with care.
It looked nothing less than a shrine or a place of homage to their slain son.
Ihsanullah Ihsan, who was a former senior TTP commander and spent almost a decade with the group before turning himself in last week to military authorities, publicly admitted in the confession released by the Inter-Services Public Relations (ISPR) that RAW and NDS were harbouring anti-Pakistan terrorist groups.
However, the father of the APS slain child said that other parents like him didn't care about such confessions. All they wanted was justice to be served and the killers to be shown to them face to face and then hanged.
After Army Public School attack, the military forces were spurred to eliminate militants in operations and Aurangzeb admitted that there was peace in places like Peshawar, Karachi and Punjab but sadly no peace at his home.
"I have resigned from my job. I don't enjoy life anymore. I go everyday to my son's grave as I find peace nowhere," said the grieving father of Hassan Zeb despite the fact that it has been almost three years now that he lost his son.
He regrets to have been unable to reach out to his injured son, who called him and wanted to be rescued but since army did not allow him in, he could not get in to save his son.
"My son was alive for 26 minutes and waiting for me to rescue him. But I was not allowed by forces there," the father recalls his helplessness.
Regrets and sense of loss is all he and his wife are left with. There are also three parrots — Choto, Moto and Guploo — their son's pets, who every minute of every day remind them that their son is no more.
"So what if we can't get justice here, there is a bigger court up there to hold the trial," Hassan's mother said with a sigh. If the APS attack victims' parents haven't had a closure as yet, is showing confession of a killer on TV without any visible remorse or sense of regret on his face to bring any lasting peace. No way!
Published in Dawn, April 28th, 2017
https://www.dawn.com/news/1329719/confession-of-militant-renews-pain-of-aps-attack-victims-parents
--------
Key ISIS leader among 45 killed in Nangarhar province
Apr 28 2017
At least forty five militants of the Islamic State of Iraq and Syria (ISIS) terrorist group were killed during the clearance operations in eastern Nangarhar province of Afghanistan.
The Ministry of Defense (MoD) said the group's leader in charge of communications and relations Qari Nafiz was among 36 killed during the airstrikes and ground clearance operations in Achin district.
Several hideouts and a tunnel used by ISIS militants were also destroyed during the operations.
MoD further added that 9 ISIS militants were killed and two others were wounded during a separate operation conducted in Haska Mina district.
According to MoD, the operation in Haska Mina involved airstrikes but no further details were given if the airstrike was carried out by the US forces or the Afghan Air Force.
Nangarhar is among the relatively calm provinces in eastern Afghanistan but the anti-government armed militant groups have recently increased their insurgency activities in some parts of the province during the recent years.
Both the Afghan and US forces conducted regular strikes against the loyalists of the terror group in this province.
The increased raids, usually involving drone strikes, by the US forces followed a broader role granted by the Obama administration earlier last year.
http://www.khaama.com/key-isis-leader-among-45-killed-in-nangarhar-province-02665
--------
Southeast Asia
Malaysia PM Warns Uneven Growth Could Fuel Extremism, Instability in SE Asia
April 28, 2017
By Karen Lema and Neil Jerome Morales
MANILA (Reuters) - Malaysian Prime Minister Najib Razak on Friday warned that Southeast Asian countries needed to ensure their economic growth was inclusive, or risk marginalized populations turning to violent extremism or even overturning political systems.
Speaking at an event for entrepreneurs during the Association of South East Asian Nations (ASEAN) summit in Manila, Najib said the region was posting strong growth that could see ASEAN become the world's fourth-largest economy, but that growth needed to be equitable.
"We do not want our citizens to be marginalized in the age of extremism and radicalization," he said.
"We know that those who see no hope in their own societies are more prone to the siren calls of terrorists who can and exploit their vulnerability and fill them with their lies."
Islamist extremism is expected to be high on the agenda during this week's meetings, with fears for Indonesia, Malaysia and the Philippines about piracy and the rising threat of Islamic State.
Of particular concern is the ease in which militants can acquire weapons, seek refuge with existing rebel groups and move between the many islands between the three countries.
Najib lauded the success of ASEAN, which is celebrating its 50th anniversary this year, in expanding its collective GDP to about $2.7 trillion now, from $87 billion four decades ago.
ASEAN has 10 members: Thailand, Myanmar, Laos, Cambodia, Vietnam, Singapore, Brunei, Malaysia, Indonesia and the Philippines.
He warned that economic disparity was dangerous at a political level too, fuelling anger and populism that was causing problem in Western Europe.
"The neglected underclass of those who felt left behind by economic growth, prosperity and globalization can overturn elections and political systems," he said.
Economists frequently point out huge income gaps among the 620 million people of Southeast Asia, a region that has one of the world's largest concentrations of billionaires, according to Forbes Magazine.
Najib said awareness of ASEAN needed to be better promoted among its citizens to "make it feel real, relevant and tangible". Trade integration was lagging, he said, with too many trade tariffs still in existence.
Their removal, and harmonized customs standards, needed to be "vigorously pursued", he said.
Philippines Vice President Leni Robredo echoed Najib's call for leaders to pay more attention to their poor.
"For many years, many thought income inequality was alright. But the voiceless and the powerless are now raring to be heard, and with technology and social media, their frustrations are being felt on a global scale," she said in a speech.
"They are rejecting globalization, democracy, traditional media."
https://www.usnews.com/news/world/articles/2017-04-28/malaysia-pm-warns-uneven-growth-could-fuel-extremism-instability-in-se-asia
--------
Malaysia's Zilzar.com aims to be the Alibaba of the Muslim world
2014-10-31
Malaysia is eyeing a leadership position in the $2.5-trillion Muslim consumer market with the launch of Zilzar.com, the world's first global Muslim Lifestyle Marketplace platform.
At the 10th World Islamic Economic Forum (WIFE) in Dubai on Wednesday, Prime Minister of Malaysia Dato' Sri Mohd Najib Tun Abdul Razak officiated the launch of Zilzar in collaboration with MasterCard.
A report published by Bernama and posted in the Prime Minister's website quoted Najib as saying that he hopes Zilzar.com "could be as successful as Alibaba in the Chinese market" and lead global halal trading.
"The environment and conditions are perfect for this new innovative partnership for economic growth," he was quoted as saying in the report. "What Alibaba is to the Chinese market, Zilzar.com can be for the Muslim lifestyle sector, creating new businesses and jobs and bringing Islamic finance to new markets."
Zilzar describes its technology as a business-to-business (B2B) and business-to-consumer (B2C) global information, content, community and transaction platform targeting millions of globally dispersed halal Small Medium Enterprises (SMEs) that want to grow by accessing new markets and customers. Its promise: credible and halal-certified sellers.
On Zilzar, a seller can create a digital storefront and apply for certifications. A buyer, on the other hand, can visit the storefronts and seller profiles, review their certifications and send buying requests or quotations for the products and services on display.
The platform has a mobile app for both buyers and sellers with real-time messaging functions. Everyone can "follow" buyers and sellers on the platform and receive push notifications for relevant announcements from the community.
Zilzar promises to support the entire halal ecosystem offering not only information and content but engaging them across sectors.
Leading the company are experts from Islamic finance, halal industry, technology and payments, including MasterCard, which is its strategic payments partner.
Its chairman, Dato Vaseehar Hassan Abdul Razak, is adviser and board member of
Asian Finance Bank Berhad, independent director RHB Banking Group, and former board member of the RHB Islamic Bank.
Its CEO, Rushdi Siddiqui, is a member of the Board of Advisors of Falah Capital in the US, global head for Islamic Finance/OIC countries for Thomson Reuters, global director of Dow Jones Islamic Market index.
Its chief technology officer, Fahad Moti Khan, is a career entrepreneur with 16 years of experience in online business models, Internet technologies and social media. He founded BitGiving.com & BitGifting.com, was advisory director at Technology 9 Labs, and at age 18 was the CTO of Tehelka. com, India's popular independent news portal.
Siddiqui said in a news release that the world is looking for the next BRICS story, growth market with growth demographics, and Zilzar is looking to be the e-vehicle for the halal super-highway.
"Zilzar will meet the needs of all parties by providing a more centralized and accessible online hub, a one-stop shop where products can be marketed globally, safely and ethically," he said.
The collaboration will see MasterCard offering its expertise in payment technology to support Zilzar.com's infrastructure and provide a safe, secure and scalable payments.
"MasterCard is delighted to be able to partner with Zilzar to deliver seamless payment services for this impressive best-of-breed platform," said Safdar Khan, group country manager, Indonesia, Malaysia and Brunei; group head, Islamic Payments, Southeast Asia, MasterCard.
He said the payments infrastructure set up for Zilzar.com is designed to enable merchants and consumers to perform secured transactions with ease and convenience.
The Muslim lifestyle market
Zilzar said in a video presentation that the Muslim lifestyle industry is a consumer driven marketplace of more than two billion people driven by core Islamic injunctions, prayer practices and dietary requirements.
The global Islamic economy is supported by eight sectors – halal food/beverage ($1.08 trillion), Islamic finance ($1.5 trillion), clothing/fashion ($224 billion), media/recreation ($151 billion), Muslim travel/tourism ($140 billion), pharmaceutical ($70 billion), cosmetics ($23 billion), and logistics ($15 billion).
"It is a growing industry with promising growth demographics, but the growth is currently dominated by a few big players. Worldwide, suppliers and exporters, especially SMEs, are constantly looking to move to bigger and newer markets for their halal products and services, whereas buyers from all over the world are seeking reliable halal suppliers with recognized certifications," it said.
At the 10th WIEF in Dubai, co-organized by WIEF Foundation and the Dubai Chamber of Commerce & Industry, experts called on the Muslim world to focus on efforts to rediscover Islamic principles and promote regional cooperation.
Full report at:
https://www.enterpriseinnovation.net/article/malaysias-zilzar-com-aims-be-alibaba-muslim-world-79921299
--------
Malaysia: Nationalist group raises spectre of historic May 13 racial riot
27th April 2017
A COLLECTIVE of groups from Malaysia's ethnic-Malay majority has warned of a repeat in sectarian violence that rocked the country in the 1960s, amid escalating tensions with a minority Indian-based NGO that purportedly questioned the rights of Muslims.
The group – comprising 22 Malay NGOs on Wednesday – said it had formed a new front to defend Islam against "rude and dominant" groups from other races.
The newly-formed Barisan Bertindak Melayu Islam (Bertindak) says the Indian group has struck a raw nerve with Muslims in the country by demanding the deportation of controversial Muslim preacher Dr Zakir Naik back to India, where he is being sought after by authorities.
In a tit-for-tat response to concerns raised over Zakir, the group has also called on the government to review the granting of citizenship to 1.75 million non-Malays between 1957 and 1970.
Zakir, who was previously barred from entering the UK and Canada for his extremist views, is now wanted by authorities in India over allegations of propagating terrorism and money laundering.
At a meeting announcing its formation, Bertindak directed its anger at the Hindu Rights Action Force (Hindraf) and its leader P. Waythamoorthy who have been protesting Zakir's presence in the country and the government's move to provide him permanent residency (PR) status.
"But today's meeting, with its slogan 'Melayu Bangkit' (rise of the Malays) is to remind and give a stern warning to the individual named P. Waythamoorthy and Hindraf, and those who behave like P. Waythamoorthy and Hindraf, to not continuously touch on Islam and Malay rights, akin to being thorn in the flesh," Bertindak secretariat head Mohd Khairul Azam Abdul Aziz said, as quoted by the Malay Mail Online.
"Because the effect of this can bring about untoward threats and we are worried the dark history of May 13, 1969, would recur."
Minority groups have long accused their nationalist opponents of fanning racial intolerance and stoking fear of the Sino-Malay racial riots of May 13, which left several hundreds dead following the aftermath of the 1969 elections.
The riots led to the government's implementation of affirmative action, the controversial New Economic Policy, which favours the Malay majority on mostly economic fronts.
The new nationalist movement is also opposing the minority groups' attempts to amend laws concerning unilateral conversions. With a 60 percent majority Muslim population, the issues of conversion and apostasy in Malaysia are controversial, especially in relation to cases involving unilateral child conversions where contrasting rulings would be made by the Civil and Syariah courts.
The movement is also defending a bill known as "Hadi's Bill", to amend Act 355 of the Shariah Courts (Criminal Jurisdiction) Act 1965, which proposes harsher punishments to replace current sentences that have long been implemented under the civil system. Minority groups have opposed the amendments, citing concerns it would affect national unity.
Full report at:
https://asiancorrespondent.com/2017/04/malaysia-nationalist-group-raises-spectre-historic-may-13-racial-riot/#6o6P0LJlH3yggp1x.97
--------
US continues resettlement of Rohingya Muslims
April 28 2017
The United States has continued to resettle Rohingya refugees who escaped persecution in their homeland and took shelter in Medan, North Sumatra.
Since February, the US has kept a commitment to accept some of the refugees who washed ashore in Aceh two years ago, despite President Donald Trump's controversial order to tighten control on immigrants from six Muslim-majority countries.
http://www.thejakartapost.com/news/2017/04/28/us-continues-resettlement-rohingya-muslims.html
--------
India
'Sajjan Jindal Secretly Meets Nawaz Sharif In Pakistan's Murree, Violates Visa', Says Pakistani Media
Apr 28, 2017
NEW DELHI: Steel tycoon Naveen Jindal's brother Sajjan "secretly" met with Pakistan prime minister Nawaz Sharif on Wednesday, reported Pakistani media, adding that in meeting at Murree, the Indian violated the terms of his Pakistani visa.
The meeting, which set off speculation in the neighbouring country's media that Prime Minister Narendra Modi was using "back channels" to arrange talks with Pakistan, is now under a bigger and darker cloud over the visa issue.
Jindal is chairman and managing director of JSW Steel.
TOI reported in 2015+ that it might have been Jindal who facilitated the impromptu Christmas day meeting that December between Modi and Sharif. The government denied it.
Pakistani media speculated further that the meeting "was part of back-channel diplomacy to arrange a meeting between the Pakistani and Indian prime ministers on the Shanghai Cooperation Organisation (SCO) summit" to be held in June in Astana, Kazakhstan, as The Express Tribune wrote.
Pakistan's Samaa TV, which said it accessed Jindal's travel documents, revealed that the Modi aide was exempt from police reporting in Lahore. Not just that, he then violated his visa to meet the Pakistani PM at his residence in the hill town of Murree.
"The Indian steel magnate headed straight to Murree upon arrival in Pakistan even though his visa did not specify that he could travel to the hill station... Jindal's visa, bearing the number 769903, issued on April 25, 2017 allowed the holder to visit only Islamabad and Lahore," wrote another Pakistani newspaper, The Express Tribune.
At first yesterday, Pakistan's foreign office spokesman claimed his office was unaware about any such meeting. Later, as almost everyone got wind of it, Sharif's daughter confirmed the meeting between "old friends" Jindal and her father, but said nothing about where it was held.
Pakistan's Express Tribune also called Jindal a sort of "facilitator".
"A common friend of Nawaz and Modi, Jindal is thought to be an interlocutor or, at times, a facilitator in some meetings between the two heads of government during the past three years," it wrote today.
Recently, senior government officials and diplomats told the newspaper that a meeting between Modi and Sharif, soon, is "very much possible" and at the SCO meet in Kazakhstan.
Bilateral tensions between the two neighbours have been higher than ever after a Pakistani military court sentenced Indian national Kulbhushan Jadhav to death+ "because he was an Indian spy".
Still, the two countries' Prime Ministers may well meet on the sidelines of the SCO meet because "influential countries in the SCO are pushing Pakistan and India to re-engage so as to ensure that the next summit is held in a conducive environment," a senior Pakistani diplomat told the newspaper 10 days ago.
The SCO includes Russia, China, Central Asian States, Pakistan and India. Pakistan and India are set to become full members of the SCO in the upcoming conference in June.
In fact, the two sub-continental countries were admitted to the SCO on the condition they work together to improve their bilateral ties as well as promote the interest of the organisation
"That was one of the main reasons that both Prime Minister Nawaz Sharif and his Indian counterpart Narendra Modi met in Ufa, Russia+ at the sidelines of SCO summit in 2015," wrote the Tribune.
http://timesofindia.indiatimes.com/india/sajjan-jindal-secretly-meets-nawaz-sharif-in-pakistans-murree-violates-visa-says-pakistani-media/articleshow/58410212.cms
--------
Matter of concern that even after 8 years 26/11 perpetrators enjoy freedom in Pak: India
Apr 27, 2017
NEW DELHI: Demanding immediate action against the perpetrators of the 26/11 attack, India on Thursday said it was a matter of concern that even after eight years of the strike, they continue to enjoy freedom in Pakistan.
External affairs ministry spokesperson Gopal Baglay's remarks came amid reports that Pakistan has rejected a re-investigation of the Mumbai attack case, and has again demanded "concrete" evidence against Hafiz Saeed, the mastermind of the strike.
"It is the Pakistan government's responsibility to bring to book the perpetrators and all those involved in conspiring, executing and mounting the 26/11 attack in which 166 people were killed."
"It is a matter of concern that well after eight years of the attack, the perpetrators continue to enjoy freedom in Pakistan and have not been brought to book," he said.
However, Baglay did not specifically comment on reports from Pakistan that it has told India that a re-investigation of the Mumbai attack case was "not possible" as the trial was at an advanced stage and demanded "concrete" evidence against Saeed, saying he was not aware of any such development.
Asked about an incident involving a Sikh girl in Pakistan who was forced to convert to Islam, he said such incidents are regularly reported from that country, and it was the responsibility of the government there to ensure safety and security of its nationals, including minorities.
Full report at:
http://timesofindia.indiatimes.com/india/matter-of-concern-that-even-after-8-years-26/11-perpetrators-enjoy-freedom-in-pak-india/articleshow/58402103.cms
--------
Terrorists attack army camp, kill Captain, two other soldiers
Apr 27, 2017
SRINAGAR: Three heavily-armed terrorists on Thursday stormed an army camp in the Kupwara district of Kashmir, killing a Captain and two other soldiers before two of the assailants were gunned down in a fierce 35-minute encounter.
Soon after the encounter, a mob started pelting stones at the security forces, leading to a clash in which a 75-year-old civilian was killed due to a bullet injury.
At around 4am, three terrorists, dressed in black Pathani suit and combat jackets, entered from the rear side the artillery unit of the army garrison at Panzgam in Kupwara, about 100 kms from here, and started indiscriminate firing, army officials said here and in New Delhi.
They managed to cross the second security layer of the camp located in a mountainous terrain and spread over an area of 400 x 800 meters, the officials said.
Firing indiscriminately, the terrorists then advanced towards the officers' complex of the camp which houses about 1000 army personnel and is situated about 10 kms from the Line of Control (LoC) with Pakistan.
Soldiers took on the attackers and forced them back towards one of the gates of the camp, the officials said.
In the gunfight, Captain Ayush Yadav, Subedar Bhoop Singh Gujjar and Naik B Venkata Ramanna were killed.
Five other soldiers were injured and they were airlifted to Army's 92 Base Hospital in Srinagar.
The terrorists started fleeing as the Quick Response Team (QRT) of the army swung into action, the officials said.
Two terrorists were gunned down while a third one managed to escape under the cover of darkness, the officials said.
"The entire operation lasted 35 minutes," said Col Saurabh in Kupwara.
The troops recovered three AK rifles which indicated that there was a third terrorist, he said, adding search operations are underway to track him down.
"We have recovered three AK rifles, nine magazines, 156 AK rounds, one Chinese pistol, three UBGL grenades, three hand grenades, two radio sets, two GPS devices and a smartphone from the slain terrorists," another official said.
The official, on the condition of anonymity, said the attackers seemed to be foreigners but their identity was being ascertained.
As soon as the encounter ended, local residents held protest demonstrations, demanding that the bodies of slain terrorists be handed over to them for performing their last rites, a police official said.
Full report at:
http://timesofindia.indiatimes.com/india/terrorists-attack-army-camp-kill-captain-two-other-soldiers/articleshow/58401817.cms
--------
'Terror module ring leader drawn to IS through FB'
April 28, 2017 1:55 am
Investigation into the self-radicalised terror module recently busted in a joint operation by the police of six states has revealed that the ring leader was allegedly drawn to IS through a social networking site. According to sources in the Maharashtra Anti Terrorism Squad (ATS), Nazeem Shamshad Shah was impressed by jihadi thoughts while observing some clips on Facebook. "On FB, he started chatting on the topics of jihad," said an official.
Sources said he moved to Mumbra around four months ago for job, and started recruiting youth. "He wanted to do some sabotage work. His local connections are being explored and examined," said the official. The probe has also revealed that he was arrested in Saudi Arabia in 2016 in connection with a passport case.
Full report at:
http://indianexpress.com/article/india/terror-module-ring-leader-drawn-to-is-through-fb-4631188/
--------
Arab World
ISIL Appoints Belgian Emir in Deir Ezzur after Heavy Infighting
Apr 27, 2017
The sources said that the ISIL appointed a Belgian commander named Abu Maqatel al-Beljiki as their military Emir in Deir Ezzur and adjacent areas after clashes.
The infighting between the Arab and foreign terrorists erupted after ISIL gathered a large number of its 'Islamic Police' forces to attack the Syrian army in certain districts of Deir Ezzur and regions near Deir Ezzur airbase.
Also, heavy clashes were reported among ISIL members near the Science Academy and several other districts of Deir Ezzur city. A large number of terrorists were killed and wounded in the clashes.
Meantime, local sources reported that the ISIL commanders transferred a large number of residents of the town of Khasham to unknown places after Deir Ezzur people clashed with the ISIL militants in al-Ma'amel region in Northern Deir Ezzur, leading to the death of a group of ISIL members.
A local source in Eastern Syria said on Wednesday that six more ISIL members have been killed by unknown raiders in Deir Ezzur.
The source said that a number of unknown gunmen opened fire at a group of ISIL terrorists at the power company near al-Ma'amel square at the Northern entrance of Deir Ezzur city on Tuesday at night, killing six terrorists and wounding several more as they were going to an ISIL positions in the region.
The source said that the attack occurred only two days after a similar incident in Deir Ezzur, adding that after the attack, the ISIL terrorists stormed the region and residential buildings and arrested a number of men and youths.
Reports say almost 75 percent of ISIL members have been killed in air and ground operations in Iraq and Syria, decreasing the total number of the terrorist group's members from 60,000 to 12,000 up to 15,000.
The reports further said that after the killing of ISIL terrorists the group's female fighters have played a crucial role in terrorist operations, specially suicide ones, adding the total number of ISIL's female fighters stands at 500, mostly form the Europe.
http://en.farsnews.com/newstext.aspx?nn=13960207000526
--------
10 dead after strikes on rebel-held hospitals in Syria
27 April 2017
Air strikes on two hospitals in rebel-held northwestern Syria on Thursday left 10 people dead including two babies in incubators, a monitor said.
They were among 19 people killed as a result of strikes across rebel-held Idlib province on Thursday, the Syrian Observatory for Human Rights said.
An AFP correspondent in the village of Deir Sharqi, where one of the hospitals was hit, saw extensive damage and wards buried in rubble.
It was the third time in less than a week that medical facilities in the province, controlled by rebels and extremist groups, had been hit in air strikes.
"Apparently Russian aircraft... carried out four successive raids at dawn on a hospital on the outskirts" of Deir Sharqi, it said.
"Six civilians in the emergency department were killed, including two babies in incubators, after the destruction of the facility's oxygen generator" which was keeping them alive, Observatory chief Rami Abdel Rahman told AFP.
The AFP correspondent saw at least one destroyed incubator, rooms and corridors filled with rubble, and dusty or damaged beds and equipment.
In one room, a wall had collapsed on a medicine shelf and in another, medical supplies were strewn across the room.
Later in the day, four medical staff from a dispensary in Maarzita, in southern Idlib province, were also killed in what were likely Russian strikes, the Observatory said.
A further nine people including five children were killed in strikes on various other areas of Idlib province on Thursday, it said.
On Saturday, an air raid on another hospital in Idlib had wounded five people, the Observatory said, but it could not say whether the raid was Syrian or Russian.
Another hospital was hit Tuesday in northwestern Idlib, putting it out of service, Abdel Rahman said.
The Britain-based Observatory relies on a network of sources inside Syria and says it determines whose planes carry out raids according to type, location, flight patterns and munitions used.
Idlib is regularly bombed by the air forces of Syria and its Russian ally.
Full report at:
https://english.alarabiya.net/en/News/middle-east/2017/04/27/10-dead-after-strikes-on-rebel-held-hospitals-in-Syria.html
--------
Iraqi volunteer forces liberate Hatra city southwest of Mosul
Apr 27, 2017
Iraqi fighters from the Popular Mobilization Units have managed to gain complete control of the ancient city of Hatra southwest of Mosul, as they are helping government troops with battles to drive Daesh Takfiri terrorists out of their last urban stronghold in the Arab country.
The media bureau of the pro-government forces, commonly known by the Arabic word Hashd al-Sha'abi, announced in a statement on Thursday that fighters from the 2nd and 11th brigades had liberated Hatra, located 110 kilometers southwest of Mosul, and are purging the western outskirts of the city of the Daesh Takfiris.
The statement added that Hashd al-Sha'abi forces were currently clearing Hatra of hidden explosive devices laid by the terrorists.
'Daesh holds only four districts in western Mosul'
Meanwhile, a high-ranking Iraqi military figure says the Daesh extremists were only in control of four neighborhoods in the western part of Mosul.
Sabah al-Nuaman, a spokesperson of the Counter-Terrorism Service (CTS), said the elite forces had delivered a fairly harsh blow to Daesh by retaking al-Tenek district, where some 500 militants had been killed in security operations.
He added that only four neighborhoods were controlled by the Daesh extremists in the western part of Mosul.
Furthermore, Hashd al-Sha'abi fighters have reclaimed control over Jadida village on the western outskirts of Mosul.
The United Nations says nearly half a million civilians have fled fighting since the offensive to retake Mosul from the Daesh terrorists started on October 17, 2016.
The UN Office for the Coordination of Humanitarian Affairs said on April 17 that 493,000 people had been displaced from the city, located some 400 kilometers north of the capital Baghdad.
As many as 500,000 civilians are still trapped in Daesh-controlled neighborhoods of western Mosul.
Full report at:
http://www.presstv.ir/Detail/2017/04/27/519679/Iraq-Hatra-Daesh-Takfiri-Mosul
--------
Al-Nusra's Defence Lines in Eastern Damascus Shattered after Army's Extensive Advance
Apr 27, 2017
The army forces regained control of vast areas in the Southern parts of al-Qaboun in Eastern Damascus after heavy clashes with al-Nusra terrorists.
A military source said that the army soldiers killed and wounded several militants and held captive two al-Nusra terrorists.
Noting that the terrorists are confused by the army's rapid advance, he said they have demanded fresh forces and logistics from their comrades in other regions.
The source said that the terrorists have also withdrawn from the remaining residential blocks in the battle zone.
In a relevant development on Wednesday, the the Syrian army, supported by the air force, launched military operations against al-Nusra Front in Eastern Damascus and won control of several points in al-Qaboun district.
The army units heavily clashed with the terrorists in the Northeastern parts of al-Qaboun and drove them out of several farms and residential blocks.
Full report at:
http://en.farsnews.com/newstext.aspx?nn=13960207000853
--------
ISIL Withdraws from Strategic Region in Homs
Apr 27, 2017
The Syrian army units engaged in heavy clashes with ISIL terrorists in the Northeastern parts of Homs and regained control of one of the most strategic areas in the region between the villages of al-Masoudiyeh and Khattab in the outskirts of al-Makhram city after inflicting several casualties on the militants and destroying their weapons and military equipment.
Meantime, other army forces heavily clashed with al-Nusra Front (also known as Fatah al-Sham Front or the Levant Liberation Board) terrorists at several points near al-Houleh region in Northwestern Homs.
Concurrent with the clashes, the missile, artillery and air force units targeted al-Nusra's positions in Kafar Laha, Western al-Taybat, Tal Zahab and Taldou, blowing up an operation base of al-Nusra and military vehicles and wounding a large number of terrorists.
In a relevant development on Wednesday, the Syrian army continued operations in the Eastern parts of Homs province, and extended the range of its advances in regions near the ancient city of Palmyra (Tadmur).
The Syrian army units engaged in fierce clashes with ISIL terrorists in Badiyeh (deserts) of Palmyra South of the city and regained control over vast areas near al-Abtar mountain after killing several ISIL members.
Meantime, the Syrian air force pounded ISIL's positions and moves in areas near the wheat silos and al-Sukhneh region, destroying a number of military vehicles and inflicting losses on the terrorists.
Also, the army's artillery units targeted the ISIL bases in al-Sawame' (wheat silos) region, smashing 3 military vehicles.
Also yesterday, the Syrian army's artillery and missile units along with the country's Air Force hit hard the positions of ISIL in Eastern Homs and al-Nusra Front in Northern and Northwestern parts of the province, inflicting tens of casualties on the terrorists.
The warplanes carried out several combat flights over ISIL's positions and movements in the regions of Um al-Raman, Fat'hat al-Mahasah, Ibn Arsan mount, East of the city of Palmyra (Tadmur), al-Bardeh and East of the town of al-Quaryatayn in Eastern, Southeastern and Southern Homs, killing a number of terrorists, including several non-Syrians.
Full report at:
http://en.farsnews.com/newstext.aspx?nn=13960207000390
--------
Syrian Army Wins Control of Key Energy Field in Homs
Apr 27, 2017
The army forces clashed with ISIL terrorists in Eastern Homs concurrent with the Syrian and Russian fighter jets' airstrikes, inflicting heavy casualties on the militants and seizing back control of Sha'er gas field and several nearby oil wells.
The army forces also won back control of the hills and mountains overlooking Sha'er gas field which were occupied by the ISIL for nearly one year.
The army units also recaptured the Sha'er gas company from the ISIL terrorists.
A military source said that the ISIL has set fire on the oil wells while retreating from the region, and added that the Syrian army continued advance towards other oil wells in al-Sha'er region.
Also a field source said that the Syrian army troops have secured the Northern countryside of Palmyra, putting pressure on ISIL-held territories in Eastern Hama and Homs.
The Source added that if the Syrian soldiers decide to move further northwards, they can retake around 100 ISIL-held villages from the Takfiri terrorists.
The army men had on Tuesday engaged in fierce clashes with ISIL terrorists Northeast of Palmyra, winning control over several strategic positions near al-Sha'er gas field and killing over 25 terrorists.
A field source meantime said that the army soldiers won back Heights of 1,062-1,132-1,108-7 and 969.
Full report at:
http://en.farsnews.com/newstext.aspx?nn=13960207000248
--------
At UN, US calls for pressure on Russia to try to end Syria war
28 April 2017
The US ambassador to the United Nations, Nikki Haley, pushed the UN Security Council on Thursday to focus "all eyes and all pressure" on Russia to try and end the Syrian conflict and pressed for council action even if it faces a veto by Moscow.
"They are the ones who could stop this if they wanted to," Haley said of Russia, an ally of Syrian President Bashar al-Assad during his country's six-year-long civil war. "We need to put pressure on Russia."
Russia has vetoed eight resolutions on Syria to shield Assad's government from action, most recently blocking a council condemnation of a deadly chemical weapons attack that killed dozens of people, many of whom were children. China has backed Russia and vetoed six resolutions.
"I will continue to press the Security Council to act, to do something, regardless of if the Russians continue to veto it because it is our voice that needs to be heard," Haley told a Security Council meeting on aid access in Syria.
"Russia continues to cover for the Syrian regime, Russia continues to allow them to keep humanitarian aid from the people that need it, Russia continues to cover for a leader who uses chemical weapons against his own people," she said.
Responding to Haley's remarks, Deputy Russian UN Ambassador Petr Iliichev told the council that Russia, Iran and Turkey were working to ensure compliance with a cessation of hostilities to allow delivery of humanitarian aid.
Full report at:
https://english.alarabiya.net/en/News/middle-east/2017/04/28/At-UN-US-calls-for-pressure-on-Russia-to-try-to-end-Syria-war.html
--------
President Assad outlines US, Israeli plots against Syria
Apr 27, 2017
Syrian President Bashar al-Assad has accused the Israeli regime of providing weaponry and logistical support for terrorists wreaking havoc in the Arab country, saying its proof could be easily accessed on the internet.
In an interview with Venezuela's Telesur television broadcast on Thursday, Assad said Tel Aviv's role in the war on Syria included its involvement in a "direct aggression" against Syrian army positions by using warplanes, artillery or missiles.
"Second, it is supporting terrorists in two ways: first by providing direct support in the form of weapons, and second by providing logistic support, i.e. allowing them to conduct military exercises in the areas it controls. It also provides them with medical assistance in its hospitals," he added.
The Syrian president stressed that those allegations against Israel "are not mere claims or assumptions."
Rather, "they are facts, verified and published on the internet which you can easily access as proven evidence of the Israeli role in support of the terrorists in Syria," he said.
Israel has carried out multiple attacks on Syrian government positions since the foreign-sponsored militancy erupted in March 2011. Damascus says the raids aim to help Takfiri militants fighting against government forces.
Earlier on Thursday, Syria said Israel had fired several missiles at a military position near Damascus airport, triggering a huge explosion.
Elsewhere in his remarks, the Syrian president said terrorists have used chemical materials "more than once … and in more than one region" in Syria.
He accused the US of having obstructed a probe by the Organization for the Prohibition of Chemical Weapons (OPCW) into a suspected chemical attack in Syria, which the West blamed on the Damascus government.
At least 87 people were killed in the purported gas attack on the town of Khan Shaykhun in Syria's Idlib province on April 4. Damascus said the incident was a "fabrication" to justify the subsequent US missile strike on Shayrat Airfield in Homs province.
"We still insist on an investigation, and we and our Russian and Iranian allies are trying to persuade OPCW to send a team to investigate what happened, because if it doesn't, the United States might repeat the same charade by fabricating the use of false chemical weapons in another place in Syria in order to justify military intervention in support of the terrorists," Assad said.
US lies about Syria possessing chemical weapons
Furthermore, the Syrian president rejected Pentagon claims that Syria had chemical weapons, saying the Americans lie for their own interests.
"This is what characterizes American politicians: they lie on a daily basis, and say something and do something different," he said.
"That's why we shouldn't believe what the Pentagon, or any other American institution says, because they say things which serve their policies, not things which reflect reality and the facts on the ground," he added.
Full report at:
http://www.presstv.ir/Detail/2017/04/27/519706/Israel-Syria-Bashr-Assad
--------
Pakistan
Glorification of terrorists can't be allowed: Pemra
Apr 28, 2017
ISLAMABAD - The Pakistan Electronic Media Regularity Authority (PEMRA) on Thursday barred a private television channel from airing interview of former Tehreek-e-Taliban Pakistan (TTP) spokesperson Ehsanullah Ehsan.
"It has come to PEMRA's notice through monitoring that private TV channel Geo News in its programme "Jirga" which is hosted by journalist Saleem Safi is going to broadcast the interview of Ehsan Ullah Ehsan today, on Thursday, April 27. This is a clear violation of PEMRA's directives that it had issued under the National Action Plan and Section 3(3) of Electronic Media Code of Conduct, 2015," the regulatory body said in a statement issued here on Thursday.
It said that the TTP is a terrorist organisation and Ehsan Ullah Ehsan has been a spokesperson for this terrorist outfit. "During the last several years, he has taken responsibility for the mass murder of Pakistani nationals through terrorist activities across the country. Thousands of children, men, women civil and military officials lost their lives due to the heinous crimes of his terrorist organisation. It is quite heart-wrenching and deeply disturbing for the loved ones of those martyred in terrorist acts to see the member of a terrorist outfit appearing on TV screens in any capacity/mode, a known militant who earlier would claim responsibility for acts of massacre," the PEMRA statement said.
"Ever since promo of the interview of Ehsan Ullah Ehsan was aired on Geo News, PEMRA received a number of complaints through What'sApp, SMS, Facebook, Twitter and PEMRA's call centre. The complainants expressed their anger and anguish asking PEMRA to stop airing of the programme. Before the situation gets even worse, PEMRA through an order has prohibited Geo TV from airing the interview of Ehsan Ullah Ehsan in the said programme "Jirga" as well as its promo," it said,
As per PEMRA's Rules and Code of Conduct (CoC) 2015, glorification of terrorists cannot be allowed except the confessional statement which has already been released by the investigating agency. Even in that statement, only the selected parts are allowed to be aired which do not, in any manner, glorify a terrorist and his terrorist setup. In the case of non-compliance of PEMRA's decision, strict action will be taken against the violators under Sections 29 and 30 of PEMRA Ordinance 2002 as an amendment by PEMRA Act 2007, the statement concluded.
http://nation.com.pk/national/28-Apr-2017/glorification-of-terrorists-can-t-be-allowed-pemra
--------
5 terrorists killed in Mand encounter
April 28, 2017
QUETTA - Five militants of a proscribed outfit were killed in an armed encounter with security personnel in Mand area on Thursday.
Two security men also sustained injuries.
As per Balochistan Frontier Corps press release, the FC men and other intelligence agencies conducted a search operation on a tip-off against terrorists in Ghwak area of Mand.
The terrorists started firing on security forces, and in retaliatory fire, five terrorists of a banned militant outfit were killed while two Frontier Corps men sustained wounds.
The security forces also seized 4 kg explosives, SMGs, pistol and remote-controls from the possession of terrorists.
The terrorists, who were gunned down, were involved in subversive activities in Mand and surrounding areas, read the FC press release.
The area is highly restive, as four men of Frontier Corps Balochistan were killed when a landmine targeted the security convoy on last Sunday in Turbat while three other law men were wounded in the IED explosion. The attack was claimed by the militant organisation, the Balochistan Liberation Front (BLF).
FIVE BODIES RECOVERED IN KECH
INP adds: Grief and sense of insecurity gripped the area after security forces recovered bullet-riddled bodies of five people in Kech on Thursday.
Levies sources said that bodies of five people were found lying in an unpopulated area of Mand in district Kech. The deceased stated to be locals were apparently shot dead from point blank range.
Full report at:
http://nation.com.pk/national/28-Apr-2017/5-terrorists-killed-in-mand-encounter
--------
Police Arrest 22 After Lynching Of Pakistani Student Falsely Accused Of Blasphemy
04/27/2017
A mob of enraged Muslim students in Pakistan murdered a journalism student on Apr. 13 because he allegedly blasphemed Islam. Now police have arrested 22 people for the crime, The Washington Post reports.
This week, everyone affected is considering what happened, given how no blasphemy occurred.
Mashal Khan, 23, was studying at a university in northwestern Pakistan and considered a paragon of youthful potential in his home community. But when he was accused of blasphemy, he couldn't a friend.
He found a lot of enemies and earlier this month when a group of them attacked Khan, beat him up and shot him dead. His family received no consolation from neighbors who ran in the other direction. The local imam wouldn't even give the young man a funeral.
Later, the facts began to surface, facts that indicated Khan hadn't blasphemed anyone or anything. Turns out the university officials and radical Muslim students who made the charges got it wrong.
Police investigated the "crime" and soon revealed that none had been committed. This week, the neighbors returned to express their condolences to the Khan family.
It is a chilling warning about the dangers posed by over-zealous Muslim students who support a faith that often demands brutal punishment for what the democratic world views as free speech.
"I lost my son, my friend and my light. It shattered my world," said his social worker and poet father, Iqbal Khan Iqbal. "But my greatest sorrow was that no one in the village came to offer condolences."
Iqbal says his son may have had eclectic interests that included Sufi mysticism, may have been opinionated, but he was always a devout Muslim. His father cannot believe that the son was murdered by other students, who may have been encouraged in their act by university fanatics who were angry that Khan objected to some university policies.
"Universities are places of learning and knowledge," Iqbal said. "If such incidents are taking place there, what can we expect from the rest of society?"
The lynching did prompt a huge outcry in overwhelmingly Muslim Pakistan. It may be a seminal moment in the continuing debate in this country over whether blasphemy against Islam should remain a capital offense deserving of the death penalty.
Pakistan Prime Minister Nawaz Sharif condemned the murder and urged other Pakistanis to do so too. But the country's National Assembly reacted to the murder not by reconsidering the blasphemy law but by issuing a statement about the need to ensure that the blasphemy law is not misused by mobs who take the law into their own hands.
Though Pakistan's anti-blasphemy does not routinely result in executions for those found guilty of violating it, it has been used to attack religious minorities and can result in vigilante justice if people think an accused offender is going to escape the death penalty.
Khan's murder illustrates both factors. He had alienated Muslim extremists — both students and faculty — at his university and he was lynched by a mob who suspected he might get off easy.
Full report at:
http://dailycaller.com/2017/04/27/police-arrest-22-after-lynching-of-pakistani-student-falsely-accused-of-blasphemy/
--------
Pakistan refuses ADB loan for railway as China becomes sole financier
KHALEEQ KIANI
Apr 28, 2017
ISLAMABAD: Pakistan has refused part financing from the Asian Development Bank (ADB) for the $8 billion Karachi-Peshawar Railway Line (ML-1) after China said it wanted to fund the project single-handedly.
"China strongly argued that two-sourced financing would create problems and the project would suffer," Minister for Planning and Development Ahsan Iqbal told a news conference on Thursday.
The minister said he would not comment whether the Ministry of Railways has resisted the Chinese request for fears of monopoly, but said the entire financing would now come from China. The project was originally planned to be partly funded by the Manila-based ADB.
Minister claims Planning Commission saved Rs560bn in four years
He said the ADB would be accommodated in some other projects, such as those under the Central Asian Regional Economic Cooperation programme.
Under the original plan, the ADB had to provide $3.5bn for the 1,700-kilometre-long line considered the backbone of the country's logistics connecting two major ports with the rest of the country for transporting goods and passengers.
The minister said the Chinese government therefore wanted that the project financing should be kept single-sourced. Pakistan and China are expected to sign a formal agreement in this regard next month.
Mr Iqbal said the Planning Commission was making efforts to maximise allocation of funds for the next year's development programme as it would be the final year of the current government. Therefore, the government would like to complete maximum number of projects during this period so as to support the growth momentum.
He said it was also important to have larger development portfolio for the next year because it would trigger activity in the construction industry on which a number of other growth-oriented industries were dependent because of its potential to create jobs.
"But we also have to balance ways and means," he said, adding that the Planning Commission demanded Rs1 trillion for the of next year's public sector development programme (PSDP), but the finance ministry has put a ceiling of Rs700bn.
He said the finance minister and the prime minister would be requested to increase development allocations. The minister said the annual plan coordination committee would meet on May 17 to finalise next year's development programme. And for a formal approval, the Planning Commission has proposed a meeting of the National Economic Council on May 21 or 22, depending on prime minister's availability.
Mr Iqbal said that since the current government came to power in 2013, the commission has saved Rs560bn by cutting project costs, transparency and scrutiny.
This included $1.6bn saving in highway projects under the China-Pakistan Economic Corridor (CPEC) and Rs70bn in Jamshoro Coal Power Project. He said another $1bn saving has been secured from three liquefied natural gas–based power projects through competitive bidding by the executing agencies.
He said the increased development portfolio has exposed the capacity of the various ministries and executing agencies to process a massive workload. Also, these agencies have formulated their project papers on the basis of feasibility studies prepared by international consultants.
Mr Iqbal said the government has decided not to include any major project in the PSDP without completion of technical designs and financial closures. Previous governments included thousands of projects through "token allocations" without protecting major ongoing projects, he added.
He said it was observed that 70pc of cost overruns were resulting because of inadequate financing in the PSDP. For example, the Bolan Medical College was started by former prime minister Zulfikar Ali Bhutto at an estimated cost of Rs7.5 million, but it was finally completed at a cost of Rs130m due to inadequate funding.
This also inflates projects' cost, delays implementation, and results in hundreds of white elephants like Neelum-Jhelum Hydropower Project, which was started at cost of Rs80bn but ended up costing more than Rs500bn because the project's design kept changing as the implementation progressed.
He said the government also revived some of the dead projects which had already consumed a lot of funds. Some of these included Quetta-Gwadar Highway (N-85) that was under suspension and was revived by the current government and made a connection under the western route of the CPEC.
Full report at:
https://www.dawn.com/news/1329651/pakistan-refuses-adb-loan-for-railway-as-china-becomes-sole-financier
--------
'Return of Afghans should be in line with international principles'
Apr 28, 2017
PESHAWAR: UNHCR Assistant High Commissioner for Protection Volker Türk has emphasised that voluntary return of Afghan refugees from Pakistan to their homeland should take place in line with international principles.
Talking to journalists here after visiting Voluntary Repatriation Centre (VRC) Chamkani on Thursday, he said that it was extremely important that return should take place in line with fundamental, international and protection principles.
"It is absolutely clear from our prospective that those Afghans, who do not want to avail return option, have the choice to continue their stay," Volker Türk told a questioner.
He said that principle of voluntary return meant that refugees should be able to exercise that choice whether to return or not. He said that UN had received strong commitment from Pakistani authorities that only voluntary return would take place.
Volker Türk said that government of Pakistan had adopted a comprehensive policy in last February that included visa regime and also ensured that repatriation happened in line with the international principles. In that regard the UN agency would support people and government of Pakistan, he added.
About reduction of cash grant from $400 last year to $200 for every refugee, who wants to go back to their country, he said that situation was exceptional last year. He said that donor countries had assured the Afghan government last year to carry out development works in areas where return would take place.
Over 700,000 registered refugees and undocumented Afghans had returned to their homes from Pakistan last year. The government had fixed December 2017 as last date for the return of registered refugees. Return of refugees resumed early this month.
Volker Türk said that National Development Programme was underway in Afghanistan and the UN agency wanted to work with the Afghan authorities to ensure that the programme make difference and change in the life of returnees.
He said that Afghan government was facing its own challenges and insecurity was one of them. He said that people of Afghanistan hoped for better access to services, land allocation and employment opportunities.
Volker Türk said that strong commitment from the Afghan government was going to work and the UN agency would support initiatives on the development side.
Full report at:
https://www.dawn.com/news/1329705/return-of-afghans-should-be-in-line-with-international-principles
--------
Three terrorists gunned down in Khanewal
April 28, 2017
KHANEWAL:- Foiling a major terror bid, the Counter-Terrorism Department (CTD), in an operation, killed three suspected terrorists here on Thursday. According to CTD spokesman, acting on a tip-off that four terrorists were hiding in Lakhi Tibbi area of Khanewal, the security officials raided the site and killed three terrorists in shootout. However, a terrorist managed to escape.–HAMMAD SHAH
According to CTD, the militants were planning for a terrorist activity and they were in the area of Jahanian, Lakhi Tibbi. On getting information, the CTD conducted a raid on the hideout. As the CTD personnel raided the hideout, the terrorists started firing at the security personnel. The forces retaliated and gunned down three alleged terrorists. However, one militant managed to flee.
Full report at:
The search operation is underway to arrest the remaining terrorists and their abettors.
http://nation.com.pk/national/28-Apr-2017/three-terrorists-gunned-down-in-khanewal
--------
Mashal murder report: ISI, MI, FIA men included in JIT, SC informed
April 28, 2017
ISLAMABAD - The Supreme Court was informed on Thursday that the representatives of ISI, MI, FIA and Special Branch have been included in the Joint Investigation Team to probe murder of Mashal Khan.
Mashal Khan, a 23-year-old student at the Abdul Wali Khan University, Mardan, was killed by an angry mob on the premises of the university on April 13, 2017 over allegations of posting blasphemous content on internet.
A three-judge bench, headed by Chief Justice of Pakistan Mian Saqib Nisar, heard the suo motu notice, which he had taken of the tragic incident.
The chief justice said the court does not like to interfere in the matter as it was not the job of court to investigate. He directed the Additional Advocate General Khyber Pakhtunkhwa that without wasting further time complete the investigation.
Additional Advocate General Khyber Pakhtunkhwa Waqar Ahmed submitted a progress report on behalf of the District Police Officer, Mardan.
According to the report, another 12 accused have been arrested as total 36 persons are in the police custody. Four arrestees are in remand of police and the rest 32 are in judicial lock-up at Central Prison, Mardan. AAG KP informed that out of 36 accused, 9 arrested persons, including Bilal Baksh, who instigated the mob to attack Mashal Khan, are the employees of university.
He submitted that the Director General prosecution has constituted three members team, which includes DPO Mardan as convener and two Public Prosecutors of ATA as members to assist the police in carrying out the investigation.
Three key witnesses have recorded their statements before the judicial magistrate under Section 164 of CrPc. The report further mentioned that six witnesses have recorded their confession before the judicial magistrate who admitted their involvement. The person who had fired at the deceased has been identified and the teams have been constituted for his arrest.
Waqar Ahmed informed that the arrested persons were taken to the crime scene for pointation of their role. All evidences collected from the crime scene have been sent for the forensic analysis. Further identification of persons going through video footage is also in progress. Further progress will be communicated.
Full report at:
http://nation.com.pk/national/28-Apr-2017/isi-mi-fia-men-included-in-jit-sc-informed
--------
South Asia
Taliban launches spring offensive, vows to carry out more attacks
Apr 28 2017
The Taliban militants group in Afghanistan announced the launch of their new spring offensive under the name of Mansoori, vowing to carry out more attacks across the country.
The group says the operation has been named after their former leader Mullah Akhtar Mansoor, claiming that they had major achievements on the political and military level under his leadership.
The group also claims that their operation will have two phases, a civilian phase to provide good administration and support to the civilians in the areas under their control, while the military phase will focus more on seizing more areas and carrying more attacks in the form of coordinated attacks, guerilla attacks, suicide bombings, insider attacks, target killings, and more.
The group says the operations have been launched at 5 am local time on Friday, the 28th of April, across the country.
Taliban called on the civilians to prevent from moving around the military bases, government compounds, military gatherings, and other government institutions to stay safe from the attacks.
The group has launched its spring offensive hours after the United Nations Assistance Mission in Afghanistan released its civilian casualties report, stating that 715 civilians were killed in the past three months while 1,466 others were wounded.
The UN mission said anti-Government Elements caused 62 per cent of civilian casualties – 1,353 civilian casualties (447 dead and 906 injured), reflecting a five per cent increase compared to the same period in 2016.
http://www.khaama.com/taliban-launches-spring-offensive-vows-to-carry-out-more-attacks-02666
--------
Ex-Afghan defence officials appointed as ambassadors after base attack
Apr 27 2017
The two top Afghan defense officials General Abdullah Habibi and Gen. Qadam Shah shaheem have been appointed as the ambassadors to Jordan and Kazakhstan.
A spokesman for the Chief Executive Office Dr. Mujib-ur-Rehman Rahimi told reporters that the two top ex-defense officials were appointed as ambassadors for the sake of their safety.
In response to a question regarding the step by the government, Dr. Rahimi said the former defense minister Abdullah Habibi and the former army chief of staff Qadam Shah Shaheem are not originally the main officials to be blamed for the attack on 209th Shaheen Corps of the Afghan army in Balkh.
He said the two ex-officials have served with the defense forces for a relatively longer period of time besides they have served during the period of Jihad.
Gen. Habibi and Gen. Shaheem submitted their resignation to President Mohammad Ashraf Ghani shortly after the attack on the army base.
The Office of the President, ARG Palace, announced Monday that the resignations of Gen. Habibi and Gen. Shaheem have been approved by the President.
President Mohammad Ashraf Ghani also approved a major change of command in the Afghan army following the attack.
Full report at:
http://www.khaama.com/ex-afghan-defense-officials-appointed-as-ambassadors-after-base-attack-02663
--------
Two US troops killed in Afghanistan
April 28, 2017
JALALABAD - Two US troops were killed and one was wounded while fighting an Islamic State group affiliate in Afghanistan, the US military said Thursday, near where Washington this month dropped the "Mother of All Bombs".
US Forces-Afghanistan said the troops "came under attack during a raid against insurgents in Nangarhar province" late Wednesday. The troops were working with partnered Afghan soldiers in the raid against IS Khorasan, a local offshoot of the jihadist group based in Iraq and Syria.
"The fight against ISIS-K is important for the world, but sadly, it is not without sacrifice," said US Forces-Afghanistan chief General John Nicholson, using the military's name for IS Khorasan. In mid-April, the US military earlier dropped the largest non-nuclear bomb it has ever used in combat, hitting IS positions in Nangarhar. The deployment of the so-called Mother Of All Bombs (MOAB) killed at least 95 jihadists, according to the Afghan defence ministry, but fighting in the area has continued.
"Last night US forces along with some Afghan forces, conducted a night time operation in a village next to Assadkhail village (site of the MOAB)," the governor of Achin district, where the fighting took place, Ismail Shinwari, told AFP.
"They used helicopters to deploy forces and the sound of heavy fighting could be heard from the site. We don't know anything about possible American casualties, but as per our information, up to 40 IS fighters were killed in the operation," he added. On Thursday evening the Islamic State group claimed on its website to have repelled an attack conducted by American and Afghan forces and to have caused US casualties.
US Forces-Afghanistan did not immediately provide additional information ahead of notification of the dead troops' next of kin.
An American special forces soldier was killed while conducting operations against IS in Nangarhar on April 8.
America has about 8,400 troops in Afghanistan. Most are part of a NATO mission to train and advise Afghan partner forces.
But about 2,150 of these troops work in a counterterrorism role and are more likely to be engaged in actual combat.
IS, notorious for its reign of terror in Syria and Iraq, has made inroads into Afghanistan in recent years, attracting disaffected members of the Pakistani and Afghan Taliban as well as Uzbek Islamists.
But the group has steadily lost ground in the face of heavy pressure both from US air strikes and a ground offensive led by Afghan forces.
This week Afghan authorities arrested 35 soldiers who served on an army base in northern Afghanistan where the Taliban staged a deadly attack last week as fears grew they had inside help.
Full report at:
http://nation.com.pk/national/28-Apr-2017/two-us-troops-killed-in-afghanistan
--------
Children pay the price in Afghan conflict: UN
Apr 28, 2017
KABUL - Children account for one-third of civilian casualties in Afghanistan's grinding conflict in the first three months of 2017, and are paying an increasingly high price in the fighting, a UN report said Thursday in Kabul.
From January to March, 210 children were killed - up 17 percent from the same period last year - and 525 injured, out of a total of 2,181 civilian casualties (715 dead and 1,466 injured).
The overall total is slightly down, by four percent, compared to the same period in 2016.
Among women, 88 deaths were recorded, a figure that jumped 54 percent from last year, mainly due to aerial bombardments - an increasing danger as the Afghan Air Force begins to carry out its own strikes.
Overall, the report showed 148 deaths and injuries from airstrikes in the first quarter, compared to 29 last year.
"We are extremely concerned about the increase in the number of casualties among women and children, particularly deaths," said the United Nations Assistance Mission in Afghanistan (UNAMA), which has documented civilian victims of the conflict since 2009. "The 17 per cent increase in child casualties reflects the failure of parties to the conflict to take adequate precautions to protect civilians, including through marking and clearing unexploded ordnance after fighting ends," said Danielle Bell, head of human rights for UNAMA.
The main cause of casualties remains fighting on the ground, claiming up 35 percent of the victims.
The number of civilians fleeing fighting hit a record high last year, said the UN, with 600,000 internally displaced - which, when added to hundreds of thousands of refugees returned from Pakistan in 2016, threatens to overwhelm already meagre resources allocated to refugees.
The UN blames 62 percent of civilian casualties on anti-government elements, mainly the Taliban, who are gearing up for their spring fighting season after an unusually violent winter.
Unexploded mines and ammunition abandoned by fighters remained the second highest cause of civilian casualties (19 percent of the total), with attacks marking 17 percent.
Kabul province had the highest number of casualties thanks to multiple attacks in the capital, followed by provinces where fighting is most sustained - such as Helmand, virtually under Taliban control; Kandahar and Uruzgan in the south, and Nangarhar in the east, where the Islamic State group is in a turf war with the Taliban.
Full report at:
http://nation.com.pk/international/28-Apr-2017/children-pay-the-price-in-afghan-conflict-un
--------
Janakantha journo sued for hurting religious sentiment
April 27, 2017
Buddhist students of Dhaka University staged a demonstration on the campus condemning the report on Wednesday
A case has been filed in Chittagong accusing a senior Daily Janakantha reporter of hurting religious sentiment of the Buddhists by terming Gautama Buddha a terrorist and alleging that Buddhist monasteries in the CHT are dens of criminals.
Advocate Md Sohel lodged the case against Firoz Manna with the court of Metropolitan Magistrate Abu Saleh Mohammad Noman Thursday.
Chittagong Metropolitan Police's Assistant Commissioner (prosecution) Kazi Md Shahabuddin told the Dhaka Tribune that the court, after accepting the case, ordered the Detective Branch of police to launch an investigation, and submit a report.
But, he primarily could not confirm the deadline for the probe.
On Monday, the Bangla national newspaper ran a report dubbing Gautama Buddha as a terrorist and accusing the Buddhist monasteries in Rangamati and Bandarban of being used as training centres run by Myanmar's radical nationalist group called 969 Movement.
In the report, the reporter expressed his concern saying that 969 Movement has converted more than 25,000 indigenous peoples as its followers in the last few months.
Meanwhile, members of Buddha Moitree Kallyan Sangha staged a demonstration Thursday in front of Khagrachhari Press Club condemning the same news report.
They formed a human chain in the morning and later submitted a memorandum to the deputy commissioner seeking action against the reporter.
Protests by the religious minority community were also reported in parts of the country including Chittagong Hill Tracts.
Full report at:
http://www.dhakatribune.com/bangladesh/nation/2017/04/27/janakantha-journo-sued-hurting-religious-sentiment/
--------
Taliban leader supervising suicide attacks killed in Wardak
Apr 27 2017
A senior Taliban leader who was supervising suicide attacks in central Maidan Wardak province has been killed in an airstrike.
According to the local government officials in Maidan Wardak, the Taliban leader has been identified as Mullah Habibullah who was involved in major terrorist related activities, specifically in plotting and coordinating suicide attacks.
Provincial governor's spokesman Abdul Rahman Mangal confirmed the killing of Mullah Habibullah and said he was killed in a drone strike.
Mangal further added that Mullah Habibullah was involved in anti-government armed insurgency in Chak and Dai Merdad districts of Maidan Wardak.
The anti-government armed militant groups including the Taliban insurgents have not commented regarding the report so far.
Wardak is among the relatively volatile provinces in central Afghanistan which borders the restive Ghazni province in southeast.
The anti-government armed militants are often conducting insurgency activities, including coordinated attacks, suicide bombings, roadside bombings, and other insurgency activities.
Full report at:
http://www.khaama.com/taliban-leader-supervising-suicide-attacks-killed-in-wardak-02665
--------
ISIS leaders among 8 killed in Afghan forces operations in Nangarhar
Apr 27 2017
At least eight militants of the Islamic State of Iraq and Syria Khurasan (ISIS-K) were killed during the operations of the Afghan security forces in eastern Nangarhar province.
The provincial police commandment said the operations were conducted in the past 24 hours with the support of the Air Force.
The militants were targeted in the vicinity of Pekha area of Achin district which is home to ISIS-K militants.
According to the police commandment, the two ISIS leaders killed during the operations have been identified as Abuzar and Amjad.
Several weapons, ammunition, and other military kits belonging to the insurgents were also destroyed during the operation.
The Afghan security forces and the local residents did not suffer any casualties during the operations, the police commandment added.
Nangarhar is among the relatively calm provinces in eastern Afghanistan but the anti-government armed militant groups are attempting to expand their insurgency in this province during the recent years.
The growing threats posed by Taliban, ISIS and other insurgents forced the Afghan forces and US forces based in Afghanistan to step up operations in a bid to restrict their insurgency activities.
Full report at:
http://www.khaama.com/isis-leaders-among-8-killed-in-afghan-forces-operations-in-nangarhar-02664
--------
Europe
Belgium regrets backing Saudi Arabia on UN rights panel
Apr 27, 2017
Belgian Prime Minister Charles Michel has regretted a decision by his country to back Saudi Arabia on a United Nations committee on women's rights.
"If we could do it again and if we would have the chance to discuss it at government level, I of course would have argued that we not approve this," Michel said Thursday of the vote last week, adding, "I regret the vote."
Michel, who was briefing parliament, said the diplomat representing Belgium in the UN was forced into a hasty decision and that he had not properly consulted the government in Brussels.
'Misogynistic regime'
Saudi Arabia's appointment to the women's rights panel, which came with the support of 47 nations out of 54, sparked huge international outrage. UN Watch, a Geneva-based human rights organization, has censured the vote as deeply ironic and illogical, saying Saudi Arabia, by its nature, is a "misogynistic regime."
"Saudi discrimination against women is gross and systematic in law and in practice," said UN Watch Executive Director Hillel Neuer on Sunday, questioning the appointment of Saudi Arabia, which it described as "the world's leading promoter of gender inequality," to the rights panel.
Women are deprived of the most basic civil rights in Saudi Arabia. The country is the only one in the world that prohibits women from driving. A woman must also have permission from a male family member, normally the father, husband or brother -- in the case of a widow, sometimes her son -- to obtain a passport, marry, travel, exit prison and sometimes work or access health care in Saudi Arabia.
Riyadh has moved to ease some of the restrictions over the past years and women can now be represented only in some local elections.
http://www.presstv.ir/Detail/2017/04/27/519712/Belgium-Saudi-UN-panel
--------
Erdogan actions 'severely hit' EU-Turkey ties: Merkel
Apr 27, 2017
German Chancellor Angela Merkel has expressed concerns about the latest measures taken by Turkish President Recep Tayyip Erdogan, saying they have adversely affected relations between the European Union and Ankara.
"The developments over the past weeks have severely hit German-Turkish ties as well as European-Turkish relations," Merkel told the parliament in Berlin on Thursday.
She further accused Turkey of holding journalists without grounds, including Deniz Yucel, a Turkish-German national and reporter for Germany's Die Welt newspaper, who was taken into custody in February on charges of spreading "terrorist propaganda." He is currently being held in solitary confinement.
The German chancellor said Ankara's arrest and treatment of the journalist was "incompatible with a constitutional state."
'Turkey referendum unfair'
Merkel further said that Turkey's recent constitutional referendum, in which voters narrowly approved expanding Erdogan's executive powers, was not held under fair conditions.
She also urged Ankara to respect civil rights in keeping with a constitutional state, saying it was "neither in Europe nor Turkey's interest" for either side to turn away from the other.
In the April 16 referendum, Erdogan's 'Yes' campaign won 51.36 percent of the votes, while the 'No' campaign gained 48.64 percent. Erdogan declared victory in the vote, but opponents said the referendum was deeply flawed.
Germany "will follow very closely how Turkey deals with the reports" by international election monitors about irregularities in the vote, Merkel said. The Turkish government "must answer the questions" raised, the German leader added.
Observers from the Organization for Security and Cooperation in Europe and the Council of Europe have described the referendum as "an uneven contest."
The German chancellor stressed that she would use an upcoming summit with fellow EU leaders in the Belgian capital, Brussels, to discuss "which measures would be appropriate" for the bloc to take vis-a-vis Turkey.
Respect rule of law: NATO to Turkey
Separately on Thursday, the North Atlantic Treaty Organization (NATO), of which Turkey is a member, called on Ankara to respect due process amid mass arrests over last July's abortive military putsch.
"Turkey has the right to protect itself and to prosecute those who were behind the failed coup attempt, but that has to take place based on the full respect for the rule of law," NATO Secretary General Jens Stoltenberg said.
The Ankara-EU ties soured following the coup attempt and Turkey's subsequent crackdown on alleged conspirators.
Full report at:
http://www.presstv.ir/Detail/2017/04/27/519677/Germany-Turkey-Merkel-Erdogan
--------
Suspected Islamic radical shoots two policemen on French island
April 27, 2017
PARIS — Officials say a man suspected of links to radical Islam shot two police officers on the French island of Reunion in an incident under investigation by national counterterrorism prosecutors.
The regional administration for the Indian Ocean island said in a statement that the two officers from a special national police intervention force were shot Thursday while trying to arrest "a dangerous individual."
The man was subdued and arrested. The Paris prosecutor's office said antiterrorism prosecutors have taken over the investigation.
Administration spokeswoman Michelle Thomas said the police officers' injuries were not life-threatening.
Full report at:
http://nypost.com/2017/04/27/suspected-islamic-radical-shoots-two-policemen-on-french-island/
--------
Russia escalates violations of religious freedom
APRIL 27, 2017
by Thomas J. Reese and Daniel Mark
On April 26, the U.S. Commission on International Religious Freedom (USCIRF) released its annual report on conditions for religious liberty abroad.
Among the countries we reported on is Russia, where just this month, the nation's highest court issued a chilling decision allowing the government to ban all operations of the Jehovah's Witnesses.
This ruling, horrifying on its own, was the latest dramatic example of how violations of religious freedom have worsened in recent years. From administrative harassment to arbitrary imprisonment to extrajudicial killings, Russia's government continues to perpetrate violations in a systematic, ongoing, and egregious way.
The United States needs to send an unmistakable message. We urge the U.S. State Department to do so by designating Russia a "country of particular concern" under the 1998 International Religious Freedom Act. We should recognize President Vladimir Putin's government for what it is — one of the most serious violators of religious freedom in the world.
For years, Russia has vigorously applied its anti-extremism law, with Muslims and Jehovah's Witnesses often targeted. The law, which does not require the use or threat of violence for prosecution, is so vague as to permit the persecution of virtually any kind of expression — religious, political, or otherwise — that the government opposes. The law has enabled authorities to ban thousands of items from both of these groups, including a Jehovah's Witnesses children's book, My Book of Bible Stories.
A year ago, the Kremlin began deploying that law against the Jehovah's Witnesses in an appalling new way. In March 2016, the Ministry of Justice warned the Jehovah's Witnesses that the organization was in danger of losing its legal right to exist in Russia due to questions of "extremism." Subsequently, authorities were captured on videotape planting banned "extremist" material in prayer halls belonging to the Witnesses. Based on this so-called evidence, the Ministry of Justice suspended all activity of the Jehovah's Witnesses.
And now, with Russia's Supreme Court having recently ruled for the Justice Ministry, the Jehovah's Witnesses are legally abolished in Russia. It is the first time that Russia has legally banned a centrally administered religious organization.
This is but one example — though a stark one, to be sure — of how Russia's religious freedom conditions have gone from bad to worse. Other examples range from an anti-blasphemy statute enacted in 2013 to the Yarovaya amendments enacted last July. including a measure targeting groups that place a premium on sharing their faith with others. The measure makes it illegal to preach, teach, and publish religious content anywhere other than government-approved sites. More brutally, in the North Caucasus, Russian security forces regularly carry out arrests, kidnappings, disappearances, and killings of people suspected of links to "nontraditional" Islam.
Moreover, Russia has spent the last three years imposing its homegrown religious repression on Crimea and parts of eastern Ukraine.
It has used its anti-extremism laws as a pretext for persecuting Crimean religious minorities, and authorities have conducted repeated raids on Muslim homes and mosques. In September, Russia's Supreme Court upheld the banning of the Mejlis, the representative body of the Muslim Crimean Tatars, as extremist.
Pro-Russian authorities also have harassed Crimean churches that operate independently of the Russian Orthodox Church's Moscow Patriarchate, which the Kremlin has made into a de facto state church, forcing some leaders to leave the peninsula. In January 2016, authorities ordered the Ukrainian Orthodox Church's Kyiv Patriarchate to vacate its last prayer space in Crimea's capital of Simferopol, and in December they shuttered a Pentecostal church in Bakhchisaray.
Similar abuses have been visited on parts of eastern Ukraine since Russian-backed groups conquered some territory and created separatist enclaves. These forces have seized Evangelical, Pentecostal, and Jehovah's Witness houses of worship and schools, and perpetrated church attacks, abductions, and assaults on Kiev Patriarchate and Protestant representatives.
Full report at:
http://www.philly.com/philly/opinion/commentary/russia-escalates-violations-of-religious-freedom-20170426.html
--------
German soldier, posing as refugee, held in attack plot
Apr 28, 2017
BERLIN : A German soldier who led a "double life" pretending to be a Syrian refugee has been arrested on suspicion he planned a gun attack with racist motives, prosecutors said Thursday.
The 28-year-old suspect, who was not identified, was thought to have a "xenophobic background", they said.
The Die Welt daily reported he may have plotted to pin the blame for an attack on foreigners. The case involved a joint police operation across Germany, France and Austria with raids on 16 locations, prosecutors in Frankfurt said in a statement. Police arrested the soldier - a lieutenant usually stationed on a Franco-German military base near Strasbourg - in the southern German city of Hammelburg on Wednesday.
The same day they also arrested a second German man, a 24-year-old student and alleged co-conspirator in possession of flares and other objects that breach weapons and explosives laws.
The lieutenant had been temporarily detained by Austrian police in February at Vienna airport when he tried to retrieve a loaded, unregistered handgun he had hidden in a toilet there a few days earlier.
This sparked an investigation that threw up an even bigger surprise: the suspect had in December 2015 created a false identity as a Syrian refugee.
He led "a double life", said a prosecution spokeswoman about what she called an unprecedented and "extraordinary" case.
He had registered himself at a refugee shelter in the central German state of Hesse and later even launched a request for political asylum in Bavaria state, said the prosecution statement.
The request was accepted, even though the man speaks no Arabic.
He was alloted a place in the refugee home and has since January 2016 received monthly financial payments under this false identity, the prosecutors said.
"These findings, and indications of a xenophobic background of the Bundeswehr soldier, suggest that the accused was planning a serious crime endangering state security with the weapon that was earlier deposited at Vienna airport," said the statement.
Security services in the sweeping cross-border raids targeting contacts of the two men confiscated mobile phones, laptops and written materials, said the statement.
There was evidence the 24-year-old student shared anti-foreigner views, including text messages between the two suspects, who both hailed from Offenbach near Frankfurt.
Green party lawmaker Irene Mihalic called for an investigation into whether "in far-right circles, attacks are being planned specifically in order to blame them on refugees".
The case recalled the bizarre suspected plot behind an April 11 explosives attack against the bus of the Borussia Dortmund football team, which wounded one player and a police officer.
Full report at:
http://nation.com.pk/international/28-Apr-2017/german-soldier-posing-as-refugee-held-in-attack-plot
--------
Teen admits plotting 'Elton John' bomb attack
Apr 28, 2017
LONDON - A radical Islamist on Thursday admitted plotting a bomb attack in London, with possible targets including an Elton John concert and the city's main shopping street.
Haroon Syed, 19, from west London, considered targets such as the Oxford Street main shopping thoroughfare or John's concert in Hyde Park on September 11 last year, the 15th anniversary of the attacks on the United States.
However, he was snared by secret service agents and faces jail after admitting that he was preparing terrorist acts. "Syed admitted trying to get a machine gun, handguns, suicide vest and bomb," London's Metropolitan Police said following his guilty plea. "When he couldn't raise any finance through loan applications, settled on trying to source a bomb, with a special request for it to be packed with nails so he could detonate it in a crowded place."
England's Old Bailey central criminal court heard how Syed tried to get weapons online.
He told his Security Service fake contact that he needed a machine gun and an explosive vest "so after some damage with machine gun do martyrdom... that's what I'm planning to do.
"You have to find out the price for the machine gun, any gun."
On August 30 last year, he said: "I might put the bomb in the train and then I'm going to jump out so the bomb explodes on the train."
He arranged to buy a custom-made bomb and asked his contact to make sure it contained lots of nails.
"I was thinking of Oxford Street... If I go to prison, I go to prison. If I die, I die, you understand," he said.
His search for potential locations included the John concert.
When he was arrested on September 8, he told police his phone password was ISIS, an acronym for the Islamic State militant group.
His defence statement said he was groomed by radicals online but he never intended to carry out an attack. His chats with the agent were merely a "fantasy to see how far it would go", the statement claimed.
Syed pleaded guilty after failing to get the case thrown out and failing to exclude the key evidence from the online chat. His lawyer said the state should have channelled Syed through the government's de-radicalisation programme rather than allow him to continue on the path he was on.
Full report at:
http://nation.com.pk/international/28-Apr-2017/teen-admits-plotting-elton-john-bomb-attack
--------
Armed British police arrest man with knives near May's office
27 April 2017
Armed British police officers arrested a man carrying knives near Prime Minister Theresa May's office in London on Thursday on suspicion of preparing an act of terrorism.
The 27-year-old man was detained by counter-terrorism officers on Parliament Street, a stone's throw from the parliament building, May's Downing Street office and government departments, during a stop-and-search in an ongoing security operation, police said.
A Western security source said the man, from London, was on the radar of counter-terrorism officers and the domestic intelligence agency MI5 before his arrest.
No one was injured in the incident, and May was not at Downing Street at the time because she was campaigning in northern England for a June 8 parliamentary election.
A source familiar with the investigation said the suspect had been arrested as part of an intelligence-led operation.
The knife incident came just over a month after a British-born convert to Islam ploughed a car into pedestrians on nearby Westminster Bridge, killing four people, before stabbing to death a police officer in the grounds of parliament. The man responsible, Khalid Masood, was shot dead at the scene.
That attack prompted police to review security around parliament and led to a greater visible armed police presence.
"Detectives from the Counter Terrorism Command are continuing their investigation, and as a result of this arrest there is no immediate known threat," police said in a statement about Thursday's incident.
"The man ... was arrested on suspicion of possession of an offensive weapon and on suspicion of the commission, preparation and instigation of acts of terrorism. Knives have been recovered from him."
Knives on ground
A Reuters reporter and photographer saw police detaining a dark-skinned, bearded man dressed in a hooded, black coat. The man was stood between two armed police officers with his right hand in a loose bandage.
Dramatic pictures of the man's arrest on social media showed a large group of heavily armed officers surrounding the suspect, and the Reuters photographer saw three knives and a rucksack lying on the ground. Police said the suspect was being questioned at a south London police station.
Two hours after he was detained, police reopened streets in the Westminster district, indicating they saw no further public risk.
"I am aware that an individual has been arrested in Whitehall today and that that individual has been arrested on the basis of a terrorism charge," May told Sky News.
"Obviously I can't say much more about it because it is an ongoing police investigation but I think it shows that our police and our intelligence and security services are on the alert as they always are, looking to keep us safe and secure."
In a separate development, the Scottish parliament said on Thursday that three suspicious packages containing "white powder type substances" were sent to political offices between April 25 and 26.
Full report at:
https://english.alarabiya.net/en/News/world/2017/04/27/Police-wearing-white-forensic-suits-seen-on-Whitehall-in-central-London.html
--------
Mideast
Iran: Nine border guards killed after clashes with 'Balochi terrorists'
27 April 2017
Nine Iranian border guards were killed on Wednesday near Mirjaveh district after clashes with the armed Balochi insurgent group Army of Justice, the prosecutor general of Zahedan province announced.
Iranian news agency IRNA quoted Movahedi Rad confirming the news on Thursday saying two other border guards were injured during the clashes.
He said that "the terrorists managed to escape into Pakistan territory after attacking the border guards in the Zero border point".
Iran's Internal Security Forces Spokesman Brig. Gen. Saeed Montazer al-Mahdi said Tehran blames the Pakistani government for the attack and said the "police would pursue the case until the matter was resolved and called on the Iranian diplomatic community to follow the case seriously".
Mirjaveh is located 75 km east of the provincial capital city of Zahedan. It is the main road crossing point between Iran and Pakistan.
https://english.alarabiya.net/en/News/middle-east/2017/04/27/Iran-Nine-border-guards-killed-after-clashes-with-Balochi-terrorists-.html
--------
Palestinian begin mass hunger strike in support of prisoners
Apr 28, 2017
Members of the Palestinian resistance movement Islamic Jihad in the besieged Gaza Strip have gone on a mass hunger strike to show support for Palestinian prisoners in Israeli jails who have been refusing to eat for nearly two weeks.
Reports on Thursday said that some 500 leaders and members of the Islamic Jihad movement began a 24-hour hunger strike in support of the prisoners.
Palestinians in the occupied West Bank also announced plans for similar mass hunger strikes while a general walkout was observed as schools, businesses and public transport were all shut down.
In the city of Ramallah, a large number of protesters gathered at a tent set up at the Yasser Arafat Square to march through the streets of the West Bank city to express their solidarity with the inmates.
Clashes also erupted between Israeli forces and protesters supporting hunger strikers in different cities across the West Bank. Protesters were tear gassed in al-Khalil (Hebron) and Eizariya. Groups supporting the prisoners have declared a day of rage on Friday.
Over 1,500 Palestinian prisoners in Israeli jails have joined a hunger strike which began last week to protest against Israeli violations including torture, medical negligence and administrative detention. The action is led by senior Palestinian figure Marwan Barghouti. Reports say Barghouti's health has sharply deteriorated as a result of long periods of hunger strike.
Israeli prisons hold some 7,000 Palestinians, including 300 minors. Some of the inmates are held under Tel Aviv's policy of administrative detention, which enables confinement without charge.
Palestinian inmates regularly stage hunger strikes in protest at the administrative detention policy and their harsh prison conditions.
Full report at:
http://www.presstv.ir/Detail/2017/04/28/519725/Palestine-mass-hunger-strike-Islamic-Jihad-Gaza-S
--------
Israel strikes arms depot near Damascus airport
Apr 28, 2017
BEIRUT/United nations - Israel struck an arms supply hub operated by the Lebanese group Hezbollah near Damascus airport on Thursday, targeting weapons sent from Iran via commercial and military cargo planes, Syrian rebel and regional intelligence sources said.
Video carried on Arab TV and shared on social media showed the pre-dawn airstrikes caused a fire around the airport east of the Syrian capital, suggesting fuel sources or weapons containing explosives were hit.
Syrian state media said Israeli missiles hit a military position southwest of the airport, but did not mention arms or fuel. It said "Israeli aggression" had caused explosions and some material losses, but did not expand on the damage. In a sign of the heightened tensions surrounding a conflict that has already caught up regional and international powers, Damascus' ally Russia criticised the Israeli strike and said Syrian sovereignty should be respected.
Israel does not usually comment on action it takes in Syria. But Intelligence Minister Israel Katz, speaking to Army Radio from the United States, appeared to confirm involvement. "The incident in Syria corresponds completely with Israel's policy to act to prevent Iran's smuggling of advanced weapons via Syria to Hezbollah," he said. Prime Minister Benjamin Netanyahu had "said that whenever we receive intelligence that indicates an intention to transfer advanced weapons to Hezbollah, we will act", he added. An Israeli military spokeswoman said: "We can't comment on such reports."
Two senior rebel sources in the Damascus area, citing monitors in the eastern outskirts of the capital, said five strikes hit an ammunition depot used by Iran-backed militias. Lebanon's al-Manar television, which is affiliated with Hezbollah, said early indications were that the strikes hit warehouses and fuel tanks. It said there no casualties.
President Bashar al-Assad is backed in Syria's six-year-old civil war by Russia, Iran and regional Shia militias. These include Hezbollah, a close ally of Tehran and enemy of Israel, which describes the group as the biggest threat it faces on its borders. The two fought a month-long war in 2006. Syrian military defectors familiar with the functioning of the airport during the war said on Thursday that it plays a major role as a conduit for arms from Tehran. Alongside military planes, a number of commercial cargo aircraft fly from Iran to resupply arms to Hezbollah and other groups, passing through Iraqi airspace, the defectors said. As well as weapons, hundreds of Shia militia fighters from Iraq and Iran have been flown to Damascus international airport, they said.
Intelligence sources put their numbers at 10,000 to 20,000 and say they play a significant role in military campaigns launched by the Syrian army.
Israel has largely kept out the war in Syria, but officials have consistently referred to two red lines that have prompted a military response in the past — any supply of advanced weaponry to Hezbollah, and the establishment of "launch sites" for attacks on Israel from the Golan Heights region.
Israel shot down what it identified only as "a target" over the occupied Golan Heights on Thursday, hours after Syria accused it of hitting a military position near Damascus airport.
"The Patriot Aerial Defence System intercepted a target above the Golan Heights," the official Israeli army Twitter account said, without elaborating.
The US ambassador to the United Nations, Nikki Haley, pushed the UN Security Council on Thursday to focus "all eyes and all pressure" on Russia to try and end the Syrian conflict and pressed for council action even if it faces a veto by Moscow.
"They are the ones who could stop this if they wanted to," Haley said of Russia, an ally of Syrian President Bashar al-Assad during his country's six-year-long civil war. "We need to put pressure on Russia."
Russia has vetoed eight resolutions on Syria to shield Assad's government from action, most recently blocking a council condemnation of a deadly chemical weapons attack that killed dozens of people, many of whom were children. China has backed Russia and vetoed six resolutions.
Speaking in Moscow on Wednesday, where he was attending a security conference, Israeli Defence Minister Avigdor Lieberman reiterated that Israel "will not allow Iranian and Hezbollah forces to be amassed on the Golan Heights border". During his visit, Lieberman held talks with Russian Defence Minister Sergei Shoigu and Foreign Minister Sergei Lavrov, as part of efforts by Israel to coordinate with Moscow on actions in Syria and avoid the risk of confrontation.
A Defence Ministry statement said Lieberman had expressed concern to Russian ministers over "Iranian activity in Syria and the Iranian use of Syrian soil as a base for arms smuggling to Hezbollah in Lebanon".
A Western diplomat said the air strikes sent a clear political message to Iran, effectively saying it could no longer use Iraqi and Syrian airspace to resupply proxies with impunity.
Speaking to Reuters in Washington on Wednesday, Intelligence Minister Katz said he was seeking an understanding with the Trump administration that Iran not be allowed to establish a permanent military foothold in Syria.
Israeli officials estimate that Iran commands about 25,000 fighters in Syria, including members of its own Revolutionary Guard, Shia militants from Iraq and recruits from Afghanistan and Pakistan.
Israel has also said that Hezbollah has built up an arsenal of more than 100,000 rockets, many of which would be capable of striking anywhere within Israeli territory. The last conflict between the two left 1,300 people dead and uprooted more than a million Lebanese and 300,000 to 500,000 Israelis.
Meanwhile, airstrikes on two hospitals in rebel-held northwestern Syria on Thursday left 10 people dead including two babies in incubators, a monitor said.
They were among 19 people killed as a result of strikes across rebel-held Idlib province on Thursday, the Syrian Observatory for Human Rights said.
An AFP correspondent in the village of Deir Sharqi, where one of the hospitals was hit, saw extensive damage and wards buried in rubble.
It was the third time in less than a week that medical facilities in the province, controlled by rebels and militant groups, had been hit in air strikes.
"Apparently Russian aircraft... carried out four successive raids at dawn on a hospital on the outskirts" of Deir Sharqi, it said.
"Six civilians in the emergency department were killed, including two babies in incubators, after the destruction of the facility's oxygen generator" which was keeping them alive, Observatory chief Rami Abdel Rahman told AFP.
The AFP correspondent saw at least one destroyed incubator, rooms and corridors filled with rubble, and dusty or damaged beds and equipment.
In one room, a wall had collapsed on a medicine shelf and in another, medical supplies were strewn across the room.
Full report at:
http://nation.com.pk/international/28-Apr-2017/israel-strikes-arms-depot-near-damascus-airport
--------
All 78 saved as Russian spy ship sinks off Turkey
Apr 28, 2017
ISTANBUL - A Russian naval spy ship on Thursday sank in the Black Sea off Turkey's coast after hitting a Togo-flagged vessel packed with livestock but all of its 78 crew were rescued by Turkish coastguards.
The Russian military said the Liman - a former research ship re-fitted as an intelligence vessel - had a hole ripped out of its hull in the collision with the Youzarsif H. The collision, whose precise circumstances remain to be explained, took place in fog outside the northwestern entrance to the Bosphorus Strait, one of the world's biggest shipping thoroughfares that passes through Istanbul into the Sea of Marmara.
The Liman was struck at 11:53 local time (0853 GMT) with the ship sinking three hours later at 2:48 pm (1148 GMT), Turkish and Russian sources said.
The Turkish coastguard said in a statement that the Togo-flagged vessel Youzarsif H was carrying a cargo of livestock. It said that of 78 Russian personnel on board the ship, 63 were rescued by the Turkish coastguard and the other 15 by the Youzarsif H itself.
They were then transferred to a Turkish military ship, it said, without giving further details. "All the personnel were evacuated," it said.
Turkish media said the Youzarsif suffered minor damage and went on its way after the incident. The Russian defence ministry confirmed the ship had gone down and said the crew were safe and would be taken from a Turkish vessel back onto a Russian ship.
Turkish news agency Dogan said the area where the ships collided was shrouded in thick fog at the time, suggesting that the incident was accidental.
Turkish Prime Minister Binali Yildirim spoke to his Russian counterpart Dmitry Medvedev by phone over the incident, describing it as an accident and expressing his sadness, the state-run Anadolu news agency said. It was not known where the Liman was sailing from or its destination.
The ship was built as a hydrography research vessel in 1970 but turned into a spy ship in 1989 and armed with an Igla missile launcher, according to public records.
Russian warships have travelled frequently through the Bosphorus Strait to and from the Syrian coast, where a navy presence has been deployed to bolster Russia's air campaign in support of President Bashar al-Assad.
In February, military sources told Russian media that Liman would be observing NATO's Sea Shield exercise in the Black Sea.
Cem Devrim Yaylali, an Istanbul-based Turkish naval expert and editor of the Bosphorus Naval News website, said the Liman had previously been to the Syrian coast but it was not clear where it was headed on this occasion. "A collision is not something that happens very frequently," he told AFP.
He said the incident was an embarrassment for the Russian authorities as the Liman was likely carrying sensitive surveillance equipment that Moscow would want returned.
"I imagine there will be a salvage effort to raise the ship before anyone else sees it," he said. "If the ship cannot be salvaged then Russia surely will try to take away the sensitive equipment from on board by divers."
Relations between Russia and Turkey hit their worst state since the Cold War in November 2015 when Turkish war planes shot down a Russian jet over the Syrian border. But there has since been a dramatic reconciliation, with Moscow and Ankara now engaged in a joint effort to bring peace to Syria despite standing on opposing sides of the conflict.
President Recep Tayyip Erdogan is due to hold his latest talks with Russian counterpart Vladimir Putin in Russia on May 3.
Full report at:
http://nation.com.pk/international/28-Apr-2017/all-78-saved-as-russian-spy-ship-sinks-off-turkey
--------
Israeli missile shoots down 'target' over Golan
27 April 2017
Israel shot down what it identified only as "a target" over the occupied Golan Heights on Thursday, hours after Syria accused it of hitting a military position near Damascus airport.
"The Patriot Aerial Defense System intercepted a target above the Golan Heights," the official Israeli army Twitter account said, without elaborating.
A military spokeswoman refused to comment on Israeli media reports that the object was a drone.
Syria's state news agency SANA said earlier that several Israeli missiles hit near Damascus airport at dawn.
Israel has not confirmed or denied the reported Damascus attack.
But Intelligence Minister Yisrael Katz said it was consistent with Israel's policy to prevent arms transfers through to Hezbollah, while stopping short of confirming his country was behind the incident.
Israel has carried out multiple air strikes in Syria since that country's civil war erupted in 2011, most of which it has said targeted arms convoys or warehouses of its Lebanese arch-foe Hezbollah, which is a key supporter of the Syrian regime.
Last month, it said it had conducted several strikes near the Syrian desert city of Palmyra, targeting what it said were "advanced weapons" belonging to Hezbollah.
Full report at:
https://english.alarabiya.net/en/News/middle-east/2017/04/27/Israeli-missile-shoots-down-target-over-Golan.html
--------
Yemen govt calls for change in relief routes after Houthi pillaging
27 April 2017
The Yemeni government called on the United Nations to change the relief route to the governorate of Taiz through the safe areas and the port of Aden, to ensure that such assistance continues to reach the beneficiaries without delay or hindrance.
The Yemeni government has justified their request in light of the continued violations of the Houthi and Salah Militia.
There are international efforts in parallel with the governmental efforts to prevent the deterioration of the situation in Yemen, which is suffering from a serious humanitarian crisis.
With Taiz being besieged, the relief convoys continue to be targeted. As such, the Yemeni government demanded a change in the relief routes to Taiz through the port of Aden instead of Al Hudaydah which is under the control of the militias, to ensure that the beneficiaries could benefit from these aids without obstacles.
In the context of countering the flow of arms to the revolutionaries through the port of Hudaydah, the Yemeni government suggested that the United Nations should monitor the port to prevent arm smuggling.
Full report at:
https://english.alarabiya.net/en/News/gulf/2017/04/27/Yemen-govt-calls-for-change-in-relief-routes-after-Houthi-pillaging-.html
--------
Two Saudi sergeants killed in explosion in Yemen
27 April 2017
The Security Spokesman of the Saudi Interior Ministry stated that a patrol of the border guards in Al-Rdhaa Sector in Jazan Region was exposed to a land mine explosion and projectiles from the Yemeni territories on Thursday, which resulted in death of two sergeants.
In a statement to Saudi Press Agency (SPA), the spokesman added that the authorities have started investigations.
https://english.alarabiya.net/en/News/gulf/2017/04/27/Two-Saudi-sergeants-killed-in-explosion-in-Yemen.html
--------
UN envoy eyes new Yemen peace talks before Ramadan
27 April 2017
A new round of peace talks between Yemen's warring sides should begin by the end of May, the UN mediator said Wednesday, as alarm grows over the country's humanitarian crisis.
UN special envoy Ismail Ould Cheikh Ahmed told AFP that negotiations were underway.
"We are at the preliminary stage, but time is also a real constraint for us, because my aim is to finish all of this before Ramadan," he said, adding that he hoped "to enter into a new round of talks before Ramadan."
The Muslim holy fasting month of Ramadan is set to begin around May 27 this year.
Even if Ould Cheikh Ahmed manages to get the parties to the table, any success will be hard-won: since Yemen's conflict escalated two years ago, all UN mediation attempts and seven declared ceasefires have failed.
Weapons smuggling
Hudaydah is currently controlled by the Houthis, and the UN envoy said he was hearing concerns from the coalition that the port was being used to smuggle in weapons.
"We are trying to explore various options by which we can reinforce inspection mechanisms maybe or see how we can minimize the risk of any additional smuggling," he said.
Full report at:
https://english.alarabiya.net/en/News/gulf/2017/04/27/UN-envoy-eyes-new-Yemen-peace-talks-before-Ramadan.html
--------
Two Saudi soldiers killed patrolling near Yemen border
Apr 27, 2017
At least two Saudi troopers have been killed when Yemeni army soldiers, backed by fighters from allied Popular Committees, launched surprise attacks against them in response to Riyadh's deadly airstrikes on the conflict-stricken country.
The Saudi Interior Ministry said in a statement that Sergeant Jaber Ahmed Yatimi and Vice Sergeant Muhammad Musa Jaber al-Raythi were killed on Thursday morning in a simultaneous landmine explosion and rocket attack.
The statement noted that the attacks took place in the kingdom's southwestern border region of Jizan, located 969 kilometers south of the capital, Riyadh, as the pair were on duty.
Yemeni army troops and Popular Committees fighters also launched a number of artillery shells at al-Kars military outpost in the same Saudi region, though no immediate report of casualties was available.
Moreover, Yemeni soldiers and allied fighters fired several rockets at a gathering of Saudi forces east of al-Qafl base in Jizan, but no casualties were immediately reported.
Separately, Saudi warplanes carried out seven airstrikes against the Harad district of Yemen's northwestern province of Hajjah, with no immediate word on possible casualties.
Saudi jets also bombarded al-Zahari region in the southwestern Yemeni province of Ta'izz.
Saudi Arabia has been incessantly pounding Yemen since March 2015 in an attempt to bring back to power the resigned president, Abd Rabbuh Mansur Hadi, who is a staunch ally of Riyadh, and to undermine the Houthi Ansarullah movement. The Riyadh regime has, however, failed to reach its goals despite suffering great expense.
Full report at:
http://www.presstv.ir/Detail/2017/04/27/519688/Yemen-Saudi-soldiers-rocket-attack-landmine-explosion-Jizan
--------
Hamas warns of 'explosion' in Gaza over power cuts
Apr 27, 2017
Hamas has denounced the Palestinian Authority's decision to stop paying for Israeli-produced electricity going into the Gaza Strip, warning of an "explosion" in the besieged coastal enclave.
On Thursday, the Israeli military body COGAT said the Palestinian Authority had informed of its decision to "immediately stop paying for the electricity that Israel supplies to Gaza through 10 power lines that carry 125 megawatts, or some 30 percent of Gaza's electrical needs."
Later in the day, Hamas spokesman Ismail Rudwan described the decision as "a crime against the Palestinian people which is moving alongside the Israeli occupation."
"We warn that if the siege is not lifted, there will be an explosion and the explosion will be against the Zionist occupation as well as against everyone who behave improperly," Rudwan said.
He further warned that "the occupation or the Palestinian Authority will regret this behavior because Hamas has many options in which it can answer this crime, because we are defending our people and their right to live."
Another Hamas spokesman, Sami Abu Zuhri, condemned the Palestinian Authority's move as "a grave escalation and an act of madness."
Gaza has been under an inhumane Israeli siege since June 2007. Tel Aviv has waged three wars on the coast sliver since 2008, including the 2014 offensive that left more than 2,200 Palestinians dead.
Earlier this month, Gaza faced a new challenge as its only power station shut down over fuel shortage.
Israel deals with the Palestinian Authority on electrical and fuel supplies for Gaza because Tel Aviv views Hamas as a sworn enemy.
GAZA Health Ministry spokesman Ashraf al-Qidra voiced alarm over the power and fuel crisis gripping Gaza and warned of its effects on public health.
"With the intensification of the electricity and fuel crisis in the Gaza Strip, hospitals and all health care facilities and health services are under threat of stopping (services) in the next few days while there is no hope of new donations to end the crisis," Qidra said.
Full report at:
http://www.presstv.ir/Detail/2017/04/27/519689/Palestine-Hamas-Israel-Gaza
--------
Africa
Al-Shabab shoots dead senior national security officer in Somalia
Apr 27, 2017
Militants from the al-Shabab Takfiri group have shot dead a senior national intelligence officer in front of his house in the capital Mogadishu, officials say.
Ibrahim Nur, a police officer, said that the security officer had been sitting in front of his house without his body guards on Thursday when armed militants shot him to death.
The officer added that the assailants had managed to flee the scene before security forces arrived.
"Police and security forces reached the scene later to investigate and pursue the militants. It is difficult to prevent death -- the officer had no guards with him when he was killed," Nur said.
The deceased officer had been involved in conducting security operations against the militant group across the long-chaotic Horn of Africa nation.
"We are behind the killing of the national security general called Mohamud Haji Ali," Abdiasis Abu Musab, al Shabab's military operation spokesman, said.
Al-Shabab has stepped up its deadly bombings in Mogadishu since the new president took office in February.
Earlier this month, al-Shabab carried out a car bomb attack against senior officials leaving a military base in Mogadishu, killing at least 15 people.
On April 6, President Mohamed Abdullahi Mohamed declared war on al-Shabab but at the same time offered the militants an amnesty.
He said that the militants who gave up their arms within 60 days would receive jobs and education.
Somalia has been the scene of deadly clashes between government forces and al-Shabab militants since 2006.
The Takfiri militant group was forced out of the capital by African Union troops in 2011 but still controls parts of the countryside and carries out attacks against government, military and civilian targets.
The group is just one of the challenges facing the new Somali government, which is still struggling to expand its authority beyond the capital.
http://www.presstv.ir/Detail/2017/04/27/519669/Somalia-Shabab-Mogadishu
--------
Uganda: Police Seeks Shs 200bn for Surveillance Cameras
27 APRIL 2017
The Uganda Police Force needs at least Shs 203 billion to procure video surveillance cameras (CCTV) to cover Kampala Metropolitan area, municipalities and major highways in a bid to enhance proactive policing.
The cameras have remained under unfunded priorities in the 2017/18 budget, URN can reveal. Police had proposed to purchase the security cameras in the 2017/2018 to bolster surveillance in the city.
However, the money is not provided for in the budget estimates being reviewed by parliament. Rogers Muhiirwa, the under secretary of Uganda Police, says they need the money to expand the surveillance system.
He claims the available CCTVs only cover a few areas in Kampala central business district and Entebbe road. Muhiirwa also says the money will enable police to enhance wireless communication by incorporating the use of mobile networks, data communication services and upgrade the radio communications to all districts, divisions and police stations.
The push for the installation of surveillance cameras gained momentum following the brutal murder of former police spokesperson, Assistant Inspector General of Police Andrew Felix Kaweesi together with his body guard, Kenneth Erau and driver Godfrey Wambewo on March 17 by unknown gunmen in Kulambiro, a Kampala suburb.
President, Yoweri Museveni directed for the immediate installation of cameras in all major towns and along highways. Police had embarked on the CCTV project in 2013 at the height of the murder of Muslim clerics, but abandoned the project due to lack of resources.
Recently, Museveni directed several ministries and government departments to liaise with police to procure and install CCTV cameras across the country. They include the ministries of Internal Affairs, Security, Information and Communication Technology, Finance, Uganda National Roads Authority (UNRA) and Kampala Capital City Authority (KCCA).
Full report at:
http://allafrica.com/stories/201704280136.html
--------
Nigeria: Saraki, El-Rufai Stopped Me From Becoming Buhari's Running Mate - Tinubu
27 APRIL 2017
By Hassan Adebayo
A former governor of Lagos State and chieftain of the All Progressives Congress, Bola Tinubu, has accused Senate President Bukola Saraki and the Kaduna State Governor, Nasir El-Rufai, of being responsible for his failure to run in the 2015 presidential election as running mate to President Muhammadu Buhari on the ticket of the All Progressives Congress.
According to Punch Newspaper, quoting 'Against the Run of Play', a book by the chairman of editorial board of ThisDay Newspaper, Olusegun Adeniyi, Mr. Tinubu said Messrs. Saraki and El-Rufai worked separately but for one purpose, influencing Mr. Buhari not to pick him as his running mate.
He said both politicians played the religious card, telling Mr. Buhari a Muslim-Muslim ticket would be unpopular.
In what appeared a background to the political game that marked the June 2015 National Assembly leadership elections, Mr. Tinubu was reported to have said Mr. Saraki and other former PDP leaders who defected to the APC disrupted the plans the party had made before the arrival of the so-called PDP bloc.
Mr. Tinubu was strongly opposed to the emergence of Mr. Saraki as the Senate President, and was able to get the formal leadership of the APC to endorse Ahmed Lawan, for the country's number 3 position.
He said: "What they (Saraki and others from the PDP) did behind my back was wrong. We always do things as a group. By the time they joined, we were already too far ahead in our processes but we accommodated them.
"We agreed to take their state structures and subsume them into the part and they all had their opportunity to nominate the candidates of their choices for different political offices.
"But they went behind to instigate Buhari and some other people in the party against me on the pretext of religion. That was not right. They were canvassing arguments that the Christians in the North would not vote for a Muslim-Muslim ticket.
"Nasir el-Rufai was also selling the same argument within the CPC (the defunct Congress for Progressive Change) because at that point, he still wanted to have Pastor Bakare brought in as Buhari's running mate."
The former governor was also reported to have said some senators and governors, who defected from the PDP to the APC, met with him on the eve of the APC presidential primaries in Lagos to know if there was an agreement between him and Mr. Buhari to run together.
"I told them that it was better to resolve such issue after the primaries, but they wanted to make it a condition for supporting Buhari, which, for me, was very wrong. I told them I could not insist on this as a condition for my support for Buhari. I felt that was not right to hold Buhari hostage in this manner.
"I believe the support that we gave was fundamental to Buhari clinching the party nomination. Without that support, a different outcome would have been most likely.
"I backed down because I did not want to be depicted as causing a problem. I backed away from the position in order to offer Buhari a name I once raised with him in 2011: that of Professor Yemi Osinbajo," he said.
It is the first time Mr. Tinubu would go public about what actually strained his relationship with Mr. Saraki and how he failed to become Nigeria's number two citizen.
But Mr. Saraki had, in April 2016, hinted at how he sabotaged Mr. Tinubu's vice-presidential ambition, which he said was his 'original sin' that motivated the former Lagos governor's opposition to him.
"Most people talk about the Senate Presidency position, but this was not my only offence. I have also been accused of helping to frustrate some people's opportunity to emerge as President Muhammadu Buhari's running mate. But I have no problem with anybody. My concern was that it would not be politically smart of us to run with a Muslim-Muslim ticket.
Full report at:
http://allafrica.com/stories/201704270625.html
--------
Gambia: IOU Commemorates 10 Years of Success
26 APRIL 2017
By Yankuba Jallow
The Islamic Online University (IOU) has celebrated 10th years of success at their campus in Kanifing.
The event attracted scholars, students, parents and many other people from the private and public sector, partners within and outside the educational sector, heads and students of Arabic from other University campuses, friends and well-wishers, faculty and staff of IOU.
As part of activities marking the tenth anniversary, a symposium was organized to educate and inform the community of how the IOU has globally completed a decade long of hard work and dedication in providing quality and tuition free education.
The Institution's motto is "Changing the Nation Through Education". Many people have completed their studies from this Institution.
The Guest speaker for the occasion, Momodou Sabally who also doubles as Managing Director of Creative Future Thinkers Media Group (CFTM) and Editor-in-chief of GLife Magazine, heaped praises on the Islamic Online University (IOU) for their creativity in providing higher education online. Speaking on the topic "Use of Internet in Seeking Authentic Knowledge", Mr. Sabally hailed the IOU and said "the project of teaching online is on the cutting edge of technology and that as far as higher education is concerned the future is online".
He stressed that as much as there is a lot of knowledge online, there are pitfalls which we must guard against in our search for authentic knowledge. The Former MD of GRTS cautioned students to always check their source of information for authenticity and reliability.
Mr. Sabally noted that the Keys to seeking authentic knowledge online are Sincerity, Wisdom and the holy Quran.
He advised the students that what is important is ikhlaas (sincerity), whilst wisdom is vitally needed to filter and use the knowledge they acquire; that they should also let the Quran be their searchlight in this forest of information called the Internet. Mr. Sabally added that whatever contravenes this practice must be dumped, no matter how plausible that information may appear.
"The Internet and the many things that ride on it, bring us huge opportunities and the opportunities are great but so are the challenges," he said.
The Country Representative of IOU, Mrs. Aminata Jaiteh said they were delighted to witness and shared their success with the general public as an online institution.
She thanked God for enabling them witness another occasion marking the tenth anniversary since the inception of IOU.
The New Vice Chancellor of IOU, Dr. Mariama Sarr Ceesay described the anniversary as an inclusive reflection sighting the fact that the IOU is moving to become a Center of Excellence that will focus attention on affordability, accessibility and authenticity of acquiring higher education globally through modern technologies like the internet.
The founder and Chancellor of the Online Islamic University, Dr. Bilal Philips disclosed that since the beginning of the IOU in 2007, more than 300,000 students have studied at the institution from more than 228 countries globally.
He added that the university has achieved unimaginable success with regards to spreading its message globally. He further indicated that three years after its beginning, the Institution begun its bachelors programs which includes bachelors of Arts in Islamic studies. "We then added courses like Business, Education, Information Technology and Psychology and many others. All these developments took place in line with the Motto changing 'the Ummah through Education,' he said.
Dr. Bilal expressed gratefulness to Allah that they have been able to reach out to the Ummah as they hope to even reach out more to create a greater impact.
Full report at:
http://allafrica.com/stories/201704270263.html
--------
North America
Trump Complains Saudis Not Paying Fair Share For U.S. Defence
Apr 28, 2017
President Donald Trump complained on Thursday that U.S. ally Saudi Arabia was not treating the United States fairly and Washington was losing a "tremendous amount of money" defending the kingdom.
In an interview with Reuters, Trump confirmed his administration was in talks about possible visits to Saudi Arabia and Israel in the second half of May. He is due to make his first trip abroad as president for a May 25 NATO summit in Brussels and could add other stops.
"Frankly, Saudi Arabia has not treated us fairly, because we are losing a tremendous amount of money in defending Saudi Arabia," he said.
Trump's criticism of Riyadh, the world's top oil exporter, was a return to his 2016 election campaign rhetoric when he accused the kingdom of not pulling its weight in paying for the U.S. security umbrella.
"Nobody's going to mess with Saudi Arabia because we're watching them," Trump told a campaign rally in Wisconsin a year ago. "They're not paying us a fair price. We're losing our shirt."
Saudi Arabia's powerful deputy crown prince Mohammed bin Salman met with Trump last month in a meeting that was hailed by a senior Saudi adviser as a "historical turning point" in relations. The talks appeared to signal a meeting of the minds on many issues, including their shared view that Iran posed a regional security threat.
Riyadh and other Gulf allies see in Trump a strong president who will shore up Washington's role as their main strategic partner and help contain Riyadh's adversary Iran in a region central to U.S. security and energy interests, regional analysts said.
Asked about the fight against Islamic State, which Saudi Arabia and other U.S. allies are confronting as a coalition, Trump said the militant group had to be defeated.
"I have to say, there is an end. And it has to be humiliation," Trump said, when asked about what the endgame was for defeating Islamist violent extremism.
"There is an end. Otherwise it's really tough. But there is an end," without detailing a strategy.
A visit to Israel would reciprocate a White House visit in February by Israeli Prime Minister Benjamin Netanyahu. Palestinian President Mahmoud Abbas is due to meet Trump next Wednesday in Washington.
Trump has set a more positive tone with Israel than his Democratic predecessor, Barack Obama, who often clashed with the right-wing Israeli leader, and has raised concerns among Palestinians that their leaders may not get equal treatment.
Trump has also asked Israel to put unspecified limits on its building of Jewish settlements on land the Palestinians want for a state, and has promised to seek a Middle East peace deal that eluded his predecessors. However, he has offered no new diplomatic prescriptions.
"I want to see peace with Israel and the Palestinians," he said. "There is no reason there's not peace between Israel and the Palestinians - none whatsoever."
Trump brushed aside a question of whether he might use a possible trip to Israel to declare U.S. recognition of the entire city of Jerusalem as Israel's capital, a reversal of longstanding U.S. foreign policy likely to draw international condemnation.
"Ask me in a month on that," he said, without elaborating.
If Trump ties an Israel visit to next month's Brussels trip, it would be around the time Israelis are celebrating the 50th anniversary of the reunification of Jerusalem, when Israel captured Arab East Jerusalem in the 1967 Middle East war.
Successive U.S. administrations as well as the international community have not recognized Israel's annexation of the eastern part of the city, and the future status of Jerusalem remains one of the thorniest issues in the Israeli-Palestinian dispute.
Israel claims all of Jerusalem, which contains sites sacred to the Jewish, Muslim and Christian faiths, as its capital. Palestinians want East Jerusalem as the capital of a future state of their own.
http://nation.com.pk/international/28-Apr-2017/trump-complains-saudis-not-paying-fair-share-for-us-defense
--------
Sharing perspective: CAL hosts inter-religious forum addressing "Islam in America"
APRIL 28, 2017
With social sciences professor Dr. Susan Schept serving as moderator, the College of Arts and Letters hosted a forum focusing on "Islam in America" through a multi-faith lens this past Wednesday. Several clergy from the Jewish, Islamic, Hindu and Christian faiths were invited to speak on the topic of Islamophobia – which Dr. Schept reminded the audience was an "irrational fear." "Differences exist, but if we listen, we find common humanity," said Schept.
The panelists included Dr. MG Prasad, a professor of mechanical engineering at Stevens as well as an esteemed Hindu scholar, serving on multiple religiously-affiliated advisory boards and councils; Ehraim Gabbai, an independent scholar of the Arab world, an instructor at Sephardic Institute, and a speaker of the Hebrew and Arabic languages; Monsignor Robert Meyer, who serves as pastor of Saint Peter and Paul, civil and canon lawyer, adjunct professor at Stevens, and a member of the Board of Directors for multiple enterprises; Sheik Mohammad Al Hayek, Imam and Chair of the Islamic Studies Department in the North Hudson Islamic Education Center and Islamic Education Foundation of New Jersey for the past twenty years, where he has served as an active member in the interfaith community; and Rabbi Robert Scheinberg of the United Synagogue of Hoboken, who holds multiple leadership positions within the various local and national organizations. Rabbi Scheinberg has also served on the New Jersey Legislature's Death Penalty Study Commission which contributed to the abolition of capital punishment in New Jersey.
Following introductions, each panelist was given the chance to shed light on their religion's relationship with Islam. Gabbai offered criticisms of Samuel Huntington's "The Clash of Civilizations" and his hypothesis that lists cultural and religious identities as the prime source of conflict following the Cold War. Gabbai countered the ideas set for by Huntington, noting the great diversity of Islam and the difficulty in assigning Muslims from various regions into one group; "This thesis adds tension," said Gabbai, "It offers no sense of healing."
Father Meyer spoke next, first acknowledging the purpose of the university as a place "to learn and to grow" together and the importance of dialogue in positive, inter-faith interactions. Meyer noted that the Christian faith is known for its dedication to hospitality, which sets forth "a good model for interfaith discussion." He spoke of three major road-blocks of productive dialogue, namely distraction, "the dilution of one's beliefs" and "I'm right, and you need to come to my side" mentality. Recalling his experiences as the legal attaché for the Holy See Mission at the United Nations where "Europe was on my left and Palestine to the right," Meyer believes there is no sense of independence. "We are all interdependent," said Meyer.
Rabbi Sheinberg chose to illuminate the many examples of cooperation between the Jewish and Islamic communities in America to dispute the popular belief that these faiths live in constant tension. He referenced a recent Supreme Court case that ruled in favor of an American Muslim woman who was denied a job at Abercrombie and Fitch and told her religious identity did not align with the company's look policies. Sheinberg discussed how various Jewish organizations supported that decision via amicus cases and support for the Muslim community has only intensified with the recent actions of the US administration regarding the travel ban and refugee crisis. He went on to provide an array of examples demonstrating the mutual support between Jews and Muslims. "This growing partnership is not everywhere, but it is a phenomenon we see this year particularly," said Sheinberg. As the rabbi of the United Synagogue of Hoboken for the past 20 years, Sheinberg finished with a lesson he has learned being an experienced religious leader: "All religious texts have potential to be used as exclusive [but] it is the religious leaders' responsibility to interpret the doctrine properly."
Dr. Prasad took the lecture podium next, acting not as "a lecturer of mechanical engineering," but as a Hindu scholar who had "grown up in a land of diversity," recalling the first 25 years of his life spent in India. "Muslims were my neighbors, Christians were my classmates, while I was a Hindu," said Prasad. He attested to the "insidious" power of ignorance as the root cause of "clashes and problems," referencing the Indian Sikh who was mistakenly labeled as a Muslim and murdered following the 9/11 attacks. "We see a very advanced nation such as America plagued with this type of misunderstanding," said Prasad. Prasad believes that when stereotypes are addressed and narrow-mindedness left, a solution can be found. "For the broadminded, the whole world is one family."
Imam Al Hayek echoed Dr. Prasad's concerns regarding misinterpretation, noting that many offensive acts "are done falsely in the name of faith." Al Hayek shared verses from the Qur'an and Hadith, the Holy Book of Islam and the collection of sayings and teachings of the prophet Muhammad. He went on to explain that many misconceptions regarding Islam stem from "loss of context [and lack] of reference to history" when interpreting the religious text. He chanted one such verse that resonated with the theme of the forum, translated to, "God has not forbidden you from befriending non-Muslims, and you shall treat them with kindness and justice." In terms of combating "the made-up industry" of Islamophobia, Imam Hayek referred to two approaches that he has encountered in his research: the integrationist and systemic models. Whereas the integrationist approach focuses on fostering relationships to reduce fear, the systemic model calls for work to be done in the political and civil arenas.
Full report at:
https://thestute.com/2017/04/28/sharing-perspective-cal-hosts-inter-religious-forum-addressing-islam-in-america/
--------
URL: https://www.newageislam.com/islamic-world-news/deport-zakir-naik-sake-malaysia/d/110948
New Age Islam, Islam Online, Islamic Website, African Muslim News, Arab World News, South Asia News, Indian Muslim News, World Muslim News, Women in Islam, Islamic Feminism, Arab Women, Women In Arab, Islamophobia in America, Muslim Women in West, Islam Women and Feminism