New Age Islam News Bureau
31 Dec 2012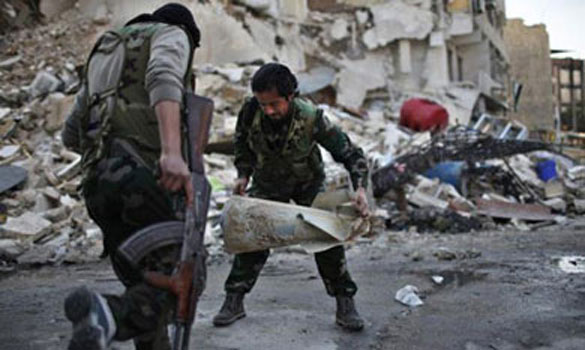 India
• Deoband Cracks Down On Multimedia Mobile Phones in Campus
• Education is solution to the problems of Muslims
• Maulana Ahmed Bukhari terms Samajwadi Party 'anti-Muslim', inept to handle riots
• Sudanese and African cheats in police net
• Ranganathananda drew me to Mohammed Ali Jinnah's 'secular' speech: L K Advani
------------
Arab World
• Al-Assad Troops Kill Nearly 400 People in Syria's Bloodiest Day: Local Coordination Committees Syrian crisis 'could kill 100,000 in next year'
• Mufti: Islamic Council elections must be held within legal timeframe
• Egypt readies for backlash over austerity measures
• Americans honoured for returning Saudi treasures
• Brahimi says has Syria plan all world powers may back
• Kingdom to create sovereign fund for future generations
• Don't celebrate my accession, thank the labourer, says Ruler of Dubai
• Two hurt as protesters attack Iraq deputy PM
• Jailed Qatari poet to appeal life sentence
• Organized gangs targeting Jeddah treasury officials
• $300m of Mubarak's sons frozen
• Syria govt forces retake Homs
• 2 concussion grenades explode in north Lebanon
• Crown prince to attend KFAA graduation
• High Constitutional Court to resume on 15 January
• Iraq protesters clash with official's guards
• International envoy warns of failed state in Syria
• Saudi mulls German tank deal: report
------------
Europe
• Muhammad cartoons: French magazine to publish illustrated prophet biography
------------
Pakistan
• UN chief condemns 'escalating' violence in Pakistan
• Conditional talks: TTP truce offer finds no takers in military
• Talks with armed Taliban meaningless: Sunni Ittehad Council
• All-out security to be provided on Chehlum: Senior Advisor to Punjab C M
• 'Pakistan most unsafe place for newsmen in S Asia'
• I do not want to become caretaker PM: Qadri
• Cantt Station bombing: CCTV footage suggests it was suicide attack
• Probe into Osama death PM likely to receive report this week
• MQM to support Qadri's Jan 14 long march
• Zardari for boost in Pak-UAE trade
• Quit terror before talks, Malik tells TTP
• Former leader of Jamiat Ulema-e-Islam-Fazal passes away in Peshawar
• Punjab, KPK governors discuss terrorism
------------
South Asia
• Police trap reveals how Afghan 'insider attacks' work
• 450 Myanmar asylum seekers reach Malaysia, 1 dead
• Miranshah blast kills 2 soldiers
• Over 1,000 Afghan army personnel killed in 2012: official
• Hasina rejects interim govt formula
• Afghan Camps Receive Winter Aid, but Officials Say It Isn't Enough
• Afghans angry at US soldiers who drove away in the night leaving rent unpaid
• Freedom fighters vow to continue movement
• 33 Tahrir men on 3-day remand
• Remove Justice Nizamul from HC: Pro-BNP-Jamaat lawyers
------------
Africa
• Libya Coptic church blast kills two Egyptians
• Three Al Qaeda-linked militants killed in Yemen
• Five dead as troops battle Islamists in northern Nigeria
• Jordan rejects 'Saddam' electoral list
------------
Southeast Asia
• Catholic Church in Indonesia receives bomb threat post Christmas
• Interfaith dialogue vital for China: theologian, Harvey Cox
• Philippines Braces for Bloody New Year Celebrations
• Police Arrest Terrorism Suspects Allegedly Linked to Santoso
• Minimum Down Payment Set for Islamic Financing
• Jakarta archbishop complains about permits
------------
Mideast Asia
• Negotiations ongoing to create Islamist electoral coalition: Gamaa Islamiya's official
• Israel, in Shift, Lets Building Materials Cross Into Gaza
• Turkey talking to jailed Kurdish leader
• Turkey's Erdogan tells refugees Syrian rebirth near
• Israel indicts former foreign minister Lieberman
• SCF condemns Turkish president's request
• Israel must complete peace deal with Abbas: Peres
• Ban on Israeli-Arab politician overturned
------------
North America
• Obama Vows to Fix Flaws Discovered in Benghazi Inquiry
• Hillary Clinton hospitalised with blood clot: official
Compiled by New Age Islam News Bureau
Photo: A Free Syrian Army fighter carries the remnant of a missile fired by a fighter jet loyal to Syrian President Bashar al-Assad in Aleppo city
URL: https://www.newageislam.com/islamic-world-news/new-age-islam-news-bureau/deoband-cracks-down-on-multimedia-mobile-phones-in-campus/d/9843
------------
India
Deoband Cracks Down On Multimedia Mobile Phones in Campus
New Age Islam Edit Desk, December 31, 2012
Deoband: Darul Uloom Deoband has cracked down on the possession of multimedia gadgets and sophisticated camera mobile phones by students in campus. The authorities seized mobile phones from some students and destroyed them. In the new educational session this year, the Darul Uloom had issued strict instructions to the students not to carry mobile phones in the campus as it had showing a negative impact on students. The authorities have been warning students against possession of multimedia mobile phones in the campus and taking steps to discourage them. In a recent crackdown, the authorities led by Maulana Afzal Qasmi seized more than 20 mobile phones and destroyed them in the last two days. This has caused resentment among the students but the authorities have said that students will not be allowed to carry sophisticated mobile phones and multimedia gadgets in the campus. Maulana
Qasmi told the students to pay more attention to their studies for which they have come here.
------------
Education is solution to the problems of Muslims
New Age Islam Edit Desk
December 31, 2012
New Delhi: The solutions to the problems of the Muslims lies in the spread of education and their future can be secured through their advancement towards higher education. If they lag in education, they will remain beleaguered by economic and social problems. These views were expressed by Prof. Baseer Ahmad in his fifth Mahfoozur Rehman Memorial lecture on "the future of Muslim youth in india." The lecture was organised by United Muslims of India and Urdu Development Organisation. Prof. Baseer Ahmad said that the youth have always emained an important section of the society. He observed that the government had virtually closed the door of employment on Muslim youth but private companies were providing them employment. Muslim youth do not get employment which causes them to leave education and look for some job, he said.
He also said that the trend of higher education was picking up among Muslim girls but at the same time it has created problems in their marriage as they do not get suitable match. So this aspect should also be considered. Prof. Baseer Ahmad also commended the contribution of Mahfoozur Rahman to Urdu journalism.
The compere of the programme, journalist Suhail Anjum raised the issue of the illegal arrest and detention of Muslim youth on the charges of terrorism and termed it the biggest problem of the contemporary Indian Muslims. He said that the police arrests them on suspicion but cannot submit evidences of their involvement in courts. Eventually, these youth are released by the courts. But still the arrests do not stop.
------------
Maulana Ahmed Bukhari terms Samajwadi Party 'anti-Muslim', inept to handle riots
By Pervez Iqbal Siddiqui
Dec 30, 2012
LUCKNOW: The Shahi Imam of Jama Masjid in New Delhi, Maulana Ahmed Bukhari, on Saturday called the Samajwadi Party (SP) government in Uttar Pradesh "anti-Muslim". Taking serious exception to the reported statement of chief minister Akhilesh Yadav that 'the state government would bear all medical expenses of the Delhi gang-rape victim,' Bukhari questioned why no such aid was extended to Muslim rape victims in UP.
Bukhari said the menace can be handled only if the government treated all such incidents in a similar manner. "It stands clear that security and safety can be provided to women in India only when our response to such incidents is not seen through a lens that classifies crime on the grounds of religion, caste or social status," the Imam said. He described the demand of reservations for Muslims, voiced by the SP, as mere lip service.
During the 2012 assembly elections in UP, Bukhari had issued appeals to the Muslim community to vote for the SP. Party president Mulayam Singh Yadav too had pampered Bukhari all through the election campaign and, thereafter, even at the cost of parting ways with his die-hard supporter and SP leader Azam Khan. Bukhari and Azam Khan have had a verbal public spat.
Lambasting the poor performance of the Akhilesh Yadav government in handling communal violence in the state, Bukhari said the SP government had not instituted a single high-powered probe into any of the communal flare-ups. "This is because they know that such probes will expose skeletons in the SP cupboard," he said. "The government must ensure that true justice is handed out to victims and perpetrators of all communal violence if it really wants to check such incidents in future," the Imam said.
He accused a section of Muslim leaders in SP of keeping quiet despite injustice done to the minority community only to save their individual vested interests. "They are too happy with their lucrative portfolios to even throw a glance at their community and its well-being," Bukhari said. "Mulayam presents himself as a messiah of Muslims and that is why there is not a single Muslim district magistrate in the entire state," he said. "The situation is so bad that during the communal flare-up in Faizabad, I called up some senior officials of the state administration but not one of them responded to my calls," Bukhari said.
Though the SP has maintained a studied silence on Bukhari's statement, some strong critics of the Imam in the Akhilesh cabinet have described his "utterances" as outbursts of a bruised ego. "There is this growing tendency among the self-proclaimed leaders to try and intervene directly in the governance of the state. When the bureaucracy refuses to dance to their whims and fancies, they vent their anger on the party," a minister not wanting to be named said.
http://timesofindia.indiatimes.com/city/lucknow/Maulana-Ahmed-Bukhari-terms-Samajwadi-Party-anti-Muslim-inept-to-handle-riots/articleshow/17813825.cms
------------
Sudanese and African cheats in police net
By Rajiv Kalkod
Dec 30, 2012
BANGALORE: The Bangalore Central Crime Branch (CCB) sleuths arrested six persons, including a Sudanese national on cheating charges. According to police, the accused were arrested for cheating students by distributing fake university certificates, police said. The accused were cheating by distributing fake Bangalore University degree, provisional, convocation and migration certificates and marks cards, police said.
Police identified the main accused are Hafis Ur Rehman, 38 of Eejipur and native of J&K and Diakite K Ibrahim Soulinane, resident of Ivory Coast, West Africa.
"Diakite was close associate of many Nigerian drug peddlers. But we have investigate on his involvement," investigating police said.
Police said the visa period of the Sudanese had expired in 2003. The arrested were using computers for making certificates and selling them to Indian and foreign students.
http://timesofindia.indiatimes.com/city/bangalore/Sudanese-and-African-cheats-in-police-net/articleshow/17819892.cms
------------
Ranganathananda drew me to Mohammed Ali Jinnah's 'secular' speech: L K Advani
Dec 31 2012,
Thiruvananthapuram : Nearly seven years after courting a controversy by praising Mohammed Ali Jinnah, senior BJP leader L K Advani today said it was a prominent Swami of the Ramakrishna Mission, who had drawn his attention to the Pakistan founder's desire for a secular state.
Going down the memory lane, Advani said it was during a meeting in Kolkata that Swami Ranganathananda drew his attention to Jinnah's speech to the Constituent Assembly of Pakistan that its citizens should refrain from religious discriminations.
It was after this meeting (with Ranganathananda) during a visit to Pakistan in 2005 that he availed of a copy of Jinnah's address and mentioned about it while making a speech in the neighbouring country, he said.
Advani's controversial comments then had raised the hackles of the Sangh Parivar, including its fountainhead RSS, which lost no time in forcing his exit as the BJP President.
This is not the first time that Advani has spoken about the meeting with Ranganathananda. In one of his blog posts earlier, he had mentioned in detail about his association with the late Swamiji since his days in Karachi before partition.
Full report at:
http://www.indianexpress.com/news/ranganathananda-drew-me-to-mohammed-ali-jinnahs-secular-speech-l-k-advani/1052429/
------------
Arab World
Al-Assad Troops Kill Nearly 400 People in Syria's Bloodiest Day: Local Coordination Committees
Bashar Al-Assad regime troops killed at least 397 people on Saturday in what could be Syria's bloodiest day since the beginning of the of the 21-month-old conflict, the opposition Local Coordination Committees (LCC) said on their official Facebook page Sunday.
By the end of Saturday, the LCC managed to document 397 martyrs, including more than 20 children and 20 women. Some 227 martyrs were reported in Homs, "220 of them were field executed in Deir Balbah," with 62 in Damascus and its suburbs (10 in Nashabiya), 40 in Aleppo (13 martyrs in Tal Refaat ), 22 in Deir Ezzor, "including 15 unidentified bodies," 17 in Daraa, 14 in Hama, 10 in Idlib, and five in Raqqa.
Full report at:
http://english.ahram.org.eg/NewsContent/2/8/61508/World/Region/AlAssad-troops-kill-nearly--people-in-Syrias-blood.aspx
------------
Syrian crisis 'could kill 100,000 in next year'
30 December 2012
The international envoy to Syria has warned that as many as 100,000 people could die in the next year if a way cannot be found quickly to end the country's civil war.
Lakhdar Brahimi, the UN-Arab League envoy for the Syrian crisis, told reporters in Cairo on Sunday that if the crisis continued Syria would not be divided into states "like what happened in Yugoslavia" but would face "Somalisation, which means warlords, and the Syrian people will be persecuted by those who control their fate".
Syrian rebels have been fighting for 21 months against President Bashar al-Assad's regime. Activists say more than 40,000 people have been killed in the crisis, which began with pro-democracy protests but has morphed into a civil war.
Full report at:
http://www.guardian.co.uk/world/2012/dec/30/syrian-crisis-could-kill-100000
------------
Mufti: Islamic Council elections must be held within legal timeframe
December 30, 2012
BEIRUT: The elections of the Higher Islamic Council whose term ends on Monday must be held within the legitimate timeframe, Grand Mufti Sheikh Mohammad Rashid Qabbani said Sunday.
"I insist that the elections of the Higher Islamic Council be held after publishing the names of the voters within the legitimate timeframe," said the Mufti following a meeting with former Prime Minister Omar Karami in Tripoli.
The legal timeframe for naming the 32 members of the council is set at two months, between the first of Jan. and the end of Feb.
Speaking from the northern city, the Mufti said Sunday that the three-year term of the current council ends on Monday and it will no longer have legitimacy.
Earlier this week, the mufti postponed the controversial elections of the Higher Islamic Council which were initially set for the end of the year.
Full report at:
http://www.dailystar.com.lb/News/Local-News/2012/Dec-30/200402-mufti-islamic-council-elections-must-be-held-within-legal-timeframe.ashx#ixzz2GbtmYXkW
------------
Egypt readies for backlash over austerity measures
December 31, 2012
CAIRO — Egypt's government is readying itself for the potential political fallout of impending austerity measures as it seeks to guarantee a badly needed $4.8 billion loan from the International Monetary Fund next month.
As the Egyptian pound hit a record low Sunday, Prime Minister Hesham Kandil told reporters that the loan might be the only way out of Egypt's economic crisis.
Kandil's comments came one day after Egypt's central bank implemented a new system of buying and selling dollars, which it said would slow the depletion of the country's dwindling foreign-currency reserves. Egypt is facing a rising budget deficit and mounting public frustration two years after popular demands for more jobs, economic equality and social justice led to the ouster of President Hosni Mubarak.
In a speech Saturday before the upper house of parliament, President Mohamed Morsi urged Egyptians to accept coming reforms and get on board with "stability" after a month of political unrest.
Full report at:
http://www.washingtonpost.com/world/middle_east/egypt-readies-for-backlash-over-austerity-measures/2012/12/30/0c622e78-52a0-11e2-bf3e-76c0a789346f_story.html
------------
Americans honoured for returning Saudi treasures
31 December 2012
JEDDAH: Seven US citizens have taken the initiative to return a number of Saudi artifacts, which they possessed for decades and were of great value, to the Saudi Commission for Tourism and Antiquities (SCTA).
The Americans were copiously honored by Prince Sultan bin Salman, SCTA president, at the opening ceremony of the three-month-long exhibition "Roads of Arabia: Archaeology and History of the Kingdom of Saudi Arabia", which was opened on Nov. 15.
The citizens who returned the artifacts are "Sons of Aramco", said Janet Smith, wife of the US Ambassador to the Kingdom James Smith. "They were born and lived in the Kingdom with their parents, who were working for Saudi Aramco, and are now part of the Alumni Association Aramco families and retirees, which includes people between the ages of 5-90 years," she said.
Barbara Denis Martin, one of the honorees, said that she was born in the Kingdom and lived there until she was 20, so she considers it to be her second homeland.
Full report at:
http://www.arabnews.com/americans-honored-returning-saudi-treasures
------------
Brahimi says has Syria plan all world powers may back
30 December 2012
CAIRO: International envoy Lakhdar Brahimi warned Sunday the Syrian war was worsening "by the day" as he announced a peace plan he believed could find support from world powers, including key Syria ally Russia.
Brahimi's comments came as Russia despatched a third warship to its naval base in the Syrian port of Tartus in readiness for a possible evacuation of its nationals and as Turkish Prime Minister Recep Tayyip Erdogan told Syrian refugees that victory over the "tyrant" President Bashar Assad was at hand.
The situation in Syria "is very bad and getting worse by the day," Brahimi told reporters in Cairo, a day after warning in Moscow that Damascus faced a choice between "hell or the political process."
He said he had crafted a cease-fire plan "that could be adopted by the international community."
"I have discussed this plan with Russia and Syria... I think this proposal could be adopted by the international community," the UN and Arab League envoy said, without giving details.
"There is a proposal for a political solution based on the Geneva declaration foreseeing a cease-fire, forming a government with complete prerogatives and a plan for parliamentary and presidential elections," he said, referring to a peace initiative that world powers agreed to in Geneva in June.
Full report at:
http://www.arabnews.com/brahimi-says-has-syria-plan-all-world-powers-may-back
------------
Kingdom to create sovereign fund for future generations
ABDUL GHAFOUR
31 December 2012
JEDDAH: The government will allocate SR 200 billion from 2012 budget surplus to implement transport projects inside cities, bringing total spending in 2013 to more than SR 1 trillion, Finance Minister Ibrahim Al-Assaf said yesterday.
"We have not yet finalized the 2012 surplus because of new expenditures and revenues, especially nonoil revenues," Al-Assaf told Al-Arabiya channel. He said the remaining amount from the surplus of an estimated SR 386 billion would be kept in public reserve.
The minister said the government decided to make special allocations for these city transport projects considering their strategic importance. "We have done this before for housing and cutting down public debts," he said.
Al-Assaf was speaking after Custodian of the Two Holy Mosques King Abdullah unveiled the country's largest budget that projected spending at SR 820 billion in 2013.
Full report at:
http://www.arabnews.com/kingdom-create-sovereign-fund-future-generations
------------
Don't celebrate my accession, thank the labourer, says Ruler of Dubai
December 30, 2012
Dubai: His Highness Shaikh Mohammad Bin Rashid Al Maktoum, Vice-President and Prime Minister of the UAE and Ruler of Dubai, has directed that celebrations on the anniversary of his ascendancy shall be directed to employees of basic services such as gardeners, hygiene labourers, construction labourers, public transport vehicle drivers, house servants, and others, through the "Thanks to you" campaign.
On his Twitter account, Shaikh Mohammad said on Sunday that he has directed the concerned authorities not to allocate any festivities for the January 4th ascendance day. He added that there are other community categories that need our care and thanks.
This year, said Shaikh Mohammad, we will celebrate the category of basic services employees such as gardeners, hygiene labourers, construction labourers, public transport vehicle drivers, house servants, and other related jobs.
Full report at:
http://gulfnews.com/news/gulf/uae/government/don-t-celebrate-my-accession-thank-the-labourer-says-shaikh-mohammad-1.1125586
------------
Two hurt as protesters attack Iraq deputy PM
30 Dec 2012
Two people were wounded when security forces opened fire to disperse protesters who attacked Iraq's deputy premier on Sunday, forcing him to flee a rally he was addressing, an AFP reporter said.
The demonstrators, who have blocked a key highway connecting Iraq to Syria and Jordan for the past week over the alleged targeting of their Sunni Arab minority by the Shiite-led government in Baghdad, threw water bottles, stones and shoes at Saleh al-Mutlak before grabbing and hitting him.
Mutlak, who is himself Sunni and from Anbar province where the protests have been staged, managed to escape after federal police arrived and fired their weapons into the air.
An aide to Mutlak, speaking on condition of anonymity, said the deputy premier was all right and was returning to Baghdad.
Full report at:
http://english.ahram.org.eg/NewsContent/2/8/61531/World/Region/Two-hurt-as-protesters-attack-Iraq-deputy-PM.aspx
------------
Jailed Qatari poet to appeal life sentence
30 Dec 2012
A Qatari poet who has been sentenced to life in prison for insulting the Emir of Qatar and spreading incendiary material has been granted an appeal, according to his lawyer.
Muhammad al-Ajami, 36, was jailed in November 2011 after an investigative judge found him guilty of calling for the overthrow of the government of the Gulf sate.
Al-Ajami's lawyer, Dr Najeeb al-Nuaimi, told Al Jazeera on Sunday that his client's case will be brought before of the Court of Appeal on January 27 and that both the prosecution and the defence will present oral arguments.
However, al-Nuaimi said that his special request that al-Ajami be released on bail was rejected by the court without motivation.
"Still, I put all my confidence on the appeals court as they are actually independent. We were very angry but now I'm calm as I am confident that we will get a fair review of the case," al-Nuaimi, who is Qatar's former justice minister, told Al Jazeera.
Both the Court of First Instance and the Qatari Justice ministry could not immediately be reached for comment.
Full report at:
http://www.aljazeera.com/news/middleeast/2012/12/20121230105755885336.html
------------
Organized gangs targeting Jeddah treasury officials
31 December 2012
JEDDAH: Jeddah police have warned people of organized gangs targeting accountants and treasury trustees of private companies and institutions while transporting funds to and from banks, a local newspaper reported.
Security forces said this process is risky, making the employee vulnerable and exposed to attacks. Officials in the Ministry of Interior have detected a number of recent cases of assault on accountants working with private firms.
Spokesman of Jeddah police First Lt. Nawaf Al-Bouq said these incidents are not common, as compared to many other countries in the world. "They are not disturbing, but it is better to be cautious, as prevention is the best medicine," he said.
The Council of Saudi Chambers issued a binding decision to companies and institutions to have them transfer their deposits through security companies in an attempt to minimize such incidents.
Full report at:
http://www.arabnews.com/organized-gangs-targeting-jeddah-treasury-officials
------------
$300m of Mubarak's sons frozen
December 31, 2012
GENEVA - Swiss authorities have frozen 300 million dollars (227 million euros) sitting in Credit Suisse accounts in Geneva held by the sons of deposed Egyptian president Hosni Mubarak, the newspaper Le Matin Dimanche reported on Sunday. The funds are held in accounts belonging to Alaa and Gamal Mubarak, sons of the ex-president who are currently being held in an Egyptian prison. The brothers are accused of using their position as scions of Egypt's longtime ruler to help themselves to villas, luxury cars and stakes in the country's key companies.
According to the newspaper, the funds were deposited at the Credit Suisse in 2005, which was after Switzerland tightened rules governing transactions by politically exposed depositors. A Credit Suisse spokesman refused comment, citing the bank's secrecy policy.
Full report at:
http://www.nation.com.pk/pakistan-news-newspaper-daily-english-online/international/31-Dec-2012/-300m-of-mubarak-s-sons-frozen
------------
Syria govt forces retake Homs
December 31, 2012
Syrian government forces have pushed rebel forces out of the Deir Baalbeh district of the city of Homs after several days of fierce fighting.
One activist group said that more than 200 civilians were killed by regime forces after the fighting, but the claim cannot be independently verified.
The death toll across Syria on Saturday was reported to be as high as 400.
The strategically important city of Homs has seen much of the heaviest fighting in Syria's 21-month conflict.
Residents of Deir Baalbeh were rounded up and forced into a petrochemical plant where they were summarily executed, according to the Local Coordination Committees (LCC), an opposition group based in Syria.
Full report at:
http://www.thedailystar.net/newDesign/latest_news.php?nid=43580
------------
2 concussion grenades explode in north Lebanon
December 31, 2012
TRIPOLI, Lebanon: Two concussion grenades exploded in the Abu Samra area of the north Lebanon city of Tripoli Sunday evening, a security source told The Daily Star. The explosions shook the city at two separate intervals but did not cause any damage. The Lebanese Army cordoned off the area to carry out investigations, the source added.
Full report at:
http://www.dailystar.com.lb/News/Local-News/2012/Dec-31/200448-2-concussion-grenades-explode-in-north-lebanon.ashx#ixzz2GbtdDZfo
------------
Crown prince to attend KFAA graduation
31 December 2012
RIYADH: Crown Prince Salman, deputy premier and minister of defense, will attend the graduation ceremony of the 83rd batch of King Faisal Air Academy (KFAA) students on Tuesday.
The commander of the Royal Saudi Air Force, Gen. Mohammad Al-Ayesh, expressed pleasure over the crown prince's gesture.
"This blessed approach is the same approach of the rulers of the country who habitually join their sons in their joyful events and implant confidence in their hearts to be good protectors of this generous country," he said.
Full report at:
http://www.arabnews.com/crown-prince-attend-kfaa-graduation
------------
High Constitutional Court to resume on 15 January
30 Dec 2012
After almost one-month adjournment, Egypt's High Constitutional Court (HCC), scheduled to esume its work on 15 January, will begin by looking into appeals against the now defunct constituent assembly and the Shura Council, the upper house of parliament, which took over legislative authorities after the ratification of the new constitution.
This court session was previously scheduled for 2 December 2012 and on 13 January 2013.
The verdicts however were postponed when the HCC declared on 2 December that it would indefinitely suspend all sessions in protest of pressure exerted upon it by supporters of President Mohamed Morsi. Pro-Morsi demonstrators had gathered outside the court building to protest against expected verdicts that might have dissolved both bodies.
Full report at:
http://english.ahram.org.eg/NewsContent/1/64/61540/Egypt/Politics-/High-Constitutional-Court-to-resume-on--January.aspx
------------
Iraq protesters clash with official's guards
30 Dec 2012
Bodyguards for Iraq's deputy prime minister have wounded two people after firing warning shots at Sunni protesters who had pelted his convoy with bottles and stones, witnesses said.
The incident took place on Sunday in the city of Ramadi in the western province of Anbar, to which Deputy Prime Minister Saleh al-Mutlaq, himself a Sunni, had travelled to address people in an attempt to defuse sectarian tensions.
Thousands of Iraqi Sunnis have taken to the streets and blocked a main highway over the past week in protest against Shia Prime Minister Nuri al-Maliki, whom they accuse of discriminating against them and being under the sway of non-Arab neighbour Iran.
"Leave! Leave!" the protesters shouted at Mutlaq, who has actually been a frequent critic of Maliki.
"It's only now Mutlaq comes to attend the protest and after seven days. He came to undermine the protest," Saeed al-Lafi, a spokesman for the protesters, told the Reuters news agency.
Mutlaq's guards opened fire to disperse the crowd after they threw objects at his convoy. Two people were wounded, the witness said.
In a statement following the incident, Mutlaq said some "rogue elements" at the protest had tried to kill him.
Full report at:
http://www.aljazeera.com/news/middleeast/2012/12/2012123022487785630.html
------------
International envoy warns of failed state in Syria
30 December 2012
BEIRUT - The international envoy seeking to end Syria's civil war warned Sunday that the failure of the government and the rebels to pursue a political solution could lead to the "full collapse of the Syrian state" and threaten the world's security.
Lakhdar Brahimi, who represents the United Nations and the Arab League, said that as many as 100,000 people could be killed in the next year as Syria moves toward "Somalization" and rule by warlords.
Brahimi has reported little progress in his mission to push forward a peace plan for Syria first presented in June at an international conference in Geneva. The proposal calls for an open-ended cease-fire and the formation of a transitional government to run the country until new elections can be held and a new constitution drafted.
Full report at:
http://www.khaleejtimes.com/kt-article-display-1.asp?xfile=/data/middleeast/2012/December/middleeast_December495.xml&section=middleeast
------------
Saudi mulls German tank deal: report
December 30, 2012
Berlin: Saudi Arabia is planning to buy 30 German Dingo 2 armoured vehicles worth about 100 million euros (Dh485.36 million), Germany's Bild am Sonntag reported in its Sunday edition.
Quoting sources close to the talks on a deal, the paper said Riyadh could eventually purchase up to 100 of the mine-resistant, ambush-protected Dingos.
The Dingo 2 is advertised by its maker Krauss-Maffei Wegmann as "the safest and best-protected wheeled vehicle in its class" with an "outstanding performance on extremely difficult terrains and under extreme climatic conditions".
The vehicle is also fitted with a nuclear biological and chemical protection system.
Germany's national security council of which Chancellor Angela Merkel is a member is still to make a final decision on the deal but has already given the green light in principle, said the weekly.
Full report at:
http://gulfnews.com/news/gulf/saudi-arabia/saudi-mulls-german-tank-deal-report-1.1125422
------------
Europe
Muhammad cartoons: French magazine to publish illustrated prophet biography
30 December 2012
The French satirical weekly Charlie Hebdo, which sparked controversy and legal complaints after publishing cartoons of Muhammad, will this week release a special edition illustrated biography of the Muslim prophet.
Its editor, Stéphane Charbonnier, known as Charb, made the announcement to Agence France-Presse (AFP), arguing that Life of Muhammad would be "perfectly halal" because it was a compilation of all that had been written about the prophet in the past by Muslim writers and they had "simply put it into images".
The anti-establishment publication, which says its cartoonists are atheists who are interested in satirising all religions, claimed it was publishing a profile to learn more about the prophet. "Before you can have a laugh about a character, it's better to know him," Charb told AFP. He denied the special edition was an act of provocation.
Many Muslims object to representations of Allah or Muhammad and to irreverent treatment of the Qur'an.
Full report at:
http://www.guardian.co.uk/world/2012/dec/30/muhammad-cartoons-magazine-biography-prophet
------------
Pakistan
UN chief condemns 'escalating' violence in Pakistan
December 31, 2012
UNITED NATIONS: UN Secretary General Ban Ki-Moon said Sunday he was "appalled by the escalating terrorist violence in Pakistan,"after 19 Shia pilgrims died in a car bomb and 21 kidnapped soldiers were killed.
Ban "condemns in particular the continued violent targeting of religious minorities," according to a statement from his spokesman, Martin Nesirky.
He "also strongly condemns the killing of 21 members of a government-backed tribal police force," kidnapped this week after near Peshawar, in the troubled northwest of the country.
"These cruel acts of violence cannot be justified by any cause or grievance," the statement emphasised, saying the perpetrators "should be brought to justice."
Ban assured Pakistan's government and its people of "the solidarity of the United Nations" as well as of "its continued support for their efforts to defend their country's institutions and freedoms in the face of the scourge of terrorism."
Full report at:
http://dawn.com/2012/12/31/un-chief-condemns-escalating-violence-in-pakistan/
------------
Conditional talks: TTP truce offer finds no takers in military
By Kamran Yousaf
December 31, 2012
ISLAMABAD: The security establishment has ruled out a ceasefire with the Tehreek-e-Taliban Pakistan (TTP), describing the recent peace overture from the militants as a ploy to avoid a possible military offensive in the tribal areas, The Express Tribune has learnt.
Last week, TTP chief Hakimullah Mehsud said in a video message that his group was willing to negotiate with the Pakistani government. However, he attached certain preconditions to the peace talks, including an end to Pakistan's alliance with the United States and rewriting of the country's constitution "according to Islamic Shariah".
Reacting to the offer, a senior military official said TTP's move appeared to be aimed at gaining the "higher moral ground" at a time when a consensus was emerging in the country against their violent campaign.
"We should not be swayed by their offer," cautioned the official, adding that the group probably made the offer to preempt a fresh military operation against Taliban insurgents in the tribal areas.
Full report at:
http://tribune.com.pk/story/486871/conditional-talks-ttp-truce-offer-finds-no-takers-in-military/
------------
Talks with armed Taliban meaningless: Sunni Ittehad Council
December 31, 2012
Sunni Ittehad Council Chairman Sahibzada Fazl Karim has said that negotiations with Taliban would be meaningless unless they lay down weapons, accept constitution of Pakistan and decisions of the apex court. Speaking at Manzoor-al Arafeen Seminar and talking to the media at Al-Hamra on Sunday, he said that Taliban were killing soldiers and at the same time talking about dialogues with the government.
Sahibzada Fazl Karim said that there was need of making sincere efforts to save the state. He said that delay in elections would create unrest and push the country toward civil war. Referring to the statement of Secretary Defense, he said that the US and UK ambassadors should be summoned at the Interior Ministry to protest against attitude of their governments.
Ex-Federal Minister Religious Affairs Hamid Saeed Kazmi said that no evidence of his involvement in Hajj scam has been submitted to the court.
Full report at:
http://www.nation.com.pk/pakistan-news-newspaper-daily-english-online/lahore/31-Dec-2012/talks-with-armed-taliban-meaningless-karim
------------
All-out security to be provided on Chehlum: Senior Advisor to Punjab C M
December 31, 201
LAHORE - Senior Advisor to Chief Minister, Senator Sardar Zulfiqar Ali Khan Khosa, has said that all processions of Chehlum Imam Hussain (RA) are important and sensitive in nature; therefore, best possible security should be provided to them without distinction of category to avert any unpleasant incident.
Presiding over a high level meeting held here to review security arrangements for Chehlum Imran Hussain (RA), Khosa said no laxity in security arrangements would be tolerated at any cost and all concerning departments should coordinate completely so that the provision of foolproof security to all processions of Chehlum Imam Hussain (RA) could be made possible.
Punjab Auqaf Minister Haji Ehsanuddin Qureshi, Education Minister Mujtaba Shuja-ur-Rehman, MNA Mian Marghoob Ahmed, Secretary Auqaf, IG Punjab, Commissioner Lahore Division, Additional Home Secretary, Additional Secretary Information, Additional IG Special Branch and DCO Lahore were also present in the meeting.
Full report at:
http://www.nation.com.pk/pakistan-news-newspaper-daily-english-online/lahore/31-Dec-2012/all-out-security-to-be-provided-on-imam-hussain-s-chehlum-khosa
------------
'Pakistan most unsafe place for newsmen in S Asia'
31 December 2012
LAHORE: South Asia, the most volatile region, mourned the murder of 25 media persons, with Pakistan again remaining on the top with its 13 journalists losing their lives during 2012.
This has been stated in the South Asia Media Commission's (SAMC) Media Monitor 2012 report which was made public by the body's Secretary General M Ziauddin here on Sunday.
The report was simultaneously launched in all eight countries of South Asia. The launch, attended by senior journalists from all the four provinces and the tribal areas of the country, coincided with annual meeting of Media Commission-Pakistan, the local chapter of the SAMC.
According to the report, five journalists were killed in India, three in Bangladesh and two each in Nepal and Afghanistan. Though luckily no journalist was killed in Sri Lanka, Bhutan and the Maldives, media persons there continued to face professional challenges and hazards.
The media also came under scrutiny for laxity in professionalism in achieving accuracy and being unbiased.
Full report at:
http://dawn.com/2012/12/31/pakistan-most-unsafe-place-for-newsmen-in-s-asia/
------------
I do not want to become caretaker PM: Qadri
December 31, 2012
LAHORE: Tehrik-i-Minhajul Quran chief Dr Tahirul Qadri on Sunday said he did not want to become a caretaker prime minister.
Addressing the Tehrik-i-Minhajul Quran workers convention, Tahirul Qadri said, "We will eradicate corruption from politics and no one will be allowed to loot the resources of the country."
Full report at:
http://dawn.com/2012/12/30/i-do-not-want-to-become-caretaker-pm-qadri/
------------
Cantt Station bombing: CCTV footage suggests it was suicide attack
By Faraz Khan
December 31, 2012
KARACHI: Footage from closed-circuit television (CCTV) cameras suggest that Saturday's mysterious blast outside Cantt railway station was in fact a suicide attack, The Express Tribune learnt on Sunday.
Six people were killed and over 50 wounded when the blast ripped through an inter-city passenger bus. Police officials kept guessing about the nature of the blast as, according to them, no traces of explosives were found at the site.
On Sunday, investigators reviewed the footage from the CCTV cameras installed in the Cantt station neighbourhood which suggested that it was a suicide attack, a senior police investigator told The Express Tribune.
Full report at:
http://tribune.com.pk/story/486870/cantt-station-bombing-cctv-footage-suggests-it-was-suicide-attack/
------------
Probe into Osama death PM likely to receive report this week
Syed Irfan Raza
December 31, 2012
ISLAMABAD: The much-awaited report of the investigation into the US attack in which Al Qaeda founder Osama bin Laden was killed has been completed and is likely to be presented to Prime Minister Raja Pervez Ashraf this week by the Abbottabad Commission's chairman Justice (retd) Javed Iqbal.
The report prepared in more than one and a half years is expected to generate a fresh debate on the killing of Osama in a 40-minute midnight air raid by US Navy Seals in Abbottabad on May 2 last year.
A private TV channel quoted Justice (retd) Iqbal as saying that the report had been completed and was likely to be presented to the prime minister on Monday.
However, the Prime Minister's Press Secretary Shafqat Jalil said no meeting between Justice (retd) Iqbal and the premier was scheduled on Monday.
Full report at:
http://dawn.com/2012/12/31/probe-into-osama-death-pm-likely-to-receive-report-this-week/
------------
MQM to support Qadri's Jan 14 long march
December 31, 2012
KARACHI: The Muttahida Qaumi Movement (MQM) announced that it will fully support Pakistan Awami Tehrik's call for a long march to Islamabad on January 14, DawnNews reported on Sunday.
After convening a joint session of MQM's London and Karachi Coordination Committees, Dr Farooq Sattar at a press conference said that MQM's manifesto is the same as the struggle Full report at:
http://dawn.com/2012/12/30/mqm-to-support-qadris-jan-14-long-march/
------------
Zardari for boost in Pak-UAE trade
December 31, 2012
RAHIM YAR KHAN - President Asif Ali Zardari on Sunday urged for taking existing strong bilateral ties between Pakistan and the UAE to new heights with focus on trade and commercial relations.At a meeting with Sheikh Khalifa bin Zayed bin Sultan Al Nahyan, President of the United Arab Emirates (UAE), Zardari underscored close and fraternal relations between Pakistan and the UAE, saying that relationship between the two countries were rooted in cultural affinities, shared faith and traditions and interests.Matters pertaining to bilateral relations, ways and means to further enhance mutual cooperation in diverse fields and regional issues were discussed during the meeting.Spokesperson to the President Senator Farhatullah Babar said that President Zardari, while expressing delight at the upward trajectory in the Pak-UAE relations, said during the past five years the bilateral ties had grown from strength-to-strength in all spheres of cooperation. Pakistan was keen to further cement bilateral cooperation in all sectors, he added. He also invited the UAE investors to avail the business and investors-friendly liberal incentive packages the present government was offering to foreign and domestic entrepreneurs. He said investors could now invest without any fear as all the incentives and facilities being offered to them had now been protected by a law passed by the Parliament.The president said that the UAE was Pakistan's largest trading partner in the Middle East and hoped that the visit of the UAE President would further boost trade and investment cooperation to the mutual benefit of the two countries. Full report at:
http://www.nation.com.pk/pakistan-news-newspaper-daily-english-online/national/31-Dec-2012/zardari-for-boost-in-pak-uae-trade
------------
Quit terror before talks, Malik tells TTP
December 31, 2012
KARACHI - Interior Minister Rehman Malik has said that Tehrik-e-Taliban Pakistan should fix a deadline for ending the terrorist activities.Talking to media at the wedding ceremony of Federal Minister Babar Ghauri's daughter in Karachi on Sunday' he said talks would be held with Taliban if they renounced violence and terrorism.The minister said the people wanted peace. Malik said it seemed that there was no solidarity in the ranks of Taliban. He said they should first create consensus within their factions and make a team for dialogue."We are ready for dialogue for the sake of peace in the country," he said. However' Malik asked the militants to give up violence and terrorism.He said public security was top priority of the government. Malik said investigation of Cantt Station blast was underway. He said mobile phones were used in 80 per cent terror acts, therefore, illegal SIMs should be banned.
Full report at:
http://www.nation.com.pk/pakistan-news-newspaper-daily-english-online/national/31-Dec-2012/quit-terror-before-talks-malik-tells-ttp
------------
Former leader of Jamiat Ulema-e-Islam-Fazal passes away in Peshawar
By: Nader Buneri
December 31, 2012
PESHAWAR - Former leader of Jamiat Ulema-e-Islam-Fazal (JUI-F), Maulana Muhammad Ameer, widely known as Maulana Bijli Ghar or Bijli Ghar Mulla passed away on Sunday after protracted illness. He was 85 years old.
Born in Billaki Khail village of Darra Adam Khail in 1927, Maulana Bijli Ghar was very much popular in Pakhtun belt for his humorous speeches and religious sermons, which mostly he used to deliver in various public gatherings and religious seminaries. He remained prayer leader in the mosque of Bijli Ghar local grid station in Bhanamari area where he also imparted religious education to young students.
Despite being over 80 years of age, he frequently visited his shop-cum-office situated at the Bhanamari Chowk in the provincial capital.
Full report at:
http://www.nation.com.pk/pakistan-news-newspaper-daily-english-online/national/31-Dec-2012/maulana-bijli-ghar-passes-away-in-peshawar
------------
Punjab, KPK governors discuss terrorism
December 31, 2012
LAHORE - Khyber Pakhtunkhawa Governor Barrister Masood Kausar called on Punjab Governor Makhdoom Ahmed Mahmud at Governor House, on Sunday.
The two discussed host of issues, but primary focus remained on elimination of terrorism. They agreed that collective efforts, unity and political acumen were vital to curb the menace.
Punjab governor was of the view that good governance was vital to resolve country's problems including the terrorism. He also stressed the need for maintaining a positive political environment. KPK governor told his Punjab counterpart that improvement in law order situation in the frontier province was his top most priority and would try his level best not to disappoint the people in this regard.
Full report at:
http://www.nation.com.pk/pakistan-news-newspaper-daily-english-online/lahore/31-Dec-2012/punjab-kpk-governors-discuss-terrorism
------------
South Asia
Police trap reveals how Afghan 'insider attacks' work
December 31, 2012
KABUL - The Taliban believed Beyar Khan Weyaar was the perfect candidate to prepare an insider attack on Afghan police, but instead he set a daring trap that has given a rare insight into suicide bombing tactics.Weyaar, a low-ranking police officer in the eastern province of Paktika, was approached in November by a man who offered him the chance to get rich if he met a local insurgent commander."I thought he was joking," Weyaar told AFP after collecting a hero's medal from Interior Minister Mujtaba Patang in Kabul on December 25. "But the commander came to meet me at my police post in Sar Hawza district. He must have known I worked there."He brazenly asked me to take the Taliban side and help them launch an attack inside the police force. I asked him to give me time to think."Weyaar, aged in his early 40s, instead informed senior officers, who gave him clearance to continue meeting the insurgents to gain intelligence.He then got a telephone call from a leader of the Taliban-linked Haqqani group offering him a luxury house in Pakistan if he helped bombers infiltrate the Paktika provincial headquarters where the governor and police chief work. Though impossible to verify, Weyaar and government officials believe the caller was Sirajuddin Haqqani, chief of the Haqqani network, a group close to Al-Qaeda that is blamed for some of the most deadly insurgent attacks. "He said he would give me 2.5 million Afghani ($50,000), two brand new cars and a house in Pakistan," Weyaar said.The police decided to go along with the plot and signed up three men aged 18-25 who were sent by the above mentioned commander. They were taken on as junior recruits, given police uniforms and started work in Weyaar's post."We were watching this very closely.
Full report at:
http://www.nation.com.pk/pakistan-news-newspaper-daily-english-online/national/31-Dec-2012/police-trap-reveals-how-afghan-insider-attacks-work
------------
450 Myanmar asylum seekers reach Malaysia, 1 dead
December 31, 2012
Police say about 450 asylum seekers from Myanmar have landed in Malaysia after a dangerous boat journey that left one dead.
They are one of the largest groups of Myanmar's Rohingya Muslims who've reached Malaysia this year after leaving their violence-scarred hometowns.
A police official on Malaysia's northern Langkawi Island says the asylum seekers arrived on Sunday after a roughly two-week journey on a wooden boat.
Full report at:
http://www.thehindu.com/news/international/450-myanmar-asylum-seekers-reach-malaysia-1-dead/article4258515.ece
------------
Miranshah blast kills 2 soldiers
December 31, 2012
NORTH WAZIRISTAN – An improvised explosives device (IED) blast in Miranshah killed two security personnel and injured another one on Sunday. A convoy of security forces was on its way in Dattakhel area, when it was hit by a roadside-planted IED killing two men of the security forces and inflicting injuries to another. Sources said incident occurred when curfew was imposed in Miranshah, headquarters of North Waziristan Agency, due to movement of the forces' convoy.
Full report at:
http://www.nation.com.pk/pakistan-news-newspaper-daily-english-online/national/31-Dec-2012/miranshah-blast-kills-2-soldiers
------------
Over 1,000 Afghan army personnel killed in 2012: official
December 30, 2012
More than 1,000 personnel of Afghan army had lost their lives in Taliban-led attacks, bombings and military operations in 2012 in the insurgency-hit country, said a spokesman of the country's Defense Ministry on Sunday.
"Up to 1,050 Afghan National Army (ANA) personnel including officers and soldiers had been martyred in fight against insurgents and security incidents all over the country in 2012," General Zahir Azimi told a press briefing.
About 85 percent of army casualties were caused by the Taliban home-made Improvised Explosive Devices (IEDs), he said.
However, he failed to give the number of army soldiers who sustained injuries over the same period of time.
Full report at:
http://www.nation.com.pk/pakistan-news-newspaper-daily-english-online/international/30-Dec-2012/over-1-000-afghan-army-personnel-killed-in-2012-official
------------
Hasina rejects interim govt formula
December 31, 2012
Prime Minister Sheikh Hasina yesterday heavily criticised Dr Akbar Ali Khan, former adviser to a caretaker government, saying a person who has failed to hold a simple election has no right to talk about the formula of an interim government.
"These days many persons came up with the formula of an interim government. One former adviser also came up with a formula. This person, while he was an adviser under President Iajuddin Ahmed, failed to hold an election," she said, without mentioning any names.
The Awami League chief made the remarks while addressing her party's councillors and delegates from different districts of the country, when they greeted her at Gono Bhaban yesterday on her re-election as the party chief.
Hasina said, "A failed person's formula is not effective. It will also fail."
Dr Akbar Ali Khan on Saturday suggested four proposals, including the formation of an interim government comprising Awami League and BNP lawmakers, to end the political deadlock over holding free and fair general election.
Full report at:
http://www.thedailystar.net/newDesign/news-details.php?nid=263283
------------
Afghan Camps Receive Winter Aid, but Officials Say It Isn't Enough
By ROD NORDLAND
December 30, 2012
KABUL, Afghanistan — The United Nations High Commissioner for Refugees on Sunday distributed emergency cold-weather supplies to families in a refugee camp where two days earlier a 3-year-old died of exposure to the freezing temperatures.
But camp leaders and Afghan government officials criticized the aid delivery as inadequate to protect residents from the weather and to prevent more deaths.
Last winter, more than 100 children died of the cold in refugee camps around Kabul, with 26 dying in the Charahi Qambar camp alone. That is the same camp where the 3-year-old died Friday; it was the first confirmed death because of the cold this winter.
The distribution of supplies at the camp, which is home to about 900 families in western Kabul, had been scheduled before news reports about the child's death, said Mohammad Nader Farhad, a spokesman for the United Nations refugees agency in Kabul.
On less than an hour's notice, the agency convened a news conference with Afghan government officials at the camp to announce the distribution.
Full report at:
http://www.nytimes.com/2012/12/31/world/asia/cold-afghan-camps-receive-some-aid-but-shortages-loom.html?ref=world&_r=1&&gwh=9513E9334EA40556473D340E30099C2C
------------
Afghans angry at US soldiers who drove away in the night leaving rent unpaid
Emma Graham-Harrison
30 December 2012
US forces left behind piles of equipment, an unpaid rent bill and a festering land dispute that threatens to undermine the Afghan government when they moved out of a volatile corner of eastern Kunar province this year, local officials and their former landlords say.
The only clue that a base that dominated Pashengar village for years had been abandoned for good was the midnight rumble of a convoy of trucks. In the morning, locals found guards gone, buildings blown up and, scattered around what had been a forbidding military encampment, piles of detritus from years of western living in a remote, mountainous valley.
Rows of air conditioning units stuck out of a damaged wall, a giant, dilapidated generator was marooned near shipping containers and twisted, dented vehicles remained. But there was no sign of a cheque for a landlord who said years of rent, running to hundreds of thousands of dollars, was owing to him.
Full report at:
http://www.guardian.co.uk/world/2012/dec/30/afghanistan-us-military-rent-land-dispute
------------
Freedom fighters vow to continue movement
December 31, 2012
Freedom fighters yesterday vowed to continue their movement against the "conspiracy to foil" the ongoing war crimes trial until the trial's completion.
They also demanded verdict of at least one of the cases pending with the International Crimes Tribunals before the next Independence Day on March 26 and ban of politics of Jamaat-e-Islami and pro-Jamaat student organisation Islami Chhatra Shibir.
Nine Jamaat and BNP leaders are currently facing charges of crimes against humanity at the two tribunals.
Freedom fighters made the demands at a human chain formed outside the International Crimes Tribunal in the old High Court building.
Full report at:
http://www.thedailystar.net/newDesign/news-details.php?nid=263273
------------
33 Tahrir men on 3-day remand
December 31, 2012
A Dhaka court yesterday sent 33 members of banned Islamist outfit Hizb-ut Tahrir on a three-day remand each in connection with a case filed under the anti-terrorism act.
Metropolitan Magistrate Mohammad Saifur Rahman passed the order after Sub-Inspector Masud Rana of Shahbagh Police Station and the investigation officer of the case, produced them before the court with a seven-day remand prayer.
Law enforcers on Saturday arrested them following a clash with them in front of Jatiya Press Club in the capital.
Full report at:
http://www.thedailystar.net/newDesign/news-details.php?nid=263276
------------
Remove Justice Nizamul from HC: Pro-BNP-Jamaat lawyers
December 31, 2012
Pro-BNP-Jamaat lawyers yesterday demanded Justice Nizamul Huq's removal from the office of the High Court judge through a Supreme Judicial Council and his trial for holding Skype conversations on ICT-1 with an expatriate Bangladeshi legal expert.
Justice Nizamul resigned from the post of International Crimes Tribunal (ICT)-1 chairman on December 11 amid controversy over the conversations.
Full report at:
http://www.thedailystar.net/newDesign/news-details.php?nid=263292
------------
Africa
Libya Coptic church blast kills two Egyptians
30 December 2012
Two Egyptians have been killed and two injured in an apparent attack on a Coptic church building near the Libyan city of Misrata, officials say.
A Misrata city council official told the BBC that there had been an explosion at the building as the four victims were eating lunch there.
It is not clear who was behind the blast in the small town of Dafiniyah.
There were conflicting reports as to whether it happened on Saturday or Sunday.
The Misrata council official told the BBC that home-made dynamite used for fishing was found on the site of the explosion.
The Egyptian government has requested more security at the church, Egypt's Mena news agency reported.
Full report at:
http://www.bbc.co.uk/news/world-africa-20872613
------------
Three Al Qaeda-linked militants killed in Yemen
31 December 2012
SANAA - At least three Al Qaeda-linked militants were killed in the southern Yemeni province of Al Bayda late on Saturday in an apparent drone strike, government and tribal sources said.
Dozens of suspected militants including Al Qaeda members have been killed in recent months, many in strikes by pilotless aircraft, as the Yemeni government pursues a US-backed effort to counter fighters mostly operating in the south.
"Their bodies were charred and the car was completely obliterated," a tribesman who rushed to the scene said. "Their bodies 
were not recognisable, but the government says they're from Al Qaeda."
The state news agency, Saba, reported that the militants were "elements of Al Qaeda." A defence ministry website said the slain militants included a man it described as a senior Al Qaeda operative named Saleh Mohammed Al Ameri.
Full report at:
http://www.khaleejtimes.com/kt-article-display-1.asp?xfile=/data/middleeast/2012/December/middleeast_December492.xml&section=middleeast
------------
Five dead as troops battle Islamists in northern Nigeria
30 Dec 2012
Nigerian soldiers killed four suspected extremists and lost one policeman in the latest crackdown on the Islamist Boko Haram group in the country's restive northeast, the military said on Sunday.
Lieutenant Lazarus Eli, spokesman for the Joint Task Force (JTF) in Damaturu, the capital of Yobe State, said in a statement that the operation was carried out on Saturday in an area of the city of Potiskum that is a hotbed of the Boko Haram extremists.
"Four of the suspected terrorists were killed in the encounter. One policeman attached to the JTF lost his life and a soldier sustained injuries," he said.
"Fifty-nine persons were arrested during the operation for interrogation," he also said, and a cache of arms, ammunition and explosive devices were recovered.
Full report at:
http://english.ahram.org.eg/NewsContent/2/9/61537/World/International/Five-dead-as-troops-battle-Islamists-in-northern-N.aspx
------------
Jordan rejects 'Saddam' electoral list
December 31, 2012
AMMAN (AFP) - Jordan's electoral commission has refused to register an independent list of candidates calling itself "Saddam Hussein" after the executed Iraqi dictator, the group's leader said on Sunday. "We have filed an appeal against the electoral commission's rejection of our Saddam Hussein list," Faiz Ziyadneh told AFP. The commission gave its approval on Thursday to all would-be candidates for a general election called for January 23, except the Saddam Hussein list, "because it is the name of an individual," the state Petra news agency reported. The commission said it rejected "any name that could inflame sectarian, religious or racial enmity or affect national unity."
Ziyadneh condemned the commission's decision, saying it had "no legal basis" and that "electoral law does not stipulate any restrictions on the name of a list."
Full report at:
http://www.nation.com.pk/pakistan-news-newspaper-daily-english-online/international/31-Dec-2012/jordan-rejects-saddam-electoral-list
------------
Southeast Asia
Catholic Church in Indonesia receives bomb threat post Christmas
December 30, 2012
The North Sumatra Police's bomb squad on Saturday secured an alleged homemade bomb that contained 500 grams of nails, which was found in the backyard of Salaon Toba Catholic Church in Samosir Island, located at the centre of the renowned Lake Toba.
The church's priest, Herman Nainggolan, said the package was found following a text message received by local district head Ronggur Ni Huta at 11:11 p.m. local time on Friday that read, "There is a bomb in your jurisdiction at the Salaon Church."
The text message was promptly reported to the police, which sent a team to inspect the church.
"No one had the courage to move it. It [the bomb] was secured only after the bomb squad arrived today," Nainggolan said on Saturday.
The suspicious package, which was packed in two drinking bottles, stirred panic among the
Congregation taking part in Christmas mass.
The team arrived at the church at about 11:30 a.m. and brought the package to the Samosir Police headquarters for further examination.
Full report at:
http://www2.thejakartapost.com/news/2012/12/30/catholic-church-receives-bomb-threat-post-christmas.html
------------
Interfaith dialogue vital for China: theologian, Harvey Cox
29 December 2012
ROME (Agencies): "Interfaith dialogue is something that China, which will have the world's largest Christian population in 20 years, lives with every day," theologian, Harvey Cox, said at a book launch at the Gregorian University in Rome on November 30, in launching Catholic Engagement with World Religions: A Comprehensive Study in dialogue with its two editors, Karl Josef Cardinal Becker, from the Congregation for the Doctrine of the Faith, and Ilaria Morali, from the Pontifical Council for Interreligious Dialogue.
The two editors were present at the book launch at the pontifical university.
Cox teaches at the Harvard Divinity School in Massachusetts in the United States of America. He said the new book will play an invaluable role in determining where we've been in the past, where we are now, and where we're headed.
"There are two world phenomena happening right now," he added. "The first is that we can't recognise Christianity as a western religion anymore and the second is that countries with the fastest growing number of Christians don't have a Christian culture or traditions."
Morali, a professor at Harvard, teaches theology specialising in dialogue with Islam. She noted, "The starting point of the book was the experience we had in different contexts," CNA reported.
Full report at:
http://sundayex.catholic.org.hk/node/1025
------------
Philippines Braces for Bloody New Year Celebrations
December 31, 2012
iiManila. The Philippines braced on Sunday for its annual orgy of New Year's Eve merrymaking which leaves hundreds of people maimed by firecrackers or shot by bullets fired in the air by armed revellers.
A total of 164 people have been injured by fireworks since the Christmas weekend, half of them in Manila, while one person was wounded by a stray bullet, according to the Health Department.
President Benigno Aquino interrupted his Christmas holidays to meet with emergency services officials on government preparations for mass casualties, fires and other potential mayhem from the often drunken revelry.
The government reported 454 firecracker-related injuries from hospitals across the country as 2012 was welcomed, many of them children and drunk adults who ignored government warnings.
Full report at:
http://www.thejakartaglobe.com/international/philippines-braces-for-bloody-new-year-celebrations/564074
------------
Police Arrest Terrorism Suspects Allegedly Linked to Santoso
December 31, 2012
Two alleged terrorists, believed to be linked to the country's most wanted terrorism suspect Santoso, were arrested in Poso, Central Sulawesi, on Saturday.
The National Police counterterrorism squad, Densus 88, arrested two men identified as Sugianto and Riyadi in two separate locations over the weekend.
"Arrests of members of Santoso's group were made on Saturday at around 1 p.m. Indonesian Eastern Time," National Police spokesman Brig. Gen. Boy Rafli Amar said in Jakarta on Saturday. Both men were immediately taken to the provincial capital Palu for interrogation.
Boy said both suspects were believed to have taken part in tadrib, or terror trainings, and also participated in hiding fugitives, including Santoso.
Santoso is the No. 1 suspect on Densus 88's wanted list who is believed to have been involved in a series of terrorism activities in the country.
Full report at:
http://www.thejakartaglobe.com/home/police-arrest-terrorism-suspects-allegedly-linked-to-santoso/564093
------------
Minimum Down Payment Set for Islamic Financing
Dion Bisara
December 31, 2012
In a move to help curb consumer financing growth, the Finance Ministry has set stricter down payment requirements on Islamic financing for automotive purchases.
The new regulation, which will apply to all non-bank Islamic financing institutions, requires a down payment of 20 percent for two-wheeled vehicle purchases and a 25 percent down payment for four-wheeled vehicles. The purchase of commercial four-wheeled vehicles — such as trucks or buses — requires a 20 percent down payment.
Previously, down payment requirements had not been regulated for Islamic financing companies, with firms typically requiring either no down payment or a down payment of no more than 10 percent.
The Finance Ministry has since June imposed similar down payment requirements for conventional financing of automotive purchases.
However the failure to regulate Islamic financing left a loophole that allowed customers to take advantage of lower, unregulated rates.
Full report at:
http://www.thejakartaglobe.com/business/minimum-down-payment-set-for-islamic-financing/564060
------------
Jakarta archbishop complains about permits
December 31 2012
The Archbishop of Jakarta Mgr. Ignatius Suharyo has complained about the difficulties faced by Christians in Indonesia in gaining building permits when they want to construct churches.
During Christmas celebrations at the Jakarta Cathedral on Tuesday, Suharyo expressed his hopes that the government would soon resolve problems related to building permits for churches.
Your comments:
Full report at:
http://www2.thejakartapost.com/news/2012/12/31/comments-jakarta-archbishop-complains-about-permits.html
------------
Mideast Asia
Negotiations ongoing to create Islamist electoral coalition: Gamaa Islamiya's official
30 Dec 2012
Gamaa Islamiya's official spokesperson, Tarek El-Zomor, told Ahram's Arabic-language website Sunday that negotiations were ongoing to create an Islamist coalition to run for the next parliamentary elections. The coalition will exclude the Muslim Brotherhood's Freedom and Justice Party (FJP).
Although Al-Gamaa Al-Islamiya had run on the FJP list in the last parliamentary elections, El-Zomor says the experience was not satisfactory, confirming his group will be seeking a different form of Islamist coalition in the coming elections.
Ongoing negotiations led by El-Zomor began Thursday in Al-Gamaa Al-Islamiya's headquarters in Cairo's Mohandeseen district and included former Nour Party Chairman Emad Abdel-Ghafour, who is currently seeking to form a new Salafist party named El-Watan, as well as representatives from the Hazemoon (supporters of Salafist figure Hazem Abu-Ismail) movement.
Full report at:
http://english.ahram.org.eg/NewsContent/1/64/61509/Egypt/Politics-/Negotiations-ongoing-to-create-Islamist-electoral-.aspx
------------
Israel, in Shift, Lets Building Materials Cross Into Gaza
By ISABEL KERSHNER
December 30, 2012
JERUSALEM — For the first time in five years, Israel on Sunday allowed 20 truckloads of building materials into Gaza for use by the private sector, according to Israeli and Palestinian officials. One of the first tangible concessions under a cease-fire deal reached after eight days of intensive fighting in November, it signaled a shift in Israel's approach to the Palestinian enclave.
Israeli officials said that construction materials would now be allowed in on a daily basis via the Kerem Shalom crossing on Israel's border with Gaza.
Full report at:
http://www.thehindu.com/news/international/turkey-talking-to-jailed-kurdish-leader/article4256107.ece
------------
Turkey's Erdogan tells refugees Syrian rebirth near
30 December 2012
Turkish Prime Minister Tayyip Erdogan told a crowd of thousands of Syrian refugees on Sunday their country was preparing for a "sacred birth" that would replace President Bashar al-Assad with the will of the Syrian people.
Refugee camps in Turkey host 150,000 Syrians who have fled the conflict across the border, and Erdogan visited one of them on Sunday, telling the people there they should regard Turkey as their "second home" and that help was at hand.
"We can see very clearly that God's help is close. Don't forget victory comes to those who are patient," he told the crowd. Moaz Alkhatib, head of the internationally recognised Syrian National Coalition opposition, stood at his side.
Full report at:
http://www.khaleejtimes.com/kt-article-display-1.asp?xfile=/data/middleeast/2012/December/middleeast_December494.xml&section=middleeast
------------
Israel indicts former foreign minister Lieberman
30 Dec 2012
Israeli far-right leader Avigdor Lieberman was charged on Sunday with fraud and breach of trust, allegations that prompted his resignation as foreign minister two weeks ago, justice officials said.
Lieberman, who has denied the accusations, remains head of the Yisrael Beitenu party that has formed a coalition with Prime Minister Benjamin Netanyahu's right-wing Likud party ahead of a Jan. 22 parliamentary election.
Israeli justice officials said Lieberman was indicted on charges relating to the promotion of an Israeli diplomat who had illegally given him information about a police investigation against him.
Full report at:
http://english.ahram.org.eg/NewsContent/2/8/61512/World/Region/Israel-indicts-former-foreign-minister-Lieberman.aspx
------------
SCF condemns Turkish president's request
December 31, 2012
Sector Commanders' Forum (SCF), a platform of sector commanders in the Liberation War, yesterday condemned Turkish President Abdullah Gul's recent letter to Bangladesh President and Prime Minister calling for "clemency" to the war crimes accused.
"Verdict of the trial of crimes against humanity is yet to be passed. In this circumstance, such a request is not only surprising but also regrettable," said a SCF statement signed by its acting secretary general Haroon Habib.
Full report at:
http://www.thedailystar.net/newDesign/news-details.php?nid=263291
------------
Israel must complete peace deal with Abbas: Peres
December 31, 2012
JERUSALEM - President Shimon Peres on Sunday urged Israel to resume peace talks with the Palestinians, saying their president Mahmud Abbas was a willing partner with whom an agreement could be reached.
Speaking with Israeli diplomats at his Jerusalem residence, Peres said the only way the Jewish state could positively affect the fluctuating reality in the region was "to complete the peace agreement with the Palestinians."
"I know there are different opinions," he said. "This is not a matter of ideology, this is a matter of appraising" the situation. I have known Abu Mazen for 30 years, and nobody will change my opinion of him," Peres continued, using Abbas's nom de guerre. "I know there is criticism of things Abu Mazen said," Peres continued, but "there is currently no other Arab leader who is saying he is in favour of peace, against terror, in favour of a demilitarised state, and of... the Palestinian consensual right of return." "There is not much time left," he warned.
Full report at:
http://www.nation.com.pk/pakistan-news-newspaper-daily-english-online/international/31-Dec-2012/israel-must-complete-peace-deal-with-abbas-peres
------------
Ban on Israeli-Arab politician overturned
December 31, 2012
JERUSALEM (Reuters) - Israel's Supreme Court ruled on Sunday an Arab lawmaker could stand in elections, overturning her disqualification by electoral officials over her participation in a Gaza-bound aid flotilla in 2010. The nine-justice court ruled unanimously Haneen Zoabi "shall be a candidate for the Knesset" in a Jan. 22 poll without giving details of its reasons. Zoabi drew widespread criticism in Israel for taking part in an international aid flotilla that challenged the Israeli blockade of the Gaza Strip, territory ruled by Hamas opposed to the existence of the Jewish state. She was on the Mavi Marmara when Israeli naval commandos raided the Turkish vessel in May 2010, killing nine Turks in clashes with activists on board.
The Central Elections Committee voted on Dec. 19 to disqualify Zoabi, saying she had shown "support for an enemy state or terrorist organisation engaged in armed conflict against Israel".
Zoabi has said she had no role in any of the violence on board the Mavi Marmara and had tried to mediate between the sides during the raid.
Full report at:
http://www.nation.com.pk/pakistan-news-newspaper-daily-english-online/international/31-Dec-2012/ban-on-israeli-arab-politician-overturned
------------
North America
Obama Vows to Fix Flaws Discovered in Benghazi Inquiry
By ERIC SCHMITT
December 30, 2012
WASHINGTON — President Obama, in his most detailed comments on an independent inquiry's report on the attack against the American diplomatic compound in Libya that killed four Americans on Sept. 11, said Sunday that the security and management flaws identified were "huge problems" that reflected "sloppiness" in how the State Department safeguards its missions abroad.
Mr. Obama, in an interview on the NBC News program "Meet the Press," reaffirmed a decision by Secretary of State Hillary Rodham Clinton to carry out all 29 of the panel's recommendations, including sending 225 additional Marine guards to embassies and consulates and revamping how threat warnings are used to secure posts.
"My message to the State Department has been very simple, and that is we're going to solve this," Mr. Obama said. "We're not going to be defensive about it; we're not going to pretend that this was not a problem — this was a huge problem."
Full report at:
http://www.nytimes.com/2012/12/31/world/africa/obama-blames-sloppiness-for-benghazi-attack.html?ref=africa&gwh=E08BFF50785F5665B78EA54EC63E1353
------------
Hillary Clinton hospitalised with blood clot: official
December 31, 2012
WASHINGTON: US Secretary of State Hillary Clinton has been hospitalised after suffering a blood clot following an accident earlier this month, her senior State Department aide Philippe Reines said on Sunday.
Clinton fell ill with a stomach bug that led to her fainting and suffering a concussion, but her office had insisted she was recovering and the top US diplomat was expected back at her desk on Monday.
"In the course of a follow-up exam today, Secretary Clinton's doctors discovered a blood clot had formed, stemming from the concussion she sustained several weeks ago," Reines said in a statement.
"She is being treated with anti-coagulants and is at New York Presbyterian Hospital so that they can monitor the medication over the next 48 hours," he said, referring to a major hospital in Clinton's home state.
"Her doctors will continue to assess her condition, including other issues associated with her concussion. They will determine if any further action is required," he added.
Reines did not elaborate further on the condition of Clinton, 65. It was not clear in which part of her body the clot had been found nor if it was life-threatening.
Full report at:
http://dawn.com/2012/12/31/hillary-clinton-hospitalized-with-blood-clot-official/
------------
URL: https://www.newageislam.com/islamic-world-news/new-age-islam-news-bureau/deoband-cracks-down-on-multimedia-mobile-phones-in-campus/d/9843