New Age Islam News Bureau
23 Aug 2017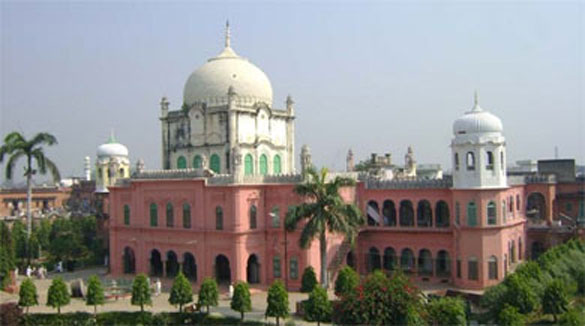 In Uttar Pradesh's Deoband, 160 km from Delhi and home to one of the most influential seminaries for Sunni Muslims, Darul Uloom Deoband, the ruling had few takers.
----
• Deoband Chorus: Discourage Triple Talaq, But Shariat Above All Laws
• Triple Talaq Verdict: 'Allah's Message Is for All Muslims, No Room for Middlemen'
• Afghanistan Taliban Warn Afghanistan Will Become 'Graveyard' For America
• Egypt's Top Islamic Scholars Work to Promote Moderate Vision of Islam
• Tableeghi Jamaat Preacher Killed, another Injured Over Religious Issue
India
• Deoband Chorus: Discourage Triple Talaq, But Shariat Above All Laws
• Triple Talaq Verdict: 'Allah's Message Is for All Muslims, No Room for Middlemen'
• Triple Talaq Verdict: Relieved Muslim Mps Say Supreme Court Did Not Leave Any Role for Government
• Triple Talaq verdict: RSS-linked Muslim clerics hail Supreme Court decision
• India hails Trump's new Afghan strategy
• Pakistan using India as an excuse to pursue its Afghan policy: US
• CJI in minority view: It is integral to Sunni Islam, consider a law
--------
South Asia
• Afghanistan Taliban Warn Afghanistan Will Become 'Graveyard' For America
• Bangladesh: Islamic Militants to Be Executed By Firing Squad
• Ambassador Llorens vows steps against the supporters of Taliban group
• Ghani says Taliban not to win through force as US unveils new policy for Afghanistan
• Rohingya Muslim villagers blockaded in Myanmar's Rakhine
--------
Arab World
• Egypt's Top Islamic Scholars Work to Promote Moderate Vision of Islam
• Lebanon Says It Has Driven ISIS from Most of Syria Border Area
• Almost 80 Civilians Killed in US-Led Coalition Attacks in Northeastern Syria
• Iraqi Army Forces at Gates of Strategic Town of Tal Afar
• Bahraini rights groups slam use of torture by regime's NSA against dissent
• Three inmates in Dubai prison convert to Islam
• ISIL Withdraws from More Regions in Central Syria
• Syrian opposition meeting in Riyadh ends without agreement
• UN: Iraq must do more for ISIS sex abuse victims
• Lebanon army retakes most of border areas from Daesh: Spokesman
--------
Pakistan
• Tableeghi Jamaat Preacher Killed, another Injured Over Religious Issue
• World Must Affirm Pakistan's Fight against Terrorism: China
• Two Chinese Students of IIUI, Islamabad, Embrace Islam
• Pakistan disappointed by Trump's accusations of supporting terrorism
• University of London cancels former Pakistan President Pervez Musharraf's event on campus
• JI chief asks govt to implement FATA reforms
• Jamaat threatens long march on Islamabad after Eid
'• Evidence' of operation against Haqqanis shared with US: army
--------
Southeast Asia
• Sabah Mufti Rejects Dialogue with Deviant Groups
• Another Conviction under Indonesia's Dangerous Blasphemy Law
• Jailed Indonesian cleric named suspect in 2016 bomb attack
• China rejects Trump's criticism against Pakistan
• KL atheist gathering stokes fire of religious intolerance
• Liberalism, pluralism not 'bad words', says Chandra Muzaffar
--------
Mideast
• Turkey to Thwart Attempts to Set Up Kurdish State in Syria: Erdogan
• Palestinians Seek Answers from US Envoy Kushner
• Iran political prisoners cause international concern
• Lebanon, Iran view Israel, terrorism as threats to regional stability
• Iran Denies Joint Operation with Turkey against PKK
• Iran back to high enrichment 'in 5 days' if US quits N-deal
• Yemeni sharpshooters kill 2 Saudi troops in Jizan
• Iran diplomat, Hezbollah chief discuss Mideast developments
--------
Africa
• Ugandan Court Jails Muslim Leader for Life Over Terrorism
• Former Libya PM kidnapped in Tripoli
• Armed Libyan militia halting refugee boat departures to Europe
• UN official sees genocide threat in Central African Republic
--------
Europe
• France, Turkey Working 'Closely' On Returning Militants
• Moroccans Shaken By Links to Extremist Attacks in Europe
• Schizophrenic 'Muslim killer' not guilty by reason of insanity
• Terror cell planned big attack in Spain
• Spanish judge releases one Barcelona attack suspect while Morocco arrests two
• Russia to sell SU-35 fighter jets to Indonesia
• Spain terror attack suspects appear in court
--------
North America
• Trump U-Turn in Afghanistan Welcomed In Kabul, Met With Disbelief in • Islamabad and Delight in New Delhi
• US Islamic Movement Enters Final Stage
• US may intensify air power, training after Trump's Afghan policy
• US military-industrial establishment absolutely loves endless wars: Writer
• No timetable for Afghan troop withdrawal says Trump
Compiled by New Age Islam News Bureau
URL: https://www.newageislam.com/islamic-world-news/deoband-chorus-discourage-triple-talaq/d/112305
--------
Deoband chorus: Discourage triple talaq, but Shariat above all laws
By Kavita Upadhyay
August 23, 201
At her one-room home inside a narrow lane of Deoband, Shazia is conducting a tuition class for four children, including her seven-year-old daughter Alia, on how to read the Quran. Shazia says she was divorced by her husband three months ago through instant triple talaq, "by uttering the words 'talaq, talaq, talaq'".
With the eight-year marriage over, the 30-year-old returned to her mother's house, a few lanes from her former husband's home. "I have studied only till Class 10, this is all I can do to earn a living for my daughter and myself," said Shazia, adding that she charges Rs 50 from each student.
And yet, Shazia says, the "shock and sadness" from the "talaq" has not shaken her belief in the Shariat. "When my husband said talaq thrice, it was over. But I would never question the Shariat," she says.
On Tuesday, the Supreme Court ruled against instant triple talaq or talaq-e-biddat, with a majority judgment of the Constitutional Bench calling the law "un-Islamic". But in Uttar Pradesh's Deoband, 160 km from Delhi and home to one of the most influential seminaries for Sunni Muslims, Darul Uloom Deoband, the ruling had few takers.
Inside the seminary, where verses from the Quran rang aloud, the mohtamim (rector), Maulana Mufti Abul Qasim Nomani, said, "The courts and the Parliament don't have the right to form any law that goes against Islamic law."
Nomani said, "I cannot comment further till I read the entire judgment… As far as our action on the judgment is concerned, we will hold meetings with the All India Muslim Personal Law Board (AIMPLB) and decide what needs to be done. We stand with the AIMPLB." At his office inside the seminary, Ashraf Usmani, public relations officer of Darul Uloom Deoband, says he does not agree with the description of triple talaq as "traditional law". "Triple talaq falls under the Shariat. It is not like we have an option to go for or against it," said Usmani.
Usmani says the seminary may have issued hundreds of fatwas on triple talaq, but none on discouraging the practice. Outside the seminary, Mohammad Aslam (64), a perfume vendor in Deoband town, said, "Though the Shariat mentions triple talaq, it doesn't encourage it. The correct method would have been for fatwas to be issued against the men who use triple talaq as a tool to get separated from their wives. Teen talaq bahut khatarnak hai, ghar ujad jaate hain isse (Triple talaq is dangerous, it can destroy homes)."
However, Aslam said, "Right, or wrong, we will always go by the Shariat, and not any court order. The Shariat is above all courts. The only correction that needs to be done by the Darul Uloom Deoband is to discourage the practice of triple talaq." In another part of the town, Femida, the mother of 21-year-old Heena, blames her daughter's divorce through instant triple talaq eight months ago on the "greed" for dowry.
"Her former husband's family wanted a lot of dowry, the greed eventually led to the divorce. But the practice of triple talaq is better than making the woman suffer by not divorcing her. Now that my daughter is with me, I will look for a suitable match and get her married again," said the 45-year-old. "Triple talaq is law, and it has to be followed. No court is above our law," said Femida.
http://indianexpress.com/article/india/deoband-chorus-discourage-triple-talaq-but-shariat-above-all-laws-4809289/
--------
Triple Talaq Verdict: 'Allah's Message Is for All Muslims, No Room for Middlemen'
August 23, 2017
by Abantika Ghosh
"When they started reading the judgment, I got scared for a bit. Then came Justice Kurian's part and I was relieved," said Zakia Soman of Bharatiya Muslim Mahila Andolan. BMMA's petition, 'Muslim Women's Quest for Equality', was suo motu turned into a PIL by a two-judge bench of the Supreme Court before Shayara Bano's case against triple talaq was filed. That petition eventually became one of six.
Soman described the verdict as a victory, not just for Muslim women but for all women of India. "Rich or poor, literate or illiterate, Hindu, Muslim or Christian — all women supported us in our fight. The BMMA believes that gender justice is fundamental to Islam. It has been distorted by self-appointed guardians of religion like the All India Muslim Personal Law Board. Allah's message is for all Muslims, men and women, there is no room for middlemen," she told The Indian Express.
'A big opportunity'
For Bebaak Collective, an intervener in the case, the judgment provides "a big opportunity to Muslim women" to fight patriarchy within religious institutions and the family. "In arguing that… triple talaq is both un-Quranic and unconstitutional, it is an important departure from earlier judgments on all women's rights, because it is based on the tenets of equality, dignity and secularism as enshrined in the Constitution… We recognise that the current political climate of communalisation and violence, when the entire Muslim community is under attack in India and much of the Islamophobic world today, makes the fight for minority and gender rights an even more uphill task," the collective said in a statement.
"Our intervention in court was on three issues — triple talaq, polygamy and nikah halala. On the first day, the court said only triple talaq would be talked about. Today, majority of the judges on the bench said that triple talaq was unconstitutional," said Hasina Khan of Bebaak Collective, who was present in the Supreme Court Tuesday.
http://indianexpress.com/article/india/zakia-soman-allahs-message-is-for-all-muslims-no-room-for-middlemen-4809288/
--------
Afghanistan Taliban Warn Afghanistan Will Become 'Graveyard' For America
23-Aug-17
by Arshad Yusufzai
PESHAWAR: Afghanistan Taliban spokesman Zabiullah Mujahid in his response to US President Donald Trump's speech on Tuesday said they will make Afghanistan a 21st century graveyard for the US Empire. A statement attributed to Mujahid read that at last the US president announced his policy in which he has labelled Afghanistan a threat to the US.
And has intended to keep its occupying forces in Afghanistan.
"It looks like the US still doesn't want to end its long-war in Afghanistan as instead of accepting the facts from ground, the US is still proud of its power and military might," Zabiullah said.
"The Afghans were put to a test by the invading forces and for 16 years running we have proved ourselves against the occupying forces. We will continue our struggle with continued passion, high moral and might until the presence of the last American soldier on the Afghan soil. Our Jihad will continue for as long as the US leaders follow their policy of war in Afghanistan," the Taliban spokesman added.
Mujahid opined that instead of prolonging the war in Afghanistan, the US should have worked on finding safe passage for its troops based in Afghanistan.
"Securing freedom of Afghanistan from the US occupation is our religious and national duty. We will carry on performing this duty till our last breaths," he added.
To a statement by the US president regarding the impact of the US war in Afghanistan on the American people, Mujahid said the Afghan Taliban will add to the worries of the American people and will force the American rulers to accept the realities of their war in Afghanistan.
"Afghans are not tired of fighting for their independence and we will continue their struggle for the implementation of Islamic rule in Afghanistan. If the US does not pull all its forces out of Afghanistan, we will make this country the 21st century graveyard for the American Empire," he claimed.
Mujahid added that the war in Afghanistan was initiated on false claims and intelligence propaganda.
"Afghanistan is not a threat to anyone and its soil never gave any trouble to any state. The fact that this war was initiated on unfounded claims and intelligence propaganda is the reason for the worries the troubles of the US," he added.
http://dailytimes.com.pk/pakistan/23-Aug-17/taliban-warn-afghanistan-will-become-graveyard-for-america
--------
Egypt's Top Islamic Scholars Work to Promote Moderate Vision of Islam
August 22, 2017
CAIRO —
Al Azhar University, Egypt's venerable seat of Islamic law, has been working to project a more modern image of Islam to counter the violent versions being espoused by Islamic State, al-Qaida and other militant groups.
Efforts by Al Azhar religious authorities to control the tenor of Islamic religious edicts or "fatwas" are part of the strategy that moderate forces are using to battle clerics espousing death and violence.
Egypt has been plagued by the efforts of militant Islamic terrorists and their "spiritual guides" to sow turmoil in the country in recent years, leaving a bloody trail of death and destruction. They have killed government officials, blown up government buildings, attacked top tourist sites, and randomly attacked police, military officers, and the country's Coptic Christian minority.
Attacks on Coptic churches, including suicide bombings at the main Coptic cathedral in Cairo last December, and more recent bombings at churches in Alexandria and Tanta on Palm Sunday, have left scores of victims and taken a toll on Egypt's fragile collective psyche. The loss of innocent lives from the deadly litany of terrorist attacks has led the government to denounce extremist Islamic clerics espousing bloodshed and violence.
Hijacking core beliefs
Hard-line clerics, like Qatar-based Egyptian Sheikh Youssef al Qaradawi, have been accused of issuing edicts, or "fatwas," to justify the killings of police, army officers and Christians. Qaradawi claims innocence, but video of him calling for attacks on both Egyptian and Syrian government security forces are widely circulated on the internet.
Islamic extremists in the Sinai, along the border with Libya, and in a number of cities across the country have stepped up attacks against government targets in the months and years since Islamist President Mohamed Morsi was ousted by the military in July 2013. Morsi's followers call his ouster a "coup," while supporters of the present government insist that popular protests against his rule were a new "revolution."
Many of Morsi's supporters were jailed in the aftermath of his ouster and some were put on trial for acts of violence. His Muslim Brotherhood group was officially outlawed and many people fled the country or went underground. A series of trials have resulted in the convictions of large numbers of people.
In the wake of political and religious upheaval that has shaken Egypt's Islamic establishment, Sheikh Ahmed Tayeb of Al Azhar University, has gone on record to condemn Islamic clerics who preach violence. He insists they should not be allowed to define Islam.
"Islam," he argues, "must not be considered a terrorist religion just because a few of its followers have hijacked some of its writings and misinterpret them to kill and shed the blood of innocent people."
Religion and modern life
Egyptian President Abdel Fattah el Sisi has also called repeatedly for reforming or renewing Islam, most recently during a visit by Pope Francis to Cairo in April. He insists that Islam should project a less violent image to the world. His pleas have met with resistance from Islamic religious scholars in some corners, however.
Efforts to give Islam a more modern image, though, continue on various fronts. One new way clerics with ties to Al Azhar have been trying to discourage extremism is by offering religious advice to the general public at a "fatwa" booth in the Cairo metro.
Sheikh Mohamed Zaki, the head preacher at Al Azhar, tells VOA that while the core beliefs of Islam are immutable, its image or modern applications of it should fit the daily lives of people.
"Each new generation," he says, "should benefit from the teachings of Islam, which remain unalterable as God presented them, but as flexible as the new shoots of a tree branch."
Another more prominent way Al Azhar has clamped down on extremist clerics in recent years, has been by preventing them from preaching at mosques it controls. Al Azhar has also sought to make preachers stick to specific sermon subjects each week, without going off-topic.
But, as Sheikh Zaki noted, various hardline Islamic media outlets continue to allow firebrand clerics to broadcast their message of hate. "Media which allow such clerics to preach hate," he says, "should be sanctioned."
https://www.voanews.com/a/egypt--top-islamic-scholars-work-to-promote-moderate-vision-of-islam/3996281.html
--------
Tableeghi Jamaat Preacher Killed, another Injured Over Religious Issue
August 23, 2017
CHINIOT: A member of an Islamic preaching team was murdered, while another injured allegedly after a quarrel over some religious issue at Asian village on Pindi Battian Road, 22km from here on Monday night.
According to police, a preaching team (Tableeghi Jamaat) arrived at Asian village and stayed at the local mosque.
During their tour to the village, the team members went door to door for preaching. During one such visit, one of the preachers, Wali Rehman, son of Munir Sawati, a resident of Karachi, had an argument with a local Ikram Khan over some religious issue.
The issue was apparently settled, but Akram harboured a grudge against Rehman. On Monday night, Ikram sneaked into the mosque and attacked Rehman with a knife, killing him on the spot. Another member of the preaching party, Abdullah, who tried to save Rehman was also critically injured by the attacker and was shifted to the district headquarters hospital.
Sadar police have registered a case and arrested the suspect along with the knife.
https://www.dawn.com/news/1353304/preacher-killed-another-injured-over-religious-issue
--------
India
Triple Talaq Verdict: Relieved Muslim Mps Say Supreme Court Did Not Leave Any Role for Government
August 23, 2017
Even as the Supreme Court struck down the instant Triple Talaq practise on Tuesday, Muslim Members of the Parliament had a sense of relief as most of the verdict had not put the ball in the government's court, asking it to enact a legislation. They also felt relieved that the top court confined to the Triple Talaq verdict and didn't interfere with Muslim personal law, an Indian Express report said.
In fact, AIMIM chief and Lok Sabha MP from Hyderabad Asaduddin Owaisi said that the verdict has thrown a spanner in the plans of the centre to bring in the Uniform Civil Code (UCC). He also added that the lack of unanimity between judges shows how contentious the issue is.
"In court, former attorney general Mukul Rohatgi had argued for doing away with all forms of talaq…. In fact, that scared the petitioners, who said they only want talaq-e-biddat (instant talaq) and nikah halala (which requires a woman to marry and sleep with another man in order to return to her first husband) to go. That is when the cat was out of the bag — had all forms of talaq been declared unconstitutional, they (BJP) would have used it as a ploy to introduce UCC", he was quoted as saying by Indian Express.
"They do not know that women from the Northeast have moved the court saying they should be allowed to continue with the practice of polyandry. What kind of law can this government bring? How can we trust them?" Welcoming the verdict, former minority affairs minister and Rajya Sabha MP K Rahman Khan said that instant triple talaq is not a part of Islam. "This judgment is not an interference in personal law. It is only making a practice which is not in accordance with Quran as unconstitutional," the paper quoted him as saying further.
"The minority judgment had spoken about Parliament enacting a law. After the majority judgment, there is no need for a law now….they (Central government) should not interfere once it has been clarified. They need not make a law," he added as per Indian Express.
http://www.financialexpress.com/india-news/triple-talaq-verdict-relieved-muslim-mps-say-supreme-court-did-not-leave-any-role-for-government/820196/
--------
Triple Talaq verdict: RSS-linked Muslim clerics hail Supreme Court decision
August 22, 2017
A senior RSS leader on Tuesday hailed the Supreme Court decision to strike down the practice of triple talaq as "liberation" and "empowerment" of Muslim women in India — at an event attended by dozens of Muslim clerics. "It is a revolutionary decision and has given 'mukti' (liberation) to eight to nine crore Muslim women in India," RSS leader Indresh Kumar said at an event organised by Muslim Rashtriya Manch, the saffron group's Muslim wing. As Kumar spoke against the "sin" of triple talaq and welcomed the Supreme Court ruling, he asked Muslim clerics to form a chain and join and raise their hands to hail and celebrate the ban. "Are you happy with the Supreme Court decision? Won't you celeberate it?" he asked. "Yes," roared the clerics in chorus. Kumar, the patron of the RSS Muslim wing, said the apex court decision had "saved and freed Muslims and Islam from the contractors of extremism and fundamentalism".
"It will put an end to atrocities that were committed on Muslim women in the name of triple talaq. The practice is disliked by Allah and hence a sin. The decision has done justice to the Muslim women. "It has also shut up extremists and fundamentalists who had wrongly interpreted Quran and sayings of Prophet. I won't say it is a slap on their face but I will definitely say Muslims have understood now that some leaders were turning them away from Quran by wrong interpretation and provoking them to fight," Kumar said.
Full report at:
http://www.financialexpress.com/india-news/triple-talaq-verdict-rss-linked-muslim-clerics-hail-sc-decision/819309/
--------
India hails Trump's new Afghan strategy
Aug 22, 2017
NEW DELHI: India welcomed the much-awaited Donald Trump strategy on Af-Pak promising to continue providing "reconstruction and development assistance" to Afghanistan after the US asked India to step up its involvement in the war-torn country.
India has been most encouraged by Trump's emphasis on "confronting issues of safe havens and other forms of cross-border support enjoyed by terrorists. India shares these concerns and objectives." For a long time, India, Afghanistan and America's own generals in the Af-Pak theater were clear where the problem lay. It is in the sanctuaries in Pakistan, in the support of terrorists by Pakistan's powerful army-intelligence complex.
But it is also the first time when a US president has laid out the core of the US-India strategic partnership, going beyond South Asia into the Indo-Pacific". However, Trump has clearly retained his attention on the trade deficits, because in an odd reference, he asked India to help US more in Afghanistan with all the "billions of dollars" it makes in trade with the United States. "We appreciate India's important contributions to stability in Afghanistan, but India makes billions of dollars in trade with the United States, and we want them to help us more with Afghanistan, especially in the area of economic assistance and development. We are committed to pursuing our shared objectives for peace and security in South Asia and the broader Indo-Pacific region."
Nevertheless, Trump kept his attention on the core problem: For the second time since 9/11, Pakistan has been served with an ultimatum: "The next pillar of our new strategy is to change the approach and how to deal with Pakistan. We can no longer be silent about Pakistan's safe havens for terrorist organizations, the Taliban, and other groups that pose a threat to the region and beyond. Pakistan has much to gain from partnering with our effort in Afghanistan. It has much to lose by continuing to harbor criminals and terrorists."
Interestingly, Trump made a clear connection between Pakistan's terrorists and its nuclear weapons, highlighting the fears that terrorists could lay their hands on Pakistan's nuclear arsenal. "America's interests are clear: We must stop the resurgence of safe havens that enable terrorists to threaten America, and we must prevent nuclear weapons and materials from coming into the hands of terrorists and being used against us, or anywhere in the world for that matter."
The Indian government will now work on its own Afghan strategy in the wake of the US decision. The Indian government had been given a heads-up by the White House on the substance of the new South Asia policy, so it wasn't a surprise to the government here. In the coming weeks, sources said, India will roll out more projects and initiatives in Afghanistan to enhance what it has been doing for the past 16 years, often under trying conditions and under constant terrorist threat by Pak-supported groups like Haqqani network, LeT etc.
SK Lambah, former PM's special envoy to Af-Pak, approving of the new policy, said, "This is the first time a US president has publicly reprimanded Pakistan. Second, he is very clear on the key problem, that is, terrorists and their sanctuaries. The important aspect is that development has to take place side by side. Otherwise, this strategy will not work. The US, Japan, West Asian countries and India have to take the lead in this. The new approach is pragmatic and workable. It's an opportunity for Pakistan to join in this publicly."
Former US top diplomat, Nicholas Burns told TOI, "I think the president is right to build up our forces to maintain our support for the Afghan government against the Taliban. If we left, the terrorist threat would increase to the countries in the region. Second, it is very important to see the reference to India — it was a positive reference, it acknowledges the central role the India has to play. But in a larger sense, this completes the decade-long transition where we have effectively tilted towards India. And we see a clear diminution of our relationship with Pakistan. This is the strongest language I have seen by an American president on Pakistan."
Full report at:
http://timesofindia.indiatimes.com/india/india-hails-trumps-new-afghan-strategy/articleshow/60178005.cms
--------
Pakistan using India as an excuse to pursue its Afghan policy: US
August 23, 2017
Pakistan is using New Delhi as an excuse to pursue its policies in Afghanistan, the US has said strongly refuting Islamabad's concerns with regard to Indian developmental activities in the war-torn country. "What India is doing in Afghanistan is not a threat to Pakistan. They're not building military bases. They're not deploying troops," a senior administration official of Republican surrogates said during a conference call on Tuesday.
National Security Council (NSC) Spokesperson Michael Anton was responding to questions on Pakistan's apprehensions and allegations of India's encirclement of them through Afghanistan. This is an "excuse" on the part of Pakistan, he said according to Politico, which reported about the conference call. "They (Indians) are not doing the things that would constitute encirclement, for lack of a better term, which is one of the things that the Pakistani's complain about," Anton said, thus strongly refuting the Pakistani allegations in this regard, latest of which was mentioned in the statement issued by the Pakistani Foreign Office.
"The threat to peace and security cannot be isolated from the complex interplay of geopolitics, continued existence of festering disputes and pursuit of hegemonic policies. Non-resolution of the Jammu and Kashmir dispute remains the primary obstacle to peace and stability in the region," the Pakistani Foreign Office had said in a statement in a response to the Afghan policy announcement of the US President Donald Trump a day earlier.
"We can no longer be silent about Pakistan's safe havens for terrorist organisations, the Taliban, and other groups that pose a threat to the region and beyond," Trump had said. Pakistan, he said, has sheltered the same organisations that try every single day to kill "our" people.
The Pak Foreign Office said it is disappointing that the US policy statement ignores the enormous sacrifices rendered by the Pakistani nation in this effort. "Pakistan has been and will continue to be part of the global counter terrorism efforts. Pakistan and the US have been close allies in the fight against terrorism, which is a common threat for all nations of the world. As a matter of policy, Pakistan does not allow use of its territory against any country," it said.
Full report at:
http://indianexpress.com/article/india/pakistan-using-india-as-an-excuse-to-pursue-its-afghan-policy-us-4809432/
--------
CJI in minority view: It is integral to Sunni Islam, consider a law
by ANANTHAKRISHNAN G
August 23, 2017
Writing the minority ruling on the challenge to triple talaq, Chief Justice of India J S Khehar held that the practice is "a matter of personal law of Sunni Muslims, belonging to the Hanafi school" and "interference in matters of personal law is clearly beyond judicial examination".
The CJI, who wrote for himself and Justice S Abdul Nazeer, said the practice has "the protection of Article 25 of the Constitution" and will "not be subjected to any challenge, even though they may seem to others (and even rationalists practising the same faith) unacceptable, in today's world and age".
The two judges said that judiciary must exercise "absolute restraint, no matter how compelling and attractive the opportunity to do societal good may seem". "We therefore hereby direct the Union of India to consider appropriate legislation, particularly with reference to talaq-e-biddat. We hope and expect that the contemplated legislation will also take into consideration advances in Muslim personal law — Shariat, as have been corrected by legislation the world over, even by theocratic Islamic states," they said.
To facilitate such a legislation, the two judges injuncted (stayed) Muslim men from pronouncing instant triple talaq. "The instant injunction shall, in the first instance, be operative for a period of six months. If the legislative process commences before the expiry of the period of six months, and a positive decision emerges towards redefining talaq-e-biddat… if it is decided that the practice of talaq-e-biddat be done away with altogether, the injunction would continue till legislation is finally enacted. Failing which, the injunction shall cease to operate," they said.
Maintaining that "personal law has constitutional protection", the judges said: "This protection is extended to personal law through Article 25 of the Constitution. It needs to be kept in mind that the stature of personal law is that of a fundamental right… personal law of every religious denomination is protected from invasion and breach, except as provided by and under Article 25."
The two judges concluded that The Muslim Personal Law (Shariat) Application Act, 1937 was not a law in force within the meaning of Article 13(3)(b) of the Constitution, but was made to "preserve Muslim personal law — Shariat, as it existed from time immemorial". The order sought to explain how the practice was "integral" to the Sunnis: "It constitutes a matter of their faith. It has been practised by them, for at least 1400 years."
The minority ruling recalled that the All India Muslim Personal Law Board, which had challenged the petitioners, "had undertaken to issue an advisory" to Muslims getting married "to agree in the nikah-nama that their marriage would not be dissolvable by talaq-e-biddat… it would not be incorrect to assume that even the AIMPLB is on board to assuage the petitioner's cause".
Full report at:
http://indianexpress.com/article/india/triple-talaq-cji-in-minority-view-its-integral-to-sunni-islam-consider-a-law-4809278/
--------
South Asia
Bangladesh: Islamic Militants To Be Executed By Firing Squad
August 23, 2017
A court in Bangladesh has sentenced 10 militants of the Harkat-ul Jihad group to death by firing squad over a foiled bomb plot to assassinate Prime Minister Sheikh Hasina in 2000.
Another militant from the same group was sentenced to life imprisonment and another three to 14 years in jail.
Intelligence officials foiled the bomb plot when they detected and defused explosives planted near a school where Hasina was scheduled to address a rally, during her first term as prime minister.
Three days later another bomb was detected near a helipad where Hasina was supposed to land in a helicopter.
"They said they wanted to kill Hasina [because] she was not a good Muslim, and an agent of [Hindu] India, and Islam can be established [in Bangladesh] only by killing her," prosecutor Shamsul Haq Badol told AFP.
Harkat-ul Jihad's former leader Mufti Abdul Hannan was involved in the bomb plot, prosecutors told the court. Hannan was hanged in April, for a grenade attack on British envoy Anwar Chowdhury in 2004.
Hannan's group is blamed for a series of bomb attacks during the 1990s and early 2000s, including the bombing of a Catholic Church in 2001.
Theophil Nokrek, secretary of Catholic bishops' Justice and Peace Commission, said Christians do not support the death penalty but they do stand for justice and the rule of law.
"The grave sentence was driven by fear that with a regime change the legal justice system could be manipulated and criminals might walk out free," Nokrek told ucanews.com.
Enjoy the article?
Did you find this article informative? Please consider contributing to Eurasia Review, as we are truly independent and do not receive financial support from any institution, corporation or organization.
http://www.eurasiareview.com/23082017-bangladesh-islamic-militants-to-be-executed-by-firing-squad/
--------
Ambassador Llorens vows steps against the supporters of Taliban group
Aug 23 2017
The Special Charge d'Affaires of the US Embassy in Kabul Ambassador Hugo Llorens has said the United States will take steps against the supporters of the Taliban group.
In a statement released after the announcement of the US strategy for South Asia, Ambassador Llorens said "At the core of this commitment, we will continue to support Afghan forces in defending their country while we also maintain pressure on the Taliban to join a peace process with the Afghan government to end the war in Afghanistan."
Ambassador Llorens further added "We will remove the incentives for hedging behavior by some that leads to support for the Taliban, and we will emphasize with all regional countries the importance of cooperation to reduce the threat of terrorism and nuclearized conflict."
He also added "Our strategy is based on conditions on the ground, and we will stand by Afghanistan's side as long as it takes to get the job done. So just understand, the United States is not going anywhere and we will continue to partner with the Government of National Unity and the Afghan people in our common fight against terrorists and those forces unwilling to reconcile."
In the meantime, Ambassador Llorens emphasized that in order to achieve real progress, the Afghan government must redouble its reform efforts and deliver on vital promises such as holding Parliamentary elections next year and Presidential elections in 2019, rooting out corruption, and enacting the tough reforms necessary for meaningful private sector-led economic growth.
Full report at:
http://www.khaama.com/ambassador-llorens-vows-steps-against-the-supporters-of-taliban-group-03379
--------
Ghani says Taliban not to win through force as US unveils new policy for Afghanistan
Aug 22 2017
President Mohammad Ashraf Ghani issued a new warning to the Taliban group warning that the group will be unable to win through military means as the new US policy for Afghanistan was unveiled by President Donald Trump emphasizing on continued suppression of the terrorist group.
"The US Afghan partnership is stronger than ever in overcoming the threat of terrorism that threatens us all. The strength of our security forces should show the Taliban and others that they cannot win a military vicotry. the objective of peace is paramount. Peace remains our priority," President Ghani said .
He said the Afghan government welcomes renewed US emphasis on seeing security in Afghanistan as part of a wider regional package. The strategy complements Afghan initiatives, including the Kabul Process, that seek to engage the region in sharing common security burdens.
This comes as Taliban earlier said the group will continue to its relentless fight as long as the foreign forces have a presence in Afghanistan and the American leaders prefer the strategy of war.
President Trump last night unveiled the new strategy of the United States for Afghanistan and South Asia.
He said his original instinct was to pull out however he said after detailed study of the situation he arrived at three fundamental conclusions.
"First, our nation must seek an honorable and enduring outcome worthy of the tremendous sacrifices that have been made, especially the sacrifices of lives. The men and women who serve our nation in combat deserve a plan for victory. They deserve the tools they need, and the trust they have earned, to fight and to win," he said.
President Trump further added "Second, the consequences of a rapid exit are both predictable and unacceptable. 9/11, the worst terrorist attack in our history, was planned and directed from Afghanistan because that country was ruled by a government that gave comfort and shelter to terrorists. A hasty withdrawal would create a vacuum that terrorists, including ISIS and al Qaeda, would instantly fill, just as happened before September 11th."
Full report at:
http://www.khaama.com/ghani-says-taliban-not-to-win-through-force-as-us-unveils-new-policy-for-afghanistan-03377
--------
Rohingya Muslim villagers blockaded in Myanmar's Rakhine
Aug 22, 2017
Buddhists in a village in Myanmar's troubled state of Rakhine have imposed a blockade on hundreds of Rohingya Muslims living in the area, effectively barring them from work and shopping for their basic needs while imposing restrictions on people's access to drinking water.
Residents of Zay Di Pyin said on Tuesday that about 700 Rohingya had been blockaded in their neighborhood since late July.
Monitors and aid workers also confirmed the account. They said entry points to the neighborhood had been blocked with a fence and Muslims had no access to a market and a pond used as a source of drinking water.
The blockade is the latest to come from a harsh crackdown on the Rohingya, a community of about one million people who live mostly in northern parts of Rakhine but are also scattered in areas dominated by Buddhists.
Since October last year, when the Buddhist-dominated government blamed the killing of seven policemen on fighters from the Rohingya community, Muslims have been exposed to some unprecedented violence by security forces and mobs.
Tens of thousands have been displaced, mostly into the neighboring Bangladesh, and people continue to recount stories of beheading and rape committed against members of the community. The United Nations has warned that some cases of violence in Rakhine may have amounted to a systematic form of ethnic cleansing.
Residents of Zay Di Pyin said the blockade on the village began after a Buddhist man from a nearby village went missing in late July, the same period when three Rohingya Muslims were found dead in the area.
"They accused us of killing the missing Rakhine person and blocked us from going out because of that," said a Rohingya on condition of anonymity.
Other residents said Muslims had been also blocked from praying inside their mosque, located outside the blockaded neighborhood, while Buddhists prevent the Rohingya from going to work in a nearby river jetty.
Full report at:
http://www.presstv.ir/Detail/2017/08/22/532594/Rohingyas-Rakhine-village-blockade
--------
Arab World
Lebanon says it has driven ISIS from most of Syria border area
22 August 2017
The Lebanese military is now in control of over 80 percent of the areas previously held by ISIS along the border with Syria, only days after launching a broad offensive there, a spokesman said Tuesday.
Brig. Gen. Ali Qanso told reporters that only 20 square kilometers (12 square miles) remain in the hands of the extremists. The US-backed Lebanese army launched its operation on Saturday and has since driven out the militants from some 100 square kilometers (62 square miles).
Qanso said no militants have been detained in the operation, adding that many were killed or retreated into Syria.
In an earlier statement, the army said a Lebanese de-miner was killed and four others wounded early Tuesday when explosives left behind by the extremists went off as they dismantled them.
Earlier Tuesday, the army announced it was starting the third phase of the operation, which includes mine clearing to open roads previously controlled by the militants.
The Syrian army and its ally, the Lebanese Hezbollah group, have launched a simultaneous operation to clear ISIS from the Syrian side of the border in the western Qalamoun mountain range. Hezbollah has been fighting in Syria alongside President Bashar Assad's forces since 2013.
Qanso didn't speculate when the border operation would end, but said the military has strong international support.
Lebanese officials insist the army is not coordinating its actions with the Syrian military, and Qanso said his forces would stop at the border. Lebanon's main political factions are sharply divided over the Syrian conflict, with some supporting and others opposing President Bashar Assad.
Lebanese media say the remaining ISIS-held territory along the border is riddled with caves that the militants could use as hideouts.
Residents of al-Qaa, a village near the border which was attacked by ISIS militants last year, took to the streets to celebrate news of the army advance. Al-Jadid TV station showed dozens of residents waving Lebanese flags as fireworks cracked above.
https://english.alarabiya.net/en/News/middle-east/2017/08/22/Lebanon-says-it-has-driven-ISIS-from-most-of-Syria-border-area.html
--------
Almost 80 Civilians Killed in US-Led Coalition Attacks in Northeastern Syria
Aug 22, 2017
The US fighter jets and the SDF artillery units targeted the neighborhoods of al-Sakhani, al-Badou and al-Towse'iyeh in ISIL-held Raqqa city, killing 78 civilians and wounding tens more.
The Syrian Observatory for Human Rights (SOHR) reported on Sunday that ninety civilians, including a number of women and children, were killed and tens of others were inured in the US-led coalition air raids in the ISIL-held city of Raqqa in five days.
SOHR reported that ninety civilians, including thirty women and children, were killed in the coalition air attack on ISIL-held Raqqa from August 14 up to 19.
SOHR further added that the death toll is on the rise due to the critical conditions of some of the inured.
http://en.farsnews.com/newstext.aspx?nn=13960531000109
--------
Iraqi Army Forces at Gates of Strategic Town of Tal Afar
Aug 22, 2017
Jawdat said that federal forces and Hashd al-Shaabi have gained control over the village of Termi in the Western entrance of Tal Afar.
He further added that the pro-government forces struck ISIL's defense lines in al-Kafah, al-Sa'ad and al-Vahda to penetrate into the city.
In the meantime, the Iraqi police and Hashd al-Shaabi captured the village of Tarambi and its surrounding regions Northwest of Tal Afar, the police chief added.
Jawdat went on to say that the Iraqi forces drove ISIL out of the villages of Tashtiyeh, Tal al-Samana, al-Kasak crossroad and al-Kasak oil refinery.
In the meantime, the Arabic-language al-Mayadeen TV reported that tough battle is underway between the Iraqi police and Hashd al-Shaabi forces and the ISIL terrorists near Sailo Tal Afar region at the Southern entrance of the city.
Reports said earlier today that the army and the country's volunteer forces of Hashd al-Shaabi managed to advance against ISIL terrorists in two flanks on Tuesday, and took control of a strategic road that connects the cities of Mosul and Tal Afar to each other.
The Iraqi soldiers and Hashd al-Shaabi drove ISIL out of the villages of Toumi and Majarin East of Tal Afar after hours of clashes with terrorists.
The Iraqi government forces, meantime, pushed ISIL back from the villages of Rahal, Jabarh, Hossein Idris, al-Mala and al-Majid Southwest of Tal Afar.
Full report at:
http://en.farsnews.com/newstext.aspx?nn=13960531000155
--------
Bahraini rights groups slam use of torture by regime's NSA against dissent
Aug 22, 2017
Three Bahraini human rights groups have slammed the Persian Gulf monarchy's National Security Agency (NSA) for its systematic use of torture against all citizens, including activists and human rights defenders.
The Persian Gulf Institute for Democracy and Human Rights, the Bahrain Forum for Human Rights and Salam for Democracy and Human Rights said in a joint report, entitled "Chambers of Death", on Tuesday that the "repressive" agency had intensified its targeting of dissenting civilians since the beginning of this year.
It also said both the NSA, founded in 2002, and its predecessor, the General Directorate for State Security Investigations, established in 1966, have been employing excessive force against people since their creation in the country.
The NSA adopted these extreme measures in order to "increase its authority and use it to carry out systematic torture, and also to intimidate the general population with inhumane methods," said Javad Firooz, the chairman of the Salam for Democracy and Human Rights group, in the report.
Giving examples of a number of abuse cases, it said that female rights activist Ebtisam Alsaegh was tortured and sexually assaulted in the course of an interrogation by the NSA in May.
The report also named Adel Marzooq, an opposition official, who was also arrested in May, and tortured by the NSA members as they had been "stripping him of clothes, pouring cold water several times on him, threatening him with rape, forcing him to repeat the slogans 'I am a traitor to the homeland' and forcing him to quit his legal activism."
The NSA, not being formally part of the Bahraini Ministry of the Interior, had no power to arrest until 2008, when it was granted with such a power by a Royal Decree. It lost the power in 2011, again by another Royal Decree, only to be granted with the power to arrest again in early January by the direct order of the king.
Back in early June, Amnesty International called on Bahrain to put an end to torturing government critics and all other forms of human rights after Alsaegh told the rights group she had been tortured and sexually assaulted while in detention for seven hours at the NSA headquarters in Muharraq, northeast of the capital Manama, a week earlier.
"The state must end all forms of reprisals it is currently using against human rights defenders and government critics, targeted solely for the peaceful exercise of their freedom of expression," Amnesty said at the time in its report.
Bahrain, home to the US Navy's 5th Fleet and an under-construction British naval base, has witnessed peaceful anti-regime protests against the systematic abuse of the Shia population and discrimination against them since 2011.
Manama has responded to the protests with lethal force, which has drawn international criticism. Scores of people have lost their lives and hundreds of others sustained injuries or got arrested as a result of the Al Khalifah regime's crackdown.
The regime in Bahrain also received assistance from Saudi Arabia and the United Arab Emirates on March 2011 as their respective troops were deployed to the island country to assist Manama in its crackdown against dissent.
Full report at:
http://www.presstv.ir/Detail/2017/08/22/532590/Bahrain-NSA-rights-groups-prison-torture-rape-Amnesty
--------
Three inmates in Dubai prison convert to Islam
Amira Agarib
August 22, 2017
They accepted Islam with full conviction and knowledge about the humane nature of the religion
Three inmates of the Dubai Central Jail have converted to Islam "due to the good treatment" they received from the Dubai Police's punitive and correctional establishments department.
Brigadier Ali Mohammed Al Shamali, director of public administration, said the converts were inspired by the pamphlets distributed to them which explained the basics of Islam.
"We also provided copies of the Holy Quran to them. They accepted Islam with full conviction and knowledge about the humane nature of the religion. The Islamic rituals that are followed at the jail, praying in groups and religious lectures also helped," said Brig Al Shamali.
He said the good treatment the converts received will help them to reform their behaviour. "The Dubai Police always guide and rehabilitate prisoners and offer them all kinds of support."
The conversion ceremony was attended by religious preacher Saud Ahmed Abdul Aziz. The converts thanked the police and jail employees for treating the inmates equally irrespective of their race, colour and religion.
https://www.khaleejtimes.com/nation/three-inmates-in-dubai-prison-convert-to-islam
Iraqi forces retake three districts of IS bastion
TAL ABTA, Iraq - Iraqi forces on Tuesday recaptured from the Islamic State group the first three districts of militant bastion Tal Afar as the Pentagon chief visited Baghdad in a show of support.
The United Nations said thousands of civilians had fled Tal Afar in the two days since the start of the broad offensive backed by the US-led coalition fighting IS.
In remarks in Baghdad after meeting Prime Minister Haider al-Abadi, US Defence Secretary Jim Mattis said the militants were "on the run". "Cities have been liberated, people freed from ISIS, from Daesh," Mattis said, using alternative names for IS.
The militants had not been able "to stand up to our team in combat, and they have not retaken one inch of ground that they lost", he said.
Iraqi troops backed by a US-led international coalition routed IS in Mosul in July after a gruelling nine-month fight for Iraq's second city. They launched an offensive Sunday to recapture Tal Afar, once a key IS supply hub between Mosul - around 70 kilometres (45 miles) further east - and the Syrian border to the west.
IS fighters inside Tal Afar, estimated to number around 1,000, responded with artillery fire Tuesday as Iraqi forces massed outside the city. Army, police and units of the Hashed al-Shaabi paramilitary coalition later took "full control" of the Al-Kifah, Al-Nur and al-Askari districts of Tal Afar, the Hashed said.
Iraqi forces had encircled the city despite what Hashed spokesman Ahmed al-Assadi described as "intense" fighting. He said the battle for the city would probably last weeks, in contrast to the months-long battle for Mosul.
The International Organization for Migration said "thousands of civilians" had fled Tal Afar since the offensive began.
Since Friday, more than 3,000 people had arrived at two IOM emergency sites, many with nothing but the clothes they were wearing, the UN agency said.
The UN's refugee agency UNHCR said it had received some 9,000 people at the Hamman Al Alil transit centre over the past week, and it was preparing to accommodate nearly 30,000 more.
Mattis declined to make any predictions about the battle.
"ISIS's days are certainly numbered, but it's not over yet and it's not going to be over anytime soon," he said.
Iraqi forces had "fought like the dickens in Mosul, (it) cost them over 6,000 wounded, somewhere over 1,200 killed," he said.
Yet that comeback restored the confidence of the Iraqi forces after their shock loss of Mosul and swathes of northern Iraq to IS in 2014.
Mattis stressed that retaking Mosul would not have happened "without... Abadi's steady hand", but was also due in part to extensive US support.
Mattis said his discussions in Iraq would focus on the way ahead, including how to keep the country from again politically fragmenting or falling further under Iran's influence.
"Secretary Mattis is going to be very much focused on a pathway for the United States to continue to have a residual force in Iraq to continue to train Iraqi security forces" and avoid a successor from IS emerging, said Nicholas Heras, Middle East Security Fellow at the Center for a New American Security in Washington.
A key issue is a plan for an independence referendum on September 25 in Iraqi Kurdistan, where Mattis met on Tuesday afternoon with the autonomous region's president Massud Barzani.
The poll is strongly opposed by the US, which believes it could undermine Abadi and distract from the fight against IS.
White House envoy to the anti-IS coalition, Brett McGurk, said the battle for Tal Afar was "going well" but that a referendum on Kurdish independence would be "potentially catastrophic to the counter-ISIS campaign".
"It's not just the United States; every member of our coalition believes that now is not the time to hold this referendum," he said.
Before leaving Baghdad, Mattis stressed the need to "stay focused like a laser beam on the defeat of ISIS and to let nothing distract us".
Mattis, who is on a five-day trip to Jordan, Iraq, Turkey and Ukraine, said he would also talk about reconstruction and resettlement of hundreds of thousands of Iraqis driven from their homes and towns by the fighting, especially in Mosul.
"It's not going to happen overnight. It's going to be a heavy lift for them going forward."
Full report at:
"That will be a political pickle that Mattis will have to work Abadi through," he said.
http://nation.com.pk/international/23-Aug-2017/iraqi-forces-retake-three-districts-of-is-bastion
--------
ISIL Withdraws from More Regions in Central Syria
Aug 22, 2017
The army soldiers pushed ISIL back from its positions in Jabal (mount) al-Mazar South of al-Koum region after hours of non-stop clashes.
In the meantime, a military source said that the army men in al-Sukhnah deployed only 17km far from their comrades that are battling ISIL from al-Tayebeh direction after the pro-government forces captured Jabal al-Mazar.
Also, other units of the army attacked ISIL's defense lines West of Mount al-Sha'er and took control of the village of al-Ebadiyeh Southwest of Huweisis in Eastern Homs.
Meantime, the army units took back several heights and hills overlooking the village of Salba, imposing control over the region.
The ISIL suffered heavy casualties and its military hardware sustained major damage in the army operations in Hama and Homs.
A military source said earlier today that the army men managed to advance against ISIL terrorists in Homs' Badiyeh (desert) and entered Southern border territories of Deir Ezzur with Eastern Homs.
The source said that the army forces have gained full control over Humeimeh region and entered the Southern borders of Deir Ezzur, adding that the recent advance will pave the way for the pro-government forces to move towards the town of Albu Kamal in Southeastern Deir Ezzur.
In the meantime, the army men have reached al-Doweikhiliyeh region East of Humeimeh and are to move towards T-2 pumping station that is one of the main strongholds of ISIL in region, the source went on to say.
Full report at:
http://en.farsnews.com/newstext.aspx?nn=13960531000178
--------
Syrian opposition meeting in Riyadh ends without agreement
22 August 2017
The Syrian opposition meeting ended in Riyadh without agreement on Tuesday due to the fact that Moscow refused to agree on any changes to President Bashar al-Assad's regime or altering of the current Syrian constitution.
The meeting witnessed a partial agreement between the opposition delegations and the Cairo side regarding some issues.
The stalemate of Russia's representatives has hampered efforts to bring together representatives of the two groups to the negotiations.
The Syrian opposition has so far met with representatives from Riyadh, Cairo and Moscow for two days with the aim of forming a unified delegation in preparation for the next round of Geneva talks.
https://english.alarabiya.net/en/News/middle-east/2017/08/22/Syrian-opposition-meeting-ends-in-Riyadh-without-agreement.html
--------
UN: Iraq must do more for ISIS sex abuse victims
22 August 2017
Iraq must do more to ensure that thousands of women and girls who survived sexual violence by ISIS militants receive care, protection and justice, the UN said Tuesday.
In a fresh report, the UN Assistance Mission to Iraq (UNAMI) and the UN rights office also warned that the children born as a result of the sexual violence risked facing a lifetime of discrimination and abuse.
"The physical, mental and emotional injuries inflicted by (ISIS) are almost beyond comprehension," UN rights chief Zeid Ra'ad Al Hussein said in a statement. "If victims are to rebuild their lives, and indeed those of their children, they need justice and they need redress," he insisted.
Horrific abuse
Tuesday's report pointed to the horrific abuse suffered by women and girls, especially from the Yazidi minority, in ISIS-controlled areas, including rape, abduction, slavery and cruel, inhumane and degrading treatment.
In 2014, ISIS militants massacred Yazidis in Sinjar, forcing tens of thousands of them to flee, and capturing thousands of girls and women as spoils of war to be used as sex slaves. The women were sold and traded across the militants' self-proclaimed state in Syria and Iraq. Around 3,000 are believed to remain in captivity.
The UN report stressed that Baghdad was responsible under domestic and international law to prosecute the perpetrators and help ensure reparations for the victims.
It decried "gaps" in Iraq's criminal justice system, "which largely fails to ensure the appropriate respect and protection of women and children who have been subjected to sexual and other forms of violence."
ISIS ex-wives
It also warned that women who were married to ISIS fighters, with or without their consent, risked "discrimination and forms of collective punishment" based on the suspicion they cooperated with the group.
The report raised particular concerns over the situation of hundreds of children born to women in ISIS-controlled areas without birth certificates or with ISIS-issued documents not accepted by Baghdad. "The government must ensure (these children) are protected from marginalization and abuse," Zeid insisted.
Full report at:
https://english.alarabiya.net/en/News/gulf/2017/08/22/UN-Iraq-must-do-more-for-ISIS-sex-abuse-victims-.html
--------
Lebanon army retakes most of border areas from Daesh: Spokesman
Aug 22, 2017
The Lebanese army says it has captured most of a mountainous area on the border with Syria during an operation aimed at purging the region of Daesh Takfiri terrorists.
"We have captured around another 20 square kilometers, so we have about another 20 square kilometers to go," said Lebanese army spokesman Brigadier-General Ali Qanso at a press conference on Tuesday.
Qanso did not provide further information on the army's timeline to finish the operation.
The army spokesman displayed photos of weapons, ammunition and mines belonging to Daesh taken during the operation as well as tunnels used by the Takfiri terrorists.
Backed by the Lebanese resistance movement Hezbollah, the army began a long-anticipated operation in the Jurud Ras Baalbek and Jurud al-Qaa areas on Lebanon's eastern border on Saturday. The push is meant to clear an area of 120 kilometers from elements of Daesh.
Four Lebanese soldiers have been killed in landmine explosions since the start of the operation.
On Saturday, Qanso said that some 20 Daesh militants had been killed since the start of the operation and that some 30 square kilometers (11 miles square) of land that used to be controlled by the Daesh had been liberated.
Hezbollah's media bureau reported that its fighters and the Syrian army had on Saturday "managed to liberate 87 square kilometers of the total area controlled by the Daesh ... in western Qalamoun region."
Estimates suggest 600 Daesh militants are holding positions in the Jurud Ras Baalbek and Jurud al-Qaa areas, the main regions covered by Lebanon army operation. There was no official statement about potential recaptures and casualties in Daesh ranks on Sunday.
The army operation came short after Hezbollah launched its own battle in Jurud Arsal region. Hezbollah managed to inflict huge losses on militants linked to al-Nusra Front, a former affiliate of al-Qaeda which is now mostly concentrated in northwest Syria.
Al-Nusra admitted defeat after six days of fierce fighting and handed over five Hezbollah fighters in return for evacuation of its militants to a region in neighboring Syria.
The army operation against Daesh could end in a similar deal as the Takfiri group is still believed to be holding nine Lebanese soldiers and police officers three years after it invaded the border town of Arsal. Five from a group of 30 kidnapped servicemen have either been killed or died during captivity while 16 were released in a prisoner swap in December 2015.
Full report at:
http://www.presstv.ir/Detail/2017/08/22/532593/Lebanon-Daesh-Syria
--------
Pakistan
World must affirm Pakistan's fight against terrorism: China
23-Aug-17
BEIJING: China on Tuesday defended its friend Pakistan against strong criticism by Donald Trump that the country is not doing enough to counter terrorism. In a major speech outlining US policy on Afghanistan, the American president slammed Islamabad for offering safe haven to "agents of chaos". Successive US administrations have criticised Pakistan for links with the Taliban and for harbouring leading jihadists — like Osama bin Laden.
"We have been paying Pakistan billions and billions of dollars at the same time they are housing the very terrorists that we are fighting," Trump said, warning that vital aid could be cut.
But Chinese foreign ministry spokeswoman Hua Chunying took a contrary view, telling reporters that Pakistan "has made great sacrifices and contributions to fighting terrorism". "The international community should fully affirm the efforts by Pakistan," she told a regular press briefing.
"We are happy to see Pakistan and the United States carry out anti-terror cooperation on the basis of mutual respect, and work together for security and stability in the region and world."
"We hope the relevant US policies can help promote the security, stability and development of Afghanistan and the region," Hua said.
Beijing is investing around $50 billion in its South Asian neighbour as part of a plan unveiled in 2015 to link its far-western Xinjiang region to the Pakistani port of Gwadar in Balochistan province with upgraded infrastructure, power lines and transport links.
But fears over safety arose earlier this year when two Chinese workers were abducted in the provincial capital Quetta. Pakistan responded by deploying a 15,000-strong military force to protect Chinese working on energy and infrastructure projects in the country.
http://dailytimes.com.pk/pakistan/23-Aug-17/world-must-affirm-pakistans-fight-against-terrorism-china
--------
Two Chinese Students of IIUI, Islamabad, Embrace Islam
August 23, 2017
In a spiritual ceremony held at International Islamic University Islamabad, two Chinese students embraced Islam; President of the university Dr. Ahmed Yousif Al-Draiweesh taught them Kalima Tayabh, a pre-requisite for converting into Islam. One of newly converted Muslim girl LivXia (Muslim name Maryam) is a student of MA Education 3rd semester and belongs to AnHui province of China.
LivXia's husband Abdullah was also student of IIUI and during the course of study embraced Islam form Buddhism some years back.
While, second young one Zhang Zhen Hao (Muslim Name Muhammad) who embraced Islam is also relative of Abdullah.
The very ceremony was also attended by Vice Presidents Dr. Muhammad Munir, Dr. Bashir Khan, Deans, Directors and other high officials of the university.
On the occasion, while expressing the views, LivXia (Maryam) was very happy and said that she feels peace and calmness in her heart and soul. She further said that difference of evils and good deeds, particularly the concepts of hereafter have also become very clear.
Maryam was of the view that teachings of Islam have impressive messages which molded her towards Islam. She also requested the attendees to pray for determination and openness of mind to understand the obligations of Islam. In his views, Zhang Zhen Hao, was very happy to embrace Islam, said truthfulness of Islam has been clear to me and he is very fond to study Islam more.
He thanked all the persons who motivated him towards Islam and showed the right path of life.
On the occasion, Dr. Al-Draiweesh said, Allah has made Islam easy; being Muslim, everybody is responsible for the preaching and spreading the true message of Islam to all mankind. President IIU also said, there is no hardship and oppression in Islam and Prophet (PBUH) said teaching of Islam must be conveyed in soft and adoptable ways.
Full report at:
http://pakobserver.net/two-chinese-students-iiui-embrace-islam/
--------
Pakistan disappointed by Trump's accusations of supporting terrorism
Aug 22, 2017
Pakistan has voiced its "disappointment" over remarks made by US President Donald Trump, while denying accusations of its support for terrorist groups.
"No country in the world has suffered more than Pakistan from the scourge of terrorism, often perpetrated from outside our borders. It is, therefore disappointing that the US policy statement ignores the enormous sacrifices rendered by the Pakistani nation in this effort," said a statement released by Pakistan's Foreign Ministry on Tuesday.
The statement was released after Trump said Washington can no longer remain silent about Pakistan providing "safe havens for terrorists."
"Pakistan has much to gain from partnering with our effort in Afghanistan. It has much to lose by continuing to harbor criminals and terrorists," the US president added during a nationally televised speech Monday night before a military audience at Fort Myer in reference to the Taliban and other groups posing a threat to the region and beyond.
"We have been paying Pakistan billions and billions of dollars at the same time they are housing the very terrorists that we are fighting…That will have to change and that will change immediately," he added.
In its foreign ministry statement, Pakistan also stressed that it was actively participating in international counter-terror efforts.
"As a matter of policy, Pakistan does not allow use of its territory against any country. Instead of relying on the false narrative of safe havens, the US needs to work with Pakistan to eradicate terrorism," the statement added.
The statement was released following a meeting between Pakistan's Foreign Minister Khwaja Muhammad Asif and US ambassador David Hale in which Asif stressed his country's "desire for peace and stability in Afghanistan."
Full report at:
http://www.presstv.ir/Detail/2017/08/22/532604/pakistan-trump-terror-disappointment
--------
University of London cancels former Pakistan President Pervez Musharraf's event on campus
22nd August 2017
LONDON: The University of London has stated that it would not allow All Pakistan Muslim League (APML) president and former Pakistan president Pervez Musharraf to use its venue to take part in question and answer recording session for a private Pakistani television.
A channel had announced that Musharraf will "answer your questions on a range of world issues, from '99 takeover to the War on Terror and Nawaz Sharif's disqualification" at the School of Oriental and African Studies (SOAS), Khalili Theatre on August 24.
The SOAS came in extreme pressure after the event with the former military dictator was announced.
The college was told by at least three groups that it will protest during the event and activists.
Pakistan Solidarity Campaign, a group of Pakistani activists from various progressive groups, wrote to the SOAS and launched a petition calling on the university to "immediately revoke permission" to host Musharraf, reports Geo TV.
It said that allowing General (retd) Musharraf will "send the wrong message that the SOAS – and the British Government – support military coups, state-sponsored violence, and humanitarian crimes in Pakistan".
The Campaign said that Musharraf was "not only a military ruler who has toppled a democratically-elected government," but was involved in abduction, torture and humiliation of human rights activists and political opponents including supporting political and religious groups with links to violence.
It was told that the SOAS allowing Musharraf a platform will mean undermining the rule of law in Pakistan.
"The SOAS academics and students have been at the forefront in the campaign for the restoration of democracy and for the rule of law in Pakistan. I condemn providing an academic platform to Gen. Musharaf for his projection. He has violated the Constitution of Pakistan and is declared absconder by the court in Pakistan. The SOAS was not involved with planning the event; it was being arranged by a private Pakistani TV as their private event," Nadir Cheema, an academic at SOAS, said.
Yesterday, the main Student Union of SOAS joined the Pakistan Solidarity Campaign in announcing various layers of protest and forced the university to cancel the permission of the event.
The SOAS has confirmed by issuing a statement that it had "not invited Pervez Musharraf to speak at the school and no such event is taking place here".
It confirmed that a "room booking request" was made by a student and "that the student has now in fact withdrawn the request".
The SOAS said that the student who had applied to book the event has already withdrawn his request.
We have proper procedures in place for managing proposed events by student societies. At no point was an event confirmed or accepted by the SOAS, nor was any event planned and organised in conjunction with the SOAS or in discussion with the Students' Union," Geo TV quoted.
Pakistan Society President Khadeejah Shahid said that SOAS's PakSoc had no relation with the event and "we don't get involved in Pakistani politics".
Full report at:
http://www.newindianexpress.com/world/2017/aug/22/university-of-london-cancels-former-pakistan-president-pervez-musharrafs-event-on-campus-1646631.html
--------
JI chief asks govt to implement FATA reforms
August 23, 2017
Jamaat-e-Islami Ameer Siraj-ul-Haq on Tuesday asked the federal government not to further delay the implementation of FATA reforms and immediately take practical steps to resolve this long awaited demand of tribal people otherwise they would march towards Islamabad after Eid-ul-Azha.
He was addressing a grand protest sit-in in front of Governor House to stress government for taking steps to complete the reforms agenda and merge FATA in KP. Jamaat-e-Islami Khyber Pakhtunkhwa Ameer Mushtaq Ahmad Khan, Jamaat-e-Islami FATA Ameer Sardar Khan, former MNA from Bajaur and JI leader Haroon Rasheed were also present on the occasion.
A large number of tribal elders hailing from Khyber Agency, Mohmand Agency and Kurram agency also rushed in front of Governor House and blocked main Sher Shah Suri Road. The tribal leaders chanted full throated slogans against FCR and against federal government.
Siraj-ul-Haq said that they would not accept any further division of Pakhtuns and wanted FATA merge in Khyber Pakhtunkhwa. He said that the Jamaat-e-Islami will keep up its struggle to remove the sense of deprivation from tribal people and would abolish the black laws of FCR.
Regarding Pakistan Muslim League-N government intention to amend articles 62 and 63 of the Constitution, Siraj said that they would oppose any amendment and would launch movement to retain it as the basic part of the Constitution to deal with any corrupt person.
He said that the brave people of FATA fought several battles against the British imperialism in the past but despite this they were kept in dark and deprived of their basic rights. He said that no one could stop people of FATA to play role in national development.
He also demanded re-launching of census in FATA as the actual population of FATA has not been brought on the record and several times their population was recorded low as compare to actual data.
Full report at:
https://www.pakistantoday.com.pk/2017/08/23/ji-chief-asks-govt-to-implement-fata-reforms/
--------
Jamaat threatens long march on Islamabad after Eid
August 23, 2017
PESHAWAR: The Jamaat-i-Islami on Tuesday warned that if the federal government didn't abolish the Frontier Crimes Regulation and announce the merger of Fata with Khyber Pakhtunkhwa before Eidul Azha, it would begin a long march on Islamabad.
Addressing a sit-in protest near the Governor's House, JI chief Senator Sirajul Haq urged the party workers and tribal people to prepare themselves for a long march on Islamabad.
"If the federal government doesn't accept demands, then I will lead the long march," he said.
The JI chief said the people of Fata, especially youths, had revolted against the status quo and rejected the system of colonial era as it served the interests of the corrupt people only.
He said Prime Minister Shahid Khaqan Abbasi should take bold steps regarding the future of Fata instead of looking towards his party's disqualified prime minister, Nawaz Sharif, for it.
Mr Siraj said the prime minister didn't believe that he was the country's chief executive.
The JI workers staged a sit-in on the Sher Shah Suri Road along the Governor's House.
Leaders of other political parties and civil society groups also present on the stage. The protesters shouted slogans in favour of Fata-KP merger and abolition of FCR in tribal region.
The sit-in caused massive traffic jams on the roads after the police blocked the main road to the protest venue diverting the traffic to the Khyber Bazaar.
The political parties have expedited the campaign for reforms, especially merger of Fata with KP.
The Pakistan Tehreek-i-Insaf had organised a sit-in at the same place on August 11 to pressure the federal government to implement the recommendations of the Sartaj Aziz-led committee on reforms in tribal areas. The committee's report was unveiled last year.
Mr Siraj said the National Assembly instead of passing the Election Bill, 2017, on Tuesday, should have passed the Fata reforms bill and announced representation for tribal people in the KP Assembly in the 2018 general elections.
He said the federal government had violated Articles 62 and 63 of the Constitution by not implementing the Fata reforms report.
"We will make a struggle for genuine reforms in Fata and the region's merger with KP," he said.
The JI chief flayed US President Donald Trump for accusing Pakistan of providing sanctuaries to terrorists and threatening to end its assistance.
"Ironically, Trump has interfered in Pakistan's internal matters and threatened to punish it over its policies," he said, adding that the US was blaming others for its wrong policies.
Wolasi Tehreek president Dr Said Alam Mehsud insisted that former prime minister Nawaz Sharif had betrayed the people of Fata by not implementing the Fata reforms committee's recommendations.
He said the committee had recommended something different from what the government was bringing about.
"The Sartaj Aziz committee had recommended the Fata-KP merger but the government was planning to introduce Rewaj Act in Fata, which is unacceptable for the tribesmen," he said.
Dr Said Alam said the government had planned to allocate 24 seats for Fata in the KP Assembly and utilisation of funds trough the KP Governor and Presidency.
"We want genuine reforms and immediate merger of Fata with KP," he said.
Fata Lawyers Forum president Rahim Shah said certain institutions didn't want true Fata reforms and merger of the region with KP.
He said 'some institutions' wanted to exploit tribal people by continuing with the existing system in the region.
Fata Political Alliance president Iqbal Afridi, who is also the PTI, Khyber Agency, president, demanded that the government extend the Supreme Court's jurisdiction to tribal areas.
Full report at:
https://www.dawn.com/news/1353372/jamaat-threatens-long-march-on-islamabad-after-eid
--------
'Evidence' of operation against Haqqanis shared with US: army
23-Aug-17
by Tahir Khan
ISLAMABAD: Pakistan has shared "evidence" with the American military officials about the action taken against the Haqqani Network, the military spokesman said Tuesday. Talking to members of an Afghan media delegation, currently on a week-long visit to Pakistan, Maj Gen Asif Ghafoor said Pakistani security officials had informed the American military officials who visited Pakistan this month about the action against the Haqqanis.
"We have told them (American military officials) that we have taken action and will take action against the Haqqani Network and all other terrorists groups including the Tehreek-e-Taliban Afghanistan," he said.
He said that Haqqanis and other terrorist groups had been eliminated from North Waziristan during the major offensive launched during 2014.
The Pakistani Embassy in Kabul has invited the Afghan media team to visit Pakistan to have direct interaction with the Pakistani political and military officials and to ask about their reservations, embassy spokesman Akhtar Munir said.
The Afghan media team, representing the leading TV channels and other important media outlets, held a two-hour discussion with the Inter Services of Public Relations (ISPR) director general, who also offered them a live presser for the Afghan TV channels. He said that seven members of the Haqqani Network were killed in Afghanistan, whose names the Afghan government had mentioned in list handed over to Pakistan in February.
"Our intelligence has also confirmed that dozens of others mentioned in the Afghan government list operate on the Afghan side of the border," he said in a reference to what was seen as a tit-for-tat exchange of lists of wanted men after terrorist attacks had killed nearly 100 Pakistanis in attacks in the country in February.
Replying to questions about the security along the border with Afghanistan, he said that the fencing of the border with Afghanistan was likely to be completed within two years. He said that the fencing and other measures were only aimed at stopping the cross-border movement of the terrorists.
"We know there are certain reservations on the border management in Afghanistan, but these measures are necessary to stop the terrorists from entering both sides of the border. If the Afghan government has any other option, they can share it with us," he said.
The army spokesman also told the Afghan media team that the border crossings with Afghanistan, which were still closed, would be reopened in six to nine months after all measures were taken to ensure border security. "Closure of border is not an appropriate step and such steps are counterproductive for the both countries and issues cannot be settled in this way."
"We have established a lot of check posts on our side of the border and hope similar measures are taken on the other side," he said. He said that Pakistan army chief had even offered the Afghan side that Pakistan was ready to help Afghans put in place similar security measures, such as fencing of constructing forts on the Afghan side.
"Terrorists routinely launched attacks on Pakistani border posts from Afghan soil in groups of 150 in the past. But Pakistani measures on the border have reduced the threat," Maj Gen Ghafoor said.
He also reiterated Pakistan military's offer to impart training to the Afghan security forces in the Pakistani military centers.
The army spokesman called for an end to the blame game between Pakistan and Afghanistan, adding that both countries must talk to each other to address to each other's concerns. "As Pakistan military spokesman I have never leveled the allegations against Afghan government or the Afghan army for supporting Pakistani terrorists," he said. He, however, said it was widely believed in Pakistan that the Pakistani terrorists were using Afghan soil to target Pakistan.
"TTP Chief Mullah Fazlullah is in Afghanistan and he claims responsibility for attacks in Pakistan, but it does not mean that Afghan government is involved in such incidents," he said. However, he said, that India was using TTP against Pakistan.
To a question, he said Pakistan has deployed over 200,000 security personnel in the tribal regions, which had once been under the influence of the terrorist groups but now all areas have been cleared.
Full report at:
http://dailytimes.com.pk/pakistan/23-Aug-17/evidence-of-operation-against-haqqanis-shared-with-us-army
--------
Southeast Asia
Sabah mufti rejects dialogue with deviant groups
Zam Yusa
August 22, 2017
KOTA KINABALU: Sabah's top authority on Islam has defended a ban on more than a dozen Muslim groups, saying there was no need for dialogue with them as their teachings deviated from "true Islam".
This followed the state fatwa council's edicts against 16 groups, which includes the Qadiani sect as well as Hizbut Tahrir, a group recently banned in Indonesia for its radical political beliefs.
The ban drew criticism from their followers in Peninsular Malaysia, who said they were peaceful Muslims who have contributed to the local community, particularly in Sabah.
But Sabah mufti Bungsu Aziz Jaafar in a recent interview with FMT said the ban had nothing to do with claims of their links to terrorism.
"If they said they were peaceful, it's a matter for the security authority to decide," he said.
"We look at it from the perspective of akidah (Islamic creed) and other related aspects of religion."
Bungsu said the Qadiani sect believed that their leader, Mirza Ghulam Ahmad, was a prophet. Muslims regard Prophet Muhammad was the final prophet.
He said the authorities also took into account Muslim unity in their decision to ban the groups.
According to him, Hizbut Tahrir's rejection of the current system of governance in preference to the caliphate was a threat to Muslim unity in Malaysia.
"Historically, Islam arrived in this country and maintained the sultanate system. It was alright for one to be a king, without being a caliph," he said, adding that Muslims must adapt to different circumstances in governing a state.
He said while the Muslim world was once governed by the Ummayad, Abbasid and Ottoman caliphates, the current sultanate system practised in Malaysia was not much different.
"This is a matter of 'ijtihad'," he said, referring to a method of scholars arriving at Islamic rulings.
He said it was wrong for Muslims to reject the legitimacy of rulers who apply Islam in governance.
Bungsu disagreed that religious authorities in the state should engage with groups it deemed as deviant.
"There are things we can have a dialogue over, while others we need to take action on. For something as clear as Qadiani, why do we need to have a dialogue? We've studied and found it to be clearly deviant," he said. "Fatwas are issued after getting all the facts, not unscrupulously."
Sabah has also arrested eight followers of another Muslim sect, the Millah Ibrahim, who were sent back to Kuala Lumpur to be tried by the shariah court.
For Bungsu, Millah Ibrahim "is worse" because it was a mix of Islam, Christianity and Judaism, adding that it was against the Sunni creed.
http://www.freemalaysiatoday.com/category/nation/2017/08/22/sabah-mufti-rejects-dialogue-with-deviant-groups/
--------
Another Conviction Under Indonesia's Dangerous Blasphemy Law
August 23, 2017
Indonesian authorities wielding the country's dangerously ambiguous blasphemy law have claimed another victim: Siti Aisyah, the owner of an Islamic school in Mataram, Lombok Island. On Monday, a Mataram court sentenced Aisyah to 30 months in prison for "strange teachings," which included advising students to restrict their beliefs to the content of the Quran and to ignore other books on the Prophet Muhammad's teachings.
Media reports of those teachings prompted West Nusa Tenggara Governor Zainul Majdi to order the closure of Aisyah's school in January and to ask local police to open an investigation of possible blasphemy law violations. The Mataram chapter of the Indonesian Ulama Council, an umbrella of Muslim groups in Indonesia, issued a non-legally-binding edict to the police on January 31 that Aisyah had committed blasphemy.
Aisyah is the sixteenth person prosecuted and imprisoned on blasphemy charges since President Joko "Jokowi" Widodo took office in October 2014. Indonesia's blasphemy law was passed in 1965 and punishes deviations from the central tenets of Indonesia's six officially recognized religions with up to five years in prison.
The law has been used to prosecute and imprison members of religious minorities and traditional religions. Recent victims include three former leaders of the Gafatar religious community following the violent forced eviction of more than 7,000 Gafatar members from their farms on Kalimantan Island last year. Another was former Jakarta Governor Basuki "Ahok" Purnama, sentenced to two years in prison in May. Despite the repeated misuse of the law, Indonesia's Religious Affairs Ministry is seeking to reinforce and expand its scope through the so-called religious rights protection bill, which parliament is likely to debate in late 2017.
Full report at:
https://www.hrw.org/news/2017/08/23/another-conviction-under-indonesias-dangerous-blasphemy-law
--------
Jailed Indonesian cleric named suspect in 2016 bomb attack
AUGUST 23, 2017
JAKARTA — A jailed Indonesian cleric has been named as a suspect in a suicide bomb attack that killed eight people in Jakarta last year and was claimed by the Islamic State (IS) group, police said yesterday.
They said Aman Abdurrahman is suspected of masterminding the attack in January last year, which killed four attackers and four civilians.
"He has been officially named a suspect in the Thamrin attack," said national police spokesman Setyo Wasisto, referring to the street where it took place. He added that Abdurrahman will be charged soon. "We already have sufficient evidence about his involvement in the attack."
Police have long pointed to Abdurrahman as the architect of the attack, but this is the first time they have officially named him as a suspect.
The assault — the first claimed by IS in South-east Asia — saw dramatic scenes as a suicide bomber blew himself up in a Starbucks outlet and security forces battled gun-toting militants.
Despite being in prison since 2010, Abdurrahman has recruited militants to join the IS, according to the Jakarta-based Institute for Policy Analysis and Conflict.
He is thought to have been in communication with leaders of the jihadist group and is the main translator for IS propaganda in Indonesia, it has said.
The cleric was detained by counter-terrorism police on Aug 12, just as he was due for early release from Nusakambangan high-security prison where he was serving a sentence for raising funds for a training camp in Aceh. Abdurrahman, leader of the IS-linked Jamaah Ansharut Daulah, was named a suspect on Aug 18, said Mr Wasisto.
A report by the non-profit international policy organisation Counter Extremism Project said Abdurrahman has radicalised at least 20 of his fellow prisoners, some of whom have carried out terrorist activities following their release.
"Despite incarceration, Abdurrahman has released his extremist sermons via email, Facebook, and in hard copy," it said, adding that following the Jarkarta attack last year, prison officials moved Abdurrahman into high security cells and barred him from receiving packages from visitors.
Indonesia, the world's most populous Muslim-majority country, has long struggled with Islamic militancy and has been hit by a series of attacks in the past 15 years, including the 2002 Bali bombings that left 202 people dead.
Full report at:
http://www.todayonline.com/world/asia/jailed-indonesian-cleric-named-suspect-2016-bomb-attack
--------
China rejects Trump's criticism against Pakistan
August 23, 2017
BEIJING: China defended its ally Pakistan on Tuesday after U.S. President Donald Trump said the United States could no longer be silent about Pakistan's "safe havens" for militants and warned it had much to lose by continuing to "harbor terrorists".
Trump on Monday committed the United States to an open-ended conflict in Afghanistan, signaling he would dispatch more troops to America's longest war and vowing "a fight to win".
Trump insisted that others - the Afghan government, Pakistan, India and NATO allies - step up their own commitment to resolving the 16-year conflict, but he saved his sharpest words for Pakistan.
Senior U.S. officials warned security assistance for Pakistan could be reduced unless the nuclear-armed nation cooperated more in preventing militants from using safe havens on its soil.
Critics say Pakistan sees militants such as the Taliban as useful tools to limit the influence of old rival India. Pakistan denies allowing militants refuge on its territory, saying it takes action against all groups.
Asked about Trump's speech, Chinese Foreign Ministry spokeswoman Hua Chunying said Pakistan was on the front line in the struggle against terrorism and had made "great sacrifices" and "important contributions" in the fight.
"We believe that the international community should fully recognize Pakistan's anti-terrorism," she told a daily news briefing.
"We are happy to see Pakistan and the United States carry out anti-terror cooperation on the basis of mutual respect, and work together for security and stability in the region and world."
China and Pakistan consider each other "all-weather friends" and have close diplomatic, economic and security ties.
China has its own security concerns in the region, in particular any links between militants in Pakistan and Afghanistan and Islamist groups China blames for violence in its far western region of Xinjiang.
Full report at:
http://nation.com.pk/international/22-Aug-2017/china-rejects-trump-s-criticism-against-pakistan
--------
KL atheist gathering stokes fire of religious intolerance
BY RASHAAD ALI
AUGUST 23, 2017
Earlier this month, a gathering of atheists in Kuala Lumpur caused an uproar among members of the Muslim community, continuing the trend of conservative and religious issues spilling into the public domain.
The gathering was highlighted by pro-Islam blogs and websites, resulting in violent threats against the atheist group, while the government has responded to the complaints by promising to investigate the issue.
Mr Shahidan Kassim, a Minister in the Prime Minister's Department, suggested that atheists should be hunted down as they have no place in Malaysia under the Federal Constitution.
Pressure from conservative Muslims seems to have informed a few government decisions.
This month has also seen the abandonment of reforms to the Law Reform (Marriage and Divorce) Bill 2016 that would have prohibited the religious conversion of children to Islam with the consent of just one parent.
The amendment was withdrawn following strong criticism from conservative Islamic groups. This is in addition to the recent banning by the Home Ministry of eight books for not conforming to the teachings of "Sunnah Wal Jamaah", the mainstream Islamic view in Malaysia.
In East Malaysia, the Sabah fatwa council moved to ban 16 deviant teachings, ranging from the Hizbut Tahrir group to Shi'ism, while also banning the undefined and rather vague concepts of "liberalism" and "pluralism".
A study by the Pew Research Centre that indicated religious practices in Malaysia are highly controlled by the state, on a par with countries such as Russia and Saudi Arabia.
The state control of religion has been prevalent since the creation of the Islamic bureaucracy in the 1980s, a by-product of the political "Islamisation race" between the United Malays National Organisation (Umno)and Parti Islam Se-Malaysia (PAS) to gain favour among Malays.
Religious institutions have been steadily expanding their jurisdiction, increasing their budgets, and growing their influence on society.
The centrality of Islam in Malaysian public life has been on the rise, particularly in the past decade.
Although the issue of religion cannot be divorced from its importance in politics, particularly how it has been co-opted by parties such as Umno and PAS to secure votes from their Malay base, rarely do we consider the impact on society of a top-down approach to religion over the past 20 years.
Although there is definite encouragement from the government and ministers, religious conservatism and negative reactions over religious issues are now occurring "organically", without prodding from authorities.
Importantly, there is not anything necessarily wrong with conservatism per se; if an ethnic or religious group opts to adopt a more conservative outlook, it is their prerogative to do so, as long as it does not infringe on others.
In recent years, however, it is not so much a renewed conservatism that has contributed to public discord, but rather a growing intolerance of alternative interpretations or schools of thought of Islam.
Such alternatives are usually branded and generalised as "deviant" or liberal.
Social media and the Internet generally amplify these angry and dissenting voices, making issues out of seemingly inconspicuous matters, such as whether hotdogs should be renamed, or whether a gold medal gymnast's attire is appropriate.
The anger directed at the atheist gathering is the most recent example of such religious intolerance. It may be a particularly sore point for Malay Muslims, as apostasy is a tricky subject.
Although there is no compulsion of belief in Islam, this is hardly practised, especially in Malaysia.
Five states prohibit apostasy, while other states prescribe jail sentences, fines, and stints in religious rehabilitation centres.
Such a strong stance is perhaps taken out of fear of a domino effect, or that acknowledging apostasy further encourages others to opt out of the religion.
Regardless of this, however, the position of the government and religious institutions serves to reinforce the views of a conservative public, whose outcry over the issue has been, at times, dangerously violent.
Disagreements over apostasy should not descend to the level of calling for the death of apostates.
Such vehement opinions risk public safety, and fracturing society even further.
Religious freedom and tolerance is at a new low for a variety of political and social reasons, while Malaysians continue to be divided along ethnic and religious lines.
Unfortunately, the fallout from this incident will serve only to divide the people. The strong response online from Malay-Muslims against atheists, both Malay and non-Malay, will reinforce existing anti-Muslim sentiment in the country.
By expressing their anger at atheists and the alleged risk they pose to religious harmony, conservative Malay-Muslims exacerbate existing racial divisions in the country.
Meanwhile, a government that has demonstrated a willingness to pander to its Malay electorate may end up persecuting religious minority groups, as it has in the past, with atheists now a likely target.
Inspector-General of Police Khalid Abu Bakar warned atheists against causing any unease among the public.
"Don't think you can do whatever you want. Be mindful of the law," he cautioned, and only when asked did he state that if death threats were made against the atheists, they would be duly investigated.
Serious action should be considered against those who have made death threats to the group online.
Full report at:
http://www.todayonline.com/commentary/kl-atheist-gathering-stokes-fire-religious-intolerance
--------
Liberalism, pluralism not 'bad words', says Chandra Muzaffar
Robin Augustin
August 23, 2017
PETALING JAYA: Chandra Muzaffar has criticised the home ministry's explanation for its ban on a book published by a group of prominent Malays, dismissing the claim that its contents undermine national security and stability.
In a statement released by the home ministry on Monday, its secretary-general Alwi Ibrahim said G25's book titled, "Breaking the Silence: Voices of Moderation – Islam in a Constitutional Democracy", contained elements promoting liberalism and pluralism which are contrary to Islam's Ahli Sunnah Wal Jamaah (Sunni) teachings.
But Chandra, who is a contributor to the book, said Alwi had failed to explain which parts of it promoted liberalism and pluralism in a manner which threatened public interests.
"Besides, Alwi didn't explain why liberalism is a threat to the nation.
"Let us not forget that the fourth goal of the Rukun Negara, our nation's philosophy, emphasises a liberal approach to our rich and diverse cultural traditions," Chandra told FMT.
"What does Alwi mean when he says the book promotes liberalism? Is he referring to the tradition of liberal thinking which was developed in 18th-century Europe, or is he, as I suspect, equating liberalism to a permissive attitude towards the lesbian, gay, bisexual and transgender (LGBT) community?"
Chandra, who is the chairman of Yayasan 1Malaysia, said he believed Alwi had a distorted view of liberalism and pluralism.
Pluralism, he said, refers to the existence and acknowledgement of diversity, whether cultural, religious or political, which was a reality in today's world.
"I believe Alwi is interpreting pluralism to mean that all religions are the same. This isn't what pluralism is, because no two religions are the same even though they have some similarities like promoting kindness or respecting nature."
But he said all religions are different, giving the example of how Christians and Muslims believe in an afterlife while Buddhists believe in reincarnation.
Chandra also said Islam had no problem with diversity, citing Quranic verses in Chapter 49, verse 13 and Chapter 5, verse 48.
These verses, he said, support the Quranic view of accepting different religions and cultures.
"Liberalism and pluralism aren't bad words. So I really don't know what is their problem with the G25 book."
The G25 book was one of 18 publications recently banned by the home ministry under the Printing Presses and Publications (Control of Undesirable Publications) (No 12) Order 2017. The ban was signed by Home Minister Ahmad Zahid Hamidi on June 14.
The book, which was first published by Marshall Cavendish in December 2015, discusses the impact of Islamic bureaucracy in Malaysia and its consistency with the provisions of the Federal Constitution.
Full report at:
http://www.freemalaysiatoday.com/category/nation/2017/08/23/liberalism-pluralism-not-bad-words-says-chandra-muzaffar/
--------
Mideast
Turkey to Thwart Attempts to Set Up Kurdish State in Syria: Erdogan
Aug 22, 2017
Turkish President Recep Tayyip Erdogan has underlined Turkey's resolve to prevent any attempt by Syrian Kurdish fighters to establish a Kurdish state in northern Syria.
In a Tuesday speech in Ankara, Erdogan described the Kurdish Peoples' Protection Units (YPG) and the Kurdish Democratic Party (PYD) as terror groups, noting, "We do not and will never allow a so-called state to be established by the PYD, YPG in northern Syria."
"They want to establish a terror corridor in northern Syria reaching the Mediterranean," he noted.
Erdogan reaffirmed Turkey's determination to continue to fight against PYD and YPG "wherever we find them."
The Syrian Kurdish fighters control two "cantons" in Syria's northeast as well as the Afrin region to the west. Turkey says PYD and YPG are the affiliates of Kurdistan Workers' Party (PKK), which is considered by Turkey, the US and EU as a terror group.
In August 2016, Turkey staged a cross-border operation in northern Syria, which Ankara said was aimed at purging the border zone of terrorists.
There have been speculations that Turkey may be planning to launch another operation against the YPG to push it out of the town of Afrin.
Erdogan's remarks come amid Turkey's opposition to a referendum on independence of Iraq's autonomous Kurdish region scheduled to be held on September 25.
Turkish Foreign Minister Mevlut Cavusoglu is scheduled to visit Iraq on Wednesday to discuss the issue with Iraqi Prime Minister Haider al-Abadi in Baghdad and then with Iraqi Kurdish leader Massud Barzani in Arbil.
Last week, delegations from Iraq's ruling coalition, the National Alliance, and Kurdistan Regional Government (KRG) met in Baghdad to discuss the possibility of cancelling or delaying the referendum.
The Kurdish delegation reportedly held talks with Prime Minister Abadi, President Fuad Masum and other Iraqi leaders as well as the ambassadors of the United States, Iran and Turkey in Baghdad.
The visit came after US Secretary of State Rex Tillerson formally asked Massoud Barzani, the KRG president, to postpone the referendum.
According to Abdullah al-Zaidi, a negotiator from the National Alliance, a second round of negotiations could be held next week in the Kurdish capital city of Erbil.
On Sunday, Executive Secretary of the Patriotic Union of Kurdistan (PUK) Politburo Mala Bakhtiar said the Kurds will not agree to delay the vote without fixing another date for it.
He noted that, at the political level, Baghdad should commit to settle the issue of disputed regions such as the oil-rich area of Kirkuk and, on the economic side, the Iraqi government should help the Kurds overcome a financial crisis and settle debts owed by their government.
He said the KRG owes up to $12 billion to public works contractors, civil servants and Kurdish Peshmerga fighters who have not received salaries for several months.
Baghdad stopped federal payments to the KRG in 2014 after the Kurds began exporting oil independently from Baghdad, via a pipeline to Turkey.
The Kurds say they need the extra revenue to manage the costs of war against Daesh Takfiri terrorists and a large influx of refugees to their region.
Iraqi Prime Minister Haider al-Abadi issued a statement on Sunday, rejecting Bakhtiar's suggestion to postpone the planned referendum in return for financial and political concessions from Baghdad.
The statement by the Iraqi prime minister said Bakhtiar's remarks were his personal views and did not reflect the negotiations between the two sides.
"The Reuters correspondent, quoting the head of the political office of the Kurdish Patriotic Union, has published some claims which are false and unrealistic, and have never been raised in talks with the Kurdish delegation in Baghdad," it said.
"Moreover, Mala Bakhtiar was not a member of the delegation and was not present during the talks," added the statement.
The Iraqi government has rejected the planned referendum as "unilateral" and unconstitutional. Turkey, Iran and Syria, which together with Iraq have sizable Kurdish communities, also oppose an independent Kurdistan.
Iraq's militia groups which were key to driving out Daesh from much of the country have threatened to expel the Peshmarga from Kirkuk and three other disputed areas - Sinjar, Makhmur and Khanaqin.
http://www.presstv.ir/Detail/2017/08/22/532577/Turkey-Syria-Kurd
--------
Palestinians seek answers from US envoy Kushner
22 August 2017
RAMALLAH, West Bank: The Palestinians are hoping for some clear answers on key disputes with Israel from US envoy Jared Kushner when he returns to the region this week, a top Palestinian official said.
The Palestinians have shown increasing signs of impatience in recent days, saying that after more than six months in office, US President Donald Trump still has not laid out a vision for Mideast peace.
Ahmad Majdalani, a top aide to President Mahmoud Abbas, said the Palestinians asked Kushner for the US position on two key issues — Israeli settlements and support for Palestinian independence — during his last visit to the region in June.
"Since then we didn't hear from them," he said Tuesday.
"We hope they bring clear answers this time," he added. "If not, then the peace process cannot be resumed because we cannot negotiate from scratch."
The Palestinians are seeking a freeze in Israeli settlement construction and a US endorsement of Palestinian independence as part of a "two-state solution" with Israel.
The Palestinians say that continued Israeli construction in the West Bank and east Jerusalem — captured territories sought by the Palestinians for their state — undermines their dream of independence.
Kushner, who is Trump's son-in-law, is expected to meet with Israeli and Palestinian officials on Thursday as he tries to restart talks. The last round broke down over three years ago. Israeli Prime Minister Benjamin Netanyahu's office had no comment on the upcoming visit, and there was no immediate reaction from a Kushner spokesman.
Trump has cast the elusive pursuit of peace between Israelis and Palestinians as the "ultimate deal."
But he has given few indications of how he plans to reach it.
With his administration still coping with the fallout from his handling of the deadly violence in Charlottesville, Virginia, and Netanyahu facing a growing police investigation into possible bribery and corruption, the odds of any major breakthroughs on this trip seem low.
Trump has not explicitly endorsed the two-state solution, the cornerstone of US policy for nearly two decades and the international community's preferred outcome.
He has urged Israel to show restraint in settlement construction, but not demanded a freeze, disappointing the Palestinians.
Trump also has backed away from a campaign pledge to move the US Embassy from Tel Aviv to Jerusalem. Israel had welcomed the promise, while the Palestinians strongly opposed it.
Full report at:
http://www.arabnews.com/node/1149026/middle-east
--------
Iran political prisoners cause international concern
23 August 2017
International concern is rising for more than a dozen political prisoners in Iran who are on hunger strike.
Amnesty International issued a statement on Tuesday describing their conditions as "cruel, inhuman and degrading".
Amnesty International said that prisoners at Raja'i Shahr prison were recently transferred to a newly opened area where conditions are suffocating.
"They are held in cells with windows covered by metal sheets, and deprived of access to clean drinking water, food and sufficient beds," the statement read.
Magdalena Mughrabi, Deputy Middle East and North Africa Director at Amnesty International said that on July 30 about 53 political prisoners were violently transferred to Section 10 of Raja'i Shahr prison.
Among them are human rights defenders, trade unionists, journalists, students, peaceful political dissidents, and members of Iran's persecuted Baha'i community.
At least 17 political prisoners went on hunger strike in protest at the transfer.
The Paris based National Council of Resistance of Iran said that political prisoners in the notorious Gohardasht Prison are experiencing deteriorated physical conditions and are in dangerous conditions as well.
"On Monday, August 21, Mr. Hassan Sadeghi was transferred to Farabi Hospital in Qazvin Square of southern Tehran, he is suffering from glaucoma due to the severe blows suffered from prison authorities to his eye," the NCRI said in their statement.
"Physicians say there is a possibility that his eye blood veins are torn and may lose his eyesight".
Full report at:
https://english.alarabiya.net/en/News/middle-east/2017/08/23/Iran-political-prisoners-cause-international-concern.html
--------
Lebanon, Iran view Israel, terrorism as threats to regional stability
Aug 23, 2017
Lebanon's prime minister has held talks with an Iranian deputy foreign minister on the threats posed by the Israeli regime and terrorism to the troubled Middle East region.
The meeting between Saad Hariri and Hossein Jaberi Ansari, which took place in Beirut on Tuesday, focused on Tehran-Beirut ties as well as the latest developments in Lebanon and the broader Middle East region.
During the meeting, Hariri referred to Israel and terrorism as the two primary threats facing Lebanon and the entire region.
Hariri described dialogue and cooperation among different Lebanese political parties as the reason behind the Beirut government's recent achievements, stressing that the country was determined to continue that approach.
Jaberi Ansari, for his part, said the two threats highlighted by the Lebanese premier provide a common ground for boosting Tehran-Beirut ties and regional cooperation.
He further voiced the Islamic Republic's readiness to bolster relations with Lebanon in all fields and termed the Arab country as a good example of national consensus and domestic coexistence.
In a press conference following the meeting, the Iranian official said he had held talks with Hariri on the need to resolve the Syria crisis through dialogue and to continue the counter-terrorism fight there.
Jaberi Ansari expressed Iran's resolve to bolster cooperation with Lebanon, especially in the political and the economic areas.
Asked about Lebanon's recent counterterrorism operation near the Syrian frontier, he said that the Lebanese military, backed by the Hezbollah resistance movement and the nation's support, have managed to score major victories against the terrorists.
He expressed hope that the joint cooperation will continue until terrorists are eradicated from the border region.
The Iranian official further congratulated the Lebanese nation, government, army and the resistance on the battlefield victories.
The Lebanese military launched its anti-terror operation on Saturday. Hezbollah also started a simultaneous offensive against the Daesh Takfiri terrorist group from the Syrian side of the frontier.
Last month, Hezbollah concluded a joint counter-terrorism campaign with the Syrian army at Lebanon's highlands of Arsal.
Full report at:
http://www.presstv.ir/Detail/2017/08/23/532626/Iran-Lenanon-Hossein-Jaberi-Ansari
--------
Iran Denies Joint Operation with Turkey against PKK
Aug 22, 2017
"We have not planned any operations across the borders of the Islamic Republic of Iran but will give a crushing response to any group, team or person intending to cross the Iranian territories for anti-security or terrorist acts," the statement said on Tuesday.
The statement, meantime, warned the terrorist grouplets that have deployed in Northern Iraq for the past several years and are backed up by Tehran's enemies to stir insecurity in Iran of IRGC's crushing and harsh response to any hostile move, and vowed to target their backup lines no matter where they are.
The statement came after Turkish President Tayyip Erdogan said on Monday that a more effective struggle against the PKK and its Iranian affiliate, PJAK, would be possible through joint action with Iran.
"Joint action against terrorist groups that have become a threat is always on the agenda. This issue has been discussed between the two military chiefs, and I discussed more broadly how this should be carried out," Erdogan was quoted as saying by the Reuters.
Also, the Arabic-language al-Mayadeen news channel quoted Erdogan as saying that his country might conduct a joint operation with Iran against the PKK positions in Shingal and Qandil.
Chief of Staff of Iran's Armed Forces Major General Mohammad Hossein Baqeri started a three-day visit to Ankara last Tuesday heading a high-ranking politico-military delegation.
Full report at:
http://en.farsnews.com/newstext.aspx?nn=13960531000185
--------
Iran back to high enrichment 'in 5 days' if US quits N-deal
August 23, 2017
TEHRAN - Iran can resume high-level uranium enrichment within five days if the United States tears up the nuclear deal, the head of its Atomic Energy Organisation said Tuesday.
"If we make a determination, at most in five days we can start 20 percent enrichment in Fordo (nuclear plant)," said Ali Akbar Salehi in an interview with state broadcaster IRIB.
"Of course we would not like such a thing to happen as we made a lot of effort to achieve the JCPOA (nuclear deal)," he added.
"Our biggest priority is to maintain the JCPOA, but of course not at any price."
The 2015 nuclear deal with world powers saw sanctions eased in exchange for curbs to Iran's nuclear programme.
That included a ban on high-level enrichment of uranium - 20 percent or more - a process which would take Iran close to the level needed for a nuclear weapon.
US President Donald Trump repeatedly threatened to tear up the nuclear deal during his campaign, and it has come under mounting pressure after Tehran carried out missile tests and Washington imposed new sanctions - with each accusing the other of violating the spirit of the agreement. But Salehi said that scrapping the nuclear deal would backfire on Washington in its efforts to tackle North Korea's atomic programme.
"If they call off the JCPOA, North Korea will say you are not committed to your pledges," he said. "The credibility of the US will fall apart and the question will be raised as to why they committed themselves and then violated their commitments."
Under the deal, Iran is allowed to enrich uranium to low levels of 3.5 percent, which can be used to power reactors.
At 20-percent, uranium can be used for nuclear medicines, but crucially leaves only a small amount of work to get to the 90-percent level needed for a nuclear weapon. For this reason, when in February 2010 Iran began enriching to 20 percent alarm bells rang, since it dramatically shortened the time needed to produce a bomb's worth of weapons-grade uranium.
Full report at:
http://nation.com.pk/international/23-Aug-2017/iran-back-to-high-enrichment-in-5-days-if-us-quits-n-deal
--------
Yemeni sharpshooters kill 2 Saudi troops in Jizan
Aug 22, 2017
Two Saudi soldiers have been killed when the Yemeni army and fighters from the allied Popular Committees launched an attack against the kingdom's southwestern border region of Jizan in retaliation for the Riyadh regime's campaign against the impoverished Arab country.
An unnamed military source, speaking on condition of anonymity, told Arabic-language al-Masirah television network that Yemeni snipers fatally wounded the soldiers in the Saudi military outpost of al-Maridhah on Tuesday, a day after sharpshooters killed another Saudi soldier in al-Zaqilah military base in the same region.
The source added that the artillery of the national forces also shelled gatherings of Saudi forces in several military bases and outposts, including al-Sharhawi and Nashaw, across the region's border areas. Furthermore, Yemeni forces fired Katyusha rockets against gatherings of Saudi troops and military hardware and vehicles in the southern region of Nagran.
Reports say the attacks inflicted heavy damage upon the Saudi war machine in the two neighboring regions.
Back in April, Arabic-language Yemen Watch news agency reported that in the first quarter of this year, Yemeni forces had killed a total of 119 Saudi soldiers. Most of the operations were conducted in Jizan, where a total of 74 Saudi soldiers were slain. Thirty-five and 10 other Saudi troops were killed in Najran and Asir regions, respectively.
A report by Reuters published in April last year revealed that at least 400 Saudi soldiers had been killed in the cross-border fire since the start of the Saudi campaign in March 2015. Riyadh has maintained a policy of ambiguity regarding its casualties in the war on Yemen. Senior military officials have said that they would not release such information until after the campaign.
Devastating war on Yemen
Over the past two and a half years, Yemen has been under heavy airstrikes by Saudi Arabia's warplanes as part of a brutal war against the Arabian Peninsula country in an attempt to crush the popular Houthi Ansarullah movement and reinstall the former president, Abd Rabbuh Mansur Hadi, a staunch ally of Riyadh. More than 12,000 people have been killed since the onset of the campaign, and much of the country's infrastructure, including hospitals, schools and factories, has been ravaged.
The Saudi war has also triggered a deadly cholera epidemic across Yemen.
On August 14, the World Health Organization announced that a total of 503,484 cases, suspected to be infected with cholera, and 1,975 deaths, attributable to the outbreak, had been documented in Yemen since late April. The world body has on several occasions warned about the growing cholera epidemic and a looming famine in the impoverished country.
The UN has already announced that the Saudi war had left some 17 million Yemenis hungry, nearly seven million facing famine, and about 16 million almost without access to water or sanitation.
On Thursday, the Foreign Policy magazine said it had obtained a new confidential draft report by UN Secretary General Antonio Guterres, saying that Saudi airstrikes had killed 502 Yemeni children and injured 838 others since 2015.
The same report by the UN also revealed that the Saudi war, despite Riyadh's overwhelming military superiority, had failed since it was "no closer" to achieving its declared objective.
The United States and Britain have been providing the bulk of the military ordnance used by Saudi Arabia in the war. London has licensed 3.3 billion pounds' worth of weapons since the beginning of the war.
Full report at:
http://www.presstv.ir/Detail/2017/08/22/532568/Yemen-Saudi-Arabia-snipers-Jizan-Najran-US-cholera-famine-children-UN-Houthis
--------
Iran diplomat, Hezbollah chief discuss Mideast developments
Aug 22, 2017
Iranian Deputy Foreign Minister for Arab and African Affairs Hossein Jaberi Ansari has held talks with Secretary General of the Lebanese resistance movement, Hezbollah, Sayyed Hassan Nasrallah.
During a meeting in Beirut on Tuesday, Jaberi Ansari and Nasrallah exchanged views about the latest political developments in the Middle East and the situation in the region, particularly the Syrian and Lebanese issues.
Iranian Ambassador to Beirut Mohammad Fat'hali was also present in the meeting.
Jaberi Ansari, who arrived in Beirut on Monday for a three-day visit, held talks with Lebanese President Michel Aoun, Parliament Speaker Nabih Berri and Foreign Minister Gebran Bassil.
He said the trip aims to express Iran's support for national unity in Lebanon and the country's fight against the Israeli regime and Takfiri terrorists.
The Iranian diplomat is visiting Beirut after the Lebanese army chief General Joseph Aoun announced the start of the operation, dubbed Jaroud Dawn, on Saturday against Daesh terrorists in eastern parts of the country along the border with Syria.
Separately on Saturday, the Hezbollah resistance movement said that it had started a joint operation with the Syrian army inside Syrian territory, according to al-Manar TV station.
Last month, Hezbollah concluded a joint counter-terrorism campaign with the Syrian army at Lebanon's highlands of Arsal.
The militants of the al-Nusra Front group, recently renaming itself Fateh al-Sham, withdrew from Arsal following a series of consecutive defeats that forced them to agree to a ceasefire deal.
'Lebanon, symbol of resistance against Zionists, terrorists'
Meanwhile, Jaberi Ansari also said on Tuesday that Lebanon is the symbol of resistance against the Israeli regime and Takfiri terrorism.
"Lebanon symbolizes coexistence among different Islamic and Christian sects and ethnicities…and the message of my trip to Lebanon and meetings with Lebanese political and religious leaders is that the Islamic Republic of Iran supports this coexistence," he said in a meeting with Sheikh Naeem Hassan, the spiritual leader of the Druze community in Lebanon.
Full report at:
http://www.presstv.ir/Detail/2017/08/22/532553/Iran-Lebanon-Hezbollah-Hossein-Jaberi-Ansari-Seyyed-Hassan-Nasrallah-Sheikh-Naeem-Hassan-AlMohadeen
--------
Africa
Ugandan court jails Muslim leader for life over terrorism
Aug. 22, 2017
A Ugandan court on Tuesday sentenced a Muslim group leader and three associates to life in prison after their conviction on terrorism charges related to threats to harm rivals, a judicial official said.
Over the last few years more than a dozen senior Muslim figures in Uganda have been killed, in most cases gunned down by unknown assailants riding on motorcycle taxis.
Sheikh Mohammad Yunus Kamoga, who heads Tabliqs, a radical Muslim faction, and 13 others were arrested and charged with terrorism and the murder of some other Islamic group leaders.
On Monday six of them were convicted on the terrorism charges but all were cleared of murder.
In a high court session on Tuesday, Kamoga and three others were sentenced to life while two associates were given 30 years each, according to judiciary spokesman Solomon Muyita.
The court acquitted the group of murder because prosecutors failed to place any of them at the scenes of crime, he said.
Local media quoted defence lawyers as saying they would appeal against the convictions.
About 13 per cent of Uganda's 35 million population is Muslim. The east African state's Muslim community has various factions that often feud over issues ranging from differing interpretations of Islam to rows over property and leadership.
Uganda has only suffered one major Islamist militant attack - in 2010 when back-to-back bombings in the capital Kampala killed at least 76 people.
Al Shabaab, an al Qaeda-affiliated militant group based in Somalia, claimed responsibility. Uganda's military is deployed in Somalia as part of an African Union-mandated AMISOM peacekeeping force.
http://www.the-star.co.ke/news/2017/08/22/ugandan-court-jails-muslim-leader-for-life-over-terrorism_c1621621
--------
Former Libya PM kidnapped in Tripoli
August 23, 2017
TRIPOLI - Libya's former prime minister Ali Zeidan has been kidnapped by an armed group in war-torn Tripoli and not been heard from in nine days, family members and friends said Tuesday.
Zeidan, who became premier in November 2012, was dismissed by Libya's parliament in March 2014 amid accusations that public funds had been embezzled.
He left the country soon afterwards, in defiance of a travel ban issued by the attorney general.
Zeidan had returned to Libya in early August for the first time since his dismissal and was planning a Tripoli press conference to respond to his critics, according to Karam Khaled, a friend who accompanied him.
He said the former premier's visit had been coordinated with Fayez al-Sarraj, premier in the country's United Nations-backed Government of National Accord.
"It was the GNA that prepared the visit, including protocol at the airport and the hotel reservation," Khaled said.
He said an armed group's first attempt to seize Zeidan on August 12 was foiled by hotel guards.
He said the gunmen were from the GNA-linked Tripoli Revolutionary Brigade, a militia of former rebels from the NATO-backed 2011 uprising that led to the overthrow and killing of longtime dictator Moamer Kadhafi.
"Gunmen from the same group returned the next day and we were obliged to hand them Zeidan," Khaled said.
"Since then, we have had no information on where he is being held or his condition," he said, criticising the "silence" of the unity government.
The ex-prime minister's son Zeidan Zeidan said the family had no news of his father's whereabouts.
"We have nothing so far," he said by phone from the United Arab Emirates, where he lives.
He said his father's lawyer had told him no court cases had been brought against the former premier.
"This was indeed a kidnapping and not an arrest," he said, adding that the family is worried for the health of his father, who is 67.
In October 2013, gunmen seized the then premier from Tripoli's luxury Corinthia Hotel, but he was released after several hours.
Full report at:
http://nation.com.pk/international/23-Aug-2017/former-libya-pm-kidnapped-in-tripoli
--------
Armed Libyan militia halting refugee boat departures to Europe
Aug 22, 2017
A local armed group in a Libyan coastal city west of the capital Tripoli has reportedly been halting refugee boats from setting out across the Mediterranean, leading to a rapid drop in the risky sea voyage over the past month.
The revelation sheds a new light into the sudden decline in the number of asylum seekers arriving in Italy, Reuters reported Monday citing multiple local sources in the city of Sabratha in Libya's Zawiya district who spoke on condition of anonymity.
According to the report, arrivals of refugees in Italy from North Africa -- the main route for migration to Europe this year -- fell by more than 50 percent in July compared to the same period last year, and August arrivals so far are down even further.
July and August are peak months for people smugglers operating the substandard boats to carry refugees to Europe due to favorable sea conditions.
Sources cited in the report stated that the sudden drop in the refugee flow had been caused by a new militia in the seaside city -- 70 kilometers west of Tripoli -- which is blocking the asylum seekers from leaving, often by detaining and holding them in custody.
The militia force in Sabratha "works on the ground, the beach, to prevent the migrants leaving on boats towards Italy," said an unidentified "civil society organizer" in the city, as quoted in the report, noting that the group is made up of several hundred "civilians, policemen, army figures."
It further quoted a second source in the city – "who follows smuggling activity closely" -- as saying that the force is conducting a "very strong campaign" that was launched by a "former mafia boss."
The report then cited yet another source "with contacts in Libya" as saying that the Sabratha group was making "a significant effort to police the area."
The sources further asserted that the armed militia force was also operating a detention center for refugees who are turned back or seized from smugglers, and one sent a photo of hundreds of asylum seekers sitting in the sand in front of a high wall.
According to one of the sources cited in the report, the group appeared to be seeking legitimacy and financial support from Tripoli, where European states have tried to partner with a UN-backed Government of National Accord (GNA) to curtail the refugee flows.
However, it was not possible to make contact with the group, known as Brigade 48, according to one of the sources.
The development came as Italy has been making efforts to boost GNA's ability to contain people smuggling with cash, training and by sending a ship to help repair Tripoli's coastguard and navy vessels.
Italy, the report says, wants to replicate a deal with Libya that the EU struck with Turkey last year, largely shutting down the refugee route through Greece and the Balkans.
With an upcoming national election in the first half of next year, the Italian government is under pressure to demonstrate that it can halt, or at least trim down refugee in-flow.
Full report at:
http://www.presstv.ir/Detail/2017/08/22/532534/Libya-armed-group-Tripoli-Sabratha-refugee-boats-people-smugglers-Italy
--------
UN official sees genocide threat in Central African Republic
August 22, 2017
UNITED NATIONS — U.N. humanitarian chief Stephen O'Brien said Tuesday he saw "the early warnings of genocide" during a recent visit to Central African Republic, which has faced sectarian fighting since 2013.
He said in an interview with The Associated Press that "there's a terrible development of militias now using ethnic or religious" reasons for attacks. He spoke with AP after briefing the U.N. Security Council on his trip behind closed doors at the request of France.
During a visit to the southeastern town of Bangassou last month, O'Brien said, he saw 2,000 Muslims trapped in a Catholic church where they fled after their homes were burned by mostly Christian anti-Balaka militiamen who were "just lying in wait to kill them if they tried to move." By contrast, he said, "every Christian family's house was left standing."
Central African Republic, one of the world's most impoverished nations, has been wracked by violence since predominantly Muslim Seleka rebels overthrew the Christian president in 2013 and seized power. Anti-Balaka militias fought back, resulting in thousands of deaths, the displacement of hundreds of thousands more and the flight of many Muslims to the country's north or across the border into Chad and Cameroon.
Despite peaceful elections in early 2016, violence has continued. Sectarian fighting has moved into the country's central and southeastern regions, prompting warnings of a national conflict roaring back to life. More than 300 people have been killed and over 100,000 displaced since May.
O'Brien's report to the Security Council follows a warning from U.N. Secretary-General Antonio Guterres in late July that hard-won gains toward lasting peace in Central African Republic are threatened by fighting in the country's southeast and heightened ethnic tensions.
But the U.N. humanitarian chief went further on Tuesday, saying: "The early warnings of genocide are there."
O'Brien noted Central African Republic is twice the size of France, with only 1,300 kilometers (810 miles) of paved roads and just over 12,000 U.N. peacekeepers mandated to protect civilians.
He said that "there are massive flare-ups" not only in Bangassou but in Obo and Bria, also in the southeast, and "the concern is that there's no control."
"The escalation is very real," O'Brien said. "We're looking at things which we haven't heard about for a long time. There's a very deep ethnic cleansing approach."
He said he felt very strongly it was his special duty to tell the Security Council what he saw in Bangassou, where U.N. peacekeeping troops from the Muslim country of Morocco based. Those peacekeepers "were being described as a legitimate target by the various (Christian) militias who saw them as partial to protecting the Muslim community they were trying to get rid of," he said.
O'Brien said the response to the Moroccan peacekeepers was "totally wrong," saying the U.N. force is there to protect all civilians, regardless of their backgrounds.
He said all Security Council members are deeply concerned about escalating ethnic tensions and violence in the Central African Republic.
O'Brien said the government controls only the capital of Bangui and the surrounding area, leaving a pressing need for finding "a way of enforcing some sort of government authority" everywhere. The international community also must find "a very clear, practical methodology to get these individuals to lay down their arms," he said.
As for humanitarian aid, he said, increased donations are necessary for helping those forced from their homes by the conflict.
Full report at:
https://www.washingtonpost.com/world/africa/un-official-sees-genocide-threat-in-central-african-republic/2017/08/22/14a26254-879a-11e7-96a7-d178cf3524eb_story.html?utm_term=.cba741e87a45
--------
Europe
France, Turkey working 'closely' on returning militants
22 August 2017
France is working "closely" with Turkey on the issue of foreign fighters returning from warzones, French Interior Minister Gerard Collomb said on Tuesday.
"We are working quite closely with Turkey, which is effectively reporting to us the return of French extremists," Collomb told broadcaster BFMTV.
Asked about how the French authorities are planning to handle the possible return of citizens who are still in Iraq and Syria, including several women and children, Collomb said to date "217 [adults] and 54 minors" are already back on French soil.
The minister said that, once in France, a judicial process is initiated for "all those who took part in these wars".
"They are taken to court, and most of the time imprisoned," he added.
Former Interior Minister Bernard Cazeneuve, in 2014 estimated around 900 French citizens had gone to fight in Syria alone.
France has been under a state of emergency following terrorist attacks in Paris in November 2015 which killed 130 people. Several of the plotters were reported to have spent time in Syria.
Current French president, Emmanuel Macron, has promised to lift the emergency legislation by November this year.
http://www.worldbulletin.net/europe/193239/france-turkey-working-closely-on-returning-militants
--------
Moroccans shaken by links to extremist attacks in Europe
Aug. 20, 2017
RABAT, Morocco — Morocco has long considered itself a haven of stability in a volatile region and a key ally in the fight against Islamic extremism, but in recent months, it has found itself shaken by carnage in Europe blamed on Moroccans who moved abroad.
Young men from the North African nation have been involved in deadly attacks in Paris and Brussels, and — just last week — emerged as suspects in violence in Spain and Finland. The Islamic State group has claimed responsibility.
In the days after attacks on Barcelona's famed Las Ramblas and a seaside resort killed 15 people, shocked and horrified relatives and friends of the suspects gathered with the Muslim community in their Spanish town of Ripoll to denounce terrorism.
Their families in Morocco issued similar statements and also said that anything the young men learned about extremism had taken place away from home.
The 12-member cell accused of carrying out the attacks in Spain was made up of brothers and childhood friends from Ripoll — young men described as integrated, well-liked and responsible members of their tight-knit community.
"Pilot, teacher, doctor .... How could this have disappeared? What happened to you?" their school counselor, Raquel Rull, wrote in a despairing column published Tuesday in La Vanguardia newspaper. "What are we doing to make these things happen! You were so young, so full of life you had a lifetime ahead ... and a thousand dreams to fulfill."
Spanish police Monday shot and killed Younes Abouyaaqoub, a 22-year-old Moroccan who was thought to be the driver in the van attack on Las Ramblas that was responsible for 13 of the deaths. He also was identified as a suspect in the slaying of the owner of a hijacked car.
His grandfather, Aqbouch Abouyaaqoub, told the Spanish newspaper El Pais that Younes left Morocco as a young boy.
"But one thing is certain: My grandson did not finish his studies here. He studied in Spain," he said.
Full report at:
https://www.stripes.com/news/middle-east/2.1198/moroccans-shaken-by-links-to-extremist-attacks-in-europe-1.483974#.WZ01gFQjGzc
--------
Schizophrenic 'Muslim killer' not guilty by reason of insanity
22 August 2017
A man with schizophrenia who repeatedly stabbed a train passenger after yelling "I want to kill all the Muslims" has been found not guilty of attempted murder by reason of insanity.
Adrian Brown, 38, experienced a "severe psychotic episode" when he stabbed Muhammed Ali on a London Overground train on 12 December 2016.
Judge Deborah Taylor QC ordered that Brown should be detained indefinitely.
She added he would only be released on the order of a judge or the government.
Brown, of Brockley Rise, south-east London, appeared via video link from Broadmoor Hospital during the hearing.
A jury found Brown not guilty following a two-day trial at Southwark Crown Court.
He was also found not guilty, by reason of insanity, of possession of an offensive weapon and of assault by beating of Mr Ali.
The trial heard Brown had been delusional in his belief he would "save humanity" and exorcise a Muslim demon haunting him by stabbing his victim.
The court was told he was heard by other passengers to say "Where are all the Muslims? I am going to kill all the Muslims", before holding a knife to the throat of another woman, who was unhurt.
Brown accepted carrying out the attack but pleaded not guilty to a charge of attempted murder on the grounds of insanity.
Mr Ali had been travelling home with his wife when the assault took place between Honor Oak Park and Forest Hill, south London.
He told court that the attack had left him too frightened to leave his house.
"I struggle to sleep at the time because every time I shut my eyes I have flashbacks to the whole thing", he said.
"I can only assume it was me because my wife was wearing a headscarf."
Detaining Brown indefinitely under section 37 of the Mental Health Act, Judge Taylor said: "You have a long history of psychotic illness and on that day you were suffering and you continue to suffer from paranoid schizophrenia.
"There's no doubt that if it had not been for the prompt intervention of an off-duty police officer and two medical practitioners that he he may well have died such were the severity of his injuries and the loss of blood."
http://www.bbc.com/news/uk-england-london-41011324
--------
Terror cell planned big attack in Spain
August 23, 2017
MADRID - A suspected member of the terror cell that unleashed carnage in Spain last week admitted to a judge on Tuesday that the militants had planned to hit monuments in an even bigger attack.
Mohamed Houli Chemlal, 21, and three others were charged with terrorist offences over the rampages in Barcelona and a seaside resort that claimed 15 lives and wounded more than 100 people.
They are the only survivors of a 12-man cell whose members rammed a van into pedestrians on a tourist-packed boulevard in Barcelona on Thursday and hours later carried out a similar attack in the seaside resort of Cambrils further south.
The four were charged with "belonging to a terrorist organisation, terror-related murder and possession of explosives," said a judicial source, who spoke on condition of anonymity.
The cell was planning "an attack on an even greater scale, targeting monuments," according to the source.
Chemlal, a Spaniard, was injured in an accidental explosion at a makeshift bomb factory on Wednesday evening that killed an imam, Abdelbaki Es Satty, thought to have radicalised him and other young suspects.
Chemlal also said during interrogation that the imam wanted to blow himself up, according to the source.
Police had previously revealed that the suspected militants had been preparing bombs for "one or more attacks in Barcelona".
Josep Lluis Trapero, head of police in Catalonia, said 120 gas canisters and traces of TATP components - a homemade explosive that is a hallmark of the Islamic State group that claimed the attacks - had been found at their bomb factory.
The accidental explosion in the house in Alcanar, south of Barcelona, may have forced the suspects to alter their plans.
- Logistical support? -
The four men in court included Driss Oukabir, the older brother of Moussa who was killed by police in Cambrils on Friday along with four other suspects.
The others were Mohamed Aallaa, one of three brothers allegedly involved, and Salh El Karib, who manages a store that allows people to make calls abroad.
Chemlal, dressed in hospital patient clothing and with his right hand bandaged, was brought in after a doctor determined he was fit for interrogation, a court spokesman told AFP.
The court hearing of the four suspects caps five days of angst following the twin vehicle assaults.
Spanish police shot dead Younes Abouyaaqoub, the suspected Barcelona van driver, on Monday in a dramatic end to the manhunt for the Moroccan national, who shouted "God is greatest" when he was killed.
He was the last fugitive member of the cell.
Besides the four men detained, the rest were killed, either by police or in the explosion in Alcanar.
While Catalan police say the cell has been dismantled, investigators are trying to determine if it had logistical or other forms of support from other individuals.
Questions are also arising about the group's possible international connections.
- Audi in Paris, imam in Belgium -
In Belgium, the mayor of the Vilvorde region told AFP that Satty spent time in the Brussels suburb of Machelen - next to the city's airport - between January and March 2016.
On the other side of Brussels, the Molenbeek suburb has gained notoriety as a hotbed of international militants after the Brussels bombings in March 2016 and the Paris attacks in November 2015.
And in France, Interior Minister Gerard Collomb told BFMTV that the Audi used to mow down people in Cambrils had been detected by speed cameras in the Paris region while making "a very rapid return trip" days before the Spanish attacks.
Collomb is due to host Spanish counterpart Juan Ignacio Zoido on Wednesday for talks due to include anti-terrorism cooperation.
At least one of the suspects also spent a night in Zurich in December, according to Swiss police, which said it was too early to speculate about any connections with Switzerland.
- 'One or more' attacks -
Five days on, a clearer picture is emerging of the events that unfolded last week.
Abouyaaqoub used a vehicle to smash into crowds on Barcelona's famous Las Ramblas boulevard, killing 13 people and injuring more than 100.
While on the run, the 22-year-old stabbed to death the driver of a car he hijacked to get away.
Several hours later, a similar vehicle attack in Cambrils saw a car run into pedestrians, with one occupant jumping out and stabbing a woman, who later died.
Police shot dead the five attackers there, some of whom were wearing fake explosive belts.
Abouyaaqoub was gunned down on Monday in a village about 60 kilometres (40 miles) west of Barcelona, after receiving multiple tip-offs.
Police opened fire as he appeared to be wearing an explosive belt, which turned out to be fake.
Full report at:
http://nation.com.pk/international/23-Aug-2017/terror-cell-planned-big-attack-in-spain
--------
Spanish judge releases one Barcelona attack suspect while Morocco arrests two
23 August 2017
A Spanish judge Tuesday released one suspect in the terror attacks that claimed 15 lives and wounded more than 100 people last week, saying evidence against him was weak, but remanded two others AFP reported.
Meanwhile Moroccan authorities arrested two people suspected of links to the alleged perpetrators of the Barcelona van attack, state TV channel 2M reported on Tuesday.
National Court Judge Fernando Abreu ordered that Mohamed Houli Chemlal, a 21-year-old Spaniard, and Driss Oukabir, a 27-year-old Moroccan, be held while the investigation continued after questioning them for several hours.
Chemlal is suspected of preparing explosive devices at a house south of Barcelona while Oukabir is suspected of renting a white van that ploughed into crowds in Barcelona on Thursday, killing 13 people.
But the judge ordered the conditional release of Mohamed Aalla, the owner of the Audi that was used in a second vehicle attack in the seaside town of Cambrils in the early hours of Friday that killed one person.
The judge wrote in his ruling that there was not at this point "evidence to establish his participation in the events, aside from being the formal owner" of the vehicle which was in fact being used by his younger brother.
Aalla will have to report regularly to police and is prohibited from leaving Spain.
He is still under formal investigation but has not been formally charged unlike Chemlal and Oukabir who have been charged with terror related offences.
The judge will investigate further the fourth suspect arrested over the attacks, Salh El Karib, before deciding if he will be released or remanded in custody, the source added. The judge will decide the fate of this suspect within three days.
In Morocco a 28-year-old man was detained in Nador, close to the Spanish enclave of Melilla according to Reuters.
The suspect, Moroccan TV stationl 2M reported, lived for 12 years in Barcelona and is alleged to have links to ISIS and of plotting to attack the Spanish embassy in Rabat. It gave no details of the alleged plot.
No direct link has been identified between the suspect and the cell of mainly young Moroccans behind the Barcelona attack, but he had celebrated the attack on Facebook, the report said.
The second suspect was arrested in the town of Oujda, close to Morocco's border with Algeria, according to 2M. He was a resident of Ripoll, the small town in northeastern Spain where many members of the cell were living.
Full report at:
https://english.alarabiya.net/en/News/world/2017/08/23/Spanish-judge-releases-one-Barcelona-attack-suspect-while-Morocco-arrests-two.html
--------
Russia to sell SU-35 fighter jets to Indonesia
Aug 22, 2017
Russia is set to sell Indonesia nearly a dozen Sukhoi fighter jets worth $1.14 billion in exchange for cash and commodities, officials in Jakarta say.
Indonesia is to ship about $570 million worth of commodities in addition to cash payments in return for 11 Sukhoi SU-35 fighter jets, which are expected to be delivered in stages starting in two years, Indonesian Trade Minister Enggartiasto Lukita said in a joint statement with Defense Minister Ryamizard Ryacudu on Tuesday.
Details of the type and volume of commodities were "still being negotiated."
Previously the Indonesian trade minister had said the exports could include palm oil, tea and coffee.
The deal is expected to be finalized soon between the Indonesian state trading company PT Perusahaan Perdangangan Indonesia and the Russian state conglomerate Rostec.
Russia is currently facing a new round of US-imposed trade sanctions over the crisis in Ukraine.
Meanwhile, Southeast Asia's largest economy is trying to promote its palm oil products amid threats of a cut in consumption by European Union countries.
Indonesia, which produces 35 percent of the world's certified sustainable palm oil (CSPO), is the world's biggest producer of the commodity.
Jakarta is also trying to modernize its ageing air force after a string of military aviation accidents.
Full report at:
http://www.presstv.ir/Detail/2017/08/22/532536/Russia-Indon-Jets-Palm-Oil
--------
Spain terror attack suspects appear in court
22 August 2017
Four men linked to a string of deadly terrorist attacks in Spain have appeared in a high court in Madrid on Tuesday.
The four -- Mohamed Houli Chemlal; Driss Oukabir, 28; Mohammed Aalla, 27; and Sahal al-Karib, 34 -- were transfered amid tight security from Catalonia to the Spanish capital.
They appeared before a judge who will decide what charges they will face in connection to last week's attacks which left 15 people dead and over 100 injured.
Prosecutors are demanding they be remanded in custody to await trail.
The men are thought to be part of a 12-strong terrorist group responsible for Thursday's vehicle attack on Las Ramblas in central Barcelona and another incident later in the Catalan town of Cambrils.
Two of the group are thought to have died in a house explosion, thought to have been caused by gas canisters they were planning to use as bombs.
Full report at:
http://www.worldbulletin.net/europe/193238/spain-terror-attack-suspects-appear-in-court
--------
North America
Trump U-turn in Afghanistan welcomed in Kabul, met with disbelief in Islamabad and delight in New Delhi
23 August 2017
ISLAMABAD: Political and military leaders in Afghanistan, Pakistan and India spent Tuesday digesting and analyzing Donald Trump's sharp policy U-turn on US strategy in Afghanistan and South Asia.
In a televised address from Virginia on Monday night, the US president reversed his previous position that a US military presence in Afghanistan was "a complete disaster" and a waste of American money and lives.
Instead, he said, while the US was no longer involved in nation building, he would approve plans by his military chiefs to increase the number of US troops. He provided no figures, but analysts expect the numbers in the region to increase from 8,400 to about 12,400.
"Our troops will fight to win," Trump said. "From now on, victory will have a clear definition: attacking our enemies, obliterating Daesh, crushing Al-Qaeda, preventing the Taliban from taking over the country, and stopping mass terror attacks against Americans before they emerge."
Trump also said India would play a more prominent economic and development role, and he said he would put pressure on Pakistan to stop harboring terrorists and ensure that its nuclear weapons did not fall into their hands.
Trump's new strategy was received warmly by the Afghan government, which has pushed for the indefinite involvement of US troops in a war in which the Taliban are gaining ground and Daesh are becoming increasingly active.
"I am grateful to President Trump and the American people for this affirmation of support for our efforts to achieve self-reliance and for our joint struggle to rid the region from the threat of terrorists," President Ashraf Ghani said.
"The US-Afghanistan partnership is stronger than ever in overcoming the threat of terrorism that threatens us all. The strength of our security forces should show that the Taliban and others cannot win a military victory. The objective of peace is paramount. Peace remains our priority."
However, many in Afghanistan are skeptical that the new US policy is an effective way to end the war. They say the strategy lacks any mechanism for peace talks with militants, or a plan to boost development, reconstruction and other factors to bring stability.
Hekmatullah Shahbaz, a political analyst, said the indefinite presence of US troops would tend to prolong the war, as key players in the region, particularly, Russia opposed it.
Ahmad Zia Rafat, a professor at Kabul University, said Trump's comment about Pakistan was vague, and his proposal for a greater role for India in Afghanistan could be counter-productive.
"Trump did not say what the US would do if Pakistan failed to engage the Taliban," he said. "Secondly, India may not be so much interested in peace in Afghanistan as it wants Pakistan to be pre-occupied here, so this way it can avoid facing fighting Pakistan along its borders. India is not a neutral country here."
The Taliban issued a defiant statement, and vowed to continue to fight against US troops. "As long as a single American soldier remains in our homeland and American leaders continue the path of war-mongering, we will continue our jihad with high spirit, complete determination and more steadfastness," a spokesman said.
In Pakistan, there was a pre-emptive response even before Trump spoke. Military spokesman Maj. Gen. Asif Ghafoor told a press conference in the garrison city of Rawalpindi that the Pakistan army had contributed to regional security beyond its own capability and capacity.
"No organized infrastructure of any terrorist organization exists in Pakistan," he said. "We have operated against all terrorists, including the Haqqani network," and Pakistan had provided evidence of this last week to a high-level US military delegation. Nevertheless, Trump had Pakistan in his crosshairs when he spoke on Monday night. Washington can "no longer be silent about Pakistan's safe havens for terrorist organizations," he said. "We must prevent nuclear weapons and materials from coming into the hands of terrorists."
That, said nuclear expert Dr. Zafar Jaspal, is "a repeated mantra of the United States." He said Pakistan's nuclear weapons were "very much secure, and the Trump administration needs to review the literature which was produced by American and international think tanks at the nuclear security summit in 2016." This establishes Pakistan's security protocol to effectively keep its nuclear weapons out of the terrorists' reach, he said.
Col. Baseer Haider, a Pakistani military analyst, welcomed the increase in US troop numbers to secure the Afghan side of the border, but criticized Trump's policy for failing to define the contours of intelligence sharing. He feared that more drone strikes in tribal areas, or an operation like the one that killed Osama Bin Laden, would strain ties between Pakistan and the US.
"They simply cannot have a unilateral approach. They should take us into their confidence and work with us for a mutual goal to bring peace in the region," he said.
The warmest words in Trump's speech were reserved for India, which he called a critical part of the South Asian strategy. "We want them to help us more with Afghanistan, especially in the area of economic assistance and development," he said.
New Delhi was delighted. "We welcome President Trump's determination to enhance efforts to overcome the challenges facing Afghanistan and confronting issues of safe havens and other forms of cross-border support enjoyed by terrorists. India shares these concerns and objectives," said Foreign Ministry spokesman Raveesh Kumar.
Harsh V. Pant, head of the strategic affairs program at Observer Research Foundation, a think tank in New Delhi, said that given India's economic engagement in Afghanistan, "it never makes any sense for American policy to divorce India from what they call Af-Pak policy.
"The Trump administration is coming around to the view that India needs to be the part of this strategic framework.
"A policy of splendid isolation is not an option and India's desire to emerge as a major global player will remain just that, unless it engages its immediate neighborhood more meaningfully and emerges as a net provider of regional peace and stability," Pant argues in his book, "India's Afghanistan Muddle."
However, Happymon Jacob, an academic at Jawaharlal Nehru University in Delhi, cautioned against falling into what he called Trump's trap of praising India and attacking Pakistan.
• Additional reporting by Sib Kaifee in Islamabad, Syed Salahuddin in Kabul and Sunjay Kumar in Delhi
http://www.arabnews.com/node/1149131/world
--------
US Islamic Movement Enters Final Stage
August 22, 2017
One day in the future, history will record with great astonishment how military leaders, politicians on both sides of the aisle, intelligence professionals, and others were catastrophically unprofessional for 16 years after 9/11/2001, thus putting the American people in grave peril.
Understanding the Threat's (UTT) has trained thousands of local, state and federal officers/agents on the Islamic threat (sharia and the jihadi network in the US), the hard-left Marxist/Socialist/Communist threat, and how these Movements work together to bring down the U.S. government.
The response to UTT's training is always the same:
none of those in attendance, including FBI Joint Terrorism Task Force agents/officers, have ever heard the information presented, and
they all agree it is critical to protecting their communities.
When UTT's President John Guandolo was recruited out of the FBI by the Department of Defense (end of 2008) he briefed a number of 3 and 4 Star Generals and admirals, numerous Members of Congress, the Chairmen of the House Intelligence, Homeland Security, and Judiciary Committees, former Directors of intelligence agencies, former National Security Advisors, and others. None of these good men and women were aware of the massive jihadi network in the United States, nor what sharia is and how it operates to drive the Global Islamic Movement.
UTT's Chris Gaubatz's experience (2008) undercover inside the headquarters of US Hamas doing business as the Council on American Islamic Relations (CAIR) revealed "America's largest Muslim civil rights group" – as they are called is engaged in fraud, sedition, espionage, and terrorism. Yet CAIR and its leaders are unimpeded in their work by US agencies sworn to dismantle them.
Today, the situation is significantly worse than it was nine years ago. The enemy has gained significant ground in the war while our leaders have barely scratched the surface on understanding the danger facing the Republic.
The Muslim Brotherhood has increased their ground game:
Insinuated Muslim Brotherhood sympathizers into Mr. Trump's administration and utilized their network to cease efforts to designate the MB a terrorist organization – with support from Mrs. Clinton.
Created an army of attorneys to do battle in U.S. courts to slow down judicial action by US government
Expanded their Islamophobia campaign to bring social media giants Facebook, Twitter and others onboard to stifle free speech, specifically truthful speech about Islam.
Broadened their cooperative efforts with hard-left Marxist organizations to directly attack those individuals and organizations speaking truth about Islam.
Leaders within the Islamic Movement: (Hatem Bazian) call for an intifada (violent uprising) in the United States; (Linda Sarsour) call for jihad against the President; numerous U.S. imams are calling for the annihilation of Jews here; and many Islamic leaders are openly calling for sharia to be imposed in the United States.
Now, the violent war UTT has warned about and predicted inside the United States has begun.
The Islamic Movement's initial tool for violence in the United States is the anarchists and "domestic terrorist" hard-left Marxist/Socialist Communist organizations, including Antifa, Black Lives Matters, and dozens of groups forming together.
Many of these people and groups call for the killing of the President, as did Missouri State Senator Maria Chappelle-Nadal.
These are the Brown Shirts of the 21st Century.
These violent and subversive Movements have hundreds if not thousands of groups giving them direct support like the Southern Poverty Law Center, J-Street, Transgender Law Center, Center for New Community, Franciscan Action Network, Gay & Lesbian Advocates & Defenders, Interfaith Alliance, Jews Against Islamophobia, Jews for Racial and Economic Justice, Mexican American Legal Defense and Education Fund, American Center for Outreach, ACLU, Arab American Anti-Discrimination Committee, Arab American Institute, Asian Americans Advancing Justice, NAACP, National Gay & Lesbian Task Force, National Lawyers Guild, Anti-Defamation League and many others.
For a more extensive list of the George Soros funded Marxists/anarchist groups click HERE.
These two massive Movements in the United States funded by external and internal entities whose stated goal is the destruction of the United States.
They publish doctrine, websites, speeches, and books which call for the overthrow of our government, and then take actions in furtherance of these goals.
This is not only a violation of numerous federal laws, but these actions demand that all people who are in positions of authority and who have sworn an oath to the Constitution have a duty to take actions to destroy these Movements and defend our Republic.
As the violence escalates we will see social unrest like occurred in Baltimore, Ferguson, Berkley, and elsewhere. But it will be much worse.
Remember the Brown Shirts were killed on the Night of the Long Knives and Adolf Hitlers Black Shirts took charge.
So it is in history with Movements like this.
Remembering this is a war of narratives – and Information War – more than anything else, all of these escalating actions will come with a pre-planned propaganda campaign just like we saw in Charlottesville, Virginia.
Here are 5 things American citizens are encouraged to do:
Understand the Islamic threat. Use the resources at www.UnderstandingtheThreat.com and know what sharia is and what it says. Sharia drives the enemy in this war. Be weary of those who vilify the Muslim Brotherhood, and then defend Islamic doctrine as being "peaceful." Remember, the Islamic Movement is the leading element in this war. They are using the left as their tools. Do not lose focus.
Understand the play book of the hard-left Marxist Movement in the United States. Read Rules for Radicals.
Move quickly to educate open-minded people in your community, especially those with leadership qualities. Remember Sheriffs and Pastors are the two groups of people we need most right now in this war.
Develop the right mind-set. Think August 1939 Poland. "Resistance Movements" can simply be citizens organizing to support those defending their states/communities in numerous ways.
Know the foundation upon which this nation was created: the law of nature (legally defined as the will of God) and nature's God (legally defined as "Holy Scripture").
For every person who becomes educated as to the true nature of the threats we face as a nation is another person who will be fully committed to defending it at a deep level.
Speak truth boldly.
Understanding the Threat
Paul Ebeling, Editor
Full report at:
http://www.livetradingnews.com/us-islamic-movement-enters-final-stage-52510.html#.WZ04bFQjGzc
--------
US may intensify air power, training after Trump's Afghan policy
August 23, 2017
The U.S. Air Force may intensify its strikes in Afghanistan and expand training of the Afghan air force following President Donald Trump's decision to forge ahead with the 16-year-old war, its top general told Reuters on Tuesday.
Air Force Chief of Staff General David Goldfein said, however, he was still examining the matter, as the U.S. military's top brass had only begun the process of translating Trump's war strategy into action.
Asked whether the Air Force would dedicate more assets to Afghanistan, where the United States has been engaged in its longest military conflict, Goldfein said only: "Possibly."
"It's actually too early to tell what this will mean in terms of plus-ups and reductions," he said in a joint interview with Air Force Secretary Heather Wilson.
Still, he acknowledged that the Air Force was "absolutely" examining the possibility of increasing air power, including to support U.S. ground forces, following Trump's promise of a stepped-up campaign against Taliban insurgents, who have gained ground against U.S.-backed Afghan government forces.
Goldfein said the same about providing training to Afghan pilots.
Wilson, who assumed the Air Force's top civilian job three months ago, noted the Afghan military had made strides thanks to U.S. training and equipment, but added: "I think there is a long way to go there, very honestly."
In a speech on Monday night, Trump appeared to answer a call from the top U.S. commander on the ground for thousands of more troops to break a stalemate with Taliban insurgents, on top of the roughly 8,400 now deployed in Afghanistan.
Trump said the United States would not disclose troop numbers, but one U.S. official told Reuters they could start moving quickly. U.S. Defense Secretary Jim Mattis said on Tuesday he would set troop levels following the review by military chiefs.
During the administration of Trump's predecessor, Barack Obama, U.S. military officials privately expressed frustration about their inability to strike at many Taliban targets - including training camps - unless they could show a direct threat to U.S. forces or major impact on the Afghan state.
Wilson said Trump appeared to be giving greater flexibility to strike insurgents.
"Obviously the Joint Chiefs will work through their plans and make proposals, but I think the guidance was pretty clear from the president last night, and we're going to go on the offensive and destroy these terrorist networks," Wilson said.
Goldfein said: "I thought that came out very loud and clear in the speech that that's his priority."
MORE FIREPOWER
Wilson and Goldfein spoke to Reuters while flying back to the United States after a nine-day trip that included a visit to Afghanistan, where the U.S. military has ramped up its firepower against Islamic State in recent months even as it helps Afghan forces battle the Taliban.
Particularly for the U.S. Air Force, the size of the American commitment to Afghanistan far outweighs the number of airmen deployed there. A network of U.S. installations throughout the Middle East supports the Afghan campaign, including in Qatar and the United Arab Emirates.
Still, any substantial increase in U.S. targeting of the Taliban and Islamic State militants would likely require dedicating more U.S. military assets to build intelligence, strike insurgent targets and provide support to U.S. forces in the field.
Although the U.S. military is stretched, a string of U.S. coalition-backed victories by Iraqi forces against Islamic State might free up some firepower and intelligence assets for Afghanistan, experts say.
Air Force spokesman Brigadier General Edward Thomas declined to speculate on operational planning. But he noted that U.S. air power from the region could be deployed, if needed, including fighter aircraft, bombers and spy planes.
"With the detailed planning that will follow the president's announcement, the Air Force will be ready to swing any additional airmen and aircraft to the fight as required," Thomas said.
PRESSURE ON PAKISTAN
Trump ran for the presidency calling for a swift U.S. withdrawal from Afghanistan, which the United States invaded in October 2001, and he acknowledged on Monday that he was going against his instincts in approving the new campaign plan sought by his military advisers.
Wilson said Trump's remarks represented a "strategic correction" in the war effort along with a significant shift in policy on Pakistan.
In his speech, Trump delivered a sharp rebuke to Islamabad for allowing Taliban insurgents a safe haven from which launch attacks in Afghanistan, and said it had "much to lose" unless it changed course. Pakistan denies that it harbors militants fighting U.S. and Afghan government forces in Afghanistan.
Reuters has reported that the United States has been considering a range of actions, including withholding aid to Pakistan and, perhaps, ramping up drone strikes.
Successive U.S. administrations have struggled with how to deal with nuclear-armed Pakistan, and the U.S. military has been dependent in the past on overflight or land routes through Pakistan to resupply its forces in landlocked Afghanistan.
Wilson did not rule out a future U.S. military role against militants in Pakistan should Islamabad fail to act, but she said Trump's focus appeared to be on diplomatic efforts for now.
"My assumption is that there will be some intense diplomatic pressure," she said.
Goldfein said he was not aware of any changes to U.S.-Pakistani military ties, but acknowledged the military would take its cues from the State Department.
Full report at:
http://nation.com.pk/international/23-Aug-2017/us-may-intensify-air-power-training-after-trump-s-afghan-policy
--------
US military-industrial establishment absolutely loves endless wars: Writer
Aug 22, 2017
US President Donald Trump is escalating conflict in Afghanistan because the military-industrial establishment absolutely loves endless wars, American writer and political analyst Stephen Lendman says.
In a clear U-turn from his campaign pledges to end the now 16-year occupation of Afghanistan, Trump said Monday that his views had changed since entering the White House and that he would continue the military intervention "as long as we see determination and progress" in Afghanistan.
The position was welcomed by pro-war Senators John McCain and Lindsey Graham as well as House Majority Leader Kevin McCarthy, some of Trump's fiercest Republican critics.
Lendman told Press TV on Tuesday that "the hawks in Washington are absolutely delighted, especially Senators John McCain and Lindsey Graham."
"The entire Washington's – call it -- 'military industrial establishment' absolutely loves endless wars. Had Trump ever announced he was pulling troops out of Afghanistan, I think they'd have gone at him very very harshly," he stated.
'American public is tired of wars'
"The war will be sixteen years old in duration coming this October 7th -- I believe the date is -- with no end in sight for conflict. Not only is Trump continuing the war but he is escalating it. He is sending more troops over. He didn't say exactly what he intends," Lendman said.
"He is keeping details quiet under his belt. He doesn't want too much information getting out because the American public long ago got very tired of wars. They don't really like presidents saying, 'I'm going to war or I'm escalating the war,'" he stated.
"Well, that's exactly what he is doing. He escalated Obama's wars. He is now escalating in Afghanistan. After he was a candidate and before he was a candidate making very harsh promise about America's geopolitical agenda, coming down very hard against the wars, calling them crazy…comments like that," he said.
'Trump escalating conflicts'
"In the Middle East, 'making a mess in the Middle East', I believe that was one of his quotes. A very harsh comment about Afghanistan, saying, 'we should get out, we never should have gotten in, in the first place, and now we should get out.' Well, he didn't get out. He is seven months into his tenure. And now he is escalating the conflict with how many more thousands of US troops, who knows," Lendman said.
"The reason they want to keep it quiet is because it doesn't make good headlines when American troops come back in body bags, or they come back with disabling injuries, including post-traumatic stress disorder where they simply cannot function," he stated.
"They say nothing but rampant suicides on active duty personnel and after they leave the military, or the violence they commit because they are used to committing violence, even in war zones. They are committing violence. They are taught to commit violence. And when they come home they can't just turn off the switch," the analyst said.
"This is what happens. Lives in some cases are ruined forever. But there will be more war in Afghanistan. The Syria situation is still going on. There is another big campaign in Iraq against Tel Afar, Mosul was raped. Raqqah in Syria is being raped. Civilians are being massacred. The same thing is about to happen in Tel Afar," he said.
Full report at:
http://www.presstv.ir/Detail/2017/08/22/532603/US-militaryindustrial-establishment-absolutely-loves-endless-wars
--------
No timetable for Afghan troop withdrawal says Trump
22 August 2017
President Donald Trump announced Monday the U.S. would not commit to any timetable to end its military presence in Afghanistan where it has been bogged down for the better part of two decades.
"A core pillar of our new strategy is a shift from a time-based approach to one based on conditions," Trump said at the Army's Myer-Henderson Hall just outside Washington.
"We will not talk about numbers of troops, or our plans for further military activity. Conditions on the ground, not arbitrary timetables, will guide our strategy from now on," he added.
The U.S. has about 8,400 troops in the country, and Trump's comments made it clear there would be no indications about future modifications to the American force posture.
Approximately 5,000 foreign military troops are in Afghanistan, but all save the Americans are devoted solely to a program to build up Afghan forces.
Trump met with top advisors Friday at the Camp David presidential retreat to discuss a path forward in America's 16-year occupation of the South Asian country.
The commander of U.S. forces in Afghanistan, Gen. John W. Nicholson, had urged Trump to increase the footprint of U.S. forces there amid a stalemate between an insurgency and the central government.
The U.S. invaded Afghanistan in the aftermath of the Sept. 11, 2001, terror attacks, ousting the Taliban after it gave sanctuary to now deceased al-Qaeda founder Osama bin Laden.
Full report at:
http://www.worldbulletin.net/america-canada/193212/us-tillerson-issues-stern-warning-to-pakistan
--------
URL: https://www.newageislam.com/islamic-world-news/deoband-chorus-discourage-triple-talaq/d/112305
New Age Islam, Islam Online, Islamic Website, African Muslim News, Arab World News, South Asia News, Indian Muslim News, World Muslim News, Women in Islam, Islamic Feminism, Arab Women, Women In Arab, Islamophobia in America, Muslim Women in West, Islam Women and Feminism