New Age Islam News Bureau
8 Sept 2015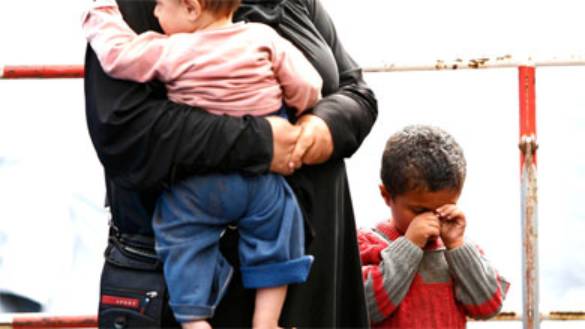 Migrants make their way to waiting buses after arriving by train at the main railway station in Munich, Germany September 7, 2015. (Reuters)
Arab World
• Denmark Posts Anti-Refugee Ads in Lebanese Newspapers
• KSA, Qatar, Sudan Troops Sent To Bolster Anti-Houthi Coalition
• Egyptian Soldiers Kill 29 Militants in Volatile Sinai Peninsula
• Iraqi Airstrikes Kill 15 ISIL Terrorists in Kirkuk Countryside
• ISIL Withdrawing from Key Regions in Deir Ezzur
• Iraqi Forces Cut ISIL's Supply Routes in Al-Havije
• Syria: Australia wants Christians, not Muslim refugees
• Syrian Priest, 270 Christian and Muslim Hostages Kidnapped by Islamic Militants Reportedly Alive
• TV channel employee 'contacted and helped publicise Muslim Brotherhood'
• Egyptian army launches 'major operation' in Sinai
• U.N. discusses course of action for minorities in Mideast
• Syrian refugees protest to leave 'expensive' Uruguay
• U.S. asks Greece to deny Russian flights to Syria
• Sources: Al-Baghdadi Alive, Returns to Mosul
• Iraqi Forces Destroy 15 ISIL Military Vehicles near Ramadi
--------
Mideast
• Bombing Kills 14 in Turkey, a Day after Airstrike against Kurds in Iraq
• Captured Saudi Soldier: Sudanese, Somalian Mercenaries Receive $200 Monthly Salary to Fight in Yemen
• Iran Calls on Militants' Backers to Give Up 'Syria-without-Assad' Condition
• Hamas chief urges Palestinian unity
• Israel's Arab schools strike in support of Christians
• Bahrain's King: My sons will be sent to help coalition forces in Yemen
• Iran, Europe to Build Remote Sensing Satellite
• Israel responsible in refugee crisis: PLO
-----------
Pakistan
• Govt Won't Spare Errant Seminaries, Ulema Told
• Clerics Vow To Defend Finality of Prophethood
• Jamaat-i-Islami Chief Says No Talks with India Until Kashmir Issue Is Resolved
• BLF chief killed in operation as per unconfirmed reports: Bugti
• DG Rangers-BSF chief dialogue will help reduce tensions along LoC: Sartaj
• Driver who witnessed Sabeen murder shot dead
• Terrorists thrown out of Swat for good: army chief
• Tribal lawmakers ask govt to make Fata part of KP
• Terror groups in Pakistan eyeing Eid to generate funds
--------
India
• Gujarat Government Board Claims Quran Says Beef Bad for Health
• 'Quran Doesn't Say Anything about Beef Being Bad For Health': AIMPLB
• Muslim Body to Request Bombay HC for Relaxation of Beef Ban during Bakri Eid
• Muslim Community Divided Over Proposed Ban on Prophet Mohammad Film
• Muslims believe in secularism, attack on belief intolerable
• Pakistan targets funding sources of madrasas to combat terror
• Terrorism not only threat for India but for entire world: Home Minister
• Hindus, other minority refugees from Pakistan, Bangladesh can now stay in India without visa
• Two Indians taken into custody in Thai bombing case
• Education alone can halt the decline of Muslims in India: Philanthropist
----------
South Asia
• Karzai: MoU between Afghan Intelligence And ISI Will Not Be Implemented
• ISIS Release Beheading Video Claiming To Be Filmed In Afghanistan
• Airstrike Kills 11 Afghan Policemen
• Security forces rebuff attacks of 400 Taliban in Kunar
• Mullah Akhtar moving aggressively in Afghanistan: NYT
• Karzai: Afghan people will not give up their rights on Durand Line
• Taliban take dig at IS over Hazara killings
• Security scanners to be installed at Kabul doors
• Burma launches electoral adventure with Muslim politicians excluded
• Ex-lawmakers of Bangladesh Jamaat-e-Islami arrested for possession of bombs
• War trial: Charges against 9 including ex-MP Shakhawat accepted
• AL says BNP losing sleep over IRI report about ruling party's improved popularity
--------
Europe
• IS Extremists Exploit Refugee Flow, Waiting To Launch Attacks in Europe: Militant Operative
• Moroccan Preacher: ISIL Preparing for New Terrorist Attacks in Arab Countries
• Cameron says UK drone strike killed British ISIS fighters in Syria
• Muslim Refugees Are Being Baptized and Converting to Christianity, Says Berlin Pastor
• Greek security forces clash with stranded refugees on Lesbos Island
----------
Southeast Asia
• Aung San Suu Kyi's Party Excludes Muslim Candidates
• Muslim Group: 'Red Shirts' Do Not Represent Malays
• Canada Parliament to visit MPR to discuss Islam
• Commentary: The Donald and the absurdity of Indonesian politics
--------
Africa
• Missing Journalists in Libya Are Alive: Tunisia FM
• ISIS attack near Benghazi kills Libyan soldiers
• Minnesota terror suspect on no-fly list 'fascinated by Jihad'
---------
North America
• US Muslim flight attendant says she was suspended for refusing to serve alcohol
• Muslim flight attendant suspended for refusing to serve alcohol
• US Muslim Reverts Tell Their Stories in ISNA
• American Creates Anti-Muslim Crusader Gun
• US Muslims Live Faith Through Helping Needy
Compiled by New Age Islam News Bureau
URL: https://www.newageislam.com/islamic-world-news/new-age-islam-news-bureau/denmark-posts-anti-refugee-ads-in-lebanese-newspapers/d/104518
----------
Arab World
Denmark Posts Anti-Refugee Ads in Lebanese Newspapers
8 September 2015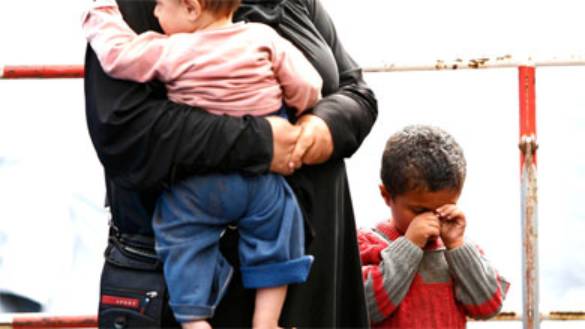 Migrants make their way to waiting buses after arriving by train at the main railway station in Munich, Germany September 7, 2015. (Reuters)
-------------
The Danish government has published advertisements in four Lebanese newspapers Monday that discourage refugees from travelling to Denmark.
The advertisements, published in Arabic and English, detail Denmark's new strict laws regarding refugees and explain why the country could be an undesirable destination for them, U.S. daily The Washington Post reported.
The adverts refer to recent legislation by the government, cutting social benefits for newly arrived refugees by 50 percent. It also goes onto say foreigners that are allowed a temporary stay in Denmark cannot bring in family members living abroad.
"Foreign nationals granted temporary protection in Denmark will not have the right to bring family members to Denmark during the first year," said the commercials, placed by Denmark's Ministry of Immigration, Integration & Housing.
The move seems to reflect the tough stance Denmark's new right-leaning government has taken on immigration laws. It also highlights the divisions on how European countries are trying to handle the migrant crisis.
Denmark's stance seems to sharply contradict that of Germany, Sweden, Greece and the UK, where governments have pledged to take in more refugees feeling conflict areas.
Some Danish politicians have said they are "ashamed" of the campaign.
"This must be the worst timing for an advert in the history of the world," Uffe Elbaek, leader of Denmark's leftwing Alternative party, said in a statement.
The Danish campaign comes days after the world was left outraged by the death of a Syrian child - Aylan - who drowned off the Turkish coast as he traveled with his father, mother and brother as they attempted to sail from Turkey having fled their war-torn country.
http://english.alarabiya.net/en/News/middle-east/2015/09/08/ISIS-attack-in-Benghazi-kills-3-Libyan-soldiers-agency.html
----------
KSA, Qatar, Sudan troops sent to bolster anti-Houthi coalition
8 September 2015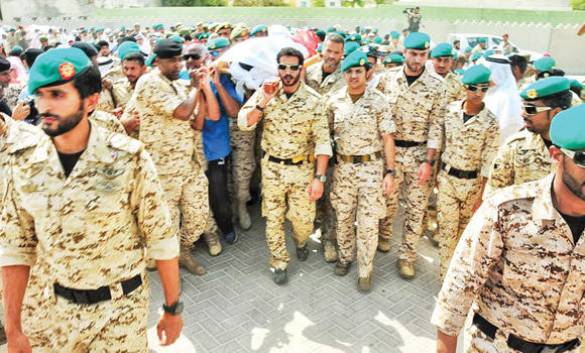 JEDDAH: Gulf states have sent thousands of heavily armed troops to reinforce loyalists in Yemen in the battle against Iran-backed Houthi rebels, media reported on Monday.
The reinforcements come after a missile attack by the Shiite insurgents on Friday killed 60 Gulf soldiers — 45 Emiratis, 10 Saudis and five Bahrainis. Qatar's Al-Jazeera channel reported late on Sunday that 1,000 Qatari soldiers with 200 armored vehicles have arrived in Maarib after crossing the border from Saudi Arabia.
It is the first time Qatari troops are reported to be taking part in operations on the ground in Yemen.
Saudi Arabia also sent elite units to Maarib on Sunday, according to Arab News' sister publication Asharq Al-Awsat and UAE news agency WAM.
Yemeni military sources in Maarib have confirmed the arrival of some 1,000 Saudi soldiers armed with tanks and other armored vehicles, as well as the Qatari reinforcements.
Military sources have also mentioned preparations in Maarib for an offensive against the rebels and their allies, renegade troops loyal to deposed President Ali Abdullah Saleh.
Meanwhile, Bahrain's King Hamad bin Isa Al-Khalifa announced late on Sunday that his sons, Sheikh Nasser bin Hamad and Sheikh Khalid bin Hamad, will soon be joining operations in Yemen, Asharq Al-Awsat reported.
"My sons will be joining their brothers in the Arab coalition forces in Yemen as part of their national military duties," King Hamad said.
Bahrain's information minister said "this is the first time such a decision is being taken" and that the young sons of the king "are performing their national duties away from the spotlight in a bid to show their sincerity" to their fellow soldiers in the battlefield.
A source close to Al Arabiya News Channel also confirmed that Sudan is preparing to send nearly 6,000 of their troops to assist the coalition.
The announcement comes as coalition spokesman Maj. Gen. Ahmed Al-Assiri told Al Arabiya that the coalition would refocus its efforts from Sanaa to Taez and Maarib.
http://www.arabnews.com/featured/news/803286
----------
Egyptian soldiers kill 29 militants in volatile Sinai Peninsula
Sep 8, 2015
Egyptian government forces have carried out separate operations in the country's violence-plagued Sinai Peninsula, killing more than two dozen Takfiri militants over the past 24 hours, Press TV reports.
The army, in a statement released on Monday, said 29 militants were killed when the forces launched offensives against militants in the Sinai town of Sheikh Zuweid, the city of el-Arish and the border town of Rafah.
In another development earlier on Monday, an Egyptian officer and a conscript lost their lives when a roadside bomb explosion ripped through their military vehicle in the Taweel al-Amir area south of Rafah.
Five others also sustained injuries in the act of terror.
Last month, a senior commander of Velayat Sinai, the militant group previously known as Ansar Bait al-Maqdis, was killed during an encounter with Egyptian army troops in the town of Sheikh Zuweid.
The shootout erupted after the militant commander, identified as Selim Suleiman al-Haram, refused to turn himself in to the soldiers that had surrounded his house.
The Egyptian military views the Sinai Peninsula as a sanctuary for extremists, who use the volatile region as a safe haven.
Velayat Sinai terrorists have claimed responsibility for most of the attacks in the Sinai Peninsula. Last November, the group pledged allegiance to the Daesh terrorist group, which is wreaking havoc primarily in Iraq and neighboring Syria.
http://www.presstv.ir/Detail/2015/09/08/428228/Egypt-Sinai-Peninsula-Army-Velayat-Sinai-elArish-Rafah-Sheikh-Zuweid
--------
Iraqi Airstrikes Kill 15 ISIL Terrorists in Kirkuk Countryside
Sep 07, 2015
At least 15 terrorists, including senior commanders, were killed in the Iraqi warplanes' raids on the ISIL positions in al-Bashir village.
ISIL commanders Abu Talheh Al-Obaidi, Abu Obaida Al-A'alami, and Abu Osman Al-Javali were among the terrorists killed in the army operations in al-Bashir village.
On Monday, the Iraqi Air Force Commander Lieutenant General Anwar Hama Amin said that F-16 modern warplanes have been used in the recent operations against the ISIL Takfiri terrorists' gathering centers in crisis-hit governorates.
"Fifteen air strikes were carried out by the Iraqi F-16 fighter jets in the past four days," Amin said in a news conference in Baghdad.
"Smart weapons" were used in the strikes, Amin said, without specifying the type.
Iraqi Defense Minister Khaled al-Obaidi told the news conference that the airstrikes had achieved "important results" and that the F-16 jets will have "an impact on the conduct of operations in the future."
Amin told the news conference that the F-16 strikes had taken place in Salahuddin and Kirkuk provinces, North of Baghdad.
On Saturday, the Iraqi warplanes targeted ISIL terrorists in Salahuddin province, killing 8 Takfiri militants.
The airstrike killed 8 ISIL terrorists in Southwestern Speicher Camp in Salahuddin.
http://english.farsnews.com/newstext.aspx?nn=13940616001058
----------
ISIL Withdrawing from Key Regions in Deir Ezzur
Sep 07, 2015
The Takfiri terrorists withdrew from al-Teem oil wells and other strategic areas in the Eastern parts of Deir Ezzur after facing the resistance of the Syrian forces comprising army, tribal and national defense forces.
The Syrian warplanes, meantime, hit the gathering centers of the ISIL militants in Havijeh Sakr district in the Southeastern parts of Deir Ezzur city.
Tens of ISIL terrorists were killed and dozens more were injured in heavy clashes with the government and popular forces.
Full report at:
http://english.farsnews.com/newstext.aspx?nn=13940616000839
----------
Iraqi Forces Cut ISIL's Supply Routes in Al-Havije
Sep 07, 2015
The Iraqi army and popular forces, backed by air force, managed to cut ISIL's supply route in Al-Havijeh in Kirkuk province.
The ISIL terrorists have increased their attacks on the Iraqi forces in recent days to supply their comrades in Al-Havijeh, but to no avail.
Al-Havijeh city and the village of Al-Bashir in Southwestern Kirkuk province are the only areas that are under ISIL's control.
Full report at:
http://english.farsnews.com/newstext.aspx?nn=13940616001191
----------
Syria: Australia wants Christians, not Muslim refugees
8th Sep 2015
THE Abbott Government wants to restrict any intake of Syrian refugees to minorities which are largely Christian, as passions run high in the Coalition over the way Australia should handle the crisis in Syria.
Prime Minister Tony Abbott is under increasing pressure to increase this year's humanitarian intake of 13,750 people, but has put off a decision while further international consultations are conducted.
Labour is pushing for an additional intake of 10,000 people, while the Greens want double that number.
Full report at:
http://www.thechronicle.com.au/news/syria-abbott-wants-christians-not-muslim-refugees/2767293/
----------
Syrian Priest, 270 Christian and Muslim Hostages Kidnapped by Islamic Militants Reportedly Alive
September 7, 2015
A Syrian priest, along with 270 Christian and Muslim hostages kidnapped by Islamic militants earlier this summer in an offensive on the city of Homs, are reportedly alive and hoping that they'll be released after negotiations.
Fides News Agency said that Father Jacques Murad, who belongs to the monastic community of Deir Mar Musa, is still alive, according to local sources, but is being held hostage with groups of Christians and Muslims taken by jihadists in August. The hostages are reported to be "stable and secure," and are waiting as local ecclesial communities are carrying out negotiations through mediators for their possible release.
"The sources contacted by Fides confirm that all the hostages are still in Quaryatayn, and specify that the news on the story of father Murad broadcast in recent days by Lebanese television network Nursat TV did not include any statement regarding the religious person kidnapped, but only reassuring considerations about his fate, expressed by another priest," the report added.
Murad was captured in May by two armed men on motorbikes who arrived at the Mar Elian monastery, before forcing the priest into his car and taking him to an unknown destination.
The monastery has reportedly been hosting hundreds of refugees from the Syrian civil war, including over a hundred children younger than 10. Before he was captured, Murad had been helping provide basic necessities for the refugees.
It was not made clear which groups the jihadists belong to, though the country has been torn apart by clashes between government forces and various Islamic rebel groups seeking to take power.
Full report at:
http://www.christianpost.com/news/syrian-priest-270-christian-and-muslim-hostages-kidnapped-by-islamic-militants-reportedly-alive-144699/
----------
TV channel employee 'contacted and helped publicise Muslim Brotherhood'
Ayesha Al Khoori
September 7, 2015
ABU DHABI // A Kuwaiti media worker made contact with Muslim Brotherhood members to give them TV coverage, the Federal Supreme Court heard.
K?F?A, 46, an Al Bedaya TV channel employee, is accused of helping to publicise the Brotherhood's UAE arm, a banned organisation.
It was alleged he received 250,000 Qatari riyals (Dh252,169) from a Qatar charity to finance another TV channel called Hayatona. The Beirut-based channel had been backed by some of the defendants in the sedition trial who were jailed for conspiring to overthrow the UAE Government.
Full report at:
http://www.thenational.ae/uae/courts/tv-channel-employee-contacted-and-helped-publicise-muslim-brotherhood
----------
Egyptian army launches 'major operation' in Sinai
8 September 2015
Egypt has launched a "major military operation" against ISIS militants, the army announced in a statement on Tuesday, killing 29 people.
"Units of the police and army launched Operation Right of the Martyr at dawn to eliminate terrorist elements in Rafah, Sheikh Zuweid and El-Arish in North Sinai," the army said in a statement, according to Agence France-Presse.
"Twenty-nine miscreants were killed... while an officer and a non-commissioned soldier were killed and four others wounded when their vehicle was blown up by a bomb."
Egypt has been struggling to quell an insurgency in the peninsula since the military overthrew Islamist president Mohammad Mursi in 2013.
Full report at:
http://english.alarabiya.net/en/News/middle-east/2015/09/08/Egyptian-army-launches-major-operation-in-Sinai.html
----------
U.N. discusses course of action for minorities in Mideast
8 September 2015
A U.N. conference on minorities persecuted by ISIS will be held on Tuesday in Paris.
AFP quoted the French foreign minister Laurent Fabius as saying "I will preside with my Jordanian counterpart over a U.N. conference to draw conclusions and propose a course of action."
Only around 400,000 Yazidis remain in Iraq, compared to 1.4 million in 1987, which Fabius blamed on a "barbaric enterprise of ethnic and religious eradication."
The U.N. Security Council launched a debate on the subject in March.
Some 60 nations will be represented at the conference, including several countries from the Middle East, as well as a wide range of NGOs and U.N. agencies.
Full report at:
http://english.alarabiya.net/en/News/middle-east/2015/09/08/U-N-discusses-course-of-action-for-minorities-in-Mideast-.html
----------
Syrian refugees protest to leave 'expensive' Uruguay
8 September 2015
Syrian refugees protested outside the Uruguayan presidency Monday to demand authorities help them leave for other countries, saying the nation that gave them sanctuary is too expensive and they have scant economic opportunity.
Uruguay welcomed the 42 refugees fleeing Syria's civil war in October 2014, but the five families now say officials promised more than they could deliver.
"There's no future for us here. The government's aid plan lasts two years, and one has passed by," Ibrahim Al Mohammed told The Associated Press.
Al Mohammed said he can't get by on just 11,000 pesos ($380) a month as a hospital worker, barely above Uruguay's 10,000-peso minimum wage.
"I have a wife and three young sons," he said. "What will I do to earn a living when the help runs out?"
The refugees lack passports from their home country, and cannot get Uruguayan ones because they are not citizens. The government has provided them with Uruguayan IDs and travel documents, but not all countries recognize them.
In August, one of the families tried to travel to Serbia but was held for 23 days at the Istanbul airport. Ultimately they returned to Uruguay.
"I understand them. They realize that leaving Uruguay is very hard and that creates a great deal of insecurity," said Javier Miranda, head of Uruguay's Human Rights Secretariat. "But the travel document that Uruguay gave them is valid. What we can't do is force third countries to accept it because it's out of our reach."
Miranda defended the refugee program, saying Uruguay hopes the Syrians could have a dignified life here. He acknowledged the country is relatively costly, but said the job offers are the same for everyone and aid cannot extend beyond two years.
Maher Aldees's family, the one that got stranded in Istanbul, had been living in the coastal city of Piriapolis, where local officials accused the parents of not sending their daughters to school. Authorities later said the issue was resolved.
Full report at:
http://english.alarabiya.net/en/News/middle-east/2015/09/08/Syrian-refugees-protest-to-leave-expensive-Uruguay.html
----------
U.S. asks Greece to deny Russian flights to Syria
8 September 2015
The U.S. has asked Greece to deny Russia the use of its airspace for supply flights to Syria, a Greek official said on Monday, after Washington told Moscow it was deeply concerned by reports of a Russian military buildup in Syria.
The Greek foreign ministry said the request was being examined. Russian newswire RIA Novosti earlier said Greece had refused the U.S. request, adding that Russia was seeking permission to run the flights up to September 24.
Kremlin spokesman Dmitry Peskov said Moscow would not give any official reaction until there was a decision from Athens.
Russia, which has a naval maintenance facility in the Syrian port of Tartous, has sent regular flights to Latakia, which it has also used to bring home Russian nationals who want to leave.
U.S. Secretary of State John Kerry told his Russian counterpart Sergei Lavrov on Saturday that if reports of the build-up were accurate, that could further escalate the war and risk confrontation with the U.S.-led alliance that is bombing ISIS in Syria.
Read more - Russia: We never 'concealed' giving arms to Syria
Lavrov told Kerry it was premature to talk about Russia's participation in military operations in Syria, a Russian foreign ministry spokeswoman told RIA Novosti on Monday.
Lavrov confirmed Russia had always provided supplies of military equipment to Syria, saying Moscow "has never concealed that it delivers military equipment to official Syrian authorities with the aim of combating terrorism."
Full report at:
http://english.alarabiya.net/en/News/middle-east/2015/09/08/U-S-asks-Greece-to-deny-Russian-flights-to-Syria.html
----------
Sources: Al-Baghdadi Alive, Returns to Mosul
Sep 07, 2015
"Al-Baghdadi has returned to Mosul along with two Arab and non-Arab ISIL ringleaders from Raqqa in Syria," Soumeriya news website quoted informed local sources as saying today.
The sources added that Baghdadi has secretly returned to Iraq on Sunday evening and visited a number of ISIL bases in Nineveh.
According to the report, he has managed to reach Nineveh through a desert area.
Arab media reports had said in April that al-Baghdadi had died and members of the Takfiri group in Iraq had sworn allegiance to Abu Ala Afri as his successor.
Full report at:
http://english.farsnews.com/newstext.aspx?nn=13940616001197
----------
Iraqi Forces Destroy 15 ISIL Military Vehicles near Ramadi
Sep 07, 2015
The Hashd al-Shaabi fighters destroyed 15 DshK-equipped military vehicles of the ISIL with Kornet missiles in al-Mashihideh hilltop in Eastern Ramadi.
All passengers of the ISIL vehicles were killed and their equipment destroyed in the Hashd al-Shaabi forces' raid.
The Iraqi forces are advancing in the suburbs of Ramadi and the city of Fallujah now.
On Sunday, the Iraqi security and volunteer forces targeted the ISIL positions North of the city of Ramadi in Anbar province, killing 30 Takfiri militants.
The Interior Ministry said on Sunday that the security forces, backed by Hashd al-Shaabi forces, destroyed ISIL positions near Albu Aitha area, North of Ramadi, and killed 30 terrorists.
Full report at:
http://english.farsnews.com/newstext.aspx?nn=13940616000971
----------
Mideast
Bombing Kills 14 in Turkey, a Day after Airstrike against Kurds in Iraq
By CEYLAN YEGINSU Sept. 8, 2015
ISTANBUL — At least 14 Turkish police officers were killed in a roadside bomb attack in eastern Turkey on Tuesday, a day after Turkish warplanes struck Kurdish insurgent targets in northern Iraq and killed dozens of rebels, a senior government official in Turkey said.
A police vehicle escorting customs officials to the border with Armenia in Igdir Province was the target of attackers believed to be rebels from the Kurdistan Workers' Party, or P.K.K., the semi-official Anadolu Agency reported. Several other police officers were wounded in the assault.
Violence in the predominantly Kurdish southeast of Turkey has escalated in recent days after insurgents killed at least 16 soldiers on Sunday, the deadliest attack since the collapse of a two-year cease-fire in July.
The Kurdish group, which is considered a terrorist organization by Turkey, the United States and the European Union, has been carrying out almost daily attacks against Turkish security officials since the breakdown of the fragile peace process.
Turkish officials say that at least 70 members of the security forces have been killed by the group since July.
After the attack on Sunday, Prime Minister Ahmet Davutoglu vowed to eradicate the fighters from their mountain strongholds in Turkey and in northern Iraq.
"These terrorists must be wiped out from the mountains; whatever happens, they must be wiped out," Mr. Davutoglu said in the capital, Ankara, on Monday.
"The mountains of this country must not be handed over to terrorists," he added. "Every effort will be undertaken."
Full report at:
http://www.nytimes.com/2015/09/09/world/europe/turkey-pkk-bombing-police.html?_r=0
------
Captured Saudi Soldier: Sudanese, Somalian Mercenaries Receive $200 Monthly Salary to Fight in Yemen
Sep 07, 2015
"The Sudanese and Somalian mercenaries fight against the Yemeni forces in lieu of a meager salary of only $200 per month," an arrested Saudi military man told FNA's correspondent in Sana'a on Monday.
He noted that most of the foreign fighters directly take orders from Saudi military commanders in Southern Yemen.
The Saudi soldier reiterated that a majority of foreign militants fighting against the Yemeni forces are from Somalia and Sudan.
Meantime, a Yemeni revolutionary commander disclosed that a large number of foreign mercenaries participating in the Saudi-led aggression against Yemen have been apprehended in fierce clashes in Ma'arib province.
He noted that the Saudi and Emirati forces were trying to take back the regions that they had lost in Ma'arib province, but they failed to do so and sustained heavy losses.
"Those captured are from different nationalities and serve the UAE army," the commander said.
"The Arab countries have recruited mercenary forces from different countries, including Sudan, Somalia and Nigeria after they lost a large number of their troops in clashes with the Yemeni forces," the commander added.
Earlier today, security sources revealed that the Yemeni forces have killed a sum of 300 foreign troops in their Friday attack on al-Safer military base in Eastern Yemen.
The death toll of the UAE, Saudi and Bahraini officers and soldiers killed in Friday's arms depot blast at a military base in al-Safer in Ma'arib province stood at 300, Yemeni security sources said.
Full report at:
http://english.farsnews.com/newstext.aspx?nn=13940616001357
----------
Iran Calls on Militants' Backers to Give Up 'Syria-without-Assad' Condition
Sep 07, 2015
"Those who have set a condition about the Syrian president in the past two years should be blamed for the continued war and they should account for the bloodshed in the past few years," Zarif said in a joint press conference with his Spanish counterpart Jose Manuel Garcia-Margallo in Tehran on Monday.
Stressing that merely the Syrian people are entitled to make a decision about their country's president, he called on the backers of the terrorist groups to give up their selfish moves and short-term benefits that they pursue at the expense of the Syrian people, and let the restoration of peace and reconciliation happen in Syria.
"We insist everyone to try the political solution to end the crisis in Syria and give up their dream of bringing about an end to the situation in Syria through military means," Zarif said.
In relevant remarks on Sunday, Iranian President Hassan Rouhani in a meeting with new Iraqi Ambassador to Tehran Rajih al-Mussawi underlined the need for putting an end to foreign interference and terrorism in the region.
Full report at:
http://english.farsnews.com/newstext.aspx?nn=13940616001086
----------
Hamas chief urges Palestinian unity
8 September 2015
Hamas chief Khaled Meshaal has called for "national unity" late on Monday but said a first congress among Palestinian leaders in 20 years should be postponed until a compromise is struck.
Meshaal, speaking in Qatar where he lives in exile, said Palestinian leaders from the Islamist movement Hamas and the secular Fatah had to present a unified front.
"We as Palestinians, we are being divided against ourselves; there's a lack of authority," he told a news conference in Doha.
"It's unbelievable and it's unacceptable from any Palestinian leader."
He added: "The cause of Palestine is bigger than Hamas and Fatah."
But Meshaal said a proposed congress of Palestinian leaders set to take place later this month should be postponed.
"The meeting should be about the laws and regulations we agreed on otherwise this will lead to more division," Meshaal said.
He added that Hamas were ready to meet its rival Fatah "in any Arab country."
IN OPINION: Palestinian cause adapts to changing circumstances
Earlier on Monday, Palestinian leaders moved toward a postponement of the congress amid speculation over the intentions of President Mahmud Abbas.
The meeting of the Palestine National Council (PNC), a congress representing those in the Palestinian territories and the diaspora, was to take place on September 14-15 but a new date is likely to be set.
Full report at:
http://english.alarabiya.net/en/News/middle-east/2015/09/08/Hamas-urges-Palestinian-unity-as-congress-set-for-delay.html
----------
Israel's Arab schools strike in support of Christians
7 September 2015
Most of Israel's Arab schools observed a one-day strike on Monday in solidarity with Christian schools which have been protesting state fund cuts, Palestinian and Israeli officials said.
Almost all of the 450,000 Arab students in Israel stayed away from school, said Jafar Farah, the head of the Mossawa centre that promotes the rights of Arabs in Israel.
A spokesman for Israel's education ministry told AFP that "a majority of Arab schools observed the strike."
But Farah said teachers in some schools held classes under "pressure" from the ministry.
Christian schools have been on strike in Israel since the academic year started last week, with parents and school officials accusing the government of discrimination in funding their establishments.
Full report at:
http://english.alarabiya.net/en/News/middle-east/2015/09/08/ISIS-attack-in-Benghazi-kills-3-Libyan-soldiers-agency.html
----------
Bahrain's King: My sons will be sent to help coalition forces in Yemen
7 September 2015
Bahrain's King Hamad bin Isa al-Khalifa announced late on Sunday that his sons, Sheikh Nasser bin Hamad and Sheikh Khalid bin Hamad, will soon be joining Saudi-led coalition operations in Yemen, according to a report carried by pan-Arab newspaper Asharq Al-Awsat.
"My sons will be joining their brothers in the Arab coalition forces in Yemen as part of their national military duties," Bahrain's King reportedly said.
The announcement of Bahraini royalty joining forces in Yemen came after five Bahraini, ten Saudi and 45 UAE troops were killed by Houthi militias during operations in Yemen last week.
King Hamad bin Isa's comments came during a meeting at the Bahrain Defense Force's headquarters. (File photo: Reuters)
Bahrain's Minister of Information, and the official spokesperson on behalf of the Bahraini Kingdom, told Asharq al-Awsat that "this is the first time such a decision is being taken" and that the young sons of the King "are performing their national duties away from the spotlight in a bid to show their sincerity" to their fellow soldiers in the battlefield.
Speaking to Al Arabiya News, Director of Media Relations for Sheikh Nasser's office Tawfeeq Al Salehi said: "As far as official announcements go, there aren't any neither from our office nor from His Majesty the King's. The news broke after someone tweeted about the King Hamad's meeting with officials at the Bahrain Defense Forces, but we cannot confirm nor deny at the moment."
Full report at:
http://english.alarabiya.net/en/News/middle-east/2015/09/08/ISIS-attack-in-Benghazi-kills-3-Libyan-soldiers-agency.html
----------
Iran, Europe to Build Remote Sensing Satellite
Sep 07, 2015
The agreement was signed between Iran's Sahfa Mahvareh company and a creditable European firm on the sidelines of the MAKS-2015 Aerospace Exhibition in Russia late August.
Based on the agreement, the remote sensing satellite will be jointly designed and built and Sahfa Mahvareh company will take its control after being launched into the space.
The MoU should be implemented within two years.
Remote sensing usually refers to the technology of acquiring information about the earth's surface (land and ocean) and atmosphere using sensors onboard airborne (aircraft, balloons) or spaceborne (satellites, space shuttles) platforms.
Iran has taken long strides in recent years to develop its space industry and to build different types of satellites and explorers.
In February, Iran's domestically-made National Fajr (Dawn) Satellite was launched into orbit and started transmitting data to its stations on earth.
The satellite made its first contact with its ground stations hours after it was put into the orbit
Full report at:
http://english.farsnews.com/newstext.aspx?nn=13940616000820
----------
Israel resonsible in refugee crisis: PLO
Sep 8, 2015
The Palestine Liberation Organization (PLO) has accused Israel of having a hand in the creation of the refugee crisis facing Europe.
PLO Executive Committee member Hanan Ashrawi Ashrawi made the comments during a meeting with United Nations officials in the city of Ramallah on Monday.
Israel "bears a moral responsibility for the plight of the Palestinian refugees and the grave injustices of the past," the PLO official said, adding that Israel "is in the business of creating refugees and ethnic cleansing."
She also thanked Germany and Austria for accepting asylum seekers amid an ongoing refugee crisis, which has seen thousands of people from Syria, Iraq, and Afghanistan flee their countries for Europe.
"It is our hope that other countries will follow suit in light of this devastating situation," said the PLO official.
Earlier this week, Israeli Prime Minister Benjamin Netanyahu had said he would allow refugees into the occupied Palestinian territories.
Syria and Iraq have been witnessing a wave of foreign-backed violence, with Daesh militants carrying out deadly attacks in the region over the past few years.
Many reports say Western powers and their allies including, Israel, have been supporting the militants carrying out atrocities in the region.
The United Nations says that over 350,000 people have left the Middle East and North Africa for Europe this year, but around 2,800 people have died as they attempted to across the Mediterranean in boats.
Full report at:
http://www.presstv.ir/Detail/2015/09/08/428263/Palestine-PLO-Hanan-Ashrawi-Ramallah-
-----------
Pakistan
Govt won't spare errant seminaries, ulema told
KHAWAR GHUMMAN
September 8, 2015
ISLAMABAD: The top civilian and military leadership – in a rare meeting with representatives of religious seminaries – made it abundantly clear on Monday that the government intended to register and streamline their working at all costs.
According to those present in the meeting, both Prime Minister Nawaz Sharif and Army Chief General Raheel Sharif were willing to listen to the legitimate concerns of members of the Tanzeem Ittehadul Madaris (TIM). However, neither one of them minced words in getting the message across that no madressah would be spared if found involved in any kind of extremism or terrorism-related activities.
Interior Minister Chaudhry Nisar Ali Khan, who is the point person for the implementation of the National Action Plan, had a two-hour brainstorming session with TIM leaders, after which another two-hour session followed, where the prime minister and army chief responded to queries of religious scholars.
In both the meetings, a senior government official who is actively involved in the registration of madressahs, said that the interior minister, the prime minister and army chief took pains to explain that the government had launched an indiscriminate operation against all madressahs who were suspected of having links to terrorists.
At one point, the government official said, the prime minister told the participants that if somebody had any doubts that the government was going easy on madressahs based in Punjab, they were absolutely wrong.
Talking to Dawn, Sahibzada Abdul Mustafa Hazarvi – one of the clerics present in the meeting – said that the TIM had issues with the registration form and the ongoing 'reckless' crackdown on seminaries.
Full report at:
http://www.dawn.com/news/1205572/govt-wont-spare-errant-seminaries-ulema-told
----------
Clerics Vow To Defend Finality of Prophethood
September 08, 2015
LAHORE - The Jamiat Ulema-e-Pakistan, the World Pasban e Khatm e Nabuwwat, the PML-N Ulam Mashaikh Wing and other religious parties yesterday held separate seminars on Tahaffuz-e-Khatm Nabuwwat (Finality of Prophethood) in the city.
JUP president Pir Ijaz Hashmi, senior leader Qari Zawar Bahadur addressing the seminar at Jamia Muhammadiyah Rizwia Gulberg vowed to sacrifice their lives and property in defense of the Holy Prophet (PBUH).
Pir Hashmi claimed that some "so-called liberal intellectuals and leaders were trying to protect the Ahmadis against the latter's conspiracies against the Islam and Prophet Muhammad (PBUH), which they said would never succeed.
Ahmadis/Qadyanis were declared non-Muslims by the national assembly on September 7, 1974.
Since then the religious parties in Pakistan has been marking the day.
They were also banned for preaching their teachings and publishing materials.
Some international and local organisations/personalities have been terming the step as against the basic human rights.
The religious scholars in Pakistan belonging to Brelivi, Deobandi, Ahlehadith and Shia school of thought, however, have been defending the then national assembly move terming it right move in the light of the teachings of Islam.
They arrange sittings, seminars and rallies to mark the day on every September 7 and vowed to protect the finality of Prophethood (PBUH).
Full report at:
http://nation.com.pk/lahore/08-Sep-2015/clerics-vow-to-defend-finality-of-prophethood
--------
Jamaat-i-Islami chief says no talks with India until Kashmir issue is resolved
September 8, 2015
Karachi: Pakistan's Jamaat-i-Islami chief Senator Sirajul Haq has said the Nawaz Sharif-led government should not hold any talks with India unless the Kashmir issue is included on the agenda and resolved.
Full report at:
http://www.siasat.com/news/jamaat-i-islami-chief-says-no-talks-india-until-kashmir-issue-resolved-832052/
----------
BLF chief killed in operation as per unconfirmed reports: Bugti
SYED ALI SHAH
September 8, 2015
QUETTA: Chief of the proscribed Baloch Liberation Front (BLF) Dr Allah Nazar Baloch has been killed in an operation by security forces, according to unverified reports, Balochistan Home Minister Safraz Bugti disclosed on Tuesday.
Addressing a press conference at Civil Secretariat Quetta, Bugti said, "According to unverified reports Dr Allah Nazar has been killed ... I say unverified because we have not yet received any evidence of his being alive ever since the Frontier Corps conducted a series of operations. There has been no human intelligence, no sign of life."
The separatist leader's killing has been rumored since July 18 this year, when security forces conducted an operation in Balochistan's Awaran district, however, the reports were denied by a BLF spokesman at the time.
Know more: Situationer: Who's who of Baloch insurgency
Bugti also announced that security forces destroyed a communication network of terrorists in an operation in Balochistan's Dalbandin region.
He said seven terrorists along with weapons were arrested during the operation.
"Security forces seized 600 mobile sims, 1000 antennae and ammunition from the communication center," Bugti said.
Bugti revealed that the suspected terrorists were using Indian, Afghan, Iranian and European sims to carry out subversive activities in the province.
He said the arrested terrorists were being interrogated by security agencies with regard to their involvement in terror acts in Balochistan.
Dr Allah Nazar Baloch had been leading the banned BLF in various parts of Balochistan targeting security forces, vital national installations and pro-government personalities for over a decade.
Full report at:
http://www.dawn.com/news/1205659/blf-chief-killed-in-operation-as-per-unconfirmed-reports-bugti
----------
DG Rangers-BSF chief dialogue will help reduce tensions along LoC: Sartaj
MATEEN HAIDER
September 8, 2015
ISLAMABAD: Advisor to the Prime Minister on National Security and Foreign Affairs Sartaj Aziz on Tuesday said Pakistan would raise the issue of 'unprovoked' Indian firing across the Line of Control and the Working Boundary during a dialogue between the Director-General Pakistan Rangers and Indian Border Security Force chief in New Delhi tomorrow.
The meeting, he said, is being held in accordance with the Ufa declaration and will help reduce tensions along the LoC and Working Boundary.
He said earlier NSA-level talks with India were cancelled due to inflexibility shown by India, as no dialogue with India can be successful without the Kashmir issue as part of the agenda.
"Narendra Modi contested elections on anti-Pakistan platform and now wants to dictate terms for the dialogue with Pakistan but we will never accept this and we have already conveyed it to New Delhi," Aziz said while talking to media in Islamabad.
He said Kashmir will be part and parcel of any agenda of talks with India and that the international community has accepted Pakistan's point of view in this regard.
Aziz said that no one could dare to launch any attack inside Pakistan and if anyone did so, he would get a befitting response.
He said that Pakistan would not be pressured by Indian threats of an attack at any time, adding that if India even thought of attacking, Pakistan would provide a befitting response.
The prime minister`s adviser on foreign affairs and national security said there had been an issue of security at the Pakistani embassy, but the government had been assured that security was increased.
He said that there would be less worry of security at the embassy as anti-Pakistan statements were expected to decrease following the meeting between the DG Rangers and BSF chief.
Responding to a question on his recent trip to Kabul, Aziz said the visit was aimed at building trust and confidence between the two neighbours. He said the visit had been successful as the Afghan president Ashraf Ghani had a better understanding on security issues with Pakistan.
Full report at:
http://www.dawn.com/news/1205666/dg-rangers-bsf-chief-dialogue-will-help-reduce-tensions-along-loc-sartaj
----------
Driver who witnessed Sabeen murder shot dead
IMRAN AYUB
September 8, 2015
KARACHI: A police constable, who worked as driver of slain social activist Sabeen Mahmud and was a witness to her killing in April this year, was shot dead in the city's Korangi area on Monday.
According to officials, 48-year-old Ghulam Abbas was attacked outside his home in Bhitai Colony.
Two men on a motorcycle opened fire at him and escaped. He suffered three bullet wounds and died on the spot, said area DSP Rao Iqbal. "The victim was currently posted at the anti-corruption establishment. We have collected four spent bullet casings from the crime scene," he added.
The DSP said the attackers had been identified by two witnesses and initial findings suggested that they had come to see him a few days ago.
Sabeen Mahmud, a social media campaigner and human rights activist, was shot dead on April 24 minutes after the end of an interactive discussion 'Unsilen­cing Balochistan' she had organised at her social forum — T2F. It was attended by journalists and rights activists, including the founder leader of the Voice for Baloch Missing Persons, Abdul Qadeer Baloch.
In June, police claimed to have busted a gang of militants which had attacked a bus carrying members of the Ismaili community near Safoora Goth. The militants had also confessed to killing Ms Mahmud because of "her views about Lal Masjid's cleric Abdul Aziz, Valentine's Day and Burqa (veil)".
Full report at:
http://www.dawn.com/news/1205556/driver-who-witnessed-sabeen-murder-shot-dead
----------
Terrorists thrown out of Swat for good: army chief
FAZAL KHALIQ
September 8, 2015
MINGORA: Chief of Army Staff General Raheel Sharif has said that terrorists will not be allowed to return to the Swat valley from where they have been driven out by committed soldiers of the Pakistan Army.
Addressing a large gathering of elders of Swat and tourists from across the country on the concluding day of the Swat tourism and trade festival at Kalam on Monday, the army chief praised the sacrifices rendered by the people of Swat and the positive role played by them in support of security forces in the war against terrorists and their efforts to restore peace in the valley.
Full report at:
http://www.dawn.com/news/1205554/terrorists-thrown-out-of-swat-for-good-army-chief
----------
Tribal lawmakers ask govt to make Fata part of KP
KALBE ALI
September 8, 2015
ISLAMABAD: In an unprecedented show of unity, legislators from the Federally Administered Tribal Areas (Fata) have called upon the government to abolish the tribal areas and merge them with Khyber Pakhtunkhwa province.
Senators and MNAs from the tribal areas have traditionally never been united on any other issue in the past, but the demand to make Fata areas a part of KP has not only brought them together, but has also managed to bring together individuals who have hitherto been poles apart on most issues.
"All 19 MNAs and senators have agreed to join the struggle. We have this in writing," Shahji Gul Afridi, an independent MNA from the Khyber Agency, told a press conference on Monday.
The Fata parliamentarians have also drafted a bill in this regard, which is likely to be presented in the National Assembly Secretariat on Wednesday, after a final meeting of all political parties who have a presence in the tribal areas.
"Constitutional amendments are needed and we will lobby with all parties in both the houses to ensure that the bill passes with a two-thirds majority," Shahabuddin Khan, the PML-N MNA from Fata, said.
MNAs, senators have already drafted bill to amend Articles 246 and 247 in order to change Fata's status
The draft bill calls for amendments to articles 246 and 247 of the Constitution to change the status of the tribal areas.
These areas include six Frontier Regions (FRs) – FR Peshawar, FR Kohat, FR Bannu, FR Lakki Marwat, FR DI Khan and FR Tank, as well as the seven tribal agencies – Bajaur, Orakzai, Mohmand, Khyber, Kurram, North and South Waziristan.
"Why do residents of Fata have 'half-citizen' status," Mr Afridi asked, adding that there was a need to streamline the system of administration in Fata to control growing extremism and lawlessness.
He acknowledged that there had been tribal and other personal rivalries among the elected representatives of Fata, but now everybody was united for the future of their region.
"Streamlining the administrative system in Fata will not only be beneficial for us, but for the whole of Pakistan," he said. "The fire spreading from Fata has already created disturbances across the country; we want to control the situation by bringing the constitution of Pakistan [to Fata]."
He said that making Fata a part of KP would also strengthen the defence capabilities of the country because forces that were stationed in various agencies could then be redeployed to the border with India.
Nearly all the MNAs present at the press conferences said that the most serious issue they faced was the provision of justice and obtaining approval for development works.
"Several issues could be resolved if we had local government departments and a judiciary there," Shahabuddin Khan said.
Outlining their action plan for the future, the Fata parliamentarians said that they had already held meetings with the Peshawar corps commander who welcomed their decision.
Mr Afridi said they planned to meet the president, the prime minister, the army and ISI chiefs because the army was a key stakeholder in Fata, especially in the context of the ongoing operation against terrorists.
Full report at:
http://www.dawn.com/news/1205571/tribal-lawmakers-ask-govt-to-make-fata-part-of-kp
----------
Terror groups in Pakistan eyeing Eid to generate funds
September 8, 2015
New Delhi: With an aim of generating more funds for anti-India activities, Pakistan-based terror outfits are said to be eyeing the upcoming Eid festival during which they plan to sell the skin of sacrificed animals, a business which accounts for millions of rupees every year.
According to sources here, frontal organisations of the terror outfits are on a spree to buy animals which could be sold for sacrifice during the festival which falls on September 25 and their skin sold to fetch money.
The groups involved in this include Lashkar-e-Taiba, Jaish-E-Mohammad, Tehrik-e-Islam, the intelligence inputs suggest.
The intelligence report suggested that banned/under observation organisations use their subsidiaries or front organisations to avert any legal action.
Full report at:
http://www.siasat.com/news/terror-groups-pakistan-eyeing-eid-generate-funds-832034/
----------
India
Gujarat government board claims Quran says beef bad for health
by Syed Khalique Ahmed
Sep 8, 2015
Billboards with pictures of Chief Minister Anandiben Patel and the Islamic symbol of the crescent moon and star have come up in an Ahmedabad locality with a message from the Gauseva and Gauchar Vikas Board of the Gujarat government, quoting a verse it claims is from the Quran to back its case for the protection of the cow. The billboards appeared in Bapunagar, greeting Muslims on the occasion of Janmashtami. The verse on the billboard "Akramul Bakra Fainaha Saiyedul Bahaima" has been translated as "Show respect to cows as it is the leader of all bovines. Its milk, ghee and butter have therapeutic properties and its meat is the cause of several diseases''.
Full report at:
http://indianexpress.com/article/cities/ahmedabad/gujarat-govt-board-claims-quran-says-beef-bad-for-health/
----------
'Quran doesn't say anything about beef being bad for health': AIMPLB
September 8, 2015
At a time when Muslims are gearing up to celebrate Eid-ul Adha, the Gujarat government is invoking controversies about beef and putting all its effort to ban beef.
After banning beef and meat, Now 'Gochar Vikas Board' claimed that Muslims' holy book Quran says eating cow's meat is not good for health.
As per media reports, the Gujarat government billboards carry a pictures of Chief Minister Anandiben Patel and the Islamic symbol of the crescent moon and star with a message claiming to be a verse from the Quran that says beef is bad for health.
The billboard writes "Akramul Bakra Fainaha Saiyedul Bahaima" claiming as verse of the Quran and translated it as "Show respect to cows as it is the leader of all bovines. Its milk, ghee and butter have therapeutic properties and its meat is the cause of several diseases''.
When asked about the source of the verse, Gauseva and Gauchar Vikas Board chairman Dr Vallabhbhai Kathiria, a former Union Minister, said: "I got the verse and its translation from a 20-page booklet in Hindi and Gujarati". He said the booklet was at his home in Rajkot and he could not recall the name of its author and publisher.
Full report at:
http://www.siasat.com/news/quran-does-not-say-anything-about-beef-being-bad-health-832029/
----------
Muslim body to request Bombay HC for relaxation of beef ban during Bakri Eid
Sep 8, 2015
It's been over six months since the Maharashtra government banned the possession and import of beef (cow and bull meat) in the state, but with Bakri Eid around the corner, a Muslim group is seeking a three-day relaxation of the rules.
Representational image. AFPRepresentational image. AFP
The Times of India reports that the Indian Union Muslim League (IUML) is planning to move the Bombay High Court to issue a directive to the state government to relax the ban for three days during Bakri Eid.
IUML city president Parvez Lakdwala said that sacrificing animals was their religious duty and they were hoping the court would consider their plea since religious sentiments were involved.
Lakdawala had told The Times of India at the end of last month that if "slaughter houses and meat shops are ordered to be closed on Mahavir Jayanti to respect the sentiments of the Jains, the government can similarly issue a notification to allow slaughter of out of (agricultural) use bulls and bullocks during Bakri Eid."
Whether or not the state acquiesces to the pleas of the IUML notwithstanding, the Brihanmumbai Municipal Corporation (BMC) has taken a cue from its Mira-Bhayander counterpart in going in the opposite direction.
Full report at:
http://www.firstpost.com/india/as-meat-bans-pile-up-muslim-body-to-request-bombay-hc-to-relax-beef-ban-during-bakri-eid-2425196.html
----------
Muslim community divided over proposed ban on Prophet Mohammad film
Sep 8, 2015
By Ratan Mani Lal and Tarique Anwar
Lucknow/New Delhi: The appeal by Raza Academy, a Mumbai-based Sunni organisation, seeking an India-wide ban on the film Muhammad: The Messenger of God has evoked a mixed response from the community. In a letter sent to Union Home Minister Rajnath Singh and Maharashtra Chief Minister Devendra Fadnavis, the Raza Academy sought a ban on the film directed by acclaimed Iranian film-maker Majid Majidi, and called for legal action against the film's music composer AR Rahman.
Muhammad: The Messenger of God was released in Iran on 27 August, and is still awaiting an India release. According to the organisation, showing pictures or portrayal of the Prophet is blasphemous under Islamic traditions.
Wahid Ali Wahid, a noted Urdu poet who has been honoured by the Uttar Pradesh government with the Guru Gobind Singh Award for National Integration, said it was all right if Prophet Mohammad was not shown in physical form, and His thoughts were voiced by someone else. However, the poet, who is known for his rendition of patriotic songs, added that any portrayal should be avoided in view of the sharp reactions such a portrayal could elicit all over the world, particularly in India.
A noted wildlife photographer and filmmaker Abbas Hasnain, whose film on the dwindling number of vultures has won plaudits from across the world, said he had not seen the film but since it had been made by a renowned film-maker who himself was a Muslim, he thought there should be nothing wrong with it. "The film has been made in an Islamic country by a Muslim, therefore there should be no problems with it," he said.
The reactions of a number of eminent Muslim writers and artists varied along sectarian lines with Shia Muslims saying there was nothing wrong with the film since it did not portray the Prophet, and Sunni Muslims fiercely opposing it. Most, however, chose not be quoted.
Athar Husain, who heads the think tank Centre for Objective Research and Development (CORD) said he did not think there was anything wrong if the message was conveyed in the right spirit. In this context he recalled the film Mohammad, Messenger of God by Syrian-American filmmaker Moustapha Akkad. The film, made in Morocco and Libya, was released as The Message in 1977 in the United States. Akkad is believed to have consulted Islamic clerics and received the approval of the Al-Azhar Mosque in Egypt, however his film was rejected by clerics in Saudi Arabia.
"In that film, all precautions had been taken not to hurt the religious feelings of Muslims, and if the present Iranian film has also taken care of this, then there should be no issues with it," Husain said. Navaid Hamid, member of the All-India Muslim Majlis-e-Mushawarat, an umbrella body of Muslim organisations in India, is completely opposed to the idea of making any film depicting Prophet Mohammad and the sahabas (the companions of the Prophet).
"It is prohibited and forbidden in Islam to imitate or draw a sketch of Prophet Mohammad," he said adding that "though many Shiites have a culture of depicting the Prophet in their arts, it is totally prohibited and even a sin in the Sunni sect, which constitutes 87 to 90 percent of the world's Muslim population".
Full report at:
http://www.firstpost.com/india/muslim-community-divided-over-proposed-ban-on-prophet-mohammad-film-2425206.html
----------
Muslims believe in secularism, attack on belief intolerable
September 8, 2015
An all party meeting was held on September 6, to make the 'Save Belief, Save Constitution' movement launched by All India Muslim Personal Law Board successful. The meeting was conducted by Markazi Seerat Committee Gulbarga district at KBN Auditorium, Gulbarga.
Delivering his keynote address Mr. Mohammed Asghar Jaleel Vice President Markazi Seerat Committee Gulbarga District and Chairman KDU, Gulbarga claimed that All India Muslim Personal Law Board always foiled the plan whenever it was tried to interfere into Muslim Personal Law. He further said that keeping in view the current situation in the country Muslim Personal Law Board has taken an important decision which should be supported by all Muslims. As soon as Narendra Modi came to power, efforts to change the constitution of the country began and to make the long-time dream of RSS to make the country a Hindu Rashtra, a reality. Muslims' religious freedom is at stake. Hence, sinking their sectarian and political differences, Muslims should come together to make the 'Save belief, save constitution' movement a success.
Full report at:
http://www.siasat.com/news/muslims-believe-secularism-attack-belief-intolerable-832044/
----------
Pakistan targets funding sources of madrasas to combat terror
September 8, 2015
Islamabad: Pakistan has frozen more than 200 bank accounts of unregistered religious seminaries in a bid to break the nexus between militants and those who provide them funds.
The initiative is part of National Action Plan (NAP) which was adopted at the start of the year to eliminate militants, their financiers and facilitators in the aftermath of the Peshawar school attack in which over 150, mostly school children, were killed.
Commercial banks last week froze over 200 bank accounts of unregistered madrasas on the instructions of the State Bank of Pakistan (SBP).
All banks have also stopped opening fresh accounts of seminaries until they get themselves registered under a new mechanism introduced by the religious affairs ministry.
"Madrasas have declined to reveal their funding sources or register under the new mechanism. This has complicated our task to monitor their accounts under the new policy, which is a key part of the National Action Plan," a senior official of the interior ministry was quoted as saying.
He said around 211 suspicious accounts, mostly owned by individuals affiliated with seminaries, had been frozen across the country under the NAP.
"These accounts held an amount of Rs. 5 million," the official said, adding that the interior ministry also sealed 32 unregistered seminaries which were believed to be receiving foreign funding.
Full report at:
http://www.siasat.com/news/pakistan-targets-funding-sources-madrasas-combat-terror-832023/
----------
Terrorism not only threat for India but for entire world: Home Minister
September 8, 2015
Hyderabad: Union Home Minister Rajnath Singh on Tuesday said that terrorism is not only a threat for India but for the entire world.
Speaking at Central Industrial Security Force (CISF) passing out parade here, Rajnath said, "Terrorism a threat not only for India but the entire World. The terrorists are always trying to disturb the peace and harmony of the country. But I am sure that our para-military forces, our army and CISF forces have acquired core competence to fight against them."
Praising the effort of CISF officers, he said, "The 46 year old history of CISF is very dignified. It has reached various milestones during its long journey. The CISF officers and Jawans are always vigilant in performing their duties. "
Full report at:
http://www.siasat.com/news/terrorism-not-only-threat-india-entire-world-rajnath-singh-832004/
----------
Hindus, other minority refugees from Pakistan, Bangladesh can now stay in India without visa
September 8, 2015
New Delhi: At a time when the plight of refugees has shot to limelight due to the ongoing migrant crisis in Europe, India has done its part to come to the aid of minority refugees from Pakistan and Bangladesh.
The Central government under Prime Minister Narendra Modi has decided to grant exemptions to minority community nationals from Bangladesh and Pakistan in regularization of their entry and stay in India.
As per an official release, "the Government of India will exempt Bangladeshi and Pakistani nationals belonging to minority communities, who have entered India on or before December 31, 2014, from the relevant provisions of rules and order made under the Passport (Entry into India) Act, 1920 and the Foreigners Act, 1946 in respect of their entry and stay in India without such documents or after the expiry of those documents, as the case may be."
This essentially means that minority refugees from Bangladesh and Pakistan can now stay in India even after the expiry of their visas. The decision has been taken on humanitarian grounds.
Full report at:
http://www.siasat.com/news/hindus-other-minority-refugees-pakistan-bangladesh-can-now-stay-india-without-visa-831991/
----------
Two Indians taken into custody in Thai bombing case
September 8, 2015
Bangkok :Two Indians have been taken into custody for questioning after they were seen on CCTVs talking to a foreign suspect wanted in Thailand's deadliest bombing at a temple here while a person arrested in the case told police that the mastermind of the attack had fled the country.
The two Indians, who were not identified, have been taken to a military camp for questioning; The Nation quoted police as saying.
"Nothing is really known so far about the Indians and it is not clear what the questioning is about," sources told PTI.
The two Indians, whose names were withheld, were taken away for questioning after Assistant Police Commissioner General Prawut Thawornsiri led a team to search the Maimuna Garden Home apartment in Minburi at 9 pm last night.
The two Indians were staying in the room next to the one where police found bomb making materials, the paper said.
A foreigner who lived at the room and a Thai woman who rented the room for him are now wanted in the case.
Thai police is closely combing areas in search of people behind the August 17 bomb blast at the popular Erawan Brahma Shrine which killed 20 people and injured more than 100 others.
A combined force of police and army officers yesterday raided several apartment buildings and rented houses in Minburi district.
Coloner Wattana Yichin, deputy commander of the Metropolitan Police overseeing Minburi police station, said the raid was part of crime suppression measures as many foreigners rent apartments and houses in the area.
Police so far have issued arrest warrants against ten suspects in connection with the case.
Two foreign suspects have been arrested. One of them was carrying a Chinese passport.
Meanwhile, a suspect who was arrested near the Cambodia border identified as Yusufu Meralli, told military interrogators he assembled the bomb for the actual bomber, who is yet to be nabbed.
The first man arrested, Adem Karadak, also known as Bilal Mohammed, has been shifted from military custody to prison.
Meralli admitted he assembled the bomb before handing it to a yellow-shirted suspect who was seen on CCTV at the shrine leaving behind a backpack which would have had the explosive device.
Mieraili had told the military that he was asked to assemble the bomb, Bangkok Post quoted police sources as saying.
Mieraili identified the mastermind of the attack only as Izaan. He said Izaan commanded the operation by using WhatsApp chatting application.
According to a source, Mierali testified that Izaan left Thailand via Suvarnabhumi International Airport on August 16, a day before the bombing, to China and then headed to Bangladesh.
Full report at:
http://www.siasat.com/news/two-indians-taken-custody-thai-bombing-case-831993/
----------
Education alone can halt the decline of Muslims in India: Philanthropist
September 07, 2015
JEDDAH – A veteran philanthropist and long-time resident of Jeddah has said only education can save Muslims of India from perpetual decline.
Syed Hasan Akbar, who arrived in the Kingdom to perform Haj in 1976 and then stayed on to find work in the country, said he had visited every nook and corner of India and realized that almost all ailments the community had been suffering from had their roots in ignorance.
"I am the son of a teacher who had devoted his entire life to educating the community. My father, Syed Akbar Ali, was the principal of a reputable degree college in Lucknow in Uttar Pradesh state," Akbar said.
The 72-year-old said during his travel across the width and breadth of India, he was convinced that only education could uplift the community.
"Education is the only remedy for all our ailments. The Muslim Ummah can check its decline by progress in education. According to the Holy Qur'an knowledge is divine light," Akbar said in an interview.
Now a senior employee at Khalid Al-Gharbi Trading Establishment, Akbar was born on June 7, 1943, in Mussoorie, a famous hill station in northern India, where his parents had been spending their summer vacation.
Syed Akbar Ali, Akbar's father, was an influential person who belonged to a notable family in Lucknow, the provincial capital. A gold medallist in English literature, and a famous swimmer, he was nominated as deputy mayor of Bombay during the British rule. He was also a senior columnist for The Pioneer, an English language daily.
"Our ancestral home was in Roshan Mahal, Old Lucknow," said Akbar, father of four sons and two daughters.
Akbar said his father's ambition was to make him a doctor and he, of course, had some interest in herbal and Unani medicine. "But destiny had something else in store for me. I went into business with a capital of 10,000 rupees and started a publishing house in Lucknow. I also set up an agency for Unani medicines. However, my business hit snags and so I decided to seek work in Saudi Arabia," said Akbar, who came to the Kingdom in 1976 to perform Haj.
"At that time most pilgrims from India came by sea. We came for Haj aboard MV Noor Jahan," said Akbar. The huge ship, which was centrally air-conditioned, was operated by the Mughal Lines, which eventually merged into the Shipping Corporation of India in 1986.
"There were many pilgrims aboard led by an emir. The ship's engine got choked as we entered the Gulf of Aden. We reached Jeddah on Sept. 22, 1976, after technicians from Aden came and repaired the ship," Akbar said, describing his first trip to Saudi Arabia.
After the Haj, Akbar decided to stay back to find work as many other pilgrims did at the time. The government of King Khalid then decided to grant legal residency to overstaying pilgrims who had found work in the Kingdom.
"In Jeddah, I became a store clerk with Ali Zaid Al-Quraishi Company for a monthly salary of SR1, 200," Akbar said.
Full report at:
http://www.saudigazette.com.sa/index.cfm?method=home.regcon&contentid=20150908255925
----------
South Asia
Karzai: MoU between Afghan Intelligence and ISI will not be implemented
Sep 08 2015
The former Afghan President Hamid Karzai has said a Memorandum of Understanding between the Afghan Intelligence – National Directorate of Security (NDS) and Pakistan's military intelligence – Inter Services Intelligence (ISI) will not be implemented.
Speaking to journalists during a visit to India, Karzai said the MoU was rejected by the Afghan people, insisting that the agreement was against interests of the country.
The signing of MoU sparked uproar among the Afghan people and officials with Karzai being one of the main critics of the deal.
The MoU was apparently concluded with an aim to share intelligence and bolster cooperation in their fight against insurgent groups.
However, the Afghan officials have long been critizing Pakistan's role in fight against terrorism and harbouring the militant groups fighting against the Afghan government security forces.
The Presidential Palace also issued a statement last week Pakistani officials for their remarks regarding the elimination of Haqqani Terrorist Network following military operations in tribal regions of Pakistan, saying "The Islamic Republic of Afghanistan believes that one of the major differences between Afghanistan and Pakistan is regarding the presence of terrorist groups, specifically the Haqqani Network in Pakistani soil."
"The recent remarks by Pakistan's National Security Advisor Sartaj Aziz, suggesting that the Haqqani Network has been decomposed following military operations, are repeated claims by Pakistani officials during the past one decade," a statement by Presidential Palace said.
The Palace insisted that documents and evidences show that the network's leadership, commander and control, supportive infrastructure and sanctuaries are still operational in Pakistan.
Full report at:
http://www.khaama.com/karzai-mou-between-afghan-intelligence-and-isi-will-not-be-implemented-9618
----------
ISIS Release Beheading Video Claiming To Be Filmed In Afghanistan
Sep 07 2015
The Islamic State of Iraq and Syria (ISIS) terrorist group has released a horrific beheading video which purportedly shows the execution of a prisoner carried out by the affiliates of the group's proclaimed Khurasan province.
The prisoner is shown wearing an orange jumpsuit and is paraded through a mountainous region although the exact location has not been verified.
A commander of the terror group appearing in the video welcomes the allegiance of the Islamic Movement of Uzbekistan (IMU) to ISIS terrorist group.
It is yet not clear on what charges the prisoner was executed with the identity of the victim yet to be confirmed although the supporters of the terror group claim a member of the Afghan security forces was beheaded.
The Islamic Movement of Uzbekistan (IMU), declared as a terrorist organization by the United States, announced earlier last month that the group is part of the Islamic State of Iraq and Syria (ISIS) terrorist group.
A video was released by the terror group which purportedly shows the IMU's leader Usmon Ghazi and his fighters taking oath of allegiance to ISIS terror group and its leader Abu Bakr al-Baghdadi.
Full report at:
http://www.khaama.com/isis-release-beheading-video-claiming-to-be-filmed-in-afghanistan-1484
----------
Airstrike kills 11 Afghan policemen
September 08, 2015
KANDAHAR - An air attack killed at least 11 Afghan police officers in the volatile and opium-rich southern province of Helmand, officials said Monday, but there were conflicting claims over who carried out the bombardment.
The Afghan interior ministry spokesman said the strike on Sunday during a police operation against drug smugglers was carried out by NATO forces, which rejected the claim in a statement. Afghanistan's own air force also has the capability to carry out aerial attacks, but both the force and the defence ministry declined to comment.
"Eleven counter-narcotics police were killed and four others were wounded in an air strike carried out by international forces in Garmsir district of Helmand province," deputy interior ministry spokesman Najib Danish told AFP. A Helmand police department official gave a higher death toll, saying 14 bodies had so far been recovered from the site of the bombardment.
But a NATO spokesman said there were no coalition airstrikes in Helmand on Sunday, adding that there was one in neighbouring Kandahar province to "eliminate threats to the force". Helmand, the heartland of the global opium trade, is one of the biggest flashpoints in the 14-year Taliban insurgency that erupted after a US-led invasion brought down their regime in 2001.
Civilian and military casualties caused by NATO forces have been one of the most contentious issues in the 14-year campaign against Taliban insurgents, provoking harsh public and government criticism. A US airstrike killed up to 10 Afghan soldiers in July at an army checkpoint in Logar province south of Kabul, one of the deadliest episodes of "friendly fire" from foreign forces in recent years.
Full report at:
http://nation.com.pk/international/08-Sep-2015/airstrike-kills-11-afghan-policemen
----------
Security forces rebuff attacks of 400 Taliban in Kunar
Sep 08 2015,
Afghan National Security Forces have rebuffed coordinated attacks and ambushes of more than 400 Taliban militants in eastern Kunar province.
A statement issued by the Ministry of Defense states that hundreds of Taliban launched coordinated attacks on two security posts in Narai District of Kunar province around 05:00 am this morning.
The statement adds that reinforcement was on its way to support soldiers at Sifatullah and Shaheed Abdul Bari posts when it came under ambushes in three areas.
According to the statement 48 militants were killed and wounded in the clashes on the way and at security posts.
Full report at:
http://www.khaama.com/security-forces-rebuff-attacks-of-400-taliban-in-kunar-3880
----------
Mullah Akhtar moving aggressively in Afghanistan: NYT
September 08, 2015
WASHINGTON - In one of the first tests of his leadership, the head of Afghanistan's Taliban militants is moving aggressively against a breakaway faction in the south of the country, The New York Times reported quoting Afghan and Taliban officials.
Mullah Akhtar Muhammad Mansour, who assumed leadership of the Taliban this summer, has sent hundreds of fighters on motorcycles in the past two weeks to Zabul Province to battle forces loyal to Mullah Mansour Dadullah, who has publicly refused to pledge allegiance to the new leader, the officials said.
The two factions have since been fighting with no clear conclusion in sight.
The latest skirmish on Saturday, which lasted for an hour and involved heavy weapons, left at least five people dead on each side, Ghulam Jilani Farahi, the province's security chief, said on Sunday.
Ten of Mullah Mansour's men were detained by Mullah Dadullah's forces, a member of the Taliban in Zabul said on condition of anonymity, fearing reprisals for sharing details of the group's infighting.
Mullah Mansour was appointed the Taliban's leader days after the death of the previous chief, Mullah Muhammad Omar, which had been kept secret for two years, was confirmed in July.
Mullah Mansour has been trying to consolidate power and keep the group united in the face of dissent in the ranks as well as encroachment from Islamic State affiliates on its turf.
While the Taliban have long denied reports that some of their factions were defecting to join the Islamic State, also known as ISIS or ISIL, it is clear that they are feeling pressure from the group, which has taken over large parts of Iraq and Syria.
In June, Mullah Mansour, who was at the time the Taliban's deputy leader, sent a letter to Abu Bakr al-Baghdadi, the leader of the Islamic State, warning against creating "multiplicity in the jihadist ranks in Afghanistan.
"
More recently, a Taliban spokesman acknowledged the presence of Islamic State affiliates in eastern Nangarhar Province who had been challenging the Taliban's authority in the area.
"By the grace of Almighty Allah and with the persistent support of the local people, most of the areas occupied by them were liberated quickly," said the spokesman, Zabihullah Mujahid.
Mullah Dadullah comes from the Kakar tribe, like most residents of the districts of Khak-e-Afghan and Daichopan, where he has established a base.
Full report at:
http://nation.com.pk/international/08-Sep-2015/mullah-akhtar-moving-aggressively-in-afghanistan-nyt
----------
Karzai: Afghan people will not give up their rights on Durand Line
Sep 08 2015
The former Afghan President Hamid Karzai said the Pakistani military has repeatedly forced Afghanistan to recognize Durand Line as the formal border line between the two countries.
Speaking during a one-day seminar organized on the issue of Durand Line, Karzai insisted that the people of Afghanistan
remains committed regarding their rights and will not make any compromise to recognize the Durand Line as the formal border line.
He said the Afghan nation will never compromise with their rights and called on Pakistan to allow the nations live in a peaceful environment.
Karzai also expressed concerns regarding persisting efforts to keep the residents along the Durand Line away by limiting their access to education.
The porous Durand Line has also been a source of tension between Afghanistan and Pakistan where numeous cross-border attacks have been carried out.
The cross-border incursions involving the Pakistani military escalated last year in eastern provinces of Afghanistan, particularly the eastern Kunar and Nuristan.
The shelling which started earlier last year continued for several months and sporadic shelling and clash still taking place occassionally.
Full report at:
http://www.khaama.com/karzai-afghan-people-will-not-give-up-their-rights-on-durand-line-1485
----------
Taliban take dig at IS over Hazara killings
September 08, 2015
KABUL - The Taliban have condemned the killing of 13 minority Shiites as a plot to "breed fault lines", in an apparent dig at the rival Islamic State group making gradual inroads into Afghanistan. Gunmen on Saturday shot dead 13 Hazaras after dragging them out of their vehicles in the usually tranquil northern Balkh province, in a rare fatal attack targeting ethnic minorities.
No group has so far claimed responsibility for the attack. IS, observers say, have struggled to gain a firm foothold in Afghanistan because of the lack of a deeply sectarian environment — unlike Syria and Iraq where the group has captured large swathes of territory. "These acts are being perpetrated to breed fault lines, intolerance and discrimination," the Taliban said referring to Saturday's attack, without naming IS. "We strongly condemn this incident... (and) call on our nation to be vigilant of all enemy plots," said the statement posted on their website on Sunday. Ethnic Hazaras, Shiite minorities in Afghanistan, suffered extensively under the Sunni Taliban's 1996-2001 regime.
Attacks targeting the sect in Afghanistan are not unheard of, but rare compared to neighbouring Pakistan. "If indeed IS are behind this attack, it shows their sinister attempt to inflame sectarian tensions to seek a firmer foothold in the country," Kabul-based military analyst Jawed Kohistani told AFP. IS has been trying for months to establish itself in Afghanistan's eastern badlands, challenging the Taliban on their own turf.
Full report at:
http://nation.com.pk/national/08-Sep-2015/taliban-take-dig-at-is-over-hazara-killings
----------
Security scanners to be installed at Kabul doors
By ZABIHULLAH MOOSAKHAIL
Sep 08 2015
Four security scanners will be installed at four doors of Kabul in near future.
Deng Xijun, Ambassador of the People's Republic of China to Kabul said that his government has made ready these scanners for sending to Afghanistan in four weeks.
Government of china will also send its experts to Afghanistan to install these machines and train Afghan forces to use them.
Deng Xijun in a meeting with Afghanistan's National Security Advisor reiterated his countries commitment of assisting Afghan security forces.
Full report at:
http://www.khaama.com/security-scanners-to-be-installed-at-kabul-doors-3882
----------
Burma launches electoral adventure with Muslim politicians excluded
08 Sep 2015
For a people who languished in isolation from the world during a half century of military rule, the Burmese election campaign that kicked off on Tuesday marks the launch of an unprecedented experiment in ballot box democracy.
But even as billboards were unveiled, brochures distributed and the first campaign speeches delivered, for one significant proportion of the population the experience is proving hollow.
For among some 6,200 candidates running for office for 92 parties, it seems certain that there will be not a single candidate from the Muslim population, the second largest religious grouping in the predominantly Buddhist country.
A landmark election campaign has begun in Burma, but there are no Muslim candidates on the ballot paper and Rohingya Muslims have been struck from voting lists
Aung San Suu Kyi's National League for Democracy Photo: EPA
In the ethnic troubled Rakhine region, hundreds of thousands of Rohingya Muslims have been denied the right even to cast ballots after being forced to return their government identity cards.
Across the rest of the country, where there are long-established Islamic communities, no Muslim candidate has been chosen by party chiefs at a time when radical Buddhist nationalists are fomenting anti-Muslim sentiments.
A landmark election campaign has begun in Burma, but there are no Muslim candidates on the ballot paper and Rohingya Muslims have been struck from voting lists
Workers unload ballot boxes at the Taung Gyi stadium Photo: AFP
That exclusion is most striking in the National League of Democracy led by Aung San Suu Kyi, the Nobel Peace laureate who spent 15 years under house arrest for her advocacy for free speech.
Her party, which is the overwhelming favourite to win the elections, is fielding some 1,150 candidates at national and local level. But it has found no place for long-time Muslim members, including former political prisoners, who put themselves forwards as parliamentary hopefuls.
A landmark election campaign has begun in Burma, but there are no Muslim candidates on the ballot paper and Rohingya Muslims have been struck from voting lists
Members of the National League for Democracy campaign in Hlaing township in Yangon Photo: EPA
Muslims in Burma – also known as Myanmar – make up at least five per cent of 51-million population and have a long history of involvement in public life. But they have faced increasing discrimination since a military-dominated semi-civilian government replaced a junta in 2011.
Extremist monks led anti-Muslim protests which in 2012 turned into pogroms of Rohingyas in Rakhine state. The Rohinhyas are particularly reviled even by moderate Buddhists and are widely viewed as illegal "Bengali" interlopers because of their roots in Bangladesh, although many families have lived in Burma for generations.
The anti-Rohingya sentiment has spilled into a broader ostracisation of Muslims across the country. The NLD's failure to field a single Muslim candidate is an attempt to appease hardline Buddhists, said Ko Ni, a Muslim lawyer and party member.
U Shwe Maung, a sitting MP with the ruling pro-military party, has found himself the centre of the controversy after he was not just barred from running for office again but stripped of the right even to vote under the new rules.
The election commission decreed that he was ineligible to take part in the elections on the grounds that he allegedly could not prove that his parents were citizens at the time of their births.
Full report at:
http://www.telegraph.co.uk/news/worldnews/asia/burmamyanmar/11850271/Burma-launches-electoral-adventure-with-Muslim-politicians-excluded.html
----------
Ex-lawmakers of Bangladesh Jamaat-e-Islami arrested for possession of bombs
September 8, 2015
Bangladesh police have arrested two former Jamaat-e-Islami lawmakers along with 11 other leaders and activists of the part for possession of 20 homemade bombs in Mirpur flat.
According to the Daily Star, Nayeb-e-Ameer of Jamaat Prof Mujibur Rahman (former MP of Rajshahi-1) is accused in 45 cases and Jamaat Assistant Secretary General Mia Golam Parwar (former MP of Khulna-5) is accused in 12, said police.
The party said in a statement that their leaders were framed, adding that the bombs was just a well-orchestrated police play.
Full report at:
http://www.business-standard.com/article/news-ani/ex-lawmakers-of-bangladesh-jamaat-e-islami-arrested-for-possession-of-bombs-115090800432_1.html
----------
War trial: Charges against 9 including ex-MP Shakhawat accepted
September 08, 2015
A tribunal in Dhaka today accepted war crimes charges against nine including former Jamaat-e-Islami lawmaker Shakhawat Hossain while clearing three accused of the charges.
Five charges of war crimes committed in Jessore during the 1971 Liberation War were levelled against the 12.
Those who have been cleared of the charges are: Ajihar Morol, Akram Hossain and Moshiur Rahman.
There were no specific charges against the three, Prosecutor Razia Sultana Chaman told The Daily Star after the decision of the International Crimes Tribunal-1 today.
On July 27, the prosecution pressed the charges against 12 people, showing four of them as arrested and the rest as fugitives.
The accused were allegedly involved in killing two persons, raping one and torturing two others in Keshabpur of Jessore. All the incidents took place in the Bangla month of Ashwin (between mid-September and mid-October) in 1971, according to the prosecution.
On June 15, the investigation agency of the tribunal said they had found "evidence" against the 12 of involvement in crimes against humanity.
Full report at:
http://www.thedailystar.net/city/3-acquitted-war-crimes-charges-139744
----------
AL says BNP losing sleep over IRI report about ruling party's improved popularity
2015-09-07
An Awami League spokesperson has claimed that the BNP and Jamaat-e-Islami coalition is needlessly losing sleep over the IRI survey report, which says the ruling party has improved its popularity since the Jan 2014 polls.
"The BNP will have to seek forgiveness and start a new form of politics. Although she [Khaleda Zia] is not realising it, many BNP leaders have discovered that . They will have to decide," Awami League Publicity Secretary Hasan Mahmud said on Monday,
The US-based International Republican Institute in its recent survey found the ruling Awami League has gained in popularity since the Jan 2014 national parliament polls .
Most respondents drawn from a representative sample told the IRI investigators that Bangladesh was heading in the right direction.
The IRI survey shows Prime Minister Sheikh Hasina's government secured a 66 percent approval rating . Her party, the ruling Awami League, secured 67 percent .
But most Bangladeshis had serious concern over corruption.
60 percent of the respondents said they liked Awami League -- 40 percent said they liked BNP.
Full report at:
http://bdnews24.com/politics/2015/09/07/al-says-bnp-losing-sleep-over-iri-report-about-ruling-party-s-improved-popularity
----------
Europe
IS Extremists Exploit Refugee Flow, Waiting To Launch Attacks in Europe: Militant Operative
By Michael Kaplan
September 07 2015
Western governments have long feared the possibility of Islamic State militants quietly slipping across their countries' borders. Now, amid the worst refugee crisis in decades, it seems this might have actually happened. How? ISIS loyalists have reportedly infiltrated the human tide of refugees flowing into Europe.
Opportunistic smugglers have reportedly helped small groups of ISIS fighters travel from southern Turkey into Europe, hidden in cargo ships filled with hundreds of refugees, according to an ISIS operative and several smugglers quoted by BuzzFeed Monday. The ISIS operative claimed some 4,000 fighters are already waiting in Europe, intent on fulfilling ISIS's repeated threats to stage attacks around the globe. He said such attacks would be in retaliation for U.S.-led airstrikes against the group in Iraq and Syria.
"Just wait," he told BuzzFeed.
Hundreds of thousands of refugees fleeing war in Syria have decided in recent months to make their way to Europe, where there is more economic opportunity than in Turkey -- more than a million Syrians have taken refuge in Turkey. Last week, a picture of Syrian toddler Aylan Kurdi, whose body washed ashore on Turkey's southern resort coast after drowning during a dangerous boat journey in an inflatable dinghy, raised awareness of the refugees' plight. The incident has ignited international concern over the refugee crisis wrought by years of conflict in Syria. It is in that tide of desperate refugees that more ISIS fighters have been able to quietly slip into Europe, according to individuals quoted by BuzzFeed.
"I'm sending some fighters who want to go and visit their families," a smuggler, who said he's been helping militants cross for months, said. "Others just go to Europe to be ready."
The smuggler said while some fighters were from Syria, many also hailed from elsewhere around the Middle East, and even Europe or the U.S. Once they cross the porous Turkish border from Syria, the smuggler puts fighters up in hotels and waits for a passenger list to fill and for the weather conditions to be right.
Full report at:
http://www.ibtimes.com/refugee-crisis-isis-fighters-europe-islamic-state-extremists-exploit-refugee-flow-2085787
----------
Moroccan Preacher: ISIL Preparing for New Terrorist Attacks in Arab Countries
Sep 07, 2015
"The ISIL has not stopped its terrorist operations in the Persian Gulf states, and is rather preparing for a new tragedy," the Arabic-language al-Rai news website quoted Abolfazl al-Hodoushi as saying on Monday.
He said that the ISIL has offered him to accept the position of the terrorist group's religious mufti in lieu of receiving lump sum money.
On June 26, the ISIL carried a deadly bombing at Imam Sadiq Mosque in Kuwait City, killing at least 27 worshippers and injuring more than 220 others.
Shiites make up around one-third of Kuwait's population of 1.3 million.
Full report at:
http://english.farsnews.com/newstext.aspx?nn=13940616001278
----------
Cameron says UK drone strike killed British ISIS fighters in Syria
7 September 2015
Britain has killed two of its own nationals who had been fighting for Islamic State of Iraq and Syria (ISIS) and plotting attacks on British soil, in its first air strike in Syria, Prime Minister David Cameron said on Monday.
Despite not having a parliamentary mandate to take military action in Syria, Cameron told lawmakers that, as an act of self-defense, Briton Reyaad Khan had been targeted and killed in a precision drone strike in the country.
Cameron said the strike was carried out by a British Royal Air Force (RAF) remotely-piloted aircraft in August and that two people travelling with the man, including another Briton, Ruhul Amin, were also killed.
"There was a terrorist directing murder on our streets and no other means to stop him," Cameron said. "We took this action because there was no alternative."
The air strike was "entirely lawful," he said.
Amnesty International's UK Director Kate Allen said it was "extremely alarming that the UK has apparently been conducting summary executions from the air.
"In following the United States down a lawless road of remote-controlled summary killings from the sky, the RAF has crossed a line," she added.
British warplanes have launched regular air attacks against ISIS fighters in neighboring Iraq in recent months and flown drones over Syria to gather military intelligence. But unlike some countries in a U.S.-led international coalition, it does not generally target ISIS in Syria.
The Royal United Services Institute (RUSI) think tank said the strike marked a big departure in policy.
"The point is not so much that this man was British but that he was targeted in an area that the UK does not currently regard, legally, as an operational theatre of war for UK forces," said RUSI Director General Michael Clarke in a statement.
In 2013, Cameron suffered a humiliating defeat in parliament when he sought approval of possible military action against Syrian President Bashar al-Assad.
That defeat was inflicted by the opposition Labour Party, whose popularity among a war-weary electorate still suffers because of the decision by former leader Tony Blair to take Britain to war in Iraq in 2003.
But on Monday Labour struck a conciliatory tone and refrained from directly criticizing the air strike. Interim leader Harriet Harman's response focused on seeking more information about the legal basis for the strike and the procedures taken to authorize it.
"There is a need for independent scrutiny of what the government has done here," she said.
Plots
Khan, from the Welsh capital Cardiff, and Amin from Aberdeen in Scotland had their assets frozen by Britain's finance ministry last year after reports they had been involved in terrorism-related activities in Syria and appeared in an ISIS recruitment video.
"There was clear evidence of the individuals in question planning and directing armed attacks against the UK," Cameron said. "These were part of a series of actual and foiled attempts to attack the UK and our allies."
Full report at:
http://english.alarabiya.net/en/News/middle-east/2015/09/08/ISIS-attack-in-Benghazi-kills-3-Libyan-soldiers-agency.html
----------
Muslim Refugees Are Being Baptized and Converting to Christianity, Says Berlin Pastor
September 7, 2015
Iranian Muslims seeking asylum in Germany are reportedly converting to Christianity at a high rate, and one Berlin church has seen its membership jump from 150 to 600 in a short time, with most of its new members being Muslim converts.
These new believers have been baptized in the name of Jesus Christ and wish to never return to their home country to the intense persecution from radical groups like Islamic State.
Becoming a Christian also helps migrants' and refugees' chances of staying in Germany, but the pastor of the booming Berlin church isn't worried about the motives behind the conversions.
"I know there are — again and again — people coming here because they have some kind of hope regarding asylum," said Pastor Gottfried Martens to Fox News. "I am inviting them to join us because I know that whoever comes here will not be left unchanged."
Gottfried believes the Gospel message is really changing the hearts of these Muslim men and women. He also told Fox that only 10 percent of these converts fail to return to church after being baptized, Fox News reported on Friday.
Asylum seekers in Germany are expected to number close to 800,000 this year, according to Fox. Many of these refugees come from countries where radical Islam has wreaked havoc on their citizens, including countries like Syria, Iraq, Pakistan and Afghanistan.
Not every German is celebrating the mass immigration of Muslims into their home country, however.
Full report at:
http://www.christianpost.com/news/muslim-refugees-are-being-baptized-and-converting-to-christianity-says-berlin-pastor-144554/
----------
Greek security forces clash with stranded refugees on Lesbos Island
Sep 8, 2015
New clashes have erupted between Greek police and stranded refugees on the flash-point island of Lesbos in Greece, where extra security staff have been deployed to calm the situation.
Authorities said the scuffles broke out on Monday night between the security forces armed with batons and the refugees, who were trying to board a government-chartered ship bound for the Greek capital, Athens.
The Greek government and the United Nations (UN)'s refugee agency have reportedly sent in extra staff and ships to deal with some 25,000 refugees bogged down on the island.
'Government doesn't care'
Lesbos is one of the several Greek islands where refugees headed for Western Europe land after setting sail from the nearby Turkish coast.
"Some people have been here for 14 or 15 days. The government doesn't care," said Aleddin, an engineering student who is among the refugees on Lesbos Island and who is hoping to join his brother in Germany.
Greece has asked the European Union (EU) to help Athens deal with the huge flow of refugees as arrivals on Lesbos have swollen to three times as many as the island could handle.
The country's Interior Minister Yiannis Mouzalas said on Monday that "the situation is on the verge of explosion."
A refugee family arrives for a medical check after arriving at the main train station in Munich, southern Germany, September 7, 2015. (Photo by AFP)
Germany, Europe's number-one destination for refugees, said about 20,000 refugees had entered the country at the weekend, most of them arriving on trains from Hungary via Austria.
Full report at:
http://www.presstv.ir/Detail/2015/09/08/428250/Greece-Lesbos-refugees-Merkel
----------
Southeast Asia
Aung San Suu Kyi's party excludes Muslim candidates
By Jonah Fisher
There was a time when Aung San Suu Kyi was seen as Asia's Nelson Mandela. To her more ardent fans, she was more than that. An icon, almost a saint. So why is the Nobel Peace Prize winner's political party excluding Muslims from its list of candidates for November's general election?
Sithu Maung had high hopes that he'd be chosen as a candidate for Aung San Suu Kyi's National League for Democracy (NLD) and be part of a historic electoral victory.
At 29, he's perhaps a bit young, but otherwise he ticked all the right boxes.
A prominent student leader, he'd done time as a political prisoner after taking part in the so-called Saffron Revolution - a series of often monk-led protests in late 2007.
He targeted the Pabedan constituency in downtown Yangon. The area has a Muslim majority, which he figured would be a great fit for a Muslim candidate like himself.
But the NLD rejected Sithu Maung and a Buddhist candidate will be on the ballot instead.
He told me he was sure that his religion had played a part.
"I wish the NLD would give a fair and equal chance to all qualified candidates," he told me when we met in a tea shop. "Without discriminating by their race and religion. "
Aung San Suu Kyi at a voter education rallyImage copyrightGetty Images
Image caption
Needing to two-thirds of the non-military seats in parliament to chose the president, Aung San Suu Kyi's party is prioritising victory above all
Sources both within the NLD and outside told us that none of their 1,151 candidates standing in regional and national elections, is Muslim.
It's hard to prove a policy of discrimination, but one thing is clear - leading Muslims in both Yangon and Mandalay, who expected to be given constituencies to fight, were overlooked.
"I don't know," was the answer of U Tin Oo, one of the party's founders, when we challenged him to name a Muslim NLD candidate.
He's 89 and his justification for the absence of Muslims from the NLD lists focused on Myanmar's citizenship rules.
That explains the absence of the stateless Rohingya, but not the many Burmese Muslims whose families have lived here for generations.
Pragmatism trumping principle
The exact number of Muslims in Myanmar is considered so sensitive that last year's census results are being suppressed. It's generally thought they represent somewhere between 4 and 10% of the population.
Ever since she was elected to parliament in a by-election in 2012, Ms Suu Kyi has gone out of her way not to offend the country's hard-line monks, also known as the Ma Ba Tha.
That's meant disappointing Western human rights groups and choosing her words very carefully in relations to the country's Rohingya - widely discriminated against in Myanmar.
Earlier this year, pragmatism trumped principle again when she refused to speak up in defence of UN envoy Yanghee Lee when she was verbally abused by prominent monk Ashin Wirathu.
Full report at:
http://www.bbc.com/news/world-asia-34182489
----------
Muslim group: 'Red shirts' do not represent Malays
September 7, 2015
PETALING JAYA: A group of 16 Muslim individuals and organisations has spoken up against the anti-Bersih 4 "red shirts", saying that they do not represent the voice of the Malay Muslims.
The group said that the rally planned by the "red shirts" on Malaysia Day is provocative.
"The location chosen for the rally, the depiction of a keris-wielding warrior with an incendiary caption underneath its promotional posters dispel any doubts that the intent is one of provocation and intimidation," said the group in a statement on Monday. "But we do not redeem our honour and dignity by blaming other races whilst helping an embattled political elite.
"One redeems one's honour and dignity by upholding the principles of truth and justice, holding accountable those whom trust and responsibility has been placed on their shoulders.
"We redeem our honour and dignity by remaining true to the moral teachings of Islam and exposing the hypocrisy of those who use religion to cling to power," it said.
The group praised Inspector-General of Police Tan Sri Khalid Abu Bakar for having dissuaded the "red shirts" from holding their parallel rally on Aug 29 and 30.
"This defused what would potentially have been an explosive situation, bordering on racism and bigotry and threatening our racial harmony," it said.
However, the group said that the threat by the "red shirts" has not completely passed with their planned rally on Sept 16.
Full report at:
http://www.thestar.com.my/News/Nation/2015/09/07/Muslim-group-red-shirts/
----------
Canada Parliament to visit MPR to discuss Islam
September 7, 2015
JAKARTA — Chairman of People's Consultative Assembly (MPR), Zulkifli Hasan, welcomed the Canadian Ambassador, Donald Bobaish, at Nusantara III Building, Parliament Complex, Monday (7/9). During Bobaish visit, Zulkilfi invited the parliament of Canada, to see how the tolerance of Islam in Indonesia.
According to Zulkifli, the relationship between Indonesia and Canada is not only between two governments, but also to improve the relationship between two parliaments. He wanted the Canada Parliament can visit Indonesia and planned the visit in February 2016.
Zulkifli who is also Chairman of PAN, said that although the majority of Indonesia's population is Moslem, but Moslems in Indonesia are different with Moslems in other countries, especially in the Middle East.
"We would like to invite the Parliament of Canada in order to know exactly how Islam in Indonesia," said Zulkifli.
Full report at:
https://treeangle.co.id/news/37237/2015/09/canada-parliament-to-visit-mpr-to-discuss-islam
----------
Commentary: The Donald and the absurdity of Indonesian politics
September 08 2015
At first it was funny, but then just sad. That's pretty much how many Indonesians felt when they saw pictures of politicians Fadli Zon and Setya Novanto at a press conference held last week by American presidential hopeful Donald Trump.
It was hilarious because it was so unreal. First, how did they get there, and why? Of all the places to visit in New York, why choose Trump's campaign headquarters? Second, what's with the star-struck faces? Couldn't they play it a little cooler? It's Donald Trump, for heaven's sake — not Elvis! Third, did Setya really say Indonesians "highly" like Trump?
It was, without doubt, a comic scene. But these men are no ordinary men. They are elected representatives of the people, the wakil rakyat. As much as you hate them, their views and their creepy hairstyles, they still represent you.
So when they do something silly overseas, and say something on your behalf that is totally not true, it's not funny anymore. You have every reason to be mad. But then you realize: Indonesian politics just makes no sense.
Many countries claim their politicians are the worst. But Indonesian politicians have displayed a level of absurdity that would mystify even the Donald.
On Sept. 2, the National Mandate Party (PAN) announced it had joined the ruling Great Indonesia Coalition (KIH). Many were surprised and analysts swiftly offered their two cents on what it meant for the shaky government of President Joko "Jokowi" Widodo. But the next day, a bombshell was dropped: The party explained that while it had officially joined the ruling coalition, it was also still part of the opposition camp led by Jokowi's nemesis, Prabowo Subianto.
So PAN is now dating Jokowi, but it's not breaking up with Prabowo. It's pretty much like a sappy Korean drama, with all the intrigues and surprises, the complex love triangles, though minus the pretty faces.
This is why it's so easy for Fadli and Setya to say that there is nothing controversial or embarrassing about them visiting the Trump Tower and telling the whole world that Indonesians love Donald Trump, totally disregarding the fact that some Indonesians, me included, actually like Deez Nuts better.
Fadli said he and his colleagues had attended Trump's press conference — on a junket obviously paid for with taxpayers' cash — because the US mogul invested in Indonesia, insisting that their presence should not be taken as a an endorsement of the aspiring Republican candidate. The House deputy speaker added, as quoted by Business Insider, that, "I think he is also very famous with his show and, of course, Indonesian people, when they talk about a millionaire or billionaire, what will pop up in their minds first is Donald Trump."
Trump is definitely not the only American investor in Indonesia and the fact that he's famous does not make him more important than others. Meeting him for lunch or dinner is fine, but attending a press conference where he pledges allegiance to an American opposition party as part of his presidential bid is an entirely different thing.
But when did Indonesian politics ever make sense? It is notorious for its dark power play. We still do not know what exactly happened in 1965 when junior military officers kidnapped and murdered six Army generals to prevent a coup against then president Sukarno. Even the more recent 1998 riot, which brought about the deaths of hundreds if not thousands of people, is still shrouded in mystery.
Full report at:
http://www.thejakartapost.com/news/2015/09/08/commentary-the-donald-and-absurdity-indonesian-politics.html
--------
Africa
Missing journalists in Libya are alive: Tunisia FM
September 08, 2015
TUNIS - Two Tunisian journalists who went missing in Libya and whose murder was claimed by the Islamic State group are alive, Tunisian Foreign Minister Taieb Baccouche said on Monday.
Baccouche told private radio station Jawhara FM he had "irrefutable proof" that Sofiene Chourabi and Nadhir Ktari -- who have been missing in eastern Libya since last September -- "are alive".
"We are trying to bring them back to Tunisia," he added, declining to give further details.
In January, the Libyan branch of IS claimed to have executed the pair.
The announcement triggered shock and disbelief in Tunisia where rallies were held as people demanded proof of their deaths.
Full report at:
http://nation.com.pk/international/08-Sep-2015/missing-journalists-in-libya-are-alive-tunisia-fm
----------
ISIS attack near Benghazi kills Libyan soldiers
Benghazi
Tuesday, 8 September 2015
ISIS gunmen on Monday killed three Libyan pro-government soldiers and wounded four others in an attack outside the eastern city of Benghazi, LANA news agency reported.
"Three soldiers were killed and four wounded in a dawn attack carried out by terrorists linked to the Libyan branch of the Islamic State group," said Lana, citing a military source.
ISIS itself tweeted that its militants seized a tank and two military vehicles in the attack.
Libya, which descended into lawlessness after long-time ruler Muammar Qaddhafi was overthrown and killed in 2011, has two parliaments and two governments vying for control of the country.
Increasing violence
LANA, which is linked to the internationally recognized government, cited the source as saying that the gunmen struck an army position about eight kilometres south of Benghazi.
The area where the attack took place has since Saturday been the scene of "fierce clashes between military forces and terrorist groups during which heavy and medium-sized weapons were used," it added.
Full report at:
http://english.alarabiya.net/en/News/middle-east/2015/09/08/ISIS-attack-in-Benghazi-kills-3-Libyan-soldiers-agency.html
----------
Minnesota terror suspect on no-fly list 'fascinated by Jihad'
07 2015
MINNEAPOLIS (KMSP) - Family members of a Minnesota man connected to young people who allegedly attempted to fight for ISIS, say he frequently expressed radical beliefs about religious Jihad.
Amir Meshal, 32, is on the government's "No-Fly" list, and as the FOX 9 Investigators revealed, recently got his Class A Commercial Drivers License, which will allow him to drive large semi-trucks.
Meshal's cousin, Tony Osman, recalled a non-stop road trip the two made from Minnesota to New Jersey two years ago for a family funeral.
Photo Minnesota terror suspect on no-fly list 'fascinated by Jihad'
"He said Jihad is the greatest and highest and best thing you can do in Islam. And the best deed equaled by none," Osman recalled. "On the car ride, Amir was listening to Blind Sheikh and Osama Bin Laden. Video tapes on his handheld device connected through the speakers. They were lectures and promoting Jihad."
"He seemed to be very fascinated and enthralled by it (Jihad)," said Osman. "I asked him also what he thought about ISIS and this was like June or July. He said they're a good group, seems they want to implement the Koran and the Sharia."
Meshal has been on the FBI's radar since 2007, when he was arrested leaving an Al Qaeda training camp in Somalia. He was held for three months in secret prisons in Kenya and Ethiopia, enduring grueling interrogations.
Osman recalled several parts of his conversations with his cousin. "He said, do you know the real reason I went to Somalia? And I said, no I don't. This is the first time I am hearing this. (Mashal:) I went to train with some high level Al Qaeda people who had just returned from Afghanistan."
Nabil Ashour is another relative, who Meshal lived with for a short time, after returning from Somalia. "What I saw when he came back was not the same kid that I saw and lived with me that I knew from New Jersey," Ashour said. "I felt he was like helping a terrorist lie low in my basement." Nabil Ashour isn't a practicing Muslim. He believes his cousin is looking for martyrdom.
Meshal is suing Homeland Security with help of the ACLU for being held in rendition overseas and for being on the no-fly list. In a letter last December, Homeland Security said Meshal is not only a terror threat, but "has the operational capacity to carry out a terror attack." The reasons for that assessment are classified, blacked out on documents. The two lawsuits are on appeal. A decision is expected soon.
Last summer, Meshal was kicked out of a Bloomington mosque for attempting to radicalize young people, including many of those who prosecutors say were attempting to travel to Syria to fight for ISIS.
Meshal is suspected of playing an influential role with Abdullahi Yusuf, who is now a cooperating government witness and Abdi Nur, believed to have been killed fighting for ISIS.
Osman was with Meshal when he met with the group.
Osman: "I need to talk to the brothers privately and he talked to the group of kids that was arrested."
Full report at:
http://www.fox9.com/news/investigators/17309863-story
---------
North America
US Muslim flight attendant says she was suspended for refusing to serve alcohol
Sep 8, 2015
A Muslim flight attendant for ExpressJet says she was wrongly suspended from her job last month because she refused to serve alcohol to passengers, citing her religious beliefs. Charee Stanley, a Detroit-based flight attendant for ExpressJet, filed a discrimination complaint today with the Equal Employment Opportunity Commission. The airline had agreed to give Stanley a religious accommodation, saying she could work out an arrangement with the other flight attendant on duty so they could serve alcohol instead. She was suspended only after a colleague complained, said Lena Masri, an attorney with the Michigan chapter of the Council on American-Islamic Relations. Stanley, 40, has worked for the Atlanta-based airline for nearly three years and during that time converted to Islam, Masri said.
Full report at:
http://indianexpress.com/article/world/americas/us-muslim-flight-attendant-says-she-was-suspended-for-refusing-to-serve-alcohol/c
----------
Muslim flight attendant suspended for refusing to serve alcohol
September 07, 2015
New York: A Muslim flight attendant says she was suspended by ExpressJet because of her refusal to serve alcohol due to her religious beliefs.
Charee Stanley, 40, filed a discrimination complaint with the Equal Employment Opportunity Commission in Detroit last week.
Her attorney says the Atlanta-based airline initially agreed to a religious accommodation, telling her another flight attendant could handle passenger requests for alcohol.
However, she said Stanley was put on a 12-month unpaid leave last month after another attendant complained.
Full report at:
http://nation.com.pk/international/07-Sep-2015/muslim-flight-attendant-suspended-for-refusing-to-serve-alcohol
----------
US Muslim Reverts Tell Their Stories in ISNA
07 September 2015
CHICAGO – Gathering in Chicago from across North America, US Muslims shared their stories of becoming Muslims in a Sunday session that brought together some revert Muslims to speak about their journey to Islam.
"I was raised as a Roman Catholic and I am so grateful to that community," said Dr. Ingrid Mattson, former President of ISNA, relating her conversion story.
"The nuns that taught me had a keen sense of social justice and social activism."
"The problem I had with the Church was with the Catholic theology," she added.
Dr. Mattson went on to described how her friendship with some Senegalese students in Paris brought her into contact with Islam.
"In my last year of University, I went to Paris to study and I became friends with some Senegalese," continued Dr. Mattson. "Because of this contact I started to read the Qur'an and about Islam."
"Those Senegalese people, for me would be the best examples of Muslims – their character, their generosity, their inclusiveness," she noted. "This has been a touchstone for me in my life."
The panelists described the sense of insecurity and self-doubt that accompanied their conversion and the social rejection that converts sometimes experience from the Muslim community.
Full report at:
http://www.onislam.net/english/news/americas/493253-us-muslim-reverts-tell-their-stories-in-isna.html
----------
American Creates Anti-Muslim Crusader Gun
September 7, 2015
A Florida gun manufacturer has been facing criticism for creating a "Crusader" assault rifle with a Bible verse on it, saying it is meant to stop "Muslim terrorists" from using it.
Ben "Mookie" Thomas, former Navy Seal and company spokesman, told the Orlando Sentinel that "no devout Muslim" would dare touch the weapon.
"Off the cuff I said I'd like to have a gun that if a Muslim terrorist picked it up a bolt of lightning would hit and knock him dead," he said.
Images of the AR-15 Crusader rifle posted online by Spike's Tactical in Apopka show an emblem of a cross inside a shield similar to those used by the Knights Templar during the Crusades on one side.
The other side features Psalm 144:1: "Blessed be the Lord my Rock, who trains my hands for war, my fingers for battle."
The rifle gun sparked huge criticism for targeting Muslims.
Hasan Shibly, executive director of the Council on American-Islamic Relations of Florida (CAIR-FL), responded to the gunmakers by asking "Is it designed for Christian terrorists?"
Shibly said that out of 205 mass killings in the US, only one massacre involved a Muslim.
He added that CAIR-FL opposes any form of religious extremism and that the gunmakers "don't have to do outlandish things for us to engage them."
Moreover, CAIR-FL issued a statement in response to the weapon, which retails for $1,395 with a manufacturer's lifetime warranty.
Full report at:
http://en.abna24.com/service/america/archive/2015/09/07/709674/story.html
----------
US Muslims Live Faith Through Helping Needy
07 September 2015
CHICAGO – Flocking to attend North America largest Muslim convention, dozens of Muslims took time out from the workshops and plenary sessions at the ISNA 52nd Annual Convention in Chicago to package meals for needy people.
"I wanted to come out this morning to help," Halid Skenderi, a teenage volunteer told OnIslam.net.
"It is important that we feed the poor and those who have less than us."
Joining with the American charity Stop Hunger Now volunteers of all ages gathered in the convention prayer hall early Sunday morning to take part in the "Live Your Faith Through Service to Others" service activity.
Stop the Hunger Now, which was founded in 1998, has provided over 180 million meals in 65 countries.
A delegation from Nigeria representing the Sultan of Sokoto and President-General of Jama'atu Nasril Islam are attending the convention and came out to observe the food packaging as well as participate in the activity.
"My experience here at the ISNA convention has demystified my notions of Muslims in America," Dr. Khalid Abubakar Aliyu, Secretary General of Jama'atu Nasril Islam told OnIslam.net.
"I am impressed by the progress and development of the American Muslim community - in their scholarship, Da`wah, development of Islamic Centers and social activism."
"The ISNA convention has been a wonderful experience for us," he added.
"It has brought Muslims from America and the world together at a time when the Ummah is going through many trials."
Full report at:
http://www.onislam.net/english/news/americas/493235-us-muslims-live-faith-through-service.html
----------
URL: https://www.newageislam.com/islamic-world-news/new-age-islam-news-bureau/denmark-posts-anti-refugee-ads-in-lebanese-newspapers/d/104518