New Age Islam News Bureau
10 Nov 2018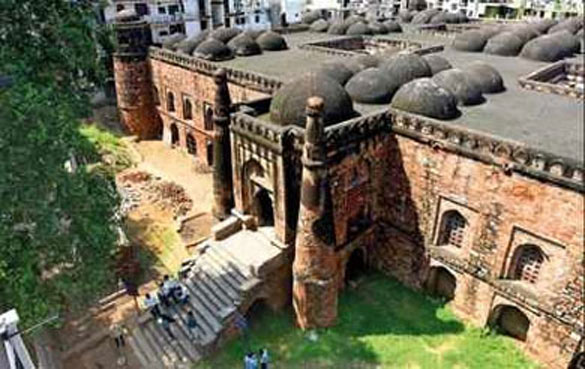 Earlier this year, some miscreants struck off the name 'masjid' from the monument and claimed it was not a Tughlak era mosque but a Rajput monument.
-----
• Delhi's Khirki Masjid No Rana Pratap Fort, Says Archaeological Survey of India
• LHC to Hear Treason Case against Khadim Rizvi, Fazlur Rehman on Nov 12
• Forgotten Muslim Soldiers of World War One 'Silence' Far Right
• ISIS Claims Melbourne Stabbing; Australian Police Say Attack Linked To Terror
• Child Marriage: Why It Is Still A Problem In 2018
• Turkey Arrests Dozens of On-Duty Soldiers over Affiliation to Gulen Movement
India
• Delhi's Khirki Masjid No Rana Pratap Fort, Says Archaeological Survey of India
• Courts Are Bound To Resolve Family Issues of Muslims In The Light Of Shariah: Qazi AIMPLB
• 2 Terrorists Neutralised in Pulwama; Arms, Ammunition Recovered
• MBT slams anti-Muslim references in new book on Telangana history
• Zakir Naik and wife to tour Perlis backed by state government
• Govt clarifies it is not engaging with Taliban at Moscow meet
• Pakistan violates truce in Poonch, BSF jawan hurt
• Noida police hand over missing Sharda varsity student case to J&K cops
--------
Pakistan
• LHC to Hear Treason Case against Khadim Rizvi, Fazlur Rehman on Nov 12
• Most Militants Ready To Join Mainstream, Senate Panel Told
• One dead, four injured in North Waziristan blast
• SC suspends PHC's acquittal of 73 terrorists convicted by military courts
• Functions held to mark Allama Iqbal's birth anniversary
• Fazl says Aasia Bibi released under foreign pressure
• Fingerprints, other evidence collected from scene of Samiul Haq's murder
• Journalists vow to 'resist attempts to harass' media after KPC incident
• Farooq Sattar expelled from MQM-P for violating 'party discipline'
• Pakistan supports intra-Afghan peace agreement at Moscow moot
--------
Europe
• Forgotten Muslim Soldiers of World War One 'Silence' Far Right
• Germany: Jewish Leader Slams Attacks against Mosques
• Swedish Official under Probe over Social Media Post Associating Muslim Call to Prayer with Terrorism
• British police warn unnamed Saudi of 'life-threatening danger'
• Norway suspends licenses for arms export to Saudi Arabia
• EU to take joint stance at end of Khashoggi probe
• Brexit must not block battle against ISIS, says ex-Nato chief
--------
Australia
• ISIS Claims Melbourne Stabbing; Australian Police Say Attack Linked To Terror
• Violent Islam Terror Attack Strikes Melbourne's Bourke Street
• Melbourne knife attacker inspired by Islamic State, police says
--------
Southeast Asia
• Child Marriage: Why It Is Still A Problem In 2018
• Mujahid, Don't Put the Cart before the Horse in Divorce Cases
• Ambassador launches research on entry of Islam in Indonesia
• Terrorism: Foe of Islam and humanity
• BIN denies being behind Rizieq's 'extremist flag' questioning in Mecca
• Penang govt allocates RM56.8m for Islamic development
• United by common enemy ICERD, Umno to share stage with PAS in Perak
--------
Mideast
• Turkey Arrests Dozens of On-Duty Soldiers over Affiliation to Gulen Movement
• Qatar Pays Gaza Salaries via Israel amid Fatah Condemnation
• US's Bolton says more sanctions likely on Iran
• Yemen's government to UN: Houthi militia uses civilians as human shields
• Israeli forces open fire, kill young man
• CHP's Lawmaker Challenges Party Leader after Debate On Muslim Call To Prayer
• Yemeni forces launch massive new offensive to capture Hodeidah from Houthis
--------
South Asia
• S Arabia Wants To Deport Hundreds of Muslim Rohingya Refugees to Bangladesh
• Afghan Official: Taliban Attacks Kill 10 Troops, 7 Policemen
• Taliban's Red Unit commander among several dead, wounded in Faryab clash
• MoFA reacts to Moscow Summit regarding Afghan peace process
• Moscow Summit: HPC urges peace talks revival, Taliban share demands
• 8 Ansar Al Islam members placed on 6-day remand
• Bangladesh launches crackdown on ISI-backed terror groups
• At Dhaka literature event, 'silence' over Shahidul Alam's arrest
--------
Arab World
• Fight Extremism with 'Lofty Values,' Saudi Forum Told
• 22 Syrian Rebels Dead In Regime Attack on Truce Zone, 11 Sentenced To Death
• Monitor: US-led coalition strikes kill 26 civilians in east Syria
• Qatari ambassador's convoy in Gaza being stoned
• Arab Coalition requests US to halt aircraft fuel supply in Yemen operations
• After Daesh, Damascus suburb residents blocked from going home
--------
Africa
• Three Suicide Bombs Kill At Least 20 in Somalia, Al-Shabab Claims Responsibility
• Libyan PM Appeals For 'Common Vision' Ahead Of Crisis Talks
• Libyan players set for Italy summit in fresh bid to solve crisis
• Tension in Benue over release of alleged Boko Haram suspect
• 'Quitting APC is like leaving Boko Haram territory'
--------
North America
• House Democrat Seeks To Ban Saudi Development of Nukes over Khashoggi Murder
• US Official Due in Israel, UAE to Push For Anti-Iran Campaign
• Impact of US sanctions on Iran cushioned by high oil prices, EU-US rift: Reuters
• US Afghan envoy to visit South Asia, Middle East
• US sanctions on Iran: An instrument for regime change
• OPEC to convene in Abu Dhabi amid worries over surging US crude supplies
• US pushing for Yemen talks as it studies terror designation for Houthis
Compiled by New Age Islam News Bureau
URL: https://www.newageislam.com/islamic-world-news/delhis-khirki-masjid-no-rana/d/116845
--------
Delhi's Khirki Masjid No Rana Pratap Fort, Says Archaeological Survey of India
Nov 10, 2018
NEW DELHI: Archaeological Survey of India has finally responded to claims by an unknown group of people that the 13th-century Khirki Masjid at Saket is actually a fort of Rajput warrior Maharana Pratap. It has assured the Delhi Minorities Commission (DMC) in writing and verbally that the monument is safe and is under protection since 1915.
A few months ago, unknown miscreants had struck off the word 'masjid' from the ASI signage at the monument. Then a group of people claiming to be Khirki Masjid area locals had approached DMC, claiming that it was the Rajput king's fort. "As far as we know, there is nothing in recorded history about the masjid ever being a fort of Maharana Pratap. We asked ASI to refute these claims and issue a clarification to end the matter once and for all. If such things are repeated over time, it can lead to unnecessary controversy," said DMC chairman Zafarul Islam Khan.
The ASI superintendent of Delhi zone deposed before DMC and said the agency was fully aware of the historical importance of the mosque. He also said the mosque's name has been written again on the signboard, additional security provided and a stone plaque would be installed at the entrance soon.
ASI has also started repairing the mosque. "ASI said there is nothing in their records to support the claims about the mosque and if something comes to ASI officially, they will issue a statement," Khan added.
ASI also answered a question about prayers not being allowed in the mosque and said Khirki Masjid was not a living monument when it was taken over. If prayers were being offered in a mosque when ASI took over, the same continues under the ASI Act.
A senior ASI official told TOI: "Khirki Masjid is a 13th-century, Tughlaq-era mosque and there is absolutely no question about raising any doubts about it. No one has approached us or written to us with any claim that the masjid was a fort. There is nothing in history to ever indicate any such thing—no documentation, archives, research, books, scientific evidence, nothing.
For us, it's an non-issue."
Khirki Masjid was constructed by Malik Maqbool who was the prime minister of Sultan Feroze Shah Tughlaq. There is no inscription at the mosque to indicate it history, but the Gazetteer of India 1915 mentioned it as Khirki Masjid.
https://timesofindia.indiatimes.com/city/delhi/khirki-masjid-no-rana-pratap-fort-says-asi/articleshow/66561134.cms
--------
LHC to hear treason case against Khadim Rizvi, Fazlur Rehman on Nov 12
Rana Bilal
November 09, 2018
The Lahore High Court on Friday accepted an application for hearing in which the petitioner has asked for the initiation of treason proceedings against Tehreek-i-Labbaik Pakistan (TLP) chief Khadim Hussain Rizvi and the chief of the Jamiat Ulema-i-Islam-Fazl, Maulana Fazlur Rehman, over charges of issuing anti-state statements and inciting people to violence.
Justice Ali Baqar Najafi, while accepting the petition, filed by Advocate Syed Mohammad on behalf of Shabeerullah, has set the case for hearing on November 12 (Monday).
In his application, the petitioner has argued that Rizvi and Rehman criticised the apex court's judgement in the Aisa Bibi case, issued anti-state and anti-military statements and incited people to violence and should thus be prosecuted under the law.
Following their statements, the country was held hostage for three days which was tantamount to "making an attempt to suspend the Constitution", the petitioner has pleaded.
Earlier on Thursday, a sessions court in Lahore had fixed for hearing a petition against police officials for their failure to register a case against Khadim Rizvi, Tehreek-i-Labbaik Ya Rasool Allah (TLYRA) head Ashraf Jalali and others for threatening the top judiciary and inciting the armed forces to stage a mutiny in the aftermath of Aasia Bibi's acquittal.
Filed by citizen Abdullah Malik, the petition stated that the station house officer (SHO) of Civil Lines police station in Lahore had failed to file a first information report (FIR) against the aforementioned individuals.
"The local police is reluctant to take action against the accused [due to] their presence in the ruling class and having direct contacts with the police and others," the petitioner had said.
A copy of the application to lodge an FIR, dated November 1 and addressed to the Civil Lines SHO, notes that TLP leaders had threatened the judges of the Supreme Court, passed an edict to murder the country's Constitutional prime minister and incited their party workers to spark riots.
The petitioner has asked the court to pass orders to ensure legal action is taken against TLP leaders as well as police officials if the latter are reluctant to register a criminal case against the former.
Additional Sessions Judge Mohammad Ahmed Khan Kharal accepted the petition today and directed Civil Lines SHO to furnish his report on November 14.
https://www.dawn.com/news/1444573/lhc-to-hear-treason-case-against-khadim-rizvi-fazlur-rehman-on-nov-12
--------
Forgotten Muslim soldiers of World War One 'silence' far right
9 November 2018
A hundred years since the end of World War One, historians think recognising the contribution of Muslims can help tackle contemporary issues such as Islamophobia.
"Muslim soldiers have been forgotten about over time," Hayyan Bhabha, from the Muslim Experience, says.
"The core far-right narrative is that Muslims have never done anything for us.
"Well, actually, with facts that are over 100 years old, we can say Muslims fought and died for the history and security of Europe."
It is estimated that 1.5 million Indian troops fought to defend Britain. Of those, 400,000 were Muslim soldiers.
The Muslim Experience is working to highlight the global contribution of Muslim soldiers to World War One and says raising awareness could silence anti-Muslim rhetoric by far-right groups in Britain today.
Mr Bhabha says his team is now opening up documents and discovering new information about their role in the War.
"Accessing archives from 19 countries, we have discovered that more than four million Muslims either fought or served as labourers during the War, from around the world," he says.
One of those was Sepoy Khudadad Khan, an Indian soldier who fought alongside British troops.
He was the sole survivor of a team assigned to defend vital ports in France and Belgium from German forces.
According to accounts, Khan managed to hold off the enemy advance long enough for British reinforcements to arrive.
On 31 October 1914, Khan, of the 129th Duke of Connaught's Own Baluchis Regiment, became the first South Asian to receive the Victoria Cross, Britain's highest military honour.
'Feel more British'
Groups such as the Muslim Experience want stories of soldiers to be heard.
They also want more British Muslims to find out if they have a personal connection to World War One.
Just as a local GP in Nottingham, Dr Irfan Malik, did after he had a chance conversation with a patient that led him to discover two of his great-grandfathers had fought for Britain.
Dr Malik's great-grandparents, Capt Ghulam Mohammad and Subedar Mohammad Khan, were two of 460 soldiers from a tiny village called Dulmial, in modern-day Pakistan, sent to fight in the 1914-18 conflict.
"One of my patients is a researcher of Commonwealth contribution to World War One and I told him about a village in modern-day Pakistan where I'm from that has a cannon commemorating the Great War," he says.
"From that point four years ago, my journey began and I found out my two great-grandparents fought for Britain.
"I'm very fortunate to have images from 100 years ago. It means a huge amount to me. It's made me feel more British as we have this shared history in common and I believe it helps community cohesion."
But how connected do British Muslims feel to the War and how aware is the community itself of its links to British military history?
Mr Bhabha thinks some young Muslims in particular are not engaged with British military history.
"Most Muslims are not engaged with military history because they can't relate to it," he says. "The way it is taught currently is very European-centric.
"The history that is taught doesn't show the true diversity of everyone that took part in the First World War."
A study by think tank British Future found just 22% of people in Britain knew Muslims had fought in the Great War.
So, it has launched a campaign, Remember Together, to raise awareness in schools.
Steve Ballinger, from British Future, says: "Finding out that Muslim soldiers fought and died for Britain to protect us and to protect the freedoms we enjoy today, that's an important history for everyone to know."
It has certainly meant a lot to Daleesha Naz, 14, of Eden Girls School, in east London.
"Today I learned that 400,000 Muslims fought in the British Indian army and it has made me feel closer and more connected to British history," she says.
As the 100th anniversary of the end of World War One is remembered, historians, campaigners, and descendants of the soldiers are making sure the contribution of Muslims is never forgotten.
Luc Ferrier, who chairs Forgotten Heroes 14-19 - the umbrella group for the Muslim Experience - says: "If the world really wants to reach out to the international Muslim community, then they need to know the enormous contribution these people have made, fighting a war none of their making.
"Only by recognising and honouring the global Muslim sacrifices, not only these of the British colonies, we are reaching out to them and saying a genuine thank you".
https://www.bbc.com/news/uk-46124467
--------
ISIS claims Melbourne stabbing; Australian police say attack linked to terror
9 November 2018
The ISIS group claimed a stabbing on Friday in the Australian city of Melbourne that killed one person and wounded two others, its propaganda channel said.
"The perpetrator of the operation... in Melbourne... was an ISIS fighter and carried out the operation... to target nationals of the coalition" fighting ISIS, Amaq reported a militant security source as saying.
A knife-wielding man stabbed three people, one fatally, in Australia's second-largest city on Friday in an attack police linked to terrorism.
A video shared on Twitter clearly showed the attacker, a dark-skinned middle-aged man wearing a black sweatshirt, viciously swinging the knife he used to stab the civilians at police officers at the scene. The video also shows another individual, dubbed 'trolley man', quickly barging in with a trolley directly hitting the attacker and stalling him to buy the police some time.
The attack during the afternoon rush hour brought central Melbourne to a standstill. Hundreds of people watched from behind barricades as police tried to apprehend the attacker.
Police said the man got out of a pickup truck, which then caught fire, and attacked three bystanders with a knife. He also attempted to attack police who arrived on the scene before being shot in the chest by an officer.
The suspect died later at a hospital. One of the victims also died, while the two others were hospitalized.
Police said the attacker's vehicle contained several barbecue gas cylinders in the back. A bomb squad rendered them safe without any exploding.
Victoria state police Commissioner Graham Ashton said the suspect, who was originally from Somalia, was known to police and the incident was being treated as terrorism.
"From what we know of that individual we are treating this as a terrorism incident, Ashton told reporters, adding that the police counterterrorism command was working on the case, as well as homicide detectives.
"He's known to police mainly in respect to relatives that he has which certainly are persons of interest to us, and he's someone that accordingly is know to both Victorian police and the Federal intelligence authorities," he said.
Busy weekend
The attack occurred on the eve of a busy weekend in Melbourne, with a major horse race scheduled for Saturday and a national league soccer match the following day. Sunday is also Remembrance Day, when memorial ceremonies for World War I are held.
Ashton said police were "doing security reassessments of these events in light of what's occurred," but there was "no ongoing threat we're currently aware of in relation to people surrounding this individual."
Prime Minister Scott Morrison condemned the "evil and cowardly attack."
"Australians will never be intimidated by these appalling attacks and we will continue to go about our lives and enjoy the freedoms that the terrorists detest," he said in a statement.
One witness said one of the stabbing victims, believed to be a man in his 60s who later died, was stabbed in the face, and that desperate efforts were made to save him.
"Because he was on his stomach, they turned him over to see if he's all right, he was still alive," the witness, Markel Villasin, told Australian Associated Press.
"He was breathing and he was bleeding out."
Video from the scene showed a man swinging a knife at two police officers near a burning car before he was shot.
https://english.alarabiya.net/en/News/world/2018/11/09/Police-report-multiple-stabbing-incident-in-Melbourne.html
--------
Child Marriage: Why It Is Still a Problem In 2018
10 November 2018
KUALA LUMPUR, Nov 10 — The issue of child marriage has cropped up over the years but without much resolution.
While data is scant, Deputy Women, Family, and Community Development Minister Hannah Yeoh in late July announced 14,999 child marriages were recorded between 2007 and 2017, 10,000 were Muslims.
Statistics also pointed to Sarawak having the highest number of registered child marriages.
Meanwhile, the Child Rights Coalition Malaysia reported that records in 2009 showed that 32 children under the age of 10, 447 children between 10 and 14, and 8,726 children in the 15-19 age group underwent pre-marital HIV tests.
That is a total of 9,205 children who might have entered into marriage.
The coalition's data also showed 900 child marriages were approved in 2011 and 1,022 in 2013.
All that came to a head when in July a 41-year-old man from Gua Musang married an 11-year-old girl in Thailand.
In September, a 44-year-old man in Tumpat took a 15-year-old girl as his second wife with the approval from the Shariah Court.
Both cases ignited strong public interest, which led to Prime Minister Tun Dr Mahathir Mohamad on Oct 20, issuing an order to all state governments to raise the minimum legal age for marriage to 18 years for Muslims and non-Muslims.
In the eyes of the law
The Law Reform (Marriage and Divorce) Act 1976 puts the minimum age for marriage at 18 but girls can marry at 16 after obtaining a licence from their state's chief minister.
Those under 16 are not allowed to get married. In addition, the law makes it compulsory for either party who have not reached the age of 21 to seek permission to marry from their parents.
Meanwhile, the Islamic Family Law sets a minimum age of 18 for boys and 16 for girls. But those under the legal age can seek permission to marry from the Shariah Court.
Senior civil and Shariah lawyer Nizam Bashir said although Islamic law is a state matter, it is not to say that the prime minister has no influence.
"Jakim, which is a department under the prime minister's purview, functions as a federal coordinating body vis-à-vis state Islamic agencies. Through Jakim, the prime minister is able to direct how the law develops on this issue.
"Nevertheless, the laws can only be changed either at an executive level through changes in administrative processes; or at a legislative level, through laws passed by the state legislative assemblies or Parliament," he said.
He also said provisions that allowed for child marriages to be approved by chief ministers and Shariah Court judges are ripe for reform.
Under the existing laws, there is no clear outline of what constitutes the criteria for approval or rejection when it comes to child marriages.
"In my experience, when things are that 'mysterious', by and large, that is where abuse can happen. Consequently, all stakeholders should aim to prevent 'mysticism' and to promote transparency and objectivity where the law is concerned," said Nizam.
"Generally, a welfare report ought to be procured and a Shariah judge should consider the report as well as evidence from relevant parties before determining whether it is in the best interest of the child for the marriage to take place."
Child marriage norms
Unicef's stand on child marriage is clear — legal minimum age of marriage is at 18, without exception. This is in line with the Convention on the Rights of the Child that Malaysia has ratified.
Unicef senior child protection specialist Sarah Norton-Staal said she felt encouraged by the prime minister's statement on raising the legal minimum age for marriage to 18.
"Although Pakatan Harapan had promised in its election manifesto to raise the minimum legal age for marriage to 18, instructions coming from the highest level of authority gives weight to this issue.
"While the issue of child marriage doesn't impact a large number of children, it is still cause for concern, especially after the two high-profile cases came to light this year."
However, she pointed that those cases were the outliers and most child marriages are between consenting teenagers.
In a local study by Universiti Kebangsaan Malaysia researchers that Unicef supported, 140 boys and girls involved in child marriage were interviewed and analyses of Shariah Court files.
It found the factors that place children at risk were low household income (correlated with children dropping out of school), poor understanding of sexual and reproductive health issues (led to a higher risk of pregnancy out of wedlock), parents lack an effective intervention support system, and community acceptance of child marriage.
"Majority of child marriages were results of premarital sex, teen pregnancy or facing high risk of pregnancy. Their parents felt it was important to get married, at least to give legitimacy to the children that would be born.
"Social norms accept child marriage is best solution when teens become sexually active or become pregnant, not just in traditional communities, but the issue cuts across rural, urban, ethnic and religious lines," said Norton-Staal, adding that child marriages violate children's rights to education, economic opportunities and good health.
Young mothers are faced with maternal mortality and low birth rate, while boys will have diminished potential and in many cases, unable to support his young family, so parent and communities need to be aware of these problems, she said.
The study also mentioned the lack of reproductive health information among teenagers.
"Taboo on reproductive health education is still evident. The subject is only allocated a very minimal 12 hours a year. The students are not tested on it and teachers are reluctant and uncomfortable to get into it.
"The way it might be presented is not helpful or informative, and even adds to confusion among the students," she said.
She added that pregnant students are not allowed to be in school and the Education Ministry admitted no one takes note of why they drop out of school.
Norton-Staal and her team had field visits to Sabah to speak to communities and native court judges, and found that there was a lack of understanding and awareness on the risks of child marriages.
"However, it is encouraging that the communities and judges are open to learning and wanting to hear more about what we have to share."
Ripe for reform
The UKM study found there is there is no standard operating procedure to guide Shariah Court judges through the child marriage application process as they often rule from the position that child marriage is a viable solution to premarital sexual activity and pregnancy out of wedlock.
According to case files and judges' notes made available to researchers, reasons that Shariah Court judges gave for approving child marriage applications included the children's ability to support a family and manage a household, their memorisation of basic Islamic teachings and the availability of family support after marriage.
While reasons for rejecting marriage applications included any evidence of coercion, lack of consent from a guardian, a lack of knowledge of basic Islamic teachings, unemployment (for male applicants) and a criminal record.
After an analysis of case files (2012 to 2016) from the Shariah Courts of seven states, the study reported that of 2,143 applications for child marriage, only 10 were rejected.
Lawyer and Voice for Children Sharmila Sekaran said there is a public misconception that child marriage is a Muslim issue while statistics have shown it to be a Malaysian one.
"The misconception comes about because Muslim girls below 16 years old can have a pathway to marriage via the Shariah Court while the law for non-Muslims explicitly says girls below age of 16 cannot enter into marriage," she said.
"Shariah Court judges are to use their judgment when deciding on child marriage cases. However, the process doesn't take into consideration that marriage is not the best means to protect a child.
"This is symptomatic of how society has viewed child marriage. Some people have voiced support for child marriage, alluding to it is in the child's best interest."
Child's best interest
Sharmila also said for much of human existence, child marriage was practised by European royalty, in many Asian cultures, Latin America and so on.
Though her NGO work, Sharmila has observed those in child marriages are often inadequate and inept when it comes to parenting as they are still children themselves.
"These young parents are not equipped to guide their children on how to live in an industrialised nation as they need far more skills to provide for themselves.
"Hence, the next generation is caught in a poverty cycle. I also noticed that many child marriages invariably break down for many reasons.
"Today, we have scientific proof that a girl's physiology often does not allow her to carry a child to full term until she is above a certain age threshold. Just because a child is able to become pregnant, it does not mean it is in her best interest to do so."
Sharmila said to eliminate child marriage, the laws have to be in place and then get the of society on board.
"If you want to be a productive nation, the women and children need to be educated, not be married off young. Boys have supported the cause as well because they are also victims.
"You can introduce a moratorium first so people who are already in child marriage are not prosecuted. Of course, it is a process that can take years. But at least the children that come after will not be subjected to child marriages."
Now that the law will be changed in Malaysia, she said it confirms the aspirations of what Malaysians want for their country as well as support for advocacy work on the ground.
https://www.malaymail.com/s/1691899/child-marriage-why-it-is-still-a-problem-in-2018
--------
Turkey arrests dozens of on-duty soldiers over affiliation to Gulen movement
Nov 9, 2018
Turkish security forces have arrested at least 74 on-duty soldiers on suspicion of affiliation to a movement led by US-based opposition cleric Fethullah Gulen, whom the Ankara government accuses of having masterminded the July 2016 coup attempt against President Recep Tayyip Erdogan.
Judicial sources, speaking on condition of anonymity, said the suspects were detained in 32 provinces across Turkey on Friday.
The sources added that the arrests came after Istanbul Public Prosecutor's Office issued arrest warrants for 103 suspects, including colonels, lieutenant colonels and commanders. The search for others is underway.
During the 2016 botched putsch, a faction of the Turkish military declared that it had seized control of the country and the government of Erdogan was no more in charge. The attempt was, however, suppressed a few hours later.
Ankara has since accused Gulen of having orchestrated the coup. The opposition figure is also accused of being behind a long-running campaign to topple the government via infiltrating the country's institutions, particularly the army, police and the judiciary.
Gulen has denounced the "despicable putsch" and reiterated that he had no role in it.
"Accusations against me related to the coup attempt are baseless and politically-motivated slanders," he said in a statement.
The 77-year-old cleric has also called on Ankara to end its "witch hunt" of his followers, a move he says is aimed at "weeding out anyone it deems disloyal to President Erdogan and his regime."
Turkish officials have frequently called on their US counterparts to extradite Gulen, but their demands have not been taken heed of.
Turkey has been engaged in suppressing the media and opposition groups suspected to have played a role in the failed coup.
Tens of thousands of people have been arrested in Turkey on suspicion of having links to Gulen and the failed coup. More than 110,000 others, including military staff, civil servants and journalists, have been sacked or suspended from work over the same accusations.
The international community and rights groups have been highly critical of the Turkish president over the massive dismissals and the crackdown.
https://www.presstv.com/Detail/2018/11/09/579551/Turkey-arrests-dozens-of-onduty-soldiers-over-affiliation-to-Gulen-movement
--------
India
Courts Are Bound To Resolve Family Issues of Muslims In The Light Of Shariah: Qazi AIMPLB
Nov 09, 2018
Panipat: A key meeting entitled 'System of Darul Qaza and family issues' was organised at Jamiat Sout ul Quran affiliated to Nadwatul Ulama, Lucknow. Over a dozen muftis, more than 30 scholars attended the programme. The speakers said that keeping in view the population of the country, at least 1 lakh judges need to be recruited. In the current situation, it takes over 4 years for a case to be resolved through court. On the other hand, in the Darul Qaza under Muslim Personal Law Board the matter can be resolved within weeks with less expenditure. They said Darul Qaza is not a new system. It was prevalent in the countries where there was no Islamic rule. Even during the British period, the system was prevalent.
Qazi Mufti Mohammed Ashiq of Muslim Personal Law Board said that India is a secular country. As per the constitution of the country, every citizen of the country has a right to lead a life according to his own religion. Hence Courts are bound to resolve the family issues of Muslims in the light of Shariah.
https://www.siasat.com/news/courts-are-bound-resolve-family-issues-muslims-light-shariah-1430285/
--------
2 Terrorists Neutralised in Pulwama; Arms, Ammunition Recovered
November 10, 2018
Pulwama: At least two terrorists were killed during an encounter which broke out between them and the security forces on Saturday morning in Jammu and Kashmir's Pulwama district. The police have recovered incriminating material including arms and ammunition from the site of the encounter in Pulwama's Tikun village.
An encounter broke out between the security forces and terrorists in south Kashmir's Pulwama district on Saturday morning. The encounter broke out at the Tikun village of Pulwama following a specific input about the presence of the militants in the area. The number of terrorists present at the spot has not been ascertained yet. More details in the Pulwama encounter are awaited.
Two Kashmiri Hizbul militants were killed on Tuesday in a gunfight with the security forces in Jammu and Kashmir's Shopian district, police said. Following specific inputs about the presence of militants, security forces cordoned off Safanagri village early in the day, prompting the hiding terrorists to fire that led to the encounter, a police officer said.
Full report at:
https://www.india.com/news/india/j-and-k-two-terrorists-killed-during-encounter-in-south-kashmirs-pulwama-arms-and-ammunition-recovered-3422052/
--------
MBT slams anti-Muslim references in new book on Telangana history
10th November 2018
HYDERABAD: The Majlis Bachao Tahreek (MBT) on Friday slammed a new history book -- written by Telangana Rashtra Samithi co-founder Veeramalla Prakash Rao and edited by a retired State bureaucrat -- in which Muslim rulers of the Deccan were allegedly compared to colonial rulers.
Prakash Rao's book, "History of Telangana" which was edited by A K Goel, a former advisor at the State government's Planning & Energy Department and with a foreword by former MP M Narayan Reddy, says that the colonisation of the State "started in 1323 AD after the end of Kakatiyas' rule".
MBT spokesperson Amjed Ullah Khan said, "They have compared Muslim Kings who ruled Deccan as colonial rulers. This is a blatant lie and pure distortion of history. The Muslim kings of Deccan were all born Indians and believed in democracy and secularism. What hurts more is the foreword of the book which was written by Pandit M Narayan Reddy (former Member of Parliament) who writes colonisation of Telangana started in 1323 AD after the end Kakatiyas rule."
Full report at:
http://www.newindianexpress.com/states/telangana/2018/nov/10/mbt-slams-anti-muslim-references-in-new-book-on-telangana-history-1896269.html
--------
Zakir Naik and wife to tour Perlis backed by state government
November 10, 2018
PETALING JAYA: Controversial Indian preacher Dr Zakir Naik is embarking on a five-day speaking tour with his wife, backed by an organisation linked to the Perlis Islamic department and more than a dozen other state agencies and Muslim groups.
It will be Naik's first public appearance after maintaining a low profile since the May elections, which saw the downfall of the Barisan Nasional government with whose leaders Naik had enjoyed close ties, and was granted permanent resident's status.
Naik and his wife Farhat, who have been living in Malaysia amid an investigation by authorities in India over accusations of money laundering and promoting terrorism, will be speaking at mosques, Islamic centres and universities in the state.
The tour is organised by One Centre Malaysia, a Perlis-based organisation headed by Muslim activist Zamri Vinoth, who is a staunch supporter of state mufti Mohd Asri Zainul Abidin.
Among other bodies involved are the Perlis Islamic Religious and Malay Customs Council, as well as the Malaysian Islamic Youth Movement (Abim).
Asri has been among Naik's biggest defenders amid accusations that the preacher, who is accused of promoting Salafism – a controversial strand of Islam that is promoted in Saudi Arabia – is a threat to Malaysia's racial harmony.
Naik has riled up moderate Muslims as well as non-Muslim groups in Malaysia over his speeches on comparative religion. Early this year, a suit by Hindu rights body Hindraf against the previous government for protecting Naik was thrown out by the High Court.
Full report at:
https://www.freemalaysiatoday.com/category/nation/2018/11/10/zakir-naik-and-wife-to-tour-perlis-backed-by-state-government/
--------
Govt clarifies it is not engaging with Taliban at Moscow meet
Nov 10, 2018
NEW DELHI: The government on Friday made it clear that though retired diplomats were asked to attend the 'Moscow Format' meeting on Afghanistan in Russia, but it never meant that India is trying to engage with the Taliban.
Former Indian ambassador to Afghanistan Amar Sinha and former high commissioner to Pakistan TCA Raghavan attended the meeting.
"When did we say that they will hold discussions with the Taliban? We have only said that as per a considered decision by the government, we will participate in the meeting at a non-official level,'' said MEA spokesperson Raveesh Kumar.
The government had apparently sought the view of the Afghan government before deciding to send its representatives. While the Afghan government skipped the meeting, the Afghan High Peace Council attended the Moscow gathering. Sources here said the Afghan government was comfortable with India's decision to participate in the meeting.
Full report at:
https://timesofindia.indiatimes.com/india/govt-clarifies-it-is-not-engaging-with-taliban-at-moscow-meet/articleshow/66562731.cms
--------
Pakistan violates truce in Poonch, BSF jawan hurt
Nov 9, 2018
BSF sources said Pakistani troops opened unprovoked fire in Bhimber Gali sector targeting paramilitary personnel manning forward posts, in which one jawan was wounded. He was rushed to the Command Hospital in Udhampur and is now in a stable condition.
Meanwhile, an Indian Army soldier who had sustained a mysterious bullet injury at a camp in Narain village along the JammuPoonch highway on Thursday, succumbed during treatment later that evening at the Army Hospital in Rajouri district.
https://timesofindia.indiatimes.com/india/pakistan-violates-truce-in-poonch-bsf-jawan-hurt/articleshow/66560719.cms
--------
Noida police hand over missing Sharda varsity student case to J&K cops
by Amil Bhatnagar
November 10, 2018
The Greater Noida Police has closed the missing person's report filed at Knowledge Park police station two weeks ago, in connection with the disappearance of 19-year-old Sharda University student Ahtisham Bilal. Police said they had concluded after investigation that Ahtisham left Delhi on October 28 willingly and the last place he was found active, as per his call details records, was Srinagar.
"We scanned CCTV footage and questioned people to trace his whereabouts. We found that Ahtisham left the city on his own accord and the case now falls under J&K Police jurisdiction owing to his last location. Our team returned from Srinagar after handing over the case," SP (Rural) Vineet Jaiswal said.
Bilal, a first-year student of medical imaging technology at Sharda University, went missing from the campus on October 28. According to police, his last traced location, at 2.30 pm the same day, was in Srinagar.
Three weeks before his disappearance, Bilal was allegedly beaten up by a group following tensions between Afghan and Indian students on the campus.
Full report at:
https://indianexpress.com/article/india/noida-police-hand-over-missing-sharda-varsity-kashmiri-student-case-to-jk-cops-5439891/
--------
Pakistan
Most militants ready to join mainstream, Senate panel told
Kashif Abbasi
November 09, 2018
ISLAMABAD: Balochistan Frontier Corps DIG Brig Rizwan Baig claimed on Thursday that majority of the people [involved in militancy in the province], after having rejected anti-state elements' propaganda, were willing to join the mainstream and, for this purpose, they needed government help for better facilities and chances of livelihood.
Briefing the Senate Standing Committee on Interior, which met at the Parliament House, Brig Rizwan, in response to a question about unrest in Balochistan, said that before the FC was deployed, there were lots of issues, but now the situation had started improving.
He said that the FC had in a bid to help the locals constructed several shops and handed them over to the locals free of cost for doing business, while several other such steps were being taken.
He said that the FC had proposed a date processing plant in Punjgur, while several development works had also been carried out, such as hospitals and schools for the locals.
Brig Rizwan said that the insurgency in Balochistan had the support of vested interests.
He further said that the FC, despite limited capacity, had been providing security to the China-Pakistan Economic Corridor projects and pilgrims and making efforts to minimise the effect of Baloch militants' propaganda and reject the insurgents' anti-state narratives.
He also briefed the committee on FC's organisational structure, achievements and budgetary provisions for enhancing its capacity as well as new and old checkposts.
In his presentation, Brig Rizwan told the committee that the FC needed a Cessna aircraft for operational exigencies such as recce, internal security operations and causality evacuation.
The committee meeting, presided over by Senator Rehman Malik and attended by, among others, senators Kulsoom Parveen, Javed Abbasi, Asad Junejo, Rana Maqbool and Shibli Faraz, appreciated the performance of the FC and observed that for countering terrorism, the measures taken by the FC and other law enforcement agencies were highly commendable.
The committee recommended early release of funds for FC's projects and called upon the government to provide the paramilitary force modern equipment and helicopter on an urgent basis as it was in need of a helicopter to monitor large areas in Balochistan. The committee also recommended fencing of of the Iran-Pakistan border.
The committee took notice of closure of flight operations from several cities of Balochistan and directed the Civil Aviation Authority to submit a report in this regard, as the committee members said that it was the right of the people of Balohistan to avail flight facilities in their native areas.
Banking data hacking
The committee also took notice of hacking of banking data and directed FIA cybercrime director retired Capt Mohammad Shoaib to submit a report on the issue at the next meeting. The FIA official said that his agency was in touch with the State Bank and the committee would be informed about the outcome of meetings between the two sides.
The committee chairman said that the Senate panel would be soon calling a meeting with representatives of banks, the FIA and State Bank.
Aasia Bibi case
In response to a question asked by Senator Javed Abbasi, the special secretary of the interior rejected media reports that the Christian woman recently acquitted of a blasphemy charge by the Supreme Court had left the country.
The official told the committee that Aasia Bibi was in the country and her name had not been placed on the Exit Control List nor the government wanted to do so.
https://www.dawn.com/news/1444473/most-militants-ready-to-join-mainstream-senate-panel-told
--------
One dead, four injured in North Waziristan blast
Nov 10, 2018
MIRANSHAH: At least one person was killed and four others injured in a motorcycle bomb explosion on Friday.
The district administration said that the incident took place in village Eidak of Tehsil Mir Ali in North Waziristan district when explosives planted in a motorcycle went off.
The injured were shifted to Miranshah hospital where some were shifted to District Headquarters Hospital Bannu.
Security personnel cordoned off the area after the blast and launched a search operation.
https://www.pakistantoday.com.pk/2018/11/09/one-dead-four-injured-in-north-waziristan-blast/
--------
SC suspends PHC's acquittal of 73 terrorists convicted by military courts
Nov 10, 2018
ISLAMABAD: The Supreme Court (SC) on Friday stayed the release of 73 terror suspects, suspending a Peshawar High Court (PHC) verdict setting aside their convictions that had been awarded by military courts
A two-member bench of the SC headed by Justice Azmat Saeed also ordered the jail superintendent to halt the release of the accused.
The accused had received varying sentences, including death, in a number of cases. The PHC had recently overturned the military court sentences on the basis of a lack of evidence. The Defence Ministry had subsequently filed appeals against the PHC's decision.
As the top court heard an appeal challenging the suspension on Friday, Additional Attorney General (AAG) Sajid Ilyas Bhatti contended the possibility that the high court "had not examined the facts properly" and added that the suspects had been charged with serious terror-related crimes.
He requested the court to restore the sentences so that the judicial process is not compromised.
The apex court responded by staying the high court's judgement and barred jail superintendents from releasing the convicts.
The hearing was adjourned for an indefinite period of time.
Earlier in November, the SC restrained authorities from releasing over 70 individuals who were convicted by military courts on the charge of militant activities.
The Ministry of Defence had filed an appeal against the PHC verdict that set aside convictions of 73 persons convicted by military courts on terrorism charges, including suicide attacks and killing of law enforcement personnel and civilians.
AAG Bhatti had appeared before the bench and stated that the cases which have been dealt under Army Act could not be considered through ordinary laws, adding that the PHC while deciding the matter overlooked certain principles.
After a brief hearing, the bench restrained the federal government to release individuals. The bench while issuing notices to respondents has adjourned the hearing for an indefinite period.
It is pertinent to note that PHC suspended the convictions awarded by military courts in various cases. The chief of the army staff had confirmed the death sentence of the convicts, however, the families of the convicts had challenged the order in the court which stayed their execution.
After the end of the three-day hearing on Oct 18, the court had accepted the petitions filed mostly by close relatives of the military court's convicts majority of whom were sentenced to death on account of different acts of terrorism.
The bench observed that the entire judicial confessional statements recorded in Urdu were 'in one and the same handwriting and in one specific tone/style'.
"It is admitted at the bar that for Khyber Pakhtunkhwa there were in all three Field General Court Martial courts and each and every document on file would show that all the three courts were functioning on one and the same pattern not even a single accused has deviated differently to the questions put on him," it pointed out.
The bench said the questions put to all accused were same with exactly the same answers in all cases also for the purpose of engaging a private counsel. "The same format would reflect there were planned proceedings in all the said three courts."
Full report at:
https://www.pakistantoday.com.pk/2018/11/09/sc-suspends-phcs-acquittal-of-73-terrorists-convicted-by-military-courts/
--------
Functions held to mark Allama Iqbal's birth anniversary
November 10, 2018
PESHAWAR: Different organisations and educational institutions Friday arranged seminars and other functions in the provincial capital and elsewhere in Khyber Pakhtunkhwa to mark the birth anniversary of the National Poet Allama Mohammad Iqbal.
A seminar was held at the Pakistan Study Centre University of Peshawar. Faculty members, staff and students attended the seminar. Director of the centre Prof Dr Fakhrul Islam was the keynote speaker.
He highlighted various aspects of Iqbal's personality especially his political and philosophical role.
Dr Fakhrul Islam said that Allama Iqbal not only occupied key positions in All India Muslim League but was elected member of the Punjab Legislative Assembly.
He said the greatest contribution of Allama Iqbal was his 1930 address of Allahabad wherein he presented a roadmap for autonomy and ultimate freedom of Indian Muslims. He urged the young generation to study Iqbal's thoughts and vision. Al-Khidmat Foundation arranged a function at a local hotel to mark the birthday anniversary of the great thinker and poet.
Full report at:
https://www.thenews.com.pk/print/391935-functions-held-to-mark-allama-iqbal-s-birth-anniversary
--------
Fazl says Aasia Bibi released under foreign pressure
Muhammad Jalil
November 10, 2018
CHAKDARRA: Jamiat Ulema-e-Islam-Fazl (JUI-F) chief Maulana Fazlur Rehman on Friday said the release of Aasia Bibi in the blasphemy case was the outcome of immense foreign pressure.
He was speaking at the Ulema conference in Chakdara in Lower Dir district. "I stand by my claim that Imran Khan is an agent of Jews and today all other political parties are backing my claim," the JUI-F chief said.
JUI-F leaders Maulana Gul Naseeb Khan, Mufti Kifayatullah, Maulana Rahat Hussain, Maulana Gul Rahim, Maulana Rashid Mehmood, Mufti Fazal Ghafoor, Hafiz Hussain Ahmad, Maulana Zahid and Maulana Imran Hilali, Pakistan People's Party's former lawmaker Bakht Baidar, Jamaat-e-Islami's former provincial minister Muzaffar Sayyid, Awami National Party's Hussain Shah Yousafzai and Pakistan Muslim League-Nawaz's Nadeem Khan and others attended the convention.
The Maulana, who is also president of the five-party religio-political alliance, Muttahida Majlis-i-Amal (MMA), said inflation had broken all previous records and those who had announced to create 10 million new jobs had defamed the country by begging around the world.
The JUI-F leader said the PTI government was the creation of rigging as the mandate of the political parties was stolen. "It isn't acceptable to us," he declared.
He said that many Western countries and the US had lauded the Supreme Court verdict acquitting Aasia Bibi in the blasphemy case and releasing her. "Our struggle would continue until the government that was formed with the help of the Jewish lobby was shown the door," Maulana Fazlur Rehman said.
He said people were ready to take to streets for sake of the dignity of Holy Prophet Mohammad (peace be upon him) as it was part of the Muslims' faith."We have no enmity with Europe and the US but we are opposing them because they want to strip Pakistan of its Islamic identity," the JUI-F head said. He claimed they were striving to defend the constitution and sovereignty of the country.He said Prime Minister Imran Khan deceived the nation particularly the youth by promising to create 10 million jobs and constructing five million houses.
The Maulana said the Pakistani rupee depreciated in value against the US dollar and this triggered inflation in the country. "Imran Khan had gone to China with a begging bowl but the Chinese government gave him nothing. We should not expect any good from the government that was formed on the basis of rigging," he stressed.
Full report at:
https://www.thenews.com.pk/print/392033-fazl-says-aasia-bibi-released-under-foreign-pressure
--------
Fingerprints, other evidence collected from scene of Samiul Haq's murder
Mohammad Asghar
November 10, 2018
RAWALPINDI: The police has collected the fingerprints of three separate individuals and a bloodstained kurta, among other evidence, from the scene of Maulana Samiul Haq's murder.
Sources said the police were unable to establish who hung the kurta in the bathroom, from where it was recovered, and are waiting for a forensic laboratory report that they believe will help them solve the murder case.
Police also believe that the fingerprints will help them ascertain the number of individuals present in the room.
More than 25 different samples collected from the scene of the murder have been sent to the laboratory.
They said the police have also been questioning people who had been in telephonic contact with Haq during the last month, or if they had been called by Haq himself.
They have also been working on mobile phone calls made by Haq's secretary Ahmed Shah, although Mr Shah has not been formally interrogated by the police so far.
No one has been accused in the FIR registered with Airport police regarding the murder by the complainant. This is contrary to normal practice, as several people are usually nominated in murder cases.
An investigating police officer said the complainant may nominate someone, as the investigation into murder cases is launched after the forensic laboratory's report.
Dr Ghias Gul Khan, who was recently posted senior superintendent of police (SSP) investigation Rawalpindi and was leading the investigation in Haq's murder, has been transferred and posted as principal of the Rawalpindi Police Training School.
Amir Abdullah Khan Niazi, currently posted as the SSP operations Gujranwala, has been transferred to Rawalpindi as the SSP investigation. Saqib Sultan Al Mehmood, who was awaiting posting, has been posted as SSP operations Gujranwala.
Full report at:
https://www.dawn.com/news/1444630/fingerprints-other-evidence-collected-from-scene-of-samiul-haqs-murder
--------
Journalists vow to 'resist attempts to harass' media after KPC incident
November 10, 2018
KARACHI: Journalists marched from Karachi Press Club to Governor House on Friday and staged a protest against trespassing of KPC by armed men of a security agency in plain clothes and vowed to "resist attempts to harass free media".
Led by KPC president Ahmed Malik and secretary Maqsood Yousufi, the journalists carried placards and chanted slogans to deplore Thursday night's incident in which armed men in plain clothes entered Karachi Press Club and harassed journalists.
According to a statement issued by the club's office-bearers, the armed men entered KPC at 10:30pm, harassed journalists, searched different rooms, kitchen, the building's upper floor and the sports hall. They forcibly made videos and took pictures with mobile cameras.
The incident drew indignation from the journalist fraternity. A large number of them attended a meeting at the club on Thursday and later marched to Governor House to lodge their protest.
Sindh Governor Imran Ismail met the club's office-bearers and assured them of his support for a free media.
The Pakistan Federal Union of Journalists expressed concern over the incident and in a statement termed it an attempt to harass the media.
"Let the PFUJ make it clear to such elements that journalists cannot, and will not, be cowed down by such tactics aimed at controlling the media," the statement quoted PFUJ President Afzal Butt and Secretary General Ayub Jan Sarhandi as saying. "If such elements or institutions think that journalists will back out from their struggle for a free media and the right to expression, they are sadly mistaken."
The Sindh government has confirmed that the armed men who had intruded into the club were associated with a law enforcement agency, but it said the move was a result of "some misunderstanding".
"An initial inquiry into the episode has revealed that the law enforcers went there [Karachi Press Club] due to some technical problems with their GSM locator. It all happened due to some misunderstanding," Murtaza Wahab, adviser to the Sindh chief minister on information, said in a statement on Friday.
Dr Amir Ahmed Shaikh, the Karachi police chief, told Dawn that he had ordered an inquiry into the incident and assigned South SSP Pir Muhammed Shah for the job. The SSP has already visited the KPC and met its office-bearers, he added.
"The senior police officer informed the office-bearers of the KPC about the actual situation and the journalists were satisfied with the version given to them by police," said the city police chief.
Full report at:
https://www.dawn.com/news/1444722/journalists-vow-to-resist-attempts-to-harass-media-after-kpc-incident
--------
Farooq Sattar expelled from MQM-P for violating 'party discipline'
November 09, 2018
Disgruntled Muttahida Qaumi Movement-Pakistan (MQM-P) leader Dr Farooq Sattar has been stripped of his basic membership of the party, it was announced on Friday.
The decision to expel Sattar from the party was taken at a meeting of the MQM-P coordination committee, chaired by convener and federal minister Dr Khalid Maqbool Siddiqui, in Karachi.
The committee during the meeting was briefed about the show-cause notice that was issued to Sattar for "frequent violation of party discipline" and the reminder that was sent to him after the senior leader failed to respond to the show-cause.
"Considering all details, the coordination committee has unanimously decided to strip Dr Farooq Sattar of the party's basic membership for his serious violations of party discipline and constitution, grouping within the organisation and other serious party violations," said a statement issued by the committee.
"The coordination committee has directed all workers not to maintain any sort of contact with Dr Farooq Sattar from today onwards. Strict action will be taken against those who violate [this directive]."
Following the announcement, a meeting has been called at the PIB Colony residence of Sattar.
According to Kashif Khan, a member of the 'organisation restoration committee' (ORC) formed by Dr Sattar last month, workers have been instructed to gather at Sattar's residence, where the former convener will announce his strategy for the future.
The decision to expel Dr Sattar comes over a week after he was formally removed from the party's top decision-making forum by his rivals as they accepted the resignation he had tendered as a member of the coordination committee in September.
Dr Sattar was removed from the committee a day after he formed a parallel body — the organisation restoration committee — against the coordination committee and announced launching a struggle to reorganise the MQM-P on ideological grounds.
Rifts in the party
Differences in the party had emerged on February 5 over the distribution of tickets to party candidates for the March 11 Senate elections. Dr Sattar, then convener of the party, insisted on giving a ticket to Kamran Tessori despite strong opposition.
Eventually, the differences caused the party to split into Bahadurabad and PIB factions. Dr Sattar was removed from the post of convener and Dr Siddiqui took his place. Four months later, both the factions reunited to contest the July 25 elections.
On September 13, Dr Sattar — who lost the general elections on two National Assembly seats — resigned from the membership of the coordination committee and on October 12 he held a press conference and demanded intra-party elections and warned that he would work for an MQM-Nazriati [ideological] if his demands were not met.
Full report at:
https://www.dawn.com/news/1444591/farooq-sattar-expelled-from-mqm-p-for-violating-party-discipline
--------
Pakistan supports intra-Afghan peace agreement at Moscow moot
Tahir Khan
NOVEMBER 10, 2018
ISLAMABAD: Pakistan favours an intra-Afghan agreement to the end the Afghan conflict, a senior Pakistani diplomat told representatives of regional countries, the United States and Taliban political envoys in Russia.
The head of the Taliban delegation, Sher Abbas Stanekzai, in his address laid out the demand for the US forces to immediately leave Afghanistan, according to a delegate.
A three-member Pakistani delegation was led by Additional Secretary at the Foreign Office, Muhammed Aejaz, who said at the conference, "an intra-Afghan agreement on ending the conflict and initiating meaningful reconciliation can lay the foundation for a peace process to take shape, around which regional and international guarantees and support could ultimately coalesce to form a long-term sustainable solution."
Representatives from 11 countries, including the US, attended the Moscow-format consultations that were held at a time when representatives of the Taliban and the US have held two meetings in Qatar over the past four months.
Zalmay Khalilzad, Special Representative for Afghanistan Reconciliation Ambassador, has embarked on a visit to Afghanistan, Pakistan, the United Arab Emirates, and Qatar with an interagency delegation from November 8-20, the US State Department says.
He will meet with Afghan government officials and other interested parties to advance the goal of an intra-Afghan dialogue and negotiations that include the Taliban and lead to a sustainable peace. A sustainable peace requires that all Afghans have a say in their country's future, said the statement, posted online.
Aejaz said Pakistan believes that there is no military solution available and only a political solution, fully cognizant of and responsive to the hard core socio-cultural, political and economic realities of Afghanistan, can restore peace in the country.
"We must admit that it remains a difficult goal to achieve because it demands flexibility from all sides, especially on the hardened positions and stances, and a willingness to negotiate without pre-conditions, so that new ideas and peace efforts could find greater space to emerge and steer the Afghan peace process," he went on to say.
Head of the High Peace Council Haji Din Muhammad shook hands with leader of the Afghan Taliban Qatar office Abbas Stanekzai during the meeting.
The HPC delegation told the Taliban representatives that it is ready for peace talks.
"We discussed the subject of direct talks with the Taliban and asked them to choose the place and the starting time," said Ehsan Tahiri, High Peace Council spokesman, according to Russia's RIA news agency.
The text of Aejaz's address to the conference released by the Foreign Office shows that he argued that time has come for all stakeholders to directly and clearly engage among one another to understand each other's positions and concerns for making such discussions purposeful.
He said Pakistan's desire to see complete peace and stability in Afghanistan emanates from a number of factors including its unique geographic position and border with Afghanistan; "The heavy price we have paid due to unabated conflict in the country for 40 years; the resultant security concerns and a realisation that peace, stability and prosperity in Afghanistan is critical for Pakistan's own stability and progress."
He reminded the delegates that Pakistan has also kept urging all stakeholders over the years to work together for creating favorable conditions for a result-oriented peace process, as no single country has the ability to help in breaking the existing stalemate in Afghanistan.
"Such an approach is also necessary to cater the concerns and individual perspectives of immediate neighbors of Afghanistan, who have been most affected by the conflict. This is important for long-term sustainability of a solution agreed by the Afghans among themselves," he insisted.
He reiterating Pakistan's stated position that providing an enabling environment for peace and reconciliation in Afghanistan remains a shared responsibility, adding Pakistan remains ready to wholeheartedly play its part in making this collective strategy a success.
The Russian foreign ministry said earlier that invitations to attend the event had been sent to participating countries – Afghanistan, India, Iran, Kazakhstan, Kyrgyzstan, China, Pakistan, Tajikistan, Turkmenistan, Uzbekistan, and the United States.
President of Afghanistan Mohammad Ashraf Ghani Ahmadzai had made a decision to send a delegation of the Afghanistan High Peace Council, which is mandated to hold peace negotiations with the Taliban.
For the first time, a delegation of the Taliban's political office in Doha, Qatar, took part in an event of this kind.
Russian Foreign Minister Sergey Lavrov, Russian Deputy Foreign Minister Igor Morgulov and special Representative of the Russian President on Afghanistan Amb. Zamir Kabulov also joined the delegates.
Full report at:
https://dailytimes.com.pk/320405/pakistan-supports-intra-afghan-peace-agreement-at-moscow-moot/
--------
Europe
Germany: Jewish leader slams attacks against mosques
09.11.2018
By Ayhan Simsek
BERLIN
A prominent German Jewish leader on Friday expressed alarm over growing intolerance and violence against religious minorities, immigrants and asylum seekers in the country.
"It's a scandal that more and more mosques are vandalized by hate slogans or attacked on a massive scale," said Josef Schuster, head of Germany's Central Council of Jews.
He made the remarks at a ceremony held in a Berlin synagogue, marking the 80th anniversary of Kristallnacht, a wave of violent anti-Jewish pogroms in 1938.
Schuster expressed concern over the rise in xenophobic attacks in recent years, which often targeted Jews, Muslims, immigrants and refugees.
"Such things happening in Germany in 2018 are a shame for our country," he said.
Schuster accused the far-right party Alternative for Germany (AfD) for inciting hatred against asylum seekers and Muslims.
"They are the spiritual arsonists," he said.
Germany has witnessed growing Islamophobia and hatred of migrants in recent years triggered by a propaganda from far-right and populist parties, which have exploited fears over the refugee crisis and terrorism.
Some 950 Muslims and Muslim institutions were attacked in 2017, according to the official figures.
At least 33 Muslims were injured in these attacks, which included assaults against Muslim women wearing headscarves and attacks against mosques and other Muslim institutions.
https://www.aa.com.tr/en/europe/germany-jewish-leader-slams-attacks-against-mosques/1307284
--------
Swedish official under probe over social media post associating Muslim call to prayer with terrorism
Nov 10, 2018
Prosecutors are investigating a top city official in southern Sweden over Islamophobic remarks he made on social media.
Christopher Larsson, vice mayor of the southern coastal city of Karlskrona, is accused of committing a hate crime in a post he shared on social media last year.
On Facebook, arguing that Karlskrona should not allow the adhan, or the Muslim call to prayer, to be broadcast over speakers, Larsson wrote: "Allahu Akbar will echo through the skies of Karlskrona in the same way Islamists shout it when blowing themselves up."
Magnus Manhammar, a Social Democratic Party MP, filed the criminal complaint against Larsson, and local daily Blekinge Lans reported that the regional prosecutor's office began an investigation.
Larsson, a member of the conservative Swedish Democrats, argued that he had not insulted Islam or Muslims.
Full report at:
https://www.dailysabah.com/europe/2018/11/09/swedish-official-under-probe-over-social-media-post-associating-muslim-call-to-prayer-with-terrorism
--------
British police warn unnamed Saudi of 'life-threatening danger'
Nov 9, 2018
The British police have warned a Saudi dissident of a "life-threatening danger," saying that he was placed under its protection.
A London-based Saudi opponent was quoted by BBC-Arabic on Tuesday night as saying that the UK police placed him under tight protection after being warned of a "life-threatening danger."
London police refused to comment on the incident.
The Saudi opponent, who was not named for security reasons, affirmed that he was placed under tight protection for all the day hour after UK police realized last week a danger threatening his life.
The Saudi opponent, who has been an asylum seeker in London for several years, was subjected to numerous threats and physical assaults.
He told BBC-Arabic that the security threats were monitored by the British counterterrorism unit via the communications intercept programs.
Several Saudi opponents have left Saudi Arabia towards Western countries, flying from the Kingdom's restrictions. However, Saudi authorities denied the claims, affirming Riyadh's commitment to human rights values.
British authorities didn't comment on the story till Friday.
The police warning came more than a month after the Saudi journalist Jamal Khashoggi, who was critical of the Saudi crown prince, was strangled and dismembered at the Saudi Consulate in Istanbul on Oct. 2 by a 15-member assassination squad.
Many observers, including some prominent US lawmakers, suspect Saudi Crown Prince Mohammed bin Salman had some role in ordering the murder. Turkish officials have also suggested that the orders came from the highest levels of the Saudi royal family, but Ankara has repeatedly said it does not believe the crown prince's father, King Salman, was behind the killing.
The UK-Saudi Arabian relationship is seen in Whitehall as a diplomatic, security and economic necessity.
The UK has as many as 100 military personnel in Riyadh, partly reflecting a military but also an intelligence relationship that stretches back to before the Second World War.
But the importance of Saudi trade for the economy is hotly disputed with critics of Riyadh claiming it is exaggerated, or focused on specific industries, such as arms production for which alternative export markets could be found.
Advocates of the Saudi relationship claim that as Riyadh seeks to diversify out of oil and military equipment, the UK is well-placed to secure deals in green energy, health, education and infrastructure. The agreed goal signed in March by the crown prince during his visit to London is £65 billion ($90 billion) of mutual trade and investment.
Britain sold £6.2 billion worth of goods and services to Saudi Arabia in 2016. Much of this trade has a bias towards defense, an industry that employs 2.5 million people in the UK.
Full report at:
https://www.presstv.com/Detail/2018/11/09/579562/UK-police-place-unnamed-Saudi-under-tight-protection
--------
Norway suspends licenses for arms export to Saudi Arabia
Nov 9, 2018
Norway has suspended new licenses for arms exports to Saudi Arabia following the killing of journalist Jamal Khashoggi in the kingdom's consulate in Turkey and Riyadh's campaign against Yemen that has been devastating the poor country since March 2015.
"We have decided that in the present situation we will not give new licenses for the export of defense material or multipurpose goods for military use to Saudi Arabia," Norway's Foreign Minister Ine Eriksen Soreide said in a statement on Friday.
The decision was made after "a broad assessment of recent developments in Saudi Arabia and the unclear situation in Yemen," according to a statement by the foreign ministry.
A foreign ministry spokesman declined to say whether the decision was partly motivated by the killing of Khashoggi in Istanbul on October 2.
Last month, Germany said it would suspend arms exports to Riyadh until clear explanations were made about the murder.
Norway has already summoned Saudi Arabia's ambassador to protest Khashoggi's killing.
Full report at:
https://www.presstv.com/Detail/2018/11/09/579556/Norway-arms-export-Saudi
--------
EU to take joint stance at end of Khashoggi probe
09.11.2018
By Serife Cetin
BRUSSELS
The European Commission said Friday they are discussing a joint stance for Saudi Arabia following the killing of Saudi journalist Jamal Khashoggi.
"In any case, the member states are in contact with one another," commission spokeswoman Maja Kocijancic said, in a daily press briefing in Brussels.
She added that the joint stance would be taken once the results of the investigation into Khashoggi's murder are revealed.
Khashoggi, a columnist for The Washington Post, went missing after entering the Saudi Consulate in Istanbul on Oct. 2.
After weeks of denying involvement, the kingdom admitted that Khashoggi had been killed at the consulate but claimed that the Saudi royal family had no prior knowledge of a plot to murder him.
So far, 18 people, including security officers, have been arrested in Saudi Arabia in connection with the murder.
Last week, Turkish prosecutors announced their preliminary findings, saying Khashoggi was strangled to death in a premeditated killing soon after he entered the consulate.
The Istanbul Chief Public Prosecutor's Office said Khashoggi's body was disposed of after being dismembered.
Full report at:
https://www.aa.com.tr/en/europe/eu-to-take-joint-stance-at-end-of-khashoggi-probe/1307282
--------
Brexit must not block battle against ISIS, says ex-Nato chief
November 9, 2018
France and Britain must strengthen their military and security ties to tackle the growing threat from terrorism with a depleted ISIS still posing a threat for years to come, a former British head of Nato and an ex-French premier have warned.
Nationals from the two countries travelled to fight for ISIS in greater numbers than from any other European Union nation, underscoring the threat to security cooperation caused by Britain's decision to leave the 28-nation bloc, they said in a report.
George Robertson, a former Nato secretary general, and French ex-premier Bernard Cazeneuve, warned that the 114-year military alliance between the two countries had been weakened in the face of emerging threats from terrorism, cyber espionage and instability in the Middle East.
"The future of Franco-British cooperation is precious but has never been so precarious in the face of the emergence of new threats, American isolationism and Brexit," according to the report published by French think tank Institut Montaigne and King's College London.
The countries are vulnerable to further attacks – each was hit by five in 2017 – after an estimated 2,000 nationals combined from both countries travelled to Syria and Iraq.
"Violent, Islamist-inspired extremism poses an immediate and significant danger to both countries," the report said. "Returning foreign fighters will likely continue to spread their message, both during and following custodial sentences – prisons are, after all, noted hotbeds of radicalisation."
France and Britain currently share data on security threats and investigations through European institutions but the collaboration is threatened by the fallout from the decision by UK voters in 2016 to leave the European Union.
The report was released as the countries' leaders, prime minister Theresa May and president Emmanuel Macron, met in France with a deadline fast approaching to strike a deal to ensure continued trade and security cooperation after Brexit.
Mrs May, in France to honour the war dead from the First World War from both countries, said the visit was an opportunity to reflect on past battles but also to look to a shared future "built on peace, prosperity and friendship".
The two countries agreed deals in 2010 to run joint military operations and to cooperate more closely in nuclear development and through defence industry projects. But a joint rapid-response unit is not expected to be ready until 2020 and the two countries face potential friction over attempts to sell rival fighter aircraft in Middle Eastern markets, the report said.
"In our view, competition for exports – particularly when defence budgets are tight – is likely to reduce incentives to cooperate on developing major weapons systems," the report said.
Britain sees the US as its main ally and could distance itself further from Europe after Brexit to try to broker new global alliances.
Full report at:
https://www.thenational.ae/world/europe/brexit-must-not-block-battle-against-isis-says-ex-nato-chief-1.789938
--------
Australia
Violent Islam terror attack strikes Melbourne's Bourke Street
Nov 10, 2018
Hassan Khalif Shire Ali, the terrorist who drove a burning ute into the heart of ­Melbourne's Bourke Street yesterday and stabbed three people, killing one, had links to Islamic extremists, was a person of interest to Victoria Police and was known to federal intelligence agencies.
Searches of premises were made in Melbourne suburbs this morning, including of a house where family .
The killer — confirmed by police today as Hassan Khalif Shire Ali, aged 30 — was shot in the chest at close range by police after his ute, full of gas cylinders, exploded on Bourke Street near the mall.
Shire Ali stabbed three men, with a man in his 70s dying at the scene and two others recovering in Royal Melbourne Hospital. The dead victim has been identified as a co-owner of the long-established coffee house Pellegrini's Espresso Bar, Sisto Malaspina. The older injured man has been named as Rod Patterson, a businessman from Tasmania.
The Weekend Australian understands police will investigate whether Shire Ali, who died in Royal Melbourne Hospital last night, had links to Islamic extremism and radicalised members of the Somali community.
Today police said they had spoken with the wife of the offender.
"Joint Counter Terrorism Team investigators are executing search warrants at two addresses in Werribee and Meadows Heights this morning,'' a police statement also said.
"More information will be provided when it's appropriate to do so.''
The Herald Sun reported that police had been standing guard at a Werribee home since about 8am and it was understood the attacker's family were inside the house and were co-operating with police.
Victoria Police Chief Commissioner Graham Ashton said today on the Today Show that Shire Ali's car contained gas cylinders and it was believed he intended to cause an explosion.
"It looks like he's attempted to ignite a fire in the car, we believe at this stage with a view to igniting those canisters with some sort of explosion, but that didn't eventuate," Commissioner Ashton said.
He said Shire Ali was known to police and federal intelligence authority ASIO. "He's someone that was known to us," he said.
"But he wasn't someone we were actively monitoring to that level."
When asked if police should have shot Shire Ali in the leg rather than the chest, Commissioner Ashton said police were trained to kill if they believed their life or a member of the public's life was at risk.
"We don't train people to wound people with firearms," he said. "You're trained to shoot to kill, not to shoot to wound."
He said police had worked through the night and did not believe there were any ongoing threats to the public.
Commissioner Ashton also said there was no suggestion that Shire Ali was inspired by James "Dimitrious" Gargasoulas, who is on trial facing six charges of murder after allegedly mowing down pedestrians in January 2017. Islamic State has claimed responsibility for the attack.
The commissioner confirmed yesterday the incident was terrorism and that Shire Ali, who arrived in Australia from Somalia in the 1990s, had relatives who were persons of interest to Victoria Police.
Shire Ali, who had convictions for cannabis use and theft, was also known to federal security agencies, he said. "We are treating this as a terrorism incident," Mr Ashton said. "In relation to that person, he is known to police. And he's known to police, mainly in respect to relatives he has that are certainly persons of interest to us.
"He's someone that accordingly is known both to Victoria Police and to the federal intelligence authorities."
Premier Daniel Andrews said: "These are traumatic events, they are terrifying."
But he added: "We will not be defined by this."
It was a sentiment echoed by Scott Morrison, who said: "Australians will never be intimidated by these appalling attacks."
Hundreds of stunned onlookers had watched as the tall, heavy-set man wearing a tunic stumbled on to Bourke Street about 4.10pm, brandishing a large knife.
Onlookers said the stabbing victim had approached the ­attacker after the ute mounted the footpath. The victim was then ­fatally stabbed in the chest. ­Another ­victim was reportedly stabbed in the neck.
Two police, with two civilian onlookers circling, then attempted to calm the attacker but he lunged multiple times at an officer before his partner shot him at close range in the chest. Two other rapid-­response police pounced on the man as blood from his wound poured on to the footpath.
It was the third horrific police incident involving a vehicle and multiple casualties in the centre of Melbourne in fewer than two years.
Superintendent David Clayton said the first police on the scene had been confronted by the man, as the four-wheel drive Holden Rodeo sat blazing on the ­opposite footpath.
"As they got out of the car, they were confronted by a man brandishing a knife and threatening them," he said. "At the same time, passers-by were calling out that members of the public had been stabbed. Police shot the man."
Multiple videos emerged on ­social media of the attacker ­lunging several times at police ­officers, apparently with a knife, before the second officer shot him at very close range. In the videos, one of the two ­civilians alongside the police officers is seen trying to disable the man with a shopping trolley, while the other is carrying a wooden chair.
Other footage shows the ­attacker being restrained by police, after being shot. Footage taken before the ­attacker is shot shows the ute slowly progressing down the Bourke Street hill, with its roof ablaze. The vehicle then mounts the kerb and explodes in a ball of flames, sparking fears of a bomb. Alex Dickinson, 33, was walking to the hairdresser on Bourke Street mall when he saw a man approach the car.
"This bystander ... went to see if he was OK, then someone ­jumped out of the car and he was carrying a knife," Mr Dickinson said. "We looked up and saw a six-foot black dude with no hair."
Witness Ana Kostakos told the Herald Sun: "Police tried hard to beat him down with a baton but he wasn't giving in, he wasn't even running away — he was going towards them. There was a guy with a shopping trolley trying to help but everybody was running in all ­directions. People were trying to help victims because he was just knifing at random.
"The security (guard) from the building next door was also stabbed, but I saw he was sitting up so we know he survived."
University of Melbourne commerce student Daniel Rachvuch, 20, who narrowly survived the Bar­celona terror attack in August last year, said he was " sitting 20m away when I heard this explosion, and it was a car that was engulfed in flames".
He saw the driver nearby and "(he) was wielding a knife, running around the police, ­tentatively looking at them before lunging at one of them, then deciding to back off and run into a shop," Mr Rachvuch told The Weekend Australian.
"The car was still raging with flames. He was yelling at the police officers, he looked very ­distressed. I was in the terrorist attack in Barcelona when the car missed me by a couple of metres; now in the Melbourne CBD, where you think it would never happen.''
Mr Dickinson's friend Tony Nguyen, 26, a radiography student, said the killer's weapon looked like a kitchen knife "and that's when we ran".
Markel Villasin, 22, was finishing his shift at KFC on Bourke Street as the drama unfolded.
"Me and the managers ran out and that's when we saw the car on fire and then we saw the guy on the floor and we wanted to help," Mr Villasin said.
"There were two blokes helping him out already — he was face-down (with) pools of blood around his face.
"I'm pretty sure he got stabbed in the face.
"I really wanted to help but I was in shock, I didn't know what to do. Because he was on his stomach, they turned him over to see if he's all right. He was still alive."
https://www.theaustralian.com.au/national-affairs/national-security/violent-islam-terror-attack-strikes-melbournes-bourke-st/news-story/b890662662c9c5a1e85c176f583d2493
--------
Melbourne knife attacker inspired by Islamic State, police says
Nov 10, 2018
A Somali-born man who set fire to a truck laden with gas cylinders in the centre of Melbourne and fatally stabbed one person was inspired by Islamic State but did not have direct links with the group, Australian police said on Saturday.
Police identified the man responsible for Friday's attack as 30-year-old Hassan Khalif Shire Ali and said he was radicalised and inspired by the militant group's propaganda. He was shot by police and died in hospital.
Police said Shire Ali's Australian passport was cancelled in 2015 after an intelligence report he planned to travel to Syria, but an assessment was made that while he had radical views, he posed no threat to national security.
Islamic State had claimed responsibility for the attack, which came two days before Remembrance Day, marking 100 years since the end of World War One, without providing any evidence.
"I think it is fair to say he (Shire Ali) was inspired. He was radicalised," Australian Federal Police Acting Deputy Commissioner Ian McCartney told reporters in Melbourne.
"We're not saying there was direct contact. We're saying it was more from an inspiration perspective." Prime Minister Scott Morrison said the national terrorism advisory remained at "probable", the midpoint of a five-tier system, and told reporters in Sydney that radical Islam was the issue.
"I need to call it out. Radical, violent, extremist Islam that opposes our very way of life. I am the first to protect religious freedom in this country, but that also means I must be the first to call out religious extremism," he said.
Rush hour attack
Friday's attack began just before the evening rush hour and lasted only minutes. Shire Ali stabbed bystanders and attacked police while his utility truck carrying barbecue gas cylinders burned on busy Bourke Street. The cylinders did not explode and the fire was put out in 10 minutes, by which point the attack was over, though not before one man was fatally stabbed.
Police said he was a 74-year-old man who worked in the city, but did not release his name. Local media identified him as a restaurant owner.
"This shouldn't happen in a city like Melbourne," one witness who had returned to the scene on Saturday told Reuters, crying. "I just want to forget it," she said.
Video posted to Twitter and broadcast on television showed Shire Ali swinging a knife at two police officers, while the truck burned in the background, before he collapsed when one shot him in the chest.
Victoria state police said counter-terrorism investigators were searching two properties in suburban Melbourne in connection with the attack, but there was no immediate word on what the searches yielded.
At one, a modest one-storey brick house on the city's western fringe, armed officers wearing masks stood guard outside.
Bourke Street also reopened on Saturday morning, and a Reuters reporter said there was an increased police presence in the area.
A staunch US ally, Australia has been on alert for such violence after a Sydney cafe siege in 2014, and its intelligence agencies have stepped up scrutiny. Victoria Police Commissioner Graham Ashton said there was no warning of the latest attack.
He said there was no longer a threat to the public, but that security would be boosted at horse races and Remembrance Day memorials over the weekend.
Authorities say Australia's vigilance has helped foil at least a dozen plots, including a plan to attack Melbourne at Christmas in 2016 and a plan to blow up a flight from Sydney to Abu Dhabi using a bomb disguised as a meat mincer.
Full report at:
https://www.tribuneindia.com/news/world/melbourne-knife-attacker-inspired-by-islamic-state-police-say/680980.html
--------
Southeast Asia
Mujahid, don't put the cart before the horse in divorce cases
Mariam Mokhtar
November 10, 2018
The only people who benefit in a divorce are the lawyers and the ex-husbands. Divorce is a costly affair, but few Muslim women feel that they are given any justice. For a Muslim woman who finds herself in this situation, divorce is a protracted and costly matter. It wears one down and takes a toll on the children. It is also cruel.
One woman, Anita, gave up her fight for justice. This was after years of being let down by the courts while trying to pursue alimony payments and maintenance for her children.
So when Minister in the Prime Minister's Department Mujahid Yusof Rawa announced that ex-husbands who fail to pay nafkah (alimony) to their former wives and maintenance to their children may have their bank accounts frozen, Anita's reaction was mixed.
"On one hand, Mujahid has given hope to the many divorced and abandoned Muslim women who have been denied justice in the shariah system," she said.
"But for many divorced women like me, it is too late. Of course we feel bitter that successive governments have failed to look into our grouses.
"It is not we alone who suffered. Our children's mental health and feelings were also ignored by many people."
For Anita, there are sufficient laws in place, just that they are rarely enforced.
She said the shariah courts she dealt with were unprofessional and incompetent.
"They were supposed to serve the court papers on my ex-husband, but when I turned up for the hearing, they said they had failed to locate him. I doubt they tried because I knew where he lived and worked and had given them his addresses."
It was a wasted day in court, she said.
"I paid a child minder and took the morning off from work to attend the hearing, only to find that the court had failed to do its duty. They adjourned for a month. My transport costs and the lawyer's fees mounted."
Anita said when she next attended court, her ex-husband had still not yet turned up.
"The court said they would send the police to look for him, and if he did not turn up at the following court date, he would be arrested.
"When I turned up a month later for the scheduled court date, the court had failed to inform the police to look for him. It was adjourned again, for another month. Who reimburses my transport and lawyer's fees, as well as for the child minder?"
She said the entire episode took about 18 months to settle.
"Shariah court work grinds to a halt during Ramadan. My ex-husband employed more delay tactics but in the end, the court decided that he owed me and my two children alimony amounting to about RM60,000.
"I was told that the RM30,000 which he withdrew from our joint bank account, which was a present from my mother for my ASB, would have to be recovered through a civil court.
"In the end, he avoided jail by agreeing to the payment, but he only made three payments on time. Then the payments were delayed and after six months, they dried up. He claimed that he was unemployed.
"My lawyer suggested that his assets be seized, but I would have to initiate a new case for this. Also, he made himself scarce and his parents refused to divulge his whereabouts so that fresh papers could be served on him. I also found that his house deeds had been transferred to his brother's name.
"By this time, I was physically and mentally exhausted as my son had to take his examinations to qualify as a Mara boarder. So I simply gave up. I cut my losses, paid off the lawyers, and just began afresh."
Another divorced woman said: "We both had good jobs, but I sacrificed my career to bring up our children, two of whom are special needs, so he could concentrate on his career. When we divorced, my ex-husband told his lawyer to tell me to retrain.
"He walked out of our marriage when he met a girl who was young enough to be his daughter. It would take years for me to retrain, and I would be competing with people who are in their 20s. Moreover, the children are still young and need care."
Last week, Mujahid said many divorced women are not given alimony or child support, especially as many ex-husbands neglect their responsibilities towards their former wives and children.
He said, "We need a bit of authority to act against husbands who do not pay alimony to their former wives. Many ex-wives have no place to forward their complaints, and there are flaws from an enforcement point of view."
Perhaps prevention is better than cure. Right now, Mujahid is trying to sort out the mess created after divorce. Why not tackle marital laws instead of the tail end of a messy marriage?
Last month, Perak state executive councillor Asmuni Awi announced that the state government planned to amend Section 23 of the Islamic Family Enactment (Perak) 2004. The move would make it easier for Muslim men to enter into polygamous marriages.
In August 2017, a new law in Kedah legalised polygamous marriages, allowing Muslim husbands to marry without permission from the first wife. Kelantan had a similar plan to make it easier for Muslim men to marry in the state instead of going to Thailand.
Why make it easier for men to have a polygamous marriage? The common factor in most failed marriages is that the men forget all their responsibilities when they divorce. They fail to pay alimony, and they fail to make maintenance payments for their children.
In addition to freezing their bank accounts, Mujahid should ensure that shariah laws are standardised throughout Malaysia, and reform marital laws so that men do not think that marrying again is as easy as making babies.
https://www.freemalaysiatoday.com/category/opinion/2018/11/10/mujahid-dont-put-the-cart-before-the-horse-in-divorce-cases/
--------
Ambassador launches research on entry of Islam in Indonesia
Nov 10, 2018
Jakarta (ANTARA News) - Indonesian Ambassador to Azerbaijan Husnan Bey Fananie launched a research along with lecturers and researchers from University of Indonesia`s Faculty of Cultural Sciences Maman S. Mahayana, Ali Akbar, Bastian Zulyeno, Ghilman Assilmi, and Chaidir Ashari.
The research covers the history of the entry of Islam in the Archipelago from the Caucasus region, especially Azerbaijan.
"As the ambassador of the Republic of Indonesia to Azerbaijan, assisted by lecturers and researchers from the Faculty of Cultural Sciences, University of Indonesia will conduct a research on the history of the entry of Islam in Indonesia," Ambassador Fananie told Antara via a short message service received here, Saturday.
The ambassador elaborated that the study will explore the cultural similarities found in Indonesia and Azerbaijan.
"The similarity of material cultures in both countries show the possibility of the influence of the Caucasus in the process of the entry of Islam into the archipelago," Ambassador Fananie stated.
Meanwhile, Zulyeno, who had conducted a preliminary study some time ago, believes there is a connection between the people of Azerbaijan and Indonesia, as is apparent from the similarity of ancient gravestones found in both countries.
In Indonesia, the ancient gravestones were found in Barus in North Sumatra and Aceh.
"I have conducted field observations in the Sundu and Maraza areas in Azerbaijan. The ancient tombs in Barus and Aceh have the same shape and characteristics as those found in the two areas in Azerbaijan," Zulyeno explained.
He added that in terms of material culture, the tombs bore inscriptions and symbols on the headstone, which were generally found on the tombs of Sufi leaders and kings in Azerbaijan.
In addition, the burials found in both areas are also located on top of the hill.
Muslims in Indonesia constitute the majority population in the country and also in the world, but the history of the entry and development of Islam in the archipelago is still debatable.
So far, no agreement has been reached among historians regarding the early history of the arrival of Islam in Indonesia and the original propagators of the teachings.
The history of the entry of Islam into the Indonesian archipelago is divided into two theories.
The first theory states that Islam spread to Indonesia in the 7th century AD, thereby meaning that it was almost simultaneous with the expansion of the power of the Islamic Caliphate under the rule of the Umayyad Caliphate (661-750 AD) outside the Arab lands, now referred to as the Middle East.
W.P. Groeneveldt, T.W. Arnold, Syed Naquib Al-Attas, J.C. van Leur, Hamka, and Uka Tjandrasasmita consider the first theory to be true.
Meanwhile, the second theory states that the spread of Islam to the Indonesian archipelago took place in the 13th century AD. It means that Islam spread to the archipelago during the time of the Abbasid Caliphate (750-1258 AD) while ruling in the Middle East.
C. Snouck Hourgronje, R.A. Kern, J.P. Moquette, and Haji Agus Salim were among the followers of the second theory.
Ambassador Fananie added that this research will produce a new paradigm on the history of the entry of Islam into Indonesia. So far, the history on the arrival of Islam in Indonesia is still biased and dominated by Gujarat and Middle East theories.
The Gujarat theory states that the beginning of the entry of Islam in Indonesia was not from Arab or Egyptian-African, but originated from Gujarat, India, around the 13th century AD, carried by people having trade contacts with those in the archipelago.
Full report at:
https://en.antaranews.com/news/120349/ambassador-launches-research-on-entry-of-islam-in-indonesia
--------
Terrorism: Foe of Islam and humanity
Rahmad Nasution
Nov 10, 2018
Jakarta (ANTARA News) - Indonesian Defense Minister Ryamizard Ryacudu has warned those linking Islam to acts of terrorism, reiterating that the religion, currently embraced by over two billion people worldwide, has nothing to do with this crime against humanity.
His basic argument is that Islam is "rahmatan lil alamin," or blessing for the universe, and the acts of terrorists do not represent Islam at all. Instead, the deeds of perpetrators have indeed tarnished the image of Islam. Hence, they are, in fact, the real enemy of Islam.
What Ryacudu emphasized while speaking to journalists on the sidelines of a seminar titled "Ensuring Regional Stability Through Cooperation on Counter Terrorism" held as part of the 2018 Indo Defense and Forum in Jakarta on Thursday supported the message of the Arab League leaders.
During their 29th summit in Dhahran, Saudi Arabia, last April, the Arab League leaders, including King Salman bin Abdulaziz Al Saud of Saudi Arabia, had obviously rejected all endeavors to link terrorism to Islam.
This clear message was then inserted into the Dhahran Declaration in which the Arab League leaders attending the Dhahran Summit called on the international community to prepare an acceptable definition on terrorism through the United Nations mechanism.
They argued that terrorism has no religion. It possesses neither homeland nor identity. In the Dhahran Declaration, the Arab League leaders acknowledged the fact that terrorist groups were capitalizing on the rapid development of various social media platforms to spread their views.
The perpetrators also exploited various social media platforms for influencing the hearts and minds of internet users, particularly youngsters, so that they can someday be recruited to serve as suicide bombers and campaigners of radicalism and terrorism.
Those who have distorted Islam by linking their symbols, acts, and thoughts of radicalism and terrorism to this peace-loving faith, such as the ISIS, should be stopped through solid multilateral cooperation.
In halting the spread of terrorism and countering the threats of this crime against humanity, a collaboration involving all elements of community members within a nation is also deemed necessary.
Indonesian Defense Minister Ryacudu highlighted the importance of the people`s participation in the war on terrorism and should not be ignored by taking into account its important contribution through the deployment of satellites and drones to detect the movements of suspected terrorists.
Indonesia is not free from the real threats of terrorism. Despite the fact that it has the world`s biggest Muslim population and is widely known as a staunch supporter of the Palestinian people`s unfinished struggle for independence, it shares the unfortunate fate of other countries.
Indonesia has also become the target of attacks by terrorists since 2000, and the spread of radicalism and terrorism continue to threaten the country until now. Last May, a church in the East Java city of Surabaya was also attacked.
Two years ago, the ISIS supporters in Indonesia had launched a suicide bombing and shooting attack in Jakarta on January 14, 2016, which led to the deaths of eight people, including three innocent civilians.
The incident has added to the list of deadly assaults carried out by terrorist cells in Indonesia. From 2000 to 2012, more than a dozen attacks took place in the capital city, including the Australian embassy bombing on September 9, 2004, and the JW Marriott and Ritz-Carlton hotel bombings on July 17, 2009.
Since the deadly terrorist attacks on the World Trade Center twin tower in New York and the Pentagon in Washington D.C. on September 11, 2001, which triggered the US-led invasions on Afghanistan and Iraq, Islamophobia has grown stronger.
Since then, the fear and hatred or prejudice against the Islamic religion or Muslims seem to have gotten worse in the United States and several other parts of the world as is partly observed from the use of pejorative words in media reports and textbooks, such as "Islamist terrorism" and "radical Islamist."
John C. Zimmerman (2004:223) defined the word "Islamist," as everybody who wishes to lead a country by adopting the sharia (Islamic law). Thus, the definition that Zimmerman uttered in his article titled "Sayyid Qutb`s Influence on the 11 September Attacks" (2004:222-252) is a clear evidence of the vulnerability of Islam being linked to radicalism and terrorism.
In fact, through the true history of Islam that Prophet Muhammad (peace be upon him) and his companions practiced, Islam is absolutely a peace-loving and anti-violent faith, but it admits to the existence of war as part of the fact of human life (Abdalati, 1980:143).
However, Hammudah Abdalati (1980:143) argued that the war is not the goal of Islam and character of Muslims. Instead, the justifiable war is the last resort, and it will be opted, with so many strict conditions, if all endeavors to create peace and prevent war have failed.
Full report at:
https://en.antaranews.com/news/120331/terrorism-foe-of-islam-and-humanity
--------
BIN denies being behind Rizieq's 'extremist flag' questioning in Mecca
November 9, 2018
The State Intelligence Agency (BIN) is dismissing suggestions that it was responsible for getting firebrand cleric Rizieq Shihab investigated by Saudi authorities over the alleged installation of an extremist Islamist flag at his house in Mecca.
"There is no evidence that BIN had installed the flag [at Rizieq's] house, let alone took the picture [of the flag] and reported it to Saudi police," BIN communications and information director Wawan Hari Purwanto said in a statement on Thursday.
Rizieq, the leader of the Islam Defenders Front (FPI) who has been in self-exile in Saudi Arabia, was recently questioned by local security authorities over allegations that he was flying a black flag resembling that of extremist Islamic groups behind his house.
Wawan said the accusations that the Indonesian spy agency orchestrated the incident by installing the flag and reporting it to authorities were merely baseless rumors.
"The accusation that claimed BIN had orchestrated [Rizieq's] arrest was a hoax," he said.
Rizieq was detained at a nearby police station for a questioning about the flag on Monday afternoon. The Indonesian consulate in Jeddah immediately provided him legal assistance and he was released on bail at about 8 p.m. local time on Tuesday.
The cleric is known to be one of President Joko "Jokowi" Widodo's staunchest critics and an ally of presidential contender Prabowo Subianto.
Wawan said the spy agency never had any problem with Rizieq's political position. "For BIN, there is no such thing as 'criminalization' because all Indonesian citizens are equal before the law."
Saudi Arabia has banned the installation of flags and other materials resembling those used by extremist groups, including the Islamic State (IS) group.
Rizieq has been in Saudi Arabia for more than a year. In September, the Indonesian Embassy in Riyadh said the cleric had overstayed his visa in the country, according to a statement issued in response to complaints from his supporters who claimed that restrictions had been imposed on his activities in Mecca.
Full report at:
http://www.thejakartapost.com/news/2018/11/09/bin-denies-being-behind-rizieqs-extremist-flag-questioning-in-mecca.html
--------
Penang govt allocates RM56.8m for Islamic development
09 November 2018
GEORGE TOWN, Nov 9 — Penang allocated RM56.8 million for Islamic development in the state under its Budget 2019.
Penang Chief Minister Chow Kon Yeow (PH — Padang Kota) said the state will continue to place emphasis on strengthening the institution of Islam in Penang through various Islamic religious development programmes.
"Some of the developments that were implemented included the construction of new mosques in the state," he said.
He added that the state is also concerned with the development of Islamic religious schools as is evidenced with the construction of a new Islamic religious school in Masjid Seberang Perai Selatan and in Masjid Abdullah Fahim which will be completed end of this year.
The state government had also allocated RM5 million to build an Islamic Digital Library in the state next year.
He said the project is expected to be completed by the third quarter of 2019.
The state government started phase two of its Penang Digital Library at a cost of RM10.8 million this year and it is expected to be open for operations in December this year.
"We will be building a RM4.6 million digital library in Butterworth and the Butterworth Digital Library will be completed by October next year," he said.
Full report at:
https://www.malaymail.com/s/1691756/penang-govt-allocates-rm56.8m-for-islamic-development
--------
United by common enemy ICERD, Umno to share stage with PAS in Perak
09 November 2018
By Danial Dzulkifly
KUALA LUMPUR, Nov 9 — Umno will be joining rivals-turned-ally PAS in a protest against the International Convention on the Elimination of All Forms of Racial Discrimination (ICERD) in Pasir Salak, Perak this November 17, it said.
The Malay nationalist party said it will be at the forefront of all anti-ICERD campaigns, together with other NGOs that oppose the core human rights convention.
"Umno asks the government to stop any efforts that will jeopardise the formulation of the society today which have been built through mutual understanding because the ratification of ICERD as it goes against our Constitution," he told the press after chairing the Umno supreme council at Menara Dato Onn here.
Umno and PAS' Youth wings had previously held a protest against ICERD together in the capital of Kuala Lumpur.
Zahid did not elaborate on the issue of Constitution, but it is believed he was referring to the special quotas for Malays and natives of Sabah and Sarawak under Article 153.
However, the Malaysian Bar has explained today that Putrajaya will not violate the Federal Constitution by ratifying ICERD, despite warnings by Malay-Muslim groups.
It said Article 1(4) of ICERD provides that "special measures", including affirmative action, are permissible, and this is reinforced in Article 2(2) of the convention.
Full report at:
https://www.malaymail.com/s/1691830/united-by-common-enemy-icerd-umno-to-share-stage-with-pas-in-perak
--------
Mideast
Qatar pays Gaza salaries via Israel amid Fatah condemnation
9 November 2018
Palestinian civil servants in Gaza Strip which is under the control of Hamas movement received salary payments, after a $15 milion Qatari cash infusion was handed to Hamas with Israeli approval.
However, Palestinian Fatah movement headed by President Mahmoud Abbas, condemned the move, saying Qatar was working to consolidate the Palestinian divide and that Hamas is selling the Palestinian blood at a $15 milion price tag.
The $15 million Qatari cash infusion which is the first of a total of $90 million that would come into Gaza over the next six months with Israeli approval, arrived via Tel Aviv Ben Gurion International Airport, before it was transported by land to Gaza Strip, in the car of Qatar's ambassador to Gaza, Mohammed al-Emadi, through the Erez crossing with Beit Hanoun, north of Gaza Strip.
Israeli media revealed that the lists of Palestinian civil servants who were paid, went through "security screening" in Israel within a process agreed upon by the Qatari mediators.
"Humiliating masquerade"
Meanwhile, Hamas's political rivals, the Palestinian Authority and the Fatah movement described the move as a "humiliating masquerade" and stressed that Hamas, throughout the previous period, was circumventing the Palestinian cause under the name of the "March of Return" and the "Resistance's Weapons" with occasional shelling exchanges on Gaza border with Israel every Friday since last March, amid an Israeli blockade.
Under these slogans, weekly bloody marches were staged leading to the deaths of more than 220 Palestinians by the Israeli forces over the last eight months.
But the real goal of these marches, according to critics of Hamas, is to put pressure to resolve the crisis of the salaries of thousands of Hamas members working in the administrative apparatus in the Gaza Strip since the coup against the Palestinian Authority.
Branded a terrorist group in the West, Hamas has been under years of embargo by Israel and neighboring Egypt. Hamas leaders said in the past they had received funds from other countries, including Iran.
Observers for Qatar were present at all 12 post offices across Gaza to monitor the salary disbursements. Employees had to present their identity card and be finger-printed.
Qatari envoy's convoy stoned
Palestinian protestors stoned the Qatari ambassador's convoy during his visit to Gaza on Friday, as shown in a video that was widely shared on social media. Read more
Hamas employees exceed 40,000 person
Hamas has hired over 40,000 people in Gaza since 2007 but many appeared to have been excluded from the list of payees.
"They told me they don't have money for me," one employee told Reuters on condition that he would not be named. "Maybe Israel vetoed my name?"
Officials from Hamas, Qatar and Israel have been largely silent about the details of the Gaza payouts arrangement.
But a member of right-wing Israeli Prime Minister Benjamin Netanyahu's security cabinet played down their significance.
"This is not money that is going to Hamas activities. It is money that is going to the salaries of civil servants, in an orderly, organized manner," Environment Minister Zeev Elkin told Tel Aviv radio station 102 FM.
Elkin accused Abbas, whose peace talks with Netanyahu stalled in 2014 and who is boycotting the United States because of its pro-Israel policies, of cutting salaries to "inflame Gaza, because he has not been successful on other fronts".
"The Qataris came along and said: 'We are willing to pay this instead of Abu Mazen (Abbas), in order to calm Gaza down'. What does it matter who pays it?" Elkin said.
Wasel Abu Youssef, a member of the executive committee of the Abbas-led Palestine Liberation Organization, criticised the move. "Arrangements through Qatar and elsewhere prolong the crisis of Palestinian division," Abu Youssef told Reuters.
Doha's donation, as well as UN-Egyptian truce mediation and winter rains, have tamped down the violence at the border, where Gaza medics say Israeli army fire has killed more than 220 Palestinians since the protests began on March 30.
Israel, which says its lethal force prevents armed infiltration, has lost a soldier to a Gaza sniper and tracts of forest and farmland to incendiary material flown over the frontier on kites or helium balloons.
"This is one of the fruits of the 'March of Return'," Abraham Baker, a police officer who received a full salary, said, using the Palestinian term for the protests, which demand rights to lands lost to Israel's in the 1948 war of its founding.
https://english.alarabiya.net/en/News/middle-east/2018/11/09/Qatar-pays-Gaza-salaries-via-Israel-amid-Fatah-condemnation.html
--------
US's Bolton says more sanctions likely on Iran
9 November 2018
US National Security Advisor John Bolton said on Friday that more sanctions were possible on Iran just days after a new round of measures touted as the most punishing ever on Tehran entered into force.
Bolton said two rounds of unilateral US sanctions introduced by President Donald Trump in August and most recently on Monday had had a "quite significant" effect on the Iranian economy and the country's actions abroad.
"I think that you're going to see even more sanctions coming into play over time and much tighter enforcement of the sanctions," Bolton told reporters in Paris.
Asked what would be the target of the sanctions, he replied, "There are other things we can do in the terrorism and counterterrorism area."
The International Monetary Fund forecasts that the sanctions will cause Iran's economy to contract 1.5 percent this year and 3.6 percent next year -- pain that Trump has boasted about.
Belligerent activity
"We've seen indications that it has affected their belligerent activity in Iraq, Syria and Yemen. Not enough yet, but it's beginning to have that effect," Bolton said.
"We've seen a continuation and exacerbation of political discontent inside Iran. That opposition continues to manifest itself. Economically the Iranian currency is going through the floor, inflation has quadrupled and the country is clearly in recession." He said "the objective is still to drive Iranians exports of oil to zero" despite waivers given to the biggest buyers of Iranian oil, including China, India and South Korea.
Full report at:
https://english.alarabiya.net/en/News/middle-east/2018/11/09/US-s-Bolton-says-more-sanctions-likely-on-Iran-.html
--------
Yemen's government to UN: Houthi militia uses civilians as human shields
9 November 2018
In a letter to the UN Security Council, the Yemeni government called on international communities to intervene and stop the violations committed by Houthis who are using civilians as human shields in Hodeidah.
According to reports expressing concern over the militia's ongoing horrific crimes, thousands of schools were destroyed, children were forcibly recruited to join Houthi forces, schools and hospitals are being used as military barracks, and civilians continue to be terrorized.
The letter cited the Houthi militia's launch of a ballistic missile from inside the largest all-girls school in Hodeidah.
The Yemeni government urged the Security Council to intervene to stop the humanitarian crimes carried out against innocent civilians, and the continuous destruction of hospitals and schools.
Full report at:
https://english.alarabiya.net/en/News/gulf/2018/11/09/Yemen-s-government-Houthi-militia-uses-civilians-as-human-shields-.html
--------
Israeli forces open fire, kill young man
Nov 9, 2018
A Palestinian has been killed and over 35 others have been injured when Israeli forces opened fire at protesters in the besieged Gaza Strip.
Ashraf al-Qedra, the spokesman for the Gaza Health Ministry, Rami Qahman, 28, succumbed to injuries he sustained during protests east of Rafah city earlier on Friday.
According to the report, six of the wounded were children while nine others were women.
Tensions have been running high near the fence between the besieged Gaza Strip and Israeli-occupied territories since March 30, which marked the start of a series of protests dubbed "The Great March of Return." Palestinian protesters demand the right to return for those driven out of their homeland.
At least 219 Palestinians have been killed by Israeli forces since late March. Nearly 22,000 Palestinians have also sustained injuries.
The Gaza clashes reached their peak on May 14, on the eve of the 70th anniversary of Nakba Day (Day of Catastrophe), which coincided this year with the US embassy relocation from Tel Aviv to occupied East Jerusalem al-Quds.
Also on Friday, a funeral was held for a young Palestinian man who was killed at the hands of the Israelis.
Mohammad A'ala Abou Sharbin, 20, was shot dead by Israeli troops during anti-occupation rallies along the fence on Thursday.
The Gaza Strip has been under an Israeli siege since June 2007. The blockade has caused a decline in the standards of living as well as unprecedented levels of unemployment and unrelenting poverty.
The Israeli regime denies about 1.8 million people in Gaza their basic rights, such as freedom of movement, jobs with proper wages as well as adequate healthcare and education.
Full report at:
https://www.presstv.com/Detail/2018/11/09/579561/Palestinians-Israel-Gaza-clashes
--------
CHP's lawmaker challenges party leader after debate on Muslim call to prayer
November 09 2018
Under fire for his proposal to change the language of the Muslim call to prayer, a Turkish main opposition lawmaker declared his intention to capture the party leadership.
"You know I'm getting ready for the chairmanship, you will see me as an opponent," Öztürk Yılmaz, Republican People's Party (CHP) lawmaker for the eastern Ardahan province, told reporters in parliament Nov. 9.
Yılmaz accused CHP leader Kemal Kılıçdaroğlu of opposing him out of fear he would attract more support.
Yılmaz's remarks came after the CHP's announcement on Nov. 8 that he would face the party's disciplinary committee for possible expulsion.
Yılmaz was referred to the committee because he appeared on television without permission, in violation of party rules.
In a recent appearance, Yılmaz argued that the Muslim call to prayer, or adhan, should be changed from Arabic to Turkish.
His remarks were slammed by the party administration as well as CHP lawmakers.
Yılmaz stressed that he was "backing up all the things" he said on the program, adding that "our beautiful language should be spoken everywhere."
From 1932 to 1950, in Turkey's single-party era of CHP rule, the adhan was done in Turkish, but then-Prime Minister Adnan Menderes ended the practice in 1950.
Defeated coup
Yılmaz also criticized Kılıçdaroğlu's actions during the night of the July 2016 defeated coup.
Yılmaz said that he called Kılıçdaroğlu the night of the attempted coup -- July 16 -- and told him: "Give a [media] interview first, and you should condemn the coup from the start."
But Kılıçdaroğlu instead took hours to give an interview, said Yılmaz.
Kılıçdaroğlu spent the night of the defeated coup in Istanbul, at the home of the mayor of the Bakirkoy district.
The Fetullahist Terrorist Organization (FETÖ) and its U.S.-based leader Fetullah Gülen orchestrated the defeated coup of July 15, 2016, which left 251 people martyred and nearly 2,200 injured.
Full report at:
http://www.hurriyetdailynews.com/chps-lawmaker-challenges-party-leader-138725
--------
Yemeni forces launch massive new offensive to capture Hodeidah from Houthis
November 09, 2018
JEDDAH: Yemeni government forces backed by the Arab coalition launched a "vast offensive" to take full control of Hodeidah on Friday.
The internationally recognized government based in the southern city of Aden said national army forces had advanced toward the north and western sides of the city.
"Fierce battles are taking place at these moments," the statement said.
A total of 110 Houthi rebels have been killed in the last 24 hours of clashes in Hodeidah along with 22 pro-government troops fighting to retake the port city, AFP reported Friday.
The latest deaths raised to 382 the number of fighters killed on both sides since the battle for Hodeidah intensified on November 1.
The offensive follows a week of fighting as pro-government troops advanced into the city's suburbs.
The Houthis have controlled Hodeidah since 2014 when they overran the capital Sanaa and the north of the country.
They have been driven out of virtually all of the south and much of the Red Sea coast by pro-government forces and the Arab coalition, which intervened to restore the government in 2015.
The offensive comes as it emerged Donald Trump's administration is thinking about classifying the Iran backed Houthi militia as a terrorist organization, the Washington Post reported.
The move would be part of a US campaign to end the war in Yemen and put pressure on Iran.
The terrorist classification, which would be made by the State Department, has been discussed frequently since at least 2016. But the matter was reviewed recently as the White House tries to outline a tough stance on Iranian-linked groups across the Middle East, the newspaper reported.
A variety of potential actions that could be taken against the Houthi militia, including lesser measures to punish them, have been considered by the administration.
However, a decision has not yet been made and it is unclear how far deliberations about the terrorist classification had progressed.
Aid agencies have warned that the fighting in Hodeidah could further exacerbate the desperate humanitarian situation in the country.
The United Nations' refugee agency said on Friday that most of the 600,000 population of Hodeida has fled but expressed concern about those trapped in the city.
Full report at:
http://www.arabnews.com/node/1402016/middle-east
--------
South Asia
S Arabia wants to deport hundreds of Muslim Rohingya refugees to Bangladesh
11/09/2018
Saudi Arabia has been forcibly holding hundreds of ethnic Muslim Rohingya in various detention centres after they had fled western Myanmar because of persecution. Now Saudi authorities want to forcibly send them to Bangladesh.
According to Middle East Eye, the planned deportations come after Saudi Arabia ordered Bangladesh to take back more than a hundred Rohingya who came to the kingdom on Bangladeshi passports.
Human rights groups fear that once back in Bangladesh, they will be repatriated to Myanmar where they risk more persecution or end up in inhumane refugee camps.
Many of the Rohingya came to Saudi Arabia in 2011 on the Hajj (pilgrimage) to Makkah using fake passports.
More recently, many fled violence in Myanmar at the hands of Buddhist majority –at least 700,000 from Rakhine State since 2016 – hoping to find a job and rebuild a life in the leading Sunni nation.
In the past few months, Saudi authorities have begun cracking down on illegal workers and immigrants without permits, including Rohingya.
Rohingya detainees say they can prove their identities with their old Myanmar ID cards, not those of Bangladesh, as evidence of their status as political refugees.
However, few Rohingya have faith in the repatriation process and many fear more violence. "What will we do when we got to Bangladesh? We have no other choice but to kill ourselves," said one man.
In view of the situation, various groups have appealed to the Saudi government to stop the forced repatriations to Bangladesh.
The latter began a few days after Saudi leaders, including Crown Prince Mohammed bin Salman, met with Bangladeshi Prime Minister Sheikh Hasina during a visit to Riyadh in mid-October.
On this occasion, the crown prince praised Bangladesh's development plan and its response to the Rohingya crisis. He also called for closer military cooperation between the two countries.
Many Rohingyas came to Saudi Arabia years ago with fake passports of various Asian nations, like Bangladesh, Bhutan, India, Nepal and Pakistan, hoping to rebuild their lives and leave persecution and violence behind them.
That dream ended when they were locked up in Jeddah's Shumaisi detention centre following raids by Saudi Immigration Department.
In prison, they endure abuses and violence, their mobile phones seized. Eyewitnesses cited by Middle East Eye said some were punched in the chest and experienced other forms of torture to exhort confessions.
Rohingya immigrants also have to sign a statement saying that they had "full mental health" to consent to repatriation to Bangladesh.
So far, neither the Bangladesh Foreign Ministry nor the Bangladesh ambassador to Saudi Arabia (nor the Saudi authorities) have addressed the matter.
Saudi Arabia has not plan for refugees and asylum seekers and has not signed the 1951 Refugee Convention, which grants them the right to work, travel documents and freedom of movement.
http://www.asianews.it/news-en/S-Arabia-wants-to-deport-hundreds-of-Muslim-Rohingya-refugees-to-Bangladesh-45432.html
--------
Afghan official: Taliban attacks kill 10 troops, 7 policemen
9 November 2018
Afghan officials say Taliban attacks have killed at least 10 soldiers and seven policemen.
In northern Takhar province, provincial police chief Abdul Rashid Bashir says the Taliban targeted an army outpost in Khwaja Ghar district early on Friday, triggering an hours-long gun battle before they were repulsed.
Bashir says at least 10 soldiers were killed and 12 were wounded. He says the Taliban suffered "heavy casualties" but didn't elaborate.
Taliban spokesman Zabihullah Mujahid claimed responsibility for that attack.
In western Farah province, the Taliban targeted police forces in the provincial capital, Farah city, late on Thursday. Provincial council member, Abdul Samad Salehi, says seven policemen died and three were wounded there.
Full report at:
https://english.alarabiya.net/en/News/world/2018/11/09/Afghan-official-Taliban-attacks-kill-10-troops-7-policemen.html
--------
Taliban's Red Unit commander among several dead, wounded in Faryab clash
Nov 09 2018
A clash broke out between the Taliban militants and the Afghan National Defense and Security forces in northern Faryab province of Afghanistan, leaving several militants dead, including a commander of the Red Unit of Taliban.
The 209th Shaheen Corps of the Afghan Military in the North in a statement said Thursday the clash took place today morning at around 5:20am local time in Dawlatabad district.
The statement further added at least twenty militants were killed during the clash with the security forces, including a Red Unit commandeer of the group.
However, the 209th Shaheen Corps said the identity of the slain Red Unit commander of the Taliban has not been ascertained so far.
In the meantime, the 209th Shaheen Corps said another commander of the Taliban identified as Mullah Najibullah was among at least 13 militants who sustained injuries during the clash.
Full report at:
https://www.khaama.com/talibans-red-unit-commander-among-several-dead-wounded-in-faryab-clash-02709/
--------
MoFA reacts to Moscow Summit regarding Afghan peace process
Nov 10 2018
The Ministry of Foreign Affairs of Afghanistan reacted to Moscow Summit regarding the Afghan peace process, stating that the Afghan government hails any country that supports Afghanistan in achieving peace and emphasizes on an Afghan-owned and Afghan-led reconciliation process.
According to a statement released by the Ministry of Foreign Affairs, the Moscow summit has not been organized in continuation of the summits which were organized in Moscow Format among the independent states.
The statement further added that the Taliban group was also invited in the summit and based on principles and previous decisions of Tashkent and Kabul Process summits, the Afghan government and Taliban were supposed to participate in direct talks.
The Afghan government emphasizes on peace process in accordance with the accepted principles of Kabul and Tashkent summits which are based on national and international consensus and therefore the government has not sent any representative in the summit, the statement added.
Full report at:
https://www.khaama.com/mofa-reacts-to-moscow-summit-regarding-afghan-peace-process-02712/
--------
Moscow Summit: HPC urges peace talks revival, Taliban share demands
Nov 09 2018
The Afghanistan High Peace Council Deputy Chairman Haji Din Mohammad once again urged the Taliban group to start peace talks with the Afghan government.
In his speech during the Moscow Summit, Haji Din Mohammad urged the Taliban group to positively respond to the offers of the Afghan government regarding peace process, emphasizing that the ongoing conflict claims the lives of ordinary Afghans.
President Ghani announced the government's offer for reconciliation with Taliban during Kabul Process Summit II late in February, promising ceasefire, recognition of Taliban as a political movement, creation of environment of trust and elections, review of constitution, justice and review of complaints, law enforcement, release of prisoners, lifting of sanctions and removal of Taliban figures from black lists, ensuring security of the citizens of the country, development, and etc.
However, the head of the political office of Taliban in Qatar Mullah Abbas Stanikzai said the ongoing conflict is not a war among the Afghan tribes and has links with the presence of the foreign forces.
He also shared the demands of Taliban for reconciliation which included establishment of environment of trust, removal of U.S. sanctions on Taliban, specifying a safe zone for peace talks, opening of a formal office for Taliban, international community's guarantee of peace talks, and release of prisoners.
Stanikzai further added that they have met the U.S. officials for three times so far and emphasized for direct talks with the United States, insisting that negotiations with the Afghan government would be useless.
Full report at:
https://www.khaama.com/moscow-summit-hpc-urges-peace-talks-revival-taliban-share-demands-02710/
--------
8 Ansar Al Islam members placed on 6-day remand
November 10, 2018
A Dhaka court yesterday placed eight members of the banned militant group Ansar Al Islam on a six-day remand. They were arrested on the charge of spreading terror propaganda among Rohingya refugees in Cox's Bazar in the guise of an NGO.
Metropolitan Magistrate Md Ashek Imam passed the order after the Counter Terrorism and Transnational Crime (CTTC) unit produced them before the court with a 10-day remand prayer.
The arrestees – aged between 24 and 38 – are: Saf Wanur Rahman, Sultan Mahmud, Nazrul Islam, Abu Taher, Ilias Mridha, Ashraful Alam, Hasnain, and Md Kamrul.
A team of CTTC unit arrested the eight after conducting a drive at the office of the NGO, Small Kindness Bangladesh (SKB), on Road 9 at DOHS, Pallabi in Dhaka early Thursday.
CTTC officials said the NGO, which was spreading terror propaganda in the name of humanitarian activities in the Rohingya camps, was banned by the NGO Affairs Bureau for its alleged involvement in militancy financing as well as conducting anti-state activities in August.
Despite the ban, the NGO was operating its activities.
Full report at:
https://www.thedailystar.net/city/news/8-ansar-al-islam-members-placed-6-day-remand-1658494
--------
Bangladesh launches crackdown on ISI-backed terror groups
NOV 10, 2018
New Delhi: The Sheikh Hasina government has launched a massive crackdown on terrorist groups allegedly backed by Pakistan's intelligence agency, Inter-Services Intelligence (ISI), ahead of the parliamentary election in Bangladesh scheduled for December 23.
Police has held employees of a non-governmental organisation (NGO) linked to a terrorist group and initiated action against senior executives of an insurance firm alleged to have been funded by Pakistan, busted terrorist hideouts and initiated probe against a renegade army officer for targeting secular bloggers.
In the unrelenting drive against terrorist groups and their supporters in Bangladesh since the Holey Artisan cafe attack in 2016, more than 100 terrorists have been killed and over 1,500 arrested across the country, Bangladesh government officials told ET.
Eight employees of the NGO Small Kindness Bangladesh linked to banned outfit Ansar-alIslam have been arrested by police in Bangladesh on charges of terror financing.
A renegade Bangladeshi army major who later became a terrorist leader has emerged as the key accused in the murder of a noted progressive publisher three years ago, officials said. Sacked and fugitive major Syed Ziaul Haq appeared to be the mastermind behind the killing of publisher Faisal Arefin Dipan, said one of the officials, who did not wish to be identified.
Seven other operatives of the banned Ansarullah Bangla Team were also part of the plan to target the blogger, according to the official.
Terrorists murdered 43-yearold Dipan in his office in central Dhaka's Shahbagh area in 2015, months after they had killed blogger Avijit Roy.
Haq is the banned group's "operational chief " and he tried to orchestrate a pro-Islamic army coup, said another Bangladesh government official. The latest development comes five months after a special court in Dhaka handed down the death penalty to two terrorists, two years after they had hacked to death a professor in Rajshahi University in northwestern Bangladesh.
Full report at:
https://economictimes.indiatimes.com/news/defence/bangladesh-launches-crackdown-on-isi-backed-terror-groups/articleshow/66563192.cms
--------
At Dhaka literature event, 'silence' over Shahidul Alam's arrest
by Faisal Mahmud
Nov 10, 2018
Dhaka, Bangladesh - This time every year, Dhaka's intelligentsia, clad in their best, gather at the neatly-trimmed lawns of the Bangla Academy to enthral a crowd of literature lovers with their poetry readings and animated talks.
Held since 2011, the three-day Dhaka Lit Fest (DLF) kicked off on Thursday, bringing together once again writers, journalists, historians and artists from around the world to the bustling South Asian metropolis.
But this year, one particular absence has cast its long shadow over the Bangladeshi capital's most coveted cultural event, or "the elephant in the room" as one of the attendees put it: that of acclaimed photographer Shahidul Alam, a regular panellist in the festival's various sessions over the years.
The 63-year-old has been held by Bangladesh's authorities for speaking out against the country's government. He was picked up from his home in Dhaka on August 5, hours after his remarks over massive student protests were broadcast on Al Jazeera.
Alam has been charged under the stringent Information and Communication Technology Act for "spreading propaganda and false information against the government".
'Orwellian nightmare'
A close associate of DLF organisers, Alam was a frequent participant in the festival's earlier editions.
Yet, the only panellist to have so far spoken out for Alam this year has been Nandita Das, an Indian actress and director who called him an upholder of freedom of expression.
"We should all raise our voice for him," Das said.
Alam's wife, Rahnuma Ahmed, said she was "surprised" when DLF organisers did not even send a customary invite for her detained husband.
"Shahidul Alam did not merely attend Dhaka Lit Fest. He was an active participant, either as a keynote speaker or moderator or a panellist," Ahmed told Al Jazeera.
Alam's niece, Sofia Karim, said the silence over Alam's imprisonment at the DLF is "a sign of how far things in Bangladesh have degenerated into an Orwellian nightmare".
"My uncle has been a participant at Dhaka Lit Fest many a times and they don't mention him? They must realise that they look ridiculous at best and complicit at worst," she told Al Jazeera.
Karim said she was "thankful" of the Bangladeshis and foreign participants who spoke out or questioned Alam's absence at the festival.
"Their solidarity will go down in history as will others' silence."
Shrinking space for free speech
Alam's arrest has become emblematic of the shrinking space for freedom of speech in Muslim-majority Bangladesh, activists say.
The country recently passed a stringent Digital Security Act, which authorises prison sentences up to 14 years for collecting information against the government.
A draft Broadcast Law is also under consideration, which seeks to allow the government to jail a person for giving out "misleading and false" information in a television talk show.
"The ground for discourse seems to have shifted so much that mere criticism of the regime can now be regarded as treason," wrote Kanak Mani Dixit, founding editor of Himal Southasia.
In an open letter to DLF organisers, a leading publisher and two academics said the holding of the festival in such a situation "will only operate as a cynical example of culture and art washing".
"Any appearance of free or fierce expression or debate at the Lit Fest will be merely that, appearance, and deflect from the clampdowns and violence inflicted on those who dare cross government-sanctioned boundaries," said the letter.
Organisers reject charges
K Anis Ahmed, one of the three DLF directors, dismissed allegations that there were no discussions on freedom of expression at the festival as "not true".
"We called for repeal of the Digital Security Act at the opening ceremony," Ahmed told Al Jazeera, adding that the festival directors support the stand of Das, the Indian actress.
"DLF has been held at considerable risk, for example during the killing of the bloggers. It has spoken out for all kinds of free-speech victims in Bangladesh," he said.
At least 10 bloggers were killed by right-wing assailants between 2013 and 2016, mainly for their secularist writings.
"We have very fond memories of Shahidul 'bhai' [brother]," said Sadaf Saaz, another DLF director. "And he, more than anybody, would have wanted us to carry on with this difficult fight for literary space."
"We never told a single writer that she or he can't say anything. The government too has never instructed us to change any topic of discussion," she told Al Jazeera.
But Karim said the organisers could have shown "more courage".
Full report at:
https://www.aljazeera.com/news/2018/11/dhaka-literature-event-silence-shahidul-alam-arrest-181109152235472.html
--------
Arab World
Fight extremism with 'lofty values,' Saudi forum told
November 09, 2018
JEDDAH: A three-day national conference for the promotion of virtue and prevention of vice has called for a "strengthening of ideological security" in Saudi Arabia to enhance a sense of community and discourage extremism.
The forum, which ended on Friday, was held under the auspices of Sheikh Abdulrahman bin Abdullah Al-Sanad, general president of the Committee for the Promotion of Virtue and Prevention of Vice, and was attended by Shoura Council Speaker Abdullah Al-Asheikh, and several ministers, scholars and members of the committee.
In his address, Al-Sanad expressed his appreciation to King Salman and Crown Prince Mohammed bin Salman for granting their approval to organize the conference.
He hailed efforts by conference participants and working committees to make the forum a success.
The conference participants also recommended that the Committee for the Promotion of Virtue and Prevention of Vice (Haia) prepare comprehensive scientific material about Saudi Arabia's attention to rituals, as decided by the imams.
The recommendations emphasized the use of scientific research in the promotion of virtue and prevention of vice jurisprudence, urging graduate students at universities to prepare theses on the subject.
Participants also underscored the influential role of the general presidency of the committee through the promotion of "lofty values and high morals among community members, clarifying the approach of Islam calling for moderation, and protecting society from perverted thoughts, extremism and partisan groups."
The recommendations called for a strengthening of ties between the general presidency and the community through social media, as well as television and radio programs, to shed light on the achievements of the general presidency and showcase its fields of competence.
Participants recommended launching an annual scientific excellence award to disseminate research, compilations and manuscripts related to the promotion of virtue and prevention of vice.
http://www.arabnews.com/node/1402141/saudi-arabia
--------
22 Syrian rebels dead in regime attack on truce zone, 11 sentenced to death
9 November 2018
Syrian government forces killed 22 rebels overnight near Idlib province, in the deadliest such attack in an area where a recent truce is to be enforced, a monitor said Friday.
Fighting erupted when government troops seized a position in a rural area in the north of neighboring Hama province that had been held by the Jaish al-Izza group, the Syrian Observatory for Human Rights said.
Idlib and some surrounding areas are the last major rebel bastion in Syria, where the Russian-backed government has in recent months retaken much of the territory it had lost since the civil war erupted in 2011.
It had threatened an assault on rebel territory, home to around three million people, but a deal for a de-militarized buffer zone around it was reached in September between Moscow and rebel backer Ankara.
Several deadly skirmishes have occurred since the deal but 22 is the highest number of known fatalities in a single incident inside the planned buffer zone, the Observatory said.
"This is the highest death toll in the de-militarized zone since it was announced," Rami Abdel Rahman, head of the Britain-based monitoring group, told AFP.
Meanwhile, the Syrian Observatory for Human Rights said the Assad regime sentenced 11 detainees and prisoners in Hama Central Prison to execution.
The observatory confirmed that the verdict was a result of the prisoners' demonstrations in different regions that called for the overthrowing of the regime.
Full report at:
https://english.alarabiya.net/en/News/middle-east/2018/11/09/22-Syrian-rebels-dead-in-regime-attack-on-truce-zone-11-sentenced-to-death.html
--------
Monitor: US-led coalition strikes kill 26 civilians in east Syria
9 November 2018
US-led coalition air strikes killed 26 civilians including 14 children Friday in a holdout of ISIS in eastern Syria, a Britain-based war monitor said.
"Twenty-six ISIS family members including 14 children and 9 women were killed in coalition air strikes on Friday morning on the town of Hajin," the Syrian Observatory for Human Rights said.
On Thursday, coalition raids killed another seven civilians in the nearby village of Al-Shaafa, Observatory chief Rami Abdel Rahman said.
Both Hajin and Al-Shaafa are in a last pocket under ISIS control in the eastern province of Deir Ezzor near the border with Iraq.
A coalition spokesman did not immediately reply for a request for comment.
The coalition has been backing a Kurdish-Arab alliance fighting the jihadists in the area.
ISIS overran large swathes of Syria and neighboring Iraq in 2014, proclaiming a "caliphate" in land it controlled.
But the extremist group has since lost most of it to various offensives in both countries.
In Syria, the group has seen its presence reduced to parts of the vast Badia desert and the pocket in Deir Ezzor.
Since 2014 the US-led coalition has acknowledged direct responsibility for more than 1,100 civilian deaths in Syria and Iraq, but rights groups put the number killed much higher.
The Syrian Observatory for Human Rights says coalition strikes in Syria alone have killed more than 3,300 civilians.
Full report at:
https://english.alarabiya.net/en/News/middle-east/2018/11/09/Monitor-US-led-coalition-strikes-kill-26-civilians-in-east-Syria-.html
--------
Qatari ambassador's convoy in Gaza being stoned
9 November 2018
Palestinian protestors stoned the Qatari ambassador's convoy during his visit to Gaza on Friday, as shown in a video that was widely shared on social media.
The Qatari ambassador, Mohammed al-Emadi, arrived on Friday afternoon but was met with angry Palestinian stones which led him to leave immediately.
The stones smashed one of the windows of the convoy's cars- suggesting not all Palestinian protesters were pleased with Qatar's intervention.
Hamas security forces arrested a number of protestors who were involved in the stoning incident.
Full report at:
https://english.alarabiya.net/en/News/middle-east/2018/11/09/WATCH-Qatari-ambassador-s-convoy-in-Gaza-being-stoned.html
--------
Arab Coalition requests US to halt aircraft fuel supply in Yemen operations
10 November 2018
The Arab Coalition fighting against the Houthi militia in Yemen has requested that the United States halt the supply of fuel for coalition jets in Yemen operations.
The coalition asserted that Saudi Arabia and its member states have increased their ability to supply their aircraft with fuel.
The move is "based on the efforts of the Kingdom of Saudi Arabia and the member countries of the Alliance for the Support of Legitimacy in Yemen, to work continuously on developing their military capabilities and enhancing their self-reliance," the statement said.
Full report at:
https://english.alarabiya.net/en/News/gulf/2018/11/10/Arab-Coalition-requests-US-to-halt-aircraft-fuel-supply-in-Yemen-operations.html
--------
After Daesh, Damascus suburb residents blocked from going home
November 10, 2018
DAMASCUS: Abu Mohammed thought he could finally go home after terrorists were expelled from his Damascus suburb, but he says Syrian authorities have blocked his return by wrongly classifying his dwelling as unfit to live in.
In May, regime forces turfed the Daesh group out of a chunk of the capital's southern Tadamun neighborhood with a campaign of air strikes and shelling.
For the first time in six years that meant full government control was restored over the area, bringing with it a calm that sparked hopes of a homecoming.
But instead, Abu Mohammed and others from Tadamun complain, the authorities have deemed many residences unfit, and are blocking their owners from returning ahead of a controversial redevelopment plan.
Five months after Daesh was forced out, regime barrages impede access to the former terrorists stronghold now under tight security, and an AFP team was unable to enter.
At the last checkpoint, rubble blocked the road. The floors of a nearby building lay pancaked one on top of the other, and a hole was blown in the minaret of a mosque.
Abu Mohammed said he managed to see his home before the state inspectors arrived — and insisted it was still fine to live in despite the official ruling.
"There wasn't even a bullet hole. It had just been pillaged," he said, giving a pseudonym to avoid reprisals. "It's so unfair for citizens who have waited for years (to return) and always stood by the state." Another would-be returnee Othman Al-Ayssami, 55, was indignant. "Why can't I and thousands of other residents go home?" asked the lawyer. "After the military operations ended, I entered the neighborhood expecting huge damage," he said. But in his four-floor home, "only the windows were broken," said Ayssami, without specifying if his residence had been deemed unfit.
The neighborhood of Tadamun has long been in a grey zone.
Once orchards, it has been populated since the late 1960s by people who fled the Israeli-occupied Golan Heights or flooded into Damascus from the countryside, often without official permission to build there.
But today its fate seems particularly uncertain after provincial authorities last month announced it would be affected by a controversial development law.
The law, known as Decree 10, allows the government to seize private property to create zoned developments, compensating owners with shares of the new projects.
If their land is selected, owners inevitably lose their property and must apply to receive shares in exchange.
Construction is not set to start in Tadamun for several years, but officials have already been dispatched to inspect its homes.
A provincial commission has been charged with evaluating damage and rating whether around 25,000 residential units are fit for human habitation.
Even if their homes are declared up to standard, no resident can move back until further notice.
When they realized that a large number of the homes marked as unfit had in fact not been damaged in fighting, members of the community held several meetings with the commission. To vent their frustration, they set up a Facebook page named "The Tadamun Exiles." "It's our right to go home," wrote one displaced resident.
The commission has split up the neighborhood into three sectors, the last covering the area that IS once controlled.
Commission head Faisal Srour told AFP that in the first two sectors inspectors "have visited 10,000 homes until now, of which 2,500 are fit for living in and 1,000 are not."
The remainder were still being classified, he said, but most units in the former terrorist sector were likely to be rated as unfit.
"That's where the fighting happened," he said.
Tadamun was overrun by rebels in 2012, then part of it fell three years later to the terrorists of Daesh.
Over the years, most residents were forced to flee their homes, and just 65,000 people live there today, compared to 250,000 before the outbreak of the war in 2011.
Homes that are declared fit for habitation are given a serial number and sealed with red wax and officials insist that the owners can reclaim them easily.
A resident can "get (their house) back normally after proving ownership," Tadamun mayor Ahmed Iskandar told AFP, talking by a portrait of President Bashar Assad in military uniform and sunglasses.
But because Tadamun is an informal neighborhood, only 10 percent of the homes have officially registered property deeds — and that is if they have not been lost during the war.
Most of the others from the area only have semi-official papers showing residency.
Even for those who do manage to return, the respite appears only temporary.
Eventually reconstruction, set to start in four to five years, should see the whole area razed to the ground.
Then too, no more than a tenth of the suburb's population will ever be able to present property deeds to receive shares in the reconstruction project.
But inspection commission head Srour said those who could not prove ownership — likely at least 90 percent of residents — would not be made homeless.
Full report at:
http://www.arabnews.com/node/1402266/middle-east
--------
Africa
Three suicide bombs kill at least 20 in Somalia, al-Shabab claims responsibility
9 November 2018
At least 20 people were killed in a triple suicide bomb attack on Mogadishu hotel in Somalia on Friday, according to Somali police.
A Somali police officer says three car bombs exploded outside a hotel in the capital, Mogadishu.
Capt. Mohamed Hussein said the blasts appeared to be suicide bombs that were detonated near the perimeter wall of the Sahafi Hotel, which is located across the street from the Somali Police Force's Criminal Investigations Department.
"The victims were travelling in public vehicles at the scene when the blasts and gunfire occurred. The death toll is sure to rise," Ali Nur, a police officer in the city, told Reuters.
Somalia's extremist rebels, al-Shabab, claimed responsibility for the bombs, according to the group's Adalus radio station.
Mogadishu faces frequent bombings at the hands of al-Shabab, an al-Qaeda affiliate which has been fighting to overthrow the internationally backed Somali government for over a decade.
The Shabab were forced out of the capital by African Union troops in 2011.
But they still control parts of the countryside and attack government, military and civilian targets, seemingly at will, in Mogadishu and regional towns.
https://english.alarabiya.net/en/News/middle-east/2018/11/09/Heavy-gunfire-followed-by-the-explosion-in-the-Somali-capital.html
--------
Libyan PM appeals for 'common vision' ahead of crisis talks
November 09, 2018
TRIPOLI: The head of Libya's UN-backed government, Fayez Al-Sarraj, has urged the international community to find a "common vision" for the chaos-hit North African nation, ahead of crisis talks in Sicily next week.
In an exclusive interview with AFP at his unity government's headquarters in Tripoli, Al-Sarraj hit out at "negative interventions by some countries" in Libya, without naming them.
Libya has been beset by violence since Muammar Qaddafi was ousted and killed in an uprising in 2011, with rival groups vying for territory and oil wealth.
Many Libyans put the country's crisis down to rivalries between foreign governments — Western as well as Arab — who they say pursue their own narrow agendas by supporting one group against another.
Al-Sarraj "saluted" France for organizing a conference in Paris in May that brought together the four main protagonists in Libyan politics, including himself.
He said he regretted that decisions taken at the conference, including a commitment to hold elections on Dec. 10, had not been respected.
Al-Sarraj's Government of National Accord (GNA) was set up under a 2015 UN-brokered deal, but a rival administration based in the country's east refuses to recognize its authority.
He criticized the rival Parliament based in the east, saying it had failed to respect its commitment to carry out the preparations needed for elections.
When asked about the timing of elections, Al-Sarraj said "any mention of a date ... without putting in place a constitutional framework is a form of wishful thinking."
The timetable divides the major powers. While France has pushed for the December date, Libya's former colonial ruler Italy, as well as Russia and the US, have all opposed this.
"It is necessary to unify the international position with regard to Libya," Al-Sarraj said, calling for a "common vision" for its future.
He said Italy and France should overcome their differences "so that there are no points of contention" between them.
Bickering leaders
The populist government that came to power in Rome in June has been openly critical of the French role in Libya, saying it was at least partly to blame for the current chaos.
UN envoy Ghassan Salame set out a new election timetable in a videoconference with the Security Council from Tripoli on Thursday.
He said a national conference in the first weeks of 2019 would pave the way for the electoral process to begin in the spring.
Proposals for a platform for ordinary Libyans to chart the political future, short-circuiting the country's bickering leaders, have been under discussion since last year.
They had been delayed because of repeated flare-ups of fighting between the country's rival armed groups.
Al-Sarraj's biggest challenge has been tackling the insecurity, particularly in the capital, where militias still hold sway more than seven years after Qaddafi's overthrow.
Between late August and late September, fighting in and around Tripoli between rival groups from the capital and other parts of western Libya killed at least 117 people and wounded more than 400.
Under pressure from the UN mission, the GNA announced new "security arrangements," which have yet to visibly come into place.
"We are starting to implement this plan, but it requires international support and the engagement of all (Libyan) parties."
The security plan aims to replace the militias with "regular army and police units," said Al-Sarraj. But he said some militias had "played a positive role in contributing to securing the capital and other cities, and in the fight against terrorism."
Full report at:
http://www.arabnews.com/node/1402116/middle-east
--------
Libyan players set for Italy summit in fresh bid to solve crisis
November 10, 2018
TRIPOLI: Libya's key political players are set to meet global leaders in Italy next week, in the latest bid by major powers to kickstart a long-stalled political process and trigger elections.
A summit in Paris in May had seen the Tripoli-based Government of National Accord (GNA) and eastern Libya strongman Khalifa Haftar agree to hold national polls on December 10.
But acknowledging the chaotic political situation since dictator Muammar Qaddafi was deposed in 2011, the UN on Thursday conceded elections will not be viable before at least the spring of 2019.
Analysts say next week's summit in the Sicilian city of Palermo risks being compromised not only by tensions between Libyan factions, but also the competing agendas of foreign powers.
Just as in May, the key Libyan invitees are Haftar, the eastern parliament's speaker Aguila Salah, GNA head Fayez Al-Sarraj and Khaled Al-Mechri, speaker of a Tripoli-based upper chamber.
Sarraj, in an interview with AFP, urged the international community on Thursday to find a "common vision" for the future of his chaos-hit North African nation.
The GNA says it will use the Palermo talks to lobby for security reforms that unify the army, a constitutionally-rooted electoral process, economic reform and an end to "parallel institutions."
The US, Arab countries and European nations will all send representatives to the talks set to take place on Monday and Tuesday.
For Rome's populist government, a top priority is stemming the flow of migrants who exploit Libya's security vacuum in their quest to reach European shores, often via Italy.
"The Palermo conference is a fundamental step in the goal of stabilising Libya and for the security of the entire Mediterranean," Italy's Prime Minister Giuseppe Conte said this week.
UN envoy Ghassan Salame told the Security Council on Thursday that a national conference in early 2019 would be organized to provide "a platform" for Libyans to spell out their vision for the future.
But diplomatic wrangling between Italy and France hangs over next week's summit.
In September, Italy's defense minister and parliamentary speaker both partly blamed France for Libya's security crisis, which continues to simmer some seven years after the NATO-backed uprising toppled Qaddafi.
The Italian swipes came as Tripoli was plagued by militia clashes that killed at least 117 people and wounded more than 400 between late August and late September.
Rome and Paris have for months been at loggerheads over Libya's election timetable. While France repeatedly endorsed the December date, Italy opposed it.
Rome and Paris have "many interests in common" in Libya including energy, immigration and terrorism, said Federica Saini Fasanotti at the Brookings Institution.
But they have "different ideas in how to reach their targets," she added.
Italy has not been alone in pushing for elections to be delayed — the December 10 date was also viewed skeptically by Washington and Moscow.
"We support elections as soon as possible, but artificial deadlines and a rushed process would be counterproductive," David Hale, the number three at the US State Department, told the Middle East Institute in Washington on Thursday.
One Italian diplomatic source told AFP that no definitive poll date should be set next week and it is "not sure that there will be a final document" after the talks.
For Libyan analyst Emad Badi, rivalry between Paris and Rome has only further polarized the political scene.
The Palermo conference "certainly seems to be orchestrated as a counterweight to the French conference (rather) than ... focusing on genuinely solving the Libyan political deadlock," Badi contended.
Some experts also say rivalries between Arab powers complicate Libya's crisis.
For Claudia Gazzini, a Libya specialist for the International Crisis Group, a solution requires better coordination and not just between France and Italy.
"What needs to happen is a joining hands also of Russian and US positions" with the UAE, Qatar, Turkey and Egypt, she said.
Full report at:
"Forging a consensus at the current conjuncture is close to impossible," Gazzini said.
http://www.arabnews.com/node/1402296/middle-east
--------
Tension in Benue over release of alleged Boko Haram suspect
November 10, 2018
There has been palpable tension in Benue State following the release of the former Coordinator of the state's Livestock Guards, Aliu Tershaku, who was alleged by the military to be a member of the Boko Haram.
At the peak of herdsmen attacks on the state, Tershaku was arrested by the military for his alleged involvement in the attacks that claimed over 500 lives as well as displaced about 200,000 persons across the state.
The Assistant Director, Army Public Relations, 707 Special Forces Brigade, Makurdi, Major Olabisi Ayeni, had in April said in a statement that the military arrested a "key Boko Haram suspect, known as Aminu Yaminu nicknamed Tershaku."
The statement read in part, "Following an intelligence report, it was gathered that Aminu had concluded plans with his cohorts in Bauchi, Borno, Yobe and Nasarawa states to launch a major attack on innocent citizens in Benue State."
Following the arrest, Governor Samuel Ortom had gone ahead to relieve Tershaku, who was until then the state coordinator of Livestock Guard, of his duty. He was thereafter taken to court.
However, few days ago, information filtered round the state that Tershaku had been released and was sighted around his residence in Lobi Quarters, Makurdi.
There were also insinuations that Tershaku after his release had met with some of his supporters, for unverifiable reasons, towards the end of October. This, according to findings, triggered the emergency Security Council meeting held in the state last Tuesday.
The Special Adviser to the governor on security, Col. Paul Hemba (retd.), in a chat with our correspondent on Thursday expressed worries over the release of Tershaku.
Hemba disclosed that he had been informed by one of the security agencies that Tershaku was released on bail and that investigation into his case was ongoing.
He explained that the release of Tershaku was discussed at the state Security Council meeting, where approval was given for the dissolution of the Livestock Guard to enable the state government to reconstitute the security outfit and fish out bad eggs, especially those who may be loyal to the former coordinator.
Full report at:
https://punchng.com/tension-in-benue-over-release-of-alleged-bharam-suspect/
--------
'Quitting APC is like leaving Boko Haram territory'
10 November 2018
Human rights activist and senator representing Kaduna Central in the National Assembly, Shehu Sani, speaks on his recent defection from the ruling All Progressives Congress (APC) to the People Redemption Party (PRP), the politics against his automatic ticket in the ruling party and how he and other lawmakers and governors were "betrayed," the integrity of President Muhammadu Buhari, and the APC leadership which is brewing crisis in the party and other issues of national interest.
Recently, you announced your defection to the Peoples Redemption Party (PRP), apparently because your former party, the All Progressives Congress (APC), did not give you an automatic return ticket to the National Assembly. What exactly informed that decision, which many felt was belated?
My decision to join the APC initially was founded on the fact that at that very time, APC was the only viable alternative to dislodge the Peoples Democratic Party (PDP) and restore good governance in Nigeria and rescue our democracy.
It was a fact that Nigeria was on the edge of collapse, democratically.
It was looted and raped. It was almost destroyed by a decade and half of misrule, mis-governance and pervasive corruption.
At that time when we joined the APC, it was our belief that the nation would achieve and bring an end to the pervasiveness, collapse of the economy and a complete anarchy that enveloped our nation.
The APC came to power with a lot of promises and also raised the hope of Nigerians, especially the fact that we had a person like Muhammadu Buhari as President and his integrity, honesty and commitment to the liberation of this country.
Now, in the last three and half years, we have seen a progressive decline of the party and the integrity ascribed to the President, as the nation has been moving from hope to hopelessness.
We saw the weaknesses of President Muhammadu Buhari and we have seen the rise of a civil force, in the form of a cabal around him that is manipulating the hands of power. We have also seen the vulnerability of the President as a person.
Let us come to specifics. In July, there was an uprising and uproar in the National Assembly emanating from APC legislators, who said they had had it enough and had to move from the APC to PDP. I was part of that scheme at that material time to pull out of APC, but I stayed back for three reasons.
The first has to do with interventions from Adams Oshiomhole, who was then elected the new chairman of the party; from Ahmed Bola Tinubu; and from the President himself.
Specifically, in Oshiomhole, I saw a man who had a track record of unionism and activism and with whom I shared the same story in unionism, in perception and struggle.
So, he gave me all the assurances and I told him that we were getting out of the party because for three consecutive years, we have been at war with the governor of my state, an arrogant and undemocratic governor who has no respect for democratic values and fundamental rights of the people, with whom we differed, both politically and ideologically, despite that we came from the same party.
Oshiomhole and others promised, not just me, but other senators who had similar problems in their states, that they were going to address those very issues and we should remain in the party, giving us assurances.
Well, we have seen that governors within the APC wield so much more power than the pledges and promises that were made, but virtually not fulfilled.
APC moved from being a party to a theatre of war and conflict between its leadership and the governors. We saw the party simply moving in a direction of disaster.
So, for one, we gave them the benefit of doubt. They promised that the primary elections would be direct and as such, they would not be subject to manipulation by anybody.
They also promised that for those of us in the National Assembly, the issues would be resolved and there would be the need for us to remain in the party and save the party.
When the issue of primary elections came, it was very clear that many of the governors were not in favour of direct elections, because the foundation of the crisis in the APC started from Chief John Odigie-Oyegun, with the congresses at ward, local and state levels.
There were no ward congresses in Kaduna; the names of the executives were written by the governor and his aides and given to the Odigie-Oyegun-led National Working Committee (NWC) to put a stamp of authority.
Any genuine politician worthy of himself would not go to stand for a primary election where one person goes into a room in a hotel and writes the names of delegates and submitted them and you want to contest a primary election with that kind of thing?
These were part of the issues we raised and pointed out to the national chairman of the party and he promised that these issues would be remedied by a direct election.
Then, the signs of weaknesses came when Oshiomhole and his colleagues were insisting on direct primaries and governors were saying they would choose the kind of primaries that suit them. Any governor who sought indirect primaries was simply going to use the executives he wrote with his pen to endorse those he wanted and remove those he didn't want.
Well, the primary election came and we bought forms at exorbitant prices and went for the screening.
Out of all the five aspirants, I was the one who was cleared to contest the Kaduna Central zone senatorial primaries.
So, on the day of the election, the NWC insisted that I was the one that was cleared, so the party was expected to do an affirmation.
But the governor of the state said he did not agree and he moved to the Presidency and Oshiomhole. Governor Nasir El-Rufai spent so much time from Oshiomhole's office to the Presidency to clear other aspirants and conduct his own kangaroo election.
Later, we learnt that Oshiomhole and the President bow to his own threat, that either they choose him or me. When all these things happened, I then knew that I didn't have to wait after consulting with my constituency and supporters before I get the result, because I know very well that the President and Oshiomhole reneged on their words.
The APC primaries were one of the greatest political robberies in the 21st Century. The sale of the form was fraudulent, the screening process was dubious and the primary election was a scam. They collected hundreds of millions of naira from gullible aspirants and the screening and primaries, which were shrouded in secrecy, was a disaster.
People were asking why I didn't leave the party before then and I told them that when most of my colleagues in the National Assembly were leaving the APC, they said they were going home, which is the PDP, but PDP was never my home. I didn't want to move from APC to PDP, which was never my home.
I decided not to exit the APC at that time because if I had done that then, the people in my constituency would think I had betrayed the President, the party and their mandate.
So, rather than being seen as a betrayer, it was better for them to see me as one who has been betrayed. It is more credible that way. In politics, when you hold a mandate, representing a people, you cannot just take a decision without consultation.
The APC has lost its honour; it has lost its integrity and it has created an atmosphere of chaos. In that last few weeks, you could see the anger, objection, mass protest and bitterness that attended the affairs of the APC. This cannot be the party that will deliver Nigeria to the Promised Land.
Everyone thought that at this time, the APC would have built itself to the point that it will inspire others to emulate it. For example, what is happening in my state, Kaduna, is that there is no APC in Kaduna State; it is simply a franchise of El-Rufai.
In fact, the APC has degenerated to the point that there are three ways you can emerge as a candidate in that party.
Firstly, have a powerful connection within the Presidency, where a short note can be written to the national secretariat with somebody's name to be removed and replaced with another. Secondly, if you are not in the favour or in the good book of a governor, you cannot have a place. Thirdly, if you can pay your way through, then you consider things done.
Today, the party is an opposite of what progressivism is.
At the earlier stage of defection by your colleagues in the Senate, people expected you to do the same when the ovation was loudest. How is your relationship with them now?
What I want you to know is that you don't change your party from the National Assembly. It is either you get registered into a party from the ward or you exit the party from the ward. You don't join a party from the National Assembly or exit the party from the National Assembly.
As far as I am concerned, I don't want to be seen to leave the party because others were leaving. I represent a people and it is these people that would either say I betray them or not. You live in Kaduna and you go round, you cannot see any person out 10 people or two out of three that would say I betray them or the APC. I didn't betray the APC.
So, as far as I am concerned, those who are responsible and are seen as betrayers know themselves. It is the interest of my constituency that is of uttermost importance to me. It is where they want me to be that I would be.
I don't want to leave a party where I would not be able to go back to my house and sleep or would not be able to go to mosque to pray.
But now, my people have seen that the fault didn't come from me, but from the people they earlier believed in and that gave me the support, peace, sympathy and solidarity to move to the PRP.
I decided to join the PRP because the party and its founding party- NEPU- were the parties of my own parents and my own family. I come from a revolutionary and socialist background.
It is a party that represents our ideological thinking as revolutionaries and socialist. It is not just a party for only acquiring political power, but also a cause and defence for a noble democracy, vehicle and a platform for liberation of the talakawas. So, my colleagues went home to the PDP and I am also at home with the PRP. Since I left the APC to join PRP, I am so happy with myself. Leaving the APC is like leaving the Boko Haram territory.
The difference between Boko Haram and APC is that in Boko Haram, we have Shekau and in APC, there are so many of them.
Some people argue that the way and manner the APC is handling its affairs internally is the same way the nation is being handled; hence Nigeria has not found its bearing. What is your take on this?
First of all, anybody who says things are working right is only deceiving him/herself or trying to suppress the truth that cannot be suppressed.
There is no doubt that there are some achievements, in terms of completion of projects inherited and in the war against insurgency, but you can see for yourself that this country is more divided than before on ethno-religious lines and there is more nepotism in all ramifications.
Also, Nigerians don't see the present leadership in the country as a unifying figure. Rather, they see it pursuing sectional agenda.
We have also seen a progressive decline in the sanctity of human lives and protection of fundamental rights of Nigerians under the present government.
There is also the rising level of intolerance and tyrannical behaviours under Buhari's regime and the complete desecration of democratic values in which the APC government has descended into.
So, what this administration has done is such that by its conduct and character, it has lost its goodwill and by its own division and divisiveness, it has empowered and energised the opposition. The PDP is getting stronger and stronger, despite the blackmail and intimidation from the ruling party.
Full report at:
https://guardian.ng/news/quitting-apc-is-like-leaving-boko-haram-territory/
--------
North America
House Democrat seeks to ban Saudi development of nukes over Khashoggi murder
Nov 10, 2018
A Democratic lawmaker at the US House of Representatives is reportedly planning to introduce a bill that bans Saudi Arabia from acquiring nuclear weapons in retaliation for the regime's murder of dissident journalist Jamal Khashoggi.
Representative Brad Sherman's bill, nicknamed "No Nuclear Weapons for Saudi Arabia Act of 2018," would prohibit Saudi Arabia's construction of nuclear weapons from the material it buys from the US, Vox reported Friday.
The bill would also force Riyadh to implement strict regulations in order to ensure that classified material regarding US nuclear technology won't fall into the wrong hands, the report added.
Riyadh is under immense international pressure to explain why Khashoggi was murdered inside the Saudi consulate in Turkey's Istanbul in September.
The regime first denied that it had anything to do with the journalist's disappearance but eventually admitted his murder and promised to punish the perpetrators.
While the regime has so far fired several officials in relations to the case, many find Riyadh's explanation inadequate given its long history of killing anti-regime dissidents.
"I don't think this bill would've passed prior to the events in Istanbul. Now I think we have a chance," Sherman told Vox.
It is not yet clear when Sherman's bill will come up for a vote in Congress but the report said it wasn't going to come to the floor any sooner than January 3, when the new Democratic-controlled House of Representatives convenes.
Khashoggi's slaying has destroyed the image of Saudi Crown Prince Mohammed bin Salman (MBS), who is believed to have a key role in the assassination.
Although the kingdom insists that bin Salman had nothing to do with the murder, many observers believe he personally ordered the hit job.
MBS said in March that the kingdom would go after nuclear weapons if Iran acquires them.
"Saudi Arabia does not want to acquire any nuclear bomb, but without a doubt, if Iran developed a nuclear bomb, we will follow suit as soon as possible," he told CBS back then.
Following Khashoggi's death, Republican US senators wrote President Donald Trump a letter, calling for suspending talks with Saudi Arabia over a civilian nuclear cooperation agreement.
"The ongoing revelations about the murder of Saudi journalist Jamal Khashoggi, as well as certain Saudi actions related to Yemen and Lebanon, have raised further serious concerns about the transparency, accountability and judgment of current decision-makers in Saudi Arabia," read the letter, sent on November 1.
US to stop refueling Saudi aircraft over Yemen War
It was also revealed Friday that the US was planning to end aerial refueling of Saudi aircraft conducting airstrikes against Yemen, two US officials told CNN.
Riyadh, which is leading a so-called coalition of its regional allies in a years-long war against the people of Yemen, confirmed the decision in a statement Friday.
Besides refueling aircraft, the US military has been providing Saudi-led forces with target information and other intelligence over the course of the war, which has killed thousands of Yemeni civilians and destroyed the poor country's infrastructure.
https://www.presstv.com/Detail/2018/11/10/579575/US-Saudi-Khashoggi-Sherman-bill-Nuclear-saudi
--------
US official due in Israel, UAE to push for anti-Iran campaign
Nov 10, 2018
US State Department's Special Representative for Iran Brian Hook is to visit Israel and the UAE to advance US President Donald Trump's so-called Iran strategy and push for Washington's hostile campaign against Tehran.
"Hook will travel to Israel and the United Arab Emirates November 12-20," a media note by the US State Department said Friday.
According to the note, Hook will meet with Tel Aviv and Abu Dhabi officials to discuss cooperation on countering what it called "Iranian threats".
The State Department said "Hook's trip aims to advance the president's Iran strategy" and to increase pressure on the Islamic Republic.
It also said that the "US is committed" to working with its "allies and partners to fully implement" what it referred to as Washington's "maximum pressure campaign" against Iran.
Earlier this week, the US re-imposed the "toughest" sanctions ever against Iran in an attempt to curtail the Islamic Republic's oil exports and put extra pressure on the country's economy.
The White House claims the new sanctions will force Iran to abandon its nuclear and ballistic missile programs while rolling back Tehran's influence in the Middle East.
While the Trump administration had earlier vowed to cut Iran's oil exports down to zero, it later admitted that it had failed to get the main buyers of Iranian oil to tag along and had to grant temporary waivers to China, India, South Korea, Turkey, Italy, Greece, Japan and Taiwan.
Hook's planned visits to the occupied territories and Abu Dhabi come as the Israeli regime and Persian Gulf states have, in recent months, openly moved toward a rapprochement, especially by presenting Iran as their common enemy.
In late October, Israeli Prime Minister Benjamin Netanyahu made a surprise visit to Oman, where he met with Oman's ruler Sultan Qaboos bin Said al-Said. Israeli Culture and Sports Minister Miri Regev also traveled to the UAE to accompany Israel's judo team on the very same day.
Israeli Intelligence and Transport Minister Yisrael Katz on Thursday called for stronger relations with the Persian Gulf Arab states in civilian sectors, saying that such cooperation can and should be expanded.
The intelligence official described recent public visits by Israeli ministers to the Persian Gulf Arab states as "part of a wider trend of strengthening ties between Israel and the (Persian) Gulf countries based on common interests and a mutual recognition of the potential benefits for both sides, both in terms of contending with common challenges and threats as well as opportunities."
Speaking earlier on Friday, Israeli politician and former military general Yoav Gallant called for a further opening of relations with all Arab countries in a united front against Iran.
"If you look at the picture, there is no real reason for Saudi Arabia or the (Persian) Gulf states to fight with Israel. We have shared interests, a shared enemy called Iran, which threatens Saudi Arabia from close with all that it has. And therefore there is no reason we should not be in the process to have peace in the region," said Gallant.
Full report at:
https://www.presstv.com/Detail/2018/11/10/579577/Hook-Israel-UAE-Iran-campaign
--------
Impact of US sanctions on Iran cushioned by high oil prices, EU-US rift: Reuters
Nov 9, 2018
The impacts of fresh US sanctions on Iran have been cushioned by high oil prices and Washington's international isolation, with Tehran being better placed to weather the storm, a Reuters analysis says.
Citing officials and analysts, the news agency said while the US sanctions will probably trigger recession in Iran next year, they will not lead to an economic meltdown.
US President Donald Trump on Monday decided to trumpet sanctions on Iran not with a speech, but a Twitter meme in reference to Game of Thrones, "Sanctions are coming."
"Iran's situation is better than pre-2016 because of high oil prices and the fact that the US is isolated this time," the report by Reuters quoted a European diplomat as saying.
The diplomat's comments echo the official stance of the Iranian government, which says the recent rise in oil prices has offset the impact of US sanctions on Iran's oil exports.
"Trump thought he could shrink our country's oil revenues by imposing sanctions on Iran's oil and cutting its exports, but the rise in oil prices did not let that happen," Mohammad Baqer Nobakht, the head of Iran's Planning and Budget Organization, said last month.
The US has also granted waivers to almost all key clients of Iran's crude oil for fear of further hikes in oil prices. The countries exempted from the US sanctions on Iran's oil exports include China, India, Greece, Italy, Taiwan, Japan, Turkey and South Korea, which together took in over 80 percent of Iran's oil exports last year.
However, Iran says the waivers are not enough to keep the oil price down, and oil consumers are set for "painful months" ahead because of insufficient supplies.
Meanwhile, as the European diplomat told Reuters, the US isolation under President Donald Trump would also reduce the impact of its unilateral sanctions on the Islamic Republic.
The previous sanctions on Iran, imposed by Trump's predecessor Barack Obama, were supported by the UN Security Council and the European Union. However, this time the US is alone, and the entire world, except for a few countries, have vowed to maintain business with Iran.
"It will be a difficult period but Iran's economy will withstand it for various reasons," a second diplomat told Reuters, "including (the fact of) Russia being under (US and EU) sanctions, Saudi Arabia having its own financial and political issues, and (trade war) between China and the United States."
The report also quoted a Fitch solutions analyst as saying that the new sanctions would not lead to the collapse of the Iranian economy, as the country would be able to keep exporting a significant volume of its crude oil.
"Tehran is still likely to see a substantial share of its foreign exchange earnings maintained," Andrine Skjelland told Reuters. "This will enable Tehran to continue subsidizing imports of selected basic goods, keeping the costs of these down and thus limiting inflation to some extent."
The new round of US sanctions, which had been lifted under a multilateral 2015 nuclear accord with Iran, came back into force on Nov. 5, drawing criticisms from the United Nations as well as Washington's allies in the European Union.
The bans – the second of their kind since Washington's withdrawal from the deal in May -- take aim at Iran's banking, insurance and energy sectors, targeting more than 700 entities. The first round was reinstated in August.
Full report at:
https://www.presstv.com/Detail/2018/11/09/579507/US-sanctions-effect-Iran-oil-price-trump-isolation
--------
US Afghan envoy to visit South Asia, Middle East
09.11.2018
WASHINGTON
The U.S. envoy for Afghan reconciliation will visit Afghanistan, Pakistan, the United Arab Emirates and Qatar with an American delegation later this month, the State Department announced Thursday, amid looming peace talks.
Amb. Zalmay Khalilzad's travel will take place from Nov. 8-20 and will include talks with Afghan officials "and other interested parties to advance the goal of an intra-Afghan dialogue and negotiations that include the Taliban and lead to a sustainable peace".
"A sustainable peace requires that all Afghans have a say in their country's future," the department said.
Khalilzad has been encouraged by steps taken by Kabul and the Taliban towards organizing negotiating teams, the State Department said, noting that Washington "remains committed to a political settlement that results in an end to the war and to the terrorist threat posed to the United States and the world".
Russia-hosted peace talks between the Afghan government and Taliban are set to begin Friday for the first direct negotiations between the parties.
Full report at:
https://www.aa.com.tr/en/americas/us-afghan-envoy-to-visit-south-asia-middle-east/1306568
--------
US sanctions on Iran: An instrument for regime change
09.11.2018
The second round of U.S. sanctions targeting Iran's energy sector -- the country's main source of income -- came into force this week, which could have the effect of reducing Iran's crude oil exports.
Some observers fear the move could lead to rising living costs and push a significant portion of the population below the poverty line.
Iranian filmmakers and celebrities have responded to the sanctions by launching a social-media campaign with the Twitter hashtag #SanctionsTargetMe.
They say their goal is to let the world know that the main targets of the U.S. sanctions are everyday Iranians rather than the government.
Hossein Mousavian, Iran's former nuclear negotiator, believes the impact of the second round of sanctions will be worse than the first.
He says Washington's ultimate goal is to increase pressure on Tehran with a view to changing the Islamic republic's current regime.
Mousavian believes the first round of sanctions -- imposed some three months ago -- affected the country's foreign trade and undermined its economy.
The second round, which officially came into force on Monday, primarily targets Iran's oil and gas exports and international financial transactions.
According to Mousavian, the impact of the second round of sanctions on foreign trade and the national economy will be worse, since Iran's budget is heavily dependent on energy exports, which account for almost 60 percent of the country's total foreign trade.
Mousavian also believes, however, that the first round of sanctions served to unite Iran's disparate political factions against U.S. policy in the region, while the second round could provide Iran with an opportunity to reduce its traditional dependence on oil and gas.
"There is no doubt that Washington's ultimate goal is regime change," he said. "But that's been their goal for the last four decades and it's always ended in failure."
On Monday, the U.S. exempted eight Iranian oil purchasers from the sanctions, pointing out that -- after its withdrawal from the nuclear deal in May -- Iran's daily oil exports had fallen by one million barrels.
These purchasers will be allowed to buy limited oil from Iran for another six months, after which the U.S. -- which hopes to eventually bring Iran's oil exports to zero -- will decide whether or not to extend the exemption.
Previously, these eight purchasers -- China, India, South Korea, Japan, Taiwan, Turkey, Greece and Italy -- had accounted for some 75 percent of Iran's total energy exports.
Purchasers during the last round of sanctions had been expected to reduce their purchases by 20 percent every six months, but U.S. Treasury Secretary Steven Mnuchin recently said they would have to "cut more".
Morteza Safari Natanzi, chairman of the Foreign Policy Committee of the Islamic Consultative Assembly (Parliament), stated: "Although the U.S. has made great efforts to boycott Iran, it won't achieve anything."
Iran's economy is oil-based, and, as a result, developments in the oil and gas sector will have the most significant effects on Iran's economy.
On the other hand, the Iranian oil sector has the highest degree of cohesion and solidarity with the outside world, and therefore the sanctions could have a serious impact on Iran's main source of income.
Of course, there are major differences with the previous sanctions. The earlier sanctions were imposed by consensus and within the context of an amicable agreement between the U.S., the EU and the UN Security Council.
Full report at:
https://www.aa.com.tr/en/americas/us-sanctions-on-iran-an-instrument-for-regime-change/1307014
--------
OPEC to convene in Abu Dhabi amid worries over surging US crude supplies
November 10, 2018
Opec, which meets tomorrow for its Joint Monitoring Ministerial Committee meeting in Abu Dhabi will look to reinvent itself as it finds itself outpaced by surging US supply that breached record levels and a tighter spare capacity environment.
Data from the US Energy Information Administration showed US supply had swung up to 11.6 million barrels per day last week, eclipsing Saudi Arabia's 10.7 million bpd and Russia's own 11.4 million bpd.
Much of the US supply, which has revived following the end to the three-year slump in oil markets, is on top of the production for domestic consumption, worrying Opec and its ally Russia.
The US administration under President Donald Trump had earlier exerted pressure on Opec's de-facto leader Saudi Arabia and its allies to pump more crude to push the prices down that had breached the $80 per barrel level ahead of the country's midterm elections.
Saudi Arabia has already expended its production capacity, stretching to limits, with the market getting tighter ahead of US sanctions against Iran, which came into effect on November 5.
The grant of waivers to Tehran's key eight buyers, a measure the US has offered as means to monitor the slow withdrawal of Iranian barrels from the market in six months, does not come as a panacea to the markets, least of all to Opec.
With Iranian crude expected to halve from current levels of 1.6 million bpd to 800,000 bpd by mid-2019, according to consultancy Facts Global Energy, Opec finds itself difficult to compete with a surging US crude supply.
Under the circumstances, Saudi Arabia may consider forging a closer bond with Russia, using their collective 20 million bpd plus output as a bulwark against US shale.
Full report at:
https://www.thenational.ae/business/energy/opec-to-convene-in-abu-dhabi-amid-worries-over-surging-us-crude-supplies-1.790005
--------
US pushing for Yemen talks as it studies terror designation for Houthis
Joyce Karam
November 10, 2018
Even as the UN announced delays for its peace talks for Yemen, the Trump administration remains laser focused on jump-starting the political process while reportedly considering a designation of the Houthi movement as a foreign terrorist organisation (FTO).
The Washington Post reported on Thursday that the White House is considering designating the rebels as a terror group in order to speed the end of the conflict and pressure Iran to cut support for the organisation.
However, current and former US officials did not confirm such plans. A US State Department official, speaking to The National on condition of anonymity, said the US position on Yemen and the conflict "has not changed."
"We have been urging all parties to come to the table and recognise that there's no military victory that can be achieved in Yemen" he added.
Another US official said that Washington's efforts are solely focused now in support of the UN Envoy Martin Griffiths.
"We reiterate our calls for a cessation of hostilities and for all parties to come to the table to find a peaceful solution to the conflict" the official said. UN plans to convene the parties have been pushed from November to the end of the year.
Debate on labelling the Houthis as foreign terrorist organisation is not new. The Obama administration had examined the issue in the past, and it has come up more vigorously since the Trump administration took office. An FTO designation would sanction the Houthis, prohibit any US contact with the group, and isolate them financially on the international arena.
Former US officials who served in Yemen, however, told The National that the decision remains unlikely since it would not achieve its desired objective of prompting a political solution in Yemen.
"I don't think it makes sense" said Gerald Feierstein, a former US ambassador to Yemen. "Our issues with the Houthis concern their efforts to obstruct the political transition in Yemen and their military campaign both within Yemen and against Saudi Arabia" said Mr Feierstein, who now serves as director for government relations at the Middle East Institute. Designating them, he argued, would undermine efforts to negotiate a political resolution of the conflict.
Stephen Seche, vice president of the Arab Gulf States Institute, said he suspected that the push to designate the Houthis is coming from the White House and not the State Department. Mr Seche who also served as an Ambassador to Yemen from 2007 to 2010, said that such designation would not be as impactful given the local operation of the group.
"They're not known for conducting international banking or travel, and they're not vulnerable to such pressure…hence the practical impact may be minimal" Mr Seche said. He suggested that an FTO decision would, were it to be taken, complicate US efforts on the ground in engaging the Houthis, and deliver aid and humanitarian relief to areas under their control.
What such a designation may do, however, is remove congressional pressure on the administration in continuing its support role in the war in Yemen, explained Mr Seche. Then the administration would be seen as taking role in a fight against a terrorist organisation.
Fatima Al Asrar, a former Yemeni diplomat and a senior analyst at the Arabia Foundation, said that while the Houthis "are a non-state actor, who work openly against US interests, an FTO designation may complicate matters further.
"One of the major concerns is that it might impact Yemenis at large, including those who have no affiliation with Houthis or are forced to deal with them" Ms Al Asrar said.
"Houthis are a non-state actor, they work openly against US interests but this designation will not have any impact on their ability to operate." Instead, "it may curtail UN agencies delivery of food and essential items in their areas which can have a catastrophic impact" Ms Al Asrar warned. The Yemeni expert favoured sanctioning separate individuals and entities in the group by the US Treasury as an alternative.
Full report at:
https://www.thenational.ae/world/the-americas/us-pushing-for-yemen-talks-as-it-studies-terror-designation-for-houthis-1.789952
--------
URL: https://www.newageislam.com/islamic-world-news/delhis-khirki-masjid-no-rana/d/116845
New Age Islam, Islam Online, Islamic Website, African Muslim News, Arab World News, South Asia News, Indian Muslim News, World Muslim News, Women in Islam, Islamic Feminism, Arab Women, Women In Arab, Islamophobia in America, Muslim Women in West, Islam Women and Feminism