New Age Islam News Bureau
22 Dec 2019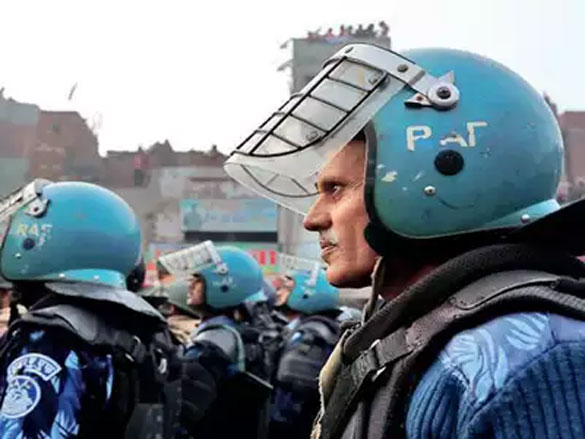 Anticipating a flare-up, police had blocked all the entry and exit routes from the area using barricades. (File photo)
------
• Delhi: Human Chain, Imams' Help Kept Protesters Under Check
• Shahar Quiz of Bhopal, Appeals Youths to Hold Their Nerve on CAA, NRC
• 'Several Countries for Muslims but Not a Single One For Hindus': Gadkari on Citizenship Act Row
• Muslim Professor In Pak Sentenced To Death On Blasphemy Charges
• Perak Allocates RM10 Mil for Non-Muslim Places Of Worship
• Muslim Nations Consider Gold, Barter Trade to Beat Sanctions
• Council of Mosques Volunteers Donate Gifts To Hospital Patients At Christmas
• Muslim Countries Reveal How They Will Tackle US Sanctions Threat
• Global Support for ICC Decision to Investigate Israeli War Crimes
Compiled By New Age Islam News Bureau
URL: https://www.newageislam.com/islamic-world-news/delhi-human-chain-imams-help/d/120594
-----
India
• India's new Muslim flaunts Tricolour, sings national anthem & isn't afraid to look Muslim
• Gandhi's great-grandson joins wave of protest at law isolating India's Muslims
• BJP's Ally SAD Wants Muslims to Be Included In Citizenship Amendment Act
• Muslim Central Committee calls for rally in Mangaluru, demands resignation of top cop
• Owaisi appeals to fly tricolour to show protest against CAA, NRC
• Sikhs in Solidarity with Indian Muslims
• 23 dead in protests against India citizenship law that excludes Muslims
------
Pakistan
• FATF response to Pakistan progress report received
• Heavy casualties to India in Pakistan's response to ceasefire violation: ISPR
• Ministry doing 'research' before moving SJC against Justice Seth
• UN moot adopts Pakistan's resolution against corruption
• Panel on ECP appointments drops plan to amend rules
• Centre turns down Punjab's requisition for six Police Service of Pakistan officers
------
Southeast Asia
• Saudi threatened Pak with sanctions: Turkish President Erdogan at Islamic summit in Malaysia
• Yoursay: Dr M's Muslim trade pact not grounded in reality
• KL Summit complements efforts of other Muslim nation coalitions - Dr Mahathir
• Invest more in less well-off Muslim countries - Dr Mahathir
• At Chinese embassy's Xinjiang show, Muslim groups, PAS protest in support of Uighurs
• Malay-Muslim community to be consulted on more issues that concern them: Masagos
------
Europe
• French Military Kills 33 Islamist Militants in Mali Raid
• Angry Anti-CAA, NRC Protest by AMU, Jamia Alumni in London
• Germany: Fewer Islamists pose terror risk
------
North America
• Concerns grows as NY's Islamic patrols increase their presence
• Trump unveils America's sixth military branch: Space Force
• Bill in US House seeks promotion of Gandhi legacy
------
Mideast
• Syrian regime bombed a mosque in Bazabour village in Idlib, on December 21
• Ayatollah Sistani calls for quick formation of government
• Ayatollah's Son Has Access To Damning Tape Revealing 'Islamic Republic's Biggest Crime'
• More than 400 Israeli settlers raided Al-Aqsa Mosque last week
• Turkish parliament OKs controversial Libya military deal
• Rouhani, Japan's PM Discuss Bilateral Ties, Regional Developments
• Iranians set up new companies in Turkey to evade US sanctions
• New Trump sanctions target Turkish economy and military
• No End to Abuse and Exploitation of Migrants Stranded In Libya
• Russia, China have blood on their hands after veto on Syria cross-border aid: Pompeo
------
South Asia
• Afghanistan's Ghani Wins Majority in Presidential Poll: Preliminary Results
• CAA, NRC India's Internal Issues, but 'Worrisome' That Uncertainty Could Affect Neighbours: Bangladesh
• 2 Rohingya men killed in 'gunfight'
------
Arab World
• OIC Condemns Brazil for Opening Trade Office In Jerusalem
• Saudi Arabia Denies Asking Pakistan To Skip Malaysia Summit
• Expert reveals when Ramadan, Eid Al Fitr 2020 will fall in UAE
• KSRelief continues humanitarian projects in different parts of Yemen
• Saud Al-Sabhan, director general at the Saudi Ministry of Communications and Information Technology
• DJ Steve Aoki spins Mohammed Abdu remix at MDL Beast for Saudi fans
------
Africa
Why Marriages Collapse Early In Nigeria – Islamic Cleric
Five arrested in Ethiopia for arson attack on mosques - state government
Five arrested for attack on mosques in Ethiopia's Amhara region
Release Sowore, other political prisoners now, Muslim group tells Buhari
Sheikh Gumi to CJN: Leave Sharia alone, talk about restructuring
Muslim Youth Urge Buhari To Release Sowore
Sudan government off of US religious freedom blacklist
------
Delhi: Human chain, imams' help kept protesters under check
Dec 22, 2019
NEW DELHI: A hashtag about the protest running on social media and an intel input about a massive showdown in central Delhi planned by some groups based in north-east Delhi had kept the cops on their toes on Friday. Police and members of an aman committee in Old Delhi, however, managed to stop the crowd from reaching central Delhi and prevent a flare-up of the situation in Daryaganj.
On Friday morning, more than 20,000 people had gathered at Seelampur. They started marching towards Wazirabad to reach Jama Masjid after WhatsApp forwards from different groups asked people to gather in central Delhi in large numbers.
Anticipating a flare-up, police blocked all the entry and exit routes from the area using barricades, while the members of the aman committee formed a human chain around these barricades to stop people from leaving the area.
"We convinced all the imams and maulavis from the area to join us in controlling the protest. Emotions were running high among the protesters and we had to remain careful about tensions flaring up due to police action," said Ved Prakash Surya, DCP (north-east).
By afternoon, the crowd gathered at the Jafrabad Road demanding a passage to march to Jama Masjid. This is when the local imams decided to hold the jumma prayers. Members of the aman committees arranged for mats and water so that the prayers could be held on the road.
"This calmed down the emotions rapidly. Most people started dispersing immediately after the prayers," said Imran, a member of the committee from Maujpur area. They also roped in some local mediapersons who were known to the people in the area.
By this time, the cops had blocked all the entry routes to Delhi from Loni and Ghaziabad. Despite this, two bus full of protesters, some of whom were armed with sticks, managed to enter Delhi. But they were detained and sent back.
A special team, including members of the aman committee, police and mediapersons, scanned through the WhatsApp messages being circulated. "We identified some of the numbers from which the messages were sent and reached out to the owners to convince them about the law and order situation that would ensue after such messages are circulated," said a police officer.
Aman committee members also scanned through the social media posts of some of the prominent leaders of the protest and contacted them to keep away from spreading any messages that could affect peace.
"The situation in central Delhi would have been uncontrollable if the crowd had joined the protest at the Delhi Gate on Friday evening," said a police official.
https://timesofindia.indiatimes.com/city/delhi/delhi-human-chain-imams-help-kept-protesters-under-check/articleshow/72920869.cms
------
Shahar Quiz of Bhopal, Appeals Youths to Hold Their Nerve on CAA, NRC
Dec 21, 2019
A senior Muslim cleric on December 21 appealed to people to maintain peace and not indulge in the acts that bring "disrespect" to the community, a day after a peaceful protest was held in the Old City area against the new citizenship law and the proposed NRC.
Shahar Qazi (city cleric) Syed Mushtaq Ali Nadvi also underlined "restlessness" among Muslims and secular people over the two moves.
On December 20, curfew was imposed in parts of Jabalpur city, while internet was suspended for six hours in Bhopal during a peaceful protest near a mosque in the Old City area.
"There was restlessness among Muslims, especially youths, and secular people after the Central government got the Citizenship (Amendment) Act (CAA) and National Register of Citizens (NRC) passed in Rajya Sabha and Lok Sabha recently," Nadvi said while addressing a press conference.
Hoping that the CAA and NRC be scrapped, he said, "I appeal to the young people to maintain peace and desist from taking law into their hands. Stay away from acts that bring disrespect to the community and disturb (social) atmosphere".
According to the Citizenship Amendment Act, non-Muslim refugees, who came to India before December 31, 2014, to escape religious persecution in Pakistan, Bangladesh and Afghanistan will be granted Indian citizenship.
Protests against the law, which critics allege discriminates on the basis of religion, have rapidly spread across the country.
Over the last few days, protesters have fought pitched battles with police in most major cities of the country, including the national capital of Delhi, prompting authorities to impose prohibitory orders.
https://www.moneycontrol.com/news/politics/muslim-cleric-appeals-youths-to-hold-their-nerve-on-caa-nrc-4751771.html
------
'Several Countries for Muslims But Not a Single One For Hindus': Gadkari on Citizenship Act Row
December 18, 2019
New Delhi: Amid widespread protests in the country against the Citizenship Amendment Act, Union Minister Nitin Gadkari said the law is a necessity as no country in the world right now is specifically for the Hindus.
Speaking at the News18 India Chaupal on Wednesday, Gadkari justified the government's move, saying, "There is no country in the world for the Hindus. Earlier Nepal was one Hindu nation but now there is not a single Hindu nation…so where will the Hindus, Sikhs go? For Muslims there are several Muslim nations where they can get citizenship…opposition is trying to mislead the people."
"We are not against any Muslim citizens of our nation. Some political parties are creating fear among minorities. I assure you that our government is against discrimination politics," the Union Road Transport and Highways Minister added.
As per Citizenship Amendment Act, a specific group of illegal immigrants — those who came from Afghanistan, Bangladesh or Pakistan on or before December 31, 2014 and belong to Hindu, Sikh Buddhist, Jain, Parsi, or Christian religious communities — will not be treated as illegal immigrants and will now be eligible for citizenship.
The law allows a person to apply for citizenship via naturalisation if they need the qualifications pertaining to residency in India — that they be employed in central government service for the past 12 months, or spend 11 of the past 14 years in India. For this group, the residency requirement for naturalisation has been relaxed from 11 years to 5 years.
Meanwhile, the Supreme Court on Wednesday decided to examine the constitutional validity of the Act but refused to stay its operation.
A clutch of petitions challenging the Act, which has seen protests across the country, were filed in the Supreme Court. Among those who filed the petitions are senior Congress leader Jairam Ramesh, Asom Gana Parishad and the Indian Union Muslim League.
According to the petitioners, religion cannot be the basis for grant of citizenship. They said the new law is against the basic structure of the Constitution as admitting illegal migrants as citizens on the basis of religion violates the fundamental rights to life and equality.
https://www.news18.com/news/politics/several-countries-for-muslims-but-not-a-single-one-for-hindus-gadkari-on-citizenship-act-row-2427997.html
------
Muslim professor in Pak sentenced to death on blasphemy charges
Dec 21, 2019
ISLAMABAD: A Muslim professor was sentenced to death on Saturday by a Pakistani court for a blasphemous Facebook post, according to a media report.
Junaid Hafeez, who was a visiting lecturer at the department of English literature of the Bahauddin Zakariya University (BZU) in Multan city of Punjab province, was booked on blasphemy charges and was arrested by police on March 13, 2013.
The trial of the case started in 2014 and Hafeez has been lodged in a high-security ward of New Central Jail in Multan.
Additional sessions Judge Kashif Qayyum sentenced Hafeez to death and imposed a fine of Rs 0.5 million under Section 295-C of the Pakistan Penal Code (PPC), the Dawn News reported.
Hafeez's lawyer, Rashid Rehman, was shot dead in May 2014 in his office.
His parents had earlier this year appealed to former chief justice Asif Saeed Khosa to look into their son's case. They sought justice for their son, fearing for his mental and physical health, the daily said.
They had said their son had been languishing in solitary confinement in a cell of the Central Jail, Multan, for the last six years on the false charge of blasphemy.
"Due to transfer of many judges, delaying tactics of prosecution witnesses, and difficulties finding adequate legal counsel for the defence because of the sensitive nature of the case, our son continues to await justice in a fabricated case," Junaid's parents had said in a written appeal to the chief justice.
Blasphemy is a hugely sensitive issue in Pakistan, with even unproven allegations often prompting mob violence. Anyone convicted, or even just accused, of insulting Islam, risks a violent and bloody death at the hands of vigilantes.
Rights groups have said the blasphemy laws are routinely abused to seek vengeance and settle personal scores.
https://timesofindia.indiatimes.com/world/pakistan/muslim-professor-in-pak-sentenced-to-death-on-blasphemy-charges/articleshow/72914703.cms
------
Perak allocates RM10 mil for non-Muslim places of worship
The Perak government has allocated RM10 million for renovating, maintaining and building new non-Muslim places of worship in Perak.
Menteri Besar Ahmad Faizal Azumu said allocations channelled through the Perak Budget 2020 also covered activities of the non-Islamic communities in the state.
"The state government is committed to ensuring that the political stability, economic development, social prosperity and inter-religious harmony enjoyed by Malaysians in Perak is preserved.
"If we have shortcomings, I invite you, ladies and gentlemen, come together to work together so that we as a government and society complement each other for the development of our beloved state of Perak," he said in his speech at the Perak state level 2019 Christmas Day celebration at the Stadium Indera Mulia last night.
The text of his speech was read by his (Perak Mentri Besar's) special adviser Zainol Fadzi Paharuddin.
Ahmad Faizal said as a multiracial state, nothing was more valuable than seeing the state's social harmony being maintained. - Bernama
https://www.malaysiakini.com/news/504508
------
Muslim nations consider gold, barter trade to beat sanctions
DECEMBER 21, 2019
KUALA LUMPUR (Reuters) - Iran, Malaysia, Turkey and Qatar are considering trading among themselves in gold and through a barter system as a hedge against any future economic sanctions on them, Malaysian Prime Minister Mahathir Mohamad said on Saturday.
At the end of an Islamic summit in Malaysia, Mahathir praised Iran and Qatar for withstanding economic embargoes and said it was important for the Muslim world to be self-reliant to face future threats.
"With the world witnessing nations making unilateral decisions to impose such punitive measures, Malaysia and other nations must always bear in mind that it can be imposed on any of us," Mahathir said.
U.S.-allied Arab states Saudi Arabia, the United Arab Emirates, Bahrain and Egypt cut diplomatic and trade links with Qatar about 2-1/2-years ago over allegations it backs terrorism, a charge Doha denies. Iran, meanwhile, has been hit badly after the United States reimposed sanctions on it last year.
"I have suggested that we re-visit the idea of trading using the gold dinar and barter trade among us," Mahathir said, referring to the Islamic medieval gold coin.
"We are seriously looking into this and we hope that we will be able to find a mechanism to put it into effect."
The leaders agreed they needed do more business among themselves and trade in each other's currencies.
The summit, which was snubbed by Saudi Arabia, was criticised for undermining the Saudi-based Organisation of Islamic Cooperation (OIC), which represents 57 Muslim-majority nations. Malaysia said all the OIC members had been invited to the Kuala Lumpur summit but only about 20 showed up.
By the fourth and final day of the summit, no joint statement had been released. The summit had been expected to discuss major issues affecting Muslims, including Palestine, Kashmir and the plight of Rohingya Muslims in Myanmar and China's camps for Uighur Muslims in its western Xinjiang region.
Without naming any country, Mahathir said there was concern that Muslims in non-Muslim countries were forced to undergo assimilation.
"We support integration but assimilation to the extent of shedding our religion is unacceptable," he said.
At a news conference, he said the summit participants had been told that Uighurs were being detained in China.
"We have to hear the state, we have to hear the people who complain, then only it will be fair," he said.
He called India's new citizenship act unfortunate. The act facilitates for faster naturalisation of non-Muslims from Afghanistan, Bangladesh and Pakistan who had settled in India prior to 2015.
https://in.reuters.com/article/malaysia-muslimalliance/muslim-nations-consider-gold-barter-trade-to-beat-sanctions-idINKBN1YP04I
------
Council of Mosques volunteers donate gifts to hospital patients at Christmas
21st December
The visiting volunteers from LCM were accompanied by Molana Rafiq Sufi, (Chair of LCM) as well as Hafiza Patel, Muhammad Sadiq, Latifa Patel and other members of the LCM team, who handed out gifts to wards D1 & D3 and conversed with patients.
Molana Rafiq Sufi said, "We are grateful to the hospital for the opportunity to visit these elderly patients.
"During these cold winter months it is important that we share our kind thoughts, warm feelings and good gestures with patients so that happiness is enjoyed by everyone including those that are going through a period of ill health and suffering. We at LCM are ready and happy to help our elderly community regardless of their faith and background."
Hospital Imam and Chaplain Fazal Hassan who helped organise the visit said, "These events where warmth, closeness, togetherness and joy is shared between people on special occasions, are vital not only to bring a smile on patient's faces, but also to help strengthen community and race relations and build a cohesive community based on core values of care and compassion".
https://www.asianimage.co.uk/news/18116930.council-mosques-volunteers-donate-gifts-hospital-patients-christmas/
------
Muslim Countries Reveal How They Will Tackle US Sanctions Threat
21.12.2019
Earlier this week, Iranian President Hassan Rouhani urged the Muslim world to join forces and take measures to get rid of the domination of the US system and the dollar.
Malaysian Prime Minister Mahathir Mohamad has stated that his country, Iran, Turkey and Qatar may use the Iranian medieval gold coin, the dinar, as well as barter trade as a hedge against economic sanctions.
"With the world witnessing nations making unilateral decisions to impose such punitive measures, Malaysia and other nations must always bear in mind that it can be imposed on any of us," Mahathir said during the 2019 Kuala Lumpur Summit in the Malaysian capital on Saturday.
He apparently referred to the situation related to Saudi Arabia, the United Arab Emirates, Bahrain and Egypt severing diplomatic and trade links with Qatar in 2017 over allegations that it supports terrorism, as well as the US' anti-Iranian sanctions that Washington imposed after its pull-out from the Iran nuclear deal.
"I have suggested that we re-visit the idea of using the gold dinar and barter trade among us. We are seriously looking into this and we hope that we will be able to find a mechanism to put it into effect", Mahathir added.
Rouhani Urges Islamic World to Break Free of 'Dollar Domination'
The statement comes a few days after Iranian President Hassan Rouhani told the Kuala Lumpur Summit that "the Islamic world should adopt measures to set itself free from the domination of America's financial system and the US dollar".
He suggested that Islamic-majority countries could support one another, for example, by signing new banking cooperation agreements and forming new financial mechanisms.
Earlier, he pledged that Iran will overcome US sanctions one way or another, either by bypassing them or through negotiations.
In mid-September, Iranian Central Bank (CBI) head Abdolnaser Hemmati said Tehran is planning to evade US economic sanctions by switching entirely away from the dollar to national currencies in mutual trade and by bypassing SWIFT, an international messaging network for communications between banks, which announced its ban on Iranian financial institutions soon after the US targeted them with sanctions in November 2018.
The network said that this was done in order to preserve the "global stability of the system" and that the decision was preceded by Washington threatening to impose sanctions on SWIFT itself if it would not cut ties with Iran.
US Sanctions Against Iran
The US reinstated strict sanctions against the Iranian economy's energy, banking, and shipping sectors following Washington's unilateral withdrawal from the 2015 Iran nuclear deal, also known as the Joint Comprehensive Plan of Action (JCPOA).
The White House also threatened to impose restrictive measures against any entity dealing with Iran, including EU member states.
The JCPOA lifted a raft of international sanctions against Tehran in exchange for the Islamic Republic limiting its nuclear programme, but was subsequently sabotaged under the Trump administration.
https://sputniknews.com/middleeast/201912211077703803-iran-us-sanctions-dollar-domination/
------
Global support for ICC decision to investigate Israeli war crimes
DAOUD KUTTAB
December 22, 2019
AMMAN: There has been strong international support in reaction to the decision by the International Criminal Court (ICC) prosecutor to initiate an investigation into war crimes committed by Israel.
After five years of deliberation, ICC prosecutor Fatou Bensouda's decision was welcomed by Michael Lynk, the UN special rapporteur on the situation of human rights in the Palestinian territories occupied since 1967.
Lynk told Arab News that the two counts that Bensouda had identified, namely over settlements and armed conflict in Gaza, could lead to a trial in the Hague. The continued illegal settlement activity in the occupied territories are the very definition of a war crime, he said, and moving civilian populations to occupied areas was a clear violation of international humanitarian law.
Lynk, a professor of international law, said if convicted, every official who had facilitated the moving of civilians to occupied areas would be held accountable. Accountability "would apply to Israeli political and military leaders as well as settlers" involved in obtaining funds to build illegal dwellings, he said.
"On the settlement issue, it is an open and shut case: There is a strong argument that settlements are a violation of international law," Lynk said, adding that similar considerations would also apply to the 2014 war in Gaza, which led to the deaths of 1,500 Palestinians.
Hegra, ancient city of the Nabataeans in Saudi Arabia's historic AlUla Valley, is emerging from the mists of time to take its rightful place as one of the wonders of the world
Enter
Omar Shakir, director of Human Rights Watch in Israel and Palestine, told Arab News it was quite clear that the prosecutor had identified the ICC could "move forward with a probe of crimes (committed in) settlements and (the) armed escalation in Gaza by both armed groups and the Israeli army."
Shakir, who is currently residing in Amman after he was deported from Israel last month, said that the decision, though important, was still at too early a stage to tell whether or not the investigation would lead to accountability.
One of the reasons for the hesitation among experts is that the Bensouda is dependent on the outcome of a criminal jurisdiction test. Shakir called the delay "an unnecessary procedural move which will only delay justice for the victims."
Lynk added: "The prosecutor could have moved directly without asking for jurisdiction. It is Indefensible to ask procedural questions five years into a preliminary inquiry. At the same time, the report makes clear the need for accountability precisely where impunity continues to reign."
Palestinian Foreign Minister Riyad Malki told Palestinian TV that the delay would be settled within 120 days, stating: "A decision will be made before April 2020."
However, Shakir argued it could allow the issue to drag. "I think the timeline questions are tricky — it is difficult to project the timeline for justice and accountability. Victims are facing a wall of impunity; one day more is too long. Perpetrators of serious crimes must face justice immediately," he said.
US and Israeli officials have spoken against the decision, while the Palestinian leadership has welcomed it. Shakir argued that the US had for a number of years taken a problematic position on the issue of alleged Israeli crimes, but noted that the ICC had now sent a strong message to the current Israeli government, and its allies abroad, that further annexation of territory, in the Jordan Valley, for instance, would not be tolerated by the international community.
"Israel should be put on notice. This should be a clear message to the Israeli government that their efforts to rewrite international law have failed, and the arc of justice will prevail. Israelis should realize the world will no longer fall for their excuses."
https://www.arabnews.com/node/1602301/middle-east
------
India
India's new Muslim flaunts Tricolour, sings national anthem & isn't afraid to look Muslim
SHEKHAR GUPTA
21 December, 2019
This Republic owes a huge debt of gratitude to celebrity writer-activist Arundhati Roy. She single-handedly saved India from the armed Maoist insurgencies.
She did it when she described our Maoists as 'Gandhians with Guns'. It was a great quotable quote forever. It also buried whatever little sympathy the Maoists might have had as underdogs.
As the oldest truism goes in marketing, nothing fails faster than an obvious lie. You couldn't be both, Gandhian and Maoist, at the same time.
Watching the pictures from the steps of Delhi's Jama Masjid, a brisk 15-minute walk or one metro station away from where I sit and write this on Bahadur Shah Zafar Marg, I wondered how she would have described thousands of Muslims spilling over Jama Masjid's 17th century steps today.
These are Muslims, 'dressed' like Muslims. We underline this since our prime minister just indicated that the clothes people wear signal their intentions. They are 'armed' with the Tricolour, the Constitution, many framed portraits of Babasaheb Ambedkar, some of Gandhi, chanting 'Jana Gana Mana' and 'Hindustan Zindabad'. In the classical Left-liberal worldview, flaunting aggressive symbols of nationalism, the flag, the anthem and the assertion of national identity, are symptoms of exaggerated majoritarian nationalism, and the last step before jingoism.
What happens when the Republic's largest minority (one of every six or seven Indians) comes out on the steps of their holiest mosque to pronounce they are Indians first, believe in the Constitution, the flag and the anthem, and reject the idea that someone could now reimagine the basis of the Republic, whatever his majority?
Think hard to understand what has changed in India. The Muslims are questioning the majority's first claim to Indian patriotism. They are also saying something immigrants, dominated by those from India, chanted in Britain four decades ago when racism grew rampant: Come what may, we are here to stay.
No one can fight them. No one can open fire at them with any justification. Our country has changed. Or, as the more contemporary line goes: Mera desh badal gaya hai, mitron.
You cannot even convince them of the nuance between the Citizenship (Amendment) Act and National Register of Citizens, the citizen and the refugee. You've said too much already, especially with the 2021 West Bengal elections in mind. You had gone out to achieve two things.
One, retrospectively protect the Bengali Hindus caught in the NRC net in Assam and expel Bengali Muslims. And two, impress Bengali Hindus in West Bengal with the promise of a repeat. In trying to put out a fire in Assam, and lighting up another one in West Bengal, you now have the flames in Delhi. Jama Masjid is just about 7 km from Rashtrapati Bhavan, it is supposedly under Section 144. See who is defying it and how.
lothes — caps, burkhas, hijab, the colour green — have been the most visible aspect, and stereotype, about Muslims. Also, their religious chants. One such was picked up from the Facebook page of one of the two young women who drew nationwide notice for saving a male friend by coming between him and the police lathis. The implication was, along with some other scribbles, that she is driven by orthodox Islam, not nationalism or any commitment to secularism.
There's been an even stronger symbolism of the angry Muslim, represented by the AK-47, RDX, the many Mujahideen and Lashkars, al Qaeda and ISIS. Those angry Muslims are also easy to fight and defeat. Just as this column is written, a Jaipur court has sentenced four such to death for serial blasts there. For almost three decades now, the concern has been, what if the Muslims get really frustrated and take to terror?
Tiny groups, from SIMI to Indian Mujahideen (IM) have confirmed this notion. Even someone as liberal and far-seeing as Dr Manmohan Singh had said to a hall full of senior journalists at his 2009 election-time interaction at New Delhi's Constitution Club, that anyone complaining about special facilities for the Muslims should be aware that even if 1 per cent of India's Muslims (about 20 crore now) decided that that there was no future for them in India, the country would become ungovernable.
That was the flavour of the UPA decade. India had to be generous to Muslims so they won't go rogue.
Some young Muslims, in the odd pocket, did take to terror. The UPA put these down as firmly as the NDA might today. The Batla House encounter, in the heart of the troubled zone of Jamia Millia Islamia last week, was one such.
There can be many interpretations of these facts. But the conclusion would be the same. One side felt sorry for the Muslims and wanted to do something to 'assuage' them so they won't turn anti-national. The other wanted both eyes for an eye, and even countenanced terrorist vigilantism from the majority. Both agreed on viewing the Muslims with suspicion.
The other negative about Indian Muslims was their clergy. The Bukharis of Jama Masjid, the Madanis, the sundry beards who would appear on commando-comic channels issuing or defending one nutty fatwa or the other.
There are so many of them, you could always find a Bukhari or a Madani to take a position for and against anything. Check out the Babri-Ayodhya judgment, for example. Or a Bukhari pronouncing that CAA-NRC was no threat to Muslims. He wouldn't dare to come to the pulpit in the mosque he is the custodian of and say this to the thousands on its steps.
Aperfect world has not been achieved yet. But most of these negative images have been challenged today. With 'Jana Gana Mana' in place of the kalma, the Tricolour, not the green for a flag, pictures of Ambedkar and Gandhi and not Ka'aba, and 'Hindustan Zindabad'. The one thing not changed are the 'clothes'. As we said earlier, these are Muslims dressed like Muslims. They're reminding us there is no contradiction between how an Indian dresses and her patriotism, or what the Constitution owes her as a citizen. That larger stereotype is being broken by persisting with a smaller one.
Those who see the Indian Muslim in the usual 'Clash of Civilisations' binary make a terrible blunder. In 1947, a majority of Indian Muslims walked away with Jinnah into their new nation, Pakistan. In the 72 years since Jinnah, they've never trusted a Muslim as their leader. It's always been a non-Muslim. What does it mean, we had debated in this earlier National Interest.
It isn't a perfect world yet, because not everybody is as measured and astute as those on the steps of the Jama Masjid. A car has been burnt in old Delhi's Daryaganj, abutting Jama Masjid. Uttar Pradesh, Karnataka and Gujarat are all seeing violent elements and West Bengal remains one spark away from a return of violence and arson. But none of this can put in shade the change India's Muslims have signalled in Delhi.
They are signalling the rise of a new Indian Muslim. Not afraid to look Muslim, and not shy of flaunting her nationalism. With a willingness to fight carrying the Constitution, the flag, the anthem, Ambedkar, Gandhi and the chant of 'Hindustan Zindabad'. The immortal words of Urdu poet Rahat Indori are being quoted often in these fraught days: Sabhi ka khoon shaamil yahan ki mitti mein, kisi ke baap ka Hindustan thodi hai (Everyone has shed their blood on this soil, nobody can claim exclusive right over India). He must be smiling.
https://theprint.in/national-interest/indias-new-muslim-flaunts-tricolour-sings-national-anthem-isnt-afraid-to-look-muslim/338697/
------
Gandhi's great-grandson joins wave of protest at law isolating India's Muslims
Sat 21 Dec 2019
As the new Citizenship Act risks defining Muslims as 'infiltrators', Tushar Arun Gandhi lends support to the backlash
Last week 25,000 protesters gathered in Mewat, in the Indian state of Haryana, to begin the historic five-mile walk to Ghasera village. It was here, 72 years ago, that Mahatma Gandhi made the same journey during the turmoil of partition, visiting the area with the promise of a dignified life for local Muslims.
While millions have retraced Gandhi's steps before, this time felt different. Against the backdrop of a new Citizenship (Amendment) Act (CAA) passed by the Indian parliament last week, which many believe is openly discriminatory against Muslims and relegates them to second-class citizens, honouring Gandhi's words of religious harmony and reconciliation felt like a powerful political statement. "Mewat has witnessed many protests, but this is the biggest in our life," resident Shahzad Khan told local media.
As India has seen some of the biggest protests in four decades, the image and legacy of Gandhi, known as the "father of India" for his role in independence, has been omnipresent. Across India people have voiced fears that the new act, passed by prime minister Narendra Modi's rightwing, Hindu nationalist, Bharatiya Janata party (BJP) government, risks destroying the secular, pluralistic India that Gandhi dedicated his life to building.
It was no accident that on the same day that protesters marched in Mewat last week, thousands of demonstrators gathered at August Kranti Maidan in Mumbai, the spot from which Gandhi gave his famous "Quit India" speech to the British government in 1942.
Among the millions who have taken to the streets defending Gandhi's inclusive vision of India has been Gandhi's great-grandson, Tushar Arun Gandhi. "For the first time in independent India," said Tushar Gandhi, "laws or systems are being attempted to be imposed which discriminate, which differentiate, on the basis of religion."
Tushar Gandhi has dedicated much of his life to his great-grandfather's legacy, establishing and running the Mahatma Gandhi Foundation in Mumbai, but he said with the passing of the new citizenship law something had shifted. "Everybody has a turning point in their life. If being thrown out of the train was a turning point in my great-grandfather's life, I think this issue of trying to change the soul of my nation is the turning point in my life," he said. In 10 years, he added, this country "won't be India any more. It will be a fascist dictatorship. And, mind you, it will be a dictatorship using democratic process, and that is even more dangerous".
Under the new legislation all Hindu, Christian, Jain, Buddhist and Sikh migrants who arrived from Bangladesh, Pakistan and Afghanistan before 2014 will be allowed to claim Indian citizenship.
However, the same will not apply for Muslim immigrants. In conjunction with a planned initiative by the BJP government to begin a national register of citizens (NRC), where every person in India will have to present paperwork to prove their Indian lineage, the new act means that it is only Muslims in India who face the possibility of being defined as "infiltrators", to either be deported or put into detention centres being built across the country.
Tushar spoke of his pride at seeing Gandhi's image being brandished as thousands of protesters defied the bans on public gatherings by the authorities and turned out on to the streets in a wave of peaceful mass civil disobedience reminiscent of Gandhi's movement 90 years ago.
"Just think of the far-sightedness of that man in 1930," said Tushar. "When he was asked to send out a message to mankind, he wrote, 'I want world sympathy in this battle of right against might,' and today we are again fighting a battle of right against might, so it's very natural that he becomes the icon of the protest."
He was also adamant that the effects of the citizenship act would be felt far beyond India's borders.
"There should be a debate on the ramifications of [the CAA] internationally," says Tushar. "It concerns every democracy and it concerns everybody who believes in inclusivity and in the liberal ideology."
While Modi has often described himself as a follower of Gandhi, Tushar said that this was meaningless in the face of the Hindu nationalist agenda being pushed by Modi's BJP government, which aims to irreparably fracture the country down religious lines. "It's not what you profess, but what you practise that makes the world realise who you follow," he said of Modi.
Over a week since the passing of the citizenship act, the protests in India have showed no sign of abating and indeed have gathered even more momentum over the weekend. Like so many, Tushar Gandhi said he would keep turning out on the streets to fight for an India where religion did not determine your status as a citizen.
"We will have to keep up the momentum, we will actually have to increase the intensity of the protests if we are to bring this government to its knees," he said. "Because you must remember this is an arrogant government. It is not going to come to its knees that easily."
While the authorities are increasingly meeting the protests with suppression and violence, with the death toll from the demonstrations reaching 17 by Saturday, Tushar said it was more important than ever that Gandhi's legacy remain at the heart of the protests.
"A long-drawn-out agitation can only be sustained if it is peaceful and non-violent," he said.
https://www.theguardian.com/world/2019/dec/21/citizenship-act-tushar-gandhi-great-grandson-india-muslim-infiltrators-backlash
------
BJP's ally SAD wants Muslims to be included in Citizenship Amendment Act
Dec 22, 2019
The Shiromani Akali Dal (SAD) on Saturday said that Muslims should be included in the Citizenship (Amendment) Act keeping in view the secular principles of the country.
In a press statement, SAD chief Sukhbir Singh Badal said that Muslims of Pakistan, Bangladesh, Afghanisthan should not be excluded from the provisions of the newly enacted law.
He also added that the act went against the preachings of Guru Sahiban who preached the welfare of all people.
Even though his party supported the bill in the parliament, Badal argued that the bill should include the persecuted Muslim community members from the neighbouring countries.
In the parliament, Badal said, "Why don't we add names of Muslims? There are cases of Muslims being persecuted within their religion. I'll give you an example of Ahmadiyya community in Punjab, Qadian is their Head Quarter all over the world. They're minority Muslims in Pakistan," said Badal."
In the press statement, Badal stated that he received a memorandum from a delegation of Muslim community appreciating his stand on the issue.
SAD is part of the ruling National Democratic Alliance (NDA) government at the Centre headed by the BJP.
Meanwhile, other parties of the National Democratic Alliance like Asom Gana Parishad (AGP), Janata Dal (United) have protested against the contentious CAA, and the centre's move to implement nationwide NRC in the future.
On Friday, Janata Dal (United) (JDU) chief Nitish Kumar said that NRC will not be implemented in the state.
The Asom Gana Parishad (AGP) is protesting against the Citizenship (Amendment) Act after vigorous agitations in Assam against the controversial bill passed in the parliament.
Many senior AGP leaders feel that the newly enacted law threatens the culture, language, and identity of Assamese people. However, it may be noted that the party voted for the bill in the parliament.
The controversial law promises citizenship to "illegal immigrants" belonging to minority communities from Pakistan, Afghanistan, and Bangladesh who fled religious persecution in the three countries.
While critics say that the law is against the secular nature of the Indian Constitution and clubbed with the NRC may be misused to strip away some Muslims' citizenship in the country.
The BJP, however, has argued that the law has nothing to do with India's Muslims and only helps those who fled religious persecution in the neighbouring countries.
https://www.dnaindia.com/india/report-bjp-s-ally-sad-wants-muslims-to-be-included-in-citizenship-amendment-act-2806327
------
Muslim Central Committee calls for rally in Mangaluru, demands resignation of top cop
22nd December 2019
MANGALURU: The Dakshin Kannada and Udupi Muslim Central Committee has sought permission to organise a rally in Mangaluru on December 28.
The rally is expected to be organised in Nehru Grounds and permission in this regard has been sought from the police.
Speaking with TNIE, Committee President, KS Mohammed Masood said that the committee demands "immediate" and "stern" action against those responsible for police firing.
The Committee has also sought suspension of the police commissioner and an inspector from Mangaluru.
"The police must stop looking at us like enemies. We have all the rights to protest in a democratic country. We want support from the police. If the permission is not given for the rally we shall hold a meeting and decide the next course of action," he said.
On Sunday morning, former Chief Minister H D Kumaraswamy called on Mohammed Masood at the latter's residence in Hubballi and assured support to fight for the cause.
"There are multiple matters that led to police firing and I shall reveal them soon. The police action cannot be justified," he said.
On December 17 two people died in police firing and several others were severely injured by bullets.
While two of the injured remain critical, five injured whose condition is improved have been shifted to the wards.
https://www.newindianexpress.com/states/karnataka/2019/dec/22/muslim-central-committee-calls-for-rally-in-mangaluru-demands-resignation-of-top-cop-2079556.html
------
Owaisi appeals to fly tricolour to show protest against CAA, NRC
22 DEC 2019
While addressing a huge public meeting at Darussalam in Hyderabad, AIMIM chief Asaduddin Owaisi appealed to people to hoist tricolour atop their houses to protest against the Citizenship (Amendment) Act (CAA) and the National Register of Citizens (NRC). The meeting organised at the headquarters of All India Majlis-e-Ittehadul Muslimeen (AIMIM), also had students of Jamia Millia Islamia, Ladeeda Farzana and Aysha Renna, who became the face of Jamia protest after their video went viral.
Owaisi told the meeting, "Hoist a national flag on your houses from tomorrow. All those who do this will be seen as the opponents of the black legislation."
The meeting, organized by United Muslim Action Committee, began with the national anthem and concluded with Owasi's speech after midnight.
"Why should I stand in queue and tell that I am an Indian? I have been born in this land. I am a citizen (of India). All 100 crore Indians have to stand in a queue (to submit proof of citizenship). This is not just the issue of Muslims but an issue concerning all Indians. I am telling 'Modi-bhakts' also. You also have to stand in queue and bring documents," the Hyderabad MP said late Saturday night.
Thousands of people, including many carrying national flag, attended the meeting, which continued till the early hours of Sunday. Owaisi also appealed to participants carrying the national flag to take them back to their homes and ensure that there is no disrespect to the tricolor.
He reading out the Preamble of the Constitution first in Urdu, then in English and made the participants repeat it. He also asked them to not resort to any kind of violence.
A number of speakers, including JMI students Aysha Renna, Labeeda Farzana, and Aman Wadud, a human rights lawyer from Assam, spoke at the meeting.
Owaisi at the public meet thanked Telangana CM K Chandrasekhar Rao and his government for opposing CAB in parliament and urged him to stay the implementation of the National Population Register (NPR) on the lines of Kerala government. The NRC is being implemented through the NPR, he claimed.
Besides, he asked Andhra Pradesh Chief Minister YS Jagan Mohan Reddy to reconsider his support to the NDA government on CAA.
https://www.indiatvnews.com/news/india/asaduddin-owaisi-appeals-fly-tricolour-show-protest-against-caa-nrc-573167
------
Sikhs in solidarity with Indian Muslims
Harnek Singh
December 22, 2019
Few days ago India passed the so-called Citizenship Amendment Bill or CAB that has sparked protests across India from people belonging to all walks of life.
Protesters have been shot dead by police and paramilitary forces, the internet has been taken down, but opposition continues to grow.
Draconian laws that prevent a gathering of more than four people are now being used across India to try and shut down protests and thousands of protesters have been detained and treated as criminals. This is an abuse of power and an attack on the fundamental rights to free speech and the right to freedom of assembly.
Amnesty International has said: "Denying permission for peaceful protests shows an apparent disdain for the right to freedom of expression."
Opposition to CAB is not only growing within India but the United Nations has described CAB as "fundamentally discriminatory in nature".
The Hindu-nationalist BJP government is re-writing history in India's textbooks, institutions are crumbling, the public services are compromised, media is being silenced and the judiciary intimidated. Modi and the BJP have ideological reasons for the new law that is discriminatory against Muslims and promotes inequality. There are no doubts CAB is part of the BJP strategy of a "Hindu Rashtra".
Since Modi came to power in 2014, he has turned a blind eye to threats, bullying, attacks and even killings of minorities that have increased exponentially. He and his party have single-mindedly focused on appeasing and obtaining the backing of the Hindu majority at the expense of all others.
In his second term, Modi is now unashamedly using legislation to legitimise his right-wing Hindu agenda. The BJP government first unilaterally dismantled the statehood of Muslim-majority Jammu and Kashmir. Local leaders were put in jail, the internet was cut off, and the military put in charge.
Then came the National Register of Citizens, or NRC that was originally intended as an attempt by the Indian government to identify illegal immigrants in the north-eastern state of Assam. Some 2 million people in Assam found that their names were not on the NRC. If they cannot prove their citizenship, they will be put in detention camps and deported.
Those in Assam whose names do not appear on the NRC have been told the burden of proof is on them to prove that they are citizens.
A quarter of the population of Assam is illiterate.
For the moment, the NRC has been confined to Assam. But the BJP government has plans to take it nationwide.
BJP leaders have been using inflammatory and dehumanising language to describe Muslims. Home Minister and BJP President Amit Shah has described Muslims as "termites" and claimed the NRC would be used to "remove them" across the nation.
In other words, a clampdown on the 200 million Muslims in India.
The international community must act now as Modi appears to want to build a Hindu Rashtra on the graves of millions of Muslims. We predict in the end the result of the experiment of creating a Hindu Rashtra at all expense will be a popular uprising and the eventual break-up of India.
The writer is National Press Secretary of Sikh Federation (UK).
https://www.thenews.com.pk/print/587041-sikhs-in-solidarity-with-indian-muslims
------
23 dead in protests against India citizenship law that excludes Muslims
Saturday, December 21, 2019
NEW DELHI -- NEW DELHI -- Violent protests against India's citizenship law that excludes Muslim immigrants swept the country over the weekend despite the government's ban on public assembly and suspension of internet services in many parts, raising the nationwide death toll to 23, police said.
Nine people died in clashes with police in Uttar Pradesh on Saturday, said state police spokesman Pravin Kumar. He said most of the victims were young people but denied police were responsible.
"Some of them died of bullet injuries, but these injuries are not because of police fire. The police have used only tear gas to scare away the agitating mob," he said.
Around a dozen vehicles were set on fire as protesters rampaged through the northern cities of Rampur, Sambhal, Muzaffarnagar, Bijnore and Kanpur, where a police station was also torched, Singh said.
The backlash against the law marks the strongest show of dissent against the Hindu nationalist government of Prime Minister Narendra Modi since he was first elected in 2014.
The law allows Hindus, Christians and other religious minorities who are in India illegally to become citizens if they can show they were persecuted because of their religion in Muslim-majority Bangladesh, Pakistan and Afghanistan. It does not apply to Muslims.
Critics have slammed the legislation as a violation of India's secular constitution and have called it the latest effort by the Modi government to marginalize the country's 200 million Muslims. Modi has defended the law as a humanitarian gesture.
Uttar Pradesh state is controlled by Modi's ruling Bharatiya Janata Party.
An anti-terror squad was deployed and internet services were suspended for another 48 hours in the state.
Six people were killed during clashes in Uttar Pradesh on Friday, and police said Saturday that over 600 had been taken into custody since then as part of "preventive action." In addition, five people have been arrested and 13 cases filed for posting "objectionable" material on social media.
Police have imposed a British colonial-era law banning the assembly of more than four people statewide. The law was also imposed elsewhere in India to thwart an expanding protest movement demanding the revocation of the citizenship law.
India's Ministry of Information and Broadcasting issued an advisory Friday night asking broadcasters across the country to refrain from using content that could inflame further violence. The ministry asked for "strict compliance."
In the northeastern border state of Assam, where internet services were restored after a 10-day blockade, hundreds of women staged a sit-in against the law in Gauhati, the state capital.
"Our peaceful protests will continue till this illegal and unconstitutional citizenship law amendment is scrapped," said Samujjal Bhattacharya, the leader of the All Assam Students Union, which organized the rally.
He rejected an offer for dialogue by Assam Chief Minister Sarbananda Sonowal, saying talks could take place when the "government was hoping to strike some compromise."
In New Delhi, police charged more than a dozen people with rioting in connection with violence during a protest Friday night in the capital's Daryaganj area.
Two U.S. Democratic presidential candidates, Sen. Elizabeth Warren and Sen. Bernie Sanders, denounced the new law on Twitter, and Malaysian Prime Minister Mahathir Mohamad criticized it at a news conference following the conclusion of an Islamic summit in Kuala Lumpur.
Mahathir said that India is a secular state and people's religion should not prevent them from obtaining citizenship.
"To exclude Muslims from becoming citizens, even by due process, I think is unfair," he said.
India's foreign ministry summoned the Malaysian charge d'affaires to lodge a complaint against Mahathir's remarks. Government ministers have said Muslims of foreign origin will not be prohibited from pursuing citizenship, but will have to go through the normal process like other foreigners.
Protests against the law come amid an ongoing crackdown in Muslim-majority Kashmir, the restive Himalayan region stripped of its semi-autonomous status and demoted from a state into a federal territory in August.
The demonstrations also follow a contentious process in Assam meant to weed out foreigners living in the country illegally. Nearly 2 million people were excluded from an official list of citizens, about half Hindu and half Muslim, and have been asked to prove their citizenship or else be considered foreign.
India is building a detention centre for some of the tens of thousands of people who the courts are expected to ultimately determine have entered illegally. Modi's interior minister, Amit Shah, has pledged to roll out the process nationwide.
Associated Press writers Wasbir Hussain in Gauhati, India, Biswajeet Banerjee in Lucknow, India, and Indrajit Singh in Patna, India, contributed to this report.
https://www.ctvnews.ca/world/23-dead-in-protests-against-india-citizenship-law-that-excludes-muslims-1.4739968
------
Pakistan
FATF response to Pakistan progress report received
Kalbe Ali
December 22, 2019
ISLAMABAD: Responding to the Pakistan progress report, a regional affiliate of the Financial Action Task Force (FATF) has forwarded 150 comments and clarifications in all sectors, but mostly related to the action taken by the country against banned groups and proscribed persons.
Pakistan had submitted the initial progress report to the Asia Pacific Group (APG) of the FATF on Dec 3 regarding implementation of the action plan, which related to shortcomings pointed out at the previous review.
"The FATF response was received on Friday night and forwarded to relevant departments on Saturday," an official of the finance ministry told Dawn.
According to sources privy to the development, it has been decided that initially an internal meeting, to be chaired by the director general of the Financial Monitoring Unit (FMU), will be held in Islamabad on Sunday (today) and the replies will be collected next week.
The main concern of the FATF is to ensure compliance by Pakistan related to implementation of anti-money laundering and counter-terrorist financing laws.
Sources in the interior ministry said that the there were several questions regarding action taken against seminaries affiliated with banned organisations or proscribed persons who have been listed in IVth Schedule of the Anti-Terrorism Act (ATA).
The FATF has also sought other details including copies of lawsuits filed against banned organisations and proscribed persons.
Originally there were 27 objections over Pakistan and the country was able to respond to five of them with satisfaction report which related to promulgation of anti-money laundering and terror funding laws etc.
The final meetings would be chaired by Minister for Economic Affairs Hammad Azhar, who is the government's focal person on FATF issues, and Pakistan will submit its case by Jan 8, 2020.
"A meeting is scheduled to be held during the APG meeting between Jan 21 — 24 in Beijing," the official said. "The final decision will be made in the FATF meeting likely to be held in Paris in February 2020."
The FATF is an intergovernmental organisation founded in 1989 on the initiative of the G7 to develop policies for combating money laundering. In 2001 its mandate was expanded to include terrorism financing. It monitors progress in implementing the FATF recommendations through mutual evaluations of member countries.
https://www.dawn.com/news/1523569/fatf-response-to-pakistan-progress-report-received
------
Heavy casualties to India in Pakistan's response to ceasefire violation: ISPR
December 22, 2019
KARACHI: Indian army suffered heavy casualties and damage to its posts when Pakistan Army responded to ceasefire violation from across the Line of Control on Saturday, the Inter-Services Public Relations (ISPR) said.
The director general of the media affairs wing of Pakistan Army took to Twitter through @OfficialDGISPR to share details of the incident.
In the late-night tweet, the ISPR chief said: "Intermittent CFVs by Indian Army continue along LOC, being befittingly responded. In response to CFV in Dewa Sector reports of damage to Indian posts and heavy casualties to Indian soldiers.
"No major exchange of fire in Kiran or Neelum valley as being propagated by Indian Media," the tweet said.
https://www.dawn.com/news/1523615/heavy-casualties-to-india-in-pakistans-response-to-ceasefire-violation-ispr
------
Ministry doing 'research' before moving SJC against Justice Seth
Malik Asad
December 22, 2019
ISLAMABAD: The ministry of law and justice has commenced research work on the reference to be filed against Peshawar High Court Chief Justice Waqar Ahmed Seth for authoring paragraph No 66 of the detailed judgement in the high treason case against former dictator Gen Perez Musharraf.
Para 66 reads: "We direct the law enforcement agencies to strive their level best to apprehend the fugitive/convict [Pervez Musharraf] and to ensure that the punishment is inflicted as per law and if found dead, his corpse be dragged to the D-Chowk [in front of the Parliament House], Islamabad, Pakistan, and be hanged for three days."
Justice Seth headed the three-judge special court that convicted Gen Musharraf and awarded him death sentence on five counts.
Attorney general and PM's aide on accountability playing key role in preparation of reference
A spokesperson said the law ministry is currently conducting research work on the reference, adding that the attorney general for Pakistan, who was in Turkey on an official visit, returned on Saturday and he would give his input in the preparation of the reference.
Sources said that Special Assistant to the Prime Minister on Accountability Mirza Shahzad Akbar is overseeing the preparation of the reference. Mr Akbar, who heads the Assets Recovery Unit, was also behind the filing of reference against Justice Qazi Faez Isa of the Supreme Court. Justice Isa has challenged the SJC's proceedings before the Supreme Court and a larger bench of the apex court is hearing the matter.
Following issuance of the detailed verdict in the high treason case earlier this week, the government's legal team announced filing the reference against Justice Seth in the Supreme Judicial Council (SJC), besides challenging the judgement in the Supreme Court.
The verdict also ruled out that the imposition of emergency was a one-man show and stated that senior hierarchy of the army was equally and fully involved in the act and deeds of the accused and added: "If for a moment it is presumed that military high command including corps commanders were not involved then why they failed to defend and protect the constitution".
Both the government and the army expressed anger over paragraph number 66 and termed it unlawful, inhuman and unconstitutional.
The government decided to move the SJC and file an appeal against the verdict during a meeting of the ruling Pakistan Tehreek-i-Insaf's strategic committee headed by Prime Minister Imran Khan, after his telephonic conversation with Chief of the Army Staff Gen Qamar Javed Bajwa.
The decision to move against the special court's verdict and its author Justice Waqar Ahmad Seth was revealed by Law Minister Farogh Naseem, Special Assistant to the PM on Information Dr Firdous Ashiq Awan and Shahzad Akbar at a joint press conference.
Mr Naseem at the presser said the government had the grounds to file a reference against the PHC's chief justice because there was a verdict of then chief justice of Pakistan Iftikhar Mohammad Chaudhry which said "incompetence is a ground of misconduct".
https://www.dawn.com/news/1523610/ministry-doing-research-before-moving-sjc-against-justice-seth
------
UN moot adopts Pakistan's resolution against corruption
December 22, 2019
ISLAMABAD: The eighth session of the Conference of the States Parties (CoSP) of the UN convention against corruption has unanimously adopted a Pakistan-sponsored resolution on strengthening the role of parliaments in preventing and combating corruption.
According to a press release issued on Saturday, the conference was held in Abu Dhabi from December 16-20.
Pakistan's initiative is in line with the vision of Prime Minister Imran Khan to eliminate corruption.
The unanimous adoption of the resolution was manifestation of the trust reposed by the international community in Pakistan's leading role in the fight against corruption, the Foreign Office spokesperson said in a statement.
The resolution, inter alia, called upon parties to enhance exchanges among parliamentary institutions for promoting good practices to strengthen the role of parliaments in their respective countries in enacting legislation and ensuring effective oversight.
In this regard, the United Nations Office on Drugs and Crime (UNODC) has been mandated to organise a thematic dialogue in collaboration with the Inter-Parliamentary Union on strengthening the role of parliaments in combating corruption in all its forms. The UNODC will also develop a compendium of good practices on the role of parliaments in combating corruption.
The Ministry of Foreign Affairs and the Pakistan Mission in Vienna steered the process of consultations to achieve consensus on the resolution. A wide range of developing and developed countries from all geographical regions co-sponsored the resolution, including Azerbaijan, Brazil, Canada, China, Indonesia, Morocco, Nigeria, Peru, the Philippines, Russia, Singapore and Switzerland.
https://www.dawn.com/news/1523623/un-moot-adopts-pakistans-resolution-against-corruption
------
Panel on ECP appointments drops plan to amend rules
Iftikhar A. Khan
December 22, 2019
ISLAMABAD: The parliamentary committee on the appointment of Chief Election Commissioner (CEC) and members of the Election Commission of Pakistan (ECP) has dropped the plan to amend its rules.
According to a notice placed by the National Assembly's secretariat on its official website on Thursday, the panel's meeting scheduled for Dec 24 had amendment to the committee's rules on the agenda. The very next day, a revised agenda was released — this time excluding item number 2 — related to amendment of committee rules.
Though the original agenda did not specify the amendment, informed sources told Dawn that it was all about doing away with the requirement of a two-thirds majority to confirm the nomination for the CEC or a member of the commission.
Clause 2 of the parliamentary committee on the CEC appointment and members of the Election Commission Rules 2011 in its present form reads: "The committee after considering the nomination for an actual or anticipated vacancy of the Chief Election Commissioner or a member of the Election Commission may hear and confirm any nomination by a two third majority of its total membership within fourteen days of the receipt of such nomination."
Issue of selection of two members as well as chief commissioner has been lingering on for months
The decision to amend the rule had been taken in view of the ongoing stalemate over the CEC appointment and members of the ECP from Sindh and Balochistan to pave the way for a decision on appointments with simple majority. The parliamentary committee has 12 members – six each from the government and the opposition.
Committee member Mushahidullah Khan while talking to Dawn had disclosed that the exact amendment the PTI was looking for had not been shared with the members of the panel belonging to the opposition and criticised non-transparency in proceedings.
Informed sources said the decision had to be reversed after the government realised that the amendment of the rules also required a two-thirds majority and thus it was not possible to get the proposed amendment approved unless at least two members of the bipartisan panel belonging to the opposition agreed to support it.
Section 10 of the rules reads: "The committee shall have power to amend any of the provisions of these rules with two third majority of the total membership of the committee."
The ECP became non-functional after the retirement of CEC Sardar Mohammad Raza on Dec 5. Two of the four members of the commission from Sindh and Balochistan had retired back in January last year.
On Aug 22, the president appointed Khalid Mehmood Siddiqui as ECP member for Sindh and Munir Ahmed Kakar for Balochistan against the positions vacated by Abdul Ghaffar Soomro and retired Justice Shakeel Baloch, from the two provinces. But the CEC refused to administer the oath of office to both of them while terming their appointment unconstitutional.
In a written statement, the ECP said the president had made the appointments "in violation of clauses 2A and 2B of Article 213 of the Constitution". On Nov 4, the IHC suspended the appointments and referred the matter to parliament. Both the government and the opposition had already proposed three names each for the three vacant positions in the ECP, but the parliamentary committee having equal representation of the government and the opposition could not reach an understanding. National Assembly Speaker Asad Qaiser tried to play the role of a facilitator and held two meetings with the representatives from both the sides, but failed to break the deadlock.
Under Articles 213 and 218 of the Constitution, the prime minister, in consultation with the opposition leader, forwards three names for the post of CEC to a parliamentary committee constituted by the National Assembly Speaker for confirmation of one name.
In case a consensus is not reached between the prime minister and the opposition leader, the law says that each will forward separate names to the parliamentary committee for finalisation of one name.
The law is, however, silent on the way forward in case of a stalemate at the bipartisan parliamentary committee having equal representation of the lawmakers from the government and the opposition.
https://www.dawn.com/news/1523624/panel-on-ecp-appointments-drops-plan-to-amend-rules
------
Centre turns down Punjab's requisition for six Police Service of Pakistan officers
Asif Chaudhry
December 22, 2019
LAHORE: After rejecting the Punjab police chief's request for cancellation of orders to transfer four senior police officers posted in the province to the Centre, the Establishment Division, Islamabad, has also turned down the requisition Mr Shoaib Dastagir sent for six police officers needed by the province.
The Punjab IGP had recently sent a requisition for six officers of Police Service of Pakistan (PSP) serving in other provinces, including an officer working as personal staff officer of the Sindh police chief, an officer privy to the information told Dawn on Saturday.
The officer seeking anonymity said the request was sent to the Centre through the Punjab government following acute shortage of officers in the SP and SSP ranks in the province.
However, the Establishment Division (ED) turned down the IG's request citing refusal by other provinces to spare the PSP officers working there, he said.
The recent refusal by the Centre added to the problems being faced by Mr Dastagir in making appointments of 'officers of his choice' in Punjab. The prime minister had promised a 'free hand' to Mr Dastagir in matters of transfer, posting, the official said.
The requisition was sent for four PSP officers serving in BS-18 – Wahid Mahmood, Haroon Joya, Kashif Zulfiqar, Tauqeer Mohammad Naeem – and two in BS-17 – Ali Bin Tariq and Tasswar Iqbal. Mr Naeem was serving as PSO to Sindh IG Kaleem Imam.
In the requisition, the official said, Mr Dastagir argued that a majority of the officers demanded by Punjab had completed their compulsory tenure of three years of service out of their province of domicile under the rotation policy.
Earlier, the IGP had 'protested' the ED decision of transferring six police officers from Punjab to the Federal Investigation Agency without seeking his consent.
The IGP had taken up the issue with the federal government in an official letter written on Dec 10 through the Punjab additional chief secretary (services), the official said.
In the letter, Mr Dastagir had requested the Punjab government that the ED might kindly be moved for the cancellation of transfer orders of the six police officers, citing shortage of 40 police officers out of the 90 slots sanctioned for Punjab. However, the Centre turned down the request.
https://www.dawn.com/news/1523591/centre-turns-down-punjabs-requisition-for-six-police-service-of-pakistan-officers
------
Southeast Asia
Saudi threatened Pak with sanctions: Turkish President Erdogan at Islamic summit in Malaysia
Dec 21, 2019
KUALA LUMPUR: Pakistan's absence in the four-day summit held in Malaysia to tackle issues related to Islamophobia has irked many participating nations.
Pakistani Prime Minister Imran Khan, who along with Malaysian Prime Minister Mahathir Bin Mohamad and Turkish President Tayyip Erdogan had been a prime mover behind the summit, made a last-minute decision to skip the meeting.
Erdogan has revealed that Pakistan abstained from the Kuala Lumpur Islamic summit because the Saudi Arabian government had threatened economic sanctions against it.
The Islamic summit hosted by Malaysia had excluded countries like Saudi Arabia, the United Arab Emirates (UAE) and Egypt.
Khan, who was slated to speak at the summit, cancelled his trip at the last minute following which his Malaysian counterpart attempted to pacify Saudi Arabia by assuring the Kingdom that the summit was open to all Islamic nations.
Saudi Arabia sees Turkey, backed by Malaysia and Pakistan, as a challenge to its leadership in the Islamic world, as the three nations have in the last decade strengthened their alliance.
Daily Sabah Diplomacy on Friday quoted Erdogan saying that it was 'unfortunate' that Saudi Arabia 'pressures' Pakistan.
He divulged that the Kingdom had threatened to withdraw the loan from Pakistan's Central bank and replace four million Pakistanis working in Saudi with Bangladeshi workers.
Pakistan has been facing a major balance of payment crisis for which it has sought massive loans from Saudi Arabia, besides the global financial institution, International Monetary Fund (IMF).
Lashing out at Saudi Arabia, the Turkish President said that the Kingdom has used similar threatening tactics against Pakistan due to its economic difficulties.
As a result, 'Pakistan had to obey such threats', Erdogan said, adding that Saudi and the UAE bullied other Muslim countries too.
"This is not a first for the countries since they have the tendency to put pressure on other countries in doing or not doing things," he told the Turkish media in Kuala Lumpur.
While boasting about Turkey's efforts to help other Muslim nations, Erdogan stated that his country will continue its cooperation with Malaysia, Qatar and Iran over both regional and international issues.
The four-day summit could also address mounting outrage over China's camps for Uighur Muslims in Xinjiang - a subject that will doubtless upset Beijing.
https://timesofindia.indiatimes.com/world/middle-east/saudi-threatened-pak-with-sanctions-turkish-president-erdogan-at-islamic-summit-in-malaysia/articleshow/72915337.cms
------
Yoursay: Dr M's Muslim trade pact not grounded in reality
YOURSAY | 'Mahathir's religion-based nationalism in economic matters is as outdated as...'
Dr M proposes Muslim trade market to overcome reliance on non-Muslim countries
Gerard Lourdesamy: Prime Minister Dr Mahathir Mohamad is lamenting that Muslim countries are not developed and remained poor due to mismanagement and corruption. He is proposing some kind of trading union within the Muslim world.
However, Mahathir's religion-based nationalism in economic matters is as outdated as his mistrust of the West and China. Sadly, in many respects, his ideas are ancient and unworkable.
While Muslims make up 1.7 billion people of the world's population, more than two-thirds of them live in developing or poor, underdeveloped countries. Their markets are small and their purchasing power is limited.
The Gulf Arab states are an exception but their primary export is still oil or oil-based products.
The rest of the Muslim countries are still commodity exporters and not major producers of manufactured goods or services. Therefore, their capacity to trade is limited.
If tariffs are abolished completely, their own indigenous producers and farmers will be affected because their less developed markets will be overrun by cheap products and produce from the more developed middle to high-income Muslim countries. The end result would be more poverty in these already impoverished countries.
Another negative aspect is the limited capacity of most Muslim countries to invest and transfer technology to the poorer Muslim nations.
Given that the majority of Muslim countries are politically, economically and militarily dependent on the West, the latter will continue to exercise leverage over the vast majority of Muslim nations.
The more advanced Gulf Muslim countries do not have the capacity or capability to fill in any void left by a boycott of the West because their economies and markets are small compared to US, China, EU and Japan.
Lastly, the Gulf Arabs are by nature very shrewd. They are not going to spend their hard-earned petrol dollars on the poorer Muslim countries in Africa and Asia who suffer from endemic corruption and economic mismanagement.
David Dass: I am not sure how realistic Mahathir's proposal is. Of the top 20 economies of the world, Turkey, Saudi Arabia and Indonesia are Muslim countries.
Turkey relies on aid from the US and from Nato countries. Saudi Arabia relies on US and Europe for its defence, while Indonesia is aligned to US.
Meanwhile, all Asean countries are heavily dependent on China and Taiwan for trade.
The US dollar is still the main currency for international trade and they are still the most powerful country in the world, militarily and economically. This is followed by China, Japan, Britain, Germany, France and India.
It would be wise for any country who wants to diversify their economies by trading with those nations. Mahathir's idea of a trade bloc to reduce their dependence on non-Muslim nations, and to be immune from US-led sanctions, is not realistic or practical.
Vgeorgemy: Mahathir's call for Muslim trade market is not grounded in reality. Oil-producing countries in the Middle East are located on barren desert land.
They have to rely on non-Muslim countries for daily food, other necessities and also the market for their oil.
If they had waited for Muslim countries to develop and buy their oil, they would have perished a long time back.
Iphonezours: Indeed, in reality, Malaysia's biggest trade partners are China, Singapore, US and EU. What economic powers do the Muslim countries hold?
If Muslim nations want to develop economically, they should not mix religion with education, governance and rule of law to everyday life.
Mahathir, we in Malaysia have to get our house in order first before we can suggest anything to the world.
Solo: This is Mahathir's version of the New Economic Policy (NEP) for the Muslim world.
Instead of competing with the smartest and brightest, Muslims will pay an extra premium for inefficiency, corruption and ineptitude.
Crude oil today is US$60 a barrel but Malaysia will sell it for US$90 as a halal product to Muslims. I wonder if we will get many or any buyers at all.
Kawak: Well, Mahathir, in that case, stop selling our palm oil to India and China which are not Muslim countries.
That way, Malaysia will trade only with Muslim countries. At home, do the same thing. Make the Muslim business community trade only among themselves.
Pharaoh: Imagine if a few "Christian" countries came together and held a summit just like this.
Imagine they announced that they will trade among themselves to lessen their reliance on "non-Christian" countries.
I wonder what the reaction would be.
Hibiscus: Malaysia is struggling to compete with the rest of the world in trade, struggling to attract foreign investments, struggling to attract new markets for its produce.
Yet Mahathir is saying things that are damaging efforts by the country to achieve a better trade scenario. It is better for the country if he resigns now before he does further damage.
Clever Voter: Mahathir is still very much behind developments and is in denial of the present geopolitics. The more affluent Muslims from Middle East love the Western lifestyle.
Brands such as Chanel, YSL, Gucci, Rolex, etc, go along with the Ferraris and Lamborghinis owned by Mahathir's Muslims "brothers" in the oil-rich countries.
Asking them to boycott these luxuries will only upset them.
The above is a selection of comments posted by Malaysiakini subscribers. Only paying subscribers can post comments. In the past one year, Malaysiakinians have posted over 100,000 comments. Join the Malaysiakini community and help set the news agenda. Subscribe now.
These comments are compiled to reflect the views of Malaysiakini subscribers on matters of public interest. Malaysiakini does not intend to represent these views as fact.
https://www.malaysiakini.com/news/504505
------
KL Summit complements efforts of other Muslim nation coalitions - Dr Mahathir
21/12/2019
KUALA LUMPUR, Dec 21 -- Prime Minister Tun Dr Mahathir Mohamad said the Kuala Lumpur Summit (KL Summit) serves as a strategic collaboration to complement efforts pursued by existing coalitions of Islamic nations such as the Organisation of Islamic Cooperation (OIC) and the D-8 Organisation for Economic Cooperation.
He said all Muslim nations are invited to join these efforts in future deliberations of the KL Summit that will be rebranded as the Perdana Dialogue from 2020.
Dr Mahathir, who is KL Summit chairman, said this in a statement issued at the conclusion of the 2019 edition of the conference at the Kuala Lumpur Convention Centre here today.
The Chair's Statement on KL Summit 2019 which contained, among others, commitments and pledges in a bid to bring betterment for the Muslim ummah (community), was read out by Summit deputy chairman Tun Ahmad Sarji Abdul Hamid at the closing session of the conference.
"We commit to implementing the pragmatic solutions endorsed by the Summit with a view to reviving the highly respected Islamic civilisation, improving the current situation of the ummah, and expanding the outreach of economic development as well as science, technology and innovation for the benefit of future generations," Dr Mahathir said in the document.
"We recognise the roles of each member of the ummah in all its diversity to achieve the goal of reviving Islamic civilisation for the greater good of the ummah," said the statement on KL Summit carrying the theme 'The Role of Development in Achieving National Sovereignty'.
Dr Mahathir said the summit resolves to leverage on solidarity, strengths and resources to catalyse a renewed will and determination of the ummah to uplift, modernise and invent new approaches to tackling problems faced by the community.
The prime minister said the conference underscores the importance of identifying development needs of Muslim countries, creating opportunities in various areas, combating corruption and instilling good governance, as well as addressing identity crisis and the threat of Islamophobia.
The opportunities are to be created in areas such as the economy, trade, investment, industries, research and development, Islamic finance products and joint technology advancements in essential areas.
"We reaffirm our commitment to working towards building an ummah who lives a fulfilled life in freedom, with dignity and prosperity, equipped with the highest level of education and skills for better socio-economic opportunities," Dr Mahathir said.
This effort should also result in an ummah that advocates peace and justice and one that contributes to the international community.
In addition, the KL Summit pledges to maintain an inclusive, multi-sectoral approach that promotes the interchange of ideas, discourse, policy-making and action-driven recommendations.
In this regard, it calls on all actors in the Muslim world such as scholars, international and non-governmental organisations, business entities, development agencies, think-tanks, universities and the civil society at large to participate and contribute ideas in future deliberations.
"We pledge to achieve the objectives and targets of the KL Summit, united by a common determination to revive the Islamic civilisation for the present and future generations of the ummah," Dr Mahathir said.
http://www.bernama.com/en/general/news.php?id=1801613
------
Invest more in less well-off Muslim countries - Dr Mahathir
21/12/2019
KUALA LUMPUR, Dec 21 -- Rich Muslim countries should invest more in less well-off Muslim nations so that prosperity and progress can be shared among them, said Tun Dr Mahathir Mohamad.
The Malaysian prime minister said it is felt that Muslim countries have so far not invested enough in other Muslim countries that needed their investment.
"Those countries, which are poor, should be able to accept foreign investment especially of course if they come from Muslim countries," he told a press conference at the conclusion of the Kuala Lumpur Summit (KL Summit) 2019 here today.
Dr Mahathir underscored that Muslim countries are not rejecting investment from non-Muslim countries.
"But we feel that Muslim countries so far have not invested enough in other Muslim nations needing their investments," said Dr Mahathir who is the KL Summit chairman.
"So we hope that as a result of this conference, many more Muslim countries which are rich enough will invest in the poorer countries," he said.
Dr Mahathir said Malaysia also welcomes investment from other Muslim countries, for example, in the production of defence and equipment.
We also need inflow of money to perhaps invest in property, finance and many other areas where those who have the capital can invest," he said.
KUALA LUMPUR, Dec 21 -- Prime Minister and Kuala Lumpur Summit (KL Summit) 2019 Chairman Tun Dr Mahathir Mohamad during a press conference after the closing ceremony of KL Summit 2019 at the Kuala Lumpur Convention Centre today.Also present Economic Affairs Minister Datuk Seri Mohamed Azmin Ali, Foreign Minister Datuk Saifuddin Abdullah, KL Summit Deputy Chairman Tun Ahmad Sarji Abdul Hamid and KL Summit Secretary General Tan Sri Samsudin Osman.--fotoBERNAMA (2019) COPYRIGHTS RESERVED
On another matter, Dr Mahathir said Muslim countries will need to have a detailed study on the proposed gold dinar as a currency for trading.
He noted that the instability of the US dollar is among the reasons behind calls for gold dinar to be used.
"Today, we are hampered by the use of one currency for international trade, the US dollar...but the US dollar is not stable. Sometimes it gets stronger and sometimes it is weaker but gold has got a certain value for all countries in the world.
"We can call our currencies by whatever names, but they must relate to the value of gold in your countries. If you know the value of gold in your country and the value of gold in that trading partner, then we know how much gold is worth dealing the trade and then we can call that gold dinar as a standard," Dr Mahathir explained.
Dr Mahathir also expressed his satisfaction with the organising of the summit which he said had attracted interest from Muslim countries around the world, including several heads of states, representatives and scholars.
KUALA LUMPUR, Dec 21 -- Prime Minister and Kuala Lumpur Summit (KL Summit) 2019 Chairman Tun Dr Mahathir Mohamad (second, left) during a press conference after the closing ceremony of KL Summit 2019 at the Kuala Lumpur Convention Centre today. Also present Economic Affairs Minister Datuk Seri Mohamed Azmin Ali (second, right), Foreign Minister Datuk Saifuddin Abdullah (right) and KL Summit Deputy Chairman Tun Ahmad Sarji Abdul Hamid (left). --fotoBERNAMA (2019) COPYRIGHTS RESERVED
"We are quite satisfied with the attendance and discussions that focused more on how we can help ourselves rather than asking others not to do this and not to do that because we are weak.
"We have to learn to strengthen ourselves and to be more united. That is the purpose. Whatever people want to say, it is their right to say," he said.
Emir of Qatar Sheikh Tamim bin Hamad Al Thani, President Recep Tayyip Erdogan of Turkey and President Hassan Rouhani of Iran attended the the four-day summit which attracted more than 450 participants from 56 countries.
http://www.bernama.com/en/general/news.php?id=1801630
------
At Chinese embassy's Xinjiang show, Muslim groups, PAS protest in support of Uighurs
Saturday, 21 Dec 2019
KAJANG, Dec 21 — Several members of Muslims groups and PAS staged a silent protest today in support of the persecuted Uighur minority, at the entrance of the Beautiful Xinjiang Cultural Show organised by the Chinese embassy in Bangi Avenue Convention Centre here.
The groups, which included the Malaysian Islamic Youth Movement (Abim) and the Global Peace Mission (GPM), also said they are planning to submit a memorandum to the Chinese embassy in Kuala Lumpur soon.
The participants began gathering by 5.30pm, with the groups at the entrance and PAS members initially at the four-way intersection leading to the entrance.
Holding up posters expressing solidarity with the Uighurs, they urged passing vehicles to blast their horns in support of the demonstration. Several participants even plastered their mouths with tape to symbolise the censorship against the Uighurs.
The PAS demonstrators eventually came to the BACC entrance and joined up with the NGOs around 6.30pm, bearing party flags and placards.
By this time, the assembled crowd had swelled up to over 100 people, under the watchful eyes of 10 to 12 police officers present to ensure things went smoothly.
Abim vice-president and GPM chief executive officer Ahmad Fahmi Mohd Samsudin said the protest was to oppose the cultural show, which he described as an attempt by the Chinese government to promote a false narrative.
"We know the reality that the Uighurs are still oppressed and sidelined by Beijing, placed in concentration camps," he told reporters.
Although Fahmi did not deny the good relations between Malaysia and China, now in its 45th year, he questioned the necessity of China taking such harsh action against a large segment of Uighurs.
"Note that this is not the first time the cultural show is being held. It was held in the other states such as in Pahang recently.
"Most disappointing is the fact that the KL Summit, now in its last day, has kept quiet over the matter, despite Abim and other NGOs urging them to do so," he said, adding that the memorandum to the embassy will be sent as soon as they are able to.
Meanwhile, Bangi PAS Youth chief Nazir Hilmi said the party's wing in the other states have also been asked to show solidarity by demonstrating whenever the cultural show performed there.
"Some could not do so for various reasons including late application for police permit. But others such as in Kedah and Perlis succeeded in doing so.
"In my capacity, I have also submitted a memorandum to the Selangor Mentri Besar and Bangi MP Ong Kian Ming's offices, urging them to cancel the show," he said.
Nazir echoed Fahmi's sentiments, stating that although China has the right to curb extremism and crime — which was the claim made by Beijing to justify the internments of Uighurs — their method in doing so was excessive.
"Though we have good relations with China, we also hope the government will give a firm response about their stance on this issue.
"It would be most disappointing if any ministers or their deputies were to attend the show tonight," he said.
Yesterday during the third day of the KL Summit, Prime Minister Tun Dr Mahathir Mohamad said the plight of the Uighurs would not be discussed since the event was neither about politics nor religion, but about developing Muslim countries — even as Palestinians and Rohingyas were mentioned.
https://www.malaymail.com/news/malaysia/2019/12/21/at-chinese-embassys-xinjiang-show-muslim-groups-pas-protest-in-support-of-u/1821310
------
Malay-Muslim community to be consulted on more issues that concern them: Masagos
21 Dec 2019
SINGAPORE: Malay-Muslims will get more say in Singapore's policy-making, in line with the Government's overall strategy for the future, said Mr Masagos Zulkifli in a media interview pertaining to issues to do with the community on Tuesday (Dec 17).
Ciptasama@M3, or Co-creation@M3, is the name of a new programme to encourage the community to participate in policy-making. It will be launched next year, led by Minister of State for Manpower and National Development Zaqy Mohamad.
The programme will be part of the M-Cube initiative, which comprises MENDAKI, MESRA and MUIS. Focus areas include responding to marital problems, providing support for families of former prisoners and mentoring youths.
"Towards the first quarter, next year, we will launch Ciptasama@M3. This is an effort to get our community involved in co-creation and participation of policies going forward," said Mr Masagos.
"Going forward, we cannot always expect … that the Government has the wisdom, monopoly of wisdom in everything. We really ought to discuss together and understand the trade-offs and then, with those trade-offs, formulate policies together," he added.
MUSLIM COMMUNITY DOING WELL: MASAGOS
Singapore's Muslims are doing well, the minister noted.
He cited the recent Programme for International Student Assessment (PISA), highlighting how Malay students in Singapore have outperformed their peers in other countries in Mathematics, and are now on par with them in reading and science.
Singaporean Muslims also possess a sense of citizenry - an area that Mr Masagos said many Muslim minorities in other countries are "always grappling with", and in which problems may arise due to different interpretations of the religion.
This is why those who graduate from overseas Islamic studies programmes are required to take an additional one-year course if they want to teach the religion in Singapore. The course helps them apply concepts to the local, multicultural context.
However, some teachers have given feedback that the course delays their careers. Mr Masagos said the issue is being looked into.
"We will make sure that as much as possible, it does not disrupt and prevent them from earning, from teaching but they must complete this before they can be properly qualified," said Mr Masagos. "We're … seeing how this will be done for them. I think the detail of this will be shared, but we have heard their feedback and we will try to address these issues."
Mr Masagos also stressed the need for strong cooperation across M-Cube to deal with future challenges such as extremism.
M-Cube volunteers and partners currently operate in eight towns. A forum will be held in February to help them share best practices and collaborate.
In the interview, Mr Masagos also spoke of new Malay leaders identified by the People's Action Party to contest in the next General Election.
"Many of them are on the ground," he said, but added that the party is keeping its options open.
https://www.channelnewsasia.com/news/singapore/masagos-zulkifli-malay-muslim-community-consulted-on-more-issues-12202888
------
Europe
French military kills 33 Islamist militants in Mali raid
French forces killed 33 Islamist militants in Mali on Saturday using attack helicopters, ground troops and a drone, near the border with Mauritania where a group linked to al Qaeda operates, French authorities said.
The raid about 150 km northwest of Mopti in Mali targeted the same forest area where France wrongly claimed last year it had killed Amadou Koufa, one of the most senior Islamist militants being hunted by French forces in the Sahel.
A spokesperson for the French army's chief of staff declined to say at this stage whether Koufa was the target this time.
French President Emmanuel Macron announced the operation in a speech to the French community in Ivory Coast's main city of Abidjan, describing it as a major success.
"This morning ... we were able to neutralize 33 terrorists, take one prisoner and free two Malian gendarmes who had been held hostage," Macron said, a day after visiting French troops stationed in Ivory Coast.
The operation took place in a different part of Mali to where 13 French soldiers died last month in a helicopter crash while tracking a militant group suspected of being linked to Islamic State.
That was the biggest loss of French troops in a day since an attack in Beirut 36 years ago and raised questions about the human cost to France of its six-year campaign against Islamist insurgents in West Africa.
In Saturday's raid, soldiers aboard Tiger attack helicopters used a Reaper drone to guide them to the forest area where Koufa's group Katiba Macina operates, French army command said.
Koufa is one of the top deputies to Iyad Ag Ghali, the leader of Mali's most prominent jihadi group, Jama'at Nusrat al-Islam wal-Muslimin (JNIM), which has repeatedly attacked soldiers and civilians in Mali and neighbouring Burkina Faso.
The Malian authorities welcomed the success of the raid.
"Happy that the fight against terrorism is taking a more offensive turn. I salute this operation, which must continue," said government spokesperson Yaya Sangare in a message to Reuters.
The United Nations, France and the US have poured billions of dollars into stabilizing the Sahel, an arid region of West Africa south of the Sahara desert, but with little success.
France, the former colonial power in a number of West African countries, has more than 4,000 soldiers in the region in its counter-terrorism taskforce Operation Barkhane.
The United Nations has a 13,000-strong peacekeeping operation in Mali.
French officials have expressed frustration that some countries in the region have not done more to curb criticism of French operations.
Paris is also vexed that some countries have not fully implemented deals to bring more stability to areas of the Sahel with little law and order.
On Dec 10, Islamist militants killed 71 soldiers at a remote military camp in Niger near the border with Mali-an attack claimed by a West African branch of Islamic State.
France announced separately this week that its Reaper drones deployed in the Sahel would now have the capacity to carry weapons, although the army command said the drone used in Saturday's operation had not been armed.- Reuters
https://www.malaysiakini.com/news/504507
------
Angry Anti-CAA, NRC Protest By AMU, Jamia Alumni in London
By M Ghazali Khan
Dec 22, 2019
LONDON (21 December 2019): The successful anti-CAA and anti-NRC protest—jointly organised by AMU and Jamia alumni at Parliament Square, right under the statue of Mahatma Gandhi, Saturday—would not only be a big surprise for anyone who is aware of the culture of the organisations of old students of these two great institutions around the world but would also serve as a proof of simmering anger among international Indian diaspora, specially Muslims, against Modi-Shah folly and BJP's fascism.
Despite very strong political ideologies and political movements behind the establishment of AMU and Jamia, their alumni associations, surprisingly, remain timidly cautious and refrain from participating in or commenting on anything that may sound to be even remotely political.
However, today not only did they come out in large numbers to register their anger and disapproval of BJP's fascist policies, they stood in pouring rain for more than two hours holding placards with angry messages and chanting current-pan-Indian-slogans of Azadi and Inquilab along with other anti-BJP, anti-Hindutva, anti-casteism slogans.
Several other Indian organisations including the human rights and advocacy organisation South Asia Solidarity Group (SASG) also participated in the protest.
Because of the fact that Jamia happens to be situated in the capital, Delhi, Modi Government has failed to stop the streaming of information of police atrocities on students there. However, as reports are starting to come from AMU it looks that the level of cruelty meted out on students was far graver than in Jamia.
http://www.milligazette.com/news/16845-angry-anti-caa-nrc-protest-by-amu-jamia-alumni-in-london
------
Germany: Fewer Islamists pose terror risk
21.12.2019
The threat from potential Islamist terrorists in Germany has decreased from last year, according to data from the German Interior Ministry.
A total of 679 Islamic extremists in Germany were considered to pose a terrorist risk at the beginning of November 2019, compared with 774 people at the start of July 2018, according to the ministry, which provided the data in response to a request published by German news agency DPA and weekly Die Zeit.
Germany's Federal Criminal Police Office (BKA)uses the word "Gefährder" (literally: "endangerer") in the context of politically motivated criminality to mean anyone who could potentially commit serious violence or carry out terror attacks.
Increased vigilance from German authorities
Armin Schuster, chairman of the Bundestag interior committee, said he believed it was due to an increased commitment to crack down on terror following the Berlin Christmas market terror attack in 2016 in which 12 people died.
Police showed radical Islamists that their activities were not going under the radar, due to the police policy of earlier intervention and contact with identified potential terrorists, said Schuster. This was not only happening at an earlier stage but also more often.
Searches and arrests were happening at an earlier stage than in previous years and police were paying more attention to potential "lone-wolf" attackers, in addition to those acting as part of a network or a group, he added.
The data from the ministry comes as German authorities begin taking back Islamic State fighters from Turkey. German Chancellor Angela Merkel said that each suspected Islamist deported by Turkey would be assessed in counter-terrorism centers run by the federal government and the individual states.
https://www.dw.com/en/germany-fewer-islamists-pose-terror-risk/a-51762746
------
North America
Concerns grows as NY's Islamic patrols increase their presence
DECEMBER 21, 2019
BY BARRY DUKE
MEMBERS of New York's Muslim Community Patrol (MCP) gained international attention earlier this year after its first patrol cars – almost identical to NYPD vehicles – were spotted in Brooklyn and Staten Island.
According to this video report, there are currently three Muslim Patrol cars, but there are plans to increase the fleet to 30. An undercover informant who applied to become a patrol member was told by the Director of Operations of the MCP, Mahwish Fathma, above, that the MCP existed in part to implement Islamic law.
I should point out that the video was posted by a right-wing "family values" organisation – the Christian Action Network which was branded as a hate group by the Southern Poverty Law Center – but more reputable news outlets, including The New York Times, have voiced similar concerns.
The Muslim Patrol originally said its purpose was to serve as a liaison between Muslims and the NYPD. But after the mosque shootings in New Zealand in March, in which a gunman killed 51 Muslims, the MCP began describing itself as a law enforcement organisation, claiming its goal is to:
Protect members of the local community from escalating quality-of-life nuisance crimes.
When the group was launched, the group's Vice President Noor Rabah dismissed the notion that it was intent on imposing sharia law:
It's about Muslims taking care of people in our community. But it's not just Muslims. If we're driving or we're patrolling, and we see a guy attacking a woman we don't ask, 'what's your religion? What do you believe in? Who's your God?' We're there for preventative measures … we're there to help our community.
But according to this report "bullying" and "gangster-like" tactics have been reported by locals in areas where the patrols operate, creating a backlash against the self-described "civilian patrol organisation."
Earlier this month it became embroiled in potentially explosive incident outside the Masjid Taqwa in Brooklyn with members of the Bloods, a notoriously violent gang.
A verbal altercation began when a teenage boy allegedly "disrespected" a Muslim woman outside the Masjid Taqwa mosque on Fulton Street. The boy did not touch the woman, bystanders say, but did speak to her.
A MCP member grabbed the teen by the collar and threw him against the gate of the mosque. While the boy was pressed against the fence, the Muslim Patrol member held him by the neck and lectured him.
The boy complained to his father, who happens to be a senior member of the local Bloods. The father rallied six other Blood members to join him and went to the mosque, where at least one Blood member brandished a weapon.
According to a witness, the father said to the Muslim Patrol officer:
Dude, I'm going to bust in your fucking mouth if you ever put your hands on my child again.
The situation escalated after the Muslim Patrol member called for backup. Soon, several Muslim Patrol cars arrived with sirens screaming and lights flashing.
Witnesses reported mutual shouting as the Bloods confronted the original Muslim Patrol member, who was quickly shoved into the mosque by his comrades to protect him. One witness said:
It was going to be something big out there. The Bloods were shouting, 'You all are running around here playing like you're the real police. You all want to put your hands on these little kids. We don't give a fuck about your Masjid. Fuck your Masjid.'
As tensions rose, a NYPD patrol unit arrived and used its loudspeaker to tell the two arguing factions to "disperse" and to "keep it moving."
According to the BBC, while many in the community have welcomed the MCP presence in the neighbourhood, there are others who question the need for this patrol and the motives of the group behind it.
Somia Elrowmeim, who works for the Arab American Association of New York, says there are lots of questions about the group and who they are.
https://www.patheos.com/blogs/thefreethinker/2019/12/concerns-grows-as-nys-islamic-patrols-increase-their-presence/
------
Trump unveils America's sixth military branch: Space Force
Dec 22, 2019
The United States has met a mounting 21st century strategic challenge from Russia and China with the creation of a fullfledged US space force within the department of defence.
Acting on an ambition by President Donald Trump that had met resistance at first, the White House signalled its determination to not cede superiority in a Star Wars-like future of killer satellites and satellite-killer weapons.
Trump made the Space Force's creation real with the signing of the 2020 National Defence Authorisation Act, which set the initial budget for a Pentagon force that will stand equally with the military's five other branches.
"Going to be a lot of things happening in space, because space is the world's newest warfighting domain," Trump told members of the military gathered for the signing. The Space Force will be the sixth formal force of the US military, after the Army, Air Force, Navy Marines, and Coast Guard.
"Our reliance on spacebased capabilities has grown dramatically, and today outer space has evolved into a warfighting domain of its own," said secretary of defence Mark Esper on Friday. "Maintaining American dominance in that domain is now the mission of the US Space Force."
The Defence Intelligence Agency warned in a report early this year that China and Russia have both developed "robust and capable" space services for intelligence, surveillance and reconnaissance. "China and Russia, in particular, are developing a variety of means to exploit perceived US reliance on space-based systems and challenge the US position in space," it said.
China already demonstrated it could shoot down a satellite with a ground-based missile in 2007. "Both states are developing jamming and cyberspace capabilities, directed energy weapons, on-orbit capabilities, and ground-based antisatellite missiles that can achieve a range of reversible to nonreversible effects," it said.
Iran and North Korea, too, are increasingly able to extend their military activities into space, jamming the communications of adversaries and developing ballistic missile technologies, it noted.
China and Russia have the perception "that space represents an (American) Achilles heel and that this is an asymmetric advantage for them to then take on the United States' power," Steve Kitay, Deputy Assistant Secretary of Defence for Space Policy, said in August. "Space will not be an Achilles heel" for the US, he said.
The new organisation builds on the US Space Command already operating under the Air Force following its creation in August. Like the Marines, which operate within the umbrella of the Navy, the Space Force will continue to be under the Air Force. The Space Force will be comprised of about 16,000 air force and civilian personnel, some already taking part in the Space Command, according to Air Force Secretary Barbara Barrett.
https://timesofindia.indiatimes.com/world/us/trump-unveils-americas-sixth-military-branch-space-force/articleshow/72921387.cms
------
Bill in US House seeks promotion of Gandhi legacy
Dec 22, 2019
WASHINGTON: America's legendary civil rights leader Congressman John Lewis has introduced a bill in the House of Representatives to promote the legacy of Mahatma Gandhi and Martin Luther King Jr and sought a budgetary allocation of $150 million for next five years.
Introduced to mark the 150th birth anniversary of Gandhi, the bill affirms the friendship between the two countries and honours the legacy of Gandhi and King.
The Bill proposes establishing a Gandhi-King Development Foundation, which will have a governing council convened by US and India and would oversee grants to NGOs on health, pollution and climate change, education and women empowerment.
https://timesofindia.indiatimes.com/knowledge-centre/us/bill-in-us-house-seeks-promotion-of-gandhi-legacy/articleshow/72921540.cms
------
Mideast
Syrian regime bombed a mosque in Bazabour village in Idlib, on December 21
SNHR: Syrian regime fixed- wing warplanes fired missiles on al Nour Mosque in Bazabour village in the southern suburbs of Idlib governorate, partially destroying its building and damaging its furniture, on December 21, 2019.
http://sn4hr.org/sites/news/2019/12/21/syrian-regime-bombed-mosque-bazabour-village-idlib-december-21/
------
Ayatollah Sistani calls for quick formation of government
December 21, 2019
AhlulBayt News Agency (ABNA): Iraq's top Shiite cleric called for the speedy formation of a government and early elections as ongoing political wrangling caused Parliament to miss a deadline to name the next premier.
Grand Ayatollah Ali al-Sistani, in his weekly sermon delivered by a representative in the holy southern city of Najaf on Friday, called for political blocs to form the government quickly.
"We hope that there won't be a long delay in the formation of the new government, and it must be an uncontroversial government that responds to the requirements of the current stage and be able to gain back the state authority and calm down the situation," Al-Sistani said, AP reported.
The constitution requires Parliament's largest bloc to name a candidate for the premiership within 15 days of its acceptance of Abdul Abdul Mahdi's resignation, which expired on Dec. 19. The deadline was extended until Dec. 22, two lawmakers said.
Political deadlock has so far marred the naming of the next premier and the identity of the largest parliamentary bloc, which is legally required to name the candidate.
The Grand Ayatollah also said "the nearest and safest way to get out of the current crisis and avoid the unknown, chaos or internal fighting ... is to return to the people by holding elections early, after legislating a fair law for it."
Anti-government protesters are calling for snap elections and a reformed electoral law that would give them greater say in how lawmakers are elected. They consider the current draft being considered by Parliament to be unsatisfactory.
https://en.abna24.com/news//ayatollah-sistani-calls-for-quick-formation-of-government_995334.html
------
Ayatollah's Son Has Access To Damning Tape Revealing 'Islamic Republic's Biggest Crime'
December 21, 2019
The son of Ayatollah Hossein Ali Montazeri, a former deputy to Iran's first Supreme Leader Ayatollah Rouhollah Khomeini says he has access to a tape recording showing the Islamic Republic's culpability in executing thousands of political prisoners in 1988.
Ahmad Montazeri says he is not "authorized" to disclose the contents of the tape. In 2016 he released another tape of his father's conversations with four clerics who are known as the "death committee" tasked with carrying out Khomeini's order to execute the prisoners. In that tape, the elder Montazeri scolds the clerics about the executions, saying it violates religious and moral laws.
The new tape is supposedly another conversation his father had with the four clerics after the execution were carried out.
Montazeri revealed some information about the new tape in a video released on December 20, but it is not clear when the video has been recorded.
The Iranian Judiciary sentenced the younger Montazeri to 21 years in jail in 2016 for releasing the first tape, but this sentence was not carried out.
Security forces have threatened Montazeri's with six-year imprisonment if he reveals any further information about his father's attempt to prevent the executions.
Montazeri's son's jail sentence for disclosing the contents of the first tape was reported suspended after Ayatollah Shobeiri Zanjani of the Qom Seminary intervened in the case and Supreme Leader Ali Khamenei accepted his appeal to forgive Montazeri's son.
In the first tape Ayatollah Montazeri warned the four clerics appointed by Khomeini that what they were doing was a "the biggest crime committed by the Islamic Republic" which he said "would be condemned by the world."
The clerics, Shariah Judge Hossein Ani Nayeri, Tehran Prosecutor Morteza Eshraqi, Deputy prosecutor Ebrahim Raeesi (Raisi - currently Iran's Judiciary Chief), and Intelligence Ministry Representative Mostafa Pourmohammadi were supposed to convey Ayatollah Montazeri's warning to Ayatollah Khomeini, but instead, they gave the message to his son Ahmad, who insisted that "the executions must go ahead" as planned, said Montazeri's son.
He added that in the second meeting with Ayatollah Montazeri a month later, the Ayatollah asked the four clerics why they handed over the message to Khomeini's son. The four clerics said "they had no other option," Montazeri's son quoted them as having said.
After the release of the first tape, reports said that Ahmad Montazeri had refused to hand over the audio files to the Intelligence Ministry.
Iranian officials usually do not speak about the 1988 massacre in Iranian prisons. However, one of the four clerics on the "death committee", Mostafa Pourmohammadi has defended his past in an interview in 2018.
Amnesty International condemned the killings following this admission and drew the attention of the international community to the crime.
The reason for the silence is that both the leading political factions of Iran were involved in the massacre in Iranian prisons in 1988.
Most of the prisoners killed by Iranian security forces were the members of Mojahedin-e Khalq (MeK), and Marxist political groups who had already stood trial and were serving their sentences but were executed at Khomeini's order.
Many of those executed were buried hurriedly in mass graves in various parts of Iran. Their families found out about some of these mass graves years later, but still the government prevents them from mourning on the sites for their loved ones.
A UN Special Rapporteur for Human Rights has said 1,879 prisoners were executed in 1988. Ayatollah Montazeri puts the number in his memoires at 2,800 to 3,800 and some political groups believe the actual number is much higher.
https://en.radiofarda.com/a/ayatollah-s-son-has-access-to-damning-tape-revealing-islamic-republic-s-biggest-crime-/30337482.html
------
More than 400 Israeli settlers raided Al-Aqsa Mosque last week
December 21, 2019
Protected by the Israeli occupation police, 407 Israeli settlers raided Al-Aqsa mosque last week, Palestine Information Centre reported on Friday.
Since 2003, the Israeli occupation police have been allowing and protecting Israeli settlers to raid Al-Aqsa mosque daily, with the exception of Fridays and Saturdays, arriving through Al-Magharbeh Gate.
The extremist Israeli settlers, including officials, MKs and ministers, raid the Islamic holy site through Al-Magharbeh Gate, carry out Jewish rituals inside the holy site, harass Muslim worshipers and leave through Bab Al-Silsila.
The Jerusalem Department of Islamic Religious Endowments, Awqaf, have been calling for a halt of Israeli settlers and police raids in Al-Aqsa mosque, but have received no responses yet.
https://www.middleeastmonitor.com/20191221-more-than-400-israeli-settlers-raided-al-aqsa-mosque-last-week/
------
Turkish parliament OKs controversial Libya military deal
Dec 21, 2019
BEIRUT: Airstrikes on a rebel-held town killed seven people and wounded more than a dozen Saturday in Syria's northwestern province of Idlib, the last remaining rebel stronghold in the war-torn country, opposition activists said. The attack came amid a government offensive in the region.
The latest casualties in the town of Saraqeb came as government forces captured two new villages on the southern edge of Idlib.
The province has been the center point of a government push under the cover of airstrikes, according to opposition activists and pro-government media.
The offensive has already forced thousands of civilians to abandon their homes and flee for their lives.
Saraqeb and Maaret al-Numan are two major rebel-held towns that sit on the highway that links the capital Damascus with the northern city of Aleppo, Syria's largest.
The opposition's Syrian Civil Defense, also known as White Helmets, said that both towns are almost empty after most civilians fled.
Before this latest bout of violence that began a few weeks ago, the UN reported that some 60,000 Idlib residents had been displaced in recent weeks by the government offensive.
The Britain-based Syrian Observatory for Human Rights said seven civilians were killed and more than 20 wounded in the Saturday morning airstrikes on Saraqeb.
An activist collective known as Saraqeb Now also reported a similar death toll.
Since a cease-fire imposed at the end of August collapsed in the past weeks, the government has been pushing to clear access to the strategic Damascus-Aleppo highway.
Syrian troops have been pushing northward toward Maaaret al-Numan in recent days.
Idlib, that is dominated by al-Qaida-linked militants, is home to 3 million civilians and the UN has warned of the growing risk of a humanitarian catastrophe alongside the Turkish border.
https://timesofindia.indiatimes.com/world/middle-east/turkish-parliament-oks-controversial-libya-military-deal/articleshow/72918039.cms
------
Rouhani, Japan's PM Discuss Bilateral Ties, Regional Developments
Fri Dec 20, 2019
TEHRAN (FNA)- Iranian President Hassan Rouhani and Japanese Prime Minister Shinzo Abe in a meeting in Tokyo on Friday discussed mutual cooperation and regional developments.
During the meeting in the Japanese capital today, President Rouhani and Abe explored avenues for bolstering and reinvigorating bilateral relations, and underlined the need to enhance the level of trade exchanges between the two countries.
The two sides also discussed the implementation of the Joint Comprehensive Plan of Action (JCPOA), the re-imposition of the US sanctions on Iran and energy cooperation.
Earlier this year, President Rouhani and Japanese premier had met on the sidelines of the recent UN general assembly in New York.
Japanese Prime Minister Shinzo Abe, heading a high-ranking political delegation, visited Tehran in June 2019 and held talks with senior Iranian officials.
President Rouhani traveled to Malaysia on December 17 at the head of a high-ranking political delegation to attend a conference for leaders of the Islamic countries at the official invitation of Malaysian Prime Minister Mahathir Mohamad. President Rouhani left Malaysia for Japan on December 20 and met with Japanese Prime Minister Shinzo Abe.
https://en.farsnews.com/newstext.aspx?nn=13980929000434
------
Iranians set up new companies in Turkey to evade US sanctions
December 22, 2019
JEDDAH: Hundreds of Iranians have set up new businesses in Turkey to evade crippling US economic sanctions.
More Iranians than any other nationality registered foreign companies in Turkey in the first 10 months of this year, according to new data from the Union of Chambers and Commodity Exchanges of Turkey.
Out of 10,682 opened from January to October, more than 800 were registered by Iranian citizens — 49 publicly listed and 772 private limited companies,
"A significant number were set up to bypass US sanctions," a leading Turkish economist told Arab News. "In that period, 821 Iranian companies were established with a total capital of only 116 million Turkish lira ($19.5 million), an insignificant sum to establish a company under normal conditions."
The new companies are mostly in the wholesale and retail sectors, and 677 were established in Istanbul. The others were set up in the capital, Ankara, the Mediterranean resort city of Antalya, the northwestern industrial hub of Bursa, the Aegean port city of Izmir, the eastern city of Van bordering Iran, and the southern port city of Mersin.
"When they establish companies in Turkey, they have the chance to get around the problems they face in money transfers through European and US banks, especially if the amount is more than $10,000," the economist said.
International sanctions on Iran were eased in 2015 under the Joint Comprehensive Plan of Action (JCPOA), the agreement with world powers to curb Tehran's nuclear program. However, US President Donald Trump withdrew from the JCPOA in May 2018, and has gradually reimposed sanctions that have crippled the Iranian economy.
Turkish President Recep Tayyip Erdogan opposes the US sanctions, and wants to triple Turkey's annual trade with Iran to $30 billion. The two countries' central banks formally agreed in October 2019 to trade in their local currencies.
Foreign Minister Mevlut Cavusoglu said in April that Turkey was looking for new trade mechanisms with Iran, such as INSTEX (the Instrument in Support of Trade Exchanges), the system proposed by European countries to bypass US sanctions with non-dollar trade.
https://www.arabnews.com/node/1602356/middle-east
------
New Trump sanctions target Turkish economy and military
MENEKSE TOKYAY
December 22, 2019
ANKARA: A $738 billion defense spending bill signed by US President Donald Trump early on Saturday takes aim at Turkey's finance and military sectors, further straining ties between Ankara and Washington.
The bill includes a ban on transferring Lockheed Martin F-35 stealth fighter jets or components to Turkey over its purchase of the Russian S-400 missile system.
It also calls on Trump to implement sanctions on Turkey under the Countering America's Adversaries Through Sanctions Act, which includes 12 measures targeting the Turkish economy and defense sector.
Ozgur Unluhisarcikli, Ankara office director of the German Marshall Fund of the US, said the threat of sanctions against Turkey in the defense bill is significant and a sign of Washington's likely future position in its relationship with Ankara.
However, experts caution against another comprehensive bill aimed at punishing Ankara with harsher sanctions as well as criticizing the country over its incursion into Syria in October against US-supported Syrian Kurdish YPG militia as well as its military rapprochement with the Kremlin.
The defense bill includes restrictions on arms sales to Turkey and opposition to loans from international financial institutions that benefit the country.
"Targeted sanctions against Turkey are an appropriate response in order for Ankara to be held accountable for its military offensive in northeast Syria," the bill noted.
Turkey was removed from the F-35 manufacturing program in July following its acquisition of Russian air defense system, which the US said was incompatible with the NATO system and could present a security risk.
"For the past couple of years, we have been watching a slow-moving train crash that will bring the US-Turkey partnership as we have known it to an end," Unluhisarcikli told Arab News.
"The two allies will need to build a new relationship with a new strategic framework after the dust settles," he said.
The bill signed by Trump also lifts a US arms embargo on the divided island of Cyprus and sanctions companies involved in the TurkStream pipeline project running from Russia to Turkey.
Lisel Hintz, an assistant professor at Johns Hopkins University and an expert on Turkey, said that the US House and Senate resolutions recognizing the Armenian genocide as well as the defense bill showed there was an immense swell of bipartisan support for action against Turkey.
"Congress, already rankled by the idea of a NATO ally trying to negotiate with jailed American citizens and whose presidential protection team beat up peaceful protesters and US security forces on American soil, was further angered that sanctions which should have been triggered by Turkey's S-400 purchase were not implemented," Hintz told Arab News.
"The selection and timing of sanctions lies in Trump's hands, leaving a flaw in the design of a coercive mechanism," she added.
However, Ankara seems unwilling to compromise on controversial issues between the two countries, instead threatening to shut down the strategic Incirlik air base in southern Turkey which has been used by the US for decades.
Turkey's response is likely "to be more military-political in addition to imposing similar prohibitions on some US ministers, which will have more symbolic meaning," Murat Yetkin, a prominent Turkish journalist, wrote on his blog.
According to Hintz, Turkey has made it clear it will not be dissuaded from moving forward with the Russian S-400 system and is "highly invested" in a relationship with Russia.
It may be time for the US to recognize this as a colossal failure of deterrence, made possible by massively mixed messaging on the US side — as seen in Syria as well — and Erdogan's desire to carve a more independent role for Turkey in global affairs, one less tethered to US demands," she said.
"While Turkey will no doubt remain in NATO, and is unlikely to establish any kind of meaningful partnership with Russia, the increased hostility Erdogan is displaying toward the West is not just rhetorical," Hintz added.
Ankara recently announced plans to accelerate its partnership with the UK for the construction of a new generation of fighter jet engines for the Turkish air force.
https://www.arabnews.com/node/1602296/middle-east
------
No end to abuse and exploitation of migrants stranded in Libya
EMINA OSMANDZIKOVIC
December 21, 2019
ABU DHABI: The Global Refugee Forum in Geneva last week came at the end of a decade in which the number of refugees rose to more than 25.9 million worldwide, according to the UN. Of these, 51,118 can be found in Libya — a country without security, safety or stability following nine years of bitter conflict.
Guided by the landmark 2018 UN Global Compact on Refugees, the Geneva summit pushed for concrete action on an international response to the crisis. But only time will tell whether the UN's well-meaning efforts make any difference in Libya, an unlikely home for 700,000 to 1 million migrants, 217,002 internally displaced persons and 278,559 returnees as well as a growing number of refugees.
In October, an agreement under which the Libyan coast guard stops migrant boats headed for Sicily and returns their human cargo back to the country, was automatically renewed. Under the controversial deal, Italy trains, equips and finances the Libyan coast guard.
The same month produced a glimmer of hope in the form of a deal between five EU countries that allowed for temporary relocation of migrants rescued in the central Mediterranean.
Separately, Italy has held talks in recent months with Fayez Al-Serraj, leader of Libya's Government of National Accord (GNA), and eight EU ministers on investment to fight migrant smuggling in the conflict-ridden country.
A contribution of €800 million ($886 million) has been pledged in addition to commitments made in June totalling €200 million for tackling human trafficking, a large portion of which is earmarked for Libya.
In return, Libya will conduct patrols to turn back smuggling boats and place those found aboard the vessels in camps managed by the GNA in Tripoli rather than in Libyan prisons.
Whether the plan will make a dent in the grim statistics of exploitation of migrants in Libya is a different matter. Medecins Sans Frontieres and the Reuters news agency have both reported that migrants in Bani Walid, southeast of Tripoli, are often detained and tortured as part of extortion rackets.
"There is insufficient food and water, and poor sanitary conditions. There are also widespread reports of human rights violations," Charlie Yaxley, a UNHCR spokesman, said.
The travails of African migrants on this route are clearly shown by the account of a Cameroonian picked up by a rescue ship in the Mediterranean Sea: "I went to Nigeria, then further north to Niger before entering Libya. I was kidnapped and sent to a clandestine prison, shaken for ransom which my family paid. Was freed and tried to continue journey through Tripoli, but got kidnapped again and found myself in a prison in Bani Walid. It was hell."
In early November, 200 migrants, kicked out of a detention camp south of Tripoli, marched on the UN's Gathering and Departure Facility, known locally as "Hotel GDF," and forced their way inside, joining 800 already camping in a facility designed to hold a maximum of 600, according to the UK's Guardian newspaper.
And in the most notorious incident of 2019, at least 53 detainees, including six children, were killed in July at the Tajoura detention center in an airstrike allegedly directed by the renegade Libyan National Army.
Following the attack, survivors and rights groups accused the GNA of using migrants as "human shields."
In fact, abuse of migrants and refugees on Libyan soil goes back many years, predating the European refugee crisis of 2015 and even the 2011 uprising against Muammar Qaddafi.
As early as 2005, the European Commission warned of "deplorable conditions" in Libya's detention centers.
Yet the country's approach continued to change from an open-border policy in the 1990s to a strict visa system in 2007. This was accompanied by the building of detention centers across the country and the criminalization of irregular migration, particularly from sub-Saharan countries.
As Libya descended into a chaotic civil war after a NATO-backed uprising toppled and killed Qaddafi in October 2011, control of the detention centers passed into the hands of the shaky new government and various militias.
However, many detention centers stayed linked as some of the biggest militias pledged — on paper, at least — loyalty to the new government even as they preserved their autonomy. What kept the tenuous arrangement alive was the steady infusion of cash in the form of EU emergency funds.
By this time, however, a long list of actors — prison guards, Libyan officials, smugglers and traffickers, corrupt coast guard officers and even EU representatives — had become involved in the coercion and exploitation of irregular migrants.
According to the Global Detention Project, Italy began striking secret deals with Libya as early as 2003, financing detention camps near Tripoli in 2003 and, later, in the south of the country.
In 2017, Italy and the GNA signed an agreement that failed to secure the approval of Libya's House of Representatives because it stipulated that Libya was to keep hosting a large number of refugees, asylum-seekers and migrants.
Nevertheless, there are unconfirmed reports of informal agreements between Italy and militias operating along the Libyan coast.
In 2018, the Swiss-based IOM, a leading international organization for migration, suggested four practical solutions: Improvements in data collection by the Libyan coast guard, better infrastructure for screening returned migrants, reception facilities along the coast, and the reopening of an IOM shelter for vulnerable migrants that was shut in 2011.
Today, the IOM and the UN refugee agency UNHCR maintain a presence in 16 disembarkation zones along the Libyan coastline. Irregular migrants intercepted at sea by the coast guard are taken to those zones before being transferred to detention facilities.
However, Amnesty International has said the "unofficial detention centers" should be called "places of captivity."
"Immigration detention is arbitrary and indefinite for many," it said, adding that for refugees the "only hope of release is through escaping, buying their way out or being sold on to people smugglers."
Eight years after the death of Qaddafi, Libya remains riven by turmoil and division. And now the stage has been set for a bigger military role for Turkey in Libyan affairs following a GNA deal with Ankara. This dire political and security situation does not inspire hope for those on the perilous migrant route to Europe.
https://www.arabnews.com/node/1602256/middle-east
------
Russia, China have blood on their hands after veto on Syria cross-border aid: Pompeo
December 21, 2019
WASHINGTON: US Secretary of State Mike Pompeo on Saturday said Russia and China had blood on their hands after the two countries used a veto of a UN Security Council resolution to block cross-border aid deliveries from Turkey and Iraq to millions of Syrian civilians.
"The Russian Federation's and China's veto yesterday of a Security Council resolution that allows for humanitarian aid to reach millions of Syrians is shameful," Pompeo said in a statement.
"To Russia and China, who have chosen to make a political statement by opposing this resolution, you have blood on your hands," he added.
Russia, backed by China, on Friday cast its 14th UN Security Council veto since the start of the Syrian conflict in 2011.
The resolution, drafted by Belgium, Kuwait and Germany, would have allowed cross-border humanitarian deliveries for a further 12 months from two points in Turkey and one in Iraq. But Syrian ally Russia only wanted to approve the two Turkish crossings for six months and had proposed its own draft text.
Russia and China vetoed the text while the remaining 13 members of the Security Council voted in favor. A resolution needs a minimum nine votes in favor and no vetoes by Russia, China, the United States, Britain or France to pass.
"The United States will remain committed to helping the voiceless, the hungry, the displaced, and the orphaned receive the humanitarian aid they require to survive no matter where they live," Pompeo said.
Since 2014 the United Nations and aid groups have crossed into Syria from Turkey, Iraq and Jordan at four places annually authorized by the Security Council. In a bid to compromise with Russia, the Jordan crossing was dropped by Belgium, Kuwait and Germany from their draft.
The current authorization for the four border crossings in Turkey, Iraq and Jordan ends on Jan. 10, so the Security Council could still attempt to reach an agreement, though some diplomats acknowledged this could now be difficult.
https://www.arabnews.com/node/1602201/middle-east
------
South Asia
Afghanistan's Ghani wins majority in presidential poll: Preliminary results
Dec 22, 2019
KABUL: Afghanistan's President Ashraf Ghani was on track to win a second term Sunday, after election officials announced he had scored a majority in the presidential polls.
But despite Ghani's apparent clean win, the fallout from the bitterly contested September 28 election looked set to continue, with top rival Chief Executive Abdullah Abdullah saying he would contest the result.
According to the Independent Election Commission, Ghani won 50.64 percent of the vote in the September 28 poll, easily besting Abdullah, who scored 39.52 percent. Candidates now have the right to file any complaints they may have before final results are announced, probably within a few weeks.
As soon as the result was announced, Abdullah's office said in a statement he would contest it.
"We would like to make it clear once again to our people, supporters, election commission and our international allies that our team will not accept the result of this fraudulent vote unless our legitimate demands are addressed," the statement read.
Preliminary results were originally due October 19 but were repeatedly delayed amid technical issues and allegations of fraud from various candidates, particularly Abdullah.
"We, with honesty, loyalty, responsibility and faithfulness completed our duty," IEC chairwoman Hawa Alam Nuristani said.
"We respected every single vote because we wanted democracy to endure." The protracted limbo between the vote and the preliminary result heaped additional uncertainty on Afghans who already are anxiously awaiting the outcome of talks between the US and the Taliban.
The election was meant to be the cleanest yet in Afghanistan's young democracy, with a German firm supplying biometric machines to stop people from voting more than once.
But nearly one million of the initial 2.7 million votes were purged owing to irregularities, meaning the election saw by far the lowest turnout of any Afghan poll.
https://timesofindia.indiatimes.com/world/south-asia/ashraf-ghani-wins-majority-in-presidential-poll-report/articleshow/72923284.cms
------
CAA, NRC India's internal issues, but 'worrisome' that uncertainty could affect neighbours: Bangladesh
Dec 22, 2019
DHAKA: The CAA and the NRC are India's "internal issues", Bangladesh Foreign Minister A K Abdul Momen has said, but voiced concern that any "uncertainty" in the country is likely to affect its neighbours.
Amid raging protests over the controversial citizenship law across India, Momen hoped that the situation "cools down" and the neighbouring country "can get out of it".
According to the Citizenship Amendment Act (CAA), members of Hindu, Sikh, Buddhist, Jain, Parsi and Christian communities who have come from Pakistan, Bangladesh and Afghanistan till December 31, 2014 following religious persecution there will get Indian citizenship.
Protests are being held across India ever since a bill was introduced in Parliament earlier this month. The bill was passed by the Parliament and signed into law by the President.
The protesters claim that the legislation is "unconstitutional and divisive" as it excludes Muslims. At least 16 people have been killed in violence during anti-CAA protests in Uttar Pradesh alone since Thursday.
"The CAB (now Citizenship Amendment Act) and the NRC (National Register of Citizens) are internal issues of India. Indian government assured us again and again that these are their domestic issues, they are doing it because of legal and other reasons," Momen told PTI here when asked about the CAA and the protests against it, especially in the northeastern states.
Prime Minister Narendra Modi while talking to Prime Minister Sheikh Hasina had assured that under no circumstances it will affect Bangladesh, Momen said.
The minister asserted that his country trusts India.
However, he said, "We are the No.1 friend of India. So, if there is uncertainty in India, it is likely to affect its neighbours. When there was an economic downturn in the US, it affected many countries because we live in a global world. So our fear is that if there is some uncertainty in India, it might affect its neighbours".
"That is worrisome. We hope the situation cools down and India can get out of it...It is their internal issue. It is not our issue. They should deal with it," he said.
Momen had recently said Bangladesh has requested New Delhi to provide a list of Bangladeshi nationals living illegally in India, "if any", to be repatriated.
He had also cancelled his visit to India beginning December 12, hours before he was to arrive in New Delhi.
The minister had said his busy schedule coinciding with the Martyred Intellectuals Day and Victory Day and also the absence of the state minister for foreign affairs Shahriar Alam and the ministry's secretary in the country made him defer his tour.
However, diplomatic sources in New Delhi had said that Momen and Home Minister Asaduzzaman Khan cancelled their visits to India over the situation arising out of the passage of the controversial Citizenship Bill in Parliament.
Momen had cancelled his tour a day after he termed as "untrue" Home Minister Amit Shah's comments on persecution of religious minorities in Bangladesh.
The External Affairs Ministry in New Delhi had said that Momen conveyed to India about postponement of his visit due to scheduling issues, and asserted that Shah referred to religious persecution in Bangladesh during the military rule and not under the current government.
Bangladesh was learnt to have been upset following roll out of the NRC in Assam around four months ago even though India conveyed to it that the issue was an internal matter of the country.
The NRC has been prepared to identify genuine Indian citizens living in Assam since March 24, 1971, or before, and identify illegal Bangladeshi migrants in the state.
Out of 3.3 crore applicants, over 19 lakh people were excluded from the final NRC published on August 30.
Hasina had taken up the issue of NRC with Modi during their bilateral meeting in New York in September.
https://timesofindia.indiatimes.com/world/south-asia/caa-nrc-indias-internal-issues-but-worrisome-that-uncertainty-could-affect-neighbours-bangladesh/articleshow/72923164.cms
------
2 Rohingya men killed in 'gunfight'
December 22, 2019
Two Rohingya men, suspected of being drug peddlers, were killed in a "gunfight" with members of Border Guard Bangladesh in Ukhia upazila of Cox's Bazar early yesterday.
The dead are Siddiq, 30, and Shahjahan, 36, inhabitants of Balukhali Rohingya Camp, said BGB.
Lt Col Ali Haider Azad, commanding officer of 34th BGB Battalion, said one of their patrol teams encountered a group of drug peddlers.
Sensing their presence, the group of criminals opened fire, forcing the BGB men to retaliate. At one point of the "gunfight", the duo was found lying on the ground with bullet wounds. They were then sent to Ukhia Upazila Health Complex where doctors declared them dead, the BGB official claimed.
BGB also claimed to have recovered 40,000 yaba pills and a locally made pistol from the spot.
The Daily Star, however, could not independently verify the BGB claims.
Two cases were filed with Ukhia Police Station in connection with the incident.
https://www.thedailystar.net/backpage/news/2-rohingya-men-killed-gunfight-1843399
------
Arab World
OIC condemns Brazil for opening trade office in Jerusalem
December 21, 2019
RIYADH: The Organization of Islamic Cooperation (OIC) on Saturday condemned Brazil's opening of a trade office in Jerusalem, warning the move would "damage" relations between Brazil and OIC member countries.
The OIC also expressed its "deep regret" that Brazil had changed its foreign policy toward Palestinians and called on its government to reverse the decision as it supports "illegal Israeli policies aimed at encroaching the legal and historic status of the occupied city of Jerusalem."
The Arab League also condemned Brazil's decision on Thursday and said that the opening of the trade office will "seriously damage" Brazil's political and economic interests in the Arab world.
At an emergency meeting convened in Cairo, representatives from Saudi Arabia, Kuwait and Iraq, among other states, criticized Brazil's move as a violation of international law and voiced their continued support for Palestinian claims to the divided city.
In a statement, the council said that such a "negative change in Brazilian foreign policy toward Palestinians would seriously damage Arab-Brazilian shared political, economic and diplomatic interests," though did not offer specifics.
https://www.arabnews.com/node/1602231/saudi-arabia
------
Saudi Arabia denies asking Pakistan to skip Malaysia summit
SAIMA SHABBIR
December 21, 2019
ISLAMABAD: The Saudi Embassy in Pakistan on Saturday denied a claim that the Kingdom had exerted pressure on Islamabad to dissuade it from participating in the Kuala Lumpur Summit.
The claim was published and aired by various media outlets in the country.
"The Royal Embassy of Saudi Arabia in Pakistan denied the information and fake news broadcast by some media channels, claiming that the Kingdom of Saudi Arabia pressurized and threatened Pakistan to refrain from participating in the Kuala Lumpur Summit," said the statement, adding that the relations between Saudi Arabia and Pakistan were cordial and did not require use of threatening language.
Hegra, ancient city of the Nabataeans in Saudi Arabia's historic AlUla Valley, is emerging from the mists of time to take its rightful place as one of the wonders of the world
"The brotherly relations between the countries are long standing and strategic based on trust, understanding and mutual respect, and the two countries enjoy a consensus of views on most regional and international issues, especially the issues of the Islamic nation," the statement continued, adding that the two sides had complete agreement on the idea of Muslim unity and maintaining the role of the Organization of Islamic Cooperation (OIC).
The Embassy further maintained that the Kingdom had always stood by Pakistan in difficult times due to the fraternal relations between the two sides, noting that Saudi Arabia always wanted Pakistan to be a successful and stable country.
Malaysian Prime Minister Mahathir Mohamad hosted the Kuala Lumpur Summit from December 18 to 21. Prime Minister Imran Khan took a belated decision to skip the conference, making some sections of the media speculate that his decision was made under the Kingdom's pressure.
Pakistan's envoy to Saudi Arabia said the impression was totally wrong, and it was created by certain segments to serve their vested interests.
"It is utterly wrong to say that Saudi Arabia pressurized Pakistan to miss the summit. It is a totally baseless impression," Ambassador Raja Ali Ejaz told Arab News on the phone on Saturday, adding that the bilateral relations between Pakistan and Saudi Arabia were strong and time-tested.
"We have around three million expat Pakistanis in the Kingdom," he added. "Pakistan's prime minister has visited Saudi Arabia four time in less than a year and the Saudi crown prince also paid a visit to Pakistan earlier this year in February which shows the strength of our cordial relations."
The spokesperson of Pakistan's foreign office, Aisha Farooqui, said that Pakistan did not participate in the KL Summit since more time and effort were required to address the concerns of major Muslim countries regarding divisions in the Ummah.
"Pakistan will continue to work for the unity and solidarity of the Ummah, which is indispensable for effectively addressing the challenges faced by the Muslim world," she said.
https://www.arabnews.com/node/1602131/saudi-arabia
------
Expert reveals when Ramadan, Eid Al Fitr 2020 will fall in UAE
December 22, 2019
Dubai: As the year comes to an end, new calendars will soon be hung on walls and with it, the dates of upcoming holidays for the year 2020.
The Hijri calendar however, is a bit more ambiguous than the Gregorian one, since it depends on the visibility of the moon – dates of each month can vary from 29 to 30 days – and astronomers also have to take weather conditions into consideration before announcing the new month.
Ebrahim Al Jarwan, General Supervisor at Sharjah Planetarium, said that through calculations based on astronomy, you can determine when months on the Islamic calendar are most likely to fall.
The lunar calendar relies on the observation of the new crescent moon to determine important events such as Ramadan and the proper time for Hajj.
Al Jarwan explained that the new moon for Ramadan in 2020 will most likely occur on Thursday April 23, which means that April 24 will be the first day of Ramadan.
"Weather conditions in the western region will be favourable to witness the new crescent moon on the night of April 23, so the first day of Ramadan will be observed the next day, on April 24," he said.
"The new moon for the month of Shawwal 1441H will be on May 22 after sunset but it will not be visible to the naked eye, so according to my calculations, we will be able to see the new moon in the UAE on Saturday May 23. This means that the first day of Eid Al Fitr will fall on May 24, on a Sunday," he said.
As for the month of Dhu Al Hijja, which marks the dates for the pilgrim to Makkah, Al Jarwan said that the crescent moon will occur on July 20 after sunset, but it will not be visible.
"As the moon will not be visible on the first day it is formed, this means that we will have to wait until Tuesday evening, July 21, which will mark the first day of Dhu Al Hija on July 22," said Al Jarwan.
Arafat Day is observed on ninth of the Dhu Al Hijja month while Eid al-Adha begins on the tenth day.
"So Arafat Day will be on July 30 and the first day of Eid Al Adha will be on Friday 31 July, 2020," he added.
https://gulfnews.com/photos/news/latest-uae-public-holidays-2020-for-public-and-private-sectors-1.1576504742391?slide=8
------
KSRelief continues humanitarian projects in different parts of Yemen
December 22, 2019
SANAA: The King Salman Humanitarian Aid and Relief Center (KSRelief) continues to carry out different humanitarian projects across Yemen.
KSRelief mobile nutritional medical clinics provided services to displaced people at Al-Khaniq camp in Sanaa in partnership with the Taibah Foundation for Development. During the past week, 1,500 people benefited from the health services provided by the center.
In Yemen's Hajjah governorate, Al-Jadah Health Center provided treatment to more than 2,500 beneficiaries in partnership with KSRelief.
Recently, KSRelief revealed a plan to support the health sector in Yemen, in coordination with Yemen's High Relief Committee.
According to KSRelief, it provides dialysis solutions and other medications necessary for treating chronic diseases to Yemen.
KSRelief provides urgent treatment for wounded and injured Yemenis in their country, and those for whom treatment is not possible in Yemen are transferred to Saudi Arabia and other countries in the region.
The center has implemented numerous health projects in Taiz, including support for Al-Thawra Hospital, which the center has provided with equipment, supplies and medicines. The first phase of support to the hospital's orthopedic department alone amounted to $3.15 million.
https://www.arabnews.com/node/1602311/saudi-arabia
------
Saud Al-Sabhan, director general at the Saudi Ministry of Communications and Information Technology
December 22, 2019
Acknowledging the Saudi capital city's prominent role in adopting and promoting the use of digital technologies to enhance socioeconomic development, the 23rd session of the Council of Arab Ministers of Communications and Information Technology last week decided to declare Riyadh the Arab world's first digital capital city.
Commenting on the decision, Saud Al-Sabhan, the Saudi Ministry of Communications and Information Technology's director general of corporate communications told Arab News: "I am not exaggerating when I say you can do anything with a mobile app in Saudi Arabia."
Al-Sabhan has been the director general of corporate communications at the ministry since February 2019.
Before joining the ministry, he worked at Riyadh Airports Co. (RAC) as vice president (commercial) and marketing director.
RAC is responsible for the management, operations and maintenance of the King Khaled International Airport and its facilities.
Al-Sabhan obtained a bachelor's degree in marketing at King Fahd University of Petroleum and Minerals in 2002. He did an MBA in management and finance from Seattle University in 2008.
Al-Sabhan also received a diploma in entrepreneurship at the University of Washington in 2006.
He started his career as a marketing professional in Saudi Arabia and worked with some top names in the private sector like NCB, Danone, Nadec and Mobily. He joined the National Water Co. as a senior marketing and research manager in 2011. In 2015, he joined the Saudi Industrial Property Authority (Modon) as head of marketing. Later, he joined the Saudi Industrial Development Fund as a marketing director in 2016.
https://www.arabnews.com/node/1602351/saudi-arabia
------
DJ Steve Aoki spins Mohammed Abdu remix at MDL Beast for Saudi fans
RUA'A ALAMERI
FARIS ALRUSHUD
December 21, 2019
RIYADH/DUBAI: American-Japanese DJ Steven Hiroyuki Aoki surprised fans at the MDL Beast music festival in Riyadh on Friday with a special remix of tunes by Saudi singer Mohammed Abdu.
"I love collaborating across cultures, it's my favorite thing in the world," Aoki told Arab News.
The US-based DJ said that he "very rarely" does remixes like this and that it was his first time working with Arabic music.
"I do this but it's a special time to be here," he said, referring to his performance on the second day of the inaugural electronic dance music festival.
Aoki said he was "very excited" to work on the music which he said was a "completely different" sound to what he was used to.
"Producing all of it was really challenging for me in the studio but very inspiring," he said.
Aoki also remixed tracks by Iraqi singer Majid Al-Muhandes, who co-performed with the DJ on Friday.
Aoki, who performed earlier in July at Jeddah World Fest, said he "loves" the people of Saudi Arabia and that he did not realize he had a huge fan base in the kingdom.
"It is surprising and incredible … to see so many fans in Saudi Arabia … everyone is so loving and so kind. They are just beautiful people," he said, adding that he was keen to return to the country for future performances.
"The people want it. You feel the energy in the crowd, they want this kind of music here," he said.
The MDL Beast festival, which attracted 150,000 visitors on Friday, had a variety of food pop-up trucks to feed hungry fans, including Aoki's Pizzaoki chain based in Los Angeles.
"We sold over 40,000 slices of pizza yesterday. I can't believe the number," he said, claiming it was the number one selling food pop-up truck in the festival.
https://www.arabnews.com/node/1602111/saudi-arabia
------
Africa
Why marriages collapse early in Nigeria – Islamic Cleric
December 22, 2019
The Chief Imam of Ansarudeen Society Worldwide, Abdurahman Ahmad, says impatience and lack of endurance are the major factors responsible for the early collapse of marriages in Nigeria.
Mr Ahmad spoke on Saturday in Ibadan during the marriage ceremony between Amirah Sanni and Abdulkabir Alao.
The News Agency of Nigeria (NAN) reports that Amirah is the daughter of the Chairman of Muslim Community of Oyo State, Kunle Sanni while Abdulkabir is the son of the Baba Adini of Yorubaland, Sarafa Ishola.
"Marriages break up nowadays for a lot of reasons but principally many couples are not patient with one another.
"Marriage requires a lot of patience, mutual accommodation and a lot of prayers.
Marriage requires a lot of determination to make it work because there is a lot of time for blending between the couples and this takes patience and perseverance," Mr Ahmad said.
He advised couples to be always patient and endure one another to avoid marriage crisis.
The cleric also said a healthy marriage depended on family and society for survival.
The Alake of Egbaland, Adedotun Gbadebo, on his part, advised the couple to sustain their initial love before the marriage in order to break the barriers.
"You should maintain the same level of love that you have for yourselves before the marriage as well as show tolerance and understanding,"Gbadebo said.
Dignitaries at the occasion included the Osile of Oke-Ona Egbaland, Adedapo Tejuoso; Aare Musulumi of Yorubaland, Edo and Delta States; Daud Makanjuola and Daud Noibi.
https://www.premiumtimesng.com/news/more-news/369347-why-marriages-collapse-early-in-nigeria-islamic-cleric.html
------
Five arrested in Ethiopia for arson attack on mosques - state government
DECEMBER 22, 2019
ADDIS ABABA (Reuters) - Five people suspected of burning down four mosques in Ethiopia's Amhara region were arrested on Saturday, a regional spokesman said, as rising inter-communal and ethnic violence threatens political reforms initiated by Prime Minister Abiy Ahmed.
"Five people who are suspected of leading and organising the attacks have now been arrested," Getnet Yirsaw, the Amhara state spokesman, said in a Facebook post.
Yirsaw also said that a church in the town of Motta, 377 km (234 miles) north of the capital Addis Ababa, had been targeted in an arson attack. It was unclear who was responsible for that attack.
The president of Amhara's regional Islamic council said the attack in Motta was unexpected and that businesses owned by Muslims had also been burnt and vandalised.
Abiy has introduced sweeping political and economic reforms, which have won him international praise, culminating in the award of the Nobel Peace Prize for peacemaking efforts with long-time enemy Eritrea. But the reforms have also stoked ethnic and religious tensions as regional strongmen have been emboldened to compete over influence and resources.
Abiy condemned the violence on Saturday and said he would not allow extremists to tarnish Ethiopia's history of religious tolerance. He urged called on citizens to reject hateful agendas.
The International Crisis Group think-tank warned in a report published this week of an uptick in attacks on churches across Ethiopia and suggested that rising inter-communal tensions pose a threat ahead of elections scheduled for May 2020.
https://uk.reuters.com/article/uk-ethiopia-violence/five-arrested-in-ethiopia-for-arson-attack-on-mosques-state-government-idUKKBN1YP0IR?rpc=401&
------
Five arrested for attack on mosques in Ethiopia's Amhara region
Five people suspected of burning down four mosques in Ethiopia's Amhara region have been arrested, a regional spokesman has said, as rising intercommunal and ethnic violence threatens political reforms initiated by Prime Minister Abiy Ahmed.
"Five people who are suspected of leading and organising the attacks have now been arrested," Getnet Yirsaw, the Amhara state spokesman, said in a Facebook post on Saturday.
State-affiliated Fana Broadcasting Corporate reported on Saturday that a number of mosques were attacked and that "other properties were destroyed" in Mota town, more than 350 kilometres (217 miles) north of the capital, Addis Ababa.
"Attempts by extremists to breakdown our rich history of religious tolerance and coexistence have no place in the new prosperity focused Ethiopia," Abiy, this year's Nobel Peace Prize laureate, said in a statement posted on his Facebook and Twitter accounts.
"I condemn such acts of cowardice and call upon all peace loving Ethiopians to draw upon our deep knowledge of coexistence and our reservoir of respect," the statement added.
Fana also said one church was attacked.
Religious strife
While ethnic violence has been a persistent problem under Abiy, recent unrest appears to have been at least partly motivated by religion.
During several days of violence in the Oromia region in October that killed more than 80 people, attacks on both mosques and Orthodox Christian churches were reported.
Yet analysts caution that conflicts that appear to be rooted in religion are often also shaped by disputes over land use, ethnicity and other issues.
Muslims make up about one-third of Ethiopia's population of 110 million, second only to Orthodox Christians at 40 percent, according to the last census which was conducted in 2007.
But Muslims are vastly outnumbered in Amhara, the country's second-most-populous region where Orthodox Christians make up more than 80 percent of the total.
The attacks on the mosques were condemned by the Orthodox Church and the Ethiopian Islamic Affairs Supreme Council, Fana reported.
Daniel Bekele, head of the Ethiopian Human Rights Commission, said in a statement that Amhara regional officials "should act promptly to investigate and bring perpetrators to justice".
https://www.aljazeera.com/news/2019/12/arrested-attack-mosques-ethiopia-amhara-region-191221194353132.html
------
Release Sowore, other political prisoners now, Muslim group tells Buhari
December 22, 2019
The youth wing of Ansar-Ud-Deen Society of Nigeria (ADS) has urged President Muhammadu Buhari to release the co-convener of the #RevoluionNow movement, Omoyele Sowore and other detained political prisoners.
The group made the call on Saturday through Professor Bashir Adeniyi Omipidan, Chairman of Ansar-Ud-Deen Youth Association of Nigeria (ADYAN) Northern States Council, who noted that it was imperative for Federal Government to obey court orders and release those granted bail.
Omipidan who was speaking ahead of ADYAN 2019 Northern State Council Conference and Awards Ceremony billed for Funtua, Katsina State, also tasked Nigerians to support President Buhari's administration to enable it guide Nigeria to prosperity.
The call by the group comes after a former United States US) Ambassador to Nigeria, John Campbell said that the recent invasion of court by the State Security Service (DSS) had damaged Nigeria's international image.
He was referring to the December 6 event, when operatives of the DSS stormed a Federal High Court in Abuja to re-arrest Omoyele Sowore, the #RevolutionNow co-convener.
He commented on the development in a post he entitled "Buhari's dictatorial past and the rule of law today in Nigeria" and published on the website of the Council on Foreign Relations.
He called on Buhari's government not to make any move against the freedom of expression of the media house that criticise the current administration in editorials over the invasion.
https://www.ripplesnigeria.com/release-sowore-other-political-prisoners-now-muslim-group-tells-buhari/
------
Sheikh Gumi to CJN: Leave Sharia alone, talk about restructuring
DECEMBER 22, 2019
By Ben Agande
T he Chief Justice of Nigeria recently called for the amendment of the Constitution to expand the scope of Sharia legal system. What do you think?
What I think we should do is to restructure Nigeria so that areas where Muslims are in the majority like Zamfara and Kano will have their system. Where Christians are more, allow them to have their way.
Law is what governs people and controls them. If there is Sharia law in Borno State, Boko Haram will end immediately because there will be nothing to agitate for. Saudi Arabia is running the Sharia system but that does not prevent them from developing. They have the best roads, hospitals and the latest technology.
They produce some of the highest number of PhD holders in all fields.
Restructuring Nigeria is the most important thing. Don't talk about Sharia. Each state should have autonomy to do what suits the majority of its population. You cannot neglect religion. It is very potent. If it is used to manipulate the people, it becomes opium but if it is used strictly according to the scriptures, it is good.
In Islam, we are told that Muslims should love Christians. Clerics are not big-headed. Christianity inculcates humility. If your neighbour is a good Christian, you are safe. If your neighbour is a good Muslim, you are safe. A good Christian or a good Muslim will not chase your wife, he will not chase your daughter, he will not come home drunk, and he will not steal your money. We should not fight religion. We should rather embrace religion.
But it should be localized, not nationalised. Let states have their autonomy and rules. Muslim states that want Sharia should have it. If you do that, you will control crime. When Sharia was introduced in Zamfara, the crime rate was low. Go and check police records.
'Intellectually capable'
I do not think it is for the Chief Justice of Nigeria to prescribe anything, it is for the National Assembly to restructure Nigeria but I do not think we have the right calibre of people in the National Assembly to do that. They are not intellectually capable of restructuring Nigeria. Restructuring should happen in the next dispensation. Nigerians should be wise enough to elect intellectuals into government. Three years is good enough for Christians, Muslims and other intellectuals to come together and work out plans. It is just a matter of time. This is a very beautiful country and we can make it what we want. It is time for us to restructure Nigeria.
Should restructuring include amending the provisions of the Constitution on Sharia to cover the whole nation?
Sharia has nothing to do with non-Muslims. Only the Sharia court can handle issues of inheritance for Muslims and not the conventional court. There has to be a way for an appellate court for Sharia cases. Once there is a law, there has to be an end. There should be an end to where the law can reach. If we restructure Nigeria to give every state autonomy, the country will be good. America is as diverse as we are but the laws of the country are well-rooted. We need a federation like America where the states will have some form of independence.
Nigeria seems more divided now than ever before. What do you think is responsible? Is it politics or religion?
Politics is responsible. Religion unites mankind. If you remove Buddhism from India and China, for instance, there will be chaos. If you remove Christianity, there will be chaos and if you remove Islam, there will be chaos. Religion solidifies. It holds mankind in big blocks so that they can respect each other. Religion is spiritual even though religious leaders exploit people. But there is an extent to which they can go because the scriptures are there. It is all about morality. It is all about good neighbourliness and compassion. Religion is never a problem but those who manipulate religion are. That is where the problem is. The division in the country is caused by the political leadership. We don't have good leaders. We have leadership that still believes it is in opposition. It is structured to be opposing like critics.
I recently heard the Vice President saying they could not tackle poverty because of the past government. You are in your fifth year of leadership yet you still blame somebody for not turning things around? Adolf Hitler met Germany in utter disaster but, in a few years, Germany was producing machines to fight the world. It is leadership. The economy is dependent on leadership. We don't have that. There is crime everywhere. We are spending wrongly.
Recently, President Buhari submitted a request to the National Assembly to borrow another $30billion. What does this portend?
They do not have priorities on development. They want a quick fix. They want to build edifices so that they can say 'this is what we did'. This is not how an economy is run. Human development indices are very low in Nigeria. Mortality rate is high, and the standard of education is poor. If you train Nigerians, they will do what is right. Our budget for human development is very poor. We are spending where we should not spend because we want to impress.
Talking about education, the North is not making progress in terms of school enrolment. What do you think is responsible for this state of affairs?
Leaders are not investing enough in education. The budgetary allocation for education is low. Since the North has a problem in the education sector, state governments should invest more in education. They should get teachers from other places, improve the quality of teachers and build more schools. Things will turn around in a short time if proper attention is paid to education. We are not spending on education and we are not spending on health. What government needs to do is to create industrial agriculturists. We have arable lands. Government should assist people who want to embrace agriculture. When you give loan to small scale farmers, it does not help. What happens is that after getting the loan, instead of tilling the lands, they buy hajj tickets or marry more wives. They engage in bedroom farming, not real farming.
Prof. Ango Abdullahi recently said politicians and political system have failed Nigerians. Is theocracy an option?
Theocracy died several years ago. The papal authority used to send crusaders to the Middle East but it turned out a disaster and the Pope lost his authority. Monarchs came out but they lost their authority. There is no more theocracy. In Islam, the caliphate was completely destroyed in 1924 and there are no more caliphates now. God cannot allow you to form a government under his cloak and you will be deceiving people. He will destroy it.
What is your reaction to the recent discovery of torture centres in the name of Islamic rehabilitation centres?
I have been to some of the centres. There was a wrong narration to the stories. Poverty and ignorance in the North have led to an explosion in the use of drugs. Men, women, and children are addicts and there are no government institutions that can handle such things. Out of necessity, families take their children to such centres with the hope that they will be restrained and rehabilitated. It is not a hospital where they can be treated, so they chain the addicts so that they will not harm anybody or themselves. It is the parents of some of these children that want them to be shackled. It is as a result of the absence of government. Government should provide rehabilitation centres to address this huge problem.
During the first four years of Buhari, you expressed disappointment with his performance. Is there any sign that there will be change?
Things have become worse. Look at the border closure. Look at the obsession with rice. This is a government that thrives on propaganda and it capitalises on the ignorance of its supporters. Things are bad for the people. Court orders have no meaning in Nigeria now because government can ignore it.
Do you sometimes fear that Nigeria is heading towards dictatorship as some people claim?
Nigeria is too big. What I fear is a slide into anarchy. Government seems not able to handle anything. Boko Haram is too big for government. Violent herdsmen are too big for government to handle. All the money that is being borrowed, why can't they improve the Independent National Electoral Commission, INEC? They don't want to make INEC work because they depend on rigging.
If you were to advise this government, what would you say?
This is a difficult question for me because if you beat a dead horse, will it run? The situation is terribly bad. People cannot feed. People cannot buy drugs. You can no longer trust even your driver to buy fuel for you. He would rather take part of the money to feed his family. Corruption is everywhere because of lack of leadership. We need a new crop of leaders in the country. We need people who are not stained by blood and corruption.
https://www.vanguardngr.com/2019/12/sheikh-gumi-to-cjn-leave-sharia-alone-talk-about-restructuring/
------
Muslim Youth Urge Buhari To Release Sowore
DEC 21, 2019
Muslim youth in Nigeria have called on President Muhammadu Buhari to ensure the immediate release of Omoyele Sowore.
The youth under the auspices of Ansar-Ud-Deen Youth Association of Nigeria, Northern States Council, asked government to respect the court's order granting Sowore bail and immediately free him and other political detainees in the country.
Chairman of the association, Prof Bashir Omipidan, condemned the rearrest of Sowore and his prolonged detention without a court order.
He said, "ADYAN Northern States Council is not oblivious of the fact that Omoyele Sowore and some other persons are still in detention despite court granted bail.
"We call on the Federal Government to arraign those who have not been tried to court, while allowing those who have already been granted bail to go home.
"We are equally not opposed to rearrest of anyone on bail if there are reasons to suspect that condition of such bail had been flouted.
"This should however, be carried out in accordance with the rule of law.
"A person remains a suspect until convicted by a court of competent jurisdiction but so far, Omoyele Sowore is still a suspect who has been granted bail by the court and should be released."
http://saharareporters.com/2019/12/21/muslim-youth-urge-buhari-release-sowore
------
Sudan government off of US religious freedom blacklist
December 21, 2019
CAIRO: The United States dropped Sudan from its list of nations that severely violate religious freedoms, signaling increased support for Sudan's newly created transitional government.
In a statement, the US State Department said it upgraded Sudan to a special watch list for religious freedom, citing "significant steps taken by the civilian-led transitional government."
Sudan's joint military-civilian body was established in August after a popular uprising ousted former authoritarian president Omar Al-Bashir. The State Department praised the new government for its efforts "to address the previous regime's systematic, ongoing, and egregious violations of religious freedom."
Sudan cheered the move as the latest sign of warming ties with the US, as it seeks to persuade American officials to remove Sudan from a far more serious blacklist: state sponsors of terrorism. The designation subjects Sudan to sanctions, hindering the new government's attempts to relieve its debt crisis and attract foreign investment during its fragile transition to democracy.a
During Prime Minister Abdalla Hamdok's first visit to the White House earlier this month, the US announced that the countries would upgrade their diplomatic relations by exchanging ambassadors for the first time in over two decades.
Sudan's Minister of Religious Affairs Nasser Al-Din Mufrah on Saturday welcomed Washington's "important step," saying his government is working hard to restore religious freedoms. Those freedoms had prevailed in Sudan before the autocrat Al-Bashir seized power in an Islamist-backed military coup in 1989. Al-Bashir became known for fueling ethnic and religious tensions in the diverse nation, waging wars against mainly Christian and animizt rebel groups in the country's south.
"We will proceed in the direction of promoting recognition, respect and protection for all rights," wrote Al-Din Mufrah in a message on his Facebook page.
https://www.arabnews.com/node/1602196/middle-east
------
URL: https://www.newageislam.com/islamic-world-news/delhi-human-chain-imams-help/d/120594
New Age Islam, Islam Online, Islamic Website, African Muslim News, Arab World News, South Asia News, Indian Muslim News, World Muslim News, Women in Islam, Islamic Feminism, Arab Women, Women In Arab, Islamophobia in America, Muslim Women in West, Islam Women and Feminism