New Age Islam News Bureau
3 Jun 2018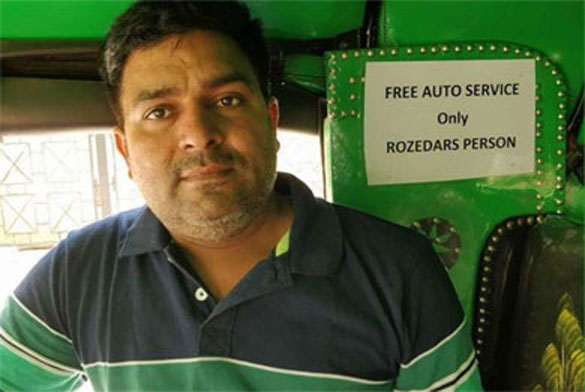 Indian auto-rickshaw driver gives free rides to Muslims observing fast
----
• Delhi Auto-Rickshaw Driver Gives Free Rides to Muslims Observing Fast
• In A New Malaysia, Mosque Opens Doors for A Multi-Faith Buka Puasa
• Hafiz Saeed-led JuD to Contest Pak General Elections on AAT Platform
• 'Shame upon Shame': Iran Blasts Israeli Killing Of Medic
• Obaseki Wants Muslims to Pray For Peaceful Coexistence
• Golders Green Synagogue Hosts Iftar Gathering for Local Muslims
India
• Delhi Auto-Rickshaw Driver Gives Free Rides to Muslims Observing Fast
• Kolkata: Religious Lines Blur As Donors Flock To Help Girl, Imam Ali Molla Was Deemed Fit to Do the 'Honours'
• This Ramzan, Communal Harmony and Acts of Kindness Thrive In Delhi
• Haryana: Three Days after Namaz Row, Villagers Say All Is Well Now
• Modi Visits Hindu, Buddhist Temples and Mosque in Singapore
• India, Pakistan had a 'deal' to end Kargil, but Delhi backed out: book
• Four CRPF soldiers, 4 civilians injured in grenade attacks in Srinagar
• NIA makes second arrest in Nagrota terror attack
• Kin, neighbours spur youth to join militancy
--------
Southeast Asia
• In A New Malaysia, Mosque Opens Doors for A Multi-Faith Buka Puasa
• PAS: Sensitivity of Muslims Must Be Protected In AG Appointment
• China Steps Up Uighur Crackdown during Ramadan
• Indonesian police detain three over suspected plot to attack assembly
• Pancasila Day Sees Interfaith Gatherings Aimed at Uniting Indonesians
• Indonesia Raids Campus, Detains 3 Terror Suspects
--------
Pakistan
• Hafiz Saeed-led JuD to Contest Pak General Elections on AAT Platform
• Suspect Killed As Rangers Foil 'Suicide Attack' Near Hub
• Nawaz to Play Lead Role In Award Of Party Tickets
• Sattar feels slighted for not receiving invite to Bahadurabad Iftar party
• MMA won't allow election to be delayed, declares JI
• Nusrat Fateh Ali Khan's daughter threatens to sue his plagiarists
• The beat is fading for Pakistan's Ramazan drummers
--------
Mideast
• 'Shame upon Shame': Iran Blasts Israeli Killing Of Medic
• NATO Says Won't Defend Israel In Case Of Iran Attack
• Israel's 'Golden Days' Over After Defeat Of Terrorists: Shamkhani
• Israel Continues To Initiate Violence against Gaza As Hundreds Mourn Death of Medical Worker
• Turkey's Erdogan calls on NATO ally US to fulfill its strategic partner role
• Israeli fighter jets target multiple positions throughout Gaza Strip
• Gaza militants fire two rockets at Israel
• Turkish Air Strikes 'Neutralize' 15 Kurdish Militants
• Palestinian man shot dead by Israeli soldiers in West Bank
• UN envoy to Yemen in Sanaa to discuss plans for Houthi withdrawal from Hodeidah
• Israeli jets fly over Hudaydah amid Saudi push to seize city: Houthi chief
--------
Africa
• Obaseki Wants Muslims to Pray For Peaceful Coexistence
• 10 Killed As Soldiers Battle Horse-Riding Boko Haram Fighters – Official
• 17 civilians killed in offensive on Libya's Derna: UN
• 16 injured in protest march ahead of election in Mali
• Al Shabaab fighters seize town in central Somalia: residents
• Dogara decries govt's attitude towards IDPs, says war against Boko Haram not totally won
• 'Boko Haram, herdsmen depleting christian population'
--------
Europe
• Golders Green Synagogue Hosts Iftar Gathering for Local Muslims
• Jihadists' Separation Jail Cells Left Empty For Fear Of Lawsuits
• German-Palestinian politician leads reconstruction of Berlin synagogue
• Russian pilot shot down in Afghanistan in 1980s found alive
• The Observer view on Islamophobia in the Conservative party
--------
South Asia
• Myanmar Says Willing To Take Back All Rohingya Refugees
• Civilians and ISIS-K Militants Suffer Casualties in Nangarhar Operation
• Taliban militants kill two ISIS-K members in Kunar province
• Nearly Half Afghan Children Out Of School, Rising For First Time Since 2002
--------
North America
• US Veto a 'Moral Blunder': Palestinian Foreign Minister
• Canadian ex-Afghan captive granted bail in assault case
--------
Arab World
• Syria Links Talks on South to US Withdrawal from Border Area
• ISIS Kills Family of 12 In Iraq Village, Says Official
• Egypt's Sisi sworn in for second term in office
• Saudi warns of military action if Qatar gets Russian missiles: report
• Arab Commanders Defecting US-Backed SDF in Eastern Syria
• US-Backed Militia Crack down on Popular Protests in Northeastern Syria
• US-Backed Militias Trying Hard to Occupy Syria's Idlib Province
• Militants in Southern Syria Reject Gov't Peace Offer
• Senior Tahrir Al-Sham Commanders Killed in Assassination Operations in Northwestern Syria
• Satellite Images Show US Expands Al-Tanf Base as Battle for Syria's South Looms
• Assad to go along with Putin's request to disband militias
• 1,000 Bangladeshi Nationals Attend Qatar Charity's Iftar
Compiled by New Age Islam News Bureau
URL: https://www.newageislam.com/islamic-world-news/delhi-auto-rickshaw-driver-gives/d/115432
--------
Delhi Auto-Rickshaw Driver Gives Free Rides to Muslims Observing Fast
May 24, 2018
It doesn't take a lot of effort to spot Prahalad among the auto rickshaw drivers, swarming commuters outside the Green Park metro station in south Delhi. He's quite popular and is fondly called 'Guru' or 'Mukhiya.'
Someone, who sets an example. Prahalad's recent initiative proves just that.
Since the beginning of Muslim holy month of Ramzan, Prahalad is offering free rides in his auto rickshaw to those observing fast during Ramzan.
"I just thought that it's been quite hot during these days and if I could be of any help to them (Rozedars), I will also earn some blessings. This is all I can do because I earn my living by driving an auto-rickshaw. This is my contribution from whatever profits I earn," Prahalad told InUth.
Working as an auto-rickshaw driver for the past four years, this is the first time Prahalad, a resident of Delhi, is doing something on the eve of Ramzan. He believes there isn't much difference when it comes to God. Only his followers are divided into various groups and sects.
"Everyone's religion is the same. God is one. If people keep pointing to the difference in all of us, we should try to change it. More the better," he said.
Till now, Prahlad has given free rides to almost 8-10 Muslims, who were observing fast. Since it's hard to know who's fasting, he always makes sure to ask his passengers.
"Once I refuse to take money from them, they say that they'll pray for me. That brings peace to my heart," he said.
Prahalad is not oblivious to the socio-political atmosphere in the country. That's why he wants more and more of his fellow drivers to follow his initiative.
"I have suggested many other fellow drivers, including some Muslim drivers, to follow my initiative, so that it can become an example for everyone. I want more and more people to do this work. It will help in bringing us closer to each other and something good will come out of it," Prahlad said.
https://www.inuth.com/india/delhi-auto-rickshaw-driver-free-rides-to-rozedars/
--------
In a new Malaysia, mosque opens doors for a multi-faith buka puasa
3 Jun 2018
IN rural Sungai Acheh in Nibong Tebal, Penang, reconciliation in a new Malaysia began as some 30 non-Muslims learnt the meaning of Ramadan.
They had never been inside a mosque, let alone joined Muslims to break their fast in one. They did not know that they could, until yesterday evening.
Youth group Penggerak Komuniti Muda (Peka) in Penang had organised a gotong-royong and buka puasa at Masjid Jamek Sungai Acheh in Nibong Tebal.
Some of its Chinese members helped locals cook "bubur lambuk" at the mosque in the afternoon and went into Kg Sungai Chenaam with their Muslim friends to distribute the porridge door-to-door.
"I had never helped people cook in a mosque before. It was a special experience," Tunku Abdul Rahman College student Chuah Tiong Yee, 21, a Peka member said.
The quantity surveying student said his takeaway from the event was that he learnt why Muslims distributed bubur lambuk (rice porridge) during Ramadan.
"Giving the porridge means sharing good will, extending well wishes...it is like why we Chinese give mandarin oranges during Chinese New Year. I thought 'wow'," he said.
Another Peka member, engineer Ho Man Yee, 27, said she felt happy helping out at the mosque and learning about the traditions of Ramadan.
"It was my first time breaking fast with Muslims in a mosque. I used to think I couldn't do this in the mosque as a non-Muslim.
"The local community is also very friendly and welcoming. We all worked and helped each other prepare for buka puasa without caring whether we were Muslim or not," she said.
For buka puasa in the evening, the mosque prepared a "nasi talam" style meal, with rice, chicken, mutton and watermelon served in large trays that up to four people will share.
By then, 27 northern region Junior Chamber International (JCI) Malaysia chapter leaders invited by Peka had arrived to join the locals to break the fast. They helped carry the large trays of food to the dining area.
Then, Sungai Acheh locals and guests – who also included Permatang Pauh MP Nurul Izzah Anwar, Batu Kawan MP P. Kasthuriraani, Bukit Mertajam MP Steven Sim, Sungai Acheh assemblyman Zulkifli Ibrahim and Jawi rep Jason H'ng – sat on the floor in small mixed groups and ate together from the trays.
JCI Malaysia national executive vice-president Chew Hooi Mei said the chapter presidents and top office bearers had a lot of fun at the eye-opening event, as it was the first time for any of them to enter a mosque to break fast with Muslims.
"Such invitations are very rare. This is such a great opportunity to understand the Malay and Muslim culture during Ramadan," she told The Malaysian Insight.
Chew said she hoped this would open new opportunities for JCI, whose members are youths aged 18 to 40, and Peka to work together in multiracial community programmes.
Peka's Adam Adli Abdul Halim said this Ramadan in a new Malaysia was a good time for reconciliation, and for Malays to give their non-Malay and non-Muslim friends a chance to experience something different.
"Someone had said somewhere that the leaders are fine but the people are disunited. In the past, there was little chance to get the people to come together.
"Today (yesterday), we are starting from this small community in Sungai Acheh. We should encourage this culture. Even the Quran tells us to make friends and know each other," he said.
It was also a first time for Peka to organise a multiracial buka puasa event in a mosque.
Locals in the predominantly Malay Sungai Acheh were amused that the non-Muslim youths had never been to a mosque and were unused to eating with their hands, but largely enjoyed the interaction.
"I want to thank them for coming to join us and helping out," said Kampung Sungai Chenaam village security and development chairman Hamidah Sahad, 51, who had taken the Peka youths into her village to distribute porridge.
Norizan Ishak, 53, who also helped the youths in their door-to-door visits, praised them for making the effort to promote better interracial ties.
In praising the event, Nurul Izzah said mosques were not only houses of worship, but also institutions that built communities.
Sim said such events would allow people of different races and faiths to interact, and take part in each others' cultures actively instead of being mere observers.
The DAP MP said the victory of Pakatan Harapan in the 14th general election proved that Malaysians were no longer divided by race and religion.
"The first step now is for us to interact personally, like how this buka puasa event has brought Malaysians together, with non-Muslims learning and experiencing what Ramadan means to Muslims, and seeing what a mosque looks like.
"At the end of the event, nobody became less Malay, less Chinese, less Indian...we all shared a part of each other, including our saliva," he joked, referring to the dining style.
"This is what a new Malaysian society should be like." – June 3, 2018.
https://www.themalaysianinsight.com/s/51974
--------
Hafiz Saeed-led JuD to contest Pak general elections on AAT platform
June 03, 2018
Mumbai terror attack mastermind Hafiz Saeed's Jammat-ud-Dawah (JuD) will contest the upcoming general elections in Pakistan on the platform of Allaha-u-Akbar-Tehreek (AAT), a dormant political entity as the group's Milli Muslim League is yet to be registered as a political party.
"It was a kind of dormant party registered by a citizen Ehsan. There are several such parties registered with the ECP and such an arrangement is made ahead of the general elections if any mainstream party or organisation faces any issue or complication," a member of the JuD told .
"Since the Milli Muslim League (MML) fails to get registered with the ECP it is going for this arrangement (contesting the upcoming polls on AAT platform)," he said.
MML president Saifullah Khalid will make a formal announcement regarding this shortly, he added.
The AAT's election symbol is 'chair'. "Now the JuD/MML candidates will contest on the 'chair' symbol across the country," the member said.
He said since the MML has hardly any chance to get registered with the ECP as it had announced the election schedule and issued election symbols, it had no other option but to contest the election on any 'dormant' entity like AAT or support the Mutahidda Majlis Amal (MMA), an alliance of mainstream religious parties of the country.
"But Saeed chose to contest independently," he said.
The MML has also confirmed contesting the July 25 election on the 'chair' symbol.
"We have decided to support the candidates of AAT in July 25 elections," MML President Saifullah Khalid told .
"We will play a role in the victory of those contesting on the symbol of chair. To save Pakistan, patriotic people should be supported in the elections," he said.
Khalid said the MML had been denied registration in the ECP for the last 11 months but will take part in the polls by supporting the candidates of AAT.
"Meanwhile we will continue fighting our case (registration of MML) in the court and ECP," he added.
The MML president said over 350 political parties were registered with the ECP but there are objection regarding the MML.
"I ask the MML workers to get ready and make full preparations across the country to make the AAT candidates successful in the upcoming elections. We have to serve humanity and no one can stop us from our political struggle," he said.
Meanwhile, the MML has filed a contempt of court petition in the Islamabad High Court (IHC) against the ECP for using delaying tactics regarding its enlisting as a political party as per law. June 11 is fixed for the case hearing in the IHC.
The court in March had set aside the ECP order declining registration of the MML.
Justice Aamer Farooq of the IHC bench had referred the matter to the ECP, directing the electoral body to pass a speaking order.
The MML had challenged the October 11 order of the ECP declining registration to the MML as a political party allegedly on the behest of the interior ministry.
The interior ministry had opposed enlisting of the MML as a political party arguing it's an offshoot of the JuD of Hafiz Saeed banned under a UN resolution.
Saaed founded the terror outfit Lashkar-e-Taiba in the 1990s. But when it was banned after insistence from India, the United Kingdom, and the United States, he revived a much older organisation, the Jamaat-ud-Dawa (JuD) in 2002. While Saeed maintains JuD is a charity organisation, the UN Security Council banned it as a terror organization and declared Saeed a terrorist after the 2008 Mumbai terror attacks.
Hafiz Saeed launched his political party the Milli Muslim League last year. The party made its political debut in the NA-120 bye-election, where its candidate Yaqoob Sheikh secured the fourth position. On April 2, the US Department State designated the MML along with Tehreek-e-Azaadi Jammu and Kashmir as aliases of the terror outfit Lashkar-e-Taiba. Hafiz Saaed also carries a USD 10 million American bounty on his head for his role in terror activities.
Earlier in December last year, shortly after his release from house arrest, Hafiz Saeed announced that his party would contest the 2018 national elections. General elections are scheduled to be held in Pakistan on July 25, 2018.
https://www.indiatvnews.com/news/world-hafiz-saeed-jammat-ud-dawah-contest-in-pak-general-elections-on-aat-platform-445256
--------
'Shame upon shame': Iran blasts Israeli killing of medic
Jun 3, 2018
Iranian Foreign Minister Mohammad Javad Zarif has condemned Israel's killing of a young Palestinian paramedic near the Gaza fence as another stain of shame for the regime.
In a post on his official Twitter account on Sunday, Zarif also slammed the US's veto of a UN Security Council resolution that condemned Israel's use of force against Palestinians.
Razan al-Najjar, 21, a volunteer with the Gaza Health Ministry, was fatally shot in the chest on Friday while treating injured Gaza protesters in a medical staff uniform.
Palestinian Health Minister Jawad Awwad denounced Najjar's killing as "a war crime" and a blatant violation of international rules, which protect paramedics and medical personnel at times of conflict.
Yossef Abu Arrish, the head of Gaza's health services, said the medical team that included Najjar had approached the Gaza fence "with raised hands and while they were in their white uniforms and still the army fired tear gas grenades at them."
The Palestinian Medical Relief Society also demanded "an immediate international response to Israeli humanitarian law violations in Gaza."
The Israeli military claimed that it was investigating the case.
In recent months, Israel has stepped up its extrajudicial killings of Palestinians in the occupied territories.
Israeli troops have on numerous occasions been caught on camera brutally killing Palestinians, with online videos going viral and sparking international condemnation.
Palestinian officials said before being killed, Najjar had given an interview during which she said she took pride in the aid she was providing to wounded Gazans.
Thousands of Palestinians attended Najjar's funeral in the southern Gaza city of Khan Yunis on Saturday.
Her mother, Sabreen, told the Middle East Eye news portal that Israelis "know Razan, they know she is a paramedic, she has been helping treat wounds since March 30."
"My daughter was a target for the Israeli snipers. The explosive bullet was directly shot in her chest; it was not a random bullet," she added.
Tensions have been running high in Gaza since March 30, which marked the start of a series of protests, dubbed "The Great March of Return," demanding the right to return for those driven out of their homeland.
At least 120 Palestinians have been killed by Israeli forces since the return rallies began.
The Gaza clashes reached their peak on May 14, the eve of the 70th anniversary of the Nakba Day (the Day of Catastrophe), which coincided this year with the US embassy relocation from Tel Aviv to occupied Jerusalem al-Quds.
On Friday, US Ambassador to the UN Nikki Haley rejected a Kuwaiti-authored Security Council resolution, which sought "international protection" for Palestinian civilians.
Israeli-Palestinian lawmaker Ahmad Tibi held Washington and its UN envoy responsible for Najjar's death.
http://www.presstv.com/Detail/2018/06/03/563723/Iran-Israel-Gaza-Palestine
--------
Obaseki wants Muslims to pray for peaceful coexistence
02 June 2018
Gov. Godwin Obaseki of Edo, has admonished Muslim faithful to continue to pray for the peaceful coexistence of Nigerians and for the nation to take its pride of place among other nations of the world.
This advice was contained in a statement issued by Mr Crusoe Osagie, the Special Adviser to Edo Governor on Media and Communication Strategy, and made available to journalists in Benin on Saturday.
Obaseki, in the statement, gave the call on Friday, at the palace of the Otaru of Auchi, His Royal Highness (HRH) Aliru Momoh, Ikelebe III, when he went there to break the Ramadan fast.
The governor said the peaceful coexistence of Edo people and residents was the result of prayers of the people.He said that he was in the palace to join the Muslim faithful to break the Ramadan fast in the spirit of shared brotherhood.
"We see ourselves as one and share in your sacrifices at this point in time."We have no doubt that your prayers and fasting are responsible for the peace we have continued to enjoy in Edo and I urge you not to relent in your prayers," he said.
In his response, the Otaru thanked the governor and his entourage for coming to identify with the Muslim community, describing the visit as the first of its kind in the state.He lauded the governor for his developmental stride in the state since he assumed office.
Otaru also lauded the governor for reviving the fertiliser plant in Auchi, saying that it had created jobs for the people of the area.He urged the governor to attract more industries to the state, so as to fast-track the development of the state."You are doing well in governance, I urge you to continue to bring development to our people," he added
https://guardian.ng/politics/obaseki-wants-muslims-to-pray-for-peaceful-coexistence/
--------
Golders Green synagogue hosts Iftar gathering for local Muslims
May 31, 2018
The Alyth Reform community Golders Green hosted its annual Iftar meal for the local Muslim community at which stories and traditions were shared.
Part of Faiths Forum for London's Big Iftar, discussions centred on heroic figures from both religions from Biblical times to the modern era.
On display at the venue was a Yad Vashem exhibition highlighting the efforts of Albanianian Muslims who risked their lives to save Jewish neighbours during the Holocaust.
Both the Jewish and Muslim evening prayers, Maariv and Maghrib, were recited.
Mustafa Field, co-founder of the Big Iftar and director of Faiths Forum for London, said: "With growing concern over antisemitism and Islamophobia, it is important to remember that our communities historically have always supported each other and will continue to do so.
"Ramadan is one of the holiest times of the year for Muslims. Not only is it spiritually important. It is also an opportunity to fortify relationships with neighbours, so a perfect time to bring communities together."
https://www.thejc.com/community/community-news/golders-green-synagogue-hosts-iftar-gathering-for-local-muslims-1.464851
--------
India
Kolkata: Religious Lines Blur As Donors Flock To Help Girl, Imam Ali Molla Was Deemed Fit to Do the 'Honours'
Jhimli Mukherjee Pandey
Jun 1, 2018
KOLKATA: It was a scene out of the 1977 blockbuster 'Amar Akbar Anthony' at Tata Medical Centre on Wednesday as several Hindus, Muslims and a Christian youth queued up to donate blood to a critically ill 13-year-old girl. Ultimately, it was Imam Ali Molla — one of the nine Muslim men — who was deemed fit to do the 'honours'. But the others are in the pipeline because Sujata Das (name changed), will need continuous transfusions to live.
Molla, travelled 37 kilometres from Accra to New Town and broke his 'Roza' so that he could donate his blood. Molla, a devout Muslim who has observed the Ramzan fast all his life, was happy to break it for the cause. "No religious cause could stop me," he said.
Edward A Solomon, a Christian and over 35 Hindu youths had also queued up to donate for Sujata, who has been suffering from acute and incurable of anaemia for many years. Since 2014, she has been a patient at Tata Medical Centre. The hospital finally advised bone marrow transplant, which was done 19 days ago. She now needs a series of single-donor platelet transfusions for which donors have to come to the hospital for fresh donations as blood kept in banks cannot help.
Sujata's father, a schoolteacher, had initially tried to organise donors for his O+ daughter. But soon he could find no more. Her uncle then put out a request on Facebook as the family could not find a donor for Wednesday's session. Soon there was a flood of replies from people, all regular donors of the same blood group. "We had a list of 47 donors in no time," the girl's uncle said. "We were surprised to see several Muslims willing to donate. They all said that they were willing to break their fasts if their blood could save a child," he said.
Molla regularly donates blood and is part of the Quest for Life activism, which believes that no one should die for want of blood, said Anupam Bhattacharya, the chief of the initiative.
Deputy director of Tata Medical Centre VR Ramanan said, "An engraftment of Sujata's stem cells has been done and gradually she will be able to live a life free of transfusions. To see someone driving down so far and break his fast for the cause is a remarkable moment."
https://timesofindia.indiatimes.com/city/kolkata/religious-lines-blur-as-donors-flock-to-help-girl/articleshow/64408745.cms
--------
This Ramzan, communal harmony and acts of kindness thrive in Delhi
Areeba Falak
June 2, 2018
It is general practice for Muslims to indulge in charity and Iftar gatherings in the ongoing month of Ramzan. However, championing the cause of communal harmony, individuals with different religious identities are stepping forward to contribute to Ramzan.
Prahlad, a 32-year-old auto-driver in South Delhi, is clueless about his popularity on social media. When contacted, Prahlad seemed a little unsure about how an A4 size poster in his auto-rickshaw made him famous. Sole bread-winner of his family, Prahlad has been offering free auto rides to people who are observing a fast in the month of Ramzan. His selfless initiative quickly made him popular on Twitter.
When The Sunday Guardian asked Prahlad the reason for his free rides at the cost of incurring losses, he said, "I just felt that it would not be easy to fast in this heat. Walking in the sun while you are fasting feels like a death wish. So I decided to do what was in my power. I have some Muslim friends and I have seen them work hard while they are fasting. That is what inspired me to give free rides to rozedaars."
Prahlad says that he is able to give free ride to 4-5 rozedaars a day. But how does he know who is fasting? "I directly ask all my clients before they sit in my auto, if they are fasting. That is the only way to spot a rozedaar; otherwise I will not know who to help."
This is Prahlad's first initiative ever, apart from being a regular blood donor. He has been an auto driver now for four years and before this, used to do several odd jobs. He has two sons and a daughter, all of whom attend school.
On how much money he is losing daily because of giving free rides, Prahlad said, "I am incurring a loss here. But that is not the point. I can cut a little bit on my expenses and make up for it. It is only for a month, so it is okay. But I wanted to do it, so I did not hesitate."
However, explaining why he does not want to publicise it, Prahlad said, "Some of the other auto drivers criticised me and said that I am lying. I do not want to create trouble." Fighting criticism, Prahlad has assured that he will not take down the small poster on his auto until the end of Ramzan.
In another instance, Yashpal Saxena, late Ankit Saxena's father, has been unanimously admired for organising an iftaar party in the memory of his son. Ankit was allegedly murdered in February this year by his Muslim girlfriend's family who disapproved their association since Ankit was not a Muslim.
Yashpal Saxena, who went out of his way not to allow the politicisation of his son's murder, reportedly said that the reason for organising the iftaar was to promote communal harmony in the country and make communal harmony unanimous with his son's name.
Another curious case of brotherhood is to be found in Radhe Shyam, who is the man behind the iftaar distribution to people of all faiths at AIIMS and several other hospitals in Delhi.
Serving iftaar packets to people of all faiths who are going through a hard time getting their loved ones cured in a hospital is Radhe Shyam. Rooted in Old Delhi, an organisation is serving iftaar to people, who, for the lack of accommodation, have to stay on footpaths or in hospital corridors while their relatives undergo treatment.
Ali Shervani, who looks after the Twitter handle "Muslims of India", the organisation that is serving iftaar to such people, said, "Radhe Shyam is our Man Friday. He does all the major footwork. He has been responsible for buying the food, arranging it and then distributing as well. He does not like publicity, but he is a star among us."
"Muslims of India" is now expanding its operations and will go out to NGOs and night shelters as well to distribute iftaar packets to people in need, irrespective of their religious identity.
"It is a must for Muslims to do charity and in the month of Ramzan, almost all Muslim households give more away in alms etc. than other months of the year. But to see people from different faiths join us in our activities or help less better-off Muslims is heart warming," said Ali.
Full report at:
https://www.sundayguardianlive.com/news/ramzan-communal-harmony-acts-kindness-thrive-delhi
--------
Haryana: Three days after namaz row, villagers say all is well now
by SUKHBIR SIWACH
June 2, 2018
THREE DAYS after a bunch of Hindu youths allegedly disrupted evening namaz at the mosque in Newal village, Karnal, resulting in tension, both the sides have reached a 'panchayati raazinama' (compromise). The police have also put any further action on hold against six youths of the village, who were booked in connection with the incident. However, officials said, "a probe was on".
Objecting to the 'high volume' of loudspeakers during evening namaz, a group of youngsters of the village had allegedly damaged loudspeakers on the mosque premises Wednesday.
The village, with a population of around 4000, is located barely 10 km from Uttar Pradesh's border, is dominated by Hindus. There are only 10 Muslim families living in the village since Partition. A few Christian families are also settled in the village and a church is being constructed.
"This is the first time such an incident has happened. Peace and harmony had always prevailed in our village," says Yakub Ali, a blacksmith.
"We reached a compromise as the village panchayat was held and both the sides gave in writing that the village's peace and harmony would not be disrupted", Yakub told The Indian Express. However, he added, "Yesterday, a slanderous video was uploaded by somebody on Facebook. In the video, villagers were passing inflammatory remarks at Muslims inviting reactions from the viewers. We have informed the police about it", Ali added.
"There is a temple and gurdwara in the village, where loudspeakers are used in morning and evening hours. Nobody objects to high volume there. There are some miscreants who incited a group of youth to disrupt namaz. Police know about those people", Ali said.
Imam of the mosque, Ahmad Ashfaq, said, "Nearly two months ago, a villager who was apparently drunk asked me to remove the loudspeaker from the mosque. He also used foul language. But I took it lightly."
Recalling the Wednesday's incident, a 14-year-old boy, Mohammad Usama, who has come to the village from Uttar Pradesh to deliver a religious lecture, said, "It was scary… the manner in which 15-20 persons entered the mosque, went to the rooftop and damaged loudspeakers."
Haryana DGP BS Sandhu, said, "I have learnt that a compromise has been reached between the two parties."
Village's sarpanch Harbhajan Singh, said, "Peace prevails in the village. It was an unfortunate incident". Former sarpanch, Pintu Naik, said, "They [Muslims] have agreed to use loudspeakers at low volume".
Full report at:
http://indianexpress.com/article/india/haryana-three-days-after-namaz-row-villagers-say-all-is-well-now/
--------
Modi Visits Hindu, Buddhist Temples And Mosque In Singapore
June 2, 2018
Singapore: Prime Minister Narendra Modi today visited Hindu and Buddhist temples and a mosque in Chinatown here, demonstrating the age-old people-to-people contact between India and Singapore.
Modi, who is here on a three-day tour, visited Sri Mariamman Temple and participated in prayers. Sri Mariamman is the oldest Hindu temple in the country.
The priest of the temple gifted a golden stole to Modi.
"Reinforcing our strong cultural connect, PM @narendramodi visited the Mariamman Temple," Ministry of External Affairs spokesperson Raveesh Kumar said.
"Blessed to have prayed at the beautiful Sri Mariamman Temple in Singapore. This Temple illustrates the vibrant cultural connect between India and Singapore," Modi tweeted.
Built in 1827, the temple was constructed for worship by immigrants from Nagapatnam and Cuddalore districts of South India. The temple is dedicated to Goddess Mariamman, known for her power in curing epidemic illnesses and diseases.
He also visited Chulia mosque which was built by Chulia Muslim merchants from India's Coromandal Coast under the leadership of Anser Sahib. This is one of the earliest mosques in Singapore. The mosque was established in 1826.
Modi was presented a green shawl at the mosque.
"Demonstrating the age-old people-to-people contact between our two countries," Kumar said.
After the mosque, Modi visited the Buddha Tooth Relic Temple and Museum.
"Shared Buddhist heritage! PM @narendramodi visited the Buddha Tooth Relic Temple and Museum in Singapore accompanied by the Culture Minister Grace Fu Hai Yien," Kumar said.
The Buddha Tooth Relic Temple was built in 2007, but the temple's richly designed interiors and comprehensive exhibits on Buddhist art and history tell stories of culture over hundreds of years old.
The temple gets its name from what the Buddhists regard as the left canine tooth of Buddha, which has been recovered from his funeral pyre in Kushinagar Uttar Pradesh and displayed in its grounds.
Full report at:
https://kashmirreader.com/2018/06/02/modi-visits-hindu-buddhist-temples-and-mosque-in-singapore/
--------
India, Pakistan had a 'deal' to end Kargil, but Delhi backed out: book
by Nirupama Subramanian
June 3, 2018
A new book by a Pakistani journalist claims that Pakistan and India had a "done deal" through backchannel diplomacy to end the Kargil confrontation at the end of June 1999, a month before it finally wound to a close with the withdrawal of Pakistani troops from their encroachments on the Indian side, and that India backtracked because it was confident that US pressure would force Pakistan to pull back.
Nasim Zehra had reported this "deal" at the time, and it was not denied by the Indian side. Her book From Kargil to The Coup: Events That Shook Pakistan, released in Pakistan last week, contains more details, but is mostly an indictment of a "clique of generals" headed by then Pakistan Army chief Pervez Musharraf, who planned and implemented the Kargil operation in secrecy and autonomously of the civilian government of Nawaz Sharif.
Released days after The Spy Chronicles: RAW, ISI and the Illusion of Peace by two former heads of the Indian and Pakistani intelligence agencies caused a backlash in Pakistan against the Pakistani co-author, Lt Gen Asad Durrani (retd), for appearing to endorse the view that Pakistani military had made several wrong decisions, Zehra's book is a narration of how the military took that country to the brink in Kargil without the Sharif government's authorisation, and finally pinned the blame on him, claiming that Pakistan would have achieved all the objectives of the operation if only the political leadership hadn't panicked and succumbed to US pressure.
The book also comes at a time when Sharif, judicially ousted as Prime Minister in 2017 and disqualified for life by the Pakistan Supreme Court, is embroiled in a battle of wits with Pakistan Army, and has been painted as "pro-India" weeks ahead of national elections in which his party remains a powerful contender.
According to Zehra, an influential media voice in Pakistan, though the book may be seen as being "pro-Sharif", it is also about the former Prime Minister's naivete back in 1999.
When and whether Sharif got to know about Kargil has always been a question. Zehra is unequivocal that it was sprung on him nearly five months after the generals had begun implementing it, even as he and Prime Minister Atal Bihari Vajpayee had embarked on a diplomatic process with the Lahore Declaration in March 1999.
Zehra writes that when Sharif was finally told about the operation on May 17, 1999, the briefing was vague, and did not reveal that regular troops were involved, or that they had already crossed the LoC. He was told only that the Kashmir "war of liberation" had been "upgraded", and that the first stage of the five-stage operation — which involved Mujahideen taking positions behind the lines — had been completed. Sharif asked no tough questions, and fell for flattery when told he would go down in history as the "liberator of Kashmir", the book says..
"My book is about how Kargil derailed a [diplomatic] process [after the Lahore Declaration], that it led to Pakistan losing good strategic ground it had gained after the nculear tests and the Lahore summit, and as it played out, it exposed multiple weaknesses in how Pakistan policy is framed and executed," Zehra told The Sunday Express from Islamabad. "It is about how the asymmetry of power within is best dealt through competent leadership and institutionalised decision-making."
In the book, Zehra details how, when India responded with force that Musharraf had failed to foresee, he wanted Sharif to pull the Pakistan Army's chestnuts out of the fire. The Prime Minister ended up doing with US help, in the process taking the national rap for calling off a "successful" operation. In fact, Zehra says, the July 4 statement after Sharif's meeting with Bill Clinton in Washington announcing that Pakistan had agreed to withdraw, was a relief to the Pakistani troops on the ground. "We said a two rakaat prayer of gratitude to Allah," Zehra quotes a Pakistani major as saying.
"Contrary to the allegations made against [Sharif ] that he had bartered away in Washington the military victory that the troops were winning in Kargil, [he] bought to a rapid close costly military, diplomatic and political losses…," says the book.
In Zehra's telling, in June 1999, after a flurry of visits by India's backchannel envoy R K Mishra, Sharif's backchannel envoy Niaz Naik visited New Delhi on June 27 and finalised an agreement under which "both sides" would respect the LoC determined by the 1972 Simla Agreement, military officers from both sides would meet for the purpose; both leaders would reiterate their commitment to the Lahore Declaration, and find a solution to Kashmir and other unresolved issues within a specified timeframe — "the two Prime Ministers had arrived at the conclusion that it could be done in 10 months".
Sharif was to cut short a planned five-day visit to Beijing starting June 27, and stop over in New Delhi. On his way to Beijing, he was to issue a goodwill messsage to Vajpayee while over Indian airspace, and Vajpayee was to reciprocate. According to the book, the Indian PM asked Naik, who was leaving for Islamabad the same day, to return to Delhi on June 28 to prepare for Sharif's visit. Naik returned to Islamabad with the message "All on board".
According to the book, an understanding had been reached about the points of an agreement that would be signed in Delhi between Sharif and Vajpayee. All other modalities, including Sharif's flight over, and into Delhi, the contents of their respective goodwill messages, and the joint statement, too had been worked out.
The Pakistani side prepared Sharif's message and faxed it at 5 pm, and waited for New Delhi to fax Vajpayee's meesage.
"The message came at 10 pm, and it was a bombshell," Zehra writes. Vajpayee was not inviting Sharif to Delhi, instead he was asking Pakistan to withdraw the intruders from Kargil so that bilateral dialogue could be resumed.
According to the book, Vajpayee also called Sharif right before his message was faxed over.
"I'm very happy, it's good news," Sharif said. But Vajpayee said, "There's a mistake. I never said I would invite you. Come, but I will not invite you."
Panicked officials in Pakistan reached out to Mishra and invited him to come to Pakistan the next day. But Mishra said he would need clearance to travel, and did not show up.
Zehra writes that there are three possible explanations for Delhi's sudden reversal. First, that Islamabad may have imagined a "done deal" when none existed, but she dismisses this as unlikely, as Naik would not have gone to Delhi without something in the works. Second, that it was a ruse by Delhi to lead on Islamabad. But the most likely explanation, she says, was that the "hawks" in the Indian establishment had prevailed. The Vajpayee government was in touch with the Clinton Administration throughout the backchannel process, and was encouraged by the US and other international pressure on Pakistan to withdraw its troops.
Asked if any deal had indeed been agreed upon by the backchannel, Vivek Katju, a former MEA official who played a key role in India-Pakistan relations at the time, said he could not offer a comment without reading the book. But, he said: "The Pakistan Army stared at a complete defeat in Kargil, and was looking toward Nawaz Sharif to provide it a face saver".
The book, which is yet to arrive in India, goes on to narrate Sharif's dash to the US on July 4, Clinton's insistence on the Pakistani withdrawal from Kargil, and subsequent events until Musharraf's coup in October.
Though many Indian establishment figures point to Kargil for their opposition to a settlement on Siachen, Zehra says the roots of Kargil go back to India's 1984 Operation Meghdoot.
She writes that the origin of Operation Koh-e-Paima, as the Kargil Operation was named by the Pakistan Army, lay in Pakistan's desperation to wrest Siachen back from the Indian Army. In 1986, according to the book, the Planning Directorate of GHQ came with a plan to expel India from Siachen, with Kargil as the centre of the operation, as it was close to NH 1, India's supply route to Siachen. It was this plan that Musharraf revived, according to the book.
Full report at:
http://indianexpress.com/article/india/india-pakistan-had-a-deal-to-end-kargil-but-delhi-backed-out-book-5201836/
--------
Four CRPF soldiers, 4 civilians injured in grenade attacks in Srinagar
Jun 02, 2018
Eight people including four paramilitary Central Reserve Police Force (CRPF) troopers and an equal number of civilians were injured on Saturday in three grenade attacks carried out by the militants.
Peace in summer capital Srinagar was torn by these explosions as the militant outfit, Jaish-e-Muhammad (JeM) owned responsibility for these attacks.
The first grenade attack took place in Fateh Kadal area of old city in Srinagar.
Three CRPF troopers and three civilians including a woman were injured in the first attack.
In less than three hours, militants carried out the second attack in Badshah Chowk area close to city centre Lal Chowk.
One CRPF trooper and a civilian pedestrian was injured in the second attack.
Third attack occurred minutes after the second attack. Militants hurled a grenade at another CRPF vehicle in Magarmal Bagh area of Srinagar.
Nobody was injured in the third attack.
Attacks have taken place in Srinagar city during the holy Muslim month of Ramadan when the security forces have suspended operations against the militants in Kashmir to ensure that the people observe the holy month in prayer and penance.
Union Home Minister Rajnath Singh is scheduled to visit Jammu and Kashmir for two days next week.
Full report at:
https://www.hindustantimes.com/india-news/three-crpf-soldiers-woman-injured-in-grenade-attack-in-srinagar/story-nDgnfUCh5Oc4g2VIiWy4OI.html
--------
NIA makes second arrest in Nagrota terror attack
Jun 02, 2018
The National Investigation Agency (NIA) on Saturday said it has made a second arrest in connection with the Nagrota terror attack that killed seven soldiers at Jammu and Kashmir's Nagrota Army camp in November 2016.
Identifying the arrested accused as Tariq Ahmad Dar (34) -- a Pulwama-based timber dealer and a resident of Chillipura in Shopian district, the agency said he was arrested for his role in assisting terrorists, who carried out the attack.
Dar assisted Pakistani terrorists who carried out the attack, the NIA said.
The accused was arrested in a joint operation with the Jammu and Kashmir Police, said the agency.
Dar's arrest comes almost a week after the NIA arrested a Jaish-e-Mohammad (JeM) operative Syed Muneer-Ul-Hasan-Qadri for his role in a 2016 terror attack that killed seven soldiers at Jammu and Kashmir's Nagrota Army camp.
"Tariq disclosed during interrogation that the terror attack was carried out by the Jaish-e-Mohammad, a banned terror group based in Pakistan," an NIA spokesperson said.
"His revelations corroborate disclosures made by the previously arrested accused Muneer-Ul-Hassan-Qadri of Kupwara, who had revealed that he along with other Valley-based operatives were in touch with the JeM leadership in Pakistan and had received a freshly infiltrated group of three Pakistani terrorists a day before the attack," said the official.
He said: "They subsequently stayed at a hotel in Jammu and then left the attackers at Nagrota outside the Army camp late at night and proceeded to the Kashmir valley."
Full report at:
https://www.hindustantimes.com/india-news/nia-makes-second-arrest-in-nagrota-terror-attack/story-OP6Rh64D8dBFlBzb2mvExK.html
--------
Kin, neighbours spur youth to join militancy
JUNE 02, 2018
Reports point to crucial role of friends and social media rather than IS or religious ideology
When Hizbul Mujahideen militant Rauf Khanday, 21, from a village in Anantnag was killed in March 2018, thousands attended his funeral, and the footage was streamed across social media in Kashmir.
Amongst those watching was Zubair Ahmad Wani, who lived just a kilometre away from Khanday's home, and had known him well. Wani, an M.Phil student in political science at a university in Madhya Pradesh, said not a word at the funeral, according to his family. But three weeks later, Wani, who was not known to have expressed a desire for militancy ever before, took up the gun.
Changing profile
The cases of both Khanday, who, too, had given no inkling that he would join militancy, and Wani are evidence in studies that show that extremist ideology and pan-Islamic discourse have much less to do with the recruitment of militants in the latest round of violence in Jammu and Kashmir. The studies found that only 2% of the militants had ever studied at a madrassa or religious school.
Instead, local factors like geography, involvement of friends, family and neighbours, and social media shares amongst close groups have had a much higher role to play in motivating these men, mostly in their 20s to become militants and terrorists.
Officials say that despite a year-on-year escalation in the numbers of militants in Jammu-Kashmir, a series of official reports by Jammu and Kashmir police, and at least one by a notable international think-tank have found that pan-Islamic, Wahhabi or Salafi Islam and Islamic State ideology have had a negligible impact amongst those taking up the gun.
The results were put out by security agencies in the State, and considered important during the Central government's decision to extend a "Cease-Ops" to the Kashmir valley in an effort to break the cycle of violence caused by connections such as the one between Khanday and Wani, to create more militants.
The results were put out by security agencies in the state, and considered important during the Central government's decision to extend a "Cease-Ops" to the Kashmir valley in an effort to break the cycle of violence caused by connections such as the one between Khanday and Wani, to create more militants.
156 case studies
Their studies analysed about 156 militants recruited between 2010-2015 (Radicalisation and Terrorism in J&K), and two studies of the situation since 2016 when terrorist Burhan Wani was killed, and about 265 militant recruits unleashed a new wave of violence in the valley (Analysis of recruitment by terrorist groups and Recruitment v/s Militant killings).
The studies found that only 2% of the militants had ever studied at a madrassa or religious school, and amongst the largest militant group Hizbul Mujahideen, which is considered a "local Kashmiri group" as opposed to Pakistan-based Lashkar e Toiba and Jaish e Mohammad, as much as 64% of the recruits had not indicated strong religious inclinations before becoming militants. Only 3% of those surveyed through interrogations or questions put to their friends and families had identified themselves as "Salafist" or "Wahabbi" the more radical ideologies followed by pan-Islamic terror groups like Al-Qaeda and Islamic State.
Middle-class roots
"The new age militant comes from a middle class family with all the ingredients of a normal Kashmiri family. This militant who is the new poster boy of radicalisation wave is quite interestingly from the Hanafite family background with [only a] medium percentage ideologically inclined towards the puritan/revivalist version of Islam like Salafi, Jamaat- e- Islami etc. and his parents sharing cordial relationship, debunking the notion that this militant is child of broken family," one of the reports concluded.
The studies found that nearly half (47%) of the militants recruited in the last two years lived in a radius of 10 kilometres of a militant who had been killed, and an additional one third (35%) lived within 20 kilometres of the militant's home, raising a high probability that the recruit knew the militant personally, or knew someone who did. In addition the earlier studies had found that 95% of the recruits had shown strong "bonding" with their neighbours, 80% were very close to classmates and 81% of the recruits lived in an area, which had the presence of local militants.
"This is the exact opposite of the profile of the radicalized international terrorist we have seen," explains a senior official working on the issue, who asked not to be identified. "All studies of ISIS and Al Qaeda recruits abroad found that the radicalized individual will give up their family, will move into the company of other terrorists and people online who share their values etc., and increasingly would justify the killing of innocents by speaking of their own death and the afterlife. None of these fit with the studies [in Jammu and Kashmir]."
Marginal presence
As a result, despite a few instances of ISIS flags being used at militant funerals, and the ISIS mouthpiece claiming credit for the killing of a policeman on the outskirts of Srinagar in February this year, officials estimate that the Islamic State-J&K and Al-Qaeda-motivated Ansar Ghazwat-ul-Hind have cadres in the single digits at present, and have not increased their numbers in the last year.
"Obviously, we can never discount the potential of such groups to radicalise youth in Jammu and Kashmir, but statistically, what we have seen is that peer pressure, neighbourhood influence, social sanction and romanticised notions of heroism are much more responsible for militant recruitment, than any religious ideology," Inspector General of Kashmir S.P. Wani told The Hindu, adding that compared to the rest of India, where about 104 Indians had joined ISIS in Syria and Iraq, only 2 from Kashmir had joined the brutally violent movement, and neither Kashmiri had been directly recruited. Even the figures of all Indians who had travelled to join ISIS are meager, given that only 47 went to Syria directly from India from a total Muslim population of 174 million. Significantly, the studies in the Kashmir and for the rest of India have been backed by a new international study, that has found a very negligible presence of "cluster points" that denote online activity related to ISIS today. The study, called "Spiders of the Caliphate" which maps the Islamic State's Global Support Network, was published in May 2018 by two British authors for the "Counter Extremism Project". It found that while the ISIS network still exists on online networking sites like Facebook, "cluster maps" of South Asia found only one Indian ISIS supporter connected to ISIS communities in Afghanistan and Bangladesh, making India a "circuit breaker" in the region. The report mentions the ISIS claims in Jammu and Kashmir, but doesn't find support for it on the ground.
"The South Asia data confirms the long-standing belief that India's Muslim population is largely resistant to both al-Qaeda and IS recruitment. This large geographic gap in the IS online network helps to separate the Afghan [Pakistan] and Bangladeshi networks," the report concludes, adding that India would require to remain vigilant along its borders which were frontiers of the "virtual caliphate".
Full report at:
http://www.thehindu.com/news/national/kin-neighbours-spur-youth-to-join-militancy/article24069531.ece
--------
Southeast Asia
PAS: Sensitivity of Muslims must be protected in AG appointment
3 Jun 2018
PETALING JAYA: The candidate for the Attorney-General (AG) post must be an individual who can protect Islam as the religion of the federation, said PAS information chief Nasrudin Hassan (pic).
He said that this is important because one of the main duties of the AG was to advise the government, aside from the Yang-di Pertuan Agong.
"Islam is the religion of the federation. The appointment of the Attorney-General must be based on that.
"He must also be seen as someone who can protect Islam as the official religion of the country," he said in a statement on Sunday (June 3).
The Star in its front-page reported that a proposal by Prime Minister Tun Dr Mahathir Mohamad to appoint top lawyer and Constitutional law expert Tommy Thomas as the AG has sparked a major disagreement with the King.
Essentially, Dr Mahathir is adamant about replacing Tan Sri Apandi Ali, submitting only Thomas' name to Sultan Muhammad V.
However, the King insisted on more than one name, according to sources close to the royalty.
"The King wants an AG who is able to advise him on Syariah matters too, but Dr Mahathir rebutted that the Solicitor General can handle that job.
"However the King felt that the AG as the top officer should be the one advising him," said the source.
Nasrudin said the federal government's candidate for the AG post must be able to protect Islam on behalf of the King.
"It will be awkward if the newly appointed AG, who is a non-Muslim or any individual for that matter, cannot carry out such a responsibility effectively," he said.
He also noted that the appointment of the AG must reflect the needs of the majority of the country, who are Muslims.
"The sensitivity of Muslims must always be protected. This is to avoid from appointing an AG who has a thinking that goes against Islam," he added.
"The Yang di-Pertuan Agong's move to reject the proposal to appoint Tommy Thomas as the AG is fully supported by PAS and all the Muslims who prioritise harmony and those who have the utmost respect for the royal institution," he said.
https://www.thestar.com.my/news/nation/2018/06/03/pas-sensitivity-of-muslims-must-be-protected-in-ag-appointment/
--------
China Steps Up Uighur Crackdown During Ramadan
June 02, 2018
The government in China is further tightening its grip on minority groups in the Uighur Autonomous Region of Xinjiang during the Muslim holy month of Ramadan as it continues to use its deradicalization campaign to suppress local residents, Uighur leaders and human rights activists warn.
China started a campaign in April 2017 to arrest local Uighur Muslims accused of holding extremist sentiments and detained them in re-education camps. Estimates of the number of people detained run from 120,000 to as many as 1 million people, according to Uighur activists, human rights groups and others.
Dolkun Isa, the head of World Uighur Congress, told VOA the Chinese government recently began jailing more ethnic Uighurs, especially during Ramadan, which started May 16 and will continue until mid-June.
"They are continuing to put people in those concentration camps while very few people can come out," Isa told VOA. "No one knows under what terms they are detaining people. No one feels safe."
Isa added that the government has prohibited since last year most religious practices of Muslims, including preventing government employees from fasting and visiting mosques during Ramadan, while at the same time organizing alcohol and pork consumption competitions.
"If someone at work tries to secretly fast, they will give him food and water during lunch," he added.
US criticism
The U.S. State Department on Tuesday released its annual assessment of global religious freedom, accusing China of aggressively expanding oppression of Uighurs, Tibetan Buddhists, Christians and Falun Gong practitioners.
Sam Brownback, the U.S. envoy for international religious freedom, said re-education camps of Uighur were "very troubling."
"That was a concept you thought was gone decades ago, and [it's] being experienced in a growing amount," Brownback said.
Exiled Uighur leader Isa charged that most of the increase in detention had been against young men in Kashgar, located near the border with Kyrgyzstan, Tajikistan, Afghanistan and Pakistan. He said the government had cut off the residents' communication with the world, including restricting their usage of the WeChat social media site.
"Tradesmen from Kyrgyzstan and other countries tell us they can't find young men in Kashgar markets anymore. All that is left are old men, women and children. Id Kah Mosque, which used to be a symbol of Kasghar and hosted hundreds of people, is now completely empty," Isa said.
The vast region of deserts and mountains in the northwest is home to nearly 22 million people and has the greatest concentration of Muslims in China, estimated to be 11 million Uighurs and other Turkic Muslim minorities.
Separatist movement
Conflict in the region is not new. The Chinese government has for decades tried to push back against a separatist movement by Uighurs to establish an independent state called East Turkestan. Uighurs accuse the government of forcing demographic changes by settling millions of Han Chinese in the region.
The government crackdown increased in recent years because of the rise of the Islamic State and fears of expansion by the Turkistan Islamic Party (TIP) or Eastern Turkistan Islamic Movement (ETIM), which China accuses of being behind several terrorist attacks in the country.
China says ETIM and TIP are the same entity, but there are some disagreements about that claim internationally.
Three evils
ETIM has been sanctioned by the United States, United Nations and the European Union.
Chinese authorities, who have not publicly acknowledged the existence of the re-education camps, say their measures are necessary to combat the "three evils" of "ethnic separatism, religious extremism and violent terrorism."
The country's officials say they hope to eliminate the sources leading to violent extremist activities.
"It's necessary to comprehensively implement measures to address the root cause and improve the anti-terrorism work system," Zhao Kezhi, the state councilor, said Saturday. The official Xinhua News Agency quoted him calling for "deepening anti-terror international cooperation and making efforts to destroy the breeding ground of terrorism."
The country in December 2015 passed its controversial anti-terror law, which according to Human Rights Watch gave government agencies "enormous discretionary powers."
The government's April 2017 regulations to "prevent extremism" drew international condemnation, with critics saying they violated basic human rights and religious freedom.
According to the state-run China Daily, the new law forbids people in the region from wearing full-face coverings and long beards. It also prohibits them from "choosing names in an abnormal way" or "rejecting or refusing state products and services that include radio and television programming."
Beijing reportedly has since prohibited Uighur parents from giving their children Islamic names, and it has increased surveillance in the region by confiscating passports and installing mandatory GPS trackers in cars.
'Home stays'
Human Rights Watch earlier reported that since early 2018, Uighurs also have been forced to welcome Communist Party officials into their homes as part of a government plan to dispatch more than a million government officials to live with local farmer households in southern Xinjiang.
It said during the so-called "home stays," families were subjected to political indoctrination and required to provide officials with information about their lives and political views.
"Muslim families across Xinjiang are now literally eating and sleeping under the watchful eye of the state in their own homes," according to Maya Wang, a senior China researcher at Human Rights Watch. "The latest drive adds to a whole host of pervasive and perverse controls on everyday life in Xinjiang."
Experts say China's polices could be driven by fears the ETIM militants could come home after losing global jihad elsewhere.
The ETIM group has ties to al-Qaida and other Islamist groups, such as the Islamic Movement of Uzbekistan, Tehrik-i-Taliban Pakistan and the Afghan Taliban. Katibat Turkistani, or the Turkistan Islamic Party in Syria, also has joined the jihadist side in the Syrian civil war, most noticeably in the 2015 fight for Idlib and Hama governorates.
"Since the war in Syria is wrapping up, the next stop for TIP militants fighting in Syria is likely going to be Afghanistan," counterterrorism analyst Faran Jeffery told VOA.
"This has been worrying China, since it doesn't want these militants in its backyard, especially since there's going to be a real possibility of these militants creating a network within Xinjiang to carry out attacks on Chinese soil," Jeffery added.
ETIM camps targeted
U.S. forces, who are heavily involved in the Afghan government's counterterrorism efforts, say they will not allow the jihadists to take sanctuary in Afghanistan. Earlier this year, U.S. airstrikes targeted training camps for ETIM in northern Badakhshan province, bordering with China, Tajikistan and Pakistan.
Experts say the ultimate solution, however, to address the Uighur jihadist threat should come from the Chinese government.
"China needs a radical rethink of its policies toward the Uighurs. Their current approach is inciting retaliation, not calming the situation," according to researcher and human rights activist Carol Anne Grayson.
Full report at:
https://www.voanews.com/a/china-steps-up-uighur-crackdown-during-ramadan/4420874.html
--------
Indonesian police detain three over suspected plot to attack assembly
JUNE 3, 2018
JAKARTA (Reuters) - Indonesian anti-terrorism police have detained three former students in a raid on a university campus in Pekanbaru, on Sumatra island, and seized crude bombs and other explosive material, police said.
The men, who have been named as suspects, are thought to have been planning to attack the local parliament in Pekanbaru, the capital of Riau province, national police spokesman Setyo Wasisto said in a statement.
During Saturday's raid on a faculty at Riau University, police found a pipe bomb, a homemade grenade, as well as the homemade explosive triacetone triperoxide (TATP), known as the "mother of Satan", Wasisto said.
They also seized an air rifle and sets of bows and arrows, as well as other material such as fertilizer that could be used to make bombs, he said.
Authorities have highlighted concerns about a rise in radicalism at universities in the world's biggest Muslim-majority country.
A number of recent surveys of students have pointed to significant support for Islamic State, carrying out jihad and the establishment of a caliphate in Indonesia.
After some major successes tackling Islamist militancy in the last two decades, there have also been a resurgence of attacks in recent years.
Last month, police shot dead four men who used samurai swords to attack officers at police headquarters in Pekanbaru.
That attack came soon after a series of suicide bombings by militants targeting churches and a police building in Indonesia's second-biggest of city of Surabaya.
In all, about 30 people were killed in the attacks in Surabaya, including 13 of the suspected suicide bombers.
Full report at:
https://www.reuters.com/article/us-indonesia-security/indonesian-police-detain-three-over-suspected-plot-to-attack-assembly-idUSKCN1IZ05I
--------
Pancasila Day Sees Interfaith Gatherings Aimed at Uniting Indonesians
June 02, 2018
Jakarta/Yogyakarta. People from diverse religious and cultural backgrounds, including Muslims, Christians and Buddhists, gathered for a Ramadan fast-breaking event at Jakarta Cathedral in the capital on Friday (02/06) as part of a Pancasila Day commemoration to strengthen solidarity between Indonesia's various communities.
The official state ideology of Pancasila, which consists of five value principles, including freedom to practice religion, is celebrated on June 1 every year after its inception in 2017.
The first tenet of Pancasila is "belief in one God," meaning that every Indonesian citizen has the right to practice the religion or belief they choose, although the state only recognizes Islam, Protestantism, Catholicism, Buddhism, Hinduism and Confucianism.
Representatives of various community groups, including Nahdlatul Ulama, the country's largest Muslim organization, and Pustaka Bergerak, a group that provides a network of mobile libraries, were present to accompany Muslims performing iftar, or breaking the fast, as this year's event coincided with Ramadan.
Leaders of the represented groups agreed that the gathering will show solidarity following the widely condemned terror attacks in Surabaya, East Java, last month, which claimed the lives of at least 23 people.
"We were shocked by the latest terror in Surabaya, but with this gathering we feel more secure now," said Hani Rudi Hartoko, the head of Jakarta Cathedral.
"We're now revitalizing a spirit of togetherness," the Catholic priest added.
Also present was Alissa Qotrunnada Munawaroh, better known as Alissa Wahid, the eldest daughter of Indonesia's fourth president, Abdurrahman "Gus Dur" Wahid.
"This event was initiated after we felt pain of the Surabaya attacks. We also feel the pain, and though the pain can last forever, at least we're trying to fix that," said Alissa, who represented GusDurian, a community group that upholds the values and beliefs of her late father.
"This gathering is also to show that Pancasila remains strong," she said.
Police have confirmed that the Surabaya attacks were carried out by members of Islamic State-inspired group Jemaah Ansharut Daulah (JAD).
"They [terrorists] will all enter Hell," James Smith Carrington, better known as Ustaz James, told the Jakarta Globe on the sideline of the gathering.
"It's not true that they will enter Paradise after killing [innocent] people," said the man who is also a member of both Nahdlatul Ulama and Majelis Ulama Indonesia.
James explained that Islam has always respected diversity, in line with Pancasila, from which Indonesia derives its national motto, Bhinneka Tunggal Ika, or Unity in Diversity.
He reiterated that the gathering was held to confirm that value.
"In the Koran, it is stated that human beings are created different, to know each other well," James said. "It's impossible for everyone in this world to be of the same race, and religion," he said.
"Indonesia is now experiencing an emergency of intolerance, as everyone feels they're right, while they start to blame everyone else.
"It contradicts what happened in the past with the Prophet Muhammad and the Medina Charter."
The Medina Charter is an agreement established in the city of Medina in seventh-century Arabia when the Prophet Muhammad welcomed people from other faiths, including Judaism and Christianity, to practice their religions freely in Islamic territory.
"Muhammad at the time was open to people from other faiths. He is known for having brought peace for all, or rahmatan lil alamin," James said.
Yogyakarta Gathering
Separately, an interfaith gathering, which began with a discussion of how to appreciate Indonesia's diversity, was also held at Sanata Dharma University in Yogyakarta on Friday to coincide with iftar.
Professor Sumanto al Qurtuby, the main speaker during the event, encouraged fellow Indonesians to protect the nation's diversity.
He said increasing radicalism in Indonesia is due to a misinterpretation of Islamic teachings, a lack of knowledge and a misunderstanding by some Muslim leaders of Arabic culture, politics and society.
The cultural anthropologist said this contributes to a misguided society, especially among Indonesian Muslims, while people in the Middle East actually respect diversity.
"This [Indonesia] is our common home, for us to take care of together," said Sumanto, who is a lecturer at King Fahd University in Dhahran, Saudi Arabia.
Also participating in the discussion was Bram Hasto, a Buddhist scholar who said the spirit of unity, as promoted by Pancasila and the national motto, should be preserved and strengthened.
The iftar event was initiated by Chattra Kebaya, a community group that seeks to preserve Indonesia's cultural heritage in daily practice, especially in traditional fashion. It was also supported by Banser, the youth wing of Nahdlatul Ulama.
"We host this discussion because of our concern over the current political situation in Indonesia that is heating up in the leadup to the elections and because there are parties trying to politicize our diversity by driving a wedge between us," said Christ Amadea Esti of Chattra Kebaya.
Sumanto, who is also a founder of Nahdlatul Ulama's branches in the United States and Saudi Arabia, emphasized the protection of Indonesia's diversity.
Full report at:
http://jakartaglobe.id/news/pancasila-day-sees-interfaith-gatherings-aimed-at-uniting-indonesians/
--------
Indonesia Raids Campus, Detains 3 Terror Suspects
June 03, 2018
JAKARTA, INDONESIA —
Indonesian anti-terrorism police have detained three former students in a raid on a university campus in Pekanbaru, on Sumatra island, and seized crude bombs and other explosive material, police said.
The men, who have been named as suspects, are thought to have been planning to attack the local parliament in Pekanbaru, the capital of Riau province, national police spokesman Setyo Wasisto said in a statement.
During Saturday's raid on a faculty at Riau University, police found a pipe bomb, a homemade grenade, as well as the homemade explosive triacetone triperoxide (TATP), known as the "mother of Satan," Wasisto said.
They also seized an air rifle and sets of bows and arrows, as well as other material such as fertilizer that could be used to make bombs, he said.
Rise of radicalism
Authorities have highlighted concerns about a rise in radicalism at universities in the world's biggest Muslim-majority country.
A number of recent surveys of students have pointed to significant support for Islamic State, carrying out jihad and the establishment of a caliphate in Indonesia.
After some major successes tackling Islamist militancy in the last two decades, there have also been a resurgence of attacks in recent years.
Last month, police shot dead four men who used samurai swords to attack officers at police headquarters in Pekanbaru.
Series of suicide bombings
That attack came soon after a series of suicide bombings by militants targeting churches and a police building in Indonesia's second-biggest of city of Surabaya.
In all, about 30 people were killed in the attacks in Surabaya, including 13 of the suspected suicide bombers.
Full report at:
https://www.voanews.com/a/indonesia-raids-campus-detains-3-terror-suspects/4421277.html
--------
Pakistan
Suspect killed as Rangers foil 'suicide attack' near Hub
June 03, 2018
KARACHI: Rangers on Saturday evening killed a suspected militant before he could carry out a suicide attack on a paramilitary team on the Sindh-Balo­chistan border near Hub.
A spokesperson for the Rangers said that the paramilitary force was conducting a random check near Mahi Garhi Mazar along the Hub river when they signalled a suspicious-looking pedestrian to stop.
He said the suspect started running towards the Rangers personnel and tried to blow himself up. "Due to the timely action of the snap-checking team the suicide vest of the attacker could not explode completely and the terrorist was killed on the spot."
The spokesperson said that two Rangers personnel were hurt in the explosion and they were shifted to a hospital for treatment.
"The Rangers' checkpoint in Hub was the possible target of the suicide attacker," he said.
He said remaining explosives in the suicide vest were defused by a team of the bomb disposal squad.
The Rangers said they got intelligence that terrorists were planning to carry out an attack in Karachi and to thwart any such attack the paramilitary force was conducting checking on main roads and dirt roads along the Hub river.
"A search operation is going on in the area and law enforcement agencies are collecting evidence from the crime scene," the Rangers official said.
A senior police officer, who wished not to be named, told Dawn that it was an attack on a mobile van of Rangers' 71 Wing on Karachi-Hub border.
Counterterrorism official Raja Umer Khattab told Dawn that the last suicide attack on a Ranger's mobile van in Karachi had taken place in North Nazimabad in 2015 in which three personnel were killed.
He said that attack was allegedly carried out by the Al Qaeda in the Indian Subcontinent (AQIS).
https://www.dawn.com/news/1411656/suspect-killed-as-rangers-foil-suicide-attack-near-hub
--------
Nawaz to play lead role in award of party tickets
Mansoor Malik
June 03, 2018
LAHORE: PML-N Quaid Nawaz Sharif says the party tickets will be awarded only to the loyalists on merit and delay in elections will not be tolerated.
Chairing the Parliamentary Board meeting along with PML-N President Shahbaz Sharif and Raja Zafarul Haq at party's Model Town office on Saturday, Mr Sharif questioned the Lahore High Court single bench's decision on nomination papers.
Amendments to the nomination papers were finalised by the parliamentary committee on electoral reforms.
He said the decision was a move to delay the general election.
Sources claimed that the meeting expressed reservations over the possibility of delay in the general election. The meeting also passed a resolution that the PML-N would stand tall and defeat any move aimed at delaying the elections.
Mr Sharif said the Election Commission of Pakistan on one hand was saying that elections would not be delayed and, on the other, was blocking the candidates to submit their nomination papers. "The delay in elections will disturb Pakistan's national interest besides creating regional issues," he said.
"The party, which was campaigning for early elections, is now trying to slip away instead of facing the challenge," he remarked.
"The delaying tactics are being employed because other political parties have realised that the PML-N will win elections," he said.
PML-N President Shahbaz Sharif said Nawaz Sharif would decide the party tickets for the candidates for the general election. He said the party would begin mass-contact campaign after Eidul Fitr.
"Those who have left the PML-N will be held accountable by people in the next general election," he said, adding that the party would go into the elections with a consensus narrative "Vote ko Izzat do" (Give respect to vote)," he said.
The PML-N central parliamentary board appointed Marriyum Aurangzeb as party spokesperson.
It is learnt the parliamentary board decided to begin formal functioning to decide the award of party tickets from Monday (tomorrow). The board will decide about party tickets on the basis of reports about potential candidates prepared by the divisional committees.
The board has received 2,475 applications from potential candidates.
Full report at:
https://www.dawn.com/news/1411643/nawaz-to-play-lead-role-in-award-of-party-tickets
--------
Sattar feels slighted for not receiving invite to Bahadurabad Iftar party
Azfar-ul-Ashfaque
June 03, 2018
KARACHI: Although the Bahadurabad group of the Muttahida Qaumi Movement-Pakistan publicly maintained that it was ready to accept Dr Farooq Sattar as the convener of the party if he resumed the Bahadurabad office, it appears that the Khalid Maqbool Siddiqui-led faction is unwilling to see the seasoned politician back in the driving seat, it emerged on Saturday.
Differences between the two sides have reached an extent that the Bahadurabad group did not even invite Dr Sattar to their Iftar party held on Friday.
The programme was attended by Sindh Governor Muhammad Zubair, politicians belonging to the Pakistan Peoples Party, Pakistan Muslim League-Functional, PML-Nawaz, Pakistan Tehreek-i-Insaf, Jamiat Ulema-i-Islam-Fazl and others, but Dr Sattar and the leadership of the Pak Sarzameen Party were nowhere to be seen.
Even Shahi Syed of the Awami National Party, once considered a nemesis to the MQM, and Mohajir Ittehad Tehreek's Dr Saleem Haider were in attendance.
But, Dr Siddiqui gave the impression at the Iftar dinner that Dr Sattar was invited as he told the media that everyone was waiting for him.
Dr Sattar, however, accused Dr Siddiqui of lying and told the media on Saturday that he was not invited to the Iftar party by the Bahadurabad group.
He said he was trying his best for unity, but Dr Siddiqui had backtracked from his earlier offer. "I am ready to return on the pre-Feb 5 conditions," he said.
Party control to rest with three persons
But, senior leader Amir Khan blamed Dr Sattar for the post-Feb 5 situation following which the MQM-P was divided into the PIB and Bahadurabad factions.
Talking to the media outside the antiterrorism courts here, he said the coordination committee had decided that no individual would enjoy absolute authority in the party. "The post of party convener, authority to grant election ticket and power to run organisational matters would rest with three different people," he explained.
He said Dr Sattar wanted all three powers, but it was not possible for the party to give him absolute power.
When reminded of the election boycott call given by MQM founder Altaf Hussain, he said their boycott would make no impact here.
Meanwhile, MQM-P spokesperson Aminul Haq of the Bahadurabad group told Dawn that all "usual contacts were made to invite people to the Iftar" and many people from the PIB faction had also attended the event.
He named Waqar Hussain Shah, a former MPA who is currently associated with the PIB group, as one of the attendees.
He replied in the negative when asked if any Bahadurabad leader made specific contact with Dr Sattar to invite him to the event.
Full report at:
https://www.dawn.com/news/1411589/sattar-feels-slighted-for-not-receiving-invite-to-bahadurabad-iftar-party
--------
MMA won't allow election to be delayed, declares JI
June 03, 2018
LAHORE: Jamaat-i-Islami emir Sirajul Haq says the confusion about the next election is deliberate and many actors are active in an effort to exacerbate this confusion but the Muttahida Majlis-i-Amal (MMA) will not let the election be delayed even for a day.
Talking to Dawn on Saturday, he said once a vehicle (of democracy) was off track, there was no guarantee it would not slip further away or plunge into the ditch.
"Thus any delay, even for a day, in the election will take the process out of constitutional bound."
Mr Haq regretted that the confusion was so widespread that the leaders were asking each other and the voters were asking their leaders about it and it was deepening every day.
"A resolution by the Balochistan Assembly and the letter by the Khyber Pakhtunkhwa chief minister are neither impulsive nor separate act. They must be seen in the same background. Someone is pushing some agenda," he suspected.
However, he said, the political parties were not helping their case either; confusion in Punjab, KP and Balochistan explained behaviour of the political parties.
The JI chief said the election commission had made its own contribution during delimitation, ignoring all traditional and historical considerations and it only created confusion while delimiting the constituencies. Now most of the new constituencies had been challenged and the courts were ordering revision, he added.
"The Saturday decision (the LHC asking the election commission to rewrite nomination papers) would only make the water even muddier. This is another debate whether the election commission can overwrite the act passed by the parliament on a court order? But, this is land of wonders and anything can happen," Mr Haq said sarcastically.
Full report at:
https://www.dawn.com/news/1411644/mma-wont-allow-election-to-be-delayed-declares-ji
--------
Nusrat Fateh Ali Khan's daughter threatens to sue his plagiarists
Omer Farooq Khan
Jun 3, 2018
ISLAMABAD: The daughter of late Pakistani music legend Nusrat Fateh Ali Khan has vowed to take legal action against those infringing on copyrights of her father's songs.
"I am the only heir of Nusrat Fateh Ali Khan and have no siblings. How can people take financial benefit by singing my father's songs without permission?" Nida Nusrat, Khan's daughter, said at a presser in Lahore's press club on Friday.
"After my father's death, I possess the rights to his music," the maestro's daughter said in her maiden media appearance. She alleged that Khokhar Productions, a local music firm, had forged her signatures and fraudulently acquired rights to her father's music. "I have issued them a legal notice and also sought compensation," she said, adding that there were others in India and Pakistan involved in similar copyright violations.
Full report at:
https://timesofindia.indiatimes.com/world/pakistan/nusrat-fateh-ali-khans-daughter-threatens-to-sue-his-plagiarists/articleshow/64434078.cms
--------
The beat is fading for Pakistan's Ramazan drummers
JUNE 3, 2018
Lal Hussain saunters through Rawalpindi's empty streets at 1:00 am shattering the silence with syncopated drum beats, awakening startled Pakistanis so they can sleepily eat one last meal before the day's Ramazan fasting begins.
"Wake up and eat your morning meal!" he howls along with the Bhangra-inspired beats emanating from his dhol drum.
Hussain has been faithfully hitting the streets every Ramazan for the last 35 years, walking with his tasselled drum for miles through the deserted byways and back alleys of the city's old quarter.
Mothers and children peek through their windows to catch a glimpse of the drummer as he passes, while men greet him in the streets offering small amounts of cash as thanks for his service.
But this centuries-old tradition is becoming rarer in Pakistan.
Millions of devout Pakistanis observe the holy fasting month of Ramazan. From sunrise onwards they abstain from food and drink, breaking their fast at sunset with a meal called iftar.
Then in the hours before dawn they eat once more, with sehri, the morning meal, giving them a final opportunity to consume litres (pints) of water and juice and plates of food before the day-long fast.
Drummers once provided the heartbeat to the sehri ritual but their future is uncertain as more Pakistanis connect to the grid and purchase smartphones.
Now, people almost universally rely on phone alarms, digital clocks or public announcements on loudspeakers to rouse them from their slumber in time for sehri.
"Need is the mother of innovation," says Uxi Mufti, former director general of Pakistan's national institute of culture and heritage. "Now when (the drummers) are not required, they are vanishing."
Every year fewer drummers fan out in the cities and villages across Pakistan during Ramazan to wake their fellow Muslims for sehri.
"Hardly a dozen drummers are left in Rawalpindi," Hussain tells AFP as he makes his rounds through the city of some five million people.
"There used to be a drum beater in every street but now many of them have gone. The younger generations have adopted other professions."
Even as his fellow drummers have retired or abandoned the tradition, the 66-year-old persists undaunted as he battles hepatitis C — determined to keep the practice alive for as long as possible.
His dedication has endeared him to residents.
"It rekindles (memories of) our forefathers, our culture, so we enjoy it in the same manner," says Yasir Butt.
Full report at:
https://dailytimes.com.pk/248118/the-beat-is-fading-for-pakistans-ramazan-drummers/
--------
Mideast
NATO says won't defend Israel in case of Iran attack
Jun 2, 2018
NATO's secretary-general says the Western military alliance would not come to Israel's defense in case of any possible attack by Iran against the occupying regime.
Israel has repeatedly threatened Iran with military action and Iranian officials have pledged a "crushing" response to any act of aggression against the country.
Jens Stoltenberg told the German Der Spiegel magazine in comments published Saturday that Israel is a partner, but not a member and that NATO's "security guarantee" does not apply to the regime.
Stoltenberg said NATO was involved neither in peace efforts nor in conflicts in the Middle East.
Israel, which has a long history of waging wars and occupying sovereign states, has been trying to portray Iran, which has not attacked any nation for hundreds of years, as a threat to world peace.
Over the past years, the regime has been intensely lobbying with its American and European allies to dissuade them from engaging in diplomacy with Iran over its nuclear program and support instead a military action against the Islamic Republic.
Hailing the US administration's move to withdraw from the 2015 nuclear deal between Iran and the P5+1 group of countries, Israeli Prime Minister Benjamin said Wednesday he would travel to Germany, France and Britain next week to meet with European leaders on Iran's presence in Syria and the 2015 nuclear deal.
Earlier this month, US President Donald Trump announced Washington's pullout from the Joint Comprehensive Plan of Action (JCPOA) and vowed to reinstate nuclear sanctions on Iran. Netanyahu hailed Trump's decision, calling the accord a "recipe for disaster."
In May, Netanyahu claimed that he had new "proof" via captured documents that Iran had developed a nuclear weapons plan, which could be activated at any time.
The Israeli prime minister's fresh claims were made as numerous reports by the International Atomic Energy Agency have already verified Iran's full commitment to its side of the bargain.
Iran has on numerous occasions asserted that its nuclear program is merely peaceful and not meant to make nukes.
This is while Israel is widely thought to possess hundreds of nuclear nuclear warheads and refuses to either allow inspections of its nuclear facilities or join the nuclear Non-Proliferation Treaty.
Israel is also angry over the presence of Iranian military advisors, who have been helping Syrian government forces in their fight against Tel Aviv-backed terrorists.
The hawkish Israeli premier has threatened that the regime would hit Iranian targets "anywhere in Syria."
Additionally on Wednesday, Israel's minister of military affairs Avigdor Lieberman flew to Moscow to hold talks with his Russian Defense Minister Sergei Shoigu on Iran's presence in Syria.
Iran, Syria's strong ally, has been giving Damascus military advisory assistance in its countrywide counter-terrorism battles since a foreign-sponsored militancy unleashed in the Arab country in 2011.
The Iranian government has repeatedly said that only the Syrian people can decide the future of their country and the political fate of their leader, whereas Israel and the Western powers, particularly the US, has been insisting for years that Assad must be ousted from power.
Damascus says Israel and its Western and regional allies are aiding Takfiri terrorist groups operating inside the Arab country, while the Tel Aviv regime's military carries out sporadic strikes against Syrian government forces. The Israeli regime has even set up field hospitals to treat wounded militants evacuated from Syria.
Furthermore, the Syrian army has repeatedly seized huge quantities of Israeli-made weapons and advanced military equipment from the foreign-backed militants inside Syria.
http://www.presstv.com/Detail/2018/06/02/563682/NATO-Stoltenberg-Israel-Iran
--------
Israel's 'golden days' over after defeat of terrorists: Shamkhani
Jun 2, 2018
Iran's top security official says there is a link between Israel's stepped-up threats against Tehran and the defeat of Takfiri terrorists in Iraq and Syria, which has made Tel Aviv angry.
Secretary of Iran's Supreme National Security Council Ali Shamkhani told Shargh daily in an interview published Saturday that the emergence of Takfiri terrorism and bloodshed in the Middle East gave Israel "incredible golden years of security."
"Now, with the defeat of Takfiri terrorists in Syria and Iraq, which Israel sees the result of Iran's role, those golden days have ended and once again Palestine has turned into the first issue in the Muslim world," he said.
Israel has claimed to have hit Iranian military targets in Syria in recent weeks and Prime Minister Benjamin Netanyahu has said Tel Aviv would not allow Iran to establish any military bases in Syria.
The Islamic Republic says its role in Syria is limited to advisory assistance to the Syrian government, stressing that it does not have any military bases in the Arab country.
Shamkhani said, "While we understand this anger [by Israel], we will be taking any necessary action or measure to preserve our interests and security against any aggressor."
Israel's era of 'hit-and-run' over
The Iranian official also said the time for "hit-and-run" by Israel is over, citing Syria's retaliatory rocket attacks on Israeli targets in the occupied Golan Heights last month.
The Syrian army and government, he said, have gained "high self-confidence and power" to shoot down Israeli planes, destroy its missiles in the sky and target the Israeli bases from where assaults are launched.
"This issue is an honor for the Arab and Muslim world. It also has another message that the era of 'hit-and-run' has ended and the regime should be responsible for its behavior," the Iranian official pointed out.
Shamkhani said Iran regards Syria's security as its own and thus preserving stability in the Arab country is also an achievement for the Islamic Republic.
Iran's advisory help will continue as long as the Syrian government requests it, Shamkhani stressed.
"Contrary to the unlawful presence of the US and some regional countries in Syria, Iran's presence is not imposed and is not the result of an illegal military aggression."
Iran has 'no presence in southern Syria'
Shamkhani was further asked about a recent agreement between Russia, the US and Jordan on a "safe zone" in southern Syria, and media reports that the deal was aimed at withdrawing Iranian forces from the region bordering Jordan and the occupied Palestinian lands.
"As we have declared earlier, Iranian advisers have no presence in southern Syria," he said.
Shamkhani said Iran strongly supports Russia's efforts to purge the Syrian-Jordanian border of terrorists and restore the Syrian army's control over the region.
"This move is a positive step for further control of the Syrian government on its territories occupied by terrorist groups," he noted.
The Syrian army recently said it was preparing to recapture the strategic areas near the Golan Heights, prompting the US to threaten Damascus with "firm and appropriate measures."
US State Department spokeswoman Heather Nauert expressed concerns about an operation in southwestern Dara'a province, claiming that it fell within a de-escalation zone in Syria.
The recapture of Dara'a is highly important because it borders the occupied Golan Heights which Israel has used to treat wounded militants for years.
Full report at:
http://www.presstv.com/Detail/2018/06/02/563644/Iran-Israel-Syria-Ali-Shamkhani
--------
Israel continues to initiate violence against Gaza as hundreds mourn death of medical worker
JUNE 3, 2018
Israeli aircraft pounded 10 militant targets in Gaza in response to Palestinian projectile fire, its army said Sunday, shattering a ceasefire reached just days ago after the worst flare-up since a 2014 war.
The latest escalation came hours after thousands of Palestinians attended the funeral of a young female volunteer medic killed by Israeli fire in violence on the border in southern Gaza.
Israeli "fighter jets targeted 10 terror sites in three military compounds belonging to Hamas in the Gaza Strip," the army said in a statement early Sunday.
"Among the targets were two Hamas munition manufacturing and storage sites and a military compound," the army said.
The strikes were retaliation to rockets fired at Israel, as well as "various terror activities approved and orchestrated by Hamas over the weekend," the army said.
The army listed a series of attempted attacks at soldiers on the border fence, as well as "damaging security infrastructure and igniting fires in Israeli territory with the use of arson kites and balloons".
There were no immediate reports of casualties in Gaza.
On Saturday evening, militants in the Palestinian enclave fired two projectiles at southern Israel, where air raid sirens sent residents to bomb shelters.
The Iron Dome aerial defence system intercepted one of the projectiles, while the other was believed to have fallen short of its target and hit within Gaza, according to the army.
Early Sunday, two more projectiles were separately launched at Israel. Both were intercepted, the army said.
Mourners call for revenge
No group in Gaza claimed responsibility for the projectile attacks, which came a short while after the Saturday funeral of Razan al-Najjar, 21, a volunteer with the Gaza health ministry, who was fatally shot in the chest near Khan Yunis on Friday.
Ambulances and medical crews attended the funeral, with Najjar's father holding the white blood-stained medics' jacket she wore when she was shot, as mourners called for revenge.
Gazans have since March 30 staged border protests demanding the return of Palestinians to land they fled or were expelled from during the 1948 war surrounding Israel's creation, now inside the Jewish state.
The demonstrations have been accompanied by smaller clashes as youths hurl stones at Israeli soldiers and attempt to breach the border fence, at times laying explosive devices on the fence or throwing grenades.
Palestinians in the besieged coastal enclave have also been using kites carrying cans on fire to set ablaze Israeli fields, torching extensive patches of agricultural land near Gaza.
Following the funeral, several Gazans were wounded in clashes east of Khan Yunis, health ministry spokesman Ashraf al-Qudra said.
The Israeli army said "a terror cell" had infiltrated from southern Gaza. Soldiers shot at the Palestinians, who returned to the enclave.
The weekend launches were the first since Israel struck scores of militant sites in Gaza earlier this week in retaliation for a barrage of rockets and missiles fired from the territory.
Prime Minister Benjamin Netanyahu said after the strikes that Israel's military had delivered the "harshest blow" in years to Gaza militants.
Palestinian groups in Gaza, including the strip's rulers Hamas, said a ceasefire deal was reached after the flare-up, although there was no confirmation from Israel.
Addressing Najjar's death, the UN envoy for the Middle East, Nickolay Mladenov, said in a Saturday tweet that "Medical workers are #NotATarget!" and that "Israel needs to calibrate its use of force and Hamas need to prevent incidents at the fence."
The Palestinian Medical Relief Society said Najjar was shot "as she was attempting to provide first aid to an injured protester", with three other first responders also hit by live fire on Friday.
"Shooting at medical personnel is a war crime under the Geneva conventions," the PMRC said in a statement, demanding "an immediate international response to Israeli humanitarian law violations in Gaza".
Najjar's death brings the toll of Gazans killed by Israeli fire since the end of March to 123.
The demonstrations and violence peaked on May 14 when at least 61 Palestinians were killed in clashes as tens of thousands of Gazans protested the US transfer of its embassy in Israel to the disputed city of Jerusalem the same day.
Low-level demonstrations have continued since.
Full report at:
https://dailytimes.com.pk/248328/israel-continues-to-initiate-violence-against-gaza-as-hundreds-mourn-death-of-medical-worker/
--------
Turkey's Erdogan calls on NATO ally US to fulfill its strategic partner role
Jun 2, 2018
Turkish President Recep Tayyip Erdogan has called on its NATO ally the US to act as a strategic partner instead of blocking its arms deals.
Erdogan made remarks on Saturday in response to US plans to block F-35 sales to Ankara.
"We say that the US is our strategic partner. As our strategic partner, the US should not say we should knock on another door," he said.
"If we are strategic partners, if we are model partners, the US should not legally wrong us here," he further noted.
"We are not interested with the Senate. There is only one thing that interests us. Have I discussed this with the president of the US? I have. Have we talked about this in our inter-delegation meeting? We have." he commented.
On Wednesday, Turkey said it will look elsewhere to equip its air force if the United States blocks the sale of Lockheed Martin's F-35 fighter jets to Ankara.
Speaking to Turkish media Foreign Minister Mevlut Cavusoglu said Washington has not yet exerted any pressure on Ankara to cancel the deal after a US Senate committee last week passed its version of a $716-billion military policy bill, including a measure to prevent Turkey from purchasing the jets.
Washington cannot just pull out of the deal as it wishes, said Cavusolgu, stressing, "It is not the kind of agreement in which they (they US) can say they are not implementing."
Ankara has committed to buying 116 of the warplanes under the US-led multinational Joint Strike Fighter program.
Israeli paper Ha'aretz recently cited an unnamed military official as saying that Tel Aviv was lobbying with Washington to make it leave performance-enhancing software out of the jets it could deliver to Ankara.
Turkey's domestic media outlets have, meanwhile, reported that Ankara could opt to purchase Russian Sukhoi Su-57 twin-engine warplanes if Washington decides to suspend the delivery of F-35 jets.
In May, a US Senate committee passed a defense policy bill that bars the sale of advanced F-35 warplanes to NATO partner Turkey, faulting Ankara for its purchase of an air defense system from Russia.
The amendment to the $716 billion National Defense Authorization Act (NDAA), passed on Thursday, was proposed by Democratic Senator from Michigan Jeanne Shaheen and Republican Senator for North Carolina Thom Tillis.
It removed Turkey from the F-35 program over its S-400 purchase from Russia as well as imprisonment of an American Christian pastor in Turkey on spying and terrorism charges.
Turkey has said the S-400 system would boost its defense capabilities in the face of threats from Kurdish and Daesh-linked militants as well as conflicts across its borders in neighboring Syria and Iraq.
Ankara has also vowed to take retaliatory measures in case Washington enacts a law blocking weapons sales to Turkey, a key partner in the US-led NATO military alliance.
Ankara's move to purchase S-400s -- deemed incompatible with the NATO systems -- has also unnerved some other NATO member nations, prompting NATO officials to warn Turkey of unspecified consequences.
Full report at:
http://www.presstv.com/Detail/2018/06/02/563707/turkey-us-nato-f35
--------
Israeli fighter jets target multiple positions throughout Gaza Strip
Jun 3, 2018
Israeli fighter planes have carried out multiple airstrikes on a series of locations spread out through the Gaza Strip.
Late on Saturday, Israeli warplanes launched attacks on central, southern and eastern parts of the besieged enclave.
Earlier in the day, Israeli tanks also fired upon the coastal area.
The Israeli army has confirmed the attacks, claiming they were launched in response to rockets fired at the occupied territories.
The airstrikes come just a few days after two sides agreed on a ceasefire following heavy Israeli airstrikes.
Amid the flare-up in the Gaza Strip, Hamas said Palestinian resistance groups have agreed to a ceasefire in the blockaded coastal sliver as long as Israel abides by a truce.
"After the resistance succeeded in confronting the [Israeli] aggression ... there was a lot of mediation in the past hours," Khalil al-Hayya, Hamas' deputy chief in Gaza, said in a statement on Wednesday.
"An agreement was reached to return to the (2014) ceasefire understandings in the Gaza Strip. The resistance factions will abide by it as long as the Occupation does the same," he added.
Tensions have been running high along the Gaza fence since March 30, which marked the start of a series of protests, dubbed "The Great March of Return," demanding the right to return for those driven out of their homeland.
The Gaza clashes reached their peak on May 14, the eve of the 70th anniversary of the Nakba Day (the Day of Catastrophe), which coincided this year with the US embassy relocation from Tel Aviv to occupied Jerusalem al-Quds.
At least 65 Palestinians were killed and more than 2,700 others wounded as the Israeli forces used snipers, airstrikes, tank fire and tear gas to target the Gaza demonstrators on May 14.
Israel conducts regular air raids on Palestinians in Gaza under the pretext of hitting Hamas targets. The Gaza Strip has also been under an inhumane Israeli siege since 2007.
Full report at:
http://www.presstv.com/Detail/2018/06/03/563713/israel-gaza-airstrike-palestine
--------
Gaza militants fire two rockets at Israel
2 June 2018
Palestinian militants fired two rockets from the Gaza Strip at Israel on Saturday, the Israeli military said, a few days after the most intense fighting in the area in years.
"Two launches were identified from the Gaza Strip at Israeli territory. The IDF's Iron Dome aerial defense system intercepted one of the launches and the other apparently landed in the Gaza Strip," a statement from the military said.
Israel and Palestinian armed groups in Gaza reached a de-facto ceasefire this week after the most intense flare-up of hostilities since a 2014 war.
Militants from Hamas, the dominant group in Gaza, and Islamic Jihad fired dozens of rockets and mortar bombs at southern Israel throughout Tuesday and overnight into Wednesday, to which Israel responded with tank fire and air strikes on more than 50 targets in the small, coastal enclave.
Violence along the border escalated in recent weeks.
Full report at:
https://english.alarabiya.net/en/News/middle-east/2018/06/02/Gaza-militants-fire-two-rockets-at-Israel-military.html
--------
Turkish air strikes 'neutralize' 15 Kurdish militants
2 June 2018
Air strikes by Turkish warplanes "neutralised" at least 15 militants of the outlawed Kurdistan Workers Party (PKK) in northern Iraq as well as in Turkey's eastern provinces of Tunceli and Siirt, the Turkish military said on Saturday.
The strikes were carried out on Friday and Saturday, it said on Twitter.
Turkey regularly carries out air strikes on PKK targets over the border in northern Iraq, where the group is based in the Qandil mountains.
Full report at:
https://english.alarabiya.net/en/News/middle-east/2018/06/02/Turkish-air-strikes-neutralize-15-Kurdish-militants.html
--------
Palestinian man shot dead by Israeli soldiers in West Bank
2 June 2018
A Palestinian man who tried on Saturday to hit Israeli soldiers with his car in the southern occupied West Bank city of Hebron was shot dead, the Israeli army said.
"A terrorist attempted to run over IDF troops located at the site with his vehicle. In response, the troops fired towards the terrorist, killing him. No IDF troops were injured" an army statement said.
A military spokesman told AFP the alleged attacker was a Palestinian.
On Friday a 21-year-old Palestinian woman was shot dead by Israeli soldiers near the Gaza border fence, where clashes were taking place.
Razan al-Najjar was a volunteer with the Gaza health ministry, wearing the white uniform of a medic when she was shot in the chest.
According to the health ministry in Gaza, another 40 Palestinians were wounded by Israeli gun fire in Friday's clashes.
Full report at:
https://english.alarabiya.net/en/News/middle-east/2018/06/02/Palestinian-tries-to-hit-Israeli-soldiers-with-car-shot-dead.html
--------
UN envoy to Yemen in Sanaa to discuss plans for Houthi withdrawal from Hodeidah
2 June 2018
Martin Griffiths, the United Nations special envoy to Yemen, is expected to visit Houthi-held Sanaa on Saturday to push for resumption of peace talks after three previous failed efforts.
Griffiths' visit comes in the framework of his new tour to Yemen which began last Thursday after meeting with Yemen's President Abd Rabo Mansour Hadi and a number of his government's cabinet of ministers.
Political sources said that Griffith would meet a number of Houthi militia leaders and officials of the unrecognized coup government to discuss arrangements for reviving the peace talks negotiations as part of a vision the UN envoy plans to present to the UN Security Council on June 7.
At the top of the agenda will be the discussions surrounding the port city of Hodeidah and persuading the Houthis to withdraw from the city and hand over supervision to UN officials.
Full report at:
https://english.alarabiya.net/en/News/gulf/2018/06/02/UN-envoy-to-Yemen-in-Sanaa-to-discuss-plans-for-Houthi-withdrawal-from-Hodeidah.html
--------
Israeli jets fly over Hudaydah amid Saudi push to seize city: Houthi chief
Jun 3, 2018
Leader of Yemen's Houthi Ansarullah movement Abdul-Malik Badreddin al-Houthi has revealed that Israeli warplanes have been detected flying over the key port city of Hudaydah.
Houthi said Israeli jets have been seen in Hudaydah's skies over the past few days amid a push by Saudi mercenaries to seize the city, Arabic-language al-Masirah television network reported.
"Yemen is actually fighting against a Saudi-Zionist coalition," he said, referring to a military campaign which Riyadh has been carrying out against Yemen since 2015.
Several Western countries, the US and the UK in particular, are widely known to be helping Saudi Arabia in the aggression, but claims of the Israeli complicity are made for the first time.
Referring to close ties between Israel and the Takfiri terrorists in Syria, Houthi noted that the Takfiri elements in Yemen are also the "mercenaries and servants" of Tel Aviv and Washington.
Israel and Saudi Arabia have no diplomatic relations, but latest reports say the two regimes are working behind the scenes to establish formal contact.
A senior Israeli nuclear expert revealed recently that Tel Aviv was selling Saudi Arabia information that would allow the kingdom to develop nuclear weapons.
Ami Dor-On, a senior nuclear commentator with the Israeli military organization iHLS, said the cooperation has been made possible in the wake of widening ties between Saudi Crown Prince Mohammad bin Salman and Israeli Prime Minister Benjamin Netanyahu.
Hudyadah situation
Hudaydah, home to about 400,000 people, is a lifeline for aid to war-torn Yemen. Riyadh claims the Houthis are using the key port for weapons delivery, an allegation rejected by the fighters.
The city, which lies on Yemen's western Red Sea coast, has witnessed renewed tensions over the past few days. Saudi-backed forces have closed in on Hudaydah, sparking fears of an all-out assault.
The UN and humanitarian organizations have warned that a potential Saudi attack on Hudaydah could result in a disaster.
Jan Egeland, a former UN aid chief who now heads the Norwegian Refugee Council, told Doha-based Al Jazeera broadcaster on Saturday that a Saudi attack would make the situation "much worse."
"We must avoid war at all costs in Hudaydah, not only because of the hundreds of thousands of people who would get in the crossfire but also because the port and the lifeline will be destroyed," he said.
Egeland further demanded "a ceasefire and peace talks" to resolve the crisis in Yemen.
"What we asked for is that the United States, the United Kingdom and France who have influence over the Saudi-led coalition - they sell arms, they have close military relations, close diplomatic and intelligence cooperation - guarantee that attacks stop," he added.
Earlier this week, the UN voiced grave concerns about the situation around Hudaydah.
The International Committee of the Red Cross (ICRC) also warned that fighting in Hudaydah would make "an already catastrophic situation even worse."
"The ICRC is line with international humanitarian law urges all the parties to the conflict to respect civilian lives by taking every possible measure to protect civilians," the Geneva-based humanitarian institution said in a statement.
Yemenis conduct retaliatory attacks
Separately on Saturday, al-Masirah reported that Yemeni army soldiers and fighters from allied Popular Committees had destroyed seven Saudi armored vehicles in the kingdom's southern regions of Asir and Najran.
The Yemeni attacks came in retaliation for the Saudi-led military campaign on the impoverished state.
Yemeni forces further managed to prevent the advance of Saudi and Sudanese mercenaries in Asir and killed dozens of them, the report said.
Saudi Arabia and its allies launched a war on Yemen in March 2015 in support of Yemen's former Riyadh-friendly government and against the Houthis.
The military campaign has killed and injured over 600,000 civilians, according to the Yemeni Ministry of Human Rights.
Full report at:
http://www.presstv.com/Detail/2018/06/03/563733/Yemen-Israel-Hudaydah-Houthi
--------
Africa
10 killed as soldiers battle horse-riding Boko Haram fighters – Official
June 3, 2018
The Nigerian Army on Saturday said it killed 10 Boko Haram insurgents during an operation at Ngelkona in Ngala Local Government area of Borno State.
Onyema Nwachukwu, Deputy Director Public Relations Theatre Command Operation Lafiya Dole, disclosed this in a statement released in Maiduguri.
Mr Nwachukwu said that the operation was conducted by troops of 153 Task Battalion with support of the Cameroonian Defence Forces deployed in Operation Lafiya Dole at about 11:30 a.m.
"The terrorists, who were mounted on horse back were overpowered by the troops in a fierce shootout, as the gallant troops killed the insurgents and captured two AK 47 rifles from them.
Other items recovered from the insurgents include one Boko Haram flag, a set of bow and arrows, two mobile handset and one Cameroonian international passport.
"In a separate clearance operation, troops of 82 Task Force Battalion of Operation Lafiya Dole yesterday in a night attack routed fleeing elements of Boko Haram insurgents at Ngoshe in Gwoza Local Government Area.
"During the attack, troops killed one insurgent and recovered one AK 47 rifle, 41 rounds of locally fabricated ammunition and four Improvised Explosive Devices(IED).
The recovered IEDs have been safely defused by the Explosive Ordnance Disposal team, he said.
"In another operational encounter, troops of 27 Task Force Battalion of Operation Lafiya Dole, on a long range fighting patrol, yesterday Friday 1st June 2018 successfully conducted a raid operation on Boko Haram camp in Yaridiri forest in Geidam Local Government Area of Yobe state.
"During the raid, the superior fire power of the troops forced the insurgents to flee in disarray with gunshot wounds, abandoning a huge sum of money and several other items," the colonel said.
He added that the troops also recovered three AK 47 rifle magazines, 21 rounds of 7.62 mm (Special) ammunition, a motorcycle and two mobile handsets.
According tp him, the troops also recovered the N2,280,000 from the hideout.
https://www.premiumtimesng.com/regional/nnorth-east/270799-10-killed-as-soldiers-battle-horse-riding-boko-haram-fighters-official.html
--------
17 civilians killed in offensive on Libya's Derna: UN
June 02, 2018
At least 17 civilians have been killed in an offensive by military strongman Khalifa Haftar's forces to take the last city in eastern Libya beyond his control, the United Nations said Friday.
"The escalation of fighting in Derna has reached unprecedented levels during the past week, with fighting further encroaching into densely populated areas," the UN Support Mission in Libya said.
"Since 16 May, at least 17 civilians, including two children, were killed and another 22, including seven children, were injured in the conduct of hostilities."
The mission called on all sides to "exercise maximum restraint" after seven civilians were killed and seven wounded by an explosion on May 30 as they were attempting to leave the city.
Haftar's self-proclaimed Libyan National Army (LNA) launched an offensive on May 7 to "liberate" the eastern coastal city, home to about 150,000 people.
Derna is controlled by a ragtag coalition of Islamist and jihadist militias, including groups close to Al-Qaeda, hostile to both Haftar and the Islamic State group.
The coalition, the Mujahedeen Shura Council, was formed to drive IS from the city in 2015, after it had taken over Derna the previous year.
Haftar's forces entered the city's suburbs last week and have tightened the noose on their opponents with the help of air strikes and heavy artillery.
LNA forces have besieged Derna for nearly two years, making it difficult for residents to access humanitarian aid.
The UN mission warned that "severe food and medicine shortages continue to worsen" and said "electricity and water are intermittently cut off".
Libya has been wracked by chaos since a 2011 uprising that toppled and killed long-time dictator Kadhafi, with two rival authorities vying for control.
Haftar supports an administration based in the east of the country and opposes a UN-backed unity government based in the capital Tripoli that has struggled to assert its authority outside the west.
Full report at:
https://nation.com.pk/02-Jun-2018/17-civilians-killed-in-offensive-on-libyas-derna-un
--------
16 injured in protest march ahead of election in Mali
Jun 2, 2018
A protest march called by Mali's opposition just two months ahead of the country's presidential election has turned violent with at least 16 people injured in clashes with police.
Witnesses at the scene of the rally in the capital Bamako said police used tear gas and batons to break up the protest by several hundred people outside the headquarters of the ruling party of Ibrahim Boubacar Keita, Mali's current president, who on May 28 announced his candidacy for a second term.
Former Finance and Economy Minister Mamadou Igor Diarra was among the injured, medics at a nearby hospital confirmed. Diarra tweeted that the rally he attended was meant to call for credible elections. "I was slightly injured when I took part in a march calling for credible elections." Diarra is among some 15 candidates for the upcoming vote on July 29.
Authorities said the march, organized by the Coalition for Alternation and Change, was illegal under a state of emergency still in place. However, activists said they would continue the protests to stop what they called dictatorship in the West African country.
"You see, our march was peaceful. And it was an anti-democratic power that gassed us. The dictatorship will not pass," said Ousmane Kone, an activist who took part in a similar rally in Bamako's central neighborhoods. Reports said police dispersed the protesters at that site.
Oumar Sangare, head of an association which "supports change in Mali", said the Saturday march was only meant to urge transparency and fairness in media campaign coverage.
Full report at:
http://www.presstv.com/Detail/2018/06/02/563688/Mali-opposition-protest-elections
--------
Al Shabaab fighters seize town in central Somalia: residents
JUNE 2, 2018
MOGADISHU (Reuters) - Somalia's militant Islamist group al Shabaab has retaken a small town in the center of the country after it was abandoned by government troops, residents said on Saturday.
Fighting broke out in the town of Muqokori, about 300 kilometers north of the capital Mogadishu, late on Friday, almost a month after government troops ousted the insurgents.
"Al Shabaab attacked from various sides. After one hour of fighting, the government forces left and al Shabaab seized control," Hussein Nur, a local elder, told Reuters by phone.
The militant group claimed that 47 government soldiers had died in the fighting.
"We have their dead bodies," said Abdiasis Abu Musab, al Shabaab's military operations spokesman, adding they had captured four vehicles and dozens of weapons.
The military said the insurgents were not in full control. and that soldiers had been withdrawn for strategic reasons.
"There were only a few soldiers there and they left the town for tactical reasons," Major Abdullahi Aden told Reuters, adding their positions were being reinforced.
Aden did not give details of casualties.
Al Shabaab militants are fighting to topple Somalia's Western-backed central government and to rule the Horn of Africa country according to a strict interpretation of Islamic sharia law.
The group was ejected from Mogadishu in 2011 and has since been driven from most of its other strongholds across the country.
But it remains a formidable threat, with its fighters frequently carrying out bombings against civilian and military targets in Mogadishu and other towns in Somalia.
Full report at:
https://www.reuters.com/article/us-somalia-security/al-shabaab-fighters-seize-town-in-central-somalia-residents-idUSKCN1IY0F4
--------
Dogara decries govt's attitude towards IDPs, says war against Boko Haram not totally won
June 2, 2018
By Chudi Felix
The Speaker of the House of Representatives, Hon Yakubu Dogara, on Saturday, criticised the federal government for failing to play its role in providing succour to internally displaced persons, IDPs, and leaving them to charitable acts from faith-based and non-governmental organisations.
Dogara also said that government has not put in place structures of rehabilitation needed for the IDPs to return to their various homes.
Dogara's special adviser on media and public affairs, Turaki Hassan, in a statement made available to newsmen stated, "Dogara said this when he paid a visit to Karmajiji IDPs camp in Abuja, where he flagged off medical outreach for over 2000 people in the camp."
The Speaker, therefore, called for an integration of IDPs into neigbouring communities as it has become apparent that structures needed to be put in place for them to return to their various homes have not been put in place.
According to the statement, "Dogara flayed government agencies for failing to play their roles in providing succor for the internally displaced persons and leaving them at the mercy of faith-based and non-governmental organisations.
"He noted that though the appropriate thing would be to return them to their communities, they cannot be left on their own because the war on terrorism has not totally been won, which puts their lives at risk in the hands of Boko Haram insurgents.
"It is turning out to be a long stay, I don't know how we will approach this, whether this act of intervention on the part of the N.G.Os and faith-based organisations will be enough, or whether government should look for other means by which we can integrate the IDPs as against rushing them back to their communities where they could be displaced again.
"So that is the task that we all must set our minds to accomplish. We need to integrate them if we cannot send them back to their communities in the nearest possible time. That effort must be made by government, not even N.G.Os, N.G.Os can support and faith-based organisations can also support, but the government must stand up and be counted."
The Speaker further expressed dismay at the appalling condition in which IDPs live in the camps, even though they are in the FCT, saying that should not be the case in Nigeria.
Full report at:
http://dailypost.ng/2018/06/02/dogara-decries-govts-attitude-towards-idps-says-war-boko-haram-not-totally-won/
--------
'Boko Haram, herdsmen depleting christian population'
03 June 2018
The newly installed President of the Evangelical Church Winning All (ECWA), Rev. Stephen Panya Baba, has expressed worry over rise in the number of persecuted Christians.
Baba regretted that the activities of Boko Haram and Fulani herdsmen have swelled the ranks of widows and orphans in many churches.
He made the observation during his inaugural remarks at the ECWA headquarters in Jos, when he formally took over from Dr. Jeremiah Gado.
He called on governments at all level to show greater resolve at stopping the carnage before people resort to self-defence.
He argued that "self defense is a constitutional and legal right to which every citizen is entitled," and that "failure to rein in and prosecute these wicked men would only confirm the perceived notion that Boko Haram has rebranded in the form of Fulani Jihadist herdsmen and is carrying out nefarious activities under the protection and support of the Federal Government and its security agencies."
He said: "Government must rise to the occasion and put an end to this wicked plan to annihilate Nigerians, especially Christians, in the Middle Belt region and zones of Plateau, Benue, Taraba, Southern Borno and Southern Kaduna and other parts of the northeast because the corporate existence of our dear country, Nigeria, is being threatened."
Full report at:
https://guardian.ng/news/boko-haram-herdsmen-depleting-christian-population/
--------
Europe
Jihadists' separation jail cells left empty for fear of lawsuits
June 3 2018
Fewer than half the jail cells created to hold Britain's most dangerous Islamist terrorists are occupied, despite an unprecedented threat from Islamist extremists.
The Prison Service is failing to lock up terrorists in the "separation centres" created for them, because it fears being sued for breaching their "human rights", prison sources say.
While there are more than 160 convicted terrorists in prison, only seven, including the notorious Islamist preacher Anjem Choudary, have been moved to the units.
They are intended to house those who pose a significant "national security threat" and were introduced after an investigation into prison extremism commissioned in 2015 by Michael Gove, who was then justice secretary.
A source said: "The Prison Service can easily find more terrorists to place in the…
https://www.thetimes.co.uk/edition/news/jihadists-separation-jail-cells-left-empty-for-fear-of-lawsuits-xhvz9v8t9
--------
German-Palestinian politician leads reconstruction of Berlin synagogue
06/02/2018
The project's first phase was completed last week, naming a diverse team of community leaders as curators
Every Friday night, the congregation of Berlin's Fraenkelufer synagogue crams itself into a small room, filled with photos of the 102-year-old synagogue in its prime.The room serves as the venue for Shabbat dinners, Saturday morning Torah lessons, community activities for kids, and the holiday celebrations. But not for much longer.The synagogue that was largely destroyed during the Third Reich will be reconstructed – due to the initiative of a German-Palestinian politician.
Currently only the annex, containing a prayer hall and common room originally used as the Fraenkulfer youth synagogue, remains.The main hall, made to seat 1,600 congregants was destroyed – first during the Kristallnacht pogroms of 1938 and then by the Allied Forces' bombardments. But except for a brief time between 1942 and 1945, when the surviving structure was used as storage space by the Nazis, the Fraenkelufer remained active and used by all denominations.
- Support for Judaism -
Nina Peretz began frequenting the synagogue seven years ago with her Israeli husband, Dekel, even before converting to Judaism.Today she heads the association known as "Friends of the Fraenkelufer Synagogue"."What makes it special is that it's completely run by volunteers, members of the congregation, and attracts people of all backgrounds and nationalities," she told i24NEWS. "Some don't even attend prayers, but they want to be part of a community."
The idea of rebuilding the synagogue was first suggested during the centennial celebration – not for additional prayer space, but as a first-of-its-kind Jewish community center in Berlin."We want to have a Jewish kindergarten here, a Jewish library, a space for sport activities and exhibitions, and a Kosher café that would also be open to the general public, so we could interact with our neighbors," stressed Peretz.The synagogue is located in the trendy Kreuzberg district, predominantly populated by migrants, many of them Muslims. Developing a better relationship between the congregation and its surrounding, integrating it into the broader society is a key goal of the reconstruction, says Peretz.
Some link this project to concerns over animus towards Jews, but the district's Mayor Monika Herrmann insists that this sign of solidarity is needed not only in Kreuzberg, but throughout Germany, especially with regards to anti-Semitism among the native German population."With this sign we say, 'we see our neighbors that have been here for over a hundred years, and it is important that they feel comfortable here and know that we are on their side,'" she added.
- A Muslim Champion -
Meanwhile, the public and political face of the project has become Raed Saleh, Chairman of the Social Democratic faction in the Berlin House of Representatives, and a Muslim.Saleh, 40, was born in a village near Nablus in the West Bank and immigrated to Germany with his family when he was 5 years old.The project, along with his involvement in it, has attracted a variety of reactions – most of them positive, but some also from critics wondering whether the reconstruction is indeed needed or why a Muslim politician is taking the lead in championing the Jewish cause."I would not be a good Muslim if I would not stand up for Jewish life, if I would not fight to set limits when others try to dictate to people how they should live their lives," he told i24NEWS."And if not Berlin, then which other place can be a symbol for diversity, for mutual respect?"
Germany has managed to rebuild palaces and churches, including the ongoing reconstruction of the Garrison Church in Potsdam, notoriously remembered as the site where the Führer shook hands with then-President Paul von Hindenburg, representing his acceptance by the German elite.But there has never been an equivalent restoration of synagogues in Germany, says Saleh."People say, 'we stand by Jewish life in Germany, in Europe,' but when it comes to concrete actions --what does it mean?" asks Saleh."We need, on the one hand, to show that Jewish life has been and still is a part of our country, and on the other, to commemorate the break that occurred from 1933 to 1945. And this does both things."Despite press photos showing a simulation of the reconstructed synagogue with its original facade, the shape of the new building has yet to be decided.The first phase of the project was completed last week, announcing a team of politicians, religious representatives and community leaders to serve as curators, before determining the community center's function and form.Saleh predicts the process might take as long as seven years, but in the end, "a Jewish prayer house will stand again in Fraenkelufer, a prayer house that we Berliners and all Germans could be proud of."
https://www.i24news.tv/en/news/international/europe/176220-180602-berlin-s-centenarian-synagogue-facing-reconstruction
--------
Russian pilot shot down in Afghanistan in 1980s found alive
Jun 2, 2018
A Russian pilot who was missing and presumed dead after his warplane was shot down 30 years ago during former Soviet military invasion of Afghanistan has been found alive and wishes to return home.
"He is still alive. It's very astonishing. Now he needs help," the head of the Russian paratroopers' union Valery Vostrotin said in a Friday interview with Moscow-based RIA Novosti news agency.
Vostrotin, who is also the head of the Russian side of a joint US-Russia commission on prisoners of war and soldiers missing in action, refused to reveal the identity of the pilot.
The deputy head of another Russian veterans' organization called Battle Brotherhood, Vyacheslav Kalinin, said the newly-discovered pilot was shot down in 1987 and was likely over 60 years old now.
He also hinted that the pilot may be at a prisoners of war camp held by Afghanistan in Pakistani territory and that he wished to return to his native country.
Russia's business daily Kommersant reported that only one Soviet pilot was shot down in 1987, identifying him as Sergei Pantelyuk from the southern Russian Rostov region.
It said Pantelyuk and his aircraft went missing after taking off from Kabul's Bagram airfield, which is now a US military air base.
According to RIA Novosti, 125 Soviet warplanes were shot down across Afghanistan in the course of its military occupation of the country between 1979 and 1989.
Nearly 300 soldiers were listed as missing when Soviet troops withdrew from the Asian nation in 1989, only 30 of whom have been located since the pullout and returned to their native countries.
The news agency also cited Russian Senator Frants Klintsevich as saying that there are far more of similar cases, noting that he had met a former Soviet veteran during a visit to Afghanistan a few years back who did not wish to return home.
Full report at:
http://www.presstv.com/Detail/2018/06/02/563622/Russia-missing-pilot-Soviet-military-intervention-in-Afghanistan-Valery-Vostrotin
--------
The Observer view on Islamophobia in the Conservative party
3 Jun 2018
In 2011, Sayeeda Warsi, then co-chair of the Conservative party, argued that Islamophobia had passed the "dinner-table" test; that bigotry against British Muslims was becoming increasingly acceptable in polite company. It has become increasingly clear since then that that polite company extends to the Conservative party itself.
Last Thursday, Harun Khan, the head of the Muslim Council of Britain, wrote to the party's chair, Brandon Lewis, with a list of Islamophobic incidents that have come to public attention over a two-month period. He has asked Lewis to commit to an independent inquiry into Islamophobia in the party and to adopt a programme of training .
The most high-profile case raised by the MCB is that of Bob Blackman MP. In recent months, he has retweeted a message from Tommy Robinson, founder of the English Defence League, which cited an attack on a Hindu temple as "the reality of being surrounded by Islam", which he later said was an error. He has shared a Facebook post from an Islamophobic website and has hosted Tapan Ghosh, a hardline Islamophobic Hindu nationalist, at an event in parliament. Not only has Blackman faced no disciplinary action, Theresa May chose to campaign with him in his constituency in March.
There are several other incidents raised by the MCB, including that of a Conservative councillor who shared an article on social media that claimed that French Muslims were "content to live off the state and breed like rabbits", a council candidate who said Britain should "revoke Muslim immigration" and another candidate who posted a photograph of a rasher of bacon hanging on a door handle, saying: "Protect your house from terrorism." The MCB says it believes these cases could be the "tip of the iceberg".
Senior Muslim Conservatives, including Warsi and Lord Sheikh, have backed the call for an independent inquiry. Warsi says she has tried and failed to get these issues addressed by the party leadership and that she believes there is a "simmering underbelly" of Islamophobia in the Conservative party.
If Theresa May continues to ignore these serious accusations, she cannot avoid the charge that Tories are unwilling to meaningfully confront racism in their ranks. Together with Labour's deplorable failure to tackle its own problems with antisemitism, it creates the unedifying impression that Britain's two main political parties are more comfortable making political capital out of calling each other out for bigotry than resolving the problems within their own houses.
The Conservative party leadership must also acknowledge its role in encouraging Islamophobia. In 2016, Zac Goldsmith's campaign for London mayor deployed a series of nasty dogwhistles implying that his Muslim opponent, Sadiq Khan, had links to Islamic extremists. Goldsmith faced no censure and his approach was effectively endorsed by the leadership. David Cameron claimed an imam whom Khan had shared a platform with was "a supporter of IS" in order to discredit Khan, for which he later had to apologise. Theresa May argued Khan was unfit to be mayor "at a time when we face a significant threat from terrorism".
This is not the only instance where the Tory party has shown its willingness to engage in racialised nods and winks to win votes. The government's hostile-environment policy, in which private citizens such as landlords are obliged to check people's papers, increases discrimination against people with foreign names and is ineffective at reducing illegal immigration. Yet it has pursued this policy to win support from voters it fears might otherwise back the far right.
Full report at:
https://www.theguardian.com/commentisfree/2018/jun/03/observer-view-islamophobia-conservative-party
--------
South Asia
Myanmar says willing to take back all Rohingya refugees
June 02, 2018
SINGAPORE: Myanmar is willing to take back all 700,000 Rohingya Muslim refugees who have fled to Bangladesh if they volunteer to return, the country's National Security Adviser Thaung Tun said on Saturday.
He was speaking at the Shangri-La Dialogue, a regional security conference in Singapore, where he was asked if the situation in Myanmar's Rakhine state, where most Rohingya live, could trigger use of the Responsibility to Protect framework of the United Nations.
The so-called R2P framework was adopted at the 2005 U.N. World Summit in which nations agreed to protect their own populations from genocide, war crimes, ethnic cleansing and crimes against humanity and accepted a collective responsibility to encourage and help each other uphold this commitment.
"If you can send back 700,000 on a voluntary basis, we are willing to receive them," Thaung Tun said. "Can this be called ethnic cleansing?
"There is no war going on, so it's not war crimes. Crimes against humanity, that could be a consideration, but we need clear evidence. These serious charges should be proved and they should not be bandied about lightly."
Since August 2017, about 700,000 Rohingya Muslims have fled a military crackdown in mainly Buddhist Myanmar, many reporting killings, rape and arson on a large scale, UN and other aid organizations have said.
The United Nations and aid agencies have described the crackdown on the Rohingya as "a textbook example of ethnic cleansing", an accusation Myanmar rejects.
Myanmar and Bangladesh agreed in January to complete the voluntary repatriation of the refugees within two years.
Myanmar signed an agreement with the United Nations on Thursday aimed at eventually allowing the Rohingya sheltering in Bangladesh to return safely and by choice.
It also said it would set up an independent commission to investigate "the violation of human rights and related issues" in Rakhine State following the army operation there in response to attacks by Rohingya insurgents on security posts.
Thaung Tun said that the narrative of what happened in Rakhine was "incomplete and misleading".
"Myanmar does not deny that what is unfolding in northern Rakhine is a humanitarian crisis," he said. "There is no denying that the Muslim community in Rakhine has suffered. The Buddhist Rakhine, Hindu and other ethnic minorities have suffered no less."
He said that while the military had the right to defend the country if investigations showed they had acted illegally, action would be taken.
https://nation.com.pk/02-Jun-2018/myanmar-says-willing-to-take-back-all-rohingya-refugees
--------
Civilians and ISIS-K militants suffer casualties in Nangarhar operation
Jun 02 2018
An elder man was killed along with 17 ISIS Khurasan militants during the operations in eastern Nangarhar province of Afghanistan.
The provincial government media office in a statement said the operations were conducted in the vicinities of Loi Payin, Camp Payin and Gorgori areas.
The statement further added that seven militants affiliated with the terror group were killed during the operations which were conducted with the help of close-air support.
According to the provincial government, the operations are still being conducted against the terror group in various parts of Haska Mina district and some parts of the district have been cleared of the militants.
The provincial government, in the meantime, said a elder man was killed and at least four others including women and children were wounded during the same operations.
The statement by the provincial government added that a woman is also missing and efforts are underway to confirm her whereabouts.
No further details have been regarding the circumstances surrounding the civilian casualties during the operations.
Full report at:
https://www.khaama.com/civilians-and-isis-k-militants-suffer-casualties-in-nangarhar-operation-05300/
--------
Taliban militants kill two ISIS-K members in Kunar province
Jun 02 2018
The Taliban militants have killed two members of the Islamic State of Iraq and Syria – Khurasan (ISIS-K) during a clash in eastern Kunar province of Afghanistan.
The 201st Silab Corps of the Afghan Military in the East said the latest infighting between the two sides took place on Friday in the vicinity of Noor Gul district.
The Silab Corps did not disclose further information in this regard with the Taliban and ISIS-K militants yet to comment regarding the incident.
In the meantime, the Silab Corps said the Afghan forces have arrested seven suspects during an operation in Sia Gerd district of Parwan province.
Parwan is among the relatively calm provinces in North of Afghanistan but the anti-government armed militants are active in some remote districts of the province.
Full report at:
https://www.khaama.com/taliban-militants-kill-two-isis-k-members-in-kunar-province-05295/
--------
Nearly half Afghan children out of school, rising for first time since 2002
June 03, 2018
KABUL: Nearly half all children in Afghanistan are out of school due to conflict, poverty, child marriage and discrimination against girls, the number rising for the first time since 2002, humanitarian organizations said in a report on Sunday.
Spreading violence has forced many schools to close, undermining fragile gains in education for girls in a country where millions have never set foot in a class room.
Some 3.7 million children between the ages of seven and 17, or 44 percent of all children, are out of school, 2.7 million of them girls, Education Minister Mirwais Balkhi told a seminar, explaining a study conducted by UNICEF, USAID and the independent Samuel Hall think-tank.
The Taliban, seeking to oust the US-backed government and return the country to strict Islamic rule after their 2001 ouster, are adamantly opposed to education for girls and threats from Islamic State have forced the closure of dozens of schools.
Without mentioning the Taliban or Islamic State, Balkhi said there were "many reasons" for children not going to school.
"Education of children is the most important development in all human communities," he said. "It is the most important tool in fighting war, poverty and unemployment."
In the worst affected provinces, up to 85 percent of girls are not going to school, the aid groups said. They did not give specific time periods or comparisons.
In April this year, militants set ablaze two schools and widespread violence had led to closure of hundreds of private schools.
"Business as usual is not an option for Afghanistan if we are to fulfil the right to education for every child," said Adele Khodr of UNICEF in the report.
"When children are not in school, they are at increased danger of abuse, exploitation and recruitment."
One teenage girl, Ziwar, from central Daikundi, one of the safest provinces in the country, said she had been at school until she was 14.
Full report at:
http://www.arabnews.com/node/1314626/world
--------
North America
US veto a 'moral blunder': Palestinian foreign minister
02 June 2018
Palestine's foreign minister on Saturday blasted the U.S. veto of a UN resolution calling for the protection of Palestinians as a "moral blunder".
The U.S. veto "is another moral blunder … and political blindness," the official Wafa news agency quoted Riyad al-Malki as saying.
"It ignores the international consensus on the crimes and practices committed by Israel and is completely biased."
Al-Malki stressed that Palestinian diplomacy "will do its best to ensure accountability for the Israeli war criminals and achieving justice for the Palestinian people."
On May 18, Kuwait submitted a draft resolution to the UN Security Council condemning Israeli violence and calling for "protection of the Palestinian people" in Gaza and the West Bank.
The U.S. on Friday vetoed the resolution. Ten countries voted in favor, while the U.K., Poland, the Netherlands and Ethiopia abstained.
The resolution, which was revised three times and was said to have been "watered down," previously called for international protection for the Palestinian people.
The final draft called for "the consideration of measures to guarantee the safety and protection of the Palestinian civilian population in the Occupied Palestinian Territory, including in the Gaza Strip".
Since March, at least 118 Palestinians have been martyred and thousands more injured by Israeli army gunfire during anti-occupation protests near the Gaza-Israel security fence.
http://www.worldbulletin.net/america-canada/202693/us-vetoes-un-resolution-on-palestinians
--------
Canadian ex-Afghan captive granted bail in assault case
June 03, 2018
OTTAWA - A Canadian former hostage who has been charged with sexual assault, misleading police and making death threats after returning home from years in captivity in Afghanistan has been granted bail.
Joshua Boyle, however, will be required to live with his parents in Smith Falls, near Ottawa, and under electronic monitoring. He was arrested on December 31 only two months after his return to Canada and faces 19 charges.
The court has banned the identification of Boyle's alleged victims. According to court documents, the alleged crimes occurred between October 14 - the day Boyle and his family returned to Canada - and December 30, 2017.
In a previous statement, his American wife Caitlan Coleman blamed Boyle's actions on his mental state - resulting from "the strain and trauma he was forced to endure for so many years."
She said it was "with compassion and forgiveness that I... hope help and healing can be found for him."
Boyle and Coleman, who married in 2011, were kidnapped by the Taliban during what they described as a backpacking trip through Afghanistan in 2012.
They were later transferred to the custody of the Haqqani faction of the Taliban.
Full report at:
https://nation.com.pk/03-Jun-2018/canadian-ex-afghan-captive-granted-bail-in-assault-case
--------
Arab World
Syria links talks on south to US withdrawal from border area
June 03, 2018
DAMASCUS - Syria's foreign minister on Saturday linked any talks on the future of a rebel-held southern region with an end to US presence in another area bordering Iraq and Jordan.
Regime ally Russia has called for a meeting with the United States and Jordan on the future of the southern provinces of Daraa and Quneitra, bordering Jordan and the Israeli-occupied Golan Heights.
In recent weeks, Damascus has sent military reinforcements to the two provinces, which comprise some of the closest rebel-held areas to the capital.
President Vladimir Putin has spoken with Israeli Prime Minister Benyamin Netanyahu about proposed talks.
"We have not yet entered into negotiations over the southern front," Syria's Foreign Minister Walid Muallem said at a press conference in Damascus.
"The indicator will be the withdrawal of the United States from our land in al-Tanaf" near the Iraqi and Jordanian borders, Muallem said.
The United States and its allies have used a base in the area to train a force fighting the Islamic State militant group.
"Don't believe anything that is said about an agreement on the south until you see that the United States has withdrawn its forces from the At-Tanaf base," he said.
"It must withdraw its forces from At-Tanaf."
"We have strived from the start to resolve the issue in the ways that we are used to, which are reconciliations," he said. "If it is not feasible, we will see what will happen."
Moscow-brokered reconciliation deals have seen rebels withdraw from several areas of Syria including opposition strongholds close to the capital, often after blistering regime offensives and sieges. Last month, Washington warned Damascus it would take "firm" action if the regime violated a ceasefire deal for southern Syria that was negotiated with Russia and Jordan last year.
The warning came after regime aircraft dropped leaflets on Daraa, urging the rebels who control most of the province to lay down their weapons or face an offensive.
US-led coalition raids kill 12 civilians in Hasakeh
At least 12 civilians - members of the same family - have been killed in US-led coalition raids on the Islamic State group in northeastern Syria, a monitor said Saturday.
"The air strikes and artillery fire (Friday night) by the international coalition on the village of Hidaj, held by IS in the southern sector of Hasakeh province, killed at least 12 people," the Britain-based Syrian Observatory for Human Rights said.
The civilians - including two women and their children - belonged to the same family, it added.
The deaths bring to "20 the number of civilians killed by the coalition in 24 hours east of the Euphrates River", said the Observatory, which relies on a network of sources across Syria for its reports.
On Thursday, eight other civilians were killed in coalition strikes in Deir Ezzor province, south of Hasakeh.
IS militants have lost most of the self-proclaimed "caliphate" they once controlled in large parts of Syria and neighbouring Iraq since 2014.
Today, the militants hold less than three percent of Syria, according to the Observatory said.
In Deir Ezzor, the mainly Kurdish Syrian Democratic Forces - supported by the US-led coalition - are trying to dislodge militants from the east bank of the Euphrates.
The coalition said Friday its airstrikes in Syria and Iraq had "unintentionally" killed 892 civilians since its bombing campaign began nearly four years ago.
More than 350,000 people have been killed in Syria's war since it started in 2011 with a brutal crackdown on anti-government protests.
It has since spiralled into a complex conflict involving world powers and foreign militants.
https://nation.com.pk/03-Jun-2018/syria-links-talks-on-south-to-us-withdrawal-from-border-area
--------
ISIS kills family of 12 in Iraq village, says official
2 June 2018
ISIS militants killed 12 members of the same family, including women and children, in an attack on their northern village home Saturday, an Iraqi official said.
Ammar Hekmat, the deputy governor of the Salahuddin province, confirmed the attack early in the village of al-Farahatiyah. It was not immediately clear why the family was targeted.
Iraqi forces have driven ISIS from virtually all the territory it once controlled, but the group has continued carrying out sporadic attacks, mainly targeting security forces.
"We're not sure if one of the family members was a police officer, but ISIS has a presence in desert areas like Salahuddin, Mosul and Diyala," an Iraqi intelligence official said. "They carry out attacks in villages outside the cities to scare families and remind them they are still there."
The official spoke on condition of anonymity in line with regulations.
https://english.alarabiya.net/en/News/middle-east/2018/06/02/ISIS-kills-family-of-12-in-Iraq-village-says-official.html
--------
Egypt's Sisi sworn in for second term in office
June 03, 2018
CAIRO - Egyptian President Abdel Fattah al-Sisi was sworn in on Saturday for a second four-year term in office as the country faces major economic and security challenges.
Sisi took the oath in a packed house and in front of members of his government, after winning 97 percent of valid votes in the March presidential election.
Fighter jets drew an Egyptian flag in the sky above Cairo while military helicopters flew over the capital's centre as the president made his way to parliament - where he was greeted with a 21-gun salute.
Sisi, who as army chief ousted Egypt's first freely elected president Mohamed Morsi after mass street protests in 2013, won his first term in 2014 with an overwhelming majority of the vote.
He faced no serious competition in his run for re-election.
His only opponent, Moussa Mostafa Moussa, was relatively unknown and a fervent Sisi supporter himself.
All other political contenders were either sidelined or withdrew.
Seven years after the January 2011 uprising that toppled Hosni Mubarak's regime, Sisi will have two major challenges to tackle in his second term: security and economic recovery.
Human rights defenders have regularly accused Sisi of violating public freedoms and suppressing opponents.
Many of his opponents and vocal members of civil society have been arrested in recent months.
Two of those arrested are blogger and journalist Wael Abbas and Shadi Ghazali Harb - one of the youth leaders during the 2011 revolution.
Full report at:
https://nation.com.pk/03-Jun-2018/egypt-s-sisi-sworn-in-for-second-term-in-office
--------
Saudi warns of military action if Qatar gets Russian missiles: report
June 02, 2018
Saudi Arabia has threatened military action against Qatar if it goes ahead and acquires Russia's top of the range S-400 air defence missile system, Le Monde daily reported.
Citing information it had obtained, Le Monde said Friday that Riyadh had written to French President Emmanuel Macron asking him to intervene to prevent the deal going ahead and to help preserve regional stability.
There was no immediate official reaction from the president's office or the French foreign ministry to the report.
Saudi Arabia, backed by other regional powers including Bahrain and the Unite Arab Emirates, broke off relations with Qatar in June last year, accusing the Gulf state of supporting radical Islamist groups and of being too close to Iran - Riyadh's arch rival in the region.
They subsequently imposed economic sanctions on Qatar which has consistently rejected the charges against it.
In an effort to ease its isolation, Qatar has sought new friends, including Russia.
In January, it announced that talks with Moscow on supplying the sophisticated S-400 system were at an "advanced stage".
Le Monde said that in the letter sent to the French president, Saudi King Salman had expressed his "deep concern" with the discussions between Doha and Moscow and warned about the risk of escalation.
Full report at:
https://nation.com.pk/02-Jun-2018/saudi-warns-of-military-action-if-qatar-gets-russian-missiles-report
--------
Arab Commanders Defecting US-Backed SDF in Eastern Syria
Jun 02, 2018
Al-Manar news network reported that Ibrahim al-Jasim al-A'asi nom de guerre Abu al-Hareth and Mohammad al-Jabr nom de guerre Abu al-Jabr al-Sha'eiti two senior commanders of the SDF-affiliated Deir Ezzur Military Council have defected the SDF.
Abu al-Jabr, former chief commander of Deir Ezzur Military Council in Asefeh operation and Abu al-Hareth, commander of the Second Regiment of SDF, handed over their arms and defected SDF.
Field sources confirmed defection of the two field commanders and said that their move was due to the SDF policy to push aside Arab commanders of the militia from the making decision process.
Relevant reports said in September 2017 that 50 Kurdish troops stationed in Northern Syria defected the SDF, formed by the US under the pretext of fight against the ISIL, to protest at the discrimination practices in the dispatch of Arabs and Kurds to the frontline.
"The Kurdish forces arrived in the city of Jarabulus in Northern Aleppo after defecting their comrades in Saleh Muslim party," a dissident Kurdish member of the Syrian Kurds' Democratic Union told FNA in late September.
According to the source, the defected group of 50 Kurdish forces fled Kobani and headed towards Jarabulus where Turkey deployed its forces.
Full report at:
http://en.farsnews.com/newstext.aspx?nn=13970312000899
--------
US-Backed Militia Crack down on Popular Protests in Northeastern Syria
Jun 02, 2018
The SDF forces opened fire at civilians that demonstrated against the SDF and called for their expulsion form Raqqa city.
The popular uprising occurred after the Kurdish militias dispatched more troops and equipment to al-Makeft East of al-Romeileh and erected several checkpoints.
The SDF deployed forces in Mashlab, al-Romeileh, Seif al-Dowlaeh, al-Sabahiyeh and al-Dar'eiyeh neighborhoods in Raqqa city to disperse people.
In the meantime, Kurdish security forces arrested 58 renowned figures in Hasaka province after they tried to leave Hasaka for Aleppo city to take part in a conference about occupation by the US army and Turkish troops.
Tensions are rising between civilians and the SDF in the entire territories that are under the Kurdish militias' control.
Local sources reported on Monday that the refugees in al-Saad Camp in Southern Hasaka were suffering from shortage of drinking water, food stuff and other life necessities.
The sources further said that the camp's residents protested against the militias, asking for drinking water and ice, but, faced the US-backed militias' attack.
A refugee was arrested by the militias, they added.
The sources went on to say that those who run the camp steal humanitarian aids dispatched to the camp and sell them in the black market, adding that the refugee must pay a large amount of money to buy a cube of ice.
Full report at:
http://en.farsnews.com/newstext.aspx?nn=13970312000991
--------
US-Backed Militias Trying Hard to Occupy Syria's Idlib Province
Jun 02, 2018
Baladi news website reported that the Washington-backed SDF plans to set up a new formation known as Liwa Thowar Idlib to impose control over the province.
It further said that the SDF intends to recruit gunmen of Ahrar al-Zawiyeh and Jeish al-Thowar in Idlib and form a new brigade under the command of Iskandar Ala'a.
Baladi went on to say that the SDF plans to occupy the town of Afrin in Northwestern Aleppo and later move toward Idlib.
Baladi further said that a sum of 500 gunmen have thus far joined the brigade.
The SDF had been following the policy of imposing control over Idlib to connect it lands in Hasaka to Syria's coasts in the West after seizing regions between Manbij and Afrin to form a segregate government in region.
The SDF announced in October 2017 that it was planning to have a strong presence in Idlib province amid the Turkish Army troops deployment in the Northwestern province.
The Democratic Brigade of the North affiliated to the SDF announced in a statement on facebook that it was planning to form the Idlib Military Council.
The statement further said that it would announce formally the establishment of the Idlib Military Council after affiliation of several battalions to the Democratic Brigade of the North in Idlib province.
The SDF had announced in May 2017 that they would move towards Idlib after taking control over Raqqa city.
Full report at:
http://en.farsnews.com/newstext.aspx?nn=13970312000734
--------
Militants in Southern Syria Reject Gov't Peace Offer
Jun 02, 2018
The army sent a large number of fresh forces and a large volume of military hardware to Dara'a province on Friday, causing the Free Syrian Army (FSA) coalition known as Barkan al-Hareh terrorists to declare Tal al-Hareh a military zone after the army reinvigorated its forces in the Triangle of Death.
The FSA gunmen threatened to face reconciliation representatives that try to approach Tal al-Hareh, preparing for a tough battle with the Syrian Army.
Tal al-Hareh is one of the main strongholds of terrorists in Northern Dara'a whose fall into the army will result in a domino fall of other militant-held region in Dara'a and Quneitra.
In the meantime, field sources reported that the army's artillery units pounded the positions of Tahrir al-Sham Hay'at (the Levant Liberation Board or the Al-Nusra Front) in Busra al-Sham in Eastern Dara'a as after the militants' shelled the town of Ara in Western Sweida.
In a relevant development on Friday, the army's artillery and missile units shelled the defenses of the Free Syrian Army (FSA) and Tahrir al-Sham Hay'at in the Al-Lijat region for the first time in several weeks.
Furthermore, the Syrian Army's attack was meant to fracture the front-lines of the militants before they launch their long-awaited offensive in Southern Syria.
Full report at:
http://en.farsnews.com/newstext.aspx?nn=13970312000517
--------
Senior Tahrir Al-Sham Commanders Killed in Assassination Operations in Northwestern Syria
Jun 02, 2018
Abu Islam, a Mufti of Tahrir al-Sham, was killed in gun fire by a group of unknown assailants in al-Khowein settlement Southeastern Idlib.
In the meantime, Khalid al-Adnani, a senior commander of Tahrir al-Sham, was killed after a group of unknown assailants opened fire at him near the town of Ma'arat al-Nu'aman.
Also, a bomb-laden vehicle went off near the train station in al-Rouj Plain in Western Idlib, killing a number of terrorists.
Tahrir al-Sham, meantime, executed two people in the town of al-Dana accusing them of orchestrating recent blasts in region.
Field sources reported on Wednesday that a bomb-laden vehicle went off at a base of Tahrir al-Sham in the town of al-Dana, leaving a number of terrorists dear or wounded, adding that three more blasts were reported right after the al-Dana explosion.
Tahrir al-Sham kept forces on alert in the towns and settlements of al-Dana, Samada, Salqin and Jisr al-Shughour, launching a fresh round of arrests in the region, the sources said.
Full report at:
http://en.farsnews.com/newstext.aspx?nn=13970312000800
--------
Satellite Images Show US Expands Al-Tanf Base as Battle for Syria's South Looms
Jun 02, 2018
Recently-published satellite images show several buildings and barricades have been added to the base during the past three months, as well as heavy military equipment including at least 30 technical vehicles, the AMN reported.
According to latest reports, the US military shall hand over the al-Tanf base to the Syrian forces under the Dara'a offensive expected to be launched any moment, in exchange, Russia guarantees that no attacks will be waged by the Syrian Army against the US-backed forces in Eastern Syria.
Meanwhile, more reinforcements have been deployed in the Southern battleground of Dara'a for the upcoming major offensive.
http://en.farsnews.com/newstext.aspx?nn=13970312000767
--------
Assad to go along with Putin's request to disband militias
2 June 2018
Preparations are under way for the issuance of a decree by the Syrian regime were eventually it will disband all pro-regime militias after a Russian request by President Putin during their last meeting in Sochi.
The Syrian Observatory for Human Rights described this development as unprecedented and will be applied over all Syrian territories.
The source pointed out that Putin's request not only included the disbanding of pro-regime militias, but included an annex to the disbanding of the Iranian-backed militias financed by Tehran, and which triggered anger among these militias.
The source said that Bashar al-Assad regime will resort to two options: either to demobilize the militias loyal to him or to officially annex them to the regime military.
The Russian request came after a series of violations committed by the militias in the past few months, which led to the looting of thousands of houses and robbing civilians of their belongings both at checkpoints and in the towns recently controlled by the regime.
Walid Muallem defends Iranian presence in Syria
Meanwhile, the Syrian Foreign Minister Walid al-Muallem defended on Saturday the Iranian presence in Syria, describing it as legal.
In a press conference held in the capital Damascus, al-Muallem said that the American troops should withdraw from al-Tanaf base on the Syrian-Jordanian border.
He added that Syria "has not been in any negotiations related to the southern front", defending the Iranian presence in Syria and describing it as "legal" as it came at the request of the Syrian government "unlike the illegal presence of the Turkish and American troops in Syria."
Full report at:
https://english.alarabiya.net/en/News/middle-east/2018/06/02/Assad-goes-along-with-Putin-s-request-to-disband-militias.html
--------
1,000 Bangladeshi Nationals Attend Qatar Charity's Iftar
June 03 2018
Around 1,000 Bangladeshi citizens attended a community Iftar organised by Qatar Charity (QC) as part of its Baraha programme, which is aimed at enhancing co-operation, cohesion and solidarity among the community members, especially in the holy month of Ramadan.
The community Iftar programme also included a number of activities and competitions.
This large Iftar table and associated programmes were organised at Qatar Sports Club under the supervision of the Friends Cultural Centre, one of the Qatar Charity Centres for Community Development, in co-ordination and co-operation with the Bangladesh Qur'an Sunnah Parishad.
The participants interacted with the Baraha programme, which also included speeches delivered by some preachers, in an atmosphere "that supported brotherliness between members of the community, encouraged the exchange of views and ideas, promoted human values and strengthened the bonds of compassion", QC said in a statement.
The community members thanked Qatar Charity and philanthropists in Qatar for supporting their Iftar programme, associated activities and events. They also underlined the importance of the continuation of organising various events and activities that enhanced co-operation between Muslim communities in general and during Ramadan in particular. They hoped for more co-operation and partnership between the Bangladeshi community residing in the country and QC.
Mohamed Rachid Chowdhary, president of the Bangladesh Qur'an Sunnah Parishad, said organising such Iftar tables and programmes for the Bangladeshi community in Qatar "offers us valuable opportunities to know each other and supports interaction among the Bangladeshi community, one of the largest communities in Qatar, which includes tens of thousands of Bangladeshi Muslims".
Noting that the initiative contributes to raising religious and social awareness, he thanked the donors and Qatar Charity for organising the table and associated programmes and activities.
Rezaul Haq Masum, a Bangladeshi community member, said the speeches delivered at the Iftar table contributed to correcting the false information that some of the community members had.
He added that the speeches also contributed to conveying the true message of Islam and Holy Qur'an to the audience, wishing that more such events were held.
For his part, Mohamed Reza al-Karim, another Bangladeshi community member, expressed pleasure at attending the Iftar table as it provided an important opportunity to communicate with each other and know the importance of the holy month of Ramadan.
Full report at:
http://www.gulf-times.com/story/594921/1-000-Bangladeshi-nationals-attend-QC-s-Iftar
--------
URL: https://www.newageislam.com/islamic-world-news/delhi-auto-rickshaw-driver-gives/d/115432
New Age Islam, Islam Online, Islamic Website, African Muslim News, Arab World News, South Asia News, Indian Muslim News, World Muslim News, Women in Islam, Islamic Feminism, Arab Women, Women In Arab, Islamophobia in America, Muslim Women in West, Islam Women and Feminism