New Age Islam News Bureau
8 March 2013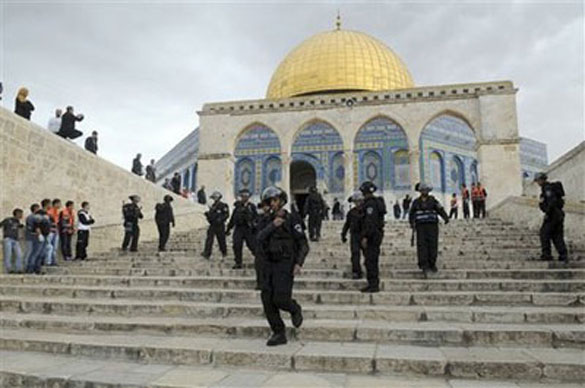 India
• Delegation of Saudi Ulema visits Darul Uloom Deoband
• Won't assist Pak PM in prayers at Dargah: Ajmer Sharif spiritual head
• Islamic Fiq'h Academy Holds Three Day Seminar on Elections, Shares and Bonds
• "Kashmir 'open' for tourists 365 days a year"
• Hyderabad: P Vivek held for misleading police on terror attack
• Khurshid rejects Ajmer priest's call to boycott Pak PM, says it's a private visit
• Delhi echoes in Dhaka's Shahbag Square
• 1 more held in Ajmer blasts case
• Pak senate chief 'slighted', Rajasthan governor said sorry
• Delhi's Jama Masjid Shahi Imam Stopped From Visiting Slain DSP's Home
• Terror arrests put south Gujarat under lens
• No normalization of ties with Pakistan till it ends terror: Manmohan Singh
• PM appeals to political parties to back land pact with B'desh
• Indo-Israel ties 'bear fruit' in Rajasthan
• India set to halt Iran oil imports, says MRPL
North America
• Islam compatible with universal human norms, Muslim scholars say
• No 'grand peace plan' for Israel: Obama
• Iran not a 'reliable' partner, US tells Pak
• US court charges al Qaeda spokesman on 9/11 crimes
• US urges Pakistan to avoid sanctions
• US court bails Pakistan bomb suspect
Mideast Asia
• Worshippers, Israel Police Clash at Al-Aqusa Over Quran
• Attacks and anti-Arab bigotry 'more acceptable' in Israel
• Iran: UN human rights rapporteur took US bribes
• Feminists Empower Opposition In New Israeli Knesset
• Yemeni president raises security concerns ahead of crucial dialogue
• With Syrian fighting at its doorstep, Israel prepares for next potential war with Hezbollah
Pakistan
• Eleven militants killed in Orakzai, Khyber
• Pakistan middle class fixes sights on China
• Pervez Musharraf names his price
• Kayani conveys Pak army's concerns over law and order to Zardari
• Pakistan PM advocates sterner steps against militant groups
• JI announces election manifesto on women rights
• PPP committed to protecting women rights: Kaira
• 'N' won't tolerate drones if voted to power: Nawaz
• Response to drone attacks: Court asks govt to study local, foreign laws
• JUI expects breakthrough in talks with Taliban
• ISI chief, others issued contempt notices
Arab World
• Iraqi Kurds Seek Recognition of Genocide by Saddam
• KSA offers India $ 625 bn investment opportunities
• Dissension Emerges Among Islamists in Egypt, Tunisia
• State Department Defers Award for Anti-Semitic Egyptian Activist
• Speaker Accuses Maliki of Meddling In Iraq's Independent Commissions
• Protester Killed as Egypt Braces for Court Verdict
• Saudi Arabia Orders Wal-Mart to Build 'Mechitzeh' Gender Wall
• Syria rebels want troop pullback before they free UN men
• Syria thanks BRICS for support against west
Europe
• UNESCO condemns violence against journalists in Pakistan
• Russia won't tell Assad to go
• UN in DR Congo 'army rape' ultimatum
Africa
• After Qadhafi, Libyan women now press back against rising Islamists
• Nigeria's president rejects Boko Haram amnesty call
• Moroccan Facebook Page Posts Compromising Photos of Girls
• Larayedh to unveil new Tunisia government
Southeast Asia
• Indonesia mulls 'no sex' signs after Estonian tourists caught in act in Bali temple
• Syrian rebels want to release UN peacekeepers: Philippines
• Indonesia, Germany set up advisory group
• Malaysians Fleeing Sabah Enter Indonesia
• Over 50 Arrests in Strife-Hit Malaysian State: Police
• Police Arrest Five Officers for Alleged Poso Torture
South Asia
• Jamaat-Shibir 'peddlers of religion': Says Islamic Front Bangladesh
• Four killed in knife attack in Xinjiang as fresh violence erupts
• Statement on violence against women in South Asia
• Afghanistan marks Women's Day with film festival
• Need for stable Afghanistan stressed at NUML conference
• Activist killed in clashes as strike hits Bangladesh
• A promise is a promise: Time to end violence against women
Compiled by New Age Islam News Bureau
Photo: Worshippers, Israel Police Clash at Al-Aqusa Over Quran
URL: https://www.newageislam.com/islamic-world-news/new-age-islam-news-bureau/delegation-of-saudi-ulema-visits-darul-uloom-deoband/d/10699
------------
India
Delegation of Saudi Ulema visits Darul Uloom Deoband
New Age Islam News Bureau
March 8, 2013
Deoband: A three member delegation comprising religious scholars of Madrasa Jamiat ul Harmain Nabwi situated in the Prophet's mosque visited the Darul Uloom Deoband on Thursday. The vice-chancellor of Darul Uloom, Maulana Abul Qasim Nomani greeted them in the guest house. The delegation expressed their pleasure at their visit saying it was their long-cherished desire to visit and see Darul Uloom and when they came to India they found it an opportunity to fulfil their desire. The members of the delegation said that the Darul Uloom had rendered valuable services in the spread of the religious learning in the world. They were impressed by the environment of learning and the ambience of the madrasa.
The three Ulema addressed a gathering after the prayers of Isha during which they stressed on the need of unity in the Ummah. They also reiterated the importance of following the pious and righteous Salaf (the first generation of Muslims). The purpose of their visit to India was not known.
------------
Won't assist Pak PM in prayers at Dargah: Ajmer Sharif spiritual head
TNN | Mar 8, 2013
NEW DELHI: Ajmer Sharif spiritual head has said that he will not assist Pakistan Prime Minister Raja Pervez Ashraf in offering prayers at the Sufi shrine of Khwaja Moinuddin Chishti.
"It will be a dishonour to the families of the Indian soldiers who were beheaded by Pak army," Ajmer Sharif Dargah Diwan Zainul Abedin Ali Khan said.
"I have no idea why he (Pakistan PM) is coming here," Ajmer Sharif Dargah Diwan said.
Pakistan PM Raja Pervez Ashraf is scheduled to undertake a private visit to the Sufi shrine of Khwaja Moinuddin Chishti at Ajmer on Saturday. He will not visit New Delhi, an official said on Thursday.
Raja Pervez Ashraf will be hosted for lunch by external affairs minister Salman Khurshid at the Hotel Rambag Palace in Ajmer on that day. "No substantive talks are scheduled" between the two sides, the external affairs spokesperson Syed Akbaruddin said at a news briefing.
The external affairs ministry is facilitating the day-long private visit of the Pakistan prime minister, he said.
Ashraf will be accompanied by members of his family and will arrive at Jaipur on March 9 morning and depart for Ajmer.
After completing his prayers, he will depart for Jaipur and take a special flight back to Islamabad that evening, the spokesperson said.
"He expressed a wish to visit Ajmer and we have abided by that desire. He will be extended due courtesies in accordance with diplomatic norms. All requirements that meet his needs are being met," he added.
The visit comes around two months after ceasefire violations on the Line of Control that led to heightened tensions between the two neighbours.
Pakistan President Asif Ali Zardari had visited the 13th century shrine on April 8 last year.
Zardari had landed in Delhi and driven straight for a luncheon meeting with Prime Minister Manmohan Singh and several other leaders. He had then flown to Jaipur and taken a chopper to Ajmer, where he spent around 20 minutes and offered flowers and chadar at the shrine.
He had been accompanied by his son Bilawal Bhutto Zardari and had also donated $1 million to the shrine.
http://timesofindia.indiatimes.com/india/Wont-assist-Pak-PM-in-prayers-at-dargah-Ajmer-Sharif-head/articleshow/18863860.cms
------------
Islamic Fiq'h Academy Holds Three Day Seminar on Elections, Shares and Bonds
New Age Islam News Bureau
March 8, 2013
Amrohad, India: A three day seminar on Islamic jurisprudence is going to be held in Amroha, India from March 9 to 13. The seminar will particularly discuss the issues of elections, shares and bonds and other related economic issues in view of the growing influence of Islamic banking in India and the world. The seminar is being organised by the Islamic Fiq'h Academy.
The secretary of the Academy said that the purpose of the Academy has been to discuss the issues of importance from the Muslim point of view and finding their solutions. He said that as a result of the deliberations in these seminars, many issues have been declared mubah (neutral, permissible) though earlier they were considered taboo. Since many Islamic banks have also started issuing shares and bonds, it was deemed necessary to discuss the issue in a global perspective, Mr Usmani said.
The seminar is expected to be attended by many world renowned Islamic jurists like Dr Abdul Razzaq Qasum from Algiers, Dr Najmuddin, Dr Rajab and Mashuque Yamak from Turkey, Maulana Ibrahim Bham from South Africa, Mufti Zubair Bayat from Durbin, Mufti Md Rizvi from Sri Lanka and others.
------------
"Kashmir open for tourists 365 days a year"
MADHUR TANKHA
Mar 08 2013
Minister releases colourful travel guide, maps and a pen drive
"A statement issued by Shah Rukh Khan to describe the picturesque beauty of Kashmir is equivalent to a hundred campaigns launched by us. The biggest star of Bollywood was in the Valley for an entire month shooting Yash Chopra's last film Jab Tak Hai Jaan. The State Government came to know that Khan and the rest of the cast were shooting in Kashmir. So our priority was to keep him safe and sound," said Jammu & Kashmir Minister of Tourism G. A. Mir here on Thursday referring to Shah Rukh Khan, who played a recklessly bold Army officer in the movie.
Full report at:
http://www.thehindu.com/news/cities/Delhi/kashmir-open-for-tourists-365-days-a-year/article4487609.ece
------------
Hyderabad: P Vivek held for misleading police on terror attack
March 08, 2013
Hyderabad police have arrested a man, who fabricated certain documents to make them believe that there is likelihood of another terrorist attack in the city.
Police have arrested P Vivek for misleading the police. A case under IT Act was booked against him at the cyber crime police station.
Full report at:
http://www.hindustantimes.com/India-news/Hyderabad/Hyderabad-Man-held-for-misleading-police-on-terror-attack/Article1-1023354.aspx
-----------
Khurshid rejects Ajmer priest's call to boycott Pak PM, says it's a private visit
March 8, 2013
Despite the growing demand in India to cancel Pakistan Prime Minister's Raja Pervez Ashraf's trip to Ajmer Sharif, the Centre remains unmoved.
A day after announcing to host lunch in the honour of Ashraf in Jaipur, External Affairs Minister Salman Khurshid said on Friday that "one shouldn't oppose a visiting dignitary who comes in to pray at a religious shrine".
Full report at:
http://indiatoday.intoday.in/story/pakistan-pm-raja-pervez-ashraf-ajmer-sharif-salman-khurshid-zainul-abedin-ali-khan/1/257078.html
------------
Delhi echoes in Dhaka's Shahbag Square
By Himanshi Dhawan, TNN | Mar 8, 2013
DHAKA: Months after the posters of 'Hang the rapists' and 'Am I just a body to be used?' were pulled down and the water-cannons left Jantar Mantar, the rage has found resonance 1,424km away. Dhaka's Shahbag Square, uniquely placed near a university and a business centre, has been echoing with cries of 'Phansi chai' and 'Hang the bloody razakars (collaborators)', since February 5.
Full report at:
http://timesofindia.indiatimes.com/world/south-asia/Delhi-echoes-in-Dhakas-Shahbag-Square/articleshow/18858337.cms
------------
1 more held in Ajmer blasts case
TNN & Agencies | Mar 8, 2013
JAIPUR/NEW DELHI: The National Investigation Agency on Thursday arrested a suspected right-wing terrorist Mafat Lal from Vadodara, Gujarat in connection with its probe in 2007 Ajmer blasts, the second person to be nabbed in the case this week.
Lal alias Mehul will be taken to a special NIA court in Jaipur which is hearing the case, official sources said. Lal is suspected to have played a crucial role in the conspiracy for the blasts in October 2007 that left three dead and 20 injured, they said. The NIA had on Tuesday arrested Bhavesh Patel from the national capital and produced him before a designated court in Jaipur. Patel was sent to 15 days custody.
Full report at:
http://timesofindia.indiatimes.com/india/1-more-held-in-Ajmer-blasts-case/articleshow/18856911.cms
------------
Pak senate chief 'slighted', Rajasthan governor said sorry
Shubhajit Roy
Mar 08 2013
New Delhi: India has promised to extend diplomatic "courtesy" to Pakistani Prime Minister Raja Pervez Ashraf during his private visit to Jaipur this weekend, but it has now come to light that local authorities committed a diplomatic faux pas when Pakistani Senate chairman Syed Nayyar Hussan Bukhari visited Ajmer in December.
Full report at:
http://www.indianexpress.com/news/pak-senate-chief-slighted-rajasthan-governor-said-sorry/1084937/
------------
Delhi's Jama Masjid Shahi Imam Stopped From Visiting Slain DSP's Home
Mar 08 2013
Delhi's Jama Masjid Shahi Imam Syed Ahmed Bukhari was stopped here this afternoon for nearly two hours while he was on way to the native village of DSP Zia-ul-Haq who was killed by a mob last Saturday.
The cleric, who was stopped in Gauri Bazar area, was later allowed to proceed to police officer's house in Zafuaar Tola in Noonkhar village, officials said.
Full report at:
http://news.outlookindia.com/items.aspx?artid=791507
------------
Terror arrests put south Gujarat under lens
Mar 08 2013
Surat: With the arrest of Bhavesh Patel and Mahesh Gohil this week for the 2007 Ajmer Sharif blast, south Gujarat is emerging as a base for those allegedly involved in terror activities. While Patel belongs to Bharuch, Gohil is from Vadodara.
The first one from south Gujarat to be arrested in a terror case was Sadhvi Pragya Singh Thakur. She was picked up from Surat by Mumbai ATS October 23, 2008, for her role in the September 2006 Malegaon blast that left 37 dead and over 100 injured. Pragya lived in Surat with her family.
Full report at:
http://www.indianexpress.com/news/terror-arrests-put-south-gujarat-under-lens/1084959/
---------
No normalization of ties with Pakistan till it ends terror: Manmohan Singh
PTI | Mar 8, 2013
NEW DELHI: On the eve of Pakistan Prime Minister Raja Parvez Ashraf's visit, India on Friday said there cannot be normalization of ties with it unless the terror machine still active there was brought under control.
Prime Minister Manmohan Singh said India has made sincere efforts to normalize its relations with Pakistan and had achieved some progress.
Full report at:
http://timesofindia.indiatimes.com/india/No-normalization-of-ties-with-Pakistan-till-it-ends-terror-Manmohan-Singh/articleshow/18862787.cms
------------
PM appeals to political parties to back land pact with B'desh
March 08, 2013
Prime Minister Manmohan Singh appealed to all political parties on Friday to show "wisdom" and endorse land accord with Bangladesh, which is expected to be tabled in the Parliament during the current session.
"As a means of promoting ties between the two countries, this House and the other House would have the wisdom to endorse the land border agreement that I signed in Bangladesh," Singh said in Rajya Sabha while replying to Motion of Thanks to the President's Address.
Full report at:
http://www.hindustantimes.com/India-news/newdelhi/PM-appeals-to-political-parties-to-back-land-pact-with-B-desh/Article1-1023158.aspx
------------
Indo-Israel ties 'bear fruit' in Rajasthan
By Rachna Singh, TNN | Mar 8, 2013
BASSI: During his two-day visit to Jaipur, ambassador of Israel, Alon Ushpiz, laid the foundation stone for an Indo-Israel Centre of Excellence (CoE) for pomegranate in Bassi. Earlier in the day, Ushpiz met chief minister Ashok Gehlot and discussed with him ways to enhance cooperation between Israel and Rajasthan, in the fields of agriculture and water.
Full report at:
http://timesofindia.indiatimes.com/city/jaipur/Indo-Israel-ties-bear-fruit-in-Rajasthan/articleshow/18857028.cms
---------
India set to halt Iran oil imports, says MRPL
Mar 08 2013
New Delhi: India is set to halt all crude imports from Iran because insurance companies in the country have said refineries processing the oil will no longer be covered due to Western sanctions, the head of refiner MRPL said on Friday.
India is Iran's second-largest buyer, taking around a quarter of its oil exports worth around $1 billion a month.
"If cover is not available then all Indian refiners will have to halt imports from Iran or else they will have to take a huge risk," P.P. Upadhya, managing director of Mangalore Refinery and Petrochemicals Ltd, said.
Full report at:
http://www.indianexpress.com/news/india-set-to-halt-iran-oil-imports-says-mrpl/1085147/
-----------
North America
Islam compatible with universal human norms, Muslim scholars say
Mar 08 2013
NEW YORK, March 7 (APP): A conference of leading Muslim scholars from across the world, held in Istanbul earlier this week, adopted a strongly worded resolution that reaffirmed Islam's compatibility with universal human norms and called on religious institutions in Afghanistan, Pakistan and neighbouring countries to help end violence. The document will be circulated to more than 160,000 mosques in Afghanistan so that its findings may trickle into individual consciences there, according to an article published in the New York Times on Thursday.
Full report at:
http://app.com.pk/en_/index.php?option=com_content&task=view&id=228045&Itemid=2
------------
No 'grand peace plan' for Israel: Obama
March 08, 2013
US President Barack Obama is playing down expectations for a Mideast peace breakthrough during his upcoming trip to Israel, telling American Jewish leaders that he will not be carrying a "grand peace plan" when he arrives in the region later this month.
Obama, in an hourlong private meeting at the White House on Thursday, acknowledged that near-term prospects for peace are bleak. That's according to a person who attended the discussion. But the president said a deal with the Palestinians remains the only way for Israel to achieve long-term security.
The person who attended the meeting was not authorised to discuss it publicly and requested anonymity.
http://www.hindustantimes.com/world-news/northamerica/No-grand-peace-plan-for-Israel-Obama/Article1-1023118.aspx
------------
Iran not a 'reliable' partner, US tells Pak
Washington, March 08, 2013
The United States has asked Islamabad not to go ahead with Iran-Pak gas pipeline deal as Iran is not a "reliable" partner and would also violate its sanctions on the country under Iran Sanctions Act (ISA).
"Just to be absolutely clear, if the deal for a proposed Iran-Pakistan pipeline is finalised, it would raise serious concerns under our Iran Sanctions Act. We've made that absolutely clear to our Pakistani counterparts," State Department spokesperson, Victoria Nuland said on Thursday.
Full report at:
http://www.hindustantimes.com/world-news/northamerica/Iran-not-a-reliable-partner-US-tells-Pak/Article1-1023024.aspx
------------
US court charges al Qaeda spokesman on 9/11 crimes
March 08, 2013
A senior al Qaeda leader and member of Osama bin Laden's inner circle was charged on Thursday with conspiring to kill Americans in his role as the terror network's top propagandist who lauded the attacks of Sept. 11, 2001 and warned there would be more.
Officials said Sulaiman Abu Ghaith, who was born in Kuwait and was bin Laden's son-in-law, was captured in Jordan over the last week. He will appear Friday in US federal court in New York, according to a Justice Department statement and indictment outlining the accusations against Abu Ghaith.
Full report at:
http://www.hindustantimes.com/world-news/northamerica/US-court-charges-al-Qaeda-spokesman-on-9-11-crimes/Article1-1023074.aspx
---------
US urges Pakistan to avoid sanctions
March 8, 2013
WASHINGTON: The United States urged Pakistan on Thursday not to go in the direction that leads to sanctions as Islamabad prepares to conclude a gas pipeline deal with Iran.
Asked to comment on the issue, US State Department's spokesperson Victoria Nuland said the United States had already made it clear that the proposed pipeline would violate US sanctions. "We have made it absolutely clear to our Pakistan counterparts" that the proposed deal will violate US sanction laws, Ms Nuland said.
Full report at:
http://dawn.com/2013/03/08/us-urges-pakistan-to-avoid-sanctions/
-----------
US court bails Pakistan bomb suspect
8 March 2013
A US man accused of giving "material support" for a deadly suicide bombing in the Pakistani city of Lahore in 2009 has been given bail by a US court.
Reaz Qadir Khan, a naturalised US citizen, denies assisting three men who carried out the attack on the intelligence HQ in Lahore.
He pleaded not guilty on Tuesday in court in the city of Portland, Oregon. He faces a life sentence if convicted.
Full report at:
http://www.bbc.co.uk/news/world-asia-21712647
-------------
Mideast Asia
Worshippers, Israel Police Clash at Al-Aqusa Over Quran
March 08, 2013
Jerusalem. Palestinians enraged by reports that an Israeli policeman mishandled a Quran battled riot officers at Jerusalem's Al-Aqusa mosque compound with stones and petrol bombs on Friday, police and witnesses said.
Police spokesman Micky Rosenfeld said that about 100 protesters, many of them masked, attacked police, who fired stun grenades in response.
"Petrol bombs were thrown at police," he told AFP. "Several police officers were injured by stones that were thrown and were evacuated to hospital."
Full report at:
http://www.thejakartaglobe.com/international/worshippers-israel-police-clash-at-al-aqsa-over-Quran/578431
---------
Attacks and anti-Arab bigotry 'more acceptable' in Israel
Hugh Naylor
Mar 8, 2013
RAMALLAH // A spate of epithet-laced attacks by young Israeli Jews against Arabs indicates anti-Muslim and anti-Arab bigotry is becoming more acceptable in many sectors of Israeli society, according to rights workers.
Police have arrested four people, including two minors, over the bludgeoning on Saturday of an Arab Israeli citizen on holiday with his wife in the Israeli city of Tiberius, Israel's Yedioth Ahronoth newspaper reported this week.
That was at least the fourth attack in Israel in the last month targeting Palestinians and Arab citizens, about 20 per cent of Israel's population of 7.7 million people.
Full report at:
http://www.thenational.ae/news/world/middle-east/attacks-and-anti-arab-bigotry-more-acceptable-in-israel#ixzz2MwXiVeiU
------------
Iran: UN human rights rapporteur took US bribes
Mar 08 2013
Tehran : An Iranian official has accused the UN special rapporteur for human rights in Iran of taking bribes from the United States. A report today by the semi-official ISNA news agency quotes Mohammad Javad Larijani, secretary general of Iran's high council for human rights, as saying Ahmed Shaheed "received money" from the US. He said that was why he could only parrot US allegations against Iran. He did not detail the evidence.
Full report at:
http://www.indianexpress.com/news/iran-un-human-rights-rapporteur-took-us-bribes/1085164/
------------
Feminists Empower Opposition In New Israeli Knesset
By: Mazal Mualem
Mar 08 2013
The emerging opposition has excellent opening odds to be recorded as one of the strongest in the history of the Knesset. The combination of combative women and ultra-Orthodox and Arab men, all of whom head parties with a social-welfare orientation and represent weaker elements of the population, promises that it will be interesting.
When one thinks about it, this is also likely to be good news for rehabilitating the image of the opposition institution. The outgoing Knesset transformed the opposition to a lifeless entity, empty of content and symbol of retreat vis-à-vis a predatory government, to the extent of threatening the democratic balance of power.
Full report at:
http://www.al-monitor.com/pulse/originals/2013/03/allialce-women-left-men-ultra-orthodox.html#ixzz2Mwf62RlF
----------
Yemeni president raises security concerns ahead of crucial dialogue
Omar Karmi
Mar 8, 2013
LONDON // The Yemen president, Abdrabu Mansur Hadi, yesterday ordered bolstered security for an upcoming national dialogue described as "central" to Yemen's future at an international meeting on the country.
The army and security forces must be "vigilant" and be on the lookout "for the enemies of security, stability and unity in Yemen," ahead of the March 18 talks, the official Saba news agency reported him as saying. The dialogue between Yemen's many political and tribal factions comes more than a year after a popular uprising against his forced Ali Abdullah Saleh to hand over the presidency. The talks are seen as key to Yemen's transition to a democratic government in 2014 - as per a Gulf Cooporation Council plan.
Full report at:
http://www.thenational.ae/news/world/middle-east/yemeni-president-raises-security-concerns-ahead-of-crucial-dialogue#ixzz2MwYK4mRP
------------
With Syrian fighting at its doorstep, Israel prepares for next potential war with Hezbollah
March 08, 2013
Associated Press
REVIVIM JUNCTION, Israel – On a dusty field in Israel's southern desert, the military is gearing up for the next battle against a familiar foe: Hezbollah guerrillas in Lebanon.
As the Syrian civil war intensifies, military planners are growing increasingly jittery that the fighting could spill over into Israel, potentially dragging the Islamic militant group that is allied with President Bashar Assad into the fray. After battling Hezbollah to a stalemate in 2006, the Israeli military says it has learned key lessons and is prepared to inflict heavy damage on the group if fighting begins again.
Full report at:
http://www.foxnews.com/world/2013/03/08/with-syrian-fighting-at-its-doorstep-israel-
------------
Pakistan
Eleven militants killed in Orakzai, Khyber
Zahir Shah Sherazi
March 8, 2013
PESHAWAR: Eleven suspected militants were killed in action by security forces in the north-western tribal regions of Khyber and Upper Orakzai, DawnNews reported on Friday.
Security forces also destroyed several militant hideouts during the operation.
In Khyber tribal region's Tirah Valley, the forces used fighter jets to target insurgent positions, killing three suspected militants and destroying several of their hideouts.
Full report at:
http://dawn.com/2013/03/08/eleven-militants-killed-in-orakzai-khyber/
-----------
Pakistan middle class fixes sights on China
AFP | Mar 8, 2013
ISLAMABAD: When Misbah Rashid taught Chinese 30 years ago, few signed up. Today her department has more than 200 Pakistani students, increasingly attracted by the prospect of an affordable education and a job.
For decades, a foreign education was the preserve of the richest who could afford the stratospheric expense of sending their progeny to Oxford or Harvard to mingle with an international Westernised elite.
Full report at:
http://timesofindia.indiatimes.com/world/pakistan/Pakistan-middle-class-fixes-sights-on-China/articleshow/18861815.cms
-----------
Pervez Musharraf names his price
By Sandeep Unnithan
Mar 08 2013
Ex- dictator ties up with website for novel initiative to raise funds
GENERAL Pervez Musharraf needs your money. Pakistan's former military dictator and President, who on March 1 announced an end to his self-imposed four- year exile, has put out a price- list for access.
So here's what you need to shell out for a date with the General — $ 2,500 (` 1.37 lakh) will get you a ticket from Dubai to Pakistan for a trip with Musharraf later this month; $ 1,000 (` 54,780) will buy you dinner with him the evening before and for half that price, you could skip dinner to just attend the reception and score a photo op.
Full report at: Mail Today
------------
Kayani conveys Pak army's concerns over law and order to Zardari
March 08, 2013
The Pakistan army's concerns about rapidly deteriorating law and order across the country have been conveyed to President Asif Ali Zardari by army chief General Ashfaq Parvez Kayani, who has called for urgent steps to deal with the situation.
Kayani told Zardari about the military's concerns on Thursday shortly after he chaired a meeting of the army's corps commanders.
During the conference, the army's top brass reviewed the internal security situation in the wake of a series of devastating terror attacks against Shias in Quetta and Karachi that killed nearly 250 people.
Full report at:
http://www.hindustantimes.com/world-news/pakistan/Kayani-conveys-Pak-army-s-concerns-over-law-and-order-to-Zardari/Article1-1023146.aspx
------------
Pakistan PM advocates sterner steps against militant groups
March 08, 2013
Pakistan Prime Minister Raja Pervez Ashraf has called for "stern action" against all banned militant groups, saying attacks like the recent bombing of a Shia neighbourhood in Karachi were aimed at weakening the country's social fabric.
"Directions have been issued for carrying out stern action against all the banned outfits without any discrimination not only by me but by the president as well," he said in his opening remarks at a meeting of his cabinet.
Full report at:
http://www.hindustantimes.com/world-news/pakistan/Pakistan-PM-advocates-sterner-steps-against-militant-groups/Article1-1023069.aspx
------------
JI announces election manifesto on women rights
Mar 08 2013
Friday, March 08, 2013 - Lahore—The Jamaat-e-Islami Pakistan has resolved to ensure the protection of all rights of women and eliminate every kind of violence against them.
JI demanded of the government to provide health, education, employment opportunities and social justice to the women as prescribed by Islam and the constitution.
JI Secretary General Liaqat Baloch, JI Women wing Secretary General Rukhsana Jabeen, senior leader Aafia Serwar and former MNA Sameeha Raheel Qazi said this while announcing its election manifesto during a press conference here at the Lahore Press Club in connection with the world Women's Day on Thursday.
Full report at:
http://pakobserver.net/detailnews.asp?id=199290
------------
PPP committed to protecting women rights: Kaira
March 8, 2013
ISLAMABAD: Minister for Information and Broadcasting Qamar Zaman Kaira Friday said protection of women rights has been one of the top priorities of the coalition government, adding that the Pakistan People's Party (PPP) remains committed to the well being and empowerment of the female segment of society.
Speaking in National Assembly in connection with the International Women's Day, the minister said women were still considered the less privileged component of society and that their role in nation building and national progress was appreciable.
Full report at:
http://dawn.com/2013/03/08/ppp-committed-to-protect-women-rights-kaira/
-----------
'N' won't tolerate drones if voted to power: Nawaz
March 8, 2013
LAHORE: Pakistan Muslim League-N president Nawaz Sharif says if voted to power his party will not tolerate drone attacks on Pakistani soil.
"Drone attacks are against the national sovereignty and a challenge for the country's autonomy and independence. Therefore, we won't tolerate these attacks in our territorial jurisdictions," he told a press conference while presenting PML-N's election manifesto here on Thursday.
Full report at:
http://dawn.com/2013/03/08/n-wont-tolerate-drones-if-voted-to-power-nawaz/
-----------
Response to drone attacks: Court asks govt to study local, foreign laws
March 8, 2013
PESHAWAR: The Peshawar High Court on Thursday directed the federal government to examine national and international laws for helping it in the case against the US drone attacks in Pakistani tribal areas bordering Afghanistan.
Also, Chief Justice Dost Mohammad Khan and Justice Irshad Qaiser, who formed a bench, gave the same task to the petitioners, including Defence of Pakistan Council (DPC), Foundation for Fundamental Rights (FFR), lawyer FM Sabir and tribal elder Malik Noor Khan.
Full report at:
http://dawn.com/2013/03/08/response-to-drone-attacks-court-asks-govt-to-study-local-foreign-laws/
-----------
JUI expects breakthrough in talks with Taliban
March 8, 2013
SWABI: A breakthrough was expected in brokering talks between Tehrik-i-Taliban Pakistan and the government, said Jamiat Ulema-i-Islam-Fazl central deputy chief Maulana Gul Naseeb.
Addressing a conference organised by JUI-F here on Thursday, he said that the stage was set for holding negotiations with Taliban that would bear positive results.
Mr Nasseb said that the all-party conference, convened by JUI-F recently, empowered a jirga of tribal elders to facilitate dialogue with Taliban under the guidance of political and religious leadership to restore peace in the country.
Full report at:
http://dawn.com/2013/03/08/jui-expects-breakthrough-in-talks-with-taliban/
-----------
ISI chief, others issued contempt notices
March 8, 2013
ISLAMABAD: Justice Riaz Ahmed Khan of Islamabad High Court (IHC) on Thursday issued notices to Lt-Gen Zaheerul Islam, the director general of the Inter Services Intelligence (ISI), and other government functionaries on a contempt of court petition filed by four civilian officials of the spy agency.
In their petition, junior analysts Sajjad Ali, Shahid Dilawar, Mohammad Shafiq and Gul Dad contended that they had been working in BPS-18 on contractual basis but despite directions of the court the respondents were not regularising their services.
Full report at:
http://dawn.com/2013/03/08/isi-chief-others-issued-contempt-notices-2/
-----------
Arab World
Iraqi Kurds Seek Recognition Of Genocide by Saddam
By: Abdel Hamid Zebari
Mar 08 2013
Late last month, the British parliament recognized the genocide committed against the Kurdish population under the former Iraqi regime. This recognition was widely welcomed by Iraq's Kurdish parties, which seek to gain complete international recognition for the genocide.
In December 2012, the Swedish parliament did the same and acknowledged that the Anfal Campaign amounted to genocide against Iraqi Kurds.
Kurdish efforts to gain international recognition of the massacres against them at the hands of Saddam Hussein's regime date back to early 2008. At the time, Iraq's parliament recognized the Anfal Campaign carried out by Iraqi forces in 1988 as an act of genocide against the Kurds.
Full report at:
http://www.al-monitor.com/pulse/originals/2013/03/iraq-kurds-genocide.html#ixzz2MwekVAXi
------------
KSA offers India $ 625 bn investment opportunities
8 March 2013
Saudi Arabia is offering investment opportunities worth $ 625 billion to Indian businessmen in vital sectors such as infrastructure, petrochemicals, electricity, IT, tourism, natural gas production, agriculture and education.
"We had successful meetings with Indian business leaders and executives in New Delhi, Hyderabad and Lucknow," said Abdul Rahman Al-Rabiah, chairman of Saudi-India Joint Business Council (JBC) who is currently leading a high-level Saudi trade delegation to India.
"It was excellent," Al-Rabiah told Arab News when asked about the result of the March 5-8 business visit organized by the Federation of India Chambers of Commerce and Industry (FICCI). The Saudi delegation will return to the Kingdom today (Friday).
Full report at:
http://www.arabnews.com/saudi-arabia/ksa-offers-india-625-bn-investment-opportunities
-----------
Dissension Emerges Among Islamists In Egypt, Tunisia
Mar 08 2013
Political dissension among the Islamists in the "Arab spring countries" did not take long to emerge once in power. They are reflected in the increasingly difficult and tense relations, the constant exchange of accusations and criticism between them. Such is clear between the Muslim Brotherhood on one hand, represented by the Egyptian freedom and justice party or the Tunisian Ennahda — despite some differences revolving around national contexts and experience — and the Salafist constituency on the other hand. Various observations can be made about these dissensions.
Full report at:
http://www.al-monitor.com/pulse/originals/2013/03/islamism-faces-new-trends-as-ara.html#ixzz2MwdB35ET
------------
State Department Defers Award For Antisemitic Egyptian Activist
MARCH 8, 2013
The U.S. State Department has delayed an award it had planned for Egyptian women's rights activist Samira Ibrahim, the alleged author of anti-Semitic and anti-American tweets.
Ibrahim, who was set to be honored by Secretary of State John Kerry and First Lady Michelle Obama on March 8 as one of 10 recipients of the International Women of Courage Award, reportedly tweeted the following after last summer's bus bombing that killed five Israelis in Bulgaria: "An explosion on a bus carrying Israelis in Burgas airport in Bulgaria on the Black Sea. Today is a very sweet day with a lot of very sweet news."
Full report at:
http://www.algemeiner.com/2013/03/08/state-department-defers-award-for-antisemitic-egyptian-activist/
------------
Speaker Accuses Maliki of Meddling In Iraq's Independent Commissions
By: Ali Abel Sadah
Mar 08 2013
The speaker of the Council of Representatives of Iraq is back to criticizing the prime minister and accusing him of interfering in the work of independent bodies, while tension prevails in parliament between the State of Law and Iraqiya List blocks as their MPs continue to air dirty laundry.
Osama al-Nujaifi, a Sunni leader from the Iraqiya List, deviated from executive measures taken by Nouri al-Maliki last February by isolating the head of the de-Baathification commission. Nujaifi said in a press conference held on Feb. 5 and attended by Al-Monitor that "Maliki continues to interfere with the work of independent bodies."
Full report at:
http://www.al-monitor.com/pulse/originals/2013/03/maliki-nujaifi-laundry.html#ixzz2MwfIfBHY
------------
Protester Killed as Egypt Braces for Court Verdict
March 08, 2013
Port Said. A protester was shot dead in clashes in Port Said early on Friday on the eve of a court verdict on a deadly football riot, with unrest pushing Egypt's already precarious government to the brink.
The government has largely lost its hold on security in the restive Suez Canal city since protests erupted there in late January after a court sentenced 21 defendants to death in the case.
On Saturday the court, again sitting for security reasons in the capital, is due to judge the remaining 52 defendants for their involvement in a 2011 stadium riot that killed 74 people, mostly fans of visiting Cairo side Al-Ahly.
Full report at:
http://www.thejakartaglobe.com/international/protester-killed-as-egypt-braces-for-court-verdict/578428
------------
Saudi Arabia Orders Wal-Mart to Build 'Mechitzeh' Gender Wall
By Chana Ya'ar
3/7/2013
In Saudi Arabia, Wal-Mart stores have been ordered to build a gender separation wall -- actually a mechitzeh – to divide men and women in the workplace.
The idea is an ancient one, dating back far beyond Islam to Biblical times when G-d first Commanded the People of Israel to form a quorum for certain prayers solely from a group of ten adult males.
Full report at:
http://www.israelnationalnews.com/News/News.aspx/165982#.UTm5S9bfDqE
------------
Syria rebels want troop pullback before they free UN men
Reuters | Mar 7, 2013
BEIRUT: Rebels holding 21 UN peacekeepers near the Golan Heights in southern Syria say government forces must leave the area before they free their "guests", an activist in touch with the fighters said on Thursday.
Rami Abdelrahman of the Syrian Observatory for Human Rights quoted a spokesman for the "Martyrs of Yarmouk" rebel brigade as saying the peacekeepers were being held as "guests" in the village of Jamla, about a mile (1.6 km) from a ceasefire line with the Israeli-occupied Golan Heights.
Full report at:
http://timesofindia.indiatimes.com/world/middle-east/Syria-rebels-want-troop-pullback-before-they-free-UN-men/articleshow/18852538.cms
------------
Syria thanks BRICS for support against west
AFP | Mar 8, 2013
NEW DELHI: A top Syrian regime official thanked the BRICS group of emerging powers on Friday for its support, which she said had prevented western military intervention and the "destruction" of the country.
Bouthaina Shaaban, a cabinet-level adviser to Syrian President Bashar al-Assad, told reporters in New Delhi that Damascus was grateful to the BRICS countries of Brazil, Russia, India, China and South Africa.
Full report at:
http://timesofindia.indiatimes.com/world/middle-east/Syria-thanks-BRICS-for-support-against-west/articleshow/18866526.cms
------------
Europe
UNESCO condemns violence against journalists in Pakistan
March 8, 2013
UNITED NATIONS: Director-General of UNESCO, Irina Bokova voiced concern over the killing of two journalists on Thursday.
"I am deeply concerned over the killing of Mehmood Jan Afridi and Malik Mumtaz," the Director-General said.
"Measures must be taken to improve the safety of journalists in Pakistan for the sake of press freedom and freedom of expression, which are essential for democracy and rule of law. I trust that these murders will be investigated thoroughly and that their culprits will be brought to trial." Bokova stated.
Full report at:
http://tribune.com.pk/story/517706/unesco-condemns-violence-against-journalists-in-pakistan/
-----------
Russia won't tell Assad to go
8 March 2013
MOSCOW: Russia will "absolutely not" tell Syrian President Bashar Assad to step down to end the civil war and make way for a political transition, Foreign Minister Sergei Lavrov said in comments published on Friday.
The remarks to the BBC were a reiteration of Moscow's position that Assad's exit must not be a precondition for a negotiated solution to the two-year-old conflict that has killed more than 70,000 people.
Full report at:
http://www.arabnews.com/middle-east/russia-won%E2%80%99t-tell-assad-go
-----------
UN in DR Congo 'army rape' ultimatum
8 March 2013
The UN peace force in the Democratic Republic of Congo has issued an ultimatum to two units within the army over allegations of mass rape.
Unless swift legal action was taken against the accused soldiers before the end of March, the UN said it would stop working with their brigades.
In December, it said it had evidence of at least 126 rapes carried out by soldiers fleeing a rebel offensive.
Full report at:
Rwanda and Uganda have denied UN allegations that they are backing the rebellion's leaders.
http://www.bbc.co.uk/news/world-africa-21713114
-----------
Africa
After Qadhafi, Libyan women now press back against rising Islamists
Published March 07, 2013
Associated Press
BENGHAZI, Libya – On her way back from her job as a lecturer at a university near Tripoli, Libyan poet Aicha Almagrabi was stopped by a group of bearded militiamen. They kicked her car, beat up her driver and threatened to do the same to her. Her offense: being alone in a car with men without a male relative as a guardian.
"You have violated the law of God," the militiamen told her, Almagrabi said.
"I said, I teach male students, so should I bring a male guardian with me to classroom?" she told The Associated Press.
Not that the university is immune to increasingly bold conservatives' views on the role of women. Almagrabi said one student recently told her she shouldn't be giving lectures because a woman's voice is "awra" — too intimate and shameful to be exposed in public.
Full report at:
http://www.foxnews.com/world/2013/03/07/after-gadhafi-libyan-women-now-press-back-against-rising-islamists/#ixzz2Mwbf4iNN
------------
Nigeria's president rejects Boko Haram amnesty call
8 March 2013
Nigerian President Goodluck Jonathan says his government cannot grant an amnesty to the militant Islamist group Boko Haram because it is not known who its members are or what they want.
He said the group's members were like ghosts, operating under a veil.
A Nigerian Muslim leader recently suggested such an amnesty could help end violence ravaging northern Nigeria.
Full report at:
http://www.bbc.co.uk/news/world-africa-21709915
-----------
Moroccan Facebook Page Posts Compromising Photos of Girls
By: Mohammed Boudarham Translated from TelQuel
Mar 08 2013
Over the last couple of weeks, a Facebook page called "Scoop Marrakech" has been terrorizing young girls from Marrakech. Its owner is behind bars, but compromising photos continue to be published on it. The following are details of an investigation with which the police are struggling.
You have probably heard of the Facebook page that has wreaked havoc in the Ochre City and tarnished the reputation of dozens of young women. Photos taken in schools, swimming pools, cafes and even private parties such as birthdays or weddings are tastelessly published there. Full report at:
http://www.al-monitor.com/pulse/culture/2013/02/morocco-facebook-scandal-marrakech.html#ixzz2MwcmrIaT
------------
Larayedh to unveil new Tunisia government
March 08, 2013
Tunisia's new coalition government will be unveiled on Friday, premier-designate Ali Larayedh said, after a deal was reached in last-minute talks aimed at ending the country's political crisis.
"After marathon negotiations, we have reached an agreement on the government... we are
going to give it the final touch tomorrow morning" before presenting the plan to the president, Larayedh said late Thursday.
Larayedh, the outgoing interior minister, added that the parties had reached an agreement on a political program for the new government that would guide its priorities, policies and commitments, according to President Moncef Marzouki's office.
Full report at:
http://www.hindustantimes.com/world-news/restofasia/Larayedh-to-unveil-new-Tunisia-government/Article1-1023027.aspx
---------
Southeast Asia
Indonesia mulls 'no sex' signs after Estonian tourists caught in act in Bali temple
Agence France-Presse
Mar 8, 2013
DENPASAR, INDONESIA // Officials on the Indonesian island of Bali are considering putting up "no sex" signs at Hindu temples after a Estonian couple were caught in the act.
Police took the pair in for questioning after they were found by youth leaders who had gone to check up on repairs at the temple in the village of Saraseda.
"They said they really did not know that sex at temples was prohibited in Bali, so we just let them go and left it up to the village heads to decide how to handle the case," Gianyar district police chief Hadi Purnomo told said
"In the end, the village decided they wanted to hold a cleansing ceremony and ordered the couple to pay 20 million rupiah (US$2,000) to fund the ritual."
Full report at:
http://www.thenational.ae/news/world/asia-pacific/indonesia-mulls-no-sex-signs-after-estonian-tourists-caught-in-act-in-bali-temple#ixzz2MwY6pnAo
---------
Syrian rebels want to release UN peacekeepers: Philippines
Mar 08 2013
Syrian rebels who seized 21 Filipino U.N. peacekeepers in the Golan Heights want the Red Cross to escort them out of the area because of fighting with Syrian government forces, the Philippine military said on Friday.
The 21 peacekeepers were seized on Wednesday near the Syrian village of Jamlah, just a km from the Israeli-controlled Golan Heights in an area where the U.N. force had patrolled a ceasefire line between Israel and Syria without incident for nearly four decades.
Full report at:
http://www.thehindu.com/news/international/world/syrian-rebels-want-to-release-un-peacekeepers-philippines/article4487463.ece
------------
Indonesia, Germany set up advisory group
Frans Surdiasis
March 08 2013
Indonesia and Germany have agreed to establish an advisory group to further strengthen economic and people-to-people relations between the two countries.
The team set up during the state visit of President Susilo Bambang Yudhoyono to the country, will provide their respective governments with recommendations and initiatives on how to boost relationships in the area of people-to-people contacts and business, the Indonesian Ambassador to Germany, Eddy Pratomo said on Wednesday.
Full report at:
http://www.thejakartapost.com/news/2013/03/08/indonesia-germany-set-advisory-group.html
------------
Malaysians Fleeing Sabah Enter Indonesia
Tunggadewa Mattangkilang | March 08, 2013
Nunukan, East Kalimantan. Malaysian citizens have begun to trickle into Indonesian territory through Sebatik Island in East Kalimantan, following recent deadly clashes between Malaysian security forces and the Filipino followers of a self-proclaimed sultan in Lahad Datu, Sabah.
North Sebatik ward Zulkifli said Malaysian nationals who resided near the Melayu River started to enter Indonesia four days ago but did not stay long, returning to their homes as soon as the situation stabilized.
Full report at:
http://www.thejakartaglobe.com/home/malaysians-fleeing-sabah-enter-indonesia/578403
------------
Over 50 Arrests in Strife-Hit Malaysian State: Police
March 08, 2013
Felda Sahabat, Malaysia. Malaysian police said on Friday they had arrested more than 50 people in a remote state for suspected links to a nearly month-long incursion by armed Filipino Islamists.
Clashes between the gunmen and its security forces have left 60 people dead, and Malaysia has rejected a call by the fighters' leader for a ceasefire in a farming region where the militants are being pursued.
In announcing the arrests, federal police chief Ismail Omar said they had all occurred in other areas of the state of Sabah, outside the battle zone where the militants and armed forces were facing off.
Full report at:
http://www.thejakartaglobe.com/international/over-50-arrests-in-strife-hit-malaysian-state-police/578434
------------
Police Arrest Five Officers for Alleged Poso Torture
Farouk Arnaz | March 08, 2013
The Central Sulawesi Police have detained five of its members for allegedly torturing 14 suspected terrorists in Poso who were later cleared of all charges.
Central Sulawesi Police chief Brig. Gen. Dewa Parsana said the five people were among 18 officers supposedly involved in the incident, which took place in December of last year.
The then-suspected terrorists were arrested for their purported involvement in the shooting of four members of the police's mobile brigade (Brimob) in Poso — dubbed a hotbed of terrorism — during the summer of 2012.
Full report at:
http://www.thejakartaglobe.com/news/police-arrest-five-officers-for-alleged-poso-torture/578437
------------
South Asia
Jamaat-Shibir 'peddlers of religion': Says Islamic Front Bangladesh
8 March 2013
The leaders of Islamic Front Bangladesh (IFB) yesterday labelled Jamaat-e-Islami and pro-Jamaat student body Islami Chhatra Shibir as "peddlers of religion".
Those who torch vehicles, power stations and houses of minorities and kill law enforcers have no connection with Islam, they said, referring to the recent Jamaat-Shibir terror unleashed after Delawar Hossain Sayedee was sentenced to death on February 28.
M Solaiman Farid, joint secretary general of the party, said Jamaat-Shibir was causing damage to the state as well as the religion.
Full report at:
http://www.thedailystar.net/beta2/news/jamaat-shibir-peddlers-of-religion/
-------------
Four killed in knife attack in Xinjiang as fresh violence erupts
Sutirtho Patranobis, Hindustan Times
March 08, 2013
At least four persons were killed and eight injured in a knife attack on Thursday in the restive north-western region of Xinjiang.
In 2009, nearly 200 people were killed in rioting between members of the Muslim Uyghur -- the majority community in the autonomous region -- and Han Chinese communities.
Thursday attacks happened as the Communist Party of China (CPC) chief of Xinjiang, Zhang Chunxian, in Beijing for the ongoing session of the National People's Congress (NPC), said : "Although the situation [in Xinjiang] remains tough, the overall stability in Xinjiang is improving and under control."
Full report at:
http://www.hindustantimes.com/world-news/china/Four-killed-in-knife-attack-in-Xinjiang-as-fresh-violence-erupts/Article1-1023149.aspx
------------
Statement on violence against women in South Asia
March 8, 2013
On international women's day, we, the South Asian Regional Secretariat of Women Parliamentarians (SARSWP), representing (Afghanistan, Bangladesh, India, Nepal, Pakistan and Sri Lanka), draw attention to the increase in violence against women in our region and the urgent need to take effective action to prevent violence. We strongly condemn the various incidents of violence against women and girls in our own countries and also within our region.
Full report at:
http://www.dailytimes.com.pk/default.asp?page=2013\03\08\story_8-3-2013_pg7_22
-----------
Afghanistan marks Women's Day with film festival
March 8, 2013
HERAT: Afghanistan's first international women's film festival opened in the western city of Herat on the eve of International Women's Day. The event, which runs from March 7 to March 9, features 30 films from 20 countries including Afghanistan, Iran, India, Canada, South Korea, China, and Bangladesh.
Roya Sadat, chairwoman of the festival, said the festival was designed to "build a better connection between the Afghan women in and outside the country"and act as a forum to debate the challenges they face.
Full report at:
http://dawn.com/2013/03/08/afghanistan-marks-womens-day-with-film-festival/
-----------
Need for stable Afghanistan stressed at NUML conference
By Kiyya Qadir Baloch
March 8, 2013
ISLAMABAD: Romanian Institute for European Asian Studies President Ambassador George Savuica urged the international community to take immediate political and economic measures in order to bring peace and stability in Afghanistan.
He was addressing to the concluding ceremony of a two-day international conference on 'US-NATO Exit from Afghanistan: Challenges and Options Beyond 2014', organised by the National University of Modern Languages (NUML) Faculty of International Relations, Conflict and Peace Studies in the capital.
Full report at:
http://www.dailytimes.com.pk/default.asp?page=2013\03\08\story_8-3-2013_pg11_2
-----------
Activist killed in clashes as strike hits Bangladesh
AGENCE FRANCE PRESSE
8 March 2013
DHAKA: A young ruling party activist was beaten to death during clashes in northwestern Bangladesh yesterday as a nationwide strike called by the opposition shut schools and businesses across the country.
The opposition Bangladesh Nationalist Party enforced the strike to protest at police firing on a rally on Wednesday, when at least two senior party officials were hit by rubber bullets in front of the BNP headquarters.
Full report at:
http://www.arabnews.com/world/activist-killed-clashes-strike-hits-bangladesh
------------
A promise is a promise: Time to end violence against women
STAFF CORRESPONDENT
8 March 2013
People around the world will observe International Women's Day today with this year's theme, "A promise is a promise: Time for action to end violence against women".
UN Secretary-General Ban Ki-moon has issued a message on the occasion, saying "there is one universal truth, applicable to all countries, cultures and communities: violence against women is never acceptable, never excusable, and never tolerable."
The UN chief has termed violence against women a global pandemic and called on all governments, civil society, women's organisations, men, youths, private sector, mass media and the UN system to join forces to address it under the campaign "Unite".
Full report at:
http://www.thedailystar.net/beta2/news/a-promise-is-a-promise-time-to-end-violence-against-women/
------------
URL: https://www.newageislam.com/islamic-world-news/new-age-islam-news-bureau/delegation-of-saudi-ulema-visits-darul-uloom-deoband/d/10699