New Age Islam News Bureau
5 Jun 2013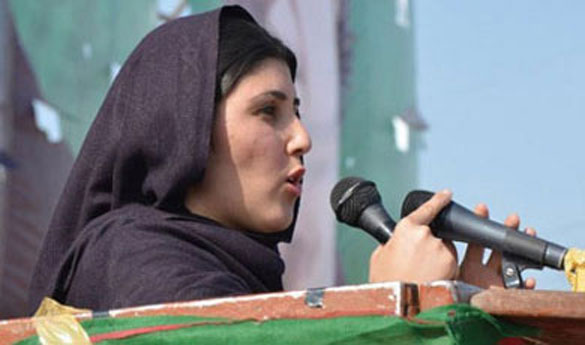 Aisha Gulalai is the first female MNA from restive tribal areas. – Photo courtesy Insaf.pk
---------------
India
• Decorated Counter-Insurgency Expert, Held For Alleged Involvement in Terror Attacks
• Saudi University to promote education in Muslim populated areas
• UP government to withdraw cases against 16 jailed terror-accused
• No place for terrorism in Islam: Darul Uloom Deoband
• Muslims urged to close ranks to fight terrorist tag
• Pakistani spy agency ISI trying to revive Sikh militancy in Punjab: Home Minister
• Indian envoy will attend Nawaz Sharif's swearing-in
• About 20,000 Indian nationals apply for Emergency Certificates
Europe
• Hate preacher Anjem Choudary: British troops in Afghanistan are like Nazis
• Barring women from presidential office in Iran a serious rights violation, UN experts say
• Russian campaigner says Putin's policy on Syria is all about oil
• Assad must give UN full access: Britain
• FBI missed Boston warning: Russian official
Arab World
• Gunmen in Iraq ambush, shoot dead 14 travellers
• Egypt's culture minister opts for Islamist to head National Library and Archives
• Turkey unrest aims to make 'Islamic project fail,' say Egypt MB leaders
• Fight for Assad, get 50% pay raise, regime officer tells recruits
• Syria army triumphantly announces capture of strategic town Qusair to nation
• FSA says eight Hezbollah fighters killed in Syria
• In Cairo, Al-Ghannouchi warns against 'democracy of the majority'
• UAE journalist elected member of IFJ panel on gender equality
Africa
• Fighting erupts between Mali army and Tuareg rebels
• Nigerians study India's success story
• Snipers kill two in Lebanon's Tripoli, security says
• Jewish, Muslim musicians reunite for Algerian orchestra concert
Pakistan
• Stop religious discrimination, drone attacks: Debutant MNAs
• Man attacks wife, her family members with acid in Pakistan's Punjab
• Goodwill gesture: JUI-F to support Nawaz Sharif
• Minority rights: No minor issues
• Glimmer of hope for cash-starved Pakistan economy as Sharif takes over
• Four gunned down in Karachi violence
• Khoso approves arms licences for caretaker cabinet
• Pakistan re-elected to UN's racial discrimination committee
• Musharraf ready to face high treason case: APML
• Munir Malik to be Pakistan's new attorney general
North America
• US shooting suspect, Maj. Nidal Hasan says he was protecting Taliban
• Boston bomb suspect tells mother he is 'doing fine'
• Joe Biden urges Turkey to respect rights of protesters
• Few Americans among foreigners fighting with Syrian rebels
Southeast Asia
• Indonesia among World's Least Accepting Countries of Homosexuality: Pew
• Four dead as Myanmar religious clashes bleed into KL
• PKS Denies Adopting Wahhabism as Protestors Reject Chairman's Visit to Sampang
• Cop sentenced to 13 years for killing soldier
South Asia
• Ahead of polls in Maldives, Gayoom meets PM Manmohan Singh
• Afghans demand arrest of US troops over killings
• Sectarian clashes erupt again in Myanmar as Rohingya women are shot dead
• Bangladesh PM 'enjoying' more power than Mughal emperors
• 5 Shibir men held with 18 bombs in Savar
Mideast
• Islamic scholar says all faiths and beliefs welcomed at Turkey protests
• Iranians chant 'down with the dictator' at funeral for top cleric
• Israel razes several structures in West Bank
• Israel Army reconstructs 1967 War 'live' through tweets
• Palestinian president Abbas 'prefers unilateral moves to peace talks'
• Big powers urge Iran to heed nuclear demands
• Over 4,000 injured, two dead in Turkey's nationwide protests: Association
• Yemen forces launch anti-Qaeda offensive
• Iran summons Qatari envoy after foiling "terrorist" plot
• Fresh violence erupts across Turkey after government apology
Compiled by New Age Islam News Bureau
URL: https://newageislam.com/islamic-world-news/new-age-islam-news-bureau/decorated-counter-insurgency-expert,-held-for-alleged-involvement-in-terror-attacks/d/11912
------------
India
Decorated Counter-Insurgency Expert, Held For Alleged Involvement in Terror Attacks
AHMED ALI FAYYAZ
June 5, 2013
SI Sharma has won many awards, decorations for impressive performance in his 15-year career
Sub-Inspector Shiv Krishen Sharma, one of the Jammu & Kashmir police's highest decorated personnel and counter-insurgency experts, has been taken into custody and subjected to interrogation after he was allegedly found to have been involved in several incidents of terror, including a grenade attack on Thathri police station, in Doda district of Jammu.
Superintendent of Police Doda Arif Hussain Rishi confirmed to The Hindu that SI Sharma had been taken into custody, along with his personal security officer, Head Constable Mohammad Ayub, after they emerged as suspects in a number of militancy-related incidents in the high-altitude Chenab Valley. He said that five irregular guerrillas, detained for their involvement in some disruptive and terrorist activities, had revealed the names of SI Sharma and his PSO with the disclosure that the duo had also planned and executed a grenade attack on Thathri police station on April 28.
Even as some sources claimed to have learned that the group of the seven detainees, including the two police personnel, had also planned some political killings, Mr. Rishi maintained that the police were still verifying the group's statements and disclosures. "Whatever they divulge, everything will be subjected to verification and corroborations," he said.
"They are all under police remand and every one of them will be interrogated with the best of our professionalism. We have rounded them up on the basis of reasonably strong evidences and each other's disclosures."
Abdul Rashid, Akhter Hussain, Mohammad Rafi, Altaf Hussain and Mohammad Yaqub had been arrested by the police on May 22. One AK-56 rifle with three magazines and 143 rounds, one Chinese Pistol with a magazine and five rounds, two Chinese grenades and two Motorola radio sets were reportedly among the items recovered.
Asked whether the five 'irregular guerrillas' had acquired their arms and ammunition from the detained SI or some other source, the Doda SP said: "They have said that they had obtained their weapons from the SI. But we are still verifying their disclosures." It was being ascertained whether Sharma's escapades were the result of his individual ambition for awards and promotions or he was linked to a militant outfit.
Authoritative sources said that SI Sharma had joined the district police in Doda as Special Police Officer over 15 years back. His impressive performance on the counter-insurgency front not only facilitated his regularisation as a constable but also won him high rewards and decorations including the President's Police Medal for Gallantry, the Sher-e-Kashmir Police Medal for Bravery (twice), besides medals, rewards and commendations from the then Union Home Minister, L.K. Advani, and the Director-General of Police.
Believed to be responsible for getting about a hundred militants killed or arrested, Mr. Sharma had cultivated an exhaustive network of informants in Doda and Kishtwar districts. He had also sustained injuries and survived face-to-face encounters with the most dreaded militants in Chenab valley a number of times.
http://www.thehindu.com/news/national/other-states/decorated-counterinsurgency-expert-held-for-alleged-involvement-in-terror-attacks/article4781332.ece
------------
Saudi University to promote education in Muslim populated areas
May 29, 2013
New Delhi: Qaseem University of Saudi Arabia has decided to promote higher education, research and training in Muslim populated areas in India so that Muslim students of these areas are able to make progress and compete with their counterparts in other communities in this age of competition and excellence.
In the first place this University has selected Kishan Ganj district of Bihar which has 70 percent Muslim population, for its mission. A 4-member delegation of this University lead by its Pro Vice Chancellor, Dr. Abdur Rahman Saleh Raham Al Wasel had visited this place in the first week of this month (April) and after studying the situation had laid emphasis on promoting, along with basic and primary education, higher education and research.
Motiur Rahman Madani, Chairman of Tauheed Educational Trust, an institution which is working to promote education, said that at the initiative of his Trust, Qaseem University has expressed its willingness to render assistance to promote education and research in backward Muslim populated areas. According to Motiur Rahman Madani, this delegation had first visited Kishan Ganj and decided to promote education, training etc in these areas. He said that after Kishan Ganj, the delegation members of this University will visit some other poor and Muslim populated areas of the country and render help in promoting higher education; research etc in those areas also. He further said that this University will also provide scholarships to meritorious and promising students of these areas.
http://www.milligazette.com/news/6975-saudi-uni-to-promote-education-in-muslim-populated-areas-in-india
------------
UP government to withdraw cases against 16 jailed terror-accused
Pervez Iqbal Siddiqui, TNN | Jun 5, 2013
LUCKNOW: The Uttar Pradesh government has issued orders to withdraw cases against 16 terror accused, including four each from Lucknow and Kanpur, two from Bijnore and three from Rampur in jails facing charges ranging from sedition to terrorism. Government orders (GOs) have already been issued for the purpose.
The government also appears determined to ensure that the move does not get scuttled for lack of preparation on its part, as happened when such a plea against Tariq Qasmi was dismissed by a Barabanki court on May 10. Qasmi was charged with the 2007 serial blasts in Lucknow, Varanasi and Gorakhpur but was let off because, the court said, the government application was "ambiguous".
This time, the government has directed public prosecutors to seek advise from law experts, departmental seniors or even engage private consultants if required to move a detailed application before the court for withdrawal of charges against the 16 terror accused, including alleged ISI link and involvement in Rampur CRPF Group Centre attack of January 2008 and blasts at Charbagh Railway station and Sahkarita Bhawan in Bhawan in Lucknow.
The list of beneficiaries includes Imtiyaz Ali of Jhansi, arrested from Sachendi in Kanpur on September 11, 2009, on charges of espionage. At the time of his arrest, then additional director general of police A K Jain had alleged that documents related to defence installations in Jhansi, Babena and Talbehat were seized from his house in Jhansi. Similarly, names of Asad and Raziya alias Sitara Begum, arrested from Kanpur in the year 2000 and 2009, respectively, also figure in the list.
The list also includes Mohammad Yaqoob alias Lambu, Nasir and Gulzar Ahmed Wani, all natives of Badapur in Bijnore, identified as alleged HuJI ultras after a total of seven kg RDX, six detonators, five timers, mobile phones and SIM cards were recovered at their behest in 2000.
Asad Siddiqui was arrested in a joint operation of the anti-terrorist squad of the Mumbai police and their UP counterpart from Nalasopara West in Thane (Mumbai) on February 5, 2011, in connection with the pressure cooker bomb blast. Siddiqui was allegedly involved in the blast at Sahkarita Bhawan in Lucknow on the eve of Independence Day in 2000. He had escaped to Mumbai from where he was arrested in 2011.
The list also contains the names of Javed, Maqsood and Taj Mohammad of Rampur who were arrested by the Special Task Force from Rampur in connection with the CRPF Group center attack of 2008. But after the police failed to gather any evidence against them, the trio was accused of espionage and passing secret information to Pakistan.
http://timesofindia.indiatimes.com/india/UP-government-to-withdraw-cases-against-16-jailed-terror-accused/articleshow/20434533.cms
------------
No place for terrorism in Islam: Darul Uloom Deoband
Press Trust of India
Jun 05 2013
Muzaffarnagar: There is no place for terrorism in Islam, leading Islamic seminary Darul-Uloom Deoband's Vice Chancellor Maulana Abdul Khalik has said.
Khalik said this during his address at the foundation laying ceremony of a Madrasa at Shahpur town last evening.
Emphasising that Darul Uloom Deoband and other Madrasas promoted the Islamic teaching of love and harmony, he appealed to Muslims to work for the upliftment of the community with help of education.
http://www.indianexpress.com/story-print/1125395/
-----------
Muslims urged to close ranks to fight terrorist tag
June 5, 2013
Pervez Bari
Bhopal: The Muslim community, which is in great disarray as it has been dubbed with the tag of terrorism, must close ranks and fight back spiritedly the curse foisted upon it by the administration and media. This can only be possible when the different sects of Muslims sink their differences and join hands to face the challenges together to refurbish the image of the community.
This was the gist of the conference on the topic of "Tehreek Ittehad-e-Millat" in which the speakers stressed the need for unity among Muslims. Speakers after speakers said that due to the differences among Muslims on petty issues the community is becoming weaker day by day. Now the time has come to remove these differences and unite under the banner of La Ilaha Illallah Muhammad Rasulallah.
Full report at:
http://ummid.com/news/2013/June/05.06.2013/mumbai_ittehade_millat_conf.html#sthash.QlR5Zljh.dpuf
------------
Pakistani spy agency ISI trying to revive Sikh militancy in Punjab: Sushilkumar Shinde
Vishwa Mohan, TNN | Jun 5, 2013
NEW DELHI: India on Wednesday said that the Pakistani intelligence agency ISI was trying to revive Sikh militancy in Punjab.
Addressing chief ministers here at a Conference on Internal Security, the Union home minister Sushilkumar Shinde said there were reports which clearly indicated that the ISI was trying to revive Sikh militancy by providing training to militants in its facilities in Pakistan.
Full report at:
http://timesofindia.indiatimes.com/india/Pakistani-spy-agency-ISI-trying-to-revive-Sikh-militancy-in-Punjab-Sushilkumar-Shinde/articleshow/20440449.cms
------------
Indian envoy will attend Nawaz Sharif's swearing-in
TNN | Jun 5, 2013
NEW DELHI: After having hinted that a representative of the government may attend Pakistani leader Nawaz Sharif's swearing-in as prime minister, New Delhi seems to have backed out at the last moment choosing instead to dub it as a local event.
The announcement by foreign minister Salman Khurshid - that only India's High Commissioner in Islamabad Sharat Sabharwal will attend the event - also came on a day Islamabad summoned India's deputy high commissioner Gopal Baglay to raise "serious concerns" over the "physical abuse" of a Pakistani diplomat and his driver here on Monday.
Full report at:
http://timesofindia.indiatimes.com/world/pakistan/Indian-envoy-will-attend-Nawaz-Sharifs-swearing-in/articleshow/20435436.cms
------------
About 20,000 Indian nationals apply for Emergency Certificates
June 5, 2013
JEDDAH — About 20,000 Indian nationals have applied for Emergency Certificates (ECs) to leave the Kingdom in view of the amnesty granted by the government that ends July 3.
As of Sunday, the Consulate General of India has already issued ECs to about 5,000 applicants, a press release issued here said.
The consulate has received about 19,700 applications for ECs as of Sunday.
A total of 92 ECs issued in 2011 and 2012 have been renewed /revalidated by the consulate, the press release said.
Full report at:
http://www.saudigazette.com.sa/index.cfm?method=home.regcon&contentid=20130605168608
----------
Europe
Hate preacher Anjem Choudary: British troops in Afghanistan are like Nazis
5 Jan 2010
Fanatical Islamic preacher Anjem Choudary yesterday caused fresh outrage by comparing British troops in Afghanistan to Nazi war criminals.
Fanatical Islamic preacher Anjem Choudary yesterday caused fresh outrage by comparing British troops in Afghanistan to Nazi war criminals.
Choudary, who plans to parade through Wootton Bassett with his followers and 500 empty coffins symbolising the Muslim dead, said: "I don't see why we should swallow the atrocities taking place in Afghanistan.
"People cover them up by saying it is all an act of public duty. But we don't have conscription in this country. You can freely join the army and leave at your will.
"People can argue that guards from Nazi Germany were just doing their duty."
Choudary's plan to march through Wootton Bassett, the town famous for honouring those who have fallen in Afghanistan, continued to provoke fury yesterday.
More than 220,000 people had last night signed an online protest on Facebook.
Gordon Brown said the march would be "abhorrent and offensive." Mr Brown added: "I am personally appalled by the prospect of a march in Wootton Bassett.
Full report at:
http://www.mirror.co.uk/news/uk-news/hate-preacher-anjem-choudary-british-192474
------------
Barring women from presidential office in Iran a serious rights violation, UN experts say
29 May 2013
A group of United Nations experts today warned that measures preventing women and other citizens from running for presidential office in Iran constitute a serious violation of rights guaranteed by international law.
Last week, Iran's Guardian Council, a 12-member body of theologians and jurists which vets presidential candidates, approved only eight individuals out of the 686 people registered for the 14 June election. The 30 female candidates that applied were disqualified, as well as other key political figures, raising concerns about the fairness and transparency of the vetting procedures.
Full report at:
http://www.un.org/apps/news/story.asp?NewsID=45030&Cr=iran&Cr1=#.Uahz5dhWJ1A
------------
Russian campaigner says Putin's policy on Syria is all about oil
4 June 2013
Russia's staunch backing of ally Syria can be pinned squarely on President Vladimir Putin's need to buttress oil prices in order to protect his own regime, ardent Kremlin opponent Garry Kasparov said Tuesday.
The former chess king turned political campaigner said Moscow's support for Syrian President Bashar al-Assad should be seen through the domestic Russian prism, rather than as a need to maintain the alliance with Damascus or spar diplomatically with the West.
Full report at:
http://english.alarabiya.net/en/News/middle-east/2013/06/04/Russian-campaigner-says-Putin-s-policy-on-Syria-is-all-about-oil-.html
------------
Assad must give UN full access: Britain
AFP | Jun 5, 2013
LONDON: Syria must grant unrestricted access to a UN investigation team following France's announcement that it has proof that President Basharal-Assad's regime is using sarin gas in the country's civil war, Britain insisted Tuesday.
British Foreign Secretary William Hague said France's revelation that the regime was using the deadly nerve agent showed "the scale of the atrocities...is becoming ever clearer".
"This announcement adds further weight to the need for a full and unimpeded investigation into all relevant incidents," he explained. "The UN investigation team must be allowed unrestricted access to investigate on the ground in Syria and we call on the Assad regime to fully cooperate with it," added the minister.
Full report at:
http://timesofindia.indiatimes.com/world/middle-east/Assad-must-give-UN-full-access-Britain/articleshow/20435506.cms
------------
FBI missed Boston warning: Russian official
June 04, 2013
A senior Russian official said on Tuesday that the Boston Marathon bombings could have been prevented if American officials had followed through with Russian intelligence. Officials previously hewed to President Vladimir Putin's statement that Russia had no information that could have prevented the attacks.
"The Russian side warned the American side about the Tsarnaev brothers, but this information was not taken seriously by the American side, which is what led to that tragedy," Valentina Matvienko, the speaker of Russia's senate, said on Tuesday, referring to suspects Tamerlan and Dzhokhar Tsarnaev, the Interfax news agency reported.
Full report at:
http://www.hindustantimes.com/world-news/europe/FBI-missed-Boston-warning-Russian-official/Article1-1070847.aspx
---------
Arab World
Gunmen in Iraq ambush, shoot dead 14 travellers
June 05, 2013
Iraqi intelligence officials say gunmen have ambushed a group of travellers at a fake checkpoint in the western Anbar province, killing at least 14 people execution-style.
The four officials say the travellers included several soldiers as well as residents of the overwhelmingly Shia-dominated province of Karbala.
The officials say the travellers were stopped and killed on Wednesday near the remote town of Nukhaib, the site of a desert crossroads west of Karbala in the Sunni-dominated Anbar. The area around the town was the site of a deadly September 2011 attack on a bus carrying Shiite pilgrims.
The officials spoke on condition of anonymity because they weren't authorised to release the information.
Violence has spiked in Iraq in recent weeks, raising fears of a return to widespread sectarian bloodshed.
http://www.thehindu.com/news/international/world/gunmen-in-iraq-ambush-shoot-dead-14-travellers/article4784776.ece
--------------
Egypt's culture minister opts for Islamist to head National Library and Archives
4 Jun 2013
Egypt's controversial culture minister, Alaa Abdel-Aziz decides not to renew the term of the head of the Egyptian National Library and Archives (NLA), as expected, and instead appoints professor of Arabic literature at Menoufiya University, Khaled Fahmy.
Fahmy replaces Abdel-Nasser and is known for his Islamist tendencies. Fahmy earned his bachelor in Arabic literature from Ain Shams University in 1991, his Master's in 1994 and PhD in 1999 and has authored more than 13 books on Arabic literature.
Hassan's term as NLA director began in May 2012 and ended on 31 May 2013 as part of a sweeping sacking campaign the culture minister has been waging since Morsi appointed him three weeks ago.
Full report at:
http://english.ahram.org.eg/NewsContentP/18/73160/Books/Egypts-culture-minister-opts-for-Islamist-to-head-.aspx
------------
Turkey unrest aims to make 'Islamic project fail,' say Egypt MB leaders
5 June 2013
Muslim Brotherhood leaders in Egypt on Tuesday accused Turkish protesters of receiving foreign funds from entities which they claim "want to make the highly successful Islamic project fail," according to local Egyptian media reports.
Hussein Ibrahim, secretary general of the Muslim Brotherhood's political arm, the Freedom and Justice Party (FJP), blamed "foreign groups" who wish to "manipulate internal issues to serve international interests." He did not clarify.
Ibrahim said the protests serve a purpose of fighting everything Islamic, even if Turkey "has made unprecedented strides with regards to developments rates and the improvement of citizens' incomes," Egypt Independent reported.
Full report at:
http://english.alarabiya.net/en/News/middle-east/2013/06/05/Turkey-unrest-aims-to-make-Islamic-project-fail-says-Egypt-s-MB.html
------------
Fight for Assad, get 50% pay raise, regime officer tells recruits
5 June 2013
A video published online Tuesday showed a Syrian regime brigadier trying to recruit young men to join the fight for President Bashar al-Assad in exchange for government jobs and salary raises.
"Whoever comes with us should consider himself a government employee and his salary will be increased by 50 percent," Brigadier Mohammed Khadour said.
"And for those who choose to stay as volunteers, we have ammunitions and arms here for you," he added.
Full report at:
http://english.alarabiya.net/en/News/middle-east/2013/06/05/Video-Fight-for-Assad-get-50-pay-raise-regime-officer-tells-recruits.html
------------
Syria army triumphantly announces capture of strategic town Qusair to nation
AP | Jun 5, 2013
DAMASCUS: The Syrian army triumphantly announced on Wednesday the capture of a strategic border town after a three week grueling battle, telling the nation it has "cleansed" Qusair of rebels and calling it "a message" to Syria's enemies everywhere.
The capture of the town, which lies close to the Lebanese border, solidifies some of the Syrian regime's recent gains on the ground that have shifted the balance of power in President Bashar Assad's favor in the Syrian civil war.
Full report at:
http://timesofindia.indiatimes.com/world/middle-east/Syria-army-triumphantly-announces-capture-of-strategic-town-Qusair-to-nation/articleshow/20444129.cms
-----------
FSA says eight Hezbollah fighters killed in Syria
5 June 2013
At least eight Hezbollah fighters were killed on Tuesday in fighting against Syrian rebels near Damascus, Free Syrian Army chief of staff Salim Idriss told Al Arabiya.
In southern Lebanon, thousands of Hezbollah supporters held funerals for two fighters who were killed while fighting with Syrian President Bashar al-Assad's army in Syria.
Hezbollah's army is reportedly fighting in various fronts across Syria, including areas of Homs, Aleppo and Damascus in addition to the areas bordering Lebanon.
On Tuesday, the United States reiterated its condemnation of Hezbollah's involvement in Syria.
Full report at:
http://english.alarabiya.net/en/News/middle-east/2013/06/05/FSA-says-eight-Hezbollah-fighters-killed-in-Syria.html
------------
In Cairo, Al-Ghannouchi warns against 'democracy of the majority'
4 Jun 2013
Rachid Al-Ghannouchi, founder of Tunisia's ruling Ennahda party, stressed the importance of harmony and power-sharing between different political groups during a visit to Cairo Tuesday.
Islamist politician Al-Ghannouchi was a guest of honour at the Cairo headquarters of the state-run Al-Ahram institution, which produces a number of news products, including Ahram Online.
Full report at:
http://english.ahram.org.eg/NewsContent/2/8/73167/World/Region/In-Cairo,-AlGhannouchi-warns-against-democracy-of-.aspx
------------
UAE journalist elected member of IFJ panel on gender equality
Mustafa Al Zarooni / 5 June 2013
Secretary of the UAE Journalists Association Muna Bu Samra has been elected member of the executive committee of the International Federation of Journalists (IFJ) Commission on Gender Equality at the federation's general conference, which kicked off in the Irish Captial of Dublin on Tuesday.
Chairman of the UAE Journalists Association Mohammed Yousouf said the election of Bu Samra was a result of her effective role over the last seven years on the commission, which is assigned with following up the issues of women working in media, especially in the Arab region.
Full report at:
http://www.khaleejtimes.com/kt-article-display-1.asp?section=newsmakers&xfile=data/newsmakers/2013/June/newsmakers_June5.xml
------------
Africa
Fighting erupts between Mali army and Tuareg rebels
Jun 5, 2013
BAMAKO, MALI: Local officials in Mali say the Malian military is clashing with rebels from the National Movement for the Liberation of the Azawad, or NMLA, near the village of Anefis in northeast Mali.
It marks the first time the Malian military has engaged the Tuareg separatists since a French-led military intervention made it possible for the country's army to return to most of its positions in the north.
Full report at:
http://timesofindia.indiatimes.com/world/rest-of-world/Fighting-erupts-between-Mali-army-and-Tuareg-rebels/articleshow/20441895.cms
------------
Nigerians study India's success story
IANS | Jun 5, 2013, 05.54 PM IST
NEW DELHI: A Nigerian delegation is on a tour of India to understand how the world's largest democracy has maintained the unity of a very diverse society.
The study tour began Tuesday with a stimulating exchange between scholars and officials of the two countries with similar structures to govern mixed populations.
"We want to see how your economy grew, while Indian democracy has made its fruits available to the people," said Olu Obafemi, professor and fellow of the Nigerian Academy of Letters and head of the delegation.
Full report at:
http://timesofindia.indiatimes.com/india/Nigerians-study-Indias-success-story/articleshow/20444146.cms
---------------
Snipers kill two in Lebanon's Tripoli, security says
4 June 2013
Snipers have shot dead two men in Tripoli, the Lebanese city wracked by a wave of bloody violence linked to the conflict in neighboring Syria, a security official said on Tuesday.
"One policeman who was off duty died of sniper-fire wounds from the day before, and a Syrian residing in the city suffered the same fate," the official told AFP on condition of anonymity.
Full report at:
http://english.alarabiya.net/en/News/middle-east/2013/06/04/Snipers-kill-two-in-Lebanon-s-Tripoli-security-says.html
------------
Jewish, Muslim musicians reunite for Algerian orchestra concert
4 June 2013
A popular style of music traditionally performed by Jewish and Muslim musicians was brought to London's Barbican Center by the El Gusto Orchestra of Algiers on Monday.
Some of the elderly members of the 25-piece Algerian orchestra used to perform together in a music class in the 1940s, when Jews and Muslims shared a peaceful existence.
"There were no differences between Jewish and Muslim people. We'd play at parties and weddings, and everyone got along really well. There was no animosity. There were Jewish guests and Muslim guests and there were no problem at the time," said El Gusto member Lucien Cherki at the pre-concert talk on Monday night.
Full report at:
http://english.alarabiya.net/en/life-style/art-and-culture/2013/06/04/Jewish-Muslim-musicians-reunite-for-Algerian-orchestra-concert-.html
------------
Pakistan
Stop religious discrimination, drone attacks: Debutant MNAs
SHAHZAD RAZA
2013-06-05
Persecution of Ahmedis, Shias and other religious minorities has killed the true essence of secularist ideology of Muhammad Ali Jinnah, who never envisioned creating a theocracy or a religion-based state.
Under the garb of so-called reconciliation hardly any political party would afford to endorse those comments, but several young debutant Members of the National Assembly (MNAs) are poised to challenge the set norms and mindsets.
"I agree that declaring Ahmedis as non-Muslims was a wrong decision. State had nothing to do with the religion of people," commented Alizeh Iqbal Haider, referring to Quaid-e-Azam's most famous speech of August 11, 1947.
Ironically, it was one of the most enlightened prime ministers of Pakistan, Zulfiqar Ali Bhutto, who under severe pressure from right-wing forces had agreed to introduce a constitutional amendment, in 1977, to declare Ahmedis as non-Muslims.
Alizeh vowed to carry legacy of her late father, Iqbal Haider, who after proving his mantle in political arena attained an iconic stature in the field of human rights. He held the coveted post of Human Rights Commission of Pakistan (HRCP).
Full report at:
http://beta.dawn.com/news/1016045/stop-religious-discrimination-drone-attacks-debutant-mnas
------------
Man attacks wife, her family members with acid in Pakistan's Punjab
Jun 05 2013
Lahore: A man allegedly attacked his wife, her mother and her two minor sisters with acid after a quarrel in Pakistan's Punjab province, police said today. The incident occurred in Okara district, 100 km from Lahore, police officials said.
According to an FIR, Muhammad Shahid and Iqra Bibi got married a few months ago but she left him and returned to her parent's house after developing differences with him. She also filed a suit in court for dissolution of the marriage.
Full report at:
http://www.indianexpress.com/story-print/1125352/
-----------
Goodwill gesture: JUI-F to support Nawaz Sharif
June 5, 2013
ISLAMABAD: Despite being left out of government in Balochistan, the Jamiat Ulema-e-Islam-Fazl (JUI-F) as a 'goodwill gesture' Tuesday decided to support Mian Nawaz Sharif in his election for prime minister.
Maulana Fazlur Rehman, the JUI-F chief, assured Pakistan Muslim League-Nawaz (PML-N) delegation comprising Ahsan Iqbal, Zafar Iqbal Jhagra and Saad Rafiq that his party would vote for Sharif on Wednesday to elect him prime minister for the third time.
Full report at:
http://tribune.com.pk/story/559064/goodwill-gesture-jui-f-to-support-nawaz-sharif/
------------
Minority rights: No minor issues
June 5, 2013
ISLAMABAD: Members of minority communities have pledged to pile up pressure on the upcoming government to promote religious freedom from the very onset. As the last few years saw risks to minorities reaching alarming proportions, it seems the minorities mean business when it comes to making sure their interests are guarded.
Minorities' representatives, both in the parliament and the provincial assemblies, want fresh legislation on religious freedom to protect the rights of an estimated nine million non-Muslims living in Pakistan.
Full report at:
http://tribune.com.pk/story/559019/minority-rights-no-minor-issues/
----------
Glimmer of hope for cash-starved Pakistan economy as Sharif takes over
Reuters
June 05, 2013
Pakistan's economy is in its worst shape in nearly a decade and yet there is a sense of hope that the incoming government not only seems to know what is needed to fix it but, for once, may also have enough determination and clout to do it. Former prime minister Nawaz Sharif swept back to power in last month's election, riding a wave of public anger at rival Pakistan People's Party's failure to tackle endemic corruption, power cuts and militant violence.
Voters hope that armed with a solid parliamentary majority Sharif, who takes office on Wednesday, has a better shot at fixing the economy than his predecessors, beset by internal strife and strained relations with the powerful military.
Full report at:
http://www.hindustantimes.com/world-news/pakistan/Glimmer-of-hope-for-cash-starved-Pakistan-economy-as-Sharif-takes-over/Article1-1071194.aspx
------------
Four gunned down in Karachi violence
June 5, 2013
KARACHI: Police on Monday recovered four dead bodies from Jam Goth in the Malir area of Karachi who were gunned down after being abducted, DawnNews reported.
According to the police, the deceased persons were kidnapped from Karachi's Landhi area on their way to work in the early hours of Wednesday. All four were employers at a private denim company.
The bodies were shifted to Jinnah Hospital's emergency and accident ward. Due to the ongoing strike observed by doctors, the deceased could not be shifted to the hospital's mortuary deterring police personnel from launching criminal investigation into the incident.
http://dawn.com/2013/06/05/four-gunned-down-in-karachi-violence/
------------
Khoso approves arms licences for caretaker cabinet
June 5, 2013
KARACHI: In a highly controversial move, Caretaker Prime Minister Justice (retd) Mir Hazar Khan Khoso has approved one prohibited bore and four non-prohibited bore arms licences for himself and all the caretaker cabinet members.
The summary in this regard was moved by the outgoing Interior Minister Malik Habib few days ago. But the caretaker prime minister approved the summary on Tuesday morning, hours before he was awarded guard of honour at the PM House.
The caretaker premier has left the official residence as the newly elected National Assembly is set to elect Pakistan Muslim League-Nawaz (PML-N) chief Nawaz Sharif for the third term on Wednesday.
Full report at:
http://beta.dawn.com/news/1016046/khoso-approves-arms-licences-for-caretaker-cabinet
------------
Pakistan re-elected to UN's racial discrimination committee
June 4, 2013
ISLAMABAD: Pakistan on Tuesday was re-elected as a member of the United Nations committee on the Elimination of Racial Discrimination (CERD), according to a press release from the Ministry of Foreign Affairs.
At the twenty-fifth meeting of States Parties of the International Convention on the Elimination of All Forms of Racial Discrimination, in New York, Pakistani candidate Ambassador Anwar Kemal secured 128 votes in a "highly competitive election," with 16 candidates vying for 9 seats.
Full report at:
http://tribune.com.pk/story/558714/pakistan-re-elected-to-uns-racial-discrimination-committee/
------------
Musharraf ready to face high treason case: APML
June 5, 2013
LAHORE: Former president Pervez Musharraf will be ready to face any court if newly elected Prime Minister Nawaz Sharif supports a high treason case against him, said the former dictator's political advisor on Wednesday.
"Musharraf is ready to face any court in order to defend himself against the politically motivated cases… [and] a Pakistani soldier never feels threatened by anyone," said Chauhdry Sarfraz Anjum Kahlon of Musharraf's party All Pakistan Muslim League (APML).
Full report at:
http://tribune.com.pk/story/559133/musharraf-ready-to-face-high-treason-case-apml/
-----------
Munir Malik to be Pakistan's new attorney general
June 05, 2013
KARACHI: Eminent lawyer Munir A. Malik is to be the new attorney general of Pakistan, highly placed sources told Dawn.com on Wednesday.
The notification in this regard will be issued in the next couple of days and Malik is expected to assume office at some point next week.
Malik will replace currently attorney general Irfan Qadir who is facing contempt proceedings before the Supreme Court.
Malik is a former president of the Supreme Court Bar Association and was a leading figure in the movement for the reinstatement of judges deposed by former military ruler Pervez Musharraf.
http://beta.dawn.com/news/1016268/munir-malik-to-be-pakistans-new-attorney-general
------------
North America
US shooting suspect, Maj. Nidal Hasan says he was protecting Taliban
AP | Jun 5, 2013
FORT HOOD, Texas: A US Army psychiatrist charged with shooting dead 13 soldiers on a Texas military base said he was compelled to do so because deploying troops posed an imminent danger to Taliban fighters.
Maj. Nidal Hasan, 42, faces the death penalty or life without parole if convicted of 13 counts of premeditated murder and 32 counts of attempted premeditated murder in the 2009 attack.
Hasan is representing himself at trial, but the military judge hinted Tuesday that his "defence of others" strategy could be thrown out. Such a defence requires Hasan to prove the killings were necessary to protect others from immediate harm or death.
"A `defence of others' strategy is not going to work when you're at war and the `others' are enemies of the US," said Jeff Addicott, director of the Centre for Terrorism Law at St. Mary's University. "And what makes it more egregious is that he targeted medical personnel whose primary purpose was to heal, not to kill."
Full report at:
http://timesofindia.indiatimes.com/world/us/US-shooting-suspect-says-he-was-protecting-Taliban/articleshow/20435751.cms
------------
Boston bomb suspect tells mother he is 'doing fine'
June 5, 2013
LONDON: Boston Marathon bomb suspect Dzhokhar Tsarnaev has told his mother that he is receiving thousands of dollars in support from unnamed sources, according to a video obtained by Britain's Channel 4 News.
Zubeidat Tsarnaev replayed a recording of the conversation with her son, who is being held in Fort Devens prison in Massachusetts, in which he says "everything is fine" ahead of his trial.
"I'm already eating and have been for a long time," he said in the message, which was recorded last week according to Channel 4.
"They are giving me rice and chicken now. Everything is fine," he added. "Everything is good."
Full report at:
http://tribune.com.pk/story/559131/boston-bomb-suspect-tells-mother-he-is-doing-fine/
----------
Joe Biden urges Turkey to respect rights of protesters
Jun 05 2013
Washington : U.S. Vice President Joe Biden urged Turkey's government to respect the rights of its political opponents after a violent crackdown against anti-government protesters raised concerns about the NATO ally.
Turkey's deputy prime minister, Bulent Arinc, issued an apology to people involved in a protest last week when a group demonstrating against plans to build at an Istanbul park was met with teargas and water cannons.
That protest then grew into the biggest and most violent anti-government demonstration in years as Turks complaining of what they say is Prime Minister Tayyip Erdogan's authoritarian style took to the streets in dozens of cities.
Full report at:
http://www.indianexpress.com/story-print/1125325/
----------
Few Americans among foreigners fighting with Syrian rebels
June 05, 2013
Washington: Despite media attention surrounding the death of an American woman in Syria, only a few U.S. citizens have joined the ranks of foreigners fighting there to oust President Bashar al-Assad, U.S. government officials and private experts monitoring the conflict say.
Nicole Mansfield of Flint, Michigan, a convert to Islam, was killed last week in the company of Syrian rebels in Idlib province, Syrian state media said.
Former U.S. soldier Eric Harroun was arrested on his return to the United States in March and charged with conspiring to use a rocket-propelled grenade in Syria. Investigators said he acknowledged fighting with Syrian rebels, including the Nusra Front, which Washington says is a branch of al Qaeda.
Full report at:
http://www.ndtv.com/article/world/few-americans-among-foreigners-fighting-with-syrian-rebels-375470
-------------
Southeast Asia
Indonesia Among World's Least Accepting Countries of Homosexuality: Pew
June 5, 2013
Indonesia remains one of the least tolerant countries in the world regarding attitudes toward homosexuality, a new survey finds.
"Acceptance of homosexuality is particularly widespread in countries where religion is less central in people's lives. These are also among the richest countries in the world," the Pew Research Center said in its summary of the findings. "In contrast, in poorer countries with high levels of religiosity, few believe homosexuality should be accepted by society."
The "Global Divide on Homosexuality" study surveyed 37, 653 people in 39 countries. It found Indonesians were overwhelming opposed to homosexuality, with 93 percent saying that gay people should not be accepted.
While Muslim countries were found to be overwhelmingly opposed to homosexuality, Indonesia was more resistant to same-sex relationships than both Malaysia and Pakistan — two countries that prohibit same-sex practices by law.
Full report at:
http://www.thejakartaglobe.com/news/indonesia-among-worlds-least-accepting-countries-of-homosexuality-pew/
------------
Four dead as Myanmar religious clashes bleed into KL
June 5, 2013
KUALA LUMPUR, June 5 ― Deadly clashes between Muslims and Buddhists in Myanmar have spread to Malaysia, which both employs a large Burmese workforce and is home to one of the biggest Rohingya Muslim populations outside of the country.
According to media reports, four Myanmar nationals have already died while another eight were injured following reprisal attacks believed to be linked to the religious riots in the country.
"The religious sentiments (back home) have caught up with Myanmar workers here, leading to both Muslim and Buddhist groups launching heinous attacks on each other in areas with a large number of Myanmar nationals," Kuala Lumpur deputy police chief Amar Singh Ishar Singh was quoted as saying by the Sun daily.
Full report at:
http://www.themalaysianinsider.com/malaysia/article/four-dead-as-myanmar-religious-clashes-bleed-into-kl/
---------
PKS Denies Adopting Wahhabism as Protestors Reject Chairman's Visit to Sampang
June 5, 2013
Prosperous Justice Party (PKS) chairman Anis Matta denied rumors that the party was adopting Wahhabism as residents of Sampang, Madura, East Java protested his visit to the area on those and other grounds.
"The PKS does not follow a certain ideology. PKS is a missionary party and a forum to defend the Muslims which consist of various mass organizations, such as Muhammadiyah, NU, and PERSIS," Anis said in Sampang on Monday evening in response to the protest.
The residents rejected to Anis' visit to the area for various reasons.
They said they did not want to have a political figure, whose party cadres were involved in a graft cases, because corruption brings misery to the people.
The protestors also called on the provincial government to prevent the Wahhabi ideology from spreading in Sampang in particular, and in Madura in general, because it would stir up trouble among local residents.
Full report at:
http://www.thejakartaglobe.com/news/pks-denies-adopting-wahhabism-as-protestors-reject-chairmans-visit-to-sampang-2/
------------
Cop sentenced to 13 years for killing soldier
June 05 2013
The Palembang District Court sentenced on Wednesday a police officer to 15 years in prison for killing a soldier.
First Brig.Wijaya was declared guilty of fatally shooting First Pvt.Heru Oktavianus, a member of 15/76 Field Artillery Battalion (Armed) Martapura, which led to an arson attack on the Ogan Komering Ulu (OKU) Police headquarters on March 7.
"The defendant is proven to have been derelict in his duty and failed to follow procedure in using a firearm," said presiding judge Rozi Wahab.
Full report at:
http://www.thejakartapost.com/news/2013/06/05/cop-sentenced-13-years-killing-soldier.html
------------
South Asia
Ahead of polls in Maldives, Gayoom meets PM Manmohan Singh
TNN | Jun 5, 2013
NEW DELHI: Ahead of the presidential elections in the Maldives, former dictator of 30 years, Abdul Gayoom, met PM Manmohan Singh on Tuesday. Gayoom's Progressive Party of Maldives (PPM) will be one of the key players in the upcoming presidential elections. He has announced that his cousin Abdullah Yameen will be PPM's presidential candidate.
"His visit to Delhi is part of India's outreach to all sections of Maldivian polity. It may be recollected that former President, Nasheed, has visited India twice and President Waheed was in India in May last year," said government sources.
Full report at:
http://timesofindia.indiatimes.com/world/south-asia/Ahead-of-polls-in-Maldives-Gayoom-meets-PM-Manmohan-Singh/articleshow/20435273.cms
------------
Afghans demand arrest of US troops over killings
June 5, 2013
KABUL — Hundreds of Afghans blocked a major highway south of Kabul on Tuesday, carrying freshly dug-up bodies they claimed were victims of torture by US Special Forces and demanding the Americans be arrested, officials said.
Violence erupted at the rally and two of the demonstrators were killed but the cause of their deaths was unclear, said Mohammand Hussain Fahimi, a provincial council member in Wardak, 45 kilometers (27 miles) south of Kabul.
Full report at:
http://www.saudigazette.com.sa/index.cfm?method=home.regcon&contentid=20130605168572
------------
Sectarian clashes erupt again in Myanmar as Rohingya women are shot dead
Associated Press
Jun 05 2013
Yangon : Police and activists say several women villagers from Myanmar's Rohingya minority have been shot dead in a confrontation with security officials.
A police officer in Mrauk-U township in western Rakhine state said Wednesday that three women died in Parein village, where they were part of a crowd that defied efforts to relocate them from the housing they have been living in since their original homes were burned by Buddhists in a wave of sectarian clashes last year that left hundreds dead. The officer asked not to be identified because he was not authorized to release information.
Full report at:
http://www.indianexpress.com/story-print/1125405/
------------
Bangladesh PM 'enjoying' more power than Mughal emperors
June 5, 2013
The power the prime minister of Bangladesh is enjoying is perhaps more than that of the Soviet Tsars and the Mughal emperors, said former adviser to a caretaker government Dr Akbar Ali Khan yesterday.
Akbar was speaking at a discussion marking the first anniversary of the socio-political organisation, Nagorik Oikya, at the Jatiya Press Club. He said the country's political system separated the role of the central and the local government in a way that caused problems. "Decentralisation of the state power system is essential," said Akbar.
Full report at:
http://www.thedailystar.net/beta2/news/pm-enjoying-more-power-than-mughal-emperors/
------------
5 Shibir men held with 18 bombs in Savar
June 5, 2013
Rapid Action Battalion (Rab) arrested five leader and activists of Islami Chhatra Shibir along with 18 homemade bombs and anti-state leaflets in Savar, on the outskirts of the capital, early Wednesday.
Abdur Rakib, Shibir president of Dhaka north unit is among the arrestees.
Acting on a tip-off, a squad of Rab-4 arrested the Jamaat men after raiding a house at Majidpur in Savar around 3.30am, Captain Tahsin Salehin told BSS.
Full report at:
http://www.thedailystar.net/beta2/news/5-shibir-men-held-with-18-bombs-in-savar/
------------
Mideast
Islamic scholar says all faiths and beliefs welcomed at Turkey protests
June/05/2013
Islamic scholar İhsan Eliaçık has invited all Istanbul residents to join in a peaceful religious Miraç celebration tonight at Gezi Park, describing Taksim as the "securest spot in Turkey."
Eliaçık encouraged everyone to bring snacks for the religious celebration and said a Quran reading would take place at the square at 9 p.m.
In a televised interview, Eliaçık said the crowd in Taksim was already a mixed crowd with a welcoming attitude toward all, from religious to atheist, and dismissed all claims about the protesters.
Full report at:
http://www.hurriyetdailynews.com/islamic-scholar-says-all-faiths-and-beliefs-welcomed-at-turkey-protests.aspx?pageID=238&nID=48252&NewsCatID=341
------------
Iranians chant 'down with the dictator' at funeral for top cleric
4 June 2013
Thousands of Iranians chanted "down with the dictator" during the funeral procession for prominent religious figure and regime critic Ayatollah Jalaluddin Taheri in the city of Isfahan, signaling a rise of anti-government voices ahead of the upcoming June 14 presidential elections.
The mourners also chanted "shame on the dictator" and called for lifting house arrest on reformist and opposition leaders Mehdi Karroubi and Mir Hussein Mousavi.
Ayatollah Taheri was the Friday prayers speaker in Isfahan, the second biggest city in Iran, until his resignation in 2002 when he shocked the country's governing religious establishment by condemning the regime and protesting the country's political and economic situation.
Full report at:
http://english.alarabiya.net/en/News/middle-east/2013/06/05/Video-Iranians-chant-down-with-the-dictator-at-funeral-for-top-cleric.html
------------
Israel razes several structures in West Bank
Mohammed Mar'i
June 5, 2013
RAMALLAH – Israeli forces on Tuesday demolished several structures near the West Bank city of Jericho, under the pretext they were build in Area C without the needed building permits from Israeli authorities.
Majed Al-Fityani, the governor of Jericho and Jordan Valley, said that the bulldozers backed by security forces and Israeli Civil Administration destroyed four homes and five agricultural structures in the al-Nowai'meh area, to the north of Jericho.
Fityani said that the homes were owned by Saleh al-Rashaydeh, Ibrahim al-Zayed, Tayseer al-Rashaydeh and Ismail Al-Rashaydeh.
Full report at:
http://www.saudigazette.com.sa/index.cfm?method=home.regcon&contentid=20130605168619
-------------
Israel Army reconstructs 1967 War 'live' through tweets
June 05, 2013
Jerusalem: Israel's army was on Wednesday giving a "live" blow-by-blow account of the 1967 Six Day War, tweeting each air strike at the exact time it occurred 46 years ago in an epic replay which began early in the morning.
@IDF1967 "is an official Israel Defence Forces account that is aimed at retweeting the events of the Six Day War in live time," an army spokesman told AFP.
The account was tweeting key events in the battle against the armies of Egypt, Jordan and Syria that took place from 5 to 10 June 1967, and includes pictures and videos, the army said.
The tweets are mostly in Hebrew, with some translated into English.
"In response to repeated provocations by Egypt, the State of Israel and the IDF are going to war. We will not sit idly as the enemy forces tighten the noose around our necks," the opening tweet said around 8:00am (0500 GMT) when Israel landed its first pre-emptive air strike 46 years ago.
By Wednesday afternoon, @IDF1967 had more than 1,000 followers, its posts showing pictures of Israeli soldiers and tanks in Sinai, and various other battle footage.
The microblogging project began as Israel and the Palestinians separately marked the start of the 1967 conflict, when Israeli forces seized Gaza, the West Bank and east Jerusalem, with the Palestinians mourning it as the "naksa" or setback.
http://www.ndtv.com/article/world/israel-army-reconstructs-1967-war-live-through-tweets-375711
----------
Palestinian president Abbas 'prefers unilateral moves to peace talks'
June 5, 2013
JERUSALEM: Israel's deputy foreign minister on Wednesday accused Palestinian president Mahmud Abbas of rejecting direct peace talks in favour of "unilateral" moves to seek statehood.
Abbas "is in no hurry to restart negotiations, despite the pressures on him, because he thinks that the unilateral path will get him further and that way he won't have to pay a political price," Zeev Elkin said on public radio.
Elkin's comments came just days before US Secretary of State John Kerry returns to the region for his fifth visit in just over four months in a bid to coax the parties into resuming direct talks which collapsed in September 2010.
Full report at:
http://beta.dawn.com/news/1016247/palestinian-president-abbas-prefers-unilateral-moves-to-peace-talks
------------
Big powers urge Iran to heed nuclear demands
June 5, 2013
Five world powers are urging Iran to heed demands aimed at easing fears that it might want nuclear arms.
The United States, Russia, China, Britain, France and Germany say it is "essential and urgent" that Iran reach an agreement with the International Atomic Energy Agency that will allow the IAEA to investigate suspicions Iran worked on such weapons.
The five say IAEA access to Parchin is particularly important. The agency has tried vainly over 18 months to visit the suspected site of weapons-related experiments.
Full report at:
http://www.thehindu.com/news/international/world/big-powers-urge-iran-to-heed-nuclear-demands/article4784304.ece
------------
Over 4,000 injured, two dead in Turkey's nationwide protests: Association
June/05/2013
Over 4,100 people have been wounded and two people have been killed in Turkey's nationwide Gezi Park protests as of June 4, according to a statement released today by the Turkish Medical Association (TTB).
Twelve provinces, excluding Mersin, Hatay and Çanakkale, which will soon inform the association as well, reported 4,177 injured protesters – 43 of whom are in serious condition. Two people in Ankara and one in Eskisehir are in critical condition, according to the statement.
Full report at:
http://www.hurriyetdailynews.com/over-4000-injured-two-dead-in-turkeys-nationwide-protests-association.aspx?pageID=238&nID=48249&NewsCatID=341
------------
Yemen forces launch anti-Qaeda offensive
5 June 2013
Yemeni forces began on Wednesday an all-out offensive against al-Qaeda groups that recently seized villages in the southeastern province of Hadramawt, officials and witnesses said.
Troops backed by tanks and helicopters launched a dawn operation in Ghayl Bawazir, some 30 kilometers east of the port city of Mukalla, a security official said.
Witnesses said they saw military convoys heading in the direction of the area, which officials said was seized by al-Qaeda gunmen last month.
Seven soldiers and three civilians were wounded and evacuated to a hospital in Mukalla, a medical source said.
Full report at:
http://english.alarabiya.net/en/News/middle-east/2013/06/05/Yemen-forces-launch-anti-Qaeda-offensive.html
------------
Iran summons Qatari envoy after foiling "terrorist" plot
4 June 2013
Iran summoned a Qatari diplomat after Tehran claimed it uncovered a "terrorist network" allegedly linked to an Arab country as well as Israel's intelligence agency, Mossad, a source told the semi-official Fars News Agency on Tuesday.
The "terrorist group" was planning "sabotage" operations to take place on Jun.14 during the Islamic republic's presidential election day, said the report without disclosing the name of the diplomat.
Tehran expressed its disdain to the Qatar representative, the source said on condition of anonymity, adding that the Qatari ambassador was not the one to be summoned because he was "absent." However, the source did not elaborate further.
Full report at:
http://english.alarabiya.net/en/News/middle-east/2013/06/04/Iran-summons-Qatari-envoy-after-foiling-terrorist-plot-.html
------------
Fresh violence erupts across Turkey after government apology
5 June 2013
Following an apology from Turkey's government over deadly protests this week, fresh violence erupted early Wednesday when police used tear gas and water cannon to disperse protesters in Istanbul and Ankara.
Demonstrators had been trying to march on Prime Minister Recep Tayyip Erdogan's offices in both cities and defied warnings to disperse, according to AFP news agency.
Clashes also erupted in the southeastern city of Hatay on the border with Syria, where a 22-year-old protester died a day earlier after being wounded during a protest.
In the western city of Izmir, police detained at least 25 people early Wednesday for tweeting "misleading and libelous information", state-run Anatolia news agency reported.
Full report at:
http://english.alarabiya.net/en/News/world/2013/06/05/Fresh-violence-erupts-across-Turkey-after-government-apology-.html
------------
URL: https://newageislam.com/islamic-world-news/new-age-islam-news-bureau/decorated-counter-insurgency-expert,-held-for-alleged-involvement-in-terror-attacks/d/11912