New Age Islam News Bureau
3 May 2012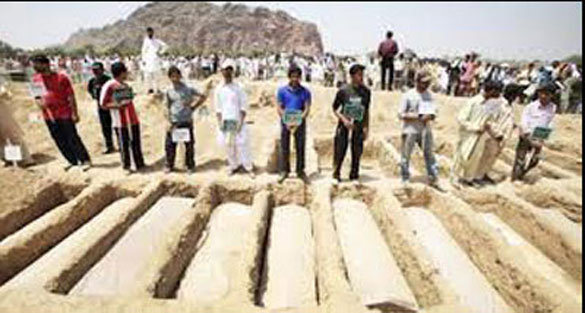 • In Pakistan Hate campaign against Ahmadis reaches new heights
• Iraqi TV dares to talk about sex
• Newspapers in Malaysia 'went black' to mark Press Freedom Day
• Govt. of India's 'support' to Barelvis sparks furore
• Malaysia mosque a source of hope for heroin addicts
• Animated film denounced as blasphemous by radical Muslims
• Osama buried off Gujarat coast, claims treasure hunter
• Most Israelis and Jews are under no illusions
• Sarkozy campaign funding letter 'fake': Libya
• SC stays order to move ICJ on 1971 POWs in Pakistan
• Islamists Strengthen Grip over North Mali
• Russia to make hi-tech case against NATO missile shield
• UNESCO ranks Pakistan second most dangerous for journalists
• Libya Drops Ban on Religion-Based Parties
• 'Time of war ending' but not for Taliban
• U.N. Resolution Threatens Sanctions Against Sudan and South Sudan
• Trial to Start for Fugitive Iraqi VP
• US Congressman writes letter to Gilani, calls Pakistan a 'failed state'
• Disgraced Pakistani nuclear scientist A Q Khan wants to contest elections
• Pakistan desires to expand ties with India: Yousuf Raza Gilani
• Pak court issues notice to govt on petition against Gilani
• Seven more killed as police fail to advance in Lyari
• Bombs kill five in Pakistan's tribal areas
• Activists: Syrian Forces Raid University; 4 Killed
• 34 killed by attackers in Nigeria
• Syria imported weapons worth $168m in 2010, says Oxfam
• Iran imports £350 m. in weapons in 3 years
• 'Fatwas from hell': Deluge of Osama jokes online
• Osama bin Laden: The night he came for dinner
• UN Syria mission head says observers 'calming' situation
• 'New era': US seals Kabul deal
• Army procurement switch puts boot into Afghan dream
• Auctions celebrate art of the Islamic world
• Tehran International Book Fair launches crackdown on 'harmful' titles
• Verdict due for Tunisia TV chief
• India: Bengal CM betters Left on quota for Muslims
• UK court orders extradition of Dawood Ibrahim aide Tiger Hanif to India
Complied by New Age Islam News Bureau
Photo: The open hate campaign against Ahmadis reached new heights
URL: https://newageislam.com/islamic-world-news/declare-ahmadis-non-muslims-legislation/d/7216
----------
Declare Ahmadis non-Muslims through legislation: Grand Mufti of Kashmir
May 03, 2012
Kashmir's Grand Mufti on Wednesday stirred up a real hornet's nest by asking for declaring Ahmadis or Ahmadiyyas as non-Muslims through a legislation in the state Assembly.
The cleric, Mufti Muhammad Bashiruddin, who is recognised by both the state government and the Centre as official 'Mufti Azam' or Grand Mufti of Jammu and Kashmir, while speaking at a meeting of religious leaders here organised by the Jammu and Kashmir Muslim Personal Board headed by him, said that all legislators should jointly table a bill in the state Assembly during its coming session and ensure it was passed with voice votes as well to declare Ahmadis as non-Muslims.
"That will address the grievance of all the people in the state of Jammu and Kashmir," he asserted, adding that the move had become imperative in the face of the "believers of Mirzaiat and Qadiyaniat only having increased their activities."
A handout issued at the end of the meeting adds, "On the issue of increasing activities of the believers of Mirzaiat and Qadiyaniat, the Islamic Sharia Council has made it clear that in all parts of the world Qadiyanis have been declared non Muslims. Hence, Mufti Azam appealed all legislators of Jammu and Kashmir "to pass the bill in coming Assembly session to declare them non Muslims in our state as well so that grievance of all the people of state is addressed."
Ahmadiyya is a reformist movement within Islam founded in British India towards the end of the 19th century, originating with the life and teachings of Mirza Ghulam Ahmed (1835–1908), who claimed that he was the Mujaddid (divine reformer) and the promised Messiah and Mahdi awaited by Muslims.
The adherents of the Ahmadiyya movement are referred to as Ahmadis or Ahmadi Muslims. India has a significant Ahmadiyya population, most of them living in Kerala, Rajasthan, Orissa, Haryana, Bihar, Delhi, UP and in Qadian in Punjab, the birthplace of Mirza Ahmed.
http://www.asianage.com/india/declare-ahmadis-non-muslims-grand-mufti-499
----------
In Pakistan Hate campaign against Ahmadis reaches new heights
May 3, 2012
LAHORE: The hate campaign against Ahmadis reached new heights in Pakistan and even innocent children are not spared now.
These were the findings of an annual report, the Persecution of Ahmadis in Pakistan, released by the Jamaat Ahmadiyya Pakistan on Wednesday. The report said, "There was an open hate campaign against Ahmadis in Pakistan and young children studying in nursery grade classes are not even spared from this horrific discrimination and hatred." Six Ahmadis lost their lives because of the fact that they were Ahmadis and more than 20 were injured in assassination attempts. "The hate filled posters; stickers, fliers and calendars were openly distributed across Pakistan," it added. The report specifically mentioned the hate campaigns faced by the Ahmadis in Faisalabad where fliers and leaflets were openly distributed calling people to kill Ahmadis. The government and security agencies failed to take any concrete action against such actions. Punishing the culprits behind these leaflets and hate material was a far cry. The extremists have increased efforts to isolate the community and the campaign to encourage people to boycott Ahmadis and Ahmadi products was also a major issue. Expelling children from educational institutions also increased and even kids studying in nursery were not spared. Ahmadi children faced expulsion from schools or outright refusal by the educational institutions to admit them.
The government seemed to succumb under the pressure from extremists and decided to look other way while these acts of hate and terror were carried out. All the acts, perpetrated after the Anti-Ahmadiyya Ordinance 1984, were against the fundamentals of the constitution. The post-1984 era was marked an increasingly difficult period for Ahmadis. The report urged the government to consider Ahmadiyya-specific laws and ensure that Ahmadis in Pakistan were given equal rights as any other citizen. "Ahmadis are facing legal, social, cultural and political discrimination because of these laws which are against the very base of our society where equal rights of individual are prime," it added.
"There have been 210 deaths after the imposition of these discriminatory laws in 1984, 254 assassination attempts on various Ahmadis, 23 Ahmadi places of worship were demolished and 28 were sealed by the administration, 16 places of worship were forcefully taken over, 29 graves of Ahmadis were opened and desecrated and 57 Ahmadis were refused burial in common graveyards," the report read further.
The report also read during 2011 Ahmadis were not allowed to build places of worship anywhere in Pakistan. At many places, police forcefully stopped the construction of places of worship. As a matter of fact, according to the constitution every citizen was free to practice his or her faith and build places of worship. Just because of prejudice, Ahmadi businesses were targeted and Ahmadi officials were being victimised. According to the report, in 2011 as well, Ahmadis were not allowed to hold any convention in Rabwah, where 95 percent people belonged to Ahmadiyya community. The report called moderate and conscious circles to urge the government to take measures to curtail the prejudice on the basis of faith.
http://www.dailytimes.com.pk/default.asp?page=2012\05\03\story_3-5-2012_pg7_28
----------
Iraqi TV dares to talk about sex
May 3, 2012
BAGHDAD: The concept of the television program was subversive by Iraqi standards: a comedy daring enough to joke about sex and relationships.
The studio audience of "There is someone."
"The idea we had for this show was just a bunch of us guys sitting around drinking and telling jokes," said Gazwan Shawi, a producer, who wore black wraparound sunglasses and a gold chain, and greeted a guest with an elaborate handshake in the style used by rappers.
Here and elsewhere, the banter of young drunken men tends to circle back to one topic: sex.
"Between us friends," Shawi said, speaking of the program's hosts and crew members, "we always talk about these things. Why can't we let the audience see this reality?"
They have, and for that they have attracted a huge following for the program, "There Is Someone" - named for a standard Iraqi segue into a joke, something akin to "knock, knock." The show, broadcast on Sunday nights, has become a national sensation and the talk of the proverbial water cooler on Monday mornings. Bootleg DVDs of previous episodes are brisk sellers in the city's markets.
But the jokes have not gone over so well with government censors and religious groups. The show recently resumed taping after a hiatus that followed complaints by the government's media commission. After a religious group protested outside the studio, the network that broadcasts the show agreed to remove from it a female D.J. whose dancing had offended the devout.
The show lays bare the deep schisms in Iraqi society over the limits of Western-style notions of free speech. In Iraq, Islamic law is enshrined in the Constitution alongside guarantees of personal freedoms.
The show has struck a chord among a public hungry for homegrown entertainment that challenges certain orthodoxies and tired of politically tinged programming produced by channels affiliated with parties and officials. "There Is Someone" is broadcast by Al Sumaria, which is owned by a Lebanese businessman and is considered one of the few media outlets not linked to a political party.
The format is simple: five or six men sitting in yellow chairs in the center of a studio drinking from big yellow coffee mugs and joking with one another. A studio audience looks on. Often the jokes are goofy and G-rated; a recent one had a donkey sneaking a crocodile into a party by claiming to be wearing a Lacoste polo shirt. The jokes do not necessarily translate well into English, and this one was uproariously funny to many viewers.
Just as often, the jokesters touch on topics that have been strictly taboo on local television, like sexual satisfaction, adultery, drunkenness and women's menstrual cycles. (Another joke, which also does not translate well, has a man sending his wife to the market so he can engage in phone sex with his mistress.)
"The show is challenging some social ideas and traditions, and that's why it may get so much attention," said Waleed Monem, a host whose clownlike grin and energy serve as the program's center of gravity.
These guys are not Iraqi stand-ins for Eddie Murphy or Andrew Dice Clay. To talk about sex on television here, and to elicit laughs for doing so, requires a feat of linguistic gymnastics and the deployment of double entendres and subtle code words. "We were scared in the beginning," said Yasir Sami, another of the show's hosts.
From the outset, Sami said, the show's creators wanted to see how far they could push the limits of what is acceptable on television here. They knew to steer clear of politics and religion - explosive topics about which saying the wrong thing could get someone killed.
So they settled on sex. "But we're trying to say things in an indirect way," Mr. Sami said.
Even so, the government has sought to shut down the program. The state's media watchdog, the Communications and Media Commission, recently condemned the show in a letter because it "contains jokes that are in most cases aggressive, indecent and impudent."
In response, Al Sumaria grudgingly agreed to take a week off from taping and to be more careful in the choice of jokes. "The media committee is full of ignorant people," said Mohammad Ubaidi, Al Sumaria's program director. "They have a Baathist mentality."
The station had little choice, because the government has wide latitude to crack down on the media. But it remains to be seen whether the tone of the show will noticeably change. Judging by the latest program, the show will continue to push boundaries, as the style of the jokes has not seemed to change.
On Sunday morning, a couple of hours before taping for the show began, a group of young men gathered outside the studio hoping to be chosen for the audience. When Mr. Monem, the host, arrived, he was searched for weapons just as everyone else was.
Ahad Yasin, 29, said he came to watch because "it's amazing to have such a show."
"It lets us forget about all the sad things," he added.
Mr. Yasin, wearing a red skintight T-shirt labeled "Dior" and equally tight black jeans, said he had become tired of watching other Iraqi channels. They are full of news about "I.E.D.'s and political speeches," he said, using the abbreviation for improvised explosive devices.
"It's a hit show, and this of course will offend the politicians, who would rather us just watch their speeches on TV," Mr. Yasin said.
Another man, who lives in Amara, in the south near the Iranian border, left his home at 4 a.m. and drove for five hours to stand in line outside the studio. "As a young man, I can really relate," he said. "We always make jokes like this. It's normal."
The show has given the hosts, already well known in Iraq for their previous media appearances, a new level of fame. When mixed with controversy, prominence here can be dangerous.
"Yes, yes, yes, I am afraid," Mr. Monem said. "I don't take taxis unless I know the driver. I don't go to popular restaurants. I've heard rumors, but haven't received any direct threats."
Mr. Monem and some of the show's other creators worked in the media under Saddam Hussein's government. They revel in their new creative freedom but say there are still too many limits on what they can produce.
"If you compare it to before 2003, yes, there is some freedom," he said.
"If you compare it to the rest of the world, no."
http://timesofindia.indiatimes.com/world/middle-east/Iraqi-TV-dares-to-talk-about-sex/articleshow/12977960.cms
---------
Newspapers in Malaysia 'went black' to mark Press Freedom Day
May 3, 2012
Several Chinese newspapers in Malaysia "went black" to mark World Press Freedom Day on Thursday as a protest against the violence towards journalists during a recent opposition backed rally on electoral reforms.
Sin Chew Daily, Nanyang Siang Pau, China Press, Guang Ming Daily and Oriental Daily printed their front pages in black and white to remind readers and authorities of the struggles journalists face while carrying out their duties, especially during rallies.
Sin Chew Daily editor-in-chief Pook Ah Lek said the paper decided to do so because many pressmen, including photographers, had been beaten during the rally.
Mr. Pook, also Editors of Chinese Medium Malaysia Association president, said the Chinese Newspaper Photographers Association had also initiated a call for journalists and photographers to don black and wear a yellow ribbon.
Nanyang Siang Pau editor-in-chief Chong Choong Nam hoped the authorities would be reminded that media personnel should be given protection by the police.
Meanwhile, the Information, Communications and Culture Ministry have encouraged the screening of video recordings of Saturday's rally to give the public an overall picture of what had happened.
Minister Rais Yatim said the ministry had asked television stations to look at the video recordings to show the rally participants' behaviour.
"There were participants who smashed police patrol car windscreens. They should watch this video, while there are also videos showing policemen acting inappropriately."
Home minister Hishammuddin Hussein has said an independent panel will be set up to investigate claims of police brutality against journalists covering Bersih 3.0 rally last Saturday.
Mr. Hishammuddin expressed regret that some journalists were allegedly treated badly.
"We have no qualms about doing that (forming the panel), and the IG police wants it to be transparent, even if it involves the police," he said.
"I have to remind you that the worst case (of violence) involved a journalist, Mohamad Azri (Salleh) from Al-Hijrah (TV), who was set upon while trying to save a police (officer).
"It was not the police who set on him, so please be fair in that context," he said.
Mr. Hishammuddin noted that the Cabinet had ordered the police and the Attorney-General to expedite investigations and charge those responsible for turning the rally into a riot.
http://www.thehindu.com/news/international/article3379760.ece
---------
Govt. of India's 'support' to Barelvis sparks furore
May 3, 2012
SRINAGAR: The Kashmir-based Karvan-e-Islam chairman Maulvi Ghulam Rasool Hami on Wednesday asked the Centre and the state government to remove the confusion created by media reports that state agencies were supporting the Barelvi group of Kashmiri Muslims financially, and by providing government officials who attend functions organized by Barelvis in the valley.
Agreeing with media reports, Kashmir's leading cleric, Mirwaiz Umer Farooq warned government officials and the state information department against supporting a particular school of thought in Kashmir with government funding.
"What business does the state information department have in issuing press releases regarding functions at various shrines and tombs?" he asked, adding that this created confusion among people, harmed society in the long run and caused sectarian strife.
General secretary of Jamiat Ahle Hadith Abdul Rehman Bhat, who belongs to the Wahhabi school of thought, said there was no conflict between Wahhabis and Barelvis in Kashmir who are nearly 70% of the state's population. "Nobody can impose thoughts over the other with violence or force. We don't believe in propagating or opposing any particular thought," Bhat said.
Jamiat Ahle Hadith or Kashmiri Wahhabis have 700 mosques and 125 schools. Their overall number is close to 1.5 lakh. Ummat-iI-Islami president and the Mirwaiz of South Kashmir, Qazi Ahmad Yasir, said propagation of a particular school of thought is not tantamount to "creating sectarian divide".
Full report at:
http://timesofindia.indiatimes.com/india/Centres-support-to-Barelvis-sparks-furore/articleshow/12974004.cms
----------
Malaysia mosque a source of hope for heroin addicts
May 03, 2012
By Anuradha Raghu
KUALA LUMPUR: For 30 years, Feisal Fakharudin lived a heroin addict's life, sleeping on streets, getting into trouble with police and rotating in and out of drug treatment centers.
In Malaysia, a Muslim-majority country where drug addiction is still taboo, his habit made him a social outcast until he found support from an unlikely source -- the Ar Rahman mosque nestled in the bustling capital city of Kuala Lumpur.
After performing his prayers, Feisal slips upstairs away from his fellow worshipers to receive a dose of methadone from a drug-treatment clinic - the world's first to operate in a mosque, according the World Health Organization.
"In the past, there was no one to help me," said Feisal, who said he used to feel like the "scum of society."
Feisal attributes the success of his treatment to the spiritual guidance he gets from mosque clerics, as well as the methadone syrup dispensed twice a week by medical staff.
Full report at:
http://www.dailystar.com.lb/News/International/2012/May-03/172214-malaysia-mosque-a-source-of-hope-for-heroin-addicts.ashx#axzz1tmTSqysv
---------
Animated film denounced as blasphemous by radical Muslims
03 May 2012
The owner of a private Tunisian TV station has been fined for showing a controversial animated film.
The award-winning French-American film, Persepolis, has been denounced as blasphemous by radical Muslims.
The case of Nabib Karoui had been seen as an important test of free speech in Tunisia, where last year's popular uprising inspired the Arab Spring.
When the film was broadcast last October, Islamist militants attacked the offices of the TV station, Nessma.
Depicting Allah
The court has ordered Karoui to pay 2,400 dinars ($1,700; £1,000).
In its ruling the court said the judgement was for "broadcasting a film that disturbs public order and threatens proper morals".
A Nessma technician and another station official were also both fined 1,200 dinars.
The 2007 film recounts the Iranian revolution and its aftermath through the eyes of a young girl.
Full report at:
http://www.bbc.co.uk/news/world-africa-17936628
---------
Osama buried off Gujarat coast, claims treasure hunter
May 03 2012
Melbourne : A Californian treasure hunter has claimed that he has found the body of Osama bin Laden 200 miles to the west of the city of Surat.
Bill Hunter revealed recent photos released by the US Navy depicting the burial at sea gave him the final clue to the terrorist leader's final resting place. It hasn't moved, he said, because it's in a weighted bag.
"I've located where they threw him away," News.com.au quoted him as telling Spanish newspaper El Mundo.
"I'm the only one with this information. He's 200 miles (320km) to the west of the Indian city of Surat," he stated.
Warren – whose stock-in-trade is "salvaging history from shipwrecks" - announced he was on the case back in June last year.
He said he would need 200,000 dollars to bring bin Laden to the surface, but he admitted that he's not doing it for the money.
But Hunter asserted that his goal is purely personal and needs to prove to himself that the man is dead.
Full report at:
http://www.indianexpress.com/story-print/944814/
---------
Most Israelis and Jews are under no illusions
May 3, 2012
Candidly Speaking: We should not fall prey to propaganda repeating false assertions that today Jews are less supportive of the Jewish state.
If one reviews the events of the past year and monitors opinion polls, it becomes abundantly clear that despite the mantras chanted by the far Left insisting that most Israelis and Jews are opposed to the policies of the current Israeli government, the evidence on the ground suggests the contrary.
There is neither a groundswell of resentment against the foreign policy and security policies of the Israeli government nor are there indications suggesting that committed Diaspora Jews are becoming alienated from the Jewish state.
In fact, it is undeniable that a far stronger consensus prevails among Israelis in relation to the government's approach toward the Palestinians than at any time since the national schism was created in the wake of the adoption of the Oslo Accords.
Full report at:
http://www.jpost.com/Opinion/Columnists/Article.aspx?id=268448
---------
Sarkozy campaign funding letter 'fake': Libya
May 3, 2012
Tripoli: A letter in which Muammar Gaddafi's regime agreed to fund French President Nicolas Sarkozy's 2007 election campaign appears to be fake, Libya's National Transitional Council said on Wednesday.
"We think that the letter is fake," NTC chief Mustafa Abdel Jalil told a news conference in Tripoli.
Mediapart website last month posted what it said was a 2006 document signed by Gaddafi's foreign intelligence chief Mussa Kussa referring to an "agreement in principle to support the campaign for the candidate for the Presidential Elections, Nicolas Sarkozy, for a sum equivalent to EUR 50 million".
At the news conference, Abdel Jalil also called on France to help Libya extradite Bashir Saleh, a former Libyan official who was implicated in the alleged campaign scandal.
The letter, which Sarkozy has dismissed as a "crude forgery", was addressed to Saleh, Gaddafi's former chief of staff and head of Libya's USD 40 billion sovereign wealth fund, who currently resides in France.
Kussa from exile in Doha has also dismissed the document as a fake.
"These are media leaks that started in France," said Jalil. "We in the government do not have official information about this but if we have precise information we will release it with transparency."
http://zeenews.india.com/news/world/sarkozy-campaign-funding-letter-fake-libya_772980.html
---------
SC stays order to move ICJ on 1971 POWs in Pakistan
May 3, 2012
NEW DELHI: The Supreme Court on Wednesday stayed a Gujarat High Court order directing the Union government to move the International Court of Justice on Pakistan illegally detaining 54 Indian Army men in breach of an agreement between the two countries after the 1971 war to exchange all prisoners of war.
A bench of Justices R M Lodha and H L Gokhale stayed that part of the HC order directing the Centre to move the ICJ after additional solicitor general P P Malhotra and advocate Wasim A Qadri informed the court that it had complied with the other part of the direction to pay all service benefits of the Indian POWs to their kin.
Hearing a petition filed by 1971 war hero Lt Gen Jagjitsingh Aurora, the HC had directed the Union of India to approach the ICJ within two months for the release of 54 POWs languishing in Pakistani jails while observing that it was in breach of the Simla Agreement signed by India and Pakistan. The HC had also asked the Centre to pay the kin of the 54 POWs full salary and retirement benefits within three months.
Full report at:
http://timesofindia.indiatimes.com/india/SC-stays-Gujarat-HC-fiat-to-Centre-to-move-ICJ-on-1971-POWs-in-Pakistan/articleshow/12973094.cms
---------
Islamists Strengthen Grip Over North Mali
May 3, 2012
BAMAKO, Mali (AP) — In one town in northern Mali a man has been whipped for drinking alcohol. In another, pictures of unveiled women have been torn down. In a third, traditional music is no longer heard in the streets.
While government soldiers were fighting each other this week for control of the capital in Mali's southwest corner, Islamist fighters were asserting control over the Texas-sized northern half of the country. The Islamists, some of whom are foreigners, are imposing strict religious law, setting up a possible showdown with Tuareg nationalist rebels who say they want a secular state and who seized northern Mali in March alongside the Islamists.
In the fabled city of Timbuktu, whose winding alleyways lined with mud homes fill with sand blown in from the Sahara, pictures of unveiled women have either been torn down or covered over with black paint, according to El Hadj Baba Haidara, a member of the Malian parliament for the city. The Islamists have also cut the signal for national TV broadcasts to the city because they consider the women not properly covered and don't approve of the music the station plays, Haidara said.
"No one came come here and tell us how to practice Islam," Haidara said. "Timbuktu has been Islamic since the 12th century and we have our own way of doing things."
Full report at:
http://www.nytimes.com/aponline/2012/05/02/world/africa/ap-af-mali-islamists.html?ref=global-home&gwh=F1672E4981CD9FC1B3866738283FD661
---------
Russia to make hi-tech case against Nato missile shield
May 3, 2012
MOSCOW: The United States said on Wednesday it was fully committed to completing an anti-missile shield in Europe even as Moscow promised to use computer modelling to show an international conference how the Nato system threatens its security.
A dispute over the system has slowed improvements in Russian-US ties and is likely to remain an irritant after Vladimir Putin returns to the Kremlin next week for a six-year presidential term.
Washington says the shield, due to be completed in four phases by roughly 2020, is meant to counter a potential threat from Iran.
Moscow says the system will undermine Russia's nuclear deterrent because it could also give the West the ability to shoot down Russian missiles.
The shield's first phase is to be declared up and running at a Nato summit this month in Chicago.
Full report at:
http://dawn.com/2012/05/03/russia-to-make-hi-tech-case-against-nato-missile-shield/
---------
UNESCO ranks Pakistan second most dangerous for journalists
May 3, 2012
ISLAMABAD: While journalists and media organisations are all set to enthusiastically observe and celebrate 'World Press Freedom Day' on Thursday, a new report released by the United Nations Educational, Scientific and Cultural Organisation (Unesco) may leave them with very few reasons to do so.
The report alarmingly ranks Pakistan as "the second most dangerous country for journalists the world over".
The report titled 'Safety and the danger of Impunity' says that a dramatic increase in the number of media staffers killed in Pakistan has been witnessed from two and six killings registered in the two previous reports, respectively, to 16 during 2010-11. Mexico, it claims, is the worst affected country in the period as far as risk for the journalists' fraternity is concerned.
While the president of Pakistan sounds loud and clear in his commitment, though in mere words, that his party and the government were determined to uphold the freedom of media, Pakistan Federal Union of Journalists (PFUJ) President Pervaiz Shaukat pleads that media will not accept any sort of curbs since it has rendered sacrifices.
Full report at:
http://dawn.com/2012/05/03/unesco-ranks-pakistan-second-most-dangerous-for-journalists/
---------
Libya Drops Ban on Religion-Based Parties
May 3, 2012
TRIPOLI (Reuters) - Libya has dropped a ban against parties based on religion, tribe or ethnicity, an official said, after the law irked Islamist parties in the run up to the first free election in June.
The ruling National Transitional Council's judicial committee on Wednesday read out a raft of news laws including an amended version of one governing formation of political parties, making no mention of the ban, which was announced last week.
"This point has been dropped and so any party or political organization will follow the law as it is now," Salwa Al-Dgheily, a member of the NTC judicial council, told Reuters after an NTC meeting.
Libyans vote in June to elect a national assembly for the first time since the overthrow of Muammar Gaddafi. Eighty of the 200 seats will go to political parties, with the rest reserved for independent candidates.
Last week the NTC said it had passed a law banning parties based on religious, tribal or ethnic lines. A new Islamist party viewed as a leading contender signaled it would challenge the decision.
Full report at:
http://www.nytimes.com/reuters/2012/05/02/world/africa/02reuters-libya-election.html?_r=1&ref=global-home&gwh=1931E043825E57918BF45ADD73E7069C
---------
'Time of war ending' but not for Taliban
May 3, 2012
Obama 'secret' visit triggers Taliban attacks across Kabul
TALIBAN militants executed an audacious attack, leaving at least six people dead in Kabul, barely hours after US President Barack Obama's visit to the city that came a year after al- Qaeda chief Osama bin Laden was gunned down in Pakistan.
The brazen attacks were carried out after Obama left Kabul following the previously unannounced visit during which he signed a strategic partnership agreement with his Afghan counterpart, Hamid Karzai.
The Taliban targeted a foreigners' housing compound with a suicide car bomb and militants disguised as burqa- clad women in an assault which the Afghanistan Taliban claimed was in protest against Obama's visit.
It was the second major assault on Kabul in less than three weeks and highlighted the Taliban's continued ability to strike in the heavily guarded capital even when security had been tightened for Obama's visit and Wednesday's anniversary of the killing of Laden in neighbouring Pakistan.
" This was a message to Obama that those are not the real Afghans that are signing documents about this country," a Taliban spokesman said, " The real Afghan nation are those people that are not letting foreign invaders stay in this country or disrespect its dignity." He also announced that its annual " spring offensive" would begin on Thursday.
Full report at: Mail Today
---------
U.N. Resolution Threatens Sanctions Against Sudan and South Sudan
By JOSH KRON
May 3, 2012
The United Nations Security Council approved a resolution on Wednesday threatening Sudan and South Sudan with sanctions if they failed to halt escalating cross-border fighting that was called a "serious threat to international peace." The resolution demanded the nations resume negotiations on fraught issues like oil sharing to try to stop the violence. Russia and China, which have resisted voting against Sudan in the past, joined in the unanimous passage of the resolution. The resolution also called for both nations to remove their forces from Abyei, arguably the most iconic of numerous contested regions along the border. Last month, hostilities heated up when South Sudan captured the oil-rich region of Heglig from Sudan. It later withdrew, after Sudanese airstrikes and pressure from the international community, but clashes between the two nations continue along the border, as well as inside South Sudan's territory.
http://www.nytimes.com/2012/05/03/world/un-threatens-sanctions-against-sudan-and-south-sudan.html?ref=africa&gwh=6E1CC5FBBA0018ED2B88E4D9348DF7DD
---------
Trial to Start for Fugitive Iraqi VP
May 3, 2012
BAGHDAD (AP) — The terror trial against Iraq's fugitive Sunni vice president is set to start in Baghdad. The case has touched off a political crisis in the country and could deepen the nation's sectarian divide.
Tariq al-Hashemi was not expected to be in court Thursday to face charges he ran death squads against government officials, security forces and Shiite pilgrims.
Al-Hashemi is Iraq's top Sunni official. He has denied the charges that he calls politically motivated.
The Shiite-led government accuses al-Hashemi of links to about 150 bombings, assassinations and other attacks.
Thursday's trial focuses on three charges: the killings of officials at the National Security and Interior ministries and the killing of a lawyer.
http://www.nytimes.com/aponline/2012/05/03/world/middleeast/ap-ml-iraq.html?ref=middleeast&gwh=EB19A5A28EF04DECC3701A2F5EC2E928
---------
US Congressman writes letter to Gilani, calls Pakistan a 'failed state'
By Huma Imtiaz
May 3, 2012
WASHINGTON: US Congressman Dana Rohrabacher has written a letter to Prime Minister Yousuf Raza Gilani, condemning the recent violence in Balochistan and has dubbed Pakistan a "failed state."
According to a copy of the letter received from the Congressman's Washington DC press office, Representative Rohrabacher cites media reports that policemen killed four people in "unprovoked and
indiscriminate" firing during a raid on a house in Balochistan. Rep. Rohrabacher called it "yet another example in a seeming never ending line of stat sponsored violence targeting the Balochi people."
Congressman Rohrabacher, who is also the chairman of the House Foreign Affairs Subcommittee on Oversight and Investigation, in his letter, adds, "it has become increasingly clear to members of the US Congress that Pakistan is a failed state and no amount of US aid money will ever change that."
Rep. Rohrabacher warned that US aid assistance for Pakistan will dry up once US forces leave Afghanistan, and Pakistan's leverage over the US will diminish as a result. "It is clear that the Pakistani military and intelligence services have for years diverted money intended to help the people of Balochistan, and the other provinces of Pakistan, into funding terrorism and buying weapons to repress their own people."
Full report at:
http://tribune.com.pk/story/373354/pen-friends-rohrabacher-writes-letter-to-gilani-calls-pakistan-a-failed-state/
---------
Disgraced Pakistani nuclear scientist A Q Khan wants to contest elections
May 03 2012
Lahore: Disgraced Pakistani nuclear scientist A Q Khan has expressed his willingness to contest elections while suggesting the formation of a government of technocrats because politicians have failed to deliver good governance.
76-year-old Khan made the remarks while addressing students at the Punjab University yesterday. Khan has been accused of running proliferation network and providing nuclear technology to Iran, North Korea and others.
He advised PML-N chief Nawaz Sharif to quit politics and concentrate on his business and to let his younger brother, Punjab Chief Minister Shahbaz Sharif, take care of the party's affairs.
Full report at:
http://www.indianexpress.com/story-print/944846/
---------
Pakistan desires to expand ties with India: Yousuf Raza Gilani
May 3, 2012
ISLAMABAD: The Pakistan government desires to expand ties with India in diverse fields, especially trade, while maintaining peace and promoting prosperity in the region, Prime Minister Yousuf Raza Gilani said on Wednesday.
"Pakistan is a peace-loving and moderate country and wants to have friendly and cordial relations with all countries, including India," the premier said while addressing a "special integration camp" here being attended by contingents of scouts and girl guides from India and Pakistan.
"We expect the same feelings of goodwill from India and certainly India will come up to our expectations," he added.
The current democratic government under the leadership of President Asif Ali Zardari is making efforts to create an environment conducive to peace and brotherhood in the region, he said.
At the same time, the government is taking all possible steps to expand trade and bilateral ties between Pakistan and India, he said.
Gilani said he and his Indian counterpart Manmohan Singh, during their meetings, had agreed to strengthen friendly ties between the two countries so that they could benefit from each other's economic resources.
"We do not have any aggressive designs against anybody and Pakistan wants to maintain relations on the basis of friendship and fraternity with all the world, including India," he remarked.
According to the teachings of Islam, the people of Pakistan were peaceful and moderate and desired a secure world, he said.
http://timesofindia.indiatimes.com/world/pakistan/Pakistan-desires-to-expand-ties-with-India-Yousuf-Raza-Gilani/articleshow/12971335.cms
---------
Pak court issues notice to govt on petition against Gilani
May 03 2012
Lahore/Islamabad : A Pakistani court has issued a notice to the federal government on two petitions asking it to stop Yousuf Raza Gilani from holding the post of Prime Minister after his conviction while another court has dismissed a similar petition.
The Lahore High Court issued the notice yesterday after hearing the arguments of two petitioners represented by lawyer A K Dogar, who is also the counsel for Jamaat-ud-Dawah chief Hafiz Mohammad Saeed.
Dogar argued that after the conviction, the premier and his cabinet stood disqualified and there was no need of any further process for their disqualification.
He asked Chief Justice Sheikh Azmat Saeed, who was hearing the matter, not to feel any fear and declare the premier disqualified.
The Chief Justice said the court had no fear and would give a decision according to the Constitution.
Full report at:
http://www.indianexpress.com/story-print/944825/
---------
Seven more killed as police fail to advance in Lyari
May 3, 2012
KARACHI: At least seven people were killed and more than 40 wounded as the gun battle between police and gangsters entered sixth day on Wednesday.
Police failed to make advance in Lyari where gangsters, armed with sophisticated weapons, were giving tough time to law enforcers. At least 36 people have been killed since the police launched an operation in the area.
Sajjan Bibi was killed in Kalakot area when a bullet hit her inside her home. Seven-year- old Noor Zaib was killed during a shootout in Usmanabad.
Ismail Katchi was killed and seven other people injured during a rocket attack by gangsters on Jumman Baloch Road. Another violence victim, Amjad, who was wounded in Kalakot, succumbed to the injures on way to hospital.
Zafar Katchi was killed at Cheel Chowk and an unidentified man was knocked to death by a police's armoured personnel carrier in Kalakot area. Police declined the incident.
Full report at:
http://www.dailytimes.com.pk/default.asp?page=2012\05\03\story_3-5-2012_pg7_1
----------
Bombs kill five in Pakistan's tribal areas
May 3, 2012
KHAR: Two bomb attacks killed at least five people in Pakistan's tribal areas Thursday, officials said.
The first attack killed two pro-government tribal elders in Chamarkand village, 45 kilometres northwest of Khar, the main town of Bajaur district at around 8.30am (local time), local government official Tariq Khan told AFP.
The second bomb exploded 10 minutes later after security forces arrived and began a search operation to find the culprits, Khan said.
"Two paramilitary soldiers and one tribal policeman were killed in the second bomb blast," he said.
Another government official, Adalat Khan, confirmed the bombings and casualties.
There was no immediate claim of responsibility, but tribal elders supporting military operations against local Taliban fighters are frequently attacked.
Bajaur saw major anti-Taliban offensives in August 2008 and February 2009, and the military has repeatedly declared the district secure.
http://dawn.com/2012/05/03/bombs-kill-five-in-pakistans-tribal-areas-officials/
---------
Activists: Syrian Forces Raid University; 4 Killed
May 3, 2012
BEIRUT (AP) — Syrian security forces stormed student dorms at a northwestern university following anti-government protests there, killing at least four students and wounding several others with tear gas and live ammunition, activists and opposition groups said Thursday.
Around 1,500 students had been protesting in student quarters adjacent to Aleppo University's main campus late Wednesday when security forces and pro-regime gunmen swept into their residences, firing tear gas at first, then live ammunition to disperse them.
Student activist Thaer al-Ahmed said panic and chaos ensued as students tried to flee.
"Some students ran to their rooms to take cover but they were followed to their rooms, beaten up and arrested," he said.
He said raids and intermittent gunfire continued until early Thursday morning.
Dozens of people were wounded, some critically, and around 50 students were arrested, he said.
Full report at:
http://www.nytimes.com/aponline/2012/05/02/world/middleeast/ap-ml-syria.html?ref=global-home&gwh=18CA9AF129B5B58EE87FD80B42169204
---------
34 killed by attackers in Nigeria
03 May 2012
At least 34 bodies "deposited at hospital" after raid on a cattle market in the country's northeast.
At least 34 people have been killed by armed men after an attack on a cattle market in northeastern Nigeria, an emergency source says.
"Thirty-four bodies were deposited at the hospital," the official said, adding that the toll is likely to climb.
Emergency workers say the attackers used explosives in the attack on Wednesday night in the city of Potiskum.
The attack was believed to be in reprisal for an incident earlier in the day, when a gang sought to rob the market but was fought off by traders who caught one of the attackers, police said.
Full report at:
http://www.bbc.co.uk/news/world-africa-17936549
-------
Syria imported weapons worth $168m in 2010, says Oxfam
May 3, 2012
Charity calls for new international treaty on arms trade, which it says is less tightly regulated than trade in bananas or coffee
The Syrian government imported $167m-worth of air defence systems and missiles and a further $1m of small arms and ammunition in the months before it began a crackdown on opposition activists, a report claims.
The charity Oxfam says the sale and transfer of munitions to President Bashar al-Assad's regime in 2010 highlights the need for a new international arms trade treaty. The treaty would provide "clear, unambiguous, legal obligations on states" not to sell weapons if they might end up being used to provoke conflict or violate human rights.
The EU imposed an arms embargo on Syria in May last year, but France has accused Iran of continuing to sell weapons to Assad. Russia is known to be a major exporter of arms to Syria.
In its report, The Devil is in the Detail, Oxfam says that between 2000 to 2010 more than £2.2bn worth of weapons and ammunition were bought by countries that were the subject of 26 different arms embargoes.
Full report at:
http://www.guardian.co.uk/world/2012/may/03/syria-imported-weapons-oxfam
---------
Iran imports £350 m. in weapons in 3 years
May 3, 2012
Iran imported weapons worth over £350 million in the space of three years despite being the target of a United Nations arms embargo, the British newspaper The Telegraph reported that Oxfam will disclose on Thursday.
Besides Iran, 10 countries under international arms sanctions succeeded in purchasing weapons worth over £1.4 billion during the years 2000-2010, according to the report.
The success of the embargoed states in acquiring arms exemplifies how ineffective the current regime is at preventing proliferation, said Anna MacDonald, the Control Arms campaigns manager for Oxfam. She added: "If you are an unscrupulous government, it's quite easy to find your way around them," the report said.
Since 2007, the UN Security Council has pressed all of its members to "exercise vigilance and restraint" in supplying arms to Iran. But the report states that data from the Stockholm International Peace Research Institute (SIPRI) shows that Tehran acquired weaponry worth £350 million by 2010.
A January 2012 SIPRI report had previously exposed Iran's renaming of over a dozen cargo ships in the past year in seeking to circumvent sanctions on arms transfers and the supply of nuclear-related equipment.
The SIPRI report had included an analysis of incidents of illicit arms and drug transfers in recent years.
Full report at:
http://www.jpost.com/IranianThreat/News/Article.aspx?id=268521
---------
'Fatwas from hell': Deluge of Osama jokes online
May 3, 2012
ISLAMABAD: A year after Osama bin Laden was killed by US navy SEALS in Abbottabad, Pakistan, the world's number one terrorist is keeping busy tweeting from hell!
Dozens of fake accounts were floated on Twitter shortly after bin Laden's death and ever since, there has been no stopping the updates and "fatwas" from "hell".
"My ex-wife is talking to ABC News. This is even more disrespectful than the time she asked to look out a window ..., "read a tweet by a fake account operated by 'Osama'. Another one says "hot chocolate is Haram". The descriptions of Osama on the many fake accounts are hilarious. One such account describes him as "former public enemy #1".
One tweet on a fake account went: "... faked my own death, now travelling the world. Maybe I'm coming to your city! Check your local al-Qaida branch!"
One tweet on a fake account on his first death anniversary was rather philosophical. "It's been almost a year... Time flies when you're dead!" Another read, "What is it with Obama and surprise visits on May 1st?"
A popular spoof website went a step further and published an interview with him: "The guys in Heaven all want to come down here. There's no hot stuff up there - not even a lamb tikka masala. I tell you, its sure great fun in Hell".
http://timesofindia.indiatimes.com/world/pakistan/Fatwas-from-hell-Deluge-of-Osama-jokes-online/articleshow/12974754.cms
---------
Osama bin Laden: The night he came for dinner
May 3, 2012
LAHORE: What happens when your surprise dinner guest turns out to be the world's most wanted man? A year on from the death of Osama bin Laden, two men tell BBC's Ilyas Khan how they came to host the slain al Qaeda leader.
Late one night in the summer of 2010, on the fringes of the Waziristan region, half a dozen men of a local tribal family waited nervously for the arrival of a guest whose identity they didn't know.
They had been alerted to this visit weeks earlier, by someone they describe simply as an "important person". At about 11pm, they heard the rumble of the approaching vehicles. "A dozen big four-wheel drive jeeps drove into the compound," recalls one family elder who agreed to speak to Ilyas about it. "They seemed to converge from different directions."
One of the 4x4s drove up close to the veranda, and from its back seat emerged a tall and frail-looking man. The waiting men couldn't believe their eyes. Standing before them was none other than Osama bin Laden – the most wanted man in the world. "We were dumbstruck," says the elder. "He was the last person we'd expected to turn up at our doorstep."
Full report at:
http://www.dailytimes.com.pk/default.asp?page=2012\05\03\story_3-5-2012_pg7_17
----------
UN Syria mission head says observers 'calming' situation
May 3, 2012
LONDON: The head of the UN mission to Syria on Wednesday said his observers were having a "calming effect" on the ground but admitted the ceasefire was "shaky" and not holding.
Speaking in Damascus to Britain's Sky News, Major General Robert Mood brushed off criticism that the United Nations Supervision Mission in Syria ( UNSMIS) had been too slow to get going.
The Norwegian said their numbers of boots on the ground would double in the coming days.
"This is not easy and we are seeing -- by the action, by explosions, by firing -- that the ceasefire is really a shaky one. It's not holding," the 53-year-old said.
"But what we are also seeing on the ground is that where we have observers present, they have a calming effect and we're also seeing that those operating on the ground, they take advice from our observers."
http://timesofindia.indiatimes.com/world/middle-east/UN-Syria-mission-head-says-observers-calming-situation/articleshow/12972376.cms
---------
'New era': US seals Kabul deal
May 03 2012
Kabul : President Obama, speaking on Tuesday night from Bagram Air Base, declared that he had travelled here to herald a new era in the relationship between the US and Afghanistan, "a future in which war ends, and a new chapter begins."
Obama's address, during an unannounced visit to sign a strategic partnership agreement with President Hamid Karzai that sets the terms for relations after the departure of US troops in 2014, was a chance for him to make a case that he is winding down an unpopular war.
"My fellow Americans," he said, speaking against a backdrop of armoured military vehicles and an American flag, "we've travelled through more than a decade under the dark cloud of war. Yet here, in the pre-dawn darkness of Afghanistan, we can see the light of new day on the horizon."
Obama also spoke of an "enduring partnership" with Afghanistan, invoking the agreement, which pledges US help for a decade in developing the Afghan economy and public institutions, though it makes no concrete financial commitments.
The agreement, Karzai said, opened "a new chapter in the relationship between the US and Afghanistan."
Hours after Obama left the country, a suicide car bomber and Taliban militants disguised in burqas attacked a compound known as Green Village that houses hundreds of international contractors in Kabul. Seven people were killed, officials said. The Taliban said the attack was a response to Obama's visit. The insurgency also claimed their spring offensive would be renewed on Thursday.
Obama had said earlier, "The goal I set — to defeat al-Qaeda — is now within our reach."
http://www.indianexpress.com/story-print/944580/
---------
Army procurement switch puts boot into Afghan dream
May 3, 2012
KABUL: Gazing glumly over millions of dollars worth of machinery which used to churn out thousands of police and army boots each day but now sits wreathed in plastic sheeting, Farhad Saffi fears he is seeing the death of an Afghan dream.
Saffi's Milli Boot Factory, in Kabul's sprawling industrial hinterland, was a model for Afghanistan, showcasing local manufacturing while giving jobs to hundreds of people who may have otherwise have picked up insurgent guns.
But a US decision to hand procurement to the Afghan government has left Saffi with something of a developed world problem – local officials opted for cheaper boots made in China and Pakistan, killing off Milli's contracts after a year.
"The US government told me when I started I would have contracts for five years, until at least 2014," he told Reuters.
"The Afghan government gave me only three months notice of cancellation and now I have $30 million worth of raw material I can't use."
When it opened, inside huge white sheds that once held PVC piping machinery but is now home to high-tech German injection moulding and boot-making equipment, Afghan and US generals were keen to be photographed alongside a local success story.
Full report at:
http://dawn.com/2012/05/03/army-procurement-switch-puts-boot-into-afghan-dream/
---------
Auctions celebrate art of the Islamic world
By Bryony Jones
May 3, 2012
London (CNN) -- The salerooms of London were last week crammed with art and antiquities from across the Islamic world, as the city's auction houses celebrated "Islamic Week."
A growing interest in work from the region saw records fall for centuries-old pieces and contemporary creations alike.
Auction houses Christie's, Sotheby's, Bonhams and Baldwin's all held sales of Islamic artifacts, from ancient carvings to calligraphy, coins and carpets.
The biggest record was set at Sotheby's Orientalist Sale, where Russian painter Ivan Konstantinovich Aivazovsky's "View of Constantinople and the Bosphorus" sold for $5,215,556 last week -- far in excess of its pre-sale estimate of $1,943, 530.
The work, completed in 1856 by Aivazovsky, who was official painter to the Russian admiralty, sparked a bidding war: a spokesman for the auctioneer said at least five would-be buyers had battled it out to own the piece.
Last year, Sotheby's set a new record for the sale of an Islamic artwork when an illustrated folio from the Shahnameh -- an epic Persian poem composed around 1,000 years ago -- sold for $12.2 million.
Full report at:
http://edition.cnn.com/2012/05/02/world/europe/auction-art-islamic-week/
---------
Tehran International Book Fair launches crackdown on 'harmful' titles
May 3, 2012
Annual event that attracts 500,000 visitors a day has revoked licences of publishing houses and banned them from attending
The idea of an international book festival in Tehran might sound incongruous. Leaders of the Islamic republic are no great book enthusiasts. Numerous writers are banned and as one of the world's most-censoring countries, Iran has a relatively low level of book reading.
But Tehran's international book fair, held annually in the first half of May, attracts half a million visitors per day. The figure is more than the number of people who visit Frankfurt Book Fair, which claims to be the biggest in the world, over its entire duration.
In a labyrinth of identical stalls, more than 2,000 publishing houses stand next to each other in alphabetical order. Crowds flock to the stalls, sometimes pushing each other to catch a better glimpse of newly released books on shelves. Titles range from the Farsi translations of works by JG Ballard, Fyodor Dostoevsky and Haruki Murakami to the new reprints of the Qur'an and books about the significance of Imam Mahdi, the Shi'i Islam's messianic figure.
Full report at:
http://www.guardian.co.uk/world/2012/may/02/tehran-international-book-fair-crackdown?newsfeed=true
---------
Verdict due for Tunisia TV chief
May 3 2012
Tunis - A verdict is due on Thursday in the divisive case against a Tunisian television station director accused of insulting sacred Islamic values for screening the animated film "Persepolis".
Nabil Karoui's Nessma television station broadcast the award-winning Franco-Iranian film, which recounts the Iranian revolution and its aftermath through the eyes of a young girl, on October 7 last year.
It sparked outrage because of scenes depicting God, whose representation is banned in Islam.
The verdict is being keenly watched as a litmus test of freedom of the media in Tunisia, whose uprising inspired the Arab Spring revolts which toppled several dictators across the region.
Within two days of the broadcast, Islamic militants attacked the television station's offices and Karoui's home during violent demonstrations in Tunis.
The case has split Tunisia, with many in the newly democratised country supporting its broadcast and civil liberties activists and media rights groups in the north African nation quick to defend it.
Full report at:
http://www.iol.co.za/news/africa/verdict-due-for-tunisia-tv-chief-1.1288084
---------
Mamata betters Left on quota for Muslims
May 3, 2012
KOLKATA: The Mamata Banerjee government on Wednesday outdid its Left Front predecessor by bettering the latter's September 24, 2010 notification granting reservations to Muslims under the OBC category. The state cabinet cleared a proposal for inclusion of 35 more castes in the state's OBC list, of which 33 are backward Muslim groups.
The Left government had added 108 OBC groups to the list, of which 53 belonged to backward Muslims. With Wednesday's cabinet decision, the total number of Muslim groups to receive OBC status in Bengal rises to 86.
Mamata, who has been pulling out all the stops to woo Muslims ahead of the panchayat polls, opted to tread the path of the previous Left Front government, which in 2010 hit upon the roundabout route to grant reservation to Muslims to stem the erosion in its Muslim support base.
The bill, which could not be passed during the Left Front's tenure because it lacked the governor's consent, will soon be cleared in the Assembly, Mamata said.
http://timesofindia.indiatimes.com/india/Mamata-betters-Left-on-quota-for-Muslims/articleshow/12973884.cms
---------
UK court orders extradition of Dawood Ibrahim aide Tiger Hanif to India
May 3, 2012
LONDON: Tiger Hanif, an alleged terrorist wanted by Gujarat police for a bomb attack on a train in 1993, and absconding in Britain, was on Wednesday ordered by the Westminster magistrates' court in London to be extradited to India. This is a significant victory for Indian authorities, who have in the past failed to get people suspected to have committed crimes in India to face justice on Indian soil.
Sources said Hanif was closely associated with Dawood Ibrahim and carries information on the activities of Lashkar-e-Taiba. It is learned that Hanif's ties with Dawood go back to the latter's Mumbai days. Hanif was in charge of Dawood's operations in Gujarat, the state that for long was the chosen route to smuggle in drugs and arms from Pakistan.
Full report at:
http://timesofindia.indiatimes.com/india/UK-court-orders-extradition-of-Dawood-Ibrahim-aide-Tiger-Hanif-to-India/articleshow/12973777.cms
---------
URL: https://newageislam.com/islamic-world-news/declare-ahmadis-non-muslims-legislation/d/7216