New Age Islam News Bureau
23 November 2022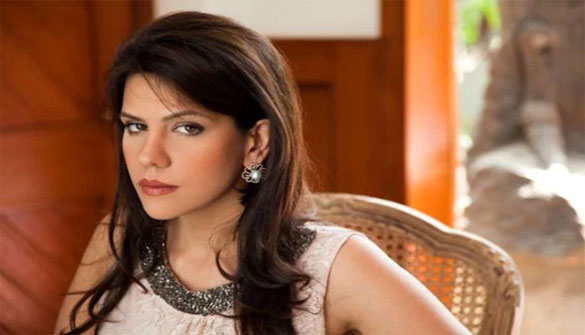 Sara Taseer. (Image: The News International)
-----
• European Parliament: Taliban Wants Women 'Invisible', We Want Them to 'Thrive'
• TikTok Says On 'High Alert', 'Aggressively' Removing Hate Content Post-GE15
• Over 70 Killed In Week In Iran's Crackdown On Amini Protests: NGO
• The Afghan General-Turned-Movie-Star, Sami Sadat, Vows To Take Down The Taliban
Pakistan
• Imran Khan 'sold' gold medal he received from India: Pakistan Defence Minister
• 139 Hindu Pilgrims Arrive In Lahore
• Pakistan: Criminal proceedings initiated against Imran Khan in Toshakhana case
• Plea against Joyland: Lahore High Court overrules registrar's objection
• Elders, city mayor oppose 'plan' to demolish Speen Jumaat
• Gen Bajwa moves summary for appointment of new army chief
• Soldier martyred in fire exchange with terrorists near South Waziristan
--------
Europe
• Muslim gravestones vandalized in northern Germany, says head of Islamic group
• UK, France, Germany condemn Iran's plans to expand nuclear program
• UN rights chief says Iran situation 'critical' with more than 300 killed
• UN rights office censures Saudi regime over surge in executions
--------
Southeast Asia
• Behind Lofty Declarations, Major Muslim And Hindu Groups Compete For Power
• Call to end bias against traditional faiths in Indonesia
• Indonesia Quake Toll Jumps To 268, Rescuers Hunt For Survivors
• Muslim unity easier to achieve if BN wins, says Umno man
• One dead after car bomb explodes in Thailand's south
• NGOs raise alarm over paid social media attempts with anti-DAP and anti-Chinese content
All eyes on Malaysia's king to resolve election stalemate as uncertainty drags out
--------
Mideast
• Iran's Judiciary: 40 Foreigners Arrested During Unrest
• IRGC Commander: Iran to Display Undeclared Capabilities in War
• President Rayeesi: Iran, Kazakhstan Enjoy Potentials to Expand Bilateral Ties
• Iranian Deputy FM Reiterates Need for Establishing Peace in Caucasus
• At least 15 people wounded in two Jerusalem bomb 'attacks', Israeli officials say
• Earthquake hits northwest Turkey, at least 22 injured
• Iran has arrested 40 foreigners during anti-government protests: Judiciary
• One dead, at least 15 wounded in two Jerusalem bomb 'attacks': officials
• IRGC: Iranian military advisor assassinated in bombing tied to Israel in Syria
• Iran won't compromise national security, in talks with Iraq over terrorists: Ambassador
--------
South Asia
• Taliban Sends Its Condolences to Indonesia Over Fatal Earthquake
• Afghan Families Sell Belongings to Make Ends Meet
• Pakistani soldier killed in border clash with Afghan Taliban
• Trust responsible for seized Afghan money meets in Geneva
--------
Arab World
• Qatar's Emir Waves Saudi Arabia's Flag During FIFA Match Against Argentina
• 3 Civilians Killed In Rocket Strike By YPG/PKK Terrorists In Northwestern Syria
• Al-Qaeda Tells Muslims Not To Attend 'Immoral' Qatar FIFA World Cup
• A Revolutionary Guards colonel killed in bomb in Syria: Iran media
• Turkey used US, Russian-controlled airspace in Syria strikes: Sources
• Van smuggling 12 Syrian migrants rams into police car in Bulgaria
• Syria provides 'drone lab' for warring parties: Report
• Syria Kurd base used by US-led coalition hit by Turkish drone: Report
• UAE, India FMs discuss food security, trade growth from CEPA during New Delhi visit
• Saudi, Argentinian Football Fans Share Wholesome Moment Before World Cup Match
• Qatar's emir, US' Blinken discuss bilateral relations
--------
Africa
• At Least 10 Chadian Soldiers Killed In Boko Haram Attack
• Morocco hails Türkiye, Spain for role in Alliance of Civilizations
• Sudan's army vows to exit politics, protect transition
• Denmark held by fired-up Tunisia in World Cup opener
• Germany to withdraw troops from UN's Mali mission: Reports
--------
North America
• Muslim US Congresswoman Ilhan Omar Hits Back After McCarthy Vows To Remove Her From House Committees
• White House Sounds Alarm Over Iran's Uranium Enrichment
• US, Israel mull military drills to simulate attack on Iran
• 'COAS, not PM, decides how US-Pak ties shape up'
• Iran behind Nov. 15 drone attack on Israeli-linked tanker: US Navy analysis
--------
India
• Goa BJP Spokesperson Savio Rodrigues Seeks Qatar FIFA World Cup Boycott on Islamic Preacher Zakir Naik Visit
• Fate Of J&K Linked To India, Nothing To Do With Pak: Former Minister Altaf Bukhari
• Counter-Drone Equipment Deployed In Jammu And Kashmir; Terrorists Short On Weapons: Army
• Gyanvapi Case: Allahabad High Court To Continue Hearing Mosque Committee's Petition Challenging Lower Court Verdict On Wednesday
• Active terrorists in Jammu and Kashmir fallen to 300
Compiled by New Age Islam News Bureau
URL: https://newageislam.com/islamic-world-news/salman-taseer-sara-ahmadi-pakistani-passport/d/128470
--------
Daughter Of Slayed Pakistani Politician, Sara Taseer Refuses To Sign Anti-Ahmadi Passport Statement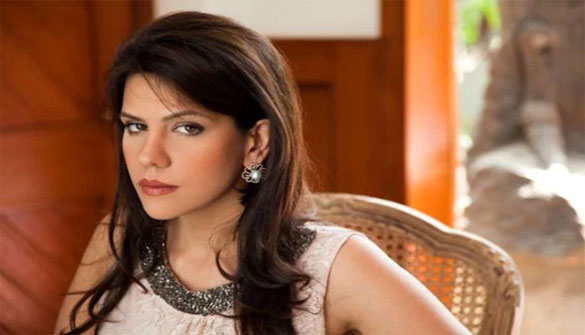 Sara Taseer. (Image: The News International)
-----
23 November, 2022
Rome [Italy], November 23 (ANI): Sara Taseer, the daughter of assassinated Pakistani politician Salman Taseer refused to sign the anti-Ahmadi passport statement.
Massimo Introvigne, an Italian sociologist of religions, writing in Bitter Winter, a magazine on religious liberty and human rights said that in Pakistan, Muslims to get a passport should state they are not Ahmadis.
The daughter of the Punjab Governor killed for his support of Asia Bibi did not sign the passport statement. On November 7, 2010, a court in Nankana Sahib, Punjab, Pakistan, sentenced a Christian woman, Asia Bibi, to death on charges of blasphemy that were obviously trumped up.
The Governor of Punjab, a Sunni Muslim called Salman Taseer, visited Bibi in jail and said he would do his best to prevent her unjust execution.
On January 4, 2011, Taseer was assassinated. His assassin, Mumtaz Qadri, executed in 2016, became a hero and a saint to Pakistani Sunni ultra-fundamentalists, said Introvigne.
On November 15, 2022, Sara, who lives mostly in Singapore but is a citizen of Pakistan, tried to renew her Pakistani passport. On passport applications, Pakistani citizens need to indicate their religion, reported Bitter Winter.
If they are Muslims, they should further sign a statement that they have an "absolute and unqualified" belief in the doctrine of the finality of prophethood, i.e., that there can be no prophet after Muhammad.
This doctrine is used in Pakistan to persecute the Ahmadis, who believe that their founder Mirza Ghulam Ahmad, who died in 1908, was "both a prophet and a follower of the Holy Prophet [Muhammad]."
His followers are divided into two branches, Lahoris and Qadianis, but since both believe that Mirza Ghulam Ahmad was a prophet, both are declared heretic and non-Muslim by Pakistanis, said Introvigne.
To get a passport, Pakistani Muslims should sign a statement including the sentence: "I consider Mirza Ghulam Ahmed [sic] Qadiani to be an imposter nabi [prophet] and also consider his followers whether belonging to the Lahori or Qadiani [sic] group to be non-Muslims."
Honouring the memory of her father, who died for religious liberty, Sara posted her unsigned passport application on Twitter. She stated that she "refused to sign anything against my fellow Pakistanis [part of] Ahmadiyya."
She did not get her passport. What she is getting are death threats from Sunni ultra-fundamentalists, who wrote on social media that both she and her father may have been Ahmadis (they aren't), reported Bitter Winter.
With the thirteen anniversary of the assassination of Salman Taseer approaching, his daughter is now also at risk.
Pakistan's minority communities, including Hindus, Christians, Sikhs and Ahmadis, continue to live under clouds of fear and persecution by the majority community, according to Pakistan vernacular media.
Several members of minorities, including a Sri Lankan national, have been killed and attacked in various cities and towns of Punjab, Sindh, and Khyber Pakhtunkhwa for allegedly committing blasphemy, which in this country is commonly used to settle personal scores relating to business, financial and land issues.
Abduction, forcible conversion to Islam and marriage of Hindu girls, mostly minors to Muslims, continue unabated in various areas of Pakistan, particularly in Sindh without invoking any concern and attention of the administration, human rights organisations, mainstream media and social media platforms in Pakistan.
Amid the persecution of minorities, rights experts have said Pakistan's legal system is in need of urgent reform to protect the safety and dignity of the minorities including the Ahmadi community.
Notably, the Ahmadi community in Pakistan lives as second-class citizens. The anti-Ahmadi Muslim sentiment is powerful in Pakistan. It is amongst one of the most persecuted minority communities in the country.
A member of rights groups expressed alarm and a strong sense of outrage at the continued exodus of religious minority communities in the country and said that the state has consistently failed to allay the concerns of these communities despite repeated reminders by civil society.
They have condemned the persecution of religious minorities in Sindh and Balochistan, saying this is a reflection of the state's failure to save these citizens from violence and discrimination. (ANI)
Source: The Print
Please click the following URL to read the text of the original story:
https://theprint.in/world/daughter-of-slayed-pakistani-politician-sara-taseer-refuses-to-sign-anti-ahmadi-passport-statement/1230809/
--------
European Parliament: Taliban Wants Women 'Invisible', We Want Them to 'Thrive'
The President of the European Parliament, in response to the continued stiffening of Taliban restrictions against women
------
By Saqalain Eqbal
November 22, 2022
The President of the European Parliament, in response to the continued stiffening of Taliban restrictions against women, stated that Afghan women are "squeezed out" of public life by the Taliban, who want the women to be "invisible."
Roberta Metsola, the President of the European Parliament, stated on Monday, November 21, that the Taliban has targeted women and deprived them of a normal life.
"Despite initial promises (of the Taliban) to women's rights, years of progress are being rolled back," Metsola said in her address to the European Parliament.
The chief of the European Parliament declared that the women's voices would be given more weight and that the European Parliament is committed to the "people of Afghanistan, not to its rulers."
She also cited the tightening of restrictions on women and claimed that throughout the group's 15-month rule, the Taliban targeted women's lives and denied them the most fundamental rights and freedoms.
"The Taliban want women to be invisible. We want them to thrive," Metsola wrote on her Twitter handle on Monday, November 23.
The statement of the European Parliament comes at a time when the Taliban have yet to reopen schools to girls, and stringent edicts have been enforced on Afghan women severely denying and restricting their rights and freedoms, while nothing is known about the whereabouts of the women activists detained by the Taliban 3 weeks ago.
Source: Khaama Press
Please click the following URL to read the text of the original story:
https://www.khaama.com/european-parliament-taliban-wants-women-invisible-we-want-them-to-thrive/
--------
Tiktok Says On 'High Alert', 'Aggressively' Removing Hate Content Post-GE15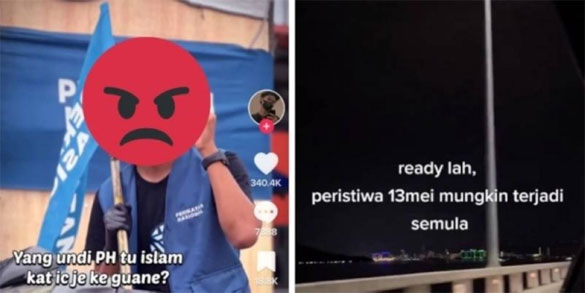 Twitter users have posted that they found plenty of videos encouraging and threatening violence with weapons after the GE15 election. — SoyaCincau pic
-----
By R. Loheswar
22 Nov 2022
KUALA LUMPUR, Nov 22 — Social media platform TikTok said today it continues to be on "high alert", after the online public brought up clips by youths on TikTok bringing up the May 13, 1969 racial riots and violence after the 15th general election.
In a statement, TikTok said it will also "aggressively remove" content that violated its community guidelines, including video, audio, livestream, images, comments, links, or other text.
"At TikTok, we have zero tolerance against any form of hate speech and violent extremism. As it relates to May 13 content, we quickly removed videos which were in violation of our Community Guidelines," it said.
It also urged community members to use its in-app reporting function to immediately report any harmful content: by pressing and holding a video until a prompt appears for users to click "Report".
"Since the lead-up to the elections, we have been in constant communication with the relevant bodies, including MCMC, about accounts that are involved in severe or repeated on-platform violations," it added, referring to the Malaysian Communications and Multimedia Commission.
Yesterday, Inspector-General of Police Tan Sri Acryl Sani Abdullah Sani told social media users to stop misusing the platforms to spread content that is considered provocative in nature because it will cause public disturbances.
Social media users have pointed to TikTok posts warning about a possible repeat of the deadly May 13, 1969 race riots were found on TikTok with hundred of thousand of views, most of them directed against supporters of Pakatan Harapan.
Many of the videos also falsely alleged political dominance by DAP if PH forms the federal government, carried anti-Chinese messages, and openly threatened violence.
Some also questioned the religiosity of Malay-Muslims who voted for DAP, insinuating that no Muslim would ever vote for the party.
Among the hashtags used for the posts were affiliated with Perikatan Nasional, which is also attempting to form the federal government.
Source: Malay Mail
Please click the following URL to read the text of the original story:
https://www.malaymail.com/news/malaysia/2022/11/22/tiktok-says-on-high-alert-aggressively-removing-hate-content-post-ge15/41334
--------
Over 70 Killed In Week In Iran's Crackdown On Amini Protests: NGO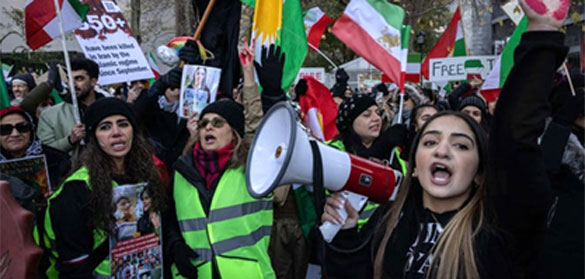 Protesters call on the United Nations to take action against the treatment of women in Iran, following the death of Mahsa Amini while in the custody of the morality police, during a demonstration near UN headquarters in New York City on November 19, 2022. (AFP)
------
Nov 22, 2022
PARIS: Iranian security forces have killed 72 people, including 56 in Kurdish-populated areas, in the past week alone in their crackdown on the protests sparked by Mahsa Amini's death, a rights group said Tuesday.
The protests, which erupted in mid-September following the death of Amini, 22, in the custody of the morality police, have turned into the biggest challenge for Iran's clerical leadership since the 1979 Islamic revolution.
With the wave of protests cutting across ethnicities, social classes and provincial boundaries, authorities have responded with an intensifying crackdown that has sparked an international outcry.
Iran has also launched repeated cross-border missile and drone strikes, most recently Tuesday, against exiled Kurdish opposition groups it accuses of stoking the protests from their bases in neighbouring Iraq.
Norway-based group Iran Human Rights (IHR) said in its latest toll on the violence inside Iran that 416 people had been killed by security forces nationwide, including 51 children and 21 women.
It said 72 people had lost their lives in the past week alone, including 56 in western Kurdish-populated areas where there has been an upsurge in protest activity over recent days.
Several towns in Kurdish-populated western Iran, including Mahabad, Javanroud and Piranshahr, have seen large protests, often starting at the funerals of those previously killed in the demonstrations.
The Norway-based Hengaw rights group, which focuses on Iran's Kurdish areas, has accused Iranian security forces of directly firing on protesters with machine guns and shelling residential areas.
- Internet blackout - Hengaw said that five people were killed in Javanroud on Monday alone after thousands gathered for funerals for victims of the crackdown who were killed at the weekend.
The group said it had confirmed the killing of 42 Kurdish citizens of Iran in nine cities over the last week, almost all killed by direct fire.
Monitors also accused Iran of imposing a nationwide mobile internet blackout on Monday at the height of the protest activity.
Monitor Netblocks said Tuesday that the mobile internet had now been restored after a "3.5 hour cellular data blackout" which also coincided with the refusal of Iran's football team to sing the national anthem in the World Cup.
Freedom of expression group Article 19 expressed alarm that "reports of extreme state brutality continue out of Kurdistan alongside nationwide internet disruptions and shutdown".
Hengaw meanwhile posted a video of protesters trying to remove birdshot pellets from the body of a protester with a knife, saying people were afraid to go to hospital for fear of being arrested.
- 'Systematic killing' - The New York-based Center for Human Rights in Iran on Monday urged the international community to act to prevent a massacre in the area.
"Unless Islamic republic authorities decide the costs of massacring civilians to crush the ongoing protests in Iran are too high, they will continue to slaughter children, women and men with impunity in a desperate attempt to reassert control," said CHRI director Hadi Ghaemi.
According to figures collated by IHR, over half of those killed by the Iranian security forces in the crackdown have died in provinces populated by ethnic minorities.
It said 126 people had been killed in the southeastern province of Sistan-Baluchistan, largely populated by the Sunni Baluch minority, where the protests had a separate spark but fed into the nationwide anger.
Meanwhile 48 people have been killed in Kurdistan, 45 in West Azerbaijan and 23 in Kermanshah regions with a strong Kurdish presence, it said.
"Systematic killing of civilian protesters belonging to the Kurdish and Baluch minorities amounts to crimes against humanity," said IHR director Mahmood Amiry Moghaddam.
The mainly Sunni Kurds, often described as one of the world's largest stateless peoples, make up one of Iran's most important non-Persian ethnic minority groups and also have significant minorities in neighbouring Iraq and Turkey as well as Syria.
Source: Times Of India
Please click the following URL to read the text of the original story:
https://timesofindia.indiatimes.com/world/middle-east/over-70-killed-in-week-in-irans-crackdown-on-amini-protests-ngo/articleshow/95693706.cms
--------
The Afghan General-Turned-Movie-Star, Sami Sadat, Vows To Take Down The Taliban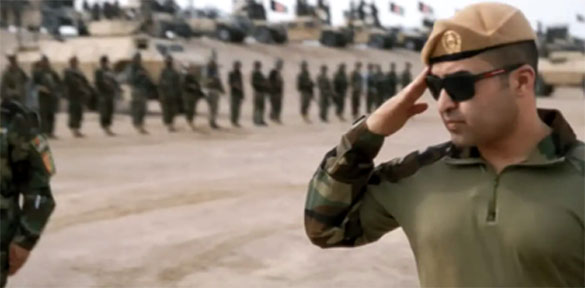 Sami Sadat in the documentary Retrograde CREDIT: National Geographic
-----
By Colin Freeman
21 November 2022
Like countless other political exiles who have found sanctuary in London over the centuries, Sami Sadat dreams of freeing his country from tyranny. A dream, however, is all it may ever be: his homeland is Afghanistan, where he was a senior general until America abandoned it to the Taliban last year.
Forced to flee to escape a bounty on his head, he has vowed to raise a new army and return to end Taliban rule. Yet should he need reminding of just how easily things might go wrong, he can just visit his local cinema.
Retrograde, a new National Geographic documentary, stars Sadat centre-stage as it chronicles last year's spectacular collapse of the Afghan government. The film offers an uncomfortable ring-side seat on Sadat's losing battle with the Taliban, as one city after another falls to militant control. He tries to rally his troops, dodging suicide bombers sent to kill him, and finally despairs as both his own political masters and their US backers flee Kabul. It is not, frankly, a Hollywood ending - and Sadat says he has no great pleasure in seeing himself on screen.
"I don't really like being in the movies, but I want people to see the struggle of the Afghan army, the misery of the Afghan people, and to show that we disagree with everything the Taliban stand for," he tells me. "It is a true picture of what happened."
The film is directed by US filmmaker Matthew Heineman, no stranger to modern warzones. His work includes the Bafta-nominated Cartel Land, about Mexico's drug wars, and A Private War, the 2018 biopic of Sunday Times reporter Marie Colvin, killed in Syria in 2012.
Perhaps unsurprisingly, Sadat better things to do than become a movie star when he first ran into Heineman's National Geographic team in late 2020. At the time, they were making a documentary focusing on a US Green Berets team, who were mentoring Sadat's 215th Maiwand Corps, a 15,000-strong force in the Taliban's strongholds in Helmand province.
"When they first appeared in my office with a videographer, I told them: 'Stop filming'," Sadat said. "I feared the Hollywood style would be to show foreigners in a condescending way, and besides, the focus of the film was supposed to be the US team".
Things soon changed. For a start, US forces were already going into "retrograde" mode. This is military-speak for a staged drawdown of forces, which includes destroying equipment to stop it falling into enemy hands. Early parts of the movie show US troops taking sledgehammers to photocopiers and flatscreen TVs, and firing vast amounts of mortars into empty desert.
As the action was winding down for the mentors, though, it was hotting up for Sadat, who now had the fight of his life on hands. He eventually agreed to let Heineman's team follow him around - reasoning that if nothing else, his troops' sacrifices would not go unrecorded.
Much of the footage is of Sadat in tense meetings at his HQ in Helmand's regional capital, Lashkar Gah. It shows how a modern Afghan general has to be warrior, bureaucrat, tribal diplomat and politician simultaneously. He takes endless phone calls, few of which go well. Bases are being over-run, and troops getting nervous. Requests for air support are turned down by his own command. "My commander smokes hashish and does nothing," one soldier complains to Sadat. "So his men surrender to the Taliban."
At the time, Sadat, 37, was one of the Afghan army's rising stars. The son of a senior army officer in Afghanistan's Communist-era government, he speaks fluent English - a rarity in a country with widespread illiteracy. Kabul's Western backers tipped him for high-rank from an early age, sending him to Nato military school in Germany and Britain's Defence Academy. It no doubt helped that he despised the Taliban, who imprisoned his father during their previous period in power.
"Ever since my childhood I wanted Afghanistan to have a capable army to stand up to foreigners and extremists,," says Sadat, whose father was born in Helmand. "They just turn young Afghans into fanatics, using religion for violence.
"I love Helmand's people, and many of the young men there wanted to fight for me. Loyalty there is on a very personal level - if people like you, they will rob a bank with you if you ask them."
His high profile also put him on the Taliban's kill list. He says the Taliban had him in its "top three" in 2021, and that during a five-month period, 17 suicide bombers were sent to kill him. One got close enough for the blast from the explosion to burst Sadat's right eardrum. At one point when Heineman's film crew is with Sadat's convoy driving through Lashkar Gah, they have to make a high-speed getaway when they hear a car bomber is driving their way.
"It was a high risk for Matthew to be around me," he says, describing the assassination attempts as a backhanded compliment to his counterinsurgency work. "Luckily, the Taliban never succeeded."
Elsewhere, though, they did. As Sadat smokes his nightly cigars at his HQ, the sounds of Taliban gunfire grow ever closer. When the militants close in on Kabul on August 15, he is appointed head of special forces and sent to defend the capital. The day he arrives, the Taliban sweep in and his commander-in-chief, President Ashraf Ghani, flees the country.
"At that point I felt the earth moving under my feet," he says. "I said to a US general I knew: 'Brother, I need your help to protect Kabul.' But he told me: 'No, I have orders only to protect the airport.'
"I warned that thousands of people would die - businesspeople, politicians, civil society people. We argued, and when he said he was authorised to give me a place in a helicopter out, I refused. I felt the US government had betrayed us."
Sadat says he eventually accepted an offer of passage out from a British general he knew, Giles Hill. He refused to relocate to America, he said, because of comments from Joe Biden the day after the pull-out. The US president said Washington no longer wanted to fight a war that Afghan troops were "not willing to fight for themselves."
In a New York Times op-ed a week later, Sadat set the record straight, pointing out that 66,000 of his comrades had died during America's 20-year Afghan mission. "This was a military defeat, but it emanated from political failure," he wrote. Or, as he put it more bluntly to me: "Biden is an asshole. The Afghan army fought hard, but he wants to blame us for the failure."
Sadat says he feels he "left his soul behind" in Afghanistan, and is not really happy in England, despite loving its people, museums and history (he declines to elaborate on where he lives or how he passes the time for security reasons). With Taliban 2.0 turning out largely as bad as feared - promises to improve their record in womens' rights, for example, have come to nothing - he insists he is serious about bringing democracy back to Kabul by force.
"We have support from other generals, tribes and younger people, and besides, raising an army in Afghanistan isn't hard, as every youth is born to be a warrior," he says. "We will have to be careful, though, not to just make things worse."
One possible ally, he said, was Ahmad Massoud, the son of the legendary anti-Taliban fighter Ahmad Shah Massoud, whose Northern Alliance helped America topple the Taliban in 2001. He declines to say if he is seeking foreign support, although he adds: "I definitely don't want foreign soldiers again in my country - we'll fight this battle ourselves."
Then again, Sadat told the BBC in April that he hoped to be back in Kabul by the summer. Alas, London's community of dissident exiles are full of people who plot the downfall of distant tyrants, but who end up never leaving. Sadat, though, has youth on his side, plus many Afghans behind him. And if he does succeed, it will be one hell of a documentary sequel...
Source: Telegraph UK
Please click the following URL to read the text of the original story:
https://www.telegraph.co.uk/films/0/afghan-general-turned-movie-star-vowing-take-taliban/
--------
Pakistan

Imran Khan 'sold' gold medal he received from India: Pakistan Defence Minister
November 22, 2022
Pakistan's former prime minister Imran Khan "sold" a gold medal he received from India during his cricketing years, the country's Defence Minister Khawaja Asif has claimed.
The 70-year-old cricketer-turned-politician is in the crosshairs these days for buying gifts, including an expensive Graff wristwatch he had received as prime minister at a discounted price from the state depository called Toshakhana and selling them for profit.
During a television programme on Monday, Mr. Asif said Mr. Khan "had sold a gold medal which he had received from India," The Express Tribune newspaper on Tuesday quoted the senior Pakistan Muslim League (PML-N) leader as saying.
Mr. Asif did not provide any details about the gold medal Mr. Khan allegedly sold.
Mr. Khan's actions are not illegal per se but are contrary to the high moral standards Mr. Khan always had talked about, the report said.
Usually, such gifts are either permanently deposited in the Toshakhana or can be bought by the person who received them at a lower price.
Mr. Khan had been disqualified by the Election Commission of Pakistan for making "false statements and incorrect declaration" in the Toshakhana issue.
On September 8, the deposed prime minister admitted in a written reply that he had sold at least four presents he received during his tenure as premier, according to the report.
Meanwhile, addressing a session of the National Assembly, the Defence Minister took a dig at Mr. Khan and said the former prime minister has "gone mad for power".
He said Mr. Khan should not "target" the institutions that "supported him unconditionally" during the last four years.
Mr. Asif said that the PTI chairman could not deliver despite the assistance extended to him by the institutions that backed him. He noted that Mr. Khan was censuring the armed forces of the country despite the fact that they had announced to remain apolitical.
"After 75 years, we are at a point where we can say that all the institutions are playing their constitutional role. These institutions extended 'unconditional support' to Imran Khan," he said.
"He [Imran] should not attack these institutions but rather should be ashamed of himself that despite their assistance he could not perform."
Source: The Hindu
Please click the following URL to read the full text of the original story:
https://www.thehindu.com/news/international/imran-khan-sold-gold-medal-he-received-from-india-pakistan-defence-minister/article66169824.ece
--------
139 Hindu pilgrims arrive in Lahore
November 23, 2022
LAHORE: 139 Hindu pilgrims arrived in Lahore from India by crossing the Wagah border on foot to attend the 314th birth anniversary of Shiv Avtari Satguru Sant Sawami Shadaram Sahib to be held at Hayat Pitafi, Mirpur Mathelo, Sindh.
The pilgrims expressed joy after being received warmly by the Evacuee Trust Property Board (ETPB) officials led by the additional secretary (shrines).
"We are very happy about the arrangements made here by the ETPB to facilitate us in attending this event," the pilgrims' group leader Udaster Laal told the media at Wagah border.
According to the scheduled programme, the ETPB dispatched the pilgrims to Sindh by train under strict security measures.
From Nov 23 to 25, they will stay at Hayat Pitafi to attend the main ceremony and perform their religious rituals. On Nov 26, the pilgrims will visit Khanpur Mehr and Jarwar. They will also visit Ghotki (Adilpur), Sukkar (Pano Aqil, Sadhu Bela Mandir and Mathelo (Arore, Mata Kalka temple) on Nov 27, 28 and 29, respectively.
Source: Dawn
Please click the following URL to read the full text of the original story:
https://www.dawn.com/news/1722595/139-hindu-pilgrims-arrive-in-lahore
--------
Pakistan: Criminal proceedings initiated against Imran Khan in Toshakhana case
Nov 22, 2022
ISLAMABAD: Criminal proceedings were initiated against Imran Khan at a court here on Tuesday in a case filed against the deposed Pakistan prime minister for concealing information about the expensive Toshakhana gifts.
The Toshakhana is a department under the administrative control of the cabinet division and stores gifts given to rulers, parliamentarians, bureaucrats, and officials by heads of other governments and states and foreign dignitaries.
The proceedings against Khan were initiated on the Election Commission of Pakistan's complaint after it found him guilty of "false statements and incorrect declaration" in his election papers.
The complainant said Khan had "deliberately concealed his assets relating to Toshakhna gifts retained by him particularly in year 2018 and 2019… in the statements of assets and liabilities filed for the year 2017-2018 and 2018-19".
Additional Sessions Judge Zafar Iqbal adjourned till December 8 the hearing of the case against Khan, who on Tuesday failed to appear before the court, after recording the district election commissioner Waqas Malik's statement, according to Pakistani media reports.
The 70-year-old Pakistan Tehreek-e-Insaaf (PTI) party Chairman- who is recovering from gunshot wounds sustained in an assassination attempt during a protest rally- was summoned to appear before the court during the previous hearing.
Khan was summoned in the previous hearing that marked the beginning of a criminal trial against the ousted prime minister for concealing information about the expensive Toshakhana gifts.
The case against the cricketer-turned-politician is about an expensive Graff wristwatch from the Saudi royals which he received during a visit in 2018 as well as several other gifts and sold them in Dubai for profit.
He was later disqualified by the Election Commission of Pakistan (ECP) from the National Assembly for not revealing the proceeds of the sale in his annual wealth statement provided to the commission.
In his affidavit, the district election commissioner stated that he was "authorised to follow the ECP verdict of November 21".
"I have been given the authority to proceed by combining Section 190 with 16 and 173 of the Election Act 2017," he continued, "this proceeding concerns the corrupt practices of Imran Khan".
The affidavit also took notice of the authority that rests with the ECP to seek the disqualification of a member of the national assembly on the basis of a reference.
Later, the judge prohibited Khan's lawyer from submitting his bank statement, saying the politician "cannot submit a photocopy, it must be certified".
Adjourning the matter, the court recorded the district election commissioner Malik's affidavit and postponed proceedings until December 8.
According to the ECP records, the gifts were purchased from the Toshakhana -- the state depository established in 1974 -- for Rs 21.5 million on the basis of their assessed value, while they were valued at around Rs 108 million.
Khan, however, while in government, had been reluctant to disclose details of the gifts presented to him since he assumed office in 2018, maintaining that doing so would jeopardise international ties, even as the Pakistan Information Commission (PIC) ordered it to do so.
Khan was ousted from power in April after losing a no-confidence vote in his leadership, which he alleged was part of a US-led conspiracy targeting him because of his independent foreign policy decisions on Russia, China, and Afghanistan.
Source: Times Of India
Please click the following URL to read the full text of the original story:
https://timesofindia.indiatimes.com/world/pakistan/pakistan-criminal-proceedings-initiated-against-imran-khan-in-toshakhana-case/articleshow/95685208.cms
--------
Plea against Joyland: Lahore High Court overrules registrar's objection
November 23, 2022
LAHORE: Justice Muzamil Akhtar Shabbir of the Lahore High Court on Tuesday overruled registrar office's objection to a petition against the exhibition of film Joyland, directing it to fix the hearing of the plea before any appropriate bench.
The registrar's office had questioned the maintainability of the petition for directly approaching high court without availing first remedy available in the law.
However, Justice Shabbir took up the petition as an "objection case" and overruled the objection.
Mian Bilal, a resident of Lahore, filed the petition through his counsel Abid Hussain Khichi, pleading the film contained `objectionable` material that did not conform to the social values and moral standards of the country.
He alleges the film's theme and story is based on love and relationship between a man and a transperson, having sexual and physical contact. He submits that in film language, it is said that the art based upon expressions or words always speaks to the audience, and as the movie is showing physical relationship between a male and a transperson, therefore, in view of the saying the art played through the movie must have "shocking effects" on society.
The petitioner contends that the Constitution provides for freedom of speech and expression, but the same is subject to reasonable restrictions.
He argues that the public interest or collective community interest is a bucket of various public interests, including public morality, public order, national security, besides fundamental rights of others.
He alleges that the movie is beyond the law, restrictions and not only against the public interest, but also tantamount to encourage men of the country to tilt towards having relations with transpersons, which could lead society to acting in a way that is repugnant to the injunctions of Islam.
Source: Dawn
Please click the following URL to read the full text of the original story:
https://www.dawn.com/news/1722594
--------
Elders, city mayor oppose 'plan' to demolish Speen Jumaat
November 23, 2022
PESHAWAR: The elders of Khalil Tribe as well as the city mayor and religious leaders on Tuesday rejected the district administration's plan to demolish Speen Jumaat and warned to go to any extent to protect the mosque.
They also condemned the unbecoming attitude of the district administration especially Commissioner Riaz Mehsud with the elders of the area and announced that they would never visit any government office for talks with the administration.
"If the administration wants to hold talks with the elders and settle the issue in an amicable manner, the officials should better come to the mosque. We will not visit the office of the commissioner, deputy commissioner or any other official for any kind of talks," Amanullah Haqqani, convener of the committee for protection of Speen Jumaat, told a news conference here.
District Mayor Zubair Ali, Pakistan Muslim League-Nawaz leader Arbab Khizar Hayat Khan, former minister and leader of Jamaat-e-Islami Kashif Azam, Awami National Party leader Arbab Tahir and others were also present on the occasion.
Zubair Ali said that the area came under his domain and he would not allow any such act, which is against Islam and Pakhtun tradition. The elders were shown the video design of the proposed rebuilding of the mosque in the shape of a shopping plaza and they rejected any such alteration in the name of rebuilding of the mosque.
They alleged that the statements of the district administration were totally misleading and false. The administration wanted to demolish the building on an unfounded pretext, they said, adding, the deputy commissioner in his earlier video message claimed that the condition of the building was old and rundown which may result in serious eventuality.
Maulana Amanllah said that if the deputy commissioner was true in his claim, he should constitute a committee comprising unbiased experts and structure engineers and they would support retrofitting of the mosque. "We will not allow anyone to harm even a single break of the mosque," said Arbab Khizer Hayat.
The elders said the designs of the commissioner and deputy commissioner were not fair. They wanted to seal the mosque first and then demolish it, they said, adding, then they would go ahead with their plan to cut a major part of the land in the name of encroachment and construct a plaza on the remaining part with a floor specified for the mosque.
"Let me make it clear that we will not allow any such plan to be accomplished. The map and design of the mosque had already been approved by the then municipal corporations several decades ago. Therefore, the pretext of encroachment was out of the question," Kashif Azam told The News.
"Once a mosque is constructed on any land, no one is allowed to demolish it for any purpose," Amanullah Haqqani said.
The elders said that the land belonged to the Khalil Tribe, who had donated it for the mosque. This commission and deputy commissioner are posted here today and they will go somewhere else tomorrow. "We cannot allow them to play with the sentiments of our people," Arbab Khizer said.
Source: The News Pakistan
Please click the following URL to read the full text of the original story:
https://www.thenews.com.pk/print/1012710-elders-city-mayor-oppose-plan-to-demolish-speen-jumaat
--------
Gen Bajwa moves summary for appointment of new army chief
November 23, 2022
ISLAMABAD: Chief of Army Staff late Tuesday night moved a summary to the Ministry of Defence for appointment of new chief of army staff, containing names of six senior-most lieutenant-generals of Pakistan Army.
"GHQ has forwarded the summary for selection of CJCSC [Chairman Joint Chiefs of Staff Committee] and COAS, containing names of six senior most Lt Gens including: Lt-Gen Asim Munir, Lt-Gen Sahir Shamshad, Lt-Gen Azhar Abbas, Lt-Gen Nauman Zakria, Lt-Gen Faiz Hamid and Lt-Gen Amir Raza, to MoD," the ISPR said in a statement.
The move has broken the stalemate over the appointment of new army chief and the CJCSC which had captivated the political landscape of the country for the past few weeks.
Sources in the government say that before the summary was finally moved, Gen Bajwa held a quiet meeting with PM Shehbaz and all the matters were sorted out. However, when asked, SAPM Fahd Husain did not confirm it.
Prime Minister Shehbaz Sharif also remained preoccupied with back-to-back meetings in contemplating measures and moves to get the name of the new Chief of Army Staff finalised. However, the meeting between PM Shehbaz and Asif Zardari helped break stakemate over the new appointments.
In this regard, several meetings were held besides contacts made on phone with party leader and former premier Nawaz Sharif.
Though the prime minister's office did not share much details on the meetings, Defence Minister Khawaja Asif told media that a decision on "who will be the next chief of army staff" would be made public over the next 48 hours, claiming there was no "conflict" with security institution over army chief appointment.
"There would not be any undue [delay] in the process and I am asking for another 48 hours," he told the anchorperson during a live talk show at a private TV channel on Tuesday.
When asked about the status of the new COAS appointment process, Asif said: "Yesterday, we sent the letter [from the ministry to the military command]. Now, if we get the dossiers today or tomorrow, it is a matter of routine." He went on to say, "Once they get the summary, then it is a formal move because then it has to go to the cabinet….. [for endorsement]."
Kh Asif explained that then the advice would go to the President and then hopefully…. the same day or the next day the [matter] would be sorted out.
The Defense Minister claimed the names [of the new army chief and chairman joint chiefs of staff] would be public tomorrow or the day after.
A "smooth transaction" would take place in appointment of the new chief."
To a question, Kh Asif ruled out there was any conflict with security institution over army chief appointment. "Prime Minister Shehbaz Sharif would have consultation with coalition partners and the security institution would also have discussion on this matter", he pointed out.
"The government has zero conflict on this important matter", he said.
Commenting on Pakistan Tehreek-e-Insaf Chief Imran Khan, the federal minister said Imran Khan had changed his mind and avoided to create trouble on security matters.
Cabinet meeting on Nov 24
Prime Minister Shehbaz Sharif has summoned a special meeting of the federal cabinet for Thursday, November 24.
It is expected that he will take all cabinet members into confidence over his "pick" for the next army chief before he departs on an official tour to Turkiye.
Other political and economic developments are also expected to be reviewed during the cabinet meeting.
The agenda of the cabinet meeting is not expected to be disclosed until late on Wednesday.
PM Shehbaz, Kh Asif discuss COAS appointment
Meanwhile, Defence Minister Kh Asif called on Prime Minister Shehbaz Sharif on Tuesday to hold discussion over the matters pertaining to the appointment of next army chief.
Special Assistant to the PM Malik Ahmad Khan was also present during the meeting.
A day earlier, Khawaja Asif held a meeting with the PM.
After the meeting, Khawaja Asif revealed to the media that it was a routine meet up where matters regarding national interest, as well as important appointments came under discussion.
On Monday, the defence minister revealed at the National Assembly that the General Headquarters (GHQ) has been informed that the ministry of defence has received Prime Minister Shehbaz's letter in relation to the appointment of a new chief of army staff.
After meeting PM Shehbaz, Khawaja Asif revealed that despite the consultations and discussions, there are still a few technical aspects that are yet to be finalised. The defense minister had said that matters pertaining to important appointments would be completed by November 25 to 26.
PM Shehbaz, Zardari discuss options
Former president and Pakistan People's Party Co-Chairman Asif Ali Zardari called on Prime Minister Shehbaz Sharif at PM's House in Islamabad.
According to details, PM Shehbaz Sharif and Asif Ali Zardari discussed the country's political and economic situation during the meeting. Sources said that both the leaders also discussed the appointment of new army chief.
During the meeting, the leaders also made telephonic conversation with PML-N supremo Nawaz Sharif and Pakistan Democratic Movement (PDM) chief Maulana Fazlur Rehman.
On the occasion, Asif Ali Zardari enquired after the health of Prime Minister Shehbaz Sharif. The Prime Minister thanked the former President for the visit.
'Avoid speculations'
Meanwhile, Minister for Information and Broadcasting Marriyum Aurangzeb refuted reports that the Prime Minister Office had received summary for the appointment of new Chief of Army Staff.
Source: Pakistan Today
Please click the following URL to read the full text of the original story:
https://www.pakistantoday.com.pk/2022/11/23/pick-for-new-coas-to-be-unveiled-within-48-hours-kh-asif/
--------
Soldier martyred in fire exchange with terrorists near South Waziristan
November 22, 2022
Rawalpindi: A soldier embraced martyrdom during a fire exchange that took place between Pakistan Army troops and terrorists, in general area Sararogha, South Waziristan District.
According to ISPR press release, army troops effectively engaged the terrorists' location. During intense exchange of fire, Havaldar Umer Hayat (age 39 years, resident of Lachi, Kohat) having fought gallantly, embraced martyrdom.
According to ISPR, sanitization of the area was being carried out to eliminate any terrorist found in the area.
Source: Pakistan Today
Please click the following URL to read the full text of the original story:
https://www.pakistantoday.com.pk/2022/11/22/1-soldier-martyred-in-fire-exchange-between-troops-terrorists-near-south-waziristan/
--------
Europe
Muslim gravestones vandalized in northern Germany, says head of Islamic group
Erbil Basay
22.11.2022
BERLIN
Muslim gravestones were vandalized in northern Germany, the head of an Islamic association said Tuesday.
"We have received some visuals showing that some Muslim gravestones in the Stocken Cemetery in the city northern state of Lower Saxony's city of Hannover were vandalized," the leader of the Shura Association, Recep Bilgen, told Anadolu Agency.
He said the group visited the cemetery and informed authorities and asked them to investigate why the gravestones were damaged.
Bilgen drew attention to the fact that vandalization incidents in Muslim cemeteries have become more common in recent years.
Mosques have also received letters signed with the neo-Nazi alias, NSU 2.0, referring to the National Socialist Underground (NSU), a terror group that killed eight Turkish immigrants, a Greek citizen and a German policewoman between 2000 and 2007.
Source: Anadolu Agency
Please click the following URL to read the full text of the original story:
https://www.aa.com.tr/en/europe/muslim-gravestones-vandalized-in-northern-germany-says-head-of-islamic-group/2745573
--------
UK, France, Germany condemn Iran's plans to expand nuclear program
22 November ,2022
Britain, France and Germany on Tuesday condemned Iran's plans to expand its nuclear program after the UN nuclear watchdog said Iran was enriching uranium, with plans to further expand enrichment at two plants.
"Iran's step is a challenge to the global non-proliferation system," the three nations said in a joint statement provided by the British government.
"This step, which carries significant proliferation-related risks, has no credible civilian justification," according to the statement.
"We will continue to consult, alongside international partners, on how best to address Iran's continued nuclear escalation."
Source: Al Arabiya
Please click the following URL to read the full text of the original story:
https://english.alarabiya.net/News/world/2022/11/22/UK-France-Germany-condemn-Iran-s-plans-to-expand-nuclear-program
--------
UN rights chief says Iran situation 'critical' with more than 300 killed
22 November ,2022
The UN High Commissioner for Human Rights said on Tuesday that the situation in Iran was "critical," describing a hardening of the authorities' response to protests that have resulted in more than 300 deaths in the past two months.
"The rising number of deaths from protests in Iran, including those of two children at the weekend, and the hardening of the response by security forces, underline the critical situation in the country," said a spokesperson for UN human rights chief Volker Turk at a Geneva news briefing.
The Islamic Republic has been gripped by nationwide protests since the death of 22-year-old Kurdish woman Mahsa Amini in morality police custody in September after she was arrested for wearing clothes deemed "inappropriate."
Tehran has blamed foreign enemies and their agents for orchestrating the protests, which have turned into a popular revolt by Iranians from all layers of society, posing one of the boldest challenges to the clerical rulers since the 1979 revolution.
Iran's World Cup team declined to sing their anthem before their opening World Cup match on Monday in a sign of support for the protests.
Later this week, the UN Human Rights Council in Geneva will hold a debate on the protests expected to be attended by diplomats as well as witnesses and victims.
A proposal to be discussed at the session seeks to establish a fact-finding mission on the crackdown in Iran. Any evidence of abuses such a body might find could later be used before national and international courts, a UN document showed.
The Office of the High Commissioner for Human Rights (OHCHR) said that more than 300 people had been killed so far, including more than 40 children. These deaths occurred across the country, with deaths reported in 25 of 31 provinces.
In the same briefing, OHCHR spokesperson Jeremy Laurence also voiced concern about the situation in mainly Kurdish cities where it has reports of more than 40 people killed by security forces over the past week.
Source: Al Arabiya
Please click the following URL to read the full text of the original story:
https://english.alarabiya.net/News/middle-east/2022/11/22/UN-rights-chief-says-Iran-situation-critical-with-more-than-300-killed
--------
UN rights office censures Saudi regime over surge in executions
22 November 2022
The United Nations human rights office has censured Saudi Arabia over the ultraconservative kingdom's near daily executions in recent weeks and termination of a 21-month moratorium on implementing the death penalty for drug-related offenses.
The Office of UN High Commissioner for Human Rights (OHCHR) announced on Tuesday that 17 men have been executed for drug and contraband offenses across Saudi Arabia since November 10, with the latest three executions having taken place a day earlier.
"Those executed to date are four Syrians, three Pakistanis, three Jordanians, and seven Saudis," OHCHR's spokeswoman Liz Throssell told reporters in Geneva.
Throssell said the total number of executions in Saudi Arabia this year stood at 144, including 47 people executed on political charges and 56 people executed for murder, adding that most executions in the country are believed to have been carried out by beheading.
Throssell stressed that the executions have been taking place almost daily over the past two weeks, following the end of a 21-month official moratorium.
"The resumption of executions for drug-related offenses in Saudi Arabia is a deeply regrettable step, all the more so coming just days after a wide majority of States in the UN General Assembly called for a moratorium on the death penalty worldwide," she told reporters.
Underlining that imposing the death penalty for drug offenses is "incompatible with international norms and standards," the UN official said, "We call on the Saudi authorities to adopt a formal moratorium on executions for drug-related offenses, to commute death sentences for drug-related offenses, and to ensure the right to a fair trial for all defendants, including those charged with such offenses, in line with its international obligations."
The OHCHR said it remains unclear how many people are on death row in Saudi Arabia since executions are only confirmed after they take place.
However, Throssell pointed to reports that a Jordanian man, identified as Hussein Abo al-Kheir, "may be at risk of imminent execution," with rights experts noting grave concerns relating to his right to a fair trial.
Since Crown Prince Mohammed bin Salman became Saudi Arabia's de facto leader in 2017, the kingdom has arrested hundreds of activists, bloggers, intellectuals and others for their political activism, showing almost zero tolerance for dissent even in the face of international condemnation of the crackdown.
Muslim scholars have been executed and women's rights campaigners have been put behind bars and tortured as freedom of expression, association, and belief continue to be denied by the kingdom's authorities.
Source: Press TV
Please click the following URL to read the full text of the original story:
https://www.presstv.ir/Detail/2022/11/22/693212/United-Nations-human-rights-office-OHCHR-Saudi-Arabia-executions-moratorium-
--------
Southeast Asia
Behind lofty declarations, major Muslim and Hindu groups compete for power
November 22, 2022
By Dr. James M. Dorsey
As Indonesia passed the chairmanship of the Group of 20 (G-20) to India earlier this month, major Muslim and Hindu organisations, some backed by their governments, are battling to define the role of religion in global politics and whether the world's significant faiths need reform to harness the power of their convictions.
The battle's outcome could determine what constitutes religious moderation, the state's role in defining what religion stands for, and whether notions of reform will involve significant jurisprudential and doctrinal reforms aimed at erasing concepts of supremacy and enhancing principles of pluralism and greater freedom.
The stage for the battle was set at the Religion Forum-20 (R-20), a gathering of religious leaders in Bali, earlier this month in advance of a summit of the Group of 20 that brought together leaders of the world's major economies.
Like the summit that positioned Indonesia, the world's most populous Muslim-majority country and the world's largest Muslim democracy, as a rising power, the religious gathering positioned Nahdlatul Ulama, the world's largest and most moderate major Indonesian Muslim civil society organisation, as a leading force in defining moderate Islam and promoting concepts of genuine religious reform not only of Islam but also of other major faiths such as Hinduism.
From Nahdlatul Ulama's perspective, jurisprudential reform of religious law is the key to positioning religion "as a source of solutions, not problems."
Nahdlatul Ulama puts forward a strong proposition that it hopes will inspire other faith groups as the world continues to grope for a socially and politically pluralistic version of Islam in the wake of the 9/11 Al Qaeda attacks on New York and Washington.
The movement promotes what it dubs Humanitarian Islam, that in contrast to state-driven attempts at moderation in autocracies such as Saudi Arabia, home to Islam's two holiest cities, Mecca and Medina, and the United Arab Emirates, unambiguously embraces the Universal Declaration of Human Rights as well as the principle of religious and political pluralism.
Moreover, Nahdlatul Ulama advocates reform of what it terms "obsolete" elements of Islamic jurisprudence.
On the back of being a grassroots movement with an estimated 90 million followers, 18,000 religious seminaries, 44 universities, tens of thousands of Muslim scholars that constitute a religious authority independent of traditional centers in the Middle East, and a political party that is part of Indonesian President Joko Widodo's coalition government, Nahdlatul Ulama throws down a gauntlet for proponents of a state-controlled, autocratic Islam as well as religious nationalists in other faith groups.
Its proposition was bolstered in 2019 when the group took the first step towards jurisprudential reform with a ruling issued by 20,000 religious scholars that eliminated the category of the kafir or infidel in Islamic law.
Nahdlatul Ulama had hoped that gathering religious leaders in advance of this month's G-20 summit would position reformist religious leaders as an institutionalised engagement group of the world's most powerful political leaders and spark a movement that based on shared civilisational values would promote moderate and pluralistic expressions of religion across faith groups.
Less than a month after the religious gathering, that is proving to be easier said than done.
Rather than creating real buy-in from other major Muslim organisations, like Saudi Arabia's state-controlled Muslim World League, whom Nahdlatul Ulama invited to co-host the religious summit, and Rashtriya Swayamsevak Sangh (RSS), the right-wing Hindu nationalist group, that constitutes the ideological cradle of Indian Prime Minister Narendra Modi and his ruling Bharatiya Janata Party (BJP), the summit appears to have sparked a subtle power struggle below the semblance of a common goal.
The RSS and the BJP are widely seen as attempting to hollow out Indian democracy and secularism while instigating anti-Muslim sentiment in India, which is home to 200 million Muslims, the world's largest Muslim minority.
Barely back from the religious summit, Ram Madhav, an RSS national executive member and close associate of Mr. Modi whom many see as a moderate, fired the first Indian salvo in the inter-faith power struggle as Indian officials and religious leaders conceptualise what they want to achieve at next year's G-20 and what role religion and religious leaders may play.
Chipping away at Indonesia's designation of the Religion Forum-20 as an official G-20 engagement group with a permanent secretariat hosted by Nahdlatul Ulama's Jakarta and North Carolina-based Center for Shared Civilization Values (CSCV), Mr. Madhav was non-committal in his first public remarks after returning from Bali to India.
Mr. Madhav expressed a personal preference for maintaining the Religion Forum with the caveat that it remained unclear whether the gathering would be allowed to retain its official G-20 status.
"The (Indian) government will take an appropriate decision," Mr. Madhav said in a television interview.
Mr. Madhav dodged the issue of religious reform, insisting that the "R-20 per se is not necessarily about religion, it's about humanity."
Spinning the R-20's slogan of ensuring "that religion functions as a genuine and dynamic source of solutions, rather than problems," Mr. Madhav suggested that religion could help solve global problems such as climate change and tackle what he described as "woke" issues "like LGBTQ; issues related to family, marriage, even gender;" rather than exercise introspection to eliminate problematic religious tenants as advocated by Nahdlatul Ulama.
"This forum was intended to discuss…global issues. In that sense, the focus of this…religious forum was and will not be religions alone… It will be not religion-centric but humanity-centric. So, an effort to bring religions together on larger issues," Mr. Madhav said.
Similarly, the Muslim World League has used the R-20 to tout its own horn while paying lip service to lofty values Mr. Bin Salman would like to be identified with but has yet to embrace wholeheartedly.
"Leaders participating in the #R20Summit express their appreciation of the great efforts and quality work of the Muslim World League, under the leadership of His Excellency the Secretary General, Sheikh Dr. @MhmdAlissa, the founder of R20, whose efforts contributed to its success," the League said in a tweet that falsely took credit for an initiative that belonged wholly to Nahdlatul Ulama.
The Indonesian group invited the League after the Saudi government asked Indonesia to assist in carving out a role at the summit for Mr. Bin Salman's chief propagator of a socially less restrictive but autocratic interpretation of Islam that demands absolute obedience to the ruler.
The invitation fit into a bold but risky strategy that also underlies Nahdlatul Ulama's engagement with Hindu nationalism.
In the League's case, Nahdlatul Ulama hopes the alliance will undercut Saudi and League support for an Indonesian political party associated with the Muslim Brotherhood, the Prosperous Justice Party (PKS).
Some analysts and pundits believe that a PKS-backed candidate could do well in the presidential elections scheduled foR-2024.
Moreover, like in the case of the Hindu nationalists, Nahdlatul Ulama aspires against all odds to persuade the League to adopt a genuinely moderate vision of Islam rather than one that serves Saudi Arabia's autocratic rulers. However, that is a long shot, if not pie in the sky.
Instead, the League has since the religious summit capitalized on Nahdlatul Ulama's dubious recognition of the Saudi government vehicle as an allegedly non-governmental organisation.
Furthermore, the League presumably seeks to prevent Nahdlatul Ulama from becoming a serious competitor for hearts and minds in the Muslim world through a policy of cooptation that fits into a broader Saudi and UAE effort aimed at seducing Indonesia with financial incentives.
In the latest move, Mr. Bin Salman last week offered to fund the restoration of the Jakarta Islamic Center after the large dome of the complex's mosque suffered fire damage during renovation work.
Source: Modern Diplomacy
Please click the following URL to read the full text of the original story:
https://moderndiplomacy.eu/2022/11/22/behind-lofty-declarations-major-muslim-and-hindu-groups-compete-for-power/
--------
Call to end bias against traditional faiths in Indonesia
By Katharina Reny Lestari
November 22, 2022
Religious leaders in Indonesia have urged the government and society to bring an end to what they call various forms of discrimination against followers of traditional faiths in the Muslim-majority Southeast Asian nation.
"The root of the problem is clear enough, which is the lack of the state's full recognition of traditional faiths that traditional faiths are real, and their followers live in the society. It is an irony in a nation that promotes religious tolerance and harmony," reads a statement from an interfaith gathering held Nov. 16-19 at Cigugur of Kuningan district in West Java province.
The Maklumat Cigugur (Cigugur Declaration) resulted from the gathering that drew leaders from Buddhism, Catholicism, Hinduism, Islam, and Protestantism as well as traditional faiths. It was organized by the Communion of Churches in Indonesia (PGI), the country's largest inter-church forum.
The declaration decried that "intolerance and discrimination are still systematically faced by followers of traditional faiths."
The faith leaders urged the government to end all acts hindering public services to followers of traditional faiths and encouraged social elements to uphold the values of humanity and national unity.
Followers of traditional faiths say they continue to face discrimination in the country.
Engkus Ruswana, a follower of BudiDaya, a traditional Sundanese faith and coordinator of the Indonesian Native Faiths Council, told UCA News on Nov. 21 that in October he came to know about the ordeal faced by a 20-year-old follower of the indigenous faith, Marapu.
The parents of the boy were forced to list themselves as Protestants in the religion column in the family certificate and identity cards before he was admitted to a school on Sumba Island in Christian-majority East Nusa Tenggara province.
The school required 'a baptism certificate' for admission, which the parents didn't have.
The boy faced a similar situation when he applied for an identity card, he said.
Indonesia officially recognizes six religions – Islam, Catholicism, Protestantism, Buddhism, Confucianism, and Hinduism.
Ruswana said that the boy was aware that a ruling by the Constitutional Court declared unconstitutional the 2013 Civil Administration Law and paved the way for followers of traditional faiths to have their beliefs officially recognized by the government.
"So, he wanted to replace 'Protestantism' on the religion column of his identity card with Kepercayaan terhadap Tuhan Yang Maha Esa (trust in God Almighty). But he could not do that as he was told his parents are still listed as Protestants. He must follow his parents," he said.
According to the law, identity cards should include elements of citizens' data including religion, and the religion column should be left blank for citizens whose religions are not yet recognized and for followers of traditional beliefs.
Followers of four traditional faiths filed for a judicial review in 2016, arguing that the law violated the principle of equality before the law. The court said articles in the law that required people adopting traditional faiths to leave the religion column in their identity cards blank were discriminatory.
After consultations with various religious leaders, the government decided that the religion column on identity cards for traditional faith followers would be replaced with a traditional faith column without listing the faith's specific name. Instead, it would have the phrase, trust in God Almighty.
There are 187 traditional faiths in Indonesia with about 12 million followers.
Iwan Setiawan, 40, a follower of the indigenous faith Kapribaden, from Jakarta claimed that he has not yet received his identity card with the sanctioned phrase written in the religion column though he submitted the application in 2019.
"I checked with local authorities this year. But they said it is not ready yet. One even told me that there are only six recognized religions. They do not really understand about the latest policy or what?" he told UCA News.
Nilna Rusyda, a Muslim from the Kuningan chapter of the Interfaith Women Network, said Muslims do not have any objection toward full recognition of traditional faiths.
"We respect them. Even though we adhere to different faiths, we have the same rights as citizens. Let us be united in kindness," she told UCA News.
Reverend Jimmy Sormin, executive secretary of the PGI's Witness and Integrity of Creation Desk, said that PGI has made freedom of religion a major priority since 2019.
"PGI needs to respond to the issue of freedom of religion. It is because there are still challenges particularly faced by followers of traditional faiths," he told UCA News.
Source: UCA News
Please click the following URL to read the full text of the original story:
https://www.ucanews.com/news/call-to-end-bias-against-traditional-faiths-in-indonesia/99501
--------
Indonesia quake toll jumps to 268, rescuers hunt for survivors
Nov 22, 2022
CIANJUR (INDONESIA): The death toll from an earthquake on Indonesia's main island of Java jumped to 268 on Tuesday, as rescuers searched for survivors in the rubble and relatives started to bury their loved ones.
As body bags emerged from crumpled buildings in Indonesia's most populous province, West Java, rescue efforts turned to any survivors still under debris in areas made hard to reach by the mass of obstacles thrown onto the roads by the quake.
The epicentre of the shallow 5.6-magnitude quake on Monday was near the town of Cianjur where most of the victims were killed, hundreds were injured and dozens feared trapped as buildings collapsed and landslides were triggered.
The death toll jumped dramatically again later on Tuesday from 162 to 268, Suharyanto, the head of Indonesia's national disaster mitigation agency, or BNPB, told a press conference.
At least 151 people remain missing and more than 1,000 have been injured, said the official, who like many Indonesians goes by one name.
"The focus is still on the search and evacuation of victims. That's the priority," he said. "When the emergency response ends, hopefully everyone has been found."
At a burial in a village near Cianjur, relatives of 48-year-old victim Husein, who was killed while building a house when the quake struck, broke into hysterical wails before his body was lowered into the ground.
"I just lost a brother 10 days ago. Now I've lost another brother," said his sister Siti Rohmah as she sobbed uncontrollably.
"I kept waiting, hoping he would survive and that nothing bad would happen to him."
One of the dozens of rescuers, 34-year-old Dimas Reviansyah, said teams were using chainsaws and excavators to break through piles of felled trees and debris to find survivors.
"I haven't slept at all since yesterday, but I must keep going because there are victims who have not been found," he said.
Drone footage taken by AFP showed the extent of a quake-triggered landslide where a wall of brown earth was only punctuated by workers using heavy machinery to clear a road.
President Joko Widodo visited the area on Tuesday, offering compensation for victims and ordering disaster and rescue agencies to "mobilise their personnel".
- 'State of shock' - Many of those killed were children, according to the head of Indonesia's national rescue agency Basarnas.
"They were at school, at 1 pm, they were still studying," Henri Alfiandi told a press conference.
Some of those dead were students at an Islamic boarding school, while others were killed in their homes when roofs and walls caved in on them.
The search operation on Tuesday was made more challenging because of severed road links and temporary power outages in parts of the largely rural, mountainous region.
Those who survived camped outside in near-total darkness surrounded by fallen debris, shattered glass and chunks of concrete.
Doctors treated patients outdoors at makeshift wards after the quake, which was felt as far away as the capital Jakarta.
One father carried his dead son wrapped in white cloth through the streets of his village near Cianjur.
Others searched for their missing relatives in the chaos.
Rahmi Leonita's father was riding a motorbike to Cianjur when the quake struck.
"His phone is not active. I am in a state of shock now. I am very worried but I am still hopeful," said the 38-year-old, tears falling down her face as she spoke.
- 'Nothing I could save' - At a shelter in Ciherang village near Cianjur, evacuees sat on tarpaulins stretched over the cold morning ground.
Nunung, a 37-year-old woman, had pulled herself and her 12-year-old son out of the rubble of their collapsed home.
"I had to free us by digging. Nothing is left, there is nothing I could save," she told AFP from the shelter, her face covered in dried blood.
The devastation caused by the quake was made worse by a wave of 62 smaller aftershocks that relentlessly shook Cianjur, a town of about 175,000 people.
The Geological Agency of the Indonesian Ministry of Energy and Mineral Resources said in an analysis posted online Monday that the soil make-up of the area could have exacerbated the impact of the quake.
It said the area's "undulating to steep hills" were made up of "weathered" and "young" volcanic debris.
"These... deposits are generally soft, loose, unconsolidated and strengthen the effects of shocks, making them prone to earthquakes," it said.
Australian Prime Minister Anthony Albanese and Russian President Vladimir Putin on Tuesday joined Canadian and French leaders in offering their condolences.
Indonesia experiences frequent seismic and volcanic activity due to its position on the Pacific "Ring of Fire", where tectonic plates collide.
Source: Times Of India
Please click the following URL to read the full text of the original story:
https://timesofindia.indiatimes.com/world/rest-of-world/indonesia-quake-toll-jumps-to-268-rescuers-hunt-for-survivors/articleshow/95687092.cms
--------
Muslim unity easier to achieve if BN wins, says Umno man
November 18, 2022
PETALING JAYA: Muslim unity would be easier to achieve if Barisan Nasional wins the general election tomorrow, said Umno Supreme Council member Isham Jalil today.
In an open letter to voters in Shah Alam, he said the total Malay vote would be split if voters backed splinter parties such as Pejuang and coalitions such as Perikatan Nasional.
"This would spell victories for Amanah, Pakatan Harapan and DAP," he said in his open letter urging Shah Alam voters to back BN.
Isham faces a four-way tussle for the Shah Alam parliamentary seat, where the majority of voters are Malay.
He said Malays were now divided because there were too many parties; the splinter parties would lead to the community being divided and constantly at loggerheads.
Two Malay parties, PAS and Umno, were sufficient, he said.
He said he had previously suggested that splinter parties sincere about Muslim unity should disband and their members join either Umno or PAS.
Source: Free Malaysia Today
Please click the following URL to read the full text of the original story:
https://www.freemalaysiatoday.com/category/nation/2022/11/18/muslim-unity-easier-to-achieve-if-bn-wins-says-umno-man/
--------
One dead after car bomb explodes in Thailand's south
November 22, 2022
BANGKOK: One person died and more than two dozen were injured in Thailand after a car bomb exploded outside police accommodation on Tuesday, a provincial governor said.
The attack took place around noon in Narathiwat, one of the country's southernmost provinces.
A low-level conflict has simmered in Thailand's south since 2004, killing more than 7,000 people, as rebels in the Muslim-majority region battle for greater autonomy from the state.
Narathiwat governor Sanan Pongaksorn told AFP a suspect had driven a car into police accommodation before abandoning the vehicle.
A bomb exploded shortly after the car was parked, the governor said, adding that police were checking security camera footage to identify the suspect and investigating possible motives.
He said one person was killed and 28 others were injured, including two in critical condition.
The southern region – heavily policed by Thai security forces – is culturally distinct from Buddhist-majority Thailand, which colonised the area bordering Malaysia over a century ago.
Source: Free Malaysia Today
Please click the following URL to read the full text of the original story:
https://www.freemalaysiatoday.com/category/world/2022/11/22/one-dead-after-car-bomb-explodes-in-thailands-south/
--------
NGOs raise alarm over paid social media attempts with anti-DAP and anti-Chinese content
By Zarrah Morden
22 Nov 2022
KUALA LUMPUR, Nov 22 — A group of non-governmental organisations (NGO) today raised the alarm over what seems to be a coordinated paid attempt on social media to generate anti-DAP and anti-Chinese sentiment.
These inflammatory social media posts push an anti-DAP agenda while calling for Perikatan Nasional (PN) to govern, said a statement by the Centre for Independent Journalism (CIJ), Architects of Diversity (AOD), Justice for Sisters, Beyond Borders, Sisters in Islam (SIS), KRYSS Network, Persatuan Sahabat Wanita Selangor and Pusat Komas.
"These posts demonstrate trends that include a rewriting of the history of May 13, 1969, including that the DAP was the cause of the race riots.
"The posts then evolved into videos containing images of weapons and guns, with messages warning the Malay majority to beware of DAP and Pakatan Harapan (PH). They also threatened a return of racial unrest," the statement read.
The group also brought up allegations that PN has engaged professional agencies to coordinate these narratives.
CIJ executive director Wathshlah Naidu noted that these posts have gone viral across platforms, especially Twitter, and includes paid-partnership with young content creators.
"These contents using the May 13 incident are creating fear, polarising the already divided society along racial and religious lines, and at times inciting outright violence while leveraging the deepened social tensions," she said.
Founding member of Justice for Sisters Thilaga Sulathireh said that the May 13 content that surfaced after the 15th general elections (GE15) are consistent with PN's election campaign, which she said relied on demonising PH and its leadership to distort voters' perception of the coalition.
She went on to call for the Election Commission to investigate PN's election campaign tactics in line with Section 4(a) of the Election Offences Act.
The legislation mentioned that any person with a duty to perform in accordance with any written law relating to any election who makes in any record an entry which they know to be false or has reasonable cause to believe to be false shall be liable to imprisonment of not more than two years or a fine of not more than RM5,000 or both.
Additionally, if a person is convicted of this offence they will not be able to be elected or vote and their seat shall be vacated until five years after the conviction.
"The burden is now on the political parties to stop manipulating and orchestrating hate narratives and focus instead on good governance.
"What Malaysia needs is political leadership that will address recession, generate investments, minimise unemployment, and mitigate the climate crisis," Wathshlah said, adding that the people need political leaders that are accountable to them instead of those that base development on political expediency.
Before GE15, CIJ and its partners had launched a site that monitors hate speech as they expected hate speech and the dissemination of disinformation to intensify on social media during GE15.
Source: Malay Mail
Please click the following URL to read the full text of the original story:
https://www.malaymail.com/news/malaysia/2022/11/22/ngos-raise-alarm-over-paid-social-media-attempts-with-anti-dap-and-anti-chinese-content/41353
--------
All eyes on Malaysia's king to resolve election stalemate as uncertainty drags out
November 22, 2022
KUALA LUMPUR: Malaysia's next prime minister will be chosen by the monarch, the nation's king said on Tuesday, after an election held last weekend failed to produce a clear winner and the ruler's proposal for the leading contenders to work together was turned down.
Malaysia is facing a hung parliament for the first time in its history following divisive polls on Saturday that produced no outright winner but saw around 14.7 million Malaysians, almost 74 percent of the 21 million eligible voters, cast their ballots.
Opposition leader Anwar Ibrahim's reformist alliance, Pakatan Harapan, topped the race with 82 out of 222 parliamentary seats, while the Malay-centric Perikatan Nasional led by former Prime Minister Muhyiddin Yassin had unexpectedly won 73 seats. With both falling far short of reaching the 112 needed for a simple majority, they have been locked in a battle to form a government.
Uncertainties deepened on Tuesday after the long-ruling Barisan Nasional alliance led by the UMNO party refused to support any bloc and said it would remain as the opposition. It is now up to Malaysia's King Sultan Abdullah Sultan Ahmad Shah, who said the crisis must end, to appoint the country's next premier.
"We need to march forward for this beloved nation," the king told reporters outside the national palace ahead of a meeting with Anwar and Muhyiddin in an effort to resolve the impasse. "Let me make a decision soon."
He also asked Malaysians to be patient and accept any decision about the government formation.
Anwar told reporters after the talks that the king had expressed his desire "to form a strong government that is more inclusive in terms of race, religion, or region that would be able to allow the government to focus on resolving the problems of the (people) and to resuscitate our economy."
The monarch plays a largely ceremonial role in Malaysia, but can appoint whoever he believes will command a majority.
Muhyiddin later said that the king had requested Perikatan Nasional and Anwar's Pakatan Harapan "to form a unity government."
He added: "But we had already discussed earlier, we will not work together with PH, that has always been our party stance."
Malaysia has been in a spate of political uncertainty in recent years, having had three prime ministers since the previous election in 2018, amid economic doubts and fallout from the COVID-19 pandemic.
With no resolution to the post-election crisis, the king has summoned lawmakers from the Barisan Nasional alliance, which won 30 parliamentary seats, for a meeting on Wednesday.
Despite the election stalemate, BN grassroots member Asyraf Adlan said that the group should remain as opposition.
Source: Arab News
Please click the following URL to read the full text of the original story:
https://www.arabnews.com/node/2204161/world
--------
Mideast
Iran's Judiciary: 40 Foreigners Arrested During Unrest
2022-November-22
Addressing his press conference on Tuesday, Setayeshi stated that 40 foreign nationals affiliated with riots were detained. The judiciary official did not reveal their nationalities.
The spokesperson stressed that the enemies' dreams will not come true.
"The enemy's plot was to use the capacity of the people in the form of protesting against some bodies, which did not succeed," he added.
"The terrorists have had the scenario and they provoke those people on the street and target women, children, and security defenders," the official noted.
"The terrorists showed that they are not even ready to pay the price of their blind actions and they hide their bloody hands," Setayeshi stated.
Protests erupted in several cities across Iran over the death of Mahsa Amini, a 22-year-old Iranian woman who fainted at a police station in mid-September and days later was pronounced dead at a hospital. The demonstrations soon turned violent.
An official report by Iran's Legal Medicine Organization announced that Amini's controversial death was caused by an illness rather than alleged blows to the head or other vital body organs.
Iranian officials blame Western countries for orchestrating the riots to destabilize the country.
Supreme Leader of the Islamic Revolution Ayatollah Seyed Ali Khamenei severely censured the deadly riots, saying they were orchestrated in advance by the United States and the Israeli regime.
"I state it clearly that these developments were planned by America, the Zionist regime and their acolytes. Their main problem is with a strong and independent Iran and the country's progress. The Iranian nation proved to be fairly strong during recent events and will bravely come onto the scene wherever necessary in the future," he added.
Iranian officials have blamed the United States, the European Unions, and several Western states for meddling in Iran's internal affairs over the death of Mahsa. They advised the US and its allies against "opportunism and instrumentalization of the issue of human rights" by misusing the incident.
Tehran reminded that the countries, which, themselves, towed a "long history of warmongering and violence" throughout the world, lacked the legitimacy that could authorize them to "moralize others" concerning the human rights.
Iran's Intelligence Ministry has announced that the United States and the United Kingdom were "directly" involved in the recent riots across the country.
Dozens of terrorists affiliated with the Zionist regime and anti-revolution groups have been detained during the recent days of unrest, the ministry said in a Friday statement.
The Iranian Intelligence Ministry underlined that 49 Mojahedin-e Khalq Organization (MKO) terrorists had been arrested for actively propagating fake news, inciting the rioters to organize acts of terror and destruction, directing slogans and being present on the streets to damage public property.
The ministry added 77 members of anti-Iran terrorist groups had also been arrested in the Iraqi Kurdistan Region.
The statement pointed to the detention of five members of Takfiri terrorist outfits with 36 kilograms of explosives that were to be used to carry out bombings in gatherings.
The ministry further underscored 92 people affiliated with the former US-backed Pahlavi regime had been identified and arrested in the riots. It added that nine nationals from Germany, Poland, Italy, France, the Netherlands, and Sweden, among others, were arrested during the riots.
Source: Fars News Agency
Please click the following URL to read the full text of the original story:
https://www.farsnews.ir/en/news/14010901000593/Iran's-Jdiciary-40-Freigners-Arresed-Dring-Unres
--------
IRGC Commander: Iran to Display Undeclared Capabilities in War
2022-November-22
Fadavi made the remarks in a ceremony at the Imam Hossein University in the North of Tehran on Monday.
"We have technologies in the military field that no one knows about, and the Americans will know about them when we use them," Admiral Fadavi said.
He said that during the Iraqi-imposed war on Iran, the Iranian armed forces used to import all their military equipment from outside while the country has made a lot of progress in producing its defense capabilities.
"We could not even produce barbed wire inside the country, but today we have been able to sell some of our military equipment to world powers. Some people said that we don't need to produce speedboats and warships and we should buy this equipment, but we were able to produce speedboats, which the Americans admitted that they are not capable of facing Iran's speedboats," the IRGC deputy commander added.
He pointed out that in the maritime field, Iran purchased surface-to-surface missiles from China in 1984, but then we decided to start to produce missiles ourselves, and today the IRGC has been able to produce a cruise missile with a range of 2,000 kilometers.
He recalled that the United States had a lot of warships in the Persian Gulf in the past, and said but the Americans do not have the same presence today.
"The speed vessels strategy was the main strategy that we could win against the Americans, and today the Americans have escaped from the region despite having 373 warships and aircraft carriers in the Persian Gulf. Because they knew that if there had been a war, the American warships would have sunk," Admiral Fadavi added.
In relevant remarks on sunday, Commander of the IRGC Aerospace Force Brigadier General Amir Ali Hajizadeh lauded the country's astonishing progress in production of different types of military equipment, and said that Tehran keeps part of its modern weapons hidden in a bid to surprise enemies.
Source: Fars News Agency
Please click the following URL to read the full text of the original story:
https://www.farsnews.ir/en/news/14010901000296/IRGC-Cmmander-Iran-Display-Undeclared-Capabiliies-in-War
--------
President Rayeesi: Iran, Kazakhstan Enjoy Potentials to Expand Bilateral Ties
2022-November-22
"I hope that the interactions and relations between the two countries will be further strengthened during the new term of Kazakh president," President Rayeesi said in a telephone conversation with his Kazakh counterpart Kassym-Jomart Tokayev while congratulating him on his reelection to the post.
Referring to the good agreements reached in the numerous meetings of the Presidents of the two countries, President said that the 18th meeting of the Tehran-Astana Joint Commission will be held in the near future, which can bring useful and effective results in the direction of implementing agreements and improving the level of relations between the two countries, especially in the economic field.
President Tokayev, thanked President Rayeesi for his high opinion of Kazakhstan and underlined, "Iran is a close neighbor and friend of Kazakhstan, and the two countries have many capacities and fields for expanding bilateral and regional cooperation."
The Kazakh president stated that he has ordered the officials of his respective government to cooperate as much as possible to strengthen and deepen the relations between the two countries, especially in the economic field.
Source: Fars News Agency
Please click the following URL to read the full text of the original story:
https://www.farsnews.ir/en/news/14010901000378/Presiden-Rayeesi-Iran-Kazakhsan-Enjy-Penials-Expand-Bilaeral-Ties
--------
Iranian Deputy FM Reiterates Need for Establishing Peace in Caucasus
2022-November-22
In a meeting with Mnatsakan Safaryan in Tehran on Monday, Baqeri Kani said the expansion of relations with Armenia in various fields will serve the two nations' interests and improve stability and security in the South Caucasus region.
The Iranian diplomat noted Tehran is resolute on further promotion of bilateral cooperation.
The Armenian diplomat, for his part, hailed Iran's support for his country's territorial integrity and stated Yerevan is determined to bolster cooperation with Tehran, particularly in the trade and economic fields.
He expressed hope that Iran and Armenia would continue to boost growing ties.
Baqeri Kani and Safaryan also discussed the latest developments in the region and stressed the importance of strengthening cooperation among regional countries.
Iranian officials have repeatedly underlined Tehran's opposition to geopolitical changes in the region, and reaffirmed the country is ready to use all its capacities to establish peace and stability in the Caucasus region and its growth and development.
Tehran believes that peace and stability in the region is enhanced through cooperation among the regional countries, voicing hope that the ongoing negotiations between Armenia and Azerbaijan over their long-running territorial dispute results in lasting peace.
Back in September, Chief of Staff of the Iranian Armed Forces Major General Mohammad Baqeri called on Armenia and Azerbaijan to solve their territorial disputes through dialogue, warning that Tehran will not tolerate any change to the borders of the countries in the region.
Delivering a stern warning against any attempt aimed at changing the regional borders in the vicinity of Iran, the top military commander called on neighboring Azerbaijan and Armenia to resolve their border issues peacefully.
"We have repeatedly declared that we do not tolerate any changes to the region's borders," Major General Baqeri said.
"We advise Azerbaijan and Armenia to resolve their problems through peaceful channels. We do not tolerate any resort to clashes and war and will not sit idly by in the face of it," he added.
Iranian officials have stressed the necessity for the settlement of the crises and problems in the region through collective cooperation among the regional states, and underscored that the presence of foreigners is harmful.
Source: Fars News Agency
Please click the following URL to read the full text of the original story:
https://www.farsnews.ir/en/news/14010901000298/Iranian-Depy-FM-Reieraes-Need-fr-Esablishing-Peace-in-Cacass
--------
At least 15 people wounded in two Jerusalem bomb 'attacks', Israeli officials say
23 November ,2022
At least 15 people were wounded in two separate explosions targeting bus stations in Jerusalem Wednesday, security and medical officials said, with Israel's public security minister calling them "attacks."
An explosion at a station at the exit from Jerusalem wounded 12 people, two of them critically, and a separate blast at another station a short distance away demolished a bus and wounded three, the hospitals treating the casualties said.
An Israeli police spokeswoman later told AFP that a man wounded in a bomb attack at a bus stop in Jerusalem died of his wounds.
Source: Al Arabiya
Please click the following URL to read the full text of the original story:
https://english.alarabiya.net/News/middle-east/2022/11/23/Explosion-near-bus-stop-injures-several-in-Jerusalem-
--------
Earthquake hits northwest Turkey, at least 22 injured
23 November ,2022
A magnitude-6.1 earthquake struck northwest Turkey during Wednesday's early hours, injuring at least 22 people, according to health chiefs.
The shallow tremor struck about 170 kilometers (105 miles) east of Istanbul, the country's largest city, according to the US Geological Survey.
Interior Minister Suleyman Soylu posted on Twitter that there was no information on loss of life.
Health Minister Fahrettin Koca tweeted that 22 people were injured -- including one who was seriously hurt after jumping from a building out of panic.
Turkish authorities said the quake's epicenter was in Duzce province's Golyaka district, though it was also strongly felt in Istanbul.
Initial images showed people covered in blankets outside their homes during the early morning.
Turkey's disaster agency, the AFAD, said there were controlled blackouts in the Duzce region, warning residents not to panic.
Turkey is situated in one of the world's most active earthquake zones.
A magnitude 6.8 quake hit Elazig in January 2020, killing more than 40 people.
Source: Al Arabiya
Please click the following URL to read the full text of the original story:
https://english.alarabiya.net/News/middle-east/2022/11/23/Earthquake-hits-northwest-Turkey
--------
Iran has arrested 40 foreigners during anti-government protests: Judiciary
22 November ,2022
Iran, which has blamed "foreign adversaries" for protests sparked by the death of a woman in morality police custody, said on Tuesday 40 foreign nationals had been arrested for their role in the unrest.
The Islamic Republic has been gripped by nationwide protests since the death of 22-year-old Kurdish woman Mahsa Amini in morality police custody in September after she was arrested for wearing clothes deemed "inappropriate."
"So far, 40 foreign nationals have been arrested for their involvement in the protests," Iran's judiciary spokesman Masoud Setayeshi told a televised news conference, without revealing their nationalities.
In September, Tehran said nine Europeans had been arrested for their involvement in the protests.
Source: Al Arabiya
Please click the following URL to read the full text of the original story:
https://english.alarabiya.net/News/middle-east/2022/11/22/Iran-has-arrested-40-foreigners-during-anti-government-protests-Judiciary-
--------
One dead, at least 15 wounded in two Jerusalem bomb 'attacks': officials
November 23, 2022
JERUSALEM: At least one person was killed and 15 others were wounded in two separate explosions targeting bus stations in Jerusalem Wednesday, security and medical officials said, with Israel's public security minister calling them "attacks."
The first explosion occurred near a bus stop on the edge of the city, where commuters usually crowd waiting for buses. The second went off in Ramot, a neighborhood in the city's north. Police said one person died from the wounds and Israel's rescue service Magen David Adom said four people were seriously wounded in the blasts.
The apparent attacks came as Israeli-Palestinian tensions are high, following months of Israeli raids in the occupied West Bank prompted by a spate of deadly attacks against Israelis that killed 19 people. There has been an uptick in recent weeks in Palestinian attacks.
The violence also comes as former Israeli Prime Minister Benjamin Netanyahu is holding coalition talks after national elections and is likely to form what's expected to be Israel's most right-wing government.
Police said their initial findings showed that explosive devices were placed at the two sites. The twin blasts occurred amid the buzz of rush hour traffic and police closed part of a main highway leading out of the city, where the fist explosion went off. Video from shortly after the first blast showed debris strewn along the sidewalk as the wail of ambulances blared.
"It was a crazy explosion. There is damage everywhere here, " Yosef Haim Gabay, a medic who was at the scene when the first blast occurred, told Israeli Army Radio. "I saw people with wounds bleeding all over the place."
While Palestinians have carried out stabbings, car rammings and shootings in recent years, bombing attacks have become very rare since the end of a Palestinian uprising nearly two decades ago.
The Islamic militant Hamas, which rules the Gaza Strip and once carried out suicide bombings against Israelis, praised the perpetrators of the attacks, calling it a heroic operation, but stopped short of claiming responsibility.
"The occupation is reaping the price of its crimes and aggression against our people," Hamas spokesman Abd Al-Latif Al-Qanua said.
Itamar Ben-Gvir, an extremist lawmaker who has called for the death penalty for Palestinian attackers and who is set to become the minister in charge of police under Netanyahu, said the attack gave him impetus to take a tougher stance on Palestinian attackers.
"It's time to take a hard line against terrorists, it's time to make order," he tweeted.
Source: Arab News
Please click the following URL to read the full text of the original story:
https://www.arabnews.com/node/2204541/middle-east
--------
IRGC: Iranian military advisor assassinated in bombing tied to Israel in Syria
23 November 2022
A senior member of Iran's Islamic Revolution Guards Corps (IRGC) Aerospace Division has lost his life in a terrorist bombing using an explosive device near the Syrian capital city of Damascus.
The IRGC said in a statement that Colonel Davoud Ja'fari, who served as a military advisor in the war-ravaged Arab country, was killed on Tuesday when a bomb planted by Israeli agents on the side of a road near Damascus went off.
The statement noted that the bogus and criminal Tel Aviv regime will definitely have to pay the price for the act of terror, stating that Ja'fari's body will be flown back to Iran in the coming days, and information about his funeral procession and burial will be announced accordingly.
Iran maintains an advisory mission in Syria at the request of Damascus with the aim of helping the war-torn Arab country get rid of the foreign-backed militants, who have been fighting against the democratically-elected Syrian government since 2011.
In 2017, Iran's advisory assistance helped Syria defeat the Daesh terrorist group.
Lieutenant General Qassem Soleimani, who was killed in a US airstrike near the Baghdad International Airport in January 2020, played a key role in the disgraceful defeat of the Takfiri outfit.
Israel has been a key supporter of the terrorist groups operating on the soul of Syria and has targeted the positions of Iran's military advisors as well as those of the Syrian army and resistance groups that have been fighting the terrorists.
Last August, a top member of the IRGC Ground Force, identified as General Abolfazl Alijani, was martyred in Syria.
Back in March, the IRGC said two Iranian advisors named as Colonel Ehsan Karbalayi-Poor and Colonel Morteza Saeed-Nejad had been killed in an Israeli missile attack on the countryside of Damascus.
IRGC Spokesman Brigadier General Ramezan Sharif said at the time that the Israeli regime will be dealt with decisively for the killing of the two advisors.
"The Zionist enemy knows that it will not benefit from such crimes and will receive a decisive response," he said.
The IRGC, in a statement, vowed to avenge the martyrdom of the two slain advisors.
Source: Press TV
Please click the following URL to read the full text of the original story:
https://www.presstv.ir/Detail/2022/11/23/693233/Iranian-military-advisor-assassinated-in-roadside-bomb-attack-on-suburbs-of-Damascus--IRGC-
--------
Iran won't compromise national security, in talks with Iraq over terrorists: Ambassador
22 November 2022
Iran's Ambassador to Baghdad Mohammad Kazem Alesadeq says the Islamic Republic has told Iraq's central government and the Kurdistan region that it is serious about its national security after a number of sensitive Iranian military centers have been targeted from the Kurdistan soil.
"Some of our vital military centers have been attacked from the Iraqi Kurdistan region's soil and we have informed the Iraqi side, both the authorities of the Iraqi Kurdistan region and the central government in Iraq, of this issue. We [provided them] with maps and documents, and they understood this reality," he said.
Alesadeq made the remarks in an exclusive interview with Iran's Arabic-language television news network al-Alam TV.
The ambassador denied reports about Iran's land advance into the Iraqi Kurdistan region, saying, "Iran respects Iraq's sovereignty and has carried out several measures to [improve] stability, unity and prosperity in that country."
Alesadeq said Iran has political, geographical, historical and ideological relations with Iraq while the two neighboring states' people enjoy cordial relations, adding, "Therefore, it is not possible that Iran conducts land operations against Iraq."
He pointed to recent talks between Commander of the Islamic Revolution Guards Corps (IRGC)'s Quds Force Brigadier General Esmail Qa'ani and senior Iraqi officials, including new Prime Minister Mohammed Shia al-Sudani, in Baghdad, where he reiterated the Islamic Republic's support for Baghdad to settle the existing crises and provide better services to the people of the Arab country.
Alesadeq noted that Iran has always made efforts to settle problems with Iraq through dialogue, and close and strong relations between Tehran and the Kurdistan region should not allow separatist elements to infiltrate into Iran to kill Iranian security forces and blow up the country's security centers.
The Iranian diplomat pointed to several rounds of fruitless talks with Iraq's Kurdistan region and said sometimes the ethnocentrism view affects political and diplomatic issues, "Therefore, we had to ask the central Iraqi government to intervene in this regard."
Since September 24, the IRGC has frequently launched air raids against the positions of the terrorists, who are holed up in Iraqi Kurdistan.
The elite force has on several occasions urged the central Iraqi government and the Kurdistan region to meet their commitments toward Iran and take necessary measures to secure the common borders.
Securing common borders
Alesadeq said officials of the Kurdistan region have insisted that the central government is responsible for securing common borders.
He added that Iran has called on the Iraqi officials to disarm terrorist groups in the Kurdistan region and transfer them from border areas to refugee camps because they are "considered as refugees and this is while a refugee does not carry weapons, does not conduct military exercises and does not destroy."
The central government in Iraq is determined to find a solution in this regard because the country's constitution allows no attack on neighbors from the Iraqi soil, which is a positive issue, he explained.
The Iranian ambassador expressed hope that the Baghdad government would take control of borders and disarm terrorist groups and that criminals would be expatriated between the two countries.
70 documents on presence of terrorists, separatists in Iraq's Kurdistan
Alesadeq said Iran has presented more than 70 documents about the bases, educational centers and meetings of the armed terrorists and separatists groups in the Kurdistan region to the Iraqi officials who have pledged to investigate them.
He added that officials in the Kurdistan region are capable of countering terrorist groups "and we will achieve this goal through negotiations."
The Iranian diplomat further said Tehran has deep-rooted ties with Iraqi Kurdistan region and has supported it even during former Iraqi dictator Saddam Hussein's rule.
"Currently, there are strong relations between the authorities [of the Kurdistan region] and the two nations. There are also economic relations and medical tourism," he said, adding that Iran expects Kurdish officials to be serious about solving problems.
Strong bond between Iran, Muqtada al-Sadr
Alesadeq also said Iran has strong relations with popular Shia cleric Muqtada al-Sadr, a "prominent figure respected and accepted by all parties," emphasizing that this relationship has never been broken up.
Source: Press TV
Please click the following URL to read the full text of the original story:
https://www.presstv.ir/Detail/2022/11/22/693181/Iran-serious-national-security-envoy-warns-Baghdad-Iraqi-Kurdistan
--------
South Asia
Taliban Sends Its Condolences to Indonesia Over Fatal Earthquake
By Saqalain Eqbal
November 22, 2022
The Taliban conveyed its sympathies to the Republic of Indonesia and the Indonesian people over the powerful earthquake that devastatingly shook the Indonesian province of Java and left hundreds of people dead and injured.
In a statement on Monday, November 21, the Taliban Ministry of Foreign Affairs offered its condolences to Indonesia and the families of those who had died and been injured in the earthquake that left 268 people dead, hundreds injured, and many more still missing.
According to the statement, the Taliban supplicated to God to "grant Jannah to the victims & swift recovery to the injured."
The Indonesian National Agency for Disaster Management reportedly stated that while the death toll has leaped to 268, a further 151 people are still missing and more than 1,000 people are wounded as a result of the earthquake.
According to the United States Geological Survey (USGS), the 5.6-magnitude earthquake struck the Cianjur district of West Java on Monday at a depth of 10 kilometers, causing buildings to fall as schools were in session.
Source: Khaama Press
Please click the following URL to read the full text of the original story:
https://www.khaama.com/taliban-sends-its-condolences-to-indonesia-over-fatal-earthquake-37585/
--------
Afghan Families Sell Belongings to Make Ends Meet
By Arif Ahmadi
November 22, 2022
Kabul, Afghanistan – An average Afghan family affords 82% of basic food commodities, selling their belongings in order to make ends meet, amid winter snowy season that requires additional fund to warm up living space.
According to Martin Schuepp, Director of Operations of the International Committee of the Red Cross (ICRC), an average Afghan family can only afford 82% of basic food commodities, expressing concerns over the economic and humanitarian situation in Afghanistan.
"We see more and more Afghans who are really having to sell their belongings in order to make ends meet, and where they have to buy materials for heating and at the same time have to face increasing costs for food and other essential items," he said in an interview with AP.
"Sanctions are a challenge in getting aid and the necessary supplies to the country in a timely fashion, and it is key that all sanctions have humanitarian exemptions so organizations like the ICRC could continue their work."
Economists Sayed Masoud believe "the economic stability could be ensured via banks and mines."
"The suspension of banking relations with the international banks has posed problems in the transaction of money for various aims such as trading," said Mir Shikib Mir, another economist.
"Also, the transaction of money by humanitarian organizations has been facing challenges."
Meanwhile, local shopkeepers and retailers expressed concern over decreasing number of customers, which they believe are due to financial challenges families are facing.
"The unemployment has risen and the customers have dropped," said Abdul Alim, a shopkeeper, as TOLOnews quoted. "When there is no money, of course the customers drop."
"Poverty and unemployment have increased in society. The people don't purchase anything else but essential materials," said Almas, another shopkeeper.
Earlier, United Nations High Commission for Refugees (UNHCR) said more than half of Afghanistan's population is dependent on life-saving humanitarian assistance and protection, suggesting one in two people do not know where their next meal come from.
The commission said it provides direct aid to the vulnerable people in Afghanistan, including provision of healthy centers and water projects that are of the primary needs of the citizens.
"Afghanistan's people cannot be left behind. We provide direct aid to the most vulnerable," UNHCR Canberra wrote in a tweet. "We build schools, health centers, water projects and roads to provide conditions for the voluntary return of refugees and displaced people when they feel ready."
What We Know About Afghanistan Economy Since the Takeover
The ongoing political crisis since the takeover last August has "hit hard" private sectors in Afghanistan, where businesses were halted and put to uncertainty, according to a latest survey conducted by the World Bank.
Due to shortage in sells, private companies have laid off more than a half of their employees on average, a rising concern on unemployment rate in the country.
"The majority of surveyed businesses reported a drastic decline in consumer demand for their products and services and have been forced to scale back operations, reduce investments, and lay off employees," the report said.
According to the survey, small enterprises have been hit hardest with about 38 percent of them seizing operation, comparing to a 25 percent among medium and 35 percent among large businesses in the country.
The finding shows Afghan domestic inputs have become more expensive and yet difficult to obtain due to supplier closure and supply chain disruptions, which all lead to price inflation since the beginning of political uncertainty.
Source: Khaama Press
Please click the following URL to read the full text of the original story:
https://www.khaama.com/afghan-families-sell-belongings-to-make-ends-meet/
--------
Pakistani soldier killed in border clash with Afghan Taliban
22 November, 2022
Khyber Pakhtunkhwa [Pakistan], November 22 (ANI): A Pakistani soldier was killed and 11 others, including seven personnel and four civilians, were injured in a clash between security forces and Afghan Taliban in Kurram tribal district on Saturday and Sunday night, Dawn reported.
The clash erupted over the construction of a road in Pakistani territory by the Afghan Taliban. The land was owned by the residents of Khurlachi and Borki, which fall on the other side of the border fence, near Afghanistan's Paktia province.
Haji Nauroz Ali, a resident of Borki, told Dawn that the lands where the Afghan Taliban attempted to construct the road belonged to the local people, who had allotment and revenue records of these properties.
He alleged that claim of the Afghan Taliban was illegal and there was a clear demarcation of the border. "Successive Afghan governments had never laid claim over these lands before fencing," he said. A source said talks between the two sides remained inconclusive as tensions prevailed. Some families have moved from Khurlachi and Borki to Parachinar, according to Dawn.
Local people said they had abandoned their properties since the Pakistan government erected a fence. Under the multi-billion rupees border management plan, the army launched fencing along the Durand Line in 2017 in an attempt to regulate cross-border movement between the two countries, and control smuggling and movement of militants.
Amid this tension, senior civil and military officials from Pakistan and Afghanistan held a flag meeting at zero-line on Monday to defuse the tension.
While addressing the presser in Khyber Pakhtunkhwa's Parachinar, Kurram Deputy Commissioner Wasil Khan Khattak said that their efforts were underway to resolve the issue through peaceful means.
Pakistan media reports said the Pakistan-Afghan border in Balochistan, remains closed as both sides failed to arrive at a consensus on reopening the crossing, as per Dawn.
The Pak-Afghan border at Chaman was closed for an indefinite period after an armed man opened fire from the Afghan side, killing a Pakistani soldier, last week.
The incident left two security personnel injured and prompted the closure of the border between the two countries at Chaman, Balochistan, Dawn reported quoting official sources
Earlier, the Dawn reported that in the flag meeting at Friendship Gate, the two sides discussed the need for a "joint mechanism" to put an end to incidents of violence at the border. The idea of joint interrogations has also been proposed to probe Sunday's incident, the report said.
"A joint mechanism would be evolved to stop such incidents in the future and both countries would cooperate in a probe in case of any future incident at the border," a senior border security official told Dawn.
Source: The Print
Please click the following URL to read the full text of the original story:
https://theprint.in/world/pakistani-soldier-killed-in-border-clash-with-afghan-taliban/1230614/
--------
Trust responsible for seized Afghan money meets in Geneva
SHEREENA QAZI
Nov 22, 2022
The fate of the remaining $3.5 billion that US President Joe Biden has set aside for 9/11 victims remains uncertain.
The board of a Switzerland-based trust fund, which is in charge of disbursing billions of dollars of assets belonging to Afghanistan, has met for the first time in Geneva.
In a meeting held on Monday, the trustees considered various proposals on how to transfer $3.5 billion, which were frozen when the Taliban drove out the US-backed government from Kabul last year.
The United Nations has warned that millions of Afghans can suffer if the international community doesn't step in immediately to ease the economic crisis in the war-torn country.
The money is part of around $7 billion in foreign currency assets belonging to Afghanistan's central bank that is held at the US Federal Reserve.
"This fund is for the Afghans. It will protect, preserve and make targeted disbursement to promote price stability so that the people can afford to buy basic necessities of life," says Shah Mehrabi, an Afghan-American economist who is among the trustees overseeing the fund.
"For any purpose other than bringing price stability and reducing volatility in the exchange rate, the board will consult the Taliban. Likewise, the Taliban can propose to us if they would like to use the funds elsewhere."
How and when the money will be disbursed is yet to be determined.
Mehrabi, a member of the Supreme Council of Central Bank of Afghanistan, is one of the four trustees, including Swiss foreign ministry official Alexandra Baumann, US Ambassador to Switzerland Scott Miller and former Afghan central bank chief Anwar Ahady.
In September, the US transferred $3.5 billion to the Bank of International Settlements (BIS) in Basel, Switzerland, instead of releasing it to Afghanistan's central bank (DAB).
The move was designed to bypass the Taliban, which condemned the transfer, calling it a violation of international laws.
The negotiations to release the funds have centred around the $3.5 billion, which US President Joe Biden has set aside for Afghanistan.
The remaining $3.5 billion of Afghanistan's money with the Federal Reserve is being contested in lawsuits against the Taliban stemming from September 11 attacks, which led to the US invasion of Afghanistan in 2001.
"There remains much to do in protecting and repatriating the rest of the $3.5 billion of DAB's reserves especially as these assets are the subject of multifaceted US litigation," Mehrabi told TRT World.
The US administration has come under fire for withholding cash belonging to the people of Afghanistan at a time when Afghans are suffering from hunger, poverty and high inflation.
Many people have criticised the US for politicising the funds against the Taliban despite the fact that it was the terror group, Al Qaeda, that was actually behind the 9/11 attacks.
Source: TRT World
Please click the following URL to read the full text of the original story:
https://www.trtworld.com/magazine/trust-responsible-for-seized-afghan-money-meets-in-geneva-62781
--------
Arab World
Qatar's Emir waves Saudi Arabia's flag during FIFA match against Argentina
22 November ,2022
Qatar's Emir Sheikh Tamim bin Hamad was seen carrying Saudi Arabia's flag and draping it around his neck during the Kingdom's match against Argentina at the FIFA World Cup on Tuesday.
In a video circulating on social media, a fan hands a Saudi flag to the smiling emir who then places it around his neck and waves at the cheering crowd.
Saudi Arabia's Green Falcons are going up against Argentina at the Lusail Stadium for their first match at the global football tournament.
Source: Al Arabiya
Please click the following URL to read the full text of the original story:
https://english.alarabiya.net/News/gulf/2022/11/22/Qatar-s-Emir-waves-Saudi-Arabia-s-flag-during-FIFA-match-against-Argentina
--------
3 Civilians Killed In Rocket Strike By YPG/PKK Terrorists In Northwestern Syria
Omer Koparan and Ethem Emre Ozcan
22.11.2022
AZAZ, Syria
At least three civilians were killed Tuesday in northwestern Syria in a rocket strike by the PKK/YPG terror organization, according to reports.
Eight others were wounded in the attack in the Azaz district. The strike was carried out by PKK/YPG terrorists in the Tal Rifaat area which has been under the terror group's occupation for more than six years.
The injured were transferred to surrounding hospitals.
The YPG/PKK terror group mostly carries out terror attacks in Manbij, Ayn Al-Arab and the Tal Rifat district of Aleppo. The terror group uses those areas as bases for its attacks.
Separately, three rockets fired by PKK/YPG in northern Syria targeted an empty area in southeastern Türkiye near the Kilis Oncupinar border crossing.
No casualties have been reported, according to sources.
Türkiye has made separate agreements with the US and Russia for the withdrawal of YPG/PKK elements as the Turkish Armed Forces were carrying out Operation Peace Spring, which began on Oct. 9, 2019, in northern Syria.
After pledging the withdrawal of the YPG/PKK terror group 30 kilometers (18.6 miles) south of the Turkish border in line with the agreements, the US and Russia have failed to keep their promises for two and a half years.
During a visit to Türkiye by then-US Vice President Mike Pence eight days into Operation Peace Spring, the US pledged that the terror group would withdraw 32 kilometers (20 miles) south from the border, but Washington did not fulfill its commitment.
Russia also committed to the removal of the terror group from Tal Rifat and Manbij under an agreement reached with Türkiye during Operation Peace Spring.
Since 2016, Ankara has launched a trio of successful anti-terror operations across its border in northern Syria to prevent the formation of a terror corridor and enable the peaceful settlement of residents: Euphrates Shield (2016), Olive Branch (2018), and Peace Spring (2019).
Source: Anadolu Agency
Please click the following URL to read the full text of the original story:
https://www.aa.com.tr/en/middle-east/3-civilians-killed-in-rocket-strike-by-ypg-pkk-terrorists-in-northwestern-syria/2745496
--------
Al-Qaeda Tells Muslims Not To Attend 'Immoral' Qatar FIFA World Cup
22nd November 2022
Al Qaeda in the Arab peninsula has urged Muslims not to watch the ongoing FIFA World Cup in Qatar. However, the terror group has not issued any threats of attacking the country.
The AQAP, based in Yemen has accused Qatar of bringing immorality and homosexuality into the peninsula. The group further alleged that the World Cup was being held to divert attention from the occupation and oppression of Muslim countries.
Source: Siasat Daily
Please click the following URL to read the full text of the original story:
https://www.siasat.com/al-qaeda-tells-muslims-not-to-attend-immoral-qatar-world-cup-2463062/
--------
A Revolutionary Guards colonel killed in bomb in Syria: Iran media
23 November ,2022
A colonel in Iran's Revolutionary Guards has been killed by an improvised bomb outside the Syrian capital Damascus, Iranian media reported Wednesday, pointing the finger at Israel.
Source: Al Arabiya
Please click the following URL to read the full text of the original story:
https://english.alarabiya.net/News/middle-east/2022/11/23/A-Revolutionary-Guards-colonel-killed-in-bomb-in-Syria-Iran-media-
--------
Turkey used US, Russian-controlled airspace in Syria strikes: Sources
22 November ,2022
Turkey's warplanes crossed into Russian and US-controlled airspace for the first time to attack US-backed Kurdish fighters in Syria, and it has rallied Syrian allies to possibly expand the campaign, several Turkish and Syrian rebel sources said.
The F-16 jet raids happened in the last few days as Turkey and the YPG escalated tit-for-tat strikes that have killed civilians on both sides of the border, set off when Ankara said it was retaliating after a deadly Nov. 13 bombing in Istanbul.
While Turkey has conducted several large operations into northern Syria in recent years, it had used drones for many air strikes given that Washington, which is allied with the YPG-led Syrian Democratic Forces (SDF), and Damascus-ally Moscow control much of the airspace.
Turkey's reported use of Russian and US-controlled airspace could indicate Ankara's increasing clout with Moscow and Washington. NATO member Turkey has conducted a diplomatic balancing act since Russia invaded Ukraine, criticizing the invasion but opposing Western sanctions on Russia.
Russia's defense ministry and the US State Department did not immediately respond to requests for comment.
A Turkish defense ministry source said jets were never used in Syrian, Russian or US airspace for the latest airstrikes on Kurdish militant bases in Syria, and that jets hit all targets from within Turkish airspace.
Yet a senior Turkish security official and two senior Syrian opposition figures in touch with the Turkish military told Reuters that jets flew into Syrian territory controlled by the US-backed YPG and that Ankara was in particular in touch with Russia about this.
"Turkish jets used the airspace under the control of the United States and Russia. Some coordination was made with these two countries," the Turkish security official said.
"The Turks coordinated with the Russians and the Americans in the areas they have control over Syrian airspace," said Colonel Abduljabbar Akaidi, a senior Syrian opposition figure familiar with the latest developments.
Hande Firat, a prominent Turkish journalist with close links to government, separately wrote in the Hurriyet newspaper: "The USA and Russia, the two countries which control Syrian airspace, had to open the airspace" after the Istanbul attack.
Ankara said its weekend operation was retaliation for the bomb set off on a busy Istanbul avenue last week that killed six people, and which authorities blamed on the militants.
No one has claimed responsibility and the outlawed Kurdistan Workers Party (PKK) and the SDF have denied involvement.
Back to bases
Turkish artillery kept up bombardment of Kurdish bases and other targets in Syria on Tuesday, while Defense Minister Hulusi Akar called on the United States to halt support for the YPG.
The United States allied with the YPG-led SDF in the fight against ISIS in Syria's 11-year war, causing a deep rift with Turkey, which says YPG is a wing of the PKK. Turkey, the United States and others deem the PKK a terrorist group.
Washington has warned against military action that would destabilize Syria while Moscow has urged Ankara and other parties to show restraint.
But the commander of a Turkey-backed rebel faction and two Turkish sources said fighters from a coalition of armed Syrian opposition groups known as the Syrian National Army, allied with Ankara, have been asked to prepare for a potentially expanded operation.
"The Turks notified all the commanders who are on leave to return to their posts and those in Syria not to leave and also to raise their level of preparedness," the senior commander said under condition of anonymity because he is not authorized to publicly speak on this matter.
"They have not been assigned tasks nor is there a plan yet," he added.
The Turkish security source and a separate senior Turkish official said Syrian proxies have been readied, though no timetable had been set and no final decision has been made.
In May, Turkish President Recep Tayyip Erdogan vowed to launch an incursion into Syria, raising preparations among Syrian proxies, though no operation was launched. Erdogan said on Monday that the current air campaign could expand to a ground offensive.
Source: Al Arabiya
Please click the following URL to read the full text of the original story:
https://english.alarabiya.net/News/middle-east/2022/11/22/Turkey-used-US-Russian-controlled-airspace-in-Syria-strikes-Sources
--------
Van smuggling 12 Syrian migrants rams into police car in Bulgaria
22 November ,2022
A van smuggling 12 Syrian migrants crashed into a police car near the Bulgarian capital on Tuesday after the driver fled a police checkpoint, injuring an officer and some passengers.
The EU member has seen a sharp increase in the number of migrants trying to cross its border to move farther north to the Schengen visa-free zone in western Europe.
The driver of the minibus refused to stop at a checkpoint south of Sofia and sped away. He then crashed into a police car dispatched to stop it.
A 51-year-old policeman and a 20-year-old Syrian suffered head injuries, doctors at the Saint Anne's Hospital in Sofia said.
Three other passengers were hospitalized with minor injuries, while the driver – a Bulgarian with a prior police record who drove without a license – was also injured.
Interior ministry secretary general Petar Todorov said he would resign, demanding tougher punishments for people smugglers, many of who currently get away with mere fines.
Two officers were killed in August when a bus smuggling people rammed into their police car near the Black Sea city of Burgas when they were trying to stop it.
A Bulgarian policeman was also shot dead earlier this month while patrolling the country's border with Turkey.
Bulgaria, a member of the European Union but not in the Schengen zone, shares a 269-kilometer-long (167-mile-) land border with Turkey.
Source: Al Arabiya
Please click the following URL to read the full text of the original story:
https://english.alarabiya.net/News/world/2022/11/22/Van-smuggling-12-Syrian-migrants-rams-into-police-car-in-Bulgaria
--------
Syria provides 'drone lab' for warring parties: Report
22 November ,2022
Syria's 11-year war has provided a "drone laboratory" to countries, militants and other armed groups -- with some weapons trialed and later deployed in Ukraine -- peace monitors said Tuesday.
Six countries have deployed 39 models of military drones over the bloody war's course, according to a new report published Tuesday by Dutch-based peace-building organization PAX.
"Countries and non-state armed groups have tested various new types of drones and explored how their uses can improve military tactics and strategies," PAX said.
Iran, Israel, Russia, Turkey, the United States and Syria's military have all made use of drone technology in Syria, the report said, perfecting technologies for use in other conflicts.
"Over the last decade, upgraded drones in the Syrian skies have repeatedly shown how military actors have been through a learning process and enhanced their knowledge of the design, production and use of drones," PAX added.
Kamikaze drones developed by Iran, Russia and the US were used in Syria before roll-out "on a larger scale" in Ukraine's ongoing conflict, the report highlighted.
In northern Syria, Turkey began deploying military drones in 2016, helping Ankara and its proxies seize territory along the border.
The Bayraktar TB-2 became "Turkey's best-known combat drone, playing a key role in the conflicts in Libya, Nagorno-Karabakh, Ethiopia and most recently in Ukraine," PAX said.
More than 60 Turkish drone strikes hit Kurdish-held areas in Syria's north between January and September 2022, the report stated.
PAX noted that Syria proved to be "the ultimate unmanned aerial vehicles laboratory" for Russia, allowing Moscow to evaluate its partners' drones and trial its own combat drones and weapons.
Russia's 2015 military intervention in support of the Syrian regime was crucial in turning the tide of the war in Damascus's favor after it had lost large swathes of territory.
"Russia... significantly influenced the war's course through the incorporation of drones," PAX said.
Iran has also provided allies with drones, including Iraqi militias and Hezbollah, the powerful Lebanese group.
Six types of Iranian drones have been "reported in the hands of the Syrian regime," according to PAX.
Source: Al Arabiya
Please click the following URL to read the full text of the original story:
https://english.alarabiya.net/News/middle-east/2022/11/22/Syria-provides-drone-lab-for-warring-parties-Report
--------
Syria Kurd base used by US-led coalition hit by Turkish drone: Report
22 November ,2022
A base in northeastern Syria used jointly by Kurdish forces and the US-led coalition was hit in a Turkish drone strike on Tuesday, the Kurds and a war monitor said.
"A joint base north of Hasakeh used for planning and executing joint operations against the Islamic State group has been hit by a Turkish drone," a spokesman for the Kurdish-led Syrian Democratic Forces, Farhad Shami, told AFP, adding that two SDF fighters had been killed.
A Britain-based monitoring group, the Syrian Observatory for Human Rights, confirmed that two SDF fighters had been killed in the strike but was not immediately in a position to say whether coalition forces had been present at the time.
There was no immediate comment from the US-led coalition.
Since it launched a new air campaign against Kurdish rebel targets across Iraq and Syria on Sunday, Ankara has come under massive pressure from Washington to hold off on a long-threatened ground operation into Syria.
"We urge de-escalation in Syria to protect civilian life and support the common goal of defeating ISIS," US State Department spokesperson Ned Price said late Monday.
Turkish President Recep Tayyip Erdogan has voiced growing defiance in the face of the US warnings, promising on Tuesday that the air campaign will be followed by a ground offensive "soon."
"We have been on top of terrorists for a few days with our planes, cannons and drones," Erdogan said in a televised address. "God willing, we will root out all of them soon with our tanks, artillery and soldiers."
Dubbed Operation Claw-Sword, the air raids followed a bombing in Istanbul that killed six people and wounded 81.
Ankara blamed the attack on the Kurdistan Workers' Party (PKK), but the group, which is blacklisted as a terror group by the European Union and the United States, has denied that it was responsible.
In Syria, the principal target of the Turkish campaign is the Kurdish People's Protection Units (YPG), who dominate the SDF.
Washington forged a close alliance with the SDF during their successful campaign to oust ISIS from Syrian territory.
But Ankara regards it as a terror group linked to the PKK.
In a veiled reference to Washington Tuesday, Erdogan said his government knew "who protects, arms and encourages those terrorists."
Source: Al Arabiya
Please click the following URL to read the full text of the original story:
https://english.alarabiya.net/News/middle-east/2022/11/22/Syria-Kurd-base-used-by-US-led-coalition-hit-by-Turkish-drone-Report
--------
UAE, India FMs discuss food security, trade growth from CEPA during New Delhi visit
23 November ,2022
UAE Foreign Minister Sheikh Abdullah bin Zayed discussed energy, food security and the growth of bilateral trade after the recent CEPA agreement with his Indian counterpart Dr Subrahmanyam Jaishankar.
The Comprehensive Economic Partnership Agreement (CEPA) between the two nations was signed on February 18. It is expected to boost annual bilateral non-oil trade from $60 billion to $100 billion within the next three to five years, the Indian Prime Minister's office said at the time.
India's exports to the UAE between April and September were about $16 billion which was an increase of 24 percent year-on-year. India's imports increased 38 percent to reach $28.4 billion in the same time period, the external affairs ministry said.
"We are seeking to boost our economic cooperation to achieve our ambitious goal of raising our non-oil trade value to around US$100 billion in the next five years, Sheikh Abdullah was quoted as saying by the Emirates News Agency (WAM).
As part of the CEPA agreement, the two diplomats also discussed bolstering collaboration in the health and technology sectors.
The Indian Institute of Technology (IIT) in Delhi has reportedly held meetings with its Abu Dhabi partner, ADEK for establishing a campus in Abu Dhabi.
On November 16, Indonesian President Joko Widodo passed on the presidency of the G-20 to Indian Prime Minister Narendra Modi as the group's annual summit concluded in Bali.
New Delhi is set to officially assume its role as the lead of the Group of Twenty in December, presiding for most of 2023 and hosting the summit in September 202 – its theme – One Earth, One Family, One Future.
In light of this change of presidency, Sheikh Abdullah and Jaishankar discussed India's priorities as the president of G20, and "ways to enhance the UAE's participation in the Group's activities, serving as a guest country for the second consecutive year, as well as boosting the contributions of the private sector in both countries to the G20's activities…" WAM reported.
"They also reviewed the prospects of the UAE-India cooperation at the level of multilateral groups and organizations, be it through existing partnerships such as the I2U2 Group, or future cooperation opportunities with BRICS, an informal grouping of Brazil, Russia, India, China and South Africa, and the Shanghai Cooperation Organization," the report added.
The UAE delegation included: Reem bint Ibrahim al-Hashemy, Minister of State for International Cooperation; Dr. Abdul Nasser al-Shaali, UAE Ambassador to India; Saeed Mubarak al-Hajeri, Assistant Foreign Minister for Economic and Trade Affairs at the Ministry of Foreign Affairs and International Cooperation (MoFAIC); and Omran Anwar Sharaf al-Hashemi, Assistant Minister for Advanced Sciences and Technology Affairs at MoFAIC.
Source: Al Arabiya
Please click the following URL to read the full text of the original story:
https://english.alarabiya.net/News/gulf/2022/11/23/UAE-India-FMs-discuss-food-security-trade-growth-from-CEPA-during-New-Delhi-visit
--------
Saudi, Argentinian football fans share wholesome moment before World Cup match
22 November ,2022
Saudi and Argentinian fans shared a wholesome moment together before their countries' teams went head-to-head, with supporters from the Kingdom teaching their rivals how to properly wear the traditional ghutra.
In a video shared on Twitter, fans who had gathered outside the Lusail Stadium were seen helping supporters from the opposing team don the traditional headdress commonly worn by men in the Gulf country.
Later in the day, Saudi Arabia beat Argentina 2-1 in a shocking match that was celebrated widely across the region.
This World Cup is only the Kingdom's sixth appearance in the global tournament, while the Argentinian team is playing for the 18th time.
Source: Al Arabiya
Please click the following URL to read the full text of the original story:
https://english.alarabiya.net/News/saudi-arabia/2022/11/22/Saudi-Argentinian-football-fans-share-wholesome-moment-before-World-Cup-match
--------
Qatar's emir, US' Blinken discuss bilateral relations
Ahmed Yousef
22.11.2022
DOHA, Qatar
Qatar's Emir Sheikh Tamim bin Hamad Al-Thani held talks in Doha on Tuesday with US Secretary of State Antony Blinken to discuss strategic ties between the two countries.
A statement issued by the emir's office, the Amiri Diwan, said the discussions between the two sides dwelt on the strategic relations between the two countries and aspects of enhancing ties in various fields.
Blinken also met with Qatari Foreign Minister Sheikh Mohammed bin Abdulrahman Al-Thani where they discussed a host of regional and international issues, including the Iranian nuclear file.
Addressing a joint press conference, bin Abdulrahman said his talks with Blinken also dwelt on the situation in Iraq, Libya, Palestine, and Afghanistan.
He added that the US-Qatari strategic dialogue is an important platform in relations between the two countries.
Blinken is scheduled to attend on Tuesday the annual round of strategic dialogue between the United States and Qatar.
Source: Anadolu Agency
Please click the following URL to read the full text of the original story:
https://www.aa.com.tr/en/middle-east/qatar-s-emir-us-blinken-discuss-bilateral-relations/2745344
--------
Africa
At least 10 Chadian soldiers killed in Boko Haram attack
Aurore Bonny
22.11.2022
DOUALA, Cameroon
At least 10 Chadian soldiers were killed by Boko Haram terrorists in an attack on an island near the Nigerian border on Tuesday.
Several more soldiers were wounded in the attack on Bouka-Toullorom island, according to a statement by Chad's government.
The military unit had been "dispatched as a precursor to setting up an advanced post," the statement said.
Brah Mahamat, a government spokesman, said the deadly assault indicates that Boko Haram has an "active presence" in the Lake Chad region.
He said Chad's government will give "an appropriate response," while also calling on the international community for support against the terrorist group.
Boko Haram launched a bloody insurgency in northeastern Nigeria in 2009 before expanding to neighboring Niger, Chad, and Cameroon.
Source: Anadolu Agency
Please click the following URL to read the full text of the original story:
https://www.aa.com.tr/en/africa/at-least-10-chadian-soldiers-killed-in-boko-haram-attack/2745401
--------
Morocco hails Türkiye, Spain for role in Alliance of Civilizations
Khalid Mejdoup
22.11.2022
RABAT, Morocco
Moroccan King Mohammed VI on Tuesday expressed his appreciation to Türkiye and Spain for ensuring the continuity of the Alliance of Civilizations.
The 9th global forum of the UN Alliance of Civilizations kicked off in the northeastern city of Fez on Tuesday.
"We stand in honor and appreciation for all those who contributed, especially Türkiye and Spain, to ensuring the continuity of the Alliance of Civilizations organization and its institutionalization as a reference for understanding, trust and dialogue between cultures, religions and civilizations," King Mohammed said in an address to the two-day meeting.
"The bright and courageous minds that crystallized the Alliance were able to create a forum for the future," he added.
The event is attended by Turkish Foreign Minister Mevlut Cavusoglu, UN Secretary-General Antonio Guterres, and High Representative for the Alliance of Civilizations Miguel Angel Moratinos.
According to organizers, the forum, which is held for the first time in an African country, discusses coexistence and the promotion of diversity and wealth.
Source: Anadolu Agency
Please click the following URL to read the full text of the original story:
https://www.aa.com.tr/en/middle-east/morocco-hails-turkiye-spain-for-role-in-alliance-of-civilizations/2745080
--------
Sudan's army vows to exit politics, protect transition
Buhram Abdel-Men'em
22.11.2022
KHARTOUM, Sudan
Sudan's army chief said Tuesday the military is committed to exiting political life.
"The armed forces will work to protect the transitional period and safeguard the country's security and safety," Gen. Abdel Fattah al-Burhan said in a speech at a security conference in the capital Khartoum.
He said the military will "leave the room open to political parties to reach an agreement to form a transitional civilian government (to prepare) for free and transparent elections," he added.
Sudan has been without a functioning government since last year when the military dismissed Prime Minister Abdalla Hamdok's transitional government and declared a state of emergency, a move decried by political forces as a "military coup."
Talks have been ongoing between the military and political parties in recent weeks under the auspices of the United Nations Integrated Transition Mission in Sudan to reach an agreement to resolve the country's political deadlock.
The QUAD mechanism, which includes the US, UK, Saudi Arabia, and the United Arab Emirates, has also been pushing the country's rivals to reach a political deal to bring the country back to transition.
Source: Anadolu Agency
Please click the following URL to read the full text of the original story:
https://www.aa.com.tr/en/middle-east/sudan-s-army-vows-to-exit-politics-protect-transition/2745008
--------
Denmark held by fired-up Tunisia in World Cup opener
22 November ,2022
Substitute Andreas Cornelius hit the post and Denmark had a late penalty appeal turned down, while Tunisia wasted two clear chances in a 0-0 draw in their World Cup Group D opener at Education City Stadium on Tuesday.
Tunisia were roared on by their sizeable following in the 42,925 crowd, whose deafening whistles and roars gave energy to their side and helped secure what had seemed an unlikely point before kickoff, despite the fact they are unbeaten in nine of their last 10 internationals.
Denmark thought they should have had a penalty in stoppage time for handball that was checked at the VAR screen by referee Cesar Arturo Ramos, but he instead gave a free kick to Tunisia for a foul in the build-up.
"We played too nervously and too slow, and we didn't find ourselves in the first half," Denmark coach Kasper Hjulmand told DR. "There was a period when we got into it but we were never calm and comfortable, that came later in the game. There's no doubt we played under par.
"It (qualifying from the group) has become complicated but it's not over. We are underway with the tournament, but our heads would have been a little higher with a better result."
Tunisia played with a tempo they will find hard to maintain through the group stages, but were good value for their point and showed a resilience that will be pleasing for coach Jalel Kadri.
Denmark would have hoped to create more chances, but their best came late in the second half when Cornelius only had to nod the ball over the line at the back post, but instead flicked it onto the woodwork.
Tunisia, who this week had spoken of their pride at qualifying for World Cup in an Arab country, were fired up from the first whistle, celebrating each tackle like a goal, and had two excellent chances to open the scoring.
The first fell to Denmark-based Issam Jebali when he found himself one-on-one with Kasper Schmeichel, but could not beat the Danish goalkeeper, who made an excellent, instinctive save.
The second saw Aissa Laidouni race clear from his own half, but as he approached the Denmark penalty area, he hesitated and opted for a pass that was not on rather than advancing another 10 yards and having an effort on goal.
In the context of the game, both might look at it as two points dropped, but Tunisia will certainly be the happier given the low level of expectation place on them – from outside their camp at least - going into the tournament.
They will face Australia next on Saturday, a game they will have targeted as their most winnable in the group, while Denmark meet defending champions France behind the points tally they would have set themselves at this stage.
There were other chances in the game as well. Right back Mohamed Drager saw his shot from 25-yards deflected off defender Andreas Christensen and go just wide with Schmeichel rooted to the spot.
Christian Eriksen was pulling the strings for the Danes but they struggled at times to get him onto the ball. When he did find a pocket of space just outside the Tunisian box, his shot was well saved by goalkeeper Aymen Dahmen.
"It was important to come into the game with a lot of determination," Laidouni said. "This is the World Cup, it's the most important competition in the world."
"The fans in Qatar are amazing and it was important to show them that we are determined and we want to give everything."
Source: Al Arabiya
Please click the following URL to read the full text of the original story:
https://english.alarabiya.net/News/north-africa/2022/11/22/Denmark-held-by-fired-up-Tunisia-in-World-Cup-opener
--------
Germany to withdraw troops from UN's Mali mission: Reports
Ayhan Simsek
22.11.2022
Germany has decided to withdraw its troops from the UN's peacekeeping mission in Mali by May 2024, local media reported on Tuesday.
The decision was taken at a meeting chaired by Chancellor Olaf Scholz and attended by Foreign Minister Annalena Baerbock, Defense Minister Christine Lambrecht and Development Minister Svenja Schulze, according to Spiegel.
The withdrawal of German troops from Mali will begin in the summer of 2023, and will be completed by May 2024, government sources told the magazine.
Germany currently has around 1,150 soldiers in Mali as part of the UN's MINUSMA (Multidimensional Integrated Stabilization Mission) in order to help implement the peace process in the West African country.
Previous media reports have indicated Cabinet members have differing views on Germany's participation in the military mission.
Lambrecht advocated for a troops withdrawal following recent diplomatic tensions with Malian authorities, but Baerbock insisted on keeping troops due to the country's international commitments, German news agency DPA reported.
Source: Anadolu Agency
Please click the following URL to read the full text of the original story:
https://www.aa.com.tr/en/europe/germany-to-withdraw-troops-from-un-s-mali-mission-reports/2745453
--------
North America
Muslim US Congresswoman Ilhan Omar Hits Back After McCarthy Vows To Remove Her From House Committees
22 November 2022
Muslim US Congresswoman Ilhan Omar has hit back at House Minority Leader Kevin McCarthy (R-Calif.) after he vowed to remove Omar from her committee posts over her condemnation of Israel's war crimes if he becomes speaker of the House.
"From the moment I was elected, the Republican Party has made it their mission to use fear, xenophobia, Islamophobia and racism to target me on the House Floor and through millions of dollars of campaign ads," Omar said in a statement on Monday.
"Whether it is Marjorie Taylor Greene holding a gun next to my head in campaign ads or Donald Trump threatening to 'send me back' to my country (despite the fact that I have been a proud citizen of the United States for more than 20 years), this constant stream of hate has led to hundreds of death threats and credible plots against me and my family," she added.
McCarthy during an appearance on "Sunday Morning Futures" on Fox News said that Omar wouldn't be allowed to serve on the House Foreign Affairs Committee, accusing her of "anti-Semitic" remarks.
"Congresswoman Omar, her antisemitic comments that have gone forward, we're not going to allow her to be on Foreign Affairs," McCarthy said, referring to the House Foreign Affairs Committee.
On his Twitter account, he said "Last year, I promised that when I became Speaker, I would remove Rep. Ilhan Omar from the House Foreign Affairs Committee based on her repeated anti-Semitic and anti-American remarks. I'm keeping that promise."
Omar has long been critical of the regime of Israel and its actions in the occupied Palestinian territories.
Along with US Congresswoman Rashida Tlaib, the two have triggered a widespread debate in the US about Israel's crimes against the Palestinians and American aid to the regime.
Tlaib and Omar, the first two Muslim women elected to Congress, are outspoken critics of Israel's policies toward the Palestinians and vocal supporters of the Boycott, Divest and Sanction (BDS) movement. The two called "Israel" an "apartheid state" guilty of war crimes.
The 37-year-old US lawmaker is originally from Somalia and represents Minneapolis, Minnesota, a district with a large Somali population.
Omar has accused pro-Israel lawmakers of showing "allegiance to a foreign country," and has criticized the American Israel Public Affairs Committee (AIPAC) for its role in shaping US policy.
In May 2021, Omar condemned US President Joe Biden for siding with Israel's oppressive occupation of Palestine and carrying out recent atrocities against Palestinians.
Republicans are set to take control of the House in January and last week voted to nominate McCarthy as Speaker, although 31 Republicans voted against him. In January, McCarthy will need 218 votes to take to the role.
"McCarthy's effort to repeatedly single me out for scorn and hatred — including threatening to strip me from my committee — does nothing to address the issues our constituents deal with," Omar said. "It does nothing to address inflation, health care or solve the climate crisis."
"What it does is gin up fear and hate against Somali Americans and anyone who shares my identity, and further divide us along racial and ethnic lines," she added. "It is a continuation of a sustained campaign against Muslim and African voices, people his party have been trying to ban since Donald Trump first ran for office."
In May 2021, Omar condemned US President Joe Biden for siding with Israel's oppressive occupation of Palestine and carrying out recent atrocities against Palestinians.
Earlier in April 2019, Omar made former US President Donald Trump furious for highlighting Israeli apartheid crimes against Palestinians.
"She's been very disrespectful to this country. She's been very disrespectful, frankly, to Israel. She is somebody that doesn't really understand life, real life. What it's all about," Trump said in defense of the Israeli regime back then.
Source: Press TV
Please click the following URL to read the full text of the original story:
https://www.presstv.ir/Detail/2022/11/22/693194/Omar--GOP-uses-%E2%80%98xenophobia,-Islamophobia-and-racism-to-target-me%E2%80%99
--------
White House sounds alarm over Iran's uranium enrichment
22 November ,2022
A senior White House official said Tuesday that the US was watching Iran's nuclear progress "with deep concern," after Tehran recently revealed that it started enriching uranium to even higher levels at a new location.
"We are continuing to watch, not only their nuclear progress with deep concern, but also their continually improving ballistic missile capability," National Security Council spokesman John Kirby told reporters.
Reiterating a commitment made by US President Joe Biden that Iran would never be allowed to acquire a nuclear weapon, Kirby said "all options" were being made available to the American president.
"We certainly have not changed our view that we will not allow Iran to achieve a nuclear weapons capability," he said.
Kirby's comments come after Iran said it was producing uranium enriched to 60 percent at the Fordo plant for the first time.
An atomic bomb requires uranium enriched to 90 percent, so 60 percent is a significant step towards weapons-grade enrichment.
The heavily protected Fordo plant around 110 miles (190 kilometers) south of Tehran was built deep underground in a bid to shield it from air or missiles strikes by Iran's enemies.
Source: Al Arabiya
Please click the following URL to read the full text of the original story:
https://english.alarabiya.net/News/middle-east/2022/11/22/White-House-sounds-alarm-over-Iran-s-uranium-enrichment
--------
US, Israel mull military drills to simulate attack on Iran
November 23, 2022
RIYADH: The US and Israel are considering holding joint military drills to simulate an attack on Iran and its proxies in the Middle East, US media reported on Tuesday.
The Israeli Chief of Staff Aviv Kochavi and Chairman of the Joint Chief of Staff Gen. Mark Milley are weighing holding an Air Force drill to train soldiers for a possible conflict with Iran and its allied proxies, Fox News Digital reported, saying this may happen in the coming weeks.
During the discussion with Milley, Kochavi said: "It was agreed that we are at a critical point in time that requires the acceleration of operational plans and cooperation against Iran and its terrorist proxies in the region."
He said the Israeli Defense Forces promotes all operational plans against the Iranian threat. "Iran is under many economic, military, and internal pressures, and on the other hand, it continues to promote its nuclear program."
At the Pentagon, the two military leaders discussed "regional security issues, opportunities for greater bilateral cooperation and coordination to defend against a wide range of threats posed by Iran across the region and other items of mutual strategic interest," according to a readout of the meeting. "The US and Israel maintain a strong military-to-military relationship as key partners committed to peace and security in the Middle East region."
On Tuesday, Iranian media reported that enrichment of uranium to 60 percent purity had begun at the underground Fordow nuclear site.
Iran is already enriching uranium up to 60 percent purity elsewhere, well below the roughly 90 percent needed for weapons-grade material but above the 20 percent it produced before the 2015 agreement with major powers to cap enrichment at 3.67 percent.
The US, under the Donald Trump administration, withdrew from the deal that was meant to limit development that could lead to Iran nukes in exchange for easing of sanctions. Trump argued the sanctions relief had allowed Iran to increase its aggression in the Middle East, a position backed by US allies in the region.
The pact lets Iran use only first-generation IR-1 centrifuges but, as the deal unraveled in 2018, Tehran installed cascades of more efficient advanced centrifuges, such as the IR-2m, IR-4 and IR-6.
Meanwhile, US Navy investigators looking into an attack last week on an oil tanker linked to an Israeli billionaire concluded that an Iranian drone was used for the bombing.
Source: Arab News
Please click the following URL to read the full text of the original story:
https://www.arabnews.com/node/2204521/middle-east
--------
'COAS, not PM, decides how US-Pak ties shape up'
Anwar Iqbal
November 23, 2022
WASHINGTON: Former prime min­ister Imran Khan's return to power — or not — will not have much impact on the future of US-Pakistan relations as such decisions in Islam­abad are taken by the army chief, not the prime minister.
This view was expressed at a Monday evening seminar in the US capital.
"I don't think the future of US-Pakistan relations hinges on who will be the PM in Pakistan… more important is who will be the chief of army staff," said Lisa Curtis, who looked after South and Central Asian affairs at the Trump White House, adding it was the army that controlled decision-making on issues important to the US, such as the nuclear programme, Pakistan's relations with India, and counter-terrorism.
But Ms Curtis also said this kind of hybrid democracy would not be good for Pakistan as it's "an inherently unstable form of government".
Trump-era official says should Imran return to power, there will be 'effort to make amends with Washington'
When asked how Mr Khan's return to power could influence the US-Pakistan relations, she said: "Even though Imran Khan very unhelpfully used the US as a scapegoat when he lost power, were he to be reelected, there will be a certain amount of pragmatism that might become part of the equation." She believed there would be "an effort to make amends with Washington".
Douglas London, a former CIA operative and analyst; Javid Ahmad, a former Afghan ambassador to the UAE; and Hussain Haqqani, Pakistan's former ambassador to Washington also participated in the discussion. Marvin Weinbaum, director of Pakistan/Afghanistan Studies at the Middle East Institute (MEI), Washington, moderated the session hosted by his institute.
Both Ms Curtis and Mr Haqqani believed Pakistan and the US were not as close as when America was still in Afghanistan. Ms Curtis said the US wanted to ensure Pakistan did not get closer to China and that negative views about Islamabad regarding Afghanistan still prevailed. The US, she added, "wants Pakistan to support it in Ukraine".
Mr London noted that tensions between the two countries had reduced since the US withdrew from Afghanistan, and Washington didn't want to lose Islamabad completely as it was a nuclear state. Now, he remarked, there was "more openness" between the intelligence and military services of the two countries, but "little substance".
Mr Ahmad observed Pakistan had "all ingredients to self-destruct at any time". Mr Haqqani noted the US-Pakistan relationship began as an economic necessity for Islamabad after the Partition, but its leaders paid little attention to the economic aspect. He added "the sustenance of relations must be economic and not military".
Ms Curtis said America's main concerns for Pakistan were "nuclear safety and possibility of a failed state". Mr Ahmad said the US had become a party in Pakistan's current political infighting because of Imran Khan's allegations, while Mr London warned Pakistan "could go up in flames" any time if elections were not held and some sort of consensus formed.
Mr Haqqani thought the army was still trying to influence political developments, but from behind the scenes. Ms Curtis commented that the army did not expect the massive support for Imran Khan after he was removed and now the political situation would be "an "enormous challenge" for the next army chief, who "must first rebuild consensus" within the institution.
Mr Haqqani predicted the PTI chief "may win, but not sweep" the next elections as he was not as popular as it seemed. Mr Weinbaum and Mr Ahmed disagreed though with the latter adding that PTI supporters will continue to be a "big challenge" for the military.
Source: Dawn
Please click the following URL to read the full text of the original story:
https://www.dawn.com/news/1722524/coas-not-pm-decides-how-us-pak-ties-shape-up
--------
Iran behind Nov. 15 drone attack on Israeli-linked tanker: US Navy analysis
22 November ,2022
The US Navy released an analysis on Tuesday saying it had concluded that Iran was behind the November 15 drone attack on an Israeli-linked tanker off the coast of Oman.
The report was released after a US Navy lab in Bahrain conducted a forensic analysis with debris fragments from the drone and other explosive residue samples.
For the latest headlines, follow our Google News channel online or via the app.
"A US Navy lab in Bahrain has confirmed Iran's connection to a Nov. 15 aerial drone attack on a Liberian-flagged commercial tanker transiting international waters in the Middle East," a statement from the US 5th Fleet read.
The drone was a Shahed-136 UAV, which is the same drone used by Iran-backed Houthis in Yemen and the same aerial drone Tehran has given Russia to use against Ukraine.
The Nov. 15 attack took place after the drone attack targeted an Israeli-linked ship, leaving a 30-inch-wide hole in the back of the vessel and damaging other internal compartments.
"The Iranian attack on a commercial tanker transiting international waters was deliberate, flagrant and dangerous, endangering the lives of the ship's crew and destabilizing maritime security in the Middle East," said Vice Adm. Brad Cooper, commander of US Naval Forces Central Command.
Source: Al Arabiya
Please click the following URL to read the full text of the original story:
https://english.alarabiya.net/News/middle-east/2022/11/22/Iran-behind-Nov-15-drone-attack-on-Israeli-linked-tanker-US-Navy-analysis
--------
India
Goa BJP Spokesperson Savio Rodrigues Seeks Qatar FIFA World Cup Boycott on Islamic Preacher Zakir Naik Visit
Nov 23, 2022
PANAJI: Following the invitation to controversial Islamic preacher Zakir Naik by Qatar to FIFA World Cup, BJP Spokesperson Savio Rodrigues on Tuesday appealed to the government, Indian Football Associations and Indians travelling to the host nation to boycott the sporting event.
Zakir Naik, who is an Indian fugitive has been reportedly invited by Qatar to deliver lectures on Islam during the ongoing FIFA World Cup.
In a statement, Rodrigues said that giving a platform to Naik at a time when the world is battling terrorism is like giving a "terror sympathiser" to "spread hate".
"FIFA World Cup is a global event. People from all over the world come to witness this spectacular sport and also millions watch it on TV and the internet. Giving a platform to Zakir Naik, at a time when the world is fighting global terrorism, is to give a platform to a terrorist to spread his radicalism and hate," he said.
The BJP leader appealed to the people of the country and also the people from abroad who are victims of terrorism to boycott the World Cup event "in solidarity with the global fight against terrorism".
Alleging that Naik has been instrumental in spreading "Islamic radicalism and hate in India", Rodrigues said that he "is no less than a terrorist himself".
"Zakir Naik is a wanted man under Indian law. He is charged with money-laundering crimes and hate speeches. He is a terror sympathiser. In fact, he is no less than a terrorist himself. He has openly supported terrorist Osama bin Laden and has been instrumental in spreading Islamic radicalism and hate in India," Rodrigues added.
Earlier in March this year, Home Ministry had declared Zakir Naik-founded Islamic Research Foundation (IRF) an unlawful association and banned it for five years.
"Preacher Sheikh Zakir Naik is present in Qatar during the World Cup and will give many religious lectures throughout the tournament," Al Arabiya News quoted Faisal Alhajri, a presenter at the Qatari state-owned sports channel Alkass, as saying on Twitter on Saturday.
The MHA notification stated that the speeches of Zakir Naik, founder of the IRF, were objectionable as he has been extolling known terrorists.
The notification further stated that the IRF founder has also been promoting forcible conversion of the youth to Islam, justifying the suicide bombings, and posting objectionable comments against Hindus, Hindu Gods and other religions, which are derogatory to other religions.
Source: Times Of India
Please click the following URL to read the full text of the original story:
https://timesofindia.indiatimes.com/city/goa/qatar-invites-zakir-naik-for-sermons-at-world-cup-bjp-neta-seeks-event-boycott/articleshow/95697641.cms?from=mdr
--------
Fate Of J&K Linked To India, Nothing To Do With Pak: Former Minister Altaf Bukhari
Nov 22, 2022
JAMMU: Apni Party president and former minister Altaf Bukhari on Tuesday said the fate of Jammu and Kashmir is linked with India and has nothing to do with Pakistan.
The balm for all "our wounds" is with New Delhi, he told reporters on the sidelines of a party function here.
"We do not have anything to do with Pakistan... Our fate is linked with India. Whatever we are going to get, it will come from Delhi and not Pakistan," He said.
Responding to a question about National Conference president Farooq Abdullah advocating dialogue with Pakistan to resolve the Kashmir issue, he said, "They should learn from our rallies where people come in large numbers - not to hear about autonomy or self-rule.
"Our stand is clear that we have nothing to do with Pakistan and the balm for all our wounds is with New Delhi," he said.
"We will never forget the wound inflicted on us on August 5, 2019 (when J&K was bifurcated and its special status under Article 370 revoked) but the treatment for our wounds lies with India," he said.
Referring to terrorism-related killings, he said that a "mass uprising against the gun culture will finish it off. We have started a public movement in a small way and we are sure that we will succeed."
On stopping of salaries of Kashmir pandit and Dogra employees who are protesting in Jammu seeking their relocation following targeted killings, he said the government should have shown a large heart and released their salaries forthwith.
"They have genuine demands and it is the responsibility of the government to address their fear. They are our own people. The government should look at their issues on humanitarian grounds rather than administratively as their families are suffering," he said.
He said the assembly elections should have been conducted earlier and alleged that the BJP is enjoying a "proxy rule without any accountability."
"The prime minister and the home minister have made it clear several times that elections will be held in J-K, but it is BJP's J-K unit which is creating an obstacle and thus keeping the people away from a popular government," he alleged.
On the terror threat to journalists in Kashmir, he said those associated with the fourth estate should not be cowed down by such threats.
"I want to ask them not to be afraid. They (terrorists) are not going to harm you but you should report the truth," he said.
Source: Times Of India
Please click the following URL to read the full text of the original story:
https://timesofindia.indiatimes.com/india/fate-of-jk-linked-to-india-nothing-to-do-with-pak-altaf-bukhari/articleshow/95694068.cms
--------
Counter-Drone Equipment Deployed In Jammu And Kashmir; Terrorists Short On Weapons: Army
Nov 22, 2022
NEW DELHI: Around 300 terrorists are present in Jammu and Kashmir, while 160 more are waiting to sneak into India from across the border, a top Army commander said on Tuesday. However, the security situation in the Union Territory has undergone a major change after the abrogation of Article 370, said General Officer Commanding-in-Chief, Northern Command, Lieutenant General Upendra Dwivedi.
Speaking on the sidelines of the of platinum jubilee of historic 'Poonch Link-up Day', Dwivedi said that, "As per our data, 82 Pakistani terrorists and 53 local terrorists are active in the hinterland, while the area of the concern is the criminal activities of 170 others who are not identified."
He said that terrorists in Jammu and Kashmir, despite planning to carry out an operation, are not able to strike due to a shortage of weapons.
The Army Commander also touched upon the issue of drones from across the border. He said that counter-drone equipment have been deployed at different places in Jammu and Kashmir to check airdropping of weapons and drugs from across the border. "Drone is an evolving technology and in the coming days, you will see action from both sides - they (Pakistan) will try to send drones (with weapons and drugs), and we will deploy countermeasures using technology," he added.
He also tried to reach out to the youth in the Valley and said that, the youth have to come forward and support the Army, which is doing its best to ensure a bright future for them.
He cautioned against joining terror ranks and said that nobody benefitted by joining terror ranks over the last 30 years. There was no development across the border and see for yourself how India is marching ahead and is going to head G20, added Lieutenant Dwivedi.
"We have to focus on the education and upbringing of the youngsters, provide them an opportunity to move out and see the development in different parts of the country," he added.
The Army has sent 1,800 students from Jammu and Kashmir to different states for education, he said.
Source: Times Of India
Please click the following URL to read the full text of the original story:
https://timesofindia.indiatimes.com/india/counter-drone-equipment-deployed-in-jammu-and-kashmir-terrorists-short-on-weapons-army/articleshow/95691695.cms
--------
Gyanvapi Case: Allahabad High Court To Continue Hearing Mosque Committee's Petition Challenging Lower Court Verdict On Wednesday
22 NOV 2022
The Allahabad High Court will continue to hear on Wednesday the Gyanvapi masjid management's revision petition challenging a Varanasi court order on the maintainability of the case filed by five Hindu women who sought permission to offer regular prayers to idols of deities in the mosque compound.
The hearing of the case was resumed on Tuesday. However, after a brief hearing, Justice JJ Munir directed to list the case on November 23 for further hearing.
The Varanasi district court had on September 12 dismissed a plea by the mosque committee Anjuman Intezamia Masjid (AIM) which challenged the maintainability of the suit filed by the five Hindu plaintiffs.
AIM had in the petition cited the Places of Worship (Special Provisions) Act, 1991, which states that the religious character of any place of worship as it existed on August 15, 1947, must be maintained.
The Varanasi district court said the 1991 Act does not apply in this case -- where the devotees are seeking permission for daily worship of the idols they say are installed in the mosque premises. Already, they are allowed to offer prayers there once a year.
Source: Outlook India
Please click the following URL to read the full text of the original story:
https://www.outlookindia.com/national/gyanvapi-case-allahabad-high-court-to-continue-hearing-mosque-committee-s-petition-challenging-lower-court-verdict-on-wednesday-news-239327
--------
Active terrorists in Jammu and Kashmir fallen to 300
Nov 23, 2022
SRINAGAR: The number of active terrorists in Jammu and Kashmir has fallen to 300 and that of local terrorists to double-digits, top army and police officials said Tuesday, attributing the decline largely to the improved security situation in the aftermath of the August 2019 abrogation Article 370 that gave the region special status.
General Officer Commanding-in-Chief (Northern Command) Lieutenant General Upendera Dwivedi estimated the number at 300 and offered a break-up. "There are 82 foreign and 53 local terrorists active in J&K. What is worrisome is there are almost 170 unidentified terrorists," Dwivedi said at a presser in Poonch. Sources said the total number of terrorists was at least double the current level of 300 before 2019.
In Baramulla, J&K police chief Dilbagh Singh stressed the decline in local terrorists while asserting the "miniscule" number of foreign terrorists were being tracked down. "As far as terrorists is concerned, the number of active local terrorists has been brought to just double-digits," Singh said.
Lieutenant General Dwivedi echoed the view on the crackdown but warned that around 160 terrorists were sitting on "launch pads" across the border, waiting to be pushed in.
Lt-Gen Dwivedi said the security scenario in the UT had seen a "big change" after the scrapping of Article 370 on August 5, 2019, with peace and development gaining speed and civil administration occupying primacy. DGP Singh shared the assessment, pointing out for instance that north Kashmir was badly affected by terrorism earlier but at present "this place is almost peaceful".
The police chief flagged "hybrid" terrorists as a new challenge, saying handlers across the border had been luring young local boys and giving them weapons and targets. "Hybrids" are unlisted radicalised people who carry out terrorist strikes and slip back into their routine lives. "We have so far this year busted over 100 modules of hybrid terrorists," Singh said.
Source: Times Of India
Please click the following URL to read the full text of the original story:
https://timesofindia.indiatimes.com/india/active-terrorists-in-jammu-and-kashmir-fallen-to-300/articleshow/95696642.cms
--------
URL: https://newageislam.com/islamic-world-news/salman-taseer-sara-ahmadi-pakistani-passport/d/128470
New Age Islam, Islam Online, Islamic Website, African Muslim News, Arab World News, South Asia News, Indian Muslim News, World Muslim News, Women in Islam, Islamic Feminism, Arab Women, Women In Arab, Islamophobia in America, Muslim Women in West, Islam Women and Feminism