New Age Islam News Bureau
10 Sept 2014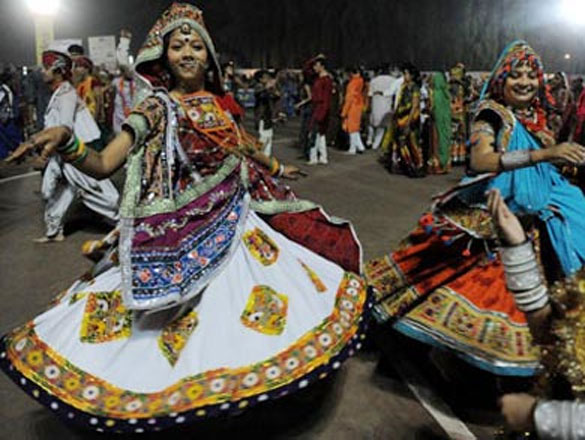 Garba is celebrated during the nine-days before Navratri. AFP
-----------
India
• Dar ul Uloom, Muslim Law Board Denounce 'Love Jihad', Call It Illegal
• 'Keep Muslim Men off Garba Venues to Stop Love Jihad'
• In Poll-Bound Vadodara, Pamphlet Warns Hindus of 'Minority Conspiracy'
• Shiv Sena Sees International Conspiracy Behind 'Love Jihad'
• India reaffirms continued support to Afghanistan
• Three militants killed in encounter along LoC
Pakistan
• Al-Qaida's Shadowy New 'Emir' In South Asia Handed Tough Job
• 35 terrorists killed as jets pound hideouts in N Waziristan
• Imran Khan grew up in Musharraf nursery: Pervez Rashid
• Sunni cleric gunned down in Karachi
• Actions of Imran, Qadri merit trial under Article 6: Minister
• Naval Dockyard attack could be outcome of Zarb-i-Azb: Khawaja Asif
• Mission will be accomplished soon, says Qadri
• '195 suspects killed in encounters in two months'
• Saudi, Pakistani beheaded in kingdom's latest executions
Arab World
• IS Declares War against Twitter for Hurting Terror Propaganda Campaign
• Saudi Arabia's Clerics Condemn IS But Preach Intolerance
• Iraqi Forces Kill 20 ISILTerrorists in Northern Babil
• 18 ISILTerrorists Killed by Iraqi Forces in Diyala
• Iraqi Soldiers Kill 12 ISILTerrorists in Baghdad
• Egyptian army kills two suspected members of Ansar Bait Al-Maqdis
• High profile activists' retrial underway in Cairo
• Hezbollah: US Not Serious about Fight against ISIL
• Syrian Islamist group names new leader after blast
North America
• Atheist Must Swear To God, Or Leave US Air Force
• Obama claims 'enough authority' to act against Islamic State
• Many French Jews eyeing U.S., not Israel, as emigration destination
• 'Overt ouster' of Sharif may trigger sanctions: US report
• Obama to seek arms, training for Syrian opposition
South Asia
• Dhivehi and Islam to be taught to Maldivians in Trivandrum
• Taliban attack leaves 2 NDS officers dead in Badghis province
• 5 local policemen martyred in separate attacks in Laghman
• Bangladeshi-American lawyer sues NYPD
• UK expresses concern over Maldives' human rights situation
Europe
• UK sends Kurds £1.6 mn in arms to battle ISIS
• French Muslims support Mideast Christians against Islamic State
• UN's Ban urges Assad to seek political solution to Syria crisis
• 'I don't hate Israel,' head of UN panel probing Gaza operation says
• Doubts over release of captive U.N. peacekeepers
• Saudi carries out new beheading after UN appeal for halt
• HRW condemns Egypt arrests of 'same-sex marriage' men
• Irish Muslim organisations praise schools system
Africa
• People flee advancing Islamic militants in Nigeria
• 'Hunting Boko Haram': Gruesome Videos Document Abuses in Nigeria
• New Al-Shabab Boss Plans to Hit Uganda - Gen Katumba
• Somali militants threaten U.S. attacks to avenge leader's death
Mideast
• Israel hails U.S. efforts to fight ISIS but weary of Iran
• Turkey joins anti-ISILcoalition, opens İncirlik for logistics ops
• Palestinian killed by Israeli army in West Bank: medics
Southeast Asia
• Muslim Youth Movement of Malaysia to Help Government Stop Youngsters from Joining ISIL extremists
• Aquino asks Philippine Congress to enact Muslim autonomy law
• Philippines to deport Canadian Islamic teacher over terror links
• Malaysian Muslim Preacher Latest To Be Arrested For Sedition
• Another Malaysian jihadist allegedly killed in Syrian ambush
• Court strikes out appeal by Muslim husband in interfaith custody case
Compiled by New Age Islam News Bureau
URL: https://www.newageislam.com/islamic-world-news/new-age-islam-news-bureau/dar-ul-uloom,-muslim-law-board-denounce-'love-jihad',-call-it-illegal/d/99000
----------
India
Dar ul Uloom, Muslim Law Board Denounce 'Love Jihad', Call It Illegal
September 10, 2014
While country's largest seminary Dar ul Uloom in Deoband termed marriage with Hindu girls after forced conversion to Islam as illegal, Maulana Mehmood Madani, the general secretary of Jamiat Ulema-e-Hind, has urged Muslim youths to avoid such marriages that give a handle to BJP to target the entire community.
Madani also urged Prime Minister Narendra Modi to intervene and restrain BJP leaders from raising the bogey of 'love jihad'.
All India Muslim Personal Law Board (AIMPLB), too, has termed forced conversion for marriage as a criminal act that should be dealt in accordance with the law.
"Islam does not allow such marriages. There is no acceptance even if the girl accepts Islam only for the sake of marriage. Such sporadic incidents cannot be justified," Ashraf Usmani, Press Secretary, Dar ul Uloom, said.
He said the entire Muslim community is under fire due to some individual incidents, which, he said was reflective of rather a social evil.
"We look at the issue as a social evil and it is our responsibility to eradicate it. We will talk to youths for avoiding such incidents, which is being blown out of proportion by the BJP," Madani said.
Madani, whose Jamiat Ulema-e-Hind has a clout in western UP — which the BJP believes is the epicentre of 'love jihad' — hopes that Muslims will not play into the hands of anti-national elements.
Madani also demanded PM Modi's intervention in the matter. "Modi had stated that Sabka Saath Sabka Vikas. Now if one community is being alienated, it cannot be done. I am ready to talk to resolve the issue."
On the other hand, AIMPLB, the apex body of Indian Muslims for safeguarding Islamic Shariah, ruled out intervention in the 'love jihad' issue.
"Such incidents of forced conversion and marriage by duping are a crime. It should be dealt as per the criminal law.. The board has no plan to intervene in the issue," Zafaryab Jilani, executive committee member, AIMPLB, stated.
AIMPLB has a social reform wing, Islah-e-Maashra, which takes up issues like dowry and female foeticide.
http://indianexpress.com/article/india/india-others/darul-uloom-muslim-law-board-denounce-love-jihad-call-it-illegal/#sthash.jN72V0GD.dpuf
----------
'Keep Muslim Men off Garba Venues to Stop Love Jihad'
10 September 2014
A BJP MLA in Madhya Pradesh has asked party workers to ensure that Muslim youths are not allowed to enter Garba venues in her constituency, Indore (3), during the upcoming annual Nav Durga festival alleging that Hindu girls are lured by them and converted to Islam as part of the "love jihad" conspiracy to distort population ratio in the country.
Usha Thakur, who is also state BJP vice-president, told The Indian Express that she would soon be writing to all Garba organisers in her constituency to allow only Hindu men inside the Garba venues by making electoral photo-identity cards mandatory for entry.
"If they (Muslim youths) want to take part in the festival, they should first convert to Hinduism. Muslim youths hoodwink the organisers by sporting Tilak on their forehead and get inside the venue to mingle with Hindu girls. I am going to write to the organisers to insist on electoral identity cards for men and allow only Hindu men inside the venue,'' she said.
Thakur is convener of an outfit called Samagra Kranti Chetna Manch that has released leaflets listing 11 points on "maintaining discipline, culture and propriety" during the Nav Durga festival, which begins later this month.
According to her, the 11 points were compiled during a "brainstorming session attended by intellectuals, prominent citizens and invitees".
The list insists people to wear traditional dresses, play religious and folk songs and use earthen idols against those made from plaster of Paris.
It asks people to use ghee (clarified butter made from cow milk) and prohibits them from dancing to "puerile and indecent" songs.
The list ends with reference of "love jihad" but without talking about Islam and insists on identity cards without elaborating it.
Thakur, who began her political career as a municipal councillor in 1994 and is an MLA since 2003, is also against women wearing low-waist Ghagras and backless Cholis during the festival. She advocates compulsory training of girls in weapons. "Women lack self confidence and can gain it by chanting Shlokas and mantras devoted to goddess Durga,'' Thakur told The Indian Express.
http://www.financialexpress.com/news/-keep-muslim-men-off-garba-venues-to-stop-love-jihad-/1287395?rhheader
----------
In Poll-Bound Vadodara, Pamphlet Warns Hindus of 'Minority Conspiracy'
10 September 2014
Just a few days ahead of by polls for 10 seats, including Vadodara Lok Sabha seat, a pamphlet targeting Hindu girls reads in Gujarati, "Do you want to become a prostitute? No. Then Read, Think and Discuss." The pamphlet, attributed to the Vishwa Hindu Parishad (VHP), has taken the constituency by storm.
The pamphlet carries a bullet-point graphic explanation of the "fate" that Hindu girls would meet as victims of "love jihad". It urges Hindu parents to ensure that their "young daughters" are not vulnerable to the "conspiracy of minorities to entice" them.
The leaflets say that Hindus have been gradually outnumbered by Muslims and Christians since 1947 because Hindu girls are being lured by "well-dressed Muslim boys lurking around colleges, hostels and school gates" to "produce progeny and increase their number".
The leaflet carries a quote, attributed to Swami Vivekananda which says, "When one person from the Hindu society converts to Islam or Christianity, it does not mean a Hindu less. It means one enemy more".
Although the veracity of the attribution is questionable, the pamphlet further states that boys and men from the minority community "take on Hindu names" and target "naive Hindu women who come in contact with them as students, patients and legal clients, maidservants or distressed women".
Although active members of the VHP in Vadodara confirmed that the pamphlet has been distributed in Vadodara and other parts of the state as part of their ongoing "agitation against love jihad", the members denied furthering it as part of any political or election campaign.
A VHP member said, "This is not part of any election campaign. It is not true that the leaflets are distributed only in constituencies going to by polls."
The pamphlet minces no words while admonishing parents and states that despite being married, men from the minority community perform "Nikah" with Hindu girls to satiate their urge and incite their friends to do the same. "Later, they force Hindu girls into prostitution or sell them off… They abduct helpless Hindu girls living alone or with widowed mothers in their neighbourhood…," it says.
The leaflet, printed and published by the VHP, bears its Rajkot, Karnavati (Ahmedabad) and Surat addresses and phone numbers. The pamphlet serves as a warning to "Hindu parents" to file police complaints if such incidents of "trapping" have happened to them and to keep their young daughter away from obscenity and beauty competitions. The pamphlet urges Hindu parents to "bring back their daughters with honour to their homes" and to seek support from the VHP if needed.
http://indianexpress.com/article/india/gujarat/in-poll-bound-vadodara-pamphlet-warns-hindus-of-minority-conspiracy/#sthash.fAe8glBu.dpuf
----------
Shiv Sena Sees International Conspiracy Behind 'Love Jihad'
10 September 2014
The Shiv Sena on Wednesday claimed "Love Jihad", a phrase floated by the BJP and its right-wing affiliates to refer to Muslim men marrying Hindu women in a bid to convert them, was an international conspiracy to destroy Hindu culture and said that those who have called for this kind of Jihad should be taught a lesson.
"Muslim terrorist organisations across the world have called for Jihad against Hindustan. Lashkar-e-Toiba, SIMI, Al-Qaeda are working for Islamisation of our country. 'Love Jihad' is a part of it and this is happening throughout the country," said an editorial in the Shiv Sena mouthpiece Saamna.
The editorial also cited Rashtriya Swayamsevak Sangh chief Mohan Bhagwat's statement where he said that Hindu girls should beware of "Love Jihad".
It supported the Bharatiya Janata Party leader Swami Adityanath from Uttar Pradesh who has made "Love Jihad" a campaign issue in the by polls. "Hindus in Uttar Pradesh, Bihar and Jharkhand are angry about this issue and he (Swami Adityanath) is working to vent out their anger," it said.
"They fool our girls, make them fall in love and later keep them as 'one out of five' under the Burqa," said the editorial.
http://www.thehindu.com/news/national/shiv-sena-sees-international-conspiracy-behind-love-jihad/article6396879.ece
----------
India reaffirms continued support to Afghanistan
Sep 10 2014
India's External Affairs Minister Sushma Swaraj met with Afghan President Hamid Karzai and reaffirmed New Delhi's continued support to Afghanistan.
Swaraj arrived in Afghanistan on Wednesday to hold talks with Afghan President Hamid Karzai and other high level government officials to further expand ties between the two nations and review of key projects being implemented by India.
The Presidential Palace media office following a statement said President Karzai and Indian External Affairs Minister Sushma Swaraj discussed bilateral cooperation between the two nations on civil and defense sectors as well as regional issues.
President Karzai said Afghanistan remains a close ally of India and hailed New Delhi's continued support to Afghanistan and Afghan people specifically on education sector by facilitating scholarships to hundreds of Afghan students.
In the meantime, Swaraj reaffirmed India's continued support to Afghanistan and said the government of India remains committed to cooperate with the government of Afghanistan in the future.
Swaraj also reaffirmed India's continued support with the new president and government of Afghanistan.
http://www.khaama.com/india-reaffirms-continued-support-to-afghanistan-8622
--------
Three militants killed in encounter along LoC
10 September 2014
Three militants were killed in a fierce gun-battle with Army troops along the LoC in Jammu and Kashmir on Wednesday.
On specific information about presence of a group of militants, troops launched an operation along the LoC in Keran forward area in Kupwara district on Wednesday morning, a Defence spokesman said.
In the encounter that took place between troops and militants, three militants have been killed, the spokesman said.
A large quantity of arms and ammunition were recovered from them.
http://www.thehindu.com/news/national/three-militants-killed-in-encounter-along-loc-at-keran-forward-area-of-kupwara-districtin-jammu-and-kashmir/article6396734.ece
----------
Pakistan
Al-Qaida's Shadowy New 'Emir' In South Asia Handed Tough Job
Reuters | Sep 10, 2014
MULTAN, Pakistan: Pakistani militant Asim Umar has been handed a very tough job.
Thrust into the limelight after being named leader of al-Qaida's newly created south Asian wing, he has been entrusted with reviving the network's fortunes at a time when Islamic State is generating grisly headlines and luring recruits.
Little is known about the man whose thinking was shaped in radicalised seminaries and madrasas of Pakistan and who will now spearhead al-Qaida's activities from Afghanistan to Myanmar.
In a video address aired last week, the group's chief, Ayman al-Zawahiri, named him as the "emir" of a new branch of the network that masterminded the 2001 attacks on the United States.
Interviews with militant and intelligence sources reveal that Umar, thought to be in his mid-forties, has a reputation as an Islamist ideologue rather than a fighter, and is known in South and Central Asian Islamist circles as an intellectual and excellent orator.
One jihadist source in Pakistan's lawless tribal areas on the Afghan border who knew Umar personally said that Zawahiri first caught sight of his talents around the time of the death of Osama bin Laden in a secret US raid in 2011.
Full report at:
http://timesofindia.indiatimes.com/world/south-asia/Al-Qaidas-shadowy-new-emir-in-south-Asia-handed-tough-job/articleshow/42158976.cms
-------------
35 terrorists killed as jets pound hideouts in N Waziristan
10 September 2014
MIRANSHAH: D: Thirty-five suspected militants were killed when the fighter jets pounded the militants' hideouts in Tehsil Dattakhel of North Waziristan tribal region.
According to a statement issued by Inter Services Public Relations (ISPR), three terrorist hideouts were destroyed in precision strikes in the northwest of Dattakhel early on Wednesday while 35 terrorists were also killed.
http://www.thenews.com.pk/article-159299-35-terrorists-killed-as-jets-pound-hideouts-in-N-Waziristan
----------
Imran Khan grew up in Musharraf nursery: Pervez Rashid
10 September 2014
ISLAMABAD: Federal Information Minister Pervez Rashid has said that Imran Khan was in "Pevez Musharraf's nursery" when he supported referendum conducted by the ex military dictator.
He was responding to Khan's claim that he was the only politician who didn't grow up in the nursery of the army.
He said that people had rejected Khan's call for civil disobedience and transfer of money through illegal means.
The minister said that the PTI chairman should go through charge sheet of Arbab Shehzad if he was proud of KP government's performance.
http://www.thenews.com.pk/article-159291-Imran-Khan-grew-up-in-Musharraf-nursery:-Pervez-Rashid--
----------
Sunni cleric gunned down in Karachi
10 September 2014
KARACHI: Sunni cleric and lecturer of Jamia Binoria, Maulana Masood Baig was gunned down by unknown assailants in North Nazimabad's Hyderi area on Wednesday.
The cleric, who was the son-in-law of renowned cleric and head of Jamia Binoria Mufti Naeem, was shot while heading home from Karachi University by assailants riding a motorbike. Masood died on the spot.
More than a dozen people have lost their lives in a spate of what is being described as sectarian killings in recent days despite a Rangers-led targeted operation underway in the city.
On Saturday, the elder son of former senator Allama Abbas Kumaili, also a cleric, was gunned down and his two guards were wounded in a targeted attack in Azizabad. Allama Ali Akbar Kumaili, 40, was shot dead in what was found to be a sectarian attack by investigators.
Ali Akbar Kumaili, father of four, was known for his oratory skills and for his style of addressing Majalis-i-Aza.
Full report at:
http://www.dawn.com/news/1131078/sunni-cleric-gunned-down-in-karachi
----------
Actions of Imran, Qadri merit trial under Article 6: Minister
10 September 2014
ISLAMABAD: If it wasn't for the forbearance of the Parliament, the actions of Pakistan Tehreek-i-Insaf (PTI) chairman Imran Khan and Pakistan Awami Tehreek (PAT) chief Tahirul Qadri during the past few weeks merit a trial under Article 6 of the Constitution, Railways Minister Saad Rafique said in an address at Wednesday's joint session of the Parliament.
The Pakistan Muslim League - Nawaz (PML-N) leader said the politics of Imran and Qadri was based on hatred and their targets were the country's democratic forces.
"Our media trial is being done by a man who has done a total of a 48-hour hunger strike and has spent 2.5 days in jail during the lawyers' movement," Rafique said referring to the PTI chairman.
"I fail to understand why the Oxford-educated Imran has lost his bearings...what are the pressures on him that he is resorting to the kind of language he is using," the PML-N leader said.
Full report at:
http://www.dawn.com/news/1131073/actions-of-imran-qadri-merit-trial-under-article-6-saad-rafique
----------
Naval Dockyard attack could be outcome of Zarb-i-Azb: Khawaja Asif
10 September 2014
ISLAMABAD: Defence Minister Khawaja Asif said Wednesday that the Naval Dockyard attack could be the outcome of the Zarb-i-Azb operation, DawnNews reported.
Addressing a joint session of the Parliament, the defence minister said three terrorists had been killed in retaliatory firing during the attack.
Giving a breakdown, he said two terrorists had entered the dockyard by boring a hole in the wall but both of them were killed in an encounter with security personnel.
The defence minister said that 10 security personnel had been injured in the attack, adding that none of them were critically injured and there was no loss of life. He also said that the attack did not cause any damage to Pakistan Navy installations or key assets.
Asif told the House that the Navy and other security agencies had shown immense bravery in protecting their installations.
Asif said they cannot reject the possibility that support from inside the naval force may have been sought for launching the attack.
http://www.dawn.com/news/1131072/naval-dockyard-attack-could-be-outcome-of-zarb-i-azb-khawaja-asif
----------
Mission will be accomplished soon, says Qadri
10 September 2014
ISLAMABAD: Pakistan Awami Tehreek (PAT) chief Dr Tahirul Qadri on Tuesday told his workers that accomplishment of his mission was very near and the marchers would celebrate Eidul Azha in their homes.
"Success of revolution march is very near as very few days are left for victory," Dr Qadri said. He said homes of 'inqilab marchers' would glitter with the success of the mission soon. Qadri said rays of hope would soon emerge when ill-gotten wealth of poor would be snatched from the rulers.
"Rule of incumbent government is near to witness an end and marchers will go home as winners," the PAT chief said.
Addressing his diehard followers, Professor Qadri said, "After passing a few days you would meet with victory. As long as you have spent the days here for bringing revolution in the country, the resolution of this problem will not take more time."
Full report at:
http://www.dailytimes.com.pk/islamabad/10-Sep-2014/mission-will-be-accomplished-soon-says-qadri
----------
'195 suspects killed in encounters in two months'
10 September 2014
KARACHI: Police have killed more than 190 suspects in shootouts during the past two months in the province as the city police appear to have become more aggressive than ever in chasing suspects and engaging them in 'encounters' that also resulted in counter attacks on law enforcement agency personnel, said a statement on Tuesday.
"The Sindh police have focused on terrorism, targeted killings, kidnapping for ransom and extortion," said the statement issued after a meeting presided over by Sindh IG Ghulam Hyder Jamali to review law and order in the province.
"Since July 1, 2014, 195 criminals have been killed in 5,174 raids conducted across the province. Some 1,238 suspects have been arrested. Comparing the number of killings in August 2013 with August 2014, the figure has come down from the over 275 to around 150, which shows a considerable reduction. Similarly in July 2013, 246 were killed while in July 2014 such deaths were 48."
The meeting was briefed by AIG-operations Ghulam Azfar Mahesar and it was attended by senior officers. The AIG maintained that incidents of killing had further declined and the average death toll had been brought down from nine to five per day, added the statement.
http://www.dawn.com/news/1130950/195-suspects-killed-in-encounters-in-two-months
----------
Saudi, Pakistani beheaded in kingdom's latest executions
10 September 2014
RIYADH: Saudi Arabia on Tuesday beheaded a Pakistani convicted of drug trafficking and one of its own citizens for murder, the interior ministry said.
Saudi Bandar Khalaf al-Enzi was found guilty of strangling a man to death during a dispute, the ministry said in a statement carried by SPA state news agency.
He was executed in the north Hail region.
Pakistani Kamran Ghulam Abbas was executed in Khubar, in Eastern Province, after being convicted of smuggling a "large quantity of heroin," the ministry said in a separate statement.
Full report at:
http://www.dawn.com/news/1130876/saudi-pakistani-beheaded-in-kingdoms-latest-executions
----------
Arab World
IS Declares War against Twitter for Hurting Terror Propaganda Campaign
10 September 2014
The Islamic State has threatened to assassinate Twitter employees responsible for closing down their accounts, warning that they would "bring the war" to the "real world" in response to online crackdown on the terror group's PR initiatives.
Following the terror group's recent killing of two American journalists and threats to behead a British citizen for the UK's participation in efforts to stem the Islamic State's growth, Twitter has been attempting to crack down on all accounts associated with or promoting the Islamic State (IS). This would include deleting propaganda posts and disturbing videos of executions.
An account associated with IS has reacted with a barrage of tweets, all accompanied by a hashtag that translated to "the concept of lone wolf attacks." Among the tweets that have sparked a rapid reaction across the media world were threats to activate sleeper terror cells to "physically assassinate" Twitter's management.
"The time has arrived to respond to Twitter's management by directly attacking their employees and physically assassinating them. Those who will carry this out are the sleepers cells of death," one tweet read, translated from Arabic by Vocativ – the New York-based online news website, one of the first outlets to pick up the story.
Full report at:
http://rt.com/news/186480-islamic-state-war-twitter/
---------
Saudi Arabia's Clerics Condemn IS But Preach Intolerance
10 September 2014
Saudi Arabia applies Sharia Muslim law, has beheaded 20 people in the past month, and its clerics oversee a lavish state-funded religious infrastructure.
When Saudi Arabia's Grand Mufti Sheikh Abdul-Aziz Al al-Sheikh described Islamic State and al Qaeda as "Kharijites" last month, he was casting them as the ultimate heretics of Muslim history, a sect that caused the faith's first and most traumatic schism.
That sort of rhetoric aimed at expelling militants from the Muslim mainstream has grown increasingly common among top Saudi clerics in recent weeks as they work to counter an ideology that threatens their political allies in the Al Saud dynasty.
But while Saudi Arabia's official Wahhabi school of Sunni Islam attacks Islamists as heretical and "deviant", many of its most senior and popular clergy preach a doctrine that encourages intolerance against the very groups targeted by IS in Iraq.
The arch conservatives Abdulrahman al-Barrak and Nasser al-Omar, who has more than a million followers on Twitter, have accused Shi'ites of sowing "strife, corruption and destruction among Muslims."
Full report at:
http://www.jpost.com/Middle-East/Saudi-Arabias-clerics-condemn-IS-but-preach-intolerance-374932
----------
Iraqi Forces Kill 20 ISIL Terrorists in Northern Babil
10 September 2014
The Iraqi security forces killed 20 terrorists of the Islamic State of Iraq and the Levant in Jurf al-Sakhar district in Northern Babil Governorate.
"A security force conducted a security operation where it killed 20 ISILterrorists and damaged their boats in Euphrates River in Northern Babil," a security source said.
http://english.farsnews.com/newstext.aspx?nn=13930619001156
----------
18 ISIL Terrorists Killed by Iraqi Forces in Diyala
10 September 2014
Iraq's security forces carried out a series of operations against the Islamic State of Iraq and the Levant (ISIL) terrorists in the Eastern city of Diyala, claiming the lives of 18 of them.
A military source told National Iraqi news agency that the country's counter-terrorism department killed 18 ISILterrorists and exploded a fuel tanker in Diyala in aseries of operations on Wednesday.
The crisis in Iraq escalated after the ISILmilitants took control of Mosul in a lightning advance on June 10, which was followed by the fall of Tikrit, located 140 kilometers (87 miles) Northwest of the capital, Baghdad.
Soldiers of the Iraqi army and Pishmarga have been engaged in heavy fighting with the militants on different fronts and have so far been able to push them back in several areas.
http://english.farsnews.com/newstext.aspx?nn=13930619001279
----------
Iraqi Soldiers Kill 12 ISIL Terrorists in Baghdad
10 September 2014
Iraq's army claimed the lives of 12 members of the Islamic State of Iraq and the Levant (ISIL) in Baghdad after carrying out a series of operations against the Takfiri group.
A military sourced told Alforat News Agency that the army soldiers clashed with the terrorists and killed eight of them in Rafosh area of Western Baghdad while four other terrorists were killed in the Southern parts of the capital.
http://english.farsnews.com/newstext.aspx?nn=13930619000293
----------
High profile activists' retrial underway in Cairo
10 September 2014
The retrial of Alaa Abdel-Fattah and 24 other political activists is underway at a criminal court in Cairo.
Family members, friends and activists gathered outside the court on Wednesday in solidarity with the defendants.
Abdel-Fattah's mother, human rights activist Laila Soueif and his sister Mona Seif – who are both on hunger strike in solidarity with the detainees – entered the court to attend the session, according to Al-Ahram Arabic news website.
All defendants received a 15-year jail term in June, in absentia, and were ordered to pay a fine of LE100,000 for rioting, destruction of public property and using violence against security forces.
Full report at:
http://english.ahram.org.eg/NewsContent/1/64/110396/Egypt/Politics-/High-profile-activists-retrial-underway-in-Cairo.aspx
----------
Egyptian army kills two suspected members of Ansar Bait Al-Maqdis
10 September 2014
The Egyptian army has raided suspected militant hideouts in the Sinai Peninsula, killing two and arresting 25 on Tuesday, a security source told state news agency MENA.
The security source said that they have been targeting militant hideouts in Sheikh Zuweid area; where clashes took place as militants started firing on the military.
The source also claimed that the militants are members of Ansar Bait Al-Maqdis militant group who have recently claimed responsibility for many terrorists attacks in the Sinia Peninsula and Egypt's main cities.
Egypt's Sinai peninsula, has suffered from a security vacuum for years, particularly worsening after the ouster of Islamist president Mohamed Morsi last summer.
Suspected Islamist militants based in the peninsula have waged a high-level insurgency against security forces, to which the army has responded with counter-insurgency operations.
http://english.ahram.org.eg/NewsContent/1/64/110364/Egypt/Politics-/Egyptian-army-kills-two-suspected-members-of-Ansar.aspx
----------
Hezbollah: US Not Serious about Fight against ISIL
10 September 2014
Deputy Secretary-General of the Lebanese Hezbollah Resistance Movement Sheikh Naim Qassem lambasted the US for its lack of serious fight against the Islamic State of Iraq and the Levant (ISIL), and stressed that Washington only means to weaken the terrorist group.
"Since the beginning, the US supported the ISILand thought that it can use the group for confronting the Islamic Republic of Iran and the regional nations to rearrange the regional structure. They attempted to overthrow the Syrian government and annihilate it by the help of this group (but failed)," Qassem told FNA on Tuesday.
He said the US felt endangered when it saw the ISILhas grown so powerful that it has surrounded swathes of land in Syria and Iraq and was threatening Washington's interests. "And now the US is after weakening the role of the ISILto control it but it's not after its annihilation."
Full report at:
http://english.farsnews.com/newstext.aspx?nn=13930619000375
----------
Syrian Islamist group names new leader after blast
10 September 2014
Syrian Islamist insurgent group Ahrar al-Sham has appointed a new leader and military chief after their predecessors were killed in a blast on Tuesday, a video statement from the group said.
The explosion in northwestern Syria killed at least 12 including Ahrar al-Sham's leader Hassan Aboud, according to the hardline group, part of the Islamic Front alliance that has been fighting Islamic State militants as well as the Syrian army.
The Syrian Observatory for Human Rights, a group that monitors the conflict, said an explosion killed 28 of Ahrar al-Sham's commanders, dealing a major blow to the group that is believed to have received funds from Gulf states.
In a video statement, Ahrar al-Sham said its council had appointed Hashem al-Sheikh, also known as "Abu Jaber", as leader and Abu Saleh Tahan as military chief. It pledged to keep fighting against Syrian government forces and Islamic State.
Some 50 of the group's leaders had been gathered at a house when the blast went off inside the meeting, according to the Observatory. There has been no claim of responsibility for the blast, which took place in Syria's Idlib province.
Full report at:
http://english.alarabiya.net/en/News/middle-east/2014/09/10/Syrian-Islamist-group-names-new-leader-after-blast-video.html
----------
North America
Atheist Must Swear To God, Or Leave US Air Force
10 September 2014
The US Air Force has told a sergeant he will have to leave the military unless he agrees to take an oath with the phrase "so help me God," officials said Tuesday.
In the latest religious controversy to roil the air force, the atheist airman last month was denied his request to re-enlist because of his refusal to swear to God -- and he is now poised to take the military to court, his lawyer said.
"We have not received word from the Air Force regarding our letter. It has not indicated a willingness to settle out of court," said Monica Miller, an attorney for the American Humanist Association, which has taken up the service member's case.
With the deadline for re-enlisting expiring in November, the technical sergeant at Creech Air Force base in Nevada -- whose name has not been released -- will be forced to sue the government in a federal court, Miller told AFP.
In the past, an airman could opt for an alternative phrase and omit the words "so help me God," but the US Air Force changed its policy in October 2013.
The other branches of the American military do not require the reference to God and make the phrase optional.
Full report at:
http://www.hurriyetdailynews.com/atheist-must-swear-to-god-or-leave-us-air-force.aspx?pageID=238&nID=71547&NewsCatID=358
----------
Obama claims 'enough authority' to act against Islamic State
10 September 2014
President Obama told Congressional leaders that he has enough authority and doesn't need their authorization to take action against the Islamic State, ahead of a speech on 9/11 eve that may pave way for further US military action in Iraq and even Syria.
In an hour long meeting with the leaders of Congress on Tuesday, the President said he "would welcome action by the Congress that would aid the overall effort and demonstrate to the world that the United States is united in defeating the threat from ISIL," according to the White House statement.
However, for the plan he is due to announce on Wednesday, Obama already "has the authority he needs to take action."
In a rare prime time address, scheduled for 9pm on Wednesday, hours before the anniversary of the 9/11 attacks, President Obama will address the American people, and lay out his mission against the Islamic State.
As a part of his strategy for "degrading and ultimately destroying" the Islamic State, Obama was expected to ask Congress to quickly authorize the arming and training of Syrian opposition forces but will press forward without formal sign-off from lawmakers on a broader military and political effort to combat militants in Syria and Iraq, administration officials told the Associated Press.
Full report at:
http://rt.com/usa/186524-obama-authority-islamic-state/
----------
Many French Jews eyeing U.S., not Israel, as emigration destination, attorney says
10 September 2014
Even as French Jews now make up the largest source of immigrants to Israel, a move driven partly by anti-Semitism, one Manhattan attorney says he's getting an increasing number of inquiries from wealthier members of that community about moving to the U.S.
Usually, Marlen Kruzhkov, an attorney at Gusrae Kaplan, gets two to three such calls a year. But "I've gotten calls from two to three dozen people in the last three months," he told Algemeiner. Israel's seven-week conflict with Hamas in Gaza ended August 26 in a cease-fire.
"The first thing we ask a client is, 'why are you here?' 'why now?' 'why all of a sudden?' 'what is your goal?'" he told Algemeiner. "And almost all of them answer" that they don't feel safe anymore.
Full report at:
http://www.haaretz.com/jewish-world/jewish-world-features/1.615051
----------
'Overt ouster' of Sharif may trigger sanctions: US report
10 September 2014
WASHINGTON: The anti-government protest in Pakistan has reversed the country's struggle to establish a sustainable democratic system, says a report prepared for the US Congress.
The report — "Pakistan Political Unrest" — warns that "any overt military ouster" of Prime Minister Nawaz Sharif "could trigger another round of democracy-related US sanctions on foreign assistance to Pakistan".
This could put "an indefinite halt to what has been one of the highest-priority American aid programmes since 9/11".
The report also warns that the unrest could impact Pakistan's relations with India by increasing the army's influence in foreign policies.
'Protest has reversed efforts for sustainable democracy'
"The Pakistan Army's more openly direct control of Pakistan's foreign and security policies may, over time, shift Pakistan's approach towards Afghanistan further into a policy framework that seeks to counter Indian influence there," warns the report prepared by the Congressional Research Service (CRS).
The report notes that while the Sharif government does not face an imminent ouster, "many observers see the current unrest weakening Mr Sharif". It also represents "a setback to democratisation in a country that has suffered three outright military coups in its 67 years of independence".
Full report at:
http://www.dawn.com/news/1130987/overt-ouster-of-sharif-may-trigger-sanctions-us-report
----------
Obama to seek arms, training for Syrian opposition
10 September 2014
President Barack Obama will ask Congress to quickly authorize the arming and training of Syrian opposition forces but will press forward without a formal sign-off from lawmakers on a broader military and political effort to combat Islamic State in Iraq and Syria (ISIS) militants, administration officials said Tuesday.
Obama was to outline his plans Wednesday in a rare prime-time address to the nation, a format that underscores the seriousness of the threat posed by the ISIS fighters. The president's broader strategy could include more wide-ranging airstrikes against targets in Iraq and possibly in Syria, and hinges on military and political commitments from allies in Europe, the Middle East and elsewhere.
Ahead of his address, the president huddled with congressional leaders at the White House. Following the hour-long discussion, the White House said Obama told lawmakers that he "has the authority he needs to take action" against ISIS militants but would still welcome action from Congress that would "aid the overall effort and demonstrate to the world that the United States is united in defeating the threat."
Even before Obama's meeting with Senate and House leaders Tuesday, some lawmakers suggested a congressional vote on the president's plans was unlikely before the national elections in November when control of Congress will be at stake.
"As a practical matter, I don't really see the time that it would take to really get this out and have a full debate and discuss all the issues," said Republican Rep. Howard "Buck" McKeon, chairman of the House Armed Services Committee.
Full report at:
http://english.alarabiya.net/en/News/middle-east/2014/09/10/Obama-to-seek-arms-training-for-Syrian-opposition.html
----------
South Asia
Dhivehi and Islam to be taught to Maldivians in Trivandrum
10 September 2014
Arrangements are being made to teach Dhivehi and Islam to Maldivian children residing in Trivandrum, India, Education Minister Dr Aishath Shiham revealed today.
Speaking at the closing ceremony of a workshop for principals of schools in Shaviyani, Noonu, and Raa atolls, the minister reportedly said that efforts were underway to hire Dhivehi and Islam teachers for the approximately 300 Maldivian children in Trivandrum.
She noted that offering Dhivehi and Islamic education to Maldivian children living abroad was a campaign pledge of President Abdulla Yameen.
In January, the Maldives High Commission in Sri Lanka announced that it was seeking Dhivehi language, Islam, and Quran teachers for Maldivian children residing in the neighbouring country.
http://minivannews.com/category/news-in-brief
----------
Taliban attack leaves 2 NDS officers dead in Badghis province
Sep 10 2014
At least two Afghan Intelligence – National Directorate of Security (NDS) officers were martyred following an attack by Taliban militants in western Badghis province.
Local government officials said the incident took place on Tuesday after a group of Taliban militants ambushed a convoy of the NDS operatives in Karkh district.
Deputy provincial governor, Qamruddin Shekib confirmed the report and said clashes between NDS operatives and Taliban militants lasted for almost one hour.
He said two vehicles of the ND operatives were also damaged following the attack.
The Taliban militants group has not commented regarding the incident so far.
Badghis is among the relatively peaceful provinces in western Afghanistan, however the anti-government armed militant groups have increased to their insurgency activities recently.
http://www.khaama.com/taliban-attack-leaves-2-nds-officers-dead-in-badghis-province-8621
----------
5 local policemen martyred in separate attacks in Laghman
Sep 10 2014
At least five members of the Afghan Local Police (ALP) forces were martyred in militants attack and roadside bomb explosion in eastern Laghman province of Afghanistan.
According to local government officials, both the incidents took place on Tuesday in Badpakh district.
The officials further added that two ALP officers were initially killed after a group of militants launched attack on a check post.
Three other policemen were killed after a vehicle of the ALP forces struck with an improvised explosive device (IED) while they were transferring the victims of the first incident, the officials said.
No group including the Taliban militants has so far claimed responsibility behind the incidents.
Laghman is among the relatively volatile provinces in eastern Afghanistan where anti-government armed militant groups are actively operating in a number of its remote districts and often carry out insurgency activities.
According to a statement released by the provincial media office, the incident took place on Tuesday when a number of Taliban insurgents ambushed a local police outpost.
http://www.khaama.com/5-local-policemen-martyred-in-separate-attacks-in-laghman-8619
----------
Bangladeshi-American lawyer sues NYPD
10 September 2014
Chaumtoli Haq, a former top Muslim lawyer of New York, filed a lawsuit against the NY Police Department for alleged police brutality.
The Bangladeshi-origin lawyer was arrested by the NY police in Times Square after leaving a pro-Palestinian rally in July and without any legal basis, the police grabbed Ms Huq, turned her and pushed her against the wall.
What happened, according to Huq's lawsuit, was "unreasonable and wholly unprovoked force" on the part of the police. In addition to the lawsuit, Huq filed a complaint with the NYPD Civilian Complaint Review Board, according to DNAinfo.
A federal lawsuit against the NYPD for targeting Muslims may be next.
http://www.dhakatribune.com/law-rights/2014/sep/10/bangladeshi-american-lawyer-sues-nypd#sthash.kQWWSAGP.dpuf
----------
UK expresses concern over Maldives' human rights situation
By Daniel Bosley
10 September 2014
The UK Foreign and Commonwealth Office (FCO) has expressed concern over the human rights situation in the Maldives, as well as the disappearance of Minivan News journalist Ahmed Rilwan.
"We are also concerned by reports that parliamentarians, human rights advocates and journalists have recently been the target of death threats, and by the disappearance and apparent abduction of one journalist on 8 August," said Minister of State at the FCO Hugo Swire.
Swire's comments came in response to a written question submitted by Conservative Party MP Karen Lumley.
The minister expressed concern over freedom of religion, rule of law, and women's rights, as well as reports of death threats made against a number of politicians and MPs in recent months.
Full report at:
http://minivannews.com/politics/uk-foreign-office-expresses-concern-over-maldives-human-rights-situation-and-rilwan-disappearance-90027
---------
Europe
UK sends Kurds £1.6 mn in arms to battle ISIS
10 September 2014
Britain is providing heavy machine guns and ammunition to Kurdish forces fighting Islamic State (IS) militants, the Ministry of Defence says.
Defence Secretary Michael Fallon said the equipment was worth about £1.6 million, and there would be an estimated £475,000 in transport costs, British media report, citing a ministerial statement.
Fallon said the UK is committed to assisting the Iraqi government and to helping Kurdish forces defend themselves.
He said: "ISILmilitants are guilty of shocking brutality. So I am pleased that we will supply weapons to the Kurdish forces who are at the front line of combating their violent extremism."
He added that the UK wanted to offer help to the Iraqi authorities by "alleviating the humanitarian suffering of those Iraqis targeted by ISIL[Islamic State] terrorists".
The weaponry is due to arrive in Iraq on Wednesday.
The news comes after Iraq created a new government led by Prime Minister Haider al-Abadi, sharing posts between the Shia majority, Sunnis and Kurds.
Fallon also said that Britain wanted to promote "an inclusive, sovereign and democratic Iraq that can push back on ISILadvances and restore stability and security across the country; and working with the international community to tackle the broader threat that ISILposes to the region and other countries around the world, including the UK."
"The Kurdish forces remain significantly less well equipped than ISILand we are responding to help them defend themselves, protect citizens and push back ISILadvances."
Full report at:
http://rt.com/uk/186388-uk-arms-iraq-fallon/
----------
French Muslims support Mideast Christians against Islamic State
10 September 2014
The Muslim Council in France, home to Europe's largest Islamic minority, denounced the persecution of Middle East Christians on Tuesday and said mosques across the country would pray for them this week.
In a joint statement with a Christian group, the Council (CFCM) said "barbarians are perpetrating crimes against humanity" in the region "exploiting Islam as their banner".
Several French Muslim groups have already condemned the harsh tactics of Islamic State, the radical movement that has declared a caliphate in Syria and Iraq, but this was the first time they got together with Christians to support the victims.
The Vatican and Christian leaders in Western countries have called on Muslims to speak out against Islamic State. Many have, but the decentralised nature of Islam means these individual declarations often carry less weight than a joint effort.
"The signatories reaffirm their support to their Middle Eastern Christian brothers, many of them Arabs, as well as for all other minorities in the region who are now victims of a destructive campaign by these terrorist groups that threaten their existence," the joint declaration stated.
Full report at:
http://english.ahram.org.eg/NewsContent/2/8/110346/World/Region/French-Muslims-support-Mideast-Christians-against-.aspx
---------
UN's Ban urges Assad to seek political solution to Syria crisis
10 September 2014
ABU DHABI - UN Secretary-General Ban Ki-moon urged President Bashar Assad to seek a political solution to Syria's war, saying this would help international efforts against Islamic State militants in Syria and Iraq, al-Hayat newspaper reported on Wednesday.
In an interview with the pan-Arab daily, Ban said years of war between Assad's forces and armed rebel groups had allowed militants such as Islamic State to take root in the region.
Asked whether Assad would have any role to play in an international coalition being assembled to fight Islamic State in Syria and Iraq, the UN chief said Assad could contribute by working politically towards an end to the war in his country.
"He (Assad) can play a role through ending the crisis as soon as possible and engaging in political dialogue," the London-based, Saudi-owned newspaper quoted him as saying.
http://www.jpost.com/Breaking-News/UNs-Ban-urges-Assad-to-seek-political-solution-to-Syria-crisis-374935
----------
'I don't hate Israel,' head of UN panel probing Gaza operation says
10 September 2014
William Schabas, the controversial international jurist who was tapped to head the United Nations Human Rights Council probe into possible war crimes by Israel and Hamas during Operation Protective Edge, denied on Wednesday that he "hates Israel."
"I do not hate Israel," Schabas is quoted as saying in an interview with the Arab-language daily Asharq al-Awsat.
Schabas' appointment to head the panel has been assailed by Israeli government officials due to the Canadian law expert's past statements regarding Israel's alleged complicity in war crimes against the Palestinians.
In his interview with Asharq al-Awsat, Schabas vowed that he would "put my opinions aside" and proceed with the investigation in an impartial manner.
Full report at:
http://www.jpost.com/Breaking-News/I-dont-hate-Israel-head-of-UN-panel-probing-Gaza-operation-says-374919
----------
Doubts over release of captive U.N. peacekeepers
10 September 2014
Fiji on Wednesday retracted a claim that 45 U.N. peacekeepers being held hostage in the Golan Heights by Syrian Al-Nusra Front rebels were about to be released, blaming a communications mix-up.
"I don't think so... someone has misinterpreted," government spokesman Dan Gavidi told Agence France-Presse when asked if posts on official social media feeds on Wednesday morning trumpeting the impending release were correct.
The government later deleted the posts and released a statement saying negotiations with the rebels were continuing.
The peacekeepers, all Fijian nationals, were taken hostage two weeks ago when the Al-Qaeda-linked Al-Nusra fighters stormed a Golan Heights crossing.
Full report at:
http://english.alarabiya.net/en/News/middle-east/2014/09/10/Fiji-says-45-peacekeepers-held-by-Syrian-rebels-to-be-released-soon.html
----------
Saudi carries out new beheading after UN appeal for halt
10 September 2014
Saudi authorities beheaded a national for murder on Wednesday, the interior ministry said, a day after a UN appeal for an immediate moratorium on their use of the death penalty.
Hussein Daghriri was executed in the southwestern province of Jizan after being sentenced to death for fatally stabbing fellow tribesman Nayef Daghriri in a dispute, the ministry said in a statement carried by the official SPA news agency.
His beheading brought to 49 the number of executions carried out in the desert kingdom this year, according to an AFP tally.
It came after UN independent experts called on Saudi Arabia on Tuesday to implement an immediate moratorium.
Full report at:
http://english.ahram.org.eg/NewsContent/2/8/110405/World/Region/Saudi-carries-out-new-beheading-after-UN-appeal-fo.aspx
----------
HRW condemns Egypt arrests of 'same-sex marriage' men
10 September 2014
Human Rights Watch has condemned on Tuesday the detention of seven Egyptian men for "debauchery" after appearing in a perceived same-sex marriage video.
HRW called on Egyptian authorities to "immediately release" the men who were arrested on Saturday.
Prosecutor General Hisham Barakat ordered suspects to be detained pending investigations into them broadcasting footage that "violates public decency."
Egypt's forensics authority announced on Monday that the men were physically examined and found not to have had sexual relations with men before.
HRW said that such examinations "violate international standards against torture." It added that even though they've been used in courts, experts dismiss them as "medically and scientifically useless" in determining whether consensual anal sex has taken place.
"In the past, those subjected to the examinations in Egypt said they were forced to bend over while a government doctor working for the police massaged their buttocks and examined and sometimes probed their anus," the report said.
Full report at:
http://english.ahram.org.eg/NewsContent/1/64/110360/Egypt/Politics-/HRW-condemns-Egypt-arrests-of-samesex-marriage-men.aspx
----------
Irish Muslim organisations praise schools system
10 September 2014
Ireland's two main representative Muslim organisations have said there is no need for upheaval or revolution in the education system where they are concerned.
Irish schools are "very accommodating" to Muslim students and "Catholic school managements have made wonderful efforts to make their schools as inclusive as possible without losing their own ethos," they said in a statement.
The Islamic Foundation of Ireland (IFI) and the Islamic Cultural Centre of Ireland (ICCI) also pointed out that "many Muslim children who have passed through Irish primary and secondary schools, through to colleges and universities all over Ireland have now become an integral part of Irish society without losing their cultural or religious identity. The majority would have passed through the predominantly Catholic schools throughout the country without any issues."
They expressedtheir thanks "to all parties in the education sector, from primary schools up to the universities, and look forward to continued cooperation and mutual respect of their colleagues in the wider education forum."
Full report at:
http://www.irishtimes.com/news/social-affairs/religion-and-beliefs/irish-muslim-organisations-praise-schools-system-1.1922818
----------
Africa
People flee advancing Islamic militants in Nigeria
10 September 2014
Residents who feared for their lives and fled from Nigeria said that Boko Haram fighters are patrolling 50 kilometers (32 miles) of road between two of several towns the Islamic extremists have seized alongside northeast Nigeria's border with Cameroon.
Mubi, the town residents left, was a center for thousands of refugees trying to avoid fighting, but militants got too close Tuesday. Officials closed the Adamawa State University there, as Boko Haram fighters seized Mararaban Mubi, a village just outside of Mubi, in Adamawa state, according to a long-silent Boko Haram spokesman.
Abu Zinnira also denied military claims that soldiers have retaken the city of Bama, 75 kilometers (45 miles) from Maiduguri, the capital of Borno state that is the birthplace of Boko Haram and headquarters of a faltering military campaign against the extremists.
Zinnira called journalists in Maiduguri on Monday night to rebut "the series of lies that the Nigerian military have been feeding the world on our recent conquests." Zinnira, a nom-de-guerre, had not been heard from in two years.
Military officers on Tuesday claimed to have retaken another fallen town — Bazza in Adamawa state, but there was no way to verify the report.
Full report at:
http://english.ahram.org.eg/NewsContent/2/9/110363/World/International/People-flee-advancing-Islamic-militants-in-Nigeria.aspx
----------
'Hunting Boko Haram': Gruesome Videos Document Abuses In Nigeria
10 September 2014
Dozens of gruesome videos appear to show horrifying abuses by Nigerian security forces and state-sponsored militias as part of a battle against the Islamist extremist group Boko Haram. The existence of the videos was revealed in "Hunting Boko Haram," a new documentary by PBS Frontline.
Desperate to combat the rise of Boko Haram, Nigerian authorities launched a massive crackdown against the group in 2009 called "Operation Flush." Human rights organizations such as Human Rights Watch and Amnesty International have long accused security forces of committing massive human rights violations during the operation, including kidnappings, torture, extrajudicial killings and the arrests and murders of countless of civilians with no ties to the insurgent group.
Full report at:
http://www.huffingtonpost.com/2014/09/09/nigeria-abuses-videos_n_5783570.html
----------
New Al-Shabab Boss Plans to Hit Uganda - Gen Katumba
10 September 2014
The army has warned that the new leader of the Islamist militant group al-Shabab plans to hit Ugandans.
The warning comes a week after al-Shabab leader Ahmed Abdi Godane was killed in a US air strike in Somalia. He was replaced by Sheikh Ahmad Umar. Godane, 37, who had a passion for poetry, seized world attention a year ago with the Westgate mall attack in Nairobi, which left at least 67 dead. He warned Kenya that it would suffer further atrocities unless it withdrew its troops from the AU force in Somalia.
Sheikh Umar alias Abu Ubaidah, who was announced the new leader on September 6, is now intent on retaliatory attacks on Americans, Ugandans and all countries with troops in Somalia.
In an interview yesterday, Gen Katumba Wamala, the chief of defence forces, said: "The terrorist attack [threats] on us both in Mogadishu and at home are real because al-Shabab knows that we are the leading nation that recently captured their operational areas, which include Kartunwaary, Marinrangwaayi, Katoniwaari, Baromali and Beradi Amin whose last point is about 120km."
http://allafrica.com/stories/201409100183.html?aa_source=sptlgt-grid
----------
Somali militants threaten U.S. attacks to avenge leader's death
10 September 2014
Somali Islamist militants have threatened attacks in east Africa and the United States, warning President Barack Obama he would hear "shocking news" as punishment for a U.S. missile strike that killed the rebel group's leader last week.
Al Shabaab made the threats late on Monday, hours after launching twin attacks inside Somalia against African peacekeepers and a government convoy. The death toll from those bombings rose to at least 18 on Tuesday, police said.
"Let our mujahideen (fighters) wait for good news. And let Obama wait for shocking news," senior al Shabaab official, Fuad Mohamed Khalaf Shongole, said in a recorded message, promising to avenge the death of Ahmed Godane in a U.S. raid on Sept. 1.
Al Shabaab demonstrated its ability to strike abroad on Sept. 21, 2013, when the group launched an attack on the upscale Westgate shopping mall in Nairobi, Kenya, that killed 67 people.
Full report at:
http://english.ahram.org.eg/NewsContent/2/9/110352/World/International/Somali-militants-threaten-US-attacks-to-avenge-lea.aspx
----------
Mideast
Israel hails U.S. efforts to fight ISIS but weary of Iran
10 September 2014
Israel on Wednesday hailed U.S. efforts to form an alliance to fight militants in Syria and Iraq but raised concerns of a rapprochement between Washington and Israel's arch-foe Iran.
"I praise the American initiative to take action and form a coalition against the Islamic State in Iraq and Syria, and hope those efforts will succeed," Foreign Minister Avigdor Lieberman said in comments broadcast on public radio early Wednesday, shortly after he left for a visit to Lithuania and the United States.
His remarks came as U.S. Secretary of State John Kerry arrived in Baghdad on an unannounced visit at the start of a Middle East tour aimed at building a regional coalition to combat the extremist Sunni militants who have taken over swathes of territory either side of the Syria-Iraq border.
Deputy Foreign Minister Tzahi Hanegbi, who is close to Prime Minister Benjamin Netanyahu, also praised the initiative but warned it may signal closer ties between the United States and Iran, which has also pledged to join the struggle.
"There could be some kind of flexibility vis-a-vis Iran by the Americans in the fight against ISIS," he said.
Full report at:
http://english.alarabiya.net/en/News/middle-east/2014/09/10/Israel-hails-U-S-efforts-to-fight-is-but-weary-of-Iran.html
----------
Turkey joins anti-ISIL coalition, opens İncirlik for logistics ops
10 September 2014
On Thursday Aug. 21, 2014, a U.S. Air Force F-15 requested an emergency landing in Turkey. It had been hit in its hydraulic systems during operations against the forces of the Islamic State of Iraq and Levant (ISIL) and was in no condition to reach as far as its original base in Qatar.
Permission was granted by the Turkish General Staff to use the Batman air base in southeast Turkey, near the Iraqi border. Turkish F-16s escorted the U.S. plane for the Batman landing. For the repairs, a U.S. team of technicians relocated to Batman from the İncirlik air base near Adana, in southern Turkey, for a few days. The American jet then took off for Qatar, again escorted by Turkish F-16s until reaching the Turkish-Iraqi border.
Full report at:
http://www.hurriyetdailynews.com/turkey-joins-anti-isil-coalition-opens-incirlik-for-logistics-ops.aspx?pageID=238&nID=71511&NewsCatID=409
----------
Palestinian killed by Israeli army in West Bank: medics
10 September 2014
RAMALLAH: A Palestinian was shot dead early Wednesday in clashes which broke out when Israeli troops entered a West Bank refugee camp near Ramallah, sources on both sides said.
Palestinian medics and security sources named him as Taysir Qatari, 22, and said he had been hit in the chest by gunfire during stone-throwing clashes after soldiers entered Al-Amari camp on an arrest mission.
An Israeli army spokeswoman confirmed troops had entered the camp on a mission to arrest a Hamas operative, saying they came under attack by a group of some 50 Palestinians with "rocks, Molotov cocktails and burning tyres."
"They identified one Palestinian who tried to throw an explosive device at them so in response they opened fire," she said, indicating he was hit and evacuated for medical treatment but later died.
Qatari's death raises to 41 the total number of Palestinians killed by Israeli forces in the occupied West Bank and annexed east Jerusalem since the beginning of 2014, figures released by the UN humanitarian agency OCHA show.
http://www.dawn.com/news/1131080/palestinian-killed-by-israeli-army-in-west-bank-medics
----------
Southeast Asia
Muslim Youth Movement of Malaysia to Help Government Stop Youngsters from Joining ISIL extremists
10 September 2014
Global Movement of Moderates (GMM) and the Muslim Youth Movement of Malaysia (Abim) today announced a joint task force to help the government engage youngsters so that they do not get involved in extremist group Islamic State in Iraq and the Levant (Isil) in Iraq.
GMM chief executive officer Datuk Saifuddin Abdullah said ISIL has only increased Islamophobic sentiments.
"ISILis an extremist movement, its activities which are violent clearly contradicts the teachings of Islam, while their declaration to reestablish the caliphate gives a bad image to Islam," he told reporters at the GMM office in Kuala Lumpur today.
The former higher education minister said GMM and Abim were concerned about the situation and were against Malaysians joining the militant group's fight in Syria.
"For those who are concerned, they can help with humanitarian help for the people (in Syria)," he said.
Full report at:
http://www.themalaysianinsider.com/malaysia/article/gmm-abim-to-help-government-stop-youngsters-from-joining-isil-extremists#sthash.JLZEC7ts.dpuf
----------
Aquino asks Philippine Congress to enact Muslim autonomy law
SEPTEMBER 10, 2014
MANILA, Sept 10 — Philippine President Benigno Aquino today asked Congress to swiftly enact a law creating a Muslim autonomous area in the south of the mainly Roman Catholic state, a crucial step in ending nearly five decades of conflict.
The two sides signed a deal in March to end a rebellion that has killed more than 120,000 people, displaced 2 million and stifled development in the resource-rich region but hopes for peace were thrown into doubt when the rebels accused the government of reneging on the pact.
But intense negotiations rescued the deal under which the main rebel group, the Moro Islamic Liberation Front (MILF), has agreed to disband and surrender weapons in exchange for powers over the economy and society in the Bangsamoro area.
Aquino is keen to see the deal in place before his term ends in June 2016.
"We ask Congress ... to pass this bill in the soonest possible time," Aquino said at ceremony.
"If we are able to legislate this, we can give our Moro brothers enough time to prepare, thus enabling them to nurture the seeds of meaningful governance which were planted for the Bangsamoro."
Rebel leaders are expected to govern the new autonomous area during a brief transition period until elections in May 2016, in which the MILF will take part, transforming the guerrilla group into a political party.
The law creating an autonomous government to replace an existing Autonomous Region in Muslim Mindanao island, which the president described as a failed experiment, was a product of 17 years negotiations and months of drafting.
Full report at:
http://www.themalaymailonline.com/world/article/aquino-asks-philippine-congress-to-enact-muslim-autonomy-law#sthash.xnWooyhk.dpuf
----------
Philippines to deport Canadian Islamic teacher over terror links
10 September 2014
MANILA - The Philippines plans to deport a Canadian national this week after he was reported to be "inciting and recruiting locals to conduct terrorist activities", a top immigration official said on Wednesday.
The Philippines has been checking raw intelligence reports that about 100 Muslims in the predominantly Muslim south had left the country in response to the global calls of Islamist militants to fight for Iraq and Syria.
Siegfred Mison, head of the immigration bureau, said the Canadian, Abu Ameenah Bilal Philips, would be deported within the week after the bureau filed a complaint that he was an undesirable individual.
Full report at:
http://www.jpost.com/Breaking-News/Philippines-to-deport-Canadian-Islamic-teacher-over-terror-links-374930
----------
Malaysian Muslim Preacher Latest To Be Arrested For Sedition
10 September 2014
A 32-year-old Muslim preacher is the latest to be arrested under the Sedition Act early this morning.
Wan Ji Wan Husin, a former committee member of Selangor PAS's Ulema wing and a vocal critic of religious authorities, was arrested in Shah Alam at around 2.00am.
It is understood that he was taken to the Section 9 police station in Shah Alam, and will be charged today. The specific charge against him is yet to be known.
Earlier, he posted on his Facebook page that he avoided going home after being informed of a police presence outside his house.
Meanwhile, PKR Youth condemned the arrest.
"We are committed in demanding that the government listen to the voice of the people to repeal the outdated and cruel act. At the same time, we will also assist Wan Ji with legal aid if he is charged in court," said a statement issued by the movement's committee member, Zafril Eusoff.
Full report at:
http://www.themalaysianinsider.com/malaysia/article/muslim-preacher-latest-to-be-arrested-for-sedition#sthash.0ssBvkAz.dpuf
----------
Another Malaysian jihadist allegedly killed in Syrian ambush
SEPTEMBER 10, 2014
KUALA LUMPUR, Sept 10 — A Muslim fighter from Kedah known as "Abu Muhajir" became the latest Malaysian jihadist fighter to purportedly be killed in strife-torn Syria, after an alleged ambush in which several others were critically wounded.
"Abu Muhajir" was believed to be 21-year old Mohamad Fadlan Shah from Kulim, according to Facebook updates from fellow jihadists there and a report by Malay daily Utusan Malaysia.
"This morning on September 9, the jihadist team from Malaysia was ambushed causing the martyrdom of Abu Muhajir," said a fighter known as "Abu Talhah" on Facebook.
The status update also claimed that former Kedah PAS member Mohd Lotfi Ariffin, who was sacked from the party for his jihadist activities, was badly injured and remained unconscious.
Meanwhile, another fighter known as "Abu Afghan" was wounded in both legs, he said.
The photos and video of "Abu Muhajir's" burial have been shared by hundreds of supporters on social media and blogs. Some congratulated him on his "successful transaction".
"Transaction" is an euphemism that refers to a verse in Quran detailing a "contract", un which Muslims are offered a place in Paradise in return for fighting and dying in the cause of Allah.
"Praise be to God, my friend Abu Muhajir has succeeded in his dream to hunt for martyrdom," said a Facebook update by fellow jihadist Akel Zainal, formerly famous for being the drummer in 90s rock band Ukays.
Full report at:
http://www.themalaymailonline.com/malaysia/article/another-malaysian-jihadist-allegedly-killed-in-syrian-ambush#sthash.whVAOwHZ.dpuf
----------
Court strikes out appeal by Muslim husband in interfaith custody case
10 September 2014
The Court of Appeal today struck out an appeal by Muslim convert Muhammad Ridzuan Abdullah who was found in contempt of court for his refusal to hand over his daughter to the mother in a unilateral conversion case.
A three-man bench led by Datuk Balia Yusof Wahi said it was trite law that the court could not hear an applicant who has yet to purge his contempt.
"Public interest demands that respect for the law be maintained," he said in allowing M. Indira Gandhi's application to strike out her ex-husband's appeal against the May 30 High Court ruling, which found him guilty of contempt.
Following this, applications by the Attorney-General and the Inspector-General of Police to intervene in the case as well as Ridzuan's motion for an extension of time, were also struck out.
Full report at:
http://www.themalaysianinsider.com/malaysia/article/court-strikes-out-appeal-by-muslim-husband-in-interfaith-custody-case#sthash.DVNibxN7.dpuf
----------
URL: https://www.newageislam.com/islamic-world-news/new-age-islam-news-bureau/dar-ul-uloom,-muslim-law-board-denounce-'love-jihad',-call-it-illegal/d/99000