New Age Islam News Bureau
14 December 2021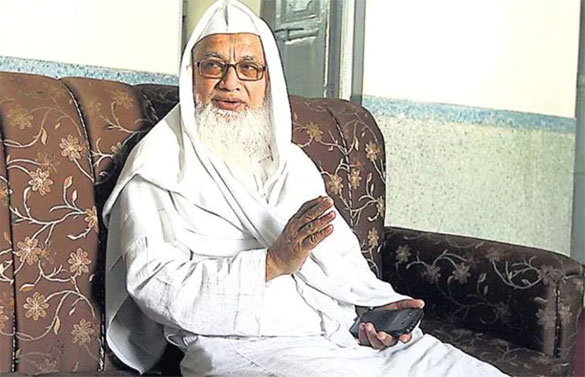 Mufti-Abul-Qasim-Nomani-vice-chancellor-Darul-Uloom-Deoband-at-his-office-Virendra-Singh-Gosain-HT-Photo
-----
• Taliban Seek Ties with US, Other Ex-Foes: Afghan Foreign Minister Amir Khan Muttaqi
• Canadian Muslim Council Seeks Trudeau's Help in Fighting Anti-Hijab Law
• Pakistan Invited the Islamic Emirate of Afghanistan to the OIC Summit
• China Donates New Mosque and Wells for Taliban's Ministry Of Justice
India
• India, Malaysia Pay Tribute to 26/11 Victims; Islamic Preacher Zakir Naik Barred From Delivering Speech
• Jamiat Ulema-e-Hind Calls For End to Anti-Muslim Rhetoric in India
• Gurugram Muslims to approach Supreme Court against namaz vigilantes in Gurugram
• After anti-conversion bill, BJP government in Karnataka plans separate law for 'love jihad'
• Terrorists attack police bus in Srinagar; 2 cops killed, 14 injured
--------
South Asia
• Afghan Farmers Continue To Grow Opium Poppy Amid Taliban's Unclear Policy
• UN plans to send Afghanistan $20M every week until March 2022
• Taliban Govt. Reaches Out to India Seeking Visas for Afghan Students Stuck in Afghanistan
• Russia keeps Taliban waiting as Afghanistan crumbles
--------
North America
• No punishment for US troops involved in deadly Kabul strike: Pentagon
• Accused Islamic State soldier from Dearborn loses evidence fight against feds
• Turkey moves to normalize Armenia ties in bid to please US President Biden
--------
Pakistan
• Pakistan held responsible for US' shortcomings in Afghanistan: Imran Khan
• Extremists Harm Image of Islam and Pakistan
• 18 more held in murder of Sri Lanka national: police
--------
Southeast Asia
• West Java Exports Islamic Boarding School-Produced 'Jengkol'(Dogfruit), To Dubai
• Philippines denies reports of secret plot to invade Malaysian territory
• Ties between PAS and Umno still good, says Hadi
• Church group urges Sarawakians to exercise right to vote during state polls
• Indonesia and G-20 sees Jokowi on the world stage: Jakarta Post contributor
• Don't bar our entry when we're fighting for your rights too, Anwar tells Sabah, Sarawak leaders
--------
Europe
• World Court Orders Azerbaijan And Armenia To Prevent Racial Hatred
• Iran losing 'precious time' with nuclear stance: European diplomats
• Danish Court Convicts Ex-Minister For Separating Young Asylum-Seeking Couples
• EU sanctions Russian paramilitary group Wagner, its commanders in Libya, Syria
• EU to host Azerbaijani, Armenian leaders in Brussels
--------
Africa
• UN Human Rights Council to Hold Special Session on 'Grave' Situation in Ethiopia
• Somalia retakes strategic town from al-Shabaab terrorists
• European Investment Bank offers Ghana €82.5M grant to boost health care
• Turkey winning hearts, minds in Africa: Experts
--------
Arab World
• Sharjah Islamic Art Festival to Showcase Works by 63 Artists from 27 Countries
• Saudi Arabia to use any surplus in 2022 budget to fill reserves: Al-Jadaan
• PIF to invest up to 1 trillion riyals in Saudi Arabia by 2025
• Saudi, GCC, Egyptian FMs attend joint ministerial meeting in Riyadh
• US-backed Syria forces say 5 ISIS suspects killed in raid
• US Forces 'Kidnapped Civilians' Near Deir Al-Zor: Syria State Media
--------
Mideast
• Radical leader of Islamic Movement released from prison in Israel
• Iran Criticizes G4+1 for Empty Hands in Vienna Talks
• Palestinian icon Raed Salah released from Israeli prison
• Top Negotiator: Iran to Continue Serious Talks in Vienna
• Iran Retaliates US Embargos by Sanctioning American Individuals, Entities
• FM: Iran Prioritizing Enhanced Ties with Neighbors
• Top army commander killed in Yemen's Marib
• Australian ambassador calls for academic coop with Al Mustafa Int. University
Compiled by New Age Islam News Bureau
URL: https://www.newageislam.com/islamic-world-news/dar-uloom-deoband-qasim-nomani-saudi-arabia-tablighi/d/125953
--------
Dar Ul Uloom Deoband Chief Rector, Maulana Abul Qasim Nomani, Asks Saudi Arabia to Rethink Decision to Ban Tablighi Jamaat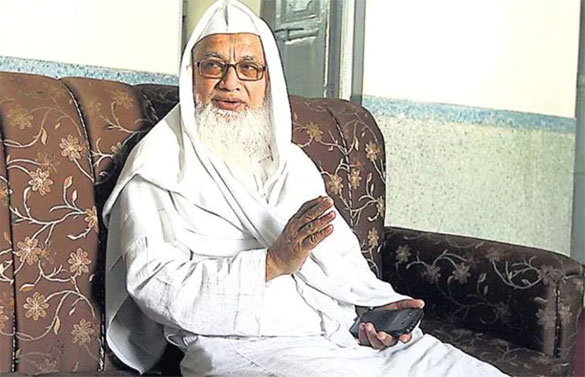 Mufti-Abul-Qasim-Nomani-vice-chancellor-Darul-Uloom-Deoband-at-his-office-Virendra-Singh-Gosain-HT-Photo
-----
Dec 13, 2021
Islamic seminary Dar ul Uloom Deoband has condemned the reported decision of Saudi Arabia to ban Islamic missionary movement Tablighi Jamaat after denouncing it as a "gateway of terrorism".
Chief Rector of the seminary, Maulana Abul Qasim Nomani, has asked Saudi Arabia to rethink its decision, saying otherwise a wrong message may be conveyed to Muslims.
This is for the first time that the Islamic seminary of Deoband has openly condemned the Saudi government.
The religious affairs ministry of Saudi Arabia had recently dubbed the Tablighi Jamaat as a gateway of terrorism and banned it.
Prominent Muslim activist Zafar Sareshwala told PTI, "I am surprised by the decision of Saudi Arabia as the Tabligi Jamaat was always an antidote to any extremist idea. The Jamaat maintained its disapproval of all modern Jihadi movements. Even the Taliban has spoken many times against the Tablighi Jamaat".
Saudi Arabia's description of the Tablighi as a gateway of terrorism is unbelievable and unacceptable, he said.
In a video message from the UK, Sameeruddin Qasmi, Spokesperson of the Tabligi Jamaat of Hazrat Nizamuddin Markaz, said, "It is a big allegation on the Tabligi Jamaat. It has no connection with terrorism. Tablighi Jamaat is the group that stops terrorism, condemn terrorism and disowns terrorism."
"We don't allow anyone to speak against any religion, community and country. We talk only for five pillars of Islam, none of our men have ever been found involved in any terrorist activities", he asserted.
"The Saudi government might have been mislead," he added.
Mohammad Miyan , the member of one of the factions of the Tablighi Jamaat, said, "Our Jamaats are working all over the world. Even in Saudi Arabia, Jamaat members are working to bring the Muslims on the right path as taught by the prophet. We will not comment over the decision of Saudi government, but our Jamaats will continue to work in Saudi Arabia".
Maulana Fakhrul Hasan Khan , a senior faculty in Darul Uloom Nadwa, said, "Till now we have received the news of ban only through the media. We will contact our people in Saudi Arabia before reaching any conclusion".
Source: Hindustan Times
Please click the following URL to read the text of the original story:
https://www.hindustantimes.com/india-news/Dar ul-uloom-asks-saudi-arabia-to-rethink-decision-to-ban-tablighi-jamaat-101639387283000.html
--------
Taliban Seek Ties with US, Other Ex-Foes: Afghan Foreign Minister Amir Khan Muttaqi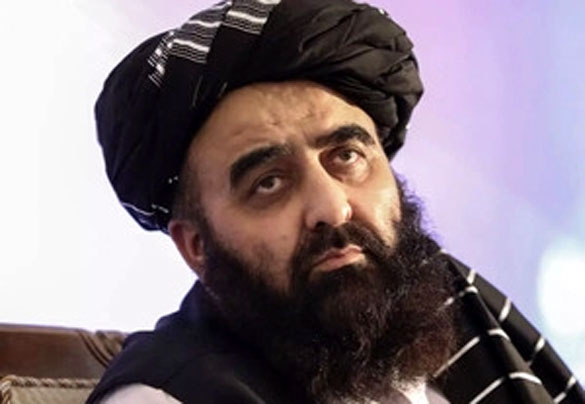 Afghan Foreign Minister Amir Khan Muttaqi
----
14 December, 2021
Afghanistan's new Taliban rulers are committed in principle to education and jobs for girls and women, a marked departure from their previous time in power, and they seek the world's "mercy and compassion" to help millions of Afghans in desperate need, a top Taliban leader said in a rare interview.
Afghan Foreign Minister Amir Khan Muttaqi also told The Associated Press that the Taliban government wants good relations with all countries and has no issue with the US. He urged Washington and other nations to release upward of $10 billion in funds that were frozen when the Taliban took power Aug. 15, following a rapid military sweep across Afghanistan and the sudden, secret flight of US-backed President Ashraf Ghani.
"Sanctions against Afghanistan would ... not have any benefit," Muttaqi said Sunday, speaking in his native Pashto during the interview in the sprawling pale brick Foreign Ministry building in the heart of the capital of Kabul.
"Making Afghanistan unstable or having a weak Afghan government is not in the interest of anyone," said Muttaqi, whose aides include employees of the previous government as well as those recruited from the ranks of the Taliban.
At a White House briefing on Monday, press secretary Jen Psaki said the "reserves remain inaccessible to the Taliban." She did not foresee an early change, saying the US money is now linked to those claims by victims of the 9/11 attacks in the United States, which were carried out by al-Qaeda while it was harbored in Afghanistan by the Taliban.
"These legal proceedings cannot be disregarded and have led to the temporary suspension of any movement of the funds through at least the end of the year and quite possibly longer," she said.
Even if money could be released, Washington would want to be certain it does not benefit the Taliban, she said. The UN and other organizations have said the money was going through charities and not the Taliban.
Psaki also noted that the Taliban remain a globally designated terrorist group. Washington did, however, negotiate for more than two years with the insurgent movement and signed a deal in February 2020 with the Taliban for the withdrawal of US troops from Afghanistan.
Meanwhile, Muttaqi acknowledged the world's outrage at the Taliban-imposed limitations on girls' education and on women in the workforce. In many parts of Afghanistan, female students between grades 7 and 12 have not been allowed to go to school since the Taliban took over, and many female civil servants have been told to stay home. Taliban officials have said they need time to create gender-segregated arrangements in schools and the workplace to meet their severe interpretation of Islam.
When they first ruled from 1996-2001, the Taliban shocked the world by barring girls and women from schools and jobs, banning most entertainment and sports, and occasionally carrying out executions in front of large crowds in sports stadiums.
But Muttaqi said the Taliban have changed since they last ruled.
"We have made progress in administration and in politics ... in interaction with the nation and the world. With each passing day, we will gain more experience and make more progress," he said.
Muttaqi said that under the new Taliban government, girls are going to school through grade 12 in 10 of the country's 34 provinces, private schools and universities are operating unhindered, and 100 percent of women who had previously worked in the health sector are back on the job.
"This shows that we are committed in principle to women participation," he said.
He claimed the Taliban have not targeted their opponents, instead announcing a general amnesty and providing some protection. Leaders of the previous government live without threat in Kabul, he said, although most of them have fled.
Last month, the international group Human Rights Watch published a report that said the Taliban summarily killed or forcibly disappeared more than 100 former police and intelligence officials in four provinces. However, there have been no reports of large-scale retribution.
Muttaqi alleged the government that took power after the US-led coalition ousted the Taliban regime in 2001 carried out widespread revenge attacks against the Taliban. Hundreds disappeared or were killed, with thousands fleeing to the mountains, he said. The Taliban were ousted for harboring al-Qaeda and Osama bin Laden for masterminding the 9/11 terrorist attacks in the US.
Muttaqi insisted poverty and the dream of a better life — not fear — drove thousands of Afghans to rush to Kabul's airport in mid-August in hopes of getting to America. The crush of people had generated searing images of men clinging to a departing American C-17 aircraft, while others fell to the ground as the landing gear retracted.
He said the Taliban have made mistakes in their first months in power and that "we will work for more reforms which can benefit the nation." He did not elaborate on the mistakes or possible reforms.
Muttaqi pushed back against comments by US Marine Gen. Frank McKenzie who told the AP last week that al-Qaeda has grown slightly in Afghanistan since US forces left. McKenzie is Washington's top military commander in the Middle East.
In a February 2020 deal that spelled out the terms of the US troop withdrawal, the Taliban had promised to fight terrorism and deny terrorist groups a safe haven.
Muttaqi said Sunday that the Taliban have kept that promise, along with a pledge not to attack US and NATO forces in the final phase of the withdrawal, which ended in late August.
"Unfortunately, there are (always) allegations against the Islamic Emirate of Afghanistan, but there is no proof," Muttaqi said. "If McKenzie has any proof, he should provide it. With confidence, I can say that this is a baseless allegation."
Meanwhile, militants from the ISIS group have stepped up attacks on Taliban patrols and religious minorities in the past four months. The ISIS affiliate in Afghanistan has targeted Shia mosques in the provincial capitals of Kunduz and Kandahar, carrying out frequent attacks on Taliban vehicles.
Muttaqi, however, said the Taliban have gained the upper hand in recent weeks, saying there had not been a major attack in the last month. Washington's ability to track ISIS activities in Afghanistan has been handicapped since the US withdrawal.
Muttaqi said he does not envision cooperating with the US in the battle against ISIS.
However, he did express hope that with time, "America will slowly, slowly change its policy toward Afghanistan" as it sees that a Taliban-ruled country standing on its own is a benefit to the US.
"My last point is to America, to the American nation: You are a great and big nation, and you must have enough patience and have a big heart to dare to make policies on Afghanistan based on international rules and relegation, and to end the differences and make the distance between us shorter and choose good relations with Afghanistan," he said.
Source: Al Arabiya
Please click the following URL to read the text of the original story:
https://english.alarabiya.net/News/world/2021/12/14/Taliban-seek-ties-with-US-other-ex-foes-Spokesman
--------
Canadian Muslim Council Seeks Trudeau's Help In Fighting Anti-Hijab Law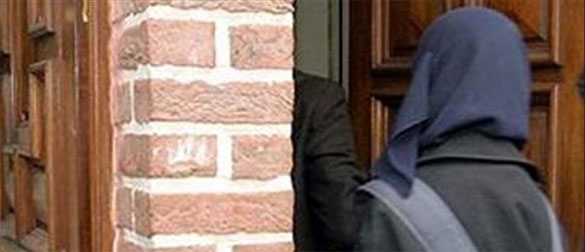 (Photo courtesy aa.com)
-----
Barry Ellsworth
14.12.2021
TRENTON, Canada
The National Council of Canadian Muslims (NCCM) said Monday that it is gathering signatures on a petition to have Prime Minister Justin Trudeau intervene after a Muslim teacher in Quebec province was removed for wearing a hijab in the classroom.
Quebec's Bill 21, passed in 2019, outlaws the wearing of religious symbols -- the hijab, kippah, turban and cross -- by most public servants while on the job.
The NCCM along with the Canadian Civil Liberties Association is fighting to have the bill nullified by the courts because it violates fundamental human rights. The NCCM also said the bill unfairly targets Muslim women.
The battle over the bill intensified after the teacher was removed last week. Mustafa Farooq, NCCM's chief executive officer, said in a statement to Anadolu Agency that Fatemeh Anvari is "a brave Quebec Muslim woman who was removed from her position as a teacher because she had the courage to wear her hijab to school."
"The disgraceful truth is she is not the first, nor will she be the last -- as long as Bill 21 is in place."
The court battle has shifted to the Quebec Court of Appeal in the fight to have this "heinous law" struck down, Farooq said.
While Trudeau is on record as saying the province has no business telling people what to wear, the NCCM wants him to act more forcefully and is now calling on people to put their signatures on a petition to aid the fight to get the government and members of parliament (MPs) on their side.
"Sign our petition calling on the Prime Minister to intervene in our legal challenge," Farooq said in the statement. "Your principled advocacy is working -- and MPs are starting to rise up to ask the Prime Minister to do the right thing. Let's make it happen now."
"In the courts, in the media, on the streets -- we won't stop till this law is struck down."
Source: Anadolu Agency
Please click the following URL to read the text of the original story:
https://www.aa.com.tr/en/americas/canadian-muslim-council-seeks-trudeau-s-help-in-fighting-anti-hijab-law/2446671
--------
Pakistan Invited the Islamic Emirate of Afghanistan to the OIC Summit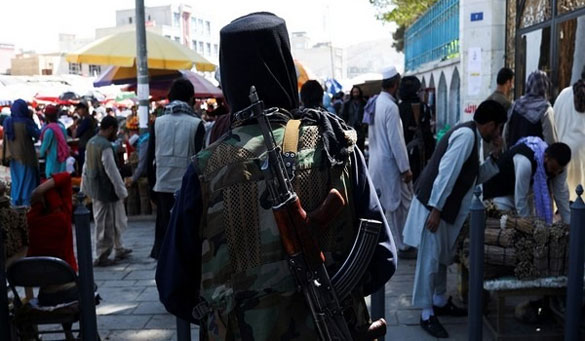 Representative Image
----
Dec 14, 2021
In order to get the Taliban international recognition, Islamabad on Monday invited the Islamic Emirate to the summit of the Organization of the Islamic Countries which is scheduled to be held on December 19.
Waliullah Shaheen, head of the Center for Strategic Studies at the Ministry of Foreign Affairs, said that the Afghan economy, banking system and the normalization of Afghanistan's relations with the world are the main agenda items for the meeting, reported Tolo News.
"The economy, banking system and normalization of Afghanistan's relations with the world are the agenda items of the meeting, and we, as the foreign ministry (of Afghanistan), will participate in this meeting," he said.
In addition to the members of the OIC, Pakistan media reported that delegations from the US, Russia, Britain, the European Union, the World Bank and humanitarian organizations have also been invited to the conference.
"Many Islamic countries don't have good ties with Afghanistan. I hope these countries rebuild their relations and together make a decision on recognizing Afghanistan," said Sayed Ishaq Gailani, head of the National Solidarity Movement of Afghanistan.
The Taliban unveiled their caretaker government with Hasan Akhund, who has been under United Nations sanctions since 2001, at the helm.
It has been more than 100 days since the Taliban takeover but has not been recognized by any nation of the world yet.
Respect for women and human rights, establishing inclusive government, not allowing Afghanistan to become safe haven of terrorism are the preconditions for the recognition set by the international community.
The Taliban has so far implemented none of these but has been promising to do so.
Source: Hindustan Times
Please click the following URL to read the text of the original story:
https://www.hindustantimes.com/world-news/pakistan-extends-oic-summit-invitation-to-taliban-report-101639437753926.html
--------
China Donates New Mosque and Wells for Taliban's Ministry Of Justice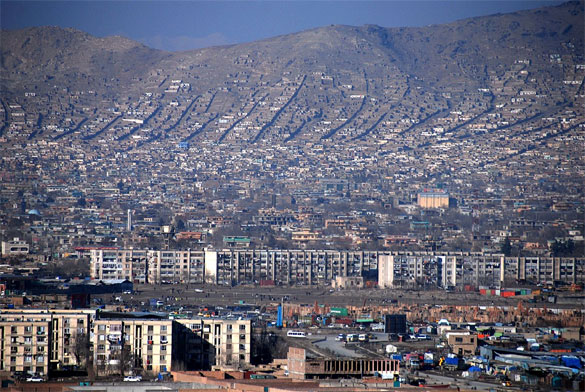 A view of Kabul, Afghanistan (Olgamielnikiewicz/CC BY-SA 4.0)
-----
13.12.21
China's ambassador to Afghanistan, Wang Yu, took part in a ceremony yesterday with Taliban officials in Kabul inaugurating China-funded projects to build a mosque and two wells for the Taliban's Ministry of Justice.
Wang said the two countries were "very close neighbours connected by mountains and rivers, and the two peoples enjoy long-lasting friendly exchanges", according to the Xinhua news agency.
The ambassador further remarked that China "sincerely hopes for and promotes an early realisation of peace, tranquility, prosperity and good-neighbourliness in Afghanistan", Xinhua reported.
Chief spokesman of the Taliban, Zabihullah Mujahid, said: "The Islamic Emirate of Afghanistan is thankful to China over sending assistance and also assures of having trustable relations with the neighbouring country."
Mujahid also stated that the administration was "firm to provide security for Chinese diplomats and investors".
Source: GCR
Please click the following URL to read the text of the original story:
https://www.globalconstructionreview.com/china-donates-new-mosque-and-wells-for-taliban-ministry/
--------
India
India, Malaysia pay tribute to 26/11 victims; Islamic preacher Zakir Naik barred from delivering speech
Aradhana Takhtani
Dec 13, 2021
In a moving tribute, organised by the Indian High Commission here in Kuala Lumpur, for the victims of Mumbai terror attack and other such heinous events across the world, Hema Kasipillay, the lone Malaysian who died in Mumbai's Taj Hotel terror attack along with 165 other victims, was remembered poignantly by her husband K Sivakumar in a first-ever public platform held for such stories.
Equally heart-rending was a Kashmiri Pandit, Nirmal Bhat's personal account of terrorism in the Valley; his family's flight amid the devastation; the choking of a thousands of years old history and culture. Yet again another first such narration on Pakistan-led terror for a Malaysian audience, also comprising of ambassadors, senior diplomatic corps representing several countries from ASEAN, Asia Pacific and beyond. Both accounts underlined and reinforced the fact that India has been facing the scourge of terrorism for more than three decades.
As Malaysia, India, US, Australia, Sri Lanka, Japan, Mauritius and other nations came together to show solidarity towards terror victims around the world, it was the former Malaysian minister of home affairs Nur Jazlan who came out strong against radicalization and extremism. Addressing the dignitaries, he said, Malaysia was both concerned and alert at the recent developments in Afghanistan as it could revive the dormant militancy in the region, which has been successfully curbed and addressed until now. "During my tenure as the Deputy Home Minister under the Barisan Nasional government, we had introduced several acts to fortify our defenses against terrorism, with POTA (Prevention of Terrorism Act) 2015, and SMATA (Special Mesuares against Terrorism in Foreign Countries) 2015," he said. Even today, he emphasized, Malaysia continues to work on that template, with a lot of efforts focussed on deradicalization.
Later, talking to TOI, Nur Jazlan said controversial Islamic preacher Zakir Naik has not been allowed to make any public speeches in Malaysia that could end up radicalising the youth as well as his funding from Saudi Arabia too has run dry. And citing the recent arrest of a Bangladeshi man in Johor state, who posted insulting comments on social media about Malaysian Hindus celebrating Deepawali, he said Malaysia is giving a strong message to anyone tearing down the multi-ethnic social fabric of the country.
Source: Times of India
Please click the following URL to read the full text of the original story:
https://timesofindia.indiatimes.com/world/rest-of-world/india-malaysia-pay-tribute-to-26/11-victims-islamic-preacher-zakir-naik-barred-from-delivering-speech/articleshow/88252713.cms
--------
Jamiat Ulema-e-Hind Calls For End to Anti-Muslim Rhetoric in India
13 December 2021
Jamiat Ulema-e-Hind, the largest socio-religious organization of Indian Muslims, held a two-day convention in the state of Kolkata calling on the Indian government to stop misuse of religion for political gains.
Source: Press TV
Please click the following URL to read the full text of the original story:
https://www.presstv.ir/Detail/2021/12/13/672614/Islamic-scholars-call-for-end-to-anti-Muslim-rhetoric-in-India
--------
Gurugram Muslims to approach Supreme Court against namaz vigilantes in Gurugram
Dec 14, 2021
By Leena Dhankhar
The Gurgaon Muslim Council on Monday said that they are preparing a petition to be filed in the Supreme Court "this week" against the vigilantism and hate crimes by right-wing Hindu outfits who have been opposing the Friday namaz in open spaces in the city.
Hindu outfits said they will file a counter petition, if the Muslims approach the apex court.
Altaf Ahmad, spokesperson for the council, said, "We are approaching the apex court against the vigilantism and hate crime that is being witnessed every Friday."
A delegation of the council went to meet the Guruguram deputy commissioner Yash Garg, but when they couldn't meet him, they said that their next course of action would be approach the apex court and seek its intervention for getting spaces in Gurugram to establish mosques, Ahmad said.
Deepak Saharan, deputy commissioner of police (West), said the council members came to meet him as well, and asked him about allocation of open spaces for offering namaz coming Friday. "I have no idea since it will be decided by the district administration, so I asked them to meet the deputy commissioner, and get clarity regarding the sites," he said.
Deputy commissioner Garg could not be reached for a comment despite repeated attempts.
The protest against Friday namaz in open public spaces has been taking place in Gurugram for the last three years. In 2018, the administration designated 37 sites for Muslims to perform the Friday prayers. However, in November this year, the number of sites was cut down to 20 after members of the right-wing outfits continued to protest and disrupt prayers.
However, these sites were also cancelled after Haryana chief minister Manohar Lal Khattar on Friday said that offering namaz in public places cannot be tolerated. The chief minister directed that the administration should resolve the issue, and assign other sites.
Mohammad Adeeb, a former Rajya Sabha member, who is leading a 21-member committee to resolve the ongoing issue, wrote to the deputy commissioner on Monday, and said that after Khattar announced that the permission for prayer in the open places has been withdrawn, new places were to be discussed and provided. "We would like to know whether the administration has allotted new places for Juma namaz, if so then which are these places," he said in the letter.
As a resident of Gurugram, I wanted to know how many places in the 113 sectors of the city have been allotted to Hindu temples and community centres; how many to churches and gurudwaras and how many places have been allocated to mosques, Adeeb said in the letter.
Source: Hindustan Times
Please click the following URL to read the full text of the original story:
https://www.hindustantimes.com/cities/gurugram-news/gurugram-muslims-to-approach-supreme-court-against-namaz-vigilantes-101639421651272.html
--------
After anti-conversion bill, BJP government in Karnataka plans separate law for 'love jihad'
Dec 14, 2021
BELAGAVI: After the contentious anti-conversion bill, that is likely to be tabled in the ongoing winter session in Belagavi, the Karnataka government is planning to bring a separate law to curb 'love jihad', a term used to accuse men from other religions of converting Hindu women by marriage.
"There is no doubt that the government will bring the anti-conversion bill in the ongoing legislature session. Like the way we brought the anti-cattle slaughter bill, we will also bring the anti-conversion law and, later, introduce a separate law for 'love jihad'," said Kannada and culture minister V Sunil Kumar on Monday, hours before the start of the winter session of the state legislature here.
The minister said the BJP government was open to discussions and suggestions on this issue from the opposition Congress."Let them give their valuable suggestions and we will take them into consideration," said Kumar.
The Karkala legislator said the issue of forcible conversion was a raging one in the state and claimed that even Swami Vivekananda had spoken against it, when he said religious conversion was tantamount to a person converting his/her national identity.
No reaction from home min
On demands from some BJP leaders and ministers for a 'love jihad' law, chief minister Basvaraj Bommai said all such suggestions will be considered by the party and the government. The CM said he'd take up the issue after the Sushasan Summit in Varanasi, where Prime Minister Narendra Modi is expected to address all BJP CMs. "I will attend the summit and return on December 14," he said. Meanwhile, home minister Araga Jnanendra feigned ignorance over why his cabinet colleague said the government would bring a separate law for 'love jihad'.
The UP model
UP is the first among BJP-ruled states to have brought in a law to curb 'love jihad'. The law prohibits converting one's religion and subsequently marrying a person from the newly adopted religion. Both bride and groom have to face criminal charges according to the new law.
Source: Times of India
Please click the following URL to read the full text of the original story:
https://timesofindia.indiatimes.com/city/hubballi/after-anti-conversion-bill-bjp-government-in-karnataka-plans-separate-law-for-love-jihad/articleshow/88266528.cms
--------
Terrorists attack police bus in Srinagar; 2 cops killed, 14 injured
M Saleem Pandit
Dec 14, 2021
SRINAGAR: At least three terrorists attacked a Jammu and Kashmir police bus ferrying men of the 9th Battalion to Zewan police camp on Monday evening, killing two policemen and injuring 14, some of them critically, a police spokesman said. The attack took place in Srinagar's Pantha Chowk area.
"Credible sources revealed that the attack was carried by Kashmir Tigers, an offshoot of the JeM," IGP (Kashmir) Vijay Kumar said, adding, "In retaliatory firing one of the terrorists was injured. The group involved in this attack will be soon brought to justice."
The terrorist action, the most daring yet against the police, came two days after militants killed two policemen in Bandipora and just hours after the police killed two LeT terrorists, including a foreigner, in a chance encounter in Srinagar's Rangreth area. "The police party was coming back to its campus after finishing their duties," the police spokesman said.
The two policemen who succumbed to their injuries were ASI Ghulam Hassan and SGC (selection grade constable) Safique Ali, the police said. The injured were shifted to a military hospital in Badami Bagh, Srinagar, for treatment.
Sources said the helmet-wearing terrorists flanked the bus on both sides on motorcycles and opened fire. The attack left 16 cops wounded; two of the wounded succumbed to their injuries in hospital, the police said.
A tweet from the PMO said Prime Minister Narendra Modi had sought details about the attack and expressed his condolences to the families of the policemen "martyred" in the attack.
An official said the bus had bloodstains visible on the seats and was punctured by bullets on all sides, especially the front as suggested by pictures on social media. An eye-witness said locals helped the policemen evacuate the injured to hospitals.
There was prior intelligence a day before the attack about the presence of terrorists with likely plans to execute an attack on security forces in Srinagar, sources in New Delhi said. However, a J&K government official said the intelligence had not been too specific. While the names of "indigenous-sounding" organisations like The Resistance Force (TRF) and Kashmir Tiger Force crop up after such attacks on civilians as well as security forces, they are fronts for Pakistan-based organisation created to ensure deniability in the wake of global pressure on Islamabad to crack down on the banned outfits.
"#Terrorists fired upon a police vehicle near Zewan, in Pantha Chowk area of #Srinagar. 14 personnel #injured in the attack. All the injured personnel evacuated to hospital. Area cordoned off. Further details shall follow," the Kashmir zone police had tweeted earlier. It later confirmed that two of the injured cops had died of their injuries and that 14 wounded were in hospitals.
Meanwhile, in a separate incident, the J&K police killed two Lashkar-e-Taiba terrorists, including one from Pakistan, in a brief chance encounter in Srinagar's Rangreth area, near the military airport, on Monday morning. One slain terrorist was identified as Aadil Ahmad Wani, a resident of Daramdoora, Shopian.
A police spokesman said the police had laid checkpoints in Wanbal area of Rangreth following inputs about the moment of terrorists from Shopian district. "During frisking at one such checkpoint two suspected persons, on noticing the police party, fired indiscriminately at them. However, the fire was effectively retaliated (sic), leading to a brief encounter … two terrorists were neutralised on spot," the police spokesman said.
Both slain terrorists were involved in several terrorist attacks and played a key role in a number of killings, including those of a policeman and a civilian at Warpora Sopore in March 2020, the police said. They were also involved in several grenade attacks, including the one at the Sopore bus stand in which 19 civilians were injured and two cops killed. Arms and ammunition and other incriminating material were recovered from the encounter site.
Source: Times of India
Please click the following URL to read the full text of the original story:
https://timesofindia.indiatimes.com/india/terrorists-attack-police-bus-in-srinagar-2-cops-killed-14-injured/articleshow/88264413.cms
--------
South Asia
Afghan farmers continue to grow opium poppy amid Taliban's unclear policy
December 13, 2021
Afghan farmers have said they will continue to grow opium poppy as the Taliban have not sent any clear standings towards the eradication of the poppy cultivation, a media report said.
Farmers in the country have said that opium cultivation is necessary for the survival of their families as it is profitable, easy to grow and needs less water.
Noor, a 52-year-old Afghan farmer and resident of Western Farah Province, said that he has no choice besides cultivating the opium poppy as his family will remain hungry without the crop, reported Voice of America.
Noor, who is a father of 10 children, did not want his full name to be revealed.
Stressing that he is not sure how he will be able to provide food to his children until the harvest, Noor said that his family does not have food for even a month. "The prices have skyrocketed, and people cannot afford to buy food," said Noor.
With regard to food insecurity in Afghanistan, United Nations' Food and Agriculture Organization released a report in October, warning that the number of people facing acute food insecurity in Afghanistan will increase to 22.8 million by March 2022, when compared to 18.8 million from September to October 2021, according to Voice of America (VOA).
Noor has said that wheat is less profitable and not as easy to grow as poppy.
Emphasising that farmers in the region are facing drought, Noor said that poppy needs less water and takes only six months to grow.
A surge in the price of opium was reported after the Taliban took control of Afghanistan in mid-August.
Prices doubled from May 2021 levels as an immediate reaction to the changed political situation, said a report released by the UN Office on Drugs and Crimes (UNODC) last month.
Opium poppy fields yield five to six times more than wheat or corn, VOA quoted another Afghan farmer Sayed Ali residing at eastern Nangarhar province as saying.
He further said that in the areas where opium poppy was not grown in the last 20 years, farmers have grown poppy this year.
Source: Business Standard
Please click the following URL to read the full text of the original story:
https://www.business-standard.com/article/international/afghan-farmers-continue-to-grow-opium-poppy-amid-taliban-s-unclear-policy-121121300379_1.html
--------
UN plans to send Afghanistan $20M every week until March 2022
14 Dec 2021
United Nations reportedly plans to send to Afghanistan up to $20 million in cash every single week until March 2022 to contain the problem of lack of cash in Afghanistan.
The amount of money will be delivered to Afghanistan's International Bank (AIB) and will then be either distributed in Afghanistan or spent on things that are most important to buy.
The decision comes a day after UNAMA gave Afghanistan its third batch of dollars in cash on Sunday, December 12.
Afghanistan International Bank received $19.2 million.
The UN is also believed to extend the aid after March and is also said that the number of dollars will also be increased.
The decision, if implemented will for sure contain the ongoing horrific humanitarian disaster in Afghanistan as the country lack cash, and prices of foodstuff and fuel are almost impossible to buy.
Source: Khaama Press
Please click the following URL to read the full text of the original story:
https://www.khaama.com/un-plans-to-send-afghanistan-20m-every-week-until-march-2022-3467347/
--------
Taliban Govt. Reaches Out to India Seeking Visas for Afghan Students Stuck in Afghanistan
DECEMBER 13, 2021
The Taliban government has reached out to the Indian government twice in a row, this time to grant Indian visas to Afghan students so that they could complete their studies in India. The students are stuck in Afghanistan since India cancelled their visas in August shortly after the Taliban took over Kabul.
The Taliban had earlier approached New Delhi to start direct flights between the two countries.
Noor Zahid Paiman, a final year Afghan student of BSc Computer Science at Sharda University, said he is stuck in Kabul for over six months now. Noor told News18 over phone, "We met foreign minister Amir Khan Muttaqi two times and raised the matter with him. He said he reached out to New Delhi regarding it."
Noor went back to Kabul in June during the second wave of Covid-19 in India when all educational institutions, including his university, switched to the online mode of teaching. In just two months, Taliban took over his country and things changed forever. With the Covid situation improving, classes switching back to offline mode, Noor along with 2,500 other Afghan students are still unable to fly to India to pursue their studies as there are no direct flights between the two countries and their visas stand revoked.
On August 25, Noor received a communication from the Indian side saying, "In view of the recent developments in Afghanistan and streamlining of the visa process by introduction of the e-Emergency X-Misc visa for Afghan nationals desirous of travelling to India, your above mentioned visa (details concealed) has been cancelled with immediate effect. If you desire to travel to India, you may apply for an e-Emergency X-Misc visa." Noor said the Afghan students have applied for the new category of visa, but none of the students have been able to get one.
Another student of Pune University, Waris Himmat, is also unable to pursue studies back in India. He said the Indian Embassy in Kabul is not working and he along with 200 students, travelled to Iran to get the visa from the Indian Mission there. But he was told that he will need to apply for the new category of visa meant for Afghan nationals. Himmat told News18 that he requested the Indian Mission in Tehran to grant him the visa so that he can attend the classes in person.
Meanwhile Indian Council for Cultural Relations (ICCR), which gives scholarship to Afghan students, said, "ln case, the university/institute has agreed to the physical presence of the students, they may apply for the Indian e-visa. The benefits available under the ICCR scholarship would be available upon joining the institutes as per past practice."
After the Taliban takeover in Afghanistan in August, New Delhi had issued 200 e-Emergency X-Miscellaneous Visas to Afghan nationals, the external affairs ministry informed the Rajya Sabha. On August 17, as a humanitarian gesture, India introduced "e-Emergency X-Miscellaneous visa" for the distressed residents who wanted to leave the country.
Source: News18
Please click the following URL to read the full text of the original story:
https://www.news18.com/news/india/taliban-govt-reaches-out-to-india-seeking-visas-for-afghan-students-stuck-in-afghanistan-4550750.html
--------
Russia keeps Taliban waiting as Afghanistan crumbles
Dec 13, 2021
More than three months after US forces left Afghanistan, Russia started fighting for the hearts and minds of the Afghan people. The first batch of Russia's humanitarian aid arrived in Afghanistan on November 19. But what the Taliban rulers also desperately need is financial backing and investment, and they are willing to offer Moscow whatever it requires in support of its geopolitical goals in return. Russia, however, is prepared to make them wait.
The UN has warned that Afghanistan is on the brink of economic collapse with the country's gross domestic product expected to shrink by 20 per cent within a year of Taliban rule. The foreign aid that propped up the economy has been cut off since the group seized the capital in August. Foreign currency reserves have been frozen and the country is shut out from international financial institutions. Meanwhile, Afghans are on the brink of a humanitarian catastrophe with more than half the population facing food shortages.
The Taliban desperately need formal recognition by major global and regional actors, namely Russia, China, Pakistan and Iran, to kickstart investment. That is why the new Afghan rulers aim to develop friendly relations with those countries, and have made numerous promises to them.
The Taliban-appointed Afghan ambassador to the UN, Muhammad Suhail Shaheen, recently said the group wants Russian businessmen, investors and entrepreneurs to come to Afghanistan. This is why the Taliban plan to introduce investor-friendly laws in the country devastated by decades of war. But Russian business is expected to come only after Moscow formally recognizes the Taliban as Afghanistan's de jure rulers and remove the group from its list of terrorist organizations. In a speech at the annual Valdai Discussion Club in Sochi in October, President Vladimir Putin stressed that such a decision could be made once the UN Security Council makes the same move.
Meanwhile, the Taliban will continue to count on Russia's assistance to hand over Afghanistan's seat at the UN to representatives of the extremist movement. To get support from Moscow, Taliban officials recently suggested they could recognise the Kremlin's incorporation of Crimea into the Russian Federation. Speaking with Russian journalists in Kabul, Taliban spokesman Zabihullah Mujahid said he fully respects the choice of people living on the peninsula, which Russia annexed from Ukraine in 2014 amid outcry from the West.
"We are on the side of the people who live in Crimea and we need to listen to what they want, because people have the right to vote. If people want to live in Russia, we agree with them," Mujahid said.
It is worth remembering that former Afghan President Hamid Karzai openly backed Russia over Crimea in 2014, angering his US backers. Now that Washington does not recognize the Taliban government and is in a new Cold War with Russia, the Afghan rulers aim to develop as close relations with Moscow as possible.
Mujahid also hosted in Kabul journalists from the Russian organisation Octagon Media that is run by Sergey Mikheyev, an adviser to Sergey Aksyonov, the leader of Crimea. Such a move indicates that the Kremlin, in the long term, counts on the Taliban's formal recognition of Crimea as part of Russia. That, however, does not mean that Moscow will recognize the Islamic Emirate of Afghanistan in exchange for the Taliban's gesture. The Taliban still lacks legitimacy in the global arena and therefore until Taliban rule is internationally recognised, Russia will probably not rush to make any deal with the group regarding the status of Crimea.
As Mujahid pointed out, the Taliban are trying to resolve the issue of the Islamic State operating in Afghanistan, a group that Moscow sees as an existential threat to its allies in Central Asia. It is estimated that several IS Khorasan factions are active in Afghanistan and they represent a serious threat not just to neighbouring countries, but to the Taliban themselves.
Quite aware that the Taliban is anything but a monolithic movement, the Kremlin has declared multiple times that it is ready to support the moderate wing of the group, but if the hard-line faction eventually prevails, Moscow is expected to protect its allies in case of a potential Taliban incursion into neighbouring former Soviet republics. At this point, however, the Taliban seem focused purely on domestic issues. As the Russian Ambassador in Kabul Dmitry Zhirnov said, the Taliban are facing difficulties in effectively fighting terrorism.
Source: Times Now News
Please click the following URL to read the full text of the original story:
https://www.timesnownews.com/columns/article/russia-keeps-taliban-waiting-as-afghanistan-crumbles/838013
--------
North America
No punishment for US troops involved in deadly Kabul strike: Pentagon
14 December ,2021
The Pentagon said on Monday that no US military personnel would be held accountable for an August drone strike in Kabul that killed 10 civilians, including seven children.
An earlier investigation by the Air Force inspector general said the Aug. 29 strike was caused by execution errors, interpreting information that supported certain viewpoints, and communication breakdowns. The military previously called the strike a "tragic mistake."
Pentagon Spokesman John Kirby told reporters that senior commanders had made a number of recommendations to Defense Secretary Lloyd Austin about the incident, none of which included any accountability measures for specific personnel.
Austin accepted the recommendations, Kirby said.
"I do not anticipate there being issues of personal accountability to be had," he added.
Kirby noted the high level of the threat facing US forces following a deadly bombing outside the Kabul airport that killed 13 troops, context that he said was important.
"In this case, in the context of this particular strike ... there was not a strong enough case to be made for personal accountability."
Source: Al Arabiya
Please click the following URL to read the full text of the original story:
https://english.alarabiya.net/News/world/2021/12/14/No-punishment-for-US-troops-involved-in-deadly-Kabul-strike-Pentagon
--------
Accused Islamic State soldier from Dearborn loses evidence fight against feds
Dec. 13, 2021
A federal judge Monday refused to suppress texts and statements made to federal agents by an accused Islamic State fighter from Dearborn captured on a Syrian battlefield three years ago, dealing a setback to the defense of a rare foreign fighter brought back to America to face charges.
Texts Ibraheem Musaibli, 31, exchanged with an FBI Joint Terrorism Task Force officer and comments the Dearborn man said while being flown back to the United States aboard a customized C-17 military cargo plane were made voluntarily, U.S. District Judge David Lawson wrote in a federal court filing. Musaibli talked to the officer after being advised of his rights, the judge added.
The FBI received a tip in 2016 that included this grainy photo of Dearborn native Ibraheem Musaibli posing next to an assault rifle.
"There is no valid reason to suppress the statements or the text messages," Lawson wrote.
Musaibli is scheduled to stand trial in January on terrorism charges punishable by up to 50 years in prison.
Musaibli drew international attention three years ago when he was captured in Syria. The case has shed light on Musaibli's journey from his parents' perfume shop in Detroit to a Middle East war zone and presented the U.S. court system with a unique chance to prosecute an American accused of leaving the U.S. and fighting for the Islamic State group.
Defense lawyers tried to suppress the messages, arguing the FBI task force officer used a code name and coercion while offering to rescue Musaibli, but only if he admitted being an Islamic State soldier.
Musaibli also argued he was subjected to sensory deprivation devices, sleep-deprived and hungry before being questioned for several hours during a long flight from Kuwait after being freed from custody of a foreign power.
Source: Detroit News
Please click the following URL to read the full text of the original story:
https://www.detroitnews.com/story/news/local/wayne-county/2021/12/13/accused-islamic-state-soldier-ibraheem-musaibli-loses-evidence-fight/6500186001/
--------
Turkey moves to normalize Armenia ties in bid to please US President Biden
14 December ,2021
Turkey will work to normalize ties with Armenia and start charter flights to its capital city of Yerevan, Foreign Minister Mevlut Cavusoglu said Monday, according to state-run TRT TV.
"We will mutually appoint envoys as part of normalization steps with Armenia, Cavusoglu said during a speech in parliament, adding that Ankara will coordinate its steps with Azerbaijan. "We will start charter flights to Yerevan, the capital of Armenia.
Turkey's surprise overture is in line with a request by President Joe Biden, who urged Turkish President Recep Tayyip Erdogan during an October meeting in Rome to open the country's border with landlocked Armenia, a senior Turkish official previously told Bloomberg. Turkey closed its border with Armenia in 1993 to protest Armenia's war with Azerbaijan at the time, which ended a year later.
Turkey hopes that taking steps to normalize ties with Armenia will help Ankara improve its strained relations with Washington over its purchase of Russia air defenses. After the meeting between Biden and Erdogan, the two countries set up a mechanism to address issues that have poisoned relations between the two NATO allies that share broader security and economic interests.
Source: Al Arabiya
Please click the following URL to read the full text of the original story:
https://english.alarabiya.net/News/world/2021/12/14/Turkey-moves-to-normalize-Armenia-ties-in-bid-to-please-US-President-Biden
--------
Pakistan
Pakistan held responsible for US' shortcomings in Afghanistan: Imran Khan
Dec 13, 2021
PAKISTAN: The US made mistakes in Afghanistan and Pakistan was blamed for America's failures and not given credit for the sacrifices it made in the global war on terror, Prime Minister Imran Khan said on Monday.
Addressing the opening session of the Margalla Dialogue 2021 seminar in Islamabad, organised by the Islamabad Policy Research Institute (IPRI) think-tank, Khan said Pakistan faced the biggest collateral damage in the Afghan war.
"Pakistan was held responsible for the shortcomings of the United States," he said.
Pakistan faced the biggest collateral damage in the Afghan war as it was the only US ally that suffered more than 80,000 casualties, displacement of millions of people and over 100 billion dollars economic losses, Khan said.
Khan said Pakistan was blamed for the wrong reasons by the international community, whereas it remained silent on the Kashmir issue. He regretted that Pakistan was not able to effectively present its point of view before the world.
Noting that only military power was not a guarantee for national security, which was an all-encompassing concept, Khan asserted that, "You can't have national security until there is inclusive growth."
"Unequal distribution of resources leads to anarchy among the people who are left out of the mainstream development. The uplift of the underprivileged segment of the society was critical to ensure across the board national security," he said.
He also emphasised that rule of law and equality for all were the preconditions for democracy.
Source: Times of India
Please click the following URL to read the full text of the original story:
https://timesofindia.indiatimes.com/world/pakistan/pakistan-held-responsible-for-us-shortcomings-in-afghanistan-imran-khan/articleshow/88263683.cms
--------
Extremists Harm Image of Islam and Pakistan
By Ameen Izzadeen
Dec 14, 2021
COLOMBO, Si Lanka, Dec 13 2021 (IPS) - Every time, breaking news of a barbaric crime or terror act is reported from anywhere in the world, peace-loving Muslims the world over feel dejected and wish it had not been another tragedy that will make others glower at them with suspicion as though they too are complicit in the crime.
But often, what they dread is the case, for more than 90 percent of such inhumane and barbaric acts – like the Sialkot slaying of a Sri Lankan factory manager and the Easter Sunday massacres — are associated with Islamic extremism.
Last Friday's lynching of factory Manager Priyantha Kumara Diyawadanage in Pakistan by an extremist mob will not be the last of such acts.
No amount of 'We Are Sorry Sri Lanka' placards, flowers and candles at makeshift memorials and political statements denouncing the crime can bring back his life that was cruelly brought to an end as a burnt offering on the altar of bigotry in an expression of savagery that has no place in civilized society.
However much Pakistanis who are humiliated by extremism dissociate themselves from the horrible act, however profound their apology is, however remorseful Pakistan Prime Minister Imran Khan, who decried the incident as Pakistan's day of shame, is, the country will continue to be plagued by violent extremism unless and until extremism is rooted out by radical social reforms in line with the peaceful message of Islam.
The Priyantha Kumara lynching by a mob linked to an extremist outfit called Tehereek-e-Labbaik Pakistan, for tearing off a political poster that allegedly had some religious verses in Urdu warrants the immediate revocation of Pakistan's blasphemy law or its amendment in keeping with the Islamic virtue of tolerance and magnanimity.
Research shows a higher prevalence of extremism in countries that have blasphemy laws than in countries that do not have such laws. Blasphemy laws are often misused to persecute the minorities or treat them as second-class citizens. Such laws are incompatible with the Islamic teaching which calls for protection of the minorities and non-interference in their worship.
If the Pakistan Government fails to make use of this heartrending incident as an opportunity to bring about radical reforms, it itself will be committing an act of blasphemy because its inaction allows the badly constructed law to distort and disgrace Islam.
Pakistan was carved out of the British Raj for the Muslims of the subcontinent. Its founder Muhammad Ali Jinnah promoted a theory of two nation two state, saying that the Muslims and Hindus were two different nations and belonged to two different civilizations and therefore needed to live in separate states.
The world's first nation-state to be formed on the basis of religion, Pakistan, however, has never been a theocracy.
In a 2017 BBC interview, historian Ayesha Jalal pointed out that Jinnah envisaged Pakistan as a "homeland for India's Muslims", as opposed to an Islamic state. But she said that his theory had been used by Islamists "as an ideological device" to justify claims for Pakistan to be a theocratic state.
This is Pakistan's existential crisis. While the extremists fight for the setting up of a theocracy, secular politicians skillfully make use of Islam and side with Islamists to swell their vote banks or to whip up nationalistic emotions against archrival India.
Perhaps, this was why Pakistan's Defence Minister Pervez Khattak was seen belittling the gruesome murder of Priyantha Kumara, by calling it "youthful exuberance of Muslim youngsters" and "happens all the time".
He reportedly added, "When the youth feel Islam has been attacked, they react to defend it." This was while Premier Khan vowed to bring the murderous mob to justice and Pakistan police arrested more than 130 people.
If we play with fire, we get burnt. Pakistan has been burnt enough, yet it appears to have not learnt enough. Seven years ago this month, extremists carried out a gruesome school massacre in Peshawar. In this terror attack some 134 schoolchildren, aged between 8 and 18, and 16 staff members were brutally gunned down by the Pakistan Taliban. So why pamper the extremists?
In 2011, Pakistan's Punjab Province Governor Salman Taseer was shot dead by a police guard over his opposition to the country's blasphemy law that calls for death sentence to those who insult Islam or its holy personalities.
Taseer was also calling for the release of Asia Bibi, a Christian woman who was falsely accused by her neighbours of insulting the Prophet Muhammad. Taseer's assassin was hailed as a hero by a large number of extremists who took to the street to celebrate the murder.
As a result of violent extremism, many non-Muslims find it difficult to accept the Muslims' assertion that Islam is a religion of peace. What many do not understand is that there is little Islam in today's world, although about 2 billion Muslims constitute one fourth of the world's 8 billion population.
In Islam, jihad or holy war is not the norm, but a last resort exception to defend the oppressed. Vigilante justice has no place in Islam. The accused should be heard, Islam commands.
To whatever religion they belong, the problem with extremists is their ignorance of the teachings of the religion they are supposed to follow. As historian and comparative religions expert Karen Armstrong would say, "Terrorism has nothing to do with Muhammad, any more than the Crusades had anything to do with Jesus."
Certainly, violence is not the answer to blasphemy. According to the Quran, the Prophet Muhammad was heaped the worst form of scorn. He was called a liar, a magician, a madman, and possessed. Garbage was thrown over his head and stone-throwing street urchins were set upon him.
Source: IPS News
Please click the following URL to read the full text of the original story:
http://www.ipsnews.net/2021/12/extremists-harm-image-islam-pakistan/
--------
18 more held in murder of Sri Lanka national: police
Dec 13, 2021
LAHORE: The police have arrested 18 more suspects purportedly involved in the killing of a Sri Lankan manager of a sports equipment business in Sialkot.
A mob of hundreds of enraged employees descended on the factory after Priyantha Kumara was accused of blasphemy. The mob grabbed him, killed him and burned the body.
Factory workers accused the victim of desecrating posters bearing the name of Prophet Muhammad (P.B.U.H.).
A first information report (FIR) was registered against 900 staffers of the business on the application of Uggoki Station House Officer (SHO) Armaghan Maqt under sections 302, 297, 201, 427, 431, 157, 149 of the Pakistan Penal Code (PPC) and 7 and 11-WW of the Anti-Terrorism Act (ATA).
With the latest arrests, the total number of suspects in custody has risen to 52, Khurram Shehzad, a spokesperson of Sialkot police, said.
The suspects were later produced before a special anti-terrorism court in Gujranwala which remanded them in police custody for 15 days.
The judge directed police to present the suspects again on December 28.
"34 primary suspects are already in remand with police. More than 100 individuals are [now] under investigation," Shehzad said.
Last week, the government of Punjab decided to conduct the trial in the case on a daily basis.
Source: Pakistan Today
Please click the following URL to read the full text of the original story:
https://www.pakistantoday.com.pk/2021/12/13/18-more-held-in-murder-of-sri-lanka-national-police/
--------
Southeast Asia
West Java Exports Islamic Boarding School-Produced 'Jengkol'(Dogfruit), To Dubai
Dec 14, 2021
Bandung, W Java (ANTARA) - The provincial government of West Java has exported 50 kgs of Archidendron pauciflorum, commonly known as 'jengkol' (dogfruit), produced by an Islamic boarding school (pesantren) to Dubai, the United Arab Emirates.
"With the aim to promote jengkol to the community and the world, today, we are exporting jengkol to Dubai," the Governor of West Java, M Ridwan Kamil, said after the first export release under the One Pesantren One Product (OPOP) Program at Gedung Sate here on Monday.
Aside from jengkol, the first export shipment from Al-Ittifaq Islamic Boarding School Ciwidey Cooperative, Bandung district, also included 600 kg of mangosteen, 300 kg of rambutan, and 200 kg of salak, he added.
"Today's export is the result of lobbying during our visit to Dubai earlier. All the products exported are from the OPOP program," Kamil informed.
He expressed the hope that other boarding schools under the OPOP program would take Al-Ittifaq Islamic Boarding School and the Daarut Tauhid Islamic Boarding School as an example since they have successfully exported their products overseas.
"I entrust it to Mr. Tutus (a nickname for the head of the Cooperatives and Small Business Office of West Java province). This export release is the first step, and there are a hundred more steps related to the development of Islamic boarding schools in OPOP (program)," the governor remarked.
Source: Antara News
Please click the following URL to read the full text of the original story:
https://en.antaranews.com/news/204281/west-java-exports-islamic-boarding-school-produced-jengkol-to-dubai
--------
Philippines denies reports of secret plot to invade Malaysian territory
December 11, 2021
MANILA: Philippine authorities on Friday denied international media reports claiming that hundreds of militiamen supported by officials from the southern Philippines were planning to invade the Malaysian state of Sabah.
Located on the northeastern tip of Borneo island, Sabah has been the subject of a 60-year-long territorial dispute between the Philippines and Malaysia.
International media reported on Thursday that a "secret meeting" attended by 19 mayors in the Sulu archipelago in the southwestern Philippines, some 400 kilometers from Sabah, planned to recruit 600 men to stage the invasion.
The news prompted Royal Malaysia Police Chief Acryl Sani Abdullah Sani to issue a statement saying they would take immediate action to "face any possibility or threat of intrusion," and that the state's security was "under control."
Philippine Defense Secretary Delfin Lorenzana told reporters on Friday that reports of an invasion were "fake news."
Lt. Jerrica Angela Manongdo, spokesperson for the Philippine military in Sulu, said the media reports had "no basis."
"We immediately looked into the matter when we learned of the news report. Based on the information we have gathered there is no such thing," she told Arab News. "We don't know what the motive behind (the reports) are."
Manongdo added that local officials in Sulu had indeed held a meeting earlier this month, but only to discuss ways to strengthen the archipelago's maritime borders and disaster response.
"Local chief executives (are) in charge of recruitment of fishermen or seafarer volunteers (to) conduct maritime patrols in collaboration with the military in Sulu to help improve border control against terrorists and any other lawless elements," she said.
While Malaysia controls Sabah, the Philippines has laid claims over the state on the basis that the region, which was once ruled by the Sultanate of Sulu, was only leased — not ceded — to British colonial rulers before Malaysia's independence.
Source: Arab News
Please click the following URL to read the full text of the original story:
https://www.arabnews.com/node/1984936/world
--------
Ties between PAS and Umno still good, says Hadi
12 Dec 2021
KUALA TERENGGANU, Dec 12 — PAS president Tan Sri Abdul Hadi Awang has stressed that the relationship between his party and Umno is still good although they have been facing certain problems recently.
"Ties with Umno, Alhamdulillah, are generally still good. We treat Umno as a party, not individuals," he told reporters after PAS' 70th anniversary celebration at Taman Tamadun Islam here today.
He said this when asked to comment on views that relations between PAS and Umno have become increasingly cold since the Melaka state election last month.
In the Melaka polls, Umno came to power through Barisan Nasional while PAS contested under the Perikatan Nasional (PN) banner and lost.
Abdul Hadi said the good ties were apparent based on the fact that Umno and PAS could work together in the PN federal government, which includes Bersatu.
He also dismissed talk that his ties with Umno president Datuk Seri Dr Ahmad Zahid Hamidi had grown cold.
"I think it is still warm. In Parliament, I sit near him," he said.
However, Abdul Hadi said he is prepared to meet with the Umno leadership to iron out any problems between the two parties.
Source: Malay Mail
Please click the following URL to read the full text of the original story:
https://www.malaymail.com/news/malaysia/2021/12/12/ties-between-pas-and-umno-still-good-says-hadi/2027935
--------
Church group urges Sarawakians to exercise right to vote during state polls
14 Dec 2021
KUCHING, Dec 14 — The Association of Churches in Sarawak (ACS) has issued a pastoral letter for the 12th State Election to urge the people in Sarawak especially Christians to come out and exercise their voting rights.
Its chairman Archbishop Simon Poh said while ACS calls on all eligible Christian voters to vote, ACS does not endorse any candidates or political parties in this election.
"This is a call to Christians and all people in Sarawak to vote as this a moral duty to society and to cast the vote according to their conscience 'before God'.
"ACS as a religious organisation does not endorse any candidates or political parties while exhorting all the people to vote as part of citizens' responsibility and duty," said Poh last night when explaining the pastoral letter.
The letter was undersigned by Poh and Bishop of the Anglican Church in Sarawak and Brunei Datuk Danald Jute, who is ACS deputy chairman.
Other signatories included two more Catholic Church bishops including Sibu Bishop Joseph Hii and Miri Bishop Richard Ng, Bishop Lau Hui Ming of Sarawak Chinese Annual Conference, Bishop Bonnie Sedau of Sarawak Iban Annual Conference, Pastor Agong Bina of Borneo Evangelical Church, Pastor Edmund M Liah of Seventh-day Adventist Church and Major Francis Ng of the Salvation Army.
Amongst others, the pastoral letter advised all Christians to make discernment before casting their votes by considering the political party and the integrity of the individual candidate on development, citizens' rights and on freedom of religion, welfare and concern for the people of Sarawak.
Source: Malay Mail
Please click the following URL to read the full text of the original story:
https://www.malaymail.com/news/malaysia/2021/12/14/church-group-urges-sarawakians-to-exercise-right-to-vote-during-state-polls/2028279
--------
Indonesia and G-20 sees Jokowi on the world stage: Jakarta Post contributor
DEC 13, 2021
JAKARTA (THE JAKARTA POST/ASIA NEWS NETWORK) - For Indonesia 2022 will prove a historic year as the nation hosts the Group of 20 (G-20) summit for the first time. Indonesia is the only South-east Asian nation to ever become a G-20 member and will be the first country to host the prestigious summit.
It will also be the first event of this stature - where heads of state of the world's 20 largest economies convene - Indonesia has ever hosted, after successfully hosting the International Monetary Fund (IMF) and World Bank annual meetings in 2018.
There is a lot at stake for both President Joko "Jokowi" Widodo and Indonesia as it attempts to further the President's domestic agenda and elevate Indonesia's standing as an economic powerhouse amongst its G-20 peers. This will also likely be the last international event President Jokowi focuses on before shifting to domestic politics in early 2023 ahead of the 2024 presidential elections.
In the short term however, Jokowi's priority will be to ensure that his administration's handling of the pandemic will bolster the success of the summit itself. What is most crucial is his ability to capitalise on commitments reached during the summit into concrete policy actions both domestically and regionally.
Unlike his predecessor president Susilo Bambang Yudhoyono, who actively sought to assert Indonesia as a multilateral leader, President Jokowi takes a more passive approach to multilateralism. He utilises moments of international spotlight on Indonesia for two objectives: pushing progressive domestic policy agendas by citing heightened international scrutiny, and to elevate Indonesia's attractiveness as an investment destination.
In addition to his experience governing as Surakarta mayor, Jokowi's deep pragmatism also stems from his experience in participating and leading in other multilateral forums. These experiences, specifically the inability to deliver upon ambitious commitments born from Indonesia hosting the Asian African Conference in 2015 and Organisation of Islamic Cooperation (OIC) Summit 2016, have shaped Jokowi's expectations, and ultimately agenda setting, of high-level multilateral summits.
For example, the Indonesian Agency for International Development (Indonesian AID), was considered a monumental outcome from the Asian African Conference as it cemented Indonesia as a developing nation capable of assisting less developed nations.
In practice however, the agency has yet to produce any significant influence on recipient nations and continues to engage in working groups without tangible indicators of impact.
Another is the establishment of the Indonesian International Islamic University (UIII), as agreed upon in the OIC summit. As an effort to counter the spread of radical ideology in universities across Indonesia and entice Indonesians from studying in Middle Eastern countries, both the United Arab Emirates and Saudi Arabia supported Indonesia's establishment of UIII which was meant to promote moderate teachings of Islam at the tertiary education level.
Despite prominent support, it took the university more than five years to welcome its first cohort of students and is yet to be accredited. These large gaps between high-level commitment and realisation have significantly impacted Jokowi's perspective.
Jokowi's agenda as G-20 president is to promote equitable access to technology, capital and depending on developments of the pandemic, vaccines. Though these issues will benefit many developing countries, to ensure Indonesia reaps the most rewards if commitments are reached, Jokowi will likely follow up with regulations such as mandatory transfer of technology for investment, tax on digital goods and doubling down on government's ambitions of substituting 35 per cent of imported capital and auxiliary goods related to manufacturing by 2022.
Jokowi will also capitalise on Indonesia's G-20 presidency to push through key environmental and digital economy policies domestically, namely the implementation of carbon tax in 2022, enforcement of the use of 20 per cent of palm oil and 10 per cent of bioethanol as fuel substitutes (dubbed B20 and E10 respectively), the large-scale use of electric vehicles (EV) and lastly the passage of the personal data protection bill where several aspects mirror the EU General Data Protection Regulation (GDPR).
In addition to exerting pressure to pass domestic policies, Jokowi will use the G-20 summit as an opportunity to announce that Indonesia has "arrived" and leverage its status to court investors. This will have significant impact on Indonesia's closest competitors in the region such as Thailand, Malaysia, and Vietnam as it will be the only South-east Asian nation able to directly "pitch" to an audience of this level of prominence.
Jokowi's priority sectors are testament that Indonesia is more self-aware of where its strengths lie. Boosting use of EVs for example, cannot be separated from Indonesia's ambitions to develop sophisticated EV battery supply chains supported by its vast supply of nickel. Jokowi's focus on passing environmental policies is also meant to bolster credibility of Indonesia's commitment to economic growth driven by sustainable energy, ultimately justifying the administration's push for increased use of EVs.
The focus on technology and ensuring adequate access to capital for burgeoning startups is also meant to supersize Indonesia's rapidly growing digital economy. As of Nov 20, Indonesia has produced the second most startups with valuations above US$1 billion (S$1.37 billion) of "unicorns" in the region, behind only Singapore. Malaysia, Thailand, and Vietnam unicorns trail far behind Indonesia.
It is clear Indonesia is deliberately focusing on industries where its competitors do not have a significant head start.
However, aside from competing for investment against its South-east Asian peers, Indonesia will also raise issues on behalf of its neighbours as the only South-east Asian representative in G-20. Issues such as the ongoing political crisis and Chinese influence in Myanmar as well as its potential repercussions for the Indo-Pacific will be the foremost security issue for Indonesia at the summit.
One notable priority that is sorely missing from Indonesia's G-20 agenda is continuation of designing the implementing framework for pandemic preparedness, as agreed upon in this year's joint Health-Finance Minister Task Force at the G-20 in Rome.
While it is assumed that the pandemic will be manageable by October 2022 when the summit takes place, Indonesia's concerns with equitable access should go hand-in-hand with ensuring the World Health Organisation's goal of vaccinating 70 per cent of the world's population by 2022.
Source: Straits Times
Please click the following URL to read the full text of the original story:
https://www.straitstimes.com/asia/se-asia/indonesia-and-g-20-sees-jokowi-on-the-world-stage-jakarta-post-contributor
--------
Don't bar our entry when we're fighting for your rights too, Anwar tells Sabah, Sarawak leaders
14 Dec 2021
BY R. LOHESWAR
KUALA LUMPUR, Dec 14 ― Opposition Leader Datuk Seri Anwar Ibrahim today urged Sabah and Sarawak government leaders not to abuse their discretionary rights on immigration to ban MPs from the peninsula.
The PKR president said that federal lawmakers from the peninsula too were fighting hard to restore the rights of people in the Borneo states and should be allowed to visit Sabah and Sarawak.
"Leaders in Sabah and Sarawak shouldn't be abusing immigration powers, especially during election time, by disallowing MPs from here from entering Sabah or Sarawak.
"We in West Malaysia are fighting hard for the people of Sabah and Sarawak, defending their rights and trying to fulfill their needs. Just because they have power, they cannot think they can do whatever they want," Anwar said in the Dewan Rakyat as the government moved to table an amendment to the Federal Constitution on the Malaysia Agreement 1963 (MA63).
Minister in the Prime Minister's Department (Parliament and Law) Datuk Seri Wan Junaidi Tuanku Jaafar had proposed the amendment to restore the original rights to Sabah and Sarawak that had been eroded over the decades.
During debate, Anwar said he supported the Bill and blamed the failure to amend the Federal Constitution on past federal leaders.
He also said that the biggest problems from Sabah and Sarawak concerned the lack of federal funding for the Borneo states, resulting in its people remaining poor despite their abundance of natural resources.
"They say the allocation of funds is too little but since we had independence 58 years ago so many Sabah and Sarawak leaders changed among themselves and all of them came out with unusually large fortunes.
"At the same time the people are still poor. If we want to form a united Malaysia this is not the way. Malaysia is about fairness and for all. Profits should be shared with all the people equally and not benefit the companies of these politicians and their friends," he added.
Source: Malay Mail
Please click the following URL to read the full text of the original story:
https://www.malaymail.com/news/malaysia/2021/12/14/dont-bar-our-entry-when-were-fighting-for-your-rights-too-anwar-tells-sabah/2028301
--------
Europe
World Court orders Azerbaijan and Armenia to prevent racial hatred
13 December ,2021
World Court judges on Tuesday issued urgent decisions ordering both Azerbaijan and Armenia to prevent racial hatred in similar rulings in tit-for-tat cases brought by the feuding South Caucasus neighbors.
Both countries allege in a claim and counterclaim that the other has breached a convention against racial discrimination and asked the court for emergency measures while the case makes its way through the court.
On Tuesday judges ordered both countries to prevent the incitement of racial hatred against each others' nationals. Both countries were ordered not to do anything that could aggravate the dispute while the court was considering the case.
In October last year, Azeri troops drove ethnic Armenian forces out of territory they had controlled since the 1990s in and around the Nagorno-Karabakh region, before Russia brokered a ceasefire.
The court said on Tuesday that both Azerbaijan and Armenia under the UN anti-discrimination treaty must "take all necessary measures to prevent the incitement and promotion of racial hatred."
In addition presiding judge Joan Donoghue said Azerbaijan must protect from violence and harm "all persons captured in relation to the 2020 conflict who remain in detention" and must "prevent and punish acts of vandalism and desecration affecting Armenian cultural heritage."
Source: Al Arabiya
Please click the following URL to read the full text of the original story:
https://english.alarabiya.net/News/world/2021/12/13/World-Court-orders-Azerbaijan-and-Armenia-to-prevent-racial-hatred
--------
Iran losing 'precious time' with nuclear stance: European diplomats
14 December ,2021
Iran's positions in talks over its nuclear development program are "inconsistent" with the terms of the deal to limit it, diplomats from the western European countries negotiating with Tehran, said on Monday.
"We have had many hours of engagement, and all delegations have pressed Iran to be reasonable," said the diplomats, from Britain, France and Germany.
"As of this moment, we still have not been able to get down to real negotiations," they added.
"We are losing precious time dealing with new Iranian positions inconsistent with the JCPOA or that go beyond it."
Talks resumed on salvaging the Joint Comprehensive Plan of Action (JCPOA) on November 29. Diplomats from Iran, Britain, China, France, Germany and Russia are attending.
Source: Al Arabiya
Please click the following URL to read the full text of the original story:
https://english.alarabiya.net/News/middle-east/2021/12/14/Iran-losing-precious-time-with-nuclear-stance-European-diplomats
--------
Danish Court Convicts Ex-Minister For Separating Young Asylum-Seeking Couples
13 December ,2021
Former Danish immigration minister Inger Stojberg, known for her hardline stance in that role, was handed a 60-day prison sentence on Monday by an impeachment court for having illegally ordered the separation of under-age couples seeking asylum.
Stojberg was accused of knowingly breaking the law by ordering the separation of all asylum-seeking refugee couples where at least one was under 18 years of age, a violation of the European Convention on Human Rights.
Under Danish and human rights law, couples must be assessed individually, implying that the minister's order to separate all underage couples was illegal. A total of 23 couples were separated.
The right-wing politician, minister from 2015 to 2019 for the Liberal Party, has repeatedly denied giving any illegal order, saying the aim of the action was to stamp out child marriages and protect underage girls.
"We are satisfied with the verdict," prosecutors Jon Lauritzen and Anne Birgitte Gammeljord told reporters outside the court. "It's a historic case."
Earlier on Monday, Stojberg told local media she expected to be acquitted.
The case started when a Syrian couple complained to the country's ombudsman in 2016 after they were placed in separate asylum centers. A commission launched to investigate the case, also known as the "child bride case," concluded last year the order was "clearly illegal."
Source: Al Arabiya
Please click the following URL to read the full text of the original story:
https://english.alarabiya.net/News/world/2021/12/13/Danish-court-convicts-ex-minister-for-separating-young-asylum-seeking-couples
--------
EU sanctions Russian paramilitary group Wagner, its commanders in Libya, Syria
Agnes Szucs
13.12.2021
BRUSSELS
The European Union on Monday passed sanctions against Russian paramilitary company the Wagner Group for its actions in Syria, Libya, Ukraine, and the Central African Republic.
EU foreign ministers approved restrictive measures against the Russian private military firm, eight of its high-ranking members, and three related companies.
"The Wagner Group has recruited, trained and sent private military operatives to conflict zones around the world to fuel violence, loot natural resources and intimidate civilians in violation of international law, including international human rights law," the EU Council said in a statement.
The eight blacklisted individuals are "involved in serious human rights abuses, including torture and extrajudicial, summary or arbitrary executions and killings, or in destabilizing activities," the document said.
Under the decision, one Wagner Group commander was sanctioned for his involvement in the Libyan conflict, and another for fighting in the Central African Republic.
Another three high-ranking soldiers were blacklisted for planning and carrying out military operations in Ukraine, undermining the country's territorial integrity and sovereignty.
One of them, Dimitry Valerievich Utkin, was particularly condemned along with Stanislav Evgenievtich Dychko for serious human rights abuses committed in Syria, including torturing deserters to death.
In addition, two commanders were targeted for crimes committed while fighting alongside the Syrian army and supporting the regime of Bashar al-Assad.
The measures also involve three Russian companies that are active in the mining, oil, and gas industries in Syria.
Under the new measures, EU operators are forbidden from making funds available for the commanders, the Wagner Group, and the three energy firms, while the individuals are banned from entering the bloc's territory.
The restrictive measures were based on four different sanctions regimes: the EU Human Rights Sanctions Regime, and sanctions regimes related to the situation in Libya and Syria, as well as the bloc's blacklist for undermining Ukraine's territorial integrity and sovereignty.
Earlier on Monday, EU foreign ministers approved an amendment to impose restrictive measures for threatening the peace, security, or stability of Mali that might be a legal basis for further sanctions against the Wagner Group.
According to a resolution passed by the European Parliament, Wagner's activities correspond to the expansion of Russia's influence zone, making it highly likely that Moscow is in charge of the funding, training, management, and operational command of the paramilitary group.
Source: Anadolu Agency
Please click the following URL to read the full text of the original story:
https://www.aa.com.tr/en/europe/eu-sanctions-russian-paramilitary-group-wagner-its-commanders-in-libya-syria/2446492
--------
EU to host Azerbaijani, Armenian leaders in Brussels
Omer Tugrul Cam
13.12.2021
BRUSSELS
The head of the European Council, will host the leaders of Azerbaijan and Armenia for a trilateral meeting in Brussels on Tuesday, a day before a summit of the Eastern Partnership.
According to EU sources, Charles Michel will first hold separate meetings with Azerbaijani President Ilham Aliyev and Armenian premier Nikol Pashinyan before a tripartite meeting later in the evening.
EU sources welcomed the establishment of a direct line of communication between the defense chiefs of the two countries after the war in Nagorno-Karabakh last year and said that there was more to be done to stabilize ties between them.
Last month, Aliyev and Pashinyan met with Russian President Vladimir Putin in Sochi, Russia.
Armenia, Azerbaijan, Georgia, Moldova, and Ukraine will attend the Eastern Partnership summit on Wednesday, while Belarus will not join as it suspended its participation in the organization.
The political and economic relations of the EU with the five attending countries will be evaluated at the summit, which is also expected to discuss Russia's military buildup near Ukraine's border.
The EU is expected to call on the Eastern Partnership countries to accelerate political, economic, and judicial reforms at the summit. A new EU regional economic investment plan of €2.3 billion ($2.6 billion) for the five countries is also expected to be approved.
According to a senior EU official, as part of the investment plan proposed by the EU Commission in July, the amount of investment in each country will depend on how far the countries will progress in structural reforms and the projects that they present.
Relations between the former Soviet republics of Azerbaijan and Armenia have been tense since 1991 when the Armenian military occupied Nagorno-Karabakh, also known as Upper Karabakh, a territory internationally recognized as part of Azerbaijan, and seven adjacent regions.
Source: Anadolu Agency
Please click the following URL to read the full text of the original story:
https://www.aa.com.tr/en/europe/eu-to-host-azerbaijani-armenian-leaders-in-brussels/2446466
--------
Africa
UN Human Rights Council to hold special session on 'grave' situation in Ethiopia
Peter Kenny
13.12.2021
GENEVA
The UN Human Rights Council (HRC) this Friday will hold a special session to address "the grave human rights situation in Ethiopia" after a request by the European Union and following a warning last week from the US, the council announced.
"In light of the aggravating situation, we believe the international community has a moral obligation to try to prevent further atrocities and ensure accountability and justice for victims and survivors," Lotte Knudsen, head of the EU delegation to the UN in Geneva, said in a statement Monday.
Last Friday, US Secretary of State Antony Blinken warned that Ethiopia is increasingly facing the prospect of an implosion that would be "disastrous" for its neighbors.
Blinken said Ethiopia's warring parties have the option to turn to negotiations and prevent all-out collapse but warned that if civil war envelops the country, the consequences for the region would be dire.
"I am very concerned about the potential for Ethiopia to implode given what we're seeing, both in Tigray, but also as we have different forces and different ethnic groups that are increasingly at odds," Blinken said at the State Department.
Meanwhile, the council said that the request on Monday was supported by 17 nations – one more than the 16 required – including Austria, Bulgaria, the Czech Republic, Denmark, Fiji, France, Germany, Italy, Japan, Mexico, the Netherlands, Poland, the Marshall Islands, South Korea, Ukraine, and the UK.
The request for the special session was also supported by 36 observer states, including Australia, Belgium, New Zealand, Norway, Paraguay, Portugal, Romania, Slovakia, Slovenia, Spain, Sweden, and the US.
Source: Anadolu Agency
Please click the following URL to read the full text of the original story:
https://www.aa.com.tr/en/africa/un-human-rights-council-to-hold-special-session-on-grave-situation-in-ethiopia/2446576
--------
Somalia retakes strategic town from al-Shabaab terrorists
Mohammed Dhaysane
14.12.2021
MOGADISHU, Somalia
Somalia's national army retook the strategic town of Mataban from the al-Qaeda-affiliated al-Shabaab terrorist group Monday, officials said.
Mataban, located 405 kilometers (about 252 miles) from the capital Mogadishu, was seized by al-Shabaab earlier in the day after forces in Galmudug state reportedly left the town undefended.
Military officials who spoke to Anadolu Agency confirmed that the army had recaptured the town Monday afternoon.
"The army was mobilized after the terrorists captured the town today, and now it is under our control," said one official, who declined to be named.
Mohamed Deeq, a journalist in Galmudug, and residents of nearby villages told Anadolu Agency by phone that a fierce firefight between the Somali military and al-Shabaab took place 10 kilometers (6.2 miles) outside Mataban.
Casualties from the fighting are not yet known.
An eyewitness in Mataban said al-Shabaab terrorists blew up the local police station using improvised explosive devices (IEDs) before the army recaptured the town.
Meanwhile, paramilitary forces in South West State claimed they had liberated seven villages outside its capital city Baidoa on Monday.
Source: Anadolu Agency
Please click the following URL to read the full text of the original story:
https://www.aa.com.tr/en/middle-east/somalia-retakes-strategic-town-from-al-shabaab-terrorists/2446663
--------
European Investment Bank offers Ghana €82.5M grant to boost health care
Enoch Fiifi Forson
13.12.2021
Ghana
ACCRA, Ghana
The European Investment Bank will provide Ghana a grant of €82.5 million ($93.2 million) to help the country strengthen its healthcare system amid the COVID-19 pandemic, according to an announcement on Monday.
In a statement following a meeting in Luxembourg with EIB head Werner Hoyer, Ghanaian President Nana Akufo-Addo welcomed the support offered to his country for the provision of medical equipment and medicine, under its national health response plan against COVID-19.
"The new agreement with Ghana represents the largest national EIB financing for COVID related health investment in Africa," he added.
With over 130,000 reported COVID-19 cases including the omicron variant, Ghana banned all unvaccinated people from flying to the country as of Tuesday.
Airlines that bring in passengers who are not fully vaccinated will face fines of $3,500 per passenger, while non-Ghanaians who fall into this category may be refused entry and be returned to the boarding point.
Akufo-Addo was in Luxembourg for a working visit as part of efforts to deepen bilateral ties and cooperation between the two countries.
Source: Anadolu Agency
Please click the following URL to read the full text of the original story:
https://www.aa.com.tr/en/africa/european-investment-bank-offers-ghana-825m-grant-to-boost-health-care/2446568
--------
Turkey winning hearts, minds in Africa: Experts
Hassan Isilow
13.12.2021
JOHANNESBURG
Though Turkey may be a new entrant in Africa, it is winning hearts and minds in many countries on the continent because of its sincere approach based on trust, mutual interest, and spirit of partnership, experts have said.
This week, Istanbul will host the third Turkey-Africa Partnership Summit on Dec. 17-18, expected to launch a new stage in Turkey's relations with the African Union and countries on that continent, according to the Turkish Foreign Ministry.
"Turkey is thriving in Africa because of its honest dealings with countries on the continent. It has a clean history. Turkey did not colonize Africa," Halim Gencoglu, author and postdoctoral fellow at the University of Cape Town, told Anadolu Agency.
He said Turkey's lack of a colonial legacy on the continent has created trust between Africans and Turks, making it easy for them to do business.
Gencoglu also noted that Turkey has over 40 embassies across the continent and added that it established many state institutes in less than a decade, distributing humanitarian assistance, providing educational scholarships, establishing schools, and supporting developmental projects.
Some of Turkey's well-known state agencies operating on the continent include the Turkish Cooperation and Coordination Agency (TIKA), Yunus Emre Institute, Maarif Foundation, and Diyanet Foundation, among others.
Mustafa Mheta, a senior research fellow and head of the Africa Desk at the Johannesburg-based think tank, Media Review Network, said he expects the Turkey-Africa Partnership Summit to be a total success as Africans hold in high regard Turkey's approach as a partner in Africa's development.
"Turkey's approach to Africa is completely different from others. It's based on a win-win situation and true partnership," Mheta told Anadolu Agency.
He said Ankara's approach was not based on coercion and manipulation, as has been the case with some Western nations, adding that Turkey's approach was always bound to win.
'Partners, not masters'
"Africa needs partners, not masters," Mheta noted, saying that Turkey's non-interference policy in the internal affairs of African countries was a clear sign of a friend. "It only interferes when asked to."
Another expert believed Turkey would continue to gain ground on the continent due to its respect for Africa.
"The Ottoman Empire bequeathed an honorable legacy to the continent. Turkish people never called the continent the 'Dark Continent,' that is what the Western World did," Safiye Yildiz, a Turkish doctoral student at the University of Cape Town, told Anadolu Agency.
Yildiz said that while colonizers in Africa were separating churches for white and black people, the Ottomans sent Turkish scholars to South Africa to teach people without separating them based on the color of their skin.
She said the history of Turks made them friends of Africans. "Unfortunately, the West still continues to treat Africa as an uncivilized, undeveloped land. Now, they called the omicron variant the South African variant, which is not true at all. Scholars accepted that omicron already existed in Europe before the South African government officially declared it. It isn't fair to close borders to South Africa," she argued.
Turkey-Africa summits
Turkey's envoy to Rwanda, Burcu Cevik, told Anadolu Agency that partnership summits between Turkey and Africa played an important role in evaluating the progress in existing areas of cooperation and in setting a roadmap for furthering the collaboration in possible new areas.
"Increasing the dialogue at the highest level between Turkey and African leaders no doubt paves the way for more cooperation in trade and investments," Cevik said in a virtual interview.
She said Turkey's approach to Africa has always been sincere and based on mutual interest and the spirit of partnership.
Source: Anadolu Agency
Please click the following URL to read the full text of the original story:
https://www.aa.com.tr/en/africa/turkey-winning-hearts-minds-in-africa-experts/2446516
--------
Arab World
Sharjah Islamic Art festival to showcase works by 63 artists from 27 countries
by Afkar Ali Ahmed
13 Dec 2021
About 248 artworks by 63 artists from 27 countries will be showcased at the 24th edition of the Sharjah Islamic Art Festival (SIAF) that is kicking off on December 15.
Themed Gradate, this year's edition will run for 40 days at The Sharjah Art Museum, Al-Majaz Waterfront and Maraya Art Centre, among other venues around the emirate .
Mohamed Al Qaseer, Director of Cultural Affairs at Sharjah Department of Culture and Information (SDCI) said that the festival is held under the patronage of His Highness Dr. Sheikh Sultan bin Muhammad Al Qasimi, Supreme Council Member and Ruler of Sharjah.
"Thanks to His Highness's wise vision in raising the cultural and artistic discourse together, to take it as a path to the renaissance of this intellectual project," remarked Al Qaseer, during a press conference held on Monday to announce the details of the event.
The Sharjah Ruler had laid the foundation stone for a global art project, represented in the SIAF, to restore an artistic legacy that has its own aesthetics and historical connotations.
Theme of the festival
Al Qaseer explained, "The festival's theme Gradate refers to composition, construction and arrangement, perhaps every creative process arises from gradation."
He added that the participating artists, with their different tools, methods and expressive styles, tried to explore this concept according to their perceptions leading to the formulation of a visual achievement that went with the theme.
Sideline activities
There will be 151 events, including exhibitions, art workshops, and lectures, hosted by SDCI in cooperation with 26 entities in Sharjah, including the Arab Photographers Union, the Photographic Society, Emirates Society for Fine Arts, and other associations.
About 49 exhibitions will be launched in the Sharjah Art Museum, the House of Wisdom in Sharjah, the Sharjah Calligraphy Museum, the Sharjah Research, Technology and Innovation Complex, Al Majaz Waterfront, the Emirates Society for Arabic Calligraphy and Islamic Decoration, Khor Fakkan Amphitheater in the Eastern Province, and other destinations in the emirate.
Sixteen male and female artists from the UAE will be showcasing their artwork. This is the first time Serbia is participating in the festival.
The artworks will feature letterings, murals, and paintings in authentic calligraphy and decoration.
About 98 workshops will be organised, including the stages of letter coordination, workshop, and writing. There are also be a workshops on Diwani calligraphy.
Artists will give a visual presentation of various artistic experiences.
Three lectures will be presented under the titles of: Modern Techniques in Restoration of Manuscripts and Documents, Arabic Calligraphy and Other Arts, and the importance of academic and scientific progression and the disciplined artistic transition of science in the art of Arabic calligraphy. "We are pleased to host 96 ninety-six guests, including media professionals, lecturers, calligraphers and supervisors of art workshops from various countries"
Source: Khaleej Times
Please click the following URL to read the full text of the original story:
https://www.khaleejtimes.com/events/sharjah-islamic-art-festival-to-showcase-artworks-by-63-artists-from-27-countries
--------
Saudi Arabia to use any surplus in 2022 budget to fill reserves: Al-Jadaan
13 December ,2021
Saudi Arabia's finance minister said that any surplus in the Kingdom's budget for 2022 will be used toward filling the reserves, Mohammed al-Jadaan told Al Arabiya during an interview.
Al-Jadaan added that there is currently no intention to transfer additional funds from the Kingdom's central bank to the sovereign wealth fund and that he does not expect dividends from the Public Investment Fund in the coming years.
The Kingdom's Public Investment Fund (PIF) plans to invest up to 1 trillion riyals ($266.57 billion) in the domestic economy by 2025, Yasir al-Rumayyan, the sovereign wealth fund's governor said on Monday at the forum.
Source: Al Arabiya
Please click the following URL to read the full text of the original story:
https://english.alarabiya.net/business/economy/2021/12/13/Saudi-Arabia-to-use-any-surplus-in-2022-budget-to-fill-reserves
--------
PIF to invest up to 1 trillion riyals in Saudi Arabia by 2025
13 December ,2021
Saudi Arabia's Public Investment Fund plans to invest up to 1 trillion riyals ($266.57 billion) in the domestic economy by 2025, Yasir al-Rumayyan, the sovereign wealth fund's governor said on Monday.
He was speaking at a forum in Riyadh following Saudi Arabia's announcement of its 2022 budget.
Saudi Arabia said on Sunday it expected to post its first budget surplus in nearly a decade next year, as it plans to restrict public spending despite a surge in oil prices that helped to refill state coffers hammered by the pandemic.
After an expected fiscal deficit of 2.7 percent of gross domestic product this year, Riyadh estimates it will achieve a surplus of 90 billion riyals ($23.99 billion), or 2.5 percent of GDP, next year - its first surplus since it went into a deficit after oil prices crashed in 2014.
Source: Al Arabiya
Please click the following URL to read the full text of the original story:
https://english.alarabiya.net/business/economy/2021/12/13/PIF-to-invest-up-to-1-trillion-riyals-in-Saudi-Arabia-by-2025
--------
Saudi, GCC, Egyptian FMs attend joint ministerial meeting in Riyadh
13 December ,2021
Saudi Arabia's Foreign Minister Prince Faisal bin Farhan chaired a joint Gulf Cooperation Council (GCC) ministerial meeting attended by Egypt's Foreign Minister Sameh Shoukry in Riyadh on Monday, according to the official Saudi Press Agency (SPA).
SPA reported that the meeting discussed the relations between GCC states and Egypt, and ways to support and enhance them in various fields.
"The two sides also reviewed developments and issues of common interest on the regional and international arenas," the press agency said.
The meeting, held in the GCC headquarters in Saudi Arabia's capital, was joined by the council's Secretary-General Nayef al-Hajraf.
Prince Faisal affirmed the Kingdom's keenness on the security and safety of the Gulf and the region, highlighting importance of joint action between the Gulf states and Egypt.
Source: Al Arabiya
Please click the following URL to read the full text of the original story:
https://english.alarabiya.net/News/gulf/2021/12/13/Saudi-GCC-Egyptian-FMs-attend-joint-ministerial-meeting-in-Riyadh
--------
US-backed Syria forces say 5 ISIS suspects killed in raid
13 December ,2021
Syrian Kurdish-led forces said Monday their ant-terrorism unit, with US-led coalition support, killed five suspected ISIS fighters in a raid to break up a militant cell in Syria's east.
The Syrian Democratic Forces unit carried out the joint operation with the international coalition near Busayrah, a village in the eastern countryside of Deir el-Zour province. It targeted a "dangerous ISIS cell" based on intelligence and reconnaissance of their presence in the area.
The militants opened fire at the raiding force, which had besieged the area, the SDF said in a statement. The force responded, killing five suspected ISIS members, it said. The operation came after attacks against the local administration and security forces.
There was no immediate response from the US-led coalition.
Activists and a war monitor reported the raid, suggesting civilians were among those killed.
The Britain-based Syrian Observatory for Human Rights, which monitors the war, said the raid was conducted with aerial support from US-led forces. It targeted a wanted ISIS member who fled as the SDF force arrived and was shot dead while fleeing on his motorcycle. The Observatory, which relies on a network of local activists, said the force then captured the father of the wanted suspect and his brother and shot them dead outside their home.
The Euphrates Post, a media group covering eastern Syria, said a man and his two sons had taken cover in their farmhouse barn during the two-hour raid and were targeted for refusing to hand themselves in. Another group reported clashes before the man and his sons were killed.
There was no immediate response from ISIS.
ISIS has been active in the desert area of east and central Syria since losing control of territory in Syria in 2019 following a military campaign by Kurdish forces in collaboration with the US-led coalition.
Thousands of militants hiding in the deserts of Syria and Iraq have since carried out attacks on government targets and Kurdish forces as well as military posts and oil infrastructure.
Deir el-Zour province is also rife with residents' discontent. Despite its oil resources, the majority-Arab province remains one of Syria's most impoverished and its residents accuse the Kurdish-led administration of discrimination.
Source: Al Arabiya
Please click the following URL to read the full text of the original story:
https://english.alarabiya.net/News/middle-east/2021/12/13/US-backed-Syria-forces-say-5-ISIS-suspects-killed-in-raid
--------
US forces 'kidnapped civilians' near Deir al-Zor: Syria state media
13 December ,2021
US forces carried out a "large airborne operation" near Deir al-Zor in eastern Syria on Monday at dawn, Syrian state news agency SANA said.
The American forces landed in the town of Busayra, east of Deir al-Zor, and "kidnapped a number of civilians," it said.
There was no independent confirmation of the report.
The province of Deir al-Zor, along the Iraqi border, is a strategic supply route for Iranian-backed militias who regularly send reinforcements into Syria to support President Bashar al-Assad against insurgents seeking to topple his family rule.
Source: Al Arabiya
Please click the following URL to read the full text of the original story:
https://english.alarabiya.net/News/middle-east/2021/12/13/US-forces-kidnapped-civilians-near-Deir-al-Zor-Syria-state-media
--------
Mideast
Radical leader of Islamic Movement released from prison in Israel
(December 13, 2021 / JNS) The head of the northern branch of the Islamic Movement in Israel, Raed Salah, was released from Megiddo prison on Monday after serving time for incitement to terrorism.
Salah was greeted with fireworks and a crowd of around 1,000 supporters chanting, "Raed, the sheikh of Al-Aqsa," upon his return to his home city of Umm al-Fahm near Haifa, reported Ynet.
He served 17 months of a 28-month sentence, though it was not his first time in jail.
Opposition leader Benjamin Netanyahu tweeted a news report stating that senior members of the southern branch of the Islamic Movement's political party, the United Arab List (or Ra'am in Hebrew), which serves in the current government, blessed the release of the radical cleric.
"The [Naftali] Bennett [coalition] government and the Islamic movement are breaking another record of shame," tweeted Netanyahu.
Source: JNS
Please click the following URL to read the full text of the original story:
https://www.jns.org/radical-leader-of-islamic-movement-released-from-prison-in-israel/
--------
Iran Criticizes G4+1 for Empty Hands in Vienna Talks
2021-December-13
Removal of the illegal and cruel US sanctions and Iran's nuclear activities are two main sticking points in the current talks over which there still remains a host of differences between the two sides, Baqeri Kani told presstv in Vienna on Sunday.
The Iranian diplomat added that despite this situation, Iran's delegation has informed the opposite side of its views on differential points through modifications and proposals that it has offered the opposite party.
"When it comes to these points of difference, we have so far received no proposal and initiative from the opposite side," Baqeri Kani said.
Iran's lead negotiator further stated that the removal of the illegal and cruel US sanctions and Iran's nuclear measures are the most important bones of contention between the two sides during Vienna talks over which many differences still remain unresolved.
"...These differences are clearly visible in the final draft that was achieved following the sixth round of talks in Vienna… The differences, specially on the nuclear issue, are numerous and varied."
Baqeri Kani noted that during past few days, many sessions have been held both at the expert level and among chief negotiators to discuss modifications, viewpoints, and proposals offered by the Iranian side, which had been applied to the text of drafts drawn up during the sixth round of Vienna talks.
In an interview with Iran's state TV earlier on Sunday, Baqeri Kani, who also serves as deputy foreign minister for political affairs, said the general atmosphere in the ongoing Vienna talks is very serious, adding that he is optimistic that a final agreement would be reached.
He added that Iran and the five remaining signatories to the landmark 2015 nuclear agreement, officially known as the Joint Comprehensive Plan of Action (JCPOA), are holding talks on a host of issues during the seventh round of the Vienna negotiations, and have reached agreements on some of them, though a comprehensive agreement has not yet reached on many issues.
"For example, when it comes to Iran's nuclear activities, an agreement has been forged between the two sides on some of [outstanding] issues, but there are other issues in this area...which still remain to be agreed upon and negotiations on those issues will continue," said Baqeri Kani.
The JCPOA was abandoned by former US President Donald Trump in May 2018. Trump then targeted Iran's economy with what he called a "maximum pressure" campaign, which failed to compel Iran to negotiate a "new deal".
Also, in an interview with the Islamic republic news agency, Baqeri Kani said that the differences between the two sides on the scope of talks are being reduced.
The positions of the two sides are different from each other and their distance is different on different issues, he said.
Baqeri Kani, however, noted that the two sides have had talks about the scope of talks over the past few days.
He pointed out that all the parties are reaching a conclusion about the issues to be discussed in the negotiations and the differences in this regard are narrowing down.
The Iranian diplomat said that this is major progress as the initial differences were about the scope of discussions.
Asked about some unconstructive comments by three European parties to the talks (E3), he said that all the parties have come to the negotiation table with firm resolve and it is nonetheless natural that each party with making its best to have more gains from the talks.
About the media hype on the negotiations, Baqeri Kani said that the party that leaves the negotiating table with an empty hand tries to compensate with such fabricated and even fake media hype.
Iran and the five remaining parties (Russia, China, Britain and France plus Germany) to the Joint Comprehensive Plan of Action (JCPOA) began the talks in the Austrian capital in April with the aim of removing Washington's unlawful sanctions after the US voiced interest to return to the agreement.
Last week's discussions followed a five-month hiatus that saw President Rayeesi come to office and Iran send a new team of negotiators to Vienna.
The fresh round of talks between the two sides started on Thursday.
Source: Fars News Agency
Please click the following URL to read the full text of the original story:
https://www.farsnews.ir/en/news/14000922000205/Iran-Criicizes-G4-fr-Empy-Hands-in-Vienna-Talks
--------
Palestinian icon Raed Salah released from Israeli prison
Abdelraouf Arna'out
13.12.2021
JERUSALEM
Israeli authorities on Monday released Palestinian icon Sheikh Raed Salah after 17 months in prison, according to his defense lawyer.
"Salah has been released from prison and is on his way home," Omar Khamaysi told Anadolu Agency.
Waving green banners, scores of Palestinians stood outside Megiddo prison in northern Israel to welcome Salah.
The Higher Follow-Up Committee for Arab Citizens of Israel, the highest representative body of Arab residents of Israel, is also planning to organize a reception ceremony for Salah in his hometown Umm al-Fahm.
"Sheikh Salah was unfairly imprisoned and paid the price of preserving the principles of our people and defending the blessed Al-Aqsa Mosque," the committee said in a statement on Sunday.
Salah, the leader of the northern branch of Islamic Movement in Israel, was detained in August 2017 and indicted for alleged incitement over his criticism of the erection of metal detectors at Jerusalem's flashpoint Al-Aqsa Mosque compound.
He was sentenced to 28 months in prison by an Israeli court. He served 11 months in jail, half of which was in solitary confinement before he was moved to house arrest.
After two years under house arrest, in August 2020, Salah began a 17-month jail term on incitement charges.
Source: Anadolu Agency
Please click the following URL to read the full text of the original story:
https://www.aa.com.tr/en/middle-east/palestinian-icon-raed-salah-released-from-israeli-prison/2446133
--------
Top Negotiator: Iran to Continue Serious Talks in Vienna
2021-December-13
"This afternoon I held a constructive and fruitful meeting with Russian and Chinese chief negotiators. We shared ideas about how to proceed and also coordinated our positions about several issues," Baqeri Kani wrote on his twitter page on Sunday.
"We will continue our intensive and serious engagement to reach a good deal," he added.
Iran and the five remaining parties (Russia, China, Britain and France plus Germany) to the Joint Comprehensive Plan of Action (JCPOA) began the talks in the Austrian capital in April with the aim of removing Washington's unlawful sanctions after the US voiced interest to return to the agreement.
Last week's discussions followed a five-month hiatus that saw President Rayeesi come to office and Iran send a new team of negotiators to Vienna.
The fresh round of talks between the two sides started on Thursday.
Iran wants all sanctions imposed by Washington after it left the deal to be removed in a verifiable process.
Iranian Foreign Minister Hossein Amir Abdollahian underlined Iran's resolve to reach a "good agreement", saying the Western sides have talked the talk in recent years but it is high time they walk the walk as well to secure a serious, good deal.
"We are all in Vienna to negotiate to reach a good agreement," he wrote in a post on his Instagram page on Thursday night, hours after the new round of talks began.
Source: Fars News Agency
Please click the following URL to read the full text of the original story:
https://www.farsnews.ir/en/news/14000922000143/Tp-Negiar-Iran-Cnine-Seris-Talks-in-Vienna
--------
Iran Retaliates US Embargos by Sanctioning American Individuals, Entities
2021-December-13
The US imposed sanctions on any subject it could and then it turned to the issue of imposing sanctions on individuals and legal entities, Qaribabadi, also the deputy judiciary chief for international affairs, said on Monday.
This issue includes two categories, one is the ban on traveling to the United States and the other is freezing the property of individuals in that country, he said, adding, "Generally, 100% of those people who are sanctioned by the United States do not travel to this country and do not have any fund there, so that these sanctions are symbolic."
There is an issue in the law called "retaliation" and Iran has acted based on this issue and has placed some US individuals and legal entities, including those engaged in the field of human rights, on the sanctions list, Qaribabadi emphasized.
In this regard, the Islamic Republic of Iran put more than 20 American individuals and entities on its sanctions list, he added.
The US Treasury and State Department announced anti-Iran sanctions last Tuesday, two days before the resumption of negotiations in Vienna to revive the Iran nuclear deal by removing Washington's sanctions, which it slapped on the Islamic Republic after withdrawing from the nuclear pact, officially called the Joint Comprehensive Plan of Action (JCPOA).
In response, Iranian Foreign Ministry spokesman Saeed Khatibzadeh said that by doubling down on sanctions, the US cannot gain leverage at the Vienna talks, and that the move showed anything but seriousness and goodwill on Washington's part.
Source: Fars News Agency
Please click the following URL to read the full text of the original story:
https://www.farsnews.ir/en/news/14000922000446/Iran-Realiaes-US-Embargs-by-Sancining-American-Individals-Eniies
--------
FM: Iran Prioritizing Enhanced Ties with Neighbors
2021-December-13
Amir Abdollahian made the remarks in a meeting in Tehran on Monday with the participation of ambassadors and envoys of the Islamic Republic of Iran in the neighboring countries.
During the meeting, the Iranian foreign minister said that the Iranian government's foreign policy program is to broaden relations with the neighboring countries, specially in the case of trade and tourism.
In a relevant development on Saturday, Iranian President Seyed Ebrahim Rayeesi underlined the need to follow up good relations with neighbors in order to fight and foil the unlawful sanctions.
Source: Fars News Agency
Please click the following URL to read the full text of the original story:
https://www.farsnews.ir/en/news/14000922000529/FM-Iran-Pririizing-Enhanced-Ties-wih-Neighbrs
--------
Top army commander killed in Yemen's Marib
Ahmed Asmar
13.12.2021
SANAA, Yemen
A top Yemeni commander was killed Monday in clashes between government forces and Houthi rebels in the central Marib province, according to a local military source.
Major-General Naser al-Thaybani, chief of operations command in the Yemeni Defense Ministry, lost his life in the violence, the source told Anadolu Agency on condition of anonymity because he was not authorized to speak to the media.
He said a number of government soldiers and rebel fighters were also killed in the clashes.
The Yemeni government has yet to confirm the report.
Since February, Iran-aligned Houthi rebels have stepped up attacks to take control of the oil-rich Marib province, one of the most important strongholds of the legitimate government and home to the headquarters of Yemen's Defense Ministry.
Yemen has been engulfed by violence and instability since 2014, when Iran-aligned Houthi rebels captured much of the country, including Sanaa.
A Saudi-led coalition aimed at reinstating the Yemeni government has worsened the situation, causing one of the world's worst man-made humanitarian crises, with nearly 80% or about 30 million needing humanitarian assistance and protection, and more than 13 million in danger of starvation, according to UN estimates.
Source: Anadolu Agency
Please click the following URL to read the full text of the original story:
https://www.aa.com.tr/en/middle-east/top-army-commander-killed-in-yemen-s-marib/2446090
--------
Australian ambassador calls for academic coop with Al Mustafa Int. University
December 14, 2021
Australian ambassador to Iran met with director of Al Mustafa International University in Tehran calling for expansion of cooperation between major religious academy and Australian universities.
Sheikh Ali Abbasi, director of Al Mustafa International University met with Lyndall Sachs, Australian ambassador to Tehran detailed the history and the different fields of study at the prestigious Islamic academy.
Lyndall Sachs hailed Al Mustafa University for hosting Australian students and also its strategy of interfaith dialogue.
She called Australia as a victim of Takfiri (excommunication) groups stressing education as the first step for promoting interfaith dialogue and sharing common concepts.
She called for expansion of relations between Al Mustafa and the academic centers in Australia.
Sheikh Abbasi called Al Mustafa as a university on religious studies and an achievement of the Islamic Revolution with 160 fields of study for different degrees credited by Ministry of Science, Research and Technology.
The cleric referred to Al Mustafa graduates from Australia and over 100 world countries and noted the interfaith dialogue between Iranian university and different religious centers across the globe.
He stressed "respect and dialogue" as the strategy of Al Mustafa International University saying," The doors in our university are open to followers of all religions and denominations because basically we follow the strategy of friendship and dialogue."
Sheikh Ali Abbasi criticized the regional and global movements that maintain hostile views on other denominations, excommunicate and justify the right to kill them.
Source: ABNA24
Please click the following URL to read the full text of the original story:
https://en.abna24.com/news//australian-ambassador-calls-for-academic-coop-with-al-mustafa-int-university_1208339.html
--------
URL: https://www.newageislam.com/islamic-world-news/dar-uloom-deoband-qasim-nomani-saudi-arabia-tablighi/d/125953
New Age Islam, Islam Online, Islamic Website, African Muslim News, Arab World News, South Asia News, Indian Muslim News, World Muslim News, Women in Islam, Islamic Feminism, Arab Women, Women In Arab, Islamophobia in America, Muslim Women in West, Islam Women and Feminism