New Age Islam News Bureau
21 Apr 2018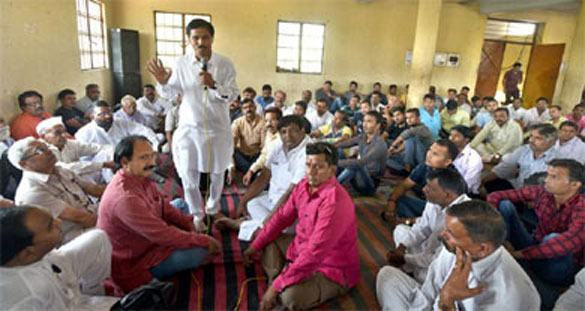 Four major Dalit-Muslim conferences have been held so far on the theme 'Mulk Do Rahe Par' (the country is on divergent paths) in Delhi, Lucknow, Bengaluru and Hyderabad.(HT Photo/Representative)
-----
• Dalit-Muslim Conferences Look To Forge 'Social Alliance' Before 2019 Polls in India
• Islam Forbids Incitement: Makkah Grand Mosque Imam
• Top Chinese General Vows Full Support to Help Equip the Afghan Forces
• Amorous Couples, Sex Workers Whipped In Indonesia's Aceh
• Yemen Red Cross: More Dying From Indirect Effects of War
India
• Dalit-Muslim Conferences Look To Forge 'Social Alliance' Before 2019 Polls in India
• Gujarat ATS Chargesheets Two Surat Men for Islamic State-Inspired Attacks
• Army to Prioritise De-Radicalisation of Kashmir Youth Along With Counter-Terror Operations, Says Senior Official
• FIR against BJP MLA for 'Hindu Vs Muslim' Remark
• China counters Modi's 'terror factory' tag on Pakistan
• 26/11 Mumbai terror attack: Bombay HC stays trial against Abu Jundal till June 11
• Police probe Twitter claim over fire at Rohingya camp in Delhi
--------
Arab World
• Islam Forbids Incitement: Makkah Grand Mosque Imam
• ISIS Family Members Being Victimized, Says Iraqi Chief for Human Rights Watch
• Islamic State group to give up last pocket in Syrian capital
• ISIS accepts withdrawal from southern Damascus - Observatory
• Syrian Army Imposes Full Control over Al-Dumayr after Terrorists' Withdrawal
• Mass Grave of Terrorists' Victims Uncovered in Syria's Douma
• Syrian Army Lays Siege on Terrorists' Key Bastion in Eastern Qalamoun
• Tensions Intensified between Civilians, Kurdish Militias in Hasaka
• Douma safe for press visits, not safe for UN chemical inspectors
--------
South Asia
• Top Chinese General Vows Full Support to Help Equip the Afghan Forces
• Taliban Leader Qari Amrullah and His Five Comrades Killed In Faryab Clash
• Dozens of Rohingya arrive in Indonesia
• Myanmar Court Told Police Ordered A 'Trap' For Reuters Reporters Investigating Rohingya Killings
• Civilians suffer heavy casualties in Nangarhar IED explosion
• Zarb-e-Momin Operations Gaining Momentum in Herat Province
--------
Southeast Asia
• Amorous Couples, Sex Workers Whipped In Indonesia's Aceh
• 'We Have Four Generations of Former Terrorists Here Today': Rehabilitating Extremists in Indonesia
• Indonesian fishermen rescue Rohingya Muslims fleeing Burma
--------
Mideast
• Yemen Red Cross: More Dying From Indirect Effects of War
• Fresh Saudi Airstrike Leaves Nearly Two Dozen Civilians Killed In SW Yemen
• Gazans hold new mass protest; Israel drops leaflets to warn people
• Trouble brews as militants amass on Turkey's border
• Four killed in fresh protests, clashes on Gaza border
• Fiery kites adopted as new tactic by Gaza protesters
• Yemen PM: Houthi militia have lost strength, its end is near
• US will regret leaving Iran nuclear deal: Zarif
--------
Africa
• Proposal to Swap Muslim Call to Prayer with Text Messaging Sparks Controversies in Ghana
• When Security Men Took On the Shiites
• Al-Qaeda-linked jihadist group claims attack on UN camp at Timbuktu
• Minister's ouster unlikely to slow Sudan's push to get off US 'terror' list
• Nigeria: LP Aspirant Dismissed Call for Muslim Government in Ekiti
--------
Pakistan
• Khadim Rizvi Says '#MeToo' After LHC Bars Govt from 'Harassing' Hafiz Saeed
• 'Inimical Forces' Creating Uncertainty In FATA: ISPR
• Pakistan delegation attends Islamic Conference of Youth & Sports Ministers
• JIT holds Rao Anwar responsible for Naqeeb murder: report
• PTI voted for Sanjrani on 'order from top': Sirajul Haq
• Foreign ministry told to settle Indian pilgrim's nationality issue within three days
--------
Europe
• The US Bombed Not Just Syria but Also Peace Talks: Russian FM
• German Parliament Condemns US-Led Strikes on Syria as Illegal
• Terrorism, economic crimes made Swiss attorney general's cases jump in 2017
• Aboriginal car thief alleged to be plotting terror attack
• UK Muslim body commemorates 20th anniversary
--------
North America
• Terrorism Fatalities Have Decreased By 40pc: US Report
• Supreme Court should ban the Muslim ban
• U.S. Army Trainers Try To Build West Africa Defences against Jihad
Compiled by New Age Islam News Bureau
URL: https://www.newageislam.com/islamic-world-news/dalit-muslim-conferences-look-forge/d/115005
--------
Dalit-Muslim Conferences Look To Forge 'Social Alliance' Before 2019 Polls in India
Apr 21, 2018
Zia Haq
A series of Dalit-Muslim conferences over the past couple of months in states such as Maharashtra, Karnataka, Uttar Pradesh and Telangana has rekindled hopes among their leaders of forging a joint "social justice" movement in the run-up to the 2019 general election.
The Mahmood Madani-led faction of the Jamiat Ulema-e-Hind, a prominent Muslim organisation, which led these conferences, said the purpose was to forge "long-term social alliances". The All India Majlis-e-Mushawarat (AIMMM), whose members include those from the All India Muslim Personal Law Board (AIMPLB), has also attended these conferences.
Four major Dalit-Muslim conferences have been held so far on the theme "Mulk Dorahe Par" (the country is on divergent paths): in Delhi on February 22, in Lucknow on March 10, in Bengaluru on March 8 and in Hyderabad on March 21.
Smaller, local-level, Dalit-Muslim associations by participation in each other's rallies and events are taking place throughout Maharashtra and Uttar Pradesh. "Both are suppressed and deprived communities. We have long felt that the two must stand together for each other's rights," Madani said.
In Saharanpur, home to the influential Islamic seminary Darul Uloom Deoband, young Muslims are joining the Bhim Sena, a Dalit group, Madani said.
The Delhi meeting was attended by 170 Muslim and Dalit representatives. They include Prakash Ambedkar, grandson of Dalit icon BR Ambedkar; Kancha Ilaiah of the Maulana Azad Urdu University, Ashok Bharti of the National Confederation of Dalit Organisations; BN Tejavath of the All India Scheduled Tribe Federation; and Shivarudra Mahaswamigalu of the Shree Belimatha Mahasamsthana. "There has to be a basis for people to come together. The basis is the social oppression being faced by Dalits and Muslims at the hands of communal forces," said Ambedkar, adding that the larger struggle should also be about the economic situation. "Muslims have traditionally voted for the Congress, which also believes in Vedic persecution of Dalits. They should make it very clear they will vote for any new alternative that can take on communal forces," Ambedkar said.
Organisations representing scheduled castes, who make up 16.6% of the population, have been restive in recent months.
Incidents such as the Bhima Koregaon clashes near Pune on January 1 involving Dalits and upper caste groups and the March 20 Supreme Court judgement banning automatic arrests and registration of cases under the Scheduled Castes and Scheduled Tribes (Prevention of Atrocities) Act of 1989, have exacerbated social tensions. "This is not a political alliance yet, but a social alliance. If needed we could also help each other politically," said Bharti of the National Confederation of Dalit Organisations.
"How to stand against communal forces together…how to ensure Dalits are not utilised against Muslims in riots…that is our main agenda," said Maulana Nadeem Siddiqui, a Jamiat leader from Maharashtra, who says he has been holding discussions with Prakash Ambedkar every week.
https://www.hindustantimes.com/india-news/dalit-muslim-conferences-look-to-forge-social-alliance-before-2019-polls/story-nqqfPXtMmzB5GJGTRa2YMM.html
--------
Islam Forbids Incitement: Makkah Grand Mosque Imam
April 21, 2018
MAKKAH: The imam of the Grand Mosque in Makkah, Sheikh Saud bins Ibrahim Al-Shouraim, has asked Muslims to cooperate because Allah encourages and blesses unity, stressing the importance of working together to develop human societies.
Al-Shouraim said in a Friday sermon that no matter how much people and societies developed scientifically and materially, they would not achieve any goals without ethics. "When incitement afflicts any society, it will certainly divide its people, and when it enters any family, it will destroy it and turn friendship into hostility."
He said that incitement was a satanic feature which led to corruption, and that an agitator is an evil person who envies others and seeks to corrupt good values.
He also said that Islam forbids incitement and makes it equal to treason, adding that Islam encourages collaboration and cooperation and forbids all types of incitement, including the incitement between husband and wife, different individuals and different groups in society.
He said that listeners should not trust everything they hear before they corroborate its validity, stressing that there is no safety for the individual and the group unless they stay away from incitement and prevent it before it causes real damage.
In Madinah, the imam of the Prophet's Mosque, Sheikh Abdullah Al-Buaijan, said the virtues of fasting some days of the month of Shaban, which is considered a good season for worship. He also noted that the month of Shaban helped Muslims to prepare for the month of Ramadan, adding that fasting is one of the best kinds of worship.
http://www.arabnews.com/node/1288611/saudi-arabia
--------
Top Chinese General vows full support to help equip the Afghan forces
Apr 21 2018
A top US Military General has vowed full support to help Afghanistan in equipping the Afghan National Defense and Security Forces.
The Office of the National Security Council (ONSC) says the Chief of the Joint Staff Departent of the Central Military of China Li Zuocheng reaffirmed China's support during a meeting with the National Security Advisor of Afghanistan Mohammad Hanif Atmar. Gen. Zucheng hailed the Afghan forces for their efforts to eliminate the terror groups without distinction and emphasized on the importance of bilateral military and security cooperation between the two nations.
According to Office of the National Security Council, Gen. Li reiterated China's full support to help equip the Afghan armed forces.
In regards to the ongoing peace efforts, Gen. Li said a strong regional consensus is key for the peace process and urged the regional countries to play their role in this regard.
In his turn, Mr. Atmar emphasized on immediate launch of the second phase of bilateral dialogue between Kabul and Beijing and extended an invitation to the Chinese delegation to visit Kabul.
https://www.khaama.com/top-chinese-general-vows-full-support-to-help-equip-the-afghan-forces-04929/
--------
Amorous couples, sex workers whipped in Indonesia's Aceh
Apr 20, 2018
BANDA ACEH: A group of amorous couples and alleged sex workers were publicly whipped for breaking Islamic law in Indonesia's Aceh Friday, just a wee k after the province pledged to move the widely condemned practice indoors.
More than a thousand people, including dozens of tourists from neighbouring Malaysia, jeered and screamed abuse at the group as they were flogged outside a mosque in the capital Banda Aceh.
The three men and five women — who included several college students — were found guilty of violating religious law by either showing affection in public or for offering sexual services online, officials said.
Aceh is the only province in the world's most populous Muslim-majority country that imposes Islamic law and flogging is a common punishment for a range of offences — from gambling, to drinking alcohol to having gay sex or relations outside of marriage.
The conservative region on the northern tip of Sumatra island passed a regulation a week ago that would see criminals whipped only behind prison walls. It was not clear when the new rule would come into effect.
The move was in response to a wave of international criticism over the practice, which has included flogging members of the region's LGBT community and, in some cases, non-Muslims.
Rights groups have derided it as cruel and last year President Joko Widodo called for an end to public whippings in Aceh.
Around 98 percent of the province's five million residents are Muslims, subject to religious law, including the public whippings which came into practice around 2005.
The new rule has generated protests from conservative groups who see public whippings as having a strong deterrent effect on crime.
Banda Aceh's deputy mayor Zainal Arifin said Friday's flogging was not an act of defiance against the new rules.
"We understand that the regulation has not yet come into effect and the prison is not yet ready to (host floggings) so that is why we are still doing it" in public, he said.
"Until the new regulation is officially in place we will carry on as usual."
https://timesofindia.indiatimes.com/world/rest-of-world/amorous-couples-sex-workers-whipped-in-indonesias-aceh/articleshow/63843145.cms
--------
Yemen Red Cross: More dying from indirect effects of war
April 21, 2018
UNITED NATIONS: The outgoing head of the International Committee of the Red Cross in Yemen says he believes more people are dying now from indirect effects of the conflict.
Alexandre Faite pointed to more than 2,000 deaths from cholera and acute watery diarrhea in a little over six months, a crumbling health system, almost no power in most towns, and the absence of key commodities or their availability only at very high prices.
He told a small group of reporters Friday that he has been traveling to capitals including Berlin, Brussels, Paris and Washington to deliver the message that "the situation in Yemen and the results of indirect effects of the hostilities are really dire."
http://www.arabnews.com/node/1288696/middle-east
--------
India
Gujarat ATS Chargesheets Two Surat Men For Islamic State-Inspired Attacks
April 21, 2018
The Gujarat Anti-Terrorism Squad (ATS) on Friday filed the chargesheet against two Surat-based persons – a criminal lawyer and a lab technician – and two others for allegedly plotting Islamic State-inspired lone wolf terror attacks on synagogues in Ahmedabad and in Mumbai.
The two others include Shafi Armar alias Zaheb-al-Hindi, who is wanted in several bomb blasts carried out by Indian Mujahideen and Abdullah el-Faisal, a radical preacher in Jamaica.
The ATS filed the chargesheet in a special Ankleshwar court against Ubed Ahmed Mirza, 29, a lawyer and his associate Kasim Stimberwala, 31. Sources said that the ATS has produced confessional statements of 12 persons recorded before magistrates (under section 164 of the Code of Criminal Procedure) to prove the duo was highly influenced by ISIS ideology.
Sources said that these confessional statements are part of secret witnesses whose identities would not be revealed. These persons are said to be those who were in touch with the duo for allegedly spreading "jihad and joining ISIS for Islamic cause".
The chargesheet is learnt to have mentioned that the two youths were "collecting weapons from Delhi, Lucknow, Madhya Pradesh and Tamil Nadu." The two accused also attempted to help four persons cross over to Bangladesh from West Bengal. "In over 100 chats between them and Abdullah el-Faisal, the accused have been found requesting el-Faisal to help in joining the ISIS. Faisal responded that they should do something in India first," said an ATS official.
http://indianexpress.com/article/india/gujarat-ats-chargesheets-two-surat-men-for-islamic-state-inspired-attacks-5145849/
--------
Army to prioritise de-radicalisation of Kashmir youth along with counter-terror operations, says senior official
Apr 20, 2018
New Delhi: With the Kashmir Valley enveloped by rising violence, the Indian Army on Friday said it would prioritise bringing radicalised youth into the mainstream through a "collective approach" and convince militants to "shun violence and gun culture".
The issue of conducting de-radicalising exercises along with counter-terror operations in the Kashmir Valley was discussed during the ongoing biannual Army Commanders' Conference that began on Monday amid reports that Islamic State ideology was moulding new-age militants in the state.
"It was felt that priority must be accorded towards ushering peace by conducting counter-terrorist operations that minimise collateral damage. Radicalised youth must be brought into the mainstream by carrying out de-radicalisation and collective approach that focuses on convincing the youth to shun violence and gun culture," Director General Staff Duties Lt. Gen. AK Sharma told reporters.
Lt. Gen. Sharma, who earlier headed Nagrota-based 16 Corps in Jammu, didn't explain what kind of exercise the Army would employ to de-radicalise Kashmiri youth who appear to be getting influenced by Islamic State ideology amid heightened violence in the Valley.
Staring at yet another possible hot summer with hundreds of militants and many civilians already killed in the first three-and-a-half months of this year, dozens of youths in Kashmir have reportedly joined three prominent militant groups: Hizb-ul-Mujahideen, Lashkar-e-Taiba and a resurgent Jaish-e-Mohammad.
These groups have been historically linked to Pakistan and largely favour a merger of Jammu and Kashmir with Pakistan.
But new-age militants, including those from Ansar Ghazwat ul Hind of former Hizb commander Zakir Musa, have openly favoured pan-Islamism over nationalist goals, seeking "martyrdom or imposition of sharia" and declared jihad against not only India but "apostate" Pakistan too.
Though there is no concrete data available to prove the Islamic State's physical presence in Kashmir, its online propaganda and the way it is influencing young Kashmiris indicate that the global terror group may have Kashmir ambitions at the very least.
Top Army commanders during the six-day conference that ends on Saturday also discussed the current situation along the borders with China and Pakistan, particularly "along the Line of Control, the increase in ceasefire violations and the adequacy of the response mechanisms", said Lt. Gen. Sharma
"The apex commanders confabulated on the prevalent situation in the Valley and reviewed the recent developments affecting modus operandi of the operations of the armed forced deployed in the region," he said, referring to the trend of civilians rushing to shootout sites to hurl stones at security forces in a bid to help militants escape.
The senior commanders, he said, also deliberated at length on the prevailing situation along the northern borders.
"During the conference, considerable time was spent on re-prioritising the existing requirements to ensure that the resources allocated for force modernization and capacity building were utilized optimally with the budgetary allocation. The discussions also dwelt upon increasing the content of indigenization in force modernization."
Full report at:
https://www.firstpost.com/india/army-to-prioritise-de-radicalisation-of-kashmir-youth-along-with-counter-terror-operations-says-senior-official-4439761.html
--------
FIR against BJP MLA for 'Hindu Vs Muslim' remark
April 20, 2018
Belgaum (Karnataka) [India], Apr 20 (ANI): An FIR was registered against Karnataka Bharatiya Janata Party (BJP) MLA Sanjay Patil on Friday on charges of delivering a provocative speech in Belagavi.
Patil, while addressing a gathering in Karnataka's Belagavi yesterday, said that the upcoming elections in the state is not about roads, water or other issues but about Hindus vs Muslims, Ram Mandir vs Babri Masjid.
The complainant has demanded disqualification of Patil's candidature for his communal speech and for violating model code of conduct.
The FIR was registered in Marihal police station in Belgaum rural district under Sections 253a, 259A of Indian Penal Code (IPC).
Full report at:
http://www.india.com/news/agencies/fir-against-bjp-mla-for-hindu-vs-muslim-remark-3010913/
--------
China counters Modi's 'terror factory' tag on Pakistan
Saibal Dasgupta
Apr 21, 2018
BEIJING: After Prime Minister Narendra Modi recently described Pakistan as a "terror export factory", China on Friday sprung up to back its all-weather ally and called on the international community to support its counter terrorism efforts.
China is particularly worried India will raise the issue at the meetings of the Shanghai Cooperation Organisation (SCO) which will be attended by external affairs minister Sushma Swaraj and defence minister Nirmala Sitaraman this week.
Swaraj is expected to engage in intense negotiations and some hard bargaining with China on the issue of Pakistan-based terrorism. She will meet Chinese foreign minister Wang Yi and possibly call on the country's president Xi Jinping.
Swaraj may also seek Beijing's help in dealing with its ally Pakistan on the terror issue, as New Delhi has done earlier.
On the other hand, Chinese leaders are expected to persuade Swaraj not to make heavy weather about Pakistan's terrorism links. Responding to the Modi's remarks, Chinese foreign ministry spokesperson Hua Chunying said, "Terrorism is an enemy faced by the whole international community. We hope the international community can support efforts made by Pakistan on counter-terrorism and forge effective cooperation with Pakistan in this regard."
Earlier this week, Modi said in London, "When someone has put a terror export factory in place, attacks my people, has no power to fight a war so attempts to attack behind the back... in such a case Modi knows how give a reply in the same language."
Though Swaraj's visit is focused on SCO, there will be bilateral meetings between the two sides ahead of the visit by Modi, who is expected in May or June.
China has been worried that India and Pakistan may get into sharp exchanges on the terrorism issue at the SCO meetings. They have recently become full members of SCO after being observers for several years. Other members are Russia and Central Asian countries.
Hua told journalists that the SCO would discuss terrorism-related issues. An important question is whether SCO would ask Pakistan to crack down on terrorists instead of adopting a soft glove approach.
Full report at:
https://timesofindia.indiatimes.com/india/china-counters-modis-terror-factory-tag-on-pakistan/articleshow/63850166.cms
--------
26/11 Mumbai terror attack: Bombay HC stays trial against Abu Jundal till June 11
April 20, 2018
The Bombay High Court on Friday stayed the 26/11 terror attacks trial against alleged LeT operative Zabiuddin Ansari alias Abu Jundal pending hearing of a plea filed by the Delhi Police against a lower court order, which asked them to provide travel documents to the accused.
The Delhi police's Special Cell had approached the high court earlier this month claiming privilege over the documents and urged the court to quash and set aside the trial court's order.
Justice Nitin Sambre today posted the petition for hearing on June 11, but stayed the trial against Jundal till then. The petitioner's counsel Hiten Venegaonkar argued that the documents were classified and hence could not be shared with the defence. Jundal's lawyer Yug Chaudhary, however, argued that the rights of the accused were being curtailed.
The trial court had last month directed that the travel documents be shared with Jundal's lawyer Abdul Wahab Khan after an application was made by them. The trial against Jundal has been going on since over a year and the prosecution had last year recorded the statements of Pakistani-origin US national David Headley, who had carried out a recce of the spots in Mumbai, which were attacked.
According to the prosecution, Jundal allegedly coordinated the November 26, 2008 attacks from a terror control room in Karachi. After the carnage, which left 166 people dead and over 300 injured, he reportedly moved to Saudi Arabia.
Jundal's lawyer has been arguing that the Saudi government deported Jundal, and three Indian police officers accompanied him on the flight to Delhi. The defence sought to review Jundal's travel papers and the passenger list prepared by the airways, in which Jundal and the officers came to the national capital.
According to the defence, if the documents submitted by the airways to the Delhi Police are perused, it could damage the prosecution's theory and raise questions over its claim that a Pakistani passport and identity cards were seized from Jundal at the time of his arrest.
Full report at:
http://indianexpress.com/article/india/26-11-mumbai-terror-attack-bombay-hc-stays-trial-against-abu-jundal-till-june-11-5145224/
--------
Police probe Twitter claim over fire at Rohingya camp in Delhi
APRIL 20, 2018
NEW DELHI (Reuters) - Police are investigating a fire that destroyed a Rohingya Muslim settlement in New Delhi last weekend after a Twitter user claimed responsibility for setting the blaze.
About 40,000 Rohingya from Myanmar have settled in India in recent years after fleeing violence, persecution and poverty at home.
Prime Minister Narendra Modi's government has taken a tough stance on them since coming to power in 2014, calling them a security threat who should be deported.
The fire started early on Sunday and engulfed the shantytown, forcing its 226 residents to flee. No one was hurt but many of the Rohingya lost U.N. refugee documents.
It was the fourth fire in the settlement in six years and police said they were investigating its cause and the claim of responsibility.
"This is an open-ended investigation and we are looking into the Twitter matter," Chinmoy Biswal, a deputy commissioner of police, told Reuters.
"We are trying to find out more."
Delhi lawyer Prashant Bhushan on Thursday filed a complaint asking police to investigate the Twitter user who claimed responsibility for torching the houses of the "terrorists".
The tweet was later deleted.
Rohingya in India live mainly in Jammu, Uttar Pradesh, Haryana and Delhi in the north, Hyderabad in the south, and Rajasthan in the west.
They face suspicion and resentment from many Indians at a time of simmering tension between some members of India's majority Hindu community and its Muslim minority.
About 700,000 Rohingya have fled from Myanmar to Bangladesh since a Myanmar military crackdown in response to Rohingya militant attacks last August.
Full report at:
https://in.reuters.com/article/myanmar-rohingya-india/police-probe-twitter-claim-over-fire-at-rohingya-camp-in-delhi-idINKBN1HR1D7
--------
Arab World
ISIS family members being victimized, says Iraqi chief for Human Rights Watch
20 April 2018
In a report released on Thursday, Human Rights Watch underlined that the relatives of ISIS members in Iraq are undergoing group punishment. They relatives of ISIS members have become victims of a stigma even though they haven't done anything wrong.
The ill-advised governmental policies have aggravated the problems of those who have been displaced from their homes and properties and moved to camps for the displaced.
In this context, the president of the Iraqi Observatory for Human Rights, Mustafa Saadoun, told Al Arabiya.net that: "About 20,000 families or the equivalent of 100,000 people living in scattered camps in the provinces of Nineveh, Saladin and Anbar, are victims of constraints set by the local governments in their regions."
Saadoun explained that there are other causes that may hinder the return of these families such as tribal issues as well as revenge problems.
He said some took advantage of this situation to take over the homes of these families. In fact, some people even changed the documents of ownership of these houses. "The Iraqi government must intervene to stop these acts which are non-compliant with human rights as well as charging the wrongdoers and the violators of private rights.
Injustice, violations
Saadoun emphasized that all these bigoted practises are capable of creating a favorable environment for the creation of extremist groups that would take advantage of the injustice suffered by the people of these camps to establish another version of ISIS. This was the case in 2014 as a result of the restrictive policies and injustice endured by the people of Nineveh and other provinces under the supervision of the previous government. Consequently, these areas have become a safe incubator for the emergence of ISIS.
Human Rights Watch reported that Iraqi security officers refused to hand over security permits to direct relatives of suspected ISIS members that the families needed to regain the houses they lost or to seek compensation.
The report also disclosed that security forces destroyed and seized some property in a form of group punishment.
Human Rights Watch warned against such violations stating that these families deserve the same protection provided by the Iraqi courts for all citizens. The courts must ensure non-discrimination, because if not, this will only lead to more sectarian divisions in the country and would delay the desired reconciliation.
The circle of revenge
Besides, a number of local officials in Mosul stated that they are in an embarrassing situation. This social dilemma can expand the circle of revenge and retaliation in the emancipated areas.
The local administration in the province of Nineveh did not take any action to address the rights of these families while the city council of Mosul simply issued a decision to prevent the return of ISIS- related family members, and transfer them to camps in eastern Mosul for rehabilitation before finally enabling them to reintegrate into mainstream society again.
In this context, a special source from the camps reported that "the living and health situation is afflictive. The security forces are holding these families without them knowing the charges against them nor the time they will spend in those camps, noting that International law dictates that punishment should only be imposed on persons responsible for crimes after a fair trial to conclude the guilty parties."
He emphasized that the imposition of a collective punishment on families, villages and communities constitutes a war crime.
In contrast, the deputies from the province of Nineveh abstained from making any statement in this regard, given the sensitivity of the case and the upcoming elections.
While waiting for a lasting solution and a categorical intervention by the Iraqi government, the families of ISIS who did no wrong - apart from being linked to them - live in deplorable situations. These families are faced with the dilemma of how to escape the imposed reality they have to deal with and the society prejudices against them that sees any integration with them as dangerous.
They are waiting in vain for the governmental institutions and civil society organizations to take action in order to support them and bring them justice by recovering their properties and integrating them into their communities.
https://english.alarabiya.net/en/News/middle-east/2018/04/20/ISIS-family-members-being-victimized-says-Iraqi-chief-for-Human-Rights-Watch.html
--------
Islamic State group to give up last pocket in Syrian capital
Apr 20, 2018
Islamic State militants agreed to give up their last pocket in Damascus on Friday, state media reported, as the government seeks to retake the entire Syrian capital and its surrounding areas for the first time since 2011.
The capitulation followed a week of escalations by pro-government forces against the IS-held Hajar al-Aswad neighborhood and Yarmouk Palestinian camp in Damascus.
Pro-government forces bombed the two areas and blanketed them with artillery fire in a crescendo of violence captured by the state-affiliated Central Military Media outlet.
The U.N.'s refugee agency warned that the spiraling violence was a threat to 12,000 Palestinian refugees still there — Palestinians who came to Syria since 1948, and their descendants.
Militants were given the option to stay and reconcile with the government or leave on buses to IS-held territory in the eastern Syrian desert, the SANA state news agency said. It did not say when the relocations would begin.
The Britain-based Syrian Observatory for Human Rights monitoring group reported "relative calm" in the two neighborhoods after the announcement of the agreement.
In 2012, Syrian rebels and army defectors pushed pro-government forces out of Yarmouk in response to a spiraling crackdown by state security services against anti-government protests.
Pro-government forces, including pro-government Palestinian factions, responded by putting the camp under siege, eventually cutting off food and water by 2014, and bombing and shelling it continuously.
Residents trickled out to neighboring areas, and the camp's population dwindled from an estimated 200,000 people to a few thousand today, not including the IS militants, who took over the camp following a battle with rebels in 2015.
Earlier on Thursday, the Damascus-based Palestinian official Khaled Abdelmajid said the government was giving hard-liners two days to leave Yarmouk and Hajar al-Aswad, leaving the government with control of the two neighborhoods.
Full report at:
https://www.hindustantimes.com/world-news/islamic-state-group-to-give-up-last-pocket-in-syrian-capital/story-PalwT7BLtUA4oKj95355lO.html
--------
ISIS accepts withdrawal from southern Damascus - Observatory
20 April 2018
The Syrian Observatory for Human Rights stated that ISIS organization announced through the negotiating intermediaries, that they will comply with terms of agreement which was reached between them and Russian representatives and the Syrian regime to depart from the south of Damascus.
The agreement came after intensive artillery and missile strikes, accompanied by violent clashes between the regime forces and ISIS's loyal supporters.
The clashes took place within the perimeter of Yarmouk camp in the southern part of the capital, in an attempt by the regime forces to pressure the organization to adhere to the agreement after delaying its implementation.
Russian media sources announced an agreement on a cease-fire between the regime and armed opposition factions in Yilda, Babila and Beit Sahm, southeast of Damascus.
As for the towns of Kalamoun, the Syrian Observatory for Human Rights said that an agreement between the Russians and ISIS fighters mentions a cease-fire and the starting of the handover of weapons.
The agreement states also that the Russian side would organize the exit process of those who reject the agreement to head to their destination and to search convoys.
Pentagon warns of ISIS recovery in regime areas of Syria
The US military has seen ISIS group "resurge" in some parts of Syria under government control, a US defense official said on Tuesday.
Colonel Ryan Dillon, a spokesman for the US-led coalition fighting ISIS in Syria and Iraq, said the regime of Syrian President Bashar al-Assad and its ally Russia have not always been able to hold the terrain recaptured from ISIS.
"As we look at ISIS in areas where we are not operating, where we are not supporting our partners on the ground, there has been ISIS elements who have been able to come back and take territory (including in) some of the neighborhoods in southern Damascus," Dillon said.
"We've seen ISIS start to resurge in areas west of the Euphrates River," he added.
The US military is closely watching ISIS in Syria and Iraq, where the militants have lost 98 percent of the land they once held, according to the Pentagon.
Progress however has ground to a halt in recent weeks in areas where the US-led coalition is fighting ISIS through the Syrian Democratic Forces, a local proxy group, due to Turkish military action in the north.
Ankara in January launched a bloody operation around Afrin to push Kurdish fighters out of the city.
Many of the Kurdish fighters that had been engaged in anti-ISIS operations have quit that fight to support comrades in Afrin.
Full report at:
https://english.alarabiya.net/en/News/middle-east/2018/04/20/Observatory-ISIS-accepts-withdrawal-from-southern-Damascus.html
--------
Syrian Army Imposes Full Control over Al-Dumayr after Terrorists' Withdrawal
Apr 20, 2018
The sources said that a sum of 1,694 Jeish al-Islam terrorists and their family members left al-Dumayr in Eastern Qalamoun for the town of Jarabulus in Northeastern Aleppo, adding that several security units of the army further entered the town and hoisted the country's flag in the region.
In a relevant development on Thursday, the army initiated a fresh phase of operations to drive a wedge between terrorist bastions in Eastern Qalamoun region of Damascus after the latter didn't accept to withdraw from al-Rahibeh.
The Syrian Air Force pounded the terrorists' positions and roads in al-Batra mountain in Eastern Qalamoun on Thursday.
Meantime, the Syrian ground forces engaged in clashes with the terrorists in al-Kharnoubeh in East of al-Rahibeh region.
Field sources said that the army's military operations focused on al-Batra mountains which overlook al-Rahibeh and the adjacent areas, adding that the Syrian army intends to isolate al-Rahibeh from other nearby regions.
Meantime, reports said that a large number of residents of the towns and villages in Eastern Qalamoun have called for the Syrian army's deployment in the region.
Full report at:
http://en.farsnews.com/newstext.aspx?nn=13970131000409
--------
Mass Grave of Terrorists' Victims Uncovered in Syria's Douma
Apr 20, 2018
The Arabic-language website of Sputnik quoted Director General of Syria's Forensic Medicine Zaher Hajow as reporting that the army has uncovered a mass grave in Douma with a sum of 112 bodies.
Hajow further said that his department's postmortem checks on the found bodies showed that the victims had been killed by gun fire approximately two weeks ago.
In a similar development on Wednesday the army discovered the mass grave of Jeish al-Islam's victims South of al-Jala Garden in Douma, where 30 bodies had been buried.
In the meantime, the army men found a large workshop of Jeish al-Islam in Douma that was used for making mortar shells.
http://en.farsnews.com/newstext.aspx?nn=13970131000365
--------
Syrian Army Lays Siege on Terrorists' Key Bastion in Eastern Qalamoun
Apr 20, 2018
The sources said that the army men, supported by heavy fire of the artillery units and fighter jets, stormed terrorists' positions near the town al-Rahibeh in Eastern Qalmoun in the Northern part of Damascus province and imposed control over Tal al-Kharnoubeh and Arz al-Masilaha regions.
The sources further said that the army men have laid siege on the terrorists in the town of al-Rahibeh and cut off all the supply lines of the terrorists in Eastern Qalmaoun.
The army began the operation in al-Rahibeh after the militants refused to leave their positions in the town.
In a relevant development on Thursday, the army initiated a fresh phase of operations to drive a wedge between terrorist bastions in Eastern Qalamoun region of Damascus after the latter didn't accept to withdraw from al-Rahibeh.
The Syrian Air Force pounded the terrorists' positions and roads in al-Batra mountain in Eastern Qalamoun on Thursday.
Meantime, the Syrian ground forces engaged in clashes with the terrorists in al-Kharnoubeh in East of al-Rahibeh region.
Field sources said that the army's military operations focused on al-Batra mountains which overlook al-Rahibeh and the adjacent areas, adding that the Syrian army intends to isolate al-Rahibeh from other nearby regions.
Meantime, reports said that a large number of residents of the towns and villages in Eastern Qalamoun have called for the Syrian army's deployment in the region.
Full report at:
http://en.farsnews.com/newstext.aspx?nn=13970131000264
--------
Tensions Intensified between Civilians, Kurdish Militias in Hasaka
Apr 19, 2018
Local sources in Northeastern Hasaka reported on Thursday that the Kurdish militants have detained dozens of civilians in the village of Bazouneh near the town of al-Qahtaniyeh, most of them elderly people.
They added that the measure was adopted after civilians prevented capture of 3 defected militants who had earlier been forcefully recruited by the Kurdish militias.
Reports last month said that the Kurdish militants had intensified forced recruitment in different areas in Hasaka after the Turkish army extended clashes from Afrin in the North-West to Northeastern Syria.
Witness accounts said that the Syrian Democratic Forces (SDF) had detained tens of young people in Hasaka city, Qamishli and Ra'as al-Ain to reinforce its troops against the Turkish army and its allied militants.
They referred to the intensified forced recruitment in Hasaka, and said the Kurdish militants had also earlier exercises forced recruitment of Kurdish and Arab civilians residing in Hasaka for years but they are now recruiting even those people who have immigrated to Hasaka from Deir Ezzur and Raqqa.
Full report at:
http://en.farsnews.com/newstext.aspx?nn=13970130000824
--------
Douma safe for press visits, not safe for UN chemical inspectors
20 April 2018
LONDON: Journalists working in Syria's capital Damascus were treated to an organized visit to the opposition enclave of Douma.
Members of the press toured and photographed deserted areas of Douma which has been held by opposition groups for the last seven years. The government invited international news agencies to tour the devastated neighborhood of Damascus that witnessed the birth of the revolution against Assad's rule in 2011.
Chemical weapons inspectors meanwhile are still awaiting the green light to access areas where chemical attacks were carried out on the 7th April, and which led to the evacuation of fighters and their families to the north of the country as part of a deal to evacuate the enclave.
http://www.arabnews.com/node/1288541/middle-east
--------
South Asia
Taliban leader Qari Amrullah and his five comrades killed in Faryab clash
Apr 21 2018
At least six Taliban insurgents including a local leader of the group Qari Amrullah were killed duringa clash with the Afghan forces in Faryab province in North of Afghanistan.
The 209th Shaheen Corps of the Afghan Military in the North said Friday that the clash between the armed forces and the Taliban insurgents took place in the vicinity of Ghormach district.
The source further added that at least four Taliban insurgents and an Afghan soldier were also wounded during the clash.
According to the Shaheen Corps of the Afghan military, the ordinary civilians and local residents have not suffered any casualty.
The anti-government armed militant groups including Taliban insurgents have not commented regarding the report so far.
This comes as the Afghan armed forces are busy conducting counter-terrorism operations in certain northern provinces as the militant and terrorist groups are attempting to expand their insurgency activities in the north.
At least eight militants were kiled or wounded during the Afghan Air Force airstrikes in Pashtun Kot and Andkhoi districts of Faryab late last month.
According to the local military officials, the Afghan Air Force targeted the militants' hideouts using the MD-530 helicopters, leaving at least three dead and five others wounded.
The officials further added that several weapons, ammunition, and explosives belonging the militants were also destroyed.
https://www.khaama.com/taliban-leader-qari-amrullah-and-his-five-comrades-killed-in-faryab-clash-04928/
--------
Dozens of Rohingya arrive in Indonesia
April 21, 2018
About 80 Rohingya in a wooden boat arrived in Indonesia yesterday, officials said, the latest batch of the vulnerable minority to come ashore in the world's biggest Muslim majority nation.
The group landed in Aceh province on Sumatra island, just weeks after dozens of the persecuted Muslim minority from Myanmar came ashore in neighbouring Malaysia.
All appeared to be in good condition, according to local police chief Riza Yulianto, who added that it was not clear how long they had been at sea.
"Thank God they're all healthy even though a few are just children," he told AFP.
"We have given them food and we are thoroughly checking their health one by one."
It has been rare for Rohingya migrants to attempt the sea routes south since Thai authorities clamped down on regional trafficking networks in 2015, sparking a crisis across Southeast Asia as large numbers were abandoned at sea.
But there have been concerns desperate migrants might start taking to the high seas again after mainly Buddhist Myanmar launched a new crackdown last year that forced about 700,000 members of the Muslim minority to flee to Bangladesh.
This month, a group including two Rohingya men, aged 28 and 33, a 20-year-old woman, a 15-year-old girl and an eight-year old boy were spotted in a small boat off the coast of southern Thailand and Myanmar, some 325 kilometres (176 miles) from Aceh.
Local Indonesian fishermen took them back to Aceh where they were later taken into custody by immigration officials.
The group said they had been travelling with two dozen other Rohingya but got separated and were stranded at sea for about 20 days.
They had gotten lost with five others who later starved to death and their bodies were thrown overboard, officials said at the time.
In 2015, hundreds of Rohingya came ashore in Aceh, where they were welcomed in the staunchly conservative Islamic province.
Indonesia tends to accept asylum seekers but they are usually barred from working and often spend years in immigration centres.
OBEY LAW
Myanmar army chief Min Aung Hlaing has told military personnel in the country that they must obey the law, citing as an example the sentencing of seven soldiers for a massacre of Rohingya Muslim men that was the subject of a Reuters investigation.
In a speech at a military school in the country's north, Min Aung Hlaing told soldiers they "must abide by the military codes of conduct and international laws and conventions", according to a translation posted on his official Facebook page on Thursday.
"No one is above the law. Actions will be taken if someone breaks the law. The problems in Inn Din village ... were solved in line with the Geneva Convention and legal action was taken against military officers and other ranks who failed to respect the law," said Min Aung Hlaing, in his first direct comment on the killings.
Seven soldiers were sentenced to 10 years in prison with hard labour this month for taking part in the massacre of 10 Rohingya men in the village of Inn Din, in northwestern Rakhine state, last September.
The massacre was being investigated by two Reuters journalists - Wa Lone, 32, and Kyaw Soe Oo, 28 - who were arrested in December and remain in custody accused of violating the country's Official Secrets Act.
The authorities told Reuters in February the military opened an internal investigation into the killings independently and that it was unrelated to the Reuters reporters, who they said were accused of obtaining unrelated secret government papers.
The Rohingya men were buried in a mass grave in early September after being hacked to death or shot by Buddhist civilian neighbours and soldiers. Reuters published its story on the murders in February.
The killings were part of a larger army crackdown on the Rohingya, beset by allegations of murder, rape, arson and looting, unleashed in response to Rohingya militant attacks on security forces in late August.
Full report at:
https://www.thedailystar.net/backpage/dozens-rohingya-arrive-indonesia-1565491
--------
Myanmar court told police ordered a 'trap' for Reuters reporters investigating Rohingya killings
April 21, 2018
A Myanmar police chief ordered officers to "trap" a Reuters reporter arrested in December, telling them to meet the journalist at a restaurant and give him "secret documents", a police captain has told a Myanmar court.
Police Captain Moe Yan Naing, a prosecution witness, gave details to the court of the hours leading up to the December 12 arrest of Wa Lone, 32, and Reuters colleague Kyaw Soe Oo, 28, who had accompanied him to the meeting, and said the police had arranged a "set up".
The court in Yangon has been holding hearings since January to decide whether the pair will be charged under the colonial-era Official Secrets Act, which carries a maximum penalty of 14 years in prison.
They had been working on a Reuters investigation into the killing of 10 Rohingya Muslim men and boys in a village in western Myanmar's Rakhine state, during an army crackdown that United Nations agencies say has sent nearly 700,000 people fleeing to Bangladesh.
Seven soldiers have been sentenced to "10 years in prison with hard labour in a remote area" for participating in the massacre, the army said earlier this month.
Reuters was unable to immediately obtain a comment from lead prosecutor Kyaw Min Aung as the proceedings were ongoing.
Police told to 'get Wa Lone' or 'go to jail'
In his testimony, the police captain said he had been interviewed in November by Wa Lone about police operations in Rakhine state.
He was one of two officers from the paramilitary 8th Security Police Battalion who the police identified in December as "allegedly involved in the case".
Moe Yan Naing said he had been under arrest since the night of December 12 and had been told to testify as a prosecution witness.
He said that earlier on the day the Reuters reporters were arrested he was picked up from his post in Yangon and taken to Battalion 8's headquarters on the northern edges of the city.
When he arrived, he said he found himself among a group of several other Battalion 8 policemen who had given interviews to Wa Lone.
They were interrogated by a police "information team" about their interactions with the Reuters reporter, he said.
Moe Yan Naing told the court that police Brigadier General Tin Ko Ko, who led the internal probe, ordered police Lance Corporal Naing Lin to arrange a meeting with Wa Lone that night and hand over "secret documents from Battalion 8".
"Police Brigadier Tin Ko Ko gave the documents to Police Lance Corporal Naing Lin and told him to give them to Wa Lone and said that when Wa Lone comes out of the restaurant, the Htaunt Kyant regional police force has to entrap him and arrest him," said Moe Yan Naing.
Reuters was not immediately able to reach Tin Ko Ko for comment.
International calls for release
The reporters have told relatives they were arrested almost immediately after being handed some rolled up papers at a restaurant in northern Yangon by two policemen they had not met before, having been invited to meet the officers for dinner.
Neither policeman has given testimony so far during the court proceedings.
Previous police witnesses have said the reporters were stopped and searched at a traffic checkpoint by officers who were unaware they were journalists, and were found to be holding documents relating to security force deployments in Rakhine.
Wa Lone and Kyaw Soe Oo have been in custody since December 12.
Senior UN officials, Western nations and press freedom advocates have called for their release and diplomats from several embassies were among those attending Friday's hearing.
Following Moe Yan Naing's comments in court, Reuters released a statement calling for the journalists' immediate release, claiming that the court had finally heard the truth.
Full report at:
http://www.abc.net.au/news/2018-04-21/myanmar-policeman-describes-trap-to-arrest-reuters-reporters/9682474
--------
Civilians suffer heavy casualties in Nangarhar IED explosion
Apr 20 2018
An improvised explosive device explosion left several civilians dead or wounded in eastern Nangarhar province of Afghanistan earlier today.
The incident took place in the vicinity of Haska Mina district after a civilian vehicle struck with an improvised explosive device planted on a roadside.
The provincial government media office in a statement said at least five civilians including a child were killed and nine others were wounded.
The statement further added that four children and two women were among those wounded in the explosion.
No individual or group has so far claimed responsibility behind the incident.
The anti-government armed militant groups frequently use explosives materials for the roadside bombings and car bombings to target the government staff and security personnel.
However, in majority of such incidents the ordinary civilians are targeted besides such bombings incur casualties to the security personnel and in some cases the Taliban militants themselves are killed or wounded.
A total of 10,453 civilian casualties – 3,438 people killed and 7,015 injured – were documented in the 2017 Annual Report released last month by the UN Assistance Mission in Afghanistan (UNAMA) and the UN Human Rights Office.
Full report at:
https://www.khaama.com/civilians-suffer-heavy-casualties-in-nangarhar-ied-explosion-04926/
--------
Zarb-e-Momin operations gaining momentum in Herat province
Apr 20 2018
A senior local leader of the Taliban group was killed during the ongoing operations in western Herat province of Afghanistan.
The First Brigade of the 207th Zafar Corps in the West said Mullah Nusrat was killed along with seven others during the ongoing Zarb-e-Momin operations.
The source further added that the operations are being conducted in Chesht-e-Sharif district and as a result several villages including Jartolak, Rabtak, Dahn-e-Hamwar, Jar Orma, Sher Khaj Bala, Seya Jojagak, Sang Doroya, Dara Sang, and Margha have been cleared so far.
At least seven Taliban insurgents were also wounded during the same operations, the First Brigade of the Zafar Corps said.
According to reports, Mullah Nusrat was the commander of Sheikh Karim Badghesi Group and was killed after he reached to the area to support the Taliban commander Abdul Rahman Maldar.
The Zafar Corps officials have not commented regarding the possible casualties of the Afghan forces during the operations.
Full report at:
https://www.khaama.com/zarb-e-momin-operations-gaining-momentum-in-herat-province-04925/
--------
Southeast Asia
'We have four generations of former terrorists here today': Rehabilitating extremists in Indonesia
APR 20, 2018
The Indonesian media has dubbed him "The Terrorist Whisperer."
In a hotel conference room here, Noor Huda Ismail welcomed the participants in his three-day workshop. "We have four generations of former terrorists here today," said the jovial 45-year-old as he bounded around the room in a batik shirt, black glasses and Nikes.
He gave a shout-out to the lone representative of the eldest generation, a graybeard who had joined the U.S.-backed mujahedin to fight the Soviets in Afghanistan in the 1980s.
With a smile and a nod, he acknowledged two former fighters from a Muslim group that sought to impose Islamic rule on the Philippines in the 1990s, then six veterans from Indonesia's Muslim-Christian disputes a decade later.
"And the latest generation is here too," he said, waving at a 19-year-old in a hijab who had gone to Syria with more than two dozen members of her family to join Islamic State.
The ex-jihadis — known in the counter-extremism world as "formers" — had come for help rebuilding their lives.
Ismail is dedicated to helping his country solve a problem confronting societies worldwide: how to de-radicalize violent extremists. His nonprofit takes a more compassionate approach than many other groups and governments, encouraging formers to share their stories and expand their social circles.
"The media always call me the terrorist whisperer," he said. "But I would prefer they called me observer of the heart."
The conference participants looked remarkably ordinary. They wore name tags, carried orange swag bags and passed around a microphone for questions. The venue — a marble-lobbied hotel here that caters to businessmen — seemed fitting. It was the kind of place that some of the attendees once might have aspired to blow up.
Having renounced their old ways, they now hoped to engage in peaceful pursuits such as starting small businesses or making autobiographical videos for YouTube — both topics at the conference last month.
"I hope using these skills won't just help us make more money, but get blessings from God," said 43-year-old Zaenal Muttaqin, who served 5½ years in prison for helping arm Indonesian terrorists and was now helping his wife with her tailoring business.
The formers bantered over coffee and cake and gathered for group selfies. Nobody lingered on their resumes in terrorism, which ranged from serving as low-level functionaries in jihadi networks to ordering beheadings.
A counter-extremism specialist from Facebook flew in from Singapore to talk about the company's content-sharing policies, and a representative of TedxJakarta, a local affiliate of Ted, the New York-based nonprofit, led a workshop on storytelling.
In that session, the formers were paired up and instructed to tell each other the tale of Yusuf from the Koran — in which a young man rises to high office after his release from prison in Egypt — in five minutes or less. Then they were asked to boil down the story down to a slogan.
"Prison brings success!" someone called out to laughter and applause.
In addition to the 10 formers, the participants in the conference included 20 ustadhs, or teachers — university professors and Muslim scholars, split equally between men and women.
Formers and ustadhs were paired together in a sort of Secret Santa arrangement in which formers — dubbed "Angels" — would oblige their ustadhs — dubbed "Humans" — with uplifting texts or food deliveries from the restaurant buffet.
"Change can start from a very small act of kindness," Ismail said.
The formers took careful notes as a public relations and digital branding executive shared tips on growing a brand online.
"There are a lot of similarities between terrorists and businessmen," Ismail said. "Like businesspeople, terrorists are risk-takers, people persons, storytellers, and in their own way, are often charismatic."
Ismail said he was once on a track toward extremism.
When he was 12, his parents, both civil servants in the Indonesian city of Solo, sent him to a hard-line Islamic boarding school there. He was hoping to study Islam in Pakistan, but when he asked the headmaster's daughter out on a date, it marked him as "morally tainted" and cost him a scholarship.
He briefly belonged to Darul Islam, a group agitating for sharia law in Indonesia, but he loathed the infighting and quit.
In his late twenties, while working as a stringer for the Washington Post, he learned that one of the perpetrators of the 2002 Bali bombing — in which Islamic militants killed 202 people — was his boarding school roommate. Seeing police leaflets featuring his schoolmate's face piqued his interest about paths into extremism. What, he wondered, would have made a bright young man want to murder innocents?
In 2008, after a stint at St. Andrews University in Scotland studying extremism, he started the Institute for International Peace Building — know by its Indonesian initials, YPP — and began recruiting former terrorists who were still in prison and wanted to start over. The organization helps them find jobs and new communities once they're free.
"Most people thought I was crazy," he said. "They were like, 'why give a second chance to those who betrayed democracy in the first place?' But we need to use their stories to dissuade others from following the same path."
He said his early attempts at de-radicalization were failures. In one case, he funded an ex-con's T-shirt business only to discover later that the former terrorist was printing T-shirts featuring jihadi slogans.
But eventually he found a former willing to truly reform. Machmudi Hariono had fought in the Philippines and served 5½ years in prison in Indonesia after police captured him in a safehouse for members of a terrorist group known as the Moro Islamic Liberation Front. Ismail taught him to cook duck, then helped him set up a restaurant. Serving customers proved a valuable cultural exchange and a lesson in tolerance.
"My jihadi networks taught me to hate people who are different from me," Hariono said. "But through the restaurant, I learned to meet new people. Even if they're nonbelievers, you have to serve them anyway."
Hariono, 42, also works at the nonprofit, which now has 15 employees.
Governments around the world are grappling with how to handle people who joined extremist groups or expressed support for them. Now that Islamic State has lost the territory it once controlled in Iraq and Syria, many of its 40,000 foreign fighters have recently returned to their countries — including western Europe, Turkey and Tunisia.
The British defense minister, Gavin Williamson, has advocated for hunting down the returnees and killing them. "A dead terrorist can't cause any harm to Britain," he told the Daily Mail last year.
Other countries, including Pakistan and Germany, have launched de-radicalization programs. Many involve a mix of psychological counseling and religious debate.
But Ismail, who is writing a doctoral thesis on the role of masculinity in Indonesian terrorist networks, said such a paternalistic approach is likely to fail. Having clerics lecture jailed terrorists on interpretations of the Koran won't work if the extremists assume the clerics are stooges of the state.
For many jihadis, Islamic ideology was never the point, he said: "Some of the terrorists are clueless about religion. They mainly get into it through who they're hanging out with, or because they think the military aspects look cool."
Indonesia, which has seen hundreds of its citizens join Islamic State, has been an ideal testing ground for Ismail's belief that people can change.
As the world's most populous Muslim country, it has a softer approach to combating terrorism and a more optimistic vision about the rehabilitation of formers than many Western countries, said Sidney Jones, director of the Jakarta-based Institute for Policy Analysis of Conflict.
"There was an assumption, especially in the pre-[Islamic State] years, that these were fundamentally good young men who'd gone astray," said Jones. "That they'd joined these organizations out of a warped idealism, or the sense of wanting to help fellow Muslims being persecuted, and they just needed to be brought back to the right path."
Though leaders of terrorist groups can receive long prison sentences, punishment for followers can be relatively light, even for murderers. In prison and after their release, former terrorists are encouraged to enroll in a government de-radicalization program or work with nonprofits such as Ismail's.
Ismail declined to say who was funding the conference, only that they were "my friends."
Several sessions were intended to challenge traditional views of women and foreigners. Alimatul Qibtiyah, a gender studies professor who'd done her graduate work in Iowa, shocked a few formers at the buffet lunch when she told them that she and her husband didn't agree on whether wearing the veil was compulsory in Islam or not.
Other sessions were subtly tailored to appeal to jihadi sensibilities.
Hassan Ahmad, a humanitarian aid worker from Singapore, showed slides from his missions to Afghanistan, Yemen and Japan, stressing aid work's excitement, danger and opportunity to help fellow Muslims — all common reasons for young men to join jihadi groups.
He paused at a slide of one colleague, killed in the Philippines in a typhoon.
"You can die doing this," Ahmad said. "If you die, you want to die this kind of death. Praise God!"
After her presentation, the Facebook employee, Gullnaz Baig, took questions.
"Islamic State followers used to have many fake accounts, and then Facebook would take them down," said one former. "If the account was taken down, people would just say, 'My account has become shaheed [a martyr],' and they'd just start another one. One dies, and a thousand grow. How does Facebook respond to this?"
The company traces, then deletes linked accounts it deems dangerous, Baig said.
There was also a workshop on parliamentary debate. Hasanuddin, who had recently spent 11 years in prison and like many Indonesians uses only one name, said he was more familiar with talk-show screaming and name-calling.
"On television, I notice that people don't debate the way you've described," he told the woman giving the talk.
"Maybe it's because our society loves to bully," Ismail said.
There was no mention of Hasanuddin's crime: masterminding the beheading of three Christian schoolgirls.
After the conference ended, a small group of formers who had trained in the jungles of Southeast Asia accompanied Hariono to a friend's high-rise apartment where they would spend the night before returning to their homes the next day.
"In the past, they would have seen an apartment as too luxurious, and as something for kafirs," or infidels, Hariono said. "I want to broaden their view, and maybe they'll share their story with other formers, and broaden their views, too."
http://www.latimes.com/world/asia/la-fg-indonesia-deradicalization-2018-story.html
--------
Indonesian fishermen rescue Rohingya Muslims fleeing Burma
April 20, 2018
By ZIK MAULANA
BIREUEN, Indonesia—Indonesian fishermen rescued 76 Rohingya Muslims stranded off the coast of Aceh on Friday, authorities said, in the latest attempt by members of the persecuted ethnic group to flee Burma by sea.
The group of eight children, 25 women and 43 men was brought ashore in their wooden boat Friday afternoon. It was unclear how long they had been at sea, said Riza Yulianto, the police chief of Bireuen regency in Aceh on the island of Sumatra.
Aceh's Disaster Mitigation Agency said the Rohingya told local authorities that they wanted to reach Australia.
The agency said it was co-ordinating with the local government to provide temporary shelter. It said seven people were given medical treatment.
Officials were interviewing the refugees, and villagers had donated clothes and food, said Hidayatullah from the local civic group Rapid Response Action.
Hidayatullah, who uses one name, said fisherman went to the aid of the Rohingya after seeing the boat at about 2 p.m. Its sail wasn't working, he said.
Burma's persecution of its Rohingya Muslim minority has sparked an exodus of some 700,000 refugees over land into neighbouring Bangladesh since August. Some have also tried to flee by boat. Burma's military said it was carrying out counter-insurgency operations.
An Indonesian fishing boat rescued a group of five Rohingya in weak condition off westernmost Aceh province on April 6, after a 20-day voyage in which five other people died.
Just days before, Malaysian authorities intercepted a vessel carrying 56 people believed to be Rohingya refugees and brought the vessel and its passengers to shore.
Rohingya, treated as undesirables in predominantly Buddhist Burma and denied citizenship, used to flee by sea by the thousands each year until security in Burma was tightened after a surge of refugees in 2015 caused regional concern.
Full report at:
https://www.thestar.com/news/world/2018/04/20/indonesian-fishermen-rescue-rohingya-muslims-fleeing-burma.html
--------
Mideast
Fresh Saudi airstrike leaves nearly two dozen civilians killed in SW Yemen
Apr 20, 2018
Nearly two dozen civilians have lost their lives when Saudi fighter jets launched an aerial attack in Yemen's southwestern province of Ta'izz as the Riyadh regime continues with its bombardment campaign against its impoverished neighbor.
Local sources, speaking on condition of anonymity, told al-Masirah television network that Saudi warplanes targeted a vehicle as it was travelling along a road in the al-Arish of Mawza district on Friday afternoon.
The sources added that 20 people were killed in the airstrike.
Earlier in the day, three houses were reduced to rubble in the al-Dhaher district of the mountainous northwestern province of Sa'ada, when Saudi military aircraft carried out three airstrikes against the area.
Also on Friday, Yemeni army soldiers and allied fighters from Popular Committees fired a domestically-manufactured ballistic missile at an airport in Saudi Arabia's southwestern border region of Jizan in retaliation for the Saudi regime's military campaign against their crisis-hit country.
A military source, speaking on condition of anonymity, told Yemen's Arabic-language al-Masirah television network that the Badr-1 missile struck Jizan Regional Airport, also known as King Abdullah bin Abdulaziz Airport, with great precision.
The Yemeni Ministry of Human Rights announced in a statement on March 25 that the Saudi-led war had left 600,000 civilians dead and injured since March 2015.
The United Nations says a record 22.2 million Yemenis are in need of food aid, including 8.4 million threatened by severe hunger.
A high-ranking UN aid official recently warned against the "catastrophic" living conditions in Yemen, stating that there was a growing risk of famine and cholera there.
"After three years of conflict, conditions in Yemen are catastrophic," John Ging, UN director of aid operations, told the UN Security Council on February 27.
He added, "People's lives have continued unraveling. Conflict has escalated since November driving an estimated 100,000 people from their homes."
Ging said cholera had infected 1.1 million people in Yemen since last April, and a new outbreak of diphtheria had occurred in the war-ravaged Arab country since 1982.
http://www.presstv.com/Detail/2018/04/20/559119/Fresh-Saudi-airstrike-leaves-over-dozen-civilians-killed-in-SW-Yemen
--------
Gazans hold new mass protest; Israel drops leaflets to warn people
Apr 20, 2018
Palestinians in Gaza are holding another mass demonstration against Israeli occupation for the fourth week in a row as part of the Great March of Return.
Many protesters have since Thursday been staying in camps and sit-in tents near the fence separating the besieged Gaza Strip from the Israeli-occupied territories.
Tens of thousands of Gazans are expected to attend the mass rally, which will reach its peak after Friday prayers.
Israel dropped leaflets in the Gaza Strip on Friday, warning Palestinians not to approach the fence, where the regime has deployed special forces, sharpshooters and armored vehicles.
Organizers have, however, said they have this week moved the tents 50 meters closer towards the fence "as a message of persistence from our people to the world that we are moving forwards towards our rightful goals."
Earlier in the day, a Palestinian was wounded when Israeli forces opened fire on a refugee camp in east of Khan Younis.
The Great March of Return began on March 30 and will last for six weeks. Israel has responded to the peaceful demonstrations with an iron fist, killing more than 30 unarmed Palestinians over the past three weeks.
The regime in Tel Aviv has come under criticism in the international community by allowing its snipers to open fire on the unarmed protester that come close to the fence.
The weeks-long march has been organized by the Palestinian Hamas resistance movement, which governs Gaza. It evokes a longtime call for Palestinian refugees to regain ancestral homes in the territories under Israeli occupation.
Full report at:
http://www.presstv.com/Detail/2018/04/20/559102/Israel-Gaza
--------
Trouble brews as militants amass on Turkey's border
Fehim Tastekin
April 20, 2018
Allegations of chemical warfare in Douma and strikes by the United States, Britain and France to punish Syrian President Bashar al-Assad's regime have actually loaded new burdens on Turkey's already-ambiguous position in Syria. With the evacuation of opposition forces from areas reoccupied by the Syrian army, the areas Turkey had taken control of with Operation Euphrates Shield — its offensive against the Islamic State and the Kurdistan Workers Party in Syria — have become jihadi reserves. For some reason, Ankara doesn't seem to be too perturbed by this situation, which poses serious risks to Turkey.
Since March 9, about 70,000 Syrians — including fighters and their families — have evacuated from eastern Ghouta to al-Bab, Azaz and the Jarablus triangle under Turkey's control, and the Idlib area, which is under the observation of Turkish troops.
Evacuations from eastern Ghouta were first made under agreements reached with jihadi groups Hayat Tahrir al-Sham (HTS) and Ahrar al-Sham and opposition group Faylaq al-Rahman; they peaked with the departure from Douma of Jaish al-Islam's 48,000 people, which included 8,000 fighters.
According to a UN report, of those evacuated from eastern Ghouta, 48,222 went to Idlib and 7,395 went to Jarablus. The Syrian Human Rights Observatory says about 67,000 people moved northward from Zamalka, Arbin, Jobar, Harasta and Douma. Those who evacuated north in buses from eastern Ghouta were settled in tent cities, mosques, schools or unfinished buildings. Turkish humanitarian associations announced they are preparing tent cities around Idlib. Members of Jaish al-Islam and their families are staying at a camp in Jarablus.
Over the past year and a half, tens of thousands of fighters who were evacuated from Aleppo, Homs, Hama, rural Damascus and the Lebanon-Syria border were settled in different parts of Idlib. Settlements of these jihadi groups — either in pockets of land under Turkey's full control or influence — are viewed by some as a Taliban/al-Qaeda "emirate" in the making along the Turkish border. Some observers say Turkey's border provinces are becoming Turkey's Peshawar (Pakistan).
So what was Turkey planning to do with these groups? After Turkey's two major military operations in northern Syria, some groups were organized under the name Syrian National Army and attached as a militia to the Turkish army.
But so far, nobody has really addressed a very touchy question: Turkey is managing the situation with its military operations, but when Assad's army moves to recover these areas, where will the tens of thousands of fighters go? The Turkish government, when asked to hand over control of Afrin to Assad's government, retorted that Ankara will be the one to decide when to leave Afrin and to whom it will cede control. Turkey said that there's no need to worry about these groups because it controls them.
Does Ankara see these outfits as temporary elements that facilitate Turkey's presence in the field? Or is it thinking that Turkey could remobilize these outfits to fight the Syrian regime if conditions so require? Or will Turkey pull the plug on these outfits after consolidating its partnerships with Iran and Russia? Has Turkey learned from the experiences of other countries that survived similar situations? The ambiguity of the jihadis' potential massing on Turkey's border continues as Ankara vacillates, but a new risk is emerging from the evacuation of eastern Ghouta. Tensions among rival jihadi groups in the north could escalate as new outfits arrive. That in itself would be a major headache for Turkey.
Many of the groups evacuated from eastern Ghouta were already fighting each other. In several clashes after 2016, Faylaq al-Rahman and HTS jointly fought Jaish al-Islam, which controlled the sole corridor with access to eastern Ghouta. Meanwhile, Faylaq al-Rahman and Ahrar al-Sham occasionally clash, too, even though Qatar supports both financially. Now, the Idlib branches of Ahrar al-Sham and HTS are fighting each other in Idlib. To challenge HTS, which is the dominating force there, groups led by Ahrar al-Sham, Nureddin Zengi Brigade and Shuqur al-Sham united to form the Syrian Freedom Front. Clashes between this new group and HTS at Maarat al-Numan, Jabal al-Zawiya and Hon Seyhun have reached unprecedented levels.
The most unwanted organization in Idlib is Jaish al-Islam, which is having serious issues with other outfits that are allegedly linked to Saudi Arabia. The tension was perceptible when hard bargaining was going on to decide who would be settled in which areas around Idlib. As a remedy, Turkey was persuaded during the bargaining to allow Jarablus to be used as an alternative destination. Elements of Ahrar al-Sham, Faylaq al-Rahman and HTS didn't encounter any problems in the Operation Euphrates Shield area controlled by Turkey, but Turkish soldiers seized the light weapons that Jaish al-Islam militants had been allowed to carry after Russian mediation.
As Jaish al-Islam has no presence in the north, there was some speculation that it might move to the south where its allies are present, but it was instead goaded toward the Turkish border. A social media message from Jaish al-Islam listed three issues between it and Turkey: Jaish al-Islam has its origins in the Salafist school — an ultraconservative branch of Sunni Islam generally denounced in Turkey; the group refuses to submit to the control of any other force, including Turkey; and it poses a threat to the Assad regime's allies, Russia and Iran.
Although Ahrar al-Sham and HTS are violently challenged by Jaish al-Islam, they also have Salafism in their ideological roots; the conflict is actually over Saudi Wahhabism. Although Jaish al-Islam political leader Mohammed Alloush resides in Istanbul, he is not seen as controlled by Turkey because of his connections to Saudi Arabia. Alloush attracted notice when he declared that his group will not be a party to conflicts in Idlib.
A logical analysis of the situation tells us that evacuating new fighters to Idlib simply means reinforcing armed groups already there in their rivalry for power. Although the standing of HTS and Faylaq al-Rahman are generally known, it's not clear which position Faylaq al-Rahman will adopt, because at eastern Ghouta it cooperated with HTS. Will it do the same in Idlib?
They may even opt for a practical way out and enlist with the Syrian National Army that Turkey has formed.
Turkey continues to embrace all jihadi groups and considers itself a fair, just sponsor. Turkey even tries to convert them to moderation. But radical elements generally prefer to remain independent when they are pushed toward moderation.
Full report at:
https://www.al-monitor.com/pulse/originals/2018/04/turkey-syria-fear-of-anarchy-along-border-areas.html
--------
Four killed in fresh protests, clashes on Gaza border
April 21, 2018
GAZA CITY - Thousands protested along the Gaza Strip's border with Israel in a fourth straight Friday of mass demonstrations and clashes, with four Palestinians shot dead by Israeli forces.
Gazans also flew dozens of kites near the border fence, in some cases carrying Molotov cocktails and one with a swastika painted on it, in a new tactic that sparked at least two small fires in Israeli territory this week.
Israeli army gunfire killed a 15-year-old boy and two young men, aged 24 and 25, in northern Gaza, rescue workers said, and a 29-year-old Palestinian was shot dead in the south of the coastal enclave.
The latest deaths brought to 38 the toll of those killed by Israeli forces since March 30, with hundreds of others also wounded by gunfire, according to Gaza's health ministry.
On Friday alone, 440 protesters were wounded by gunfire or needed treatment for tear gas inhalation, the ministry said.
Israel says it has only opened fire when necessary to guard its border and prevent violence, but no Israelis have been wounded and its open-fire rules have come under scrutiny.
With the protests seen by Israel as posing a challenge to its security forces, military aircraft dropped leaflets in the border area early Friday warning against approaching the fence.
Referring to the Islamist movement that runs the Gaza Strip, the leaflet said: "You are participating in violent riots. The Hamas terror organisation is taking advantage of you in order to carry out terror attacks."
It added: "Stay away from the fence and do not attempt to harm it; avoid using weapons and committing violent acts against Israeli security forces and Israeli citizens."
The number of protesters on Friday was lower than the previous three weeks, but still in the thousands.
Both Palestinians killed were shot east of Jabaliya in the north of the Gaza Strip, the health ministry said.
Among the thousands gathered to protest, at least hundreds were approaching the fence and throwing stones and burning tyres, an AFP correspondent said. Israeli forces were using tear gas in addition to live fire.
Israel's military said some 3,000 Palestinians were involved in "riots, attempting to approach the security infrastructures, burning tyres adjacent to it and attempting to fly kites with burning items attached".
"Several kites crossed into Israel and were extinguished when required."
It said in the statement that "troops are responding with riot dispersal means and are firing in accordance with the rules of engagement."
Defence Minister Avigdor Lieberman said while touring the Israeli side of the border on Friday: "The thing that the other side must understand is that there is a determined and skilled army here."
He added that "behind it stands a determined people that is backing up the army."
Tens of thousands have gathered on previous Fridays as part of the protests near the border. The protests are meant to last six weeks, but peak on Fridays.
A smaller number have approached the fence and thrown stones or rolled burning tyres toward Israeli soldiers on the other side. Israel says firebombs and explosive devices have also been used.
Israel has pledged to stop damage to the fence, infiltrations and attacks, and alleges there have been attempts at all three.
It accuses Hamas, with whom it has fought three wars since 2008, of using the protests as cover to carry out violence. Palestinians say protesters are being shot while posing no threat to soldiers.
The European Union and UN chief Antonio Guterres have called for an independent investigation into the deaths, but Israel has rejected it. The protests are calling for Palestinian refugees to be allowed to return to their former lands now inside Israel.
More than 700,000 Palestinians were expelled or fled during the 1948 war surrounding the creation of Israel.
Israelis say allowing the so-called right of return would mean the Jewish state's destruction.
Full report at:
https://nation.com.pk/21-Apr-2018/four-killed-in-fresh-protests-clashes-on-gaza-border
--------
Fiery kites adopted as new tactic by Gaza protesters
April 21, 2018
GAZA CITY - Palestinians protesting along the Gaza border have begun attaching Molotov cocktails to kites to fly over the fence into Israel in a new tactic as demonstrations enter their fourth week.
For protests set for Friday, Gazans were hoping to send dozens of kites over the fence, including some carrying notes telling Israelis "there is no place for you in Palestine."
On the eve of Friday's protests, a group of young people worked with coloured paper and empty coke bottles under a tree in an olive orchard hundreds of metres from the Israeli border east of Gaza City.
Some carefully created 60-centimetre-long kites in the colours of the Palestinian flag. When completed, a metal wire was attached at the bottom linked to a liquid-filled bottle.
As AFP watched, three young men carried one kite dozens of metres towards the border before stopping to set the bottle alight.
With the flame lit, they sent it into the air and cut the thread -- watching as it floated over the border and crashed, causing a small fire.
"We use the kites to send a message that we are capable of bothering the occupation," said 16-year-old Abdullah.
Since March 30, tens of thousands have protested along the border in the blockaded enclave calling for Palestinian refugees to be able to return to their former lands in what is now Israel.
Smaller numbers have approached the fence, throwing stones and rolling burning tyres toward soldiers. Israel says firebombs and explosive devices have also been used.
Thirty-four Palestinians have been killed by Israeli forces and hundreds of others wounded by gunfire since March 30, according to Gaza's health ministry. There have been no Israeli casualties, and Palestinians say protesters are being shot while posing no threat to soldiers on the other side of the heavily guarded fence.
Israel has pledged to stop damage to the fence, infiltrations and attacks, and alleges there have been attempts at all three.
It accuses Hamas, the Islamist movement that runs the Gaza Strip and with whom it has fought three wars since 2008, of using the protests as cover to carry out violence.
'FRIDAY OF KITES'
The protests are planned to last six weeks, but peak on Fridays.
Gazans have used stones, firebombs and fireworks during clashes, but have also employed tactics such as creating a smokescreen by burning tyres and Israeli flags.
Kites are now the latest, though they are small and unlikely to cause major damage.
Protest organisers have officially labelled Friday's protest in support of "martyrs and prisoners," but on social media some Palestinians have dubbed it the "Friday of Kites."
A small fire broke out in an Israeli farming area on Thursday afternoon near the border with central Gaza after a kite fell, witnesses said.
On Wednesday evening, about 20 young people were practising flying kites attached to containers east of Bureij in the central Gaza Strip. "They (the soldiers) are firing explosive bullets and tear gas, we are flying kites to burn the farmland," said a 17-year-old, who did not want to be named. Jamal al-Fadi, a professor of political science in Gaza, said weeks of protest had led to new "means of struggle."
"The Palestinian people, frustrated and desperate due to the Israeli siege and (Palestinian) divisions, have had their hope renewed," he said of the demonstrations.
Full report at:
https://nation.com.pk/21-Apr-2018/fiery-kites-adopted-as-new-tactic-by-gaza-protesters
--------
Yemen PM: Houthi militia have lost strength, its end is near
20 April 2018
Yemeni prime minister, Ahmed Obeid bin Daghr said, on Friday, that the Houthi militia lost most of its strength and that "its end is near and inevitable," calling on those who are misled by them to return to their right mind and support the federal state of Yemen.
He stressed that the Yemeni people "will not accept the myth of the divine right to rule," referring to the Houthi militia's ideology.
This occurred during a telephone conversation with the governor of Bayda, Saleh al-Rasas, to discuss the field victories achieved by the Yemeni army, supported by the Arab coalition to support the liberation of the entire province of the Iran-backed Houthi militia, according to official Yemeni news agency.
The Yemeni Prime Minister praised the field victories achieved in a number of fronts in Bayda, which is now progressing towards liberating all areas from the grip of the militia.
The Yemeni army and the Popular Resistance, with the support of the coalition, are fighting the completion of the liberation of Bayda amid continuous progress in the field, to eliminate the occupation of the militia.
Full report at:
https://english.alarabiya.net/en/News/gulf/2018/04/20/Yemen-PM-Houthi-militia-lost-its-strength-its-end-is-near.html
--------
US will regret leaving Iran nuclear deal: Zarif
Apr 20, 2018
Iranian Foreign Minister Javad Zarif says Tehran has a variety of options in store that will make the United States "regret" leaving the 2015 Iran nuclear deal, known as the Joint Comprehensive Plan of Action (JCPOA).
"Iran has a wide range of options both inside and outside of the JCPOA and surely, the reaction from Iran and the international community will be unpleasant for the Americans," Zarif told reporters upon arrival in New York City to attend a United Nations General Assembly meeting over sustaining peace.
Under the deal, which entered into force in January 2016 when former US President Barack Obama was still in office, Iran agreed to limit parts of its peaceful nuclear program in exchange for removal of all nuclear-related sanctions.
The Iranian FM said the US government, specially the administration of President Donald Trump, has failed to stay true to its commitments and said it was up to the European signatories of the deal to preserve it and force Washington into keeping up its obligations.
Trump has been a vocal critic of the Iran nuclear deal which was signed between Tehran and six world powers -- the US, France, Britain, Russia, China and Germany.
"If the European countries want to preserve the deal they have to make it sustainable for Iran;... they need to impose pressure on the United States in order to compel the US, encourage the US to implement what it undertook under the deal," Zarif said. "Unfortunately, it hasn't been doing that."
Having called the JCPOA "the worst deal ever," Trump insists that it favors Tehran. That is why he has urged Congress and the Europeans to "fix" the agreement or he will kill it by May 12, when he has to re-certify Iran's compliance.
Zarif made it clear that although Europeans had yet to suggest any plan that would include renegotiating the deal, such offers "will not get a positive answer" from the Islamic Republic and Tehran would make no "concessions" whatsoever.
UN meeting
Slated to attend the High-Level Meeting on Peacebuilding and Sustaining Peace on 24 and 25 April, Zarif said he was going to offer Iran's solutions for sustaining peace in the Middle East region.
"We have a number of ideas, particularly about how to achieve dialogue and understanding in our own neighborhood and it is an opportunity for us to share those views," he said.
The senior Iranian diplomat said he will also bring attention to President Hassan Rouhani's idea of establishing a "strong region" based on durable security and stability.
Full report at:
http://www.presstv.com/Detail/2018/04/20/559072/Iran-Zarif-JCPOA-nuclear-deal-Trump-US-UNGA-peace
--------
Africa
Proposal to Swap Muslim Call to Prayer with Text Messaging Sparks Controversies in Ghana
April 20, 2018
For the Science, Technology, Environment, and Innovation Minister, Kwabena Frimpong-Boateng, the idea for the proposal is to manage or decrease the "noise pollution" caused by the use of megaphones or loudspeakers during the call for prayer, which has been a source of complaint for many residents in the country's capital, Accra.
Speaking earlier this week at a news conference about the rationale of the proposal, the Ghanaian minister put forward the claim that replacing loudspeaker-based call for prayers with text messages or WhatsApp notifications will benefit both the environment and social cohesion.
"In the house of worship, why is it that the house of worship would not be limited to the house of worship…why is it that time for prayer would not be transmitted with a text message or WhatsApp so the imam will sent WhatsApp message to everybody that the prayer time is up so appear," the minister said.
Speaking after the fact to a website the German news outlet Deutsche Welle, Mr. Frimpong-Boateng reaffirmed the government's position. Although he admitted the move is controversial, he maintained his belief that resorting to texts on WhatsApp would prove effective in attaining the government vision. "I believe that it can help reduce the noise. It is potentially controversial, but it is something we need to think about," he said.
The move is believed to have been inspired by Rwanda, where the same law passed in March.
In Ghana, however, where the Muslim population is much more significant than in Rwanda, the proposal has sparked acrimonious controversies, with the majority of Muslim community calling for the minister to step down from his position. The move particularly angered the imams, who see it as virtually impractical and improbable.
peaking to the press, an Accra-based mosque imam said that text messaging cannot be as effective as loudspeakers when it comes to waking people up for the dawn prayer.
Another imam, conceding that the noise should be reduced, enquired about the practicality of said proposal: "How can I understandably text everybody who prays at my mosque for five times a day?" he asked, ironically adding that chances are that he does not even know the majority of the people who pray at the mosque, or their phone numbers.
One Muslim cleric, however, welcomed the move, calling it a proposal for Muslims to adapt to the changing social norms. "It us possible for us to adapt text messages to call Muslims to prayer," Sheikh Bagaya said.
Outraged by the "unreasonable and unpractical" proposal, the spokesperson for the National Chief Imam, Sheikh Aremeyaw Sahibu, said during a radio interview that the move constitutes "a violation of our religious rights."
For Mr. Shaibu, the call to prayer is a founding tenet of the Islamic faith, a divine command that to which the community of believers must adhere.
"For us, the impracticability is clear. The unreasonability is so clear…[The call for prayer] is something divinely determined, [and] beyond one's wisdom from which we do not intend to depart," the National Chief Imam's spokesperson said, calling that the Environment and Innovation Minister unnecessarily controversial, as he "knew the consequences that such an act would create."
https://www.moroccoworldnews.com/2018/04/244835/swap-muslim-call-to-prayer-with-text-messaging-ghana/
--------
When Security Men Took On The Shiites
APRIL 21, 2018
Hundreds of members of the Islamic movement of Nigeria, the official name of the Shiite sect in the country were arrested and taken into custody after a largely peaceful demonstration by members of the sect to demand the release of their leader, Sheikh Ibraheem El Zakzaky, was violently dispersed by the Nigeria police force. While hundreds of members of the sect were arrested, others were not as lucky as live fire from the security men hit a few of them. It is a fate that has become almost a daily dose for members of the minority Islamic sect in the country who are barely tolerated by the Sunni majority Muslims, especially in the northern part of the country.
Last Monday's clash between members of the sect and the security forces was not the first in recent time. On Friday before last Monday, thousands of members of the group from all the northern states stormed Abuja to give verve to their daily protest at the unity fountain to demand the release of their leader, El Zak Zaky who has been in detention, against valid court judgment ordering his release, for more than two years.
El Zakzaky's woe started in December 2015 when his followers, in a move that many people have described as foolhardy, stopped the chief of army staff from passing in front of the now demolished headquarters of the Shiite in Zaria, while on his way to the passing out parade of the Nigeria Army recruit. The army, as a last resort after several plea to members of the group to peacefully remove the barricade they had set on the road failed, forcefully cleared the road, killed some members of the sect and arrested their leader and his wife who have remained in detention since then.
Emboldened by the Federal high court of Abuja judgment which held that the continued detention of El Zakzaky without trial amounted to a gross violation of his constitutionally guaranteed rights therefore he should be released; members of the sect have been having regular protests in some states in the northern part of the country to demand his release. Initially, the protests centered on Kaduna and Kano, two states in the north with about the largest Shiite concentration.
In Kaduna, where the state government had out rightly banned the Islamic movement of Nigeria, such protests were usually met with the heavy handedness of the security forces. Members of the IMN had claimed that many of its members had lost their lives while embarking on such peaceful protests. Frustrated by the little result that its protests in the far northern part of the country has achieved, the group moved its protest to the Unity Fountain in Abuja, perhaps to get closer to the seat of power and gain more global attention. For about 80 days prior to the last Monday's bloody clash with security men, members of the sect daily sat out at the unity fountain, sometimes making feeble forays to the entrance to the national assembly and the headquarters of the National Human Rights Commission to press home their demand for the release of their leader and his wife. The recent Malud celebration in Kaduna and Abuja, where large number of followers of the Tijjaniya sect of Islam trooped to Abuja to mark the posthumous birthday of its founder provided a good cover for members of Shiites to blend in and move thousands of their followers to Abuja. Their peaceful protest last week Friday was one of the largest and took security agencies by complete surprise. Some parts of Abuja were completely grounded for hours before the Shiites were eventually dispersed. Embarrassed by the failure of the police to detect and possibly nip the protest in the bud, the FCT commissioner of police, Sadiq Bello reportedly banned the Shiites from carrying out their daily sit out at the Unity fountain in Abuja. But as they are wont to do, members of the sect defied the police directive and gathered at the Unity fountain where they had planned to march to the National Human Right Commission to demand the release of their leader. But the police, who were still smacking from their embarrassing failure to prevent the huge protest on Friday were not ready to take chances. They deployed the full armada of their riot preventing capacities to stop the Shiites from assembling and organizing another protest. Hot water was splashed, tear gas canisters were fired and when the combination of these did not appear to deter the resilience of the stone throwing Shiite members, live bullets were fired which eventually led to the casualty that was recorded. Despite the strong response of the state to their protest, members of the Movement appeared undeterred as they vowed to continue their protest until their leader and his wife were unconditionally released. According to the spokesman of the IMN, peaceful protest by members of the sect is constitutionally guaranteed and no amount of intimidation, even the killing of their members will deter them from going ahead to peacefully protest until the leader of the sect is released from detention. Expectedly, the police response to the protest by the Shiites has elicited harsh response from some activists in the country and the opposition Peoples Democratic Party. According to Femi Falana, the attack "unleashed on the Shiites by a combined team of armed soldiers, police and state security service (SSS) personnel is totally unacceptable in a democratic society". "It is highly condemnable as it was uncalled for. In order to press for the release of their detained leader, Sheik Ibraheem El-zakzaky and his wife, the Shiites have staged peaceful protests in Abuja since last week. "This morning, security forces attacked the peaceful rally, killed some of the protesters and injured others in a barbaric attack in a desperate bid to stop the Shiites from further exposing the lawlessness of the Federal Government. "In the process, the security forces breached the fundamental rights of the protesters to life, freedom from torture, freedom of assembly and freedom of expression" he said. Falana who is the lawyer representing the IMN said "the Federal Government has not adduced any justifiable reason why it has continued to incarcerate the El-zakzakys in utter contempt of the Federal High Court. If the Federal Government is genuinely desirous to stop the protests, it has to comply with the valid and subsisting judgment of the Federal High Court forthwith." The Peoples Democratic Party (PDP) in its reaction condemned the police action and demanded for an immediate inquest into the violent clash between security forces and members of the Shiite movement. With the resilience shown by members of the sect over the years, it is certain that they will continue to protest for the release of their leader. And with the government's seeming intolerance to any protest by members of the sect and the readiness of the police to use full force to disperse them, casualties from such clashes between the police and members of the sect is unlikely to abate soon.
https://www.vanguardngr.com/2018/04/security-men-took-shiites/
--------
Al-Qaeda-linked jihadist group claims attack on UN camp at Timbuktu
21st April 2018
NOUAKCHOTT: The main jihadist alliance in Africa's Sahel region with links to Al-Qaeda on Friday claimed an attack last weekend on the UN camp of international troops in northern Mali's historic city of Timbuktu.
One UN peacekeeper from Burkina Faso was killed in the rocket, mortar, and car bomb attack, while fourteen UN and French soldiers along with two civilians were wounded.
Around 15 of the attackers were killed, according to the French military.
The United Nations said it marked the biggest single attack on its peacekeepers since they were deployed to Mali in July 2013.
The jihadist alliance's claim to have carried out the operation was revealed in a statement posted on social networks and also received by the Mauritanian agency ANI and the US jihadist monitoring SITE intelligence group.
It said the attack was launched to avenge raids by French forces earlier this month in which several of its members were killed.
The alliance known as the Support Group for Islam and Muslims was formed last year and is led by Iyad Ag Ghaly, a Malian of the Tuareg ethnic group, with as deputy the Algerian Yahya Abu el Hammam, a leader of Al-Qaeda in the Islamic Maghreb (AQIM), according to an audio message released to Islamist websites in March.
Mali's unrest stems from a 2012 Tuareg separatist uprising against the state which was exploited by jihadists in order to take over key cities in the north.
More than a dozen of Timbuktu's holy shrines, built in the 15th and 16th centuries when the city was revered as a centre of Islamic learning, were razed in a campaign against idolatry by Al-Qaeda-linked jihadists.
The extremists were largely driven out in a French-led military operation launched in January 2013.
Full report at:
http://www.newindianexpress.com/world/2018/apr/21/al-qaeda-linked-jihadist-group-claims-attack-on-un-camp-at-timbuktu-1804277.html
--------
Minister's ouster unlikely to slow Sudan's push to get off US 'terror' list
20 April 2018
Khartoum: President Omar Al-Bashir's dismissal of Sudan's foreign minister, Khartoum's top negotiator with Washington, is unlikely to affect efforts to have Khartoum removed from a US "terrorism" blacklist, experts say.
On Thursday, Bashir sacked Ibrahim Ghandour, who headed negotiations with Washington that in October helped lift a decades-old US trade embargo on Khartoum.
His dismissal comes amid an economic crisis in the African country and his replacement, who has yet to be named, is set to inherit a complicated case load.
Ghandour, the first official to publicly raise concerns over Sudan's economic crisis, was fired a day after he said in parliament that Sudanese diplomats abroad had not been paid in months.
But analysts say his sacking is not expected to derail ties between Khartoum and Washington, which have warmed since the sanctions were lifted.
"Ghandour's loss will be felt, but his going won't change Khartoum's policy direction," Magnus Taylor, Sudan analyst at the International Crisis Group, told AFP.
By dismissing Ghandour, Khartoum is not changing its "moderate" policy toward Washington, he said.
"Generally, Sudanese are focused on getting themselves out of the SSTL," Taylor said, referring to Washington's State Sponsors of Terrorism List.
Although Washington lifted sanctions imposed in 1997 over Khartoum's alleged support of militant groups, it has kept Sudan on the blacklist along with Iran, Syria and North Korea.
Officials say the US terror tag prevents international banks from doing business with Khartoum, in turn hampering Sudan's economic revival.
Ghandour had been pushing for Khartoum's removal from the blacklist in a bid to obtain much needed foreign loans.
Full report at:
http://www.arabnews.com/node/1288556/middle-east
--------
Nigeria: LP Aspirant Dismissed Call for Muslim Government in Ekiti
20 APRIL 2018
By Ayodele Afolabi
There is a subtle religious agitation that the two major parties should field a Muslim candidate since the governors that have emerged in Ekiti from 1999 to date, are all Christians.A former Deputy Governor of the state, Alhaji Tae Lawal formally declared his intention to contest after decamping from the ruling PDP to the Labour Party (LP) to realise his ambition.
Lawal, who was deputy to Governor Segun Oni, under the PDP platform also dismissed insinuation that he joined the race because of agitation of Muslims that the next governor should come from them.
The ex-deputy governor said he decided to quit the PDP to pursue his ambition on other platform because "the party had derailed from all known democratic ethos and foundation laid by its founding fathers."He also said the sole endorsement of the incumbent Deputy Governor, Prof. Olusola Kolapo by his boss, Fayose as the sole candidate of the PDP for the July election has sealed the ambition of other contenders for the seat.
According to him, "I did not at anytime join others to adopt any candidate as the party's flag bearer for the July election. The action was undemocratic. I was invited to the Government House for a retreat on the election but when I learnt it was a gathering to adopt somebody, I walked out. I believe as a person, I'm qualified to govern Ekiti."I'm not fighting because of Muslims; it's not a religious matter. I am out because I have garnered enough experience. We have tried PDP, APC, now let's try the Labour Party.
"If they come with money to give you, collect it from them. It is Nigeria money, it is the money meant for projects that were not executed. So I won't advise them not to collect but they should follow their conscience."
Full report at:
http://allafrica.com/stories/201804200904.html
--------
Pakistan
Khadim Rizvi says '#MeToo' after LHC bars govt from 'harassing' Hafiz Saeed
APRIL 5, 2018
LAHORE – Tehrik Labbaik Ya Rasool Allah (TLY) Chief Khadim Hussain Rizvi has sent a petition to the Lahore High Court (LHC) on Thursday after the court ordered government authorities to not "harass" banned Jamaatud Dawa's (JuD) Chief Hafiz Saeed.
Justice Ameenud Din Khan, who heard the petition filed by A.K. Dogar on Saeed's behalf, also heard Rizvi's petition, which constituted of two words – or one hashtag.
"#MeToo" read the TLY chief's petition in its entirety.
Talking to The Dependent, Rizvi discussed his petition saying that the government was interfering in his party's welfare and entertainment projects because it had bowed down to pressure from human rights groups, laws of the country and the need of the hour.
Elaborating on the petition Rizvi argued that barring an organisation or party from indulging in comic relief work goes against the spirit of life.
"Even though, the Punjab government officials have been kind enough to admit that doing the same to me is proving to be difficult, I still wanted to tell the court that when it comes to harassment of radical elements of society and hatemongers: me too" he said, while talking to The Dependent.
"All radical Islamist and jihadist groups need to come together and express unity of our sisterhood to counter this state scourge."
https://www.pakistantoday.com.pk/2018/04/05/khadim-rizvi-says-metoo-after-lhc-bars-govt-from-harassing-hafiz-saeed/
--------
'Inimical forces' creating uncertainty in FATA: ISPR
April 21, 2018
RAWALPINDI: The mainstreaming of Federally Administered Tribal Areas (FATA) is the key to prosperity while 'inimical forces' are creating uncertainties in the region, media cell of Pakistan Army said on Friday.
Inter-Services Public Relations (ISPR) wrote in its official statement, "Economic rehabilitation of tribes takes priority. Mainstreaming of FATA remains key to their empowerment & prosperity."
ISPR DG Major General Asif Ghafoor announced that the affected NWA traders would meet local civil-military and FATA secretariat representatives on April 22 to discuss their "genuine issues and way forward".
"Brave tribes of FATA have achieved peace & stability after lot of hardships & sacrifices. Restoration of normal life after kinetic operation is part of 'clear-hold-build-transfer' strategy. State including security forces is committed to rehabilitate the affected population," he tweeted.
He specifically called out the 'inimical forces' and said, "It's time to be aware of inimical forces trying to create uncertainty but shall never succeed."
"We are through with challenges of 'clear' phase after kinetic operations, 'hold & build' in progress. It's our home, by working together we shall gradually bring back complete normalcy," he added.
On April 11, Chief of Army Staff (COAS) Gen Qamar Javed Bajwa had also stated that mainstreaming FATA and its merger with Khyber Pakhtunkhwa (KP) according to wishes of tribal people is 'imperative' for 'peace and prosperity' in the region.
Addressing the 210th Corps Commanders' Conference at the General Headquarters (GHQ), the army chief said that "the stability and development efforts in FATA must trickle down dividends of peace to the public, while the control of cleared areas is being handed over to the civil administration."
The COAS also stressed that the key dividend remains linked to mainstreaming of FATA in line with popular public sentiments.
The statement of army chief came in the wake of a major rally staged by the Pashtun Tahafuz Movement (PTM) on April 8. One of PTM's demands is the restoration of routine life in FATA, which has been at the forefront of Pakistan's fight against terrorism.
Full report at:
https://www.pakistantoday.com.pk/2018/04/20/inimical-forces-creating-uncertainty-in-fata-ispr/
--------
Pakistan delegation attends Islamic Conference of Youth & Sports Ministers
April 21, 2018
Under the theme "Solidarity in Action for Youth Development", the Organisation of Islamic Cooperation (OIC) launched the 4th session of the Islamic Conference of Youth and Sports Ministers (ICYSM) in Baku, Azerbaijan.
Co-organized by Azerbaijan's Ministry of Youth and Sports, the OIC, and the OIC Youth Forum and Islamic Solidarity Sports Federation, light was shed on the status of youth in OIC Member States, future activities of the OIC Youth Forum, a joint action plan for youth, implementation of resolutions and the international program of the Islamic Youth Capital.
The Islamic Conference of Youth and Sports Ministers also enabled the member states/representatives to voice their concerns, experiences, threats and the steps taken in the right direction in dealing with collective issues of the youth of the Muslim Ummah.
Speaking at the ICYSM, Punjab's Sports Minister Jahangir Khanzada said: "The significance of youth can best be underscored by mentioning Burhan Wani of Indian Occupied Kashmir and Ahad Tamimi of Palestine. Their undeterred belief in themselves and just cause helped ignite the fire of freedom among the people of their countries."
"Ahad Tamimi, a young girl that was equipped with nothing but courage and bravery, emerged as an iconic figure that sparked renewed struggle for freedom among the youth of Palestine. They were electrified by the unimaginable act of valour demonstrated by a teenage girl."
Full report at:
https://nation.com.pk/21-Apr-2018/pakistan-delegation-attends-islamic-conference-of-youth-sports-ministers
--------
JIT holds Rao Anwar responsible for Naqeeb murder: report
April 21, 2018
ISLAMABAD: A Joint Investigation Team (JIT) formed under directives of the Supreme Court has held Rao Anwar Ahmed Khan, a suspended Senior Superintendent of Police (SSP) of Karachi's Malir area, responsible for the extrajudicial killing of Naqeebullah Mehsud and three others in a staged 'encounter' in Karachi.
According to a report, the investigation team led by Additional Inspector General of Police Dr Aftab Pathan held Rao Anwar guilty of killing an innocent person in the encounter. The JIT has submitted its findings before the competent authority, a private media outlet reported.
Rao Anwar was arrested March 21 when he finally appeared before the Supreme Court after eluding law enforcement agencies for over a month. Soon after the suspended senior police officer appeared before the three-member bench hearing the suo motu case against Naqeeb's murder, Chief Justice of Pakistan Justice Saqib Nisar ordered police to arrest him.
After the hearing ended, Rao Anwar was taken away in an armoured personnel carrier and later handed over to the Sindh Police officials. At that time, the court also ordered the formation of a new five-member joint investigation team, headed by AIG Aftab Pathan, to investigate the staged encounter.
The chief justice had said that no institution, including the judiciary, would influence the investigation, which he said must be transparent. Rao Anwar had arrived at the court under tight security and was taken directly to the courtroom number one, where the hearing into Naqeeb's murder case took place. It is not yet clear whether he had shown up to court voluntarily.
His counsel Shamim Rehman informed the bench that Anwar had now surrendered. But the chief justice remarked that Anwar had done no favours by surrendering, and it had been inappropriate of him to write letters to the CJP. "Prove your innocence before the new joint investigating team," he told Anwar, adding that he would be considered innocent till proven guilty in the eyes of the law.
Naqeebullah Mehsud, whose name was given as Naseemullah on his national identity card, was a shop owner fond of modelling. Hailing from South Waziristan, he was among four suspects killed in an 'encounter' with a police team headed by Rao Anwar in the Usman Khaskheli Goth on the outskirts of the metropolis in January 2018.
Full report at:
https://www.pakistantoday.com.pk/2018/04/20/jit-holds-rao-anwar-responsible-for-naqeeb-murder/
--------
PTI voted for Sanjrani on 'order from top': Sirajul Haq
Ahmad Fraz Khan
April 21, 2018
LAHORE: Questioning the credibility of the Senate after its recent elections and adding fuel to political fire, Jamaat-i-Islami (JI) emir Senator Sirjaul Haq on Friday claimed that the Pakistan Tehreek-i-Insaf (PTI) had voted for Sadiq Sanjrani following an "order from the top."
Talking to the media at Mansoora, he said: "Khyber Pakhtunkwa Chief Minister Pervez Khattak called me some days before the Senate chairman's election and sought JI votes for their nominee. When I asked about the name of the nominee, Khattak feigned ignorance, saying he was not aware of the name yet because the decision was coming from the top; the only thing he knew was that he (the nominee) was from Balochistan."
The JI chief hastened to add that he did not understand what Mr Khattak meant by "from the top" — whether it was from heaven or somebody else.
His disclosure, however, was rejected by KP government spokesman Shaukat Yousufzai who said: "Sirajul Haq should not play innocent now (meaning thereby he was in the loop for everything). His party enjoyed power for five years and now he is trying to turn his back on everything."
Amirul Azeem of the JI responded in the same coin to the statement of Mr Yousufzai, saying that he was just being emotional. "Otherwise, the JI chief has only hinted at the self-accountability that Imran Khan has been trying to promote. It is because of the JI that the PTI is completing its term in the KP."
Precisely because of this, horse-trading and the allegations of money changing hands in the elections, the Senate had lost its moral position, Senator Haq insisted.
He said that not a few horses but the entire stable had been bought and sold and those sitting in the upper house could not see eye to eye with each other because of this moral compromise.
Full report at:
https://www.dawn.com/news/1402903/pti-voted-for-sanjrani-on-order-from-top-sirajul-haq
--------
Foreign ministry told to settle Indian pilgrim's nationality issue within three days
Wajih Ahmad Sheikh
April 21, 2018
LAHORE: The Lahore High Court (LHC) on Friday told the Ministry of Foreign Affairs to take no more than three days to decide the applications for visa extension and nationality of an Indian Sikh woman who married a Pakistani man after converting to Islam. Kiran Bala, whose Muslim name is Amina, had travelled to Lahore from Delhi on a visa to attend religious rituals at the Gurudwara Punja Sahib.
Here, she married Muhammad Azam who she had become friends with on Facebook.
Her counsel, Advocate Ijaz Ahmad Khan, told the court that she had moved two applications to the Ministry of Foreign Affairs for Pakistan nationality and extension in her visa, which is set to expire on April 21.
He said the petitioner was ready for due verification to acquire Pakistani citizenship.
The counsel argued that Article 15 of the Universal Declaration of Human Rights entitled everyone to a nationality and also granted the right to change their nationality. He said the petitioner, during her visit to Pakistan, had married Azam and was now looking to exercise her right to seek the nationality of her husband's country and an extension in her visa.
The lawyer asked the court to order the ministry to decide the applications as early as possible and to not take any coercive measures against her or her husband.
Justice Jawad Hassan disposed of the petition and directed the Ministry of Foreign Affairs to decide the petitioner's applications within three days.
Later while talking to journalists, Amina revealed that she had travelled to Pakistan so she could marry Azam. "I do not want to go back to India where women get no respect," she said, adding that she liked Pakistan and felt that the people here were caring.
Amina had mentioned on her travel documents that she was a mother. When asked about it, she explained that she had mentioned that for visa purposes, and denied that she had children in India. She added that her former husband had passed away.
Full report at:
https://www.dawn.com/news/1402888/foreign-ministry-told-to-settle-indian-pilgrims-nationality-issue-within-three-days
--------
Europe
The US bombed not just Syria but also peace talks: Russian FM
APRIL 21, 2018
MOSCOW: The United States and its allies "bombed" UN-backed peace talks aimed at ending the war in Syria when they ordered strikes on the country this month, Russia's Foreign Minister said Friday.
The US, France and Britain "on 14 April bombed not only made-up chemical sites in Syria, but also bombed the (UN-backed peace) talks in Geneva," Sergei Lavrov said following a meeting in Moscow with UN envoy Staffan de Mistura.
"We came very close to a relaunching of the Geneva process with a real dialogue between Syrians, mainly on the question of constitutional reform," Lavrov added.
De Mistura, who also met Russian defence minister Sergei Shoigu, said the UN's priority was to "lower the temperature" following the strikes.
"I am very pleased to hear that in spite of what happened last week and it is still very recent, there is a strong commitment from the Russian Federation to push for the political process," he said.
"It is important we turn the page on this alleged chemical attack because we need to go back to the basics," he added.
The US, France and Britain carried out air strikes on what they said were Assad's chemical weapons installations in response to an alleged chemical weapon attack.
Moscow, an ally of the Syrian regime, has long claimed an alleged attack in Douma was "staged" by Syrian rebels and the civil defence organisation, the White Helmets.
https://dailytimes.com.pk/230811/the-us-bombed-not-just-syria-but-also-peace-talks-russian-fm/
--------
German parliament condemns US-led strikes on Syria as illegal
Apr 20, 2018
Jurists at the German parliament have said the recent US-led airstrikes that hit Syria over an alleged chemical attack violated international law.
"The use of military force against a state, as a sanction against the violation of an international convention by this state, is an infringement of the prohibition of the use of violence in international law," experts at Bundestag, Germany's lower house of parliament, said in reply to a question filed by the far-left Die Linke party.
The experts referred in particular to the United Nations declaration from their 1970 General Assembly, which stresses "the duty of States to refrain in their international relations from military, political, economic or any other form of coercion aimed against the political independence or territorial integrity of any State".
The UN Security Council had also rejected armed retaliation, stressing that it is "incompatible with the objectives and the principles of the United Nations."
The experts also said the UK's declared motive for joining the US in the airstrikes on Syria was "not convincing."
Britain's Prime Minister Theresa May said it was "legally and morally right" for the UK to join the attack on Syria to prevent "further human suffering". But the experts said there were questions over "whether the military attacks are really appropriate to prevent further suffering" in the war-torn country.
Early on April 14, the United States, Britain and France carried out a string of missile airstrikes against Syria over a suspected chemical attack against the Syrian town of Douma.
Washington and its allies blamed Damascus for the suspected assault.
The Syrian government strongly denied the allegation and called on the Organization for the Prohibition of Chemical Weapons (OPCW) to send a fact-finding mission for investigations.
Full report at:
http://www.presstv.com/Detail/2018/04/20/559150/German-parliament-US-strikes-Syria
--------
Terrorism, economic crimes made Swiss attorney general's cases jump in 2017
2018-04-21
GENEVA, April 20 (Xinhua) -- A hefty increase in terrorism and international financial crimes in 2017 lifted the number of investigations in the Swiss Attorney General's office to 237 new cases from 190 the year before, the office said Friday.
"The core operational business of the Office of the Attorney General of Switzerland once again focused on dealing with major case complexes related to international white-collar crime and resource-intensive proceedings in connection with jihadist terrorism," said the report.
A total of 478 cases were ongoing at the end of the year, up 8 percent on the previous year.
Complex economic crime cases included scandals related to Brazilian oil giant Petrobras, the fund connected to the Malaysian government's development company 1Malaysia Development Berhad (1MDB), and attributions to the global football governing body FIFA of broadcasting rights for the World Cup, said the report.
In the Petrobras case alone, more than one billion Swiss francs (1.03 billion U.S. dollars) were confiscated, the report says.
Attorney General Michael Lauber told a press conference on Friday that a Swiss bank was also under investigation in the Petrobras case, and others could follow.
He did not name the bank, reported Swissinfo, the website of the Swiss national broadcaster.
A total of 17 new terrorism cases were opened last year.
The report said this shows that the threat of terrorism is not diminishing "despite the military defeat of the Islamic State" and the cases handled in 2017 were strongly transnational in nature, implicating numerous suspects from Syrian and Iraqi extremist networks.
Full report at:
http://www.xinhuanet.com/english/2018-04/21/c_137125924.htm
--------
Aboriginal car thief alleged to be plotting terror attack
April 21, 2018
An Aboriginal car thief alleged to be plotting a terrorist attack against Bankstown Shopping Centre has become the first target of new powers that would allow authorities to detain prisoners with extremist beliefs beyond the terms of their sentence.
The Weekend Australian can reveal that lawyers acting for NSW Attorney-General Mark Speakman applied last week for an extended supervision order against Greg Ceissman, who is suspected of converting to Islamic State ideology while in prison for drug and theft offences.
According to Mr Speakman, two offenders are subject to the new powers. No details are known about the second offender. Mr Speakman said community safety was the government's top priority.
The Weekend Australian has been told Ceissman is alleged to have plotted to attack Bankstown Shopping Centre in Sydney's suburban southwest and the Marrickville Police Station in the inner west.
He had been in jail since 2015 but on Thursday Mr Speakman sought an urgent application to have Ceissman monitored in the community, lest he conduct a terrorist attack. He was subsequently released and is living under strict reporting conditions with his ­father in inner-city Redfern.
It is understood the judge reserved his final decision but granted interim orders imposing more than 60 conditions, including that he stay away from Marrickville.
Ceissman is understood to have lived in Marrickville before his incarceration and clashed repeatedly with local police.
He is next due to appear in court on May 4.
The move was the first in what authorities privately believe will be a wave of applications aimed at keeping the ballooning number of radicalised prison inmates inside jail even after their prison terms have expired.
Last year, the NSW government passed the Terrorism High Risk Offenders Bill, which allows police to obtain detention orders for extremists inside prison, or ­extended supervision orders for terrorist sympathisers once they are released.
NSW police and the Department of Corrective Services also established a High Risk Terrorism Offenders Unit, a specialist squad of police and Justice Department officials to implement the new laws by identifying jail extremists.
The laws reflect a belief within counter-terrorism circles that the biggest threat to community ­safety lies not in returning foreign fighters from Syria but from the growing number of Islamist fan­atics in jail, many of whom are coming up for ­release.
The Weekend Australian has been told authorities are preparing applications for extended detention orders against two high-profile Muslim prisoners, Ahmed Elomar, a former boxer whose brother Mohamed Elomar fought and died with Islamic State in Syria, and Wassim Fayad, a Muslim extremist jailed in 2013 for the sharia whipping of another man.
Both were convicted under the normal criminal code — Elomar for assaulting someone at a soccer match and Fayad for whipping a fellow Muslim as a punishment for drinking alcohol. Both are considered potentially dangerous extremists and hence fall within the remit of the new laws.
Sources close to the case expressed concern about the order against the young Aboriginal man, saying the case against him rested on a 2015 prison intelligence report deemed at the time to be unreliable as it rested on the evidence of another prisoner.
The source said the real ­purpose of the exercise appeared to be to iron out bugs in the system so the applications against ­Elomar and Fayad, who were considered dangerous, were successful.
Full report at:
https://www.theaustralian.com.au/national-affairs/national-security/aboriginal-car-thief-alleged-to-be-plotting-terror-attack/news-story/f9954b13563502468bf4bf5a431ee67c
--------
UK Muslim body commemorates 20th anniversary
21.04.2018
By Muhammad Mussa
LONDON
The Muslim Council of Britain, an organization representing Muslims across the UK, held its annual Muslim Leadership Dinner on Friday celebrating progress made by the organization as well as the Muslim community in the UK.
It was attended by MPs such as opposition Labour party leader Jeremy Corbyn, Naz Shah and Stephen Timms as well as representatives from Islamic charities and businesses.
The event, held once a year, also commemorated its 20th anniversary in serving British Muslims throughout the country as well as serving as an umbrella organization for mosques and smaller Islamic organizations.
"This is our annual gathering, bringing together the leaders from Muslim civil society as well as our interfaith friends, coming together to celebrate the different aspects of community achievements," Secretary-General Harun Khan told Anadolu Agency.
"So each year, we have done different themes. But this year coincided with our 20th anniversary, so we felt it was quite apt to have a 20th anniversary celebration. So we will be talking about the achievements of the MCB over the last two decades," Khan added.
Asked about the event's purpose, Khan said "the dinner is really a mark of celebration. I think it's important for us because we face so many different challenges as a community on various levels that it's nice to come together and celebrate the great themes our community contributes to this country".
Also speaking at the event was Sir Iqbal Sacranie, the first and founding secretary general of the Muslim Council of Britain, who was knighted in 2005 by the Queen due to his efforts in representing the Muslim community.
"What a wonderful occasion it is today, when one reflects 20 years ago at a time which can only be looked at as a momentous occasion, a landmark event in the history of British Muslims, when more than 200 organizations across the country willingly joined hands and affiliated to the Muslim Council of Britain," he said.
Full report at:
https://m.aa.com.tr/en/europe/uk-muslim-body-commemorates-20th-anniversary/1124344
--------
North America
Terrorism fatalities have decreased by 40pc: US report
Anwar Iqbal
April 21, 2018
WASHINGTON: Terrorism fatalities in Pakistan decreased by almost 40 per cent between 2016 and 2017, says a US State Department report released on Friday.
The department's annual country report on human rights notes that at the end of October 2017, terrorism fatalities in Pakistan stood at 1,084, in comparison with 1,803 fatalities in the full year 2016.
The data, collected for the South Asia Terrorism Portal (SATP), indicated a 39.878 per cent decrease, which would have improved further if data for the last two months of 2017 were also included.
The US report points out that terrorist violence and human rights abuses by non-state actors contributed to human rights problems in the country.
"The military sustained significant campaigns against militant and terrorist groups. Nevertheless, violence, abuse, and social and religious intolerance by militant organisations and other non-state actors, both local and foreign, contributed to a culture of lawlessness in some parts of the country," the report adds. This was more obvious in Balochistan, Sindh, Khyber Pakhtunkhwa (KP), and the Federally Administered Tribal Areas (Fata).
The State Department report also highlights the issue of forced disappearances in Pakistan, noting that in 2017, "there were kidnappings and forced disappearances of persons from various backgrounds in nearly all areas of the country. Some police and security forces reportedly held prisoners incommunicado and refused to disclose their location".
The report mentions disappearance of MQM workers in Karachi and of nationalists in interior Sindh, Balochistan and KP.
The report also alleges that dozens of political workers and activists were kidnapped, tortured and killed in all these places.
The US State Department notes that the Commission of Inquiry on Enforced Disappearances received 4,608 missing person cases. The commission claimed to have closed 3,076 of those cases, while 1,532 remained open.
Data from the commission showed the number of persons reported missing was highest in KP (751 missing), followed by Punjab (245 missing), Balochistan (98 missing), Sindh (50 missing), Fata (48 missing), the Islamabad Capital Territory (45 missing), Azad Jammu and Kashmir (AJK) (14 missing), and Gilgit-Baltistan (five missing).
The most significant human rights issues identified in the report include extrajudicial and targeted killings, disappearances, torture, lack of rule of law and frequent mob violence and vigilante justice with limited accountability.
Additional problems identified in the report are arbitrary detention, lengthy pre-trial detention, a lack of judicial independence in the lower courts, governmental infringement on citizens' privacy rights, harassment of journalists, and high-profile attacks against journalists and media organisations.
Government restrictions on freedom of assembly, freedom of movement and freedom of religion and discrimination against religious minorities, and sectarian violence have also continued.
Corruption within the government and police, lack of criminal investigations or accountability for cases related to rape, violence-based on gender, gender identity and sexual orientation, sexual harassment, so-called honour crimes, and female genital mutilation/cutting remain problems.
Child labour resulting in frequent exposure to violence and human trafficking, including forced and bonded labour, has also persisted.
https://www.dawn.com/news/1402895/terrorism-fatalities-have-decreased-by-40pc-us-report
--------
Supreme Court should ban the Muslim ban
April 20, 2018
The impact of President Donald Trump's unconstitutional Muslim ban extends beyond the immigration context. It is an attack on the character, hopes and dreams of American families, children and youth who are Muslim and those perceived as Muslim.
This has resulted in an increase in anti-Muslim discrimination and violence targeting these families and children.
The dangers posed by the Muslim ban are not limited to families being torn apart, travelers facing lengthy delays, or denial of entry into the U.S. The Muslim ban epitomizes the culmination of a long-standing history of anti-Muslim discrimination and scapegoating.
These forms of discrimination are an attack on our shared American values of religious freedom and our nation's founding principles.
Our country was founded on the principle of freedom of religion, a tradition and ideal that forms the foundation of our country. We do not tell people how to pray, and we do not ban people based on their religion.
Unless the unconstitutional Muslim ban is struck down by the Supreme Court once and for all, Americans who are Muslim or perceived as Muslim are likely to be subjected to the same action again.
Through his tweets, President Trump continues to defend — against all known facts — this unconstitutional ban.
With the president's continued defense of the Muslim ban, there can be no assurance that the religiously discriminatory policy underlying it will not be implemented.
The Muslim ban signifies a ratification of bigotry by those at the highest levels of our government. What we are witnessing is the broad power of the federal government used to undermine one of the tenets it was established to protect: freedom of religion.
As a longtime civil rights activist and head of the San Antonio office of the Council on American-Islamic Relations, I have witnessed the harm from the president's Muslim ban that restricts travel from predominantly Muslim countries.
But one doesn't need to be an active community member to see the rise in discrimination that the Muslim ban has instigated. Millions of American Muslim children and families have seen increased discrimination, hate violence and threats of violence as a result of the anti-Muslim animus that underpins this policy.
Just last year, we saw hundreds of incidents of anti-Muslim discrimination nationwide. Several mosques were burned, and numerous Americans who were Muslim or perceived as Muslim were shot or beaten severely. During most of these attacks, the attackers uttered or expressed the same anti-Muslim slurs repeated daily in mainstream media headlines and often by candidates and politicians.
Full report at:
https://www.mysanantonio.com/opinion/commentary/article/Supreme-Court-should-ban-the-Muslim-ban-12852066.php
--------
U.S. army trainers try to build West Africa defences against jihad
20/04/2018
By Aaron Ross
OUALLAM, Niger (Reuters) – Kicking up clouds of pink Saharan dust, U.S. military trainers impersonated militants, waved flags saying "death to outsiders" and threw smoke grenades toward approaching Nigerien commandos this week, as a surveillance drone hovered overhead.
The joint military exercises between U.S.-led Western forces and several West African nations, dubbed "Flintlock", have been going on since 2005. This year, however, they have focused more closely on the evolving threat posed by Islamist militants, whose mounting numbers and capabilities require an ever more sophisticated response, military commanders told Reuters.
"Flintlock … has over the years evolved," Major General J. Marcus Hicks, who leads some 1,000 American special operations forces across about a dozen African countries, told Reuters.
"What's different this year is that we have intentionally focused on the developing threat situation in the Sahel and the ongoing challenges in the Lake Chad region," he said.
Jihadist groups linked to al Qaeda and Islamic State are launching increasingly brazen attacks on U.N., Western and local forces and civilian targets across West Africa's Sahel region, including a raid in western Niger last October that killed four U.S. Green Berets.
This year's 14th instalment of Flintlock brought together about 1,900 special forces troops from 12 Western and eight African countries this month in Niger, whose porous borderlands with Mali and Burkina Faso along Africa's vast Sahel have seen the biggest surge in attacks.
Similar exercises were conducted in Burkina Faso and Senegal.
"The Sahel is not an easy place," Colonel Kassim Moussa of Chad's special forces said at a military base in the western town of Ouallam, where Nigerien commandos in blue helmets and loose fitting uniforms braved the scorching midday sun to simulate raids on a jihadist camp.
"It has to be synchronised as they (the militants) go across borders very easily, very fluidly, so getting our partners to work together is a big driver," trainer Colonel Craig Miller said at the exercise.
The militant threat has ballooned this decade with the emergence of Boko Haram's insurgency in northern Nigeria and the Lake Chad region, and the jihadist 2012 takeover of north Mali.
A French intervention in northern Mali in early 2013 helped beat back that threat, but the militants have regrouped, launching attacks in Mali, Niger, Burkina Faso and beyond.
Niger's Defence Minister Kalla Moutari said at Friday's closing ceremony that the officers had shown "their capacity to … lead aerial and land operations".
Full report at:
http://www.euronews.com/2018/04/20/us-army-trainers-try-to-build-west-africa-defences-against-jihad
--------
URL: https://www.newageislam.com/islamic-world-news/dalit-muslim-conferences-look-forge/d/115005
New Age Islam, Islam Online, Islamic Website, African Muslim News, Arab World News, South Asia News, Indian Muslim News, World Muslim News, Women in Islam, Islamic Feminism, Arab Women, Women In Arab, Islamophobia in America, Muslim Women in West, Islam Women and Feminism