New Age Islam News Bureau
10 Jul 2015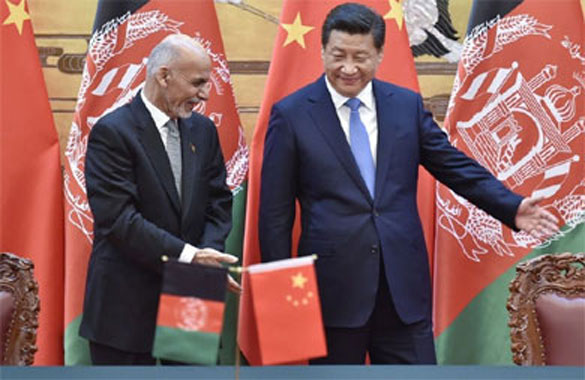 China's President Xi Jinping during a meeting with his Afghan counterpart President Mohammad Ashraf Ghani
----------
Arab World
• Daesh Recruiting Addicts, Mental Patients
• Saudi TV Show Becomes a Hit by Mocking Daesh
• Over 30 ISIL Terrorists Killed in Homs
• Saudi Arabia Paying For Favorable Media Coverage: Report
• Bombings leave 16 dead in, around Iraqi capital
• Iraqi Army, Popular Forces Preparing to Surround ISIL in Fallujah from 4 Directions
• ISIL Loses Last Headquarters in Iraq's Diyala
• Egypt sentences 14 more Brotherhood members to death
• Egypt sentences 10 to death for killing judge's guard
• Saudi former FM Prince Saud al-Faisal dies
• Kuwaiti minister asked to deny terror funding claims or resign
• U.S. seeks U.N. action on chemical attacks in Syria
• Jet Airways flight diverted to Oman after bomb threat
• Hezbollah's Destroys Terrorists' Operations Room in Covert Operation in Zabadani
• In Baghdad, end of a curfew brings Ramadan joy
---------
South Asia
• 23 Dead In Bangladesh Charity Handout Stampede: Police
• Senior Daesh commander Shahidullah Shahid killed in Nangarhar
• Court frames charges against 132 Jamaat-Shibir men
• Kabul plans detailed Taliban talks
• Terrorism threatens China, Russia and other regional countries: Ghani
• Afghan intelligence release video of Special Task Force against ISIS
• Five DU students expelled for distributing leaflets of Hizb ut-Tahrir
• From Red Army to Afghan jihad museum: a soldier's tale
----------
India
• India Sending Terrorists to Pakistan: Hafiz Saeed
• Tokenism and Symbolism Won't Help Muslims: Senior BJP Leader
• President Rouhani: No Obstacles to Expansion of Economic, Cultural Ties with India
• Indo-Pak conflict can be stumbling block for SCO: Think tank
• In Iran-Israel balancing act, PM Modi says he will visit Tehran
• China rejects Indian concerns over Lakhvi
• 136,020 Indian pilgrims to arrive for Haj
-----------
Africa
• Muslim Terrorists Al Shabaab Continue To Advance and Recruit in Somalia
• 14 Killed in clashes in Libya's Benghazi
• Burundi on verge of fresh violence over presidential bid: UN
• Nigeria: Cleric Urges Muslims to Avoid Clashes
• Okorocha urges Christians/ Muslims to unite against Boko Haram insurgency
• Cameroon says repulses Boko Haram attack, kills 3 militants
• Somalia: Ethiopian forces prepare offensive to retake key stronghold from Al Shabaab
---------
Europe
• How Russia's Labor Migration Policy Is Fueling the Islamic State
• The UK Now Knows there's much to Learn about Islam
• Convoy of Srebrenica victims' remains heads to massacre site
• Sarkozy Signs Petition against Proposal to Turn Unused French Churches Into Mosques
----------
North America
• US-Led Warplanes Are Pummeling the De-Facto ISIS Capital Like Never Before
• Muslim Groups Call Push to Certify Imams 'Racial And Religious Discrimination'
• Ramadan Donations for Arizona Needy
• America's Best Muslim Comedians to Star in First-Ever Muslim Funny Fest
---------
Mideast
• Yemeni Forces Fire Dozens of Rockets at Saudi Bases
• FM: Saudi Determined To Confront Iranian Expansion in the Region
• Yemeni Parties Accept UN Call for Pause in Fighting
• Millions of Iranians Stage Anti-Israel Rallies on Int'l Quds Day
• Trial opens of Turkish columnists over Mohammed cartoon
• Israel reverses policy, decides to open dialogue with ICC: official
• Source: "US Excessive Demands" Pushing Vienna Nuclear Talks to Deadlock
---------
Pakistan
• Pak Govt to Use Daesh, Not IS, As Terror Group's Name
• Daesh Prime Suspect behind Safoora Bus Attack
• Threat to lawyer defending blasphemy accused
• PTI provincial minister, 10 others arrested by NAB
• Balochistan CM to meet Khan of Kalat in London
• Pakistani leaders condole death of Prince Saud al Faisal
• Pakistan fighting anti-terror war for global peace: PM
• 8 terrorists arrested in Quetta
-----------
Southeast Asia
• Islam Most Popular Among Chinese Youth: Survey
• China's Xi Pledges Security Equipment, Training For Afghanistan
• Thailand deports scores of Uighur Muslims to China
• Chinese media accuse Turkey of abetting illegal migration
• Malaysian police foils Islamic State terror plot; arrests 2
• Attacks on PM persist for fear he will not fall as predicted
• Indonesian Islamic minority protests mosque closure, fears growing intolerance
• Muslim groups threaten violence on Catholic shrine over permit dispute
• Lukman touts moderate, local version of Islam
• Malaysian Hotels Remove "Offensive" Ramadan Signs
Compiled by New Age Islam News Bureau
URL: https://www.newageislam.com/islamic-world-news/new-age-islam-news-bureau/daesh-recruiting-addicts,-mental-patients/d/103849
----------
Arab World
Daesh Recruiting Addicts, Mental Patients
10 July 2015
JEDDAH: The Daesh terrorist group is actively recruiting drug addicts and psychiatric patients because they are easy to manipulate, according to psychologists quoted in a local publication recently.
Hamid Al-Ghamdi, a psychology consultant, said: "These patients and drug addicts suffer from psychological and other problems. They mostly have low levels of education and deviant and perverted thoughts," he said.
He said these people are docile and stubborn at the same time. "They sometimes deem what is right and lawful as forbidden, and at other times say that forbidden behavior is permissible. They have odd ideas," he said.
It is therefore easy for terrorists groups to brainwash them, he said. "Terrorist groups give these recruits tranquilizers and drugs to ensure they have confidence to carry out crimes. This is not the behavior of normal people, who would hesitate before committing a crime."
Ali Sahfan, a professor of psychology, said these people are aggressive and unlikely to abide by laws. "They are opportunists who only care for themselves. They commit heinous crimes such as bombings, beheading and dancing on the bodies of their victims, with no regret whatsoever.
They are aggressive and blood thirsty people because of their upbringing and social isolation," he said.
http://www.arabnews.com/saudi-arabia/news/774291
---------
Saudi TV show becomes a hit by mocking Daesh
10 July 2015
JEDDAH: A new TV satire program has become a hit in the region by mocking some of the most pressing issues.
The show, "Selfie," has also brought a backlash. Daesh sympathizers have made death threats against its Saudi star and top writer on social media.
Nasser Al-Qasabi, the series' star, and its writer Khalaf Al-Harbi told The Associated Press in their first interview with foreign media that they expected the backlash, but weren't prepared for the popularity. It's one of the top shows on MBC and has been the talk of the Gulf press.
Al-Qasabi says the series' dark humor reveals just how tragic the situation across the Middle East has become. "What's coming is darker," he said. "Maybe I am a bit pessimistic, and I hope that I am wrong, but I don't think I am."
In the show's most popular skit, Al-Qasabi plays a Saudi father whose son has run off to join Daesh. He smuggles himself into Syria, pretends to be a jihadi joining Daesh and tries to convince his son to return home. It's a more serious episode, showing his horror at Daesh "perversions" of Islam and at the group's atrocities — and his torment as he tries to avoid committing atrocities himself in his disguise.
But it has comic moments as well, as he fumbles his way through militant training and is chased around the bed by a militant bride who is forced on him by the group and who has dedicated her life to pleasing the terrorists as a means of going to heaven.
إعلان
Other, lower-budget Iraqi and Syrian TV shows have mocked Daesh and other militants. But "Selfie" stands out with its high production values — and the fact that it's a show with Saudi actors on a Saudi network.
Preacher Saeed bin Mohammed bin Farwa has accused Al-Qasabi and MBC of heresy. Columnist Hamad Al-Majed also criticized the show, saying that in its attempt to ridicule extremism the series also disrespected Islamic traditions and made generalizations, especially about the Kingdom.
Al-Qasabi and Al-Harbi are no strangers to controversy. They both worked on "Tash ma Tash", a long-running comedy that ruffled feathers for its handling of sensitive issues in Saudi society.
Al-Harbi says he wanted to kick it up a notch with "Selfie." He explained the title, saying the show is trying to give a snapshot of Arab society today.
"Selfie's" biggest success, said Al-Harbi, is in exposing how terrorists manipulate religion. He said the show delivered that message to the Arab public more effectively than lectures or newspapers.
"I felt this is a weapon that will reach the audience," he said. "If it was just something comical, we would have focused on easy societal issues that aren't dangerous and are guaranteed safe."
http://www.arabnews.com/saudi-arabia/news/774366
---------
Over 30 ISIL Terrorists Killed in Homs
Jul 09, 2015
The Syrian army pushed the ISIL terrorists out of several areas surrounding Palmyra on Wednesday.
The Syrian troops regained full control over Nazl Hayyal, al-Qadiri farm and Thaniet al-Rajma.
The Syrian air force also carried out airstrikes against ISIL hideouts at the al-Heer Palace, Palmyra city, and its surroundings, killing a number of terrorists and destroying their arms and ammunition.
ISIL terrorists captured Palmyra on May 21. Palmyra is on the list of UNESCO's World Heritage sites and located about 215 kilometers (133 miles) Northeast of the capital, Damascus.
Meanwhile, the army also attacked ISIL hideouts in the al-Habra al-Gharbieh village in Homs' Eastern countryside, killing a number of terrorists and destroying their armored vehicles.
The ISIL Takfiri terrorists currently control shrinking swathes of Syria and Iraq. They have threatened all communities, including Shiites, Sunnis, Kurds, Christians, Ezadi Kurds and others, as they continue their atrocities in Iraq.
Senior Iraqi officials have blamed Saudi Arabia, Qatar, and some Persian Gulf Arab states for the growing terrorism in their country.
The ISIL has links with Saudi intelligence and is believed to be indirectly supported by the Israeli regime.
http://english.farsnews.com/newstext.aspx?nn=13940418000358
---------
Saudi Arabia paying for favorable media coverage: Report
Jul 10, 2015
Saudi Arabia has been paying media outlets across the globe in a bid to manipulate them into projecting a positive image of the kingdom in the international arena, a new report says.
Reporters Without Borders made the revelations in the report published on its website on Thursday, citing newly leaked Saudi diplomatic documents, dubbed the Saudi Cables, released by the whistle-blower website, WikiLeaks, with most of them dating back to between 2010 and 2015.
"While it is not always clear from the cables what was actually done, they expose the extraordinary initiatives that were at least considered by the Saudi government in an attempt to improve its image abroad," the report said.
The report highlighted methods used by Riyadh to promote its own interests, among them channeling funds to media organizations all over the world, as was the case in 2011 with the Wesal Farsi TV (now called Tawhid), a London-based Persian-language television station with anti-Iran agendas.
"In return for monthly funding and allowing Saudi Arabia to appoint a representative to its board of governors, the TV station would respond to Iranian media criticism of Saudi Arabia," the report said.
The France-based international organization also explained in its report how some media organizations approached the Saudi government for funding, referring to the case of Afghan media center Spogmai in 2009.
The head of Spogmai "requested funding … for the creation of a news website, a daily newspaper, a magazine and a TV station … that would act as counterweights to Afghan media," the report added.
It also went on to say that another practice applied by Riyadh was to ban reporters critical of the government from working in the country.
The report cited what happened recently to the London-based Financial Times newspaper, which had to withdraw its correspondent and close its Riyadh bureau for publishing what the Saudi government called "lies" about the kingdom.
Touching on the role of Saudi missions in Riyadh's dictated media coverage, the report concluded, "The embassies play a dynamic role in organizing and maintaining active pro-Saudi propaganda abroad. As they are familiar with the local media, they are best placed to monitor what the media are saying and to make suggestions to the Saudi government."
The revelations come as international human rights organizations have lashed out at Saudi Arabia for failing to address the rights situation in the Persian Gulf kingdom. They say Saudi Arabia has persistently implemented repressive policies that stifle freedom of expression, association and assembly.
http://www.presstv.in/Detail/2015/07/10/419580/Saudi-WikiLeaks-Riyadh-Wesal-Spogmai
---------
Bombings leave 16 dead in, around Iraqi capital
Jul 10, 2015
Iraqi security and medical officials say at least 16 people have lost their lives and more than three dozen others sustained injuries when a series of bomb explosions ripped through residential neighborhoods in and around the capital, Baghdad.
The officials, speaking on condition of anonymity, said Thursday's deadliest attack took place in Baghdad's southeastern neighborhood of Zafaraniyah, where seven people were killed and 18 others wounded in a car bomb explosion.
The force of the explosion damaged a number of cafés and restaurants in the area.
Separately, a bomb targeted a pickup truck carrying pro-government volunteer forces in the same district, killing two fighters.
Earlier on Thursday, a bombing struck a commercial street in the capital's western neighborhood of Baiyaa, killing three people and wounding nine others.
A bomb near an outdoor market in Baghdad's western al-Furat neighborhood also killed two people.
Civilians inspect the site of a car bomb attack on Palestine Street in eastern Baghdad, Iraq, on June 10, 2015. ©AP
Elsewhere in the town of Mada'in, located about 20 kilometers (14 miles) southeast of the capital, a bomb detonated close to a café, killing two people and wounding 11 others.
There was no immediate claim of responsibility for the attacks. However, Iraqi officials usually blame such assaults on the ISIL Takfiri terrorists.
The United Nations Assistance Mission for Iraq says a total of 1,466 Iraqis were killed and another 1,687 wounded in acts of terrorism, violence and armed conflict in June. According to the UN mission, the number of civilian fatalities stood at 665. Violence also claimed the lives of 801 members of the Iraqi security forces. A great portion of the fatalities was recorded in Baghdad, where 324 civilians were killed.
The northern and western parts of Iraq have been plagued by violence ever since ISIL Takfiri militants began their march through the Iraqi territory in June 2014. Army soldiers and volunteer fighters have joined forces and are seeking to take back militant-held regions in joint operations.
http://www.presstv.in/Detail/2015/07/10/419555/Bomb-attacks-Baghdad-Zafaraniya-Madain
---------
Iraqi Army, Popular Forces Preparing to Surround ISIL in Fallujah from 4 Directions
Jul 09, 2015
The Iraqi forces purged the terrorists from al-Fani district in Saqlavia region, Northwest of Fallujah, on Thursday and are now advancing towards the Center of Saqlavia.
Once the strategic region of Saqlavia is completely cleaned, the ISIL terrorists in Fallujah will be surrounded completely from four sides.
Iraqi army forces, backed by volunteer forces, launched the operation to liberate the strategic city of Fallujah from the control of the ISIL terrorists on Monday.
Iraqi officials said the offensive to retake the troubled city, located roughly 69 kilometers (43 miles) West of the capital, Baghdad, began on Monday night, and that government troopers together with volunteer fighters reached the gates of Fallujah.
The authorities said that Iraqi forces were in full control of the Western, Southern and Eastern areas leading to the city.
Full report at:
http://english.farsnews.com/newstext.aspx?nn=13940418000868
---------
ISIL Loses Last Headquarters in Iraq's Diyala
Jul 09, 2015
The successful operations of the Iraqi army and popular forces in the strategic town of al-Matibjah on the border of Diyala and Salahuddin provinces led to the freedom of the town and cleaning up the terrorists from the region.
During the operations in Matibjah and its surroundings, also tens of ISIL terrorists were killed and 5 training centers of the terrorist group were destroyed completely.
Last month, the Iraqi army attacks in the Eastern province of Diyala killed 300 Takfiri terrorists from different nationalities.
Abdol Amir al-Zaidi, the commander of Iraq's Tigris operations, was quoted as saying by Sumeriya News that his forces have killed over 100 foreign non-Arab terrorists and 200 Takfiri terrorists with different Arab nationalities.
He added that the non-Arab terrorists were from the European and Asian countries, most of them ISIL ringleaders.
The Iraqi forces liberated the entire Diyala province from the control of the ISIL terrorists in January.
Full report at:
http://english.farsnews.com/newstext.aspx?nn=13940418000505
---------
Egypt sentences 14 more Brotherhood members to death
Jul 9, 2015
A court in the northern Egyptian city of Mansoura has sentenced 14 Muslim Brotherhood members to death in separate terrorism-related cases.
In the first case, the Mansoura court handed down the execution sentences on Thursday for 10 of the Brotherhood members on charges of involvement in killing a police officer last year.
The court alleged that the defendants killed the officer who served as a security guard for one of the judges hearing the trials of Egypt's ousted President Mohamed Morsi.
Sergent Abdallah Metwally was part of a team of police forces guarding the home of judge Hussein Kandil when he was shot dead in February 2014 in Mansoura.
Egyptian authorities have claimed that a number of the defendants admitted to killing the policeman following their arrest.
In the second case, four other members of the Brotherhood also received death penalties for allegedly forming a "terrorist group."
This is while nine other defendants, eight of whom were sentenced in absentia, were handed down life imprisonment terms by the Mansoura court in the same case.
Under the Egyptian law, all the execution sentences will be referred to the Egypt's Grand Mufti, who has to review all death penalties, although his ruling on the cases is not binding.
Those condemned to death on Thursday were among 24 people facing trial in Mansoura over Metwally's murder. Verdicts against the other 10 will be announced in September.
Since Morsi's 2013 overthrow in a military coup led by then-army chief and current President Abdel-Fattah el-Sisi, the Egyptian government has been brutally cracking down on the Muslim Brotherhood and its supporters.
Full report at:
http://www.presstv.in/Detail/2015/07/09/419526/Africa-Egypt-Mansoura-court-ruling-death-sentences-Muslim-Brotherhood
---------
Egypt sentences 10 to death for killing judge's guard
9 July 2015
An Egyptian court Thursday sentenced to death 10 men for killing a security guard for one of the judges hearing a case against ousted president Mohamed Mursi, an official said.
Sergent Abdallah Metwally was part of a team of policemen guarding the home of judge Hussein Kandil, when he was gunned down in February 2014 in the city of Mansoura north of Cairo.
At the time, Kandil was the presiding judge in Morsi's trial for escaping from jail during the 2011 uprising that ousted longtime president Hosni Mubarak.
In May, Morsi and more than 100 co-defendants were sentenced to death in that trial for plotting jailbreaks and attacks on police.
The 10 men sentenced to death on Thursday were among 24 tried in a court in Mansoura in connection with Metwally's murder, the official said. Verdicts against the 14 others will be announced in September.
In line with Egyptian law, the death sentences were referred to the mufti, the government's official interpreter of Islamic law, and the court will deliver its final ruling on September 7.
Morsi was ousted in July 2013 by then army chief and now President Abdel Fattah al-Sisi after mass protests against his one-year divisive rule.
Since Morsi's overthrow, hundreds of people have been sentenced to death in speedy trials amid a brutal government crackdown on his supporters.
Also on Thursday, the Mansoura court confirmed death sentences against four men accused of forming a "terrorist group", while nine others were sentenced to life.
The men were also accused of receiving weapons training in the Gaza Strip from Ezzedine al-Qassam Brigades, the armed wing of the Palestinian Islamist movement Hamas.
Rights groups accuse the authorities of using the judiciary in its crackdown against Morsi supporters that has left hundreds dead and thousands jailed since his ouster.
In retaliation, militants have targeted security forces, and in recent months have also attacked judges and prosecutors.
Full report at:
https://english.alarabiya.net/en/News/middle-east/2015/07/09/Egypt-sentences-10-to-death-for-killing-judge-s-guard-.html
---------
Saudi former FM Prince Saud al-Faisal dies
July 10, 2015
RIYADH - Prince Saud al-Faisal, who retired in April after serving 40 years as Saudi Arabia's foreign minister, died on Thursday, two Saudi sources and media close to the ruling family said.
His tenure saw Israel invade Lebanon in 1978, 1982 and 2006, the eruption of Palestinian intifadas in 1987 and 2000, Iraq's invasions of Iran in 1980 and Kuwait in 1990, and the occupation of Iraq by a U.
S.
-led coalition in 2003.
Equally at home in Arab robes or a tweed suit and tie, and as fluent in English as in Arabic, Prince Saud proved adept at cutting through diplomatic niceties to deliver Saudi Arabia's message with pith and wit.
During a moment of tension in Saudi ties with its main ally the United States in 2004, he described the relationship as "a Muslim marriage" in which the kingdom could retain different wives if it treated them all with fairness.
He retained that incisiveness even as a chronic back complaint and other maladies in recent years made his hands shaky and his speech slurred.
Asked in early 2012 if it would be a good idea to arm Syria's rebels, he said briskly: "I think it's an excellent idea.
" Prince Saud, a son of King Faisal, was born in 1940 in Taif near Mecca, where in 1989 he helped negotiate the agreement that ended Lebanon's 15-year civil war.
A degree at Princeton in the 1960s was followed by years at the Petroleum Ministry, where he was taken under the wing of his father's canny and charismatic oil minister Ahmed Zaki Yamani.
His career as a diplomat began traumatically: the new King Khaled named him as foreign minister following the assassination of Prince Saud's father Faisal, who had retained the foreign affairs portfolio after being made king in 1962.
For all his talents as a diplomat, however, Prince Saud failed to build the kingdom's foreign ministry into a body with great institutional depth.
Diplomats in Riyadh have described Saudi foreign policy as being like a searchlight: intensely focused, but only on the issues of most interest to the king and Prince Saud.
When he was appointed in October 1975, the region was dominated by Cold War rivalries, and secular pan-Arab nationalism seemed to be the future.
Egypt and Israel had not yet made peace, and Yasser Arafat led the Palestine Liberation Organisation from shell-pocked refugee camps in Lebanon.
Iran's shah still ruled from his Peacock Throne, while in Iraq a young Saddam Hussein was plotting his path to power.
Riyadh's relationship with Saddam, which went from wary support during the Iran-Iraq war to fierce enmity after the invasion of Kuwait, dominated foreign policy for long periods during Prince Saud's tenure.
Full report at:
http://nation.com.pk/international/10-Jul-2015/saudi-former-fm-prince-saud-al-faisal-dies
---------
Kuwaiti minister asked to deny terror funding claims or resign
Raising funds in some Gulf countries for terror groups has to stop, US official says
MARCH 27, 2014
BY HABIB TOUMIBUREAU CHIEF
Manama: A Kuwaiti lawmaker has challenged the minister of justice to either refute allegations made by a US official that he was involved in funding terrorism or resign.
"The undersecretary for Terrorism and Financial Intelligence David Cohen has recently said that the appointment of Nayef Al Ajmi to be both Minister of Justice and Minister of Islamic Endowments and Islamic Affairs was a step in the wrong direction," MP Nabeel Al Fadhl said. "Cohen added that the minister has a history of promoting terrorism. We expect the minister to either hand in his resignation immediately or reject the accusations and sue the US official. Lapsing into silence will only fuel speculation and doubt," the lawmaker said.
In his March 4 remarks before the Centre for a New American Security on Confronting New Threats in Terrorist Financing, Cohen said that although "much of the private fundraising in the Gulf related to Syria is motivated by a sincere and admirable desire to ease suffering, and the funds are used for legitimate humanitarian purposes, a number of fundraisers operating particularly in Kuwait and Qatar are soliciting donations to fund extremist insurgents, not to meet legitimate humanitarian needs. The recipients of these funds are often terrorist groups, including Al Qaida's Syrian affiliate, Al Nusrah Front, and the Islamic State of Iraq and the Levant (Isil), the group formerly known as Al Qaeda in Iraq (AQI)."
For the US official, the influx of funds to these groups in Syria poses a serious challenge.
"Apart from their highly destabilising role in the ongoing conflict there, these well-funded and well-equipped groups may soon turn their attention to attacks outside of Syria, particularly as scores of newly radicalised and freshly trained foreign recruits return from Syria to their home countries," he said.
He added that the US, in order to confront the challenge, was closely tracking the movement of funds to Syria, especially funds coming out of the Gulf.
"We have already targeted and applied sanctions against several key fundraisers, extremist leaders, and terrorist organistions. We are also actively supporting our partners throughout the region in their efforts to stem the tide of funding to extremists operating in Syria," Cohen said.
However, he added that "Kuwait has become the epicentre of fundraising for terrorist groups in Syria."
Full report at:
http://gulfnews.com/news/gulf/kuwait/kuwaiti-minister-asked-to-deny-terror-funding-claims-or-resign-1.1309456
---------
U.S. seeks U.N. action on chemical attacks in Syria
10 July 2015
The United States submitted a draft resolution to the Security Council on Saturday in aim to set up an investigative body that would identify those behind chemical weapons attacks in Syria and bring them to justice.
The investigative mechanism would be a joint program between the Organization for the Prohibition of Chemical Weapons (OPCW) and the United Nations, Al Arabiya News Channels's correspondent in New York reported.
The United States has been promoting Security Council action to assess blame for an increasing number of alleged chlorine attacks, and Russia's U.N. Ambassador Vitaly Churkin said last month that the council should look at the best way to ensure that the people allegedly responsible for chlorine attacks are brought before a court.
The OPCW, the global chemical weapons watchdog based in The Hague, Netherlands, has a mandate to carry out fact-finding missions and has condemned the use of chlorine in Syria as a breach of international law, the Associated Press reported.
But neither the OPCW nor the United Nations have a mandate to determine responsibility for the use of chemical weapons.
"Given the frequent allegations of chlorine attacks in Syria, and the absence of any international body to identify the perpetrators of chemical weapons attacks, it is critical that the U.N. Security Council find consensus and set up an independent investigative mechanism," U.S. Ambassador Samantha Power office said in an emailed statement.
The draft resolution asks U.N. Secretary-General Ban Ki-moon, in coordination with OPCW Director-General Ahmet Uzumcu, to submit to the council within 15 days recommendations to establish an "OPCW-United Nations Joint Investigative Mechanism."
It says this investigative body will identify "entities, groups or governments who were perpetrators, organizers, sponsors or otherwise involved in use of chemical weapons" in Syria in instances where an OPCW fact-finding mission has determined that an incident involved or likely involved the use of chemical weapons.
The draft resolution reiterates that Syria is banned from using or retaining chemical weapons and that "no party in Syria" should use or acquire such weapons.
It expresses the council's determination "to identify those responsible for these acts." And it reiterates "that those individuals, entities, groups or governments responsible for any use of chemicals as weapons, including chlorine or any other toxic chemical, must be held accountable."
Full report at:
https://english.alarabiya.net/en/News/middle-east/2015/07/10/U-S-seeks-U-N-action-on-chemical-attacks-in-Syria.html
---------
Jet Airways flight diverted to Oman after bomb threat
9 July 2015
A Jet Airways flight from Mumbai to Dubai made an emergency landing in Muscat on Thursday after a bomb threat, an official said, in the second such incident in two days.
All 54 passengers and seven crew members were evacuated once the plane landed safely in an isolated area at Muscat's international airport, a senior Jet Airways spokesman told AFP.
"There was a bomb threat on the flight. It was a serious threat prompting the pilot to land at the closest airport," said Manish Kalghatgi.
"All guests and crew disembarked without any incident and were taken to the airport Full report at:
https://english.alarabiya.net/en/News/middle-east/2015/07/09/Jet-Airways-flight-diverted-to-Oman-after-bomb-threat.html
---------
Hezbollah's Destroys Terrorists' Operations Room in Covert Operation in Zabadani
Jul 09, 2015
After receiving intelligence about the time and place of the meeting of Ahrar al-Sham leaders, the Hezbollah forces attacked their operations room on Wednesday night.
Three top commanders of the terrorist group were killed in the operation while 35 more were injured and the terrorists' vehicles were also completely destroyed.
Earlier on Wednesday, Syrian troops and fighters of the Lebanese resistance movement, Hezbollah, continued advance in their offensive into the border town of Zabadani.
The army and Hezbollah forces' joint operations continued for the fifth consecutive day in Zabadani in Reef (countryside of) Damascus from several directions and they could free 15 blocks in al-Zohrah district in the Northwestern part of the town.
They also killed tens of terrorists and wounded scores of others during their clashes with the militants.
Hezbollah's al-Manar TV reported Monday that fighters of the group, backed by Syrian troops, are advancing into Central parts of Zabadani to purge the militants from the last positions they held inside the city.
Full report at:
http://english.farsnews.com/newstext.aspx?nn=13940418000821
---------
In Baghdad, end of a curfew brings Ramadan joy
Saif Hameed
Jul 10, 2015
It's 1.30 a.m. and the Aroma Café in an affluent district of Baghdad is buzzing, packed with people enjoying a traditional pre-dawn Suhoor meal before starting their daily Ramadan fast.
Smartly dressed waiters serve soup, tea and shisha pipes, while a constantly re-stocked buffet tempts customers with barbecued meats, salads, fruits and juices.The lifting of a night-time curfew in the Iraqi capital five months ago means that, for the first time since the 2003 US-led invasion brought violence and turmoil, lavish Ramadan meals can stretch on until dawn.
While the rest of the country fragments, hardline Daesh (the so-called IS) fighters battle the army less than 50 km (30 miles) away, and car bombs still regularly inflict their deadly toll across the city, people seize gratefully at any chance to enjoy life.
"This is the first year that we feel the joys of Ramadan in the way that we used to do in the 80s and 70s," said Fawziya at the Aroma Cafe, referring an era which many Baghdad residents now recall as a golden age.
Untroubled by the prospect of a day's work ahead, she sat with her relatives and in-laws, enjoying the spirit of togetherness which Ramadan is meant to foster.
"You feel overjoyed to see this because all families have been through a lot. There is no fear," she said. "We saw this in Turkey and Lebanon when we used to travel, but now it's here as well."
Roads in the Tigris river neighborhood of Jadriya around the cafe were filled with cars. Pedestrians walked the well-lit, tree-lined streets, enjoying the relative post-midnight cool compared to daytime temperatures near 50 degrees Celsius.
"Lifting the curfew had a huge impact... Life has sprung up suddenly," says Abbas Al-Taii, a 46-year-old father enjoying a meal with his family of six.
"There is life now. Baghdad loves life... Going out at night in itself is a challenge to violence," said the U.S. resident, who chose to bring his family back to his hometown to experience Ramadan in Iraq.
Full report at:
http://www.saudigazette.com.sa/index.cfm?method=home.regcon&contentid=20150710249942
----------
South Asia
23 dead in Bangladesh charity handout stampede: police
Jul 10, 2015
DHAKA: A stampede during a charity handout in Bangladesh left at least 23 people dead on Friday early morning as hundreds of desperately poor people tried to get their hands on free clothing, police said.
The stampede in the northern city of Mymensingh erupted when crowds of people tried to force their way into a factory compound through a small gate after massing outside before dawn, according to local police.
Television footage from the site showed scenes of utter devastation, with hundreds of torn and blood-spattered sandals abandoned at the gate of the factory, which produces chewing tobacco.
"We have so far recovered 23 bodies. Most of the dead are poor and emaciated women," Mymensingh police chief Moinul Haque told AFP, putting the number of injured at four.
Kamrul Islam, the senior officer at a police station near the factory, said the death toll was likely to rise further while local media said scores of people had also been injured.
"Some people had taken the bodies of their relatives before police arrived at the scene," Islam said.
The owner of the factory and six other people have been arrested for failing to ensure public safety, Islam added.
Full report at:
http://www.dawn.com/news/1193593/23-dead-in-bangladesh-charity-handout-stampede-police
---------
Senior Daesh commander Shahidullah Shahid killed in Nangarhar
Jul 09 2015
A senior commander of the militant group of Islamic State or Daesh has been killed in a drone strike in eastern Nangarhar province, the National Directorate of Security (NDS) – Afghanistan's intelligence agency announced on Thursday.
A statement issued by the NDS states that the airstrike which killed Daesh's second-in-command Gul Zaman and his deputy Jahadyar has also taken the life of Shaikh Maqbool alias Shahidullah Shahid.
"Based on #NDS intelligence, Mawlawi Shahedullah Shahed, a senior ISIS commander was killed in a air strike in Achin district, Nengarhar." NDS stated in a tweet posted Thursday afternoon.
Full report at:
http://www.khaama.com/senior-daesh-commander-shahidullah-shahid-killed-in-nangarhar-3624
---------
Court frames charges against 132 Jamaat-Shibir men
July 10, 2015
A Rangpur court on Wednesday framed charge against 132 leaders and activists of Jamaat-e-Islami and its student wing Islami Chhatra Shibir in a case for petrol bomb attack on a passenger bus in January this year.
The case was filed with Mithapukur Police Station on January 14 last year, accusing the Jamaat-Shibir men of hurling a petrol bomb on a passenger bus that left six people killed in Jaygirhat area under Mithapukur upazila on the day.
Judicial Magistrate Md Shafiul Alam sent the case to Rangpur District and Sessions Judge's Court for trial, which is expected to begin on July 22, court sources said.
On June 10, Sub-Inspector Md Nazrul Islam of Mithapukur Police Station, also the investigation officer of the case, submitted the charge sheet to the court.
Md Enamul Haque, Mithapukur upazila unit ameer of Jamaat, Md Abul Baset Marzan, a leader of the upazila unit of Jamaat and vice chairman of the upazila parishad, Md Hafizur Rahman, a former Shibir leader are among the accused.
SI Nazrul said Md Hafizur Rahman gave confessional statement before the court under Section 164. Of the accused, 49, including Md Hafizur Rahman, are now in jail while the remaining 83 are still at large.
Full report at:
http://www.thedailystar.net/country/court-frames-charges-against-132-jamaat-shibir-men-110359
---------
Kabul plans detailed Taliban talks
July 10, 2015
KABUL - Afghan negotiators said Thursday their next round of talks with the Taliban would focus in detail on ways to end bloodshed in the country, wracked by nearly 40 years of war.
Government representatives struck a positive note after returning from their first face-to-face talks with militant commanders held on Tuesday in Pakistan aimed at ending the Taliban's 13-year insurgency.
The nascent talks have brought no let-up in the Taliban's summer offensive, as the militants launched two suicide attacks in Kabul just hours before Tuesday's meeting in Murree, a hill station north of Islamabad.
The session, which lasted through the night, concluded with an agreement to meet again after Eid, due to start around July 18, and government negotiator Din Mohammad said the aim was for more substantive talks on ending the fighting.
"In that meeting, a detailed discussion will be focused on preventing bloodshed in Afghanistan," he told reporters in Kabul.
Several informal meetings have been held in recent months between Taliban representatives and Afghan officials and activists, but Tuesday's meeting is seen as a step forward. The Afghan High Peace Council (HPC) delegation was led by Deputy Foreign Minister Hekmat Khalil Karzai - the first time such a senior government figure has publicly met the militants.
Mohammad said the meeting also included a member of the Haqqani network, a hardline militant group blamed for some of the deadliest and most audacious attacks in Afghanistan in recent years.
"It is not easy to begin negotiations at any point, both sides have their own demands, but since it was the first official meeting, we consider it a positive step forward," Mohammad said. In the past the Taliban have laid down tough conditions for talks, including the complete withdrawal of foreign troops. Karzai said the militants' negotiators raised the troop issue on Tuesday, as well as the question of Taliban prisoners and the blacklisting of their leadership by the United Nations.
Divisions within the Taliban movement, particularly between young battle commanders in Afghanistan and older leadership figures abroad, have helped to hamper peace efforts over the years.
Full report at:
http://nation.com.pk/national/10-Jul-2015/kabul-plans-detailed-taliban-talks
---------
Terrorism threatens China, Russia and other regional countries: Ghani
Jul 10 2015
President Mohammad AShraf Ghani has warned that the terrorist groups have exceeded insurgency activities bثyond the borders of Afghanistan and threatens China, Russia and other regional countries.
Speaking during the BRICS summit in Ufa city of Russia, President Ghani said war and violence in Afghanistan also threatens system of governance and security of the region.
He also briefed the summit participants regarding the formation of groups such as the Islamic State of Iraq and Syria (ISIS), their financial sponsorship, recruitment and expansion of their activities.
Full report at:
http://www.khaama.com/terrorism-threatens-china-russia-and-other-regional-countries-ghani-1263
---------
Afghan intelligence release video of Special Task Force against ISIS
By MIRWAIS ADEEL
Jul 09 2015
The Afghan Intelligence – National Directorate of Security (NDS) released a video of Special Task Force which has been formed to combat the affiliates of the Islamic State of Iraq and Syria (ISIS) terrorist group in Afghanistan.
NDS informed regarding the formation of the Special Task Force earlier this month amid reports that the terror group looks to gain foothold in Afghanistan.
NDS spokesman Haseeb Sediqi told reporters Special Force is comprised of three units, Intelligence, Analysis and Operational Unit.
He said the Special Force has been formed based on the anti-Daesh strategy of the government.
According to Sediqi, the Special Force began its operation they killed Mullah Abdul Rawouf in southern Helmand province.
He also added that recently the Special Force arrested a group of six members of Daesh in Achin District of eastern Nangarhar province, noting that one of the six was previously a key commander of Taliban.
The video of the Special Task Force which was released this afternoon by NDS, demonstrates the capabilities of the forces while conducting training exercises.
The video begins with the demonstration of atrocities committed by the terror group in Syria and Iraq where thousands of people have been brutally killed.
The video illustrates the Task Force members capabilities who are equipped with modern weapons including surveillance camera to monitor the activities of the affiliates of the terror group.
Full report at:
http://www.khaama.com/afghan-intelligence-release-video-of-special-taskforce-against-isis-1261
---------
Five DU students expelled for distributing leaflets of Hizb ut-Tahrir
July 10, 2015
Dhaka University authorities expelled five students for their alleged involvement in disseminating leaflets and compact discs of banned Islamist organisation Hizb ut-Tahrir among students.
According to a press release of the university, the accused students were caught on CCTV camera while they were distributing leaflets and CDs in some classrooms of business faculty.
The students are Mohammad Shihad Uddin and Saydee Hasan Sajib, students of management department, Tarikul Islam, Nakib Farhun and Mohammad Alamgir Hossain, students of accounting and information system department.
Full report at:
http://www.dhakatribune.com/education/2015/jul/10/five-du-students-expelled-distributing-leaflets-hizb-ut-tahrir
---------
From Red Army to Afghan jihad museum: a soldier's tale
Jul 10, 2015
HERAT: Former Soviet soldier Bakhretdin Khakimov came to Afghanistan to fight the mujahideen more than three decades ago. Today he has a new life as caretaker of a museum celebrating the jihadists' victory over the Red Army.
Khakimov, who now goes by the name Sheikh Abdullah, says he will never return to Russia.
On a wall of the museum in the western Afghan city of Herat, one black and white photo stands out from the portraits of jihadi heroes -- Abdullah as a young man in a Russian shapka hat adorned with Soviet military insignia.
The bearded 50-something, who today prefers the traditional Afghan pakol hat, has worked at Herat's Jihad Museum since 2013. Before that he worked as a healer, prescribing medicinal herbs to locals.
He arrived in Afghanistan as an officer in the military intelligence of the Soviet army, which occupied the country for 10 years after invading in 1979.
Around 1985 he was injured in battle and suffered a serious head wound. He says he owes his life to his Afghan enemies who found him and treated him.
When he woke from a coma, most of his comrades were dead or had fled. He was alone among the Afghan fighters.
'I am Afghan'
Thirty years on, he has converted to Islam and remade his life among the mujahideen.
"I came to Afghanistan because of my duty in military services — I was voluntarily fighting against former Afghan mujahideen," Abdullah recalls.
"I stayed in Afghanistan because Afghans are very kind and hospitable people.
"They have spent all their lives serving me, they have huge respect for me, and they love me very much." Sayed Abdul Wahab Qattali, a former mujahideen fighter and now the museum's director, took Abdullah under his wing as he was recovering from his wounds.
"He got me married, gave me a house, gave me a salary, now I am deputy of this museum," Abdullah explained, saying he regards Russia as a foreign country now.
Abdullah was included — under his former name Khakimov — on a list of 417 soldiers missing in Afghanistan that Moscow handed over to Kabul in 2011.
But while Abdullah has got in touch with his family, who live in Russia and Uzbekistan, he does not want to rejoin them.
He says he remembers "a little" Russian, but Dari is his main language now.
"I am Afghan now. When I die I will be buried here in this museum, here I am serving and will be buried here when I die," he said proudly.
The garden of the museum is home to various bits of military hardware adorned with the Soviet red star, captured by the mujahideen or abandoned in the withdrawal -- a fighter jet, tanks and helicopters, artillery pieces.
'We won't let him go'
Inside the museum, Qattali proudly shows off battle scenes recreated in plaster — mujahideen launching an attack on a column of Soviet tanks or defending a village from Red Army bombardment.
Full report at:
http://www.dawn.com/news/1193594/from-red-army-to-afghan-jihad-museum-a-soldiers-tale
---------
India
India Sending Terrorists to Pakistan: Hafiz Saeed
Jul 10, 2015
Shafqat Ali
Jamaat-ud-Dawa (JuD) chief Hafiz Mohammed Saeed has said that India was dispatching intruders via Afghanistan to launch sabotage and terrorist activities in Pakistan.
Talking to reporters in Faisalabad on Wednesday evening, he said, "We shall have to stop Indian infiltration one way or the other by taking steps to quit Indian agents from Afghanistan."
Full report at:
http://wwv.asianage.com/international/india-sending-terrorists-pakistan-hafiz-saeed-985
---------
Tokenism and Symbolism Won't Help Muslims: Senior BJP Leader
Jul 09, 2015
Indian Muslims must grow out of the tokenism and symbolism they are often subjected to, said senior BJP leader Shahnawaz Hussain on Thursday, emphasizing that the community should rather focus on socio-economic development.
"Can Muslims be served only by eating a date or wearing a headgear? Can someone help Muslims just by hosting an iftar party? Work needs to be done for the development of the community, not tokenism and symbolism," said Hussain in an interaction with Hindustan Times.
He said that Indian Muslims have surpassed that stage and what the community needed now was equality and employment.
"What Muslims need today is employment and equality, and I hope the Narendra Modi government will deliver on these expectations," he said.
On reports that Prime Minister Narendra Modi won't be hosting an iftar party, Hussain said since Modi doesn't keep a fast (roza), he can't host an iftar party.
"Iftar is only for those who keep roza. He is not fasting so why host an iftar party? He has tweeted Ramzan wishes and even tweeted in Urdu."
Hussain said even when Atal Bihari Vajpayee was the Prime Minister, iftar was hosted at his residence because Vajpayee had said "since Shahnawaz keeps the fast, let the iftar be at his place."
Speaking on Bihar's Muslims, he said that leaders like Nitish Kumar and Laloo Prasad Yadav "must stop scaring Muslims by using the name of Narendra Modi."
"They must realize that they can't win any more votes by scaring Muslims. Discuss our ideology if you want, but you can't scare Muslims," he said.
He further added that efforts were on to provide tickets to deserving Muslim candidates in the upcoming Bihar assembly elections.
Further, referring to Bihar MP Giriraj Singh's controversial statement ahead of the 2014 Lok sabha elections that all those who were "opposed to Modi" must go to Pakistan since they would have no place in India, Hussain said Singh is not a communal person but he could not express properly what he had in mind.
Full report at:
http://www.hindustantimes.com/india-news/poll-will-pm-narendra-modi-nawaz-sharif-meet-help-ties-or-is-it-just-a-photo-op/article1-1367710.aspx
---------
President Rouhani: No Obstacles to Expansion of Economic, Cultural Ties with India
Jul 09, 2015
"The Islamic Republic of Iran's government sees no limit for the development of trade and economic ties with India," Rouhani said during the meeting on the sidelines of the BRICS (an association of five major emerging national economies: Brazil, Russia, India, China and South Africa) and SCO (Shanghai Cooperation Organization) summits on Thursday.
He also underlined Iran's readiness for cooperation with India in investment in the oil and gas sectors, development of Chabahar port and tourism fields as well as cooperation between the two countries' private sectors, specially in scientific and technological arenas.
The Indian prime minister, for his part, stressed Iran's strategic role in uprooting terrorism and establishment of peace and security in the region, and called for the development of ties and cooperation with Tehran.
Full report at:
http://english.farsnews.com/newstext.aspx?nn=13940418000789
---------
Indo-Pak conflict can be stumbling block for SCO: Think tank
PTI | Jul 10, 2015
BEIJING: As India and Pakistan are set to join the Shanghai Cooperation Organisation (SCO), a Chinese analyst has said while their entry could improve the image of the bloc, any major confrontation between the two could be a stumbling block for its future.
"With India and Pakistan both starting the process of joining the mechanism this week, this will prove to be a recipe not only for beefing up the status of the organisation, but also bringing tangible benefits to both countries," Zhao Gancheng, director of South Asia Studies at the Shanghai Institute for International Studies, said in an article.
"As major countries in Eurasia, especially the most significant powers in South Asia, the two nations' joining in will beyond question enhance the overall functions and image of the organisation," the article published in state-run Global Times here on Friday said.
"Of course, the SCO is still a young organisation... If a dramatic confrontation breaks out between India and Pakistan at some point, it will definitely pose a stumbling block for the group to reach any agreement over major issues in the future," it said.
The entry of the two is not a sudden or stunning move. "Discussions over the issue has been underway for quite some time, until last year, the SCO finally reached a consensus to accept the applications of India and Pakistan to become full-fledged members," it said.
The summit of the six-member bloc comprising of China, Kazakhstan, Kyrgyzstan, Russia, Tajikistan and Uzbekistan is currently being held at the Russian city of Ufa along with the BRICS summit.
Prime Minister Narendra Modi along with his Pakistan counterpart Nawaz Sharif are attending it.
The regular membership of India and Pakistan, who are observers of the SCO, has been approved and they will be inducted formally next year.
The other observers include Afghanistan, Iran and Mongolia. Belarus, Turkey and Sri Lanka are the dialogue partners.
The article said India and Pakistan are also hoping to become SCO members as it has been playing an increasingly important part in fighting against both traditional and non-traditional security threats.
Full report at:
http://timesofindia.indiatimes.com/india/Indo-Pak-conflict-can-be-stumbling-block-for-SCO-Think-tank/articleshow/48014962.cms
---------
In Iran-Israel balancing act, PM Modi says he will visit Tehran
Sachin Parashar
Jul 10, 2015
UFA (Russia): Prime Minister Narendra Modi on Thursday told Iran President Hassan Rouhani that he was looking forward to visiting Tehran as soon as possible. This was after the moderate Iranian president reiterated the invite to Modi to visit Iran in what was their first bilateral meeting on the sidelines of the BRICS summit here.
The two leaders discussed a number of international issues with special focus on connectivity, the situation in Afghanistan and the increasing threat from ISIS, official sources here said after the meeting.
This is the first time Modi has himself confirmed to Iran that he is keen on visiting the country. Foreign ministry officials denied that India's alleged change in policy over the Palestine issue, particularly in the context of India's decision to sit out a vote against Israel in the UN Human Rights Council, came up for discussion. The meeting lasted for almost 85 minutes.
The two leaders, according to top foreign ministry officials, did not touch upon the deal Iran is negotiating with P5+1 countries to end its controversial nuclear programme. The leaders agreed that they needed to work together to maintain peace and stability in Afghanistan as the Taliban mounts a fresh offensive in the wake of the drawdown by international forces.
Foreign ministry spokesperson Vikas Swarup said the meeting was a sign of advancement in a "significant partnership".
The two leaders also discussed the need to expedite work on the Chabahar port project financed by India which will allow India access to not just Afghanistan but also to energy rich Central Asia. Modi had earlier sent a written message to Rouhani that was handed over to him by road transport minister Nitin Gadkari in Tehran.
Modi and Rouhani also hailed cultural and historical ties between the two countries. Despite India's growing ties with Israel and the announcement by foreign minister Sushma Swaraj that Modi will become the first Indian PM to visit Israel soon, Iran has been quietly working to ensure a visit by Modi to Tehran too.
Iran's ambassador to India Gholamreza Ansari was quoted as having said in April that a visit was going to act as a milestone in relations between the two countries and that it was going to benefit the entire region.
Full report at:
http://timesofindia.indiatimes.com/india/In-Iran-Israel-balancing-act-PM-Modi-says-he-will-visit-Tehran/articleshow/48011461.cms
---------
China rejects Indian concerns over Lakhvi
July 10, 2015
Beijing - Rejecting Indian concerns over blocking action in the UN against Pakistan on release of Zakiur Rehman Lakhvi, Beijing on Thursday defended its step saying it was based on facts and in the spirit of objectiveness and fairness.
A day earlier, Indian Prime Minister Narendra Modi had 'strongly' taken up with Chinese President Xi the issue of blocking UN action against Pakistan on the release of Zakiur Rehman Lakhvi.
"As a permanent member of the UN Security Council China always deals with the 1267 committee matters based on facts and in the spirit of objectiveness and fairness," Foreign Ministry spokesperson Hua Chunying told reporters in Beijing.
She was responding to a question on Modi 'strongly' and 'clearly' conveying India's concerns on Wednesday to President Xi Jinping in Ufa, Russia, over China blocking a proposal for action by the UN against Pakistan on the release of Lakhvi.
Full report at:
http://nation.com.pk/national/10-Jul-2015/china-rejects-indian-concerns-over-lakhvi
---------
136,020 Indian pilgrims to arrive for Haj
10 July 2015
JEDDAH: A total of 136,020 pilgrims from India will be arriving in the Kingdom to perform Haj this year, with the first flight landing in Madinah from Delhi on Aug. 16.
According to Consul General B.S. Mubarak, the first flight will depart from Jeddah on Sept. 28 for Mangalore.
The Haj Committee has got the lion's share of the quota of 100,020 pilgrims, the remaining 36,000 have gone to private tour operators, he said.
Saudi Arabian Airlines will carry 51,120 pilgrims, Air India 37,940 and NAS Air 11,030.
The highest number of Indian pilgrims will be from Uttar Pradesh (23,091), followed by West Bengal (10,248), Bihar (7,716), Maharashtra (7,712) and Jammu and Kashmir (6,597).
Accommodation will be provided by eight reputable housing groups to Hajis in Madinah; 70 percent of pilgrims will be accommodated in Markazia and the rest (30 percent) outside Markazia.
Full report at:
http://www.arabnews.com/saudi-arabia/news/774331
-----------
Africa
Muslim Terrorists Al Shabaab Continue To Advance And Recruit In Somalia
Jul 9th, 2015
Muslim terrorists who are part of al-Shabaab moved across provinces in the northwest portion of Somalia as government forces withdrew. Hundreds of militants moved to seize towns, like Wanlaweyn, warning the residents to not support the government and AMISOM forces and join their jihadist mission.
"The al-Shabaab officials went to several mosques and spoke to the people who were attending taraweeh prayers at that time, telling them to support them rather than the government… later on they left and we don't know where they have gone,'' a resident is quoted as saying to Horseed Media.
Somali army offcials have not commented on the reasons behind their withdrawal from Wanlaweyn district, which has now left the al-Shabaab militants in control of at least three districts in the region – Awdheegle, Tora-toro and Mubara.
"In the past few weeks, the al-Qaeda-linked militant group has been making substantial advances in the lower Shebelle region," the article notes. "The al-Qaeda-linked extremists remain dangerous, unpredictable and bold, known for audacious and chilling attacks. Their fighters routinely target the Somali government in Mogadishu. The group has also sought to terrorize neighboring Kenya."
Last summer, al-Shabaab made headlines with their murders in Kenya, at least 50 died in one attack, which led to the United Nations warning of the group's growth and the risk to the region.
Full report at:
http://www.theglobaldispatch.com/muslim-terrorists-al-shabaab-continue-to-advance-and-recruit-in-somalia-88194/
---------
14 Killed in clashes in Libya's Benghazi
9 July 2015
At least 14 people were killed in battles in Libya's second city Benghazi between militiamen and forces loyal to the internationally recognized government, hospital officials said on Thursday.
The fighting erupted Wednesday morning in the center of the city, cradle of the 2011 NATO-backed uprising that toppled and killed veteran president Muammar Qaddafi, the officials said.
The Benghazi Medical Centre said on its Facebook page that it had received the bodies of 13 people as well as 50 wounded.
Al-Jalaa hospital said it was hit by a rocket that killed one person and wounded three.
It was not immediately clear if those killed and wounded in the clashes -- which subsided late Wednesday -- were civilians or fighters.
Benghazi has been reeling from more than a year of near-daily clashes between pro-government forces and armed groups, including Islamists, battling for control of the eastern city.
Full report at:
https://english.alarabiya.net/en/News/middle-east/2015/07/09/14-Killed-in-clashes-in-Libya-s-Benghazi-.html
---------
Burundi on verge of fresh violence over presidential bid: UN
Jul 10, 2015
Burundi is on the brink of renewed violence over President Pierre Nkurunziza's controversial bid to stand for a third consecutive five-year term, the United Nations rights chief warns ahead of the country's forthcoming parliamentary and presidential elections.
The UN High Commissioner for Human Rights, Zeid Ra'ad Zeid al-Hussein, told the Security Council on Thursday that the situation will slide into "devastating violence" again, if the pattern of politically motivated violence continues in the Central African nation.
"Burundians appear to be braced for an explosion of the murderous violence that has so frequently engulfed the country," he said, warning that "the risk to human life, and to regional stability and development, is high" in the landlocked African state.
The official also noted that over the past two months, his office has documented dozens of killings, most of them shootings of human rights defenders and protesters by security forces as well as the militia known as Imbonerakure, the youth wing of the ruling party known by its French acronym, CNDD-FDD.
He further cited reports of demonstrators being imprisoned and subjected to ill-treatment and torture in Burundi.
Full report at:
http://www.presstv.in/Detail/2015/07/10/419592/Burundi-Raad-Zeid-Pierre-Nkurunziza-Godefroid-Niyombare
---------
Nigeria: Cleric Urges Muslims to Avoid Clashes
9 JULY 2015
By Seyi Taiwo
Oguntuase - Lagos — In the spirit of Ramadan, Muslims in the country have been advised to brace up to face challenges by ensuring that their grievances were channelled into constructive ways that are devoid of violence and religious clashes.
A Muslim cleric from the Lagos State University (LASU), Professor Ishaaq Akintola made the call while delivering the 25th Muslim Community Ramadan Lecture at the Federal University of Agriculture, Abeokuta (FUNAAB) with the theme, 'Muslims: Persecutors or the Persecuted'.
He enjoined them to embrace peaceful co-existence anywhere they find themselves since peace and tranquility remains the ingredients that could move nations forward.
Professor Ishaaq also called on government to allow the rule of law to prevail as peace could only be possible under an atmosphere of justice by avoiding bringing religious sentiment into the governance, by allowing equal rights to all existing religions within the country so that some people would not feel marginalised.
Full report at:
http://allafrica.com/stories/201507091100.html
---------
Okorocha urges Christians/ Muslims to unite against Boko Haram insurgency
10 July 2015
Owerri - Governor Rochas Okorocha of Imo State has called on Christians and Muslims in the country to unite and fight against Boko Haram insurgency.
Okorocha made the call when he hosted the Muslim faithful to a Ramadan feast to mark the breaking of the Ramadan fast at the Imo Government House, Owerri.
The governor said that Ramadan was a period of spiritual rebirth that required sober reflection, adding that country was also passing through a trying moment.
He sympathised with the people of the North-East whom he said were passing through great difficulty as a result of continuous bombardment and killing of innocent people by the Boko Haram.
The governor observed that the conflict was not a religious issue as being insinuated by some people; rather it was between the insurgents and their supporters.
Also read: Military frees 180 Boko Haram suspects, some babies
He urged Nigerians to pray for the nation, especially for President Muhammadu Buhari to enable him succeed.
Okorocha also urged Nigerians to work together and be their brother's keeper.
Earlier, the Chairman of the Muslim Council of Imo, Alhaji Yusuf Nwoha said that since Okorocha came into power, it had become a tradition for him to host Muslims in the state during Ramadan.
Full report at:
http://www.news24.com.ng/National/News/Okorocha-urges-Christians-Muslims-to-unite-against-Boko-Haram-insurgency-20150710
---------
Cameroon says repulses Boko Haram attack, kills 3 militants
2015-07-10
Yaounde - Cameroon's army has repulsed an attack by Boko Haram and killed three of the Nigerian Islamist militants in heavy fighting in the Far North region of the country, a Cameroon government spokesperson said on Thursday.
The attack represented a change of tactics by the militants following a series of battlefield defeats this year in which they have lost territory to a regional force that comprises Nigeria, Niger, Chad and Cameroon, spokesperson Issa Tchiroma said.
"Early Tuesday morning around 03:40 an enemy column in four-wheel drive vehicles opened fire on positions held by our defence forces," he said of the attack in Bodo town.
"There followed violent combat until dawn. Faced with the repost of our soldiers, the aggressors beat a retreat leaving behind three dead, a quantity of weapons and a lot of blood," he said, adding that no government soldiers were hurt.
The militants are trying to "make their voice heard and prove that they continue to exist," he said. Boko Haram rarely comments directly on military action and there was no independent confirmation of the battle.
Full report at:
http://www.news24.com/Africa/News/Cameroon-says-repulses-Boko-Haram-attack-kills-3-militants-20150710
---------
Somalia: Ethiopian forces prepare offensive to retake key stronghold from Al Shabaab
July 9, 2015
African Union's Ethiopian peacekeepers allied by local pro-government militias have begun preparations for an assault to retake a South-western key town in Somalia after crossing from the border, Horseed Media reports.
Bardhere, which is famous for its agricultural activities and capital of the Gedo region, is some 400 km west of Mogadishu. It has been a major stronghold for the al-Shabaab militants in the last five years.
So far the Ethiopian troops have met little resistance; though it remains unclear what battles may await them farther south.
Full report at:
http://horseedmedia.net/2015/07/09/somalia-ethiopian-forces-prepare-offensive-to-retake-key-stronghold-from-al-shabaab/
---------
Europe
How Russia's labor migration policy is fueling the Islamic State
By Karoun Demirjian July 10
DUSHANBE, Tajikistan — When American-trained Tajik special forces commander Col. Gumurod Khalimov defected to the Islamic State a few weeks ago, he issued a clarion call for hundreds of thousands of his countrymen working as migrant laborers in Russia to follow him.
"Stop serving the infidels," he said in a video that appeared online, prompting the Tajik government to block access to Facebook, YouTube and other social networks for several days.
But local migrants and religious advocates say that if the Islamic State is recruiting from Tajikistan, it is driven more by economics than ideology
Since the start of the year, a new Russian migration law has required foreign workers from countries outside the Eurasian Economic Union customs bloc to pass Russian language and history tests, acquire expensive permits and pay steep monthly fees to keep the jobs they have been doing for years. The law has had a particularly severe effect on Tajikistan, where remittances account for almost half the national income. The World Bank expects them to drop by 23 percent this year.
Meanwhile, Islamic State recruiters are at the ready, offering large sums of cash to desperate, unemployed workers to go fight in Syria. And many — given the lack of options in the poorest of the former Soviet republics — are answering the call.
"If our citizens who are without work, who are young, who don't have a salary, who don't have a life, are offered a golden city and told 'you can earn more money, you can improve your conditions' — naturally he would feel that he would be much better off going to fight in Syria," Mavjuda Azizova, of the International Organization for Migration's Tajikistan office, said in an interview recently. "More than 400 of our citizens are in Syria, officially, and it could be even more. Those are just the ones we know by name."
DUSHANBE, Tajikistan - JUNE 11: A city worker mops a fountain at Dushanbe's Rudaki Park early in the morning on June 11, 2015. (Photo by Karoun Demirjian / The Washington Post) (Karoun Demirjian/The Washington Post)
Dilshod Saliev, 22, returned from Moscow to Sarband in southwestern Tajikistan about three months ago, after he was forced to leave his job at a furniture factory . He says that if Islamic recruiters came to him offering cash to join their ranks, he wouldn't take the money. But he knows someone who did, just a month ago — and understands why others would.
"Of course there is a threat of extremism — many people in this situation are very desperate," he said. "They need land, they need to build their houses, they have children, schools to pay for; they need money so badly that they could follow some groups that would offer them money. So there is a risk."
Full report at:
https://www.washingtonpost.com/world/asia_pacific/how-russias-labor-migration-policy-is-fueling-the-islamic-state/2015/07/08/15b9300e-1141-11e5-a0fe-dccfea4653ee_story.html
---------
The UK now knows there's much to learn about Islam
H A Hellyer
July 9, 2015
A month after the July 7 bombings in London, I was appointed deputy convener of the UK government's working group on tackling extremism and radicalisation.
A decade on, the UK government is due to release a new extremism strategy, possibly before parliament's summer recess at the end of the month. It is unclear if Britain as a society has learnt what it should have in the last 10 years, but some of the old issues remain.
In 2005, one lobby group or other represented, inaccurately, the diverse array of British Muslim communities. Britain no longer makes that mistake but Whitehall has yet to discover fruitful ways of engaging with Muslim communities in general. The dynamics of the state's relationship with the Muslim community remain as bad as they have ever been and look set even to worsen.
In the media, there is a pronounced stereotyping of Muslims en masse and prime minister David Cameron's recent declaration that some British Muslims were "quietly condoning ISIL" was an unwise further move in that direction. If Islam is mentioned in public discourse, it's almost always in relation to radicalism or in the context of it being utilised in the fight against extremism.
The public rhetoric and mood are immensely unhealthy but only a healthy society can be resilient enough to fight the efforts of radicals to recruit the vulnerable.
In 2015, Britain is no closer even to a genuine debate around the notion of "British values", though these are constantly cited in contra-distinction to extremism. Instead, the term "British values" is used to avoid genuine debate about what is genuinely British in the 21st century.
When it comes to "extremism" and "radicalisation", everyone has become rather befuddled. Some prominent figures use "extremism" as a catch-all phrase, which incorporates not only radical ideology but simple conservatism within Muslim communities. This is a dangerous precedent. During the Cold War, Britain was in a potentially existential conflict with a state that believed in a particular form of communism. But still it continued to recognise that not all types of socialism were problematic. Today, Britain needs to be far more precise about what it means by "extremism". It exists and it is not limited to those who actually carry out violent acts. But there is a need to be very deliberate and specific.
Full report at:
http://www.thenational.ae/opinion/the-uk-now-knows-theres-much-to-learn-about-islam
----------
Convoy of Srebrenica victims' remains heads to massacre site
Jul 10, 2015
A convoy carrying the coffins of 136 newly-identified Srebrenica victims left Thursday to head for the Bosnian town where the massacre took place for their burial on the 20th anniversary.
The victims will be laid to rest at a memorial cemetery on Saturday along with the remains of 6,241 other victims that have already been found and identified. Another 230 victims of the worst massacre in Europe since World War II were buried at other cemeteries.
Several hundred people, including the victims' relatives, attended the departure of the 136 coffins on a truck flanked by police cars from the town of Visoko, near Sarajevo.
Hafiza Tihic, 60, came to say goodbye to her father Ramiz.
"I don't know how he was killed, but I remember the moment when he was separated from us," she recalled, her head covered with a white veil.
Twenty years ago, in July 1995, nearly 8,000 Muslim men and boys were slaughtered by Bosnian Serb forces after they captured Srebrenica. The atrocity occurred near the end of Bosnia's inter-ethnic war that claimed some 100,000 lives.
As the top Bosnian Serb leaders of the time, Radovan Karadzic and Ratko Mladic are the alleged chief architects of the Srebrenica massacre. But, 20 years on, they have yet to be sentenced for Europe's worst atrocity since World War II.
Full report at:
http://www.asianage.com/international/convoy-srebrenica-victims-remains-heads-massacre-site-970
---------
Sarkozy signs petition against proposal to turn unused French churches into mosques
09 Jul 2015
Former French president Nicolas Sarkozy signed a petition on Thursday criticising a proposal to turn empty churches into mosques, as a poll suggested that more than two thirds of French people are vehemently against the idea.
Other signatures on the petition, called Don't Touch My Church, included controversial writer and political journalist Éric Zemmour and philosopher Alain Finkielkraut, as well as Jeannette Bougrab, the former partner of Stéphane Charbonnier, Charlie Hebdo's slain editor.
The petition, published in the Right-wing magazine Valeurs Actuelles, comes after Dalil Boubakeur, the rector of the Grand Mosque in Paris, said he was in favour of repurposing unused churches due to the serious dearth of places of worship for Muslims.
"This is a delicate issue, but why not," he told Europe 1 radio last month. "It's the same God, the rites are similar, fraternal and I think that Muslims and Christians can coexist and live together," he said.
The petition said the French would never "tolerate the prospect of a religious practice other than Catholic in their churches".
"A church is not a mosque, and to claim that the 'rites are the same' is a scandalous denial of reality," it went on.
Valéry Giscard d'Estaing, another former French president, and Edouard Balladur, a former prime minister, also responded to Mr Boubakeur's proposal in the magazine's appeal to "preserve these sentinels of the French soul".
"The French Catholic churches have been part of the historical heritage of the French population for ten centuries," Mr Giscard d'Estaing wrote, while Mr Balladur stressed the need to save "the traditions that are largely the image and culture of our nation."
France is home to around 40,000 churches for a population of around four million practicing Catholics.
Full report at:
http://www.telegraph.co.uk/news/worldnews/europe/france/11729822/Sarkozy-signs-petition-against-proposal-to-turn-unused-French-churches-into-mosques.html
---------
North America
US-led warplanes are pummeling the de-facto ISIS capital like never before
JUL 9, 2015
The US-led coalition battling the Islamic State (also known as ISIS or ISIL) has drastically intensified its air war against the militant group with strikes pummeling the group's de-facto capital of Raqqa, Syria.
Since July 8, the coalition has conducted aerial strikes against more than 70 ISIS targets. One airstrike was responsible for bombing 20 ISIS staging areas around Raqqa, according to Brett McGurk, the US deputy special presidential envoy for the Global Coalition to Counter ISIS.
In addition to the strikes around Raqqa, the US-led coalition also destroyed ISIS fighting positions and tactical units in Tal Abyad, Kobani, Aleppo, and Al Bukamal in Syria, according to a press release from the coalition.
Full report at:
http://www.businessinsider.in/US-led-warplanes-are-pummeling-the-de-facto-ISIS-capital-like-never-before/articleshow/48006738.cms
---------
Muslim groups call push to certify imams 'racial and religious discrimination'
By Sheena Goodyear
Jul 10, 2015
A Senate committee recommendation that the government train and certify imams in order to curb Islamic extremism has Canadian Muslim organizations crying foul.
The Senate security and defence committee on Wednesday released a report with 25 recommendations aimed at combatting violent extremism. They reflect the views of the committee's Conservative majority, but do not have the support of its Liberal members.
Among them is a call on the federal government to "investigate the options that are available for the training and certification of imams in Canada."
The recommendation stems from concerns that foreign-trained Muslim religious leaders are preaching radical ideologies.
"The committee heard testimony from members of the Muslim community and others that some foreign-trained imams have been spreading extremist religious ideology and messages that are not in keeping with Canadian values," reads the committee's interim report.
"These extreme ideas are said to be contributing to radicalization and raise serious concerns if they continue to go unchecked."
But Canadian Muslim organizations say the recommendation is tantamount to religious discrimination, and it unfairly paints Muslims as villains.
"Are they going to be requiring this of Catholic protests and United Church ministers and rabbis? Why the focus on Muslims?" Alia Hogben, executive director of the Canadian Council of Muslim Women, said.
Full report at:
https://ca.news.yahoo.com/blogs/dailybrew/muslim-groups-call-push-to-certify-imams--racial-and-religious-discrimination--202031618.html
---------
Ramadan Donations For Arizona Needy
08 July 2015
ARIZONA – As a part of its Ramadan charitable program in 20 American cities, a leading Islamic nonprofit charity has donated hundreds of boxes of food to a phoenix local food bank to feed needy people in the city during the holy fasting month.
"Part of the month, spiritually, is about kind of putting yourself in the position of someone who is struggling," said Minkailu Jalloh, U.S. Program Specialist at Islamic Relief USA, told ABC 15 on Tuesday, July 7.
"Feeling that hunger and kind of having that increased sense of empathy is meant to encourage people to do more charity."
Islamic Relief USA delivered on Tuesday 3,000 boxes holding approximately 30 pounds of food, packaged to help feed a family of five to seven people for two weeks to a month.
According to Jalloh, the boxes that include foods like pasta, rice, beans, oil, canned meat, cheese, and dates were packed by staff and volunteers in Springfield, Virginia, earlier this month.
"It is highly encouraged to do more charity during this month," Jalloh said.
Ramadan is the holiest month in Islamic calendar.
In Ramadan, adult Muslims abstain from food, drink, smoking and sex between dawn and sunset.
The sick and those traveling are exempt from fasting especially if it poses health risks.
Fasting is meant to teach Muslims patience, self-control and spirituality, and time during the holy month is dedicated for getting closer to Allah though prayers, reading the Noble Qur'an and good deeds.
Full report at:
http://www.onislam.net/english/news/americas/489427-ramadan-donations-feed-arizona-needy.html
---------
America's Best Muslim Comedians To Star In First-Ever Muslim Funny Fest
07/09/2015
Quite a lot, say the organizers of New York City's -- and possibly America's -- first-ever Muslim stand-up comedy festival.
The Muslim Funny Fest, slated to take place between July 21 and 23, will bring 14 Muslim entertainers together for a bit of comic relief.
Dean Obeidallah and Maysoon Zayid, the two comedians co-producing the event, have been putting together the New York Arab American Comedy Festival for the past 11 years. But this year, they felt it was important to rally around the shared experience of growing up Muslim in America, and use comedy to process that experience.
"Even though all the comedians are Muslims, we all have very different experiences, whether it is the culture we grew up in or the extent to which we practice our faith," Zayid told The Huffington Post. "The common link that, sadly, brings us together is the bigotry and hatred we are currently experiencing as American Muslims, and I am hoping that the Muslim Funny Fest will do something to dilute that hate."
Full report at:
http://www.huffingtonpost.com/entry/muslim-funny-fest_559e9c2ae4b05b1d028fd931
---------
Mideast
Yemeni Forces Fire Dozens of Rockets at Saudi Bases
Jul 09, 2015
There has been no immediate report on the possible casualties or damage caused in the attack.
Meanwhile, the political council of Yemen's Ansarullah movement condemned the deadly Saudi airstrikes against Yemeni people and the international community's silence regarding the Saudi aggression.
The council said that Riyadh has crossed all red lines in its aggression against the impoverished nation.
Saudi Arabia has been bombing Yemen in the last 106 days to bring its ally, fugitive president Mansour Hadi, back to power.
The airstrikes have so far claimed the lives of more than 5,024 civilians, mostly women and children.
http://english.farsnews.com/newstext.aspx?nn=13940418000332
---------
FM: Saudi determined to confront Iranian expansion in the region
9 July 2015
The Saudi Foreign Minister Adel Jubair said Thursday that the kingdom is against any Iranian interference in the Arab world.
"Saudi Arabia is working to confront Iran's trouble-making activities in the region," Jubair said during a joint press conference with his Jordanian counterpart.
Jubair added: "The Islamic State of Iraq and Syria (ISIS) has committed crimes against Arabs but did not commit any crime against Iran."
This is not the first time Jubair makes a statement about Iran's muddling in the region. Saudi Arabia has long criticized Iran's interference in the region, especially with Tehran giving support to the Yemeni Houthi militia group.
During the address, which took place in Amman, Jubair also said that both Saudi Arabia and Jordan share similar positions regarding what is happening in the region.
Jubair, who was visiting Jordan for the first time since assuming his position as foreign minister, added that "Jordan's stability is important for Saudi Arabia."
Jordan's Foreign Minister Nasser Judeh also described relations between Riyadh and Amman as "deep and well-established."
Full report at:
https://english.alarabiya.net/en/News/middle-east/2015/07/09/Saudi-is-against-Iran-s-interference-in-the-region-FM.html
---------
Yemeni parties accept UN call for pause in fighting
Jul 10, 2015
NEW YORK: The United Nations said on Thursday that all parties in the Yemen conflict had accepted a call by Secretary General Ban Ki-moon for a pause in fighting to make possible the delivery of essential items by aid organisations.
The pause will begin on Friday midnight (2100 GMT) and continue till the end of Ramazan, a spokesman for the UN chief said.
In a statement released here by a spokesman to the UN chief said: "Secretary-General has received assurances through his Special Envoy from the Houthis, the General People's Congress and other parties that the pause will be fully respected and that there will be no violations from any combatants under their control."
Ban Ki-moon said: "It is imperative and urgent that humanitarian aid can reach all vulnerable people of Yemen unimpeded and through an unconditional humanitarian pause".
He also called for "full and unhindered access by humanitarian agencies to all parts of the country, including through sea and airports, should be ensured with a view to reaching people in need, including with essential medicines, vaccinations, food and water."
The spokesman said: "The Secretary-General reminds the parties to the conflict of their obligations under international humanitarian law to protect civilians and calls on all sides to contribute to preventing a humanitarian catastrophe in the country."
Agencies add: The announcement came eight days after the United Nations declared Yemen a level-3 humanitarian emergency, the highest on its scale, with nearly half of the country's regions facing a food crisis.
The UN spokesman did not specifically state that a Saudi-led coalition which has been bombing Yemen for over three months had pledged to abide by the pause.
Yemen slid deeper into turmoil when the Saudi-led coalition launched air strikes in late March to stop an advance by the Iran-backed Houthi rebels who drove the president into exile.
Saudi Arabia and its Gulf allies are demanding that the Houthis pull back from territory seized in their offensive and that Hadi be restored to power.
The UN spokesman highlighted that Hadi had told the Saudi-led coalition that he accepts the pause "to ensure their support and collaboration".
Full report at:
http://www.dawn.com/news/1193491/yemeni-parties-accept-un-call-for-pause-in-fighting
---------
Millions of Iranians Stage Anti-Israel Rallies on Int'l Quds Day
Jul 10, 2015
Iranians across the country, including in the capital Tehran, alongside other people around the world are holding massive anti-Israel rallies on the last Friday of Ramadan in opposition to the continued occupation of the Palestinian land by Israel.
The International Quds Day was started by the late Founder of the Islamic Republic, Imam Khomeini, in 1979 as a way of expressing solidarity with the Palestinians and underscoring importance of the holy Quds to Muslims.
International Quds Day is an annual event opposing Israel's occupation of Beitul-Muqaddas. Anti-Zionist rallies and demonstrations are held on the last Friday of Ramadan in Muslim and Arab countries around the world, and especially in Iran.
Iran Tehran, demonstrators chant slogans in condemnation of the Zionists' crimes in the occupied Palestinian lands.
Full report at:
http://english.farsnews.com/newstext.aspx?nn=13940418001129
---------
Trial opens of Turkish columnists over Mohammed cartoon
9 July 2015
Two Turkish newspaper commentators went on trial on Thursday for illustrating their columns with a controversial cartoon of the Prophet Mohammed published by French satirical weekly Charlie Hebdo.
Ceyda Karan and Hikmet Cetinkaya, writers at the secular Cumhuriyet daily, face up to 4 1/2 years in jail on charges of "inciting public hatred" and "insulting religious values" in connection with the cartoon.
Karan and Cetinkaya were not present at the first hearing, which was attended by over 100 plaintiffs, most of whom described themselves as readers offended by the columns, Cumhuriyet reported.
President Recep Tayyip Erdogan's daughter, Sumeyye, his son, Bilal, and his son-in-law Berat Albayrak, a newly-elected lawmaker, also asked to be plaintiffs in the case, their lawyer said.
The prosecution asked the judge to issue an arrest warrant for the two journalists, who said they were out of Istanbul on a work trip.
One plaintiff named Kamil Ozcelik told the court that publishing the cartoon was like "pouring gasoline on a fire" in an overwhelmingly Muslim country.
"If the court does not punish them, let us punish them," another was quoted as saying.
The hearing was adjourned to October 12.
Cumhuriyet had published a four-page Charlie Hebdo pull-out translated into Turkish marking the French satirical weekly's first issue since the attack on its Paris offices by Islamist gunmen in January that killed 12 people.
Full report at:
https://english.alarabiya.net/en/News/middle-east/2015/07/09/Trial-opens-of-Turkish-columnists-over-Mohammed-cartoon-.html
---------
Israel reverses policy, decides to open dialogue with ICC: official
9 July 2015
Israel has decided to reverse its policy and open dialogue with International Criminal Court (ICC) over a preliminary examination into Palestinian complaints regarding last summer's war on Gaza, a senior Israeli official said.
The official told the local Haaretz in an interview published Thursday that the purpose of the contact with an ICC prosecutor in The Hague is only to make its position clear to the court. He also said ICC does not have any authority to hear Palestinian war-crimes complaints.
In May, the ICC warned Israel over its lack of cooperation with an initial probe into possible breaches of international law in the occupied Palestinian territories and that it may go for a full-fledged investigation without its input.
Full report at:
https://english.alarabiya.net/en/News/middle-east/2015/07/09/Israel-reverses-policy-decides-to-open-dialogue-with-ICC-official-.html
---------
Source: "US Excessive Demands" Pushing Vienna Nuclear Talks to Deadlock
Jul 10, 2015
The source said the western parties to the talks with Iran, specially the US, have in the last few days raised excessive demands beyond earlier agreements, making the road to a draft final nuclear deal even more bumpy.
The source said Iran is determined to clinch a deal and it has shown much flexibility on this path, but the US-led West has been raising excessive demands and shows "fading respect for its earlier agreements with Iran".
"They have started psychological operations and are playing the blame game to make Iran surrender to their increasing demands or wait to be portrayed as the party to blame for the potential failure of the talks," the diplomat added.
The source also strongly rejected the allegations made by certain western media outlets that the Iranian team is referring the opposite sides' proposals or the draft text to Tehran to ask for permission, reiterating that "the Iranian team of negotiators have been vested with full authority to strike a deal on behalf of the Islamic Republic of Iran based on the country's specified redlines, and does not need to refer anything to Tehran."
The diplomat strongly warned the western powers' approach in the last few days "is pushing the talks into a deadlock".
Earlier tonight, Iranian Foreign Minister Mohammad Javad Zarif left a new post on his Twitter account, saying, "We're working hard, but not rushed, to get the job done. Mark my words; you can't change horses in the middle of a stream."
Minutes later, US Secretary of State John Kerry also appeared in front of the cameras in Vienna, and said, "Despite all the agreements we have made so far, some tough issues have remained unresolved."
Full report at:
http://english.farsnews.com/newstext.aspx?nn=13940418001128
---------
Pakistan
Pak Govt to Use Daesh, Not IS, As Terror Group's Name
Jul 10, 2015
ISLAMABAD: The Foreign Office appears to have decided not to call a Middle Eastern terrorist outfit by its preferred name 'Islamic State' and instead refer to it as 'Daesh', an acronym the group hates.
"I would refer to the outfit as Daesh as there is nothing Islamic about it," Foreign Office spokesman Qazi Khalilullah said in reply to a question at his weekly media briefing on Thursday.
The foreign ministry had previously been using both IS and Daesh in its statements.
French Foreign Minister Laurent Fabius was among the first leaders who avoided calling the group with its preferred name and US and Australian leaders followed. There have also been calls by Muslim scholars for calling the group Daesh in a move to de-legitimise it.
The group likes to be called Islamic State because it negates the concept of borders and promotes a vision of one Muslim caliphate. It also suggests existence of a central authority instead of roving groups of mercenaries.
Daesh is an Arabic acronym for `Al Dawla al Islamyia fil Iraq wal Sham', the group's original name, which was translated as`Islamic State in Iraq and Syria' or `Islamic State in Iraq and the Levant'.
Full report at:
http://www.dawn.com/news/1193522/govt-to-use-daesh-not-is-as-terror-groups-name
---------
Daesh prime suspect behind Safoora bus attack
July 10, 2015
Karachi: Significant revelations regarding the deadly Safoora bus attack, in which nearly 50 people belonging to Ismaili community were killed in May, have surfaced in the early hours of Friday. According to reports, Tahir Hussain Minhas alias Sain – one of the prime suspects in the case – has told the joint investigation team (JIT) formed to probe the deadly terrorist attack that apparently Daesh militant organisation was behind the carnage that took place on May 13 in Karachi. He said Abdullah bin Yousuf, who according to him is the chief of Daesh Karachi and Punjab chapters, had issued directives for the sabotage. Yousuf is currently hiding either in Afghanistan's Helmand province or Syria, he claimed.
Full report at:
http://nation.com.pk/national/10-Jul-2015/daesh-prime-suspect-behind-safoora-bus-attack
---------
Threat to lawyer defending blasphemy accused
Jul 10, 2015
MULTAN: A lawyer defending a blasphemy accused says he has received threats with a warning to immediately withdraw from the case.
Advocate Shahbaz Gurmani, who is representing Khalil Qadri in a blasphemy case, has sought registration of a case against the suspects.
In an application to the Cantonment police SHO, Gurmani stated that the hearing of bail petition of his client was held in the court of Justice Shahbaz Ali Rizvi of the Lahore High Court's Multan Bench in connection with the FIR No 415/14 lodged under section 295-C on May 25, 2014 with the Shah Shams police station.
He said the complainant came to attend the hearing along with 20 to 25 people but the court relisted the case (hearing would be fixed later by the registrar). He said as he had already received life threats, he left the courtroom after some time. He said some lawyers and a witness were standing there and he heard one of them inquiring who the counsel was. He alleged two of them grabbed him and asked him to withdraw from the case otherwise they would kill him.
Full report at:
http://www.dawn.com/news/1193528/threat-to-lawyer-defending-blasphemy-accused
---------
PTI provincial minister, 10 others arrested by NAB
ALI AKBAR
Jul 10, 2015
PESHAWAR: Pakistan Tehreek-i-Insaf's (PTI) Provincial Minister for Mines and Minerals Ziaullah Afridi was arrested on corruption charges on Thursday following a proceeding by the Ehtesab Commission in Khyber Pakhtunkhwa.
The commission claims that the minister was involved in misuse of power for non-transparent leasing of contracts pertaining to land. The charges against him also include illegal recruitment and transfers allegedly made by the minister.
In another proceeding by the National Accountability Bureau (NAB), former minister and secretary for mines and minerals Nawabzada Mehmood Zeb and Shah Wali respectively, Bannu Commissioner Asmatullah Khan along with seven others were arrested in a land leasing scandal.
Full report at:
http://www.dawn.com/news/1193390/pti-provincial-minister-10-others-arrested-by-nab
---------
Balochistan CM to meet Khan of Kalat in London
SALEEM SHAHID
Jul 10, 2015
QUETTA: Balochistan Chief Minister Dr Abdul Malik Baloch will meet the self-exiled Baloch leader, Khan of Kalat Mir Suleman Dawood Jan, during his visit to London.
This was stated by senior leader of National Party and provincial minister Nawab Mohammad Khan Shahwani, who is an influential tribal elder, while replying to a question at a press conference here on Thursday.
The Chairman of the Kharan District Council, Mir Saghir Ahmed Badani, joined the National Party at the press conference in the presence of Secretary General Dr Yasin Baloch and other leaders.
Nawab Shahwani said that the chief minister had reached London after a visit to Moscow.
"Dr Malik Baloch will meet the Khan of Kalat and discuss with him the situation in Balochistan and persuade him to return to the country," he said.
Nawab Shahwani said the Khan of Kalat had already agreed to meet the delegation of the Balochistan government, while his uncle Prince Mohyuddin Baloch had met him in London and said that he would consult members of the grand Jirga which had sent him abroad for pleading the case regarding restoration of Kalat as a sovereign state.
He said efforts were under way to persuade the Khan of Kalat to return to the country, join the mainstream politics and play a role in resolving the Balochistan issue.
He said that he and other tribal elders would go to London after Eid.
The Senior Balochistan Minister and chief of Jhalawan, Nawab Sanaullah Zehri, who had discussed the Balochistan situation with the Khan of Kalat last week, will also be part of the Balochistan government delegation.
Replying to questions at the press conference, Dr Yasin Baloch and NP's information secretary Mir Jan Mohammad Buledi a perception about differences in the coalition government and said the three coalition partners were playing their role in improving the situation in Balochistan.
Full report at:
http://www.dawn.com/news/1193521/balochistan-cm-to-meet-khan-of-kalat-in-london
---------
Pakistani leaders condole death of Prince Saud al Faisal
July 10, 2015
Islamabad: President Mamnoon Hussain and Prime Minister Nawaz Sharif have expressed their deep grief and sorrow over the demise of former Saudi foreign minister Prince Saud al Faisal. In a message, the President said as Saudi foreign minister, the deceased had rendered remarkable services for his country and promotion of relations between Pakistan and the Kingdom. He prayed that Allah Almighty may bless the departed soul with eternal bliss. In his condolence message, the Prime Minister said that his death was a great loss not only for the people of Kingdom of Saudi Arabia but also the people of Pakistan. He regarded the late Saudi prince as a great friend and supporter of Pakistan.
http://nation.com.pk/national/10-Jul-2015/pakistani-leaders-condole-death-of-prince-saud-al-faisal
---------
Pakistan fighting anti-terror war for global peace: PM
July 10, 2015
UFA - Prime Minister Muhammad Nawaz Sharif Thursday suggested a four-pronged approach encompassing people-to-people contact, confidence-building in peace and security, trade and regional connectivity among the BRICS countries for uplift of their people.
Addressing the BRICS Outreach meeting on sidelines of SCO Summit here, the prime minister said Pakistan valued its interaction with BRICS, which consisted of important countries of the region and beyond.
The prime minister, along with his delegation, arrived here on the second leg of his visit from Oslo to lead Pakistani delegation at the 15th Shanghai Cooperation Organisation (SCO) Summit and 7th BRICS (Brazil, Russia, India, China and South Africa) Summit.
The delegation included Begum Kulsoom Nawaz, Adviser to PM on National Security and Foreign Affairs Sartaj Aziz and Special Assistant to PM Tariq Fatemi.
As the prime minister reached the Congress Hall to attend the BRICS Outreach meeting, Russian President Vladimir Putin received him.
In his address, Prime Minister Nawaz Sharif called for collectively focusing on improvement and well-being of people.
He proposed to promote mutual understanding, cooperation and goodwill through cultural, academic interaction and people-to-people contact.
Calling for promotion of confidence, he said the confidence-building in peace and security was an essential ingredient for endeavors towards shared prosperity.
The prime minister suggested to promoting bilateral and regional trade and commerce; coordinate to introduce cohesive laws, reduce tariff and non-tariff barriers, and ease the movement of people and merchandise across the borders.
Moreover, he also proposed for promoting connectivity by investing in regional infrastructure including investment in better transport networks, including roads, motorways, railways, and air and sea links.
He congratulated President Putin on hosting the 7th BRICS Summit and the 15th SCO Summit.
"We are grateful to our host, President Vladimir Putin and the government of the Russian Federation, for bringing SCO and BRICS member community together under one roof. This would go a long way in promoting inclusive and synergetic approach to economic development," he remarked.
"This interaction coincides with the consensus to make Pakistan a full member of the Shanghai Cooperation Organisation (SCO)," the prime minister said.
"Pakistan's economic growth has remained steady. We have unveiled "Vision-2025", to provide a solid platform for the revival of sustainable and inclusive growth. The potential growth sectors such as infrastructure, power and natural resources, are open to large scale investments," he said.
Sharif said that he had a vision of 'Peace for Development and Development for Peace,' for the region, in which regional connectivity and economic integration were the key components.
Full report at:
http://nation.com.pk/national/10-Jul-2015/pakistan-fighting-anti-terror-war-for-global-peace-pm
---------
8 terrorists arrested in Quetta
July 10, 2015
QUETTA - At least 8 suspected terrorists including a key commander of a banned outfit were arrested during a search operation here Thursday.
The operation was jointly conducted by Intelligence Agencies, Frontier Corps and police in different areas of the city. Four suspected militants including a key commander of a banned organisation were held during the operation. Hand grenades, automatic weapons and explosives were also recovered from the militants.
In another search operation, security forces arrested four key suspected terrorists in Nowa-Gali area.
Full report at:
http://nation.com.pk/national/10-Jul-2015/8-terrorists-arrested-in-quetta
---------
Southeast Asia
Islam Most Popular Among Chinese Youth: Survey
08 July 2015
CAIRO – Reflecting the rapid growth of the world's second largest religion, a recent survey found that Islam has the largest number followers among Chinese under the age of 30, surpassing Buddhism and Catholicism in the Asian country.
"Islam tends to have a younger demographic," Wei Dedong, a professor of Buddhist studies at the School of Philosophy at Renmin University of China, who participated in the research, told the Global Times on Tuesday, July 6.
"Most believers of Islam belong to ethnic minority groups and it is common for a woman to give birth to several children.
"The children would also become Muslims while it is very rare to have an adult converting to Islam,"
According to China Religion Survey 2015, Islam has the highest number of young believers, with 22.4% of them aged below 30.
Islam is followed by Catholicism which is followed by 22% of Chinese youth.
On the other hand, more than half of Chinese over 60 follow Buddhism and Taoism.
Released by the National Survey Research Center (NSRC) at Renmin University of China, the survey is based on interviews from 4,382 religious sites across 31 regions gathered between 2013 and 2015.
The survey also found that the State Administration for Religious Affairs visited places of worship 3.8 times a year and the United Front Work Department (UFWD) visit the sites 1.8 times a year.
Full report at:
http://www.onislam.net/english/news/asia-pacific/489433-islam-most-popular-among-chinese-youth-survey.html
----------
China's Xi Pledges Security Equipment, Training For Afghanistan
By MIRWAIS ADEEL - Fri Jul 10 2015
China has pledged to increase security cooperation with Afghanistan by providing security equipment, technology and training assistance.
The commitment was made by China's President Xi Jinping during a meeting with his Afghan counterpart President Mohammad Ashraf Ghani during the BRICS summit.
Security in Afghanistan was discussed by the leaders of the BRICS emerging nations which include Brazil, Russia, India, China and South Africa.
The pledge by Xi was followed days after Chinese officials observed the first tentative peace talks between Kabul and the Taliban.
Xi quoted in an official statement told his counterpart President Ghani "Increasing security cooperation suits both countries' interests. China will continue to supply Afghanistan with security supplies, technology, equipment and training assistance."
Full report at:
http://www.khaama.com/china-to-provide-afghanistan-with-security-equipment-and-training-1264
------
Thailand deports scores of Uighur Muslims to China
AFP | Jul 9, 2015
BANGKOK: Thailand today said it had deported around 100 Uighur Muslims detained in the kingdom since last year to China, in a move sparking fears for the safety of the asylum-seekers.
The fate of scores of suspected Uighurs — a Turkic — speaking, largely Muslim minority in China's northwestern Xinjiang region who have long chafed under Chinese control — has hung in the balance since they illegally entered the kingdom in March 2014.
The asylum-seekers, who presented themselves to police as Turkish, had been held in detention as Thai authorities determined their nationalities amid a tussle between Turkey and China over where they should be moved.
Today, Thai government spokesman Werachon Sukhondapatipak told reporters that "some 100" Uighurs were deported to China on Wednesday after finding "clear evidence they are Chinese nationals".
He also revealed that an earlier group of around "170 Uighurs" were repatriated to Turkey in late June — the first public announcement by Thai authorities of both deportations.
The legal wrangle between Turkey and China over the group came to the fore in March when both countries sought the repatriation of a family of 17 that claimed they were Turkish.
Worasit Piriyawiboon, a human rights lawyer that was representing the Teklimakan family, said that 15 had been deported to Turkey in June. He did not know the fate of the other two members.
Uighurs in Xinjiang, who number around 10 million, say they face cultural and religious restrictions.
Full report at:
http://timesofindia.indiatimes.com/world/south-asia/Thailand-deports-scores-of-Uighur-Muslims-to-China/articleshow/48001184.cms
---------
Chinese media accuse Turkey of abetting illegal migration
Jul 10, 2015
BEIJING: A Chinese state-run newspaper is accusing Turkey of helping the illegal migration of ethnic Muslim Uighurs by giving them Turkish documentation.
The nationalist newspaper Global Times said Friday in an article that cites Public Security Ministry sources that a country has been issuing passports and proof of citizenship to Uighurs and emboldening them to illegally leave China.
The article clearly was referring to Turkey, although it did not name the country specifically.
The allegation came 10 days after Turkey accepted 173 Uighurs from refugee camps in Thailand.
Full report at:
http://www.dawn.com/news/1193610/chinese-media-accuse-turkey-of-abetting-illegal-migration
---------
Malaysian police foils Islamic State terror plot; arrests 2
9 July 201
Malaysian police foiled a terror plot by the Islamic State and arrested two men linked to the terror group for planning attacks on the Western interests and entertainment outlets in the capital. The first suspect, aged 28, was arrested by the Special Branch Counter Terrorism Division on July 2 and the second suspect, aged 31, on July 7.
"The 28-year-old suspect had been influenced by ISIS ideology since 2012 and was taking orders from senior European ISIS leaders," said Inspector-General of Police Khalid Abu Bakar. He said that the first suspect was close to Ahmad Effendi Manaf, the Malaysian suicide bomber killed in Syria last year. Abu Bakar said the second suspect had gone to Syria in early 2014 and returned to Malaysia in August the same year after being injured in one of the clashes in Syria.
Full report at:
http://www.dnaindia.com/world/report-malaysian-police-foils-islamic-state-terror-plot-arrests-2-2103086
---------
Attacks on PM persist for fear he will not fall as predicted
July 10, 2015
PETALING JAYA: The relentless attacks on Prime Minister Najib Razak is a telling sign that his critics are certain he is likely able to weather the storm of the 1Malaysia Development Berhad (1MDB) controversy and cling on to his post of prime minister, said Salleh Said Keruak today. In a blog posting, the Sabah State Speaker said the perception being created was that Najib was about to fall but asked, "If the Prime Minister is about to fall then just sit quiet and wait for it to happen." Remarking there was no need for the prolonged series of attacks, he added, "The fact that the attacks are continuing is because they know that the Prime Minister is not about to fall like they say he is." He also commented on the rumour that Deputy Prime Minister Muhyiddin Yassin and Attorney-General Abdul Gani Patail had met with His Majesty the Agong to discuss the removal of the prime minister and remarked, "There is no provision in the Constitution for the Agong to remove a Prime Minister. The Agong only appoints a Prime Minister and Malaysians need to be aware of this fact." He also slammed the remarks of a "former minister" who told Umno members they must choose between the party and the party president and argued that they had already made the choice to back Najib and not those plotting his removal. On the former minister's forecast that the country would suffer political and economic turmoil if Najib was not removed, Salleh countered, "If the country does go through any turmoil it is going to be because of the actions of those who are trying to oust the Prime Minister and in doing so are creating turmoil."
http://www.freemalaysiatoday.com/category/nation/2015/07/10/attacks-on-pm-persist-for-fear-he-will-not-fall-as-predicted/
---------
Indonesian Islamic minority protests mosque closure, fears growing intolerance
JUL 9, 2015
JAKARTA (REUTERS) - Members of an Indonesian minority Islamic sect protested on Thursday against the forced closure of one of their mosques amid concerns over rising religious intolerance in a country which is home to world's largest Muslim population.
The closure of the Ahmadiyah mosque is the latest in a series of incidents across the country in which religious minorities have faced harassment from hardline Islamic groups, but a rare event in the capital Jakarta.
"This is a slap in the face of the local government of Jakarta because it's supposed to be a cosmopolitan and pluralistic place," Bonar Naipospos, director of rights NGO Setara Institute, told Reuters.
Ahmadiyah is one of several religious minorities in Indonesia. Hardline Indonesian Muslims accuse Ahmadiyah and other Muslim minorities of apostasy.
Members of a hardline Islamic group last week forced the cancellation of a religious event involving nearly 1,500 Protestants in Central Java, media said. Other groups like the Islamic Defenders Front (FPI) have been known to break up prayer sessions at churches and Ahmadiyah and Shia mosques across Java, calling for them to be closed.
Police said the Ahmadiyah mosque was closed this week because it violated building permits. But members of the Ahmadiyah community said it has stood there for decades and that hardline Islamic groups had pressured authorities to seal it.
"Recently there has been an inclination among the police and the state apparatus to allow things like this to happen because they don't want the situation to escalate," said Yendra, a spokesman for the Indonesia Ahmadiyah Community.
A senior police official this week admitted officers were often too scared for their own safety to take on religious hardliners, media reported.
Full report at:
http://www.straitstimes.com/asia/se-asia/indonesian-islamic-minority-protests-mosque-closure-fears-growing-intoleranc
---------
Muslim groups threaten violence on Catholic shrine over permit dispute
Bambang Muryanto
July 10 2015
A group of people representing the Gunungkidul Muslim Youth Forum, the Yogyakarta Islamic Congregation Forum (FUI) and local residents have urged the Gunungkidul regency administration in Yogyakarta to immediately demolish the Cave of Mary religious shrine in Sampang subdistrict, Gedangsari, citing the long-standing public protest against the use of the venue as a place of worship.
Speaking in an open dialogue with local government representatives at the Gunungkidul regency administration's headquarters on Thursday, members of the groups said that they would jointly tear down the Catholic shrine should the local administration fail to follow up on their objection to it.
"The government should have dismantled the shrine a long time ago as it has caused public unrest," said Suparman, a Sampang resident.
Thursday's one-hour meeting between members of the groups and the local administration became tense as protesters kept yelling and repeatedly rapped the desk as local government officials, including regency assistant Tomy Harahap, Gunungkidul Religious Office official Mukholib and local Interfaith Communication Forum (FKUB) member Iskamto, delivered their statements.
The protesters repeatedly said they were disappointed because the government failed to immediately close the religious shrine that they have been opposing since 2012. They also threatened to dismantle the shrine, as it is still being used as a palace of worship despite the local government's decision to temporarily close the venue.
"Within three days, the government must give a firm answer as a response to our objection. They must stop all religious activities at the Cave of Mary," FUI lawyer Achmad Deva Permana said.
The shrine, which also serves as a religious tourist attraction, was established in 2010 despite the absence of a proper permit from the local administration, the protesters claimed.
During the meeting, local official Tomy Harahap, who also serves as the regency's spokesperson, explained to the protesters that the local administration was still processing the permit for the religious shrine.
"The government cannot act one-sidedly. I know some are in favor and others are against the presence of the shrine. We, however, we must seek a permanent solution to the matter," he said.
Full report at:
http://www.thejakartapost.com/news/2015/07/10/muslim-groups-threaten-violence-catholic-shrine-over-permit-dispute.html
---------
Lukman touts moderate, local version of Islam
Fedina S. Sundaryani
July 09 2015
Religious Affairs Minister Lukman Hakim Saifuddin said that the country should embrace "Islam Nusantara" (Islam of the Archipelago) and showcase itself as a Muslim-majority country with moderate views and an emphasis on religious tolerance.
Lukman said after a discussion on Islam Nusantara at his official residence in South Jakarta on Tuesday night, that the term did not refer to a mix of Islam and Javanese traditions. Instead he believes, Islam Nusantara promotes a synthesis of Islamic values and teachings and a variety of indigenous cultures.
"The teachings that have been implemented in our country for hundreds of years have manifested into something special that can't be experienced anywhere else. This is what we now call moderate Islam, which is tolerant and full of Muslims who peacefully coexist with others — an Islam that supports human rights and the rights of women," Lukman said.
Lukman further said that Indonesia, which is a member of the Organization of Islamic Cooperation, should promote its own version of Islam and become a model for other Muslim-majority countries around the world.
He also said the country needed an extensive dialogue to allow different Muslim groups to grasp the meaning of Islam Nusantara and to understand that the moniker did not, and would never refer to, a separate branch of Islam.
The term "Islam Nusantara" stirred controversy when Nahdlatul Ulama (NU), the country's largest Muslim organization, announced that it would be the theme for the organization's 33rd congress this August.
Muslim scholar, and founder of the Liberal Islamic Network, Ulil Abshar Abdalla, said that the concept was not new but its adoption by the NU could be political.
"Although the NU was not being explicit, there was clearly a group that [it] wanted to criticize, and these are the people who have been promoting the concept of an Islamic caliphate," he said, referring to conservative groups such as Hizbut Tahrir Indonesia (HTI).
In spite of the NU's adoption of the term for its political purpose, Ulil said that Islam Nusantara was in fact practiced by a majority of people in the country.
"[Indonesian Muslims] are tolerant, easy going and rich. We [...] may not agree with each other but we rarely resort to violence," he said.
He noted that early preachers of Islam in the country has made teachings in the Koran consistent with local cultures.
"Our Wahabist [a conservative sect of Sunni Islam] friends and members of the HTI all have the right to live here, as do atheists. All groups must have a guarantee that they may live in this country," he said.
Full report at:
http://www.thejakartapost.com/news/2015/07/09/lukman-touts-moderate-local-version-islam.html
---------
Malaysian Hotels Remove "Offensive" Ramadan Signs
09 July 2015
SARAWAK – A Malaysian hotel group that has come under fire for asking guests to dine during iftar to show respect for Muslims fasting Ramadan was forced to remove the Ramadan sign after complains.
"The notice was just an advisory and suggestion and not compulsory to follow," Edwin Abit, Sarawak Economic Development Corporation SEDC deputy general manager and director, tourism and leisure division and corporate relations division, told Malay Mail Online on Tuesday, July 7.
"You may eat any time you want, but in view of the fasting month and most guests are there to break fast, we feel it is appropriate if other guests can join and eat at the same time."
The latest religious controversy in the Asian country erupted last week when two popular Sarawak-based hotels, the Grand Margherita Hotel and Riverside Majestic, displayed a sign urging guests to "dine with Muslims".
The sign read: "As a matter of respect, throughout the Ramadan period, all are advised to dine at the same time the Muslim guests breaking their fast."
Finding it offensive, a non-Muslim guest took a photo of the Ramadan banner and shared it on social media as a protest against the practice. Shared dozens of times, the photo had been circulated with anti-Muslim comments.
As the hotels removed the sign earlier this week, SEDC general manager said that the sign was not "provocative" and was optional.
"Whether it is a wise business decision, we should not judge," he said.
A similar view was shared by Sarawak Tourism Federation chief Philip Yong, who defended the hotels right to show respect for fasting Muslims.
Ramadan, the holiest month in Islamic calendar, started this year in the US and most European countries on Thursday, June 18, and is expected to end on July 16th.
In Ramadan, adult Muslims abstain from food, drink, smoking and sex between dawn and sunset. The sick and those traveling are exempt from fasting especially if it poses health risks.
Full report at:
http://www.onislam.net/english/news/asia-pacific/489437-malaysian-hotels-remove-offensive-ramadan-signs.html
---------
URL: https://www.newageislam.com/islamic-world-news/new-age-islam-news-bureau/daesh-recruiting-addicts,-mental-patients/d/103849