New Age Islam News Bureau
19 Oct 2018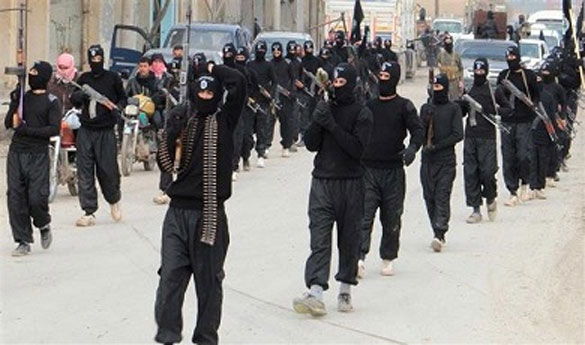 Photo: A top Russian military official says Daesh Takfiri terrorists are active in areas controlled by US military forces in Syria.
-------
• Hafiz Saeed slams PM Imran Khan, says Pakistan government killing Kashmiri 'jihadis' for US aid
• Dussehra brings Hindu-Muslim artisans together
• Nearly 6 in 10 Indonesian Muslim Teachers Intolerant; Many Vilify Modern Science: Survey
Arab World
• Daesh growing, taking hostages in US-controlled parts of Syria: Russian leader
• Bahrain's Al Khalifah regime perpetrated 2,165 human rights violations in 2017: Rights group
• French Forces to Set Up Military Base in Raqqa
• Army on Alert in Northern Syria after Terrorists' Refuse Leaving Demilitarized Zone
• Terrorists Attack Army-Controlled Positions in Demilitarized Zone
• US Sends over 400 Trucks of Arms, Military Equipment to SDF in Manbij
• Putin says ISIS seized 700 hostages in Syria, executing some
• UN official: Syria has withdrawn controversial property law
• Khashoggi's alleged fiancée and ties to radical 'charity' linked to ISIS, Qaeda
--------
Pakistan
• Hafiz Saeed slams PM Imran Khan, says Pakistan government killing Kashmiri 'jihadis' for US aid
• Speakers suggest constructive role of all religions for peace
• Pakistan calls for concrete actions against the rising tide of Islamophobia
• Iranian Guards chief says men unconscious when kidnapped to Pakistan
• Pakistan to soon emerge prosperous, power country, hopes Qadri
• US to press Pakistan for shift in Afghan policy: official
• Committee constituted by SC recommends declaring education emergency in country
• Govt, army chief deplore Afghan attack
• 56 Afghan students offered higher education scholarships in Pakistan
• Will keep exerting pressure on Pakistan until change in Afghan policy: US
--------
India
• Dussehra brings Hindu-Muslim artisans together
• Modi govt must bring law to build Ram Temple in Ayodhya: RSS chief Mohan Bhagwat
• Onus on Pakistan to credible steps, create conducive conditions for talks: India
• Law on building temple not possible: Babri panel
--------
Southeast Asia
• Nearly 6 in 10 Indonesian Muslim Teachers Intolerant; Many Vilify Modern Science: Survey
• China must not be free to suppress its Muslim minority
• Charting a new path of conflict resolution through Islamic narratives
• Malaysia's Anwar to question China on Muslim detentions
• After settling RM1m suit, Canadian Muslim preacher starts bankruptcy proceedings against Zamihan
• Wan Azizah regrets Suu Kyi has done little on Rohingya issue
--------
Africa
• Gov. Fayemi's earliest appointments anger Muslim youths
• Nigeria's oldest mosque seeks partnership with Turkey
• Former Sudanese president Siwar al-Dahab dies in Riyadh
--------
South Asia
• Maldives court overturns ex-President Gayoom's jail term
• Top Afghan police chief killed in Taliban shooting
• KSA keen to invest in Bangladesh
• Afghan guards kill Kandahar police chief in insider attack; US troops hurt
• A Pakistani family having links with ISIS arrested in Nangarhar
--------
Mideast
• US downgrades Palestinian mission, places it under embassy in Israel
• Yemenis seeking refuge in South Korea face wave of anger, get rejected
• Israel steps up armored deployment on Gaza border, Egypt intervenes
• Russia and Turkey give more time for Idlib deal in Syria - UN
• Iran: Armed Syria opp. rejecting terror part of solution
• Leading rights groups urge Turkey to call for UN probe into Khashoggi case
• Turkey extends its presence under UNIFIL in Lebanon
• Hamas pledges Gaza rocket fire probe as calm returns
--------
North America
• Mike Pompeo expects 'complete picture' of Khashoggi's fate from Saudis
• US must withdraw from Syria, stop supporting terrorism: Iran's deputy UN envoy
• Aide to Prince Salman seen walking into Saudi consulate
• Mattis: Afghan attack will not shake US commitment
• One killed, 3 injured as Taliban raid top US general's meeting
• Afghan attack won't change Kandahar security situation — US Defense chief Mattis
--------
Europe
• Switzerland catching up with demand for Muslim pastoral care
• Malaysia tycoon seeks to unite with British Museum's Islamic Gallery
• 'German Islam' as a political project
• France suspends political visits to Saudi Arabia
• UN praises changes for the better in Syria
• Turkey stresses Moldova's territorial integrity
• UK increased weapons sales to Saudi Arabia by two thirds: Report
• Not up to Russia to persuade Iran to leave Syria: Putin
Compiled by New Age Islam News Bureau
URL: https://www.newageislam.com/islamic-world-news/daesh-growing-taking-hostages-controlled/d/116667
--------
Daesh growing, taking hostages in US-controlled parts of Syria: Russian leader
Oct 18, 2018
Russian President Vladimir Putin warns that Daesh is expanding its presence in the Syrian regions controlled by Washington and its allied Kurdish militants, revealing that the Takfiri terror outfit has managed to take hundreds of people hostage in those areas, including the US's own citizens.
Speaking in the Black Sea resort city of Sochi on Thursday, the Russian leader said Daesh had taken nearly 700 people, including several European and US nationals, captive in areas on the east bank of the Euphrates River, where the US runs military bases. Daesh has already executed some of the hostages and promised that it would kill off the rest, said Putin, lambasting Washington for staying conspicuously silent on this tragedy "as if nothing has happened."
This is just horrible, it is a catastrophe," emphasized the Russian leader.
Putin added that the Takfiri terrorists "have issued ultimatums, specific demands and warned that if these ultimatums are not met, they will execute 10 people every day. The day before yesterday they executed 10 people." The Russian leader, however, did not specify what the Daesh's demands were.
The American forces "have clearly fallen short of their target," which has been declared as eliminating Daesh terrorists in Syria, Putin said.
He added that Washington and its allies apparently failed to combat Takfiri terrorists in the parts of Syria they occupy, with Daesh continuing to expand its presence there.
The US, along with a coalition of its allies, has been conducting airstrikes inside Syria since September 2014 without any authorization from Damascus or a UN mandate. It has repeatedly been accused of targeting Syrian civilians and infrastructure.
On the contrary, Russia has been providing the Syrian army with both advisory and on-the-ground assistance in its counter-terrorism battles. Thanks to that help, Syrian armed forces have managed to liberate most of their homeland from the clutches of terrorists.
Putin further said Russia, unlike the US, had dealt a "heavy blow" to terrorists in Syria, eliminating many of them and forcing others to surrender their arms to advancing Syrian government troops.
"Over these years, we liberated almost 95 percent of the Syrian Republic's territory," he said, adding, "We maintained its sovereignty and did not let [the Syrian] state fall apart."
Putin further stressed that Russia's counter-terrorism actions in Syria – which come at the request of the legitimate government in Damascus -- helped "stabilize the situation in the region."
The mid-northern parts of Syria are under the control of the so-called Syrian Democratic Forces, a Kurdish-dominated alliance of militants receiving arms and training from the US.
The SDF militants, mainly active in the eastern part of the Euphrates River, are purportedly fighting against the remnants of Daesh, which has already been driven out of all its urban bastions both in Iraq and Syria.
Damascus, however, regards them as occupying forces since they refused to return the areas they captured from Daesh to government control.
Back in June, the Russian military said that the last pockets of land occupied by Daesh were "only in areas controlled by the US."
It had also said in March that the US had set up around 20 military bases in areas controlled by the Kurdish militants.
Last week, Russian Foreign Minister Sergei Lavrov said the US is seeking to use its allies in Syria, especially the Kurds, in order to establish a quasi-state east of the Euphrates River and create illegal structures there.
https://www.presstv.com/Detail/2018/10/18/577393/Syria-Russia-Putin-Daesh-hostages-US-Euphrates
--------
Hafiz Saeed slams PM Imran Khan, says Pakistan government killing Kashmiri 'jihadis' for US aid
Oct 18, 2018
LAHORE: Mumbai attack mastermind and terror out Jamaat-ud-Dawaah (JuD) chief Hafiz Muhammad Saeed has lashed out at Pakistan Prime Minister Imran Khan-led government for seeking aid from the Donald Trump administration and walking into what he termed as an American trap of giving aid for the killing of Kashmiri and other 'Mujahideen' in the country.
"The US has ordered Pakistan to capture Afghan and Kashmiri Mujahideen with an aim to convert Pakistan into an extended territory of the US", Saeed said while addressing a huge crowd at Markaz Al Qadsiya in Lahore city.
He added, "The US puts pressure on Pakistan government to close the madrasas (Islamic seminaries) and stop teaching the Holy Quran.
They say those studying here are all 'jihadis`.
The US gives such diktats while coming to Pakistan. They also want syllabus on religious teachings to be removed as it gives birth to 'jihadis'.
The government of Pakistan agrees on such orders and informs them about banning 'jihadi' outfits in return of receiving monetary aid and support, he alleged.
Saeed founded Jamaat-ud-Dawah, a front for the Lashkar-e-Toiba terror group, which waged the deadly 2008 Mumbai attacks. The organisation is on the United Nations list of global terrorist groups.
Emphasising on the need to promote religious teachings, Saeed said, "We must reform our educational syllabus and to train our professors in accordance with Islamic education based on Quran and Hadith so that they can handle the economic, political and the various problems created by the US."
Saeed, who carries a USD 10 million bounty for his role in terror activities, criticised the Pakistani government for accepting suggestions to ask the US and International Monetary Fund (IMF) for aid.
He further asked Imran Khan to fulfill promises made during the election campaign of turning Pakistan into a true Islamic State.
"We have to safeguard Islam and Pakistan and should not get trapped into the US and IMF`s entrap", said Saeed in his address.
Saeed strongly criticized those studying and supporting the Western education system in Pakistan.
http://zeenews.india.com/asia/hafiz-saeed-slams-pm-imran-khan-says-pakistan-government-killing-kashmiri-jihadis-for-us-aid-2149326.html
--------
Dussehra brings Hindu-Muslim artisans together
Oct 19, 2018
BHOPAL: A true ambassador of communal harmony and brotherhood, Mohd Ismail has been making effigies of Ravana, Kumbhakaran and Meghnath for the last 35 years.
Talking to TOI, he said unity among people is the key for India's growth.
"Hindus and Muslims have lived like brothers since ages and will continue to do so. The politicians cannot fool us for long. Brotherhood is the only thing that can take India forward."
With a team of 15 persons, the craftsmen from Jaipur is busy these days designing the tallest effigy of MP for Dussehra.
"I have been making effigies for Dussehra for the last 35 years and it was only 10 years ago that I started coming to Bhopal to make effigies. I love to see my Hindu brothers appreciate my work," he said.
Citing examples of Muslim craftsmen making effigies and idols for Dussehra and Durga Puja in different cities of India, he said, "There are so many people from the Muslim community in Mathura, Kota and Ajmer who earn their bread by making effigies for Dussehra and idols for Durga Puja and Ganesh Charurthi".
Ismail said that his sons also make effigies, thus carrying forward the family business in Jaipur and Bhopal. "I know most of craftsmen who design the effigies of Ravana are Muslims."
"Even my sons help me in the business. While my younger son comes to Bhopal with me, the elder one handles the business back home. I have always taught them to respect other religions and live peacefully instead of quarrelling in the name of religion. No religion supports violence and bloodshed and we must understand this. We are humans first, then Hindus or Muslims. We should not forget this," Ismail said.
https://timesofindia.indiatimes.com/city/bhopal/dussehra-brings-hindu-muslim-artisans-together/articleshow/66280146.cms
--------
Nearly 6 in 10 Indonesian Muslim Teachers Intolerant; Many Vilify Modern Science: Survey
October 18, 2018
Jakarta. Most Muslim teachers in Indonesia are intolerant of other religions and highly prone to radicalization, a recent survey showed.
The results of a national survey by Syarif Hidayatullah State Islamic University's Center for the Study of Islam and Society (PPIM), published on Tuesday, show that nearly 60 percent of Muslim teachers are intolerant, while about 46 percent had radical leanings.
The PPIM conducted the survey between Aug. 6 and Sept. 6, randomly sampling 2,237 Muslim teachers from regular and Islamic schools across the country. Respondents were given an implicit bias test consisting of computer-assisted questionnaires that measured their levels of intolerance and radicalism.
The center reported a 2.07 percent margin of error and a confidence level of 95 percent.
The PPIM drew its conclusions from answers to several implicit bias questions that reflected intolerant attitudes and radical tendencies among teachers.
When asked about non-Muslims building faith-based schools in their areas, 56 percent indicated that they did not approve. Nearly 30 percent meanwhile said they were ready to wage jihad to establish an Islamic caliphate in Indonesia.
When given the opportunity, around 27 percent of teachers expressed a desire to encourage others to join the fight to establish a caliphate, while 13.3 percent said they would attack members of the police if they tried to arrest those fighting for a caliphate.
The survey coordinator, Yunita Faela Nisa, highlighted how teachers greatly influence students' values.
"From our previous survey in 2017, we've seen the significant influence of teaching methods, and how school experiences greatly impact the values held by students when it comes to intolerance," Yunita said.
In a similar survey conducted among students last year, the PPIM found that nearly 60 percent of those in high schools and universities held radical views based on religion.
The result of another survey by the Mata Air Foundation and the Alvara Research Center, which was released in November last year, also showed that nearly 20 percent of students support the idea that Indonesia should become a caliphate.
According to Yunita, students discuss matters related to faith not only with their religious teachers, but also with other teachers.
PPIM executive director Saiful Umam said several key issues contribute to the high level of intolerance and radicalism among teachers.
"We found three things that strongly correlate with these high levels of intolerance and radicalism among teachers: their views on Islamism, demography and their involvement in mass organizations, both during college and at present," Saiful said, noting the difference between Islamism and Islamic views.
He said Islamism refers to a more fundamental movement that often calls for full implementation of shariah.
The survey found that nearly 83 percent of teachers agreed that Islam was the only solution to all kinds of problems facing society, while about 40 percent said the Koran contained sufficient knowledge and that Muslims thus do not need to learn from Western-sourced texts.
Moreover, those teaching language, sports, arts and crafts, tended to me more intolerant and radical, compared with those teaching other subjects.
The survey also showed a correlation between income and radicalism, with those earning less tending to be more radical.
The PPIM recommends, in addition to better salaries, an increase in diversity-oriented programs to give teachers more experience, and greater access to empowering institutions as part of efforts to curb growing intolerance and radicalism.
https://jakartaglobe.id/news/nearly-6-in-10-indonesian-muslim-teachers-intolerant-many-vilify-modern-science-survey/
--------
Arab World
Bahrain's Al Khalifah regime perpetrated 2,165 human rights violations in 2017: Rights group
Oct 18, 2018
An independent human rights group says it documented 2,165 cases of grave human rights violations in Bahrain last year as the ruling Al Khalifah regime relentlessly continues with its crackdown on human rights activists and pro-democracy campaigners in the kingdom.
Bahrain Forum for Human Rights (BFHR), in an annual report released on Thursday, announced that regime forces arrested 1,694 people throughout the past year, of whom 644 were rounded up during raids on residential buildings across the kingdom.
The report further noted that the increase in the number of arrests come despite the fact that all international and domestic rights organizations have condemned such a campaign, and called on Bahraini authorities to stop arbitrary arrests on political grounds.
Moreover, Bahraini regime forces stormed homes on 1,049 occasions last year in pursuit of political dissidents.
A total of 107 people suffered injuries as a result of excessive use of force by police officers as well. Regime forces also suppressed 1,414 pro-democracy protests.
The BFHR highlighted that the numbers do not include other violations such as forced disappearances, torture and arbitrary sentences, which have occurred only after Bahrainis exercised their rights to the freedom of expression and peaceful assembly.
The rights group went on to say that the Manama regime continues to tighten its grip on opposition figures, and prosecutes political activists, human rights advocates, journalists and photographers.
The BFHR argued that the ruling Al Khalifah dynasty is making use of law, especially regulations introduced to protect society against terrorist acts, in order to punish protesters through unfair proceedings and prosecutions.
'Bahrain strips some 750 activists of citizenship'
Separately, a non-governmental rights group says Bahraini officials have revoked the citizenship of 749 people since 2012 after convicting them of trumped-up terror charges.
The Salam for Democracy and Human Rights said Manama regime stripped 156 people in 2017, 90 others in 2016, 208 in 2015, twenty-one in 2014 and 31 in 2012 of their nationality.
Bahraini officials have revoked the citizenship of 243 people so far this year.
Thousands of anti-regime protesters have held demonstrations in Bahrain on an almost daily basis ever since a popular uprising began in the country in mid-February 2011.
They are demanding that the Al Khalifah regime relinquish power and allow a just system representing all Bahrainis to be established.
Manama has gone to great lengths to clamp down on any sign of dissent. On March 14, 2011, troops from Saudi Arabia and the United Arab Emirates were deployed to assist Bahrain in its crackdown.
Scores of people have lost their lives and hundreds of others sustained injuries or got arrested as a result of the Al Khalifah regime's crackdown.
On March 5, 2017, Bahrain's parliament approved the trial of civilians at military tribunals in a measure blasted by human rights campaigners as being tantamount to imposition of an undeclared martial law countrywide.
Bahraini King Hamad bin Isa Al Khalifah ratified the constitutional amendment on April 3 last year.
https://www.presstv.com/Detail/2018/10/18/577388/Bahrains-Al-Khalifah-regime-perpetrated-2165-human-rights-violations-in-2017-Rights-group
--------
French Forces to Set Up Military Base in Raqqa
Oct 18, 2018
The Arabic-language Baladi News website affiliated to the terrorists reported on Thursday that the Syrian Democratic Forces (SDF) are busy with drilling operations in an area stretching from the Brigade 17 region to Sahlat al-Banat region in Northeast of Raqqa city and from Sahlat al-Banat region to the North of the Sugar plant in Northern Raqqa.
It added that operations to build the walls and construction of buildings in the area will start after drilling operations, noting that a military base is due to be set up for the French forces with the aim of supporting the SDF in Raqqa.
According to the report, the US military troops are in talks with the SDF to further equip al-Tabaqah airbase in Western Raqqa and turn it into their new military base in the region next year.
Sources in the past few months said that the French army has sent weapons, military equipment and forces to Raqqa.
A joint military convoy of the US and French forces was sent to al-Tabaqah airbase in July as tensions increased between civilians and the US-backed forces in Raqqa.
Local sources in Western Raqqa reported that a military convoy of the US and French forces have been dispatched from the town of al-Tabaqah to its airbase.
Full report at:
http://en.farsnews.com/newstext.aspx?nn=13970726000603
--------
Army on Alert in Northern Syria after Terrorists' Refuse Leaving Demilitarized Zone
Oct 18, 2018
Field sources in Northeastern Hama reported that a large number of Syrian army troops are on alert in their positions in Northern Hama and Southern Idlib.
They added that the development came after the terrorist groups avoided implementation of the Russia-Turkey agreement to create a demilitarized zone in Northern Syria.
The report said the Syrian army troops have also attacked the moves of the terrorists in Hama and Idlib, foiling their attempts to infiltrate into the army-held areas.
Other reports said that while the deadline for the terrorists' withdrawal from the arms-free zone in Syria has ended, they have not withdrawn from their strongholds and rather reinvigorated them.
With the rebels refusing to leave the buffer zone, the Syrian Army has begun mobilizing their troops in Northern Hama and Southern Idlib for a potential military operation against the terrorists.
While the 4th Division has been redeployed to Southern Syria to help with the ISIL offensive, the Tiger Forces and Liwaa al-Quds have remained near the Idlib front in case the jihadist rebels refuse to leave the buffer zone.
Full report at:
http://en.farsnews.com/newstext.aspx?nn=13970726000572
--------
Terrorists Attack Army-Controlled Positions in Demilitarized Zone
Oct 18, 2018
The sources reported on Thursday that the terrorists stationed in the Western parts of the province have launched missile strikes against the new Aleppo region in Aleppo city.
Meantime, the London-based pro-opposition Syrian Observatory for Human Rights (SOHR) reported that as the Russia-Turkey agreement to set up a demilitarized zone in Northern Syria has entered its fourth day, the terrorists have not changed or withdrawn from their positions in the region.
Also, reports in the past few days said that Tahrir al-Sham (the Levant Liberation Board or the Al-Nusra Front) has occupied a large number of houses and territories in Jisr al-Shoqour and the villages of al-Jadideh, al-Yaqoubiyeh, al-Qaniyeh, al-Qasaniyeh and al-Halouz in Western Idlib.
These lands belonged to the Christians who left their homes in Idlib province after the terrorist groups' attacks in 2012.
Relevant reports on Wednesday also said that terrorist groups, deployed in Northern and Northwestern Syria, ignored Turkish measures and continued fortifying their positions in the demilitarized zone specified in the Sochi Agreement.
The SOHR reported that the terrorist groups, deployed in the demilitarized zone in Northeastern Lattakia, Southern Idlib and Western Aleppo, remained in their positions and refused to agree with the Turkish intelligence service's attempts aimed at persuading them to withdraw from the region.
SOHR further quoted militant-affiliated sources as disclosing that the four terrorist groups of Horas al-Deen, Ansar al-Deen Front, Ansar al-Towhid and Jama'ah Ansar al-Islam that had previously rejected the Sochi Agreement have embarked on setting a joint operations room known as Vahraz al-Momenin.
Full report at:
http://en.farsnews.com/newstext.aspx?nn=13970726000367
--------
US Sends over 400 Trucks of Arms, Military Equipment to SDF in Manbij
Oct 18, 2018
Xeber24 news website affiliated to the Kurdish forces in Syria reported on Thursday that the US has sent a large convoy of arms and military equipment to the SDF in Manbij in Eastern Aleppo in the past two days.
They added that the US forces have dispatched over 400 trucks of weapons and military hardware to the SDF in Manbij after Turkish President Recep Tayyip Erdogan threatened to launch operations against the Kurds in the region.
Relevant reports on Wednesday said that the US-led coalition dispatched a fresh convoy of military vehicles to the town of Manbij in Northeastern Syria to counter Ankara's threats about implementing the Manbij roadmap.
The US Army sent a convoy, including several vehicles, to Manbij from its base in Ein Issa in Northern Raqqa, the sources said, adding that the Manbij Military Council has kept its gunmen on alert and banned traffic of motorcycles in the region after tensions intensified in the town in recent days.
Full report at:
http://en.farsnews.com/newstext.aspx?nn=13970726000235
--------
Putin says ISIS seized 700 hostages in Syria, executing some
19 October 2018
Russian President Vladimir Putin says ISIS in Syria have recently seized some 700 people as hostages and are carrying out executions.
At an international policy forum in Sochi on Thursday, Putin said "they have been recently expanding their area and took about 130 families hostage, which accounts for about 700 people."
Putin said the militants have put forth demands, which he did not specify, and have warned that they would kill 10 people a day if the demands are not met.
"They killed 10 people the day before yesterday," he said. "They are now carrying out their threats."
Full report at:
https://english.alarabiya.net/en/News/middle-east/2018/10/19/Putin-says-ISIS-seized-700-hostages-in-Syria-executing-some.html
--------
UN official: Syria has withdrawn controversial property law
18 October 2018
A UN humanitarian aid official said Thursday that Syria's government has withdrawn a controversial law that allowed fauthorities to seize property left behind by civilians who fled the country's civil war, calling it a good sign that "diplomacy can win - even in Syria."
Jan Egeland said he was told of the decision by Russia, a key ally of Syrian President Bashar Assad.
Egeland also said Assad's government has agreed to allow convoys of aid to enter the desolate Rukban area near Syria's border with Jordan. He said the U.N. and its partners haven't gotten access since January to the area where up to 50,000 civilians have been stuck for months, calling it one of Syria's most "desperate places."
Egeland, who heads aid issues in the office of UN Syria envoy Staffan de Mistura, but whose day job is leading the Norwegian Refugee Council, also confirmed he will leave the UN post in November. He spoke a day after de Mistura told the UN Security Council that he himself is leaving for "personal" reasons.
Speaking after a UN "humanitarian task force" meeting in Geneva, Egeland said Russia reiterated assurances it had made earlier regarding Syria's so-called "Law 10" having been withdrawn. Under the law, residents have just 30 days to prove that they own property in redevelopment zones in order to receive shares in the projects, otherwise the ownership will be transferred to the local government.
The law has been seen as a major impediment to the possible return of millions of Syrian refugees and internally displaced people who fled their homes in Syria's 7 ½-year war, which has left at least 400,000 people dead. Syrian officials have insisted the law will not result in the confiscation of property, but is aimed at proving and organizing ownership to combat alleged forgery of documents in rebel-held areas.
It was not clear whether Assad's government might later revive the legislation or enact it in other ways.
"When Russia says that it is withdrawn and there were mistakes done ... it is some good news," Egeland said. "Hopefully this will now be reality on the ground. So diplomacy can win - even in Syria."
Syrian legislator Mohammed Kheir Akkam told The Associated Press on Thursday that the law was issued by presidential decree and there has been no decree to abolish it.
"These claims are not true so far," he said when asked whether "Law 10" has been abolished.
There was no immediate reaction or confirmation from either Russia or the Syrian government regarding the law.
As for Rukban, Egeland bemoaned how only a "trickle" of goods had reached civilians in the desert area in recent months.
"We've been assured that we will have all the green lights and permits from the government in Damascus to send a convoy through with food, with health and sanitation equipment - all that is needed for a population in Rukban that has had the most desperate pleas now in the last weeks for aid," he said.
Overall, Egeland cited a number of "positive" developments in Syria in recent weeks.
He hailed the news that airstrikes over the northwestern region of Idlib - the last major militants stronghold in Syria - have stopped for the last five weeks, in part due to Russian efforts.
Egeland also noted a decision by Western donors to lift temporary restrictions that they had imposed on aid flows over concerns that the funds might end up in the hands of groups that the UN has listed as terrorist organizations, such as an al-Qaida-linked group that controls much of Idlib.
Full report at:
https://english.alarabiya.net/en/News/middle-east/2018/10/18/UN-official-Syria-has-withdrawn-controversial-property-law.html
--------
Khashoggi's alleged fiancée and ties to radical 'charity' linked to ISIS, Qaeda
18 October 2018
Ever since Saudi journalist Jamal Khashoggi went missing in Istanbul, the name Hatice Cengiz has dominated the scene and remained at the forefront of news headlines amid the mysterious aura of the past 13 days.
So who is this Turkish woman that emerged from behind her Twitter account to claim that she is Khashoggi's fiancée?
Hatice graduated from the Sharia college in the University of Istanbul in 2013 and got her MA in 2017 from the Faculty of Social Sciences – History Department at Salahaddin University after finishing a field study about sects in Oman.
She later joined a study program at the Ibn Khaldun University which is affiliated with the Justice and Development Party, and where Bilal Erdogan holds the post of Vice Chairman of the Board of Trustees.
The Ibn Khaldun University which was founded in 2015 signed educational and cultural cooperation agreements with the Doha Institute for Graduate Studies where the Chairman of the Board of Trustees is Azmi Bishara.
Hatice presented herself as a freelance researcher of Gulf countries and presented academic studies about Oman, but the most important question is: Which party was Hatice Cengiz working for then, and which center did her studies and articles serve?
The iHH Foundation
According to Turkish sources that Al Arabiya communicated with, and that are very familiar with Hatice, and after corroborating information with posts she placed on her Twitter account, Hatice worked with the Turkish charity organization iHH Humanitarian Relief Foundation which is headed by Bulent Yildirim who is close to radical and extremist groups.
This organization is considered close to the Turkish authorities. It made headlines in 2010 when its chief, Yildirim, organized the Mavi Marmara flotilla under the pretext of breaking the blockade of Gaza and resulting in the death and injury of several people.
On July 13, 2018, she interviewed Dar Al-Arab media group's Executive Director Jaber al-Harmi for the foreign policy magazine, which is a periodical that is published in the Turkish and English languages and which is affiliated with the Institute of Foreign Policy that's affiliated with the Turkish Foreign Ministry.
In the interview, she addressed the convergence between Qatar and Iran and the stance of the countries that have boycotted Qatar.
The topic was under the headline "Qatari-Iranian relations and the region's developments after America's withdrawal from the nuclear deal," and in it, Hatice criticized Saudi Arabia in exchange for extending the "olive branch of peace" to the Khomeini regime.
Her affiliation with the iHH Humanitarian Relief Foundation explains her adoption of the Iranian approach, and this was clearly seen via her tweets that are in line with the policies of the organization whose head is well-known for his strong ties with the Iranian regime and his support of Khomeini policies.
Sources close to Hatice's family said the family did not know their daughter was engaged to Khashoggi and were surprised to hear the news which they only learnt via media reports, adding that Hatice does not live in the same house with her family.
Terrorist ties
The iHH Humanitarian Relief Foundation was founded in 1992 and was officially registered in 1995. It was accused of being linked to extremist groups, like Al-Qaeda, Hamas and ISIS, and of playing a role in recruiting some of the latter groups' members, dispatching them to conflict areas like Bosnia and Syria to gain fighting experience and providing logistical support to elements of global terror in the Middle East.
In 2003, French Judge Jean-Louis Bruguiere testified as an expert witness before an American court and confirmed the Foundation's important role in what was known as the 2000 millennium attack plots that were set to target the Los Angeles International Airport upon plans by Al-Qaeda.
"The iHH is an NGO, but it was kind of a type of cover-up... in order to obtain forged documents and also to obtain different forms of infiltration for Mujahideen in combat. And also to go and gather [recruit] these Mujahideens. And finally, one of the last responsibilities that they had was also to be implicated or involved in weapons trafficking," Bruguiere told the court.
According to the iHH's official website, there are strong cooperation ties between Yildirim and Qatar's National Human Rights Committee Chairman Ali bin Sumaikh Al Marri. These ties led to several partnership agreements with a number of Qatari institutions that are on terror lists issued by the anti-terror quartet, i.e. Saudi Arabia, the UAE, Bahrain and Egypt. Among these institutions are the Qatari Raf Foundation and Sheikh Eid bin Mohammad Al Thani Charitable Association. This partnership also led to executing joint works in Syria, Yemen, Myanmar and Gaza.
Full report at:
https://english.alarabiya.net/en/News/gulf/2018/10/18/Khashoggi-s-alleged-fianc-e-and-ties-to-a-radical-charity-linked-to-ISIS-al-Qaeda.html
--------
Pakistan
Speakers suggest constructive role of all religions for peace
Oct 19, 2018
LAHORE: Speakers at a seminar suggested a constructive role of all religions and the leadership of different faiths for peace and development, to take care of the vulnerable and to stand together with minorities.
"We can observe that most faith groups share an interest in protecting the vulnerable in our societies," they said while addressing a thought-provoking seminar and discussion on the concept of peace and development in religions and the role of religious leaders, by the Engaging Pakistani Interfaith Community (EPIC).
Deputy Ambassador of Netherlands Josephine Frantzen told the audience that her country would support all efforts for peace and peaceful coexistence in Pakistan. She urged all the stakeholders to continue to work together in a coherent and coordinated response to the challenges. She said that education has an important role to play in sustaining peace and promoting sustainable development.
"Everyone should develop solutions to development and tackle humanitarian challenges."
Sharing his thoughts, Javaid William highlighted the role of religious leaders in peace and development and called for support at the highest level to ensure their participation. He said that everyone would have to realise the importance of peace for sustainable development. "We all have much to learn from each other," he said.
On the occasion, Elaine Alam spoke of the role of women in peacebuilding. "We can see this gathering as an opportunity to showcase the powerful contributions that can be made when people and organisations from across religious boundaries work together to address challenges," she said.
The participants that included Interfaith Advisory Commission of Pakistan Chairman Abdul Wahab Roprri, Professor Kalyan Singh Kalyan, Professor Matiullah Bajwa, Father Morris Jalal, Dr Munawar Chand, Maulana Shakeelur Rehman Nasir, Hafiz Samiullah and others, took part in a panel discussion on the concept of religions and shared their on-the-ground experiences.
The speakers said that it's a chance for faith leaders to refocus policy debates on people in need. They reiterated concern about some incidents of intolerance against minorities; and stressed the need to explore the ways to stem misperceptions and misunderstandings against the people who experience relative disadvantage as compared to members of a dominant social group.
Acknowledging the good work of the government in addressing the plight of many, they urged stronger action by individuals and communities collectively. They underscored the respect for diversity which enriched any society with new ideas.
https://www.pakistantoday.com.pk/2018/10/18/speakers-suggest-constructive-role-of-all-religions-for-peace/
--------
Iranian Guards chief says men unconscious when kidnapped to Pakistan
October 18, 2018
A group of Iranian security personnel kidnapped on the border with Pakistan this week were unconscious at the time, the commander of Iran's elite Revolutionary Guards said, following reports that they had eaten drugged food.
Iran's Fars News agency also quoted Major General Mohammad Ali Jafari on Wednesday as saying that infiltrators had helped with the abduction of at least 10 staff to Pakistan on Tuesday.
Fars mentioned the reports of tainted food on Tuesday.
An Iranian separatist group called Jaish Al Adl said on Tuesday that it had seized the personnel, which included members of the Guards, at the Mirjaveh border post in Sistan-Baluchestan province to avenge the oppression of Sunni Muslims in the area.
Iran's Shiite Muslim authorities say militant groups operate from safe havens in Pakistan.
Jafari said what he called "enemies" had tried unsuccessfully in the past to occupy Iranian turrets or border posts. "This time they were able to carry out their operation by bringing in an infiltrating force," he said.
"They were sure that as long as the fighters and defenders are alert, they cannot achieve their goal, so they were able to kidnap these individuals by making them unconscious."
Iranian Foreign Minister Mohammad Javad Zarif asked Pakistan to step up efforts to secure the border in a telephone call on Wednesday with his Pakistani counterpart Shah Mehmood Qureshi, Iran's Foreign Ministry spokesman said Wednesday, according to Fars. "[Mr Zarif] requested increased seriousness from the Pakistani security and border forces in protecting the security of the borders of the two neighbouring Muslim countries," Bahram Qassemi said.
Pakistan's Foreign Ministry said on Tuesday both militaries were working to ascertain the whereabouts of the Iranians.
In previous cases of cross-border clashes, Iran has threatened to hit militant bases in Pakistan unless Islamabad took action.
However, the head of the Guards' ground forces, Brigadier General Mohammad Pakpour, said on Tuesday that Iran was ready to conduct joint military operations with Pakistan to release the kidnapped personnel.
In September, the Revolutionary Guards killed four Sunni militants at a border crossing with Pakistan, including the second-in-command of Jaish Al Adl.
Full report at:
https://www.thenational.ae/world/asia/iranian-guards-chief-says-men-unconscious-when-kidnapped-to-pakistan-1.781835
--------
Pakistan to soon emerge prosperous, power country, hopes Qadri
Parvez Jabri
October 19, 2018
ISLAMABAD: Minister for Religious Affairs and Interfaith Harmony Noor-ul-Haq Qadri Thursday expressed the hope that Pakistan would soon emerge as powerful and prosperous country after overcoming difficulties.
Addressing a reception arranged in his honour by International Forum for Pakistani Columnists and Anchors (AFPCA) at Islamabad Club here, he said Pakistani nation would be better educated under the leadership of Prime Minister Imran Khan as the Prime Minister was determined to make justice system cheaper and speedy.
Improvements in the economic condition of the country would soon be visible.
The overall workings of country's institutions would be improved.
He said the ongoing austerity measures spearheaded by Prime Minister would have far reaching impacts on society as well as economy.
He said Pakistan had the ability to lead Muslim Ummah adding the government was striving hard to implement first hundred days agenda vigorously.
Those who looted the country should be dealt with iron hands.
The stashed money would be brought back to the country.
The agenda of PTI has rekindled people's hope of steering the country into prosperity.
PTI government was enjoying people's support to implement the agenda of change in true letter and spirit.
Responding to a question, he said that annual fund of Rs 125 billion had been allocated for erstwhile Federally Administered Tribal Areas (FATA) areas. This would help overcoming poverty in Fata and starting a new era of development in the area.
Full report at:
https://www.brecorder.com/2018/10/19/446774/pakistan-to-soon-emerge-prosperous-power-country-hopes-qadri/
--------
US to press Pakistan for shift in Afghan policy: official
Anwar Iqbal
October 19, 2018
WASHINGTON: While calling recent meetings between United States officials and the new Pakistani government useful, acting Deputy Secretary of State Henry Ensher said the US would continue to apply pressure to Pakistan until Islamabad changed its policy towards regional peace and stability in Afghanistan.
"There is truth to the idea that we are applying pressure to Pakistan, and it is an important component of our policy," said Mr Ensher while speaking at a seminar organised by a think-tank called Indus at the Wilson Centre, Washington.
The US official said the pressure "should not disguise the fact that we genuinely believe that a shift in Pakistani policy in line with our strategy, the South Asia Strategy, is very much in Pakistan's own interest as well".
Mr Ensher argued that the status quo in Afghanistan did not serve Pakistan's interest, as groups such as the ISIS posed a threat to both Afghanistan and Pakistan.
Referring to Islamabad's complaint that the Afghan territory was often used for launching attacks into Pakistan, the official said: "The greater the instability in Afghanistan, the more the Pakistani-Taliban TTP can use Afghanistan's territory as a platform for [carrying out] attacks in Pakistan."
The second most serious concern for US policy makers, according to him, is Pakistan's strategic weapons.
Full report at:
https://www.dawn.com/news/1439948/us-to-press-pakistan-for-shift-in-afghan-policy-official
--------
Committee constituted by SC recommends declaring education emergency in country
Kashif Abbasi
October 19, 2018
ISLAMABAD: A high-profile committee constituted by the Supreme Court has pointed out "insufficient commitment and patchy management" in Pakistan's education sector and recommended several measures including the declaration of an education emergency in the country.
The committee was constituted by the chief justice of Pakistan in April. It was chaired by Wafaqi Mohtasib Syed Tahir Shahbaz and included Abdul Rauf Chaudhry, U.A.G. Isani, former Allama Iqbal Open University vice chancellor Dr Shahid Siddiqui, former Higher Education Commission chairman Dr Mukhtar Ahmed, joint education adviser at the Ministry of Federal Education Rafiq Tahir and others.
The committee was given a mandate to implement Article 25-A of the Constitution, under which the state is obligated to provide free and compulsory education to children between the ages of five to 16.
It finalised its report, Education Sector Reforms in Pakistan, Implementation of Article 25-A, after a number of meetings, and recommended the need to declare an education emergency and tackle "myriad challenges" including out-of-school children, the quality of education, a uniform education system and skills development.
In the report, the committee pointed out that the country is faced with the challenge of 25 million out-of-school children between the ages of five and 16, with 2m children being added every year.
The report said there are "clear constitutional provisions" – articles 25-A, 37-B and 38-B, as well as the country's commitments to the Millennium Development Goals and the Sustainable Development Goals "where our failures are palpable".
"Clearly, such a grave situation calls for extra-ordinary measures," it stated.
For effective enforcement of Article 25-A, a paradigm shift is required to accord appropriate priority to the sector in terms of financial and human resources along with sufficiently empowered institutions of oversight, the report said.
The committee also recommended a substantial increase in the education sector budget from the present 2.2pc of GDP to 4pc of GDP at the national level and a minimum allocation of 25pc of the total budget of the provinces.
This would entail capacity building at the provincial and district levels so funds can be properly utilised, and are not lapsed or allocated to other sectors, the report added.
It also recommended "a big jump" in the construction of new schools in the public sector, and in recruitment and training of a large number of teachers. Ghost schools and non-functional schools also need to be made functional.
The report said private educational institutions serve a sizeable 36pc of students, and while acknowledging their contribution in imparting education the school-going children, the government should bind private schools to rationalise their free structure and enrol at least 10pc of students from disadvantaged backgrounds under corporate social responsibility.
It pointed out that under housing laws, each housing society is obligated to earmark amenity plots for community service, but most of these plots are leased to private elite schools. The report said housing societies may be directed to offer these plots at subsidised rates for the establishment of public sector schools.
The report also said it was critical to introduce double shifts in schools with a sufficient number of students, and public schools may also facilitate informal schools in the evening. However, the report added, the implementation of this "would also require additional recruitment of teachers and staff with budget".
In many cases, it said, low enrolment is the function of poverty and large families in the lower strata of society.
"Appropriate incentives will have to be given," the report said. "Federal government and provincial governments have a number of projects in hand according to special need with encouraging results. Best practices in community schools, non-formal schools, public private partnership, and voucher scheme can be shared by the provinces and expanded for enhanced targets. The minimum of 50pc annual increase in number under these projects is essential to supplement government existing effort."
The report said "private entrepreneur firms and individuals" should be encouraged and incentivised to "adopt schools for infrastructure development and provision of necessary facilities". These incentives could be in the shape of tax rebates or the attribution of the schools to the sponsors.
The importance of religious education was also highlighted by the committee. The report said that in order to utilise the Deeni Madaris sub-sector of education, the government in consultation with their representatives should devise a formal education programme.
The report also called for merit-based management and a 50pc increase in funding for the National Commission for Human Development and Basic Education Community Schools to expand the network of the two organisations.
Full report at:
https://www.dawn.com/news/1439846/committee-constituted-by-sc-recommends-declaring-education-emergency-in-country
--------
Govt, army chief deplore Afghan attack
October 19, 2018
ISLAMABAD: Pakistan on Thursday condemned the shooting incident in Kandahar in which top security and intelligence leadership of the Afghan province was eliminated and hoped for peaceful conduct of upcoming parliamentary polls in the war-ravaged country.
"Pakistan strongly condemns the terrorist attack, resulting in the sad demise of senior Kandahar security officials and causing injuries to many others," a statement issued by the Foreign Office on the insider attack said.
The statement, besides expressing solidarity with Afghan people, underlined Pakistan's support for the democratic process in Afghanistan.
"We hope that the parliamentary elections due to take place the day after tomorrow will be held peacefully. Strengthening of democracy is key to long-term peace and security in Afghanis­tan," the statement said.
Army Chief Gen Qamar Javed Bajwa also condemned the attack.
"Wish to see Afghan and other security forces succeeding to bring an end to this prolonged violence in Afghanistan. Peace in Afghanistan is essential for peace in the region. Support all initiatives towards this end," the army chief said.
Earlier, speaking at a weekly media briefing, Foreign Office spokesman Dr Muhammad Faisal reiterated Pakistan's position on the Afghan conflict, saying there was no military solution to the conflict and that the most viable way forward lay in an Afghan-led, Afghan-owned political process.
Responding to questions about newly appointed US special envoy for Afghan peace process Zalmay Khalilzad's meeting with Taliban in Qatar, the spokesman said: "We welcome efforts for a negotiated settlement of the Afghan conflict and will extend all possible support for any such efforts. Pakistan wishes to see peace and stability returning to Afghanistan which is an important neighbour and a brotherly country."
He recalled the steps taken by Pakistan to prevent illegal cross-border movement and noted that those efforts had been successful.
"We will continue this endeavour and complete our border management project in the stipulated time period," he said and urged the Afghans to take similar steps on their side of the border so that the issue of unauthorised cross-border movement could be effectively addressed.
Dr Faisal said Pakistan was ready to extend technical and material support to Afghanistan in this regard.
Chemical weapons
Rejecting Indian denial on the use of chemical weapons in India-held Kashmir, the spokesman renewed the call for international investigation into the matter.
Full report at:
https://www.dawn.com/news/1439952/govt-army-chief-deplore-afghan-attack
--------
56 Afghan students offered higher education scholarships in Pakistan
Oct 19, 2018
Pakistan's envoy to Kabul on Thursday hosted lunch for 56 Afghan students who would soon be leaving for Pakistan to study Master's, MPhil and PhD degrees on full scholarships granted by the government of Pakistan.
According to a press release issued by the Pakistan embassy in Kabul, Ambassador Zahid Nasrullah Khan hosted the students, which include 20 Agricultural candidates who are availing the dedicated scholarships given to the Afghan Ministry of Agriculture.
Khan, speaking on the occasion, underlined that as a manifestation of Pakistan's historical and brotherly relations with Afghanistan, Pakistan is investing in the development of human capital of Afghanistan with the expectation that these students would play a vital role in the economic future of the country.
Full report at:
https://www.pakistantoday.com.pk/2018/10/18/56-afghan-students-offered-higher-education-scholarships-in-pakistan/
--------
Will keep exerting pressure on Pakistan until change in Afghan policy: US
Oct 19, 2018
WASHINGTON: Officials within the United States (US) Department of State said on Wednesday night that Donald Trump's administration would continue to exert diplomatic pressure on Pakistan until it changes its policy towards regional peace and stability in Afghanistan.
While addressing an event at the Wilson Centre, Henry Ensher, Acting Deputy Assistant Secretary for Pakistan for the State Department, said that negotiations on Afghanistan were a major area of policy divergence with Pakistan despite the significance of bilateral linkage with shared interests.
"As long as that continues, we will continue to colour and take centre stage in [the] bilateral relationship," he said.
"In reality, we have seen some action but we have not seen the decisive steps from Pakistan that could demonstrate commitment, ensuring their territory cannot be used by the Taliban, the Haqqani Network, and other groups that were so violent and bring instability in the region," he stressed.
Ensher also argued that the Trump administration's decision to withhold security assistance and coalition support fund (CSF) payments to Pakistan drew from its concerns over Islamabad's consistently "counter-productive policies".
However, the US State representative added that Washington had pinned hopes on the new civilian government under the leadership of Prime Minister Imran Khan, claiming that it had the opportunity to "fix bilateral relations" as well as to "bring peace and stability to Afghanistan and Pakistan by partnering with the US".
"Doing so will enable more mutually beneficial relationship," he noted, adding that the US was committed to forming productive diplomatic relations with Pakistan but not much could be done until Pakistan took reformative action.
"A future course of our relationship, and indeed the trajectory of Pakistan's development, rest in the hands of Pakistani leaders," he said.
Ensher addressed common criticisms of US policies in Pakistan. Firstly, that US-Pakistan relations had too strong a focus on Afghanistan, and secondly that the US exerted pressure on the country to manipulate Pakistan's regional policies.
He justified that diplomatic relations were such because the US had directly been engaged with the conflict for 17 years, though it did not occur in its own territory.
"It has more than 15,000 troops on the ground, spent more than $900 billion so far, and endured more than 2200 deaths," He added.
The official agreed that the Trump administration was more than willing to continue applying pressure to advance US national interests.
"We will continue to do so in South Asia as well as elsewhere, but it should not disguise the fact that we genuinely believe that a shift in Pakistan policy in aligning with our strategy is very much in Pakistan's own interests as well."
He warned Pakistan that its policies in Kabul don't serve "its own interests" as the militant group Daesh threatens peace in the region, as well as the possibility of Tehrik-i-Taliban Pakistan (TTP) using Afghan territory as a platform for attacks in Pakistan.
He appreciated Pakistan's support for ending the conflict through a negotiated settlements by bringing the Taliban to table.
"We know that Pakistan can't deliver a deal by itself, but Pakistan can play a constructive role. We welcome additional measures that Pakistan government could take to increase the willingness of the Taliban leadership to negotiate," he said.
Ensher reminded how long-standing proxy policies and contentious regional relationships have cost Pakistan in the past.
"Pakistan has a potential to be a leader in the region — economically and politically — but its policies have instead fed instability and division both in South Asia as well as in the country itself," he said.
INDO-PAK RELATIONS:
Speaking on Pakistan-India relations, he added that Washington hoped bilateral discussions between the two countries could move forward, however, the presence of terrorist groups on Pakistani soil could limit the potential for a positive outcome from such a dialogue.
Full report at:
https://www.pakistantoday.com.pk/2018/10/18/will-keep-exerting-pressure-on-pak-until-change-in-afghan-policy-us/
--------
India
Modi govt must bring law to build Ram Temple in Ayodhya: RSS chief Mohan Bhagwat
Oct 18, 2018
The Narendra Modi government must bring in "appropriate and requisite law" to pave the way for the construction of a Ram Temple in Ayodhya, Rashtriya Swayamsevak Sangh (RSS) Mohan Bhagwat said on Thursday, ahead of the general elections to be held next year.
In his customary Vijayadashami speech in Maharashtra's Nagpur, Bhagwat said the construction of the Ram Temple is necessary from the self-esteem point of view. It will also pave the way for an atmosphere of goodwill and oneness in the country, he said.
"People are questioning why the temple is not being built despite their chosen government being in power," he said and added that the temple should have been built already as he urged the Supreme Court to take a decision soon.
The top court had said in September there was no need for a larger bench to review a 1994 decision related to the Ramjanmabhoomi case, whether a mosque is central to Islam, and that a bench would start hearing the land dispute case in late October.
Calling the temple a matter of national interest, he accused fundamental forces of playing communal politics by presenting newer interventions which were delaying the judicial process.
"It is in nobody's interest to test the patience of the society without reason. Even after all kinds of evidence have affirmed that there was temple at that place, the place of Janmabhoomi is yet to be allocated. The decision regarding ownership of land should be expedited," said Bhagwat.
Bhagwat's demand comes at a time when Hindutva groups are mounting pressure on the Centre to ensure the speedy construction of the temple in Ayodhya at the venue believed to be the birthplace of Lord Ram.
The chief of RSS, the ideological mentor of the ruling Bharatiya Janata Party (BJP), has said earlier that even opposition parties cannot oppose a temple in Ayodhya openly as the deity is revered by the country's majority.
Bhagwat's call sets the tone for the impending elections in five states this year and the Lok Sabha polls that follow. By demanding a new law as a way out, the RSS chief has also departed from an earlier narrative of awaiting for a judicial solution to the dispute.
BJP president Amit Shah has said that the construction of Ram Temple would start before the 2019 polls while interacting with the party workers in Telangana, a few months ago.
Throwing his weight behind the BJP, Bhagwat also urged people to vote for the party that will bring India together and not break it apart, laying to rest speculation whether the Sangh will join the campaign for the Lok Sabha next year or maintain its appearance as an apolitical outfit.
Bhagwat had made a similar appeal for removing the "anti-people" UPA government before the 2014 elections and urged swayamsevaks to bring in a new government.
He also lashed out at the "urban Maoists" and said Maoism has always been "urban" and their neo-Left doctrine is to establish an "anti-national" leadership with blind followers solely committed to them.
He said "urban Maoism" was propagating falsehood and spreading hatred in the society and that the left-wing extremist has used neglected sections of society to further its agenda. Maoist takes strength from the country's enemies and always malign the nation wherever they go, he added.
https://www.hindustantimes.com/india-news/modi-govt-must-bring-law-to-build-ram-temple-rss-chief-mohan-bhagwat/story-2Qj38VcEQQp3eDyWmn0UdJ.html
--------
Onus on Pakistan to credible steps, create conducive conditions for talks: India
Oct 18, 2018
India Thursday said the onus was on Pakistan to create conducive conditions for talks by taking steps such as action against terrorists and dismantling terror infrastructure operating from its soil.
During a media briefing, external affairs ministry spokesperson Raveesh Kumar reiterated India's stand that talks and terror cannot go together and said this was one of the reasons why the scheduled meeting in New York between the foreign ministers of India and Pakistan was cancelled.
Barely 24 hours after agreeing to the engagement, the government had called off the meeting last month, citing the brutal killings of three policemen in Jammu and Kashmir and Islamabad releasing postage stamps "glorifying" Kashmiri militant Burhan Wani.
Asked if there was any message or signal from the Pakistani side for talks, Kumar said, "I am not aware of any proposal for a track 1 or track 1.5 dialogue or a meeting between India and Pakistan." "The onus is on Pakistan to take credible steps, to create conducive conditions, for such talks which of course means taking action against terrorists, taking action against terrorist infrastructure which operates from its soil," he said.
Asked about Pakistan Army's statement warning of "10 surgical strikes" against India in response to a single such attack, Kumar said, "You should ask this question to the Indian Army, they will give a befitting reply to them." India-Pakistan ties have nose-dived in view of a number of terror strikes by Pakistan-based groups. India retaliated by carrying out 'surgical strikes' in September 2016 across the Line of Control (LoC). India has been maintaining that terror and talks cannot go together.
Full report at:
https://www.hindustantimes.com/india-news/onus-on-pakistan-to-credible-steps-create-conducive-conditions-for-talks-india/story-Eb5aJFDgD9xsQ8Ssp7lAAI.html
--------
Law on building temple not possible: Babri panel
Oct 19, 2018
Law on the construction of Ram Mandir in Ayodhya is not possible as several Supreme Court and High Court judgments say it can't be made by setting aside a judgment, claimed eminent lawyer and convener of Babri Masjid Action Committee Zafaryab Jeelani on Thursday.
Jeelani was reacting to RSS chief Mohan Bhagwat's annual Vijayadashami speech in Nagpur on Thursday urging the Narendra Modi government to bring "an appropriate and requisite law" for the early construction of the Ram Mandir at the disputed Babri Masjid site in Ayodhya.
Jeelani said such statements were being made as part of a well-thought out conspiracy to influence judges. However, neither the RSS nor the government can influence judges, asserted Jeelani.
"Besides influencing their vote bank, such statements serve no other purpose. As making such statements by the government and the Prime Minister would be considered unconstitutional, the RSS is playing this role", said Jeelani.
The Allahabad High Court had divided the land into three parts — a judgment which was based on facts, hence setting it aside would not be constitutional.
Jeelani is arguing the case in the Supreme Court on behalf of the UP Sunni Central Waqf Board.
All India Muslim Personal Law Board Executive member Maulana Khalid Rashid Firangi Mahali described Bhagwat's statement as inspired by electoral politics.
He said till the elections, one should be prepared to hear many more such statements from various quarters of the Sangh pariwar.
Full report at:
https://www.tribuneindia.com/news/nation/law-on-building-temple-not-possible-babri-panel/670354.html
--------
Southeast Asia
China must not be free to suppress its Muslim minority
OCT 18, 2018
China is pursuing an extraordinary and outrageous policy in its far western province of Xinjiang. Beijing has been cracking down on the nation's Uighur population there, a mostly Muslim group that until recently constituted a majority of people living in the province. It is estimated that as many as 1 million Uighurs have been relocated to camps where they receive "anti-extremist ideological education." This program is Orwellian in its design and scope. The world must protest and demand that Beijing end this horrific practice.
China's west has long been restive. Xinjiang province, a sprawling area that stretches 1.6 million square kilometers, is China's largest administrative region and one of its least populated, with nearly 22 million residents, about 10 million of them Uighurs. It borders Central Asia and its residents share a religious and ethnic background foreign to that of the Han ethnic group that makes up an overwhelming majority of Chinese citizens elsewhere in the country. That difference and the distance from the capital have prompted fears of ethnic separatism in the region — a concern that was briefly made real during the Japanese occupation of China over 70 years ago.
There has been unrest in the region — riots in 2009 and sporadic outbreaks of violence since — but Chinese authorities have confused cause and effect. If the Muslim community is aggrieved, it is because of assimilation policies pushed by the government in Beijing and its local representatives, along with programs to resettle "reliable" Han in the region, which has fueled complaints as they displace native residents in the local economy.
Beijing is convinced, however, that those grievances are sparked by separatism and extremism, and has cracked down to protect security and territorial integrity. Over a year ago, the government began a massive surveillance program that is rivaled only by that of North Korea, but far more sophisticated. Iris scanners, closed-circuit TV and computer networks have been combined with old-fashioned block informers and a repressive police presence. Certain Muslim names for babies have been banned, along with the wearing of long beards and veils.
In recent months, satellite photos have revealed a growing network of education camps — human rights groups say there could be as many as 2,000 — where an estimated 1 million people are being held. In August, the United Nations Committee on the Elimination of Racial Discrimination reported that Uighurs and other Muslims were held for long periods of time without charge or trial "under the pretext of countering terrorism and religious extremism." The conditions for detention are unknown: It is thought that having contacts with family overseas or even praying daily is enough to warrant arrest. Ominously, China has also reportedly engaged in a crash program to build orphanages for children of those detained, implying that family separations will last for some time.
China has begun to push back against the reports. First, it denied that camps existed. Then it quickly passed legislation earlier this month legalizing "vocational skill education training centers" and then launched a two-pronged diplomatic campaign insisting that the effort is needed to make the region safe and that camp residents are happy and content.
Shohrat Zakir, a senior Xinjiang government official, has been quoted by Chinese media as saying that China is fighting terrorism and extremism and that Xinjiang is "safe and stable. … People are no longer afraid of going out, shopping, dining and traveling." But, he warned, "There is still a long way to go … to eradicate the environment and soil of terrorism and religious extremism."
At the same time, official media portray the detention facilities as virtual holiday camps, where residents enjoy dancing, pingpong, free meals, TV and air conditioning. They receive legal education and job training, and, as a result, said Zakir, "They have realized that life can be so colorful." He added that they now realize that "they are firstly citizens of the nation." A Chinese TV documentary showed a detained person who enthused that "my brain is rich now. My life is rich as well."
That is a sharp contrast to first-hand reports by former detainees who say they have been forced to undergo indoctrination, brainwashing and torture. Human rights groups assert that China is trying to stamp out the Muslim faith in the country.
China is hoping that Xinjiang is too far from prying eyes or that the threat of Islamic extremism will provide a suitable cover for its policies. That must not be allowed. As he tries to build a positive and forward-looking relationship with China, Prime Minister Shinzo Abe must protest on behalf of the Uighur population. Japan must back international efforts to investigate this situation: the U.N. Human Rights Council will hold a session on the detention of Uighurs early next month. Japan, and other defenders of human rights, must not be silent.
https://www.japantimes.co.jp/opinion/2018/10/18/editorials/china-must-not-free-suppress-muslim-minority/#.W8lpt1Qzazc
--------
Charting a new path of conflict resolution through Islamic narratives
Tajuddin Rasdi
October 19, 2018
Many thought that Malaysians won a great victory by throwing out the repressive Barisan Nasional (BN) regime and ushering in a new government under Pakatan Harapan (PH). What they do not know is that this new era of open discussion, free flow of information and new-found strength and confidence in civil society will not necessarily pave the way for a more peaceful and harmonious Malaysia.
What we have now is a Malaysia at a crossroads, like a stream that is split between moving rapidly and vigorously into a monstrous waterfall, or flowing gently with ripples and gurgling over small rocks and pebbles into a vast and calm ocean.
The conflict between Melayu and Melayu in the Reformasi movement of 1998 has turned into a Muslim against non-Muslim conflict as well as a Muslim against liberal-Muslim confrontation. These conflicts and confrontation are, in one way, a natural necessity of growth in society, but they could also develop into a raging fire of destruction.
I feel that the problems of these conflicts and confrontations lie in the language of discourse as well as ignorance of the historical narrative of Reformist Islam in Malaysia. This problem can best be exemplified by the fact that the minister in charge of Islamic affairs, Mujahid Rawa, has been hit hard from all directions. On one hand, he is criticised by conservative state religious officials as well as the opportunistic PAS and Umno for being "too liberal", but on the other hand, he is also hit by Muslim and non-Muslim activist groups for being "too conservative".
I do not see the well-intentioned minister being able to make much change in the country. We need a new historical perspective on understanding this discourse and debate as well as a new language of conflict resolution if we hope to breach the impasse that we are now in.
Let me start with my own perspective of the Islamic Reformation narratives that I understand, beginning in the 1980s. Malaysians must understand the various narratives and their development to the present one in order to engage with Malay-Muslims in Malaysia. But first, I would like to caution that I am not a scholar in Malaysian politics or history. What I present is a personal experience of events and my thoughts on them from the time I was in my 20s until now, three decades later.
Cultural Islam
Growing up in the police barracks of Butterworth and Taiping in the 60s and 70s, I do not recall any mention of Islam other than it being a cultural feature of Malay society. The narrative of Islam then was simply a borrowed narrative of being a Malay. Many Malay adults did not pray regularly, some drank alcohol openly and the women wore tight kebayas and selendangs, following the style of famous actresses Saloma and Sarimah. This was the age of P Ramlee. If you watch the famous films "Anak Bapak" or "Masam-Masam Manis", P Ramlee plays the character of a man who frequents nightclubs as part of his social life. I love all the films of P Ramlee and recommend them to the non-Muslim youth as they are not only entertaining but also portray Malay morality, values and concerns. This would help them understand the Malays in this country better.
Islam in the 60s and 70s was relegated to ceremonies like marriage, circumcision, funeral rituals and the many social kenduris of Yaa Sin, Doa Selamat and the Prophet's birthday. Non-Muslims were never considered a threat to Islam in any way and the populace lived peacefully side by side.
Social Islam or Islam as a complete way of life
In the 80s, all this changed. Cultural Islam with the Malay narrative was attacked by a wave of Islamic Reformation. The most influential and strongest of all was the Angkatan Belia Islam Malaysia (Abim), led by Anwar Ibrahim. There was also a few other Islamic NGOs but they were not as significant. There was also the Al-Arqam group with its Sufi-based approach, the Tabligh group with its travelling missionary approach and the political ideology of Parti Islam Se-Malaysia (PAS). What was the Islamic-Malay narrative then?
Abim brought about the idea that Islam is Ad-Deen or a way of life, not just cultural rituals. In order to be a good Muslim, it was not enough to pray five times a day, go to haj and fast during Ramadan. Abim brought about the idea that one must be fully involved in "Amar Ma'arof Nahi Munkar" or the encouragement of good and the forbidding of evil. Muslims must be involved in social and political development and educate themselves in all disciplines in order to be strong. Muslims must also emulate the Prophet Muhammad in all things and not emulate a Malay or a Muslim leader who does not follow the Prophet. So was born the long beard or goatee and what people would dub the "Anwar Ibrahim" look. Muslim women began to don the hijab and forego the selendang as it was deemed inadequate. This is where Malaysians misunderstand the Malay-Muslims wearing the jubah or tudung. They think the Malay-Muslims have gone overboard and become Arabised when in fact they are merely trying to be as close to the personality and the characteristics of the Prophet as they can.
Political Islam
PAS has always pushed the concept of Islamic governance. In the 90s, it gained traction amid the work of Abim and the Iranian Revolution. The narrative of Islam as a way of social life developed into Islam as a political movement to gain power in governance. The rationale of the narrative was that since Allah created man, who would know better than Allah himself the main principles of governance. Man is deemed easily corruptible, thus democracy and popular debates about laws are deemed too whimsical and animalistic. Since the Quran is the Word of Allah, the hadith corpus is the guidebook of Muslims and the historical ijtihad of many schools throughout Muslim history contain many rulings to draw upon, there are enough religious sources to usher in a Utopian ideal of governance by Allah.
The important thing to remember here is that the Islamic narrative was always the enlightened Malay-Muslim group against the narrow-minded traditional Malay-Muslim one. The narrative of Malay-Muslims against the rest of the Malaysian citizenry was not heightened as the fight was about Melayu lawan Melayu.
Malaysians must understand that the Malays were not trying to be extremist or Arabised, but were consciously going through a new understanding of what being a true believer in Islam was. Many Malaysians are unhappy about the Islamic Reformation as they believed it to be restrictive and even regressive. Malaysians must understand that Reformist Islam offered an opportunity for the Malays to leave the confined narrative of "race" and move into a broader and more civilisational or even universal discourse of justice and fair governance.
Pious Muslims would rule under the ever-watchful eyes of Allah and they would all be accountable in the hereafter if they selfishly ruled for their own personal gain or comfort based on the great examples of the first four khalifah and the Prophet himself. Many Muslims, including me, thought this was a wonderful idea then. What many like me did not consider was the problem of who interprets the word of Allah. When I realised that the traditional educated ulamak had claimed the right to interpret, I began to get nervous because most modern reformations of Islam are pioneered by non-clerics with professional and academic backgrounds.
Mahathir's hijacking of Islamic reform into civil governance
In the 80s and 90s, Dr Mahathir Mohamad saw the rising tide of Islamic reformation and adopted it in his administration to give the civil servants a new identity and a new work culture. Doing work was ibadah, or another form of worship – one must be honest and dutiful as well as efficient.
Mahathir believed in the Islamic code of ethics but he had no qualms about interpreting justice in his own way, as can be seen in Operasi Lalang and the Anwar saga.
The narrative then was Islam as a progressive and output-oriented individual worship of God in duties at work. The idea of Islam as a form of governance was thwarted by Mahathir by making Umno more Islamic looking, thus the red tudungs of the Wanita and Puteri Umno. Most Malay women donned the tudung as a sign of piety and part of a new group identity.
Malaysians must understand that the Malays were trying to find a new identity and a way to merge the world and the hereafter in a more productive and non-restrictive manner. The many tudung fashions and crazes are testament to the "unrestrictive" nature of the new Malay lifestyle.
Under the Mahathir-Anwar-inspired rule of the 90s, Malays began to frequent mosques, and a new personality emerged, to determine the discourse and narrative of Malaysia. Thus began the ustaz era. There were frequent lectures in mosques, and television and radio stations began airing religious talks and lectures by the bucketful. Cassette tapes and books containing religious advice were sold in a commercial boom, and personalities like Ustaz Badrul Amin outshone any superstar.
The Nasyid groups like Nada Murni of Al-Arqam produced a new culture of "halal" music, and the groups of singers conquered the music industry. Malays were into Islam from every aspect: social, political, educational and even musical. Tahfiz and religious schools mushroomed everywhere like nobody's business. Parents wanted their children to be pious Muslims on top of becoming doctors, lawyers and architects. Better yet, they could become ustazs! Islam was not just a pious way to the hereafter – it was business, entertainment, education and politics. The Malays had finally found a new value system, away from the I-adore-the-Raja values to the I-love-Allah-and-the-Prophet values. What Malaysians must understand is that the Malays and many Muslims around the world do not wish to turn the clock back to the "westernised" days of P Ramlee although all Malays, including me, still love him – make no mistake about that!
The rise of civilising Islam or Islam for all
Now we come to an interesting era of the Islamic Reformation: the Anwar saga. When Mahathir stripped the Malay and Muslim dignity from Anwar on the national and international stage, the Malay-Muslim populace reacted by abandoning Umno. PAS took centre stage with DAP following behind. Mohamad Sabu, Fadzil Nor and Abdul Hadi Awang travelled the breadth of Malaysia to carry on the ceramah tours started by Anwar.
When he was arrested in a commando raid on his residence, his daughter Nurul Izzah Anwar forewent her young adulthood and his wife Dr Wan Azizah Wan Ismail left her housewife world to trudge across muddy fields in ceramah after ceramah, reminding the Malays of the injustice shown to Anwar and preaching the idea of Islam and justice for all.
PAS and DAP were helped by Abim and the Ikram groups of Muslim NGOs. I would like to state that the first decade of Reformasi was fuelled by a new Islamic narrative of justice for all after the shocking Mahathir-Umno style of Islam. It was now a battle between federal Islam and civil Islam. Civil society had yet to be born into significance.
Now, in the era of the new Malaysia, civil society can tick off a minister over the colour of school shoes, or over the caning of lesbians, but they must know that civil society and the new Malaysia would never have seen the light of day without the Islamic narrative of justice for all, and especially not without Anwar and his family. So for those who love to knock on Anwar's family and scorn the Reformasi or Islamic movement in Malaysia, please take heed: we would not be here at all if not for these factors. Civil society only came to the fore during Anwar's second sodomy case.
In the 1999 election, Umno lost badly and was saved only by the non-Malay citizenry which propped it up. Tajuddin Abdul Rahman and Rahman Dahlan should take note of this fact when uttering their rhetoric of abusing the non-Malay citizenry.
The rise of mainstream Islamic extremism
The final development of the Islamic narrative occurred after the 2013 general election. Even before this, the non-Malays who supported BN began to abandon the coalition and jump onto the Reformasi bandwagon. A day after the election, Najib's statement took centre stage in all media: "Apa lagi Cina mau?" This statement, crafted in diplomatically vulgar language, was the start of a dangerous narrative of "Islam against the other" which is still here today.
Before 2013, there seemed to be no significant issue aside from a few that never flared up into a matter of national concern, threatening the nation's security. There had always been non-acceptance, suspicion and even "hatred" of Malays against the non-Malays, perpetuated by Umno and traditional religious lectures, but these were all "respectably" quiet.
After the 2013 election, the Bible-burning incident due to the Allah-Malay-Bible issue, which began in 2012, exploded. Then came the cow head issue and the Alvin Tan issue. Suddenly, small issues were made into gigantic matters discussed on social media. They brought out the worst reactions of Muslims in terms of anonymous postings. Even the "I want to touch a dog" event and a non-Muslim praying at a resort surau were played up.
To me, this was no longer Muslims searching for a pious life. It was Muslims defending their identity against non-Muslims.
Before May 9, civil society voices like Sisters in Islam and the Islamic Renaissance Front defending the LGBT and against oppressive Islamic laws began to incur the ire of state Islamic officials and Jakim. Certain Malay and Islamic NGOs fuelled the narrative of Islam against the "other", staging protests and internet postings supported, I assume, by a host of paid cybertroopers.
After the May 9 victory, the voice of civil society was seen as on par with, if not overwhelming, the voices of state religious officials. The same discourse which would not flare up exploded after the 2018 election, and this firestorm will only become worse if the parties concerned do not understand the history of changing Islamic narratives.
Three of the recent by-elections saw the vote bank of PAS, which warped into a racist party just after the 2013 election, relatively unchanged. PAS will undoubtedly fan the narrative of Islam against non-Malay "infidels" and Islam against liberal Muslims as well as Islam against the "kafir" United Nations.
In conclusion, I wish to say to Malaysians that for the greater part of our history, the Islamic narrative was always about reforming other Muslims. There was no identifiable conflict or narrative of "Islam against the other".
Most Muslims are sincere about finding a path to spirituality through their worship, practices, social interaction and entertainment. These Muslims mean no ill will to anyone.
However, after the 2013 general election, I have found that there are some Muslim parties who incite the narrative of "Islam against the other". This narrative is gaining acceptance by state religious Islam and the general Muslim populace, especially public universities.
Muslim NGOs deemed "liberal" and non-Muslims in this country must understand the historical narratives of Islam in Malaysia before embarking on engagement with Muslim bodies.
Non-Muslims and civil society Muslims must understand four fundamental facts for any future engagements. Firstly, there are no Muslims who want to turn the clock back to the "good old days" of westernised, P Ramlee-style culture. Secondly, it was the Islamic narrative that carried the Reformasi movement until the people's historic win on May 9. Thirdly, no one can change the Muslims except for the Muslims themselves. Fourthly – and this is the most important thing – there is a brand of civilising Islam promoted by Anwar and Abim which has now found a new proponent in Amanah under the concept of Islam Rahmat-al-alamin as a most viable approach to neutralising any Islamic or racist extremism by Malays or Muslims. The work of the Islamic Renaissance Front must also be mentioned and can be parked under this narrative.
Malaysians and civil society members must understand the different narratives of whoever comes to the table for discussion, as well as the media news about such and such an issue that is Islamic in nature. Anyone who wishes to engage with Muslim authorities or civil society must bring those who can speak and understand the different languages of Reformist Islam.
Full report at:
https://www.freemalaysiatoday.com/category/opinion/2018/10/19/charting-a-new-path-of-conflict-resolution-through-islamic-narratives/
--------
Malaysia's Anwar to question China on Muslim detentions
October 19, 2018
KUALA LUMPUR -- Senior Malaysian lawmaker Anwar Ibrahim has weighed in on the detention of Muslim minorities in China, urging Beijing to recognize ethnic Uighurs' rights to religion and freedom of movement.
In an interview with the Nikkei Asian Review on Thursday, Anwar, who is known as a Muslim reformist, also condemned Australia's proposal to move its embassy to Jerusalem and urged countries in the region to take a stronger stance on the Rohingya refugee crisis in Myanmar.
Sworn in as a parliamentarian on Monday after an expected by-election win two days before, the 71-year-old prime minister-in-waiting is to meet Chinese Communist Party leaders next week in Beijing on the sidelines of a lecture at Renmin University of China.
Anwar said he will likely get an update from Beijing about the mass detention of Uighur Muslims which came to light recently. He added that he had in the past made known to China his position on the issue and officials in Beijing will use the occasion to explain their case.
"The concern is, of course, their rights to religion [and] movement," said Anwar. "Our position is not to condone any form of violence, either by the society or the state."
China maintains that minor criminals in Xinjiang have been absorbed into vocational educational and training programs as part of its countermeasures against growing extremism in the western region of the country.
In a lengthy interview published on Tuesday by state news agency Xinhua, Shohrat Zakir, head of the provincial government, said China employed rehabilitation and redemption for "those who have been instigated, coerced or lured into terrorist or extremist activities" through the reeducation camps.
Malaysia recently freed 11 ethnic Uighur Muslims who had been detained in February, and sent them to Turkey, despite requests from China to hand them over to Beijing.
When asked if he supported the move, Anwar said, "If we find their case legitimate, we should assist them."
Speaking with Nikkei at his office on the outskirts of Kuala Lumpur, Anwar also criticized a recent proposal by Australian Prime Minister Scott Morrison to move the country's embassy from Tel Aviv to Jerusalem, which is seen as a recognition of the city as Israel's capital.
"I fail to understand why Australia needs to succumb to Trump's unpopular policy throughout the world," said Anwar referring to U.S. President Donald Trump, who implemented a relocation of his country's embassy in May against the objections of many Muslim countries including Malaysia that observed a two-state solution to live side-by-side despite the decades-long dispute between Israel and Palestine.
On the humanitarian crisis faced by Myanmar's Rohingya minority who fled persecution in the western state of Rakhine for neighboring Bangladesh, Anwar called on the Association of Southeast Asian Nations to assert a "more effective" voice against Naypyidaw.
"We are not promoting war, but we have to express a strong displeasure about the political harassment and intimidation against the minority."
Since last August, over 700,000 of the ethnic Rohingya, who are also Muslims, have been living in refugee camps while waiting for the Myanmar government to facilitate their return.
Anwar in the interview also talked about Prime Minister Mahathir Mohamad, who is being closely watched by the public.
As he is now a ruling coalition lawmaker, Anwar said, his relationship with Mahathir has become closer.
"The rapport is very good now. We met on Monday and today I am meeting him again before he presents his speech in the parliament," said Anwar. "We make it a point to have meetings regularly."
Mahathir had forged a deal with his once protege-turned-rival before the May 9 election, promising to hand over in about two years. Anwar reiterated that Mahathir should be given the "leeway" to lead during the transition period in order to redeem the country's diminished standing, which both blamed on former Prime Minister Najib Razak.
Although Anwar will bring up the Uighur issue in China, he said his trip to Beijing is meant to mend ties between the two countries.
"They want to know from me what the future is like," said Anwar about Beijing's invitation to speak on "Malaysia's rule of law and China-Malaysia's future."
"I would emphasize the need to have an effective, strong bilateral relationship," said Anwar, adding that he will ask Beijing to look beyond construction work and instead make substantive investments and technology transfers.
Full report at:
https://asia.nikkei.com/Editor-s-Picks/Interview/Malaysia-s-Anwar-to-question-China-on-Muslim-detentions
--------
After settling RM1m suit, Canadian Muslim preacher starts bankruptcy proceedings against Zamihan
18 October 2018
PUTRAJAYA, Oct 18 — Qatar-based Canadian preacher Abu Ameenah Bilal Philips has initiated bankruptcy proceedings against local preacher Zamihan Mat Zin, just months after the duo came to a settlement over a defamation lawsuit.
Philips' lawyer Meor Amir Meor Omar Baki said Zamihan had failed to make any payment to compensate the Canadian according to the terms agreed by both parties in court in July.
"We filed the bankruptcy notice against Zamihan due to his failure to comply with terms of consent judgment on July 31," he told Malay Mail when contacted today.
Meor Amir said one of the terms agreed for Philips' defamation lawsuit against Zamihan was for the latter to pay an undisclosed sum of damages in installments.
"First installment is due August 31 and he failed to make payment of damages," he said.
The lawyer said the bankruptcy notice is dated October 3, with the matter to come up for case management on October 24 and with a creditor's petition to be subsequently filed against Zamihan.
"If he can settle before we file the creditor's petition, then we will withdraw the matter," he said, having explained that bankruptcy proceedings are initiated with a bankruptcy notice.
The lawyer confirmed that Zamihan had complied with all other agreed terms, such as the posting of a public apology to Philips on the latter's Facebook account.
Last September 29, Philips had filed a defamation lawsuit against Zamihan over a Facebook post that was posted on the "Ustaz Zamihan Al-Ghari" Facebook account, with the post said to feature Philips' photo and words such as "International Terrorism Supporter".
Philips had claimed that the Facebook post allegedly portrayed him to be a supporter and promoter of terrorism, saying however that he encouraged peace through the teachings of Islam and rejected terrorism.
Philips had initially sought RM1 million in compensation from Zamihan over the allegedly defamatory Facebook post, but the lawsuit was settled before hearing started.
Full report at:
https://www.malaymail.com/s/1684242/after-settling-rm1m-suit-canadian-muslim-preacher-starts-bankruptcy-proceed
--------
Wan Azizah regrets Suu Kyi has done little on Rohingya issue
19 October 2018
BRUSSELS, Oct 19 — Malaysian Deputy Prime Minister Datuk Seri Dr Wan Azizah Wan Ismail has expressed regret that Nobel Peace Prize laureate Aung San Suu Kyi has done little to halt the Myanmar military aggression against the minority Rohingya Muslims in her country.
She said Suu Kyi's reputation as a Nobel laureate has been tarnished by her alleged reluctance to get the Myanmar military to end its long-running campaign of violence against the Rohingya.
"I am sad that Aung San Suu Kyi has done little. We had hoped that she would intervene," she said to Bernama and RTM after a meeting yesterday with Federica Maria Mogherini, high representative of the European Union (EU) for foreign affairs and security policy, on the sidelines of the 12th Asia-Europe Meeting (Asem) summit here.
Dr Wan Azizah said Mogherini raised the question of the Rohingya refugees at their meeting because Malaysia is a neighbouring country where many of these refugees had fled to following the suppression in Myanmar.
"She (Mogherini) has visited the Rohingya refugee camp in Cox's Bazar, Bangladesh, and seeks to have the best solution to address the problem because many are suffering.
"I informed her that Malaysia has taken in many Rohingya refugees and we are trying our best to help. We also want the Rohingya to remain in Myanmar," she said.
A report issued by the United Nations Fact Finding Mission on Myanmar has recommended that top Myanmar military officials should be investigated and prosecuted for genocide and human rights atrocities against the Rohingya but Myanmar has rejected the report as a false allegation.
Dr Wan Azizah arrived here Wednesday leading the Malaysian delegation to the Asem summit that began yesterday.
Full report at:
https://www.malaymail.com/s/1684540/wan-azizah-regrets-suu-kyi-has-done-little-on-rohingya-issue
--------
Africa
Gov. Fayemi's earliest appointments anger Muslim youths
October 18, 2018
By John Owen Nwachukwu
The National Council of Muslim Youth Organizations, NACOMYO, has faulted the first appointments made by newly-inaugurated Governor of Ekiti State, Dr. Kayode Fayemi.
The religious youth group said the appointment was lopsided and totally marginalized the Muslim community in Ekiti State.
The organization said this during a protest held at the Central Mosque, Ado Ekiti, on Thursday.
The Coordinator of NACOMYO in the state, Tajudeen Olutope Ahmed, pointed out that excluding Muslim from the first three appointments announced by the governor was "shocking and highly disturbing to all Muslim in the state."
Fayemi had yesterday announced the appointments of Abiodun Oyebanji as Secretary to the State Government; Biodun Omoleye as Chief of Staff and Yinka Oyebode as his Chief Press Secretary.
NACOMYO said Muslims in the state constitute about 40 per cent of the population, adding that the governor was given their total support by voting massively for him during the governorship polls.
They said, "The exclusion of Muslims from the entire membership of the core principal officers of this administration is therefore worrisome, unjust, condemnable and unacceptable. We see it as a calculated attempt to exclude Muslims from the fundamental aspect of decision making process in Ekiti State.
"The exclusion of the Muslims in this regard is a violation of the fundamental objectives and directive principles of state policy as enshrined in the 1999 Constitution of Nigeria (as amended).
"The exclusion of Muslims from the core principal appointments of Dr. John Kayode Fayemi is a derogation of the motto of the Federal Republic of Nigeria as provided in Section 15 (1) of the 1999 constitution (as amended). Rather than projecting 'Unity and Faith, Peace and Progress'; the recent appointments made by the Government will breed "disunity, commotion and backwardness.
"We also call on the governor to ensure inclusion of Muslims in all appointments to be made in future at both state and local government levels this will pave the way for the reign of justice, equity and peace in the state."
http://dailypost.ng/2018/10/18/gov-fayemis-earliest-appointments-anger-muslim-youths/
--------
Nigeria's oldest mosque seeks partnership with Turkey
18.10.2018
By Rafiu Ajakaye
LAGOS, Nigeria
Authorities at Nigeria's first modern mosque in southwestern Lagos state have called for a partnership with the Turkish government in the running of the religious edifice, famed for its Ottoman-like architecture.
Estimated to cost £3,000 at the time, the Shitta-Bey Mosque was built in 1891 and commissioned in 1894 by dignitaries that included Abdullahi Quillam, a representative of Ottoman Sultan Abd-al-Hamid.
The mosque was named after Mohammed Shitta, the financier of the construction, whom the sultan honored with the title of "bey" for his contributions to Islam in the then-British colony of Lagos and elsewhere.
Born in 1824 in Sierra Leone, Shitta was said to have visited then-Ottoman Turkey in appreciation of his recognition.
At its commissioning, the mosque was deemed the most modern and costliest ecclesiastical edifice in British West Africa.
The Shitta-Bey mosque, one of Nigeria's national monuments, retains its unique architecture and interior designs, which were credited to Senghor Baptista Da Costa.
"We will appreciate any support from the Turkish authorities especially in the area of providing cheap and renewable energy for the running of the mosque," Sheikh Habeeballahi Taofeeq-Yushau, head of the historical mosque, told Anadolu Agency, mentioning the possibility of solar energy
"We will also appreciate scholarships for indigent Muslim students at the mosque."
Devotion to Islam and Muslims
Explaining the title "bey," the imam said it was a recognition of the role Mohammed played and the efforts of Ottoman Turkey to help the cause of Muslims and Islam across the world.
"The title was conferred on him at the official commissioning of the mosque on July 4, 1894. That is why he is known till today as Shitta Bey. He was reputed for his devotion to Islam and the affairs of Muslims," said Sheikh Habeeballahi.
He said the Shitta family remains a pillar of the Islamic community in southwestern Lagos, where Mohammed's descendants now take the title of Seriki n Musulumi (traditional head of Muslims).
Mohammed Shitta was the first to be conferred with the title.
Full report at:
https://www.aa.com.tr/en/africa/nigeria-s-oldest-mosque-seeks-partnership-with-turkey/1285107
--------
Former Sudanese president Siwar al-Dahab dies in Riyadh
18 October 2018
Former Sudanese president, Field Marshal Abdulrahman Siwar Al-Dahab has died in Riyadh Military Hospital in Saudi Arabia. He was 83 years- old.
Al-Dahab, a former Chief of Staff, was born in Sudan's city Al-Ubayyid in 1935, served as president of Sudan from 1985 to 1986 after staging a coup ousting President Gaafar Nimeiry, surrendering later on power to the government of Sadiq al-Mahdi in 1986.
Al-Dahab retired from political life to devote himself to the work of the Islamic Dawa Organization as Secretary General of the Board of Trustees.
https://english.alarabiya.net/en/News/middle-east/2018/10/18/Former-Sudanese-president-Siwar-al-Dahab-dies-in-Riyadh-.html
--------
South Asia
Maldives court overturns ex-President Gayoom's jail term
October 18, 2018
The Maldives High Court on Thursday overturned the jail sentence of former President Maumoon Abdul Gayoom weeks after he was freed on bail.
Gayoom was sentenced to one year and seven months in prison for obstruction of justice when he refused to hand over his mobile phone during a police investigation, news report said.
But the High Court ruling said that the 82-year-old former strongman's trial in the criminal court was conducted in "violation of procedure".
The High Court also said that the criminal court's order to cancel Gayoom's license to practice law and preach Islam was "unlawful".
Gayoom was found guilty in July but was freed on bail following the presidential election victory of opposition candidate Ibrahim Mohamed Solih.
Gayoom was arrested during a state of Emergency in February after the Supreme Court ordered the release of political prisoners and the reinstatement of 12 opposition lawmakers.
He was among dozens jailed for an alleged coup plot against the government of his half-brother and defeated President Abdulla Yameen.
https://www.indiatvnews.com/news/world-maldives-court-overturns-ex-president-gayoom-s-jail-term-473421
--------
Top Afghan police chief killed in Taliban shooting
Tahir Khan
OCTOBER 19, 2018
ISLAMABAD: Afghan President Ashraf Ghani confirmed on late Thursday that Kandahar police chief General Abdul Raziq Achakzai, and intelligence chief in Kandahar Momin were killed in shooting at a security meeting of senior local and American commanders.
Taliban spokesman Qari Yousaf Ahmadi said Taliban carried out the attack and released a photograph of the alleged attacker, who was one of the guards of the slain police officer.
Ahmadi said in a statement that the top American commander General Austin Scott Miller, who was also in the meeting, and Gen Raziq, were the "prime target."
The US-led Resolute Support mission in Kabul and the US defence department Pentagon said that Gen Miller was unhurt.
"At Kandahar palace today: In fact, three coalition personnel were wounded – one US service member, one American civilian and one coalition contractor. All three have been medically evacuated and are stable. General Miller is uninjured. Afghan officials were the targets," the mission tweeted.
Raziq, who was known for his tough anti-Taliban stance, had earlier survived several attacks.
Afghan officials did not confirm reports that Kandahar Governor Zalmay Weesa was also killed in the deadly attack that killed and injured top security officials in Kandahar, the Taliban birthplace.
Earlier, section of the Afghan media had quoted officials as confirming the death of Weesa. However, officials later said Weesa was critically injured and shifted to a local hospital in Kandahar.
Kabul Press Club confirmed that Afghan National Radio TV (RTA) Saleem was also killed in the attack. Afghan officials said that 12 people, including several guards of Gen Raziq, were injured in the attack.
Correspondents in Kandahar said that the authorities had closed all bazaars and markets in Kandahar in the morning in view of the high-level meeting and the arrival of the NATO commander in the city. The meeting that lasted for nearly six hours was aimed at discussing security for the October 20 parliamentary elections in Kandahar and other southern provinces.
The attack again raised serious concern at the inside attack after one of the guards sprayed bullets at the high-level security meeting attended by top American commander and senior Afghan security officials.
Timing of the attack was important as the incident happened just two days ahead of the parliamentary and district council elections.
On Wednesday, Taliban also killed influential parliamentary candidate Abdul Jabar Qaharman in a bomb blast in southern Helmand.
President Ashraf Ghani confirmed the death of Gen Raziq in an address to the nation.
Iannounce that the Kandahar police chief and intelligence chief have been martyred in a painful incident. I want to convey my condolences to the whole nation and particularly to the people of Kandahar. The situation in Kandahar is being monitored and the situation will soon return to normalcy, he said.
President Ghani said he presided over a high-level meeting to review the situation after the incident and ordered dispatching a unit of commando forces, led by the intelligence chief Masoom Stanikzai, to Kandahar. He also instructed all security forces in Kandahar to step up measures for maintaining order and security.
Tolo TV reported that the incident happened when officials were leaving the governor's office and were on their way to a helipad.
Condemning the terrorist attack, Pakistan said the country stands with the Afghan government and people, reiterating its support for the Afghan democratic process.
"We hope that the parliamentary elections due to take place the day after tomorrow would be held peacefully. Strengthening of democracy is a key to long term peace and security in Afghanistan," said a statement issued by the Foreign Office.
"Pakistan condemns terrorism," it added.
Islamabad also expressed "heartfelt sympathies and condolences to the families and friends of those who have lost their lives and pray for swift recovery of the injured".
Prime Minister Imran Khan condemned the Kandahar incident. He linked Pakistan's peace and security to that of Afghanistan's in a tweet.
Pakistan's army chief General Qamar Javed Bajwa also condemned the deadly terrorist attack and expressed desire to see an end to prolonged violence in the neighbouring country.
Afghan ambassador to Pakistan Omar Zakhilwal also condemned the attack.
Full report at:
https://dailytimes.com.pk/311962/top-afghan-police-chief-killed-in-taliban-shooting/
--------
KSA keen to invest in Bangladesh
October 19, 2018
Saudi Crown Prince Mohammed bin Salman bin Abdulaziz Al Saud has said his country is keen to be Bangladesh's development partner by investing in different sectors.
Mohammed bin Salman, also the deputy prime minister and defence minister of Saudi Arabia, said this during a meeting with Prime Minister Sheikh Hasina at the Royal Palace here on Wednesday evening.
Foreign Secretary Shahidul Haque briefed reporters about the meeting.
Mentioning that a very good collaboration in defence sector was continuing between the two countries, the Saudi crown prince hoped it would be strengthened further.
He instructed the Saudi authorities concerned to visit Bangladesh to identify the prospective sectors for investment.
"Saudi Arabia now invests in different countries of the world. We will do so in Bangladesh as well," Shahidul quoted the Saudi crown prince as saying.
Hasina hoped a large Saudi business delegation would visit Bangladesh soon.
Talking about Muslim Ummah, she said the unity among the Muslim countries is very essential so that they don't fight against each other.
Agreeing with her views, Mohammed bin Salman said he wanted to see peace and happiness in the Muslim world.
The crown prince accepted Hasina's invitation to visit Bangladesh.
'SCOPE CREATED FOR EXPATS'
Prime Minister Sheikh Hasina yesterday said the government was creating scope for Bangladeshi expatriates to invest in the country's economic zones.
She was addressing a programme after laying the foundation stone of the chancery building of the Bangladesh Consulate in Jeddah on its own land.
The PM said the expatriates can deposit their money in Prabashi Kalyan Bank to have an income to meet their family expenses.
"At the same time, they [expatriates] can invest part of the deposited money in the economic zones," she said, adding that the government was building 100 economic zones across the country for the local and foreign investors.
Hasina urged the expatriates to create awareness among the overseas jobseekers so that they don't go to brokers for going abroad.
She said the overseas jobseekers should have proper training from the government training centres before going abroad.
She called upon the Bangladeshi expatriates to uphold the country's image abroad by abiding by the local laws.
PM AT PROPHET's (PBUH) MAZAR
The prime minister on Wednesday night offered ziarat at the Rawza Mubarak of Prophet Hazrat Muhammad (PBUH) at Masjid Al-Nabawi in Madinah.
She offered Esha prayers at the holy mosque and sought divine blessings for the people of Bangladesh and peace and prosperity for the Muslim Ummah.
Earlier on Wednesday night, Hasina arrived in Madinah from Riyadh by a special flight of Saudi Airlines.
Full report at:
https://www.thedailystar.net/country/news/ksa-keen-be-part-bangladesh-growth-saudi-crown-prince-muhammad-bin-salman-sheikh-hasina-1648639
--------
Afghan guards kill Kandahar police chief in insider attack; US troops hurt
October 18, 2018
The Afghan media on Thursday reported that the Kandahar police chief was killed when members of the provincial governor's elite guards turned their guns on their own colleagues and American troops who were present at a high-level security meeting in the province.
Two American troops were also wounded in the shooting. However, General Scott Miller, the commander of US and Nato troops in Afghanistan, who was present at the meeting, remained unhurt in the incident.
Tolo TV says the police chief Abdul Raziq was killed while the Kandahar governor and another official were wounded.
Moreover, US Colonol Knut Peters, a spokesperson for the Nato troops in Afghanistan, says two Americans troops who were wounded have been medically evacuated.
Full report at:
https://nation.com.pk/18-Oct-2018/afghan-guards-kill-kandahar-police-chief-in-insider-attack-us-troops-hurt
--------
A Pakistani family having links with ISIS arrested in Nangarhar
Oct 18 2018
A Pakistani family having links with the Islamic State of Iraq and Syria (ISIS) group has been arrested while three suicide bombing vests have been confiscated in separate operations in eastern Nangarhar province of Afghanistan.
Provincial governor's spokesman Ataullah Khogyani told reporters Wednesday that a Pakistani man identified as Mohammad Afzal, who is originally a resident of Lahore city of Pakistan, was arrested with his wife and two children as they were trying to return to Pakistan.
Khogyani further added that the family was arrested in Bandar area of Achin district before they manage to use the Torkham gate to return to their country.
In the meantime, Khogyani said the Afghan intelligence operatives confiscated three suicide bombing vests during a separate operation in Bati Kot district of Nangarhar.
Full report at:
https://www.khaama.com/a-pakistani-family-having-links-with-isis-arrested-in-nangarhar-06185/
--------
Mideast
US downgrades Palestinian mission, places it under embassy in Israel
October 19, 2018
WASHINGTON: The United States downgraded its main diplomatic mission to the Palestinians on Thursday, placing it under the authority of the US embassy to Israel.
US Secretary of State Mike Pompeo said the consulate general, a separate office which handled dealings with the Palestinians, would be replaced by a new Palestinian Affairs Unit inside the controversial new US embassy in Jerusalem.
The move will make the US ambassador to Israel, David Friedman, who is reviled by Palestinians over his support for Israeli settlements in the West Bank, the main interlocutor with the Palestinian leadership.
The change, quickly condemned by the Palestinians, follows a series of setbacks for them at the hands of President Donald Trump, who has turned US policy sharply toward Israel.
Pro-Israel advocates hailed the decision, saying it confirmed the US recognized the whole of Jerusalem as part of Israel.
"This decision is driven by our global efforts to improve the efficiency and effectiveness of our operations. It does not signal a change of US policy," Pompeo said in a statement.
He said the United States "continues to take no position" on how any peace deal between the Israelis and Palestinians would take shape.
The Palestinian leadership rejected Pompeo's "efficiency" explanation.
The decision has "a lot to do with pleasing an ideological US team that is willing to disband the foundations of American foreign policy, and of the international system, in order to reward Israeli violations and crimes," the Palestinians' chief negotiator Saeb Erekat said.
"The Trump administration is part of the problem, not part of the solution," he added.
International powers have for decades maintained separate and autonomous representations to Israel and the Palestinians on the basis of supporting the eventual creation of an independent Palestinian state.
They have insisted that the status of Jerusalem, which both the Israelis and Palestinians see as their capital, should be negotiated between the parties as part of any end deal.
Last December, Trump reversed longstanding US policy and recognized Jerusalem as the capital of Israel, prompting Palestinian president Mahmud Abbas to boycott his administration.
The embassy was officially transferred on May 14.
Since then, the Trump administration has forced the Palestinians to shutter their Washington mission and has slashed hundreds of millions of dollars in aid, in a bid to force them to the negotiating table.
Trump's son-in-law Jared Kushner, alongside Friedman and peace envoy Jason Greenblatt, has been working for months on a still-secret peace proposal, which Palestinians fear will be overly one-sided toward Israel.
The move Thursday nearly closes off all direct diplomatic contacts between the United States and the Palestinians, analysts said.
Ofer Zalzberg of the International Crisis Group think-tank said the US would be the only major power without a separate, independent representative office for the Palestinians.
"Other countries have gone to great lengths to avoid having the same representatives to Israel and the Palestinian Authority," he told AFP.
Robert Danin, a former senior US government official dealing with Israeli-Palestinian issues, said the move was a victory for "hard right partisans" who have sought to eliminate the Palestinian-focused consulate general "for decades."
The consulate general "is THE eyes and ears into Palestinian politics and society. Its independence from US Embassy Israel provided Washington w/solid, unvarnished reporting and analysis," he said on Twitter.
But Eugene Kontorovich, a law professor with the Jerusalem-based Kohelet Policy Forum and advocate for the embassy move, said the decision was more evidence the US considered Jerusalem to be fully part of Israel.
"This step confirms that the US recognizes the entire city as Israel's capital," he said.
State Department spokeswoman Heather Nauert defended the move, saying the new Palestinian Affairs Unit inside the embassy would maintain contacts with Palestinians in the West Bank, Gaza Strip and Jerusalem at the same level as before the change.
"We value our relationship with the Palestinian people. We look forward to continued partnership and dialogue with them and, we hope in future, with the Palestinian leadership," she said via Twitter.
http://www.arabnews.com/node/1390321/middle-east
--------
Yemenis seeking refuge in South Korea face wave of anger, get rejected
18 October 2018
South Korea rejected around 400 Yemeni seeking refuge on Wednesday after they had arrived a few months prior to Jeju Island causing a wave of opposition in what many consider the first organized anti-asylum movement in Korea.
Protests swept the country in June demanding President Moon Jae-in to create tighter laws against refugees. A petition on the issue gained over 714,000 supporters, according to The New York Times.
South Korea is among the world's most ethnically homogeneous nations, with foreigners comprising only four percent of the country's population, most of which are from China and East Asia. Protesters in Jeju Island, Seoul and other parts of the country in June held slogans saying they wanted to "kick out refugees", the newspaper reported.
Most foreign visitors can enter the island with no visa, which attracted asylum seekers to go ther, and then attempt to enter mainland South Korea.
Full report at:
https://english.alarabiya.net/en/News/world/2018/10/18/Yemenis-seeking-refuge-in-South-Korea-face-wave-of-anger-get-rejected.html
--------
Israel steps up armored deployment on Gaza border, Egypt intervenes
19 October 2018
Israel ramped up its armored forces along the Gaza border on Thursday in a daylight show of force, a day after a Palestinian rocket destroyed a home in southern Israel.
With the deployment clearly visible from main Israeli roads near the Gaza Strip, senior Egyptian security officials met leaders of the enclave's ruling Hamas to try to calm tensions.
Hamas and the smaller extremist militant group quickly denied firing the rockets.
Much may depend on the scope and intensity of a planned Palestinian protest at the border with Israel on Friday, where often violent demonstrations have been held over the past six months.
Israeli Prime Minister Benjamin Netanyahu, who convened his security cabinet on Wednesday after the rocket wrecked a home in the city of Beersheba, pledged to take "very strong action" if Palestinian attacks continued.
Israeli leaders have said they will not tolerate rocket attacks or attempts, during the border protests, to breach Israel's frontier fence with the Palestinian territory of two million people.
A Reuters photographer counted some 60 tanks and armoured personnel carriers at a deployment area near the border, calling it the largest number he has seen there since the 2014 war between Israel and Hamas.
In Gaza, a Palestinian official said the Egyptian delegation was also in contact with Israeli leaders to curb the current tensions.
"The situation is delicate. No one wants a war," he said.
"Palestinian factions are demanding an end to the Israeli blockade that strangled life and business in Gaza," the official told Reuters.
Palestinians have been protesting along the border since March 30, demanding an end to Israel's blockade of Gaza and the right to return to lands that Palestinians fled or were driven from upon Israel's founding in 1948.
About 200 Gazans have been killed by Israeli troops since the border protests began, according to Palestinian Health Ministry figures. Palestinians have launched incendiary balloons and kites into Israel and on occasion breached an Israeli frontier fence. More than 2 million Palestinians are packed into the coastal enclave. Israel withdrew its troops and settlers from Gaza in 2005 but maintains tight control of its land and sea borders. Egypt also restricts movement in and out of Gaza on its border.
Full report at:
https://english.alarabiya.net/en/News/middle-east/2018/10/19/Israel-steps-up-armored-deployment-on-Gaza-border-Egypt-intervenes.html
--------
Russia and Turkey give more time for Idlib deal in Syria - UN
18 October 2018
Russia and Turkey plan to give more time for the implementation of their de-escalation deal in the Syrian province of Idlib, a "great relief" for an area of 3 million civilians, UN humanitarian adviser Jan Egeland told reporters on Thursday.
Speaking after a regular Syria humanitarian meeting in Geneva, he also said Russia told the meeting that Syria had withdrawn its controversial Law 10, which allowed expropriation of land and property from refugees.
A Russian diplomat told the meeting that any reference to the law being in effect was a mistake, Egeland said.
Egeland said there will be a new team when UN envoy De Mistura leaves in November, Egeland says he will also leave at the end of November.
https://english.alarabiya.net/en/News/middle-east/2018/10/18/Russia-and-Turkey-give-more-time-for-Idlib-deal-in-Syria-UN.html
--------
Iran: Armed Syria opp. rejecting terror part of solution
Oct 18, 2018
All those armed Syrian oppositionists who have joined the peace process for their country and have renounced violence are part of the solution to the Syrian crisis and "shall be" discriminated from terrorist groups, Iran's chief negotiator for Syria says. Hossein Jaberi Ansari, a top aide to Iranian Foreign Minister Mohammad Javad Zarif, said in an exclusive interview with Press TV's English-language website on Wednesday, October 10, that, while any form of armed opposition to an elected government is technically and universally defined as terrorism, those armed Syrians who have joined the peace process for Syria after more than seven and a half years of war could now be considered non-terrorists regardless of their opposition to Damascus.
The Syrian government and its state media sweepingly refer to all armed government opponents as "terrorists." Jaberi Ansari said that that manner of reference is "natural" from the technical perspective but he also said that the case of Syria was an exceptional one.
"That the Syrian government considers all those who have taken up arms outlaws is a natural thing from one perspective," the Iranian official said. "But from another, we believe that all armed groups that have joined the peace process and accepted the framework of the Astana agreements are in fact part of the solution [to the Syrian conflict] and shall be differentiated from terrorist groups."
He was referring to the peace process launched jointly by Iran, Russia, and Turkey in the Kazakh capital of Astana in January 2017. A parallel peace process, under the auspices of the United Nations (UN) and known as the Geneva process, has been underway in the Swiss city for much longer but with far lesser results.
Jaberi Ansari explained that in Syria's case, groups that took up arms "mistakenly," and as a "tactic" and not a "strategy," but later accepted "the logic of return to normal conditions" were being negotiated with in Astana.
"Given Syria's special situation, and that the opposition has, for good or for bad, believed that because of the specific political conditions of the country and 'closed and uncompromising political structures,' peaceful political opposition has not been possible the way it should have, we are faced with an... exceptional case."
He said despite the complexities of the job, Iran, Russia, and Turkey were being particularly nuanced in the Astana literature and were taking care to differentiate between the armed groups described above and other violent outfits.
Opening a pathway back to peace
That is being done with the goal of providing an opportunity for those groups to return to peaceful manners of opposition and to pave the way for peace, he said.
The Iranian official said that further obstructing the return of those groups will mean continued crisis, confrontation, and security issues.
"Even once the Syrian government retakes control of the entire Syria, these [groups] will go underground in the form of terrorist sleeper cells and will carry out terrorist attacks here and there."
Conflict erupted in Syria back in 2011, when a small group of opposition forces took up arms against Damascus. Soon, however, a mixture of international terrorists and paid mercenaries mingled with and then largely sidestepped the armed Syrian opposition groups, effectively turning the Arab country into a battlefield for foreign governments opposed to Syrian President Bashar al-Assad.
But the Syrian military, with advisory military help from Iran and Russia — and a Russian aerial bombardment campaign — has retaken control of much of the country, and the conflict is generally believed to be winding down.
In order to separate themselves from internationally-recognized terrorist groups such as al-Qaeda, Daesh, and their affiliates, those groups that have joined the Astana peace process should take a number of steps, Jaberi Ansari said.
They have to explicitly declare they are not extensions of those internationally-designated terror outfits, have no organizational links to them, are not following their agenda, and are committed to the Astana process, he explained.
He said some groups have already committed themselves to the Astana process and officially signed up on its agreements.
Other armed individuals who, conversely, insist on violence will be part of the problem, Jaberi Ansari warned.
He also made it clear that those armed individuals who are resorting to terror and who are not Syrian but hail from other countries cannot be part of any solution for peace and "should be dealt with in some other way."
The Iranian official said the fact that Syrian government delegates sit around the same negotiating table as those armed groups that have joined the peace process means Damascus, too, has "de facto, if not de jure," accepted the differentiations made between armed groups.
He said Syrian statesmen, more than anyone else, feel the necessity to resolve matters because they are the ones on the forefront of the crisis.
But he did seem to have some reservations there.
Full report at:
https://www.presstv.com/Detail/2018/10/18/577344/Iran-Syria-armed-terrorist-Astana
--------
Leading rights groups urge Turkey to call for UN probe into Khashoggi case
Oct 18, 2018
Four leading human rights and press freedom groups have urged Turkey to call for a UN probe into the possible murder of Saudi journalist Jamal Khashoggi in order to prevent a cover-up of the alleged crime.
Human Rights Watch, Amnesty International, the Committee to Protect Journalists, and Reporters Without Borders said on Thursday that a probe established by UN chief Antonio Guterres would shed light on the fate of the prominent dissident journalist and prevent a "whitewash".
"Turkey should enlist the UN to initiate a timely, credible, and transparent investigation," said Robert Mahoney, deputy executive director of the Committee to Protect Journalists.
"UN involvement is the best guarantee against a Saudi whitewash or attempts by other governments to sweep the issue under the carpet to preserve lucrative business ties with Riyadh."
Louis Charbonneau, UN director at Human Rights Watch, said Khashoggi's family and the rest of the world deserve the full truth about what happened to him.
"Partial explanations and one-sided investigations by Saudi Arabia, which is suspected of involvement, aren't good enough. Only the UN has the credibility and independence required to expose the masterminds behind Khashoggi's enforced disappearance and to hold them to account."
However, British Ambassador Karen Pierce said the UN will only step in to investigate this case if it receives a request, adding it is unlikely that the Saudi government will take such a step.
Khashoggi disappeared after entering the Saudi consulate in Istanbul on October 2. Media reports citing Turkish officials have said Khashoggi was killed by Saudi agents within minutes of entering the consulate and that his body was dismembered.
US partly responsible for Khashoggi's fate
Meanwhile, Russian President Vladimir Putin on Thursday said the US bears a "certain responsibility" for the fate of Khashoggi.
"As far as I know, the journalist that disappeared lived in the US. In this sense, of course, the US holds a certain responsibility over what happened to him," Putin told the Valdai Discussion Club in the southern Russian city of Sochi.
While Saudi Arabia is globally under fire for its alleged role in the possible assassination, US President Donald Trump has tried to whitewash Riyadh's possible role by suggesting that "rogue killers" may have carried out the crime.
US gives Saudis 'a few more days'
The Trump administration on Thursday gave Saudi Arabia more time to investigate the journalist's fate. The decision was made after Trump met for less than an hour with Secretary of State Mike Pompeo, who gave the president an update on his talks this week with Saudi and Turkish officials about the Khashoggi case.
Speaking to reporters after meeting Trump, Pompeo said he made clear to the Saudis that "we take this matter with respect to Mr. Khashoggi very seriously."
The top US diplomat said he told Trump that "we ought to give them a few more days to complete" their investigation in order to get a full understanding of what happened "at which point we can make decisions about how - or if - the United States should respond to the incident surrounding Mr. Khashoggi."
"I think it's important for us all to remember too that we have a long — since 1932 — we have a long strategic relationship with the Kingdom of Saudi Arabia," Pompeo added.
The incident has caused a global outcry, but also posed a dilemma to the United States and other Western nations, which have lucrative business dealings with the authoritarian kingdom and count on it as a key ally in the Middle East.
Following the incident, several high-ranking European officials including ministers from France and the UK and world business leaders called off their participation in a high-profile investor conference in Saudi Arabia over the apparent killing of Khashoggi.
Under the pressure of its allies and American entrepreneurs, US Treasury Secretary Steven Mnuchin also announced on Thursday that he would not participate in the Future Investment Initiative summit in Saudi Arabia.
Full report at:
https://www.presstv.com/Detail/2018/10/18/577403/Turkey-UN-Probe-Khashoggi-Pompeo-Mnuchin
--------
Turkey extends its presence under UNIFIL in Lebanon
October 19, 2018
ANKARA: A motion to deploy Turkish troops in Lebanon for a further year as part of the UN's interim force in Lebanon, UNIFIL, was ratified by the Turkish Parliament on Tuesday.
It is the 11th time that there has been an extension of the time frame for Turkish soldiers supporting the UN peacekeeping forces. They will now be deployed to help the Lebanese government regain its authority and to provide security in the region until Aug. 31 next year.
UNIFIL's total number of peacekeepers rose to 10,462 from 41 troop-contributing countries in August. Turkey, as the second largest army in NATO, has contributed 86 soldiers and one fast patrol boat.
This contribution helped the Turkish Army to boost cooperation and increased its level of recognition for the Lebanese.
Turkish engineering construction company TURKCOY joined UNIFIL in October 2006 to support the mission with engineering construction expertise, including the construction of roads, building of prefabricated accommodation and improving the protection of several UNIFIL bases.
It also donated generators, computers and other materials to municipalities and schools, and also renovated schools.
Ankara withdrew its TURKCOY troops from UNIFIL after the kidnapping of two Turkish Airlines pilots in Lebanon.
Lebanon currently faces many security threats, largely due to the ongoing crisis in Syria, rendering the mission of UNIFIL much more crucial for the country.
Sami Nader, director of the Levant Institute for Strategic Affairs (LISA) in Lebanon, said that Turkey's presence in UNIFIL is key for the security and stability of Lebanon, especially given the escalating tensions between Hezbollah and Israel. The two sides have been exchanging threats over the last weeks.
"Russia's deployment of the S-300 surface-to-air missile system in Syria after Syrian air defenses downed a Russian spy plane during an Israeli strike in September puts Lebanon further at risk because it could be now seen as an alternative arena for this war," Nader told Arab News.
Nader said that Turkey has always supported Lebanese sovereignty.
It has also been critical of Hezbollah trying to control Lebanon to set up a state within a state, the director said.
"Turkey being part of Astana peace process (aimed at ending the Syrian conflict) and remaining critical of Iran's moves in the region renders it a peace-broker by its engagement in UNIFIL. It could therefore extend the dynamic that is established in Astana to Lebanon," he said.
Full report at:
http://www.arabnews.com/node/1390266/middle-east
--------
Hamas pledges Gaza rocket fire probe as calm returns
October 18, 2018
GAZA: Gaza's Islamist rulers Hamas on Thursday pledged to launch an investigation into rocket fire at Israel the previous day, in an apparent bid to calm fears of a new war.
Israeli children returned to schools near the border with the Palestinian territory that had been closed on Wednesday after the pre-dawn rocket fire from Gaza badly damaged a family home in the southern city of Beersheba.
But the risk of a new war, whether through miscalculation or design, remained.
Three children had a narrow escape after their mother moved them into the safe room, as much of the rest of the house was destroyed, the army said.
Hamas, which has ruled Gaza for a decade, issued a joint statement with its ally Islamic Jihad publicly disavowing the rocket fire.
But Israel rejected their denial, saying they were the only groups armed with rockets of a range sufficient to reach Beersheba — 40 kilometers (25 miles) away — and the sea off Tel Aviv — 70 kilometers (45 miles).
Israel in any case holds Hamas responsible, as Gaza's de factor ruler, for all fire from the territory regardless of who launches it.
"There are security service investigations in Gaza to uncover who is behind the rocket fire and there will be harsh measures against those (found guilty)," senior Hamas official Bassem Naim told AFP.
He said the rocket fire "aimed to sabotage Egyptian efforts" to broker a long-term truce between Hamas and Israel, which have fought three wars since 2008.
A video published by Hamas's military wing on Thursday showed militants preparing rockets for launch, with the caption: "Read us correctly, a mistake would not benefit," written in Hebrew.
Near daily protests along the border since March 30 against Israel's crippling 11-year blockade of the impoverished enclave have sparked repeated clashes with the army.
More than 200 Palestinians have been killed by Israeli fire, while one Israeli soldier has been shot dead.
Wednesday's rocket fire triggered retaliatory Israeli air strikes that killed one suspected militant and raised fears of a new escalation.
Israeli Prime Minister Benjamin Netanyahu chaired a meeting of the security cabinet lasting several hours on Wednesday evening.
But no statement was released afterwards and Israeli media reported that ministers had failed to agree on how to respond to the rocket fire and the persistent protests.
The mass circulation Yediot Aharonot newspaper said the swift action of the mother in Beersheba to protect her family had probably prevented a new war.
"If the rocket attack had resulted in casualties, the political echelon's manoeuvring room would have been reduced to zero, and Israel would have launched, just like it did four years ago, a military operation that it neither wants nor which it believes will be effective."
Hamas seized control of Gaza from loyalists of Palestinian president Mahmud Abbas in a near civil war in 2007 and the split has made peace negotiations with Israel harder.
Egypt and the UN have been seeking to broker an agreement that would see Israel relax its blockade of Gaza in exchange for a prolonged period of calm from Hamas.
Abbas's Fatah movement opposes any such deal, saying it amounts to a recognition of Islamist control in Gaza.
Egyptian Intelligence Minister Abbas Kamel had been expected in Gaza on Thursday for his first visit since taking up the post in January, fueling talk of a deal.
Hamas official Naim said the minister was forced to postpone because of a timetabling problem.
But an Egyptian delegation led by senior intelligence official Ayman Badea did travel to Gaza and met with Hamas leader Ismail Haniya.
An Egyptian official told AFP they were still hopeful of achieving a long-term deal to restore calm.
Egypt is one of only two Arab states to have official relations with Israel and plays a key role in indirect negotiations between the Jewish state and Hamas.
Full report at:
http://www.arabnews.com/node/1390101/middle-east
--------
North America
Mike Pompeo expects 'complete picture' of Khashoggi's fate from Saudis
October 18, 2018
US Secretary of State Michael Pompeo said he expects Turkish and Saudi Arabian investigations to reveal a "complete picture" of what happened to journalist Jamal Khashoggi, as the Trump administration comes under increasing pressure to respond to the incident.
Mr Pompeo was hastily dispatched to Saudi Arabia by President Donald Trump on Monday. Following a day of meetings with King Salman and Crown Prince Mohammed bin Salman, Mr Pompeo said the Saudi leaders understood the importance of producing a quick but thorough report on Mr Khashoggi's fate after entering the consulate on October 2.
"We made clear to them that we take this matter with respect to Mr Khashoggi very seriously," Mr Pompeo told reporters at the White House after meeting with Trump. The Saudis agreed, he said, adding that "they also assured me that they will conduct a complete, thorough investigation of all the facts surrounding Mr Khashoggi and that they will do so in a timely fashion."
Mr Pompeo said that he recommended President Trump give the Saudis and Turks "a few more days" to investigate.
Meanwhile, Mr Trump said on Thursday that "it certainly looks" like Mr Khashoggi is dead
He gave his administration's first official indication that the disappeared journalist appears to have perished.
Asked by reporters at Joint Base Andrews if Mr Khashoggi is dead, Mr Trump said "it certainly looks that way to me." He also vowed "severe" consequences.
"It will have to be severe" he said.
The Trump administration faces growing bipartisan outrage in Congress over Saudi Arabia's role in Mr Khashoggi's disappearance. Lawmakers are threatening to sanction the Saudi government, while President Trump, who has cultivated closer ties to the kingdom, has so far sought to downplay the incident.
In his remarks, Mr Pompeo stressed the long alliance between the US and Saudi Arabia. "They are an important strategic alliance of the United States and we need to be mindful of that as well," he said.
The Saudis, Mr Pompeo said, also said the investigation "will be transparent" and the results made publicly available. Turkish President Recep Tayyip Erdogan told Mr Pompeo that his government is conducting its own investigation of what happened to Mr Khashoggi after he entered the Saudi consulate in Istanbul to retrieve a document for his upcoming wedding.
"We do believe that between these two efforts a complete picture will emerge for what actually transpired here," Mr Pompeo said.
Mr Khashoggi, who wrote critically about Prince Mohammed, hasn't been seen since entering the consulate. Turkish officials have said he was murdered and dismembered within the building by Saudi agents who were waiting for him to arrive. Saudi officials have insisted Mr Khashoggi left unharmed, without providing any evidence of the claim.
Since his disappearance, a number of business and political leaders have announced they will not be attending a forthcoming investment summit in Saudi Arabia.
Treasury Secretary Steven Mnuchin said Thursday he would not attend. "Just met with @realDonaldTrump and @SecPompeo and we have decided, I will not be participating in the Future Investment Initiative summit in Saudi Arabia," Mnuchin wrote on Twitter.
https://www.thenational.ae/world/europe/mike-pompeo-expects-complete-picture-of-khashoggi-s-fate-from-saudis-1.782124
--------
US must withdraw from Syria, stop supporting terrorism: Iran's deputy UN envoy
Oct 18, 2018
Iran's deputy ambassador to the UN says the United States should stop supporting terrorism in Syria and end its illegal military presence there as regional efforts are underway to find a political solution to over seven years of militancy gripping the Arab country.
Addressing the UN Security Council on Wednesday, Es'haq Al-e Habib said Washington must end its occupation of Syrian territory – where it has thousands of boots on the ground -- and its support for terrorist groups.
The Iranian official also denounced the destructive role that Washington's close ally Saudi Arabia is playing in the Middle region, including its support for Takfiri terror groups in Syria.
Regarding the armed opposition groups fighting the Syrian government, he said all states with influence over such groups must encourage them to lay down arms and join the political process.
The Iranian official said that all foreign-backed terrorists must return to their countries of origin, while terrorists of Syrian origin must be handled according to Syria's law.
Al-e Habib further stressed that Iran's legitimate presence in Syria is aimed at fighting the US- and Saudi-backed terrorists in the Arab country.
At the request of Damascus, Iran has been providing military advisory assistance to the Syrian government forces in their operations to eliminate terror groups from their homeland.
He further touched on efforts underway based on the Astana format to set up a constitutional committee in Syria, stressing that the process should be done in line with the understandings reached between the guarantors of the Astana peace process – namely Iran, Russia and Turkey.
The Astana process – which was launched in January last year – has resulted in the return of a succession of militant bastions to the government fold and movement of civilians to safe zones.
He further called on the international community to exhaust all efforts to reconstruct the war-battered Syria.
'US-led coalition, terrorists pursue similar goals'
Syria's Ambassador to the UN Bashar Ja'afari also addressed the Security Council On Wednesday, saying the goals of the US-led coalition purportedly fighting the Daesh Takfiri terrorist group in Syria are the same as those pursued by terrorists.
The Syrian diplomat slammed the US-led coalition for perpetrating crimes and supporting terrorism in Syria, calling for an immediate end to the American military presence there.
He said that the US-led airstrikes on the country constitute a flagrant violation of international law, accusing the coalition of using banned weapons against civilians in Syria's eastern province of Dayr al-Zawr.
The Syrian envoy said, in one instance, the US used internationally-banned phosphorous bombs in its raids on Dayr al-Zawr province on October 13th and 14th, leaving women and children dead.
"This so-called coalition has fought everything but terrorism," he said.
Regarding the northwestern Syrian province of Idlib, the last major terrorist stronghold in the country, he said any Syrian territory would inevitably return to government control.
Full report at:
https://www.presstv.com/Detail/2018/10/18/577355/Iran-deputy-UN-envoy-Ale-Habib-Syria-US-Saudi-Arabia-Syria-UN-envoy-Bashar-Jaafari
--------
Aide to Prince Salman seen walking into Saudi consulate
19.10.2018
By Umar Farooq
WASHINGTON
Photos published Thursday show a close companion and aide to Saudi Crown Prince Mohammed bin Salman entering the Saudi consulate in Istanbul just hours before journalist Jamal Khashoggi disappeared inside.
The Turkish newspaper Sabah published the time-stamped photographs, taken from security surveillance footage, which show Maher Abdulaziz Mutreb outside the Saudi consulate at 9:55 a.m. local time, outside the Saudi consul's residence at 4:45 p.m., at a hotel at 5:15 p.m. and finally at the airport at 5:58 p.m.
The photos are the most profound pieces of evidence to appear so far linking the alleged killing of Khashoggi to the highest authority of the Saudi royal family.
Mutreb was assigned as a diplomat at the Saudi embassy in London in 2007 and has been frequently seen in photographs alongside Prince Salman in the U.S., Spain and France.
Khashoggi, a Saudi national and columnist for The Washington Post, was last seen entering the Saudi consulate in Istanbul on Oct. 2. Evidence is mounting that the journalist was killed and dismembered by Saudi nationals who flew into Istanbul the same day.
According to The New York Times, Mutreb was among 15 Saudis, including several officials, who arrived in Istanbul and visited the building while Khashoggi was still inside.
Saudi authorities have yet to give a clear explanation of Khashoggi's fate, while several countries -- particularly Turkey, the U.S. and the U.K. -- have expressed their desire that the matter should be elucidated as soon as possible.
Full report at:
https://www.aa.com.tr/en/americas/aide-to-prince-salman-seen-walking-into-saudi-consulate/1286156
--------
Mattis: Afghan attack will not shake US commitment
19 October 2018
US Defense Secretary Jim Mattis said Friday the killing of a powerful police chief in southern Afghanistan just two days before national elections is unlikely to fundamentally weaken the security situation.
Mattis commented on the attack in Kandahar during a break in meetings at an Asian security conference in Singapore.
Mattis called the death of Abdul Raziq a "tragic loss of a patriot." But he said he believes the Afghan security forces have matured to the point where they can continue fighting the Taliban without him.
"We remain absolutely committed to an Afghan-led Afghan reconciliation," he said. "Right now, we're going toward the election and we will continue to defend the Afghan people."
He said he had not spoken to the top US commander in Afghanistan, Gen. Scott Miller, since the attack.
Miller was present during the shooting but uninjured. Mattis said it's unclear how the attack will affect voter turnout in Saturday's parliamentary elections.
Full report at:
https://english.alarabiya.net/en/News/world/2018/10/19/Mattis-Afghan-attack-will-not-shake-US-commitment.html
--------
One killed, 3 injured as Taliban raid top US general's meeting
Oct 18, 2018
One of Afghanistan's most powerful security officials has been killed while two Americans and an Afghan governor were injured in a shooting at a high-level security meeting in Afghanistan, attended by top US commander General Scott Miller.
Officials said General Miller escaped unhurt after a burst of gunfire in the governor's compound in the southern province of Kandahar on Thursday, but Kandahar police chief Gen. Abdul Razeq was killed.
Meanwhile, Kandahar Governor Zalmai Wesa was seriously injured. Officials said one of Wesa's bodyguards opened fire as he came out of the meeting in his office with Miller, Razeq and other officials.
The Taliban claimed responsibility for the attack, saying both Miller and Razeq, who had a fearsome reputation as an enemy of the militant group, were targeted.
Miller took command of US forces and NATO troops in Afghanistan last month. NATO spokesman Colonel Knut Peters confirmed that two Americans were wounded in the crossfire.
The attack came ahead of parliamentary elections on Saturday, raising fresh security fears amid Taliban's warning to target the event.
Razeq's death risks destabilizing southern Afghanistan at a time of huge political uncertainty and a worrying deterioration in security situation.
The police chief was seen as one of Afghanistan's most effective leaders, largely responsible for keeping Kandahar province under control.
He had survived several attempts on his life over many years and narrowly escaped an attack last year in which five diplomats from the United Arab Emirates were killed in Kandahar.
On Wednesday, a bomber killed two Afghan civilians and wounded at least three foreign troops in an attack near the largest US military base near the capital, Kabul.
Mohammad Mahfouz Walizada, police chief of Parwan province where the military base is located, said a bomber on foot targeted foreign forces while they were on patrol.
Afghan people still face insecurity 17 years after the United States and its allies invaded the country as part of Washington's so-called war on terror.
Although the Taliban were removed from power as a result of the invasion, many areas are still threatened by insecurity.
Bomb attack injures 5 Czech solders in Afghanistan
In another development on Thursday, five Czech soldiers were injured in a bomb attack on a military convoy in Afghanistan's Parwan province, only two months after three others were killed, a Czech Defense Ministry statement was quoted by AFP as saying.
"The attack on the Czech patrol occurred on Wednesday around 1220 GMT near the Bagram base in the Parwan province," the statement added.
According to Czech army chief of staff, Ales Opata, the soldiers were injured when an Afghan civilian car loaded with explosives was blown up as the convoy led by an American vehicle was passing by, sweeping the Czech vehicle with six soldiers off the road.
Full report at:
https://www.presstv.com/Detail/2018/10/18/577378/US-NATO-Afghanistan-Kandahar-Taliban
--------
Afghan attack won't change Kandahar security situation — US Defense chief Mattis
October 19, 2018
SINGAPORE: US Defense Secretary Jim Mattis said Friday the killing of a top Afghan official would not fundamentally change the security situation in Kandahar province.
The Taliban have claimed responsibility for Thursday's shooting in the restive southern province that killed anti-Taliban strongman and police chief, General Abdul Raziq.
At least two other people died during the attack inside a fortified government compound in Kandahar city that targeted a high-level security meeting.
The top commander for US and NATO forces, General Scott Miller, was also present but escaped injury.
Mattis said he did not see Raziq's death as changing things on the ground in Kandahar.
"I've seen the officers around him. I've seen the maturation of the Afghan security forces," Mattis told reporters on the sidelines of a security summit in Singapore.
"It's a tragic loss of a patriot for Afghanistan. But I don't see it having a long-term effect on our area."
Full report at:
http://www.arabnews.com/node/1390346/world
--------
Europe
Switzerland catching up with demand for Muslim pastoral care
By Thair Alsaadi
OCT 18, 2018
As Switzerland's population becomes ever more diverse, the demand for relevant pastoral care is growing. But the country still has some catching up to do to match the availability in other countries.
According to the Federal Statistical Office (FSO), some 362,973 Muslims live in Switzerlandexternal link – about 5.1% of the total population.
In the Islamic tradition, there is no concept of "the spiritual welfare of others" as there is in Christianity. In Islam, people are responsible for their own spiritual welfare. However, Muslims living in Switzerland do need comparable support.
A demand for pastoral care
Reinhard Schulze is a professor at the Forum for Islam and the Middle East (FINO) at the University of Bern. Because of the "many life situations in which psychological support for spiritual rehabilitation can be important," he thinks it makes sense "to develop facilities for practicing Muslims that integrates Islamic tradition to structure this rehabilitation".
The demand for Muslim-specific pastoral care originated in prisons, says Isabelle Noth, a professor of pastoral care, religious psychology and religious education, also in Bern.
Imams believed they could take on this task, "but that annoyed Christian counsellors," she says. They didn't want imams to start offering pastoral care because they didn't have the necessary training. A discussion about the need for Muslim pastoral care has since been underway in Switzerland.
The need has also become apparent at hospitals and asylum centres, says Hansjürg Schmid, director of the Swiss Centre for Islam and Society (SZIG) at the University of Fribourg.
"People are often dealing with existential questions: women before or after the birth of their children; people with incurable diseases; prisoners confronted with questions of guilt and responsibility; or refugees who are often traumatised and looking for orientation in a strange environment." A variety of pastoral-driven projects have been launched as a result.
Existing Projects
The first pilot project involving Muslim pastoral care was launched by the State Secretariat for Migration (SEM) in 2016, to be monitored and scientifically evaluated by the SZIG.
At the beginning of September, the SZIG also began an eight-day training project, followed by work experience, designed to prepare Muslim carers to work as counsellors in public institutions (hospitals, emergency pastoral care, etc.).
From 2017 to 2018, the SZIG conducted a similar six-day training program at the cantonal hospital in St. Gallen, while at the University of Bern, a course with the same aims lasts two semesters and qualifies participants to work as religious counsellors to asylum-seekers. This course is also open to interested non-Muslims.
How Switzerland performs internationally
But Switzerland is a long way behind other countries, mainly because there is still disagreement about whether Muslims need to be counselled by other Muslims and whether imams should take on this task.
In other countries, the question of who should counsel who is no longer posed. "These countries (for example the U.S. and Germany) are more than 10 years ahead of us on the question of availability of Muslim pastoral care," says Noth at Bern University. "No one in these countries asks who is responsible for pastoral care, whether Muslims, Christians, Jews or anyone else. For example, in a hospital, everyone is universally deployable."
Schmid also believes that some of these countries addressed the question much earlier. "In other countries, for example the Netherlands and the U.K., the debate about Muslim pastoral care began decades earlier," he says. "There are established qualifications which are still in development in Switzerland."
According to him, Switzerland should "look for local solutions" and "build inter-faith counselling teams" with Christian counsellors in order to benefit from their experience. Switzerland should learn from the experience of other countries, Schmid says.
https://www.swissinfo.ch/eng/business/mental-health_switzerland-catching-up-with-demand-for-muslim-pastoral-care--/44475536
--------
Malaysia tycoon seeks to unite with British Museum's Islamic Gallery
October 18, 2018
It has been hailed by the critics as a "kind of miracle" and a demonstration of the continuity and intellectual power of Islamic art.
The Albukhary Foundation Gallery of the Islamic World is the latest gem at the heart of the venerable British Museum but its power to amaze would not have been possible without the vision of the Malaysian philanthropist Syed Mokhtar Albukhary.
A trail-blazing businessman, Mr Albukhary's commercial interests include car manufacturing, engineering, property and ports. The son of a cattle dealer who was forced to leave school when his father's business went bust, he overcame his early setbacks to establish one of Malaysia's biggest private fortunes.
Mr Albukhary's charitable foundation not only helps Afghan refugees and victims of natural disasters but also the needy around the world, such as Ugandan AIDs sufferers. A second distinctive characteristic of the foundation is its cultural profile and the serious role it plays in recasting the image of Islamic art to audiences around the world
As Malaysian who has benefited from the economic transformation of Asia, Mr Albukhary hailed the opening of the gallery at the British Museum on Thursday as a contribution to mutual understanding.
"In the context of globalisation, I sincerely hope that this new gallery will attract a multicultural audience, and contribute in understanding the history, arts and cultures of the Islamic World," he said.
The gallery has been curated not just to show Islamic-themed art but to exhibit works from Muslim-populated lands that encompasses all eras. Many religions Christians, Jews and Hindus are reflected throughout.
The foundation built the much-praised Islamic Art Museum in his native Malaysia and signed the agreement with the former British Museum director Neil MacGregor in 2015 in the aftermath of the ISIS rampage across Syria and Iraq.
At the time Mr Albukhary talked about the urgency of providing a counter to the destruction of ancient sites by the group. "What is happening in the world, demolishing all the Islamic heritage, non-Islamic antiquities, is a bad image," he said. "The British Museum has been building this collection, without them we would not have any history."
Syed Mohamad Albukhary, his brother and director of Malaysia's Islamic Art Museum, told The National that the collaboration with Mr MacGregor was the product of a long-term relationship between the two sides. Located in Kuala Lumpur's Lake Gardens, the museum now boasts 12 galleries.
"We only opened our museum in 1998 and that time we did not have a lot of works for our collection but Neil stepped in and said he would lend some of his interesting collection," he said. "Four years ago we realised the British Museum's Islamic Gallery, after 30 years, needs refurbishment so we decided to sponsor it for the 21st century viewing for the public.
"It is a stunning work of art."
Over four years, work on the new project has involved hundreds of people.
"Everybody from the curation, conservation, education to marketing has had a dream and have now made it come to fruition," he added. "It is remarkable."
The family traces its routes to central Asia but it is in Malaysia's melting pot of cultures that Mr Albukhary found his inspiration. As a beneficiary of the country's growth, the 67-year old is also an outspoken critic of those who have exploited the system corruptly.
Best known as the founder of the Proton car brand, Mr Albukhary appears determined to build up his philanthropy as rapidly as he established his commercial businesses. He draws inspiration from the life lessons imparted by his mother who raised her family without the benefit of running water in their rural home.
"My mother taught us nothing is yours until you have given it away with all your heart in the hope it will make someone's life easier," he once told a Malaysian newspaper.
Visitors to the central London institution can now witness the significant contributions to social, economic and cultural life from the Islamic world. In its new setting, the collection includes archaeology, decorative arts, shadow puppets, textiles and contemporary art.
Mr MacGregor's successor as British Museum director, Hartwig Fisher said the generosity of Mr Albukhary's donations would heal divisions.
Full report at:
https://www.thenational.ae/world/malaysia-tycoon-seeks-to-unite-with-british-museum-s-islamic-gallery-1.782108
--------
'German Islam' as a political project
18.10.2018
By Zeliha Eliacık
The writer is researcher at SETA's Directorate of European Studies, working on Orientalism, minorities in European and Muslim societies, Islamophobia and the foreign policy of Germany.
ISTANBUL
Although Germany's debate on Islam has a long history, it took on greater intensity in 2010 with the then German President Christian Wulff's momentous declaration that "Islam belongs to Germany". As if to counter Wulff's argument, Germany's Interior Minister Horst Seehofer from the Christian Social Union (CSU) recently stated that "Islam is not a part of Germany", causing the debate to flare up again. Merkel rejected this statement of her coalition partner from the CSU, reaffirming that "Islam belongs to Germany". President Frank-Walter Steinmeier made a similar supportive statement, remarking that Muslims living in Germany belong to Germany.
Apparently, the issue of "German Islam" is brought up in two different ways in the German public. On the one hand, there is the perpetually raised issue of whether Islam and Muslims belong to Europe, which is debated in theoretical and categorical terms. And on the other, there have been practical attempts to redesign Islam and the state's relationship with the Muslim communities by means of a number of organizations, such as the German Islam Conference, founded in 2006, and also to call into question the existence of such well-established and traditional institutions as the Turkish Islamic Union for Religious Affairs (DITIB).
Operating under the Ministry of Interior, the German Islam Conference last July announced its plans for restructuring. It was announced as part of the action plan that, from now on, unorganized groups and a number of prominent Muslim individuals would also be invited to the Conference's meetings in addition to organized Muslim groups, which have remained the only invitees so far. What essentially matters, however, is that this institution has added a new function to its job description, which is to "redefine Islam", even though it previously claimed that it was merely a mechanism of communication and dialogue between the German state and Muslims living in Germany. Markus Kerber, the undersecretary of the Interior Ministry in charge of the organization, demanded in a statement he made that Muslims living in Germany define an Islam particular to Germany.
A political discourse: 'Islam belongs to Germany'
This latest call for a redefinition of Islam for Germany has thus revealed that the phrase "Islam belongs to Germany" is as politically motivated as "Islam doesn't belong to Germany". Clearly, we cannot be naive about this situation and interpret it as "Islam is now accepted in Germany". The fact that the debates about "a German Islam" were initiated and are now being directed and manipulated by politicians instead of theologians or sociologists is for all to see. And moreover, both theses ("Islam belongs to Germany" vs. "Islam doesn't belong to Germany") investigate what kind of Islam must be one to suit to Germany, through a security perspective.
The idea of redefining the Islamic faith, which is a fully practical religion based on a deep-rooted tradition possessed of solid primary sources, is redolent of the transformation of Christianity, which took its present form as a result of a series of councils. On a closer look at the ongoing debates, one can see that the actual aim of the "German Islam" project is a top-down imposition of a model of Islam that has already been traced out to a large extent, which, it is hoped, Muslims will adopt. In fact, former Interior Minister Otto Schily made a similar statement as part of his integration plan that he announced as early as 2002, in which he explicitly said that Muslims had to be assimilated and be prepared to adopt a "European Islam".
Is DITIB being undermined for eventual closure?
What is apparent in the discussions of Islam is that the German state and elites are convinced that Islam does not belong to this country and are therefore seeking to create a new Islam that would. At this point, we see that new organizations are being established to control and manipulate the traditional Muslim communities in Germany, and in particular the Turkish community, which is the largest Muslim group in the country. In order to control traditional institutions and to get rid of them in the medium or long term, these institutions have been put into a political context, thereby causing their relations with the Turkish state to be regarded with suspicion. Although the National Vision -- Milli Görüş -- (IGMG) -- one of the most influential Muslim groups in Germany that was under surveillance for quite a long time on the grounds of being incompatible with the constitutional order -- has slipped off the radar in a number of states, it is still monitored by the Federal Interior Intelligence Agency. It has recently been announced that there is an ongoing investigation to decide whether to place also the DITIB under the surveillance of the Agency for the Protection of the Constitution. German politicians trying to place the DITIB, an institution never involved in a criminal act, under monitoring despite arguing at the same time that there is not enough evidence to monitor even such separatist and racist groups as AfD (Alternative for Germany) is rather meaningful. Looking at this trajectory, one might assert that the eventual goal is to disband these institutions in the medium or long term.
It is also no coincidence that the debate around the DITIB was sparked off again right after President Erdogan's Germany visit. It is known that the DITIB is being presented as a problem particularly in the context of its relations with Turkey. Although no arguments to date have been put forward, as part of the debate, about DITIB being an Islamist or radical institution, accusations about it being a nationalist structure are conspicuously at the forefront nowadays. This, in turn, reinforces the suspicion that Germany, in line with its integration policy aimed at cultural assimilation, is intent on severing the Turkish community's ties to their national and religious identity and traditions. The "German Islam", in this sense, is an extension of Germany's integration policy centered on cultural effacement.
The designers of the "German Islam" project are clearly bothered to see the Turks living in Germany enjoying deep-rooted ties with Turkey, from which they draw strength and find a very strong support, According to the designers of the project, it is only through the severing of this connection and support that they would be able to take the Turks living in Germany under complete control. It is known that institutions such as the DITIB and the National Vision have become targets because they did not agree to the "German Islam" deal that they were presented with in 2008 and did not yield to such offers thanks to Turkey's support. In addition, there are arguments that the radicalization of Muslims is feared and therefore a moderate, harmonious model of Islam is required. It is, however, obvious that there is a clear tendency to ignore the fact that the Turkish youth stay away from radical groups such Al-Qaeda owing to their strong traditional religious identity and also owing to positive contributions in this regard from organizations such as the DITIB. Though newly-emerged modern terrorist organizations, completely disconnected from the tradition, such as Daesh, and reactionary projects such as "reformist Islam" are diametrically opposed to one another, they must both be interpreted as consequences of breaking with the traditional religious identity.
Islam the only religion that did not undergo 'Enlightenment'
The continual emphasis on "loyalty to the constitution" in the various calls to Muslims living in Germany causes the German society to view Muslims as potential enemies of the constitution. This emphasis also 'others' them by constantly calling their loyalty to this country into question. Islam is perpetually brought up and discussed as a security problem based on the notion of threat. The dominant discourse regarding Islam in the political and media spheres is completely negative. This dominant discourse gives rise to a "Muslim question" first and foremost, which is reminiscent, in a way, of the "Jewish question". Then what follows is projects being implemented for the solution of this "problem".
It is clear that Islam is not wanted in the West as it is, since it is the only religion that has not undergone a kind of enlightenment, and the only religion that is possessed of a transformative power independent of the dominant Western cultural and ideological structure. This is why Muslims living in Germany are being demanded to redefine Islam. Although the structure making this demand is rooted in the Christian-Jewish tradition, it is far from being religiously observant and has more of a secular character whose Christian identity is limited to the cultural sphere. Therefore, what the Muslims are effectively being told is, "We reformed Christianity during the Enlightenment era, and now Islam needs to go through this."
In addition, one in seven people in Germany will be Muslim according to the projections on 2030. Given that one in 17 people was Muslim in 2010, Muslims are increasingly seen as a risk factor in terms of a demographic transformation of the society. And in this sense, it is pretty obvious that the future vision of Germany has no place for self-confident and self-assured Muslims, and that there will be efforts to disable and eradicate any kind of mechanism in place to boost the Muslim self-confidence and self-assuredness.
Arteries feeding cultural identity being severed
Religion is carried on and lived as a tradition and culture as well, and is not merely composed of a set of rites of worship. Therefore, the disbanding of institutions such as the DITIB and Milli Görüş, which establish the Turks' relationship with the religion over tradition and culture (never forgetting that they are the biggest Muslim community) will constitute a serious problem for the Muslims living in Germany. This not only would amount to cutting off these people's connection with Turkey but should also be interpreted as a project of shaping identities, a serious intervention in people's cultural and religious identity.
It should also be remembered at this point that "Alevism without Ali", a destruction project in essence, was developed and promoted in Germany as a doctrine aimed at the Alevi communities. The recognition of Alevism as a separate religion in the state of North Rhine-Westphalia and the introduction of separate Alevi religious classes is just another leg of the project of dividing and transforming the Muslim Turkish community in Germany.
No to 'pagan Islam'
The secular West wants Islam and Muslims to be reformed and put through the processes of enlightenment. The secular and pagan subconscious of the West seems to want to reduce Islam, the only unreformed religion in the world, to being a cultural richness, and even degrade it to being merely a flavor, a spice, as it were, by means of projects such as the "German Islam". The fact that the Pope -- the most important religious reference of the West and seen as "God's representative on earth -- is now sanctioning gay marriages although he was opposed to even abortion until a few years ago demonstrates the impact that politics exercises on religion in Europe.
The aim of all these projects is to create "a pagan Islam". Muslims must never take this bait on whichever seemingly justifiable grounds it may be presented to them. Despite their different political opinions, they must reject this intervention altogether, since it is being staged against their essential identity. Although the project of "German Islam" and the disbanding of the traditional groups is being carried out over President Erdogan and the DITIB in order to win the support of certain opposition groups, the real goal is far beyond that; what is essentially being targeted is the entire Muslim community of Germany, and not only certain people with certain political convictions.
New actors of 'German Islam': Religious people
Since the German state elite appreciated that they could not possibly carry out the "German Islam" project through actors who are not recognized by and do not at all resonate with the Turkish and Arab Muslim communities, they are now planning to proceed with the project through observant, conservative Muslims and people who they think would have some influence on the inner circles of these communities. For this reason, the Islamic faculties opened at German universities and the whole concept of having Islamic classes as well as the activities of the German Islam Conference should all be evaluated against this backdrop.
Full report at:
https://www.aa.com.tr/en/analysis-news/opinion-german-islam-as-a-political-project/1285313
--------
France suspends political visits to Saudi Arabia
19.10.2018
By Omer Aydin
PARIS
France has suspended some political visits to Saudi Arabia over the case of missing Saudi journalist Jamal Khashoggi, the country's president said Thursday.
Speaking at a press conference in Brussels, Emmanuel Macron said clarification on Khashoggi's disappearance is needed, noting the information received so far is "extremely serious and worrying".
He said the decision was made in coordination with other European countries, including the UK, Germany and the Netherlands.
As part of the decision, Macron said a planned trip by Finance Minister Bruno Le Maire to the Saudi capital, Riyadh, to attend an economic conference has been cancelled.
Responding to a question on relations with Saudi Crown Prince Mohammed bin Salman, Macron said bilateral relations between the two counties will continue.
- Khashoggi case
Khashoggi has been missing since Oct. 2 when he entered the Saudi consulate in Istanbul.
On the day of Khashoggi's disappearance, 15 other Saudis, including several officials, arrived in Istanbul on two planes and visited the consulate while Khashoggi was still inside, according to Turkish police sources. All of the identified individuals have since left Turkey.
On Wednesday, crime scene investigation units arrived at the official residence of Saudi Consul General Mohammad al-Otaibi around 4.40 p.m. local time (1340GMT). Al-Otaibi had left Turkey for Riyadh on Tuesday.
Full report at:
https://www.aa.com.tr/en/europe/france-suspends-political-visits-to-saudi-arabia/1286176
--------
UN praises changes for the better in Syria
19.10.2018
GENEVA
Things are getting better in Syria for the first time in three years, said a top UN diplomat on Thursday.
"We have now had five weeks without any attack. I cannot remember such a period for the last three years in Idlib," Jan Egeland, an advisor to Special UN Syria Envoy Staffan de Mistura, told reporters at the UN in Geneva.
But he also said the terrorist groups of the PKK/YPG and the Bashar al-Assad regime have attacked thousands of civilians in eastern Syria.
Underlining his hopes for diplomacy, Egeland expressed his joy to see Turkey and Russia reach agreements.
"The Russian and Turkish sides have indicated that more time will be given to implementing the agreement" reached in Sochi, Russia, for the northern Syrian province of Idlib.
"There will be more time for diplomacy," he added.
According to Egeland, the UN have 12,000 humanitarian workers in Syria and donors have released aid which was frozen out of fear it would never reach anyone due to a lack of security.
"We have now a window of opportunity to help people and that is important before the winter," he said, adding that a relief convoy with food, health and personal care items will be sent to Rukhban, southeastern Syria.
Egeland said there are reports of deaths in the area due to lack of relief supplies. "The last time we reached Rukhban was last January," he added.
"7,000 civilians fled the area with little international attention," Egeland said.
In the Sochi agreement, Ankara and Moscow signed a memorandum of understanding calling for the "stabilization" of Idlib's de-escalation zone, in which acts of aggression are expressly prohibited.
Full report at:
https://www.aa.com.tr/en/europe/un-praises-changes-for-the-better-in-syria/1286079
--------
Turkey stresses Moldova's territorial integrity
18.10.2018
Turkey and Moldova have reached an agreement to take "tangible" steps to maintain the status of an ethnically Turkic autonomous region within the country, said Turkey's president on Thursday.
At a joint press conference alongside his Moldovan counterpart Igor Dodon, Recep Tayyip Erdogan stressed the "crucial importance" of Moldova's territorial integrity while addressing the status of the Gagauzia region.
Turkey "would like to see Gagauzia and Moldova able to sustain their development efforts, side by side," he said in Comrat, Gagauzia's capital, on the last day of a two-day visit to Moldova.
Full report at:
https://www.aa.com.tr/en/europe/turkey-stresses-moldovas-territorial-integrity/1285878
--------
UK increased weapons sales to Saudi Arabia by two thirds: Report
Oct 19, 2018
UK arms sales to Saudi Arabia had increased in 2017 by two thirds, according to British media reports.
From 2016 to 2017, UK military sales to the Saudis went up by two thirds, Sky News reported on Thursday.
The UK sold at least £450 million more to Saudi Arabia in 2017 than 2016, with the true figure likely to be higher, Sky News said.
Earlier reports said the UK had almost doubled its arms sales from £820 million in 2016 to £1.5 billion in arms licenses in 2017.
Sky News reported that the UK issued 126 licenses relating to military goods in 2017, with a value of £1.129 billion - according to Department of International Trade figures.
This is compared to 103 licenses relating to military goods in 2016, with a value of £679 million, it said.
Reports of UK arms sales to Saudi Arabia come out as business figures pull out of an upcoming investment conference scheduled to be held in Riyadh, Saudi Arabia on October 23.
The so-called Future Investment Initiative Summit, which has been dubbed Davos in the Desert, has been cancels by governments, executives and chiefs of international companies after the scandalous incident involving the disappearance of Saudi-national Jamal Khashoggi.
Khashoggi, who was a dissident journalist, entered the Saudi embassy in Istanbul and never came out, according to Turkish police.
The incident sparked huge global outcry, resulting in widespread international criticism of the rulers of Saudi Arabia, particularly MBS.
UK trade secretary Liam Fox was among the main international figures who cancelled the Saudi summit over the humiliating Khashoggi incident.
Saudis humiliation in Yemen
Saudi Arabia has also been facing humiliating criticism over its brutal aggression in Yemen. Thousands of innocent civilians, including women and children, have died as a result of the brutal Saudi-led campaign in Yemen.
Campaigners have called on major arms suppliers to Saudi Arabia, the British government included, to stop selling weapons to the kingdom.
"The humanitarian catastrophe in Yemen is the worst in the world. UK-made fighter jets and bombs have played a central role in the destruction," said Andrew Smith of Campaign Against Arms Trade, an organization which works to abolish the international arms trade.
Human rights advocates say the UK is complicit to Saudi Arabia's atrocities against the impoverished Yemeni nation.
Full report at:
https://www.presstv.com/Detail/2018/10/19/577416/UK-arms-sales-Saudi-Arabia
--------
Not up to Russia to persuade Iran to leave Syria: Putin
Oct 18, 2018
Russian President Vladimir Putin has rejected US and Israeli calls for Moscow to persuade Iran to pull its military forces out of Syria, saying it is not what Russia can make a decision about.
Putin made the comments in an address to the annual meeting of the Valdai Discussion Club in the Black Sea resort city of Sochi on Thursday.
Moscow, he said, cannot force Tehran to end its presence in Syria and that a possible withdrawal is an issue between Damascus and Tehran to decide.
The issue, however, can be discussed among Iran, Syria, and the US, with Russia joining the dialog, he added.
Putin also said the countries calling for Iran to leave Syria should provide guarantees that they would not meddle in Syria's affairs.
With Israel and the US asking Russia to keep Iranian forces at bay, Moscow has stated that Iran's presence in Syria is at the request of the legitimate government in Damascus.
Putin's special envoy for the Middle East Mikhail Bogdanov last week dismissed Tel Aviv's demand that Iran be forced out of Syria, saying it was none of Israel's business, but Syria's sovereign right whether to allow Iranian forces on its soil.
"This is a sovereign country led by a legitimate government. It can agree on cooperation with any other country, including Iran, Russia, Israel," Bogdanov noted in an interview with the Israeli TV channel i24NEWS released last Thursday.
"That's Syria's sovereign right, and it's not the business of a third party to intervene in these subjects of politics or policy of a sovereign country," said Bogdanov, who is also a deputy foreign minister.
At the request of Syrian President Bashar al-Assad, Iran has been providing military advisory assistance to the Syrian army in its operations to eliminate terror groups.
However, over the past few years, Israel has frequently attacked military targets inside Syria in an attempt to prop up terrorist groups that have been suffering defeats at the hands of Syrian government forces.
Iran sanctions, a chance to ditch US dollar
Putin further referred to US sanctions against the companies that engage in trade with Iran, saying the move would spur the creation of payment systems that don't depend on the dollar.
The policy in Washington "undermines trust in the dollar as a universal payment instrument and the main reserve currency," he added.
Putin said, "We did that not because we wanted to undermine the dollar, but because of sanctions that have been introduced against us."
Iran, Russia, and Turkey have agreed on removing the US dollar from their mutual transactions as part of their efforts to expand trade relations amid Washington's pressures.
Full report at:
https://www.presstv.com/Detail/2018/10/18/577392/Putin-Russia-Syria-Iran-Forces
--------
URL: https://www.newageislam.com/islamic-world-news/daesh-growing-taking-hostages-controlled/d/116667
New Age Islam, Islam Online, Islamic Website, African Muslim News, Arab World News, South Asia News, Indian Muslim News, World Muslim News, Women in Islam, Islamic Feminism, Arab Women, Women In Arab, Islamophobia in America, Muslim Women in West, Islam Women and Feminism