New Age Islam News Bureau
9 Apr 2020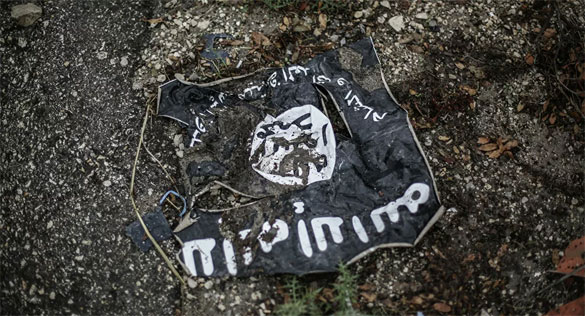 • Daesh Calls COVID-19 'Soldier of Allah', Threatens to Attack Chicago, London
• Bureaucrat Takes to Twitter, Says TV Channels Converted the Battle Against Corona • • Religious War, Is It Justifying? We Have Fallen So Low?
• Old Video Where Salon Attendant Applies Saliva On Customer's Face Falsely Shared With Muslim Angle
• Iran May Bar Mass Ramadan Events Over Virus: Khamenei
• Covid-19: Imam In Kaduna Loses Position For Complying With Social Distancing Order
• Amid Coronavirus Scare, Myanmar Court Releases Scores of Detained Rohingya Muslims
• Dozens of Thais Test Positive for Covid-19 After Returning from Tabligh Islamic Gathering in Indonesia
• School District Pays Student $665,000 For Punishing Him Over Islamic Terrorist Spoof Video
Coronavirus: Kasur, Muslim Activist Helps Poor Discriminated Christians'Was Reusing N-95 Mask
------
Arab world
• Daesh Calls COVID-19 'Soldier of Allah', Threatens to Attack Chicago, London
• Organization of Islamic Cooperation slams Israeli treatment of Palestinian inmates
• Ramadan line-up: Sharjah to release more than 90 new radio and TV shows in time for the holy month
• Remote pilgrimage: Iraqis mark Imam al-Mahdi's birth amid COVID19
• Prince Sultan Cardiac Center activates distance learning as coronavirus precaution
• Coronavirus: 7 ways COVID-19 will change Ramadan in the UAE
------
India
• Bureaucrat Takes to Twitter, Says TV Channels Converted the Battle Against Corona • Religious War, Is It Justifying? We Have Fallen So Low?
• Old Video Where Salon Attendant Applies Saliva On Customer's Face Falsely Shared With Muslim Angle
• Jharkhand: One Dead After Clashes Over Rumours Of Muslim Men Spitting To Spread Coronavirus
• Ten Foreigners Booked in Andhra's Guntur District, Now In Mosque Isolation
• Seven held in Gujarat for offering namaz at mosque amid COVID-19 curfew
• Tablighi Jamaat leader Maulana Saad Kandhalvi To Join Probe After Isolation Period, Says Lawyer
• Do not violate lockdown on Shab-e-Baraat, Imam Umer Ilyasi urge Muslims in India
• "Not the Time for Communal Politics": Mamata Banerjee On Delhi Mosque Event
• Coronavirus Outbreak: Aligarh chief mufti asks Muslims not to visit graveyards, mosques on Shab-e Barat due to lockdown
------
Mideast
• Iran May Bar Mass Ramadan Events Over Virus: Khamenei
• Iran: Mullahs' Regime Prepares Political Prisoners for Massacre During Coronavirus Crisis
• Iran FM welcomes Russia's initiative of 'green corridor' to replace sanctions amid COVID-19 fight
• Ayatollah Khamenei hails Iranian nation for 'shining' performance in anti-virus battle
• Hamas 'determined' to secure release of Palestinian inmates in swap deal with Israel
• Libya rebels claim to have downed two Turkish drones
-------
Africa
• Covid-19: Imam In Kaduna Loses Position For Complying With Social Distancing Order
• Annual Hajj pilgrimage put on hold for SA Muslims amid Covid-19 pandemic
• Increased terror attacks in Africa amid coronavirus pandemic
• Muslim community supports coronavirus prevention measures
• Nigerian Christians targeted by Islamic militants during coronavirus lockdown
--------
South Asia
• Amid Coronavirus Scare, Myanmar Court Releases Scores of Detained Rohingya Muslims
• China reports new coronavirus cases after lockdown lifted
• Avoid gatherings at graveyards, shrines on Shab-e-Barat: Islamic Foundation
• President, PM urge Muslims to say Shab-e-Barat prayers at homes
• 109 Tabligh people including 7 Indians quarantined in Patuakhali mosques
• Afghan teen brutally knifed to death in Moria of Greece
• Afghan government release 100 Taliban prisoners as part of peace efforts
• Chinese experts say social distancing, massive testing key to fight Covid-19
------
Southeast Asia
• Dozens of Thais Test Positive for Covid-19 After Returning from Tabligh Islamic Gathering in Indonesia
• Indonesia's Ramadan exodus risks spreading Covid-19 across the country
• Coronavirus: Malaysia comes up with new ways to help Ramadan bazaar trade amid outbreak
• Taiwan demands apology from WHO chief over coronavirus 'slander'
• Lockdowns can only end when vaccine is found, says Lancet study
------
North America
• School District Pays Student $665,000 For Punishing Him Over Islamic Terrorist Spoof Video
• Digital adaptation needed in financial sector, says Islamic fintech firm
• How the Islamic State Feeds on Coronavirus
• US overtakes Spain with second highest Covid-19 deaths worldwide, but Italy still holds top spot
• Bill Barr Accuses Media Of 'Jihad' To Discredit Hydroxychloroquine After Trump Touts Unproven Drug As Covid-19 Cure
• Canada threatens retaliation over US's cancellation of medical supply delivery
------
Pakistan
• Coronavirus: Kasur, Muslim Activist Helps Poor Discriminated Christians'Was Reusing N-95 Mask Given To Me In China': President Alvi Responds To Criticism
• Non-Muslim volunteers join fight against corona
• Virus situation can worsen in coming days: PM
• Railways seals Mughalpura workshop after detection of Covid-19 case
• 453 pilgrims who earlier tested negative sent to districts turn out positive for virus
-------
Europe
• PCS Guidance on Observing Ramadan During The Coronavirus Crisis
• Islamic Development Bank promises to assist Kyrgyzstan in fighting coronavirus
• French authorities investigating deadly Lyon knife attack as Islamic terror
• Red Cross allocates 500,000 Swiss francs in donation to Iran amid coronavirus fight
Compiled by New Age Islam News Bureau
URL: https://www.newageislam.com/islamic-world-news/daesh-calls-covid-19-soldier/d/121531
------
Daesh Calls COVID-19 'Soldier of Allah', Threatens to Attack Chicago, London
08.04.2020
by Oleg Burunov
The Daily Mirror has quoted an unnamed former British intelligence officer as saying that Daesh may take advantage of the ongoing coronavirus pandemic in order to stage a spate of attacks on Western countries.
The officer told the newspaper about "many ways in which the virus is creating multiple threats that have been kept at bay for some time".
"Practically the conditions in the Middle East could be worsening in terms of the ongoing battle to quell Islamic State and keep them at bay. Much of what has been achieved could be undone by the panic and break down of security in the region, allowing Daesh to reform and once again look to the west for attacks", the source claimed.
The remarks came as The Sun referred to Daesh propaganda posters provided by the watchdog Jihad and Terrorism Threat Monitor (JTTM), which feature the city of Chicago and Tower Bridge in London with text reading: "Hit them when they least expect it" and "Coronavirus – a soldier of Allah".
This propaganda poster, featuring an image of London Bridge lays bare how Daesh wants to take advantage of coronavirus pandemic
This followed Daesh claiming responsibility for a rocket attack on competing inauguration ceremonies for the elected Afghan president and his rival in Kabul in early March.
Late last year, General Sir Nick Carter, the UK's chief of the defence staff, warned that Daesh has not yet been completely defeated.
This propaganda poster, featuring an image of downtown Chicago, lays bare how Daesh wants to take advantage of the coronavirus pandemic
"Daesh, and the extremist ideas it represents, has absolutely not been defeated – indeed the threat from terrorism has proliferated – as was sadly demonstrated once again in last Friday's attack at London Bridge", the general declared during the annual State of Defence speech in December.
He spoke a week after at least two people were killed and five more injured in a terrorist attack on London Bridge carried out by a 28-year old knife-wielding man, Usman Khan, convicted in 2012 for terrorism and released in December 2018. Daesh claimed responsibility for the attack.
In October 2019, US President Donald Trump announced the death of Daesh leader Abu Bakr al-Baghdadi, in what was preceded by POTUS claiming earlier that year that "ISIS has been 100 percent defeated".
https://sputniknews.com/world/202004081078876939-daesh-calls-covid-19-soldier-of-allah-threatens-to-attack-chicago-london-reports/
------
Bureaucrat Takes to Twitter, Says TV Channels Converted The Battle Against Corona Religious War, Is It Justifying? We Have Fallen So Low?
08th April 2020
BHOPAL: A bureaucrat and English novelist in Madhya Pradesh has taken to Twitter alleging that TV channels were targeting the Muslims instead of working against the deadly Coronavirus.
In a series of tweets on Wednesday, the State Administrative Services (SAS) officer Niyaz Khan, who is presently posted as deputy secretary of PWD and Environment departments, wrote "For the first time I see disease by religious angle. Disease has no religion; it is only ignorance of Tablighi jamaat. All electronic media converted the battle against Corona religious war. Is it justifying? We have fallen so low!"
He further tweeted, "We have to fight against Corona disease not against particular religion. Virus has been invented in China not by Muslims. Ignorance is the biggest enemy of man not religion. So much hate against one community will only make our country weak."
Khan also tweeted, "In twenty first century science should rule the mind not hate and agenda. We all Indians should be united to fight agains Corona not to take advantage in dirty thing. There are other things to take advantage."
In January, the same bureaucrat had created a flutter by requesting Prime Minister Narendra Modi on twitter to only include honest people in the National Register of Citizens (NRC) and not include corrupt government staff.
Prior to it, the 1998 batch SAS officer, who has scripted six novels till now, was in news for tweeting "For the last six months, I'm looking for a new name for this book and myself so that I could hide my identity to save myself from the sword of hate."
Khan has so far penned six English novels, including Talaq Talaq Talaq against the menace of Triple Talaq and Love Demand Blood, a fiction inspired by the love life of mobster Abu Salem and Monica Bedi.
During his past posting as the ADM in Guna district under then Shivraj Singh Chouhan-led BJP regime, Khan had unearthed a massive scam in construction of toilets under the Swachh Bharat Abhiyan as well as financial irregularities in construction of cremation grounds in various villages of Guna district.
https://www.newindianexpress.com/nation/2020/apr/08/madhya-pradesh-bureaucrat-takes-to-twitter-says-tv-channels-targeting-muslims-in-name-of-covid-19-2127388.html
------
Old Video Where Salon Attendant Applies Saliva On Customer's Face Falsely Shared With Muslim Angle
Kinjal
8th April 2020
Amidst the nationwide lockdown imposed to fight coronavirus, social media is in the middle of an information war. Old videos and manufactured audio clips are being widely shared to build the false narrative that the Muslim community is deliberating trying to spread the viral infection in India. This is in the backdrop of Delhi's Nizamuddin emerging as a coronavirus hotspot after several Tablighi Jamaat members were tested positive.
In the latest attempt, a Video of a barber massaging a customer's face with his own saliva is massively viral. The customer is evidently unaware of the sickening act. The video has been shared with the claim that the barber hails from the Muslim community hence, all "Hindu brothers" should avoid visiting barbers who are Muslims.
"Salim Hair Saloon, all Hindu brothers closely watch this video and decide whether we should go to a Muslim barber for shaving or should we do it on our own or get it done from a Hindu (-translated)," reads the caption posted by Facebook page Hindustani Patel.
With a keyword search (saliva face massage) on YouTube, Alt News found this video posted by a channel named Amazing video on June 6, 2015.
One more YouTube channel SibteinTV Official has dubbed the video as "funny". It was uploaded by the channel on May 30, 2015. This was also shared on Sibtein's Daily Motion account. According to their description, it's a prank video.
While Alt News couldn't establish the context of this video, nothing suggests that it was shot at "Salim Hair Saloon" as claimed on social media. Hence, the claim was found to be baseless.
A 2015 video is being shared on social media to claim that a Muslim barber massaged a customer's face with his own saliva in the backdrop of coronavirus pandemic. The message attempts to instil fear among the Hindu community, urging them to boycott Muslim-owned shops. Earlier this week, a video of a Muslim fruit seller licking his fingers while handling the fruits on his cart was also shared with the same claim. However, the video was unrelated to the pandemic and was shot in February 2020.
https://www.altnews.in/2015-video-where-barber-is-massaging-his-customers-face-with-his-own-saliva-shared-to-falsely-target-muslim-community/
-----
Iran May Bar Mass Ramadan Events Over Virus: Khamenei
9 April, 2020
Iran´s supreme leader suggested Thursday that mass gatherings in the country may be barred through the holy Muslim fasting month Ramadan amid the coronavirus pandemic.
Supreme Leader Ali Khamenei made the comment in a televised address as Iran tries to restart its economic activity while suffering one of the world´s worst outbreaks.
"In the absence of public gatherings in the Ramadan month including praying, speeches and so on, that we are this year deprived of them, we should create the same senses in our lonesomeness," Khamenei said.
Ramadan is set to begin in late April and last through most of May. Public officials had not yet discussed plans for the holy month.
Ministry spokesman Kianoush Jahanpour said another 1,634 people tested positive for the coronavirus in the past 24 hours, bringing the overall number to 66,220.
However, experts have repeatedly questioned those numbers, especially as Iran initially downplayed the outbreak in February amid the 41st anniversary of its 1979 revolution and a crucial parliamentary vote.
Iranian President Hassan Rouhani has ordered the country's economy to slowly begin opening back up starting Saturday, leading to worries the nation could see a second wave of infections. The country's economy is suffering under intense US sanctions after President Donald Trump unilaterally withdrew from Tehran's 2015 nuclear deal with world powers.
Khamenei made a point to remind Iranians that the US is the main enemy and mocked Americans who fought over toilet paper at stores and lined up outside of gun shops to purchase firearms.
"The problem of corona should not make us ignorant about the plots by our enemies and arrogant" powers, he said.
https://aawsat.com/english/home/article/2224811/iran-may-bar-mass-ramadan-events-over-virus-khamenei
-----
Covid-19: Imam in Kaduna loses position for complying with social distancing order
APRIL 9, 2020
Sheik Malam Abubakar Sarkin Aminu the Imam of Khamsu-Salawat of Abubakar Gumi Juma'at Mosque, Lowcost, Zaria-Kaduna, has on Wednesday lost is position as the imam for complying with Kaduna State Government's order on avoiding social and religious gatherings.
Sheik Mallam Sakin Abubakar, the Imam of Khamsu Salawat Abubakar Gumi Juma't mosque was accused of stopping the 5 daily congregational prayers.
The Imam, according to sources had to stop the daily 5 Times prayers owing to the large number of people attending the mosque, a measure aimed at containing the spread of Coronavirus pandemic currently ravaging the world.
A source close to the deposed Imam, Abdulbasit Abubakar told vanguard that the Imam was unjustly removed. He said there are other Mosques whose leadership complied fully with the Kaduna state government's order on social distancing and were not removed.
" I think this is sad and unjust. Do you remove the Imam for complying with the government's order? Was he supposed to fight the government? Even Mecca is closed and the Imams have not been suspended or removed."
Meanwhile, our correspondent who monitored the event tried to reach the leader of Jama'atu Izalatul Bidi'a Wa Iqamatussunah JIBWIS Zaria, Malam Sani Yakubu who announced, shortly after the Isha'i prayers, the replacement of Sheik Malam Abubakar Sarkin Aminu the Imam Khamsu-Salawat of Abubakar Gumi Juma'at Mosque, Lowcost, Zaria-Kaduna, for complying Kaduna State Government's order on social distancing, but was unreachable after several attempts before going to press.
Recall that Vanguard had earlier reported how the Lagos state government sealed up the agate central mosque for flouting its order on social distancing and fined the leadership of the mosque. Earlier in the week, vanguard reported how Gov. Elrufai has threatened to extend the curfew owing to several people flouting the order.
The social distancing becomes necessary in the wake of the raging coronavirus pandemic ravaging the entire world. Health experts around the world have suggested social distancing as a precautionary measure to check and containerize the spread of the novel coronavirus pandemic.
https://www.vanguardngr.com/2020/04/covid-19-imam-in-kaduna-loses-position-for-complying-with-social-distancing-order/
-------
Amid coronavirus scare, Myanmar court releases scores of detained Rohingya Muslims
29 minutes ago
Due to the coronavirus scare, a court in Myanmar on Wednesday dropped cases against scores of Rohingya Muslims who were detained after they fled a military crackdown in 2017, AFP reported.
Myanmar's security forces are accused of killings, gangrape and arson during a crackdown that drove more than 7,30,000 people to flee the Rakhine state to neighbouring Bangladesh after some Rohingya insurgents attacked police posts in August 2017.
As the coronavirus forces the world's biggest cities and wealthiest countries into lockdown, fears over a potential outbreak in the Myanmar's overcrowded prisons led to the release of 128 people. The Human Rights Watch has described Myanmar's jails as "horribly overcrowded and unsanitary".
"Charges against both adults and children are withdrawn and they are to be released," Judge Khin Myat Myat Htun said. However, it is unclear where the Rohingya will be taken in Rakhine state, posing a potential humanitarian catastrophe during the crisis.
Four buses carrying the Rohingyas left the Pathein prison early Thursday morning. "Scores more are set to be released by other courts and sent back to Rakhine," a Rohingya activist told AFP. "In total about 250 Rohingya are likely to be sent back on Saturday," he added.
The World Health Organisation had also warned prison authorities about populations that are particularly vulnerable to the coronavirus pandemic.
https://scroll.in/latest/958681/amid-coronavirus-scare-myanmar-court-releases-scores-of-detained-rohingya-muslims
------
Dozens of Thais Test Positive for Covid-19 After Returning From Tabligh Islamic Gathering in Indonesia
NUR YASMIN
APRIL 09, 2020
Jakarta. A total of 42 Thai Muslims who attended a multinational religious gathering in Gowa, South Sulawesi, on March 18 have since tested positive for Covid-19. At least 80 Thai nationals came to Gowa for the tabligh Islamic gathering, which was canceled at the last minute amid fears it would lead to mass coronavirus infections.
"The Thailand Public Health Ministry said the 42 Thai nationals returned from Indonesia on a chartered Lion Air flight, arriving on April 6 at the Hat Yai Airport in Songkhla. Their return was facilitated by the Thailand Embassy in Jakarta," Ahmad Rusdi, the Indonesian Ambassador to Thailand, told Jakarta Globe on Wednesday.
Over 8,000 pilgrims from 10 countries including Indonesia had already descended into Gowa before local authorities put a stop to the event.
It is unknown where the Thais had contracted the coronavirus, but they passed a screening test at Jakarta's Soekarno-Hatta Airport when they left. They tested positive for Covid-19 when they were back in Thailand.
"We had two Indonesian citizens here who tested positive for Covid-19, one is now receiving treatment in Cambodia, and the other one is in quarantine in Bangkok. They're both in good condition," the ambassador said.
Some Indonesian citizens were stranded in Thailand after its government banned commercial flights from entering the country until April 18.
"We have several students who were supposed to return to Indonesia on April 10 and 11 on a Garuda Indonesia flight. But they are now stuck here," Ahmad said.
"We've met with the students and have given them food, vitamins and money. We've asked Garuda Indonesia to put them on the next flight to Jakarta," he said.
https://jakartaglobe.id/news/dozens-of-thais-test-positive-for-covid19-after-returning-from-tabligh-islamic-gathering-in-indonesia
------
School district pays student $665,000 for punishing him over Islamic terrorist spoof video
APRIL 9, 2020
The geniuses who run the San Ramon Valley Unified School District agreed to pay Nathaniel Yu $665,000 to settle his nearly three-year-old First Amendment lawsuit over its decision to dethrone him as student body president.
They also promised to release a public apology, which is still absent from the district "News" section as of early Thursday.
Yu said he made "a James Bond-style parody video" to promote his campaign for student body president in 2017, according to local news site DanvilleSanRamon.com. The video, largely improvisational, was made off-campus and had no nexus to the school district, meaning it had no jurisdiction to hold Yu accountable for it:
The lawsuit describes the video as depicting Yu — who was a 17-year-old junior at the time — as a "James Bond-type hero" who rescued a person kidnapped by two members of an "extremist group" who were attempting to force the victim to participate in a video game competition. …
The group did not use school property or equipment to create the video, which did not mention [San Ramon Valley High School] or the leadership class, and did not feature the school's or leadership class's name, logo or other indicia.
Yu's legal team has declined to provide the video to the media, and New York University's First Amendment Watch says it's no longer on Twitter.
But an East Bay Times article from 2017 judged it "lewd" and "racist" – not attributing those sentiments to anyone, but written in the newspaper's authorial voice.
https://www.thecollegefix.com/school-district-pays-student-665000-for-punishing-him-over-islamic-terrorist-spoof-video/
------
Coronavirus: Kasur, Muslim Activist Helps Poor Discriminated Christians
by Shafique Khokhar
04/08/2020
Kasur (AsiaNews) - Without the help of Shakeel Ahmed, a Muslim human rights activist, 120 Christian families in the district of Kasur (Punjab) would have starved.
All of Pakistan is quarantined to contain the spread of the coronavirus. Locked in their homes, unable to work, many Pakistanis - especially day laborers - struggle to survive.
Over 4,000 people have been infected in the country, and 54 have died, but the pace of infections has accelerated in recent days. In this situation, after three weeks of blockade, many Christians were discriminated against in the distribution of aid.
After the case of a Karachi NGO, which refused to help poor Hindus and Christians in the Korangi (Sindh) area, food donations were also denied to Christians in the village of Sanda Kalan.
"Food was only delivered to Muslims," Ahmed tells AsiaNews. The Christians living in this area are almost all wage earners who have lost their quarantine jobs. They are vulnerable and risk hunger without external support. One of them, Zeshan Masihhas, says he hasn't earned a rupee in over two weeks. He is locked up in the house with his wife and children, without food or medicine.
On March 4, aid was distributed to the poor in the village mosque. Sheikh Abdul Rahim Hamid, the local imam, organized the collection and distribution of food rations. Hungry, Christian residents turned up to receive their share, but were rejected. They were told that aid was only for the 500 local Muslims.
At that point, Ahmed came to their rescue. He contacted Christian organizations that brought food to the Christian population of Sanda Kalan. The distribution took place thanks to the collaboration of some local activists. But there is a desperate need for other help for these people.
Ahmed maintains that the treatment received by Christians in his village is inhuman and contrary to the teachings of Islam. Everyone must be helped, regardless of their religious faith.
The Catholic authorities of Pakistan, including Msgr. Joseph Arshad, archbishop of Islamabad and Rawalpindi, asked that every person in the country be protected and helped.
http://www.asianews.it/news-en/Coronavirus%3A-Kasur%2C-Muslim-activist-helps-poor-discriminated-Christians-49776.html
-------
Arab world
Organization of Islamic Cooperation slams Israeli treatment of Palestinian inmates
April 08, 2020
JEDDAH: The rights body of the Organization of Islamic Cooperation (OIC) on Wednesday expressed concern over reports of ill treatment meted out to more than 5,000 Palestinian prisoners, including women and children, languishing in Israeli jails.
The OIC's Independent Permanent Human Rights Commission (IPHRC) said amid the ongoing coronavirus pandemic, the lack of mandatory basic hygiene and health facilities in Israeli jails is a matter of concern.
It called on Israeli authorities to provide incarcerated Palestinians with basic facilities, in accordance with Article 76 of the Geneva Convention and relevant provisions of international human rights and humanitarian laws.
The IPHRC said Israel, the "occupying power," routinely flouts its international obligations under the illegal and immoral pretext of "administrative detentions" by indefinitely detaining Palestinian children and innocent civilians, without charge and without access to justice.
"In view of the global health emergency, precarious hygienic conditions, inadequate health services and overcrowded Israeli prisons constitute perfect conditions for the catastrophic spread of the pandemic, putting the lives of inmates at grave risk and creating an environment for major unrest in the prisons," the IPHRC said.
The UN High Commissioner for Human Rights has urged all governments to "examine ways to release those particularly vulnerable to this pandemic," including "those detained without sufficient legal basis, political prisoners and others detained simply for expressing critical or dissenting views."
The IPHRC urged the international community, especially the UN, to pressure Israel to release all those arbitrarily detained without any legal basis, and those particularly vulnerable to COVID-19, as well as to safeguard the human rights of all Palestinian inmates.
https://www.arabnews.com/node/1655536/middle-east
-------
Ramadan line-up: Sharjah to release more than 90 new radio and TV shows in time for the holy month
Saeed Saeed
April 8, 2020
The Sharjah Broadcasting Authority has announced another bumper line-up of TV and radio shows set to air this Ramadan, with more than 90 programmes to be added to its network.
Up to 20 dramas, including a string of Kuwaiti productions, will be aired across SBA's three television channels: Sharjah TV, Al Wousta TV from Al Dhaid and Al Sharqiyah TV from Kalba.
The remaining mix of programming – which spans culture, competitions and spiritual talks – will air across TV and radio, including both Arabic-language stations, Sharjah Radio and Sharjah Holy Quran Radio, plus SBA's sole English-language station Pulse 95 Radio.
The plot of the Kuwaiti romantic drama, named after a main thoroughfare in Kuwait City, is inspired by the famous saying of the late Colombian author Gabriel Garcia Marquez: "All human beings have three lives: public, private, and secret." Led by stars Saad Al Faraj and Hiba Al Durri, the series follows a tumultuous relationship that takes place during the Gulf nation's pre-oil boom of the 1940s.
This is another Kuwaiti show packed with star power. The indomitable Dawood Hussein leads a strong cast that includes Abeir El Gendy and Shaima Aly. The societal drama looks at how a split decision can change the course of one's life.
Horses and action abound in this Jordanian tribal series, starring Abir Isa and Jameel Barahmeh. The plot follows a bandit's quest to seek revenge against another tribe for the death of his wife and unborn child.
The title translates to "Like Nothing Happened" and the plot of this Kuwaiti series unfolds in both the present and late 1990s. It follows wealthy socialite Laila (Zahra Arafat), who suffers from depression after a string of personal setbacks.
Veteran Kuwaiti actor Soliman Elyassin leads a multigenerational cast, including Abdul Mohsen Elnamr and Maram Al Balushi, in this drama that explores the challenges facing families and youth as a result of Kuwaiti society's class divide.
In the same fashion as last year, the channel will mark the end of the fasting day by broadcasting the live firing of a cannon from the Buhaira waterfront. This year, however, due to social distancing measures put in place by the Sharjah government, members of the public will not be in attendance.
We join Emirati presenter Humaid Al Awadi as he interviews celebrities and cultural figures at many of Sharjah's key landmarks. Expect episodes shot at the majestic Al Qasba waterfront district and amid the greenery of Flag Island.
The northern emirate's only English-language radio station has boosted its programming during the holy month by launching a new daily talk show, Night Karak, which covers news, sports and Ramadan-related topics. The station will also produce numerous one-minute explainers that will tell you all you need to know about the practices associated with the holy month.
The Arabic-language station will air up to 15 new programmes during Ramadan, covering cultural and literary discussions, Emirati folklore and cuisine. When it comes to the latter, the standout is Matbakh FM, which will discuss a range of much-loved dishes spanning the Arab world. The popular morning talk show, Al Atheer, will also continue airing throughout the holy month.
https://www.thenational.ae/arts-culture/television/ramadan-line-up-sharjah-to-release-more-than-90-new-radio-and-tv-shows-in-time-for-the-holy-month-1.1003403
----
Remote pilgrimage: Iraqis mark Imam al-Mahdi's birth amid COVID19
by Arwa Ibrahim
21 hours ago
Every year, Iraq's holy city of Karbala witnesses the convergence of hundreds of thousands of pilgrims in the weeks leading up to the holy month of Ramadan as many Shia Muslims flock to its shrines to celebrate the annual Shaabaniya pilgrimage.
Coinciding with the 15th day of the Islamic month of Shaaban, the pilgrimage marks the birth of the ninth century and twelfth Shia Imam Muhammad al-Mahdi, a revered figure who Shia Muslims believe will return as a saviour to humanity.
The pilgrimage is among the most important visits for Shia Muslims along with Ashoura, which marks the day that Hussein bin Ali, the grandson of Prophet Muhammad, was killed in the Battle of Karbala and the Arbaeen, or 40 days of mourning, that follow.
But with more than 1,000 confirmed COVID-19 cases in the country and at least 64 deaths as a result of the virus, the pilgrimage will be scaled down this year. Iraqi authorities banned public gatherings, including religious visits, and urged people to stay home by imposing a nationwide curfew until April 19.
Many Iraqis have, therefore, opted to perform their visits to Karbala's shrines remotely, using free-of-charge phone services, live streaming on websites and by following satellite television channels dedicated to facilitating the pilgrimage from afar.
In addition to the curfew, Iraq has imposed travel restrictions and shuttered shrines across the country to curb the spread of the virus. Iraq's top Shia leader, Ayatollah Ali al-Sistani, declared weeks ago that the fight against COVID-19 was a "sacred duty", calling on citizens to practice social distancing and avoid religious gatherings.
But only weeks ago, dozens of Shia pilgrims, mainly from among populist leader Muqtada al-Sadr's followers, defied a weakly enforced curfew in order to visit the shrine of Imam Jaafar al-Khadim in Baghdad on the anniversary of his death.
To ensure stricter adherence this time, local and central authorities have issued several statements banning visits to Karbala ahead of the religious occasion.
"Our security forces are committed to enforcing the law. We've banned visits [to shrines]. Anyone who violates the curfew will be arrested, " said Khaled al-Muhanna, spokesman for the Ministry of Interior, in a statement on April 1.
Karbala's governor, Nassif al-Khattabi, who closed off the city weeks ago, also urged pilgrims to stay home, declaring the Shaabaniya cancelled this year.
"We deeply apologise for this, but Karbala is completely closed off. No one is allowed to enter, not even officials. We are in a battle against the coronavirus."
"We cannot risk our lives nor endanger others' by insisting on religious gatherings. My friends and I agree with the cancellation of the pilgrimage, " said Bilal Awwad, 27, from Iraq's southern city of Nasiriya.
Fatima Adel, a university student from Karbala, agreed: "I fully support our governor's decision. We need to limit the number of cases."
"We've deployed three times the number of police on main and subsidiary roads around the city to prevent people from sneaking in," Alaa al-Ghanimi, spokesman for Karbala police, told Al Jazeera.
Pilgrims usually perform the Shaabaniya by visiting the shrine of Imam Hussein in Karbala and reading select prayers and supplications at his grave.
But this year, many people told Al Jazeera they would perform their pilgrimage through virtual and other remote means because of the continuing coronavirus pandemic.
"The Shaabaniya means a lot to us and it's painful that we ' re unable to visit the shrines, but like Ayatollah Sistani said, it's our religious duty to abide by the law and safeguard ourselves and others, " said Ahmed al-Okaishi, a Najaf resident and regular attendee at the annual pilgrimage.
"Instead of going this year, I will stay home and perform the rituals from my home along with my family using live-streaming and satellite TV channels, " he told Al Jazeera.
"I will be abiding by the law and carrying out my visit through remote means," al-Issawi told Al Jazeera. "I encourage everyone to follow the authorities' instructions. I'm sure God will be more accepting of our prayers this way."
Sheikh Salar Ali, a Shia leader in Diala, explained that the concept of remote visits to shrines is accepted within Shia jurisprudence, and not unfamiliar among Iraq's Shia majority.
"To feel more connected, people can use the call-in services on satellite channels to speak to the sheikhs at the shrines and follow the rituals virtually," explained Sheikh Ali, adding he expected many regular visitors to opt for this.
"People have been longing to visit the shrines for weeks amid this crisis. Many will use virtual methods to perform their visits," he said.
In order to facilitate the remote visits and in support of the government's decision, authorities managing the shrines also urged people to stay home while they provide remote services.
Afdal al-Shami, assistant to the secretary-general of the al-Ataba al-Husseiniya, which manages the shrine of Imam Hussein, said many means have been set up for this purpose.
"The pilgrimage is not a religious obligation, but safeguarding everyone's safety and wellbeing is," al-Shami told Al Jazeera. "While the shrines are still open, there are clear instructions from local and central authorities banning any gatherings there.
Al-Shami explained that religious leaders will be present at the shrines to take people's calls on phone numbers dedicated by the authority for call-in services. He added that live streaming from inside the shrines will also be present on its official website, and also broadcast on satellite television channels.
One of the main channels is Karbala TV, which has regularly broadcast the pilgrimage in previous years for people outside of Iraq and others who were unable to attend.
In a show of support for the authorities' efforts, Iraq's media and communications commission said it donated free telephone services to the authorities at shrines in Karbala and other religious sites across Iraq to encourage people to call in during the crisis.
"For those who wished to attend the pilgrimage but remain committed to protecting everyone's safety, we have dedicated free telephone services to facilitate remote visits," said the commission in a statement on April 5.
Muhammad al-Asadi, an official at the commission, told Al Jazeera that authorities managing the shrines in Karbala had welcomed their initiative.
"These phone lines facilitate remote visits by providing free means of communication with the sheikhs at the shrines," al-Asadi explained. "Even those who may not have afforded to make the call can now phone in."
https://www.aljazeera.com/news/2020/04/remote-pilgrimage-iraqis-mark-imam-al-mahdi-birth-covid19-200408095252041.html
------
Prince Sultan Cardiac Center activates distance learning as coronavirus precaution
April 09, 2020
DUBAI: The Prince Sultan Cardiac Center in Qassim, Saudi Arabia, has implemented distance for its training courses, state news agency SPA reported.
The service was activated to allow nursing cardiac nursing students to finish their requirements and develop their experience following the Kingdom's COVID-19 regulations of social distancing.
The General Directorate of Education earlier launched an education award for remote teaching amid the rise of digital education during the coronavirus outbreak. The award aims to promote excellence in remote teaching and quality online educational content while motivating educators to teach remotely.
On March 8, Saudi Arabia closed all public and private schools to protect students from COVID-19. Education officials likewise accelerated the electronic learning process to compensate for the lack of daily schooling.
The Kingdom has so far reported 2,932 coronavirus cases, 41 deaths and 631 recoveries.
https://www.arabnews.com/node/1655816/saudi-arabia
-------
Coronavirus: 7 ways COVID-19 will change Ramadan in the UAE
April 09, 2020
Mariam M. Al Serkal
Children are attending classes from home, its now universally acceptable – even encouraged – to work remotely, and forget about visiting your friends or family since social distancing has now become the norm.
To date, streets are empty, shopping centres are closed, and the only public place you can actually visit are supermarkets, pharmacies and hospitals as authorities urge residents to stay at home while they carry out the national disinfection programme to prevent the spread of coronavirus COVID-19.
Ramadan, the most sacred month of the year for Muslims, is expected to begin on April 24. The observance of Ramadan is one of the five pillars of Islam, and marks the month when Muslims from around the world are obligated to fast from sunrise to sunset.
The month of Ramadan is a time of reflection and piety, the practise of self-control, and giving back to the community through charity and generous deeds.
Due to COVID-19, the lead up to Ramadan has already changed. The traditional custom of Emirati children celebrating Hag Al Laila was spent indoors after the Ministry of Health and Prevention urged residents to avoid family gatherings, children's visits to neighbours, and spending time in the streets.
Hag Al Laila, which means 'For this Night', is an Emirati tradition held in the middle of Sha'aban, the eighth month of the Islamic Hijri calendar, which sees children going from door-to door and collecting sweets from neighbours.
In the run-up to Ramadan, several car trips are usually needed to make sure that the kitchen is filled with special ingredients to make traditional meals, as well as to decorate the home with themed decorations.
The UAE's national disinfection programme means that movement is restricted between 8pm and 6am, leaving less hours for families to go out and shop. And with a one-member per household policy allowed to visit the supermarket at one given time, this means that you'll have to be more organised when jotting down the grocery list, as you won't have anyone nearby to remind you what's been left out.
During Ramadan, iftar is the meal used to break the fast while suhoor is eaten before sunrise. In other circumstances, ads of iftar tents and special suhoor meals would normally be filling up your inbox as restaurants and hotels entice customers with their mouth-watering menus.
This year however, may be a more sombre affair as the F&B industry remain tight-lipped. The current preventive measures against coronavirus means that restaurants will not accept dine-in customers, until further notice.
The Ministry of Health and Prevention, along with a number of local authorities, have placed an emphasis on maintaining a social distance between family and friends.
The new rules of engagement call for maintaining a gap of one to two metres to prevent possible exposure when an infected person coughs or speaks, according to the World Health Organisation (WHO). It was also advised to avoid physical contact when greeting others, such as handshakes, kisses or hugs. Alternatively, you can wave, nod, or place your hand over your heart.
Bearing these social norms in mind, it looks like large family gatherings and meeting up at a friend's house during Ramadan is unlikely until authorities confirm that public gatherings are safe again.
Emirates and Etihad Airway said it would no longer carry to Saudi Arabia passengers with Umrah pilgrimage visas or tourists until further notice, in compliance with a Saudi government directive to contain the coronavirus outbreak.
Saudi Arabia said that it would take four months to a year to contain the coronavirus while announcing that it expects the total number of cases to reach 200,000 if measures to counter COVID-19 are not followed.
So far, security authorities have implemented a curfew in the two holy cities of Mecca and Medina to 24 hours until further notice. Authorities have also imposed a 24-hour lockdown in major cities, including Riyadh, Jeddah, Dammam, Dhahran, Tabuk, Al Hofuf, Taif, Al Qatif and Khobar.
The taraweeh prayers involve reading long chapters of the Qur'an every night, with the aim to complete the entire Quran by the end of the last day of Ramadan.
In mid-March, the National Emergency Crisis and Disasters Management Authority, in cooperation with the General Authority of Islamic Affairs and Awqaf, temporarily suspended prayers at mosques and places of worship in the country for four weeks as a precautionary measure amid global COVID-19 outbreak.
The decision to suspend prayers in mosques, chapels, places of worship and their facilities is expected to be reviewed by April 13.
Before Ramadan starts, residents usually pay a visit to their favourite tailoring shop and place their orders for custom-made abayas and kandoras. The new clothes are actually not meant for Ramadan, but is a tradition [Sunnah] carried out by Muslim men and women to mark the Eid Al Fitr celebration.
To beat the crowd, people prefer to place their orders as early as possible, but with the recent restrictions that have come into place, many tailoring shops are lagging behind while the ones located in shopping centres have temporarily closed until further notice.
https://gulfnews.com/uae/ramadan/coronavirus-7-ways-covid-19-will-change-ramadan-in-the-uae-1.1586408517551
-------
India
Jharkhand: One dead after clashes over rumours of Muslim men spitting to spread coronavirus
Yesterday · 04:45 pm
A youth was beaten to death and two others were injured on Tuesday after rumours about Muslim men intentionally spitting to spread the coronavirus led to clashes in Jharkhand's Gumla district.
"Some people were beaten up in Gumla – a tribal boy died and two other people are injured," ML Meena, Jharkhand's additional director general of police (operations), told Scroll.in.
The incident took place near Bhadauli village of the district, United News of India reported. Jharkhand police spokesperson Saket Kumar Singh said the situation was tense after the incident but was brought under control. A large number of police personnel have also been deployed in the area, according to News18.
The police said rumours began about a group of people from a particular community going from one village to the other and spitting to allegedly spread the infection. Following this, a young man, roaming near Bhadauli village, was reportedly beaten up. The victim, a resident of Basia Road, was later taken to a hospital for treatment.
Later, an angry mob from the young man's locality marched to Bhadauli, and allegedly thrashed a youth they found on their way. He succumbed to his injuries at the Gumla Referral Hospital.
Additional police personnel have been called from Ranchi, Lohardaga and Latehar and deployed in the area.
Violence against Muslims have been reported from many parts of the country ever since Tablighi Jamaat, a Muslim religious group, was linked to a large number of coronavirus cases in India.
https://scroll.in/latest/958611/jharkhand-one-dead-after-clashes-over-rumours-of-muslim-men-spitting-to-spread-coronavirus
-----
Ten foreigners booked in Andhra's Guntur district, now in mosque isolation
09th April 2020
GUNTUR: As many as 10 foreign nationals, who were placed in isolation upon reaching Guntur district on March 10, have been booked under various sections of the Epidemic Diseases Act, Disaster Management Act and Foreigners Act for violating visa norms and engaging in religious activities amid the COVID-19 pandemic, endangering people's lives.
They hail from Kyrgyzstan and Kazakhstan, and are now in isolation in a mosque at Sattenapalli of Guntur district.According to Sattenapalli Urban Circle Inspector S Vijayachandra, the foreigners had tourist visas and had landed in New Delhi on different dates in January, February and March. They finally came to Sattenapalli on March 10, when the police took them into custody while they were undertaking religious activities in violation of their visa norms. By then, prohibitory orders were in place due to the COVID-19 outbreak.
"Since they are foreigners, we shifted them to a mosque in Sattenapalli where there is ample space and social distancing can be maintained. Periodical medical check-ups were conducted and their samples were sent for testing,'' the inspector said.After their results returned negative for coronavirus, the police registered cases against them based on a complaint from local Village Revenue Officer Thota Srinivasa Rao.
https://www.newindianexpress.com/states/andhra-pradesh/2020/apr/09/ten-foreigners-booked-in-andhras-guntur-district-now-in-mosque-isolation-2127787.html
----
Seven held in Gujarat for offering namaz at mosque amid COVID-19 curfew
08th April 2020
AHMEDABAD: Seven persons were arrested in Gujarat's Vadodara city for allegedly violating COVID-19 curfew by gathering inside a mosque to offer namaz, police said on Wednesday.
The men were arrested under section 188 (disobeying order issued by a public servant), 269 (negligent act likely to spread infection of disease) and section 270 (malignant act likely to spread infection of disease) of the IPC, a release issued by Raopura police stated.
The men had gathered at Kadia Mosque in the city's Raopura area to offer namaz, it was stated.
On getting the information from the control room, the Raopura police rushed to the spot and nabbed the men.
According to the release, a notification banning gathering of people and unnecessary movement was issued by the Vadodara police, following the nationwide lockdown, which was announced to contain the spread of coronavirus.
https://www.newindianexpress.com/nation/2020/apr/08/seven-held-in-gujarat-for-offering-namaz-at-mosque-amid-covid-19-curfew-2127586.html
-----
Tablighi Jamaat leader Maulana Saad Kandhalvi To Join Probe After Isolation Period, Says Lawyer
April 08, 2020
New Delhi: Islamic Sect Tablighi Jamaat leader Maulana Saad Kandhalvi will join investigation after his quarantine period is over, his lawyer Tauseef Khan said on Wednesday.
On Tuesday, Delhi Police filed a case against seven people, including the cleric for holding a religious event, allegedly in violation of the lockdown orders and not maintaining social distance to contain the spread of coronavirus.
The Delhi Police's Crime Branch wrote to Maulana Saad and others on Wednesday, seeking the details under Section 91 of the Code of Criminal Procedure.
"Saad is currently under self quarantine and will join investigation once the period of 14 days gets over," his advocate, Tauseef Khan, told PTI.
Aa per the complaint, the Delhi Police contacted the Markaz authorities on March 21 and reminded them of the government order that prohibited any political or religious gathering of more than 50 people.
It was found that despite repeated efforts, they did not inform the Health Department or any other government agency about the huge gathering inside the Markaz and deliberately disobeyed government orders.
The sub-divisional magistrate of Defence Colony inspected the premises several times and found that around 1,300 people, including foreign nationals, were residing there without maintaining social distance.
It was also found that there were no arrangements of hand sanitizers and face masks at the premises.
https://www.ndtv.com/india-news/tablighi-jamaat-leader-maulana-saad-will-join-probe-after-isolation-period-is-over-says-lawyer-2208470
-----
Do not violate lockdown on Shab-e-Baraat, Imam Umer Ilyasi urge Muslims in India
08th April 2020
NEW DELHI: Chief of All India Imams Organization, Umer Ahmad Ilyasi, on Wednesday appealed to all Muslims to not violate coronavirus-related lockdown on Shab-e-Baraat on April 9.
"I want to appeal to all the Muslim brothers to not violate the lockdown on Shab-e-Baraat and stay at home. I request all of you to pray for the people who are fighting against COVID-19," he said.
"We should follow the guidelines of government and maintain social distancing and those who won't follow this rule will be the culprit," he added.
Expressing grief on the news of doctors being attacked he said, "I am very sad to hear that people are attacking doctors and misbehaving with them. I request all to cooperate with doctors who are helping us at the risk of their own safety."
Ilyasi said that we all should stay at home and help in curbing the spread of the disease as the only "cure" to coronavirus is social distancing.
With an increase of 773 cases in the last 24 hours, India's total number of COVID-19 cases stood at 5,194, said the Ministry of Health and Family Welfare on Wednesday. As many as 32 people died in the last 24 hours, taking the death toll to 149.
https://www.newindianexpress.com/nation/2020/apr/08/do-not-violate-lockdown-on-shab-e-baraat-imam-umer-ilyasi-urges-muslim-2127468.html
------
"Not The Time For Communal Politics": Mamata Banerjee On Delhi Mosque Event
April 08, 2020
Kolkata: West Bengal Chief Minister Mamata Banerjee today slammed those doing "communal politics" over the Tablighi Jamaat event in Delhi's Nizamuddin and asked them to abstain from it at a time of national crisis.
Thousands of people across the country and abroad had attended the religious event between March 13 and 15 after the Delhi government had promulgated orders prohibiting gatherings of more than 200 people. Many of the attendees later tested positive for COVID-19 and several of them died.
Questioning why the event was not stopped when it happened last month, Ms Banerjee said her government took steps to send around 200 Tablighi Jamaat members to quarantine, including 108 foreigners.
"We have been witnessing that some people are indulging in communal politics over the Nizamuddin event. This is completely unacceptable. A pandemic or a disease doesn't attack you on the basis of your religion or caste. I urge everybody not to communalise the crisis," Ms Banerjee told reporters in Kolkata.
"Why the gathering was not stopped when it was happening? Now a lot of things are being said. This is not right. We should not forget that a riot happened in Delhi just days before the lockdown was announced. This is not the time for communal politics," she said.
On reports about the possibility of the 21-day nationwide lockdown getting extended, Ms Banerjee said she is not aware of any such proposal as of now.
"I am not aware of it as of now. Whenever I speak with the prime minister, I will give my opinion. I won''t speak on this issue before that," she said.
https://www.ndtv.com/india-news/coronavirus-not-the-time-for-communal-politics-says-mamata-banerjee-on-tablighi-jamaat-meet-2208392
----
Coronavirus Outbreak: Aligarh chief mufti asks Muslims not to visit graveyards, mosques on Shab-e Barat due to lockdown
Apr 08, 2020
Aligarh: The chief mufti of Aligarh has asked Muslims not to visit graveyards and mosques on the occasion of Shab-e-Barat in view of the country-wide lockdown to contain the spread of coronavirus.
Coronavirus Outbreak: Aligarh chief mufti asks Muslims not to visit graveyards, mosques on Shab-e Barat due to lockdownRepresentational image. AP
In a video shared on social media, Mufti Khalid Hamid said that visiting the graves of departed loved ones is a traditional practice among followers of Islam.
However, in view of the pandemic this practice of offering prayers in mosques for the departed souls "should not be followed in the present circumstances".
The mufti said, "Everybody has to perform these rituals at home and under no circumstances should anyone carry the erroneous impression that such rituals are mandated to be carried out only in graveyards and mosques".
Shab-e-Barat, also known as the night of forgiveness, will be observed on 8 to 9 April this year. Members of the Muslim community visit graveyards and offer prayers in memory of their loved ones.
"There is no need to celebrate the occasion by putting up decorative lights as this a tradition which has crept in among followers of Islam recently," he said.
https://www.firstpost.com/india/coronavirus-outbreak-aligarh-chief-mufti-asks-muslims-not-to-visit-graveyards-mosques-on-shab-e-barat-due-to-lockdown-8240991.html
------
Mideast
Iran: Mullahs' Regime Prepares Political Prisoners for Massacre During Coronavirus Crisis
Amir Taghati
8th April 2020
After huge social and international pressure, Iran's regime decided to temporarily free some of the prisoners due to the coronavirus. The world blamed the regime for its negligence and cover-up regarding the coronavirus outbreak and following the anxiety of families of prisoners for the spread of the virus in prisons.
In addition, the head of the regime's judiciary announced 90,000 prisoners are going to be freed, but no independent source confirmed the release of that many prisoners. The riots in recent weeks in various prisons across the country showed that the regime's claim was only a maneuver, and no political prisoner is going to be released.
The international community, organizations, civil and political activist time after time demanded the regime temporarily free the prisoners so that they don't face the spread of the deadly virus in the prisons. However, despite the demands of the international community, the regime's judiciary rejected the release of the political prisoners, even with the assurance of heavy bail. To the contrary, they prevented any health facilities to enter the prison.
This caused numerous riots in prisons such as in Abadan where on April 3, prison guards opened fire on prisoners that resulted in 20 deaths and some 100 injuries.
Between March 27 and March 29, similar events happened in Saqqez, Tabriz and Adel Abad Prison in Shiraz where prison guards entered the prison and attacked the prisoners.
On April 4, a witness from Ahvaz said: "This prison is like warehouses. In each of the warehouses, 1000 prisoners are guarded. All in all, some 8000 prisoners are imprisoned here."
To force the guards to open the prison gates, the prisoners set the cells on fire, but the guards refused to do this, and a 25-year-old prisoner died due to the fire.
On March 30, seven prisoners, Mohammad Tamoli, Mohammad Lafteh, Mohammad Salamat, Ali Khafaji, Majid Zobeydi, Shahin Zoheyri and Seyedreza Khorassani (Maghinami) were shot dead by the suppressive forces and the prison guards, and many others were injured. The regime has tried to cover up this horrific crime and prevent its discloser.
On Saturday March 31, the prisoners of Sheyban Prison of Ahvaz rebelled against the regime as fear of the coronavirus spread in prisons. The IRGC forces and special prison guards attacked the prisoners and for hours, gunshots were heard from inside the facility. The eyewitnesses said when it got dark the ambulances entered the prison and with military escort, they transferred the injured.
The UN human rights spokesperson Rupert Colville voiced concern about the prisoners after reports of unrest in facilities prompted by worries over a coronavirus outbreak in a virtual briefing in Geneva on Saturday, April 4.
"As you see in Iran and some other countries, we are seeing riots, prisoners who are afraid, who are distressed at the big loss of contact from family members and so on. So there are many, many issues surrounding this," Colville said.
"We are horrified at the death of a juvenile offender after he was reportedly badly beaten by security officers," Colville added. "Prisoners were protesting at prison conditions and the failure of the authorities to temporarily release them amid the COVID-19 pandemic."
According to prisoners of Evin Prison, the prison officials have taken no effective measures or assistance to prevent the coronavirus spread in prisons. There are no face masks or disinfectant gels, and some prison cells are disinfected only one time.
There are sad reports about the coronavirus outbreak in various prisons in the country such as Fashafouyeh Prison of Tehran, Gohardasht, Ghezelhesar and Central prison of Karaj but also in Urmia, Ahvaz (Sheyban prison) and Kashan.
"In the Islamic Republic, we have no real political prisoners," said Gholamhossein Esmayili, spokesperson of the regime's judiciary, who tried to disavow the issue of the political prisoners when he was confronted with a question about the murder of Alireza Shir Mohammad Ali in Fashafouyeh prison. The regime also keeps the political prisoners in the ordinary criminals' ward.
Esmayili labeled the political prisoners as terrorists and foreign spies and called them "security criminals" and "sad examples."
"They acted against our national security and are condemned to more than five years, and we cannot give them furlough," Esmayilli said, while trying to prepare the ground for the prisoners' massacre.
The regime has never tried to help the people or free the political prisoners but uses the current situation to destroy its dissidents in prison with coronavirus or by suppression and strike a blow to the public's potential to rise up and overthrow the regime. The regime tries to reinforce the IRGC for the Iranian people's suppression while most of the regime's 2020 budget is reserved for its suppressive institutions.
Mrs. Maryam Rajavi the President-elect of the National Council of Resistance urged the United Nations High Commissioner for human rights, the Special Rapporteur on the situation of human rights in Iran, and other relative international bodies to take immediate action to compel the regime to disclose the whereabouts and conditions of the detainees and wounded prisoners who have disappeared. She also called on the prisoners' families, relatives and friends to follow up on the conditions of the captives and persevere until they are released unconditionally. The clerical regime must free all of them and this is the only way to save them from Coronavirus.
https://www.ncr-iran.org/en/news/human-rights/iran-mullahs-regime-prepares-political-prisoners-for-massacre-during-coronavirus-crisis/
-------
Iran FM welcomes Russia's initiative of 'green corridor' to replace sanctions amid COVID-19 fight
08 April 2020
Iranian Foreign Minister Mohammad Javad Zarif has welcomed Russia's initiative for the creation of a "green corridor" to replace economic sanctions amid the global battle against the new coronavirus pandemic.
Iran welcomes the Russian idea of "creating a green corridor instead of an economic war and sanctions," Zarif wrote in a Russian post on Twitter on Wednesday.
Different countries, which shut their geographical borders in order to control the situation with coronavirus, open them to provide assistance, he added.
Разные страны в целях контроля ситуации с коронавирусом закрывают свои географические границы, однако открывают их для оказания помощи.
Zarif particularly took a swipe at the US president for defying international calls for removing the sanctions against Iran, warning about further spread of the deadly virus.
"Donald Trump continues to resist international demands to lift Iranian sanctions to counter coronavirus infection. Coronavirus can spread to neighboring countries," he said.
The top Iranian diplomat's comments came after Russian President Vladimir Putin called for the lifting of sanctions on various countries that are hindering the global fight against the new coronavirus.
"I am talking about the countries that are suffering the most from this pandemic. At the end of the day, it's a question of life and death, this is a purely humanitarian issue," the Russian leader said via teleconference to the leaders of the G20 group on March 26.
President Putin calls for the lifting of sanctions on various countries that are hindering the global fight against the new coronavirus.
"Ideally we should introduce a ... joint moratorium on restrictions on essential goods as well as on financial transactions for their purchase," Putin noted, adding, "These matters should be freed of any politics."
The unilateral US sanctions against Iran, which were reinstated after Washington in 2018 left a UN-endorsed nuclear deal with Tehran and five other world powers -- the UK, France, Russia and China plus Germany -- have been hindering Iran's fight against COVID-19.
The US' so-called 'maximum pressure' through sanctions are compromising the performance of the Iranian healthcare system, despite Washington's that the bans do not prevent Iran from trading in humanitarian and medical goods.
These US sanctions make the importation of medicine, medical equipment and raw materials needed to produce these goods difficult as foreign countries do not engage in trade with Iran dreading Washington's punishment.
The respiratory disease has killed 4,003 people and infected 67,286 others, according to the latest figures released by the Iranian health ministry on Wednesday.
Separately on Wednesday, the Russian Embassy in Washington in a post on Twitter called for the lifting of "inhuman restrictive measures" by the US against Iran.
The mission pointed to an earlier call by the Human Rights Watch on the US to lift its sanctions on Iran, adding, "In the US, more and more Americans realize that the path of restrictions lead to a dead end."
A report published by the New York-based HRW on Monday asserted that international law obliges any country imposing sanctions on another to "consider the impact on the human rights of the affected population, especially regarding their access to goods essential to life, including medicines and food."
The broad bans "are negatively affecting the Iranian government's ability to adequately respond to the mounting health consequences of the coronavirus (COVID-19) pandemic," said the HRW.
Human Rights Watch strongly criticizes the United States for its refusal to lift sanctions on Iran amid the new coronavirus outbreak.
Washington "should take immediate action to ease US sanctions and expand licensing of sanctions-exempt items to ensure Iran's access to essential humanitarian resources during the pandemic," the group added.
https://www.presstv.com/Detail/2020/04/08/622589/iran-coronavirus-russia-us-sanctions-zarif
----
Ayatollah Khamenei hails Iranian nation for 'shining' performance in anti-virus battle
09 April 2020
Leader of the Islamic Revolution Ayatollah Seyyed Ali Khamenei has praised the Iranian nation's "shining" performance in the fight against the deadly coronavirus pandemic, which he described as a "test" facing the entire world.
Ayatollah Khamenei made the comments in a live televised speech on Thursday, marking the birthday anniversary of Imam Mahdi (PBUH), the Twelfth and last Shia Imam.
https://www.presstv.com/Detail/2020/04/09/622627/Iran-Leader-Ayatollah-Khamenei
------
Hamas 'determined' to secure release of Palestinian inmates in swap deal with Israel
09 April 2020
A senior leader of the Palestinian Hamas resistance movement says the movement is determined to secure the freedom of Palestinian prisoners from Israeli jails in a swap deal with the Israeli regime.
Ismail Haniyeh, the head of Hamas' political bureau, made the remarks in a telephone conversation with Mikhail Bogdanov, the Russian deputy foreign minister, on Wednesday, saying that the prisoner swap would be made only if the Israeli side complied with the movement's demands.
But he did not give details about his movement's conditions for the swap and did not say when the deal would be discussed with Israeli officials.
A day earlier, Israeli Prime Minister Benjamin Netanyahu's office had said that the regime was interested in "immediate" indirect prisoner exchange negotiations with Hamas, which runs the besieged Gaza Strip.
Netanyahu's office said an exchange sought to enable the release of two Israelis and the remains of two soldiers that were reportedly held by Hamas. The two Israeli soldiers were killed during Israel's 2014 war on Gaza, which killed 2,310 Palestinians.
Israel keeps thousands of Palestinians behind bars in dire conditions even despite the new coronavirus outbreak, which has seen many international rights organizations campaigning for the release of the inmates amid the pandemic.
In the Wednesday conversation, Haniyeh also briefed Bogdanov on the difficult incarceration and humanitarian conditions of Palestinian inmates in Israeli prisons.
He stressed the necessity of protecting the Palestinian prisoners against the disease and of pressuring Tel Aviv to provide what was necessary for their safety and take full responsibility for their lives.
The COVID-19 disease, caused by the new coronavirus, was transmitted from wildlife to people in the Chinese city of Wuhan late last year and has affected 209 countries and territories across the globe. It has so far infected more than 1,518, 770 people and killed over 88,500.
https://www.presstv.com/Detail/2020/04/09/622634/Hamas-Israel-prisoner-swap-Haniyeh
------
Libya rebels claim to have downed two Turkish drones
09 April 2020
Rebel militia under the command of Libya's renegade general Khalifa Haftar claim to have shot down two Turkish drones in the skies over the North African country.
Ahmed Mismari, a spokesman for Haftar's self-proclaimed Libyan National Army (LNA), claimed on Wednesday that the forces had downed one of the unmanned aerial vehicles over an airbase in western Libya near the Tunisian border and the other over a district located in the southeastern part of the capital, Tripoli.
"LNA air defense forces have downed two Turkish drones. The first one was downed over the Okba Ibn Nafa airbase, the second one over the southeastern part of the capital, the Ain Zara district," Mismari wrote on his Facebook page.
Fighting has in recent days intensified near Libya's capital, which is the seat of the country's internationally-recognized government. Tripoli receives backing mainly from Turkey.
Since April last year, rebel forces under Haftar's command have been fighting in an offensive to capture Tripoli and unseat the government. They have remained bogged down on the city's outskirts despite receiving support from the United Arab Emirates, Egypt, and Saudi Arabia.
On March 21, Haftar claimed full adherence to a humanitarian truce that focused on efforts to combat the coronavirus outbreak in the African country, but his forces continued violating the ceasefire and bombing various locations in the capital.
Libyan government forces reportedly shoot down three Sukhoi fighter jets operated by rebel forces under the command of renegade general Khalifa Haftar.
Libya plunged into chaos in 2011, when a popular uprising and a NATO intervention led to the ouster of long-time dictator Muammar Gaddafi.
Since 2014, two rival seats of power have emerged in the North African country — the United Nations (UN)-recognized government of Prime Minister Fayez al-Sarraj in Tripoli, and another group based in the eastern city of Tobruk, supported militarily by Haftar's rebels.
https://www.presstv.com/Detail/2020/04/09/622638/Libya-rebels-down-Turkish-drones
-------
Africa
Annual Hajj pilgrimage put on hold for SA Muslims amid Covid-19 pandemic
By Shakirah Thebus
Apr 8, 2020
Cape Town - The continued infections of the coronavirus worldwide and the depreciation of the rand have put a spike in the plans of thousands of South African Muslims to go on the annual Hajj pilgrimage.
The Hajj has been placed on hold until further notice because of the Covid-19 pandemic. About 3430 people in South Africa had been accredited to go on the pilgrimage.
The pilgrimage is undertaken yearly by Muslims during Hajj season, to the sanctified cities of Makkah and Madinah in the Kingdom of Saudi Arabia.
All travel to the Kingdom has been suspended after the country announced a lockdown and partial curfews in seven neighbourhoods in on Saturday.
This has prevented Muslims across the globe from going to the Hajj at the end of July until the start of August. Those intending to make the non-obligatory visit (Umrah) are also in limbo.
The director at Al Safir, Sedick Steenkamp, said they were unsure when the suspension would be lifted and it seemed unlikely people could go for Umrah during the month of Ramadaan.
Steenkamp said: "The Saudi government informed the whole world not to commit to any further obligations with airlines and hoteliers until the path of the coronavirus becomes clear.
They stated that it is too early to say whether Hajj would be cancelled or continue at this stage. We will wait for any further information from the Saudi authorities before we do anything further with Hajj plans."
He said it was too early to speculate on refund issues for Hajj, and once more clarity is given, repayment procedures would be dealt with. He added that due to the significant weakening of the rand, a number of voluntary cancellations because of money issues could be expected.
The president of the SA Hajj and Umrah Council, Shaheen Essop, said many people had received accreditation for travel and made the necessary arrangements for the trip.
"South Africa can't make a decision on its own without the necessary input from the Ministry of Hajj, or from our counterparts in Saudi Arabia. At the end of the day, we are their guests when we do embark on this journey for Hajj. As a result of this, we need to pay close attention to what is currently going on in that particular country."
https://www.iol.co.za/capeargus/news/annual-hajj-pilgrimage-put-on-hold-for-sa-muslims-amid-covid-19-pandemic-46433060
------
Increased terror attacks in Africa amid coronavirus pandemic
09.04.2020
As the world focuses on the fight to curb COVID-19, Boko Haram has stepped up attacks in west Africa. Islamists affiliated to the so-called IS also claimed new territory in Mozambique. There are fears of more attacks.
Nigeria remains on high alert after security experts warned that terror groups could take advantage of the global focus on the pandemic and launch attacks, especially in the Lake Chad Basin. They further warned that African countries with scarce resources are at greater risk now that they have a new frontline on their doorstep – the battle to stem the flow of COVID-19.
The COVID-19 global infection is now more than 1.5 million in 184 countries on Thursday, April 9, according to Johns Hopkins University.
Africa has so far not been hit as hard as other continents, according to official figures. But the continent saw a sharp increase in the number of confirmed cases between the last week of March and the first week of April, climbing from around 1,000 to over 8,000.
The so-called "Islamic State" (IS) and al-Qaeda released mixed statements last week. On the one hand, IS urged its followers to repent and take care of themselves because the coronavirus was a punishment from God for non-Muslims, the news agency AP reported. It also urged its followers to show no mercy and launch attacks in this time of crisis, according to AP.
Al-Qaeda's statement, on the other hand, called on non-Muslims to use their time under lockdowns to learn about Islam. Both statements are in total contrast to the guidelines set by the World Health Organization aimed at preventing the further spread of the coronavirus.
In northern Cameroon, seven people were killed when two suspected Boko Haram suicide bombers attacked a village on Sunday, police and a local official told the news agency AFP.
Chad suffered its deadliest toll in its battle against terrorism on March 23, when a Boko Haram faction allied to al-Qaeda attacked an army base on the Boma Peninsula, in the Lake Chad region, killing 92 heavily armed soldiers.
Chadian President Idris Deby visited the army base a day after the attack and said: "I have taken part in many operations, but never in our history have we lost so many men at one time." The Sahel country had recorded 9 cases of COVID-19, as of Tuesday.
Another Boko Haram faction allied to ISWAP (Islamic State for West Africa Province) ambushed a Nigerian military convoy in Gorgi, Yobe State, on March 24. At least 47 soldiers were killed, local newspapers reported.
A terrorist organization in Mozambique, allegedly allied to IS, ransacked the strategic port city of Mocimboa da Praia on March 24 and designated it a part of the so-called caliphate.
The Washington Post had reported in late February that al-Qaeda and IS, who are fighting each other in the Middle East, "are working together to take control of territory across a vast stretch of West Africa." The Post cited sources in the United States and West Africa.
"Fighters appear to be coordinating attacks and carving out mutually agreed-upon areas of influence in the Sahel, the strip of the land beneath the Sahara desert," according to The Post.
Following the attacks, the Multinational Joint Taskforce (MNJTF), which includes Nigeria, Niger, and Chad, launched a major operation at the Tunbuns islands of Lake Chad against Boko Haram and ISWAP. At a press conference in Abuja, a spokesperson for the Nigerian army Brigadier General Bernard Onyeuko said that "these heinous acts necessitated the contiguous nations of the Lake Chad basin to jointly launch this massive onslaught on the terrorists across the common borders."
The operation is an addition to the ongoing Operation Lafiya Dole, in which Nigerian troops are battling the terrorists in the northeast.
Also, two Egypt military official told AP that there is an increase in IS activities in the restive northern part of the Sinai Peninsula but said its forces foiled at least three major assaults.
Security analyst Bulama Bukarti wrote in a blog post for the London-based Tony Blair Institute for Global Change that there are already "indications that jihadi groups on the continent try to take advantage of the crisis to unleash violence and recruit members."
"Already stretched resources currently earmarked for state security forces fighting violent extremists and the provision of healthcare and humanitarian supplies to communities in need may have to be diverted to deal with a widespread outbreak," Bukarti wrote.
The increased attacks also come amid contradictory statements that the United States could cut down troops in West Africa. New York Times journalist Eric Schmitt wrote: "The Trump administration is split over how to combat terrorists, support allies and thwart global competitors in West Africa. And the mixed messages out of Washington are confusing allies in Europe, who are deeply committed to security in Africa, as well as to military partners on the continent."
"While we might like to pause our operations in Somalia because of the coronavirus, the leaders of al-Qaeda, al-Shabaab, and ISIS have announced that they see this crisis as an opportunity to further their terrorist agenda," the Military Times news website quoted Gen. Stephen Townsend.
"So we will continue to stand with and support our African partners," he added. Townsend also claims that a US airstrike killed a high-ranking al-Shabab leader last week.
Additionally, the US has increased airstrikes against al-Shabab after the terrorists carried out a brazen raid on US airbases in Manda Bay, Kenya, and Baledogle in Somalia – both in January. Three Americans, including a soldier, were killed in the Manda Bay attack.
Last Friday, eleven European countries, including Germany, announced the deployment of a special commando unit to Mali, dubbed Takuba. It adds to the high presence of forces already fighting terror organizations in West Africa, which includes the UN mission in Mali (MINUSMA), the African G5 Sahel-force, the French-led military operation, Barkhane, and the EU training mission EUTM.
However, the high presence of foreign troops in West Africa has failed to halt the militants, who are carrying out frequent and sophisticated attacks against local army bases and villages in Mali, Niger, and Burkina Faso.
According to Schmitt, the Pentagon is "weighing deep US troop cuts on the continent, closing a new $110 million (€108 million) drone base and ending aid to French forces battling militants who are surging in Mali, Niger, and Burkina Faso."
The US has about 1,400 troops in West Africa, providing intelligence and drone support to local and French forces on the ground. A further 4,400 American troops are deployed in East Africa,to support African Union troops fighting al-Shabab.
According to security analyst Bulama Bukarti, terrorist organizations could exploit the "humanitarian vacuum" created by the coronavirus outbreak.
"These groups might increase service provision, stepping in where the state is failing in medical, water, and food provisions to build popular support for their cause and proto-states.
"If the spread of COVID-19 across Africa reaches anywhere near the levels of China, Europe, or the United States, panic, chaos, and confusion will ensue," he wrote on his blog.
https://www.dw.com/en/increased-terror-attacks-in-africa-amid-coronavirus-pandemic/a-53066398
------
Muslim community supports coronavirus prevention measures
2020-04-08
Almost 200 prominent Muslim associations and members of the Muslim community in South Africa have called on Muslims to continue to abide by the lockdown rules and offer prayers during the Covid-19 pandemic.
"We the undersigned members of the Ulama [Muslim theological] fraternity, medical professionals, Muslim professionals, community workers and activists, and leaders of Muslim civil society organisations express our support and endorsement of the decisive and unequivocal leadership of the Muslim Judicial Council [MJC], the Jamiatul Ulama South Africa [JUSA], the Sunni Ulama Council [SUC], and respective Shura Councils in navigating the Muslim community of South Africa through the Covid-19 crisis in accordance with the laws and objectives of the shariah.
"Furthermore, we express our sincerest appreciation to the Muslim community of South Africa for observing the call of the MJC, JUSA, SUC and Shura Councils to curtail and limit congregational prayer [salaah] in the masaajid [mosques] in accordance with our government's health regulations."
"While the low infection rates look promising, it will only be until mass testing has been completed that we will know the true extent of the pandemic in South Africa.
"We urge all Muslims to stay patient, abide by the lockdown, and make an abundance of supplication [dua] to the Almighty that together as a nation we can defeat this pandemic."
https://www.news24.com/SouthAfrica/News/muslim-community-supports-coronavirus-prevention-measures-20200408
-----
Nigerian Christians targeted by Islamic militants during coronavirus lockdown
Wed 08 Apr 2020
by Premier Journalist
Christian persecution watchdog Open Doors has said that Christian communities in central Nigeria are being increasingly targeted by Islamic fighters during the current period of coronavirus lockdown. Armed radicals have struck several villages in two states north of the capital Abuja - all of which are under strict stay-at-home orders - leaving 32 dead.
"These are horrific, opportunistic attacks on people who are defenceless in their homes during lockdown," said Jo Newhouse, regional spokesperson for Open Doors.
"The Government needs to ensure the safety of all Nigerians during the Covid-19 lockdowns and to address the impunity with which attacks like these continue."
One attack saw Fulani militants launch a vicious assault on a local Christian community in Plateau State. Attacking on 1st April, the fighters shot three people dead and set fire to at least 17 houses.
"They burnt houses at random, burnt four cars and killed three people while seven others sustained various degrees of injuries."
"The Fulani gunmen arrived in the community and started shooting and burning houses, an operation which lasted till 1am," said chairman of the Miango Youth Development Association, Mr Nuhu Nkali.
"We don't know what we have done to warrant this wickedness against our people. The community made efforts to alert security agents, but nothing was done to prevent it."
Newhouse added: "If people are going to stay in their homes during the COVID-19 pandemic, they need to feel safe from terrible attacks like this."
According to the Open Doors World Watch List 2020, some 1,350 Christians were killed in Nigeria last year.
https://premierchristian.news/en/news/article/nigerian-christians-targeted-by-islamic-militants-during-coronavirus-lockdown
------
South Asia
Indonesia's Ramadan exodus risks spreading Covid-19 across the country
08/04/2020
Indonesia's annual mudik (exodus), which begins with Ramadan, risks undermining the country's efforts to stem the spread of Covid-19 as tens of millions cross the densely populated archipelago to return home. Despite an already overburdened healthcare system and the second-highest death toll in Asia after China, Indonesia has yet to declare a nationwide quarantine.
With more than 250 million inhabitants, Indonesia is at risk of becoming a new epicentre for the coronavirus pandemic. Between the first infections at the beginning of March and April 8, 240 people have died from the effects of Covid-19 – the highest death rate in Southeast Asia – and the archipelago has more than 2,900 confirmed cases. With the onset of the Muslim holy period of Ramadan later this month, the health crisis is at risk of worsening as millions of Indonesians return to their villages and towns to be reunited with their families.
The mudik is a yearly event in which tens of millions of migrant workers leave Jakarta and other major Indonesian cities to go home to celebrate Ramadan, which this year runs from April 23 until the breaking of the fast (Eid al-Fitr) on May 23. During this mass exodus, transportation across the island of Java, home to more than 140 million Indonesians, is typically congested; no social distancing is possible as buses and trains overflow with passengers. The annual migration poses a great risk of spreading the virus across the densely populated island and overloading the country's already overwhelmed healthcare infrastructure.
Jakarta has so far asked regional authorities to encourage social distancing, ordered testing kits from South Korea and asked the industrial sector to increase production of personal protective equipment (PPE).
President Joko Widodo's administration declared a health emergency on March 31, a month after the first confirmed cases of the coronavirus in Indonesia. Widespread social distancing measures and targeted quarantines were introduced. Schools, workplaces and religious activities were closed or curtailed. And Vice President Ma'ruf Amin has asked the Indonesian Ulema Council, the nation's top Muslim clerical body, to declare this year's mudik to be "haram", or forbidden.
Hindering unity in the fight against the virus's spread are tensions between local governors and President Widodo. Jakarta's Governor Anies Baswedan requested a lockdown to prevent the upcoming migration but that request was denied by Widodo on Monday. Instead, governors have been granted the power to impose partial lockdowns in their own jurisdictions; Jakarta announced that a 14-day shutdown would come into force on Friday. The head of Indonesia's Covid-19 task force, Doni Monardo, said Monday that the government fears a national lockdown would undermine its ability to help those most in need of food and medicine.
Widodo's administration has said the country will have enough PPE to fight the epidemic and will not have to rely on imports. Muhammad Khayam, the ministry of industry's director-general for chemical, pharmacology and textiles, has estimated that the country's PPE production will exceed local demand.
But Health Minister Terawan Agus Putranto and the country's medical personnel have complained that shortages of protective equipment are hindering the fight against Covid-19. The Indonesian Doctors Association has called on the government to better protect those fighting the virus, pointing out that almost 10 percent of Indonesia's Covid-19 deaths so far have been doctors or others working in the medical field.
Indonesia has registered an alarmingly high death rate in relation to its confirmed cases. But like elsewhere, it is likely that the number of Indonesians infected with the virus is much higher than government figures indicate due to a lack of test kits. Further exhausting healthcare resources, Indonesia has been trying to contain an outbreak of Dengue fever in the eastern part of the archipelago since January that has so far been responsible for more than 250 deaths, according to the health ministry.
Indonesia's leaders now stand at a crossroads, with the first night of Ramadan fast approaching. The imminent departure of tens of millions of people from major cities for towns scattered across the country poses a palpable threat, and current measures to stem the spread may not be enough. The sluggish economy and the closure of businesses has already encouraged many workers to return home. Without a serious nationwide plan – similar to the rigid measures adopted in Malaysia, China or much of Europe – Indonesia risks seeing much of its population infected.
https://www.france24.com/en/20200408-indonesia-s-ramadan-exodus-risks-spreading-covid-19-across-the-country
-----
Avoid gatherings at graveyards, shrines on Shab-e-Barat: Islamic Foundation
09 Apr 2020
It has also asked them not to gather at graveyards and shrines on the occasion on Thursday to avoid spreading the contagion.
Muslim men offer special prayers at mosques, families exchange bread and sweets, and give handouts to the poor on the occasion of Shab-e-Barat, but this year the celebrations have come amid a nationwide shutdown to stem the outbreak.
In a notice on Wednesday, the Islamic Foundation said people visit graveyards and shrines to offer prayers and give handouts to the poor.
Earlier, Prime Minister Sheikh Hasina urged the Muslims to say their prayers on the Shab-e-Barat at home to continue the efforts of halting spread of the coronavirus.
Dhaka North City Corporation has also asked citizens to stop visiting graveyards amid the surge during the shutdown.
https://bdnews24.com/bangladesh/2020/04/09/avoid-gatherings-at-graveyards-shrines-on-shab-e-barat-islamic-foundation
-----
President, PM urge Muslims to say Shab-e-Barat prayers at homes
April 8, 2020
DHAKA, April 8, 2020 (BSS) – President M Abdul Hamid and Prime Minister
Sheikh Hasina today urged the Muslim devotees to say their prayers and offer
munajat staying at respective homes on the night of the holy Shab-e-Barat.
They greeted all Muslims in Bangladesh and elsewhere across the world on
the occasion of the holy Shab-e-Barat, the night of fortune, to be observed
tomorrow.
In his message, President Abdul Hamid said the entire world is now facing
catastrophe in the wake of novel coronavirus outbreak as hundreds of human
beings are dying of this virus every day.
"Bangladesh has also been a victim of the viral infection. So now it is our
biggest duty to save the country and its people from the jaw of this
coronavirus. It is a must to follow the health guidelines and ensure social
distancing," he said.
The President said the government has already taken multifaceted steps to
face the corona situation.
"So let us face it becoming conscious not being panicked," he said.
He urged the devotees to pray to Almighty Allah to save the world community
from this virus by performing prayers and offering munajat on the night of
Shab-e-Barat staying at respective homes.
The President said the holy Shab-e-Barat is a magnificent and blissful
night for the Muslims. The night is imminent, like in the previous years,
heralding the advent of the holy month of Ramadan and fortune, he added.
He said Islam is the religion of peace and welfare. The ideals of Islam are
the means of welfare in this world and salvation in the world hereafter, he
added.
"Along with mercy and blessings of the Almighty Allah, we will pray for
continued progress and welfare of the country and greater unity of the Muslim
Ummah on the holy night of Shab-e-Barat," he said.
He wished mercy, rahmat, progress and welfare for the whole mankind.
Prime Minister Sheikh Hasina, in her message, said the night of fortune
brings Marcy and blessings of Almighty Allah for the whole mankind.
He shows His greatness of forgiving and fulfilling desires, she added.
The premier urged all to devote themselves to human welfare and nation-
building imbued with the teachings of Shab-e-Barat.
Sheikh Hasina also called upon all to establish the spirit of Islam at
personal, social and national levels shunning the religious prejudice and
narrowness.
"The holy Shab-e-Barat would bring the message of happiness, peace and
development for us," she wished.
https://www.bssnews.net/?p=373082
--------
109 Tabligh people including 7 Indians quarantined in Patuakhali mosques
Apr 08,2020
Local administration in Patuakhali on Wednesday quarantined 109 members of Tabligh Jamaat including seven Indians in six mosques across the district.
The Indians are kept at Tabligh's local markaz at Rangabali and others are kept at mosques in Khalishakhali and Ballabhpur in Patuakhali Sadar, Galachipa and Dashmina.
Earlier, Patuakhali deputy commissioner Matiul Islam Chowdhury ordered the authorities concerned to close all sorts of business outlets after 5:00pm to ensure social distancing during the COVID-19 pandemic.
https://www.newagebd.net/article/104045/109-tabligh-people-including-7-indians-quarantined-in-patuakhali-mosques
-----
Afghan teen brutally knifed to death in Moria of Greece
09 Apr 2020
An Afghan teen was brutally knifed to death in a reception center in a Greek refugee camp, it has been reported.
The local media outlet, Ekathimerini, reported that the 16-year-old Afghan asylum seeker was stabbed by a compatriot, in Moria refugee camp located in the Island of Lesbos.
The 16-year-old was transferred to the hospital but doctors declared him dead on arrival, the reported said.
The newspaper also added that a brawl erupted in the refugee camp following the stabbing which left four other migrants wounded, including a minor, who were hospitalized.
With the reason behind the brawl remaining unclear, Ekathimerini reported that tensions at the camp, which is hosting some 20,000 people, are frequently high.
https://www.khaama.com/afghan-teen-brutally-knifed-to-death-in-moria-of-greece-04633/
------
Afghan government release 100 Taliban prisoners as part of peace efforts
09 Apr 2020
The Afghan government on Wednesday released 100 Taliban prisoners amdi ongoing peace efforts, the National Security Council (NSC) said.
"Pursuant to President Ghani's decree of March 11, the Government of the Islamic Republic of Afghanistan released 100 Taliban prisoners today based on their health condition, age and length of remaining sentence as part of our efforts for peace and containment of COVID-19," according to a statement released by NSC.
The statement further added that the 100 prisoners were on the broader list that the Taliban technical team shared and discussed during meetings with the technical team of the Islamic Republic of Afghanistan in Kabul.
"The National Directorate of Security and the Attorney General's Office thoroughly vetted the prisoners, who have taken an oath never to return to the battlefield," the statement said, adding that "The Government of the Islamic Republic of Afghanistan has received the same assurance from the group's leadership in Doha."
The statement also added that "Government of the Islamic Republic of Afghanistan remains open continuing joint technical work with the Taliban in order to advance the peace process."
https://www.khaama.com/afghan-government-release-100-taliban-prisoners-as-part-of-peace-efforts-04631/
-----
Chinese experts say social distancing, massive testing key to fight Covid-19
April 09, 2020
Imran Ayub
KARACHI: Chinese health and medical experts, who personally played a key role in Beijing's battle against the outbreak of Covid-19, have expressed serious concerns over the pace of spread of coronavirus in Pakistan, suggesting social distancing as well as massive testing as the only way out of the crisis.
Talking to reporters at a local hotel here, the Chinese experts appreciated the efforts so far against the virus but said the provincial government still needed to increase its testing capacity while imposing harsher lockdown measures to maintain social distancing.
The delegation was led by Ma Minghui of Xinjiang Uygur Autonomous Region Medical Products Administration; Li Fengsen, deputy head of the medical team, Lu Dongmei; Song Yunlin, Enwer Nasiroula, Zhang Li, Meng Cunren and Liu Wanli.
The foreign experts believed that only massive testing could help determine the exact number of positive coronavirus cases in the country. They suggested that the Sindh government should set up special clinics across the province so that they could test the suspected cases at a faster pace.
They said that the government should "forcefully" implement the lockdown as social distancing could only help when it was followed strictly and for a longer period.
They also urged the masses to opt for maximum use of face masks and appealed to them not to pay any heed to different unproven theories about the pandemic.
They suggested the government to set up groups of experts from different walks of life so other challenges emerging due to the pandemic could be handled collectively.
Meanwhile, Sindh Health Minister Dr Azra Fazal Pechuho held a meeting with heads of all public sector hospitals of the province via a video link and called for setting up dedicated wards in their respective facilities for coronavirus patients.
A statement issued by the health department said that Dr Pechuho asked all the hospitals to train their doctors, paramedics and other staff for handling the positive cases with all due precaution and care.
"All hospitals would make sure the availability of personal protective equipment (PPE) to their staff serving in emergencies, isolation wards and ICU," she said, adding "the staff serving in isolation wards would offer duties for six hours only and they would be provided separate rooms for stay. The medical superintendent of the hospitals would keep updating the ministry about the progress every week."
The minister also asked the hospitals to open their outpatient departments (OPDs) and those which were unable to do so would initiate a telemedicine programme for their regular patients, according to the statement.
https://www.dawn.com/news/1547660/chinese-experts-say-social-distancing-massive-testing-key-to-fight-covid-19
-----
Southeast Asia
Muslims targeted as India's lack of capacity to fight COVID-19 exposed
BY SHAKIR HUSAIN
APR 09, 2020
India's lack of capacity in fighting the spread of the coronavirus stands exposed in its substandard quarantine centers and media disinformation campaign against Muslims.
The country is normally eager to present a good image to the outside world, but many Muslim visitors put under coronavirus quarantine in Delhi have been badly treated.
India's Ministry of Home Affairs on April 2 "blacklisted" 960 foreigners for doing tabligh work (sharing Islamic knowledge and values with people and inviting them to this beauty) or propagation of Islam, while being in the country on visit visas. They included Indonesians, Malaysians, people from Kyrgyzstan, Bangladeshis, Algerians, Afghans and some from Western countries.
A total of 2,361 Indians and foreigners were evacuated from the religious group Tablighi Jamaat headquarters, popularly known as Markaz, in Delhi's Nizamuddin area when the place was closed on the morning of April 1 amid a nationwide lockdown to combat the coronavirus.
There are daily hundreds of people at Markaz, attending sermons and prayers to improve their religious knowledge or seeking spiritual experiences by going to far-flung areas of India for religious propagation.
When Indian Prime Minister Narendra Modi made his surprise announcement that the country will go under a three-week lockdown within hours starting March 25, people were told to stay where they were.
No movement of anyone other than those involved in essential services like running utilities, hospitals or food supply chains was allowed.
Those stranded in Markaz sought police and the Delhi administration's help to be sent to their homes and hotels but could not get passes for transportation, according to a Markaz press release on March 31 after they came under a barrage of media criticism for the gathering amid concerns over the coronavirus.
There was a large-scale event on March 13-15 in which people from India and abroad participated and some of the attendees remained in Delhi.
Several coronavirus positive cases have been found among those attending the Tabligh events, but a sustained media campaign to target the group ignores the fact that the country has hardly tested people in sufficient numbers to gauge the prevalence of infections.
Critics say the media coverage against Tabligh has become a convenient cover to hide India's lack of capacity and preparedness for tackling the crisis. It became a serious global problem by March 22, the day India tried to impose a curfew to determine how wider restrictions on people's movements might work.
News agency Press Trust of India reported on March 13 that government officials in the country did not consider the coronavirus a health emergency. So the progress toward a national shutdown of 21 days was quick and 1.3 billion people were ordered to stay indoors.
It was not surprising that the members of the Tabligh group carried on with their activities along with other places of worship, including Hindu temples which kept attracting crowds of devotees in the days preceding the lockdown.
The Indian government took gradual measures to tackle the pandemic. First, there were coronavirus screenings at airports, then came restrictions on flights for some international routes and later most transport services were halted.
The curfew meant to enforce social distancing saw processions and marches in which people shouted ludicrous slogans to curse the coronavirus.
This careless approach was reflected in the inadequate focus on building quality quarantine centers, stocking medical equipment in hospitals, securing test kits and ensuring a smooth supply logistics for essential goods during the lockdown.
A group of Malaysians held in a makeshift quarantine facility in New Delhi said they had to sleep on the floor and were given inedible food.
"This is our room in a school. We sleep on the floor. We are with preachers from the Philippines, Indonesia and Africa," a Malaysian says in a video recorded from a mobile phone.
Another video showed a sooty floor and the walls stained with what appeared to be paan (a mixture of areca nut and betel leaf) spit.
"The government doesn't have enough resources to build good quarantine facilities. Schools are closed these days so they can be used for putting people in isolation. They just send people to these buildings and give them basic food," Zafarul Islam Khan, editor of Milli Gazette community newspaper said.
Indian media, which hardly misses an opportunity to indulge in anti-Muslim rhetoric, is milking the Tabligh controversy by presenting a narrative that blames Muslims for the coronavirus in India.
"Tabligh people were not sensitive to the coronavirus situation. There are examples of other (religious) groups being worse offenders, but it's easy to make Muslims scapegoats. Now the government and media are using them to defame Muslims and Islam. The ruling party's Hindutva agenda clearly targets Muslims," Khan said.
The anti-Tabligh campaign targets both Indian and foreign Muslim groups, exposing Indian society's appetite for conflicts even in the midst of a pandemic.
The Indian news headlines that followed when nine Malaysians were barred from traveling on an evacuation flight to Kuala Lumpur on April 5 by Delhi airport authorities present them as some kind of criminals. They may have visited the Nizamuddin area – where the headquarters of Tablighi Jamaat are located – but were not among those evacuated from the Markaz building by police. The Malaysians were staying in different places and wanted to leave India when an evacuation flight was made available by the Malaysian government for stranded Malaysians.
They were brought back from the airport by police in two ambulances as the Indian Home Ministry had "blacklisted" them for participating in the prayer and preaching events of Tablighi Jamaat.
They were taken to a hospital in the morning, kept in the ambulances for many hours and given food after almost 10 hours, people who know the Malaysians said.
Foreigners have been coming to India for years to do tabligh work with full knowledge of local authorities. The organization's headquarters is located near a police station and intelligence and law enforcement agencies have close contacts with the top functionaries of Markaz.
Suddenly, their Islamic identity and the coverage of the coronavirus have turned the Tablighi Jamaat and those associated with it into objects of media vitriol in India.
dailysabah.com/opinion/op-ed/muslims-targeted-as-indias-lack-of-capacity-to-fight-covid-19-exposed
------
Coronavirus: Malaysia comes up with new ways to help Ramadan bazaar trade amid outbreak
APR 8, 2020
KUALA LUMPUR (THE STAR/ASIA NEWS NETWORK) - Malaysia's three federal territories (FT) of Kuala Lumpur, Putrajaya and Labuan won't hold the hugely-popular Ramadan food bazaars this year due to the coronavirus outbreak, with the authorities cobbling together three different ways to help Muslims buy their food and drinks from street traders during the upcoming fasting month.
The three FT districts thus joined eight of the 13 Malaysian states which have also banned the bazaars in a bid to ensure people practice social distancing.
These fairs consist of makeshift stalls selling food and drinks that are set up across the country along roads and in open carparks, and thronged by Muslims looking for food and drinks to break their day-long fast.
Muslims begin fasting on April 24 - 10 days after Malaysia is scheduled to lift its month-long Movement Control Order.
Both the fasting month and bazaars are important annual events in Malaysia, with Muslims making up some 60 per cent of its 32 million population.
Federal Territories Minister Annuar Musa on Wednesday (April 8) said the regular Ramadan bazaars in the three territories have been cancelled, and offered three alternatives for traders.
State authorities and traders in Malaysian states such as Selangor, Negeri Sembilan and Terengganu have also banded together to sell their food and drinks online during the fasting month, with some planning to bypass the major food-delivery platforms in order to save on paying hefty commissions.
Tan Sri Annuar said that qith the drive-through concept, the food will be pre-packed. There will be a 20m gap between the canopies of each makeshift stall, and the food and drinks traders will be arranged according to segments.
"The drive-through system will be located in areas where the roads are wide and traffic circulation doesn't create an obstruction, " he said, referring to the huge carpark of Bukit Jalil National Stadium in Kuala Lumpur and the wide avenue of Boulevard Presint 2 in the administrative capital of Putrajaya.
For the "pack and pick" concept, he said that customers would pre-order online through platforms provided by the local authorities, with payment done online or using the e-wallet.
"The collection of food will be done at places determined by the local authorities while ensuring social distancing measures are in place.
For the third method that he calls e-hailing, he said local authorities will register the traders with companies such as Grab Food and Foodpanda.
The local authorities under the Federal Territories Ministry's purview are Kuala Lumpur City Hall, Putrajaya Corporation and Labuan Corporation.
Mr Annuar, who spoke via a live-streaming session on Facebook, said all three plans have been approved by the Cabinet and will adhere to the health ministry's guidelines.
"The details of the three concepts will be fine-tuned by the local authorities, " he said, adding that an incentive would also be drawn up to encourage traders to adopt the new move.
Malaysia's Covid-19 cases have breached the 4,000 mark, with another 156 positive cases on Wednesday to bring the tally to 4,119. There were two new fatalities to bring the death toll to 65.
https://www.straitstimes.com/asia/se-asia/coronavirus-malaysia-thinks-up-of-new-ways-to-help-ramadan-bazaar-trade-amid-outbreak
----
Taiwan demands apology from WHO chief over coronavirus 'slander'
2 HOURS AGO
TAIPEI (AFP) - Taiwan demanded an apology from the World Health Organisation (WHO) chief on Thursday (April 9) after he accused the island's government of leading personal attacks against him and his agency's response to the coronavirus pandemic.
WHO director-general Tedros Adhanom Ghebreyesus called for unity to fight the disease on Wednesday after US President Donald Trump criticised the global health body and threatened to cut its funding.
During the press conference he spoke of the abuse - including racial slurs - he had been subjected to since the public health crisis began.
Dr Tedros largely avoided mentioning Mr Trump by name but he did single out the government in Taipei, which has been frozen out of the WHO after political pressure from Beijing.
"They didn't disassociate themselves. They even started criticising me in the middle of all that insult and slur, but I didn't care," Dr Tedros said.
Our country has never encouraged the public to launch personal attacks against him or made any racially discriminatory comments," foreign ministry spokeswoman Joanne Ou told reporters on Thursday.
"Our government demands an immediate clarification and an apology from director-general Tedros over such extremely irresponsible act of slander," she added.
In a Facebook post, President Tsai Ing-wen invited Dr Tedros to visit Taiwan and learn from its handling of the epidemic, challenging him to "resist pressure from China".
"We have been blocked from international organisations for many long years and we know what it feels like to be discriminated against and isolated more than anyone else," she said.
Relations between the WHO and Taiwan have worsened considerably since the pandemic began, even as health experts have lauded Taiwan for its response to the virus.
It has just 379 confirmed Covid-19 patients and five deaths despite its close proximity and trade links with China, where the pandemic began.
But diplomatic pressure from Beijing in recent years has pushed Taiwan out of major international bodies including the WHO and ICAO - the UN's aviation agency.
China's Communist Party regards Taiwan as a breakaway province and has vowed to one day seize the island - by force if necessary.
Beijing's efforts to isolate the island have ramped up since the election of President Tsai Ing-wen in 2016 because does not view the island as part of a "one China".
Critics of Dr Tedros have accused the WHO under his leadership of being too close to Beijing and complimentary of China's response to the coronavirus.
https://www.straitstimes.com/asia/east-asia/taiwan-demands-apology-from-who-chief-over-coronavirus-slander
-------
Lockdowns can only end when vaccine is found, says Lancet study
09 Apr 2020
PETALING JAYA: The lockdowns enforced around the world to curb the spread of Covid-19 can only end when a vaccine against the disease is found, says a new study on China's experience.
The Guardian reported that while China's aggressive controls over daily life brought the first wave of Covid-19 to an end, the danger of a second wave was very real.
"While these control measures appear to have reduced the number of infections to very low levels, without herd immunity against Covid-19, cases could easily resurge as businesses, factory operations, and schools gradually resume and increase social mixing, particularly given the increasing risk of imported cases from overseas as Covid-19 continues to spread globally," said Prof Joseph T Wu from the University of Hong Kong, who co-led the research.
The study said that while China had pushed the reproductive number or RO from two or three to below one, this number could rise again if normal life was allowed to resume too quickly.
"Although control policies such as physical distancing and behavioural change are likely to be maintained for some time, proactively striking a balance between resuming economic activities and keeping the reproductive number below one is likely to be the best strategy until effective vaccines become widely available," Wu was quoted as saying.
The study, based on modelling of the epidemic in China, shows that the death rate in mainland China was far lower, at less than 1%, compared to in Hubei province, specifically, at nearly 6%.
"Even in the most prosperous and well-resourced megacities like Beijing and Shanghai, healthcare resources are finite, and services will struggle with a sudden increase in demand.
"Our findings highlight the importance of ensuring that local healthcare systems have adequate staffing and resources to minimise Covid-related deaths," senior author Prof Gabriel M Leung from the University of Hong Kong was quoted as saying.
The research said allowing the rate of infections to rise again "would probably incur both marginally higher health and economic loss", even if tough measures were put back in place to bring the numbers of cases back down.
Beginning March 18, Malaysia enforced a movement control order (MCO) with people instructed to stay at home and movement is heavily restricted, with only "essential" services allowed to operate.
According to the data released by National Security Council, there are currently 20 red zones in Peninsular Malaysia, with Selangor being the state with the highest number with 1,020 Covid-19 positive patients and the most red zones, which are areas with more than 40 Covid-19 cases.
As of Wednesday (April 8), a total of 4,119 cases of Covid-19 had been detected in the country, with 65 deaths reported.
https://www.thestar.com.my/news/nation/2020/04/09/lockdowns-can-only-end-when-vaccine-is-found-says-lancet-study
-------
North America
Digital adaptation needed in financial sector, says Islamic fintech firm
09 Apr 2020
KUALA LUMPUR, April 9 – Digital adaptation is strongly needed in the financial sector in order to maintain its capability especially during crises, says Sedania As Salam Capital Sdn Bhd.
The wholly-owned subsidiary of Islamic Fintech company Sedania Innovator Bhd said mindful digital transformation is needed as the market braces for disrupted workforces amid the impending global uncertainty.
Its chief executive officer Khairul Nisa Ismail said with digitisation, financial proceeds can be made easier, and for its part the company has launched SMS and Email Akad as features on the As-Sidq Tawarruq Platform.
"With the introduction of WhatsApp Chatbot, our banking partners are now able to secure Akad (acknowledgement and confirmation of contract) and immediately distribute financing to deserving applicants on more familiar turf," she said.
She added that another issue that surrounds the financial landscape is assistance for Malaysians that might be denied to them via traditional scoring methods, although this issue needs to be treaded neatly without adding to the ballooning global debt problem.
"Recently, Sedania also launched Al Thiqa, granting loan applicants the option of enabling an e-mandate that will auto-deduct the owed fees at a specific time. The choice to enable the e-mandate reduces the applicant's risk levels, without significantly increasing the financial institution's default rates," she said.
Khairul Nisa said that with the collaborative spirit, the company returned to the black in the fourth quarter of last year, which she attributed to the increasing transactions processed on the company's business-to-business (B2B) credit processing platform As-Sidq.
As-Sidq is an Islamic Financial Tawarruq Trading System that has been adopted by more than 55 financial institutions in the country. The company is the only one in the region that uses digital commodities for financing.
https://www.malaymail.com/news/money/2020/04/09/digital-adaptation-needed-in-financial-sector-says-islamic-fintech-firm/1855112
-------
How the Islamic State Feeds on Coronavirus
By MICHAEL KNIGHTS
04/08/2020
The world is shut down, counting its dead and its mounting economic losses, but in the far reaches of Iraq, the terrorists of the Islamic State are enjoying new life.
Even before Covid-19 hit Iraq, attacks by Iran-backed militias had forced the U.S.-led coalition into a defensive posture, sending fewer advisers out to assist the Iraqi security forces in their pursuit of hidden IS cells. The March 11 killing of two U.S. soldiers and one Briton in a militia rocket attack further disrupted coalition support to the fight against IS.
On March 19, citing the virus, coalition and NATO training missions both suspended operations for two months. By March 29, Australia, Spain, France, the United Kingdom, New Zealand, Portugal and the Netherlands had withdrawn almost all of their trainers.
In parallel, the U.S. withdrew from its frontline operating bases at Mosul, Al-Qaim, Qayyarah, Kirkuk and Taqaddum in the last week of March. Most U.S. forces were redistributed inside fewer, better-protected Iraqi bases such as Al-Asad and Erbil airport, both of which are now protected by newly installed U.S. missile defenses, to prevent a recurrence of the Jan. 8 Iranian missile attacks that left more than 100 U.S. troops with mild traumatic brain injuries.
The Iraqi military are meanwhile distracted by disaster relief, enforcing a nationwide curfew, and looking after their own health and that of their families. (Officially, the virus had sickened over 1,100 and killed 65 Iraqis as of Tuesday, but lack of testing means the real number is likely significantly higher.) Rural clearance operations have almost ceased and the pace of special forces raids has slackened, in part because of the severe disruption to intelligence, planning and air support provided by the U.S.-led coalition.
For the Islamic State, this is all a godsend. In its view, the pandemic is a literal act of divine intervention as it reached its lowest ebb. Terrorism expert Aymenn Jawad al-Tamimi noted that IS' newsletter, Al-Naba, called coronavirus "God's torment" upon the "Crusader nations," and urged fighters to take advantage of the distraction and disruption caused by the virus.
In many ways the Islamic State is quite well adapted for operations during a pandemic. Its cells are isolated, avoiding the risk of contamination by performing extreme social distancing long before the rest of us. Its leadership issued early instructions to its cadres to limit their exposure to the virus—from the CDC-approved recommendations (washing hands and "covering up" coughs and sneezes) to Koranic verses involving lions and leprosy.
IS are somewhat self-contained, living in remote hideouts and underground shelters, drawing on independent food and water caches, and powering electronic devices with solar battery chargers. In every sense of the phrase, the thousands of members of this millenarian terrorist cult are the ultimate doomsday preppers.
On the ground, there have been small signs of Islamic State recovery at the tactical level, probably due to the cessation of counterinsurgency operations targeting them.
The four Iraqi military "clearance" operations undertaken in March were half as many as in April, and they lacked the coalition intelligence and air support that can focus such operations more effectively, instead falling into the less efficient category of unearthing arms caches but not catching enemy fighters.
Whereas U.S. and Iraqi special operations forces did a minisurge of joint raids in February—dropping in by U.S. helicopters or tilt-rotor Osprey aircraft to raid caves and stop vehicles driven by IS members—there were no such raids in March.
Left to operate without being pressured and chased from hideout to hideout, Islamic State has been getting more ambitious at local level. In Khanaqin District, close to the Iran-Iraq border, IS quadrupled its average number of mortar and rocket attacks in March and combined the bombardments with sustained machine-gun fire and ground assaults on security force outposts.
Over a five-day period beginning March 17, insurgents fired 15 mortar rounds into heavily populated neighborhoods of cities such as Tuz Khurmatu and Amerli, a type of attack that has not been seen for more than two years.
Islamic State's next steps are easy to guess. It will increase rural assassination raids on local village leaders—so-called mukhtars—and use intimidation to increase its ability to raise funds. Disruption to security force clearance operations will increase IS' ability to make advanced roadside bombs in its hideouts and use these weapons, and other harassment tactics, to keep the security forces buttoned down in their bases.
If left unchecked, this kind of aggressive patrolling allows insurgents to gain psychological dominance over the local military garrisons and civilian populations. Before long, the insurgents will become the local power brokers, and it will no longer be possible to claim that IS' days of territorial control are over. This is how the caliphate knits itself back together, one village at a time. This is exactly how it happened in 2012-14, after the previous U.S. withdrawal.
The only way to stop an IS resurgence, still in its infancy but now facing an improved outlook, is to reinvigorate an effective counterterrorism raiding campaign. This requires ongoing partnership between U.S. and Iraqi special forces, and between Iraq's commandos and the local Sunni populations in IS strongholds. Unlike 2011, the U.S. should not leave Iraq entirely, but should rather lower its visibility.
In all likelihood, non-U.S. military forces will never return to Iraq in the numbers that were recently withdrawn, with the virus providing a way to justify withdrawal even though Iraqi security forces are arguably not prepared to restrain an Islamic State resurgence. U.S. forces may also dwindle in terms of raw numbers in Iraq, where Iran-backed factions are promising long-term armed resistance to the open presence of U.S. advisers.
In places as diverse as Yemen, Somalia, Mali and Syria, the U.S. Special Operations Command has employed quiet partnerships with local special forces and paramilitary proxies to take on terrorist cells in a more targeted and effective manner than the large-scale train-and-equip program that appears to be eroding in Iraq. The coalition mission in Iraq—due to turn 6 years old in September—might expire, but the effort to prevent another IS comeback cannot afford to take a break, whether as a result of coronavirus, Iran-backed militias or a devilish combination of the two. The answer may be to take the war underground and back into the shadows.
https://www.politico.com/news/magazine/2020/04/08/how-the-islamic-state-feeds-on-coronavirus-175192
------
US overtakes Spain with second highest Covid-19 deaths worldwide, but Italy still holds top spot
9 Apr, 2020
The United States surpassed Spain's coronavirus death toll late Wednesday night, according to the latest figures gathered by Johns Hopkins University, putting it in second place behind Italy, which still leads the globe in fatalities.
The lethal virus has killed 14,817 patients in the US, the new data shows, edging out Spain by fewer than 50 deaths. Though Italy's toll of 17,669 remains the world's highest, the US leads all other nations in cases by far, reporting well over 430,000 infections – more than the next three countries combined.
Covid-19 has afflicted 1.5 million people worldwide since the outbreak began in China late last year, sweeping 184 nations and leaving in excess of 88,000 dead. Germany, France and Iran have also seen significant numbers of cases and deaths in their own epidemics, coming in right behind the US, Spain, and Italy.
https://www.rt.com/newsline/485345-us-exceeds-spain-coronavirus-deaths/
-----
BILL BARR ACCUSES MEDIA OF 'JIHAD' TO DISCREDIT HYDROXYCHLOROQUINE AFTER TRUMP TOUTS UNPROVEN DRUG AS COVID-19 CURE
BY BRENDAN COLE
4/9/2020
Attorney General William Barr has condemned the media for what he says are partisan attacks on President Donald Trump for touting the malaria drug hydroxychloroquine as a possible weapon against the novel coronavirus.
In an interview on Fox News, Barr told the anchor Laura Ingraham it was "disappointing" to see the media response to Trump who had been "statesmanlike" in working with governors and yet still had to deal with "snarky 'gotcha' questions from the White House media pool."
He said that "the stridency of the partisan attacks on him has gotten higher and higher," and said the "politicization of decisions like the hydroxychloroquine has been amazing to me."
"Before the president said anything about it, there was fair and balanced coverage of this very promising drug and the fact that it has such a long track record, that the risks were pretty well known.
Attorney General William Barr is pictured on April 1, 2020 in Washington, DC. He has told Fox News he believes a media campaign has been deliberately discrediting hydroxychloroquine as a remedy for the coronavirus.
"As soon as he said something positive about it, the media has been on a jihad to discredit the drug, It's quite strange," Barr said.
On Tuesday, Trump continued his championing of the drug on the same network, telling anchor Sean Hannity, "One thing that we do see is that people are not gonna die from it. So if somebody is in trouble, you take it, I think. I would."
While not officially approved by the Food and Drug Administration (FDA), around 29 million doses of hydroxychloroquine, which usually treats malaria and lupus, have been added to the federal stockpile.
In a statement on Wednesday, the FDA said that studies were still being carried out to "determine the efficacy in using these drugs to combat COVID-19."
Current guidance limits the drug's use to those who are hospitalized, however doctors told NBC that like any therapeutic it was likely to be more effective if taken earlier.
"When you give it to somebody who is already super sick, it's likely not going to make an impact because the damage is already done," said Dr. Ken Lyn-Kew, a pulmonologist at National Jewish Health, a hospital in Denver.
In the rest of the interview on The Ingraham Angle, Barr raised his concerns about the length of the shutdown across the U.S. saying, "we will have a weaker health care system if we go into a deep depression.
"So just measure it in lives, the cure cannot be worse than the disease," he said, in an echo of Trump's tweet last month that "we cannot let the cure be worse than the problem itself."
https://www.newsweek.com/bill-barr-hydroxychloroquine-fox-news-ingraham-1497021?piano_t=1
-------
Canada threatens retaliation over US's cancellation of medical supply delivery
April 8, 2020
AhlulBayt News Agency (ABNA): Canadian Prime Minister Justin Trudeau has warned US President Donald Trump that his decision to stop a US manufacturing company from sending respirators to Canada could prompt retaliatory measures.
The Trump administration ordered US firm 3M, a Minnesota-based manufacturer of protective healthcare equipment, to stop exporting protective masks to Canada and Latin America on Thursday.
In response, Trudeau protested by saying that medical supplies moved "both ways across the border," noting that thousands of Canadian nurses from Windsor traveled directly across to Detroit, Michigan, every day.
"These are things that Americans rely on and it would be a mistake to create blockages or reduce the amount of back and forth trade of essential goods and services, including medical goods, across our border," he said.
Trump said he had used legislation dating back to the US-Korea War-era to force the US medical supplies company 3M to sell its equipment to the US government.
Earlier, Berlin's top security official said Washington was using "wild west methods" to divert and obtain a delivery of face masks originally destined for the German capital.
https://en.abna24.com/news//canada-threatens-retaliation-over-us%e2%80%99s-cancellation-of-medical-supply-delivery_1023871.html
------
Pakistan
'Was reusing N-95 mask given to me in China': President Alvi responds to criticism
April 09, 2020
President Dr Arif Alvi on Thursday issued a clarification after photos and videos of him wearing a N-95 mask at a meeting sparked criticism among medical professionals who claimed that personal protective equipment (PPE) was being "misused" by politicians.
On Wednesday, President Alvi — wearing a N-95 mask — had chaired a briefing session by the Punjab government regarding coronavirus at the Civil Secretariat in Lahore. He had also addressed the participants on the occasion.
According to some, this was particularly problematic as the government has been convincing people that only health professionals deputed in quarantine centres and isolation wards should wear N-95 masks.
"Finally its strap broke yesterday so in next meeting at Wing Commander Nouman Akram Shaheed's house, you see me wearing a regular public mask," the president said. "I hope my clarification finds equal billing."
The president on Wednesday had paid a visit to the house of Wing Commander Nouman Akram, who was martyred in a crash last month.
Amid widespread criticism of President Alvi, the Pakistan Medical Association had issued a statement that politicians and bureaucrats should not wear N-95 masks.
"The PMA has observed that protective items required for healthcare providers working for coronavirus or non-coronavirus patients are being misused. Particularly the misuse of N-95 masks has been observed by a large number of PMA members and the general public," the statement had said.
"These days politicians and bureaucrats are often seen wearing N-95 masks during meetings and visits, whereas health professionals are facing a dire shortage of N-95 masks and PPEs.
"This is important to note that N-95 masks are not necessary for everybody. They are only needed in quarantine and isolation facilities for health providers treating coronavirus patients, who are at the highest risk of acquiring coronavirus. Doctors should be protected as they are frontline soldiers against coronavirus."
PMA Secretary General Dr Qaisar Sajjad had said there were different types of masks available for healthcare providers and the general public.
"The general public can use handmade washable masks, which should be washed every day. Surgical masks are for healthcare workers who are treating non-corona patients at primary care level and during surgeries. The media should play their due role for these types of awareness positively," he added.
Earlier, Special Assistant to the Prime Minister on Health Dr Zafar Mirza had alleged that doctors were misusing personal protective equipment.
He had told the media that guidelines had been made according to which only health professionals working in isolation wards were advised to wear N-95 masks.
He had insisted that even patients in isolation wards and sanitary workers in hospitals should not wear N-95 masks.
https://www.dawn.com/news/1547737/was-reusing-n-95-mask-given-to-me-in-china-president-alvi-responds-to-criticism
------
Non-Muslim volunteers join fight against corona
11 HOURS AGO
KARACHI: Wearing gloves, and face masks, a group of 15 volunteers huddle at a distance with each other, beside a stash of groceries in a large room in eastern district of Karachi.
Among them is Sunil Harsi, one of the many Hindu volunteers who have joined hands with different relief agencies to provide rations, and sanitation products to low-income masses amid a raging coronavirus outbreak that has put the country under a crippling lockdown.
A grinding economic slowdown, a direct result of the global COVID-19 outbreak, has particularly hit nearly 25% of the country's over 200 million population, which lives below poverty line.
Harsi, 32, a city councillor for Jamaat-e-Islami, has actively been taking part in relief efforts carried out by the party's charity wing Al-Khidmat Foundation in Karachi's eastern district for over a month.
"I come here every day at noon to attend this meeting to chalk out the plan for the day. One day we collect and pack relief goods donated by philanthropists and distribute them on the next day," Harsi said.
He and his colleagues have been assigned to operate in two slums areas in Gulshan-e-Iqbal town, a middle-income bracket locality.
For distribution of relief goods, they mostly use motorbikes or small vehicles to drive through the narrow streets of the slums.
"We do not gather people on the streets to distribute rations in order to observe social distancing. We deliver rations at the doorsteps," Harsi said, adding "I was born and raised in this area. Who's needy and who's not, I know very well".
"I am proud to be part of this [relief campaign]. In this way, I am contributing something to the society, and my own community as well," Sadiq, 22, who joined the relief activities two weeks ago, said.
"I feel myself proud as I am not the one seeking help but I am helping others. It's all because of my Muslim friends whose selfless efforts for the needy masses inspired me to join them," he said.
Seema Maheshwari, a human rights activist who too has been engaged in rations distribution among needy people in different parts of Karachi, thanked the Muslim community for assisting her efforts.
"I started my efforts in collaboration with my family and some friends with limited resources. But soon, my Muslim friends and philanthropists joined hands with us," Maheshwari, a Hindu by religion, said.
"I am really thankful to my Muslim brothers and sisters who have trusted my efforts, and provided us rations, and other essential goods for the poor masses," she went on to say, adding several other Muslim philanthropists have assured her of their support.
"We are distributing rations among needy Hindus, Christians, and even Muslims. It's not about religion, race or community. It's all about humanity," she maintained.
The country's tiny Sikh community is also contributing its share to provide relief to the low-income people, who have been badly hit by the economic meltdown, a direct result of the coronavirus outbreak.
Pakistan Sikh Gurdwara Parbandhak Committee, an organisation that deals with religious affairs of the Sikh community in Pakistan, has already allotted portions at scores of gurdwaras — worship places — as isolation cells for suspected coronavirus patients.
In addition, according to Charanjeet Singh, a community leader, rations and cooked food were being distributed among needy people irrespective of their religious affiliation, in the gurdwaras in Karachi, Peshawar, Nanakana Sahib — the birthplace of of Baba Guru Nanak, the founder of their religion — and other districts.
"I have also been appointed in-charge of rations distribution [by Al-Khidmat Foundation] among needy Hindus as I know my community more than anyone else," Harsi said.
Similarly, Sadiq has been assigned to collect the data and deliver rations to the needy Christian families in his area of operation.
Hindus and Christians make up 4% and 3% of the total population of Muslim-majority Pakistan, respectively, whereas, the number of Sikhs in Pakistan is estimated between 30,000-40,000.
https://www.pakistantoday.com.pk/2020/04/09/non-muslim-volunteers-join-fight-corona/
------
Virus situation can worsen in coming days: PM
Syed Irfan Raza
April 09, 2020
ISLAMABAD: Urging people to maintain social distancing to prevent the spread of the novel coronavirus, Prime Minister Imran Khan on Wednesday warned that the viral disease would increase in the days to come and announced that distribution of Rs12,000 four-month stipend among 12 million poor and daily wage earners will start from Thursday (today) through 17,000 points across the country.
Meanwhile, the National Coordination Committee (NCC), headed by the prime minister with participation of all provinces, decided to open all airports of the cou¬ntry for PIA flights to bring back those overseas Pakis¬tanis who wanted to return to the country amid the global Covid-19 pandemic.
The prime minister also urged the country's youth to get themselves registered with the Coronavirus Relief Tiger Force (CRTF) to help the poor and daily wage earners and provide them food and medical assistance.
"It is a misconception that this pandemic is sprea¬ding slowly in the country as the number of our deaths has been low so far and it will not spread rapidly; it will become worse in the days to come," Prime Minister Khan said at a press conference.
Says distribution of Rs12,000 four-month stipend among 12m poor people will start today; NCC decides to open all airports for PIA to bring back overseas Pakistanis
He was accompanied by Minister for Planning and Development Asad Umar, Special Assistant to the Prime Minister (SAPM) on Information Dr Firdous Ashiq Awan, SAPM on Social Welfare Dr Sania Nishtar, SAPM on Youth Affairs Usman Dar and National Disaster Manage¬ment Authority (NDMA) cha¬irman Lt Gen Mohammad Afzal.
"If we don't take preventive measures, the deadly disease will rise in the country like it did in Europe and will create a lot of trouble for us," the prime minister said, adding that people had to adopt social distancing by themselves as lockdown was not a solution and the government and police could not keep people in their homes by force.
He warned that if people did not do self-social distancing, the deadly virus would spread at a faster rate and put burden on the healthcare system. "Pakis¬tan cannot afford a complete lockdown, which was imposed in China or Euro¬pean countries, and I ask people to take precautionary measures to curb the spread of the virus."
Talking about the Ehsaas programme, the prime minister said: "Today I am quite happy that we are going to launch the country's biggest social welfare programme under which 12 million families of poor and daily wagers will get Rs12,000. The government will distribute the relief money from tomorrow [Thursday] among lower-income people who have been hit by financial crisis due to the ongoing lockdown."
He said the money would be distributed from 17,000 points across the country. "The programme will be free from any political influence."
The prime minister said that although the country had limited resources, the power of youth and generous behaviour of the nation would help overcome the deadly pandemic.
On the occasion, Asad Umar spoke about the decisions taken by the NCC and said the Centre and provinces had decided to enhance the schedule of PIA's international flights by opening all major airports of the country. "Earlier, we had decided that special PIA flights would only be operated from Islamabad to bring back those overseas Pakistanis who wanted to return to the country, but there is a good news today that the committee decided that these flights would also be operated from other main airports of the country," he added.
LAHORE: Muslim, Christian, Hindu and Sikh devotees offer prayers for the end of the coronavirus pandemic outside the Sacred Heart Cathedral on Wednesday.—AFP
Giving details about the Ehsaas Relief Programme, Dr Sania Nishtar said CNIC numbers being sent by people through text messages on 8171 had passed through several stages so that the government could be sure that they qualified for the programme. "So far 35 million people have sent applications to get relief fund," she added.
Dr Nishtar said only one member of a family would receive a message even if multiple members of the family had sent their CNIC numbers and data was being cross-checked with the information in the database of the National Database and Registration Authority (Nadra). "The families, whose heads have passed away but their deaths have not been registered, can call helpline 0800-26477 to get assistance," she added.
Prime Minister Khan said the CRTF volunteers had been instructed to help the people who had not been able to send their CNIC numbers to get themselves registered for the emergency cash fund. He said that so far 750,000 youths had got themselves registered with the force. "I urged that more and more young people should become the part of the force to help people in need," he added.
He reiterated that the safety of doctors and paramedical staff, who were in the frontline force, was a top priority of the government to provide them the required personal protective equipment (PPE). He, however, expressed sorrow over the doctors' protest in Quetta over lack of facilities being provided to healthcare professionals.
The NDMA chairman said: "PPEs have been delivered to 18,000 medical professionals in Punjab, where the calculated demand was for 6,000 people. Similarly, in Sindh, supplies for 15,000 medical professionals had been delivered, where the calculated demand was for 9,000 people. In Balochistan, the calculated demand was for 2,000 medical professionals, but supplies for 8,000 people were delivered."
He said the Khyber Pakhtunkhwa government had demanded 900,000 PPEs in written, adding that the province had earlier been delivered 10,000 PPEs.
He said other federal territories were also being provided PPE and other medical supplies. He said that 100,000 additional testing kits would be received from foreign countries soon, adding that as of now 22 testing labs were operating in Pakistan.
Lt Gen Afzal said there was a shortage of technicians, but an advertisement had been given out and applications from all over the country were being received.
https://www.dawn.com/news/1547671/virus-situation-can-worsen-in-coming-days-pm
-------
Railways seals Mughalpura workshop after detection of Covid-19 case
Amin Ahmed
April 09, 2020
ISLAMABAD/LAHORE: Pak¬is¬tan Railways has closed the Mughalpura railway workshop in Lahore till April 12, following the detection of coronavirus in a visitor to the premises, Railways Minister Sheikh Rashid Ahmad said on Wednesday.
All necessary precautions, including quarantine, are being taken to clear and resume operation at the ¬oldest locomotive workshop of Pakistan Railways where 10,000 employees work on shifts, he said.
The minister further announced that all employees of Pakistan Railways over the age of 50 and working in carriage factory in Islamabad, central diesel locomotive workshop in Rawalpindi and locomotive factory in Risalpur had been asked to go on leave without any cut in salary.
Pakistan Railways, he said, was losing revenue worth Rs1 billion every week, following the closure of trains as part of the countrywide shutdown. However, he added, the government had decided to compensate the railways losses in this regard. He thanked Prime Minister Imran Khan and Adviser to the PM on Finance Dr Hafeez Shaikh for considering providing subsidy to Pakistan Railways. He assured all railway employees and pensioners that there would be no obstruction in the payment of salaries and pensions.
Shaikh Rashid said that there were 1,675 'kulis' (loaders) at all railway stations, and it had been decided that they would get Rs12,000. The matter was taken to the cabinet where the prime minister gave approval for the payment under the Ehsaas programme.
Meanwhile, officials said the top PR authorities were not interested in closing down the workshops with 5,000 employees until the Lahore administration intervened after some workers tested positive.
"The PR top authorities were earlier not even interested in suspending its passenger trains' operations. But finally they were forced to do so last month in view the reports related to spread of coronavirus. But the PR continued keeping its workshops in Lahore and other cities, claiming it has done a lot for social distancing and safety/protection of its employees working in the workshops," an official told Dawn.
"An employee at the engine/diesel shed tested positive first and later negative. His father contracted the virus through him, who is also a railway employee (commercial supervisor at Badami Bagh railway station) as well as a brother in last seven days or so," the official said.
Later, he said, the patients were shifted to a known public sector hospital in Lahore and their house was marked as an isolated premise by the local health authorities with issuance of warning to the neighbours to be careful.
"They [the officers] were of the view that social distancing in the PR workshops was not possible at all since there are several jobs where the workers need to gather and perform. They also expressed fear of Covid-19 spread if the workshops are not closed. And finally, it happened in the form of a couple of employees tested positive," said another source.
"It is really a criminal negligence on the part of those taking such decisions. And in case more Covid-19 cases emerge, the institutions concerned must grill those endangering the lives of railway employees," he warned.
The Railways' Workers Union (CBA) has also criticised the PR authorities' alleged lethargic and non-serious behaviour towards adopting the Covid-19 measures.
"We held protest demonstrations many times, wrote letters and used social media to build pressure on the PR to shut workshops and factories to avert spread of virus. But they didn't bother. And finally, they closed such premises after having coronavirus positive cases," the union's general secretary Rana Masoom Ali told Dawn.
"I have also heard that an employee of PR's carriage factory in Lahore has also been shifted to hospital on Wednesday after he developed Covid-19 symptoms," he added. "The union would hold top railway authorities responsible if the virus spreads in other employees too in future," he warned.
According to the PR's Lahore division chief Amir Nisar Chaudhry, the engine sheds and workshops were closed to avert spread of the virus. "The decision was taken after detection of virus in an employee. In the meantime, we have decided to wash the entire sheds, workshops, washing lines, etc, with chlorinated water," he said.
https://www.dawn.com/news/1547696/railways-seals-mughalpura-workshop-after-detection-of-covid-19-case
------
453 pilgrims who earlier tested negative sent to districts turn out positive for virus
Shakeel Ahmed
April 09, 2020
MULTAN: As many as 453 pilgrims out of 1,160, who were sent to their respective districts on Saturday after being declared 'negative' for Covid-19, have tested positive during later diagnosis, it is learnt here.
Sources said the district administration had got thermal screening of all the pilgrims conducted when they reached Multan from Taftan on March 20 and separated those who had symptoms of the infection from others.
The district administration had requested the provincial government, particularly the health department, to provide kits for screening of all the pilgrims so that the infected pilgrims could be separated from the healthy ones.
They said after repeated requests by the district administration, finally the screening of all pilgrims was done out of whom 1,160 tested negative.
They said the deputy commissioner at various meetings, besides contacting his high-ups and the health secretary, suggested that before sending these pilgrims to their respective districts, they must be tested. However, the district administration was asked to conduct the test of only five per cent of them, which was done and as a result three more pilgrims tested positive.
They said as per the instructions of high-ups, the district administration arranged buses for the pilgrims and announced sending them to their respective districts on Friday (April 4); however when they were seated on vehicles the district administration got directions to first conduct their tests and then send them to their areas.
They said soon the local administration informed the pilgrims that they would be sent to their districts only after their tests were conducted again; the pilgrims protested the move by expelling the district staff from the quarantine centre. They also locked the doors from inside and did not allow anyone to enter the centre.
They said police deployed outside the centre [allegedly] remained non-cooperative with the district administration and refused to control the situation due to which the army was called and negotiations were held between the administration and pilgrims who were insisting that they should be sent to their areas as they had tested negative and already spent 15 days each in the quarantine centres of Taftan and Multan.
They said during the negotiations it was decided that the administration would send them to their respective districts after collecting their samples for tests. Finally, as per the promise they were sent to their native areas, while their samples were dispatched to the laboratories for tests.
They said the provincial government directed the respective districts to make arrangements to keep the pilgrims in quarantine until the results were received.
They said now the administration [of districts] was worried as they had no proper arrangements to keep the pilgrims who had been tested positive, while there were also chances that those tested negative might have got infected during travelling.
They said the district administration suggested that police should be deployed outside each block of the quarantine centre to control the infection from spreading among the pilgrims who were not infected with virus but police [allegedly] refused to perform duties inside the quarantine centre because of which pilgrims got opportunity to mix up without any care and fear.
They said even officials of health department were reluctant to perform their duties inside the quarantine centre, leaving no option for the deputy commissioner to deploy his untrained staff, including the volunteers of civil defence.
They said the administration of Nishtar Hospital refused to provide doctors and paramedics to serve in the quarantine centre.
City Police Officer Muhammad Zubair Dreshak was not available for comment despite several attempts while Vice Chancellor Nishtar Medical University Dr Mustafa Kamal Pasha said: "The hospital is only doing the tests while the quarantine centre is being looked after by the primary and secondary health department. We never refused, rather we were never asked for such help."
DC Khattak said the pilgrims were not sent to their homes rather quarantined in their respective districts as per policy.
https://www.dawn.com/news/1547603/453-pilgrims-who-earlier-tested-negative-sent-to-districts-turn-out-positive-for-virus
------
Europe
PCS guidance on observing Ramadan during the coronavirus crisis
08 Apr 2020
As we begin the countdown to Ramadan 2020, which begins on 23 April, we are in the midst of the coronavirus, so read the latest PCS guidance on fasting and praying while working.
Government departments and many public sector organisations have good flexible working hours and Muslim staff may request different daily hours. The most likely need Muslim staff may present to managers during Ramadan is for flexibility around working hours and break times. Of course, this should be by prior arrangement with managers and their ability to accommodate these requests should be balanced against business needs.
All Muslims rise very early to eat and drink before the fast begins, this year it will be at around 3am. Some staff may request the opportunity to start work and end work early, particularly as is the case for some key workers so they can leave work and return home to pray.
As we are all currently under restrictions due to the coronavirus, all mosques have closed to the public, if these restrictions continue into and throughout Ramadan then Muslim colleagues will not be able to go to their mosque on a Friday for compulsory prayers. They can complete their normal midday prayers in the office prayer room provided for personal use, while observing social distancing, if they are still required to go into work to do important work, or at home.
Staffing changes have been introduced in some places due to increased workloads because of the coronavirus so members have been asked to work overtime at weekends during Ramadan and Eid ul Fitr. Overtime must be done voluntarily and PCS has received assurances no one will be forced to work overtime. If you have any issues or feel you have been forced to work overtime contact your rep, whose details you can find by logging in to PCS Digital.
Eid ul-Fitr, also called the "Festival of breaking the fast", is a religious holiday celebrated by Muslims worldwide that marks the end of the month-long dawn-to-sunset fasting of Ramada.
Many Muslim staff will want to take Eid as annual leave. Edi is a 3-day festival although most Muslims take just the first day as holiday. Until the new moon is sighted, the dates are estimated but it will fall on Saturday, 23 May or Sunday, 24 May. As Eid falls on a weekend, Muslim staff who work at weekends may want Saturday off and some may wish to take additional days in the last week of Ramadan to spend time preparing for Eid.
Due to the increasing burden on leave requirements it is important that Muslim staff give enough notice for time off because of the coronavirus crisis, once you know Ramadan and Eid dates you should contact your line manager and discuss the time off, don't leave it too late and still expect to get the time off.
https://www.pcs.org.uk/news/pcs-guidance-on-observing-ramadan-during-the-coronavirus-crisis
------
Islamic Development Bank promises to assist Kyrgyzstan in fighting coronavirus
08 April 2020
Telephone conversation took place today between the President of Kyrgyzstan Sooronbai Jeenbekov and the head of the Islamic Development Bank (IDB) Bandar M. Hajar.
According to the press service of the head of state, the parties discussed the current state and prospects of bilateral economic cooperation between the IDB and the Kyrgyz Republic, as well as measures to counter the spread of coronavirus.
Sooronbai Jeenbekov proposed to consider the possibility of assistance to Kyrgyzstan to mitigate the socio-economic consequences of the spread of coronavirus.
Bandar M. Hajar stressed that coronavirus is a serious challenge for the population and economies of all countries of the world. He assured that the IDB will consider the issue of providing appropriate support to the Kyrgyz Republic.
Telephone conversation took place today between the President of Kyrgyzstan Sooronbai Jeenbekov and the head of the Islamic Development Bank (IDB) Bandar M. Hajar.
According to the press service of the head of state, the parties discussed the current state and prospects of bilateral economic cooperation between the IDB and the Kyrgyz Republic, as well as measures to counter the spread of coronavirus.
Sooronbai Jeenbekov proposed to consider the possibility of assistance to Kyrgyzstan to mitigate the socio-economic consequences of the spread of coronavirus.
Bandar M. Hajar stressed that coronavirus is a serious challenge for the population and economies of all countries of the world. He assured that the IDB will consider the issue of providing appropriate support to the Kyrgyz Republic.
https://24.kg/english/149549_Islamic_Development_Bank_promises_to_assist_Kyrgyzstan_in_fighting_coronavirus/
-----
French authorities investigating deadly Lyon knife attack as Islamic terror
8 April 2020
PARIS (AP) — French counter-terrorism prosecutors have opened a judicial investigation after a knife attack south of Lyon left two people dead on Saturday.
In a statement, prosecutors said charges will be pressed later Wednesday against the assailant, who was arrested by police minutes after the attack as he was kneeling on the sidewalk praying in Arabic.
Two people were killed and five were injured in Saturday's attack in the small town of Romans-sur-Isere, which was in lockdown amid the coronavirus pandemic.
Prosecutors didn't identify the suspect, but described him as a Sudanese born in 1987 who arrived in France in 2016 and obtained refugee status the next year.
During a subsequent search of his home, authorities found handwritten documents that included arguments about religion and a complaint about living in a "country of non-believers."
https://www.timesofisrael.com/french-authorities-investigating-deadly-lyon-knife-attack-as-islamic-terror/
------
Red Cross allocates 500,000 Swiss francs in donation to Iran amid coronavirus fight
08 April 2020
The head of the International Committee of the Red Cross (ICRC) delegation in Tehran says the organization is making efforts to create a financial channel for Iran to receive international humanitarian aid amid its battle against the new coronavirus.
Barbara Rizzoli made the remarks in a meeting with the head of the Iranian Red Crescent Society (IRCS), Karim Hemmati, in Tehran on Wednesday.
She also announced the organization's decision to allocate 500,000 Swiss francs in donation to Iran as the first step to support the country in its fight against COVID-19.
"As the first step, the International Committee of the Red Cross has donated 500,000 Swiss francs to support the Iranian Red Crescent Society in its efforts to confront coronavirus [which] is in progress," she said.
She also expressed her condolences over the deaths of Iranians, including medical staff and relief workers who were at the forefront of fighting the pandemic.
"The Iranian Red Crescent's request to have a financial channel for receiving humanitarian aid is a rational and basic request in order to help Iranian people, especially in the situation of coronavirus crisis, and the ICRC, in cooperation with the International Federation of Red Cross and Red Crescent Societies (IFRC), will make every effort from its Tehran delegation to Geneva Headquarters to respond to this request," said the ICRC head of Tehran delegation.
Touching on the effect of the US sanctions against Iran, the ICRC official said, "We understand the serious concerns about the impact of sanctions on the import of medicine and medical equipment into Iran."
"Basically, the medical supplies should be exempt from sanctions, but sometimes it is difficult to transfer the cost of medicines through bank channels. In this regard, the ICRC is negotiating not only in the regional level, but also in Geneva and with related organizations. And we are looking at all options and we will not miss any solutions," she said.
The Red Cross would also seek to interact with Swiss companies to provide some of the special medicine needed by Iran, she added.
"In addition to financial support and efforts to activate the Swiss channel, we would like to cooperate with the IRCS in field of communication and sharing experience of other countries with regard to confronting coronavirus," she noted.
Praising the officials and all IRCS staff for their special work in the front line of confronting coronavirus, Rizzoli added, "We are closely following the IRCS operations such as information campaigns and supporting the needy, relief work and fever surveillance on roads, and other efforts to protect the health of Iranians during the corona outbreak and other incidents, [and will] inform the ICRC Headquarters in Geneva of such services."
In the meeting, the head of the IRCS, for his part, pointed to the negative impacts of unilateral US sanctions on Iran, saying before the outbreak of coronavirus, the US sanctions had put a lot of pressure on the Iranian people in the field of treatment and health, but they were multiplied after the outbreak.
In a letter to the UN, Iran once again slams unilateral US bans on other countries, saying the restrictions hamper the global fight against a deadly pandemic.
"Currently, we are facing difficulties in receiving international humanitarian aid, whether financial or non-financial, [and in] importing medicine and the equipment needed to treat patients with corona, such as ventilators," he said.
He said Iran expected ICRC president Peter Maurer "to support the IRCS by trying to create a financial channel for receiving international aid in the capacity as a humanitarian organization so that the Iranian people do not suffer more due to the US sanctions."
The head of the Iranian Red Crescent also reported on the performance of his organization during the recent outbreak and said in terms of confronting coronavirus and in addition to its various activities regarding public awareness, the IRCS had set up screening posts, while as many as 3,400 members were active in this campaign on a daily basis.
He added that the organization planned to provide and distribute some 500,000 hygiene kits specific to people with cancer and special disease.
President Hassan Rouhani has warned the IMF to consider Iran's request for $5 billion without "discrimination" after reports said the US was seeking to block the loan.
The unilateral US sanctions against Iran, which were reinstated after Washington in 2018 left a UN-endorsed nuclear deal with Tehran and five other world powers -- the UK, France, Russia and China plus Germany -- have been hindering Iran's fight against COVID-19.
The US' so-called 'maximum pressure' through sanctions are compromising the performance of the Iranian healthcare system, despite Washington's that the bans do not prevent Iran from trading in humanitarian and medical goods.
These US sanctions make the importation of medicine, medical equipment and raw materials needed to produce these goods difficult as foreign countries do not engage in trade with Iran dreading Washington's punishment.
The respiratory disease has killed 4,003 people and infected 67,286 others, according to the latest figures released by the Iranian health ministry on Wednesday.
https://www.presstv.com/Detail/2020/04/08/622600/iran-coronavirus-red-cross-us-sanctions
----
URL: https://www.newageislam.com/islamic-world-news/daesh-calls-covid-19-soldier/d/121531
New Age Islam, Islam Online, Islamic Website, African Muslim News, Arab World News, South Asia News, Indian Muslim News, World Muslim News, Women in Islam, Islamic Feminism, Arab Women, Women In Arab, Islamophobia in America, Muslim Women in West, Islam Women and Feminism