New Age Islam News Bureau
25 Aug 2015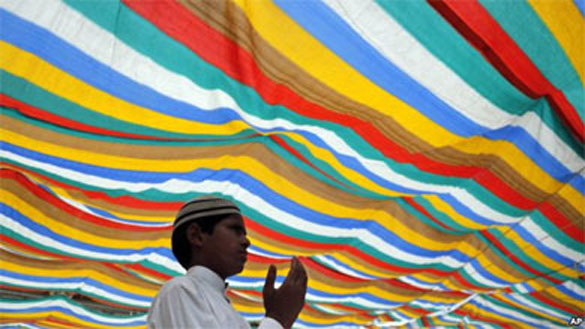 An Indian Muslim devotee prays at the shrine of Khwaja Moinuddin Chishti during Urs festival in Ajmer, Rajasthan, India, and April 22, 2015.
-----------
India
• Critics Question India's Plan to Shield Muslim Youth from Islamic State
• Who Can Return Our Homes Now, Ask Bhagalpur Riot Survivors
• Will Pak Allow Indian Leaders To Meet Disgruntled Elements: Senior Congress leader
• Tension in Bareilly after police cremate Muslim youth as per Hindu rituals
• LeT terrorist Naved to make statement in court on Wednesday
-----------
South Asia
• Ministry of Defense says 74 militants killed in Afghanistan military operations
• Jundullah's Chief Killed In Kunduz Province: NDS
• Ten children among 11 dead in gas explosion in western Afghanistan
• Ctg Jamaat acting Nayeb-e-Ameer sent to jail
-----------
Arab World
• US Helicopters Drop Weapons, Ammunitions for ISIL in Anbar: Senior Iraqi Official
• Syrian Army, Hezbollah, Recapture 15 Buildings in Al-Zabadani, Kill over 32 Militants
• Syrian Army Kills over 20 Militants, Retakes Tal SyriaTel in Lattakia Province
• Suicide car bombings at Iraqi outpost kill 8
• Three killed in clashes at Palestinian refugee camp in Lebanon
• ISIS blows up house of Iraqi ambassador to Bahrain in Anbar
• Bomb kills 3 Egyptian policemen, wounds 33
• U.S. to welcome 5,000 to 8,000 Syrian refugees
• Syrian Army Repels Militants' Assault, Recaptures Aleppo's Al-Zahra Neighbourhood
• Amnesty censure rising number of executions in Saudi Arabia
• Russian FM says US VP's call for partitioning Iraq unacceptable
• Egypt court sentences two Morsi supporters to death
-------------
Pakistan
• LeJ Had Serious Differences with Ahl-e-Sunnat Wal Jamaat: observers
• Terrorists taking their last gasp: Interior Minister
• Militant attack on check post in South Waziristan kills three security men
• Govt-MQM meeting discusses formation of grievance redressal committee
• Balochs with Pakistan forever
• Terrorist killed, cop injured in Quetta shootout
• Kashmir has to be part of any Pak-India dialogue: Sartaj
• PM wants plan to deweaponise society
• Death row convict hanged in Bahawalpur
------------
Mideast
• Rebel Rockets Kill 14 Civilians in Yemen City
• 2 Turkish Troops, 1 Police Killed In New PKK Attacks
• Yemen Shoots Down UAE Spy Drone
• Yemeni Forces Warn Residents of Jizan to Keep Good Distance from Military Grid
• Senior Senator Urges Iran to Mediate between Pakistan, Neighbours
• Iran sanctions to be lifted one after another: President Rouhani
• Britain says Iran too powerful to leave in isolation
• Israel restricts movement for 10 in Jewish extremist crackdown
• Erdogan formally calls for snap elections
• Palestinian sentenced to death in Gaza for providing info to Israel
-------------
Africa
• ISIS Executes Four in Libya 'In Warning to Others'
• Nigeria Christians, Muslims Work to Ease Tensions
• Military: Boko Haram abducts dozens in Cameroon
• Ban marks Boko Haram attack on UN in Nigeria
• Burundi tortured protesters with acid, iron bars: Amnesty
• Somali troops force al-Shabab militants from village
• Story of four Americans who became Muslim
• Nigeria: 'Muslims Misconstrue the Teachings of Islam'
• Nigeria: Buhari Accepts Voluntary Offer of Services by Muslim Leaders At Hajj
------------
North America
• US, Turkey to Launch 'Comprehensive' Anti-IS Operation
• America and Europe Desperately Need History Lesson on Radical Islam
• Islamic Fundamentalism: A term coined to sweep America's foreign policy errors under the carpet.
• Right-wing extremists plotting violent attacks on US Muslims, FBI warns
• Alleged terror twin's beat down was payback, court told
-----------
Southeast Asia
• Indonesian Man Called God Faces Denial of Public Services If He Doesn't Change His Name
• Mass graves of 24 Muslim victims of human trafficking found in Malaysia
• Malaysia finds more graves and human remains near Thai border
------------
Europe
• Britain Plans to Crack down On Illegal Migrant Workers
• Germany, France Urge Response to Refugee Crisis
• Spain, Morocco arrest 14 suspected of recruiting for ISIL
• School tells Muslim student to take off veil in class
• French investigators question train gunman
• Turin Shroud replica displayed at Ahmadiyya Muslim convention in Hampshire
Compiled by New Age Islam News Bureau
URL: https://newageislam.com/islamic-world-news/critics-question-india-plan-shield/d/104371
------------
India
Critics Question India's Plan to Shield Muslim Youth from Islamic State
Shaikh Azizur Rahman
August 24, 2015
KOLKATA—
India's programs to deter Muslim youth from joining Islamic State have found few if any takers among Muslim leaders, who say the militant group holds little or no appeal to young Indians.
Following reports from Telangana state and federal intelligence agencies of radicalized youth, the Ministry of Home Affairs said the threat of Islamic State is real in India. The ministry is developing a plan to use counselling, community programs and outreach to dissuade young Muslims from getting involved with the group.
Twelve of India's 29 states are considered particularly at risk, and have been asked to outline their strategies to reach youth by working with parents and community leaders.
Very Few Joined Islamic State
A Home Ministry report says in the past three years about 25 Indian youths were identified as having been attracted to the IS. Eleven of them joined IS in Iraq and Syria.
Ajai Sahni, the executive director of Institute for Conflict Management in New Delhi, says IS is similar to al-Qaida after the 9/11 attacks in that it may attract some supporters but has little real impact in India.
"Although some active groups in India transferred their notional loyalty to Osama bin Laden, it had little operational consequence or impact in the country. The situation with the IS is similar. Although some alarms are being raised, the reality is that, just a few individuals have travelled from India to join the group in Iraq and Syria," Sahni said. "The manifest threat of IS in India, consequently, is negligible."
Many Islamic clerics in India have condemned the Islamic State militants because of their brutal tactics.
Maolana Khalid Rasheed Firangi Mahali is the Shahi Imam of the city of Lucknow. He said that among India's 180 million Muslims, IS is widely identified as an "anti-Islamic" group.
Thus, he said, the government's de-radicalization plan is a meaningless exercise.
"Only 25 have been attracted to the IS. I wonder how Indian government believes with this figure in the hands of its officials that the group is a threat [to] India's Muslims. The exercise which they are planning to launch will only end up creating a sense of terror among Muslims," Firangi Mahali said. "More than 99.9 percent of India's Muslims who know about IS blame it for damaging the image of Islam and they hate the group. The plan to launch de-radicalization centres for Muslim youth in different states does not make any sense."
In Hindu-majority India, Muslims are the largest religious minority, forming 14 percent of the country's population.
'Danger of Communal Polarization'
North Eastern Hill University professor Prasenjit Biswas said that the program of de-radicalization could create new suspicion and hatred of Muslims - who in the past have been targets of sectarian violence.
"Only targeting the Muslim youth in the program is fraught with a danger of communal polarization and 'otherisation' and hence the government's approach might take the form of profiling and surveillance on the Muslim youth," Biswas said.
Proponents of the de-radicalization plan say it paid off in Telangana and would succeed elsewhere.
"After we intercepted some boys who were set to join IS in Iraq and Syria, we put them through our de-radicalization program. We took help from their parents, some community elders and also some religious leaders. The boys responded well and helped us reach our target," said Y. Nagi Reddy, a police commissioner in the Telangana capital of Hyderabad.
The religious leaders played a key role in convincing the young men that the activities of the Islamic State have no standing in the Quran, he said.
"Those who are speaking against such de-radicalization program should come to Telangana and see how those boys who were all set to join IS, leaving their families in agony and despair, are back to normal life bringing peace to their families," he said.
Still, critics of the plan point out that India's prime minister and the home minister have both publicly said in the past year that recruiting efforts by al-Qaida and the Islamic State in the country would win little support.
Mohammad Zim Nawaz, a Kolkata online activist and Muslim community leader, said: "Years ago they started picking up Indian Muslims as terror suspects following bomb attacks in the country. But, the overwhelmingly high rate of acquittals in the court of the Muslim terror suspects in the past years proves that in the Indian perspective the Islamic terror has been a myth… Even India's home minister supported this point in the Parliament in December. This de-radicalization drive of the government will trigger nothing but a more monstrous Muslim-phobia or Islam-phobia in the society."
http://www.voanews.com/content/critics-question-india-plan-to-shield-muslim-youth-from-islamic-state/2931214.html
------------
Who can return our homes now, ask Bhagalpur riot survivors
By Santosh Singh
August 25, 2015
Mohammed Javed, 48, guides The Indian Express team through Parbatti Mohalla of Bhagalpur town, his return drawing looks of suspicion from his former neighbours. The frail motor mechanic stops and points at a pucca house. Back in 1989, this was where his brick-and-tile house used to be. Javed, who had lost 12 members of his family to the Bhagalpur riots, sold his house in 1996. "My daughters were growing up and I wanted to live among Muslim families," says Javed, who sold his plot, measuring about 1,500 square feet, to his friend Amar Kumar Rai (a Yadav) and neighbour Bhushan (a Kurmi) for Rs 80,000. The property is worth an estimated Rs 60 Lakh today. Twenty-two Muslim families had sold their properties cheap and the government has now been advised to return these to the original owners. The Justice N N Singh Commission, whose report was submitted in the Bihar assembly earlier this month, has recommended that the government introduce a law to restore property sold in "distress or duress". Javed looks nostalgic but Parbatti's residents clearly resent his presence. "Why has he come here now?" says an elderly resident, who has read of the commission's report. Javed, then 22, was outdoors on October 24, 1989, while his parents Nazim and Jehana, brothers Firoz, Sohrab and Babar, sisters-in-law Rukhshana and Israt and five nephews and nieces were in the house. "I wanted to go home. But when I did, I saw Kameshwar Yadav (later convicted) there and ran away. I later learnt that my family had been slaughtered and their bodies thrown into a well near Bhagalpur University," he says. Javed, who had to share his compensation with the divorced wife of his eldest brother, says he has not yet been compensated for Babar's death or given riots pension. He feels it is "impossible" for the government to return their homes. "It can provoke fresh communal tension. Let us live in peace," he says, as he prepares to cycle off to his present address, at Shahjangi locality. Wasif Ali, 76, who retired as an associate professor-cum-senior scientist from Bihar Agriculture College, sold his 2,880-square-foot Parbatti house for Rs 1.40 Lakh in 1996. Wasif and his two brothers had an equal share of the property, which he describes as a Haveli. In 1989, a relative at Jabbarchak had advised Wasif to move to his house for safety. "I tried to persuade my father to come with us but he was confident nothing would happen," Wasif says. Wasif returned to his house three days later and found a blood-soaked, rolled mattress and a plastic sheet, suggesting that two bodies had been wrapped in it. He later learnt that another person was with his father. Wasif and his brothers now live at Maulanachak. The idea of restoring property to Muslim families is a joke, he says. "It has been over two decades now. The price of property has gone up 100 times. Some property has changed hands from one Hindu buyer to another as well. It is too complicated, and fraught with danger," he says. Zulfiquar Ali, 48, a.k.a. Bhutto is Wasif's nephew. He runs an electronics shop at Parbatti. "Do you know what a Haveli means? We learnt that thugs needed four days to carry valuables away from our home," says Zulfiquar, a graduate who claims he got a job with the CBI but chose to go into business. "It is not about just distress sale but about surrendering our roots. We have a history of over 450 years in Parbatti. Our forefathers are buried there. We gave up our ancestry along with the property," he says. The present value of the land he sold, he estimates, would be around Rs 1 crore. "Tell me who can return it to us. It is all a political farce in election time," says Zulfiquar, who now lives at Shahjangi. Dr Faruque Ali, a zoology professor with TNB College, has been taking up the cause of riot survivors. "The recommendation of restoring property is impractical," he says. "What the government needs to do is identify beneficiaries who need rehabilitation and employment. The sheer timing of tabling the report obvious has electoral overtones."
http://indianexpress.com/article/india/india-others/who-can-return-our-homes-now-bhagalpur-riot-survivors/
------------
Will Pak Allow Indian Leaders To Meet Disgruntled Elements: Senior Congress leader
Aurangzeb Naqshbandi
Aug 25, 2015
Senior Congress leader Ghulam Nabi Azad on Monday attacked the Modi government for giving Pakistan "an escape route" on the NSA-level talks in which New Delhi could have handed over "tons of evidence" of Islamabad's involvement in terror related attacks in India.
He also said the government had not done its "homework properly" as it should have conveyed to Islamabad its objections to Pakistan National Security Adviser Sartaj Aziz's decision to meet the Hurriyat leaders prior to his talks with Indian counterpart Ajit Doval.
"Our government slept over it and woke up only 24 hours before the proposed talks and in the process made a laughing stock of itself. The agenda could have been firmed up well in advance," Azad told HT.
He also attacked the Hurriyat leaders for playing the spoilers in bilateral engagements between India and Pakistan. "They are knocking at wrong doors and always try to approach our government via Pakistan. This will not help them achieve anything," Azad said.
Recalling the UPA government's initiative to hold three round-table conferences in 2006 and 2007 on Jammu and Kashmir during his tenure as the chief minister, Azad said the Hurriyat leaders had then "missed the bus" by refusing to participate in such meetings attended by leaders of major political parties of the state and eminent people from different walks of life.
"It was a great opportunity for them to express their views and contribute in finding solutions to problems facing the state given that the conferences were chaired by no less a person than the then Prime Minister Manmohan Singh himself."
Azad wondered if Pakistan would allow a meeting between visiting Indian dignitaries and the "disgruntled elements" of that country on its soil. "We have never done such an absurd thing in the past nor will do in future. Like Hurriyat, Pakistan is also knocking at the wrong doors and should desist from such pre-conditions to enable the peace talks to succeed," he said, terming as "uncalled for and undesirable" Islamabad's stand to meet Kashmiri separatists prior to the NSA-level dialogue.
http://www.hindustantimes.com/india-news/will-pak-allow-indian-leaders-to-meet-disgruntled-elements-azad/article1-1383835.aspx
------------
Tension in Bareilly after police cremate Muslim youth as per Hindu rituals
August 25, 2015
THE police in Bareilly district found itself facing the wrath of a family and other village locals last week after they went ahead with the last rites of a youth as per Hindu rituals when he was in fact a Muslim. Officers present at the cremation site hurriedly doused the pyre and handed the youth's body over to the family but in a half-burnt state.
Until late Monday evening, no complaint had been registered against the erring officers.
As per police report, a mutilated body of a youth, in his 20s, was found on the railway tracks in Sarai on August 21 (Friday). The youth had reportedly been run over by a train. When the body remained unidentified, the police, after the autopsy, sent it for cremation on Sunday morning without verifying the religion of the deceased.
In the meantime, one Sabban from Jakharia locality had filed a missing report on Friday (the day the body was recovered) of his son — 22-year-old Arif — who, he said, had left home following a heated argument. When the police showed Sabban the photograph of the youth whose body was found on the tracks, the latter confirmed the youth's identity as that of his son.
"We rushed to the cremation site with Arif's family members where the last rites had begun. The process was stopped but nearly half of the body had been burnt by then. The family members protested and later gheraoed the Sarai outpost," said Kamrul Hasan Khan, SHO of Qila police station where the missing complaint had been filed.
Circle Officer, Bareilly city, Dharam Singh said the police "managed to douse the pyre", adding that the body was handed over to the family.
The SHO claimed that the doctors who had conducted the autopsy did not mention in the report that the youth was a Muslim and sent the body for cremation.
Situation remained tense at the Sarai police outpost where locals had gathered. Senior officials arrived there and assured the protesters that action would be taken against those responsible. No action, however, had been initiated against any official until late Monday evening.
http://indianexpress.com/article/cities/lucknow/tension-in-bareilly-after-police-cremate-muslim-youth/
------------
LeT terrorist Naved to make statement in court on Wednesday
Aug 25, 2015
JAMMU: LeT terrorist Mohammed Naved Yakub, a resident of Pakistan, will make a confessional statement before a magistrate in Jammu on Wednesday regarding the role of the terror outfit in carrying out strikes like the Udhampur attack in Jammu & Kashmir.
Naved, in his early 20s, was produced before a special NIA court on Monday amid tight security and later taken to chief judicial magistrate where the investigating agency informed that the accused was willing to give a confessional statement, official sources said.
Full report at:
http://timesofindia.indiatimes.com/india/LeT-terrorist-Naved-to-make-statement-in-court-on-Wednesday/articleshow/48660827.cms
------------
South Asia
Ministry of Defense says 74 militants killed in Afghanistan military operations
By ZABIHULLAH MOOSAKHAIL
Aug 25 2015
Ministry of Defense says 74 militants have been killed in newest military operations across the country.
A statement issued by the ministry on Tuesday morning states that the operations were conducted in Hisarak District of Nangarhar province, Shinkay District of Zabul, Khak-e-Jabar District of Kabul, Shawak District of Paktia, Dehrawoud, Khas Urozgan, Charchino, Surab and Chinarto districts of Urozgan, Naish District of Kandahar, Chahardara, Khanabad and Qala-e-Zal districts of Kundoz, Kohistanant District and capital of Sar-e-Pul province, Pul-e-Khumri of Baghlan, Almar, Qaisar and Ghormach districts of Faryab, Nawzad District of Helmand and in Herat provinces.
According to the statement 74 insurgents were killed, 25 wounded and 4 others detained in these operations.
Full report at:
http://www.khaama.com/ministry-of-defense-says-74-militants-killed-in-newest-military-operations
------------
Jundullah's Chief Killed In Kunduz Province: NDS
August 25, 2015
KABUL: Afghan security forces on Monday claimed that they have killed the chief of Jundallah, a terrorist organisation operating in Afghanistan according to reports in Afghan media.
Afghanistan's premier intelligence agency – National Directorate of Security (NDS) said Abu Hazifa was killed in an airstrike launched in coordination with the intelligence services.
"The airstrike was carried out in Chahar Darea district of Kunduz province," said the NDS statement.
"Abu Hazifa's deputy and three other commanders of the terror group were also among those killed in the air strike carried out today," added the statement.
The statement also added that Abu Hazifa was one of the prominent leaders who was fighting against Afghan security forces.
According to the NDS statement, the terror group was involved in the killing of dozens of innocent civilians, particularly in Kunduz province.
Full report at:
http://www.dawn.com/news/1202541/jundullahs-chief-killed-in-kunduz-province-nds
------------
Ten children among 11 dead in gas explosion in western Afghanistan
August 25, 2015
KABUL: An Afghan health official says eleven people, mostly children, died when a truck transporting gas canisters exploded outside the western city of Herat.
Rafiq Sherzai, spokesman for the Herat Regional Hospital, said on Tuesday that 18 people were also wounded in the blast late Monday.
Read more: Four children among seven killed in gas blast
He says the blast happened inside the compound of a gas supply company adjacent to a camp for internally displaced people.
Full report at:
http://www.dawn.com/news/1202742/ten-children-among-11-dead-in-gas-explosion-in-western-afghanistan
------------
Ctg Jamaat acting nayeb-e-ameer sent to jail
August 25, 2015
A Chittagong court yesterday evening sent Jamaat-e-Islami's Chittagong city unit acting nayeb-e-ameer to jail in a case filed with Panchlaish Police Station over a cocktail explosion in front of Radisson Blu Chittagong Bay View on February 15.
Arrested by detectives from a house in Halishahar's Bashundara residential area on March 8, Prof Ahsanullah Chowdhury got released from Chittagong Central Jail yesterday afternoon after getting bail in nine cases.
Full report at:
http://www.thedailystar.net/city/ctg-jamaat-acting-nayeb-e-ameer-sent-jail-132058
-----------
Arab World
US Helicopters Drop Weapons, Ammunitions for ISIL in Anbar: Senior Iraqi Official
Aug 24, 2015
"The fighters present at the forefront of fighting against the ISIL always see US helicopters flying over the ISIL-controlled areas and dropping weapons and urgent aids for them," the official who called for anonymity told FNA on Monday.
Yet, he said the helicopters could have also been sent from Turkey or Israel.
He added that in addition to dropping aids, the helicopters transfer the ISIL ringleaders and wounded members from the battleground to some hospitals in Syria or other countries which support the terrorist group.
The official cautioned that such assistance further prolongs the conflicts in Anbar, adding that when the Iraqi army and popular forces purge the terrorists from Anbar province, the US helicopters will transfer the ISIL ringleaders to other regions to prevent the Iraqi forces' access to ISIL secrets.
Scores of Iraqi soldiers were killed by the ISIL in two deadly ambushes in Anbar province on Friday.
Full report at:
http://english.farsnews.com/newstext.aspx?nn=13940602000366
------------
Syrian Army, Hezbollah, Recapture 15 Buildings in Al-Zabadani, Kill over 32 Militants
Aug 25, 2015
The sources said that the Syrian army's 63rd Brigade, Hezbollah fighters, the National Defense Forces (NDF), and the Syrian Social Nationalist Party (SSNP) stormed on the strongholds of Ahrar al-Sham and al-Nusra Front at the Ajjan Neighborhood, killing 19 rebels and then they recaptured 15 buildings en route to the al-Zabadani Power Station.
In addition to their success near the al-Sultani district, the Syrian Armed Forces and Lebanese Resistance continued their advance inside the Mahata district, killing 13 militants from Ahrar al-Sham and the Liwaa Suqour al-Zabadani, while capturing a number of building blocks near the 'Umar al-Farouq Mosque.
Full report at:
http://english.farsnews.com/newstext.aspx?nn=13940603000711
------------
Syrian Army Kills over 20 Militants, Retakes Tal SyriaTel in Lattakia Province
Aug 25, 2015
The sources said that the Syrian army, the National Defense Forces (NDF), and Syrian Social Nationalist Party (SSNP) recaptured the hilltop at Tal SyriaTel, where they killed as many as 20 militants from al-Nusra Front, the Free Syrian Army's (FSA) "Coastal Brigades" and Ahrar al-Sham.
Full report at:
http://english.farsnews.com/newstext.aspx?nn=13940603000770
------------
Suicide car bombings at Iraqi outpost kill 8
25 August 2015
BAGHDAD: A series of Daesh suicide car bombings targeting a military outpost in Anbar province killed eight soldiers and wounded six Monday, military and security officials said, the latest extremist attacks to hit beleaguered Iraqi forces in the region.
The assault west of Anbar's provincial capital, Ramadi, involved three vehicles, including two fuel trucks, officials said. The outpost housed a joint contingent of army soldiers, policemen and allied Sunni militiamen, they said.
Monday's violence is the latest deadly Daesh attack in Anbar, where government forces backed by US-led airstrikes have been battling the extremist group for months. Since Friday, at least 75 soldiers and allied Sunni militiamen have been killed. Much of Anbar is under the extremists' control, including Ramadi and the key city of Fallujah.
Late Sunday, the Iraqi military said in a televised statement that its warplanes targeted Daesh positions in northern and western Iraq, including an extremist meeting in the town of Tel Afar.
Full report at:
http://www.arabnews.com/middle-east/news/796251
-------------
Three killed in clashes at Palestinian refugee camp in Lebanon
Aug 25, 2015
At least three people have lost their lives and nearly three dozen others injured in clashes between the supporters of the Palestinian Fatah Party and members of an extremist armed group at the largest Palestinian refugee camp in Lebanon.
Clashes broke out between gunmen from the Jund al-Sham extremist group and the supporters of the Palestinian Fatah movement, in the northern sector of the Ain al-Hilweh camp near the southern Lebanese port city of Sidon, late on Monday, and continued into Tuesday morning.
Palestinian sources in Sidon, situated 40 kilometers (25 miles) south of the capital, Beirut, said two Fatah members, including an officer, were killed in the shootout. They did not provide any information whether the third person killed was a civilian or a militant.
Medical officials, speaking on condition of anonymity, said at least 35 people also sustained injuries in the incident.
Full report at:
http://www.presstv.ir/Detail/2015/08/25/426248/Lebanon-Ain-alHilweh-Palestinian-refugee-camp-Sidon-Fatah-Jun-alIslam
------------
ISIS blows up house of Iraqi ambassador to Bahrain in Anbar
24 August 2015
The leader of Albu Aytha clan in Anbar province, Abdul Majid Nayef Abu Zeian, announced on Sunday that ISIS blew up his house along with the Iraqi Ambassador to Bahrain Ahmed Nayef Abu Zeian's house east of Ramadi.
Abu Zeian said that "ISIS elements have blown up my house through the planting of a number of improvised explosive devices in Albu Aytha area east of the city of Ramadi."
Abu Zeian added that "the elements of the organization also blew up the house of my brother, the Iraqi Ambassador to Bahrain, Ahmed Nayef Abu Zeian, located in the same area."
Full report at:
http://english.alarabiya.net/en/News/middle-east/2015/08/24/ISIS-blows-up-house-of-Iraqi-ambassador-to-Bahrain-in-Anbar.html
------------
Bomb kills 3 Egyptian policemen, wounds 33
August 25, 2015
CAIRO - A bomb struck a bus carrying Egyptian policemen Monday, killing three and wounding 33, officials said, in the latest attack against security forces who are being targeted by militants.
The attack occurred in the Nile Delta province of Baheira, 260 kilometres (160 miles) north of Cairo, while the policemen were travelling on a civilian bus to work.
"Three policemen were killed, including one who succumbed to his wounds in hospital," health ministry spokesman Hossam Abdel Ghaffar told AFP, updating an earlier toll. "Thirty-three policemen were also wounded. One of them remains in a critical condition."
Militants have killed scores of policemen and soldiers since an Islamist insurgency swelled in the wake of the 2013 overthrow of president Mohamed Morsi, the country's first democratically elected president who took office following the ouster of longtime ruler Hosni Mubarak.
Full report at:
http://nation.com.pk/international/25-Aug-2015/bomb-kills-3-egyptian-policemen-wounds-33
------------
U.S. to welcome 5,000 to 8,000 Syrian refugees
25 August 2015
The United States expects to accept between 5,000 and 8,000 Syrian refugees in 2016, officials said Monday.
State Department spokesman John Kirby also said 15,000 Syrian refugees have been referred to the U.S. for resettlement by the U.N. refugee agency.
In December, Washington had said it had received 9,000 referrals from the U.N.
It had also previously said it would admit between 1,000 to 2,000 Syrian refugees in fiscal year 2015, and increase that number by a few thousand in fiscal year 2016.
The United States has been criticized for not taking more of the estimated four million refugees fleeing the civil war that began in 2011.
Kirby argued that the U.S. was a "leader" in terms of accepting refugees and contributing financially to resettlement efforts, but that this work was "not the metric of success here."
"And so, what we're really committed to is helping to foster the kind of political transition inside Syria, so that it is a safe environment for Syrian people to return, including the millions that are seeking refuge in Turkey right now," he added.
Full report at:
http://english.alarabiya.net/en/News/middle-east/2015/08/25/U-S-to-welcome-5-000-to-8-000-Syrian-refugees-in-2016-.html
------------
Syrian Army Repels Militants' Assault, Recaptures Aleppo's Al-Zahra Neighbourhood
Aug 25, 2015
The al-Qaeda-affiliated group of al-Nusra Front, in coordination with their allies from Jeish al-Mujahiddeen and Jund al-Aqsa, detonated a tunnel bomb at the Orphanage inside the Al-Zahra Association Quarter of Aleppo City on Monday morning, wounding four Syrian soldiers.
Following the detonation of the tunnel bomb, the al-Qaeda affiliates captured the Great Prophet Mosque of Aleppo in Northwest al-Zahra, resulting in their subsequent advance to the dilapidated Air Force Intelligence building located to the East of the mosque; however, this advance did not go as planned for the rebel fighter, as the Syrian army launched counter-attack operations and pushed the militants back.
Full report at:
http://english.farsnews.com/newstext.aspx?nn=13940603000557
------------
Amnesty censure rising number of executions in Saudi Arabia
Aug 25, 2015
Amnesty International has censured a dramatic rise in the number of executions in Saudi Arabia, saying the Riyadh regime executed 175 people – an average of one person every two days – in less than a year.
On Tuesday, the London-based rights group released a report dubbed "Killing In the Name of Justice: The Death Penalty in Saudi Arabia," saying 175 executions were carried out in the kingdom between August 2014 and June 2015.
The 43-page report also said 102 people were executed in the first six months of this year, compared to a total of 83 executions in the entire 2014.
'Faulty justice system'
The Saudis executed a total of 26 people last August in a sudden rise in executions, a trend which Amnesty says has continued to grow in the kingdom.
"Saudi Arabia's faulty justice system facilitates judicial executions on a mass scale," said Amnesty's acting director of the Middle East and North African program, Said Boumedouha.
Amnesty also said that a total of 2,208 people were executed in Saudi Arabia between January 1985 and June 2015.
About 1,072 of those sentenced to death during the last 30 years – about 48.5 percent – were foreigners, whose nationalities "and the fact that they often lack Arabic language skills place them in a particularly disadvantageous position" during trials.
Full report at:
http://www.presstv.ir/Detail/2015/08/25/426216/Amnesty-International-Saudi-Arabia-Said-Boumedouha-executions
------------
Russian FM says US VP's call for partitioning Iraq unacceptable
Aug 25, 2015
The Russian foreign minister has slammed the US vice president's remarks urging the partition of Iraq as "highly irresponsible," saying that Moscow would never agree to such "state structure manipulation."
"We would never adopt a position voiced without any constraint by US Vice President Joe Biden, who said directly that Iraq should be split into Shia and Sunni parts and that the Kurds should be given what they want," Sergei Lavrov said Monday while addressing a youth forum near the Russian capital Moscow.
Lavrov further described Biden's position as "unacceptable" and censured as "social engineering" lecturing the Iraqi people on how to structure and govern their country.
"We won't commit to such things, telling Sunnis to get out today and urging Shias to move on next time. This is 'social engineering,' state structure manipulation from far outside," RT quoted the top Russian diplomat as saying.
"We believe that Iraqis – Shia, Sunnis and Kurds – should decide for themselves how to live together," Lavrov underlined, noting that the destructiveness of Biden's idea is obvious.
Full report at:
http://www.presstv.ir/Detail/2015/08/25/426197/Russian-Foreign-Minister-Sergei-Lavrov-US-Vice-President-Joseph-Biden
------------
Egypt court sentences two Morsi supporters to death
Aug 25, 2015
An Egyptian court has sentenced two supporters of ousted President Mohamed Morsi to death on charges of involvement in violence during anti-government protests in 2013, Press TV reports.
The Giza Criminal Court handed down the preliminary sentences to Mostafa Hamdy and Mosaab Abdel-Rahman, saying they were guilty of torching the administrative prosecution building in Cairo as well as a cell phone tower in the 6th of October City, a residential and industrial suburb of the Egyptian capital.
The sentences have been sent to Shawki Ibrahim Abdel-Karim Allam, Egypt's grand mufti, for review. The opinion of the mufti is not binding, but Egyptian law makes it necessary for judges to seek a religious point of view on any death sentence.
The court will deliver its final verdict in the case on October 3.
Hamdy and Abdel-Rahman belong to the Ultras Rabaawy, which is a pro-Morsi youth movement formed in solidarity with the victims of the August 2013 Rabaa massacre.
On August 14, 2013, Egyptian security forces carried out deadly attacks on two protest camps in Cairo, one at al-Nahda Square and a larger one at Rabaa al-Adawiya Square. The two sites had been occupied by the supporters of Morsi for weeks. The Muslim Brotherhood claimed the death toll from the attack on Rabaa Square alone was about 2,600.
Full report at:
http://www.presstv.ir/Detail/2015/08/25/426209/Egypt-Morsi-supporters-death-sentence-Giza-
------------
Pakistan
LeJ Had Serious Differences with Ahl-e-Sunnat Wal Jamaat: observers
KALBE ALI
August 25, 2015
ISLAMABAD: The tragic incidents of terrorism and the Zarb-i-Azab military operation had allowed friction between Ahmed Ludhianvi-led Ahl-e-Sunnat Wal Jamaat (ASWJ) and the Malik Ishaq-led Lashkar-e-Jhangvi (LJ), the banned militant outfits, to go unnoticed.
However, the July 30 killing of Malik Ishaq in an encounter with police has highlighted these differences and observers have noted that the Ludhianvi's ASWJ showed no reaction to the event as it has neither condemned the killing nor announced any protest against it. The only noticeable protest against the killing reported by the media was held in Quetta where some protesters were detained by law-enforcement personnel.
"It is the policy of Chairman Allama Ahmed Ludhianvi and of ASWJ to not support arson, terrorism and aggression," said Oneeb Farooqui, the spokesman for the ASWJ's Islamabad chapter.
Take a look: ASWJ unlikely to protest Ishaq's killing
He argued that apart from minor demonstrations, his party did not take any step that could have caused any damage or discomfort to the public even after the party had lost 20 of its members to target killings in Rawalpindi-Islamabad alone.
For some observers this silence is merely a cosmetic measure. Critics felt that the desire of Ludhianvi and his party to be accepted in the mainstream is far stronger than their need to protest against the killing of Malik Ishaq.
However, this is not the entire picture. In fact, differences between Ahmed Ludhianvi and Malik Ishaq are said to be a reason for the former's silence.
Know more: Lashkar-i-Jhangvi chief Malik Ishaq, two sons killed in Muzaffargarh 'encounter'
Though office-bearers of both the parties acknowledge the differences between the two men, they do not want to take them on record. It appears that Malik Ishaq and his supporters were not happy with Ludhianvi.
This friction began following Malik Ishaq's release on bail in July, 2011, after serving 14 years in prison. Ludhianvi went to the prison to welcome him and they both later addressed a rally.
However, Ludhianvi's hopes of transforming Malik Ishaq into a political leader as he imagined for himself dashed quickly as the LJ chief had made it clear to many what his interests were.
Among those who met Malik Ishaq just prior to his release was well-known cleric, Hafiz Tahir Ashrafi.
Full report at:
http://www.dawn.com/news/1202616/malik-ishaq-had-serious-differences-with-ludhianvi-observers
------------
Terrorists taking their last gasp: Interior Minister
August 25, 2015
ISLAMABAD - The backbone of terrorism has been broken but fleeing militants could carry out more attacks in desperation as the country enhances pace of national action plan (NAP) next month, the interior minister said yesterday.
Nisar Ali Khan warned that the next 8 months were crucial in this fight, but claimed that no terrorist networks was now capable enough to operate in the country.
Terrorism in the country has been brought down by 70 per cent overall, the minister claimed, as he laid out an elaborate progress report before a press conference following a briefing to the federal cabinet on NAP implementation.
He said the civil-military relationship in the country had never been better, and credited the civil-military cooperation for the achievement of the feat.
He went on to say that no one should discuss civil-military relationship in public, "nor should anyone give out reckless opinions on the subject.
"
The government has decided to give top priority to end sectarian violence and religious persecution in the country and a crackdown had been started against hate mongers, the minister said.
Another top priority is stopping terrorist financing, he said, admitting that progress in this area remained slow as only Rs250 million could be frozen under NAP.
Similarly, Nacta was being re-activated, he said.
The minister said that performance on madrasa reforms, Nacta activation and repatriation of Afghan refugees also remained low.
But he stressed that terrorism incidents had drastically decreased since the launch of military operation Zarb-e-Azb and the NAP, which "is a strong and detailed policy framework".
Brushing aside media reports that the progress on NAP remained slow, Nisar said that the performance of the government on key points of the plan was 'remarkable'.
Enumerating other achievements, he said: In the nine months, since NAP implementation, the government has verified 140 millions SIMs.
Today no SIM is used in heinous crimes.
The government has carried out 211 executions and will move on with the capital punishment.
Armed militias or groups today cannot use or exhibit arms; while sectarian groups are being targeted.
Full report at:
http://nation.com.pk/national/25-Aug-2015/terrorists-taking-their-last-gasp-nisar
------------
Militant attack on check post in South Waziristan kills three security men
ALI AKBAR
August 25, 2015
ISLAMABAD: At least three security personnel were killed on Tuesday during a militant attack on a security checkpost in South Waziristan's Ladha area.
Security sources told DawnNews that, "Terrorists attacked a security check post in Ladha and opened fire, resulting in the demise of three security personnel: Jafar Hussain, Mohammad Ali and Arsalan Khan."
The sources added that the assailants escaped after the attack.
Ladha, once a stronghold of the Taliban, lies between Kaniguram and Makeen. It is the largest of the agency's administrative sub-divisions in terms of population. The army had regained control of Ladha from the Taliban in 2009 during Operation Rah-i-Nijat. The region is mountainous and has several Taliban sanctuaries.
Meanwhile, gunship helicopters of the army aviation destroyed a terrorist training camp and ammunition depot in Gurbaz village of North Waziristan's Shawal district, said a statement issued by the Inter-Services Public Relations (ISPR).
The statement added that a number of suspected terrorists were also killed in air strikes.
North and South Waziristan are among Pakistan's seven tribal districts near the Afghan border which are rife with homegrown insurgents and are alleged to be strongholds of Taliban and al Qaeda operatives, among others.
Full report at:
http://www.dawn.com/news/1202749/militant-attack-on-checkpost-in-south-waziristan-kills-three-security-men
------------
Govt-MQM meeting discusses formation of grievance redressal committee
IRFAN HAIDER
August 25, 2015
ISLAMABAD: A meeting between a Muttahida Qaumi Movement (MQM) delegation and government representatives pertaining to the formation of a committee to address their grievances is under way at Punjab House.
Federal Finance Minister Ishaq Dar and Information Minister Pervaiz Rasheed along with other government officials are present in the meeting with Dr Farooq Sattar heading the MQM delegation.
The meeting is expected to discuss the terms of reference (ToR) for the grievances redressal committee as MQM will reconsider its decision regarding resignations after receiving assurances from the government regarding their concerns.
Know more: After talks with govt, MQM agrees to review resignations: Fazl
Yesterday, Jamiat Ulema-i-Islam - Fazl (JUI-F) chief Maulana Fazlur Rehman had announced that the MQM had agreed to review its decision to resign from Parliament after Prime Minister Nawaz Sharif said he will form a committee to address their grievances.
Fazl had said an MQM delegation detailed its grievances in talks with the government yesterday, adding that the premier heard all their reservations and assured the party they will be dealt with swiftly.
In this regard, Fazl had announced that the premier had ordered the formation of a grievances redressal committee for today (Tuesday).
The JUI-F chief had said the MQM welcomed the prime minister's initiative, agreeing to reconsider its decision to resign from the National Assembly, Senate and the Sindh Assembly.
The committee, he had said, will be mandated to record in detail the grievances presented by the MQM and will find ways in which these can be dealt with.
The Maulana said all further modalities will be finalised at the time of constitution of the committee, which will include lawmakers from the government and other political parties.
Responding to a question, Fazl had said a time frame for the committee to finalise its conclusions will also be decided when the committee is constituted.
Full report at:
http://www.dawn.com/news/1202744/govt-mqm-meeting-discusses-formation-of-grievance-redressal-committee
------------
Balochs with Pakistan forever
August 25, 2015
NEW YORK - Balochistan representatives have deplored the attempts to project people of Balochistan as anti-Pakistan and said Baloch were loyal to the country.
"Balochistan was, is and will remain a part of Pakistan forever.
"
Thousands of Pakistani-Americans gathered on Sunday for the annual Pakistan Independence Day Parade in New York, with a representative delegation from Balochistan giving an uplifting message to the cheering crowd: the Army has broken the back of the insurgency and peace has returned to the province.
Pakistan's Ambassador to the United Nations, Dr Maleeha Lodhi, led the tributes to the 28-member Baloch delegation, which is composed of elected members from all parts of the province, for their presence in the parade.
Full report at:
http://nation.com.pk/national/25-Aug-2015/balochs-with-pakistan-forever
------------
Kashmir has to be part of any Pak-India dialogue: Sartaj
August 24, 2015
Islamabad: Advisor to Prime Minister on National Security and Foreign Affairs Sartaj Aziz has said, Kashmir is key issue amongst outstanding issues between Pakistan and India.
Talking to state-run Pakistan Television, Sartaj Aziz said Kashmir has to be part of any composite dialogue between Pakistan and India.
He said, if Kashmir was not an issue then why 700,000 Indian troops have been deployed in occupied Jammu and Kashmir. He said terrorism, which India has been stressing on, was included in the eight-point composite dialogue process.
The National Security Adviser said, Pakistan is an atomic power and has the capability to defend its territory.
Sartaj said, Pakistan believes Kashmir has to be part of the agenda for any talks. "No serious dialogue with India is possible, unless Kashmir is on the agenda. This is a reality that India has to recognize. It cannot wish away that this is not an issue," Aziz said.
To a question he said that the political leadership and people of Pakistan were committed to support Kashmiris and their right to self- determination. He said India also needed stabilization in the region for its economic progress.
Sartaj Aziz said whole the world recognized the way Pakistan took its stance over issue of terrorism but India instead of recognizing its efforts starts blame game every time without providing any concrete evidence.
"No country has taken such stern action against terrorism as Pakistan did", he stated. To another question he said Indian media has tendency to propagate the issues without strong evidences.
Full report at:
http://nation.com.pk/national/24-Aug-2015/kashmir-has-to-be-part-of-any-pak-india-dialogue-sartaj
------------
PM wants plan to deweaponise society
IFTIKHAR A. KHAN
August 25, 2015
ISLAMABAD: Prime Minister Nawaz Sharif has directed the interior ministry to prepare a plan to deweaponise society because a democratic government could not allow armed groups to operate with impunity.
Presiding over a meeting of the cabinet on Monday, he said the Zarb-i-Azb operation was achieving its objectives and the credit went to the armed forces and civilian institutions.
He said even the international community praised the successes achieved in the operation.
The prime minister lauded the efforts and determination of Army Chief General Raheel Sharif and Chief of Air Staff Air Marshal Sohail Aman for leading the operation from the front.
Nisar briefs cabinet on NAP's implementation status
Mr Sharif said the operation against criminals in Karachi was launched in agreement with all stakeholders and its results were visible.
He said the people of Karachi wanted peace and the government would not allow political expediency to come in the way of restoring peace and traditional tranquillity in the city.
"We cannot even think of taking any step back as far as the Karachi operation is concerned and those who have come to parliament with the people's mandate should place their grievances and raise issues on the floor of the house."
The prime minister said the government was committed to implementing the National Action Plan because benefits of its success would reach every corner of the country. He said those involved in sectarianism and those who disseminated hatred, incited militancy and encouraged terrorism would be severely dealt with.
He declared that the terrorists who played with the lives of the people were committing unforgivable crime and would not be spared.
Mr Sharif said the situation in Balochistan had been improving and the process would continue till the dawn of peace and prosperity from Fata to Balochistan and Karachi.
Interior Minister Chaudhry Nisar Ali Khan gave a detailed presentation on the status of National Action Plan.
He informed the meeting that the government was making progress in key elements of the plan and the situation had improved a lot because of sacrifices rendered by armed forces and law-enforcement agencies.
He said the national security policy must not be politicised or used for point-scoring.
He assured the cabinet that no criminal element or terrorist would be spared during implementation of the NAP.
The minister said that the overall security situation in the country had improved considerably and "we will not allow anyone to derail the operation against criminals".
The prime minister praised the interior minister and expressed the hope that he would continue the mission.
Later briefing newsmen along with Information Minister Pervez Rasheed, the interior minister rejected criticism over implementation of the NAP and said "the figures speak for themselves".
Chaudhry Nisar said the security situation was gradually improving. "The efforts must not be made controversial or sabotaged."
He described as baseless rumours about any strain in civil-military relationship and said similar rumours were churned out when the dialogue with the Tehreek-i-Taliban Pakistan had been started.
Full report at:
http://www.dawn.com/news/1202618/pm-wants-plan-to-deweaponise-society
------------
Death row convict hanged in Bahawalpur
August 25, 2015
BHAWALPUR: A death row prisoner, convicted of killing four policemen, was hanged in Bhawalpur on Tuesday morning.
Condemned prisoner, Zulfiqar, was hanged in Central Jail Bhawalpur after he was found guilty of killing four policemen in 1997.
Pakistan lifted its moratorium on the death penalty in all capital cases on March 10.
Initially executions were resumed for terrorism offences only in the wake of a Taliban massacre at an army-run school in Peshawar which had claimed the lives of more than 150 persons, mostly schoolchildren, on December 16, 2014.
Full report at:
http://www.dawn.com/news/1202746/death-row-convict-hanged-in-bahawalpur
------------
Mideast
Rebel rockets kill 14 civilians in Yemen city
August 25, 2015
SANAA - Iran-backed rebels in Yemen fired rockets into a residential district of Taez, killing 14 civilians, mostly women and children, officials said Monday, as battles raged for control of the key city.
The bodies of those killed, including seven women and four children, were taken overnight to the morgue at a public hospital in Taez, said the medical officials.
Several other civilians were wounded and hospitalised.
The Shiite Huthi rebels and their allies had fired Katyusha rockets on Sunday targeting the district in central Taez, according to medics and residents.
Viewed as the key to controlling the capital Sanaa, Taez has been the scene of deadly fighting between the rebels and loyalists of Yemen's exiled government.
Battles in the city, southwest of Sanaa, have intensified in recent weeks as loyalists pressed an offensive in which they have so far recaptured five southern provinces.
Pro-government forces claim to control "75 percent" of the city, including the presidential palace and the residence of former president Ali Abdullah Saleh - whose supporters are fighting among Huthi ranks.
Full report at:
http://nation.com.pk/international/25-Aug-2015/rebel-rockets-kill-14-civilians-in-yemen-city
------------
2 Turkish troops, 1 police killed in new PKK attacks
August 25, 2015
ISTANBUL - Two Turkish troops died Monday and a policeman was killed in new attacks blamed on Kurdistan Workers Party (PKK) militants in the country's southeast, the army and officials said.
The two soldiers died in a roadside bombing by the PKK early Monday in the Semdinli region of the southeastern Hakkari province close to the borders with Iran and Iraq, the army said in a statement.
Five other soldiers were wounded.
Helicopters and drones were despatched to "neutralise the terrorists" behind the attack, it added.
A 20-year-old policeman in the Nusaybin district of Mardin province was shot dead by suspected PKK militants while standing outside his father's house late on Sunday night, the local governor's office said.
The PKK has been staging daily attacks against the Turkish armed forces as the military keeps up air raids and operations against its strongholds in southeast Turkey as well as northern Iraq.
Full report at:
http://nation.com.pk/international/25-Aug-2015/2-turkish-troops-1-police-killed-in-new-pkk-attacks
------------
Yemen Shoots Down UAE Spy Drone
Aug 25, 2015
The drone was shot down in Mukayris, which is situated between the Abyan and Bayda provinces.
Saudi Arabia has been striking Yemen for 153 days now to restore power to fugitive president Mansour Hadi, a close ally of Riyadh. The Saudi-led aggression has so far killed at least 5,518 Yemenis, including hundreds of women and children.
Hadi stepped down in January and refused to reconsider the decision despite calls by Ansarullah revolutionaries of the Houthi movement.
Full report at:
http://english.farsnews.com/newstext.aspx?nn=13940603000465
------------
Yemeni Forces Warn Residents of Jizan to Keep Good Distance from Military Grid
Aug 24, 2015
"Yemen's revolutionary committees have asked all Saudi civilians of the city of Jizan to keep a good distance from Saudi military bases," a member of the Yemeni revolutionary committees, speaking on conditions of anonymity, told FNA on Monday.
He further reiterated that the Yemeni forces are now ready to give a devastating response to the ongoing Saudi aggressions.
Earlier today, the Yemeni forces won control over some parts in Jizan province.
The Yemeni forces announced that they had taken full control of several hilltops in Jizan, FNA dispatches said.
On Sunday, the Yemeni army and popular forces targeted and destroyed a Saudi military vehicle convoy in Jizan with missiles.
The Saudi military convoy comprising tanks and armored personnel carriers came under the Yemeni forces' attack in Jizan.
Several Saudi military men were killed in the Yemeni raid on their convoy.
On Saturday, the Yemeni forces destroyed Saudi Arabia's al-Mamout military base in the Southern parts of the country.
Full report at:
http://english.farsnews.com/newstext.aspx?nn=13940602001461
------------
Senior Senator Urges Iran to Mediate between Pakistan, Neighbors
Aug 24, 2015
"The border clashes with India and Afghanistan lead the region towards insecurity and we should act immediately to stop these conflicts," Senator Saeed Qani, a senior member of Pakistan's People Party, told FNA on Monday.
He demanded the neighboring states, specially Iran, to end the border clashes between Pakistan and Afghanistan and India.
"Iran enjoys highly good relations with the three countries of Pakistan, Afghanistan and India and therefore, it can play an effective role in terminating their border conflicts," Qani underlined.
Afghanistan and Pakistan accuse each other of doing too little to prevent Taliban fighters and other militants from operating on their territory.
Pakistan said militants firing from Afghan territory killed four of its soldiers along the border on Sunday, as tensions continued to rise between the neighbors.
Islamabad's Foreign Ministry summoned the Afghan ambassador later on Sunday to protest and demand an investigation.
Full report at:
http://english.farsnews.com/newstext.aspx?nn=13940602000944
------------
Iran sanctions to be lifted one after another: President Rouhani
Aug 25, 2015
Iranian President Hassan Rouhani says the sanctions against Iran will be lifted one after another with the conclusion of the recent agreement between the Islamic Republic and the P5+1.
President Rouhani made the remark in an address to a large crowd of people in the western Iranian city of Hamedan on Tuesday.
He said his administration has reached a point where it had the anti-Iran sanctions annulled at the very institution and by the very group that had imposed them in the first place.
The Iranian president said the Islamic Republic has succeeded in not only having the sanctions resolutions annulled – without even a moment of having implemented them – but also in establishing its right to uranium enrichment "not just as a slogan but through UN resolutions." He was referring to Resolution 2231 (2015), which was unanimously approved by the UN Security Council on July 20 to endorse the agreement between Iran and the P5+1 countries.
Iranian President Hassan Rouhani on arrival at an airport in the western Iranian city of Hamedan, August 25, 2015 (Photo by IRNA)
Representatives and nuclear experts from Iran and the P5+1 group – the United States, Britain, France, China and Russia plus Germany – succeeded in finalizing the text of the agreement, dubbed the Joint Comprehensive Plan of Action (JCPOA), in the Austrian capital, Vienna, on July 14.
Full report at:
http://www.presstv.ir/Detail/2015/08/25/426237/Iran-President-Rouhani-sanctions-Hamedan
-------------
Britain says Iran too powerful to leave in isolation
August 25, 2015
TEHRAN: Iran's President Hassan Rouhani said that world powers will eventually look back at last month's nuclear deal as a wise precursor to better relations with the Islamic republic.
While, Foreign Secretary Philip Hammond said Iran is a major regional player that can be an ally in fighting terrorism — but that London must "tread carefully" in its relationship with Tehran.
These remarks came in a meeting between Rouhani and Philip Hammond, who is on the second and final day of a trip to Tehran.
British and Iranian embassies reopened in Tehran and London on Sunday, the latest step in ending a diplomatic chill stemming from the nuclear crisis and Western-led sanctions against Iran.
The nuclear deal — which will see those sanctions lifted in exchange a new inspections regime and curbs on Iran's atomic programme — is due to be implemented in the next few months.
"The negotiating parties will realise in the future that interaction rather than confrontation with Iran was the right approach," the official IRNA news agency quoted Rouhani as saying.
"We consider this agreement as the start of a move toward creating a better situation in international and regional relations."
Hammond said Sunday that recent strife between Britain and Iran — a hardline mob trashed his country's Tehran embassy in 2011 after banking sanctions were announced, forcing its closure — were being repaired but it was an evolving process.
"We have come a long way but let's walk first and try to run later, "Hammond told reporters at Iran's foreign ministry.
Rouhani echoed that sentiment, alluding Monday to Britain's historical role in Iran — along with the United States it led a coup that toppled Prime Minister Mohammad Mossadegh in 1953.
"Although a nation's historical judgements cannot be changed quickly in a short period of time, we believe that one should not remain in the past. We should look to the future," Rouhani said.
"By moving forward on different political, economic and regional issues we can guarantee long-term trust."
Full report at:
http://www.dawn.com/news/1202525/britain-says-iran-too-powerful-to-leave-in-isolation
------------
Israel restricts movement for 10 in Jewish extremist crackdown
23 August 2015
Israeli authorities have restricted the movements of 10 people amid a crackdown on Jewish extremists following the deadly firebombing of a Palestinian family's home, authorities said Sunday.
The orders range from a ban on entering the Israeli-occupied West Bank, where a number of wildcat Jewish settlement outposts are reputed to house extremist youths, to lesser restrictions.
Israel's Shin Bet domestic security agency said attacks had "emanated" from the Habaladim outpost near Duma, the Palestinian village where the firebombing that killed in July an 18-month-old and his father occurred.
"In light of a number of terror incidents recently, including the taking of human life... restraining orders have been signed in the past days against 10 activists," the Shin Bet said in a statement.
"These orders include various restrictions, among them on place of residence, movements during the night hours and preventing their entry to (the West Bank), among other things, to keep them away from illegal outposts, for example Habaladim, from which the attacks emanated."
Full report at:
http://english.alarabiya.net/en/News/world/2015/08/23/Israel-restricts-movement-for-10-in-Jewish-extremist-crackdown.html
------------
Erdogan formally calls for snap elections
25 August 2015
Turkey's president formally called on Monday for a snap election, a day after a deadline passed for forming a new government following an inconclusive vote in June.
A statement released from President Recep Tayyip Erdogan's office didn't say when the new election would be held, but the president has previously said it was likely to take place on November 1.
Erdogan was expected to re-appoint Prime Minister Ahmet Davutoglu to form an interim government during a meeting on Tuesday.
The AKP ruling party, which Erdogan founded, lost its parliamentary majority in June for the first time since 2002. Davutoglu's efforts to form a coalition alliance failed last week, setting the stage for Erdogan to declare repeat elections he is reported to have favored all along.
Erdogan is thought to have pressed for new elections to give the ruling party the chance to win back its majority and rule alone.
Turkey faces new elections as it is grappling with a sharp increase in violence between security forces and Kurdish rebels and is more deeply involved in the U.S.-led campaign against Islamic State group extremists. The Turkish lira has dropped to record lows against the dollar amid the political uncertainty.
Full report at:
http://english.alarabiya.net/en/News/middle-east/2015/08/25/Turkey-s-Erdogan-formally-calls-for-snap-elections.html
------------
Palestinian sentenced to death in Gaza for providing info to Israel
24 August 2015
A Hamas military court in the Gaza Strip on Monday sentenced a Palestinian to death for allegedly providing information to Israel said to have led to Palestinians being killed, judicial sources said.
The 28-year-old man was identified only by the initials N.A. and no other details on the accusations against him were provided by Hamas, the Islamist movement that rules the Palestinian territory which has seen three wars with Israel in six years.
According to the Palestinian Centre for Human Rights, 157 people have been sentenced to death in the occupied territories since the creation of the Palestinian Authority in 1994.
Thirty-two have been executed, including 30 in the Gaza Strip.
Full report at:
http://english.alarabiya.net/en/News/middle-east/2015/08/24/Palestinian-sentenced-to-death-in-Gaza-for-providing-info-to-Israel.html
------------
Africa
ISIS executes four in Libya 'in warning to others'
25 August 2015
ISIS has executed four people in the central Libyan city of Sirte, including at least one member of a rival group whose body was put on display, according to residents and a video published on social media on Monday.
A video released by the militant group showed a gunmen shooting a man, dressed in an orange jumpsuit, who was tied to a makeshift cross. His body was left there afterward as a warning to others.
The man was identified as an alleged spy for Libya Dawn, an armed group backing a non-recognized government in Tripoli, which has flown air strikes against ISIS in Sirte.
The video's authenticity could not be verified by Reuters.
Sirte residents, asking not to be named, said ISIS had executed a total of four people, which all had been wearing orange jumpsuits. They had no information on their identity.
Sirte is a stronghold of ISIS, which has gained a foothold in Libya by exploiting a security vacuum as two rival governments are battling for control four years after the ousting of former leader Muammar Qaddafi.
Full report at:
http://english.alarabiya.net/en/News/middle-east/2015/08/25/ISIS-executes-four-people-in-central-Libyan-city.html
-------------
Nigeria Christians, Muslims Work to Ease Tensions
August 24, 2015
LAGOS, NIGERIA—
In recent years, mobs have repeatedly set fire to this Evangelical Church of West Africa in the Tudun Fawa neighborhood of Kaduna, Nigeria's fifth most populous city.
But on Sunday night, Muslims and Christians sat together in the pews for an interfaith service meant to mark an end to years of conflict between the two communities.
"The essence of today's service is to tell the world that peace is possible, and that Christians and Muslims can coexist," said Reverend Yunusa Madu, general overseer of the church. "So we have called our Muslim friends so that we can come and worship together."
Damaged by outbreaks of religiously-fueled violence, the northern Nigerian city — just like the state that shares its name — is religiously mixed, with Muslims dominating the city and the state's northern half, and Christians dominating the southern part. The bloodiest clash came after the 2011 presidential election, when rioting across Nigeria left 800 people dead — many of them in Kaduna.
Full report at:
http://www.voanews.com/content/kaduna-nigeria-interfaith-service/2930366.html
-------------
Military: Boko Haram abducts dozens in Cameroon
24 August 2015
Thirty-two civilians were kidnapped on Sunday when Boko Haram militants raided a village in Cameroon's Far North region, according to a local military source.
Col. Issa Babatoura said another 27 people were injured in the attack, which occurred in the town of Manawadji in the Far North's Mayo-Sava area.
Notably, one day earlier, army chiefs-of-staff from Cameroon, Niger, Nigeria, Benin and Chad all met in Chadian capital N'djamena.
The five countries – all of which have suffered recent attacks by Boko Haram – belong to a regional coalition tasked with eradicating the threat posed by the notorious militant group.
The Nigeria-led Multinational Joint Task Force (MNJTF) was formally established in June. Earlier this month, following fresh Cameroonian contributions, its total troop strength increased to 12,000.
Full report at:
http://www.worldbulletin.net/africa/163525/military-boko-haram-abducts-dozens-in-cameroon
-------------
Ban marks Boko Haram attack on UN in Nigeria
August 25, 2015
ABUJA - UN chief Ban Ki-moon laid a wreath in conflict-hit Nigeria's capital on Monday to commemorate the fourth anniversary of a deadly attack on the global body by Boko Haram militants.
The secretary-general hugged several relatives of the victims of the bombing during a ceremony at United Nations House and praised "the extraordinary fortitude and determination" of the survivors. "Our fallen colleagues and partners will be remembered this morning with a moment of silence in many places," he said. "But nowhere are the memories of these colleagues more immediate, more vivid and more compelling than here in Abuja. We will remember them forever as truly the best of humanity."
At least 21 people were said to have died when a bomb-laden car exploded at UN House, the headquarters for around 400 employees, on August 26, 2011. The death toll rose to 24 in the months that followed, according to the United Nations, with 12 non-UN staff among the victims.
The radical Islamist sect Boko Haram, blamed for the deaths of at least 15,000 people during a six-year-insurgency, mainly in the country's northeast, claimed responsibility for the attack.
"The terrorists attacked the United Nations and destroyed the lives of many colleagues. But we have a mandate to build. To better the lives of people in need," Ban said.
Ban arrived in Abuja on Sunday for a two-day visit during which he is due to hold talks with Nigeria's President Muhammadu Buhari, with violent extremism high on the agenda, as well as development and climate change.
"Across our world, we see insecurity, inequality, growing divides," Ban told a private meeting of state governors in Abuja late on Sunday, according to a UN statement.
"Here in Nigeria, you know the challenges all too well - including the rise of extremism and the lack of equal opportunity."
Ban touched down at Abuja's international airport just hours after the military revealed suspected Boko Haram fighters had ambushed a convoy carrying Nigeria's army chief-of-staff Lieutenant General Tukur Buratai.
The officer was unharmed but one soldier and 10 militants died in the ensuing firefight, in Faljari village, east of Borno State capital Maiduguri, according to army spokesman Sani Usman.
Boko Haram has stepped up its attacks in Borno and two neighbouring states in its northeastern heartland since Buhari came to power on May 29.
The Islamists have also carried out deadly ambushes across Nigeria's borders and in recent weeks suicide bombers, many of them women, have staged several attacks in Nigeria, Cameroon and Chad.
Full report at:
http://nation.com.pk/international/25-Aug-2015/ban-marks-boko-haram-attack-on-un-in-nigeria
-------------
Burundi tortured protesters with acid, iron bars: Amnesty
Aug 24, 2015
Burundi security forces used acid and iron bars to extract confessions from the opponents of President Pierre Nkurunziza during his controversial bid for a third term in office, Amnesty International says.
The UK-based rights group said in a report released in the Kenyan capital Nairobi on Monday that both the Burundian police and National Intelligence Service (SNR) had carried out "torture and other ill-treatment" since April 2015 against people suspected of participating in protests against Nkurunziza's re-election bid.
The report titled "Just tell me what to confess to" also noted that the Burundian security forces used electric cable, batons, iron bars and acid to force confessions from opposition supporters during their imprisonment.
"Detainees were subjected to a pattern of human rights violations: unlawful arrest and detention, torture and other ill-treatment, and a lack of access to lawyers, family members and doctors," the report said.
The rights group pointed out that security forces used "an array of torture techniques", with victims reporting heavy beatings "aimed especially for people's joints, their knees and ankles"
The report contains several eyewitnesses' accounts and a series of testimonies by suspected protesters, opposition figures and journalists.
According to the rights group, none of those interviewed were given access to lawyers or their families during their detention.
Protesters opposed to Burundian President Pierre Nkurunziza's third term, some of them armed, demonstrate in the Buyenzi neighborhood of Bujumbura on May 26, 2015 (AFP photo)
Nkurunziza won an outright victory in last month's presidential election after grabbing 69.41 percent of the votes.
This is while Nkurunziza's third term has widely been censured as unconstitutional by the country's opposition, prompting months of violent protest rallies that has so far claimed more than 90 lives.
Full report at:
http://www.presstv.ir/Detail/2015/08/24/426171/Africa-Burundi-Nkurunziza-Amnesty-SNR
-------------
Somali troops force al-Shabab militants from village
Aug 24, 2015
Somali government forces have ended the al-Qaeda-linked al-Shabab's six-year-long control over a southwestern village.
The operation to retake Godahey, which took place on Monday, lasted three hours and left 12 militants dead, the DPA reported.
Three government soldiers were reportedly injured in the fighting, while an al-Shabab spokesman told pro-militant radio Andalus that 10 soldiers had been killed.
Shabab came under the attack in response to a Saturday car bomb blast that killed 20 soldiers in the port town of Kismayo in southern Somalia.
At least 45 people, including three Kenyan trainers from the African Union Mission to Somalia (AMISOM), were wounded in the incident, which saw a bomber crashing his explosive-laden minibus into a military training base.
Somali Defense Minister Abdulkadir Sheikh Dini called the attack "a cowardly terrorist act" and the head of the AMISOM, Maman Sidikou, vowed that "we will not relent."
Somalia has been the scene of deadly clashes between government forces and Takfiri al-Shabab militants since 2006.
Full report at:
http://www.presstv.ir/Detail/2015/08/24/426170/Somali-Shabab-Godahey-Kismayo-AMISOM
-------------
Story of four Americans who became Muslim
25 August 2015
When we come across a story of an American, a European, or an Asian who became Muslim, we would read it with full of curiosity. We would have the feeling of pride and achievement, because he or she made the right decision, and chose 'my religion'. However, this feeling is a delusion which causes us to exalt ourselves. Is it us, our religion, or Allah who makes people to convert Islam?
All conversion stories should lead us to go beyond our ordinary understanding about Islam and rebuild our bond with Quran. This was the grounds of my intention to conduct interviews with my American friends whom I met in the Islamic Center of Bloomington, where people from all over the world gather. I wondered if I could realize a different aspect of Islam, from a different angle of view, by listening their first experiences of reading Quran, prayer and fasting. I want to share their unique stories, because I felt that their answers to my questions are not the kind of answers that a Muslim born person can give.
Both John and Matt were students at Indiana University. Hearing their journey to Islam was really inspiring. The experiences of Anna and Erica are different, because they were already married to Muslim spouses when they converted. Here are their stories:
Hatice A. Hatipoğlu: I am sure you would be asked this question many times by Muslims but for the real curiosity and for the learning of a different angle of view, would you like to tell us what triggered you to become a Muslim? Can you describe the decision you made?
John: I think my eventual acceptance of Islam was a culmination of multiple things that eventually led me to finding my place and belief in God. I became an atheist from a very early age, maybe seven, and spent my entire youth defining myself as someone who didn't believe in God. This belief I think spawned from family issues and my difficulties going to a faith based school. I rejected their teachings not because I did not necessarily like what religion teaches at its core (being a good person and helping other people not for the sake of yourself and being seen, but to help people because they need it), but from its close mindedness, at least that was my own personal experience.
Many people would be astonished to find out that Islam "came" to North America in the 15th century, thanks to an explorer by the name of Estevanico. Then much later as slaves from Africa came, studies suggest that between 15-25% were indeed Muslims. While their faith did carry on for many generations, they still left an impact. Many of the Muslims who were sold into slavery to the West were scholars and haviz and thus were able to learn the language of their captures. Their stories were known throughout much of the South among slaves and then later African Americans (I would suggest looking up Abdul Rahman Ibrahim ibn Sori and Omar ibn Said to start with).
Full report at:
http://www.worldbulletin.net/news/163545/story-of-four-americans-who-became-muslim
-------------
Nigeria: 'Muslims Misconstrue the Teachings of Islam'
23 AUGUST 2015
By Ishola Balogun
London — The second day of the 49th Jalsa Salana (Annual Convention) of the Ahmadiyya Muslim Community in the United Kingdom continued, yesterday, at the vast Hampshire farm known as 'Hadeeqatul Mahdi' with more delegates and guests trooping in. Over 35,000 people from over 90 countries including Nigeria are present at the event.
The World Head of the Ahmadiyya Muslim Community, the Fifth Khalifa (Caliph), His Holiness, Hazrat Mirza Masroor Ahmad, delivered the Friday Sermon, where he said the purpose of the Jalsa Salana was to promote the true and peaceful teachings of Islam. Ahmad said: "In this day and age, it is of great regret that some Muslims have misconstrued the true teachings of Islam to such an extent that the world has become fearful of the beautiful and peaceful teachings of Islam.
Full report at:
http://allafrica.com/stories/201508242437.html
-------------
Nigeria: Buhari Accepts Voluntary Offer of Services By Muslim Leaders At Hajj
23 AUGUST 2015
President Muhammadu Buhari has accepted the voluntary offer of services to 2015 Pilgrims to Saudi Arabia by the leadership of the Muslim community under the Sultan of Sokoto, Alhaji Sa'ad Abubakar III.
This is contained in a statement issued in Abuja on Sunday by the President's Senior Special Assistant on Media and Publicity, Malam Garba Shehu.
The president noted that the Muslim community would partner with the National Hajj Commission of Nigeria's Ad-hoc Committees to cater for the general welfare of pilgrims for the duration of the pilgrimage.
The Sultan is represented by a committee of Emirs under the Emir of Kano, Alhaji Muhammadu Sunusi II.
The statement said the president also noted that the offer did not contradict his directive that Federal Government's Delegation for the 2015 Hajj be suspended in line with the cost-saving measures of his administration.
Full report at:
http://allafrica.com/stories/201508242247.html
------------
North America
US, Turkey to launch 'comprehensive' anti-IS operation
August 25, 2015
ANKARA: Turkey and the United States will soon launch "comprehensive" air operations to flush fighters of the self-styled Islamic State from a zone in northern Syria bordering Turkey, Foreign Minister Mevlut Cavusoglu said on Monday.
Detailed talks between Washington and Ankara on the plans were completed on Sunday and regional allies including Saudi Arabia, Qatar and Jordan as well as Britain and France may also take part, Cavusoglu said.
"The technical talks have been concluded, yesterday, and soon we will start this operation, comprehensive operations, against Daesh," he said.
The United States and Turkey plan to provide air cover for what Washington judges to be moderate Syrian rebels as part of the operations, which aim to flush IS from a rectangle of border territory roughly 80km long, officials familiar with the plans have said.
Diplomats say cutting IS's access to the Turkish border, across which it has been able to bring foreign fighters and supplies, could be a game-changer. US jets have already begun air strikes from Turkish bases in advance of the campaign.
Cavusoglu said the operations would also send a message to President Bashar al-Assad and help put pressure on his administration to come to the negotiating table and seek a political solution for Syria's wider war.
Ankara has long argued that lasting peace in Syria can only be achieved with Assad's departure. US officials, meanwhile, have made clear that the focus of the coalition operations will be squarely on pushing back IS.
"Our aim should be eradicating Daesh from both Syria and Iraq, otherwise you cannot bring stability and security," said Cavusoglu. "But eliminating the root causes of the situation (in Syria) is also essential, which is the regime of course." A Pentagon spokesman said US and Turkish military officials had held talks on Sunday to work out the tactical details of integrating Turkish combat aircraft into the air campaign against IS.
"We're looking forward in the near future to welcoming Turkey into our combined air operations centre," Navy Captain Jeff Davis said in Washington.
Cavusoglu said Syrian Kurdish PYD militia forces, which have proved a useful ally on the ground for Washington as it launched air strikes on IS elsewhere in Syria, would not have a role in the "safe zone" that the joint operations aim to create, unless they changed their policies.
Full report at:
http://www.dawn.com/news/1202587/us-turkey-to-launch-comprehensive-anti-is-operation
-------------
America And Europe Desperately Need History Lesson On Radical Islam
August 24, 2015
Hundreds of potential victims owe their lives to three Americans and a fellow British passenger who risked theirs to save them on an Amsterdam to Paris train last week.
The heroes, including two U.S. servicemen on leave, contrast sharply with the unarmed crew who barricaded themselves inside locked cabins. And even more so with politically correct leaders on both sides of the Atlantic who continually fail to show leadership in confronting radical Islam.
Even though the gunman, Moroccan 25-year old Ayoub el-Khazzani, was known to Spanish, German and French authorities for ties to "radical Islamist movements" and was armed with an AK-47, 300 rounds of ammo, a pistol and box cutter, the French government's reaction was typical: "It is too early to speak of a terrorist link."
Really?
America and Europe desperately need a history lesson about radical Islam. And our leaders must be held accountable if they will not face the facts.
President Obama claims that jihadists like the self-labeled "Islamic State" are not really Islamic. If so, why are Guantanamo detainees served 4 halal meals a day, issued Korans and prayer rugs, and have arrows pointing to Mecca painted throughout the camps? Either somebody is lying or the Gitmo guards have a truly bizarre sense of humor.
As a former Pentagon spokesman from 2005-2009, our office kept busiest on three things: the war in Afghanistan, the war in Iraq, plus the byproduct of Guantanamo. Since Islam figured so prominently in each, I kept a Koran on my desk to better understand the allure of violent jihad.
I learned about the Five Pillars: testimony of faith, prayer five times day, alms for the poor, fasting for the month of Ramadan, and the annual pilgrimage to Mecca. All cited as proof that Islam is a religion of peace.
Full report at:
http://dailycaller.com/2015/08/24/america-and-europe-desperately-need-history-lesson-on-radical-islam/
-------------
Islamic Fundamentalism: A term coined to sweep America's foreign policy errors under the carpet.
August 24, 2015
Haroon Shah
Owing to the Western media's partial reporting and Western doyens' subjective commentary of Islam, the occidental world has pityingly failed in circumscribing an unprecedented groundswell in Islamophobic sentiments. The grand alliance between Orientalists and journalist-cum-scholars of Islam – with meager acquaintance with indigenous moors and studies designed for them by their predecessors who also relied on secondary sources – kick-started the campaign of churning out a type of literature that would render interpolated and prejudiced rants, inspired by whims and caprices, as axiomatic. Hence, unquestionable. By reason of this, the trend of prefixing Islam with fundamentalism and extremism has become the idée recue in the Western world. Fundamentalism and extremism are defined as throwbacks to seventh century Islam.
The thesis, forwarded by Samuel P Huntington in Clash of Civilizations – which argued that Islam is even bigger a threat than Communism for the Western civilization and then for Sino-Confucius civilizations because the last of Abrahamic religions is inherently monolithic and xenophobic – received so enormous an endorsement that it snowballed from America to Europe to Scandinavia so on and so forth. Such blanket espousal for the Clash of Civilizations theory has got nothing unique to leave avid observers of Western media slack-jawed. Edward W. Said sums it precisely, in the book Covering Islam, by saying, "The media and the experts determine how we see the rest of the world". Unanimous consensus on isolation of Judeo-Christian world from Islamic world on cultural lines is the apotheosis of how media defines the zeitgeists of Western societies.
Television host Bill Maher more often than not denigrates Islam and this is Maher and a slew number of other reporters-turned-scholars who are the barebones behind this almost absolute espousal for the Clash of Civilizations. Maher says, "The Muslim world… has too much common with ISIS". The norms of ISIS are, indeed, retrogression to the very taboos of dim and distant past that Islam came to abolish. Then comes Sam Harris by dyspeptically professing that Islam is" the mother lode of bade ideas". There are about 1.6 billion Muslims in the world. Millions living quite serenely in Malaysia and Indonesia and more adaptable to Western secularism, are thrust into the gross generalizations by Maher and Sam Harris, revered as authorities on Islam and their recommendations are earnestly reckoned while making foreign policy strategies and decisions, in Europe and America.
Generalizing an anomalous version of Islam as Islamic fundamentalism and pitting it against Western secularism, analysts like Daniel Pipes play with the ignorance of the Occidental populace using the influential outlets of print media like Atlantic, Commentary and National Interest. Pipes in his article titled, There Are No Moderates: Dealing with Fundamentalist Islam, published in the National Interest, overplays himself with generalization--- the fundamentalist Islam. He posits that fundamentalism inheres in Islam. Consciously, contrary to the standards of scholarship, he absolved USA from the blame of its heinous policies in the Middle East. Reaction to Hosni Mubarak's oppression, whose sustainability banked upon US dollars, and reaction to Pahlavi in Iran by aboriginal population, is named Islamic Fundamentalism. In addition to this, Pipes opined that there should not be taken any action redressing their grievances; on the opposite, he recommended their containment and isolation. He further moved on to say that fundamentalist threatens the world more gravely than communism. This is senseless mainstreaming of Islam in Western media by Western scholarship.
Full report at:
http://nation.com.pk/blogs/24-Aug-2015/islamic-fundamentalism-a-term-coined-to-sweep-america-s-foreign-policy-errors-under-the-carpet
-------------
Right-wing extremists plotting violent attacks on US Muslims, FBI warns
25 August 2015
Militia extremists inspired by right-wing conspiracy theories are starting to target American Muslims, a leaked intelligence bulletin from the Federal Bureau of Investigation's (FBI) counterterrorism division reveals.
Many of the extremists take inspiration from pro-Israel zealots.
In one recently uncovered plot, a Christian minister and former congressional candidate planned to launch a military-style attack on a Muslim community in upstate New York.
The FBI document, originally sent to US law enforcement agencies on 28 May, was published last week by Public Intelligence.
The warning is a reminder of the rising danger posed by right-wing extremists, which, contrary to popular perceptions, far eclipses the threat from Islamic extremists.
The militia movement has traditionally directed its violent activities toward government and police.
But this is changing.
"Militia extremists are expanding their target sets to include Muslims and Islamic religious institutions in the United States," the FBI bulletin warns. "This has resulted in increased violent rhetoric and plotting and has the potential to lead, over the long term, to additional harassment of or violence against Muslims by domestic extremists."
Among the disturbing examples the FBI cites, the most shocking occurred in Mississippi last September, where extremists "discussed kidnapping and beheading a Muslim and posting video of the attack to the Internet.".
The group disbanded before acting on their plans.
Ironically, the FBI concludes that the targeting of Muslims by militias "is a product of ideology that views Muslims collectively with suspicion" – precisely the same ideology underpinning the FBI's surveillance and entrapment programs aimed at Muslims.
This raises questions about whether an institution that targets Muslim communities is capable of simultaneously protecting them.
The FBI did not respond to a request for comment from The Electronic Intifada.
Funding hate
According to the memo, pervasive disinformation about Muslims and Islam is a product of conspiracy theories that have been "repeated over the course of a decade by self-appointed watchdogs of Islamic extremism, Internet bloggers and some news media."
Some of the sources the FBI cites are the homophobic anti-Muslim hate group Christian Action Network, anti-Muslim blogger Pamela Geller and a host of right-wing media outlets, including World Net Daily, Fox News, Western Journalism, Patriot News Wire and The Blaze.
Geller's inclusion in the FBI report is notable given her key role in what the Center for American Progress (CAP), a liberal think tank, has labeled the Islamophobia network.
The top eight of the network's wealthy pro-Israel donors poured some $57 million into anti-Muslim organizations between 2001 and 2012, according to CAP.
A comprehensive accounting of the Islamophobia industry by the Council on American-Islamic Relations (CAIR) identified "at least 37 groups whose primary purpose is to promote prejudice against or hatred of Islam and Muslims."
Full report at:
https://electronicintifada.net/blogs/rania-khalek/right-wing-extremists-plotting-violent-attacks-us-muslims-fbi-warns
-------------
Alleged terror twin's beatdown was payback, court told
AUGUST 24, 2015
Terrence Wilson had no intention of converting to Islam and it might have ended there, if accused terrorist Carlos Larmond hadn't threatened to blow up his family, a court heard Monday.
But Larmond's jailhouse proselytization escalated into violent death threats against the Wilson clan, lawyer Paolo Giancaterino told the court. The tensions would eventually prompt CSIS agents to interview Wilson at the Ottawa-Carleton Detention Centre.
And at 11:30 a.m. on March 3, Wilson let Larmond have it in a cellblock beatdown that left the accused terror twin bruised and bloodied.
Wilson, 24, pleaded guilty to assault causing bodily harm. A co-accused, who is still before the courts, also faces charges in the beating.
A video of the attack was played in court Monday at Wilson's sentencing hearinng.
It shows the first blow catching Larmond square on the chin. A flurry of punches — 34 in all — send him tumbling to the ground in a common area outside a bank of cells, as half a dozen inmates look on.
Larmond somehow staggers to his feet, but the attack continues.
A guard's face is visible at the cellblock window as Larmond is once more beaten to the ground and savagely kicked.
The video shows a co-attacker hoist a black plastic tea urn with two hands and twice bring it crashing down on Larmond's back; Larmond gets to his feet once more and lurches to the door before guards open it and let him reel out.
Wilson accepts a "low five" from another inmate before the video playback ends.
Giancaterino said Larmond's conversion efforts had started off friendly.
But, as time went on, Larmond told Wilson "he was going to kill him in his cell unless he converted," Giancaterino said.
Then he threatened Wilson's family.
"That was essentially the last straw," the defence lawyer said.
Members of the intelligence community interviewed Wilson and offered to place him in protective custody, Giancaterino said. Wilson declined because Larmond had been moved away himself.
Full report at:
http://www.ottawasun.com/2015/08/24/alleged-terror-twins-beatdown-was-payback-court-told
-----------
Southeast Asia
Indonesian man called God faces denial of public services if he doesn't change his name
25 August, 2015
Indonesia's top Islamic authority has called on a man named "Tuhan" - or God in English - to change his name or have his access to public services denied, local media reported Tuesday.
Tuhan, a 42-year-old carpenter, has become a focus of public attention in the country over the past week after a copy of his identity card showing his single name spread over the Internet.
According to the reports, the East Java office of the Indonesian Ulemas' Council called on Tuhan, a resident of a small village in East Java Province, to change his name or at least add another name before or after it to avoid misinterpretation.
The council's chairman, Abdusshomad Bukhori, said that the man, as a follower of God, "violates (religious) ethics" by using the name and should either change it or add something before or after it.
Full report at:
http://www.scmp.com/news/asia/southeast-asia/article/1852368/indonesian-man-called-god-faces-denial-public-services-if
------------
Mass graves of 24 Muslim victims of human trafficking found in Malaysia
23 August 2015
Malaysian authorities have found mass graves containing the remains of approximately 24 people who are believed to be human trafficking victims.
According to The Star newspaper, the deceased are believed to have been of Rohingya, the ethnic group from Myanmar who currently face persecution, and Bangladeshi origin. They are suspected to have died of abuse and malnourishment.
"It was raining heavily recently and the downpour swept away the soil and revealed the remains. We don't know how long the victims were buried or if there was a transit camp there," National Security Council chairman Shahidan Kassim said, as quoted by the newspaper.
The heavily forested Thai-Malay border has become a transit point for smugglers bringing people to Southeast Asia by boat. The migrants are often held for ransom in detention camps and according to some accounts face torture and long periods of starvation.
Full report at:
http://www.independent.co.uk/news/world/asia/mass-graves-of-24-muslim-victims-of-human-trafficking-found-in-malaysia-10467793.html
------------
Malaysia finds more graves and human remains near Thai border
August 24, 2015
Malaysian police said on Sunday they had found 24 human skeletons – all believed to be victims of trafficking – in newly discovered graves along the Thai border in the northern Malaysian state of Perlis. The latest gruesome discovery comes after police found 39 graves and 28 abandoned "detention" camps capable of housing hundreds of people in May, laying bare the grim extent of the region's migrant crisis. The new graves were found on Saturday near the peak of a hill surrounded by jungle terrain and along the Thai border, not too far from the graves unearthed in May, Perlis police chief Shafie Ismail was quoted as saying by Bernama, the country's official news agency. "It is believed that heavy rain had eroded the graves," he said. After May's unearthing, the remains of 106 people were exhumed, mostly believed to be Muslim Rohingya fleeing persecution in Myanmar, as well as Bangladeshis seeking better opportunities abroad. Mass graves were also discovered on the Thai side of the border. The Rohingya, a Muslim minority from Myanmar, have for years sought to escape what they say is worsening persecution by the country's Buddhist majority. Fleeing abroad by the thousands each year, they typically put their lives in the hands of often brutal smugglers and traffickers who arrange a perilous passage by sea and land, usually destined for Muslim-majority Malaysia.
http://indianexpress.com/article/world/asia/malaysia-finds-more-graves-and-human-remains-near-thai-border/
------------
Europe
Britain plans to crack down on illegal migrant workers
25 August 2015
People found working illegally in England and Wales face up to six months in prison and could have their wages seized under proposals announced by the British government on Tuesday.
The announcement comes with the center-right Conservative government under pressure to show it is in control of immigration, one of the most sensitive topics in British politics, after increased attempts by migrants to reach England from France.
"Anyone who thinks the UK is a soft touch should be in no doubt -- if you are here illegally, we will take action to stop you from working, renting a flat, opening a bank account or driving a car," immigration minister James Brokenshire said in a statement.
"Illegal workers will face the prospect of a prison term and rogue employers could have their businesses closed, have their licenses removed, or face prosecution if they continue to flout the law."
The Immigration Bill, which Prime Minister David Cameron's government is to introduce this year, will allow for pubs, takeaway food outlets and off-licenses to have their licenses revoked if they are found to employ people who lack permission to work in Britain.
The government previously announced that the law would also allow for wages earned by people working illegally to be seized as proceeds of crime.
Full report at:
http://english.alarabiya.net/en/News/world/2015/08/25/Britain-plans-to-crack-down-on-illegal-migrant-workers-.html
-------------
Germany, France urge response to refugee crisis
24 August 2015
German Chancellor Angela Merkel and French President Francois Hollande called Monday for a "unified" response to the worst refugee crisis to hit the EU since World War II.
"We must put in place a unified system for the right to asylum," Hollande said in a brief statement ahead of talks, calling the influx from the world's crisis zones "an exceptional situation that will last for some time".
Merkel, whose country expects a record 800,000 asylum applications this year, said Germany and France also expected all EU members to conform with existing refugee policies governing the bloc "as quickly as possible."
Earlier on Monday, Merkel condemned violent protests against refugees that erupted over the weekend in eastern Germany, blaming neo-Nazis for spreading a "repulsive" message of hatred and local residents for supporting them.
More than 30 police were injured in clashes in Heidenau, near Dresden, early on Saturday when a mob of several hundred people, many of them drunk, began pelting officers with bottles and fireworks. Some of them shouted "Heil Hitler."
The violence occurred after a far bigger crowd gathered to protest the arrival of 250 refugees at an asylum shelter in the town. The refugees, some fleeing wars in Afghanistan and Syria, told Reuters they had feared the mob would enter the shelter and attack them.
"They all held up their middle fingers," said Yakuma Fatty, 23, from Gambia. "We didn't expect that from Germany."
Migrant deaths
Also on Monday, Greece's coastguard said it had recovered the bodies of two migrants who drowned when their boat sank near the island of Lesbos, and was seeking five more who were missing.
Full report at:
http://english.alarabiya.net/en/News/world/2015/08/24/Merkel-Hollande-urge-unified-response-to-EU-refugee-crisis.html
-------------
Spain, Morocco arrest 14 suspected of recruiting for ISIL
25 August 2015
Spain and Morocco arrested 14 people on Tuesday suspected of recruiting fighters to join ISIL in Syria and Iraq, Spain's Interior Ministry said.
Suspects were detained in the outskirts of Madrid and in other cities and towns in Morocco, it added.
The arrests were linked to "a network ... capturing and sending foreign fighters to join the ranks of the terrorist organisation ISIL in the Syrian-Iraq region that it controls," the ministry statement said.
Full report at:
http://www.worldbulletin.net/africa/163539/spain-morocco-arrest-14-suspected-of-recruiting-for-isil
-------------
School tells Muslim student to take off veil in class
24 August 2015
A 14-year-old Muslim student was sent home from her school in Thun after being told she was breaking the school rule, which bans students from covering their heads, Le Matin reported.
The school's director claims that they are having a "constructive dialogue" with the girl's parents and that eventually "a solution will emerge."
However, finding "a solution" can prove to be quite difficult, since there is no law forbidding the hijab in class.
In 2011, right-wing UDC's (Swiss People's Party) proposal to regulate school uniform was rejected by the Bern cantonal government.
However a 2009 paper on religious and cultural traditions and symbols issued by Bern's office of state education spells out student rights regarding clothing.
It read, "The canton of Bern has made no directives concerning clothing in schools. Pupils therefore have the right to wear kippahs, veils, crucifixes and other items and to wear their hair according to their religion."
State education official Erwin Sommer told Le Matin that the directive applies to all schools.
"If what the student says is correct, we will be speaking to the director [of the school] about the situation," he said.
Full report at:
http://www.worldbulletin.net/news/163527/school-tells-muslim-student-to-take-off-veil-in-class
-------------
French investigators question train gunman
By Marianne Barriaux
August 24, 2015
Paris (AFP) - French investigators on Tuesday had hours left to question a Moroccan gunman who opened fire on a crowded train, only to be overpowered by a group of Americans and a Briton hailed by France's president for their "courage".
Ayoub El Khazzani, a 25-year-old who boarded the high-speed train in Brussels bound for Paris on Friday armed with a Kalashnikov assault rifle, a Luger automatic pistol, ammunition and a box-cutter, is being questioned by anti-terror investigators, though he insists he only sought to rob passengers.
Under French law, authorities can question Khazzani, who does not speak French, for four days after detaining him, a deadline that expires Tuesday evening. At that point, they are expected to either charge him or apply for an extension.
Witnesses said he opened fire, wounding a man before being wrestled to the floor and subdued by three young Americans -- off-duty servicemen Alek Skarlatos and Spencer Stone and their student friend Anthony Sadler -- and a Briton, 62-year-old business consultant Chris Norman.
Presenting them with the Legion d'Honneur -- France's highest honour -- at the Elysee presidential palace, President Francois Hollande said: "A terrorist decided to commit an attack. He had enough weapons and ammunition to carry out a real carnage, and that's what he would have done if you hadn't tackled him at a risk to your own lives."
"You have shown us that, faced with terror, we have the power to resist. You have given a message of courage, solidarity and hope."
Speaking as he left the Elysee, his medal pinned to his suit, Norman said it was "a little bit difficult to believe that it's actually happened".
"I think that one way or another, we are going to be facing this kind of problem quite a few times in the future, and I would invite you all to think about 'what would I do in that situation'.
"Act if the opportunity presents itself. Obviously you don't want to throw yourself in a situation that is completely hopeless, but act if you can."
- High alert -
France has been on high alert since extremist attacks in Paris in January left 17 people dead.
Intelligence services in Belgium, France, Germany and Spain had previously flagged Khazzani as an Islamic extremist.
But he is said to have told investigators he is "dumbfounded" by accusations he was intending to carry out a terror attack.
He said he had stumbled upon a weapons stash in a park in Belgium where he sometimes slept rough and decided to use it to rob passengers, according to Sophie David, a lawyer who was temporarily assigned to his case.
Khazzani's father has described his son as a "good boy" who preferred "football and fishing" to politics.
Full report at:
http://news.yahoo.com/france-train-gunman-dumbfounded-terrorism-allegations-132517618.html
-------------
Turin Shroud replica displayed at Ahmadiyya Muslim convention in Hampshire
August 24, 2015
More than 30,000 Muslims gathered in Hampshire this weekend to hear Barrie Schwortz, an Orthodox Jew, discuss the significance of the Shroud of Turin, a Christian artefact.
The Jalsa Salana UK Convention is run by the Ahmadiyya Muslim Community, which believes the Shroud of Turin bears the image of Jesus, alive in the tomb after his crucifixion.
A life-sized replica of the Shroud of Turin was one of many exhibits on human rights and the Koran on display at the convention.
A leading expert on the Shroud of Turin, Mr Schwortz participated in the 1978 in-depth scientific examination of the cloth by STURP, the Shroud of Turin Research Project.
Initially doubting its authenticity, he changed his mind after seeing no brushstrokes on the Shroud and has since toured the world giving talks attesting to its authenticity.
In the Jewish tradition, to which Mr Schwortz adheres, Jesus and his mission are completely rejected.
Full report at:
http://www.catholicherald.co.uk/news/2015/08/24/turin-shroud-replica-displayed-at-ahmadiyya-muslim-convention-in-hampshire/
-------------
URL: https://newageislam.com/islamic-world-news/critics-question-india-plan-shield/d/104371