New Age Islam News Bureau
1 Oct 2017
• Cow Urine Should Be Acceptable As Treatment to Muslims Too: Ramdev
• Tainted Qazis Enjoy Support of Muslim Political Leadership of Hyderabad: Telengana MLC
• World Shiites Mourn Tasoua of Imam Hossein (PBUH) in Iraq, Other Countries
• Oxford College Removes Suu Kyi Portrait
• Karbala Sacrifices Were For Lofty Principles of Islam: Sindh Governor
India
• Cow Urine Should Be Acceptable As Treatment to Muslims Too: Ramdev
• Tainted Qazis Enjoy Support of Muslim Political Leadership of Hyderabad: Telengana MLC
• Rajasthan ATS Discover Dubai-Based MBA from Mumbai Who Funds Islamic State Terror
• India Is Secular Because Most Hindus Are Secular, Says Former CEC S Y Quraishi
• India plays major role in nuclear plant in Bangladesh
• Amit Shah to kick off campaign against 'CPM intolerance, Muslim extremism' in Kerala
• 'Inbreeding' at Aligarh Muslim University affecting diversity: Central panel
• BSF detects underground tunnel dug from Pakistan side
--------
Arab World
• World Shiites Mourn Tasoua of Imam Hossein (PBUH) in Iraq, Other Countries
• Kurdish Parliament Rejects All of Baghdad's Decisions Taken Against Referendum
• Terrorists' High-Ranking Mufti Escapes from Southeastern Deir Ezzur
• Terrorists' Centers in Eastern Homs Crushed in Syrian Air Raid
• Iraq to defend Kurdish people against threats: Premier
• Syrian army thwarts Daesh attacks on military posts in Dayr al-Zawr
• Iraqi army forces, allies achieve fresh territorial gains near Hawijah
• Air strikes kill 28 civilians in Syria safe zone
• Syria: Army Makes Fresh Gains in Eastern Homs
• Terrorists Suffer Heavy Defeat, Casualties in Badiyeh Offensive
• Terrorists Fail to Prevail over Syrian Army Positions in Western Deir Ezzur
• Qatar revokes citizenship of high profile poet Mohammed al-Marri
• Report: Syrian army, allies seize more of Jordanian frontier
• Four children among 28 civilians dead in air strikes on Syria safe zone
• Arab coalition releases footage of militants targeted near Saudi borders
--------
Europe
• Oxford College Removes Suu Kyi Portrait
• British Surgeon Stabbed For Being Muslim
• Muslim boy of 14 stabbed outside mosque in Birmingham
• 700 French nationals living in Daesh-held Iraqi, Syrian regions: Official
--------
Pakistan
• Karbala Sacrifices Were For Lofty Principles of Islam: Sindh Governor
• Election Symbol Allotted to Tehreek-i-Labbaik Pakistan
• Philosophy of Hussain Teaches Stand against Tyranny: Qureshi
• CTD nicks 4 terrorists with arms, explosive
• Hafiz Saeed Sends Khawaja Asif Rs100m Defamation Notice
• Thousands Rally Across Pakistan Ahead Of Ashura Celebrations
• Rangers seize illegal arms in MQM-London office raid
• Attempts to disrupt peace in Punjab, Balochistan foiled; several arrested
• Hindus join Shia mourners in Mithi
• Pakistan's National Security Council vows all-out help for Afghan peace
--------
Southeast Asia
• Is Malaysia Harbouring Alleged Fugitive Zakir Naik?
• Dr M: Some Muslims Not Living As Muslims
• Popular ustaz wants to develop Islam in Penang
• Academic body opposes accreditation idea for speakers on Islam
• Pop Concert Promoters May Ditch Malaysia as Hardline Islam Gets A Grip
• Secular Malaysia in dire need of harmony laws
--------
Mideast
• Amid Push for Palestinian Unity, Are Egypt and Hamas Friends or Foes?
• Hamas Seeks To Prevent Israel from 'Swallowing Up West Bank'
• Iran urges Europe to defy Trump on sanctions
• Iran puts economic squeeze on Iraqi Kurds
• Barzani's independence bid strengthens Daesh, Israel: Iran official
• Iran bans oil products shipment to Iraqi Kurdistan
• US interior secretary hints at economic war on Iran
• Kurdish secession bid in Iraq threat to entire region: Hezbollah chief
--------
North America
• Muslim Supporters for President Donald Trump Rally in Annapolis
• Far-Right, Anti-Fascist Protesters Temporarily Shut Quebec Border Crossing
• Canadian jailed 9 years under terrorism law
• CIA delegation attends high-profile Sudan security meet
• How to be a faithful Muslim: Islamic speaker says it comes down to a matter of choice
--------
South Asia
• Pakistani and ISIS Militants among 22 Killed In Nangarhar Airstrike And Operations
• Rohingya Crisis: Crowdfunding Campaign Launched To Hold Burma Leaders Accountable For Ethic Cleansing Of Muslim Minority
• Afghan Shi'ites fear further attacks on Ashura
• As violence escalates, over 2,000 Rohingya Muslims reach Myanmar coast to flee Bangladesh
• Pro-war individuals and groups had paved way for civil war, claims Hekmatyar
• Pentagon approves $12.6 million for Afghan forces mobile strike force vehicles
• Karzai calls Kabul bombing work of foreigners as ISIS claims responsibility
--------
Africa
• Nigerian Police Disrupt Muharram Ceremonies, Arrest Mourners In Sokoto
• Turkey inaugurates mily academy in Somalia
• Muslim body condemns vandalism of South African church
Compiled by New Age Islam News Bureau
URL: https://www.newageislam.com/islamic-world-news/cow-urine-be-acceptable-treatment/d/112723
--------
Cow Urine Should Be Acceptable As Treatment to Muslims Too: Ramdev
October 1, 2017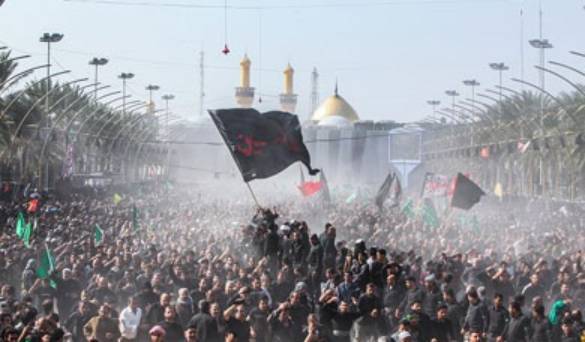 Shiite pilgrims of Iraq and other countries, including Iran, flocked into Karbala, some 100 km South of Baghdad, and into Kadhmiyah in Northern Baghdad to commemorate Tasoua and Ashoura, which mark the martyrdom of Imam Hossein (PBUH), grandson of Prophet Mohammed (PBUH) and the third Shiite Imam.
-----
Yoga guru and Patanjali founder Swami Ramdev said cow urine should be acceptable to Muslims too as something used for treatment.
"It is written in Quran that cow urine can be used for treatment. Some people are targeting Patanjali by saying that it is a Hindu company. Did I ever target Hamdard (set up by the Hamid brothers)?
"I have full support for Hamdard and Himalaya Drug Company too. Farooq bhai of the Himalaya group even donated land to me for setting up yoga gram. If some people level such charges, they will only be creating a wall of hate," Ramdev told India TV's Rajat Sharma in the TV show Aap Ki Adalat.
The show was telecasted on Saturday night, according to a press release issued by the channel.
He said he has already prepared a plan of succession for his Rs 10,000 crore Patanjali group, saying that his "successor" would be a team of nearly 500 sadhus trained by him.
The 52-year-old yoga guru said: "I never think small. I think big. I think about our nation 500 years hence. I think about Patanjali group for the next 100 years. I will be leaving my successor when I go."
"My successor will not be a businessman or a worldly man, it will be a team of nearly 500 sadhus whom I have trained."
The Aap Ki Adalat show with Swami Ramdev was organised at the AIMA convention, and was attended by corporate bigwigs, CEOs of Indian and multinational companies and management experts
http://indianexpress.com/article/india/cow-urine-should-be-acceptable-as-treatment-to-muslims-too-baba-ramdev-patanjali-4869416/
--------
Tainted Qazis Enjoy Support of Muslim Political Leadership of Hyderabad: Telengana MLC
October 1, 2017
Hyderabad: Leader of opposition in Telangana Legislative Council Mohammed Ali Shabbir slammed local political leadership and religious leaders for minor girls' marriages in Hyderabad. Lamenting upon the incidents of minor girls' marriages with elderly sheikhs, M A Shabbir said their modesty is outraged, while the so-called Muslim political leadership of Hyderabad remained mute spectator. He said it has been reported that leaders of Muslim political party approached police stations in support of qazis thus the tainted qazis enjoy backing of local political party.
M A Shabbir said besides political leadership it is the responsibility of Muslim religious scholars to come forwards to stop such activities.
https://www.siasat.com/news/tainted-qazis-enjoy-support-muslim-political-leadership-hyderabad-m-shabbir-1238073/
--------
World Shiites Mourn Tasoua of Imam Hossein (PBUH) in Iraq, Other Countries
Sep 30, 2017
Shiite pilgrims of Iraq and other countries, including Iran, flocked into Karbala, some 100 km South of Baghdad, and into Kadhmiyah in Northern Baghdad to commemorate Tasoua and Ashoura, which mark the martyrdom of Imam Hossein (PBUH), grandson of Prophet Mohammed (PBUH) and the third Shiite Imam.
Several million of pilgrims, including from foreign countries, are commemorating Tasoua.
Numbers of black-clad men, young men and children, waving green, black and red flags, and accompanied with drummers, marched through the streets of Karbala and Kadhmiyah.
Some pilgrims beat their chests and heads, performed self-flagellation with chains in honor of Imam Hossein (PBUH) who was killed in the battle of Karbala in the seventh century and since then became a key moment in Shiite history and religion.
The annual commemoration is held in different regions of the world during various mourning rituals.
Tens of Millions of people, dressed in black, took to the streets and mosques throughout the world today to commemorate the tragedy Tasoua.
Imam Hossein (PBUH) was martyred in the 680 A.D. battle fought on the plains outside Karbala, a city in modern Iraq that's home to the Imam's holy shrine.
In the battle, Imam Hossein (PBUH) was decapitated and his body mutilated by Yazid's armies. All of Imam Hossein's male family members, relatives, friends, soldiers who all together formed a 72-member army were beheaded in an unequal war with a 30,000-strong army of the enemy in the desert of Karbala.
The occasion is the source of an enduring moral lesson for the Shiites.
Imam Hossein's martyrdom - recounted through a rich body of prose, poetry and song - remains an inspirational example of sacrifice to Shiites, who make up a majority of the Muslim population in Iran, Pakistan, Iraq and Bahrain.
http://en.farsnews.com/newstext.aspx?nn=13960708000262
--------
Oxford college removes Suu Kyi portrait
October 01, 2017
The Oxford University college where Aung San Suu Kyi studied yesterday said it had taken down a portrait of the Myanmar leader, a decision that follows widespread criticism of her over the Rohingya crisis.
The portrait, which was on display in the main entrance of St Hugh's College, has been placed in storage and was replaced on Thursday with a new painting gifted by Japanese artist Yoshihiro Takada.
Nobel Peace Prize laureate Suu Kyi studied at St Hugh's, graduating in philosophy, politics and economics in 1967 before completing a masters in politics in 1968.
"We received a new painting earlier this month which will be exhibited at the main entrance for a period," the college said in a statement.
"The painting of Aung San Suu Kyi has meanwhile been moved to a secure location."
The university did not say whether the removal was linked to the ongoing crisis in Myanmar's western Rakhine State.
Communal violence has torn through the state since Muslim minority Rohingya militants staged deadly attacks on police posts on August 25.
An army-led fightback has left scores dead and sent around half a million Rohingya fleeing the mainly Buddhist country into neighbouring Bangladesh.
The United Nations describes the situation as "ethnic cleansing".
The removal of the 1997 portrait by the Chinese artist Chen Yanning comes a few days before new students arrive at the college to start their courses.
The portrait belonged to Suu Kyi's husband, the Oxford academic Michael Aris, and was bequeathed to the college after his death in 1999.
St Hugh's also counts British Prime Minister Theresa May among its alumni.
http://www.thedailystar.net/world/asia/oxford-college-removes-suu-kyi-portrait-1470271
--------
Karbala Sacrifices Were For Lofty Principles of Islam: Sindh Governor
October 1, 2017
Sindh Governor Mohammad Zubair has said Hazrat Imam Hussain (RA) and his companions of Karbala offered supreme sacrifices for the lofty principles of Islam.
In a message on Saturday on the eve of Yaum-e-Ashur, he said the sacrifices of the martyrs of Karbala were for the cause of righteousness and supremacy of Islam.
Zubair said Yaum-e-Ashur was for paying tributes to the martyrs and remembering those sacrifices. He called upon the Muslims of all schools of thought to foster unity and brotherhood in their ranks.
He said the law enforcement agencies had put in place foolproof security for mourning processions and majalis as well as for imambargahs and mosques.
The governor pointed out that the spiritual leader of the Bohra community was addressing Muharram majalis in Karachi after quite some time due to improvement in the law and order situation in the city.
He asked the people to fully cooperate with law enforcers in maintaining law and order and foiling the machinations of anti-state elements.
https://www.thenews.com.pk/print/233744-Karbala-sacrifices-were-for-lofty-principles-of-Islam-Zubair
--------
India
Rajasthan ATS Discover Dubai-Based MBA From Mumbai Who Funds Islamic State Terror
01st October 2017
NEW DELHI: Covert anti-terror investigators have stumbled on the biggest India-linked terror financier. The Dubai-based financial expert from Mumbai has exploited the legitimate money transfer route to help the Islamic State's (IS) terror activities in Syria and Iraq. The terror outfit received an estimated Rs 40 lakh last year from Abu Nabil (real name Jamil), an MBA. The Rajasthan Anti-Terror Squad's (ATS) electronic warfare unit earlier this month received confirmation in this regard from Bosnia and Herzegovina authorities.
The money is just the tip of the iceberg as investigators continue to unravel the funds moved through various layers. Nabil had hired mules in Sarajevo, Beirut and Istanbul to deliver the money to IS's killing fields in Raqqa and Anbar provinces.
Some more Indian names have come on the radar of the investigators. They were allegedly used as couriers between India-Bangladesh and the UAE.
ATS operatives overrode the control system on a Dubai-based computer in October last year. It was Nabil talking to the 'Beast of Islam'. The electronic ambush revealed that money was about to be transferred from Dubai to Sarajevo. The total amount was around $9,000 in three installments. The IS had adopted the rules of the ultra-secret world and unprecedented manoeuvres in the virtual world.
The operatives were working against a background of a state-of-the-art dark web, the most potent threats the world faces today. Another amount of $10,000 in four equal installments was shifted to Beirut and the 'Beast of Islam' was informed about the account. Two days later, another $12,000 was transferred to Istanbul in three installments. The 'Beast of Islam' had hired IS mules in all three cities and within a few weeks, the money landed in Raqqa.
A month later 'Operation Nabil' tracked the pugmarks of the Indian financier in Mumbai. He was picked up, interrogated and arrested for financing terrorism in Iraq and Syria. "We have forwarded the Letter Rogatory (LR) seeking information about 19 such transactions made by Nabil. It was his code name. We received confirmation recently about at least five-six transactions from Sarajevo and Beirut. Nabil's linkages with 'Beast of Islam' have also been established. He is a top-ranking terrorist leader in IS. He was christened Abu Usama Al Somali by IS's so-called caliph Abu Bakr Al Baghdadi," a source said.
Abu Nabil was in touch with Abu Usama Al Somali, who is none other than Farah Mohamed Shirdon, a Canadian citizen, a prominent fundraiser and recruiter of the Islamic States. There were raging controversies about his death in 2015, 2016 and 2017. Unconfirmed reports had suggested that he was killed sometime in July 2015, but his links with Nabil nullify these half-baked reports.
"Nabil was in touch with Shirdon as well as a few other top leaders of IS. This has been confirmed by evidence collected electronically. Now, we have also confirmed the fact that he raised the money from India, Bangladesh and the UAE in the name of 'Zakaat'. The donations were moved through a well-established hawala network in India," a source said.
Senior IPS officer and well-known anti-terror operative Vikas Kumar said that they are facing some language barriers in Beirut and Istanbul about crucial details related to financial transactions made by Nabil. He said the authorities handling anti-terror financing units in these countries have raised certain queries on our documents. However, the money transfer scheme operators are coming forward to share the details.
"Nabil is the biggest India-linked IS terror financier we have been able to unearth so far. It is not just about his top connection in IS leadership in Raqqa, but also about his deep penetration in Bosnia, Lebanon and Turkey. Since 2014, he has mobilised funds through various online platforms.
He is an MBA and his shadowy operation to finance IS activities was well-planned," Kumar said, adding that Nabil was earning Rs 3.5 lakh per month though his employer has told us that they were not aware of his activities. "He was using a separate UAE phone number, which he had left in Dubai. We have asked the UAE authorities to provide us with the call and message records of his phone. The request has been sent through an LR. Nabil was investing huge sums in real estate in Mumbai. He had purchased three properties in Mumbai suburbs between 2014 and 2016 through his brother-in-law," explained Kumar.
Indian Donors & Couriers
The investigators last week questioned three persons in a covert sweep. Originally from Tamil Nadu, the suspects had allegedly donated 'Zakaat' money to Nabil through a hawala operator. The Chennai-based hawala operator, in turn, used to send the money to Dubai where Nabil was the recipient. From Dubai, the money was sent to Turkey.
"At least two suspects during the questioning said they were not aware of the ultimate use of the donation money. Nabil had told them the money would be used for poor Indian immigrants in the UAE. We need to establish the criminality on their part," Kumar further added.
An official handling the foreign angle of the investigation said they have asked the authorities in three countries—Lebanon, Bosnia and Turkey—to find out about couriers that were used to withdraw the money from money transfer account.
"We suspect they are part of a recruitment network that is facilitating money movement in cash across the Syrian border. Initial information indicate the involvement of an IS network based in Sarajevo," the official said.
Nabil and Awlaki
The most shocking revelation for the investigators is Nabil's link with Anwar al-Awlaki, the Al Qaeda leader, who was killed in September 2011 in Yemen during a drone strike carried out by the US Special Forces. The investigators have seized a laptop from Nabil's home in Dahanu near Mumbai, which provided explosive conversations between the two in 2010 and 2011. Awlaki, an American citizen of Yemeni descent, was a preacher of at least three 9/11 hijackers.
Awlaki had set up a vast terror network in Yemen in 2009. In 2010, the US designated him a global terrorist. It is learnt from the evidence recovered from Nabil's laptop that he got in touch with Awlaki sometime in mid-2010 and continued the communication till September 30, 2011, when Awlaki was killed in a drone strike near Kashef town in Yemen. "He was tasked by Awlaki to raise funds and radicalise more people back in India for jihad. Nabil himself wanted to go to Syria after collecting more money, but the whole plan was nipped in the bud," the official quoted above said.
http://www.newindianexpress.com/thesundaystandard/2017/oct/01/indian-bankrolled-caliphate-rajasthan-anti-terror-squad-discover-dubai-based-mba-from-mumbai-who-fu-1664962.html
--------
India is secular because most Hindus are secular, says Former CEC S Y Quraishi
October 1, 2017
Intolerance is indeed rising in society but it is not likely to last long as communal polarisation has been a cyclic phenomenon in the country and most Hindus are secular, former Chief Election Commissioner S.Y. Quraishi has said. He also stressed that hate-mongering is not likely to go very far as "the basic ethos of India is secular, which stays", adding that Muslims in India are still better off than they are in several Muslim countries.
"Yes, intolerance is actually rising… may be for last 5-10 years. It has been in phases. It started with the Babri Masjid dispute, then it subsided. Then it rose again. Elections and vote bank politics perpetuate it," Quraishi told IANS in an interview. He blamed the divisive vote bank politics for the rising intolerance. "Have no doubt, India is secular because Hindus are secular. The hate discourse, to my mind, is temporary. It comes and goes, but the basic ethos of India is secular, which stays because of the inbuilt liberal and secular Hindu tradition," Qureshi said.
"All said and done, the position of Muslims in India is much better than in even many Muslim countries," he added. (At 189 million, India is home to the second highest Muslim population in the world after Indonesia.) Is a large portion of illiterate electorate a challenge in keeping the divisive and communal agendas out of electoral process so that elections are fought on real issues?
"Well, I don't think illiteracy means the electorate is uninformed. If we achieve 100 per cent literacy that is well and good, but till the time it is not done it does not mean our democracy is useless. An unlettered voter too knows his interests," Quraishi said. "When we started out in 1950, we had 84 per cent illiteracy. But elections after elections have been successful. Voters are mature despite their illiteracy. Informed choice ke liye university ki degree hona zaroori nahi (you don't need a university degree to make an informed choice while casting your vote).
"Instead, I would say, those MA and PhD holders who do not go out to cast their vote and then even brag about it instead of being ashamed of it, they are the real illiterates for me," he added. Qureshi's latest book "Loktantra Ke Utsav Ki Ankahi Kahani" was released recently by Vice President M. Venkaiah Naidu. An updated, abridged English version of the book is in the pipeline.
Qureshi is also working on two other books — "Family Planning in Islam" and "Electoral Reforms in South Asia". The former, he said, may be out in three months, the latter in seven to eight months. But is he not stirring a hornet's nest by advising Muslims to plan their families? "Why? It is all based on the Quran and the Hadith. Also, it includes demographic statistics and the emerging trends like whether the acceptance of family planning is increasing among the Muslims," he said.
"And also, I have given a strategy how to promote family planning among Muslims because I do feel that Muslims should accept family planning in a big way," he said. Is this not counter to the narrative of the Mullahs, who frown at the very mention of family planning. "I don't think all of them do. Some of them do. I have quoted from many ulemas' (Islamic scholars') opinions and many fatwas (edicts) nationally and internationally which are in favour of family planning in terms of spacing.
"Yes, they are all against sterilisation, or permanent methods of stopping childbirth. But spacing is the national policy, and that is also there in Quran. Based on Quran and Hadith and fatwas and opinion of Indian ulema, I have come to the conclusion that Islam is not against family planning," Qureshi emphasised. He said that on the contrary, Islam was a forerunnner in family planning.
Full report at:
http://www.financialexpress.com/india-news/india-is-secular-because-most-hindus-are-secular-says-former-cec-s-y-quraishi/877507/
--------
India plays major role in nuclear plant in Bangladesh
Dipanjan Roy Chaudhury
Sep 30, 2017
NEW DELHI: India is playing a substantive role in building a nuclear power plant on foreign soil for the first time ever with the proposed supply of equipment and material for the power station being built by Bangladesh with Russian assistance.
At the recent 61st general conference of the global nuclear watchdog International Atomic Energy Agency (IAEA) at Vienna, top Indian officials announced Indian firms are working with Russian and Bangladeshi partners on establishing Rooppur Nuclear Power Plant in Bangladesh. India will supply and manufacture equipment, material for the plant near Dhaka, said persons familiar with the issue.
Besides Bangladeshi nuclear scientists are undergoing training at the Kudankulam Nuclear Power Plant in Tamil Nadu, which was also built with Russian assistance and uses Russian nuclear technology.
This will be India's first atomic energy venture abroad. According to the December 2014 'Strategic Vision for Strengthening Cooperation in Peaceful Uses of Atomic Energy' between India and Russia, the "two sides will explore opportunities for sourcing materials, equipment and services from Indian industry for the construction of the Russian- designed nuclear power plants in third countries".
India signed a civil nuclear cooperation deal, along with two more related agreements, with Bangladesh in April when PM Sheikh Hasina was here on a four-day official visit. This was New Delhi's second such agreement in the neighbourhood after an agreement with Sri Lanka reflecting India's growing stature a responsible nuclear power.
The Rooppur project will be Bangladesh's first atomic energy project involving two units, each with a capacity of 1200 MWs. Russia and Bangladesh signed a cooperation in the field of peaceful use of atomic energy of in 2010. The Rooppur NPP site is situated 160 km from Dhaka.
Rooppur plant will have Russian design AES-2006 with VVER-1200 reactors, the prototype of which was implemented at the Novovoronezh NPP02 in Russia. This is an evolutionary design of III+ generation which is fully compliant with the international safety requirements, according to ROSATOM, Russia's State-run apex Atomic Energy body.
The technology in Novovoronezh offered to Bangladesh could also be extended to the second Russian built set of six reactors in India. The generation III+ reactor at the sixth unit of Novovoronezh Nuclear Power Plant (NVNPP) is the world's first to be built using "post-Fukushima" safety standards and has an automated system in case of an emergency, Rosatom officials told ET.
Full report at:
http://timesofindia.indiatimes.com/india/india-plays-major-role-in-nuclear-plant-in-bangladesh/articleshow/60891395.cms
--------
Amit Shah to kick off campaign against 'CPM intolerance, Muslim extremism' in Kerala
by Shaju Philip
October 1, 2017
"CPI(M)'s intolerance" and "Muslim extremism" will be the dominant themes of the BJP's two-week Kerala 'janaraksha yatra', which will see a battery of the party's national leaders joining the state-wide campaign on foot.
BJP national president Amit Shah will inaugurate the yatra at Payyannur in Kannur on October 3. He will be part of the yatra for two days when it will pass through CPI(M)-dominated areas in Kannur district, which has been witnessing political violence.
The group will tour Kannur for four days and other districts for a day each. Leaders will walk 10 km every day and BJP state president Kummanam Rajasekharan will head the yatra.
Senior BJP leader V Muraleedharan said Islamic terrorism and CPI(M)'s intolerance are the topics that would be debated during the yatra. "Islamic terrorism has gained strength in Kerala under the regimes of the CPI(M) and Congress. Both parties have played a significant role in giving prominence to the Indian Union Muslim League in Kerala politics."
He said the yatra would debate not just "love jihad", but issues related to Muslim extremism, including the suspected presence of Kerala youths in the Islamic State, recruitment of youths to terror camps in Kashmir, arms training camps in Kerala and chopping of a college professor's palm.
He said the BJP is targeting the CPI(M) not just for political violence, but for the sheer "intolerance" of that party. "CPI (M) does not allow other parties, including the BJP, to function in their areas. That party's intolerance is getting reflected in many incidents. After the CPI(M) government came to power, government employees who were not loyal to the Left were transferred arbitrarily," Muraleedharan said.
Full report at:
http://indianexpress.com/article/india/amit-shah-to-kick-off-kerala-pinarayi-vijayan-campaign-against-cpm-intolerance-muslim-extremism-4869168/
--------
'Inbreeding' at Aligarh Muslim University affecting diversity: Central panel
Oct 01, 2017
"Inbreeding" at Aligarh Muslim University is affecting diversity on the campus, a committee set up by the University Grants Commission (UGC) has stated in its report, recommending that the vice chancellor's quota in admission be done away with.
It has also recommended that admissions to the medical college run by the university should be conducted through NEET.
The committee was constituted by the UGC at the behest of the human resource development ministry to audit 10 central universities to probe complaints of financial, administrative and academic irregularities.
Sources privy to the committee report said it pointed towards the "menace of inbreeding" wherein those studying in schools run by AMU got admission to the university and were in many cases taken up as faculty, affecting diversity.
"The university runs a number of schools and students passing out of these take admission in the university and in many cases they are then considered for faculty positions and end up getting absorbed too. This naturally affects diversity as students from across the country should be considered," a senior ministry official quoted the report as stating.
The committee has also pointed out the university has a VC quota of 20% for admissions and recommended it should be done away with as it is not there in other central universities.
The findings of the report will be considered by the ministry and the UGC for further action.
The medical college under the university has its own system of admission and doesn't follow the National Eligibility Cum Entrance Test (NEET). The committee, officials said, has recommended that the medical college conduct admissions through the NEET.
The committee further states that there have been gross violations of UGC rules and guidelines in recruitment and promotion of teachers too.
Full report at:
http://www.hindustantimes.com/education/inbreeding-at-aligarh-muslim-university-affecting-diversity-central-panel/story-tfUKhG5qNWm8eqrfTevYTK.html
--------
BSF detects underground tunnel dug from Pakistan side
by Arun Sharma
October 1, 2017
A day after the Border Security Force (BSF) and Pakistani Rangers held talks at Suchetgarh and assured to take necessary measures to ensure peace and tranquillity along the international border, Indian security forces on Saturday detected an underground cross-border tunnel coming from the Pakistan side into Arnia sector of Jammu and Kashmir. Official sources confirmed that BSF troops foiled an attempt by Pakistani-based terrorists to cause havoc during the festival season.
Meanwhile, sources said the tunnel has been uncovered in a forested area near Damala nullah in Arnia sector, the same place where Pakistani Rangers had restored to heavy mortar shelling last week. The tunnel was to be used by the terrorists to sneak into India from Pakistan. As it appeared that some people were still inside the tunnel, the BSF opened fire, but they managed to escape under cover of darkness.
Significantly, this has been the second cross-border tunnel detected by the BSF along the international border this year; the last one was found in February in Ramgarh sector of Samba district. Since 2012, the BSF has plugged nearly half a dozen tunnels, dug by terrorists to enter India.
Two cross-border tunnels were detected in Akhnoor sector in 2012 and 2014, and one in R S Pura sector in 2016. The tunnel found in R S Pura, though dug nearly 30 metres inside Indian territory, was not complete as it had not been opened on the Indian side.
Pakistani Rangers and troops have been resorting to unprovoked mortar shelling and small arms fire on forwarding Indian positions along the international border and the Line of Control (LoC) for the last four months in desperate attempts to push in armed terrorists into India. In view of escalation on the border, the cross LoC travel and trade through Chakkan Da Bagh in Poonch district has been suspended for the last two months.
Full report at:
http://indianexpress.com/article/india/bsf-unearths-tunnel-being-dug-from-pakistan-side-in-jammu-4868534/
--------
Arab World
Kurdish parliament rejects all of Baghdad's decisions taken against referendum
1 October 2017
Kurdistan Regional Government (KRG)'s parliament has held a session on Saturday rejected the decisions taken by the central government of Iraq and its parliament against the recent referendum on Kurdish independence.
The Kurdistan parliament stressed that these decisions do not apply to the Kurdistan region without their approval.
This came during the meeting held by the Kurdish parliament in the presence of 62 members out of 111, in response to the decisions of the Iraqi government and parliament after the Kurdish referendum on secession.
Majority of parliament voted on a set of resolutions, including supporting the provincial government in rejecting Baghdad's decisions.
Iraq's parliament and government took a number of decision against the KRG, including retaking its borders of Erbil and Sulaymaniyah from the provisional government.
The Kurdish parliament said that closure of land and air borders were not within the powers of the federal government.
https://english.alarabiya.net/en/News/middle-east/2017/10/01/Kurdish-parliament-rejects-all-of-Baghdad-s-decisions-taken-against-referendum.html
--------
Terrorists' High-Ranking Mufti Escapes from Southeastern Deir Ezzur
Sep 30, 2017
Saleh al-Saleh, nom de guerre Abu Yusef Araqi, a notorious commander and religious leader of the ISIL, escaped from the town of al-Mayadeen along with his family members, local witnesses said on Saturday.
They said no one is informed of his fate or destination, adding that ISIL is overwhelmed by the war too much to conduct a chase to find him.
Reports said earlier today that the army stood up to three waves of largest-ever offensive staged by ISIL in the desert region between Western Deir Ezzur and Eastern Homs on Friday and early Saturday, and restored full security to Deir Ezzur's highway to Palmyra city.
The army repelled hundreds of ISIL militants that invaded its strongholds between the towns of al-Shoula and Kabajeb, and managed to reopen the highway that connects Deir Ezzur to Palmyra from both directions after killing tens of terrorists and pushing them back from areas near the road.
Full report at:
http://en.farsnews.com/newstext.aspx?nn=13960708000413
--------
Terrorists' Centers in Eastern Homs Crushed in Syrian Air Raid
Sep 30, 2017
The army aircraft targeted ISIL's positions East of Humeimeh region in Eastern Homs, killing and wounding a number of terrorists and destroying their military equipment.
Relevant reports said on Friday that the army men and popular forces continued to advance against ISIL in Eastern Homs and managed to capture the village of Rasm al-Aqidat in Jubb al-Jarrah region after taking control over the village of al-Showeiha.
The army soldiers fortified their positions after they completed mop-up and demining operations in the newly-captured villages.
The Syrian Army and their allies are now deployed only 12km North of Shandakhiyah as government troops say, "ISIL's presence in Eastern Homs is nearly over."
http://en.farsnews.com/newstext.aspx?nn=13960708000303
--------
Iraq to defend Kurdish people against threats: Premier
Sep 30, 2017
Iraq's Prime Minister Haider al-Abadi has reaffirmed the country's determination to protect its Kurdish population against any threats, amid soaring tensions over the recent Kurdish independence referendum in the northern region of the country.
"To our people in the Kurdistan region: we defend our Kurdish citizens as we defend all Iraqis and will not allow any attack on them," Abadi tweeted in English on Saturday.
An Iraqi prime minister adviser, who spoke on condition of anonymity, told AFP that Abadi was referring to either an internal or external attack.
"We will not allow any harm to you and we will share our loaf of bread together," Abadi wrote in another tweet.
The Kurdistan Regional Government (KRG) held a non-binding referendum on secession from Iraq in defiance of Baghdad's stiff opposition on September 25. Kurdish officials said over 90 percent of voters said 'Yes' to separation from Iraq.
The voting stations were dotted across the three provinces of Erbil, Sulaimaniyah and Dohuk that form the Iraqi Kurdistan Region as well as in the disputed bordering zones such as the oil-rich province of Kirkuk.
While much of the international community, including the UN, the European Union and Iraq's neighbors, has opposed the referendum, Israel has been the only entity to openly support an independent Kurdish state, with Prime Minister Benjamin Netanyahu backing "the legitimate efforts of the Kurdish people to attain a state" of their own.
Political observers have warned that KRG President Massoud Barzani's referendum scenario is in line with Israel's policy of dividing the regional Muslim states.
In another tweet on Saturday, Abadi said Baghdad wants to have control over the country's oil revenues "in order to pay Kurdistan Region employee salaries in full and so that money will not go to the corrupt."
Following a 2014 dispute over oil revenues, Iraq suspended payment of 17 percent of Iraq's national budget to the Kurdish region. The transfers were worth nearly $12 billion annually and made up 80 percent of the region's budget.
Following the move, wages, including those of Kurdish Peshmerga fighters were slashed.
After the Monday referendum, the Iraqi government ordered the KRG to hand over its international airports in Erbil, and the city of Sulaymaniyah, as well as its border crossings.
It also asked the KRG to either cancel the result of the plebiscite or face potential sanctions, international isolation, and military intervention.
A ban on international flights into and out of the Iraqi Kurdish region also took effect on Friday.
Full report at:
http://www.presstv.ir/Detail/2017/09/30/537036/Iraq-Kurds-referendum
--------
Syrian army thwarts Daesh attacks on military posts in Dayr al-Zawr
Sep 30, 2017
Syrian army soldiers, supported by allied fighters, have managed to repel attacks by Daesh Takfiri terrorists on a number of military positions in the country's eastern province of Dayr al-Zawr.
A military source, speaking on condition of anonymity, told Syria's official news agency, SANA, on Saturday that government troops and their allies managed to thwart the militant assaults in al-Thardat area on the road linking Mayadin city to the provincial capital city of Dayr al-Zawr.
The source added that dozens of Daesh terrorists were killed during fierce clashes with Syrian forces. Three car bombs and a considerable amount of munitions were destroyed and an armored vehicle was seized as well.
Meanwhile, an unnamed source in Dayr al-Zawr operations command said Syrian army soldiers and allied forces were clearing areas near the roadway connecting the cities of Palmyra and Dayr al-Zawr.
"Some Daesh terrorists fled … after the attack was repelled. Now the army and allied forces are chasing the enemy and clearing the areas near the highway," the source said.
Daesh overran large parts of Dayr al-Zawr province, including its many oil fields, in mid-2014 as it seized swathes of land in Syria and neighboring Iraq.
By early 2015, the Takfiri terrorists were in control of some parts of Dayr al-Zawr city and besieged the remaining parts, which were under government control. It is estimated that 100,000 people remain in the government-held parts of the city.
The so-called Syrian Observatory for Human Rights estimates that more than 10,000 people may be living in the Daesh-held parts of Dayr al-Zawr.
Al-Manar cameraman slain in Homs
Full report at:
http://www.presstv.ir/Detail/2017/09/30/537014/Syrian-army-thwarts-Daesh-attacks-on-military-posts-in-Dayr-alZawr
--------
Iraqi army forces, allies achieve fresh territorial gains near Hawijah
Sep 30, 2017
Iraqi government forces, backed by allied fighters from the Popular Mobilization Units, have registered more territorial gains near the town of Hawijah as they continue their joint operations to push Daesh Takfiri terrorists out of their last stronghold in the country's oil-rich northern province of Kirkuk.
The commander of the Hawijah liberation operation, Lieutenant General Abdul Amir Yarallah, said on Saturday that army troops, soldiers from the Federal Police Force, the Interior Ministry's elite rapid response forces and pro-government fighters, better known by the Arabic name Hashd al-Sha'abi, had liberated 26 villages, including al-Ahnaf, al-Tariqiyah, al-Arsah, al-Mutawakiliyah, Tal al-Lahm, al-Ja'fariyah and al-Sa'adiyah, Arabic-language al-Sumaria television network reported.
Yarallah added that army soldiers and their allies also reclaimed control over the villages of al-Waridiyah, al-Sabti, Upper al-Hawaij, Lower al-Hawaij, Upper Tal al-Zahab, Lower Tal al-Zahab, al-Suwaid, Tal Ubaid, Tal Saeid and Albu Sakhrah.
The report came a day after Iraqi forces completely retook 11 villages, including Gharib, al-Karnah, al-Hajamah, al-Shajarah and Namilah.
Iraqi Prime Minister Haider al-Abadi on Friday announced the start of the second phase of an offensive to liberate Hawijah from the grip of Daesh Takfiris.
"We announce the start of the second phase of the liberation of Hawijah and all the surrounding areas to the west of Kirkuk, and as promised the sons of our country are continuing to liberate every inch of the land of Iraq and crush the gangs of the Daesh terrorist group," said Abadi in a statement.
The first phase of the operation to liberate Hawijah was launched on September 21.
Full report at:
http://www.presstv.ir/Detail/2017/09/30/537001/Iraqi-army-forces-allies-achieve-fresh-territorial-gains-near-Hawijah
--------
Air strikes kill 28 civilians in Syria safe zone
Oct 1, 2017
BEIRUT - At least 28 civilians were killed in air strikes on northwestern Syria where a planned safe zone has been overshadowed by a bombing campaign against jihadists, a monitor said Saturday.
Four children were among the dead in the overnight strikes on the town of Armanaz, in Idlib province near the Turkish border, the Syrian Observatory for Human Rights said.
The Britain-based watchdog had earlier reported 12 dead in the strikes on the town in Harem district around 20 kilometres (12 miles) northwest of the provincial capital Idlib.
An AFP correspondent who toured Armanaz on Saturday morning said entire apartment blocks had been flattened by the bombardment.
The Observatory said it could not immediately determine whether the strikes had been carried out by warplanes of the Syrian government or its ally Russia.
But they are the latest in an intensifying air campaign carried out by the two governments against jihadist fighters who control most of the province and are not party to a safe zone deal brokered by Russia, Turkey and Iran. The surge in bombing raids has forced hospitals in the province to close, medical charity Doctors Without Borders (MSF) said on Friday.
They were triggered by an offensive by jihadist fighters led by Al-Qaeda's former Syria affiliate launched against government-held villages in neighbouring Hama province on September 19. The jihadists control nearly all of Idlib province after driving out Islamist former allies earlier this year. Russian President Vladimir Putin and Turkish counterpart Recep Tayyip Erdogan agreed on Thursday to step up efforts to establish a safe zone in Idlib as part of a wider agreement struck in May. Three other safe zones have already been set up - in Eastern Ghouta near Damascus, parts of the south and some areas of the central province of Homs.
But in some of those areas too the fighting has continued. Shelling by the army killed at least 21 civilians in Eastern Ghouta on Saturday, more than half of them children, the Observatory said.
The de-escalation agreement excludes both the Islamic State group and Hayat Tahrir al-Sham, the alliance dominated by Al-Qaeda's former Syrian affiliate.
The Islamic State group is under attack in its remaining strongholds in eastern Syria by both Russian-backed government forces and US-backed fighters.
On Thursday, it mounted a counterattack against government forces along their supply lines through the desert to the eastern city of Deir Ezzor.
At least 128 troops and militia were killed on Thursday and Friday as the army battled to restore control, the Observatory said.
Full report at:
http://nation.com.pk/international/01-Oct-2017/air-strikes-kill-28-civilians-in-syria-safe-zone
--------
Syria: Army Makes Fresh Gains in Eastern Homs
Sep 30, 2017
The army men engaged in fierce clashes with ISIL East of the town of al-Salamiyah and captured the key town of Souha.
Battlefield reports mentioned a large number of casualties on the side of the militants.
A police source reported earlier today that five people, including two children, were injured in ISIL's rocket attacks on the town of al-Salamiyah, around 30 km East of Hama city.
A source at Hama Police Command told the country's state news agency that ISIL terrorists fired 4 rocket shells on residential areas in al-Salamiyah, East of Hama province, injuring a child and causing material damage to citizens' houses and properties.
The agency further said that the ISIL terrorists fired 5 more rockets at al-Salamiyah later in the day, injuring 4 people including a girl, and causing damage to people's houses.
http://en.farsnews.com/newstext.aspx?nn=13960708000436
--------
Terrorists Suffer Heavy Defeat, Casualties in Badiyeh Offensive
Sep 30, 2017
SOHR said that over 45 terrorists were killed and scores of others were wounded in the army's anti-ISIL operations in Western Deir Ezzur, in T3 region and South of the town of al-Sukhnah in Eastern Homs.
In the meantime, field sources said that most of the lands lost to the ISIL along the Deir Ezzur-al-Sukhnah road on Thursday and Friday have been recaptured and security has been restored to the region.
Relevant reports said on Friday that the army soldiers, backed up by heavy Russian airstrikes, commenced a powerful counter-attack on ISIL's positions along the broad front stretching from the small town of al-Sukhnah in Eastern Homs to the town of al-Shoula in Western Deir Ezzur.
Most of the hilltops and points initially captured by ISIL around al-Sukhnah and the M20 highway have been re-secured by the Syrian Army and the terrorist group now find themselves pinned down in al-Shoula where a high-pitched battle within and around the town is now taking place.
Despite claims from opposition sources that al-Sukhnah and the town of Kabajeb were captured by the ISIL, the fact remains that ISIL never took full control of the settlements (coming nowhere close to doing so in the case of al-Sukhnah) and that the Syrian Army currently holds full control of both.
Full report at:
http://en.farsnews.com/newstext.aspx?nn=13960708000283
--------
Terrorists Fail to Prevail over Syrian Army Positions in Western Deir Ezzur
Sep 30, 2017
The army men engaged in fierce clashes with ISIL and warded off their offensive in several positions along the highway that connects the towns of al-Shoula to Kabajeb.
The army killed and injured tens of terrorists and destroyed several military vehicles in the clashes.
Field sources confirmed that Deir Ezzur's road to Raqqa province and also the road that connects 137th Artillery Brigade Base to Jabal al-Bushri region are both safe and secure now.
A military source reported on Friday that the Syrian warplanes and helicopters carried out a number of combat sorties over ISIL's movements along a highway connecting Deir Ezzur and Palmyra cities to each other, inflicting major losses on the terrorists.
The source said that the army aircraft and choppers targeted heavily ISIL's positions and movements in the battlefield along Deir Ezzur-Palmyra highway and nearby regions in Western Deir Ezzur and Eastern Homs, killing and wounding a large number of terrorists and destroying their military equipment in large scale.
The source further said that the Syrian Army troops are now carrying out mop-up operations to hunt the remaining pockets of ISIL terrorists in the region and restore security to the highway.
Full report at:
http://en.farsnews.com/newstext.aspx?nn=13960708000243
--------
Qatar revokes citizenship of high profile poet Mohammed al-Marri
1 October 2017
Qatar revoked the citizenship of poet Mohammed bin Futais al-Marri, who holds the title Millions' Poet, after accusing him of supporting Saudi Arabia at the expense of the Qatari government.
The hashtag "revoking Bin Futais' nationality" went viral on social media pages as many thought the decision was unjust.
Doha accused Marri of supporting Saudi Arabia amid the crisis between it and the four Arab countries (Saudi Arabia, Bahrain, the UAE and Egypt) and after he called on the government to stop supporting terrorists in the Middle East.
Marri, who has been silent for 127 days, finally spoke out and said that he rejects the politicization of hajj and insulting Gulf emblems and described those making such insults as "mobs."
"If insulting homelands is a red line, then insulting sanctities and the Custodian of the Two Holy Mosques and scholars is a line of fire and we will not allow anyone to cross it or violate it," Marri said.
Full report at:
https://english.alarabiya.net/en/News/middle-east/2017/10/01/Qatar-revokes-citizenship-of-high-profile-poet-Mohammed-al-Marri.html
--------
Report: Syrian army, allies seize more of Jordanian frontier
1 October 2017
The Syrian army and its allies seized control of nine positions at Syria's border with Jordan, expanding their control at the southern frontier, a military news outlet run by the Lebanese militia Hezbollah said on Saturday.
The captured border positions were located to the southeast of Damascus, the report said, adding that militants had been killed and wounded during the attack. It did not identify the insurgents, or say when the positions had been captured.
Hezbollah, an Iran-backed group, is fighting in support of the Syrian government, which is making rapid territorial gains against insurgents in southern and eastern Syria.
https://english.alarabiya.net/en/News/middle-east/2017/10/01/Report-Syrian-army-allies-seize-more-of-Jordanian-frontier.html
--------
Four children among 28 civilians dead in air strikes on Syria safe zone
30 September 2017
At least 28 civilians were killed in air strikes on northwestern Syria where a planned safe zone has been overshadowed by a bombing campaign against militants, a monitor said Saturday.
Four children were among the dead in the overnight strikes on the town of Amanaz, in Idlib province near the Turkish border, the Syrian Observatory for Human Rights said.
The Britain-based watchdog had earlier reported 12 dead in the strikes on the town in Harem district around 20 kilometers (12 miles) northwest of the provincial capital Idlib.
It said it could not immediately determine whether the strikes had been carried out by warplanes of the Syrian government or its ally Russia.
But they are the latest in an intensifying air campaign carried out by the two governments against jihadist fighters who control most of the province and are not party to a safe zone deal brokered by Russia, Turkey and Iran.
The surge in bombing raids has forced hospitals in the province to close, medical charity Doctors Without Borders (MSF) said on Friday.
They were triggered by an offensive by jihadist fighters led by Al-Qaeda's former Syria affiliate launched against government-held villages in neighboring Hama province on September 19.
The militants control nearly all of Idlib province after driving out Islamist former allies earlier this year.
Russian President Vladimir Putin and Turkish counterpart Recep Tayyip Erdogan agreed on Thursday to step up efforts to establish a safe zone in Idlib as part of a wider agreement struck in May.
Three other safe zones have already been set up -- in Eastern Ghouta near Damascus, parts of the south and some areas of the central province of Homs.
Full report at:
https://english.alarabiya.net/en/News/middle-east/2017/09/30/28-civilians-dead-in-new-air-strikes-in-Syria-safe-zone.html
--------
Arab coalition releases footage of militants targeted near Saudi borders
30 September 2017
The Arab coalition army released footage showing their forces targeting Houthi and Saleh militias on the southern border of Saudi Arabia.
The bombings targeted infiltrators from the coup militia, snipers and vehicles transporting weapons and missiles.
They forces also hit the supply lines and caves where the militants use as shelters.
The coalition operations aimed at infiltration attempts and military facilities that was ready to attack Saudi villages and towns on the border.
The defense attacks were carried out by joint units from within Saudi territory.
One clip shows an unmanned aerial vehicle (UAV) carried out by Saudi forces while it targets infiltrators and eliminates them.
Sources reported the death and wounding of hundreds of militants on the border, and the destruction of their military equipment, within the unexpected operations, and the ambushes that were employed in several areas.
The spokesman for the Arab Coalition, Col. Turki al-Malki, said that the coalition utilizes 24-hour intelligence systems inside Yemen and on the Saudi border.
Full report at:
https://english.alarabiya.net/en/News/gulf/2017/09/30/Arab-coalition-releases-footage-of-militants-targeted-near-Saudi-borders.html
--------
Europe
British surgeon stabbed for being Muslim
01-Oct-17
by Muna Habib
LONDON: A Muslim surgeon, who was stabbed outside a mosque in Manchester, said he had forgiven the attacker.
Dr Nasser Kurdy, 58, was attacked from behind as he arrived for evening prayers at the Altricham Islamic centre in Manchester, UK. He sustained a three inch knife wound in his neck and was treated by colleagues at Wythenshawe Hospital, where he works as a consultant orthopedic surgeon. He was allowed to return home.
In a press conference, Kurdy insisted that the man was "not what this country stands for". "I have absolutely no anger or hate towards him. I have declared it, I have totally forgiven him."
Kurdy, who treated victims of the Manchester Arena bombing in May, said: "As I entered the grounds of the premises, I felt that pain and the blow to my neck." He continued to explain that although the wound was painful he knew immediately that it was not life threatening.
The father of three, from a Jordanian - Syrian family, came to Britain in 1977. He worked in various cities in the UK including Perth, Dundee and Northampton before settling in Manchester in 1991. He is vice chairman of Altrincham and Hale Muslim Association and part-time Imam at the Altricham Islamic centre, giving occasional sermons.
He was preparing to return to work as the police investigation continued. Police are treating it as a hate crime.
Kurdy thinks hate crimes against Muslims are spiraling as a result of the terror attacks. "It must be acknowledgment that hate crimes against Muslims are on the increase and they are becoming more physical,'' he said.
'Tell Mama', an organisation that records hates crimes, agrees with him. They said that hate crimes against British Muslims had increased fivefold in the seven days following the May 2017, Manchester Arena terrorist attack. A total of 139 cases of 'anti-Muslim hate' were reported in comparison to 25 the previous week.
A seven-year-old British born girl was among the victims of verbal abuse that included 61 Muslims told to "go back to your country "and branded "child killers".
The police have arrested two men aged 32 and 54, in connection with the attack and said they were treating it as a hate crime.
Greater Manchester Police Assistant Chief Constable Russ Jackson said: "This is a very nasty and unprovoked attack against a much-loved local man."
Muslim leaders have condemned the attack.
Altrincham and Hale Muslim Association Spokesperson Dr Khalid Anis said: "The fact they attacked an orthopedic consultant who devoted his life to helping others is really quite poignant."
Harun Khan, secretary general of the Muslim Council Britain, said: "We are shocked to hear of the stabbing of a prominent Muslim surgeon outside Altrincham mosque." He urged British Prime Minister Theresa May and British Home Secretary Amber Rudd to implement its Government's Hate Crime Action Plan.
http://dailytimes.com.pk/pakistan/01-Oct-17/british-surgeon-stabbed-for-being-muslim
--------
Muslim boy of 14 stabbed outside mosque in Birmingham
Sep 30, 2017
A teenage Muslim boy has been stabbed several times outside a mosque in Birmingham, UK, leaving the 14-year-old victim in critical condition.
Police cordoned off the crime scene in Herbert Road while specialist police teams carried out forensic investigations.
The incident occurred on Friday night when the boy was dropped off at the Idaara Maarif-e-Islam mosque, commonly known as Hussainia, by his father, who went to park the car.
"It happened on the pavement. By the time the dad parked his car his son was on the floor. There was a young man who was brutally beating the boy with a knife," Azhar Kiana, the president of the mosque, told local media on Saturday.
"There was blood everywhere, he was hitting the boy's neck and head. Then the attacker ran off and got into a car."
The attack was one of several violent incidents in four cities that left two people dead and several others injured on Friday night and the early hours of Saturday.
West Midlands police said a 29-year-old man has been arrested on suspicion of attempted murder on Saturday morning and is in custody.
Police said they were not treating the attack as a terrorist incident but the motivation remained unclear.
It is suspected, however, the incident could have been a racially or religiously motivated hate crime.
"Our investigation is progressing quickly but it is still in the early stages. We do not believe it to be terror-related. The motivation for the attack is not yet known. We are keeping an open mind as to whether it could be racially or religiously motivated," said DI Jim Colclough from the complex crime investigation team at Bournville Lane police station said.
London's Metropolitan police recorded more than 1,200 hate crime incidents against Muslim victims from April 2016 to March 2017, pointing to a surge of Islamophobia in the UK.
Full report at:
http://www.presstv.ir/Detail/2017/09/30/537041/UK-Birmingham-Stabbing-Attack-Islamophobia-Hate-Crime
--------
700 French nationals living in Daesh-held Iraqi, Syrian regions: Official
Sep 30, 2017
About 700 French nationals, among them 500 children, are living in the Daesh-controlled areas of Iraq and Syria, a French official says, as fears grow over the threat posed by European members of the Takfiri terrorist group on their return to their homelands.
An official at the French president's office, whose name was not mentioned in reports, said on Friday that women made up one-third of the 700 French citizens in the Daesh-held territories.
He also said that half of the 500 French children were born in the Iraqi and Syrian regions under Daesh's grip.
In total, he said, some 2,000 French nationals or residents had gone to the two countries, of whom 200- 300 had been killed.
Last month, France's Interior Minister Gerard Collomb said 271 Takfiri militants had returned to the European country from war zones in Iraq and Syria and all of them had been subject to investigations by the public prosecutor.
He also warned that the threat of militant attacks was "very high" in France.
France has suffered a spate of terrorist attacks in recent years. It remains under a state of emergency initially imposed in November 2015 after Daesh attacks in and around Paris. The assaults back then left 130 People dead and over 410 others injured.
Full report at:
http://www.presstv.ir/Detail/2017/09/30/536957/France-Syria-Iraq-Daesh
--------
Pakistan
Election symbol allotted to Tehreek-i-Labbaik Pakistan
Iftikhar A. Khan
October 01, 2017
ISLAMABAD: The Election Commission of Pakistan (ECP) has allotted the election symbol of 'crane' to the Tehreek-i-Labbaik Pakistan (TLP) led by Khadim Hussain Rizvi.
The TLP had forced its way into the red zone in Islamabad to stage a protest against conviction of Mumtaz Qadri, who was sent to the gallows for assassinating then Punjab governor Salmaan Taseer.
A nominee of the party also contested the NA-120, Lahore, by-election as an independent candidate. His posters and banners bore photographs of Mumtaz Qadri.
In a related development, the interior ministry has opposed the registration of the Milli Muslim League (MML), which is believed to be a front for the banned Lashkar-e-Taiba, as a political party.
"Ministry of Interior has taken up the issue with security agencies. While reply of [an] agency is awaited, the other agency has intimated that indulgence of proscribed and under observation organisations in political process with an aim to win legitimacy is a serious issue, thereby neutralising the gains of the National Action Plan. In view of the above, the registration of MML is not supported," the ministry said in response to the ECP's letter seeking clarifications from it over the issue of MML's pending application for enlistment as a political party.
The ECP had written a letter to the interior ministry in this regard on Aug 24 and had sent a reminder on Sept 11.
In its response, a copy of which is available with Dawn, the interior ministry has said that the ministry of foreign affairs has recommended to the ministry of interior that Jamaatud Dawa (JuD) and Falah-i-lnsaniyat Foundation (FIF) are banned organisations under the Pakistan Security Council Act, 1948. The Financial Action Task Force has been informed repeatedly that these organisations are banned in Pakistan under the 1948 Act.
It says: "The Ministry of Foreign Affairs has also highlighted our international obligations and commitment to the National Action Plan and recommended that the MoI should take up the matter of registration and activities of Milli Muslim League (MML) and its association with proscribed organisations with the ECP to avoid any negative consequences for Pakistan and therefore recommended that MML application for registration should not be supported."
Moreover, recent political activities of the group have also been officially objected to at the diplomatic level. It also refers to the ECP's letter dated Aug 24 mentioning the claims of MML president Saifullah Khalid that the leader of Jamaatud Dawa Hafiz Mohammad Saeed is an ideological affiliate.
"There is evidence to substantiate that Lashkar-e-Taiba, Jamaa­tud Dawa and Falah-i-lnsaniyat are affiliates and are ideologically of the same hue. Lashkar-e-Taiba has been proscribed since 14-01-2002, whereas Jamaatud Dawa and Falah-i-lnsaniyat Foundation are placed under restrictions since 27-1-2017 and later extended up to 26-1-2018 under Anti-Terrorism Act, 1997. They have also attracted sanctions under the United Nations Security Council Resolution No 1267 and have been dealt accordingly," the letter reads.
The issue of MML's links with banned outfits was highlighted during the recently held by-polls in NA-120 where its nominee contested election as an independent candidate, prominently displaying pictures of JuD chief Hafiz Saeed on his banners and posters. The ECP in reaction only said that MML was not a political party enlisted with it and that an election symbol had been allotted to an independent candidate.
According to ECP sources, the MML had applied for enlistment on Aug 9. The documents submitted with the ECP show Saifullah Khalid as the president of the party, Muzammil Hashmi as vice president, Fayyaz Ahmad as general secretary and Mohammad Haris as joint secretary.
MML president Khalid had admitted his ideological links with the JuD while recently addressing a press conference.
The United States has offered a $10 million reward for information leading to the arrest and conviction of Hafiz Saeed.
The US and India consider JuD to be a mere front for Lashkar-e-Taiba, the militant group blamed for the 2008 Mumbai attacks.
But the JuD despite being under observation for years has no formal charge against it and denies any link to violence. The organisation is popular in the country for its charitable activities.
https://www.dawn.com/news/1361164/election-symbol-allotted-to-tehreek-i-labbaik-pakistan
--------
Philosophy of Hussain teaches stand against tyranny: Qureshi
October 01, 2017
MULTAN-Pakistan Tehreek-e-Insaf Vice Chairman Shah Mehmood Qureshi has said that raising voice against culprits like Trump and Modi is in line with the philosophy of Imam Hussain (RA) as this philosophy is meant to rise against the powers of evil and tyranny.
Addressing 39th Hussainia Conference here at Raza Hall on Saturday, he said that Trump bulldozed Pakistan's sacrifices while Modi set new example of barbarianism in Kashmir. "Both of them are tyrants. Challenging corrupt system, aristocratic mentality, looters and usurpers is called Hussaini passion," he asserted.
Mr Qureshi said that Zikr-e-Hussain is such a sweet thing that no listener ever gets tired of hearing it. He warned that those who recite Kalma are on target of the powers of tyranny. "We need to follow in the footsteps of Hazrat Imam Hussain (RA) and fight against the powers of evil," he asserted. He prayed that the unity of the Ummah may prevail forever, adding that the sacrifice rendered by Hazrat Imam Hussain (RA) would remain a source of pride for entire humanity forever.
Earlier, talking to the journalists, he said that a major reason behind the move for the replacement of opposition leader is the method for the nomination of new Chairman NAB. He said that the entire parliament agrees on the point that the method to appoint Chairman NAB is inappropriate. He said that no one is satisfied with the election commission's performance and the motive behind replacing opposition leader is to bring about an improved interim set up before the next general elections. He said that it is dismaying that the PML-N blocked the way of replacement of opposition leader. He hoped that Maulana Fazlur Rehman would also support PTI on the issue of opposition leader replacement.
To a query, he said that it is pre-time to talk about his nomination as opposition leader. He declared that the PTI would go for the replacement of leader of opposition if it gained required strength otherwise it would not make this move. He claimed that Jahangir Tareen does not have any reservations on opposition leader nomination. He said that the MQM is annoyed on the behaviour of PPP, but even if PTI and MQM get united they are still short of votes to change the opposition leader. He pointed out that former President Asif Ali Zardari has also returned and is running his party's campaign. He questioned that if Zardari decides to remove opposition leader, what would Khurshid Shah do in this situation.
Answering another question, he said that the statement of Parvez Rashid is meant to divert others' attention from chaos in his own party. He said that the likely motive behind convening National Assembly's October 2 session is to offer shield to Nawaz Sharif. To another question, he declared that Kh Asif's recent statements regrettable and in line with the agenda of the enemy. "His statements are against national security. Indian media have made his statement headlines," he maintained.
Referring to agriculture, he said that the entire South Punjab was on agitation against low prices of cotton and sugarcane. He noted that the issue of illegal installation of sugar mills does not exist in Punjab alone rather a similar situation is prevailed in Sindh. He said that the PML-N violated its own policy by installing sugar mills in cotton areas. He said that the prices of sugarcane are very low but the finance minister had no time to resolve such issues. He claimed that now the chambers of commerce have also started demanding resignation from the finance minister.
AGENCIES ADD: the PTI vice chairman declared that his party will challenge the Election Bill 2017 in the court.
Full report at:
http://nation.com.pk/national/01-Oct-2017/philosophy-of-hussain-teaches-stand-against-tyranny-qureshi
--------
CTD nicks 4 terrorists with arms, explosive
October 01, 2017
MULTAN-The Counter-Terrorism Department (CTD) foiled a terror bid and arrested four suspected terrorists with cache of arms during a raid here on Saturday.
According to a CTD spokesperson, the department conducted a raid on a tip-off and arrested four activists of a banned outfit, who were identified as Nasir, Ali, Tahir and Shafqat.
The spokesperson said that the suspect and his accomplices wanted to disrupt peace in the holy month. However, the Counter-Terrorism Department foiled their plan in time.
The Counter-Terrorism Department also claimed to have recovered six hand grenades, two pistols, one IED (improvised explosive device), two kg explosives, three-meter detonating cord, eight-meter safety, and ten detonators from the suspects.
Further investigations are in progress, the spokesman added.
http://nation.com.pk/national/01-Oct-2017/ctd-nicks-4-terrorists-with-arms-explosive
--------
Hafiz Saeed sends Khawaja Asif Rs100m defamation notice
Saifullah Cheema
September 30, 2017
A legal team — on behalf of the chief of the banned Jamaatud Dawa (JuD), Hafiz Saeed — on Friday sent a Rs100 million defamation notice to Foreign Minister Khawaja Asif for his remarks at the Asia Society forum in New York earlier this week.
Asif, who told the forum that Pakistan was not to blame for militant outfits in the country, had said: "Don't blame us for the Haqqanis [the Haqqani Network] and don't blame us for the Hafiz Saeeds [referring to the head of banned Jamaatud Dawa]. These people were your darlings just 20 to 30 years back. They were being dined and wined in the White House and now you say 'go to hell Pakistanis because you are nurturing these people'."
Explore: Don't blame Pakistan, Haqqanis were your 'darlings' at one time: Asif tells US
The notice, served by Advocate AK Dogar under Section 8 of the Defamation Ordinance of 2002, claims that Saeed is "respected as a deeply religious and devout Muslim".
"I will be failing in my duty as a lawyer if I do not remind you of the Fundamental Right enshrined in Article 14 that [the] dignity of man is guaranteed by our Constitution," it continues.
The notice accuses Asif of "an absolute lie and falsehood that Hafiz Muhammad Saeed is one of those persons who had been the darlings of Americans and had been dining and wining in the White House."
"I have been advised by Hafiz Muhammad Saeed to tell you that he has never been near the White House, not to speak of wined and dined. It is shocking to know that the foreign minister of my country is accusing Hafiz Muhammad Saeed of taking wine. This is abusive language and can never be used about my client. He is [a] patriotic Islam loving Muslim following the dictates of [the] Holy Prophet (Peace Be Upon Him). This is a defamatory statement punishable under Section 500 of the Pakistan Penal Code (PPC) to five years imprisonment and with [a] fine."
Dogar provides the definition of defamation as under Section 499 of the PPC: "Whoever by words either spoken or intended to be read makes any imputation concerning any person so as to harm his reputation is said to defame that person."
"The imputation of wining is a false statement which has injured the reputation of my client and lowered him in the estimation of others. This is slander and actionable libel. I am constrained to issue this 14 days' notice under Section 8 of the Defamation Ordinance 2002 of the intention of my client to bring an action against you specifying the defamatory matter complained of."
"Please take notice that my client intends to file a suit for damages to the tune of Rs100m for injuring the reputation of my client not only in Pakistan but all over the world."
"Please take notice that apart from civil remedy, my client has a right to file a criminal complaint against you under Section 500 of the PPC. It goes without saying that you will be responsible for the entire cost of litigation," he finishes.
Saeed was put under house arrest at his residence in Lahore's Johar Town earlier this year in what Inter-Services Public Relations (ISPR) termed "a policy decision".
Director General ISPR Maj Gen Asif Ghafoor said of the arrest: "This is a policy decision that the state took in national interest. Lots of institutions will have to do their jobs."
He denied that any foreign pressure was behind the arrest of the JuD chief.
He was detained under Section 11-EEE(1) of the Anti-Terrorism Act, 1977, according to an Interior Ministry notification issued at the time.
Recently, the Punjab home ministry, responding to an appeal for Saeed's release before the Lahore High Court, said that releasing the JuD chief would cause unrest in the province.
The ministry said that Saeed was put under house arrest under the anti-terrorism laws to keep him from collecting funds ─ which is a violation of various resolutions of the United Nations ─ and that reports on the matter from the police and Counter-Terrorism Department had been submitted to the court.
The ministry pointed out that various cases were registered against members of JuD for collecting hides during the three days of Eidul Azha in contempt of the ministry's orders. Cases were also registered against the party for collecting funds in contempt of the provincial ministry's orders, the reply said.
The ministry also mentioned in its reply that the Election Commission of Pakistan had asked the JuD's political wing Milli Muslim League's (MML) NA-120 by-poll candidate to remove Saeed's pictures from the promotional posters.
The house arrest of Saeed comes after years of pressure on Pakistan to put the JuD chief on trial and could ease recently escalating tensions with neighbour and arch-foe India.
Full report at:
https://www.dawn.com/news/1361029/hafiz-saeed-sends-khawaja-asif-rs100m-defamation-notice
--------
Thousands rally across Pakistan ahead of Ashura celebrations
Sep 30, 2017
Thousands of Shiite Muslims have rallied across various parts of Pakistan ahead of tomorrow's religious festival of Ashura, or "Day of Remembrance".
The holiest day on the Shiite Muslim calendar is observed each year on the 10th?day of Muharram, the first month of the Islamic year, to mourn the 7th century death of Imam Hussein, the grandson of Islam's Prophet Muhammad.
At Saturday's rally in Islamabad thousands of Shiite Muslims were seen beating their chests with their hands and flagellating themselves with knives attached to chains.
Authorities have stepped up security across the country following intelligence reports that militants could target Shiites this week.
Full report at:
http://abcnews.go.com/International/wireStory/thousands-rally-pakistan-ahead-ashura-celebrations-50198221
--------
Rangers seize illegal arms in MQM-London office raid
September 30, 2017
KARACHI: The Pakistan Rangers, Sindh, on Friday claimed to have arrested two suspects allegedly involved in criminal activities and seized illegal arms and ammunition from an office of the MQM-London in Orangi.
The paramilitary force detained Mohammed Naveed Ahmed, alias Burger, in Mehmoodabad. "The held suspect is linked with the Muttahida Qaumi Movement-London," said the Rangers spokesperson.
"He was involved in firing into the air, hoisting party flags, forcible closure of shops, collection of fitra and hides and other crimes," added the official.
Meanwhile, the Rangers seized a huge quantity of arms and ammunition which were allegedly hidden in Orangi Town by the MQM-London to carry out terror and violence in Karachi, according to the paramilitary spokesperson.
The Rangers acting on intelligence information raided a three-room office of the MQM-London's unit-130, situated behind the public park in Sector-7/C of Orangi Town, and recovered arms and ammunition hidden there.
The seized weapons included one LMG, one Kalashnikov, one 22-rifle, two 30-bore pistols and 1850 rounds of different weapons.
Full report at:
https://www.dawn.com/news/1360884/rangers-seize-illegal-arms-in-mqm-london-office-raid
--------
Attempts to disrupt peace in Punjab, Balochistan foiled; several arrested
01-Oct-17
KOHLU/RAWALPINDI: Under the ongoing Operation Raddul Fasaad, intelligence agencies and security forces conducted raids and seized weapons from Balochistan's Kohlu district.
In a press conference, Kohlu Deputy Commissioner Agha Nabil said that the security forces raided Makhi Nala area of Kahan. "During the raid, weapons and ammunition were seized from the hideouts, belonging to proscribed organisations," said Nabil.
"Three hand grenades, seven anti-tank mines, 477 LMG rounds, one kilogramme of explosive material, rifles, machine guns, detonator, five RPG-7 fuses, 400 yards of detonator cable and other weapons were recovered," he said.
In another raid, a vehicle that was going to be used as vehicle-borne IED was seized during an intelligence-based operation (IBO) from Tore Shah, North of Pishin. It was going to be used to disrupt Muharram in Quetta. Three suspects were arrested.
Separately, Pakistan Rangers Punjab and police carried out patrolling/flag marches in important areas of major cities. ISPR said that extensive intelligence based operations were carried out in Rawalpindi, Islamabad, Multan, DG Khan, Lahore, Sialkot, Bahawalnagar, Bahawalpur and Rahim Yar Khan. During these operations, 27 suspects were arrested and a cache of illegal weapons was seized. The Counter-Terrorism Department (CTD) arrested four suspected terrorists from Multan, seizing a sizeable quantity of arms and explosives from them.
Full report at:
http://dailytimes.com.pk/pakistan/01-Oct-17/attempts-to-disrupt-peace-in-punjab-balochistan-foiled-several-arrested
--------
Hindus join Shia mourners in Mithi
01-Oct-17
by Amar Guriro
MITHI: In Karachi, for the security measures during Muharram processions, authorities suspended the cellular networks, conducted surveillance through closed-circuit television (CCTV) cameras and more than 6,000 police personnel were deployed for the security of the mourners. Due to the security threats, authorities sealed dozens of streets with shipping containers and aerial surveillance was also conducted through helicopters.
Far from Karachi, in Mithi city, the districts headquarters of Tharparkar, a remote district with almost half of its population Hindus, located in eastern side of the Sindh province along Indian border, the scene is entire different. Though, rangers and police is deployed in the city for the security, but mourners do not feel any security threats.
Dressed in funereal black, the mourners gathered at Maqbool Shah Imambargah, they were beating their chests, and wailing nohas and mourning the day of Imam Hussain's martyrdom. Half of the mourners are Hindus. When the procession proceeded through the Mithi city, at different places, Hindus women brought their newborns to the procession and put the clothes of the Tazia on the forehead of their newborn and worshiped the Tazia and later kept some coin as they do while performing Pooja or worship by Hindu way at their temples.
In southern Sindh, specially in different districts of Mirpurkhas districts including Sanghar, Mirpurkhas, Umerkot and Tharparkar, where majority of 7 million Pakistani Hindus reside, one can see Hindu Shias or the devotees of Imam Hussain. Just in Tharparkar district there are 72 Imambargahs and many of them are historical and according to the locals some of the Imambargahs are around 200 years old. In Mithi city, most of the Sabeels are arranged by the local Hindus and many of the Hindus join procession. At the end of the procession when mourners reach at the Imambargahs, they are offered food and in Mithi at historical Maqbool Shah Imambargah, almost half of the food is provided by the local Hindus, according to the caretaker of the Imambargha.
"In Mithi city for last 200 years, long before the partition of subcontinent, Hindus are actively taking part in procession during Muharram," said Hadil Faqeer, caretakers of the Shoaib Abu Talib, Imambargah, Mithi.
He said that Hindus visit Imambargahs almost entire year, but during Muharram they take active part in the procession, Sabeel and Niaz (sacred food distributed during Muharram).
"Many of the local young Hindu couples come to the Imambargahs and they tie knots and walk around the Alam Pak or Tazia, as they walk around holy fire during their wedding, because they consider Alam Pak and Tazia as sacred as the holy fire," said caretaker of the Maqbool Shah Imambargah.
In Umerkot city, many Imambargahs are managed by Hindus and many caretakers are also Hindus.
In Sindh, Hindus are not just the mourner, but some of them are famous Shia Zakir and they hold Majlis-e-Aza on Karbala incident during Muharram. During these Majalis, not just the Hindus and Shia Muslim, but even Sunni Muslim come and listen to them. Ravi Shankar Khatri, a resident of Umerkot is one of them. He is a Shia Zakir and conducts Majlis-e-Aza in different cities across Sindh.
Another Shia Zakir was Heman Das who called himself Hyderi, resident of Sanghar city, died last year at the age of 83, was invited to hold Majlis-e-Aza not just in Sindh but many cities of Punjab and even in abroad.
In most of these districts, Nohas (Shia laments) that mourner wailing during procession, are written by the Hindus.
Full report at:
http://dailytimes.com.pk/pakistan/01-Oct-17/hindus-join-shia-mourners-in-mithi
--------
Pakistan's National Security Council vows all-out help for Afghan peace
Sep 30 2017
The National Security Council of Pakistan has vowed all-out help for the Afghan peace as the members of the council endorsed an Afghan-led and Afghan-owned peace process.
The meeting of the National Security Council of Pakistan led by Prime Minister Shahid Khaqan Abbasi also decided that Islamabad will deliberate on the new US strategy for the South Asia.
According to a statement by the office of the Prime Minister of Pakistan, it was concluded in the meeting that the issue of the Afghan peace and Kashmir were among the cardinal points of the foreign policy of Pakistan.
In regards to the Afghan peace, the meeting participants insisted that Islamabad is prepared to work with Afghanistan on border management as well as the repatriation of the Afghan refugees.
This comes as Islamabad had earlier opposed with the new US strategy for South Asia, specifically after Washington increased pressures due to the presence of the terror networks and sanctuaries in the Pakistani soil.
The United States announced its new policy for Afghanistan and South Asia with President Donald Trump strongly criticizing Pakistan for harboring and sheltering terror groups.
Full report at:
http://www.khaama.com/pakistans-national-security-council-vows-all-out-help-for-afghan-peace-03551
--------
Southeast Asia
Is Malaysia harbouring alleged fugitive Zakir Naik?
October 1, 2017
By P Ramasamy
Is it true that despite the denials by the Malaysian government, the controversial Islamic preacher from Mumbai, Zakir Naik, one of India's most wanted fugitives, may be hiding in Malaysia?
Last week, a Facebook user uploaded a photograph of Naik at the Tuanku Mizan Zainal Abidin Mosque, or the Iron Mosque, after Friday prayers. He said: "Praise be to God, we joined Friday prayers with Dr Zakir Naik at the Sultan Zainal Abidin mosque in Malaysia."
While this Facebook posting provides some credible evidence of Naik's presence in Malaysia, there are unverified reports that claim that the Malaysian authorities have placed him in a safe house with round the clock security either in Cyberjaya or Putrajaya.
Despite these bits of information about the whereabouts of Naik trickling in, Deputy Home Minister Nur Jazlan has denied that the preacher is in Malaysia. He even denied a Times of India report that Malaysia was harbouring him.
If it is proven beyond reasonable doubt that Malaysia is indeed harbouring Naik, then such an act does not augur well for the diplomatic relations between India and Malaysia.
Even if there is no extradition treaty between both countries, it only makes sense for Malaysia to hand over those suspected of committing crimes in India to the Indian authorities. I am sure India would be expected to reciprocate, if found that those suspected of having committed criminal activities in Malaysia, were found hiding in India.
Apart from being known as a controversial Islamic preacher, Naik is wanted by India for suspected terrorist-related activities and links with the underworld.
The Indian authorities have allegedly found that Naik's preaching had something to do with the terrorist attacks in a cafe in Dhaka, Bangladesh some time back. The Indian authorities also have evidence that Naik was responsible for instigating some youths in Kerala to take part in Islamic State-related (IS) activities.
The most damning thing about Naik is his alleged long-established links with Mumbai's underworld. It surfaced recently that Iqbal Kaskar, the brother of Dawood Ibrahim, also one of India's most wanted criminals, had links with Naik.
In fact, Iqbal Kaskar was the chief financial officer responsible for raising funds from underworld activities to finance Naik's Islamic Research Foundation (IRF). This was revealed by Iqbal to India's Enforcement Directorate (ED) recently.
The Malaysian authorities might have a "soft" spot for Muslim intellectuals and preachers. This is fine. But surely they cannot be silent over a person suspected of bringing death and destruction onto innocent people by engaging in the worst forms of preaching, leading to terrorist activities.
Just because Malaysia has a good relationship with Turkey does not mean that it has to function on the behest of the government there. Recently, Turkish intellectuals and those opposed to the authoritarian policies of the Erdogan regime were deported without proper investigation.
At the same time, Naik is given a red-carpet welcome, given the status of permanent resident and, if I am not mistaken, might even have acquired his citizenship by now.
The Malaysian government must come clean on the matter of Naik. It cannot keep denying that he is not here. Events are slowly, but surely, unfolding that even Saudi Arabia is not willing to provide sanctuary to Naik given the overwhelming evidence against him for inciting terrorist activities.
While Malaysia has taken a tough stand in terms of arresting those sympathetic to and supporting the efforts of the IS, it continues to harbour suspected criminals who come in the guise of religious scholars and preachers.
http://www.freemalaysiatoday.com/category/opinion/2017/10/01/is-malaysia-harbouring-alleged-fugitive-zakir-naik/
--------
Dr M: Some Muslims not living as Muslims
Sheith Khidhir Bin Abu Bakar
October 1, 2017
PETALING JAYA: Pakatan Harapan chairman Dr Mahathir Mohamad has denounced Muslims who display piety through conspicuous acts of worship but do not conduct their lives in accordance with the spirit of the Quran.
Speaking at a forum in Bangi, he said such Muslims would focus only on "fardhu ain (obligatory acts of worship)" such as prayer, fasting, charity and the Haj, ignoring many other Quranic injunctions, such as those that would lead to mercy and compassion among human beings.
He said unrest in some Muslim countries was the result of defiance against such teachings.
Referring to the Islamic State (IS) terror group, he said it was obvious that its members were defying the Quran.
He said he wondered whether the terrorists, when slaughtering their victims, would invoke God's attributes of Grace and Mercy like Muslims were supposed to do when slaughtering animals for food.
He said this was why it was important for Muslims to read and understand the Quran.
"When I read the Quran," he said, "I also read the translations so that I understand what I'm reading, and I will find out whether those translations are correct by reading other translations.
Full report at:
http://www.freemalaysiatoday.com/category/nation/2017/10/01/dr-m-some-muslims-notlivin
--------
Popular ustaz wants to develop Islam in Penang
Oct 1, 2017
THE more Penang's DAP-led government is attacked by racial and religious chauvinists, the more suitable the state is as a base to fight extremist thinking among Muslims, said newly appointed state information officer Wan Ji Wan Hussin.
Penang and the perception of it being dominated by the Chinese can then become a place to fight the damage being done to Islam itself, the popular independent religious speaker from Kelantan said.
Wan Ji said Penang provided room to develop Islam and did not bar people from different "streams" (aliran) to discuss religion.
"Islam is allowed to grow in Penang through discussions (hujahan), instead of by force (kuasa).
"It makes Penang the right place to fight ideas of extremism and terrorism, which have influenced the thoughts of Muslims.
"I hope I can set up an institution that fights extremism, and another for maqasid shariah (purpose of shariah) in Penang," he told The Malaysian Insight.
Islamic agenda for all
DAP is the only Chinese-majority party in the opposition Pakatan Harapan (PH) bloc, and despite efforts to attract more non-Malay members, it is still accused of being a party of anti-Muslim Chinese chauvinists.
Wan Ji, who was sworn in on Thursday for his new job, said he planned to promote an Islamic agenda that benefited all races, not just Malays, in Penang.
He said he believed religious matters had become problematic because race had been mixed into it, causing Malays to view non-Malays and non-Muslims as "others".
"I am working on an article on 'apartheid bershariah' where people discriminate based on religion. We have this syndrome among Muslims in Malaysia of using shariah as an excuse to create castes.
"In the past, all races could eat and drink together in Chinese coffee shops. They still practise that in Sabah, but this has become a rarity in the peninsula," he said.
"Our society has become so prejudiced against each other, even among Muslims themselves, due to politics.
"You don't have to read the Quran, but if you promote peace and justice, you are already doing something Islamic."
Wan Ji said Penang had a history of hosting progressive Muslims, like the colonial-era writer and nationalist Syed Sheikh Syed Ahmad Al-Hadi.
Syed Sheikh Al-Hadi, as he was better known, moved to Penang from Malacca to further his career in literature and journalism and to develop Islamic education. He founded the Madrasah Al-Mashoor that was known for teaching secular subjects in English and for fostering reformist thinking.
"So if PH's enemies make Penang the target of its attacks using religion, then Penang is the best place to kick off our efforts to repair the damage," Wan Ji said.
Islam-friendly image for DAP
As information officer, Wan Ji's job is to debunk the belief that DAP is anti-Malay and anti-Islam — claims often used by political rivals — and to explain the Penang government's policies where Islam is concerned to Malay citizens.
The preacher, who is also PKR Youth's religious bureau chief, said he was under orders from PKR to move to Penang to assist the PH state government.
"I was instructed by party vice-president Nurul Izzah Anwar to come to Penang. The orders came from higher up, from (party de facto leader) Anwar Ibrahim.
"I was told to bring the Islamic agenda to Penang. This is a big deal for PKR. Anwar sees Islamic issues as a priority.
"Another reason is how DAP has become the punching bag for PH's political rivals that are out to attack the coalition with religious issues," he said.
Wan Ji became the man for the job because of his background as an independent preacher in mosques and surau, and his training in Islamic education.
An Al-Azhar University graduate, he did his masters in maqasid shariah, and is now pursuing a doctorate at Universiti Malaysia Kelantan on countering terrorism among Muslims.
A former PAS follower from age 14, he said he still carried "the Nik Aziz political influence" of openness and willingness to collaborate with non-Muslims.
PAS's revered spiritual leader Nik Abdul Aziz Nik Mat died in February 2015. Under his leadership, PAS worked with DAP but the political relationship ended after his death and PAS insisted on implementing hudud, or the Islamic penal code, in Kelantan.
In the same year of Nik Aziz's death, PAS broke ties with DAP, causing the collapse of the Pakatan Rakyat opposition coalition. This led many progressive leaders in PAS to quit the party, like Wan Ji who joined PKR.
Much spent on Islamic development
Wan Ji said Chief Minister Lim Guan Eng, who is DAP secretary-general, never had problems with Malays and Islam, despite the allegations against him from political rivals.
"He is interested in attending Islamic and Malay events and programmes, but his detractors won't let him," he said.
He said under Lim's leadership, the Penang government had spent much on Islamic development and education since the opposition took over the state.
Under PH, the Penang government has spent RM457.05 million on Islamic affairs development since 2008, compared to the RM249.09 million spent by BN from 1999 to 2007.
For Islamic education, the state spent RM57.64 million on religious schools. BN spent RM20.11 million from 1999 to 2007.
The state also gave special aid, bonuses and ex-gratia to religious teachers amounting to RM15.55 million. It also gave a plot of prime land on Jalan Scotland worth RM80 million for the building of the new shariah court complex.
Under the state's Equitable Economic Agenda from 2009 to April this year, Penang spent RM23.65 million on 1,461 recipients, 80% of whom are Malays.
Some 83% of the 2,540 borrowers under the state's microcredit programme, which had dispersed RM11.71 million, are also Malays.
By just looking at the amount of money spent, Wan Ji said it was clear that Penang under DAP never neglected Islam.
"Perhaps the weakness in the Penang government is coming up with ideas and to expand and grow the existing Islamic institutions.
"There are many Islamic bodies in Penang, like Yayasan Islam (Islamic Foundation), the Islamic council. The question is, how to make them more active.
"Personally, I think that with the right ideas and people, Penang can even achieve better Islamic growth than other states, including Selangor. Penang doesn't stop people of different views (aliran) from discussing religion," he said.
Trouble with religioius authorities
He recounted his own troubles with the Selangor Islamic Affairs Department (Jais) as a former Selangor PAS Ulama committee member and more recently when he was detained for conducting an Islamic study circle (berusrah) without credentials in a surau in Petaling Jaya.
He also had a brush with Jais in February 2015 for giving a lecture without credentials in a surau in Shah Alam.
Wan Ji said anti-DAP propaganda by Umno and PAS had some effect on the Malays' sentiments in Penang, but believed that for the most part, Muslims were happy with the state government.
He said when PKR president Dr Wan Azizah Wan Ismail met Sekolah Agama Rakyat teachers in a programme last Sunday, the religious educators admitted that the PH government was very different from the previous BN government and had done a better job.
Wan Ji also related hearing a PAS man admit that Lim had worked fast to solve a Muslim cemetery issue in Permatang Pauh.
"I went to a mosque and heard people praising Guan Eng because he solved the cemetery issue in Seberang Jaya that was full and needed a new site.
Full report at:
https://www.themalaysianinsight.com/s/16704/
--------
Academic body opposes accreditation idea for speakers on Islam
Farhan Darwis
September 30, 2017
KUALA LUMPUR: The Malaysian Academic Movement (MOVE) opposes any action by the government to require speakers at public forums, who focus on issues surrounding Islam, to apply for formal accreditation beforehand.
In a statement today, its executive council said the idea of the stipulation had come about following the detention of Turkish author and journalist Mustafa Akyol by the Federal Territories Islamic Department (Jawi) on Sept 25 after he had come to Malaysia on a lecture circuit.
"This is unprecedented and unreasonable, casting the net of authoritarian control over intellectual discourse way too far," it said, adding that academics would also be affected.
"Indeed, it now appears that we have religious bureaucrats directly wanting a piece of the action, demanding that they certify and sanction the work of academics before anything else.
"MOVE opposes this dangerous and certainly undemocratic development, just as we oppose the policing and regulation of knowledge by the ignorant, the unwise and the unjust," it added.
The NGO, which is also known as Gerak, the abbreviation of its Malay name Pergerakan Tenaga Akademik Malaysia, said what happened to Mustafa must not be repeated.
"He was arrested not because of any criminal act but based on wild allegations," it said.
It added that the manner in which he was detained, by not being allowed access for some time to his contacts in Malaysia and to legal representation, smacked of the ways of a police state.
"Akyol was arrested because some petty religious bureaucrats didn't agree with what he had presented. Evidently they were uncomfortable with what he had to say about democracy, faith and justice.
"It is ironic and reprehensible that, at the same time, we welcome with open arms wanted fugitives and alleged terrorists, like Zakir Naik, and dance intimately with them," it added, referring to the controversial preacher from Mumbai, who is wanted by India for terrorism and money laundering-related investigations.
Naik, who has been given permanent resident (PR) status by Malaysia, was reportedly photographed at the Tuanku Mizan Zainal Abidin Mosque in Putrajaya yesterday.
Last Monday, Akyol was about to board a flight to Rome via Istanbul at the Kuala Lumpur International Airport at 11.35pm when he was detained by immigration officers.
He had been in Malaysia on a lecture tour organised by the Islamic Renaissance Front (IRF).
IRF director Dr Ahmad Farouk Musa was reported to have said that Akyol was summoned by Jawi for questioning over a charge of "teaching Islam without credentials", following which the religious authorities pressured the organisers of a forum featuring him to call the event off.
Akyol was not able to meet up with Jawi and decided to leave the country as he had no further engagements.
According to Jawi, Akyol was arrested based on a "complaint from the public" over a speech he made at a roundtable discussion titled "Does freedom of conscience open the floodgate to apostasy?" at the Royal Selangor Golf Club in Kuala Lumpur.
In a column in the New York Times later, Akyol said the incident was proof that there was "a major problem" in Islam today, with "a passion to impose religion, rather than merely proposing it, a mindset that most Christians left behind at the time of the Spanish Inquisition".
Full report at:
http://www.freemalaysiatoday.com/category/nation/2017/09/30/academics-body-opposes-accreditation-idea-for-speakers-on-islam/
--------
Pop Concert Promoters May Ditch Malaysia As Hardline Islam Gets A Grip
Oct 1, 2017
KUALA LUMPUR - Organisers of pop concerts and some other big events are increasingly wary of including Malaysia on their itineraries, as the cancellation of a beer festival due to take place next month highlighted growing intolerance towards activities regarded as insulting to Islam by some Muslim groups.
The promoters say that international music stars, especially those known for risqué lyrics or revealing clothing, are unlikely to be brought to Malaysia as part of regional or global tours. The same goes for any gatherings that could in any way be deemed un-Islamic.
While such concerns have been building for some time in this majority Sunni Muslim nation, the organisers say that the atmosphere has become particularly difficult in the past year.
The politicisation of Islam has increased as Prime Minister Najib Razak's ruling party seeks to appease more-fundamentalist elements to secure its large, rural Malay vote bank ahead of an election expected in the coming months.
A United Nations cultural rights expert warned in a report last week that there is growing pressure to adopt a more narrow interpretation of the Islamic religion and identity in Malaysia, which excludes the country's cross-cultural history, marginalises religious minorities and fails to take account of the diversity of Malay Muslims.
"Of course it does affect the overall attractiveness of Malaysia being a venue for artists, events or festivals to be held. With artists' touring of Southeast Asia, Malaysia will not be the first choice for any act to tour," said Darren Choy, the chairman of the Recording Industry Association of Malaysia who also heads the Malaysian unit of American entertainment and record label group Warner Music. "It may end up being the last to be considered, or not at all," he added.
The Malaysian government did not respond to requests for comment for this story.
"VICE CENTRE" WARNING
The popular Better Beer Festival 2017, which has been held for the past five years, was unexpectedly called off last week after the Kuala Lumpur city council banned the 6 to 7 October event. The ban followed protests by the Pan-Malaysian Islamic Party (PAS), who said the event would turn the capital into "the largest vice centre in Asia."
The beer festival's organisers said that authorities called it off "due to the political sensitivity surrounding the event".
Police said later that it was cancelled because of the threat of a militant attack.
PAS said on Thursday it has now also filed an objection over plans to host next month the annual Oktoberfest beer festival in the Petaling Jaya area of the capital. The party said in a statement that it was its "social responsibility" to oppose alcohol festivals.
Also last week, after rumours that a gay party was being planned for Kuala Lumpur, the government issued a ban notice and ordered immigration officers to deny entry to anyone planning to attend either that or the Better Beer Festival. The gay party organisers said they only ever intended to hold the party in Thailand, not Malaysia.
Enforcement authorities last month launched a probe into the Kuala Lumpur chapter of Atheists Republic, a Canada-based organisation. A minister in Najib's cabinet said later that Muslim apostates should be "hunted down vehemently".
Malaysia has already made international headlines this year for barring the screening of the 2017 edition of Disney's Beauty and the Beast due to a "gay moment" in one scene. The film was eventually released after local distributors asked the censor board to review the decision.
Shortly after, the catchy summer dance song 'Despacito' was taken off state radio and television stations after complaints that the lyrics were obscene.
COSTUME CONCERNS
For some years it has been getting more difficult for international pop stars who wish to make appearances in Malaysia. In 2013, a concert set to be performed by music artist, Kesha, was banned. In the past, artists such as Beyonce have cancelled performances in Malaysia due to restrictions over costumes and dancing.
A concert by American pop star Selena Gomez was only allowed in July 2016 after assurances that she would cover herself up. But fear of trouble at the concert - PAS youth leaders protested outside the venue - kept many fans away and thousands of tickets were left unsold.
There have been no big Western acts so far this year, though British singer Ed Sheeran is expected to perform in Kuala Lumpur in November.
This weekend's Formula 1 Malaysian Grand Prix does not include major international pop stars as has usually been the case in recent years. Organizers denied this was due to recent controversies.
"You have to be very careful about the type of acts you book and make sure you comply with all the rules and even then, there's no guarantee it will be approved by the authorities," said Qisthina Razin, representative of Malaysian events organisation, Freeform.
Rizal Kamal, vice president of the arts, live festivals and the arts association (ALIFE), a body representing event organisers, said Malaysian show producers have started moving out.
"Malaysian producers are going to Singapore and Indonesia due to problems in Malaysia," he said.
Choy said the bans are "denting the perception of Malaysia being a moderate and tolerant Islamic country."
GROWING ISLAMISATION
The impact of religious fundamentalism isn't just about Malaysia's image to the outside world. It also gnaws away at the country's multicultural and pluralistic fabric.
About 40% of Malaysia's population is non-Muslim, including Christians, Buddhists and Hindus.
Najib's approach risks empowering and legitimising conservative parties and organisations once only classified as extreme fringe groups. Such religious organisations are also in an increasingly strong position to influence the government and its policies. United Nations Special Rapporteur Karima Bennoune in her report last week expressed deep concern at the level of involvement of religious authorities in policy decisions.
She said some Malaysians have expressed concern about a growing Islamisation, which represented a "significant break with the past".
Bennoune expressed particular concern over bans regarding traditional Malay arts and restrictions on women performing in public in the northeastern state of Kelantan, which is governed by PAS.
DOUBLESPEAK
Prime Minister Najib has projected a global image of a moderate Muslim leader and has widely promoted himself as a key player in the fight against Islamic extremism.
In a meeting with US President Donald Trump last month, Najib said Malaysia is a partner in America's fight against the Islamic State, and it will be a key player in promoting moderate Islam.
He has been largely silent during a series of recent religion-related incidents in Malaysia.
He did, though, comment this week after the owner of a laundromat in southern Malaysia apologised for barring non-Muslim users, a ban that had gone viral on social media and triggered condemnations by community leaders, including the Sultan of Johor.
"The government will remain committed to upholding the true Islamic teachings while protecting the interests of the other communities as demanded of Islam," Najib said in a statement late on Wednesday, state news agency Bernama reported.
Cynthia Gabriel, executive director for a Kuala Lumpur based welfare group C4, said there is an urgent need to accept multi-culturalism again.
Full report at:
http://ewn.co.za/2017/09/30/promoters-of-pop-concerts-may-ditch-malaysia-as-hard-line-islam-gets-a-grip
--------
Secular Malaysia in dire need of harmony laws
October 1, 2017
By Khoo Suk Chyi
In an interesting occasion back in May 1958, shortly after the Malayan Independence, a Muslim member submitted a motion in the Federal Legislative Council seeking to prohibit the serving of alcoholic drinks at all functions of the federal government on the grounds that the then Malaya had been "officially recognised as an Islamic State" and that everyone "must, therefore, respect the rules of Islam and Islamic laws".
In response, then prime minister Tunku Abdul Rahman rejected the proposal and firmly maintained that Malaya was a secular nation.
He said: "I would like to make it clear that this country is not an Islamic State as it is generally understood, we merely provide that Islam shall be the official religion of the State."
One's right to freedom of religion is expressly spelt out in Article 11 of the Federal Constitution. Article 11(1) reads: "Every person has the right to profess and practise his religion and, subject to Clause (4), to propagate it."
However, one's right to freedom of religion is not absolute. Article 11(5) of the Constitution provides: "This Article does not authorise any act contrary to any general law relating to public order, public health or morality."
The question now arising is what amounts to an "act contrary to any general law relating to public order, public health or morality".
It must first be borne in mind that Malaysia was and has always been a secular nation. Although Islam was given a status as the official religion of the nation, other religions may be practised by Malaysians under Article 3(1) of the Federal Constitution (the "Constitution").
In preparing and drafting the Constitution, the Reid Commission noted in their report: "In the memorandum submitted by the Alliance it was stated the religion of Malaysia shall be Islam. The observance of this principle shall not impose any disability on non-Muslim nationals professing and practising their own religions and shall not imply that the State is not a secular State."
In Che Omar bin Che Soh v Public Prosecutor (1988) 2 MLJ 55, the Supreme Court refused to rule that the death penalty for drug trafficking offences was unconstitutional on grounds of inconsistency with the principles of Islam because Malaysia was a secular nation practising secular legislations regardless of one's yardstick of morality.
Then Lord President Salleh Abas said: "… the law in this country is still what it is today, secular law, where morality not accepted by the law is not enjoying the status of law. Perhaps that argument should be addressed at other forums or at seminars and, perhaps, to politicians and parliament. Until the law and the system is changed, we have no choice but to proceed as we are doing today."
Coming back to the question arising, there are two points which must be noted.
First and foremost, Article 11(5) of the Constitution refers to an act contrary to a "general law" and not "personal law", in other words, a secular law applicable to all Malaysians.
Secondly, it refers to a general law which seeks to preserve public order, public health or morality, and not just any general law.
It was reported that the decision made by Kuala Lumpur City Hall (DBKL) to reject the organiser's application to hold the Better Beer Festival was "due to the political sensitivity surrounding the event" following protests from PAS, which denounced the beer festival as encouraging immorality and promoting Malaysia as the largest vice centre in Asia.
It cannot be gainsaid that as a secular nation, a neutral attitude towards different religions, races and cultures must be the defining feature of the Malaysian government where one's religious, racial and cultural faiths and beliefs shall carry no weight in the decision-making process of any general administrative actions.
While there is, to date, no general law prohibiting the organisation of a beer festival in Malaysia, the organisation of Better Beer Festival is not an act contrary to any general law relating to public order, public health or morality.
It was also reported that the inspector-general of police had stated that the Better Beer Festival would jeopardise public safety as it might be sabotaged by militants. With the greatest of respect, instead of passively rejecting the application to organise the beer festival in fear of militant activities, proactive actions should be taken to govern, combat and educate.
The first step which the government should take is to revive the Harmony Bills.
In 2014, the National Unity Consultative Council Working Committee on Law and Policy had drafted and proposed to the government three Harmony Bills to replace the draconian Sedition Act 1948 and to better promote one's right to freedom of speech and expression.
The Harmony Bills are the Racial and Religious Hate Crimes Bill, the National Harmony and Reconciliation Bill, and the National Harmony and Reconciliation Commission Bill.
In particular, the National Harmony and Reconciliation Bill made it mandatory for the government and all persons to promote equality and prohibit unfair discrimination on the grounds of religion, belief, race, descent, place of birth, gender or disability.
Unfortunately, the three Harmony Bills were shelved after the government decided to retain and reinforce the Sedition Act 1948.
The consequence of which has been self-evident in the series of events which had taken place in Malaysia since – contentious litigation over the use of the word "Allah" in a Catholic magazine, the Low Yat Plaza racial riot, controversies over the autobiography of Selangor speaker Hannah Yeoh, Muslim-only launderette, fining of a Muslim man who wore shorts to play futsal and the cancellation of the upcoming Better Beer Festival and potentially, the Oktoberfest.
If there is a good timing and circumstance as to when the Harmony Bills should be tabled in Parliament and be passed as laws, it is now.
Full report at:
http://www.freemalaysiatoday.com/category/opinion/2017/10/01/secular-malaysia-in-dire-need-of-harmony-laws/
--------
Mideast
Amid push for Palestinian unity, are Egypt and Hamas friends or foes?
1 October 2017
Ismail Haniyeh, head of the Hamas Political Bureau, and a delegation of senior officials from the Gaza Strip recently went to Cairo for talks about reconciliation with Fatah and the possibility of forming a Palestinian unity government. Hamas's pledge to dissolve the Gaza Administrative Committee, whose establishment further strained relations between the two factions, and its consent to holding general elections demonstrates unprecedented flexibility on the part of the Islamic militant group.
This remarkable shift is not only confined to Hamas's stance on Fatah, but also extends to its relations with Egypt and which seemed to have soured beyond redemption following the overthrow of the Muslim Brotherhood rule in 2013. Hamas is obviously having a change of heart at the moment as it seeks Egypt's mediation, but Egypt's position remains quite delicate.
In March, 2014, a court ruling banned all Hamas activities and ordered the closure of all the group's offices in the country. In January 2015, Hamas's armed wing, Ezz al-Din al-Qassam Brigades, was declared a terrorist group and in February Hamas was declared a terrorist group. In June of the same year, the second ruling was repealed, but the first was not. Another lawsuit was filed to put Hamas back on the list of terrorist organizations and a verdict is yet to be issued.
Those rulings cited Hamas's rule in compromising Egypt's national security through taking part in smuggling weapons to militant groups in the Sinai Peninsula and targeting Egyptian civilians and officials in separate incidents including the assassination of Egypt's Prosecutor General. Added to this is the fact that one of the major charges ousted President Mohamed Mursi face and is currently doing jail time for is spying for Hamas and the fact that Hamas is an offshoot of the Muslim Brotherhood, which is designated as a terrorist organization in Egypt. All these factors complicate the situation between Egypt and Hamas and make it hard to envision a possible rapprochement.
Former MP and professor of political science Amr Hamzawy said that Hamas has taken several steps towards making an alliance with Egypt possible, which was particularly shown in the way the movement currently detaches itself from the Muslim Brotherhood. Hamzawy explained that while Hamas's original charter stated that the Muslim Brotherhood was the group's patron organization, the updated one does not. "In the updated charter, Hamas dropped the reference to the Muslim Brotherhood and defined itself as a liberation and resistance movement for which Islam represents the final frame of reference," he wrote.
"During the press conference in which he announced the updated charter, Khaled Meshaal stressed that Hamas has no organizational ties with the Egyptian Muslim Brotherhood and that it remains an independent Palestinian organization that is not subject to any form of outside control." Since then, Hamzawi added, several Hamas senior leaders stated at different occasions that they respect Egyptian sovereignty and understand Egypt's security concerns. Hamzawi noted Egypt responded to Hamas's show of goodwill with the regular opening of the border-crossing with the Gaza Strip and expected more "security-related demands" that Hamas would have would have to comply with if they want to stay on Egypt's good side.
According to MP and expert in Palestinian affairs Samir Ghattas, establishing ties with Hamas is a strategic decision that serves Egypt's security in the first place. "Gaza poses a direct threat to Egypt and reaching an agreement with Hamas is expected to curb terrorist attacks in the Sinai Peninsula," he said, in reference to the reported smuggling of weapons from the strip. Ghattas added that Hamas will be committed to block all sorts of possible passage ways through which militants or weapons can pass from Gaza to Sinai.
Expert on Palestinian affairs Hamza Abu Shanab argued that despite the positive steps takes towards bridging the gap between Egypt and Hamas, future disagreements are expected to emerge. "The two parties do not see eye to eye on a number of issues such as normalization with Israel, the extent to which the siege on the Gaza Strip can be lifted, and how far Hamas can secure the border with the Sinai Peninsula," he said.
According to writer Samih al-Maaita, the question of whether Hamas's entities will be disbanded poses a bigger problem. "Hamas has a military wing and security forces that have been working for years," he wrote. "What will happen to these?"
Maaita added that it is important to take into consideration that Egypt was not Hamas's first choice. "Hamas entered into a number of alliances that had a negative impact on its relations with neighboring countries, especially heavyweights like Egypt and Saudi Arabia, and this is when it started changing its strategy," he wrote, adding that the sustainability of this alliance might also be put into question like its predecessors.
https://english.alarabiya.net/en/features/2017/10/01/ANALYSIS-Amid-push-for-Palestinian-unity-are-Egypt-and-Hamas-friends-or-foes-.html
--------
Hamas seeks to prevent Israel from 'swallowing up West Bank'
Oct 1, 2017
Hamas says recent attempts to resume reconciliation talks between the Palestinian resistance movement and its rival party, Fatah, are meant to end Israel's occupation of the West Bank and blockade on the Gaza Strip.
"The reconciliation is a will and a decision, to prevent Israel from swallowing up the West Bank and continuing its siege of the Gaza Strip," Hamas chief Ismail Haniyeh said in a statement released on Saturday.
Fatah and Hamas have been at odds ever since the latter scored a landslide victory in Palestinian parliamentary elections in 2006. Hamas governs the Gaza Strip while Fatah has set up offices in the West Bank.
The two rival Palestinian factions finally agreed on a unity government in April 2014, but it fell apart months later.
Last month, Hamas announced that it had agreed to dissolve its administrative committee in Gaza, invite the Palestinian Authority led by President Mahmoud Abbas to return to Gaza and hold new elections in the West Bank and the Gaza Strip.
The announcement followed negotiations in Cairo between Hamas leaders and Egyptian officials.
Palestinian Authority's Prime Minister Rami Hamdallah is set to visit Gaza on Monday as part of the reconciliation efforts with Hamas.
Elsewhere in his statement, Haniyeh hailed the "strategic" Hamas decision, saying it came "out of a national will and with the support of its political and military power, as well as its steadfast stature facing the siege and the wars, while answering the will of our people for the sake of unity."
"We understand that the inner-Palestinian reconciliation process could be long because of the setbacks along the way, and the fact that there are many issues that require brave decisions, but we are certain that we have started tearing down the wall of separation," he added.
Full report at:
http://www.presstv.ir/Detail/2017/10/01/537075/Palestine-Fatah-Hamas-Gaza-West-Bank
--------
Iran urges Europe to defy Trump on sanctions
October 01, 2017
LONDON - Iranian Foreign Minister Mohammad Javad Zarif has warned that the only way to stop its nuclear deal from collapsing is for Europe to defy any US reimposition of sanctions.
In an interview published Saturday by Britain's Guardian newspaper, Zarif said Iran would develop much more advanced nuclear technology - though not for weapons purposes - if Europe followed the United States in returning to a sanctions regime. "Europe should lead," he said during an interview in New York.
The deal, agreed in 2015 between Iran and six world powers - the United States, China, Russia, France, Britain and Germany - lifts economic sanctions put in place in 2005 in exchange for curbs to Tehran's nuclear programme.
The International Atomic Energy Agency (IAEA) is responsible for verifying that Iran meets the terms of the agreement. US President Donald Trump has attacked the deal on numerous occasions, vowing to tear it up.
On October 15, Trump is due to testify to Congress whether Tehran is complying with the deal and whether it remains in the United States' interests to stick by it.
If he decides it is not, it could open the way for US lawmakers to reimpose sanctions, leading to the potential collapse of the agreement. "I think he has made a policy of being unpredictable, and now he's turning that into being unreliable as well," Zarif said.
"My assumption and guess is that he will not certify and then will allow Congress to take the decision."
He said that if the United States scuppers the deal, the decision would prove counter-productive. "The deal allowed Iran to continue its research and development. So we have improved our technological base," he said.
"If we decide to walk away from the deal we would be walking away with better technology. It will always be peaceful... but we will not observe the limitations that were agreed on as part of the bargain."
Zarif said "walking away" was one of the options being considered by Tehran. "If Europe and Japan and Russia and China decided to go along with the United States, then I think that will be the end of the deal," he said.
Washington on Thursday pressed for the IAEA to carry out more nuclear inspections in Iran, warning that failure to do so would make the nuclear deal with Tehran "an empty promise".
RIGHTS GROUPS SUE TRUMP
ADMIN OVER TRAVEL BAN
Human rights organisations announced Friday they are suing the Trump administration over the latest version of the president's controversial travel ban, continuing a long-running legal battle over the restrictions.
At the forefront of the challenge is the American Civil Liberties Union (ACLU), which along with partner organizations submitted a letter to the US District Court in Maryland seeking to amend an existing lawsuit they already filed.
The new travel ban, unveiled by the White House late Sunday, forbids citizens of seven countries from travelling to the United States - citing national security reasons. Under the ban, citizens of Yemen, Syria, Libya, Iran, Somalia, North Korea and Chad are all prohibited from entering the US.
Also suspended are certain Venezuelan government officials and their families, due to what the US called poor security and a lack of cooperation with American authorities.
The new ban "is still a Muslim ban at its core, and it certainly engages in discrimination based on national origin, which is unlawful," ACLU director Anthony Romero said Friday.
"Adding a few North Koreans and a tiny group of Venezuelan officials doesn't paper over the original sin of the Muslim ban. We'll see President Trump in court - again," he added.
The second version of the travel ban was the subject of numerous court battles, and was poised for examination by the Supreme Court in Washington on October 10.
Full report at:
http://nation.com.pk/national/01-Oct-2017/iran-urges-europe-to-defy-trump-on-sanctions
--------
Iran puts economic squeeze on Iraqi Kurds
Oct 1, 2017
ARBIL - International pressure mounted on Iraqi Kurdistan Saturday after its controversial independence "yes" vote, with neighbouring Iran announcing joint border drills with Iraq and banning fuel trade with the autonomous region.
A day after a cut in foreign air links with the region, Iran's state broadcaster said all transport companies and drivers have been ordered to stop carrying fuel products between Iran and Iraqi Kurdistan "until further notice".
Diesel is one of Iran's main exports to the Kurdish region, mainly for power plants and vehicles, while the Kurds almost exclusively rely on crude and fuel oil exports to raise revenues for their oil-rich region. Iraqi Kurds overwhelmingly voted for independence in Monday's non-binding referendum, which has sent regional tensions soaring.
Tehran, which strongly opposes independence for the Iraqi Kurds, fearing it will provoke separatists among its own Kurdish population, also announced a joint military exercise with Iraq in response to the referendum.
"A joint military exercise between Iran's armed forces and units from the Iraqi army will be held in the coming days along the shared border," Iranian armed forces spokesman Masoud Jazayeri told reporters in Tehran.
The drills will take place at several crossings on Iran's border with Iraqi Kurdistan, he said, speaking after a high-level meeting of Iranian commanders. He said "necessary decisions were taken to provide security at the borders and welcome Iraq's central government forces to take position at border crossings".
Erdogan sees Israel's hand in Kurdistan vote
Tehran has accepted a request by Baghdad for an Iraqi army presence at frontier crossings.
After the ban on international flights to and from Iraqi Kurdistan was enforced on Friday, the Kurdish region in the north is dependent on its border posts for trade and contact with the outside world that bypasses the rest of Iraq. Turkish President Recep Tayyip Erdogan said Saturday in a televised speech that Ankara had been saddened to see some Iraqi Kurds celebrating the independence referendum with Israeli flags.
"This shows one thing, that this administration (in northern Iraq) has a history with (Israel's intelligence agency) Mossad, they are hand-in-hand together," Erdogan said.
Fearing like Iran that it would inflame the separatist aspirations of its own Kurdish population, Ankara has threatened measures including blocking lifeline oil exports from the region via Turkey.
Washington, another critic, said it did not recognise the "unilateral" referendum and urged dialogue and a rejection of the use of force. "The vote and the results lack legitimacy and we continue to support a united, federal, democratic and prosperous Iraq," US Secretary of State Rex Tillerson said Friday.
Baghdad ordered the halt to all foreign flights to and from the Kurdish region from 6:00 pm (1500 GMT) Friday.
Foreigners scrambled to leave regional capital Arbil and second largest city Sulaimaniyah before the ban took effect.
Arriz Abdallah, head of the Patriotic Union of Kurdistan faction in the Iraqi Kurdish parliament, told AFP that "ordinary people will pay the price" of the "violent reactions" from Baghdad and neighbouring states.
Iraqi Kurdish transport minister Mawlud Bawa Murad has said the flight ban would "negatively impact all international businesses in the Kurdistan region, in addition to all civilians, from all nations".
It would "negatively impact our daily life," he said.
Arbil airport director Talar Faiq Salih has said humanitarian, military and diplomatic flights were excluded from the ban, as well as domestic flights.
Arbil is a key gateway for humanitarian aid workers helping Iraqis affected by the battle against the Islamic State group (IS).
Washington had said it would be willing to facilitate talks between the Iraqi Kurdish authorities and Baghdad to calm escalating tensions over the 92-percent "yes" vote.
The Kurds, whose borders with Turkey, Iran and Syria remain open, have condemned the flight suspension as "collective punishment".
Iraq's Prime Minister Haider al-Abadi said it was not "punishment" but a legal measure that would be reversed if the transport authority was transferred to Baghdad in line with Iraq's constitution.
On Thursday, the spokesman for the international coalition fighting IS in Iraq and neighbouring Syria said the referendum had taken focus away from the war against the jihadists.
French President Emmanuel Macron invited Abadi to visit Paris on October 5 to discuss the referendum.
"Faced with the priority of fighting Daesh and the stabilisation of Iraq, Iraqis must remain united," the French presidency said in a statement, using another name for IS.
Full report at:
http://nation.com.pk/international/01-Oct-2017/iran-puts-economic-squeeze-on-iraqi-kurds
--------
Barzani's independence bid strengthens Daesh, Israel: Iran official
Sep 30, 2017
A senior Iranian official says the recent move by President of the Iraqi Kurdistan Region Massoud Barzani for independence is tantamount to boosting the Daesh terrorist group and the Israeli regime.
"Barzani's independence bid means strengthening Daesh and Tel Aviv, new regional anarchy and instability," Iranian Parliament speaker's special adviser on international affairs, Hossein Amir-Abdollahian, said in a post on his Twitter account on Saturday.
He stressed that the Kurdish people in Iraq could not enjoy genuine support unless the Arab country's national unity was fully supported.
"Strong support for Iraq's national unity is the real support for the Iraqi Kurds," said Amir-Abdollahian, who formerly served as Iran's deputy foreign minister for Arab and African affairs.
In defiance of Iraq's stiff opposition, the Kurdistan Regional Government (KRG) held a non-binding referendum on September 25 on secession from the central government in Baghdad.
Official results showed 92.73 percent of voters backed the secession. Turnout was put at 72.61 percent.
While much of the international community, including the United Nations, the European Union and Iraq's neighbors, has opposed the referendum, Israel has been the only entity to openly support an independent Kurdish state, with Prime Minister Benjamin Netanyahu backing "the legitimate efforts of the Kurdish people to attain a state" of their own.
Region al players Iran and Turkey have opposed the Kurdish referendum in Iraq, warning that the controversial vote could lead to further instability in the entire Middle East, a region already ravaged with numerous conflicts and terror threats.
During a televised speech in the eastern Turkish city of Erzurum on Saturday, Turkish President Recep Tayyip Erdogan said Israel's Mossad spy agency had played a role in the Kurdish independence referendum.
Erdogan expressed sorrow that Iraqi Kurds had acclaimed the recent independence referendum with Israeli flags.
Ali Akbar Velayati, a senior adviser to Leader of the Islamic Revolution Ayatollah Seyyed Ali Khamenei on international affairs, said on September 26 that the KRG president was a middleman for Zionists, who seeks to implement their plans for the division of Muslim states.
Full report at:
http://www.presstv.ir/Detail/2017/09/30/537035/Iran-Iraq-Kurdistan-Israel-Daesh-Hossein-AmirAbdollahian-KRG-Massoud-Barzani-independence
--------
Iran bans oil products shipment to Iraqi Kurdistan
Sep 30, 2017
Iran's Ministry of Roads and Urban Development has warned companies against shipment of oil products to and from the Iraqi Kurdistan "until further notice," Iranian news agencies reported on Saturday.
The decision is in line with Tehran's series of measures in response to a referendum held in the semi-autonomous region on possible secession from Iraq which has drawn international criticism.
"Given the recent developments in the region, it is suitable that international transportation companies and drivers active in this field avoid loading and carrying oil products to and from the Iraqi Kurdistan Region until further notice," a directive by the ministry's Road Maintenance and Transportation Organization said.
"It should be noted that the consequences of any action in this regard would befall the relevant company," it added.
The transportation is mostly carried out by tanker trucks which take crude oil from the Iraqi Kurdistan to Iran and carry back refined products to the region.
The Iraqi Kurdistan is one of Iran's major trade partners, with annual transactions running to $4 billion a year.
Iran's first concrete reaction to the plebiscite came on Sunday when the country halted flights to northern Iraq and closed its airspace to flights originating in the Kurdish region.
The Islamic Republic has rejected the referendum and asserted its support for Iraq's sovereignty over the entire country, including territories run by the regional Kurdish government.
On Friday, the Iraqi Defense Ministry said it was taking over the control of its borders in the northern Kurdistan region in coordination with Iran and Turkey.
Full report at:
http://www.presstv.ir/Detail/2017/09/30/536996/Iran-Iraq-Kurdistan-referendum-oil-shipment
--------
US interior secretary hints at economic war on Iran
Sep 30, 2017
US Interior Secretary Ryan Zinke says Washington is now better placed to use its "economic dominance" to cut Iran's oil revenues.
American companies have been jacking up shale oil production since President Donald Trump walked away from the Paris climate treaty. US ability to extract energy from vast shale formations has put the country on the brink of being a global energy powerhouse.
Speaking at the Heritage Foundation on Friday, Zinke said US "economic leverage would work to supplant every drop of crude that Iran produces and energy dominance is part of that," the Washington Examiner website reported.
"That leverage gives the US the ability to begin exporting more oil to reduce the amount on the market from countries such as Iran," the weekly magazine added.
Trump is also considering whether to pull out of an Obama administration deal with Iran that lifted sanctions on its oil exports.
Zinke called Iran a "grave threat," citing the country's nuclear capability and accused the Islamic Republic of developing intercontinental missiles.
"And it is better to have options to address Iran economically and not just militarily," he said.
His claim came just after the United Nations verified the peaceful nature of Iran's nuclear program last week. Moreover, Iran does not have an intercontinental missile and its program is restricted to building a regional deterrent capability.
Using energy as a weapon is being promoted among American politicians for some time. Advocates of the plan say the policy is to exert power over allies such as Saudi Arabia, Qatar and Australia and counter enemies like Iran, Russia and China.
For example, US military analyst James "Spider" Marks has singled out natural gas as "a great tool to use for this purpose," keeping in mind that Russia is the No. 2 producer of the fuel in the world, followed by Iran, and China as No. 6.
"If the United States is to counter the global influence of Russia, Iran, China and other hostile nations, we will need to find peaceful ways to advance our interests while undermining theirs," he wrote on the website of Washington-based Morning Consult company in July.
As for Iran, Qatar and Saudi Arabia which hold 40 percent of the world's natural gas reserves, the US "can pump its own gas into the world market, keeping prices down and reducing reliance on the Middle East's dominant producers," he said.
His remarks coincided with Russian President Vladimir Putin signing off on a new state policy strategy that views the US as aspiring to dominate the world's oceans, reiterating the Arctic and the globe's resource-rich northernmost a priority development area.
The document, binding until 2030, states that the US and its allies are trying to "limit Russia's access to resources at sea and its access to vitally important naval transport communications."
According to the International Energy Agency (IEA), the United States will challenge Qatar and Australia as the highest LNG exporters by 2022.
US shale oil is already weighing down on prices, bringing Saudi Arabia and Russia together into rare coordination between OPEC and non-OPEC producers to stabilize the market.
According to Marks, "as our production grows, so does our ability to advance our interests abroad through exports."
Full report at:
http://www.presstv.ir/Detail/2017/09/30/536970/Iran-US-oil-exports-sanctions-Trump
--------
Kurdish secession bid in Iraq threat to entire region: Hezbollah chief
Sep 30, 2017
The secretary general of the Lebanese Hezbollah resistance movement says the potential breakaway of the Kurdistan region in Iraq is a threat to the entire region.
In a televised address from the Lebanese capital city of Beirut on Saturday evening, Sayyed Hassan Nasrallah warned that the Middle East was facing a "dangerous scheme of division."
"We say to our beloved Kurds that this is not about deciding your fate, but about dividing the region according to sectarian and ethnic lines," he said. "Regional nations bear the responsibility to confront this divisive scheme. There should not be any ethnic bias between Arabs, Kurds or Iranians. The problem is purely politically-motivated," he added.
He stressed that wars and confrontations in the region "are in favor of Israel and the US, helping their weapons-manufacturing factories make a fortune."
Elsewhere in his remarks, Nasrallah said the Lebanese resistance movement was now in its strongest position and this is even acknowledged by Israel, stressing that the movement seeks to preserve national security and stability in the Arab country.
"Hezbollah is in its strongest position and even Israel also says that Hezbollah is the second military in the region," Nasrallah said.
He also warned of plots that certain foreign countries are hatching in order to plunge Lebanon into conflict.
He added that Hezbollah supports the incumbent Lebanese government led by President Michel Aoun, advising political parties and factions in the country to avoid defiance and avail themselves of dialogue in order to resolve local issues.
The Hezbollah chief further stressed the importance of Lebanon's parliamentary elections, which are expected to be held next spring.
"I totally agree with [Parliament] Speaker Nabih Berri that the parliament's term must not be extended. Legislative elections will be held on time and based on the agreed electoral law," Nasrallah pointed out.
He also highlighted victories achieved by Hezbollah fighters and Lebanese army soldiers in the fight against foreign-sponsored Takfiri militants along the border with Syria, emphasizing that Lebanon was "one of the world's safest countries."
Nasrallah then called on Syrian refugees residing in Lebanon to come back to their country, and take part in its reconstruction.
"Your interest lies in going back to your country," he addressed them.
The Hezbollah secretary general also pointed to discovery of Israeli spying devices in southern Lebanon, stressing that the Beirut government must lodge complaints against the Tel Aviv regime with international organizations.
"The Zionist regime (of Israel) is violating international law and regulations," Nasrallah commented.
He said days of the Daesh Takfiri terrorist group are numbered, stating that Israel was seriously concerned about the terror group's defeat in the region.
Full report at:
http://www.presstv.ir/Detail/2017/09/30/537033/Hezbollah-is-now-in-its-strongest-position-Nasrallah
--------
North America
Muslim supporters for President Donald Trump rally in Annapolis
Oct 1, 2017
Dozens of protesters gathered Saturday at Lawyers Mall in Annapolis to talk about President Donald Trump.
This time, they were in support of him.
About 50 people of diverse background who turned out for the Making America Great Again, Already! rally wore Trump T-shirts and hats, posed for pictures with Trump signs and waved Trump flags to show their support for the president's agenda. It is the same site where numerous rallies have been held with speakers who have been critical of the president.
Trump "has people against him … from within the party, from the media. We are here to support and endorse what he has been doing for the military and the economy," said Sajid Tarar, a Muslim immigrant from Pakistan and founder of Muslim Americans for Trump.
The rally comes at a time of intense controversy for the president. An ABC News/Washington Post poll from this month showed 66 percent of Americans said Trump has done more to divide the country than unite it.
He recently criticized NFL players taking a knee during the national anthem to protest police brutality against African-Americans.
And the rally was held the same day as marches with speakers expected to be critical of the president were staged across the country in support of racial justice. Another is planned Sunday at Lawyers Mall.
But Saturday, the crowd outside the State House had a different message.
The rally, co-sponsored by Muslim Americans for Trump and Sikh Americans for Trump, was intended to bring together minority communities not typically associated with Trump's largely white base and demonstrate support for Trump's ideas.
Tarar has been a vocal Trump supporter from early on; he prayed onstage at the Republican National Convention and spoke favor of the then-candidate.
Trump's statements about Muslims and Islam are not directed at the faith as a whole, Tarar said, nor at every Muslim American. It would be impossible, Tarar said, to cast blame on every person belonging to the world's second-largest religion.
"As a Muslim, I saw him as a relief. I saw him as the person who can fight the terrorism," Tarar said.
He said Trump's travel ban, which originally blocked immigrants from Iran, Syria, Libya, Somalia, Yemen and Sudan, isn't a ban at all but a pause, to ensure thorough vetting of the people from these countries. The original restriction on travel from these six countries has expired and been replaced with an order that bans varying degrees of immigration from Chad, Iran, Libya, North Korea, Somalia, Syria, Venezuela and Yemen.
Tarar and Sikh Americans for Trump founder Jesse Singh both immigrated to the U.S. — "legally," Singh told the crowd. Like Tarar, he attended the president's inauguration.
Singh said when he first arrived in Dulles International Airport in Virginia, he saw a futuristic marvel in the sleek terminals and busses that whisked passengers to and fro. But the bus that dropped him off in 1986 is the bus that he is still taking today, adding that the more impressive airports are now the ones in his home country of India.
"Last year I went to India, and that airport I left is now looking futuristic," Singh said. "When I came to Dulles Airport, the same 30-year-old bus with loose doors and torn carpet came to receive me. So, when Donald Trump says our infrastructure has gone down, he's totally right."
Other speakers, including Republican strategist and commentator Ivan Garcia-Hidalgo, praised the president's crackdown on illegal immigration and promise to build a border wall.
At one point, a "Build that wall!" chant briefly broke out among the rallygoers.
Garcia-Hidalgo spoke of a booming economy, a low unemployment rate and a strong stock market, and defended Trump's response to the devastation to Puerto Rico following Hurricane Maria.
Michael Cohen, who serves as Trump's personal lawyer, also spoke at the rally via phone and thanked those gathered for their support.
Congress has not yet approved funding for the border wall, but the Trump administration has announced companies that are building prototypes. Additionally, Congress has not passed any economic legislation, but the administration introduced a tax reform plan Wednesday.
Maryland is a predominantly blue state. More than 60 percent of state voters cast ballots for Hillary Clinton in the last presidential election, and she edged Trump by 6,016 votes in Anne Arundel County. But Marcus Anthony, a Fairfax County, Virginia, resident, said he attended the rally to "preserve the other side."
"We live in a highly liberal area," Marcus said. "As it is today, a lot of our side is continuously oppressed … It's our responsibility to retain our perspectives."
All minorities are not against the president, Singh said.
"Minorities have the same agenda as any other Americans," he said. "We want America to be great again."
http://www.capitalgazette.com/news/annapolis/ac-cn-trump-rally-for-unity-20171001-story.html
--------
Far-right, anti-fascist protesters temporarily shut Quebec border crossing
Sep 30, 2017
A standoff between far-right groups and anti-fascist protesters along the Canadian side of the U.S. border forced police to temporarily shut down the crossing near St-Bernard-de-Lacolle, Que., on Saturday.
A separate anti-illegal immigrant rally on Parliament Hill, held amid heightened concerns about the arrival of asylum seekers, also provoked a handful of skirmishes, as riot police stepped in to prevent physical violence.
Roughly 300 members of the Storm Alliance — a group that identifies as "ultranationalist," and claims to eschew ties to far-right white nationalists — arrived at the border crossing near Lacolle, where thousands of migrants have crossed into the country on foot without proper documentation.
La Meute, French for "The Wolf Pack," another anti-immigrant, anti-Islam group, was also on hand at the border town Saturday.
Buses carrying roughly 100 anti-facist — or antifa — counter-protesters, from the group Solidarity Across Borders, left Montreal early Saturday to confront those associated with Storm Alliance and La Meute at the border. By midday, the far-right elements outnumbered those on the other side who said they stood in support of refugees.
Members of the provincial police, Sûreté du Québec, formed a perimeter to keep the two forces roughly 40 metres apart, while both sides taunted one another with chanting.
The police, decked out in tactical gear, with gas masks and heavy weaponry, blocked members of the Storm Alliance from marching closer to makeshift tents built by the federal government to temporarily house refugees, many of whom hail from Haiti.
Storm Alliance dispersed from the scene shortly before 3 p.m. ET after it became clear they would not make it to their intended destination.
Amid the tension, the Canada Border Services Agency (CBSA) closed the Lacolle crossing to passenger traffic for about four hours. It is now reopened. Traffic was being rerouted to other nearby points of entry.
Shariah a concern for anti-immigration protesters
On Parliament Hill, protesters aligned with a group called the Canadian Coalition of Concerned Citizens (CCCC) assembled to stand against policies of the federal Liberal government they claim have allowed illegal immigration to flourish. Amid cries of "Fascist scum go away," a lone member of the group was involved in a skirmish with members of the antifa movement, before being led away by parliamentary police.
RCMP officers dressed in riot gear streamed on to the Hill after another brief scuffle between the two groups broke out. Police formed a protective line down the middle to prevent further physical encounters. The standoff ended after police escorted the group of anti-migrant protesters away from the seat of Parliament, as the number of antifa activists dwindled over the course of the afternoon.
Georges Hallak, the founder of the CCCC and himself an immigrant from Lebanon, was at the Ottawa protest. He told CBC News he is concerned Muslims will impose Shariah — the Islamic religious guidelines that govern everything from personal hygiene and charity to pilgrimages and burials — on Canada.
Hallak, a self-described Christian patriot, said he is steadfastly opposed to M-103, a non-binding, Liberal-sponsored motion that passed the House of Commons in the spring, which condemned Islamophobia. Hallak fears its passage will limit free speech and criticism of Islam.
He also said Prime Minister Justin Trudeau has failed to secure the Canada-U.S. border while allowing mayors to declare cities sanctuaries, which he said shield undocumented migrants from law enforcement.
"I respect immigration 100 per cent, as long as the people coming to this country do not have criminal records, do not pose a threat to normal Canadians, that they come here with the intent to follow the laws of Canada without trying to modify [it] for their needs — we're talking about Shariah law, which goes against the Constitution of Canada," he said.
The group was vastly outnumbered by a group of counter-protesters aligned with the antifa movement, people who claim to support migrants and oppose racism. Many of them held placards with slogans such as "No to hate speech," and "Unite to fight right," others had their faces partially covered with bandanas.
An organizer with Ottawa Against Fascism, who would only identify himself as Robin for fear of online reprisal from the far-right, said these groups are "sugarcoating" the anti-immigrant movement by insisting their actions are not racially motivated.
"These groups are scary, they mask their anti-immigrant [sentiments] but underneath all of that they support genocide ... These forms of scapegoating can escalate and become something that is genuinely dangerous."
13,000 asylum seekers
According to federal officials, some 13,000 asylum seekers have entered Canada irregularly, with many of those people crossing over from New York State into Quebec at a single point of entry at the end of Roxham Rd. in Hemmingford, Que., not far from Lacolle.
Approximately 5,550 asylum seekers crossed through Quebec in August alone, but numbers dropped dramatically in September.
Storm Alliance was created by people formerly aligned with the Soldiers of Odin, a group founded in Finland by a known neo-Nazi, which is highly critical of Islam and the tenets of Shariah. Dave Tregget, the founder and leader of Storm Alliance, has said he left Soldiers of Odin because of its overt racism.
Unlike Storm Alliance, many members of La Meute are Quebec sovereigntists, but they too are fearful Muslims will demand the imposition of Shariah in Canada. Some of its supporters were seen flying the Patriotes flag, an ode to the Lower Canada rebellions of 1837-38 when French-speaking settlers from present-day Quebec fought against British colonial rule.
Full report at:
http://www.cbc.ca/news/politics/far-right-antifa-clash-across-canada-1.4315053
--------
Canadian jailed 9 years under terrorism law
30 September 2017
A Quebec man who attempted to leave Canada and join ISIL in Syria was sentenced to nine years in prison Friday.
Ismael Habib, 29, was found guilty under the Anti-Terrorism Act that Canada established in 2013. He is the first adult to be found guilty, under the act, of attempting to leave Canada to take part in terrorist activities.
A Canadian judge handed Habib an eight-year sentence under the terrorism act and one year for giving false information to try to obtain a passport.
"This wasn't a utopian or irrational project for a manipulated adolescent," Quebec Court Judge Serge Delisle said of Habib.
"Rather, it was done with perfect knowledge of the objectives of the ISIL and its methods used.
The offender multiplied his efforts to get to Syria to join the Islamic State. He didn't plan on getting there to play a passive role. He was ready to do anything for the Islamic State, up to dying."
Delisle was referring to ISIL.
With a reduction for time served in custody, about 27 months, and his Friday sentences running concurrently, Habib will spend another six-and-a-half years in prison. He was found guilty in June.
The prosecution said Habib was totally submerged in ISIL ideology and was a threat to the public.
His defense lawyer argued there was no proof that Habib was completely radicalized and he was not a danger to others.
But testimony during the trial revealed he told an undercover Royal Canadian Mounted Police officer, who had adopted the role of a crime boss selling fake passports, that it was his "duty" to join ISIL in Syria and wage jihad.
Full report at:
http://www.worldbulletin.net/america-canada/194498/us-cuts-diplomatic-staff-in-cuba-warns-against-travel
--------
CIA delegation attends high-profile Sudan security meet
30 September 2017
The 14th session of the Committee of Intelligence and Security Services of Africa (CISSA) convened this week in Sudan with the unlikely participation of a high-level delegation from the U.S. Central Intelligence Agency.
Fifty-One African intelligence chiefs attended the event, which is slated to wrap up on Saturday.
The participation of a CIA delegation at a high-profile security event in Khartoum has been seen by some observers as a possible sign of thawing U.S.-Sudanese relations.
Earlier this year, the U.S. lifted several longstanding economic sanctions imposed on Khartoum, citing Sudanese cooperation in the regional fight against terrorism.
However, a number of U.S. sanctions -- some of which were imposed over two decades ago based on allegations that Khartoum supported terrorism -- remain in effect.
In his keynote speech at the CISSA summit, Sudanese President Omar al-Bashir described continued U.S. sanctions on his country as "unjust".
"These sanctions have weakened my country and caused immense hardship for its people," he said.
"But despite the sanctions," he added, "concentrated efforts are being made to achieve national security and stability and to counter extremism."
Al-Bashir made the remarks only two weeks before U.S. President Donald Trump is due to decide whether or not to permanently lift all remaining sanctions.
Full report at:
http://www.worldbulletin.net/america-canada/194490/cia-delegation-attends-high-profile-sudan-security-meet
--------
How to be a faithful Muslim: Islamic speaker says it comes down to a matter of choice
Oct 1, 2017
Pastors are not the only religious leaders who wonder if attending church is simply a matter of routine.
In a sermon titled "How to be religious today," Muslim speaker Ahmet Selim Tekelioglu asked the 100-plus members at the Islamic Community Center of Lancaster how they could leave last Friday's call to prayer as confident Muslims who are "proud in our skins and proud in our identity and aware of our obligations to Allah."
It is, he said, a matter of choice, but a choice fraught with challenges.
"When you think of it," he said, "we live our lives in intervals — from one Friday to the other Friday ... from one job to another, from one kid to another kid, and when you think about it, it all boils down to from one breath to the next breath."
In all of those stations in life, he said, Muslims face choices, one of which is to believe in a creator.
"This is a challenge not only for us as Muslims, but for followers of any faith tradition."
He said that is due in large measure to the way faithful people are often portrayed in the media.
"Religious people are depicted as being fundamentalist, as being backward, as being the source of problems," he said. "A lot of that is erroneous."
Muslims, he said, have an obligation to move away from mere imitation to real understanding of their religion.
That includes being intentional about coming to Friday prayer, avoiding vices, praying for the oppressed and the suppressed and seeking refuge in a faith that can create a meaningful path.
Tekelioglu serves with the Council on American-Islamic Relations. Following the Friday prayer, he acknowledged that Muslims have faced even greater challenges since 9/11. That has forced them to raise their profile, sponsoring or participating in charitable events and helping in their communities.
Tekelioglu's sermon coincided with a backpack giveaway sponsored by the Islamic Community Center of Lancaster. Board member Mukaram Syed said the backpacks are given to center member families who need them and to Church World Service, which distributes them to immigrant families.
Full report at:
http://lancasteronline.com/features/faith_values/how-to-be-a-faithful-muslim-islamic-speaker-says-it/article_1939b6d8-a62f-11e7-9cff-3b3a413d3f01.html
--------
South Asia
Pakistani and ISIS militants among 22 killed in Nangarhar airstrike and operations
Sep 30 2017
At least twenty militants including Pakistani and ISIS insurgents were killed in the airstrike and military operations in eastern Nangarhar province of Afghanistan.
The provincial government media office in a statement said the militants were killed in Nazian and Lalpur districts.
The statement further added that seven Pakistani militants and fifteen ISIS loyalists were killed in total during the operations.
The Afghan Special Forces conducted an operation in Bila area of Lalpur district late on Friday night that left at least seven Pakistani militants dead.
According to the provincial government, the Afghan forces also confiscated nine assault rifles during the operation.
The US forces also conducted an airstrike in Spinzhai area of Nazian district on Friday that left fifteen ISIS militants dead, the statement added.
The provincial government says two hideouts of the terror group were also destroyed but the local residents did not suffer any casualties.
The anti-government armed militant groups have not commented regarding the report so far.
Both the Taliban and ISIS militants attempt to expand their foothold in the key and remote districts of Nangarhar province.
The movements have forced the Afghan forces ad US forces based in Afghanistan to conduct regular operations and airstrikes to eliminate the terrorists from expanding their insurgency in this province.
http://www.khaama.com/pakistani-and-isis-militants-among-22-killed-in-nangarhar-airstrike-and-operations-03549
--------
Rohingya crisis: Crowdfunding campaign launched to hold Burma leaders accountable for ethic cleansing of Muslim minority
Oct 1, 2017
Campaigners have launched a crowdfunding bid to hold Burma's leaders accountable under international law for the Rohingya Muslim crisis.
Nearly half a million of the country's Rohingya minority have fled to Bangladesh after Rohingya insurgent attacks against police posts led to a massive retaliation by the Burmese military.
The United Nations has accused the army of "textbook ethnic cleansing" to push the Rohingya out of Burma, and rights groups allege the army has committed crimes against humanity.
Hussein Mohamed and Najma Maxamed have launched a crowdfunding campaign to get leading human rights lawyers to begin building the legal case to hold Burma's leaders to account at the International Criminal Court.
They started the campaign after becoming frustrated with the lack of action concerning the Rohingya Muslim crisis, and have already gathered over 400,000 signatures for a petition in support of their campaign, which will be delivered to Downing Street on Saturday.
If successful, lawyers will begin investigations in Bangladesh by talking to Rohingya refugees and gathering their first-hand accounts.
They will then establish which people have allegedly perpetrated acts of violence while gathering evidence from existing UN reports.
The campaign has several legal objectives, including the production of written complains to show Burma is in violation of multiple international treaties.
It also aims to seek support in setting up an International Commission of Inquiry, which the UN High Commissioner of Human Rights has already called for.
"The tragedy unfolding in Myanmar clearly requires a legal response," Saimo Chahal, joint head of public law and international teams at Bindmans LLP, told The Independent, using an alternative name for Burma.
"While there has been widespread political condemnation across the world, a concerted legal effort to bring the perpetrators to justice must be mounted now. Time is of the essence when gathering evidence of this kind and exploring the appropriate avenues for a challenge in international court."
She added: "This crowdfund will allow people to come together, take action and contribute to making that critical early work possible."
Mr Mohamed, who helped launch the campaign, added: "We started this campaign because nothing is being done to hold the leaders of Myanmar to account. The world is horrified but that horror is not enough. This campaign is for people who want to have a real impact and begin the process of getting justice for those women, children and families that have been killed, traumatised and displaced."
Several international aid groups have urged the Burmese government to allow free access to Rakhine State, where much of the violence is taking place. The government has stopped international NGOs, as well as UN agencies, from working in the north of the state, citing insecurity.
The violence and refugee exodus is the biggest challenge the government of Nobel peace laureate Aung San Suu Kyi has faced since it came to power last year in a transition from nearly 50 years of military rule.
Burma considers the Rohingya illegal immigrants from Bangladesh, although they have lived in the country for generations.
Most Rohingya are stateless and have faced bouts of suppression for decades.
Ms Suu Kyi has faced scathing criticism and calls for her Nobel prize to be withdrawn.
Full report at:
http://www.independent.co.uk/news/world/asia/rohingya-crisis-burma-leaders-aung-san-suu-kyi-crowdfunding-ethnic-cleansing-muslim-minority-a7972241.html
--------
Afghan Shi'ites fear further attacks on Ashura
Oct 1, 2017
The Afghan capital Kabul braced on Saturday for further possible attacks ahead of Ashura, the holiest day on the Shi'ite Muslim calendar, a day after an attack claimed by Islamic State that killed at least five people near a large Shi'ite mosque.
Ahead of the commemorations on Sunday, signs of increased security were in evidence across Kabul, with extra police checkpoints and roadblocks in many areas, while security was also increased in other cities.
Afghanistan, a majority Sunni Muslim country, has traditionally not suffered the sectarian violence that has devastated countries like Iraq, but a series of attacks over recent years have targeted the Shi'ite community.
"We are concerned about this. We had internal fighting in the past but never religious fighting," said Arif Rahmani, a member of parliament and a member of the mainly Shi'ite Hazara community that has been particularly targeted.
The government has provided some basic training and weapons for a few hundred volunteer guards near mosques and other meeting places but many fear that the protection, which covers only some of the city's more than 400 Shi'ite mosques, is insufficient.
In 2011, more than 80 people were killed in Ashura attacks in Kabul and the northern city of Mazar-i-Sharif and there have been a string of others since, with 20 people killed in a suicide attack on a mosque in Kabul a month ago.
Friday's attack, by suicide bombers posing as shepherds walking their sheep along a road outside the Hussainya mosque in the Qala-e-Fatehullah area of the city, did not reach the mosque itself but wounded 20 people in addition to the five killed.
No up-to-date census data exists for Afghanistan but different estimates put the size of the Shi'ite community at between 10-20 percent of the population, mostly Persian-speaking Tajiks and Hazaras.
Ashura, on the 10th day of the month of Muharram, celebrates the martyrdom of Hussein, one of the grandsons of the Prophet Mohammad, and is marked by large public commemorations by Shi'ite Muslims.
President Ashraf Ghani condemned Friday's attack and said it would not break the unity between religions in Afghanistan.
But at a time when rivalry between the patchwork of different ethnic groups in the country has increasingly come into the open, Rahmani said the evident objective of the attacks was to ratchet up the tensions to create instability.
Full report at:
http://nation.com.pk/international/30-Sep-2017/afghan-shi-ites-fear-further-attacks-on-ashura
--------
As violence escalates, over 2,000 Rohingya Muslims reach Myanmar coast to flee Bangladesh
Sep, 30 2017
Yangon: More than 2,000 Rohingya have massed along Myanmar's coast this week after trekking from inland villages in Rakhine state to join the refugee exodus to Bangladesh, state media reported on Saturday.
They follow more than half a million fellow Rohingya who have emptied out of northern Rakhine in a single month, fleeing an army crackdown and communal violence the UN says amounts to "ethnic cleansing".
The journey to Bangladesh is fraught with danger for the stateless Muslim minority, who have faced decades of systematic oppression in mainly Buddhist Myanmar.
After fleeing burning villages they say were set alight by soldiers and Buddhist mobs, more than 100 Rohingya have drowned in the scramble to cross the Naf river that divides the two countries.
The latest boat capsize on Thursday has left some 60 feared dead, with 23 bodies — mainly of children — brought to shore as dozens more remain missing.
The crowds building up along Rakhine's coast hail from the same inland area — Buthidaung township — as many of those who perished in the boat tragedy.
"Starting on Tuesday, they left their region, claiming that they felt insecure to remain because they were now living in a sparsely populated area, as most of their relatives had left for Bangladesh," the state-run Global New Light of Myanmar reported.
More than half had gathered on a beach near Lay Yin Kwin village, the report said, with photos of women and children clustered together on the sand as security officers looked on.
'Nothing to eat'
It was not clear if or how they would complete the journey to Bangladesh, where the unprecedented influx of refugees has unfurled a separate humanitarian crisis as aid groups struggle to meet their vast needs.
The report said officials tried to assure the Rohingya of their safety in Myanmar but villagers said they "would still like to go to Bangladesh of their own accord".
Chris Lewa from the Arakan project, which closely tracks developments in Rakhine, said economic deprivation and tensions with Buddhist neighbours appear to be the main forces driving the recent movements of Rohingya out of Buthidaung, as opposed to fresh outbreaks of violence.
Crucial aid deliveries have been cut off from the impoverished area since 25 August, when Rohingya militant raids on police posts triggered the military backlash that plunged northern Rakhine into crisis.
"The majority are mostly poor who are leaving and have nothing to eat," said Lewa.
"The Rakhine (Buddhist) villages nearby, they are treating them very badly and because of that people are afraid to go out ... they feel they cannot get out of their village to do any livelihood."
The UN has previously reported that increasingly isolated Muslim communities in Rakhine are receiving regular threats from ethnic Rakhine Buddhists to leave the area.
Myanmar denies ethnic cleansing is under way and instead blames Rohingya militants for whipping up the violence, which has also displaced tens of thousands of Rakhine Buddhists and Hindus.
The crisis has inflamed already blistering religious tensions and fuelled a dizzying array of claims and counterclaims from different ethnic groups.
Full report at:
http://www.firstpost.com/world/as-violence-escalates-over-2000-rohingya-muslims-reach-myanmar-coast-to-flee-bangladesh-4097611.html
--------
Pro-war individuals and groups had paved way for civil war, claims Hekmatyar
Sep 30 2017
The leader of Hezb-e-Islami Gulbuddin Hekmatyar has said the pro-war individuals and groups had paved the way for civil war in Afghanistan.
Speaking to local residents and elders of the eastern Kunar province on Friday, Hekmatyar said those who were willing to extend the war in the country, prevent peace, violate the humanitarian and Islamic principles have became hopeless.
Hekmatyar further added that the plans of those individuals and groups have been thwarted.
He also added that the nation no more support the warmongers as an atmosphere for peace and reconciliation has been established in the country.
The leader of Hezb-e-Islami did not specifically name any individual or group which he believes had paved the way for civil war.
But in the past, Hekmatyar has strongly condemned the insurgency led by the Taliban group, calling their movement against the principles of humanity and Islam.
Hekmatyar joined peace process in September last year and vowed to continue efforts for peace in the country by concluding the deal with the government of national unity.
Full report at:
http://www.khaama.com/pro-war-individuals-and-groups-had-paved-way-for-civil-war-claims-hekmatyar-03550
--------
Pentagon approves $12.6 million for Afghan forces mobile strike force vehicles
Sep 30 2017
The United States Department of Defense or Pentagon has approved a new contract worth around $12.6 million for the Afghan national defense and security forces mobile strike force vehicles.
"Textron Systems Marine and Land Systems, New Orleans, Louisiana, has been awarded a $12,692,527 firm-fixed-price foreign military sales (Afghanistan) contract for the mobile strike force vehicle for the Afghanistan National Defense and Security Forces," a statement by the Pentagon said.
The statement further added that work will be performed in New Orleans, Louisiana, with an estimated completion date of Sept. 28, 2018.
Pentagon last week had also approved a major contract to equip the Afghan national defense and security forces amid ongoing efforts by Afghan government, NATO, and the United States to boost the capabilities of the Afghan forces.
"AM General LLC, South Bend, Indiana, has been awarded a $45,889,120 firm-fixed-price Foreign Military Sales (Afghanistan) contract for the procurement of 6,576 supplemental M1151A1B1 High Mobility Multipurpose Wheeled Vehicles, Expanded Capacity Vehicles," Pentagon said in a statement.
Full report at:
http://www.khaama.com/pentagon-approves-12-6-million-for-afghan-forces-mobile-strike-force-vehicles-03548
--------
Karzai calls Kabul bombing work of foreigners as ISIS claims responsibility
Sep 30 2017
The former Afghan President Hami Karzai strongly condemned the suicide attack in Kabul city that left nearly 30 people dead or wounded on Friday.
The Office of the Former President in a statement said Hamid Karzai condemns in strongest terms the terrorist attack in Qala-e-Fatehullah, Kabul, today that killed and wounded our compatriots."
Calling the attack the work of foreigners, Hamid Karzai said the people of Afghanistan will stand united against all conspiracies.
The Islamic State of Iraq and Syria (ISIS) terrorist group claimed responsibility behind the attack.
The group in a statement said the attack was carried out by one of its suicide bombers and several people were killed or wounded in the attack.
The incident took place in the vicinity of Qala-e-Fatullah area of the city on Friday afternoon, targeting a group of the worshippers who were coming out of a religious compound.
The ministry of interior spokesman Najib Danish said at least five people were killed and twenty others were wounded in the attack.
Earlier, an explosion left at least three dead and sixteen others wounded in Kabul city late on Thursday evening.
According to the security officials, the incident took place at around 6:30 pm local time in the vicinity of the first police district of the city after a magnetic mine went off in Chendawol area.
A coordinated rocket attack rocked Kabul city on Wednesday after a group of insurgents launched an attack o Hamid Karzai international airport.
According to the security officials, at least one civilian was killed and eleven others were wounded in the attack.
Full report at:
http://www.khaama.com/karzai-calls-kabul-bombing-work-of-foreigners-as-isis-claims-responsibility-03547
--------
Africa
Nigerian police disrupt Muharram ceremonies, arrest mourners in Sokoto
Sep 30, 2017
Nigerian police have disrupted Muharram ceremonies in the northern city of Sokoto, arresting at least six of the participants.
All of those arrested on Saturday were members of the Islamic Movement in Nigeria (IMN), whose leader Sheikh Ibrahim Zakzaky is in jail.
The ceremonies were being held despite a ban by Sokoto state on the group's activities.
"The Islamic Movement is highly dismayed when news emanated that Sokoto state Commissioner of justice has announced the ban on Shia processions in the state," said an IMN spokesman.
"For the avoidance of any doubt we will like to remind the state government and the general public that all our processions have been peaceful throughout the history of the Islamic Movement. In fact, the last three processions held by the Islamic Movement in Nigeria in Sokoto metropolis were devoid of anything unpleasant and even enjoyed police protection as ordered by the constitution. Hence we are surprised by the anticipated public disorder as proclaimed by the commissioner," he added.
Meanwhile, IMN members have held a fresh protest in the capital Abuja, demanding the release of their jailed leader Sheikh Zakzaky.
On December 13, Nigerian forces raided the house of prominent Shia Muslim cleric Sheikh Ibrahim Zakzaky, the leader of the IMN, and arrested him after killing those attempting to protect him, including one of the movement's senior leaders and its spokesman.
The raid occurred a day after Nigerian soldiers attacked Shia Muslims attending a ceremony at a religious center in the city of Zaria, accusing them of blocking the convoy of the army's chief of staff and attempting to assassinate him. The Sheikh himself, who was shot seven times during the attacks and blinded in one eye, still remains in army custody with no charges filed against him.
http://www.presstv.ir/Detail/2017/09/30/537045/nigeria-police-muharram-zakzaky
--------
Turkey inaugurates mily academy in Somalia
Oct 1, 2017
MOGADISHU : Turkey inaugurated on Saturday the largest foreign-run military training centre in Somalia, where local troops are due to take over the protection of a nation threatened by Shabaab attacks.
Somalia's fragile government and institutions, including its national army, are backed by the African Union's 22,000-strong AMISOM force and powers like the United States. But the gradual withdrawal of the AMISOM troops is due to start in October 2018 and doubts persist over the readiness of Somali forces to confront the Qaeda-aligned Shabaab.
In the meantime, training of the Somali army is handled primarily by foreign powers like the US, Kenya, Great Britain and the UAE. About 200 Turkish soldiers and trainers will be stationed at the centre. "This academy is quite different because the Turkish will train the forces and equip them with their military hardware so that they will not be left alone after the training", Somali Gen Ahmed Mohamed Jimale said during the ceremony.
About 1,500 Somali soldiers can be trained there at a time, making it the largest foreign-run military training centre in the country.
"We thank the Turkish government people and their government for standing up to help our country, this academy is opened at a time when we dearly need it," Somali Prime Minister Hassan Ali Khaire said.
The Shabaab have been fighting to overthrow the internationally backed government in Somalia since 2007.
It was pushed out of the capital in August 2011 and lost most of its other bastions in Somalia.
Full report at:
http://nation.com.pk/international/01-Oct-2017/turkey-inaugurates-mily-academy-in-somalia
--------
Muslim body condemns vandalism of South African church
30.09.2017
An Islamic non-governmental organization in South Africa on Saturday condemned the vandalism of a historic church in the city of Cape Town.
"The Muslim Judicial Council (MJC) is deeply saddened and strongly condemns the vandalism perpetrated against St. Mark's Anglican Church," Moulana Abdul Khaliq Allie, deputy president of the NGO, said in a statement.
According to local media reports, protesting students of the Cape Peninsula University of Technology are suspected to have thrown a petrol bomb on the church on Wednesday evening partially destroying it.
St. Mark's Church, one of the oldest churches in Cape Town's District Six, stood out as a symbol of resistance after the apartheid regime forcefully removed nonwhites from the area and demolished their homes from 1960s to 1980s.
"All places of worship whether they be mosques, churches, synagogues or temples are places of sanctity," Allie said, adding that they should be respected and protected by all citizens.
South African Muslims and other religions enjoy good interfaith relations which date back to their days of the struggle against white minority rule. Churches and other places of worship were used to mobilize citizens to revolt against the apartheid regime.
"The Muslim community prays that the perpetrators are brought to book and face the full might of the law," Allie added.
Full report at:
http://aa.com.tr/en/africa/muslim-body-condemns-vandalism-of-south-african-church/923558
--------
URL: https://www.newageislam.com/islamic-world-news/cow-urine-be-acceptable-treatment/d/112723
New Age Islam, Islam Online, Islamic Website, African Muslim News, Arab World News, South Asia News, Indian Muslim News, World Muslim News, Women in Islam, Islamic Feminism, Arab Women, Women In Arab, Islamophobia in America, Muslim Women in West, Islam Women and Feminism