New Age Islam News Bureau
27 October 2022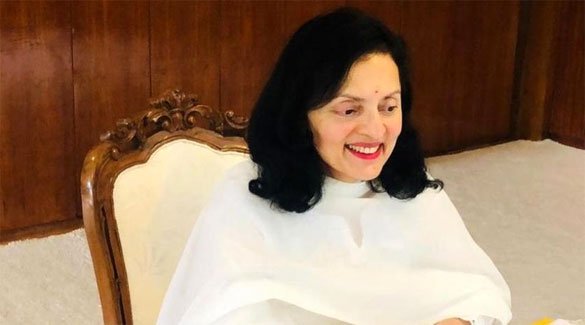 Ruchira Kamboj—A Senior Diplomat and India's Permanent Representative To UN
-----
• Iran Security Forces 'Open Fire' As Thousands Mourn Mahsa Amini to Mark 40 Days since Her Death
• US Believes Russia May Be Advising Iran on Cracking down On Protesters: White House
• Saudi Arabia Slams US for Using Oil Reserves to Manipulate Prices, Warns Of 'Painful' Future
• Crown Prince Mohammad Bin Salman Orders Release of Pakistanis Held For Sloganeering At Masjid-i-Nabwi
India
• 'Kejriwal BJP's B-Team': Muslim Leaders Slam Delhi CM for 'Polarisation Politics' Over Banknotes
• After Kejriwal's Comment, Congress Leader Calls for Allah, Jesus on Currency Notes, Gets Trolled
• Foreign terrorist killed in failed infiltration bid in J&K
• Telangana: TRS has no moral right to seek Muslim votes in Munugode, says Shabbir
--------
Mideast
• Takfiri Terrorist Attack on Holy Shrine In Shiraz 'Won't Go Unanswered', Vows Raeisi
• ISIS claims responsibility for shrine attack in Iran
• At least 15 killed, 40 wounded in attack on popular Shia shrine in southern Iran
• We are facing Zionist enemy that only understands language of force: Senior Hamas official
• Navy Commander: Iran to Equip Destroyers with More Powerful Cruise Missiles
• Iran Blasts World Leaders' Silence on Israeli Genocide of Palestinians
• Iran Calls for Full Implementation of Chemical Weapons Convention
• Iran's judiciary charges over 1,000 since Amini protests
• Türkiye, Libya sign agreements on enhancing military cooperation
--------
North America
• US sanctions 12 Iranians, 2 entities for protest, internet crackdowns
• Saudi Arabia's support of Ukraine doesn't compensate for OPEC+ cut: US top diplomat
• US warns South African economic hub may be terror target this weekend
• Blinken, UN's Griffiths discuss global humanitarian needs, Istanbul grain deal
----
Arab World
• Bahrain's Incarcerated Clerics Urge Pope to Reject Injustice, Push for Reforms Ahead of Visit
• Lebanon signs maritime border deal, Israel expected to follow suit
• Confidence vote on new Iraq government set for October 27
• Canada Repatriates Four ISIS-Linked Women and Children from Syrian Camps
• Streaming platforms key facilitators for young Saudi talent: media group CEO
• Saudi Arabia funds medical care for amputees in Yemen
• Israel attacks Syrian capital with missiles in new act of aggression
--------
Pakistan
• Sharif, Saudi crown prince vow to take ties to new heights
• Military requests govt to conduct 'high-level' probe into Arshad Sharif's gruesome murder
• Ex Pakistan PM Imran Khan announces long march to Islamabad: 'This jihad will…'
• Pakistan govt removes ISI member from team formed to probe journalist killing in Kenya
• Pakistan PM 'extremely grateful' for Saudi flood aid
• Elite have created system that benefits them: Miftah
• Imran playing dangerous game by using Arshad Sharif's killing for petty politics: PM
--------
South Asia
• Afghanistan Labelled 'Least Secure' Country in the World
• Taliban's Monopoly of Power; EU Envoy Says Regional Countries Call for Inclusive Government
• Taliban Member Gunfire Kills and Injures 2 Girls in Northwestern Afghanistan
• Experts: 'US failure in Afghanistan years in the making'
• Afghans' lives have become 'unbearably hard' due to rise in poverty: WFP
--------
Southeast Asia
• Indonesia, OIC States to Create Forum for Global Consultative Assembly
• I initiated Sheraton Move, nominated Muhyiddin as PM, says Hadi
• Malaysia election: Selangor chief minister Amirudin Shari expected to face Azmin Ali in Gombak
• In An Indian Kurta And Shalwar Outfit Syed Saddiq 'Raps' Political Message Of Equality In Deepavali Clip
• Sabah man, Perak teen now Malaysians as govt loses appeal bid
--------
Africa
• Algeria Jails Journalist over 'Spreading False News'
• 17 al-Shabaab terrorists killed in new operation in Somalia
• Nigerians panic over US, UK terror attack alerts in capital
• Morocco arrests 5 Daesh/ISIS suspects for planning attacks
• Spanish premier mistakenly calls Kenyan leader 'president of Senegal'
• Türkiye hails Ghana's role in becoming voice of Africa at UN Security Council
--------
Europe
• Vladimir Putin's Chechen Warlord Ramzan Kadyrov Declares Ukraine War a 'Big Jihad'
• Russia recruiting Afghan commandos trained by US to fight in Ukraine
• Sweden vows to fulfil 3-way NATO accession deal with Türkiye
• Britain calls on Iran to release environmentalist Morad Tahbaz
Compiled by New Age Islam News Bureau
URL: https://newageislam.com/islamic-world-news/terror-sponsors-india-ambassador-un/d/128283
--------
Countries Covering Up For Terror Sponsors Equally Culpable: India's Ambassador to The UN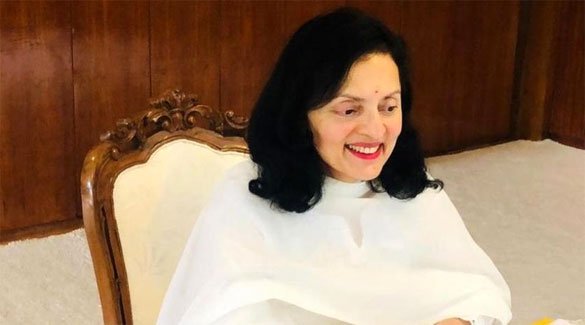 Ruchira Kamboj—A Senior Diplomat And India's Permanent Representative To UN
-----
Oct 27, 2022
NEW DELHI: There is a great need to speak in a united voice against the scourge of terrorism and those practicing double standards in the fight against the menace are just as culpable as countries which distinguish between good and bad terrorists, said the government Wednesday in a jibe at China.
The remark by India's ambassador to the UN in New York, Ruchira Kamboj, came ahead of the crucial Special Meeting of the UNSC Counter-Terrorism Committee (CTC) which will begin in Mumbai on Friday with the participants paying respects to the victims of the 26/11 Mumbai attacks.
While the CTC meeting, which is being held outside New York for the first time since 2015, is unlikely to renew pressure on Pakistan to bring the accused to justice, senior MEA officials said the fact that the meeting is being held in Mumbai is a "message in itself".
"Terrorism is one of the greatest threats humanity is facing today. On the issue of double standards, we have said there is no good or bad terrorist. Those who propagate this distinction have an agenda and those who cover up for them are just as culpable. There cannot be any justification for terrorism," said Kamboj, who is also the Chair of the CTC, responding to queries related to China's recent actions to block a UN ban on Pakistan based commanders of terror groups.
According to Indian and UN officials, the 2-day Special Meeting in Mumbai and Delhi will focus specifically on 3 key areas in which new and emerging technologies are experiencing "rapid development, growing use by member-states (including for security and counter-terrorism purposes), and an increasing threat of abuse for terrorism purposes". These include use of Internet and social media, terrorism-financing including new payment methods and unmanned aerial systems (UAS).
The Meeting will see participation by UK foreign secretary James Cleverly in what will be the first high-level visit to India from UK after Conservative leader Rishi Sunak took over as PM earlier this week. Among the 5 permanent members, only the UK will see a ministerial participant.
Other UNSC member-states which will be represented at the lever of ministers are Albania, Gabon, Ghana and UAE. MEA Secretary (West) Sanjay Verma said foreign minister S Jaishankar, along with member-states of the UNSC and senior UN Officials will lay a wreath at 26/11 memorial site in Mumbai and observe a minute's silence in memory of the victims.
The CTC meeting in India is expected to address some of the significant challenges the global community is facing in the fight against terrorism. These, according to the UN, include the need for countering terrorist narratives, moderating online content, tracing and identifying terrorist crimes planned and committed online, terrorism-financing and the procurement of weapons, UAS, and their components through online means.
Source: Times Of India
Please click the following URL to read the text of the original story:
https://timesofindia.indiatimes.com/india/those-shielding-sponsors-of-terror-equally-culpable-india/articleshow/95109109.cms
--------
Iran Security Forces 'Open Fire' As Thousands Mourn Mahsa Amini to Mark 40 Days since Her Death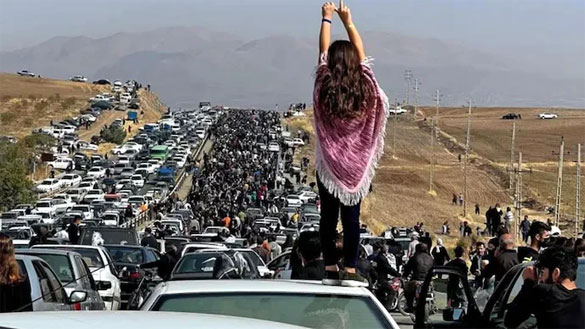 An unveiled woman stand on top of a vehicle as thousands make their way towards Aichi cemetery in Saqez, Mahsa Amini's home town in the western Iranian Province of Kurdistan. (Image: Twitter)
------
Oct 27, 2022
PARIS: Iranian security forces opened fire on protesters who massed in their thousands Wednesday in Mahsa Amini's hometown to mark 40 days since her death, according to a rights group and verified videos.
Amini, a 22-year-old Iranian of Kurdish origin, died on September 16, three days after her arrest in Tehran by the notorious morality police for allegedly breaching the Islamic dress code for women.
Anger flared at her funeral and quickly sparked widespread protests that saw young women lead the charge, burning their headscarves and confronting security forces, in the biggest wave of unrest in the Islamic republic for years.
Despite heightened security measures, columns of mourners had poured into Saqez in the western Kurdistan province to pay tribute to Amini at her grave at the end of the traditional mourning period.
In a viral picture of the scene verified by AFP, a young woman was seen standing on the roof of a car without a hijab head covering, looking into the distance at the highway packed with scores of vehicles and mourners.
"Death to the dictator," mourners chanted at the Aichi cemetery outside Saqez, before many were seen heading to the governor's office in the city centre, where Iranian media outlets said some were poised to attack an army base.
"Security forces have shot tear gas and opened fire on people in Zindan square, Saqez city," Hengaw, a Norway-based group that monitors rights violations in Iran's Kurdish regions, said without specifying whether there were any dead or wounded.
Iran's ISNA news agency said the internet had been cut in Saqez for "security reasons", and that nearly 10,000 people had gathered in the city.
But many thousands more were seen making their way in cars, on motorbikes and on foot along a highway, through fields and even across a river, in videos widely shared online.
Noisily clapping, shouting and honking car horns, mourners packed the highway linking Saqez to the cemetery eight kilometres (five miles) away, in images that Hengaw told AFP it had verified.
ISNA said some of the crowd returning from the cemetery had "intended to attack an army base", until they were dispersed by other participants.
A police checkpoint was torched and fires burned along a bridge in the Qavakh neighbourhood of Saqez, according to a verified video.
"This year is the year of blood, Seyed Ali will be toppled," a group of them chanted in a video verified by AFP, referring to Iran's supreme leader Ayatollah Ali Khamenei.
"Kurdistan, Kurdistan, the graveyard of fascists," others were heard singing in a video shared by activists on Twitter. AFP was unable to immediately verify the footage.
Hengaw said workers went on strike in Saqez as well as Divandarreh, Marivan, Kamyaran and Sanandaj, and in Javanrud and Ravansar in the western province of Kermanshah.
The rights group said Iranian football stars Ali Daei and Hamed Lak had travelled to Saqez "to take part in the 40th day" service.
They had been staying at the Kurd Hotel but were "taken to the government guesthouse... under guard by the security forces", it said.
Daei has previously run into trouble with authorities over his online support for the Amini protests.
Kurdistan governor Esmail Zarei-Kousha accused Iran's foes of being behind the unrest.
"The enemy and its media... are trying to use the 40-day anniversary of Mahsa Amini's death as a pretext to cause new tensions but fortunately the situation in the province is completely stable," he said, quoted by state news agency IRNA.
The social media channel 1500tasvir, which chronicles rights violations by Iran's security forces, said fresh protests flared at universities in Tehran, Mashhad in Iran's northeast, and Ahvaz in the southwest, among others.
Oslo-based group Iran Human Rights said the security forces' crackdown on the Amini protests has claimed the lives of at least 141 demonstrators, in an updated death toll Tuesday.
Amnesty International says the "unrelenting brutal crackdown" has killed at least 23 children, while IHR said at least 29 children have been slain.
The United States on Wednesday placed over a dozen Iranian officials on its sanctions blacklist for the crackdown, while Germany condemned Tehran for earlier sanctioning European media outlets.
The White House later said it was "concerned that Moscow may be advising Iran on best practices to manage protests, drawing on... extensive experience in suppressing" opponents.
Women foreign ministers from a dozen countries -- including France, Australia, and Germany -- also jointly condemned Iran's "ongoing crackdown against protesters" on Wednesday.
They expressed "solidarity with the courageous Iranian women engaging in their right of peaceful assembly and advocating for their human rights", said the statement led by Canada's Melanie Joly.
More than five weeks after Amini's death, the demonstrations show no signs of ending.
They have been fuelled by public outrage over the crackdown, which has claimed the lives of other young women and girl
Source: Times Of India
Please click the following URL to read the text of the original story:
https://timesofindia.indiatimes.com/world/middle-east/iran-security-forces-open-fire-as-thousands-mourn-mahsa-amini/articleshow/95110971.cms
--------
US believes Russia may be advising Iran on cracking down on protesters: White House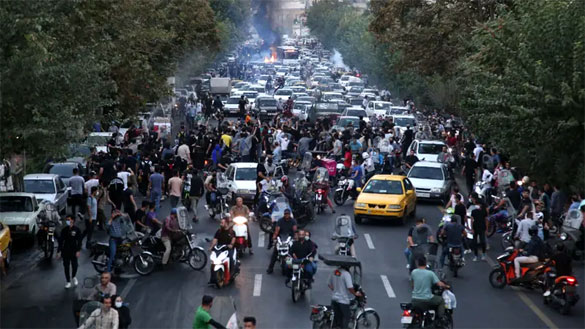 A picture obtained by AFP outside Iran on September 21, 2022, shows Iranian demonstrators burning a rubbish bin in the capital Tehran during a protest for Mahsa Amini, days after she died in police custody. (AFP)
-----
26 October, 2022
The US believes Russia may be advising Iran on how to crackdown on protesters, as Tehran grapples with country-wide protests sparked by the death of a young woman in the custody of the morality police, the White House said on Wednesday.
"We are concerned that Moscow may be advising Tehran on best practices to manage protests, drawing on Russia's extensive experience in suppressing open demonstrations," Press Secretary Karine Jean-Pierre said.
Mass protests have swept Iran since September 16 when Mahsa Amini, a 22-year-old woman died in the morality police's custody.
Iranians have gathered across the country to take part in demonstrations that called for the downfall of the regime.
The regime responded with a violent crackdown on protesters, with dozens killed in clashes with the security forces and thousands arrested.
"Iran and Russia are growing closer, the more isolated they become," she added, citing evidence of Iran helping Russia in its war on Ukraine.
Earlier this month, Washington decried the use of Iranian drones by Russia in Ukraine. The State Department reported having evidence of Iranian drones being used to strike Ukrainian civilians and critical civilian infrastructure.
Tehran continues to deny the fact that their drones are being used in Ukraine.
She added: "Our message to Iran is very, very clear. Stop killing your people and stop sending weapons to Russia to kill Ukrainians."
White House's top national security spokesperson John Kirby said: "We see signs that they (Russia) may be considering the ability to help train Iranians on cracking down on protesters… and lending that kind of support to Iran."
Source: Al Arabiya
Please click the following URL to read the text of the original story:
https://english.alarabiya.net/News/middle-east/2022/10/27/US-believes-Russia-may-be-advising-Iran-on-cracking-down-on-protesters-White-House
--------
Saudi Arabia Slams US for Using Oil Reserves to Manipulate Prices, Warns Of 'Painful' Future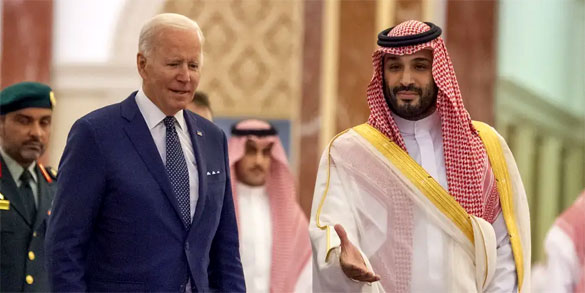 US President Joe Biden and Saudi Arabian Crown Prince Mohammed bin Salman at Alsalam Royal Palace in Jeddah, Saudi Arabia on July 15, 2022. Royal Court of Saudi Arabia / Handout/Anadolu Agency via Getty Images
-----
26 October 2022
As rift between Saudi Arabia and the United States widens over oil production, Saudi energy minister has denounced nations, including the US, for using emergency oil reserves to manipulate prices, warning of more pain for energy markets in near future.
"People are depleting their emergency stocks, had depleted it, used it as a mechanism to manipulate markets while its profound purpose was to mitigate the shortage of supply," said Saudi Arabia's energy chief Prince Abdulaziz bin Salman at the Future Initiative Investment (FII) conference in Riyadh on Tuesday.
"However, it is my profound duty to make clear to the world that losing emergency stocks may be painful in the months to come."
The Saudi energy chief said Riyadh remained the world's most reliable oil supplier and had increased its sales to Europe to 950,000 barrels in September from 490,000 the same time a year ago.
When asked about how to get the energy ties with Washington back on track, Prince Abdulaziz said Riyadh had chosen to "to be the mature guys and let the dice fall."
Although Prince Abdulaziz did not single out the US in his comments, he appeared to be critical of President Joe Biden's decision to sell oil from the nation's emergency stocks as he attempts to lower gasoline prices ahead of midterm elections on November 8.
Comments by the Saudi energy chief came just a week after Washington decided to release 15 million barrels from strategic oil reserves to curb prices. That tranche was to complete a 180-million-barrel release authorized in the spring, in response to price hikes linked to Russia's military operation in Ukraine.
Tensions are growing between longtime partners Washington and Riyadh over the Saudi-led OPEC+ cartel's recent vote to reduce oil production over Washington's objections.
The Organization of the Petroleum Exporting Countries and allies (OPEC+), which includes the 13 OPEC nations and 11 non-members including Russia, made the production cut announcement earlier this month. The group agreed to cut output by two million barrels per day, equal to two percent of global supply, starting November.
Saudi Arabia is a top producer in OPEC+.
The move came despite Biden's plea to boost production to tame energy prices.
Independent observers believe the Biden administration is worried that the decision to cut oil production will cause a gas price hike in the US ahead of the November midterm elections, which Democrats already appear to lose to the Republicans.
Separately, US State Department spokesman Ned Price said he would not respond directly to the Saudi energy chief, but that the release from the strategic reserves was part of Biden's effort to meet demand. "We're going to do everything we can to see to it that supply is adequate for demand," Price said.
Bin Salman 'mocks Biden in private' and 'preferred Trump': Report
According to a report by the Wall Street Journal, the relationship between longtime allies the US and Saudi Arabia is fracturing due to distrust between the leaders of the two countries.
The report, citing unnamed sources within the Saudi government, said that Saudi Crown Prince Mohammed bin Salman - known as MbS - makes fun of Biden in private and has questioned his mental acuity.
Furthermore, the crown prince, who is Saudi Arabia de facto ruler, has reportedly told his advisers that he preferred working with former US President Donald Trump.
"Saudi Crown Prince Mohammed bin Salman, the kingdom's 37-year-old day-to-day ruler, mocks President Biden in private, making fun of the 79-year-old's gaffes and questioning his mental acuity, according to people inside the Saudi government. He has told advisers he hasn't been impressed with Mr. Biden since his days as vice president, and much preferred former President Donald Trump, the people said," the report read.
Biden repeatedly denounced Saudi Arabia for its grim human rights record. During his presidential campaign in 2020, he said he saw "very little social redeeming value in the present government in Saudi Arabia," and did not even talk to Mohammed bin Salman for more than a year because of his alleged role in the killing of dissident Saudi journalist Jamal Khashoggi in the Saudi consulate in Istanbul in 2018.
Both Saudi Arabia and the US are reportedly ready to reconsider their relations, which would mark a significant change in the 80-year-long relationship, the one that has long underpinned the global economy.
Source: Press TV
Please click the following URL to read the text of the original story:
https://www.presstv.ir/Detail/2022/10/26/691634/Saudi-Arabia-US-MbS-oil-OPEC--Biden
--------
Crown Prince Mohammad Bin Salman Orders Release of Pakistanis Held For Sloganeering At Masjid-i-Nabwi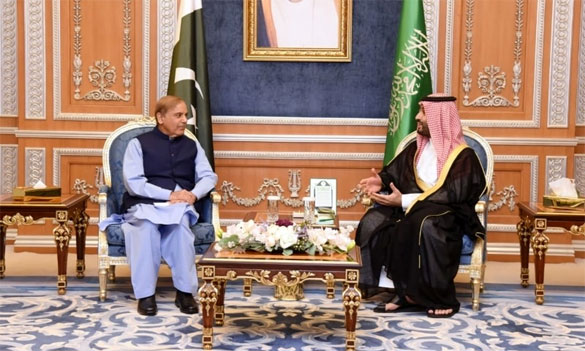 Prime Minister Muhammad Shehbaz Sharif is received by Crown Prince Mohammed Bin Salman. — Photo courtesy: PMO
-----
October 26, 2022
ISLAMABAD: Prime Minister Shehbaz Sharif announced on Wednesday that Saudi Crown Prince Mohammad Bin Salman granted pardon and ordered release of Pakistani pilgrims who were jailed over sloganeering and hounding a PM-led delegation at Masjid-i-Nabwi in Madina this April.
PM Shehbaz, who concluded a two-day trip to Saudi Arabia, expressed gratitude to the crown prince in a tweet for ordering release of the jailed Pakistanis.
"I am deeply grateful to the crown prince of Saudi Arabia, Mr Muhammad bin Salman, who, on my request, ordered release of the Pakistanis arrested in Saudi Arabia for the April 2022 incident.
"We pray to Allah Almighty to make us better Muslims who forgive each other's mistakes," the Prime Minister wrote. "May Allah Almighty reward you for this," the prime minister said and thanked the crown prince for this kind gesture.
In April, PM Shehbaz, along with a delegation comprising federal ministers and others, had gone on a three-day trip to Saudi Arabia. On their visit to Masjid-i-Nabwi during the trip, some Pakistani pilgrims had hounded them, shouted slogans against them and even physically attacked some members of the delegation.
Videos of the incident had gone viral on social media, prompting swift action from Saudi authorities and leading to the arrest of some of the pilgrims.
Taking to Twitter, PM Shehbaz described his meeting with the crown prince of Saudi Arabia as "excellent".
"We agreed to upgrade and enhance bilateral ties and fraternal bonds between Pakistan and Saudi Arabia to new heights in line with the requirements of [the] changing world. I told [the crown prince] people of Pakistan are eagerly looking forward to his visit," he said.
According to Radio Pakistan, the two leaders reaffirmed their commitment to further strengthen the fraternal bond between Pakistan and Saudi Arabia.
Later, the premier and his delegation members performed Umrah at Makkah's Grand Mosque. PM Shehbaz, "prayed for the peace and prosperity of Pakistan as well as Muslim ummah," state broadcaster Radio Pakistan said.
PM Shehbaz reached Riyadh on Monday where he was received by Riyadh Governor Prince Faisal Bin Bandar Bin Abdul Aziz Al Saud at the airport. The premier was accompanied by Finance Minister Ishaq Dar, Defence Minister Khawaja Asif, Information Minister Marriyum Aurangzeb and other officials.
He also addressed the Future Investment Initiative Summit in Riyadh on Monday, saying that Pakistan was "ripe for market innovation" and the country was ready to reach out to potential investors for the future of its upcoming generations.
INCIDENT
It is to be recalled that in April last, following sloganeering at Masjid-e-Nabwi, a court in Madina Munawara had sentenced three Pakistanis to eight years in jail and three others to six years imprisonment. Among those who were given eight years imprisonment included Khawaja Luqman, Muhammad Afzal and Ghulam Muhammad while Anas, Arshad and Muhammad Salim were jailed six years in jail.
The court had also sentenced another Pakistani national Tahir Malik to three years in prison with a fine of 10,000 Saudi Riyals.
Source: Pakistan Today
Please click the following URL to read the text of the original story:
https://www.pakistantoday.com.pk/2022/10/26/saudi-crown-prince-orders-release-of-pakistanis-jailed-for-sloganeering-at-masjid-e-nabwi/
--------
India
'Kejriwal BJP's B-Team': Muslim Leaders Slam Delhi CM for 'Polarisation Politics' Over Banknotes
ABANTIKA GHOSH
26 October, 2022
New Delhi: Delhi chief minister Arvind Kejriwal's formula for the country's economic revival — putting the images of deities on currency notes — has raised hackles, with Muslim leaders accusing him of playing the polarisation card to garner political benefits. Elections for the Gujarat assembly and the Delhi municipal corporation are scheduled to be held this year, and Kejriwal's Aam Aadmi Party is a significant player in both.
"This (statement) has got nothing to do with the love of Gods. This is an attempt to play with people's religious sentiments and he is taking his lessons from none other than the Prime Minister himself," said Kamal Farooqui, member of the All India Muslim Personal Law Board.
Farooqui, a lawyer by profession, clarified, however, that these were his personal views.
He added: "The BJP has taught people that polarisation can yield rich political dividends and if Kejriwal is now going to take that line instead of talking about schools (a reference to the AAP's declared focus on improving education standards, among other initiatives), like he used to, he is merely certifying what people have always suspected — that he is the B team of the BJP. He does not see the writing on the wall that people are sick of these moves."
Echoing Farooqui's views, Ahmed Bukhari, the shahi imam of Delhi's Jama Masjid termed Kejriwal's statement "rubbish".
"I really should not dignify these statements with a response. (Kejriwal) does not talk about things that need to be talked about, issues that need to be raised and tries to create hate and discord between Hindus and Muslims," Bukhari said.
While speaking to reporters at a press conference Wednesday, the Delhi CM had called for including the images of Lakshmi-Ganesh on currency notes to get India's economy on the development track.
"We can all see that our economy is not recovering. We all want India to become a developed country and for that lot of work needs to be done. But all efforts will be only successful when there will be gods and goddesses' grace on us," Kejriwal had said.
He added: "Today, I appeal to the central government that our currency has a picture of Gandhi ji on one side, it should be kept as it is, but on the other side, pictures of Lakshmi ji and Ganesh ji should be included", claiming that the idea came to him during the Diwali Puja at home.
'Rupee will strengthen against dollar when policies right'
Kejriwal's comment pushed many other Muslim leaders to accuse the AAP national convenor of following on the BJP's path of polarisation politics.
"There is a clear attempt by the AAP to change its political position and take on a more right-wing approach and this comes just weeks ahead of the elections in Delhi and Gujarat. Clearly, the BJP is worried about AAP gaining ground in Gujarat for a reason," said a senior functionary of a Muslim organisation, who did not want to be named.
He was referring to several meetings of BJP leaders with party workers where they, including union Home Minister Amit Shah and Health Minister Mansukh Mandaviya have expressed worry about AAP's increasing footprint in Gujarat.
Meanwhile, Islamic scholar and secretary general of the National Ulama Parliament and chairman Gram Chhatra Sansad Dr Maulana Kalbe Rushaid told ThePrint that Kejriwal's statement befits a religious person, but not a person of the stature of Arvind Kejriwal, who has been an officer in the Indian Revenue Service.
"Religion is a good thing and it gives us strength to do many things, but like in Islam we say that God will cure but you still need to have medicines, rupee will strengthen against the dollar when the policies are right for that, not when Gods appear on currency notes," said Rushaid.
Source: The Print
Please click the following URL to read the full text of the original story:
https://theprint.in/politics/kejriwal-bjps-b-team-muslim-leaders-slam-delhi-cm-for-polarisation-politics-over-banknotes/1182862/
--------
After Kejriwal's comment, Congress leader calls for Allah, Jesus on currency notes, gets trolled
Oct 26, 2022
Congress leader Salman Anees Soz on Wednesday said that if Lakshmi and Ganesha can bring prosperity, then inclusion of Allah, Jesus, and Buddha will bring even more prosperity. His remark, which was in response to Delhi CM Arvind Kejriwal's appeal to have photos of Lord Ganesha and Goddess Lakshmi on currency notes, did not go down well with the netizens.
Arvind Kejriwal had appealed to PM Modi to have images of Lord Ganesha and Goddess Lakshmi on the currency notes, claiming that putting the photos of the gods on the currencies will ensure that the people of the country are blessed in their efforts to better the economy. In response, Congress leader Salman Anees Soz tweeted, "If Lakshmi and Ganesha can bring prosperity, then we should make sure we get even more prosperity and include Allah, Jesus, Guru Nanak, Buddha and Mahavira too."
The Congress leader was trolled for his comment, with one social media user cheekily asking him to "share Allah's pic for consideration".
Some netizens also asked him to take down the tweet that mentions including Allah's image on currency notes.
Netizens also trolled him over the "logic" that including "Allah, Jesus, Guru Nanak, Buddha and Mahavira" on currency notes will bring even more prosperity to the Indian economy.
Your logic is blowing my mind pic.twitter.com/kJWUILzxmM — Rahul 🌚 (@thunor_05) October 26, 2022
WHAT DID ARVIND KEJRIWAL SAY?
Delhi CM Arvind Kejriwal made an appeal to the Centre to put the photos of Lord Ganesha and goddess Lakshmi on currency notes along with Mahatma Gandhi's photo.
"If the gods are on the currency notes, the entire country will get their blessings. Lakshmi is the goddess of prosperity and Lord Ganesha is a god who keeps away troubles," Arvind Kejriwal said.
Arguing that blessings of gods can help in improving economy, Arvind Kejriwal added that businessmen keep idols of the two Hindu gods in their workplace and perform puja everyday before they start the day's work.
Source: India Today
Please click the following URL to read the full text of the original story:
https://www.indiatoday.in/india/story/arvind-kejriwal-lakshmi-ganesha-currency-note-demand-congress-leader-salman-soz-calls-for-allah-jesus-inclusion-trolled-2289788-2022-10-26
--------
Foreign terrorist killed in failed infiltration bid in J&K
Oct 26, 2022
SRINAGAR: Security forces on Wednesday foiled an infiltration bid by terrorists along the Line of Control in Kupwara district of Jammu and Kashmir, killing one foreign ultra, officials said.
They said a gunbattle broke out between security forces and terrorists at Sudpora in Karnah sector along the LoC.
Source: Times Of India
Please click the following URL to read the full text of the original story:
https://timesofindia.indiatimes.com/india/foreign-terrorist-killed-in-failed-infiltration-bid-in-jk/articleshow/95095708.cms
--------
Telangana: TRS has no moral right to seek Muslim votes in Munugode, says Shabbir
26th October 2022
Hyderabad: Former minister and Congress leader Mohammed Ali Shabbir said that the TRS party has no moral right to seek votes from the Muslim community in the Munugode by-elections.
Addressing a series of meetings at Chandur, Kondapur, and other places as part of the campaign for Congress candidate Palvai Shravanti on Wednesday, Shabbir Ali said that chief minister K Chandrashekhar Rao has been betraying the Muslim community since 2014 with fake promises and false assurances.
He said that KCR did not fulfill the promise of a 12 percent Muslim reservation. "Instead, he also did not take enough measures to protect the ongoing 4 percent Muslim reservation, implemented by the previous Congress Govt in 2004-05, in the Supreme Court," he added.
Similarly, Shabbir Ali said that the TRS government had promised to grant judicial powers to the Wakf Board. However, he said that the government neither protected the existing properties nor took any measures to restore the illegally encroached lands.
"Records of thousands of prime Wakf properties have been dumped in a godown without citing any reason. Many important files, which are crucial for winning encroachment cases in various courts, are now being eaten by termites. But the TRS government is not doing anything to protect those original documents of prime properties worth thousands of crores," he alleged.
Shabbir Ali said that the state government did not release fee reimbursement dues which led to the closure of more than 80 percent of minority colleges in the last 8 years. He said that there was an alarming drop in the enrolment of minorities in institutions of higher education. "KCR, by not releasing funds, deprived lakhs of minority students, especially Muslims, from getting higher education," he alleged.
The Congress leader alleged that TRS government has dismantled all the institutions of minority welfare. "Due to a huge shortage of funds and staff, institutions like Urdu Academy, Minority Finance Corporation, etc., are unable to implement any welfare scheme. Urdu Academy has a symbolic head while the government is yet to nominate a full-fledged body. Except for paying salaries to the Urdu Academy Chairman and the skeletal staff, TRS government is doing nothing for the promotion of the Urdu language," he further said.
Shabbir Ali stated that unemployment among minorities has increased manifold under the TRS government. "Not a single jobless Muslim youth got a loan under any scheme to start his business. Receiving over 1.53 lakh loan applications from jobless minority youth in 2014-15 and dumping them in the dustbin is the only achievement of the TRS government," he said.
He also slammed the TRS for completely neglecting the Muslims in the weaker section housing schemes. He said the previous Congress Govt gave houses to thousands of poor Muslim families. However, he said that the TRS government did not give even a dozen 2BHK units to poor Muslims.
Shabbir Ali said that the state government has been cheating Muslims by wearing a fake mask of secularism. "KCR has created hype that his government has allocated a budget of Rs. 2,000 crores for minorities' welfare. But in reality, his government did not spend even 50 percent of the allocated amount. TRS government has caused huge damage to Muslims on social, educational, and economic fronts," he said.
Source: Siasat Daily
Please click the following URL to read the full text of the original story:
https://www.siasat.com/telangana-trs-has-no-moral-right-to-seek-muslim-votes-in-munugode-says-shabbir-2442772/
--------
Mideast
Takfiri terrorist attack on holy shrine in Shiraz 'won't go unanswered', vows Raeisi
26 October 2022
Iran's President Ebrahim Raeisi has said the Islamic Republic will deliver a crushing response to those behind the Wednesday terrorist attack on the holy shrine of Shah Cheragh in the country's southwestern city of Shiraz.
"This vicious act will definitely not go unanswered. The country's security and law enforcement forces, having identified the root causes of this heinous crime, will deliver a decisive response to its architects and operatives," which will make them regret their act, the Iranian president said Wednesday evening.
The incident took place at around 5:45 p.m. local time (1415 GMT) on Wednesday just before the evening prayers.
The police commander of Fars province said the attacker opened indiscriminate fire at pilgrims inside the shrine and was himself wounded and arrested by security officials.
Nour News Agency, which is affiliated with Iran's top security body, said the militant who carried out the attack was a foreign national.
CCTV footage released by local authorities showed the terrorist making his way inside the shrine and opening fire at people present there.
"Experience shows that Iran's enemies take revenge for their desperation and failed attempts to cause divisions within the united ranks of the Iranian society and impede the country's progress by means of violence and terror," President Raeisi said in his remarks.
He also offered his sincere condolences over the death of a group of pilgrims at the funerary monument and mosque, which houses the tomb of the brothers Ahmad and Muhammad, sons of Imam Musa ibn Ja'far al-Kazim (PBUH) – the seventh Shia Imam.
Separately, Iranian Interior Minister Ahmad Vahidi said the Shiraz terrorist attack exposed the complex nature of enemy's conspiracies, which is aimed at all forms of violence and recognizes no boundaries as to the loss of a large number of ordinary people.
"The incident marked an assault on all sanctities and was a profane move as witnessed before. This time the Shah Cheragh shrine was subjected to desecration, and several people were killed," the senior Iranian official said.
Vahidi noted that the terrorist attack also revealed the actual extent of enemies' cruelty – something which has been demonstrated at times during latest riots.
Source: Press TV
Please click the following URL to read the full text of the original story:
https://www.presstv.ir/Detail/2022/10/26/691643/President-Raeisi-vows-firm-reponse-to-archirtwects-of-Terrorist-attack-on-Shia-shrine-in-SW-Iran
--------
ISIS claims responsibility for shrine attack in Iran
26 October, 2022
The ISIS group claimed responsibility for an attack Wednesday on a Shia Muslim shrine in southern Iran that state media said killed more than a dozen people.
An ISIS fighter opened fire on worshippers at the Shah Cheragh shrine in the city of Shiraz, "killing at least 20 Shias and wounded dozens of others", the radical extremist group said in a statement via Telegram channels.
Source: Al Arabiya
Please click the following URL to read the full text of the original story:
https://english.alarabiya.net/News/middle-east/2022/10/26/ISIS-claims-responsibility-for-shrine-attack-in-Iran
--------
At least 15 killed, 40 wounded in attack on popular Shia shrine in southern Iran
Syed Zafar Mehdi
26.10.2022
TEHRAN, Iran
At least 15 people have been killed and 40 wounded after a group of armed assailants opened indiscriminate fire at a popular shrine in Iran's southern Fars province on Wednesday, according to local media.
The incident took place at around 5.45 p.m. local time (1415GMT) when three heavily-armed men attacked the Shah Cheragh shrine in the historic city of Shiraz in the Fars province.
According to local reports, two attackers were immediately apprehended by local security guards and search is underway for the third attacker who apparently managed to flee from the scene.
Although details are still unclear, reports said a woman and two children were among the victims.
Shah Cheragh shrine, which houses the grave of a revered Shia scholar, is a popular pilgrim destination in southern Iran, thronged by both local and foreign pilgrims.
It came amid widespread protests across Iran over the death of a young Iranian woman, Mahsa Amini, in police custody last month.
Wednesday marked 40 days since her death and saw fresh protests in several cities, including Tehran, amid heavy deployment of police on the streets.
Source: Anadolu Agency
Please click the following URL to read the full text of the original story:
https://www.aa.com.tr/en/middle-east/at-least-15-killed-40-wounded-in-attack-on-popular-shia-shrine-in-southern-iran/2721614
--------
We are facing Zionist enemy that only understands language of force: Senior Hamas official
26 October 2022
A founding member of the Palestinian Hamas resistance movement has condemned the killing of six Palestinians after Israeli military forces raided several areas in the northern occupied West Bank city of Nablus, stressing that the Tel Aviv regime only understands the language of force.
Khaled Meshaal, the head of Hamas' political bureau abroad, stated that the ruling Israeli coalition administration led by prime minister Yair Lapid is seeking to emerge victorious in the forthcoming legislative elections, scheduled for November 1, by means of shedding the blood of ordinary Palestinians.
"The martyrs of the resistance front have paved the way for the liberation of occupied [Palestinian] lands, and the re-emergence of resistance in the West Bank. Despite the persecution of Palestinians, targeted killings of resistance fighters, cruel siege imposed on the city of Jenin and elsewhere in the West Bank, and mass arrests, the resistance continues to flourish," Meshaal pointed out.
He added, "The barbaric crimes of the Zionist regime will never undermine the determination of Palestinian resistance fighters. On the contrary, it shows that the spirit of resistance runs high among all Palestinians."
The senior Hamas official also called on all Palestinians to preserve national unity and tighten the noose around Israeli settlers.
Meshaal went on to stress the need for turning Jenin, Nablus and other West Bank towns and villages into a strong fortress of resistance against Israel.
"Al-Quds serves as a source of inspiration in order to transform the path of popular uprising (intidafa) and resistance, and secure the complete liberation of occupied lands as well as return of Palestinian refugees to their ancestral homes," he stated.
Early on Tuesday morning, large numbers of Israeli forces stormed the city of Nablus, located approximately 49 kilometers (30 miles) north of al-Quds.
According to the Palestinian Health Ministry, five Palestinians were killed by Israeli fire.
Palestinian health and security officials said one of those killed was unarmed. They identified the victims as 26-year-old Ali Khaled Antar, Mishal Baghdadi, 27; Wadee al-Hawah, 31; Hamdi Qayyem, 30; and 35-year-old Hamdi Mohamed Sharaf.
The Palestinian Health Ministry later reported that another Palestinian youth, Qusay al-Tamimi, was killed during confrontations with Israeli forces in the village of Nabi Saleh near the city of Ramallah.
Meanwhile, Gaza-based Palestinian resistance groups have convened an emergency meeting, and called for national mourning, major strikes and protest rallies across the occupied Palestinian territories in the aftermath of assassination of five Palestinian men killed by Israeli forces during a raid in Nablus.
"We are telling our brethren in Nablus that we will continue to stand on their side. We will hopefully fight within your ranks in the near future. The resistance campaign, which has broken out in the West Bank and across the occupied Palestinian lands, carries this message that the Zionist regime is in decline," Suhail al-Hindi, a member of the Hamas political bureau, said.
"Attempts by the Israeli occupation forces to suffocate the resistance front in Nablus are doomed to failure. We want all residents of the Gaza Strip to stage demonstrations in solidarity with our compatriots in Nablus, and urge young Gazans to respond to the latest Israeli crime properly," Khaled al-Batsh, another top Hamas official, said.
Israeli forces have also recently been conducting overnight raids and killings in the northern occupied West Bank, mainly in the cities of Jenin and Nablus, where new groups of Palestinian resistance fighters have been formed.
Source: Press TV
Please click the following URL to read the full text of the original story:
https://www.presstv.ir/Detail/2022/10/26/691614/We-are-facing-Zionist-enemy-that-only-understands-the-language-of-force--Senior-Hamas-official-
--------
Navy Commander: Iran to Equip Destroyers with More Powerful Cruise Missiles
2022-October-26
Rear Admiral Irani noted on Tuesday that efforts are underway to install the missile on Iranian military watercraft, adding that the country's destroyers would be equipped with "more powerful cruise missiles".
"Abu Mahdi naval cruise missile can well undertake its tasks once employed in electronic warfare systems and has undergone several tests," he continued, stating that the enemies are aware of the missile's features and have seen its capabilities in action.
"The combat capability, destructive power and operational range of Abu Mahdi cruise missile are significant, and we have set higher ranges on our agenda," the navy commander underlined.
He explained that the Iranian Navy's surface-to-surface cruise missile power has doubled and that the country's destroyers will be deployed to high sea for the first time with 8 cruise missiles mounted on them.
Irani also underscored that Nawab, a domestically-developed medium-range surface-to-air missile system, has already been installed on the Sahand destroyer. Point-defense weapon systems for detecting and destroying incoming missiles and enemy aircraft and anti-missile systems have also been used in the indigenous destroyer.
Elsewhere in his remarks, the senior commander noted the homegrown Damavand destroyer is undergoing final tests and will hopefully join the Navy's fleet on November 28.
He noted that Shuhada-ye (Martyrs) Konarak support vessel has been redesigned and bears no similarities to its predecessor, which was heavily damaged in a friendly fire incident during a naval exercise in the Sea of Oman on May 10, 2020.
"The new generation of the vessel enjoys advanced and more sophisticated technologies and is going through construction phases. At the same time, various pieces of military equipment are being installed on it. It's worth mentioning that the vessel can fire cruise naval missiles as well," Irani explained.
In August 2020, Iran unveiled two new missiles which named after top Iranian Commander Lieutenant General Qassem Soleimani and his Iraqi trenchmate Abu Mahdi Al-Muhandis, the second-in-command of Iraq's PMU, who were assassinated outside Baghdad's international airport in a US raid in January 2020.
The "Martyr Abu Mahdi" naval cruise missile has a 1,000-kilometer (620-mile) range.
The Islamic Republic's military doctrine holds that the country's armed capability solely serves defensive purposes.
Iranian military experts and technicians have in recent years made substantial headway in manufacturing a broad range of indigenous equipment, making the armed forces self-sufficient in the weaponry sphere.
Source: Fars News Agency
Please click the following URL to read the full text of the original story:
https://www.farsnews.ir/en/news/14010804000108/Navy-Cmmander-Iran-Eip-Desryers-wih-Mre-Pwerfl-Crise-Missiles
--------
Iran Blasts World Leaders' Silence on Israeli Genocide of Palestinians
2022-October-26
In a statement issued on Tuesday, Kana'ani criticized the "hypocritical and duplicitous" positions of the United States and some Western countries on human rights issues across the world.
"Their unconditional support for the usurping Zionist regime and its daily crimes against the oppressed Palestinian nation is the biggest example of human rights violations which have been going on for consecutive decades," he added.
Pointing to the continuation of Israeli crimes and terrorist acts in the occupied West Bank, including the siege and attack on Nablus, the spokesperson called on the international community to take action to condemn and stop the Zionist regime's genocide in Palestine.
He hailed the courageous resistance of Palestinian people, especially the youths, in Al-Quds, Jenin and Nablus, urging international support for the Palestinian struggle against the Zionist regime until the full liberation of Palestine from the Israeli occupation.
Israeli forces carried out a series of raids across the occupied West Bank on Tuesday, killing at least six Palestinians and injuring dozens of others.
Iran: 'Child-Killing' Israeli Regime Can't Escape Inevitable Fatehttps://t.co/g5JM4L22Wf pic.twitter.com/FA8pOgE13D
— Fars News Agency (@EnglishFars) August 9, 2022
Nearly 200 Palestinians have been killed by Israeli forces in the illegally occupied West Bank and besieged Gaza Strip since the beginning of the year, including 51 Palestinians during Israel's three-day assault on Gaza in August, according to the Palestinian health ministry.
International rights groups have condemned Israel's excessive use of force and "shoot-to-kill policy" against Palestinians.
Iran describes Israel as the root cause of the region's instability, but also stresses Israel's US-supported barbarity will not change the inevitable fate of the Tel Aviv regime.
Source: Fars News Agency
Please click the following URL to read the full text of the original story:
https://www.farsnews.ir/en/news/14010804000125/Iran-Blass-Wrld-Leaders'-Silence-n-Israeli-Gencide-f-Palesinians
--------
Iran Calls for Full Implementation of Chemical Weapons Convention
2022-October-26
"We reiterate our call that the Chemical Weapons Convention must be implemented fully, effectively, and without discrimination," Iravani made the remarks addressing the session on "The situation in the Middle East: (Syria – Chemical)" before the United Nations Security Council on October 25th, 2022.
The full text of the Iranian ambassador's speech at the UN is as follows:
In the name of God, the compassionate, the merciful.
Mr. President,
The Islamic Republic of Iran once again condemns, in the strongest possible terms, the use of chemical weapons by anyone, anywhere, and under any circumstances.
We reiterate our call that the Chemical Weapons Convention must be implemented fully, effectively, and without discrimination.
We believe that politicizing the Convention's application and using the OPCW for political purposes endanger both the organization's and the Convention's legitimacy.
The OPCW must be able to carry out its responsibilities in an impartial, professional, and objective manner. Furthermore, to establish facts and reach evidence-based conclusions, any investigation into the use of chemical weapons must be impartial, professional, credible, and objective and strictly adhere to the provisions and procedures outlined in the Convention.
We acknowledge the critical importance of the efforts by the Syrian Arab Republic to uphold its Convention obligations.
We urge the OPCW and the Syrian Arab Republic to maintain their contact and interaction.
The high-level meeting between Syria's Foreign Minister and the Director-General of the OPCW is currently being arranged. This meeting which is expected to take place, has the potential to pave the way for the parties to resolve outstanding issues.
In this regard, the Syrian National Authority proposed to the Technical Secretariat that the two parties hold a coordination meeting in Beirut to agree on the agenda for the high-level meeting, which was responded to by the Technical Secretariat on 3 October.
We also commend the Syrian Arab Republic for submitting the 107th monthly report to the Director-General of the OPCW on October 15, detailing activities on its territory related to the destruction of chemical weapons and their production facilities.
In line with its constructive cooperation, the Syrian Arab Republic has also facilitated a visit of the Technical Secretariat of the OPCW to Syria to conduct the ninth inspection tour of the Center for Scientific Studies and Research.
Mr. President,
While the Syrian Arab Republic has met the requirements of the Convention and continues to cooperate constructively with the OPCW, handling this file in a political and double-standard manner will only divert discussions away from their technical nature.
Therefore, we reiterate once again our call on the Security Council to utilize its meetings on Syria. Dedicating one monthly meeting of the Council to the repetition of positions and unfounded allegations against the Syrian government is not conducive to the Security Council's efficiency.
Source: Fars News Agency
Please click the following URL to read the full text of the original story:
https://www.farsnews.ir/en/news/14010804000699/Iran-Calls-fr-Fll-Implemenain-f-Chemical-Weapns-Cnvenin
--------
Iran's judiciary charges over 1,000 since Amini protests
26 October, 2022
Iran's judiciary said Wednesday it has pressed charges against over 300 people in connection to nationwide protests over Mahsa Amini's death, bringing the total to more than 1,000 indictments.
Street violence has rocked Iran since Amini's death on September 16, three days after she was arrested by the morality police for allegedly violating the Islamic Republic's strict dress code for women.
Dozens of people, mainly protesters but also members of the security forces, have been killed during the unrest. Hundreds more, including women, have been arrested.
Charges have been filed against more than 300 people over demonstrations in the northwestern provinces of Zanjan and West Azerbaijan and northeastern Semnan, the judiciary's Mizan Online website said.
Thousands of people gathered at the cemetery in Amini's hometown of Saqqez, in the western Kurdistan province, to pay tribute at her grave at the end of the traditional 40-day mourning period.
The judiciary announced on Monday indictments against 201 "rioters" in the Alborz province near Tehran, adding to more than 630 recent charges against protesters in Tehran, Kurdistan, Khuzestan, Qazvin and Isfahan.
Source: Al Arabiya
Please click the following URL to read the full text of the original story:
https://english.alarabiya.net/News/middle-east/2022/10/26/Iran-s-judiciary-charges-over-1-000-since-Amini-protests
--------
Türkiye, Libya sign agreements on enhancing military cooperation
Merve Aydogan
26.10.2022
Türkiye and Libya have inked two important agreements in the field of military, according to a Turkish National Defense Ministry statement on Wednesday.
National Defense Minister Hulusi Akar on Tuesday met with Prime Minister of Tripoli-based unity government and Defense Minister Abdul Hamid Dbeibeh in Istanbul.
The two officials signed an agreement on enhancing the efficiency of the Libyan Air Force and the training of Libyan pilots, said the ministry statement.
"The other additional protocol signed aims at improving the existing military relations between Türkiye and Libya," according to the statement.
Source: Anadolu Agency
Please click the following URL to read the full text of the original story:
https://www.aa.com.tr/en/middle-east/turkiye-libya-sign-agreements-on-enhancing-military-cooperation/2721219
--------
North America
US sanctions 12 Iranians, 2 entities for protest, internet crackdowns
Michael Hernandez
26.10.2022
WASHINGTON
The US levied sanctions against 12 Iranian officials and 2 entities Wednesday for an ongoing crackdown on mass demonstrations prompted by the death of Mahsa Amini, who died while in police custody.
The Treasury Department said it was taking the action in response to "the brutal ongoing crackdown on nationwide protests in Iran," as well as continued government efforts to restrict internet access in the country.
"Forty days after the tragic death of Mahsa Amini, Iranians continue to bravely protest in the face of brutal suppression and disruption of internet access," Brian Nelson, the Treasury Department's undersecretary for financial intelligence, said in a statement.
"The United States is imposing new sanctions on Iranian officials overseeing organizations involved in violent crackdowns and killings, including of children, as part of our commitment to hold all levels of the Iranian government accountable for its repression," he added.
Among those designated are Mohammad Kazemi, the Commander of the Islamic Revolutionary Guards Corps (IRGC) Intelligence Organization and Abbas Nilforushan, the IRGC's deputy commander for operations.
Hossein Modarres Khiabani, the governor of Iran's Sistan and Baluchistan province, which has seen repeated bloody crackdowns by government forces, has also been blacklisted, as has Ahmad Shafahi, the commander of the IRGC's regional military unit.
The US also sanctioned four senior prison officials, including the head of Evin Prison and the warden at "Sanandaj Central Prison in Kurdistan province."
Two members of the Ministry of Intelligence and Security were blacklisted along with a school they co-founded that trains student in cybersecurity and hacking, and recruits students for the ministry, said the department.
Source: Anadolu Agency
Please click the following URL to read the full text of the original story:
https://www.aa.com.tr/en/americas/us-sanctions-12-iranians-2-entities-for-protest-internet-crackdowns/2721606
--------
Saudi Arabia's support of Ukraine doesn't compensate for OPEC+ cut: US top diplomat
26 October, 2022
US Secretary of State Antony Blinken said on Wednesday that Saudi Arabia's support to Ukraine was a "positive development," but did not "compensate" for the OPEC+ decision to cut production.
Blinken acknowledged Saudi Arabia's recent $400 million humanitarian aid for Ukraine and the Kingdom's vote at the UN to condemn Russia's annexation of Ukrainian territory.
"These are positive developments. They do not compensate for the decision that was made by OPEC+ on production. But we take note of that," he said at a Bloomberg News event.
OPEC+, the group comprising of the Organization of Petroleum Exporting Countries plus allies including Russia, decided earlier this month to cut its oil production target by 2 million barrels per day.
The decision infuriated Joe Biden's administration which is worried about higher consumer prices right before the November US midterm elections.
Biden accused Saudi Arabia of siding with Russia and vowed that "there will be consequences" for Washington-Riyadh ties.
Riyadh rejected Washington's criticism as "not based on facts" and stressed that the OPEC+ decision was "purely economic", according to a statement by the foreign ministry.
Blinken reiterated Washington's stance that Saudi Arabia had made the "wrong decision" with the oil production cut.
"There was nothing to suggest in the analysis that we had – and it was shared with the Saudis – that we were looking at prices plummeting in ways that would be problematic for them."
The top US diplomat said that Biden's administration was reevaluating its relationship with the Kingdom.
"We're going to do it in a very deliberate fashion, in consultation with members of Congress to make sure of this, that the relationship better reflects our own interests," he said.
Saudi Arabia's ambassador to the US, Princess Reema bint Bandar, said in an interview with CNN aired on Tuesday that a review of US-Saudi ties was a "positive thing" and stressed that the OPEC+ decision was purely economic.
Source: Al Arabiya
Please click the following URL to read the full text of the original story:
https://english.alarabiya.net/News/gulf/2022/10/26/Saudi-Arabia-s-support-of-Ukraine-doesn-t-compensate-for-OPEC-cut-US-top-diplomat
--------
US warns South African economic hub may be terror target this weekend
27 October, 2022
One of South Africa's richest suburbs may be the target of a terrorist attack this weekend, according to an alert posted on the website of the US Embassy.
"The US government has received information that terrorists may be planning to conduct an attack targeting large gatherings of people at an unspecified location in the greater Sandton area of Johannesburg, South Africa, on October 29," the embassy said in a statement. "There is no further information regarding the timing, method, or target of the potential attack."
The embassy advised its staff to avoid crowds of people and other large public gatherings in the specified area over the coming weekend.
Many of the biggest companies in South Africa, including financial services group FirstRand Ltd., chemicals company Sasol Ltd., insurer Discovery Ltd., Bank of America Corp., Citigroup Inc., law firms and international auditing firms such as EY have their headquarters in Sandton. There is also a multi-faceted retail space in the suburb, which attracts crowds of tourists and locals on weekends.
Liberty Two Degrees Ltd., the operator of retail properties in Sandton -- also known at the richest square mile in Africa -- said it has taken sufficient security measures in and around the Sandton City mall, Nelson Mandela Square, offices, hotels, and the Sandton Convention Centre.
The South African government is continuously assessing threats and will inform the public of any imminent attack, President Cyril Ramaphosa's spokesman, Vincent Magwenya, said in a statement.
Source: Al Arabiya
Please click the following URL to read the full text of the original story:
https://english.alarabiya.net/News/world/2022/10/27/US-warns-South-African-economic-hub-may-be-terror-target-this-weekend
--------
Blinken, UN's Griffiths discuss global humanitarian needs, Istanbul grain deal
Servet Günerigök
26.10.2022
WASHINGTON
US Secretary of State Antony Blinken met Tuesday with UN Under-Secretary-General for Humanitarian Affairs and Emergency Relief Coordinator Martin Griffiths, during which they discussed global humanitarian needs and the Istanbul grain deal.
The meeting at the State Department addressed "record-high global humanitarian needs driven by a variety of issues, including conflict, climate change, and the pandemic," said State Department Spokesperson Ned Price in a statement.
"The Secretary noted the urgent humanitarian needs in Ukraine stemming from Russia's illegal war, including the need to renew the Black Sea Grain Initiative," said Price, referring to the deal that was brokered by the UN and Türkiye to get out grain from Ukrainian ports.
Türkiye, the UN, Russia and Ukraine signed an agreement in Istanbul on July 22 to resume grain exports from three Ukrainian Black Sea ports which were paused after the start of the Russia-Ukraine war in February.
The parties are currently negotiating a possible extension and expansion beyond a Nov. 19 deadline to include Russian grain and fertilizer exports.
The two men also discussed the crises in Afghanistan and Ethiopia as well as the vital need to prevent a deadly famine in Somalia.
Source: Anadolu Agency
Please click the following URL to read the full text of the original story:
https://www.aa.com.tr/en/americas/blinken-uns-griffiths-discuss-global-humanitarian-needs-istanbul-grain-deal/2720850
--------
Arab World
Bahrain's incarcerated clerics urge Pope to reject injustice, push for reforms ahead of visit
26 October 2022
A group of incarcerated Bahraini Shia Muslim clerics has urged Pope Francis to condemn the injustice and repressive policies of the ruling Al Khalifah regime and push for reforms in the Persian Gulf kingdom ahead of his visit early next month.
In a statement, the scholars said in Bahrain "the motto of tolerance and coexistence is raised for everyone except for its own people," reminding Pope Francis that he is visiting a country "where justice and charity are widely prescribed; but injustice and aggression are practiced in reality."
"The Bahraini nation constitutes people who have either lost their sons or loved ones, grief-stricken mothers as well as injured, imprisoned, persecuted, and exiled political opponents. International human rights organizations have recorded a long list of violations against Bahraini people," the statement read.
"Reforms, justice, and human dignity are the common goals of all heavenly messages, and Abrahamic religions categorically rebuff injustice and corruption. These are the goals that the Bahraini nation has long sought to achieve and have made enormous sacrifices for."
"We expect the head of the Catholic Church to speak the truth and field calls for faith and common sense when he visits Bahrain between November 3 and 6. History shows that Muslims and non-Muslims have co-existed in peace in Bahrain," the statement noted.
Pope Francis is scheduled to travel to Bahrain within the next few weeks at the invitation of the country's civil and ecclesial authorities.
He will visit the capital Manama and the city of Awali "on the occasion of the Bahrain Forum for Dialogue: East and West for Human Coexistence."
Demonstrations have been held in Bahrain on a regular basis ever since a popular uprising began in mid-February 2011.
The participants demand that the Al Khalifah regime relinquish power and allow a just system representing all Bahrainis to be established.
Manama, however, has gone to great lengths to clamp down on any sign of dissent.
Earlier this month, a London-based human rights organization said Bahraini courts had convicted and sentenced four anti-regime activists to death following unfair trials and based on confessions coerced through torture and ill-treatment.
The Bahrain Institute for Rights and Democracy (BIRD) said in a 61-page report titled "The Court is Satisfied with the Confession': Bahrain Death Sentences Follow Torture, Sham Trials," that Bahraini courts routinely violated the defendants' rights to fair trials, including the right to legal counsel during interrogation, the right to cross-examine prosecution witnesses, and through reliance on secretly sourced reports.
The report went on to note that much of the torture and ill-treatment occurred in two locations – the Criminal Investigation Directorate of the Ministry of Interior, which is housed in a compound in the Adliya district of Manama, and the Royal Academy of Policing, located adjacent to Bahrain's notorious Jau Prison.
BIRD called on Bahrain's King Hamad bin Isa Al Khalifah to commute the death sentences for all individuals, starting with those convicted on the basis of confessions extracted under torture or ill-treatment.
Source: Press TV
Please click the following URL to read the full text of the original story:
https://www.presstv.ir/Detail/2022/10/26/691625/Detained-Shia-clerics-urge-Pope-Francis-to-reject-injustice,-push-for-reforms-in-Bahrain
--------
Lebanon signs maritime border deal, Israel expected to follow suit
27 October, 2022
Lebanese President Michel Aoun on Thursday signed a letter approving a landmark US-brokered agreement laying out the country's maritime boundary with Israel, Lebanon's top negotiator told reporters.
Israel was set to follow suit in approving the deal, which marks a diplomatic departure from decades of hostility, later in the day.
The agreement opens the way for offshore energy exploration and removes one source of potential conflict between Israel and Lebanese Hezbollah and could help alleviate Lebanon's economic crisis.
Speaking from the presidential palace, negotiator Elias Bou Saab said the agreement marked the beginning of "a new era" and that the letter would be submitted to US officials at Lebanon's southernmost border point of Naqoura later on Thursday.
Hailed by all three parties as a historic achievement, the deal will be signed separately in Jerusalem by Israeli Prime Minister Yair Lapid following his cabinet's approval.
Asked what happens in case of a violation by either of the sides, which remain technically at war, US envoy Amos Hochstein said the US would remain a guarantor to help resolve any disputes.
"If one side violates the deal, both sides lose," Hochstein told reporters.
Source: Al Arabiya
Please click the following URL to read the full text of the original story:
https://english.alarabiya.net/News/middle-east/2022/10/27/Lebanon-president-signs-deal-laying-out-maritime-boundary-with-Israel
--------
Confidence vote on new Iraq government set for October 27
26 October, 2022
Iraqi lawmakers are due to meet Thursday for a confidence vote in the new Iraqi government, an official statement said.
Prime minister-designate Mohammed Shia al-Sudani was chosen earlier this month to form a new government following months of infighting between key Shia Muslim factions.
A statement Wednesday from the presidency of Iraq's parliament said the vote was set to begin at 1100 GMT on Thursday.
Sudani and his cabinet need an absolute majority from the 329-seat body.
The confidence vote had been initially planned for last Saturday but was postponed amid haggling over the allocation of cabinet posts, according to lawmakers.
Sudani's nomination on October 13 raised hopes of an end to a year of political deadlock since Iraq's last election.
The movement of populist cleric Moqtada al-Sadr, Sudani's rival in Iraq's majority Shia camp, has said it will not join the new government.
But the premier-designate has the backing of the Coalition for the Administration of the State, which includes the Coordination Framework, an alliance of powerful pro-Iran Shia factions that hold 138 out of 329 seats in parliament.
Other members include a Sunni grouping led by parliament speaker Mohammed al-Halbussi, and two key Kurdish parties.
Source: Al Arabiya
Please click the following URL to read the full text of the original story:
https://english.alarabiya.net/News/middle-east/2022/10/26/Confidence-vote-on-new-Iraq-government-set-for-October-27
--------
Canada Repatriates Four ISIS-Linked Women and Children from Syrian Camps
26 October, 2022
Canada has repatriated two women and two children from camps in Syria holding family members of suspected ISIS extremist group, and charged one with supporting terrorism, officials said Wednesday.
This followed years of pressure on Ottawa – which long refused for security reasons to repatriate as many as 50 Canadians believed to be held in the camps, according to Human Rights Watch – to bring them home.
Including the latest four, only seven have returned to Canada.
Oumaima Chouay, 27, was arrested upon her arrival in Montreal overnight, according to federal police, while Kimberly Polman, 50, was briefly detained when she landed Wednesday morning and released, her lawyer told AFP.
Chouay had been the subject of an investigation since 2014 by the Integrated National Security Enforcement Team, Canada's counter-terrorism squad.
She faces four charges, including leaving Canada to join a terrorist group and participating in its activities.
"It is alleged that she participated in terrorist activities in the name of the [Islamic State,]" RCMP Inspector David Beaudoin told a news conference.
Chouay was taken prisoner by the Syrian Democratic Forces in November 2017 and held at the Roj camp in Syria, he said.
Polman, who was said to be in poor health, spent three years in a detention camp after travelling in 2015 to Syria to marry an ISIS fighter, which she said later publicly that she regretted.
Authorities were expected to seek a peace bond or court order requiring her to remain on good behavior, said her lawyer Lawrence Greenspon.
No information about the two children was released.
In a statement, Canada's foreign ministry thanked the Autonomous Administration of North and East Syria as well as the United States for their help in the repatriations.
Western countries have faced a dilemma over how to handle their citizens detained in Syria since the end of military operations against ISIS there in 2019.
Thousands of extremists decided to join the group as fighters, often taking their wives and children to live in the caliphate declared in territory conquered in Iraq and Syria.
In 2020, Ottawa repatriated a five-year-old orphaned girl from Syria, after her uncle took legal action against the Canadian government. Another child and her mother were also reportedly repatriated in 2021.
Source: Al Arabiya
Please click the following URL to read the full text of the original story:
https://english.alarabiya.net/News/middle-east/2022/10/26/Canada-repatriates-four-ISIS-linked-women-and-children-from-Syrian-camps
--------
Streaming platforms key facilitators for young Saudi talent: media group CEO
FAHAD ABULJADAYEL
October 26, 2022
RIYADH: Streaming platforms rely on user-generated content, and Saudi talents are taking full advantage of them.
According to Jomana Al-Rashed, chief executive officer of Saudi Research and Media Group, a greater content can reach a wider audience.
She said: "Content is king, and distribution supports the traveling of that content."
In Saudi Arabia, several cases have shined through streaming platforms such as YouTube, Snapchat, and Instagram.
Among those is Arabic podcast and documentaries platform Thmanyah. Its productions include "Fnjan," a talk show with more than 1.6 million average monthly listeners, "Swalif Business," "Socrates," and "Things That Changed Us."
In July 2021, SRMG announced the acquisition of a 51 percent controlling stake in Thmanyah.
Speaking at the Future Investment Initiative forum in Riyadh, Al-Rashed said: "Thmanyah was created eight years ago as a startup by a young Saudi talent leveraging audio content and was acquired by the group at a very high valuation."
She noted that artificial intelligence and data was the way forward.
Source: Arab News
Please click the following URL to read the full text of the original story:
https://www.arabnews.com/node/2188531/business-economy
--------
Saudi Arabia funds medical care for amputees in Yemen
October 27, 2022
RIYADH: The King Salman Humanitarian Aid and Relief Center (KSRelief) has continued backing medical services for amputees at Yemen's Artificial Limbs Center.
During September, the center in Aden offered 619 different services for 204 patients who lost their limbs.
The services included manufacturing and rehabilitating artificial limbs for 48 patients and delivering physiotherapy sessions to 156 people, reported the Saudi Press Agency (SPA).
Source: Arab News
Please click the following URL to read the full text of the original story:
https://www.arabnews.com/node/2188811/saudi-arabia
--------
Israel attacks Syrian capital with missiles in new act of aggression
27 October 2022
The Israeli military has launched a missile attack against targets near the Syrian capital, Damascus, the third such act of aggression in a week.
Citing a military source, Syria's official SANA news agency reported that the Israeli missile assault targeted areas in the vicinity of Damascus "from the direction of the occupied Palestinian territories" at around 00:30 local time on Thursday.
Syrian air defenses downed most of the Israeli missiles, according to the report.
The attack, it added, caused no casualties but inflicted material losses.
The attack follows daytime airstrikes on Monday targeting military posts in the suburbs of Damascus which injured a Syrian soldier and damaged property.
The barrage of rockets was reportedly fired from the northern part of the occupied Palestinian territories.
Also on October 21, a similar strike near the Syrian capital caused property damage.
Israel frequently violates Syrian sovereignty by targeting military positions inside the country, especially those of the resistance movement Hezbollah, which has played a key role in helping the Syrian army in its fight against foreign-backed terrorists.
The Tel Aviv regime mostly keeps quiet about its attacks on Syrian territories, which many view as a knee-jerk reaction to Syrian government's increasing success in confronting terrorism.
Source: Press TV
Please click the following URL to read the full text of the original story:
https://www.presstv.ir/Detail/2022/10/27/691652/Syria-repels-Israeli-airstrike-on-Damascus-suburbs
--------
Pakistan
Sharif, Saudi crown prince vow to take ties to new heights
October 26, 2022
RIYADH: The prime minister and members of his entourage held a meeting with Mohammed bin Salman, crown prince of Saudi Arabia, in the capital of Riyadh wherein they agreed the two countries have reached new heights in relations, state-owned Radio Pakistan reported.
The two governments reviewed the entire gamut of the bilateral relationship and reaffirmed their commitment to further strengthen the bond between Islamabad and Riyadh.
Speaking on the occasion, Shehbaz Sharif thanked the host nation for extending assistance to Pakistan during the recent floods, particularly for establishing the air bridge between Pakistan and Saudi Arabia to provide assistance to flood victims.
"We are extremely grateful to our brotherly countries and friendly countries, including the Kingdom of Saudi Arabia and my very respected brother, Crown Prince Mohammed bin Salman, who created an air bridge between Saudi Arabia and Islamabad and Karachi, sending food items, tents and other very important items for flood-affected people," Sharif said, according to Arab News.
The crown prince termed the fraternal ties "very important" for the two countries, as well as for the Middle Eastern region and the rest of the world.
Sharif is in the Kingdom to attend the sixth edition of the Future Investment Forum (FII). He also addressed the summit in Riyadh on Tuesday, highlighting the importance his government attaches to facilitating the participation of youth in becoming agents of change in the field of technology.
He invited the international community to benefit from the experience of Pakistan's trained information technology professionals. He also underlined his government's resolve to facilitate investors looking to do business in Pakistan.
Later in a tweet, Sharif said he had an "excellent meeting" with the crown prince. He said the two nations agreed to upgrade and enhance bilateral ties and fraternal bonds to new heights in line with the requirements of changing world.
Source: Pakistan Today
Please click the following URL to read the full text of the original story:
https://www.pakistantoday.com.pk/2022/10/26/sharif-saudi-crown-prince-vow-to-take-ties-to-new-heights/
--------
Military requests govt to conduct 'high-level' probe into Arshad Sharif's gruesome murder
October 26, 2022
RAWALPINDI: Inter-Services Public Relations (ISPR) Director General (DG) Lt. General Babar Iftikhar on Tuesday said the Army has requested the government to conduct a "high-level investigation" into the "accidental" killing of journalist Arshad Sharif in Kenya.
Initially, Kenyan media quoted the local police as saying Sharif was shot dead by police in a case of "mistaken identity".
In an interview with a private TV channel on Tuesday, the DG ISPR was asked to comment on the allegations being made against the institutions, he condoled the journalist's death and called for an inquiry into the killing.
"We have requested the government to hold a high-level investigation so that all these speculations can be put to rest," he said.
"It is very unfortunate that people indulge in allegations and I think a thorough investigation needs to be conducted to answer these allegations. I believe that the probe should not just be carried out into the "accidental" killing but as why Arshad Sharif had to leave Pakistan," the DG ISPR said.
Gen Iftikhar stressed that it was important to find answers to questions regarding who forced Sharif to leave Pakistan, where did he live all this time, and what were the circumstances leading to this incident.
"At all these stages unfortunately, at the end of the day, allegations are leveled and institutions are accused. So this speculation has to be put to rest and it has to come to an end.
"This is why we have requested the Government of Pakistan to take legal action against all these people who are leveling allegations without any evidence," he added.
Sharif's programmes would be remembered as "textbook journalism"
Recalling Sharif's work over the years, the DG ISPR said that the journalist was a "very professional man" and his programmes would be remembered as "textbook journalism".
"This is why it is most upsetting that his accidental death is being used for baseless conversations and finger pointing. We just have to see who is using this unfortunate incident and who is the beneficiary of this thing […] this needs to come to an end," Gen Iftikhar added.
It is pertinent to mention that shortly before the DG ISPR's interview, in a speech at a lawyer convention in Peshawar, PTI chief Imran Khan claimed that the slain journalist was a victim of targeted killing.
Source: Pakistan Today
Please click the following URL to read the full text of the original story:
https://www.pakistantoday.com.pk/2022/10/26/military-requests-govt-to-conduct-high-level-probe-into-arshad-sharifs-gruesome-murder/
--------
Ex Pakistan PM Imran Khan announces long march to Islamabad: 'This jihad will…'
Oct 26, 2022
By Mallika Soni
Former Pakistan prime minister Imran Khan announced a long march to Islamabad, starting Friday calling for early parliamentary elections in the country. In a press conference on Tuesday, Imran Khan said that the protest will be the 'largest' in the country's history and will begin from Liberty Chowk in Lahore.
"I have decided to launch the long march from Friday at 11am from Liberty Square in Lahore to Islamabad. I am marching to press the government to announce elections immediately. This will be the largest long march in the country's history," Imran Khan said.
Terming the protest march as a jihad against the ruling Shehbaz Sharif government, Imran Khan said, "This is something way beyond politics, it is a war for freedom from these thieves that have been imposed over us. This jihad will decide where the country will go."
Imran Khan assured that the protest march will be peaceful, saying, "We are not going to break the law or go into the Red Zone. Whatever will happen in Islamabad, it will be according to what the courts have permitted us."
Source: Hindustan Times
Please click the following URL to read the full text of the original story:
https://www.hindustantimes.com/world-news/imran-khan-pakistan-news-pakistan-politics-shehbaz-sharif-ex-pakistan-pm-imran-khan-announces-long-march-to-islamabad-this-jihad-will-101666770267338.html
--------
Pakistan govt removes ISI member from team formed to probe journalist killing in Kenya
Oct 27, 2022
ISLAMABAD: The Pakistan government on Wednesday removed an Inter-Services Intelligence (ISI) official from a team formed to probe the killing of journalist Arshad Sharif in Kenya on Sunday night. The government did not explain the reason for the move.
The two-member committee, now consisting of officials from the Federal Investigation Agency (FIA) and the Intelligence Bureau (IB), will submit its findings to the interior ministry.
Earlier, PM Shehbaz Sharif had formed a three-member inquiry committee, including the ISI member, that was mandated to travel to Kenya immediately and investigate the circumstances that led to the journalist's killing.
Arshad Sharif, 49, a fierce critic of Shehbaz Sharif-led incumbent coalition government and the country's military establishment, was shot dead in Nairobi on October 23. He was considered a staunch supporter of former prime minister Imran Khan and his Pakistan Tehreek-i-Insaf (PTI) party.
Arshad fled the country in August as multiple sedition cases were registered against him after PTI leader and Imran's top aide Shahbaz Gill made anti-military remarks during his TV talk show.
Source: Times Of India
Please click the following URL to read the full text of the original story:
https://timesofindia.indiatimes.com/world/pakistan/pakistan-govt-removes-isi-member-from-team-formed-to-probe-journalist-killing-in-kenya/articleshow/95107637.cms
--------
Pakistan PM 'extremely grateful' for Saudi flood aid
October 25, 2022
RIYADH: Pakistan PM Shehbaz Sharif on Tuesday thanked Saudi Arabia for delivering aid to his flood-ravaged country.
"We are very grateful to our brothers in Saudi Arabia, and we are deeply obliged for this very timely support," Sharif said at the sixth edition of the Future Investment Initiative in Riyadh.
The prime minister said that heavy rain and floods over the summer have affected 33 million people.
"More than 1,700 people have died, including infants and children. More than 2 million houses have been damaged, and over 3.5 million acres of crops have been lost," he said.
"We are extremely grateful to our brotherly countries and friendly countries, including the Kingdom of Saudi Arabia and my very respected brother, Crown Prince Mohammed bin Salman, who created an air bridge between Saudi Arabia and Islamabad and Karachi, sending food items, tents and other very important items for flood affected people," Sharif said.
He warned of the impacts of climate change and said that countries like Pakistan are particularly vulnerable.
"The northern globe has to appreciate and understand that countries which have become or are becoming victims of climate induced torrential devastation should be supported and given due help in terms of technology, in terms of design, to have strong, robust infrastructure," Sharif said.
The prime minister added that using renewable energies such as solar, hydro and wind power is "the future" in tackling climate change.
"I would like to propose to my brothers and sisters sitting here, from Saudi Arabia and other countries and globally, that here is an opportunity where the world wants to have green energy, where we want to avoid pollution and minimize our problems in the air," he said.
The Pakistan PM praised the FII event, describing it as "wonderful."
He said: "I am telling you very frankly, this wonderful gathering and wonderful arrangement has pleasantly surprised me. It has been a wonderful occasion to be here. I've been to such summits and conferences around the globe. But this is Davos in the desert. It is a remarkable achievement by our Saudi friends, Saudi corporations and Saudi young leadership, headed by Crown Prince Mohammed bin Salman."
The PM used his speech to propose that the FII consider "establishing a satellite center in one of Pakistan's leading universities to explore the rapidly growing Pakistani market and spur innovation among our young population.
Source: Arab News
Please click the following URL to read the full text of the original story:
https://www.arabnews.com/node/2187801/saudi-arabia
--------
Elite have created system that benefits them: Miftah
October 27, 2022
ISLAMABAD: Former finance minister Miftah Ismail on Wednesday said Pakistan's core problem was creation of a system by a few thousand elite families that worked too well for them and delivered too little to others.
He was speaking at a seminar at Quaid-i-Azam University (QAU) arranged by QAU History Society and hosted by the School of Economics.
The seminar was conducted by the Department of History chairperson Prof Ilhan Niaz.
Mr Ismail explained the structural limitations and problems faced by governments over time and the failure of all dispensations to deliver sustainable and just progress.
He said the consequences for Pakistan of this elite bargain are horrendous. Pakistan is falling behind in relative terms to much of the rest of the world. And while the elite obsesses with dollar-rupee rate or current account deficit, meaningful reforms in agriculture, exports, taxation, and education, are neglected or deemed too politically difficult to execute, he said.
The former finance minister called this the "wait till the next year" approach that all governments adopted when confronted with serious questions of policy and reform.
This status quo is not working for the 90pc of the population that does not have enough to eat, safe water to drink, or adequate access to education and healthcare.
Talking about the way forward Mr Ismail argued Pakistan must aggressively raise the Tax-to-GDP ratio to 15pc, invest massively in primary and secondary education, raise female labour force participation, and stop subsidizing elite waste and over consumption.
Fielding questions from students and faculty, Ismail took full responsibility for the collective failure of successive regimes, including that of the PML-N, to tackle the difficult problems.
He asserted that he was touring universities precisely to reach out to the youth and encourage them to understand how damaging and entrenched elite gate-keeping is in Pakistan and highlight the
Source: Dawn
Please click the following URL to read the full text of the original story:
https://www.dawn.com/news/1717076/elite-have-created-system-that-benefits-them-miftah
--------
Imran playing dangerous game by using Arshad Sharif's killing for petty politics: PM
October 26, 2022
ISLAMABAD: Prime Minister Shehbaz Sharif on Wednesday said that Imran Khan was playing a "dangerous game" by using senior journalist Arshad Sharif's killing for petty politics and casting aspersions on the state institutions.
"Imran Niazi is playing a dangerous game. He is using tragic killing of Arshad Sharif for petty politics and going to the extent of casting aspersions on state institutions," the prime minister wrote on Twitter, prior to concluding his visit to Saudi Arabia where he attended an investment summit, offered Umrah and paid respects at Roza-e-Rasool (Peace Be Upon Him).
The prime minister urged the Pakistan Tehreek-e-Insaf Chairman Imran Khan to be patient and wait for findings of Judicial Commission instead of resorting to the baseless allegations.
On Tuesday, the prime minister had decided that Arshad Sharif's killing in Kenya would be probed by a high level judicial commission for what the government would request the Islamabad High Court to designate a judge for the purpose.
He also assured the nation for a transparent probe into the tragic incident and bringing forth the facts to the nation.
Earlier in the day, acting on the directives received from the office of the prime minister, the Ministry of Interior constituted a two-person team to "ascertain the facts" related to the ghastly murder of anchorperson and outspoken government critic Arshad Sharif in Kenya.
The team includes Omar Shahid Hamid, deputy director general of Intelligence Bureau (IB), and Athar Wahid, director of the Federal Investigation Agency (FIA).
Prime Minister Shehbaz Sharif had on Tuesday announced formation of a judicial commission (JC) for an independent judicial investigation into the assassination of Arshad Sharif, an outspoken and professional journalist who was shot and killed by Nairobi police in Kenya on Sunday, and promised to share findings of the investigation with the public.
Source: Pakistan Today
Please click the following URL to read the full text of the original story:
https://www.pakistantoday.com.pk/2022/10/26/imran-playing-dangerous-game-by-using-arshad-sharifs-killing-for-petty-politics-pm/
--------
South Asia
Afghanistan Labelled 'Least Secure' Country in the World
By Saqalain Eqbal
26 Oct 2022
Afghanistan was ranked as the "least secure" country in the world by Gallup's Law and Order Index, which evaluated 120 countries based on their people's sense of safety.
According to the index comprising the most recent results of this institute's research, which was released on Wednesday, October 26, Afghanistan was ranked as the least secure for people among 120 countries, with a score of 51, while Singapore was rated as the most secure, with a score of 96.
The index is a composite figure based on Gallup World Poll questions about whether people trust their local police, feel safe in their communities, or have been victims of theft or assault in the previous year. Higher scores indicate that a country's citizens are more secure.
Afghanistan's score in 2021, albeit low, was an improvement over its previous result in 2019, which was 43 according to Gallup's survey. The surveys conducted by Gallup in Afghanistan in 2021 were conducted when the US withdrew its troops and the Taliban completed its occupation of the country in August.
On August 15, 2021, the Taliban took over Kabul and the republican order was fully overturned. Since the Taliban's militants' presence in Afghanistan was the main reason for insecurity prior to their invasion, there was a considerable reduction in violence and unrest as soon as they arrived.
According to Gallup's index, Afghanistan is the country in which the people are "least likely" to feel safe while walking at night alone.
Afghanistan has also retained its position in the Global Peace Index for five years as the world's "least peaceful" country.
Source: Khaama Press
Please click the following URL to read the full text of the original story:
https://www.khaama.com/afghanistan-labeled-least-secure-country-in-the-world-36474/
--------
Taliban's Monopoly of Power; EU Envoy Says Regional Countries Call for Inclusive Government
By Saqalain Eqbal
26 Oct 2022
Tomas Niklasson, the Special Envoy of the European Union (EU) for Afghanistan, stated at the European Parliament Committee on Foreign Relations meeting that the regional countries advocate and call for the establishment of an inclusive government in Afghanistan and the observance of human rights.
The EU Envoy for Afghanistan delivered a comprehensive speech on the situation of Afghanistan in the European Parliament's meeting in the Belgian capital, Brussels, held on Tuesday, October 25.
The formation of an inclusive and representative administration in Afghanistan following the Taliban takeover has been demanded in the unilateral statements of regional countries and in other meetings of the regional groupings.
"The call for an inclusive government in Afghanistan is again a feature in principle that regional countries support, and again we see this referred to in various declarations and statements. Iran and Tajikistan are probably the most outspoken among the immediate neighbors underlying the importance of ethnic and religious communities such as Tajiks, Hazaras, and Shias," Niklasson said.
Other countries and international organizations have already criticized the caretaker administration of the Taliban, saying it is inadequately comprehensive. They have emphasized the imperative of taking inclusivity into account in governance and claimed that this is the recipe for Afghanistan's long-term stability.
The Taliban have claimed time and time again that all ethnic groups and minority representatives have a stake in their caretaker government, which the group sees as inclusive.
Source: Khaama Press
Please click the following URL to read the full text of the original story:
https://www.khaama.com/talibans-monopoly-of-power-eu-envoy-says-regional-countries-call-for-inclusive-government-23636/
--------
Taliban Member Gunfire Kills and Injures 2 Girls in Northwestern Afghanistan
By Saqalain Eqbal
26 Oct 2022
Local sources in the Badghis province of northwest Afghanistan said that a 12-year-old girl was killed and another girl was injured as a result of gunfire from a Taliban military member.
According to the source, the Taliban member shootings killed the girl in the Qadis district of Badghis province on Tuesday afternoon.
Local Taliban administration officials confirmed the shooting of the Taliban member and its aftermath while claiming that it occurred "by mistake."
The spokesman for the Taliban governor in Badghis province, Ahmad Jan Hanzala, said that a mistaken, careless, stray shot by one of the Taliban military forces killed a girl named Fatema and injured another girl named Shaima.
The health authorities at the Badghis Provincial Hospital also report the transfer of a girl's body and the injury of another girl to their facility, stating that the injured girl was hit in the abdomen and is in good condition.
The fact that similar situations have happened before should be highlighted. The Taliban government forces have been criticized for irresponsible gun use in some of these incidents.
A grenade belonging to Taliban members accidentally exploded in the Faryab province of northern Afghanistan last month, killing one person and injuring four others, including women and children.
Source: Khaama Press
Please click the following URL to read the full text of the original story:
https://www.khaama.com/taliban-member-gunfire-kills-and-injures-2-girls-in-northwestern-afghanistan-56743/
--------
Experts: 'US failure in Afghanistan years in the making'
ALI YOUNES AND RAY HANANIA
October 26, 2022
CHICAGO: The US government and military lacked the "will and the skill" as well as clear goals during its war in Afghanistan that ultimately led to its withdrawal and the Taliban's return to power.
These are the views of panelists who were participating in a webinar of the US Institute for Peace — an organization of the American government — tasked with conflict prevention and resolution around the world.
They said the US government had no clear idea of how to end the war in Afghanistan after it invaded in 2001. They argued that the failure to engage with the Taliban early on was because of the deeply entrenched thinking of military and political leaders whose objectives were limited to achieving a "zero-sum victory" and drive the Taliban out of power.
The US government had spent trillions of dollars on the Afghanistan war and reconstruction effort but still failed to achieve an inclusive and durable political settlement to the conflict, according to the USIP panelists.
The US invaded Afghanistan in October 2001 in the aftermath of September 11 with the objective to drive the Taliban out of power after they refused to hand over members of the Al-Qaeda terrorist group who were identified as responsible for the New York attacks.
In August of 2020, US civilian and military forces hastily withdrew from Kabul and other parts of Afghanistan culminating in the Taliban taking power in the country.
The US held direct peace negotiations with the Taliban in Doha, Qatar, that led to the signing of an agreement in 2020 stipulating the withdrawal of foreign troops from Afghanistan and the start of intra-Afghan talks to end the violence and achieve reconciliation.
According to Tamanna Salikuddin, director, South Asia Programs at the USIP, and a former American government official who worked in Afghanistan, one of the key mistakes of the US was that it did not see a need to negotiate. "The real failure in Afghanistan was not to engage with the Taliban early on," she said.
Salikuddin said the US government's political and military branches did not appear to understand each other's plans and priorities on the end goals in Afghanistan.
Agreeing with Salikuddin, Christopher Kolenda, a retired US army colonel and an adjunct senior fellow at the Center for a New American Security, said the American government lacked a doctrine on how to deal with Afghanistan after the invasion.
He said the Taliban had two factors in their favor — the external actors that facilitated their logistics and bases in neighboring regions, and considerable internal support.
Added to that, he argued, the US-supported Afghan government had failed to win the battle of legitimacy against the Taliban inside the country. "And because of these two factors we started drifting toward failure even though we believed we were being successful," he said.
"The US government lacked both the will and the skill to pursue a political settlement in Afghanistan similar to Vietnam and Iraq," he said.
Masoom Stanekzai, a former intelligence and defense minister of the US-backed Islamic Republic of Afghanistan, argued that regional and international conflicts contributed to the current situation in the country.
He said that Afghan society was historically conservative but never radical. This changed with the Soviet invasion of Afghanistan in the 1980s and US support for the Mujahedeen which led to the gathering of extremist groups inside the country.
Stanekzai said the US conducted its war on terror by excluding regional actors like Pakistan, who were important role players but often "played a double game during the years of the US presence in Afghanistan."
He said Afghan government officials had met with Pakistan's leaders over the span of two decades but there were no positive and tangible results from these talks that could assist in stabilizing Afghanistan. He attributed this failure to Pakistan seeing the warming of ties between the US and India as a threat to its interests in Afghanistan.
In addition, the Afghan government was hampered by internal and inherent weaknesses that contributed to the failed efforts to bring the situation in the country under control.
Addressing the inherent weakness of the US strategy in Afghanistan, Kolenda said "the US has no way of thinking about war termination beyond decisive zero-sum victory."
Source: Arab News
Please click the following URL to read the full text of the original story:
https://www.arabnews.com/node/2188281/world
--------
Afghans' lives have become 'unbearably hard' due to rise in poverty: WFP
October 27, 2022
Taliban rule in Afghanistan has escalated levels of poverty and unemployment in the war-ravaged country resulting in the lives of Afghans becoming "unbearably hard," said World Food Programme (WFP) in a statement.
Highlighting the country's food insecurity, the World Food Programme tweeted on Wednesday and stated that the majority of the population is in dire need of humanitarian assistance, Khaama Press reported.
"Over half of the population of Afghanistan is suffering from hunger and immediately needs assistance," WFP said, adding that it has supported over 10 million women through livelihood support and capital creation.
Moreover, the poverty rates in Afghanistan have climbed to 97 per cent as per UN reports and nine out of ten persons cannot afford enough food, reported Khaama Press.
The World Food Program estimated that nearly 19 million Afghans face food insecurity on World Food Day which was observed on October 16. Amid the Ukraine war, the World Food Programme has called for USD 1.1 billion to continue delivering monthly food and nutritional assistance for the next six months to 15 million acutely food-insecure people in Afghanistan.
World Food Programme (WFP) and the United Nations Office for the Coordination of Humanitarian Affairs (UNOCHA) in Afghanistan condemned the ongoing economic crisis in Afghanistan as people in the country are on the brink of starvation and facing poverty.
In a tweet, OCHA in Afghanistan wrote, "19 M people are facing food insecurity, 25M people are living in poverty, 5.8M people are in protracted internal displacement, thousands of houses damaged by floods and earthquakes," expressing concerns about the plight of Afghans.
"To survive the winter, they require food, nutrition support, warm clothing & a roof over their heads," tweeted OCHA.
Meanwhile, the World Food Programme has also raised concerns about the economic crisis in Afghanistan.
"The economic crisis wiped out jobs, salaries & livelihoods across Afghanistan, helping families & communities support themselves is more important than ever," wrote WFP on Twitter.
Source: Business Standard
Please click the following URL to read the full text of the original story:
https://www.business-standard.com/article/international/afghans-lives-have-become-unbearably-hard-due-to-rise-in-poverty-wfp-122102700070_1.html
--------
Southeast Asia
Indonesia, OIC states to create forum for global consultative assembly
SHEANY YASUKO LAI
October 26, 2022
JAKARTA: Indonesia and more than 12 member states of the Organization of Islamic Cooperation agreed on Wednesday to create a forum for a global consultative assembly aimed at strengthening solidarity among Muslim countries in the face of current uncertainties.
On Oct. 24 to 26, Indonesia hosted the International Conference of Speakers of Consultative Assembly, Shoura Council or Other Similar Names of the Organization of Islamic Cooperation Member States.
The conference in Bandung, West Java, was attended by leaders of parliament and consultative bodies of 15 OIC member states, as well as representatives of the Parliamentary Union of the OIC Member States (PUIC) and the Muslim World League.
Delegations arrived from Saudi Arabia, Pakistan, Bahrain, and Malaysia, among others.
The formation of the Forum for World Consultative Assembly was announced during the closing ceremony by Bambang Soesatyo, speaker of the People's Consultative Assembly in Indonesia.
Soesatyo said: "We are forming the Forum for World Consultative Assembly … to tackle world challenges that are of our collective interest, including matters pertaining to humanity, natural resources, environment, justice, women's roles, and the young generation.
"It is necessary for us to collectively strengthen the position of the OIC to improve the collective bargaining position of Islamic countries in the face of global uncertainties … and to support and commit to solidarity between nations to tackle the various problems faced collectively or specifically by Muslim communities in different parts of the world," he added.
Participants also agreed to form relevant committees to work out more details about the forum's vision, mission, and programs.
The significance of the forum was in strengthening cooperation within the OIC, Dr. Luthfi Assyaukanie, international relations lecturer at Paramadina University in Jakarta, told Arab News.
"Our world is changing rapidly. There are various important issues — from health, through security and climate change, to new technological challenges — which need to be discussed at a higher level," he said.
"The formation of this forum is important in strengthening cooperation between OIC countries, especially amid uncertain geopolitical and economic conditions."
Source: Arab News
Please click the following URL to read the full text of the original story:
https://www.arabnews.com/node/2188626/world
--------
I initiated Sheraton Move, nominated Muhyiddin as PM, says Hadi
October 22, 2022
PETALING JAYA: PAS president Abdul Hadi Awang said he was the prime mover behind the Sheraton Move in 2020 to shorten the reign of Pakatan Harapan (PH) after the party felt that the ruling coalition was moving to eradicate the special rights of Malays.
The Marang MP said this followed the massive protest in Kuala Lumpur against attempts by PH to ratify the International Convention on the Elimination of All Forms of Racial Discrimination (ICERD).
He said he initiated the move to stop PH's plans by discussing how to oust the coalition with Bersatu president Muhyiddin Yassin.
"After Muhyiddin agreed, I met Umno leaders for this purpose.
"After all three of us came to a consensus, Muhyiddin announced that Bersatu was leaving PH.
"That's when I proposed that he be made the next prime minister," HarakahDaily reported him as saying at an ummah unity event in Kota Bharu last night.
"Umno agreed and the Perikatan Nasional (PN) coalition was formed to replace PH.
"PN was not a backdoor government as Muhyiddin's nomination as prime minister was accepted by the Yang di-Pertuan Agong," Hadi said.
In February 2020 a group of PKR MPs joined forces with Bersatu, Barisan Nasional and PAS in what was called the Sheraton Move to topple the PH government after it had been in power for 22 months.
Hadi said after an Umno leader replaced Muhyiddin last year, Umno wanted PAS to cut ties with Bersatu if the Islamic party wanted the Muafakat Nasional pact to continue.
Hadi reminded the people to choose leaders who could run the nation according to Islamic principles.
Source: Free Malaysia Today
Please click the following URL to read the full text of the original story:
https://www.freemalaysiatoday.com/category/nation/2022/10/22/i-initiated-sheraton-move-nominated-muhyiddin-as-pm-says-hadi/
--------
Malaysia election: Selangor chief minister Amirudin Shari expected to face Azmin Ali in Gombak
October 27, 2022
KUALA LUMPUR: Pakatan Harapan (PH) chairman Anwar Ibrahim has hinted that Selangor chief minister Amirudin Shari might be fielded as a candidate for the Gombak parliamentary seat in the upcoming 15th General Election (GE15).
"That is the duty of Amir (Amirudin), who wants to take care of Gombak. We will send Selangor's main commander to Gombak … but this is not an official announcement … officially will be on Oct 28," he said on Wednesday (Oct 26).
"I am the commander and I can, God willing, defend it (for PH)," Mr Amirudin reportedly told Mr Anwar.
The incumbent Member of Parliament for Gombak, Mohamed Azmin Ali, who was also the senior minister of international trade and industry in the Ismail Sabri Yaakob-led Cabinet, had previously stated his desire to defend the Gombak seat in GE15.
"I have been in Gombak for a long time. The people know me. They know my capabilities and devotion," he was quoted as saying by Free Malaysia Today on Tuesday.
"I'm ready to continue serving the people of Gombak."
He added that he welcomed the challenge of any candidate for the seat, adding that it was part of the democratic process.
Separately, Mr Azmin claimed that Mr Anwar has decided to contest in Tambun, Perak because he is afraid of being rejected by Malay voters in Gombak.
"He (Mr Anwar) left Port Dickson to (want to) contest in Gombak. However, he is running to Tambun," Mr Azmin was quoted as saying by Free Malaysia Today at a Perikatan Nasional (PN) event on Wednesday.
"Gombak has a Malay majority, and because Malays will not accept someone who is power-hungry, he is running to an area that has fewer Malay voters," he reportedly said.
Mr Azmin has held the Gombak parliamentary seat for three terms, which he won under the Parti Keadilan Rakyat (PKR) ticket. He is currently with Bersatu, a component party of the PN coalition.
In September, Mr Anwar said that he would pick areas held by "traitors" to send a message that treachery in politics is not acceptable. Gombak was reportedly among the constituencies being looked at.
"Honestly, I have not decided on the choice of the seat to contest but I will certainly consider a seat held by a 'traitor' of PKR and PH", he was quoted as saying by Bernama during an event with journalists on Sep 28.
Although he did not reveal which seat he would be contesting in at that time, he did not rule out the Gombak parliamentary seat, if the party leadership decides he should.
However, last Thursday, he announced that he would contest in the Tambun parliamentary seat, previously held by former Perak chief minister Ahmad Faizal Azumu.
"Perak will be the frontline of our battle during these upcoming polls, and that's why I will be contesting in Tambun," Mr Anwar said during a PH event launching the coalition's manifesto last Thursday.
Last Thursday, the Election Commission (EC) announced that Malaysia would hold GE15 on Nov 19. Nomination Day will be on Nov 5, while early voting is set to be held on Nov 15.
More than 21 million people will be eligible to cast their votes during the elections which are estimated to cost RM1.01 billion (US$213 million).
In a press conference on Wednesday, Mr Anwar, who is PKR president, and his deputy Rafizi Ramli unveiled seven candidates who will be fielded by the party.
Several candidates are professionals who are making their political debut in the federal polls.
They included religious educator Nik Omar who is the son of the late Parti Islam Se-Malaysia's (PAS) spiritual leader Nik Abdul Aziz Nik Mat, spinal medical expert Noraishah Mydin Haji Abdul Aziz who is with Universiti Malaya, former state secretary Zainal Azman Abu Seman, Universiti Malaya lecturer Professor Hasan Basri Awang Mat Dahan, and PhD candidate Fathin Amelia Fazlie.
When explaining how PKR selected the candidates, Mr Rafizi said that the party wanted to address the wishes of the electorate to see fresh faces as well as professionals, rather than "full-time politicians".
Source: Channel News Asia
Please click the following URL to read the full text of the original story:
https://www.channelnewsasia.com/asia/malaysia-gombak-selangor-tambun-perak-ge15-pru15-azmin-ali-anwar-ibrahim-contest-candidate-3028021
--------
In An Indian Kurta And Shalwar Outfit Syed Saddiq 'Raps' Political Message Of Equality In Deepavali Clip
K. Parkaran
October 24, 2022
PETALING JAYA: Attired in an Indian Kurta and Shalwar outfit complete with a Dupatta (shawl), Muda chief Syed Saddiq Syed Abdul Rahman took advantage of the Hindu Deepavali festival by doing a rap song with a popular group, sending a political message for the general election (GE15) next month.
In the bilingual video, which has gone viral, the former minister took to "rapping" his reply to the plight of Indians in Malaysia raised by V Vikneswaran, S Jiven and P Vishnu, in the song.
Among the questions posed to Syed Saddiq by Vikneswaran included why Indian students who worked hard were having difficulties obtaining places in public universities and jobs, and if this had to do with their skin colour.
In his reply, Syed Saddiq rapped to say these were all "old politics", now disguised as "Keluarga Malaysia" which claimed that everyone was equal.
"We can fight the old politics together. Let's unite and make Malaysia stronger and do away with race-based politics and replace it with a needs-based approach. Let's oppose racism and discrimination, with no one left behind," he rapped.
Jiven then steps in by asking the "Muar Boy" to snap back to reality as he came from a privileged family. He further said to get independence, Malaysians had fought together but after that, the Indian community had been facing a host of problems.
Syed Saddiq replied that he was from a middle-class family but admitted that he had obtained the privilege to enter university. "We are now hustling to get equal opportunity and my dream for Malaysia is to compete globally. Those having problems we will help, and those in power, please help them."
He then breaks into Tamil saying education is vital for everyone and urges all to work together to achieve it.
Another rapper, Vishnu, then butts in saying nothing much is new with Indians in Malaysia still referred to as "pendatang" (immigrants) with some not having identity cards even after 65 years. "The trees have been planted but where are the fruits? The quota system is due for review. If you want to change the country, what's your reply?"
Syed Saddiq responded saying it's time for reform in Malaysian institutions, adding that frequent change of governments had weakened and corrupted them. "Make the right choices as old politicians are only thinking of their own pockets. Take them out on Nov 19, so go out and vote."
In the Merdeka video in September, the rappers became famous when their "Bangun" song was referred to as "Budak2 India rap Melayu" (Indian kids rap in Malay) and was well received.
Source: Free Malaysia Today
Please click the following URL to read the full text of the original story:
https://www.freemalaysiatoday.com/category/nation/2022/10/24/syed-saddiq-raps-political-message-of-equality-in-deepavali-clip/
--------
Sabah man, Perak teen now Malaysians as govt loses appeal bid
Ho Kit Yen
October 26, 2022
PUTRAJAYA: A Sabah-born man and a teenager from Perak can finally call themselves Malaysians, after battling several years in the courts to be recognised as citizens.
This comes after the Federal Court dismissed the national registration department's (JPN) and home ministry's bids to appeal against a lower court's decision to grant citizenship to Keningau-born Wong Kueng Hui and a 16-year-old teenager born in Sungai Siput.
Chief Judge of Sabah and Sarawak justice Abang Iskandar Abang Hashim said the authorities' applications for leave to appeal lacked merit.
"Even if we grant (leave to appeal), it has little chance of success," Abang Iskandar said.
Other judges who sat with him were justices Rhodzariah Bujang and Zabidin Diah.
The court made no order as to costs.
Wong initially won his bid for Malaysian citizenship in the High Court in 2019. The court held that Wong was a stateless person and ordered JPN to issue him a MyKad.
Wong's father died when he was 10 years old, while his mother, a foreigner, died seven years later.
On Jan 19, the Court of Appeal in a majority ruling, upheld the High Court's decision.
Wong was represented by lawyer Haijan Omar while Annou Xavier appeared for the teenager and her father.
Senior federal counsel Liew Horng Bing represented JPN and the home ministry.
The teenager, filed for judicial review through her father, Lew Yee Hong, in October 2016 to challenge the government's decision rejecting her citizenship application, and seeking a court order to compel JPN to issue a MyKad to her.
Both the High Court and Court of Appeal ruled in her favour.
Meanwhile, the same court today also heard a 35-year-old woman's leave application to set aside a lower court ruling declaring her not to be a Malaysian citizen.
Abang Iskandar allowed Azimah Hamzah's bid to proceed with her appeal after hearing submissions from her lawyer, Gopal Sri Ram, and senior federal counsel Nik Noor Nik Kar, who appeared for JPN and the home ministry.
The court will hear Azimah's appeal at a full hearing based on a question of law whether a child, whose refugee parents and siblings had subsequently acquired citizenship, is entitled to be registered as a Malaysian under Part II of the Second Schedule to the Federal Constitution.
Azimah's parents became permanent residents here in November 1986 and obtained citizenship pursuant to Article 19 of the Federal Constitution in 2008.
Her eldest sister, who was born outside of Malaysia, obtained citizenship under special circumstances through Article 15A in 2008, while four younger siblings became Malaysians after the parents obtained citizenship.
Azimah, who also wants to be recognised as a Malaysian, contended that she was a stateless person, having no Cambodian citizenship. She has lived her entire life in Malaysia.
Source: Free Malaysia Today
Please click the following URL to read the full text of the original story:
https://www.freemalaysiatoday.com/category/nation/2022/10/26/sabah-man-perak-teen-now-malaysians-as-govt-loses-appeal-bid/
--------
Africa
Algeria jails journalist over 'spreading false news'
26 October, 2022
An Algerian court has jailed a journalist convicted of "spreading false news" in an article about dates allegedly tainted with banned pesticides, his newspaper said Wednesday.
Belkacem Houam was handed a year-long prison sentence, most of it suspended, but he will spend two months behind bars, said his paper, Echorouk.
Houam, whose arrest in September provoked widespread indignation online, will also have to pay a fine of 100,000 dinars (about $710), Echorouk added.
He was detained after reporting there had been an "immediate halt in date exports from Algeria," saying importers had returned 3,000 tons of Deglet Nour dates that were "unfit for consumption."
The Algerian trade and agriculture ministry has denied the affair.
Houam's lawyer Hassen Brahmi said the journalist had been charged with "illicit speculation" and spreading "false information... to provoke a disruption in the market and a sudden and unjustified increase in prices."
Echorouk noted however that "the court cleared him of spreading false news in order to cause price hikes."
The national journalists' union, SNJ, called Houam's arrest "an extreme and highly disproportionate measure which contravenes all texts governing the exercise of the journalistic profession" in Algeria.
More than 100 journalists signed a petition demanding his release.
Source: Al Arabiya
Please click the following URL to read the full text of the original story:
https://english.alarabiya.net/News/north-africa/2022/10/26/-Algeria-jails-journalist-over-spreading-false-news-
--------
17 al-Shabaab terrorists killed in new operation in Somalia
Mohammed Dhaysane
26.10.2022
MOGADISHU, Somalia
The Somali intelligence, backed by international partners, killed 17 al-Shaabab terrorists in a new operation, authorities said on Wednesday.
The operation took place in the small town of Hawadley, 40 kilometers (25 miles) north of the capital Mogadishu, on Tuesday night, according to the Information Ministry.
"The operation was conducted by the national intelligence agency along with international partners. Terrorists who gathered in an area under Hawadley were targated and 17 conspirators were killed," the ministry said in a statement.
Several senior members of al-Shabaab, an al-Qaeda-affiliated terrorist group, were among those killed in the operation, the statement added.
The Somali military continues its operations against the terrorist with support of locals and 150 terrorists have been killed in recent operations, the ministry said.
The military intensifies its operations against terror group in central regions, including the Middle Shabelle and Hiran regions.
Somalia has been grappling with security threats for years, with al-Shabaab being one of the main ones in the country.
Since at least 2007, al-Shabaab has waged a deadly campaign against the Somali government and international forces that has claimed thousands of lives.
Source: Anadolu Agency
Please click the following URL to read the full text of the original story:
https://www.aa.com.tr/en/africa/17-al-shabaab-terrorists-killed-in-new-operation-in-somalia/2721674
--------
Nigerians panic over US, UK terror attack alerts in capital
Olanrewaju Kola
26.10.2022
MAIDUGURI, Nigeria
Nigerians expressed worry Tuesday over security alerts recently issued by the US and British embassies warning of a heightened risk of terrorist attacks, especially in the capital Abuja.
Nureni Amodu, an Abuja-based journalist, told Anadolu Agency that most residents are in a panic.
"I avoid traffic like most residents now. It is really frightening. There is panic now in Abuja," he said.
Additional security personnel have been assigned to guard offices of political parties in the capital, said a security source.
Some elementary and secondary private schools have also shut down operations in fear, despite assurances by the authorities, the former head of the National Association of Proprietors of Private Schools disclosed.
The police said in a statement that they have activated a counter-terrorism special operations squad for the nation's capital and will hold a counter-terrorism exercise on Tuesday and Wednesday.
"The extra security measures followed recent alerts by some foreign missions in Nigeria about possible terrorist attacks," said spokesman Olumuyiwa Adejobi.
He said the police will collaborate with other security agencies to ensure the safety of the people in the capital and other parts of the country.
He did not provide further details, however.
The US and British embassies issued the security alerts on Sunday, warning their nationals in the capital to be vigilant.
"You should avoid places where crowds gather, including political meetings, religious gatherings and places of worship, markets, shopping malls, hotels, bars, restaurants, transport hubs (including train networks) and camps for displaced people," said the UK embassy's advisory.
Source: Anadolu Agency
Please click the following URL to read the full text of the original story:
https://www.aa.com.tr/en/africa/nigerians-panic-over-us-uk-terror-attack-alerts-in-capital/2720831
--------
Morocco arrests 5 Daesh/ISIS suspects for planning attacks
Khaled Majdoub
26.10.2022
RABAT, Morocco
Moroccan security forces on Wednesday arrested five Daesh/ISIS suspects for planning attacks in the country.
In a statement, the Central Bureau of Judicial Investigations (BCIJ) said the suspects, aged between 20 and 45, had planned to carry out acts of terrorism, using explosive materials to target security institutions and personnel.
The arrests took place in different locations across the country, including in Kenitra, Sidi Yahya Zaer, Inzegane, Chichaoua, and Casablanca, the statement said.
The BCIJ said the suspects had vowed allegiance to the Daesh/ISIS terrorist group and were training to manufacture explosive devices. It said weapons and ammunition were seized from the suspects' homes.
Source: Anadolu Agency
Please click the following URL to read the full text of the original story:
https://www.aa.com.tr/en/middle-east/morocco-arrests-5-daesh-isis-suspects-for-planning-attacks/2721540
--------
Spanish premier mistakenly calls Kenyan leader 'president of Senegal'
Andrew Wasike
26.10.2022
NAIROBI, Kenya
In televised remarks during an official visit to Kenya on Wednesday, Spain's visiting prime minister mistakenly referred to his host, President William Ruto, as the president of Senegal.
During a press briefing at State House in the capital Nairobi, Pedro Sanchez said that his government will work with Kenya in many areas to strengthen bilateral ties.
"Spain is also a potential ally in many fields, areas, that we can work together with Senegal in order to face the common challenges that our societies are facing," Sanchez said, confusing the East African country for one on the opposite coast.
Sanchez added: "I am very honored to be one of the first international leaders visiting you as the president of Senegal and am really looking forward to working with you and your ministers."
Laughing off the faux pas, President Ruto briefly interrupted Sanchez's speech to correct him.
Sanchez apologized to Ruto before continuing: "I am looking forward to working with you and the ministers. I bring a delegation of established Spanish companies in Kenya that are looking forward to the expansion."
Source: Anadolu Agency
Please click the following URL to read the full text of the original story:
https://www.aa.com.tr/en/africa/spanish-premier-mistakenly-calls-kenyan-leader-president-of-senegal/2721697
--------
Türkiye hails Ghana's role in becoming voice of Africa at UN Security Council
Merve Aydogan
26.10.2022
The Turkish foreign minister on Wednesday commended "Ghana's role in raising the voice of Africa from the seat" of the UN Security Council.
In an article penned for a local media outlet in Ghana, Mevlut Cavusoglu affirmed that the West African country is "an important partner of Türkiye in the region."
"Türkiye and Ghana are partners in promoting effective multilateralism, rules-based international system and sustainable development," he said.
Türkiye, he continued, is "Africa's friend and a strategic partner of the African Union (AU)."
"Our cooperation gained momentum with our observer membership status to the AU in 2005. Since then, we have held three Türkiye-Africa Partnership Summits. The third summit was held on Dec. 16-18, 2021 in Istanbul with broad participation across the continent."
Cavusoglu voiced Türkiye's strong support for Africa's 2063 vision and said it "contributes to the goal's realization."
Citing examples of Türkiye's contribution to Africa's 2063 vision, he said: "Our trade with the continent has surpassed $34,5 billion in 2021. Our investments are over $6 billion."
He went on to say: "We are a partner of Africa in technological development as well. Türkiye hosts the United Nations Technology Bank. The Bank offers opportunities in building and enhancing technology and innovation capacities for African countries."
Türkiye, he said, "believes in 'African solutions to African problems.' We view our relations with the continent and all its friendly countries from a perspective that is based on a win-win approach and mutual benefits."
Cavusoglu cited Türkiye Scholarships for African students as another contribution, saying that Ankara invests "in people-to-people exchanges to strengthen our bonds with Africa."
"So far we have provided over 15,000 Türkiye Scholarships to African students. Around 5,000 African students are currently studying at Turkish universities," he added.
Furthermore, he expressed Türkiye's solidarity with "African brothers and sisters in calling for a fair world and effective international order" through the UN's reform.
"I commend Ghana's role in raising the voice of Africa from the seat of the United Nations Security Council and speaking truth to power. Ghana has played a leadership role in the continent's integration efforts since its independence," Cavusoglu said.
On ties with Ghana, he said Türkiye is "determined to deepen" its cooperation with the West African country.
He further urged the $1 billion bilateral trade volume, set by Turkish President Recep Tayyip Erdogan during his visit to Ghana in 2016, to be reached.
"I believe that the already existing mutual interests between our businesses can make this happen," he said.
Cavusoglu also said Turkish companies in Ghana contribute to its economy and create job opportunities for Ghana's young people.
"During my visit to Ghana, my focus will be on how to create new opportunities for cooperation between Türkiye and Ghana in all areas. I wholeheartedly believe in our mutual conviction to tap into the potential of further advancing our cooperation. I look forward to working resolvedly with my counterparts from Ghana on delivering on this common vision," he said.
Source: Anadolu Agency
Please click the following URL to read the full text of the original story:
https://www.aa.com.tr/en/africa/turkiye-hails-ghanas-role-in-becoming-voice-of-africa-at-un-security-council/2721541
--------
Europe
Vladimir Putin's Chechen warlord Ramzan Kadyrov declares Ukraine war a 'Big Jihad'
October 26, 2022
Vladimir Putin's Chechen warlord Ramzan Kadyrov has declared "Big Jihad" and urged Russian Muslims to fight Ukraine's "demons" and "satanic democracy."
Kadyrov, one of Putin's most fanatical backers, urged his supporters to lay waste to Ukraine and backed calls from Russian allies to wipe cities "off the face of the f—ing Earth."
The twisted henchman — who is head of the breakaway republic of Chechnya — labelled the conflict "the Big Jihad" and wildly claimed Ukraine had been overrun by gay people and Western liberals who wanted to destroy Russia.
"They want to break our Motherland into pieces, humiliate, trample in the dirt and, in the end, defile our faith and culture so that we don't have any identity and not a single family value," Kadyrov said during his sick rant.
"I swear with the Almighty's name, this is the Big Jihad, which we must all take part in and we will not stop.
"We will be killing them wherever they are. No matter who is helping them, America or Europe.
"There is nothing to worry about. They don't have as much means and forces, they will run out soon.
"Our ancestors during World War II had even less.
"They didn't have enough to eat, but they won, because they had spirit and belief."
Kadyrov also vowed that anyone who agreed to take up arms and fight would get to kill "shaitans," an Islamic term for demons.
"The war is for a warrior, there should only be joy that there will be lots of trophies," he raged.
"And there will be lots of shaitans that you will have a joy to destroy.
"We will not capture those shaitans, but we will burn them. We will not stop anywhere.
"Our territory isn't Zaporozhye or Kherson — our territory is Odessa, Kyiv, Kharkiv, all regions, and all of Ukraine.
"This is our Russian territory."
Kadyrov also said he believed Russia was at war with all of the West, not just Ukraine.
"I do not understand those who love the Fatherland only in words. Honestly, I don't understand," he said.
"I don't understand those who don't see the obvious.
"[The West] want to break our Motherland into pieces, humiliate, trample in the dirt and, in the end, defile our faith and culture so that we don't have any identity and not a single family value.
"I use the word 'Satanism' for a reason. In the West, Satanism is openly acting against Russia.
"Satanic democracy is when the rights of atheists are protected, but believers are offended. Or when traditional couples are deprived of children who are transferred to same-sex families. Intentionally same-sex, not by chance.
"In Europe they have swallowed it. They consider it modern, civilized. The more liberated 'below the belt' topic, the better for them. And I see degradation and Satanism in this.
"And I'd rather fight it in the bud than let this abomination envelop our Motherland here.
"Today the state and the president need us."
He launched his latest appeal for men from Russia's Caucasus region – which includes Chechnya — to show more willingness to fight, saying that in 2015 they had rallied in huge numbers in his capital Grozny against cartoons deemed insulting to Islam.
"The same forces that insulted the best of people are now fighting against us in Ukraine, or rather, in our Russia," he said.
But the men who turned out in 2015 are not ready to fight now, he suggested.
"Where are these heroes?
"A self-respecting Muslim will not look for excuses….
"This is Jihad….
"Destroy these shaitans, wherever they are and no matter how well they hide….
"Love your country! Love not only in words."
Kadyrov was backed by leading TV propagandist Vladimir Solovyov, who criticized Putin's commanders for failing to secure Kharkiv and now retreating from invaded Kherson.
"If we hadn't left the Kharkiv area, there wouldn't be a problem in Belgorod," said the state television anchor, usually a Putin favorite.
"The problem now is that we're worrying about our villages being shelled.
"If we'd taken Kharkiv — it's obvious [Ukraine's] main logistics and supply center is there.
"Wipe it off the face of the f—ing Earth if we have to. Warn the civilians, tell them 'You've got 24 hours, 48 hours [to leave]'. After that we begin to destroy the city block by block."
Putin's rhetoric — and those of his henchmen — has become increasingly more desperate in recent weeks.
His invasion of eastern Ukraine was supposed to take a matter of days, but has blown out into a protracted eight-month war.
Russia illegally annexed several Ukrainian regions in the last month but has been forced to flee the key city of Kherson as Kyiv's troops fight back.
Source: New York Post
Please click the following URL to read the full text of the original story:
https://nypost.com/2022/10/26/vladimir-putins-chechen-warlord-declares-ukraine-war-a-big-jihad/
--------
Russia recruiting Afghan commandos trained by US to fight in Ukraine
26th October 2022
London: Afghan commandos who had been trained by Allied forces to fight the Taliban are now being recruited by Russia to fight in Ukraine, a media report said.
Up to 30,000 members of the elite National Army Commando Corps were abandoned by the West when the country fell to the Taliban in August last year, Daily Mail reported.
Now, the US-trained light infantry force that fought side by side with Allied troops for nearly 20 years could be joining Vladimir Putin's savage war effort, the report said.
It is believed the shadowy Wagner Group is behind the recruitment drive, exploiting the jobless commandos.
An ex-official told Foreign Policy: "I am telling you [the recruiters] are Wagner Group. They are gathering people from all over. [The Afghan commandos] would be better used by Western allies to fight alongside Ukrainians. They don't want to fight for the Russians; the Russians are the enemy. But what else are they going to do?"
Many say they have been contacted via WhatsApp and Signal with offers to join the Russian 'foreign legion' in Ukraine.
Senior military and security officials in Afghanistan fear as many as 10,000 soldiers could be tempted to join, because they have "nothing to lose", Daily Mail reported.
Only a few hundred senior officers were evacuated by the US in the dramatic withdrawal from Kabul in August 2021.
Many Afghan soldiers fled to the neighbouring countries while others went into hiding fearing reprisals from the Taliban for their loyalty to the collapsed government and the West.
The commandos were honed by the US Navy Seals and the British SAS, with a staggering 80 billion pound spent on their training by the US.
An ex-security official said their call-up to Ukraine would be a "game-changer" in Putin's faltering war.
Last year, Rep. Michael McCaul had warned abandoning the commandos could prove to be a costly mistake by the US as they could be recruited for adversary armies.
One Afghan ex-commando captain who is now in hiding said he helped his comrades connect with recruiters in Iran.
Source: Siasat Daily
Please click the following URL to read the full text of the original story:
https://www.siasat.com/russia-recruiting-afghan-commandos-trained-by-us-to-fight-in-ukraine-2442902/
--------
Sweden vows to fulfil 3-way NATO accession deal with Türkiye
Dilara Hamit
26.10.2022
After a phone call with the Turkish president on Wednesday, Sweden's new prime minister said his government would comply with a trilateral memorandum on its NATO accession.
Ulf Kristersson said on Twitter that his conversation with Recep Tayyip Erdogan was constructive and that he was looking forward to visiting Ankara soon.
"Constructive phone call with President @RTErdogan Looking forward to visit Ankara soon. My gov will fulfil the trilateral memorandum between Türkiye, Finland, Sweden for #NATO accession," said Kristersson.
Türkiye is monitoring Sweden's commitment to a deal they signed in June on the Nordic country's bid to join NATO, the Turkish president told Kristersson during the call.
In response to a letter from Kristersson on Oct. 19, Erdogan had declared he would welcome a visit to Türkiye by the new Swedish prime minister.
Finland and Sweden formally applied to join NATO in June, a decision spurred by Russia's war on Ukraine.
However, Türkiye, a NATO member for over 70 years, voiced objections to the membership bids, criticizing the two countries for tolerating and even supporting terrorist groups.
The three countries signed a trilateral memorandum of understanding at NATO's June summit in Madrid, which stipulates that Finland and Sweden will not provide support to the PKK/YPG -- the PKK terrorist group's Syrian offshoot -- or the Fetullah Terrorist Organization (FETO), the group behind the 2016 defeated coup in Türkiye.
Source: Anadolu Agency
Please click the following URL to read the full text of the original story:
https://www.aa.com.tr/en/europe/sweden-vows-to-fulfill-3-way-nato-accession-deal-with-turkiye/2721670
--------
Britain calls on Iran to release environmentalist Morad Tahbaz
October 26, 2022
LONDON: The British government on Wednesday called on Iran to release environmentalist Morad Tahbaz, an Iranian-American who also holds British citizenship, after his family said he had been returned to prison.
Tahbaz was arrested in 2018 and sentenced to 10 years in prison for "assembly and collusion against Iran's national security" and working for the United States as a spy.
He was briefly released on furlough in March when two dual nationals, including British-Iranian aid worker Nazanin Zaghari-Ratcliffe, were allowed to leave Iran. In July his lawyer was quoted as saying he had been granted bail.
"The Tahbaz family have confirmed that Morad has been returned to Evin prison by the Iranian authorities," British foreign office minister Tariq Ahmad said in a statement.
Source: Arab News
Please click the following URL to read the full text of the original story:
https://www.arabnews.com/node/2188586/world
--------
URL: https://newageislam.com/islamic-world-news/terror-sponsors-india-ambassador-un/d/128283
New Age Islam, Islam Online, Islamic Website, African Muslim News, Arab World News, South Asia News, Indian Muslim News, World Muslim News, Women in Islam, Islamic Feminism, Arab Women, Women In Arab, Islamophobia in America, Muslim Women in West, Islam Women and Feminism