16 May 2022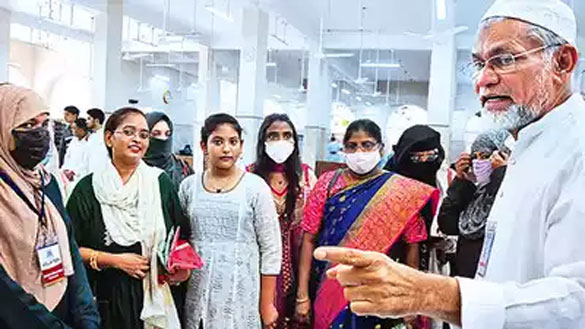 Volunteers explain visitors about Islam at Masjid-e-Azizia
-----
India
• Congress to seek legal opinion for contempt case against Amit Shah's comment on Muslim quota
• Amit Shah's comments on Muslim quota nothing less than hate speech: Shabbir Ali
• Truth about Gyanvapi mosque, Taj Mahal, Krishna Janmabhoomi should come out: RSS leader
• Muslim group wants Congress to field at least one community candidate in RS polls
--------
Africa
• It will be wrong for a Muslim to take over from Buhari– Bishop Wale Oke
• Nigerian Christians will vote against Muslim-Muslim ticket: PFN
• Buhari's Daughter, Zahra, Shares Video Of Saudi Islamic Cleric Warning Muslims Against Jungle Justice When People Insult Prophet Muhammad
• Burkina Faso: Armed Islamists Kill, Rape Civilians
• Imams and pastors must inform congregants about possibility of extremist attacks – Wa West MP
--------
Europe
• Racist Buffalo Killer Labelled London Mayor 'Muslim Invader' In Chilling Manifesto
• Cyclists Gear Up For 60 Mile Challenge To Raise Funds For Islamic Education Centre
• Biden Renews Support for Jordan's Long-Running Role as Custodian of Jerusalem, Al-Aqsa Mosque
• Republican Senate hopeful Mehmet Oz calls far-right rival's comments on Islam 'reprehensible'
• UNSC to Discuss Adjusting Sanctions on Islamic Emirate Leaders
--------
Middle East
• Lebanon Vote Brings Blow For Hezbollah Allies In Preliminary Results
• Palestinians step up pressure on Israel over Abu Akleh killing probe
• First Commercial Flight In 6 Years Leaves Yemen's Sanaa
• Palestinians commemorate 74th anniversary of Nakba amid outcry over funeral attack
• Ethiopian ex-peacekeepers from Tigray arrive in Sudan for asylum
--------
North America
• RepublicanKathy Barnette Who Made Anti-Muslim Comments Surges In US Senate Race
• Reach of Buffalo livestream 'not even comparable' to Christchurch attack
• Fox News Host Confronts Kathy Barnette on Anti-Muslim Tweets
--------
Pakistan
• For US, Pakistan's Become Too Hot To Handle. A Raging Imran Khan Is Only Making It Worse
• Suicide Blast, Gunmen Kill 8 People in Pakistan
• Pakistan ups security for ex-PM Khan over deadly plot claims
• Two Members Of Sikh Community Shot Dead By Terrorists In Pakistan
--------
Arab World
• Grand Mufti Of Saudi Arabia Sheikh Al Al-Sheikh, Ternava Stress On Kingdom's Role In Serving Islam
• Grand Mosque robots answer pilgrims' questions in 11 languages
• OIC calls to protect displaced, refugee families
• Dutch artist Satori headlines Riyadh desert event
• Saudi Civil Defence rescues pet animals trapped in Alkhobar fire
• Saudi Arabia reports 431 new COVID-19 cases, 2 deaths
• WHO renews Saudi food authority role as centre for global cooperation
• KAUST attracts 5 global deep tech startups to Kingdom
--------
South Asia
• Proshanta Kumar Halder, A Bangladeshi, Living Illegally In India, Arrested By ED For Bank Fraud In Own Country
• Former Afghan president Ashraf Ghani invited by Taliban to attend assembly in Kabul
• The Taliban in Ghazni Prevents the Smuggling of Weapons to Pakistan
• WFP Distributes Aid to About 20 Million People In Afghanistan
• Islamic Emirate: Over 130,000 Soldiers Recruited
--------
Southeast Asia
• Malaysia FM Holds Talks With Counterpart From Myanmar Shadow Government
• Tat Meng may not return to Malaysia after successful Korean stint
• 7 judges in the running for 2 top posts
• Analysts mixed on Ismail's future after constitution amendment
• Efforts on to revive flights to Malaysia, Bangkok from Visakhapatnam, says Andhra Minister
Compiled by New Age Islam News Bureau
URL: https://newageislam.com/islamic-world-news/hate-message-harmony-masjid-hyderabad/d/127020
--------
Countering Hate With Message Of Harmony: Masjid-e-Azizia Mosqueof HyderabadOpens Doors To One & All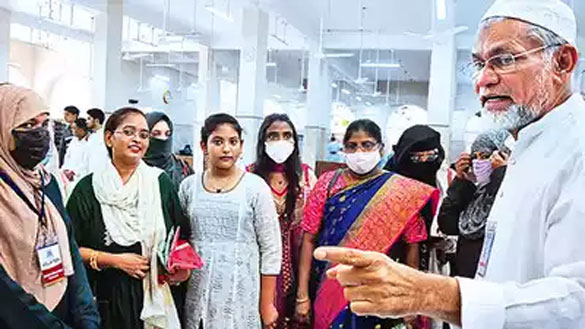 Volunteers explain visitors about Islam at Masjid-e-Azizia
-----
May 16, 2022
Hyderabad: People of different faiths thronged Masjid-e-Azizia at Humayun Nagar on Sunday as it threw open its doors for public, cutting across gender and religion, to take part in a free guided tour of the mosque. The aim was to familiarise people with the place of worship — starting with the Wuzu (ablution), Azaan (call to prayer), Salatul-Jumu'ah (Friday prayer) to performing daily Namaz, among other things.
Apart from Muslims, the gathering included Hindus, Christians and even heritage experts from the city.
The Masjid-e-Azizia committee members along with Jamaat-e-Islami Hind and other volunteers organised the 'discover masjid' programme as part of the interfaith Eid Milap initiative that took place between 11 am to 1.30 pm. Speaking to TOI, Mateen Ahmed, supervising the arrangements, explained that the event stands as an opportunity for an interfaith understanding. "We wanted to show what we do in the masjid and other activities that we follow as part of our religion. This will show what we have in common and understand the meaning behind our practices," Ahmed told TOI.
Irrespective of the religion, people visiting the mosque found the experience 'insightful.' "This experience is an eye-opener for many who misunderstand the religion. I believe communities connecting like this can eradicate issues of disharmony among people of different faiths," Srinivas Rao, a businessman and resident of Masab Tank, said. Another participant, Rajyalakshmi, from Humayun Nagar, lauded the volunteers who conducted the tour seamlessly and by involving everyone. "They were very welcoming. Not just in ushering us but also in giving straight answers to questions," she said. Heritage expert Anuradha Reddy, convenor of the Indian National Trust for Art and Cultural Heritage (INTACH) said she always wanted to visit and understand more about the activities that take place inside a mosque.
The 56-year-old Masjid-e-Azizia happens to be the fourth such mosque that had opened its doors and conducted a guided tour for non-Muslims. "This isn't the only service that this mosque offers to non-Muslims. We also provide interest-free gold loans as collecting interest is banned in Islam. The mosque also houses a clinic that provides free consultation and discounted treatments that several non-Muslims avail," Mateen said.
Source: Times Of India
Please click the following URL to read the text of the original story:
https://timesofindia.indiatimes.com/city/hyderabad/building-bridges-mosque-opens-doors-to-one-all/articleshow/91583307.cms
--------
'Shivling' , 12 Feet By 8 Inches In Diameter, Found In Gyanvapi Well, Claim Hindu Lawyers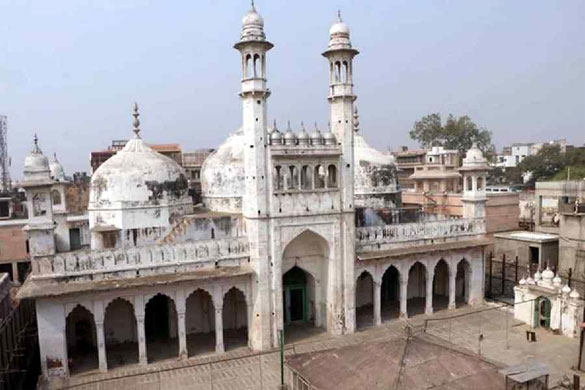 Gyanvapi Masjid Survey concludes. (Photo: PTI)
-----
Monday, May 16, 2022
New Delhi, May 16: The videography survey of the Gyanvapi Masjid complex was completed today, while nearly 65 per cent of the exercise was completed on Sunday.
Heavy security was deployed as the court appointed committee reached the spot to conduct the survey.
Speaking with Aaj Tok/India Today, lawyer, Vishnu Jain said that a Shivling was found inside the well. I will go to civil court to seek its protection, he also said.
The Mosque is located close to the iconic Kashi Vishwanath temple and the local court is hearing a plea by a group of women seeking permission for daily prayers before the idols on its outer walls.
Yesterday, the DM had said that the survey work on Monday will begin at 8 am and all the parties have been directed to remain present.
This is completely an archaeological survey work, since the advocates were not familiar with the survey work, the work took some time," Madan Mohan Yadav, the counsel for the Hindu side in the case, had said on Sunday.
The survey was stalled last week amid objections by the mosque committee, which claimed that the advocate commissioner appointed by the court for the survey did not have the mandate to film inside the premises.
In his order on Thursday last, District Civil Judge (Senior Division) Ravi Kumar Diwakar had turned down a plea by the mosque committee to replace Ajay Kumar Mishra, who was appointed advocate commissioner by the court to survey the Gyanvapi-Gauri Shringar complex.
The judge also appointed two more advocates to help the court commissioner with the survey and said it should be completed by Tuesday.
The district court had said that locks should be broken if the keys are not available to access certain areas of the complex for the survey. It also asked district authorities to register FIRs if the survey was not allowed.
The Supreme Court had on Friday last refused to grant an interim order of status quo on the survey. The top court, however, agreed to consider listing the plea of a Muslim party against the survey.
Advocate Yadav had said the three court-appointed advocate commissioners, five lawyers each from the two sides and an assistant besides a videography team will carry out the survey.
Source: One India
Please click the following URL to read the text of the original story:
https://www.oneindia.com/india/gyanvapi-mosque-survey-shivling-found-inside-well-says-lawyer-3408769.html
--------
Gruesome Murder Of Deborah Samuel: Prophet Of Islam (PBUH) Was Insulted, Scorned But Never Killed In Retaliation — Kaduna Based Islamic Scholar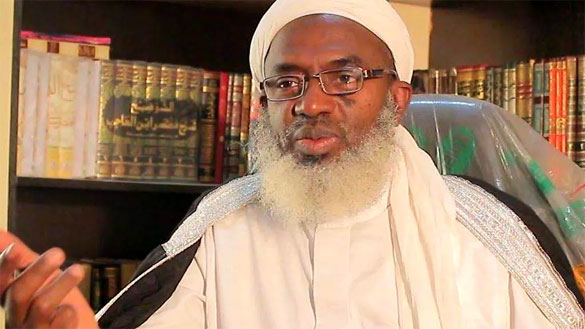 Sheikh Gumi/ Photo Vanguard
----
May 15, 2022
-Says Nigeria is secular , not under Islamic law
By Ibrahim Hassan-Wuyo
Kaduna based Islamic scholar, Sheikh Ahmad Gumi has cautioned Muslims against killing fellow human beings because of trivial issues; insisting that the Prophet of Islam ( PBUH) was insulted and scorned but he never killed in retaliation.
Gumi who was reacting to the gruesome murder of Deborah Samuel in Sokoto, said that any Muslim who kills a Christian in Nigeria because the prophet was insulted will not smell the fragrance of Jannah( paradise).
Deborah Samuel: Prophet Muhammad didn't kill anyone for insulting him – Sheikh Gumi
"Nigeria is not an Islamic state, Muslims in the Country have an agreement with people of other faiths to live together peacefully and anyone who kills them on religious guise has committed a grievous sin," he said.
Gumi spoke while preaching at the Sultan Bello Mosque Kaduna.
He lashed at some Muslim clerics who were quoting verses they don't understand and telling people to kill whoever insults their religion,
He quoted Quranic verses saying Killing a non-Muslim under the guise that, the person uttered a blasphemous statement against Prophet Muhammad is not an excuse, "because Allah has told us in the Qur'an the non-Muslims will insult Allah and His Prophet.
"In fact, it is now the blasphemy will start after the killing of that lady in Sokoto, the insult will increase, not reduce," he said.
"Muslims of Nigeria that want to defend Prophet Muhammad should be ashamed of themselves because they are corrupt.. the best way to go if we want to defend the Prophet, is to follow his teachings."
, "We the clerics need to wake up and teach the Muslims their religion. We must leave this state of ignorance, we have turned like animals. We the Muslims are not the only ones in this country."
"It is not only that we are not the only ones in this country, we must know that, there was nothing the unbelievers did not do to Prophet Muhammad, but he was patient, because he was concious that if he killed them, the unbelievers he was trying to bring to the fold of Islam will tag him a killer."
"There are people who are neither Muslims not Christians in Nigeria, and everyone is trying to win their souls. Also, there people who are not Muslims, whom we are preaching Islam to, so that they can enter the fold of Islam and be salvage in the hereafter.
"If we now begin to kill people, they will say it is even from the leader of our faith, Prophet Muhammad that we have learnt it. They will say their religion is a religion of bloodletting. At a time we are trying to draw attention of people to see the beauty of Islam, we are now scaring them away.
"It is unfortunate that, we even see some clerics who are telling people that, whoever insults your religion, just kill then. They are quoting verses they don't understand. There is no one who has the will to kill anyone except through the Islamic justice system. And in doing this, the conditions of such justice must be completed before anyone can be killed."
"Our religion is a civilised religion. The white people Learnt rule of law from Islam. But today we are the ones in this level of lack of civilisation, to the extent that an Islamic cleric is quoting Qur'an and Hadith spreading and encouraging barbarism."
"People that have not been able to perfect their own acts of worship the way they are supposed to. People who don't know how to pray properly are now the ones that say they want to dispense justice to people who commit blasphemy."
"What people don't know is that, in the Islamic perspective, the world is divided into two, the Islamic world and the non-Islamic world, that is countries that are governed by the Islamic law and those that are governed by other laws."
"Those who are not Muslims are divided into two; there are non-Muslims that you engage in war, and there non-Muslims that, you have agreement with. Those you have agreement with are also divided into two; those who are living under the Islamic laws and those that are not binded by the Islamic laws."
"Nigeria's non-Muslims are not living under the Islamic laws, we all have an agreement under the Nigerian constitution to live together. So, Prophet Muhammad said whoever kills a soul of non-Muslim that is under such agreement of living together, will not smell the fragrance of paradise, such person's distance to paradise will be like a journey of 40 years."
"Killing a non-Muslims under the guise that, the person uttered a blasphemous statement against Prophet Muhammad is not an excuse, because Allah has told us in the Qur'an the non-Muslims will insult Allah and His Prophet. In fact, it is now the blasphemy will start after the killing of that lady in Sokoto, the insult will increase, not reduce"
"What Allah asked us to do in the face of blasphemy in a society like ours, is to be patient and preach to the people and make them understand our religion. In our kind of society, we don't have the right to kill for blasphemy, otherwise, even many people who call themselves Islamic clerics who have equally been killed because they have fallen into blasphemy by calling Allah human being or saying they know tomorrow or those who have indirectly turned to Babalawo."
"The Prophet told us that, a time will come towards the end time, when people will feeling like taking other people's life. So, he said, instead of doing that, it is better for you to look for a rock and be boxing it, so that, you don't the urge of killing anytime.."
"So, who do we leave just justice for in the face of blasphemy? It is the authority. We don't have the right to take up arms and kill anyone, except in self defence, like when some comes for your life or an armed robber invades your house. You are not the one to defend Islam, in fact, you are making the work of those calling people into Islam difficult."
"The right thing the students who killed the lady in Sokoto ought to do, is to report her to the school management, then the management reports to the Governor or Sultan for them to know how to stop her. Just by hearing her commit blasphemy, you just went and carried out jungle justice on her, who taught you that? What do you want our country to turn into? We must leave these acts of barbarism."
"Is it even we the Muslims of Nigeria that want to defend Prophet Muhammad? We that are corrupt? We that cannot even be differentiated from unbelievers in corrupt acts."
He said thev best way to go if we want to defend the Prophet, is to follow his examples by being upright in all fronts.
Source: Vanguard
Please click the following URL to read the text of the original story:
https://www.vanguardngr.com/2022/05/blasphemy-prophet-of-islam-pbuh-was-insulted-scorned-but-never-killed-gumi/
--------
Thousands March In London In Solidarity With Palestinians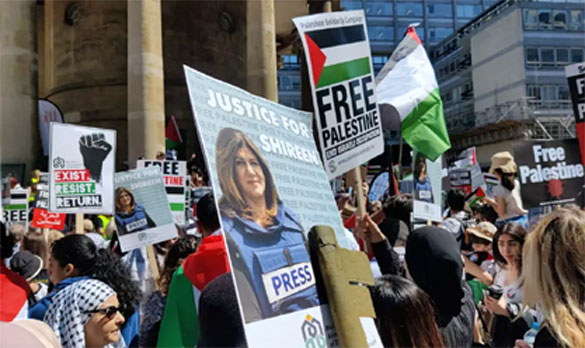 The march comes a day before the commemoration of the Nakba (the Day of Catastrophe), the ethnic cleansing of Palestinian cities and towns by Zionist paramilitaries in 1948.
----
May 16, 2022
AhlulBayt News Agency (ABNA): Thousands of protesters took to the streets in central London on Saturday in support of the Palestinian people and Al Jazeera journalist Shireen Abu Akleh, who was killed by the Israeli occupation forces a few days ago in the West Bank.
The rally was organized by the Palestine Solidarity Campaign, the Palestinian Forum in Britain (PFB), Friends of al-Aqsa (FOA), the Muslim Association of Britain, the Campaign for Nuclear Disarmament and the Stop the War Coalition.
The London demonstration was held one day before Nakba Day, which on 15 May each year commemorates the massive exodus of Palestinians from their homes that happened with the Israeli occupation state's 1948 creation.
It was also staged in protest at the Israeli killing of veteran Palestinian journalist Shireen Abu Akleh, 51, as she was covering an Israeli military raid in the occupied West Bank last Wednesday.
"Let us tell Shireen that her last report from the occupied territories and her funeral scene – as you all have seen – was the most influential and will continue to be the most visible and the most etched in our memory," PFB chairman Zaher Birawi said, addressing the rally.
"Yes, dear friends and comrades, it was the most influential report, simply because she wrote it with her precious blood that she gave for the homeland and its capital, al-Quds al-Sharif (Jerusalem)," Birawi added.
Several speakers at Saturday's rally criticized Britain's leaders over their stances on the Palestinian cause and their passivity towards Israeli crimes and violations.
Labor Party MP Zarah Sultana said the participants in the march were sending a "message to the residents of Downing Street" that "your silence is complicity, and we will not let you forget that."
Meanwhile, protesters chanted for justice for the slain Al Jazeera correspondent and carried Palestinian flags and placards showcasing her photo.
Chants of "One, two, three, four, occupation no more" and "Free, free Palestine" were also chanted by the protesters.
Source: ABNA24
Please click the following URL to read the text of the original story:
https://en.abna24.com/news//thousands-march-in-london-in-solidarity-with-palestinians_1257892.html
--------
Nakba Memories And Resistance: The Right Of Return Remains In Refugee Diaries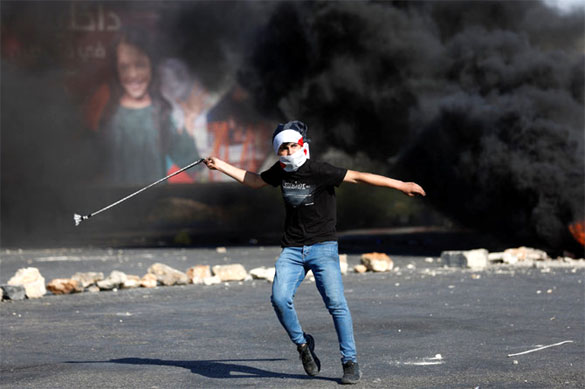 A demonstrator participates in clashes with the Israeli forces following a rally marking the 74th anniversary of Nakba or catastrophe, in Ramallah in the Israeli-occupied West Bank May 15, 2022. (Reuters)
-----
May 16, 2022
RAFAH, GAZA STRIP: Abu Ahmed Adwan was five when his family was forcibly displaced during the Nakba in 1948. They sought refuge in a camp in the city of Rafah, adjacent to the Palestinian-Egyptian border in the far south of the Gaza Strip.
Adwan grew up in the alleys of the Barbara camp, which got its name from the original village that was abandoned by the Adwan family and other families that settled together.
"We were neighbors in Barbara before the Nakba, and here we are in the camp until the return," Adwan, now in his late 70s, told Arab News.
Today he is the mayor of his village (the chief of the refugee families from the village of Barbara), and despite spending his life as a refugee, he still believes in the right of return.
"We will return one day, and if we pass away, our children and grandchildren will return and rebuild the country."
Estimates by the UN Relief and Works Agency for Palestine Refugees show that the number of refugees in the Rafah camp grew from 41,000 in 1948 to more than 125,000 today. Residents in one of the largest camps in the Gaza Strip live in overcrowded houses in narrow streets. In Gaza, refugees represent more than 70 percent of the population of almost two million people.
Adwan uses a large map of the village of Barbara, which tops one of the walls of his meeting hall in his home, to describe the village he visited for the last time about 35 years ago.
He classifies his constant talk of Barbara, and the refugee stories linked to the memory of the Nakba, as a "kind of resistance" in order to keep the memories of past generations alive and encourage the restoration of stolen rights.
He said: "Today's generation is more aware than their parents and grandfathers than the generation of the Nakba, and the experience of the Nakba in 1948 cannot be repeated again."
Mohammed Adwan, born in 1970, is a freed prisoner of an Israeli jail. He said: "The camp is the storehouse of the revolution since the Nakba, and the fathers and grandfathers are its fuel by constantly talking about Palestine with all this nostalgia."
He added: "We will return sooner or later."
Adwan said that refugee camps play a role in "resisting the occupation, forming the awareness of successive generations and preserving the national memory."
He added: "It was important to preserve the names of our original towns and villages, by calling them to the refugee camps, as this is a resistance to the factors of time, and the occupation's efforts to falsify reality and distort Palestinian geography."
The growing population in the camp led to mixing with city neighborhoods. Simple houses built from brick and roofed with asbestos have largely disappeared, replaced by concrete houses.
A researcher in refugee affairs, Nader Abu Sharekh, said that stories told in the homes of the camps, generation after generation, have made the Palestinian cause "alive and growing."
The families of each village and city destroyed in the Nakba gathered in neighborhoods inside the new camps to draft names. They used original names from their homeland, out of love for the land and adherence to the right of return, and to keep the names and meanings present in memory. In each camp there are streets bearing the names of original homes.
"In the camp, the events of the Nakba are present, and the right of return is an absolute belief," Abu Sharekh said.
"In wedding parties, they sing historic songs from before the Nakba like Ataba, Mijna, Dabke and Dahia.
"These traditions remained in circulation, so that the homeland remains a title to joy, and the right of return remains in the refugees' diaries."
In the camp, old women still wear traditional dress rich in color.
People have allotted part of their yards to plant something that reminds them of their lost orchards and farms. Sometimes the space is used to construct a hut or tent.
Some of the refugees still bake using traditional clay ovens modeled on the kind lost in their destroyed towns and villages.
Source: Arab News
Please click the following URL to read the text of the original story:
https://www.arabnews.com/node/2082791/middle-east
--------
India
Congress to seek legal opinion for contempt case against Amit Shah's comment on Muslim quota
May 15, 2022
HYDERABAD: The Congress will seek legal opinion to file a case of contempt of the Supreme Court against Union home minister Amit Shah for his comments that the BJP, if voted to power, would scrap the four percent quota for Muslims being implemented in Telangana.
Former minister and TPCC political affairs committee convenor Md Ali Shabbir on Sunday lashed out at Shah for announcing a decision of doing away with four percent Muslim quota even as the "Muslim quota issue" is pending with the Supreme Court.
"Amit Shah as a union minister holding all important Home Affairs portfolio should have known that Muslim quota is not being given on the basis of religion in the state but based on socio-economic backwardness of 14 groups among Muslims under BC-E category quota. This was done based on a comprehensive study and report submitted by the government appointed BC Commission," Shabbir said.
"Amit Shah's remarks were highly provocative and fall into the category of hate speech. Despite being the country's home minister, he is neither aware of the history of 4% Muslim quota nor its present legal position. The case of the 4% Muslim quota in government jobs and education, introduced by the previous Congress government in 2004-05, is pending before the Supreme Court. Therefore, by announcing that the BJP government would scrap the Muslim quota, Amit Shah may have indulged in the contempt of court. Is Amit Shah superior to the Supreme Court to scrap the Muslim quota? We will seek legal pinion", Shabbir Ali said.
Amit Shah should've done basic research before commenting on the Muslim quota. First of all, the Muslim quota was not given on the basis of religion. Initially, Muslims in undivided Andhra Pradesh were given a 5% quota which was later reduced to 4% on the directions of the high court, he said.
The Backward Classes Commission conducted a deep study and recommended categorisation of 14 socially, economically and educationally backward groups among Muslims as BC-E. Based on this report, the then Congress Govt introduced a Bill providing 4% reservation to 14 identified backward classes among Muslims. This was challenged in the High Court and later the matter went to the Supreme Court. The Apex Court, in March 2010, permitted the continuance of the 4% Muslim quota subject to the final verdict by the Constitutional Bench of the Supreme Court. Therefore, no one, except the Supreme Court has powers to stop the Muslim quota," Shabbir Ali said.
Amit Shah's statement on the Muslim quota clearly shows that Prime Minister Narendra Modi's slogan of 'Sabka Saath, Sabka Vikas' was a hoax and another 'jumla'. "Why are BJP leaders jealous and envious of poor Muslims getting free education and a small share in government jobs? Do they want Muslims to remain illiterate and unemployed?" he asked.
Source: The Times Of India
Please click the following URL to read the text of the original story:
https://timesofindia.indiatimes.com/city/hyderabad/congress-to-seek-legal-opinion-for-contempt-case-against-amit-shahs-comment-on-muslim-quota/articleshow/91581080.cms
--------
Amit Shah's comments on Muslim quota nothing less than hate speech: Shabbir Ali
SPECIAL CORRESPONDENTHYDERABAD
MAY 15, 2022
Former Minister Mohammed Ali Shabbir has objected to Union Home Minister Amit Shah's promise of scrapping 4% Muslim quota if it comes to power in Telangana. He described it as highly provocative and nothing less than hate speech.
In a statement here, he said that despite being the country's Home Minister, Mr. Shah was neither aware of the history of Muslim quota nor its present legal position. "The case of 4% Muslim quota in government jobs and education, introduced by the previous Congress regime in 2004-05, is pending before the Supreme Court. His statement is contempt of court. Is Amit Shah superior to the Supreme Court?" he asked.
Mr. Ali said that Muslim reservation was not given on the basis of religion but on the recommendations of the Backward Classes Commission by the Congress government in combined AP. The commission recommended categorisation of 14 socially, economically and educationally backward groups among Muslims as BC-E.
He said that when Congress provided 5% reservation based on the report, the Supreme Court permitted the continuance of 4% quota, subject to the final verdict by the Constitutional Bench of the Supreme Court. "Therefore, no one, except the Supreme Court has powers to stop the Muslim quota," Mr. Ali said.
He added that since its implementation, nearly 20 lakh poor Muslim families in both Telangana and Andhra Pradesh benefitted. Mr. Shah's efforts to polarise Telangana will never succeed, he said.
Source: The Hindu
Please click the following URL to read the text of the original story:
https://www.thehindu.com/news/national/telangana/amit-shahs-comments-on-muslim-quota-nothing-less-than-hate-speech-shabbir-ali/article65416709.ece
--------
Truth about Gyanvapi mosque, Taj Mahal, Krishna Janmabhoomi should come out: RSS leader
New Delhi, May 15: Truth about Gyanvapi mosque, Taj Mahal and Krishna Janmabhoomi in Uttar Pradesh and all other disputed places in the country should come out before the people, senior RSS leader Indresh Kumar said on Sunday.
Speaking to reporters on the sidelines of an event here, he said the people want to know the truth about these places as they feel that it will help the country get "a right direction".
It's not out of any grudge against anybody or due to some politics that people want to know the truth of these places, he added. "A discussion is going on about the Gyanvapi, Taj Mahal, Krishna Janmabhoomi and various other places in the country. Everyone wants to know the truth (about them). It's is not out of any grudge against anyone or due to some politics," the RSS leader told the reporters in response to their queries. Common people feel that the more truth about these places comes out the more it will help the country get a right direction.
Kumar, who is RSS national executive member, appealed to the people to rise above their caste, community, region, religion, and party, and help the court bring out truth about "such disputes". A court-mandated videography survey of the Gyanvapi Masjid complex in Varanasi was carried out peacefully for the second consecutive day on Sunday, with the major part of the exercise said to have been completed. The survey, which was stalled last week amid objections by the mosque management committee, which claimed that the advocate commissioner appointed by the court for the survey did not have the mandate to film inside the premises, will continue on Monday.
The mosque is located close to the iconic Kashi Vishwanath temple and the local court is hearing a plea by a group of women seeking permission for daily prayers before the idols on its outer walls. Earlier this week, however, the Allahabad High Court dismissed a plea seeking a "fact-finding inquiry" into the history of the Taj Mahal and the "opening of 22 rooms" on the monument's premises, saying the petitioner failed to point out which of his legal or constitutional rights were being infringed. The High Court recently directed expeditious hearing in the Shri Krishna Janmabhoomi-Shahi Idgah Masjid dispute. Two applications were filed last week in a Mathura court for an early appointment of a senior advocate commissioner for "verifying the presence of signs of a Hindu temple" at the mosque site so that they are not tampered with while the cases are decided legally. The Lucknow bench of justices D K Upadhyay and Subhash Vidyarthi pulled up the lawyer of petitioner Rajneesh Singh, who is the media in-charge of the BJP's Ayodhya unit, for filing the PIL in a "casual" manner and said it cannot pass an order under Article 226 of the Constitution in the matter. The article empowers a high court to issue to any person or authority in the area under its jurisdiction orders or writs to enforce the fundamental rights. The bench said that it was a non-justiciable issue that cannot be decided or gone into by the court. The bench said that the petitioner could not point out as to which of his legal or constitutional rights were being infringed. Dismissing the plea as misconceived, the bench pulled up the petitioner's counsel Rudra Pratap Singh over and again for moving the PIL without properly conducting legal research work, and declined to intervene into factual issues as to what was behind the closed doors of the Taj.
Source: One India
Please click the following URL to read the text of the original story:
https://www.oneindia.com/india/truth-about-gyanvapi-mosque-taj-mahal-krishna-janmabhoomi-should-come-out-rss-leader-3408661.html
--------
Muslim group wants Congress to field at least one community candidate in RS polls
MAY 15 2022
A Muslim group has urged Congress President Sonia Gandhi to field at least one candidate of the community from Rajasthan for the Rajya Sabha elections, to be held next month.
Making the demand, the Rajasthan Muslim Alliance gave a copy of its letter to Chief Minister Ashok Gehlot as well as Congress leaders Rahul Gandhi and Priyanka Gandhi Vadra.
Out of 10 Rajya Sabha seats from Rajasthan, four are falling vacant in June 2022.
Going by the number of Congress MLAs in Rajasthan, of the four vacant Rajya Sabha seats from the state, at least three party candidates are likely to win the polls for the Upper House, the Muslim group's coordinator Mohsin Rasheed Khan said in a stat...
He also claimed that neither Congress nor BJP has made any effort to send any Muslim candidate to the Rajya Sabha in the last 11 years.
The term of four Rajya Sabha MP from Rajasthan -- Om Mathur, K J Alphons, Ram Kumar Verma and Harshvardhan Singh -- is going to end next month.
Source: Deccan Herald
Please click the following URL to read the text of the original story:
https://www.deccanherald.com/national/national-politics/muslim-group-wants-congress-to-field-at-least-one-community-candidate-in-rs-polls-1109518.html
--------
Africa
It will be wrong for a Muslim to take over from Buhari– Bishop Wale Oke
May 16, 2022
The National President of Pentecostal Fellowship of Nigeria (PFN), Bishop Francis Wale Oke has said that it would be wrong for a Muslim to take over from President Muhammadu Buhari in 2023.
Bishop Oke further stated that PFN will not support any political party with Muslim-Muslim candidates in the forthcoming general election.
The revered Christian cleric spoke on Saturday in Osogbo during the celebration of 30th anniversary of PFN in Osun State.
Oke, in a statement issued by the state Director of Media, Bishop Seun Adeoye explained that Nigeria is a secular state and that Christians will not fold their arms and allow a situation where the president and the vice-president would be Muslims.
He said, "The Church in Nigeria is saying No to a Muslim-Muslim ticket. We are going to mobilise the church against such political party. PFN has 65 million people and we will vote against such party.
"Obasanjo handed over to Yar'adua, Yar'adua to Jonathan and Jonathan to Buhari and who else should Buhari hands over to but a Christian".
He called on all PFN members to ensure they possess their Permanent Voter's Cards (PVC) and vote out bad government.
On the killing of Deborah Samuel in Sokoto, the PFN President condemned those who were killing in the name of religion.
"Killing in the name of religion is barbaric, unrighteous, ungodly and demonic. We want killings in the name of religion to stop in Nigeria.
"It is regrettable that one of our daughters was stoned to death and set ablaze. We urge all religion leaders in Nigeria to educate their adherents. Nigeria is not again in stone age. It is criminal offence and the killers should be fished out and brought to book. They are killers and the punishment meant for killers be meted on them," he said.
In his speech, the Governor of Osun State, Adegboyega Oyetola represented by his deputy, Mr. Gboyega Alabi explained the roles being played by his government to ensure peace in the state.
Source: Champion News
Please click the following URL to read the text of the original story:
https://championnews.com.ng/it-will-be-wrong-for-a-muslim-to-take-over-from-buhari-bishop-wale-oke/
--------
Nigerian Christians will vote against Muslim-Muslim ticket: PFN
ADEBOLA AJAYI
• MAY 15, 2022
Wale Oke, the national president of the Pentecostal Fellowship of Nigeria (PFN) on Saturday said the church will mobilise 65 million Christians to vote against any political party who fields Muslim-Muslim a ticket during the presidential election in 2023.
Mr Oke, a bishop, spoke on Saturday at the 30th anniversary of PFN in Osun State. He warned that the church will be against another Muslim candidate like Muhammadu Buhari.
"The Church in Nigeria is saying 'No' to a Muslim-Muslim ticket. We are going to mobilise the church against such political party. PFN has 65 million people and we will vote against such party," he said.
"Obasanjo handed over to Yar'adua, Yar'adua to Jonathan and Jonathan to Buhari and who else should Buhari hand over to but a Christian?"
Mr Oke also condemned the gruesome killing of Deborah Samuel in Sokoto state "killing in the name of religion is barbaric, unrighteous, ungodly and demonic."
The cleric said it is regrettable that Ms Samuel was set ablaze by mobs in the name of religion.
He said religious leaders should educate their followers saying religious killings must stop in Nigeria.
He urged PFM members to get their Permanent Voter Cards (PVCs) and vote out corrupt political leaders.
"It is regrettable that one of our daughters was stoned to death and set ablaze. We urge all religious leaders in Nigeria to educate their adherents," he said.
"Nigeria is not again in stone age. It is criminal offence and the killers should be fished out and brought to book. They are killers and the punishment meant for killers be meted on them."
Source: People Gazette
Please click the following URL to read the text of the original story:
https://gazettengr.com/nigerian-christians-will-vote-against-muslim-muslim-ticket-pfn/
--------
Buhari's Daughter, Zahra, Shares Video Of Saudi Islamic Cleric Warning Muslims Against Jungle Justice When People Insult Prophet Muhammad
BY SAHARAREPORTERS, NEW YORK
MAY 15, 2022
Zahra Buhari-Indimi, daughter of President Muhammadu Buhari has shared a video of Saudi Islamic scholar, Sheikh Assim Al-Hakeem, teaching Muslims how to react to people who insult the Prophet.
In the video, Sheikh Al-Hakeem advised Muslims to desist from taking matters into their own hands when there is a case of blasphemy against the Prophet Muhammad (SAW).
Zahra reposted a few seconds of the video on her Instagram stories on Sunday, in response to the gruesome murder of a female Christian student in Sokoto, Deborah Samuel, for alleged blasphemy on Thursday.
She was killed by her fellow students who are Muslims, and her body was also burnt.
Her remains were laid to rest in her hometown, Tunga Magajiya, in the Rijau local government area of Niger State on Saturday
Sheikh Al-Hakeem is said to be one of the prominent propagators of Islam in English in Saudi Arabia.
The Imam said, "This depends if you are in a Muslim country. This is a major offence that requires the intervention of the Muslim ruler. You simply report these individuals to the court or to the Muslim ruler.
"It's the duty of the Muslim ruler to execute after going through the legislative processes and going in front of a panel of judges."
"You must not take matters into your own hands because this will turn the community into a jungle," he said.
Source: Sahara Reporters
Please click the following URL to read the text of the original story:
http://saharareporters.com/2022/05/15/buharis-daughter-zahra-shares-video-saudi-islamic-cleric-warning-muslims-against-jungle-1
--------
Burkina Faso: Armed Islamists Kill, Rape Civilians
(Nairobi) – Armed Islamist groups and government security forces and militia in Burkina Faso are committing increased abuses against civilians as the conflict there intensifies and widens, Human Rights Watch said today. The Burkina Faso government, which took power in a January 2022 coup, should better protect civilians from attack and ensure that government forces respect human rights.
Armed Islamist groups that began attacking Burkina Faso in 2016 have become increasingly abusive, carrying out hundreds of killings, summary executions, rapes of civilians, and widespread pillaging. Also since 2016, government security forces and militias engaged in counterterrorism operations have allegedly unlawfully killed hundreds of civilians and suspected Islamist fighters, fueling recruitment into armed groups. The fighting has forced 1.8 million people from their homes, most from the Sahel and Centre-Nord regions of the country.
"Armed Islamist groups are demonstrating day after day their profound disregard for the lives and livelihoods of civilians," said Corinne Dufka, Sahel director at Human Rights Watch. "Government forces and associated militias must scrupulously uphold international human rights and humanitarian law and desist from killing in the name of security."
From April 7 to 21, 2022 in Ouagadougou, the capital, and in Kaya, Human Rights Watch interviewed 83 survivors and witnesses to incidents between September 2021 and April 2022 in the Boucle du Mouhoun, Cascades, Centre-Nord, Est, Nord, Sahel, and Sud-Ouest regions of Burkina Faso. Human Rights Watch also interviewed medical professionals, security analysts, government officials, foreign diplomats, United Nations representatives, and aid workers.
Villagers said that heavily armed Islamist fighters killed civilians during attacks and planted deadly improvised explosive devices (IEDs). Fighters in dozens of cases raped and otherwise abused women and girls who were foraging for wood, traveling to and from the market, and fleeing the violence. The fighters also burned villages; commandeered ambulances and looted health centers; destroyed crucial water, telecommunications, and electricity infrastructure; and engaged in widespread pillage. Many villagers described seeing numerous child soldiers, some as young as 12, within the armed Islamist ranks.
A resident of Ankouna described the aftermath of an armed Islamist attack: "When I returned the next day, the village was still smoldering. [There were] bodies of six people including my brother, who had been shot trying to rescue a child 10 meters from his shop. I saw five people including a 70-year-old dead in one house. They'd been shot in the back or head."
Other villagers said that government security forces and pro-government militias, called Volunteers for the Defense of the Homeland (Volontaires pour la défense de la patrie, VDP), carried out unlawful killings and enforced disappearances of dozens of civilians and suspected Islamist fighters largely in Burkina Faso's eastern and southern regions.
All parties to the armed conflict are bound by international humanitarian law, notably Common Article 3 of the Geneva Conventions of 1949 and customary laws of war, which provide for the humane treatment of captured combatants and require prosecuting summary executions, rape, and enforced disappearances as war crimes.
The government should revoke a 2021 decree that provides immunity from prosecution to members of a special counterterrorism force for acts committed "in the exercise of their functions." In coordination with the United Nations and aid agencies, the government should increase medical and mental health support to victims of abuse including sexual and gender-based violence.
"There have been very few investigations, much less prosecutions, for the atrocities which have punctuated Burkina Faso's conflict," Dufka said. "The government should ensure the presence of provost marshals with responsibility for troop discipline and detainees' rights in all military operations and adopt measures so that civilian and military courts provide fair trials for suspects."
For details of attacks on civilians, please see below.
Abuses by Armed Islamist Groups
Several armed Islamist groups allied to both Al-Qaeda in the Islamic Maghreb (AQIM) and the Islamic State in the Greater Sahara (ISGS) are implicated in serious abuses.
Since late 2021, these armed groups have dramatically increased attacks on pro-government forces including in and around the towns of Ankouna, Arbinda, Dablo, Foube, Inata, Namsiguia, Namissiguima, Pissila, and Tougouri, to which many people fleeing violence in surrounding villages had fled in 2019 and 2020.
The attacks, said security analysts, appeared designed to compel widespread displacement from towns perceived to support the government, thereby consolidating armed group control from their strongholds in northern Burkina Faso to the central regions. Humanitarian workers expressed alarm at the dramatic pace of deterioration. Said one, "Civilian life is being suffocated as roads are mined; villages blockaded; markets closed; and water points, telecommunication, and electricity infrastructure sabotaged."
Armed Islamist groups have concentrated recruitment efforts on the nomadic Peuhl, or Fulani, by exploiting community grievances over poverty and public sector corruption. This has inflamed tensions with other largely agrarian communities, notably the Foulse, Mossi, Dogon, and Gourmantché, who have been the targets of most armed Islamist attacks.
Villagers described fighters dressed in military camouflage or traditional robes known as boubous, with ammunition vests, turbans covering their faces, and military boots. They used motorcycles, motorized tricycles, and pickup trucks, often draped with white, black, or red flags with Arabic writing, and were armed with AK-47 assault weapons, PKM-12 machine guns, pistols, and rocket-propelled grenades. The fighters were heard speaking in Fulfulde, and to a lesser extent Gourmanchéma, Arabic, and Mooré.
Killing and Summary Execution of Civilians
Human Rights Watch documented the killing by armed Islamist groups of 67 civilians during attacks on villages, farms, and artisanal gold mine sites.
In late March, in Centre-Nord region, armed Islamists summarily executed three women fleeing an attack. Three witnesses to the killings believed the victims, all over 50, had been targeted because they had recognized the armed group's commander: One witness said:
ur convoy of 40 women on donkey carts was suddenly surrounded by over 60 terrorists. They kept us there for hours, asked if our husbands were VDPs, lectured us about how to be good Muslims, and told us this land was now theirs. They stole our phones, food stocks, money, clothing, and then burned what they didn't want. The commander asked my friend if she recognized him. She replied honestly: "Yes, I know you and your father. You killed my husband." He ordered her onto her donkey cart, and then executed her. We gasped. He hit the donkey and the cart took off with her inside. Then he executed on the spot two other women in their 60s, who also said they recognized him.
illagers from Ankouna said armed Islamists killed 14 civilians during an attack on January 5, including five men executed in one house and at least two children. A 39-year-old trader said:
was in my shop when at about 4 p.m. scores of attackers burst into town, riding on motorcycles and pickups. One terrorist jumped down, spraying bullets into the market area as he walked in a half circle. Another man fired at us with a gun mounted on a pickup. They stayed for three hours yelling "Allahu akbar," burning the village and looting animals and market stalls.
A resident said, "There were 30 VDPs [militia members] in the village but only civilians died in this attack."
Villagers said that armed Islamists killed nine civilians during a January 15 attack on Namsiguia. "From 6:30 a.m., they flooded into town from three directions, shooting wildly, forcing open and looting shops, then burning the rest, including an ambulance, water pump, and telecommunication towers," said one witness. Another who helped collect the dead said, "I found bodies in the street, and several women killed near the water point. The eldest was 75, and the youngest a 10-year-old girl." A VDP militia member said, "There were over 100 jihadists on motorcycles and pickups firing machine guns. We fired a few warning shots but quickly ditched our weapons and ran."
A 33-year-old woman described an attack near Nagraogo village on the motorized tricycle in which she and other traders were traveling. "On our way back from market, eight armed Islamists forced us to stop," she said. "They were talking on a walkie-talkie with other terrorists. They marched the only two men in our group into the bush and executed them. This is why our men stopped traveling on the roads."
Residents of several villages said that farmers had been forced to abandon their land and flee after dozens had been killed in their farms or as they grazed their animals. Many farmers said they had been unable to safely work on their farms over the last two or three years. A man from Bam province described the cases of 16 farmers or herders killed since 2021: "Their strategy is to isolate and starve us," he said. A nurse from a town in Centre-Nord said, "Since 2020, I treated at least 12 men shot while working their land and registered 16 men killed – 12 in their fields and four while grazing their cows."
A 53-year-old herder survived one such attack that killed his brother in late 2021:
My younger brother and I were tending our herd south of Dablo. We were separated by 200 meters when I saw terrorists on two motorcycles jump off, push him down, and shoot him in the head, and then steal our cows. Two other herders were killed like this the same day.
Security sources described two attacks on artisanal gold mining sites. On March 10, armed Islamists attacked Tondobi village in Seytenga commune, killing 10 people. On March 12 they attacked the Baliata artisanal mine near Dori, killing 11. A family member said that on March 18, armed Islamists abducted 50-year-old Hama Hamidou, a local official who managed cattle, took him out of a taxi traveling between Dori and Seytenga, and executed him.
Rape and Other Violence Against Women and Girls
Human Rights Watch documented several dozen cases of rape of women and girls by armed Islamist groups since late September 2021, most in the Centre-Nord region. Human Rights Watch interviewed 14 rape survivors, many of whom had witnessed other women being raped. One said that at least nine other women had been raped during the same incident. Burkinabé elders or medical workers documented other cases, sharing anonymized records detailing cases they knew of or had treated.
The armed Islamists targeted women and girls who were gathering firewood, on their way to or from market, or as they fled attacks on their villages. The women said the assailants tried to extract information about government forces and militias and told them to convey ultimatums to their villages to abandon the area. Attackers often demanded that the women demonstrate their knowledge of the Quran.
Community leaders said the frequent killings of men as they worked in their fields or went to market had increasingly pushed women into these roles, putting them at greater risk. "If a man is found by these people, you know where he will end up," a male villager said. "Because of this, our women are forced to do the work we wish we could do." An aid worker said, "Women are being forced to take terrible risks to care for their families."
A nurse from a village near Dablo said she had treated over 55 women who had been raped by armed Islamists between September and December 2021. "The women came from 11 villages," she said. "The terrorists attacked Muslims, Christians, and animists alike. They cried – they couldn't eat or sleep and were too ashamed to tell their families what happened."
A nurse in another area said she had treated seven women within the same time frame: "One was a girl of 16, and another, a 40-year-old Christian who told me the assailants ripped off her cross before dragging her into the bush." A village elder from Namissiguima said 10 women from three surrounding villages who had been raped told her they had not sought medical care.
One woman described what happened to a17-year-old family member:
We were on five donkey carts collecting wood when the girl in the last cart screamed – she had fallen into jihadists' hands. She had lagged slightly behind because her donkey was young and slower than ours. I ran to save her, but an attacker pointed his gun saying, "If you want your life, get out of here." We rushed to tell our men, and four hours later they found the girl emerging from the bush on foot. She was bleeding and swollen; they had violated her with brutality."
A 35-year-old woman, one of four raped in November 2021 while foraging for wood, said:
We were on donkey carts, seven kilometers from town, when attackers captured and interrogated us about soldiers and VDPs in the village. They asked if we were Muslims, ordering us to recite the Shahada, then they each dragged the woman they wanted into the bush, covering our faces with a cloth. My rapist said, "Tell your man to put down his gun; tell him we will never be defeated."
Islamist armed groups abducted and raped 10 women in mid-March as they fled to Kaya, the Centre-Nord regional capital. One said:
After the attack, the men fled on foot through the bush, while we women, with our children and elderly, rode on about 20 donkey carts on the road with our animals and what we managed to take. At around 6 p.m., a group of 100 jihadists emerged from the bush. They were heavily armed, some with machine guns, resembling an army. They beat us, stole our possessions, and forced 10 of us to follow them. The mothers of the younger women begged and cried saying, "Leave them! Do you read the Quran? You can't do this!" The attackers took us into the bush. They said they were going to take us far away and marry us. Later their commander came and saved us. He seemed mad at them and said, "Leave these people, you've already done enough harm."
A 25-year-old woman described being raped in late 2021 after being abducted from her home:
My husband wasn't home that night. Two jihadists pointed their guns, forcing me and my toddler to ride on a motorcycle between them for three hours to their base. They interrogated me about the whereabouts of the soldiers and the local nurse. I recognized one, who I used to sell to in the market. I fought so hard, several of them had to hold me down.… One jihadist held my baby while another raped me. They told me to tell others to abandon the village, or they'd kill us all.
Many women said the armed Islamists whipped them during the sexual assault, typically on the back with rubber cords. Several said the whipping caused welts and bleeding.
A 36-year-old woman who was beaten and raped along with two others on her way home from the market in Barsalogho said, "I received 22 lashes with an electric cord, while my friends were hit 17 times. They said if we cried, they would restart the count." A 37-year-old woman beaten with four others before being raped, said, "They ordered us down from the donkey cart, and to sit down in the bush, then struck us 25 times each. They said we were fake Muslims and told us to call our VDP husbands to save us. Later, one attacker took me behind a tree and did what he wanted."
Villagers said older women and breastfeeding mothers were usually spared sexual assault but were often beaten. A 30-year-old Christian woman said that over 40 women were beaten during a late 2021 attack on a village near Bourzanga:
During the attack, the attackers gathered all of us in one house, screaming at us to tell them where our men were and saying "Why are you still here? We told you leave this place!" One of them ordered me to remove my crucifix, and I refused saying even if death awaits me, I wouldn't abandon my faith. He ripped it off my chest and whipped and beat me and the others with branches.
A woman said that while she traveled to Kaya in late October, armed Islamists severely beat her, another woman, and nine adolescent girls:
We were taking our girls to school in Kaya. They stole the school fees and held us for hours asking about the government forces. They cocked their guns to terrify us, and tried to drag the girls off, but we fought them. That's when they beat us with a cable. The girls received 17 lashes and the older women, 20. My back bled from the beating.
Use of Child Soldiers
Numerous villagers described seeing children they estimated to be as young as 12, many armed with military assault weapons, among armed Islamist ranks. They were seen in assaults on the towns of Namissiguima, Namsiguia, Foube, Rofenga, Pensa, Dablo, and in several areas of Est region, as well as during attacks on convoys of fleeing civilians. Any use by armed forces of children under 18 is a violation of international law and may be a war crime.
A witness to an attack in Centre-Nord region in late 2021 said, "I cowered with my baby as attackers, half of whom seemed to be children, fired into the market area. A few were so small – their guns dragged on the ground. One had a string of bullets weighing down his neck." A witness to the March attack on Namissiguima said, "From where I hid, I saw well over a hundred attackers including around 20 children – ages 14, 15, 16, many armed." A rape survivor said, "While the older terrorist dragged me away, the children guarded the road."
A witness described the November 26 attack on Dablo: "In previous attacks there were just a few children, but in November, almost half the group of 40 were adolescents. I saw some firing crazily all over the village." A man who had been abducted and held for several days in 2021 said, "Of the dozen terrorists who captured me, four were children. I feared what they might do – children don't measure the value of life as adults do."
Many child soldiers were observed pillaging, especially livestock, or robbing civilians as they fled attacks. "They were mostly around 14 or 15 years old, and had brought cords to take away our animals," a witness said. A woman in a convoy of civilians fleeing a March attack in Centre-Nord said, "Scores of jihadists, including many children ages 13 to 15, emerged from the bush, interrogating us and stealing everything. Three children, all armed, rounded up the animals."
Several people described seeing child soldiers setting fire to houses and market stalls. "I saw more than 40 jihadists," said a witness to a 2022 attack on Namissiguima. "While the men fired in the air, another group, including children, set the house next door on fire. I called out for water because I heard screams coming from inside."
IED Attacks on Roads and Shelling of Villages
Philippe Renard, chief of the UN's Mine Action Service (UNMAS) office in Burkina Faso, told Human Rights Watch that IEDs have killed 73 civilians and injured 36 since 2021, most in Boucle du Mouhoun, Centre-Nord, Est, and Nord regions.
Humanitarian workers said these weapons, whose use is often unlawfully indiscriminate, isolated communities and undermined the ability of groups to deliver crucial aid and services to vulnerable populations. "Roads we used just months ago are now littered with burned-out vehicle carcasses," an aid worker said. "We're terrified of hitting a mine every time we set off to deliver aid," another said.
Civilians were killed or injured by IEDs while on donkey carts, bicycles, motorized tricycles, motorcycles, buses, and other vehicles while searching for firewood and water; traveling to and from local markets; and fleeing attacks on their villages.
A woman who was wounded by an IED explosion in Centre-Nord in 2021 said:
My family was fleeing in a bus after our village, Kougri-Koulga, was attacked. As we approached a bridge near Boulga village, there was a huge explosion, followed by another and a ball of fire … the bus turned over. We struggled to escape. I fainted seeing so much blood and the dead – 11 including a pregnant woman and a baby. Another passenger took me under a tree, and a few hours later, we walked to safety.
On March 6 and 7, several mortar rounds struck Namsiguia in Bam province. "The jihadists fired shells, one crashing into the home of a 60-year-old woman, killing her," a villager said. "There aren't soldiers based here and our VDPs don't have a base to target."
"The jihadists consider everyone living here to be their enemy," said a resident of Bourzanga, where a civilian was killed by mortar shelling in March. Human Rights Watch confirmed the weapons based on photos of the shell casings collected after both attacks.
Pillage and Destruction of Property
Villagers described armed Islamist groups carrying out successive waves of pillage during attacks: on their villages, on the larger towns to which they had fled for safety, and after they fled for a second time, typically to Kaya or Barsalogho. Fighters stole sacks of grain, cellphones, jewelry, money, clothing, animal carts, motorcycles, and cooking utensils. Shopkeepers said attackers had looted their entire inventory, and nurses said the armed Islamists stole medicines and supplies from clinics.
Struggling residents described the impact of the losses. "From where I hid, I watched them round up all my 42 cows – all the riches of our family," said a herder from a village near Dablo.
Describing the January 5 attack on Ankouna, a villager said, "I was powerless. My family lost 31 cows and 47 sheep. They stole our motorized tricycles and used them to cart away the merchandise from our shops. How do we recover from this?"
Many civilians, ambushed on roads as they fled, said that the armed Islamists took everything they owned, even their shoes. Three women in a convoy of 30 donkey carts fleeing to Kaya after the March attack on Foube described the pillage by scores of attackers. "They took what little we had – sacks of millet, clothing, our animals, then burned the rest," one said. "They even cut the cords of our donkeys and sent them running. Then they ordered us to take off our shoes, saying this would remind us not to return to our villages. We walked for days barefoot."
Armed jihadists robbed traders plying market routes of their money and goods. "I'd collected money from several women to buy goods at the market, but on our way back, jihadists attacked us, stealing onions and bags of beans I was going to sell," one trader said. "I returned with only the clothes I wore."
"They even poured out the water we'd brought with us, saying the zone had become theirs," said a victim of a similar attack.
Aid workers described the looting by armed Islamists of medicines and supplies from clinics, and the theft of several ambulances since mid-2021. "In December, an ambulance carrying a critically ill woman from Dori to Kaya was commandeered. They forced people out, and the woman was returned to Dori by donkey cart, but she later died," one aid worker said. They had also documented a few cases where wounded suspects had been removed from medical hospitals by pro-government forces.
Abuses by the Army and Pro-Government Militias
Human Rights Watch documented 42 alleged summary executions and 14 enforced disappearances of civilians and suspected Islamist fighters by state security forces and members of the Volunteers for the Defense of the Homeland, at times coordinating operations.
The majority of victims were ethnic Peuhl. In several cases, the incidents documented provoked the displacement of entire families and in some cases, communities. The incidents reported occurred between September 2021 and April 2022 and merit further investigation.
Summary Executions and Enforced Disappearances by the Military
Some of the reported abuses occurred within the context of major counterterrorism operations. Four witnesses said that soldiers detained about 40 men on November 23 in Djigoue, near the border with Cote d'Ivoire, 18 of whom were later found dead several kilometers away. On November 30, the then-minister of security, Maxime Koné, said the army had "neutralized about 30 terrorists" in an incident in the same area and at around the same time. Witnesses provided a list of the dead. A man whose 38-year-old brother was among the victims said:
Over 100 soldiers riding on pickups and motorcycles flooded the [Djigoue] market while an airplane flew overhead. I was in my shop having tea with my brother when some soldiers asked us for our ID cards. We complied and they left. Some minutes later, my brother left to check on the workers at his shop. I later learned another group of soldiers had arrested him minutes later after leaving my shop. We found his body among the dead.
Another resident said:
The soldiers left around 3 p.m. taking the detained men on several motorized taxis. We heard shots about an hour later. The next day, after the soldiers left the area we found them, dead in a line, near where the soldiers had made an overnight camp. The dead were nearly all Peuhl from 20 to 65 years old, bound and blindfolded with their own clothing. Now, nearly the entire village has fled, fearing both the army and the jihadists.
On September 12, soldiers arrested seven men during a night operation in Ouangolodougou near the Ivorian border. Their bodies were found the next day about one kilometer away. Residents said they believed the army was implicated because there had been a large military operation in the area around the same time. Witnesses said a father and two of his sons were among the dead. A resident said:
At around 1 a.m., we heard motorcycles, then banging on the door. I saw soldiers standing at the doors. They shone flashlights into our eyes. They ordered the women and children into one room, searched the house, and bound Ali Diallo [age 52] and two of his sons, Amadou, 23, and Mahamadi, 21, a university student who was home for a visit. They also arrested four other people from a nearby house. The families begged for their lives…. I heard a soldier saying in French, "It's over for you."
"We heard shots that night, and found their bodies – six in one group, then the seventh some meters away," said another resident. "They'd been shot in the head or neck, and their hands were tied with cords or with their own clothing. The family filed a case with the local gendarmerie but to our surprise, they were also arrested! They were finally released after much pressure. But no one has investigated the death of our people."
Six of 15 men arrested on February 21 by soldiers in Todiame, Nord region were forcibly disappeared. One resident said:
Around 11 a.m. soldiers in over ten pickups and on motorcycles surrounded the village, firing in the air. People fled into the mosque, and from there the soldiers checked everyone's ID card. They tied the hands and blindfolded 15 people, including an elderly man, and put them into a few army vehicles. They beat them savagely as they took them away…. Nine people were released a few weeks later after being held in the gendarmeries in Titao and Ouahigouya. We've searched for the other six – in police and gendarme stations, bases, and prisons – but they are nowhere to be found.
Enforced Disappearances, Killings by VDP Militia
The government authorized the VDP as a self-defense group in 2020, providing them arms and minimal training. Most abuses implicating the VDP occurred in Cascades, Sud-Ouest, or Est region, especially in and around Fada N'Gourma.
Community leaders from these regions, which border Benin, Cote d'Ivoire, Ghana, Niger, and Togo, said there has been considerable ethnic tension between the pastoralist Peuhl, for their perceived support of armed Islamists, and farming communities, who are perceived to be pro-government and who make up the majority of VDP militia members in the area. Peuhl leaders consistently described being victimized by both armed Islamists and pro-government forces.
Numerous Peuhl men were allegedly summarily executed after being detained by men who witnesses believe were VDP militia, several of whom the witnesses knew by name. In several cases, the reason for the detention, killing, or enforced disappearance of the victim was unclear to the family members. In several cases they speculated that the militia used counterterrorism operations as a pretext for settling personal or community scores.
Three residents said they saw the bound bodies of eight men whom VDP militia had detained two days earlier, on February 17, in Fada N'Gourma. One witness described the detention of four of the eight men: "We were gathered for a food distribution when VDPs in red t-shirts went up to the men saying, 'You and you…. Come with us.' They knew exactly whom they were looking for. They took them away, hands tied, on motorcycles." Another witness said, "I saw eight VDPs in this operation, three of whom I know personally." Family members said four other men were arrested elsewhere in the town, including a man with a physical disability who was arrested at his home.
A man who attended the burial on February 19 said, "The bodies were behind the Bougie village primary school, 10 kilometers from Fada. Their hands tied; they had been executed." A family member said, "Terrorists had burned the school a few days before. But we're confused – our men and the VDP both fear the terrorists! We think this is a settling of scores and that the VDP are using the fight against terrorism to cover up their deed."
Two men detained by alleged VDP militia members on March 28 in Dankibaroum, five kilometers from Fada N'Gourma, were found dead several days later. "Three VDPs armed with AKs, one of whom I recognized, arrested my cousin Boureima, who was working in a shop," said a resident. "They handcuffed him and later also arrested the shop owner. We found their bodies seven kilometers away – both had been shot in the head."
VDP militia members told Human Rights Watch about three incidents in which they had executed Peuhl suspects in late 2021 and early 2022 for their perceived support of armed Islamist groups. Describing one incident, a VDP member said, "We used to turn suspects over to the gendarmes, but they always released them, so we decided to sort this problem out ourselves." Another said, "In January 2022, we captured a Peuhl spy at the market and guarded him for three days until he told us about his collaborators. Then we dealt with all of them."
Community leaders from Cascades and Sud-Ouest regions showed Human Rights Watch records of 10 people who had in recent months been either forcibly disappeared or executed by local VDP militia. The VDP members are sometimes referred to as "Dozos," traditional hunters, many of whom have joined the militia.
A Peuhl community leader from Cascades region said:
The agrarian communities blame all Peuhl for the jihadist presence and are killing and driving us from our villages and looting our property. Nearly all the Peuhl have fled either to bigger towns, or into the national protected forests with their cows, which are jihadist strongholds. In the forests, they're forced to live by the terrorists' rules, but at least they aren't being killed.
Several Peuhl villagers described VDP members engaging in criminal behavior. One Peuhl elder said:
In mid-March, my brother and his two sons, ages 30 and 19, were kidnapped by Dozos while watering their animals near Mangodara. The Dozos said they were "terrorists." We went to the Dozo chief who demanded 3 million CFA (US$5,000) to secure their release, but after we gave it to him, they refused to free our people. After that, we all fled. The gendarmes are investigating, and called us to make a statement but honestly, we're terrified to return because of all the VDP and Dozo checkpoints in that area.
Other allegations of killing and enforced disappearance allegedly involve VDP militia and government security forces working together. Two witnesses described the arrest on February 27 of Ali Diallo, 44, a local community leader, by VDP militia and the security forces. One witness said, "I saw Ali [Diallo] in the market while he was buying things for his wife, who had just given birth in the hospital. As he was buying water, he was intercepted by two uniformed soldiers and two VDPs, whom I recognized. They put a sack over Ali's head, handcuffed, and drove off with him."
His body was found four days later. A second witness said, "It was under some trees a few kilometers from the military camp. A sack was on his head, and his pants were down to his ankles. He'd been shot several times in the back."
A relative who witnessed the arrest of Amadou Bande, 46, in Fada N'Gourma on March 16, said that "He was buying a sack of rice when two VDP on motorcycles jumped down, handcuffed and lifted him unto a military vehicle, which was just behind them. We've looked everywhere for him." Bande's whereabouts remain unknown.
Deadly Attack on Civilians by Unidentified Forces
On February 28, a powerful explosion killed more than 30 traders at an animal market in the town of Béléhéde, Sahel region, which was largely controlled by an armed Islamist group. The cause of the explosion and responsibility have not been identified. One witness said he heard a whistle coming from south of the village before the explosion, but two others present did not hear anything or see any helicopters or airplanes overhead.
A witness said:
It was a busy market day. The thunderous explosion went off just as traders rushed toward two cows driven into the market on a motorized tricycle. A dust cloud covered the market. When it settled, I saw that the driver, cows, and everyone in the vicinity had been pulverized. People were running, blood and pieces of human beings were everywhere. Around 30 died on the spot, and a few more later.
"We live under the yoke of the jihadists and a few were in the village that day," said one villager. "But the vast majority of people killed in this incident were ordinary traders, including some adolescents, working the cattle market."
A coalition of civil society organizations have reported that at least 80 men – all civilians – were killed during government military operations April 10 and 11 in villages in and around Oursi and Tin-Akoff communes, Sahel region.
Source: Human Rights Watch
Please click the following URL to read the text of the original story:
https://www.hrw.org/news/2022/05/16/burkina-faso-armed-islamists-kill-rape-civilians
--------
Imams and pastors must inform congregants about possibility of extremist attacks – Wa West MP
15 May 2022
The Member of Parliament for the Wa West Constituency, Peter Lanchene Toobu, has called on religious leaders, to sensitize their congregants, about the activities and threats of extremist groups in the sub-region.
According to him, given the influx of extremist attacks in recent times, religious institutions must make it a priority, to alert their members in order to make them vigilant.
Speaking in an interview with Emefa Apawu on The Probe on Sunday, the NDC lawmaker stated that even though threats of extremists is not limited to Ghana, there is the need for the public to be sensitized accordingly.
"I want imams and pastors to be conscious enough and be able to preach accordingly. They need to build their sermons in line with the fact that every individual in this country, be it a Muslim or Christian, should be conscious of the possibility of an attack. And probably, this can inform the way we worship. This can inform the way we gather. This can inform the way we see strangers in our churches and in our mosques.
Gradually, the whole country will be conscious enough to appreciate the fact that, we are fighting this canker as a nation", he said.
The MP also questioned the preparedness of the country, in the wake of a terrorist attack.
Earlier, the National Security Ministry said it is instituting new measures at public places of worship to avert terrorist attacks in the country.
In a letter dated May 12 and addressed to heads of religious groups in the country, the security agency stated that following the increasing concerns over the expansion of terrorist groups in the sub-region, these measures have become necessary to protect the country.
Among other things, the Ministry disclosed that there would be the installation of CCTVs at designated public places of worship.
Other measures include engaging the services of approved private security guards at the places of worship among others.
The agency noted that "while the Ministry of National Security is collaborating with the relevant State Security and Intelligence Agencies to institute measures to avert terrorist attacks in the country, your outfit is urged to enhance security, particularly in areas where mass gatherings are conducted".
But while contributing to discussions on The Probe on Sunday, Peter Toobu indicated that the measures are not enough. Stating that, there is the need for extensive public awareness on the threats of extremists.
Meanwhile, Deputy Defence Minister, Kofi Amankwa-Manu, has warned that given the current activities of terrorists in the sub-region, there is the need for Ghana to pay more attention to its security.
According to him, 'all is not well'.
Joining the discussion with Emefa Apawu on The Probe on Sunday, the Deputy Minister cited a recent extremist attack in Togo; cautioning that, the attackers have devised very sophisticated ways of wreaking havoc, therefore the need for Ghana to stay alert.
'So we cannot sit and fold our arms, thinking that all is well. All is not well. And we need to prepare. We need to be vigilant. We need to really, like we say in Ghana, 'shine our eyes the more'. Because if you look around, all the countries around Ghana, in one way or the other have been hit. We are the only country left standing.
If I say we're the only country left standing, talk of Burkina they've been hit. Talk of Togo, Benin, Nigeria, Burkina Faso, Mali, Niger, they've all experienced this bitter pill from these extremists. And when you look at the southward movement of these groupings, clearly, one thing is obvious, they're looking to find a coastal country" he said.
Having emphasised the need for Ghana to be on the lookout, he however revealed that Ghana's security apparatus, are on standby to mitigate any invasions from the lurking extremists in the sub-region.
Source: Joy Online
Please click the following URL to read the text of the original story:
https://www.myjoyonline.com/imams-and-pastors-must-inform-congregants-about-possibility-of-extremist-attacks-wa-west-mp/
--------
Europe
Racist Buffalo killer labelled London Mayor 'Muslim invader' in chilling manifesto
16 May 2022
Payton Gendron, 18, has been detained and is being kept on suicide watch after the mass shooting at a US supermarket in the city of Buffalo
He is accused of shooting 13 people, ten of whom were fatally injured, during an attack motivated by his hatred for black people at a Top Market supermarket in Buffalo, New York.
Eleven of the 13 people who were shot were black.
According to the Mirror, the gunman, who is accused of scrawling the N-word on his rifle before carrying out the massacre, published a horrific 180-page manifesto referencing Mr Khan. On page 165 of his manifesto, under the heading 'Kill high profile enemies', he listed Mr Khan as one of three men he wanted dead.
Gendron was described by police as having carried out an act of "racially motived violent extremism".
Police said a white, 18-year-old man in military gear used a helmet camera to livestream the attack on mostly Black shoppers and workers on Saturday.
For at least two minutes, he broadcast the shooting live on the streaming platform Twitch before the service ended his transmission.
Police said he shot 11 Black victims and two who were white before surrendering to police. Later, he appeared before a judge in a paper medical gown and was arraigned on murder charges.
Speaking near the scene of the attack, governor Kathy Hochul said: "It is my sincere hope that this individual, this white supremacist who just perpetrated a hate crime on an innocent community, will spend the rest of his days behind bars. And heaven help him in the next world as well."
It wasn't immediately clear why Gendron travelled to Buffalo to stage the assault. A clip apparently from his Twitch feed, posted on social media, showed him arriving at the supermarket in his car.
Buffalo Police Commissioner Joseph Gramaglia said the gunman shot four people outside the store, three fatally.
Inside the store, a security guard who was a retired Buffalo police officer fired multiple shots, but a bullet that hit the gunman's bulletproof vest had no effect, the commissioner added.
The gunman then killed the guard before stalking through the store shooting other victims. Upon being confronted by police, the suspect had put the gun to his own neck before officers talked him into dropping the weapon.
Buffalo Mayor Byron Brown told a news conference: "This is the worst nightmare that any community can face, and we are hurting and we are seething right now.
"The depth of pain that families are feeling and that all of us are feeling right now cannot even be explained."
At an earlier news briefing, Erie County Sheriff John Garcia pointedly called the shooting a hate crime.
"This was pure evil. It was straight up racially motivated hate crime from somebody outside of our community, outside of the city of good neighbours... coming into our community and trying to inflict that evil upon us," the sheriff said.
Tops Friendly Markets released a statement saying, "We are shocked and deeply saddened by this senseless act of violence and our thoughts and prayers are with the victims and their families."
Source: LBC
Please click the following URL to read the text of the original story:
https://www.lbc.co.uk/news/racist-buffalo-killer-labelled-london-mayor-muslim-invader-in-chilling-manifesto/
--------
Cyclists gear up for 60 mile challenge to raise funds for Islamic Education Centre
BY SHUIAB KHAN
REPORTER AND COLUMNIST
The group named 'Team Buraq' are made up of people of all ages and skills and they are hoping to surpass last year's staggering figure of £70,000.
The sponsored ride to Blackpool and back to Blackburn is raising money to fund tthe new Islamic Education Centre being built off Devonport Road.
The new build is set to replace the Islamic Education Centre based on the corner of Addison Street as the main focal point for prayers and religious activities. The project is now in the final stages with money having been raised by donors and through fundraising events such as this cycle ride.
The 60-mile cycle ride will take place on Sunday May 29.
Among the riders is shop owner Raja Azmat. He had adorned his counter with the appeal.
He said: "It is wonderful to be able to take part in the cycle ride.
"I do cycle already but this is still something I am training for. We want to raise as much funds for the mosque as possible.
"It will be in the heart of the community and it has been great to see so many of the younger generation stepping forward to take part in the challenge."
Azmat's shop is one of the most popular corner shops in Blackburn.
Hasan Ali, 22, is also taking part in the challenge. He said: "This is a great initiative and will assist the local community in so many ways."
In August last year when the cyclists returned from the trip they were given a heroes welcome with families and children taking to the streets with flares.
The mosque which is based in land behind Foxhouse Street and Whitehead Street will cater for all those living in the immediate vicinity of the building. It is set to include funeral services as well as extra space for madressa classes.
The exterior of the mosque has been completed and work is not taking place to complete the interior. The Islamic Education Centre this week posted footage of the mosque being linked to the electrical grid for the first time.
Source: Lanca Shire Telegraph
Please click the following URL to read the text of the original story:
https://www.lancashiretelegraph.co.uk/news/20137530.cyclists-gear-60-mile-challenge-raise-funds-mosque/
--------
Biden Renews Support for Jordan's Long-Running Role as Custodian of Jerusalem, Al-Aqsa Mosque
Sunday, 15 May, 2022
US President Joe Biden renewed on Friday his country's support for Jordan's crucial role as the custodian of Muslim holy sites, particularly Jerusalem and Al-Aqsa.
Biden met with King Abdullah II of Jordan in Washington on Friday amid tensions in the Palestinian Territories where clashes erupted in recent weeks at Jerusalem's Al-Aqsa mosque compound.
The situation worsened this week with the killing of veteran Al Jazeera journalist Shireen Abu Akleh, a dual Palestinian-American national, when she was covering Israeli raids in the occupied West Bank area of Jenin.
King Abdullah's visit to Washington is his second since Biden came to office. He was accompanied by his wife, Queen Rania, and his eldest son, Crown Prince Hussein.
In a statement following the meeting, the White House said Biden reaffirmed the close and enduring nature of the friendship between the United States and Jordan.
"Biden cited the need to preserve the historic status quo at the Haram al-Sharif and he also recognized the Hashemite Kingdom of Jordan's crucial role as the custodian of Muslim holy places in Jerusalem," the White House statement said.
It added that both leaders consulted on recent events in the region and discussed urgent mechanisms to stem violence, calm rhetoric and reduce tensions in Israel and the West Bank.
The leaders then discussed the political and economic benefits of further regional integration in infrastructure, energy, water, and climate projects, with Jordan a critical hub for such cooperation and investment.
"Jordan is a critical ally and force for stability in the Middle East," Biden stressed.
Before his meeting with Biden, King Abdullah II met with a number of officials from the US administration and several congressmen.
On Thursday, he sat down with US Secretary of Defense Lloyd Austin at the Pentagon, where the King warned against the continuous cycle of violence in the Palestinian Territories, especially in light of unilateral Israeli measures, stressing that the repercussions would be damaging to regional security and stability.
For his part, Austin expressed his country's concern over the latest escalation and violence in East Jerusalem and the West Bank, commending the King's "critical role" in de-escalating tensions, and noting that the US looks to work with Jordan towards security, stability and just peace for the Palestinians and the Israelis.
Biden is expected to visit the region late next month, where he will meet in Prime Minister Naftali Bennett in Israel and Palestinian President Mahmoud Abbas in Bethlehem.
The Biden administration had announced its support for a "sovereign and democratic" Palestinian state. Biden had previously announced plans to reopen the US consulate in East Jerusalem.
Former President Donald Trump closed the Jerusalem consulate and placed its staff within the US Embassy to Israel that was moved to Jerusalem from Tel Aviv in 2018.
Source: Asharq Al-Awsat
Please click the following URL to read the text of the original story:
https://english.aawsat.com/home/article/3646271/biden-renews-support-jordan%E2%80%99s-long-running-role-custodian-jerusalem-al-aqsa
--------
Republican Senate hopeful Mehmet Oz calls far-right rival's comments on Islam 'reprehensible'
Sun 15 May 2022
Republican Senate hopeful Mehmet Oz has stepped up his criticism of far-right candidates in Pennsylvania who are gaining traction ahead of Tuesday's primary election.
After spending much of the campaign steering clear of fellow Republican Senate contender Kathy Barnette, Oz said she was out of step with the Republican party and would be unable to win the general election in November.
In an interview, he took issue with a 2015 tweet from Barnette in which she wrote that "Pedophilia is a Cornerstone of Islam". Oz, who would be the nation's first Muslim senator, described the comments as "disqualifying".
"It's reprehensible that she would tweet out something that is defamatory to an entire religion," Oz told the Associated Press. "This state was based on religious freedom. I'm proud as a Pennsylvanian to uphold those founding beliefs that every faith has its merits."
The Barnette campaign did not respond to a request for comment.
Earlier in the week, Barnette told NBC News that she did not make the statement, though it was still live on her Twitter feed on Saturday.
For months, the race for the Republican nomination for Pennsylvania's open Senate seat has been an expensive fight between former hedge fund CEO David McCormick and Oz, who have spent millions of dollars attacking each other on television.
But in the final days of the Republican primary, a third candidate – Barnette, a conservative commentator who has courted hard-line pro-Trump groups – has emerged. Trump himself has warned that Barnette's background hasn't been properly vetted.
With the election just days away, polls show a tight three-way race with a sizable number of undecided voters who could sway the results next week.
Oz has won Trump's endorsement in the Senate contest, although some Trump supporters continue to question his conservative credentials.
Source: The Guardian
Please click the following URL to read the text of the original story:
https://www.theguardian.com/us-news/2022/may/15/pennsylvania-republican-senate-hopeful-mehmet-oz-kathy-barnette
--------
UNSC to Discuss Adjusting Sanctions on Islamic Emirate Leaders
In June of 2022, the UN Security Council must decide whether to adjust the current regime of sanctions against leadership of the Islamic Emirate, said the Hill, a US Washingon-focused news outlet, saying "it's a consequential decision."
The report said that the UN sanctions on the Islamic Emirate for years had included a ban on the leadership's international travel, but the Security Council suspended that ban three years ago for the sake of a "reconciliation" process.
Analysts believe that the US will not impose the sanctions but there is a possibility.
"The US use this (sanction) as leverage but there is a possibility for its suspension to continue because the US is still hopeful of finding a diplomatic solution for Afghanistan, and traveling is important for that issue," said Torek Farhadi, a political analyst.
The Hill noted that the Islamic Emirate's leaders used their travel freedom to cut separate deals with Russia, China and other neighbors, reinforcing their government while "refusing to negotiate with the elected Afghan government officials."
"A general meeting will be held in UN Security Council and member of the UNSC will meet," said Suraya Paikan, a political analyst.
The Islamic Emirate has not expressed any comment on the matter.
Under the UN Security Council Resolution of 1998, which extended an even older set of sanctions from before 9/11, travel bans on the Islamic Emirate's leadership accompanied financial sanctions and weapons embargos.
But the UNSC lifted the travel bans on senior leaders of the Islamic Emirate in April 2019.
Source: Tolo News
Please click the following URL to read the text of the original story:
https://tolonews.com/afghanistan-178024
--------
Middle East
Lebanon vote brings blow for Hezbollah allies in preliminary results
May 16, 2022
BEIRUT: Iran-backed Hezbollah has been dealt a blow in Lebanon's parliamentary election with preliminary results showing losses for some of its oldest allies and the Lebanese Forces party saying it had gained seats.
With votes still being counted, the final make-up of the 128-member parliament has yet to emerge. The heavily armed Shiite Muslim group Hezbollah and its allies won a majority of 71 seats when Lebanon last voted in 2018.
The current election is the first since Lebanon's devastating economic meltdown blamed by the World Bank on ruling politicians after a huge port explosion in 2020 that shattered Beirut.
One of the most startling upsets saw Hezbollah-allied Druze politician Talal Arslan, scion of one of Lebanon's oldest political dynasties who was first elected in 1992, lose his seat to Mark Daou, a newcomer running on a reform agenda, according to the latter's campaign manager and a Hezbollah official.
Initial results also indicated wins for at least five other independents who have campaigned on a platform of reform and bringing to account politicians blamed for steering Lebanon into the worst crisis since its 1975-90 civil war.
Whether Hezbollah and its allies can cling on to a majority hinges on results not yet finalized, including those in Sunni Muslim seats contested by allies and opponents of the Shiite movement.
Gains reported by the Lebanese Forces (LF), which is vehemently opposed to Hezbollah, mean it would overtake the Hezbollah-allied Free Patriotic Movement (FPM) as the biggest Christian party in parliament.
The LF won at least 20 seats, up from 15 in 2018, said the head of its press office, Antoinette Geagea.
The FPM had won up to 16 seats, down from 18 in 2018, Sayed Younes, the head of its electoral machine, told Reuters.
The FPM has been the biggest Christian party in parliament since its founder, President Michel Aoun, returned from exile in 2005 in France. Aoun and LF leader Samir Geagea were civil war adversaries.
The LF, established as a militia during Lebanon's 15-year civil war, has repeatedly called for Hezbollah to give up its arsenal.
"A NEW BEGINNING"
An opposition candidate also made a breakthrough in an area of southern Lebanon dominated by Hezbollah.
Elias Jradi, an eye doctor, won an Orthodox Christian seat previously held by Assaad Hardan of the Syrian Socialist Nationalist Party, a close Hezbollah ally and MP since 1992, two Hezbollah officials said.
"It's a new beginning for the south and for Lebanon as a whole," Jradi told Reuters.
Nadim Houry, executive director of Arab Reform Initiative, said the results of 14 or 15 seats would determine the majority.
"You are going to have two blocs opposed to each other — on the one hand Hezbollah and its allies, and on the other the Lebanese Forces and its allies, and in the middle these new voices that will enter," he said.
"This is a clear loss for the FPM. They maintain a bloc but they lost a lot of seats and the biggest beneficiary is the Lebanese Forces. Samir Geagea has emerged as the new Christian strongman."
The next parliament must nominate a prime minister to form a cabinet, in a process that can take months. Any delay would hold up reforms to tackle the crisis and unlock support from the International Monetary Fund and donor nations.
Source: Arab News
Please click the following URL to read the text of the original story:
https://www.arabnews.com/node/2082816/middle-east
--------
Palestinians step up pressure on Israel over Abu Akleh killing probe
MOHAMMED NAJIB
May 15, 2022
RAMALLAH: Palestinian Justice Minister Mohammed Al-Shalaldeh said Israel bears full responsibility for the assassination of Al Jazeera journalist Shireen Abu Akleh, and that it was a premeditated crime that amounts to a war crime.
Abu Akleh was shot in the head on Wednesday morning during an Israeli military raid in the West Bank town of Jenin.
Six days after Israel denied its soldiers were responsible, an Israel Defence Force officer told Haaretz that an Israeli soldier seemed to have had fired at Abu Akleh and killed her.
The officer added that an Israeli soldier sitting in an army vehicle with a rifle equipped with a telescopic lens fired at Abu Akleh from 190 meters and killed her.
During his subsequent interrogation, the soldier said he did not know he shot at Abu Akleh when he fired, had not seen her, and did not know her identity.
Al-Shalaldeh said: "Let the one who fired know that this projectile is in our possession, and the evidence for that is that we cannot participate with the Israelis in this investigation because we also have sovereignty under the Israeli occupation, and therefore we do not allow that it is a joint investigation, and have many similar bad experiences with the occupying power."
He added that examining the bullet would take time due to the nature of forensic investigations.
"All specialists and experts in this regard take all legal measures, but in principle, we say in terms of evidence, and the criminal evidence says that the projectile came from … the Israeli occupation soldiers," said the minister.
Israeli TV Channel 12 reported that the US asked Israel for clarification regarding the investigation into the death of Abu Akleh, who was a Palestinian-American citizen.
The Palestinian public prosecutor requested an autopsy of Abu Akleh's body to find out the cause of death and to locate any evidence to link it to the party responsible for it.
On May 12, the Institute of Forensic Medicine at An-Najah National University in Nablus revealed that the shot that killed Abu Akleh left her with no chance of survival even with medical intervention.
Dr Rayan Al-Ali, director of the institute, said that the bullet created a complete laceration of the brain and skull on impact.
Al-Ali indicated that the distance of the shot could not be accurately determined. "All we can conclude now is that the distance is more than a meter, and this means that the shooting came from a (distant) source," he said
He pointed out that the doctors found a mutilated projectile, and added: "The size of the injury makes us know the nature of the weapon used, and what we can say now is that it is a long, belted, high-speed weapon,"
Al-Ali stressed that it was not possible to disclose any further information at this time.
The director of Al Jazeera's office in Ramallah, Walid Al-Omari, confirmed the occupation forces' role in Abu Akleh's death a speech in front of An-Najah University Hospital in Nablus.
The testimonies of eyewitnesses, from fellow journalists to civilians present at the moment of Abu Akleh's death, also imply that the gunfire came from the IDF.
Al-Omari said: "We have a premeditated crime, and a clear field assassination, where journalists, including Abu Akleh, wore what distinguishes them and protects them. The shooting of them came deliberately."
An internal investigation conducted by the IDF revealed that an Israeli sniper from the Dovdovan special unit had fired through a hole in his armoured military vehicle, and likely hit Abu Akleh by mistake.
"The army's investigation is a partial investigation, so they requested the bullet from the Palestinian side because of its great scientific importance, and examining the bullet enables it to confirm whether it was fired from an Israeli or non-Israeli rifle," a senior Israeli defense expert told Arab News.
Source: Arab News
Please click the following URL to read the text of the original story:
https://www.arabnews.com/node/2082661/middle-east
--------
First commercial flight in 6 years leaves Yemen's Sanaa
May 16, 2022
SANAA: The first commercial flight in nearly six years took off from Yemen's Houthi-held capital on Monday, a major step forward in a peace process that has provided rare relief from conflict.
The Yemenia plane carrying 126 passengers, including hospital patients needing treatment abroad and their relatives, took off from Sanaa for the Jordanian capital Amman just after 9:00 am (0600 GMT), AFP journalists saw.
Before take-off, the plane was taxied through an honor guard of two fire trucks spraying jets of water.
Sanaa's airport has been closed to commercial traffic since August 2016.
Source: Arab News
Please click the following URL to read the text of the original story:
https://www.arabnews.com/node/2082886/middle-east
--------
Palestinians commemorate 74th anniversary of Nakba amid outcry over funeral attack
May 15, 2022
GAZA CITY: Palestinians rallied on Sunday to mark the Nakba 74 years after Israel's creation, with condemnation widespread over a police raid at the funeral of slain Palestinian-American journalist Shireen Abu Akleh.
Social media sites were flooded with stories from the time of the displacement in 1948 and posts commemorating the Nakba and calling for the right to return.
The annual demonstrations across all Palestinian cities in the West Bank and Gaza Strip came amid high tensions over the killing of Akleh, 51, and a series of military confrontations last month during Ramadan, which saw subsequent Israeli military incursions into Palestinian cities.
Despite the exchange of threats with Hamas, Israel reopened on Sunday its only crossing with the Gaza Strip to Palestinian workers nearly two weeks after closing it over the unrest.
Palestinian President Mahmoud Abbas made a speech on the commemoration of the Nakba Saturday evening from the city of Ramallah.
"Staying on [the land], regardless of the difficulties, complications and brutal crimes of the occupation, is the best response to the Nakba, and to the mentality of ethnic cleansing, settlement and Judaization," he said.
Abbas added: "The great Palestinian people cannot be defeated, nor can their will be broken, simply because they have a right and a just cause that cannot be obliterated by false narratives."
The anniversary of the Nakba comes amid Palestinian condemnation of the Israeli announcement to build new units in Israeli settlements in the West Bank.
Palestinian factions and the Popular Committee for Refugees in the cities of Gaza and Ramallah organized two central marches to commemorate the Nakba.
Palestinian flags were raised at the events under the slogan "Enough of 74 years of injustice and double standards."
The march in Ramallah, in which thousands of people participated, started from the tomb of former Palestinian President Yasser Arafat and proceeded toward the city center.
The march in Gaza started from Al-Katiba Square and proceeded toward the UN headquarters in Gaza City.
Hamas issued a statement to mark the anniversary.
"There is no legitimacy for the occupation over an inch of our land, our sanctuaries, and we are on the path of comprehensive resistance until liberation and return."
The statement added: "Seventy-four years after the occupation of our land and the displacement of our people, and despite all the massacres and crimes committed by the enemy throughout its dark history, in the longest continuous occupation in the world, the Palestinian people are still steadfast on their land, adhering to their rights and… [serving as] the finest examples of heroism, sacrifice, patience and jihad."
The Palestinian News Agency WAFA issued statistics showing that the number of Palestinians has reached more than 5 million in the West Bank, Gaza Strip and Jerusalem following the displacement of about 800,000 Palestinians in 1948, while the Israeli army has killed about 100,000 Palestinians since then.
Source: Arab News
Please click the following URL to read the text of the original story:
https://www.arabnews.com/node/2082666/middle-east
--------
Ethiopian ex-peacekeepers from Tigray arrive in Sudan for asylum
May 15, 2022
KASSALA, Sudan: Some 40 former peacekeepers hailing from Ethiopia's war-wracked Tigray region arrived Sunday in eastern Sudan after seeking asylum, according to an AFP correspondent.
Last month, more than 500 UN peacekeepers who were deployed in the disputed Abyei region between Sudan and South Sudan asked Khartoum for asylum, citing fears for their safety if they were to return home.
On Sunday, an official with Sudan's refugee commission confirmed that hundreds of Ethiopian peacekeepers requested asylum after the end of their mission in Abyei.
"Arrivals of the asylum seekers will continue daily until they are all moved," said the official, who spoke on condition of anonymity.
An AFP correspondent said the ex-peacekeepers who arrived on Sunday were taken to the Um Gargour refugee camp in eastern Sudan.
The Abyei region has been contested since South Sudan gained independence from Sudan in 2011.
The United Nations established a peacekeeping mission that year and has since deployed some 4,000 mainly Ethiopian peacekeepers to the region.
Last month, Ethiopia's defense ministry said the peacekeepers from Tigray refusing to return were victims of rebel "propaganda."
But Tigrayan peacekeepers interviewed by AFP all said they were worried about their safety, with one senior officer saying that other returnees had been arrested or killed in Ethiopia.
The war in northern Ethiopia broke out in November 2020, when Prime Minister Abiy Ahmed sent troops into Tigray in response to what he said were rebel attacks on army camps.
Last year, around 120 Tigrayan ex-peacekeepers who were posted in the Darfur region sought asylum in Sudan, according to the UN.
Sudan has received tens of thousands of Ethiopian refugees since the outbreak of the Tigray conflict.
Source: Arab News
Please click the following URL to read the text of the original story:
https://www.arabnews.com/node/2082671/middle-east
--------
North America
RepublicanKathy BarnetteWho Made Anti-Muslim Comments Surges In US Senate Race
Willy Lowry
Washington
May 16, 2022
Until recently, few people outside of Pennsylvania had heard of Kathy Barnette.
The political commentator, who is running to become the Republican candidate for an open Senate seat in November, was languishing in the polls before Tuesday's primary election. As such, the two established Republican candidates paid her little attention.
That has all changed now as Ms Barnette, whose Twitter account is littered with incendiary comments, many of them disparaging toward Islam, has pulled even with Dr Mehmet Oz, who is well known for his The Dr Oz Show, and David McCormick, a former hedge fund manager.
Two separate polls, one by Fox News, the other by Trafalgar, show Ms Barnette in a near statistical dead heat with the better-funded and better-known candidates.
Her last-minute surge has jolted the Republican Party, which fears she would be unelectable in a race against a Democratic candidate in November.
"Kathy Barnette will never be able to win the General Election against the Radical Left Democrats," former president Donald Trump said in a statement last week.
Ms Barnette's campaign did not respond to requests for an interview.
Speaking on "Fox News Sunday" ahead of Tuesday's primary, Ms Barnette said the "overwhelming majority" of the comments for which she's now being criticised are old and not complete thoughts and that she hasn't embellished her record as critics say.
"They're mad because I didn't ask for permission to be in this space," Ms Barnette said. "I just walked in because this is my country, and our country is in trouble."
According to the Fox News poll, Dr Oz is leading with 22 per cent, followed by Mr McCormick with 20 per cent and Ms Barnette with 19 per cent. The margin of error for the poll is three per cent.
Mr Trump, himself known for his "Muslim ban" that sought to restrict travel from 13 majority-Muslim and African nations, said Ms Barnette had said things in the past that had "not been properly explained or vetted".
He did not, however, condemn her seemingly Islamophobic Twitter posts, which include multiple false claims that former president Barack Obama is a Muslim, and said she will "have a wonderful future in the Republican Party" if she can explain those comments.
"And I will be behind her all the way," Mr Trump said.
Ms Barnette also said Mr Obama "loves all things homosexual" and that Islam "should be banned in the USA."
The Pennsylvania Senate race is seen as crucial in November's midterms. The seat is presently held by Republican Pat Toomey, who is not seeking re-election.
If the Democrats can secure a win, they may be able to gain control of the evenly divided Senate.
Though they currently have a nominal majority in the upper house, thanks to Vice President Kamala Harris's tie-breaking role, they have no practical mandate as conservative Democrat Joe Manchin often sides with Republicans.
Ms Barnette's popularity began rising after she released a video describing how she was a product of rape and why she is still anti-abortion.
The video comes after a leaked Supreme Court ruling revealed the nation's top court is likely to scrap federal protections for women seeking abortions.
The four-minute video has more than 1.3 million views and has helped Ms Barnette to win the backing of conservative groups such as Catholic Vote.
Ms Barnette's ascendancy has caught her opponents flat-footed and forced them to alter campaign strategies just days before Tuesday's primary.
"It's reprehensible that she would tweet out something that is defamatory to an entire religion," Dr Oz told The Associated Press on Saturday.
"This state was based on religious freedom. I'm proud as a Pennsylvanian to uphold those founding beliefs that every faith has its merits."
For months, Dr Oz and Mr McCormick waged vicious attacks against each other trying to court Mr Trump's approval and win the Senate primary.
Dr Oz, who made a fortune in television and has pumped millions of dollars into his own campaign, eventually won Mr Trump's endorsement.
That Dr Oz and Mr McCormick paid so much attention to each other likely allowed Ms Barnette to sneak up in the race, said Jessica Taylor, the Senate and Governors editor at The Cook Political Report that analyses US political campaigns.
"What is stunning is that she has done this with very little money," Ms Taylor told The National. "I think she's been outspent by something like 350 to one."
Source: The National News
Please click the following URL to read the text of the original story:
https://www.thenationalnews.com/world/us-news/2022/05/16/republican-who-posted-anti-muslim-comments-surges-against-dr-oz-in-senate-primary/
-------
Reach of Buffalo livestream 'not even comparable' to Christchurch attack
May 16 2022
The spread of the livestream video of yesterday's mass shooting in Buffalo, New York was "not even comparable" to the reach of the livestream posted by the March 15 terrorist in 2019.
Anjum Rahman, who is co-chair of the Christchurch Call advisory network, said the spread of the content related to the Buffalo attack was "certainly better" than the March 15 video which was seen four million times in the hours it took to remove it.
There were interactions on Facebook and Twitter alone in the thousands, which was "not even comparable" to the Christchurch attack material viewings.
Acting Chief Censor Rupert Ablett-Hampson announced on Monday morning that the video and the manifesto of a white supremacist shooting more than a dozen mostly-black people in a grocery store in Buffalo, New York, had been banned.
"This footage celebrates the killing of innocent people going about their lives, doing their grocery shopping."
Having received and examined a copy of the livestream on Monday, Ablett-Hampson said the 6 minute 52 second video of the attack had been classified, on an interim basis, as objectionable under the Films, Videos, and Publications Classification Act 1993 – the same approach was taken for the killer's written manifesto on Sunday.
The video reached the "objectionable threshold".
"There is no merit in this, and it is sadly being shared by people who support the actions of the killer."
As with the manifesto, he urged New Zealanders not to seek the video out, and it would be an offense to possess or distribute them.
In the written publication, banned yesterday, the killer Payton Gendron, 18, says the March 15 Mosque terrorist inspired him to act.
The document outlines his racist, anti-immigrant and antisemitic beliefs, including a desire to drive all people not of European descent from the US.
Gendron shot four people outside the store, three fatally, said Buffalo Police Commissioner Joseph Gramaglia.
Inside the store, a security guard who was a retired Buffalo police officer fired multiple shots, but a bullet that hit the gunman's bulletproof vest had no effect.
The gunman then killed the guard, the commissioner said, then stalked through the store shooting other victims.
Global Internet Forum to Counter Terrorism (GIFCT), which had been beefed up since the Christchurch attack due to collaboration between countries and companies, quickly activated hashed signatures to identify when the attack appeared online.
But Rahman worried that while content was marked so platforms could remove them, GIFCT had no powers to make those platforms do so.
"We need to start seeing some international consistency...that protect legal rights, but that also provide a way to deal with this stuff when it happens to ensure that it's not going viral."
Questions needed to be asked about how platforms planned to prevent content like it being shared in the first place.
Twitch was a product of Amazon, which was a member of GIFCT, so she wanted to know what it was doing to prevent the platform being used in that way.
She believed the shooter used Twitch "for a reason", so it was important to find out why
There might be a case for some platforms accepting content that shared snippets of the manifest to show why it was wrong, for example, but "where do you draw the line?"
There were long-term impacts of terrorism material being available online, she said.
"These people are there, the question is how do we deal with that and what are we doing about it."
Just taking content down was not enough, and more work was needed on finding out why and how they were radicalised in the first place.
"It's about protecting communities from violence and young people being radicalised online."
Her organisation, Inclusive Aotearoa Collective Tāhono, was trying to achieve this by investing in a cohesive society.The Imam of Christchurch's An-Nur (Al Noor) mosque – where 43 people were slain in the 2019 terror attack – has called for social media companies to do more to stop people spreading hate online.
Gendron published a 180-page racist manifesto heavily referencing the March 15 attack and, like the Christchurch terrorist, tried to livestream the killings.
Fouda said he was "very saddened by the shocking news".
Family and friends of those killed in the Christchurch terror attack had gathered to remember their loved ones by unveiling a peace rock in Harrington Park in Christchurch when reports of the "heinous" attack in Buffalo began.
"The far-right wing terrorist responsible for the attack used the 15th March terror attack as an inspiration to work out his violent acts," he said.
"This sends a strong message to all of us that we should care more about one another and work together to tackle the issue of racism in our society," Fouda said.
"Social media companies must stop people from using them as a platform for spreading hate."
A March 15 Whānau Trust spokesperson said they were sorry to hear of the Buffalo shooting and send their condolences to everyone affected.
"We are further saddened to hear the attacker referenced 15 March," the spokesperson said.
The unveiled Peace Rock includes a poem by Sirwan Mohamadi, called Peace, Love and Unity, to remember and inspire hope for a united future.
Fifty-one people were killed in the Christchurch terror attacks of March 15, 2019, at the An-Nur and Linwood mosques. The lone gunman is serving a life prison sentence with no parole.
Source: Stuff
Please click the following URL to read the text of the original story:
https://www.stuff.co.nz/national/128652392/reach-of-buffalo-livestream-not-even-comparable-to-christchurch-attack
--------
Fox News Host Confronts Kathy Barnette on Anti-Muslim Tweets
BY FATMA KHALED
5/15/22
Pennsylvania GOP Senate candidate Kathy Barnette was confronted Sunday on Fox News Sunday about anti-Muslim tweets that she posted including ones that targeted former President Barack Obama.
Host Shannon Bream asked the Senate hopeful during a segment about the context in which those tweets were posted.
"Obama is aMuslim. Doing Muslim like THINGS!," Barnette tweeted in 2016, touting false claims about the former president's faith. She targeted Obama, who is a devout Christian, again later that year, by tweeting: "Obama would NEVER lie or evade the American people. He's a Muslim, errrr, American," in reference to the Iran nuclear deal.
"Let me just say in almost all of those tweets...especially when you look at the timeframe we were living in, at that particular time, we had the Obama administration bringing in a lot of Syrian refugees at that time," Barnette told Bream, adding that she was concerned that refugees weren't being properly vetted.
The Fox News host also mentioned one of Barnette's anti-Muslim tweets that dated back to 2014 in which she said that Islam "must not be allowed to thrive under any condition" in an effort to protect freedom.
"The overwhelming majority of the tweets that are now being presented are not even full thoughts. They're not even full sentences. And yet people take it and they begin to build their own narrative around it," Barnette said. "So I can't provide a lot of context because again, it's almost 10 years ago, that's how far they have to go back to try to find anything on me."
In 2015, Barnette wrote on Twitter that "Pedophilia is a Cornerstone of Islam." However, she rejected that thought when she was asked about it by NBC News correspondent Dasha Burns in a Meet the Press interview clip that was posted Friday.
"Yeah, no, I don't think that's me. I would never have said that. Okay, I would have never said that, because I don't believe that," Barnette said.
In 2019, Barnette took a hit at Representative Rashida Tlaib, a Michigan Democrat, who made history by becoming the first Muslim woman to ever serve in the state's legislature, after the congresswoman made comments about former President Donald Trump.
"Aren't you all so glad that you voted in the first 'openly' Palestinian Muslim? (Sarcasm for ya'll who don't get sarcasm," she tweeted.
Source: News Week
Please click the following URL to read the text of the original story:
https://www.newsweek.com/fox-news-host-confronts-kathy-barnette-anti-muslim-tweets-1706762?piano_t=1
--------
Pakistan
For US, Pakistan's become too hot to handle. A raging Imran Khan is only making it worse
TARA KARTHA
16 May, 2022
After Pakistan's former Prime Minister Imran Khan seethed and fumed at US President Joe Biden's refusal to talk to him over the phone, it now seems that one of the youngest foreign ministers in the world, Bilawal Bhutto, is to sally forth to Washington to meet his counterpart Secretary of State Antony Blinken. This is rather an outreach, given that Blinken hasn't exactly been on friendly terms with the Bhutto's predecessor Shah Mehmood Qureshi.
Outside on the streets, Imran Khan, the ultimate street corner politician, is drawing crowds, with his allegations of a 'foreign-funded' conspiracy to remove his government that seems to be gaining credence, making any reset in Pakistan-US ties more difficult. What makes it worse is that the brand new government of Prime Minister Shahbaz Sharif seems shaky even before it has started. Allies show little enthusiasm for policy making and talk of early elections is in the air. Moreover, an already serious food crisis has been made worse by water shortages hitting the rabi crop, and the economy is in free fall.
For all these reasons and more, Pakistan needs the US. But there are two sides to this coin. There is also the question of what the US thinks Pakistan can deliver in its current state.
One side of the coin: The whirlpool that is Pakistan
There is little to enthuse any foreign government in the current state of affairs. After a long delay and public squabbling, PM Shahbaz Sharif finally appointed 37 cabinet ministers, 13 for the Pakistan Muslim League (Nawaz), nine for the Pakistan Peoples Party (PPP), and the rest going to smaller parties. That the PPP has less number of portfolios was more due to the hesitancy within the party to accept any important post within a government that not just had a short shelf life — elections being due in January 2023 — but also because no one wants to be held accountable for what is clearly a dire situation. PPP chairperson Asif Ali Zardari made a very unconvincing argument that the PPP would stay out of the cabinet to 'serve the people', as did the MQM-P (Muttahida Qaumi Movement-Pakistan). Bilawal himself took on the Foreign Minister portfolio more than a week later.
Thereafter, the first sluggish movement has occurred only a meeting with Nawaz Sharif in London, held in the tightest secrecy, after which major decisions are apparently to be made. Worse is to follow. The Prime Minister and his son have again requested deferral of a Rs 16 billion indictment case, due to a 'medical appointment' in the UK. Not the greatest way to win the people's confidence, already dented by his brother Nawaz's flight to the UK on medical grounds after a series of highly publicised corruption charges.
Then there is the public squabbling over early elections, which shows all concerned in the worst possible light. In short, political instability is rife, and likely to continue at least till the next elections, and probably thereafter if the current coalition trends continue. Not the best ally or friend for a foreign government to look to for assistance.
Elections anyone?
Then of course is the ageing but raging ex-Prime Minister on the streets. His story, paraphrased heavily, is that the US — enraged with Khan's government — had issued a threat to Pakistani diplomats that if Khan was removed "all would be forgiven". This he linked directly to the issuance of a 'no confidence motion' against him, and his final ouster. The fact that such a no confidence motion had been brewing for more than a year has been forgotten in the high decibel noise.
In a country where conspiracy theories jostle with one another, the ridiculous one is steadily gaining more credence — apparent as the crowds swell at each of his rallies — and made worse as the present government seems to be bent on proving Imran's contention that it is made up of a welter of dynastic self-serving families.
And here is the icing on Khan's cake. He hasn't run away. He's there, and there really seems to be no serious charge of corruption against him. His threat of a long march to the capital is dangerous, and is designed to force elections, and the establishment has few options. There is every chance that he could succeed, in which case there is also the chance that Khan will be back at the helm. Don't forget the rumours that there is a faction within the army backing him. Any renewed Pakistan-US rapprochement has to take this into account.
A tottering economy and linked issues
Then there is the economy. The dollar is trading at about Rs 195, and a highest ever deficit of some Rs 6.4 trillion. The acting finance advisor Miftah Ismail clearly said the country has no option but to go back to the International Monetary Fund (IMF), which means a rollback of subsidies announced by the Imran Khan government including on petroleum. This will take petrol prices to Rs 190 per litre, and diesel to Rs 230. That's not just inflationary but will enrage people already tired of inflation. The IMF's 24 April statement observes that "prompt action is needed to reverse the unfunded subsidies which have slowed discussions for the 7th review". In other words, a condition for assistance.
Meanwhile, China has yet to show any signs of agreeing to roll over debt of some $2.5 billion and Pakistan is feeling the "Ukraine effect" with data from the Pakistan Bureau of Statistics indicating a rise in oil import costs by over 96.09pc to $14.81 billion (July-March) from $7.55 bn over the same period last year. Added to all this, climate change has hit Pakistan hard, with a reduction of snowfall by a huge 26 per cent, leading to water shortage that could affect the rabi crop. Agrarian unrest has already been reported. The country is 14th among the 17 'extremely high water-risk' regions in the world, and ranks 92 out of 116 countries in the Global Hunger Index, and it is facing a rising food import bill. Much of this is due to gross mismanagement and corruption. But it could take years to resolve. Meanwhile, social tensions are likely to rise when all of this is coupled with the present state of policy paralysis.
The other side of the coin – US readiness
US priorities have clearly shifted away from Afghanistan to other issues, including its own internal divisions and a 41-year-high inflation rate. Recent polls indicate a serious dent in President Biden's popularity ratings with a 50 per cent disapproval rate, and the economy being the main negative factor. In simple terms, the US will now focus on countries where it can work on a solid economic advantage. In Pakistan, even China has burnt its fingers.
Second, the foreign policy aspect. Khan had earlier declared that Pakistan could play a role in bringing together the US and China, recalling the time when Henry Kissinger had travelled to China in 1971 in a secret visit coordinated by the government of then President General Yahya Khan. This history is being rehashed by Kissinger himself, and will certainly appeal to the lobby led by him, even as the many Pakistani academics in established institutions plead Islamabad's case. The 'lure' is that US reengagement would draw Pakistan away from China. It won't, despite the Pakistan Army's outreach to the US. But it is possible that parts of the bureaucracy will try.
Third, Islamabad's tried and trusted card of being an "Islamic country". That won't wash either. Pakistan's standing in the Islamic world has never been worse, and countries like Saudi Arabia and the UAE are changing fast, and away from Islamabad's narrow creed.
Fourth, the Afghanistan issue. While US forces have withdrawn, their intelligence will remain active, and for this Aabpara (ISI HQ) still remains vital and probably the most effective influencer in Kabul. Apart from intelligence sharing, there is the much touted issue of US airbases. What is far more likely are small drone stations, which are already likely to be operating into Afghanistan.
In sum, when Foreign Minister Bilawal Bhutto visits Washington, he is likely to be confronted by none too enthusiastic hosts, who find little to tempt them to engage with a severely unstable country. There is an intelligence community that both distrusts but needs Islamabad, who will keep it in play to the extent possible. There is also a wave of anger against India that may work in Pakistan's favour at least among the many lobbies in US Congress. That may translate into promises of a few millions, but as always, with strings attached.
And most importantly, Bilawal himself is likely to want to keep any offers of US assistance under wraps for the time being. His tormentor on the streets will take any bilateral Joint Statement and twist it out of shape into election material. Delhi will naturally keep a close watch on any warming US-Pakistan relations. But the reality is that the Indian Ocean beckons, and that is where common interests lie with Washington. There's nothing like shared insecurity to strengthen a relationship. It's just that simple.
The author is a Distinguished Fellow at the Institute of Peace and Conflict Studies, New Delhi. She tweets @kartha_tara. Views are personal.
Source: The Print
Please click the following URL to read the text of the original story:
https://theprint.in/opinion/for-us-pakistans-become-too-hot-to-handle-a-raging-imran-khan-is-only-making-it-worse/957546/
--------
Suicide Blast, Gunmen Kill 8 People in Pakistan
May 15, 2022
Ayaz Gul
ISLAMABAD —
Pakistani officials said Sunday militant attacks in the country's northwest had killed at least eight people, including security force members, children and members of the minority Sikh group.
The deadliest attack occurred in North Waziristan, a volatile district in Khyber Pakhtunkhwa province, killing three soldiers and three children, according to a military statement. It said the children were aged between 4 and 11 years.
The Pakistani district borders Afghanistan and was a hub of terrorist groups until recently.
"Intelligence agencies are investigating to find out about suicide bomber and his handlers / facilitators," said the military's media wing, the Inter Services Public Relations.
Separately, police and witnesses said unknown gunmen shot dead two Sikh shopkeepers in a drive-by shooting in the provincial capital, Peshawar. The assailants managed to flee after the shooting.
There were no immediate claims of responsibility for either attack. Prime Minister Shehbaz Sharif condemned the militant violence in a statement.
The Islamic State group has previously claimed attacks on the minority Sikh community.
The outlawed Tehrik-i-Taliban Pakistan, known as the Pakistani Taliban, routinely claims attacks against security forces in the Waziristan district and elsewhere in the country.
Pakistani authorities say fugitive TTP leaders direct deadly raids from their sanctuaries across the Afghan border.
Islamabad has been urging Afghanistan's ruling Taliban to rein in the terrorist group's activities.
Pakistan and the United States list the TTP as a terrorist organization.
TTP attacks have spiked in Pakistan since the Taliban seized power in Afghanistan in August. The violence has killed scores of Pakistani security forces, straining relations between the two countries.
Islamabad has held talks with the TTP in recent months, mediated by the new rulers in Kabul, in a bid to end the militant challenge but the dialogue has failed to produce any tangible outcome.
Pakistani officials say there still is a lack of policy clarity on the part of the Afghan side about how to deal with the TTP and other terrorist groups operating out of Afghanistan, despite their repeated assurances to the outside world that they would not allow Afghan soil to be used against other countries.
"They [the Afghan Taliban] tell us again and again to be patient and say they need more time to sort this [TTP] issue out," a senior Pakistani Foreign Ministry official involved in bilateral talks told VOA.
"But when there are deadly attacks against Pakistani security forces almost on a daily basis, we fail to comprehend as to what do they practically mean by patience," the official said, speaking on condition of anonymity because he was not authorized to publicly talk to media.
He added that TTP leaders live with their families in Afghan "hideouts" close to the Pakistani border.
"The Taliban say they are refugees from Pakistan and want us to encourage them to return home. But some of these so-called refugees are actually behind cross-border attacks and refuse to negotiate peace with the Pakistani government."
Critics say the Taliban government is reluctant to forcefully evict the TTP from Afghanistan because both share the same ideology. For years, the TTP sheltered the Afghan Taliban on the Pakistani side and provided them with recruits to wage insurgent attacks against the now-defunct Western-backed Kabul government and its U.S.-led foreign military partners.
"The Taliban, however, have a genuine fear or apprehension that if TTP fighters are forced to leave Afghanistan they may instead join Islamic State ranks to pose even a bigger security challenge to the nascent government," the Pakistani official said.
Islamic State group attacks in Afghanistan have increased since the Taliban returned to power there, killing scores of people, mostly Hazara Shi'ite community members.
Source: VOA News
Please click the following URL to read the text of the original story:
https://www.voanews.com/a/suicide-blast-gunmen-kill-8-people-in-pakistan/6574053.html
--------
Pakistan ups security for ex-PM Khan over deadly plot claims
ISLAMABAD (AP) — Pakistan beefed up security around former Prime Minister Imran Khan on Monday, the interior ministry said, two days after he had claimed at a rally in eastern Punjab province that there was a plot to assassinate him.
The ministry said in a statement that dozens of policemen, along with paramilitary troops, have been assigned to Khan's Islamabad residence. Security forces would also escort Khan whenever he leaves Islamabad for any part of the country, the ministry said.
In his speech at the rally in the city of Sialkot on Saturday, Khan did not elaborate on the alleged plot against him but claimed he had recorded a video message detailing it all.
Khan's supporters have held rallies across the country since last month, when he was ousted by the opposition through a no-confidence vote in the National Assembly. He was replaced by Prime Minister Shahbaz Sharif.
Sharif on Monday also ordered maximum security arrangements for Khan, according to a separate government statement.
Khan lost the grip on power after his party allies and a key coalition partner defected in early April. Since his ouster, he has demanded new elections, claiming Sharif's government was imposed under an alleged U.S. plot. Washington has denied Khan's conspiracy claims, and Sharif's government has also dismissed them.
Pakistan has seen an uptick in militant attacks.
On Sunday, a suicide bomber struck near a vehicle belonging to the security forces in the country's northwest, killing three soldiers and three children. Gunmen in the city of Peshawar killed two members of the minority Sikhs community. On Monday, the Islamic State group claimed responsibility for the rare attack on Sikhs.
Source: AP News
Please click the following URL to read the text of the original story:
https://apnews.com/article/religion-pakistan-islamabad-c25613942f249a764020ed7a3635f4b6
--------
Two Members Of Sikh Community Shot Dead By Terrorists In Pakistan
May 15, 2022
Peshawar: Two Sikh businessmen were shot dead by the Islamic State terrorists in northwest Pakistan on Sunday, the latest targeted attack against the minority community members in the restive province bordering Afghanistan.
Kanwaljeet Singh, 42, and Ranjeet Singh, 38, died on the spot after being attacked by two bike-borne assailants in the morning in Bata Tal bazaar of Sarband, Peshawar, the capital of northwestern Khyber Pakhtunkhwa province, according to the police.
The attackers fled after carrying out the attack.
The victims were in the business of spices and had shops in the Bata Tal bazaar in Sarband, about 17 kms from Peshawar.
The Islamic State's Khorasan unit (ISKP) claimed via its propaganda news service 'Amaaq' that it carried out the attack targeting two Sikhs in Peshawar. The ISKP is an affiliate of the Islamic State (IS) active in South Asia and Central Asia.
The Counter-Terrorism Department registered a case of murder of the two Sikh men, Saddar Superintendent of Police Aqiq Hussain told Geo News.
"The incident appears to be a terrorist attack. The CCTV footage will be acquired and the suspects will be arrested soon," he said.
A large number of angry Sikh protesters blocked the Peshawar-Islamabad road in front of Qila Bala Hissar to register their protest against the killing. They were holding placards against the brutal killings and raising slogans - "Stop target killings", "We want justice."
Prime Minister Shehbaz Sharif strongly condemned the incident and directed Khyber Pakhtunkhwa Chief Minister Mahmood Khan to ensure immediate arrest and punishment of the culprits. He also ordered a high level inquiry into the incident.
"Strongly condemn the killing of our Sikh citizens in Peshawar, KP. Pakistan belongs to all its people. Have ordered a high level inquiry to ascertain facts. The killers will be arrested & meted out exemplary punishment. My most sincere sympathies to the bereaved families," he tweeted.
He urged the chief minister to ensure steps for the protection of the lives and properties of the citizens, particularly of non-Muslims.
He observed that enmity with Pakistan was the reason behind this "act of terrorism" and resolved to eliminate the enemies of the country, the report said.
Interior Minister Rana Sanaullah criticised the Khyber Pakhtunkhwa government for the attack and sought a report from the provincial chief secretary and inspector general of police.
"The KP government has terribly failed at protecting the minorities," Mr Sanaullah said, indicating past incidents of violence against Sikhs in the province.
He urged law enforcement agencies and the provincial government led by Imran Khan's Pakistan Tehreek-e-Insaf to ensure the security of minorities.
Khyber Pakhtunkhwa Chief Minister Mahmood Khan condemned the attack and directed the police to take immediate steps to arrest the culprits.
He said that the incident was a conspiracy to disrupt the inter-faith harmony in the province.
Foreign Minister Bilawal Bhutto-Zardari called for the immediate arrest of those involved.
"No one will be allowed to disturb inter-faith harmony in the country and harm national unity," he said in a statement, adding that the Pakistan Peoples Party was the country's real representative party and would not abandon the Sikh community.
Meanwhile, the Human Rights Commission of Pakistan condemned the killing.
"This is not the first time that the Sikh community in KP has been targeted and we demand that the KP police identify and arrest the perpetrators promptly," it said.
It also called on the government to "make it clear that violence against religious minorities will not be tolerated".
The All Pakistan Ulema Council (APUC) also condemned the killing.
APUC head Tahir Ashrafi said that the Peshawar administration should ensure protection of non-Muslims citizens and arrest the murderers of Ranjeet and Kanwaljeet.
"The continuing attacks on our Sikh community are an example of the fall out from Pakistan's suicidal policies in Afghanistan. Be it TTP, Afghan Taliban or ISKP, they are all the products of a terror supporting mindset who have used the resources of the state to nurture terrorism," said Mohsin Dawar, Member of the National Assembly, North Waziristan.
About 15,000 Sikhs live in Peshawar, mostly in the Jogan Shah neighbourhood of the provincial capital Peshawar. Most of the members of the Sikh community in Peshawar are involved in business, while some also have pharmacies.
In September last year, a well-known Sikh 'hakeem' (Unani medicine practitioner) was shot dead by unidentified gunmen inside his clinic in Peshawar.
In 2018, Charanjit Singh, a prominent Sikh community member, was killed by unknown men in Peshawar.
Similarly, news channel anchor Ravinder Singh was killed in 2020 in the city.
In 2016, Pakistan Tehreek-e-Insaaf National Assembly member Soren Singh was also killed in Peshawar.
According to the 2017 census, Hindus constitute the largest religious minority in Pakistan. Christians make up the second largest religious minority.
The Ahmadis, Sikhs and Parsis are also among the notable religious minorities in Pakistan.
Source: ND TV
Please click the following URL to read the text of the original story:
https://www.ndtv.com/world-news/two-members-of-the-sikh-community-shot-dead-in-pakistan-2977544
--------
Arab World
Grand Mufti Of Saudi Arabia Sheikh Al Al-Sheikh, Ternava Stress On Kingdom's Role In Serving Islam
May 15, 2022
RIYADH — Grand Mufti of Saudi Arabia and President of Council of Senior Scholars and General Presidency of Scholarly Research and Ifta Sheikh Abdulaziz Bin Abdullah Bin Mohammed Al Al-Sheikh Sunday at his office here received Grand Mufti and head of the Islamic Sheikhdom in the Republic of Kosovo Naim Ternava and his accompanying delegation.
Sheikh Al Al-Sheikh, during the meeting, highlighted the importance of such meeting between Islamic leaders for consultation and cooperation on issues that serve Islam and Muslims.
For his part, Ternava praised the efforts of the Custodian of the Two Holy Mosques King Salman and the Crown Prince, in serving Islam and caring for the Two Holy Mosques and their visitors of pilgrims and Umrah performers, stressing that these efforts receive the appreciation of all Muslims around the world.
He also commended the historic positions made by the leadership of the Kingdom of Saudi Arabia to the Kosovo people since the war.
Ternava highlighted the importance of the meeting with the grand mufti and advice he received from him, which will act as guidelines for the Islamic action of the sheikhdom to serve the Muslims of Kosovo according to the moderate approach adopted by Saudi Arabia.
The Kosovo Grand Mufti also expressed his appreciation for the hospitality of the grand mufti. — SPA
Source: Saudi Gazette
Please click the following URL to read the text of the original story:
https://saudigazette.com.sa/article/620522/SAUDI-ARABIA/Sheikh-Al-Al-Sheikh-Ternava-stress-on-Kingdoms-role-in-serving-Islam
--------
Grand Mosque robots answer pilgrims' questions in 11 languages
May 15, 2022
RIYADH: Robots that provide visitors to the Grand Mosque in Makkah with guidance can be accessed in 11 languages: Arabic, English, French, Russian, Persian, Turkish, Malay, Urdu, Chinese, Bengali, Hausa.
The robots guide pilgrims on how to perform their Umrah rituals, issue fatwas, answer questions and provide opportunities for people to communicate with scholars remotely.
The four-wheeled robots have 21-inch touchscreens and are equipped with a smart stopping system that allows them to be moved easily and smoothly.
They also have high resolution cameras that provide clarity in transmitting images, high resolution headphones, and a microphone with high capture quality that allows clear sound transmission.
The robots work on a Wi-Fi wireless network system at a speed of 5 GHz which enables fast and high transmission of data.
Source: Arab News
Please click the following URL to read the text of the original story:
https://www.arabnews.com/node/2082706/saudi-arabia
-------
OIC calls to protect displaced, refugee families
May 15, 2022
JEDDAH: Secretary-General of the Organization of Islamic Cooperation Hissein Brahim Taha called on OIC member states and the international community to join efforts to protect displaced families, refugees and those living under occupation, especially in Palestine. The plea came on International Day of Families, celebrated annually across the world on May 15.
Taha indicated that this year, the day comes with many families in OIC member states displaced due to armed conflicts or natural disasters. He stressed that the OIC recognizes the importance of preserving the the institutions of marriage and the family, and their central role in social life and achieving sustainable development, ensuring the well-being of society and confronting crises.
The secretary-general urged member states to create an enabling environment to promote and support the family as a contributor to achieving this development, and to work in providing the necessary social, educational and psychological services to families of refugees and displaced persons.
Taha also called on the relevant institutions of the OIC and its partners to support member states to contribute to alleviating the suffering of families and the communities that shelter them.
Source: Arab News
Please click the following URL to read the text of the original story:
https://www.arabnews.com/node/2082681/saudi-arabia
--------
Dutch artist Satori headlines Riyadh desert event
May 15, 2022
RIYADH: On Friday, a vibrant series of electronic house music bounced off the hills of the Riyadh desert at the NOX Camp Desert Resort, bringing together music, art and desert-sport lovers alike in a one-of-a-kind event.
The exclusive music and art event organizer, Desert Sound Entertainment, presented their premiere "Mars Escape" experience to the Saudi community, transporting about 1,000 attendees to another dimension made distinct by live art, festival makeup and fire performances.
The moon shone, setting up the atmosphere for the celestial night, the music ascended. Headlined by Satori, the international DJ lineup included the likes of Alaa Jazaery, Rafa, NarkBeat, and a surprise performance by local DJ Ibbie.
The 10-hour festival saw a distinctive blend of artists taking to the main stage. Rafa gave the crowd a sensual and authentically earthy organic house experience while NarkBeat's performance left the crowd in anticipation with sultry Arabian oud sounds. Alaa Jazaeri, founder of a similar music festival titled "Narratives," slowed down the groove with an organic and soulful house music set, taking festival-goers on a mini-journey.
The diverse music echoing the valley of the desert culminated with Satori, a world-famous Dutch producer whose music focuses on spirituality and enlightenment. His set took off promptly at midnight and closed the event. His stop at Riyadh is part of his world tour this month with upcoming shows in Moscow, Stockholm and London.
"I would not imagine from this side of the world that people would know me and connect with the music in this way, so it was really a big pleasure. I've been playing in this region of course already for a few years, if we speak about Dubai or Egypt, I played in Oman and Lebanon, but never in Saudi," Satori said in an exclusive interview with Arab News.
Satori's mellow sounds, crafted under the influence of the Japanese term "Satori," cannot be narrowed down to a single genre, but rather a feeling. His music combines elements of self-exploration, earthy melodies, psychedelic tones and vivid energy. The crescendo of the piano, synthetic electronic beats and kalimba prompted a series of cheers as people danced. Almost every listener was rhythmically entranced, surrendering to the sound.
"For me it feels like I'm part of innovation. There's something progressing and just to be part of that is really a great honor. It feels like we're writing history and I'm kind of part of that chapter," he said of his recent performance. "In the end, music is a universal language, people would connect to that or understand that even if they're not used to these types of events. People will feel it."
While primarily centered around the musical performances, the Saudi General Entertainment Authority-certified event also included an array of cultural activities such as art installations, graffiti sites and street art, virtual reality booths, games, and live catering. "We wanted to complete the music experience as a whole, connecting with nature and expressing through art and feeling with music," assistant manager, Reema Al-Saud, told Arab News.
Event-goers were ready to indulge in the cultural aspect of the experience. "This is my first experience, and it gives a nice vibe," said attendee Bha'a Mahdi. "I didn't like that there wasn't a big crowd. The place is very, very gorgeous. Incredible. It's unreal. I liked the music, but was hoping the music would have more drops and highs. I felt united with the desert, I even removed my shoes," he said.
Other members of the audience had similar comments. "The location is good, the vibe is nice. Just one thing: I wish there were more people," said one attendee.
"The ground traps you. The sand doesn't give you way to dance or walk," said another attendee.
This international lineup and diverse activities come after a new wave of events that cater to those music-lovers, the latest being Freaks of Nature, bringing new meaning to weekend family entertainment ventures in Riyadh.
Source: Arab News
Please click the following URL to read the text of the original story:
https://www.arabnews.com/node/2082696/saudi-arabia
--------
Saudi Civil Defense rescues pet animals trapped in Alkhobar fire
HEBSHI AL-SHAMMARI
May 15, 2022
RIYADH: Pet owners were relieved after their animals were rescued from a massive fire that broke out Friday inside Alkhobar's Dhahran Mall in eastern Saudi Arabia.
A Civil Defense crew in Alkhobar rescued animals including cats, dogs and fish from Pets Houses, a pet supplies store in the largest commercial complex in the Eastern Province.
The animals were transported during daylight hours after a fire that started on the complex's roof was put out.
According to a Civil Defense source, it is part of firefighters' job in such circumstances to perform search and rescue operations at the scene to ensure that no one is trapped inside and that any animals are rescued.
The same source told Arab News that firefighters evacuated the pets to a safe location outside the mall before the animals were returned to their owners.
Nawaf Al-Mandeel, general manager of Pets Houses, said that "the shock was tremendous at Pets Houses," following the fire that broke out at Dhahran Mall, where one of the company's branches is located.
Al-Mandeel said that Pets Houses does its best to afford care and a decent life for the many pets at the branch located in Dhahran Mall. Pet owners regularly come to the branch, he said, to purchase supplies and learn how to breed and care for their pets as part of the family.
All animals are subject to periodic medical checkups by Pets Houses' veterinarian clinic, which provides for all their needs, including hygiene, he said.
"We were shocked by the news of the fire that morning. We contacted the authorities and alerted them to the presence of pets inside our branch located inside the complex, and they responded immediately," Al-Mandeel added.
He described the waiting periods as "excruciating" until he received the welcome news that all the animals at the branch had been rescued and transported safely and without any injuries, thanks to the efforts of the Civil Defense "heroes."
"The team brought the animals to our veterinary clinic swiftly to check on their health. The medical team confirmed the safety of all the animals," he said.
Badr S. Al-Turaif, general manager of Rahmah Animal Welfare Association, told Arab News that the association is in contact with the shop's management and that the animals are in good health, adding that they had not been exposed to either fire or fumes as the shop is located relatively far from the fire site.
"The courageous efforts of the Civil Defense team are not surprising," Al-Turaif said. "We always find these heroes at the center of incidents, providing assistance and saving lives."
Al-Turaif urged pet store owners to implement the preventive measures outlined by the Civil Defense to avoid tragedies in the future. These include setting fire alarms, developing an emergency and evacuation plan, ensuring adequate ventilation, designing the shop in a way that allows for the implementation of these measures, and creating an appropriate environment for animals so that their health and safety are not jeopardized.
Source: Arab News
Please click the following URL to read the text of the original story:
https://www.arabnews.com/node/2082656/saudi-arabia
--------
Saudi Arabia reports 431 new COVID-19 cases, 2 deaths
May 15, 2022
JEDDAH: Saudi Arabia reported 431 new cases of COVID-19 on Sunday, according to the Ministry of Health. As a result, the total number of cases in the Kingdom over the course of the pandemic grew to 759,226.
The authorities also confirmed two new COVID-19-related deaths, raising the total number of fatalities to 9,116.
Of the new infections, 125 were recorded in Jeddah, 92 in Riyadh, 63 in Makkah, 52 in Madinah and 26 in Dammam. Several other cities recorded fewer than 20 new cases each.
The ministry said that of the current cases, 61 were in critical condition.
The ministry also announced that 349 patients had recovered from COVID-19, bringing the total number of recoveries in the Kingdom over the course of the pandemic to 743,921.
It said that 6,189 COVID-19 cases were still active, adding that 22,586 PCR tests were conducted in the past 24 hours, bringing the total number to more than 42 million.
Nearly 65 million COVID-19 vaccine doses have been administered since the Kingdom's immunization campaign began, with almost 25 million people fully vaccinated.
The ministry, which has 587 vaccine centers across the country, urged people who have not yet received a jab to register for a series through the Sehhaty app.
Source: Arab News
Please click the following URL to read the text of the original story:
https://www.arabnews.com/node/2082736/saudi-arabia
--------
WHO renews Saudi food authority role as center for global cooperation
May 15, 2022
RIYADH: The World Health Organization has renewed the Saudi Food and Drug Authority as a center for international cooperation in medical devices and supplies for four years.
The decision aims to support the authority's role in building a center covering the eastern Mediterranean and Africa, and promoting the scientific and technical work of the WHO internationally.
The center will assist developing countries in monitoring and regulating medical devices, and benefiting from its expertise in regulatory and supervisory areas.
Ali Al-Dalaan, executive vice president of the medical devices sector at SFDA, said that the decision was made in light of recent Saudi efforts, especially during the COVID-19 pandemic. It was also a result of effective Saudi contribution through food and drug specialists hosting educational workshops in Africa.
The move is set to enhance the Kingdom's position among various global regulatory bodies and add weight to its presidency of the Global Harmonization Working Party. It will also improve the Saudi contribute to international organizations such as the International Organization for Standardization and the International Medical Device Regulators Forum.
Source: Arab News
Please click the following URL to read the text of the original story:
https://www.arabnews.com/node/2082751/saudi-arabia
--------
KAUST attracts 5 global deep tech startups to Kingdom
May 15, 2022
JEDDAH: King Abdullah University of Science and Technology (KAUST) has concluded the Destination Deep Tech program, selecting five international startups from Spain, Poland, France, Egypt and Singapore due to their successful expansion into MENA markets.
Destination Deep Tech is an unprecedented Saudi program that aims to create an innovation environment in the Kingdom. Startups are selected for their technological advancements.
The five international deep tech startups showed significant growth during the program's three-month period, during which they established important collaborative partnerships with immediate impact.
From France, Pasqal is a European startup and pioneer in the field of quantum computing. It provides comprehensive quantum technology solutions through devices and applications.
Insignes-Labs from Poland develops antimicrobials to protect a wide range of materials from defective microbes such as bacteria, algae, fungi and others.
Proteinea, a startup from Egypt, serves as a platform for artificial intelligence technology, deep learning models, and biological automation for protein design and production.
CeEntek, a Singapore-based company, is developing high-performance concrete to increase the sustainability and efficiency of construction projects.
HOPU, from Spain, is developing IoT (Internet of things) devices and sensors based on artificial intelligence technology for applications of the Fourth Industrial Revolution and smart cities. HOPU does so by monitoring air quality, noise and energy consumption.
The program provides the selected deep tech startups with the tools they need to expand their projects, including access to world-class research and development facilities at KAUST, exploring opportunities for collaboration with academia and industry, and providing office space in the on-campus Research and Technology City.
Dr. Kevin Cullen, KAUST vice president for innovation, said: "KAUST is the deep tech heart of the Saudi economy, and we are very pleased to host these talented international startups at our university and in Saudi Arabia through the KAUST Destination Deep Tech Program, which underscores our commitment to developing a strong ecosystem for entrepreneurship."
Arno Nijhof, director of The Next Web, said: "Through this program, we have leveraged our global and KAUST network to attract leading companies from around the world and provide them with the necessary support so that they could set up offices on campus. We are very proud of the achievements with KAUST in our first group. Together we have managed 80 percent of the companies and supported them to continue to operate successfully from the campus."
The Destination Deep Tech program was launched at KAUST this year in partnership with The Next Web, an international media organization that supports and connects the global technology environment through media, conferences and innovation services.
Source: Arab News
Please click the following URL to read the text of the original story:
https://www.arabnews.com/node/2082536/saudi-arabia
--------
South Asia
Proshanta Kumar Halder, A Bangladeshi, Living Illegally In India, Arrested By ED For Bank Fraud In Own Country
May 15, 2022
Six people, including the mastermind behind a Rs 9,000 crore bank fraud in Bangladesh, have been arrested by the Enforcement Directorate under the anti-money laundering act, officials said.
Proshanta Kumar Halder, a Bangladeshi national who is accused of defrauding banks of his own country, is also being probed by the ED for forging his identity as an Indian citizen and then using the defrauded money to float businesses in India along with buying properties.
Before making the arrests, ED had carried out search operations at 11 premises linked to Bangladesh nationals - Proshanta Kumar Halder, Pritish Kumar Halder and their associates across the state of West Bengal.
Proshanta Kumar Halder was nabbed along with his five other associates during these searches.
"Proshanta Kumar Halder was found in the disguised identity of Indian Citizen as Shibshankar Halder. During searches it was revealed that he along with his other associates fraudulently obtained various government identities like ration card from, Indian voter ID card, PAN and Aadhar card," said the ED.
ED has alleged that these Bangladesh nationals have also managed to float companies in India on the basis of fraudulently obtained identities and have even purchased properties in West Bengal.
"It has been further revealed that the subject case is an offence of Cross Border Implication under the Prevention of Money Laundering Act as Proshanta Kumar Halder has been found to be accused in over 10000 crore Bangladesh Taka (Rs 9000 crore) bank fraud in Bangladesh and alleged to have siphoned off money outside Bangladesh to various countries. Besides his Bangladesh and Indian passport, he was also found in possession of Grenada passport," added the ED.
The Interpol has also issued a Red Corner Notice (RCN) against Proshanta Kumar Halder based on a request from the Bangladesh government.
Along with the prime accused Proshanta Kumar Halder alias Shibashankar Halder, the ED has also arrested his associates Swapan Maitra alias Swapan Mistry, Uttam Maitra alias Uttam Mistry, Imam Hossian alias Imon Halder, Amana Sultana alias Sharmee Halder and Pranesh Kumar Halder.Live TV
Source: India Today
Please click the following URL to read the text of the original story:
https://www.indiatoday.in/india/story/bangladeshi-illegally-india-arrested-ed-bank-fraud-bangladesh-1949750-2022-05-15
--------
Former Afghan president Ashraf Ghani invited by Taliban to attend assembly in Kabul
May 16, 2022
AhlulBayt News Agency (ABNA): The ambassador of the Taliban in Moscow says that the Loya Jirga (Afghan Assembly) will be held in Kabul soon. According to the Taliban official, politicians who have gone abroad, including former Afghan President Ashraf Ghani, have also been invited to the meeting.
Taliban ambassador to Moscow Jamal Nasser Gharwal said: "The Taliban will convene an Loya Jirga in the near future; it is not yet known whether the Meeting will be a Loya Jirga, but preparations are underway."
According to Gharwal; This forum will be a large meeting with the presence of Afghan politicians.
He added: "Politicians who have gone abroad have been invited to attend the forthcoming meeting, which will also include former Afghan President Ashraf Ghani.
The allegations come as some sources have previously reported that Ashraf Ghani is in Kabul on UNAMA bail, but this was denied by Zabihullah Mujahid, a spokesman for the Islamic Emirate.
Earlier, Ashraf Ghani had said in his Eid al-Fitr congratulatory message: "Afghanistan has no other way out of the current situation without a national consensus."
Source: Abna 24
Please click the following URL to read the text of the original story:
https://en.abna24.com/news//former-afghan-president-ashraf-ghani-invited-by-taliban-to-attend-assembly-in-kabul_1257881.html
--------
The Taliban in Ghazni Prevents the Smuggling of Weapons to Pakistan
Monday, 16 May 2022
Taliban security officials in Ghazni province have announced the arrest of three people in connection with weapons smuggling to Pakistan.
The Taliban had identified and wanted the men as they tried to transport weapons to Pakistan in a truck, according to the state-run Bakhtar news agency, quoting the Taliban Interior Ministry.
According to the ministry, Taliban forces launched an operation in Ghazni province's Qarabagh district to arrest two smugglers.
The Taliban has previously reported the arrest of Pakistani weapons smugglers.
Following the fall of the Afghan government, military equipment is said to have been smuggled to neighboring countries, particularly Pakistan.
It was recently reported that US weapons used in Afghanistan had been transported to Indian Kashmir via Pakistan. Indian officials are reported to have announced the discovery of the weapons.
Source: Khaama Press
Please click the following URL to read the text of the original story:
https://www.khaama.com/the-taliban-in-ghazni-prevents-the-smuggling-of-weapons-to-pakistan99552/
-------
WFP Distributes Aid to About 20 Million People In Afghanistan
Monday, 16 May 2022
On Sunday, May 15, the World Food Program (WFP) tweeted that it has provided relief aid to over 17.5 million people in Afghanistan in the past six months.
According to a newsletter published by the organization, millions of Afghans have received food aid and other essentials.
Earlier, the WFP's Asia deputy director expressed concern about the humanitarian crisis and food shortages in Afghanistan.
WFP's Asia Deputy Director tweeted that it is estimated that 18.9 million people will face severe hunger in Afghanistan by November this year. Food and livelihood donations from generous donors have been a way of saving the needy.
Following the Taliban's re-establishment in Afghanistan, international aid was drastically limited, and the World Bank's reconstruction fund was severely restricted.
This year, the United Nations has requested $5 billion in help for Afghan people both inside Afghanistan and in neighboring nations.
Meanwhile, the UN High Commissioner for Refugees (UNHCR) claims to have assisted 5 million Afghans this year, particularly vulnerable women who are household heads.
According to a tweet from the organization, the families have received food and other essential necessities this year.
According to the UNHCR, millions of Afghan people have been affected by the ongoing crisis, displacement, drought, and economic disaster.
Source: Khaama Press
Please click the following URL to read the text of the original story:
https://www.khaama.com/wfp-distributes-aid-to-about-20-million-people-in-afghanistan24682/
--------
Islamic Emirate: Over 130,000 Soldiers Recruited
"More than 130,000 people have been registered and this process will continue. With the completion of registration, the Afghans will see an independent, well-formed and committed military who will provide security and defend the Afghan soil and borders," said Inayatullah Khwarazami, a spokesman for the MoD.
However, the uniform for the new troops has yet to be determined.
Khwarazami said all former female employees of the MoD are still being paid and some of them are still working within the ministry.
"The women who were working in the Ministry of Defense are still working, for example, they are in the health department and other departments. The leadership of the Islamic Emirate and Defense Ministry will make a decision about them. They are still receiving their salaries," Khwarazai said.
Veterans suggested that professional and experienced individuals should be included in the military.
"The important things are the education and professional training, capability, equipment and budget," said Asadullah Nadeem, a military veteran.
"A neutral, real, professional and independent army should be formed," said Samar Sadat, a military veteran.
The number of Afghan National Defense and Security Forces of the former government has reached more than 350,000.
After the former ANDSF collapsed, many soldiers of the foreign government are currently struggling with severe economic conditions.
Source: Tolo News
Please click the following URL to read the text of the original story:
https://tolonews.com/index.php/afghanistan-178022
--------
Southeast Asia
Malaysia FM holds talks with counterpart from Myanmar shadow government
May 15, 2022
KUALA LUMPUR: Malaysia Foreign Minister Saifuddin Abdullah met his counterpart from Myanmar's National Unity Government, a shadow administration outlawed by the ruling military junta, in the group's first open engagement with a Southeast Asian country.
The meeting, disclosed by Saifuddin in a Twitter post, was held on the sidelines of a two-day summit in Washington between the US and the 10-member Association of Southeast Asian Nations, which excluded Myanmar's leader over a military coup last year.
Myanmar has repeatedly called on countries not to engage with the shadow administration, and other military opponents that the junta has labeled as "terrorists."
In his Twitter post, Saifuddin said Malaysia "stands ready to work toward restoring peace and democracy in Myanmar" during an informal meeting with Zin Mar Aung, foreign minister of the shadow administration.
"We took the opportunity to exchange views on latest developments in Myanmar, where Minister Zin shared insights as well as challenges faced by NUG, including humanitarian assistance, technical training and education for the Myanmar refugees," he said.
Myanmar's Foreign Ministry in a statement, however, denounced reports of engagements in Washington between the US State Department and NUG officials, and said it had sent protest notes to all ASEAN countries and the US asking them to refrain from talking to the opposition government.
The ministry also said it rejected a paragraph contained in a 28-page joint statement released by the US and ASEAN, which had called for the timely implementation of a five-point peace plan agreed to by Myanmar.
The ministry said the language used in the paragraph suggested interference in Myanmar's domestic affairs and included references to matters within its sovereign jurisdiction, "including unacceptable proposals that go beyond the Five Point Consensus."
Source: Arab News
Please click the following URL to read the text of the original story:
https://www.arabnews.com/node/2082701/world
--------
Tat Meng may not return to Malaysia after successful Korean stint
Monday, 16 May 2022
BANGKOK: Malaysia are unlikely to get Wong Tat Meng (pic) to be the coach in the women's singles department.
There is a vacancy following the resignation of coach Indra Wijaya in January but national singles coaching director Wong Choong Hann said they were not in a hurry.
"We are aware that Tat Meng is available. We are looking at adding depth but for now, we want to review the form of our women players first," said Choong Hann.
Tat Meng has ended his stint with South Korea on a high after three years and five months working as the singles coach.
In his last stint as a coach here in Bangkok, his players made him proud by lifting the Uber Cup after 12 years.
They defeated China 3-2 in a thrilling tie at Impact Arena on Sunday.
Although Tat Meng's contract runs until end of this year, he has chosen to resign but did not want to reveal the reason behind his decision.
"I'm just happy to leave the team with such memorable and fantastic result at the Uber Cup," said Tat Meng, who is seen as the man behind the rise of the 20-year-old An Se-young.
"I did not tell the team earlier as I did not want to distract them."
His resignation comes in the wake of South Korea appointing former top singles player Sung Ji-hyun into their coaching team this year.
"There have been so many memories. I've made good friends. They have really looked after me well. It was a good experience for me, and I've learnt much as a coach too."
Asked whether he would consider Malaysia if they approached him, Tat Meng said: "I have not made any decision right now. I just want to take a few weeks to rest first."
However, he's expected to join another country's badminton stable.
Source: The Star
Please click the following URL to read the text of the original story:
https://www.thestar.com.my/sport/badminton/2022/05/16/tat-meng-may-not-return-to-malaysia-after-successful-korean-stint
--------
7 judges in the running for 2 top posts
May 16, 2022
PETALING JAYA: At least seven Federal Court judges could be in the running to occupy the soon-to-be vacant Court of Appeal president and Chief Judge of Malaya posts, the second and third most senior administrative positions in the judiciary.
Court of Appeal president Rohana Yusuf will retire in November, and Chief Judge of Malaya Azahar Mohamed will leave office in October.
Both have turned 66, the mandatory retirement age for judges, but have been given a six-month extension by the Yang di Pertuan Agong.
The seven, according to seniority, who could be considered for promotion are Nallini Pathmanathan, Abdul Rahman Sebli, Zabariah Mohd Yusof, Hasnah Mohammed Hashim, Mary Lim, Harmindar Singh Dhaliwal and Rhodzariah Bujang.
Nalini, Rahman, Zabariah and Hasnah will retire in 2025, Lim late next year, and Harmindar in 2024. Rhodzariah will retire in 2027.
According to procedure, a nine-member Judicial Appointments Commission (JAC), chaired by Chief Justice Tengku Maimun Tuan Mat, will meet to propose the names to be sent to the prime minister's office.
As required under Article 122B of the Federal Constitution, the King appoints judges acting on the advice of the prime minister after consulting the Conference of Rulers.
A retired judge said the selection criteria, including integrity, competency, experience, the ability to make timely judgments and good writing skills, will be taken into account.
"Of course, seniority is a factor that will be considered to hold any administrative post," said the judge, who spoke on condition of anonymity.
The judge, who is learned in the appointment process, said the JAC Act also makes provision for the prime minister to request for two more names to be selected for his consideration.
Former Federal Court judge Gopal Sri Ram said there is a possibility of current Chief Judge of Sabah and Sarawak Abang Iskandar Abang Hashim being appointed the Court of Appeal president, and Rhodzariah, a Sarawakian, filling his present position.
"East Malaysian judges should not be marginalised just because two of them could hold senior administrative posts," he said.
Sri Ram said the other women judges – Nallini, Zabariah, Hasnah and Lim – could be considered for the Chief Judge of Malaya position.
"However, at the end of the day, the decision is with the JAC, and the Chief Justice is the best to decide who is the best candidate for each position," he said.
Former Malaysian Bar president Salim Bashir said the prime minister must give reasons if he asked for additional names other than those given by the JAC.
"If the names are rejected, the prime minister's office must give an explanation for the public to know," he said.
Salim said this is because the JAC Act empowers the prime minister to appoint four eminent persons to sit in the commission to advocate the views of the public.
Source: Free Malaysia Today
Please click the following URL to read the text of the original story:
https://www.freemalaysiatoday.com/category/nation/2022/05/16/seven-judges-in-the-running-for-2-top-posts/
--------
Analysts mixed on Ismail's future after constitution amendment
May 16, 2022
PETALING JAYA: Ismail Sabri Yaakob's future as prime minister appears to be hanging in the balance after Umno unanimously voted to allow party elections to be further postponed until after a general election.
One political analyst believes the decision puts party president Ahmad Zahid Hamidi "firmly in charge" and opens the way for the "mainstream faction" of the party to have Ismail replaced eventually.
However, another analyst says Ismail's future was now secure as the party has already named him to be the prime ministerial candidate at the coming general election, with no challengers in sight.
On Sunday, Umno voted unanimously to amend its constitution to allow the party elections to be postponed by up to 18 months, or up to six months after a general election.
The party elections, for the 2021-2023 term, had already been postponed from June 30 last year and were due to be held by Dec 30 this year.
Further postponement, which must be approved by the registrar of societies, would leave Zahid in a position, as Umno president and BN chairman, to decide on general election candidates.
Oh Ei Sun of the Singapore Institute of International Affairs said the constitutional amendment meant Ismail's days as prime minister were numbered.
"Umno is going to win quite big (at the general election) this time, so all these new Umno MPs will be loyal to Zahid and the mainstream faction of Umno," he said, which also included former prime minister Najib Razak.
"That means that Ismail's days are basically numbered. They don't like him, to put it bluntly. So they are likely, at some point, to replace him with either themselves, or somebody of their liking."
However, Azmi Hassan of Akademi Nusantara said neither Zahid nor Najib have publically admitted any desire to contest for the prime minister's seat.
Umno's Supreme Council had also unanimously agreed to propose Ismail as Barisan Nasional's candidate to be the next prime minister.
Azmi said it was Ismail, who is one of Umno's three vice-presidents, who seconded the motion to amend the constitution, tabled by another vice-president, Khaled Nordin.
"It just goes to show that although he is a vice-president, his position as the future PM is secure," said Azmi.
The next general election must be held the latest by mid-September 2023, but Umno has been pushing for it to be held earlier to take advantage of the momentum it gained after convincing wins at the Melaka and Johor state elections.
Source: Free Malaysia Today
Please click the following URL to read the text of the original story:
https://www.freemalaysiatoday.com/category/nation/2022/05/16/analysts-mixed-on-ismails-future-after-constitution-amendment/
--------
Efforts on to revive flights to Malaysia, Bangkok from Visakhapatnam, says Andhra Minister
MAY 15, 2022
'Steps will be taken to showcase Andhra Pradesh at the World Economic Forum meet at Davos to be held from May 22 to 26'
Minister for Industries and IT Gudivada Amarnath has said that efforts are being made to revive the international flights to Malaysia and Bangkok, which were withdrawn due to the COVID-19 pandemic, soon. The Minister participated as the chief guest at the Visakha Connect and Tourism Mega Meet', organised by the Air Travellers Association (India) here, on Sunday.
Speaking to media persons, who met him on the side lines of the meeting, Mr. Amarnath said that the annual meeting of the World Economic Forum, to be held at Davos from May 22 to 26, would bring in investments to the State.
The Davos conference would discuss 18 issues and the State government would focus on 10 proposals pertaining to issues like agriculture, tourism, education, medical and health and economy. The conference was a great opportunity to showcase Andhra Pradesh, he said.
Mr. Amarnath recalled that the seed for the development of IT sector in Visakhapatnam was sown during the tenure of former Chief Minister Y.S. Rajasekhara Reddy, and now efforts were being made to promote it further.
Addressing the meeting, he said that Visakhapatnam would be promoted as a Beach IT destination taking advantage of the basic infrastructure and vast resources available in the city. He said that improving air connectivity would also bring in investments and the government was working in that direction. Visakhapatnam was being developed as a tourist hub and measures were being initiated to develop a convention centre and resort in this regard, he said.
Airport Director K. Srinivasa Rao spoke on the potential of Visakhapatnam International Airport. The airport, which had handled 2.5 million passengers before the COVID-19 pandemic, was slowly but steadily recovering and achieved 1.6 million passengers, which was about 63% of its pre-COVID traffic, he said.
ATA (I) president D. Varada Reddy underlined the need to provide amenities to common tourists apart from increasing air connectivity.
Former Vice-Chancellor of Andhra University G.S.N. Raju said that improving air connectivity would be a boon to students studying in various universities in Andhra Pradesh.
Source: The Hindu
Please click the following URL to read the text of the original story:
https://www.thehindu.com/news/national/andhra-pradesh/efforts-on-to-revive-flights-to-malaysia-bangkok-from-visakhapatnam-says-minister/article65417082.ece
--------
URL: https://newageislam.com/islamic-world-news/hate-message-harmony-masjid-hyderabad/d/127020
New Age Islam, Islam Online, Islamic Website, African Muslim News, Arab World News, South Asia News, Indian Muslim News, World Muslim News, Women in Islam, Islamic Feminism, Arab Women, Women In Arab, Islamophobia in America, Muslim Women in West, Islam Women and Feminism