New Age Islam News Bureau
10 Dec 2016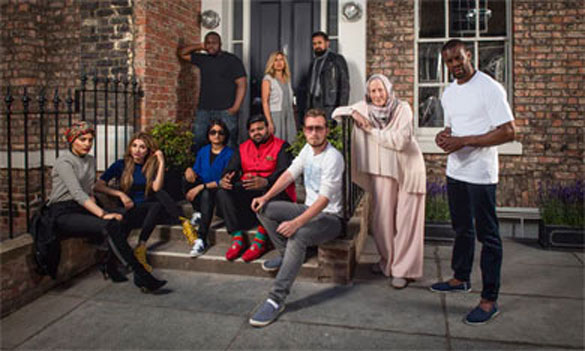 Abdul Haqq (R) with fellow participants in Muslims Like Us. Photograph: Gareth Gatrell/BBC/Love Productions
----------
• Council of Islamic Ideology Decries Naming QAU Physics Centre after Dr Abdus Salam
• 'Divorce Procedure in Islam Is Mostly Misinterpreted': An Expert in Islamic Jurisprudence
• Taliban's New Demands for Ending Insurgency Include Direct Talks with US
• U.S. Government Warns China Facing Growing Islamic Terror Threat
• BBC Defends Extremist's Presence on Muslim Reality Show
Pakistan
• Council of Islamic Ideology Decries Naming QAU Physics Centre after Dr Abdus Salam
• Army Chief Hails ISI for 'Strengthening National Security'
• Five 'terrorists of banned outfit' arrested
• Court to resume hearing of case against Lal Masjid cleric
• 11 suspected militants arrested from Balochistan's Barkhan district
• Counter-terrorism cooperation with China to continue: COAS
• Major terror bid foiled, four alleged proscribed outfit terrorists gunned-down in Sheikhupura
• Army chief witnesses Pak-China drill at counter-terror training centre
• Musharraf given one month to surrender
• US urges Pakistan to end tolerance for Afghan Taliban groups
• All private schools bound to teach Sindhi, Quran: Minister
• Law enforcers detain MQM London activists after tensions simmer in Azizabad, Hyderabad
--------
India
• 'Divorce Procedure in Islam Is Mostly Misinterpreted': An Expert in Islamic Jurisprudence
• Post-Demonetisation, Madrasas See Spurt In Donations: Jamaat-e-Islami Hind
• Maintaining Communal Harmony, Muslims Members Willingly Raze Mosque Wall in Roorkee
• Up to Pakistan whether it wants to allow SAARC Summit to happen: India
• Mature friend valuable than hysterical partner: MJ Akbar on Sino-Pak friendship
• FBI team in Kolkata, quizzes IS man
• Mumbai: ATS books Mumbra youth for 'joining Islamic State'
• J&K: One killed during operation against militants
• Uri terror attack case: No proof that accused are minors, NIA says
--------
South Asia
• Taliban's New Demands for Ending Insurgency Include Direct Talks with US
• Faith, Dissent and Extremism: How Bangladesh Is Struggling To Stay Secular
• UN calls on Suu Kyi to visit crisis-hit Rakhine state
• Families claim 3 suspected Huji men picked up months ago
• The Taliban's Pledge to Protect National Projects is a Fallacy
• Al-Qaeda leader channeling funds to militants arrested by Afghan police
--------
North America
• U.S. Government Warns China Facing Growing Islamic Terror Threat
• Before Trump, There Was A Muslim Registry. It Caught No Terrorists.
• Take demonstrable steps against Haqqani network to get $ 400 mn aid, US to Pak
• US expresses concern over Ahmadiyya community HQ raid in Pakistan
• McCain expresses desire to strengthen Pak-US bilateral ties
• Lynch to Visit Mosque Amid Spike in Anti-Muslim Hate Crimes
--------
Europe
• BBC Defends Extremist's Presence On Muslim Reality Show
• Islamic Society Hosts Dinner to Educate Others on Religion
• Britain Facing Unprecedented Terror Threat: Spy Chief
• British spy chief says ISIS plotting attacks as Russia makes 'desert' of Syria
• British hostage John Cantlie in new Islamic State video
• Johnson courts Gulf after Saudi comments draw putdown
• Paris holds international meeting on Aleppo
--------
Mideast
• Israeli Settlement Expansion Blatant Violation of International Law: Iran
• Dozen Dead as Turkish Army Shells North Syrian City
• 30 Houthi infiltrators killed in Jazan
• Turkish warplanes bomb northern Iraq, kill 19
• Turkey court rules to stop legal cases against Israelis over flotilla raid
• European rights group slams Turkey post-coup excessive emergency decrees
• Coalition strikes Houthi ammunition dump in Taiz
• Israel admits tweeting fake Lebanon map marked with Hezbollah positions
• Iran uses sectarianism card for political influence
--------
Africa
• Bomb Explosions Kill At Least 56 in Northeast Nigeria
• Daesh Vows To Continue Its Libya Campaign after Losing Sirte
• Essebsi: Tunisians are still learning about democracy
• 81 Muslims have disappeared along Kenya's border. Their wives want answers
• Boko Haram blamed for suicide blasts that killed dozens
• 7 Al-Shabaab militants arrested in southern Somalia
• Was called 'ISIS' by DC cabbie, says Somali-American lawmaker
--------
Arab World
• Syria to Terrorism Sponsors: Bloody Game Over
• Promised Victory Coming For Syria, Allies In Aleppo: Nasrallah
• Islamic State advances to within two miles of Palmyra after surprise attack on Syrian forces
• Qatar believes in protecting religious freedom: Minister
• Several Nusra Commanders Arrested by Syrian Gov't Forces in Aleppo
• Long Military Column of Nusra Terrorists Destroyed in Syrian Army Attack in Quneitra
• Rebels seek ceasefire with Syrian army closer to retaking Aleppo
• IS video shows kidnapped Briton Cantlie alive in Mosul
• Iraq parliament speaker demands inquiry into deadly Qaim air strikes
• UN votes in favor of an immediate Syria ceasefire
• Mursi's son arrested as part of Rabaa sit-in dispersal case
• Explosion in Egypt's Giza kills six policemen
• US says will deploy 200 extra forces to Syria's Raqqah
• Saudi conference recommends a national terrorism observatory
--------
Southeast Asia
• Diplomats Call on Myanmar to Let Aid into Rakhine State
• Islamic university rector says nothing wrong with Christian university ad
• Activists protest in front of Malaysian embassy
• Introduce More Ways to Resolve Conversion Issue, Urge Malaysian Lawyers
• Inclusive universities help promote pluralism
Compiled by New Age Islam News Bureau
URL: https://www.newageislam.com/islamic-world-news/new-age-islam-news-bureau/council-of-islamic-ideology-decries-naming-qau-physics-centre-after-dr-abdus-salam/d/109344
--------
Council of Islamic Ideology Decries Naming QAU Physics Centre after Dr Abdus Salam
KALBE ALI
December 10, 2016
Chairing the last session as the head of Council of Islamic Ideology (CII) on Thursday, Maulana Mohammad Khan Sherani decried the proposal to rename the Quaid-i-Azam University's (QAU) physics centre after Professor Abdus Salam.
The council discussed the proposal after Prime Minister Nawaz Sharif forwarded a summary to President Mamnoon Hussain of his approval to rename the National Centre for Physics at QAU the "Professor Abdus Salam Centre for Physics".
Addressing a press conference after the council's meeting, the CII chairman said changing the department's name would not set the right precedent.
"We have concerns over the change of its [physics centre's] name as it was earlier named to honour Dr Riaz," said Sherani, but declined to offer any reason for the opposition.
He was also asked if the CII had objections over renaming of other institutions or roads but Sherani declined to offer any comment over the subject.
Nuclear physicist and Pakistan's first Nobel laureate Professor Abdus Salam hailed from the country's Ahmedi community.
Pakistan declared Ahmedis non-Muslims in 1974. In 1984, they were banned from calling themselves Muslims. They are banned from preaching and even from travelling to Saudi Arabia for pilgrimage. Their publications are prohibited.
In May 2010, suicide bombers killed 80 people at two Ahmedi places of worship.
'Sindh bill against forced conversions un-Islamic'
The council also discussed the minorities bill recently passed in Sindh, which criminalises forced conversions and bars conversion of minors.
Sherani said the law is "illegal, unconstitutional and un-Islamic". The council further declared that the legislation was against basic human rights.
"The law was not correct and it was not fair either," Sherani said. "If anyone is forced to convert from his or her religion, then that is unfair, even if the person who has converted is a hundred years old."
He added that the country's constitution allowed every person to adopt Islam as per their own will.
"Anybody who is sane and has decision making power has to be allowed to adopt Islam, but limiting this choice to the minimum age of 18 years is not correct," he added.
"This law is against the spirit of Islam too and we will write to all concerned including Governor Sindh against this law," he said.
The meeting also opposed any proposed amendment in the blasphemy law.
Sherani said the Senate Standing Committee on Human Rights had called to discuss the blasphemy law but that "disturbing the existing laws" wouldn't be right.
"Parliamentarians should instead focus on making the remaining laws Sharia compliant," he added.
Sherani, who is also an MNA from the Jamiat-i-Ulema-i-Islam Fazl (JUI-F), is set to retire from the chairmanship of the CII on December 16, 2016 after completing two terms of three years each.
http://www.dawn.com/news/1301636/cii-decries-naming-qau-physics-centre-after-dr-abdus-salam
--------
'Divorce Procedure in Islam Is Mostly Misinterpreted': An Expert in Islamic Jurisprudence
December 8, 2016
New Delhi: Confusion over the procedure, status, and binding nature of 'triple talaq' pronouncement is a common question brought before Islamic authorities. Various clerics believe that due to lack of knowledge and right interpretation, the correct divorce procedure is not being followed.
Shehzad Saleem, an expert in Islamic jurisprudence, brings to fore the plight of the Muslim women at the hands of misinterpreters of the Quran. He explains the right procedure of divorce as enshrined by Sharia.
"First of all, divorce is not valid if it is given through phone, email, WhatsApp and Skype. If a husband has decided to divorce his wife, he should wait until she has completed her menstrual cycle and then desisting from any further carnal relationship, he should utter the divorce sentence just once. The wife, after she has been divorced in this way, must stay in her husband's house for a period of three menstrual cycles. This period is called 'iddat' (waiting or parting). For a pregnant woman, this period is up to the birth of the child, while for a newly married couple who have had no contact, divorce does not entail any period of 'iddat' for the wife," Saleem says.
"If after the period of 'iddat', a man is still firm in his stance, his wife shall be considered as separated permanently. She is now a free woman and if she wishes to marry some other person, she has all the right to do so and must not be inhibited in any way. If circumstances change, she can even remarry her former husband," he adds.
The Quran stresses that in case the husband revokes his decision during the 'iddat' period, there is no need for remarriage. The two shall be considered as husband and wife once again.
Saleem says that if after annulment of this divorce, due to some reason, the untoward situation arises a second time that the husband intends to divorce his wife, the Quran explains that the husband can exercise his right of divorce for the second time as well.
He should pronounce just one 'talaq' sentence to repudiate his wife. Again, the post-divorce period shall be observed in the manner just described.
"Once again, if the husband wishes, he has the chance to revise his decision during the period of 'iddat,' in which case the divorce shall be considered null and void and the two shall once again become husband and wife. If, unfortunately, for the third time, the situation arises that divorce becomes inevitable, the Quran says that a husband can exercise his right for the third time as well and pronounce the divorce sentence. However, this time the wife shall be permanently separated from him. After divorcing his wife for the third time, he cannot remarry her now, unless and until the wife marries some other person and owing to some reason gets divorced from him — not under a planned strategy, but on account of naturally arisen circumstances," he explains.
The last measure is meant to prevent this affair from becoming mere childplay.
http://gulfnews.com/news/asia/india/divorce-procedure-in-islam-is-mostly-misinterpreted-1.1942490
--------
Taliban's new demands for ending insurgency include direct talks with US
Dec 10 2016
The Taliban militants group in Afghanistan has offered new demands for ending the group's insurgency in the country, including direct talks with the United States, it has been reported.
The new conditions include recognition of the political office of the group in Qatar and removal of group's members from the UN blacklist.
"That is why there is need for America and its allies to come to the TABLE for direct talks with the Islamic Emirate (the Taliban) for negotiating an end to the occupation," Sohail Shaheen, a Qatar-based spokesman of the group, quoted by The News said.
Shaheen further added, if peace is the objective of the other side, then the Taliban must be allowed to open their "political office" in Qatar and names of their senior members be removed from the UN blacklist.
"These obstacles in the way of establishing peace cannot be simply ignored," Shaheen said, warning that "mere slogans and statements" (by the other side) would further complicate the issue rather than PROMOTING Afghan peace.
This comes as reports emerged earlier suggesting peace talks could likely kick off between the Afghan government and Taliban group.
The Afghan government opted military option against the group after it rejected to participate in direct peace talks earlier this year and after the group announced its annual spring offensive.
The government was forced to withdraw from the peace efforts after the group claimed responsibility behind a number of deadly attacks across the country, including a major attack on VIP protection unit in Kabul that left over 400 people dead or wounded.
http://www.khaama.com/talibans-new-demands-for-ending-insurgency-include-direct-talks-with-us-02450
--------
U.S. Government Warns China Facing Growing Islamic Terror Threat
8 Dec 2016
The increasing Islamic terrorism threat facing China is prompting the communist country to question its military support to its ally Pakistan given the South Asian country's "complicated relationship" with jihadi groups, reports the U.S.-China Economic and Security Review Commission.
In its latest annual report to Congress, the commission notes:
China's security concerns in South Asia historically have centered on its desire to enable Pakistan to thwart India's rise as a challenger to China's dominance in broader Asia. While this remains the most important determinant of Chinese security support to Pakistan, the rise of terrorism as a major perceived threat to China's security may be prompting a shift in this calculus as Beijing grows more concerned about Pakistan's complicated relationship with terrorist groups.
Terrorist activities, primarily stemming from Pakistan and to a lesser extent Afghanistan, "have become more frequent and high profile," adds the report.
Citing Andrew Small, senior transatlantic fellow at the German Marshall Fund of the United States, the COMMISSION WARNS of the creeping "Islamization" of Pakistan's military.
"According to one expert, the inability or unwillingness of Islamabad to eradicate Pakistan-linked terror threats against Chinese targets is leading some Chinese analysts to conclude that the creeping 'Islamization' of the Pakistani armed forces (particularly ISI) it has long supported is beginning to undermine China's strategic interests," it reports.
The ISI refers to Pakistan's Inter-Services Intelligence, which has been linked to various terrorist groups, including the Afghan Taliban. Pakistan has been accused of serving as a sanctuary for various terrorist groups by the United States, Afghanistan, India, and now China.
China, the world's third-largest arms SUPPLIER, provides more weapons to Pakistan than any other country and builds the Muslim-majority country's nuclear reactors. The communist country enabled Pakistan's indigenous ballistic missile capability and also assisted the South Asian nation in building its first nuclear bomb.
Moreover, the U.S. commission notes that "although China's relationship with Pakistan continues to be primarily based on shared security concerns, it has recently expanded to encompass economic and diplomatic components."
Meanwhile, the Islamic terrorism threat facing China, primarily rooted in Pakistan, is reportedly intensifying.
China's autonomous province of Xinjiang, home to the country's largest concentration of the Muslim Uighur minority, borders Pakistan-occupied Kashmir and neighboring Afghanistan.
According to the U.S. military, the Afghanistan-Pakistan region is home to the largest concentration of Islamic terrorist groups — 20 of the 98 U.S. or UN-designated terrorists organizations.
The U.S. commission notes:
As the threat of extremism and terrorism facing China grows, counterterrorism has become an increasingly important facet of Beijing's engagement with South Asia. Chinese leaders have for decades been concerned about Islamic extremism and terrorism in Xinjiang, China's westernmost region and home to the majority of China's Uighurs, a mostly Muslim ethnic group.
The extent and nature of this threat is difficult to assess given the Chinese government's tendency to conflate and crack down on religious expression, political dissent, extremism, separatism, and terrorism. Nevertheless, open source reporting clearly demonstrates a rise in terrorist attacks in China in recent years
News outlets from India, considered a regional rival by both China and Pakistan, have accused the communist country's military of conducting regular patrols inside war-ravaged Afghanistan. China has denied the claims.
Nevertheless, the U.S. commission reports:
China has slowly expanded its diplomatic and security engagement with Afghanistan in recent years. China's recognition that it must shoulder greater responsibility in shaping Afghanistan's future is driven by the following factors: First, China seeks to ensure Afghanistan does not provide a safe haven for extremists who might target China.
As of early 2016, the Asian giant has reportedly pledged $70 million in military aid to Afghanistan.
http://www.breitbart.com/national-security/2016/12/08/u-s-china-security-commission-islamic-terrorism-threat-china-growing/
--------
BBC defends extremist's presence on Muslim reality show
9 December 2016
A controversial BBC reality show about Muslims in Britain will "reveal as human beings" those who hold extremist VIEWS, while showing that the majority of Muslims robustly disagree with them, its producers have said.
The broadcaster has come under fire for casting an associate of the radical preacher Anjem Choudary among 10 participants in Muslims Like Us, a two-part programme that has been described as a "Muslim Big Brother" and will screen on BBC2 next week.
Abdul Haqq, a 35-year-old former boxer who has been convicted of fraud, has appeared on platforms alongside Choudary and made videos appearing to justify Islamist beheadings of westerners as "not unprovoked". He was acquitted last year of plotting to go to Syria to fight with Islamic State, but he tells the filmmakers that if his passport, which has been confiscated by the British authorities, were returned to him, he would want to go to Syria.
Fatima Salaria, a senior commissioning editor for the BBC, said it would have been "totally irresponsible" if the programme, which seeks to reflect the broad range of Muslim experience in the UK, had not included someone expressing such views and that Haqq was constantly opposed by the other participants throughout the two episodes.
"It was really IMPORTANT for me that that voice was represented, but he had to be adequately challenged," she said. "There are people in my own family who have quite radical views. We sit around the dining table and talk about those views. It would have been wrong for us not to have had him."
Mobeen Azhar, the series producer, said: "I think it's really IMPORTANT for someone like Abdul Haqq to be seen as a 3D character, to understand where he is coming from.
"The human being you see in Abdul Haqq is really significant because I've seen that profile again and again in men who are very similar. So often we hear this idea that Muslims need to do more to challenge those voices in the community, and here you see that for real. These are the conversations that go on behind closed DOORS every weekend."
The programme makers brought together a diverse cast of British Muslims – a stand-up comic who runs a homeless shelter, a gay man, a 76-year-old woman, a teacher who prays every day but believes she is regarded as "the Muslim girl gone bad" - to share a large house in York for 10 days.
Unlike in Big Brother, they are free to come and go, and there are no evictions. The programme shows robust disputes over their interpretations of Islam, particularly with Haqq, formerly known as Anthony Small, who won British and Commonwealth boxing titles before CONVERTING.
The arguments begin as soon as they arrive, when Haqq hands out a leaflet outlining his view that men and women who are not related should not mix freely. During a discussion the day after the Nice truck attack in July, Haqq says he feels pain only for the Muslims who were killed, provoking a furious response from some of the others.
But Haqq also becomes the butt of gentle mockery by his housemates, several of whom express a fondness for him despite abhorring his VIEWS. "How many metres away should you be [to avoid] free mixing?" Haqq is teased by Nabil, the comic who describes his own life philosophy as "when in doubt, don't be a dick".
Azhar said: "Everyone [in the Muslim community] knows one of those people – someone who is a bit dodgy. We all take the mick out of those people, and that's what you see happening.
"It's no surprise that out of 10 contributors, nine of them through the course of the two hours do everything they possibly can to distance themselves from his views. I think that's quite representative of what happens in the Muslim community all the time.
Kieran Smith, the creative director (factual) at Love Productions, which made the programme for the BBC, said: "People who have monstrous VIEWS aren't always monsters.
"Much better to have him there, have him challenged, have him unpacked, to reveal him as a human being, and not to leave [his views as] the elephant in the room."
Love is no stranger to controversy, having produced Benefits Street for Channel 4 and provoked a media storm in September over its sale of the Great British Bake Off to Channel 4.
Smith said the participants had been screened to check they were robust enough to take part and to DEAL with potential fallout on social media and elsewhere after the programme was broadcast.
He said he hoped the series, which he described as "constructed documentary", would show the Muslim community was not a monolith.
"I think TV has been guilty in the past of focusing on just one type of Muslim, and it tends to focus on extreme. For me, it's about being honest and authentic about Muslim communities and the discussions and conversations they are having."
https://www.theguardian.com/media/2016/dec/09/bbc-defends-extremists-presence-on-muslim-reality-show
--------
Pakistan
Army chief hails ISI for 'strengthening national security'
10-Dec-16
ISLAMABAD: Chief of Army Staff (COAS) General Qamar Javed Bajwa on Friday visited HQ ISI and hailed the role and sacrifices of this premier intelligence agency in the war against terrorism and said that ISI made Pakistan's defence and security strong. The COAS was given a detailed briefing on the internal and external security situation of the country and the ISI's role towards strengthening of national security, including its efforts in countering terrorism, the ISPR spokesman said in a statement.
Gen Qamar Bajwa expressed his satisfaction and lauded the contributions and sacrifices of officers and men of premier intelligence agency towards strengthening of national defence and security. Sources revealed that the COAS was told about the results of combing operations and intelligence based operations in the country as well and army chief directed to continue these operations to take the war on terror to its logical conclusion.
Earlier on arrival at HQ, the COAS was received by Lt Gen Rizwan Akhtar and DG ISI. COAS also laid a floral wreath at Yadgare Shuhda to pay homage to the ISI's martyrs.
http://dailytimes.com.pk/islamabad/10-Dec-16/army-chief-hails-isi-for-strengthening-national-security
--------
Five 'terrorists of banned outfit' arrested
December 09, 2016
KARACHI : At least 10 alleged suspects, including five terrorists affiliated with Tehreek-e-Taliban Pakistan (TTP), were arrested in the wee hours of Friday from different areas of the metropolis.
According to reports, Police on credible information launched an action in Orangi Town No.11 and rounded up five terrorists affiliated with TTP. They were identified as Shahzad, Noor Muhammad, Abdul Mannan, Arsalan Khan and Salman Khan. Authorities also claimed that the arrested suspects were planning terror strikes in Orangi Town.
Police have recovered five Kalashnikovs and one and a half kilogram of explosive material from the possession of the arrested terrorists. The arrested terrorists informed police during initial investigation that their group consists of TTP activists from Swat and Wana.
Rangers conducted a raid on a house in Purana Golimar area near Lyari on Thursday night and recovered a large quantity of arms.
Full report at:
http://nation.com.pk/karachi/09-Dec-2016/five-terrorists-of-banned-outfit-arrested-rangers-recover-arms-in-raid-on-gang-war-accused-house
--------
Court to resume hearing of case against Lal Masjid cleric
December 10, 2016
Islamabad - A local court will resume the hearing of a petition seeking registration of case against Lal Masjid cleric Maulana Abdul Aziz for issuing life threats to the representatives of civil society.
A judicial magistrate Muhammad Naseer-ud-Din will conduct hearing of the petition in which he had already turned down an application seeking reinvestigation of the case and accepted the challan submitted by police in this matter.
The plaintiff of this petition Jibran Nasir, a civil society activist, had challenged the police investigation report which had declared Maulana Aziz as innocent in the case registered against him in 2014.
It is likely that the court would announce its verdict on the petition of Lal Masjid cleric to quash the FIR as police had already declared him innocent in its investigation report.
The federal police had booked Aziz by registering a case in the Aabpara police after he allegedly threatened several civil society activists.
The case was registered under Section 506(II) of PPC for extending threats to someone to kill him and it was registered on the application submitted by Jibran Nasir, Athar Naeem, Farzana Bari, Senator Sehar Kamran and others for extending life threats.
In the challan submitted before the court, police declared Aziz as innocent, saying that there was no concrete evidence against him.
Aziz then filed an application requesting the court to quash the case.
Previously, Nasir had filed a counter-application on October 22 challenging the police investigation report and demanded a fresh inquiry. He said the police conducted a mala fide investigation and misled the court.
Full report at:
http://nation.com.pk/islamabad/10-Dec-2016/court-to-resume-hearing-of-case-against-lal-masjid-cleric
--------
11 suspected militants arrested from Balochistan's Barkhan district
Dec 9, 2016
Security forces on Wednesday claimed to have arrested 11 suspected militants during an exchange of fire in Balochistan's Barkhan district.
"The arrested miscreants belonged to an outlawed militant organisation which was operating in the area, said Khan Wasey, a spokesperson for the Frontier Corps.
He added that five commanders of the banned organisation were also among those arrested.
The FC personnel conducted the raid on information provided by an intelligence agency.
Security forces claimed to have recovered eight rocket launchers, fuses and other arms and ammunition during the raid.
Full report at:
http://www.dawn.com/news/1301049/11-suspected-militants-arrested-from-balochistans-barkhan-district
--------
Counter-terrorism cooperation with China to continue: COAS
By Siddique Sajid
09-Dec-16
ISLAMABAD: Chief of Army Staff (COAS) General Qamar Javed Bajwa on Thursday said that Pakistan would continue its cooperation with China to eliminate terrorism from the region. He said this during his visit to National Counter Terrorism Training Centre (NCTC), Pabbi and spent his day witnessing concluding sessions of high profile training events. He saw the final day of two months long Pak- China exercise Warrior-4, which was focused on high impact counter terrorism operations both in rural and urban areas using Special Forces of both countries, according to of ISPR spokesman.
While speaking to officers and troops on the occasion, the Chief of Army Staff noted that sharing good experiences through series of exercises had improved counter terror combat skills of both Chinese and Pakistani troops. He emphasised that such exercises have integrated the two armies and will help us to eliminate terrorism from the region. Our newly built NCTC has been recognised as a world class facility and is attracting other armies for training with our army.
The COAS appreciated the interest of friendly countries in training with the Pakistan Army and said, "We will continue to offer our training services for defeating the menace of terrorism and bringing peace. COAS also commended the staff of Training Centre for having trained Rangers, Police, ASF and other services also in fighting terrorists. Later, the Chinese military commander paid his gratitude to the Pakistan Army for the highest standard of training and skills, an asset that China shall continue to benefit. Our successful training and closeness will help further consolidate long term trusted strategic friendship of our two eternally friendly countries, the Chinese Commander said.
Full report at:
http://dailytimes.com.pk/pakistan/09-Dec-16/counter-terrorism-cooperation-with-china-to-continue-coas
--------
Major terror bid foiled, four alleged proscribed outfit terrorists gunned-down in Sheikhupura
December 08, 2016
Sheikhupura : The Counter-Terrorism Department (CTD) foiled a major terror bid and gunned-down four alleged proscribed outfit terrorists in Sheikhupura area in Punjab.
On a tip-off, the CTD raiding team raided a hideout near Sheikhupura area on Thursday, where eight terrorists while spotting CTD raiding party started firing at them. The CTD retaliated and gunned-down four terrorists affiliated with banned terrorist outfit. Four terrorist's accomplices fled the scene.
Full report at:
http://nation.com.pk/lahore/08-Dec-2016/major-terror-bid-foiled-four-alleged-proscribed-outfit-terrorists-gunned-down-in-sheikhupura
--------
Army chief witnesses Pak-China drill at counter-terror training centre
Dec 9, 2016
ISLAMABAD: Chief of the Army Staff Gen Qamar Javed Bajwa visited the National Counter Terrorism Training Centre (NCTC) at Pabbi and spent the day witnessing concluding sessions of high-profile training events.
He saw the final day of the two-month-long Pakistan-China exercise Warrior-4, which focused on high-impact counter-terrorism operations, both in rural and urban areas, using heli-borne and special forces of both countries, said an ISPR press release.
Speaking to officers and troops, the COAS noted that sharing of best experiences through a series of exercises had improved counter-terror combat skills of both Chinese and Pakistan troops.
He emphasised that such exercises had integrated the two armies and "would help us eliminate terrorism from the region".
"Our newly-built NCTC has been recognised as a world class facility and it is attracting other armies of the world for training with our army."
Full report at:
http://www.dawn.com/news/1301412/army-chief-witnesses-pak-china-drill-at-counter-terror-training-centre
--------
Musharraf given one month to surrender
Dec 9, 2016
ISLAMABAD: An anti-terrorism court (ATC) here on Thursday gave one-month's deadline to former president Pervez Musharraf to surrender in the judges' detention case.
The court warned that the former military ruler would be declared a proclaimed offender if he failed to comply with the deadline. After directing to the counsel for Gen Musharraf to produce his client before the court, ATC Judge Sohail Ikram adjourned the proceedings to January 13.
On November 22, the judge had asked Advocate Akhtar Shah to argue how he can represent Musharraf even after he was declared a proclaimed offender in a high treason case by the special court.
The lawyer replied that doctors checked his client after every two months and the security situation was not favourable for him in the country. He claimed that under Article 10-A of the Constitution, which ensures fair trial, he can represent Musharraf even in his absence.
Public prosecutor Amir Nadeem Tabish, however, said being a fugitive of the law Gen Musharraf could neither seek any relief nor any lawyer could represent him unless he surrendered to the court.
Full report at:
http://www.dawn.com/news/1301394/musharraf-given-one-month-to-surrender
--------
US urges Pakistan to end tolerance for Afghan Taliban groups
December 09, 2016
WASHINGTON - Ignoring the attacks by India and Afghanistan against Pakistan at the recent Heart of Asia Conference, the US on Wednesday voiced its own concern over Islamabad's alleged tolerance for Afghan Taliban groups like the Haqqani network.
"We have consistently expressed our concerns to the highest levels of Government of Pakistan about their continued tolerance for Afghan Taliban groups such as the Haqqani Network operating from the Pakistani soil," State Department Deputy Spokesperson Mark Toner said when specifically asked about the way India and Afghanistan lashed out at Pakistan at the weekend conference in Amritsar. Toner added, "We continue to encourage the Government of Pakistan and Afghanistan, rather -- both governments to cooperate in their counter-terrorism operations and efforts because that's only going to contribute to regional stability."
Meanwhile, the Special Assistant to the Prime Minister on Foreign Affairs, Tariq Fatemi, has been meeting with senior US officials explaining Pakistan's policies aimed at helping the peace process in Afghanistan.
Full report at:
http://nation.com.pk/national/09-Dec-2016/us-urges-pakistan-to-end-tolerance-for-afghan-taliban-groups
--------
All private schools bound to teach Sindhi, Quran: Minister
December 09, 2016
KARACHI - Provincial Minister for Education and Literacy Jam Mehtab Hussain Dahar said on Thursday that all private schools were bound to teach Sindhi language, nazra Quran and Islamiat.
He was presiding over a meeting of representatives of private schools here at Tughlaq House, Sindh Secretariat.
Special Secretaries Aliya Shahid and Zakir Hussain Shah, Private Institutions DG Dr Mansoob Siddiqui, Trust School Chairman Jamil Yousuf, All Sindh Private Schools Chairman Khalid Shah and others also attended the meeting.
DG Mansoob Siddiqui told the meeting that almost all private schools were teaching the Sindhi language, and if he received any information to the contrary, action would be taken against the violator. The education minister directed the special secretary to co-ordinate with Home Department for issuance of arms licences to the private schools managements on priority basis, which, in return, should ensure safety of the students and comply with the orders of Home Department and furnish details to Police and Rangers. Dahar also emphasised that compliance with the Sindh High Court's judgment on enhancement of tuition fees be ensured besides enforcement of Sindh Private Educational Institutions Ordinance 2001 Amended Act 2003 and Rules 2005.
He further said, "We have to bridge the gap between private schools and Sindh Education Department in order to ensure better coordination."
Earlier, Dahar paid a surprise visit to the offices of education department and found out that more than 30 employees, including the additional secretary, section officers, came late to the office. He directed the special Secretary to issue explanation letters to the latecomers. Full report at:
http://nation.com.pk/karachi/09-Dec-2016/all-private-schools-bound-to-teach-sindhi-quran-minister
--------
Law enforcers detain MQM London activists after tensions simmer in Azizabad, Hyderabad
December 10, 2016
Rangers detained several Muttahida Qaumi Movement (MQM) London activists while they tried to hoist the party flag and write slogans on Liaquat Ali Khan Chowk, DawnNews reported on Friday.
While talking to the media about the incident, Rangers sector commander Brig Naseem Ahmad said, "Some people sat on the road reciting the Holy Quran. Some women came to us and requested permission to do recitation and the permission was granted."
"When these women returned, some male party workers raised party slogans and started putting up party flags in the area. The police took action on this and arrested some of the workers," he added.
When asked about the number of people detained, he said the people creating chaos were taken in.
As a result of the detention many party workers conducted a sit in on the road leading from Ayesha Manzil to Yadgar-e-Shuhada, disrupting the flow of traffic.
Liaquat Ali Khan Chowk was previously known as Mukka Chowk and holds a symbolic significance for MQM party workers.
Unrest at Pakka Qila
Around half a dozen activists of Muttahida Qaumi Movement-London were taken into custody after a heavy contingent of police resorted to teargas shelling and baton charge against them when they raised pro-Altaf slogans at Pakka Qila after Friday prayers.
Full report at:
http://www.dawn.com/news/1301439/law-enforcers-detain-mqm-london-activists-after-tensions-simmer-in-azizabad-hyderabad
--------
India
Post-demonetisation, madrasas see spurt in donations: Jamaat-e-Islami Hind
by Arshad Ali
December 9, 2016
The demonetisation of Rs 500 and Rs 1,000 notes benefited madrasas across the country, Md Nooruddin, president of the state Jamaat-e-Islami Hind (JIH) told The Indian Express on the sidelines of an event here on Thursday. "Many people who had money in those denominations paid a huge amount of the currency to madrasas overnight. We have received reports from across the country that donations received by madrasas have gone up considerably after the demonetisation announcement," Nooruddin said.
He added that their organisation too had received donations in those denominations. "We had planned to print some books, the cost of which was an estimated Rs 18 lakh. When we approached people for donations, they said that they were ready to donate, but only in old currency. We received donations amounting to Rs 5-7 lakh in old notes," he said.
The JIH leader further said they would carry out several programmes across the country between December 9 and 23 to mark the birth anniversary of Prophet Muhammad. "Islam teaches peace and that awareness should not be confined to Muslims. There are three things we will concentrate on. Islam teaches cleanliness and in the line of Swachh Bharat and Nirmal Bangla, we will take up cleanliness drives at every block and village of our country. We will distribute fruits and food among underprivileged patients in different hospitals and will also meet inmates of different jails to counsel them. In Bengal, our representatives will meet different police officials, mayors of civic bodies and district magistrates. We will give them books on Islam and the Prophet," he said during the press conference.
The JIH is also looking into tech intervention to spread awareness among people about the teachings of the Prophet. The hashtag '#MessengerOfPeace' and a mobile application were inaugurated on Thursday. "Through the use of technology, the penetration would be even more, even in remote village areas thanks to the use of smartphones. People who spread misconceptions about any religion do it for their own vested interests. No religion can spread hatred and violence. People should be told this," he added.
http://indianexpress.com/article/india/post-demonetisation-madrasas-see-spurt-in-donations-jamaat-e-islami-hind-4417892/
--------
Maintaining Communal Harmony, Muslims Members Willingly Raze Mosque Wall in Roorkee
Dec 9, 2016
ROORKEE: Setting an example of communal harmony, the Muslim members of Binarsi village, 20 km from here, have willingly demolished a part of the mosque that was constructed illegally on the land of the gramsabha. Despite deployment of heavy force to prevent any untoward incident, the members of the community came forward to bring down the wall themselves.
According to reports, a mosque had been constructed in the '70s in Binarsi village, where the Hindu-Muslim population is almost equal. Later, during Chakbandi delimitation process of the village land in 1995, it was found that a portion of the mosque was developed on the plot which belonged to the gramsabha. To vacate the land from the possession of mosque management, village resident Ambrish Tyagi had approached the administration. Later, Tyagi filed a writ petition in the matter before the Uttarakhand high court in Nainital this year.
"My petition was heard by a double bench there. And on November 7, it asked the administration to vacate the land from illegal occupants," said Tyagi.
Full report at:
http://timesofindia.indiatimes.com/city/dehradun/Maintaining-communal-harmony-Muslims-members-willingly-raze-mosque-wall/articleshow/55881286.cms
--------
Up to Pakistan whether it wants to allow SAARC Summit to happen: India
December 8, 2016
In a strong message to Pakistan on SAARC Charter Day, India on Thursday said it was up to that country whether it wants to stop cross-border terrorism and allow the SAARC Summit to take place. Thursday is 31st Anniversary of South Asian Association of Regional Countries (SAARC) and 32nd SAARC Charter Day. Asserting that the SAARC member countries, while pulling out of the Summit to be held in Pakistan in November, had maintained that the atmosphere was not conducive because one particular country in the region is promoting cross-border terrorism and interfering blatantly, External Affairs Ministry Spokesperson Vikas Swarup said the conditions remain the same.
Watch What Else is Making News
US Defence Secretary Carter Meets PM Modi
"In this case the SAARC Summit cannot happen," he said, adding "it is up to Pakistan to say that it decides not to hold SAARC Summit and is ready to give it up to any country that wants to host it. And the things can go forward."
Amid heightened tension with Pakistan over Uri terror attack in which 18 soldiers were killed, India had announced its decision of pulling out of the Summit in September, citing increased "cross-border" attacks.
Full report at:
http://indianexpress.com/article/india/up-to-pakistan-whether-it-wants-to-allow-saarc-summit-to-happen-india-4417616/
--------
Mature friend valuable than hysterical partner: MJ Akbar on Sino-Pak friendship
December 9, 2016
New Delhi: In a veiled dig at Sino-Pakistan friendship, Minister of State for External Affairs MJ Akbar said a "mature" friend is far more valuable than a "hysterical" partner. Addressing the first India-China think-tank forum here, Akbar also said the time has come for India and China to regain the reputation of being a global manufacturing hub.
He referred to the past when India accounted for 24% of the global manufacturing output and China 30%. "There cannot be any situation in which two nations do not have some differences. Of course, there will be some but mature nations can take their problems to a decent space of a dialogue table.
"A mature friend is far, far more valuable than a hysterical partner," Akbar said at the inauguration of the two-day forum. His remarks appeared as an indirect message to China which describes Pakistan as a "all weather ally" and has strong defence and trade ties with it. In the backdrop of the several terror strikes carried out in India by Pakistan-based groups, Akbar said dangers from terrorism are not limited to the fact that it kills people but also in its use of fear to divide people, especially in societies and nations which are built on pluralism.
Full report at:
http://www.siasat.com/news/mature-friend-valuable-hysterical-partner-mj-akbar-sino-pak-friendship-1083130/
--------
FBI team in Kolkata, quizzes IS man
Dec 9, 2016
KOLKATA: Mohd Masiuddin alias Musa wanted to strike in the US and was preparing for that, the 'IS lone wolf ' said during interrogation by a seven-member team of FBI in the city.
Full report at:
http://timesofindia.indiatimes.com/city/kolkata/FBI-team-in-Kolkata-quizzes-IS-man/articleshow/55885143.cms
--------
Mumbai: ATS books Mumbra youth for 'joining Islamic State'
by Rashmi Rajput
December 9, 2016
THE MAHARASHTRA Anti-Terrorism Squad (ATS) has registered a case against a youth who allegedly fled India to join the globally banned terror outfit Islamic State (IS) or Daesh, as it is referred to by security agencies.
Sources in the state counter terrorism agency said the youth fled the country in early 2015 on the pretext of taking up a new job in Egypt and had now joined IS. Tabrez Noor Mohammed Tambe (28), a resident of Mumbra on the outskirts of Mumbai, later reached Libya where he claims to be fighting alongside IS now, according to the sources.
"His brother Saud Noor Mohammed Tambe has told us that from Egypt he travelled to Libya along with his friend identified as Ali who hails from Saudi Arabia, and that now the two have joined IS," said a senior official from the agency. "The family claims that Ali was instrumental in brainwashing their son and drawing him into IS fold," added the official. According to the police, Tabrez came in contact with Ali in Riyadh where he was previously employed.
"Tabrez returned in early 2015 after completing his employment in Riyadh in Saudi Arabia. Full report at:
http://indianexpress.com/article/india/mumbai-ats-books-mumbra-youth-for-joining-islamic-state-4418011/
--------
J&K: One killed during operation against militants
December 9, 2016
A civilian was killed in firing at Arwani in south Kashmir as the Army and police launched an operation against militants on Wednesday.
Police said the civilian was hit by a stray bullet and asked people to stay away from encounter spots. More than 30 civilians were injured in the clashes when they tried to break the cordon and resorted to stone pelting on the police and Army.
The operation, which began Wednesday afternoon, resumed in the morning Thursday and exchange of gunfire continued throughout the day in Arwani village where militants were holed up inside the house.
Full report at:
http://indianexpress.com/article/india/jk-one-killed-during-operation-against-militants-arwani-4418064/
--------
Uri terror attack case: No proof that accused are minors, NIA says
Bharti Jain
Dec 10, 2016
NEW DELHI: The National Investigation Agency (NIA) has said it is yet to see or receive any formal papers contesting the age of the two accused arrested in the Uri terror attack case and claiming them to be minors.
The two youths hailing from Muzaffarabad in Pakoccupied Kashmir —Faisal Hussain Awan and Ahsaan Khursheed, whose age is entered as 20 years and 19 years in the NIA records —were arrested by the agency on September 26 and charged with having facilitated infiltration of the four terrorists who attacked the Army's Uri camp on September 18.
"We cannot go simply by media reports. As per the statement given by the two alleged guides after their arrest, they are adults. So if a counter-claim is to be made, the person concerned or family member may approach us directly or the court. We will verify the counter-claim if required. Alternatively, the court may be requested by the aggrieved party for medical tests to establish the age of the accused," a NIA official told TOI. "Until we receive any formal claim, we will stick to the findings of our probe so far, which says that the two arrested 'guides' were tasked by Pak-based terror commanders to facilitate the four Uri attackers in crossing the LoC prior to the strike. During their interrogation, they had also identified one of the four attackers as Hafeez Ahmad, resident of village Dharband in Muzaffarabad," said the officer.
Full report at:
http://timesofindia.indiatimes.com/india/Uri-terror-attack-case-No-proof-that-accused-are-minors-NIA-says/articleshow/55902814.cms
--------
South Asia
Faith, dissent and extremism: How Bangladesh is struggling to stay secular
December 9, 2016
The recent violent attacks on a Hindu temple in Bangladesh's Netrokona district, and previous assaults on temples and homes in October in Brahmanbaria are a troubling illustration of Bangladesh's struggle to protect two of its fundamental values: secularism and pluralism.
The country is still recovering from the brutal July attack on the Holey Artisan Bakery, when five armed young men claiming to represent ISIS barged into a café in an elite area of Dhaka and killed several foreign nationals and Bangladeshis; others were taken hostage.
Though it was shocking, the Holey attack was not unique. Over the past three years, a string of attacks have targeted bloggers, atheists and free thinkers.
The event that marked the beginning of the spate of violence was the 2013 Shahbag-Hefazat debacle, when liberal youth demanding capital punishment for several Jama'at-e-Islami leaders (on trial for war crimes in 1971) clashed with a religious but non-political Islamic group called Hefazat-e-Islam. They fought over freedom of expression and religious and moral injury.
But the Holey attacks did redirect focus onto the privileged class – both as targets and assailants. The bakery was a popular hub for young, wealthy Bangladeshis and foreigners, and at least two of the killers were from educated, well-off families, debunking the myth that madrasas (where children from poorer families study) are the sole breeding ground for religious extremists.
The decline of the privileged
The Holey affair's elite trappings caused both panic and an awakening to the reality that transnational terror outfits have a presence in Bangladesh. This was worrying, since government officials had previously affirmed that past attacks were the result of homegrown political opposition.
It was disconcerting, not just from a security perspective but also because the incident had implications for Bangladeshi secularism. According to the latest data from Unicef, 79% of men and 83% of women age 15 and 24 embrace a secular ethos.
Secularism was a foundational tenet of Bangladesh's 1971 constitution. Islam became the state religion in 1988, but this move has been challenged through petitions and in the courts several times, including earlier this year.
The secular vision of the nation enshrined in the Constitution had long been mistaken as one that did not care for religion, or, in particular, for Islam.
In recent years, liberals have tried to amend this misconception by arguing that the secular vision draws, as it always has, on a tolerant and syncretic form of Islam nurtured by Sufi settlers from the 13th century onwards. The intolerant Islam of ISIS does not tally well with this idea of the past and vision for the future.
People also questioned why, if indeed intolerant Islam had made inroads in Bangladesh, it would hold appeal for young boys for whom the world was otherwise open. Something must be terribly amiss in their homes for radicalism to take root.
Have modern aspirations and modernity at large failed Bangladesh's families, with time constraints and other challenges leading to a certain anomie, a breakdown of social bonds? Has radicalism become the new opiate?
Coercive politics and mismanaged Islam
The frustration and loss of value for human life demonstrated by the educated middle class cannot be understood in isolation from the values imparted by Bangladesh's current political climate.
After two decades of authoritarianism and dictatorship post-independence, Bangladesh's democratic turn in 1991 was safeguarded by a non-partisan caretaker system that would ensure the holding of free and fair elections. But this constitutional guarantee of democracy was removed in 2011, raising suspicion about the electoral process.
Elections held since have either been boycotted by the main opposition, the Bangladesh Nationalist Party (BNP), or seen allegations of rigging. The BNP blames the ruling Awami League, led by Prime Minister Sheikh Hasina, for a lack of transparency and accountability at the 2012 polls. The BNP responded to that election with violent protest.
Some argue that electoral suspicions and conflict between the government and the opposition has created dissidence and allowed radicalism to thrive. Others suggest that violence, especially in the name of Islam, was the BNP's forte all along – even before the caretaker system ended.
The party's inability to sever ties with the Jama'at-e-Islami has certainly allowed a certain narrow version of Islam to gain momentum in the public sphere, and the BNP must shoulder some responsibility for its flirtation with violent extremism.
This narrative has allowed the Awami League to play a lazy blame game whenever terror strikes. Prior to Holey, the government responded to each attack on freedom of expression and speech by pointing to the BNP and Jama'at's attempts to destabilise the regime. This view also helped the Awami League reinvigorate "Bengali nationalism", which in its current incarnation proposes a Muslimness framed by the syncretistic, or blended, Islam of Bengal, and recalls the movement that fought Pakistani state oppression. Bengal had a vibrant syncretistic tradition. It was also a land where orthodox movements of the 18th century mobilised peasants for redistributive justice and where the leftist leader Maulana Abul Hamid Khan Bhashani used religious ideals to demand rights and democracy.
What will the Islam of modern Bengali nationalism deliver? It remains to be seen.
An unclear commitment to secularism
What's clear is that the state is clamping down on a good number of Islamists and beefing up on security. No doubt tighter security controls are comforting to citizens. But they won't greatly alter realities on the ground.
A close look at the recent persecution of Santals, an indigenous community in northern Bangladesh, reveals competition for land is at the heart of the conflict.
Such increased attacks on minorities, including notably, on Hindus, also show that Muslim majority sentiments are being deployed as a pretext for rivalries within the Awami League.
Despite some efforts to restore peace between the communities, including deposing party members and law enforcement officials, critics say that the government is not working hard enough to nip such intolerance in the bud.
It seems that Bangladesh's secular aspirations have stalled in the face of power struggles. When politics thrive on a failure (intended or unintended) to moderate and regulate such power plays, it takes tenacity to achieve religious peace – not just moving some administrators from one position to another.
Recent thinking that has discredited the classic concept of secularism as the separation of church and state, redefining it as a state-building project that uses the illusion of separation to regulate and define religion to maintain state sovereignty. In this context, the Awami League has work to do.
If modern Bengali nationalism is to leave its imprint on this constitutionally secular country, it must disentangle its many political projects so that freedom of religion and minority rights can thrive.
Only by creating a political sphere in which people can differ on private matters and still feel represented by their government can the state recreate the tolerance that secularism foresees.
Beyond just meeting the imminent security threat, such measures would help spur the great expectations of growth and development in Bangladesh.
http://www.business-standard.com/article/international/faith-dissent-and-extremism-how-bangladesh-is-struggling-to-stay-secular-116120900497_1.html
--------
UN calls on Suu Kyi to visit crisis-hit Rakhine state
December 09, 2016
The UN has urged Myanmar's de facto leader Aung San Suu Kyi to visit northern Rakhine state, where the army is accused of carrying out a brutal crackdown on the Muslim Rohingya minority.
The Nobel Peace Prize winner has faced growing international criticism for not stopping the military's campaign, which has pushed more than 20,000 Rohingya over the border to Bangladesh, bringing tales of mass rape, murder and arson.
The crackdown was launched in response to deadly raids on police posts in October.
Malaysia has accused the army of "genocide" — charges Myanmar officials have vehemently denied.
Suu Kyi has described the situation as "under control" and asked the international community to stop stoking the "fires of resentment".
In a statement released in New York on Thursday, UN special adviser on Myanmar Vijay Nambiar appealed directly to the peace icon to intervene.
"The adoption of a generally defensive rather than proactive approach to providing security to the local population, have caused frustration locally and disappointment internationally," he said.
"I also appeal to Daw Suu to visit Maungdaw and Buthidaung and reassure the civilian population there that they will be protected," he added, referring to the locked down area in Rakhine.
Full report at:
http://www.dhakatribune.com/world/south-asia/2016/12/09/un-calls-suu-kyi-visit-crisis-hit-rakhine-state/
--------
Families claim 3 suspected Huji men picked up months ago
December 09, 2016
Three of the five suspected Harkat Ul Jihad Bangladesh (HujiB) members, detained during a Rapid Action Battalion (RAB) raid at a militant hideout in Chittagong, were allegedly abducted from Dhaka, Rajshahi and Nilphamari more than seven months ago, claim families.
The five arrestees are Mowlana Tajul Islam, Nazim Uddin, Hafez Abujar Gifari, Nure Alam and Iftesham Ahmed.
Families of Nazim Uddin, 42, of Jessore, Iftesham Ahmed Sami, 23, of Rangpur and Nure Alam of Nilphamari made the claims while speaking to the Dhaka Tribune on Friday after spotting them on TV channels and newspapers.
On December 7, RAB claimed to have busted a HujiB den in Chittagong city's Colonel Hat area and detained five Huji men including three regional commanders. Two handguns, a significant amount of munitions, improvised explosive devices (IED) and bomb-making materials were also recovered from their possession.
'Nazim Uddin was abducted from Dhaka'
Nazma Aktar, wife of Nazim Uddin, said: "A few people, identifying themselves as DB police, picked up my husband from Dhaka's Mirpur area on May 18. He travelled there to meet a friend.
"We looked for him in all possible places in vain. Then we went to Pallabi and Bhatara police stations to file a case. Neither Pallabi police nor Bhatara police registered a missing person's case. However, Bhatara police filed a general diary of the incident."
On July 11, 2016, four days after Eid-ul-Fitr, a bunch of police personnel came to their house to query about Nazim.
"We have provided all necessary information as asked in three separate phases," said Nazma.
The government's crackdown on the militants kicked off around that time after two back-to-back massive militant attacks – one on July 1 at the Holey Artisan Bakery in Gulshan, Dhaka, and the other nearby Sholakia Eidgah in Kishoreganj on Eid day, July 7.
Ruling out a claim of Nazim being an Afghan-train mujahideen, Nazma said: "I never heard so. And he never even addressed such issues or was engaged in any conversations regarding militancy, at least to my knowledge."
Police recently published a list of militant leaders of Jessore. Nazim Uddin was listed as Naksha Nazim on that list.
Jessore Police Super Anisur Rahman said: "The Special Branch of police has confirmed that Nazim detained in Chittagong is Jessore's Nazim Uddin."
'Law enforcers picked up my son from hostel'
Iftesham Ahmed Sami, a third-year student of Rajshahi University's English department, was picked up from a private dormitory near the university, his father Iftekhar Ahmed Inam told the Dhaka Tribune.
"Some plainclothes men who claimed to be law enforcers broke into Sami's room and picked him up at 3am on April 30. I went to Boalia police station and filed a general diary," he said.
Iftekhar Ahmed also claimed that Sami was neither involved with politics nor militancy.
"The then ASP Saklain, now working in DMP's Counter Terrorism Unit, informed me that police conducted several investigations and found no evidence against Sami about his involvement in militancy," he added.
Mentioning he saw Sami on TV while being detained by RAB in Chittagong on Thursday, Iftekhar Ahmed said: "I do not know how my son can be arrested as a militant."
'Nure Alam was abducted several months ago'
Nure Alam, son of one Abdul Kader alias Yakub Ali and a graduate student of Nilphamari Government College, was also allegedly abducted eight months ago from Nilphamari.
Some plainclothes men abducted Nure Alam from his residence in Ukiler Mor of Nilphamari on April 11, his family claimed.
His mother Nur Nahar filed a general diary with Nilphamari Sadar police station on April 12 and lodged a petition case with Nilphamari Chief Judicial Magistrate's Court on April 14 in this regard.
Full report at:
http://www.dhakatribune.com/bangladesh/2016/12/09/families-claim-3-suspected-huji-men-picked-months-ago/
--------
The Taliban's Pledge to Protect National Projects is a Fallacy
Dec 10 2016
By: Sabera Azizi
On November 29, the Taliban published a statement on their website indicating that they will protect national projects that are in the interest of the Afghan people. The Taliban specifically pledged to protect the TAPI pipeline, CASA-1000 energy project, and the Mes Aynak project.
In response to the Taliban's statement, Shah Hussain Murtazawi, a spokesman of President Ghani said, "How could we trust them now?" The answer is clear. In its simplest words, as General Nicholson said, the "Taliban destroys Afghanistan." Indeed, the Taliban are attempting to destroy and destabilize Afghanistan. It is very naïve to believe that the the Taliban will protect Afghanistan's national interests. The Taliban is a foreign political project transported to Afghanistan to serve the interests of the Taliban's patrons.
In reality, the Taliban has pledged to protect projects that are in the interests of its patrons. China, an ally of Pakistan is the main beneficiary of the Mes Aynek project. China is a supporter of Pakistan's pro-Taliban policy. In October at the BRICS summit, India boldly called Pakistan "the mother ship of terrorism." In response to Prime Minister Modi's remark, spokesperson of the Chinese Foreign Ministry, Hua Chunying rejected Modi's statement and said China "is against linking any country or religion with terror and asked the world community to acknowledge Pakistan's "great sacrifices." China's denial of Pakistan's support for transnational terrorism does not change reality. As David Sedney, a former deputy U.S. ambassador to Kabul said, "the bottom line is the Taliban kill Afghans and the Taliban do so from bases in Pakistan. That's been the case for 15, 20 years now." Moreover, the Taliban has a friendly relationship with China. According to Reuters' news a Taliban official said that Taliban "have good terms with different countries of the world and China is one among them." Thus, the Taliban is committed to protect a project that is in the interest of its patron.
Furthermore, Pakistan is the main beneficiary of the CASA-1000 energy project. The article "Casa-100 Formally Inaugurated" in the Dailytimes noted that "the significance of the electricity from CASA for Pakistan can hardly be over-emphasized. The country has been in the grip of a debilitating power crisis for well over a decade." The CASA project is designed to benefit Pakistan. Pakistani Water and Power Minister Khawaja Muhammad Asif said, "Pakistan will receive the entire 1,300MW due to weak demand in Afghanistan." Afghanistan will not receive any of the electricity.
Moreover, the TAPI pipeline is another project that is vital to Pakistan's national interests. Pakistan will receive nearly triple the amount of gas that Afghanistan will receive. The TAPI pipeline will mitigate the gas shortage crisis in Pakistan. The article "Four Countries Ink DEAL for $10 billion TAPI Gas Pipeline Project" in the Tribune noted that "Afghanistan's share has been set at 500 mmcfd, which will also be up for grabs either by Islamabad or Delhi if Kabul does not need it." In other words, like the CASA project negotiations, if Afghanistan is at a disadvantaged position, Pakistan will take Afghanistan's share of gas.
The TAPI pipeline, the CASA-1000 energy project, and the Mes Aynek project are three projects that significantly benefit the Taliban's patrons. Other projects that are specifically designed to PROMOTE development in Afghanistan are sabotaged by the Taliban countlessly.
On December 6th, the governor of Farah said that the Taliban are preventing the completion of the Bakhshabad Dam. The Bakhshabad Dam will bring significant development to the Afghanistan. According to 1TV news, the dam "has the capacity to GENERATE 27 megawatts of electricity and irrigate 104 thousand hectares of land. With 81 meters of height, it will be capable of reserving 1,360 million cubic meters of water." Similarly, in 2013, the Taliban attempted to destroy the Salma Dam with the help of Iran. The Taliban attempted to blow up both Dams that are vital to the agricultural and economic development of Afghanistan.
Full report at:
http://www.khaama.com/the-talibans-pledge-to-protect-national-projects-is-a-fallacy-02449
--------
Al-Qaeda leader channeling funds to militants arrested by Afghan police
Dec 10 2016
A TOP Al-Qaeda leader who was channeling funds to the militants in Afghanistan was arrested during an operation in eastern Nangarhar province of Afghanistan.
The Ministry of Interior (MoI) said Friday that suspect was arrested during a special military operation conducted in Khogyani district late on Thursday night.
According to MoI, the suspect was injured during the operation and was arrested by the security forces.
MoI further added that the suspect is originally a resident of Pakistan and another militant was also killed during the operation.
The anti-government armed militant groups have not commented regarding the report so far.
This comes as a TOP al-Qaeda leader was killed in Afghanistan during airstrike by the US forces in eastern Kunar province of Afghanistan.
Full report at:
http://www.khaama.com/al-qaeda-leader-channeling-funds-to-militants-arrested-by-afghan-police-02447
--------
North America
Before Trump, there was a Muslim registry. It caught no terrorists.
BY HANNAH ALLAM
DECEMBER 8, 2016
WASHINGTON
Kamal Essaheb has vivid memories of the freezing day in 2003 when he, his two brothers and their father took a train to New York City's federal building to join a long line of brown men waiting to be fingerprinted, photographed and asked: "Are you a terrorist?"
Essaheb recalled the fear and confusion on the men's faces as, one by one, their names were added to a post-9/11 registry for immigrants from 24 Muslim-majority countries and North Korea.
The Essaheb men were placed in deportation proceedings, the beginning of a nightmare that took years and the intervention of advocacy groups to resolve, narrowly sparing them the fate of 13,000 mostly Muslim immigrants who were removed from the United States under the now-defunct program.
Essaheb, who became an immigration attorney after his ordeal, is alarmed that President-elect Donald Trump and his associates have floated the idea of reviving a so-called "Muslim registry," a tactic he said ripped apart American families, unfairly targeted one religion and failed to result in a single terrorism conviction. In an interview this week, he cautioned that a new round of fear-driven policies could lead to the same kind of government overreaches that occurred after the Sept. 11, 2001, attacks.
"It's a haunting period to reflect on," said Essaheb, director of policy and advocacy at the National Immigration Law Center, a Washington-based legal advocacy group. "It's scary to think, from all that we've learned from the past decade, and really from the history of this country, that we would walk into that again."
Trump repeatedly has voiced support for some kind of Muslim database, though, like many of his policy proposals, the contours have shifted a great deal over the past year. At times he's appeared to endorse a database of all American Muslims; at others, he's said it's only for Syrian refugees entering the country. A Politifact examination of his statements on the topic found them "contradictory or confusing."
The Trump team released a statement last month saying that the president-elect "has never advocated for any registry or system that tracks individuals based on their religion, and to imply otherwise is completely false."
WHAT SELF-RESPECTING TERRORIST IS GOING TO WALK UP TO A COUNTER AND SAY, 'I'M A TERRORIST. JUST THOUGHT I'D SHARE MY NAME AND ADDRESS BECAUSE THAT'S THE KIND OF TERRORIST I AM'?
Julie Dinnerstein, attorney
That statement doesn't rule out special registration. While any attempt by Trump to register Muslims who are U.S. citizens or green-card holders likely would run into constitutional challenges, there aren't the same barriers to reactivating a program such as the one under which Essaheb and his family were nearly deported, immigration attorneys say.
That special registration program was formally known as NSEERS, the National Security Entry-Exit Registration System, and it applied to boys and men 16 and older who held non-citizen visas, including tourists and students.
The program got around questions that it was singling out Muslims by not making it based on religion but on country of origin – something Trump, too, suggested during the campaign. It applied to two dozen predominantly Muslim countries, and was introduced a year after the 9/11 attacks by al Qaida.
NSEERS was a complex project that wasn't well explained to Americans or to the would-be registrants, attorneys say. Provisions included mandatory in-person questioning within a month of entering the country, a requirement to report changes of address, and rules about which airports registrants could use. Any violation of NSEERS was considered a criminal offense and a visa violation – grounds for deportation.
Around 85,000 people registered as part of NSEERS; more than 13,000 landed in the pipeline for deportation. And of all those thousands who signed up, only a handful had any terrorism connections, and the information gathered under the program yielded zero prosecutions on terrorism-related charges, according legal advocacy groups.
In a 2004 interview with The New York Times, James Ziglar, who served as commissioner of what was known then as the Immigration and Naturalization Service, or INS, said he'd been skeptical of the program and concluded that, "as expected, we got nothing out of it."
The Department of Homeland Security did not respond to repeated requests for comment.
A modified version of NSEERS persisted all the way until 2011, when it was suspended under President Barack Obama. But the program is still technically on the books even though there are no current countries to which it applies.
Kansas Secretary of State Kris Kobach, who helped design the program while serving in the Justice Department during the George W. Bush administration, told Reuters last month that the renewal of such a program was under consideration. Two days later, a Trump surrogate, Carl Higbie, drew widespread criticism for saying that the internment of Japanese Americans during World World II provided a "precedent" for registering Muslim immigrants.
YOU FEEL LIKE YOUR CITY AND COUNTRY ARE UNDER ATTACK. AND YOU FEEL LIKE, AS A MUSLIM, BECAUSE OF YOUR RELIGION, YOU'RE UNDER ATTACK, AND THEN THIS PROGRAM IS ROLLED OUT IN WHICH YOU'RE UNDER ATTACK BY YOUR OWN GOVERNMENT.
Kamal Essaheb, who registered under a Bush era program
Those statements helped persuade the American Civil Liberties Union, a rights watchdog, to call on Thursday for Obama before he leaves office to dismantle the NSEERS program entirely, to thwart potential attempts at reviving it.
"President Obama discontinued NSEERS in 2011 but left the regulatory framework on the books, ready to be reactivated at any time," the ACLU said in a statement. "If the Obama administration rescinds the regulation now, that will terminate the program, leaving nothing for the next administration to reactivate."
Essaheb said talk of renewing such a program overlooks the impact on people.
"Campaigns and elections have a certain style and there's a rhetoric that goes along with that that may play well with rallies, but at the end of the day these are human beings. These are individual lives that would be impacted by policies like this," Essaheb said. "A Muslim registry is not just a list of people. A Muslim registry is families that have been here decades whose lives could be destroyed because of this."
Essaheb and his relatives voluntarily registered knowing that they were out of status. His parents had come to the United States from Morocco in 1992, when he was 11. His father worked for an agency that had agreed to sponsor him for a green card, but then mishandled the paperwork, Essaheb said, so the family ended up overstaying their visas.
Essaheb knew none of this for years. He grew up in Queens with the normal rhythms of life – school in September, baseball season in March – and only found out in high school that his family was undocumented. He didn't get to vote when he turned 18 and had to change his choice of university because he wasn't eligible for financial aid.
Still, he continued about his life without feeling much different from his classmates until 9/11 ushered in an intense scrutiny of Muslims and the advent of NSEERS.
"You feel like your city and country are under attack. And you feel like, as a Muslim, because of your religion you're under attack, and then this program is rolled out in which you're under attack by your own government," Essaheb said.
Essaheb said he'd never felt injustice the way he did on the day of his registration. He recalled thinking to himself, "this isn't right." Surveying the scared faces around him, he said, set in motion his decision to practice immigration law.
"In the middle of that confusion was a white Jewish lawyer who was volunteering her time to help as many people as she possibly could," Essaheb recalled. "I thought that was so inspiring. I wanted to be like her.'"
That attorney was Julie E. Dinnerstein, a New York-based immigration lawyer who advised dozens of men as they registered and then handled the cases of nine NSEERS clients, including Essaheb. She said she takes terrorism very seriously – she was working four blocks from the World TRADE CENTER on 9/11 and still worries about long-term health effects – but considers NSEERS an abject failure.
In fact, she said, it was "the antithesis of security," a massive waste of money and resources that alienated communities and yielded little or no useful intelligence.
"What self-respecting terrorist is going to walk up to a counter and say, 'I'm a terrorist. Just thought I'd share my name and address because that's the kind of terrorist I am'? It's unbelievable," Dinnerstein said.
Essaheb said his experience under NSEERS is exceptional only in that he got lucky in meeting Dinnerstein, fellow law students, advocacy groups and others who fought hard to keep him in the country. He's since attained legal status, he said, but worries that the current climate of anti-Muslim and anti-immigrant hostility could lead to a whole new generation of Muslim immigrants being exposed to surveillance and uncertainty.
"It was all sort of in the post-9/11 cloud or haze, where it felt like whatever the government did was OK, where it felt like the government had carte blanche to do what it needed to do," Essaheb said. "And I'm worried that some people in the country might feel that way now. And it's scary to think: Will we reinstate a program like that? Will we do something even worse?"
Hannah Allam: 202-383-6186, @HannahAllam
http://www.miamiherald.com/news/nation-world/national/article119755693.html
--------
Take demonstrable steps against Haqqani network to get $ 400 mn aid, US to Pak
Dec 09, 2016
In a significant move, the US Congress has said that $ 400 million in aid to Pakistan cannot be released unless the defence secretary certifies that Islamabad is "taking demonstrable" steps against the Haqqani network, which is accused of targeting American interests.
Passed by the Senate by 92 to 7 votes on Thursday, the 2017 National Defence Authorisation Act (NDAA) in facts imposes four conditions on Pakistan to be eligible for $ 400 million of the $ 900 million of the Coalition Support Fund (CSF).
Passed by the US House of Representatives (by 375 to 34 votes) last week, NDAA 2017 now heads to the White House for President Barack Obama to sign it into law.
As per NDAA- 2017, the defence secretary needs to certify to the Congress that Pakistan continues to conduct military operations that are contributing to significantly disrupting the safe haven and freedom of movement of the Haqqani network in Pakistan and that Pakistan has taken steps to demonstrate its commitment to prevent the group from using its territory.
The defence secretary also needs to certify that Pakistan actively coordinates with Afghanistan to restrict the movement of militants, such as the Haqqani network, along the Afghanistan-Pakistan border; and finally that Pakistan has shown progress in arresting and prosecuting Haqqani network senior leaders and mid-level operatives.
US defence secretary Ashton Carter had refused to give a similar certification to Pakistan this year as a result of which Islamabad was not given a $ 300 million under CSF.
The Haqqani network has carried out a number of kidnappings and attacks against US interests in Afghanistan. The group is also blamed for several deadly attacks against Indian interests in Afghanistan, including the 2008 bombing of the Indian mission in Kabul that killed 58 people.
Full report at:
http://www.hindustantimes.com/world-news/take-demonstrable-steps-against-haqqani-network-to-get-400-mn-us-to-pak/story-jDT9JYiDF5wCakaQpcdPPI.html
--------
US expresses concern over Ahmadiyya community HQ raid in Pakistan
December 10, 2016
The US has expressed concern over reports of a police raid at the Ahmadiyya community headquarters in Pakistan and urged the country's government to protect the religious freedom and basic rights of minority communities. "We are obviously very concerned about these reports and the Punjab Counter-terrorism Police have raided the international headquarters of the Ahmadiyya…and arrested four individuals for publishing literature," State Department Deputy spokesperson Mark Toner said.
Citing concerns over Pakistani laws, he said, "We have regularly noted our concerns about these laws that restrict peaceful religious expression, in particular by the Ahmadiyya community in our international religious freedom report."
"We believe such laws are inconsistent with Pakistan's international obligations and we would urge the government of Pakistan to protect religious freedom and basic rights of all members of its population, including religious minorities," Toner said.
According to media reports, Punjab's Counter Terrorism Department (CTD) raided the community's headquarters in Rabwa, Punjab Province, and arrested four of its members. In a separate statement, the US Commission on International Religious Freedom (USCIRF) condemned the raid by Pakistan's Counter-Terrorism Department (CTD) on the publications and audit offices of the Ahmadiyya community in Punjab province.
In the raid, which took place on December 5, police allegedly beat and arrested several Ahmadis who were later charged under provisions in Pakistan's penal code and Anti-Terrorism Act.
Full report at:
http://indianexpress.com/article/world/us-expresses-concern-over-ahmadiyya-community-hq-raid-in-pakistan-4419943/
--------
McCain expresses desire to strengthen Pak-US bilateral ties
SYED SAMMER ABBAS
December 10, 2016
Special Assistant to Prime Minister on Foreign Affairs Tariq Fatemi on Thursday held meetings with top US officials including Senator John McCain, the Chair of the Senate Armed Services Committee (SASC), in Washington DC.
Fatemi also met with officials of the Senate Foreign Relations Committee (SFRC).
In both meetings, the growing tension across the Line of Control (LoC) came under discussion. Fatemi highlighted the human rights violations in India-held Kashmir, said a statement issued by the Foreign Office.
Fatemi gave a briefing on the increasing negative implications for prospects of peace in South Asia "because of Indian hostility and belligerence".
The leadership of the SFRC and McCain acknowledged Pakistan's role in promoting peace and security in the region, the statement said.
They expressed the US desire to strengthen bilateral ties with Pakistan, which was "a longstanding and important partner of the United States".
During his meeting with McCain, Fatemi informed the senator about the overall security situation in the region and referring to Operation Zarb-i-Azb, highlighted significant gains made by Pakistan's armed forces. Pakistan's relations with Afghanistan were also part of the discussion.
The senator "appreciated Pakistan's efforts to eliminate terrorist outfits from the region and assured the SASC's continued support in realising the common objective of defeating terrorism".
Full report at:
http://www.dawn.com/news/1301427/mccain-expresses-desire-to-strengthen-pak-us-bilateral-ties
--------
Lynch to Visit Mosque Amid Spike in Anti-Muslim Hate Crimes
DEC. 9, 2016
WASHINGTON — Attorney General Loretta Lynch is visiting a mosque in Virginia next week amid a sharp increase in hate crimes targeting Muslims.
Lynch is scheduled to visit the All Dulles Area Muslim Society Center in Sterling on Monday morning.
She will travel to New York City the following day for a discussion with gay, lesbian and transgender youth at Harvey Milk High School and to visit the Stonewall Inn and Stonewall National Monument.
It will be her first visit to a mosque in her role as attorney general.
FBI statistics released last month show reported hate crimes against Muslims rose by 67 percent in 2015 to their highest number since the aftermath of the Sept. 11, 2001, terrorist attacks. There were 257 reported incidents of anti-Muslim bias in 2015, compared to 154 the year before.
Full report at:
http://www.nytimes.com/aponline/2016/12/09/us/politics/ap-us-attorney-general-mosque.html
--------
Europe
Islamic Society Hosts Dinner to Educate Others on Religion
DECEMBER 10, 2016
Three GENERATIONS of the Akbarova family from Uzbekistan had an opportunity to build a bridge to understanding and make new friends Friday during the Islamic Society of Schuylkill County's Ecumenical Supper.
It was also a time to tear down wildly inaccurate misconceptions about those practicing their faith.
"Muslims are not all criminals and not terrorists. They're just people practicing their religion," Mahfirat Akbarova, 28, now of Shamokin, said. She brought along 10 people, mostly family, to the event in Pottsville, including her mother-in-law, Sojidahon Akbarova; and her two daughters, Robiya, 11 and Roziya, 10.
Nearly 100 gathered at the society in Pottsville for the SPECIAL dinner, including about 22 students from area churches. Guests were welcomed by Zarina Wahhab, society president, Dr. Masood Akbar, and Imam Abdel-Hamid. They were able to witness the last prayer of the day upstairs, and then return downstairs to the banquet room for a selection of international foods, including some from Libya, Egypt and Pakistan. The dinner was followed by a video explaining the lives of Muslims around the world. There are 7 million American Muslims, the video shared. Erroneously, Muslims are more often portrayed as the perpetrators of attacks, according to the video, instead of the reality, that a majority of them are victims of violence. Abdel-Hamid said there are 6 million refugees in the world and the majority of them are Muslims.
"We're not the monsters they're trying to make us. We're peaceful people," he said.
This was the third year the Rev. Cheryl Moore brought her confirmation class to the Ecumenical Dinner.
"We live in a world with great diversity and it's IMPORTANT to know our neighbors," Moore, of St. Peter's Union Church, Mantzville, said.
The Rev. Jennifer Bannerman, of Zion United Church of Christ, Lehighton, whose church is also in the same conference as Moore's, also brought some confirmands and their parents to the event.
"The kids can learn about the different faiths, how we're alike and how we're different. Understanding always helps," Bannerman said.
"It also helps to clarify their own faith. It's a two-fold GIFT," Moore added. "They've always been tremendously hospitable," Moore said of the hosts.
A member of Moore's confirmation class, Larissa Markey, was glad she attended and said it was the first time she visited a Muslim place of worship.
"I wanted to see other people's religion and thought it would be interesting to see different things," Markey, 12, of Tamaqua, said. "Our church is longer."
Markey said the "spicy noodles," chicken, cupcakes and brownies were her favorites.
Another confirmand, Ricky Houser, 12, of Lehighton, said, "I learned that they pray five times a day."
His cousin, Alyssa Myers, recognized similarities among the religions, and some differences.
"The girls are on one side and the boys on another," Myers, 12, also of Lehighton, said.
More information can be found at the website www.AmericanMuslimFacts.com.
We welcome user discussion on our site, under the following guidelines:
To comment you must first create a profile and sign-in with a verified DISQUS account or social network ID. Sign up here.
Comments in violation of the rules will be denied, and repeat violators will be banned. Please help police the community by flagging offensive comments for our moderators to review. By posting a comment, you agree to our full terms and conditions. Click here to read terms and conditions.
http://republicanherald.com/news/islamic-society-hosts-dinner-to-educate-others-on-religion-1.2128381
--------
Britain facing unprecedented terror threat: Spy chief
December 09, 2016
LONDON - Britain faces an "unprecedented" terror threat that will not subside until the Syrian civil war ends, the head of foreign intelligence service MI6 said Thursday.
In a rare speech for an intelligence chief, Alex Younger said British authorities had foiled 12 terrorist plots since June 2013 and warned that the "murderously efficient" Islamic State group was still plotting attacks from Syria, despite recent military reverses.
"The plight of the Syrians continues to worsen. I cannot say with any certainty what the next year will bring," Younger told journalists in his first public comments since taking up the post of "C" in 2014.
"But what I do know is this - we cannot be safe from the threats that emanate from that land unless the civil war is brought to an end.
"We need to take the fight to the enemy, penetrating terrorist organisations upstream," he added. "By that I mean as close to the source as possible."
Younger criticised Russia President Vladimir Putin for propping up Syrian President Bashar al-Assad and warned that "hybrid warfare", incorporating cyber-attacks and propaganda, was an "increasingly dangerous phenomenon" that posed a "fundamental threat" to Western democracies.
Full report at:
http://nation.com.pk/international/09-Dec-2016/britain-facing-unprecedented-terror-threat-spy-chief
--------
British spy chief says ISIS plotting attacks as Russia makes 'desert' of Syria
December 08, 2016
Islamic State (IS) militants in Syria are plotting attacks against the United Kingdom and her allies as Russia tries to destroy President Bashar al-Assad's opponents by making a desert out of the country, Britain's foreign intelligence chief said.
In his first major public speech since winning the top job at the Secret Intelligence Service in 2014, Alex Younger said the United Kingdom was facing an unprecedented threat from terrorism including 12 foiled plots since June 2013.
"As I speak, the highly organized external attack planning structures within Daesh (IS), even as they face military threat, are plotting ways to project violence against the UK and our allies without ever having to leave Syria," Younger said at MI6's Vauxhall Cross headquarters in central London.
Younger said Russia and Assad were preventing victory over Islamic State and the end to the civil war by casting all opponents of Assad as terrorists.
"Russia and the Syrian regime seek to make a desert and call it peace. The human tragedy is heart-breaking," Younger said. "We cannot be safe from the threats that emanate from that land unless the civil war is brought to an end."
Full report at:
http://nation.com.pk/international/08-Dec-2016/british-spy-chief-says-islamic-state-plotting-attacks-as-russia-makes-desert-of-syria
--------
British hostage John Cantlie in new Islamic State video
December 8, 2016
British hostage John Cantlie has appeared in a new Islamic State propoganda video, shot in the Iraqi city of Mosul.
The 46-year-old photo journalist, who has appeared in a number of the extremists' videos, appeared pale and gaunt as he condemned air-strikes by the US-led coalition which have destroyed four of Mosul's five main bridges.
As the bridges were destroyed last month, the video is confirmation that Cantlie, who was captured in Syria in 2012, is still alive. He was last seen in a video in July; this latest is his eighth video for the extremists.
According to the SITE terror monitoring group, on this latest video Cantlie details an airstrike on the last bridge in Mosul as well as power and water problems in the city. He accuses the coalition of attacking innocent civilians, saying: "No Mujahideen here ... just normal Muslims."
He asks: "If this is the coalition's war against the Muhajideen then why are they waging it against the ordinary Muslims of Mosul?"
Cantlie is believed to be the only British hostage left alive; those incarcerated with him have all been killed - brutally beheaded on video which was then placed online. He shared a cell with US hostage James Foley who became the first Islamic State hostage to be murdered this way. In an April article in the Islamic State English language magazine Dabiq, Cantlie revealed that Foley's last words were: "Great, captured on Thanksgiving day, killed on my mom's birthday."
Full report at:
http://www.theaustralian.com.au/news/world/british-hostage-john-cantlie-in-new-islamic-state-video/news-story/da376604ae8812b646ed653cfbb35638
--------
Johnson courts Gulf after Saudi comments draw putdown
December 10, 2016
Britain's exit from the European Union will mean it can forge free trade deals with Gulf Arab allies, foreign secretary Boris Johnson said on Friday in a speech also heralding closer defence ties to the conservative monarchies.
Johnson was speaking at a conference in Bahrain a day after footage was published of him accusing Saudi Arabia, an important ally for Britain, and Iran of stoking proxy wars across the Middle East.
Johnson, known for a tendency to go off-script, said in Rome last week that the absence of real leadership in the Middle East had allowed people to twist religion and engage in proxy wars.
Johnson on Friday made no direct reference to those remarks, which Prime Minister Theresa May's spokeswoman said did not reflect actual policy. He instead portrayed a Britain readier than ever to defend, and trade with, its energy-rich Gulf friends.
"Any crisis in the Gulf is a crisis for Britain from day one. Your security is our security," he told security chiefs at the Manama Dialogue conference, underlining a message May presented at a Gulf Arab summit earlier in the week.
Britain and the six monarchies of the Saudi-led Gulf Cooperation Council said in a joint communique at that summit that they intended to build on trade that stood at 30 billion pounds in 2015, and work to remove barriers to investment.
Johnson said Britain's decision to leave the European Union would open fresh opportunities.
"We'll still be there to stick up for our friends and partners in the Gulf ... But now for the first time since the 1970s we will additionally be able to do free trade deals and we'll be able to build on the extraordinary commercial relationships that already exist between the UK and the Gulf."
Full report at:
http://nation.com.pk/international/10-Dec-2016/johnson-courts-gulf-after-saudi-comments-draw-putdown
--------
Paris holds international meeting on Aleppo
10 December 2016
An international meeting will be on Saturday in Paris, where foreign ministers from the United States, Britain, Germany, Italy, Turkey, Saudi Arabia, UAE, Qatar and Jordan to discuss the situation in Aleppo.
Meanwhile, US and Russian military experts and diplomats are meeting in Geneva on Saturday to work out details of the rebels' exit from eastern Aleppo.
Backed by Russia and other allies, Syrian forces have taken control of nearly all of the rebel enclave in eastern Aleppo.
Full report at:
https://english.alarabiya.net/en/News/world/2016/12/10/Aleppo-meetings-to-be-held-in-Paris-Geneva-.html
--------
Mideast
Israeli settlement expansion blatant violation of international law: Iran
Dec 9, 2016
The Iranian Foreign Ministry has strongly condemned a recent Israeli bill to legalize some 4,000 settler units in the occupied West Bank, saying the Tel Aviv regime's settlements are a "mass and blatant violation" of international law.
The illegitimate nature of the Israeli regime is based on the occupation of Palestinian lands, Iranian Foreign Ministry Spokesman Bahram Qassemi said on Friday.
"The [Israeli] regime's settlement plan is against regulations and principles recognized by the international community, particularly international human rights and international humanitarian law," he added.
He emphasized that those who are behind such moves are flagrantly violating international law and "must be prosecuted."
"The settlements are a serious obstacle to the materialization of the Palestinian people's right to self-determination," Qassemi said.
The Iranian spokesperson urged all "government and international institutions" to make use of all possible means at their disposal "in order to oblige the Zionist regime [Israel] to abide by international rules and principles."
He also called on governments, the United Nations and other relevant bodies not to suffice to merely condemning the Israeli moves in words without taking any practical measure.
The world bodies make an "immediate and practical" move to "stop the continuation of inhuman and illegal activities of this regime and prevent [the construction of] new settlements in Palestine," Qassemi said.
Israeli lawmakers on Wednesday approved a hugely-controversial bill legalizing some 4,000 settler units built on private Palestinian land in the occupied West Bank.
In the first of three readings needed to turn the bill into law, 57 members of the Knesset voted to approve the draft legislation while 51 opposed.
More than half a million Israelis live in over 230 illegal settlements built since the 1967 Israeli occupation of the West Bank and East Jerusalem al-Quds, another Palestinian territory.
The Palestinian Authority wants the West Bank as part of a future independent Palestinians state, with East al-Quds as its capital.
Built on occupied land, the settlements are internationally condemned as illegal and equal to land grab.
The United States, Israel's oldest and strongest ally, Germany, the country least critical among its fellow European nations of Tel Aviv, United Nations officials, and the European Union have voiced strong criticism of the bill.
In a Thursday statement, UN High Commissioner for Human Rights Zeid Ra'ad al-Hussein condemned as "unequivocally illegal" the Israeli bill and called on elements inside the Tel Aviv regime to revise their support for the bill.
The international community regards all settlements as illegal. The Tel Aviv regime has, however, continued to expand its illegal construction activities, defying warnings that the move could hamper the so-called Middle East peace talks.
http://www.presstv.ir/Detail/2016/12/09/497153/Iran-Israel-Palestine-West-Bank-Bahram-Qassemi-settlement-bill
--------
Dozen dead as Turkish army shells north Syrian city
Dec 9, 2016
At least a dozen civilians have lost their lives when Turkish artillery units shelled the purported positions of the Takfiri Daesh terrorists and US-backed Kurdish forces in Syria's troubled northern province of Aleppo.
The so-called Syrian Observatory for Human Rights reported on Friday that the projectiles slammed into a residential neighborhood in the city of al-Bab, located 30 kilometers south of the Turkish border and 40 kilometers northeast of Aleppo, claiming the lives of 12 civilians and leaving 10 others wounded.
The Britain-based monitoring group said the victims were members of three families, warning that the death toll is expected to rise as some people are still trapped under debris.
The report came a day after an unnamed military source said the Turkish military would dispatch 300 commandos to northern Syria, without providing any information on whether they had crossed into Syria, and where in northern Syria they would be deployed.
Full report at:
http://www.presstv.ir/Detail/2016/12/09/497164/Turkish-army-artillery-strike-Syria-alBab-Aleppo-civilians-killed-injured
--------
30 Houthi infiltrators killed in Jazan
MOHAMMED AL-SULAMI
9 December 2016
JEDDAH: The Saudi armed forces ambushed a group of Houthi militiamen near the Harath area in Jazan on Wednesday night and killed at least 30 of them.
The militiamen were spotted by thermal-imaging CAMERAS and night-vision binoculars while trying to infiltrate a border checkpoint.
Military sources said that commandos of the Royal Land Forces managed to destroy a vital Houthi communications site that was also used for storing Iranian weapons.
Meanwhile, Saudi artillery and Apache helicopters destroyed machinery, weapons and military EQUIPMENT being transported to locations near the border of the Kingdom.
On the Meedi front in the Hijjah region, Saudi artillery and Apache helicopters on Wednesday destroyed weapon stores and VEHICLES used for transporting militants. Field guns, missile launchers, weapons and ammunition abandoned by the fleeing militiamen were seized at the location.
A Yemeni military official said that the army and the popular resistance forces wrested control of strategic sites from Houthi and Saleh militants in Shabwa in the past two days.
According to the chief of the general staff of Al-Hazem Battalion, the army moved toward the two areas of Al-Saq and Al-Safha and cut a Houthi supply line between Shabwa and Marib, which was used by the militias for smuggling arms and drugs.
Full report at:
http://www.arabnews.com/node/1021431/saudi-arabia
--------
Turkish warplanes bomb northern Iraq, kill 19
Dec 10, 201
Turkish fighter jets have bombarded an area in northern Iraq, killing at least 19 people.
The warplanes took off from an air base in Diyarbakir and targeted the northern Iraqi region of Gara on Saturday, military sources said.
They said the bombing came in response to threats that the Kurdistan Workers Party (PKK) militants were preparing an attack on military units at the border.
Turkey frequently launches air attacks in the mountainous regions of northern Iraq without coordination with the Baghdad government.
Ankara has also deployed troops into Iraq, sparking a bitter rift with Baghdad which VIEWS it as a violation of its sovereignty.
They are based in a town near the Iraqi city of Mosul which is currently the focus of a massive operation to recapture it from Daesh terrorists.
Turkey says its troops are there to fight Daesh and train Kurdish forces. In October, Turkish Deputy Prime Minister Numan Kurtulmus said Turkey would keep troops in Iraq despite Baghdad's opposition.
Turkey's parliament earlier voted to extend the deployment of an estimated 2,000 troops across northern Iraq by a year to combat "terrorist organizations" - a wording broad enough to refer to Kurdish militants as well as Daesh.
Iraq condemned the vote, and Prime Minister Haider al-Abadi warned Turkey risked triggering a regional war. Both countries have summoned each other's ambassadors in a mounting diplomatic standoff.
Full report at:
http://www.presstv.ir/Detail/2016/12/10/497223/Turkey-airstrike-northern-Iraq-Gara
--------
Turkey court rules to stop legal cases against Israelis over flotilla raid
Dec 10, 2016
A court in Turkey has ruled that litigation must be dropped against four Israeli military officials over a commando raid that killed 10 Turkish humanitarian aid workers in 2010.
The Turkish court trusted with the case dropped it after a closed-door hearing on Friday as per an agreement between Ankara and Tel Aviv on the restoration of bilateral diplomatic ties, which had been severed after the attack.
Under the agreement, which was struck in June, Ankara settled for just an apology and compensations to the families of the Turkish victims, pledged not to hold Israeli individuals liable for the assault, and also backed down from its earlier demand that Tel Aviv lift its siege of the Gaza Strip.
Turkey's private Dogan news agency reported that the court had also waived arrest warrants against the Israelis, among whom was the regime's former military chief of staff Gabi Ashkenazi.
The Turkish activists were attacked on board Mavi Marmara — the lead ship in a six-vessel aid convoy heading for the Israeli-blockaded Gaza Strip — in international waters in the Mediterranean Sea. Nine died on the spot, and a tenth succumbed to INJURIES later. The others were detained by Israeli forces.
The court case had been brought on behalf of 740 individuals from 37 countries, who say their loved ones had been wounded, assaulted, or imprisoned during the raid.
The normalization of ties between Turkey and Israel also entailed the posting of ambassadors. Israel's first ambassador to Turkey since the rupture in the relations, which saw Ankara expelling the previous envoy, commenced his work on Monday.
Full report at:
http://www.presstv.ir/Detail/2016/12/10/497204/Turkey-court-Israel-Mavi-Marmara-raid
--------
European rights group slams Turkey post-coup excessive emergency decrees
Dec 10, 2016
Europe's leading human rights organization says Turkey has gone "too far" with emergency measures adopted after an abortive mid-July coup, violating international law.
The Venice Commission of the Council of Europe added in an opinion adopted by its experts on Friday that the Turkish government had "good reasons" to declare the state of emergency in reaction to a "dangerous armed conspiracy," but the measures it implemented also violated the country's constitution and international law.
The opinion, requested by the Monitoring Committee of the Council of Europe's Parliamentary Assembly, also condemned the mass dismissal of "tens of thousands of public servants" by the government based on lists added to emergency decrees rather than on "verifiable evidence" in each individual case.
It also decried Ankara's liquidation of associations instead of putting them under temporary state control.
The experts added that people were fired from their positions or taken into custody based on "connections" to a terror group that were "too loosely defined and did not require a meaningful connection with such organizations."
Turkey introduced the state of emergency on July 20, after it declared the end of the coup attempt by a group of military officers. More than 270 people were killed in incidents surrounding the failed putsch. Ankara extended the emergency rule by three more months in October, and in late November it announced that the measure would continue as long as necessary.
Full report at:
http://www.presstv.ir/Detail/2016/12/10/497191/Turkey-Venice-Commission-coup-Gulen-emergency
--------
Coalition strikes Houthi ammunition dump in Taiz
9 December 2016
Arab coalition airstrikes targeted several positions of the Houthi rebels and forces loyal to ousted President Ali Abdullah Saleh across Yemen on Friday.
Yemeni military sources confirmed that coalition warplanes had targeted and struck Houthi militia weapon caches in the southwestern city of Taiz.
At the same time, the coalition warplanes bombed several mobile targets and weapons caches of the Houthi-Saleh alliance, in various parts of Saada province.
The rebels responded with a counter attack, apparently targeting residential areas, as a result, an unknown number of civilians were killed or injured.
In Mareb, coalition fighters struck Houthi militia on the outskirts of the Sarwah area.
Full report at:
https://english.alarabiya.net/en/News/gulf/2016/12/09/Coalition-strikes-Houthi-weapon-cache-in-Taiz.html
--------
Israel admits tweeting fake Lebanon map marked with Hezbollah positions
Dec 10, 2016
The Israeli army has acknowledged that a "declassified map" it had released earlier this week to show the alleged military positions of resistance movement Hezbollah in Lebanon was fake.
On December 6, the Israeli military posted on its Twitter account a map titled "Declassified map of Hezbollah's military infrastructure in Lebanon" with countless spots that alleged to show the positions of Hezbollah rocket launchers, anti-aircraft and infantry, and tunnels in 85 villages in south Lebanon. Accompanying text read, "This is a war crime."
Online users later drew attention to how the map had been fabricated by pointing to its history, which showed it had been created by an Israeli military spokesman's account using Google Maps. The online sleuthing also revealed that the dots appearing on the map displayed a repetitive pattern.
On Thursday, the Israeli military admitted that the map, which Israeli media said had been circulated among foreign diplomats, was inaccurate. It claimed the picture was just a "visual illustration."
It is not the first time the Israeli regime has used social media as propaganda tools against the Lebanese resistance movement. In 2013, an Israeli military spokesman published a fake FACEBOOK PAGE it said belonged to Hezbollah. The Israeli military has also created and regularly updates a fake Hezbollah website.
Lebanon's Hezbollah resistance movement, which fought off two Israeli wars, in 2006 and 2008, has been successfully protecting Lebanese territory against the spillover of terrorism from neighboring Syria, where the Israeli military is known to be abetting anti-Damascus militants.
Full report at:
http://www.presstv.ir/Detail/2016/12/10/497212/Israel-military-fake-map-Hezbollah-positions-Lebanon
--------
Iran uses sectarianism card for political influence
December 10, 2016
Iran has been sending thousands of troops to Syria since the war broke out in 2011 and has been supporting extremist Shiite groups like Hezbollah. Playing the sectarianism card to keep relations tight with Shiite minorities and armed groups across the world, the Tehran administration has gone into a deadly war against civilians not only in Syria but also in Iraq by giving unconditional support to Hashdi al-Shaabi militants who are infamous for their brutal acts against Iraq's civil Sunni citizens. Iran has also been promoting Shiite Islam in Africa and Asia in order to create its own communities, as has happened in Nigeria. It is obvious that Iran uses sectarianism as an INSTRUMENT to establish its political influence, which is followed by economic gains.
The former commander of the Iranian Revolutionary Guards intelligence and head of Ammar Garrison Mehdi Taeb's words, said in 2013, show the reality. "Syria is the 35th province [of Iran] and a strategic one for us. If the enemy attacks us and wants to appropriate either Syria or Khuzestan [in southern Iran], our priority is to keep Syria." Since 2013, Iran has increased its military presence in Syria and deployed hundreds of its SPECIAL operation troops, besides militants. It is claimed that Iran has been collecting young people from poor countries like Pakistan, Afghanistan and India with the promise of granting citizenship. According to a report, entitled "How Iran Fuels Syria War" published by the National Council of Resistance of Iran (NCRI) said, "non-Iranian mercenaries number around 55,000 men, Iraqi militias are around 20,000 men, Afghan militias are approximately 15,000 to 20,000 men, Lebanese Hezbollah are around 7,000 to 10,000 men, and Pakistani, Palestinian and other militiamen number approximately 5,000 to 7,000. The Tehran regime spends $1 billion annually in Syria solely on the salaries of the forces affiliated with the IRGC, including military forces, militias, and Shiite networks," the report said.
Last year Daily Sabah reported how these Iran-backed non-Syrian people displaced local people. "A Syrian refugee, In'am, who asked for her surname to remain anonymous due to security issues, who left her town near Damascus for Istanbul, said, 'We have no chance to go back even after the war ends.' She said, 'Our homes were given to Iranian troops by the regime. They have come to the town, displaced us and have been using our homes, CARS and everything'," the report said.
The Middle East, which has been an area of sectarian conflict since the early years of Islam yet remained relatively calm under the rule of the Ottoman Empire, has been dragged into a new sectarian wave as anachronistic disputes have been triggered by regional powers with the intention of expanding their influence. Iran, which has a centralized Shiite version of Islam, has entered into a competition with other regional actors, including Turkey and Saudi Arabia over the region by applying sectarian policies from which the people of the region suffer. Being far from the mainstream Islamic understanding that is in effect from Indonesia to Senegal, the country has been following expansionist policies. Iran has adopted the policy of leading and uniting the Shiite communities in different Arab countries, including Iraq and Yemen, following the revolution in 1979.
Full report at:
http://www.dailysabah.com/mideast/2016/12/10/iran-uses-sectarianism-card-for-political-influence
--------
Africa
Bomb explosions kill at least 56 in northeast Nigeria
Dec 9, 2016
Over 50 people have been killed after two WOMEN blew themselves up in a bustling market in Nigeria's northeastern town of Madagali, officials says.
Yusuf Mohammed, chairman of the local district government, said the bombings left 56 people dead and wounded 57 others on Friday.
Survivor Ahmadu Gulak said the blasts hit simultaneously at opposite ends of a grains and vegetables market.
Boko Haram Takfiri militants have been blamed for the attack on the edge of the group's Sambisa Forest stronghold, which the Nigerian military has been bombing ahead of ground assaults.
The militants have been attacking soft targets since the military has dislodged them from towns and villages this year.
Madagali was liberated last year after months in the hands of Boko Haram. It is 150 kilometers southeast of the biggest northeastern city, Maiduguri, which has been the epicenter of Boko Haram's seven-year insurgency.
At least 30 people were killed when a bus station near the same market was targeted by two WOMEN bombers in December 2015.
Boko Haram militants also opened fire on mourners at a funeral in Madagali in June, killing 18 people.
Full report at:
http://www.presstv.ir/Detail/2016/12/09/497126/Nigeria-Madagali-Boko-Haram-bomb-market
--------
Daesh Vows To Continue Its Libya Campaign after Losing Sirte
10 December 2016
TUNIS: Daesh has lost senior figures in an unsuccessful seven-month battle to defend its coastal stronghold in Libya, but there are already signs it will try to fight back through sleeper cells and desert brigades.
Libyan officials say hundreds of Daesh militants may have escaped before the start of the battle for Sirte in May or during its early stages.
That has prompted fears of a counter-attack or insurgent campaign that could enable the militants to show they are still in business despite the rout, a heavy blow for a group that is also under intense military pressure in its core territory of Iraq and Syria.
Some cells have already been active. Daesh is thought to be behind at least two dozen attacks or attempted attacks to the south and west of Sirte since August, said Heni Nsaibia of Menastream, a risk consultancy that monitors militant activity in the region.
Before May, Daesh was thought to have several thousand fighters stationed in Sirte — estimates of the exact number varied widely. Both leadership and rank and file had a heavy foreign presence, drawing on recruits from north and sub-Saharan Africa, according to Sirte residents and security officials in Misrata, the city that led the campaign to retake the militant stronghold.
Much of that force has likely been wiped out over the past seven months, with dozens killed on both sides during the heaviest days of fighting. Daesh was targeted by nearly 500 US air strikes since Aug. 1.
Local officials say a number of high-level Libyan figures perished, including preacher and commander Hassan Al-Karami, and senior official Abu Walid Al-Ferjani.
Foreign commanders have also died, according to messages of mourning posted on social media accounts close to the militant group, though it is unclear how far up the hierarchy they were or how IMPORTANT to the group's future operations, said Marco Arnaboldi, a researcher of political Islam specializing on Libya.
Misratan officials refused to comment on reports of Daesh militants being killed after capture, but fighters and commanders say they took few, if any, prisoners.
Ibrahim Baitulmal, head of Misrata's military council, estimated that 1,700 militants' bodies had been recovered during the campaign, adding that the number killed would have been higher since the militants retrieved some of their own dead.
He said among those killed in the final days of the battle in Sirte was Abu Habib Jazrawi, a Saudi who is thought to have taken the name Abdul Qadr Al-Najdi before being named as Daesh leader in Libya in March.
Daesh has not announced his death. Regional media reported that Najdi was replaced in September by a Tunisian, Jalaludin Al-Tunsi, possibly appointed to carry on the fight outside Sirte. "He's one of the leaders who is going to prepare the next wave of Daesh from south of the city," said Arnaboldi.
Full report at:
http://www.arabnews.com/node/1021766/middle-east
--------
Essebsi: Tunisians are still learning about democracy
10 December 2016
Tunisian President Beji Caid Essebsi stressed that the first 100 days of national unity government is not enough to judge their performance, especially their ability to make a "positive jolt" to the Tunisian public, cultural and political elites in particular.
Essebsi said in an exclusive interview AlArabiya.Net's correspondent in Tunisia that the country is still in a transition period and the tradition of assessing the government's performance after the first 100 days does not apply to the Tunisia since it pertains best to stable and long standing democracies.
"The current government is still very young , we have seen a strong will to get the country out of the crisis, and it is not just a caretaker," he said.
He added that the 2017 budget is among the first reforms that the government is embarking on along with the fight against corruption, establishment of fiscal justice, and a determination to balance and restore the financial sector which is currently suffering from a significant imbalance.
Essebsi declared that the voices calling for the rejection of the budget bill are strong indicators of the winds of change and the beginning of the reforms. He said that there are always those who resist and reject change.
Optimistically, the Tunisian president underlined that his country "is slowly finding its way out of the rut" and that "criticism and skepticism do not mean that the conditions are the same".
Full report at:
https://english.alarabiya.net/en/News/north-africa/2016/12/10/Essebsi-Tunisians-are-still-learning-about-democracy.html
--------
81 Muslims have disappeared along Kenya's border. Their wives want answers
Dec. 9, 2016
NAIROBI, Kenya— As Kenyan coastal region sheikhs, imams and preachers vanish in alleged killings and forced disappearances, their wives are demanding answers.
The clerics, some as old as 50 years, have disappeared or died after security services labeled them terror suspects.
"The common thread is all the victims are Muslims … perceived by authorities to be actual or potential terror suspects," said Hussein Khalid, the executive director of Haki Africa, a human rights organization that has been OFFERING legal aid for victims' families.
According to activists, the clerics' alleged crimes ranged from radicalizing youth to facilitating attacks and recruiting for al-Shabab, the al-Qaida affiliate in Somalia.
Kenya deployed troops to neighboring Somalia in 2011 to fight the extremist group al-Shabab but has since suffered several terrorist attacks on its soil.
Three years ago, Saada Juma Seleman's husband, Hemed Salim Ahmad, disappeared when the police stormed the Masjid Musa after allegations surfaced that it was hosting terrorism training. He has never been seen again.
Now, Seleman, mother of three, said she doesn't know what to tell her 9-year-old son, who wants to see his father.
"I have given him all kinds of explanations, but now I don't know what to tell him," she said. "It's painful and traumatizing."
Since 2014, she has embarked on a frustrating search for justice.
Haki Africa has documented 81 such cases from 2012-2016 in a report titled "What Do We Tell the Families?"
The report, released Wednesday (Dec. 7), indicates the killings increased after Kenyan troops entered in Somalia in 2011 in pursuit of al-Shabab.
The disappearances peaked after the September 2013 Westgate Mall massacre, in which attackers killed 67 Christians after separating them from Muslims.
Full report at:
http://www.deseretnews.com/article/865668970/81-Muslims-have-disappeared-along-Kenya7s-border-Their-wives-want-answers.html
--------
Boko Haram blamed for suicide blasts that killed dozens
December 9, 2016
YOLA, Nigeria -- Two WOMEN suicide bombers blew themselves up at a bustling market in northeast Nigeria's Madagali town on Friday morning, killing at least 30 people and wounding 67, an army spokesman told The Associated Press.
The attack comes as Nigeria's government claims it is routing the Boko Haram Islamic extremists blamed for the blasts. Nigerian President Muhammadu Buhari on Friday night called it "an act of desperation." In a message of condolence, he also vowed Nigeria's military is working "at slamming the final nail in the coffin of Boko Haram."
The explosions occurred on the edge of the extremist group's Sambisa Forest stronghold, which Nigeria's military has been bombing ahead of ground assaults. Since the military has dislodged the insurgents from towns and villages this year, they have been attacking soft targets.
Madagali was liberated last year after seven months in the hands of Boko Haram. It is 150 kilometers (95 miles) southeast of the biggest northeastern city, Maiduguri.
Friday's blasts struck simultaneously at opposite ends of the market selling grains and vegetables, according to Ahmadu Gulak, a driver who was BUYING tea there.
Rescue workers evacuated the bodies of 30 people and took 67 wounded victims to a nearby hospital, an army spokesman, Maj. Badere Akintoye, said.
A bus station near the same market was targeted by two women suicide bombers who killed at least 30 people in December 2015. In June, Boko Haram extremists opened fire on mourners at a funeral in Madagali, killing 18 people.
The attacks continue despite government and military assertions that the insurgents are on the run. President Muhammadu Buhari had declared the extremist group was "technically defeated" in December 2015. Boko Haram recently defeated the military in a remote border outpost, forcing dozens of soldiers to jump into a river where many drowned on Oct. 17. Premium Times newspaper has reported the army declared 45 soldiers and one officer missing in that action and instituted an investigation amid reports the troops were ill-equipped and demoralized.
Full report at:
http://www.cbsnews.com/news/nigeria-boko-haram-blamed-for-suicide-bombers-that-killed-dozens/
--------
7 Al-Shabaab militants arrested in southern Somalia
2016/12/10
The African Union Mission in Somalia (AMISOM) backed by Somalia National Security Forces (SNSS) on Friday arrested seven Al-Shabaab militants in Kismayo, southern Somalia during a security operation.
The pan African body's mission said an improvised explosive device (IED) factory was destroyed and several weapons recovered during the operation which was conducted in Caba, northwest of Kismayo to clear the militants' compound.
"The early morning operation resulted in seven militants detained, one IED factory destroyed and several weapons including ammunition and chest racks seized," AMISOM said in a statement.
Full report at:
http://www.globaltimes.cn/content/1022912.shtml
--------
Was called 'ISIS' by DC cabbie, says Somali-American lawmaker
Dec 9, 2016
St Paul: The nation's first elected Somali-American lawmaker says she was harassed and called "ISIS" by a taxicab driver in Washington, DC.
Minnesota state Rep.-elect Ilhan Omar detailed the incident on her Facebook page Wednesday. She said the cab driver called her ISIS, lobbed sexist taunts and threatened to remove her hijab during a brief ride on Tuesday after a White House meeting on criminal justice reform. She did not provide information about the driver.
Omar, 33, says she is troubled by growing animosity toward Muslim people. Her campaign staff did not immediately respond to a request for comment.
Full report at:
http://www.asianage.com/world/americas/091216/was-called-isis-by-dc-cabbie-says-somali-american-lawmaker.html
--------
Arab World
Syria to terrorism sponsors: Bloody game over
Dec 10, 2016
Syria has denounced a United Nations General Assembly resolution that calls for an "immediate" cessation of combat against militants in the Arab country.
Syrian Ambassador to the UN Bashar Ja'afari adopted the highly critical stance on Friday after the world body voted 122 to 13 in favor of the Canadian-drafted resolution that demands a halt to the government's fight against Takfiri terrorists, humanitarian aid access throughout the country, and an end to all sieges, including in Aleppo, which government forces are poised to fully liberate after making significant gains in recent days.
Iran, Russia, and China were among those who voted against the resolution.
Ja'afari criticized the Canadian delegation and its partners for violating the sovereignty of Syria by calling for holding the session without consulting the Syria delegation, adding that the non-binding resolution was politicized and violated the UN Charter.
"Before calling for holding this meeting and submitting the draft resolution, the Canadian delegation and its partners should have listened to the harrowing accounts about the crimes of terrorist organizations that were told by tens of thousands of our people who were SAVED by the Syrian army and its allies in Aleppo during the past few days," Ja'afari added.
He further said that the measure would not dissuade the Syrian government and its allies from continuing to combat terrorism, vowing to take control of the whole northwestern city very soon.
"I would like to reassure the states that sponsor terrorism in Aleppo that the Syrian army has up to this point liberated 93% of the areas that terrorists used to control in Aleppo city, and their bloody games is taking its last breaths," Ja'afari added.
Syrian pro-government forces walk past the rubble in Aleppo's Jdayde neighborhood, on December 9, 2016. (Photo by AFP)
Addressing the "sponsors" of terrorism, the Syrian envoy also said that "their bloody terrorist game in Syria and in Aleppo is over."
Aleppo, Syria's second largest city, has been a frontline battleground since 2012, when foreign-backed terrorists captured the city's eastern part.
'One-sided' resolution disregards crisis root causes: Iran
Iran's Deputy Ambassador to the UN Gholam Hossein Dehqani also denounced the resolution as "one-sided", saying the international community must first address the root causes of the Syrian crisis.
The resolution is a "one-sided document and divorced from the reality on the ground in Syria, the Iranian ambassador said.
Dehqani reiterated that certain foreign countries are responsible for the current situation in the Middle Eastern country by sponsoring the terrorists. He also said that since the beginning of the nearly six-year-old crisis, the Islamic Republic of Iran has been delivering humanitarian aid to desperate Syrian people through its Red Crescent Society, and will continue to do so in future.
The resolution asks the UN secretary general to report on its implementation in 45 days and present recommendations "on ways and means to protect civilians."
Russia and Syria oppose lengthy pauses in the Aleppo battle, arguing that Takfiri militants may take advantage of the situation and rebuild their strength. Moscow also insists that all militants operating in eastern Aleppo must leave the area as part of any truce DEAL, saying those who refuse to do so would be regarded as terrorists.
Russian Ambassador Vitaly Churkin also censured the West for its sanctions against Syria, saying, "You are slowly asphyxiating the population you ardently claim to care about."
Moscow is engaged in an aerial campaign against Takfiri terrorists in Syria since September 2015, at the official request of the Syrian government.
The foreign-backed conflict in Syria has claimed the lives of more than 400,000 people since 2011, according to an estimate by UN SPECIALEnvoy for Syria Staffan de Mistura.
http://www.presstv.ir/Detail/2016/12/10/497180/Syria-Aleppo-UN-resolution-Dehqani-Jaafari
--------
Promised victory coming for Syria, allies in Aleppo: Nasrallah
Dec 9, 2016
Hezbollah Secretary General Sayyed Hassan Nasrallah says the "promised" victory is imminent for Syrian President Bashar al-Assad in the city of Aleppo.
The secretary general of the Lebanese resistance movement made the remarks during an address to the nation on regional developments on Friday.
Earlier in the day, Russia said Syrian army ground forces and allies had liberated 52 blocks in the eastern parts of the northwestern city from the grip of foreign-backed militants and were in control of 93 percent of the whole city.
Washington and some of its Western allies have supported Takfiri terrorist groups wreaking havoc in the region over the past few years, Nasrallah said, adding that cooperation and unity among nations are needed in the face of Takfiri threats in the region.
"Safeguarding the region as well as the Islamic civilization against Takfiri threats is the only way we have," Nasrallah said.
Hezbollah resistance fighters have been assisting government forces in Syria in the battle against terrorists.
The Hezbollah secretary general also commented on the presidency of Michel Aoun in Lebanon.
Full report at:
http://www.presstv.ir/Detail/2016/12/09/497167/Hezbollah-Nasrallah-Takfiri-threats
--------
Islamic State advances to within two miles of Palmyra after surprise attack on Syrian forces
9 DECEMBER 2016 • 2:00PM
Islamic State has advanced to within two miles of Palmyra, pushing once again to retake the Unesco world heritage city from Syrian forces while they are tied up with battles elsewhere.
Isil fighters have begun surrounding the desert city from the north, east and south before an attempt to storm it.
The Palmyra Coordination Committee, an opposition group, said the militants managed to capture several government checkpoints, a number of small villages and the al-Mahr oil fields in the past 24 hours.
As many as 50 troops were reported to have been killed in the surprise attacks. Isil later posted a video on social media of four captured soldiers handcuffed and on their knees.
The group is still present in parts of the east of the province of Homs, in which Palmyra lies, and has carried out insurgent attacks on government positions in recent months.
But Rami Abdel Rahman, the director of the UK-based Syrian Observatory for the Human Rights, said the current assault was the first to see Isil seize territory since it was pushed out.
One resident told the Telegraph that people in the city had started to panic and many had fled in fear the militants would return.
Reports suggested the Syrian military brought in reinforcements from Damascus.
The Syrian army, supported in the air by Russian jets, recaptured Palmyra, home to some of the most extensive ruins of the Roman Empire, from Isil in March after the jihadist group seized it in May 2015.
In the 10 months it was under the Islamists' control, Isil destroyed the ancient temples of Baal Shamin and Bel and systematically plundered the site's relics.
Tens of thousands have fled the rebel-held east since the government offensive to take the entire city began two weeks ago
Tens of thousands have fled the rebel-held east since the government offensive to take the entire city began two weeks ago CREDIT: REUTERS
Russian forces set up a base at the site, where several dozens Russian and Syrian troops are stationed.
But the Syrian army is stretched, battling rebel and jihadist forces in nearly every corner of the war-torn country.
Tens of thousands of its troops are tied up in the offensive for Aleppo, some 300 miles north.
Pro-government forces, backed by Russian soldiers and regional militias, have managed to retake more than 80 per cent of the opposition-held east Aleppo in a lightning offensive which began three weeks ago.
The United Nations reported that some 100,000 civilians remain in the fast-shrinking pocket of rebel-held territory. They are living in dire conditions - facing near-constant bombardment with no running water or food.
Russia on Thursday evening declared a "humanitarian pause" to evacuate thousands trapped by the fighting.
It was short-lived, however. Residents sent journalists audio messages of artillery fire and air strikes all through the night and morning.
"Bombing never stops, even right while typing my message," wrote Abdulkafi al-Hamdo, a teacher and activist, just before midnight.
"The regime and the Russians are putting out propaganda saying there the Aleppo frontlines are relatively quiet," said Yasser al Youssef, a spokesperson for the Noureddine al-Zenki rebel group in east Aleppo.
Full report at:
http://www.telegraph.co.uk/news/2016/12/09/isil-advances-within-two-miles-palmyra-surprise-attack-syrian/
--------
Qatar believes in protecting religious freedom: Minister
December 08 2016
HE the Minister of State for Foreign Affairs, Sultan bin Saad al-Muraikhi chaired Qatar's delegation to the Ninth Bali Democracy Forum, which kicked off in Bali, Indonesia, yesterday.
Addressing the Forum, HE al-Muraikhi said Qatar believes in the importance of protecting religious freedom and promoting peaceful coexistence among nations in order to contribute to spreading the spirit of religious tolerance and respect for diversity among the people of all sects.
The Minister of State for Foreign Affairs stressed that Qatar pays great attention to the importance of dialogue between religions which reflected in hosting the annual Doha Conference on Interfaith Dialogue and the establishment of the Doha International Centre for Interfaith Dialogue (DICID) aimed at spreading the culture of dialogue, the peaceful coexistence of humanity and the acceptance of others.
The Minister said that Qatar's strategy in addressing these issues stems from its National Vision 2030 which stipulates the contribution towards international peace and security through political initiatives and developmental and humanitarian assistance, referring in in this regard to the successful Qatari mediation in resolving a number of conflicts, including in Sudan's Darfur region, the conflicts between the Lebanese and Yemeni factions and the Djibouti-Eritrea border crisis.
Qatar has made significant humanitarian and development assistance to more than 100 countries around the world, the Minister added.
Difference and diversity is a divine rule, al-Muraikhi said, adding that the United Nations has stressed the need for coexistence and tolerance between religions as a mean to achieving peace and harmony in the world and spare it from the horrors of sectarian conflicts and disputes, which was clearly manifested in the United Nations General Assembly Resolution on October 20, 2010, combating hate speech, calling for spreading a culture of peace and justice, fostering mutual respect and understanding and living together in peace and harmony.
''The world is in dire need today that the wise leaders, who are able to deal with differences and resolve conflicts in the spirit of tolerance based on a historical responsibility and the rejection of hatred and racism'', he said.
''Young people in the Arab and Muslim worlds are looking forward to a better future, in which they will not be confined between the hammer of violent extremism groups and the anvil of tyranny and dictatorship regimes'', al-Muraikhi said, stressing that the best way to counter violent extremism and terrorism is addressing its root causes including marginalisation, degradation of human dignity, the absence of social justice, employment and widespread of poverty and corruption.
Full report at:
http://www.gulf-times.com/story/524024/Qatar-believes-in-protecting-religious-freedom-Min
--------
Several Nusra Commanders Arrested by Syrian Gov't Forces in Aleppo
Dec 10, 2016
"The government forces identified and arrested four commanders of Fatah al-Sham, who tried to leave the Eastern districts of Aleppo city towards safe districts along with civilians," the sources said.
The Syrian state new agency reported that thousands of civilians, who had been captured as hostages by the terrorist groups in the districts of al-Sukri, al-Ferdows and Salahuddin in the Eastern part of Aleppo city, managed to arrive in army-controlled districts of al-Qazizeh, Bab al-Nairab and Bab al-Hadid (Iron Gate) via humanitarian corridors establish by the army and Russian forces.
The civilians further were transferred to Jibrin district by the help of Damascus forces.
Based on the reports, hundreds of families are taken hostage by Fatah al-Sham and Nouralddeen al-Zinki terrorists in the al-Sukri, al-Ansari, al-Ferdows and parts of the districts of Salahuddin and Sheikh Saeed.
The Russian General Staff said on Friday that the Syrian army controls 93 percent of the entire city of Aleppo.
"As a result of a successful advance, 52 districts of Eastern Aleppo have been freed. The territory controlled by militants decreased by one third over the past 4 days. The Syrian army controls 93% of the city's territory," the Russian General Staff said. More than 1,000 militants have surrendered arms and left Eastern Aleppo, 953 of them have been granted amnesty, Gen. Lt. Sergei Rudskoy said.
The Russian Peace Coordination Center in Syria said also on Friday that around 8,500 people, including 2,900 children, left militant-controlled districts in the Syrian city of Aleppo in the past 24 hours with the help of Russian servicemen.
Full report at:
http://en.farsnews.com/newstext.aspx?nn=13950920000398
--------
Long Military Column of Nusra Terrorists Destroyed in Syrian Army Attack in Quneitra
Dec 10, 2016
"Al-Hamidiyeh-deployed Fatah al-Sham terrorists intended to carryout a large-scale offensive on government troops in strategic regions including the small town of al-Hadhar and sent a long convoy of forces and heavy military equipment towards Northern territories of Quneitra," an army officer explained.
"The army men and National Defense Forces, deployed in the Western side of the town of al-Ba'ath, first allowed the convoy to leave al-Hamidiyeh and then attacked the column between al-Hamidiyeh and the town of Horiya, destroying seven VEHICLES and their military equipment," he added.
A number of militants in the targeted-vehicles were also killed in the attack and the rest of militants retreated towards al-Hamidiyeh carrying injured fighters, he said.
The army soldiers had previously taken control over this key road but the terrorists recaptured it later with the back up of Israeli forces.
Some sources said that Israeli forces were present vastly in al-Hamidiyeh and its Western direction.
Full report at:
http://en.farsnews.com/newstext.aspx?nn=13950920000241
--------
Rebels seek ceasefire with Syrian army closer to retaking Aleppo
December 08, 2016
'Syrian rebels in besieged eastern Aleppo called on Wednesday for an immediate five-day ceasefire and the evacuation of civilians and wounded, but gave no indication they were ready to withdraw as demanded by Damascus and Moscow.
The Syrian army and allied forces have made rapid gains against insurgents in the past two weeks and look closer than ever to restoring full control over Aleppo, Syria's most populous city before the war, and achieving their most important victory of the conflict now in its sixth year.
In a statement calling for the truce, the rebels made no mention of evacuating the several thousand fighters who are defending an ever shrinking area of eastern Aleppo.
Syria and Russia, which supports Syrian President Bashar al-Assad, have said they want rebels to leave Aleppo and will not consider a ceasefire unless that happens.
"It's been a tragedy here for a long time, but I've never seen this kind of pressure on the city - you can't rest for even five minutes, the bombardment is constant," a resident said.
"Any movement in the streets and there is bombardment (on that area) immediately," said the east Aleppo resident contacted by Reuters, who declined to be identified. Fear gripped the remaining residents as food and water supplies were cut off.
Retaking Aleppo would also be a success for President Vladimir Putin who intervened to save Moscow's ally in September 2015 with air strikes, and for Shi'ite Iran, whose elite Islamic Republic Guard Corps has suffered casualties fighting for Assad.
The Syrian government now appears closer to victory than at any point in the five years since protests against Assad evolved into an armed rebellion. The war in Syria has killed hundreds of thousands of people, made more than half of Syrians homeless and created the world's worst refugee crisis.
Outside of Aleppo, the government and its allies are also putting severe pressure on remaining rebel redoubts.
"The decision to liberate all of Syria is taken and Aleppo is part of it," Assad said in a newspaper interview, according to pro-Damascus television station al-Mayadeen. He described the city as the "last hope" of rebels and their backers.
ARMY RETAKES OLD CITY
The Syrian army now controls all of the Old City of Aleppo, a UNESCO World Heritage Site including the Umayyad Mosque, which had been held by rebels, the Observatory said.
Explosions and artillery fire could be heard on Syrian state television in districts around the citadel which overlooks the Old City as the army pressed its offensive. More neighborhoods were expected to fall but rebels were fighting ferociously.
Syrian state news agency SANA said rebel shelling killed 12 people in government-held districts of Aleppo.
Rebels have lost control of about 75 percent of their territory in eastern Aleppo in under 10 days, Director of the Syrian Observatory for Human Rights, Rami Abdulrahman, said.
The "humanitarian initiative" published by rebels called for the evacuation of around 500 critical medical cases.
The Kremlin said on Wednesday that a potential U.S.-Russia deal to allow Syrian rebels to leave Aleppo safely was still on the agenda.
Damascus and Moscow have been calling on rebels to withdraw from the city, disarm and accept safe passage out, a procedure that has been carried out in other areas where rebels abandoned besieged territory in recent months.
Secretary of State John Kerry met with Russian Foreign Minister Sergei Lavrov in Hamburg on Wednesday.
A statement from State Department spokesman John Kirby said the two had "discussed ongoing multilateral efforts to achieve a cessation of hostilities in Aleppo, as well as the delivery of humanitarian aid" to civilians there.
Kerry told reporters after the meeting that he and Lavrov would "connect" on Thursday morning.
There was no further detail on the discussions, but State Department spokesman Mark Toner said in a news briefing on Wednesday that Kerry and Lavrov were discussing proposals to halt fighting in Aleppo, which could include either safe passage out of Aleppo for opposition forces, or a pause in fighting so that humanitarian aid could be delivered.
"STRATEGIC VICTORY"
Russia and China vetoed a U.N. Security Council resolution on Monday calling for a week-long ceasefire. Moscow said rebels used such pauses in the past to reinforce.
The Syrian army's advance is a "strategic victory" that will prevent foreign intervention and alter the political process, Reconciliation Minister Ali Haidar told reporters in Damascus.
"Those who believed in the Syrian triumph, know that (the rebels') morale is at its lowest and that these collapses that have begun are like domino tiles," he said.
An official with an Aleppo rebel group, who declined to be named, told Reuters the United States appeared to have no position on the Syrian army assault on Aleppo, just weeks before U.S. President-elect Donald Trump takes office.
"The Russians want the fighters out and they (the Americans) are ready to coordinate over that", said the Turkey-based official, citing indirect contacts with U.S. officials.
While rebels say they could fend off the offensive for some time to come, the fighting is complicated by tens of thousands of fearful civilians trapped in the rebel-held area, many of them related to the fighters, the official said.
"The civilian burden is very heavy, in a small area."
"HEART-BREAKING"
As winter sets in, siege conditions are increasingly desperate, exacerbated by increasing numbers of displaced residents and food and water shortages.
A U.N. official said on Wednesday about 31,500 people from east Aleppo have been displaced around the entire city over the past week, with hundreds more seen on the move on Wednesday.
Full report at:
http://nation.com.pk/international/08-Dec-2016/rebels-seek-ceasefire-with-syrian-army-closer-to-retaking-aleppo
--------
IS video shows kidnapped Briton Cantlie alive in Mosul
December 08, 2016
BAGHDAD: The Islamic State group has released a video showing John Cantlie, a British journalist kidnapped in Syria four years ago, alive in the Iraqi city of Mosul.
The propaganda video by the IS-affiliated Amaq network shows an emaciated Cantlie speaking in English to the camera in the style of a news report similar to previous videos in which he appeared.
The footage was not dated but the destroyed bridges seen behind Cantlie in the video suggest it was shot in recent weeks.
The US-led coalition assisting Iraq in its fight against IS has destroyed several bridges in central Mosul over the past few weeks.
Full report at:
http://nation.com.pk/international/08-Dec-2016/is-video-shows-kidnapped-briton-cantlie-alive-in-mosul
--------
Iraq parliament speaker demands inquiry into deadly Qaim air strikes
December 08, 2016
Iraq's parliament speaker called on Thursday for a government inquiry into air strikes on a western border town which killed around 60 people, mostly civilians.
Hospital sources and local parliamentarians said three air strikes killed dozens of civilians, including 12 women and 19 children on Wednesday in a market district of the Islamic State-held town of Qaim, close to the border with Syria.
A spokesman for the U.S.-led coalition supporting Iraqi troops in their fight against Islamic State said it had not carried out air strikes around Qaim at that time. Islamic State's news agency, Amaq, blamed Iraq's air force.
Jabouri, the most senior Sunni Muslim politician in mainly Shi'ite-ruled Iraq, said the air strikes had targeted "civilian shopping centers, causing the martyrdom and wounding of dozens", and called for the perpetrators to be punished.
"The speaker holds the government responsible for such mistakes, asking them to open an immediate inquiry to find out the truth of the incident and to guarantee that civilians are not targeted again," a statement released by his office said.
Qaim, and the western province in which it is located, is overwhelmingly Sunni Muslim. The town lies on the Euphrates river, northwest of Baghdad, part of a remote region near the Syrian border which remains under the control of ultra-hardline Sunni Muslim Islamic State fighters.
Full report at:
http://nation.com.pk/international/08-Dec-2016/iraq-parliament-speaker-demands-inquiry-into-deadly-qaim-air-strikes
--------
UN votes in favor of an immediate Syria ceasefire
9 December 2016
The UN General Assembly has voted in favor of an an immediate ceasefire in Syria and access for humanitarian aid during a session on Friday.
The voting came after many speeches from key players in the Syrian conflict with 122 members voting in favor of the resolution, 13 against while 36 members abstained from voting either way.
Canada had drafted the text as part of the 193-nation assembly's attempt to break the deadlock over Syria at the Security Council.
Speaking from New York, Al Arabiya's Talal Al-Haj said that the General Assembly resolution expected the resolution to pass but reported that it would likely not make much difference on actions on the ground.
"it is worth noting that the resolution will have little to no effect unless the Security Council can act as today's resolution is non-binding," he added.
Full report at:
https://english.alarabiya.net/en/News/middle-east/2016/12/09/UN-set-to-vote-on-too-little-too-late-Syria-cease-fire.html
--------
Mursi's son arrested as part of Rabaa sit-in dispersal case
9 December 2016
Security forces arrested Osama Mursi, the son of ousted Egyptian President Mohamed Mursi, at his home on Thursday.
Mursi has been named as one of 739 defendants in the Rabaa sit-in dispersal case, which dates back to August 2013 and includes other senior Brotherhood members.
The prosecution charged the defendants with "unauthorized assembly, the use of force, premeditated murder, and the possession of weapons and explosives" during the violent sit-in protest for the over throwing of former president Mursi.
Full report at:
https://english.alarabiya.net/en/News/middle-east/2016/12/09/Mursi-s-son-arrested-as-part-of-Rabaa-sit-in-dispersal-case.html
--------
Explosion in Egypt's Giza kills six policemen
9 December 2016
An explosion on a main Cairo square has killed six policemen and wounded another two on Friday, in an attack claimed by Egyptian militant group calling themselves the Hasm Movement.
A security source confirmed to Al Arabiya that that militants targeted the police in front of the Salam Mosque at the Madkour Square in the Giza Governate by placing an explosive device near their location.
Security forces have closed down the area and have brought sniffer dogs and explosives experts to scan the area for any more improvised explosive devices.
Full report at:
https://english.alarabiya.net/en/News/middle-east/2016/12/09/Explosion-in-Egypts-Giza-kill-s-four-policemen.html
--------
US says will deploy 200 extra forces to Syria's Raqqah
Dec 10, 2016
The United States has announced plans to send 200 more troops to Syria to allegedly join operations aimed at retaking the Syrian city of Raqqah from the Daesh Takfiri terrorist group.
"I can tell you today that the United States will deploy approximately 200 additional US forces in Syria," US Defense Secretary Ashton Carter told a security conference in the Bahraini capital, Manama, on Saturday.
SPECIALforces as well as bomb disposal experts and trainers will be among the US troop reinforcements said to be tasked with helping the Syrian Democratic Forces (SDF), a coalition of Kurdish and Arab fighters, in the Raqqah operations.
They will add to 300 American special forces already operating in violence-wracked Syria.
"We're now helping tens of thousands of local Syrian forces to isolate Raqqah," he said, adding that Syrian troops were only about 25 kilometers away from the city.
Damascus has already strongly criticized the United States for the deployment of its troops on Syrian soil, saying the move amounts to aggression against Syria's national sovereignty.
A member of the Syrian Democratic Forces (SDF) looks through the scope of his weapon in Tal Samin village, north of Raqqah, Syria, November 19, 2016. (Photo by Reuters)
The Daesh Takfiri terrorist group declared Raqqah, which lies on the Euphrates River, the capital of its so-called caliphate in 2014.
Full report at:
http://www.presstv.ir/Detail/2016/12/10/497231/Syria-Raqqah-US
--------
Saudi conference recommends a national terrorism observatory
10 December 2016
ABHA: The Second International Conference on Media and Terrorism, organized by King Khalid University in Abha, concluded Friday with recommendations for the approval of a draft of a universal declaration on media and terrorism.
The three-day conference was sponsored by Minister of Education Ahmad Al-Isa and attended by Maj. Gen. Saleh bin Suleiman Al-Qarzai, police director of Asir Province, and a number of leading law enforcement officers of the province.
The participants came up with a number of recommendations and called it the "Abha Universal Declaration of Media and Terrorism." The declaration will later be submitted to King Khalid University for it to finalize its adoption as a universal declaration.
The conference participants recommended the establishment of a national observatory for terrorism. The observatory will monitor and analyze media handling of extremism and terrorism issues and issue periodic strategic reports to help the government in decision-making.
The participants called for an international conference to be held outside the Kingdom to add a global perspective to relations between media and terrorism. The conference suggested a global study to find out links between the media, including social media websites, and the growing phenomenon of terrorism over the past two decades, with the participation of research bodies from various countries.
"We are all aware of the development of the media and the expanding scope of its activities; this gives universities an IMPORTANT role in the investment and employment of the media in a manner that serves national issues," said Director of King Khalid University Faleh bin Rajaallah Al-Salami.
It is hoped that specialized departments in universities will have an IMPORTANT role in dealing with current issues, and the role of the media in protecting young generations from the evils of deviant thought and destructive practices. He said time has come for these departments to prepare experts who can bear this responsibility, especially since terrorism has turned into an international phenomenon.
"The world has been turned into a global village with terrorism roaming it. When universities contribute to the study of this phenomenon, they should delegate an IMPORTANT part of its duties toward serving the community," he said.
Full report at:
http://www.arabnews.com/node/1021916/saudi-arabia
--------
Southeast Asia
Diplomats Call on Myanmar to Let Aid Into Rakhine State
December 10, 2016
Yangon. Several Western countries urged Myanmar on Friday (09/12) to expand humanitarian aid access to its troubled Rakhine State, where at least 86 people have been killed and 22,000 have fled to Bangladesh since the beginning of an army operation in the area.
The pressure on the government of Nobel Peace Prize laureate Aung San Suu Kyi over the crisis in the northwestern state is growing and the United Nations has called on Suu Kyi to go to the state to reassure civilians they would be protected.
Soldiers have poured into the area along Myanmar's border with Bangladesh and sealed it off in response to attacks by what the government has described as Muslim militants on border posts on Oct. 9 that killed nine police officers.
Out of more than 150,000 people who had been getting aid before the onset of the violence, only about 20,000 people have got any since Oct. 9, under a partial resumption of deliveries, but some 130,000 have not been reached, the United Nations said.
Diplomats say decisions on aid deliveries, seemingly approved by TOP government officials in the capital, Naypyitaw, often get overturned or delayed by military-controlled officials in Rakhine State.
"We are concerned by delays and urge all Myanmar authorities to overcome the obstacles that have so far prevented a full resumption, noting that tens of thousands of people who need humanitarian aid, including children with acute malnutrition, have been without it now for nearly two months," envoys of several countries including France, the Netherlands, Spain, Turkey and United States said in a statement.
Full report at:
http://jakartaglobe.id/international/diplomats-call-myanmar-let-aid-rakhine-state/
--------
Islamic university rector says nothing wrong with Christian university ad
December 9, 2016
A billboard advertising Duta Wacana Christian University (UKDW), which depicts a student wearing a hijab does not violate any Islamic values, the rector of an Islamic university said on Friday.
"No Islamic value is violated [by the billboard]. The UKDW wants to show that Islam and Christianity can be close," Yudian Wahyudi, the rector of Yogyakarta's Sunan Kalijaga Islamic State University, said.
His statement was in response to a protest by the Islam Congregation Forum (FUI) in Yogyakarta against the UKDW's billboard. The FUI said it was improper to advertise a Christian university using a Muslim student.
"The UKDW only wants to show it is an open institution, upholding Pancasila [the state ideology] and doesn't force anyone to change their identity," Yudian said.
Muhammadiyah Yogyakarta University's rector, Bambang Cipto, said the ad was just university PROMOTION. "We accept non-Muslims too, although only one or two," he said.
Besides the UKDW, Catholic universities such as Atma Jaya and Sanata Dharma also have ads depicting students wearing the hijab.
Full report at:
http://www.thejakartapost.com/news/2016/12/09/islamic-university-rector-says-nothing-wrong-with-christian-university-ad.html
--------
Activists protest in front of Malaysian embassy
12/09/2016
Activists staged a protest in front of the Malaysian Embassy in Yangon on Thursday after the Malaysian Prime Minister Najib Razak's strong and controversial remarks about Myanmar.
Activist Pike Tin said: "We are live in an ASEAN community and our country is a sovereign state. Governments and ASEAN members need to respect the interest of its members and the ASEAN Charter. Now what Malaysian Prime Minister is doing is trampling on our country's sovereignty to regain his political power. He also broke the ASEAN Chapter. People with different kinds of races and religions are living in ASEAN community. We have a big plan to compete with EU and other communities in the long term.
"What he doing now is supporting terrorism indirectly. If Malaysia, being a majority [state] of Muslims, is propagandizing hate speeches. Our country's sovereignty will be affected, as other Muslim countries will interfere on the issue. It will also harm the interests of ASEAN."
The activists said they staged their rally with a limited number of protesters because of fears that Myanmar citizens may be attacked by Muslims in Malaysia.
"We sent a letter to the Malaysian embassy. He [Najib Razak] needs to look for the interest of Malaysians. He is also a politician so he needs to look for the interest of the ASEAN community too," Pike Tin said.
In Malaysia last Sunday, about 5,000 people staged a protest related to the issue of "Bengalis" – Muslims in Rakhine state – and Najib joined the protest. The Malaysian PM criticised State Counsellor Aung San Suu Kyi, alleging that her administration had condoned "ethnic cleansing" by refusing to speak out after a violent crackdown in response to attacks on police and border guards in October and November.
Full report at:
http://www.elevenmyanmar.com/local/6995
--------
Introduce More Ways to Resolve Conversion Issue, Urge Malaysian Lawyers
10 December 2016
PETALING JAYA: Problems caused by the unilateral conversion of a non-Muslim child to Islam by a newly-converted Muslim parent cannot be resolved through state or federal laws alone, said the Muslim Lawyers Association of Malaysia.
Its deputy president Abdul Rahim Sinwan said apart from involving religion, the matter was also linked to the issue of federal versus state powers.
"Parliament can pass laws, but ultimately, each state has authority and autonomy when it comes to Islamic affairs in their respective borders," said Abdul Rahim.
He suggested that instead of relying merely on laws to resolve the arising problems, the authorities should consider introducing additional mechanisms such as mediation, where parents involved in such cases can seek to resolve their problems.
On whether a newly-converted Muslim parent can take their child to Perlis or other states with similar provisions in order to unilaterally convert their child to Islam, Abdul Rahim said no state will forbid a person from applying to its Islamic Affairs body to embrace Islam.
Malaysian Syarie Lawyers Association president Musa Awang said applications to embrace Islam were processed based on the address of the applicant.
Asked whether this meant that a parent could change his MyKad address to a state such as Perlis in order to unilaterally convert his or her child, Musa said the legal provisions served merely as a basic guide, but it will be up to the implementing agencies to decide the best method and mechanism when it comes to processing applications.
On whether state enactments such as the one in Perlis will be void in the event that Parliament approves the Law Reform (Marriage and Divorce) Bill 2016 (LRA) which contains a provision that conversion of Islam needs approval of both parents, Musa said:
"The LRA has not been approved by Parliament, so the various state enactments are still in force."
Full report at:
http://www.thestar.com.my/news/nation/2016/12/10/introduce-more-ways-to-resolve-conversion-issue-urge-lawyers/
--------
Inclusive universities help promote pluralism
December 10, 2016
Dozens of hijab-clad students were sitting in groups in the yard of Sanata Dharma Catholic University in Yogyakarta on Friday afternoon, seemingly in the middle of discussions about their studies.
They were joined by male and non-hijab-wearing female students in the campus located on Jl. Gejayan, Sleman, in Yogyakarta. This idyllic VIEWstands in contrast to the claims made by hard-line Muslim group Muslim People's Forum (FUI), which recently forced another non-Muslim university Duta Wacana Christian University (UKDW) to take down billboards depicting a female student wearing a hijab. The group claimed the billboards were an insult to Islam.
Sanata's billboards also feature a student wearing a hijab together with other students, a seemingly accurate depiction of what was seen in the campus' yard on Friday.
"There is no Christianization here. The campus even provides a prayer room," Ardiya D. Nurahma, a Sanata Dharma English major student.
The campus has declared that it will refuse to bow down to pressure to take down the billboards, as UKDW has done in compliance with the FUI's demands.
Of the total 3,800 students at UKDW, 266 are Muslim, according to the university's data. The university said it had decided to comply with the demands to prevent disruptions to campus' activities.
The billboards depicting a hijab-clad student was not a violation of religious laws, but instead aimed to promote inclusivity and pluralism, principles regarded highly in Islam, Yogyakarta's Sunan Kalijaga State Islamic University rector Yudian Wahyudi said on Friday. Inclusive educational institutions are pivotal to creating a society that supports pluralism, he added.
"They want to show that it is an open campus that upholds diversities," he told The Jakarta Post, adding that the advertisement should not be interpreted negatively based on fears of Christianization.
Accepting students from different faiths has been a long-standing practice at Islam-based universities such as Yogyakarta Muhammadiyah University, the university's rector Bambang Cipto said.
The advertisement did not constitute an ethical violation either, advertising lecturer at the Gadjah Mada University Pulung S. Perbawani said, adding that the campuses wanted to promote their embrace of multiculturalism.
The protests over the campus billboards has been the latest incident that indicates a rising level of intolerance and aggressive tactics from hard-line Muslims toward people of other faiths. The incident took place a day after two Islamic groups — Ahlu Sunnah Defenders (PAS) and Dewan Da'wah Islamiyah Indonesia (DDII) — rallied against a religious service led by Rev. Stephen Tong at a popular auditorium, the Sasana Budaya Ganesha (Sabuga) Building, in Bandung on Tuesday. The groups claim the service should not have been held in a public
facility.
Full report at:
http://www.thejakartapost.com/news/2016/12/10/inclusive-universities--help-promote-pluralism.html
--------
URL: https://www.newageislam.com/islamic-world-news/new-age-islam-news-bureau/council-of-islamic-ideology-decries-naming-qau-physics-centre-after-dr-abdus-salam/d/109344
New Age Islam, Islam Online, Islamic Website, African Muslim News, Arab World News, South Asia News, Indian Muslim News, World Muslim News, Womens in Islam, Islamic Feminism, Arab Women, Womens In Arab, Islamphobia in America, Muslim Women in West, Islam Women and Feminism, Moderate Islam, Moderate Muslims, Progressive Islam, Progressive Muslims, Liberal Islam