New Age Islam News Bureau
23 December 2020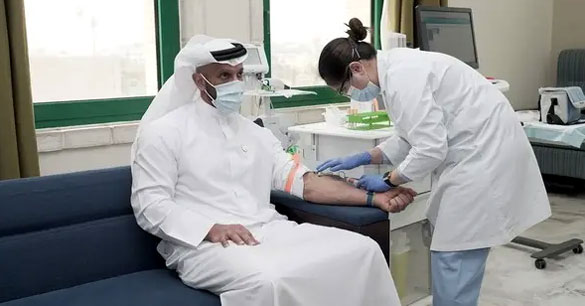 A senior health official receives a coronavirus vaccine in Abu Dhabi. (File photo: WAM)
----
• Ayodhya Mosque against the Waqf Act and Also Against Shariat: Convenor of Babri Masjid Action Committee
• Interfaith Cultural Exchanges in Pakistan to Help Project Islam's True Image
• British Regulator Fines Indian Channel, Republic Bharat TV, For Airing 'Hate Speech' Against Pakistanis
• US Offering Billions to Coerce Indonesia into Normalization with Israel
• Tunisia Says It Has No Intention of Normalizing Relations with Israel
• Palestinian Resistance Movement of Islamic Jihad Hails Martyred Teenager as a 'Guardian of Quds'
• Tough Love - Bangladeshi Foreign Policy on China, India, and the US
Arab World
• Coronavirus Vaccine with 'Non-Halal' Ingredients Permissible For Muslims: UAE Fatwa Council
• Saudi Minister Confirms Imams Fired After Failing To Warn Against Muslim Brotherhood
• Mysterious Kahaleh village murder in Lebanon raises questions, spurns rumours
• Lebanese gather around Christmas tree to mourn victims of port blast
--------
India
• Ayodhya Mosque against the Waqf Act and Also Against Shariat: Convenor of Babri Masjid Action Committee
• NIA Probing Khalistani Funding For Protests against India Overseas
• NIA raids 7 locations in Kerala in connection with terror outfit
• 'Love Jihad': Etah Couple Still On the Run, 14 Relatives of Accused in Jail Now After 8 More Arrests
• Delhi Cops to Trace Woman, Her Father Objects To Marriage With Muslim Man
• NIA searches 7 Kerala sites in Syria terror trail
• FBI tip leads to arrest of Jammu and Kashmir man for 'sex racket targeting US kids'
• Muslim 'groom' on run, 8 more kin held
--------
Pakistan
• Interfaith Cultural Exchanges in Pakistan to Help Project Islam's True Image
• 10 'terrorists' killed in Awaran
• India's aggression to get befitting response: Bajwa
• Political figures visit Pims, express solidarity with protesters
• Assets of Shehbaz's wife, others attached, court told
--------
Europe
• British Regulator Fines Indian Channel, Republic Bharat TV, For Airing 'Hate Speech' Against Pakistanis
• German White Supremacist Is Sentenced to Life for Synagogue Attack
• How the US and Europe quietly share data to prevent terrorist attacks
• Anti-Semitic extremists don't deserve a platform
• Germany against arms embargo on Turkey
--------
Southeast Asia
• US Offering Billions to Coerce Indonesia into Normalization with Israel
• Don't Accuse Others of Being Apostates Based on Rumours, Says Minister in the Prime Minister's Department
• Malaysia Secures 6.4m Doses Of COVID-19 Vaccine To Treat 40% Of Population
--------
Africa
• Tunisia Says It Has No Intention of Normalizing Relations with Israel
• Nigeria Jihadists Kill Five Soldiers, Kidnap Dozens of Civilians
• Turkey authorizes 18-month extension of Libya troop deployment
• AFRICOM Sends Warning to Al-Shabaab as US Troops Begin Withdrawing from Somalia
--------
Mideast
• Palestinian Resistance Movement of Islamic Jihad Hails Martyred Teenager as a 'Guardian of Quds'
• First Israel-Morocco Flight Takes Off For Rabat to Seal Normalization Deal
• Iran's Top Security Official Underlines Necessity of US Pull-out from Region
• Israel-Turkey relations could be on the brink of full normalization: Reports
• Israeli army reinforces West Bank presence after Jewish settler's death
• Israeli parliament dissolves, triggering snap elections
• Iran must stop evading its commitments under nuclear deal, says UN official
--------
South Asia
• Tough Love - Bangladeshi Foreign Policy on China, India, and the US
• Taliban Suffer Heavy Loss in MoD Operations
• FEFA CEO, Activist 'Yousuf Rashid' Shot Dead in Kabul
• First Vice President: Chemical Fertilizer from Pakistan, 'Root Cause of Magnetic IED Blasts'
• Magnetic Mine Blast Claims 1, Injures 2 in Kabul
--------
North America
• US Imposes New Sanctions on Syria in Continued Effort To Cut Assad Funds
• US 'remains ready' to mediate Israel, Lebanon maritime talks: Pompeo
• 1998 U.S. Embassy Bombing Victims Are Assured Equal Compensation in Deal with Sudan
Compiled by New Age Islam News Bureau
URL: https://www.newageislam.com/islamic-world-news/coronavirus-vaccine-with-non-halal/d/123855
--------
Coronavirus Vaccine with 'Non-Halal' Ingredients Permissible For Muslims: UAE Fatwa Council
Tamara Abueish
23 December 2020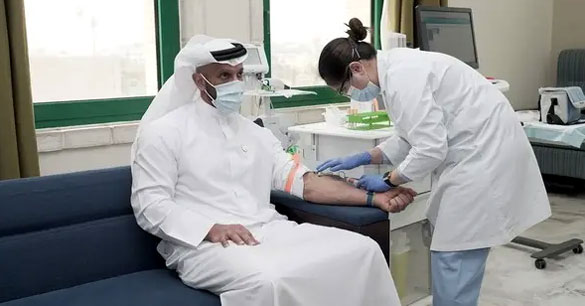 A senior health official receives a coronavirus vaccine in Abu Dhabi. (File photo: WAM)
----
The United Arab Emirates' Fatwa Council, the country's highest Islamic authority, issued a ruling allowing Muslims to receive coronavirus vaccines even if they contain "non-halal ingredients" such as pork gelatin, the Emirates News Agency (WAM) reported on Tuesday.
For more coronavirus news, visit our dedicated page.
The fatwa, or Islamic ruling, comes amid growing concern among Muslims about whether the vaccine's ingredients are permitted under Islamic law, according to WAM.
"Coronavirus vaccination is classified under preventive medicines for individuals, as recommended by the Islamic faith, particularly in times of pandemic diseases when the healthy happen to be prone to infections due to the high risk of contracting the disease, therefore posing risk to the entire society," the council said.
Vaccines that contain ingredients that are considered "haram" or forbidden in Islam are not prohibited if there are no alternatives, according to the council.
Since COVID-19 is a highly contagious disease that puts thousands of lives at risk, the use of the vaccines are acceptable, WAM cited the council as saying.
Dubai on Tuesday announced that it would begin offering free coronavirus vaccines to the public starting from Wednesday.
"Extensive vaccination campaign against COVID-19 kicks off in Dubai on Wednesday. Vaccination will use Pfizer-BioNTech's vaccine and is free of charge," Dubai's Media Office quoted the committee as saying.
https://english.alarabiya.net/en/coronavirus/2020/12/23/Coronavirus-Coronavirus-vaccine-with-non-halal-ingredients-permissible-for-Muslims-UAE-Council
--------
Ayodhya Mosque against the Waqf Act and Also Against Shariat: Convenor of Babri Masjid Action Committee
Dec 23, 2020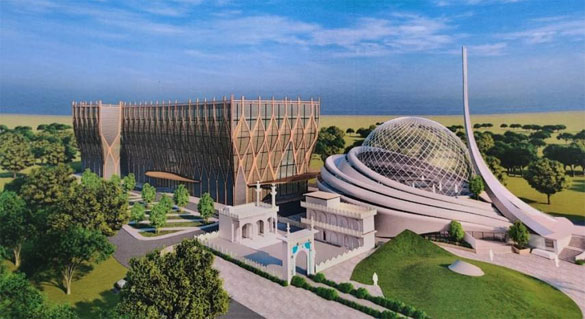 Blueprint of the Mosque At Dhannipur Of Ayodhya
-----
Ayodhya: All India Muslim Personal Law Board executive member and convenor of Babri Masjid Action Committee Zafaryab Jilani has said that the mosque Dhannipur of Ayodhya, the blueprint of which was launched three days back, was against the Waqf Act and also against Shariat.
Talking to TOI, Jilani said the proposed mosque violates the Waqf Act as according to it, mosques or land of mosques cannot be bartered. It also violates Sharia law because the Waqf Act is based on Shariat, he added.
At a meeting of the All India Muslim Personal Law Board's executive committee held on October 13, the issue was raised by member of Parliament Asaduddin Owaisi. All members were of the view that exchange of mosque land is not permissible under the Waqf Act. "We have already rejected the proposal to accept land for the mosque at any other place. As we lost the title suit we don't need any land for a mosque," said SQR Ilyas, executive member, AIMPLB. He added that "the SC in its judgment has stated that Babri Masjid was not built by demolishing any temple."
"Sunni Central Waqf Board is working under government pressure . Muslims have rejected land at Dhannipur. The mosque trust constituted by the Sunni Central Waqf Board is only symbolically making the masjid there," he said.
Meanwhile, secretary of secretary of Ayodhya Mosque Trust Athar Hussain said, "When the SC has mandated the land it cannot be illegal and different people use to define the Shariat in their own ways. Mosques are places for offering namaz. What is wrong if we are building a mosque?"
https://timesofindia.indiatimes.com/city/lucknow/ayodhya-mosque-against-shariat/articleshow/79891623.cms
--------
Interfaith Cultural Exchanges in Pakistan to Help Project Islam's True Image
December 23, 2020
Islamabad: Speakers at a webinar have underlined the need for use of interfaith cultural exchanges and employment of soft power tools abroad to showcase the true image of Islam as a religion of peace and accommodation.
Besides, they urged the Muslim migrants with international civil society organisations to play their due role in that regard, said a press release.
They were addressing a webinar titled 'Rising Islamophobia & the Otherisation of Muslims: Root Causes and Possible Remedies' here organised by the Islamabad Policy Research Institute (IPRI).
Dr Mehmet urged the need to understand the socio-political angularities and the role of media in emphasizing the negative stereotypes about Muslims.
According to him the attitude of Muslims in alien societies also needs to be moderated as their lack of cultural integration also alienates the people from host countries.
Dr Amina Yaqeen held forth on the semiotics of Islamophobia highlighting the need to separate identity politics from religious markers of identity.
She quoted examples of anti-women cultural practices which were mistakenly conflated with Islamic radicalism.
She also mentioned intergenerational gap, class background and frustration as contributory factors towards acts of violence by Muslim youth in United Kingdom.
Dr Daniels mentioned the causes of structural racism that need to be understood in order to counter Islamophobia.
https://www.thenews.com.pk/print/762899-interfaith-cultural-exchanges-to-help-project-islam-s-true-image
--------
British Regulator Fines Indian Channel, Republic Bharat TV, For Airing 'Hate Speech' Against Pakistanis
23 Dec 2020
British telecom's regulator Office of Communications (Ofcom) on Tuesday fined Worldview Media Network £20,000 after its Indian channel Republic Bharat TV aired a programme which showed "hate speech" against Pakistanis.
In a decision published earlier this year, Ofcom found that in a current affairs programme — Poochta Hai Bharat — the presenter Arnab Goswami and some of his guests made "several statements which amounted to hate speech against, and derogatory and abusive treatment of, Pakistani people".
The programme was also "potentially offensive" and in violation of the Broadcasters' Code.
"Due to the serious nature of these breaches we are considering imposing a statutory sanction," Ofcom had said in the decision.
The decision included transcripts from the programme, which aired on Sept 6, 2019. The show discussed, among other things, India's space programme, the Kashmir issue and "Pakistan's alleged involvement in terrorist activities against Indian targets".
Ofcom said that the show had violated sections 2.3, 3.2 and 3.3 of the Broadcasters' Code by airing material that included "hate speech, abusive and derogatory treatment of individuals, groups, religions or communities and offensive content".
The regulator also asked Worldview Media Network, the licensee which airs Republic Bharat in the UK, for an explanation. The network argued that the show was "based on evidence" and "did not promote terrorism or hatred and it certainly did not promote or justify hatred in any way" but this was not deemed an acceptable explanation by the watchdog.
Following the penalty, the network told the regulator it was stopping the airing of live debates on relations between Pakistan and India and would ensure that content was reviewed before being broadcast along with taking other steps.
In its decision, Ofcom said that it was cognisant of the broadcaster's right to freedom of speech and it did not prohibit airing of programmes on controversial topics as it was "clearly in the public's interest". However, broadcasters should ensure they comply with the code, it added.
It said one the guest's, General K. K. Sinha, comments were "an expression of hatred and desire to kill by a figure of authority" and comments alleging that all Pakistanis were terrorists were considered as "expressions of hatred based on intolerance of Pakistani people based on their nationality alone".
It noted that while Pakistani contributors were also included in the programme, they were "repeatedly interrupted and given little time to make points".
In a statement on its website, Ofcom said that in addition to the fine, the channel would have to broadcast the regulator's findings on a "date and in a form to be determined by Ofcom". It also directed the channel not to repeat the programme.
https://www.dawn.com/news/1597391/british-regulator-fines-indian-channel-for-airing-hate-speech-against-pakistanis
--------
US offering billions to coerce Indonesia into normalization with Israel
22 December 2020
The outgoing administration of US President Donald Trump is trying in its final days to pressure more countries into normalizing ties with Israel, this time by resorting to financial investment to coerce Indonesia to establish relations with the occupying regime despite Jakarta's reluctance.
The US International Development Finance Corporation (DFC), a government agency that invests overseas, announced on Monday that Indonesia could unlock billions of dollars in additional US financing if it joins Trump's push for Muslim countries to establish relations with Tel Aviv.
Adam Boehler, the chief executive of the DFC, said in an interview at the King David Hotel in Jerusalem al-Quds that his agency could more than double its current one-billion-dollar portfolio if Indonesia develops ties with Israel.
"We're talking to them about it," Boehler said. "If they're ready, they're ready and if they are then we'll be happy to even support more financially than what we do."
The official also said he would not be surprised if the DFC's funding to Indonesia, the world's most populous Muslim-majority country, was boosted by "one or two more billion dollars."
Last week, the Indonesian government dismissed Israeli media allegations that Jakarta was seeking to establish diplomatic ties with the Tel Aviv regime.
Israeli English-language daily newspaper The Jerusalem Post, citing an unnamed diplomatic source, had reported that Oman and Indonesia could be next in line to establish diplomatic relations with Israel in the coming weeks.
Indonesian Islamic groups and pro-Palestinian NGOs have condemned recent normalization deals between several Arab states and Israel.
American and Israeli leaders have been pushing more countries to join the normalization agreements with Israel over the past few months, including with United Arab Emirates, Bahrain, Sudan and Morocco.
The administration in Washington has also expressed optimism that Oman and Saudi Arabia would also join the deal.
Israel and Morocco agreed on December 10 to normalize their relations, making the North African country the fourth Arab state since August to strike a deal aimed at normalizing relations with Israel. The others were the United Arab Emirates, Bahrain and Sudan.
On September 15, the US president hosted a White House ceremony, where Israeli Prime Minister Benjamin Netanyahu signed normalization agreements with Emirati Foreign Minister Sheikh Abdullah bin Zayed Al Nahyan and Bahrain's Foreign Minister Abdullatif al-Zayani.
Trump later announced on October 23 at the White House that Sudan and Israel had also agreed to normalize relations.
The normalization deals have drawn widespread condemnation from Palestinians, who seek an independent state in the occupied West Bank and Gaza Strip, with East Jerusalem al-Quds as its capital. They say the deals ignore their rights and do not serve the Palestinian cause.
https://www.presstv.com/Detail/2020/12/22/641301/US-Donald-Trump-normalization-Muslim-countries-Israel-International-Development-Finance-Corporation
--------
Tunisia says it has no intention of normalizing relations with Israel
Tuqa Khalid
23 December 2020
Tunisia has no intention of normalizing ties with Israel and its stance will not be affected by changes on the international scene, the Ministry of Foreign Affairs said on Tuesday.
The ministry said any media reports claiming there was a possibility of establishing diplomatic relations with Israel were false and contradict Tunisia's official position on the topic, supporting the Palestinian people "regaining their complete and undiminished rights."
For all the latest headlines follow our Google News channel online or via the app.
"While Tunisia respects the sovereign positions of various countries.. its position will not be affected by changes on the international scene," the ministry said.
Morocco joined the list of Arab countries that normalized their relations with Israel and Israeli envoys arrived in Morocco on Tuesday to meet its king.
Morocco became the fourth Arab country to forge deals with Israel, joining the UAE, Bahrain and Sudan.
Tunisia's position refutes speculation that the North African country will be the last country to normalise relations with Israel, under pressure from the administration of US President Donald Trump.
Palestinians have been critical of the normalization deals, saying Arab countries have set back the cause of peace by abandoning a longstanding demand that Israel give up land for a Palestinian state before it can receive recognition.
https://english.alarabiya.net/en/News/north-africa/2020/12/23/Tunisia-says-it-has-no-intention-of-normalizing-relations-with-Israel
--------
Palestinian Resistance Movement of Islamic Jihad Hails Martyred Teenager as A 'Guardian of Quds'
22 December 2020
The Palestinian resistance movement of Islamic Jihad hails recent death-defying action by a Palestinian teenager against Israeli forces that led to his martyrdom, commending his service in asserting the Palestinians' right to the Israel-occupied Jerusalem al-Quds.
Palestinian sources reported on Monday that a 17-year-old Palestinian had opened fire on Israeli forces near Bab Huta, one of the gates of the al-Aqsa Mosque compound in Jerusalem al-Quds in the occupied Palestinian territory of the West Bank. He reportedly injured an Israeli troop, and was immediately targeted by the Israeli forces' fatal fire.
The sources identified the youth as Mahmoud Omar Kameel of the city of Jenin in northern West Bank.
The Islamic Jihad, which is headquartered in the nearby Israel-blockaded Palestinian territory of the Gaza Strip, released a statement later, saying Kameel's courageous action had verified the legitimacy of resistance in the face of the occupying regime.
The movement said Kameel's choosing to take on the heavily-armed forces served as a "slap" in the face of the regional Arab regimes, which have been joining United States-brokered détente deals with Israel one after another.
As part of a September-present pattern, the United Arab Emirates, Bahrain, Sudan, and Morocco have normalized their relations with Tel Aviv under Washington-mediated deals.
The Islamic Jihad said Kameel opted to serve as "a guardian of al-Quds," unfazed by the US push to try to lend legitimacy to the occupiers and the Arab regimes' efforts to endear themselves to Washington and Tel Aviv.
The martyr's struggle, it added, also served as "an outcry" against Israeli settlers' regular breach of the al-Aqsa Mosque's compound under the Israeli military's protection. Palestinians have denounced the recurrent invasions of the compound, home to Muslim's third-holiest site, as an effort towards changing its status quo.
Commending Kameel as a "hero," the movement, therefore, singled out "all-out resistance" as "the best means of confronting the Zionist regime's growing acts of terrorism."
The Islamic Jihad asserted that as long as the Israeli occupation and aggression persisted, the flames of resistance would remain ablaze too.
Hamas, the movement's fellow Gaza-based resistance group, also commented on Kameel's martyrdom, warning against continued violation of the compound by the occupiers, and avowing that the Palestinian nation was prepared to retaliate against Israeli aggression.
https://www.presstv.com/Detail/2020/12/22/641289/Palestine-teenager-martyrdom-Jerusalem-al-Quds-Islamic-Jihad-Hamas-Gaza
--------
Tough love - Bangladeshi foreign policy on China, India, and the US
Asif Muztaba Hassan
December 22nd, 2020
What are the roles each country is playing?
With rising tension between China and India, new Chinese investment deals in Bangladesh have stirred up a media storm all around India, roping the United States into the picture to grab Bangladesh's attention. However, the harshest of criticisms regarding Chinese investments in Bangladesh overlooks Dhaka's ability to look out for its national interests.
It will be misplaced if one claims that Chinese investment promises are synonymous to moving away from Indian influence. They will be similarly mistaken to assume that Bangladesh will side with the American hegemony when the time comes. What appears to be a vague foreign policy outlook to external actors is rather a well-disguised regional maneuver based on a transactional relationship with China, and the United States, for better balance of power.
To begin understanding this complexity, we need to understand China's rise to power and its conduct in Asia.
Transactional China
China strictly upholds and maintains Confucian values. Throughout the 1980s, the country has sought after peace through isolation. China's Cold War experience of maneuvering between the US and USSR has further contributed to its aversion of alliances.
Instead, at the height of a bipolar, hegemonic world, China committed to an independent and self-reliant foreign policy, rejecting alliances as a Cold War antiquity inconsistent with the Chinese agenda. In the 90s, when China ventured out with a unique brand of partnership diplomacy, based on the same Confucian values, the limitations of nonalignment principles became apparent.
Given China's size and challenging location, their neighbours' suspicion is certain. However, China's gradually bolstering behaviour, especially in the last decade, has made it more apparent that looking out for their interest is the only Chinese agenda.
Enforcing a self-declared maritime border encompassing approximately 80% of the South China Sea, applying incremental pressure and even coercing tactics to assert sovereignty over disputed territories are only some of the defining characteristics of China's behaviour in the Asia Pacific.
Beyond the Asia-Pacific, however, China's conduct has always been transactional. The country has primarily been interested in nurturing business relationships, a chief example being Pakistan. China functions as Pakistan's largest arms supplier, amounting to 47% of Pakistan's annual arms trade, and its third-largest trading partner.
Moreover, China's investment in the China Pakistan Economic Corridor (CPEC) aims to drastically reduce the time and geopolitical insecurity when transferring oil from the Persian Gulf to Shanghai. On top of that, China is committed to cooperate in improving Pakistan's civil nuclear power sector, while taking on the construction of a multimillion-dollar dam in Pakistan-administered Kashmir, serving a big blow to neighbour and long-time adversary India.
On the similar wavelength, securing Bangladesh's cooperation is synonymous to accessing an important Indian ally in South Asia. Promising $6.4bn investment in nine infrastructure projects around Bangladesh is just part of the transactional nature.
What makes Bangladesh important to China is a chance to access the Bay of Bengal, and with it, a larger access to the Indian Ocean. China's significant expansion in the Indian Ocean region over the past three decades has been alarming both American and Indian strategists. The country's growing naval presence along with its illusive economic engagements might provide meaningful military advantages in bolstering its soft power influences and engaging in coercive diplomacy towards smaller countries far from its shores.
Currently, only Myanmar provides China access to the Indian Ocean, with China eyeing for aggressive expansion of their maritime ambitions. Over time, China has claimed that they are only interested in economic gains from the Indian Ocean region, but the Chinese Maritime Silk Route (MSR) initiative has scratched many heads regarding the security cooperation between China and other states, including Maldives, Sri Lanka, and Bangladesh, and the strategic significance of Chinese control over the newly constructed deep-sea ports in the region.
A warm and inviting China eyeing for Bay of Bengal access is reminiscent of Chinese conduct in the Philippines. Chinese warships are allowed in Philippine waters, citing friendlier relationships under President Duterte.
However, just this February, Chinese warships violated international maritime laws and Philippine sovereignty by locking targets on a Philippine Navy vessel in the West Philippine Sea, announcing that China has full access to the South China Sea, its waters, and adjacent islands.
In light of this, Bangladesh discarding the Sonadia deep-sea port project at India's request was a smart move, proving India is truly the bigger influence and a greater friend for Bangladesh. However, going forward with nine infrastructure projects worth $6.4bn signals to India that they need to tighten their act as well.
Balancing India and the US
Bangladesh is practically surrounded by India, with a 4,096km shared border, and acts as the centre for tackling extremists before they can spread influence in India. While there is no denying India is Bangladesh's greatest friend just because of their 1971 cooperation alone, Bangladeshis have also been touted as "termites" and incapable of protecting against Chinese debt-trap, and as traitors by the current Indian political elites. Ironically, all of this is occurring while they are simultaneously recognizing the special relationship both countries have.
Bangladesh has extensive experience managing international aid and loans from various bilateral and multilateral funders. Because of this, Bangladesh was able to blacklist China Harbour and Engineering Company (CHEC) and roll back a $1.6bn highway project as they cautiously allowed investments in.
Out of the 27 signed MoUs between the two countries in 2016 as part of the Belt and Road Initiative, only five were delivered by 2019. The country's illustrated history of financial prudence and careful borrowing is largely why Chinese economic cooperation is neither synonymous to debt-traps nor allyship.
Bangladesh has sided with India even though the neighbours have stepped over Bangladesh multiple times, citing "their own interests."
Failure to reach an agreement on Teesta water sharing treaty, sucking up Feni Rivers' water to serve Tripuran interests, drafting the Citizenship Amendment Act in 2019 without considering the impacts and mitigating measures of a likely Muslim exodus to Bangladesh, or even sudden restrictions on jute export -- these are just some of the highly debated issues that have not gone Bangladesh's way.
Under such context, Bangladesh seeking more "transactional" cooperation with China, including the $1bn Teesta Water Management project, seems like an unintended consequence of an unstructured Indian foreign policy.
Centrists in the Indian media have already illustrated the geostrategic importance of Dhaka to New Delhi, as a certain candidate to balance Chinese influence in the region and in the Bay of Bengal. As it stands, Bangladesh's engagement with China is not to signal a souring relationship, rather to send a subtle tide that Dhaka cannot be taken for granted.
Globally, Bangladesh is countering Chinese influence with American defense diplomacy. This is not only a smart foreign policy move from Bangladesh, but one that is timely. SIPRI reports that the United States has been exporting $110m worth of arms to Bangladesh since 2010, which is just a meager amount in comparison to $2.59bn spent on cheaper Chinese military equipment. In the face of a heated Sino-Indian relationship, the United States has decided to pursue a pro-active approach to win over Bangladesh.
Just this September, exiting US Secretary of Defense Mark Esper spoke to Bangladesh Prime Minister Sheikh Hasina, proposing a military modernization plan by 2030, starting it off by selling advanced military gears such as Apache helicopters and missiles. A deeper security cooperation is of "mutual interest, with full respect for Bangladesh's sovereignty and independence of action," writes Laura Stone, Deputy Assistant Secretary with the US Department of State.
Off the bat, the United States defense diplomacy is a reminder of tough love, that Chinese economic cooperation is not a free ticket into the region to exploit and coerce. This check-and-balance to Chinese checkbook diplomacy is crucial because it illustrates that diplomacy is not a winner-takes-all game -- China cannot get its desired foreign policy success without adequate reciprocation in the form of respect for Bangladesh's sovereignty and conduct of its international politics.
If the relationship is strictly transactional, then Bangladesh would have to impose higher costs on China, given prior Chinese operations and circumstances in the region have already raised the stakes much higher for Dhaka.
Bangladesh's engagement with the US also indicates that global trade wars do not have to be hegemonic. Defying speculation, refusing to bandwagon behind one super power, and choosing to remain geopolitically neutral is one of the most crucial pieces of foreign policy play which aligns with the Bangladeshi national interest of friendly relations with all and malice to none. Most importantly, Bangladesh has shown to be highly aware of Chinese grey zone tactics and does not want to hedge its chances.
In 2011, the Chinese foreign minister addressed Beijing's South China Sea ambitions with "China is a big country, others are small countries. Think hard about that." This is the exact foreign policy outlook that allows China to justify exertion of power and forceful creation of influence in the Asian region.
Engaging in American defense diplomacy, while sending a pointed message across to the strongest neighbour and ally, is the necessary and sufficient policy outlook that will not compromise on Chinese investment in Bangladesh but will surely keep them on their toes.
Asif Muztaba Hassan is a Masters Graduate in Strategic Studies from RSIS, NTU, Singapore.
https://www.dhakatribune.com/opinion/op-ed/2020/12/22/op-ed-tough-love-bangladeshi-foreign-policy-on-china-india-and-the-us
--------
Arab World
Saudi minister confirms imams fired after failing to warn against Muslim Brotherhood
Ismaeel Naar
22 December 2020
Saudi Arabia's Islamic affairs minister confirmed that many imams were fired in recent weeks after failing to follow a ministry directive to warn citizens against the Muslim Brotherhood and its ideology.
Saudi minister of Islamic Affairs, Call and Guidance Abdullatif bin Abdulaziz al-Sheikh told Al Arabiya on Tuesday that the ministry did not wish to suspend or fire any of their employees but stressed the importance of the jobs of clerics and sermon givers.
For the latest headlines, visit our Google News channel online or via the app.
"The reports of several imams being fired is true. This is due to their failure to implement the ministry's directives in publishing a statement from the Senior Religious Scholars Council commenting and explaining to people the dangers of the Muslim Brotherhood terrorist group," al-Sheikh said.
" There is no doubt that their termination does not mean that they are from the Brotherhood or supporters of this ideology, but rather it is a regulatory procedure of the ministry to those who do not implement directives or were slow in implementing it would be dispensed with and are replaced by those who are prepared and those who meet the conditions," he added.
Saudi Arabia formally designated the Muslim Brotherhood a terrorist organization in 2014.
According to Okaz and its sister newspaper the Saudi Gazette, the Ministry of Islamic Affairs, Call and Guidance, and the Ministry of Municipal and Rural Affairs were jointly working on a plan to nationalize jobs of imam and prayer callers at prayer halls of major commercial complexes.
"Firstly, as you know, the Ministry is very interested in the houses of God Almighty and is very dependent on the imams and preachers, and is prepared to support a large number of preachers with brilliant thinking and those with good orientations who meet the conditions of the Imam position, whether in small or bigger mosques. A large number of them are prepared for this honorable work, and the ministry has a very, very large number of advanced candidates interested in these jobs and are willing to occupy these jobs, including many who are graduates of Sharia colleges and who hold masters and PhDs in Sharia sciences," al-Sheikh said.
https://english.alarabiya.net/en/News/gulf/2020/12/22/Saudi-minister-confirms-imams-fired-after-failing-to-warn-against-Muslim-Brotherhood
--------
Mysterious Kahaleh village murder in Lebanon raises questions, spurns rumours
22 December 2020
When Joe Bejjany was shot with a silencer as he got ready to take his two daughters to pre-school, it shocked not only his mountain village but a country already on edge.
No clear motive has so far surfaced for the murder of the 36-year-old Lebanese telecoms employee and freelance photographer on Monday. But that did not stop local media and people wondering aloud whether it was linked to an ongoing investigation into August's devastating blast at Beirut port.
For the latest headlines, visit our Google News channel online or via the app.
Residents of Kahaleh, some 13 km from Beirut, say they want a swift investigation into what they believe was a planned operation of some kind or another.
"This is not just about our village. Because today it's Joe, tomorrow it's someone else," said Jean Bejjany, the head of the municipal council and a distant relative. "Are we going to have to protect our own houses and villages?"
A number of recent murky deaths have fueled similar rumors of links to the explosion, even as security officials say they have no evidence of a connection.
Nearly five months since the huge stockpile of chemicals, stored unsafely for years, detonated at the port, that inquiry has yet to yield public results. The blast killed 200 people and ravaged swathes of the capital, compounding a financial meltdown that has also triggered generalized fears over security.
Earlier this month, authorities pledged to probe the death of a retired customs officer who was found dead in his home.
Jean, Kahaleh's municipal chief, said none of Joe's friends or family were aware of any threats or enemies and made no mention of anything that might link him to the explosion.
The two hooded gunmen took Joe's phone before sneaking away, he said. His daughters, aged two and four, found the dead body in the car minutes later.
Mounir Bejjany, Joe's godfather, described it as "an assassination."
Relatives said Joe, who worked at a mobile service provider, had also photographed military events such as parades as a freelancer. Other photographers said they often saw him at such events.
Two security sources said the murder was carried out in a professional manner but the motive was unclear. The caretaker interior minister has vowed to find the culprits.
At the funeral on Tuesday, neighbors wept and threw rice as men in suits carried a white coffin to the church.
Joe's cousin, Gaby Feghali, said he had planned to emigrate with his family, like many others who are leaving Lebanon to escape the crisis. He said Joe got approval to leave for Canada about a week ago.
https://english.alarabiya.net/en/News/middle-east/2020/12/22/Mysterious-Kahaleh-village-murder-in-Lebanon-raises-questions-spurns-rumors
--------
Lebanese gather around Christmas tree to mourn victims of port blast
22 December 2020
Lebanese people on Monday gathered around a Christmas tree decorated with names of the victims of the devastating port blast that took place in Beirut's port in August. The blast killed at least 181 people, injured more than 6,500 and left scores of people homeless.
Relatives of the blast victims spoke to AFP about losing their loved ones.
For all the latest headlines follow our Google News channel online or via the app.
"George was from the church. George wanted to get married, his birthday was on the 27th of the month," father of port blast victim George Al-Omair said.\
"Instead of preparing the Christmas tree and celebrating, instead of getting married and filling the house with children, he's gone up to Jesus and Mary."
Beirut's August 4 explosion left 300,000 people homeless and caused $15 billion in direct damage, according to a report issued by the presidency of the council of ministers.
"The festival will be here soon but we won't have Tharwat with us like we used to every year. Instead of taking photos of ourselves with Tharwat, we are taking photos next to a tree with his name on it, all because of the fault of those behind the explosion," a relative of port blast victim Tharwat Hoteit told AFP.
Around 40 percent of Beirut has been severely damaged due to the explosion, according to an impact assessment report published in August.
"I want to tell him that during all this celebration, not a day passed without remembering you.. I want to tell him you remain in our hearts for the last soul and we will keep fighting to know the truth for the last soul, for you and for this beautiful laugh," said the mother of Faris Kiwan, another port blast victim.
https://english.alarabiya.net/en/News/middle-east/2020/12/22/Lebanese-gather-around-Christmas-tree-to-mourn-victims-of-port-blast
--------
India
NIA probing Khalistani funding for protests against India overseas
Neeraj Chauhan
Dec 23, 2020
The National Investigation Agency (NIA) has registered a case to investigate alleged funding of Khalistani terrorist groups abroad for organising on-ground campaigns, and demonstrations outside Indian missions in the UK, the US, Canada, Germany and other countries, people familiar with the development said.
According to the case registered last week, Khalistani elements based in India are also receiving funds through non-governmental organisations (NGOs), the people added, requesting anonymity.
The agency has named as accused US-based Gurpatwant Singh Pannun, UK- based Paramjit Singh Pamma and Canada resident Hardeep Singh Nijjar who, under the banner of Sikhs for Justice (SFJ), are collecting funds for a rebellion against the Indian government, according to the first information report (FIR).
NIA has, for the first time, given the addresses of the three: Pannun (167-05, Powel Boulevard, Unit-22 White Stone, New York), Pamma (41, Bowden Road, Smethwick, UK) and Nijjar (8193, 143-A Street, Surrey BC, Canada and 1418, 142 Street, 72 Avenue, BC Canada).
The people familiar with the development cited above said the fresh FIR will empower NIA to investigate SFJ's activities in various countries. If required, an NIA team may even visit these countries soon to probe the source of funding of the Khalistani groups.
This is NIA's second FIR for conducting an investigation abroad after an amendment to the NIA Act last year that empowered the agency to probe terror activities against Indians and Indian interests overseas. Earlier this year, the agency filed a case to investigate a terror attack on a gurdwara in Kabul on March 25 in which 27 Sikh devotees, including an Indian, were killed.
According to the latest FIR, "as part of the conspiracy, huge funds are being collected abroad for on-ground campaign and propaganda against government of India including staging demonstrations outside Indian missions in the US, the UK, Germany, Canada and so forth. These campaigns are being spearheaded by designated terrorists Gurpatwant Singh Pannun, Paramjit Singh Pamma, Hardeep Singh Nijjar and others". HT has reviewed a copy of the FIR.
"It has also been learnt that large amounts so collected are being sent through NGOs to pro-Khalistani elements in India, to undertake terrorist acts and to strike terror in the people of India," the FIR said. It added: "SFJ leadership has planned large scale disruptive activities to damage government and private property and also disrupt supplies and essential services to the life of community of India".
For this, the agency said, SFJ and other pro-Khalistani elements, through an incessant social media campaign and otherwise, are radicalising and recruiting impressionable young people to campaign for and carry out terrorist acts for the creation of a separate nation of Khalistan.
Earlier this month, the central agency filed a charge-sheet against Pannun, Nijjar and Pamma along with 13 others in a separate 2019 case to investigate SFJ's role in India.
SFJ has been banned by the ministry of home affairs (MHA;) properties of Pannun, Nijjar and Pamma in India have been ordered to be seized.
Intelligence agencies have alerted the government that Pakistan is actively supporting their activities and providing them funds.
https://www.hindustantimes.com/india-news/nia-probing-khalistani-funding-for-protests-against-india-overseas/story-jWvN7ynH1iUBg6C9JEBQYI.html
--------
NIA raids 7 locations in Kerala in connection with terror outfit
Dec 22, 2020
The National Investigation Agency (NIA) on Tuesday conducted raids at seven locations in Thrissur and Kozhikkode districts of Kerala in connection with some absconding accused belonging to a terror outfit called Juna Al Aqsa.
In a release, the NIA said houses of seven people were being searched - Mohammad Faaz, Mohammad Ihthisham, Abdul Sammeh, Rayeez Rehiman, Nabeel Mohmmad, Mohammad Shaheen and Mohammad Ameer. All of them reportedly fled to Syria. The NIA had registered a case against them last year.
The NIA said that during the raids it seized nine mobile phones, fifteen SIM cards, an iPad, six laptops, three memory cards and various other documents. Before fleeing to Syria some of them also funded terror activities in the country and brainwashed many youngsters. In September, the agency had raided several locations in Ernakulam in Kerala and Murshidabad in West Bengal and arrested nine persons associated with the Al Qaeda.
https://www.hindustantimes.com/india-news/nia-raids-7-locations-in-kerala-in-connection-with-terror-outfit/story-9ZtJtg0IScz0bo2NdIL0gN.html
--------
'Love jihad': Etah couple still on the run, 14 relatives of accused in jail now after 8 more arrests
Dec 23, 2020
Agra: Eight more relatives of the 28-year-old Muslim man, on the run after being accused of "kidnapping and unlawfully converting" a Hindu woman to Islam, were on Tuesday booked and arrested. With the recent arrests, 14 members of Mohammad Javed's family, mostly distant relatives, are behind the bars in Etah.
Sources in local police said that the arrests were meant to "create pressure" on the absconding couple to turn themselves in. Police believed that the woman was somewhere in Delhi, while Javed was still in UP, constantly changing his location.
"Javed and his four close relatives are still absconding," a police officer said, adding that they will also be arrested soon. A reward of Rs 25,000 on each of the five men has also been announced.
The case under the UP's new anti-conversion law was filed on Thursday at Etah's Jalesar police station on the basis of a complaint filed by the woman's father, a local businessman.
According to police, the woman has been missing since November 17. But her family filed a case last Thursday when they received a letter by Javed's lawyer from Delhi purportedly informing about the woman's conversion and the subsequent marriage in a court.
The case was registered under IPC section 366 (kidnapping, abducting or inducing woman to compel her marriage, etc) and under the Uttar Pradesh Prohibition of Unlawful Conversion of Religion Ordinance, 2020.
Javed runs a cloth shop and is a neighbour of the woman.
Deputy superintendent of police Ram Niwas Singh said, "14 people have been arrested so far. Three police teams are trying to find the woman, and arrest the absconding accused."
Jalesar's station house officer (SHO) Krishna Pal Singh said, "Three persons were arrested on Saturday, and another three on Sunday. And eight more relatives were arrested on Tuesday. During the investigation, we found that they were in regular contact with the accused."
https://timesofindia.indiatimes.com/city/agra/love-jihad-etah-couple-still-on-the-run-14-relatives-of-accused-in-jail-now-after-8-more-arrests/articleshow/79879844.cms
--------
Delhi Cops To Trace Woman, Her Father Objects To Marriage With Muslim Man
December 22, 2020
New Delhi: The Delhi High Court has directed authorities concerned to make all-out efforts to trace and present before it a Hindu woman, who allegedly eloped with a Muslim labourer in November and got married in West Bengal.
A division bench of Justices Vipin Sanghi and Rajnish Bhatnagar had on December 18 expressed shock over the Delhi Police's casual approach in not registering an FIR on the complaint made by the girl's father and not verifying the Nikahnama.
"This is a complete dereliction of duty on the part of the SHO concerned," the bench had said. "We direct the State to make all-out efforts to produce woman since we cannot accept the statements attributed to her, at this stage, as her voluntary statements," it added.
Station House Officer (SHO), Naraina, who was also present during the hearing, said an FIR was not registered since the Nikahnama has been produced to show that Preeti Gupta had married Syed Mustafa. On a query, he said the Nikahnama could not be verified despite efforts.
"To satisfy our conscience, we would like that she be produced before us. In case the woman is traced, she shall be brought to Delhi, and kept at Nari Niketan at least for four days before the next date so that she is not under influence of either the petitioner or the persons with whom she is stated to have eloped and gone," the bench had said in its order.
The court was hearing a Habeas Corpus petition filed by a man to seek production of his daughter, who went missing on November 7. The plea said the petitioner's daughter appears to have been taken away in an organised manner. The plea said that the woman is a BTech.
Delhi Police has filed a status report on service of advance notice. As per the status report, it is claimed that the girl has married the Muslim man she has also informed her family members that she does not wish to be disturbed and that she is happy and safe, wherever she is.
Counsel for the petitioner stated that the family members should be granted police protection in the circumstances.
"We direct the SHO concerned to look into the aspect of threat assessment to the petitioner and family members and provide adequate security to them. The mobile phone number of the Beat Constable of the area shall be provided to the petitioner and family members, and any call received from them shall be attended to and actioned without any delay," the bench said.
PromotedListen to the latest songs, only on JioSaavn.com
The court also transferred the investigation to the AHTU, Crime Branch, forthwith on registration of the FIR. The court also asked to file a status report under the signatures of the DCP concerned and listed the matter for further hearing on January 4, 2021.
https://www.ndtv.com/delhi-news/delhi-cops-to-trace-woman-her-father-objects-to-marriage-with-muslim-man-2342226
--------
NIA searches 7 Kerala sites in Syria terror trail
Dec 23, 2020
NEW DELHI: The National Investigation Agency on Tuesday searched seven locations in Thrissur and Kozhikode districts of Kerala in connection with a case relating to a fugitive who is said to have joined proscribed terrorist organisation Jund Al Aqsa and is believed to be in Syria. The houses searched belong to seven Keralites who, while being in Qatar till early-2019, were in contact with accused fugitive Sidhikul Akbar and had provided him funds.
The seven Keralites are Mohammed Faaz, Mohammed Ihthisham, Abdul Sameeh, Rayees Rehiman, Nabeel Mohammed, Mohamed Shaheen and Mohammed Ameer. During searches, nine mobile phones, 15 SIM cards, one iPad, six laptops, three memory cards and various documents were seized from their homes.
The relevant case was originally registered suo-motu by NIA on January 9, 2019 against six accused persons namely Hashir Mohammed, native of Ernakulam district, Kerala; Sidhikul Akbar, native of Malappuram district, Kerala; Muhammed Irfan, native of Kannur district, Kerala; Thaha Mohammed, native of Shimoga district, Karnataka; Sultan Abdulla native of Kozhikode district, Kerala and Fayez Farooq, native of Thrissur district, Kerala, who all, while being in Qatar had conspired from 2013 onwards, conducted preparations or travelled to Syria and joined the proscribed terrorist outfits Jund Al Aqsa or Jabhat AL Nusrah.
NIA said that investigation had revealed that Mohammed Faaz, Mohammed Ihthisham, Abdul Sameeh, Rayees Rehiman, Nabeel Mohammed, Mohammed Shaheen and Mohammed Ameer, while being in Qatar till early-2019, were in contact with the accused Sidhikul Akbar and had provided funds to the fugitive based in Syria.
https://timesofindia.indiatimes.com/india/nia-searches-7-kerala-sites-in-syria-terror-trail/articleshow/79900792.cms
--------
FBI tip leads to arrest of Jammu and Kashmir man for 'sex racket targeting US kids'
Dec 23, 2020
NEW DELHI: Based on information received from Federal Bureau of Investigation, the CBI has arrested a 35-year-old man from Srinagar on charges of running an online child abuse racket from India, targeting minors living in USA.
The suspect, Niyaz Ahmed Mir, uploaded pornographic videos and images over the dark web for financial gains and was also involved in direct communication with many minors in USA, officials said. He was allegedly running the racket with his US-based wife, Tamara Stanley, who was involved in a "master-slave relationship" with her husband, the agency said.
On Mir's directions, she allegedly exploited minors, recorded these abuses and sent them to him through multimedia messages and emails, officials said.
Stanley, it has been learnt, was arrested on June 25 in an ongoing cyber crime probe which kicked off in March on a complaint received by the police about an Indian national and Stanley having sexually exploited a teenage girl. She is lodged at the federal detention center at SeaTac, Washington, and was investigated by the FBI.
Sources said that the couple was accused of subjecting at least five minors to abuse apart from recording and streaming the act. There are allegations pertaining to blackmail wherein they allegedly shared explicit images of the children with their family if they refused to comply.
In Stanley's case, the investigators had obtained a judicially authorised search warrant for her email account and its review had revealed sexually explicit images. The agency tracked down his whereabouts and placed him under arrest. CBI's special unit conducted searches at Mir's premises. The CBI booked Mir under sections of the Pocso Act and IT Act. He was produced before a Srinagar court on Tuesday.
https://timesofindia.indiatimes.com/india/fbi-tip-leads-to-arrest-of-jammu-and-kashmir-man-for-sex-racket-targeting-us-kids/articleshow/79895579.cms
--------
Muslim 'groom' on run, 8 more kin held
Dec 23, 2020
AGRA: Eight more relatives of the 28-year-old Muslim man, on the run after being accused of "kidnapping and unlawfully converting" a Hindu woman to Islam, were on Tuesday booked and arrested. With the recent arrests, 14 members of Mohammad Javed's family, mostly distant relatives, are behind the bars in Etah.
Sources in local police said that the arrests were meant to "create pressure" on the absconding couple to turn themselves in. Police believed that the woman was somewhere in Delhi, while Javed was still in UP, constantly changing his location. "Javed and his four close relatives are still absconding," a police officer said, adding that they will also be arrested soon.
A reward of 25,000 on each of the five men has also been announced. The case under the UP's new anti-conversion law was filed on Thursday at Etah's Jalesar police station on the basis of a complaint filed by the woman's father, a local businessman.
According to police, the woman has been missing since November 17. But her family filed a case last Thursday when they received a letter by Javed's lawyer from Delhi purportedly informing about the woman's conversion and the subsequent marriage in a court.
The case was registered under IPC section 366 (kidnapping, abducting or inducing woman to compel her marriage, etc) and under the Uttar Pradesh Prohibition of Unlawful Conversion of Religion Ordinance, 2020.
Deputy superintendent of police Ram Niwas Singh said, "14 people have been arrested so far. Three police teams are trying to find the woman, and arrest the absconding accused."
https://timesofindia.indiatimes.com/india/muslim-groom-on-run-8-more-kin-held/articleshow/79897623.cms
--------
Pakistan
10 'terrorists' killed in Awaran
Saleem Shahid
23 Dec 2020
QUETTA: At least 10 suspected terrorists have been killed in a gun battle with security forces during an intelligence-based operation in the Awaran area of Balochistan.
"These terrorists were involved in firing on security forces, which resulted in martyrdom of Lance Naik Mohammad Iqbal on Dec 20 in the Awaran area," the Inter-Services Public Relations (ISPR) said on Tuesday in a statement.
It said security forces conducted the operation against a terrorist hideout in Gwargo, Awaran. The ISPR said as soon as security forces cordoned off the area, terrorists opened fire and tried to flee the scene.
In an intense exchange of fire 10 terrorists were killed, it said, adding that during search a cache of arms and ammunition was recovered from the hideout.
APP adds: Lance Naik Mohammad Iqbal of the Baloch Regiment, who embraced martyrdom in the line of duty on Sunday in Awaran, was laid to rest on Tuesday with full military honours in his native town in Kot Addu, Muzaffargarh district.
Mohammad Iqbal got wounded during a search operation in Awaran in firing by terrorists. He was taken to the Combined Military Hospital in Karachi, but could not survive.
The funeral prayers for the martyred soldier were held at Government High School in Kot Addu and later at his native village. A large number of civil and military officers attended the funeral prayers.
https://www.dawn.com/news/1597317/10-terrorists-killed-in-awaran
--------
India's aggression to get befitting response: Bajwa
Tariq Naqash
23 Dec 2020
MUZAFFARABAD: Chief of the Army Staff (COAS) Gen Qamar Javed Bajwa on Tuesday warned the Indian army that it would always get a befitting response to any "misadventure or aggression" from across the divide.
The note of caution by Gen Bajwa came during his visit to the army positions in unspecified snowbound forward areas along the Line of Control (LoC) in Azad Jammu and Kashmir (AJK), hours after a woman was killed and two other civilians, including a minor boy, were injured as a result of "unprovoked" ceasefire violations by the Indian army.
According to a statement issued by the Inter-Services Public Relations, the COAS was briefed about the latest situation, particularly ceasefire violations by the Indian army deliberately targeting innocent civilians along the LoC, and the recent targeting of a United Nations vehicle by Indian troops against international norms and conventions.
"Indian provocations, particularly recent targeting of the UNMOGIP vehicles, are [a] threat to regional peace and stability," observed the army chief on the occasion.
Woman killed, two other civilians injured in shelling from across LoC
On Friday, Indian troops had deliberately fired upon a UN vehicle, carrying two military observers on a routine monitoring mission in AJK's Poonch district, in what was described by the Foreign Office spokesperson as a "reprehensible act, indicative of a new low in the conduct of Indian army".
According to the Ministry of Foreign Affairs website, Pakistan has taken up this issue with the UN, urging it to initiate a transparent investigation into the incident.
The army chief vowed that Pakistan Army would take measures to protect innocent civilians along the LoC and defend honour, dignity and territorial integrity of the motherland at any cost.
Pictures and a video clip released by the army's media affairs wing showed Gen Bajwa and other senior military commanders trudging through the pathways carved out in the snowcapped forward locations.
After attending the briefing indoors, Gen Bajwa addressed the soldiers in the open. In the video clip, the soldiers, who had been lined up in accordance with the standard operating procedures for Covid-19, were heard vociferously shouting the slogan of Pakistan Zindabad (Long Live Pakistan).
In one picture, the COAS was seen interacting with a soldier, with the former's hand on the latter's shoulder.
Earlier on his arrival, Gen Bajwa was received at the LoC by Rawalpindi Corps Commander Lt Gen Azhar Abbas.
Earlier in the day, AJK officials said, Indian troops resorted to heavy shelling in Goi sector of Kotli district and adjacent areas of Poonch district at about 9am "without any provocation, using mortars and heavy weapons and targeting civilian populations".
The shelling continued for many hours, initially without any pause and later with intervals, leaving 42-year-old Khadija Bibi, wife of Abdul Rehman, dead in Janjorra village and 18-year-old Aneela Pervez critically injured in Goi Barmoch village of Kotli district. An eight-year-old boy, Nayab Ramzan, was critically injured in Darra Sher Khan village of Poonch district.
Both injured were shifted to the District Headquarters Hospital, Kotli.
The shelling also caused material losses to the villagers in the affected areas, as at least seven houses were damaged and five cattle heads killed, officials said, adding that in many villages it burnt dried hay piled by villagers in the fields.
The heavily militarised LoC has been constantly witnessing ceasefire violations in a serious breach of a truce agreement signed by the armies of India and Pakistan in Nov 2003.
According to Saeed Qureshi, a senior official at AJK's disaster management body, as many as 31 civilians have lost their lives and 260 others suffered injuries in different areas along the LoC in the current year due to such violations by the Indian army.
Meanwhile, AJK Prime Minister Raja Farooq Haider took to Twitter to condemn the civilian casualties at the hands of Indian army.
"No let-up in unrelenting bloodletting at the Ceasefire Line, as one more innocent civilian dies and another two, including a young boy, suffer wounds on my side today at the hands of the bestial Indian Army. I wonder what else will jolt the conscience of the UN & the int'l community?" he tweeted.
In a statement from Islamabad, AJK President Masood Khan said that despite exercise of maximum restraint by the Pakistan Army, Indian forces had been continuing aggression along the LoC by targeting the civilian population, in their failed attempts to divert world attention from inside the occupied territory.
https://www.dawn.com/news/1597325/indias-aggression-to-get-befitting-response-bajwa
--------
Political figures visit Pims, express solidarity with protesters
23 Dec 2020
ISLAMABAD: A large number of politicians, representatives of trade unions and traders, doctors and medical students on Tuesday reached Pakistan Institute of Medical Sciences (Pims) to express solidarity with the employees protesting against alleged privatisation of the hospital.
Last month, President Dr Arif Alvi promulgated the Medical Teaching Institution (MTI) Ordinance under which the hospital will be run through a board of governors (BoG).
According to the ordinance, the BoG will deal with all affairs of Pims once it becomes an MTI. The BoG members have been appointed and notified by the Ministry of National Health Services (NHS) on the recommendation of a search and nomination council.
They also held a meeting and elected Dr Hamayun Mahmand as the chairman of the BoG. The BoG has overall superintendence and control over the functions of the hospital.
Aftab Sherpao says he will oppose making hospital a corporate body both inside and outside parliament
However, the employees have been protesting and demanding withdrawal of the ordinance. They have suspended all services except in the emergency and Covid-19 wards.
On Tuesday, former interior minister Aftab Sherpao visited Pims and announced that he will oppose making Pims a corporate body both inside and outside parliament.
He appreciated the services of Pims doctors and staff and said he was indebted to the hospital employees for their services to his son who was injured in a blast in 2008.
Former PML-N MNA Anjum Aqeel Khan said his party will stand against the ordinance and will support the staff of Pims at every platform.
A political worker of PML-N, Raja Waqar Mumtaz, vowed to bring his workers to join the march if the protesters march towards D- Chowk or Banigala.
Jamiat Ulema-i-Islam (F) MNA Aagha Shahi assured the Pims employees of his full support and said his party will resist the ordinance at every forum.
Similarly, leaders of Awami National Party and 22 organisations of federal employees met the protesters at Pims to show solidarity with them. Grand Health Alliance (GHA) Chairman Dr Asfandyar Khan while announcing the future strategy said it will include making a human chain, visiting all sectors of Islamabad for public awareness and then holding a protest outside parliament during the forthcoming session of the Senate starting from Dec 30.
https://www.dawn.com/news/1597305/political-figures-visit-pims-express-solidarity-with-protesters
--------
Assets of Shehbaz's wife, others attached, court told
23 Dec 2020
LAHORE: The National Accountability Bureau (NAB) on Tuesday told an accountability court that the assets owned by the wife of Leader of Opposition in National Assembly Shehbaz Sharif and three others had been attached for being absconders in the reference of money laundering and illegal assets.
A prosecutor of the NAB submitted a compliance report before the court about the completion of the process for the attachment of the properties of the absconders under section 88 of CrPC.
Other absconders include Shehbaz's son Suleman, daughter Rabia Imran and son-in-law Haroon Yousaf.
Three prosecution witnesses testify in Ashiana case
The jail officials also produced Shehbaz and his son Hamza, the leader of opposition in Punjab Assembly, before the court.
The counsel of Shehbaz cross-examined a prosecution witness and the court summoned more witnesses on Jan 4.
Mr Shehbaz complained to the court about the non-provision of the medical facility he required for being a cancer patient. He said his treatment had been delayed at the behest of the government.
Presiding Judge Jawadul Hassan directed him to file a separate application in this regard which would be decided as per the law.
Another accountability court testified three prosecution witnesses in Ashiana-i-Iqbal Housing Scheme reference against Shehbaz, former principal to prime minister Fawad Hassan Fawad, former director general of Lahore Development Authority Ahad Cheema and others.
In this case, Shehbaz had been exempted from personal hearing in the trial.
CONVICTION:An anti-terrorism court on Tuesday convicted a leader of Jamatud Dawa (JuD) in one more case of terror financing registered by the Counter Terrorism Department (CTD).
ATC-III Presiding Judge Ijaz Ahmad Buttar handed down 15-year-and-six-month imprisonment to Prof Zafar Iqbal in FIR No 21 of 2019.
The CTD had registered as many as 41 FIRs against the leaders of the JuD in different cities. The trial courts have so far decided 27 cases.
https://www.dawn.com/news/1597272/assets-of-shehbazs-wife-others-attached-court-told
--------
Europe
German White Supremacist Is Sentenced to Life for Synagogue Attack
By Melissa Eddy
Dec. 21, 2020
MAGDEBURG, Germany — A white supremacist who live-streamed his efforts to blast his way into a synagogue in Germany last year on the holiest day on the Jewish calendar, failing to cause widespread bloodshed only because he could not breach a heavy wooden door, was sentenced on Monday to life in prison.
Two people were killed outside the synagogue in Halle, in eastern Germany, during the attack on Oct. 9, 2019. In convicting the assailant of murder and attempted murder, the presiding judge, Ursula Mertens, said that the effort to kill the 51 people inside as they observed Yom Kippur had been "despicable, cowardly and inhuman."
The attacker, Stephan Balliet, a 28-year-old German nationalist, stood motionless as the judge read the sentence. He had confessed to the attack, some of which he had filmed with a camera and streamed live over the internet.
Although the streamed assault attracted little attention at the time, downloads of it have since been widely shared among like-minded individuals on the far right, an expert witness told the court.
That was the ultimate goal of the defendant, who had also hoped to use the trial as an opportunity to expound on his hatred for Jews, Muslims, women and others whom he viewed as a threat to himself and to white, German society, the judge said.
One person who was wounded, an immigrant from Tunisia, was targeted "in a cowardly, perfidious way, based on his appearance," the judge said.
Throughout the five months of the trial, Judge Mertens sought to rein in the defendant, intervening when he made disparaging remarks or denied the Holocaust. In reading the court's findings, she repeatedly made clear her disdain, pointing out when his victims had been productive members of society who had held down jobs, adding, "unlike the defendant."
In the video, which was presented as evidence to the court, the attacker could be seen killing a 40-year-old woman who had spoken to him while he tried to storm the synagogue. After failing to achieve his initial target, he went to a nearby kebab shop, where he killed a 20-year-old German man, whom he believed to be a Muslim. In testimony, he told the court he considered himself "a failure," because he had only succeeded in killing Germans.
The court followed federal prosecutors' arguments that he should receive the maximum sentence possible for carrying out what one prosecutor, Kai Lohse, called the country's "most despicable act of anti-Semitism since World War II." Mr. Balliet will not be eligible for parole, guaranteeing that he will spend the rest of his life in prison.
"You showed no indication of remorse. On the contrary, you repeatedly made clear that you wanted to continue your fight," the judge said, explaining the decision for the severity of the sentence. "Consequently, we have decided that society must be protected from you."
At a time when Germany is struggling to come to terms with the extent of far-right extremism within the ranks of its own security services and police, the trial revealed how little its highest-level investigators know about the darkest corners of the digital sphere where white terrorists gather and plot violence.
"Luckily, none of the visitors of the synagogue suffered physical injuries," the judge said, in detailing the reasons for her ruling. She noted the danger posed to society by the attacker, because of his anti-Semitic, racist and misogynist attitudes, along with the arsenal of weapons he loaded into the car that he drove into the city.
"He put 51 people in danger because he knowingly planned this location and time" to carry out the attack, she said. "Therefore there remains no question about a sentence of life."
Survivors of the attack, many of them younger Jews who had traveled to Halle to observe Yom Kippur with the local community, were among the 45 co-plaintiffs who took part in the trial. Many used their participation, which allowed them to question witnesses and the defendant, to prevent him from using the proceedings to promote his far-right ideology.
Much in the same way that dozens of women who were abused by Larry Nassar, a former team doctor for the United States national gymnastics team, used his trial in a Michigan court in 2018 to break the silence about sexual abuse, the younger Jews used their opportunity to speak in the courtroom to challenge Germans to confront the threat posed by persistent anti-Semitism and racism.
"None of the hate-filled conspiracies that this man has voiced are new," Talya Feldman, who survived the attack on the synagogue, said in her closing statement this month. "We've heard them all before. And we know where they lead. We know what happens when this propaganda and this speech goes unchecked. Germany knows it. I know it."
During questioning from the co-plaintiffs, investigators from the Federal Criminal Office acknowledged that they did not understand how international networks of white supremacists operated.
Jessica Wax-Edwards, in a written closing statement by the co-plaintiffs, said: "This trial could have shed light on the global networks of right-wing extremism that continue to operate within Germany. It could have helped us, as a society to formulate a response to extremist violence, a response that goes beyond 'never again'."
"It is happening again and again and again and these are not isolated incidents — though they are treated as such," she added.
They also sought to deflect attention from the gunman, who repeatedly sought to disparage the Holocaust, make racist comments or provoke the co-plaintiffs, as he did in the final moments of the hearing.
After he stood up to be escorted from the courtroom, he lobbed what appeared to be a roll of papers toward the co-plaintiffs and prosecutors seated opposite him. The swift action brought a gasp from those inside the courtroom, as four heavily armed bailiffs tackled him and escorted him out.
Afterward, some of the co-plaintiffs and their lawyers gathered in a park across the street from the courtroom for a rally to show solidarity with one another and the victims. Many expressed frustration that the court had not used the trial to delve deeper into the issues they had sought to raise.
"Even though he was found guilty, today is not a day when anyone can be clapping themselves on the back," Naomi Henkel-Guembel, who survived the attack on the synagogue, told the rally.
"Least of all, liberal Germans who say or do nothing when they hear anti-Semitic remarks," she said. "We, as a society, must show courage."
https://www.nytimes.com/2020/12/21/world/europe/germany-synagogue-attack.html?utm_source=iterable&utm_medium=email&utm_campaign=1844928_
--------
How the US and Europe quietly share data to prevent terrorist attacks
12/21/20
Since the Second World War, our alliance with the democratic nations of Europe has been the fulcrum of America's global security posture. Intelligence and counterterrorism cooperation form an important part of this partnership.
My agency, the U.S. government's Privacy and Civil Liberties Oversight Board, recently concluded a three-year review of a program that fits squarely within this tradition of intelligence cooperation: the Terrorist Finance Tracking Program, known as TFTP.
The program relies on data from SWIFT, which provides secure financial messaging services to banks around the world. Much of TFTP's SWIFT data comes from U.S. sources. Some, however, comes from Europe.
Understanding why requires a bit of background on SWIFT's geographic arrangements. Normally, SWIFT messages for EU banks would stay in Europe, at data centers in the Netherlands and Switzerland. TFTP is an exception. Under a U.S.-EU agreement, SWIFT provides some European data to the U.S. Treasury.
What happens next illustrates the cooperative arrangement at the heart of TFTP. Europol, the EU police agency, sends terrorism-related search requests to Treasury. Treasury runs those searches against the SWIFT data and sends back the results.
The searches that Treasury runs for European partners are a major element of TFTP. A review of searches over a recent 35-month period found that more than 40 percent of the total number of searches were run in response to requests from Europol or EU member states.
TFTP searches have proven very useful for counterterrorism in Europe. From 2016 to 2018, Treasury shared more than 80,000 individual TFTP leads with EU authorities. Leads have been shared in response to many of the most infamous terrorist plots against European countries in recent memory, including the 2015 attacks in Paris and the 2011 attacks in Norway.
After the Norway attacks, TFTP information helped European investigators identify, within hours, the channels through which the attacker moved the funds used for the attacks. Based on that intelligence, Finnish authorities were able to identify and arrest a person pursuing similar goals before he was able to strike.
The bottom line is that TFTP, though funded and operated by the United States, provides a steady stream of valuable intelligence to EU member states. This sharing advances both sides' interests and helps defend our shared values.
The program also includes various privacy safeguards. One in particular bears mention: An EU official, known as a "scrutineer," is posted to the U.S. Treasury, where the scrutineer reviews TFTP searches and can block any that he or she believes violate the program's rules. This level of access and authority for a foreign official illustrates the depth of cooperation built into TFTP.
Despite TFTP's successes, however, EU officials have repeatedly raised concerns about the program's effect on privacy. Some members of the European Parliament have called for the program to be scrapped. Their criticisms align with other efforts to end transfers of European data to the United States.
Privacy questions surrounding TFTP are legitimate and important. Our Board chose to conduct a multi-year review of this program because we agree that this type of collection requires robust privacy safeguards.
The problem is that the tenor and direction of some criticisms imply that TFTP is a unilateral American project. Not so. The program's unusual structure — with the U.S. Treasury operating the program, but running European-provided search terms against European-provided data — should not obscure that TFTP is a truly cooperative arrangement that works well for both sides.
EU officials, to their credit, have recognized this. In 2013, the EU Commissioner for Home Affairs concluded that replacing TFTP with an EU system "would be expensive and demanding on resources to put in place and maintain." An EU replacement for TFTP — which would have kept the European data in Europe, the goal of many privacy campaigners — never made it to the drawing board. Successive reviews conducted by the EU have acknowledged the program's benefits for public safety.
TFTP illuminates much that transatlantic debates over data privacy too often obscure. Both sides seek to balance security and privacy, even if our legal systems describe the results of that balancing differently. Both sides care about privacy, but neither treats it as absolute: European governments, like the United States, collect and use data to protect public safety. Finally, both sides agree that programs like TFTP require rigorous, independent oversight.
TFTP also suggests that new forms of cooperation offer the best path forward for resolving transatlantic disputes about data privacy. At a time when privacy debates are roiling transatlantic commerce, TFTP is a needed reminder of the rewards of working together.
Adam Klein is chairman of the Privacy and Civil Liberties Oversight Board, an independent executive branch agency tasked with ensuring that efforts to protect the U.S. from terrorism appropriately safeguard privacy and civil liberties.
https://thehill.com/blogs/congress-blog/homeland-security/531152-how-the-us-and-europe-quietly-share-data-to-prevent?utm_source=iterable&utm_medium=email&utm_campaign=1844928_
--------
Anti-Semitic extremists don't deserve a platform
Hans Pfeifer
21.12.2020
The purpose of a trial is to ascertain whether a suspect is guilty of a crime and to hand down an appropriate punishment. Naturally, court cases examine a suspect's character. This largely determines the sentencing.
Trials centering on politically motivated crimes often put significant emotional strain on the victims and their loved ones. Perpetrators frequently downplay their actions in court, or, worse yet, seek the limelight and boast of their gruesome crimes. Many victims say that kind of behavior is difficult to endure.
Anti-Semitic propaganda
The trial of Stephan B., who has now been found guilty of having perpetrated the deadly anti-Semitic Halle terror attack, is no exception. He is a right-wing extremist yearning for attention. After all, Stephan B. streamed his attack and the murders on social media. In court, he capitalized on the attention afforded to him to spread anti-Semitic propaganda and deny the Holocaust.
The presiding judge, however, endeavored to limit his chance to spout anti-Semitic, racist and far-right bile.
She granted ample to time to the victims of his actions, and their loved ones, to publicly talk about their pain and deep-rooted fear of further anti-Semitic crimes— and to express their outrage over how insensitive and incompetent German police have acted.
Victims are finally being heard
This approach marks a major change in Germany. The victims of right-wing violence are becoming more visible — their voices are being amplified, they are appearing as joint plaintiffs and taking to Facebook, Twitter and YouTube to share their views. Many have joined forces to create a stronger, louder voice in an effort to shake up an often indifferent mainstream society.
With their sense of security undermined, victims of anti-Semitic and racist crimes often feel persistent fear. German police and the judiciary must take this fear seriously. Not doing so would be fatal. These victims need the help and protection of the German state, that is their moral right. But numerous moving testimonies by the victims and their loved ones in court make clear that, unfortunately, Germany still has a long way to go.
https://www.dw.com/en/opinion-anti-semitic-extremists-dont-deserve-a-platform/a-56012971?utm_source=iterable&utm_medium=email&utm_campaign=1844928_
--------
Germany against arms embargo on Turkey
Cuneyt Karadag
22.12.2020
BERLIN
Germany is against Greece's demands of imposing an arms embargo on Turkey due to tension in the Eastern Mediterranean, the German foreign minister said Tuesday.
Heiko Maas told the DPA news agency that he finds the arms embargo on Turkey "strategically incorrect".
It is not easy to do this to a NATO member, he said, adding that Turkey easily purchased missiles from Russia when it could not get them from the US.
Sharing his hopes that the dispute in the Eastern Mediterranean could be solved through diplomatic channels, Maas said: "Of course, we continue to believe that there is a solution to the conflict and that we do not have to permanently remove a NATO partner from the arms cooperation."
Greece called for an EU arms embargo on Turkey due to recent tensions in the Eastern Mediterranean ahead of the EU leaders summit on Dec. 10-11. But a majority of the European leaders opposed the idea of an arms embargo or economic sanctions, opting instead for a softer line.
Turkey, which has the longest continental coastline in the Eastern Mediterranean, has rejected maritime boundary claims of Greece and the Greek Cypriot administration, and stressed that these excessive claims violate the sovereign rights of both Turkey and the Turkish Cypriots.
Ankara has sent several drill ships in recent months to explore for energy resources in the Eastern Mediterranean, asserting its own rights in the region, as well as those of the Turkish Republic of Northern Cyprus.
Turkish leaders have repeatedly said Ankara is in favor of resolving all outstanding problems in the region through international law, good neighborly relations, dialogue, and negotiation.
https://www.aa.com.tr/en/europe/germany-against-arms-embargo-on-turkey/2084909
--------
Southeast Asia
Don't Accuse Others of Being Apostates Based on Rumours, Says Minister in the Prime Minister's Department
December 22, 2020
KUALA LUMPUR: Muslims in the country have been advised to stop accusing individuals of being apostates based only on rumours.
Referring to the issue of a Muslim woman who married an Indian hockey player, Minister in the Prime Minister's Department (Religious Affairs) Zulkifli Mohamad Al-Bakri said Article 160 of the Federal Constitution defines that a Malay is a person who professes the religion of Islam.
Hence, he said, one should not accuse a Malay of being an apostate based on unverified news.
The issue will soon be addressed by Johor religious authorities as it has also received the attention of the state's Sultan, Sultan Ibrahim Sultan Iskandar, Zulkifli told the Dewan Negara while winding up the debate on the Supply Bill 2021 today.
Earlier, the media reported that Indian hockey captain Manpreet Singh Pawar wed his Malaysian lover, Illi Najwa Saddique, in Mithapur, near Jalandhar, Punjab.
Manpreet, 28, wore a Punjabi wedding suit complete with turban, while Illi Najwa was attired in a Punjabi wedding dress when they exchanged vows. This raised questions among netizens about the woman's religious status.
Meanwhile, Zulkifli said the government had allocated RM100 million on a one-off basis next year for the purpose of maintaining and upgrading religious and tahfiz schools.
"The allocation will be channelled to institutions registered with state authorities, including those operated by individuals or by the private sector," he said, adding that the government would ensure Islamic education institutions in the country remain competitive and in line with mainstream education.
On the difference in SOPs implemented in mosques and suraus nationwide throughout the enforcement of the conditional movement control order, Zulkifli clarified that the SOPs were issued by the state mufti on the advice of the state's Security Council and Health Department.
The state government has the responsibility to consider the implementation of the SOPs based on the Covid-19 situation in the state, he added.
https://www.freemalaysiatoday.com/category/nation/2020/12/22/dont-accuse-others-of-being-apostates-based-on-rumours-says-minister/
--------
Malaysia secures 6.4m doses of COVID-19 vaccine to treat 40% of population
December 23, 2020
KUALA LUMPUR: The Malaysian government on Tuesday revealed that it had signed a deal to procure 6.4 million doses of AstraZeneca's coronavirus disease (COVID-19) vaccine which would cover 40 percent of the country's population.
In a televised announcement, Prime Minister Muhyiddin Yassin said the government was also in talks with China and Russia to secure further supplies to increase Malaysia's total vaccination coverage to 80 percent or 26.5 million of the population.
"Through all the negotiations and agreements that have been and will be signed, for now, the government will spend a total of $504.4 million," Muhyiddin added.
The government had previously inked a preliminary agreement with COVAX and Pfizer facilities for the procurement of COVID-19 vaccines which will be administered to 30 percent of the population.
Public health experts, however, questioned the usage and administration of the vaccines acquired by the government.
Dr. Lim Chee Han, a senior researcher at the Third World Network, an international research and advocacy organization based in Malaysia, told Arab News that although the newly acquired vaccines would cover a large proportion of the population, their administration would still rely on regulatory approvals by the National Pharmaceutical Regulatory Agency (NPRA) and the Ministry of Health.
"We wouldn't know how the government is going to distribute the various vaccine brands based on demographics, region, and state across Malaysia," Lim said.
He pointed out that there could be some ethical implications due to differences in the effectiveness and side effects of the vaccine.
"Any vaccine which goes wrong would have negative consequences to the population, fueling the deep suspicion of anti-vaxxers," he added.
Muhyiddin, however, in his announcement assured the public that the vaccines were safe.
"To convince the people that the vaccine obtained is safe and effective, I will be among the first individuals to receive the COVID-19 vaccination followed by front liners, and high-risk target groups such as the elderly, and those with non-communicable diseases and chronic respiratory diseases," he said.
The premier added that the country's special vaccine supply guarantee committee, established and co-chaired by the Ministry of Health and Ministry of Science, Technology, and Innovation, would ensure vaccine supplies could be secured immediately.
"The government expects the first supply of 1 million doses of vaccine from Pfizer to be received and will be given to the target group as early as February 2021."
The PM said that the NPRA and Ministry of Health would continue to monitor the effectiveness and safety of vaccines after they had been obtained and used.
Last Friday, Malaysia's King Sultan Abdullah arrived in the UAE for a five-day visit at the invitation of Crown Prince Sheikh Mohammed bin Zayed Al-Nahyan, during which Abu Dhabi donated 500,000 doses of a COVID-19 vaccine to the southeast Asian country.
https://www.arabnews.com/node/1781431/world
--------
Africa
Nigeria Jihadists Kill Five Soldiers, Kidnap Dozens of Civilians
DECEMBER 21, 2020
Five Nigerian soldiers were killed by Islamic State-aligned jihadists and dozens of civilians were kidnapped in a separate attack, military sources said Sunday, in the latest violence to grip the north of the country.
A military convoy was hit in northeast Borno state on Saturday, and militants also attacked a transport convoy in the same region a day before, abducting 35 people and killing one woman.
Nigeria's Boko Haram and a splinter group, the Islamic State West Africa Province (ISWAP), have killed 36,000 people and displaced around two million as part of a decade-long conflict.
Deadly attacks and kidnappings by jihadists in the northeast and criminal gangs in the northwest have intensified in recent weeks.
Saturday's attack on the military convoy took place outside of Mafa, 44 kilometers (27 miles) north of the regional capital Maiduguri.
"The terrorists fired an RPG (rocket-propelled grenade) on the convoy which hit one of the vehicles with five soldiers in it," one security source said. "All five were killed."
The insurgents seized two vehicles in the attack, said a second source who gave the same toll.
ISWAP split from the mainstream Boko Haram six years ago and rose to become a dominant group.
The jihadist group focuses on military targets, raiding bases, ambushing troops, and planting mines on the roads, but recently they have been attacking and abducting civilians.
Dozens were kidnapped late Friday by ISWAP militants at a fake checkpoint in Garin Kuturu village outside Jakana, 25 kilometers from Maiduguri.
"The ISWAP terrorists who were dressed in military uniform stopped the vehicles… Some of the passengers fled into the bush while 35 were taken hostage," a pro-government militia official said.
A woman was shot dead and several others were injured when the militants opened fire on those fleeing into the bush, he said.
Jakana, which lies along the 120-kilometer highway linking Maiduguri and Damaturu, the capital of neighboring Yobe state, is an ISWAP stronghold.
Abductions of civilians by the jihadists in the area have been on the rise, prompting increased military deployments which have failed to end the abductions.
Suicide Bomber
The attacks follow the killing of at least three people by Boko Haram on Saturday when a teenage girl blew herself up in a crowd in the town of Konduga, about 40 kilometers from Maiduguri.
The group, whose insurgency began in 2009, had already made headlines in recent weeks.
At the end of November, about 100 of its fighters slit the throats of at least 76 farmers working in a field not far from Maiduguri, the "most violent" attack against civilians this year, according to the UN.
Then on December 11 criminal gangs, known locally as bandits, abducted more than 300 children from a secondary school on behalf of Boko Haram in the northwest of the country.
The children were finally released on Friday after negotiations between the authorities and the criminal groups.
The mass abduction, which occurred hundreds of kilometers from Boko Haram's stronghold in the northeast, has raised fears of a territorial expansion of the jihadist group.
Alliance
Experts have warned that jihadists have been attempting to forge an alliance with criminal gangs in the northwest, who for the past decade have been terrorizing rural areas by raiding villages, stealing cattle, kidnapping for ransom, and burning homes after looting supplies.
Since 2011, the violence of these armed gangs has killed some 8,000 people.
In the face of increasing attacks, criticism of the government and of Nigerian President Muhammadu Buhari has intensified.
The 78-year-old head of state, who comes from the northwest region where the so-called bandits sow terror, was elected in 2015 on the promise of ending the jihadist insurgency in the northeast.
https://www.thedefensepost.com/2020/12/21/nigeria-jihadists-kill-five-soldiers/?utm_source=iterable&utm_medium=email&utm_campaign=1844928_
--------
Turkey authorizes 18-month extension of Libya troop deployment
22 December 2020
Turkey's parliament on Tuesday authorized an 18-month extension of its troop deployment in Libya in support of the the Government of National Accord (GNA) in Tripoli, the Anadolu state news agency reported.
Turkey's support GNA in Tripoli helped stave off an offensive by eastern Commander Khalifa Haftar in April 2019.
The sides struck a ceasefire agreement in October formally ending the fighting and setting the stage for elections at the end of next year.
Turkey's presence in Libya is linked to its broader interests in the eastern Mediterranean, where it is hunting for natural gas in disputed waters claimed by Cyprus in Greece.
Ankara struck an agreement with the GNA leadership in November 2019 that extended Turkey's maritime claims in the Mediterranean in exchange for military support.
Turkey's parliament authorized the first one-year troop deployment to Libya in January of this year.
https://english.alarabiya.net/en/News/north-africa/2020/12/22/Turkey-authorizes-18-month-extension-of-Libya-troop-deployment
--------
AFRICOM Sends Warning to Al-Shabaab as US Troops Begin Withdrawing from Somalia
21 Dec 2020
By Richard Sisk
The U.S. announced a plan over the weekend to begin withdrawing the estimated 800 American troops from Somalia by early January, but it came with a warning to the al-Shabaab insurgent group: "They should not test us."
"We remain committed to helping our African partners build a more secure future," Army Gen. Stephen Townsend, head of U.S. Africa Command (AFRICOM), said in a statement Saturday. "We also remain capable of striking al-Shabaab at the time and place of our choosing -- they should not test us."
Townsend did not call the exit of U.S. troops from Somalia a withdrawal, but rather the "directed re-positioning" of forces to other bases in East Africa, most likely to neighboring Kenya.
Read Next: You May Be One of the Many Veterans Getting a Big Bill from the VA Next Month
The continuing threat from al-Shabaab was evidenced a day before Townsend's announcement in a suicide attack in the central Somali town of Galkayo, which killed at least 10. Among those killed in the attack was Col. Mukhtar Abdi Aden, regional commander of Danab, the main Somali military unit trained by the U.S.
The attack came shortly before the arrival in Galkayo of Prime Minister Mohamed Hussein Roble to attend a political rally in a football stadium, according to Voice of America.
On orders of President Donald Trump, the Pentagon announced Dec. 4 that the "majority" of U.S. troops in Somalia, who had been on a counter-terror and train, advise and assist mission, would leave the Horn of Africa country.
"While a change in force posture, this action is not a change in U.S. policy," the Defense Department said in the unattributed statement. "We will continue to degrade violent extremist organizations that could threaten our homeland while ensuring we maintain our strategic advantage in great power competition [against the growing influence of China and Russia in Africa.]"
China has established its first overseas naval base in Djibouti, about a mile from AFRICOM's main base in East Africa. Russia earlier this month announced an agreement with Sudan to establish a naval base at Port Sudan.
The announcement of the Somalia withdrawal followed Trump's orders to reduce the number of U.S. troops in Afghanistan from 4,500 to 2,500, and in Iraq from 3,000 to 2,500, by Jan. 15.
The drawdown in Somalia also comes with AFRICOM not knowing where its headquarters will be in the coming year.
In June, Trump ordered the withdrawal of 9,500 troops from Germany, and then-Defense Secretary Mark Esper later increased the number to about 12,000. As part of the plan, AFRICOM was to move its headquarters out of Stuttgart, Germany, but the next location was not designated.
President-elect Joe Biden will have the authority to alter or reverse Trump's Germany troop withdrawal order with an executive order of his own once he takes office Jan. 20, but it is unclear whether he will do so.
In the announcement Saturday, Townsend said the withdrawal from Somalia will be called Operation Octave Quartz and be led by Joint Task Force-Quartz commanded by Air Force Maj. Gen. Dagvin Anderson, head of Special Operations Command-Africa (SOCAF).
"I have just returned from visiting [Anderson] at his forward headquarters in East Africa where I met with Dag and his commanders to review their posture and plans. JTF-Quartz is ready to go," Townsend said.
At an American Enterprise Institute forum in September, Anderson gave a detailed account of the daunting challenges ahead for SOCAF and AFRICOM.
He warned of the resilience of al-Qaida-linked al-Shabaab and other violent extremist organizations with avowed allegiance to the Islamic State across the Sahel in East and West Africa.
One of the difficulties in making the case for a continued U.S. military presence is in defining "why does Africa matter and explaining why do we care," Anderson said. "I think why we pay attention to this is because al-Qaida and Islamic State have both stated that they intend to attack and undermine the United States, whether that's directly to the homeland or it's U.S. interests abroad," he said.
The Islamic State lost much of its legitimacy after its defeats in Iraq and Syria, Anderson said. "And so what they're looking to do is, where do they find that legitimacy, where do they rebuild, and Africa provides them those opportunities," he said. "So we see them expanding out into the West -- Islamic State Grand Sahara in the Mali region. We see them in Islamic State West Africa, in northeastern Nigeria.
"But then, more disturbing to me," Anderson added, "[is that] we're seeing them as they expand down the eastern coast, the Swahili coast of Africa. And so we see them established in Somalia. We see them going down into Mozambique, in Tanzania. And we see that these affiliates continue to expand and leverage each other."
In Somalia, al-Shabaab has been largely contained to the lower Juba Valley, about 200 miles south of Mogadishu, he said.
The result has been the creation of "a bit of a de facto safe haven for them in that it's very difficult to get into that terrain and very difficult to get in there because of clan makeup, because of terrain itself, and just because of how they've kind of consolidated down there," Anderson said.
https://www.military.com/daily-news/2020/12/21/africom-sends-warning-al-shabab-us-troops-begin-withdrawing-somalia.html?utm_source=iterable&utm_medium=email&utm_campaign=1844928_
--------
Mideast
First Israel-Morocco flight takes off for Rabat to seal normalization deal
22 December 2020
An Israeli delegation has headed to Morocco to meet with the king and hammer out a normalization deal, less than a fortnight after the Tel Aviv regime and the North African country agreed to normalize relations in a deal brokered by the outgoing administration of US President Donald Trump.
On Tuesday, the envoys, led by national security adviser Meir Ben-Shabbat, boarded El Al Israel Airlines in the first direct commercial flight from Tel Aviv to Rabat.
The jet was painted with the Hebrew, Arabic and English words for "peace" and a palm-shaped Maghreb good-luck talisman.
The delegates were accompanied by Trump's advisor and son-in-law, Jared Kushner, the so-called architect of the recent normalization agreements with Israel.
The delegation is scheduled to spend less than a day in Morocco, holding high-level meetings with Moroccan officials, including King Muhammad VI, and sign bilateral and trilateral deals, including on aviation, tourism, health, water and agriculture, before returning to Israel.
Some US officials have suggested that an Israel-Morocco signing ceremony might be held at the White House before Trump steps down on January 20.
Israel and Morocco agreed on December 10 to normalize their relations, making the North African country the fourth Arab state since August to strike such a deal, the other three being the United Arab Emirates, Bahrain and Sudan.
As part of the agreement, Trump agreed to recognize Morocco's sovereignty over the desert region of Western Sahara, where a decades-old territorial dispute has pitted Morocco against the Algeria-backed and pro-independence Polisario Front.
"This is a sin and it doesn't serve the Palestinian people. The Israeli occupation uses every new normalization deal to increase its aggression against the Palestinian people and increase its settlement expansion," Hazem Qassem, a spokesman for Gaza-based Hamas resistance movement, said.
On September 15, Trump hosted a White House ceremony, where Israeli Prime Minister Benjamin Netanyahu signed normalization agreements with Emirati Foreign Minister Sheikh Abdullah bin Zayed Al Nahyan and Bahrain's Foreign Minister Abdullatif al-Zayani.
The US president announced on October 23 at the White House that Sudan and Israel had also agreed to normalize their relations.
There has been across-the-board condemnation from Palestinians, who view the deals as a betrayal of their cause to establish an independent state of Palestine, with East Jerusalem al-Quds as its capital.
https://www.presstv.com/Detail/2020/12/22/641277/First-Israel-Morocco-flight-takes-off-for-Rabat-to-seal-normalization-deal
--------
Iran's Top Security Official Underlines Necessity of US Pull-out from Region
2020-December-22
Shamkhani made the remarks in a tweet after meeting Afghanistan's National Security Advisor Hamdollah Mohib in Tehran on Tuesday.
"In meeting with Mr. Hamdollah Mohib, Afghanistan's National Security Advisor, the following points were emphasized: 1. The necessity for the US withdrawal from region 2. Afghanistan's special position for Iran 3. The need for the creation of necessary infrastructures to develop bilateral ties 4. Iran's firm support for Afghanistan's legal government 5. The necessity for cooperation to annihilate the ISIL," he wrote on his twitter page.
Earlier reports of the meeting between the two high-ranking officials said that Shamkhani has also stressed his country's firm resolve to take harsh revenge for the US assassination of former IRGC Quds Force Commander Lieutenant General Qassem Soleimani.
"The US has intensified its measures to foment insecurity in West Asia region in the past year and the climax of this behavior was the cowardly assassination of anti-terrorism commanders General Qassem Soleimani and Abu Mahdi al-Muhandis," Shamkhani said in a meeting with Mohib.
"The Islamic Republic of Iran is determined to take a harsh revenge from the masterminds and perpetrators of this historical crime to stop the US and its agents' continued terrorist and anti-security actions which stir tension in the region, and force them to leave the region," he stressed.
Shamkhani also warned of increased activities by the ISIL terrorist group in Afghanistan and its dangers for the country and the regional states, emphasizing the need for vigilance and cooperation of all countries to annihilate the terrorist group.
Mohib, for his part, lauded Iran's effective and constructive role to establish peace and stability in Afghanistan, declaring the Afghan government and nation's readiness to further expand ties and cooperation with Tehran.
https://www.farsnews.ir/en/news/13991002000746/Iran's-Tp-Secriy-Official-Underlines-Necessiy-f-US-Pll-frm-Regin
--------
Israel-Turkey relations could be on the brink of full normalization: Reports
Marco Ferrari
22 December 2020
Strained relations between Israel and Turkey could be reversed with diplomatic ties potentially normalized by March, said Turkey's presidential adviser on foreign affairs in a media report.
For the latest headlines, visit our Google News channel online or via the app.
The two countries' defense and energy industries would benefit from a deal, Voice of America cited Mesut Casin as saying in a report published on Monday.
"Turkey bought a lot of weapons from Israel. We can arrange this again. Turkey and Israel's defense industries can go ahead together," he said.
"Secondly, energy resources. They [Israel] discover oil and gas. Okay, Israel is 8 million people. Where can they sell this oil and gas? The biggest market is Turkey, and Turkey will be via a pipeline, the corridor to the European Union market."
Turkey and Israel once enjoyed close relations, but the relationship has been strained by events including Israel's 2010 raid of the Gaza-bound Mavi Mavara aid vessel in which nine Turkish nationals were killed.
More recently, Turkish president Tayyip Erdogan publicly opposed the United Arab Emirates' historic Abraham Accords deal, in which it became the first Gulf nation to normalize ties with Israel. Erdogan threatened to withdraw its ambassador from the United Arab Emirates over the move.
Several key areas of dispute will likely have to be addressed before relations are restored.
Erdogan, for example, opposes Israel's push to have Jerusalem internationally recognized as its capital.
Turkey also supports groups such as Hamas and the Muslim Brotherhood, which are considered terrorists by Israel.
https://english.alarabiya.net/en/News/middle-east/2020/12/22/Israel-Turkey-relations-could-be-on-the-brink-of-full-normalization-Reports
--------
Israeli army reinforces West Bank presence after Jewish settler's death
22 December 2020
Israel's army said Tuesday it would reinforce its presence in the occupied West Bank as tensions surge following the death of a Jewish settler there.
Esther Horgan, a 52-year-old mother of six and a French-Israeli dual national, was found dead on Monday near the Tal Menashe settlement in the north of the Palestinian territory.
Relatives said she had gone out jogging and never returned.
Israeli authorities are investigating the death following indications she was beaten to death.
No Israeli official has presented any evidence pointing to a Palestinian involvement in Horgan's death.
Reacting on Monday, Israeli Prime Minister Benjamin Netanyahu vowed that "security forces will apprehend the murderer as quickly as possible and we will settle accounts with him."
An official gag order has been issued for the investigation, barring police from commenting on any possible suspects.
Horgan was buried on Tuesday in Tal Menashe, with her body escorted to a local cemetery by tearful mourners, an AFP photographer said.
France, the country of Horgan's birth, has condemned her killing as a "heinous crime."
Those responsible "should be brought to justice," the French foreign ministry said.
Israel's army said in a statement Tuesday that it had "decided to reinforce the Judea and Samaria Division in order to enhance the defense of communities and routes in the region."
All Jewish settlements in the West Bank are regarded as illegal by much of the international community.
But the settler population has nevertheless grown in recent years.
There are currently some 450,000 Jewish settlers in the West Bank, living amid an estimated 2.8 million Palestinians.
Tensions between Palestinians and Jewish settlers in the West Bank frequently result in violence.
https://english.alarabiya.net/en/News/middle-east/2020/12/22/Palestinian-Israeli-conflict-Israeli-army-reinforces-West-Bank-presence-after-Jewish-settler-s-death
--------
Israeli parliament dissolves, triggering snap elections
23 December 2020
The Israeli parliament has dissolved over a budget row, triggering a fourth election in less than two years and presenting new challenges for Prime Minister Benjamin Netanyahu.
The dissolution of parliament, the Knesset, took place on Tuesday after the lawmakers rejected a bill to delay the budget deadline and salvage Netanyahu's fractured ruling coalition.
Netanyahu's main coalition partner and political rival, Benny Gantz, had earlier accused the premier of dishonesty and prioritizing his personal needs.
The regime is expected to hold snap general elections as early as March 23, with Netanyahu seeking re-election at a time that the coronavirus pandemic is raging and as his long-awaited corruption trial intensifies.
Some political analysts said the Israeli prime minster had hoped to use the budget dispute to force an election that would get him out of the power-sharing deal with Gantz. But they said Netanyahu had preferred a ballot in May or June, when a vaccination campaign currently underway could garner more voter support for him.
"If an election is forced upon us, I promise you that we will win," Netanyahu said in a televised speech on Tuesday, blaming Gantz for the early ballot.
"Netanyahu is taking us to an election for the sole purpose of not going to jail," Gantz wrote on Twitter, suggesting that Netanyahu had hoped for a new government to promote legislation quashing legal proceedings against him.
Weekly protests against Netanyahu and his cabinet have been held at intersections around the occupied territories for months, with protesters demanding their resignation over his corruption trials and his failure to combat novel coronavirus.
The 71-year-old, who is on trial for bribery, fraud and breach of trust, insists that authorities are "distorting justice" to force him out of office.
In September, in a move that critics said was an attempt to distract attentions from his handling of the COVID-19 pandemic, Netanyahu called for an "independent inquiry" into the investigators who brought corruption charges against him.
Netanyahu, whose corruption trial began in May and is set to resume in January, was sworn in for a fifth term this summer after striking a unity deal with Gantz.
https://www.presstv.com/Detail/2020/12/23/641327/Israeli-parliament-dissolved-budget-row-Benjamin-Netanyahu-snap-general-elections---
--------
Iran must stop evading its commitments under nuclear deal, says UN official
December 23, 2020
NEW YORK: Recent years in the Gulf have been characterized by rising tensions, "heated rhetoric and the heightened risk of miscalculations (that have) rendered efforts to address other regional conflicts more difficult," according to a top UN official.
During a briefing to the UN Security Council on Tuesday, Rosemary DiCarlo, the under-secretary-general for political and peacebuilding affairs, also called on the Iranian regime to refrain from further attempts to avoid its commitments under the 2015 Joint Comprehensive Plan of Action (JCPOA).
Commonly known as the Iran nuclear deal, it includes an agreement by Tehran to limit its nuclear research in exchange for sanctions relief. It was signed by the five permanent members of the Security Council (China, France, Russia, the UK and the US), plus Germany and the EU
DiCarlo was updating the Security Council on developments relating to Resolution 2231, which endorsed the nuclear deal and set out a process for monitoring its implementation.
She called on all parties to the deal to avoid any activities that might further escalate existing hostilities, and instead attempt to resolve their differences through the dispute-resolution mechanism contained within the JCPOA.
While she reiterated the support of UN Secretary-General Antonio Guterres for initiatives designed to facilitate trade and economic relations with Iran, especially during the pandemic, DiCarlo also called on Iran to address "concerns raised about its (arms-transfer) activities."
Resolution 2231 included a ban on the transfer of arms to or from Iran, which expired on Oct. 18 this year. After withdrawing the US from the JCPOA in 2018 and reimposing sanctions on Tehran, the Trump administration presented a draft resolution calling for an extension to the UN arms ban, but the Security Council voted it down.
The majority of council members also rejected a US request in August to reinstate all of the UN sanctions on Iran that were in place before the nuclear deal was signed, on the grounds that Tehran has violated many of the terms of the agreement. However, one of the requirements for initiating this so-called "snapback" mechanism is that the country doing so must be an active participant in the JCPOA, which the US no longer was.
"The reimposition by the US of all its national sanctions that had been lifted or waived pursuant to the (JCPOA) are contrary to the goals set out in the plan and in resolution 2231," said DiCarlo, adding that the majority of UN member states still support the nuclear deal.
Updating the council on two cases relating to arms transfers, Dicarlo said that Israel had provided information to the secretary-general and the Security Council about the continuing proliferation of advanced weaponry in Iran.
"Regarding Israeli information concerning four alleged Dehlavieh anti-tank guided missiles in Libya, the Secretariat was able to ascertain that one of the four missiles has characteristics consistent with the Iranian-produced Dehlavieh," she said. "Nevertheless, we were not able to determine if this missile was transferred to Libya and/or whether its transfer was inconsistent with the resolution."
Iran rejected these claims in a letter to the secretary-general.
DiCarlo also expressed regret at "steps taken by Iran since July 2019 to reduce some of its nuclear-related commitments under the (JCPOA)."
The deal includes a guarantee that officials from the UN-backed International Atomic Energy Agency (IAEA) will be granted access to Iranian nuclear sites and information about the nation's nuclear program. While Tehran has complied with some of these provisions, the IAEA reports that limits placed by the JCPOA on uranium enrichment have been exceeded. Low levels of enrichment required for generating nuclear power are allowed under the deal, but higher levels of enrichment needed for the development of nuclear weapons are not.
"It is essential that Iran refrains from further steps to reduce its commitments, and returns to full implementation of the (JCPOA)," said DiCarlo.
The Iranian parliament recently passed a bill that allows for the installation of advanced uranium-enrichment centrifuges and the expulsion of IAEA inspectors if the country fails to receive the economic benefits promised by the deal. Advanced centrifuges allow the enrichment of uranium to higher levels than are allowed under the deal.
This month, France, the UK and Germany said they were "deeply concerned" by the announcement. "If Iran is serious about preserving a space for diplomacy, it must not implement these steps," the three powers said in a joint statement.
The IAEA reported last month that Iran had begun operating advanced centrifuges at an underground site in Natanz.
President-elect Joe Biden has promised a US return to the JCPOA but hinted that negotiations will be required about Iran's missiles program and its disruptive regional activities. European signatories have also hinted as much.
Iran rejects any suggestion of further negotiations, insisting that the nuclear deal must be implemented as agreed in 2015.
https://www.arabnews.com/node/1781676/middle-east
--------
South Asia
Taliban Suffer Heavy Loss in MoD Operations
By Mohammad Haroon Alim
23 Dec 2020
Afghan Ministry of Defense stated on Wednesday, that 24 Taliban were killed in Maiwand and Zherai districts of Kandahar province.
The Taliban fighters were killed before attacking ANDSF positions in the region, MoD stated the militants were "planning to attack" the Afghan national defense force's positions.
Meanwhile MoD tweeted, 16 Taliban militants were killed and 11 others are injured as the defense forces showed retaliation over Taliban offensives in NAWA and Nad-Ali districts of Helmand province.
According to MOD, the Taliban planted 9 IEDs on the public roads which were later discovered and defused by the ANA
MoD tweeted "9 IEDs which were placed on public roads were discovered and defused by ANA during reciprocal operation".
In a separate incident, 2 Taliban affiliated members were killed and three others were wounded in the reciprocal attacks by the Afghan security forces in DOSHI district of Baghlan province on Tuesday night.
A large number of militant's ammunition and weapons were seized following the reciprocal attacks.
The same night in the Hesarak district of Nangarhar province, 5 Taliban were killed after they attacked ANDSF outposts, MoD said in a tweet.
This comes as Taliban attacks in Koh-Zor district of Herat province were repulsed by the ANA, resulting in 11 Taliban deaths and a large amount of their ammunition and weapons were also destroyed during ANA reciprocal offensives.
https://www.khaama.com/taliban-suffer-heavy-loss-in-mod-operations-55667744/
--------
FEFA CEO, Activist 'Yousuf Rashid' Shot Dead in Kabul
By Mohammad Haroon Alim
23 Dec 2020
Yousuf Rashid, CEO of Free and Fair Election Forum of Afghanistan (FEFA), was killed in an unknown gunmen assassination on Wednesday morning.
He is the latest victim in attacks on public figures in Afghanistan in the incident that took place in the Tani Kot area of PD7, Kabul.
Rashid's brother, confirmed to the media, that Yousuf has died of his wounds inflicted during the shootout.
He was murdered while leaving his home to work on Wednesday Morning, his driver is injured but survived the attack.
No group or individual claimed responsibility for the attack, suspects at large.
Earlier Today, one policeman was killed and two others were injured in an explosion in the PD12 of Kabul city on Wednesday morning.
Ferdows Faramarz, a spokesman for the Kabul Police HQ, told Khaama Press, that a Ranger-type vehicle had been targeted by a magnetic mine at around 06:55 am in the 12th district of Kabul city.
Faramarz added, that one police officer was killed and two others were injured in the blast.
https://www.khaama.com/fefa-ceo-yousuf-rashid-shot-dead-in-afghanistan-6776677/
--------
First Vice President: Chemical Fertilizer from Pakistan, 'Root Cause of Magnetic IED Blasts'
By Mohammad Haroon Alim
23 Dec 2020
Amrullah Saleh, the first vice president, said on Wednesday at 6:30 am meeting that the root cause of the increase in explosions and suicides in Kabul and other provinces is the smuggled exports of 15,000 to 20,000 tons of ammonium nitrate from Pakistan, the chemical material that plays a key role in making improvised explosive devices.
Saleh claimed that the explosives have been smuggled by Pakistan to the Afghan Taliban in 2020 and that each ton can make up to 50 explosive devices.
According to Saleh, improvised explosive devices use fewer industrial explosive materials, and its exports are sourced to Pakistan.
He said that most of the explosives are made of ammonium nitrate, a chemical fertilizer that has been banned in Afghanistan for decades.
"In our negotiations with the Pakistanis, we have repeatedly mentioned the ban on the export of these materials to Afghanistan," Saleh said.
This comes in a time that the explosion of magnetic mines and suicide attacks in Kabul and other provinces of the country has escalated.
Recently on Wednesday morning, a magnetic IED placed in a Police ranger-type vehicle exploded that killed a policeman and injured two others.
Kabul residents are concerned over daily explosions of magnetic IEDs and target killings.
https://www.khaama.com/first-vice-president-exported-chemical-material-from-pakistan-root-cause-of-magnetic-ied-blasts-56565444/
--------
Magnetic Mine Blast Claims 1, Injures 2 in Kabul
By Mohammad Haroon Alim
23 Dec 2020
At least one person is killed and two others were injured in an explosion in the PD12 of Kabul city on Wednesday morning.
Ferdows Faramarz, a spokesman for the Kabul Police HQ, told Khaama Press, that a Ranger-type vehicle had been targeted by a magnetic mine at around 06:55 am in the 12th district of Kabul city.
Faramarz added, that one police officer was killed and two others were injured in the blast.
The increase in the explosion of magnetic mines and suicide attacks in Kabul and other provinces has worried the public, as five people were killed yesterday's explosion in the Doghabad Area in PD7 of Kabul province.
Earlier on Monday, two people were injured in an explosion in the PD12 of Kabul, and a suicide attack took place on the same day in the Paghman district of Kabul, claiming one individual.
These strings of blasts and target killings have become the routine concern of Afghan citizens.
https://www.khaama.com/magnetic-mine-blast-claims-1-injures-2-in-kabul-56656/
--------
North America
US imposes new sanctions on Syria in continued effort to cut Assad funds
23 December 2020
The United States on Tuesday slapped fresh sanctions on Syria, targeting its central bank and
blacklisting several people and entities in a continued effort to cut off funds for President Bashar al-Assad's government.
The latest action, building on sanctions imposed on Syria earlier this year, marked another round in a US campaign to push Assad's government back into UN-led negotiations to end the country's nearly decade-long war.
For all the latest headlines, follow our Google News channel online or via the app.
In a statement, the US Treasury Department said the new sanctions add two individuals, nine business entities and the Central Bank of Syria to Washington's Specially Designated Nationals and Blocked Persons List.
The US State Department also designated Asma al-Assad, the British-born wife of the Syrian president, accusing her of impeding efforts for a political resolution to the war, and several members of her family, Secretary of State Mike Pompeo said in a statement. Asma al-Assad was previously hit with sanctions in June.
Millions of people have fled Syria and millions more have been internally displaced since a crackdown by Assad on protesters in 2011 led to civil war with Iran and Russia backing the government and the United States supporting the opposition.
Syria has been under US and European Union sanctions that have frozen foreign-held assets of the state and hundreds of companies and individuals. Washington already bans exports to
Syria and investment there by Americans, as well as transactions involving oil and hydrocarbon products.
https://english.alarabiya.net/en/News/middle-east/2020/12/23/Syria-crisis-US-imposes-new-sanctions-on-Syria-in-continued-effort-to-cut-Assad-funds
--------
US 'remains ready' to mediate Israel, Lebanon maritime talks: Pompeo
22 December 2020
The United States "remains ready to mediate constructive negotiations" between the Israeli and Lebanese governments on their maritime boundary, US Secretary of State Mike Pompeo said on Tuesday.
Washington encourages "both sides to continue discussions based on the respective claims they have previously deposited at the United Nations," Pompeo added.
Negotiations between the long-time foes began in October, with delegations meeting at a UN base to try to resolve a dispute about their maritime border.
Disagreement over the sea border has help up oil and gas exploration near the disputed line.
The Iran-backed Lebanese group Hezbollah, which fought a month-long war with Israel in 2006, has said the talks are not a sign of peace-making with Israel. The group exercises significant influence in the state and backed the now caretaker government of Hassan Diab.
https://english.alarabiya.net/en/News/middle-east/2020/12/22/Israel-relations-US-remains-ready-to-mediate-Israel-Lebanon-maritime-talks
--------
1998 U.S. Embassy Bombing Victims Are Assured Equal Compensation in Deal With Sudan
By Lara Jakes
Dec. 21, 2020
WASHINGTON — Victims of the 1998 bombings of two United States Embassies in East Africa will soon receive up to $485 million in compensation as part of a wide-ranging settlement to remove Sudan from a list of state sponsors of terrorism and, in turn, foster peace with Israel.
But the deal, which is part of the $2.3 trillion spending package that Congress is poised to approve on Monday, leaves Sudan liable for potentially billions of dollars in additional payments to the families of those who were killed in the Sept. 11, 2001, attacks.
The agreement largely puts to rest months of furious negotiations between the Trump administration and Congress over how to help Sudan's fragile transitional government and debt-ridden economy by settling many of the lawsuits that accused the country of harboring Al Qaeda, mostly during the 1990s.
It also ensures that American victims of the embassy bombings in Kenya and Tanzania — whether they were United States citizens at the time of the attacks or naturalized later — will receive equitable compensation by adding up to $150 million in payouts in addition to the $335 million that Sudan has committed.
The money should be released to the bombing victims in the coming days and weeks, according to a person close to the negotiations, who spoke on the condition of anonymity to discuss pending legislation.
"Finally, I can turn the page and get on with the rest of my life," said Ellen Bomer, a former Commerce Department employee who was blinded and experienced post-traumatic stress after the blast at the American Embassy in Nairobi, Kenya, on Aug. 7, 1998.
"I believe that justice prevails," she added.
Relatives of the 9/11 victims also praised the agreement that allowed their own lawsuits against Sudan — filed in federal court in Manhattan from 2002 to 2004 — to continue despite sharp opposition from the Trump administration and the government in Khartoum.
"The White House has been working all year to trade away our rights, in an apparent effort to secure an unrelated diplomatic win," said Terry Strada, whose husband, Tom Strada, was killed in the attack on the World Trade Center in New York. "We can now return to our quest for justice and accountability against those who enabled the murders of our loved ones."
Sudan's leaders had demanded immunity from all terrorism-related lawsuits filed after 1993 — including by the 9/11 families — as a part of a wider-ranging deal that also tied its removal from the U.S. terrorism list to agreeing to normalizing relations with Israel. President Trump announced in October that Sudan was the third Arab state to sign on to the Abraham Accords, his signature diplomatic campaign to ease tensions for Israel across the Middle East and North Africa.
People familiar with the diplomatic talks, who spoke on the condition of anonymity to discuss the delicate diplomacy, said this month that Sudan had threatened to exit the accords if it did not receive full immunity from Congress over concerns that the lawsuits could spook foreign investors, leaving little hope of alleviating widespread poverty and instability there.
That sticking point was hotly debated in Khartoum, the capital of Sudan, over the past week, according to people familiar with the negotiations. While they were disappointed that their country would not receive the so-called legal peace it demanded, officials said Sudan's leaders ultimately decided to remain in the peace accords with Israel in exchange for $931 million in American aid, loans and debt relief that is included in the spending bill — and face the 9/11 families in court.
"Sudan is confident that it will defeat those claims," said Christopher M. Curran, a Washington-based lawyer who was among Sudan's representatives in the negotiations.
He said Sudan maintained that it did not support Al Qaeda in the 9/11 attacks and was found liable for the embassy bombings in East Africa only after the government of its former president and dictator, Omar Hassan al-Bashir, failed to defend itself in American courts.
Officials on all sides of the debate hope the new assistance will help stabilize Sudan and potentially keep it from being a breeding ground for extremism.
The United States "has critical strategic and national security interests in supporting Sudan's fragile transition to democracy," said Senators Chuck Schumer of New York and Bob Menendez of New Jersey, both Democrats. "However, that support should not and will not come at the expense of protecting the rights of terrorism victims."
https://www.nytimes.com/2020/12/21/us/politics/sudan-embassy-bombing-compensation.html?utm_source=iterable&utm_medium=email&utm_campaign=1844928_
--------
URL: https://www.newageislam.com/islamic-world-news/coronavirus-vaccine-with-non-halal/d/123855
New Age Islam, Islam Online, Islamic Website, African Muslim News, Arab World News, South Asia News, Indian Muslim News, World Muslim News, Women in Islam, Islamic Feminism, Arab Women, Women In Arab, Islamophobia in America, Muslim Women in West, Islam Women and Feminism