New Age Islam News Bureau
4 May 2020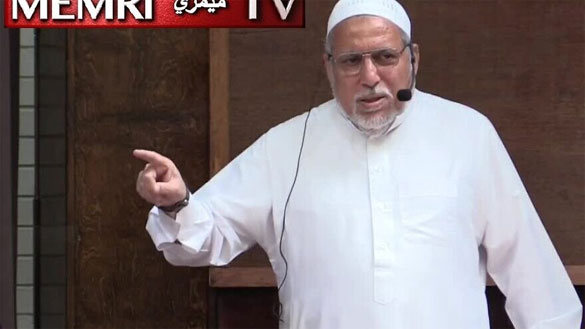 Imam Shaker Elsayed. (MEMRI)
------
• Controversial Virginia Imam: COVID-19 Is A Divine Wake-Up Call and Humanity Is Being Punished for Legalizing Usury, Abortion and Homosexuality
• Chief Imam of Markaz Al-Adaby Mosque Urges Muslims To Invest Umrah Money In Palliatives
• Coronavirus: UAE Higher Sharia Authority Approves COVID-19 Parameters, To Mitigate Its Effect
• In First Ten Days of Ramadan; Taliban Attacks Kill 50 Soldiers, 17 Civilians
• British Conservative Politician Pays Tribute to Muslims Celebrating Ramadan 'Without A Loved One'
• Covid-19: Lucknow Administration Gets Flak for Naming Hotspots After Mosques
• Stranded Afghans Take Shelter in Mosques, Shops Near Torkham
• Schools, Mosques to Reopen in Viral 'White' Zones of Iran
---------
North America
• Controversial Virginia Imam: COVID-19 Is A Divine Wake-Up Call and Humanity Is Being Punished for Legalizing Usury, Abortion and Homosexuality
• Man hit with federal charges in Missouri Islamic centre fire
• U.S. Intelligence Officials Believe China Covered Up Severity of Coronavirus Outbreak to Stock Up on Medical Supplies
• Trump Predicts Up To 100,000 Coronavirus Deaths In The US
--------
Africa
• Chief Imam of Markaz Al-Adaby Mosque Urges Muslims To Invest Umrah Money In Palliatives
• Sudan's Islamists Hold Small Protests Against New UN Mission
• Sudanese struggle with inflation, lockdown during Ramadan
• Understanding the dangerous journey from Boko Haram to rehabilitation
• Borno residents' attitude to COVID-19 reminds how Boko Haram started – Deputy Governor
-------
Arab world
• Coronavirus: UAE Higher Sharia Authority Approves COVID-19 Parameters, To Mitigate Its Effect
• Saudi Officials Say Whopping 70% Of Mecca's Population Likely Infected With COVID-19
• Egypt's Al-Azhar To Live Stream Taraweeh Prayers During Last 10 Days of Ramadan
• Hilton The Pearl Launches Ramadan 'Stay-In-Dine-In' Packages
• 'It's okay to let your fitness plateau slightly' in Ramadan
• UAE Embassy launches initiative to distribute 25,000 Ramadan meals
• VCA collaborates with Emirati calligraphist Al Balooshi for inspiration in Ramadan
-------
South Asia
• In First Ten Days of Ramadan; Taliban Attacks Kill 50 Soldiers, 17 Civilians
• Markets to Reopen Before Eid: Prime Minister Sheikh Hasina
• Bangladeshi Migrants in KSA: 10 lakh face deportation
• Taliban commander loses both legs in premature mortar round explosion in Kabul
• Failed attempt to fully cut Kabul electricity as last leg of power pylon defies blast
--------
Europe
• British Conservative Politician Pays Tribute to Muslims Celebrating Ramadan 'Without A Loved One'
• Few Masks in Packed Burkina Faso Mosques as Coronavirus Ban Lifted
• Consultation: Keeping Mosques Safe Post-Lockdown
• How families in the region are marking Ramadan in lockdown
• Islamic State Internal Files on Dr. Imaan Mustafa al-Bagha
• Zoom services and mini mosques: how Gwent's worshippers are tackling lockdown
-------
India
• Covid-19: Lucknow Administration Gets Flak for Naming Hotspots After Mosques
• Case Filed as Poster Banning Entry of Muslim Traders Appear In MP Village
-----
Pakistan
• Stranded Afghans Take Shelter in Mosques, Shops Near Torkham
• NAB issues summons to Shahbaz for a third time
• Unnecessary criticism from federal govt misleads people, says Sindh minister
• MQM-P demands halt to delimitation of LG constituencies till publication of census results
-----
Mideast
• Schools, Mosques to Reopen in Viral 'White' Zones of Iran
• Islamic State Prisoners, Kurdish Authorities Reach Agreement To End Syria Jail Riot
• Imam Khamenei to deliver speech on International Quds Day
• National Library brings Ramadan online, with month of digital events
• Iran coronavirus update: Over 38,700 dead, mosques to reopen in 132 cities
• Iran to issue $ 217 million Islamic government bonds for gas and oil projects
• Mesut Ozil donates $101,000 to help those in need in Ramadan
------
Southeast Asia
• Indonesia Records 'Unusually' Low Inflation In Ramadan As COVID-19 Hits Consumer Spending
• Volvo Car Malaysia Announces Ramadan Safe Pledge Campaign – 10,000 RM10 Grabfood Vouchers Offered
• Indonesia pins hopes on Ramadan lockdown
• Indonesian police smash plot to plant bomb in mosque
• Kim Jong-un's Sister at His Side as He Resurfaces
• Venezuela government says eight killed in foiled mercenary 'incursion'
Compiled by New Age Islam News Bureau
URL; https://www.newageislam.com/islamic-world-news/controversial-virginia-imam-covid-19/d/121752
------
Controversial Virginia Imam: COVID-19 Is A Divine Wake-Up Call and Humanity Is Being Punished for Legalizing Usury, Abortion and Homosexuality
May 4, 2020
Controversial imam Shaker Elsayed says humanity is being punished for legalizing usury, abortion and homosexuality, and that the capitalist system has led to mass slavery.
(MEMRI) The coronavirus pandemic is a "wake-up" call from Allah, sent because humanity is legalizing "abominations" such as usury, homosexuality and abortion, Virginia-based imam Shaker Elsayed said in a sermon uploaded to the Internet last month.
In the video, which was uploaded to the Dar Al-Hijrah Islamic Center's YouTube channel on April 3, Elsayed says that while Allah tests humanity every year with the flu, this year he sent the coronavirus as humanity had not "gotten the message." Citing a Quranic example in which Allah punishing the Jews for violating the prohibitions against usury and "devouring" people's money, in which Allah said he had prepared "severe and painful torment" for the Jews guilty of this crime, Elsayed said that today, usury is practiced not just by the Jews, but by every nation in the world.
Elsayed criticized humanity for legalizing things Allah has prohibited, such as usury, homosexuality and abortion on demand, and said that the capitalist system amounted to slavery.
The Dar Al-Hijrah Islamic Center in Fairfax County, Virginia, where Imam Elsayed preaches, is known for being linked to former Al-Qaeda leader Anwar al-'Awlaki, who was the imam of the center on Sept. 11, 2001. The center is also linked to some of the 9/11 terrorists, as well as to Fort Hood shooter Nidal Hasan and other known jihadis.
https://www.jns.org/virginia-imam-covid-19-is-a-divine-wake-up-call/
-----
Chief Imam of Markaz Al-Adaby Mosque Urges Muslims To Invest Umrah Money In Palliatives
May 4, 2020
The Chief Imam of Markaz Al-Adaby Mosque in Olunlade, Kwara, Mallam Abdulrauf Bello, has admonished Muslims to use money already earmarked for 2020 Umrah (lesser Hajj) to feed vulnerable persons in the society.
He said since the Coronavirus (COVID-19) pandemic had deprived Muslims of going for Umrah, they should rechannelled such fund to feed the less privileged in the society.
He said the reward hoping to be gotten while performing Umrah would be equally be received while feeding people, especially in the month of Ramadan.
"There are people that are used to going for lesser Hajj during Ramadan, but with this pandemic, they have been forced to stay back at home.
"So, whatever amount they have earmarked for Umrah can be used to buy foodstuffs and share to people who will in turn pray for them.
"The kind of reward they want to get while performing Umrah may even be doubled with the kind of prayers the less privileged will shower on them," Bello said.
He also enjoined the faithful to use the holy month of Ramadan to increase their supplications to God to bring an end to the pandemic that had altered normal lives.
"Who would have thought that an unseen thing can make us stop congregational prayers that Allah cherishes most and that we will have Ramadan without Tafsir, Taraweeh and Tahajud?
https://thenationonlineng.net/cleric-urges-muslims-to-invest-umrah-money-in-palliatives/
-----
Coronavirus: UAE Higher Sharia Authority Approves COVID-19 Parameters, To Mitigate Its Effect
May 04, 2020
Abu Dhabi: The Higher Sharia Authority (HSA) for financial and banking activities in the UAE held its second meeting of 2020 on April 26.
The meeting was chaired by Sheikh Dr. Ahmed Bin Abdulaziz Al Haddad, the Chairman of the HSA, and attended by members including Sheikh Prof. Dr.Jassim Ali Al Shamsi, Sheikh Issam Muhamad Ishaq, Sheikh Dr.Aznan Hasan, and Sheikh Dr.Usaid Muhammad Adeeb Al Kilani.
The HSA adopted its report for the year 2019, which maps the most significant achievements, initiatives and resolutions conducted during the year.
The authority also discussed COVID-19 pandemic's impact on the economy and approved a set of Sharia parameters to mitigate the effect on individuals and companies.
The HSA also issued Sharia parameters related to the postponement of installments for Islamic financial institutions' customers and how to deal with such postponement from a Sharia perspective, based on the type of transaction and Sharia contracts.
Moreover, the HSA reviewed its agenda and adopted some Sharia standards and parameters for calculating the collections costs incurred by Islamic financial institutions from late payment transactions.
The HSA also discussed issues related to the imposition of fees on loan-based transactions. The Islamic Banking Committee of the UAE Banks Federation will be consulted to identify best practices in this regard.
The HSA also reviewed requests for new financial products submitted by some Islamic financial institutions, and approved the applications that comply with the applicable Sharia standards. The HSA stressed the need to strike a balance between development and innovation in Islamic financial products and the regulatory and Sharia requirements.
Furthermore, HSA reviewed the requests submitted by Islamic financial institutions regarding the approval of annual Sharia reports, the appointment of members of the Internal Sharia Supervision Committees, and the heads of the Internal Sharia Control and Sharia Audit Departments, and issued resolutions in this regard.
To further improve the role of Internal Sharia Supervision Committees in Islamic financial institutions, the HSA was instructed to prepare a charter template for the Internal Sharia Supervision Committees based on best practices and to initiate a consultation about it with Islamic financial institutions.
London: The NMC Health fiasco has now arrived at the doors of EY, the UAE healthcare operator's long-time auditor. The UK's accounting regulator has launched investigations into EY (Ernst & Young) on how it managed to sign off on NMC's financial results for 2018.
"On 15 April 2020 the Financial Reporting Council opened an investigation into the audit by Ernst and Young LLP of the financial statements of NMC Health for the year ended 31 December 2018," the FRC said in a statement on Monday, according to Reuters. The FRC has powers to fine and bar auditors it finds that have failed to comply with its standards.
In particular, the regulator would want to know how the audit process failed to reveal bank loans far more than the $2 billion that NMC was supposed to have at the time. (NMC last reported its financials for the first six months of 2019.)
Banking industry sources speaking to 'Gulf News' have repeatedly raised the question of how an audit firm, and especially one of EY's stature, could miss out on the non-reporting of $4 billion plus worth of loans that were taken out and never disclosed via the financials.
All through until internal investigations were launched, NMC Health's outstanding to banks were reported as just over $2 billion plus.
EY had recently stepped down as auditor of NMC Health's sister company, Finablr, which owns UAE Exchange Centre. Just recently, Finablr announced that it came across $1.3 billion in undisclosed funds.
https://gulfnews.com/business/banking/uk-regulator-opens-investigation-into-auditor-of-uae-hospital-operator-nmc-1.1588575878153
-----
In first ten days of Ramadan; Taliban attacks kill 50 soldiers, 17 civilians
May 3, 2020
KABUL: At least 50 security personnel have been killed and another 63 wounded during assaults mounted by the Taliban fighters since the outset of the holy month of Ramadan, local and security authorities confirmed on Sunday.
Compared to the rest of the country, Kunduz, Samangan, Jawzjan, Sar-i-Pul, Takhar, Balkh, Badakhshan, Daikundi and Herat provinces have witnessed a more intensified wave of violence and firefights between the Taliban and the Afghan security forces.
According to reports, most of these casualties have occurred in Kunduz, Jawzjan, Sar-i-Pul, Takhar, Balkh and Badakhshan provinces.
Abdul Maroof Azar, Jawzjan gubernatorial spokesman, said the Taliban had organized 13 aggressive assaults on security forces in the provincial capital and districts since the start of Ramadan.
The rebels' attacks have resulted in the killing of at least nine public uprising personnel and injuring of 12 others, said Azar, adding 16 Taliban insurgents were also slain and another 20 wounded.
Local and security authorities in Kunduz, Jawzjan, Samangan, Sar-i-Pul, Takhar, Balkh and Badakhshan provinces confirm that at least 69 militants have also been killed and 44 others injured during clashes in the respective provinces.
Adil Shah Adil, Balkh provincial police chief spokesman, stated that security forces had inflicted heavy casualties on the Taliban on the outskirts of Shor Tapa district of the province. "Two Taliban commanders, named Mullah Abdul Jabbar and Mullah Wali, were among 12 other Taliban fighters killed."
This comes as the National Security Office (NSC) has said that 17 civilians were killed in 17 provinces by the Taliban in the first seven days of Ramadan. "At least 49 civilians have been injured in attacks organized by the Taliban," said Javid Faisal, NSC spokesman.
http://www.afghanistantimes.af/in-first-ten-days-of-ramadan-taliban-attacks-kill-50-soldiers-17-civilians/
------
British Conservative Politician Pays Tribute To Muslims Celebrating Ramadan 'Without A Loved One'
3 May 2020
He said that the coronavirus had previously disrupted religious festivities for Christians and Jews, and now means that Muslims are unable to break their fasts with loved ones. Mr Gove told today's government briefing: 'This pandemic has claimed more than 28,000 lives and each one of them is precious, each one valued, each one irreplaceable. 'The pain of bereavement and heartbreak is deeply personal. But as a society, we're showing care and compassion across boundaries, offering support and a chance to talk through grief together. 'And for those experiencing the first Ramadan without a loved one, this will be a particularly painful time. I send my sincere condolences to all families who are grieving.' Coronavirus latest news and updates Visit our live blog for the latest updates: Coronavirus news live Read all new and breaking stories on our Covid-19 news page The latest coronavirus symptoms explained Who needs to go to work, who needs to stay at home and who is classed as a key worker? He told the briefing: 'As with Christians, who could not celebrate Easter together in church and the Jewish community, whose Passover rituals were affected by social distancing, our thoughts are with Muslim neighbours who cannot break their fasting together and must adapt their religious and cultural practices because of the crisis. Gove pays tribute to Muslims celebrating Ramadan 'without a loved one' 'We've all learned to adapt and we must carry on doing so until the Prime Minister sets out how we will get back to work later this week. 'His comprehensive plan will explain how we can get our economy moving, how we can get our children back to school, how we can travel to work more safely while making life in the workplace safer.' At the beginning of Ramadan, Matt Hancock also thanked Muslims for staying at home during the holy month. He said: 'I am acutely aware of how difficult this has been and especially as we enter Ramadan – a month that is so special for so many people. 'This Ramadan many Muslims who serve their country in the NHS and in the armed forces and in so many other ways will not be sharing the joy of this month as they normally do. 'I want to say to all British Muslims: thank you for staying at home.' 'I know how important the daily Iftar is, how important communal prayers are at night and how important the Eid festival is. 'Thank you for making major changes to these vital parts of your practice and I want to say to you all, Ramadan Mubarak and thank you for your service and citizenship and thank you for your sacrifice.'
https://metro.co.uk/2020/05/03/michael-gove-pays-tribute-muslims-celebrating-ramadan-without-loved-one-12648912/
-----
Covid-19: Lucknow administration gets flak for naming hotspots after mosques
04-05-2020
Opposition parties in Lucknow on Sunday accused the district administration of targeting Muslims by naming some coronavirus hotspots after local mosques, PTI reported. The district administration rejected the accusation, claiming it was merely following guidelines.
The administration had mentioned eight mosques in the initial list of hotspots in Lucknow. The list, written in Hindi, said: "In police station Kaisarbagh, area around Phoolbagh Masjid..."
"The administration has named hotspots after mosques in Lucknow," Uttar Pradesh Congress President Ajay Kumar Lallu told PTI. "This is unfortunate. This is a pandemic which did not attack a particular religion. It has nothing to do with a particular religion or sect. The government should focus on increasing testing facilities. The government is hiding its failures with such moves."
Samajwadi Party MLA Rajpal Kashyap wondered what message the Lucknow administration wanted to send to the people of Uttar Pradesh by using such names for hotspots. "The focus should be on treating patients, making people aware and taking measures like sanitisation [drives] to check the spread," he said. Kashyap claimed that the names of the hotspots suit the political agenda of the Bharatiya Janata Party government in the state.
However, a senior administration official said the hotspots were named after mosques because Covid-19 cases were detected in their vicinity. "This is just to pinpoint an area where more cases have been found, nothing else," he told PTI.
Masjid Ali Jaan in Sadar Bazar, Mohammadiya Masjid in Wazirganj, KhajoorWali Masjid in Triveni Nagar, Nazarbagh Masjid in Kaiserbagh and Rajauli Masjid in Gudumba are the mosques which have been used to name coronavirus hotspots in Lucknow.
Uttar Pradesh Chief Minister Adityanath on Saturday claimed that the Tablighi Jamaat group was responsible for the spread of the coronavirus in the state and other places. "Being infected with a virus is not a crime, hiding it is definitely a crime," he said.
Thousands of Indians and hundreds of foreigners had attended the Tablighi Jamaat conference held in Nizamuddin in Delhi in March. Later, it was discovered that thousands of Tablighi Jamaat members and their contacts had Covid-19. Instances of discrimination against Muslims have increased in India since the news of this spread.
Lucknow has so far reported 226 cases of Covid-19, and one death. The state has reported 2,645 cases of the virus, of which several are linked to members of the Tablighi Jamaat.
https://scroll.in/latest/960966/covid-19-lucknow-administration-gets-flak-for-naming-hotspots-after-mosques
-----
Stranded Afghans take shelter in mosques, shops near Torkham
May 04, 2020
LANDI KOTAL: Scores of stranded Afghans including women and children have taken temporary shelter in different mosques, shops and even abandoned railway tunnels in LandiKotal for the last four days in hope of going back to their country.
Pakistani authorities allowed 3,915 Afghan nationals to go back to their country via Torkham border on April 28 as a gesture of goodwill. Authorities, however, had not made any formal announcement about the opening of Torkham border for return of Afghans on that day.
Hearing about the unannounced return of their countrymen, hundreds of more Afghans flocked to the border crossing with the hope of going back to their country. Pakistani authorities, however, closed the border and the Afghans, who had come to Torkhum, got stranded near the border.
The desperate Afghans, hundreds in number, took temporary shelter in two mosques at LandiKotal Bazaar and abandoned railway tunnels on railway track leading to the border point.
Taking mercy on the desperate Afghans, some local traders and shopkeepers also offered them to stay at their empty shops and residential flats at the bazaar while some shifted to homes of their local friends.
Sher Wali, a resident of Jalalabad, said that he spent all his money and was staying at the main mosque of LandiKotal Bazaar. He said that the mosque caretakers and some local traders pooled money for their Iftar and Sehri.
Enzar Gul, anther elderly person from Kabul, said that some of them spent the first night under open sky without having any food for nearly 48 hours. He said that some of the stranded Afghans even approached their country's consulate in Peshawar but to no avail.
Family sources said that Arif Jamal Afridi, a resident of Shalobar area, had a brawl with some family members and shot himself. He was injured critically.
The deceased was one of the founding members of PTI in Khyber tribal district. He was later laid to rest with large number of his party workers and relatives attending his funeral.
https://www.dawn.com/news/1554319/stranded-afghans-take-shelter-in-mosques-shops-near-torkham
------
Schools, Mosques to Reopen in Viral 'White' Zones of Iran
May 03, 2020
In line with its plan to gradually ease lockdown measures, Iran's COVID-19 taskforce said schools and mosques are set to resume operations in counties with low risks of coronavirus transmission.
Chairman of the coronavirus taskforce, President Hassan Rouhani, said on Sunday, "We decided to reopen mosques and hold Friday prayers in 132 low-risk counties starting tomorrow [Monday]."
"White" zones constitute counties where there were no more than one hospitalization per 100,000 or 14 hospitalizations or less during a two-week period.
Religious centers and schools must comply with protocols devised by the Health Ministry aimed at slowing the spread of the deadly virus.
"Businesses and the public have abided by about 83% of health advices introduced by the Health Ministry," Rouhani said in the taskforce's meeting.
During the past month, Iran began to ease restrictions for low- and medium-risk businesses across the country, if they followed health protocols developed by the Health Ministry but kept high-risk places of business such as beauty salons, gyms and other places of gathering closed.
The top official announced on Sunday that high-risk businesses such as hair salons or sport centers will gradually reopen even in "red" zones, but reminded that, "the pandemic is still rampant and we might one day experience a peak".
In its bid to contain the widespread outbreak, the Health Ministry has screened more than 78 million people. According to Rouhani, 30 million have already been covered under the second phase of the screening up to Sunday.
He noted that knowledge-based firms and producers have been galvanized into action since the pandemic began and some 1,000 ventilators have been added to hospitals, as well as 1,400 ICU beds.
Health Ministry Spokesman KianoushJahanpour said 47 patients have lost their lives during a 24-hour period, with the death toll reaching 6,203.
Iran added 976 to its COVID-9 caseload on Sunday, up by 174 a day earlier. The tally of infections rose to 97,424, the second highest in the Middle East.
"Nearly 2,690 are in critical condition, but the number of patients requiring hospitalization in intensive care units is declining," Jahanpour said.
More than 78,400 have so far recovered from the infectious disease. Iran has carried out 496,000 tests to identify the coronavirus.
Health officials have urged the public to continue to heed social distancing measures and personal hygiene to maintain the country's relative success in the management of the outbreak.
The total count of confirmed coronavirus cases around the world surpassed 3.5 million and fatalities have reached 245,000.
https://financialtribune.com/articles/national/103157/schools-mosques-to-reopen-in-viral-white-zones
-----
North America
Man hit with federal charges in Missouri Islamic center fire
MAY 4, 2020
ST. LOUIS — A Cape Girardeau, Mo., man was hit with federal arson charges last week after police say he set fire to the Cape Girardeau Islamic Center on the first full day of Ramadan.
A warrant was issued for Nicholas J. Proffitt's arrest last Monday after the Cape Girardeau County Prosecuting Attorney's Office charged him with first-degree arson, burglary and property damage.
The Council for American-Islam Relations, America's largest Muslim civil liberties and advocacy organization, issued a press release Tuesday urging law enforcement to charge Proffitt with a hate crime. The council noted that Proffitt previously was sentenced to three years in prison for a property damage conviction at the same Islamic center and was also arrested for vandalizing another mosque in Michigan.
The next day, Proffitt was charged with burglary, arson and property damage motivated by discrimination, all in the first degree. He is being held without bond at the Cape Girardeau Police Department, police said.
The Cape Girardeau Police Department says Proffitt was motivated to set the fire Friday by "the religion of the people who worship at the Islamic Center." No one was injured in the fire, but the damage was enough to cause the city to condemn the building, police said.
https://www.post-gazette.com/news/faith-religion/2020/05/03/Cape-Girardeau-Islamic-Center-fire-Missouri-man-federal-hate-charges/stories/202005030131
-----
U.S. Intelligence Officials Believe China Covered Up Severity of Coronavirus Outbreak to Stock Up on Medical Supplies
MAY 4, 2020
(WASHINGTON) — U.S. officials believe China covered up the extent of the coronavirus outbreak — and how contagious the disease is — to stock up on medical supplies needed to respond to it, intelligence documents show.
Chinese leaders "intentionally concealed the severity" of the pandemic from the world in early January, according to a four-page Department of Homeland Security intelligence report dated May 1 and obtained by The Associated Press. The revelation comes as the Trump administration has intensified its criticism of China, with Secretary of State Mike Pompeo saying Sunday that that country was responsible for the spread of disease and must be held accountable.
The sharper rhetoric coincides with administration critics saying the government's response to the virus was slow and inadequate. President Donald Trump's political opponents have accused him of lashing out at China, a geopolitical foe but critical U.S. trade partner, in an attempt to deflect criticism at home.
Not classified but marked "for official use only," the DHS analysis states that, while downplaying the severity of the coronavirus, China increased imports and decreased exports of medical supplies. It attempted to cover up doing so by "denying there were export restrictions and obfuscating and delaying provision of its trade data," the analysis states.
The report also says China held off informing the World Health Organization that the coronavirus "was a contagion" for much of January so it could order medical supplies from abroad — and that its imports of face masks and surgical gowns and gloves increased sharply.
Those conclusions are based on the 95% probability that China's changes in imports and export behavior were not within normal range, according to the report.
China informed the WHO of the outbreak on Dec. 31. It contacted the U.S. Centers for Disease Control on Jan. 3 and publicly identified the pathogen as a novel coronavirus on Jan. 8.
Chinese officials muffled doctors who warned about the virus early on and repeatedly downplayed the threat of the outbreak. However, many of the Chinese government's missteps appear to have been due to bureaucratic hurdles, tight controls on information, and officials hesitant to report bad news. There is no public evidence to suggest it was an intentional plot to buy up the world's medical supplies.
In a tweet on Sunday, the president appeared to blame U.S. intelligence officials for not making clearer sooner just how dangerous a potential coronavirus outbreak could be. Trump has been defensive over whether he failed to act after receiving early warnings from intelligence officials and others about the coronavirus and its potential impact.
"Intelligence has just reported to me that I was correct, and that they did NOT bring up the CoronaVirus subject matter until late into January, just prior to my banning China from the U.S.," Trump wrote without citing specifics. "Also, they only spoke of the Virus in a very non-threatening, or matter of fact, manner."
Trump had previously speculated that China may have unleashed the coronavirus due to some kind of horrible "mistake." His intelligence agencies say they are still examining a notion put forward by the president and aides that the pandemic may have resulted from an accident at a Chinese lab.
Speaking Sunday on ABC's "This Week," Pompeo said he had no reason to believe that the virus was deliberately spread. But he added, "Remember, China has a history of infecting the world, and they have a history of running substandard laboratories."
"These are not the first times that we've had a world exposed to viruses as a result of failures in a Chinese lab," Pompeo said. "And so, while the intelligence community continues to do its work, they should continue to do that, and verify so that we are certain, I can tell you that there is a significant amount of evidence that this came from that laboratory in Wuhan."
The secretary of state appeared to be referring to previous outbreaks of respiratory viruses, like SARS, which started in China. His remark may be seen as offensive in China. Still, Pompeo repeated the same assertion hours later, via a tweet Sunday afternoon.
Experts say the virus arose naturally in bats, and make it clear that they believe it wasn't man-made. Many virologists say the chance that the outbreak was caused by a lab accident is very low, though scientists are still working to determine a point at which it may have jumped from animals to humans.
Beijing has repeatedly pushed back on U.S. accusations that the outbreak was China's fault, pointing to many missteps made by American officials in their own fight against the outbreak. China's public announcement on Jan. 20 that the virus was transmissible from person to person left the U.S. nearly two months to prepare for the pandemic, during which the U.S. government failed to bolster medical supplies and deployed flawed testing kits.
"The U.S. government has ignored the facts, diverted public attention and engaged in buck-passing in an attempt to shirk its responsibility for incompetence in the fight against the epidemic," Chinese Ministry of Foreign Affairs spokesman Geng Shuang said Friday.
https://time.com/5831511/us-intel-china-covered-up-coronavirus/
------
Trump predicts up to 100,000 coronavirus deaths in the US
24 minutes ago
US President Donald Trump has predicted 100,000 coronavirus-related deaths in the country and a vaccine to be ready by the end of the year, contradicting experts who said a cure is likely 18 months away.
Trump relaunched his election campaign on Sunday, forecasting an "incredible" future as he alternated during a two-hour Fox News broadcast between predicting a rapid recovery for the US economy and casting blame for the pandemic's spread on China, where the disease is believed to have originated.
COVID-19, the illness caused by the new coronavirus, has infected more than 1.1 million and killed more than 67,000 in the United States, shut wide swaths of society, including most schools and many businesses.
As recently as Friday, he had said he hoped fewer than 100,000 Americans would die and earlier in the week had talked about 60,000 to 70,000 deaths.
Trump Lincoln memorialTrump faced few tough questions in the event, which gave him a new format to reach the public [Joshua Roberts/Reuters]
About half of the states in the US have now moved towards at least partial lifting of lockdowns as the number of new cases started to drop or level off and as citizens agitate for relief from restrictions that have sent the economy into a tailspin.
The US president faced a few tough questions in the event, which gave him a new format to reach the public while he is unable to hold campaign rallies and after he faced widespread criticism for his combative daily briefings.
In an assessment that clashes with those of some public health experts, Trump said he believed that there would be a vaccine for COVID-19 by the end of the year.
"The doctors would say, well, you shouldn't say that," Trump said. "I'll say what I think ... I think we'll have a vaccine sooner than later."
Many health experts, including Dr Anthony Fauci, the nation's top infectious disease expert, have cautioned that a vaccine is likely a year to 18 months away.
There is an "incredibly small" chance of having a highly effective vaccine or treatment for the coronavirus within the next year, England's Chief Medical Officer Chris Whitty said on April 22.
Trump also said he wanted students to return to schools and colleges in autumn (in the months of September to December in the US), even as he acknowledged the possibility of a resurgence of the disease.
Speaking the day before the Senate returns to Washington, DC, Trump said it was possible that federal coronavirus aid could rise to $6 trillion from the nearly $3 trillion Congress has already passed to try to ease the heavy economic toll of the crisis.
Meanwhile, Trump, who has been criticised for not moving faster early in the year to stop the spread of the disease, sought to blunt criticism by blaming China.
Earlier in the day, Secretary of State Mike Pompeo said there was "a significant amount of evidence" that COVID-19 emerged from a Chinese laboratory, but did not dispute US intelligence agencies' conclusion that it was not man-made.
https://www.aljazeera.com/news/2020/05/trump-predicts-100000-coronavirus-deaths-200504063427656.html
-----
Africa
Sudan's Islamists hold small protests against new UN mission
3 MAY 2020
May 3, 2020 (KHARTOUM) - Sudan Islamist supporters of the former regime Sunday failed to mobilize for protests against the government of Abdallah Hamdok.
Despite the government ban of gathering and protests due to the coronavirus pandemic, the supporters of the former regime say they successfully organized protests in 11 states across the country.
However, only some dozens took part in these demonstrations held this time with slogans against the new UN mission in Sudan.
"Nor for foreign intervention in Sudan" or "No to the government of traitors and agents" were the slogans chanted by the protesters.
During the previous weeks, they chanted against the deteriorating living conditions but this week they sought to cope with the main issue of debate in the country after the UN Security Council meeting on UNAMID exit and the new peace support mission.
Activists circulated on the social media a video showing a woman debating with an Islamist who set fire to a number of tires and started chanting anti-government slogans in Khartoum central market.
Her heated discussion with him, draw the attention of people who extinguished the burning tires and forced him to leave the market.
Several newspapers in Khartoum said they would not cover the protests pointing to the very weak mobilization.
The Sudanese government on Saturday warned against the protests saying that "all security and law enforcement agencies have been instructed to deal strictly and decisively with everyone violating health emergency measures.
https://www.sudantribune.com/spip.php?article69288
-----
Sudanese struggle with inflation, lockdown during Ramadan
by Hiba Morgan
21 hours ago
Nearly eight million people in Sudan's capital, Khartoum, are marking the fasting month of Ramadan under a lockdown imposed to try and curb the spread of the novel coronavirus.
But with the country facing an economic crisis as well, stocking up for the month has been hard for many - especially for families who rely on a day-to-day income.
https://www.aljazeera.com/news/2020/05/sudanese-struggle-inflation-lockdown-ramadan-200503122425896.html
------
Understanding the dangerous journey from Boko Haram to rehabilitation
04 MAY 2020
BY FONTEH AKUM
Military operations in the Lake Chad Basin have contributed to the surrender of low- and mid-level Boko Haram militants, Institute for Security Studies (ISS) research has found. The recent surge in military strikes after Chad's Operation Boma Wrath in mid-April and the relocation of Niger's army head General Tukur Yusuf Buratai to the north-east could mean even more surrenders.
Military action has limited Boko Haram's access to important supplies, taken its toll psychologically on members, and worsened living conditions for terrorists and civilians in affected areas. All this encourages extremists to disengage from the group.
Ex-combatants refers to fighters and mid-level commanders, while ex-associates are those trapped or willingly staying in Boko Haram occupied areas to provide logistical support to the group. Most ex-associates interviewed by the ISS across all Lake Chad Basin countries claimed membership of the Boko Haram faction led by Abubakar Shekau – Jama'atuAhlis Sunna Lidda'awatiwal-Jihad.
Regardless of their affiliation though, individual journeys from disengagement to rehabilitation are often fraught with uncertainty. Disarmament, demobilisation, rehabilitation and reintegration can help stabilise the Lake Chad Basin region, but will require a deeper understanding of how individuals engage within specific phases of the process.
Reasons for leaving Boko Haram are complex and personal – driven by different stories of circumstance, survival and desperation. Besides military pressure, ex-associates say they are disillusioned with Boko Haram because of its brutality and internal rivalries, without necessarily disavowing the group's ideology.
Many female ex-associates leave because of their deplorable living conditions, or because their spouses have died. Although many claim they were forced to join, there are also voluntary recruits. Several are encouraged to become suicide bombers, or to remarry after divorce or the death of a spouse. Refusing these options could result in detention and retribution. The offer by some Lake Chad Basin countries to surrender into rehabilitation provides an escape.
The dangerous journey from Boko Haram to rehabilitation requires patience, sound planning and execution. Failed escapes are mostly punishable by death, so former associates seek options that ensure due process, safety and reintegration.
In north-eastern Nigeria, the epicentre of the Boko Haram crisis, ongoing research identifies three main pathways to disengagement – surrender, surreptitious return to communities undetected by security forces, and blending in with fleeing civilians. Those in the last two categories remain concealed for fear of being killed by security agents if they surrender or reveal their roles in Boko Haram.
In Cameroon, Chad and Niger, ex-Boko Haram associates have used their families and community gatekeepers as conduits into administrative custody. Gatekeepers are local watch committees in Niger, vigilance committees in Cameroon, and traditional and administrative authorities in Chad. They hand over former associates to authorities for screening and processing.
On the journey from desertion to rehabilitation, this is the point where individuals enter an indefinite holding pattern. Security forces don't always inform ex-associates of their rights and responsibilities, or what awaits them, and many think they'll be executed.
In Nigeria, those entering rehabilitation through Operation Safe Corridor pass through Giwa Barracks, the screening and holding facility in Borno State managed by the Joint Investigation Committee. The committee comprises investigators and prosecutors, and determines people's eligibility for deradicalisation, rehabilitation and reintegration.
Here high-risk members, including senior commanders, are sent to a pre-trial detention centre. Moderates, including foot soldiers and mid-level commanders, go to Operation Safe Corridor for reintegration. Most civilians arrested during military operations who are proven innocent are released to the state for rehabilitation.
Interviewees told the ISS that conditions at Giwa Barracks made them lose hope and regret surrendering. This claim is contested by the Nigerian military, who point to the many people who continue to surrender daily.
The safety and experiences of ex-associates varies, which is unsurprising given the complexity and variety of programmes operating. Operation Safe Corridor is a multi-sectoral programme involving 17 government agencies administering specific projects. It is federally run and mainly offers safe passage and rehabilitation for male Boko Haram members who surrender.
The Borno State-run Bulunkutu Rehabilitation Centre caters for women and children, but not at the same level of organisation, infrastructure and attention given to Operation Safe Corridor. The Shukuri transit camp in Maiduguri takes in Operation Safe Corridor graduates. In Niger, the Goudoumaria camp graduated its first batch of surrendered ex-Boko Haram associates – both male and female – in December 2019. Rehabilitation programmes are still pending in Cameroon and Chad.
Ex-Boko Haram associates say uncertainty at the point of screening and processing point fuels discontent and fear, preventing others from leaving the group. To make matters worse, their testimonies of human rights violations fuel recruitment into the extremist group.
Rehabilitation also needs to provide for the specific roles that women play in Boko Haram. Only 10 of the over 800 people associated with the group who have gone through Operation Safe Corridor are women. Children in the Lake Chad Basin region are also exposed to violence and sometimes forcibly recruited to commit attacks. The lack of adequate responses for the rehabilitation of juveniles is also a concern.
If encouraging combatants and associates to leave Boko Haram is a strategy to help stabilise the region, the various steps on the journey from disengagement to reintegration must be taken seriously. This will require paying more attention to the screening and processing stages, as well as providing programmes tailored for women and juveniles.
https://issafrica.org/iss-today/understanding-the-dangerous-journey-from-boko-haram-to-rehabilitation
------
Borno residents' attitude to COVID-19 reminds how Boko Haram started – Deputy Governor
May 3, 2020
Abdulkareem Haruna
The Deputy Governor of Borno State, Umar Kadafur, has said the refusal of residents to adhere to outlined safety measures against COVID-19 reminds him of the attitude that gave oxygen to Boko Haram over a decade ago.
Mr Kadafur, who is the chairman of the state's committee on COVID-19, expressed his displeasure over the unwillingness of the residents of Maiduguri, the state capital, to adhere to safety regulations, including social distancing.
Addressing journalists Sunday at the resumed briefing on COVID-19, he said the committee, however, would not give up on the people because "COVID-19 is real."
"As you could see on Saturday evening a lot of people defied orders and went out for burial, they felt that this thing (COVID-19) is not true," he said.
The deputy governor was making reference to the crowded funeral of a popular Borno Islamic cleric, Modu-GoniKolo, who died on Saturday. A video clip of his funeral revealed hundreds of mourners struggling to touch his corpse in utter disregard for social distancing protocol.
Mr Kadafur also frowned at how some mosques continue to violate social distancing order by calling for prayers five times a day.
"Some persons would not put off their mosque microphones, rather they put them and call for congregational prayers. This is how Boko Haram started."
He said when Boko Haram started, many people in the state did not see the group as a danger against them until it was too late.
"This COVID-19 is for us another Boko Haram because it posses greater danger to our lives. When Boko Haram started people didn't take them seriously.
"If you want to play with COVID-19, you can choose to, but I will not stop telling you the truth that this is real and as a leader in the state, I won't get tired of telling them that for their own good and that of others, they should obey social distancing order, embrace hygiene culture and they should put on face masks each time they go out in public places"
https://www.premiumtimesng.com/coronavirus/391215-borno-residents-attitude-to-covid-19-reminds-how-boko-haram-started-deputy-governor.html
------
Arab world
Saudi Officials Say Whopping 70% Of Mecca's Population Likely Infected With COVID-19
by Tyler Durden
05/03/2020
We detailed before that in late February Saudi authorities made the historically unprecedented to move to shut down the Islamic pilgrimage to Mecca due to the coronavirus pandemic. At the time they further suspended entry visas for pilgrim's wishing to visit the kingdom's holy sites.
By far the largest annual gathering of humans in the world is the pilgrimage to Mecca, which in 2018 alone saw about 2.4 million Muslims make the religious trip. Perhaps it was too late even by that point? A new report in Middle East Eye suggests nearly 70% of Mecca, or more than two million residents, has the virus based on recent rounds of broad testing, also amid the growing threat to the Saudi Royal family:
According to three senior Saudi medical sources, nearly 70 percent of Mecca's more than two million residents are estimated to be carriers of the virus, according to recent random testing conducted in the holy city.
Saudi Arabia has so far recorded 21,402 cases and 157 deaths from Covid-19. These are the highest numbers in the six-member Gulf Cooperation Council (GCC).
"The actual spread of the disease could be three to four times higher than the declared one," an anonymous medical official was quoted as saying in the report. "Saudi health authorities expect the peak to be sometime in June."
A month ago the kingdom tightened restrictions further in key cities, including the imposition of a strict 24-hour curfew on the pilgrimage cities of Mecca and Medina. This after a country-wide lockdown was issued starting March 25.
The alarming report also comes on the heels of recent New York Times reporting which said some 150 members of the royal family are being treated for COVID-19 at elite units of regional hospitals set up for that purpose.
But this week Prince Turki bin Faisal al-Saud, a Saudi royal and former intelligence chief, downplayed the NYT report in the Saudi newspaper Al-Sharq Al-Awsat.
"The truth is that only less than 20 members of the al-Saud family have been infected, and the hospital has not been allocated for them. The hospital treats all citizens and residents," Prince Turki wrote.
https://www.zerohedge.com/health/saudi-officials-say-whopping-70-meccas-population-likely-infected-covid-19
------
Egypt's Al-Azhar to live stream Taraweeh prayers during last 10 days of Ramadan
3 May 2020
Egypt's prestigious Al-Azhar mosque said it would live stream the evening Tarwaeeh prayers on Facebook and Youtube amid a suspension of communal prayers over coronavirus fears.
Taraweeh prayers – typically performed at mosques after the fast-breaking meals during the holy month of Ramadan - will be performed at Al-Azhar mosque during the last ten days of Ramadan but will only be restricted to the mosque's imams and workers.
The last ten days of Ramadan are considered the holiest and most spiritual by Muslims. During them, believers observe "Laylat Al Qadr" which marks the night on which God revealed the Quran to the Prophet Mohammed for the first time.
Egypt is seeing a Ramadan like never before this year with restrictions to contain the coronavirus pandemic in place including an extended nighttime curfew.
Egypt has banned all congregational religious activities, including the regular communal prayers at mosques, since 21 March.
Other traditional public activities that used to take place in Ramadan, such as charity iftar tables for the poor to break their fast, have also been suspended. The ban also applies to itikaf ritual in which believers seclude themselves in mosques for an extended period.
On Saturday, Egypt's religious endowments ministry said it would start Sunday the radio broadcasting of the evening and the Taraweeh prayers from Cairo's famous Mosque of Amr Ibn Al-'As.
According to the ministry, the prayers will only be attended by the mosque's imam and two mosque workers, and will be broadcast on Al-Quran Al-Kareem radio station.
http://english.ahram.org.eg/NewsContent/1/64/368533/Egypt/Politics-/Egypts-AlAzhar-to-live-stream-Taraweeh-prayers-dur.aspx
-----
Hilton The Pearl launches Ramadan 'stay-in-dine-in' packages
04 May 2020
Doha: Hilton Doha The Pearl Residences has launched a range of 'stay-in-&-dine-in' packages for guests this Ramadan which include in-room Iftar and Suhoor service.
The accommodation packages offer a range of choices from rooms with Suhoor service, rooms with Iftar, or rooms where guests celebrate both Ramadan meals in the privacy of their own apartment.
The packages have been designed to enable people to take a much-needed break away from their own home during Ramadan, to celebrate traditional Holy Month meals with their family but still have the safety of social-distancing during these exceptional times.
The advantage is that the Iftar and Suhoor menus have been masterfully created by Malaysian-cuisine-inspired French Chef Thibaut Pouplard and Lebanese celebrity chef Joe Barza.
The hotel is offering 7 great Iftar and 3 Suhoor menus choices which feature traditional Ramadan favourites and some with a creative twist. Guests can expect the ever-popular seasonal juices, light soups, and cold & hot mezze, and salads to ease into Iftar. Main course choices feature a range of meat and fish dishes, including traditional roasted lamb, Malay oriental pies, satays, and flavoursome and health-generating curries. A tempting selection of Holy Month desserts, including Umm Ali, and fruits round off the evening feast.
The rates are offered across the residences' comfortable and homely studios, and one and two-bedroomed suites which all have balconies, dining tables and lounge areas, and are based on double occupancy.
The room with Iftar rate ranges from QR655 to QR1,505 while the room with Suhoor rate starts from QR575 – QR1,425. Rates for room with both Iftar and Suhoor range from QR775 – QR1,625.
These packages offer guests the chance to take a Ramadan break, with high quality food service and in a setting where they benefit from the international standards that define a Hilton hotel with everything that they need in a home.
https://thepeninsulaqatar.com/article/04/05/2020/Hilton-The-Pearl-launches-Ramadan-%E2%80%98stay-in-dine-in%E2%80%99-packages
-----
'It's okay to let your fitness plateau slightly' in Ramadan
May 4, 2020
Observed by Muslims worldwide as a month of fasting, prayer, reflection and community, Ramadan is known to offer many spiritual rewards – and some physical benefits, too.
The concept of fasting has been around for centuries, adopted by many cultures and religions as a spiritual act designed to purify and heal the mind, body and soul. In recent times various fasting diets have become a popular mechanism for weight loss.
There are some key differences between fasting during Ramadan and intermittent fasting, however. Ramadan fasting periods are specified by the sun and moon, whereas intermittent fasting periods are usually dictated by ratios, such as the 16:8 or 5:2 diet. And, a very important difference: fasting during Ramadan means abstaining from water consumption, whereas intermittent fasting allows you to hydrate as required.
Ibaa Al Masri, Rawan Alsaadi, Iman Metwally and Rabab Abdel Baqi are four Les Mills instructors working throughout the region who have successfully balanced fitness and fasting for years. We spoke to them to collect their tips for safe and effective training during the holy month.
Rawan: "Ramadan is when you follow a routine that is helpful physiologically for the body. If you make good training choices, sleep well and avoid the traditional habits of fried food and loading carbs and sweets, Ramadan will help the body to achieve good results and changes."
Ibaa: "In Ramadan we learn self-control habits. If we can manage to be away from food for 15-plus hours a day, then we can really control our appetites and avoid too much snacking and munching."
Iman: "In Ramadan we experience the magic in fasting not only from food but also from bad habits, so it's important to understand how this holy month can be used to restart not only physically but also emotionally and spiritually."
Rabab: "In Ramadan you can do all types of training, as you can adjust the intensity and the timing according to what your body can do on that particular day. But because of the long hours of fasting, our bodies can't perform in the same way they usually do, so I think it's okay to let your fitness plateau slightly and then build it up after Ramadan."
Ibaa: "I recommend a mix of strength training, core training and some cardio. Ramadan is not the time to do bodybuilding, as you need more efficient eating patterns. During Ramadan most people want to do shorter workouts, so I teach mostly 30 and 45-minute express classes."
Rawan: "I aim to maintain my fitness as much as I can, but I cut down the number of my classes and reduce the intensity. I avoid high-intensity training as this helps me recover better and have a comfortable sleep. LES MILLS TONE, BODYPUMP and RPM are good options for full-body strength and cardiovascular fitness during Ramadan. If anyone is lacking motivation I recommend walking or jogging outdoors."
Iman: "In Kuwait, group fitness numbers spike up during Ramadan as we all motivate each other through this challenging time. Cycling is one of the most popular classes in Ramadan and we add classes to meet the demand. I find Ramadan is a good time to train at a moderate pace, adding more focus on core, mobility and posture."
Ibaa: "It really depends on the individual. It is possible to do moderate intensity workouts during fasting, but for some it can lead to dehydration (which might subsequently lead to fainting and cause serious injury). At my club, during Ramadan there is a major change in the timetabling of group workouts and classes shift mostly to the afternoon and night because most people prefer to work out after they break their fast, or close to sunset so they can finish their workout and then have a meal."
Rawan: "I think it is best to do low-impact cardio 30-40 minutes before iftar (the meal after sunset), or as close as possible to iftar in order to best hit the fat-burning zone. I suggest it's best to avoid high-intensity training. Another option is to do interval training or full body power/strength lifting two to three hours after iftar. In this case, avoid long and very high-intensity training programs so you can recover and maintain a good amount of energy while fasting."
Rabab: "Typically we cancel morning classes to reduce the risk of dehydration and the drop in blood sugar. Usually classes are scheduled three hours before iftar and we have some classes after iftar."
Iman: "I love classes right before iftar (between 4.45pm and 5.30pm). I love the energy at this time of the day – it's the sweet spot for group fitness. Rather than reducing the intensity of the class, we reduce the duration to 45 or 30 minutes, which is key to keeping the energy up. It is best to do low impact cardio 30-40 minutes before iftar, or as close as possible to iftar in order to best hit the fat burning zone."
Iman: "Sleep is the biggest challenge we face in Ramadan. Generally speaking, in order to digest the food I've eaten, pray, socialize and enjoy the traditions, I won't get to sleep before 3am. If you go to sleep late, you wake up later than usual. In Muslim countries like the one where I live, work starts later than normal so it gives people the chance to sneak in some extra hours of sleep in the morning."
Ibaa: "In Ramadan, people rarely get a full 7 to 8 hours sleep. They tend to have 4 to 5 hours between dawn and morning, then they might take a nap between noon and sunset according to their work shift and other commitments."
Rabab: "It's not uncommon for sleep to be insufficient and of bad quality, which reflects negatively on exercise performance. So it's good to focus on sleep and recovery whenever you can."
Ibaa: "I try to go to bed as early as possible. Although night outings are tempting during Ramadan, I try to keep those to the weekend so I can sleep during the day if I feel I need to. If you sleep well, it will help with your mental focus. In fact, you will be surprised how focused you are when your stomach is not struggling to digest that glazed custard donut!"
Ibaa: "Ramadan is a great opportunity to get rid of the cravings, but unfortunately if you are fasting, it's very common to go crazy with food, drinks and sweets after sunset. Try to avoid this and stick to food in the right portions and eat slowly at Iftar. I try to divide food into portions, as eating it all in one shot can cause bloating, exhaustion and low energy levels."
Rabab: "It's encouraged to break the fast with a couple of dates, a bowl of soup, followed by salad. It 's better to delay eating the main meal to allow for good digestion.
Ibaa: "The pre-dawn meal is when I choose complex carbs such as wholegrain bread and leafy and fibrous vegetables, as they keep you full for longer and offer loads of nutritional value. After sunset, when your body has spent 15-plus hours with not a sip of water, I go for some water-based soup, salad, and grilled protein. I love carbs but I don't go crazy. A tiny cheese pie satisfies the craving. I also load up on veggies."
Rabab: "For a healthy Ramadan, consume plenty of liquids and clear soups, as well as salads, fruits and vegetables to ensure you get enough fiber. The main meal should contain carbohydrates (rice or potato), a source of protein and vegetables. It's recommended that you get enough protein at each meal to help maintain muscle mass."
Rabab: "There is always some form of dessert after the main meal, but try to avoid too much sweet food, as it will increase the feeling of thirst during the day and it won't provide sufficient nutrition."
Ibaa: "I avoid beef, pickles, fatty, salty and fried food and soft drinks –they will only increase thirst, make digestion a struggle, disturb sleep and increase gastric acid. And of course they won't help with the calories deficit!"
Rawan: "Most importantly, you need to know that drinking a billion liters of water at once just before starting your fast is not hydration!"
Ibaa: "Juicy fruits like watermelon are great for getting liquids into your system, potassium-packed bananas and plain Greek yogurt can help you fight thirst, and of course water. I keep drinking water during the night. I have about a glass of water every 30 to 6
https://livehealthy.ae/its-okay-to-let-your-fitness-plateau-slightly-in-ramadan/
-----
UAE Embassy launches initiative to distribute 25,000 Ramadan meals
3 May 2020
The United Arab Emirates Embassy's Information Office in Beirut announced, in an issued statement on Sunday, that the "Humanitarian and Development Affairs Attaché at the Embassy, started on Friday, an initiative to distribute 25 thousand Ramadan Iftar meals for families in difficult social situations, in cooperation with Al-Ghina Charitable Association."
The Office revealed that this initiative shall continue throughout the holy month of Ramadan, and targets "the most needy areas in the city of Beirut, namely Tariq Al-Jdideh, Aisha Bakkar, Wata Al-Msaitbeh, Sabra, Shatila, Mar Elias, Mazraa, Al-Bashoura, Al-Malla, Qasqas and Al-Janah."
"This humanitarian project aims to improve the difficult social status in light of the circumstances that Lebanon is going through, especially in wake of the Corona pandemic," the statement indicated.
"Food is being provided through the kitchen of a Lebanese family as a means to support and assist them in continuing to earn their living, which contributes to spreading goodness among all," the statement maintained, stressing on adhering to "the highest standards of sterilization necessary and appropriate health conditions during the process of canning meals and delivering them to the targeted areas."
https://www.mtv.com.lb/en/News/Local/1050929/UAE-Embassy-launches-initiative-to-distribute-25,000-Ramadan-meals
------
VCA collaborates with Emirati calligraphist Al Balooshi for inspiration in Ramadan
May 3, 2020
DUBAI — French High Jewelry Maison Van Cleef& Arpels collaborated with well-known Emirati calligraphist Maryam Al Balooshi to create a beautiful series of calligraphy artworks inspired by values dear to the region, while also marrying the Maison's spirit during this Holy Month of Ramadan.
This meaningful partnership has resulted into a series of calligraphy art, themed Ramadan Kareem, Eid Mubarak and The Flowers of Values. Each artwork edition brings alive the message of positivity, inspiration, togetherness, unity, kindness and light, translating the very ethos of Ramadan and joyous occasion of Eid to come.
For many of Van Cleef& Arpels' creations, flowers and positive vision of life are cherished sources of inspiration. Sharing similar ideals, Al Balooshi's artwork sheds light on balance, kindness and compassion, and harmony of the community, whilst understanding the beauty of being together as one united family. Maryam's masterpiece artwork, The Flowers of Values, embodies the spirit of positivity and inspiration that resonates with the Maison's universe.
Flowers have been a historic source of inspiration in art, design and jewelry from antiquity to present day. Since its foundation in 1906, Van Cleef& Arpels has been fascinated by flowers' metamorphoses and has transcribed their vitality and colorful shades in its creations, from High Jewelry to Jewelry and Watchmaking. The Frivole collection, which has inspired Al Balooshi's artwork, is a luminous ode to flowers, where the pieces have been crafted with precious materials thanks to expert savoir-faire.
The Maison has also continuously supported art and culture, providing upcoming artists with a platform to showcase their talent and creativity. Its collaboration with Al Balooshi is in line with this commitment.
In the past, Al-Balooshi has successfully worked with entities such as Sharjah International Calligraphy where her artistic skills and capability as an author helped establish her work successfully. This meaningful collaboration with Van Cleef& Arpels during the holy month of Ramadan brings local relevance to the region and promotes the message of light and hope.
The relationship started in 2019, through Sh. Manal Bint Mohammed Al Maktoum Cultural Office. I participated in an open conversation during L'ÉCOLE's visit to Dubai. We covered the link between "Calligraphy and Jewelry design" which inspired us to further collaborate and work on this project built on philosophy and deep thoughts: Flowers of Values.
It all began in October, 2019. After several discussions and deliberation, it was decided that I would create a meaningful artwork focusing on calligraphy. The idea combined a touch of philosophy reflecting true and real values, which could be linked to our community. I thought of Ramadan. The link was between the community's values in such a meaningful month alongside Van Cleef& Arpels' values. It began with 38 different values and went down to 12 mutual values. The shape of a flower was the base of my artwork. Once we agreed on the mutual values, the designing process started. However, there were many sketches with other values that I was dabbling in, trying to figure out how I wanted the final product to look. The final piece of art went through various consultations with the Van Cleef& Arpels team. It was indeed a thoughtful piece, which I am proud of.
It's a very unique and special experience. It's inspiring to work on values of an important month, the Holy Month of Ramadan, which has a very special meaning to my heart. The month of re-habitation, peace, love, and connection. Having these values married with Van Cleef& Arpels brings joy and happiness. It's a collaboration with a lot of bliss and love among both parties. For an artist, respect and communication is desired and it's always a blessing to have the opportunity to explore more inner energy in a different way.
In the past few years, I have started to think differently about the art of calligraphy. Is what I'm doing considered to be different? I'm not the best in drawing letters or getting them in an excellent, fine-tuned shape. However, I learnt through a mentorship with another artist that my artwork and design has to have a strong story. I need to be able to write and describe my work. Since then, I've realized that I needed to utilize and unify my skills and capability as an author, an international person, and someone with a vision to create a footprint in my work. This would enable me to express what I'm presenting in this work, what the messages and my own values are. Today, I have a number of artworks, which capture my thoughts and feelings, and they do have a real story behind the design, including this current piece. One of my best works was presented in Sharjah International Calligraphy exhibition called Living Together – 7 Continents.
I'm planning for my own first solo exhibition in which I will present new messages and stories. Hoping I can change the perspective of normal and typical calligraphy exhibition. I'm working on a few new sketches trying to show the influence of the letters, the influence of art, and the embedded feelings beneath calligraphy.
https://saudigazette.com.sa/article/592631/BUSINESS/VCA-collaborates-with-Emirati-calligraphist-Al-Balooshi-for-inspiration-in-Ramadan
------
South Asia
Markets To Reopen Before Eid: Prime Minister Sheikh Hasina
May 04, 2020
Prime Minister Sheikh Hasina today said the government has decided to reopen markets before Eid-ul-Fitr and instruction has been given in this regard.
The government is considering extending the ongoing closure of public and private offices until May 15 to contain the spread of coronavirus, she added.
The prime minister was holding a videoconference with public representatives and officials of the districts under Rangpur division over Covid-19 issue today.
The districts under the Rangpur division are: Panchagarh, Thakurgaon, Dinajpur, Nilphamari, Lalmonirhat, Kurigram, Rangpur and Gaibandha.
https://www.thedailystar.net/country/bangladesh-markets-reopen-before-eid-ul-fitr-1899289
-----
Bangladeshi Migrants in KSA: 10 lakh face deportation
May 04, 2020
Jamil Mahmud
The coronavirus fallout and slumping oil prices may lead to the deportation of up to 10 lakh Bangladeshi migrant workers from Saudi Arabia in the next three to five years, according to the Bangladesh mission there.
The Gulf country's policy to replace 70 percent of the foreign workers by its citizens within 2030 could be another reason for the deportation, mission officials fear.
The embassy in a report sent to the foreign ministry recently recommended the government seek alternative labour markets, possibly in African countries.
Officials say it might be possible to employ about 40 lakh Bangladeshis in farming, aquaculture, livestock and different factories in African countries.
The embassy report said Saudi authorities are introducing monthly fees for dependents of foreign workers and increasing the fees for iqamas or residency permits as they are implementing the "Saudization policy" which was formulated in 2016.
According to the report, the recent record dip in oil prices would slow the development works in Saudi Arabia. "Many of the projects may get delayed or suspended."
The Bangladesh mission also cited automation and requirement of skilled workers as factors that could lead to deportation of Bangladeshi workers in the future.
In January and February this year, around 1.29 lakh Bangladeshis travelled abroad for employment. At least 95,385 or 73.87 percent of them went to Saudi Arabia, according to the Bureau of Manpower, Employment and Training.
Saudi Arabia is rapidly introducing robotics and automation in all sectors, and even cleaning and maintenance jobs are being taken over by automation.
Between 70 and 80 percent of cleaners in the country are from Bangladesh and a large number of them are likely to be deemed redundant in the next few years, said the embassy report.
It said the Covid-19 fallout came as the last straw. "This will further hit Saudi crude oil prices... meaning, the suspension of many ambitious projects in the Kingdom, and a large number of migrant workers will be deported immediately."
Saudi labour ministry officials in a recent meeting made it clear that they will soon be recruiting only the skilled workers with valid certificates.
Bangladesh Ambassador in Saudi Arabia Golam Moshi said the government should look into the matter seriously and form an expert committee to explore alternative labour markets.
Bangladesh officially earns around $3 billion a year in remittance from Saudi Arabia. The amount may be around $7.5 billion if illegal money transfers are counted, he said.
Due to mainly six reasons, including the oil price dip and the Saudization policy, the Saudi government is likely to deport Bangladeshi workers, Moshi told The Daily Star over the phone.
Besides, there are around two to three lakh Bangladeshis staying in Saudi Arabia illegally. "Most of these Bangladeshis have not earned anything in the last two months."
The Saudi government is planning to send all of them back in the next one and half years, Moshi wrote to the Bangladesh foreign ministry.
Syed Saiful Haque, co-chair of Bangladesh Civil Society for Migrants (BCSM), said losing the biggest labour market is a matter of great concern and a looming threat.
After the pandemic, the prime minister and foreign minister should consider visiting the countries where there are many Bangladeshi migrant workers.
The BCSM recently wrote to the United Nations secretary general calling for steps to prevent forced return migrant workers from several Middle East countries.
He said all stakeholders, including civil society members and government officials, should launch efforts to protect migrant workers.
https://www.thedailystar.net/frontpage/news/bangladeshi-migrants-ksa-10-lakh-face-deportation-1899244
-----
Taliban commander loses both legs in premature mortar round explosion in Kabul
04 May 2020
A Taliban commander lost his both legs and was left critically wounded after a mortar round went off prematurely in capital Kabul.
The 201st Silab Corps in a statement said the Taliban commander, Mullah Jan, was attempting to launch mortar rounds on a security forces camp in Ozbin Valley of Sarobi district.
However, the mortar round went off prematurely leaving three Taliban militants wounded including Mullah Jan who lost both his legs, the statement added.
Meanwhile, the 201st Silab Corps said the Taliban militants opened fire on security posts in Islamabad area of Alisheng district of Laghman.
https://www.khaama.com/taliban-commander-loses-both-legs-in-premature-mortar-round-explosion-in-kabul-04773/
------
Failed attempt to fully cut Kabul electricity as last leg of power pylon defies blast
04 May 2020
The militants attempted to fully cut the supply of electricity to Kabul as the last leg of a transmission tower defied the intensity of an explosion, preventing a total blackout in the capital.
The State-run utility firm, Da Afghanistan Breshna Sherkat, in a statement said the militants attempted to fully cut the supply of electricity to Kabul by detonating the last transmission tower which is being used to supply electricity to Kabul.
The statement further added that the militants detonated explosives close to 613 power pylon in Chemtala of Kabul late on Sunday, destroying three three of the four foundation legs of the tower.
However, Da Breshna Sherkat said the fourth foundation leg of the pylon remained intact which prevented the total collapse of the tower and as a result a total blackout was prevented in the capital.
This comes as the anti-government armed militants destroyed a transmission tower in capital Kabul last Sunday and disrupted the supply of electricity to the capital.
The militants had earlier destroyed a transmission tower in northern Baghlan province few days ago which halted the supply of electricity to Kabul and some other provinces.
https://www.khaama.com/failed-attempt-to-fully-cut-kabul-electricity-as-last-leg-of-power-pylon-defies-blast-04770/
-----
Europe
Few masks in packed Burkina Faso mosques as coronavirus ban lifted
MAY 3, 2020
OUAGADOUGOU (Reuters) - Muslims, many praying shoulder-to-shoulder and without face masks, crowded mosques in Burkina Faso's capital Ouagadougou on Sunday, after the government lifted an order closing them.
Authorities ordered mosques to be closed in March as the coronavirus outbreak grew in the West African country, which as of Sunday, had recorded 652 cases and 44 deaths from COVID-19.
But the order faced opposition, particularly during the ongoing holy month of Ramadan and on Saturday about 100 people protested outside the offices of the Federation of Islamic Associations of Burkina (FAIB) to demand its withdrawal.
The FAIB, which acts as an intermediary between the government and Muslims, later said that the government had lifted the order, provided that worshippers wore masks and respected physical distancing and other health restrictions.
But at the Central Mosque of the Sunni Movement of Burkina Faso on Sunday hundreds of worshippers packed into tight spaces to pray, a Reuters reporter said.
AbdoulMouminiZoundi, the FAIB's permanent secretary, acknowledged many worshippers were not respecting the health guidelines at mosques across Ouagadougou, but said people felt a religious obligation to pray close to others.
Despite the spread of the coronavirus across West Africa, some governments have moved to lift certain restrictions, including lockdowns and market closures, partly to reduce the damage to some of the world's poorest economies.
The reported rates of infection in the region are far lower than in other parts of the world, but the World Health Organization worries the outbreak will overwhelm fragile health systems and has warned against lifting restrictions too quickly.
https://uk.reuters.com/article/uk-health-coronavirus-burkina-mosques/few-masks-in-packed-burkina-faso-mosques-as-coronavirus-ban-lifted-idUKKBN22F0P6?rpc=401&
------
CONSULTATION: KEEPING MOSQUES SAFE POST-LOCKDOWN
Yesterday at 20:21
As we continue to live with lockdown, many will be aware that at some point the government will be partially lifting restrictions. It is important for our communities to ensure our insights are part of these conversations, and that we plan in advance for these potential eventualities.
This survey is designed for mosque leaders and will take 5 minutes to complete. Please do share your views by Wednesday 6th May 2020.
Your views will be treated as anonymous and will be used to help prepare guidance for mosque leaders (Trustee/Volunteer/Employee) on next steps in line with public health advice, and to feedback to local authorities and public health bodies. Jazakallah in advance for your participation.
https://mcb.org.uk/community/keeping-mosques-safe-post-lockdown/
-----
How families in the region are marking Ramadan in lockdown
4 May 2020
Millions of Muslims across the world are marking the holy month of Ramadan. Normally a time of fasting, reflection and coming together. But normal practices are having to be changed to accommodate current lockdown rules.
The Rahman family live in Cambridge. Ordinarily they would break the fast with family and neighbours, but now they're having to adapt.
It is different, I'm not seeing family, we're not visiting the mosque for our evening prayers – and I really miss going there. We're not breaking our fast with other family members. We've decided this year we'll be joining our families through video call instead.
Shahida's 16-year-old daughter would have been preparing for her GCSEs alongside fasting, but now she's able to do schoolwork from home and take more time on study of the Qur'an.
I miss going out to see my friends and family. Especially all the Iftar parties we've had over the years, when we break our fast. So it feels really different not having those this year.
The family are relying a lot more on social media for their worship. Their local mosque – the Cambridge Central Mosque – is offering prayers, lectures and recitations from the Qur'an.
Dr SejadMekic is the Principal Imam. He says it's a very strange time for everyone, and this Ramadan is like no other he or many will ever have experienced. "Our mosque is a social hub for many families", he explains. "We are doing what we can to offer support and offer recorded and live videos and audio to help people during this time."
Shahida says that connection through social media really helps. "In the morning after our pre-dawn meal, I like to sit and listen to our Imams who are reciting the Qur'an. We can see the mosque and it's almost like being there."
Ibrahim Rahman is the social media officer for the mosque. There are 8,000 people on the Facebook page alone and he says during the pandemic and Ramadan, as people look for spiritual guidance, all the social media outlets are gaining popularity here and with audiences around the world.
Social media is really effective in communicating key messages and providing for people's spiritual needs. We're seeing so many positive responses online. People really appreciate there are means for them to feel connected, even though we're having to stay apart.
Politicians have thanked Muslims around the country for helping with the fight against Coronavirus by staying at home. Health Secretary and West Suffolk MP Matt Hancock thanked those working in the NHS and other key workers who cannot celebrate Ramadan as they normally would.
Uzma Sarwar is a GP in Bedfordshire. She too is urging Muslims to stay at home during Ramadan. "We want everyone to have a really happy Ramadan," she says. "But we need you to be safe, stay indoors. You are protecting your wider family and friends by staying away from them."
There is a sense of sadness that people can't come together in the traditional way. But social distancing is providing more family time and time for reflection and contemplation. It's also giving many an even greater gratitude for home, loved ones and well-being.
https://www.itv.com/news/anglia/2020-05-04/marking-ramadan-in-lockdown/
-----
Islamic State Internal Files on Dr.Imaan Mustafa al-Bagha
May 3, 2020
Readers may remember in a previous post I translated some internal files on the issue of women's da'wa inside the Islamic State during the days when the group controlled territory in Iraq and Syria. One of the issues raised in those files was the case of Dr.Imaan Mustafa al-Bagha (Umm al-Mudhaffar al-Dimashqiya, a kunya she actually took after a son-in-law) and an institute she was running in the Raqqa area that focused on religious education for women.
The internal files in this post touch more specifically on Dr.Bagha and the institute she was running, detailing the controversies about certain beliefs she expressed on social media and were attributed to her by others. The report- marked with date 24 Rajab 1437 AH (c. 2 May 2016 CE) and based on an extended meeting held with her- paints a generally negative picture of her, describing her as haughty and harboring a kind of partisan nationalism rooted in pre-Islamic ignorance (Jahiliya). This sense of self-superiority is attributed to the fact that she is a doctoral graduate and the daughter of a prominent Syrian Islamic scholar, who is himself denounced as an apostate by the organization for proclaimed support for Syrian president Bashar al-Assad, whereas she refrained from takfir against him on the grounds he proclaimed his support for Assad out of fear.
In the end, the report recommends closing the institute, which, contrary to usual practice, was directly affiliated with the wali (provincial governor) of Raqqa rather than the oversight of the Diwan al-Da'wa wa al-Masajid (Da'wa and Mosques Department). The closing of the institute she was running is what actually happened.
It is also interesting to observe her description of her life-story, saying that she harbored hatred against the disbelievers in general and the 'Crusaders' in particular, and had secretly admired Osama bin Laden for a long time. She also had a long history of lecturing in Islam in Saudi Arabia before she migrated back to Syria to join the Islamic State.
As I noted before, the portrait of Dr.Bagha in these files strongly contrasts with documents I obtained under the label of the Diwan al-Da'wa wa al-Masajid (Da'wa and Mosques Department) that praised her as well as her son Abu al-Hassan al-Dimashqi, who died fighting for the Islamic State. When I showed those documents to al-Nadhir al-Uryan (who leaked these internal files on Dr.Bagha), he explained that her relations with the Diwan al-Da'wa wa al-Masajid were very good, and that they were ignorant about her. He added that she won much sympathy through exploiting her son's death by publicizing it on social media, though the order eventually came to close her page. Also, her son-in-law Mudhaffar reputedly used his position in the judiciary to publicize her feelings of grievance. In a public post commenting on the Diwan al-Da'wa wa al-Masajid documents praising her, al-Nadhir al-Uryan wrote:
'Umm al-Mudhaffar al-Dimashqiya, many were duped by her especially as she abandoned Saudi Arabia with her family, and came to the land of the Dawla, and that was after her daughter Ahlam al-Nasr preceded her as she came to the land of the Dawla after Abu Osama al-Ghareeb (the son of Umm Adam al-Majatiya) coordinated for her as she had left without her family's knowldge. And after that she married Abu Osama al-Ghareeb and her mother and her family joined her and the mother was not content with the marriage of her daughter and there occurred between them many problems though Ahlam al-Nasr stood beside her husband, and her mother returned, and their matter came to the courts, and they raise cases against each other, and Abu Osama and his wife Ahlam al-Nasr had raised a case against her accusing her of irja' and Jahmism.
Umm al-Mudhaffar is of the controlling haughty type that loves positions of authority, and what she strove for as soon as she came to the land of the Dawla is the position of authority, therefore she used all strategems to reach her desire, and she succeeded until the complaints began to multiply against her from the sisters, so Abu Muhammad al-Furqan curbed her and closed the institute she was running.
Therefore we won't be surprised that the Diwan al-Da'wa wa al-Masajid had mentioned her in one of its files as one of the enduring mujahid women, and God is the One whose help is to be sought.'
http://www.aymennjawad.org/2020/05/islamic-state-internal-files-on-dr-imaan-mustafa
------
Zoom services and mini mosques: how Gwent's worshippers are tackling lockdown
3rd May
By Jonathon Hill
Newport resident Shaz Miah and his family of five have got very creative with their own mini mosque, while Raglan's St Cadoc's Church vicar Kevin Hasler has got his whole congregation on Zoom.
Last Saturday, intent on lockdown not scuppering his family's Ramadan celebrations, Mr Miah spent hours with his three sons building the mosque in his conservatory in Maindee.
The impressive creation has all the details of a normal mosque, and even includes the green dome synonymous with that built above the tomb of the Islamic prophet Muhammad in Madina, Saudi Arabia.
"2020 will mark the first Ramadan in living memory that Muslims in Wales and across the globe cannot attend mosque to pray and break their fast," Mr Miah said.
"Normally every night we would go to the mosque to pray a special prayer called 'Taraweeh', but this Ramadan Muslims will have to pray in their homes and break their fast without their extended family or friends during 'iftari' breaking of the fast.
"The lockdown is a difficult time for everybody especially for those who are fasting but we can make fasting in lockdown fun. I always wanted to build a dedicated space for prayers in my house and this lockdown presented the perfect opportunity."
https://www.southwalesargus.co.uk/news/18423216.zoom-services-mini-mosques-gwents-worshippers-tackling-lockdown/
------
India
Case filed as poster banning entry of Muslim traders appear in MP village
04th May 2020
BHOPAL: Cops in Depalpur area of Indore district of Madhya Pradesh lodged a case against unidentified persons following a specific tip-off about a poster, banning entry of Muslim traders in the village having been put in Semalpur village.
"A case was registered against unidentified accused u/s 505(2) which deals with statements creating or promoting enmity, hatred or ill will between classes and 201 (causing disappearance of evidence of offence)," Depalpur police station in-charge Gopal Parmar told The New Indian Express on Sunday.
"We sent a team to the village which is around 13 km from the police station, but the cops could find the poster. Maybe it was removed by then. We questioned around villagers, but no one told us about the poster. We've lodged a case in the matter and investigations are underway," said Parmar.
Former CM Digvijaya Singh had tweeted earlier in the day, a picture of the poster which read Muslim vyapariyon ka gaanvmeinpraveshnishedhhai (entry of Muslim traders is banned in the Semalpur village).
क्या यह कृत्य प्रधान मंत्री मोदी जी की अपील के विरुद्ध नहीं है? क्या यह कृत्य हमारे क़ानून में दण्डनीय अपराध नहीं है? मेरे ये प्रश्न मुख्य मंत्री शिवराज चौहान जा व मप्र पुलिस से हैं। समाज में इस प्रकार का विभाजन-बिखराव देश हित में नहीं है। https://twitter.com/navaidhamid/status/1256613475763142658 …
"Muslim vendors entery into village is prohibitted", warns bill board on border of Village Pemalpur, Distt. Indore, MP.@CMMadhyaPradesh @DGP_MP@USCIRF @LadyVelvet_HFQ@amnesty @MJALSHRIKA @Lawyer__ahmad#Islamophobia_In_India
Singh had written in the tweet, "Isn't this act against the Prime Minister's appeal. Doesn't such an act amount to offence under our law? I question this to the CM Shivraj Singh Chouhan and MP Police. Division and disintegration of society in this manner is not in national interest."
https://www.newindianexpress.com/nation/2020/may/04/case-filed-as-poster-banning-entry-of-muslim-traders-appear-in-mp-village-2138770.html
------
Pakistan
NAB issues summons to Shahbaz for a third time
Amjad Mahmood
May 04, 2020
LAHORE: The National Accountability Bureau (NAB) has summoned Leader of Opposition in the National Assembly Shahbaz Sharif on Monday (today) in cases of money laundering and assets beyond known sources of income.
This is NAB's third summons for the president of the opposition Pakistan Muslim League-Nawaz (PML-N) since his return from the United Kingdom about five weeks ago.
The summons made public here on Sunday directed Mr Sharif to appear before the anti-graft watchdog investigators at its Thoker Niaz Beg, Lahore, offices at 12 noon along with the documents/evidence sought by the bureau.
Earlier on April 17 and 22, the opposition leader chose not to appear before the investigators citing health reasons in the wake of the coronavirus pandemic though NAB had assured him of taking precautionary measures as prescribed under medical guidelines.
Mr Sharif had, through his counsel, submitted the documents sought by the accountability authorities. But NAB termed the documents/evidence insufficient and asked him to appear in person for responding to queries unanswered in the documents.
Mr Sharif consulted his legal team on Sunday to take a decision on whether to join the NAB investigation on not. A PML-N source said the former Punjab chief minister would not skip the NAB proceedings this time.
Besides, in his message on the World Press Freedom Day, the PML-N president said that democracy was incomplete without press. "Freedom of expression is a fundamental right and usurping it is tantamount to betraying the Constitution"
He said that media was the mirror of society which provided an opportunity to reform oneself after looking at one's mistakes mirrored by it. "The rulers who commit the folly of breaking this mirror only repent later," he added.
Praising the sacrifices rendered by journalists in the cause of press freedom, Mr Sharif claimed that Editor-in-Chief of Jang Group Mir Shakilur Rehman was also behind bars for the same reason.
https://www.dawn.com/news/1554362/nab-issues-summons-to-shahbaz-for-a-third-time
-------
Unnecessary criticism from federal govt misleads people, says Sindh minister
May 04, 2020
KARACHI: Sindh Information Minister Syed Nasir Hussain Shah has said that federal ministers keep 'unnecessarily' criticising the Sindh government and misleading the people, compelling the ministers of the Sindh government to respond to them to tell people the truth.
"On our response it is said that we are creating controversy even though we do not have any such intension," the provincial information minister said in a statement issued here.
"We have been saying since day one when the first case of coronavirus emerged that we do not want to get involved in point scoring or in blame game. It is time to take immediate steps and decisions to save lives."
He said that since February 26, on directives of chairman of the Pakistan Peoples Party Bilawal Bhutto-Zardari, the chief minister of Sindh had been in constant touch with the prime minister and had been taking whatever steps or decisions necessary to save people's lives.
The Sindh minister said that 'untimely and baseless' criticism from the federal ministers and federal spokespersons spoiled the whole environment.
He said that this was unacceptable for the federal spokespersons and ministers that how the media was 'praising' the Sindh government for its good work.
Syed Nasir Hussain Shah said that if the proposal of the Sindh government had been accepted and two complete lockdowns of 15 days had been implemented, the situation could have been completely different today.
The provincial information minister said that if businesses were allowed to open, the businessmen would be allowed to operate under a special standard operating procedure.
"The Sindh government has never tried to take credit for being the first government to take effective measures to stop the spread of the coronavirus."
Syed Nasir Hussain Shah said whatever name the federal government wanted to give to the lockdown, the Sindh government would not mind, but it was time to adopt all necessary measures immediately to stop the spread of coronavirus to save lives.
He said that if the Sindh government had any information regarding the rapid spread of the coronavirus in any district, then not only the number of tests would have been increased in that particular district, but all the necessary precautions would also have been taken immediately.
Syed Nasir Hussain Shah said that chairman of PPP Bilawal Bhutto-Zardari had also requested in his press conference to support all provinces and not just Sindh.
The provincial information minister said that the provinces were taking all possible steps to stop the spread of coronavirus, but the federal government was not doing so.
"When it is said by the prime minister that some 'elites' have decided about the lockdown, then who will follow it or what kind of message will go to the common man."
The provincial information minister said that the constant release of such messages from Prime Minister House was not only unfortunate, but might also prove detrimental to the efforts.
He clarified that the Sindh government also cared about the poor people and daily wage earners, adding that the Sindh government was taking all necessary steps to save lives of these people in the light of the advice of medical experts.
https://www.dawn.com/news/1554276/unnecessary-criticism-from-federal-govt-misleads-people-says-sindh-minister
--------
MQM-P demands halt to delimitation of LG constituencies till publication of census results
Azfar-ul-Ashfaque
May 04, 20203
KARACHI: The MuttahidaQaumi Movement-Pakistan has asked the Election Commission to stop the process of delimitation of local government constituencies in Sindh till the final publication of the results of the sixth population census held in 2017.
On April 13, the Election Commission of Pakistan (ECP) had issued a letter regarding "delimitation of union council, union committee and ward in Town Committee and Municipal Committee for the conduct of the forthcoming Local Government Elections in the Province of Sindh".
The 2015 LG elections were held in the constituencies delimited on the basis of the 1998 census. And as the local governments in Sindh are set to complete their four-year term in August, the ECP has started a delimitation exercise based on the sixth population census so that it could conduct the next LG elections within 120 days after expiry of the term of the present LGs.
However, the MQM-P took strong exception to the ECP's plan to hold delimitation on the basis of the provisional results of the 2017 census. Party convener Dr Khalid Maqbool Siddiqui had written a letter to the ECP secretary stating that under Chapter III, Section 17(2) of the Election Act, 2017, "The Commission shall delimit constituencies after every census officially published."
In the letter, a copy of which is provided to Dawn, he reminded the ECP that the Pakistan Bureau of Statistics had published the provisional results of the census on Aug 25, 2017 and the Council of Common Interest has "still not published the final results" of the census.
He said that parliament had passed the 24th Amendment to Constitution to allocate National Assembly seats to each province, the federal capital and Fata on the basis of provisional results of the 2017 census.
Senior MQM-P leader and Federal Minister for IT and Telecom Aminul Haque told Dawn that it was a one-time exception and now delimitation must be held on the basis of the final results of the census.
He said no response was as yet received from the ECP on Dr Siddiqui's letter that demanded an immediate halt to the process of delimitation till the publication of final results of the Census 2017.
The MQM-P letter also pointed out that the process of delimitation in the prevailing dangerous situations of the Covid-19 pandemic was not in the health interest of the people of Sindh and Pakistan.
The MQM-P and many other parties had refused to accept the 2017 census provisional results and they alleged that millions of residents of Karachi were missing as they were not counted during the census process.
Even, the first point of a memorandum of understanding signed between the MQM-P and the Pakistan Tehreek-i-Insaf before making a coalition was about the results of the Karachi census. It reads: "The resolution passed by the National Assembly regarding Karachi census and as decided by the Council of Common Interest should be implemented immediately."
In December 2019, the Sindh Assembly had also unanimously passed a resolution demanding that the federal government conduct a third-party audit to verify the provisional results of the 2017 results.
https://www.dawn.com/news/1554280/mqm-p-demands-halt-to-delimitation-of-lg-constituencies-till-publication-of-census-results
------
Mideast
Islamic State prisoners, Kurdish authorities reach agreement to end Syria jail riot
May 3, 2020
Imprisoned members of the Islamic State group rioted and took control of a prison in northeast Syria for several hours, until Kurdish-led authorities negotiated an end to the unrest Sunday.
The riot began Saturday at a prison in the city of Hassakeh, one of the largest facilities where IS members are held, and control was reestablished Sunday evening, said Kino Gabriel, a spokesman for the U.S.-backed Syrian Democratic Forces.
A two-day riot and takeover of the same prison in late March allowed four extremists to escape, although they were caught a day later. It was one of the most serious uprisings by the prisoners since IS was defeated a year ago, when the SDF seized control of the last sliver of land controlled by the extremists in eastern Syria.
Kurdish authorities currently operate more than two dozen detention facilities scattered across northeastern Syria, holding about 10,000 IS fighters. Among the detainees are some 2,000 foreigners whose home countries have refused to repatriate them, including about 800 Europeans.
Gabriel said SDF officials and members of the U.S.-led coalition had taken part in talks with the prisoners. At the height of the riots, he said Kurdish special forces and anti-terror units took part in the operations to try get the situation under control. He gave no further details, and did not say how many prisoners were involved or if there were any casualties.
U.S. military helicopters flew over the prison Sunday, according to the Syrian Observatory for Human Rights, a Britain-based war monitor, and North Press Agency, a media platform operating in the Kurdish-administered areas.
Gabriel said the U.S.-led coalition and the international community bear responsibility for finding solutions for IS detainees, and need to give more support to security and living conditions at the prisons.
A recent resurgence of IS attacks in both Syria and Iraq has raised concerns that the militant group is taking advantage of governments absorbed in tackling the coronavirus pandemic and the ensuing slide into economic chaos.
It was not immediately clear if Sunday's prison riot was triggered by concerns about the coronavirus's potential spread in the facility.
Last month, the U.S.-led coalition said it gave hygiene and medical supplies to detention facilities across northeastern Syria, including hand-washing stations, disinfectant wipes, face masks and examination gloves.
One coronavirus death was reported in Kurdish-held areas of Syria in April. The central government in Damascus has registered 43 cases and three deaths.
https://globalnews.ca/news/6900086/islamic-state-prisoners-syria-riots/
-----
Imam Khamenei to deliver speech on International Quds Day
May 3, 2020
The chairman of Intifada and Quds Department of the Coordinating Council of Islamic Propagation said Leader of Islamic Revolution Ayatollah Khamenei will deliver a speech on the occasion of the International Quds Day, which falls on May 22.
Speaking on Sunday, Brigadier General Ramezan Sharif announced the possibility of canceling this year's International Quds Day rallies in capital Tehran due to the coronavirus pandemic, noting that Ayatollah Khamenei will deliver a speech on this year's occasion.
He said due to the challenges posed by the COVID-19 pandemic, the Council has been reviewing different options to commemorate this year's International Quds Day.
The International Quds Day, which falls on the last Friday of Ramadan, is a legacy of the late founder of the Islamic Republic, Imam Khomeini, who designated the day in solidarity with Palestinians. The International Quds Day has been held worldwide since the 1979 Islamic Revolution in Iran.
Iranian's, along with people across the world, hold rallies every year to mark the occasion and reiterate their call for the liberation of Palestine from the Israeli regime's occupation and to denounce Israel's atrocities.
However, this year, the coronavirus pandemic has created hurdles for gatherings of such, forcing the officials to search for alternative options.
https://en.abna24.com/news//imam-khamenei-to-deliver-speech-on-international-quds-day_1032949.html
-----
Iran coronavirus update: Over 38,700 dead, mosques to reopen in 132 cities
5/3/2020
Iran, May 03, 2020—Over 38,700 people have died of the novel coronavirus in 310 cities checkered across all of Iran's 31 provinces, according to reports tallied by the Iranian opposition People's Mojahedin Organization of Iran (PMOI/MEK) as of Sunday afternoon local time, May 3. The official death count declared by the regime is 6,203, less than a sixth of the actual figure.
The death toll in various provinces include: 2,920 in Razavi Khorasan, 1,920 in Khuzestan, 1,460 in Alborz, 1,235 in Golestan, 1,055 in Sistan& Baluchistan, 910 in Lorestan, 955 in Hamedan and 895 in Semnan. This is in addition to reports obtained from other provinces.
#Iran's Revolutionary Guards (IRGC) taking control over hospitals during #coronavirus crisishttps://english.mojahedin.org/i/iran-coronavirus-covid19-irgc-hospitals-20200503 …
Reporting by PMOI/MEK Iran, May 03, 2020—As senior regime officials in Iran are decreasing coronavirus restrictions and announcing various cities and towns as "white" areas, there are reports...
In the city of Langrud, northern Iran, the number of coronavirus cases have increased in the past few days and the city's Amini Hospital is facing a new wave of patients that need to be hospitalized.
In Ahvaz, southwest Iran, at least 26 people lost their lives on Saturday, May 2, and the city's hospitals are literally cramped with no more space for more patients.
In Rasht, northern Iran, to depict normal conditions authorities have ordered hospitals to refrain from hospitalizing the patients as much as possible and send them to their homes.
In North Khorasan Province, northeast Iran, Dr.Seyed Ahmad Hashemi, caretaker of the local Medical Sciences University said on Saturday, "The number of COVID-19 patients in the next few days… will escalate in an unprecedented scale," according to the regime's official IRNA news agency.
This week, Iran surpassed 38,000 deaths from the novel coronavirus. However, the Iranian regime has acknowledged only about 6,000 of these deaths. To the
All the while, IRNA quoted regime President Hassan Rouhani saying on Sunday, "Mosques will open on Monday in 132 cities that are considered 'white' and less dangers areas, and mass prayers will be held this coming Friday. Even in 'red' areas some businesses… will reopen to an extent that they don't cause large crowds."
Iranian regime Supreme Leader Ali Khamenei and Rouhani have resorted to this criminal measure of sending people back to work while the mullahs' own officials and experts are describing the current circumstances as dangerous. "We need to continue considering Tehran as a contaminated city… We must not be deceived by a decrease in numbers," said Alireza Zali, head of Tehran's COVID-1 Task Force HQ, on Saturday, according to the IRNA news agency.
Sara Shah-abadi of Kermanshah Medical Sciences University in western Iran said to the regime's state-run IRIB TV on Sunday, "Coronavirus positive cases are increasing with each passing day. We are concerned about a second COVID-19 wave. This virus will be far more active in the second wave."
According to the state-run SetareyehSobh daily on Sunday, Mohammad Reza Mahboubfar, a member of Iran's National COVID-19 Task Force HQ said, "I don't agree with Rouhani's remarks about religious sites probably reopening in white areas … There are no white zones, and there will be no white zones."
On the other hand, at least three months after the coronavirus outbreak and four weeks after Khamenei agreed to have 1 billion euros extracted from the National Development Fund to address the COVID-19 crisis, even the regime's Deputy Health Minister IrajHarirchi is voicing protests in this regard. This money "is still undergoing the bureaucratic process and being exchanged into rials (Iran's national currency). No money has been deposited into the Health Ministry's account," he added.
Two days ago, political prisoner Mohammad Nourizad attempted suicide in protest to the unabated spread of coronavirus in prisons, which is getting worse as the regime continues to make widespread arrests. Nourizad was transferred to the hospital. The conditions in prisons is constantly getting worse. There's particular concern about the situation of eight political prisoners in Mashhad prison who had called for the resignation of Khamenei last year. One of these inmates, Mr. Mohammad Hossein Sepehri, had contracted COVID-19 last month.
Mr. Maryam Rajavi, the president-elect of the National Council of Resistance of Iran (NCRI), had previously condemned the cruel sentences against these prisoners and had called for the United Nations and the UN Human Rights Council to take immediate action to secure their release. Today, Mrs. Rajavi reiterated her demand for the inspection of the regime's prisons. She stressed that the Special Rapporteur on the Human Rights Situation in Iran should immediately visit Mashhad prison and report on the conditions of these prisoners.
Mrs. Rajavi added that the regime is trying to compare Iran to European countries and normalize the situation. Khamenei is sending the people to a coronavirus minefield. The lives of the Iranian people has no value for this regime, and the people have so far received no help from the billions of dollars that are in the exclusive possession of Khamenei. Mrs. Rajavi called on the UN Security Council to intervene to save the lives of prisoners, especially political prisoners.
https://english.mojahedin.org/i/iran-coronavirus-news-38700-deaths-20200503
-------
Iran to issue $ 217 million Islamic government bonds for gas and oil projects
3 May 2020
Iran plans to issue securities worth up to $ 217 million to support oil and natural gas projects. This was announced by SHANA state-run energy news service, Reuters informs.
Vice President EshaqJahangiri signed off on a decision that sanctioned the right of the ministries of oil, energy and industry to issue "sukuk" Islamic sharia bonds.
In accordance with the annual state budget, Iran will issue bonds worth up to 35 trillion riyals this year ($ 217 million at the free market rate). They will go to finance gas and oil projects.
Since the end of the last century, sanctions have been imposed on Iran by the United States, the UN and the European Union, but most of the restrictions were lifted almost five years ago in exchange for commitments to end the nuclear program.
The nuclear deal was signed in July 2015, it entered into force in January 2016. In May 2018, U.S. President Donald Trump withdrew from a nuclear agreement with Iran. Anti-Iranian sanctions were reinstated by Washington in November 2018. They include a ban on the purchase of oil.
Since November 2018, the United States gave eight countries and territories - China, Greece, India, Italy, Japan, South Korea, Taiwan and Turkey - six months to continue importing Iranian oil, but on May 2, 2019, these exceptions ended.
https://112.international/politics/iran-to-issue--217-million-islamic-government-bonds-for-gas-and-oil-projects-51033.html
------
Mesut Ozil donates $101,000 to help those in need in Ramadan
May 3, 2020
English club Arsenal's star Mesut Ozil has donated 713,000 Turkish liras ($101,000) to the Turkish Red Crescent for an aid campaign for the Muslim holy month of Ramadan.
The money will be used to provide iftar – the evening meal to break the daily fast during the month – to 16,000 people in Turkey, according to the group.
Families in Turkey and Syria will receive 2,000 food packages through Ozil's donation, while 90,000 iftar packages will be distributed in Somalia's capital Mogadishu.
"We will deliver the packages provided with the donation of my brother Mesut to people in need as soon as possible," he said.
https://en.abna24.com/news//mesut-ozil-donates-101000-to-help-those-in-need-in-ramadan_1032986.html
-----
Southeast Asia
Indonesia records 'unusually' low inflation in Ramadan as COVID-19 hits consumer spending
Adrian Wail Akhlas
May 4, 2020
Indonesia recorded "unusually" low inflation at the start of Ramadan in April as the COVID-19 pandemic reined in household spending, according to Statistics Indonesia (BPS).
The consumer price index (CPI) stood at 0.08 percent in April, much lower than the 0.44 percent recorded in the same month last year, the BPS announced on Monday. The annual inflation rate was recorded at 2.67 percent, slightly lower than the 2.83 percent in April last year.
"This is unusual because usually there is higher demand for goods and services during the Ramadan month," BPS head Suhariyanto said in a livestreamed news conference. This year's Ramadan started in late April.
"There is lower demand of goods and services as a result of a slowdown in economic and social activities caused by the large-scale social restrictions [PSBB]," Suhariyanto said. "This points to weaker household purchasing power."
Several regions in Indonesia such as Jakarta, West Java and East Java are implementing large-scale PSBB to contain the COVID-19 spread, forcing factories and retail shops to close as people stay at home. This has slashed household demand as up to 2.8 million people had lost their jobs as of mid-April.
BPS data revealed that the personal care segment saw the highest inflation of 1.2 percent in April, followed by health with 0.23 percent inflation and restaurants with 0.18 percent inflation.
Meanwhile, the core inflation stood at 0.17 percent in April, bringing the annual rate to 2.85 percent, while administered prices and volatile food prices saw deflation of 0.14 percent and 0.09 percent, respectively.
Gold jewelry, a safe-haven asset in times of global uncertainty, was a dominant commodity that contributed to inflation in April, said Suhariyanto. The price of bullion sold by state-owned miner PT Aneka Tambang has surged around 20 percent so far this year.
"We revise down our 2020 inflation forecast to 2.69 percent from 3.25 percent […] because of the government's plan to reduce some administered prices, including electricity and fuel, and transportation fares," Andry said. "The government, moreover, has ensured that food supplies will remain secure until the end of the year. Thus, there is no significant pressure from cost-push inflation."
Rising gold prices caused by higher uncertainty in financial markets as a result of the outbreak, the limited impact of increasing money supply from economic stimulus packages and higher prices of imported food would drive this year's inflation calculations, Andry added.
The government has allocated Rp 405.1 trillion (US$24.6 billion) in extra spending for COVID-19 efforts, focusing on health and social spending, as well as economic stimulus packages.
"With the country not quite under a large-scale lockdown, we believe that containment measures that have so far been adopted by the government will disrupt spending but will not lead to an immediate stoppage," Fitch Solutions wrote in its research note on April 22.
"Indeed, ahead of the Ramadan period and Eid festival, Indonesians will have ramped up purchases of food stuffs and discretionary items. As such, while consumer confidence is on the decline, it has not crashed into contractionary territory yet."
It expected consumer spending growth, which accounts for more than half of Indonesia's economy, to tank to 1.2 percent this year from 5 percent last year.
https://www.thejakartapost.com/news/2020/05/04/indonesia-records-unusually-low-inflation-in-ramadan-as-covid-19-hits-consumer-spending.html
-------
Volvo Car Malaysia announces Ramadan Safe Pledge campaign – 10,000 RM10 GrabFood vouchers offered
4 May 2020
Volvo Car Malaysia (VCM), through its "Ramadan Safe Pledge" campaign, is rewarding Malaysians who pledge to maintain social distancing with RM10 GrabFood vouchers. The campaign serves to reinforce the government's mandated movement control order (MCO), and will run from May 4-23, 2020, 10am to 3pm daily.
During the 20-day campaign period, VCM will be handing out a total of 10,000 vouchers worth RM100,000, with 500 vouchers being given out daily. To participate, all you need to do is sign the pledge and repost one of five different images found on the campaign's dedicated microsite, which can also be accessed through its Instagram page.
In your posting, remember to tag @VolvoCarMalaysia and include the hashtag #MYVolvoSafePledge, while ensuring your profile is set to public. Successful participants are selected daily on a "first-pledge-first-repost" basis, and the vouchers (valid for six months) will be emailed directly to the email address used to sign the pledge.
"It is undeniable that all of us are affected by Covid-19 and the implementation of the MCO means we have adopted a new norm in our daily lives. Onward from this, we want to do what we can to help ease the burden of Malaysians. This has resulted in the Ramadan Safe Pledge campaign that provides a platform for Malaysians to reinforce their 'stay at home' commitment," said Nalin Jain, managing director of Volvo Car Malaysia.
"Each chosen pledge will be rewarded with a voucher. What goes beyond is the sense of affirmation in everyone to play their role in flattening the curve, while our healthcare professionals continue to protect and safe lives," he added.
"As a car brand that resonates with Malaysians and has brought many fond memories, we hope that through this campaign, we can help alleviate some of the challenges that may be experienced during this time because we are all in this together and a little help goes a long way. We also would like to take this opportunity to wish our Muslim brothers and sisters a blessed Ramadan," concluded Jain.
With the Hari Raya festivities coming up soon, VCM is also offering customers special deals from May 1 to June 30, including a five-year free maintenance service package (VSA5+) for all car models. Additionally, selected models with come with a Recharge package worth RM30,888 and a Hager wallbox for selected PHEV variants worth up to RM8,000.
Lastly, bookings made online before May 31 will be eligible for a complimentary Polestar Optimisation package worth RM5,250, which brings improvements the vehicle's powertrain in terms of throttle response, off-throttle response, gearshift speed, gearshift precision gear hold, and engine performance.
https://paultan.org/2020/05/04/volvo-car-malaysia-announces-ramadan-safe-pledge-campaign-10000-rm10-grabfood-vouchers-offered/?utm_source=feedburner&utm_medium=feed&utm_campaign=Feed%3A+Paultanorg+%28paultan.org+-+The+Automotive+Industry%3A+Cars%2C+News%2CTechnology%2C+Test+Drive+Reports%29
------
Indonesia pins hopes on Ramadan lockdown
Emma Connors
May 4, 2020
Jakarta/Sydney | A sharp divide in pandemic control has emerged in south-east Asia as some nations, led by the region's standout Vietnam, lift restrictions while Indonesia, the Philippines and Singapore struggle to contain infection rates.
https://www.afr.com/world/asia/indonesia-pins-hopes-on-ramadan-lockdown-20200504-p54pjr
-----
Indonesian police smash plot to plant bomb in mosque
May 03, 2020
Jakarta (VNA) – Police of Indonesia's Central Kalimantan province have arrested a terror suspect, who had placed a homemade bomb inside the Nurul Yaqin Mosque, Kuala Pembuang, PembuangHilir, Indonesia's Antara news agency reported.
Seruyan Police Chief Adjunct Senior Commissioner Agung Tri Widiantoro said on May 2 that HG, alias Iwan, aged 22, was detained at 4:20 am on May 2 (local time).
"We faced no resistance while arresting the perpetrator at his residence in the morning, and he was immediately taken to the Seruyan Police Station to account for his actions," Antara quoted Widiantoro as saying.
According to the video footage captured by the CCTV installed inside the mosque, a young man in a T-shirt and dark shorts placed a bomb.
Another video capture showed Iwan riding a motorcycle and halting at a road intersection after which he walked toward the mosque, the news agency reported.
Commissioner Hendra Rochmawan, the Central Kalimantan Police's spokesman, said the police will conduct an investigation to uncover Iwan's motive.
https://en.vietnamplus.vn/indonesian-police-smash-plot-to-plant-bomb-in-mosque/172673.vnp
-----
Kim Jong-un's Sister at His Side as He Resurfaces
May 04, 2020
North Korean leader Kim Jong-un reappeared for the first time in 21 days on May 1, quelling premature reports of his death, with his sister Yo-jong by his side. They cut the ribbon on a fertilizer plant in Sunchon north of Pyongyang.
Kim Yo-jong recently cemented her position as her brother's second-in-command by being reappointed as "alternate" member of the politburo. She had nominally lost the post in a face-saving exercise after the second U.S.-North Korea summit collapsed in 2018.
North Korean leader Kim Jong-un (3rd from right) and his sister Kim Yo-jong (5th from right) open a fertilizer plant in Sunchon, South Pyongan Province on May 1, in this grab from [North] Korean Central Television the following day.
Photos and videos released by North Korean state media show Yo-jong with her trademark pinched scowl, wearing a black skirt-suit and bangs as she assists her brother in cutting the ribbon.
She was mentioned fifth among senior officials in the reports in the highly status-conscious state media but actually sat in the chair for the third-highest official.
Cho Han-bum at the Korea Institute for National Unification said, "Kim Yo-jong now seems to be the de facto No. 2 in the regime."
Hyon Song-wol (center), an apparatchik and the leader of the Samjiyon Orchestra, assists North Korean leader Kim Jong-un (right) during a ceremony to mark the completion of a fertilizer plant in Sunchon, South Pyongan Province on May 1, in this grab from [North] Korean Central Television the following day.
Hyon Song-wol, an apparatchik and the leader of the SamjiyonOrchest, was also shown at the ceremony attending to Kim Jong-un. She pulled back a chair for him when he got on a podium. Hyon had sometimes been described as an ex-girlfriend of Kim's, but the exact reason for her prominence in the operetta hierarchy in unclear.
http://english.chosun.com/site/data/html_dir/2020/05/04/2020050401824.html
-----
Venezuela government says eight killed in foiled mercenary 'incursion'
04-May-2020
Venezuela's government said Sunday it foiled an incursion from the sea, killing eight members of a group of alleged mercenaries bent on "terrorist acts" aimed at overthrowing President Nicolas Maduro.
Interior Minister Nestor Reverol said the group, which he said originated in Colombia, attempted to land with fast boats before dawn in the northern coastal state of La Guaira but were intercepted by the military and special police units.
Interior Minister Nestor Reverol said the group landed early on the coast of La Guaira, about 32km from the capital Caracas. /Reuters Photo
"Thanks to the opportune, effective action of our Bolivarian Armed Forces and special police action forces of the National Bolivarian Police, some were shot down and some were detained," he said on state television.
Diosdado Cabello, deputy leader of the ruling Socialist Party, said later that clashes had so far resulted in "eight people dead and two detained."
Maduro frequently accuses political adversaries of attempting to overthrow him with the backing of Washington, which has vowed to force him from office through sanctions that have crippled the OPEC nation's oil exports.
Members of the special forces unit are seen at a shore, after Venezuela's government announced a failed "mercenary" incursion, in Macuto, Venezuela, May 3, 2020. /Reuters Photo
Opposition leader Juan Guaido said the government was seeking to distract from recent violent events including a deadly prison riot on Friday and bloody Caracas gang battle on Saturday night.
"The regime is seeking to divert attention with a supposed incident (in La Guaira) plagued with inconsistencies, doubts and contradictions," the press team for Guaido said in a statement.
Venezuela frequently accuses Colombia of fomenting plots to overthrow the Maduro government and of allowing "mercenaries" to train in its territory.
The Colombian government of President Ivan Duque has denounced Maduro as a "dictator." The two broke off diplomatic relations between their countries last year.
https://news.cgtn.com/news/2020-05-04/Venezuela-government-says-eight-killed-in-foiled-mercenary-incursion--Qd3WmqVJKg/index.html
-----
URL: https://www.newageislam.com/islamic-world-news/controversial-virginia-imam-covid-19/d/121752
New Age Islam, Islam Online, Islamic Website, African Muslim News, Arab World News, South Asia News, Indian Muslim News, World Muslim News, Women in Islam, Islamic Feminism, Arab Women, Women In Arab, Islamophobia in America, Muslim Women in West, Islam Women and Feminism