New Age Islam News Bureau
12 Feb 2015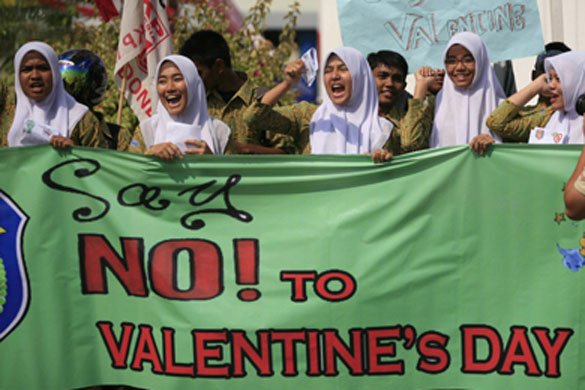 A number of Acehnese Muslim senior high school students protest against Valentine's Day celebrations in Banda Aceh, on Feb. 14, 2014. (EPA Photo/Hotli Simanjuntak)
--------------
Pakistan
• Code of Conduct Issued For Mosques, Seminaries in Pakistan
• Minorities' Rights Cannot Be Compromised: Chief Justice of Pakistan
• Air strikes in Khyber Agency kills 7 suspected militants
• Aziz calls for 'major shift' in ties with neighbours
• SC summons IG over attacks on Hindu temples in Sindh
• Two children killed in Azad Kashmir blast
• Madrasa reforms: Clerics refuse to cooperate with govt
• 25 injured in Jacobabad explosion at railway tracks, four bogies derailed
• Court reserves judgement in Salmaan Taseer murder case
Arab World
• Over 500 Tribal Fighters Join Iraqi Army's Anti-ISIL Campaign in Baiji
• ISIL Kills 23 Members for Fleeing Battlefields in Iraq's Mosul
• Several Rebels Killed, Injured, Arrested by Syrian Soldiers across Idlib Province
• Horrific ISIS video shows prisoner killed with shotgun in Syria
• Iraq says Jordan offers all military means in ISIS fight
• Ansar Beit Al-Maqdis releases video showing the beheading of "army collaborators"
• Foreign fighters carried out suicide blast, says IS
• Egypt court overturns death sentences of 33 hard-liners
Africa
• Nigeria: Chadian Troops Kill Scores of Insurgents in Gamboru
• Sudan Army Committed Mass Rape in Darfur: HRW
• Nigeria: Buhari Meets Catholic Bishops, Allays Fears on Religious Freedom
• Human rights situation in Libya ''bleak'': UN report
• Media and Journalists under attack in Libya
South Asia
• 7 Soldiers Martyred, 22 Insurgents Killed In Past 24 Hours
• Afghan soldier hanged to death by Taliban insurgents in Nangarhar
• China ready to support Kabul-Taliban reconciliation: China FM
• PM Sheikh Hasina: No compromise with terrorists
• Maldives to copy 'Digital Bangladesh' concept
North America
• Thousands Gather For Slain Muslim Students in Chapel Hill
• Death of IS Recruiter Complicates Obama's Effort to Close Guantanamo
• Hicks Condemned All Religions on Facebook Prior to Arrest for Murder of Three Young Muslims
• Study: 27% of Americans say ISIL represents true Islam
• Rand Paul: 'Hillary's war' in Libya contributed to rise of Islamic State
• Survey: 1 in 3 Americans worry about Sharia law
Southeast Asia
• Indonesian Ulema Council Gives Valentine's Day the Cold Shoulder Again
• Security Guard Beaten at Bogor Mosque over Mockery of Shiites
Mideast
• Qaeda Seizes South Yemen Army Camp, 7 Dead: Official
• Turkish PM calls for 'joint attitude' after murders of Muslim students in US
• Turkish President Erdoğan presents Cuba mosque project to Castro
• Iran's Rouhani urges West to lift 'inhuman sanctions'
• Iranians Show Strong Support for Islamic Establishment
• Yemen militia insists embassy closures 'unjustified'
Europe
• German Artist Rolls Prayer Rugs in Square against Islamophobia
• Euro Leaders Set To Debate Anti-Terror Measures
• Belgium Salafist leader jailed for recruiting fighters
• Afghan Taliban smuggle drugs and gems, just like a mafia, says UN
• UN Security Council seeks to choke off ISIL funds
• Sharp rise in anti-Muslim attacks reported in France
• France: Muslim Man Sentenced to 3 Years in Prison for Fighting With a Jew
India
• Kiran Bedi: Fatwas Impact The Freedom Of Choice To Vote
• Pak to release 173 Indian prisoners as 'goodwill gesture'
Australia
• Video with Stabbing Threats Feature One of Australia's Accused Terrorists
• Australian Halal businessman to sue 'bigots'
Compiled by New Age Islam News Bureau
URL: https://www.newageislam.com/islamic-world-news/new-age-islam-news-bureau/code-of-conduct-issued-for-mosques,-seminaries-in-pakistan/d/101488
----------
Pakistan
Code of Conduct Issued For Mosques, Seminaries in Pakistan
12 Feb, 2015
LAHORE: A ten-point code of conduct agenda has been released for Wafaq-ul-Masajid Pakistan and Tahaffuz-e-Madaris Diniya associated with Pakistan Ulema Council and for seminaries and mosques associated with Wafaq-ul-Madaris Pakistan.
The code of conduct for seminaries and mosques pinpointed that 1) The seminary administration will possess complete record of students studying in the seminary including their family details and CNIC number, similarly all relevant details and particulars of teaching staff will also be put in record of the relevant seminary. 2) Any foreign students or teacher will not be allowed to reside in seminary without legal documents. For Afghan students and Afghan Teachers only 'Muhajir Card' issued by government of Pakistan will be acceptable as legal testimony.
3) Opportunities will be provided to students to take participation in extra-curricular activities. 4) The seminaries, which are registered and made their annual audit should maintain registration and annual audit documents properly and the seminaries, which are not yet registered and have applied for registration process should keep their application receipt and keep updating central offices of 'Tahaffuz-e-Madaris Deneiya' and Wafaq-ul-Masajid Pakistan. The seminaries, which have not yet applied for registration, should submit their applications with all relevant documents.
5) The seminaries should adopt proper security arrangements and scrutinize details of guests visiting seminary and in this connection, the students should also be advised to inform seminary administration about their guests and any visitor should not be resided without permission of the seminary administration. Any sort of illegal weapon should not be kept in seminary or mosque and licensed weapon should also be put in record of administration.
6) The seminaries are educating the students not only on 'Qala Allah' and 'Qala Rasoolullah' teachings but also on conventional knowledge; therefore to negate biased propaganda against seminaries, public should be informed about functioning and curriculum of seminaries. 7) The seminary administration should also get in coordination with Tehsil/District Administration to avert any confusion and misconception and on visit of secret department's personnel should inform complete record of the seminary relating affiliation with educational board and sect clarifying that policy of that particular board or sect is policy of the seminary.
8) The mosques associated with Wafa-ul-Masajid Pakistan should discourage unfair use of loud-speakers and ensure implementation on law in this regard. Similarly, in Juma prayer, loud-speakers should only be used for Arabic sermon and azaan. 9) On occasions of Juma sermon, Dars-e-Quran and other congregations while highlighting Shariah and conventional knowledges in perspective of Quram-o-Sunnah, other religious sects should not be criticized. There is a possibility of theoretical and ideological differences in light of Quran-o-Sunnah but any theoretical difference should not be made reason of quarrel and tiff.
10) Masajid are like daughters of Baitullah and the way believers (Muslims) of all religious sects offer prayers peacefully in Baitullah, same peaceful atmosphere should be maintained in mosques. Sectarian violence, extremism and terrorism are not only cancer the country but also for Masajid and seminaries; therefore public should be appealed to avert from this menace.
Chairman Pakistan Ulema Council and President Wafa-ul-Masajid Pakistan Hafiz Tahir Ashrafi, Central Secretary General Pakistan Ulema Council and President Tahaffuz-e-Madaris Dineya Sahibzada Zahid Mehmood Qasmi are in constant coordination with federal and provincial government on complaints that are being observed regarding seminaries, mosques and seminary students, teachers in KPK and Punjab. It is being hoped that these complaints will be addressed soon.
http://www.dailytimes.com.pk/national/12-Feb-2015/code-of-conduct-issued-for-mosques-seminaries
----------
Minorities' rights cannot be compromised: Chief Justice of Pakistan
12 Feb, 2015
ISLAMABAD: Chief Justice of Pakistan (CJP) Nasirul Mulk has remarked that no compromise can be made on minorities' rights, and the provinces should ensure protection of minorities places of worship.
He further remarked "this is matter of regret that governments does nothing earlier and implementation process of court's orders starts as soon as the hearing of the case draws near. The amendment bill aimed at introducing amendment in Hindu marriage act which was sent to Prime Minister (PM) two days before could be sent to him earlier. He observed " Hindu marriage act be amended otherwise the court would take action against the persons found responsible. Minorities' rights cannot be compromised. The provinces should ensure protection of places of worship of minorities.
He gave these remarks while presiding over a 3-member bench of SC during the course of hearing of court's orders implementation in protection of minorities' rights case here Wednesday. The provinces presented reports on implementation of court's orders in the court. Punjab government told that meeting of minorities leaders with chief secretary Punjab has been arranged and he has assured for addressing all the matters including task force. Deputy Attorney General (DAG) Sohail Mehmood told the court law ministry has sent Hindu marriage act draft amendment bill to PM in the form of summary for his approval.
The court inquired when it was sent to PM. He replied it was sent two days before. The court while expressing resentment over it remarked why it was not sent earlier. Sindh government told that Sindh cabinet meeting was held on February, 6 in connection with implementation of court's orders and chief minister Sindh has ordered for implementation of court's orders with regard to Hindu marriage act. Ramesh Lal, representative of Hindu minorities told the court desecration of places of worship of monitories is continuing despite meeting with chief minister Sindh. The court sought report of all the incidents from Sindh government.
Khyber Pakhtunkhwa (KPK) government told the court that federal government had promised to provide Rs 100 million under endowment fund but this amount has not been provided so far. The court sought reply from federal government in this respect within a week. Ramesh Lal told the court that only government of Balochistan has implemented fully court's orders. The court while seeking progress reports from federation and provinces adjourned the hearing of the case till March 11.
http://www.dailytimes.com.pk/national/12-Feb-2015/minorities-rights-cannot-be-compromised-cjp
----------
Air strikes in Khyber Agency kills 7 suspected militants
12 Feb, 2015
KHYBER AGENCY: As many as seven suspected militants were dead in air strikes at Tirah valley, local media reported on Thursday.
According to reports, the fighter jets targeted the hideouts of the militants in which seven suspects were dead.
However seven hideouts also destroyed in air strikes. This is not the first time fighter jets have attacked on the hideouts of the militants.
http://www.thenewstribe.com/2015/02/12/air-strikes-in-khyber-agency-kills-7-suspected-militants/
----------
Aziz calls for 'major shift' in ties with neighbours
Baqir Sajjad Syed
12 Feb, 2015
ISLAMABAD: The country's top diplomat said that Pakistan needed a major shift in ties with Afghanistan, Iran and India to achieve the goal of a peaceful region.
Speaking at the concluding session of a two-day seminar on "Crossroads Asia: Dynamics of Peace and Progress" at the National Defence University, Adviser on Foreign Affairs and National Security Sartaj Aziz said: "The vision of a peaceful neighbourhood cannot be realised without a qualitative transformation in our relations with Afghanistan, India and Iran."
He said building a peaceful neighbourhood was the cornerstone of foreign policy of the PML-N government which wanted to focus on the agenda of economic development.
He spoke about intricate challenges faced by the region, including terrorism (particularly the rise of the Islamic State militant group), climate change, economic interdependence and regional and global integration, and called for settlement of regional disputes through "dialogue and political accommodation".
He made a special mention of Pakistan's challenging ties with three immediate neighbours — Afghanistan, Iran and India.
Pakistan's relations with Iran, he noted, had begun to improve. Moreover, developments in Afghanistan — political and security transition — and improvements in socio-economic indicators have been promising.
Mr Aziz called for an end to external interference in Afghanistan, continuous international economic and financial support and avoidance of the mistakes of the past for safeguarding the "precious moment of hope and optimism in Afghanistan".
He saw rise in insurgent activities, narcotics' production and trafficking and corruption and governance as the continuing challenges in Afghanistan.
The adviser welcomed China's increased involvement with Afghanistan both at the bilateral and regional planes and said: "Pakistan views this as a welcome development for peace, security, reconciliation and economic progress of Afghanistan."
About India, Mr Aziz said, it had "unfortunately not reciprocated our outreach".
He recapped the negative developments in ties with India since Prime Minister Nawaz Sharif's meeting with his Indian counterpart Narendra Modi in New Delhi in last May, including the cancellation of foreign secretaries' talks and Indian ceasefire violations along the Line of Control and Working Boundary.
"Indian leadership's threats of disproportionate use of force portend India's dangerous desire to create a space for war. This hostile attitude also reveals a clear dichotomy in India's insistence on eliminating terrorism on the one hand and creating distractions for our armed forces engaged in a relentless and non-discriminatory counter-terrorism operation, Zarb-i-Azb, on the other," he observed.
He regretted that by hiking its defence spending India was accentuating the conventional asymmetry and seriously impacting regional stability.
Pakistan, the adviser said, would not get involved in arms race in the region, but would staunchly protect its interests, besides maintaining credible deterrence capability.
Further explaining the principles that Islamabad envisioned to follow in a resumed dialogue with India, he said: "Pakistan shall not abandon its political, diplomatic and moral support to Kashmir cause at any cost."
Pakistan, he underscored, remained committed to a sustained, unconditional and result-oriented dialogue.
Alluding to US' reinvigorated ties with India, Mr Aziz said: "Pakistan appreciates US interest in South Asia and expects it to play a constructive role for strategic stability and balance in the region by allowing space and resources to focus on the objectives of economic development and poverty reduction and reduce the possibility of a renewed arms race in the sub-continent."
He called for expansion of Pakistan's trade and economic links with member states of the Association of Southeast Asian Nations.
http://www.dawn.com/news/1163074/aziz-calls-for-major-shift-in-ties-with-neighbours
----------
SC summons IG over attacks on Hindu temples in Sindh
12 Feb, 2015
ISLAMABAD: The Supreme Court summoned the Sindh police chief over complaints about attacks on Hindu temples in the province.
The issue was raised before a three-judge bench headed by Chief Justice Nasir-ul-Mulk by PML-N MNA from Tharparkar Dr Ramesh Kumar Vankwani who is also patron-in-chief of the Pakistan Hindu Council.
The Sindh police chief is required to appear before the court on March 11.
The court issued the summons during the hearing of a matter relating to implementation of its June 19 directives on minorities' rights and protection.
Criticising the Sindh government for its failure to protect the Hindu community, Dr Kumar informed the court that Makli Mata temple in Makli district had been attacked three days ago and Radha temple in Mirpurkhas and Krishna temple in Hyderabad two weeks ago.
Referring to the submission of a proposed draft on the Hindu Marriage Registration Bill to the federal cabinet for approval, Deputy Attorney General (DAG) Sohail Mehmood informed the court that the cabinet division had moved a summary requesting the prime minister to consider exempting the requirement of seeking cabinet's approval and directly place the law before parliament for approval.
Full report at:
http://www.dawn.com/news/1163030/sc-summons-ig-over-attacks-on-hindu-temples-in-sindh
----------
Two children killed in Azad Kashmir blast
February 12, 2015
In an explosion in Kot Chanala area of Azad Kahsmir, two children were killed and three others injured on Thursday, according to Express News.
The nature of the blast is not known as yet.
http://tribune.com.pk/story/837145/two-children-killed-in-azad-kashmir-blast/
----------
Madrassa reforms: Clerics refuse to cooperate with govt
12 Feb, 2015
ISLAMABAD: A group of religious seminaries belonging to different schools of Islamic jurisprudence has refused to cooperate over madrassa reforms until the government reveals names of the madrassas receiving foreign funding.
The Ittehad-e-Tanzeemat-e-Madaris Pakistan (ITMP), which oversees tens of thousands of religious institutions in the country, is at odds with the government over its plan to keep a close eye on seminaries through new measures under its National Action Plan (NAP).
"We will not meet them [government officials] until they come up with credible evidences against madrassas receiving foreign assistance," said Mufti Muneeb-ur-Rehman, president of one of the five unions of seminaries, Tanzeem-ul-Madaris.
The government cannot impose its new laws on madrassas, he said, adding that the seminaries would cooperate with the government if it went with the old agreement of reforms between the clerics and the PPP-led government in 2010-11.
The ministries of religious affairs and interior should also bring a list of seminaries receiving funds from the government since 2002 when a project was launched by the then military ruler, Pervez Musharraf, he said.
Full report at:
http://tribune.com.pk/story/836962/clerics-refuse-to-cooperate-with-govt/
----------
25 injured in Jacobabad explosion at railway tracks, four bogies derailed
12 Feb, 2015
JACOBABAD - At least 25 people including women and children sustained injuries in a remote-controlled explosion on railway tracks as four bogies of Khushhal Khan Khattak express train derailed near Dil Murad station here on Thursday.
According to railway sources, The Peshawar-bound Khushhal Khan Khattak Express, originating from Karachi, was near Dil Murad railway station when a bomb planted on the tracks was remotely detonated by unidentified miscreants causing four bogies of the locomotive to derail. The blast also damaged 30 feet track leading suspension of railway traffic between Karachi and rest of the country. Rescue and emergency teams reached the blast site, while victims were shifted to Civil Hospital for medical treatment.
Security personnel cordoned off the area as a probe into the blast went underway. SSP Jacobabad said that miscreants had carried out the blast using a remote controlled detonator. He said that evidence was being collected to trace the culprits. Railways officials said that repair work on the damaged portion of track was underway and railway traffic would be resumed as soon the repair work was completed.
http://www.dailytimes.com.pk/national/12-Feb-2015/25-injured-in-jacobabad-explosion-at-railway-tracks-four-bogies-derailed
----------
Court reserves judgement in Salmaan Taseer murder case
12 Feb, 2015
ISLAMABAD: The Islamabad High Court (IHC) reserved its judgement over the appeal petition filed by Mumtaz Qadri, the convicted killer of former Punjab governor Salmaan Taseer.
A divisional bench of the IHC comprising of Justice Shaukat Aziz Siddiqui and Justice Noorul Qureshi heard the case. During the hearing, Qadri's lawyer Nazir Akhter continued his arguments and pleaded the court that the former governor committed blasphemy by terming the blasphemy law "black law", adding that in the light of Islamic teachings, a blasphemer deserved the capital punishment. After the completion of defence counsel's arguments, Advocate General IHC Mian Abdul Rauf appeared before the court and pleaded that Qadri confessed the killing of the deceased governor, the defence counsel never denied the recovery of weapon with which Qadri killed the governor.
Full report at:
http://www.dailytimes.com.pk/islamabad/12-Feb-2015/court-reserves-judgement-in-salmaan-taseer-murder-case
----------
Arab World
Over 500 Tribal Fighters Join Iraqi Army's Anti-ISIL Campaign in Baiji
12 Feb, 2015
Over 500 fighters from al-Jaisat tribe joined the Iraqi army to take part in securing territories in Baiji, security sources said.
"500 fighters from al-Jaisat tribe have participated in a security plan in the district of Baiji," pointing out that, Subsequently, they will work under the National Guards formations," the source said.
"The security forces are preparing to liberate the entire district of Baiji," he added.
The ISIL Takfiri terrorists currently control a shrinking part of Syria and Iraq. They have threatened all communities, including Shiites, Sunnis, Kurds, Christians, Ezadi Kurds and others, as they continue their atrocities in Iraq.
Senior Iraqi officials have blamed Saudi Arabia, Qatar, and some Persian Gulf Arab states for the growing terrorism in their country.
The ISIL has links with Saudi intelligence and is believed to be indirectly supported by the Israeli regime.
http://english.farsnews.com/newstext.aspx?nn=13931122000244
----------
ISIL Kills 23 Members for Fleeing Battlefields in Iraq's Mosul
12 Feb, 2015
A local source in Nineveh province announced that the ISIL terrorist group killed 23 of its members on charges of treason and fleeing the battlefronts in the Northern part of Iraq's Mosul.
"The ISIL executed 23 of its elements by firing squad on charges of cowardice and treason in the district of Tall Afar (15 km North of Mosul),"the source told the Iraqi news.
"The terrorist group sentenced its forces to death after they fled from battles against the Kurdish Pishmarga forces that took place last week in Wanah and Noran areas North of Mosul," the source further added.
The ISIL Takfiri terrorists currently control a shrinking part of Syria and Iraq. They have threatened all communities, including Shiites, Sunnis, Kurds, Christians, Ezadi Kurds and others, as they continue their atrocities in Iraq.
Senior Iraqi officials have blamed Saudi Arabia, Qatar, and some Persian Gulf Arab states for the growing terrorism in their country.
The ISIL has links with Saudi intelligence and is believed to be indirectly supported by the Israeli regime.
http://english.farsnews.com/newstext.aspx?nn=13931122000300
----------
Several Rebels Killed, Injured, Arrested by Syrian Soldiers across Idlib Province
12 Feb, 2015
Syrian soldiers won all the battles across Idlib province, killing and injuring so many militants.
Army commandoes stormed insurgents in Binnesh, Sarmin, Um Jerin, Kourin, Zayzoun regions and Brouma Farms in the countryside of the Northern province of Idlib, which resulted in killing and wounding of so many rebels and capture of some others.
Syria has been grappling with a deadly crisis since March 2011. The violence fueled by Takfiri groups has so far claimed the lives of over 200,000 people, according to reports. New figures show that over 76,000 people, including thousands of children, lost their lives in Syria last year.
http://english.farsnews.com/newstext.aspx?nn=13931122000535
----------
Horrific ISIS video shows prisoner killed with shotgun in Syria
12 Feb, 2015
The Islamic State of Iraq and Syria (ISSI) terrorist group has released another horrific video which purports to show the execution of a prisoner with a shotgun.
The prisoner, presumably a member of Bashar Al-Assad's Syrian Arab Army is made to read a statement to the camera.
He is then seen having his hands tied behind his back being marched to an area of scrub land behind a stone wall beneath a hill where the killer fires a single round into the back of the victim's head causing horrific injuries.
Full report at:
http://www.khaama.com/horrific-isis-video-shows-prisoner-killed-with-shotgun-in-syria-9320
----------
Iraq says Jordan offers all military means in ISIS fight
12 February 2015
Jordan is ready to offer all military means at its disposal to help Iraq fight the Islamic State group, Iraq's defence minister said Wednesday after meeting Amman's army chief.
"The king of Jordan has requested that all means of the Jordanian armed forces be made available to the Iraqi army," said Khaled al-Obaidi.
"This was confirmed by the joint chief of staff" of Jordan's armed forces, the minister said of General Mohammed al-Zaben Meshaal, who was at his side during a news conference in the Iraqi capital.
Full report at:
http://english.alarabiya.net/en/News/middle-east/2015/02/12/Iraq-says-Jordan-offers-all-military-means-in-is-fight-.html
--------
Ansar Beit Al-Maqdis releases video showing the beheading of "army collaborators"
12 Feb, 2015
Sinai-based militant group Ansar Beit Al-Maqdis (ABM) released a new video online early Tuesday showing the beheading of eight men from North Sinai tribes, alledgedly for collaborating with Egyptian armed forces and Israeli Mossad.
The 13-minute video starts with images of civilians purportedly killed by Egyptian security forces during their ongoing military operation against the militant group in North Sinai. The video does not mention the place or date of these deaths.
At the end of this first part, a voiceover vows to avenge the deaths.
The second part shows militants opening fire from a moving vehicle on two men in civilian clothes sitting in their truck on the side of a street. The video's subtitles claim that the men were security officers in plain clothes.
The third part shows six men from North Sinai tribes "confessing" to having collaborated with the Egyptian armed forces and the Israeli Mossad in front of the camera.
Full report at:
http://english.ahram.org.eg/NewsContent/1/64/122714/Egypt/Politics-/Ansar-Beit-AlMaqdis-releases-video-showing-the-beh.aspx
----------
Foreign fighters carried out suicide blast, says IS
12 Feb, 2015
BAGHDAD: Three Islamic State suicide bombers, including a Frenchman, have detonated explosives-laden trucks in coordinated attacks on Iraqi troops and Shiite militia, destroying their targets, the group said Wednesday.
The attacks were carried out near Camp Speicher, 160 km north of Baghdad in Salaheddin province, said claims on Twitter, seen by SITE Intelligence Group.
IS said a "gathering of the Safavid (Iraqi) army and its Rafidhi (Shiite) militias," a barracks and a headquarters, all on the road connecting "Speicher Base/Fourth Division" were hit with a truck carrying six tons of explosives.
Full report at:
http://www.arabnews.com/middle-east/news/703051
----------
Egypt court overturns death sentences of 33 hard-liners
12 Feb, 2015
CAIRO: An Egyptian appeals court overturned death sentences of 33 alleged supporters of ousted President Muhammad Mursi and ordered a retrial, state media and their lawyer said.
A lower court in June condemned to death 183 hard-liners, including the 33, for the alleged murder of two policemen and attempted murder of five others in the southern province of Minya on Aug. 14, 2013.
The defendants were found guilty of committing the murders on the same day that police killed hundreds of Mursi backers in Cairo clashes.
The June verdict came after a speedy mass trial and sparked an international outcry, with the United Nations saying such mass verdicts were "unprecedented in recent history."
On Tuesday, the Court of Cassation overturned the death sentences of the 33 hard-liners and life terms of three others, and ordered their retrial, the official MENA news agency and defense lawyer Mohammed Tosson said.
Full report at:
http://www.arabnews.com/middle-east/news/703056
----------
Africa
Nigeria: Chadian Troops Kill Scores of Insurgents in Gamboru
12 Feb, 2015
Scores of Boko Haram members have been killed by the Chadian troops who are temporarily stationed at Gamboru town in Ngala local government area of Borno state.
Some of the members of the terror group were equally arrested by the troops who were able to recover Hilux vehicles and armoured tankers from the fundamentalist sect.
A fleeing resident of Gamboru who is taking refuge in Maiduguri told journalists that he received a call from his brother in Fotokol in Cameroun who revealed to him that the Chadian troops in Gamboru killed scores of Boko Haram insurgents in the town, arrested some and recovered Hilux vehicles and armoured personnel carrier.
He said: "The insurgents who came at about 4:00am on Wednesday tried to invade the Chadian troops' base but met soldiers who were alert as they acted promptly and killed scores of the insurgents."
Full report at:
http://allafrica.com/stories/201502120329.html
----------
Sudan army committed mass rape in Darfur: HRW
12 Feb, 2015
Sudanese army troops raped more than 200 women and girls in a Darfur town last year, in a brutal attack that should be investigated as a crime against humanity, Human Rights Watch said Wednesday.
In a 48-page report, the US-based rights organization cast doubt over Khartoum's repeated denials that a mass rape took place in October in the town of Tabit.
At least 221 women and girls were raped when the Sudanese army launched three waves of attacks over 36 hours, beginning on October 30, according to the report, which is based on accounts from dozens of Tabit residents.
Soldiers went from house to house, looting property, beating residents and arresting men who were taken to the outskirts of the town while women and girls were raped inside their homes, HRW said.
Full report at:
http://english.ahram.org.eg/NewsContent/2/8/122817/World/Region/Sudan-army-committed-mass-rape-in-Darfur-HRW.aspx
----------
Nigeria: Buhari Meets Catholic Bishops, Allays Fears On Religious Freedom
12 Feb, 2015
ABUJA--The presidential candidate of All Progressives Congress, APC, General Muhammadu Buhari (retd), has re-affirmed his commitment to ensure that Nigeria remained a multi-religious state where every individual was free to practice his religion of choice.
Buhari who spoke at an "Episcopal" Town Hall Conversation with representatives of the Catholic Bishops' Conference of Nigeria in Abuja stated that although he had been severally and consistently vilified and maligned, he had no personal religious agenda, neither would he support any moves by anybody or group of persons to either Christianise or Islamise Nigeria.
In his speech, titled "One Nation bound in Freedom, Peace, Unity and Love", Buhari, who was accompanied to the event by his running mate, Pastor Yemi Osinbajo, the Director General of the APC Presidential Campaign Council, Governor Rotimi Amaechi, and a host of other members of the party's presidential campaign, said he "will not condone any initiative that seeks to promote one religion over the other."
Earlier in his welcome speech, President of the Catholic Bishops Conference of Nigeria, Bishop Ignatius Kaigama, who is also the Archbishop of Jos, said the Catholic Bishops' Conference of Nigeria believed in the unity and progress of Nigeria. He regretted the wide communication gap existing between the leaders and the people, hoping that the conversation was an indication of the willingness to establish a sustainable communication platform.
http://allafrica.com/stories/201502120383.html
----------
Human rights situation in Libya ''bleak'': UN report
12 February 2015
The UN has published a damning human rights report on Libya last year, which will be formally presented to the Human Rights Council next month.
The report ''paints a bleak picture of increasing turmoil and lawlessness, fanned by a multitude of heavily-armed groups amid a broadening political crisis. Rampant violence and fighting, including in the country's two biggest cities, Tripoli and Benghazi, as well as many other cities and towns across the country, is badly affecting civilians in general and a number of specific groups in particular, the report says'', the report said.
While civilians were victims of indiscriminate artillery and air attacks, the report found that unlawful killings and summary executions, including targeted assassinations, were commonplace.
Full report at:
http://www.libyaherald.com/2015/02/10/human-rights-situation-in-libya-bleak-un-report/#ixzz3RaHSr7EI
---------
Media and Journalists under attack in Libya
12 February 2015
In its latest report on the media in Libya, Human Rights Watch (HRW) has characterized the situation in Libya as a ''war on the media'', with ''journalists under attack''.
''Militias have attacked media headquarters and homes of journalists and forced several journalists and media professionals to flee the country'', the report says. There have been ''attacks against journalists and the offices and facilities of media outlets since the 2011 uprising, including threats, assaults, kidnappings, and killings'', adding that the weak Libyan government has failed ''to protect journalists and the media, and hold perpetrators of attacks on them accountable''.
The report said that the ''revolution that toppled Muammar Qaddafi's dictatorship in 2011 following a popular uprising and civil war, transformed Libya's media landscape. Libyan journalists started to report the news, express opinions, and criticize politicians like never before''.
Full report at:
http://www.libyaherald.com/2015/02/10/war-on-the-media-and-journalists-under-attack-in-libya-hrw/#axzz3RaGjVsUu
---------
South Asia
7 soldiers martyred, 22 insurgents killed in past 24 hours
12 Feb, 2015
Seven Afghan National Army soldiers have embraced martyrdom in a landmine explosion, while 21 insurgents have been killed in military operations in past 24, according to a statement issued by the ministry of defense Thursday morning.
The statement does not specify the exact location of the explosion. About the insurgents killed, the statement adds that they were killed in six provinces.
As per the information of the statement 17 other insurgents were injured during the operations and 15 arrested.
50 Improvised Explosive Devices (IEDs) were also defused during the operations.
In the meantime, a statement issued by the media office of Maidan Wardak Province states that an insurgent was killed in own mine explosion in Narkh District last night.
The statement adds that two other insurgents were accompanying the one killed but they escaped following the explosion.
Full report at:
http://www.khaama.com/7-soldiers-martyred-22-insurgents-killed-in-past-24-hours-29052
----------
Afghan soldier hanged to death by Taliban insurgents in Nangarhar
12 Feb, 2015
The Taliban militants executed an Afghan National Army (ANA) soldier in eastern Nangarhar province of Afghanistan on Wednesday.
According to local government officials, the Afghan soldier was hanged to death in public in Khogyani district.
District administrative chief for Sherzad district of Nangarhar Mualim Mashooq said the Afghan soldier was kidnapped by Taliban militants while he was returning to his home.
The Taliban militants group claimed that the Afghan soldier was executed after he was found guilty of murdering a Taliban insurgent in Paktia province.
A statement by Taliban group said the Afghan soldier confessed that he dragged the dead body of the Taliban fighter after killing him in Paktia.
The statement by Taliban further added that the soldier was identified as Ismail who is originally a resident of Sherzad district.
Nangarhar is among the volatile provinces in eastern Afghanistan where anti-government armed militant groups are actively operating and frequently carry out insurgency activities.
http://www.khaama.com/afghan-soldier-hanged-to-death-by-taliban-insurgents-in-nangarhar-9319
----------
China ready to support Kabul-Taliban reconciliation: Minister
12 Feb, 2015
Beijing is ready to support the Afghan government in reconciling with the Taliban, the Chinese foreign minister said Thursday, further indicating China's desire to expand its role in its war-torn neighbour.
Wang Yi, speaking on a visit to Pakistan, said that Afghanistan's long-term stability depended on a "broad-based and inclusive national reconciliation" which needed international support.
Afghan President Ashraf Ghani visited Beijing in October, soon after taking office, and China promised $245 million in "free assistance", having already secured major oil and copper-mining concessions in the country.
But China has previously said little about supporting political efforts in Afghanistan, with which it shares a 76-kilometre (47-mile) border.
Wang said that with NATO's combat mission in Afghanistan having finished in December, it was time to end the country's decades of turmoil and poverty.
Full report at:
http://english.ahram.org.eg/NewsContent/2/9/122852/World/International/China-ready-to-support-KabulTaliban-reconciliation.aspx
---------
PM Sheikh Hasina: No compromise with terrorists
12 Feb, 2015
Prime Minister Sheikh Hasina has said her government will not compromise with the perpetrators of the recent terrorist and militant activities saying human race cannot concede defeat with devils.
"We will resist the devils and Inshallah we will be able to restore peace again in the society," she said adding that there will be no place for militants and terrorists in Bangladesh.
The Prime Minister was addressing the 35th National Rally of Bangladesh Ansar and Village Defence Party (VDP) at Yead Ali Parade Ground at Ansar-VDP Academy at Shafipur on Thursday.
On the occasion an attractive parade and march past of different contingents of Ansar-VDP was arranged led by parade commander Fakhrul Islam. The Prime Minister inspected the parade and took salute.
Full report at:
http://www.dhakatribune.com/bangladesh/2015/feb/12/pm-no-compromise-terrorists#sthash.BPUrDgCG.dpuf
----------
Maldives to copy 'Digital Bangladesh' concept
12 Feb, 2015
Maldives is going to copy the concept of 'Digital Bangladesh'.
A Memorandum of Understanding will be signed between Bangladesh and Maldives at Prime Minister Sheikh Hasina's office on Thursday afternoon.
Maldives Deputy Minister for Home Ahmed Adim will represent the country while Director General of Prime Minister Office Kabir Bin Anwar will represent Bangladesh.
http://www.dhakatribune.com/bangladesh/2015/feb/12/maldives-copy-digital-bangladesh-concept#sthash.s5IGch3z.dpuf
--------
North America
Thousands gather for slain Muslim students in Chapel Hill
12 Feb, 2015
Thousands of people gathered Wednesday in Chapel Hill to mourn three Muslim students killed by an anti-religion gunman who shot them in the head execution style, rocking the tight-knit university town.
Friends and family poured onto the University of North Carolina campus to remember Deah Shaddy Barakat, 23, his new wife Yusor Mohammad, 21 and her 19-year-old sister Razan Mohammad Abu-Salha.
The three were allegedly killed by neighbour Craig Stephen Hicks, 46, whose Facebook page espoused his anti-religious views.
The murders are being investigated by Chapel Hill police as a hate crime, and sparked outrage among Muslims worldwide. Craig is charged with three counts of first degree murder, which carries a minimum sentence of death or life in prison without parole.
The killing rattled the university town, and thousands braved cold temperatures for a candlelit vigil.
"We lost three great citizens of this world and of this country. But I think they've inspired thousands," Farris Barakat, Deah's brother said before a tearful crowd.
Full report at:
http://www.themalaysianinsider.com/world/article/thousands-gather-for-slain-muslim-students-in-chapel-hill#sthash.m7LxMJzv.dpuf
----------
Death of IS recruiter complicates Obama's effort to close Guantanamo
February 12, 2015
During six years behind bars at Guantanamo Bay, Abdul Rauf insisted he was a lowly Taliban foot soldier who delivered bread and tea to combatants, even though he was really a corps commander. He was released in 2007 and sent home to Afghanistan. Until this week, he was working as the top recruiter in Afghanistan for Islamic State militants.
Rauf, who was killed along with seven others in a U.S. drone strike on Monday, and detainees like him who have returned to the battlefield are complicating President Barack Obama's hopes of closing the detention center for terrorism suspects on the U.S. Navy base in Cuba. The administration says the prison is costly, damages America's relationship with key allies and provides extremists a propaganda tool to woo recruits.
Obama has vowed since he was a presidential candidate to close the detention center, but members of Congress have thwarted that ambition, saying the detainees would return to the fight. They also have argued that governments where the detainees would be released in the region couldn't be expected to keep track of them and prevent them from becoming active again.
Full report at:
http://indianexpress.com/article/world/americas/death-of-is-recruiter-complicates-obamas-effort-to-close-guantanamo/99/
------------
Hicks condemned all religions on Facebook prior to arrest for murder of three young Muslims
12 Feb, 2015
The man arrested on suspicion of killing three young Muslims in North Carolina described himself as an "anti-theist" and criticised all religions online.
Police said 46-year-old Craig Stephen Hicks handed himself in to officers in Chapel Hill overnight in the wake of the deaths of 23-year-old Deah Shaddy Barakat, his wife Yusor Mohammad, 21, and her sister, Razan Mohammad Abu-Salha, 19.
He has been arrested and charged with three counts of first-degree murder.
As tributes poured in for the young family, a Facebook page in Hicks' name showed that he read paralegal studies at Durham Technical Community College and described himself as a supporter of "Atheists for Equality".
Full report at:
http://www.independent.co.uk/news/world/americas/chapel-hill-shooting-craig-stephen-hicks-condemned-all-religions-on-facebook-prior-to-muslim-massmurder-arrest-10038126.html
----------
Study: 27% of Americans say ISIL represents true Islam
12 Feb, 2015
More than a quarter of Americans and nearly half of senior Protestant pastors say the Islamic State terrorist group offers a true representation of Islamic society, according to a pair of new surveys by LifeWay Research.
The findings that indicate many Americans have a dim outlook on Islam come as President Obama sent a formal request to Congress on Wednesday to authorize the use of military force to combat the Islamic State. Meanwhile, police in North Carolina tried to determine whether the shooting deaths of three Muslim students were hate-motivated.
Forty-five percent of 1,000 senior Protestant pastors surveyed say the Islamic State, also known as ISIL or ISIS, "gives a true indication of what an Islamic society looks like." Forty-seven percent disagreed with the statement, according to LifeWay, a Nashville-based, non-profit Christian research group. LifeWay surveyed only clergy who identified themselves as the top pastoral officials in their organizations.
Full report at:
http://www.usatoday.com/story/news/2015/02/11/27-americans-isil-true-islam-lifeway-research/23231713/
----------
Rand Paul: 'Hillary's war' in Libya contributed to rise of Islamic State
12 Feb, 2015
Sen. Rand Paul, Kentucky Republican, said Wednesday that President Obama's strategy in combating the Islamic State terrorist group is not working thus far — but that former Secretary of State Hillary Rodham Clinton deserves a lot of the blame for tumult in the region as well.
He acknowledged some improvement in the situation, but said that "one of the people I blame for a lot of this, frankly, is Hillary Clinton."
"The disaster that is Libya is now a breeding ground for terrorists and it's also a breeding ground for armament[s], so really, I really do blame Hillary Clinton's war in Libya for creating a lot of the chaos that is now spreading throughout the Middle East," Mr. Paul said on Fox News' "America's Newsroom."
The Washington Times reported recently that Mrs. Clinton was actually undercut on the 2011 Libya intervention by top Pentagon officials distrustful of the former secretary of state's march to war.
Full report at:
http://www.washingtontimes.com/news/2015/feb/11/rand-paul-cites-hillarys-war-rise-islamic-state/#ixzz3RZai6SCt
----------
Survey: 1 in 3 Americans worry about Sharia law
12 Feb, 2015
NASHVILLE (BP) -- As President Obama seeks to ramp up military action against the terrorist group known as ISIS, Americans remain uneasy over the place of Islam in the United States and in the world, a LifeWay Research survey shows.
More than a third (37 percent) say they are worried about Sharia law -- an Islamic legal and moral code -- being applied in America.
One in 4 (27 percent) believe the terrorist group ISIS reflects the true nature of Islam, while 4 in 10 (43 percent) believe Islam can create a peaceful society.
And most Protestant senior pastors (76 percent) say they support military action against ISIS.
Those are among the results of two surveys of 1,000 Americans each, along with a survey of 1,000 senior pastors of Protestant churches, from Nashville-based LifeWay Research.
Full report at:
http://www.bpnews.net/44207/survey-1-in-3-americans-worry-about-sharia-law
----------
Southeast Asia
Indonesian Ulema Council Gives Valentine's Day the Cold Shoulder Again
12 Feb, 2015
Jakarta. Indonesia's highest Islamic authority has launched its annual protest movement against Valentine's Day, telling young people that celebrating the event can lead to promiscuity and other things not in line with their interpretation of religious teachings.
The Indonesian Council of Ulema, or MUI, rolled out its head of women's empowerment, Tuty Alawiyah, to issue a stern warning against chocolates that it claimed were packaged with condoms and other subtly marketed products that could encourage pre-marital sex.
"There are many Valentine's chocolates sold at supermarkets or convenience stores that include condoms," Tuty said on Thursday as quoted by Tempo.co.
Full report at:
http://thejakartaglobe.beritasatu.com/news/cant-get-love-ulema-council-gives-valentines-day-cold-shoulder/
---------
Security Guard Beaten at Bogor Mosque Over Mockery of Shiites
12 Feb, 2015
Bogor, West Java. A mob claiming to be representatives of a Shiite group attacked the Az-Zikra mosque in Sentul, Bogor, on Wednesday night, beating a security officer in what appears to be a minor sectarian incident.
The attack, according to Bogor District Police Chief Sr. Comr. Sony Mulvianto Utomo, happened at 11 p.m. when a mob came to Az-Zikra mosque complex to confirm information they had received through text messages that there was a banner in the mosque mocking Shiite Muslims.
"They wanted to confirm [the existence of the banner] and it ended with a heated dispute with the mosque security. One security officer was beaten," he said.
Minister of Religious Affairs Lukman Hakin Saifudin said he already heard about the attack and called for calm.
Full report at:
http://thejakartaglobe.beritasatu.com/news/security-guard-beaten-bogor-mosque-mockery-shiites/
----------
Mideast
Qaeda seizes south Yemen army camp, 7 dead: Official
12 Feb, 2015
Al-Qaeda militants overran an army camp in southern Yemen Thursday following clashes that killed at least seven people, a local government official said.
The militants seized the camp of the 19th Infantry Brigade in Baihan, a town in southern Shabwa province, the official said, adding that three soldiers were among those killed.
Ansar al-Sharia, the main arm of Al-Qaeda in Yemen, claimed the attack in a statement on Twitter, accusing troops at the camp of links to the Shiite Huthi militia controlling the capital.
It published pictures of its militants raising the black and white flag of Al-Qaeda at the camp entrance, as well as pictures of soldiers it claimed to have captured.
Tribal sources said the militants seized "dozens" of soldiers and took their weapons, but freed them following tribal mediation.
Full report at:
http://english.ahram.org.eg/NewsContent/2/8/122845/World/Region/Qaeda-seizes-south-Yemen-army-camp,--dead-Official.aspx
----------
Turkish PM calls for 'joint attitude' after murders of Muslim students in US
12 Feb, 2015
Turkish Prime Minister Ahmet Davutoğlu has commented on the killings of three Muslim students in the United States, saying he hoped there was no racist motive behind the murders and calling for a joint attitude against Islamophobia.
"We hope there is no racist motive in the murder of the three Muslim youngsters. But it is too early to say 'there is no such motive.' We don't know. When it comes out, I guess all governments in Europe and America will be able to show a common attitude against such racist acts. It is our right to see a common attitude and a serious stand against Islamophobia as happened in Paris," he said.
Thousands of people gathered on Feb. 11 in Chapel Hill to mourn three Muslim students killed by an anti-religion gunman who shot them in the head execution style, rocking the tight-knit university town.
Full report at:
http://www.hurriyetdailynews.com/turkish-pm-calls-for-joint-attitude-after-murders-of-muslim-students-in-us.aspx?pageID=238&nID=78251&NewsCatID=358
----------
Turkish President Erdoğan presents Cuba mosque project to Castro
12 Feb, 2015
Although Cuban officials have already agreed with Saudi Arabia for the construction of a mosque in Havana, Turkish President Recep Tayyip Erdoğan has told Cuban President Raul Castro that Ankara would like to conduct its own project similar to Istanbul's iconic Ortaköy mosque in another Cuban province.
Speaking to reporters after meeting with Castro in Havana on Feb. 11, Erdoğan said Cuban officials had already made an agreement with Saudi Arabia for the construction of a mosque in Havana.
"We want to build the mosque ourselves. We don't want a partner. If you find it appropriate, we would like to build it in Havana. But if you have promised a Havana mosque to other people, then we can build our Ortaköy Mosque in another Cuban province," Erdoğan quoted himself as saying to Castro.
Mustafa Tutkun, the vice general manager of Turkey's Directorate of Religious Affairs (Diyanet), announced in November 2014 that Ankara had been negotiating with Cuban officials to build a mosque on two hectares of land in Havana's historic center. The Diyanet had proposed the construction of a mosque similar to the picturesque Ortaköy Mosque in Istanbul, which was built by Ottoman Armenian architects Garabet and Nigoğayos Balyan in 1856.
Full report at:
http://www.hurriyetdailynews.com/turkish-president-erdogan-presents-cuba-mosque-project-to-castro.aspx?pageID=238&nID=78254&NewsCatID=338
----------
Iran's Rouhani urges West to lift 'inhuman sanctions'
12 Feb, 2015
TEHRAN: The West should lift "inhuman and illegal sanctions" against Iran as they are trying to reach a comprehensive nuclear deal with Tehran, Iran's President Hassan Rouhani said on Wednesday. While addressing a large crowd celebrating the 36th anniversary of the Islamic revolution in Tehran's Azadi square, he advised the West "to seize the proper opportunity" in order to reach the agreement. "Those claiming Iran came to the negotiation table because of the sanctions are lying," Rouhani said, adding that "Iran is at the negotiation table to help enact worldwide peace and security." To this end, the West should lift "inhumane and illegal sanctions" against Iran as they try to reach a comprehensive nuclear deal with Tehran, Rouhani said. As the country kicks off its nationwide celebrations marking the anniversary, hundreds of thousands of people in Iran's major cities swarmed to the streets, carrying flags, banners and images of the late founder of the Islamic republic Ayatollah Ruhollah Musavi Khomeini, and his successor, incumbent Supreme Leader Ayatollah Ali Khamenei. In capital Tehran, people were also waving banners with anti-US and anti-Israel slogans, shouting support of Iran's right to peaceful use of nuclear power. The president said when the sanctions are lifted, it will benefit both Iran and the P5+1 group, which comprises of the United States, Great Britain, France, Russia, China and
http://www.dailytimes.com.pk/region/12-Feb-2015/iran-s-rouhani-urges-west-to-lift-inhuman-sanctions
----------
Iranians Show Strong Support for Islamic Establishment
12 Feb, 2015
Millions of Iranians in Tehran and other cities across the country have poured to the streets to show their unconditional support for the Islamic Republic through staging massive rallies on February 11th, marking the 36th anniversary of the victory of the Islamic Revolution in Iran.
Huge masses of people from all walks of life have taken to the streets and squares all over the country since morning to express their support for the cause and ideals of the Islamic Revolution.
More than 1,850 Iranian and foreign journalists and reporters are covering the Bahman 22 (February 11) rallies this year.
In Tehran, demonstrators have congregated at the Azadi Square, Tehran's main square and the site of major national rallies over the past three decades.
This year's rallies are even more important than ever as they show wide public support for country's policy in the nuclear talks with the world powers which are at a crucial stage now.
On Monday, President Hassan Rouhani asked people to stage massive participation in the February 11 rallies to show their all-out support for the Islamic establishment to the whole world, specially the powers.
Full report at:
http://english.farsnews.com/newstext.aspx?nn=13931120000832
----------
Yemen militia insists embassy closures 'unjustified'
12 Feb, 2015
A Shiite militia that has taken control in Yemen said Thursday that closures of Western diplomatic missions were "unjustified" and promised to return US embassy vehicles it had seized.
The United States, Britain and France cited security fears as they announced the shutting of their embassies on Wednesday, days after the militia ousted parliament in its latest move to consolidate power.
But Hussein al-Ezzi, described as the Huthi militia's head of foreign relations, said the closures were designed to put "pressure" on the Yemeni people.
"The decisions of some Western countries to close their embassies in Sanaa are absolutely unjustified," he was quoted as saying by the official Saba news agency, which is under Huthi control.
Despite their origins as a Shiite rebel group based in Yemen's north, the Huthis now claim to represent a broad opposition movement that aims to fight corruption.
Ezzi said the countries that closed their embassies "will quickly realise that it is in their interests to deal positively with the will of the Yemeni people, which they must respect."
US embassy staff destroyed documents and weapons and abandoned vehicles at the airport as they made a hasty exit from Yemen.
Full report at:
http://english.ahram.org.eg/NewsContent/2/8/122837/World/Region/Yemen-militia-insists-embassy-closures-unjustified.aspx
--------
Europe
German Artist Rolls Prayer Rugs in Square against Islamophobia
12 Feb, 2015
Taroudant – In response to the growing anti-Islamic movement led by Pegida "European Patriots against the Islamization of the West" in Germany, renowned artist Kurt Fleckenstein rolled on Monday evening 175 prayer rugs in Dresden Neumarkt to express support for Muslims.
The artist bought on the internet 175 prayer mats for $ 8.47 for each piece and rolled them on the scene of Pegida Dresden rally to symbolize "freedom of belief, openness and tolerance."
All the prayer rugs were carefully directed to Mecca, a place where all Muslims direct their faces during their five daily prayers.
In a video published on YouTube, Fleckenstein posed next to the carpets a message tat reads: Ich Glaube an Gott (I believe in God).
http://www.moroccoworldnews.com/2015/02/151508/german-artist-rolls-prayer-rugs-square-islamophobia/
----------
Euro leaders set to debate anti-terror measures
February 12, 2015
Galvanized by the recent terror attacks in France, European Union leaders on Thursday debate a range of ambitious steps to better protect their 28 nations, including exchanging airliner passenger manifests, tightening controls at the border and combating extremism on the Internet.
"Europe is facing an unprecedented, diverse and serious terrorist threat," Gilles de Kerchove, the bloc's counter-terrorism coordinator, warned EU member governments in a report last month.
Latvian Foreign Minister Edgars Rinkevics, whose nation holds the EU's six-month revolving presidency, said Tuesday the often fractious members had reached broad consensus on what actions to take, and share the "strong will" to implement t….hem.
But Wednesday, an EU official, briefing journalists on condition he not be identified by name or function, said work was still going on to finalize the list of recommended actions to be submitted to the leaders at the summit for their approval.
Full report at:
http://indianexpress.com/article/world/europe/euro-leaders-set-to-debate-anti-terror-measures/99/
----------
Belgium Salafist leader jailed for recruiting fighters
12 Feb, 2015
A Belgian court has sentenced the leader of a religious group to 12 years in prison for recruiting fighters to join armed groups in war-ravaged Syria.
Fouad Belkacem, 32, the chief of the Sharia4Belgium group, was convicted on Wednesday by a court in the northern port city of Antwerp for radicalising, recruiting and dispatching young men to fight in Syria.
Prosecutors had asked that he be sentenced to 15 years.
In one of the biggest cases of its kind in Europe, the court jailed several other members of the group, calling it "a terrorist organisation".
Forty-six members of the group originally faced charges, but only eight were actually present during the five-month trial, with one deemed medically unfit to stand trial. The rest were believed to be either still in Syria, or dead.
"Around 350 fighters are estimated to be in Syria to fight, highest number per capita in Europe," Al Jazeera's Simon McGregor-Wood said, reporting from Antwerp.
"It is a big warning to young Belgians who consider going to Syria to fight as it confirms that they will be prosecuted regardless how serious their activities there."
'Salafist combat'
Full report at:
http://www.aljazeera.com/news/2015/02/belgium-salafist-leader-jailed-recruiting-fighters-150211113210891.html
----------
Afghan Taliban smuggle drugs and gems, just like a mafia, says UN
February 12, 2015
KABUL: At one point during their free reign in the late 1990′s, Afghanistan's Taliban had claimed elimination of poppy cultivation in areas under their control. Over a decade after US-led troops invaded the war-torn country, the Taliban are now the biggest criminal lords in the land.
Their movement against the Nato troops has been increasingly financed by criminal enterprises including heroin laboratories, illegal ruby and emerald mines and kidnapping, making negotiated peace harder, said a report submitted to the UN Security Council.
The report said there was a new "scale and depth" to the Taliban's integration with criminal networks, which includes directly running marble mines, taxing the production and export of narcotics and kidnapping for ransom.
Full report at:
http://tribune.com.pk/story/836985/godfathers-afghan-taliban-smuggle-drugs-and-gems-just-like-a-mafia-says-un/
----------
UN Security Council seeks to choke off ISIL funds
12 Feb, 2015
The U.N. Security Council was set to adopt a resolution aimed at choking off millions of dollars in earnings from oil sales, antiquities trafficking and ransom payments to the self-described Islamic State of Iraq and the Levant (ISIL).
Russia drafted the first outline of the measure, which reaffirms the council's resolve to confront the threat posed by the jihadists who overran parts of Syria and Iraq nearly a year ago.
The resolution calls for sanctions against individuals and entities that trade in oil with ISIL and Al-Qaeda affiliates such as the Al-Nusra Front in Syria.
The measure urges all 193 countries of the United Nations to take "appropriate steps" to prevent the trade in cultural property from Iraq and Syria and directs the U.N. cultural agency UNESCO to help put in place a ban.
It also reminds governments worldwide that they must "prevent terrorists from benefiting directly or indirectly from ransom payments or political concessions" to secure the release of hostages.
Full report at:
http://www.hurriyetdailynews.com/un-security-council-seeks-to-choke-off-isil-funds-.aspx?pageID=238&nID=78256&NewsCatID=359
-----------
Sharp rise in anti-Muslim attacks reported in France
12 Feb, 2015
PARIS, Feb 12 (KUNA) -- There has been a sharp rise in anti-Muslim and Islamophophic attacks in France in the wake of the terror attacks carried out in Paris January 5-7, when 20 people, including three terrorists, were killed, a monitoring body said.
The Collective Against Islamophobia in France (CCIF) said in a report, on Wednesday, that attacks between January 7 and February 7 were up 70 percent compared with the same period in 2014.
In the month period reported, 153 anti-Islamic acts were perpetrated throughout France, including 30 attacks against Islamic sites, mainly mosques, and there were ten physical attacks against Muslims here. There was also a huge increase in the level of discriminatory insults and verbal threats from January-to-February, the report said.
Full report at:
http://www.kuna.net.kw/ArticleDetails.aspx?id=2424352&language=en
----------
France: Muslim Man Sentenced to 3 Years in Prison for Fighting With a Jew
12 Feb, 2015
Rabat – Muslims in France are guilty of everything until proven otherwise. At least that's what the facts on the ground are suggesting nowadays. Since the attacks on the Paris offices of satirical weekly magazine Charlie Hebdo last month, the Muslim community in France has endured persecution, judgment and discrimination, and sometimes for the silliest of reasons.
An Al Jazeera network correspondent was apparently right when he said that tough times are awaiting Muslims in France in the wake of the attacks that claimed the lives of twelve people and left many others wounded.
After a small flag bearing the Islamic declaration of faith landed a French-Moroccan in prison in the French city of Lille, here is another case that proves that France has gone into a collective state of hysteria and Islamophobia since the terrorist attacks.
Sami, a 20-year-old Muslim man, has been sentenced to 3 years in prison after a fight with Full report at:
http://www.moroccoworldnews.com/2015/02/151554/france-muslim-man-sentenced-3-years-prison-fighting-jew/
----------
India
Kiran Bedi: Fatwas impact the freedom of choice to vote
Feb 12, 2015
NEW DELHI: A day after the BJP suffered a rout in the Delhi assembly elections 2015, party's chief ministerial candidate Kiran Bedi has shot off a letter to the Election Commission saying fatwas impact the freedom of choice to vote.
"These fatwas have an impact as they mean a direction. Should EC allow such last moment directions, is it good for democracy?" she was quoted as saying.
"I was told voting for me in Krishna Nagar dropped in places where fatwa was given. I want it to be inquired," she added.
Kiran Bedi appeared to blame a "fatwa" by Shahi Imam of Jama Masjid Syed Ahmed Bukhari, appealing to Muslims to support AAP, for her defeat in BJP's traditional stronghold of Krishna Nagar in East Delhi and sought a probe into it by the Election Commission.
She said the Election Commission should inquire the issue to know whether the Shahi Imam's appeal to Muslims a day before the polls had any impact on the electoral outcome.
Bedi claimed that though she was leading in the vote count, her vote share started dropping when counting of votes in a Muslim-dominated area of her constituency was taken up.
"I was told that during the vote count in Krishna Nagar, I was leading but when the counting of votes of the area, where fatwa might have an impact, was carried out, it started to drop," Bedi said, adding "I lost by 2000 votes when the counting reached that area."
A day ahead of the polls on February 7, Bukhari appealed to Muslims to vote for AAP but the party promptly rejected the offer. Though it was an appeal by Bukhari, several BJP leaders called it "fatwa".
Full report at:
http://timesofindia.indiatimes.com/india/Kiran-Bedi-Fatwas-impact-the-freedom-of-choice-to-vote/articleshow/46201201.cms
---------
Pak to release 173 Indian prisoners as 'goodwill gesture'
TNN | Feb 12, 2015
NEW DELHI: Pakistan has decided to release 173 Indian prisoners, almost all of them fishermen, out of a total of 526 inmates on February 16 in a "goodwill gesture''.
External affairs ministry spokesperson Syed Akbaruddin said the government has received a written communication from Pakistan on the release of 173 Indian prisoners, including 172 fishermen.
"Expectation of return soon. We have been informed that 173 Indian prisoners are to be released & repatriated from Pakistan on 16 February," he also tweeted. Pakistan officials said they expected India to reciprocate the gesture by releasing Pakistani fishermen.
The prisoners will come through Wagah and will be first received by Indian diplomatic mission staff, he said.
According to official figures, as on January 1 this year, there were as many as 526 Indians lodged in Pakistani jails, which included 50 civilians.
http://timesofindia.indiatimes.com/india/Pak-to-release-173-Indian-prisoners-as-goodwill-gesture/articleshow/46207092.cms
----------
Australia
Video with stabbing threats feature one of Australia's accused terrorists
February 12, 2015
One of two men charged with planning to launch an imminent terrorist attack in Australia appeared on a video threatening to stab the kidneys and necks of their victims, the nation's prime minister said Thursday, accusing the pair of "monstrous extremism."
Omar Al-Kutobi, 24, and Mohammad Kiad, 25, were charged this week with undertaking acts in preparation or planning for a terrorist act after police raided their Sydney home and seized the video, a homemade flag associated with the Islamic State group, a machete and a hunting knife.
Prime Minister Tony Abbott, who watched the video, told Parliament it depicted one of the men kneeling before the flag with a knife in his hand and a machete in front of him. Abbott quoted the man as saying: "I swear to almighty Allah, we will carry out the first operation for the soldiers of the caliphate in Australia. … I swear to almighty Allah, blond people, there is no room for blame between you and us. We only owe you stabbing the kidneys and striking necks."
Police say they thwarted a terrorist attack in Sydney by mere hours on Tuesday when they swooped on Al-Kutobi and Kiad's home after receiving a tip that they were about to launch a violent attack. Neither man has applied for bail or entered a plea to the charges, which carry a possible sentence of life in prison.
On Thursday, responding to reports that the men came to Australia as refugees and that one arrived on a false passport, Immigration Minister Peter Dutton said one of them may have entered Australia with "some false documentation." He has asked for an urgent review into the matter.
Full report at:
http://indianexpress.com/article/world/world-others/videos-with-stabbing-threats-feature-one-of-australias-accused-terrorists/
------------
Australian halal businessman to sue 'bigots'
World Bulletin / News Desk
February 12, 2015
The head of a Sydney-based halal certification body has launched legal action against an "Islam-critical" group that claims the industry is corrupt and promotes sharia law in Australia, local media reported Wednesday.
Mohamed El Mouelhy, chairman of the Halal Certification Authority, is suing the Q Society over two videos posted online, as well as halal campaigner Kirralie Smith.
"These are bigots and anti-Muslims and they don't make any bones about it," El Mouelhy told SBS News. "Kirralie Smith has maligned me personally in two videos that are on YouTube.
"They have said that I'm dishonest or that I'm using the money that I'm taking to support terrorists or that I'm actively working to install sharia law, whatever that is, in Australia."
Commenting on the case, he added: "It's going to put those bigots back in their holes. They're racist bigots and there is no other word for it."
Full report at:
http://www.worldbulletin.net/muslim-world/154821/australian-halal-businessman-to-sue-bigots
---------
URL: https://www.newageislam.com/islamic-world-news/new-age-islam-news-bureau/code-of-conduct-issued-for-mosques,-seminaries-in-pakistan/d/101488