New Age Islam News Bureau
25 Apr 2015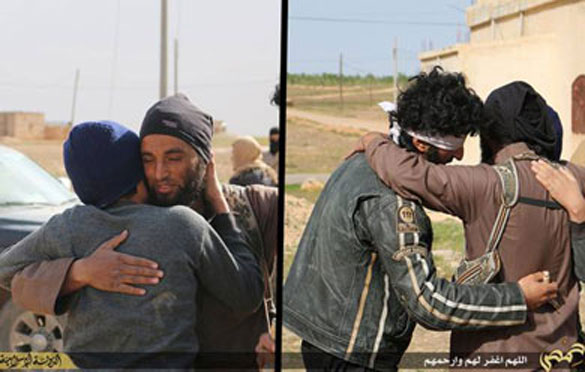 Isis Militants Embrace 'Gay' Men before 'Stoning Them to Death in Public' In Syria
-------------
South Asia
• Close To 200 Taliban Killed and Wounded In Fresh Military Operations in Afghanistan
• Two Solders Martyred, 15 Militants Killed In Kundoz Clashes
• Islam Finds Way into Korean Society
• 5 members of a family killed, 11 wounded in Laghman mortar attack
• Militants kill groom and his family members in Farah province
• Bangladesh-born east London mayor kicked out of office
Arab World
• Isis Militants Embrace 'Gay' Men before 'Stoning Them to Death in Public' In Syria
• Hezbollah: Prolonged Yemen War to Incur Bigger Loss on Saudis
• I S Kills 10 People, Shoots Down Plane in Syria
• Iraqi general, 3 officers killed in ISIS ambush
• Nusra Front, allies overrun key Syrian city
• Saudi accuses IS of killing police, seizes bombs
• State NHS-Style Hospital Video Posted
• Imam: Be wary of fabricated, divisive reports
• Syrian Army Wins Battles against Insurgent Groups in Dara'a, Hama Provinces
• Smuggled treasures repatriated to Egypt from the US
• Saudi Arabia foils ISIS-backed plot on its grounds
• Syria: Street War Rages on in Aleppo Neighbourhoods
Africa
• 10 Militants, 3 Soldiers Killed In Tunisia Clashes
• Boko Haram Retakes Key Town from Nigerian Army: Witnesses
• Islamic State strengthens ties with Boko Haram
• Peacekeepers in Sudan's Darfur repel attacks
• SA media in firing line for xenophobia coverage
• Kenyan governors build confidence to secure tip-offs on extremists
Pakistan
• 9 Suspected Militants Killed In Airstrikes in Khyber Agency
• Pakistani Human Rights Activist Killed In Karachi
• Jamaat-i-Islami the only religious party contesting polls
• Centre wants provinces to share counter terror cost
• PPP wants LG system introduced in Fata
• Hostages' death in drone attack shocking: FO
Mideast
• Ansarullah: Saudi Intelligence Leading Terrorist Groups, Militias in Yemen
• Israeli Forces Shoot and Kill Palestinian Armed With Knives
• Saudi Warplanes Kill 7 Civilians in Al-Dalea
• More Civilians Killed in Saudi Air Strikes on Taiz
• After years of Israeli ban, Palestinian police now deployed into lawless Jerusalem suburbs
• Israel raid hits missile depot in Syria
• Iran summons Saudi diplomat over plane interception
Europe
• Germany Calls On Houthis to Stop Fighting
• Irish Expert: Al-Qaeda in Yemen Assisted By US, Saudi Intel. Operatives
• U.N. envoy needs to find out if Syria sides have 'appetite' for peace
• Opera on 9/11 terror attack hailed in London
• French President warns Indonesia of diplomatic action if Frenchman executed
• Russia knows genocide well, Turkey fires back
• World's first auction of Iraqi modernist art sets new record
North America
• Kerry Urges Houthis, Allies to Enter Talks
• Windsor Muslims learn to deal with Islamophobia
• Former Muslim from Egypt brings his message to Oklahoma lawmakers, students
• Killing of Adam Gadahn, Al-Qaeda media front man, seen as big blow for militants
Southeast Asia
• No Marital Rape in Islam, Muslims Say after DAP Launches Anti-Rape Campaign
• Hadi Awang: PAS Adamant about Implementing Hudud in Kelantan
• Flurry of Activity Signals Executions Are Imminent
• Malaysia needs a constitutional court, say G25
• Indonesia Improves on Happiness Scale
India
• Jesus would have been ashamed of his followers: VHP
• India, Pakistan spar over Kashmir at Bandung
• Earthquake: 34 people killed, hundreds injured in India
Compiled by New Age Islam News Bureau
URL: https://www.newageislam.com/islamic-world-news/new-age-islam-news-bureau/close-to-200-taliban-killed-and-wounded-in-fresh-military-operations-in-afghanistan/d/102669
----------
South Asia
Close To 200 Taliban Killed and Wounded In Fresh Military Operations in Afghanistan
Apr 25, 2015
A day after Taliban announced the start of their sprint offensive, Ministry of Interior (MoI) states that close to 200 Taliban militants have been killed and wounded during fresh security operations.
Sediq Sediqi, spokesman for the Ministry of Interior says that this is a strong answer from security forces to the start of Taliban spring offensive "Azm".
MoI statement states that 104 Taliban militants were killed and 89 others wounded in the operations conducted in past 24 hours.
According to the statement Afghan National Police, Afghan National Army and personnel from the National Directorate of Security (NDS) took part in the operations carried out in Jowzjan, Kandahar, Faryab, Zabul, Ghazni, Badghis, Kunduz, Farah, Herat, Paktika, Helmand and Maidan Wardak provinces.
According to the statement the heavies' casualties Taliban suffered were in Helmand, Badghis, Kundoz and Farah provinces.
The news comes as Taliban announced this past Friday as the start of their spring offensive.
http://www.khaama.com/moi-more-than-200-taliban-killed-and-wounded-in-fresh-military-operations-3218
----------
Two solders martyred, 15 militants killed in Kundoz clashes
Apr 25, 2015
Two soldiers embraced martyrdom and 15 Taliban killed during clashes erupted after Taliban militants attacked a number of security check posts in northern Kundoz province.
General Abdul Saboor, police chief of Kundoz province says that the clashes erupted in Khan Abad, Ali Abad, Imam Sahib and Chahar Dara Districts on Thursday night.
He further said that Taliban militants attacked some security check posts in these areas engulfing gun battles in which two soldiers embraced martyrdom and 15 militants killed.
General Saboor added that two Taliban commanders, Qari Rahimuddin and Mullah Tufan, were among the militants killed in the fighting.
Taliban have accepted responsibility for the attacks but claim more casualties to security forces.
http://www.khaama.com/two-solders-martyred-15-militants-killed-in-kundoz-clashes-3214
----------
Islam Finds Way into Korean Society
25 April, 2015
Stepping outside a lecture room at Kyung Hee University amid a flock of Korean students, a 28-year-old Jordanian student heads toward a Muslim prayer room set up in his university campus.
Mohammad's daily ritual in the prayer room demonstrates Korea's efforts to understand the once-alienated religion, he noted.
"These days, Koreans do not discriminate against me on the basis of me being a Muslim," he said, adding this was not always the case.
"When I came here in 2010, Koreans gave the cold shoulder to Muslims or those who headed to the Muslim prayer room. It was troubled times for people like me," he said.
The changes in perception are the result of an ongoing effort to better understand Islam both as a culture and religion, explained Imam Lee Ju-hwa of the Seoul Central Mosque.
"Each year, there has been a dialogue among multiple religions here. We discuss ways to coexist and cooperate with each other," he said.
As part of an effort to promote the religion, the Islamic community here holds free Arabic classes along with seminars and lectures about the Islamic culture.
Kim Sang-kyu, an executive of the Markaz Arabic Centre, explained that the country has seen a growing interest in the Arabic language.
"Three years ago, two students came to study Arabic. Now, more than 100 students visit here and learn Arabic a month," he said.
"As most Arabic speakers are Muslims, Korean students learning Arabic get a chance to understand the Islamic culture by communicating with Muslim teachers."
Visitors to the Seoul mosque on Friday? The holy day in Islam? Would encounter hundreds of people flocking beneath the towering minarets.
Believers overflow from the prayer rooms and out to the stairs and the building's exterior, where brightly hued prayer rugs lie.
An elderly Arabian man in a white long thobe, a Southeast Asian man wearing an orange Hawaiian-style shirt, a lanky Nigerian man, a barefoot Korean youth and even a group of Korean girls clad in Hijab ? The garment worn by Muslim women ? All come to kneel at the mosque for prayer.
The Muslim population is still relatively small at 135,000. But a street full of restaurants and shops marked "Halal" around the Seoul mosque suggests that the Muslim culture in Korea has developed past its fledgling stage.
There had been darker times when these very streets were filled with anti-Islamic protesters, especially in 2007 when a hostage situation in Afghanistan resulted in the death of two Koreans.
Imam Lee Ju-hwa, however, said the incident, albeit tragic, led people to learn about then-little-known religion.
Last February, a small group of Koreans held a candlelight vigil in front of the Jordanian embassy in Seoul for the Jordanian pilot recently executed by the Islamic State militant group.
The Muslim-style memorial indicated that Islam in Korea is no longer mysterious and tangled with violence, but has been gaining ground to become a respected religion.
"It is important for Koreans to realize that Muslims have already set root in the country and are living, breathing with us," Lee said.
"Sure we have our differences, but it's important to open up to others to try and understand one another, and set a foundation for us all to coexist peacefully."
http://www.koreaherald.com/view.php?ud=20150424000939
----------
5 members of a family killed, 11 wounded in Laghman mortar attack
Apr 25, 2015
At least five member of a family were killed and eleven others were injured following a rocket attack in eastern Laghman province of Afghanistan.
According to local government officials, the incident took place late on Friday night after a motar round fired by militants landed on a residential house.
Provincial governor spokesman Sarhadi Zwak said the incident took place in Alingar district.
Zwak further added that the victims were members of a single family which included four women and eleven others including children were injured.
No group including the Taliban militants has so far claimed responsibility behind the incident.
Laghman is aong the relatively volatile provinces in eastern Afghanistan where anti-government armed militants are actively operating in a number of its districts and frequently carry out insurgency activities.
http://www.khaama.com/5-members-of-a-family-killed-11-wounded-in-laghman-mortar-attack-1032
----------
Militants kill groom and his family members in Farah province
Apr 25, 2015
A group of insurgents attacked a wedding ceremony in western Farah province of Afghanistan on Friday, leaving the groom dead along with his family members.
According to the local government officials, the incident took place around 12:00 pm local time in the capital city of Farah province.
The provincial security chief Dil Jan Khakrezi said the militants had disguised themselves in police uniform and attacked the vehicle of the groom while they were crossing the area.
Khakrezi further added that the father of the groom along with his brother were killed following the attack.
The anti-government armed militant groups have not commented regarding the incident so far.
Farah is among the relatively volatile provinces in western Afghanistan where anti-government armed militants are actively operating and frequently carry out insurgency activities.
Targeted killings were the third leading cause of civilian deaths and injuries, according to the latest United Nations report.
The report by UN said in the first three months of 2015, civilian casualties from targeted killings increased by 34 per cent, with UNAMA documenting 309 civilian casualties (217 killed and 92 injured) in 192 separate incidents.
https://www.khaama.com/militants-kill-groom-and-his-family-members-in-farah-province-1031
--------
Bangladesh-born east London mayor kicked out of office
Apr 25, 2015
The mayor of the borough of Tower Hamlets, Lutfur Rahman, was told to vacate his post immediately, after an election court judge declared the results of the 2014 mayoral race void.
The Bangladesh-born politician was banned from seeking office again and ordered to pay £250,000 costs after he was found to have allocated local grants to buy votes.
Petitioners against him alleged that Britain's first directly elected Muslim mayor had won the ballot after a campaign of "intimidation and corruption," the Guardian reported yesterday.
Judge Richard Mawrey QC handed down his verdict yesterday after a 10-week hearing at the Royal Courts of Justice.
Full report at:
http://www.dhakatribune.com/bangladesh/2015/apr/24/bangladesh-born-east-london-mayor-kicked-out-office#sthash.ER6Fs5wE.dpuf
----------
Arab World
Isis militants embrace 'gay' men before 'stoning them to death in public' in Syria
25 April, 2015
Jihadists have been posing as gay men in a bid to trap victims, a report has claimed, as Isis released pictures purporting to show two allegedly homosexual men being embraced by militants before they were brutally stoned to death in public.
The distressing images have been circulating across social media and accounts affiliated with the jihadist group and are the latest in a long line of shocking pictures showing men accused of homosexuality being persecuted by Isis militants.
Previous propaganda claiming to show 'gay' men being punished has depicted men thrown from buildings in the group's defacto Syrian capital of Raqqa and victims publicly beheaded. Others are stoned to death, while all killings are committed in front of crowds. However, photos of militants seemingly hugging their victims are more unusual.
Abu Mohammed Hussam, an activist with the Syrian group Raqqa is Being Slaughtered Silently (RBSS), said the apparent embrace was used by militants to demonstrate that by killing the men, they are paving the way for God to forgive them for their 'sins'.
"Isis has never forgiven one person," he said. "They kill people and then say when God will forgive. They hug the men to show the people who are watching that Isis is not at fault."
He said the men were aged just 24 and 29-years-old. Their purported execution took place in the countryside outside of Homs and they appeared so calm because they had been drugged before their deaths, according to Mr Hussam.
Full report at:
http://www.independent.co.uk/news/world/middle-east/isis-militants-embrace-gay-men-before-stoning-them-to-death-in-public-in-syria-10200570.html
----------
Hezbollah: Prolonged Yemen War to Incur Bigger Loss on Saudis
Apr 25, 2015
Hezbollah Deputy Secretary-General Sheikh Naim Qassem warned Saudi Arabia of greater losses resulting from prolonged military strikes on Yemen.
"We are witnessing Saudi Arabia's evident defeat and failure since Ansarullah movement and the Yemeni army and popular committees have taken control of most parts of the country and even Aden is controlled by them and at present, the Southern and Northern parts of Yemen are standing in one line of cooperation," Qassem was quoted as saying by al-Ahd news website on Friday night.
Warning that the longer war in Yemen lasts, the more losses the Saudis will sustain, the Hezbollah deputy leader described political solution as the only possible way to resolve the Yemen crisis.
Qassem also said that the Saudi military strikes against Yemen resemble the Israeli attacks against Gaza.
In relevant remarks last week, Qassem condemned Saudi Arabia's air strikes on Yemen, and warned the Persian Gulf kingdom of the dire repercussions.
"Saudi Arabia has embroiled itself and will incur very serious losses that have started to show and will increasingly reflect on its status, its internal situation and its role in the region," he said.
Full report at:
http://english.farsnews.com/newstext.aspx?nn=13940205000823
----------
I S Kills 10 People, Shoots Down Plane In Syria
Apr 25, 2015
Islamic State (IS) militants killed 10 people, many of them Kurds, in northern Syria on Friday and shot down a military aircraft in the south of the country, the Syrian Observatory for Human Rights, or SOHR, reported.
The NGO explained that IS killed the 10 victims with knives on the outskirts of the northern Aleppo province after accusing six of them of "spying for the regime and the atheist Kurdish parties", and the rest for participating in the slaughter of IS fighters.
The radical group also shot down a military plane near the Khalkhala Syrian military airport, on the outskirts of the southern province of Sueida, southeast of Damascus.
The fate of the crew of the aircraft is still unknown, SOHR said.
IS proclaimed a caliphate on last June in areas under its control in Syria and Iraq, where hundreds of people have been killed under the alleged auspices of establishing a state based on a radical interpretation of Sunni Islam.
http://www.thehindu.com/news/international/many-dead-as-is-shoots-down-plane-in-syria/article7139346.ece
----------
Iraqi general, 3 officers killed in ISIS ambush
25 April 2015
Fighters from the Islamic State of Iraq and Syria (ISIS) group ambushed an Iraqi army convoy on Friday with a bulldozer packed with explosives, killing the commander of the Iraqi 1st Division and three of his staff officers north of Fallujah, said military officials.
The suicide bomber attacked the convoy of Humvees and then militants opened fire, killing Brig. Gen. Hassan Abbas Toufan, a colonel and two lieutenant colonels in the Nadhem al-Taqseem region, said a member of the division and an intelligence officer. There was no initial count on the number of soldiers killed in the attack. The officials spoke on condition of anonymity because they were not authorized to speak to the press.
The attack represents a setback for the Iraqi army which is embroiled in a fierce battle to reconquer western Anbar province, which has been under the control of the extremist ISIS group for the past year. Fighting has been focused on the provincial capital of Ramadi, where the government had been making slow progress.
Full report at:
http://english.alarabiya.net/en/News/middle-east/2015/04/25/Iraqi-general-3-officers-killed-in-ISIS-ambush.html
----------
Nusra Front, allies overrun key Syrian city
25 April 2015
Fighters of Syria's Al-Qaeda affiliate and its allies overran the last major government-held city in the northwestern province of Idlib on Saturday, a monitoring group said.
The rebels launched their attack on Jisr al-Shughur on Thursday, seeking to capitalize on their capture of the provincial capital last month and open up a strategic assault route to the regime's stronghold on the Mediterranean coast.
"Al-Nusra Front and the Islamist brigades .. took control of almost all the city," Syrian Observatory for Human Rights chief Rami Abdel Rahman told AFP. "Government forces fled."
http://english.alarabiya.net/en/News/middle-east/2015/04/25/Nusra-Front-allies-overrun-key-Syrian-city-.html
----------
Saudi accuses IS of killing police, seizes bombs
Apr 25, 2015
RIYADH: Saudi Arabia blamed the Islamic State group Friday for the killing of two policemen in the capital this month and said three bomb-laden cars had been seized during its investigations.
A Saudi man arrested on suspicion of carrying out the shooting has confessed that he was following orders received from IS in Syria, the interior ministry said.
He was identified as 23-year-old Yazid bin Mohammed Abdulrahman Abu Niyan.
The authorities offered a one million riyal ($267,000) bounty for a second suspect, a Saudi named as Nawaf bin Sharif Samir al-Anzi.
During their investigation the authorities seized seven cars, "three of them booby-trapped," as well as suspected bomb-making materials and tools, said the statement carried by the Saudi Press Agency.
Full report at:
http://tribune.com.pk/story/875290/saudi-accuses-is-of-killing-police-seizes-bombs/
----------
State NHS-Style Hospital Video Posted
25 April, 2015
Islamic State appears to have released a promotional video for its own health service featuring NHS-style branding and an Australian doctor.
The video has not been verified but was being circulated by IS-affiliated social media accounts and bears all the hallmarks of previous IS productions.
Using an NHS-style logo, it introduces the "ISHS" - or IS Health Service.
It appears to have been filmed in Raqqa General Hospital in the Syrian IS stronghold of Raqqa.
The first doctor in the video talks about the establishment of a health ministry that regulates medical facilities across IS territory, including the Raqqa hospital, which he says has been refurbished.
A second doctor introduces the intensive care unit, which he says treats victims of military conflict and car accidents. A third speaks about the X-ray department, which includes a women-only unit.
Full report at:
http://www.bbc.com/news/world-middle-east-32456789
----------
Imam: Be wary of fabricated, divisive reports
Apr 25, 2015
The war in Yemen was aimed at protecting citizens of that country and defending the Kingdom from external threats, said Sheikh Saleh Al-Talib, imam and khateeb at the Grand Mosque in Makkah, on Friday.
Al-Talib said the Saudi government did not want a war. "The Kingdom has never called for a war. It has never been hostile throughout its history ..."
The Kingdom led the campaign to "defend the holy places, protect Muslims and help Yemenis." Hope has now returned to Yemen, he said.
Al-Talib said citizens should be wary of reports in the media that have been fabricated by the enemy to undermine the unity of Muslims.
He urged Saudis to remain united and support the government. Disputes among citizens would not benefit the country and "lead to failure." It was a time for rising "above all differences."
He said the coalition had achieved its goals. He praised the soldiers of the alliance for carrying out their duty. Those who died on the front lines were martyrs because they were defending truth and justice in the cause of Allah, he said. He said the Yemenis living here with us, and those in their country, are our brothers. "We have a common enemy and common interests."
http://www.arabnews.com/featured/news/737546
----------
Syrian Army Wins Battles against Insurgent Groups in Dara'a, Hama Provinces
Apr 25, 2015
The Syrian Army's recent anti-rebel operations in the Central province of Hama and the Southern province of Dara'a have resulted in the killing of hundreds of rebels, military sources said.
The sources told the FNA that there have been heavy clashes between the army and the militants in Tal al-Mal, al-Lajat and Daraa al-Balad, where the rebels left behind scores of killed and wounded bodies.
The militants' logistic convoys in Kifr Zeita, al-Latamina and al-Ankawi in Hama countryside were targeted by the army men, who are trying to cut the connection lines of rebels in Hama with the other provinces.
Syria has been gripped by deadly violence since 2011. Western powers and their regional allies -- especially Qatar, Saudi Arabia and Turkey -- are reportedly supporting the militants operating in Syria.
Full report at:
http://english.farsnews.com/newstext.aspx?nn=13940205000831
----------
Smuggled treasures repatriated to Egypt from the US
Apr 25, 2015
Egypt is to welcome back home up to 123 ancient Egyptian artefacts this evening at the Cairo International Airport, after they were discovered as part of an ongoing 5-year investigation into an international smuggling ring in the United States.
In 2009, the United States' Immigration and Customs Enforcement (ICE) discovered a woman's Greco-Roman style sarcophagus in a garage in Brooklyn, New York, according to a Wednesday press release, providing a critical break-through in uncovering a major smuggling ring that had illegally brought up to 7,000 cultural items into the US from around the world, including Egypt.
Following leads from the Brooklyn discovery, the US authorities then found an ancient Egyptian model of a funerary boat and figurines at the Detroit airport in September 2010, and 65 ancient Egyptian coins in December 2010, according to the same press release.
These items, along with two more funerary boats models, all from the Middle Kingdom (between 2000 and 1700 BC), limestone carvings from the Third Intermediate Period (from 1070 to 664 BC), as well as the remains of human skeletons, have all be repatriated to Egypt, according to Egyptian minister of antiquities Mamdouh Eldamaty.
Full report at:
http://english.ahram.org.eg/NewsContent/9/40/128546/Heritage/Ancient-Egypt/Smuggled-treasures-repatriated-to-Egypt-from-the-U.aspx
----------
Saudi Arabia foils ISIS-backed plot on its grounds
25 April, 2015
Saudi Arabian officials announced Saturday that an ISIS-backed bomb plot on its grounds had been foiled, and three bomb-trapped cars had been seized as evidence, according to the Lebanese Daily Star.
Officials also credited the terror organization with shooting two policemen in Riyadh earlier this month.
23-year-old Yazid Abu Niyan, a Saudi national arrested and credited with carrying out the shooting of the policemen, confessed to have been operating in accordance with the orders of Islamic State activists in Syria.
A bounty was set for a second accomplice, Saudi national Nawaf al-Anzi.
According to the report, al-Anzi allegedly drove to the scene and filmed the April 8th shooting of Saudi police officers carried out by Abu Niyan.
During investigations, Abu Niyan told authorities that IS supplied the men with the weapons, ammunition, and resources necessary to carry out the shooting.
According to the Daily Star, Saudi authorities seized an additional four non-booby-trapped cars, along with suspected bomb making materials and tools during investigations.
Al-Arabiya reported Friday that the alleged terror plot involved seven car bombings in the Saudi capital.
http://www.jpost.com/Middle-East/Saudi-Arabia-foils-ISIS-backed-plot-on-its-grounds-399128
----------
Syria: Street War Rages on in Aleppo Neighbourhoods
Apr 25, 2015
Military sources in Syria said several neighbourhoods in Aleppo city, and villages and towns in its countryside were the scenes of heavy clashes between the Syrian Army and the insurgents.
An informed source told FNA that the militants' concentration centres in Old Aleppo and al-Rashideen neighbourhoods in Aleppo city were strongly targeted by the Syrian army men, which resulted in the killing and wounding of scores of them.
Insurgents' strongholds in al-Atareb town to the West of Aleppo city also came under a raid by the army men, other sources said, adding that scores of militants were killed and dozens more were captures in the clashes.
Full report at:
http://english.farsnews.com/newstext.aspx?nn=13940205000523
--------
Africa
10 militants, 3 soldiers killed in Tunisia clashes
Apr 25, 2015
TUNIS: At least 10 militants and three Tunisian soldiers have been killed in two days of clashes in the central Kasserine region near the border with Algeria, the military said on Friday.
Tunisia's army has been carrying out operations in the area since last month's attack on the Bardo museum in Tunis where gunmen killed more than 20 foreign tourists in an attack claimed by the Islamic State.
"Ten terrorists have been killed and three soldiers are dead after clashes in the Saloum mountains in Kasserine, and this is probably not the final death toll," said army spokesman Belhassen Bouslati.
He said the operations were continuing but did not give details. Since its 2011 uprising a Tunisia's armed forces have been fighting a low-level insurgency by several armed groups.
http://www.arabnews.com/middle-east/news/737301
----------
Boko Haram retakes key town from Nigerian army: witnesses
25 April 2015
Suspected Boko Haram insurgents have forced hundreds of soldiers to flee Marte, a border town along the shores of the Lake Chad, a local official and witnesses said Friday.
"The terrorists, numbering over 2,000, appeared from various directions on Thursday and engaged the soldiers in Kirenowa town and adjoining communities in Marte," said Imamu Habeeb, a local community leader.
"They fought with soldiers over the night and the fight continued today (Friday), forcing hundreds of soldiers to flee," he added from Borno state capital Maiduguri.
Local fighter Shehu Dan Baiwa said the more than 2,000 fighters had been armed with bombs and tanks. "They used the weapons without restraint and succeeded in killing several people," he said.
This is the third time Boko Haram has seized control of Marte in restive Borno state, a key battleground of their six-year insurgency, which has killed more than 13,000 and left 1.5 million homeless.
Full report at:
http://english.alarabiya.net/en/News/africa/2015/04/25/Boko-Haram-retakes-NE-town-from-Nigerian-army-witnesses-.html
----------
Islamic State strengthens ties with Boko Haram
25 April, 2015
The Islamic State (IS) has released a new video, eulogising Nigeria's Boko Haram, in the latest sign of closer ties between the two militant groups.
Images posted on IS-linked social media accounts refer to Boko Haram as the Islamic State's West Africa Province (Iswap) - a catchy name aimed at showing that it has expanded beyond the Middle East and North Africa.
IS accepted a pledge of allegiance from Boko Haram leader Abubakar Shekau in March, giving the group its first foothold in sub-Saharan Africa in its efforts to create a global caliphate.
The latest images glorify Boko Haram fighters, describing those killed in battle as martyrs.
Unlike most previous pictures of people Boko Haram claims as its members, the young men are not masked and their faces are clearly visible.
Boko Haram has previously referred to itself as Iswap in its increasingly sophisticated propaganda material.
Full report at:
http://www.bbc.com/news/world-africa-32435614
----------
Peacekeepers in Sudan's Darfur repel attacks
25 April, 2015
Khartoum - Unidentified gunmen have launched two attacks on peacekeepers in Sudan's troubled Darfur region, losing four of their own men in one of them, the UN-African Union mission said on Friday.
The UN-AU mission in Darfur deployed to the region in 2007, four years after ethnic insurgents mounted a campaign against the Arab-dominated government of Omar al-Bashir, complaining of their marginalisation.
Around 40 horsemen and camel-mounted gunmen attacked "Nigerian troops protecting a water point" in Kass, 85km from South Darfur state capital Nyala, on Thursday evening.
The peacekeepers returned fire, killing four attackers and wounding one, whom they handed over to Sudanese police, Unamid said.
Full report at:
http://www.news24.com/Africa/News/Peacekeepers-in-Sudans-Darfur-repel-attacks-20150424
----------
SA media in firing line for xenophobia coverage
25 April, 2015
Johannesburg - Deputy Police Minister Maggie Sotyu has launched a scathing attack on local media houses for the way they covered the recent violent xenophobic attacks on foreign nationals across the country.
Speaking at an anti-xenophobia imbizo at the Alexandra stadium on Friday, Sotyu said: "What the media is showing to the world about South Africa… There are worse things happening in other countries but you will never see them in the media. The media is part of the community, so please, it must be biased when it comes to South Africa."
According to City Press Sotyu said she has always wondered why there were calls for media tribunals and the regulation thereof. Now she understood why, she said.
The function was attended by representatives from Nigeria, Kenya, South Sudan and Burundi. Full report at:
http://www.news24.com/SouthAfrica/News/SA-media-in-firing-line-for-xenophobia-coverage-20150424
----------
Kenyan governors build confidence to secure tipoffs on extremists
Apr 25, 2015
Governors of Kenyan regions near the border with Somalia say they are encouraging new ways for residents who do not trust the police to report local extremist cells and sympathizers, shifting strategy since the deadly Garissa university attack this month.
Attacks by Somali extremist group al Shabaab in Kenya, including the April 2 Garissa raid that killed 148 people, have led to renewed efforts to improve ties between the security forces and the ethnic Somali population who often regard them with suspicion.
Diplomats and activists have said mass arrests and other tough tactics commonly used have alienated Muslim communities, discouraging them from sharing vital intelligence to help Kenya thwart attacks.
Full report at:
http://english.alarabiya.net/en/News/africa/2015/04/24/Kenyan-governors-build-confidence-to-secure-tipoffs-on-extremists.html
-------
Pakistan
9 suspected militants killed in airstrikes in Khyber Agency
Apr 25, 2015
KHYBER AGENCY: At least nine suspected terrorists were killed when security forces launched airstrikes in Khyber Agency, according to Inter-Services Public Relations, Express News reported.
On April 24, army launched targeted airstrikes in Tirah Valley of Khyber Agency, killing at least 20 militants, including three suicide bombers.
It also destroyed a number of terrorists' hideouts, arms and food depots in the troubled region, officials in the law enforcement agencies had said.
http://tribune.com.pk/story/875744/9-suspected-militants-killed-in-airstrikes-in-khyber-agency/
----------
Pakistani Human Rights Activist Killed In Karachi
Apr 25, 2015
A leading Pakistani human rights activist has been killed in a drive-by shooting in Karachi after hosting a talk on allegations of torture in the province of Balochistan.
Sabeen Mehmud was shot dead as she walked home with her mother, who was also attacked.
Ms Mehmud had been the subject of death threats before.
Tributes were paid to her on social media as soon as news of her death emerged.
Ms Mehmud was a director of the charity The Second Floor, also known as T2F.
T2F regularly holds seminars on human rights issues. It houses a cafe and book shop where Karachi's liberal activists and students can meet.
The seminar on torture in Balochistan was held at T2F, having been cancelled by university authorities in Lahore, where it had been due to take place in the last few weeks.
Taliban militants, Baloch separatists and other groups fight in Balochistan, which borders Iran.
Shortly after leaving the event, Ms Mehmud and her mother were shot. Pakistan's Dawn newspaper reported that Ms Mehmud died on her way to hospital, and that she had been shot five times.
Dawn reported that her mother is in a critical condition in hospital.
http://www.dhakatribune.com/world/2015/apr/25/pakistani-activist-killed-karachi#sthash.VeBK913M.dpuf
----------
Jamaat-i-Islami the only religious party contesting polls
Apr 25, 2015
RAWALPINDI: Jamaat-i-Islami (JI) is the only religious political party which is participating in the cantonment board elections.
The JI fielded eight candidates for the 20 seats of Rawalpindi and Chaklala cantonment boards. However, other religious parties opted to support the PML-N or independent candidates.
The PML-Q, which ruled Punjab and the centre from 2002 to 2008, has neither fielded any candidate nor supported any party or individual. "The party is in a deep trouble as its local leaders have either joined the PML-N or PTI. On the other hand, Sheikh Rashid Ahmed has formed his own Muslim League," said a local leader of PML-Q on the condition of anonymity.
He said the PML-Q local leader Hamid Nawaz Raja also made up his mind to join the PTI and would announce his decision after the cantonment elections.
Full report at:
http://www.dawn.com/news/1178117/ji-the-only-religious-party-contesting-polls
-------
Centre wants provinces to share counter terror cost
Apr 25, 2015
ISLAMABAD: As the president constituted the 9th National Finance Commission to distribute resources among the federating units, the federal government has proposed the provinces share the cost of counterterrorism efforts and disaster management.
President Mamnoon Hussain constituted the 9th NFC on Friday to determine the fresh award for distribution of federal taxes between the Centre and the provinces for the next five years, according to an official handout. The finance ministry also issued the notification of the commission's formation in addition to its terms of reference.
For the first time, the federal government has raised the issue of its expenses on the fight against terrorism and management of natural disasters on the commission's agenda, with the aim that the provinces share the growing burden with the Centre. The issue is likely to be the thorniest one the 10-member commission will be discussing in the months ahead.
Full report at:
http://tribune.com.pk/story/875605/centre-wants-provinces-to-share-counter-terror-cost/
----------
PPP wants LG system introduced in Fata
Apr 25, 2015
ISLAMABAD: The PPP has decided to work with mainstream political parties and pressure the government into introducing the local government system and extending jurisdiction of the Supreme Court (SC) and high courts to the Federally Administered Tribal Areas (Fata) for providing area people ownership and fundamental rights.
PPP Co-Chairman Asif Ali Zardari revealed this during a meeting with a 40-member delegation of Bajaur Political Alliance (BPA) at Zardari House on Friday.
He assured the BPA, which is a representative body of all political parties of Fata, that he would take up the issue at all forums.
Zardari says he plans to launch massive campaign
The former president will write to the prime minister to implement its manifesto wherein the PML-N had, like all other parties, promised ownership rights to the people of Fata. All parties should support a proposed amendment in the parliament, PPP spokesman Farhatullah Babar told Dawn.
Mr Zardari was quoted as saying: "Local governments are being set up this year throughout the country, including in more than 40 cantonments, and there is no reason why people of tribal areas should remain deprived of their right to self-governance."
The former president will also ask Nawaz Sharif to amend sub section (7) of Article 247 through parliament.
Full report at:
http://www.dawn.com/news/1178147/ppp-wants-lg-system-introduced-in-fata
----------
Hostages' death in drone attack shocking: FO
Apr 25, 2015
ISLAMABAD: The Foreign Office expressed on Friday shock at the death of two western hostages in a US drone attack in tribal areas in January and recalled its criticism of the US drone war for causing collateral damage.
"The news of the accidental killing of two western hostages, Warren Weinstein and Giovanni Lo Porto, in the US drone strike conducted in January this year has been received in Pakistan with shock and sorrow. The people and government of Pakistan convey their heartfelt condolences to the bereaved families," a statement issued by the Foreign Office said.
A day earlier, United States President Barack Obama had disclosed that the two hostages were killed in a drone attack on an Al Qaeda compound in Pakistani territory. He had also conceded that the official who had authorised the strike had not exercised discretion about the likely presence of civilians around the targeted compound.
Full report at:
http://www.dawn.com/news/1178148/hostages-death-in-drone-attack-shocking-fo
----------
Mideast
Ansarullah: Saudi Intelligence Leading Terrorist Groups, Militias in Yemen
Apr 25, 2015
Saudi Arabia's spy agency is leading and organizing terrorist groups operating in Yemen, a senior member of Ansarullah movement announced on Saturday.
"The Saudi intelligence operatives are sponsoring different terrorist groups and pro-Hadi militias who are wreaking havoc on Yemen," Abdul Monem al-Bashiri told FNA.
He further added that the so-called Island Shield security forces and hundreds of foreign terrorists have joined the Takfiri groups and the loyalists to Yemen's fugitive President Mansour Hadi under the Saudi command in an attempt to further destabilize the Arab country and undermine the Ansarullah popular fighters.
Al-Bashiri also said that dozens of Saudi officers are present in Yemen's port city of Aden in order to bridge the widening gaps between the al-Qaeda terrorists and pro-Hadi militias as well as facilitate coordination among them.
He added that Riyadh is seeking to reclaim its clout over Aden by backing the terrorists and militias so that it can provide a safe corridor for the transit of terrorists into the country's capital Sana'a and other regions which are under the control of the revolutionaries.
The senior Ansarullah member also said that almost 5000 terrorists are spread out across Yemen's Aden, Sana'a and Hadramawt.
Full report at:
http://english.farsnews.com/newstext.aspx?nn=13940205000395
----------
Israeli forces shoot and kill Palestinian armed with knives
25 April 2015
Israeli troops shot and killed a young Palestinian man wielding two knives on Saturday as they gave chase after he tried to attack the troops near a checkpoint in the Jerusalem area, police said.
The incident occurred at around midnight near the A-Zayyim checkpoint at the outskirts of East Jerusalem in the occupied West Bank, land Israel captured in a 1967 war that Palestinians seek for a state.
Police spokeswoman Luba Samri said that paramilitary border police fired warning shots into the air at the man. Samri said the troops "fired precise shots neutralising him (the suspect)" when he failed to heed their warnings, and that medics confirmed the suspect had died of his injuries.
Violence in the Jerusalem area has flared on and off since just before a 50-day July-August Gaza war when Israelis killed a Palestinian youth in revenge for the slayings of three kidnapped Israeli teenagers.
Israeli tanks fired at Gaza on Friday after Israel said a rocket was fired from the Hamas Islamist dominated territory during Independence Day celebrations a day earlier. There were no casualties in those incidents.
http://english.alarabiya.net/en/News/middle-east/2015/04/25/Israeli-forces-shoot-and-kill-Palestinian-armed-with-knives.html
--------
Saudi Warplanes Kill 7 Civilians in Al-Dalea
Apr 25, 2015
Saudi fighter jets bombed the Yemeni governorate of al-Dalea, and claimed the lives of 7 civilians.
Saudi fighter jets conducted air strikes on al-Dalea on Friday, and killed 7 civilians, Al-Mayadeen television said.
On Tuesday, Riyadh declared that it stopped bombing Yemen, adding that the Saudi-led coalition operations are now entering a political phase, but the latest reports from different Yemeni cities said that the airstrikes are still underway.
Saudi Arabia has been striking Yemen for the last 31 days in a move to restore power to fugitive President Mansour Hadi, a close ally of Riyadh. The Saudi-led aggression has claimed the lives of around 2,900 Yemenis, including hundreds of women and children. The attacks have also left thousands of people injured.
Hadi stepped down in January and refused to reconsider the decision despite calls by Ansarullah revolutionaries of the Houthi movement.
Despite Riyadh's claims that it is bombing the positions of the Ansarullah fighters, Saudi warplanes are flattening residential areas and civilian infrastructures.
http://english.farsnews.com/newstext.aspx?nn=13940205000320
----------
More Civilians Killed in Saudi Air Strikes on Taiz
Apr 25, 2015
Saudi-led coalition warplanes conducted air strikes on various areas in the Yemeni city of Taiz, killing 6 civilians despite the coalitions' Tuesday declaration that it has ended its military operation.
According to the Arabic-language Al-Mayadeen television, Saudi warplanes bombed various areas in Taiz on Friday, and killed 6 civilians.
On Tuesday, Riyadh declared that it stopped bombing Yemen, adding that the Saudi-led coalition operations are now entering a political phase, but the latest reports from different Yemeni cities said that the airstrikes are still underway.
Saudi Arabia has been striking Yemen for the last 31 days in a move to restore power to fugitive President Mansour Hadi, a close ally of Riyadh. The Saudi-led aggression has claimed the lives of around 2,900 Yemenis, including hundreds of women and children. The attacks have also left thousands of people injured.
Hadi stepped down in January and refused to reconsider the decision despite calls by Ansarullah revolutionaries of the Houthi movement.
Despite Riyadh's claims that it is bombing the positions of the Ansarullah fighters, Saudi warplanes are flattening residential areas and civilian infrastructures.
http://english.farsnews.com/newstext.aspx?nn=13940205000221
----------
After years of Israeli ban, Palestinian police now deployed into lawless Jerusalem suburbs
25 April, 2015
ABU DIS, West Bank — After years of Israeli objections, armed Palestinian police in dark blue uniforms have taken up positions in this lawless West Bank suburb of Jerusalem, highlighting the shared interests of Israel and the Palestinian self-rule government on day-to-day issues even when political tensions run high.
The officers hope to catch scores of fugitive criminals and break up a rampant trade in drugs and stolen cars in three Arab areas on the outskirts of Jerusalem. The criminal activity, some in Arab-Jewish partnerships, routinely spills over into Israel, with most cars stolen there and some drugs sold in Jewish neighbourhoods of Jerusalem.
"Crime has no colour," said Adnan Damiri, a spokesman of the Palestinian security forces. "It can harm us and them."
Full report at:
http://www.greenfieldreporter.com/view/story/22d80ca7b018496a901ad554831f370d/ML--Palestinians-Fighting-Crime
----------
Israel raid hits missile depot in Syria
25 April 2015
An overnight Israeli raid has hit a missile depot in the strategic western Syrian region of al-Qalamoun, Al Arabiya News' sister channel Al Hadath reported Thursday.
Qalamoun is located near the region bordering Lebanon.
Sources also told Al Hadath that two Israeli raids had on Wednesday targeted a convoy carrying arms belonging to Lebanese Shiite militant group Hezbollah.
Hezbollah has long been a key ally to Syrian President Bashar al-Assad's government.
This is not the first time Israel targets Hezbollah whether in Syria or in Lebanon.
In January, an Israeli raid killed Hezbollah's commander of the Syrian Golan sector. Also, Israeli warplanes hit weapons warehouse near Damascus last December.
http://english.alarabiya.net/en/News/middle-east/2015/04/25/An-Israeli-raid-hit-missile-depot-in-Syria-s-Qalamoun.html
----------
Iran summons Saudi diplomat over plane interception
Apr 25, 2015
ANKARA: Iran's foreign ministry summoned the Saudi charge d'affaires on Friday in protest against Riyadh's interception of two Iranian planes carrying humanitarian aid to Yemen, the Students News Agency ISNA reported.
ISNA said two Iranian cargo planes carrying food and medicine to Yemen had been forced by Saudi jets to leave Yemeni airspace, one on Thursday and another on Friday.
"Unfortunately, Saudi fighter jets have blocked two Iranian planes, which were carrying wounded Yemenis who had been treated in Iran and also carrying humanitarian and medical aid, from landing in Yemen and forced them to return home," ISNA quoted an unnamed Iranian official as telling the Saudi diplomat.
"This is brazen interference in Yemen's state affairs and also a violation of Yemen's airspace."
http://www.dawn.com/news/1178142/iran-summons-saudi-diplomat-over-plane-interception
----------
Europe
Germany calls on Houthis to stop fighting
Apr 25, 2015
The Houthis and former President Ali Abdullah Saleh should stop fighting against the Yemeni people.
This was the call made by German Ambassador Boris Ruge on Thursday during a meeting with Shoura Council Secretary-General Mohammed bin Abdullah Al-Amro at his office. Deputy Chief of Mission Michael Ohnmacht was also present.
During the meeting, Al-Amro thanked Ruge for supporting Operation Restoring Hope, which he said was aimed at resolving the country's problems through negotiations, fighting terrorism and delivering aid.
The German envoy also urged the Houthis and their supporters to commit themselves to the United Nations Security Council Resolution 2216.
He praised the Saudi government for helping relief operations, including the $274 million allocated for UN aid projects in Yemen.
Full report at:
http://www.arabnews.com/saudi-arabia/news/737526
----------
Irish expert: Al-Qaeda in Yemen Assisted by US, Saudi Intel. Operatives
Apr 25, 2015
Finian Cunningham, a prominent Irish expert in international affairs, says that US and Saudi intelligence operatives have long been colluding with al-Qaeda terrorists in Yemen to stop the advances of the Ansarullah popular fighters.
"There are reliable claims out of Yemen that US and Saudi military intelligence have been covertly working with al-Qaeda in the Arabian Peninsula to undermine the Houthi fighters. Given the close collusion between Israel and the US and Saudi Arabia in other conflict theatres, such as Syria and Lebanon, it would be most probable that the Israeli regime has been doing likewise in Yemen on a stealth basis. These elements work hand-in-hand," Cunningham said in an exclusive interview with FNA.
He also said that US and its western allies' policies towards Yemen flatly contradict their claims of supporting democracy and indicate the West's posturing on human rights.
Finian Cunningham (born 1963) has written extensively on international affairs, with articles published in several languages. He is a Master's graduate in Agricultural Chemistry and worked as a scientific editor for the Royal Society of Chemistry, Cambridge, England, before pursuing a career in newspaper journalism. He is also a musician and songwriter. For nearly 20 years, he worked as an editor and writer in major news media organizations, including The Mirror, Irish Times and Independent. Originally from Belfast, Ireland, he is now located in East Africa working as a freelance columnist for Press TV and Strategic Culture Foundation (Moscow).
http://english.farsnews.com/newstext.aspx?nn=13940203000346
----------
U.N. envoy needs to find out if Syria sides have 'appetite' for peace
25 April 2015
The United Nations envoy to war-torn Syria said Friday that he will know by the end of June if there is any appetite among the opposing sides to find a peaceful way out of the conflict.
During closed discussions with the 15-member U.N. Security Council, Staffan de Mistura acknowledged that the "odds and conditions for launching a political transition are no better now than six months ago," diplomats at the briefing said.
The Damascus regime and opposition forces are not showing "much new willingness to negotiate" in the four-year war that has left 220,000 people dead, de Mistura said, according to diplomats.
Full report at:
http://english.alarabiya.net/en/News/middle-east/2015/04/25/Syria-sides-not-showing-willingness-to-negotiate-UN.html
----------
Opera on 9/11 terror attack hailed in London
Apr 25, 2015
The horror of 9/11, often recaptured through the indelible images of the two planes striking the twin towers in New York, have been relayed countless times, whether it's for documentaries, films or news stories. For the past month, London's Barbican Theater and the English National Opera have been using the art form of opera to transport audiences into the ill-fated building to follow the stories of those who fell victim to the attack.
Described as "brave" and "sensitive" by theater critics, "Between Worlds" marks an operatic debut from composer Tansy Davies, who collaborates with director Deborah Warner and librettist Nick Drake. Co-commissioned by the English National Opera, "Between Worlds" is a spiritual journey, focusing on human relationships and the emotions accompanying the journey to death.
Full report at:
http://english.alarabiya.net/en/life-style/entertainment/2015/04/24/9-11-opera-Between-Worlds-hailed-in-London.html
----------
French President warns Indonesia of diplomatic action if Frenchman executed
Apr 25, 2015
French President Francois Hollande warned today that Indonesia faces diplomatic consequences if it pushes ahead with the planned execution of Frenchman Serge Atlaoui over drug trafficking offences.
"If he is executed, there will be consequences with France and Europe because we cannot accept this type of execution," he said during a visit to Baku, Azerbaijan, adding that the repercussions would essentially be of a "diplomatic" nature.
http://www.themalaysianinsider.com/world/article/hollande-warns-indonesia-of-diplomatic-action-if-frenchman-executed1#sthash.ULK772Zg.dpuf
----------
Russia knows genocide well, Turkey fires back
Apr 25, 2015
Turkey said on April 24 that it rejected and condemned Russian President Vladimir Putin calling the 1915 mass killings of Ottoman Armenians a "genocide."
"Taking into account the mass atrocities and exiles in Caucasus, in the Central Asia and Eastern Europe committed by Russia for a century; collective punishment methods such as Holodomor as well as inhumane practices especially against Turkish and Muslim people in Russia's own history, we consider that Russia is best-suited to know what exactly "genocide" and its legal dimension are," a foreign ministry statement said.
Turkey also condemned Duma's April 24 resolution that described the 1915 events as "genocide."
"The only thing that Russia can do in this issue is to leave its biased attitude aside and encourage Armenia and the Armenians to respond positively to the calls of Turkey for peace and friendship," the statement added.
Full report at:
http://www.hurriyetdailynews.com/russia-knows-genocide-well-turkey-fires-back.aspx?pageID=238&nID=81545&NewsCatID=510
----------
World's first auction of Iraqi modernist art sets new record
Apr 25, 2015
World's first auction for Iraqi modern art in London has a new record, after it unexpectedly made a total of $1.9 mln, London-based Art Daily reported Wednesday.
The new record was the highest for any group of Iraqi paintings offered in any auction.
"This is an important moment in the history of Iraqi art," Nima Sagharchi, Head of Modern and Contemporary Middle Eastern Art at Bonhams, said.
She added: "The auction brought together some of most significant works of Iraqi art from the past century and the response of collectors has shown that the international market now recognizes the value and significance of art from Iraq."
The highlight was Cubist Cockerel (1955) by Shakir Hassan al-Said (1925-2004), which sold for $291,888 against an estimate of at least $37,52.
Al-Said and his teacher, Jewad Selim, (1919-1961), formed "The Baghdad Group of Modern Art;" the first modern art movement in Iraq in 1951.
Selim's portrait of the celebrated Iraqi poet and academic, Lamea Abbas Amara, was estimated at least $90,057 but sold for $264,918, settling a new world record as well.
Other works setting new records were an untitled painting by Ismael Fattah which sold for $219,893 and View of Ashra by Abdul Kadir Al Rassam which made $147,863.
http://english.alarabiya.net/en/life-style/art-and-culture/2015/04/23/World-s-first-auction-of-Iraqi-modernist-art-sets-new-record-.html
----------
North America
Kerry urges Houthis, allies to enter talks
25 April 2015
U.S. Secretary of State John Kerry on Friday urged Houthi rebels in Yemen and those who have "influence over them" to come to the negotiating table and end the unrest in conflict-torn country.
"This has to be a two-way street," Kerry told reporters, saying Saudi Arabia was moving to a humanitarian phase of its Yemen campaign and "we need the Houthi and we need those that can influence them to make sure that they are prepared to try to move... to the negotiating table."
The United Nations had already appointed a facilitator and both sides appeared ready to discuss a location for peace talks, Kerry said.
"Now the key is to get that up and running and get to the talks as fast as possible because a political solution is absolutely essential," the top U.S. diplomat said.
Innocent civilians were being caught up in the violence in Yemen and it was "a top priority to try to minimize it," he added.
Full report at:
http://english.alarabiya.net/en/News/middle-east/2015/04/25/Kerry-urges-Houthis-allies-to-enter-talks-.html
--------
Windsor Muslims learn to deal with Islamophobia
25 April, 2015
How to peacefully counter Islamophobia will be discussed by local Muslims Saturday at the University of Windsor.
The Windsor Islamic Association and the University of Windsor's Muslim Students Association will host the workshop with the National Council of Canadian Muslims.
The session will be led by Ihsaan Gardee, a University of Windsor graduate and NCCM Executive Director.
Mohamed Nur is the vice-chair of the Windsor Islamic Association's public relations board. He said the weekend event is an educational tool for the community.
"We want to educate our community on how to react to certain to certain Islamophobic gestures or slogans by certain people in the community. Windsor is a great city but there are those people who have those beliefs, especially towards Muslim women who are covered," Nur said. "So we want to educate them on how they should react, what they should do, how they should carry themselves and not feed into those perceptions those Islamophobes have."
He believes hijab-wearing Muslim women encounter more overt forms of Islamophobia than men.
Full report at:
http://www.cbc.ca/news/canada/windsor/windsor-muslims-learn-to-deal-with-islamophobia-1.3046843
----------
Former Muslim from Egypt brings his message to Oklahoma lawmakers, students
25 April, 2015
Dr. Mark Christian, an obstetrician/gynecologist and native of Egypt, brought his perspective on Islam and Christianity to Oklahoma last week.
He addressed several dozen Oklahoma lawmakers at the state Capitol, classes at Oral Roberts University and an apologetics course at First Baptist Church in Broken Arrow.
Christian, who legally changed his name from a Muslim name after converting to Christianity from Islam, said the Oklahoma lawmakers were enthusiastic about his presentation and asked a lot of questions.
He told ORU students that he was raised in a devout Muslim home. His father, who still preaches, writes and appears on television teaching about Islam, was a lieutenant general in the Egyptian military and the family physician of Anwar Sadat, then-president of Egypt.
Christian made his first pilgrimage to Mecca when he was in the third grade and made eight more pilgrimages after that.
Full report at:
http://www.tulsaworld.com/news/religion/former-muslim-from-egypt-brings-his-message-to-oklahoma-lawmakers/article_26866ef1-72d5-5dc7-ae17-f32f91deccbb.html
----------
Killing of Adam Gadahn, Al-Qaeda media frontman, seen as big blow for militants
Apr 25, 2015
The killing of an American who directed al Qaeda's media campaign from his Pakistani hideout is likely to be a big blow for the militants, especially as they wage a propaganda war with Islamic State.
American al Qaeda member Adam Gadahn, who faced treason charges in the United States, was killed early this year in a strike on an al Qaeda camp in Pakistan, near the Afghan border, U.S. officials said on Thursday.
"He was highly important. He was the man on their media front line," said Ahmed Rashid, a Pakistani author and expert on the Taliban and A- Qaeda.
"Given the success of ISIS in media and social media, he would have been much needed, especially in communicating with English-speaking audiences and on web sites and so on," he said, referring to Islamic State.
Full report at:
http://english.ahram.org.eg/NewsContent/2/9/128573/World/International/Killing-of-Adam-Gadahn,-AlQaeda-media-frontman,-se.aspx
----------
Southeast Asia
No Marital Rape in Islam, Muslims Say after DAP Launches Anti-Rape Campaign
Apr 25, 2015
KUALA LUMPUR — A Muslim man cannot rape his wife even if they have non-consensual sex as rape does not exist in the context of Islamic marriage, Muslims have said in response to a DAP representative's rape awareness campaign.
In comments on a Facebook post by Bukit Bendera MP Zairil Khir Johari to promote the campaign, some Muslim users expressed disagreement with a poster that said, "Without her consent, it is rape. No excuse."
"I disagree... if within the context of husband and wife, there is no such term as rape... and one more thing, for the Muslim community, domestic matters are tried in the Shariah courts and not the civil courts... so it does not involve the Penal Code... sorry, I do not agree," wrote one user with the screen name Seniman Nunui At Tantawi.
"Within legitimate marital bonds under Islam, there is no rape even with force. Campaign knowledgably," said another user called Hiez Hidhir
The theme was repeated in various other comments on the page, with some arguing that the campaign should apply only to non-Muslims not be extended to followers of Islam.
Others also criticised the campaign as uninformed for saying rape occurs in every instance where a woman does not provide consent, and claimed it will trigger a backlash against DAP.
Disagreement to the existence of marital rape was not limited to Muslims, however, with one apparently non-Muslim user claiming that a husband having non-consensual sex with his wife did not equate to forced intercourse.
Full report at:
http://www.themalaymailonline.com/malaysia/article/no-marital-rape-in-islam-muslims-say-after-dap-launches-anti-rape-campaign#sthash.sQtc28fi.dpuf
----------
Hadi Awang: PAS adamant about implementing hudud in Kelantan
Apr 25, 2015
TUMPAT, April 25 — PAS remains adamant on implementing the Syariah Criminal Code II 1993 (Amendment 2015) Enactment 1993 or the 'hudud' in Kelantan despite opposition from its political ally, the DAP.
PAS president Datuk Seri Abdul Hadi Awang, when reiterating the PAS stand, said there was no compromise in PAS' struggles to implement the hudud law in Kelantan.
"They (DAP) are not Muslims, certainly they will not agree, that is their right (but) they want to force us (PAS). Kelantan wants to implement the hudud with their (DAP) agreement, that is not possible," he said in his speech when opening the General Meeting of the Tumpat PAS division, here today.
Full report at:
http://www.themalaymailonline.com/malaysia/article/hadi-awang-pas-adamant-about-implementing-hudud-in-kelantan#sthash.FSgC4yiV.dpuf
----------
Flurry of Activity Signals Executions Are Imminent
Apr 25, 2015
Jakarta. Indonesia has asked foreign embassies to send representatives to a maximum security prison ahead of the expected execution of 10 drug convicts, although an official 72-hour notice of execution has not been given yet, diplomats said on Friday.
Among the convicted drug offenders set to face the firing squad are nationals from Australia, Brazil, France, the Philippines and Nigeria, and the case has strained relations between the governments of those nations and Indonesia.
"It's true, we have been told to be there on Saturday," said a foreign embassy official who asked not to be identified because she was not authorized to speak to the media.
"We still don't know when the actual date of execution will happen but we expect that it will be in days."
Security was heightened on Friday at the prison island of Nusakambangan off the Central Java port town of Cilacap, where the executions will take place. It was not immediately clear why the representatives from the four countries had been summoned.
Full report at:
http://thejakartaglobe.beritasatu.com/news/flurry-activity-signals-executions-imminent/
----------
Malaysia needs a constitutional court, say G25
Apr 25, 2015
Putrajaya should form a constitutional court to allow the people a chance to challenge government's decisions that were unconstitutional, said a group of moderate Malays.
Tan Sri Sheriff Mohd Kassim, who is part of the group known as G25, said through the formation of the court, fundamentals in the constitution such as clean and fair elections, freedom of speech and the people's right to dissent would be guaranteed and not abused by the government.
"I feel Malaysia needs a constitutional court like in Indonesia... but there are some of the opinion that it is not necessary here because the federal court is sufficient for the role," said Sheriff.
Full report at:
http://www.themalaysianinsider.com/malaysia/article/malaysia-needs-a-constitutional-court-say-g25#sthash.zGxrVoeZ.dpuf
--------
Indonesia Improves on Happiness Scale
Apr 25, 2015
Jakarta. Indonesia improved in its ranking in happiness, making it the 74th happiest country in the world, but the nation trailed regional neighbors, according to a recent global ranking in a report on happiness.
Singapore and Malaysia ranked 24th and 61st place, respectively, in the 2015 World Happiness Report, which was released on Thursday by the Sustainable Development Solutions Network — a global initiative for sustainable economic development under the United Nations.
Indonesia — which has the biggest economy in Southeast Asia — moved up two notches from 76th in the 2013 World Happiness Report.
Switzerland topped the list, followed by Iceland and Denmark, as Scandinavian nations continued to dominate the top ten positions in the happiness ranking. Among other Asian giants, China came in at 84th place, while the second most populous country, India, placed 117th.
Full report at:
http://thejakartaglobe.beritasatu.com/business/indonesia-improves-happiness-scale/
----------
India
Jesus would have been ashamed of his followers: VHP
Deeptiman Tiwary,TNN | Apr 25, 2015
NEW DELHI: Following the revelation of local reasons behind two church attacks in Agra and Navi Mumbai and the arrest of a few Muslim boys in this connection, VHP said that had Jesus been alive, he would have been ashamed of his followers for spreading lies -- that church attacks were engineered by Hindu groups -- and abolished the religion.
It reiterated that violence against other communities was spread by Christians and not by Hindus. Church functionaries, however, maintain that it's an undeniable fact that attacks on churches increase whenever there is a BJP government.
BJP has denied the allegations and called the opposition "irresponsible" for leveling charges against the government without waiting for investigations to be completed.
VHP joint general secretary Surendra Jain told TOI, "Even in the case of church attacks in Delhi, it was proven that they were cases of theft. In a few other cases also, it has now been proved (that no Hindu group is involved). Despite this, when one of their MPs charges in Parliament that it is because of Modi government that such things are happening, it shows they (Christian groups) have no morality."
Full report at:
http://timesofindia.indiatimes.com/india/Jesus-would-have-been-ashamed-of-his-followers-VHP/articleshow/47045969.cms
----------
India, Pakistan spar over Kashmir at Bandung
Apr 25, 2015
New Delhi/Islamabad: India has termed as "most unfortunate" Pakistan`s reference to the Kashmir issue at the Asian African summit in Jakarta, an official in New Delhi said.
The Indian objection came following a reference to the festering issue by Pakistani Prime Minister`s Advisor Sartaj Aziz in his address at the Asian African summit 2015 in Jakarta.
"It is most unfortunate that Pakistan has once again chosen to use an international forum such as this to make tendentious remarks about the state of Jammu and Kashmir, which is an integral part of India," the Indian external affairs ministry said in a release on Thursday.
In response, on Friday, the Pakistani foreign ministry said in a communique issued in Islamabad that: "What Pakistan has stated is a fact, that the people of Jammu and Kashmir are still awaiting the fulfilment of their inalienable right to self-determination."
It further dismissed the Indian contention that the Jakarta meet was not a relevant forum for raising the contentious issue by observing that "fundamental rights and the right to self-determination was the cornerstone of the Bandung Declaration".
The foreign ministry further maintained that "Pakistan is ready to discuss the Jammu and Kashmir issue bilaterally with India".
It, however, said the issue was not merely a bilateral matter. "It is also an international issue, and is on the agenda of the UN."
http://zeenews.india.com/news/india/india-pakistan-spar-over-kashmir-at-bandung_1584437.html?utm_medium=twitter&utm_source=twitterfeed
--------
34 people killed, hundreds injured in India
PTI | Apr 25, 2015
NEW DELHI: At least 26 people were today killed and over 100 injured as a powerful earthquake that originated in Nepal shook large parts of northern and eastern India, damaging houses and buildings and sparking panic among the people.
In Bihar, which adjoins Nepal, 17 people died and 48 were injured in incidents of wall and roof collapse as the quake measuring measuring 7.9 on Richter scale and the aftershocks sent ripples across the country around noon.
Tremors were felt in almost all states in northern, eastern and northeastern parts of India, including national capital New Delhi, over 1100 kilometres from the Nepalese capital.
Three people were killed in West Bengal in the temblor and at least 69 others including 43 school children were injured. In Uttar Pradesh, at least six persons were killed and over a dozen injured.
Prime Minister Narendra Modi spoke to the chief ministers of various states and convened a high-level meeting to take stock of the situation. He directed immediate dispatch of relief and rescue teams to earthquake-affected areas of the country as well as Nepal and ordered proper arrangements for evacuating stranded tourists from that country.
Six people died in Bihar's East Champaran and four in Sitamarhi districts which share borders with Nepal, the epicentre of the quake, special secretary to the disaster management department Anirudh Kumar told.
Full report at:
http://timesofindia.indiatimes.com/india/Earthquake-34-people-killed-hundreds-injured-in-India/articleshow/47050223.cms
----------
URL: https://www.newageislam.com/islamic-world-news/new-age-islam-news-bureau/close-to-200-taliban-killed-and-wounded-in-fresh-military-operations-in-afghanistan/d/102669