New Age Islam News Bureau
29 Dec 2016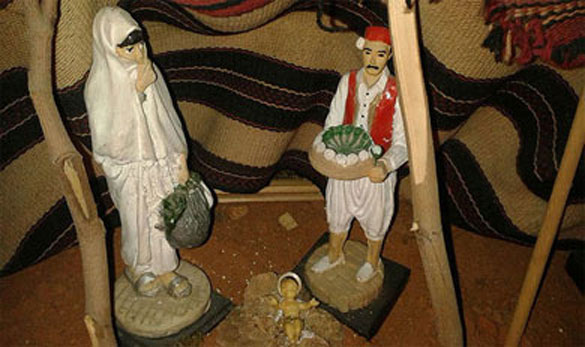 The controversial nativity scene in St Anne's church in Potenza
---------
• Church Makes Nativity Scene With Mary Wearing BURKA To Promote Islam
• US Designates LeT Student Wing As Terrorist Organisation
• Oman Joins Saudi-Led Islamic Alliance Against Terrorism
• Israel OKs Illegal Settler Building In East Al-Quds Neighborhood: NGO
Europe
• Church Makes Nativity Scene With Mary Wearing BURKA To Promote Islam
• New ISIS video vowing revenge on Putin promises terror attacks on Russian soil
• Police in Toulouse arrest man suspected of plotting New Year's Eve terror attack
• Leading Jewish Scholar Prosecuted in France for Alleged anti-Muslim Remarks
• Radicalisation not the only factor in recent terrorism
--------
Pakistan
• US Designates LeT Student Wing As Terrorist Organisation
• President Lauds Role Of ISI In Eliminating Terrorism From Country
• Bilawal, Zardari's decision to join parliament draws mixed reaction
• AG wants slander of judiciary on social media criminalised
• COAS confirms death to 8 terrorists, life term to 3
• Three terrorists of banned outfit apprehended, huge weapons recovered in Karachi
--------
Arab World
• Oman Joins Saudi-Led Islamic Alliance Against Terrorism
• ISIL Chief's Top Aide Captured by Iraqi Forces in Mosul
• Syria: Kurdish Fighters Capture More Lands Near Raqqa
• Terrorists Acknowledge Defeat in Syria Battle
• Syrian Soldiers Repel Terrorists' Offensive in Eastern Damascus
• Syria: American, German, Bulgarian Arms Found in Terrorists' Positions in Aleppo City
• Hundreds of Syrian Families Return to Eastern Aleppo
• Nusra Centers Receive Severe Blow in Syrian Army Attacks in Dara'a
• Fresh advance launched against ISIS inside Mosul
• Mortar fire targets Russian embassy in Damascus
• Saudi collects 145 mln riyals for Syrians in 1 day
--------
Mideast
• Israel OKs Illegal Settler Building In East Al-Quds Neighborhood: NGO
• Iranian Official Warns Terror Supporters Against 'Playing With Fire'
• US Secretary Kerry proposes 'two-state theory' for peace between Israel, Palestinians
• Israel's AG orders criminal probe against PM Netanyahu: report
• Turkey, Iran, Russia eye dicing Syria into zones of influence
• Turkish soldier killed after clashes with Kurdish militant
• Palestinians can talk peace if settlements halt
• Turkey: Syria transition can't involve Assad
--------
Africa
• Nigeria's Sultan Of Sokoto Rejects Gender Equality Bill
• Algeria: Qur'an Week, School to Promote Moderate Practice of Islam
• Attack Against Police in Kenya Highlights Rising Threat of Female Extremism
• Christian donates mosque to muslims in Adamawa
• Jordan sentences five to death for 'terror'
• 11 dead migrants found on Libya beaches; another 900 rescued
• Over 3,000 return home in northeast Nigeria after internal displacement
• Nigerian army arrests 1,240 Boko Haram suspects
• Advocates vow to continue work in Minnesota Somali community
--------
India
• Alienation Of Any Segment Of Country's Citizens Not Healthy, Says Hamid Ansari
• How A Generous Saudi Saved An Indian Worker From Execution
• Terrorism in 2016: Islamic State, Pakistan-sponsored actors kept NIA on its toes
• Pathankot repeat: Terrorists used tree along Nagrota base wall to gain entry
• Kashmir: Encounter breaks out between security forces, terrorists in Bandipora
• Masrat Alam's release is failure of prosecution: Ashok Pandit
• Kerala BJP demands NIA probe into functioning of Islamic outfit
--------
South Asia
• 10 Taliban Insurgents Killed, 19 Wounded In Faryab Airstrike: MoD
• Taliban suffer heavy casualties in Kunduz operations
• Deadly Kabul attacks report targeting Shi'ites presented to NSC
• Nagladesh Minister: Do Not Call Terrorists Islamic
• Bangladesh arrests five suspected Islamists 'plotting New Year attack'
• Bangladesh border guard protests after Myanmar navy fires at its fishing boat
• Charges submission on 6 Gaibandha 'war criminals' on Mar 12
--------
Southeast Asia
• Perak Mufti Defends Bus Company's Gender Segregation As 'Islamic'
• NGOs want Jakim to clarify if Daim and Toblerone are halal
• Terror attack on Chinese government building leaves 5 dead in restive Muslim province
• Whither Malaysia - a wish-list for fundamental correction
• Indonesian cops to investigate hardline anti-Ahok Muslim cleric for blasphemy
• Mystery Bombing at Boxing Bout Wounds 33 in Philippines
--------
North America
• Trump Should Develop Clearer Policies To Ease Tension Between Pakistan, India: Experts
• First National Latino Muslim Conference "Convivencia" in the United States
• Canada's sanctuary for migrants is built on a strict immigration policy
Compiled by New Age Islam News Bureau
URL:
https://www.newageislam.com/islamic-world-news/new-age-islam-news-bureau/church-makes-nativity-scene-with-mary-wearing-burka-to-promote-islam/d/109532
--------
Church Makes Nativity Scene With Mary Wearing BURKA To Promote Islam
Dec 28, 2016
Franco Corbo, the priest at St Anne's church in the southern city of Potenza in Basilicata, has created a nativity scene which has caused outrage with local inhabitants.
Mr Corbo has depicted the traditional nativity scene with Mary wearing a veil and the figures of Joseph and the shepherds are all wearing traditional Muslim clothing.
The walls of the traditional manger have been daubed with various slogans such as "Foreigners out".
The scene is also split down the middle and divided into "Eastern" and "Western" sides.
The nativity scene has been seen as an act of provocation by local worshippers, according to local media reports.
However the priest had defended his decision, saying that he wanted to send a message saying 'no' to too many walls, either literally or symbolically, that prevented integration.
He said: "Just think about the wall built by Israel to keep Palestinians lock in true enclaves.
"It's my desire to remind people that religion can and should be an instrument of dialogue.
"All other faiths and ethnicities have been destroyed or reduced to misery by the selfishness of Western society."
Asked if he was serious, he replied: "I'm very serious."
He also stated: "Islam, like all religions, is synonymous with peace and brotherhood."
He added that Islamic State (ISIS) had nothing to do with the Islamic religion and that suicide bombers and terrorists had nothing to do with the religion.
Mr Corbo also attacked those who had spoken out about his depiction of the birth of Jesus.
He stated: "There have been may disputes. But this only depends on people's small minds and a form of fundamentalism."
It is not the first time Mr Corbo has come under fire for controversial nativity scenes and he has several as part of a collection.
Other interpretations of the nativity scene include one which depicts aborigines and one from Albania which has Joseph drinking from a barrel of grappa.
http://www.express.co.uk/news/world/747992/Nativity-scene-church-Italy-Mary-burka-Islam
--------
US designates LeT student wing as terrorist organisation
Dec 29, 2016
The United States announced on Wednesday that it was adding the student wing of the Lashkar-e-Taiba (LeT) to its list of "foreign terrorist organisations".
The State Department move against the student group, al Muhammadia Students, came as the Treasury Department added two Lashkar-e-Taiba leaders to the US list of "specially designated global terrorists," subjecting them to US sanctions.
LeT was banned by the government in 2002 but it has continued operating through front organisations, according to US officials, and their leaders conduct public rallies and interviews.
Read more: US urges Pakistan to shut down access to terrorists
The State Department announced that it amended the designation of LeT as a "foreign terrorist organisation" to include what it called the group's student wing.
"Since the original designation occurred, LeT has repeatedly changed its name and created front organisations in an effort to avoid sanctions," the State Department said, adding that the student group aided senior LeT leaders in recruiting and other activities.
The State Department action subjected the student group to sanctions, including a ban on Americans providing or attempting to provide it with material support.
The Treasury Department said it was adding Muhammad Sarwar and Shahid Mahmood to the US list of "specially designated global terrorists", freezing any US property or other assets they hold and banning Americans from doing business with them. Both are involved in fund-raising activities, it said.
Sarwar, the department said, is the LeT leader in Lahore and Mahmood is a senior LeT leader in Karachi and has routinely travelled outside Pakistan on the group's behalf.
http://www.pakistantoday.com.pk/blog/2016/12/29/us-designates-let-student-wing-as-terrorist-organisation/
--------
Oman joins Saudi-led Islamic alliance against terrorism
29 December 2016
Oman has joined a Saudi-led coalition of Muslim countries to fight terrorism, Saudi and Gulf sources said on Wednesday.
The sultanate indicated its willingness to take part in the 40-country alliance in a letter to Saudi Deputy Crown Prince and Defense Minister Mohammed bin Salman, the sources said.
Deputy Crown Prince Mohammed was expected to travel to Muscat in coming weeks to prepare for a visit by King Salman, the sources said.
Saudi Arabia announced the alliance in December 2015, a move welcomed by Washington which has been urging a greater regional involvement in the campaign against ISIS militants who control swathes of territory in Iraq and Syria.
Riyadh has backed groups opposing Iranian proxies in unrest or outright war in Syria, Lebanon, Iraq, Bahrain and Yemen, and has persuaded most of the GCC to close ranks against Tehran.
Deputy Crown Mohammed received a written message earlier from Badr bin Saeed Al-Busaidi, the Defense Minister of the Sultanate of Oman.
The message was handed over by Omani Ambassador to the Kingdom of Saudi Arabia.
The Deputy Crown Prince expressed his appreciation for the leadership of the Sultanate of Oman to support the efforts of Saudi Arabia in the leadership of the Islamic Military Coalition to fight terrorism.
https://english.alarabiya.net/en/News/gulf/2016/12/29/Oman-joins-Saudi-led-Islamic-alliance-against-terrorism.html
--------
Israel OKs illegal settler building in East al-Quds neighborhood: NGO
Dec 28, 2016
An Israeli NGO says the Tel Aviv regime has approved the construction of a four-story building for Israeli settlers in an East Jerusalem al-Quds neighborhood despite widespread calls to end the illegal practice.
Ir Amim, which opposes Israeli settlement activities in the occupied territories, said the Jerusalem District Zoning Committee gave the green light on Wednesday to erect the structure on a vacant plot in the Palestinian neighborhood of Silwan.
"Today, while attention has been focused on the removal of... building permits... the committee proceeded to approve a controversial project in one of the most flammable neighborhoods in East Jerusalem [al-Quds]," the organization said in a statement.
The move came at the same time that the Israeli committee postponed requests for building permits for almost 500 illegal settler homes in East Jerusalem al-Quds.
It also came hours before a speech by US Secretary of State John Kerry on the Israeli-Palestinian conflict.
UN vote on Israeli settlements 'historic'
In another development on Wednesday, Jordanian Foreign Minister Nasser Judeh hailed an anti-settlement resolution adopted recently at the United Nations Security Council.
Palestinian President Mahmoud Abbas (R) meets with Jordanian Foreign Minister Nasser Judeh in the West Bank city of Ramallah on December 28, 2016. (Photo by AFP)
He made the remarks after meeting his Palestinian counterpart Riad Malki and Palestinian President Mahmoud Abbas in the West Bank city of Ramallah.
"A few days ago we witnessed a historic moment with the Security Council adopting a decision that prohibits settlements and considers it illegal by international law, and I think this is one of the most important decisions that the Security Council has taken over the Palestinian issue," Judeh said.
The landmark resolution, which condemned Israeli settlements as a "flagrant violation of international law," was passed with 14 votes for and one abstention on December 23.
Hundreds of Israelis live in over 230 illegal settlements built since the 1967 Israeli occupation of the Palestinian territories.
The continued expansion of Israeli settlements has created a major obstacle for the efforts to establish peace in the Middle East.
http://www.presstv.ir/Detail/2016/12/28/503865/Palestine-Israel-Silwan-settlements
--------
Europe
New ISIS video vowing revenge on Putin promises terror attacks on Russian soil
28 DEC 2016
A warped ISIS video is urging Russian Muslims to take revenge on Vladimir Putin by carrying out terror attacks on home soil.
Russia's Muslim population is estimated to be up to 20million strong, with many of the huge nation's ethnic groups - such as the Chechens - followers of Islam.
The hate-filled YouTube film rails against president Vladimir Putin and urges would-be Russian jihadis to slay non-Muslim 'infidels' across the country.
And it also eggs on Russian Muslims to attack those who have turned their back on the Islamic faith.
Followers of Islam are also urged to pledge allegiance to the self-declared Islamic State.
Russia is at odds with America and much of the world over Moscow's support for Syria 's Bashar al-Assad but the Kremlin is a Western ally in the fight against ISIS .
ISIS already boasts a 'division' in the North Caucasus region of the country and earlier this year executed an alleged Russian government spy.
http://www.mirror.co.uk/news/world-news/new-isis-video-vows-revenge-9526752
--------
Police in Toulouse arrest man suspected of plotting New Year's Eve terror attack
December 28, 2016
Police in Toulouse in south-west France have arrested a man on suspected of planning to commit a terror attack on New Year's Eve.
Two other people, one of whom is suspected of planning an attack on police officers, were arrested in Toulouse in a separate raid, a police source told Reuters.
Police told local media the suspects had been under police surveillance for several months.
It comes after a series of terror attacks by extremists connected with the Islamic State terror group in France, Germany and Belgium over the last year.
In 2012, Islamic extremist Mohammed Merah killed seven people in attacks targetting Jewish civilians and Muslim members of the French armed forces in Toulouse.
France remains in a state of emergency after the November 2015 Paris attack, and attacks in Nice in France and in a church in Normandy early in the summer.
Full report at:
http://www.ibtimes.co.uk/police-toulouse-arrest-man-suspected-plotting-new-years-eve-terror-attack-1598375
--------
Leading Jewish Scholar Prosecuted in France for Alleged anti-Muslim Remarks
12-20-16
One of the world's leading historians on the Jewish communities in Arab countries is being prosecuted in France for alleged hate speech against Muslims.
The Morocco-born French-Jewish scholar Georges Bensoussan, 64, is due to appear next month before a Paris criminal court over a complaint filed against him for incitement to racial hatred by the Collective Against Islamophobia in France, the group recently announced on its website.
The complaint, which leading French scholars dismissed as attempt at "intimidation" in a statement Friday, was over remarks about anti-Semitism by Muslims that Bensoussan, author of a definitive 2012 work entitled "Jews in Arab Lands," made last year during an interview aired by the France Culture radio station, the Collective said.
The Collective based its complaint on two remarks by Bensoussan.
"Today, we are witnessing a different people in the midst of the French nation, who are effecting a return on a certain number of democratic values to which we adhere," read the first quote flagged.
Full report at:
http://historynewsnetwork.org/article/164756
--------
Radicalisation not the only factor in recent terrorism
December 29, 2016
Islamic State claimed that Mohamed Lahouaiej-Bouhlel, the Tunisian who killed 86 people and injured 434 others on the Promenade des Anglais in Nice on Bastille Day, was a "soldier of the caliphate". But investigators have found no evidence of contact between Lahouaiej-Bouhlel and Islamic State, also known as Isis.
The most lethal jihadist attack in a western country this year was apparently more the result of an unhinged mind than Islamic radicalisation. Belgium, France, Germany and the US were all struck by Islamist violence in 2016. Mental illness, doubtless fanned by the general zeitgeist, appears to have been a factor in attacks in Florida and Ohio, and in three of four attacks in Germany in July.
The diffuse pervasiveness of the threat was perhaps the greatest shock, the way everyday objects, including a refrigerated rental lorry and kitchen knives belonging to the mother of a 19-year-old wannabe jihadist, sowed death.
A lorry was again deployed in the attack on a Berlin Christmas market on December 19th that killed 12 and injured 48.
As French justice minister Jean-Jacques Urvoas said in November, "There is no longer a battlefield, front or rear lines to the jihadist threat . . . No place is secure, and the most banal objects can become weapons."
Full report at:
http://www.irishtimes.com/news/world/europe/radicalisation-not-the-only-factor-in-recent-terrorism-1.2904319
--------
Pakistan
President lauds role of ISI in eliminating terrorism from country
December 28, 2016
ISLAMABAD: President Mamnoon Hussain has lauded the role of ISI in eliminating terrorism from the country.
He was talking to Director General ISI, Lt. General Naveed Mukhtar who called on him in Islamabad on Wednesday.
The President expressed the hope that the Agency will come up to the expectations of the nation in defeating the nefarious designs of enemies.
Mamnoon Hussain congratulated Lt. General Naveed Mukhtar on becoming the head of the leading Intelligence Agency of the country.
http://nation.com.pk/islamabad/28-Dec-2016/president-lauds-role-of-isi-in-eliminating-terrorism-from-country
--------
Bilawal, Zardari's decision to join parliament draws mixed reaction
December 28, 2016
KARACHI: Politicians have shown mixed reactions to Pakistan People's Party (PPP) chairman and co-chairman Bilawal Bhutto Zardari and Asif Ali Zardari's decision to join the parliament.
In a rally held to mark the ninth death anniversary of slain PPP leader Benazir Bhutto at Garhi Khuda Bakhsh on Tuesday, Bilawal and Zardari announced that they will contest by-elections from Sukkur and Larkana, strongholds of the PPP.
Pakistan Muslim League- Nawaz leader Muhammad Zubair welcomed their decision saying that the PPP does not do politics of divide and rule. "We are in touch with PPP. We can always talk over our issues," he said, speaking at morning show Geo Pakistan.
Full report at:
https://www.geo.tv/latest/125279-Bilawal-Zardaris-decision-to-join-parliament-draws-mixed-reaction
--------
AG wants slander of judiciary on social media criminalised
NASIR IQBAL
Dec 29, 2016
ISLAMABAD: In view of a 'libellous' social media campaign targeting the superior judiciary, the office of the attorney general has written to the interior ministry and the information technology division suggesting criminal action against offenders that may entail two to five years prison term.
The letter, written by Secretary to Attorney General Khalid Khan Niazi on Dec 27, invites the authorities' attention towards various images being circulated on the social media and internet websites by some Pakistani internet users.
One such image shows President Mamnoon Hussain, Prime Minister Nawaz Sharif and Khyber Pakhtunkhwa Governor Iqbal Zafar Jhagra enjoying a light moment. The image caption, however, incorrectly identifies the KP governor as Mian Saqib Nisar, the chief justice designate.
The letter says that caption is accompanied with incorrect, misleading and slanderous allegations with respect to the chief justice-designate's professional capabilities. As such, the letter regrets, sharing the image under incorrect pretences, constitutes an act of misrepresentation, slander and defamation and is punishable by law.
It says that sharing the image amounts to an attack on the superior judiciary which adds to the gravity of the criminal act and therefore needs to be checked.
Earlier on Nov 19, the Supreme Court initiated contempt of court proceeding against Din News, a private television channel, for airing another slanderous image, which was first circulated on social media and later picked up by electronic media. The image alleges a private meeting between Justice Amir Hani Muslim of the Supreme Court and Senator Nehal Hashmi of the Pakistan Muslim League-Nawaz regarding the Panamagate case that was pending in the Supreme Court.
Justice Muslim was a member of the five-judge Supreme Court bench hearing the Panama leaks case on petitions moved by the Pakistan Tehreek-i-Insaf, the Jamaat-i-Islami and a private petitioner Tariq Asad.
The court had described the television package as a character assassination campaign that had cast aspersions on the conduct of the court's judge.
Similarly on Dec 5, Justice Asif Saeed Khosa had regretted that judges had started avoiding shaking hands with people even at weddings or private ceremonies to avoid scandals connecting judges with the Panamagate case.
Full report at:
http://www.dawn.com/news/1305117/ag-wants-slander-of-judiciary-on-social-media-criminalised
--------
COAS confirms death to 8 terrorists, life term to 3
Dec 29, 2016
Murderers of human rights activist Sabeen Mahmud and terrorists who carried out an attack on members of Ismaili community in Karachi are among eight hardcore terrorists whose death warrants have been confirmed by Chief of Army Staff (COAS) General Qamar Javed Bajwa.
According to the Inter-Services Public Relations, the army chief on Wednesday confirmed death sentences awarded to eight hardcore terrorists, besides life term to three others.
Those sentenced were involved in heinous offences related to terrorism, including killing of innocent civilians, slaughtering soldiers of law enforcement agencies and armed forces.
These terrorists include those who planned and executed attack on persons of Ismaili community in Safoora area of Karachi where 45 persons died and six others got injured. They also include those who killed a social worker Sabeen Mehmood, kidnapped 2 Chinese engineers and a civilian for ransom.
On the whole, they were involved in killing of 90 persons and injuring 99 others. Explosives were also recovered from their possession.
These convicts were tried by military courts. Detail of each case is as:
Hafiz Muhammad Umar alias Jawad S/O Afzal Ahmed, Ali Rehman alias Pano/Tona S/O Asifur Rehman, Abdul Salam alias Tayyab/Rizwan Azeem S/O Muhammad Nazar ul Islam and Khurram Shafique alias Abdullah Mansoor/Abdullah Mansuri S/O Muhammad Shafiq. These four convicts were members of proscribed organisation. They were involved in attacking persons of Ismaili community travelling in a bus at Safoora Chorangi, Karachi which resulted in death of 45 passengers and caused injuries to six others. They were also involved in killing of a social worker Mst Sabeen Mehmood at Karachi. These convicts admitted their offences before the Magistrate and the trial court. They were awarded death sentences.
Muslim Khan S/O Abdul Rasheed. The convict was a spokesman of proscribed organization. He was involved in killing of innocent civilians, attacking Armed Forces and Law Enforcement Agencies of Pakistan, which resulted in death of 31 persons including Inspector Sher Ali of police and injuries to 69 others. He was involved in slaughtering of Capt Najam Riaz Raja, Capt Juniad Khan, Naik Shahid Rasool and Lance Naik Shakeel Ahmed. He was also involved in kidnapping 2 Chinese Engineers and a local civilian for Ransom. The convict admitted his offences before the Magistrate and the trial court. He was awarded death sentence.
Muhammad Yousaf S/O Khalid Khan. The convict was a member of proscribed organization. He was involved in attacking Armed Forces and Law Enforcement Agencies of Pakistan, which resulted in death of 4 soldiers including slaughtering of Sepoy Raj Wali of Frontier Constabulary and causing injuries to 19 others. The convict admitted his offences before the Magistrate and the trial court. He was awarded death sentence.
Saif Ullah S/O Naseeb Hussain. The convict was a member of proscribed organization. He was involved in killing of innocent civilians and attacking Law Enforcement Agencies of Pakistan, which resulted in death of Assistant Sub Inspector Fareed Khan and a police constable and also caused injuries to another police constable. He was found in possession of explosives. The convict admitted his offences before the Magistrate and the trial court. He was awarded death sentence.
Full report at:
http://www.pakistantoday.com.pk/blog/2016/12/29/coas-confirms-death-to-8-terrorists-life-term-to-3/
--------
Three terrorists of banned outfit apprehended, huge weapons recovered in Karachi
December 28, 2016
KARACHI : Police on Wednesday arrested three suspected terrorists of a banned organization during an operation in Site area of the metropolis.
According to police sources, police carried out an intelligence-based operation in Site area's Pathan Colony and detained three terrorists of a banned outfit.
The law enforcers have also confiscated weapons and explosive material from the possession of arrested terrorists.
The arrested terrorists belonged to Tehreek-e-Taliban Pakistan's (TTP) Khalid Khurasani group. The 10-member group was planning to carry out terrorist activity in the city.
Full report at:
http://nation.com.pk/karachi/28-Dec-2016/three-terrorists-of-banned-outfit-apprehended-huge-weapons-recovered-in-karachi
--------
Arab World
ISIL Chief's Top Aide Captured by Iraqi Forces in Mosul
Dec 28, 2016
The security source in Nineveh Province said Iraqi security forces, tipped off by local residents about the terrorists' hideout in al-Bakr neighborhood, managed to capture Abu Harith al-Matyooti along with fourteen other ISIL members, including some of the group's informants and intelligence elements during the raid.
Earlier this week, two notorious ISIL security commanders along with a number of terrorists were killed in an Iraqi missile attack on their base in the city of Mosul.
Iraqi Federal Police Commander Raed Shaker Judat said Abu Seif and Abu Ayoub al-Qoreishi, senior ISIL commanders, were killed when an Iraqi missile hit the terrorist group's military base in Hay al-Quds on the West and Bab al-Toub on the East of Mosul city.
Several other ISIL terrorists were also killed in the Iraqi air attacks on the terrorist group's military positions in Mosul city.
http://en.farsnews.com/newstext.aspx?nn=13951008001509
--------
Syria: Kurdish Fighters Capture More Lands Near Raqqa
Dec 28, 2016
The SDF pushed back ISIL from the village of Hadaj after hours of non-stop clashes.
In the meantime, the Kurdish fighters repelled ISIL's attack on their positions in the newly-captured village of Ja'abar al-Sharqi.
Over 38 ISIL militants were killed and six vehicles, a bomb-laden car, a machinegun-equipped vehicle and a canon have also been destroyed in the last two days of clashes in Hadaj and Ja'abar al-Sharqi.
In relevant developments in the province on Tuesday, the Kurdish fighters engaged in several-hour-long battle with ISIL and pushed them back from the village of Ja'abar al-Qarbi.
In the meantime, the SDF combatants repelled ISIL's attack on its positions in the newly-captured village of Ja'abar al-Sharqi, killing 18 militants.
Full report at:
http://en.farsnews.com/newstext.aspx?nn=13951008001109
--------
Terrorists Acknowledge Defeat in Syria Battle
Dec 28, 2016
"The rebellion has collapsed and the new decisions to be made by the opposition groups in coming days will show if the new path of the opposition groups will end up in their death or freedom (from these problems)," Labib al-Nahas said.
He further warned that bringing ISIL terrorists to Idlib province would a very dangerous development, and "if the masterminds of Fatah al-Sham Front (previously known as the al-Nusra Front) stay inactive, it will end in catastrophic results".
The Ahrar al-Sham commander pointed to the Aleppo battle and said it showed that war needs more mechanisms other than military ones.
On Thursday, the last batch of terrorists and their families left the neighborhoods of Al-Zobaydiyeh, al-Ansari and Salahuddin East of Aleppo.
The Syrian Army and its allies from the resistance front made history and took back the country's second most important city from thousands of terrorists in a landmark victory that will change the future of the war in Syria.
The last pocket of terrorists left Eastern Aleppo on Thursday evening, meaning that the Syrian army and its allies purged all city districts of Jeish Al-Fatah terrorists and completed control over the entire city.
Full report at:
http://en.farsnews.com/newstext.aspx?nn=13951008000995
--------
Syrian Soldiers Repel Terrorists' Offensive in Eastern Damascus
Dec 28, 2016
The army soldiers warded off terrorists' offensive on their positions in Wadi (desert) Ein Terma, killing over five militants and wounding several others.
In the meantime, the Syrian warplanes bombed terrorists' centers in the town of al-Shifouniyeh and surrounding areas of the town of al-Hamouriyeh.
Also, fierce clashes restarted between the army soldiers and militants in Meida'ani, al-Mohammadiyeh and Damascus-Homs highway.
Also, the army men stormed terrorists' concentration centers and gatherings in the triangle of al-Bahariyeh-Meida'ani-Hazarma on Sunday and captured over 25 farms and buildings.
Full report at:
http://en.farsnews.com/newstext.aspx?nn=13951008000896
--------
Syria: American, German, Bulgarian Arms Found in Terrorists' Positions in Aleppo City
Dec 28, 2016
"Ammunition and large-caliber arms together with rockets for Grad multiple launch systems have been found there. The shells have been produced in Germany, the United States and Bulgaria," Gromov said.
The Russian combat engineers also found 122mm mortar shells, rockets for multiple launch rocket systems, hand grenades, grenade launchers and howitzer projectiles in one of the militants' headquarters, the commander said, adding that the ammunition discovered there were in such a large quantity that they would be enough for a battalion.
A Russian General disclosed on Tuesday that a large volume of Turkey and US-made chemicals and weapons had been discovered in militants' bases in Eastern Aleppo.
"Engineering units of the Syrian and Russian forces that were jointly defusing bombs and mines planted by Jeish al-Fatah terrorists in the Eastern neighborhoods of Aleppo seized a large volume of US-made and Turkey-made weapons in the positions of militants," the Russian General said.
The engineering units also found hand-made arms in terrorists' bases, he added.
"A large number of bags filled with chemicals were also found in the positions of the terrorists" the source said, adding, "The terrorists had used chemicals to make bombs."
Full report at:
http://en.farsnews.com/newstext.aspx?nn=13951008001217
--------
Hundreds of Syrian Families Return to Eastern Aleppo
Dec 28, 2016
Hundreds of families from Eastern Aleppo's Seif al-Doleh are now back to their houses after the Syrian and Russian troops finished defusing mines and bombs planted by the terrorists.
The Russian Peace Coordination Center in Syria announced on Wednesday that the country's experts have cleared mines from 966 hectares of the newly-liberated neighborhoods of Eastern Aleppo city since December 5.
The Russian center said in a statement that an area as large as 966 hectares (each hectare equals 10,000 sq-m) has been cleansed from mines and bombs planted by Jeish al-Fatah coalition of terrorist groups in the Eastern neighborhoods of Aleppo city.
The statement added that approximately 350 km of roads, 2,149 houses, 44 schools, 38 mosques, ten hospitals and clinics, a water pumping station and two power transition stations and a water treatment plant have been demined.
The statement added that the Russian soldiers managed to defuse over 14,700 bombs including 6,700 hand-mad grenades.
On Thursday, the last batch of terrorists and their families left the neighborhoods of Al-Zobaydiyeh, al-Ansari and Salahuddin East of Aleppo.
Full report at:
http://en.farsnews.com/newstext.aspx?nn=13951008001660
--------
Nusra Centers Receive Severe Blow in Syrian Army Attacks in Dara'a
Dec 28, 2016
The army units hit the gatherings of Fatah al-Sham in al-Roba'ei checkpost on Tariq al-Saad (road to dam), al-Talabiyeh square, East of the credit bank and near the garden of the refugees camp in Dara'a al-Balad district, leaving a number of militants dead and many more wounded.
In relevant developments in Dara'a on Saturday, the army troops targeted several command bases of Fatah al-Sham Front in the Southern province of Dara'a, destroying three of them.
The army soldiers targeted positions, bases and movements of Fatah al-Sham in Ba'ar al-Shayah, Southwest of al-Qariyeh al-Qarbi, the neighborhood of Tariq al-Sad, North and West of Refugee Camp, killing and wounding a number of terrorists and destroying their rocket launchers, machinegun-equipped vehicles, hell canons and a command base.
Full report at:
http://en.farsnews.com/newstext.aspx?nn=13951008001023
--------
Fresh advance launched against ISIS inside Mosul
29 December 2016
Iraqi security forces launched a fresh advance on Thursday against ISIS militants in several southeastern districts of Mosul, where the fight had been stalled for about a month, Interior Ministry officials said. "Our troops now are advancing. In the first five or 10 minutes they took 500 meters. Just now they are starting to shoot," said an officer from the rapid response forces, an elite Interior Ministry unit.
Those forces were advancing in Intisar district, while thousands of federal police troops redeployed from Mosul's southern outskirts two weeks ago were expected to push into a nearby area, he said. The battle for Mosul, involving 100,000 Iraqi troops, members of the Kurdish security forces and Shiite militiamen, is the biggest ground operation in Iraq since the US-led invasion of 2003.
Elite Iraqi soldiers have retaken a quarter of Mosul, the militants' last major stronghold in Iraq, but their advance has been slow and punishing. They entered a planned "operational refit" earlier this month, the first significant pause of the campaign.
Full report at:
https://english.alarabiya.net/en/News/middle-east/2016/12/29/Iraqi-forces-launch-fresh-advance-against-ISIS-inside-Mosul.html
--------
Mortar fire targets Russian embassy in Damascus
28 December 2016
Two mortar rounds were fired at the Russian embassy in Damascus on Wednesday, the foreign ministry in Moscow said, adding that no casualties or damage had been caused.
"From 1:00 pm to 1:19 pm Moscow time (1000 GMT to 1019 GMT), the Russian embassy was bombarded by terrorists. One mortar, which luckily didn't explode, landed in the courtyard inside the embassy premises," the foreign ministry said in a statement.
"The second mortar landed in the neighborhood" near the embassy, the statement said, adding that deminers intervened to defuse the explosives.
"We consider this new act of provocation by extremists seeking to derail the peace process in Syria, to be a confirmation of their intention to continue to sow terror and violence" in the war-torn nation, the ministry added.
The Russian embassy in central Damascus has been the frequent target of rebel fire ever since war erupted in 2011.
In May 2015, a man was killed when mortar rounds landed near the embassy complex.
Moscow has been a key ally of President Bashar al-Assad since the outbreak of the war.
Full report at:
https://english.alarabiya.net/en/News/middle-east/2016/12/28/Mortar-fire-targets-Russian-embassy-in-Damascus-.html
--------
Saudi collects 145 mln riyals for Syrians in 1 day
28 December 2016
The total amount of donations collected by the Saudi popular campaign to aid the Syrian people has so far reached 143,100,000 Saudi riyals, according to Dr. Abdullah al-Rabeeah, the general supervisor of King Salman Humanitarian Aid and Relief Center.
Saudi Arabia's King Salman had initially launched this humanitarian aid campaign on Tuesday to collect 100 million Saudi riyals ($27 million) to help Syrians.
King Salman donated 20 million riyals of his own money to the campaign, Crown Prince Mohammed bin Nayef had donated 10 million, and Deputy Crown Prince Mohammed bin Salman had contributed 8 million.
"Donations were limited to money and we did not collect in-kind assistance, considering the distance between Saudi Arabia and Syria," Rabeeah said, adding that they're communicating with the concerned parties to deliver the donations to refugees.
"Collecting this big amount of money during a short period of time indicates the humanity of the Saudi people and their faith in standing by their Muslim brothers," he also said.
Rabeeah added that the campaign 'Together for Syria's Relief', will last for three days in the kingdom.
Full report at:
https://english.alarabiya.net/en/News/middle-east/2016/12/28/Saudi-campaign-collects-143-mln-riyals-for-Syrian-refugees.html
--------
Mideast
Iranian official warns terror supporters against 'playing with fire'
Dec 28, 2016
An Iranian official has warned against the repercussions of continued support for terrorists in Syria, saying playing the card of terrorism is tantamount to playing with fire.
Hossein Amir-Abdollahian, the Iranian parliament speaker's special advisor on international affairs, warned against certain efforts aimed at saving terrorists during a meeting with Syria's UN Ambassador Bashar al-Jaafari in Tehran on Wednesday.
He stressed that intra-Syrian dialog is the best political solution to the conflict that has gripped the Arab country for nearly six years.
"Tehran will continue its effective support [for Syria] until a political solution is achieved" in the Arab country, he said.
Amir-Abdollahian also felicitated the Syrian government and nation on the recent liberation of the city of Aleppo.
"The resistance and steadfastness of people, resistance fighters and the Syrian army in the city of Aleppo resulted in the defeat of Takfiri terrorists, and now the international community should speed up the delivery of humanitarian aid to Aleppo, al-Fua'a, Kefraya and other conflict-stricken areas," he said.
For his part, the Syrian diplomat described Iran as Syria's ally in the battle against terrorism and lauded the Islamic Republic as a front-runner in the campaign against Takfirism and terrorism.
Jaafari stressed that the crisis in Syria could end only if the international community supported the Damascus government in its fight against terror.
He also extended his country's gratitude to Iran over its support for the Syrian government and nation.
The Syrian army announced on December 22 that government forces had wrested full control over Aleppo after the last batch of civilians and militants were evacuated from the city.
On Wednesday, Turkey and Russia agreed on a proposal for a nationwide ceasefire in Syria. They aim to put the ceasefire into effect by midnight on Wednesday night.
Moscow and Ankara represented the Syrian government and militants respectively at the negotiations.
Russia, Iran and Turkey said last week they were ready to help broker a peace deal after holding talks in Moscow, where they adopted a declaration on agreed steps to revitalize the political process to end the Syrian crisis.
The three countries agreed that the priority in Syria was to fight terrorism and not to remove the government of Syrian President Bashar al-Assad.
http://www.presstv.ir/Detail/2016/12/28/503894/Iran-Syria-Aleppo-AmirAbdollahian-Jaafari
--------
US Secretary Kerry proposes 'two-state theory' for peace between Israel, Palestinians
December 29, 2016
US Secretary of State John Kerry insisted on Wednesday that Israel and a future Palestine should live as two states based on the territory they held before the 1967 Six Day War.
Kerry, in a major speech on the frozen Middle East peace process, said "equivalent swaps" of land could happen to modify the border, but only by mutual consent.
Jerusalem, he argued, should be recognised as the capital of both states and those countries that do not recognise Israel as a Jewish state should do so.
"It is up to Israelis and Palestinians to make the difficult choices for peace but we can all help," he said, laying out the United States recommendations for reviving the peace effort.
In a speech just weeks before the Obama administration hands over power to President-elect Donald Trump, Kerry said Israel "will never have true peace" with the Arab world if it does not reach an accord based on Israelis and Palestinians living in their own states.
"Despite our best efforts over the years, the two-state solution is now in serious jeopardy," Kerry said at the State Department. "We cannot, in good conscience, do nothing, and say nothing, when we see the hope of peace slipping away."
Kerry speech 'skewed against Israel': Netanyahu
Israel's Prime Minister Benjamin Netanyahu called a major speech by John Kerry on the Israeli-Palestinian conflict on Wednesday "skewed against Israel".
Full report at:
http://www.dawn.com/news/1305013/us-secretary-kerry-proposes-two-state-theory-for-peace-between-israel-palestinians
--------
Israel's AG orders criminal probe against PM Netanyahu: report
December 29, 2016
Israel's Attorney General has ordered police to open a criminal investigation in two unspecified matters involving Prime Minister Benjamin Netanyahu, Israel's Channel 10 television said on Wednesday.
When asked, a Justice Ministry spokeswoman declined to respond to the report.
Netanyahu has in the past denied wrongdoing in the purchase of submarines from Germany, where media have reported a potential conflict of interest involving his lawyer.
Full report at:
http://www.dawn.com/news/1305065/israels-ag-orders-criminal-probe-against-pm-netanyahu-report
--------
Turkey, Iran, Russia eye dicing Syria into zones of influence
December 29, 2016
Syria would be divided into informal zones of regional power influence and Bashar al-Assad would remain president for at least a few years under an outline deal between Russia, Turkey and Iran, sources say.
Such a deal, which would allow regional autonomy within a federal structure controlled by Assad's Alawite sect, is in its infancy, subject to change and would need the buy-in of Assad and the rebels and, eventually, the Gulf states and the United States, sources familiar with Russia's thinking say.
"There has been a move toward a compromise," said Andrey Kortunov, director general of the Russian International Affairs Council, a think tank close to the Russian Foreign Ministry.
"A final deal will be hard, but stances have shifted."
Assad's powers would be cut under a deal between the three nations, say several sources. Russia and Turkey would allow him to stay until the next presidential election when he would quit in favor of a less polarising Alawite candidate.
Iran has yet to be persuaded of that, say the sources. But either way Assad would eventually go, in a face-saving way, with guarantees for him and his family.
"A couple of names in the leadership have been mentioned (as potential successors)," said Kortunov, declining to name names.
Nobody thinks a wider Syrian peace deal, something that has eluded the international community for years, will be easy, quick or certain of success. What is clear is that President Vladimir Putin wants to play the lead role in trying to broker a settlement, initially with Turkey and Iran.
That would bolster his narrative of Russia regaining its mantle as a world power and serious Middle East player.
"It's a very big prize for them if they can show they're out there in front changing the world," Sir Tony Brenton, Britain's former ambassador to Moscow, told Reuters.
"We've all grown used to the United States doing that and had rather forgotten that Russia used to play at the same level"
Backroom deals
If Russia gets its way, new peace talks between the Syrian government and the opposition will begin in mid-January in Astana, the capital of Kazakhstan, a close Russian ally.
The talks would be distinct from intermittent UN-brokered negotiations and not initially involve the United States.
That has irritated some in Washington.
"So this country that essentially has an economy the size of Spain, that's Russia, is strutting around and acting like they know what they are doing," said one US official, who declined to be named because of the subject's sensitivity.
"I don't think the Turks and the Russians can do this (political negotiations) without us."
Foreign and defense ministers from Russia, Turkey and Iran met in Moscow on Dec 20 and set out the principles they thought any Syria deal should adhere to.
Russian sources say the first step is to get a nationwide ceasefire and then to get talks underway. The idea would then be to get Gulf states involved, then the United States, and at a later stage the European Union which would be asked, maybe with the Gulf states, to pick up the bill for rebuilding.
The three-way peace push is, at first glance, an odd one.
Iran, Assad's staunchest backer, has provided militia fighters to help Assad, Russia has supplied air strikes, while Turkey has backed the anti-Assad rebels.
Putin has struck a series of backroom understandings with his Turkish counterpart Tayyip Erdogan to ease the path to a possible deal, several sources familiar with the process say.
Moscow got Iran to buy into the idea of a three-way peace push by getting Turkey to drop its demands for Assad to go soon, the same sources said.
"Our priority is not to see Assad go, but for terrorism to be defeated," one senior Turkish government official, who declined to be named, said.
"It doesn't mean we approve of Assad. But we have come to an understanding. When the militant Islamic State is wiped out, Russia may support Turkey in Syria finishing off the PKK."
Turkey views the YPG militia and its PYD political wing as extensions of the outlawed Kurdistan Workers Party (PKK), which has long waged an insurgency in its largely Kurdish southeast.
"Of course we have disagreements with Iran," said the same Turkish official. "We view some issues differently, but we are coming to agreements to end mutual problems."
Aydin Sezer, head of the Turkey and Russia Centre of Studies, an Ankara-based think tank, said Turkey had now "completely given up the issue of regime change" in Syria.
Turkey's public position remains strongly anti-Assad however and Foreign Minister Mevlut Cavusoglu said on Wednesday a political transition with Assad was impossible.
Brenton, Britain's former ambassador, said Moscow and Ankara had done a deal because Moscow had needed Turkey to get the opposition out of Aleppo and to come to the negotiating table.
"The real flesh in the game the Turks have, and the fear they have, is of an autonomous Kurdistan emerging inside Syria that would have direct implications for them," he said.
Ankara launched an incursion into Syria, "Operation Euphrates Shield", in August to push IS out of a 90 km (55-mile) stretch of frontier territory and ensure Kurdish militias did not gain more territory in Syria.
Realpolitik
The shifting positions of Moscow and Ankara are driven by realpolitik. Russia doesn't want to get bogged down in a long war and wants to hold Syria together and keep it as an ally.
Turkey wants to informally control a swathe of northern Syria giving it a safe zone to house refugees, a base for the anti-Assad opposition, and a bulwark against Kurdish influence.
The fate of al-Bab, an Islamic State-held city around 40 km (25 miles) northeast of Aleppo, is also a factor. Erdogan is determined that Turkish-backed rebels capture the city to prevent Kurdish militias from doing so.
Several sources said there had been an understanding between Ankara and Moscow that rebels could leave Aleppo to help take al-Bab.
Iran's interests are harder to discern, but Ali Akbar Velayati, Iran's Supreme Leader Ayatollah Ali Khamenei's top adviser, said Aleppo's fall might alter a lot in the region.
By helping Assad retake Aleppo, Tehran has secured a land corridor that connects Tehran to Beirut, allowing it to send arms to Hezbollah in Lebanon.
Russian and Western diplomatic sources say Iran would insist on keeping that corridor and on Assad staying in power for now. If he did step down, Tehran would want him replaced with another Alawite, which it sees as the closest thing to Shia Islam.
Full report at:
http://nation.com.pk/international/28-Dec-2016/turkey-iran-russia-eye-dicing-syria-into-zones-of-influence
--------
Turkish soldier killed after clashes with Kurdish militant
December 29, 2016
One Turkish soldier and two Kurdish militants died as a result of clashes overnight in the eastern province of Tunceli, security sources said on Wednesday.
The clashes broke out in the Tunceli countryside, where security forces were carrying out an ongoing operation against militants, broadcaster NTV said.
The outlawed militant Kurdistan Workers Party (PKK) has repeatedly targeted security forces, especially in the country's southeast, since abandoning a 2-1/2-year ceasefire in July 2015.
Full report at:
http://nation.com.pk/international/28-Dec-2016/turkish-soldier-killed-after-clashes-with-kurdish-militant
--------
Palestinians can talk peace if settlements halt
29 December 2016
Palestinian president Mahmoud Abbas said Wednesday he was ready to resume peace efforts with Israel if it stopped settlement building, reacting to a major speech by US Secretary of State John Kerry.
"The minute the Israeli government agrees to cease all settlement activities... and agrees to implement the signed agreements on the basis of mutual reciprocity, the Palestinian leadership stands ready to resume permanent status negotiations on the basis of international law and relevant international legality resolutions... under a specified timeframe," he said in a statement.
Full report at:
https://english.alarabiya.net/en/News/middle-east/2016/12/29/Palestinians-can-talk-peace-if-settlements-halt-Abbas.html
--------
Turkey: Syria transition can't involve Assad
28 December 2016
Turkey and Russia have prepared an agreement for a ceasefire in Syria, Turkey's foreign minister said, adding Ankara would not budge on its opposition to President Bashar al-Assad staying in power.
The comments by Mevlut Cavusoglu on Wednesday appeared to signal a tentative advance in talks aimed at reaching a truce, but the insistence that Assad must go will do little to smooth negotiations with Russia, his biggest backer.
Russia, Iran and Turkey said last week they were ready to help broker a peace deal after holding talks in Moscow where they adopted a declaration setting out the principles any agreement should adhere to.
"There are two texts ready on a solution in Syria. One is about a political resolution and the other is about a ceasefire. They can be implemented any time," Cavusoglu told reporters on the sidelines of an awards ceremony at the presidential palace in Ankara.
He said Syria's opposition would never back Assad.
"The whole world knows it is not possible for there to be a political transition with Assad, and we also all know that it is impossible for these people to unite around Assad."
Last week, Russia's foreign minister said Russia, Iran and Turkey had agreed that the priority in Syria was to fight terrorism and not to remove Assad's government.
Turkey's state-run Anadolu Agency said earlier on Wednesday Moscow and Ankara had agreed on a proposal towards a general ceasefire. The Kremlin said it could not comment on the report.
A Syrian rebel official said meetings between Ankara and rebel forces were expected to continue this week, but could not confirm whether a final ceasefire agreement had been reached.
Sticking point
The official told Reuters a major sticking point in negotiations between rebel groups and Turkey was that Russia wanted to exclude the Damascus countryside from the ceasefire, but the rebels refused to do so.
A second rebel official told Reuters there was no agreement yet from the side of the rebel factions.
"The details of the ceasefire deal have yet to be officially presented to the factions, and there is no agreement so far," the second official said.
Russia's foreign minister said on Tuesday the Syrian government was consulting with the opposition ahead of possible peace talks, while the opposition group said it knew nothing of the negotiations but supported a ceasefire.
Full report at:
https://english.alarabiya.net/en/News/middle-east/2016/12/28/Transition-towards-peace-in-Syria-can-t-involve-Assad-says-Turkey.html
--------
Africa
Nigeria's Sultan of Sokoto rejects gender equality bill
28 December 2016
Nigeria's most senior Muslim cleric has rejected a new gender equality bill, which proposes that women and men inherit an equal share.
The Sultan of Sokoto, Mohamed Sa'ad Abubakar, said Muslims would not accept the violation of Islamic law guaranteeing men a greater share.
Nigeria's main Christian body has welcomed the bill, saying its religion permitted equal inheritance.
Activists have pushed for the bill to end discrimination against women.
Nigeria's war of the religious robes
Women 'belong everywhere, Mr president'
Mugabe the feminist?
Nigeria is a deeply religious society with roughly the same number of Christians and Muslims.
Speaking at a Koranic recitation ceremony in northern Zamfara state, the sultan said: "Our religion is our total way of life. Therefore, we will not accept any move to change what Allah permitted us to do."
He added: "Islam is a peaceful religion; we have been living peacefully with Christians and followers of other religions in this country. Therefore, we should be allowed to perform our religion effectively."
Woman stands outside mosque entranceImage copyrightFLORIAN PLAUCHEUR
Image caption
An earlier attempt to give Nigerian women equal inheritance rights failed
In October, the Christian Association of Nigeria (CAN) said it did not find anything wrong with the bill because in "Christianity inheritance is shared equally between male and female".
Lawmakers say they will consider public opinion before a decision is taken on which aspects of the bill to approve and which aspects to reject.
In March, Nigeria's senate rejected an earlier version of the bill, saying it was incompatible with Nigerian culture and religious beliefs.
Human rights activist Bukky Shonibare called the rejection of the bill in March a sad day for Nigerian women and said it showed "how backward we are".
http://www.bbc.com/news/world-africa-38449822
--------
Algeria: Qur'an Week, School to Promote Moderate Practice of Islam
27 DECEMBER 2016
Minister religious Affairs Mohamed Aissa said Monday in the Palace of Culture in Algiers that the national week of Qur'an "is a school teaching moderate practice of Islam."
In an opening address at the 18th National Week of Qur'an, Mohamed Aissa said the event, a breeding ground for training of people in Qur'an recitation, including preparations for international contests, is an opportunity for discussions and promotion of moderate practice of religion.
Today, the world is all eyes on Algeria's experience in the fight and prevention against extremism through the Charter of Peace and International Reconciliation, initiated by President of the Republic Abdelaziz Bouteflika.
Held every year for 18 years now, under the high patronage of President of the Republic Abdelaziz Bouteflika, the Qur'an Week has become an exceptional event on the cultural and religious levels.
Full report at:
http://allafrica.com/stories/201612280277.html
--------
Attack Against Police in Kenya Highlights Rising Threat of Female Extremism
December 28, 2016
In September, three people attacked a police station in Mombasa, Kenya. They stabbed one police officer and set fire to the building before being shot dead, according to Kenyan police. The incident drew international attention, not only for the brazenness of the attack, but for the gender of the attackers: all three were women.
Experts say female extremism is on the rise in Kenya and across the continent, as terror groups look for recruits who are less likely to elicit suspicion and can move through cities and checkpoints without being searched by police.
The results are deadly. For instance, in northeast Nigeria and Cameroon between June 2014 and April 2016, officials recorded more than 200 female suicide bombers killed more than 1,000 people.
Phyllis Muema is the executive director of the Kenya Community Support Center based in Mombasa that works with young people and their families at risk of being indoctrinated by violent extremist groups. Muema said she has noticed in the past year that extremist groups are focusing more attention on recruiting women.
"The local culture here is extremely respectful of women and police don't find it ideal to search women because culturally it's very wrong," she said. "And extremists take advantage to say that if they're not searched and nobody pays attention to them, then they are extremely good targets in terms of their use, especially in crowded areas."
Islamic State has deployed female suicide bombers around the world, including 10 would-be suicide bombers arrested in October in Morocco. They were said to be planning attacks on tourist sites. An IS affiliate claimed responsibility for the Mombasa attack, according to media reports.
Women's motivation
But the question remains: Why would women join a group whose ideology states they should be subservient to men and tells them they do not deserve equal rights?
Muema said many girls in coastal Kenya have no job opportunities and are desperate. Extremist groups such as IS offer them the ability to have a leadership role.
"Women in our culture are not recognized or given the right place," she said. "Therefore, extremists are giving them the opportunity to be the star in the movie. And that excites the girls a lot."
Muema said the Mombasa attack was particularly stunning because the perpetrators were local students who had graduated with high grades.
"It was like a reawakening of the fact that more attention needs to be given to girls and to women," she said. "Because no one expected that that type of bold girls would conduct that type of an attack."
Fredrick Ogenga, founding director of the Center for Media, Democracy, Peace and Security at Rongo University in Kenya, recently completed a study examining female extremism in Kenya while serving as a Southern Voices Network for Peacebuilding scholar at the Woodrow Wilson Center in Washington, D.C. He found that women who become what he calls "jihadist brides" tend to come from middle-class or upper middle-class families, and have an average to above average education. He found that they come to the ideology willingly.
"I can tell you, in West Africa most women who get involved in violent extremism are women who get coerced," he said. "What you've witnessed in Kenya is a different trend. You are seeing women willingly subscribing to the idea of jihadi bride-ism. … these are women who are romanticizing the fantasy of being involved with a partner who is an al-Shabab terrorist."
Fears of escalation
Ogenga went on to warn that incidents like the one in Mombasa are harbingers of what is yet to emerge in Kenya.
Full report at:
http://www.voanews.com/a/attack-against-police-kenya-rising-threat-female-extremism/3654650.html
--------
Christian donates mosque to muslims in Adamawa
December 28, 2016
The Deputy Governor of Adamawa, Mr Martins Babale, has donated a Juma'at Mosque to Dalsum community in Toungo Local Government Area of the state.
Babale said while the presenting the mosque on Wednesday that the measure was an effort to boost peaceful co-existence among the diverse communities in the state.
The deputy governor, a Christian, said he built the mosque to promote peaceful co-existence among the local communities in the area.
He emphasised that the era of unnecessary conflicts and misunderstanding between followers of different religions was over and stressed the need to live together harmoniously with tolerance.
"Today I am fulfilling one of my wishes to our people. I prayed that the Mosque will also serve as a centre which will unite our community," Babale said.
Alhaji Musa Gindau, the District Head of Dalsum, commended the courageous and generous effort of the deputy governor, describing him as a "peace promoter".
Gindau said that the people of Dalsum were well known in living in peace with one another irrespective of religion, tribe and clan.
Full report at:
http://www.pmnewsnigeria.com/2016/12/28/christian-donates-mosque-to-muslims-in-adamawa/
--------
Jordan sentences five to death for 'terror'
December 29, 2016
AMMAN - A court in Amman on Wednesday sentenced to death five Jordanian members of a dismantled cell linked to the Islamic State militant group for "terrorism".
The state security court also handed jail terms of between three and 15 years to another 16 Jordanians in the same case. They were found guilty of deadly "acts of terrorism", the manufacture of explosives and "possession of weapons and ammunition for use in terrorist acts" and recruiting people for "terrorist organisations". The group of 21 were members of an IS cell that was broken up in March during a large-scale security operation in the northern town of Irbid, near the border with Syria. Seven suspected militants and a member of the Jordanian security forces were killed during that operation. The authorities announced later that they had foiled IS attacks in the kingdom, which had already been hit by deadly attacks over the past year. On December 18, 10 people including a Canadian were killed in a shooting rampage the popular tourist destination of Karak, in an attack claimed by the Islamic State group.
Full report at:
http://nation.com.pk/international/29-Dec-2016/jordan-sentences-five-to-death-for-terror
--------
11 dead migrants found on Libya beaches; another 900 rescued
December 29, 2016
TRIPOLI/ROME - The bodies of 11 migrants who died trying to make the perilous journey to Europe have washed up on beaches around Libya's capital Tripoli, the Red Crescent said Wednesday.
"Teams from the Tripoli branch of the Libyan Red Crescent recovered 11 bodies washed up around Tripoli," Red Crescent volunteer Mohannad al-Fallah said.
"The teams in charge of recovering bodies were sent on Tuesday to several beaches around Tripoli, in residential areas where residents are accustomed to alerting authorities" about the sighting of bodies, he said.
The Libyan Red Crescent said on its Facebook page that the bodies were recovered at the Hay Al Andalus beach in the capital and in another area about 15 kilometres (10 miles) west of the city.
Meanwhile, another 900 migrants have been rescued from stricken boats off Libya, Italy's coastguard said Wednesday, three days before the end of what is already a record year for arrivals at the country's southern ports.
Most of the latest batch of migrants were picked up overnight from two wooden boats travelling together and around 40 people were rescued from another boat at dawn.
Around 400 were rescued by the Aquarius, a rescue boat operated by charity SOS Mediterranee, which said the migrants it had taken on board included Eritreans, Bangladeshis, Pakistanis, Somalians and Syrians.
Full report at:
http://nation.com.pk/international/29-Dec-2016/11-dead-migrants-found-on-libya-beaches-another-900-rescued
--------
Over 3,000 return home in northeast Nigeria after internal displacement
Dec 28, 2016
Over 3,000 people displaced in Nigeria's northeast as a result of a seven-year terrorist campaign by the Boko Haram militant group have returned home after the reopening of key roads in the region.
"They were residents of Damasak, displaced by the insurgency staying as refugees in the neighboring Niger Republic and internally displaced people in Maiduguri," said Nigerian army spokesman Sani Usman on Tuesday.
Damasak is a town in the country's northeastern state of Borno, which was the worst hit by the Boko Haram militancy. The town was seized by the Takfiri militants in late 2014.
According to Usman, more than 3,000 residents of the area used one of the roads recently reopened by the army to return to Damasak on Monday.
This aerial file photo, taken on December 8, 2016, shows soldiers standing near a military vehicle in Bama, northeast Nigeria, where the Nigerian army has defeated Boko Haram in the Sambisa Forest. (By AFP)
He said the returnees went through military security checks on their arrival and were then greeted by local government authorities and community leaders.
The Boko Haram terrorists were flushed out of the town by Nigerian forces in July, and the country's President Muhammadu Buhari announced on Saturday that the army had recaptured Boko Haram's main camp in the Sambisa Forest.
The government further announced on Sunday that it was also reopening two roadways between Maiduguri, which is Borno's capital, and the northern towns of Damasak and Baga.
More than two million Nigerians have been forced to flee their homes in the course of Boko Haram's terror campaign as the militants attempted to establish their own rule in northeast of Nigeria. Nearly 15,000 people have so far been killed as the result of the militancy.
Following the recapture of the Sambisa camp, Nigeria's Chief of Army Staff Tukur Buratai announced that the former game reserve would be converted to a military training base in a bid to prevent the militants from returning.
Full report at:
http://www.presstv.ir/Detail/2016/12/28/503780/Nigeria-Borno-Damasak-Boko-Haram-internally-displaced
--------
Nigerian army arrests 1,240 Boko Haram suspects
28 December 2016
At least 1,240 suspects linked to Boko Haram have been arrested in recent operations that led to the capture of the terrorist group's main fortress in the Sambisa forest, the Nigerian army said on Wednesday.
Speaking at a news briefing in Maiduguri, the capital city of the insurgency-wracked Borno state, Maj.-Gen. Leo Irabor, commander of the troops fighting the insurgents, said: "We have arrested a total of 1,240 for links to Boko Haram. We don't consider them escapees because they were arrested during the operation that led to the fall of camp zero. We consider them either sympathizers or members of Boko Haram."
At least 30 Boko Haram suspects -- 24 males and six females – also surrendered to the Nigerien army and were being interrogated in Diffa, the capital city of the French-speaking country that shares its border with Nigeria.
The army commander said the military had won the battle against the militants with the fall of their operational headquarters, but said the "battle to win the peace has just begun" with troops still on the trail of militants fleeing from the forest.
Irabor brushed aside claims of an arrest of a French man in the forest, although he admitted that a number of foreigners, including a Burkinabe, had been arrested.
"As we speak, some of my officers and men are on the trail of fleeing militants who have been smoked out of their enclave. So we are not saying this war is over," according to the army official.
Full report at:
http://www.worldbulletin.net/africa/182364/nigerian-army-arrests-1240-boko-haram-suspects
--------
Advocates vow to continue work in Minnesota Somali community
December 29, 2016
Welcome! We hope that you enjoy our free content.
MINNEAPOLIS — In a busy office in the heart of Minneapolis' largest Somali neighborhood, about a dozen young men and women lined up at computers to work on resumes or apply for jobs. A few feet away stood a photo station, ready to create employee badges for those lucky enough to get hired on the spot.
The employment center, which has helped roughly 1,000 people find jobs since it opened in May, is one of several initiatives formed in Minnesota as part of a federal pilot project designed to combat terror recruiting.
Those at the forefront of these efforts say they plan to keep them going, despite uncertainty that lies ahead with a new administration.
"Our work will continue no matter what," said Mohamud Noor, executive director of the Confederation of Somali Community in Minnesota. "We want to send a strong message: If you get people engaged, focus on their needs and are able to connect with them, you end up raising the whole community up."
The Obama administration launched pilot projects in Minneapolis, Boston and Los Angeles as part of its broader strategy to counter violent extremism in late 2014.
Minnesota's previous efforts served as a model for the national strategy, according to John Cohen, former counterterrorism coordinator at the Department of Homeland Security. These programs are "critically important," he said, adding that many people who swear allegiance to groups like the Islamic State are doing so mainly because they want to feel connected.
In Minnesota, the state's large Somali community has been vulnerable to terrorism recruiters. Roughly three dozen people, mostly Somali men, have joined militants in Somalia or Syria since 2007. Last month, nine men were sentenced for plotting to travel to Syria to join the Islamic State group. And in September, a 20-year-old Somali-American stabbed and injured 10 people at a central Minnesota mall before he was shot and killed by an off-duty police officer; the FBI has said his actions suggest he'd been radicalized.
Noor's employment center was among six groups that work with Somali youth that received funding, along with a youth sports group and a program that empowers Somali parents. While the federal money was one-time funding, private partnerships continue. In addition, the state of Minnesota has set aside $2 million to support Somali youth and workforce readiness.
Meanwhile, the federal DHS is moving ahead with plans to award $10 million to help states combat terror recruiting. Grant recipients haven't been announced, and it's unclear whether any money will flow to Minnesota.
Full report at:
http://www.postbulletin.com/news/state/advocates-vow-to-continue-work-in-minnesota-somali-community/article_194e835d-caba-5808-9bf2-173208210b2e.html
--------
India
Alienation of any segment of country's citizens not healthy, says Hamid Ansari
December 29, 2016
Vice-President Hamid Ansari on Wednesday underlined the need for India and Pakistan to resolve their outstanding areas of disagreement and be accommodative. He added that alienation of any segment of the country's citizens did not augur well for the nation. "The practical approach would be to make haste slowly, to be accommodative rather than exclusionary so that negative perceptions are allowed to fade away. Political commitment and modalities have to surface to resolve outstanding areas of disagreement. Foremost amongst these is what the Simla Agreement of 1972 called 'a final settlement of Jammu and Kashmir'," said Ansari, addressing a gathering at Mumbai University after releasing a book written by Observer Research Foundation's Sudheendra Kulkarni on India-Pakistan-Bangladesh confederation.
The vice-president said the domestic dimensions of this issue as well as trans-LoC incursions have been in news of late. "The state is doing all that is necessary to confront and repel terrorism. The state also has a duty to ensure the rights and dignity of our citizens are respected and ensured, and shortcomings effectively addressed. Alienation of any segment of the citizen body within our land does not contribute to the overall health of the republic," said Ansari.
He said a beginning has to be made in regional cooperation with a focus on human security problems, movement of people and trade without unreasonable restrictions. "The common traits in cultural traditions and historical narratives need to be transmitted to a younger generation through conscious promotion rather than studied prevention of cultural exchanges, films and other cultural activities," he said.
Ansari said India, Pakistan and Bangladesh were countries with different sizes and capacities, differing versions of the past, conflicting ideologies and national security perceptions, but shared geography, ecology and wider human security challenges.
He said the challenge for people was to understand what happened in 1947, examine the role and limitations of the principal actors and to explore realistically the options for the future. He also questioned whether the British rule and their anxiety to leave India on terms most advantageous to them were sufficient to bring about the division of the country.
"Ten years after the event, Maulana Azad attributed the decision of his principal colleagues to 'anger or despair that had clouded their vision', adding that 'the verdict (of history) would be that India was not divided by the Muslim League but by the Congress.' It is, therefore, difficult to disagree with Kulkarni's conclusion that 'history's verdict casts the responsibility for India's Partition on both the parties although the Muslim League's guilt is decidedly greater' because it anchored its demand on the Two Nation Theory," said Ansari.
Kulkarni, addressing the gathering, said a confederation of the three countries was inevitable in the near future.
http://indianexpress.com/article/india/alienation-of-any-segment-of-countrys-citizens-not-healthy-says-hamid-ansari-4449663/
--------
How A Generous Saudi Saved An Indian Worker From Execution
28 December 2016
Limbadri, an Indian worker, never had it in his wildest dreams that he would escape death sentence especially after he had spent eight years behind bars waiting for execution.
He thought his head would be separated from his body in an implantation of a court rule which sentenced him to capital punishment after killing a Saudi during a fight.
With the date of execution coming closer, Awad bin Guraiah Al-Yami, a Saudi businessman, intervened with the family of the victim to pardon the killer offering them SR1.3 million as diyah (blood money).
Yami's good offices were fruitful when the family accepted the blood money and pardoned the murderer.
Full report at:
https://english.alarabiya.net/en/News/gulf/2016/12/28/How-a-generous-Saudi-saved-an-Indian-worker-from-execution.html
--------
Terrorism in 2016: Islamic State, Pakistan-sponsored actors kept NIA on its toes
Dec 29, 2016
New Delhi: Pakistan-sponsored terrorism and the Islamic State trying to weave its terror network in India kept the National Investigation Agency (NIA) busy throughout 2016.
The year began with one of the most audacious terror attacks on India when four Pakistani terrorists stormed the India Air Force (IAF) base in Pathankot on 2 January and killed seven soldiers.
The NIA, formed in the aftermath of the 2008 Mumbai terror attack, quickly sprang into action and traced links of the attack to Pakistan, blaming Jaish-e-Mohammed chief Masood Azhar for masterminding the strike that brought the improving New Delhi-Islamabad ties back to square-one.
Within months, the anti-terror probe agency filed a detailed charge sheet nailing Azhar and three of his accomplices for their detailed and meticulous planning of the attack.
But the agency drew flak when the government allowed a Joint Investigation Team (JIT), which included an ISI officer, from Pakistan to visit the sensitive Pathankot military base to probe the incident.
Days after it took over the Pathankot probe, the NIA laid its hands on evidence of the Islamic State trying to expand its presence in India by radicalising youth as potential terrorists.
On 22 and 23 January, over two dozen raids were conducted across the country. Eighteen Islamic State suspects were arrested. Nine more, including a foreigner, were later held in separate raids in Uttar Pradesh, Kerala and Tamil Nadu.
The agency filed a charge sheet in June alleging that Islamic State sympathisers were seeking to establish an Islamist caliphate in India -- Junoodul-Khilafa-Fil-Hind -- and recruit Muslim youth to terrorism at the behest of Syria-based Shafi Armar alias Yusuf-Al-Hindi.
According to the NIA, Armar, a resident of Karnataka's Bhatkal district and a senior Islamic State leader managing India recruitment, was in touch with the accused through social media networks.
He trained them how to prepare IEDs, identify training venues and provide logistics support for terror strikes.
However, the agency found itself in the midst of a controversy for going soft on alleged right-wing Hindu terror. On 13 May, it submitted the second and final report in the 29 September 2008, Malegaon bomb blast that killed six persons. The bombing was earlier blamed on the Abhinav Bharat group led by Sadhvi Pragya Thakur and Lt. Col. Srikant Purohit.
The Maharashtra Anti-Terror Squad, which was earlier probing the bombing, had filed charges against the two main accused in the attack. The NIA took over the case in 2011. And its chargesheet this year gave a clean chit to Thakur and watered down the case against Purohit.
The agency got one of its major successes when a Bengaluru court convicted 13 Lashkar-e-Taiba terrorists in a 2012 conspiracy to kill prominent leaders, journalists and police officers in Karnataka and Maharashtra.
Full report at:
http://www.firstpost.com/india/islamic-state-pakistan-sponsored-terrorism-keep-nia-on-its-toes-3178714.html
--------
Pathankot repeat: Terrorists used tree along Nagrota base wall to gain entry
by Praveen Swami
December 29, 2016
Army authorities who conducted a secret security audit early this year at Nagrota, the XVI Corps headquarters, failed to anticipate that a tree growing in the officers' mess alongside the three-metre high perimeter wall could be used to secure entry into the facility, government sources have told The Indian Express. The tree, National Investigation Agency (NIA) officials now believe, provided access into the base to terrorists who carried out the November 29 attack in Nagrota.
Failure to ensure the security of the perimeter, sources said, was one of a series of errors in the lead-up to the attack — key among them, inaction on Research and Analysis Wing (R&AW) intelligence about specialist Jaish-e-Muhammad teams tasked with striking a "high-value military target".
The ongoing NIA investigation is, among other things, seeking to establish how the terrorists evaded detection while crossing the border near Jammu, driving past the city, and entering the base. The Army is, separately, holding a Court of Inquiry to establish responsibility for any lapses in base security during the attack, which claimed the lives of seven Army personnel.
J&K Governor N N Vohra had ordered a secret audit of the security of all military, police and intelligence facilities in the state at an eight-hour long meeting of the Core Group of the Unified Headquarters after the January 2 attack on the IAF base in Pathankot.
The Governor, three sources present at the meeting confirmed, asked Director General of Police K Rajendra to oversee the process. "Intelligence warnings on further fidayeen strikes were flowing in," one officer recalled, "and the Governor wanted action taken, fast".
By February, the J&K Police, Central Reserve Police Force, Border Security Force, Intelligence Bureau and R&AW provided written certificates to the Governor saying that they had completed their security audits. The Army, however, declined to do so.
Instead, a Raj Bhavan official involved in the process said, the commanders of the Srinagar-based XV corps and the Nagrota-based XVI corps verbally assured the Governor that an audit had been carried out, and that the information had been provided to the Ministry of Defence in New Delhi.
An Army spokesperson declined specific comment on the findings of the security audit ordered by the Governor, but told The Indian Express in an e-mail that "security audit of all garrisons and bases of the Indian Army is a continuous process". "Based on threats envisaged, various security measures, both short and long term are put into effect concurrently," he said.
The Army's audit, government sources said, did not involve other security forces or the intelligence services which, however, collaborated with each other during their own security audit processes, to obtain outsider views on the strengths and weaknesses of their systems.
In Pathankot, charges recently filed by the NIA show, terrorists simply climbed on to an eucalyptus tree growing alongside the IAF base perimeter wall, and bent it over on to the wall to lay down a rope on the other side.
The terrorists who attacked Nagrota, NIA investigators now believe, likely used a similar technique, clambering on to a tree's branches and then climbing down the tree into the mess lawns. The tree, investigators believe, may have also served to obscure the terrorists' movements from sentries deployed at pickets on its sides. The first terrorist then threw a grenade and opened fire on guards to cover the descent of the rest of his group.
"The NIA has taken statements from the guards present that night," a senior official said, "from which it is clear no one saw any movement until the shooting began."
R&AW personnel provided another opportunity to prevent an attack more than 72 hours before the strike, providing the Army and their sister intelligence services information that specialist Jaish-e-Muhammad teams were preparing to cross the fencing along the India-Pakistan border east of the city of Sialkot, with the intention of attacking a "high value military target". The warning, security sources in J&K confirmed, was passed on to the BSF.
Less than 24 hours after the Nagrota attack began, the BSF engaged a Jaish unit that had used an 80-metre long tunnel to penetrate the border at Chamliyal, near Jammu. The group carried equipment similar to that used by the Nagrota terrorists, including plastic handcuffs, suggesting they also hoped to take hostages to bring about a long-dramatic siege.
The terrorists who struck at Nagrota, intelligence officials said, are also thought to have used the Chamliyal tunnel, or a similar one, to cross into India — the first wave of the Jaish strikes that R&AW had detected.
Though the BSF began enhanced patrolling along the border after the R&AW intelligence was generated, government sources said, no additional patrols were put in place to search traffic headed out of the belt from Ranbir Singh Pura and Arnia, facing Sialkot, towards Jammu — the route the terrorists would have had to take to reach Nagrota.
"Five, six men travelling from the border to Nagrota with heavy bags; at least one man carrying out reconnaissance outside the base wall: it's hard to believe no one spotted anything," a senior Delhi-based intelligence official said.
In response to a question on the R&AW intelligence, an Army spokesperson said that "the reports generated by intelligence agencies were not specific and covered a large spectrum of targets and locations". "Even with reference to intelligence regarding Nagrota attack, no such specific or actionable intelligence was received."
R&AW officials admitted that their intelligence did not include the targets of the Jaish-e-Muhammad team, but said that the information provided should, at the least, have led bases to review and enhance security along major roads and around bases. "Intelligence is very rarely going to be precise," one official said. "That's not a reason to take threats casually."
Little information has so far become available on precisely what happened in the minutes after firing began inside the base, but government sources said questions have been raised both about the length of time it took to respond to the attack, and the duration of the siege. "There was, in particular, some concern inside government about why the terrorists were able to enter the officers' mess complex, risking a hostage situation," a senior official said.
In response to a query from The Indian Express, asking whether it took up to 20 minutes for quick reaction teams to reach the mess, an Army spokesperson said the first unit "reached the incident site within ten minutes of the initial opening of fire by the terrorists". "There were multiple Quick Reaction Teams at the incident site within the first twenty minutes," the spokesperson said.
Full report at:
http://indianexpress.com/article/india/pathankot-attack-repeat-terrorists-used-tree-along-nagrota-base-wall-to-gain-entry-4449629/
--------
Kashmir: Encounter breaks out between security forces, terrorists in Bandipora
December 29, 2016
An encounter broke out between security forces and terrorists at Shahgund Hajin in Bandipora District in Jammu and Kashmir on Thursday morning.
Acting on specific intelligence input about the presence of militants in Shahgund village of Hajin area of the district, security forces cordoned off the area and launched a search operation, a police official said.
He said as the forces were conducting the search operation, the hiding militants fired upon them, triggering an encounter.
This comes two weeks after a top operative of the Lashkar-e-Toiba (LeT) and an engineering student from the Valley, who recently joined militancy, were killed in two separate encounters in J&K by joint teams of the police and Army. In what was a major setback to the LeT, a divisional commander of the outfit, identified as 25-year-old Pakistani national Abu Baker, was killed in an encounter near Sopore town.
Full report at:
http://indianexpress.com/article/india/jammu-kashmir-encounter-breaks-out-between-security-forces-terrorists-in-bandipora-4449763/
--------
Masrat Alam's release is failure of prosecution: Ashok Pandit
December 28, 2016
New Delhi [India]: Describing Jammu and Kashmir High Court's decision to grant bail to Masrat Alam as failure of the prosecution, veteran filmmaker and social activist Ashok Pandit on Wednesday urged the state government to hire best lawyer to send the separatist leader back to jail.
"It is failure of the prosecution. The state missionary has failed to prove a terrorist as terrorist in the courts of law. If such a known terrorist gets out of jail on bail then nothing can be tragic than this," Pandit told ANI.
He further termed the release of Alam as a sad news for the security forces who fight every day and lose their lives.
"I appeal the state government and state missionary to hire best possible legal luminary, the lawyer and see to it that the terrorist goes back to jail otherwise the confidence of common man will go down," he added.
Echoing similar sentiments, Jammu and Kashmir National Panthers Party (JKNPP) leader Harsh Dev Singh alleged that the government has not contested the case with all seriousness.
"The government never wanted to arrest him. It was the media and public because of which he was arrested. This decision is in pursuance of the soft separatism of the government," Singh told ANI.
Singh further said that if elements like Alam are given open space and the government does not take stern action against them then the situation would continue to deteriorate in the valley.
Full report at:
http://www.siasat.com/news/masrat-alams-release-failure-prosecution-ashok-pandit-1096701/
--------
Kerala BJP demands NIA probe into functioning of Islamic outfit
December 28, 2016
Kerala BJP on Wednesday asked the Centre to order a NIA probe into the functioning of Sathya Sarani, an Islamic centre in Malappuram, to unearth its alleged anti-national activities. BJP State President Kummanom Rajasekharan made the request in a memorandum to Union
"A probe by NIA should be ordered to unearth the anti-national activities of the organisation," he said.
He pointed out that Sathya Sarani was controlled by Popular Front of India, which the saffron party charged was the new form of banned Students Islamic Movement of India (SIMI).
He alleged that nearly 500 persons from Hindu and Christian religions were converted into Islam by Sarani and many of them had joined terror outfit IS in Syria.
BJP also requested Singh to order a CBI probe into the murder of T P Chandrasekharan, who formed a party RMP after quitting CPI(M) in the Communist stronghold Kannur district.
Full report at:
http://indianexpress.com/article/india/kerala-bjp-demands-nia-probe-into-functioning-of-islamic-outfit-4449270/
--------
South Asia
10 Taliban insurgents killed, 19 wounded in Faryab airstrike: MoD
Dec 29 2016
At least 10 Taliban insurgents were killed and 19 others were wounded during a series of air and artillery strikes in northern Faryab province.
The Ministry of Defense (MoD) said the raids were conducted in the restive Qaisar district of Faryab.
The anti-government armed militant groups including the Taliban insurgents have not commented regarding the report so far.
Faryab is among the relatively volatile provinces in northern Afghanistan where the Taliban insurgents and militants belonging to other insurgent groups are actively operating in a number of its remote districts.
The shadow provincial governor of the Taliban group was killed along with five others during an operation in this province earlier this week.
The Ministry of Defense (MoD) said the militants were killed during an operation in the restive Ghormach district.
MoD further added that 8 other militants also sustained serious injuries during the operation.
No further details were given regarding the identity of the Taliban leader killed in the operation.
The Afghan forces are busy conducting their annual operation under the name of Shafaq which they are saying has been launched in response to Taliban's annual spring offensive.
According to the security officials, the main purpose of the operation is to eliminate the senior leaders of the militants plotting and conducting attacks against the government.
http://www.khaama.com/10-taliban-insurgents-killed-19-wounded-in-faryab-airstrike-mod-02576
--------
Taliban suffer heavy casualties in Kunduz operations
Dec 29 2016
The Taliban insurgents have suffered heavy casualties during the clearance operations in northern Kunduz province of Afghanistan.
According to the security authorities in North of Afghanistan, at least 30 militants were killed or wounded during the operations.
The 20th Pamir Division of the Afghan National Army in a statement said several villages were cleared of the insurgents during the operations.
No further details were given regarding the exact locations where the operations were conducted but counter-terrorism operations continue in the outskirts of Kunduz's provincial capital since few weeks.
The Taliban insurgents group has not commented regarding the report so far.
A local commander of the Taliban group was among at least 18 killed during the operations in the strategic Kunduz city, the Ministry of Defense (MoD) said earlier this week, adding that the Taliban commander Ghulam Safi was killed along with 17 others during the operations conducted in the vicinity of Kunduz city.
Kunduz is among the relatively volatile provinces in northern Afghanistan where the Taliban group launched several attacks this year as part of their spring offensive to capture the strategic Kunduz city.
Full report at:
http://www.khaama.com/taliban-suffer-heavy-casualties-in-kunduz-operations-02575
--------
Deadly Kabul attacks report targeting Shi'ites presented to NSC
Dec 28 2016
The National Security Council of Afghanistan (NSC) was presented a report on deadly attacks against Shi'ites in Kabul for which the Islamic State of Iraq and Syria (ISIS) terrorist group claimed responsibility.
The Office of the President, ARG Palace, said the NSC meeting was organized in the Presidential Palace and was chaired by President Mohammad Ashraf Ghani.
A detailed report of the recent attacks against the Shi'ite minority was presented by the Second Vice President Mohammad Sarwar Danish.
The report was prepared by a commission which was established to investigate the recent attacks against the peaceful demonstration and sacred places where religious gatherings take place.
According to the report, the recent attacks targeting the Shi'ite minority were aimed at sparking a sectarian violence among different religious groups.
Calling for unity among different sects of the community, the meeting instructed the relevant institutions to take precautionary measures as per the findings of the report to prevent such attacks against the sacred places and gatherings in the future.
This comes as the United Nations Assistance Mission in Afghanistan (UNAMA) presented its findings regarding the attack on a peaceful demonstration late in the month of October.
Hundreds of innocent civilians were killed or wounded in a series of attacks in capital Kabul for which the ISIS loyalists claimed responsibility.
Full report at:
http://www.khaama.com/deadly-kabul-attacks-report-targeting-shiites-presented-to-nsc-02574
--------
Nagladesh Minister: Do Not Call Terrorists Islamic
December 28, 2016
Information Minister Hasanul Haq Inu urged journalists to be careful, as the west was spreading anti-Islamic propaganda by linking the religion to terrorism.
Inu said: "American president Mr Trump said 'Islamic terrorist' while referring to incidents in Europe, and we also say Islamic terrorists. But this is not right. Do not relate terrorism with Islam. Call them Boko Haram, al-Qaeda or Jamaat-e-Islami, but do not call them Islamic jihadists or Islamic terrorists."
The minister made the comments while speaking as chief guest at the annual meeting of Crime Reporters Association Bangladesh (CRAB), at Dhaka Reporters' Unity on Wednesday.
"We want to tell them that when militant activities are carried out under the name of Islam, it is not jihad, it is not a religious revolutionary action; It is a disgusting, inhuman and ungodly criminal act. I want to say to journalists, be aware regarding this matter. Do not relate Islam with ongoing militant terror activities," he continued.
Inu added that a crime-free society could be established if the law could follow its own course, discarding personal and party influence.
He made the comment in light of BNP Chairperson Khaleda Zia's calls for an investigation into the Ashkona raid.
Full report at:
http://www.dhakatribune.com/bangladesh/politics/2016/12/28/inu-puts-emphasis-crime-free-society/
--------
Bangladesh arrests five suspected Islamists 'plotting New Year attack'
Dec 29, 2016
Police in Bangladesh have arrested five suspected Islamist militants believed to be plotting to attack New Year celebrations, a counter-terrorism police chief said on Wednesday.
The five were believed to be members of a faction of the Jamaat-ul-Mujahideen Bangladesh (JMB) group, which was blamed for an attack on a cafe in Dhaka in July in which 22 people were killed, most of them foreigners.
"They planned to attack on New Year's Eve," Monirul Islam, head of the counter-terrorism police unit, told a news conference.
Islam declined to elaborate when asked about the militants' target and how they planned to attack but said police had also seized 60 kg (132 lb) of explosives, when the five were detained in overnight raids in the capital.
The five were paraded before the media but did not speak to reporters.
Authorities have already banned all outdoor gatherings in Dhaka from dusk on Dec. 31 to dawn on Jan. 1 on security grounds.
Militant attacks have increased in mostly Muslim Bangladesh, a country of 160 million people, over the past few years with several prominent liberal writers and members of religious minorities killed.
Full report at:
http://nation.com.pk/international/28-Dec-2016/bangladesh-arrests-five-suspected-islamists-plotting-new-year-attack
--------
Bangladesh border guard protests after Myanmar navy fires at its fishing boat
Dec 28, 2016
COX'S BAZAR, Bangladesh Bangladesh's border guard accused the Myanmar navy on Wednesday of opening fire on a fishing boat in the Bay of Bengal, underlining tensions over a refugee crisis. At least four Bangladeshi fisherman were injured, two senior officers with the border guard told Reuters."The fishermen, fishing within Bangladesh's body of water on the Bay of Bengal Cherrha Dwip, were shot by a Myanmar navy vessel," said Mohammad Saiful Absar, contingent commander of Bangladeshi border guard in St Martin. He said the shooting happened on Tuesday morning. Some 34,000 Rohingya people have fled to Bangladesh from Myanmar. Violence in Rakhine, home to many Rohingyas, has become the biggest challenge facing Aung San Suu Kyi's eight-month-old government and has sparked international criticism that the Nobel Peace Prize winner has done too little to help the Muslim minority.
Bangladesh's border guard filed a protest letter on Wednesday to its Myanmar counterparts, said AbuZar Al Jahid, lieutenant colonel of Bangladeshi border guard in Teknaf.Zaw Htay, spokesman for Myanmar president's office, said the government was not aware of the incident or Bangladesh's protest.
Full report at:
http://www.firstpost.com/world/bangladesh-border-guard-protests-after-myanmar-navy-fires-at-its-fishing-boat-reuters-3178410.html
--------
Charges submission on 6 Gaibandha 'war criminals' on Mar 12
2016-12-28
Prosecution has been ordered to submit the charges on Mar 12.
A two-member bench headed by Justice Anwarul Hoque announced the date on Wednesday.
Earlier, the prosecution submitted its final investigation report to the tribunal and sought time for submitting the charges.
The tribunal published the report on Dec 21.
Md Abdul Jabbar Mondol, 86, his son Md Jachhijar Rahman, 64, Md Abdul Wahed Mondol, 62, Md Montaj Ali Byapari alias Momtaj, 68, Md Azgor Hossain Khan, 66 and Md Ronju Mia, 59, have been charged of committing crimes against humanity during the War of Liberation in 1971.
All of the them except Ronju are currently on the run.
Prosecutor Mokhlesur Rahman and Sabina Yasmin Munni are representing the State in the case.
Full report at:
http://bdnews24.com/bangladesh/2016/12/28/charges-submission-on-6-gaibandha-war-criminals-on-mar-12
--------
Southeast Asia
Perak mufti defends bus company's gender segregation as 'Islamic'
Faiz Zainudin
December 29, 2016
PETALING JAYA: The Perak mufti has praised a bus company's policy requiring male and female passengers to sit separately, saying it was in line with Islamic requirements prohibiting the free mixing of men and women.
Harussani Zakaria was commenting on the segregation policy across TransMalaya's fleet of buses, saying it should be emulated by other bus operators.
He said it was "haram" and sinful for men and women who are not related to sit next to each other during the journey.
Harussani also blasted Muslims who opposed the policy as "ignorant", saying they were guilty of challenging "God's laws".
"The non-Muslims will obviously disagree with any Islamic laws as they preach freedom," he told FMT.
KRZ Management Sdn Bhd, which manages TransMalaya buses, has defended the policy which was enforced since last February, but said it was not motivated by religion.
Instead, it said the move was out of concern for female passengers during long-distance trips.
"This is for both Muslims and non-Muslims. We simply want to avoid any untoward incidents," its owner Noorlini Ramli told Malay Mail Online.
The move earned the ire of lawyer Siti Kasim, who said the operators were playing the role of moral police.
"I for one will never use this company. If I want to be seated (next) to a man or woman, it is my choice. Who are they to play the moral police?" the vocal activist wrote on her Facebook.
http://www.freemalaysiatoday.com/category/nation/2016/12/29/perak-mufti-defends-bus-companys-gender-segregation-as-islamic/
--------
NGOs want Jakim to clarify if Daim and Toblerone are halal
December 28, 2016
KUALA LUMPUR, Dec 28 — The Malaysia Islamic Development Department (Jakim) has been urged to explain the halal status of chocolate brands, Daim and Toblerone, which have reportedly raised doubts among Muslims.
The calls were made by two non-governmental organisations, namely, Malaysian Muslim People's Coalition (IRIMM) and Pertubuhan Martabat Jalinan Muhibah Malaysia (MJMM).
IRIMM president, Amir Amsaa Alla Pitchay stressed that Jakim must decide whether the chocolates were halal or otherwise.
"We do not want to have doubts over these food products," he told reporters, here, today.
Jakim had, prior to this, confirmed that the two brands were not holders of the Malaysia Halal Verification Certificates and had not obtained the halal certificate from any halal certification bodies abroad recognised by the department.
Full report at:
http://www.themalaymailonline.com/malaysia/article/ngos-want-jakim-to-clarify-if-daim-and-toblerone-are-halal
--------
Terror attack on Chinese government building leaves 5 dead in restive Muslim province
December 28, 2016
Four terrorists have been killed in Xinjiang province in Western China after driving a car into a government building and setting off an explosive device. One bystander is believed to have been killed before police shot dead the four attackers.
In a short statement on its main news website, the Xinjiang government said the attack occurred just before 5pm local time (9am GMT) on 28 December in Karakax county, deep in southern Xinjiang's Uighur heartland, according to Reuters. "At present, local social order is stable," the government said.
In a separate English language report, the official Xinhua news agency described the incident as a "terrorist attack". It gave no other details.
The Xinjiang region has been blighted by tension between the Muslim Uighur population and the ethnic majority Han Chinese.
Hundreds have died in Xinjiang in recent years, which the government claims is the result of unrest caused by Islamist militants and separatists. But rights groups argue that the violence is a reaction to China's harsh policies.
Full report at:
http://www.ibtimes.co.uk/terror-attack-chinese-government-building-leaves-5-dead-restive-muslim-province-1598413
--------
Whither Malaysia - a wish-list for fundamental correction
28 Dec 2016
COMMENT Malaysia is a one of a kind unique and a rare gem of a nation. A melting pot of infinite ingredients and mixed culture. We are a mixture of various races, speaking a plethora of different languages. This beautiful country is what blends us all together, coalescing all strengths and weaknesses. Here we are at Asia's southernmost tip, the only nation with land on both continental Asia and the Malay Archipelago.
Only here can you find a significant portion of the population that has roots from two of the world's oldest civilisations; India and China. The Malays share similar cultural values with Indonesia, the world's most populous Muslim country. Islam as a religion gives us access to the Muslim world.
The inherited British system meanwhile gives us access to the Western world as well. We are like chameleons, and we can infiltrate and be at home in almost every nation on Earth.
Interestingly, a survey by Facebook found that Malaysia is the most cyber sociable country with the most Facebook friends.
Malaysia is also a country of Multiples. We are the only country on Earth that is multi-racial, multi-lingual, multi-religious, multi-cultural, multi race-based sports associations, chambers of commerce & industry, and political parties, multi-national cuisines, multi-government (one federal and 13 state governments), and multi-monarchies (nine kings from the world's total 35 monarchs).
If the above is not enough, let me reinforce my case with the following arguments:
We are the only nation on the planet that has vowed to protect Allah, and ban others from using that name; and have allegedly labeled hotdogs and rootbeer as haram due to literal reasons.
We house the oldest tropical rainforest, said to be over 130 million years old, older than the Amazon and Congo Basins, home to 14,500 species of flowering plants and trees, with more than 200 species of mammals, 600 species of birds, 140 species of snakes and 60 species of lizards.
And we had the longest King Cobra in the world, measuring in at 5.71 metres, that was found in Port Dickson in 1937.
We also have the biggest roundabout in the world in Putrajaya measuring at 3.5 kilometres in circumference; arguably we also have the "biggest spin in the world", too.
Yes, Malaysia is unique. Not just truly Asia, but truly The World! Can you beat that?
Not to mention our eclectic and exhaustive list of cuisines which spans a line from the East to the West. What dishes can't you find here?
Blessed with abundant natural resources and harvests, from tin to rubber, palm oil, timber, bauxite, and of course with petroleum being the most precious now. Malaysia is a rich country. So based on our uniqueness, we have all the essential ingredients to thrive and flourish as "a paradise on earth", but have we done so?
The Land of Multiples comes with multiple problems
It is shocking how this small country of 31.8 million people managed to shockingly earn the most unwelcome title of the region's most unequal nation, most in-efficient energy user, among its many other titles including being the home to the world's largest financial scandal, 1MDB.
Prior to 1MDB, we have had a litany of scandals from Bank Bumiputera, Perwaja, Metramac, Malaysia Airlines, Bank Islam, Transmile, Megan Media, Scan Associates, and a yearly recurrence of repeated "red reports" on audits of government agencies from the Auditor-General's Office. All of these scandals point to one indisputable conclusion - rampant corruption.
We are trapped in a hollow economy, with over reliance on foreign workers, with the majority of our population earning low income and facing distressing rise in the cost of living. Moreover, the majority of Malaysians do not have savings adequate to survive more than one month if they lose their job.
A serious pensions crisis is looming where two-thirds 54-year-olds have less than RM50,000 in their Employees Provident Fund (EPF) accounts.
We are perceived to have First World infrastructure but sadly demonstrate a Third World culture or attitude. We score in the bottom third on international education rankings, many of our drivers are insane with road thugs and mat rempits, we are number 20 in the world in terms of fatalities from road accident per capita, besides facing severe vandalism in our cities, having unprofessional and unethical taxi drivers and widespread claims that Kuala Lumpur is one of, if not the rudest city on Earth.
Environmentally, mother nature is crying; we have flash floods (poor town planning coupled with inadequate facilities management) in our cities, massive flooding on the East Coast, poor management of our water resources and supply, poor waste management, and rampant illegal dump-sites plus "illegal logging" of our forests and mountains, even in water catchment areas.
Full report at:
https://www.malaysiakini.com/news/367467
--------
Indonesian cops to investigate hardline anti-Ahok Muslim cleric for blasphemy
29th December 2016
INDONESIAN police say they will rope in witnesses as they kick off an investigation into blasphemy allegations against a hardline Muslim cleric who was a key protest leader against Jakarta's Christian governor.
The investigation comes following reports lodged by two student associations over remarks allegedly made by Islam Defenders Front (FPI) leader Rizieq Shihab during a sermon, which were recorded and spread on the Internet.
Jakarta Police spokesman Sr. Comr. Raden Argo Yuwono on Wednesday was quoted by the Jakarta Post (via tribunnews.com) as confirming that investigators would begin looking into the case.
"We will question a number of witnesses such as information technology experts, crime experts, religious experts and others," he said.
SEE ALSO: Indonesia: Court to proceed with Jakarta governor's blasphemy trial
In a video stretching 22 seconds, Rizieq reportedly insulted the Christian faith by questioning the birth of Jesus Christ.
"If God gave birth, then who would be the midwife?" he asked, referring to the miraculous birth of the religious figure as recorded in Christian scriptures.
The video of the sermon seen on Twitter and Instagram prompted the Indonesian Catholic Students Association (PMKRI) and Students Peace Institute (SPI) to lodge a report with the Jakarta police.
Rizieq now faces the prospect of being charged under Indonesia's controversial blasphemy laws, the same legislation used against Jakarta Governor Basuki "Ahok" Tjahaja Purnama, who is still undergoing trial. If convicted, the charge carries a maximum five-year prison sentence.
Tens of thousands of Muslims, led by hardliners like Rizieq, took to the streets in December and November to call for Ahok's arrest and to urge voters not to re-elect him in February.
The rallies, with over 150,000 participants each, were the biggest Jakarta has seen in nearly two decades.
Rizieq first sparked the controversy after he reportedly joked to an audience about a passage in the Quran that could be interpreted as prohibiting Muslims from accepting non-Muslims as leaders.
Full report at:
https://asiancorrespondent.com/2016/12/indonesian-hardline-anti-ahok-muslim-cleric-blasphemy/
--------
Mystery Bombing at Boxing Bout Wounds 33 in Philippines
December 29, 2016
Manila. A bombing wounded 33 people during an amateur boxing match in a central Philippines province, the government said on Thursday (29/12), the second attack on a public place by unknown perpetrators in less than a week.
An 81-millimeter mortar round was detonated remotely by cellphone during the amateur bout outside a shopping mall in Leyte province late on Wednesday. Police said no suspects had been identified and no group had claimed responsibility.
It followed a Christmas Eve grenade explosion outside a Catholic church that wounded 16 people on the southern island of Mindanao, a Muslim-dominated region where a long-running insurgency is being fought.
Full report at:
http://jakartaglobe.id/international/mystery-bombing-boxing-bout-wounds-33-philippines/
--------
North America
Trump should develop clearer policies to ease tension between Pakistan, India: Experts
December 29, 2016
US President-elect Donald Trump should develop clearer US policies to ease strains between nuclear-armed Pakistan and India, senior analysts said at a discussion at the US Institute of Peace (USIP).
The discussion followed an escalation across the Line of Control that has further strained ties between the two countries.
Two analysts taking part in the discussion said that relations between India and Pakistan were becoming less predictable as nationalist sentiment in India heightens political pressure to escalate its response to clashes in the disputed territory of Kashmir.
"The fear of direct military conflict is real," Shamila Chaudhary, a former Pakistan director at the U.S. National Security Council said, referring to recent attacks in India-held Kashmir, which India has blamed on Pakistan.
Chaudhary said that every new administration wants to solve the India-Pakistan standoff, a possibility that Trump and his vice president-elect, Mike Pence, have indicated in recent months.
She was, however, of the opinion that it was not going to work, and added that more modest goals for the upcoming administration could be to consolidate or better coordinate US policy making on India and Pakistan.
Chaudhary suggested strengthening private diplomacy to build communication between the countries and limiting public statements, which "don't work well in the region".
Speaking on the ties between the US and Pakistan, Sameer Lalwani, deputy director of the South Asia Program at the Stimson Center, said that although the US has slashed aid to Pakistan, Washington still needs a working relationship with Pakistani authorities.
The US needs Pakistani cooperation on intelligence, homeland security and counter-terrorism, the fight against Islamic State (ISIS) extremists, and stabilizing Afghanistan, he said.
The new administration needs to consider what problems the next India-Pakistan crisis could present to US policymakers, Toby Dalton, the co-director of the Nuclear Policy Program at the Carnegie Endowment for International Peace, said.
He said it was critical that the United States maintain intelligence ties with each country, apart from any other issues in its relations with them.
Sadanand Dhume, a fellow at the American Enterprise Institute, said that US efforts to forge tighter bonds with India while ignoring India's concerns about Pakistan is "a circle that can no longer be squared".
Indian Prime Minister Narenda Modi won election in 2014 in part by running as a nationalist who would not be pushed around by Pakistan, Dhume said.
Anything that erodes Modi's image as a strong leader will become a political liability as India moves toward its next parliamentary elections in 2019, and so "India is becoming much more hawkish in its public opinion and its politics," he said.
The India-Pakistan conflict has never been a priority in US foreign policy and it is unlikely to become one for the Trump administration, the analysts agreed.
Despite the United States' "vital interest in averting any escalation of nuclear threats between the two countries, it has done little long-term planning to prevent it and generally engages the issue only when crises arise", Chaudary said.
The India-Pakistan experts suggested that the next administration would do well to bring new focus and coherence to US policy.
Solutions for conflicts dividing India and Pakistan are well known, Moeed Yusuf, USIP's associate vice president for Asia programs, said.
Acknowledging the difficulties of bringing India and Pakistan to any agreement, he asked, "Is it really impossible? At the end of the day, normalisation solves everyone's problems," he added.
http://www.dawn.com/news/1304970/trump-should-develop-clearer-policies-to-ease-tension-between-pakistan-india-experts
--------
First National Latino Muslim Conference "Convivencia" in the United States
December 28, 2016
On January 31st 2016, the IslamInSpanish (Centro Islamico) was open to the public with over 500 community members eagerly waiting to see this unique center. It was an amazing sight watching people from all backgrounds and races coming in and out of the center for over five hours. Interestingly enough, in another room, over 20 Latino Muslim leaders from different parts of the U.S were discussing a very important question.
Where do we go from here?
In this meeting, the idea of having the first Latino Muslim Convention in the U.S. sprouted and almost 11 months later in the same city where the Centro Islamico opened (Houston), Muslims were present for this historic convention, in collaboration with the Muslimmatters sponsored Texas da'wah Convention.
Sh Reymundo Nur, an imam in California and one of the first Latino American Muslim to study overseas in 1984 (imam Malik Saud University), set the tone by giving the khutbah on Dec 23, 2016, at the joint conference (TDC and Convention) in Arabic, Spanish and English. His message of inclusivity, diversity and celebrating these unique qualities to the congregation was well received. It was also a visual reality seeing a convert of over 45 years, Panamanian, Afro-Caribbean and speaking 3 Languages without his message skipping a beat to a diverse crowd.
As the convention started, participants saw a Latino Muslim family drive across the country from Sacramento, CA to a vanload of Latinos from Chicago to a busload of people coming from Dallas-FortWorth. We had people flying in from Buffalo, New York and Mobile, Alabama. We had brothers from the tri-state area to sisters from New Orleans. Close to 250 Latinos came to experience a historic event including curious observers from the Texas da'wah Convention.
Issues that were discussed ranged from sisters being sought out for marriage for a Green Card to finding methods to combat the hostility that Muslims and Latinos are experiencing on a daily basis. These are issues that have a major impact on our community and it was wonderful to hear a diverse group of speakers leading the discussion and striving to find solutions to these difficult affairs.
We were blessed to have scholars like Sh Reymundo Nur to Sh Muhammad Isa Garcia, an Argentinean graduate from Umm AlQura. We had well experienced Imams like Sh Yusef Maisonet (Muslim for almost 50 years) from masjid Salam in Mobile, Alabama to imam Abdullah Hernandez in Pearland, Texas. The audience experienced advice from educators like Sh Omar Hernandez, first Guatemalan graduate from Madinah University to motivational speakers like Muhajid Fletcher, founder and CEO of IslamInSpanish.
From hearing therapist Haleh Banani give wonderful advice to all about the sanctity of marriage to having Wilfredo Ruiz, Head of CAIR en Espanol, speaking eloquently about all of us knowing our God given rights as Muslims and also as citizens of this country. Alhamdulillah, there was not an ounce of tension nor discord in the two days these issues were discussed; rather the environment was one of openness and healthy dialogue. All sessions were live streamed for a small fee.
There was a Q&A session where participants openly disagreed with the format of the majority of sessions being both in English and Spanish. There were Latinos from the Southwest side of America who felt more comfortable with the lectures being in Spanish, while most of the Latinos from the East Coast and Chicago preferred learning in English. Young and old, men and women came to the microphone to express their most intimate feelings and to state their grievances. There were lessons to be learned from all who spoke.
One of the most important sessions of the convention was when the achievement of leaders and organizations, which have been tirelessly working to educate Latinos about Islam for over 20 years, were highlighted and recognized. To see Ustadh Abdurazaq Lebron, spokesperson for IslamInSpanish awarding a special plaque to a member of one of the oldest of Latino Muslim organizations, Omar Ocasio from Alianza Islamica was truly a special moment. Br Omar spoke about the brothers and sisters who dedicated their lives to da'wah and who are no longer with us (May Allah have mercy on their souls) had many in the audience emotional, because of the realization of not knowing when Allah will take one's soul and to work hard to accumulate good deeds for the sake of Allah. It is hoped that recognizing pioneers like Br. Omar Pena from Cuba, Br Abu Mujahid Fletcher and Sr Ruth Saleh, who planted the seed, taught the younger brothers and sisters about honoring and respecting the work and effort of those who came before them.
Full report at:
http://muslimmatters.org/2016/12/28/first-national-latino-muslim-conference-convivencia-in-the-united-states/
--------
Canada's sanctuary for migrants is built on a strict immigration policy
December 29, 2016
To a lot of commentators, Canada looks like a sanctuary for progressive thinking on immigration, an exception to the nativist wave sweeping the United States and Europe.
A recent cover of the Economist put a maple leaf crown on the Statue of Liberty and proclaimed Canada "an example to the world." Famously, on election day, the Canadian immigration website crashed because of the number of Americans reportedly considering a move to their northern neighbor as Donald Trump won the presidency. Year after year, polls show that Canadians are, by far, more open and more optimistic about immigration than the citizens in any other Western country.
But such optimism is perhaps easier to achieve in Canada than in other nations: For historical and geopolitical reasons, Canada does not have to cope with the same immigration challenges as the U.S. and Europe.
To start, Canada has pursued a much more selective immigration policy than the United States or any western European country. It accepts far more immigrants legally than most Western nations, but under a policy designed primarily to dovetail with the economic interests of the nation.
Since the 1960s, the country has sought to reduce instances of racial bias in its immigration policy, and it now prioritizes professional competence in a younger generation of migrants, regardless of ethnicity. In 1967, it was the first country to move to points-based admission, which other countries have adopted and refined since then: Applicants are rated according to their skills and adaptability relative to the Canadian workforce.
In consequence, Canada accepts far fewer immigrants on the basis of family ties than in the U.S., for example, and the proportion of skilled immigrants is much higher. Further, the country sets a higher education standard for immigrants than the U.S. (which is in turn more demanding than Europe). This more-selective immigration policy is likely to lead to fewer integration problems and easier access to jobs.
Canada's selectivity is helped by its geographical position. It does not share a border with a country where wages are much lower (as the U.S. does with Mexico), and it isn't next door to unstable regions (as Europe is to North Africa and the Middle East). The result is that few undocumented migrants move across the country's southern border, as is the case in the U.S.; and few migrants land on its shores by boat, as in Europe.
The points system and geography also have a noticeable effect on where Canada's immigrants come from.
Official data show that the leading countries among foreign-born residents in Canada are the United Kingdom, China and India. In the U.S., 28% are Mexicans and 24% are from other Latin American countries. In Europe, foreign-born residents originate mainly from the Muslim world (in the Netherlands, for instance, Turkey, Suriname and Morocco; in France — Algeria and Morocco). Consequently, Canada does not have to deal (at least not on the same scale) with the complex problems associated with integrating newcomers from a rural and conservative Muslim background into a highly secular environment.
Not that Canada hasn't welcomed Muslims. Between November 2015 and November 2016, it resettled more than 35,000 Syrian refugees; most European countries have been much more reluctant to extend permanent status to these immigrants. But again, Canada can and does exert a great deal of control over the process.
Full report at:
http://www.latimes.com/opinion/op-ed/la-oe-may-canada-immigration-policy-20161227-story.html
--------
URL:
https://www.newageislam.com/islamic-world-news/new-age-islam-news-bureau/church-makes-nativity-scene-with-mary-wearing-burka-to-promote-islam/d/109532
New Age Islam, Islam Online, Islamic Website, African Muslim News, Arab World News, South Asia News, Indian Muslim News, World Muslim News, Womens in Islam, Islamic Feminism, Arab Women, Womens In Arab, Islamphobia in America, Muslim Women in West, Islam Women and Feminism, Moderate Islam, Moderate Muslims, Progressive Islam, Progressive Muslims, Liberal Islam