• US trying to remove enriched Pak uranium: WikiLeaks
• WikiLeaks documents reveal Arab states' anxiety over Iran
• Pak Sunni Muslims rally against terror
• Suicide attack at Afghan police Headquarters kills 12
• Christians flee Karachi over threats
• Cargo plane crashes in Karachi, eight dead
• Man executed in Tabuk for killing 5-year-old daughter
• Sharia law book to be introduced in Dublin Muslim school?
• US drone attack kills three militants in Pakistan: officials
• WikiLeaks release endangers 'countless' lives: US
• Delhi court calls for FIR against Roy, Geelani
• Abida Parveen stable after angioplasty
• Strife breeds sickness among Valley women
• Did You Know Israel Created Radical Islam?
• 6 Jamaat leaders granted ad interim bail
• Pakistan can't be denuclearized at this stage: A.Q. Khan
• Female Palestinian prisoners injured by Israeli guards
• Shooting of Asir boy, 3, by brother being probed
• Teen 'jihadist' nabbed in US car-bomb sting
• Feminists rely on the Qur'an more than fundamentalists
• After UAE, Syria backs India's permanent UNSC seat claim
• ' Munni' lands Pakistan policemen in trouble
• Two MQM activists gunned down
• Bushehr nuclear plant fuelled: Iran
• 'India responsible for delay in 26/11 suspects' trial'
• Gilani assures Sikhs that Pakistan will act on their demand
• 26/11: Pak Makes Absolutely No Headway In Nabbing 20 Suspects
• Gunmen Kill 3 Afghans In Attack In Country's East
• Imam Khamenei: Belongs to all Muslims
• Islam is religion of peace, tolerance and humanity: Taseer
• Pakistan Muslims warn of anarchy over Christian
• Norway reopens Satanic Verses shooting case
• 27 sued in Patuakhali on war crime charges
• Polygamy in Canada Should Remain Illegal
• Baghdad, The Shining City in Islamic Civilization
New Somali cabinet approved by parliament
Compiled by New Age Islam News Bureau
URL: https://newageislam.com/islamic-world-news/christian-youth-love-muslim-girl/d/3739
-----------
Christian youth's love with Muslim girl endangers community in Pakistan city
28 Nov, 2010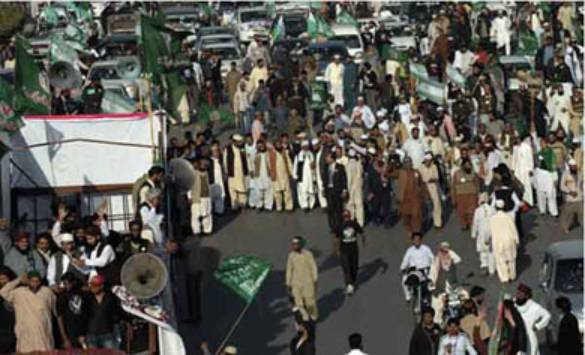 KARACHI: Blind love between a 20-year-old Christian youth and an 18-year-old Muslim girl has led to the arrest and torture of a dozen youths and Christian homes searched by their Muslim neighbors in the presence of police officers in Karachi, commercial capital of Pakistan.
According to the Asian Human Rights Commission, a young Christian man, Zohaib alias Noami, 20, son of Pervez Rahi, was in love with a Muslim girl, Anum, 18, daughter of Muhammad Abid.
Noami and Anum ran away on the night of November 20 to marry in another city. After the incident a reign of terror gripped the Christian community living in Baldia town and Saeedabad, Karachi, which is also the capital of southeastern Sindh province.
The houses were attacked by Muslims in groups and many young Christians were arrested and handed over to the police. After being severely beaten by the mob, they were taken to the Saeedabad Police Station where they were tortured by the police officers to extract information about Noami's whereabouts.
The frenzied mob attacked houses belonging to local Christians and also tried to attack Saint Luke's Church.
To save his community, the youth has changed his religion.
"Under pressure, the boy was forced to convert to Islam to safe his life and family. According to information, Zohaib Masih is now Mohammad Zohaib and documents of Zohaib Masih marriage performed in Islamic way have been recieved by parents of the Muslim girl," said Nazir Bhatti, publisher of Pakistan Christian Post. "It is ironic that Muslims in Pakistan praise [Allah] when they kidnap and convert Christian girls but make an Islamic uproar if any Muslim girl on her own will wants to marry Christian man."
Christians are called the "dirty ones," or bhangees and chooras, in Pakistan, though the country was formed and to this day is being sustained by two Christian powers, the United Kingdom and United States, Christians are at the lowest rung of society and Muslims avoid sharing any eating utensils with them.
In fact the name Pakistan , or the land of the pure, was based on religious chauvinism as the country's founders looked upon the majority of Hindus in India, from which Pakistan was carved out, as "impure."
While a non-Muslim male's marriage to a Muslim girl is prohibited and love affair can lead to killings and violence, females from Christian and Hindu minorities are routinely abducted, raped and forcibly converted to Islam.
"The treatment of non-Muslims in Pakistan is deplorable," said Rashid Baloch, who lives in Dallas, Texas. "It is untrue that Islam is a religion of peace," he adds, and condemns the death sentence handed out to a Christian women Aasia Bibi. "This is horrendous. I do not believe the charges against Aasia Bibi,"hids friend Nabi Baloch, a Baloch businessman based in Baltimore, adds.
A Pakistani court earlier this month sentenced Aasia Bibi to death for insulting the polygamous prophet of Islam, Muhammad.
Amnesty International said Aasia Bibi denies the allegations and her husband, Ashiq Masih, claims her conviction was based on "false accusations". However, the trial judge, Naveed Iqbal, "totally ruled out" the possibility of false charges and said that there were "no mitigating circumstances."
According to Amnesty International, Aasia Bibi, a resident of Ittanwali, was arrested in June 2009. She was working as a farm laborer and was asked by a village elder's wife to fetch drinking water. Some other female Muslim farmhands reportedly refused to drink the water, saying it was sacrilegious and "unclean" to accept water from Aasia Bibi, as a non-Muslim.
Aasia Bibi took offense, reportedly saying: "are we not human?" which led to an argument between them. The women allegedly complained to Qari Salim, the local cleric, that Aasia Bibi had made derogatory remarks about the Prophet Muhammad. The cleric informed local police who arrested and charged her with insulting the Prophet Muhammad.
The latest incident in Karachi happened in the jurisdiction of Baldia Town police station, but it was the Saeedabad police station that carried out the arrest of the young Christian men.
The town police officer of Baldia immediately sent police reinforcements to protect the Church. The presence of the police officers halted any further attacks but the fundamentalists threatened the community that the police will not be able to remain forever and once they leave, the church will be brought down.
The schools in the vicinity have remained closed since November 21 and almost all the Christians, about 600 of them, have left their homes. Those that remained have sent their daughters and women out of the area fearing a strong reaction from the Madressas, the Muslim religious schools in the locality.
In the meantime the male members of the Christian families have been ordered to report to the police station and inform them of the whereabouts of Noami.
The Asian Human Rights Commission asked the government of Pakistan to take serious and definitive action before things turn bloody and the looting and burning of Christian houses begins.
Baldia Town is said to have pockets of Taliban and other banned extremists organizations working for Al-Qaida who will use this incident to victimize more than 5,000 Christians in Baldia and the surrounding areas.
In the past, the police always worked under the pressure from extremist groups and have never protected members of religious minority groups.
Treatment of minority Hindus is no different, while a beautiful Jewish synagogue next to the zoological garden called Gandhi Garden in old town Karachi was set alight by Muslim hoodlums soon after the 1948 creation of Israel.
http://www.examiner.com/foreign-policy-in-baltimore/christian-boy-s-love-with-muslim-girl-leaves-minority-lives-on-line
-----------
US trying to remove enriched Pak uranium: WikiLeaks
29 Nov, 2010
WASHINGTON: US diplomatic cables released on Sunday show that since 2007 the United States has been engaged in a secret effort to remove highly enriched uranium from a Pakistani research reactor. According to the documents released by a whistle-blowing website called Wiki-Leaks, the US administration authorised this effort because American officials feared the material could be diverted for use in an illicit nuclear device.
One cable quotes Saudi King Abdullah as saying that President Asif Ali Zardari was "the greatest obstacle" to Pakistan's progress. "When the head is rotten," he said, "it affects the whole body".
In May 2009, US Ambassador Anne W. Patterson reported to the State Department that Pakistan was refusing to schedule a visit by American technical experts because, as a Pakistani official said, "if the local media got word of the fuel removal they certainly would portray it as the United States taking Pakistan's nuclear weapons".
Cables sent by the US Embassy in Islamabad to the State Department also talk of "grave fears in Washington and London over the security of Pakistan's nuclear weapons programme" amid the country's growing instability.
They depict the Obama administration struggling to sort out which Pakistanis are trustworthy partners against Al Qaeda, and "assessing whether a lurking rickshaw driver in Lahore was awaiting fares or conducting surveillance of the road to the American Consulate".
WikiLeaks, a site devoted to leaking government documents, apparently received hundreds of thousands of US diplomatic cables from an anti-war activist who got access to the secret files due to a glitch in the computer system.
The US government, however, warned WikiLeaks not to release the documents.
On Saturday, State Department's Legal Adviser Harold Hongju Koh sent a letter to WikiLeaks chief Julian Assange, warning him that the release of approximately 250,000 secret documents would have "grave consequences" and place at risk the lives of journalists, human rights activists and soldiers. Mr Assange had earlier asked the State Department for information on any individuals who may be "at significant risk of harm" by the disclosure. Earlier on Sunday, WikiLeaks released a Twitter message, saying: "We are currently under a mass distributed denial of service attack" but said that some of the world's major newspapers — such as El Pais, Le Monde, Speigel, The Guardian and The New York Times — will publish many US embassy cables, even if WikiLeaks went down.
And by Sunday afternoon (Washington time), all these news outlets published their versions of the leak, ignoring stern warning they too had received from the State Department.
They reported that more than 250,000 US embassy cables released by WikiLeaks "reveal previously secret information on American intelligence gathering, and political and military strategy".
The release "catapulted the United States into a worldwide diplomatic crisis", noted the Guardian. Many of these classified cables were sent as recently as February this year.
Attack on Iran
The documents show that Arab leaders are privately urging an air strike on Iran and that US officials have been instructed to spy on the UN's leadership. The cables also talk about a major shift in relations between China and North Korea, and details of clandestine US efforts to combat Al Qaeda in Yemen. Disclosures that both the Guardian and the NYT believe can cause a major diplomatic uproar include:
— Alleged links between the Russian government and organised crime.
— Devastating criticism of the UK's military operations in Afghanistan.
— Claims of inappropriate behaviour by a member of the British royal family.
— Serious political criticisms of David Cameron to requests for specific intelligence about individual MPs.
— Specific allegations of corruption against world leaders.
— Harsh criticism by US embassy staff of their host governments.
The material includes a reference to Vladimir Putin as an "alpha-dog", Hamid Karzai as being "driven by paranoia" and German Chancellor Angela Merkel as someone who "avoids risk and is rarely creative".
One cable compares Mahmoud Ahmadinejad with Adolf Hitler.
The cables name countries involved in financing terror groups, and describe a near "environmental disaster" last year over a rogue shipment of enriched uranium.
They disclose technical details of secret US-Russian nuclear missile negotiations in Geneva, and include a profile of Libyan leader Muammar Qadhafi, who they say is accompanied everywhere by a "voluptuous blonde" Ukrainian nurse. The cables cover Secretary of State Hillary Clinton's activities under the Obama administration, as well as thousands of files from the George Bush presidency.
The cables reveal how the US uses its embassies as part of a global espionage network, with diplomats tasked to obtain not just information from the people they meet, but personal details, such as frequent flyer numbers, credit card details and even DNA material.
Classified "human intelligence directives" issued in the name of Hillary Clinton or her predecessor, Condoleezza Rice, instruct officials to gather information on military installations, weapons markings, vehicle details of political leaders as well as iris scans, fingerprints and DNA.
The most controversial target was the leadership of the United Nations. That directive requested the specification of telecoms and IT systems used by top UN officials and their staff and details of "private VIP networks used for official communication, to include upgrades, security measures, passwords, personal encryption keys".
One cable shows that when Afghanistan's vice-president visited the United Arab Emirates last year, local authorities working with the Drug Enforcement Administration discovered that he was carrying $52 million in cash.
Speaking to an Iraqi official about Nuri Kamal al-Maliki, the Iraqi Prime Minister, Saudi King Abdullah says: "You and Iraq are in my heart, but that man is not."
Some cables claim that Saudi donors remain the chief financiers of militant groups like Al Qaeda, and the tiny Persian Gulf state of Qatar, a generous host to the American military for years, was the "worst in the region" in counter-terrorism efforts.
Dawn
-----------
WikiLeaks documents reveal Arab states' anxiety over Iran
29 Nov, 2010
(CNN) -- U.S. diplomatic cables obtained by the website WikiLeaks and published by newspapers in the United States and Europe on Sunday reveal considerable anxiety among the Gulf states about Iran's nuclear program, with the Bahrain's king warning, "The danger of letting it go on is greater than the danger of stopping it."
The cables, many marked "Secret," were among several hundred thousand obtained by WikiLeaks and published by newspapers Sunday.
They reveal great concern among Arab states about Iran's regional ambitions. One cable describes a meeting between Saudi King Abdullah and White House counterterrorism adviser John Brennan and other U.S. officials in March 2009.
According to the cable, the king told the Americans what he had just told the Iranian foreign minister, Manouchehr Mottaki. "You as Persians have no business meddling in Arab matters," the Saudi monarch was quoted as telling Mottaki. "Iran's goal is to cause problems," he told Brennan. "There is no doubt something unstable about them."
The king was also highly critical of the Iraqi Prime Minister, Nuri al Maliki. He is reported to have told his American visitors: "I don't trust this man.... he's an Iranian agent." The cable continues: "The King said he had told both (former U.S. President George W.) Bush and former Vice President (Dick) Cheney: 'How can I meet with someone I don't trust?'"
King Abdullah also welcomed the election of President Barack Obama. "Thank God for bringing Obama to the presidency," he is reported as saying, adding that it had created "great hope" in the Muslim world.
According to another cable, King Hamadbin Isa al-Khalifa of Bahrain told the commander of U.S. Central Command, Gen. David H. Petraeus, that Iran was the "source of much of the trouble in both Iraq and Afghanistan."
The cable, sent in November 2009 by the U.S. ambassador in Bahrain, added that the king had "argued forcefully for taking action to terminate their nuclear program, by whatever means necessary. 'That program must be stopped,' he said.
Another cable reveals that in the neighboring United Arab Emirates, Foreign Minister Sheikh Abdullah bin Zayed Al Nahyan told a congressional delegation last February that "if Iran goes nuclear, others in the region will move forward on the same track, and the nuclear nonproliferation treaty will completely break down."
According to a cable about the meeting sent by the U.S. ambassador on February 22, the minister added that "a crisis or confrontation in the region would create oil supply problems worldwide."
There was similar apprehension in Egypt about Iran. In a cable sent in February 2009, the U.S. ambassador in Cairo recounted: "President Mubarak told Senator Mitchell during his recent visit here that he did not oppose our talking with the Iranians, as long as 'you don't believe a word they say.'"
The cable referred to former Sen. George Mitchell, the Obama administration's special Middle East envoy.
According to the cable, the ambassador continued: "Mubarak has a visceral hatred for the Islamic Republic, referring repeatedly to Iranians as 'liars,' and denouncing them for seeking to destabilize Egypt and the region."
A cable from the U.S. ambassador in Oman, meanwhile, quotes the country's Armed Forces Chief, Lt. Gen. Ali bin Majidal-Ma'amari, as saying that "with Iran's continued attitude on the nuclear issue, the security situation in Iraq would remain unresolved."
Citing Oman's preference for a non-military solution, he nevertheless acknowledged that a nuclear-armed Iran as opposed to war with Iran posed "an extremely difficult dilemma for all of us," the cable continued.
There is advice in another cable about to handle Iran.
According to a readout of a November 2007 briefing from the then-British ambassador in Tehran, Geoffrey Adams, the UK envoy had "recommended being steady and firm, tough but not aggressive, and at the same time, seeking to engage."
The cable says: "He stressed that Iranians are obsessed with the West and this obsession at times blinds them to their interests."
http://www.cnn.com/2010/US/11/28/us.wikileaks.iran/index.html?hpt=T2
-----------
Pak Sunni Muslims rally against terror
November 28, 2010
Hundreds of Sunni Muslims have started a nearly 200-mile (320-km) high-risk trek across Pakistan in a protest against Taliban attacks on the country's religious sites. Authorities have warned that militants could attack the procession.
Police escorted the convoy out of the capital, Islamabad, where the journey started on Saturday.The participants, who are travelling on foot and in cars, plan to rally in the eastern city of Lahore, where 47 people died in a suicide bombing at a Sufi shrine in July.
The protest is sponsored by the Sunni Ittehad Council, which condemns terrorism but criticises the Government for failing to protect religious sites. The Taliban and other Sunni extremists see shrines to Sufi saints as idolatry and consider Shiite Muslims heretics.
http://www.dailypioneer.com/299606/Pak-Sunni-Muslims-rally-against-terror.html
-----------
Suicide attack at Afghan police Headquarters kills 12
28 Nov, 2010
KABUL: Two suicide bombers wearing police uniforms blew themselves up at an Afghan police headquarters on Saturday, killing at least 12 officers and wounding 16, officials said.
The Taliban claimed responsibility for the attacks, which happened within 20 minutes of each other in the eastern Paktika province.
Nawab Waziry, the head of Paktika's provincial council, said both men wore police uniforms and made it through three security gates before reaching the main building on the police compound. One attacker denoted his explosives inside the police headquarters building while the other blew himself up near the entrance, he said.
``There are lots of casualties,'' Waziry told The Associated Press. ``The site was covered with blood.''
Full report at:
http://timesofindia.indiatimes.com/world/south-asia/Suicide-attack-at-Afghan-police-
-----------
Christians flee Karachi over threats
Nov 28, 2010
KARACHI: Several Christian families in Pakistani city of Karachi have fled their homes while many have sent their women to safer places after a Christian boy eloped with a Muslim girl, causing tension in their neighbourhood , a media report said.
The situation in Karachi's Saeedabad area has become tense after an 18-year-old Muslim girl eloped with a 20-yearold Christian boy last week, The News International reported. The couple fled to Faisalabad, where the boy converted to Islam and married the girl.
Following the incident, the girl's family and activists of a political party allegedly threatened the Christian community of dire consequences if the girl did not return home. The girl's family also stoned the locality's church, forced a local school to shut down and reportedly forced the Christian people to migrate from the area.
Full report at:
http://timesofindia.indiatimes.com/world/pakistan/Christians-flee-Karachi-over-
-----------
Cargo plane crashes in Karachi, eight dead
Nov 28, 2010
KARACHI: A cargo plane crashed into a housing complex in Karachi soon after takeoff Sunday, setting off a huge blaze and killing all eight Russian crew on board, Pakistan's civil aviation authority said.
At least one person on the ground was injured, but the Russian-made plane missed several densely populated apartment blocks by a few hundred yards (meters). About 20 houses were damaged or destroyed though most were under construction and believed to be unoccupied, locals said.
The Sudan-bound plane crashed around 1:50am, when many people in the upscale neighborhood of Pakistan's largest city were asleep. One of the plane's engines was on fire when it flew overhead, several witnesses said.
"I saw one of its wings was burning and there was a blast and the fire engulfed the aircraft very quickly," said Riaz Ahmed.
Full report at:
http://timesofindia.indiatimes.com/world/pakistan/Cargo-plane-crashes-in-Karachi-eight-dead/articleshow/7003091.cms#ixzz16ZvJzKnh
-----------
Man executed in Tabuk for killing 5-year-old daughter
28 Nov, 2010
TABUK: A man was executed on Friday for killing his five-year old daughter in the northwestern town of Tabuk, a statement of the Interior Ministry said.
"Musleh bin Saleem Eid Al-Atawi was beheaded for beating his daughter Bayan, 5 to death with an electrical wire. The accused had a criminal background besides being a drug trafficker," the statement added.
Al-Atawi is the 24th to be executed this year in the Kingdom, where the crimes of drug trafficking, rape, murder, armed robbery and apostasy are punishable by death.
http://arabnews.com/saudiarabia/article201121.ece
-----------
Sharia law book to be introduced in Dublin Muslim school?
By MOLLY MULDOON
28 Nov, 2010
A proposed school in Dublin may teach children extreme Sharia Law if plans for the education facility get the go-ahead.
Recently, an undercover reporter working for a BBC Panorama documentary, obtained text books used in several Saudi schools in the UK, which contained prejudice material.
Similar schools which operate under the umbrella of Saudi Students Clubs and Schools in
The UK and Ireland intend to open up education centers in Dublin, would could use similar prejudice material, according the the Herald Newspaper.
In the original BBC report, one book asked students to list the "reprehensible" qualities of the Jews, and also stated that they were transformed into pigs and apes.
Another text-book for teenagers, included diagrams showing how best to chop off a thief's hand or foot, according to Sharia law.
Full report at:
http://www.irishcentral.com/news/Sharia-law-book-to-be-introduced-in-Dublin-Muslim-school-110894479.html
-----------
US drone attack kills three militants in Pakistan: officials
28 Nov, 2010
MIRANSHAH: A US drone attack targeting a vehicle travelling in Pakistan's lawless northwestern tribal belt near the Afghan border killed three militants on Sunday, local security officials said.
The unmanned aircraft targeted the vehicle in Hasan Khel village, around 30 kilometres east of Miranshah, the main town in North Waziristan tribal district, and a known hub of Islamic militants.
"US drone fired two missiles, the vehicle is still on fire, we have reports that three militants were killed in this attack," a local security official in Miranshah told AFP.
A security official in Peshawar also confirmed the incident and the toll.
Another security official in Miranshah said that identities of those killed in the strike were not immediately known.
Full report at:
http://www.dawn.com/2010/11/28/us-drone-attack-kills-three-militants-in-pakistan-officials.html
-----------
WikiLeaks release endangers 'countless' lives: US
Nov 28, 2010
WASHINGTON: The Obama administration is warning online whistleblower WikiLeaks that its expected imminent release of classified state department documents will put "countless" lives at risk, threaten global counterterorism operations and jeopardize US relations with its allies.
In a highly unusual step reflecting the administration's grave concerns about the ramifications of the move, the state department late on Saturday released a letter from its top lawyer to WikiLeaks founder Julian Assange telling him publication of the documents would be illegal and demanding that he stop it.
In the letter, state department legal adviser Harold Koh said the publication of some 250,000 secret diplomatic cables by WikiLeaks will "place at risk the lives of countless innocent individuals," "place at risk on-going military operations," and "place at risk on-going cooperation between countries."
Full report at:
http://timesofindia.indiatimes.com/world/us/WikiLeaks-release-endangers-countless-lives-US/articleshow/7004433.cms#ixzz16Zv8yp49
-----------
Delhi court calls for FIR against Roy, Geelani
Nov 28, 2010
NEW DELHI: Capping the controversy over alleged "anti-India" speeches made by Hurriyat hardliner Syed Ali Shah Geelani and writer Arundhati Roy, a Delhi court on Saturday ordered registration of FIR against the two besides five others, saying prima facie, offence of sedition was made out. The court also rapped the police for failing to act on the complaint filed on October 28.
The court order came barely a month after home minister P Chidambaram said no action was planned against Roy and Geelani. ``Not taking action is also action," he had said on the very day the complainant moved court, alleging the government had failed to act.
``The Delhi police is hereby directed to lodge an FIR under relevant provisions of the Indian Penal Code and file a report in this regard on January 6, 2011, the next date of hearing,'' metropolitan magistrate Navita Kumari Bagha said, pointing out that the court has to step in since even after an offence was disclosed, the police failed to register an FIR. The sections include those relating to sedition, waging war against the state of the IPC and a section of Unlawful Activities Prevention Act (UAPA).
Full report at:
http://timesofindia.indiatimes.com/india/Delhi-court-calls-for-FIR-against-Roy-Geelani/articleshow/7002100.cms#ixzz16ZvXk6G4
-----------
Abida Parveen stable after angioplasty
28 Nov, 2010
LAHORE: Pakistan's renowned folksinger, Abida Parveen, went through an emergency heart surgery after suffering a heart attack during a performance in Lahore, DawnNews reported.
Parveen was shifted to a local hospital where doctors performed angioplasty on her.
"Parveen's has been shifted from the Intensive Care Unit and is fully conscious and recovering now. She has had her first meal since we performed angioplasty on her. She will remain under strict observation," an official of the hospital told Dawn.com.
Parveen, one of the very few female singers in the world of Sufi music, enjoys legendary status in Pakistan.
A humble and passionate artist, she propelled onto the big stage with her memerising renditions of kalaams of the great Sufi poets of the world. She has attracted some of the biggest 'world music' record labels and has collaborated with the likes of Eddie Vedder and Peter Gabriel.
Also known as the 'Queen' of sufi music, Parveen belongs to Larkana, Sindh and is the daughter of prominent Pakistani vocalist Ustad Ghulam Haider, who ignored local convention and allowed her to study under him during her childhood.
http://www.dawn.com/2010/11/28/famous-folk-singer-abida-parveen-suffers-from-cardiac-arrest.html
-----------
Strife breeds sickness among Valley women
By Naseer Ganai
28 Nov, 2010
THE CONFLICT in Kashmir is taking its toll on the reproductive health of women in the Valley.
Doctors at the Sher- i- Kashmir Institute of Medical Sciences ( SKIMS) and the Government Medical College in Srinagar say conflict- related stress may be responsible for triggering polycystic ovary syndrome, one of the most common endocrine disorders in women of reproductive age.
Doctors estimate that four to 10 per cent of all women have this disorder and its prevalence in the Valley seems much higher than in the rest of the country.
Dr Muhammad Ashraf, associate professor of endocrinology at SKIMS, said among 112 young and adolescent patients who were part of a study at the institute, 65- 70 per cent had psychiatric disorders. While eight patients were suffering from obsessive compulsive disorder ( OCD), five had post traumatic stress order, 27 major depressive disorder ( MDD), four mood disorder, nine suicidal tendencies, three had mania, 18 had panic disorder while 20 patients had generalised anxiety disorder.
Full report at: Mail Today
-----------
Did You Know Israel Created Radical Islam?
By James Lewis
28 Nov, 2010
Did you know that Israel provoked Muslims to crash airplanes into the Twin Towers on 9/11 and to blow up the London Underground?
No? That's weird, because Lady Jenny Tong says it's true. Lady Tong is described in The Jerusalem Post as "a lifelong anti-Israel activist."
She says, "I feel sorry for the people of Israel sometimes. Their government's policies have made that country the cause of a lot of the world's problems, yet now they are seen in the middle as the remedy and the base for the West to fight back."
Lady Tong is a top Liberal Democrat in the U.K. with a lifetime appointment in the House of Lords, so she has to know what she is talking about.
Full report at: http://www.americanthinker.com/2010/11/did_you_know_israel_created_ra.html
-----------
6 Jamaat leaders granted ad interim bail
Nizami and Mojahid
28 Nov, 2010
The High Court on Sunday granted an ad interim bail to six top Jamaat-e-Islami leaders including its chief and secretary general in four separate cases filed against them on charges of obstructing police in discharging their duties.
The six leaders are Jamaat-e-Islami Ameer Motiur Rahman Nizami, Secretary General Ali Ahsan Mohammad Mujahid, Nayeb-e-Ameer Delawar Hossain Sayedee, Senior Assistant Secretary General Muhammad Kamaruzzaman, leader Abdul Kader Mollah and its Dhaka city unit chief Rafiqul Islam Khan.
An HC bench comprised of Justice Moyeenul Islam Chowdhury and Justice AKM Abdul Hakim issued separate rules upon the government to explain that why Jamaat leaders should not be granted regular bails in these cases.
Full report at: http://www.thedailystar.net/newDesign/latest_news.php?nid=27139
-----------
Pakistan can't be denuclearized at this stage: A.Q. Khan
By AZHAR MASOOD
28 Nov, 2010
ISLAMABAD: The architect of Pakistan's nuclear program Abdul Qadeer Khan has said Pakistan cannot be denuclearized at this stage.
Talking to Arab News at the residence of Pakistan Muslim League (Q) President, Chaudhry Shujaat Hussain, Khan said: "On a regular basis we hear that some powers can deprive Pakistan of its nuclear assets. Let me tell you Pakistan has one of the best command and control systems for its nuclear-tipped missiles.
"Pakistan has kept its warheads at different safe and well-guarded places. Its missiles are deployed with best available Standard Operating Procedures (SOPs) and its nuclear facilities are located at very secure places."
Full report at: http://arabnews.com/world/article201541.ece
-----------
Female Palestinian prisoners injured by Israeli guards
By MOHAMMED MAR'I
28 Nov, 2010
RAMALLAH: The Palestinian Nadi Al-Asir (Prisoners Club) on Saturday said that a female Palestinian prisoner was seriously injured by Israeli prison guards.
The club said that the prisoner Somoud Karajeh was brutally beaten by the prison guards of Ramle in central Israel.
Shireen Iraqi, a Prisoners Club's lawyer, quoted Karajeh as saying that Israeli Prison Authority transferred her from the Al-Damon prison, in the Haifa area, to the Ramle prison. Karajeh added that she was obliged to spend a night in Ramle prison before being transferred to the military court of Ofer for trial.
Karajeh told Iraqi that she sustained serious wounds and bruises in several parts of her body after the Israeli guards brutally beaten her by clubs.
Full report at: http://arabnews.com/middleeast/article201683.ece
-----------
Shooting of Asir boy, 3, by brother being probed
By WALAA HAWARI
28 Nov, 2010
RIYADH: Police in the Asir area are investigating how a nine-year-old boy took his father's gun and shot his three-year-old brother in the chest, said Gen. Abdullah Al-Qarni, spokesman for Asir police.
The injured boy was taken to hospital. Obaid Al-Khammash, director of Asir police, urged people to keep their guns away from their children. He added that police have launched an investigation into the incident.
In 2009, the Kingdom began handing licenses to businessmen to open private gun shops; the licenses were issued to limit the number of unlicensed guns in the Kingdom. According to the Kingdom's gun laws, if a gun is used negligently, then the owner risks being fined SR5,000, or a year in jail, or both.
Full report at: http://arabnews.com/saudiarabia/article201773.ece
-----------
Teen 'jihadist' nabbed in US car-bomb sting
28 Nov, 2010
PORTLAND, Oregon: Undercover agents stopped a Somali-born teenager from blowing up a van full of explosives at a crowded Christmas tree lighting ceremony in Portland on Friday, federal authorities said.
The explosives were duds supplied by the agents as part of a sting operation and the public was never in danger, authorities said.
Mohamed Osman Mohamud, 19, was arrested at 5:40 p.m. just after he dialed a cell phone that he thought would detonate the explosives but instead brought federal agents and Portland police swooping down on him.
Yelling "Allahu Akbar!" — Arabic for "God is great!" — Mohamud tried to kick agents and police as they closed in, according to prosecutors.
Full report at: http://arabnews.com/world/article201352.ece
-----------
Feminists rely on the Qur'an more than fundamentalists
By Ruwayda Mustafah Rabar
28 Nov, 2010
Feminism is not a religion, and it does not have a constitution to be upheld. This gives feminist leaders, and feminist movements greater freedom to define what feminism means to them. Perhaps the most important aspect of feminism in it's history is the lack codification as a movement. In United Kingdom, the first recognised feminist movement was initiated in the 19th century by Barbara Bodichon. Barbara, among many other women campaigned for the rights of women in England.
The feminist movement held momentum in the 20th century in England when the first female prime minister (to date) was elected, Margaret Thatcher. During World War I women worked in factories, offices, hospitals and etc. They took up jobs which were previously held by men, but because of the war, there was a demand for workers and because men were no longer available (by large), women worked instead. After the war(s), women were accustomed to working outside of their homes, and perceived themselves, more or less to be on a equal footing with men. This is referred to as the first wave of feminism. Women in the 19th and 20th century fought hard for the rights of women in employment, politics, education, work and so on.
Full report at: http://www.kurdishaspect.com/doc112610RM.html
-----------
After UAE, Syria backs India's permanent UNSC seat claim
Nov 28 2010
Damascus : After the UAE, Syria, too, has supported India's claim for a permanent seat in the reformed United Nations. "We agree with India, and all other peace-loving countries, on the importance of reforming the UN so that it becomes more democratic, representative and efficient," Syrian President Bashar al-Assad said on Saturday.
Assad offered Syrian support in a statement he read out to the media in the presence of President Pratibha Patil after talks between the two leaders at the People's Palace here. Patil arrived here on Friday after a five-day visit of the UAE.
Earlier this week, UAE president Sheikh Khalifa bin Zayed Al Nahyan had extended his country's support to the Indian claim for a permanent seat in the UN.
Full report at: http://www.indianexpress.com/news/after-uae-syria-backs-indias-permanent-unsc-seat-claim/717121/
-----------
' Munni' lands Pakistan policemen in trouble
28 Nov, 2010
OFFICERS at a police station in Pakistan's Gujranwala district paid a heavy price for being enamoured with Dabangg's super- hit number, Munni Badnam Hui.
They were suspended on Friday for forcing three female dancers to perform on the song at the police station.
Three dancers of a musical troupe in Lahore were on their way to Gujranwala to perform at a marriage ceremony, but officers of the Sadhoki police station stopped them at a checkpost midway and took them to the police station, Dunya TV reported.
Having arrested the dancers, the policemen were not ready to let go the opportunity to have some fun.
Full report at: Mail Today
-----------
Two MQM activists gunned down
By Atif Raza
28 Nov, 2010
KARACHI: Two activists of the Muttahida Qaumi Movement (MQM) were shot dead in the city on Saturday.
Chakiwara police said an MQM activist identified as Ghulam Fareed, son of Shah Jahan, was sitting with his friend Iqbal at a hotel near Fancy Bakery in Bihar Colony, Lyari, when two armed men on a motorcycle opened fire on them and escaped. Fareed died on the spot while his friend sustained bullet injuries, they added.
The victims were taken to the Civil Hospital Karachi (CHK).
Police officials said the deceased was an activist of the MQM Lyari Sector and also ran a transport business. He hailed from Mianwali and was a resident of Gulistan Colony, Lyari.
Tension engulfed the surrounding areas after the incident, as shops and markets were closed due to uncertain conditions.
Full report at: http://www.dailytimes.com.pk/default.asp?page=2010\11\28\story_28-11-2010_pg7_3
-----------
Bushehr nuclear plant fuelled: Iran
Atul Aneja
28 Nov, 2010
DUBAI: Head of Iran's atomic energy organisation, Ali Akbar Salehi said on Saturday that the fuelling of the country's first nuclear power plant has been completed.
"All fuel assemblies have been loaded into the core of the reactor," Iran's Student News Agency (ISNA) quoted him as saying. "All we have to do now is to wait for the water inside the reactor's core to warm gradually, and carry out another series of tests." Mr. Salehi observed that it would now take around two months for the plant to join Iran's national power grid.
Mr. Salehi said Iran was set to import from Russia, radio-medicine required for the treatment of cancer. He also stressed that some misunderstandings that had cropped up between Iran and the International Atomic Energy Agency (IAEA) had now been cleared. Iran had in October commenced loading nuclear fuel rods into the core of its Russia built power reactor in Bushehr, clearing the last major hurdle in the way of the completion of the long delayed project.
http://www.hindu.com/2010/11/28/stories/2010112862581100.htm
-----------
'India responsible for delay in 26/11 suspects' trial'
November 28, 2010
The trial of seven Pakistani suspects charged with involvement in the 2008 Mumbai attacks has been held up because of New Delhi's delay in granting permission for a commission to visit India to interview key witnesses, Interior Minister Rehman Malik said on Saturday. The commission needs to visit India to validate lone surviving attacker Ajmal Kasab's statement as it forms a key part of the case, Malik said while interacting with journalists at the headquarters of the Federal Investigation Agency. "The delay is not from Pakistan's side. We have proposed to India that a Pakistani commission can visit New Delhi to validate Ajmal Kasab's statement, but India has not given any response so far. The delay is on the Indian side," he said. "We are waiting for a reply (from India) to our questions and our request (to send a commission to India)," he said.
http://www.dailypioneer.com/299610/%E2%80%98India-responsible-for-delay-in-26/11-suspects%E2%80%99-trial%E2%80%99.html
-----------
Gilani assures Sikhs that Pakistan will act on their demand
Nov 28 2010
Lahore : Prime Minister Yousuf Raza Gilani has assured visiting Indian Sikh pilgrims that he will act on several of their demands, including the retrieval of land attached to two gurdwaras in this eastern Pakistani city from illegal occupants.
Gilani told a group of 25 Sikh religious leaders, including those from India, during a meeting on Sunday that visas will be issued on priority to Sikhs who were born in undivided India.
The Sikh leaders are among hundreds of pilgrims currently in Pakistan to take part in festivities marking the birth anniversary of Guru Nanak. "We told Mr Gilani that the land of Gurdwara GuruRamdas and Gurdawara Bhai Taru Singh in the old quarters of Lahore have been encroached upon.
Despite the concern of visiting Sikhs and the Pakistan Gurdwara Prabhandhak Committee, the concerned authorities have failed to act against the illegal occupants," Shiromani Gurdwara Prabhandhak Committee leader Swinder Singh Doblia, who was present at yesterday's meeting, told PTI.
Full report at: http://www.indianexpress.com/news/gilani-assures-sikhs-that-pakistan-will-act-on-their-demand/717283/
-----------
26/11: Pak Makes Absolutely No Headway In Nabbing 20 Suspects
Nov 28, 2010
Islamabad: Pakistani authorities have made no progress in tracking down 20 suspects, including Karachi-based LeT operative Muhammad Amjad Khan, who were named in a chargesheet filed in an anti-terrorism court a year ago for playing a key role in facilitating the Mumbai attacks.
Two years after the assault on India's financial hub that killed 166 people, investigators have made no headway in tracing these 20 suspects who helped arrange boats, finances, training and equipment for the 10 Pakistani terrorists who carried out the attacks, diplomatic sources told PTI.
The Federal Investigation Agency and Pakistani intelligence agencies arrested seven suspects, including LeT operations commander Zakiur Rehman Lakhvi, in the months following the attacks.
Full report at: http://www.asianage.com/international/2611-pak-makes-absolutely-no-headway-nabbing-20-suspects-812
-----------
Gunmen Kill 3 Afghans In Attack In Country's East
Nov 28, 2010
The Gunmen firing on a car killed a local government official and two of his relatives in the country's east on Sunday, officials said.
The attack took place as Abdullah Ahmadzai, a member of Logar province's governing council, was driving into the provincial capital of Puli Alam.
Mr Ahmadzai's brother and cousin were also killed and a bodyguard was injured, said Din Mohammad Darwesh, a spokesman for the provincial government.
Meanwhile, Afghan officials began an investigation into an attack on Saturday in the east that killed 13 policemen.
The two suicide attackers disguised themselves as officers and made it through three security gates before detonating their explosives.
Full report at: http://www.asianage.com/international/gunmen-kill-3-afghans-attack-countrys-east-824
-----------
Imam Khamenei: Eid al-Ghadir Belongs to all Muslims
28 Nov, 2010
Speaking at the meeting, the Supreme Leader said that staying a basiji and strengthening one's sincerity, insight and resistance are the secret behind the fulfillment of the divine promise of victory.
His Eminence said that the essence of Eid al-Ghadir belongs to all Muslims and all those who care about the welfare of humanity.
(Ahlul Bayt News Agency) - On the occasion of Eid al-Ghadir and on the eve of the 5th of Azar, the anniversary of the establishment of the Basij, Imam Khamenei met today with over one hundred thousand basijis. Speaking at the meeting, the Supreme Leader said that staying a basiji and strengthening one's sincerity, insight and resistance are the secret behind the fulfillment of the divine promise of victory.
His Eminence said that the essence of Eid al-Ghadir belongs to all Muslims and all those who care about the welfare of humanity.
Full report at: http://abna.ir/data.asp?lang=3&id=214634
-----------
Islam is religion of peace, tolerance and humanity: Taseer
28 Nov, 2010
LAHORE: Islam is a religion of peace, tolerance and humanity and blasphemy law is being used to persecute minorities, Punjab Governor Salmaan Taseer said on Saturday.
Addressing the 146th convocation of the Forman Christian College (FCC), he said no Muslim commit terrorist acts because violence and brutality was forbidden in Islam. Those extremists who spread anarchy had no religion, the governor said. He said most of the people have appreciated the decision to pardon Aasia Bibi.
Pakistan was facing difficult times as the country had been hit by flood and terrorism, but the nation never lost the hope, he said.
"The nation is facing terrorism and devestating flood with courage," he added. All political parties are standing together against terrorism with the army, he said. He said one thing was observed in the worst devastation from the flood was the enthusiasm of the affected people who were dare to cop with such calamity.
Full report at: http://www.dailytimes.com.pk/default.asp?page=2010\11\28\story_28-11-2010_pg13_1
-----------
Pakistan Muslims warn of anarchy over Christian
By Waqar Hussain
28 Nov, 2010
LAHORE, Pakistan — Pakistani Muslims threatened protests and anarchy if the government pardons a Christian mother sentenced to death for blasphemy, calling hundreds of demonstrators onto the streets.
Demonstrators marched in the eastern city of Lahore after the most influential Sunni Muslim alliance in Pakistan urged the government not to grant mother-of-five Aasia Bibi clemency.
A crowd of several hundred called for "Jihad" and pledged to sacrifice their lives to protect the honour of the Prophet Mohammad, an AFP reporter said.
The rally was organised by a subsidiary of banned charity Jamaat-ud-Dawa (JuD), which the United Nations has blacklisted as a terrorist organisation.
"We will hold nationwide protests if the government pardons the Christian woman," the subsidiary's chief coordinator, Qari Yaqub, told participants.
Full report at: Copyright © 2010 AFP. All rights reserved.
-----------
Norway reopens Satanic Verses shooting case
28 Nov, 2010
Norwegian police, boosted by a reward, have reopened an investigation into the 1993 attempted assassination of the Norwegian publisher of Salman Rushdie's The Satanic Verses.
William Nygaard, CEO of the Aschehoug publishing house, was shot three times outside his house in Oslo on Oct. 11, 1993. Though seriously injured, he recovered and says he's happy to hear the news.
Nygaard told Aftenposten newspaper that finding his attempted murderer was important "primarily to defend Norwegian values of freedom of expression."
A reward of 500,000 kroner ($8,300 Cdn) is being jointly offered by Aschehoug and the Norwegian Publishers' Association, for any new information that would lead to an arrest.
Christian Opsahl from the association called the attack "an open wound which will not heal until the case is closed."
Full report at: http://www.cbc.ca/arts/books/story/2010/11/27/norway-publisher-rushdie.html#ixzz16ZsrSHpc
-----------
27 sued in Patuakhali on war crime charges
28 Nov, 2010
Twenty-seven people of Galachipa upazila in Patuakhali district have been sued on war crime charges.
Abdul Halim, a freedom fighter, filed the case with the Judicial Magistrate's Court on Thursday. Taking the case into cognisance, Judicial Magistrate Nuruzzaman asked the officer-in-charge (OC) of Galachipa Police Station to take necessary actions against the accused after proper investigation.
The accused are Alauddin Sikder, 80, the then chairman of Golachipa peace committee, Iisuddin Pada, 80, member of the peace committee, Nuru Moulvi alias Nuruddin, 82, former chief of Al Badar Bahini's Golachipa unit, Maulana Ashrab Ali Khan, 75, former leader of Patuakhali district unit of Jamaat Islami and rajakars Md Motaleb Mridha, 70, Abdur Razzak Pada, 65, Md Fayzul Islam, 65, Shahjahan, 70, Md.
Full report at: http://www.thedailystar.net/newDesign/news-details.php?nid=163922
-----------
Polygamy in Canada Should Remain Illegal
By Homa Arjomand
28 Nov, 2010
Polygamy is illegal in Canada but to date no one has been arrested or faced the consequences for being in a polygamist relationship. This inaction has led to no enforcement of the law. Such policies allow polygamist families to legally enter Canada by declaring the first wife as the legal wife and the second, third and fourth "wives" as dependents along with their children. Young girls are pushed into polygamy relationships by the leaders of their parents' religion. A wave of women involved in polygamy fled from Bountiful (BC) and presented their case publicly. Books and articles were written by these brave women. They discussed the effects of polygamy on their lives and their children, they talked about women's oppression, sexual abuse and of men's aggression towards young girls. They described child sexual abuse masquerading as a marriage and child trafficking for the purpose of marriage. Some courageous women went even further and discussed the effects of polygamy in society at large. Sadly no law enforcement was involved in any of these cases, even though Act 293 was present on the law books.
Full report at: http://www.butterfliesandwheels.org/2010/polygamy-in-canada-should-remain-illegal/
-----------
Baghdad, The Shining City in Islamic Civilization
28 Nov, 2010
In the third quarter of the tenth century, Mesopotamian painters were invited to Egypt to paint frescoes. The story is told by Maqrizi, who refers to a History of Painters, which can be placed in the eleventh century. The passage is reminiscent of Mesopotamia. The paintings of lapis lazuli, vermilion, verdigris, and other colors were covered over with varnish. We are told that the relief of these frescoes was remarkably executed in the style of the Basra painters.
Samarra sent for glassmakers and potters from Basra, and for more potters and color mixers from Kufa. A Chinese text insists that Chinese artists taught painting in Akula (the Syriac name for Kufa), in Lower Mesopotamia. The problem, which has not been solved, is an interesting one since it concerns a region which later became famous for its book decorations.
Full report at: http://society.ezinemark.com/baghdad-the-shining-city-in-islamic-civilization-ix-16f11befe1b.html#ixzz16Zr7kyaC
-----------
New Somali cabinet approved by parliament
28 Nov, 2010
MOGADISHU: A cabinet named by Somalia's new prime minister was approved by parliament on Saturday after a previous attempt to endorse the ministers descended into chaos, legislators said.
Prime Minister Mohamed Abdullahi Mohamed, a teacher who had been living in the United States before his nomination in October, had named a trimmed-down cabinet of 18 ministers, less than half the size of the previous cabinet.
The new cabinet includes a number of technocrats from the Somalia diaspora and faces the challenging task of coming up with a new constitution and holding elections before the transitional government's mandate expires in August next year.
Mohamed has made tackling insecurity his priority. The government controls less than half of the capital Mogadishu and has made little headway in defeating insurgents who control most of southern and central Somalia.
Full report at: http://arabnews.com/world/article201597.ece
URL: https://newageislam.com/islamic-world-news/christian-youth-love-muslim-girl/d/3739