New Age Islam News Bureau
18 March 2014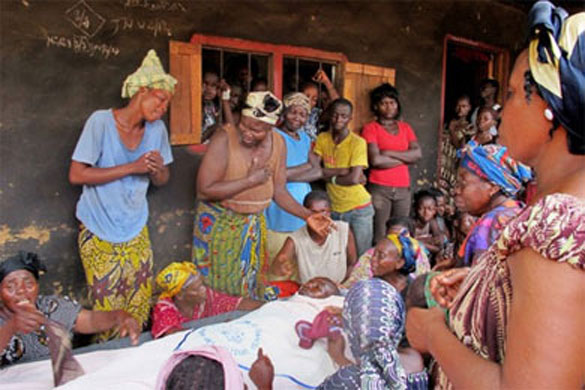 Christian-Muslim marriages are latest casualty of sectarian strife in Central African Republic
------------
South Asia
• Suicide attack kills 15 in north Afghanistan: officials
• UN warns Afghan vote-related violence on rise
• Dhaka, Barisal reject Jamaat-e-Islami in local polls
• Primark to pay $10m to Bangladesh victims
---------------
Southeast Asia
• Saudi Prince Unhappy with Qatar's Links to Muslim Brotherhood
• Malaysian plane search expands from Australia to Kazakhstan
• Indonesian Hindu leaders demand return of sacred effigies
---------------
Pakistan
• Qur'an Desecration Flares Pakistan Tensions
• Two arrested for screening 'pro-Taliban' film
• Fissures deepen in PPP Khyber Pakhtunkhwa
• Taliban prisoners list handed over to govt
• Taliban say know nothing about missing plane
• PM chairs high-level meeting on security, TTP talks
• Pakistan may grant India MFN status on Friday
• Foreign investors to be facilitated, guarded: PM
---------------
Africa
• Christian-Muslim marriages are latest casualty of sectarian strife in CAR
• Tunisia police raid kills three 'terrorists': ministry
• Benghazi military academy blast kills 5
• Somalia car bomb targets African Union convoy
• Kenya police say foiled bomb plot with ambush
---------------
Arab World
• Gulf Arab alliance split over Qatar's backing of Iran and Muslim Brotherhood
• Suicide bomb kills three in Lebanon's Bekaa Valley
• Saudi Arabia says GCC dispute won't be solved unless "Doha changes its policies"
• Syria army in hot pursuit of rebels on Lebanon border
• Princess Astrid lauds interfaith initiative of King Abdullah
• Egypt investigation blames security, armed protesters for August carnage
---------------
Mideast
• Iran Urges Progress as Nuclear Talks Resume
• CIA suspends Iran operations chief: report
• Iran dismisses commanders over abduction of border guards
• Turkey PM Erdogan is worse than army, arch-rival says
---------------
Europe
• Vatican, Anglicans, Muslims unite to fight slavery
• Ukraine: 96.6 pct Crimean voters favour joining Russia
---------------
India
• Communal Harmony Vital for India's Progress
• Ishrat Jahan case: CBI registers inquiry against ex-Gujarat ministers
---------------
North America
• Obama tells Abbas risks for peace are needed
• Education and the 'Muslim problem'
• California man arrested near US-Canada border on terrorism charge
Compiled by New Age Islam News Bureau
URL: https://www.newageislam.com/islamic-world-news/new-age-islam-news-bureau/christian-muslim-marriages-are-latest-casualty-of-sectarian-strife-in-car/d/56179
---------------
South Asia
Suicide attack kills 15 in north Afghanistan: officials
2014-03-18
MAZAR-I-SHARIF: A suicide bomber on a three-wheeled motorbike killed at least 15 people at a crowded market in northern Afghanistan on Tuesday, officials said, as security is ramped up ahead of presidential elections.
"It was a suicide bombing in the middle of Maimanah city during the Tuesday bazaar," Mohammadullah Batash, the Faryab province governor, told AFP.
"The blast happened on the main roundabout, which was very crowded. The bomber used a three-wheeler packed with explosives. All 15 of the dead are civilians or street vendors, and at least 27 are also wounded." Toryalai Adyan, the provincial police chief, and hospital officials gave a similar account and death toll.
There was no immediate claim for the attack in the capital of Faryab, a remote province that borders Turkmenistan and has a mixed population of Uzbek, Turkmen and Pashtun ethnic groups.
A week ago, Taliban insurgent leaders vowed to target Afghanistan's presidential election on April 5, urging its fighters to attack polling staff, voters and security forces before the vote to choose a successor to Hamid Karzai.
Previous Afghan elections have been badly marred by violence, with at least 31 civilians and 26 soldiers and police killed on polling day alone in 2009, as the Islamist militants displayed their opposition to the US-backed polls.
http://www.dawn.com/news/1093942/suicide-attack-kills-15-in-north-afghanistan-officials
---------------
UN warns Afghan vote-related violence on rise
March 18, 2014
NEW YORK: The United Nations warned on Monday that election-related violence is on the rise in Afghanistan, where the Taliban have threatened to sabotage next month's historic transition of power. The UN envoy to Kabul, Jan Kubis, made the remarks in an address to the Security Council, which voted unanimously to extend the mandate of the UN mission in Afghanistan by another year. Millions of Afghans are eligible to vote April 5 to elect a new leader to replace President Hamid Karzai, who took power shortly after US-led troops deposed the Taliban in late 2001.
NATO ends its combat mission in December following a 13-year war against the Taliban, leaving Western-funded Afghan troops on the frontline against a fierce Islamist insurgency.
http://www.dailytimes.com.pk/foreign/18-Mar-2014/un-warns-afghan-vote-related-violence-on-rise
---------------
Dhaka, Barisal reject Jamaat-e-Islami in local polls
March 18, 2014
Bangladesh Jamaat-e-Islami, led by convicted war criminals, failed to secure a single chairman post in Dhaka and Barisal divisions during the last three phases of Upazila Parishad elections.
However, the party did better in the north-western region Upazilas, thanks to its key ally BNP that traditionally maintains stronghold in the region. Jamaat also failed to show its strength in Satkhira as it secured only one chairman post out of three whereas the others were won by the Awami League-backed candidates.
Jamaat staged violent showdown across the country during the election resistance movement in November-December last year when they also kept Satkhira district isolated from rest of the country for around one month.
In the local body election, BNP-Jamaat participated jointly and in many places they jointly extended support to a single candidate through the alliance that boycotted the January 5 national elections.
In the first two phases, the BNP-Jamaat took the lead in the elections but in the third phase, the Awami League performed the best.
In the last three phases when elections were held in 295 upazilas on February 19 and 27, and March 15, the Jamaat-backed contenders bagged 12 chairman posts in Rajshahi division, seven in Rangpur and five in Khulna division.
The war crimes tribunal in its verdicts termed the party "criminal organisation" for its role against the country's independence in 1971. A top Jamaat leader, Abdul Quader Molla, already walked to the gallows for war crimes while several others have been given death penalty for the same offence.
The High Court in August last year declared illegal its registration with the Election Commission since its party charter contradicted with the country's constitution.
A poor picture was projected by HM Ershad's Jatiya Party as it secured only one chairman post out of 295 – in Rangpur division, where the party is popular. Jamaat candidates got seven posts in the division whereas the Awami League bagged 17 and the BNP 19.
Interestingly, Jamaat also performed well in Bogra, the hometown of BNP founder Gen Ziaur Rahman, as they bagged five chairman posts while the same by the BNP-backed candidates.
"If the government did not interfere in the elections, we would have got more chairman seats and demonstrated our strength more significantly," Abdullah Mohammad Taher, Central Working Committee member of Jamaat, told the Dhaka Tribune.
Taher also added that in many places they had failed to ensure single candidate. "If we could ensure single candidate, then the result would have been better."
Of the three phases, Jamaat performed well in securing chairman posts in the first phase. But in the second phase, they started to get more vice-chairman posts. The Jamaat-backed contenders bagged 21 vice-chairman posts in the first phase, 32 in the second and 17 in the third phase.
After the verdict in Jamaat's central leader Delawar Hossain Sayedee case, the party men went into massive rampage across the country, especially in the northern region including Bogra, Chapainawabganj, Rajshahi, Joypurhat, Gaibandha and Lalmonirhat.
Not only Jamaat but also the BNP staged its strength in the northern region as the BNP-backed contenders bagged 19 chairman posts in Rangpur division and 22 in Rajshahi while the Awami League-supported candidates secured 17 and 11 chairmen posts.
The Awami League-backed contenders took lead in Dhaka, Sylhet and Barisal divisions while the BNP in Chittagong.
In Dhaka, the Awami League-backed candidates secured 38 chairman posts while those backed by the BNP won in 35 seats. Ershad's JaPa and Jamaat got no seats in the division.
The candidates supported by the Awami League and the BNP came out neck and neck in Sylhet division where the ruling party-backed candidates bagged nine and the BNP eight chairman posts. Jamaat got two seats.
In Barisal division, the Awami League-backed contenders got absolute majority as they bagged nine chairman posts while the BNP-backed candidates got just three. In this division, at least in eight upazilas, the BNP-backed candidates boycotted the elections alleging vote rigging and illegal stamping by the ruling party men.
There were incidents of stray violence in the first phase of polls but it increased in the second phase. In the third phase, violence took a serious turn as three people were killed and clashes took place at a number of places.
Regional political parties like the Parbatya Chattagram Jana Samhati Samiti (PCJSS) and the United Peoples Democratic Front (UPDF) backed candidates bagged nine chairman posts.
http://www.dhakatribune.com/politics/2014/mar/18/dhaka-barisal-reject-jamaat
---------------
Primark to pay $10m to Bangladesh victims
17 Mar 2014
British clothes retailer Primark will pay a further $10m in compensation to victims of the collapse of a Bangladeshi factory last year that killed more than 1,100 people.
The disaster has galvanised most of the clothing industry's big names to work together to improve safety standards, but many brands have shunned a fund that is trying to raise $40m for the more than 2,000 people injured and the families of the dead.
Campaigners are demanding that 27 brands linked to factories in the Rana Plaza complex should contribute to the fund run by the International Labour Organisation (ILO) by the first anniversary of the April 24 collapse, the Reuters news agency reported.
Primark has already paid $2m in short-term financial support and food distribution.
It said it would pay out the extra $10m in long-term compensation, which includes $9m directly to the 580 workers of its supplier in Rana Plaza, or their dependants, and another $1m to the fund.
The company said cash payments to the workers of its supplier, New Wave Bottoms, would begin this week, with the amount to be paid based on estimates of lost earnings for the dependants of those killed and on the level of disability for those injured.
"With the first anniversary of Rana Plaza fast approaching, we are determined to meet this responsibility to workers in our supply chain," a spokesman said in a statement.
"We are therefore pleased to be in a position to now press ahead with payments."
Rock-bottom wages and trade deals have made Bangladesh's garments sector a $22bn industry that accounts for four-fifths of exports, with about 60 percent of garment exports going to Europe and 23 percent to the United States.
Owned by Associated British Foods, Primark's low prices have helped it expand to more than 250 stores in Britain and Europe. It urged other retailers to donate to the industry fund so it could pay out in full to all victims.
Some of the other brands supplied from Rana Plaza have said they will not contribute, as their production was outsourced to the factory without their knowledge, or ended some time ago, while others say they prefer to pursue their own compensation plans.
About 3.6 million of Bangladesh's 155 million people work in the clothing industry, making it the world's second-largest garments exporter behind China.
http://www.aljazeera.com/news/europe/2014/03/primark-pay-10m-bangladesh-victims-2014317183233712.html
---------------
Southeast Asia
Saudi Prince Unhappy with Qatar's Links to Muslim Brotherhood
Mar 18, 2014
TEHRAN (FNA)- "As long as Doha does not revise its policy," there's no end in sight for the political crisis in Qatar, said Saudi Foreign Minister Prince Saud al-Faisal.
The statement follows the March 5 return by their governments of Emirati, Bahraini and Saudi ambassadors from Qatar, a move spurred by the Persian Gulf state's alleged refusal to abide by the agreement that the Persian Gulf Cooperation Council would not interfere in each other's internal affairs, Reuters reported.
The three other PGCC states are not happy with Qatar's support for the Muslim Brotherhood, a party whose ideology is a challenge to the conservative principles of the Persian Gulf region's established monarchies.
http://english.farsnews.com/newstext.aspx?nn=13921227000459
---------------
Malaysian plane search expands from Australia to Kazakhstan
March 18, 2014
KUALA LUMPUR — The search for the missing Malaysian jet pushed deep into the northern and southern hemispheres Monday as Australia took the lead in scouring the seas of the southern Indian Ocean and Kazakhstan — about 10,000 miles to the northwest — answered Malaysia's call for help in the unprecedented hunt.
French investigators arriving to lend expertise from the two-year search for an Air France jet that crashed into the Atlantic Ocean in 2009 said they were able to rely on distress signals — but investigators say the Malaysian airliner's communications links were deliberately severed ahead of its mysterious disappearance more than a week ago.
"It's very different from the Air France case. The Malaysian situation is much more difficult," Jean Paul Troadec, a special adviser to France's aviation accident investigation bureau, said in Kuala Lumpur.
Malaysian authorities say the jet carrying 239 people was purposely diverted from its flight path during an overnight flight from Kuala Lumpur to Beijing on March 8, and suspicions has fallen on anyone aboard the plane with aviation experience, particularly the pilot and co-pilot.
Malaysian police confiscated a flight simulator from the pilot's home Saturday and also visited the home of the co-pilot, in what Malaysia's police chief Khalid Abu Bakar later said was the first police visits to those homes. The government issued a statement Monday contradicting that account by saying that police first visited the pilots' home on March 9, the day after the flight.
Full report at:
http://www.saudigazette.com.sa/index.cfm?method=home.regcon&contentid=20140318198997
---------------
Indonesian Hindu leaders demand return of sacred effigies
Luh De Suriyani
March 18 2014
Dozens of Hindu high priests, community leaders and members of the Indonesian Parisadha Hindu Council (PHDI) in Bali have strongly urged the police to return confiscated sacred objects to their original places in several temples across Bali.
The leaders visited the Bali Police headquarters on Monday morning and met with deputy Bali Police chief Brig. Gen. I Gusti Ngurah Rahardja Subyaktha to discuss the possibility of returning all the sacred objects that had been confiscated from several individuals proven to have stolen, sold and bought the objects.
The visit was in quick response to the news that the Bali Police planned to return the confiscated objects to an Italian art dealer, Roberto Gamba, who had previously been imprisoned for his involvement in the trade of the sacred objects.
In 2010, Gamba and a number of local people were arrested for their involvement in art thefts.
Full report at:
http://www.thejakartapost.com/news/2014/03/18/hindu-leaders-demand-return-sacred-effigies.html
---------------
Pakistan
Qur'an Desecration Flares Pakistan Tensions
17 March 2014
ISLAMABAD – Pakistan Muslim scholars have denounced attacks on a Hindu temple in Sindh's Larkana district, calling for urgent probe into the incident in which protests against Qur'an desecration turned into violent clashes.
"Our religion, Islam, preaches peace, love and forbearance," Hafiz Muhammad Tahir Mahmood Ashrafi, the Chairman of the Pakistan Ulema Council (PUC), told The News on Monday, March 17.
"However, it is also necessary that the followers of other religions should respect the sentiments of the Muslims," Ashrafi Urged.
Tensions flared after reports that a middle-aged Hindu has torn out pages from the Muslims' noble Qur'an, burning and tossing them down on the street from the roof of his home.
The news spread among the Muslim community who gathered to protest the blasphemous act on Saturday.
Later on, angry students from Islamic seminaries joined the protests, where clashes erupted between Muslims and Hindus before Larkana temple which led to setting fire on the temple.
"The law and order problem surfaced in the city Saturday evening after local residents accused a Hindu youth, Surjeet Kumar, of burning pages of the Holy Koran," senior local administration official Ghunwar Leghari told AFP.
At least two Muslims were arrested after the incident.
Deploring the incident, the Ulema Council called on the government to protect minorities, including Hindus, and prevent violence.
"Pakistan is in need of peace and it is the responsibility of the political and religious parties as well as the leaders of the Muslims and non-Muslims to play their part in achieving the target of establishing a lasting peace in the country," the PUC chairman said.
PUC leader has urged Sindh province chief to ease tension and take measures to prevent future incidents.
"I also contacted PUC Sindh President Maulana Tariq Madni and asked him to play his role in quelling the tension between the Muslim and the Hindu communities." Ashrafi, PUC Chairman said.
Similar tension erupted between Pakistani Hindus and Sikhs last September over sacrilege of the copies of latter's holy book in various parts of Southern Sindh province, an act denounced by Pakistani Muslim religious leaders as contradicting with all faiths.
'No conspiracy'
The incident was immediately condemned by Sindh Minister for information, archive and local government who said any trials to foil tensions between the two faiths would fail.
"Any conspiracy to cause Hindu-Muslim confrontation would be foiled," Sharjeel Innam Memon said.
Full report at:
http://www.onislam.net/english/news/asia-pacific/470351-quran-desecration-flares-pakistan-tensions.html
-------
Two arrested for screening 'pro-Taliban' film
2014-03-18
SIALKOT: Bambanwala police have registered a case against two brothers under 16 MPO for arranging screening of an alleged pro-Taliban documentary in Mitranwali village, Daska tehsil, on Monday.
According to the first information report registered on the report of Sub-Inspector Muhammad Younas, Shafiqur Rehman and Aneesur Rehman had arranged a screening of an alleged pro-Taliban documentary in their drawing room-cum-medical store for locals. The suspects also preached 'Talibanisation' there.
Full report at:
http://www.dawn.com/news/1093897/two-arrested-for-screening-pro-taliban-film
------
Fissures deepen in PPP Khyber Pakhtunkhwa
2014-03-18
PESHAWAR: Pakistan Peoples Party is feared to suffer from further grouping in Khyber Pakhtunkhwa if its central leadership fails to address the grievances of senior activists in different districts of the province.
The PPP workers complain that central leadership has abandoned the party in the province. They say that leadership imposes office-bearers on them instead of giving weight to the views of local units of the party.
Some senior workers are also not happy with the statements issued by PPP patron-in-chief Bilawal Bhutto Zardari against Taliban. They say that this policy can create serious threats for them, particularly during the next elections.
Some insiders told Dawn that the replacement of provincial presidents without taking activists into confidence had caused rift in the party in the province. It could be judged easily from the fact that several leaders were not ready to obey the orders of PPP newly nominated provincial president Khan Zada Khan, they added.
"First the provincial president was changed without taking us into confidence and now we are asked to form electoral alliance with Awami National Party and Jamiat Ulema-i-Islam-Fazl in the province but it is impossible for the party to do so," they said.
Sources said that one of the main causes of PPP's defeat in the last general elections was its coalition government with ANP in the province where its workers were ignored while its partner focussed on strengthening its organisations in different areas.
"We are not ready to vote for ANP or JUI-F. Our priority will be to field independent candidates in the local government elections," a PPP leader said. He said that formation of a splinter group by Begum Nasim Wali Khan had damaged ANP and it was trying to cover up its dents through such tactics.
Full report at:
http://www.dawn.com/news/1093906/fissures-deepen-in-ppp-khyber-pakhtunkhwa
--------
Taliban prisoners list handed over to govt
March 18, 2014
ISLAMABAD/PESHAWAR - Tehreek-e-Taliban Pakistan (TTP) intermediary, Professor Muhammad Ibrahim, on Monday said they had handed over the list of Taliban prisoners to Interior Minister Ch Nisar Ali Khan.
He said Taliban did not make a demand, but suggested to the government to release non-combatants – women, children and elderly people. He added the suggestion was aimed at making the atmosphere conducive to talks.
He said the Taliban had prepared a 300-person list of women and children of TTP members, assumed to be into the custody of the law-enforcement agencies, and the same had been handed over to the interior minister. He added most of these women and children belonged to the tribal areas and Khyber Pakhtunkhwa.
Ibrahim said three places were still under consideration for a joint meeting of the government and Taliban Shura, but he could not disclose the names.
"The issue of general amnesty will also be considered in the direct talks," Prof Ibrahim said, presiding over a Jamaat-e-Islami provincial executive body meeting at Al-Markaz-e-Islami.
On the other hand, a member of the government negotiating committee, Rustam Shah Mohmand, said no decision had so far been made for a meeting of the government members and Taliban Shura. Rustam said the list of women and children had not been received as yet.
"Taliban want direct talks in Mehsud area of South Waziristan Agency and demand troops' withdrawal from there. If it is not possible for the security forces to vacate the whole Mehsud area, they should withdraw from Ladha and Makeen tehsils of South Waziristan Agency," Prof Ibrahim who returned a few days back after holding a meeting with Taliban political shura in North Waziristan Agency said.
Full report at:
http://www.nation.com.pk/national/18-Mar-2014/taliban-prisoners-list-handed-over-to-govt
---------------
Taliban say know nothing about missing plane
March 18, 2014
Islamabad - Taliban militants in Pakistan and Afghanistan said they knew nothing about the whereabouts of the Malaysian plane.
Zabihullah Mujahid, a spokesman for the Taliban in Afghanistan, who are seeking to oust foreign troops and set up an Islamic state, said the missing plane had nothing to do with
Full report at:
http://www.nation.com.pk/national/18-Mar-2014/taliban-say-know-nothing-about-missing-plane
---------------
PM chairs high-level meeting on security, TTP talks
2014-03-18
ISLAMABAD: Prime Minister Nawaz Sharif said Tuesday that the time had come for decisive action while adding that resources would be provided to all four provinces for implementation of the country's internal security policy, DawnNews reported.
PM Sharif was chairing a high-level meeting which focused on the country's security situation and also reviewed the situation relating to negotiations with the Pakistani Taliban.
The meeting was attended by Army Chief General Raheel Sharif, Director General Inter-Services Intelligence (ISI) Zaheer ul Islam, Interior Minister Chaudhry Nisar Ali Khan and the four provincial chief ministers.
The meeting focused on the overall security situation of the country, particularly negotiations with banned militant organisation Tehreek-i-Taliban Pakistan (TTP).
Also read: TTP wants 'free peace zone' for talks
Meanwhile, Interior Minister Nisar gave the meeting a briefing of the country's security situation.
Whereas, PM Sharif reiterated that talks with the Taliban should be held in accordance with the Constitution.
Full report at:
http://www.dawn.com/news/1093945/pm-chairs-high-level-meeting-on-security-ttp-talks
---------------
Pakistan may grant India MFN status on Friday
MUBARAK ZEB KHAN
2014-03-18
ISLAMABAD: Pakistan will grant on Friday Most-Favoured Nation (MFN) status to India with a condition of receiving a substantial concessions in trade from New Delhi.
The decision is expected to be announced after a special cabinet briefing to be headed by Prime Minister Nawaz Sharif, a well-placed source in the ministry of commerce told Dawn on Monday.
Commerce Minister Khurram Dastagir Khan had made a conditional offer for granting MFN status to India in January, and had sought access for 250 to 300 items at lowered duties.
At the time of the MFN offer, the commerce ministry has not linked the trade liberalisation with the resumption of suspended talks, which raised questions from other stakeholders for ignoring their issues while given the concession to India.
As a result, the decision was delayed which was scheduled to be announced in the middle of February during the proposed visit of Indian Commerce Minister Anand Sharma. However, delay in decision led to postponement of the Indian minister visit to Pakistan.
Earlier, the granting of MFN status to India was part of the composite dialogue, which was suspended since January 2013.
A high-powered committee headed by Finance Minister Ishaq Dar had been constituted to handle the issue and opposing groups.
Mr Dar will brief the cabinet about the offers from India before the cabinet approves the recommendation of granting MFN to India.
The cabinet decision, according to the source, will be conditional that Pakistan will allow import of all commodities from India via Wagah border and will abolish the negative list of 1,209 items in one go.
After the cabinet approval, these decisions will be announced through a statutory regulatory order (SRO).
Items placed on the negative list are not allowed for import from India. At the same time, currently only 137 items are importable from India via Wagah border.
The source said that India has offered to lower its duties to 7.5pc in a period of six months after Pakistan's announcement of the MFN for India, which will be further lowered to 5pc in a period of one year. India is not willing to remove NTBs and customs duties.
Major beneficiary of the concession in tariff will be textile sector, based in Punjab.
Similarly, India will reduce its list of sensitive products to 100 items immediately after the announcement of the decision, while Pakistan reciprocates the decision in a period of five years.
Full report at:
http://www.dawn.com/news/1093810/pakistan-may-grant-india-mfn-status-on-friday
---------------
Foreign investors to be facilitated, guarded: PM
March 18, 2014
ISLAMABAD - Prime Minister Muhammad Nawaz Sharif has said that Pakistan will provide necessary facilities and safeguards to foreign investors and urged international companies to invest in Pakistan for best returns.
He was talking to a Chinese delegation led by President of State Grid Corporation of China (SGCC), Jia Zhiqiang, here at Prime Minister's House on Monday. The meeting was also attended by Minister for Water & Power Khawaja Muhammad Asif, Chairman Privatisation Commission Muhammad Zubair, Chairman Board of Investment Mifta Ismail and other senior officers.
Full report at:
http://www.nation.com.pk/islamabad/18-Mar-2014/foreign-investors-to-be-facilitated-guarded-pm
---------------
Africa
Christian-Muslim marriages are latest casualty of sectarian strife in CAR
By Sudarsan Raghavan
March 17
Her husband, who is a Muslim, escaped through a back window. Clutching knives, the fighters looted the couple's possessions. Then they prepared to kill Oumpo, 60, and burn the house down. But some neighbors intervened and informed the fighters that she was a Christian by birth. So they spared her life — on one condition.
"Renounce Islam," one of her attackers said as they left. "Or else we will return and kill you for marrying a Muslim."
Marriages between Christians and Muslims have survived the chaotic upheavals that the Central African Republic has endured since gaining independence from France, the former colonial power, in 1960. But the latest cataclysm is shattering these mixed unions, dividing families and communities. U.N. officials and aid workers are worried that the brutality and vengeance could permanently destroy the relationships between Christians and Muslims here.
"They will get lots of pressure from one side or the other: 'This is not the group to marry with, this is not the group to go with,' " said Aboud Dieng, the top U.N. humanitarian official for the Central African Republic. "Many families will fall apart."
Today, Oumpo's husband, Idriss Alaas Muhamed, lives in a bleak enclave of charred and looted shops and houses called PK5. It's one of the last remaining Muslim areas in a capital paralyzed by religion-based hatred and violence.
The couple's 11 children, ages 22 to 40, also have fled their homes. One son was killed by a Christian mob as he walked to work in mid-January.
"I have lived in this place for 40 years, and all my children were born here," said Muhamed, 67, perched on a bench across from a mosque compound crowded with refugees. "I never expected this. None of us did."
The attacks that have killed thousands and displaced hundreds of thousands began with a coup one year ago. As Muslims seized power for the first time in this Christian-majority nation last March, they brutally targeted Christians. In response, Christian militias rose up and targeted Muslim enclaves. Their assaults intensified after the country's first Muslim president, Michel Djotodia, resigned in January under pressure from regional leaders.
Shadowed by fear, tens of thousands of Muslims have fled the country. Entire Muslim neighborhoods have emptied out, homes have been torched, bodies have been set afire in streets. As the exodus continues, more mixed families are likely to be shattered, U.N. officials and aid workers say.
Full report at:
http://www.washingtonpost.com/world/christian-muslim-marriages-are-latest-casualty-of-sectarian-strife-in-central-african-republic/2014/03/16/af5e3a84-a14d-11e3-878c-65222df220eb_story.html
-------
Tunisia police raid kills three 'terrorists': ministry
March 18, 2014
TUNIS: Tunisian security forces on Monday killed three suspected jihadists implicated in attacks last months that left four people dead, including two policemen, the interior ministry said.
Special police units surrounded the house of a "takfirist", or Muslim extremist, in the northwest Jendouba region near the Algerian border at around 0200 GMT, ministry spokesman Mohamed Ali Aroui told reporters. "The terrorist group threw a grenade at the agents... and an exchange of fire followed between the security forces and these members of a banned movement," he said, alluding to the radical Islamist group Ansar al-Sharia.
Three militants were killed in the clash, "one of whom was very dangerous," and two police agents were wounded. Two of those killed were Tunisian and the third was foreign, possibly Algerian, Aroui said. Six others, including women, were arrested for providing logistical support to the group. Tunisia has been rocked by sporadic attacks blamed on jihadists since the 2011 revolution that toppled a decades-old dictatorship and touched off Arab Spring uprisings across the region.
In central Sidi Bouzid, three policemen were wounded on Sunday night in a clash with gunmen travelling by car who refused to stop at a checkpoint and were chased, a security official said.
Full report at:
http://www.dailytimes.com.pk/foreign/18-Mar-2014/tunisia-police-raid-kills-three-terrorists-ministry
---------------
Benghazi military academy blast kills 5
18 March 2014
BENGHAZI: A car bomb Monday targeting a military academy in Libya's restive eastern city of Benghazi killed at least five soldiers and wounded more than 10, military and hospital sources said.
The medical center in Benghazi reported that "five bodies plus an indeterminate number of body parts" had arrived at the hospital, along with "more than 10 wounded people."
A military source said the car parked in front of the academy blew up as soldiers emerged from an awards ceremony for army promotions.
Benghazi, cradle of the 2011 uprising that toppled veteran Libyan dictator Muammar Qaddafi, has seen near-daily attacks on security and other targets in recent months as the weak central government struggles to rein in former rebel brigades turned militias.
The assailants have not been identified, nor claims of responsibility made for the attacks.
Eastern Libya has become a bastion of extremists, with authorities avoiding a full-blown confrontation with heavily armed former rebels pending the formation of a regular army and police force.
Full report at:
http://www.arabnews.com/news/541866
---------------
Somalia car bomb targets African Union convoy
17 Mar 2014
A convoy of the African Union's (AU) AMISOM force has been targeted by a car bomb just outside the Somali capital, witnesses and a Somali army source have said, though it was not immediately clear if there were any casualties.
A spokesman for al-Shabab told the AFP news agency that the group carried out Monday's attack, saying it killed seven people, including three foreigners.
The attack took place near a checkpoint on the road linking Mogadishu and the town of Afgoye, "where a suicide bomber rammed his car into an AMISOM convoy," witness Abdulahi Mohamed said.
"There was a heavy explosion at the Alamada area ... we don't know about the casualties but I saw military ambulances rushing to the scene."
A Somali military official, Omar Adan, confirmed the attack, but declined to give the number of casualties. He however blamed al-Shabab fighters.
"Al-Qaeda linked militants, who have lost ground, are attempting desperate attacks," Adan said.
Regular deadly attacks
On Saturday, a car bomb went off in central Mogadishu near a hotel popular with government officials and businessmen, injuring at least one person, though no claims were made for the attack.
Full report at:
http://www.aljazeera.com/news/africa/2014/03/somalia-car-bomb-targets-african-union-convoy-2014317173549961807.html
---------------
Kenya police say foiled bomb plot with ambush
17 Mar 2014
Two men have been arrested driving a vehicle packed with explosives in the Kenyan coastal city of Mombasa, police said.
The men were arrested on Monday with two homemade bombs and a mobile phone, which could have been used as a detonator.
"We have not established where the target was, but we have detained two terror suspects who were in the vehicle," Henry Ondiek of the Mombasa Criminal Investigation Department told the AFP news agency.
"We were tipped off that the two were headed for an attack on an unspecified place and we laid an ambush and got them," Ondiek said.
Another police source, requesting anonymity, said the two men were of Somali origin.
Kenya has suffered a string of attacks blamed on the al-Shabab armed group based in Somalia, including the September 2013 attack in Nairobi's Westgate mall in which at least 67 people were killed.
Full report at:
http://www.aljazeera.com/news/africa/2014/03/kenya-police-say-foiled-bomb-plot-with-ambush-2014317213057817683.html
---------------
Arab World
Gulf Arab alliance split over Qatar's backing of Iran and Muslim Brotherhood
March 17th, 2014
TEL AVIV — The Gulf Cooperation Council could collapse amid its crisis with Qatar, a report said.
The Begin-Sadat Center for Strategic Studies asserted that Saudi Arabia could lose its domination of the six-member GCC. In a report, the center said Riyad faced significant opposition to its policies from Oman and Qatar.
"The days of the GCC, long dominated by Saudi Arabia, may be numbered," the report, titled "Is the GCC in Peril," said.
Research fellow Joshua Teitelbaum cited the decision by Bahrain, Saudi Arabia and the United Arab Emirates to withdraw their ambassadors from Qatar, a leading supporter of the Muslim Brotherhood, in March 2014.
"Founded in 1981 as a response to the Iranian revolution and the Iran-Iraq war, the GCC has always been dominated by Saudi Arabia. … Flush with cash from the North Dome/South Pars gas field, the largest gas field in the world (which it shares with Iran), tiny Qatar put itself on the map with its freewheeling Al Jazeera channel, founded in 1996. Al Jazeera has always been a pointy thorn in the Saudi side. Qatar's … continued good relations with Iran, and Doha's funding of competing Syrian rebel factions were all perceived as affronts by Saudi Arabia," the report said.
He said Saudi Arabia wants to change the GCC by recruiting such non-regional states as Jordan and Morocco.
Full report at:
http://www.worldtribune.com/2014/03/17/report-gulf-arab-alliance-nears-collapse-over-qatars-al-jazeera-backing-of-brotherhood/
---------------
Suicide bomb kills three in Lebanon's Bekaa Valley
March 18, 2014
BEIRUT : At least three people were killed and six wounded when a suicide car bomber struck a petrol station in Lebanon's Bekaa Valley near the border with Syria, a security source said.
He said two of the dead were members of Hezbollah who had approached the vehicle in the town of Nabi Osmane, a bastion of the militant group, which has been the target of attacks over its involvement in Syria's civil war next door.
Hezbollah-operated Al Manar television broadcast images from the site of the blast showing the twisted metal of a burnt-out car. What appeared to be the structure of the petrol station and an adjacent building were heavily damaged. Civilians, soldiers and emergency response workers were on the scene.
Hezbollah is fighting alongside Syrian government forces against the insurgency seeking to topple President Bashar al-Assad, whose minority Alawite sect is an offshoot of Shiaism.
Hezbollah has been subjected to car bombings and rocket fire over the past year in the Bekaa Valley and in the heavily residential areas of south Beirut where it maintains a strong presence and support base.
Full report at:
http://www.nation.com.pk/international/18-Mar-2014/suicide-bomb-kills-three-in-lebanon-s-bekaa-valley
---------------
Saudi Arabia says GCC dispute won't be solved unless "Doha changes its policies"
March 18th, 201
Saudi Arabia's Foreign Minister Saud al-Faisal said his country's ongoing diplomatic spat with Qatar is likely to be solved unless Doha changes its policies, the Saudi-owned Al Hayat newspaper reported Tuesday.
Al-Faisal said that the dispute - that came to a head when Saudi pulled its diplomatic envoys from Qatar - would not end "as long as Doha does not revise its policy," Reuters reported.
On March 5, three major Gulf Cooperation Council (GCC) countries - Saudi, the United Arab Emirates and Bahrain - all recalled their ambassadors from Doha. They accused of Doha failing to abide by a GCC treaty that states members will not interfere in each others' domestic affairs, according to Reuters.
Full report at:
http://www.albawaba.com/news/saudi-arabia-qatar-562167
---------------
Syria army in hot pursuit of rebels on Lebanon border
March 18, 2014
DAMASCUS: Syrian regime forces were on Monday readying an assault on the last rebel-held areas in the Qalamoun mountains, strategically located on the Lebanese border, after overrunning key opposition bastion Yabrud.
The capture of Yabrud on Sunday by Syrian troops and Lebanese Hezbollah fighters came shortly after the conflict entered its fourth year and marked a significant setback for the rebels as it severs their supply lines from across the border.
It also raised fears of further spillover of the conflict into Lebanon, where Sunni extremists carried out a suicide car bomb attack late Sunday in a Hezbollah-dominated area that killed two members of the Shiite group, including a local official.
A security source in Damascus said the army would soon launch operations "in all areas where terrorists are to be found," using the regime's term for rebels battling to end the Assad family's four-decade rule.
"The aim of the army operation is to entirely secure the border and to close all corridors to Lebanon."
The fighting along the border has sparked a fresh flight of civilians into Lebanon, which is already hosting nearly a million refugees, according to the UN High Commissioner for Refugees.
"So far 150 families have crossed the border since Yabrud fell," said the UNHCR's Lisa Abu Khaled.
Full report at:
http://www.dailytimes.com.pk/foreign/18-Mar-2014/syria-army-in-hot-pursuit-of-rebels-on-lebanon-border
---------------
Princess Astrid lauds interfaith initiative of King Abdullah
18 March 2014
Princess Astrid of Belgium has lauded the efforts of Custodian of the Two Holy Mosques King Abdullah in promoting dialogue between religions and civilizations.
"We hold the initiatives taken by Custodian of the Two Holy Mosques King Abdullah to promote dialogue between religions and civilizations in high esteem," she said during a special reception hosted by the Belgian Embassy on Sunday night.
The princess also noted the growing relations between her country and Saudi Arabia in the fields of small and medium-sized enterprises, technology transfer, trade and investment.
"We equally value the king's efforts in developing the country's human potential in different fields, including social advancement and employment for women," she said.
Saudi investment in Belgium is on the rise, she said.
"The economic mission, which was headed by my father, King Albert, and my brother, King Philip, had been welcomed here with great warmth and generosity in the past," said the princess. "Many Belgian companies are already present in the Saudi market and are happy to be operating here."
"I personally have retained fond memories of your rich culture and history," she said. "To our business community, Saudi Arabia has become a trusted partner in many fields and projects."
"It is also a privilege to be able to enjoy this dinner at the elegant residence of our ambassador to the Kingdom, which blends Belgian architecture with local architecture and traditions. This marks the perfect starting point of our economic mission to Saudi Arabia," she said.
Full report at:
http://www.arabnews.com/news/542096
---------------
Egypt investigation blames security, armed protesters for August carnage
18 March 2014
CAIRO: Egypt's official human rights body on Monday blamed security forces and "armed elements" among protesters for the death of hundreds during the dispersal of a massive sit-in last August.
The National Council for Human Rights said 632 people, including 8 policemen, were killed on August 14 when security forces dispersed Cairo's Rabaa Al-Adaweya sit-in, organized by supporters of deposed President Muhammad Mursi.
The day-long clashes as police and soldiers moved in to break up the sprawling tent city, more than a month after Mursi's overthrow by the military, led to the worst mass killing in modern Egyptian history.
The council was commissioned by the government to investigate human rights violations during the dispersal but also in the following months.
"Most of the civilian victims are (protesters) who could not escape the armed clashes" between security forces and gunmen, the council said in a report distributed to journalists during a press conference.
It did not say who killed them, but accused police of using disproportionate force. "We are not condemning anyone ... we are demanding a judicial investigation to know who killed whom," Nasser Amin, a member of the council, told reporters.
Security forces were "obliged to use firearms" but "failed in maintaining proportionality regarding the intensity of the fire," the report said.
Since the army ousted Mursi in July, the military-installed authorities have been waging a deadly crackdown on his supporters, killing more than 1,400 people according to Amnesty International.
Full report at:
http://www.arabnews.com/news/541861
---------------
Mideast
Iran Urges Progress as Nuclear Talks Resume
By ALISSA J. RUBIN
MARCH 18, 2014
VIENNA — As talks on a permanent nuclear agreement with Iran resumed in Vienna on Tuesday, under the shadow of tensions between the West and Russia, Iran said the onus to ensure progress was on the world powers with which it is negotiating.
"Important and tough discussions ahead today," Iran's foreign minister, Mohammad Javad Zarif, said on Twitter. "We have held our end of the bargain. Time for our counterparts to keep theirs."
Mr. Zarif was apparently referring to limits on Iranian nuclear activities outlined in a temporary nuclear accord that took effect on Jan. 20 and agreed to in exchange for temporary sanctions relief from the West.
The latest talks began after Mr. Zarif met with Catherine Ashton, the European Union's foreign policy chief, shortly before the full delegations sat down together for discussions expected to end late on Wednesday, according to a senior State Department official.
It was unclear what impact the crisis in Ukraine would have on the talks, either by distracting Western and Russian attention, by diluting Moscow's commitment to a settlement or by turning the Iranian nuclear impasse into a bargaining chip in what has been cast as a looming new Cold War.
Although the talks have no direct connection to Ukraine, their success hinges on solidarity among the so-called P5-plus-one countries — the five permanent members of the United Nations Security Council, which include Russia, plus Germany — in favor of a tough agreement with Iran to drastically scale back its nuclear program.
If Russia signals that its cooperation with the West has weakened, that will reduce pressure on Iran to make concessions, said experts knowledgeable about the talks.
A senior American official, speaking before the Iran talks and just before Crimeans voted to secede from Ukraine, indicated concern about possible consequences from the crisis on the Black Sea. Since Western nations consider the Crimea vote illegal, but have been unable to deter President Vladimir V. Putin of Russia, the situation for the Iran talks would now seem more worrisome.
Full report at:
http://www.nytimes.com/2014/03/19/world/europe/iran-nuclear-talks.html
------
CIA suspends Iran operations chief: report
2014-03-18
WASHINGTON: The head of the CIA's Iran operations has been suspended after employees complained about his "abusive" management style, The Los Angeles Times reported Monday, citing unnamed officials.
Jonathan Bank, a career officer with the spy agency, had been placed on administrative leave after an internal probe found he had created a hostile work environment, according to the Times.
Former officials said employees had been in "open rebellion" over the officer's management style and that the division, which oversees spying on Iran and its nuclear program, was in a state of disarray, it said.
The Central Intelligence Agency declined to comment directly on the report, saying it does not discuss personnel matters, but a spokesman said the CIA holds managers accountable.
"As a general matter, the CIA expects managers at all levels to demonstrate leadership skills and foster an environment that helps their employees perform at the highest levels to achieve Agency objectives," spokesman Dean Boyd said in a statement.
"Whenever that doesn't happen, we examine the situation carefully and take appropriate action with a goal towards improving both the working environment and the leadership skills of the manager," he said.
Full report at:
http://www.dawn.com/news/1093950/cia-suspends-iran-operations-chief-report
---------------
Iran dismisses commanders over abduction of border guards
2014-03-18
TEHRAN: Iran's state TV said the military has dismissed several commanders from service and others face court proceedings for alleged negligence after last month's abduction of five Iranian border guards by Pakistan-based militants.
The Monday report on the state TV website quoted border guard commander Hossein Zolfaghari as saying that all five captive border guards are still unharmed.
The five were abducted in Iran's Sistan-Baluchistan province on Feb 6 and reportedly taken to Pakistan.
Full report at:
http://www.dawn.com/news/1093754/iran-dismisses-commanders-over-abduction-of-border-guards
---------------
Turkey PM Erdogan is worse than army, arch-rival says
17 March 2014
ANKARA: An influential Muslim cleric locked in a bitter feud with the Turkish government has said the pressure piled on his movement now is "10 times worse" than in the era of military coups, in a rare interview published Monday.
US-exiled Fethullah Gulen stands accused by Prime Minister Recep Tayyip Erdogan of using his influence in Turkey's police and judiciary to instigate a corruption probe to topple his Islamic-rooted government.
"What we are seeing today is 10 times worse than what we saw during the military coups," Gulen told the daily Zaman, affiliated with his movement.
Gulen's Hizmet (Service) movement used to be an important backer of Erdogan's Justice and Development Party (AKP), which came to power in 2002.
The two worked together to curb the influence of the army, the self-declared guardians of the secular state, which staged three coups since 1960 and forced out an Islamist government in 1997.
But the alliance shattered in mid-December, when dozens of the premier's political and business allies were detained in police raids on bribery and corruption allegations.
The scandal, which brought down four ministers and prompted a cabinet reshuffle, has evolved into the most serious challenge yet to Erdogan's 11-year-rule.
The premier has labelled the corruption probe a "dirty plot" by supporters of the cleric to undermine his government ahead of local elections on March 30 and a presidential vote in August, but Gulen has repeatedly denied any involvement.
Erdogan himself has been implicated in the corruption controversy with leaked recordings in which he can allegedly be heard talking to his son about hiding large sums of money.
Erdogan has responded to the graft probe by publicly attacking Gulen and sacking hundreds of police and prosecutors believed to be linked to his ally-turned-rival.
The AKP-dominated parliament has also passed a law to shut down a network of private preparatory schools, many of which are run by Hizmet and are a major source of income for the movement.
Full report at:
http://www.arabnews.com/news/541766
---------------
Europe
Vatican, Anglicans, Muslims unite to fight slavery
March 18, 2014
VATICAN CITY: Catholics, Anglicans and Muslims came together Monday to fight slavery with the launch of a global network to tackle human trafficking, forced prostitution and child labour.
Full report at:
http://www.dailytimes.com.pk/foreign/18-Mar-2014/vatican-anglicans-muslims-unite-to-fight-slavery
---------------
Ukraine: 96.6 pct Crimean voters favour joining Russia
SIMFEROPOL, (Xinhua): A whopping 96.6 percent of Crimean voters chose to join Russia in Sunday's referendum on the status of Ukraine's autonomous republic, according to the latest official results.
The Crimea referendum commission said only 2.55 percent of voters chose to stay with Ukraine but with greater autonomy. Crimea has a population of about 2 million, of which just over 1.5 million were eligible to vote.
Crimeans in Simferopol and Sevastopol were seen celebrating the outcome of the referendum late Sunday night and early Monday morning.
Most, when asked, expressed their confidence this, the third such referendum in the peninsula's history, would direct them "home" to Russia.
The Crimea Peninsula, historically part of the Russian Federation, was transferred to Ukraine in May 1954, then a republic of the Soviet Union.
In May 1992, the Crimean Supreme Council (parliament) declared independence, pending a referendum, which was called off by the Ukrainian authorities.
Crimea held two other referenda, in 1991 and 1994, to test voters' preference for greater autonomy within Ukraine or uniting with Russia.
Full report at:
http://www.muslimnews.co.uk/news/europe/ukraine-96-6-pct-crimean-voters-favour-joining-russia/
---------------
India
Communal Harmony Vital for India's Progress
18 March 2014
AHMEDABAD: Various speakers at a 'national Islamic conference organized by the Kerala-based Markaz Saquafathi Sunniyya (MSS) on Saturday stressed the need to shun violence and improve relations between different communities, particularly between Hindus and Muslims.
Addressing the audience in an open ground in Shah Alam area here, MSS chancellor Sheikh Aboobacker Ahmed said that Hindus, Muslims, Christians and other communities living in India should work together to promote national unity and development.
MSS Director Dr. Abdul Hakim Azhari said that the 2002 riots always dominated any discussion on Gujarat. But riot is not a solution to problems, Azhari pointed out. He stressed the need to win over hearts and minds by promoting honest relationships. Azhari also advised Muslims to focus on higher education.
Full report at:
http://www.arabnews.com/news/542006
---------------
Ishrat Jahan case: CBI registers inquiry against ex-Gujarat ministers
Mar 18, 2014
NEW DELHI: The CBI on Tuesday registered a preliminary inquiry against former Gujarat ministers in the Ishrat Jahan encounter case.
The CBI has recovered a CD showing the ministers discussing how to derail the case, according to Times Now.
Full report at:
http://timesofindia.indiatimes.com/india/Ishrat-Jahan-case-CBI-registers-inquiry-against-ex-Gujarat-ministers/articleshow/32238440.cms
---------------
North America
Obama tells Abbas risks for peace are needed
March 18, 2014
WASHINGTON: US President Barack Obama on Monday told Palestinian leader Mahmud Abbas that both he and Israeli leaders must make tough political decisions and take "risks" for peace.
Meeting Obama at the White House, Abbas said Israel's release of a fourth tranche of Palestinian prisoners by March 29 would show how serious Prime Minister Benjamin Netanyahu was about extending peace talks. "As I said to Prime Minister Netanyahu when he was here just a few weeks ago, I believe that now is the time .... to embrace this opportunity," Obama said as he sat side-by-side with Abbas in the Oval Office.
"It is very hard, very challenging. We are going to have to take some tough political decisions and risks if we able to move forward," Obama said.
The US leader wants Abbas to agree to a US framework to extend peace talks past an end-of April deadline. Little tangible progress has been made in the past seven months.
He said that everyone already understood the shape of an "elusive" peace agreement between Israel and the Palestinians, saying it would be based on 1967 lines with mutual land swaps.
Abbas did not directly address the Israeli government's demand for the Palestinians to recognize Israel as a "Jewish" state.
He noted through a translator that the Palestinians had recognized Israel's legitimacy in 1988 and in "1993 we recognized the state of Israel."
Abbas also noted the agreement that the Palestinians have with Israel on the release of a fourth batch of prisoners by March 29.
"This will give a very solid impression about the seriousness of these efforts to achieve peace," Abbas said.
Full report at:
http://www.dailytimes.com.pk/foreign/18-Mar-2014/obama-tells-abbas-risks-for-peace-are-needed
---------------
Education and the 'Muslim problem'
By Nastasia Tysmans
March 18th, 2014
The first time I heard the term "Muslim problem" used in a conversation, I could not help but ask the stranger sitting next to me in a coffee shop what he meant and why he used "Muslim" and "problem" in the same sentence.
The question stunned us both, so I apologized and left, fearing that if he engaged me in a discussion, I would not really know what to say, except to note that it was wrong.
In school, very early on, I learned of Muslim Mindanao and was told that, apart from religion, it distinguished itself from the rest of the country because it was home to the rebel Abu Sayyaf.
The only other time in my youth that I encountered Muslims was in the early 1990s when cellular phone sales boomed and people from Marawi City sold their wares in Divisoria and Greenhills.
I was always warned that they were out to cheat me and, if I offended them, I could get kidnapped.
When 9/11 happened, the world changed for the worse.
I was so young and the Internet was not what it is today. It gradually unfolded to become the space where more opinions could be heard. White people generally labeled Muslims as terrorists because of their religion.
Prejudice prevails
I thought we would be spared this disease in Southeast Asia, seeing as our neighbors and many of our own people are Muslim. But prejudice prevailed and we learned to accept it as funny when our fellow Filipinos are called Bin Laden just because they grow beards and have gone to Hajj—something so few of us knew anything about.
In the early years of the Estrada administration, I was baffled by the President's declaration of an all-out war against the Moro Islamic Liberation Front (MILF). Close to a million Filipinos were displaced then and Basilan province became the arena where troops of the Armed Forces of the Philippines battled MILF soldiers.
My only question then was: How could anyone distinguish a rebel from an ordinary citizen? Even the world's elite intelligence agencies struggle to answer the question, as they admit to lacking resources to make a verification.
It was reported that when Camp Abubakar fell, Estrada celebrated with a lunch of roast pork and beer. The roast pork was meant to anger the Muslims because every Muslim must be a terrorist, right?
Full report at:
http://newsinfo.inquirer.net/586500/education-and-the-muslim-problem
---------------
California man arrested near US-Canada border on terrorism charge
Mar 18, 2014
SEATTLE: A California man who prosecutors say was on his way to Syria to join an al-Qaida splinter group was arrested on Monday near the US-Canada border in Washington state on a terrorism charge, federal officials said.
The Department of Justice said in a statement that 20-year-old Nicholas Teausant, an American-born convert to Islam, had planned to cross into Canada and travel on to Syria to join Islamist militants.
A criminal complaint outlining the accusations against Teausant said he wanted to join an al-Qaida splinter group, the Islamic State of Iraq and Syria, which it said was also known as the Islamic State of Iraq and the Levant.
"My designs have me staying there (in Syria) and being on every news station in the world," the criminal complaint quoted Teausant as telling a paid FBI informant last month.
"I'm going to be a commander and I'm going to be on the front of every single newspaper in the country," he said. "Like I want my face on FBI's top 12 most wanted. Because that means I'm doing something right."
The complaint said Teausant planned to join the group to engage in jihad, or Islamic holy struggle, and to fight the Western-backed Free Syrian Army, which is battling the government of President Bashar al-Assad in Syria's civil war.
ISIL, a small but powerful force that emerged from the Sunni Islamist insurgency in neighboring Iraq and has attracted many foreign militants to its ranks, opposes the Assad government but has also fought rival rebel factions.
Teausant also spoke of wanting to target the subway system in Los Angeles on New Year's Eve or New Year's Day, according to the complaint, but discontinued his involvement over fears authorities had caught wind of it.
Teausant was arrested near the border in Blaine, Washington, on a charge of attempting to provide material support to a foreign terrorist organization. He faces a maximum of 15 years in prison and a $250,000 fine if convicted.
American convert
He joins a small number of American converts to Islam who have been accused of taking up arms, or attempting to do so, in the name of religion. Among the most famous of those was John Walker Lindh, who was captured in Afghanistan and has been in a prison since 2002 for aiding the Taliban.
Full report at:
http://timesofindia.indiatimes.com/world/us/California-man-arrested-near-US-Canada-border-on-terrorism-charge/articleshow/32232983.cms
---------------
URL: https://www.newageislam.com/islamic-world-news/new-age-islam-news-bureau/christian-muslim-marriages-are-latest-casualty-of-sectarian-strife-in-car/d/56179