New Age Islam News Bureau
29 March 2019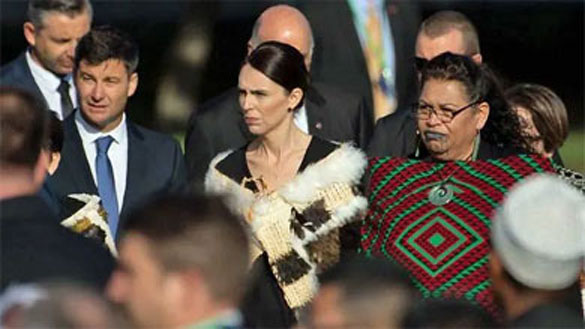 Prime Minister of New Zealand Jacinda Ardern (centre) arrives at the ceremony during a national remembrance ceremony at North Hagley Park in Christchurch. (Marty MELVILLE/AFP)
------
• Christchurch Survivor Tells Remembrance Service: 'I Choose Peace'
• HRW Urges New Zealand PM Jacinda Ardern to Discuss Treatment of Muslims In China
• Penang Mufti Decries Muslims' Unconcern for Environment
• Trump Admin OKs Nuclear Tech Sales to Saudi: Report
• India Backs UN Move against Terror Funding, Points To 'Serial Offender' Pakistan
• Muslim World League, Moscow Sign Deal to Tackle Extremism
• Moot Calls for Steps to Promote Interfaith Harmony in Pakistan Society
• Pakistani Minister Brands US Ambassador to Afghanistan a 'Little Pygmy' In Twitter Row
• Israel Has So Far Occupied Over 85% of Palestinian Land: Report
Europe
• Christchurch Survivor Tells Remembrance Service: 'I Choose Peace'
• HRW Urges New Zealand PM Jacinda Ardern to Discuss Treatment of Muslims In China
• Emissaries From Around World Gathering In New Zealand for Remembrance
• Germany adds six months to Saudi arms export ban: government
• UK troops accused of training child soldiers in Yemen
• Groups planning for chemical provocations in Syria: Russia
• Germany extends arms export ban on Saudi Arabia
• Germany selling arms to countries bombing Yemen
--------
Southeast Asia
• Penang Mufti Decries Muslims' Unconcern for Environment
• China Slams US Criticism of Muslim Treatment as 'Absurd'
• China Urges US to 'Exercise Prudence' After Fresh Move to Blacklist Jaish Chief at UN
• Malaysia on the right track in its fight against terrorism
--------
North America
• Trump Admin OKs Nuclear Tech Sales to Saudi: Report
• Pentagon Gets A New Chief For The Middle East
• Amid Russia tensions, producing F-35 without Turkey possible, say US sources
• Quebec introduces bill banning religious symbols
• US: Virginia man gets life for killing Muslim teen
• US envoy heads to UK as part of Afghan peace tour
--------
India
• India Backs UN Move against Terror Funding, Points To 'Serial Offender' Pakistan
• 'Disappointed, hardly surprised': India critiques Pak response to Pulwama dossier
• 4 militants killed in Kashmir, 30 since Pulwama attack
• India-origin IS fighters will be handed back: Syrian envoy
• 'No terror camps at 22 locations shared by India': Pakistan on Pulwama dossier
• Terrorists, Pakistan want me to lose, Opposition to win: PM Modi
--------
Arab World
• Muslim World League, Moscow Sign Deal to Tackle Extremism
• Al-Jubeir Attends Christchurch Memorial to Honour Victims Of Mosque Attack
• Security Expert: US Plots to Continue Deployment in Region by Golan Heights Decision
• Several Children Killed in SDF-Occupied Camp in Hasaka
• Iraqi Forces on Alert at Borders with Syria to Block ISIL's Traffic
• Syrian Army Wards Off Tahrir Al-Sham Offensives from Demilitarized Zone
• UN: Saudi Khashoggi investigation falls short of intl. standards
--------
Pakistan
• Moot Calls for Steps to Promote Interfaith Harmony in Pakistan Society
• Three Chinese Towns Named Sister Cities to Karachi, Gwadar, Multan
• Govt Has No Tolerance for Critics Of Saudi Crown Prince
• India Failed To Establish Pulwama Attack With Masood Azhar, FO Tells Diplomats
• APG dissatisfied over Pakistan's compliance with commitments
• Bilawal says PPP won't accept political victimisation in name of accountability
• Army chief vows help for Balochistan govt, people
--------
South Asia
• Pakistani Minister Brands US Ambassador to Afghanistan a 'Little Pygmy' In Twitter Row
• Afghan Military Could Pose Threat to Country If Aid Ends: Report
• Traffickers' 'horrific' crimes against Rohingya, Bangladeshis
• Afghanistan's acting minister of urban development accused of misbehaviour
• Prominent Taliban group member killed in Ghazni operation
--------
Mideast
• Israel Has So Far Occupied Over 85% of Palestinian Land: Report
• In First Vote since Turkey's Economic Crisis, Erdogan Could Lose Ankara
• 40 children killed in year of Gaza border protests, says UN
• Israel Strike Kills 7 Iranian, Iran-Backed Fighters in Syria
• Turkish court rules to keep US consulate worker in jail, says lawyer
• Trump offers Arabs handshakes to steal their lands, Iran warns
• Israel to wage 'broad military campaign' in Gaza if needed: PM
• Israeli airstrike injures 3 young Palestinians in Gaza: Report
--------
Africa
• 11 Dead, 16 Wounded In Somalia Bomb Blast, Say Medics
• Car bomb attack claims lives of 15 people in Somali capital
• Turkey strongly condemns terror attack in Somalia
• Nigerian court orders separatist Igbo chief's arrest
• Maputo's Muslims rally to help Cyclone Idai victims hundreds of miles from home
Compiled by New Age Islam News Bureau
URL: https://www.newageislam.com/islamic-world-news/christchurch-survivor-tells-remembrance-service/d/118168
--------
Christchurch Survivor Tells Remembrance Service: 'I Choose Peace'
March 29, 2019
CHRISTCHURCH, New Zealand: A Maori lament echoed across Christchurch Friday as a survivor of the New Zealand mosque attacks told a national remembrance service he had forgiven the gunman responsible for the racist massacre that shocked the world.
Thousands attended the service in the grieving southern city, standing silently with heads bowed while the names of 50 people killed by a self-avowed white supremacist gunman were read out.
Speakers honoured the dead and those who survived the March 15 attacks, including 22 people who remain in hospital, among them a critically injured four-year-old girl.
Wearing a traditional Maori cloak, Prime Minister Jacinda Ardern was joined by representatives from nearly 60 nations, including her Australian counterpart Scott Morrison.
Ardern, who has been widely hailed for her response to the tragedy and received a prolonged standing ovation when she took the stage, praised the way New Zealanders had embraced their devastated Muslim community since the attacks.
"Racism exists, but it is not welcome here," she said.
"An assault on the freedom of any one of us who practice their faith or religion is not welcome here. Violence and extremism in all its forms is not welcome here."
The hastily organized service was held amid tight security, with Police Commissioner Mike Bush confirming armed police from Australia were on site to assist their New Zealand counterparts.
The service heard a Muslim invocation, or du'a, and Cat Stevens — the British singer who shunned stardom in the 1970s and became a Muslim, taking the name Yusuf Islam — gave a powerful rendition of his hit song "Peace Train."
But the most moving speech came from Farid Ahmed, whose wife Husna was killed as she rushed back into a mosque trying to rescue her disabled husband.
Sitting in his wheelchair before the assembled crowd, Ahmed said he forgave the accused gunman, Australian Brenton Tarrant.
"People ask me, 'why do you forgive someone who has killed your beloved wife?'" he said.
"I can give so many answers... Allah says if we forgive one another he loves us."
Echoing Ardern's theme that extremism should not be allowed to breed extremism, Ahmed received a standing ovation when he said he chose peace over anger.
"I don't want a heavy heart boiling like a volcano with anger, fury and rage — it burns itself and burns its surroundings," he said.
"I want a heart full of love, care and mercy. This heart does not want any more lives to be lost, any other human to go through the pain I've gone through.
"That's why I am choosing peace and I have forgiven."
Christchurch mayor Lianne Dalziel said the atrocity was "an attack on us all."
"Those actions were designed to divide us and tear us apart," she said. "They have instead united us."
Among the crowd, Azra Chida traveled from Auckland to attend the service, saying she lost two close friends in the attack.
"I have come to see their families and pay respect and visit the patients in the hospital," she told AFP shortly before the ceremony began.
Local man Bobby Turner said: "I'm here for solidarity. To show that we care.
"It was just such a horrible thing to happen. These people were just going about their business. Prayer is supposed to be about love and peace."
http://www.arabnews.com/node/1474356/world
--------
HRW urges New Zealand PM Jacinda Ardern to discuss treatment of Muslims in China
March 29, 2019
A rights group urged New Zealand Prime Minister Jacinda Ardern to raise concerns about reported Chinese government abuses of Muslims during her visit to Beijing next week.
Ardern's visit on Monday and Tuesday comes two weeks after a gunman killed 50 worshippers at two mosques in New Zealand.
Human Rights Watch said Friday that Ardern "spoke forcefully in defence of Muslims' rights" after the attacks and should do so again in Beijing.
The prime minister is reducing the length and scope of her China visit in response to the mosque attacks.
Hundreds of thousands of Chinese Muslims have allegedly been detained without charge in internment camps, where relatives and ex-inmates claim they have been subjected to physical abuse and forced to renounce Islam.
Human Rights Watch said Ardern should publicly call on Chinese leaders to close the camps, end the abuses, and permit independent, international observers' access to the Xinjiang region that is home to China's largest mainly Muslim minority group, the Uighurs.
Other members of Muslim groups, including Kazakhs and the Hui have also allegedly faced internment and other forms of repression.
China has so far rejected calls for independent observers and, after first denying the camps' existence, now says they are voluntary vocational training centres that provide job skills to ward off religious extremism.
Although Muslim countries have remained largely silent over the camps and other abuses against Chinese Muslims, some European nations and the US have become increasingly vocal in their criticism.
https://www.dawn.com/news/1472618/hrw-urges-new-zealand-pm-jacinda-ardern-to-discuss-treatment-of-muslims-in-china
--------
Penang mufti decries Muslims' unconcern for environment
Predeep Nambiar
March 29, 2019
GEORGE TOWN: The mufti of Penang has reminded Muslims that it is their religious duty to preserve the natural environment.
Speaking to FMT, Wan Salim Mohd Noor said there were Muslims in Malaysia who seemed to have forgotten that the Islamic concept of worship covers behaviour in all aspects of life and in one's relationship with everything in creation.
He said he agreed with environmentalist Maketab Mohamed that Muslims in Malaysia tended to restrict their worship to specific acts of ritual such as the canonical daily prayers, fasting and making the pilgrimage to Mecca.
Maketab, a former president of the Malaysian Nature Society, recently told FMT he believed Malaysian Muslims, in their zeal for such rituals, had failed to see the importance Islam places on their obligation to care for the environment.
Wan Salim said a Muslim would be transgressing against the principle of enjoining good and forbidding evil if he or she were to do something that would hurt the natural environment.
He pointed out that many verses of the Quran forbid believers from damaging nature and he cited three of them: Al-Baqarah: 60, Al-A'raf: 74 and Al-Syu'ara: 77.
"Since humans are the only agents that spoil the environment through pollution or irresponsible development, humans must be taught to be more aware of protecting the environment," he said.
He called for the enactment of better laws and strict enforcement to deter pollution of water, air and other ecosystems.
Besides that, he said, every Muslim must realise that the quality of his or her faith could be judged by his response to the destruction of nature. He urged those holding power to prevent such destruction and those without power to speak up against it or in some manner show their disapproval.
https://www.freemalaysiatoday.com/category/nation/2019/03/29/penang-mufti-decries-muslims-unconcern-for-environment/
--------
Trump admin OKs nuclear tech sales to Saudi: report
Umar Farooq
28.03.2019
WASHINGTON
The U.S. Department of Energy has approved six authorizations for American companies trying to work to create a nuclear infrastructure in Saudi Arabia, according to a report.
The Part 810s authorizations would allow U.S. companies to share details about their plans to work in Riyadh and information regarding nuclear technology.
The companies began seeking contacts with Riyadh in November 2017, according to the Daily Beast.
A congressional source told the news agency American companies have an option to request their authorizations remain private and do not land in the department's public reading room.
"The companies that received the Part 810s under the Trump administration have made such a request, according to that source," the Daily Beast said.
In a report submitted last month by the House of Representatives Oversight Committee, the American firm IP3 developed a proposal to build dozens of nuclear reactors across the Saudi kingdom.
The committee said the plans submitted by IP3 were not a business plan but "a scheme for these generals to make some money," since many former generals, diplomats and energy experts were a part of the firm.
Derek Harvey, a senior director at the National Security Council, reportedly ignored warnings that the transfer of equipment needed to comply with the Atomic Energy Act, and said former National Security Adviser Michael Flynn had already approved the nuclear transfer deal during the first week of U.S. President Donald Trump's administration.
Flynn served as an adviser to IP3, according to the congressional report.
On Wednesday, congressman Brad Sherman grilled Secretary Mike Pompeo about the authorizations, saying they were being kept secret from the public because they are related to the transfer of nuclear technology to Riyadh.
"If you cannot trust a regime with a bone saw, you should not trust them with nuclear weapons," Sherman said at the hearing, referring to Saudi Arabia.
Pompeo said the State Department is still looking into the potential assistance Saudi Arabia would receive, as well as how to prevent the kingdom from developing nuclear weapons.
"We are working to ensure the nuclear power they get is something we understand," Pompeo said in response to Sherman's questions.
https://www.aa.com.tr/en/americas/trump-admin-oks-nuclear-tech-sales-to-saudi-report/1432921
--------
India backs UN move against terror funding, points to 'serial offender' Pakistan
Mar 29, 2019
Welcoming the recognition in the resolution of the essential role of the Financial Action Task Force (FATF) in setting global standards, India's permanent representative at the United Nations, Syed Akbaruddin on Friday said the states who are "apologists" for terrorists will continue to provide alibis to justify their actions and inaction.
Akbaruddin also said 'serial offenders' will continue to support terrorism, in a veiled reference to Pakistan.
"Terrorists are going to be more creative in finding ways to violate the rule book also the unfortunate reality is the states which are apologists will continue to provide alibis to justify their actions and inactions to as was done by a serial offender earlier today," he noted.
Global momentum to rein in terrorism is picking up after the US moved a resolution against Jaish-e-Mohammed chief Masood Azhar. Now, the UN Security Council has adopted a resolution to combat the financing of terrorists. It has linked FATF with the UN.
Asserting that the global community is impatient for action, Akbaruddin said, "We welcome the recognition in the resolution of the essential role of FATF as a saying goes the proof of the pudding is in its eating, the utility of any resolution will, therefore, be in its implementation."
FATF has put Pakistan in the dock for terror financing and after review, there is a possibility of sanctions to be imposed and Pakistan to be put in greylist.
Stating that effective and sustained efforts at countering terror financing is at the heart of the issue of addressing terrorism, Akbaruddin added, "Terrorists rely on resources to sustain themselves and their activities across the world. We, therefore, welcome this initiative to bring together, in a comprehensive manner, various existing norms and regulations. It is a milestone in global efforts to set up a normative framework to criminalize terrorist financing."
It is strategically very important for India that UNSC will collaborate with FATF to punish states involved in terror financing.
India also emphasised that non-compliance of crucial sanction measures in case of UN proscribed terrorists, entities render all the member states at high risk of challenges from these terrorist groups/organisations who are well funded and armed despite international measures.
India's permanent representative to the UN said, "Nevertheless we the international community need to be determined to continue evolving our toolbox and go by our rulebook rather than distracted and stray from our determination. The global community is impatient for action, going forward, UN collectively needs to do more and do it more effectively, for its part India will be a willing partner in this endeavour"
India said combatting terrorism is viewed by many states as fundamental security policies that require global responsiveness. India also termed the UN's move as a milestone in global efforts to set up a normative framework to criminalise terrorist financing.
Akbaruddin said, "Effective and sustained efforts in countering terrorist financing is at the heart of the issues addressing terrorism, therefore, we welcome this initiative to bring together in a comprehensive manner various existing norms and regulations."
(This story has been published from a wire agency feed without modifications to the text. Only the headline has been changed.)
https://www.hindustantimes.com/india-news/india-backs-un-move-against-terror-funding-points-to-serial-offender-pakistan/story-cBYQ55ftaZic4aCZZRYTAL.html
--------
Muslim World League, Moscow sign deal to tackle extremism
March 28, 2019
MOSCOW: Moscow and the Muslim World League (MWL) are to develop closer ties following a meeting between the body's secretary-general and the speaker of the Russian Parliament.
Dr. Mohammed bin Abdul Karim Al-Issa met Vyacheslav Volodin to discuss dialogue and cultural exchange, the Saudi Press Agency reported.
In the meeting, they discussed subjects related to promoting and supporting dialogue among followers of different religions and civilizations, activating cultural contacts and exchanges between the Muslim world and Russia and highlighting the importance of religious leaders in promoting positive integration.
Volodin said the MWL secretariat is leading a broad global movement toward promoting universal harmony and noted its global influential religious power.
Al-Issa signed a cooperation agreement between the MWL and Moscow's Fund for Islamic Culture, Science and Education. The agreement focused on tackling extremism and promoting tolerance.
It also addressed the interaction between Muslims and Islamic organizations in Russia and Muslim-majority countries.
The agreement stressed the need for cooperation in the fight against extremism, intolerance, aggression and hostility among religions, races and ideologies that could lead to terrorism.
The agreement also provided for the urgent need to cooperate among organizations of a humanitarian nature, in order to ensure communication among different peoples and cultures. It also stressed the need to start implementing its provisions to achieve and promote peace and security.
Both parties agreed to exchange information on the activities of scientific centers, cultural forums and websites.
The fund will act as a mediator for the MWL's charity work in Russia with Islamic organizations and institutions.
Al-Issa last year received the coordinator of the Russia-Islamic World strategic vision group, Dr. Veniamin Popov, and his accompanying delegation in Riyadh.
The Russia-Islamic World strategic vision group was established in 2006, in response to Russia joining the Organization of Islamic Cooperation as an observer.
Russian President Vladimir Putin had earlier said the Islamic world could "fully count" on Russia's help and support.
"We are ready to boost cooperation with our partners in confronting terrorist forces as well as in search for ways to peacefully resolve regional crises," Putin said in an address to participants of the strategic vision group.
http://www.arabnews.com/node/1474261/saudi-arabia
--------
Moot Calls For Steps To Promote Interfaith Harmony In Pakistan Society
Mar 29, 2019
GUJRAT: Speakers at the conclusion of a two-day national conference on Thursday called for immediate steps to ensure social justice and fair distribution of socio-economic resources in order to promote an environment of forbearance, tolerance and co-existence in the society and eliminate the sense of insecurity and injustice among the religious minorities.
The conference titled 'Challenges to Inter-Faith Harmony in Pakistan: Strategies and Solutions' organized by the University Of Gujrat in collaboration with the Islamic Research Institute, International Islamic University Islamabad, and the Higher Education Commission, Islamabad, under the main theme of 'Sayeban-e-Pakistan for Pragmatic Social Inclusion and Egalitarianism' was attended by a large number of faculty members, researchers, scholars, lawyers, civil society members and students.
Special Assistant to Punjab Chief Minister Hanif Khan Pitafi was the chief guest on the occasion while University of Sahiwal Vice-Chancellor Prof Dr Nasir Afzal delivered the keynote address. University of Gujrat Vice-Chancellor Prof Dr Faheem Malik presided over the session while prominent among those who spoke on the occasion were Dr Riaz Mahmood, Assistant Professor, Department of Islamic Studies, University of Gujrat, Dr Arshad Munir Lagari, Chairperson, Department of Islamic Studies, University of Gujrat, and Prof Dr Zia ul Haq, Director General, Islamic Research Institute Islamabad. Addressing the participants, the speakers said that only a tolerant society based on the principles of interfaith harmony can ensure social inclusion by providing all citizens equal opportunities to grow irrespective of their religion or faith, adding that interfaith harmony is the way forward towards peace and prosperity in the society in line with the spirit of Paigham-e-Pakistan initiative of the government of Pakistan.
They said the terrorist activities and some other inhumane acts all over the globe have shaken the societies and under this situation, it is necessary to encourage tolerance, peace, patience and interfaith harmony in Pakistan. They said being a multi-religion country, it is need of the hour to deal with the followers of all religions justly and equally in Pakistan. They said lack of collective common sense, religious misconceptions, unfair and unjust election procedure for minorities, misinterpretation of jihad, partial and prejudiced religious discourse, migration of non-Muslims, especially Hindus, from Pakistan, insecurity of the holy sites of minorities, unjust distribution of socio-economic resources, absence of non-Muslim literature in national educational curriculum and misuse of blasphemy laws are some of the challenges to interfaith harmony in Pakistan, which need to be addressed in the light of basic Islamic principles and the teachings of Holy Prophet (Peace Be Upon Him).
The speakers also highlighted the role media, universities, religious institutions, government, religious scholars, civil society, judiciary and legislature can play in addressing the challenges facing interfaith harmony in Pakistan.
https://www.pakistantoday.com.pk/2019/03/28/moot-calls-for-steps-to-promote-interfaith-harmony-in-society/
--------
Pakistani minister brands US ambassador to Afghanistan a 'little pygmy' in Twitter row
28 Mar 2019
A Pakistani Minister has branded the U.S. Ambassador to Afghanistan a 'little pygmy' in latest Twitter row which erupted following Prime Minister Imran Khan's remarks regarding Afghan peace process and establishment of an interim government in Afghanistan.
The Human Rights Minister of Pakistan Shireen Mazari made the remarks in response to a Twitter post by Ambassador Bass regarding PM Imran's recent controversial statement.
"Some aspects of #cricket apply well in diplomacy, some do not. @ImranKhanPTI, important to resist temptation to ball-tamper with the #Afghanistan peace process and its internal affairs," Ambassador said in a Twitter post.
In response to Ambassador Bass's remarks, Mazari wrote in her Twitter "Clearly you little pygmy your knowledge of ball tampering is as void as your understanding of Afghanistan and the region! Clearly in your case ignorance is certainly not bliss! Another sign of Trumpian mischief a la Khalilzad style!"
"Haha! Haters gonna hate! But seriously what diplomatic norms? US dips have been violating them all day today from Zalmay to this moron!" she wrote in another Twitter after being accused of violating diplomatic norms.
The latest Twitter row between U.S. and Pakistani officials erupted after controversial remarks of PM Imran Khan regarding Afghanistan.
The Pakistani Prime Minister Imran Khan had earlier suggested an interim government setup in Afghanistan to help end the impasse in Afghan peace process.
Speaking with local journalists at his office on Monday, PM Khan claimed that the Afghan government was a hurdle in peace process as it was insisting on direct talks with the Taliban group.
He also added that a neutral interim government can help with the success of peace process in Afghanistan by holding a free and transparent election.
https://www.khaama.com/pakistani-minister-brands-us-ambassador-to-afghanistan-a-little-pygmy-in-twitter-row-03595/
--------
Israel has so far occupied over 85% of Palestinian land: Report
Mar 28, 2019
A new report says Israel has so far occupied more than 85 percent or some 27,000 square kilometers of historical territories of Palestine in an expropriation process which still continues unabated.
Ola Awad, the president of the Palestinian Central Bureau of Statistics (PCBS), announced the grim news in a report carried by the Palestinian Ma'an news agency on Thursday, the eve of the 43rd anniversary of the Land Day.
In late March of 1976, Israeli troops killed six Palestinians, wounded 100 others and detained hundreds more who had held peaceful demonstrations against Israel's confiscation of 21,000 dunams (5,189 acres) of their land.
Palestinians, both at home and overseas, have been marking the event known as the Land Day with rallies and remembrance ever since.
According to the report, Palestinians now live on and own only 15 percent of their ancestral land.
Awad said since the Oslo Agreement of 1993, Israel has used the deal's land classification of A, B and C to further tighten control, particularly in areas classified as C with an area of 3,375,000 dunams.
Some 2,642,000 dunams, constituting 76.3 percent of the total Area C, was exploited by the Israeli occupation directly.
The Area A is about one million dunams, and the Area B is 1,035,000 dunams, and the area classified as "Others" is 250,000 dunams, which include Natural Reserves, East Jerusalem al-Quds, and H2 in al-Khalil (Hebron), and unclassified areas, Awad further said.
In 2018, the Israeli regime confiscated 508 dunams of the Palestinian land through the expansion of Israeli checkpoints and establishment of military checkpoints to "protect" its settlers.
The total area of land classified as high or medium agricultural value in the occupied West Bank is 2,072,000 dunams, constituting about 37 percent of the West Bank.
The Palestinians utilize only 931,000 dunams, which constitute about 17 percent of the West Bank area, the report added.
Elsewhere in the report, Awad said that by the end of 2017, there were 435 Israeli settlements and military bases in the West Bank, including 150 settlements and 116 outposts.
Last year witnessed a significant increase in the pace of construction and expansion of the Israeli settlements in the West Bank, where Tel Aviv approved the construction of 9,384 new housing units.
The report further showed that the total number of Israeli settlers in the West Bank was 653,621 by the end of 2017, 47 percent of whom were living in Jerusalem al-Quds province with a total number of about 306,529.
This is while 225,335 of these settlers were living in the parts of Jerusalem al-Quds which were annexed by the Israeli occupation in 1967.
The report concluded that the proportion of settlers to the Palestinian population in the occupied West Bank is around 22.6 settlers per 100 Palestinians compared to 70 settlers per 100 Palestinians in Jerusalem al-Quds province.
Palestinians want the West Bank as part of their future independent state with East Jerusalem al-Quds as its capital.
Israel's continued settlement expansion on Palestinian territories has been a major sticking point in Israeli-Palestinian talks, which have stalled since 2014.
https://www.presstv.com/Detail/2019/03/28/592078/Palestine-Israel-PCBS-occupation-West-Bank-settlements
--------
Europe
Emissaries from around world gathering in New Zealand for remembrance
28 March 2019
Representatives of governments from around the world are expected to attend a national remembrance service in New Zealand on Friday for the 50 victims of a mass shooting at two mosques in Christchurch.
"This is an event that affected New Zealand deeply. But it was our Muslim New Zealanders who were targeted. So rightly so, that would be reflected in the remembrance service," Prime Minister Jacinda Ardern told a news conference.
The Organization of Islamic Cooperation (OIC) will be represented at the service, but the full list of the attendees from 59 countries was withheld for security reasons, as the country has been on high alert since the March 15 attack.
Australia's Prime Minister Scott Morrison, the governor general Peter Cosgrove and opposition leader Bill Shorten will be among foreign leaders attending the service, Ardern said.
Heads of state from Pacific countries, including Fiji's President Jioji Konkrote will also be in attendance, she added.
The service will be held in Christchurch in Hagley Park, where tens of thousands of New Zealanders have gathered since the attack to mourn the deaths. It will be televised live on state television networks.
Britain's Prince William will visit New Zealand next month to honor the victims, his office said.
The massacre in New Zealand was carried out by a lone gunman at two mosques. Australian Brenton Tarrant, 28, a suspected white supremacist, has been charged with one murder following the attack and is likely to face more charges when he is presented in court on April 5.
http://english.alarabiya.net/en/News/world/2019/03/28/Emissaries-from-around-world-gathering-in-New-Zealand-for-remembrance.html
--------
Germany adds six months to Saudi arms export ban: government
March 29, 2019
German Chancellor Angela Merkel's coalition government on Thursday extended by six months an embargo on weapons exports to Saudi Arabia, instituted last October in response to the murder of Saudi journalist Jamal Khashoggi.
The ban has faced opposition from within the German government and the European Union, but has the support of rights groups.
"The order to halt authorised weapons exports to Saudi Arabia is extended by six months from March 31 to September 30, 2019," government spokesman Steffen Seibert said in a statement.
Berlin reacted to Khashoggi's murder at the Saudi consulate in Istanbul last October by declaring a freeze on weapons sales to Saudi Arabia and other countries involved in the Yemen war.
It has since faced protests by EU partners because the ban has impacted joint defence projects such as the Eurofighter and Tornado jets.
While France and Britain have urged Germany to end the export halt, human rights groups argue it should stay in place — a view that has many backers among the centre-left Social Democrats (SPD), junior partners to Merkel's conservative CDU/CSU bloc in the coalition government.
"We oppose defence exports to dictatorships and into active conflict zones," SPD deputy leader Ralf Stegner said on public TV.
Merkel's bloc favoured resumed sales, at least for joint European defence projects.
"Another unilateral German stop to defence exports, imposed without coordination with European and Nato partners, would be wrong and dangerous," its economic policy expert Joachim Pfeiffer told the Passauer Neue Presse daily.
Rights violations
This week, French ambassador Anne-Marie Descotes criticised Germany's "unpredictable" arms export policy and pointed out that some companies in the sector were marketing products as "German free" in terms of components.
A German security council meeting on Wednesday failed to resolve the issue, media reports said, leading to further discussions on Thursday.
One reported compromise proposal was to give the green light to multinational defence products with a German share of no more than 20 per cent.
Stegner urged "a sensible solution", stressing that the SPD too wants Germany to cooperate with other European powers on joint defence projects.
Media reported another idea on the table would be for Germany to hold onto six naval patrol vessels and a training ship ordered by Saudi Arabia.
Media group RND said that if the Saudi export stop was extended by six months, the German state could buy the ships for its navy, customs service and federal police.
At least 10,000 people are estimated to have been killed in the Yemen war since March 2015.
Full report at:
https://www.dawn.com/news/1472620/germany-adds-six-months-to-saudi-arms-export-ban-government
--------
UK troops accused of training child soldiers in Yemen
Mar 28, 2019
UK Foreign Office minister Mark Field has promised to get to the bottom of "very serious and well sourced" allegations that British special forces have been training child soldiers in the Saudi-led war against Yemen.
He was answering an urgent question asked in the Commons on Tuesday by the shadow foreign secretary, Emily Thornberry, who suggested the British troops may have been witnesses to war crimes.
She claimed as many as 40 percent of the soldiers in the Saudi coalition were children, a breach of international humanitarian law.
Field also said he would be making inquiries with the UK Ministry of Defence in light of a report that British Special Air Service (SAS) soldiers were injured in a firefight with the Houthi Ansarullah movement in Yemen.
The UK government has a general policy of not discussing the operations of its special forces but Field seemed determined to provide an explanation to members of Parliament.
There had been social media reports from Yemen in February suggesting that British soldiers had been injured in a firefight, and the Daily Express newspaper claimed two SAS members had been injured during a "humanitarian" operation.
However, it was claimed in The Mail on Sunday, a weekly newspaper, that UK special forces were not just involved in so-called humanitarian operations, but providing mentoring teams inside Yemen, including medics, translators and forward air controllers, whose job is to request air support from the Saudis. It claimed five special forces soldiers have been injured.
Conservative Party MP Andrew Mitchell said the allegations were so serious because they flew in the face of successive assurances given by ministers that the UK was not a participant in the Saudi war against Yemen, and was only providing general logistical support to Riyadh.
"These serious allegations that are authoritative and credible, and fly in the face of assurances that have been given from the despatch box on countless occasions," Mitchell told the Commons.
The UK is known to be close to the Saudi military but denies it is involved in operations against the Houthis in Yemen.
A number of Western countries, the US and Britain in particular, are accused of being complicit in the ongoing aggression in Yemen as they supply the Riyadh regime with advanced weapons and military equipment as well as logistical and intelligence assistance.
The Saudi-led war has taken a heavy toll on the country's infrastructure, destroying hospitals, schools, and factories. The UN has already said that over 22 million Yemenis are in dire need of food, while 8.4 million are threatened by severe hunger.
According to the world body, Yemen is suffering from the most severe famine in more than 100 years.
Full report at:
https://www.presstv.com/Detail/2019/03/28/592053/UK-troops-training-child-soldiers-Yemen
--------
Groups planning for chemical provocations in Syria: Russia
Mar 28, 2019
Russia says it is "seriously concerned" that a terrorist group together with the so-called White Helmets in Syria plan to carry out "chemical provocations" in the Arab country's northwestern province of Idlib, one of the last territories in Syria where terrorists are still active.
Russia's Ambassador to the United Nations (UN) Vasily Nebenzya said at a UN Security Council meeting on Wednesday that the Takfiri Hayat Tahrir al-Sham terrorist outfit and the "White Helmets" — which seeks to portray itself as a "civil defense" group — are cooperating to stage such provocation.
"We are seriously concerned by the new information stating that the Hayat Tahrir al-Sham members with the support of the infamous White Helmets are preparing new staged events with the use of toxic elements," he said.
The Western-backed White Helmets group is known for its coordination with terror groups in Syria to carry out staged chemical attacks aimed at falsely incriminating Syrian government forces and inventing pretexts for possible acts of aggression on army troops by a US-led military coalition present in Syria since roughly 2014.
The group has been involved in false flag chemical attacks before.
Earlier this month, Russia's Foreign Ministry spokeswoman Maria Zakharova issued a similar warning, saying that the two groups were establishing arms caches in the northwestern provinces of Aleppo and Idlib, the western coastal province of Latakia, and the western-central province of Hama.
Earlier this year, the Russian Foreign Ministry said that the White Helmets had deployed equipment in several hospitals in Idlib to film false flag chemical attacks and blame them on the Syrian government.
In April 2017, a suspected sarin gas attack hit the Syrian town of Khan Shaykhun in Idlib, killing at least 80 people. Accusing Damascus, the US then launched nearly 60 Tomahawk cruise missiles at a Syrian air base, taking the lives of about 20 people, including both Syrian soldiers and civilians.
On April 14, 2018, the US, Britain, and France launched a coordinated missile attack against sites and research facilities near Damascus and Homs with the purported goal of paralyzing the Syrian government's capability to produce chemical arms. The strikes came one week after an alleged gas attack on the Damascus suburb town of Douma. Western countries blamed the incident on the Syrian government. Damascus rejected the accusation.
The Syrian government says it has never used chemical weapons.
Syria surrendered its stockpile of chemical weapons in 2014 to a joint mission led by the United States and the Organization for the Prohibition of Chemical Weapons (OPCW), which oversaw the destruction of the weaponry.
In his remarks on Wednesday, Nebenzya, the Russian UN envoy, said that the Hayat Tahrir al-Sham terror outfit was in control of "90 percent" of Idlib Province and that it continued its attacks against government forces.
Full report at:
https://www.presstv.com/Detail/2019/03/28/592047/Syria-Russia-Idlib-false-flag-chemical-attack-White-Helmets
--------
Germany extends arms export ban on Saudi Arabia
Ayhan Şimşek
29.03.2019
BERLIN
Germany has extended its ban on arms exports to Saudi Arabia until the end of September, Chancellor Angela Merkel's spokesman announced Thursday.
"The suspension of arms exports to Saudi Arabia will be extended by six months beyond the March 31 deadline," Steffen Seibert said in a statement.
He underlined that in principle, no new arms deals with Saudi Arabia would be approved within this period.
Merkel's coalition government imposed restrictions on arms sales to Saudi Arabia last year due to Riyadh's involvement in the Yemen war.
The government further sharpened its tone following the killing of Saudi journalist Jamal Khashoggi in October at the Saudi consulate in Istanbul and halted all arms exports to the country, including deliveries under an already approved arms deal.
Despite differences between Merkel's Christian Democrats and their coalition partner the Social Democrats, the government decided earlier this month to extend the ban until March 31.
Germany's decision was criticized by its European partners the UK and France, which claimed that Berlin's arms exports ban had a negative impact on their defense companies due to various joint projects involving German firms.
Several Christian Democrat politicians spoke against renewing the ban and argued for a compromise solution that would address the expectations of the UK and France.
Government spokesman Seibert said Thursday that Germany would begin consultations with its partners on the joint defense projects.
Full report at:
https://www.aa.com.tr/en/europe/germany-extends-arms-export-ban-on-saudi-arabia/1433119
--------
Germany selling arms to countries bombing Yemen
Ayhan Şimşek
28.03.2019
BERLIN
Germany's coalition government approved nearly €400 million in arms exports to Saudi Arabia and its allies involved in the Yemen war, local media reported Thursday.
Despite a coalition government agreement last March restricting arms exports to countries involved in the Yemeni conflict, Berlin has so far approved 208 arms deals with Saudi Arabia, United Arab Emirates (UAE), Bahrain, Egypt Jordan and Kuwait, according to German news agency DPA.
Arms deals with Saudi Arabia has topped the list with the government issuing 10 permits worth €255 million, followed by dozens of defense contracts with the UAE which amounted to €57 million.
Opposition parties heavily criticized Chancellor Angela Merkel and her coalition partner Social Democrats for the arms deals.
"The federal government must stop aiding Saudi Arabia's war crimes in Yemen. There should be no more arms deals with the dictators, neither with Saudi Arabia, nor with the UAE, which is its close ally in the Yemen war," the Left Party wrote on Twitter.
Impoverished Yemen has remained wracked by violence since 2014, when Shia Houthi rebels overran much of the country, including the capital Sanaa.
The conflict escalated in 2015 when Saudi Arabia and its Sunni-Arab allies launched a devastating air campaign aimed at rolling back Houthi gains.
Full report at:
https://www.aa.com.tr/en/europe/germany-selling-arms-to-countries-bombing-yemen/1432850
--------
Southeast Asia
China slams US criticism of Muslim treatment as 'absurd'
March 28, 2019
BEIJING: China on Thursday hit back at criticism from the United States' top diplomat who called its treatment of Muslims "shameful hypocrisy" after speaking with a former prisoner from a Chinese detention camp.
US Secretary of State Mike Pompeo made the comment after meeting with Mihrigul Tursun, a member of the Uighur ethnic group who has spoken publicly in the US about what she said was widespread torture in China's prisons for the minority group.
Beijing claims the camps are "vocational training centres" that provide language classes and employment, steering locals away from extremism.
Pompeo's comments are "extremely absurd and grossly interfere in China's internal affairs", said Chinese foreign ministry spokesman Geng Shuang at a regular press briefing.
"Currently, the overall situation in Xinjiang society is stable … and all ethnic groups get along harmoniously," he said.
"We urge the US to respect the facts … and stop the malicious smearing and groundless accusations against the Chinese side," Geng added.
As many as one million Uighurs and other mostly Muslim minorities are being held in internment camps in Xinjiang, according to a group of experts cited last year by the United Nations.
Former detainees say they were detained for simply following Islamic traditions, such as having a long beard or wearing a veil.
"China must release all those arbitrarily detained and end its repression," tweeted Pompeo, who had also met with relatives of those detained in Xinjiang.
After months denying the existence of the internment camps, Beijing last year launched a public relations campaign to defend its "training centres", organising visits for diplomats and media from friendly countries.
However, a delegation of three EU officials who visited Xinjiang in January as part of a carefully organised visit said they had the impression that the people they had spoken to in a "training centre" were reciting a dictated speech.
On Wednesday, Pompeo also criticised Beijing's trillion-dollar Belt and Road project after Italy decided to join China's "Silk Road" infrastructure initiative.
He accused China of practising "debt-trap diplomacy" with its state-owned or state-controlled enterprises only looking after their own interests.
"The US side's statement is inconsistent with the facts," dismissed Geng. "No country sinks into a so-called debt trap because of their co-operation with China."
https://www.freemalaysiatoday.com/category/world/2019/03/28/china-slams-us-criticism-of-muslim-treatment-as-absurd/
--------
China urges US to 'exercise prudence' after fresh move to blacklist Jaish chief at UN
March 28, 2019
A Chinese foreign ministry spokesperson on Thursday urged the United States to act cautiously on the issue of blacklisting Jaish-e-Mohammad (JeM) chief Masood Azhar and avoid bypassing the relevant committee of the UN Security Council, saying it would only complicate the issue.
The comment came a day after the US bypassed the 1267 Sanctions Committee — where an earlier move to blacklist Azhar had stalled recently — and directly filed a draft resolution with the UNSC to designate the JeM leader.
Speaking during a regular press briefing in Beijing today, Chinese foreign ministry spokesperson Geng Shuang said the US move was not in line with the resolution of the issue through dialogue and negotiations.
He remarked that this action had undermined the authority of the sanctions committee as the main anti-terrorism body of the UNSC. "Such an act will do nothing to facilitate a solution through consultation and will only lead to further complication of the issue," Geng added.
The spokesperson urged the US to "exercise prudence and refrain from forceful actions" to have the resolution passed.
Explaining Beijing's position on the issue, he said since the Chinese side needed more time to conduct a "comprehensive and thorough assessment", it had put a technical hold on the listing of Azhar on March 13.
This, according to the official, was in line with the rules of procedure of the UN committee and there are precedents of technical holds in such cases.
Geng said the listing of the JeM chief involved a series of complex factors and so China has been working to seek a proper solution through dialogue and consensus.
"The Security Council should act prudently and play a constructive role by allowing time and space for dialogue and consultation between parties concerned," the spokesperson concluded.
US sets up clash
The US had on Wednesday circulated a draft resolution to the UNSC that would blacklist Azhar as a terrorist, setting up a potential clash with China over the move.
China earlier this month put on hold a request to put the JeM chief on the UN sanctions list, over his alleged ties to Al Qaeda.
That request stalled in the UN sanctions committee, prompting the US to turn directly to the Security Council with the proposed resolution blacklisting Azhar.
India claims that JeM has accepted responsibility for the February 14 attack in Indian-occupied Kashmir's Pulwama district that killed 40 Indian troops and stoked tensions between India and Pakistan.
However, Foreign Minister Shah Mehmood Qureshi denied in a television interview that this was the case.
The draft resolution obtained by AFP condemns the suicide bombing and decides that Azhar will be added to the UN Al Qaeda and Islamic State sanctions blacklist.
That would subject Azhar to a global travel ban, an assets freeze and an arms embargo.
It remained unclear when a vote would be held on the draft resolution, which could face a veto from China, one of the five permanent council members along with Britain, France, Russia and the United States.
Azhar is linked to terrorism for "participating in the financing, planning, facilitating, preparing, or perpetrating of acts or activities" carried out by JeM, according to an annex to the draft.
The draft resolution is backed by France and Britain, which joined the US earlier this month in pushing for sanctions against the JeM leader in the Al Qaeda and Islamic State committee.
There have been four attempts through the UN sanctions committee to add Azhar to the blacklist. China blocked three previous requests and put a technical hold on the latest one, which could last up to nine months.
Full report at:
https://www.dawn.com/news/1472438/china-urges-us-to-exercise-prudence-after-fresh-move-to-blacklist-jaish-chief-at-un
--------
Malaysia on the right track in its fight against terrorism
By Audrey Dermawan
March 29, 2019
GEORGE TOWN: Malaysia's emphasis on human security has put the country on the right track in its fight against terror.
Aizat Training Service director Dr Ahmad Nazzan Abdullah said with over 200 countries globally had experienced terror attacks, no country was spared from terrorism.
He, however, said with good preventive laws put in place in the country such as the Internal Security Act (ISA), which was later replaced with the Prevention of Terrorism Act (POTA), had proven successful in the fight against terrorism.
"We also have very good de-radicalisation programme, where those who underwent the programme gave up the extreme ideologies they once adopted after two years.
"Also, pro-active counter terrorism approach by our men in blue, networking, intelligence gathering, surveillance and pre-empt raids, have all contributed to Malaysia's success stories," he said in his presentation titled "The Role of Human Security as a Bulwark Against Terrorism: The Malaysian Experience" at Universiti Sains Malaysia here on Thursday night.
The talk was moderated by M. Afi Adli Hasnul.
Nazzan said there was no point to create the preventive laws and undertake any such efforts after any attack takes place.
He said political security, economic security and social security have all contributed to the nation's success in fighting terrorism.
"In his country, the people have their rights and freedoms as enshrined in the Federal Constitution. The economic wealth pie is also equally distributed among the diverse races. We also have the Social Contract in place, something not available in many countries.
"This is why we have zero terrorist attack here in Malaysia, zero death and zero damage. We are successful," he added.
To a question from the floor, Nazzan said terrorism should not be equated with Islam or any religion for that matter as no religion condoned violence.
"With new terrorism, the terrorist organisations had brought religious ideology into their political ideology.
"Islam never asks to go and kill anyone. Suicide bombers who do this in the name of jihad will not go to heaven. No religion supports the killing of innocent people. If you detonate a bomb and people die, that is murder," he added.
Nazzan said despite Malaysia being relatively safe, the people should know about terrorism as everyone would be affected one way or another.
He pointed out an example, that when one boards a plane, they are subjected to stringent checks.
"All this is a result of terrorism," he noted.
He also advised students to not to be easily influenced by extreme ideologies.
"This is because extreme ideology will finally tell you that violence is the answer.
Full report at:
https://www.nst.com.my/news/nation/2019/03/474005/malaysia-right-track-its-fight-against-terrorism
--------
North America
Pentagon gets a new chief for the Middle East
29 March 2019
General Frank McKenzie on Thursday took over the leadership of the US Central Command, which oversees US military operations in countries including Syria and Afghanistan.
At a ceremony led by Acting US Defense Secretary Patrick Shanahan, McKenzie pledged to continue the work done by his predecessor, General Joseph Votel, who is retiring.
Votel for his part said that while ISIS had lost its "caliphate" and peace talks with the Taliban appeared to be progressing, the US military presence in Syria and Afghanistan was still necessary.
"It is time to bring these conflicts to a conclusion. This won't be as quick as anyone would like, but it can be done if we continue to keep our objectives and interests in mind, trust our partners, and enable our forces," Votel stressed.
McKenzie, 62, is familiar with Afghanistan after being twice deployed there and has also served in Iraq.
During his confirmation hearing in early December, he voiced concern about a premature military withdrawal from Afghanistan, where local forces took over at the start of 2015, succeeding NATO troops helping in the fight against the Taliban.
http://english.alarabiya.net/en/News/middle-east/2019/03/29/Pentagon-gets-a-new-chief-for-the-Middle-East.html
--------
Amid Russia tensions, producing F-35 without Turkey possible, say US sources
28 March 2019
Excluding NATO-member Turkey from the trillion-dollar F-35 fighter jet program would be challenging due to Ankara's integral role in the stealthy jet's production process, but not impossible, US sources familiar with the situation said.
Last week Reuters reported that the United States could soon freeze preparations for delivering F-35 fighter jets to Turkey, a move that would widen the rift between Ankara and Washington, the latest disagreement in a years-long standoff.
At the heart of the matter lies Turkish President Recep Tayyip Erdogan's commitment to buy a Russian air defense system that the United States says would compromise the security of F-35 aircraft, which is built by Lockheed Martin Corp.
The United States and other NATO allies who own F-35 fighter jets fear the radar on the Russian S-400 missile system will learn how to spot and track the F-35, making it less able to evade Russian weapons in the future.
The United States has offered Turkey the more expensive, Patriot anti-missile system at a discount that expires at the end of March, but on the condition that Ankara drop its plans to buy the S-400.
So far Ankara has not shown any willingness to reverse the S-400 purchase, forcing the United States to explore a future for the F-35 program without Turkey, which makes parts of the fuselage, landing gear and cockpit displays.
Two US sources familiar with the F-35's intricate, worldwide production process and US thinking on the issue say Turkey can be replaced. Officials with the Pentagon and the Turkish embassy declined to comment.
"There are about 800 parts that Turkey makes for the F-35, and of them, very few are sole source," said a person with direct knowledge of the US position, explaining that single source parts from Turkey can be replaced by contractors who had previously bid to make them.
"Turkey is not too big to fail," the person said.
Replacing or finding substitutes for the Turkish components would slow production for a three-month period at the Lockheed Martin facility that builds the jets, the person said.
Lockheed declined to comment.
Turkish Foreign Minister Mevlut Cavusoglu in December said Ankara plays a significant role in the production of the trillion-dollar jet and therefore removing it from the program would not be easy.
But sources say several components of the F-35 made in Turkey, can be easily replaced. For example, the center fuselage produced in Ankara could be made by Northrop Grumman Corp, which already makes them in California.
In the meantime, more Turkish pilots are set to begin training at US air force bases, joining the Turkish pilots already there and Ankara still hopes to take delivery of two aircraft in November.
Full report at:
http://english.alarabiya.net/en/News/middle-east/2019/03/28/Amid-Russia-tensions-producing-F-35-without-Turkey-possible-say-US-sources.html
--------
Quebec introduces bill banning religious symbols
Barry Ellsworth
28.03.2019
A bill introduced Thursday that bans many Quebec public servants from wearing religious symbols will render Muslims and another religious minorities "second class citizens," says the National Council of Canadian Muslims (NCCM).
Brought in by the Coalition Avenir de Quebec (CAQ) government, Bill 21 affects public servants in positions of authority, including teachers, school administrators, Crown lawyers, police officers and prison guards.
Those symbols include the hijab, turban and yarmulke.
The government said the bill is meant to be secular but the NCCM says the reality is that the CAQ is targeting Muslims.
"Under the guise of secularism, this legislation is effectively a prohibition on wearing the hijab in the Quebec public service, given the overwhelming number of people impacted will be Muslim women," NCCM Executive Director Ihsaan Gardee said in a statement.
Bill 21 has other critics, including Prime Minister Justin Trudeau.
"It's unthinkable to me that in a free society we would legitimize discrimination against citizens based on their religion," he said Thursday.
As well, the English Montreal School Board said it will not enforce the law and would instead allow teachers to wear religious symbols at work.
This is the fourth attempt by successive Quebec governments to try to get the bill into law.
The previous Liberal government introduced a religious neutrality bill that is still tied up due to court challenges.
But Quebec Premier Francois Legault has included a "notwithstanding" clause in Bill 21 that shields the legislation from legal challenges under the Canadian Charter of Rights.
"The CAQ government's use of the notwithstanding clause is a tacit admission that this bill would not pass constitutional muster," Gardee said. "The NCCM's legal team is undertaking a careful review of the bill to determine what options exist to challenge this discriminatory legislation."
Full report at:
https://www.aa.com.tr/en/americas/quebec-introduces-bill-banning-religious-symbols/1432991
--------
US: Virginia man gets life for killing Muslim teen
Umar Farooq
28.03.2019
WASHINGTON
A man in the state of Virginia was sentenced Thursday to life in prison without parole for the rape and murder of a Muslim teen in 2017.
Martinez-Torres pleaded guilty to multiple counts including rape and murder in November, as part of a plea deal submitted which allowed him to avoid the death penalty.
In the Muslim holy month of Ramadan in 2017, Nabra Hassanen was walking with a group of friends to the ADAMS Center mosque during the early hours of the morning, after grabbing a pre-dawn meal ahead of a long day of fasting.
Darwin Martinez-Torres reportedly chased the group with his car, eventually hitting Hassanen with a metal baseball bat, then put her into his car and took her to a place near his home. He then proceeded to pull her pants down and sexually assault her, according to prosecutors.
Hassanen was later found dead, floating in a pond, according to multiple reports.
News of the murder spread across the country, sparking vigils from coast to coast making national headlines, largely in part due to the fact that it was seen by her family and friends as a hate crime.
However, police in Virginia have found no evidence pointing to the act being a hate crime.
Commonwealth's Attorney Raymond Morrogh noted the crime had no real motive.
"There's no winners today, but I believe that's the best resolution today," Morrogh told reporters after the hearing. "This at least gives the family some finality. It doesn't end their grief and nothing we do ever will."
The pain still remains fresh in the hearts of Hassanen's family.
Full report at:
https://www.aa.com.tr/en/americas/us-virginia-man-gets-life-for-killing-muslim-teen/1432965
--------
US envoy heads to UK as part of Afghan peace tour
Sayed Khodaberdi Sadat
28.03.2019
The U.S. envoy seeking a peace deal with Taliban visited the U.K. on Thursday as part of renewed efforts to end the 18-year war in Afghanistan.
"Briefly in London to consult with senior officials from Her Majesty's government in pursuit of our shared goal of peace in Afghanistan and security for our countries," Zalmay Khalilzad said in a tweet.
In line with his tour which kicked off on Monday, Khalilzad is expected to visit Afghanistan, Belgium, Pakistan, Uzbekistan, Jordan and Qatar.
He previously held a marathon round of talks with the Taliban in Qatar, and both parties reached some level of agreement on withdrawal of foreign forces from Afghanistan and counter-terror efforts.
Full report at:
https://www.aa.com.tr/en/americas/us-envoy-heads-to-uk-as-part-of-afghan-peace-tour/1432741
--------
India
'Disappointed, hardly surprised': India critiques Pak response to Pulwama dossier
Mar 28, 2019
Imtiaz Ahmad and Rezaul H Laskar
Islamabad on Thursday said it has found no links between militants detained during a recent crackdown and the February 14 suicide bombing in Pulwama, prompting New Delhi to say that Pakistan continues to be in denial about terrorists operating from its soil.
Pakistan's Foreign Office said it conducted investigations on the basis of a dossier provided by India on February 27, which included a list of 90 members of proscribed groups and 22 locations of alleged training camps, but has established no links to the Pulwama attack. It also sought additional information from India. In a response late on Thursday, external affairs ministry spokesperson Raveesh Kumar said India was "disappointed at Pakistan's response to our detailed dossier on the Jaish-e-Mohammed's complicity" in the Pulwama attack and "the presence of its terror camps and leadership in Pakistan".
"Regrettably, Pakistan continues to be in denial and even refuses to acknowledge Pulwama as a terror attack. It has not shared details of credible action, if any, taken by it against terrorists or terrorist organisations based in territories under its control," he added. The exchange reflected the underlying tensions between the two sides despite a recent de-escalation. The Pulwama attack, which killed 40 Indian troopers, was followed by India's air strike on a JeM facility at Balakot in Pakistan and an aerial engagement along the Line of Control during which an Indian jet piloted by Wing Commander Abhinandan Varthaman was downed. The spiralling tensions eased after Pakistan freed Varthaman on March 1, though India has insisted Pakistan should act on terrorists based on its soil. This was reiterated by Kumar, who said: "Pakistan should take immediate, credible, irreversible and verifiable actions against terrorists and terror organisations operating from territories under its control." Pakistan shared the preliminary findings of its investigations with India on Wednesday. The Foreign Office said an investigation team had been formed, a number of people detained and technical aspects of social media content looked into.
The Pakistani investigators also examined the confessional video of suicide bomber Adil Dar, JeM's claim of responsibility, Whatsapp and Telegram numbers used to share videos and messages in support of the Pulwama attack, the list of 90 suspected militants and 22 locations of training camps.
"While 54 detained individuals are being investigated, no details linking them to Pulwama have been found so far. Similarly, the 22 pin locations [of training camps] shared by India have been examined. No such camps exist. Pakistan is willing to allow visits, on request, to these locations," the Foreign Office said in a statement. Service providers were requested for data, including details of activities and contacts of a GSM number provided by India and a request for assistance from WhatsApp was made to the US government, the statement added. "Additional information and documents from India would be essential to continue the process of investigations. Pakistan remains committed to taking this process to its logical conclusion," it said.
While expressing India's disappointment, external affairs ministry spokesperson Kumar said Pakistan followed an "identical script" after the 2008 Mumbai terror attacks and the 2016 assault on Pathankot airbase.
Kumar said it was well-known the JeM, a UN-designated terrorist group, and its leader Masood Azhar are based in Pakistan.
https://www.hindustantimes.com/india-news/disappointed-says-india-on-pakistan-s-response-to-pulwama-dossier/story-Cc6HFXc8jLeeqAplrklpEL.html
--------
4 militants killed in Kashmir, 30 since Pulwama attack
Mar 28, 2019
Ashiq Hussain
Four militants were killed in two separate gunfights with security forces in Kashmir on Thursday.
While three militants of a joint group of Hizbul Mujahideen and Lahkar-e-Taiba were killed in south Kashmir's Shopian; the fourth militant Danish Ahmad Dar was killed in north Kashmir's Handwara in Kupwara district.
The first gunfight started in Yawran area of Keller in Shopian after police, army and CRPF started a cordon and search operation, following inputs about the presence of militants in the area.
"As the searches were going on, the search party was fired upon by the terrorists. The fire was retaliated leading to a gunfight. In the ensuing encounter, 3 terrorists were killed and the bodies were retrieved from the site of encounter," read a statement from the police.
The militants have been identified as Sajad Khanday, Aqib Ahmad Dar and Basharat Ahmad Mir, all residents of Pulwama; while the fourth militant Danish Ahmad Dar was a resident of Sopore.
"They were wanted by law for their complicity in a series of terror crimes, including attack on security establishments and for civilian atrocities," he said.
The police said that Aqib had a "long history of terror crime records" and several cases were registered against him while Sajad and Basharat were also "involved in many terror attacks".
"Incriminating material, including 3 AK rifles, was recovered from the site of encounter. A mention of the same has been made in the case records for further investigation," the police said.
People in Shopian took to streets after the gunfight and threw stones on security forces as the news of militant killings spread. The forces responded by lobbing tear gas shells and firing pellets to disperse the protesters.
Another encounter followed in north Kashmir's Handwara after a cordon and search operation was launched by police and other security forces in Yaroo area of Langate.
"According to police records, the killed terrorist was affiliated with proscribed terror outfit JeM and was wanted by the law for his complicity in a series of terror crimes including attack on security establishments and civilian atrocities," the police said.
Security forces have been aggressively pursuing militants particularly those from Jaish-e-Mohammad group after the Pulwama attack.
Full report at:
https://www.hindustantimes.com/india-news/4-militants-killed-in-kashmir-30-since-pulwama-attack/story-yOZOyAjZyUHnU0POy0TWOM.html
--------
India-origin IS fighters will be handed back: Syrian envoy
Mar 28, 2019
Syria and India have strong security cooperation and intelligence-sharing and any India-origin Islamic State fighters captured in the war-torn country will be handed over to New Delhi, Syrian ambassador Riad Abbas said on Thursday.
Any efforts by New Delhi to resolve differences between Syria and Israel as well as in the overall Middle East peace process will be welcomed by Damascus, Abbas said during an interaction with reporters. He also called on India's public and private sectors to invest in the reconstruction of Syria.
The envoy's remarks came against the backdrop of Islamic State members acknowledging the death of Shafi Armar, a resident of Bhatkal in Karnataka, on March 19 during fighting in the terror group's last remaining stronghold of Baghouz in Syria.
Abbas said he didn't have details of the situation on the ground but added: "I can tell you we have cordial and strong relations in intelligence-sharing with India. We are sharing intelligence on all issues. If the Syrian government captures any Indian-origin Daesh member, they will hand him over to India."
Expressing appreciation for India's position on the Syrian crisis, Abbas said, "We have full faith in the Indian policy towards the Middle East, and we highly trust the Indian position, especially if they want to play any pro-active role inside Syria or in the Middle East peace process. We will be happy to see an Indian role."
India is uniquely placed to play such a role as it has never been a coloniser or aggressor, and was instead a victim of colonisation, he added.
India, Abbas said, has contributed to the rebuilding of Syria and the government has now invited firms from India's public and private sectors to invest in the country, especially in oil, gas, power, infrastructure such as highways, airports and cities, and low-cost housing.
"Syria's public sector has been devastated and it is a virgin country for development. We are ready to share our mineral and natural resources with friendly countries for mutual benefits," he said, adding UN agencies had estimated $400 billion to $600 billion will be required to rebuild the country.
Full report at:
https://www.hindustantimes.com/india-news/indian-origin-daesh-members-captured-in-syria-will-be-handed-over-envoy/story-JxcDEjVXdClVfCtlHhxbYP.html
--------
'No terror camps at 22 locations shared by India': Pakistan on Pulwama dossier
Mar 28, 2019
Pakistan has said it is investigating 54 people detained over the Pulwama suicide attack but claimed that no details linking them to the bombing have been found so far. The February 14 terror attack that killed 40 CRPF soldiers triggered a major stand-off between India and Pakistan.
A statement by the Pakistan Foreign Office said they have examined the "22 pin locations of alleged training camps shared by India and said no such camps exist". "Pakistan is willing to allow visits, on request, to these locations," the statement said.
India's dossier had contained extensive evidence on JeM's involvement in the bombing carried out by a 22-year-old man from Jammu and Kashmir. It also had information on JeM's Pakistan-based chief Masood Azhar and other leaders of the banned terror group. The dossier was shared after Pakistan Prime Minister Imran Khan promised to act if "actionable evidence" was provided.
"All aspects of the information provided by India have been thoroughly examined including the 'confessional' video of Adil Dar, 'claim' of responsibility for the attack, WhatsApp and Telegram numbers used to share videos and messages in support of Pulwama attack, list of 90 individuals suspected of belonging to a proscribed organization and 22 pin locations of alleged training camps," the Pakistan Foreign Office statement said.
Pakistan said service providers have been requested for data and a request for assistance from WhatsApp has also been made to the US government.
Read more| On Pulwama attack, Pakistan asks India for more evidence and information
Islamabad has sought more information and evidence from India to take forward cooperation in the investigation into the Pulwama attack.
Full report at:
https://www.hindustantimes.com/india-news/pakistan-says-no-links-found-in-pulwama-attack-claims-terror-camps-don-t-exist/story-gfAHSZSKqJrImZBBkAoA2H.html
--------
Terrorists, Pakistan want me to lose, Opposition to win: PM Modi
Written by AMIT SHARMA, Lalmani Verma, Arun Sharma
March 29, 2019
Claiming Opposition parties are competing to "become heroes in Pakistan" where they are "getting great media coverage" and "applause", Prime Minister Narendra Modi Thursday said "terrorists and their supporters across the border are today praying they somehow get rid of the chowkidar and the mahamilawati (he calls the Opposition impure) come to power in Delhi".
Opening his party's poll campaign for the Lok Sabha elections with three rallies Thursday — in Meerut, Rudrapur and Jammu — Modi also trashed the alliance of Samajwadi Party, Rashtriya Lok Dal and Bahujan Samaj Party in Uttar Pradesh, saying it stood for "sarab" (liquor) which was "harmful for the health" of the people: "SP-RLD-BSP… yeh sarab aapko barbaad kar degi." Click here for more election news
In Akhnoor in Jammu, the Prime Minister, referring to the Balakot air strikes, said: "Today, those running terror mills across the border are scared. They are living in the shadow of fear."
Slamming the Congress for its remarks post the Balakot air strike, he said: "I am surprised… what has happened to it? Is it the same Congress whose leader Vallabhbhai Patel left no stone unturned for the unity and integrity of India and Netaji Subhash Chandra Bose gave the slogan of Azad Hindustan?" He said Congress leaders, in their hatred for Modi, had stopped looking at national interest.
In Meerut earlier, Modi said: "Yeh saare mahamilawati log aaj kaun Pakistan mey zyada popular hoga, kaun Pakistan mey hero banega, iski spardha mey lag gaye hain, wahan ki media mey chhaye huay hain, unke naam ki Pakistan me taaliyan baj rahi hai. Aap bataiye, desh ko Hindustan ka hero chahiye ya Pakistan ka (The mahamilawati people are competing among themselves to become popular in Pakistan, become heroes in Pakistan. They are getting great media coverage and applause in Pakistan. Tell me, does this country need an Indian hero or a Pakistani?)."
He said by seeking proof of the Balakot air strike, the Opposition was letting down the armed forces: "Kya hame saboot chahiye, ki hame sapoot chahiye? Mere desh ke sapoot yahi mere desh ka sabse bada saboot hai. Jo saboot maangte hain woh sapoot ko lalkarte hain (Do we want evidence or brave sons? The sons of my country are my country's biggest evidence. Those who seek evidence challenge the brave sons)."
Calling himself a "damdar chowkidar" (powerful) who was up against "daagdar chowkidar" (tainted), he mocked the Opposition for questioning him on the air strike: "Why did Modi hit terrorists in their homes in Pakistan? Why did Modi destroy their camps?"
Full report at:
https://indianexpress.com/elections/terrorists-pakistan-want-me-to-lose-opposition-to-win-pm-modi-lok-sabha-elections-5647810/
--------
Arab World
Al-Jubeir Attends Christchurch Memorial to Honour Victims Of Mosque Attack
March 29, 2019
Saudi Minister of State for Foreign Affairs Adel Al-Jubeir attended a national memorial service in Christchurch to honor the 50 victims of the March 15 mosque terrorist attack.
Some 20,000 people attended the high-security event at the city's Hagley Park, including dozens of Islamic leaders, government representatives and Australian prime minister Scott Morison.
At the service, Al-Jubeir met with some family members of the victims, as well as the two injured Saudi nationals Khalid Al-Shadukhi and Aseel Al-Ansari.
Al-Jubeir also met with New Zealand officials, including Deputy Prime Minister and Foreign Minister Winston Peters, and Governor-General Patsy Reddy.
Meanwhile, Prime Minister Jacinda Ardern addressed thousands of the memorial attendees, who gave her a warm standing ovation.
"Our challenge now is to make the very best of us a daily reality. Because we are not immune to the viruses of hate, of fear, of other. We never have been," Ardern said, in a native Maori cloak known as kakahu.
"But we can be the nation that discovers the cure. And so to each of us as we go from here, we have work to do," she said, while also adding the world had to end the vicious cycle of extremism and that it needed a global effort.
"The answer to them lies in a simple concept that is not bound by domestic borders, that isn't based on ethnicity, power-base or even forms of governance. The answer lies in our humanity," she said.
http://www.arabnews.com/node/1474391/saudi-arabia
--------
Security Expert: US Plots to Continue Deployment in Region by Golan Heights Decision
Mar 28, 2019
Kazzem al-Haj told the Arabic-language al-Ma'aloumeh news website on Wednesday that the US plans to stir crisis to continue presence in the region, specially Iraq and Syria, with the aim of meeting Israel's interests.
He said given the fact that Washington's support for terrorism is no more tolerated by the world and the terrorists' continued survival will increase global pressures on Washington, the US has embarked on recognizing Israel's annexation of Golan Heights in a bid to find a pretext to continue presence in the region.
US President Donald Trump on Monday formally recognized Israeli sovereignty over the occupied Golan Heights, reversing decades of United State's policy. The announcement came as Prime Minister Benjamin Netanyahu visited the White House in a trip.
Full report at:
http://en.farsnews.com/newstext.aspx?nn=13980108000381
--------
Several Children Killed in SDF-Occupied Camp in Hasaka
Mar 28, 2019
The London-based Syrian Observatory for Human Rights (SOHR) reported on Wednesday that over 27 children were killed in the camp in the past week for the severe lack of hygiene, drugs and food.
It added that 71,000 people are residing in the camp, saying that 186 children have been killed in al-Houl since December.
Meantime, field sources reported that civilians in the camp have held protest rallies against the SDF for hard living conditions in al-Houl, adding that the US-backed forces fired at the protestors.
The World Health Organization (WHO) announced earlier this month that 73 Syrian refugees had died in al-Houl camp in the past few months, adding that two third of them are children.
It said about 23,000 people, mainly women and children fleeing hostilities in rural areas of neighboring Deir Ezzur, had reached the camp over that period.
Displaced Syrian people sheltering in al-Houl camp earlier staged massive rallies over the death of tens of children.
Field sources from Hasaka province reported that the rallies were held to protest at SDF's incapability to supply the needs of the displaced community sheltered in the camp.
Full report at:
http://en.farsnews.com/newstext.aspx?nn=13980108000197
--------
Iraqi Forces on Alert at Borders with Syria to Block ISIL's Traffic
Mar 28, 2019
Iraq's Arabic-language al-Mada newspaper quoted a security source as saying on Wednesday that the Iraqi forces are still on alert in the Western parts of the country at the borders with Syria.
He added that over 20,000 Iraqi forces have been sent to the Western borders in the past 3 months, noting that tens of ISIL terrorists have hidden in a several-kilometer-long tunnel dug from the town of Baqouz in Syria to Baqouz in Iraq near al-Qa'em region.
The SDF claimed last Saturday that the ISIL had no more presence in Eastern Euphrates after the former's control over Baqouz in Eastern Deir Ezzur.
Also, last Friday, the White House and US President Donald Trump announced that Syria was now free from the ISIL.
White House Press Secretary Sarah Huckabee Sanders told reporters that the terror group's territorial rule had been "100 percent eliminated" from Syria, while showing a map to reporters that she said displayed the eradication of ISIL's so-called caliphate over the last two years, in what was viewed as an attempt to give the US president credit for the "defeat" of the ISIL.
Later in the day, Trump took to Twitter and said the ISIL no longer held any territory in Syria.
This is while reports in the past few months said that the US is relocating the ISIL from Syria to Iraq and Afghanistan.
http://en.farsnews.com/newstext.aspx?nn=13980108000222
--------
Syrian Army Wards Off Tahrir Al-Sham Offensives from Demilitarized Zone
Mar 28, 2019
The Syrian army units targeted Tahrir al-Sham's moves from Halfaya, al-Latamineh, al-Sakhar and al-Sarmaniyeh regions towards the military points in Northern and Northwestern Hama, leaving several militants dead and wounded and forcing others to withdraw. Meantime, a military source reported that the Syrian army forces destroyed the terrorists' hideouts near the towns of al-Latamineh and Kafr Zita with bomber drones.
Also, in Southern Idlib, the Syrian army forces targeted the terrorists' positions near Khan Sheikoun, Jisr al-Shaqour, Tahtaya and Basileh in response to their offensives, killing a number of terrorists and destroying their military equipment.
Meantime, a field source in Northern Syria reported that the Turkish army has strengthened its positions in occupied areas of Idlib province by sending a new convoy of several trucks carrying logistical aid, cement blocks and prefabricated houses to the region.
In a relevant development earlier this month, the Syrian army heavily pounded the terrorists' military positions in Northern Hama and Southern Idlib in response to their attacks on government forces from the demilitarized zone.
The Syrian Army's missile and artillery units pounded the movements of Tahrir al-Sham al-Hay'at and their allies in Tal Osman, Mourek and al-Janabareh in Northern Hama as well as al-Sahrieh, al-Hawija, al-Sharia'a and al-Sarmanieh in Western Hama, inflicting heavy losses on the terrorists.
In Southern Idlib, the Syrian army troops also engaged in heavy clashes with the terrorists who were intending to penetrate into the government forces' positions from the surrounding areas of Ma'arat al-Numan, Talmanes and al-Katibeh al-Mahjoureh, killing a large number of them.
Full report at:
http://en.farsnews.com/newstext.aspx?nn=13980108000158
--------
UN: Saudi Khashoggi investigation falls short of intl. standards
Mar 28, 2019
The United Nations special rapporteur on extrajudicial executions, Agnes Callamard, says Saudi Arabia's so-called investigation into the murder of prominent dissident journalist Jamal Khashoggi falls short of international standards.
In November, the kingdom's Public Prosecutor indicted 11 unnamed suspects for the killing, which is believed to have been ordered by Saudi Crown Prince Mohammad bin Salman. Khashoggi, a US-based Washington Post columnist, disappeared after entering the Saudi consulate in Istanbul on October 2 last year. He never came out.
On Thursday, Callamard, who is leading an international inquiry into the murder, called on the kingdom to reveal the defendants' names and charges and the fate of 10 others initially arrested, denouncing what she called the lack of transparency of the kingdom's investigation and legal proceedings.
"The Government of Saudi Arabia is grievously mistaken if it believes that these proceedings, as currently constituted, will satisfy the international community, either in terms of procedural fairness under international standards or in terms of the validity of their conclusions," she said in a statement.
"The current proceedings contravene international human rights law according to which the right to a fair trial involves the right to a public hearing," she added.
Senior Saudi officials were "criminally responsible" if they failed to investigate and prosecute those responsible for killing the Washington Post columnist, Callamard noted.
In early January, the Office of the United Nations High Commissioner for Human Rights (OHCHR) said it could not assess the fairness of a trial underway in Saudi Arabia over Khashoggi's murder.
In response to a question about the Saudi prosecutor's demand for the suspects' death penalty, the OHCHR Spokeswoman Ravina Shamdasani said the office calls for an independent investigation "with international involvement."
Last month, the UN-led probe concluded that Khashoggi had been the victim of a "brutal and premeditated killing" planned and perpetrated by the kingdom's officials."
Callamard said at that time that Saudi officials had "seriously undermined" and delayed Turkey's efforts to investigate the crime scene at the kingdom's consulate in Istanbul in October last year.
The UN official noted that they had access only to a part of "chilling and gruesome audio material" of the dissident journalist's death, obtained by the Turkish intelligence agency.
Also in February, Turkish presidential adviser Yasin Aktay told the Turkish NTV broadcaster that "the UN team considers the crown prince of Saudi Arabia the main person responsible for the killing of Khashoggi."
Full report at:
https://www.presstv.com/Detail/2019/03/28/592091/Saudi-Arabia-United-Nations-murder-Jamal-Khashoggi
--------
Pakistan
Three Chinese towns named sister cities to Karachi, Gwadar, Multan
March 29, 2019
ISLAMABAD: Chinese cities Urumqi, Puyang and Xi'an were declared as sister cities to Karachi, Gwadar, and Multan, respectively, at a forum held in Beijing on Thur­sday to strengthen the bond of friendship between the two countries.
According to a press release issued here, federal Minister for Inter-Provincial Coordination Dr Fehmida Mirza headed a Pakistani delegation at the event during which Pakistani and Chinese officials signed separate agreements in this regard.
Speaking on the occasion, Dr Mirza said Pakistan highly valued its relationship and mutual cooperation with China.
She expressed the hope that people-to-people contact and diplomatic visits between the two countries would further deepen bilateral relations at political, social, cultural and economical levels. She underscored the importance of the One Belt One Road project and termed it a milestone initiative for regional connectivity. The China-Pakistan Economic Corridor (CPEC) project was a basic pillar of Belt and Road Initiative under which most of the early harvest projects had been completed, especially in the fields of infrastructure and energy, she added.
The minister, on behalf of the people of Pakistan, acknowledged and appreciated China's support for Pakistan in the recent situation and playing a role in de-escalating tension in South Asia.
She observed that the visit of Prime Minister Imran Khan to China had given a new impetus to Pakistan-China friendship and opened up several new avenues of cooperation.
It was informed at the event that the forum would facilitate cooperation in province-city management, public health, environmental protection, poverty alleviation, trade and investment, tourism cooperation, urbanisation and vocational/professional education. It will enhance mutual understanding between enterprises of the two countries and boost economic and trade ties.
Pakistan's Ambassador to China Masood Khalid and the Executive Vice Governor of Xinjiang Uygur Autonomous Region, Zhang Chunlin, also addressed the forum.
https://www.dawn.com/news/1472506/three-chinese-towns-named-sister-cities-to-karachi-gwadar-multan
--------
Govt has no tolerance for critics of Saudi crown prince
Mar 29, 2019
–FIA to launch probe against journalists for displaying murdered Saudi journalist Khashoggi's picture on their social media profile
The Federal Investigation Agency's (FIA) Cybercrime Wing has initiated an inquiry into an alleged 'social media campaign' ran by journalists and certain religio-political parties during the visit of Saudi Crown Prince Mohammad bin Salman to Pakistan in February.
According to a notification dated March 13 that has been making rounds on social media, "A targeted social media campaign was planned/executed against the [crown prince's] visit, during which [a] few social media activists and groups remained particularly consistent/active till the very last day of the visit."
The letter names five journalists — Matiullah Jan, Murtaza Solangi, Azaz Syed, Ammar Masood, Umer Cheema – activist Waqas Goraya who is based in The Netherlands, religious outfits Majlis-e-Wahdat-e-Muslimeen (MWM), Imamia Students Organization (ISO), Hizbul Tahrir Pak, Tameer-e-Watan Party.
The letter, referring to the journalists, stated: "These activists displayed the picture of murdered Saudi journalist Jamal Khashoggi on their social media profile DPs which conveyed a very disrespectful message to the visiting guest."
Speaking about the groups that will be probed, the letter said: "These groups/party's members were found most active on social media against Mohammad bin Salman's visit to Pakistan."
All additional directors were asked to submit a report on their inquiries to Deputy Director Ayaz Khan on a daily basis.
The FIA decision was condemned by Solangi, who initially shared the copy of the notification on his Twitter handle.
So the shameful govt of @ImranKhanPTI has a problem with putting the picture of slain journalist #JamalKhashoggi on your twitter profile and considers it against the law? Come arrest me, you shameless creatures," he lashed out at Twitter.
Full report at:
https://www.pakistantoday.com.pk/2019/03/28/govt-has-no-tolerance-for-critics-of-saudi-crown-prince/
--------
India failed to establish Pulwama attack with Masood Azhar, FO tells diplomats
Mar 29, 2019
ISLAMABAD: The Foreign Office (FO) on Thursday told foreign diplomats that India's allegation that Pakistan-based elements were involved in the Pulwama attack could not be corroborated by the dossier sent by New Delhi in February.
Foreign Office Spokesman Dr Mohammad Faisal, in a briefing to foreign diplomats, said that in order to cooperate with India in the probe, investigators had examined Adil Dar's 'confessional' video and had also requested details from mobile service providers of numbers India mentioned in the document to analyse the exchange of messages.
The United States authorities have also been contacted for information of messages exchanged through WhatsApp, FO officials said.
Dr Faisal told the diplomats that India had sent a dossier comprising six parts spread over 91 pages, out of which only parts two and three were related to the Pulwama incident. The others, he said, contained "generalised allegations".
Pakistani authorities had detained and interrogated 54 people but so far, no evidence regarding their involvement in the Pulwama attack has emerged, the spokesperson said. He also said that the dossier made no mention of Masood Azhar, the chief of Jaish-e-Mohammad, the organisation which allegedly claimed responsibility for the attack.
The spokesperson further said that no militant camps had been found on the 22 locations pointed out by India, and offered access to these places on a request by request basis.
He also told the diplomats that more information and evidence was required for Pakistan to continue its investigation into the Feb 14 attack.
'INDIA DISAPPOINTED':
The official spokesperson for the Indian Ministry of External Affairs responded to media queries regarding Pakistan's response to the dossier.
A statement shared on the ministry's website said India was "disappointed" with Pakistan's response to the report.
"It [Pakistan] has not shared details of credible action, if any, taken by it against terrorists or terrorist organisations based in territories under its control," the statement read. Additionally, the spokesperson said they were "hardly surprised" as the "identical script" had been followed by Pakistan in the past.
The statement alleged that it was a "well-known fact" that JeM, a UN-designated terrorist group, and its leader Masood Azhar were based in Pakistan.
"There's no dearth of sufficient actionable information and evidence in Pakistan itself to take action against them, if there is sincerity and intent to do so," the statement read adding that they were examining the paper Pakistan had handed over.
Full report at:
https://www.pakistantoday.com.pk/2019/03/28/diplomatic-brethren-briefed-on-initial-pulwama-investigation-findings/
--------
APG dissatisfied over Pakistan's compliance with commitments
March 29, 2019
ISLAMABAD: Expressing dissatisfaction over Pakistan's inadequate compliance with global commitments, the Asia-Pacific Group (APG) — a regional affiliate of the Financial Action Task Force (FATF) — has flashed contradictory situations and poor coordination among stakeholders fighting money laundering and terror financing as top takeaways of three-day mutual evaluation.
No official word was available from the APG or the government on the conclusion of the on-site mutual evaluation, but in background discussions officials involved in the process mostly shared pessimism.
Informed sources said the visiting delegation highlighted many contradictory positions. For example, the Pakistani side was confronted with the statement that mosques and religious institutions were not involved in terrorism, but data showed most of the punishments and fines imposed on those collecting donations and delivering speeches around mosques and related systems.
Yet, there was no indication, based on official account, that any of those punished had any link with Al Qaeda or organisations accused by India of cross-border terrorism or other proscribed organisations (POs). As such, it did not impress the APG inspectors as to what was the point for actions against such people.
Points out poor coordination among stakeholders fighting money laundering and terror financing
The APG also pointed out lack of coordination among law enforcement agencies (LEAs) at different tiers of the government or active cooperation of certain intelligence agencies with such LEAs. The delegation also viewed that the government agencies did not have risk-based approach to take actions on account of anti-money laundering (AML) or counter-terror financing (CFT) and mostly operated on a pressure basis.
The sources said the concluding day had four detailed sessions with the Pakistani delegation led by the director general of Financial Monitoring Unit (FMU). The first session revolved around presentations by the Securities & Exchange Commission of Pakistan (SECP) and the Ministry of Foreign Affairs over international cooperation and information sharing for financial intelligence along with evidences and agreements signed with various countries to share information regarding immigrants and workers.
In another session, the SECP explained steps regarding enforcement and supervision of the AML/CFT regime in financial institutions, exchange companies and non-banking financial companies. The FMU explained in the third session deployment of prevention measures in the financial sector, including details, nature and actions on STRs generated by banking and financial sectors.
The concluding session discussed confiscations of proceeds of crimes relating to the AML/CFT regime. The sources said the APG appeared least interested in thousands of STRs issued or proceeds confiscated, but how many of them pertained to proscribed organisations, particularly eight named under the United Nations resolutions.
The APG termed actions against eight prominent proscribed organisations ineffective and inadequate. The sources said the APG had got prepared a third party audit through chartered accounting firms which also highlighted a series of loopholes and weaknesses.
When asked if the APG issued any formal warning on the conclusion of mutual evaluation, a senior official replied in the negative, saying the group would finalise its findings later and perhaps share with Pakistan authorities. He said Pakistan would separately submit a report within three weeks to the FATF by taking robust and coordinated actions in the coming days.
The FATF would review both the reports in May leading to a decision in June if Pakistan was prepared to move out of the grey list in September or fall into the blacklist. Much would also depend on diplomatic efforts and geo-political considerations, the official said.
Finance Minister Asad Umar, who did not attend APG reviews, gave an update to the National Security Committee about FATF-related matters and meetings held with the Asia Pacific Group. The meeting recounted various legislative and administrative measures taken by the government in dealing with militancy, combating terror financing, money laundering, hawala-hundi, etc. The prime minister stressed the need for continued and sustained on-ground effort towards taking this struggle to a conclusive end.
Full report at:
https://www.dawn.com/news/1472558/apg-dissatisfied-over-pakistans-compliance-with-commitments
--------
Bilawal says PPP won't accept political victimisation in name of accountability
March 29, 2019
LARKANA: Pakistan Peoples Party chairman Bilawal Bhutto-Zardari has said that the party does not oppose accountability in principle if it is conducted in a transparent manner but they will certainly not tolerate political victimisation in the name of accountability.
Bilawal said in his address to party workers who had gathered at Larkana railway station to welcome their leader when he arrived at midnight on Thursday that he was being held accountable in a case that pertained to the time when he was barely one year old.
He referred to the apex court's comment that he (Bilawal) was innocent and said that later the comment was not made part of the original order. On whose behalf his name was implicated in the case, he asked.
"They have now fixed their eyes on me, Asif Ali Zardari and Faryal Talpur but they cannot frighten us through National Accounta­bility Bureau. We don't have any objection to a transparent process of accountability but we will never accept political victimisation in the name of accountability," he said.
He was highly critical of the move to refer money-laundering cases to Rawal­pindi and spoke about putting in place an effective system for accountability and fighting corruption instead of using NAB as a tool for political victimisation.
He said that he had heard rulers' cries when Bhuttos' name echoed in parliament. After they failed to stop him through rigging in election they were now trying to sideline him through political victimisation.
Bilawal said that rulers wanted to roll back the 18th Amendment and impose One Unit but PPP would oppose the move tooth and nail. The prime minister had announced that NRO would not be given to anybody but then the same was granted to banned outfits and retired Gen Musharraf etc, he said.
He said that 'selected' prime minister's politics began and ended with NAB. Accountability should not be done on the basis of one's association with Larkana or Lahore, he said before leaving for Naudero House where he was scheduled to stay till April 4.
Nisar Ahmed Khuhro, president of PPP Sindh chapter, said in a statement that Pakistan Tehreek-i-Insaf government had been taken aback by the rousing welcome accorded to Bilawal at all railway stations from Karachi to Larkana.
He said that Bilawal had chosen to travel by train only to participate in Z.A. Bhutto's death anniversary in Garhi Khuda Bakhsh Bhutto. It was just an exercise to keep workers ready for 'train march' to Rawalpindi later, he said.
SUKKUR: Earlier, speaking to workers at Rohri, Sukkur and Gosar-Ji railway stations, Bilawal said that they were not afraid of NAB nor would they run away from inquiries. "PPP is not fleeing from accountability, we have no objection to accountability but rev­enge in the name of accountability is not acceptable," he said.
He accused the federal government of instituting fake cases against opposition and blamed the Centre for "robbing" Sindh of Rs120 billion of its share. People had been drowned in a tsunami of inflation since the day the "puppet government" came to power. "Khan Sahib, you had promised constructing houses but instead you demolished peoples' homes in the name of encroachments and made them homeless," he said.
Bilawal's caravan departed for Shikarpur and Larkana after the brief stopover. Strict security arrangements were made at all railway stations where people were allowed to enter after complete body search.
PPP senior leader Syed Khursheed Ahmed Shah told media persons at Jinnah Municipal Stadium on Thursday that Imran Khan had failed to fulfil his promises. Nothing had happened so far with regard to his slogan of provision of jobs and construction of houses, he said.
He said the government would carry out development works in Sindh if the province received Rs120bn from the Centre.
Not only Sindh but Punjab and other areas of the country were also complaining against Islamabad, he said.
He said that since the apex court had endorsed NAB's modus operandi they respected its decision.
Full report at:
https://www.dawn.com/news/1472572/bilawal-says-ppp-wont-accept-political-victimisation-in-name-of-accountability
--------
Army chief vows help for Balochistan govt, people
March 29, 2019
QUETTA: Chief of the Army Staff Gen Qamar Javed Bajwa has said that Balochistan "is future of Pakistan and it is our duty to fully assist the government and people of the province to ensure a shining future for them".
During his visit to the Southern Command's headquarters here on Thursday, the army chief was briefed on the security situation in the province, the National Action Plan, Operation Raddul Fasaad and socio-economic development undertaken as part of the Khushal Balochistan Programme (KBP).
He expressed satisfaction over the overall security situation in the province.
Gen Bajwa hoped that the steps taken under the KBP would help improve the overall security and socioeconomic indicators in the province.
Later, the army chief visited School of Infantry and Tactics, Quetta, and met the faculty. He said the army had played an important role in reducing internal security threats as well as responding effectively along the borders.
Full report at:
https://www.dawn.com/news/1472502/army-chief-vows-help-for-balochistan-govt-people
--------
South Asia
Afghan military could pose threat to country if aid ends: report
March 29, 2019
WASHINGTON: The Afghan military could pose a serious threat to the country's security if international aid comes to an abrupt halt following a peace deal between the Taliban and the government, an official US report said on Thursday.
The findings come as the US seeks to broker a peace deal between the insurgent fighters and the internationally recognised government led by President Ashraf Ghani to end 17 years of war.
"There are over 300,000 Afghans currently serving in the security forces, most of whom are armed," said John Sopko, who heads the Office of the Special Inspector General for Afghanistan Reconstruction (SIGAR), while presenting his report in Washington. "If, because of a loss of financial support, their paychecks were to stop coming, this could pose a serious threat to Afghanistan's stability."
Since invading Afghanistan in 2001 to oust the then Taliban regime, The US has poured more than $780 billion in aid into the country, 15 percent of which was spent on reconstruction. Most of the reconstruction funds, 63 percent or $83.1 billion, were spent on Afghan security services, including salaries, equipment, infrastructure and training, the report said.
In recent years, financial support for Afghan forces has been even more critical, with $4.8 billion allocated in 2018, or 83 percent of funds set aside for reconstruction.
"It does not take an advanced degree in mathematics to recognise that if donor support is decreased or eliminated — whether there is a peace agreement or not — the Afghan government and its military in particular, will be in dire straits," said Sopko.
The report warned that if an elusive peace deal is achieved, some 60,000 heavily armed Taliban fighters will have to be peacefully reintegrated into Afghan society, "as disaffected former Taliban who may have been expecting a peace dividend may return to violent and predatory behaviour."
https://www.dawn.com/news/1472583/afghan-military-could-pose-threat-to-country-if-aid-ends-report
--------
Traffickers' 'horrific' crimes against Rohingya, Bangladeshis
March 28, 2019
A transnational human trafficking syndicate committed crimes against humanity in Malaysia and Thailand against tens of thousands of Rohingya and Bangladeshi men, women and children, according to a new rights report.
"Sold Like Fish" is a 121-page report jointly produced by the Human Rights Commission of Malaysia and Fortify Rights, a group covering Southeast Asia.
The report, released on March 27, is based on a joint investigation including more than 270 interviews with eyewitnesses, survivors, human traffickers, government officials and others from 2013-19. The abuses happened from 2012-15.
It documents traffickers' crimes against Rohingya and Bangladeshis including murder, rape, torture and depriving victims of adequate food, water and space. Many captives died by suicide at sea.
In camps at Wang Kelian on the Thai-Malay border, traffickers denied their captives access to adequate food, water and space, resulting in deaths, illness and injury, including paralysis, particularly for those without money.
"When I was unable to pay money to the men, they poured boiling water on my head and body," said Rahim Ullah, a Rohingya Muslim who was 16 when traffickers tortured him in a camp at Wang Kelian in 2014.
More than 170,000 people, mostly Rohingya Muslims, boarded boats bound for Malaysia and Thailand from Myanmar and Bangladesh. However, in late 2014 and 2015, traffickers began to target Bangladeshi nationals as well, the report said.
Rohingya trafficking trade generated about US$50-100 million per year from 2012-15, the report estimated.
"The massive scale and horrific severity of these operations were never properly documented or fully prosecuted. This new evidence demonstrates the need for accountability," said Matthew Smith, chief executive of Fortify Rights.
Although human trafficking has relatively slowed since the 2015 Asian boat people crisis and an anti-trafficking crackdown, Rohingya and Bangladeshi people remain vulnerable to the crime, officials and activists say.
"Due to a heavy crackdown since 2015, we have seen a slumber in trafficking, but given that it is a lucrative business, poor and helpless people like Rohingya are always vulnerable to trafficking," Muhammad Nikaruzzaman, chief government officer at Ukhiya in Bangladesh's Cox's Bazar district, told ucanews.com.
Cox's Bazar is home to more than one million Rohingya Muslims who fled various bouts of persecution in Myanmar including deadly military crackdowns in 2016 and 2017.
Poor people, especially Rohingya refugees, remain even more vulnerable to trafficking today, said James Gomes, regional director of Catholic charity Caritas Chittagong.
"During 2012-15, the condition of Rohingya was relatively better than it is now, yet so many became victims of trafficking. In recent months, law enforcers have nabbed traffickers' boats and rescued potential victims, which means traffickers are still preying on poor and helpless Rohingya as well as Bangladeshis," Gomes told ucanews.com.
"The report is a warning for governments, aid agencies and anti-trafficking groups, and a collective, effective and coordinated effort is required to tackle the threat of trafficking."
Abu Morshed Chowdhury, an anti-trafficking campaigner in Cox's Bazar, had similar concerns.
Full report at:
https://www.ucanews.com/news/traffickers-horrific-crimes-against-rohingya-bangladeshis/84840
--------
Afghanistan's acting minister of urban development accused of misbehavior
28 Mar 2019
The acting minister of urban development and land Mohammad Jawad Peikar has been accused of misbehavior, bullying, and threatening the employees of the directorate of estates.
A number of the employees of the directorate of estate have said that the acting minister has forcefully withdrawn some important documents by forcing his way into the directorate with his armed guards.
Some of the senior officials of the directorate have Tolo News that the move was apparently motivated by Mafia groups involved in land grabbing as they do not the governmental lands to remain safe and intact, claiming that Mafia circles have internal influence.
In the meantime, a number of directors of the ministry of urban development and land have expressed doubts regarding the behaviors of the acting minister.
One of the director's of the ministry, speaking on the condition of anonymity, told Khaama Press that the acting minister has acted against the orders of president Ghani which was issued earlier to merge the directorate of land with the ministry of urban development.
The source further added that the acting minister is intentionally sparking discrimination and prefers and gives more value to the employees of the directorate of land.
Full report at:
https://www.khaama.com/afghanistans-acting-minister-of-urban-development-accused-of-misbehavior-03598/
--------
Prominent Taliban group member killed in Ghazni operation
28 Mar 2019
A key Taliban group member who was involved in facilitation of weapons and terrorist attacks was killed during the operation of the Afghan armed forces in southeastern Ghazni province.
"Khadim, a Taliban weapons facilitator was killed during an Afghan security forces raid in Zanahkan district March 23, 2019. Khadim was responsible for numerous attacks in southeast Afghanistan targeting civilians and government employees," informed military sources said Thursday.
The sources further added that Afghan security forces have killed over 45 Taliban fighters in Ghazni province this month.
The anti-government armed militants including Taliban have not commented regarding the killing of Khadim so far.
Ghazni is among the relatively volatile provinces in southeastern parts of Afghanistan.
Full report at:
https://www.khaama.com/prominent-taliban-group-member-killed-in-ghazni-operation-03599/
--------
Mideast
In first vote since Turkey's economic crisis, Erdogan could lose Ankara
28 March 2019
Ismail Akin has voted for Turkish President Tayyip Erdogan's party for almost 20 years, but the father of three said that will change on Sunday because the plunging economy has forced him to shut his shop and take on debt.
In a market in the Turkish capital last week, Akin clutched his jacket and said "even this is mortgaged" after the economy tipped into recession following last year's currency crisis.
"We voted for this man (Erdogan) for 20 years. Enough. Let's hit him with the back of our hand so he sees what this nation is made of," Akin said.
He said he would vote for the main opposition candidate in Sunday's local elections.
Polls suggest Erdogan could be defeated in Ankara, the city from which he has ruled Turkey with an increasingly iron grip since 2003. His AK Party (AKP) could hang on to power in a tight race in Istanbul, where he was once mayor, but a defeat in Ankara would be a blow.
"The psychological factor of losing the capital, losing one of the big cities in Turkey, could be perceived by voters as the beginning of the decline," said political analyst Murat Yetkin.
The nationwide local elections are the first since last year's currency meltdown, and come as authorities fight a fresh wave of selling in the lira.
The currency has bounced back this week, in part because Turkey directed its banks to withhold lira liquidity in London, a key overseas market, until after Sunday's election - blocking foreign investors from betting against the currency.
The stop-gap measure may save Erdogan the embarrassment of a currency meltdown on the eve of voting but economists say that longer-lasting reforms are needed to return to the strong growth which was a hallmark of the AKP's early years in power.
AKP officials say they are anxious about Sunday's vote. In recent weeks Erdogan has held up to five rallies per day and described the elections as a "matter of survival."
Interviews in Ankara with more than 50 voters two weeks ahead of the vote suggested several long-time AKP supporters were shifting their views on the party and looking to punish Erdogan for the turmoil caused by the ailing economy.
"There is no production, nothing. They brought in the food stands, but will he (Erdogan) fix the economy with food stands?" said Orhan Akkaya, a local business manager who said he would no longer back AKP. "They finished the country."
'Very serious problems'
Ahead of the elections, the main opposition Republican People's Party (CHP) formed an electoral alliance with the IYI (Good) Party to rival that of Erdogan's AKP and the nationalist MHP.
Mansur Yavas, the opposition candidate, appears to hold a 2 percentage point lead over his AKP rival Mehmet Ozhaseki, according to polling company Gezici. However, a poll conducted by the AKP showed Ozhaseki had closed the gap and gained a 1.5 point advantage, a party source said.
Yavas was also the CHP's candidate in 2014, but lost in a vote marred by claims of voter fraud. Ozhaseki, a former three-term mayor from central Anatolia, was a minister until he was removed from the post after last year's presidential and general elections cemented Erdogan's grip on power.
Speaking to Reuters on his campaign trail, Yavas said he believed he would win in Ankara because his rival had overlooked the economic struggles of the people.
"They don't see the economic hardships in Ankara," he said. "They don't come here and talk with shop owners."
While Erdogan, championed by more pious Turks, has become modern Turkey's most popular leader, he is also the most divisive. Secular Turks say his policies quash dissent and infringe on private lives and personal rights.
But it was his unorthodox economic policies, including a buildup in foreign debt that helped spark last year's crisis that wiped some 30 percent off the value of the lira. The contraction in the fourth quarter was the economy's worst in nearly a decade.
"What we expected didn't happen in the economy, that is a reality," an AKP official told Reuters. "While the economy was a gain before, it's now our weak point."
"If there is a big loss (in Ankara)...we may enter a period where there will be very serious problems for the AK Party."
'Fed up'
Murat Gezici, chairman of pollster Gezici, said three of every four undecided voters have backed the MHP or AKP in past general or local elections.
The fraying economy had left many of them unsure, Gezici said citing his company's March 16-17 poll, and added that rather than the AKP's past successes, voters were more focused on candidates' future promises.
"Maybe I won't even vote, that's how fed up I am," said Huseyin Kilic, another longtime but disenchanted AKP voter.
Sacked from his factory job and waving in the air coins that he said were his last, Kilic, standing in a street market in the central Ankara district of Ulus, said he had not yet settled on a favored candidate.
Yet few are writing off Erdogan before votes are counted.
In nearly two decades he and his AKP have not lost a local election in Ankara or Istanbul. The party is leading polls in other big cities like Adana and Konya.
Shopping for vegetables in central Ankara, Neriman said she remained committed to the AK Party, dismissing economic woes.
"They (the AKP) gave us everything, financially and emotionally. There are no economic troubles. Are there?" she said. "I am planning on voting for the AK Party because for years we've been so much better off."
http://english.alarabiya.net/en/features/2019/03/28/In-first-vote-since-Turkey-s-economic-crisis-Erdogan-could-lose-.html
--------
40 children killed in year of Gaza border protests, says UN
29 March 2019
Around 40 children have been killed and many injured in one year of demonstrations along the border between the Gaza Strip and Israel, the UN said on Thursday, calling for an "urgent de-escalation".
Thousands of Palestinians have gathered at least weekly along the border in protests that have led to deadly clashes with the Israeli military.
Demonstrators are calling for Israel to lift its crippling decade-long blockade of Gaza, while also demanding refugees be allowed to return to homes their families fled in the late 1940s during the creation of the Jewish state.
Around 40 children have been killed in the protests and "nearly 3,000 others have been hospitalized with injuries, many leading to life-long disabilities," the UN children's agency (UNICEF) said.
"UNICEF reiterates its outrage at the very high numbers of children who have been killed and injured as a result of armed conflict 2018," said UNICEF's Middle East director Geert Cappelaere.
He called on both sides to "ensure children are not targeted".
"Exploiting children's lack of sense of purpose and vulnerabilities or enlisting them into violence are violations of children's rights."
In total, 258 Palestinians have been killed by Israeli fire in Gaza since the protests began, most during border clashes.
Two Israeli soldiers have also been killed over the same period.
Israel says its response is necessary to defend the border and accuses Hamas, with whom it has fought three wars, of orchestrating violence there.
The UNICEF statement follows another severe flare-up this week between Hamas and Israel, with a rocket attack from the Gaza Strip that sparked retaliatory air strikes.
Full report at:
http://english.alarabiya.net/en/News/middle-east/2019/03/29/40-children-killed-in-year-of-Gaza-border-protests-says-UN.html
--------
Israel strike kills 7 Iranian, Iran-backed fighters in Syria
28 March 2019
A Syrian war monitoring group says an Israeli airstrike the night before killed seven Iranian and Iranian-backed fighters in northern Syria.
The Britain-based Syrian Observatory for Human Rights said on Thursday that the airstrike targeted an Iranian weapons depot and also wounded several other fighters.
Syrian state media said the country's air defenses responded to an "Israeli air aggression" targeting positions in an industrial area northeast of the city of Aleppo city, causing material damage only.
Iran is an ally of Damascus and has offered military advisers, sent allied militiamen and material support to help the Syrian government force in the eight-year civil war.
Full report at:
http://english.alarabiya.net/en/News/middle-east/2019/03/28/Israel-strike-kills-7-Iranian-Iran-backed-fighters-in-Syria.html
--------
Turkish court rules to keep US consulate worker in jail, says lawyer
28 March 2019
A Turkish court ruled on Thursday to keep US consulate employee Metin Topuz in jail as his trial continues, a lawyer for Topuz said on Thursday, meaning he will remain in detention until the trial resumes in May.
The trial of Topuz, a Turkish translator and fixer for the Drug Enforcement Agency (DEA) at the US consulate in Istanbul, has deepened strains in the already fraught ties between NATO allies Turkey and the United States.
Topuz is on trial for charges of espionage and links to a 2016 attempted military coup.
Full report at:
http://english.alarabiya.net/en/News/middle-east/2019/03/28/Turkish-court-rules-to-keep-US-consulate-worker-in-jail-says-lawyer.html
--------
Trump offers Arabs handshakes to steal their lands, Iran warns
Mar 29, 2019
The Iranian foreign minister has called for unity in the Muslim world to counter plots by the US and the Israeli regime, saying they seek to "steal" the lands of Arab countries even though they apparently offer handshakes to Arab leaders.
"Trump's lawless announcement on "Occupied Syrian Golan" after last year's on "Occupied Al-Quds" is a sobering reminder for our Arab and Muslim brethren," Mohammad Javad Zarif said in a Thursday tweet.
"US & Israel will offer you handshakes, but no matter how much you kowtow, they will still steal your lands. #LetUsUnite," he added.
The Iranian foreign minister made the remarks in reaction to a Monday decree signed by US President Donald Trump to recognize the Israeli regime's "sovereignty" over the Syrian territories of Golan.
The US president's move broke with decades of international consensus over the border area which the Tel Aviv regime seized from Syria in 1967.
The decision was met with negative reactions from the Arab allies of the US, among others. Saudi Arabia, the United Arab Emirates, Bahrain, Qatar and Kuwait all criticized Trump's move.
"It will have significant negative effects on the peace process in the Middle East and the security and stability of the region," said a statement on Saudi state news agency SPA.
It described the declaration as a clear violation of the UN Charter and of international law.
Qatar, which has been at loggerheads with other Persian Gulf states over its policies, joined them in rejecting Trump's move and called on Israel to end its occupation of the Golan Heights and comply with international resolutions.
Arab League chief Ahmed Aboul Gheit had earlier announced that the 22-member organization "fully supports Syria's right for its occupied territory."
The Golan Heights are "occupied territory" belonging to Syria under international law and the resolutions of the United Nations and the UN Security Council, he stressed.
Earlier on Tuesday, Iranian President Hassan Rouhani compared the US move with the behavior of "colonial powers" in the past and called for "closer cooperation" among countries in the Middle East to counter the US and Israel.
"The Zionist regime's excessive demands and Washington's wrong decisions further necessitate closer cooperation among regional countries," Rouhani said in a phone conversation with Iraqi Prime Minister Adel Abdul-Mahdi.
Full report at:
https://www.presstv.com/Detail/2019/03/29/592106/Iran-Arab-countries-Trump-Golan-zarif-handshake
--------
Israel to wage 'broad military campaign' in Gaza if needed: PM
Mar 28, 2019
Israeli Prime Minister Benjamin Netanyahu says Tel Aviv is ready to wage a broad military campaign in Gaza if needed, after a two-day flareup of cross-border fighting which has left several people injured on both sides.
"All Israelis should know that if a comprehensive campaign is required, we will enter it strong and safe, and after we have exhausted all of the other possibilities," Netanyahu said after visiting the Gaza frontier, where he met some Israeli commanders.
His comments came after two consecutive nights of heavy Israeli bombardments, which wounded several Palestinians but were responded to with a rocket attack from the enclave. The attack wounded seven Israelis in Mishmeret, an agricultural town north of Tel Aviv, on Monday, and forced Netanyahu to cut short his visit to the US.
Palestinian resistance groups on Wednesday fired rockets into Israel in response to the regime's airstrikes on several areas, including the town of Khan Yunis and the Rafah border crossing south of Gaza City.
Palestinian sources in the Gaza Strip say Israeli airstrikes on Rafah damaged residential homes and electricity network.
The rockets fired from Gaza have turned into a major security challenge for Netanyahu ahead of Israel's April 9 election. In power for a decade and beset by corruption allegations, he is facing his strongest electoral challenge from a centrist coalition led by a former general.
The Israeli military has deployed artillery and tank brigades along the so-called buffer zone with Gaza.
"The military will resort to a very strong hand against anyone trying to confront our troops," Israeli security cabinet minister Arye Deri told Army Radio.
The UN's special coordinator for the Middle East peace process expressed concerns Tuesday over the escalation of violence.
"I am concerned that we may, once again, be facing another very dangerous escalation of violence in Gaza, with potentially catastrophic consequences," Nickolay Mladenov told the UN Security Council.
"The last two days show how precariously close we came to the brink of war once again."
Gazans plan mass rallies
In Gaza, organizers have announced plans for a massive protest on Saturday along the border to mark the first anniversary of weekly demonstrations at which Israeli forces have already killed more than 260 Palestinians.
Over 26,000 Palestinians have also sustained injuries ever since the anti-occupation protest rallies, known as the Great March of Return, began in the Gaza Strip on March 30, 2018.
The United Nations Human Rights Council said last week that Israeli troops may have committed war crimes by using excessive force against the protests.
Full report at:
https://www.presstv.com/Detail/2019/03/28/592096/Israel-premier-netanyahu-Palestine-Gaza-military-campaign
--------
Israeli airstrike injures 3 young Palestinians in Gaza: Report
Mar 28, 2019
At least three young Palestinian men have been wounded after an Israeli warplane fired a missile towards a crowd of Palestinian youths in the besieged Gaza Strip, a report says.
They were targeted east of Jabaliya in the northern parts of the blockaded enclave on Thursday afternoon, the Palestinian Ma'an news agency reported, citing local sources.
They were allegedly launching incendiary kites and balloons when the Israeli missile landed near them, it said.
The wounded, the report said, were taken to the Indonesian Hospital, also in northern Gaza, to receive due medical treatment for their "minor injuries."
An Israeli spokesperson confirmed the airstrike in a statement.
Flying kites and balloons has become a new mode of resistance since Palestinians began their weekly protests near a fence separating the Gaza Strip from the occupied territories on March 30 last year.
Israeli officials try to put a criminal spin on the protests, claiming that kites and balloons launched by Palestinians have burned thousands of acres of farmland, forests and nature reserves in the regions around the Gaza Strip.
On Thursday, Israeli authorities continued to seal off the Kerem Shalom crossing.
The land crossing between the southern Gaza Strip and the occupied territories is the main export-import terminal for inhabitants of the enclave.
Israeli officials also banned Gaza fishermen from working off the coast of the besieged territory for the fourth day in a row, said head of Palestinian Fishermen Union Zakariya Bakr said.
Israel imposed a limit of three nautical miles on fishing in the waters off the Gaza shore until August 2014, when Palestinian fishermen were allowed to go out six miles under a ceasefire agreement reached after a deadly 50-day Israeli war in the same month.
The fishing zone is supposed to extend to 20 nautical miles under the Oslo Accords. The Oslo Accords were signed between the Israeli regime and the Palestine Liberation Organization (PLO) during the early-mid 1990s.
In May 2017, Israeli authorities increased the fishing area for Gaza fishermen to nine nautical miles.
Over the past few years, however, Israeli forces have carried out more than a hundred attacks on Palestinian boats, arresting dozens of fishermen and confiscating several boats. Furthermore, they time and again prevent Gazan fishermen from doing their job.
Tensions have been running high in Gaza since March 30 last year, when the "Great March of Return" protests started, demanding the right to return for those driven out of their homeland by Israeli aggression.
The clashes in Gaza reached their peak on May 14, the eve of the 70th anniversary of Nakba Day or the Day of Catastrophe, which coincided this year with Washington's relocation of its embassy from Tel Aviv to the occupied Jerusalem al-Quds.
More than 260 Palestinians have so far been killed and at least 26,000 others wounded in the Gaza clashes, according to the Gaza Health Ministry.
Full report at:
https://www.presstv.com/Detail/2019/03/28/592090/Palestine-Israel-airstrike-Gaza-kites-Kerem-Shalom-fishing
--------
Africa
11 dead, 16 wounded in Somalia bomb blast, say medics
28 March 2019
At least 11 people died when a bomb exploded on a busy street and ripped into a nearby restaurant in Somalia's capital Mogadishu on Thursday, medics said.
"The death toll we have confirmed so far is 11 people, with 16 others wounded," said Abdulkadir Abdirahman Adan, director of the Aamin Ambulance service, adding that the toll could still rise.
He added: "There could be more losses."
Witnesses described scenes of devastation, with several people wounded as they were eating lunch.
There was no immediate claim of responsibility for the bombing.
However, Mogadishu is regularly targeted by the al-Qaeda affiliated al-Shabaab insurgents, who have been fighting for over a decade to topple the government.
The attack took place on the busy Maka al-Mukarama road, once of the main highways through the seaside capital, an area busy with businesses and travelers.
Witnesses said several cars and three-wheeler motorbikes were destroyed by the force of the blast.
The bombing is the latest in a recent string of blasts in the capital, which has been hit regularly by al-Shabaab attacks.
Al-Shabaab fighters fled fixed positions they once held in Mogadishu in 2011, and have since lost many of their strongholds.
But they retain control of large rural swathes of the country, and continue to wage a guerrilla war against the authorities.
http://english.alarabiya.net/en/News/middle-east/2019/03/28/11-dead-16-wounded-in-Somalia-bomb-blast-say-medics-.html
--------
Car bomb attack claims lives of 15 people in Somali capital
Mar 28, 2019
At least 15 people have been killed and several others injured in a car bomb blast on a busy street in Somalia's capital, Mogadishu, officials and witnesses say.
The Thursday afternoon explosion on Mogadishu's Maka al-Mukarama road sent a huge cloud of smoke into the sky and destroyed two restaurants and cars parked in the area.
Abdulkadir Abdirahman Adan, director of the Aamin Ambulance service, told AFP that 15 people had been killed, as well as several more wounded by the blast.
"The car bomb struck a restaurant along the road," said Abdulahi Osman, who was nearby to the explosion, adding, "This really was a disaster."
Some security officials and witnesses earlier reported bodies lying on the ground. "There was a heavy blast – presumably caused by a vehicle loaded with explosives," said Adan Abdikadir, a government security officer.
There was no immediate claim of responsibility for the bombing.
The blast is the latest in a recent string of bombings in the capital, which has regularly been the target of attacks by al-Shabab terrorists.
On Saturday, two explosions and a gunfight between al-Shabab militants and security personnel claimed the lives of at least 15 people in central Mogadishu.
Earlier this month, a deadly car bomb explosion claimed by the Takfiri group hit near the presidential palace in the capital.
The militant outfit was forced out of Mogadishu with the help of African Union forces in 2011. However, it still wields control in large parts of the countryside, and every now and then carries out deadly attacks against government, military, and civilian targets in the capital as well as regional towns.
The terrorist group has fought successive Somali governments as well as neighboring governments in Kenya and Uganda.
Somalia has faced instability and violence since 1991, when the military government was overthrown.
In recent years, the Pentagon has also stepped up airstrikes against alleged positions of al-Shabab militants in the country in the wake of President Donald Trump's approval in 2017 of expanded military operations there.
Full report at:
https://www.presstv.com/Detail/2019/03/28/592075/Somalia-Mogadishu-Adan-Abdikadir-Kenya-and-Uganda-alShabab
--------
Turkey strongly condemns terror attack in Somalia
Ali Murat Alhas
29.03.2019
Turkish Foreign Ministry on Friday strongly condemned a terror attack in Somalia's capital Mogadishu that killed at least 11 people.
"We have received the news with deep sorrow that the terrorist attack perpetrated in Mogadishu, resulted in loss of many lives and left several others wounded," the ministry said in a statement.
At least 11 people were killed and 16 others wounded in a car bombing in Mogadishu on Thursday, according to officials.
Full report at:
https://www.aa.com.tr/en/africa/-turkey-strongly-condemns-terror-attack-in-somalia/1433314
--------
Nigerian court orders separatist Igbo chief's arrest
Rafiu Oriyomi Ajakaye
28.03.2019
A Nigerian court on Thursday ordered the arrest of an Igbo separatist leader after he repeatedly failed to appear for his treason trial proceedings.
The court directed security forces to produce Nnamdi Kanu, chief of the Indigenous People of Biafra (IPOB), a movement that seeks to carve out a separate homeland for the country's ethnic Igbo population.
Until Kanu can be produced in court, Judge Binta Nyako said the "only option" was for proceedings to continue in his absence.
"In the absence of any reasonable explanation for his absence, I hereby revoke his bail and order that a bench warrant be issued for his arrest," she added.
Nyako cited Kanu's failure to honor the conditions attached to his temporary freedom -- including refraining from addressing a political rally or making inflammatory comments -- and withdrawing all of his sureties who said they could not account for him anymore.
Kanu is suspected to have fled Nigeria following an army crackdown on his house in southeastern region of the country. The crackdown followed his alleged training of armed forces and continued ethno-religious incitement as shown in footage promoted by the IPOB.
Recent footage purportedly showed him in Israel threatening to balkanize the country -- a treasonable offence under the Nigerian law.
At least four other IPOB members are standing alongside Kanu on trial, which has adjourned proceedings until June 18.
A Briton-Nigerian, Kanu was first arrested in the capital city of Abuja on his arrival from Britain in 2015 for secessionist activities and ethnic incitement against other tribes, raising tensions in the deeply fractured country.
Full report at:
https://www.aa.com.tr/en/africa/nigerian-court-orders-separatist-igbo-chief-s-arrest-/1432854
--------
Maputo's Muslims rally to help Cyclone Idai victims hundreds of miles from home
Jack Moore
March 28, 2019
Macsud Samsadin sits in a white cap and long, cream, Islamic jubba, offering water and rissois – breaded prawns with green chili – to guests for free. His small halal takeaway joins on to the yellow and white Jumma Mosque in downtown Maputo, the capital of Mozambique.
"You are my friend," the 47-year-old says. "There is no price. Tomorrow we are going to die, we must make life easy."
The hospitality of the deputy of the Mozambican capital's oldest mosque is not unique. In the past fortnight, members of the Muslim community around the city have clubbed together to help thousands of their compatriots some 1,200 kilometres north.
In central Mozambique, Cyclone Idai has left a scene of carnage rarely witnessed before in the southern hemisphere. More than 450 people have been killed, hundreds of thousands lie in displacement camps and officials have confirmed the first cases of cholera as fears rise that a new disaster is about to unfold. In Sofala Province, the area worst affected, the city of Beira is 90 per cent destroyed and the town of Buzi lies underwater.
Word has spread around Maputo through chatter, WhatsApp and Facebook that there is a group of Muslim men coordinating a significant relief effort for victims of Idai.
Ahmad Salim, a 24-year-old of Pakistani descent who works in his father Mohammad's utilities shop, says they have already given some of their goods to the aid drive, pointing in the direction of the group's centre, calling them the "Communidad Musulmana" - Portuguese for Muslim community.
A 10-minute drive away from the Jumma Mosque, the coalition of Muslim men, who call themselves "the Muslim movement to support the victims of Cyclone Idai", host a meeting of about ten people at their community centre to plan for the relief effort.
Several organisations have grouped under one umbrella to join forces and help Beira to defend itself from the aftermath of Idai. In this coalition, there are around 70 staff members in Maputo and a wider network of up to 400 volunteers in Beira that will help its delegations to deliver aid in the country's fourth city.
On the day the men meet, a ship is leaving Maputo port for Beira, loaded with 400 tonnes of goods in 14 large containers, sent by the movement after their campaign raised funds to the tune of $300,000 (Dh1.1mn).
To get the deliveries to the ship, the men have hired trucks, while some locals have offered transport for free. All of their plans are being coordinated with the Mozambican government and the local authorities in Beira, meaning the efforts of this Muslim movement are being endorsed at the highest levels of state.
The men began with a press release, then took to social media and started to contact companies as part of what they say was an "aggressive" campaign.
"The response was very, very good," says Farook Jassat, the 60-year-old spokesman of the movement.
"We have people who donate two, three dollars and we accept because that is their intention and that is their willing power, so we don't refuse. For everything coming in, we want the spirit to be there, and it is there."
The aid delivered to Beira included foodstuffs such as rice, water treatment, corrugated sheets for damaged roofs, and mosquito nets because of the increasing threat of malaria as the floodwaters begin to stagnate.
"We will give to all the population without discrimination," the spokesman says.
While estimates vary wildly, at least a fifth of Mozambique's population is Muslim. Mr Jassat says the community has a strength grounded in its religion, one that promotes giving to others. "Help one and help a nation, that is our philosophy, that is our principle," he explains.
The movement's next aim is to reach 500 tonnes of goods. They hope the road from Maputo to Beira will be cleared soon so they can dispatch aid at a quicker rate. The movement has been frustrated by the inability to contact people inside Beira, too, with the city sitting in virtual darkness at night because of the lack of power after the cyclone hit.
More impressive is that the men who sit around the movement's office have given up their day jobs to assist the aid mission. "We are all business people, some work in companies but we have all given up this to allocate our time to this need," Mr Jassat says. For those who don't own their own companies, their bosses have been flexible and "most of them have accepted" their time off to help.
But what is driving them to drop their daily lives in the untouched calm of Maputo to help thousands of people so far away?
"We are Mozambicans and we are Muslims, so our duty is to help and do whatever is possible," he says as his fellow movement members nod in approval. "We are here in Mozambique and we have to help our own nation."
While the urgency to help Beira's needy is immediate, there are concerns that aid agencies will forget about Mozambique and leave when the next disaster arrives. But both the movement and the deputy of Jumma Mosque say they will not abandon their people.
Full report at:
https://www.thenational.ae/world/africa/maputo-s-muslims-rally-to-help-cyclone-idai-victims-hundreds-of-miles-from-home-1.842577
--------
URL: https://www.newageislam.com/islamic-world-news/christchurch-survivor-tells-remembrance-service/d/118168
New Age Islam, Islam Online, Islamic Website, African Muslim News, Arab World News, South Asia News, Indian Muslim News, World Muslim News, Women in Islam, Islamic Feminism, Arab Women, Women In Arab, Islamophobia in America, Muslim Women in West, Islam Women and Feminism