New Age Islam News Bureau
15 March 2021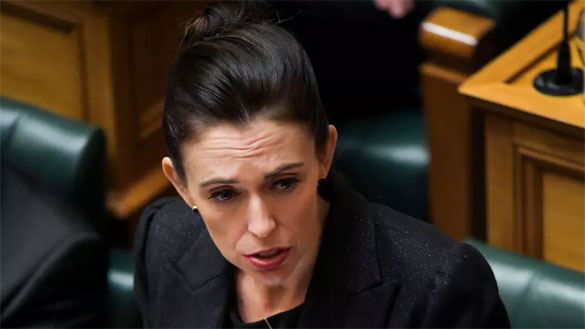 Dave Lintott / AFP | New Zealand Prime Minister Jacinda Ardern
------
• New Charges against British-Iranian Aid Worker Zaghari-Ratcliffe 'Unacceptable': UK
• Bangladesh Islamic Foundation: Muslims Are Allowed To Receive Covid Vaccine While Fasting During Ramadan
• Hindu Community of Restive Khyber Pakhtunkhwa Pardons Mob for Vandalising Temple in Pak
• Experts from China, Russia, Pakistan and Egypt Hail China's Role in Development of Xinjiang Muslims, Other Minority Groups
• A Decade of War In Syria Killed Over 388,000, Says A War Monitor
• Jailed French Tourist in Iran Benjamin Briere Faces Spying Charges: Lawyer
• NIA Raids Several Locations across Delhi, Karnataka, Kerala in ISIS-Related Cases
New Zealand
• Christchurch Massacre: New Zealand PM Jacinda Ardern Urges Debate over Racism
--------
Europe
• New Charges against British-Iranian Aid Worker Zaghari-Ratcliffe 'Unacceptable': UK
• Palestine, Arab League condemn opening of Czech diplomatic office in occupied al-Quds
• Saudi Air Force jets arrive in Greece for joint drill
• Sweden: Arson Attack Targets Muslim Children's School
• Wife of Syria's Assad Faces War Crimes Probe In UK
--------
South Asia
• Bangladesh Islamic Foundation: Muslims Are Allowed To Receive Covid Vaccine While Fasting During Ramadan
• Bangladesh Islamist Groups Demand Cutting Off Diplomatic Relations with China for Uighur Persecution
• Taliban face heavy retaliations in Helmand, Kandahar: Ministry of Defence
• NDS kills key 'Daesh Commander' in Nangarhar
• Hasty Withdrawal Of International Troops From Afghanistan Will Jeopardize Global 'Counterterrorism' Efforts
• Afghan forces kill 18 Taliban militants in Kandahar province - Defence ministry
--------
Pakistan
• Hindu Community of Restive Khyber Pakhtunkhwa Pardons Mob for Vandalising Temple in Pak
• Countrywide Protest Planned For Recovery of Shia 'Missing' Persons
• Pakistan among biggest importers of major arms in Asia and Oceania: report
• 'Who gave you the right to judge statements?': Maryam hits back at NAB before LHC hearing
• Government's environment policies recognised globally: PM
• Incompetent people have been imposed on Pak, says opposition leader Latif
• Pakistani Scholars Gathering Held on Mabaath
--------
Southeast Asia
• Experts from China, Russia, Pakistan and Egypt Hail China's Role in Development of Xinjiang Muslims, Other Minority Groups
• Malaysian Govt Files Appeal against Court Ruling Allowing Use Of 'Allah' Word In Christian Publications
• Putrajaya to contest High Court decision invalidating 1986 ban on 'Allah' use by Christians
• Unemployed man in KL fined RM10, 000 for insulting Islam on Facebook
• Foreign investors stay net buyers of local equities so far in March, says Bank Islam economist
--------
Arab World
• A Decade of War In Syria Killed Over 388,000, Says A War Monitor
• Missile, rocket strikes on fuel tankers in north Syria near Turkey border wound two
• Turkey must lay ground for normalizing ties with actions: Egyptian FM
• Pope Francis renews appeal for Syria on 10th anniversary of conflict
• Emirati security team hatching conspiracy in Iraq, Asa'ib leader warns
• Iran denies involvement in Iraq attacks in letter to UN chief
--------
Mideast
• Jailed French Tourist in Iran Benjamin Briere Faces Spying Charges: Lawyer
• Iran, Pakistan Call for Halt to West's Support for Terrorist Groups in Region
• Israel unveils 'Iron Sting' guided mortar system for future urban warfare
• Kosovo opens embassy in Jerusalem, weeks after establishing ties with Israel
• Fingers point to Yemen Houthi militia for starting fire that killed African migrants
• Defying global outcry, Netanyahu says will legalize West Bank settlements if re-elected
• Israeli plot to demolish more Palestinian homes amounts to 'ethnic cleansing': Rights group
• Human Rights Official Blasts Biden Administration for Continued Medical Sanctions against Iran
• Spokesman: Iran Not to Hold Talks with US on Any Issue
--------
India
• NIA Raids Several Locations across Delhi, Karnataka, Kerala in ISIS-Related Cases
• BJP Condemns Shia Leader Waseem Rizvi's Remarks about the Quran
• Waseem Rizvi's blasphemous move sparks widespread resentment in Kashmir
• Terrorist killed in Shopian encounter, stone-pelters try to disrupt op
• Arrested terrorist was planning political killings in Doda: Army
• For Khwaja Yunus' Aging Mother, Arrest of Waze Is 'Poetic Justice'
• Pakistani drone spotted in Punjab's Bamial, returns after BSF opens fire
• Indian army shares counter terrorist operation tactics with soldiers of Uzbekistan army
--------
Africa
• Video Shows Gunmen Beating Kidnapped Students in Nigeria
• Armed bandits attack another Nigerian school as 39 students still missing
• UN Urges Withdrawal of Mercenaries from Libya, Welcomes Unity Government
• Tigray conflict: Ethiopia says US allegations of 'ethnic cleansing' unfounded
• Nigeria: 19 killed in Boko Haram terror attack
--------
North America
• US Lawmakers Urge Biden to Stop Israel's Land Theft, Home Demolition Policies
• Erdogan awaits call from Biden amid attempted reset in US-Turkey relations
• US plans to reinvigorate diplomatic effort alongside UN in Yemen: State Department
• US military presence in Afghanistan much larger than disclosed: US media
• Biden difference in rhetoric, same as Trump in policy towards Iran, others: Analyst
Compiled by New Age Islam News Bureau
URL: https://www.newageislam.com/islamic-world-news/christchurch-massacre-new-zealand-pm/d/124546
--------
Christchurch Massacre: New Zealand PM Jacinda Ardern Urges Debate over Racism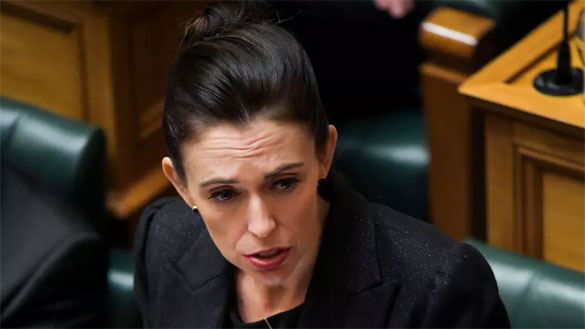 Dave Lintott / AFP | New Zealand Prime Minister Jacinda Ardern
------
15 March 2021
New Zealand's Prime Minister Jacinda Ardern has called for more discussions to address the divisive issue of racism, two years after scores of Muslims were killed and injured in a mass shooting that target two mosques.
Speaking to reporters in Wellington on Monday as mourners gathered in Christchurch at a memorial marking the second anniversary of the attacks on Muslim worshipers, Ardern, who hails from the Kiwis' Labour Party, said "there is still work to be done".
"Two years ago today 51 New Zealanders lives were taken in the March 15 mosque attack. Our thoughts continue to be with the victims, injured survivors, families and all those affected by the events of that day. I know we're all committed to ensuring such an attack never happens on our soil again, and for our part, that's why we have put in place an extensive program of work to implement the recommendations of the Royal Commission of Inquiry into the attack," she said.
"Members of our Muslim community were experiencing some pretty horrific racism before that attack here in their own communities" she added.
"The world needs to have these conversations," Ardern said.
"In the aftermath of the attack it was incumbent on New Zealand to get its house in order," Ardern pointed out, adding that it was not fair to say that because the terrorist came from Australia, that New Zealand didn't have a responsibility.
Ardern said every global leader has a responsibility as their voice can be broadcast anywhere, at any time. "Countries need to take that into account," she noted.
Ardern had previously apologized on behalf of law enforcement agencies and security officials, who before the Christchurch attacks had been focused exclusively on the possibility of threats posed by 'Islamic extremist groups.'
The gunman, self-proclaimed white supremacist Australian Brenton Tarrant, 30, killed and injured a large number of Muslim worshippers praying at Al Noor and Linwood mosques, while streaming the brutal killings on Facebook.
Tarrant was sentenced last year to life in prison, without parole, for 51 charges of murder, 40 charges of attempted murder and one of terrorism. Before the attacks, he had released a manifesto emphasizing the supremacy of the White race over other races. https://www.presstv.com/Detail/2021/03/15/647333/Terrorism-New-Zealand-Prime-Minister-Jacinda-Ardern-Chritchurch-Racism
--------
New Charges against British-Iranian Aid Worker Zaghari-Ratcliffe 'Unacceptable': UK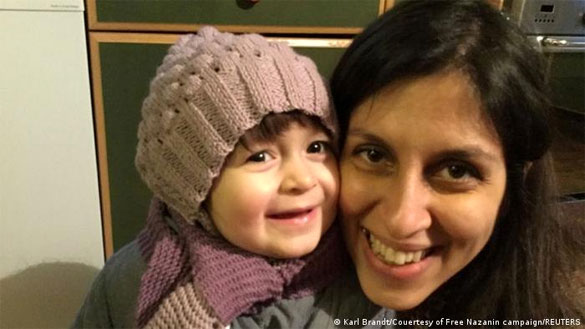 Nazanin Zaghari-Ratcliffe and her daughter Gabriella in a photo taken in 2016
----
14 March, 2021
New charges of "propaganda against the system" made by Iran against British-Iranian national Nazanin Zaghari-Ratcliffe, a week after she finished serving a five-year sentence, are "unacceptable," Britain said Sunday.
"It is unacceptable that Iran has chosen to continue a second wholly arbitrary case against Nazanin Zaghari-Ratcliffe," Foreign Secretary Dominic Raab wrote on Twitter.
"She must be allowed to return to her family in the UK without delay. We continue to do all we can to support her," he added.
Earlier on Sunday, Zaghari-Ratcliffe's lawyer said she stood trial at Iran's Revolutionary court.
"Her trial was held at branch 15 of the Revolutionary court. Her charge is propaganda against the system," he told the Iranian Emtedad website.
https://english.alarabiya.net/News/world/2021/03/14/New-charges-against-British-Iranian-aid-worker-Zaghari-Ratcliffe-unacceptable-UK
--------
Bangladesh Islamic Foundation: Muslims Are Allowed To Receive Covid Vaccine While Fasting During Ramadan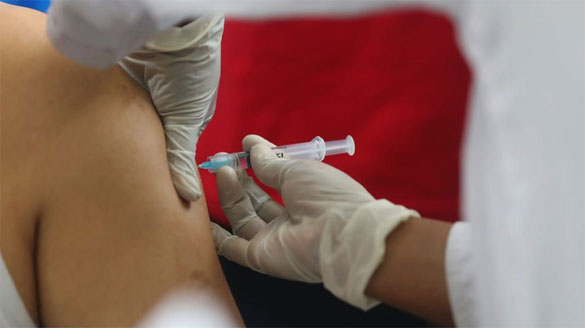 File photo of a health worker administering a jab during the ongoing nationwide Covid-19 vaccine campaign Mehedi Hasan/Dhaka Tribune
-----
March 15th, 2021
So far, Covid-19 has claimed 8,545 lives and infected 557,395 people in Bangladesh
Muslims can receive Covid-19 vaccine during Ramadan fast, said Islamic Foundation.
Religious Affairs Ministry issued a press release in this regard on Monday after a view exchange meeting at the Islamic Foundation on Sunday.
Director General of Islamic Foundation Dr Mohammad Mushfiqur Rahman presided over the meeting while high official concerned were present there.
Religious Affairs Secretary Mohamamd Nurul Islam was present as the chief guest of the meeting.
During the meeting, they said as the vaccine does not enter the stomach directly it will not break the fast. So it any person get vaccinated in the day time it will not breakfast.
Covid-19 in Bangladesh
Covid-19 claimed 18 more lives and infected 1,159 more in Bangladesh in the last 24 hours till Sunday morning, showing a sharp rise both in the number of deaths and daily infections.
With the latest figures, the Covid-19 fatalities climbed to 8,545 and total infections to 557,395, according to a handout of the Directorate General of Health Services (DGHS).
The daily infection rate jumped to 7.15% on Sunday from 6.26% on Saturday.
But the mortality rate remained static at 1.53% on Saturday and Sunday which was 1.54% in the past few weeks, the DGHS said in a handout.
The virus infection rate had come down to below 5% on January 19 last. It even had come down below 3%. However, the infection rate soared again on Tuesday last as it increased to 5.13%.
2021/03/local-portel-770-x-90-1615141235923.gif
The infection rate was 5.98% on Wednesday while 5.82% on Thursday, 6.62% on Friday and 6.26% on Saturday.
The country's daily Covid-19 cases stayed below the 1,000-mark before Wednesday when the daily Covid-19 cases rose to 1,018.
Besides, 1,385 people recovered from the virus infections during the period. So far, 511,695 patients (91.80%) have recovered, according to the DGHS.
Bangladesh reported its first cases on March 8, 2020 and the first death on March 18 in the same year.
Authorities have so far tested 4,264,551 samples, including 16,206 in the past 24 hours.
Covid-19 vaccination drive in Bangladesh
Bangladesh launched its nationwide Covid-19 vaccination drive on February 7.
By Sunday, 4,398,094 people received the first dose of the Oxford-AstraZeneca vaccine. The second dose has to be taken between 8 and 12 weeks of the first one.
The government is providing the vaccine for free. It signed an agreement with India's Serum Institute for acquiring 30 million doses of the vaccine.
The institute will provide five million doses every month between January and June. Those who are 40 or above can register for getting the jab at www.surokkha.gov.bd as the on-spot registration system has been revoked.
Health Minister Zahid Maleque has said the age limit for getting the vaccine will be revised once more doses are available in the country.
https://www.dhakatribune.com/bangladesh/2021/03/15/islamic-foundation-muslims-are-allowed-to-receive-covid-19-vaccine-during-ramadan-fast
--------
Hindu Community of Restive Khyber Pakhtunkhwa Pardons Mob for Vandalising Temple in Pak
Mar 15, 2021
PESHAWAR: The Hindu community in Pakistan's restive Khyber Pakhtunkhwa has decided to pardon the mob that vandalised and burned down a century-old temple in the province. The local clerics and members of the Hindu community held a meeting on Saturday to resolve the dispute.
As per the dialogue, informally called 'jigra', the accused have tendered an apology over the attack. The Muslim clerics have assured full protection to the Hindus and their rights as per the country's constitution.
A reconciliation statement would be presented to the Supreme Court, in a bid to secure the release of the accused. Speaking to the media, Pakistan Hindu Council chairman Ramesh Kumar said the incident had hurt the feelings of Hindus across the world.
Kumar, who is also a member of the ruling PTI, said Khyber Pakhtunkhwa CM Mahmood Khan had chaired the 'jigra' meet and thanked him for the amicable settlement of the matter. Khan, in his address, had strongly condemned the attack, calling it an attempt to pollute the peaceful environment in the province. On December 30, a mob led by local clerics and members of the radical Jamiat Ulema-e-Islam party vandalised the temple. Nearly 50 people have been arrested. PTI
https://timesofindia.indiatimes.com/world/pakistan/hindu-community-pardons-mob-for-vandalising-temple-in-pak/articleshow/81502372.cms
--------
Experts from China, Russia, Pakistan and Egypt Hail China's Role in Development of Xinjiang Muslims, Other Minority Groups
March 14, 2021
By Mian Abrar
ISLAMABAD: Speakers from various countries have unanimously hailed the Chinese government's role in development of its ethnic minority groups especially the way China has supported and protected the development of its ethnic minority groups while Muslims in Xinjiang Province.
Participants from several countries including China, Russia, Pakistan and Egypt talked about China's policies on its ethnic minority groups and agreed that the Uygur Muslims are enjoying full religious and ethnic rights and their right to worship and religion is fully protected under the law.
Addressing a virtual conference held on the side-lines of the 46th Session of the UN Human Rights Council, the executive vice president of China Family Planning Association, Yao Ying, said that the Chinese government has made every effort to promote the development of ethnic minority groups and improve their health and living standards.
"Xinjiang has set a successful example. From 2010 to 2018, the Uygur population in Xinjiang rose from over 10 million to more than 12 million, seeing an increase of over 25 per cent," she said.
She added that the development is an external theme of human society and only through development, can the fundamental rights of people be guaranteed.
"China is always committed to the people-centered philosophy of development. Respecting the people's principled position in the country ensures peoples' equal rights. Chinese President Xi Jinping has emphasised that no one should be left behind," she said.
Ying said that the Chinese government has especially formulated a program for developing the ethnic minorities' areas. She said that in the 13th Five-Year Plan, the strategic importance of ethnic minorities and ethnic regions has been highlighted.
"China has 55 ethnic minorities groups and 155 autonomous ethnic minority areas. China's government has made every effort to promote and improve the health and living standards of ethnic minorities," she said.
Ying said that Xinjiang is a good example where birth rate of Uygur population in not only higher than Xinjiang's total population, but it also is higher than all ethnic minorities groups in across China.
Muhatiremu Xiripu, the deputy secretary general of Islamic Association in Xinjiang Uygur Autonomous Region, said that in Xinjiang, normal religious activities are guaranteed.
"There are 103 Islamic Associations in Xinjiang and each mosque manages its own religious activities. The property of the mosque is protected by law. The access of Muslim people to religious knowledge is unobstructed," he said.
Xiripu said that China firmly upholds the concept of people-centered development, respects the people's principal position in the country, ensures their equal participation and right to development.
"Setting the improvement of people's well-being and steady progress towards common prosperity as the aim and outcome of development, China makes its people the main participants, promoters and beneficiaries of development, enables its people to enjoy better education, more stable jobs, more satisfying income, more reliable social security, better quality healthcare services, more comfortable living conditions and a more beautiful environment, so as to promote the development of its people in all aspects," he said.
He added that China's development philosophy has contributed to the enrichment and improvement of the concept of the right to development.
He further said that the right to development is the right of individuals, peoples and nations to participate actively, freely and meaningfully in political, economic, social and cultural development and to enjoy equitably the benefits resulting therefrom.
"The Chinese government has made every effort to accelerate the development of ethnic minority regions and improve the health and living standards of ethnic minority people. Xinjiang is a successful example of such efforts. Xinjiang is the largest provincial administrative region with the longest land border and the largest number of bordering countries in China, accounting for about 1/6 of China's total land area," Xiripu said.
Hong Ping, the commissioner of China Family Planning Association, said that there are 55 ethnic minorities in China, and Xinjiang is the home to people of 47 ethnic minorities.
"Since the 18th National Congress of the Communist Party of China, Xinjiang has achieved unprecedented outcomes in economic and social development and livelihood improvement, and attained remarkable results in healthcare, poverty alleviation, infrastructure construction, environmental protection and drinking water safety," she said.
She said that Chinese civil society has played an active role in promoting the development of China's ethnic minorities, and relevant international organisations and foreign friends have also contributed important efforts.
She said that in order to facilitate the international community to better understand the latest development in Xinjiang and to discuss topics of shared interest, the China Family Planning Association and the China Population and Development Research Centre had jointly organise the virtual workshop on the theme of "Development of Ethnic Minorities and Protection of Human Rights in China".
https://www.pakistantoday.com.pk/2021/03/14/experts-hail-chinas-role-in-development-of-xinjiang-muslims-other-minority-groups/
--------
A decade of war in Syria killed over 388,000, says a war monitor
14 March ,2021
The overall death toll for Syria's civil war has reached 388,652 since it began a decade ago this month, a war monitor said on Sunday.
The Britain-based Syrian Observatory for Human Rights said the figures includes almost 117,388 civilians, among them more than 22,000 children.
Attacks by the Syrian regime and allied militia forces accounted for the majority of civilian deaths, said the Britain-based monitor which relies on sources inside Syria for its reports.
The Observatory's previous tally was issued in December and stood at more than 387,000.
Observatory head Rami Abdel Rahman said 2020 saw the lowest annual death toll since the war began with just over 10,000 deaths.
Battles slowed this year as a ceasefire held in northwestern Syria and attention turned to containing the coronavirus pandemic.
The Observatory also documented at least 16,000 deaths in government prisons and detention centers since the conflict erupted in 2011 after the brutal repression of anti-government protests.
It said, however, that the real number was likely higher because its tally does no include 88,000 people believed to have died of torture in regime prisons.
Today the Damascus government controls more than 60 percent of Syria after a string of Russia-backed victories against extremists and rebels since 2015.
Among the regions still beyond its reach are the last opposition enclave of Idlib in the northwest, Turkish-held areas along the northern border, and northeastern parts of the country held by US-backed Kurdish forces.
The war has forced more than half the country's pre-war population to flee their homes.
Some 200,000 people have gone missing, according to the war monitor.
https://english.alarabiya.net/News/middle-east/2021/03/14/Syria-crisis-A-decade-of-war-in-Syria-killed-over-388-000-says-a-war-monitor
--------
Jailed French tourist in Iran Benjamin Briere faces spying charges: Lawyer
15 March ,2021
French tourist Benjamin Briere, who was arrested in Iran 10 months ago, faces charges of "spying and propaganda against the system," one of his lawyers Saeid Dehghan told Reuters on Monday.
"On Sunday, March 15, he was charged with two counts of espionage and propaganda against the Islamic Republic," Dehghan said, adding that Briere faces a long-term jail sentence.
Iran's judiciary was not available to comment. Last month, France's foreign ministry confirmed that a French citizen was being held in Iran, adding that it was monitoring the situation.
Dehghan said the 35-year-old had been arrested after flying a drone in the desert near the Turkmenistan-Iran border.
"He is in Vakilabad prison in the city of Mashhad. His health is good and he has access to his lawyers and he benefits from consular protection and the French embassy officials have been in regular contact with him," Dehghan said.
The lawyer said he has been charged with "propaganda against the system" because of a post on social media, in which he said "the hijab is mandatory" in the Islamic Republic of Iran, but not in other Islamic countries.
https://english.alarabiya.net/News/middle-east/2021/03/15/Jailed-French-tourist-in-Iran-Benjamin-Briere-faces-spying-charges-Lawyer
--------
NIA raids several locations across Delhi, Karnataka, Kerala in ISIS-related cases
Mar 15, 2021
NEW DELHI: The National Investigation Agency (NIA) on Monday conducted raids at several locations across Delhi, Kerala and Karnataka in a major crackdown on Islamic State (ISIS) modules, said sources.
An NIA source said that the multiple agency sleuths are carrying out searches at seven locations in Delhi, Karnataka and Kerala.
In Delhi, the searches are being carried out in the Jafrabad area and two locations are being searched in Bengaluru.
The agency sleuths are also carrying out searches at four locations in Kerala's Kochi and Kunoor, reported IANS.
"The people whose premises are being searched can be arrested after questioning," the source added.
More details are awaited.
https://timesofindia.indiatimes.com/india/nia-raids-underway-at-5-locations-in-isis-related-cases/articleshow/81504865.cms
--------
Europe
Palestine, Arab League condemn opening of Czech diplomatic office in occupied al-Quds
14 March 2021
The Palestinian Authority and the Arab League have strongly condemned the Czech Republic for opening a diplomatic office in the occupied Jerusalem al-Quds, calling it as a clear violation of international law.
The Palestinian Ministry of Foreign Affairs and Expatriates in a statement on Saturday said Prague's move is "a blatant attack on Palestinian people, their rights and a flagrant violation of international law."
The decision is a revolt against Europe's stance on the legal and political status of Jerusalem al-Quds, which is an integral part of Palestinian territories occupied in 1967, it said.
The move, it said, will have dramatic consequences, and harm the prospects for any settlement of the Middle East conflict.
The ministry also held the Czech government fully and directly responsible for the consequences of the decision in relations with Palestine, Arab and Muslim countries.
It also urged EU states and their foreign ministers, as well as EU foreign policy chief Josep Borrell, to intervene and make Prague reverse the decision.
Arab League Secretary-General Ahmed Aboul Gheit said the legal status of Jerusalem al-Quds will not be affected by the decision of one country or another to open representative offices.
He said East Jerusalem al-Quds is an occupied land under the international law.
On March 11, Prague opened a diplomatic office in Jerusalem al-Quds. The Czech Foreign Ministry said it was not an embassy, and was meant to strengthen Prague's strategic partnership with Tel Aviv and improve services for Czech citizens there.
Speaking beside Israeli prime minister Benjamin Netanyahu, his Czech counterpart Andrej Babis said Prague was a "strategic partner" of Israel.
On May 14, 2018, former president Donald Trump officially announced the opening of a new US embassy in Jerusalem al-Quds.
He had recognized Jerusalem al-Quds as the "capital" of Israel in December 2017, promising to relocate the US diplomatic mission from Tel Aviv to the holy city.
The decision sparked outrage among Palestinians, who deem Jerusalem al-Quds as the future capital of a Palestinian state.
Guatemala opened an embassy in Jerusalem al-Quds two days after the United States inaugurated its new site in the occupied city.
https://www.presstv.com/Detail/2021/03/14/647254/Palestine,-Arab-League-condemn-opening-of-Czech-diplomatic-office-in-occupied-al-Quds
--------
Saudi Air Force jets arrive in Greece for joint drill
Magda Panoutsopoulou
15.03.2021
As part of military cooperation between Greece and Saudi Arabia, six Royal Saudi Air Force F-15s arrived on the Greek island of Crete this weekend, said a Hellenic National Defense General Staff statement on Sunday.
A joint exercise between Greece and Saudi Arabia this month from Crete's Souda Air Force Base aims for both sides to train in complex air operations such as achieving air superiority/supremacy as well as protection and attack on land and sea targets, according to the statement.
This is the first visit to Greece by the 115th Battalion of the Saudi Royal Air Force.
In the Eastern Mediterranean exercise, Greece and Saudi Arabia will work for peace and stability in the region, said Hellenic Chief of General Staff Gen. Konstantinos Floros on Twitter.
The Saudi personnel were welcomed by Saudi Ambassador to Greece Saad bin Abdulrahman Al-Ammar and other officials.
"The particularly important presence of the Saudi Armed Forces in Souda is added to, among others, those of the United Arab Emirates, France, the USA and [Greek] Cyprus and highlights the important role of Crete in consolidating security and stability in the wider region of the Central and Eastern Mediterranean as well as the Middle East," the statement said.
https://www.aa.com.tr/en/europe/saudi-air-force-jets-arrive-in-greece-for-joint-drill/2175860
--------
Sweden: Arson attack targets Muslim children's school
Atila Altuntas
14.03.2021
STOCKHOLM
A fire broke out on Sunday at a private school in central Sweden where Muslim children are educated, said media reports.
Hussein Aldaodi, the principal of Alsalamskolan School in the province of Orebro, told Swedish state broadcaster SVT that footage on school security cameras showed two people setting fire to the school.
"In the footage, two masked men break windows on the lower floor of the school and throw flammable materials inside," Aldaodi said.
"Because it was early in the morning, our only consolation was that no one was in the school," he added.
Police have launched an investigation into the incident.
https://www.aa.com.tr/en/europe/sweden-arson-attack-targets-muslim-children-s-school/2175632
--------
Wife of Syria's Assad faces war crimes probe in UK
Muhammad Mussa
14.03.2021
LONDON
Asma al-Assad, the wife of Syrian dictator Bashar al-Assad, is facing possible prosecution for crimes against humanity by inciting and encouraging acts of terrorism against the people of Syria.
Guernica 37 International Justice Chambers, a human rights law firm, submitted a confidential filing to the War Crimes Unit of the Metropolitan Police Service Counter-Terrorism Command on Saturday to open an investigation against Assad, who is a dual Syrian-British national.
"The legal team at Guernica 37 International Justice Chambers has been investigating this matter for a number of months and has submitted two confidential filings with the War Crimes Unit," the firm said in a statement.
"It is important to hold not only those who carry out these horrific crimes accountable but also those who promote, incite, encourage and glorify such acts. We are seeking to ensure that the process of truth and justice is meted out equally to all persons irrespective of status and standing."
The firm said it is imperative that Assad faces prosecution in the UK and is not simply stripped of her citizenship.
"We recognize that it would be politically expedient to merely strip any person accused of their citizenship. That will not serve the interests of the hundreds of thousands of civilian victims to the ten-year conflict," read the statement.
The law firm called for Assad to face trial before an English court "where the process will be independent and impartial and will look solely at the evidence irrespective of any political considerations."
"This is an important step in holding senior political officials accountable for their acts and ensuring that a State, through an independent and impartial legal process, takes responsibility for the acts of its own nationals," the statement added.
- 'Systematic approach to torture, murder'
Guernica 37 accused the Syrian regime of systematic torture and murder of civilians.
Citing numerous sources and witnesses, the firm said the regime used an array of tactics to repress protests and sanctioned the use of excessive and lethal force against Syrian civilians.
These include firing live ammunition indiscriminately at civilian protesters, the use of chemical weapons, and the mass arbitrary detainment of civilians without access to lawyers or a fair trial, the firm said.
"The Syrian Government is clearly guilty of a systematic approach to the torture and murder of civilians," read the statement.
"We see this systematic approach being evidenced at all stages in that even before the armed conflict existed within the State, those who sought to protest against the regime were made subject to arbitrary arrest, unlawful detention, torture and other forms of ill treatment during that detention and ultimately extra-judicial execution."
In March 2011, the people of Syria, inspired by events in Egypt and Tunisia, rose up against Bashar al-Assad's regime and demanded political reforms and freedoms.
What began as peaceful demonstrations quickly descended into a civil war as the Syrian people were forced to take up arms to defend themselves against a violent regime.
Now in its 10th year, the Syrian conflict rages on with no immediate end in sight.
More than half a million Syrian civilians have been killed in the conflict, over a million have been severely injured, and over 12 million people have been displaced, either internally, or externally in other countries, read the statement.
https://www.aa.com.tr/en/europe/wife-of-syrias-assad-faces-war-crimes-probe-in-uk/2175649
--------
South Asia
Bangladesh Islamist groups demand cutting off diplomatic relations with China for Uighur persecution
Mar 13, 2021
Leaders of several Islamist groups in Bangladesh have demanded that the government should cut off its diplomatic relations with China if it does not stop the persecution of Uighur muslims. The demand was made in a rally in front of the Baitul Mukarram mosque in Dhaka after the Friday prayers.
Chairman of the Bangladesh Janosheba Andolan Mufti Fakhrul Islam demanded that the Chinese ambassador should be expelled from Bangladesh if the persecution of Uighur muslims does not stop in China.
The leaders at the rally also called for a boycott of Chinese goods as a mark of protest against the treatment of the Uighur.
Secretary General of the Khelafot Andolon Alhaj Azam Khan called upon the democratic countries of the world to raise their voice together against the oppressive behaviour of the Chinese government.
He alleged that the Chinese government has been carrying out genocide against the mostly Muslim ethnic Uighur in the Xinjiang Uighur Autonomous Region of China since last several years.
The Xinjiang province situated in the northwestern region of China is home to over 11 million Turkic speaking ethnic group Uighur who are mostly Muslims. Chinese government has been accused of forced detention of Uighur in specially designed camps and torture ostensibly to control spread of extremism in the area especially since 2017.
http://www.newsonair.com/News?title=Bangladesh-Islamist-groups-demand-cutting-off-diplomatic-relations-with-China-for-Uighur-persecution&id=411821
--------
Taliban face heavy retaliations in Helmand, Kandahar: Ministry of Defence
14 Mar 2021
Afghanistan's Ministry of Defense said in a tweet that 25 Taliban members including a commander of group's red unit were killed in Helmand province on Saturday.
MoD stated that Elham, Taliban's red unit commander is also among the killed, further 7 Taliban affiliates are wounded in ANA's counterattacks.
The clashes between the Taliban and Afghan National Army escalated when several security check points were attacked by the Taliban in Bolan and Boshran areas of Lashkargah city in Helmand province.
In another incident, Ministry of Defense said that 13 Taliban fighters were killed and one another was wounded in Kandahar province.
According to MoD the Taliban fighters were killed and wounded in Afghan national defense and security forces operation in Zherai, Arghandab and Pajwai districts of the province.
MoD tweeted seven of the Taliban strongholds were also wrecked during the ANDSF operation.
ANDSF during the mission also discovered and defused seven IEDs, MoD reported.
This comes despite the peace efforts in Doha, Qatar.
https://www.khaama.com/taliban-face-heavy-retaliations-in-helmand-kandahar-ministry-of-defense-5345377/
--------
NDS kills key 'Daesh Commander' in Nangarhar
15 Mar 2021
According to the local officials, NDS' special operatives clashed with Islamic State militants (Daesh) in the Mohmand district of eastern Nangarhar on Sunday night.
National Directorate of Security (NDS) special forces clashed with Islamic State militants in Mohmand district of eastern Nangarhar province on Sunday night, killing the district chief, Mahmood Jan, officials said.
"Mahmood Jan", the ISI-K district chief was killed during the operation.
Sources indicated that the killed individual was a well-known Daesh fighter and the group's commander, who time to time plotted violent attacks on security forces.
A provincial official reported that the Afghan security forces arrested three other Daesh members.
Meanwhile, Mohammad Saber Tokhi an area representative in the Qalat district was targeted by an IED explosion.
Hekmatullah Kochi, commander of Zabul police told the media, that the incident happened at around 9:00 am this morning in the Chowk area in Qalat city.
Taliban took the responsibility for the attack.
This comes despite peace efforts in Afghanistan, just recently Los Angeles times reported that Gen. Kenneth McKenzie said that the war in the country will intensify and the Taliban could threaten major cities unless the Biden administration does not push for an end to the conflict within the coming two months.
LA TIMES quoted Gen. McKenzie saying: "If we withdraw and no deal was made with the Taliban, I think the government of Afghanistan is going to be in for a very stiff fight to retain possession of towns and cities".
President Ashraf Ghani and General McKenzie had a meeting on Saturday in Kabul, both discussed the security situation, the peace process, and America's support to Afghan national defense and security forces.
The war in the country is so complex at a level that Interior Ministry spokesman Tariq Arian said that according to the MoI investigations, a private media outlet was involved in the transfer of explosives.
He added there are serious questions in this regard and that MoI is working to find the desired answer for it.
Arian did not provide any further details about the media outlet.
https://www.khaama.com/nds-kills-key-daesh-commander-in-nangarhar-5344388/
--------
Hasty Withdrawal Of International Troops From Afghanistan Will Jeopardize Global 'Counterterrorism' Efforts
14 Mar 2021
Masoud Andarabi, Afghan Interior Minister warns against the speedy withdrawal of international troops from Afghanistan on Saturday, he claimed that the Taliban have not yet cut their ties with Al-Qaeda and the hasty withdrawal will further persuade the insurgency and will worsen global counterterrorism incessant efforts.
Andarabi in an interview with The Associated Press said that Afghan defense forces backed by U.S support have maintained to put pressures on various terrorist groups in Afghanistan including Daesh.
Andarabi during his interview confidently expressed that following the U.S troops withdrawal Afghan national defense and security forces can hold their ground but would still require aid and air support to maintain the outposts and checkpoints.
"The Afghan security forces are fully capable of defending the capital and the cities and the territories that we are present in right now," AP quoted Andarabi.
The Interior Minister added, "we think that the Afghan security forces this year have proven to the Taliban that they will not be able to gain territory".
Following the U.S-Taliban deal in Qatar, Afghanistan and its people hoped for a serenity, instead the violence spiked and raged crueler than ever.
In regards to complaints about rampant Kabul crimes, Andarabi added that 70 percent of ANP members are busy fighting the Taliban and eroded most of the attention from maintaining law and order.
According to Andarabi Afghan National Police has to face and confront approximately 100 Taliban offensives across the country, besides such harsh conditions law and order forces managed to have 400 arrests in the past month.
He reiterated that Afghanistan still is in need of continued support from the international community including NATO and the United States both during the war and the peace.
According to Andarabi, more work needs to be done to reintegrate tens and thousands of men, armed men, in various parts of the country into a peacetime society, regardless of which faction they belong to.
Andarabi also pointed out that police are facing intimidating fight against narcotics in Afghanistan which produces more than 4,000 tons of opium, massively produced more than the combination of other opium-producing country.
He said that peace will provide the opportunity to the Afghan police to fight the illegal production of drugs in the country that is also fueling criminal activities.
The Interior Ministry of Afghanistan warned of the hasty, unplanned withdrawal just seven weeks before the May 1st deadline.
Washington has not yet finalized their decision on troops pullout from war-torn Afghanistan.
https://www.khaama.com/hasty-withdrawal-will-jeopardize-global-counterterrorism-efforts-4324321/
--------
Afghan forces kill 18 Taliban militants in Kandahar province - Defence ministry
Mar 15, 2021
KABUL: At least 18 Taliban militants were killed during a special operation in the Afghan southern Kandahar province, according to the country's Defense Ministry.
The Afghan defense and security forces, supported by the air forces, held a joint operation in the Arghandab and Zheri districts of the Kandahar province also injuring three other Taliban militants, the ministry said.
The intra-Afghan talks in Doha have so far failed to put an end to the confrontation on the ground. On the contrary, Afghanistan has witnessed a spate of bomb attacks and clashes in recent months, with the military continuing to regularly conduct operations against Taliban militants.
https://timesofindia.indiatimes.com/world/south-asia/afghan-forces-kill-18-taliban-militants-in-kandahar-province-defense-ministry/articleshow/81509803.cms
--------
Pakistan
Countrywide protest planned for recovery of Shia 'missing' persons
March 15, 2021
KARACHI: The Joint Action Committee (JAC) for Shia missing persons and families of enforced disappearance on Sunday warned countrywide protest from next month if their loved ones were not recovered by the end of the current month.
Speaking at a press conference here at the Karachi Press Club, Allama Mubashir Hassan, Alimdar Haider and Ali Hussain Naveed expressed grave concern over the non-recovery of their loved ones and alleged that the government and state institutions were not serious in their recovery.
They said despite repeated assurances from the authorities the missing persons had not returned to their home or been traced.
"Our concern has heightened due to the outbreak of the coronavirus pandemic. The recovery of missing persons has put strain on our patience. If our youth are not recovered by the end of this month, the families of the enforced disappearances will protest across the country from April 2," the JAC warned.
They said they had reached out to every powerful authority, including state institutions, but nothing happened so far.
They said discrimination on the basis of religion or creed was a cruel act and the worst violation of the Constitution and the law. "People who have been picked up from their homes, if involved in any crime, should be brought before the courts as per the Constitution and law. But this is not being done. Despite repeated assurances from the agencies concerned the missing persons are still untraceable."
The JAC leaders said that more and more people were being secretly rounded up every day. "If the missing persons are guilty, they should be punished according to the law but no one has the power to impose extrajudicial punishment."
The JAC has announced a nationwide protest on April 2 for the recovery of missing persons.
https://www.dawn.com/news/1612576/countrywide-protest-planned-for-recovery-of-shia-missing-persons
--------
Pakistan among biggest importers of major arms in Asia and Oceania: report
March 15, 2021
Pakistan was among the biggest importers of major arms in Asia and Oceania from 2016-2020, a report published by the Stockholm International Peace Research Institute (Sipri) said on Monday.
Asia and Oceania was the largest importing region for major arms, receiving 42 per cent of global arms transfers in 2016–2020. In addition to Pakistan, India, Australia, China and South Korea were also among the biggest importers in the region.
Exports by China, the world's fifth largest arms exporter in 2016–20, decreased by 7.8pc between 2011–2015 and 2016–2020. Chinese arms exports accounted for 5.2pc of total arms exports in 2016–2020. Pakistan, Bangladesh and Algeria were the largest recipients of Chinese arms.
"For many states in Asia and Oceania, a growing perception of China as a threat is the main driver for arms imports," said Siemon Wezeman, Senior Researcher at Sipri, said.
The report noted that international deliveries of arms were flat in the period 2016-2020, ending more than a decade of increases.
The United States, France and Germany — three of the world's biggest exporters — increased deliveries, but falls in exports from Russian and China offset the rise, Sipri said.
It was the first time since 2001–2005 that the volume of deliveries of major arms between countries — an indicator of demand — did not increase from the previous five year period, Sipri said.
While the pandemic has shut down economies across the world and pushed many countries into deep recessions, Sipri said it was too early to tell whether the slowdown in arms deliveries was likely to continue.
"The economic impact of the Covid-19 pandemic could see some countries reassessing their arms imports in the coming years," Pieter Wezeman, senior researcher with the Sipri Arms and Military Expenditure Programme, said in a statement.
"However, at the same time, even at the height of the pandemic in 2020, several countries signed large contracts for major arms."
The United Arab Emirates, for example, recently signed an agreement with the United States to purchase 50 F-35 jets and up to 18 armed drones as part of a $23 billion package.
Middle Eastern countries accounted for the biggest increase in arms imports, up 25pc in 2016–2020 from 2011–15.
Saudi Arabia, the world's biggest arms importer, increased its arms imports by 61pc and Qatar by 361pc.
https://www.dawn.com/news/1612678/pakistan-among-biggest-importers-of-major-arms-in-asia-and-oceania-report
--------
'Who gave you the right to judge statements?': Maryam hits back at NAB before LHC hearing
March 15, 2021
PML-N Vice President Maryam Nawaz on Monday lashed out at the National Accountability Bureau (NAB) for making an issue about her statements and questioned who gave the accountability watchdog the right to judge her statements.
She was speaking to the media at her Jati Umra residence in Lahore, before a hearing in the Lahore High Court on a NAB petition for cancellation of her bail in the Chaudhry Sugar Mills (CSM) case.
"Who gave you the right to judge statements? Your job was to supposedly stop corruption. Now that you've failed in that, you have changed your responsibilities?"
She said the various institutions such as the army and the courts had their own spokespersons so who had appointed NAB as the spokesperson.
"Who are they to find responsibilities for themselves about who is issuing what statements?"
Maryam railed against NAB and claimed that the institution did not know the boundaries of its own authority, adding that a case should be registered against it.
She alleged that NAB had uttered a "great lie" about her not cooperating or obstructing the investigation in the money laundering charges against her in the CSM case.
She said she had presented herself at the NAB office for her hearing but the institution itself resorted to delaying tactics and did not attend to her.
"For three months on the pretext of investigations you kept me in NAB and what did you do?" said Maryam, adding that nothing but trivial and unrelated questions had been asked of her.
She claimed NAB had still not been able to successfully register a reference against her over the charges she had been arrested for.
"In front of me, the judge in the court asked them many times that where is your reference? They looked here and there [but had no answer]. If a reference was merited then they would have made it."
Maryam said the arrest threat was nothing more than an attempt to deflate the growing momentum of the PML-N's opposition against the government and "save their own sinking ship".
"I am a Pakistani citizen, the Constitution and the law give me the right" to make political statements and call out the shortcomings of the government, Maryam said.
"What is a politician supposed to do if not represent the nation?" she asked.
"If you think that you will be able to scare Maryam Nawaz by threats of jail and bail cancellation then this will never happen [...] Maryam Nawaz has returned after serving baseless jail terms twice, I will serve it a third time too."
NAB had submitted a petition with the LHC for Maryam's bail cancellation in the CSM case.
The petition claimed that Maryam had been making statements against state institutions since her bail and tarnishing their image.
The petition was roundly condemned by PML-N leaders who said it was nothing more than an effort to "gag" Maryam.
Maryam was arrested by NAB in the CSM case in August 2019. The accountability watchdog suspects her of involvement in money laundering through investments of variable heavy amounts as one of the main shareholders of the mills.
She was later released on bail in November 2019 by a two-member LHC bench, comprising Justice Ali Baqar Najafi and Justice Sardar Ahmad Naeem, against two surety bonds worth Rs10 million each, and an additional Rs70m as well as surrendering her passport.
https://www.dawn.com/news/1612677/who-gave-you-the-right-to-judge-statements-maryam-hits-back-at-nab-before-lhc-hearing
--------
Government's environment policies recognised globally: PM
March 15, 2021
ISLAMABAD: Prime Minister Imran Khan on Sunday said that his government's environment-friendly policies had been recognised and praised at the international level.
On Twitter, the prime minister posted a video of the World Economic Forum which showed three ways that Pakistan had adopted for building a greener future.
"Globally PTI's (Pakistan Tehreek-i-Insaf) environment policies are being recognised especially our green recovery programme from the Covid 19 pandemic and our climate action plan," Mr Khan tweeted.
The video showed that Pakistan had pledged to produce 60 per cent energy from renewable sources by 2030 and cancelled all coal-based projects, replacing them with hydro-electric projects.
It said Pakistan had created more than 85,000 green jobs from plant care to protection of forests. "It (Pakistan) has trained 5,000 young people to be nature guardians," the video said, adding that Pakistan had invested in green spaces and attracted $180 million funding.
https://www.dawn.com/news/1612612/governments-environment-policies-recognised-globally-pm
--------
Incompetent people have been imposed on Pak, says opposition leader Latif
March 15, 2021
Lashing out at the Prime Minister Imran Khan-led Pakistan Tehreek-e-Insaf (PTI) government in Pakistan, opposition leader Javed Latif on Sunday said that some 'incompetent people have been imposed on the nation'.
Latif was addressing Pakistan Muslim League-Nawaz (PML-N) workers, who had gathered outside his residence, according to Geo News.
Instructing the workers to prepare for the long march under the banner of the opposition alliance Pakistan Democratic Movement (PDM), Latif said: "The purpose of the march is to get rid of this incompetent [government]. For the march, caravans should leave every neighbourhood and union council of [the city]."
He also said that even if someone sees the future generations of Pakistan "sinking" or moving towards a decline, they are expected to stay silent for the fear of being labelled a traitor.
"Call me a traitor, hang me, but we will not let Pakistan sink as long as we are alive," Latif said.
Earlier, Latif had said that if anything happens to Maryam Nawaz, then "PML-N will not say Pakistan Khappay (we want Pakistan)", unlike Zardari, who had used those words after former PM Benazir Bhutto was assassinated, reported Geo News.
Following the comment, PTI Central Punjab had announced a protest against the remarks made by Latif.
https://www.business-standard.com/article/international/incompetent-people-have-been-imposed-on-pak-says-opposition-leader-latif-121031500068_1.html
--------
Pakistani Scholars Gathering Held on Mabaath
March 13, 2021
The Iranian embassy in the Pakistani capital hosted the event, which was organized in cooperation with Iran's Cultural Center in the city.
The gathering began with congregational prayers led by a Sunni scholar followed by Quran recitation by prominent Iranian Qari Karim Mansouri.
Next, a number of speeches were delivered, the main focus of which were the importance of Muslim unity and the need for efforts to materialize the objectives of Mabaath.
Today, more than ever, humanity needs to attain these objectives, Iran's Ambassador Seyed Mohammad Ali Hosseini said.
Also speaking was Pakistan's Religious Affairs Minister who said occasions such as Mabaath and the Holy Prophet's (PBUH) birthday are opportunities for promoting Islam's goals and the true teachings of Prophet Muhammad (PBUH).
At the end of the gathering, a statement was read out by the participants in which they highlighted the importance of Muslim unity and countering sectarianism and Takfir.
They also said the issue of Palestine and liberating this holy land is a common demand of all Muslims and any attempt to normalize ties with the Zionist regime of Israel is condemned.
The statement also condemned Islamophobia and called for confronting this phenomenon in the world.
Mabath, which fell on Thursday, March 11, this year, marks the appointment of Muhammad ibn Abdullah as the prophet of Islam in the seventh century.
It is celebrated by Muslims all over the world.
https://iqna.ir/en/news/3474228/pakistani-scholars-gathering-held-on-mabaath
--------
Southeast Asia
Malaysian govt files appeal against court ruling allowing use of 'Allah' word in Christian publications
March 15, 2021
KUALA LUMPUR - The Malaysian government on Monday (March 15) filed an appeal with the Court of Appeal against last week's ruling on the use of the word "Allah" by Christians in their publications in the country, local media reported.
Solicitor-General Abdul Razak Musa confirmed with both the Malaysiakini and Malay Mail news sites that the appeal has been filed on behalf of the home minister and the government.
Muslim groups in Malaysia had asked the government to launch an appeal against the court ruling.
Malaysia's High Court judge Nor Bee Ariffin on March 10 granted a Malaysian Christian the right to use the word "Allah" in her religious practice, quashing a three-decade government ban on Christians using the word in their religious publications.
The court also allowed three words to be used in Christian publications for educational purposes: Kaabah (Islam's holiest shrine in Mecca), Baitullah (House of God), and solat (prayer).
The ruling affirmed the constitutional right of Ms Jill Ireland Lawrence Bill, a Sarawakian Christian, to use the word "Allah" for her religious practice, some 13 years after the latter first filed a legal challenge on the matter.
Ms Bill's legal challenge started shortly after the government seized eight educational compact discs from her containing the word "Allah" at an airport in 2008, upon her return from Indonesia.
Ms Bill's legal challenge over a decade ago also coincided in another court case involving the use of the word "Allah", after a Catholic weekly The Herald was banned by the home ministry from using the word "Allah".
The Herald, however, was unsuccessful in its legal challenge, with courts in 2013 backing the government's ban on the use of "Allah" in publications.
At the height of both trials, right-wing groups in Malaysia protested against the right of non-Muslims to use the word "Allah".
Amid controversy over the issue in 2010, 11 churches and five mosques were firebombed or vandalised.
Malaysian Christians have argued that they have used the word "Allah" to denote God for centuries in their own religious practice.
Christians make up a substantial population of the two Malaysian Borneo states of Sabah and Sarawak, where congregations use the Malay language in their church activities and publications.
However, some Muslim leaders have argued that allowing Christians to use the word "Allah" could lead to public unrest and confusion.
The word "Allah", they say, is largely perceived by Malaysia's Muslim community to exclusively refer to the Islamic God.
https://www.straitstimes.com/asia/se-asia/malaysian-govt-files-appeal-on-court-ruling-over-use-of-allah-word-in-christian
--------
Putrajaya to contest High Court decision invalidating 1986 ban on 'Allah' use by Christians
15 Mar 2021
BY KENNETH TEE
KUALA LUMPUR, Mar 15 — The federal government gave notice today that it will appeal against last week's High Court ruling that annulled a directive prohibiting Christians from using the word "Allah" in their religious education and books.
The notice of appeal dated March 12 was filed at the Court of Appeal in Putrajaya and copied to lawyers for Sarawakian Jill Ireland Lawrence Bill who initiated the judicial review that led to the High Court ruling.
Solicitor-General Datuk Abdul Razak Musa confirmed the filing of the appeal.
A copy of the notice of appeal, undersigned by senior federal counsel Shamsul Bolhassan, was also extended to the Registrar of the KL High Court (Appellate & Special Powers).
Jill Ireland has been named a respondent in the suit while both the Malaysian government and the Home Ministry were named appellants.
On March 10, the High Court in Kuala Lumpur ruled that the government directive via a December 5, 1986 circular issued by the Home Ministry's publications control division was unlawful and unconstitutional.
Justice Datuk Nor Bee Ariffin, who has since been elevated to be a Court of Appeal judge, granted three of the specific constitutional reliefs sought by the Sarawakian native of the Melanau tribe.
The High Court had made this ruling in Jill Ireland's case, who had previously challenged the government's seizure of her eight educational compact discs (CDs) containing the word "Allah" in their titles and which were meant for her personal use. The CDs were seized in 2008 based on the 1986 directive, but were previously returned in 2015 to Jill Ireland following court orders.
The word "Allah" is Arabic for God and had been adopted into the Malay language, and had been used for generations by Malay-speaking Christians in the country, especially those living in Sabah and Sarawak.
The three orders granted by the judge include a declaration that it is Jill Ireland's constitutional right under the Federal Constitution's Article 3, 8, 11 and 12 to import the publications in exercise of her rights to practise religion and right to education. The publications mentioned by the judge were in reference to eight educational compact discs (CDs) that Jill Ireland had brought back to Malaysia from Indonesia for her own personal use.
The other two declarations granted by the judge today are that a declaration under Article 8 that Jill Ireland is guaranteed equality of all persons before the law and is protected from discrimination against citizens on the grounds of religion in the administration of the law ― specifically the Printing Presses and Publications Act 1984 and Customs Act 1967), and a declaration that government directive issued by the Home Ministry's publication control's division via a circular dated December 5, 1986 is unlawful and unconstitutional.
The Bahasa Malaysia-speaking Jill Ireland filed her lawsuit almost 13 years ago after the Home Ministry seized eight educational compact discs (CDs) containing the word "Allah" meant for her personal use at the Sepang LCCT airport upon her return from Indonesia.
Following the May 11, 2008 seizure, Jill Ireland filed for judicial review in August the same year against the home minister and the government of Malaysia.
The High Court had in July 2014 ruled that the Home Ministry was wrong to seize the CDs and ordered that they be returned, but did not address the constitutional points then.
Jill Ireland finally received her CDs in September 2015, months after the Court of Appeal had in June 2015 directed the Home Ministry to do so.
At the same time, the Court of Appeal in June 2015 sent two constitutional issues back to the High Court to be heard, namely a declaration that it is her constitutional right under the Federal Constitution's Article 11 to import the publications in exercise of her rights to practise religion and right to education, and a declaration under Article 8 that she is guaranteed equality of all persons before the law and is protected from discrimination against citizens on the grounds of religion in the administration of the law ― specifically the Printing Presses and Publications Act 1984 and Customs Act 1967).
The High Court later heard the constitutional issues over two days in October and November 2017, but the decision which was initially scheduled to be delivered in March 2018 has been deferred several times over the years, due to various reasons such as both sides seeking resolution outside the court and also the movement control order.
https://www.malaymail.com/news/malaysia/2021/03/15/putrajaya-to-contest-high-court-decision-invalidating-1986-ban-on-allah-use/1958029
--------
Unemployed man in KL fined RM10, 000 for insulting Islam on Facebook
15 Mar 2021
KUALA LUMPUR, March 15 — The Sessions Court here today fined an unemployed man RM10,000 on two counts of insulting Islam through postings on his Facebook.
Judge MM Edwin Paramjothy meted out the fine on Mohd Zahrein Zakariah, 39, who pleaded guilty to both charges.
The man, who was fined RM5,000 on each count, in default six months' jail, paid the fine.
On both counts, Mohd Zahrein was charged with improper use of the network facilities by knowingly making and initiating the transmission of offensive communications on Prophet Muhammad and Islam with intent to annoy others through Facebook under the profile name of "Semar Tilem".
The postings were read at UTC Keramat Mall, Jalan Datuk Keramat, here at 11 am on May 8, 2019.
Deputy public prosecutor Noor Dayana Mohamad prosecuted, while Mohd Zahrein was represented by lawyer LA Gomes. — Bernama
https://www.malaymail.com/news/malaysia/2021/03/15/unemployed-man-in-kl-fined-rm10000-for-insulting-islam-on-facebook/1957991
--------
Foreign investors stay net buyers of local equities so far in March, says Bank Islam economist
15 Mar 2021
KUALA LUMPUR, March 15 — Foreign investors remained net buyers of local equities on Bursa Malaysia in the first two weeks of this month with inflows totalling RM526.7 million.
"This brings the cumulative year-to-date foreign net outflow to RM1.2 billion," said Bank Islam Malaysia Bhd economist Adam Mohamed Rahim.
He told Bernama that foreign investors bought RM240.8 million net of local equities during the second week of March 2021, down from RM285.9 million in the preceding week.
Elaborating further, he said Bursa Malaysia began last week on the wrong foot as international investors sold RM62.9 million net of local equities on Monday, as inflation worries offset optimism over the passage of a US$1.9 trillion stimulus bill in the United States (US).
Nevertheless, he said foreign investors returned to the local stock market with RM120.7 million net on Tuesday, buoyed by rubber glove counters, namely Kossan Rubber Industries Bhd and Top Glove Corporation Bhd which gained by more than one per cent for the day.
"The strength in rubber glove counters came about as Top Glove released its latest quarterly results which saw its revenue for the second quarter ended Feb 28, 2021, grow 12.74 per cent to hit a record RM5.37 billion from RM4.76 billion in the first quarter.
"This was despite an eight per cent decline in volume due to a temporary production halt in its facilities in Klang during November and December 2020," he said.
On the global front, Adam said the upbeat sentiment in regional Asian markets was due to a retracement in the US bond yields following remarks of central banks across the globe including the US Federal Reserve which mentioned that it had the tools to deal with inflation.
Offshore investors upped the ante in their buying activity as they mopped up RM186.6 million net of local equities on Wednesday, he said.
"Positive vibes came about following the government's move to allow domestic tourism travel from March 10, 2021, via government-registered tour agencies which sparked some positivity in terms of economic growth trajectory," he said.
He added that the pace at which foreign investors were buying local equities slowed down to RM72.4 million net on Thursday.
"The FTSE Bursa Malaysia (FBM KLCI) settled lower at 1,629.4 points on Thursday, with some investors having the view that the current levels were ripe for profit-taking.
"This was in contrast with other regional peers which recorded gains such as Singapore, China, Hong Kong , Japan, Taiwan and South Korea," he noted.
According to Adam, the three-day buying streak was snapped on Friday as foreign investors withdrew RM76.0 million net of local equities amid continuing profit-taking activity.
"This is because international investors decided to lock in some gains despite receding worries about rising inflation following the bigger-than-expected fall in weekly jobless claims in the US," he said. — Bernama
https://www.malaymail.com/news/money/2021/03/15/foreign-investors-stay-net-buyers-of-local-equities-so-far-in-march-says-ba/1957921
--------
Arab World
Missile, rocket strikes on fuel tankers in north Syria near Turkey border wound two
15 March ,2021
Missiles and rockets struck fuel tankers in northern Syria near the Turkish border, causing casualties, Turkey's defense ministry and local rescue workers said.
The fuel tankers were parked alongside primitive oil refineries between the towns of Al-Bab and Jarablus, the same area which was hit by rockets earlier this month.
Local rescue workers said two people were wounded late on Sunday in the strikes, which the Turkish defense ministry said were caused by missiles and rockets fired from a military base in a Syrian government-controlled part of Aleppo province.
"They targeted civilian residential areas and parking areas of fuel tankers," it said. "There are civilian casualties."
Missile strikes in the same region 10 days ago killed one person and wounded at least eleven others, Turkish state media and a source from the Turkish-backed faction that controls the region said.
Turkey has backed fighters who sought to overthrow Bashar al-Assad, but the president, with Russian and Iranian help, has driven back the insurgents to a pocket in northwest Syria and other Turkish-controlled border areas.
https://english.alarabiya.net/News/middle-east/2021/03/15/Missile-rocket-strikes-on-fuel-tankers-in-north-Syria-near-Turkey-border-wound-two
--------
Turkey must lay ground for normalizing ties with actions: Egyptian FM
14 March ,2021
Turkey's actions must show alignment with Egypt's principles and goals for relations between the two countries to return to normal, Egyptian Foreign Minister Sameh Shoukry said on Sunday.
Shoukry confirmed contacts between Cairo and Ankara after years of tensions but indicated that dialog was limited.
Relations have been frosty since Egypt's army ousted Mohammed Mursi, who was the country's first democratically elected president and an ally of Turkish President Tayyip Erdogan, following protests in 2013.
"(There is) no communication outside the normal diplomatic framework. If real actions from Turkey show alignment with Egyptian principles and goals then the groundwork will be laid for relations to return to normal," Shoukry said.
Top Turkish officials said last week that diplomatic contacts had resumed and that Ankara was seeking further cooperation. Erdogan said contacts were "not at the highest level, but right below the highest level".
Egyptian intelligence sources said Turkey had proposed a meeting to discuss cooperation.
Any thaw in ties between the two regional powerhouses could have repercussions around the Middle East, where Cairo and Ankara have sought to influence events in various hotspots and stand on opposing sides in a Mediterranean maritime dispute.
Shoukry also told lawmakers there were positive messages from Qatar indicating a desire to further repair relations following a summit in Saudia Arabia's al-Ula in January.
Egypt and its Gulf allies Saudi Arabia, the United Arab Emirates and Bahrain agreed at the summit to restore diplomatic, trade and travel ties with Doha, which had been severed in 2017 over allegations Qatar supported terrorism, a charge it denies.
https://english.alarabiya.net/News/middle-east/2021/03/14/Turkey-must-lay-ground-for-normalizing-ties-with-actions-Egyptian-FM
--------
Pope Francis renews appeal for Syria on 10th anniversary of conflict
14 March ,2021
Pope Francis has renewed his "heartfelt appeal" to all sides in the Syria conflict to demonstrate "signs of good will so that a glimmer of hope can be open for the exhausted population."
The pope offered prayers for Syria during his traditional Sunday blessing in St. Peter's Square, noting that a decade has passed since the start of the "bloody conflict."
It "has caused one of the most serious humanitarian disasters of our times, with an unknown number of dead and wounded, millions of refugees, thousands missing, destruction and violence of every type, enormous suffering for the entire population, in particular the most vulnerable, including children, women and the elderly."
Francis also expressed hope for "a decisive and renewed commitment" in the international community, so that "once arms are laid down, the social fabric can be mended to launch reconstruction and economic recovery."
https://english.alarabiya.net/News/middle-east/2021/03/14/Syria-crisis-Pope-Francis-renews-appeal-for-Syria-on-10th-anniversary-of-conflict
--------
Emirati security team hatching conspiracy in Iraq, Asa'ib leader warns
15 March 2021
Qais Khazali, the leader of the Iraqi anti-terror movement Asa'ib Ahl al-Haq, has warned of a conspiracy against Iraq hatched by an Emirati security team which has reportedly arrived in the Arab country to manage the Iraqi intelligence service.
Quoting "reliable sources", Khazali said on Sunday the Emirati team is supposed to run the Iraqi intelligence service.
"Has Iraq reached such a level of weakness to be crushed like this?" Khazali asked, questioning the Emirati group's mission.
In a post on his Twitter account, the Iraqi cleric said, "What's going on is very dangerous, and threatens the future of the Iraqi government."
Scolding those who keep silent toward the conspiracies hatched against Iraq, he compared the performance of Emirati security forces to their performance in Libya and Yemen, and warned that they are rapidly implementing the plot.
He also referred to the transfer of 300 Iraqi security forces to the country's customs points, and asked if the transfer is related to the Emirati team's visit.
The security forces transferred to border areas upon a decision by the federal government allegedly include several Iraqi intelligence service officers who have been excluded for being loyal to the Popular Mobilization Units (PMU), better known as Hashd al-Sha'abi.
The PMU is a government-sponsored umbrella organization composed of around 40 factions of volunteer counter-terrorism forces, including mostly Shia Muslim groups like Asa'ib, besides Sunni Muslims, Christians and Kurds.
The PMU's formation goes back to the summer of 2014, shortly after Daesh, the world's most notorious terror group, showed its face and managed to occupy swathes of territory in Iraq.
The lightning gains made by the terrorists caught the national army of Iraq off guard, pushing government forces to the verge of collapse and leaving the Arab state in disarray.
On June 15 that year, Iraq's prominent Shia cleric Grand Ayatollah Ali al-Sistani intervened to help rebuild the national army, issuing a fatwa that called on all Iraqi people to join forces with the army in the face of the Daesh threat.
The historic fatwa led to a mass mobilization of popular volunteer forces under the banner of Hashd al-Sha'abi. The force then rushed to the aid of the army and took the lead in many of the successful anti-terror operations, which ultimately led to the collapse of Daesh's territorial rule and the liberation of the entire Iraqi land in December 2017.
The PMU's efficient role in the Takfiri outfit's defeat turned the force into a permanent and broadly-popular feature of Iraq's social, political and security landscapes, despite attempts by the US and its allies to depict the PMU's mission as sectarian in nature.
In November 2016, the Iraqi parliament recognized Hashd al-Sha'abi as an official force with similar rights as those of the regular army, therefore legally establishing it as part of the National Armed Forces.
https://www.presstv.com/Detail/2021/03/14/647316/Iraq-asaib-pmu-uae-security
--------
Iran denies involvement in Iraq attacks in letter to UN chief
15 March 2021
Iran has denied any involvement in the recent attacks against the US-occupied military bases in Iraq, but at the same time denounced the American airstrikes against Iraqi forces as a violation of international law.
In a letter to UN Secretary General Antonio Guterres and the rotating president of the UN Security Council, Iran's ambassador to the UN Majid Takht-Ravanchi categorically denied his American counterpart's efforts to accuse Iran of supporting the so-called "non-governmental militia groups" in Iraq.
"The Islamic Republic of Iran has not been directly or indirectly involved in any armed attack against any US individual or body in Iraq," he noted.
"Therefore, we deny any claim about our implicit or explicit involvement in attacks against American forces in Iraq. Such allegations are totally baseless, invalid, and false," the Iranian envoy added.
Earlier this month, a US contractor died after at least 10 rockets slammed into Ain al-Asad, a US-occupied air base in western Iraq. The West has blamed what it calls "Iran-backed groups" for the deadly attack. The attack was the first of its kind since the US' raid against Iraqi forces in late February.
In his Sunday letter, Takht-Ravanchi also noted that Iran condemns the US' unlawful attack on 25 February against Iraqi forces along the Syrian border.
"Such dangerous measures, which are wrongly justified based on an arbitrary interpretation of the article 51 of the UN charter, are considered violation of the sovereignty of regional countries, and a symbol of blatant breach of the international law and the UN charter," he noted.
He warned that such attacks only exacerbate the already tense situation of the region, and in effect only serve the interests of terrorist groups in these countries.
The US airstrikes killed one member of the Iraqi resistance forces.
It was US President Joe Biden's first illegal military action on the Iraqi-Syrian border to target the facilities of PMU fighters.
Observers compared Biden's militaristic approach to that of his hawkish predecessor, Donald Trump. The attack killed one and wounded four others.
https://www.presstv.com/Detail/2021/03/15/647317/Iran-Iraq-US-attacks-guterres-ravanchi
--------
Mideast
Iran, Pakistan Call for Halt to West's Support for Terrorist Groups in Region
2021-March-15
During the meeting in Tehran on Sunday, Araqchi and Sadiq described the ISIL as a threat to the regional peace and security.
During the meeting, Araghchi said that peace will be supported by Iran when it comes to the fundamental rights of the Afghan people and the preservation of the accomplishments of the past two decades.
Sadiq, for his part, called for further cooperation between the two countries in establishing lasting peace in Afghanistan.
Sadiq, heading a delegation, is on an official visit to Iran.
In a relevant development in late January, Iran's Foreign Ministry spokesman Saeed Khatibzadeh said that Iran and its allies will not allow Daesh terrorist group to reorganize itself in Iraq and elsewhere in the region once again.
https://www.farsnews.ir/en/news/13991225000367/Iran-Pakisan-Call-fr-Hal-Wes's-Sppr-fr-Terrris-Grps-in-Regin
--------
Israel unveils 'Iron Sting' guided mortar system for future urban warfare
14 March ,2021
The Israeli Defense Ministry on Sunday said it has completed development of a new guided mortar system, giving the army a formidable new weapon against enemies embedded in crowded urban environments.
Officials said the "Iron Sting" system, using both GPS and laser technology, would provide Israeli land forces a new level of precision while minimizing the risk of harming nearby civilians.
Defense Minister Benny Gantz said the system "changes the battlefield and provides our forces with more accurate and effective means."
The Israeli military has found itself in recent years grappling with the challenge of battling Palestinian militants in the Gaza Strip, while also training for the possibility of war against Lebanon's Hezbollah militants.
The chief prosecutor of the International Criminal Court this month opened a preliminary investigation into possible war crimes by Israel during its 2014 war in the Gaza Strip, when hundreds of civilians were killed during fighting between Israel and Hamas militants.
Israel has blamed Hamas for the civilian casualties, citing the group's attacks launched from residential neighborhoods. But human rights groups have said the military did not take sufficient precautions to distinguish between militants and civilians.
Col. Assaf Shatzkin, head of the land systems department in the ministry's research division, said the new mortar system would help the army against enemies like Hamas and Hezbollah. He said it could strike short-range targets within several kilometers (miles) with precision of just a few meters (yards).
"With this precise mortar shell, it can be more focused on the enemy ... without a collateral damage to those that are not relevant to the fighting," he said.
The system is expected to be activated in the coming months, he said.
https://english.alarabiya.net/News/middle-east/2021/03/14/Israel-unveils-Iron-Sting-guided-mortar-system-for-future-urban-warfare
--------
Kosovo opens embassy in Jerusalem, weeks after establishing ties with Israel
14 March ,2021
Kosovo said Sunday it had officially opened its embassy in Jerusalem after becoming the first Muslim-majority territory to recognize the city as Israel's capital.
The move was in exchange in for Israel recognizing Kosovo, a major victory for Pristina's efforts to gain full global recognition of the independence it declared in 2008 following a war with Serbia in the 1990s.
The new embassy was opened during a brief ceremony during which Kosovo's flag was raised in front of the building in Jerusalem, the Kosovo foreign ministry said in a statement.
Serbia has refused to acknowledge the independence of its former province, so while Kosovo has now been recognized by much of the Western world, its rejection by Belgrade's key allies Russia and China has locked it out of the United Nations.
Israel had been another key holdout until last month, when it established diplomatic ties with Kosovo.
In exchange Kosovo followed the controversial lead of former US president Donald Trump by recognizing Jerusalem as the Jewish state's capital.
Trump had discussed the Israel-Kosovo deal in Washington during economic talks with Serbia and Kosovo in September.
Kosovo's decision sparked criticism not only from Muslim-majority countries such as Turkey, but also from Europe.
The status of Jerusalem remains one of the biggest flashpoints in the long-running Israeli-Palestinian conflict.
The Palestinians claim east Jerusalem as the capital of their future state, and most countries have their embassies in Tel Aviv.
In one of Europe's most intractable disputes, Serbia has rejected Kosovo's independence since it broke away in a 1998-99 war that was ended only by a NATO bombing campaign against Serb troops.
Both Kosovo and Serbia face mounting pressure from the West to resolve the impasse, seen as crucial to either side joining the European Union.
More than 13,000 people died in the war, mostly Kosovo Albanians, who form a majority in the former province.
https://english.alarabiya.net/News/middle-east/2021/03/14/Palestinian-Israeli-conflict-Kosovo-opens-embassy-in-Jerusalem-weeks-after-establishing-ties-with-Israel
--------
Fingers point to Yemen Houthi militia for starting fire that killed African migrants
Reem Krimly
14 March ,2021
Rights groups say the Iran-backed Houthi militia is responsible for causing a fire in a detention center last week that killed at least 44 migrants, according to The Associated Press, a number disputed by Yemen-based groups.
A local rights group said the Houthi militia was "directly and consistently responsible for the killing and injury of approximately 450 mostly Ethiopian migrants in a detention center, on 7 March 2021, in a fire caused by bombs apparently fired by Houthi forces," citing witnesses who survived the incident.
Survivors and local rights campaigners say the deadly blaze erupted when guards fired tear gas into the crowded warehouse, trying to end a protest against alleged abuses and ill-treatment at the facility.
The Houthis did not state the cause of the fire, mention a protest or give a final casualty toll.
They also prevented the UN migration agency from accessing injured migrants at hospitals.
'Heinous crime'
The "Government of Yemen has categorically condemned the heinous crime committed by the Houthi militias against African migrants detained in prisons of Houthis in Sanaa," Yemen's Embassy in Washington, DC, said in a statement posted on Twitter.
A statement by Yemen's Ministry of Human Rights read: "We note with great sadness and concern the news of killing and injury to dozens of Africans held in Houthi prisons, and deplore the extreme attempts by Houthis to cover up this horrific incident. There were many fatalities."
"The Government of Yemen affirms to the international community that the Houthi militia no longer poses a threat just to Yemenis, but also to migrants and citizens of neighboring countries. And swift action is needed to bring those responsible for this crime to account," the statement posted on Twitter concluded.
A leader of the migrant community in the Yemeni capital on Saturday called for an international probe into the fire.
In a news conference in Sanaa, Othman Gilto, who heads the Ethiopian community, blamed "negligence" by the Iran-backed Houthi militia who control the capital, as well as the United Nations, which has aid agencies present in Yemen.
Some 900 migrants, mostly from Ethiopian, were detained at the facility — including 350 inside a warehouse — when the fire took place on Sunday, according to the International Organization for Migration, adding that it was three times the facility's capacity.
Michael Aron, the British Ambassador to Yemen, said he was "appalled by the fire at Houthi-controlled migrant center in Sana'a."
"OHCHR [Office of the United Nations High Commissioner for Human Rights] and humanitarian agencies need immediate, unrestricted access to site and those injured. A credible, transparent, independent investigation must be carried out, including a full account of those killed and injured," he said in a tweet.
https://english.alarabiya.net/News/middle-east/2021/03/14/Fingers-point-to-Yemen-Houthi-militia-for-starting-fire-that-killed-African-migrants-
--------
Defying global outcry, Netanyahu says will legalize West Bank settlements if re-elected
14 March 2021
Israeli Prime Minister Benjamin Netanyahu has promised to authorize new illegal settlements in the West Bank if he were re-elected and formed a strong right-wing cabinet after the March 23 election.
"I swear to you: If I create a strong right-wing government without a rotation, I will take care of the settlements and the authorization of the young settlements [outposts]," Netanyahu said, according to the Jerusalem Post.
He made the remarks during a visit to the Givat Harel outpost in the West Bank's Binyamin region, pointing to 160 illegal West Bank outposts, out of which 65 were constructed in the last eight years during Netanyahu's tenure.
Netanyahu had already pledged support for the authorization of the outposts and backed an initiative for Israeli ministers to issue a declaration of intent to legalize the outposts before the fall of the cabinet. However, Alternate Prime Minister Benny Gantz kept the issue off the agenda.
The Israeli right-wing groups pushed to authorize the settlements prior to US President Joe Biden's inauguration on January 20, but they failed to take full advantage of the last days of the administration of the former president, Donald Trump, who had broken with decades of the United States' bipartisan show by not opposing the settlements.
The Biden administration has voiced opposition to the Israeli regime's settlement expansion, making it difficult for the regime to expand the illegal West Bank settlements, while rejecting calls to reverse Trump's recognition of Jerusalem al-Quds as Israel's "capital."
The international community has repeatedly opposed Israel's settlement activities, urging Biden in recent months to put pressure on Israel over the issue.
In remarks on Tuesday, Palestinian Prime Minister Mohammad Shtayyeh called on the Biden administration to make good on its opposition to Israel's settlement expansion across the West Bank and take concrete measures to tackle the expansionism.
Shtayyeh said the uptick in Israeli settlement construction activities amid the global coronavirus pandemic undermines international efforts to keep alive the prospect for the establishment of an independent State of Palestine.
Late last month, hundreds of European lawmakers sent a letter to foreign ministers in Europe, saying the Trump administration "left the [Israeli-Palestinian] conflict farther away from peace than ever," urging the Biden administration to make efforts to address the issue and halt the annexation of the West Bank.
Some 440,000 Israeli settlers live among more than three million Palestinians in the West Bank, in territories captured illegally by the Israeli regime.
While all Israeli settlements are illegal under international law, outposts are established regularly and even without Tel Aviv's approval.
https://www.presstv.com/Detail/2021/03/14/647311/Netanyahu-West-Bank-settlements-election
--------
Israeli plot to demolish more Palestinian homes amounts to 'ethnic cleansing': Rights group
14 March 2021
A human rights group has strongly denounced a fresh Israeli decision of razing more Palestinian homes and structures in Occupied Jerusalem al-Quds, stressing that such a plot would lead to massive destruction and amount to "ethnic cleansing" across the occupied Palestinian lands.
The Euro-Mediterranean Human Rights Monitor in a statement warned that the planned destruction operations were characterized by racial discrimination committed by the Israeli army, the Palestinian Information Center reported.
"The Israeli decisions coincide with the authorities' establishment of settlement projects in the heart of Palestinian communities in east Jerusalem to perpetuate a policy of racial discrimination against the Palestinian population," the statement read.
The nonprofit organization for the protection of rights also said the scheme would pave the way for a massive destruction and displacement against the native population in Sheikh Jarrah neighborhood.
"Thus, 19 households from eight families, comprising 78 people, of whom 28 are children, remain threatened with forced displacement at any moment," Euro-Med noted.
"While the Israeli authorities insist on eviction decisions against Palestinian homes in Sheikh Jarrah neighborhood, the municipality has approved establishing a memorial for soldiers of a battalion in the Israeli army paratroopers brigade killed during the occupation of Jerusalem in 1967," the right group further pointed out.
Elsewhere in the statement, the group voiced concern over the ongoing Israeli demolition campaign in Silwan neighborhood adjacent to the al- Aqsa Mosque in east Jerusalem al-Quds, which places dozens of Palestinian homes under threat of demolition at any moment.
Euro-Med Monitor calls on the international community and the United Nations to shoulder their responsibilities in stopping Israeli violations and urgently intervening to stop house demolition plans and change the city's demographic reality.
United Nations Humanitarian Coordinator for the occupied Palestinian territory Lynn Hastings said in a statement that the recent Israeli demolition of Palestinian homes and evacuation of local residents and confiscation of their lands contravened international law, and were all in flagrant violation of human rights law.
Israeli authorities usually demolish Palestinian homes in the occupied West Bank, claiming that the structures have been built without permits, which are nearly impossible to obtain.
They also sometimes order Palestinian owners to demolish their own homes or pay the demolition costs to the municipality if they do not.
The latest surge in demolition has drawn widespread condemnation against the Israeli regime for exploiting the coronavirus crisis to press ahead with its campaign of razing Palestinian homes.
Israeli prime minister Benjamin Netanyahu has announced a plan for grabbing a huge swathe of the West Bank, namely the areas upon which the regime has built its illegal settlements since occupying the territory in 1967, as well as the strategic Jordan Valley. He made the announcement after former US President Donald Trump unveiled the "deal of the century," a hugely pro-Tel Aviv scheme.
Following the signing of normalization agreements with Israel by the United Arab Emirates, Bahrain, Sudan and Morocco, there has been a rapid increase in Tel Aviv's demolition of Palestinian homes in the occupied West Bank and Jerusalem al-Quds.
The rise is coupled with an increase in deportation of Palestinians from Jerusalem al-Quds, their expulsion from al-Aqsa Mosque and daily storming of the compound by extremist Israeli settlers.
More than 600,000 Israelis live in over 230 settlements built since the 1967 Israeli occupation of the West Bank and East Jerusalem al-Quds.
All Israeli settlements are illegal under international law. The UN Security Council has condemned Israel's settlement activities in the occupied territories in several resolutions.
Palestinians want the West Bank as part of a future independent Palestinian state with East Jerusalem al-Quds as its capital.
https://www.presstv.com/Detail/2021/03/14/647290/Israel-Palestine-Jerusalem-al-Quds--Euro-Mediterranean-Human-Rights-Monitor-
--------
Human Rights Official Blasts Biden Administration for Continued Medical Sanctions against Iran
2021-March-14
"Now that a new administration has been empowered in the US, they continue the same path of sanctions against the Iranian people and pressure them to make concessions, and it is a step beyond Trump in crimes against humanity," Baqeri Kani said on Sunday.
"Medicine and medical equipment and food are not liable to sanctions, but they are also sanctioned by the Western countries, specially the European ones," he added.
In a relevant letter in January, thousands of Iranian patients with special needs in a letter to UN Secretary-General Antonio Guterres called for his efforts to lift the US unilateral sanctions against Iran which have blocked the country's access to drugs and medical equipment.
"The illegal US economic sanctions have prevented our access to health care, medicine and medical supplies. In the last two years, we have repeatedly pursued supply of drugs and medical equipment with the Iranian government and even pharmaceutical companies or companies supplying drugs and medical equipment for a wide range of patients with special needs, mostly children and minors. But due to the implementation of the US illegal sanctions and, especially the obstacles posed by Washington to financial exchanges, the imports of drugs and medical equipment for these patients is not possible," the letter said.
It added that the US sanctions have led to the loss of a significant number of patients, some of them have suffered serious physical injuries, and in general, the patients have suffered and sustained severe physical and psychological harms.
"We are still suffering from this shortage of medicine and medical equipment," the letter noted.
It warned that dozens of thalassemia and epidermolysis bullosa patients, especially children, etc. have lost their lives due to the lack of their special-need medicine and medical equipment due to the US systematic and organized policy called comprehensive crippling sanctions against Iran.
The letter called on Guterres to take all necessary measures to prevent continued criminal sanctions against the oppressed and defenseless patients who are under the support of non-governmental organizations, and take necessary measures to implement human rights and humanitarian law in UN member states.
The letter was written by the heads of Iranian Thalassemia" Association, Iranian MS Association, EB House of Iran, Iranian Kidney Patients Support Association, Hemophilia Center of Iran and Iranian Autism Association, representing thousands of Iranian patients with special needs.
The US sanctions and restrictions on export of drugs and medical equipment to Iran have shortened the breath of patients suffering from cancer, hemophilia, epilepsy and thalassemia.
Despite the American officials' claims of not imposing sanctions on imports of drugs to Iran, some specific medications needed for rare diseases are hard to obtain in the country due to banking embargos that hamper money transactions which causes some Western companies to refuse to sell the necessary drugs and medical equipment to Tehran.
https://www.farsnews.ir/en/news/13991224000807/Hman-Righs-Official-Blass-Biden-Adminisrain-fr-Cnined-Medical-Sancins
--------
Spokesman: Iran Not to Hold Talks with US on Any Issue
2021-March-15
"We do not talk directly or indirectly with the US on any issue, and the path of diplomacy is quite clear. Of course, the coordinator of the nuclear deal is trying to advance some points on the path of diplomacy," Khatibzadeh told reporters in his weekly press conference in Tehran.
"The US has withdrawn from the nuclear deal, it should both undertake committments and take effective measures to lift sanctions, and it should accept some conditions in order to ensure that it won't repeat this mistake again, and only then we can speak to them within the framework of the nuclear deal," he added.
Khatibzadeh referred to the US officials' claims about pursuing diplomacy towards Iran alongside their continued policy of pressures and sanctions, and said, "You cannot say that you are in favor of diplomacy but prevent the transfer of national funds to the country (Iran). You cannot say that you are in favor of diplomacy and continue the war and economic terrorism and this crime against the Iranian people."
Khatibzadeh had also on Saturday reiterated the country's decision to lower the nuclear deal undertakings until a full removal of sanctions by the US has not changed.
"Iran's position on the US defiance of its undertakings under the UN Security Council Resolution 2231 and the path to the revival of the nuclear deal are clear, and it has repeatedly been stated by the foreign minister (Zarif)," Khatibzadeh said.
"Iran suspends remedial measures only once the US lifts the sanctions as Supreme Leader (Ayatollah Khamenei) has announced," he added.
Khatibzadeh also reiterated again that the authority to verify moves under the nuclear deal is the International Atomic Energy Agency (IAEA).
In relevant remarks last Wednesday, Iranian President Hassan Rouhani in a phone conversation with British Prime Minister Boris Johnson said that the US has no way but to remove the cruel sanctions against Tehran to return to the path of diplomacy.
"If we are after diplomacy, the path is clear… It's the lifting of sanctions and the US fulfilling of its commitments, and there is no other option," Rouhani said.
He said while the new US administration has voiced willingness to rejoin the nuclear deal and implement its commitments, it has failed to take any practical measure whatsoever.
Rouhani pointed to the fact that the US withdrawal was a unilateral action, saying they did not negotiate their way out of the JCPOA, and therefore, do not need to negotiate their way into the deal.
"International cooperation has been damaged as a result of Trump's policies, and unfortunately the United Nations and the Security Council have not been able to function properly and impartially during this period, and now it is time to work together to address such a shortcoming," he noted.
The president laid out Iran's unwavering policy as an "action-for-action" approach with regard to JCPOA commitments, saying that "Iran cannot and should not be the only party paying the price of preserving the JCPOA."
He explained that all of Iran's measures have been taken within the framework of the JCPOA with the aim of bringing a state of equilibrium to the deal in order to preserve it, making a reference to Iran's reduction of its commitments under the JCPOA in response to the US withdrawal and harsh sanctions.
He pointed out that the Iranian people have been faced with greater problems in dealing with the coronavirus pandemic and other health issues due to the sanctions as well as the problems created by the US and its allies that have hindered Iran's access to its financial resources outside the country.
"The international community has shown that it is not ready for a civilized fight against the crisis, and that it pursues protectionist and discriminatory tendencies," he noted. "This is undoubtedly a moral failure for the international community."
Iranian Government Spokesman Ali Rabiyee said last Tuesday that the US is not in a position to set conditions for implementing its nuclear deal undertakings, saying that lifting sanctions is the only solution to revive the agreement.
"The US is not in a position to set conditions for implementation of its international undertakings. Unlike the US, which is avoiding returning to the nuclear deal, Iran is ready to fulfill all its undertakings as soon as possible and in companionship with other members of the nuclear deal and the US. Based on the policy announced by the Supreme Leader (Ayatollah Khamenei), the only way to revive the nuclear deal is lifting sanctions and return of all parties to the full implementation of their undertakings," Rabiyee told reporters in a press conference in Tehran.
"Once again, we recommend the White House to return to the nuclear deal unconditionally, just as the previous US president suddenly left the nuclear deal, and not to further complicate and harden diplomacy. I should remind you that in the last 4 years we, and not them (the US), have kept the way of diplomacy open, and today it is them who should take the first step in the way of diplomacy, not us," he added.
Rabiyee noted that today, many countries are trying in good will to revive the nuclear deal, and added, "We are confident that this goal will be achieved in the near future because it is the only way to ensure world peace and guarantee the interests of all countries; the nuclear deal is international law and the US has no choice but to abide by the law."
Asked about Iran's position on exchanging prisoners with the US, he said, "There is nothing new about the exchange of prisoners; Iran's position has already been stated by the Foreign Minister, and we are ready to exchange all prisoners between Iran and the US. If this has not happened yet, it is because of the unpreparedness of the US government."
Elsewhere, Rabiyee referred to reports about releasing Iran's US-blocked assets in a number of countries, and said, "These measures are insufficient. The Iranian government will no doubt strive to release what belongs to the Iranian people to the last cent, and it should be able to trade freely and gain access to its financial resources like all countries."
Tehran had last week dismissed media reports about direct or indirect contacts between Iran and Washington, saying that close talks are being held, but with other parties to the nuclear deal.
"We have not and do not have any direct or indirect contact with the US about issues related to the nuclear deal or other subjects," Khatibzadeh told reporters in a press conference in Tehran.
"We have had very close talks with the (other) parties to the nuclear deal and we have not had any talks with the US. Inside Iran, some points are being reviewed and completed," he added.
Asked if Iran will accept the US proposal to implement undertakings in a step-by-step plan, Khatibzadeh said, "Iran has neither received any step-by-step plan nor is such a plan in line with Iran's declared policy."
"No direct or indirect talks are being held between Iran and the US because the nuclear deal has clarified the path," he said.
Zarif said earlier this month that the US should lift all sanctions against Tehran before rejoining the Joint Comprehensive Plan of Action.
The US must remove the sanctions that it has imposed against Iran if it wants to return to the nuclear deal, Zarif said during his meeting with the Irish Foreign Minister Simon Coveney in Tehran.
https://www.farsnews.ir/en/news/13991225000416/Spkesman-Iran-N-Hld-Talks-wih-US-n-Any-Isse
--------
India
BJP condemns Shia leader Waseem Rizvi's remarks about the Quran
Peerzada Ashiq
MARCH 13, 2021
The Shia leader approached the Supreme Court seeking removal of 26 verses of the Quran.
The BJP on Saturday joined the Valley-based Muslim religious organisation in condemnation of Shia leader Waseem Rizvi's move to approach the Supreme Court to seek removal of 26 verses of the Quran, a holy book central to the faith of Muslims across the world.
"We have filed a complaint [before the police] and want the accused to be dealt with strictly. Nobody will be allowed to speak against any community or their holy book," Valley-based BJP leader Manzoor Bhat said.
Another BJP leader Altaf Thakur termed the remarks of the former chairman of Shia Waqf Board "unacceptable".
"The Quran teaches love, brotherhood and peace and not violence. The government must act quickly against Mr. Rizvi and arrest him for his blasphemous remarks and hurting the religious sentiments of billions of Muslims across the globe," Mr. Thakur said.
The BJP's condemnation comes after several Shia and Sunni religious bodies took umbrage at the reported remarks made by Mr. Rizvi about the Quran.
National Conference President and Member of Parliament Farooq Abdullah said the act Mr. Rizvi was abominable. "The holy Quran is the incorruptible and unchangeable word of Allah. The petition should not be entertained; on the contrary, strict action should be taken against him for hurting the sentiments of Muslims living across the globe," Dr. Abdullah said.
"This move is deliberate, aimed at provoking Muslims and feeding into the agenda of Islamophobe who are hostile towards Islam and full of hatred. Quran is the fountain-head that promotes humanity, love, unity and harmony," a spokesman of the J&K Mutahida Majlis-e-Ulema (MMU), a body of 24 religious groups, said.
The Majlis-e-Ulmae Imamia J&K, an amalgam of the Shia clergy, also demanded the arrest of the Shia leader.
"We strongly condemn the statement. This man has become a tool of conspiracies of the enemies against Islam and Shiaism. Indian Muslims have already kicked him out and he has been excommunicated from Islam," Masroor Abbas Ansari, head of the Itehadul Muslimeen, said.
Kashmir's grand Mufti Nasir-ul-Islam demanded the Shia leader's arrest. "I urge people to maintain discipline, remain calm and to register protest peacefully," he said.
Mr. Rizvi has reportedly approached the SC and sought deletion of 26 verses from the Quran for allegedly "teaching hatred, violence and terrorism."
https://www.thehindu.com/news/national/other-states/bjp-joins-jks-islamic-groups-to-condemn-rizvis-remarks/article34063352.ece
--------
Waseem Rizvi's blasphemous move sparks widespread resentment in Kashmir
March 14, 2021
Discontent and anger is brewing across Jammu and Kashmir after Uttar Pradesh Shia Waqf Board Chairman Waseem Rizvi filed a Public Interest Litigation (PIL) in the Supreme Court demanding deleting of 26 Ayats (verses) from the Holy Quran.
On Saturday, people in Kashmir termed the act as blasphemous, held multiple protests against Rizvi and demanded stringent action against him.
Scores of people staged a protest burning an effigy of Rizvi and raising slogans against him at Press Colony in Srinagar.
"No Muslim will tolerate raising fingers on Quran. Quran teaches us peace, not violence. This man is trying to create a misconception by filing such a petition," a protestor said.
People of Kashmir also took to social media expressing their anger against Rizvi.
Protests were held across Kashmir with the protestors demanding action against Rizvi.
The religious groups and Shia bodies in J&K also condemned Rizvi's move.
Jammu and Kashmir Mutahida Majlis-e-Ulema (MMU), a conglomerate of various religious organisations of J&K condemned the mischievous and malicious agenda of Rizvi.
In a statement issued here MMU, the conglomerate of Anjuman Auqaf Jamia Masjid, Dar-ul-Uloom Raheemiya, Muslim Personal Law Board, Jamiat Ahle Hadeth, Jama'at-e-Islami, Anjuman Sharia'n Shian, Karwaan-e-Islami, Itihaad-ul-Muslimeen, Anjuman Himayat-ul-Islam, Jamiat Hamdania, Anjuman Ulema-e-Ahnaaf, Dar-ul-Uloom Qasmia, Dar-ul-Uloom Bilaliya, Anjuman Nusrat-ul-Islam, Anjuman Mazhar-ul-Haq, Jamiat-ul-Aima Wal Ulema, Anjuman Aima Wa Mashaa'ikh Kashmir, Dar-ul-Uloom Naqshbandiya, Dar-ul-Uloom Rasheediya, Ahl-e-Bayt Foundation, Madrasa Kanz-ul-Uloom, Perwaan-e-Wilayat, Auqaf Islamiya Khurram Sarhama, Anjuman Tanzeem-ul-Makaatib, Muhammadi Trust led by Mirwaiz Umar Farooq, said that this move was deliberate and aimed at provoking Muslims and feeding into the agenda of Islamophobes hostile to Islam and full of hatred.
MMU appealed the people not to resort to violence over the obnoxiousness of Rizvi, which he and his masters would be anticipating to further their agenda and instead pledge to follow the teachings of the holy Quran in letter and spirit.
Grand Mufti of J&K, Mufti Nasir-ul-Islam said Rizvi should be arrested immediately for this blasphemous act.
Jamiat Hamdania also condemned Rizvi for the act and said that he had hurt the sentiments of the Muslims.
Condemning Rizvi's blasphemous moves, Anjuman Sharie Shiayan President Aga Syed Hassan called on the authorities to register a case under Section 295-A of the Indian Penal Code against Rizvi for hurting the sentiments of Muslims.
Ittehadul Muslimeen President Maulana Masroor Abbas Ansari tweeted: "We strongly condemn the recent statement of Rizvi against the Quran. This man has become a tool of conspiracies of the enemies against Islam and Shiaism. Indian Muslims have already kicked him out of their midst and he has been excommunicated from Islam."
A spokesman of Majlis-e-Ulmae Imamia said that Rizvi was an agent of anti-Muslim forces and with the CBI investigating corruption in the Waqf Board, he was doing all that was in his imagination to hold on to their support.
Jammu Muslim United Forum (JMUF) also condemned the action of Rizvi and said that this had hurt the sentiments of entire Muslim community while Jammu Muslim Front (JMF) appealed All India Muslim Personal Law Board (AIMPLB) to excommunicate Rizvi from Shiite community.
Condemning the blasphemous move of Rizvi, Kashmir Trade Alliance urged the Government of India to take strong action against him.
"Rizvi is known for his anti-Islamic remarks in the past and should be punished for that. He should be arrested because he is just trying to create conflict between the two schools of thought of Islam," KTA President Ajaz Shahdhar said in a statement.
Criticising Rizvi for this blasphemous act, Jammu and Kashmir Civil Society Forum Chairman Qayoom Wani appealed the Supreme Court to outright reject the petition of amendments against Quran to safeguard and respect the sentiments of the Muslims and other Quran lovers who seek guidance from this book of Allah.
https://www.greaterkashmir.com/news/kashmir/waseem-rizvis-blasphemous-move-sparks-widespread-resentment-in-kashmir/
--------
Terrorist killed in Shopian encounter, stone-pelters try to disrupt op
Mar 15, 2021
SRINAGAR: A Lashkar-e-Taiba terrorist was slain in an anti-terror operation in south Kashmir's Shopian district early Sunday, even as stone-pelters tried to disrupt the encounter by targeting the security forces. This is the first time since the nullification of Articles 370 and 35A that terrorist sympathisers have attempted to thwart an ongoing anti-terror operation.
Three houses caught fire near the encounter site as miscreants tried to disturb the operation by creating law and order problems. Several stone-pelters were injured in the clash and many who sustained pellet injuries in police retaliation were hospitalised, said sources.
"Based on intelligence inputs about the presence of terrorists in Rawalpora village, a joint team of the Army's 34RR, CRPF's 14Bn and J&K Police launched a cordon-and-search operation in the area around 8pm on Saturday," said a police spokesperson.
The holed-in ultras were offered a chance to surrender but they opened fire on the search party instead, triggering a gunfight. Even as the cordon remained intact, the fire exchange was suspended temporarily during the night. When it resumed early Sunday, a local terrorist identified as Jahangir Ahmad Wani from Shopian's Rakh Narapora was killed, the spokesperson said.
Jahangir had been active since September 1 last year and was part of several terror crimes including attacks on security forces and civilians. A US-made M4 Carbine rifle along with other incriminating material were recovered from the en
https://timesofindia.indiatimes.com/india/terrorist-killed-in-shopian-encounter-stone-pelters-try-to-disrupt-op/articleshow/81502838.cms
--------
Arrested terrorist was planning political killings in Doda: Army
Mar 15, 2021
JAMMU: Terrorist Firdaus Ahmed Natnoo, who was arrested from Jammu's Doda district with a cache of arms and ammunition on Friday, was planning to execute "sensational political killings" to revive terrorism in the district, the Army said on Sunday. Natnoo's affiliation is yet to be disclosed.
"Natnoo was involved in revitalizing the terror footprint in Doda, which had been declared terrorist-free after the encounter killing of Hizbul Mujahideen commander Tahir Ahmed Bhat alias Uqaab on May 17 last year," said Jammu-based defence spokesperson Lt Col Devender Anand.
"As per intelligence inputs, Natnoo was planning the political murders to revive terrorism in the region besides grabbing headlines. He and his associates — tasked with luring youth into terrorism, procuring arms and fundraising — were being tracked by security forces for the past two months," the spokesperson said.
"Early Friday, a joint team of the Army, CRPF, SSB and J&K Police launched a cordon-and-search operation in Bekhriyan, Udhiyanpur and Nagri, Doda town and arrested Natnoo from his Bekhriyan residence while he was trying to escape. Three Chinese pistols with five magazines, 15 rounds and a silencer were recovered from him, besides incriminating material like personal diaries, a photo album, a will cum suicide note and a machine to probably dig underground hideouts," Lt Col Anand said.
A case was registered in this connection and further investigation was underway, the spokesperson added.
https://timesofindia.indiatimes.com/india/arrested-terrorist-was-planning-political-killings-in-doda-army/articleshow/81502820.cms
--------
For Khwaja Yunus' aging mother, arrest of Waze is 'poetic justice'
Mar 15, 2021
MUMBAI: For Asiya Begum, Sachin Waze's arrest seems like "poetic justice". The 73-year-old mother of Khwaja Yunus, a bomb blast suspect who disappeared in 2003, has waited patiently for years for the tide to turn against the erstwhile encounter specialist.
Fighting for "justice after the murder of my son'', she said she was never a match for "the powerful Waze". But his arrest showed that "there is always light at the end of the tunnel".
"We ran from pillar to post to get the trial started in my son's murder case, but Waze is so powerful that he managed to delay the judicial process for so many years," she said, hoping Sunday's developments will lead to a relook at the criminal case against Waze pending in a Sewree trial court.
Yunus who worked in Dubai, had come to India on November 28, 2002 to visit his family. He arrived in his hometown Parbhani on November 30. On December 2, a blast took place in Ghatkopar. According to his mother's petition, Yunus was taken into custody on December 25, brought to Mumbai and handed over to a police team in Powai the next day. Two others, Mohammed Abdul Mateen and Shaikh Zaheer, were also held. A fourth person named Muzammil was arrested, but later discharged.
Her petition alleged that "during interrogation" Yunus and the others were "assaulted and tortured". When she saw her son on December 27, he appeared weak. Police later said he died trying to escape while they were shifting him to Aurangabad for further investigation.
She alleged that "to conceal the custodial torture and... custodial death", Waze and three constables faked his escape and registered a "false case with the Parner police" on January 7, 2003. They alleged that he fled by "jumping" out of the police jeep just before it met with an accident and fell into a gorge.
The Bombay high court had accepted her contention that the 'escape' FIR was false and had on April 7, 2004 directed that the statement of Yunus's co-accused Abdul Mateen, who alleged torture in custody, be treated as an FIR for a case of murder against Waze and others. The HC also directed the state and Mumbai police chief to suspend Waze and three others and initiate an inquiry against them. The state had gone to the SC to challenge the HC order. But the SC declined to intervene. Yunus's body was never found.
https://timesofindia.indiatimes.com/india/for-khwaja-yunus-aging-mother-arrest-of-waze-is-poetic-justice/articleshow/81502179.cms
--------
Pakistani drone spotted in Punjab's Bamial, returns after BSF opens fire
Mar 14, 2021
CHANDIGARH: A Pakistani drone entered the Indian territory on Sunday but was forced to return as BSF jawans spotted it and opened fire in its direction in Punjab's Pathankot district, a police official said.
"The drone which came from the Pakistani side was sighted at Dinda post close to Bamial along the Indo-Pak international border," Pathankot Senior Superintendent of Police Gulneet Singh Khurana told PTI over phone.
He said the BSF opened fire in its direction after which it returned to the neighbouring country.
Asked if the drone dropped anything inside the Indian territory before flying back, Khurana said, "A thorough search operation was carried out at the site, but nothing was found."
In December 2020, 11 hand grenades dropped by a drone flying in from Pakistan were recovered from a field near the International Border in Punjab's Gurdaspur district.
The consignment was found in Salach village, located about one km from the border.
The box of hand grenades had been attached to a wooden frame which was lowered from the drone onto the ground with a nylon rope, police had then said.
The first incident of dropping of arms and weapons through drones from Pakistan came to light in Punjab in September 2019 when police recovered AK-47 rifles, magazines and rounds of ammunition, hand grenades, fake currency and other items in Tarn Taran district.
https://timesofindia.indiatimes.com/india/pakistani-drone-spotted-in-punjabs-bamial-returns-after-bsf-opens-fire/articleshow/81497818.cms
--------
Indian army shares counter terrorist operation tactics with soldiers of Uzbekistan army
14th March 2021
CHAUBATI: Indian Army imparted its tested counter terrorism operation skills to the soldiers of the Uzbekistan Army in its foreign training node at Chaubatia in Ranikhet, Uttarakhand under the ongoing Dustlik-II series of Exercise. The use of helicopters to insert soldiers into the operations area and also training on modern weapons like the Seg Sauer of the Indian soldiers are part of the capsule.
Colonel Amit Malik, Commanding Officer of the troops of 13th Battalion of Kumaon Regiment nominated from Indian side told, "The aim of the exercise is to conduct sub-unit level operations in CT role under United Nations (UN) mandate and in the first two days both sides shared each-others drills, demonstrations and best practices."
"We are also showcasing our technological advancements... They shared their survival skills with us," he stated while addressing the media..
Talking about the weapons training Col Malik said "As far as weapons are concerned we have Sig Sauer rifles... we are sharing our weapons with the Uzbek troops. At present Uzbek troops are learning firing from Sig Sauer rifles,"
The main personal weapon of the Uzbek Army is the Assault Klashnikov (AK) series of rifles. The Indian and Uzbekistan Army teams also practiced the static slithering as part of their ongoing bilateral exercise and it will be demonstrated using the MI-17 helicopters of the Indian Air force during the validation phase of the exercise.
The 10-day exercise named as "Dustlik" which in Uzbek language means friendship began on March 10 and is being held under the United Nations mandate focusing on countering terrorism operations in the mountainous terrain.
A total of 45 personnel, including 12 officers from Uzbekistan Army are participating in the exercise. Similar number of soldiers are also participating from the Indian side.
Indian Army has selected troops of Kumaon Regiment and the Uzbekistan Army troops belong to different Units of its Central District.
The Indian Army troops belong to the 13th Battallion of Kumaon Regiment which is also called as the Rezang La Battalion which lost its 114 men fighting valiantly agains the Chinese PLA in 1962 India China War.
Dustlik will culminate on March 19 after the validation exercise of March 17 and 18 in which the observers from both the countries will test the skills learnt on various parameters like Cordon and Search Operation, heliborne jumps, room intervention and jungle range shooting," the commanding officer said.
India and Uzbekistan share a good relationship between the two countries. Uzbekistan deputy defence minister Major General Bakhodir Kurbanov and Uzbekistan Ambassador to India Dilshod Akhatov will attend the validation exercise on March 17-18. A Lieutenant General of the Indian Army will also be present on this day.
The Indian Army procured the US made 72,400 SIG-716 assault rifles in end of 2019. The rifles have been given to all the frontline infantry troops and the rest have been distributed in the remaining infantry units.
The SIG-716 weighing 3.82 kgs and has an effective range of 600m a soldier explained.
Last September, the Defence Acquisition Council (DAC) had approved the procurement of a second batch of 72,400 SIG-716 rifles. The SIG-716 is meant to replace the INSAS rifles in use presently.
The first edition of exercise Dustlik took place in Tashkent in Uzbekistan in 2019. Defence Minister Rajnath Singh and his Uzbekistan counterpart Major General Bakhodir Nizamovich Kurbanov presided over the Curtain Raiser of the military drill in 2019.
https://www.newindianexpress.com/nation/2021/mar/14/indian-army-sharescounter-terrorist-operation-tactics-with-soldiers-of-uzbekistan-army-2276581.html
--------
Africa
Video shows gunmen beating kidnapped students in Nigeria
13 March 2021
A video has emerged showing a group of students kidnapped from a school in northwest Nigeria beaten hard by armed men in a forest.
The footage, shared on social media, showed roughly two dozen students begging for help in English and Hausa, while cowering on a forest floor as armed captors hit them with sticks.
One student says in the video that the captors seek a 500 million-naira ($1.31 million) ransom.
"If anybody comes to rescue them without the money, they are going to kill us," a male student says in the video as a man with a gun stands behind him.
Gunmen attacked the Federal College of Forestry on Thursday night and kidnapped more than 30 students.
Earlier on Saturday, Kaduna state security commissioner Samuel Aruwan said the number of the missing students was nine more than previously thought – 23 females and 16 males.
"The Kaduna state government is maintaining close communication with the management of the college as efforts are sustained by security agencies towards the tracking of the missing students," Aruwan said.
College Provost Bello Mohammed Usman and the mother of one kidnapped student identified those shown in the video as some of the abducted students, including one pregnant woman.
Usman did not comment on the ransom request.
Abubakar Sadiq, executive secretary of the Kaduna State Emergency Management Agency, also refused to comment on the ransom demand, saying he was unaware of the video.
Last month, heavily armed gunmen abducted some 300 schoolchildren in the northwest.
Also in mid-December 2020, groups of gunmen kidnapped hundreds of schoolboys in Katsina State. They released the boys days later after negotiations with the government.
In 2014, 276 schoolgirls were abducted in the northeastern town of Chibok. A foreign-brokered deal enabled the release of 103 of the girls in October 2016 and May 2017.
Authorites say gangs involved in the kidnappings are driven by financial motives, but security officials are concerned that they are being infiltrated by Takfiri terrorists from the northern and northeastern states.
Those parts of the country have been wracked by years of violence involving Boko Haram and the West Africa Province (ISWAP) branch of the Daesh Takfiri terrorist group.
https://www.presstv.com/Detail/2021/03/13/647234/Video-gunmen-kidnapped-students-Nigeria
--------
Armed bandits attack another Nigerian school as 39 students still missing
14 March 2021
A group of heavily-armed gunmen have attempted to kidnap more students in Nigeria's Kaduna state where about 40 students from an earlier attack remain missing.
A state government official said that police, army and others had repelled attacks on another school and at a local government office near Kaduna airport overnight on Sudnay.
"The Kaduna state government extends its unequivocal solidarity to the military, police, Department of State Services and other security agencies, whose swift intervention prevented the bandits from abducting more persons," media outlets quoted Samuel Aruwan, Kaduna state commissioner of internal security and home affairs, as saying.
All 307 students at the Government Science Secondary School in Ikara were accounted for, Aruwan said.
"As a government, our focus is on getting back our missing students and preventing further episodes of school abductions," Aruwan said.
Elsewhere in his remarks, the official said that the army and air force also repelled an attack on senior staff quarters in Ifira village in Igabi local government area.
Attacks by armed gangs, usually referred to as bandits, have intensified across northwest Nigeria in recent years.
Four school kidnappings since December have provoked nationwide outrage.
Some 39 students, including a pregnant woman, are still missing from Thursday's abduction from the Federal College of Forestry Mechanization, in the country's troubled northwest.
A video recently emerged showing a group of students kidnapped from a school in northwest Nigeria beaten hard by armed men in a forest.
The footage, shared on social media, showed roughly two dozen students begging for help in English and Hausa, while cowering on a forest floor as armed captors hit them with sticks.
One student says in the video that the captors seek a 500 million-naira ($1.31 million) ransom.
Also in mid-December 2020, groups of gunmen kidnapped hundreds of schoolboys in Katsina State. They released the boys days later after negotiations with the government.
In 2014, 276 schoolgirls were abducted in the northeastern town of Chibok. A foreign-brokered deal enabled the release of 103 of the girls in October 2016 and May 2017.
Authorites say gangs involved in the kidnappings are driven by financial motives, but security officials are concerned that they are being infiltrated by Takfiri terrorists from the northern and northeastern states.
Those parts of the country have been wracked by years of violence involving Boko Haram and the West Africa Province (ISWAP) branch of the Daesh Takfiri terrorist group.
https://www.presstv.com/Detail/2021/03/14/647304/Nigeria-Kaduna-state-Samuel-Aruwan-Hausa-ISWAP-Daesh-
--------
UN urges withdrawal of mercenaries from Libya, welcomes unity government
14 March 2021
The United Nations Security Council has called for an immediate withdrawal of all foreign forces and mercenaries from Libya as the conflict-ridden African country ushers in a new era with the formation of a national unity government.
In a unanimously approved declaration, the Council urged foreign fighters to leave Libya "without further delay".
It also welcomed the Libyan parliament's approval of a new unified government, which is set to lead the North African country to December elections after a decade-long conflict.
"The Security Council calls on all parties to implement the ceasefire agreement in full and urges member states to respect and support the full implementation of the agreement," the world body said in a statement.
A ceasefire agreement reached in October called for the withdrawal of all foreign forces and mercenaries in three months and adherence to a UN arms embargo, provisions which have not been met.
The UN said in December last year that there were about 20,000 foreign troops and mercenaries helping the opposing sides in Libya.
Calling for full compliance with the UN arms embargo by all member states, the 15-member body stressed on Saturday that plans were needed "for the disarmament, demobilisation and reintegration of armed groups, security sector reform and to establish an inclusive, civilian-led security architecture for Libya as a whole."
Moreover, the council welcomed the parliamentary approval of Libyan Prime Minister Abdulhamid Dbeibah's cabinet.
It said the new Libyan government should take necessary preparations to set Libya for "free and fair national presidential and parliamentary elections on 24 December 2021."
Libya's parliament granted a vote of confidence to Dbeibeh's new unity government on Wednesday, with 132 votes of the 133 lawmakers who attended the session.
Libya, which sits atop the largest oil reserves in Africa, has been grappling with unchecked violence since the overthrow of former dictator Muammar Gaddafi in 2011 during an operation backed by the Western alliance of NATO.
Since 2014, two rival seats of power have emerged in Libya, namely the UN-recognized government based in the capital Tripoli, and another camp based in the eastern city of Tobruk, backed militarily by armed rebels.
The country descended into unprecedented chaos last year after the so-called Libyan National Army (LNA) under rebel commander Khalifa Haftar moved toward Tripoli to seize the city. They were repelled by government forces.
The conflict has escalated into a regional proxy war fueled by foreign powers pouring weapons and mercenaries into the country, with the Tripoli government receiving major backing from Turkey, and the rebels from the United Arab Emirates, Egypt, and Jordan.
https://www.presstv.com/Detail/2021/03/14/647272/Libya-United-Nations-Security-Council-withdrawal-mercenaries
--------
Tigray conflict: Ethiopia says US allegations of 'ethnic cleansing' unfounded
14 March 2021
Ethiopia has rejected the recent allegations of ethnic cleansing in the northern Tigray region, by the new administration in the White House, calling them 'unfounded and spurious.'
Ethiopia's Ministry of Foreign Affairs, in a statement released on Saturday, said it "vehemently opposes such accusations."
"Nothing during or after the end of the main law enforcement operation in Tigray can be identified or defined by any standards as a targeted, intentional ethnic cleansing against anyone in the region," it said.
US Secretary of State Antony Blinken has called for creating a regional force to stop what he described as "acts of ethnic cleansing" in the Ethiopian rgion.
While testifying before Congress on Wednesday, Blinken citied "very credible" sources as reporting continued human rights abuses and atrocities in Tigray.
Blinken called for "an independent investigation into what took place there".
"We have, as you know, forces from Eritrea over there, and we have forces from an adjoining [Ethiopian] region, Amhara, that are there. They need to come out," he insisted.
There have been reports of Eritrean forces' engagement in the Tigray clashes, but both Ethiopia and Eritrea deny this.
Blinken, in a call with United Nations Secretary-General Antonio Guterres, repeated his call for an international investigation into the alleged ongoing human rights abuses in the Tigray region, the State Department said on Friday.
Blinken also called for "enhanced regional and international efforts to help resolve the humanitarian crisis, end atrocities, and restore peace in Ethiopia."
The Ethiopian Foreign Ministry added the government was ready "to engage positively and constructively with all the relevant regional and international stakeholders in responding to the serious allegations of human rights abuses and crimes."
UN rights chief Michelle Bachelet said last week that her office had confirmed serious violations in Tigray that could amount to "war crimes and crimes against humanity".
Ethiopia's Prime Minister Abiy Ahmed launched an offensive against Tigray's then-ruling party in early November.
In late November, the Nobel laureate PM announced victory against the heavily armed forces of the Tigray People's Liberation Front (TPLF), which he had accused of attacking federal army troops in earlier clashes. The TPLF forces were driven out of the regional capital Mekelle.
There are still reports of sporadic fighting in parts of the restive region.
The conflict resulted in thousands of fatalities. Hundred of thousands were also driven from their homes due to the fighting. Tigray is currently dealing with an acute shorage of water, food and medicine.
Aid agencies and relief organizations have warned that a growing number of people in Tigray might be starving to death.
TPLF politicians and commanders had dominated Ethiopia's government for nearly three decades; however, the party's clout declined after Abiy came to power in 2018.
Since then, Abiy has introduced a number of reforms and senior Tigrayan officials were detained, fired, or sidelined, in what the federal government described as a crackdown on widespread corruption.
https://www.presstv.com/Detail/2021/03/14/647253/Ethiopia-Tigray-Blinken-Ethnic-Cleansing
--------
Nigeria: 19 killed in Boko Haram terror attack
14.03.2021
By Adam Abu-bashal
ABUJA, Nigeria
Nineteen people were killed in the attack by the Boko Haram terror organization in the northeastern state of Borno in Nigeria, according to media reports on Saturday.
Terrorists attacked a military convoy in Gudumbali in the Lake Chad region, killing 15 soldiers and four Joint Task Force members.
Army spokesman Mohammed Yerima said in a statement that several soldiers were also injured in the attack.
On Thursday, Nigeria's National Security Adviser Babagana Monguno announced that his country would not negotiate with the terror group and the government does not see negotiations as a means to deal with the worsening security conditions in the country.
Boko Haram launched a bloody insurgency in 2009 in northeastern Nigeria but later spread its atrocities to neighboring Niger, Chad and Cameroon, prompting a military response.
More than 30,000 people have been killed and nearly 3 million displaced in a decade of Boko Haram's terror activities in Nigeria, according to the UN Office for the Coordination of Humanitarian Affairs.
Violence has affected 26 million people in the Lake Chad region and displaced 2.6 million others, according to the UN Refugee Agency.
https://www.aa.com.tr/en/africa/nigeria-19-killed-in-boko-haram-terror-attack/2175197
--------
North America
US lawmakers urge Biden to stop Israel's land theft, home demolition policies
14 March 2021
A dozen members of the US Congress have called on the administration of President Joe Biden to condemn Israel's land expropriation and home demolition policies in the occupied Palestinian territories.
The legislators, led by Rashida Tlaib and Mark Pocan, urged the administration to attach meticulous attention to the Israeli–Palestinian conflict in terms of international law and human rights, and to reverse decisions taken by former US president Donald Trump on the matter.
"We remain concerned about Israel's policy of demolishing Palestinian homes in the occupied West Bank", including East Jerusalem al-Quds, they said in a letter addressed to US Secretary of State Antony Blinken.
The lawmakers also demanded an investigation into the use of US equipment in the demolitions and whether such a conduct violates American law.
"We believe the State Department should condemn Israel's home demolitions in unequivocal terms and take effective and timely diplomatic action to end this policy," the letter read.
The lawmakers said Israel's ongoing colonization of the West Bank, including East Jerusalem al-Quds, alongside its demolition of Palestinian homes, is a form of de facto annexation that needs to be unequivocally opposed by the United States.
They asked the US administration to denounce Israel's settlement expansion, stressing that "settler colonialism in any form – including Israel's settlements in East Jerusalem al-Quds and the West Bank – is illegal under international law and will not be tolerated."
The US lawmakers also called on the Biden administration "to officially rescind the Trump administration's so-called Peace to Prosperity plan, which would enable Israel to unilaterally annex 30 percent of the West Bank outside the framework of negotiations."
Moreover, the State Department should publicaly call on Israel to fulfill its legal obligations to provide COVID-19 vaccines to all Palestinians living under the Israeli military occupation, they added.
On March 9, Palestinian Prime Minister Mohammad Shtayyeh called on the Biden administration to make good on its opposition to Israel's settlement expansion across the occupied West Bank and take concrete measures to tackle it.
Shtayyeh said the uptick in Israeli settlement expansion amid the global coronavirus pandemic undermines international efforts to keep alive the prospect for the establishment of an independent State of Palestine.
More than 600,000 Israelis live in over 230 settlements built since the 1967 Israeli occupation of the Palestinian territories of the West Bank and East Jerusalem al-Quds. All Israeli settlements are illegal under international law.
According to human rights groups, acts of violence by Israeli settlers against Palestinians and their property are a daily occurrence throughout the occupied West Bank.
https://www.presstv.com/Detail/2021/03/14/647267/US-lawmakers-urge-Biden-to-stop-Israel-land-theft-home-demolition-policies
--------
Erdogan awaits call from Biden amid attempted reset in US-Turkey relations
14 March ,2021
Turkish President Recep Tayyip Erdogan has toned down his anti-Western and anti-US rhetoric in an apparent effort to reset the rocky relationship with his NATO allies, but so far he's been met by silence from US President Joe Biden.
Nearly two months into his presidency, Biden still hasn't called Erdogan, which some in Turkey see as a worrying sign. By contrast, former President Donald Trump and Erdogan spoke just days after the 2016 election.
Ties between Ankara and Washington — which once considered each other as strategic partners — have steadily deteriorated in recent years over differences on Syria, Turkey's cooperation with Russia and more recently on Turkish naval interventions in the eastern Mediterranean, which US officials have described as destabilizing.
Despite tensions, many within Erdogan's government were hoping for four more years of the administration led by Trump, who had a personal rapport with Erdogan and didn't give him any lectures about Turkey's human rights record.
Biden drew ire from Turkish officials after an interview with the New York Times in which he spoke about supporting Turkey's opposition against "autocrat" Erdogan.
In public statements, Turkish officials have played down the lack of a phone call from the White House, noting that conversations are happening at other levels, but a senior Turkish government official told The Associated Press that Erdogan's office "is not thrilled" about it. The official spoke on condition of anonymity due to the sensitivity of the issue.
Jen Psaki, the White House press secretary, said last week that there were many world leaders Biden still hadn't talked to and that she was sure he would call Erdogan "at some point."
Left with few friends due to a spate of assertive foreign policy, anti-Western rhetoric and increasing authoritarianism, Turkey is now looking to attract foreign investments to rescue its troubled economy. Erdogan has been reaching out to the US, European nations and other former allies in a bid to patch troubled relations and end its international isolation.
Biden, who has spoken about restoring international alliances and traditional ties as well as strengthening NATO, would have an interest in rebuilding ties and trying to pull Turkey away from Russia's sphere of influence.
But analysts say it's going to be very difficult to reset the relationship, given the range of issues where the two countries don't see eye to eye, including Turkey's decision to acquire the advanced Russian S-400 anti-aircraft system, which Washington says poses a threat to NATO and to the US F-35 fighter aircraft program. Washington kicked Turkey out of the F-35 production program and last year imposed sanctions on senior Turkish defense industry officials as well as bans on military export licenses.
Turkey argues that the Russian system, which cost the country $2.5 billion, is not a threat to the NATO alliance and it has repeatedly called for dialogue to resolve the issue. Washington insists the sanctions cannot be lifted as long as the Russian system remains on Turkish soil.
During a Senate hearing before his confirmation as US secretary of state, Antony Blinken described Turkey as a "so-called strategic partner" and called it "unacceptable" for Turkey to be "in line with one of our biggest strategic competitors in Russia."
Merve Tahiroglu of the Washington-based Project on Middle East Democracy, said it would be difficult for Erdogan to backtrack on the S-400 "because he made such a big deal about the purchase and what this would mean for Turkey's geopolitical independence."
American military support for Syrian Kurdish fighters to combat the Islamic State group is another point of contention. Turkey argues they are inextricably linked to a decades-long Kurdish insurgency and Defense Minister Hulusi Akar has said that ties cannot improve unless Washington halts its cooperation with the Syrian Kurdish group.
In 2019, Biden accused Trump of betraying US allies, following the latter's decision to withdraw troops from northern Syria, which paved the way for a Turkish military offensive against the Syrian Kurdish group.
The Biden administration is likely to put pressure on Turkey on its energy dispute with Greece in the eastern Mediterranean, which led to a tense standoff between two NATO members. Turkey has since halted its search for energy reserves in disputed waters while Erdogan has toned down his fiery rhetoric.
Gonul Tol, director of the Middle East Institute's Center for Turkish Studies, said Turkey cannot give concessions in the eastern Mediterranean "because it is considered a national cause by a wide segment of Turkish society."
The Biden administration is expected to place more emphasis on democracy and human rights than Trump did. During a telephone call with Turkish Foreign Minister Mevlut Cavusoglu, Blinken underlined the "importance of democratic institutions, inclusive governance and respect for human rights" for Turkey, according to a US readout of the conversation.
Last week, Erdogan pledged a series of reforms to improve human rights but analysts said they were unlikely to make a huge impact or lead to the release from prison of high-profile figures such as activist Osman Kavala, who is accused of ties to anti-government protests in 2013 as well as a 2016 failed coup attempt.
"For a true reset to happen, the Biden administration needs to see more of a democratization process ... that can come in the form of major judicial reforms or by the release of some of the most contentious political figures," Tahiroglu said.
Turkey is also seeking the extradition of US-based cleric Fethullah Gulen, whom Ankara accuses of orchestrating a failed military coup in 2016. US officials say Ankara has not been able to present documents that would allow his extradition. Turkey accuses Washington of providing him shelter.
Also threatening to perturb ties is a trial against Turkish state bank, Halkbank, accused of helping Iran to evade US sanctions worth $20 billion.
"If the court sentences Halkbank, it is going to be devastating for the Turkish economy and I don't see how you can have a reset after that," Tol said.
https://english.alarabiya.net/News/middle-east/2021/03/14/Erdogan-awaits-call-from-Biden-amid-attempted-reset-in-US-Turkey-relations
--------
US plans to reinvigorate diplomatic effort alongside UN in Yemen: State Department
15 March ,2021
The US plans to reinvigorate diplomatic efforts, alongside the United Nations and others, to end the war in Yemen, Secretary of State Antony Blinken told U. N. Special Envoy for Yemen Martin Griffiths, a State Department spokesperson said on Sunday.
"He highlighted that the US supports a unified, stable Yemen free from foreign influence, and that there is no military solution to the conflict," State Department Spokesman Ned Price said in a statement.
The Arab Coalition intervened in Yemen in 2015 after the Iran-allied Houthi group ousted the country's government from the capital Sanaa.
The United Nations describes Yemen as the world's worst humanitarian crisis.
https://english.alarabiya.net/News/gulf/2021/03/15/US-plans-to-reinvigorate-diplomatic-effort-alongside-UN-in-Yemen-State-Department
--------
US military presence in Afghanistan much larger than disclosed: US media
15 March 2021
US officials have said the real number of American forces in Afghanistan is much higher than the public has been led to believe as the Biden administration claims to follow through with a troop withdrawal as part of a US deal with the Taliban, according to US media.
It turned out that number is actually around 3,500 US forces, which is one thousand more troops in the war-wracked country than the Pentagon had claimed, the New York Times reported, citing US, European and Afghan officials.
The report said this figure does not accurately represent how many US boots are actually on the ground in Afghanistan.
In addition to the 3,500 US troops, there are some 7,000 NATO and allied troops still in Afghanistan who depend on Americans for logistics and force protection.
The revelation now adds more complexity to a debate at the White House over whether to stick with the deal, struck by the Trump administration and the Taliban over a year ago, that called for complete withdrawal of American forces by May 1.
Senior US official said some Special Operations forces having been put "off the books," as well as some temporary and transitioning units.
These troops include Joint Special Operations Command units, some of them elite Army Rangers, who work under both the CIA and the Pentagon in Afghanistan.
US troop numbers in Afghanistan have declined from 12,000 to the current number since last year under the Trump administration.
Some in the Pentagon have, however, staunchly opposed the drop as they long claimed that at least 8,600 US troops are needed to continue training operations and counterterrorism missions in Afghanistan, the Times said.
A review of the US-Taliban deal that was submitted to US lawmakers last month concluded that 4,500 American troops would be necessary in order to "secure US interests" in Afghanistan.
It is not yet clear whether President Joe Biden's administration will honor the Trump-Taliban deal, ending America's longest war after more than 19 years.
The Washington Post reported on Saturday that many US officials thought it was unlikely that all American forces would leave Afghanistan by May,
Members of the US Congress have repeatedly called for an increase in troops if the United States decides to stay past.
https://www.presstv.com/Detail/2021/03/15/647345/US
--------
Biden difference in rhetoric, same as Trump in policy towards Iran, others: Analyst
15 March 2021
US President Joe Biden is only different in rhetoric while pursuing the same policies as former President Donald Trump towards Iran and other countries, says a political commentator.
Stephen Lendman made the comments in an interview on Saturday, while commenting on Press TV's latest investigative editorial into a "step-for-step" proposal, with the US yet to make good on its promised return to the Iran nuclear deal.
Before winning the 2020 presidential election, Biden vowed to bring the United States back to the internationally supported agreement, which Trump unilaterally quit.
"Biden has done exactly the same thing. The rhetoric is different, the policies are the same," noted Lendman. "He pretends that he wants to rejoin the JCPOA. He promised it while campaigning."
The Democratic president, who promoted an attitude contrary to Trump's in his 2020 campaign, has also refused to end the sanctions illegally imposed on the Iranian nation.
"He said he'd lift sanctions on Iran. They were imposed illegally," said Lendman, who also hosts the Progressive Radio News Hour.
While discussing his book, "The Art of Sanctions," @richardmnephew boasted with a wide grin that the economic warfare tactics he devised drove up unemployment rates in Iran.
Nephew was just appointed as Biden's deputy Iran envoy.
My full story here: https://t.co/FWTYO7Ab4G pic.twitter.com/m5431czF8i
— Max Blumenthal (@MaxBlumenthal) March 8, 2021
Yet, Washington's pressure on Iran goes beyond the West Asian country, further victimizing any entities even considering ties with Tehran by imposing new sanctions.
"They have no legitimization at all, but other countries adhere to them because the US threatened sanctions on them if they do not, especially the European countries."
#JCPOA IS the comprehensive plan concluded by E3+3 (incl US) & Iran. The "C" stands for COMPREHENSIVE.
It has been implemented only by Iran.
Instead of posturing, US & E3 must finally live up to their commitments made, but never fulfilled.#CommitActMeet
Iran will reciprocate
— Javad Zarif (@JZarif) March 9, 2021
Press TV's findings, in part, revealed that Tehran had earlier sent messages signaling the possibility of working out a "step-for-step" proposal, which could involve the United States' release of Iran's frozen assets.
But Washington was seeking an unofficial meeting with Tehran, hoping to declare an asset unfreeze as the outcome of the hypothetical meeting.
The US lifting of sanctions is Iran's absolute right, violated by the Trump administration's unilateral withdrawal from the Joint Comprehensive Plan of Action and a brutal "maximum pressure" campaign against Iranians, which is yet to end.
Another example of their lies: The US has the biggest nuclear weapons arsenal in the world. They have thousands of atomic bombs & are the only state that has used #NuclearWeapons and massacred 220,000 people. Then they shout that they oppose weapons of mass destruction!
— Khamenei.ir (@khamenei_ir) March 11, 2021
"Biden has zero intention of rejoining the JCPOA," Lendman opined. "They want a hardened deal that no country would accept."
Iran has announced that it will not enter any engagements on the basis of proposals inconsistent with its declared policies as well as conditions set by Leader of Islamic Revolution Ayatollah Seyyed Ali Khamenei.
"Our rational demand is the lifting of the sanctions. This is the Iranian nation's right, which has been violated. They are duty-bound to do that... If the sanctions are lifted, then the US return to the JCPOA will mean something," the Leader said in a speech on January 8, 2021.
The head of the Iranian Judiciary's High Council for Human Rights said last week that the Islamic Republic would appoint a special rapporteur to evaluate the impact of the illegal US sanctions on the Iranian nation and to protect the rights of Iranians in the face of Washington's unjust restrictive measures.
https://www.presstv.com/Detail/2021/03/15/647320/US-Iran-Stephen-Lendman-comments-Press-TV-investigative-editorial
--------
URL: https://www.newageislam.com/islamic-world-news/christchurch-massacre-new-zealand-pm/d/124546
New Age Islam, Islam Online, Islamic Website, African Muslim News, Arab World News, South Asia News, Indian Muslim News, World Muslim News, Women in Islam, Islamic Feminism, Arab Women, Women In Arab, Islamophobia in America, Muslim Women in West, Islam Women and Feminism