New Age Islam News Bureau
29 Apr 2014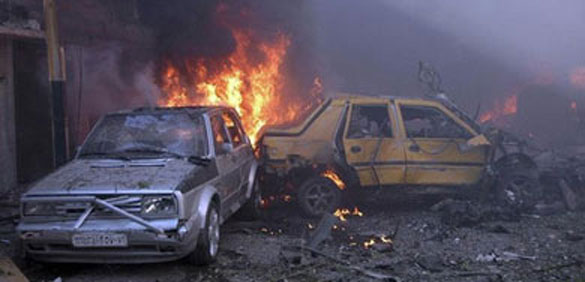 Two car bombs killed at least 37 people including women and children near a busy roundabout. (File photo: Reuters)
----------
South Asia
• China Pays People Up To $8,000 for Information on Their 'Bearded' Muslim Neighbours
• 57 militants killed, 84 others injured in Afghan operations
• Number of fugitive war crime suspects on the rise
• PM Sheikh Hasina seeks more German support for uplift
• Taliban leaders among 6 killed in Kapisa operations
Arab World
• Crossing Red-Signals Is 'Haram,' Says Saudi Grand Mufti
• Syria Militants Receive Training in Qatar: Reports
• As Iraqi police and army vote, violence kills about 50 nationwide
• Car bombs kill at least 37 in Syria's Homs
• Mortar fire in Damascus kills 12, wounds 50: State media
• Twin bombings northeast of Baghdad kill 10: Officials
• Baghdad Gripped By Fear on Eve of Iraqi Elections
• Suffering under ISIL rule: testimonies from al-Raqa
• OIC to establish one global Halal standard
• 'Parody of democracy': Assad files nomination
Southeast Asia
• Bylaw on non-Muslims in Aceh not enforceable: experts
• MIC opts for dialogue, not press statements, with PAS on Hudud
• Don't fall into Umno's trap over Hudud, Guan Eng tells PAS
Mideast
• Yemeni army launches major ground offensive against Al-Qaeda
• Iran's Supreme Leader uses Carter's book to attack the West on women's rights
• PM Erdoğan planning prayers with Islamic leaders in Hagia Sophia
• Northern mosque vandalized in suspected 'price tag' attack
• Non-Aligned states plea for nuke-free Mideast confab
• Israel okayed thousands of West Bank homes during talks, NGO says
• No peace with Israel without defining borders: Abbas
• Hamas: Israel to hand over the remains of suicide bombers
North America
• Abu Hamza had jihad 'manual,' US court told
• US-Egypt ties going through 'turbulent times'
• Obama defends inaction in Syria, Ukraine
• US, UN condemn Cairo over mass death sentences
• Kerry Apologizes for Remark That Israel Risks Apartheid
Europe
• Pakistan and Afghanistan prone to mass violence, genocide: study
• Tony Blair: The West Must 'Liberate' Itself from Believing It Caused 'Radical Islam'
• Terrorists have changed methods since Snowden leaks: Senior UK official
• EU to issue harsh words on Egypt's mass death sentence verdict
• German President 'Scared' by Turkey Rights Abuses
Pakistan
• Pak PM Nawaz Sharif lauds ISI amid controversy over attack on Hamid Mir
• Five security men killed in Mastung firing
• Three militants killed in Khyber tribal region
• Militant hideouts pounded in South Waziristan
• Bilawal Bhutto condemns ruthless victimization of Sindh by WAPDA
• Hameed Gul holds Interior Ministry and PEMRA responsible for ISI's defamation
India
• Google Doodle commemorates Ustad Alla Rakha's 95th birth anniversary
• Police crackdown on Kashmir separatists ahead of polls
Africa
• Sultan of Sokoto prayed to God to expose the sponsors of Boko Haram
• Only a minority of people benefited from nation's resources-Mahama
• Kenya hosts int'l Muslim conference on tolerance
• Israeli-Ethiopian lawmaker urges NBA to ban Sterling in response to racist remarks
Compiled by New Age Islam News Bureau
URL: https://newageislam.com/islamic-world-news/new-age-islam-news-bureau/china-pays-people-up-to-$8,000-for-information-on-their-'bearded'-muslim-neighbours/d/76794
------------
South Asia
China Pays People Up To $8,000 for Information on Their 'Bearded' Muslim Neighbours
April 29, 2014
Authorities in western China's restive, Muslim-majority Xinjiang Uighur Autonomous Region are offering rewards to locals who inform on their neighbours for "wearing beards," government-controlled media reported this week. Islamic liturgy recommends that Muslim men wear beards.
In recent months, local officials have tightened religious restrictions on Xinjiang's ethnic Uighurs, in response to a series of armed attacks that were allegedly perpetrated by Uighur separatists. Many Uighurs accuse Chinese authorities of religious repression, and say economic development measures in their home region benefit mostly ethnic Han people, who are the majority in China.
Informants in parts of Xinjiang's Aksu prefecture, an epicentre of the region's ethnic tensions, can earn anywhere from $8 to $8,000 for reporting their neighbours' illegal religious or "separatist activity" — which can now include facial hair, according to Chinese newspaper The Global Times.
"That's a lot of money for Uighurs in the south [of the region]. There they are very poor. This is an incentive to betray their fellow Uighurs to get some financial gain," Alim Seytoff, spokesman for the Uighur rights advocacy group World Uyghur Congress (WUC), told Al Jazeera.
Aksu officials had not responded to an interview request from Al Jazeera by the time of publication.
Local authorities have attempted to suppress various ostensible signs of Muslim religiosity in the past. But Nicholas Bequelin, a researcher with Human Rights Watch, said this appeared to be first time officials are comfortable enough with such measures to allow them to be reported in an English-language publication geared toward foreigners.
"What is new and extremely worrying [is that] the Chinese government is so bent on suppressing Uighur Islam that it thinks it's appropriate to make public these restrictions and to sketch out what behaviour is considered suspect by the state," Bequelin told Al Jazeera.
Bequelin believes Chinese authorities are publicizing information about the attacks to pre-empt criticism by portraying the rewards as a measure against armed attacks that Beijing says are carried out by Uighur religious extremists.
WUC's Seytoff said he contacted Human Rights Watch days ago with reports of the restrictions. Seytoff believes that WUC's communications have been compromised by Chinese intelligence, and that the Chinese media report was likely an attempt to establish Beijing's stance ahead of any claims that would be made by the international human rights watchdog.
Xinjiang, which abuts South and Central Asian nations including oil- and energy-rich Kazakhstan and Pakistan, is of great strategic and economic value to Beijing. In September of last year, China signed a slew of contracts with neighbouring nations to import oil and gas directly into Xinjiang. Uighur rights activists have told Al Jazeera that religious repression is one means of controlling a restive Uighur public that Beijing sees as a threat to its commerce.
In recent months, other religious restrictions imposed by local governments have barred women wearing traditional headscarves from entering public venues: chilli:. In one case in Aksu, authorities placed the Chinese flag at the head of a mosque, in an apparent bid to make worshippers bow to a symbol of the state.
http://indiandefence.com/threads/china-pays-people-up-to-8-000-for-information-on-their-bearded-muslim-neighbors.45987/
------------
57 Militants Killed, 84 Others Injured In Afghan Operations
Apr 29 2014
At least 57 militants were killed and 84 others were injured during military operations by Afghan national army (ANA) soldiers.
According to a statement released by defence ministry of Afghanistan, the operations were conducted in the past 24 hours in Paktika, Ghazni, Helmand, Kandahar and Nangarhar provinces of Afghanistan.
The statement further added that seven Afghan national army soldiers were also killed following improvised explosive device (IED) explosion in the past 24 hours.
In the meantime, Gen. Zahir Azimi, spokesman for the defence ministry of Afghanistan said nearly 500 militants carried out coordinated attacks on Afghan security check posts in Paktika province.
Gen. Azimi further added that 49 militants were killed and dozens of others were injured during the clashes with the Afghan security forces.
He said the international coalition forces provided close air support to Afghan security forces during the clashes.
According to Azimi, at least five Afghan soldiers were killed, one soldier was abducted and six others were injured during the clashes.
http://www.khaama.com/57-militants-killed-84-others-injured-in-afghan-operations-3620
------------
Number of fugitive war crime suspects on the rise
April 29, 2014
The tribunal has so far finished the trials in absentia of three war criminals – Abul Kalam Azad alias Bachchu Razakar, Chowdhury Mueen Uddin and Ashrafuzzaman Khan – and ordereddeath sentences forall of them.
Before investigations into the war crimes allegations against Hassan Ali began, police knew his whereabouts. But after the probe was completed and the tribunal issued an arrest warrant against him, they were no longer able to locate him.
On April 18, thirteen days after the warrant had been issued, Brahmanbaria police chief Md Maniruzzaman told the Dhaka Tribune that they were not sure about the suspect's position.
Although they knew that Hassan was physically paralysed and could not move without the help of others, the police official could give no explanation as to how the suspect managed to dodge their radar.
If he cannot be found and charges are framed against him, the International Crimes Tribunal will have to begin the trial in absentia – a practice that activists campaigning for war crimes trials do not endorse.
The tribunal has so far finished the trials in absentia of three war criminals – Abul Kalam Azad alias Bachchu Razakar, Chowdhury Mueen Uddin and Ashrafuzzaman Khan – and ordereddeath sentences forall of them.
Of them, Azad allegedly fled the country after the probe into his 1971 crimes began. Campaigners have always said a little more vigilance from security forces could have stopped him. The investigators now have very little idea about the death row war criminal's current position.
Both Mueen and Ashrafuzzaman have been living abroad for many years – the former in England and the latter in the USA. The tribunal, before beginning trial, issued warrants against the two which they never heeded.
The trial of another fugitive, Jahid Hossain alias Khokon Razakar, is almost complete and the case is currently awaiting verdict. Reportedly, the former BNP leader Khokon fled to Sweden in 2012 after the probe began.
Yesterday, investigators have submitted a probe report against the former Jatiya Party lawmaker Abdul Jabbar. Investigation officer Helal Uddin said they had not managed to reach Jabbar since the probe began in May, last year.
Jabbar was elected Member of Parliament twice with tickets from Ershad's JaPa from Mathbaria, Pirojpur, in 1986 and 1988.Helal said Jabbar had not been active in politics for many years.
Pirojpur police chief Asaduzzaman told that Dhaka Tribune that he could not say anything about the matter because they had notreceived any instructions from the tribunal as of yet.
The investigation agency of the tribunal is currently probing war crimes charges against another suspect, Mohammad Nasir, who allegedly killed around 30 people in Kishoreganj in 1971.
Local police, who have not managed to trace Nasir despite continuous drives, suspect that he might not be in the area at all.
Nasir, a former army personnel, used to live in Karimganj, Kishoreganj. Investigation officer Ataur Rahman claimed that he had found evidence that the suspect had committed atrocities in the Ayla village during the Liberation War.
When asked what steps were taken to ensure that the suspect could not flee, Ataur said: "It is the duty of the local law enforcers. We alerted them about the suspect long ago."
Investigation is also ongoing against another suspect named Shakhawat Hossain, a JaPa presidium member. He was arrested in 2009 and a probe began against him in 2013. He, however, secured bail and had been absconding since.
In this situation, the investigation agency filed a petition, asking for direct arrest of suspects. It submitted a proposal to the Law Ministry on April 24 for amending the ICT Act 1973, said an insider.
The chief of the investigation agency said as the process of seeking warrant for arrest is lengthy, suspects get sufficient time to flee which is alarming for the trial.
Noted writer and war crimes trial campaigner Shahriar Kabir told the Dhaka Tribune that: "There must be an investigation to find out whether any monetary transaction is facilitating the fleeing of the suspects. In this case, the investigation agency of the tribunal should remain careful and the media must play the role of a watchdog."
http://www.dhakatribune.com/law-rights/2014/apr/29/number-fugitive-war-crime-suspects-rise#sthash.0tLbxXVw.dpuf
------------
PM Sheikh Hasina seeks more German support for uplift
April 29, 2014
Prime Minister Sheikh Hasina has sought more German cooperation in the ongoing development journey of Bangladesh.
The premier came up with the urge when a five-member delegation of German parliament paid a courtesy call at her office here on Tuesday morning.
After the meeting, PM's Special Assistant Mahbubul Haque Shakil briefed journalists, reports BSS.
The PM mentioned that Bangladesh government has set a target to turn the country into a middle income one by 2021.
In this connection, she assured German's support to face challenges in fulfilling the goal of the Bangladesh government.
The prime minister has sought more German investment in various potential sectors in Bangladesh.
Dagmar G Wohrl also highly appreciated Bangladesh's success in achieving MDGs as well as the advancement of its people.
http://www.dhakatribune.com/bangladesh/2014/apr/29/pm-seeks-more-german-support-uplift#sthash.Dbkrz7Zo.dpuf
------------
Taliban leaders among 6 killed in Kapisa operations
Apr 29 2014
At least six Taliban militants including two Taliban commanders were killed following military operations by Afghan security forces in Kapisa province.
Provincial police spokesman, Samonyar Humayun said the Taliban militants were killed during military operations in Nejrab district.
Mr. Humayun further added the operations were launched three days back to clear the area from militants' activities.
He said the two Taliban leaders who were killed during the operations were recognized as Mullah Fazlulah and Mullah Najib.
According to Humayun, a member of the Afghan national army and an Afghan local policeman were also injured during the operations.
He did not disclose further information regarding the casualties of the local residents during the operations.
http://www.khaama.com/taliban-leaders-among-6-killed-in-kapisa-operations-3625
---------
Arab World
Crossing Red-Signals Is 'Haram,' Says Saudi Grand Mufti
April 29, 2014
Saudi Arabia's grand mufti Abdulaziz al-Shaikh has reiterated his fatwa (religious edict) against drivers who cross red signals, Al Arabiya News Channel reported on Monday.
The Grand Mufti, who is the most senior religious authority in Saudi Arabia, said that such a violation of traffic-law is a "major sin," and referred to a Quranic verse which says "if you kill one person unjustly it is as if you killed the whole humanity, and if you saved once person it is as if you saved the whole humanity."
This is not the first time the Saudi cleric has issued such a fatwa.
In 2010, he reportedly also announced a similar edict, saying the person who caused the death of another person because of such a violation is guilty of involuntary man-slaughter.
Saudi Arabia has one of the highest rates of car accidents in the world with an average of 17 fatalities a day, according to a recent report in Gulf News.
In 2010, a report by the Kingdom's General Directorate of Traffic revealed almost a third of traffic accidents in the Saudi capital Riyadh were due to drivers violating traffic signals.
http://english.alarabiya.net/en/News/2014/04/28/Crossing-red-signals-is-Haram-says-Saudi-Grand-Mufti-.html
------------
Syria Militants Receive Training in Qatar: Reports
April 29, 2014
Qatar is training foreign-backed militants operating .against the Syrian government as part of Doha's efforts to topple President Bashar al-Assad, Al-Alam Website quoted reports.
According to French media reports, militants from the so-called Free Syrian Army (FSA), the al-Qaeda-linked al-Nusra Front and other terrorist groups receive training in the tiny Arab monarchy before being sent to Syria.
The reports further noted that the militants are equipped with anti-tank missiles and global position system (GPS) devices supplied by the United States.
The militants spend one week in Turkey for a medical check-up and then head for Qatar where they undergo three weeks of training.
According to a militant source, around 100 militants are dispatched to Qatar every month to be trained before going to Syria.
Full report at:
http://www.almanar.com.lb/english/adetails.php?fromval=1&cid=31&frid=31&eid=148740
------------
As Iraqi police and army vote, violence kills about 50 nationwide
April 29, 2014
BAGHDAD — The day started with an air of festivity.
Army trucks ferried soldiers to polling stations so that they could vote, and police officers showed off their inked fingers. But, as is often the case in Iraq, bloodshed cast a pall.
More than a million members of Iraq's security forces — as well as prisoners and hospital patients and staff members — voted in parliamentary elections Monday, two days ahead of the rest of the country so that they can be on duty during the main balloting.
On the seventh floor of Baghdad Medical City's towering hospital overlooking the Tigris, those unable to make it to the polls had the ballot boxes brought to them.
The soldiers here,?largely injured fighting in the western province of Anbar and north of Baghdad, are bearing the brunt of Prime Minister Nouri al-Maliki's war against an al-Qaeda-inspired insurgency in Anbar — a conflict that is edging ever closer to the capital.
The bedridden soldiers, bandaged and broken, cast their votes. Ali Aati, 35, is lucky to have survived a sniper round that struck the back of his head four days ago — 11 of the 14 colleagues who were with him at the time died.
Full report at:
http://www.washingtonpost.com/world/as-iraqi-police-and-army-vote-violence-kills-21-nationwide/2014/04/28/0b352c1d-882e-417f-b473-d8b2b6c82fd6_story.html
------------
Car bombs kill at least 37 in Syria's Homs
April 29, 2014
Two car bombs killed at least 37 people including women and children near a busy roundabout in the central Syrian city of Homs on Tuesday, the Syrian Observatory for Human Rights said, raising an earlier estimate of the death toll.
A local security source said as many as 42 people may have died in the explosions.
In separate news, an international human rights group called on the United Nations Security Council to block the flow of weapons to Syrian regime forces, claiming that it was launching attacks using "barrel bombs," Agence France-Presse reported on Tuesday.
The New York-based Human Rights Watch urged the U.N. to block the flow of arms to any group committing abuse against civilians in the troubled country, where the civil war has killed an estimated 150,000 people over the past three years.
Full report at:
http://english.alarabiya.net/en/News/middle-east/2014/04/29/Car-bombs-kill-at-least-37-in-Syria-s-Homs-.html
------------
Mortar fire in Damascus kills 12, wounds 50: State media
April 29, 2014
Mortar shells slammed into central Damascus on Tuesday, hitting a technical institute in a barrage that killed 12 people and wounded 50, state media reported.
"Twelve citizens were killed and 50 others wounded by terrorists who targeted the Shaghour neighbourhood in Damascus with four mortar shells," the SANA news agency said, adding that two shells hit the Badr al-Din al-Hussein technical institute.
http://english.ahram.org.eg/NewsContent/2/8/100084/World/Region/Mortar-fire-in-Damascus-kills-,-wounds--State-medi.aspx
------------
Twin bombings northeast of Baghdad kill 10: Officials
April 29, 2014
Twin bombings at a market in a town northeast of Baghdad killed at least 10 people and wounded 20 others on Tuesday, security and medical officials said.
The 10:00 am (0700 GMT) blasts in Saadiyah came a day after a suicide bomb in the nearby town of Khanaqin killed 30 people, with Iraq due to hold its first parliamentary elections since 2010 on Wednesday.
Saadiyah lies in eastern Iraq, along a tract of disputed territory that the country's autonomous Kurdish region wants to incorporate despite Baghdad's objections.
Militants frequently capitalise on poor communication between Kurdish and Arab security forces in the disputed areas to launch attacks.
Full report at:
http://english.ahram.org.eg/NewsContent/2/8/100083/World/Region/Twin-bombings-northeast-of-Baghdad-kill--Officials.aspx
------------
Baghdad Gripped By Fear On Eve Of Iraqi Elections
April 29, 2014
BAGHDAD (AP) — Blast barrier walls topped with barbed wire snake across the Iraqi capital, encircling government buildings like a fortress and enshrining the separation of neighborhoods increasingly divided by religious sect. Soldiers and policemen brandishing assault rifles and machine guns man checkpoints, partially hidden behind sandbags or staring down from the roofs of Humvees.
As parliamentary elections are held this week more than two years after the withdrawal of U.S. troops, Baghdad is once again a city gripped by fear and scarred by violence. Many of the city's 7 million residents avoid roads hit by bombings, fearing a deadly repeat. Most shops now close shortly after sunset, and an overnight curfew that begins at midnight remains in force.
On Monday, suspected Sunni militants struck checkpoints outside polling stations across Baghdad and much of the country, as army and police personnel voted two days before the rest of Iraq's 22 million registered voters cast their ballots on Wednesday. At least 21 people were killed in the suicide bombings and other attacks.
Full report at:
http://www.huffingtonpost.com/2014/04/28/iraq-violence-elections_n_5228345.html
------------
Suffering under ISIL rule: testimonies from al-Raqa
April 29, 2014
Syrian residents living under the rule of the al-Qaeda-inspired "Islamic State of Iraq and the Levant" (ISIL) in al-Raqa suffer "daily oppression" and "crackdown on freedoms".
With these words Mohammed al-Hallaq described the way he feels living under the rule of al-Qaeda-inspired ISIL in al-Raqa.
Other al-Raqa residents told Al-Shorfa they are barely able to provide daily bread for their families and that ISIL elements are imposing a strict lifestyle on residents which impacts all aspects of life, including education.
TIGHT CONTROL OVER THE EDUCATION SYSTEM
Al-Hallaq, a geography and history teacher, told Al-Shorfa that the educated who remain in al-Raqa fear the consequences of the control ISIL is exercising over the education system in the province.
Full report at:
http://al-shorfa.com/en_GB/articles/meii/features/2014/04/28/feature-01
------------
OIC to establish one global halal standard
April 29, 2014
KARACHI: Organisation of Islamic Cooperation (OIC) body representing all Muslim countries of the world took the initiative to establish one halal standard throughout the world.Secretary General Halal Association of Pakistan (HAP) Asad Sajjad said, "OIC has given the mandate to Standards and Metrology Institute for Islamic Countries (SMIIC) to introduce one halal standard that would be acceptable to all Muslim sects, i.e Hanafi, Shaafa'i, Maliki, Humbly and Jafery and would be workable for the halal certification bodies of the world.
http://www.dailytimes.com.pk/sindh/29-Apr-2014/oic-to-establish-one-global-halal-standard
---------
'Parody of democracy': Assad files nomination
April 29, 2014
DAMASCUS: Syria's President Bashar Assad has registered to stand in next month's presidential election, which he is widely expected to win, Parliament speaker Mohammed Al-Lahham said on Monday.
"I, citizen Bashar Hafez Assad, wish to present my candidacy for the post of president of the republic," said a letter read in Parliament by Lahham.
The June 3 vote will be held despite a raging war that began after a massive government crackdown on peaceful anti-government protests that flared in March 2011.
So far, six other hopefuls have announced their candidacy, most of them largely unknown.
A posting on the presidency's official Facebook page quoted Assad as calling on supporters of different candidates to express themselves through ballots.
Full report at:
http://www.arabnews.com/news/562831
------------
Southeast Asia
Bylaw on non-Muslims in Aceh not enforceable: experts
April 29, 2014
A clause in Aceh's new Islamic criminal procedural codes that could see non-Muslims tried in Sharia Court cannot be enforced, some legal experts in the province say.
Aceh's Regional House of Representatives (DPRA) approved the criminal codes – the Qanun Hukum Acara Jinayat (QHAJ) – in December, and they are currently undergoing review by the Interior Ministry in Jakarta, which has asked the local government for several clarifications.
One clause in the QHAJ says non-Muslims could be prosecuted under Sharia law in Aceh if they participate with Muslims in offences not regulated by Indonesian criminal law. But Saifuddin Bantasyah, a law professor at Syiah Kuala University in Banda Aceh, doesn't see how.
Criminal codes lay out procedures by which police, prosecutors and judges implement material law – in this case, four bylaws (Qanun Jinayat) regarding dress code, gambling, adultery and alcohol consumption. But these, in place in Aceh for ten years, apply only to Muslims, he said.
Full report at:
http://khabarsoutheastasia.com/en_GB/articles/apwi/articles/features/2014/04/29/feature-02
------------
MIC opts for dialogue, not press statements, with PAS on hudud
April 29, 2014
Rather than using press statements to oppose PAS's stance on the hudud, MIC expressed its desire to meet with the Islamist party to discuss the matter, Datuk Seri S. Vell Paari said today.
The party's strategic director said he had sent a request to PAS deputy president Mohamad Sabu for a meeting between them.
"The purpose of the meeting is to convey our party's concerns and that of the Indian community over the implementation of hudud," Vell Paari (pic) said in a statement today, adding that the Mohamad Sabu had forwarded the request to PAS secretary-general Datuk Mustafa Ali.
Full report at:
http://www.themalaysianinsider.com/malaysia/article/mic-opts-for-dialogue-not-press-statements-with-pas-on-hudud
------------
Don't fall into Umno's trap over hudud, Guan Eng tells PAS
April 29, 2014
DAP has warned coalition partner PAS against falling into the trap set up by ruling party Umno, which is allegedly supporting the implementation of hudud in Kelantan.
DAP secretary-general Lim Guan Eng instead urged PAS leaders to "consider fully" the consequences of trusting Umno, following Minister in the Prime Minister's Department Datuk Seri Jamil Khir Baharom's statement in Parliament that Umno would help PAS implement hudud.
Lim said PAS risked betraying non-Muslims who had supported the party in the May 5, 2013 general election.
"They would risk the break-up of Pakatan Rakyat which is Umno's great desire," he said today.
Lim said PAS would also risk losing Kelantan the same way it lost Terenggau in the 2004 general election after passing hudud in 2003.
Full report at:
http://www.themalaysianinsider.com/malaysia/article/dont-fall-into-umnos-trap-over-hudud-guan-eng-tells-pas
------------
Mideast
Yemeni army launches major ground offensive against Al-Qaeda
29 April 2014
The Yemeni army has launched a large-scale operation targeted at al-Qaeda fighters in southern towns, an Al Arabiya News correspondent.
The operation comes after a surge in air strikes killed nearly 60 militants last week.
Army troops backed by local militiamen had moved in to "purge" the towns of Ahwar and al-Mahfad, in Abyan province, and Azzan, al-Houta, al-Rawda and al-Saeed in Shabwa province, the official told Agence France-Presse, speaking on condition of anonymity.
http://english.alarabiya.net/en/News/middle-east/2014/04/29/Yemen-launches-major-anti-Qaeda-offensive-.html
----------
Iran's Supreme Leader uses Carter's book to attack the West on women's rights
April 29, 2014
As reported in Commentary, Iranian Supreme Leader Ayatollah Ali Khameinei recently delivered a speech on women's rights, in which he cited none other than former President Jimmy Carter via his new book, "A Call to Action: Women, Religion, Violence, and Power."
What was the purpose of Khameinei's invocation of Carter?
After extolling Iran's women for their achievements, and advocating for a broader discussion on gender, Khameinei used Carter's book to attack the West when it comes to women's rights, and argue that Iran should "avoid the Western outlook on the issue of women" altogether.
Calling Carter's book "a very important writing," Khameinei quoted the following statement from the 39th president's "A Call to Action":
"Every year, 100,000 girls are sold as slaves in America where the owner of a brothel can buy girls – who are usually Latin American or African – at only 1000 dollars".
Full report at:
http://www.theblaze.com/blog/2014/04/28/irans-supreme-leader-khameinei-uses-jimmy-carters-book-to-attack-the-west-on-womens-rights/
------------
PM Erdoğan planning prayers with Islamic leaders in Hagia Sophia
April 29, 2014
Turkish Prime Minister Recep Tayyip Erdoğan is planning to perform prayers at Istanbul's historic Hagia Sophia, along with the leaders of other Islamic countries, according to daily Radikal.
The ruling Justice and Development Party (AKP) is reportedly considering organizing a special prayer in Istanbul's most illustrious architectural setting ahead of the upcoming presidential elections next August. The move will come amid a wider "reform package" that will contain important steps on several thorny issues, from the opening of the Greek Orthodox Halki Seminary to giving legal status to Alevi cemevis as official places of worship.
The prayer at Hagia Sophia may be organized as part of the events held for the week marking Istanbul's conquest by the Ottomans late May, according to Radikal. The government, however, remains concerned over the possible reactions that such an event could spark.
Full report at:
http://www.hurriyetdailynews.com/pm-erdogan-planning-prayers-with-islamic-leaders-in-hagia-sophia.aspx?pageID=238&nID=65717&NewsCatID=338
------------
Northern mosque vandalized in suspected 'price tag' attack
April 29, 2014
Vandals sprayed graffiti on a mosque in northern Israel in an attack blamed on a fringe group of Jewish extremists, police said Tuesday
A Star of David was found spray-painted on the walls of the mosque in the Arab town of Fureidis, along with a slogan reading "close mosques and not yeshivas," likely a reference to the recent seizure by the Border Police of a yeshiva — a center of Jewish learning — in the West Bank settlement of Yizhar.
The tires of at least 20 vehicles were also found to have been slashed, and a security camera at the mosque recorded three men in hoodies walking around the mosque the previous evening, Ynet News reported.
Full report at:
http://www.timesofisrael.com/northern-mosque-vandalized-in-suspected-price-tag-attack/#ixzz30G6g4hr3
------------
Non-Aligned states plea for nuke-free Mideast confab
April 29, 2014
UNITED NATIONS (AP) — The Non-Aligned Movement, representing over 100 developing countries, urged Secretary-General Ban Ki-moon and the United States, Britain and Russia on Monday to convene a long-delayed international conference to promote a nuclear-weapon-free zone in the Middle East
Indonesia's Foreign Minister Marty Natalegawa made the appeal on behalf of NAM members of the Nuclear Nonproliferation Treaty at the opening of the third and final preparatory conference for next year's review of the landmark 1970 agreement aimed at stopping the spread of nuclear arms.
Full report at:
http://www.timesofisrael.com/non-aligned-states-plea-for-nuke-free-mideast-confab/#ixzz30G7eNCer
------------
Israel okayed thousands of West Bank homes during talks, NGO says
April 29, 2014
Israel approved the construction of nearly 14,000 homes in the West Bank and East Jerusalem during nine months of peace talks, the dovish Peace Now NGO said in a report released Tuesday, as the deadline for negotiations neared expiration
In a report published Tuesday morning, the pro-peace watchdog Peace Now claimed that during the nine months of US Secretary of State John Kerry's orchestrated negotiations between Israel and the Palestinian Authority, the Israeli government approved tenders and plans for at least 13,851 housing units in the settlements and East Jerusalem.
"This is an unprecedented number representing an average of 50 housing units per day or 1,540 per month," the group said.
Full report at:
http://www.timesofisrael.com/israel-okayed-thousands-of-west-bank-homes-during-talks-ngo-says/#ixzz30G9c0Bg7
------------
No peace with Israel without defining borders: Abbas
April 29, 2014
There can be no peace with Israel without first defining the borders of a future Palestinian state, president Mahmud Abbas said on Tuesday.
"Since the creation of Israel, nobody knows what the borders are. We are determined to know our borders and theirs, without that there will be no peace," he said as Washington's nine-month deadline for reaching a peace deal expired, leaving the
http://www.hurriyetdailynews.com/no-peace-with-israel-without-defining-borders-abbas.aspx?pageID=238&nID=65729&NewsCatID=352
------------
Hamas: Israel to hand over the remains of suicide bombers
April 29, 2014
Hamas media sources were cited by Israel Radio on Tuesday as reporting that Israel plans to transfer the remains of Izz al-Din al-Masri, the suicide bomber who detonated himself in a Jerusalem Sbarro restaurant in 2001, to the Palestinian Authority. The attack resulted in the death of 19 people
According to the report, the funeral is to be held in al-Masri's home village in the West Bank.
Israel is also reportedly in the process of handing over the bodies of brothers Abdel and Imad Audallah. The brothers were leaders in Hamas's military wing and were killed by Israeli security forces outside of Hebron in 2008.
Full report at:
http://www.jpost.com/Diplomacy-and-Politics/Hamas-Israel-to-hand-over-the-remains-of-suicide-bombers-350731
------------
North America
Abu Hamza had jihad 'manual,' US court told
April 29, 2014
NEW YORK The New York trial of British hate preacher Abu Hamza heard chilling extracts on Wednesday from a 10-volume encyclopaedia of jihad found in his London home with pictures of Osama Bin Laden.
A British police officer told the Manhattan court that the Arabic-language manual was sitting in the living room of Abu Hamza — a father of nine — when he was arrested in May 2004.
Several computers, maps, hundreds of audio and video tapes, numerous documents and photographs of the late Al Qaeda mastermind Bin Laden were confiscated, Keith Asman told the court.
The documents included Afghan and Pakistani telephone numbers, a plane ticket to Yemen and an undated map of Afghanistan.
Flashed onto a large screen for members of the jury to see, the map pinpointed a Bin Laden home and said the Taliban had "45,000 troops plus the Bin Laden bases and training camps."
Various extracts of the textbook, translated into English, were read to jurors detailing how to plant mines, wage sabotage and recruit youngsters aged 15-17, and leaders no older than 23.
"A person of this age is more receptive... and he is ready to sacrifice for it," according to the translated text.
Full report at:
http://www.omantribune.com/index.php?page=news&id=166327&heading=Americas
------------
US-Egypt ties going through 'turbulent times'
April 29, 2014
WASHINGTON (AFP) — Egypt-US relations remain difficult and "honest" talks are needed to put them back on track, Egyptian Foreign Minister Nabil Fahmy warned Monday, even as the White House blasted a court's mass death sentence
Speaking on the eve of high-level meetings in Washington, Fahmy admitted that ties had experienced "turbulent times" since the 2011 revolution and the army's subsequent ouster of democratically-elected president Mohamed Morsi last year.
Even as Fahmy addressed the Center for Strategic and International Studies, the White House said it was "deeply troubled" by the sentencing of 683 alleged supporters of Morsi's Muslim Brotherhood to death.
"Today's verdict, like the one last month, defies even the most basic standards of international justice," the White House said, calling on the court in Minya to reverse its decision.
State Department spokeswoman Jen Psaki added that the mass trials and rulings were "unconscionable."
Full report at:
http://www.timesofisrael.com/us-egypt-ties-going-through-turbulent-times/#ixzz30G7p66Sg
------------
Obama defends inaction in Syria, Ukraine
April 29, 2014
MANILA, Philippines (AP) — President Barack Obama vigorously defended his foreign policy record Monday, arguing that his cautious approach to global problems has avoided the type of missteps that contributed to a "disastrous" decade of war for the United States
Obama's expansive comments came at the end of a weeklong Asia trip that exposed growing White House frustration with critics who cast the president as weak and ineffectual on the world stage.
The president and his advisers get particularly irked by those who seize on Obama's decision to pull back from a military strike in Syria and link it with virtually every other foreign policy challenge, from Russia's threatening moves in Ukraine to China's increasing assertiveness in Asia's territorial disputes.
Full report at:
http://www.timesofisrael.com/obama-defends-inaction-in-syria-ukraine/#ixzz30G8a0QB3
------------
US, UN condemn Cairo over mass death sentences
April 29, 2014
MINYA, Egypt (AFP) — The United Nations and Washington have condemned death sentences handed to 683 alleged Islamists including Muslim Brotherhood leader Mohamed Badie in an Egyptian court Monday after a brief hearing
The court in the southern province of Minya sparked an international outcry with its initial sentencing last month, amid an extensive crackdown on supporters of ousted Islamist president Mohamed Morsi.
The crackdown has extended to secular-leaning dissidents who supported Morsi's overthrow but have since turned on the army-installed regime.
The United States urged Egypt to reverse the court decision.
"Today's verdict, like the one last month, defies even the most basic standards of international justice," the White House said. "This verdict cannot be reconciled with Egypt's obligations under international human rights law."
Full report at:
http://www.timesofisrael.com/us-un-condemn-cairo-over-mass-death-sentences/#ixzz30G97E8q1
------------
Kerry Apologizes for Remark That Israel Risks Apartheid
April 29, 2014
WASHINGTON — Secretary of State John Kerry issued an unusual statement Monday evening expressing his support for Israel after a controversy erupted over a politically charged phrase he used in a private appearance.
Speaking to a closed-door meeting of the Trilateral Commission last week, Mr. Kerry said that if a Middle East peace agreement was not achieved, Israel risked becoming an "apartheid state," according to an article in The Daily Beast, an online publication. The comments were noted in the Israeli news media and were severely criticized by some American Jewish organizations.
"Any suggestion that Israel is, or is at risk of becoming, an apartheid state is offensive and inappropriate," the American Israel Public Affairs Committee said. "Israel is the lone stable democracy in the Middle East, protects the rights of minorities regardless of ethnicity or religion."
Full report at:
http://www.nytimes.com/2014/04/29/world/middleeast/kerry-apologizes-for-remark-that-israel-risks-apartheid.html?_r=0
---------
Europe
Pakistan and Afghanistan prone to mass violence, genocide: study
April 29, 2014
According to the Minority Rights Group's (MRG) annual report, Pakistan, Afghanistan and Burma are entrenched in the top ten countries in this year's survey where hapless minority groups remain at high risk of mass violence or even genocide.
Several minority groups in the said countries are said to be susceptible to further massacre. These include Shias and Christians in Pakistan, Muslim Rohingya in Myanmar and other communities on either side of Afghanistan's ethnic fault-lines, including the Hazaras.
MRG's executive director Mark Lattimer said the situation for minorities had improved in some parts of Asia, but threats still remained. He added that sectarian and ethnic conflicts have been major problems in Burma and Pakistan, where the government failed to protect minorities' rights, and is at the risk of escalating in war-torn Afghanistan.
Sectarian violence and religious persecution are rampant in Pakistan. The plight and threats to these minorities has, however, been downplayed by the extensive international media coverage focused on the conflict with radical groups.
Full report at:
http://www.dawn.com/news/1103049/pakistan-and-afghanistan-prone-to-mass-violence-genocide-study
----------
Tony Blair: The West Must 'Liberate' Itself From Believing It Caused 'Radical Islam'
April 29, 2014
Earlier this week, former prime minister Tony Blair said that politicized Islam in the Middle East explains much of the region's problems, to the point where the West ought to set aside its differences with Russia and China to confront the problem. He elaborated on Meet the Press Sunday morning.
The problems in Middle Eastern countries, Blair said, have a common theme: "a disruptive effect of an ideology, based on a extreme and perverted view of the proper faith of Islam." This radical ideology is still being exported from the Middle East, he said, and it's spreading across the world.
Full report at:
http://www.nationalreview.com/corner/376650/tony-blair-west-must-liberate-itself-believing-it-caused-radical-islam-josh-encinias
------------
Terrorists have changed methods since Snowden leaks: Senior UK official
Reuters | Apr 29, 2014
LONDON: Terrorists have substantially changed their methods of communication since leaks by former US intelligence operative Edward Snowden, hindering intelligence agencies' efforts to track them, a senior British security official said on Tuesday.
"The Snowden effect has been a very, very severe one," Stephen Phipson, a director at Britain's counterterrorism office (OSCT), told a London security conference.
Snowden, a former National Security Agency (NSA) contractor, caused international uproar last June when he disclosed details of the extent of surveillance and electronic intelligence gathering by his former employers and by the British equivalent GCHQ to Washington Post and Britain's Guardian newspaper.
Full report at:
http://timesofindia.indiatimes.com/world/uk/Terrorists-have-changed-methods-since-Snowden-leaks-Senior-UK-official/articleshow/34380865.cms
------------
EU to issue harsh words on Egypt's mass death sentence verdict
April 29, 2014
European Union sources told Ahram Online on Monday that the 28 member states are planning to issue a strong statement expressing concern over two court verdicts issued today simultaneously against the Muslim Brotherhood and the 6 April movement
Cairo's Court for Urgent Matters on Monday ordered a ban on all activities of the April 6 Youth Movement. The lawsuit was filed by lawyer Ashraf Saeed, who has accused the group of espionage and defaming the Egyptian state.
On the same day, a court in Minya passed death sentences on 683 supporters of ex-president Mohamed Morsi, including leading members of the Muslim Brotherhood.
The Islamist group's Supreme Guide Mohamed Badie was among the defendants found guilty of attacking Adawa police station and killing a police officer on 14 August 2013, following the dispersal of pro-Morsi sit-ins at Al-Rabaa Al-Adaweya and Al-Nahda squares in Cairo.
They were also found guilty of committing violence, rioting, destroying public and private property, attacking police officers and inciting violence.
Full report at:
http://english.ahram.org.eg/NewsContent/1/64/100065/Egypt/Politics-/Exclusive-EU-to-issue-harsh-words-on-Egypts-mass-d.aspx
------------
German President 'Scared' by Turkey Rights Abuses
April 29, 2014
Germany's president said he was "scared" by recent Germanydevelopments in Turkey during a visit to the country on Monday, saying "the rule of law is in danger" from its efforts to muzzle opposition.
"I ask myself if judicial independence is still guaranteed if the government purges so many prosecutors and police, and prevents them from shedding light on crooked developments... or manipulates decisions in its favour," said President Joachim Gauck during a speech at the Middle East Technical University in Ankara, part of a four-day visit to Turkey.
Gauck was keen to emphasise that he still sees a European future for Turkey, but did not pull his punches in commenting on the recent actions of Turkish Prime Minister Recep Tayyip Erdogan, who has been accused of increasingly authoritarian responses to street protests and a wide-ranging corruption scandal.
Full report at:
http://www.almanar.com.lb/english/adetails.php?fromval=1&cid=22&frid=22&eid=148729
------------
Pakistan
Pak PM Nawaz Sharif lauds ISI amid controversy over attack on Hamid Mir
Press Trust of India | Islamabad | April 29, 2014
Pakistan Prime Minister Nawaz Sharif Monday praised the ISI for "ensuring protection and defence of the country" amid a raging controversy over the recent assassination attempt on senior TV anchor Hamid Mir. Presiding over a high-level meeting here, Sharif said all institutions will continue to work in synergy for the protection of public. "Prime Minister lauded the role and efforts of ISI in ensuring the protection and defence of the country," an official statement said.His remarks came at a time when a controversy has been generated over the assassination attempt on Mir last week, with the latter's brother blaming "certain elements" in the ISI and its chief Lt General Zaheer-ul-Islam of orchestrating the attack, a charge vehemently denied by the military.
http://indianexpress.com/article/world/asia/pak-pm-nawaz-sharif-lauds-isi-amid-controversy-over-attack-on-hamid-mir/
------------
Five security men killed in Mastung firing
April 29, 2014
MASTUNG: At least five security personnel and a robber were killed during exchange of fire with thieves in Balochistan's militancy-hit Mastung district on Tuesday, levies said.
A levies official, who declined to be named, told Dawn.com that armed robbers looted money from a private bank located in Mastung bazar.
"The robbers were fleeing when policemen retaliated," he said.
He said the robbers opened fire at policemen deployed outside the bank and killed two personnel on the spot. "A total of seven robbers fired at the policemen," he added.
The shooting was followed by an intense exchange of fire between the robbers and forces. An Assistant Commissioner and the Deputy Superintendent of Police were also injured when they were fired upon by robbers. The levies official said a total of four people were injured.
"The dead included the police and levies personnel," he added. He, however, informed that one robber was also killed during exchange of fire with forces. The levies man said that two robbers were arrested during exchange of fire.
Full report at:
http://www.dawn.com/news/1103062/five-security-men-killed-in-mastung-firing
------------
Three militants killed in Khyber tribal region
April 29, 2014
PESHAWAR: Three militants were killed on Monday during a gunbattle between the security forces and militants in the Landi Kotal tehsil of the Khyber tribal region.
According to military officials, these militants also included a commander who was allegedly involved in the attack on Landikotal Fort which had destroyed a large ammunition depot a few days back.
Two Frontier Corps personnel have also been injured in the gunbattle with the militants.
http://www.dawn.com/news/1103053/three-militants-killed-in-khyber-tribal-region
------------
Militant hideouts pounded in South Waziristan
April 29, 2014
LADHA: Military helicopters and artillery attacked militants' hideouts in the mountainous Bobar area of South Waziristan tribal region on Monday where a day earlier three security personnel, including an army officer, had been killed in a bomb blast.
According to tribal people and Taliban sources, three helicopters carried out the attack on the hideouts from 3 to 4pm.
However, security forces did not confirm the attack till late Monday night.
Sources said security forces also used artillery to shell the area from Mirali and Sara Rogha camps at 6pm. No casualty was reported from the remote area where the media has no access.
Full report at:
http://www.dawn.com/news/1102952/militant-hideouts-pounded-in-south-waziristan
------------
Bilawal Bhutto condemns ruthless victimization of Sindh by WAPDA
April 29, 2014
KARACHI- Patron-In-Chief Pakistan Peoples Party Bilawal Bhutto Zardari, has strongly condemned the ruthless victimization of the people of Sindh, at the hands of Ministry of Water & Power. Millions are suffering the severe scorching heat-wave without electricity in the province.
In a press release Bilawal Bhutto Zardari said, the policy to churn out extraordinary inflated bills to consumers and then using force and muscle power of Federal agencies to fleece the public is anti-people, it won't be allowed. He said the way the province, which provides major portion of energy needs of the country, is being treated is outrageous and is tantamount to further deepen the sense of deprivation among smaller provinces. "There have been instances where the smaller towns of Sindh were sent street light bills much bigger than the cities like Lahore and Faisalabad in the past," he pointed out.
Full report at:
http://www.nation.com.pk/national/29-Apr-2014/bilawal-bhutto-condemns-ruthless-victimization-of-sindh-by-wapda
------------
Hameed Gul holds Interior Ministry and PEMRA responsible for ISI's defamation
April 29, 2014
RAWALPINDI- Fomer Director General of Inter-Services Intelligence (ISI) Lieutenant General (Retd.) Hameed Gul has said that Interior Ministry and Pakistan Electronic Media Regulatory Authority (PEMRA) were responsible for the propoganda against the Intelligence Agency on Geo Network.
Addressing a news conference from the office of ex-servicemen society, Hameed Gul said that efforts were made to malign Pakistan Army so it could dance on their tunes. He further said that the nation had foiled the negative propoganda by sending a message of love to its military. "Pakistan Army has benefited from the negative propaganda," he added. He urged that reforms were necessary in the media. While commenting on the elections in Afghanistan, Former DG ISI said that it would be better for the country if Dr. Abdullah Abdullah came into power. Hameed Gul also added that no retired personnel of Pakistan Army was going to fight any conflicts in the Gulf region.
http://www.nation.com.pk/national/29-Apr-2014/hameed-gul-holds-interior-ministry-and-pemra-responsible-for-isi-s-defamation
---------
India
Google Doodle commemorates Ustad Alla Rakha's 95th birth anniversary
Express News Service | New Delhi | April 29, 2014
Google today commemorates the 95th birth anniversary of legendary Indian tabla maestro Alla Rakha. The Doodle shows Alla Rakha, clad in a white kurta, playing the tabla with his trademark smile.
Fondly known as 'Abbaji', Ustad Alla Rakha was born on April 29, 1919 in Phagwal, Jammu. At an impressionable age of 12, Ustad fled home to follow his passion and learn tabla under the tutelage of Mian Kader Baksh of the Punjab gharana. He would later learn voice and Raag Vidya under Ashiq Ali Khan of the Patiala gharana. His devotion and ceaseless dedication to music would consume most of his time, which would later pay off.
Full report at:
http://indianexpress.com/article/india/india-others/google-doodle-commemorates-ustad-allah-rakhas-95th-birth-anniversary/
------------
Police crackdown on Kashmir separatists ahead of polls
AHMED ALI FAYYAZ
April 29, 2014
All prominent Kashmiri separatist leaders have been either detained at different police stations or confined to "house arrest" even as the authorities on Tuesday admitted to have picked up over 600 "miscreants" ahead of the phase 3 of the polling in Kashmir valley on Wednesday.
While as the octogenarian radical leader Syed Ali Shah Geelani, Hurriyat (Geelani)spokesman Ayaz Akbar, Chairman of the so-called moderate faction of Hurriyat Conference Mirwaiz Umer Farooq, Bilal Gani Lone and Abdul Gani Bhat have been placed under house arrest, JKLF chairman Yasin Malik has been detained alongwith Bashir Ahmad Bhat, Ashraf Bin Salam, Shaukat Bakhshi and 30 others.
National Front chief Nayeem Khan, Democratic Freedom Party head Shabir Shah and Peoples League chairman Mukhtar Ahmed Waza, who were all running an anti-election campaign, have also been detained by Police.
Full report at:
http://www.thehindu.com/elections/loksabha2014/north/police-crackdown-on-kashmir-separatists-ahead-of-polls/article5958913.ece
------------
Africa
Sultan of Sokoto prayed to God to expose the sponsors of Boko Haram
April 29, 2014
The Sultan of Sokoto and president general, Nigerian Supreme Council for Islamic Affairs (NSCIA), Alhaji Muhammad Sa'ad Abubakar, the Awujale of Ijebuland, Oba Sikiru Adetona, Osun State governor, Rauf Aregbesola, and his Ogun counterpart, Ibikunle Amosun, have prayed to God to expose the sponsors of Boko Haram.
Speaking at the opening of the biggest mosque in the South West, the New Aiyepe Central Mosque at Ijebu-Aiyepe in Ogun State on Sunday, Sultan Abubakar said Nigerians have a long history of peaceful co-existence irrespective of tribe and religion.
He wondered why the Boko Haram members are trying to create chaos among Muslims and Christians in the country in the name of religion.
Islam, Sultan Abubakar said, is a religion of peace and not violence.
"It is important to respect another person's religion; you do not decide who is right or wrong. That should be left for Allah," he said.
Full report at:
http://www.spyghana.com/sultan-prayed-to-god-to-expose-the-sponsors-of-boko-haram/
------------
Only a minority of people benefited from nation's resources-Mahama
April 29, 2014
President John Mahama has charged African leaders to make good their promises to better the lives of citizens.
Opening the pan African conference on inequalities in Accra, the president highlighted the need to focus on the significance of equality in drafting a post 2015 developmental agenda for Africa.
That agenda, he said, must include African indigenous values and systems.
"For far too long on the African continent only a minority of people benefited from the resources of our nations.
"For far too long our people have been placated with promises of a better future. It is time to make good on those promises.
Full report at:
http://www.spyghana.com/minority-people-benefited-nations-resources-mahama/
------------
Kenya hosts int'l Muslim conference on tolerance
World Bulletin/News Desk
April 29, 2014
Hundreds of Muslims and non-Muslims attended on Saturday the opening of the first international Muslim conference to be hosted by Nairobi, with religious tolerance dominating the discussions.
"Our major topic throughout the two-day conference will be living as a minority in harmony, tolerance and peace, especially in Kenya," Said Rageh, the conference organizer and the founder of the Toronto-based Journey of Faith, told Anadolu Agency.
"In light of the recent unfortunate events at the Westgate it is an opportunity, especially to the youth, to portray the correct Islamic ethos of peace, tolerant and harmonious religion," he added.
Full report at:
http://www.worldbulletin.net/news/134797/kenya-hosts-intl-muslim-conference-on-tolerance
------------
Israeli-Ethiopian lawmaker urges NBA to ban Sterling in response to racist remarks
April 29, 2014
An Israeli lawmaker of Ethiopian origin urged the top professional basketball league in the world on Tuesday to remove one of its owners who was caught on tape making racist comments.
Shimon Solomon, an Israeli member of Knesset from the Yesh Atid faction, wrote a letter on Tuesday to the commissioner of the National Basketball Association, the league which is mulling disciplinary action against Donald Sterling, the Jewish real estate tycoon and Clippers owner who was caught on tape urging his female companion not to associate with black people.
Full report at:
http://www.jpost.com/Jewish-World/Jewish-News/Israeli-Ethiopian-lawmaker-urges-NBA-to-ban-Sterling-in-response-to-racist-remarks-350769
------------
URL: https://newageislam.com/islamic-world-news/new-age-islam-news-bureau/china-pays-people-up-to-$8,000-for-information-on-their-'bearded'-muslim-neighbours/d/76794