New Age Islam News Bureau
6 Nov 2017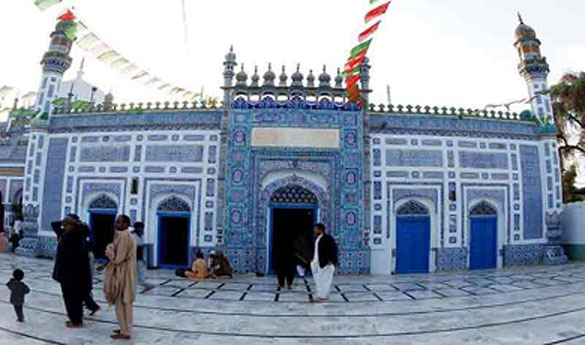 Photo: Urs of sufi saint and poet Hazrat Shah Abdul Latif Bhittai
----------
• Summit urges youth to repudiate extremism
• Unexpected Benefits From a Battle Against ISIS
• IS claims 'ongoing' attack on Yemen government bastion
India
• China, ISIS threats get India, US together in Sri Lanka and Maldives
• Riyadh-based 'IS recruiter' held at Mumbai airport
• J&K: Army foils infiltration bid in Uri sector, two terrorists killed
• 2002 Akshardham temple attack: Court denies police Ajmeri's custody
• Not seen any terror activities of Masood Azhar, says Pakistan lawmaker
--------
Pakistan
• Summit urges youth to repudiate extremism
• Pakistan, Afghanistan to activate groups to deal with 'critical issues'
• Rightwing retreat in Pakistan
• COAS Bajwa reaches Iran on official visit: ISPR
• Visible decline in sectarian, terrorism incidents witnessed in 2017: NACTA
• New chief of Islamist party urges followers to avoid protests
• 15 IS fighters killed in US drone strikes near Pak-Afghan border
• SMIU to get higher education facility
• Private schools yet to start teaching regional languages
• Taliban commander Khaliq Haqqani 'surrenders'
• Afghan students issued RFID cards to continue studies in Pakistan
--------
Southeast Asia
• Unexpected Benefits From a Battle Against ISIS
• Should controversial preachers be banned from speaking?
• Harris Salleh looked into the wrong crystal ball
• Malaysian terrorist is new 'emir' in South-east Asia, says Philippine police
• Sultan Nazrin: Islamic nation can't be formed through militancy
• Indonesia eyes more Muslim tourists with halal tourism
• Indonesia's Public Diplomacy Towards Australia Needs Stronger Branding, Coordination
• Indonesian Officials, With Permission From Philippine Authorities, Interview Suspected Militant Arrested in Marawi
--------
Mideast
• IS claims 'ongoing' attack on Yemen government bastion
• France warns of ballistic proliferation after Houthis target Riyadh
• Car bomber kills at least 15 in Yemeni port Aden
• Daesh brutal attacks show terrorists' desperation, defeat: Iran
• Saudi Arabia announces millions of dollars in bounty for 40 wanted in Yemen
• Pakistan's military chief in Iran for security talks
• Leader of Hezbollah al-Nujaba: Bloodshed in Iraq Prevented by General Soleimani's Talks with Kurds
• Saudi Arabia threatens Iran after Yemen missile strike
• Iran will stand by post-war Syria: Defense minister
• Israel launches its 'largest-ever' aerial drill: Report
• Turkey says Russia has postponed Syria peace conference
• Israeli army withholding bodies of resistance fighters killed in tunnel attack
• Arriving on donkeys, Syrian war wounded seek Israeli help
--------
South Asia
• Uzbek Jihadists Fueling Much of Afghan Islamic State's Strength
• Myanmar must resettle refugees in their villages: US official
• Karzai reacts at alleged civilian casualties in US airstrike in Kunduz
• Thousands more Rohingyas cross into Bangladesh amid soaring child malnutrition in camps – UN
• US airstrikes pound ISIS hideouts in Nangarhar leaving several militants dead
• Pedram warns UK embassy in Kabul of massive protests over BBC's step
• Afghanistan probes reported deaths of dozens of civilians in air strikes
--------
Arab World
• Syrian army finds large amount of explosives, chemical weapons in Dayr al-Zawr
• OIC calls for urgent action to save remaining Islamic cultural heritage
• Saudi Prince, Asserting Power, Brings Clerics to Heel
• Saudi prince killed in helicopter crash near Yemen border: state TV
• Saudi Arabia 'imposed' Hariri's resignation: Hezbollah
• Arab Daily: US Admits Assad's Legitimacy by Sending Envoy to Damascus
• Video: Russia-Made Flamethrower Strikes Terrorists' Positions in Syria
• Syrian Army Deploys Close to ISIL-Held Albu Kamal
• Iraqi Popular Forces Enter Syria to Prevent US-Backed SDF's Advances at Common Borders
• Arab Analyst: Riyadh Beating War Drums by Hariri's Resignation
• Hezbollah chief Nasrallah: Hariri's resignation was a Saudi decision
• Iraqi PM raises flag at border crossing taken from ISIS
• Iran 'arming Houthis to attack Saudi Arabia, UAE'
--------
Africa
• US ups Somalia military campaign, targets 'Daesh'
• Military official says united Libyan army a possibility
• Alleged Benghazi attacker appears before US judge
• Libyan coast guard intercepts more asylum seekers
• Turkey's Ethiopian alumni vow to bring countries closer
• Why is Sudan off the 'Muslim ban' while Chad is on it?
--------
Europe
• Paris terror attacks, two years on: what we know
• Turkey: Far-right, racist groups are Europe's Daesh
• UK's celebration of Balfour Declaration that led to Israel is 'ultimate shame': Scholar
• British Muslims vow to fight high court judgement
• Russia: Authorities in Muslim-Majority Chechnya Investigating Torture of Gay Man
• Ex-ISIL fighters returning to UK 'a serious danger'
--------
North America
• U.S. Muslim leader warns Canadian MPs not to use the term 'Islamophobia'
• Trump offers blanket support to Saudi rulers
• US misled UK over Iraq invasion: Gordon Brown
• US soldier killed during operation in eastern Afghanistan
• Gold Star father Khizr Khan addresses Islamophobia in America
Compiled by New Age Islam News Bureau
URL: https://www.newageislam.com/islamic-world-news/china-isis-threats-get-india/d/113132
--------
China, ISIS threats get India, US together in Sri Lanka and Maldives
Nov 6, 2017
NEW DELHI: China's aggressive play in the Indian Ocean region has prompted US and India to coordinate closely in Sri Lanka and Maldives — two countries strategically vital for India. This is a far cry from the years when India worked hard to keep the US out of South Asia, now US and India are working together to counter expanding Chinese influence.
Maldives is a matter of particular concern. China has consolidated its hold on the island, building infrastructure with its standard predatory pricing methods. Unlike in Sri Lanka where the Sirisena government is trying to fix its books, president Yameen in Maldives seems perfectly comfortable with growing amounts of debt to China. China's infrastructure push is natural given that China is possibly a world leader in land reclamation — its the add-ons that are of concern to India+ . China's financing mechanisms mean that China could be controlling large areas of Maldives fairly soon. There is a real concern about China's presence in iHavan project on Maldives' northernmost atoll, sitting in the middle of the busiest transit point between the Middle East and Southeast Asia — and very close to Lakshadweep islands.
Chinese submarines+ want to use the only viable channel in that region for their forays into south-central Indian Ocean — allowing them control over this channel would be against Indian interests, said sources.
In August, Yameen disregarded India's request to deny permission to three Chinese warships — as retaliation, India invited Mohamed Nasheed to Delhi, his first visit here since his exile. Yameen is playing his version of hard ball — Maldives repaid GMR's dues earlier this year, and India suspects China put up the amount, although when it comes to SOS on drinking water, Yameen dials New Delhi.
India and US are also teaming up to monitor returning ISIS fighters into Maldives — this country of 3,50,000 has sent almost 400 ISIS fighters to Syria and Iraq (as comparison, Sweden with 10 million people is contending with 300 returnees). Given restrictive conditions and remote atolls, these radicalised 18-30 year-olds could spell disaster. "There has been an explosion of extremist preachers in Maldives," remarked a diplomat.
From a time when India persuaded the US to not bid for a monitoring station in Maldives for maritime surveillance for fear of attracting China, India and US have come a long way, largely because China has barrelled its way here, seriously impacting security concerns.
In Sri Lanka, Hambantota and Chinese presence there has spurred Washington's interest — so its not for nothing that the US aircraft carrier Nimitz visited Sri Lanka last week, without a murmur from India. Sources said, "Indian and US warships keep the oceans free."
India and US are trying to wean Sri Lanka away from the debt trap created by the Chinese — here Japan has played a big role as well, enjoying a huge cache of goodwill in the island. A diplomat familiar with developments said, "we have great complementarity and coordination between New Delhi, Washington, Tokyo and Colombo."
India's more robust presence in countries like Sri Lanka would have normally spooked the local population. But the US and Japan in the game makes it easier for these countries as well. This was alluded to by foreign secretary S. Jaishankar at a think tank last week.
The aim, said, sources here, is to transform Sri Lanka from a "consumer of net security to a contributor to net security in the Indian Ocean region." In fact, Sri Lanka is being prodded to use its influence with the Buddhist leadership in Myanmar on the Rohingya crisis+ .
India's policies in the Indian Ocean region are undergoing a sea change.
https://timesofindia.indiatimes.com/india/china-role-in-indian-ocean-region-india-discusses-maldives-turmoil-with-us/articleshow/61514665.cms
--------
Summit urges youth to repudiate extremism
NOVEMBER 6, 2017
"Youth is the face of change and peace", was the motto of the Youth Peace Summit'17 organised by National Youth Association at Shah Abdul Latif Bhittai Auditorium Islamabad. The one-day event, attended by youngsters from all over Pakistan and broadcasted live on social media, was organised to stress upon the role of youth in bringing peace to the society. Activities including cultural performances, stage plays and motivational talks were held on the day. Awards were given in recognition of youngsters who had played their due role in peacemaking efforts in society.
Addressing the summit as a keynote speaker, Ministry of Youth Affairs working group member Ahsan Hamid Durrani urged the youth to detest extremist ideologies and play their positive role in making an inclusive and tolerant society. He also outlined the underlying causes that can simmer extremism in youth and urged the national and provincial governments of Pakistan to include the perspective of youth in formulation of policies countering violent extremism.
https://dailytimes.com.pk/134999/summit-urges-youth-repudiate-extremism/
--------
Unexpected Benefits From a Battle Against ISIS
By MALCOLM COOK
NOV. 5, 2017
SINGAPORE — On Oct. 23, the defense secretary of the Philippines, Delfin Lorenzana, announced the end of combat operations in the southern city of Marawi, after the armed forces spent 154 days fighting local and regional Islamist terrorists. At last, victory — of a sort.
Marawi, which declared itself an "Islamic city" in 1980, is the capital of Lanao del Sur province, on the island of Mindanao, and the religious center of the Maranao, a tight-knit indigenous Muslim community. Marawi and the Maranao have been at the forefront of a decades-long insurgency against the central government in Manila. In recent years, however, disgruntled factions have splintered off, some embracing gangsterism or Islamist terrorism.
Last December, President Rodrigo Duterte dared one of those offshoots, the Maute group, to come to Marawi. On May 23, it did, with reinforcements.
That a coalition of local terrorists backed by the Islamic State could then hold off the Philippine military for five months was a propaganda victory for the terrorists. The prolonged battle also became a threat to democratic freedoms after Mr. Duterte, with congressional support, promptly imposed martial law (and suspended the writ of habeas corpus) across Mindanao, home to more than one-fifth of the country's total population and the vast majority of its Muslim minority.
Martial law is still in force, and the physical damage caused by the fighting has been colossal. The siege has destroyed vast sections of Marawi, the largest city in the Autonomous Region in Muslim Mindanao, a specially designated area that was granted some measure of autonomy from Manila three decades ago. The head of Palafox Associates, a leading Philippine architecture and urban-planning firm, says it could take up to seven decades to rehabilitate the city. The Philippine government estimates that more than 350,000 people have been displaced by fighting in and around Marawi.
The battle for Marawi prompted unprecedented, if limited, cooperation between the Philippine armed forces and the Moro Islamic Liberation Front, the country's largest insurgent group, which for years has fought for independence or self-governance for Muslim Mindanao, routinely clashing with government forces. In January 2016, long before the Maute group seized Marawi, the MILF announced that it had created a task force to fend off local recruitment efforts by the Islamic State. In September, it waged combat operations against Islamic State-affiliated terrorist groups in central Mindanao, with assistance from the army, its old enemy.
In August, all 41 mayors in the province of Lanao del Sur signed a manifesto declaring the Maute group "enemies of the Maranao people," blaming it for the siege of Marawi. Local Muslim clerics issued a fatwa condemning local terrorists. The government, longtime insurgents and local authorities have found common ground in pushing back against Islamist terrorism, and that should now yield broader political gains.
The task of reconstructing Marawi, for example, presents a major opportunity to help dispel local distrust of the central government, or "imperial Manila." Local Maranao should be given the leading voice in what to rebuild and how — say, the main mosque, which sustained considerable damage. Instead of housing the displaced in temporary shelters, as the government has done elsewhere after natural disasters, it could, as has been proposed, offer financial assistance for residents so they can immediately rebuild their homes.
Now would also be a good time to revive the peace process for Mindanao, already some two-decades old. It has stalled in recent years — causing, some MILF leaders have warned, younger Muslims to turn to terrorism.
In March 2014, the MILF and the Philippine government, then led by President Benigno Aquino III, signed a comprehensive agreement granting Muslim Mindanao much more regional and fiscal autonomy. But the legislation needed to make the deal effective has been languishing in Congress, held back by some legislators' enduring distrust of the MILF and others' concerns that the proposed bill would require amending the Constitution.
To kick-start the law, the Duterte government could capitalize on the good will that seems to have emerged recently among the various parties who rallied against the Islamist terrorists in Marawi. Mr. Duterte, who is from Mindanao, has supermajorities in both the Senate and the House of Representatives, and the leaders of both houses are from Mindanao as well.
This is an opportune moment also because the military's image has been burnished, boosting trust in the government generally, including among its usual skeptics.
The reputation of the armed forces took a hit as the siege of Marawi dragged on and they repeatedly failed to meet the government's deadlines for ending the face-off. But it got a lift, paradoxically, from Mr. Duterte's much-dreaded declaration of martial law.
That announcement sparked fears that the Philippines might slide back toward authoritarianism, as happened during martial rule under Ferdinand Marcos in the 1970s and '80s. Mr. Duterte didn't help matters by professing his admiration for Mr. Marcos, calling him the "brightest" president the Philippines has ever known. Yet under the command of the defense secretary, Mr. Lorenzana, also formally the "administrator of martial law," the Philippine armed forces seem to have exercised those special powers with great restraint.
In fact, during his recent visit to the Philippines, the U.S. Defense Secretary James Mattis said, "I think the most important thing is, here's an army that had to go in a fight like that, and they had not one human rights allegation against them with any credibility — not one."
Military cooperation with the United States, the Philippines's most important security partner, certainly has benefited, after being shaken by a series of intemperate, sometimes profane, statements by Mr. Duterte deriding the alliance. U.S. forces provided intelligence and surveillance during the fight to liberate Marawi, and the Philippine military chief said that assistance "tilted the balance" against the Islamist fighters.
The crisis in Marawi has also given a welcome boost to the Philippines's relations with some of its Muslim neighbors, with their shared concern about Islamist terrorism bridging over their differences about other issues. After fighters from Malaysia and Indonesia joined the Islamic State-backed coalition that seized Marawi, those two countries joined the Philippines for the first time to conduct trilateral maritime and air patrols in the Sulu Sea — despite a dispute between the Philippines and Malaysia over Sabah, a Malaysian state that borders that sea.
The siege of Marawi, in other words, could restart the stalled peace process in Mindanao and bolster some of the Philippines's delicate foreign relations. The city's destruction may have given new urgency to the fight against Islamist terrorism in the Philippines, but it has also revealed the ways of tackling that task.
Malcolm Cook is a senior fellow at the ISEAS–Yusof Ishak Institute, in Singapore.
https://www.nytimes.com/2017/11/05/opinion/marawi-philippines-maute-duterte.html?mtrref=www.google.co.in&gwh=3B81EDA2F3F907DE531C45213453DE91&gwt=pay&assetType=opinion
--------
IS claims 'ongoing' attack on Yemen government bastion
November 06, 2017
ADEN - The Islamic State group claimed a major attack on Yemen 's government bastion of Aden on Sunday which killed at least 15 people, wounded 18 others and sparked a hostage crisis.
IS and its extremist rival Al-Qaeda have taken advantage of the war between Yemen 's Saudi-backed government and the country's Shiite Huthi rebels, who are allied with Iran, to bolster their presence across much of the south. While Al-Qaeda in the Arabian Peninsula (AQAP) has for years been the stronger presence in southern Yemen , IS has recently come forward to claim attacks on both the army and the country's Shiites, whom it considers heretics.
The Islamic State group claimed the Sunday attack on the criminal investigations unit in an online statement released by the IS Aden and Abyan Wilayah, which said clashes were "still ongoing ". Security officials in the southern province of Aden, where the Yemeni government is based, said an explosives-rigged car blew up outside the investigations unit, killing six officers on the spot along with the driver.
Around 30 gunmen then stormed the unit and freed dozens of detainees from their holding cells, some of whom took up arms to fight alongside the militants, according to a high-ranking official. The gunmen also took an unknown number of people hostage inside the unit on Sunday afternoon. Two policewomen were killed execution-style by the attackers, the official said.
Earlier on Sunday, Yemeni security sources had said they suspected Al-Qaeda militants were behind the well-coordinated attack .
The attack spells an abrupt end to a period of relative calm that has reigned in Aden, where the government of President Abedrabbo Mansour Hadi has been based since it was driven out of the rebel-held capital Sanaa in 2014. Yemen 's complex war, which pits the Saudi-backed Hadi government against former president Ali Abdullah Saleh and his Huthi rebel allies, has allowed AQAP and IS to flourish in the south of the country.
IS has not claimed a Yemen attack in almost one year. The group claimed responsibility for a December 18, 2016 attack in Aden that killed 48 and wounded 84 soldiers who had lined up to get their salaries.
While southern Yemen has long been the target of the a drone war by the United States, which classifies AQAP as the radical network's most dangerous branch, Washington appears to have recently turned its aim towards IS as well. In October, a US drone strike targeted what local officials said was an IS group in the central Bayda province -- the second known strike by Washington against the jihadists in Yemen .
The United States has ties to Yemeni special forces trained by the United Arab Emirates, a key member of the Saudi-led coalition, who have closed in on AQAP southern strongholds in recent weeks. The UAE has played a key role in a Saudi-led military campaign to prop up Hadi's government against both AQAP and the Huthis, who forced him into exile back in 2014.
More than 8,600 people have been killed in Yemen since Saudi Arabia and its allies joined the war in 2015 to support government forces, according to the World Health Organization.
Another 2,100 have died of cholera this year. Long the poorest country in the Arab world, Yemen now stands steps away from an official declaration of famine, as war, displacement, and port and airport blockades leave Yemenis struggling to secure food. All parties in the Yemen war have drawn harsh criticism for their failure to protect civilians, but the Saudi-led coalition allied with the government has been singled out by the United Nations for civilian casualties.
In September, the UN Human Rights Council announced an agreement to send war crimes investigators to Yemen .
http://nation.com.pk/06-Nov-2017/is-claims-ongoing-attack-on-yemen-government-bastion
--------
India
Riyadh-based 'IS recruiter' held at Mumbai airport
Nov 6, 2017
LUCKNOW: A 37-year-old Riyadh-based man was arrested on Sunday morning from the Mumbai airport for allegedly radicalising youths in Uttar Pradesh and encouraging them to join the socalled Islamic State (IS).
Abu Zaid of Azamagarh district, who faced a lookout notice, was detained at the airport on Saturday night, soon after deboarding a flight from Riyadh.
DSP Anup Singh of the UP police anti-terrorism squad (ATS) flew to Mumbai on Sunday to arrest Zaid, ADG (law and order) Anand Kumar told TOI, adding that he was later brought to Lucknow on a transit remand. A police team was sent to Zaid's house in Azamgarh.
Zaid, who had been staying in Riyadh for a year, allegedly used a highly-secure chat app, Threema, for his conversations with his targets from western UP, Kumar said. 'Threema' provides random IDs to users without asking them to provide a phone number or e-mail address.
Zaid was planning to launch a strike against people opposing the 'caliphate', such as Tarek Fateh, with the help of the radicalised youths, Kumar added.
The hunt for Zaid began in April after the arrest of four youths planning to launch terror strikes. The four came under surveillance after the National Investigation Agency arrested cleric Abdus Sami Qasmi in February 2016.
The four — Umar alias Nazim, Gazi Baba alias Zeeshan, Mufti alias Faizan and Zaqwan — were arrested from Mumbra, Jalandhar, Bijnore and Narkatiaganj, respectively. Settled in Mumbra, Umar, from Bijnore, had been trying to convince youths from his home district and adjoining ones like Shamli, Muzaffarnagar, Saharanpur and Meerut to join the war against "non-believers". Umar used to fund the other three.
After confiscating Umar's phone and extracting his chat history, the ATS found that they had been using Threema to maintain anonymity. "We decoded the chat excerpts exchanged between Umar and Zaid. It was found that Zaid had been trying to reach out to a large number of youths through social media and sought Umar's help to do so," IG (ATS) Asim Arun told TOI.
https://timesofindia.indiatimes.com/india/azamgarh-man-who-fled-to-riyadh-was-influencing-up-youths-to-join-jihadi-movement/articleshow/61519663.cms
--------
J&K: Army foils infiltration bid in Uri sector, two terrorists killed
Nov 5, 2017
SRINAGAR: Security forces on Sunday foiled an infiltration attempt by the Pakistani Border Action Team (BAT) near the Line of Control (LoC) in Kashmir's Uri sector, killing two terrorists, an official said.
Director general of police (DGP) SP Vaid said there was no casualty on the Indian side and that a possible tragedy was averted by the Army and the Jammu and Kashmir Police (JKP).
"BAT action bid foiled by Army and JKP. Two terrorists killed in Dulanja Uri. No casualty on our side. Possible tragedy averted," Vaid tweeted.
The DGP did not share any further details.
The force foiled a major infiltration attempt by the terrorists+ on the intermittent night of November 4 and 5 along the LoC in Uri sector in Baramulla district of north Kashmir, an Army spokesman said.
"The terrorists, who tried to infiltrate by exploiting difficult terrain conditions along the LoC, were intercepted by the alert Army troops on duty close to the LoC.
"The terrorists resorted to indiscriminate firing and in the ensuing gun battle two terrorists were killed while escaping towards the LoC," he said.
The spokesman said that a large quantity of arms and ammunition, and other warlike stores were recovered from the slain terrorists.
"A deliberate search operation is still underway," the spokesman said, adding this is the fourth infiltration bid foiled in the Uri sector in the last five months.
Full report at:
https://timesofindia.indiatimes.com/india/jk-army-foils-infiltration-bid-in-uri-sector-two-terrorists-killed/articleshow/61519122.cms
--------
2002 Akshardham temple attack: Court denies police Ajmeri's custody
November 6, 2017
A special Prevention of Terrorism Act (POTA) court in Ahmedabad on Sunday rejected the city's crime branch request for police custody of Abdul Rashid Ajmeri, who was arrested on Saturday in connection with the 2002 Akshardham temple terror attack. The court, instead, asked Ahmedabad City Detection of Crime Branch (DCB) to question Ajmeri in jail for 10 days, if required.
"Since all the accused in the case have been acquitted by the Supreme Court, the special court refused to grant his remand. Instead, the court asked us to interrogate him in jail, if required," Special Public Prosecutor Sudhir Brahmbhatt said, referring to the Supreme Court's May 2014 order acquitting all the six persons arrested by the DCB in connection with the terror attack.
Ajmeri, 60, was arrested Saturday morning at Ahmedabad's Sardar Vallabhbhai Patel International Airport after he flew in from Riyadh. He was produced before the court of special judge P B Desai at his residence on Sunday by the officials of crime branch, who sought 14 days custody. The police had earlier said Ajmeri could be tried for being an absconder. The judge rejected the DCB's plea and sent Ajmeri to Sabarmati Central Prison. The judge allowed DCB to question Ajmeri in the prison for 10 days.
Full report at:
http://indianexpress.com/article/india/2002-akshardham-temple-attack-court-denies-police-ajmeris-custody4924230/
--------
Not seen any terror activities of Masood Azhar, says Pakistan lawmaker
Nov 05, 2017
Harinder Baweja
Pakistan's Bahawalpur parliamentarians don't see outlawed Jaish-e-Mohammad (JeM) chief, Masood Azhar as a terrorist and are reluctant to talk about him.
Hindustan Times spoke to three of five members of the National Assembly (MNAs) of the region, a few days after China blocked a United Nation's resolution seeking to tag Azhar as a 'global terrorist.'
The sprawling headquarters of the terror outfit is located in Bahawalpur but Tariq Bashir Cheema, an MNA, told HT over the telephone that he has neither seen Azhar nor does he know where the Jaish headquarters are located.
"India might view him as a terrorist but I have not seen any terror activities. It is not so easy to declare anybody a terrorist. India should focus on the terrorism it is unleashing on the Kashmiris,'' Cheema said.
Pakistan's former advisor to the prime minister on foreign affairs, Sartaj Aziz, had confirmed that one of the calls made by terrorists who attacked the Indian Air Force base in Pathankot in January 2016, had been traced to the Jaish headquarters in Bahawalpur but Cheema said, "come to Bahawalpur and help me find the headquarters. I have heard of Azhar from the newspapers but have never seen him."
All five MNAs belong to the ruling Pakistan Muslim League (Nawaz) but like most Pakistani politicians, they are wary of discussing terror groups — known to have deep connections with the powerful army and intelligence agency ISI.
Another MNA, Mian Najeebuddin Awaisi, was willing to discuss India-Pakistan relations in the context of China blocking the resolution, saying it should not impact ties between the neighbours but refused to discuss Masood Azhar.
"I cannot speak to you about him over the phone,'' he said and disconnected the call. Awaisi did not answer subsequent calls.
Makhdoom Gillani, the third MNA, HT called, did not want to speak to an Indian journalist.
Cheema wanted India to forget about Azhar, who, he said, had been released in exchange for hijacked passengers in Kandahar in December 1999.
The JeM was born after Azhar's release and is responsible for several fidayeen attacks in Kashmir.
Pakistan had sent a Joint Investigation Team (JIT) to India after the Pathankot attack. It included an officer from the ISI.
Full report at:
http://www.hindustantimes.com/india-news/not-seen-any-terror-activities-of-masood-azhar-says-pakistan-lawmaker/story-srkQ8p2ISz7q2fCVPeVAqM.html
--------
Pakistan
Pakistan, Afghanistan to activate groups to deal with 'critical issues'
Tahir Khan
NOVEMBER 6, 2017
ISLAMABAD: Pakistan and Afghanistan are working to operationalize bilateral groups that will address each other's concerns about all key issues and explore ways for cooperation in different fields, officials familiar with the development said Sunday.
Separate groups of intelligence officials, military officers, diplomats, border management, trade, refugees and political level are being formed in line with the understanding reached during the talks between the Army Chief General Qamar Javed Bajwa and Afghan President Dr Ashraf Ghani in Kabul on October 1.
There was also a consensus on regular and focused dialogue at multiple levels to evolve the bilateral process for minimising misunderstanding, managing crisis situations and enhancing cooperation in order to bring peace and stability in the region, the army had stated in a statement issued after the visit.
"Now efforts are underway to operationalize the groups as soon as possible. The process is expected to be completed in November. We are exchanging proposals through relevant channels with Afghan side. There will be 5 to 6 bilateral groups. The groups will deal with all critical issues," an official source told Daily Times.
The source said that the army chief had categorically told the Afghan side that "extremism and Talibanization is neither the agenda of Pakistan nor its narrative. We do not support this ideology." "Gen Bajwa also told the Afghan side that his country did not protect the Taliban," the source said.
"We told them there is no border post on nearly 700 km in the south – Kandahar and Helmand and illegal cross-border movement takes place and the militants involve in insurgency. We are ready to push them so there should also be no illegal crossing from the Afghan side. We assured the Afghan side we would not allow insurgents to enter this side and the Afghan side does the same," he said.
He said that Pakistani leaders also insisted that no violent incident in both countries should derail bilateral engagement.
"The visit of the army chief was successful as this was reflected in public statements by President Ashraf Ghani and the Afghan side since then," he said.
"Gen Bajwa asked the Afghan leaders about what Pakistan could do. The Afghan leaders reiterated their longstanding claims that Taliban had safe heavens in Pakistan and that the militants freely crossed the border and Pakistan did not take any action."
"At this stage we proposed to solve the problems bilaterally. We sought their suggestion as to what mechanism they had in mind that we could find out solution to the problems. We told them Pakistan was keen and serious to address and solve the issue. This is harming Pakistan too. We are trying to return to normalisation. We told the Afghan side they there were US, NATO, EU and the world communities in Afghanistan and they could check accusations supporting the insurgents?" the official said.
He said Afghan side also raised the issue of the alleged "shelling" from Pakistan side and Pakistani officials assured them that this issue could be discussed in the context of border management in the proposed groups.
Pakistani officials insist that the Afghan side supported their border management system to secure the porous border and stop the illegal movement. Pakistan also believes the US also supports Pakistan's border management initiative and has always called on both Pakistan and Afghanistan to agree on this.
Meanwhile, Afghan Ambassador in Islamabad Omar Zakhilwal said that he was happy Pakistan and Afghanistan were now engaged in bilateral talks to address issues of mutual concern that included the presence of the militants in both countries and Pakistan's concerns about what Pakistan believed to be Indian influence in Afghanistan.
"We want Pakistan to use its influence on the Afghan Taliban for positive. I think Pakistani leaders have now a realisation to review policies about Afghanistan. We consider this a major change," Zakhilwal told Pashto-language Khyber TV in an interview.
"The environment of suspicion still exists but I am confident that there could be some steps in the coming weeks and months to bury the hatchet and to bridge the trust gap. There is no other option with both countries," he said.
The Afghan ambassador pointed out that the "negative rhetoric" in Afghanistan had decreased after the visit of the Pakistani army chief despite a series of deadly attacks in parts of Afghanistan.
"President Ashraf Ghani wants good relations but Afghans would expect the roots of Afghan war in Pakistan should be eliminated. It is up to the Pakistani security officials to think how both countries could develop trust during the war in Afghanistan," the Afghan envoy said. To a question about the status of bilateral ties after General Bajwa's visit, he said there had been regular contacts and meetings at various levels after the visit.
To a question about President Ghani's anti-CPEC remarks during his recent visit to India, he said President Ghani supported CPEC and his remarks in India were in fact a reply to a question and in the context of the transit and trade relations between Pakistan and Afghanistan.
https://dailytimes.com.pk/134988/pakistan-afghanistan-activate-groups-deal-critical-issues/
--------
Rightwing retreat in Pakistan
Iftikhar Alam
Nov 6, 2017
LAHORE - Role of security establishment, sectarian intolerance, failure to take up public issues, periodic alliances with secular parties and lack of resources are main reasons behind the growing unpopularity of the religious parties in the Islamic Republic of Pakistan , according to the leaders of five key rightwing parties.
Talking to The Nation they however expressed the hope that they can still win popular support with unity among their ranks and continuity of struggle.
Pakistan has followers of Brelvi, Deobandi, Ahlehadith and Shia schools of thought and many parties claim to be the main representative of each sect.
More than 10 parties registered with the Election Commission of Pakistan claim backing of popular Brelvi (Sunni) voters. Almost as many parties claim to represent Deobandi branch of Sunnis. There are more than five organisations each that belong to Ahlehadith/Wahabi/Salafi and Shia schools of thought.
Jamaat-e-Islami (JI) does not represent any sect and is said to be an advocate of Pan-Islamism, a political movement started worldwide in early nineteenth century advocating unity of Muslims under Islamic state.
This correspondent talked to the leaders of JI, Jamiat Ulema-e-Pakistan, Jamiat Ulema-e-Islam, Jamiat Ahlehadith and Islami Tehreek to get their opinion on why the religious parties are losing ground with the passage of time and what kind of future they foresee.
The leaders' opinions were sought at a time when a strong move has been started to form an alliance of religious parties or revive the Muthida Majlise Amal, a coalition that has been dormant for past many years.
The MMA was a conglomerate of six rightwing parties formed in Parvez Musharraf tenure. The alliance formed government in Khyber Pakhtunkhwa and Balochistan after general elections of 2002.
This happened for the first time in country's history that religious groups exclusively formed their government, as in the past they would only join coalition governments led by non-religious parties.
But the MMA was dissolved after five years, in 2007. Many believe the powerful security establishment backed the alliance, an argument rebuffed by the religious leaders.
Dr Farid Paracha of Jamaat Islami said constituency politics was behind the unpopularity of religious parties in Pakistan .
"People in villages vote according to the caste system, and it is very hard to break the tradition although Jamaat is struggling against the evil," he said.
"[Also] you cannot discount the money factor in the election. Every political party spends billions of rupees in their campaign and Election Commission had badly failed to check it," he said, questioning how the religious parties' candidates could compete in this with industrialists, business tycoons and land lords who contest election on the tickets of secular parties.
When asked if sectarianism had any role in undercutting the collective political power of the rightwing players, he said, "Yes, sectarian intolerance is a key reason behind lack of popularity of religious parties but even non-sectarian parties like JI have lost ground in recent years."
Again emphasising the funds factor, he said "the JI does not have the resources to compete against the moneyed political parties".
He however said the unity among the religious organisations could lead us to realise the goal of making Pakistan an Islamic welfare state. The JI, he said, was therefore making efforts to unite the parties.
JUP-Imam Norani president Pir Ijaz Hashmi said, "Although religious parties were not as popular as they should be before General Zia's period but they witnessed a continuous decline after the 80s, mainly due to interference of security establishment which weakened the basic structure of the religious parties."
He claimed the JUP (a representative of Brelvis) was a popular party before Zia's regime but it broke into different factions because of interference of "powers that be".
When asked why security establishment was interested in splitting the religious parties, Hashmi said it was done to appease the western and secular powers that did not want to see Islamic parties become popular in Pakistan .
Citing example of MMA's success, he further claimed the secular lobby in Pakistan and abroad never wanted unity among religious parties because they witnessed the success of their unity. So, he said, whenever a move was started in religious groups for unity, secular lobby became active against it.
Late Shah Ahmad Noorani's Jamiat Ulema-e-Pakistan broke into JUP and JUP-Niazi faction in his lifetime when his colleague Maulana Abdul Sattar Khan Niazi parted ways with him.
The party further split into JUP-Imam Noorani led by Pir Ijaz Hashmi, JUP-Noorani led by Sahibzada Abual Kher Zubair and another lesser known faction. Recently a new faction JUP led by Qari Zawwar Bahadar has also emerged. Zawwar was a key person behind the making of MMA.
Hashmi minced no words in blaming the powerful institution [of ISI] being behind the fragmentation of their party.
JUI-S general secretary Maulana Abdur Rauf Farooqi said personal interests of religious parties' leaders always overshadow their collective goal of establishing an Islamic society.
"Religious parties started indulging in sectarian issues soon after independence and failed to set a collective goal," he said.
The other reason behind the lack of public support of religious parties, he said, was that they never raise social issues. "Religious parties never raised voice against loadshedding, unavailability of clean water and other public issues like abduction and harassment of women in Pakistan ."
JUI-S is one of the popular Deobandi/Hanfi parties. Its head Maulana Samiul Haq is a well-known religious scholar in KP, Fata and Balochistan. He made his own faction of Jamiat after differences with Maulana Fazlur Rehman, the chief of JUI-F, the country's major party of Deobandis.
Jamiat Ahlehadith chief Allama Ibtisam Elahi Zaheer said the alliances of religious parties with secular parties time and again was the main reason that people did not trust them anymore.
"When a religious party makes alliance with PML-N, PTI or PPP people think why they should not vote directly to such parties instead of religious parties."
He said religious parties failed to train the people on the basics of Islamic ideology and as a result majority of them believe that enforcement of Shariah meant dislodging their personal freedoms. So, he said, fearing suppression and usurpation of their rights in the name of religion they do not vote for religious parties.
Ibtisam stressed the need for collective efforts on the part of religious parties to teach the people and make them understand that Islam does not bar personal freedoms; rather it provides a framework which brings a discipline in their individual and collective existence.
Late Allama Zaheer, the father of Ibtisam, formed Jamiat Ahlehadith but it was divided into different factions after his death. Now Professor Sajid Mir leads Markazi Jamiat Ahlehadith, Abdul Qadeer Khamosh leads another Jamiat Ahlehadith faction.
Milli Muslim League – the political front for banned Jamaatud Dawa of Hafiz Saeed – also claims backing of Ahlehadth/Wahabi/Salfi Muslims.
Full report at:
http://nation.com.pk/06-Nov-2017/rightwing-retreat-in-pakistan
--------
COAS Bajwa reaches Iran on official visit: ISPR
Nov 6, 2017
RAWALPINDI: Chief of Army Staff (COAS) General Qamar Javed Bajwa on Sunday arrived in Tehran on an official visit, according to the military's media wing, Inter-Services Public Relations (ISPR).
The army chief will meet Iran's civilian and military leadership during his visit, DG ISPR Major General Asif Ghafoor said in a tweet.
On October 31, Iranian Ambassador Mehdi Honardoost called on General Qamar Javed Bajwa at the General Headquarters. During the meeting, the two figures discussed regional security, Pakistan-Iran border management, visits and exchanges in the defence realm.
Full report at:
https://www.pakistantoday.com.pk/2017/11/05/coas-bajwa-reaches-iran-on-official-visit-ispr/
--------
Visible decline in sectarian, terrorism incidents witnessed in 2017: NACTA
Nov 6, 2017
ISLAMABAD: Pakistan has witnessed a visible decline in sectarian terrorism with only two such incidents reported during this year as compared to 185 in 2012.
During the last seven years, a total 676 incidents of sectarian terrorism were reported, of which 70 were recorded during 2011, 185 in 2012, 127 in 2013, 176 in 2014, 79 in 2015, 37 during 2016, and two such incidents in 2017.
Statistics issued by the Interior Division regarding the implementation status of National Action Plan (NAP) till August this year revealed that 937 uniform resource locators (URLs), 10 websites of proscribed organisations (POs) against abuse of internet and social media have been blocked under steps to dismantling communication networks of terrorists.
About steps ensuring against re-emergence of POs, the data showed that the number of such organisations was 63, three were under-surveillance, 8,333 persons were on 4th schedule ATA and number of movement restrictions was 2,052, while 5023 accounts were also frozen.
The data showed that the National Counter Terrorism Authority (NACTA) was also being strengthened even further. The total number of terrorists executed under ATA/PPC was 483, while 11 special trial courts were notified and 388 cases had been transferred to them.
Regarding implementation about choking of finances of terrorists, the data revealed that total 777 Hawala/Hundi cases were registered, out of which 201 were under investigation and 345 under trial, while 102 accused were convicted and 33 were acquitted. The recovered amount was Rs1,321 million and 1,060 were arrested.
Moreover, the data showed that total 336 anti-money-laundering cases were registered, of which 136 were under investigation and 147 under trial. The number of arrests was 483.
Under the suspicious transaction reports (STRs), the data revealed that 176 were received from Financial Monitoring Unit (FMU), of which 32 were converted into cases, 14 were closed and 130 were under inquiry.
A Counter-Terrorism Finance Unit was also being established in the provinces, while a draft bill 'Anti-Money Laundering Act' had been prepared.
The data said Karachi operation had achieved significant success by a reduction in crime rates, which included 98 per cent decrease in terrorism, 97 per cent decline in target killings, 87 per cent in murders, and 52 per cent in robberies. Around 33,378 weapons were also recovered during the on-going operation.
Moreover, with regard to resolving issues of Afghan refugees, the data showed that federal cabinet had approved repatriation and management policy in this regard, while validation of POR cards was made up to December 31, 2017. Visa forms were also developed while tripartite agreement for voluntary repatriation has been extended for one more year.
With regard to dismantling communication network of terrorists, the data showed that 98.3 million SIMs were blocked while biometric verification system (BVS) had been put in place for issuance of new ones.
The data revealed that strict implementation of ban regarding glorification of terrorists on media was being enforced.
Moreover, the data highlighted the steps taken regarding registration and regulation of religious seminaries, revealing that provincial governments had undertaken geo-mapping of such seminaries.
Moreover, two separate registration and data forms for madaris have been developed while committees under Federal Board of Intermediate and Secondary Education (FBISE) and Higher Education Commission (HEC) were formed for grant of equivalence degree awarding status to Wafaqs.
The data said the Counter-Terrorism Force (CTF) was also established and their strength included 500 in Islamabad Capital Territory (ICT), 4,300 in Punjab, 728 in Sindh, 1,000 in Balochistan, 2,080 in KP, 168 in Gilgit-Baltistan and 260 in Azad Jammu and Kashmir (AJK).
With regard to steps against religious persecution, the statistics showed that data collection is in progress and would be verified. After then it would be put for further action.
Law enforcement agencies (LEAs) have registered 1353 cases, nabbed 2,528 persons and 70 shops were sealed under steps to counter hate speech, extremist literature and misuse of loudspeaker. Under misuse of a loudspeaker, 17,795 cases were registered, 18,520 persons were arrested and 7942 pieces of equipment were confiscated.
The data further revealed that visibility of armed militias and display of weapons were curtailed. Around 2,127 terrorists were killed, while 5,884 terrorists were arrested.
The federal cabinet has approved in principle recommendations of Federally Administered Tribal Areas (FATA) reforms committee under FATA reforms.
About steps taken towards reconciliation in Balochistan, the data showed that surrender and reconciliation/rehabilitation of Ferraris was under progress.
Full report at:
https://www.pakistantoday.com.pk/2017/11/05/visible-decline-in-sectarian-terrorism-incidents-witnessed-in-2017-nacta/
--------
New chief of Islamist party urges followers to avoid protests
8:49 PM, November 05, 2017
The newly-appointed chairman of an Islamist party Sunday called on its followers to refrain from protests and sit-ins, saying such moves were against national interests.
Ziaullah Qadri, chief of a faction of Tehreek Labaik Ya Rasool Allah , announced the party won't pursue its demand for Punjab Law Minister Rana Sanaullah 's resignation.
"The provincial minister has clarified and satisfied Ulma-e-Kiram," he said. "In present scenario, protests and sit-ins would divide the nation and are against national interests."
Qadri also expressed satisfaction on government's action on the clause regarding finality of Prophethood .
Tehreek Labaik Ya Rasool Allah of Allama Khadim Rizvi is registered with Election Commission of Pakistan with name Tehreek Labiak Pakistan while Dr Asif's group, of which Qadri is the chairman, calls its political wing as Tehreek Labaik Al-aalmi.
The Tehreek's faction of Khadim Rizvi dissociated itself from Dr Asif Ashraf Jalali's Tehreek Labiak Ya Rasool Allah which ended its six-day sit-in in Lahore and Islamabad on Sunday. Dr Asif led the rally in Islamabad on Tuesday but it failed to get the attraction of the government due to the thin participation of people.
Full report at:
http://nation.com.pk/05-Nov-2017/new-chief-of-islamist-party-urges-followers-to-avoid-protests
--------
15 IS fighters killed in US drone strikes near Pak-Afghan border
Nov 6, 2017
PESHAWAR: At least 15 Daesh fighters were killed in three US drone strikes near the Pak-Afghan border in Afghanistan on Sunday, a private media outlet reported citing sources.
According to the outlet, six IS fighters were injured in the drone attacks that targeted four terrorist bases in Nangarhar province.
In October, at least 31 people were killed in three drone strikes targeting areas near the Pak-Afghan border. The strikes had left at least 12 people injured.
Foreign Minister Khawaja Asif had called on the United States to exercise restraint at a time when attempts were being made to revive Afghan-Taliban peace talks.
The foreign minister had expressed the hope that the four-nation moot in Muscat, Oman would find ways of reviving peace talks and would yield positive results.
Full report at:
https://www.pakistantoday.com.pk/2017/11/05/15-is-fighters-killed-in-us-drone-strikes-near-pak-afghan-border/
--------
SMIU to get higher education facility
Nov 6, 2017
The federal government has approved a development project costing Rs 1637.652 million for Sindh Madrasatul Islam University (SMIU) at Karachi for provision of higher education for the students of urban and rural Sindh.
The project would be executed by Higher Education Commission (HEC) at SMIU Malir, Karachi. The facility would pave the way for the students belonging to Sindh to get higher education to improve their careers.
According to available documents, the recently held CDWP approved the release of Rs 150 million allocation from the PSDP for the project for the year 2017-18. The project was finalised by SMIU vice chancellor in consultation with the statuary bodies and the technical committee to maximise socio-economic benefits from the proposed project.
It was also decided at the meeting that the project activities would be executed in a professional and disciplined manner by the institute considering all codal, legal and procedural formalities.
A Power, Development and Works office had already been established by the university. Furthermore, the requisite skilled manpower had also been proposed to take up and facilitate the execution. The project management unit (PMU) would be headed by the project coordinator to implement the project.
Per documents available with Pakistan Today, the period of completion and expected date of completion of the project was 36 months. The SMIU would be responsible for the operation and maintenance of the project.
The sector strategy of the project would be to ensure accessibility of the students from less-developed areas to higher learning institutions.
The project objectives were in line with sectoral objectives of the government and HEC for the provision of conducive environment in all educational institutions through infrastructure development, and support to faculty and students.
The only income from the project would be tuition fee, and about 300-350 students would get admission in the institute and get quality education. Moreover, at least 6-10 experienced staff would be hired to execute the project activities during its implementation period.
Presently, a total of 2,033 students were enrolled in various degree programmes at SMIU. Almost 100-150 professional, skilled and unskilled job opportunities would also be generated through contractors and consultants.
Full report at:
https://www.pakistantoday.com.pk/2017/11/05/smiu-to-get-higher-education-facility/
--------
Private schools yet to start teaching regional languages
Mohammad Ashfaq
November 06, 2017
PESHAWAR: Although teaching of regional languages has been initiated in the government schools in the current academic year seven months ago, the private schools have bluntly refused to implement government's decision in this regard.
The elementary and secondary education department has declared five regional languages compulsory subject for teaching in public and private sector educational institutions in the respective areas.
"Despite blatant violation of its decision, the education department has neither taken any action against the private schools nor it has ascertained the reasons of not teaching the regional languages," sources said.
The previous provincial government had declared teaching of five regional languages compulsory subject in the educational institutions up to intermediate level under Khyber Pakhtunkhwa Promotion of Regional Languages Authority Act, 2012.
The education department already notified five regional languages — Pashto, Hindko, Seraiki, Khowar (Chitrali) and Kohistani — compulsory subject five years ago. Every language has to be taught in the area where the people speak it.
The regional languages were made compulsory in the educational institutions for their promotion and preservations.
Preamble of the law states: "Whereas clause (3) of Article 251 of the Constitution of the Islamic Republic of Pakistan provides that without prejudice to the status of the national language, a provincial assembly may by law prescribe measures for the teaching, promotion and use of provincial languages in addition to the national language."
The education department started teaching of regional languages in government schools with a delay of five years when it was introduced in nursery and grade-1 in the current academic year started in April, 2017.
"The books of regional languages for grade-II have already been printed as it would be introduced next year," said sources.
A district education officer told Dawn that private schools were not teaching regional languages that would land the students in troubles after three years when the government schools would teach regional languages up to grade-V.
The education department decided to conduct centralised examination for the students of grade-V but it was stayed by Peshawar High Court when it was approached by the private schools association.
"If education department succeeds in implementing its decision of conducting centralised examination through respective education boards then the students of private schools will be bound to appear in the papers for the regional languages.
How the students of private schools would solve the regional languages' papers in the board examination," said the DEO.
The education department would take another 10 years to achieve its target of teaching regional languages to students up to intermediate level.
The owner of a private school expressed unawareness about the education department's decision to teach any of the regional languages. "No one from the education department has asked us to teach regional languages," he said.
The principal of another private school said that they could teach Pashto as compulsory subject but the other four languages could not be taught owing to unavailability of teachers.
Private Educational Institutional Management Association president Khwaja Yawar Naseer confirmed that private schools had not started teaching of regional languages. "We have neither received any letter nor any other instruction in this regards from the education department," he said.
He said that government didn't take them on board in that regard.
Minister for Education Mohammad Atif Khan, when contacted, said that currently private schools were controlled by regulatory authorities established at each education board level.
He said that such authorities didn't have much legal powers to take punitive action against the private schools for violation of education department's decisions.
"Now the formation of a powerful regulatory authority is underway in the education department," he said, adding that a law in that respect was already passed by the provincial assembly.
Full report at:
https://www.dawn.com/news/1368709/private-schools-yet-to-start-teaching-regional-languages
--------
Taliban commander Khaliq Haqqani 'surrenders'
Rehmat Mehsud
NOVEMBER 6, 2017
ISLAMABAD: A notorious Taliban commander, Abdul Khaliq Haqqani, along with his fighters surrendered to the security forces in North Waziristan Agency (NWA), well-placed sources said Sunday. Haqqani was one of the leading Shura Council members of former Taliban head, Hafiz Gul Bahadur, in North Waziristan.
The surrendered fighter was once heading an offshoot group of Taliban known as Inteqam-e-Waziristan faction. Sources close to the development said that Haqqani, who had claimed credit for some high-profile terror attacks, was wanted to the security forces in a number of cases. "Abdul Khaliq Haqqani and some of his group's fighters laid down their arms and shunned violence," source added.
Soon with the launch of Operation Zarb-e-Azb in the North Waziristan, Haqqani had to shift to Afghanistan along with his fighters to dodge the military offensive, sources added. Before he joined militants' ranks, Haqqani was heading 'Gulshan-e-Ilm', a seminary in Miranshah, headquarters of North Waziristan Agency. In 2008, he had threatened to unleash a group of suicide bombers if American or NATO forces dare to step on the soil of tribal region.
https://dailytimes.com.pk/135092/taliban-commander-khaliq-haqqani-surrenders/
--------
Afghan students issued RFID cards to continue studies in Pakistan
Ahmad Nabi
NOVEMBER 6, 2017
KHYBER AGENCY: Afghan students were issued radio frequency identification (RFID) cards at the Torkham border by Pakistan border security officials to allow them to continue their studies in Pakistan.
Torkham Political Naib Tehsildar Shamsul Islam said that previously in 2016, when the government of Pakistan had started the implementation of a comprehensive border management police at Torkham border to stop illegal movement through the border, no one was allowed to enter Pakistan without legal travelling documents. As a consequence, a large number of Afghan students who were residents of bordering villages of Afghanistan and were studying at private educational institutes in Bacha Mena, a bordering area of Pakistan, were among the affected, he added.
To counter the problem, Pakistani officials formulated a special project through which they issued RFID cards to affected Afghan students to allow them to continue their studies without any disruption, he said.
"The main motive behind this move was to allow the students to benefit from the education offered in Pakistani schools," he maintained.
He further said that there were 232 applicants, out of which 183, after thorough verification, were issued the cards while the rest of the applications were under process.
To facilitate the students, a special office had been established at Torkham with special machines to allow undisrupted entry at exit, he added.
The official further said that RFID cards was only valid inside the limits of Torkham and could not be used to travel outside of Torkham area.
Zameen Khan, a resident of Afghani bordering village Lal Pura and a student of grade 10th in Pak-International Public School Bacha Mena, said that the issuance of RFID cards was nothing short of a privilege because the students would be able to continue their studies across the border without any disruption.
The students also expressed their gratitude to government of Pakistan and requested the issuing process to be expedited in order to facilitate the other students in the village.
Another student, Zar Alam, of Afghanistan said that their village lacked educational facilities and he along with his fellow students continued his studies in schools across the border in Pakistan.
"I want to receive good education and serve my country," Alam said.
The students also complained that many students missed their Senior School Certificate (SSC) year in 2016 when border crossing was halted due to tensions between Pakistan and Afghan forces at the border. The students also demanded that the governments of both countries make student friendly policies for the area.
When Aurang Zeb, an uncle of five Afghan students, was contacted to comment on the matter, he said that most students were born in Pakistan and were familiar with the Pakistani educational system. He further said that the parents of these students are always worried about their children until they return home safely because of the distance between their schools and homes and the socio-political hurdles they faced.
Full report at:
https://dailytimes.com.pk/135036/afghan-students-issued-rfid-cards-continue-studies-pakistan/
--------
Southeast Asia
Should controversial preachers be banned from speaking?
BY AZRIL ANNUAR AND SHAZWAN MUSTAFA KAMAL
November 6, 2017
KUALA LUMPUR, Nov 6 — The recent ban by Johor against two Muslim preachers from delivering religious lectures following the same move by neighbouring Singapore has reignited a debate: should controversial preachers be gagged?
Amid concerns over freedom of expression and the limits of hate speeches, several Muslim leaders polled by Malay Mail Online have come to this conclusion: yes, if their speeches incite racial tension or are political in nature.
Perak mufti Tan Sri Harussani Zakaria explained that in his state, preachers are free to give talks or speeches provided they do not sow discord or cause any racial tension.
"When they apply for permission to give ceramahs, there is a condition — no politics and no causing racial disputes," Harussani said.
Last week, Johor Islamic Religious Affairs Committee chairman Abdul Mutalip Abdul Rahim said the Sultan of Johor had decreed that Zimbabwean Mufti Ismail Menk and Malaysian Haslin Baharim not be allowed to preach in the state.
Harussani said the decision was the prerogative of the Johor Ruler and its Islamic council.
"They have their rights and reasons. But in Perak so far there has been no complaints against the two, so there is no problem [for them to preach in the state]," he told Malay Mail Online.
Putting a lid on religious hatred
Independent preacher Wan Ji Wan Hussin said he believes the authorities need to put a stop to religious speeches with elements of hate, or what he terms as "the Taliban approach" — a reference to the Sunni fundamentalists widely condemned for their brutal implementation of Shariah.
"If there are reports of anyone preaching messages of hate, slander or creating racial and religious tension, in other words the Taliban approach, the government should call these preachers in and educate and give them better advice.
"Explain to them the official guideline and find out why they are using the Taliban approach. If they remain stubborn, then by all means... ban them," said the PKR Youth religious bureau leader.
Similarly, Muslim scholar and Universiti Sains Malaysia political studies professor Ahmad Fauzi Abdul Hamid agreed with Johor's ban, provided that studies into the respective preachers' backgrounds had been conducted before the decision was made.
"I think JAINJ had its own reasons and justifications [for the bans]. We hope that it's based on research into the various speeches and statements given by the preachers," he said, referring to the Johor Islamic Affairs Department by its Malay initials.
"It's safe to say that this decision is non-sectarian as Menk comes from the Salafist teachings while Zamihan is a traditionalist," he added, referring to Sunni Organisation Malaysia president Zamihan Mat Zin, who received royal rebuke for allegedly insulting the Johor monarchy.
"JAINJ here is being fair that in the sense whether the preachers are from traditional school or Salafi school, if their speeches are found to be threatening to racial harmony than JAINJ should take independent stand to ban them."
Salafism is a brand of ultra-conservative reform movement within Islam, with a stricter subset called Wahhabism endorsed by Saudi Arabia. Putrajaya has declared it to be against the traditional Sunni teachings.
Gagging preachers a bad precedent
Despite that, Islamic Renaissance Front's Datuk Ahmad Farouk Musa said the recent trend of banning preachers may set a bad precedent, resulting in authorities using such bans to justify the banning of more progressive views simply if they disagree with it.
"If we agree for the ban against preachers like Mufti Menk for example, then we cannot be moaning against the ban of Mustafa Akyol," he said.
Turkish writer Akyol was recently arrested while on the way from delivering a series of lectures here. He was only released after a former Turkish president intervened through a Malay Ruler.
Farouk pointed out that the issue is a double-edged sword as principally, the government should espouse the spirit behind Article 10 of the Federal Constitution which guarantees freedom of expression.
"The question that we should ask now is; are there limits to freedom of speech or freedom of expression?
"Documents such as the United Nations Universal Declaration of Human Rights represented an attempt to create a shared global agreement regarding universal human rights and freedoms; but is it absolute?" he asked.
For Farouk, there should be a limit to free speech to exclude "hate speech that defames, belittled, or dehumanised a class of people on the basis of certain inherent properties like race, ethnicity, sexual orientation or religion or as long as it does not incite violence and crime."
Singapore's Home Affairs Ministry announced last week that Menk and Haslin, nicknamed Ustaz Bollywood, have been barred from entering the republic purportedly for having expressed views that promote disharmony between Muslims and non-Muslims.
Despite Johor's ban, Deputy Prime Minister Datuk Seri Zahid Hamidi, who is also home minister, had previously said there was no cause for Malaysia to ban the two preachers, noting they have not violated any laws or promoted views detrimental to national harmony.
http://www.themalaymailonline.com/malaysia/article/should-controversial-preachers-be-banned-from-speaking#zBf0HeRWRxuzIEzK.97
--------
Harris Salleh looked into the wrong crystal ball
November 6, 2017
By Joniston Bangkuai
In reference to FMT's article dated Nov 1, I think Tan Sri Harris Salleh got the wrong crystal ball when he said Sabah Barisan Nasional (BN) will have a reduced number of seats and that BN will lose the federal government in GE14.
Just look at the fractionalised and quarrelsome opposition in Sabah, consisting of Gabungan Sabah, Pakatan Harapan and Warisan.
Gabungan has no credible leader. These parties have not produced any solid action plan, and are only good at slogans.
In Pakatan Harapan, DAP has gone into self-destruct mode with resignations by leaping frogs and on-going infighting between its current Sabah chairman Stephen Wong and former chairman Jimmy Wong.
Sabah Pakatan Harapan and its PKR head have a RM557 million land grab court judgement hanging over their heads.
Tun Mahathir Mohamad knows in his heart that he treated Sabah badly during his time as PM. Sabahans would not want to see Mahathir back in power and will give his party, PPBM the cold shoulder.
Prime Minister Najib Razak has done a lot more for Sabah and Sarawak in the eight years since he assumed the premiership in 2009 compared to the 22 years Mahathir was in power.
Under Najib, Sabah and Sarawak had more than 10 federal ministers, of whom six are from Sabah, unlike in the Mahathir-era where Sabah only had one or two federal ministers.
In contrast to Mahathir, Najib also understands the sentiments of the two east Malaysian states as evidenced with his bold decision to declare Malaysia Day on Sept 16, a national holiday soon after he became PM.
It is obvious to most Sabahans that Mahathir is now using Shafie Apdal's Warisan as his proxy in a futile hope to dent BN's fixed deposit.
All the leaders in the opposition want to be chief minister but lack the credentials. Shafie has craved to unseat Musa Aman for many years but was unable to make any headway because of a lack of support. His influence has always been confined to Semporna, even after many years as a federal minister.
Lately, there has been a lot of hype that Shafie and his party, Warisan were gaining political momentum and that he was getting sympathy after his arrest. The reality is, who would want to support a leader under investigation by the Malaysian Anti-Corruption Commission (MACC) for alleged misappropriation of RM1.5 billion from rural development projects in Sabah and who has done next to nothing for Sabahans? Even his hometown folks in Semporna have been neglected in all the years he has been in politics.
Shafie had more than a RM7 billion budget given by Najib for Sabah. What has he done with the money? He has been blaming Musa for not giving him the co-operation to implement projects in Sabah. Now that he is under investigation by the MACC, the truth has come out.
Let us focus on his leadership record. What has he done for Sabah? He was an absolute political nobody in Usno. Then he hooked on to Umno and got himself elected as an MP. From then, he was appointed to one political office after another, the last being that of Minster of Rural and Regional Development.
If not for Najib extending a hand to lift him up for political high office, Shafie would have remained a political nobody up to today. It was Najib who supported him for his election as Umno vice president and gave him ministerial posts. Ultimately, the political high office and perks got to his head.
Shafie has claimed support from Muslim Bumiputeras and has used Darell Leiking to lure the Kadazans/Dusuns. However, the Bumiputeras in Sabah are now better educated and appreciate true and genuine leadership.
When Shafie was in Umno, he praised the party all the time. Never did he mention anything about Sabah losing its rights or Sabahans for Sabah. Now that he has been sacked, he has become a turncoat.
Such a man has no principles. His party wanted Sabahans to pay for his bail money of RM100,000 when he is being investigated for RM1.5 billion by the MACC. Yet, all the while he and his party officials are flying business class.
In his more than 30 years as a political leader, his record of service for Sabah has been shameful. He has done nothing for Sabah and especially for Semporna.
Thanks to Musa's initiatives in tourism, Semporna is booming with tourists, no thanks to Shafie. How can people in Sabah trust him to become their next chief minister if he cannot even bring any development to his own hometown?
To say Shafie can get the support of Sabah's Muslims in East Malaysia is looking at the dynamic of the Muslim Bumiputera in an over-simplified manner.
The Muslims in Sabah comprise of Bruneians, Bajaus/Suluks, Bugis, and Kadazans/Dusuns.
Shafie may get some support among the Bajaus/Suluks in his hometown but that is all he can get. His influence is limited as his record of economic development for the people of Semporna is very poor. The people of Semporna have nothing to thank him for.
Beyond Semporna, even in nearby Kunak, Shafie's support has dwindled into insignificance, as this is strong Umno country with YB Datuk Nilwan, a local man being very close to his people since Mustapha's time.
Further down south to Tawau, the number of Bajaus/Suluks is not significant. Here the Bugis dominate. Being very good at business, they know they cannot put their future in Shafie's hands.
Up north in Kudat, Shafie has no relevance. To them Shafie only became known after the MACC's RM1.5 billion investigations. Shafie is now well known for the wrong reasons. People are drawn to Shafie's rallies because of a combination of free food and curiosity.
In the West Coast, the Bajaus/Suluks are solid supporters of Umno. To them, Shafie is a distant political figure. The Bruneians are widely spread, with the biggest concentration in the West Coast. With the ongoing MACC investigation, they know their future is not with Shafie.
The Kadazans/Dusuns are mostly Christians of various denominations with a sizeable number of Muslims as well. There are mostly converts. Irrespective of their religious beliefs, they would not accept Shafie as their leader.
Their loss of the majority race is not easy to forget. They know who has played a major role in relegating them into a minority race. Already, many Kadazans/Dusuns are expressing grave disappointment with Darell, their hero in PKR until he left and teamed up with Shafie.
This anti-Shafie sentiment among Kadazans/Dusuns must be very strong as Darell is always cornered to justify his joining Shafie in Warisan.
The Chinese in Sabah have this attitude towards Shafie which can be summarised with these questions – what has Shafie done for Chinese education, Chinese culture and to facilitate their business?
All members of the Chinese Chambers have expressed support for Musa openly. Shafie has no credible Chinese leader with him. Junz Wong is from DAP and wet behind the ears.
The Chinese will not trust their Chinese education, their Chinese culture, and their business with Shafie and Junz Wong.
People in Sabah will return to BN Sabah under Musa with a bigger majority because of what he has done for all of them irrespective of race and religion.
Mahathir has been forced to apologise for Ops Lalang. His apology is tainted with reluctance and insincerity and spiked with political intent. He did not want to take responsibility for it and has been trying to push the blame to the police.
In his 22 year-rule, Mahathir has done many things he should apologise for. It was Mahathir who showed the greatest disrespect to the sultans by shrinking their authority and making them lose face.
Malaysians will remember it was Mahathir who abused the Universities and University Colleges Act 1971 which took away education freedom and sent the standard of Malaysian education down into a black hole.
Because of Mahathir, many graduates are struggling with unemployment today. The much-less-than-expected attendance by all races at Padang Timur is a sure sign of opposition fatigue of Mahathir.
Full report at:
http://www.freemalaysiatoday.com/category/opinion/2017/11/06/looks-like-harris-salleh-looked-into-the-wrong-crystal-ball/
--------
Malaysian terrorist is new 'emir' in South-east Asia, says Philippine police
Nov 6, 2017
MANILA - A top Malaysian terrorist with long combat experience in the war-torn southern Philippine island of Mindanao is the new "emir" of the ultra-radical Islamic State in Iraq and Syria (ISIS) in South-east Asia, the Philippines' police chief said on Monday (Nov 6).
Sabahan Mohammad Amin Baco, 31, replaced Isnilon Hapilon, 51, who was killed as the five-months-long conflict between Philippine troops and Muslim militants for Marawi city in Mindanao, drew to a close.
"Amin Baco is now the leader, not just of the remaining Maute but as emir of South-east Asia ISIS," Director-General Ronald de la Rosa told reporters, referring to the group that supplied the bulk of fighters who stormed Marawi on May 23.
Deputy Director-General Rolando Mendez said Baco is "one of the most experienced terrorists" in the Philippines, plotting attacks and providing combat training to local militants for years.
Baco was an operative of the Malaysia-based terror group Jemaah Islamiyah.
Intelligence sources said he was trained by fellow Malaysian Zulkifli bin Hir, alias Marwan, who was one of the world's most wanted terrorists when he was killed in a police raid two years ago.
Baco was staying near Marwan's remote hideout in Mamasapano town in Mindanao during the raid, but he eluded arrest, said Mr Mendez.
Security officials said Baco took part in the Marawi attack, but they could not ascertain whether he managed to flee or is leading dozens of stragglers still inside the city.
Mr De la Rosa said most of the new information about Baco was provided by Muhammad Ilham Syahputra, an Indonesian militant nabbed in Marawi last week.
Security expert Rommel Banlaoi said Baco presents a bigger threat than Hapilon or Mahmud Ahmad, a former Malaysian university lecturer who was Hapilon's No 2 but was also killed in Marawi.
Mahmud was regarded more as an ideologue and organiser than a battlefield commander.
Baco, on the other hand, has had a long experience in fighting a guerilla war. He is also adept at making bombs, a knowledge he has passed on to many recruits.
Full report at:
http://www.straitstimes.com/asia/se-asia/malaysian-terrorist-is-new-emir-in-south-east-asia-says-philippine-police
--------
Sultan Nazrin: Islamic nation can't be formed through militancy
November 5, 2017
KUALA KANGSAR: The Sultan of Perak, Sultan Nazrin Muizzuddin Shah, said an Islamic country could not be formed through militant activities such as inflicting cruelty, committing bombings, killings, kidnappings and injuring innocent people.
He said an Islamic country also would not be formed by adding the "Islamic" word to the country's name or by inserting elements of Islam in the legal system and the country's constitution.
"The desire for a fair and equitable rule has led to the establishment of various militant movements worldwide which aim to set up Daulah Islamiah or the Islamic state," Sultan Nazrin said at the investiture ceremony in conjunction with his 61st birthday celebration, at Istana Iskandariah, in Bukit Chandan, here, today.
Also gracing the occasion were Raja Permaisuri Perak Tuanku Zara Salim; Raja Muda Perak Raja Jaafar Raja Muda Musa and Raja Di-Hilir Perak Raja Iskandar Dzulkarnain Sultan Idris Shah.
Sultan Nazrin said an Islamic country could be created if the country was governed by a government able to practise the good and reject the bad.
"An Islamic country will also emerge when the government and leaders embrace the noble traits of the Prophet who had the spirit of serving, sacrificing, refusing to be given any privilege and never putting himself as being more noble than others," he said.
Sultan Nazrin said the collapse of a country, meanwhile, could be due to negligence of the ruling government to fulfil the people's needs and the failure to steer towards good practices by rejecting the bad.
He said Islam emphasised that the government must rely on the law and the leaders must not be privileged to be above the law.
"Leaders who embrace the Islamic spirit would govern based on truth and justice," Sultan Nazrin said.
He said the leaders must have good manners and praiseworthy character and be wise in managing and leading the government.
"The people's well-being depends on the leaders' image and behaviour.
Full report at:
http://www.freemalaysiatoday.com/category/nation/2017/11/05/sultan-nazrin-islamic-nation-cant-be-formed-through-militancy/
--------
Indonesia eyes more Muslim tourists with halal tourism
November 5, 2017
On Nov. 2, the Tourism Ministry hosted a sarasehan (forum) event that talked about halal tourism, also known as family-friendly tourism, at Sofyan Menteng Hotel in Jakarta.
A total of 50 people from cities such as Jakarta, Bandung, Semarang and Yogyakarta came to the event as well as representatives of several hotels, travel agents, spa places and communities that work in the family-friendly tourism business.
"Halal tourism will be a big contributor to the national income by 2020. In 2016 Indonesia was ranked the third in the Global Moslem Travel Index [GMTI] after Malaysia and United Arab Emirates [UAE]. We are aiming to take the first spot in 2019," told ministry's deputy assistant for cultural tourism destination development, Lokot Ahmad Enda.
Lokot added that the meeting was to discuss the development of halal tourism together with halal tourism industry players.
According to the ministry's head of family friendly tourism acceleration team Riyanto Sofyan, up to 10 programs are currently being prepared by the ministry to develop halal tourism in Indonesia with three of them are in the top priorities.
Read also: Yogyakarta village craftsmen uphold mask-making tradition
"We promote these programs by taking part in tourism exhibitions abroad such as ITB Berlin and ITB Asia. This month, there will be a familiarization trip by Al Jazeera that wants to do a reporting on halal tourism in Indonesia," said Riyanto.
Meanwhile, Tourism Minister Arief Yahya wanted to follow the global standard that has been made by the GMTI.
"Through the global standard we can see where we stand in the global market scene and understand our strengths and weaknesses," told Arief.
Halal tourism in Indonesia has earned numerous international awards, including three awards at the World Halal Tourism Award 2015 in Abu Dhabi and 12 awards at the same event last year.
Full report at:
http://www.thejakartapost.com/travel/2017/11/05/indonesia-eyes-more-muslim-tourists-with-halal-tourism.html
--------
Indonesia's Public Diplomacy Towards Australia Needs Stronger Branding, Coordination
Nov 6, 2017
Jakarta. Nadjib Riphat Kesoema, a former ambassador to Australia and Vanuatu, said Indonesia needs a stronger branding strategy and closer coordination for its public diplomatic efforts with Australia, emphasizing the importance of greater engagement to sort out differences and misunderstandings between the neighboring countries.
"Indonesia's public diplomacy needs a more coordinated strategy, with the Ministry of Foreign Affairs as its coordinator," Nadjib said at the "Indonesian Public Diplomacy Toward Australia" seminar in Jakarta on Friday (03/11).
He urged diplomats to "tell things as they are," and said that "we must never lie in our diplomacy."
According to Riefqi Muna, a researcher on politics at the Indonesian Institute of Sciences (LIPI), the Foreign Affairs Ministry's directorate general of information and public diplomacy still needs improvement.
"Even though there's a public diplomacy division at the Foreign Affairs Ministry, it is not strategically integrated and has yet to operate to its full potential," Riefqi said.
He added that Indonesia's public diplomacy strategy must be both "comprehensive and integrated," especially amid an increasingly "complex and fluid" situation.
Indonesia and Australia have had their share of ups and downs since the formal establishment of diplomatic relations in 1949.
Throughout the years, the two countries have forged strong partnerships in politics, economy, security and education, but relations have also been tested by unfavorable public opinions, misunderstandings and spats, including the 2013 spying allegations and the Bali Nine case.
Investing in current trends and welcoming new cultures and the latest developments will be crucial as young people, particularly millennials, are likely to play a bigger role in Indonesia's public diplomacy with Australia.
"We need to pay attention on how policies advanced by formal governments can also reflect the perspectives of the younger generation, because the future of bilateral relations will be strongly linked to them," Riefqi said.
Continuing with existing exchange programs between Indonesian and Australian students, academics and young leaders will be helpful to further develop and strengthen bilateral relations, he added.
Evi Fitriani, head of the Miriam Budiardjo Resource Center (MBRC) at the University of Indonesia, likened Indonesia-Australia relations to roller coasters, saying they have historically been very dependent the countries' leaders.
"Indonesia-Australia relations under [President] Joko Widodo and [Prime Minister Malcolm] Turnbull have been one of the best, but it was much colder during Tony Abbott's time," Evi said.
She added that on top of cultural differences, there remains a strong "distrust" between the two countries.
Full report at:
http://jakartaglobe.id/news/indonesias-public-diplomacy-towards-australia-needs-stronger-branding-coordination/
--------
Indonesian Officials, With Permission From Philippine Authorities, Interview Suspected Militant Arrested in Marawi
Nov 6, 2017
Jakarta. The Indonesian Embassy in Manila was granted access by Philippine authorities to interview Muhammad Ilham Syaputra, an alleged Indonesian national and militant who was arrested in the southern city of Marawi for having links to Islamic State, an official said on Monday (06/11).
"The Indonesian Embassy received a consular notification on Friday from Philippine authorities related to the arrest of Ilham Syahputra," said Arrmanatha Nasir, a spokesman for the Ministry of Foreign Affairs.
Arrmanatha said the Indonesian deputy ambassador to the Philippines and the police attaché stationed in Manila interviewed Ilham on Friday.
"From the initial interview, the individual admitted that he is originally from Medan [North Sumatra]," he said, adding that Indonesian officials are still working to verify Ilham's nationality.
Last week, CNN Philippines first reported on Ilham's arrest, saying that he was suspected of being affiliated to pro-Islamic State militants who seized large swaths of Marawi in May.
In October, Philippine authorities declared that Marawi had been liberated from Islamist militants.
Full report at:
http://jakartaglobe.id/news/indonesian-officials-permission-philippine-authorities-interview-suspected-militant-arrested-marawi/
--------
Mideast
France warns of ballistic proliferation after Houthis target Riyadh
6 November 2017
France's foreign minister on Sunday said that a ballistic missile strike by Yemeni Houthi militias targeting Saudi Arabia's capital Riyadh showed that there was a danger of wider ballistic proliferation across the region.
"France strongly condemns the ballistic missile strike claimed by Houthi rebels," Foreign Minister Jean-Yves Le Drian said in a statement. "It highlights once again the danger ballistic proliferation poses to the entire region."
The Arab coalition on Sunday accused Yemen's Houthi militia of a "dangerous escalation", a day after Saudi air defence forces intercepted a ballistic missile fired by the group towards the capital Riyadh.
"The Houthis' dangerous escalation came because of Iranian support," said coalition spokesman Colonel Turki al-Maliki in a press conference televised on state news channel Ekhbariya.
Rocket launch vehicles used to fire the missile were made in Iran, he said.
https://english.alarabiya.net/en/News/gulf/2017/11/06/France-warns-of-ballistic-proliferation-after-Houthis-target-Riyadh.html
--------
Car bomber kills at least 15 in Yemeni port Aden
November 05, 2017
A suicide car bomber blew himself up at a security checkpoint in the southern Yemeni port city of Aden on Sunday, killing 15 people and wounding at least 20, residents and a security official said.
Islamic State claimed responsibility for the assault, without providing evidence.
The attack occurred outside the main security headquarters in Aden's Khor Maksar district, according to Aden residents and the security official. The blast was heard across the city and a plume of smoke could be seen from miles away.
Clashes erupted in the area immediately afterward, witnesses reported. It was unclear who was behind the attack or the clashes that followed.
Islamic State claimed responsibility for the attack in a statement posted on the internet, though without immediate evidence to back up its assertion. IS said at least 50 people had been killed by the blast and in clashes.
Al Qaeda in the Arabian Peninsula (AQAP), the local branch of the global Islamist militant network, has been the most active jihadist group in southern Yemen in recent years.
Aden is the interim headquarters of Yemen's internationally recognized government, which had to move there when Houthi rebels took control of the capital, Sanaa, in 2015 during Yemen's civil war.
More than 10,000 people have been killed in the conflict since the Houthis advanced on Aden , forcing President Abd-Rabbu Mansour Hadi to flee and seek help from Saudi Arabia.
Aden is dominated by Yemeni forces backed by the United Arab Emirates, a key member of the Saudi-led coalition that intervened in Yemen's war to restore Hadi.
Saudi Arabia's air defense forces intercepted a ballistic missile fired from Yemen over the capital, Riyadh, on Saturday, state news agencies reported.
Full report at:
http://nation.com.pk/05-Nov-2017/car-bomber-kills-at-least-15-in-yemeni-port-aden
--------
Daesh brutal attacks show terrorists' desperation, defeat: Iran
Nov 5, 2017
Iranian Foreign Ministry Spokesman Bahram Qassemi says brutal and inhumane measures taken by Daesh Takfiri group show the terrorists' defeat.
Qassemi on Sunday offered his condolences to the Syrian people and government as well as the bereaved families of victims of a recent terrorist attack in the Arab country's eastern province of Dayr al-Zawr.
"These inhumane and brutal acts by Daesh terrorist group are a clear indication of this group's desperation and defeat," he said.
The Iranian spokesperson emphasized that the days of Daesh terrorists in Syria were numbered thanks to resistance of and unity between the Syrian government and nation.
At least 75 displaced Syrian people, including children, were killed and 140 others wounded in a Daesh bombing attack on a temporary refugee camp in Dayr al-Zawr on Saturday.
The attack took place as the Syrian army troops have captured about 100 kilometers of the west bank of the Euphrates and crossed to the eastern side of the river.
The US-backed Kurdish-Arab Syrian Democratic Forces (SDF) militants have taken advantage of the momentum created in the army's breach of Daesh defense lines to advance on the eastern bank of the Euphrates with US support.
The convergence of the two rival operations has increased tensions in Dayr al-Zawr and raised the possibility of first major confrontation between them.
Full report at:
http://www.presstv.com/Detail/2017/11/05/541118/Iran-Syria-Dayr-alZawr-Foreign-Ministry-Spokesman-Bahram-Qassemi-Daesh-terrorists
--------
Saudi Arabia announces millions of dollars in bounty for 40 wanted in Yemen
6 November 2017
The Saudi Ministry of Interior issued a statement on Monday with a list of 40 names of leaders and elements responsible for planning, executing and supporting various terrorist activities by the Houthi terrorist group, as well as financial rewards for information leading to their arrest or whereabouts.
The announcement came as part of Saudi Arabia's effort to stop terrorism and fight extremist ideology. Houthi militias have increasing terrorist activities and continue to harm the security of Saudi Arabia.
Houthi militias have also been known to have ties with Hezbollah in Lebanon.
Ballistic missiles were used in a significant precedent where these dangerous missiles were available to the terrorist militias, who violated the legitimacy when directly threatened Saudi Arabia to intimidate the citizens and cause insecurity in Saudi Arabia and impact its stability.
Saudi Arabia announced the first list with 40 names of Houthi leaders and members responsible for planning, executing and supporting the different terrorist activities in the Houthi group.
It also announced financial rewards for whoever gives information that leads to arresting the wanted men or even locate them, calling for whoever has this information to contact Saudi authorities.
Full report at:
https://english.alarabiya.net/en/News/gulf/2017/11/06/Saudi-Arabia-announces-millions-of-dollars-in-bounty-for-40-wanted-in-Yemen-.html
--------
Pakistan's military chief in Iran for security talks
Nov 6, 2017
Pakistan's Chief of Army Staff General Qamar Javed Bajwa has arrived in Tehran at the head of a delegation of ranking military officials for talks with his Iranian counterpart and other officials.
Bajwa's plane touched down in the Iranian capital on Sunday. He has traveled to the Islamic Republic at the invitation of Chairman of the Chiefs of Staff of the Iranian Armed Forces Major General Mohammad Baqeri.
The two sides are to address enhancement of the level of defense and security interaction, as well as provision of security on the common border and other issues of common interest.
Iranian Foreign Minister Mohammad Javad Zarif traveled to Pakistan in May and the countries agreed to increase cooperation towards boosting security in their border areas by setting up a joint security committee.
The visit at the head of a high-ranking political, military, law enforcement, and security delegation came a month after 10 Iranian border guards were killed and two others injured in an ambush near the town of Mirjaveh in the southeastern Iranian province of Sistan and Baluchestan.
The so-called Jaish ul-Adl terrorist group claimed responsibility for the attack, which had been launched from the Pakistani soil. The assailants escaped into the Pakistani territory immediately after the attack.
Full report at:
http://www.presstv.com/Detail/2017/11/06/541164/Iran-Pakistan-Bajwa-Baqeri
--------
Leader of Hezbollah al-Nujaba: Bloodshed in Iraq Prevented by General Soleimani's Talks with Kurds
Nov 05, 2017
"The Islamic Republic of Iran's efforts to resolve the issue (the problems after the referendum) and the presence of General Qassem Soleimani and his talks with all sides led to important achievements and peaceful settlement of problems, prevented bloodshed and kept safe the Iraqi people of all ethnic groups," Sheikh Akram al-Kaabi was quoted as saying by the Lebanese Arabic-language al-Akhbar newspaper as saying on Sunday.
He also explained about the Iraqi army and popular forces' operations to take back Kirkuk after the independence referendum in the Iraqi Kurdistan region, and said that the Peshmerga forces helped them and the former gained control over the region peacefully.
Al-Kaabi also blasted Massoud Barzani, the former president of the Iraqi Kurdistan Regional Government (KRG), for betraying Kurds and implementing the US and Israeli plots.
In relevant remarks last month, Representative of the KRG in Tehran Nazim Dabagh revealed that General Soleimani had warned the Kurdish officials of the consequences of the independence referendum.
"Mr. Soleimani headed meetings with local delegations (in Iraqi Kurdistan region). Mr. Soleimani also had several private meetings with Mr. Massoud Barzani, the president, and Nechirvan Barzani, the prime minister of the Iraqi Kurdistan region and the leaders of other parties, including Change (Goran) party," Dabaqh said.
He added that the Iranian side had warned the Kurds not to hold an independence referendum because all powers will stand united against the Iraqi Kurdistan region.
According to Dabaqh, the Iranian side also told the KRG officials and Kurdish groups that Tehran wants the Iraqi Kurds' achievements to be maintained within the framework of the Iraqi constitution.
He lauded General Soleimani and other Iranian officials' efforts to help the Kurds, and said, "We always need relations and friendship of Iran."
Also last month, Dabagh announced that the Kurdish leaders are now ready to resolve the problems created after the independence referendum through talks, lauding efforts made by General Soleimani to this end.
"Mr. Soleimani is the one who has really treated the Iraqi Kurds honestly and he had issued warnings about (consequences of) holding the referendum in the Iraqi Kurdistan region before it was held," Dabbagh said.
"It seems that the Islamic Republic of Iran seeks to resolve the problems between the Kurdistan region and the central government in Iraq based on the Iraqi constitution and we assess Iran's measures in this regard as positive," he said.
Meantime, a senior Kurdish Iraqi legislator praised General Soleimani for his mediatory role which led to the settlement of problems after the September 25 independence referendum in the Iraqi Kurdistan region.
"Recently, after holding the referendum, a 9-article agreement was signed between Hashd al-Shaabi (Iraqi Popular forces) Commander Hadi al-Ameri and Bafel Talabani, a commander of the Patriotic Union of Kurdistan (PUK) (and son of late Jalal Talabani), under the supervision of Iraqi Prime Minister Haider al-Abadi and mediated by Qassem Soleimani, the IRGC Quds Force commander, based on which the referendum results were called off until an unspecified time," Massoud Haider wrote on his facebook, Russian news agency Sputnik reported.
Other Kurdish lawmakers were also quoted by Reuters as saying that General Soleimani met leaders from the PUK, one of the two main Kurdish political parties in Iraq and an ally of Tehran, in the city of Sulaimania the day before Premier al-Abadi ordered his forces to advance on Kirkuk.
Reuters reported that General Soleimani told the Kurdish leaders that their Peshmerga forces would not be able to beat Abadi's troops, which had backing from the West and regional powers Iran and Turkey.
"Soleimani's visit...was to give a last-minute chance for the decision makers not to commit a fatal mistake," Reuters quoted one PUK lawmaker as saying.
Ala Talabani, a leading PUK official, said the Iranian General only provided what she described as "wise" counsel in his meetings with Kurdish leaders.
Full report at:
http://en.farsnews.com/newstext.aspx?nn=13960814001134
--------
Saudi Arabia threatens Iran after Yemen missile strike
Nov 6, 2017
Saudi Arabia has ramped up threats to Iran, saying there will be a response "at the appropriate time and manner," following a missile strike from neighboring Yemen, which has been under a nonstop bombardment campaign by a Saudi-led coalition for over two and a half years.
The coalition, which includes a number of Saudi Arabia's vassal states under its command, said in a statement on Sunday that Iran was to blame for a Yemeni missile strike on Riyadh earlier in the day.
That missile was fired by the Houthi Ansarullah movement, which together with allied Yemeni army factions and tribal fighters has been fighting off the Saudi-led coalition. Riyadh and its allies accuse the Houthis of receiving financial and arms support from Iran. The Islamic Republic rejects the accusations, but is supportive of the Yemeni defensive campaign against the Saudi invasion.
The Saudi-led coalition went further in its Sunday statement, claiming that the Houthis were under Iran's "direct command."
"Therefore, the coalition's command considers this a blatant act of military aggression by the Iranian regime, and could rise to be considered as an act of war against the kingdom of Saudi Arabia," it said, referring to the Yemeni missile strike. "The coalition command also affirms that the kingdom reserves its right to respond to Iran in the appropriate time and manner."
Saudi Arabia has been pursuing an open warmongering policy toward Iran. Earlier this year, Crown Prince Mohammed bin Salman threatened to move the "battle" to Iran.
Obviously, such bellicose rhetoric has not remained unanswered. Iranian authorities have all along made sure that Saudi royals realize that aggression of any magnitude will be reciprocated.
The Saudi-led coalition invaded Yemen in March 2015 to reinstall a former regime that had been friendly to Saudi Arabia. It also imposed a land, aerial, and naval blockade on the already-impoverished country.
Despite the Saudi-led coalition's superior military power, the Houthis and their allies have been successfully defending the country, turning a war Saudi Arabia had hoped to finish in a matter of weeks into a quagmire that Riyadh continues to be stuck in almost three years later.
Upward of 12,000 people have been killed in the Saudi-led war; and much of Yemen's infrastructure, including factories, roads, and even hospitals, has been destroyed. The coalition has been blamed, including by its Western countries, for mounting civilian casualties in Yemen and a cholera epidemic in the country.
Officials from the United States, which assists the Saudi-led coalition, have admitted that incompetent Saudi pilots, fearing ground fire, have been flying their jets so high that they can't deliver weapons accurately, causing even bigger civilian casualties.
Yemen has been firing missiles at Saudi Arabia in retaliation for the massive civilian casualties caused by the coalition bombing.
The Sunday launch was of a Borkan H2 long-distance missile that targeted the King Khalid international airport in northeastern Riyadh.
Saudi Arabia claimed it had intercepted the missile. US President Donald Trump said "our system" took the missile down, apparently referring to the US-made Patriot missile system purchased by Saudi Arabia.
He also said, "A shot was just taken by Iran, in my opinion, at Saudi Arabia."
Iran has denied that it supports the Houthis or supplies them with weapons. The Saudi-led coalition itself says it has entirely blockaded Yemen.
Following the Sunday missile strike, the coalition said it would be tightening the embargo.
Iran says had no role
Also on Sunday, Major General Mohammad Ali Jafari, the chief commander of Iran's Islamic Revolution Guards Corps (IRGC), said Trump's allegation that Iran had had a role in the Yemeni missile strike on Riyadh was "baseless." Major General Jafari said Iran had no means of transferring missiles to Yemen.
The Houthis, too, say the missiles are locally produced.
Iran's Defense Minister Brigadier General Amir Hatami also rejected allegations of Iranian involvement in the missile attack.
Full report at:
http://www.presstv.com/Detail/2017/11/06/541159/Saudi-Arabia-threat-Iran-Yemen-missile-strike-Riyadh
--------
Iran will stand by post-war Syria: Defense minister
Nov 5, 2017
Iran's Defense Minister Brigadier General Amir Hatami has expressed the Islamic Republic's determination to continue its support for Syria after the end of the foreign-backed war in the Arab country.
"Like in the past, we are determined to stand by our Syrian brothers after the war," Hatami told Syrian Defense Minister Major General Fahd Jassem al-Freij in a phone conversation on Sunday.
Hatami extended his congratulations to the Syrian president, defense minister, nation and brave commanders and fighters over the full liberation of the eastern city of Dayr al-Zawr from Daesh Takfiri terrorists.
"The five-year resistance of the Syrian armed forces and nation against terrorist groups is admirable and should be recorded in the history of a nation's legitimate defense of its identity," the Iranian defense minister said.
The Syrian army and allied fighters on Friday managed to retake full control over city of Dayr al-Zawr in their latest push against Daesh Takfiri terrorists.
Damascus began the liberation operation two months ago and broke Daesh's three-year-long siege of the government-held part of the city in September. Army troops have in recent days stepped up their gains in the city, going neighborhood to neighborhood after the remaining terrorists.
The fall of Daesh in Dayr al-Zawr is yet another key defeat for the Takfiri outfit, which has lost most of the territory it seized during its rapid advances across Syria and neighboring Iraq in 2014.
Hatami also called for the strengthening of cooperation between Iran and Syria until terrorists are completely defeated.
The Syrian defense minister, for his part, commended Iran's support for his country in the fight against terrorism and said the Islamic Republic had always stood by the Syrian government and helped it defend its sovereignty.
Full report at:
http://www.presstv.com/Detail/2017/11/05/541130/Iran-Syria-Dayr-alZawr-defense-minister-Amir-Hatami-Fahd-Jassem-alFreij
--------
Israel launches its 'largest-ever' aerial drill: Report
Nov 6, 2017
Israel has launched its largest aerial exercise ever with air forces from India and seven other countries taking part, the Times of Israel reported.
The military exercise, dubbed Blue Flag, began at the Israeli Air Force's Ovda base, north of Eilat, on Sunday, the paper said.
According to the Israeli military, India is taking part in the 11-day drill for the first time, sending a C-130J transport plane.
Teams from the United States, Greece, Poland, France, Italy and Germany are also participating in the exercise, along with an eighth country that Israel declined to identify.
The participating countries reportedly dispatched fighter jets, transport planes and refueling aircraft for the drill.
"The participating nations arrived in Israel in their own aircraft and will practice different situations and scenarios," the Israeli military said.
More than a thousand people, including pilots, commanders and technical personnel, are taking part in the biennial exercise, according to the report.
The aerial exercise reportedly aimed to improve technical ability and to strengthen the "diplomatic cooperation between the countries," Israel's army said.
Tel Aviv claimed that the planning for the 2017 exercise began about a year ago, adding that it was not tied to any particular ongoing security situation.
Full report at:
http://www.presstv.com/Detail/2017/11/06/541162/Israel-largest-aerial-exercise
--------
Turkey says Russia has postponed Syria peace conference
Nov 5, 2017
Turkey says the Kremlin has decided to postpone a planned peace conference on Syria that was scheduled to be held in Russia's Black Sea resort of Sochi on November 18.
Turkish President Recep Tayyip Erdogan's spokesman Ibrahim Kalin said on Sunday that the meeting had been delayed and Syrian Kurdish groups such as the Democratic Union Party (PYD) would not be invited if it was to be held later.
"Russia told us that the meeting has now been postponed and that the PYD will not be invited," the spokesman told broadcaster NTV in an interview.
Turkey had been troubled by the possible involvement of the PYD, which is considered by Ankara to be a terror organization.
"We immediately objected," Kalin said, adding, "The Kremlin then got in touch with us and said they were postponing the meeting."
"So as of now, if there is no change, the meeting will not be taking place on November 18 but at a later date."
Kurdish forces, mainly the PYD and its military wing the YPG, are currently in control of nearly all of Syria's entire northern border with Turkey.
Ankara accuses the PYD of having links with the Kurdistan Workers' Party (PKK), which has been fighting for an autonomous Kurdish region inside Turkey since the 1980s.
Russia was planning to hold the Congress of Syrian National Dialogue in Sochi to bring together various parties to the conflict in Syria. The plan had been announced by Russia after the latest peace talks on Syria, which were also backed by Turkey and Iran, in the Kazakh capital, Astana.
Kazakhstan's capital has hosted several rounds of peace talks on Syria since January.
Iran, Russia and Turkey, which serve as guarantor states in the peace process, plan to map out de-escalation zones in Syria's militant-held northwestern province of Idlib, the central province of Homs and the Eastern Ghouta area outside of the capital Damascus, and exchange viewpoints on other matters such as prisoner exchange.
The talks in Astana have been going on in tandem with another series of talks held in Geneva and brokered by the UN.
Full report at:
http://www.presstv.com/Detail/2017/11/05/541131/Turkey-Syria-talks-Russia
--------
Israeli army withholding bodies of resistance fighters killed in tunnel attack
Nov 5, 2017
The Israeli military says it is withholding the bodies of five resistance fighters, which were recovered after Israeli fighter jets bombarded and destroyed a lifeline tunnel in the southern part of the besieged Gaza Strip.
"We are indeed in possession of those bodies … All were killed or died inside Israeli territory, not in the Gaza Strip," Israel's military spokesman Jonathan Conricus told AFP on Sunday.
At least twelve Palestinian men lost their lives after Israel blew up the tunnel on October 30.
Two of them belonged to the Ezzedeen al-Qassam Brigades, the military wing of the Hamas resistance movement, while the rest were from al-Quds Brigades, which is the military wing of Islamic Jihad movement.
Following the attack, Palestinians gathered in front of al-Aqsa Martyrs Hospital in Khan Yunis in protest at Israel's act of aggression.
The tunnel, which was still under construction, reportedly belonged to Hamas and infiltrated into the heart of occupied Palestinian territories.
Meanwhile, the Israeli minister of military affairs Avigdor Lieberman has stated that the decision on what to do with the bodies would be taken by Israel's security cabinet, on which he sits.
"This is not a legal issue, this is a political and security issue, and if there is disagreement it will be resolved in the security cabinet and not in any other forum," he said on Israeli television on Sunday.
Israeli media outlets says the Gaza resistance fighters' bodies would most likely be retained as bargaining chips to retrieve the remains of two Israeli soldiers killed in the 2014 Gaza war.
Israeli officials claim that three settlers, who are all said to be mentally unstable, are also believed to have entered the Gaza Strip, and are being held by Hamas.
Tunnels are the only lifeline for Palestinians living under the Israeli siege and Egypt has so far destroyed hundreds of them.
Israel and the Egyptian military have launched a campaign to destroy the tunnels, preventing the people in Gaza from bringing most of their basic goods like construction materials, food, and fuel into the coastal enclave.
The Gaza Strip has been under an Israeli siege since June 2007. The blockade has caused a decline in the standards of living as well as unprecedented levels of unemployment and unrelenting poverty.
Full report at:
http://www.presstv.com/Detail/2017/11/05/541129/Israeli-army-holding-bodies-of-resistance-fighters-killed-in-tunnel-attack
--------
Arriving on donkeys, Syrian war wounded seek Israeli help
6 November 2017
MOUNT HERMON: The wounded Syrians, carried on donkeys through the pitch-black night, could be seen in the beam of a searchlight held by their unlikely saviors — Israeli soldiers.
They were high in the mountains, nearing the Israeli-occupied zone of the Golan Heights, where they were to receive medical treatment for their wounds even though Israel and Syria are officially at war.
Casualties from Syria's six-year civil war are taken to hospitals inside Israel several nights each week.
At the same time, Israeli soldiers return Syrians, who have received treatment, to the disengagement line that divides the Syrian-controlled part of the Golan from that ruled by Israel.
It is another example of the many contradictions in the morass of the six-year Syrian conflict.
Israel does not take in refugees from the war, but its army says that it has facilitated the treatment of more than 3,100 wounded in Israeli hospitals since 2013.
The army acknowledges they treat any Syrian who needs it, including civilians or even rebels fighting President Bashar Assad's regime.
On a recent night, a procession of five patients made its way along Mount Hermon, known as Jabal Al-Sheikh in Arabic and the highest point of the Golan Heights, avoiding gunfire between warring groups on the Syrian side.
They arrive with assorted fractures and shrapnel wounds.
"They know that there are specific places which they can reach and where we wait for them," says Tomer Kolar, the Israeli army's chief medical officer for the sector.
"There is no ambulance on the other side. Sometimes they arrive in the back of a truck or by car, but on the Hermon they come with donkeys. When they arrive in the middle of winter, in the snow, they are sometimes in an extremely serious condition."
Nearly two-thirds of wounded Syrians are taken to the Galilee Medical Center in Nahariya, on Israel's coast near the border with Lebanon.
A hospital wing, located in the basement, has been set aside for the men and is under permanent watch while wounded women and children are placed in other departments.
Inside the men's unit, patients rest and watch television.
One of them is Hani, 28, who had part of his face shattered by gunfire during an offensive on his village by Assad's forces. He speaks on condition of anonymity for fear or reprisals when he returns home.
Hospitalized in Nahariya for more than a year, Hani lost an eye and underwent multiple operations.
Sameh, 31, who arrived at the hospital three weeks ago, had an arm amputated after being wounded in fighting against Assad's army.
"When I'm healed, I'll fight back against Assad," he said without hesitation through a Arab Israeli nurse who translated for him.
"The Syrian government always told us that Israel is an enemy country and that it is better to be in touch with the devil than with Israelis.
"But I am grateful to Israel and the Israeli army for what they have done for me."
Israel has found itself in a complex position regarding the Syrian war.
It wants to avoid being dragged into the conflict, but acknowledges carrying out dozens of air strikes there to stop what it says are advanced arms deliveries to Hezbollah.
The Iran-backed Lebanese Shiite group fighting alongside Syrian regime forces, is Israel's longstanding foe.
Israel also monitors closely the ebb and flow of forces on the Syrian side of the Golan Heights.
The area just to Israel's northeast is among the last bastions of rebels fighting Assad and his allies. Sunni jihadist groups are also present there.
Israel says it does not back the rebels, but the treatment of war wounded has led to tensions with its minority Druze population.
Druze located on the Israeli-controlled side of the Golan have relatives across the fence allied to Assad's regime.
On Friday, after jihadists launched an assault on the village of Hader in the Syrian Golan, Druze residents on the Israeli side of the plateau rallied along the buffer zone seeking to cross over and help.
Around 10 of them entered the buffer zone, the Israeli army said, before forces caught them and returned them.
Apparently seeking to reassure the Druze population, Israel's army issued a rare pledge of protection for the village controlled by Assad's forces.
In 2015, Druze carried out two attacks on Israeli military vehicles transporting injured Syrians to hospital, killing one of the wounded.
Kolar, the Israeli medical officer, thinks most of the Syrians treated by Israel are civilians wounded by the fighting, but adds that "it is possible there are also rebels" among them.
Counter-terrorism specialist Ely Karmon, of the Herzliya Interdisciplinary Center near Tel Aviv, said, beyond humanitarian concerns, providing such treatment can also serve Israel strategically.
Israel has "tactical interests — ensuring the peace of its border in the Golan by helping civilians and combatants on the Syrian side," said Karmon.
Full report at:
http://www.arabnews.com/node/1189071/middle-east
--------
South Asia
Uzbek Jihadists Fueling Much of Afghan Islamic State's Strength
5 Nov 2017
Uzbekistan is one of two top countries that has produced most of the jihadists currently fighting and killing U.S. troops and their allies in Afghanistan on behalf of the Islamic State (ISIS/ISIL) branch in the region, according to Pentagon and Afghan officials.
On Tuesday, ISIS-affiliated jihadist Sayfullo Saipov from Uzbekistan killed eight people and injured at least 11 in a vehicle attack on the West Side of Manhattan.
In turn, ISIS has claimed responsibility, praising him as a "soldier of the caliphate," reportedly without evidence.
Breitbart News explored the extent to which jihadists from Uzbekistan are linked to the ISIS branch operating in neighboring Afghanistan. Along with defectors from the Afghan Taliban, the majority of ISIS jihadists in Afghanistan are terrorists from groups native to neighboring Uzbekistan and Pakistan.
Some Uzbeks are reportedly indoctrinated and radicalized to be devout ISIS fighters from the time they are children.
In recent months, the United Nations revealed that the Islamic State branch in Afghanistan, known as the Khorasan province (ISIS-K), has drastically intensified their attacks and expanded its reach from one to seven provinces, courtesy of the hundreds of jihadists in their ranks—most of them from Uzbekistan and Pakistan.
"The situation in these [ISIS-K controlled] areas is worrisome. … Fighters from Uzbekistan have settled along with their families in some remote mountainous areas and have been trying to recruit locals into their ranks," Khaleqdad Akbari, head of the Ghazni provincial council, told Voice of America (VOA) in November 2016.
U.S. officials have acknowledged that ISIS-K is primarily made up of former members of the Pakistani Taliban known as Tehrik-e Taliban (TTP) and Uzbek fighters from the Islamic Movement of Uzbekistan (IMU).
In December 2016, Gen. John Nicholson, the top commander of U.S. and NATO troops in Afghanistan, told reporters, "Islamic State Khorasan today is formed of members of the Tehrik-e Taliban Pakistan, the Islamic Movement of Uzbekistan, and even some former members of the Afghan Taliban."
The proportion of the number of TTP terrorists loyal to ISIS versus those from the Uzbek IMU is unclear.
However, the U.S.-backed Afghan forces had drastically depleted the number of ISIS-K fighters in Afghanistan by about 80 percent—from a peak of about 3,000 around 2016 to about 700 as of early this year.
So, there are possibly a few hundred terrorists from each group—TTP and IMU. In November 2015, Reuters suggested there could have been up to 400 Uzbeks fighting for ISIS at the peak of the group's strength.
Following the defeat of their chief, jihadists from Uzbekistan and Pakistan have been vying for control of ISIS-K in recent months, a dispute that has led to infighting.
Uzbekistan cracked down on militant Islam after the demise of the Soviet Union under the secular rule of its long-term leader Islam Karimov—to no avail.
Under ISIS-K, Uzbek jihadi operations have expanded beyond the Afghanistan-Pakistan region into Iraq, Syria, and Turkey.
In recent years, the U.S. Department of Homeland Security (DHS) has apprehended at least seven potentially radicalized Uzbeks trying to sneak into the United States.
That means up to three may have successfully entered America illegally given that for every ten caught, four get through.
Referring to Islamic State (IS) Uzbek fighters in Iraq and Syria, home to the group's ever-shrinking caliphate, BBC reports:
They have been trained and radicalized there. The return of these militants will pose a new threat and might strengthen the existing IS infrastructure in the region.
Such developments further complicate the conflict in Afghanistan and pose a long term risk to regional stability.
While terror-linked Uzbekistan borders Afghanistan in the north, jihadi sanctuary Pakistan is the war-devastated nation's southern neighbor.
According to the Pentagon, the Afghanistan-Pakistan border region remains home to the largest concentration of terrorist groups (20) in the world, including al Qaeda, the Haqqani Network, Lashkar-e- Tayyiba, Tehrik-e-Taliban Pakistan (TTP), ISIS-K, and the Islamic Movement of Uzbekistan.
Uzbeks are predominantly Sunni like the Taliban and ISIS.
http://www.breitbart.com/national-security/2017/11/05/uzbek-jihadists-fueling-much-of-the-afghan-islamic-states-strength/
--------
Myanmar must resettle refugees in their villages: US official
6 November 2017
The US wants Myanmar to repatriate hundreds of thousands of Rohingya in their own villages following their exodus from the country's violence-wracked Rakhine state for Bangladesh, a senior State Department official said Saturday in Dhaka.
Simon Henshaw, acting US assistant secretary of state who visited refugee camps in southeast Bangladesh, said Myanmar should also punish those who committed atrocities in Rakhine.
More than 600,000 Rohingya have fled to Bangladesh since late August.
They have taken refuge in squalid camps in southeast Bangladesh, joining the more than 200,000 Rohingyas who had set up homes there after escaping earlier bouts of violence.
"First of all, it is (Myanmar's) responsibility to return security and stability to Rakhine state. Secondly, it's their responsibility to investigate reports of atrocities and bring those who committed them to accountability," Henshaw told reporters in Dhaka.
"Part of bringing people back to Rakhine state requires these people be allowed to return to their land.... And for those whose villages are burnt, quick efforts need to be made to restore their homes and their villages," he said.
After weeks of intense global pressure, Myanmar agreed to take back Rohingya who meet "verification" standards. But the criteria remain vague, raising fears it will be used to restrict the number of returnees.
Experts say repatriation will also be complicated by the scale of destruction in Rakhine, where hundreds of Rohingya villages have been reduced to ash.
Relief workers say some refugees have expressed a reluctance to return if it would mean living in camp-like settlements or being barred from occupying the land they had before.
Full report at:
http://www.mizzima.com/news-domestic/myanmar-must-resettle-refugees-their-villages-us-official
--------
Karzai reacts at alleged civilian casualties in US airstrike in Kunduz
Nov 06 2017
The former Afghan President Hamid Karzai reacted at the alleged civilian casualties in US airstrike in northern Kunduz province of Afghanistan, calling for the initiation immediate probes.
The office of the former president in a statement said the former president strongly condemns the civilian deaths including women and children in US airstrike in Chahardara district of Kunduz.
The statement further added that the former president has called the airstrike a move against the humanity and expressed his strong opposition to raids on Afghan homes and villages that lead to civilian casualties.
He called for an immediate initiation of probes into the tragic incident and demanded the trial of the perpetrators.
This comes as conflicting report emerged regarding the civilian casualties in US airstrike from Kunduz province late on Saturday.
Certain local officials are saying that the militants may have been killed in the airstrike.
Full report at:
http://www.khaama.com/karzai-reacts-at-alleged-civilian-casualties-in-us-airstrike-in-kunduz-03778
--------
Thousands more Rohingyas cross into Bangladesh amid soaring child malnutrition in camps – UN
NOVEMBER 5, 2017
UNITED NATIONS: The United Nations children's agency has said that life-threatening malnutrition was spreading fast among Rohingya child refugees, who have fled Myanmar and entered Bangladesh, as 3,000 more arrived.
The Rohingya children in the camp who have survived horrors in Myanmars northern Rakhine State and a dangerous journey here â" are already caught up in a catastrophe, UNICEF Bangladesh Representative Edouard Beigbeder said in a statement.
"Those with severe malnutrition are now at risk of dying from an entirely preventable and treatable cause, he added.
Malnutrition rates among children in northern Rakhine were already above emergency thresholds. The condition of these children has further deteriorated due to the long journey across the border and the conditions in the camps.
Around 26,000 people now live in the Kutupalong camp faced with an acute shortage of food and water, unsanitary conditions and high rates of diarrhoea and respiratory infections. Cases of measles have been reported.
The UNICEF said that preliminary data showed that a full 7.5 percent of the children crammed into one of the camps in Bangladeshi district of Cox's Bazar face the risk of dying from severe acute malnutrition.
More than 600,000 Rohingya Muslims have so far fled the predominantly-Buddhist Myanmar to neighboring Bangladesh since August 25, when the crackdown on the Rohingya intensified in Rakhine state. Around half of them are children.
"It's very worrying to see the condition of children who keep arriving," UNICEF spokesman Christophe Boulierac, who recently visited the camps, told reporters in Geneva.
More than 2,000 acutely malnourished children are already receiving treatment at 15 treatment centers by the agency and its partners, who are in the process of establishing six additional centers.
The UN children's agency said its preliminary data were based on a nutrition assessment carried out last week of children under the age of five in 405 households in the Kutupalong refugee camp in Cox's Bazar.
The UNICEF stressed that the refugees in the Kutupalong camp are faced with an acute shortage of food and water, unsanitary conditions and high rates of diarrhoea and respiratory infections.
Boulierac estimates that the overall rate of severe acute malnutrition could be higher as it was planning to conduct two additional assessments in other sites in Cox's Bazar this month.
He also called for more resources to cope with the humanitarian crisis amid a continuing influx of refugees.
"We need far more attention to the crisis, and far more resources for the response," Beigbeder said, emphasizing that "these children need help right now."
The massive exodus of distressed Muslims in Rakhine has also altered the demographic status of the state, where the military and Buddhist mobs have since last year been attacking Muslim Rohingya civilians.
Full report at:
https://dailytimes.com.pk/134771/thousands-rohingyas-cross-bangladesh-amid-soaring-child-malnutrition-camps-ae-un/
--------
US airstrikes pound ISIS hideouts in Nangarhar leaving several militants dead
Nov 05 2017
The US forces based in Afghanistan carried out a series of airstrikes on ISIS hideouts in eastern Nangarhar province of Afghanistan, leaving several militants dead.
The provincial government media office in a statement said the airstrikes were carried out on ISIS hideouts in the restive Achin district.
The statement further added that the foreign forces targeted the ISIS hideouts in Mamand, Sapari, Chenar, Nargis and some other areas, leaving at least fifteen militants dead.
At least one civilian was also killed in the airstrike, the statement said, adding that at least 13 mortar rounds also landed in Lalpur district from the other side of the Durand.
According to the provincial government, the mortar did not incur any casualties to the local residents.
The Afghan security forces are busy conducting counter-terrorism operations against the IS and other insurgent groups in this province.
The US forces based in Afghanistan also support the Afghan forces in their fight against the terrorist groups and often carry out airstrikes to suppress the insurgency of the terror groups.
Full report at:
http://www.khaama.com/us-airstrikes-pound-isis-hideouts-in-nangarhar-leaving-several-militants-dead-03775
--------
Pedram warns UK embassy in Kabul of massive protests over BBC's step
Nov 05 2017
An Afghan lawmaker has warned the British embassy in Kabul of massive protests regarding the program name change by the British Broadcasting Corporation from BBC Persian to BBC Dari, calling it a provocative move.
The Lower House, Wolesi Jirga, lawmaker Abdul Latif Pedram, took the issue to the general session of the parliament amid ongoing controversies over BBC's step.
He called the move as absurd and called for immediate intervention and steps to resolve the issue or massive civil movements would be organized near the embassy compound.
Pedram also warned that the civil movements and protests could lead to the closure of the BBC's bureau office in Kabul.
The controversial topic emerged few days ago as hundreds of thousands of people have taken the issue to the social media, sparking heated debate among the people.
There are mixed reactios regarding the controversial topic and name change of the program but the majority oppose with the step, insisting that Persian is among the formal languages of Afghanistan, not Dari.
Full report at:
http://www.khaama.com/pedram-warns-uk-embassy-in-kabul-of-massive-protests-over-bbcs-step-03774
--------
Afghanistan probes reported deaths of dozens of civilians in air strikes
6 November 2017
KABUL: Afghanistan's government is said to have ordered an investigation into reports of dozens of civilian deaths in an anti-Taliban joint offensive by Afghan and US troops in northern Kunduz province.
The US-led coalition said it was assessing the reports of heavy civilian casualties in the province that lies near the border with Tajkistan and is regarded as the most volatile in the north.
The operations on Friday and Saturday targeted suspected Taliban positions in various villages of Char Dara district, infested for long by the guerrillas, according to villagers and lawmakers from Kunduz.
There were conflicting figures about the number of civilians killed, with few putting the toll as high as 60.
"Civilians were forced to retrieve the bodies of the Taliban and were hit. There are casualties among civilians," Amruddin, a member of the provincial council, told Arab News from Kunduz by phone.
The defense ministry confirmed locals' accounts on the launch of operations on Friday and Saturday but, citing the top army general from the area, said more than 50 militants had been killed.
The ministry's chief spokesman Dawlat Waziri said if there had been civilian deaths, the Taliban may have taken shelter in their homes during the operations.
The US-led military said it knew about the allegations of potential civilian casualties and was assessing it.
One health official from Kunduz who spoke on condition of anonymity told Arab News that the aerial attacks were more sustained and powerful than 2015 and 2016, when the Taliban captured the center of Kunduz twice from the government forces.
Scores of civilians, including more than 40 staff and patients of the French-run hospital, lost their lives in the US aerial attacks in 2015 and last year. And since, there have been reports of more civilian deaths in various others sporadic operations.
The US has further increased its aerial attacks this year in Afghanistan, with civilian casualties jumping by 52 percent in the first nine months of 2017, according to a United Nations report.
Civilian casualties have been one of the biggest friction points between the former President Hamid Karzai and the coalition since the ousting of the Taliban in 2001 as the losses create further bridges between the public and the government.
In a tweet he called the attacks "an atrocity against the Afghan people."
Full report at:
http://www.arabnews.com/node/1188856/world
--------
Arab World
Syrian army finds large amount of explosives, chemical weapons in Dayr al-Zawr
Nov 6, 2017
The Syrian military has found large amounts of chemical weapons and explosive devices while engaged in mop-up operations against Daesh in the country's eastern city of Dayr al-Zawr.
According to Syria's official news agency SANA on Sunday, booby-traps, drones, bombs and ground mines and explosive belts were also found by Syrian forces in the city's Rashidiyah neighborhood.
An Improvised Explosive Device workshop was also discovered by the Syrian forces.
The report noted that evidence found along with the chemical weapon stash shows that the Takfiri terrorists were planning to use the materials against civilians.
The Syrian army and its allies broke Daesh's three-year-old siege over the city in September and fully liberated it on Friday.
Dayr al-Zawr is the capital of an oil-rich Syrian province of the same name, which borders Iraq. The city used to serve as the main Daesh stronghold in Syria after the terror group left Raqqah in the north to US-backed Kurdish militants.
The fall of Daesh in Dayr al-Zawr is yet another key defeat for the Takfiri outfit, which has lost most of the territory it seized in a lightning 2014 advance across Syria and neighboring Iraq.
http://www.presstv.com/Detail/2017/11/06/541143/syria-daesh-dayr-al-zawr-mop-up-chemical-weapons
--------
OIC calls for urgent action to save remaining Islamic cultural heritage
5 November 2017
RIYADH: The Organization of Islamic Cooperation (OIC) recently called on member countries for urgent action and appropriate ways of protecting the remaining Islamic cultural heritage against loss and neglect.
OIC Secretary-General Dr. Yousef bin Ahmed Al-Othaimeen made the call during an international conference on "Islamic Action for the Protection of Cultural Heritage" held in Istanbul, Turkey, November 1-2.
In his address, delivered by Mehla Ahmed Talebna, OIC general director of cultural, social and family affairs, Al-Othaimeen also called for adapting these ways through international initiatives and mechanisms for cultural heritage preservation as a whole, and to save and restore endangered heritage in Islamic countries.
He called on participants to develop cultural policies and plans on cultural heritage protection for adoption at the 10th Conference of Ministers of Culture to be organized by the Islamic, Educational, Scientific and Cultural Organization (ISESCO) in Khartoum, Sudan, on November 21-23.
He stressed that the OIC has committed itself to being a stronghold and protector Islamic cultural heritage and identity and accord the highest priority to the protection of cultural heritage in holy places.
Al-Othaimeen pointed out that the preservation, protection and enrichment of cultural heritage will contribute to countering the distortion of the image of Islam.
For her part, Talebna said that the International Conference on Cultural Heritage in the Muslim world was initiated by the general secretariat of the OIC and adopted by the 9th Islamic Conference of Cultural Ministers organized by ISESCO in Muscat, Oman.
She said the conference aimed to contribute to safeguarding the cultural identity and memory of the Islamic civilization in terms of historical knowledge, ancient sciences, universal values, traditional architectural knowhow, traditions, among others.
"We need to move urgently with the aim of saving our rich cultural heritage," she said.
Full report at:
http://www.arabnews.com/node/1189036/saudi-arabia
--------
Saudi prince killed in helicopter crash near Yemen border: state TV
November 06, 2017
A helicopter carrying a high-ranking Saudi prince and other government officials crashed on Sunday in the kingdom's south near the border with Yemen, reportedly killing all eight people aboard.
The Saudi Interior Ministry said early on Monday that the crash happened in Saudi Arabia's Asir province as the official took part in a tour of local projects near Abha, some 840 kilometres southwest of Riyadh.
Security officials gave no cause for the crash, but said a search of the wreckage was underway.
The Saudi-owned satellite news channel Al-Arabiya, based in Dubai, reported that the crash killed Prince Mansour bin Murquin and seven others. Prince Mansour was the deputy governor of Asir province.
In Yemen, Houthi officials offered no immediate comment on the crash, while its Al-Masirah satellite news channel reported only that the crash had occurred.
However, the crash comes after soon Saudi Arabia intercepted and destroyed a ballistic missile near Riyadh's international airport after it was fired from Yemen, in an escalation of the kingdom's war against Huthi rebels.
The missile attack was the first aimed by the rebels at the heart of the Saudi capital, underscoring the growing threat posed by the raging conflict in Yemen.
The attack highlighted how the war in Yemen is increasingly spilling across the border since a Saudi-led coalition began its military intervention there in 2015.
Saudi Arabia led the intervention to prop up the government of President Abedrabbo Mansour Hadi after the Huthis forced him into exile.
Hoping for a quick victory against what it saw as Iranian expansionism in its backyard, Riyadh has so far been unable to remove the Huthis from Yemeni capital Sanaa.
Prince Mansour
Prince Mansour was the son of Prince Muqrin bin Abdulaziz, a former intelligence service director and a one-time crown prince of the kingdom.
Prince Muqrin was removed as crown prince in April 2015 by his half brother King Salman in favour of Prince Mohammed bin Nayef, a counterterrorism czar and interior minister.
But in June, King Salman also ousted Prince Mohammed in favour of installing his 32-year-old son, the now-Crown Prince Mohammed bin Salman, as first in line to the throne.
All of these moves have cemented the young crown prince's position in power.
Full report at:
https://www.dawn.com/news/1368623/saudi-prince-killed-in-helicopter-crash-near-yemen-border-state-tv
--------
Saudi Arabia 'imposed' Hariri's resignation: Hezbollah
November 06, 2017
BEIRUT: Hassan Nasrallah, the head of Hezbollah, said on Sunday the resignation of Saad Hariri had been "imposed" by Saudi Arabia.
"It is clear that the resignation was a Saudi decision that was imposed on Prime Minister Hariri. It was not his intention, not his wish and not his decision" to quit, Nasrallah said in a televised address.
Earlier, Hariri cited the "grip" of Hezbollah ally Iran on the country, and also said he feared for his life.
"We did not seek this resignation," said Nasrallah, whose powerful movement has participated in Hariri's government for almost a year.
He did not directly address the accusations levelled by what he called Hariri's "very hard" speech, saying only that these were "a matter for Saudi Arabia".
Nasrallah questioned the timing of Hariri's announcement at a time when "things are proceeding normally... in the heart of government" in Lebanon.
The Hezbollah leader also questioned why Hariri gave his resignation speech from Saudi Arabia.
Full report at:
https://www.dawn.com/news/1368692/saudi-arabia-imposed-hariris-resignation-hezbollah
--------
Arab Daily: US Admits Assad's Legitimacy by Sending Envoy to Damascus
Nov 05, 2017
"By this visit, the US has clearly admitted that Assad will remain in power until further notice," the Arabic-language al-Ray al-Youm wrote on Sunday.
Noting that the visit was made at the US demand and coordinated by the Lebanese sides close to both Damascus and Washington, it added, "The US and its allies have spent billions of dollars and used thousands of tons of modern weapons to overthrow the Damascus government militarily in the past 7 years and now one of their security officials makes a surprise visit to Syria."
According to the Arab daily, although the contents of the meeting and the message that the US official conveyed to the Syrian leader have been kept secret, certain reports said that Syria's National Security Chief Ali Mamlouk has protested at the American forces' deployment in Syria, calling it "occupation".
A senior regional official close to Damascus said that the trip was the highest level visit to Syria by a US official since the start of the war in 2011.
The Lebanese newspaper al-Akhbar first reported the visit on Friday, saying that the US official discussed security matters.
The regional official did not name the US official who met Ali Mamlouk. "It is an important step, but Damascus does not have confidence in the American position."
The US official traveled to Damascus via Lebanon.
Full report at:
http://en.farsnews.com/newstext.aspx?nn=13960814000859
--------
Video: Russia-Made Flamethrower Strikes Terrorists' Positions in Syria
Nov 05, 2017
Telegram channel 338, which deals with military-related issues, has published a video showing a stream of fire being unleashed onto terrorists from what it described as the Russian heavy flame-throwing system TOS-1A Solntsepyok (Scorching Sun) in Syria, Sputnik reported.
Earlier, a number of media outlets had reported about an unknown number of the Solntsepyok systems in Syria.
The TOS-1A is an upgraded version of the TOS-1 Buratino heavy flamethrower, a 220-mm 30-barrel or a 24-barrel multiple rocket launcher, mounted on a T-72 tank chassis.
Full report at:
http://en.farsnews.com/newstext.aspx?nn=13960814000798
--------
Syrian Army Deploys Close to ISIL-Held Albu Kamal
Nov 05, 2017
The army men and Hezbollah fighters engaged in fierce clashes with ISIL within the framework of Valfajr 3 operation in Southwestern Deir Ezzur and advanced against terrorists from their positions in Eastern direction of T2 Oil pumping station towards the border with Iraq.
The army soldiers and Hezbollah also scored a major advance towards the Iraqi border, liberating new areas in a bid to reach the border town of Albu Kamal and making another big push along the Deir Ezzur-Albu Kamal Highway.
According to a military source in Deir Ezzur, the army is now within a few dozen kilometers of the Iraqi border and Albu Kamal, marking the government's closest approach to the city since withdrawing in July 2012.
After the provincial capital was completely cleansed of the ISIL, the Syrian Army's high command shifted its attention to the terrorist stronghold of Albu Kamal near the Iraqi border.
Albu Kamal is not only an ISIL stronghold, it is also the last major city under the control of the terrorists.
Relevant reports said on Saturday that the army forwarded hundreds of fresh forces to Southwestern Deir Ezzur to join their comrades to launch the final phase of the liberation operation in the ISIL-held town of Albu Kamal amid the US-backed SDF's attempts to conquer the key town before the gov't forces' arrival.
Military sources said that a massive convoy of the Syrian army soldiers departed from the provincial capital of Deir Ezzur for the T2 Oil Pumping Station in the Southwestern part of the province.
Full report at:
http://en.farsnews.com/newstext.aspx?nn=13960814000384
--------
Iraqi Popular Forces Enter Syria to Prevent US-Backed SDF's Advances at Common Borders
Nov 05, 2017
The AMN quoted local sources as saying that the Hashd Al-Shaabi fighters have entered Syria to block the SDF from taking Albu Kamal in Deir Ezzur province.
The Iraqi Armed Forces liberated the border town of Al-Qa'em on Friday, ending the ISIL's long reign over this important crossing that links Iraq's Anbar province and Syria's Deir Ezzur province.
The Syrian Army troops are marching towards Albu Kamal from two different flanks, in the meantime, the SDF fighters are about to move towards the town before the government forces.
The Syrian army has dispatched a large number of forces to Deir Ezzur to join other army and popular forces to drive ISIL out of Albu Kamal after the government forces liberated the town of al-Mayadeen and other region in Southeastern Deir Ezzur.
Relevant reports said on Saturday that the army forwarded hundreds of fresh forces to Southwestern Deir Ezzur to join their comrades to launch the final phase of the liberation operation in the ISIL-held town of Albu Kamal amid the US-backed SDF's attempts to conquer the key town before the gov't forces' arrival.
Military sources said that a massive convoy of the Syrian army soldiers departed from the provincial capital of Deir Ezzur for the T2 Oil Pumping Station in the Southwestern part of the province.
Full report at:
http://en.farsnews.com/newstext.aspx?nn=13960814000640
--------
Arab Analyst: Riyadh Beating War Drums by Hariri's Resignation
Nov 05, 2017
"It doesn't seem that Hariri's resignation is due to his fear of life as he appeared in Beirut very normally and Hezbollah protected him and he was appointed as prime minister with Hezbollah's agreement," Atwan wrote on Sunday.
Noting that the resignation has been plotted within the framework of a Saudi-US plot to target Hezbollah which is a danger to Israel and Saudi Arabia for its media and political support for Ansarollah in Yemen, he said, "Information shows that Saudi Arabia, in coordination with US President Donald Trump, is after formation of an Arab coalition like what was formed against Yemen whose likely target is Hezbollah and it is not unlikely that Israel will be the backbone of this coalition."
Atwan added that reports from London also indicate that Saudi Arabia has contacted Jordan and invited it to join the coalition, stressing that the reports have not yet been confirmed.
In relevant remarks on Saturday, Senior Advisor to the Iranian foreign minister Hossein Sheikholeslam underlined that Trump and Saudi Crown Prince Mohammad Bin Salman have coaxed al-Hariri into declaring his resignation in a foreign country.
"Al-Hariri's resignation was done in coordination with Trump and Mohammed bin Salman to foment tension in Lebanon and the region," Sheikholeslam said.
Noting that the resignation was planned by the Americans to make up for their losses after the ISIL was defeated in the region, he said it was better for al-Hariri to respect the Lebanese nation and submit his resignation inside the country and not from a foreign state, Saudi Arabia.
Al-Hariri resigned during a trip to Saudi Arabia in a surprise move that plunged the country into uncertainty amid heightened regional tensions.
In a televised address from Riyadh, al-Hariri launched a vicious tirade against Iran and the Lebanese Hezbollah group for what he claimed was their meddling in Arab affairs.
Al-Hariri was appointed prime minister in late 2016 and headed a 30-member national unity cabinet.
Al-Hariri's resignation on Saturday was expected to sharply raise tensions in the country.
Full report at:
http://en.farsnews.com/newstext.aspx?nn=13960814000454
--------
Hezbollah chief Nasrallah: Hariri's resignation was a Saudi decision
6 November 2017
Hezbollah Security-General Hassan Nasrallah has attacked the Saudi Arabia claiming that the Lebanese prime minister's resignation was a Saudi decision and not his own.
Nasrallah continued saying that all Lebanese political forces were taken aback by Saad al-Hariri's resignation announcement, which he referred to as not having to do with any internal Lebanese matters.
The security-general also said that Hezbollah will face what is happening calmly.
Nasrallah reassured the Lebanese people that his militias do not intend to do anything that may destabilize Lebanese security.
For his part, a member of the Lebanese parliament for the Future bloc, Okab Sakr, said that the real reasons for the resignation will be announced when Hariri returns to Lebanon.
Full report at:
https://english.alarabiya.net/en/News/middle-east/2017/11/06/Hezbollah-s-Nasrallah-Hariri-s-resignation-was-a-Saudi-decision-.html
--------
Iraqi PM raises flag at border crossing taken from ISIS
5 November 2017
Iraqi Prime Minister Haider al-Abadi raised on Sunday the Iraqi flag at a border crossing with Syria days after Iraqi forces retook it from the ISIS group, state TV announced.
Al-Iraqiya TV said al-Abadi visited the newly-liberated town of Qaim and the nearby Husaybah border crossing in western Iraq. Both sit along what was once an important supply route used by ISIS when the group controlled large areas in Syria and Iraq.
Iraqi forces backed by the US-led coalition drove ISIS from Qaim and surrounding areas last week, in what coalition officials said marked the end of the conventional war against the extremist group in Iraq.
The militants are expected to rely more on insurgent-style attacks now that they no longer hold significant territory.
Suicide bombing in Kirkuk
Elsewhere, two suicide bombers on foot struck near a Shiite mosque in the northern oil-rich city of Kirkuk, killing a civilian and wounding 16 others, said Interior Minister spokesman Brig. Gen. Saad Maan.
No group immediately claimed responsibility for the attack, but it bore the hallmarks of ISIS which has previously claimed responsibility for such attacks.
Full report at:
https://english.alarabiya.net/en/News/middle-east/2017/11/05/Iraqi-PM-raises-flag-at-border-crossing-taken-from-ISIS.html
--------
Iran 'arming Houthis to attack Saudi Arabia, UAE'
6 November 2017
RIYADH: Iran is supplying Houthi militia with arms to attack Saudi Arabia and the UAE, Col. Turki Al-Maliki, spokesman for the Saudi-led coalition in Yemen, said on Sunday.
Al-Maliki also said the coalition would pay a financial reward for information about 40 Houthis wanted for terrorist crimes.
Coalition forces have enough evidence to prove the full complicity of the Tehran regime in the Yemen conflict, Al-Maliki said.
At a presentation in Riyadh, he displayed missiles, weapons and military equipment supplied by Iran and seized by coalition forces. He said ballistic missiles used by the Houthis were not from the Yemeni Army arsenal, and came from Iran.
Iran also supplied the Houthis with drones, he said. Dismantled missiles and other arms were smuggled through Al-Hodeidah port in Yemen and assembled inside the country. The Houthis also threatened maritime navigation by using booby-trapped boats, he said.
Al-Maliki said the coalition had stepped up operations after Saturday night's ballistic missile attack on Riyadh, but would not confirm air strikes on military targets in the capital, Sanaa, and elsewhere in Yemen after they attack.
Saudi defense forces intercepted and shot down the Houthi missile over King Khaled International Airport. Some debris landed in an uninhabited area but there were no casualties and the airport continued operating as normal.
Al-Maliki said the Houthis had launched the missile indiscriminately to target civilians in populated areas, which was a provocative act. Coalition forces would do whatever was possible to deter the threat from militants in Yemen, he said.
The Houthis have launched 78 missiles at Saudi Arabia, including one in July aimed at Makkah, since the coalition began fighting to restore the legitimate government in Yemen in March 2015.
The Houthis were the first outlawed terrorist group to have ballistic capabilities, which was a challenge to deal with, Al-Maliki said. "Terrorists and militant groups cannot possess such powers, especially ballistic and surface-to-surface missiles."
In addition, he said, the Houthis had planted about 50,000 land mines along the Saudi border, which were found and neutralized by coalition experts.
Full report at:
http://www.arabnews.com/node/1188936/saudi-arabia
--------
Africa
US ups Somalia military campaign, targets 'Daesh'
Nov 4, 2017
The US has carried out its first air strikes against purported Daesh positions in Somalia as Washington moves to step up its military campaign in the militancy-riddled state and the entire African continent.
The US military said on Friday that "several terrorists" were killed in two air strikes in Somalia's northern state of Puntland
The Pentagon's Africa Command (AFRICOM) said the first strike was carried out at midnight local time (2100 GMT, Thursday) and another one at 11 a.m. local time (0800 GMT, Friday).
"US forces will continue to use all authorized and appropriate measures to protect Americans and to disable terrorist threats," the statement said, adding that the drone attacks had been coordinated with the Somali government.
Daesh, which first showed face in Somalia in 2015, is engaged in rivalry with al-Qaeda-linked al-Shabab militants involved in a separate terror campaign in the country.
The latest US drone raids came after the White House granted the US military broader authority to carry out military strikes against what are said to be militant positions in Somalia.
The Pentagon's Joint Special Operations Command (JSOC) has been carrying out air strikes and ground raids in Somalia for a decade. It has been conducting clandestine operations against al-Qaeda in East Africa, and its local ally al- Shabab as part of its so-called 'war on terror,' which began in the aftermath of the September 11 attacks, according to investigative sources.
JSOC forces are regularly deployed on the ground for surveillance, reconnaissance, and assault and capture operations.
The US air attacks began in 2007 with helicopters and AC-130 gunships. In June 2011, American forces began using drones to carry out strikes in Somalia against purported militant positions, in a mission which has so far failed to uproot militancy in the country.
US drones are quite notorious across the world for inflicting casualties on civilians in areas they operate against suspected enemies. Such attacks in Somalia increased after Trump allowed expanded military operations against al-Shabab, including more aggressive airstrikes in Somalia. That has sparked an increase in counterattacks by al-Shabab on civilians and security forces.
US troops in Africa
There are currently over 6,000 US troops stationed in Africa.
The US has previously confirmed fatalities among its military on the continent, when four US service members were killed in Niger in early October, attacked by a Daesh-affiliated militant group.
In mid-October, nearly 360 people were killed and over 200 injured in twin bombings in the Somali capital, Mogadishu.
The attack reportedly came in retaliation for a joint raid by the government and US forces on a terrorist stronghold.
The attack was the deadliest extremists' terrorist attack in Somali history.
In late October, the chair of the US Joint Chiefs of Staff, General Joseph Dunford, claimed that Daesh group "has aspirations to establish a larger presence" in Africa after being pushed out of Syria and Iraq.
He said Pentagon planned to advise US President Donald Trump and Defense Secretary Jim Mattis on the increased "allocation of forces" in Africa, citing Daesh threats.
http://www.presstv.com/Detail/2017/11/04/540941/Africa-Somalia-Daesh-US-Drones
--------
Military official says united Libyan army a possibility
4 November 2017
Official spokesperson to the Libyan army, Colonel Ahmad al-Mismary, said that an agreement has been reached between Libyan parties at the Cairo talks and will be announced soon.
The talks included representatives from the national Libyan army led by Khalifa Haftar and national army representatives of the Government of National Accord.
Speaking to Asharq Al-Awsat, Mismary said that most points of despute have been resolved to a great degree.
Concerned parties have also come to a decision about the position of defense minister in the coming period, he added. It is expected that the Ministry of Defense and the General Command will be joined without cancelling the position entirely.
Meanwhile, one of the officers participating in the Cairo conferences, Colonel Salem Juha, said to Libya Channel that attendees have developed a complete organizational structure that includes levels of leadership and ensures power distribution.
Full report at:
https://english.alarabiya.net/en/News/north-africa/2017/11/04/United-Libyan-army-A-very-possible-agreement.html
--------
Alleged Benghazi attacker appears before US judge
4 November 2017
A Libyan accused of involvement in the 2012 attack on the US diplomatic complex in Benghazi that killed four Americans, including the US ambassador, appeared Friday before a federal judge in Washington.
Mustafa al-Imam, who authorities said is approximately 46 years old, had been days earlier captured in Libya by American commandos.
Dressed in an orange prison suit, he was officially informed via a translator of criminal charges that include killing a person during an attack on a federal facility using a firearm, providing material support to terrorists resulting in death, and use of a firearm in connection with a violent crime.
Potential life sentence
The first two counts could carry a potential life prison sentence.
No details on the circumstances of Imam's capture were provided.
According to the prosecution he was in a group of some 20 armed men who on September 11, 2012 entered the diplomatic complex in Benghazi before setting ablaze a building occupied by US ambassador Chris Stevens.
The ambassador and Sean Smith, a State Department technician, died of smoke inhalation.
The group later fired mortar rounds at a building used by the CIA, killing Glen Doherty and Tyrone Woods, two former members of the Navy SEALs working as contractors.
Assistant US Attorney Opher Shweiki ruled out the possibility of bail for Imam, citing a "serious risk of flight."
"He has no ties in the US; he poses a serious danger," Shweiki said. "There is no condition ensuring the defendant will appear in court."
After the approximately 30-minute long hearing concluded US Judge Deborah Robinson ordered Imam remain in custody pending another hearing Thursday.
Full report at:
https://english.alarabiya.net/en/News/north-africa/2017/11/04/Alleged-Benghazi-attacker-appears-before-US-judge-.html
--------
Libyan coast guard intercepts more asylum seekers
Nov 5, 2017
Libya's coast guard has intercepted a boat full of asylum seekers headed from Africa to Europe, amid heightened efforts to block refugees crossing the Mediterranean Sea.
The coast guard on Saturday turned back more than 150 refugees off the Libyan coast, between the towns of Al Khoms and Garabulli, east of Tripoli, who had been trying to reach Italy by boat.
The captain of the Libyan ship that returned the refugees to a Tripoli port, Colonel Abdelhamid Adengouz, said they had been saved from drowning in rough conditions. "The migrants were saved from death," he said.
Adengouz also said "an Italian ship" helped the Libyan coast guard in the mission.
The development comes amid a decline in the number of refugees taking perilous journeys across the Mediterranean. The decline has been largely attributed to the Libyan unity government authorities initiating a crackdown on human trafficking to Europe. The Libyan officials have ordered the country's coast guard units, which have received training and technical support from the European Union member states — Italy in particular — to step up their efforts to spot and intercept boats transporting refugees.
As a result of the new initiative, thousands of asylum seekers have been intercepted.
The refugees are then registered with international agencies before being taken to detention centers where some are offered the chance to return home while others remain in detention.
The Libya-Italy route became one of the major passageways for asylum seekers to Europe after the ouster and death of long-time dictator Muammar Gaddafi in 2011.
Full report at:
http://www.presstv.com/Detail/2017/11/05/541041/Libya-coast-guard-interception-refugee-boat-Mediterranean
--------
Turkey's Ethiopian alumni vow to bring countries closer
05 November 2017
Ethiopian alumni from Turkish universities who are now working in their home country vowed on Saturday to bridge gaps between the two countries.
Ahmed Mohammed, one such alumni who attended a meeting organized by Turkish Prime Ministry's Presidency for Turks Abroad and Related Communities (YTB) in the capital Addis Ababa, said that he supports Turkish humanitarian organizations which help out communities in distress.
The meeting brought together dozens of alumni, Turkish ambassador to Ethiopia and permanent representative to the African Union, and representatives of Turkish Cooperation and Coordination Agency (TIKA), Turkish Airlines, Maarif Foundation and Anadolu Agency.
"The event gave us an opportunity to discuss with the Turkish officials ways to tackle the challenges we face," Mohammed said.
Fatih Ulusoy, Turkish ambassador to Ethiopia, and permanent representative to the African Union, asked the alumni to play an active role in bringing people of both countries closer to each other.
Ulusoy said: "It is very important that Turkish graduates make it to the top of their careers in their respective countries."
Turkey has 150,000 foreign alumni across nearly 160 countries, said Ahmet Atabas, head of YTB's Corporate Relations and Communication Department.
"Turkey has become one of the largest scholarship-granting countries," he said, adding that around 500 Ethiopians are currently pursuing higher education in Turkey.
Atabas further highlighted that the number of international students in Turkey has increased by 75 percent in the last decade.
Full report at:
http://www.worldbulletin.net/africa/195630/turkeys-ethiopian-alumni-vow-to-bring-countries-closer
--------
Why is Sudan off the 'Muslim ban' while Chad is on it?
By Nisrin Elamin
4 Nov 2017
Earlier this year, the then White House Press Secretary, Sean Spicer, argued that the 109 airport detentions authorised under the first Muslim ban were a "minor inconvenience" to keep America safe. I was among those 109 people who were detained, questioned, handcuffed and body searched under the ban, and nothing about our experiences could be characterised as minor or inconvenient.
An Iraqi man who was detained with me at John F Kennedy airport in New York on the evening of January 27 had waited for two years to receive a visa that would reunite him with his wife and child. As his family waited on the other side of the airport border, I watched him grow increasingly anxious and distraught as he was denied a translator and told that he could be deported back to Iraq. A few hours later, a 76-year-old Sudanese man with health issues was detained in the same terminal and held for 30 hours without medical attention.
At Dulles Airport, some 400km away, a five-year-old boy with a US passport was detained and separated from his Iranian mother for several hours.
For every one of us who was detained at a US airport, many more were prevented from boarding their planes at terminals around the world. In total, more than 100,000 visas were revoked with the stroke of US President Donald Trump's pen, and with it, hundreds and thousands of lives were altered and disrupted. In many ways, the mainstream media's somewhat myopic focus on our detentions, particularly on the detentions of doctors and researchers like myself, masked this reality.
Thousands were separated from their family members, were forced to postpone weddings and important medical procedures, interrupted their studies and lost employment and life savings as a result of the first ban. Because the Muslim ban is also a refugee ban, thousands of refugees, who risked their lives to flee wars and political persecution, were denied safety and refuge after years of navigating a scrupulous, bureaucratic US visa process.
The irony, of course, is that the Trump administration intended to ban citizens of seven countries where US military interventions and policies have created some of the conditions that are forcing people to become refugees.
The curious case of Sudan and Chad
As the Trump administration attempted to implement the third version of the "Muslim ban" in mid-October, it intended to continue disrupting the lives of thousands with no regard for their safety, dignity or well-being.
But this latest iteration of the ban brings something else into focus as well, namely that this administration and its corporate partners intend to use citizens of the eight banned countries as bargaining chips to punish or blackmail their governments into playing by their rules.
The curious addition of Chad to the list of banned countries and Sudan's removal from it highlights this point quite clearly.
On September 24, the Trump administration announced it would be suspending all non-immigrant and immigrant visas for citizens of Chad, which took Chadian officials and analysts by surprise. In a statement, the White House claimed that Chad "does not adequately share public safety and terrorism related information" and that "several terrorist groups are active within Chad or in the surrounding region, including elements of Boko Haram…"
This past March, Chad hosted the annual US-led Flintlock military exercise in West Africa, aimed at expanding the US' military presence in Africa and at strengthening "joint counter-terrorism efforts against groups like Boko Haram". Given Chad's active role in leading counterterrorism efforts in partnership with the US and in facilitating the expansion of the US military in central Africa, one might ask, why was it added to the list of banned countries?
Regional experts have speculated that Chad fell into the bad graces of the US, and its Secretary of State Rex Tillerson in particular, after it attempted to demand a $74bn fine from the US oil company Exxon Mobil, for not meeting its tax obligations. Tillerson left his post as CEO of Exxon to join the Trump administration while the company was still embroiled in a prolonged dispute with Chad over a court ruling regarding its tax payments.
While Exxon later reached a settlement with Chadian officials to avoid paying the hefty tax fine, Tillerson's role in crafting the newest iteration of the ban was likely shaped by the three-year dispute over it. If anything, the dispute called Chad's loyalty as a US ally into question and paved the way for the US government and its corporate partners to begin looking elsewhere in the region for business partnerships around mineral and oil exploration and allies in its "war on terror", which brings us to Sudan.
While the Sudanese regime has very little lobbying power in Washington, it has diligently cultivated its relationship with US allies in the Middle East in order to attract foreign investment in its agriculture, mining and petroleum sectors, after the oil-rich South seceded.
Since 2015, the Sudanese regime has sent thousands of combat soldiers to Yemen, where the US government is supporting UAE and Saudi-led efforts against the Iranian-backed Houthis. In return for providing the kind of "boots on the ground engagement" that the Saudis and Emiratis are unwilling to risk themselves, the UAE's ambassador to the US, Yousef Al Otaiba has been "putting his substantial diplomatic weight behind the Sudanese government".
This past June, as the Trump administration was scheduled to make a decision about whether or not to lift its sanctions against Sudan, President Omar al-Bashir's regime increased the number of Sudanese combat soldiers in Yemen to 8000.
This move gave the UAE the push it needed to step up its lobbying efforts in Washington, which in turn led the Trump administration to postpone its decision on whether or not to extend sanctions against Sudan. In August, the Deputy Commander of the US Africa Command, General Alexander Laskaris, visited Khartoum as both countries worked on resuming military cooperation after Sudan severed its ties with North Korea.
In September, Sudan was quietly removed from the Muslim ban list, and on October 6, after 20 years of imposing sanctions on Sudan, the Trump administration lifted them. To be clear, the lifting of US sanctions comes as a relief to most Sudanese who have borne the brunt of its effects.
What I aim to draw attention to here, is the heavy price being paid for this shift in US policy towards Sudan. Sudanese soldiers are dying in an unjust war that has killed over 10,000 Yemeni civilians. The gradual thawing of the relationship between Sudan and the US is also lending legitimacy to the Bashir regime, which continues its genocidal assault on communities in Darfur and the Nuba Mountains.
This is to say nothing of the impact US corporate and military expansion is having on communities across the region. Chad's addition to the list of banned countries, for instance, highlights the way US corporate partnerships with foreign governments are shaping and driving US policies in troubling ways.
Full report at:
http://www.aljazeera.com/indepth/opinion/sudan-muslim-ban-chad-171031150602246.html
--------
Europe
Paris terror attacks, two years on: what we know
November 05, 2017
Two years after the terror attacks on Paris nightspots that left 130 people dead, seven people are in custody in France while key figures remain at large and may be dead.
Among the 10 militants who wreaked havoc on the French capital on November 13, 2015, was the only survivor is Salah Abdeslam, who is refusing to talk to investigators.
The probe into the Paris bloodbath, which was planned in Belgium, overlaps considerably with an investigation into attacks on the Brussels airport and metro four months later that claimed 32 lives.
Key witness silent
Abdeslam's capture in Belgium and transfer to France in April 2016 has not been the boon investigators had hoped for, since the 28-year-old petty criminal-turned-jihadist has refused to cooperate with the investigation.
Against all expectations however, he has said he wants to appear at a trial in Brussels to face charges of attempted murder of police officers during his arrest in the Belgian capital, but there too he may refuse to answer questions.
Most members of the jihadist cell responsible for both the Paris and the Brussels attacks have been killed or arrested.
Requests have gone out across Europe as well as to Turkey and north Africa in an effort to piece together the network that enabled the conspirators to infiltrate the flow of migrants into Europe in the summer of 2015 and plan attacks ordered by the Islamic State group in Syria and Iraq.
Fifteen suspects have been charged or are being sought with arrest warrants.
Belgium-France nexus
Six people besides Abdeslam are in custody in France including two men suspected of having been selected to take part in attacks: Adel Haddadi, an Algerian, and Muhammed Usman of Pakistan.
The two men, who travelled from Syria along with two of the jihadists who attacked the national stadium on the outskirts of Paris , were arrested in Austria a month after the carnage.
Three associates of Abdeslam accused of helping him flee to Belgium the day after the Paris attacks and a man accused of providing fake IDs to the jihadists are also being held in France.
Five suspects are in custody in Belgium who are also wanted for trial in France. One of them, Mohamed Abrini, dubbed "the man in the hat" from CCTV video at the Brussels airport, was transferred briefly to France in January to be charged.
Jawad Bendaoud, who lodged Paris attacks ringleader Abdelhamid Abbaoud, will be tried along with two other defendants in a regular criminal court instead of France's special terror court early next year.
A suspected logistician for the November 13 attacks, Mohamed Bakkali, was arrested in Belgium and is wanted in France.
He was charged on Tuesday in Brussels over an August 2015 attack on a Paris-bound Thalys train that left two passengers injured.
France is also seeking the extradition of another suspected logistician, Ahmed Dahmani, a Belgian of Moroccan origin who was arrested in Turkey just after the Paris attacks and thought to be headed to Syria.
Ringleader at large
A suspected kingpin of the network, Oussama Atar, has been identified from a photograph by one of the men arrested in Austria as the mastermind of the Paris attacks, operating from Raqa, the former Syrian "capital" of IS.
The 32-year-old Belgian and Moroccan national, who is at large, is a relative of the El Bakroui brothers who blew themselves up in the Brussels attacks and the brother of Yassine Atar, who is being held in Belgium and also wanted in France.
Conversations found on a computer revealed the "central role" that Atar played in planning attacks in Europe, according to Belgian investigators.
Also on the run is Ahmad Alkhad — thought to be an alias — suspected of making the bombs and suicide belts used in the Paris and Brussels attacks.
His DNA was found on a suicide vest worn by one of the assailants who blew themselves up outside the Paris stadium.
The fall of IS strongholds in Syria and Iraq has kindled investigators' hopes of ensnaring some of the ringleaders of the Paris and Brussels attacks, if they are still alive.
http://nation.com.pk/05-Nov-2017/paris-terror-attacks-two-years-on-what-we-know
--------
Turkey: Far-right, racist groups are Europe's Daesh
November 5, 2017
Turkey's European Union affairs minister on Saturday compared far-right groups and racists to terrorist groups, warning of the threat they pose to everyone in Europe.
"Far-right groups and racists are tantamount to Daesh," Omer Celik told news channel CNN Turk in an interview.
Celik said that if these groups grow stronger, it would be a "great threat to democratic, innocent people in Europe as well as to Muslims and Turks".
The rise of right-wing populists across Europe, many of them espousing anti-Muslim and anti-migrant rhetoric, has alarmed Turkey in recent years.
Asked about recent European developments from Brexit to separatism in Catalonia, Celik said Europe's prosperity and stability should be protected for Turkey's national interests.
Celik also criticised European demands that Turkey change its anti-terrorism law as part of its EU membership bid, saying they are trying to impose an outside agenda.
"Instead of coming up with a proper proposal to Turkey under the name of 'will to reform,' they only come with a proposal from their own agendas. This prevents a will to reform from developing," he said.
Full report at:
https://www.middleeastmonitor.com/20171105-turkey-far-right-racist-groups-are-europes-daesh/
--------
UK's celebration of Balfour Declaration that led to Israel is 'ultimate shame': Scholar
Nov 5, 2017
The UK government marked a "day of ultimate shame" by celebrating the 100-year anniversary of the Balfour Declaration, which led to Israel's creation, says a scholar in London.
Dr. Rodney Shakespeare made the remarks in an interview with Press TV on Saturday, two days after UK Prime Minister Theresa May commemorated the 1917 declaration by holding a series of events attended by Israeli Prime Minister Benjamin Netanyahu.
After throwing a banquet for the occasion on Thursday night, May said that her country was "proud of our pioneering role in the creation of the state of Israel" as well as the "relationship we have built with Israel."
The document, signed by then British Foreign Minister Arthur James Balfour, emboldened Israel to proclaim existence after capturing huge swathes of Arab land in a war in 1948.
In 1967, it proceeded to capture more Palestinian territory in another war and then started propping up scores of settlements across that occupied territory in a move to gradually annex it.
The declaration "essentially started the processes by which will come to occupy another person's land and eventually expel them and embark on a process of colonization," Shakespeare said.
Noting that the original declaration "did apparently take account of other people's religious right," Shakespeare said the document still ignored their political rights.
There is a consensus that Israel has been in violation of a key caveat of the declaration, which states that "nothing shall be done which may prejudice the civil and religious rights of existing non-Jewish communities."
Roderick Balfour, a great-great-nephew of Lord Arthur Balfour, has also echoed the same stance.
"Israel treats the world with contempt as it expands all the time and at the same time as it is expanding, it is hand in glove with the USA and Saudi Arabia to smash up any other state which dares to say a word against Israeli illegal expansion," Shakespeare argued.
"That is why the Israeli tried to smash up Syria and that is why they hate Iran," he continued.
Full report at:
http://www.presstv.com/Detail/2017/11/05/541133/UK-Balfour-Palestine-Israel-ultimate-shame-shakespeare
--------
British Muslims vow to fight high court judgement
Muna Habib
NOVEMBER 6, 2017
BIRMINGHAM: Around 100 parents, teachers and trustees of the UK's first state-funded Islamic school, Al-Hijra, gathered this week inside a small library in Birmingham to discuss a recent British high court ruling that declared their school's segregation policy "unlawful sex discrimination".
Al-Hijra trustee board member Yaseer Latif said: "We have a responsibility to our school and to our community."
"If the ruling remains unchallenged, it will establish a dangerous precedent for all faith-based schools."
Furthermore, he said the deadline for the appeal was November 10, 2017. "The legal process may take another several months during which there will be no immediate changes at the school," he said.
The surprise high court ruling overturned an earlier ruling involving Al-Hijrah School that had been criticised by the UK government's Office for Standards in Education, (Ofsted) school inspectors for failing to uphold British values. This time the Court of Appeal agreed with Ofsted.
Ofsted's chief inspector Amanda Spielman said: "Ofsted's job is to make sure that all schools properly prepare children for life in modern Britain. Educational institutions should never treat pupils less favorably because of their sex, or for any other reason."
On appeal, Ofsted argued that the school had breached the 2010 Equalities Act by strictly segregating pupils from the age of nine.
Al-Hijrah, a co-educational Islamic faith-based school in Beardsley Green, Birmingham, UK, teaches children ages five to sixteen. From age nine pupils are separated for all lessons, breaks and school excursions. There around 300 pupils, out of which 98% are Pakistani. The schools receive over 1,000 applications for 60 places, making it the most over-subscribed in the UK.
Al-Hijrah's legal tussle with Ofsted started in 2016 after Ofsted rated the school "inadequate" – the lowest possible rating, for its practice of segregation.
It remains unclear why Ofsted inspectors identified the issue of segregation after over a decade of repeated inspections at the Islamic faith-based school. The school had become state funded in 2001. Ofsted and the Department for Education were criticised by judges for failing to identify the issue earlier and having "de facto sanctioned and accepted a state of affairs which is unlawful".
Prof John Holmwood, author of 'Countering Extremism in British Schools? The Truth about the Birmingham Trojan Horse Affair', said that when the school first became state-funded in 2001, Britain was a tolerant country. "People recognised that the school and its methods of teaching were required in a predominantly Pakistani area. Many people were not aware of its anomaly and accepted Al-Hijra's policy without question. However, now, the white British secularists are concerned their secularism is being undermined by religiosity in ethnic minority populations," he said.
Prof Holmwood said: "Since 'Trojan Horse' issue, the attitude towards Muslims in the UK has changed significantly – and not just in education. It is seen all over the UK. The UK has become a far more intolerant society – moving away from multiculturalism. Ofsted is being leaned on by the government."
'Trojan Horse' were documents leaded to the British press that claimed to be about a conspiracy to 'Islamise' Birmingham schools.
The revelations ignited a national outcry. The British press reported a number of schools in predominantly Muslim areas had been teaching extremist views and promoting terrorism. Although the documents were later debunked, the damage had been done.
The story polarized Britain. Three years later the detrimental impact remains in the relationship between Muslim citizens and Britain.
The ruling will only apply to co-educational schools. Single sex schools are given a specific exemption from discrimination claims related to admission under the Equalities Act.
Many of those in attendance at Al-Hijrah's meeting expressed feeling "victimized" by Ofsted and Department for Education (DFE), Lateef echoed the view that Ofsted and the Department for Education were working against Al-Hijrah. "I don't have evidence to prove this," he said.
The high court judgement also condemned some books found by Ofsted inspectors in the library, despite a previous inspection and ruling that the books should be removed.
The judges opined, the books were "derogatory towards women," nonetheless "clearly some members of staff were in agreement with the teachings of the book – hence why they remained."
Haroon Rashid, a parent at the meeting said that the Fiqh books should have been placed away, out of sight from the inspectors.
This, he believed, was incompetence on behalf of the teachers. Additionally, "inspectors did not understand the context in which the rules were allowed in Islam."
Parent Muhammed Ameen said that this was not just an attack on the school, it was an attack in our way of life. "Segregation is in our homes, mosques, communities it is all around us. This attack goes all the way to out communities, on our way of life."
Prof Holmwood said: "The problem is British people want Muslims to adapt their values. They don't understand that Muslims can still do this whilst practising their own faith."
Rabia Uddin, a parent of a 12-year-old girl at the school, described her concerns. "I worry now that with all this negative attention, the school may be attacked. Muslims are already being attacked in the UK," she said.
Parent Muhammed Amin said that the same thing was happening in France, Germany. "It is secularisation, Christianity, a dilution of our values, ripping away our ethos. They are attacking our faith."
Full report at:
https://dailytimes.com.pk/135117/british-muslims-vow-fight-high-court-judgement/
--------
Russia: Authorities in Muslim-Majority Chechnya Investigating Torture of Gay Man
5 Nov 2017
Investigators in the Muslim-majority Russian province of Chechnya are reportedly investigating one of the many incidents allegedly involving the torture of gay men held in government-run "concentration camps" in the autonomous region.
Authorities are looking into the alleged atrocities against Maxim Lapunov, the only Russian man to publicly accuse local police of arresting and torturing him in the autonomous Chechnya Republic early last year, reports the Moscow Times, citing the Interfax news agency.
"I believe there are grounds to open a criminal case and provide state protection to Maxim Lapunov," declared Tatyana Moskalkova, Russia's human rights ombudswoman, who has vowed to ensure that law enforcement properly investigates the victim's allegations, reports the state-run TASS news agency.
"Moskalkova told reporters on Wednesday that she personally inspected investigative materials in the North Caucasus police department because of what she described as foot-dragging by local authorities," notes the Moscow Times.
The investigation comes after the administration of Chechnya Republic President Ramzan Kadyrov, a key ally of Russian strongman Vladimir Putin, denied accusations that he has ordered a crackdown on homosexuals, claiming that gays "just don't exist in the republic."
Early this year, Russian newspaper Novaya Gazeta reported that the Chechen government rounded up over 100 men suspected of being gay and placed them in so-called "concentration camps" where they are tortured, forced to promise to leave the Russian province, and even killed.
In May, France24 learned from one of the alleged victims who survived the government operated concentration camps that authorities went as far as threatening parents of gay children—"Either you kill them, or we will."
Besides Lapunov, the homosexuals who have shared their ordeal with news outlets have chosen to remain anonymous.
"Dozens of gay men are believed to have fled the Muslim-majority region in the Russian North Caucasus amid reports of a government-led crackdown," reports the Moscow Times. "Both Chechen leader Ramzan Kadyrov and the Kremlin deny claims of any systematic suppression of gay men."
Various sources, including officials from the autonomous region's government and the top law enforcement agency known as the Federal Security Service (FSB), have reportedly confirmed the "mass detentions" of gay men.
Moskalkova recently told reporters that Chechen investigators recently reversed their decision to ignore Lapunov's allegations of atrocities against the region's homosexuals.
"Questions were raised about finding the witnesses that Lapunov is pointing to, and who I believe haven't yet been found because of the investigators' insufficient activity," revealed the human rights activists.
Echoing the Islamic rules implemented in various Muslim-majority countries, coming out as a homosexual is "tantamount to a death sentence" in Chechnya, reported Novaya Gazeta.
Chechen President Kadyrov is employing Islamic rules in the region, noted Daily Mail.
Full report at:
http://www.breitbart.com/national-security/2017/11/05/russia-authorities-muslim-majority-chechnya-investigating-torture-gay-man/
--------
Ex-ISIL fighters returning to UK 'a serious danger'
By Barnaby Phillips
17 hours ago
The Islamic State of Iraq and the Levant (ISIL, also known as ISIS) group is on the retreat in Syria and Iraq, where their two main bases were located. But what will happen to the thousands of foreigners, including some from the United Kingdom, who have travelled to fight or support its cause? The group has boasted of its involvement in attacks on British soil, as well as other European countries. So how should those who do return to the UK be treated?
Full report at:
http://www.aljazeera.com/news/2017/11/ex-isil-fighters-returning-uk-a-danger-171105165641783.html
--------
North America
U.S. Muslim leader warns Canadian MPs not to use the term 'Islamophobia'
November 4, 2017
By Tarek Fatah
Dr. Zuhdi Jasser is a former U.S. Navy Lt. Cmdr., and since 9/11, one of the few obstacles in the path of the international Islamism in North America that is led by admirers of the radical Muslim Brotherhood of the Arab World and the Jamaat-e-Islami in the Indian subcontinent.
On Monday, Dr. Jasser, who heads the American Islamic Forum for Democracy (AIFD), appeared before the Heritage Committee of the House of Commons to share his views on the supposed anti-Islamophobia Motion 103 tabled by Liberal MP Iqra Khalid.
Jasser told the Canadian MPs, "I am here to tell you that by simply even using that term and referring to it as 'Islamophobia' and getting the government into the business of monitoring any form of speech will end up paradoxically heightening societal divisions.
"Trying to suppress what can be painful speech about Islam at society's fringes will actually paradoxically feed an unintended consequence of fomenting non-Muslim fears of Islam," he added.
He warned that non-Muslim Canadians and Americans "who cannot have their real fears heard and their speech exercised will be stifled from the public sector and push resentment underground where it will only foment."
Jasser requested Canadian politicians and opinion leaders "stop engaging [with] Muslim Brotherhood legacy groups in government and media and recognize their misogynist, anti-Semitic, homophobic, and anti-American ideological underpinnings."
The AIFD chair pressed on Canadian MPs to make sure they understood that the advice they received "from ideological Islamists is compromised by their fealty to [Islamic] clerics, and the tribal construct of Islamic states from Muslim majority nations." He could have added that leaders of some Islamic sects, who live outside Canada, yet determine what their followers do or say, even in legislatures.
Most presenters at the hearings get a chance to answer questions from MPs on both sides of the house. But as I experienced myself, along with other Muslim opponents of M103, such as columnist Farzana Hassan and activist Raheel Raza, the Liberals and the NDP use this time to attack us or simply refuse to engage with us.
Jasser's presentation was no exception. Despite taking time out of his schedule and speaking from Phoenix, Arizona, he ended up being scolded and mocked by Liberal MP Arif Virani who used his designated seven minutes berating the American guest and running out the clock, leaving little time for Jasser to respond.
Committee chair Hedy Fry and Liberal MP Arif Virani seem to have a well-coordinated plan on how to humiliate Muslims who do not fit their stereotype of who we are.
What happened when I testified was Fry allowed Virani to stage an attack on me right at the end and then when it came time for me to respond, Fry said, "Sorry, time is up."
This time David Anderson, a Conservative MP from from Saskatchewan, would not have it any more. He approached Fry: "I am bit concerned and I don't know if Mr Virani is deliberately doing this, but it amounts to bullying witnesses by using his time to lecture them when they have come here at their time and effort."
Fry relented and gave Jasser one minute to respond, before cutting him off mid-sentence. Monday also saw Balpreet Singh, representative of the World Sikh Organisation (WSO) claim that "opposition to M103 was based on anti-Muslim animus, not on logical and principled position"
Thank you, Mr. Singh, for basically assisting in the dirty work of Mullahs who have already designated Farzana Hassan, Ensaf Haider, Raif Badawi, Raheel Raza and, of course, Dr. Zuhdi Jasser and myself as apostates to Islam deserving of death.
http://www.newdelhitimes.com/u-s-muslim-leader-warns-canadian-mps-not-to-use-the-term-islamophobia/
--------
Trump offers blanket support to Saudi rulers
Nov 6, 2017
WASHINGTON: US Pre­sident Donald Trump sent a strong message of support to the Saudi king and his heir on Sunday after the arrest of 11 princes on corruption charges.
The White House said President Trump conveyed this message in a telephone call to King Salman bin Abdulaziz.
A readout of the call, released by the White House, includes assurances of continued US support to the king and his policies, offers more "appropriate military equipment" when needed and backs his efforts to promote "moderation and tolerance".
The readout did not directly mention the purge — "I'm not even going … to give you a useful answer", said a White House official when asked to comment on the development. But the need for offering a blanket support to King Salman and his policies makes sense only when seen in the backdrop of the latest developments.
Full report at:
https://www.dawn.com/news/1368690/trump-offers-blanket-support-to-saudi-rulers
--------
US misled UK over Iraq invasion: Gordon Brown
Nov 5, 2017
The United States misled Britain into thinking that Iraq had weapons of mass destruction before invading the country in 2003, former UK prime minister Gordon Brown has revealed.
Brown made the explosive allegation in his new book "My Life, Our Times," published this week, where he states that Washington deliberately withheld a secret US intelligence report into Iraq's military capabilities from London knowing that its findings could have changed the course of events.
"It is astonishing that none of us in the British government ever saw this American report," Brown writes.
The former premier claims that as Chancellor of the Exchequer, he had greater access to secrets than the rest of the cabinet ministers, but he was reassured by the UK intelligence agency MI6 that evidence about former Iraqi dictator Saddam Hussein's WMDs was well-founded.
However, having reviewed the evidence since leaving office, he writes that he now believes "we were all misled on the existence of WMDs".
"It is astonishing that none of us in the British government ever saw this American report," Brown writes.
"It is now clear how forcibly this report challenged the official view: 'We've struggled to estimate the unknown … We range from 0 percent to about 75 percent knowledge on various aspects of their [Iraq's WMD] program."
He says Washington had clearly based all of its claims about Iraq's nuclear weapons on "assessments" that relied on "analytic assumptions and judgment rather than hard evidence."
It was the same story with chemical agents and Iraqi missiles that could allegedly reach Britain but were never found.
"This highly confidential US evidence was a refutation not only of the claim that Iraq was producing WMDs but also of their current capability to do so," the former PM continued.
Admitting that Saddam's failure to comply with United Nations resolutions was reason enough for international action against him, Brown still wonders if the invasion and occupation of Iraq was justified.
"Given that Iraq had no usable chemical, biological or nuclear weapons that it could deploy and was not about to attack the coalition, then two tests of a just war were not met: war could not be justified as a last resort and invasion cannot now be seen as a proportionate response," he writes.
Brown adds that the US report was never taken into account by the so-called Chilcot inquiry into Britain's role in the 2003 US-led invasion of Iraq.
Full report at:
http://www.presstv.com/Detail/2017/11/05/541117/UK-Gordon-Brown-Tony-Blair-Iraq-war-US-MI6
--------
US soldier killed during operation in eastern Afghanistan
Nov 5, 2017
An American soldier has been killed after being wounded in an operation in Afghanistan, the coalition forces announce in a statement.
The soldier died during a military operation in restive Logar province, 60 km south of Afghan capital of Kabul on Saturday afternoon, according to the statement.
"On behalf of US Forces-Afghanistan, we offer our deepest condolences to the family of our fallen brother," said General John Nicholson, commander of US Forces-Afghanistan.
"Despite this tragic event, we remain steadfast in our commitment to the Afghan people and to support them in our mutual fight against terrorism," he added.
The military did not release any information about the slain soldier's identity or any other details on the circumstances of his death.
He was the second US service member to have died in Logar province in recent weeks. Jacob M. Sims, a 36-year-old chief warrant officer from Juneau, Alaska, died in a helicopter crash on Oct. 27.
In August, President Donald Trump vowed to take a harsher stance in the so-called war on terror in the war-torn country.
He approved a Pentagon plan to deploy some 3,800 additional US forces to Afghanistan, where more than 11,000 are already serving.
The United States -- under Republican George W. Bush's presidency -- and its allies invaded Afghanistan on October 7, 2001. The offensive removed the Taliban regime from power, but after 16 years, the foreign troops are still deployed to the country.
Full report at:
http://www.presstv.com/Detail/2017/11/05/541077/US-Afghanistan-soldier
--------
Gold Star father Khizr Khan addresses Islamophobia in America
November 6, 2017
Gold Star father Khizr Khan spoke at the on-campus panel "Speaking Truth to Power," where panelists discussed discrimination and Islamophobia in America in Wilson Hall Friday, Nov. 3.
Khan is most well-known for his speech at the 2016 Democratic National Convention, during which he criticized then-Republican presidential nominee Donald Trump and challenged him to read the Constitution. Khan's son, United States Army Captain Humayan Khan, was killed in 2004 during the Iraq War, making his immediate relatives a Gold Star family.
During the panel, Khan spoke on various issues related to Islamophobia, including the travel ban on people from Muslim-majority countries, as well as recent rallies by neo-Nazis and white supremacists. He specifically addressed the recent events of Charlottesville, Va., where white supremacists protested the removal of a statue of Robert E. Lee.
"[Islamophobia] is not the American value," Khan said. "Freedom of speech is our constitutional value, a fundamental value, but it does not come bundled with harassing communities."
Khan spoke about his experience traveling the nation and working with different communities and organizations, while emphasizing the importance of uniting various communities against hate.
"This is a perilous time in our nation's history; we must continue to speak, we must come together, lend voice to each other," he said. "I passionately support any vulnerable community in this nation. I stand with them; I lend them my voice. The reason is that sometimes there comes a time in every person's life where we have two choices: one is to sit home and let it be, the second choice is to set your sail, face the challenge, stand up, speak."
Although Khan addressed many of the issues related to Islamophobia in America, he also expressed a tremendous amount of faith in the American legal system.
"America is very much hopeful; [I have] a strong belief that we will endure this moment, anomaly, in our system, and…the good values of this country will prevail." Khan said.
The event was sponsored by the Muslim Student Association at Washington University (MSA WUSTL) as well as the Missouri Chapter of the Council on American-Islamic Relations. Vice President of MSA WUSTL and junior Amal Haque, felt that the event made her more hopeful about the future of Muslim-Americans.
"I think one of the most important things that he brought up was that young Muslims have probably never felt more empowered to speak up before now, and I think that that's so true," Haque said. "I think there's a lot of hope in that. So, I'm pretty optimistic, and I think that he made me a little more optimistic than I was at the beginning of the panel."
Khan was joined by other panelists: Professor El Hadji Samba Amadou Diallo, who teaches African and Islamic studies on campus, junior Clayton Covington and sophomore Hanna Khalil.
According to Haque, the panel sought to include a variety of perspectives, including both students and professors on the panel with Khan.
Full report at:
http://www.studlife.com/news/2017/11/06/gold-star-father-khizr-khan-addresses-islamophobia-in-america/
--------
URL: https://www.newageislam.com/islamic-world-news/china-isis-threats-get-india/d/113132
New Age Islam, Islam Online, Islamic Website, African Muslim News, Arab World News, South Asia News, Indian Muslim News, World Muslim News, Women in Islam, Islamic Feminism, Arab Women, Women In Arab, Islamophobia in America, Muslim Women in West, Islam Women and Feminism