New Age Islam News Bureau
17 Nov 2014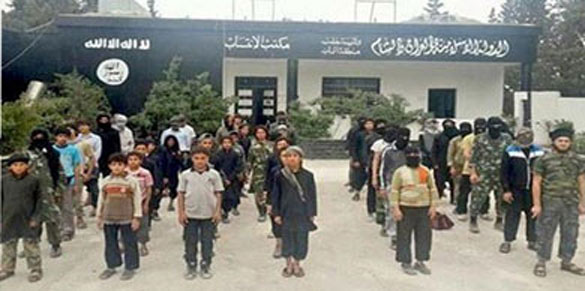 Former 15-Y-O ISIL Fighter Details Dangerous Training Process of Child Soldiers
-------------
Arab World
• Child Soldiers Fight against Islamic State in Syria
• Former 15-Y-O ISIL Fighter Details Dangerous Training Process of Child Soldiers
• Iraqi Choppers Kill Dozens of ISIL Terrorists in Tikrit
• Arabs Strongly Reject 'Jewish State' Bill, But Some Druse Show Support
• Baghdad Car Bombs Kill At Least 12
• Syrian Army Strikes Major Blow at Militants in Idlib, Aleppo
• Iraq and U.S. Find Some Potential Sunni Allies Have Already Been Lost
• Ignorant jihadis 'have bought into fantasy fuelled by social media'
• Egyptian-led Islamist group rejects UAE terrorism designation
• Islamic State militants reach 'at least' 200,000: Report
• Saudi man divorces wife for ignoring his Whatsapp messages
South Asia
• Islamic Militants Hack University Professor to Death in Bangladesh
• As fears rise in Myanmar, Rohingya Muslims exodus grows
• Heavy clashes reported in western Farah province
• Drone strike kills top Taliban commander in Nangarhar
• Cyber jihadis claim second murder
• PM Sheikh Hasina: Bangladesh is leading democratic world
Mideast
• Turkish Football Club Declares War on Beards
• Netanyahu supports Obama in ISIS fight, but cautions on Iran
• Supreme Leader: Bullying Powers Using Every Means to Promote Islamophobia
• Israeli premier promotes Jewish nation-state bill
Pakistan
• Taliban Group Threatens To Attack Chinese Interests
• Hundreds of Terrorists Eliminated In Zarb-E-Azb Operation
• Ties need not be hostage to Kashmir, says Pak. Envoy to India
• Draft law being prepared to subvert cyber-crimes: Finance Minister
• Fight for girls' education requires reformed curricula: Malala's father
• 'PTI aims at helping masses to get rid of slavery of status quo'
• I will rid Sindhis of oppression: Imran Khan
• Nawaz, Zardari eating away country like termite: Awami Muslim League
Europe
• London's 'Hotel Sharia' Says It WILL Accept Gay Guests
• Swedish King Honoured Palestine National Day
• French citizen 'very likely' on ISIS beheading video, minister says
• Swedish Muslim Group Rejects 'Terror' Label
• Officials question inclusion of Finnish Tatar Muslims on terror watch-list
• EU 'committed' to tackling IS after Kassig beheading
• UK Parliament evacuated after bomb scare
Africa
• Nigeria: Defeating Boko Haram Is a Global Imperative
• Kenya: One Person Killed As Police Raid Mombasa Mosques
• Somalia's al Shabaab launch attack on presidential compound
• Fierce clashes around Tripoli airport kill four
• Nigerian army 'retakes' town seized by Boko Haram
North America
• Obama calls ISIL beheadings 'pure evil'
• Hagel says US military accelerating mission to train Iraqi troops
• Parents of slain US aid worker 'heartbroken'
India
• Mamata, Mulayam Failed To Empower Muslims: Asaduddin Owaisi
• Secularism a compelling necessity for country: Sonia Gandhi
Southeast Asia
• Mother a Hindu and Daughter a Muslim: Different Faiths Living Happily Under the Same Roof
• Teaching Jawi to non-Muslim students needs PTA consent
• Not easy to identify potential ISIS member, says Jamil Khir
Compiled by New Age Islam News Bureau
URL: https://www.newageislam.com/islamic-world-news/new-age-islam-news-bureau/child-soldiers-fight-against-islamic-state-in-syria/d/100054
----------
Arab World
Child Soldiers Fight against Islamic State in Syria
Nov 17 2014
QAMISHLI, Syria — A Kurdish boy who looks no older than 11 mans the entrance of a military base in north-eastern Syria.
His pants drag on the ground and his shirt hangs off his bony shoulders as he stands in an ill-fitting military uniform next to a Kalashnikov automatic rifle. Like many of the child soldiers in local Kurdish forces, he refuses to give his name or provide his age for fear of retribution.
The State Department says it has raised concerns about the use of child soldiers, even as the U.S. aids these Kurdish fighters battling against Islamic State militants in Syria through airdrops of weapons and supplies provided by Iraqi authorities.
Local authorities pledged this summer to remove all 149 child soldiers from the ranks of the main armed Kurdish force, the People's Protection Units (YPG), but the group's spokesman, Redur Khalil, admits some remain among its 50,000 troops in the region.
"It is not completely strange that cases of child soldiers still exist," he said, adding it's hard to know how many are left.
The besieged Syrian city of Kobani is a special case because "it is under attack, so we haven't had a chance to check who is fighting underage there," Khalil said.
Back at the Kurdish base in the Tel Hamis region, a 15-year-old fighter insists the boy manning the checkpoint is the same age as him. That's not saying much since the teen is still under the legal age for a soldier — 18 — and international law prohibits using children in direct hostilities, including checkpoints.
With older soldiers watching, the teen, who volunteered his age, refuses to provide his name, obviously fearful. No cameras are allowed on the base or any other locations where child soldiers are seen.
At a residential apartment on the outskirts of Derike in north-eastern Syria, dozens of fighters are recovering from their battlefield injuries. Among them is Naso, who received two gunshot wounds after clashing with the Islamic State at the Rabia border-crossing between Iraq and Syria.
Naso — who, like the other boys, won't give his full name — said he joined the Kurdish forces two months ago after his two brothers were killed in combat.
He also says he's 16 years old.
An older soldier then whispers in his ear.
"Oh, sorry, I got confused. Actually I am 19," Naso all-too-quickly corrects.
Many of the children-turned-soldiers were politically motivated and indoctrinated from an early age by their families' support for the Kurdish fighters, said Mehmet Balci, program director for the Middle East at Geneva Call, a Switzerland-based organization that protects children in armed conflict.
Of the 149 removed from the Kurdish forces in the summer, some returned home, Balci said. "But it is thought that some others would have run away .... most probably to join again the YPG," he added.
To combat the ongoing issue, the region's self-declared autonomous government set up six training camps to remove children from the fighters' ranks and provide an outlet for those who want to join but are too young.
Even the camps, designed for older teens ages 16 to 18 to teach Kurdish language, politics, women's rights and self-defence, have problems. Galia Naamet, who is responsible for child soldiers in one of Syria's three Kurdish enclaves, said children as young as 13 are allowed to join.
"It is important to understand that everyone has been influenced by the YPG, so it has been hard to close the door to a certain group of society — that is, those under 18," she said.
There are good signs: Some children were removed from fighting in Kobani to the camps to ensure their safety, Naamet said. They'll be given new clothes — traditional navy pants and a purple shirt — that will distinguish them from the legal-age fighting force.
When the children were removed from fighting, "we had a strong reaction," she said. "It has been hard to make children understand why. They saw themselves as soldiers, as grown adults."
http://www.usatoday.com/story/news/world/2014/11/16/kurds-child-soldiers/18706053/
----------
Former 15-Y-O ISIL Fighter Details Dangerous Training Process of Child Soldiers
Nov 17, 2014
Recent testimony from a former teenage ISIL fighter is providing further insight into the unusual training process that the terrorist group is using to prepare hundreds of children to join the group's military and police ranks. The youth's account also shows how children are being cruelly utilized once they complete the training.
As ISIL has posted much to its social media accounts bragging how it is training the "cubs of the Islamic State!," a 15-year-old former jihadi(as they called), speaking under the pseudonym of "Yasir," told CNN earlier this week that ISIL' training of child fighters requires one month of separation from loved ones, and also includes intense religious! indoctrination and deadly military exercises.
Additionally, Yasir's testimony highlights how ISIL is putting child fighters at direct risk of harm once they pass training and join the ranks by forcing them to stand guard while wearing suicide vests.
Yasir originally got involved in the conflict when he and his father joined the ISIL-affiliated al-Nursa Front. Once ISIL took control of the Syrian city of Deir Ezzor, Yasir said he and his father swore allegiance to the ISIL.
Upon pledging his allegiance to ISIL, Yasir was isolated from his father and taken to a training camp where he could be given a full month of proper training and where he was not even allowed to see or speak to any friend or family member.
"I spent a month without seeing my family or anyone that I knew," Yasir said. "It was forbidden to see or speak to anyone."
Yasir said that he was joined in the training by about 100 other kids and they would undergo intense schooling designed to ingrain ISIL' radical and violent brand in their young, naive minds.
http://en.alalam.ir/news/1649302#sthash.REs8ewy4.dpuf
-----------
Iraqi Choppers Kill Dozens of ISIL Terrorists in Tikrit
Nov 17, 2014
Iraqi helicopters fired several rockets at the hideouts of the ISIL Takfiri group in Salahuddin province, leaving dozens of terrorists dead.
Iraq's airborne forces bombarded the positions of the Takfiri group in Albo-Jawari area, Southern Tikrit, and claimed the lives of at least 30 Takfiri terrorists.
The crisis in Iraq escalated after the ISIL militants took control of Mosul in a lightning advance on June 10, which was followed by the fall of Tikrit, located 140 kilometres (87 miles) northwest of the capital, Baghdad.
Soldiers of the Iraqi army and Peshmerga have been engaged in heavy fighting with the militants on different fronts and have so far been able to push them back in several areas.
http://english.farsnews.com/newstext.aspx?nn=13930826000328
----------
Arabs strongly reject 'Jewish state' bill, but some Druse show support
Nov 17, 2014
Arab Israelis oppose a Knesset bill that would anchor in law Israel's status as a Jewish state and that Arabic is not an official language, seeing it as an anti-Arab move that violates democratic values.
Arabs oppose the legislation because it "is exclusive – reiterating the status of Israel as a state for its Jewish citizens," Amal Jamal, head of the International MA Program in Political Science and Political Communication at Tel Aviv University, told The Jerusalem Post in an interview on Sunday.
Jamal, who is also the head of the NGO I'lam – Media Center for Arab Palestinians in Israel, argues that the proposal raises a democratic issue – "the question of who is the sovereign of the state – all Jewish people, or the citizens that live here, which includes non-Jews."
The bill would remove the sovereignty from the citizens, and shift it to all Jews, many of whom are not citizens of Israel, he said.
It "empties citizenship of meaning because it becomes exclusive" to one ethnic group, added Jamal.
Such a law would give the majority a privilege that is not "part of the democratic game," he said.
By formulating the legislation this way, "you are actually constitutionalizing a rule," which then removes it from public debate, he said.
If Israel wants to be like a Western democracy, it should not pass such a law binding an ethnic group to the state, Jamal said.
Atta Farhat, the head of the Druse Zionist Council for Israel, told the Post that since this summer's Gaza war, Muslims have been inciting against the Druse all over the country because they support the state and serve in the army.
"This is the Jewish state – how it was 3,000 years ago, and it will continue to be that way," Farhat said.
The only thing we have in common with the Arabs is language, he said. "We are not Palestinians and do not have religious or cultural connections with them, but are full Israeli citizens."
This bill comes too late, "it should have been made in 1948," when the state was established Farhat said.
"I want the state to be a Jewish state and not one of 'all its citizens,'" since "Jews respect others and their way of life," he said.
"We see what is happening in Iraq, Egypt, and other Arab countries.
We don't want to live under a government of darkness, but where we have freedom," he said.
Sawsan Zaher, a lawyer and director of the social and economic rights unit at Adalah – The Legal Center for Arab Minority Rights in Israel, told the Post the main problem with the proposal is that by giving Jews primacy in the state, it ends up being "just another step" in "ruining the status of Palestinian Arabs in Israel – making them inferior."
In fact, argued Zaher, the legal system already "anchors the Jewish nature of the state."
For example, the Law of Return allows for the free immigration of Jews, but does not permit Arabs to reunite with their families who live in the West Bank, the Gaza Strip or elsewhere, she said.
Equality for all citizens means that you do not give the priority to Jews, she said.
The timing of this proposal soon after the Gaza war this past summer and the recent protests in the Arab sector, "is telling Arabs that they are inferior and will never be equal citizens in their own country," Zaher said.
Regarding the effort to legislate that Arabic is not an official language and to give it a different special status, Zaher said it is already not treated as an official language.
In an interview with the Post last year, Dr. Aviad Bakshi, an academic and the director of legal affairs at the Kohelet Policy Forum, argued that Arabic is not an official language in practice, and that subsequent laws had negated the language's legal standing, which comes from law established during the British Mandate era.
Asked how Adalah would react if the proposal becomes law, Zaher said it would have to discuss the issue before talking about petitioning the the High Court of Justice.
Jafar Farah, the director of the Mossawa Center – The Advocacy Center for Arab Citizens in Israel, told the Post in an interview on Sunday that Israel still "does not know who a Jew is, so they should first decide on that before looking to make Arabs the enemy and hurt their rights."
I hope that those who are behind this bill "remember that there are still Jews living as a minority in other countries," he said.
Whether this proposal will pass or not is not the issue, said Farah, it is that our citizenship is constantly being tested.
"We are sick of this, it is not political, it is racist," Farah said.
This is just an effort by those behind the law "to complicate the situation of our community, this is their agenda, instead of dealing with helping," such as dealing with unemployment or economic issues.
http://www.jpost.com/Israel-News/Politics-And-Diplomacy/Arabs-strongly-reject-Jewish-State-bill-but-some-Druse-show-support-381968
----------
Baghdad car bombs kill at least 12
17 November 2014
Two car bombs exploded in the Iraqi capital on Monday, killing at least 12 people and wounding at least 29, security and medical officials said.
One exploded on a main commercial street in the Mashtal area of east Baghdad, while the other hit a similar road in Amriyah in the capital's west.
There was no immediate claim for the attacks but the Islamic State of Iraq and Syria (ISIS) militant group has claimed multiple car bombs in Baghdad in recent weeks.
The city is hit by near-daily bombings and shootings that kill hundreds of people each month.
And security forces, despite being deployed at checkpoints and other positions across the city, are consistently unable to prevent the attacks.
The violence comes as Iraqi security forces and pro-government fighters battle to push back ISIS, which has seized significant territory since June.
They are now backed by U.S.-led air strikes targeting ISIS in both Iraq and neighboring Syria, while Washington and other governments have also pledged training personnel to aid Iraqi forces.
http://english.alarabiya.net/en/News/middle-east/2014/11/17/Baghdad-car-bombs-kill-at-least-12-.html
----------
Syrian Army Strikes Major Blow at Militants in Idlib, Aleppo
Nov 17, 2014
Foreign-backed militants sustained heavy toll in nearby areas of Idlib and Aleppo provinces, as the Syrian Army made gains in its fight against the armed groups.
The army soldiers carried out a series of separate operations in the areas of Maaret al-Numan, Abu al-Duhour, Oum Jireen, Qara'a al-Ghazal, Mashmashan, Haloul, Kifr Lata, and Maarat Masarin in Idlib, inflicting heavy losses on the rebels.
Meantime, the Syrian troops stormed the hideouts of the insurgents on the outskirts of Aleppo, killing and injuring scores of them in Kifr Naha, Tal Naam, al-Lairamon, al-Zahraa, al-Ashrafyeh, and al-Ramouseh.
Syria has been experiencing unrest since March 2011 with organized attacks by well-armed gangs and terrorists against both the army and civilians.
The unrest, which took in terrorist groups from across Europe, the Middle-East and North Africa, has transpired as one of the bloodiest conflicts in recent history.
As the foreign-backed insurgency in Syria continues without an end in sight, the US government has boosted its political and military support to Takfiri extremists.
http://english.farsnews.com/newstext.aspx?nn=13930826000870
----------
Iraq and U.S. Find Some Potential Sunni Allies Have Already Been Lost
By BEN HUBBARD
Nov 17 2014
BAGHDAD — When the militants of the Islamic State entered the Sunni Arab area of Al Alam, they gave its tribal leaders a message of reconciliation: We are here to defend you and all the Sunnis, they said, so join us.
But after a group of angry residents sneaked out one night, burned the jihadists' black banners and raised Iraqi flags, the response was swift.
"They started blowing up the houses of tribal leaders and those who were in the security forces," Laith al-Jubouri, a local official, said. Since then, the jihadists have demolished dozens of homes and kidnapped more than 100 residents, he said. The captives' fates remain unknown.
Full report at:
http://www.nytimes.com/2014/11/16/world/iraq-and-us-find-some-potential-sunni-allies-have-already-been-lost.html?_r=0
----------
Ignorant jihadis 'have bought into fantasy fuelled by social media'
Nov 17 2014
Young Australians travelling overseas to take up arms with the militant group Islamic State have naively bought into a fictional fantasy fuelled by social media, a human rights activist says.
Dr Qanta Ahmed, who is visiting Melbourne, is a vocal critic of Islamist extremism. After practising medicine in Saudi Arabia for a year, she published a book about the misogyny and racism she experienced there, called In the Land of Invisible Women.
Two years ago she visited the North-West Frontier province of Pakistan to meet boys aged between 10 and 20 who had been radicalised by the Taliban. They all told the same story, said Ahmed, a Muslim who was born in Britain and who now lives in Manhattan.
"They all had impoverished backgrounds, they were illiterate, their families had been approached by the Taliban and were coerced into abandoning their children, they were lambs to the slaughter," she said.
Full report at:
http://www.theguardian.com/world/2014/nov/17/ignorant-jihadis-have-bought-into-fantasy-fuelled-by-social-media
http://israelforeignaffairs.com/570580/ignorant-jihadis-have-bought-into-fantasy-fuelled-by-social-media/
----------
Egyptian-led Islamist group rejects UAE terrorism designation
Nov 17, 2014
A group of Islamist scholars led by an influential Qatar-based cleric expressed "astonishment" on Monday at being designated a terrorist body by the United Arab Emirates (UAE), one of several Gulf Arab states that view political Islam as a security threat.
In a statement the International Union of Muslim Scholars urged the UAE to remove it from a list of 85 groups the country's cabinet named on Saturday as terrorist organisations in a drive against what the country termed "terrorist crimes".
The inclusion of the group was "not based on any analysis or investigation, whether legal, logical or rational", said the statement, co-signed by the union's chairman, Egyptian-born Youssef al-Qaradawi.
"The Union expresses its complete and extreme astonishment of its inclusion by the UAE among the terrorists groups and rejects this description completely," said the group, which says it seeks to promote scholarship and awareness of Islam.
Full report at:
http://english.ahram.org.eg/NewsContentP/1/115706/Egypt/Egyptianled-Islamist-group-rejects-UAE-terrorism-d.aspx
----------
Islamic State militants reach 'at least' 200,000: Report
Nov 17, 2014
Iraqi Kurdish President Masoud Barzani's chief of staff said on Sunday that the number of Islamic State (IS) militants has reached at least 200,000.
Speaking with UK newspaper The Independent, Fuad Hussein said that the number is "seven or eight times bigger than" estimates of foreign intelligence, especially the CIA.
"I am talking about hundreds of thousands of fighters because they are able to mobilise Arab young men in the territory they have taken," the newspaper quoted him as saying.
Hussein argued that IS governs a "third of Iraq and a third of Syria," areas with a population of 10-12 million and 250,000 square km in terms of area.
"In Kurdistan last month they were attacking in seven different places as well as in Ramadi [capital of Anbar province, west of Baghdad] and Jalawla [an Arab-Kurdish town close to the Iranian border]. It is impossible to talk of 20,000 men or so," he said.
Full report at:
http://english.ahram.org.eg/NewsContent/2/8/115696/World/Region/Islamic-State-militants-reach-at-least-,-Report-.aspx
----------
Saudi man divorces wife for ignoring his Whatsapp messages
PTI | Nov 17, 2014
DUBAI: A Saudi man has divorced his wife after she ignored his Whatsapp messages despite reading them.
The husband, in his 30s, was frustrated by his wife's seemingly endless interest in using her phone for chatting with friends and family.
"She spent most of her time on the phone to the point that she neglected looking after their home and taking care of their child," he said.
On asking why she didn't answer him or acknowledged his messages, the wife said that she was busy talking with her friend.
Full report at:
http://timesofindia.indiatimes.com/world/middle-east/Saudi-man-divorces-wife-for-ignoring-his-Whatsapp-messages/articleshow/45177224.cms
----------
South Asia
Islamic Militants Hack University Professor to Death in Bangladesh
Nov 17, 2014
DHAKA: Suspected Islamic militants have hacked to death a university professor in western Bangladesh, several years after he led a push to ban students wearing full-face veils, police said on Sunday.
Police have arrested at least 20 people for questioning over the murder near Rajshahi University in the west of the country where the victim was a professor of sociology, a senior officer said.
The victim, Shafi ul Islam, followed the folk sect Baul, popular in parts of western Bangladesh, whose members call themselves followers of humanism rather than a particular religion.
The murder has triggered protests in the capital Dhaka and in Rajshahi where mainly students have marched through university campuses and boycotted classes since news of the killing broke on Saturday.
Full report at:
http://www.dawn.com/news/1144986/university-professor-hacked-to-death-in-bangladesh
----------
As fears rise in Myanmar, Rohingya Muslims exodus grows
Nov 17, 2014
The captain of the small fishing vessel has spent most of his life helping fellow Rohingya Muslims escape persecution and hatred in Myanmar, but now even he is worried about the panicked pace the exodus has taken in recent weeks.
"Everyone is going now," Puton Nya said. "I'm afraid that soon, no one will be left."
Bouts of vicious violence, together with discriminatory government policies, have sent an estimated 100,000 Rohingya fleeing this Buddhist-majority nation by boat in the last two years, according to the Arakan Project, a human-rights group that monitors the Rohingya. Director Chris Lewa said the pace is accelerating, with more than 15,000 people leaving since Oct. 15 _ twice the number that fled during the same period last year.
Lewa said soldiers and border guards in northern Rakhine state, where most of the estimated 1.3 million Rohingya live, are engaging in a "campaign to create fear and to get them to leave."
Full report at:
http://indianexpress.com/article/world/asia/as-fears-rise-in-myanmar-rohingya-muslims-exodus-grows/99/#sthash.P5TzoLZ1.dpuf
----------
Heavy clashes reported in western Farah province
Nov 17 2014
Heavy clashes took place between the Afghan forces and Taliban militants in western Farah province of Afghanistan on Monday.
The clashes between the Afghan security forces and the Taliban militants broke out after dozens of Taliban militants launched coordinated attacks on security check posts in Bala Bolok district.
Provincial police chief Abdul Razaq Yaqubi confirmed that dozens of militants have launched attacks on district police headquarter and other police check posts.
In the meantime, the Ministrty of Interior (MoI) said Afghan security forces successfully repelled the attack by Taliban militants in Company, Ganjabad and Chahar Kocha areas of Bala Bolok district.
MoI following a statement said at least eight Taliban militants were killed and six others were injured during the clashes.
According to MoI, an Afghan policeman was killed along with a civilian and another policeman was injured during the gun battle.
http://www.khaama.com/breaking-heavy-clashes-reported-in-western-farah-province-9009
----------
Drone strike kills top Taliban commander in Nangarhar
Nov 17 2014
A senior Taliban commander was killed following a drone strike by NATO-led coalition security forces in eastern Nangarhar province.
According to local security officials, the airstrike was carried out late on Sunday night in Haska Meena district.
Provincial police chief, Fazal Ahmad Sherzad said at least four Taliban militants were also killed following the airstrike.
Sherzad further added that the Taliban commander was identified as Aimal who was involved in major terrorist activities in Haska Meena district.
Full report at:
http://www.khaama.com/drone-strike-kills-top-taliban-commander-in-nangarhar-9008
----------
Cyber jihadis claim second murder
Nov 17, 2014
A little known extremist outfit has claimed responsibility for the murder of Rajshahi University (RU) professor, Shafiul Islam Lilon, on a Facebook community page named Ansar al Islam Bangladesh 2.
The responsibility for the killing, within hours of his death on an anonymously operated social media page, is the second such claim on Facebook in recent times.
The social scientist was hacked to death outside his house in the Chauddapai area of Rajshahi city on Saturday afternoon and succumbed to his injuries in hospital some hours later.
Earlier, a Facebook page run under the name Ansar al Islam, took responsibility for the killing of Daffodil University student Ashraful Alam, the Dhaka Tribune reported on November 4.
The 22-year-old was killed in Savar, on the outskirts of Dhaka. The Facebook page claiming responsibility for his murder was shut down on October 28.
Barrister Mahbubur Rahman, commissioner of Rajshahi Metropolitan Police (RMP), said his force was aware of the Facebook page and had started an investigation into the murder claim.
Full report at:
http://www.dhakatribune.com/crime/2014/nov/17/cyber-jihadis-claim-second-murder#sthash.VJ2z7kPO.dpuf
----------
PM Sheikh Hasina: Bangladesh is leading democratic world
Nov 17, 2014
Bangladesh has not only established democracy, it is also now leading the democratic world, Prime Minister Sheikh Hasina has said.
The Prime Minister said this while participating in a discussion on the thanksgiving motion on election of Speaker Dr Shirin Sharmin Chowdhury as chairperson of the Commonwealth Parliamentary Association (CPA) and Saber Hossain Chowdhury MP as the president of the Inter-Parliamentary Union (IPU), reports BSS.
Sheikh Hasina said:"A great responsibility has now been vested on us to protect and advance democracy by way of our victory in CPA and IPU. So, I seek cooperation and prayer from all in our noble mission."
Referring to Bangladesh's unprecedented victory in the CPA and IPU, the Leader of the House said these wins became possible as the people of the country have reposed their faith on the government and the Bangladesh Awami League.
On behalf of all lawmakers, the Prime Minister greeted all players of the Bangladesh team for their unprecedented success against Zimbabwe.
http://www.dhakatribune.com/bangladesh/2014/nov/16/pm-bangladesh-leading-democratic-world#sthash.SgmJiLu1.dpuf
----------
Mideast
Turkish Football Club Declares War on Beards
Nov 17, 2014
A Turkish football club has decided to issue a hefty fine for beards, after its chairman claimed some footballers look like students of imam-training schools.
"I am 80 years old, and I shave every single day," Gençlerbirliği Chairman İlhan Cavcav said in explaining the reasoning for his club's decision to start issuing a fine of 25,000 Turkish Liras ($11,200) to any of its footballers with beards.
"Man, is this an imam-hatip school? You are a sportsman. You should be a model for the youth," he added in an interview with the Doğan News Agency on Nov. 15, while complaining that that his own grandson was negatively affected by the ever-growing number of beards in the football world.
As "bad examples," Cavcav mentioned Beşiktaş coach Slaven Bilic, Beşiktaş midfielder Olcay Şahan, Fenerbahçe goalkeeper Volkan Demirel and Galatasaray midfielder Selçuk İnan.
Cavcav also said he applied to Yıldırım Demirören, the Turkish Football Federation (TFF) chairman, to adopt a nationwide beard ban for footballers.
"He told me that they could not impose such a restriction because UEFA would not let them do it. I am fed up with this UEFA. I wish we had some other place to play our football," he concluded, stressing that he would push other clubs to take a common position against beards on the pitch.
http://www.hurriyetdailynews.com/turkish-football-club-declares-war-on-beards.aspx?pageID=238&nID=74379&NewsCatID=361
----------
Netanyahu supports Obama in ISIS fight, but cautions on Iran
Nov 17, 2014
Israel's Prime Minister Benjamin Netanyahu expressed support Sunday for the US fight against Islamic State of Iraq and Syria (ISIS) militants, but cautioned against any softening toward Iran.
"We want them both to lose. The last thing we want is to have any one of them get weapons of mass destruction," Netanyahu said in an interview with CBS Face the Nation.
His comments came shortly after ISIS claimed the beheading of another Western hostage, U.S. aid worker Peter Kassig, along with that of 18 men described as Syrian soldiers.
In an undated video, a masked black-clad jihadist seen standing above a severed head says: "This is Peter Edward Kassig, a U.S. citizen of your country."
Netanyahu expressed support for US President Barack Obama's leadership of a coalition against ISIS and said "we're with all the American people who understand the savagery that we're all up against."
Full report at:
http://english.alarabiya.net/en/News/middle-east/2014/11/16/Netanyahu-supports-Obama-in-is-fight-but-cautions-on-Iran-.html
----------
Supreme Leader: Bullying Powers Using Every Means to Promote Islamophobia
Nov 17, 2014
Supreme Leader of the Islamic Revolution Ayatollah Seyed Ali Khamenei warned that the bullying powers are using every method and tool to spread Islamophobia among the world people.
"The world expansionist and bullying powers are highly concerned about the attraction of Islam's freedom message and the danger posed to their interests and have used all instruments, specially art tools, to intimidate the entire world people from Islam," Ayatollah Khamenei said, addressing Iranian Army cadets in Tehran on Monday.
He underlined that creation of armed groups under the name of Islam and Islamic State to massacre innocent people is another instance of enemies' methods to promote Islamophobia.
"The message of the real Islam for humanity is the message of tranquility, honor and life along with security and safety, and ill-wishers do not want the nations to become familiar with this message," Ayatollah Khamenei said.
Full report at:
http://english.farsnews.com/newstext.aspx?nn=13930826001044
----------
Israeli premier promotes Jewish nation-state bill
Nov 17, 2014
OCCUPIED JERUSALEM — Israel's prime minister says he's pushing forward a bill that enshrines in law that Israel is the nation-state of the Jewish people.
At his weekly Cabinet meeting on Sunday, Benjamin Netanyahu said Israel is a Jewish and democratic state. Since its democratic nature has been legislated, he says, so should its Jewish nature.
He says "the balance between these two facets is necessary" when Palestinians and others refuse to recognize Israel as a Jewish state. The bill has yet to be formally drafted and Netanyahu says it faces "many changes and discussions."
http://www.saudigazette.com.sa/index.cfm?method=home.regcon&contentid=20141117224697
-----------
Pakistan
Taliban group threatens to attack Chinese interests
Nov 17, 2014
ISLAMABAD - A splinter group of TTP has warned Beijing against persecuting Muslim population in its far-western province of Xinjiang otherwise the militant outfit would target "the centres of Chinese economic interests" in ways beyond the imagination of the Chinese government.
Last week, on Friday, Tehreek-i-Taliban Pakistan Jamaat-ul Ahrar (TTPJA) released the 9th issue of its official magazine Ihya-i-Khilafat that carried an article by Ehsanullah Ehsan, a key commander and official spokesperson, under the title of "Hidden motives behind the Chinese investment in Pakistan".
The article has highlighted the condition of Muslims, especially Uighurs (also pronounced as Uyghur) in the Xinjiang province of China. "The government has recently intensified a religious crackdown on the Muslim minority in Xinjiang province. Men and women are being punished for following the basics of Islam like sporting beards or covering their faces respectively. Above all, these crimes are being touted as law", writes Ehsan.
Full report at:
http://nation.com.pk/national/17-Nov-2014/taliban-group-threatens-to-attack-chinese-interests
----------
Hundreds of terrorists eliminated in Zarb-e-Azb operation
Nov 17, 2014
Rawalpindi- Pakistan Army says hundreds of terrorists have been eliminated in Zarb-e-Azb operation in North Waziristan.
Talking to Voice of America Director General ISPR Major General Asim Bajwa said that the security forces are now engaged in clearing peripheral areas of the agency. Ruling out any discrimination in the operation he said sanctuary of Afghanistan's Haqqani Network in Pakistan's tribal areas is a thing of the past. To a question about safe havens given to Tehreek-e Taliban Pakistan commanders, including Mullah Fazlullah, in Afghanistan, General Bajwa said Pakistan has shared information about the TTP leaders operating from Afghanistan with the Afghan government.
http://nation.com.pk/national/17-Nov-2014/hundreds-of-terrorists-eliminated-in-zarb-e-azb-operation
----------
Ties need not be hostage to Kashmir, says Pak. Envoy to India
Nov 17, 2014
The Kashmir imbroglio need not hold the India-Pakistan relations hostage, said Pakistan High Commissioner to India, Abdul Basit. The issue should be resolved through dialogue in a 'just and fair' manner. "Hope we are able to overcome the problem soon," he remarked.
Interacting with journalists at the Press Club here on Sunday, he said after cancellation of the Foreign Secretary-level talks, the effort was to 'break the ice.' India-Pakistan relations, he said, were very important and also very complex at the same time. Only a collective effort would yield results.
"As a diplomat, I am trying to strengthen the ties and I hope during my tenure in India things will move ahead," Mr. Basit said.
He hoped the India-Pakistan cricket series would be revived next year. The PCB chairman had visited India recently and there was an agreement with the BCCI to play 6 matches up to 2022.
Full report at:
http://www.thehindu.com/news/national/ties-need-not-be-hostage-to-kashmir-says-pak-envoy/article6605530.ece
----------
Draft law being prepared to subvert cyber-crimes: Finance Minister
Nov 17, 2014
ISLAMABAD: Finance Minister Ishaq Dar said Monday a draft law is being prepared to subvert cyber-crimes and terrorist financing, according to a report published on Radio Pakistan.
The finance minister made these statement while addressing the International Branchless Banking Conference on Monday.
According to Dar, the draft will be presented in Parliament for legislation soon. The finance minister also said the use of digital financial channels such as electronic and mobile banking reduces the chances of fraud and theft, and highlighted the significance of branchless banking for the economy.
Full report at:
http://www.dawn.com/news/1145088/draft-law-being-prepared-to-subvert-cyber-crimes-dar
----------
Fight for girls' education requires reformed curricula: Malala's father
Nov 17, 2014
WASHINGTON: "Don't take peace for granted; be mindful as it can be usurped," cautioned Ziauddin Yousufzai, Malala's father, addressing an auditorium full of students and teachers at the George Washington University's Global Women's Institute (GWI) last week, at the launch of a free online resource guide http://malala.gwu.edu/ for colleges and universities based on I Am Malala: The Girl Who Stood Up For Education And Was Shot By The Taliban. The resource guide is a collaboration between Little, Brown and Company and the Malala Fund.
Recalling the times when Swat was rocked by violence due to incessant fighting between the army and Tehrik-i-Taliban Pakistan (TTP) militants, Ziauddin said many of his friends would caution him against taking stands. "Why not speak? It's cowardice not to!" he would say in response.
The book that chronicles Nobel laureate Malala's life will now become a teaching tool for students across the world, said Mary Ellsberg, director of the GWI. "It embodies what Malala stands for: access to education," she said, adding: "We want this to be a tool for the next generation of global citizens."
Full report at:
http://www.dawn.com/news/1145063/fight-for-girls-education-requires-reformed-curricula-malalas-father
----------
'PTI aims at helping masses to get rid of slavery of status quo'
Nov 17, 2014
JHELUM - Pakistan Tehreek-e-Insaf (PTI) Chairman Imran Khan said that his party struggle is not meant for power but aimed at helping the poor masses to help them in getting rid of slavery of status quo and creating awareness among them to raise voice for their rights.
Addressing a gathering of PTI supporters at Syed Zamir Jafri Stadium of Jhelum on Sunday, Imran said that people from across Pakistan would reach federal capital to give their verdict against status quo. He said that time has come to fight for our rights and establish naya Pakistan – new Pakistan, based on justice, equality and dignity.
Full report at:
http://www.dailytimes.com.pk/national/16-Nov-2014/pti-aims-at-helping-masses-to-get-rid-of-slavery-of-status-quo
----------
I will rid Sindhis of oppression: Imran Khan
Nov 17, 2014
JHELUM: Pakistan Tehreek-e-Insaf chairman Imran Khan on Sunday said that he will stand by the oppressed people of Sindh and break their shackles of fear.
Addressing a large gathering, he said: "We will go to Larkana on Friday; we will Inshallah help oppressed people of Sindh and rid them of feudal lords"
"The atrocities experienced by Sindh are hardly witnessed elsewhere in the country," he observed.
"I will fight these pharaohs till my death, I am ready to continue my sit-in for 90 more days if I don't get justice," Khan said, adding that Nawaz Sharif allocated funds of Rs2.70 billion for the Intelligence Bureau (IB) to make the sit-in a failure.
"Money is being distributed out of Islamabad rally's fear. Nawaz Sharif is saving his seat by spending people's money," Imran Khan claimed.
The PTI chairman also criticized the government for a firing incident which left at least nine people injured earlier today in Jhelum.
http://www.thenews.com.pk/article-165919-I-will-rid-Sindhis-of-oppression:-Imran-Khan
----------
Nawaz, Zardari eating away country like termite: Awami Muslim League
Nov 17, 2014
JEHLUM: Awami Muslim League (AML) leader, Shaikh Rasheed Sunday questioned the status of an assembly whose leader of the house had been allegedly involved in money laundering.
"We are not against democracy, we are against the government tainted with rigging," Shaikh Rasheed said while addressing a rally of Pakistan Tehreek-e-Insaf (PTI) here.
He accused Prime Minister Nawaz Sharif and Pakistan People's Party (PPP) Co-chairman Asif Ali Zardari of eating away the country like termite.
He asked on what criteria the chairman of Pakistan International Airlines (PIA) was appointed and appealed to the judiciary take notice of this.
The AML leader said he was being careful with his language due to the presence of women. "I will hold a public meeting where there are no women," he added.
He said whether there will be war or peace is a decision for Imran Khan to take on November 30.
He said a system which plundered the people must be set to fire.
http://www.thenews.com.pk/article-165917-Nawaz,-Zardari-eating-away-country-like-termite:-Shaikh-Rasheed
----------
Europe
London's 'Hotel Sharia' Says It WILL Accept Gay Guests
Nov 17 2014
A top London hotel which is reported to have "introduced Sharia Law" has told The Huffington Post UK it will continue to accept same-sex couples.
The Bermondsey Square Hotel in Southwark has this week stopped selling alcohol, reportedly following the wishes of its multimillionaire Muslim new owner.
A Daily Mail article dubbed it "Hotel Sharia" and claimed the £220-a-night hotel will now be run "in accordance with Sharia law", prompting concerns it would reject gay and lesbian couples as Sharia forbids homosexuality.
But Bespoke, the management company which runs the hotel, tweeted that the Daily Mail article was "misinformed" and had "made a story from nothing".
Online commentators had said it would breach British discrimination laws if the 80-bedroom hotel turned same-sex couples away due to conservative Islamic rules.
The fears follow a bed and breakfast in Cornwall being successfully sued for rejecting a gay couple as guests on the basis of its owner's Christian beliefs.
Gavin Smith posted on London SE1: 'What next? Are guests in the linked hotel going to be asked to provide marriage certificates if they want a double room? Are same-sex couples going to be refused entry?"
But a spokeswoman for the hotel confirmed to The Huffington Post UK that same sex-couples were still welcome to stay.
Full report at:
http://www.huffingtonpost.co.uk/2014/11/15/hotel-sharia-bermondsey-square-alcohol-muslim_n_6164290.html
----------
Swedish king honoured Palestine National Day
Nov 17, 2014
Sweden's King Carl XVI Gustaf has congratulated Palestine on its "National Day", weeks after Stockholm officially recognised the state of Palestine.
The message was sent to Palestinian President Mahmoud Abbas on Saturday.
"On the occasion of the National Day of the State of Palestine I wish to convey to Your Excellency my best wishes for your health and happiness and for the prosperity of the people of the State of Palestine," the letter, carrying the Royal Court's official letterhead, read.
Palestinians mark their National Day on November 15, the anniversary of the Palestinians' unilateral declaration of independence proclaimed by Yasser Arafat in 1988.
The Royal Court said it is routine that the head of state, in coordination with the Foreign Ministry, sends cables to all countries on their national days.
"As the Swedish government has recognised the state of Palestine, it has also been sent on Palestine's National Day", it said in comments to Swedish news agency TT.
The role of the Swedish king is purely ceremonial.
Full report at:
http://www.aljazeera.com/news/europe/2014/11/sweden-king-honoured-palestine-national-day-20141116233430849399.html
----------
French citizen 'very likely' on ISIS beheading video, minister says
Nov 17, 2014
PARIS - French Interior Minister Bernard Cazeneuve said on Monday there was a very strong likelihood that an Islamic State militant who appears on a beheading video released by the group at the weekend was a 22-year-old French citizen.
"This analysis (by French intelligence services) suggests with a very high probability that a French citizen could have directly participated in carrying out these abject acts," Cazeneuve told journalists, adding that the man in question had left to go to Syria in August 2013.
http://www.jpost.com/Breaking-News/French-citizen-very-likely-on-ISIS-beheading-video-minister-says-382015
----------
Swedish Muslim group rejects 'terror' label
Nov 17, 2014
The Islamic Association of Sweden says it was "shocked" to be included in a list of groups labelled as terrorist organizations by the United Arab Emirates (UAE) over the weekend.
Around eighty extremist groups were listed by the UAE, with Islamic organizations in Sweden, Norway and Denmark featured alongside the likes of the Islamic State (Isis) and al-Qaeda.
The Islamic Association of Sweden's chairman Omar Mustafa said it was "frightening that a small regime known for human rights abuses defines European civil society organisations as terror groups".
Full report at:
http://www.thelocal.se/20141117/swedish-muslim-group-rejects-terror-label
----------
Officials question inclusion of Finnish Tatar Muslims on terror watch-list
Nov 17, 2014
A Finnish association of Tatar Muslims has been included on a list of organisations with suspected terrorist links published by the United Arab Emirates.
The Finnish Islamic Congregation comprises about 600 members, with mosques in Helsinki and Järvenpää. On Saturday the Norwegian public broadcaster NRK revealed that the group is among a handful of Nordic Islamic organisations whose names have been added to the United Arab Emirates' terror watch list.
However Finnish officials, including the security services and the foreign ministry, said they were trying to discover the reasoning for the group's inclusion. The Finnish Islamic Congregation is only open to members of the Tatar community, an ethnic and linguistic minority who became established in Finland during the 1800s, and who have a reputation for practising a moderate form of Islam.
Full report at:
http://yle.fi/uutiset/officials_question_inclusion_of_finnish_tatar_muslims_on_terror_watch-list/7631912
----------
EU 'committed' to tackling IS after Kassig beheading
Nov 17, 2014
The European Union said Monday it remains "fully committed" to tackling the threat posed by the Islamic State extremist group after it beheaded US aid worker Peter Kassig.
EU foreign policy chief Federica Mogherini and humanitarian aid commissioner Christos Stylianides said in a statement that the killing of Kassig and 18 men described as Syrian military personnel showed IS's "resolve to pursue its terror agenda in breach of all universally recognised values and rights."
"All perpetrators of human rights abuses must be held accountable. The EU will spare no effort towards this objective," they said in their statement.
Full report at:
http://english.ahram.org.eg/NewsContent/2/8/115715/World/Region/EU-committed-to-tackling-IS-after-Kassig-beheading.aspx
----------
UK Parliament evacuated after bomb scare
Nov 17, 2014
A large part of the UK Parliament was evacuated on Monday after a "suspicious package" was found in its premises, triggering a bomb scare and prompting security officials to cordon off the area and lead lawmakers to safety.
An office building opposite the Houses of Parliament and above Westminster underground station was evacuated while security officials searched the area, a spokeswoman for London's Metropolitan Police said.
People trying to access offices in Portcullis House, which houses MPs' offices, committee rooms and restaurants, were also turned away.
Portcullis House sits on top of Westminster Underground station and is connected to the Palace of Westminster by an under—pass.
Full report at:
http://www.thehindu.com/news/international/world/uk-parliament-evacuated-after-bomb-scare/article6608280.ece
----------
Africa
Nigeria: Defeating Boko Haram Is a Global Imperative
17 November 2014
Militant Islamism has expanded in northern Nigeria over decades. Its trajectory can be traced because of the central role played by Wahhabi religious institutions in Saudi Arabia in the propagation of Salafist Islam. This process has included the training of clerics, the funding of mosques and schools, and the cultivation of dynamic leaders.
The gifted scholar and preacher, Ja'far Mahmoud Adam, became the prime propagator in this network in the mid-2000s. He was killed on April 13, 2007 after virulently denouncing the more extreme views of his protégé, Mohammed Yusuf. When Yusuf and hundreds of his followers were killed by Nigerian police forces in July 2009, the movement went underground. It re-emerged in 2010, popularly referred to as Boko Haram, ready to wage jihadist war against the Nigerian state, Western education, and national and international institutions. It has since adopted every tactic available to contemporary insurgent and terrorist organizations. There are no limits to its brutality as it has targeted school children and very ordinary folk. Its vociferous leader, Abubakar Shekau, taunts the Nigerian government for its inability to crush his movement. [1]
Full report at:
http://allafrica.com/stories/201411171557.html
----------
Kenya: One Person Killed As Police Raid Mombasa Mosques
17 November 2014
Nairobi — One person was killed Monday as Kenyan security forces raided mosques in the port city of Mombasa searching for weapons and radical supporters of Somalia's Al-Qaeda affiliated Al Shabaab militants, police said.
Security forces began the operation in the early hours of Monday, targeting the Masjid Shuhada and Mujahidin mosques in Mombasa.
"We had information that the group has been planning an attack, and that is why the raid was conducted," Mombasa Central Police Chief Geoffrey Mayek said.
"We have arrested several of them, including six notorious ones," he added.
Police said one man was killed but gave no details as to how he died, with the operation still ongoing.
Full report at:
http://allafrica.com/stories/201411171227.html
----------
Fierce clashes around Tripoli airport kill four
17 November 2014
Deadly fighting between Islamist militias and forces backed by Libya's internationally recognised government on Sunday forced the closure of an airport in eastern Tripoli, military sources said.
At least four people were killed and 10 wounded in clashes between the Islamist Fajr Libya (Libya Dawn) and fighters loyal to the government around the Mitiga air base, the sources said.
An airport official said that Mitiga was closed to air traffic due to the violence.
Libyan carriers moved civilian flights to Mitiga after Tripoli's main international airport was damaged by fierce fighting between state-backed fighters and Islamist militias in July.
More than three years after dictator Moamer Kadhafi was toppled and killed in a NATO-backed revolt, Libya is awash with weapons and powerful militias, and run by rival governments and parliaments.
http://english.alarabiya.net/en/News/middle-east/2014/11/17/Clashes-around-Tripoli-airport-kill-four-.html
----------
Nigerian army 'retakes' town seized by Boko Haram
17 November 2014
The Nigerian army has regained control of Chibok, the northeastern town where more than 200 schoolgirls were kidnapped by Islamic extremists more than six months ago, said army officials.
The army wrested back control of Chibok on Saturday, about 48 hours after it had been captured by the Islamic militants of Boko Haram, Nigerian army spokesman Brig. Gen. Olajide Olaleye told the Associated Press.
"Chibok is firmly in the hands of the Nigerian army." Olaleye told the AP. "Chibok is free. Secured."
Full report at:
http://english.alarabiya.net/en/News/africa/2014/11/17/Nigerian-army-retakes-town-seized-by-Boko-Haram.html
----------
Somalia's al Shabaab launch attack on presidential compound
Nov 17, 2014
Al Shabaab Islamist militants said they had launched mortars at Somalia's presidential palace in the capital Mogadishu on Sunday, but spokesmen for the Somali government and the police said none had landed inside the compound.
"We have fired several mortar rounds on the presidential palace, and we will give details later," Abu Musab, the spokesman for al Shabaab's military operations, told Reuters.
http://english.ahram.org.eg/NewsContent/2/9/115686/World/International/Somalias-al-Shabaab-launch-attack-on-presidential-.aspx
----------
North America
Obama calls ISIL beheadings 'pure evil'
Nov 17, 2014
The Islamic State of Iraq and the Levant (ISIL) has beheaded Peter Kassig, releasing a video Nov. 16 showing a masked militant standing over the severed head of a man it said was the former U.S. Army Ranger-turned-aid worker, who was seized while delivering relief supplies in Syria last year.
President Barack Obama confirmed Kassig's slaying after a U.S. review of the video, which also showed the mass beheadings of a dozen Syrian soldiers.
The 26-year-old Kassig, who founded an aid group to help Syrians caught in their country's brutal civil war, "was taken from us in an act of pure evil by a terrorist group that the world rightly associates with inhumanity," Obama said in a statement.
He denounced the extremist group, which he said "revels in the slaughter of innocents, including Muslims, and is bent only on sowing death and destruction."
The slain hostage's parents, Ed and Paula Kassig, said they were "heartbroken" by their son's killing, but "incredibly proud" of his humanitarian work. Kassig "lost his life as a result of his love for the Syrian people and his desire to ease their suffering," the parents said in a statement from Indianapolis.
Full report at:
http://www.hurriyetdailynews.com/obama-calls-isil-beheadings-pure-evil.aspx?pageID=238&nID=74425&NewsCatID=359
----------
Hagel says US military accelerating mission to train Iraqi troops
Nov 17, 2014
U.S. Defense Secretary Chuck Hagel said on Nov. 16 the Pentagon will accelerate its mission to train Iraqi forces to combat Islamic State of Iraq and the Levant (ISIL) militants, using troops already in Iraq to start the effort while funding is sought for a broader initiative.
Hagel, speaking to reporters while visiting the Army's National Training Center at Fort Irwin, California, said special operations forces had moved into Iraq's Anbar province in recent days to begin work on the training effort.
Rear Admiral John Kirby, the Pentagon press secretary, said later about 50 special operations troops were at Ain al-Asad air base working to set up the training mission. The base was home to a major U.S. military presence during the 2003-11 Iraq war.
Full report at:
http://www.hurriyetdailynews.com/hagel-says-us-military-accelerating-mission-to-train-iraqi-troops.aspx?pageID=238&nID=74431&NewsCatID=358
----------
Parents of slain US aid worker 'heartbroken'
Nov 17, 2014
The parents of an American aid worker captured last year while delivering relief supplies to refugees in Syria said Sunday they are "heartbroken" by his death at the hands of Islamic State militants but "incredibly proud" of his compassion and humanitarian work.
Ed and Paula Kassig of Indianapolis said in a statement that their 26-yearold son, Peter Kassig, "lost his life as a result of his love for the Syrian people and his desire to ease their suffering."
"We will work every day to keep his legacy alive as best we can," they said.
Kassig was captured last year in eastern Syria while delivering relief supplies to refugees of Syria's civil war. The Indianapolis man, a former U.S. Army Ranger who founded a relief organization, converted to Islam while in captivity and took the first name Abdul-Rahman.
The White House confirmed Kassig's death Sunday after the Islamic State group released a video showing that Kassig had been beheaded. The video also showed the beheadings of about a dozen men identified as Syrian military officers and pilots.
Full report at:
http://www.thehindu.com/news/international/parents-of-slain-us-aid-worker-heartbroken/article6607450.ece
---------
India
Mamata, Mulayam failed to empower Muslims: Asaduddin Owaisi
Written by Zeeshan Shaikh | Mumbai | Posted: November 17, 2014
After winning two seats in Maharashtra assembly elections, the All India Majlis-E-Ittehad ul Muslimeen, led by Asaduddin Owaisi, is now planning to contest Uttar Pradesh and West Bengal assembly polls as part of its strategy to expand nationally.
At an Idea Exchange organised by the The Indian Express here, Owaisi said his party, however, would not field candidates in the Assembly elections in Jharkhand and Jammu and Kashmir, and in Bihar, where polls are due next year.
"We will definitely contest in Uttar Pradesh and West Bengal. We have no plans of contesting in Jammu and Kashmir, Jharkhand or Bihar. There is a sense within some sections of our party that anything is possible after our performance in Maharashtra, but there is no point in stretching beyond the means," he said.
Till recently, the MIM was identified as a party limited to Hyderabad, represented by Owaisi in Lok Sabha.
While he slammed Samajwadi Party president Mulayam Singh Yadav, for allowing the riots to take place in Uttar Pradesh, he also hit out West Bengal Chief Minister and Trinamool Congress president Mamata Banerjee for failing to deliver what she had promised to Muslims.
Full report at:
http://indianexpress.com/article/india/india-others/mamata-mulayam-failed-to-empower-muslims-asaduddin-owaisi/99/#sthash.JK6M54fl.dpuf
----------
Secularism a compelling necessity for country: Sonia Gandhi
PTI | Nov 17, 2014
NEW DELHI: Seeking to reassert Jawaharlal Nehru's legacy, Congress president Sonia Gandhi on Monday said secularism is a compelling necessity for a country as diverse as India.
She also said that there can be no India without secularism and it remains more than an ideal.
Addressing an international conference on the 125th birth anniversary of Nehru here, Gandhi said secularism was an "article of faith" for the first Prime Minister of the country.
"There can be no Indianness, no India without secularism....secularism was and remains more than an ideal. It is a compelling necessity for a country as diverse as India," she said.
The Congress president recalled that Nehru had once warned that he would fight to his last breath of his life to protect secularism if it comes under attack.
In an opaque reference to BJP, she said knowledge about Nehru's life and work has weakened in recent years, drowned out by misrepresentation and distortion.
Referring to the country's first Prime Minister's efforts to build a modern India, she said he worked on developing a strong public sector, "a potent symbol of change and modernisation."
She said Nehru's achievements continue to bear fruits. "He moulded a new intellectual outlook, a new social sensibility, a new sense of Indianness," she said.
Gandhi also recalled his role in the field of science and technology.
http://timesofindia.indiatimes.com/india/Secularism-a-compelling-necessity-for-country-Sonia/articleshow/45175029.cms
----------
Southeast Asia
Mother a Hindu and Daughter a Muslim: Different Faiths Living Happily Under the Same Roof
Nov 17 2014
JOHOR BARU - Blood is thicker than water for Fatimah Fadhilah Rajes­wary, whose bond with her mother continues to be strong despite the both of them embracing different faiths.
Fatimah, who became a Muslim in 1991 when she was 28 years old, takes care of her mother at their home in Terengganu and whenever Aidilfitri or Deepavali comes around, she and her eight siblings celebrate the festivities together with their mum, 76-year-old Papati Sanmugam.
"I'm a Muslim and my mother is a Hindu but we have no pro­blems living under one roof,'' said Fatimah, 52, a clerk at a legal firm in Kemaman.
"Although my mother and I stay together, I never preach to her about Islam. She tells me, 'You have chosen Islam but I will remain Hindu'," added Fatimah.
Yesterday, she received the Exemplary Muslim Convert Award, in the women's category, at the inaugural National Muslim Converts Convention at the Iskandar Islamic Centre here.
The recipient of the award in the men's category is Muhammad Farhan Tee Abdullah, a 29-year-old officer at the Malaysian Muslim Welfare Association (Perkim).
Both received their awards from Johor Mentri Besar Datuk Mohamed Khaled Nordin in conjunction with the two-day convention.
Full report at:
http://news.asiaone.com/news/malaysia/different-faiths-living-happily-under-same-roof#sthash.LzY1XxDH.dpuf
----------
Teaching Jawi to non-Muslim students needs PTA consent
BY THASHA JAYAMANOGARAN
NOVEMBER 17, 2014
PETALING JAYA, Nov 17 — Non-Muslim students should not be asked to attend Jawi classes in schools unless a collective decision is made by the Parent-Teacher Association (PTA), says the Education Ministry.
Parents have a choice whether or not they want their child to learn Jawi lessons offered to non-Muslims in primary schools, due to a lack of teachers for classes like Mandarin and Tamil subjects.
However, D. Danny, 29, alerted Malay Mail that his nephews had been forced to attend Jawi classes at an unamed school in Kepong since April.
He said his nephews aged eight and nine had been getting low marks in Jawi and that it had been demotivating for them.
"Since it is not a compulsory subject, I don't want my nephews to be taking something they are not interested in.
Full report at:
http://www.themalaymailonline.com/malaysia/article/teaching-jawi-to-non-muslim-students-need-pta-consent#sthash.lP670x2n.dpuf
----------
Not easy to identify potential ISIS member, says Jamil Khir
Nov 17, 2014
Identifying Isis members in the country is not easy as the militant movement uses an indirect approach to get close to potential members and recruiting them, said Minister in the Prime Minister's Department Datuk Seri Jamil Khir Baharom.
"These people use an indirect approach. For example, as it takes a long time to influence people, they start off by befriending you. In cases involving students, they asked for their hands in marriage.
"At this stage, they could not be considered members until they declare themselves as Isis fighters," he said.
However, Jamil Khir said the Malaysian Islamic Development Department (Jakim) was currently working with other ministries, such as the Home Ministry, Defence Ministry and Foreign Ministry, to monitor Isis's influence in the country.
"Sometimes we get the information other ministries did not get," he said.
He added that monitoring too had to be conducted carefully as a lot of the information available online was unverified.
"In the virtual world, not everything is true. Thus, we need to pinpoint and give priority to clues that are more accurate, one that showed links with Isis," he said.
Meanwhile today, Deputy Home Minister Datuk Dr Wan Junaidi Tuanku Jaafar confirmed in Parliament that all the 39 Malaysians that had been identified as being involved with Isis were from Peninsular Malaysia.
Full report at:
http://www.themalaysianinsider.com/malaysia/article/not-easy-to-identify-potential-isis-member-says-jamil-khir#sthash.QQz1GjYN.dpuf
----------
URL: https://www.newageislam.com/islamic-world-news/new-age-islam-news-bureau/child-soldiers-fight-against-islamic-state-in-syria/d/100054