New Age Islam News Bureau
16 Feb 2019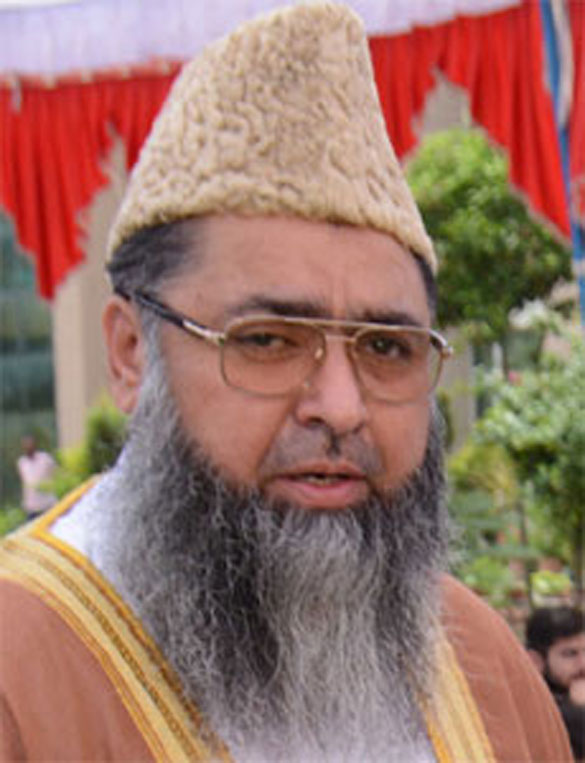 Chief Imam of the All India Imam Organisation (Bharat) (AIIO) Dr Umer Ahmed Ilyasi led a Friday prayer and delivered a "sermon" for peace of souls to jawans who lost their lives in terrorist attack on CRPF convoy in Pulwama
------
• Chief Imam of the All India Imam Organisation Prays For Peace to Souls of Jawans Who Lost Their Life in Pulwama Attack
• New Threat in Jammu and Kashmir: Homegrown Suicide Bomber
• 'Pakistan Murdabad', 'Let Murdabad': Muslims in Maharashtra Protest against Pulwama Terror Attack
• Madrasa Tells Girls to Have Babies, Not Careers, Sparking Fury at UK Academy
• Teen ISIS Bride Unfazed by Severed Heads Has Stockholm Syndrome, Says Family
• Al-Sudais: Kingdom, Muslim Nations Target of Disparaging Media Campaign
• NATO: We Continue To Train, Advise and Assist Afghanistan Security Forces
• Muslim Congresswoman Ilhan Omar Tells Trump 'You Have Trafficked In Hate Your Whole Life'
India
• Chief Imam Prays For Peace to Souls of Jawans Who Lost Their Life in Pulwama Attack
• New Threat in Jammu and Kashmir: Homegrown Suicide Bomber
• 'Pakistan Murdabad', 'Let Murdabad': Muslims In Maharashtra Protest Against Pulwama Terror Attack
• Pulwama Attack: Islamabad Denies Any Role, Reaction Mixed On Pak Social Media and TV
• What Is Jaish-e-Mohammad, Why India Calls For Global Ban on Masood Azhar
• Pulwama attack: 80 kg high-grade RDX used by Jaish terrorist, seven detained
• Pulwama attack: world condemns the terror act
• India to hold talks with US for ban on Jaish chief Masood Azhar
• Despite Pulwama attack, no change in China's stance on Masood Azhar
• Trump bluntly tells Pakistan to end terrorism
• J&K govt moves SC to transfer LeT terrorist from Jammu to Tihar
• U.S. backs India's right to self-defence over Kashmir attack - Indian government
• Will Pulwama terror attack cast a shadow on Kartarpur corridor?
• Pulwama attack: Top Indian security officials suspect Masood Azhar's nephew to be the mastermind
• Pulwama attack: AMU student suspended over 'objectionable' tweet, FIR registered
--------
Europe
• Madrasa Tells Girls to Have Babies, Not Careers, Sparking Fury at UK Academy
• Teen ISIS Bride Unfazed by Severed Heads Has Stockholm Syndrome, Says Family
• UK arms causing 'significant civilian' deaths in Yemen: British lords say
• US seeks European presence in northeast Syria
• 'Tough for Europe Muslims': Turkish-Belgian politician
• Mike Pompeo meets EU's top diplomat after Mike Pence's Iran accusations
--------
Arab World
• Al-Sudais: Kingdom, Muslim Nations Target of Disparaging Media Campaign
• Senior MP: Damascus Gov't to Sue White Helmets for Conducting False Flag Chemical Attack
• Shanahan: We Have Destroyed Daesh's Capabilities, It Is No Longer Able To Detain Civilians
• Tribal Truckers, Praying Paramedics: Mixed Bag On Last Daesh Front
• ISIL Terrorists Killed in Iraqi Airstrikes on Militants' Positions in Syria
• Corpses of Tens of US, ISIL Attacks Victims Found in Raqqa
• Terrorists Receive Severe Blow in Failed Attacks on Demilitarized Zone in Hama, Idlib
• US-Led SDF About to Declare End of ISIL in Eastern Euphrates
• Bahrainis stage nationwide rallies to mark eighth uprising anniversary
• Egypt official: Home-made bomb explodes near mosque, 3 hurt
--------
South Asia
• NATO: We Continue To Train, Advise and Assist Afghanistan Security Forces
• Taliban: 'Soviet Withdrawal Is Lesson to US'
• Myanmar Court Sentences Two to Death For Muslim Lawyer's Murder
• NATO continues in its critical role in developing Afghan national security forces: Shanahan
• Coalition airstrikes kill Taliban shadow judge in Laghman province
• Mogherini reiterates EU's 5-point offer to support peace in Afghanistan
--------
North America
• Muslim Congresswoman Ilhan Omar Tells Trump 'You Have Trafficked In Hate Your Whole Life'
• Blinded by the Israel-Palestine conflict, American Muslims and American Jews overlook the need for domestic unity
• Trump promises announcement on eradication of ISIS within '24 hours'
• US: Time to expand the international coalition against ISIS
• US 'may pull some 1,000 troops from Afghanistan'
• US vice president Mike Pence accuses Iran of Nazi-like anti-Semitism
--------
Mideast
• As Iran Sinks Financially, Iraqi Militias Generate Funds Via Protection Rackets
• Erdogan vows to carry Khashoggi case to intl. court
• Israel injures 20 Palestinians along Gaza fence
• Peace in Yemen can't be secured by submission to Israel: Ansarullah
• Next war on Gaza must be the last, former Israeli minister says
• Yemen's Houthis targeting aid warehouses, says Saudi relief aid chief
• 20 Palestinians hurt in border clashes, says Gaza ministry
--------
Africa
• Bomb Hidden In Corpse Kills Burkina Faso Army Doctor
• US military denies taking part in raid on al-Qaeda site in Libya
• Jordan links deadly blasts to militant cell
• 66 killed in Nigeria's northwest ahead of polls
• Nigeria delays presidential election until Feb. 23 over unspecified 'challenges'
--------
Southeast Asia
• 'Politics Is Now A Matter Of Life And Death': Muhammadiyah Warns Against Deepening Polarization
• Kuala Lumpur nabs six suspected militants in raids
• Singapore detains alleged sponsor of Malaysian ISIS fighter
• Singapore detains alleged sponsor of Malaysian IS fighter
• PPBM will split Malay-Muslim votes in Sabah, says PBS
--------
Pakistan
• Pakistan's approach to Afghan peace has shaped international opinion: FM Qureshi
• International Court of Justice to take up Jadhav's case on Feb 18
• Turkey thanks PM Imran Khan over FETO fight
• Qureshi urges German investors to benefit from Pakistan's pro-investor policies
• Pakistan gets ready to woo Saudi crown prince
• Saudi crown prince's visit delayed by day
Compiled by New Age Islam News Bureau
URL: https://www.newageislam.com/islamic-world-news/chief-imam-all-india-imam/d/117768
--------
Chief Imam of the All India Imam Organisation Prays For Peace to Souls of Jawans Who Lost Their Life in Pulwama Attack
Feb 15, 2019
Chief Imam of the All India Imam Organisation (Bharat) (AIIO) Dr Umer Ahmed Ilyasi led a Friday prayer and delivered a "sermon" for peace of souls to jawans who lost their lives in terrorist attack on CRPF convoy in Pulwama in Jammu and Kashmir, and for strength to their family members.
The religious gathering at the Copernicus Mosque —headquarters of AIIO — was well-attended by judicial officers among others.
In his hour-long sermon, Dr Ilyasi issued an appeal to all the heads of the mosques in Jammu and Kashmir, especially those affiliated to AIIO, to take the lead to enlightening people of the state about the true message of Islam — which he said is "peace, regeneration and service, among other transcendental values".
The terrorists are trying to sully the image of Islam by indulging in barbarity, death and destruction, and taking out lives which are against the tenets of the religion, he said.
"Allah had sent Prophet Mohammad in this world with an over-arching message to spread the values of peace," he said.
Out of 486 major mosques in Jammu and Kashmir, 376 of them are affiliated to AIIO, he said.
"It is especially incumbent upon the Imams based in the Valley to come on the front foot and take up cudgels against terrorism and the ideologies of radicalism and misapplication of the pious word 'Jehad' propagated by it."
"Jehad is a practice undertaken for catharsis, for self-purification, and resolve to work for the universal values and humanity," he said.
"But the terrorists are taking out lives of innocent people through bomb blasts and utter barbarities," Dr Ilyasi added.
He appealed to spiritual leaders of all faiths in the country to join hands to eradicate terrorism.
He cautioned the terror organisations, especially ISIS, and the Jaish-e-Mohammad and Lashkar-e-Toiba operating form Pakistan, to come out of their delusion of garnering support of Indian Muslims.
"For me and the Indian Muslims, the country comes first," he said amidst appreciation by the congregation.
He said he would soon visit Jammu and Kashmir and camp in the Valley to mobilise spiritual leaders of Islam to build opinion against terrorism.
The Chief Imam had hit headlines last Diwali when he responded to a challenge of Laskhar-e-Toiba chief Hafiz Saeed by going to Wagah border and raising slogans against him and Jaish-e-Mohammad chief Masood Azhar, and Pakistan for exporting terrorism to India.
https://www.tribuneindia.com/news/nation/chief-imam-prays-for-peace-to-souls-of-jawans-who-lost-their-life-in-pulwama-attack/729523.html
--------
New Threat in Jammu and Kashmir: Homegrown Suicide Bomber
Feb 16, 2019
NEW DELHI: The advent of the local 'suicide bomber' and return of vehicle-borne IEDs in J&K are the two new concerns for the security establishment after Thursday's strike on a CRPF convoy in Pulwama.
According to a former J&K DGP, Kashmiri Muslims traditionally did not become suicide bombers. "Their religious orientation is different. There are two lines of thought in Islam. The first is that committing suicide is 'haraam', and it is this line Kashmiris have always subscribed to. As per the second line of thought that first emerged West Asia, suicide committed in furtherance of jihad is not 'Haraam' as the suicide attacker is a soldier of Islam," he said. "This ideology later spread to Syria, followed by Afghanistan and Pakistan. However, if the same ideology gains ground among Kashmiris, it is a matter of concern. This means the person who motivated the Pulwama attacker to turn suicide bomber can do the same to other vulnerable Kashmiri youth," the officer added.
Though the Badamibagh cantonment attack of 2000 involved a 17-year-old Kashmiri blowing up an explosive-laden vehicle, it was technically not a suicide attack. The boy, a former IPS officer said, was only meant to park the explosivesladen car in the complex. However, when his car was being checked at the gate, he panicked and tried to get out. At this point, his handler, watching from a distance, triggered the car bomb remotely.
Vehicle-borne IED attacks, also reported in 2005, were discontinued thereafter. Hizbul Mujahideen, too, has avoided using IEDs as they cause civilian casualties. "The suicidebomber mode is favoured by JeM as the group is focused on carrying out high-impact terror strikes. However, considering Kashmiris believe suicide is 'haraam', Jaish would use foreign fighters who were sent across from Pakistan on the eve of the fidayeen attack," said an officer.
"Prior to the Pulwama attack, every suicide bombing, be it 2001 J&K assembly car bombing or attacks on camps in Pathankot, Nagrota and Uri, was carried out by Pakistani cadres. The local Kashmiri operatives' role was restricted to providing logistics, transportation," another functionary said.
"If Jaish is now able to get Kashmiris for such tasks, there is a clear risk of other locals getting brainwashed, helping Pakistan's attempts to project terror in J&K as homegrown," the officer added.
"It is a fact that radicalisation has significantly increased among Kashmiri youths in the past few years but if it has reached a level that Kashmiri boys have been brainwashed to blow themselves up, then we need a whole new strategy," said a senior counter-terrorism official, requesting anonymity Sources said that though there was no excuse for the intel failure in Pulwama, unless the intelligence agencies were free from political dominance and their sleeper cells made "so powerful" that they could assassinate terrorist leaders like Masood Azhar, Hafiz Saeed and Syed Salahuddin inside Pakistan on the lines of Israeli defence forces, these type of incidents would continue to haunt the forces.
https://timesofindia.indiatimes.com/india/new-threat-in-jk-homegrown-suicide-bomber/articleshow/68017912.cms
--------
'Pakistan Murdabad', 'LeT Murdabad': Muslims in Maharashtra protest against Pulwama terror attack
Feb 15, 2019
Mumbai: Thousands of Muslims on Friday hit the roads in south Mumbai's minority-dominated Bhendi Bazaar area, spontaneous shutdowns were observed in different parts of the city, and several groups and political parties protested against Thursday's Pulwama terror attack which left close to 50 CRPF troopers dead.
Muslims led by leaders of several NGOs took out a procession on Mohammed Ali Road -- south Mumbai's trading hub -- carrying the Indian Tricolour, banners, placards and raising anti-Pakistan and anti-terror slogans this afternoon.
The entire area observed a total shutdown and reverberated with slogans of "Pakistan Murdabad", "LeT Murdabad", "Down with Masood Azhar and Hafiz Saeed" and "JeM Murdabad" as thousands peacefully staged protest marches in Saifee Jubilee Street, Handiwala Mosque and Sunni Bilal Mosque here.
Earlier in the day, the Maharashtra government announced an ex-gratia of Rs 50 lakh to the families of two troopers from Maharashtra martyred in the Pulwama attacks.
"We have announced Rs 50 lakh for the kin of the martyred jawans and the Maharashtra government will take responsibility of their rehabilitation. 125 crore Indians are their family members," Chief Minister Devendra Fadnavis said condemning the attack.
Bharatiya Janata Party (BJP) units in Mumbai led by Raj Purohit, Ram Kadam and other leaders organised demonstrations in the city and suburbs against Pakistan and flayed the terror strikes.
Maharashtra Congress President Ashok Chavan and Mumbai Congress President Sanjay Nirupam organised a special condolence meeting at the party headquarters and other cities in the state condemning Pakistan and demanded strict action against the terror groups by India.
Both Chavan and Nirupam said the government must ensure that the sacrifices of the troopers do not go in vain and added that as per Congress President Rahul Gandhi's statement, the party would fully support all endeavours of the government in this regard. The Shiv Sena and Maharashtra Navnirman Sena activists burnt Pakistan flags, the Nationalist Congress Party and others organised similar protests and demonstrations at various locations in Mumbai and other parts of the state.
National Democratic Alliance (NDA) ally and Shiv Sena President Uddhav Thackeray demanded immediate retaliation and said the government should "hit back with full force".
"Alliances, elections -- all this can continue, but don't spare Pakistan. Now a surgical strike is needed inside Pakistan. The entire country is united to give a befitting answer to the Jaish-e-Mohammed and teach a lesson to Pakistan it will never forget," Thackeray said.
The Sena has also demanded convening a special Parliament session to discuss the Pulwama crisis and the future course of action.
The Bharat Diamond Bourse, Gem & Jewellery Export Promotion Council and Mumbai Diamond Merchants Association organised a joint condolence meeting for the martyred troopers at the BDB Complex in Bandra Kurla.
Many private and government offices arranged a two-minute silence to mourn the victims, and protests were held at major railway stations on the Mumbai suburban sector with lakhs of home-bound commuters joining to raise slogans in solidarity with the CRPF troopers.
https://www.timesnownews.com/india/article/pakistan-murdabad-let-murdabad-muslims-in-maharashtra-protest-against-pulwama-terror-attack/366713
--------
Madrasa Tells Girls to Have Babies, Not Careers, Sparking Fury at UK Academy
14.02.2019
A madrassa has had its contract terminated by Langley Academy in Slough after lecturers told Muslim girls to have children rather than careers, prompting backlash in the UK.
Netizens found the recording on social media which showed an IslamHood class with Shaykh Shams ad-Duha Muhammad making the comments, where he told an audience of young girls that "smart career women give it up to have children".
He also told Slough and Eton School in early 2015 that working women should "say sorry because you're not a mum, because you're delaying that one thing that you would actually take fulfilment from." The video was recently deleted from the organisation's YouTube page.
The news on Al-Miftah Institute's 'IslamHood' Sunday school class follows complaints made from the general public and National Secular Society that the curriculum kept controversial views on homosexuality, in addition to calling non-Muslims "pigs".
IslamHood also hosted Yusuf Chambers, who in 2013 said that homosexuality was a "sin" and Muslims "ponder that issue with the gay gene".
Mr. Chambers spoke alongside Imram Ibn Mansur, or Dawah Man, at an event in 2015. Mr. Mansur infamously posted a video to Facebook in 2017 calling YouTubers without hijabs "sinful" and non-Muslims "pigs", as well as "kafir" or "infidels".
Shams Ad-Duha Muhammad, who also attended the 2015 event, called homosexuality "a vice among vices" in 2013 and insinuated that the HIV and AIDS epidemic were due to "general moral decline".
Who Has Responded?
"We fully support the government's Prevent Strategy," a Langley Academy spokesperson said.
"We have carried out an in-depth investigation and the lettings agreement with Islamhood has been terminated with immediate effect."
Al-Miftah Institute and IslamHood founder Moshin Ashraf said as quoted by the Telegraph that his organisations supported freedom of speech "by and large". But he slammed Langley Academy for not probing "the circumstances surrounding how the speakers in question were invited" in depth.
"A number of inconsistent and malicious claims have been made against the speakers invited by IslamHood and by extension, against IslamHood itself," he said.
But Stephen Evans, CEO of the National Secular Society said in a press release that he welcomed Langley Academy's decision to terminate Al-Miftah's contract, adding that schools "shouldn't be providing a platform for groups seeking to indoctrinate impressionable young minds with extremist ideology".
"IslamHood has a history of hosting lectures for young people with well-known extremist speakers. In some of these lectures, speakers have said disbelievers and Muslims who have non-Muslim friends will burn in Hell, criticised Muslims who let their children go to university, and condemned the fundamental values of liberty and equality.
"It is inappropriate and potentially harmful to allow a group that endorses these messages to use an academy for hosting weekend classes for children," Mr. Evans continued.
He added that schools working with third parties "must be aware that some groups may have an agenda that contradicts the school's ethos, and develop a strategy to prevent themselves from being exploited", adding that schools needed support in resisting pressure from religious groups, and should uphold "their own values and ethos".
https://sputniknews.com/europe/201902141072419759-Langley-Academy-Muslim-comments/
--------
Teen ISIS Bride Unfazed by Severed Heads Has Stockholm Syndrome, Says Family
15 Feb 2019
Pregnant 19-year-old Islamic State bride Shamima Begum, who expresses no regret for joining the terror group but wants to come back to the UK to have her baby, has Stockholm syndrome, according to her family.
Following the story of the UK national jihadi who was found at a Syrian refugee camp and interviewed by The Times, the family of Ms Begum has suggested she is suffering from a psychological condition where she has adopted allegiances to her 'captors' as a survival mechanism which they say may explain her total lack of remorse.
"I thought she had realised the error of her ways," Mohammed Rahman, the husband of the ISIS bride's older sister Renu, told the newspaper of record.
"She will obviously have to change her views. You can't do something that is in conflict with the values of the place where you want to come home to, and not show any remorse. I think that's a fair expectation."
"She has been there for so long, maybe the only way to make it through was to keep supporting [the ideology]. I can't imagine people get there and think, this is nice, I'd like to stay. So it's either [you] become depressed, or make something of the situation you are in," he added.
While the lawyer for the Begum family has said that his client was a "victim of grooming."
The Bethnal Green, London, resident left the UK of her own will in 2015 when she was 15 years old to travel to Syria to marry a Dutch national jihadist, who is currently being held by the Syrian Free Democratic Forces.
In an interview with The Times, she said she did not regret joining the terror group, and even apparently expressed some regret that the new Caliphate had failed, at one point casually describing seeing a decapitated head in a bin and saying, "it didn't faze me at all."
While liberals have said that as a British citizen, she should be allowed to return and be "rehabilitated" — including the former head of MI6 who said Begum should be "given a chance" — security minister Ben Wallace said no Briton would be sent to risk their lives to "look for terrorists or former terrorists in a failed state."
Home Secretary Sajid Javid told The Times that "if you have supported terrorist organisations abroad" he would use his available powers to "prevent your return," with The Sun reporting its sources as saying that permanent exclusion is being considered, with her parents being immigrants from Bangladesh opening up the option of her being able to claim citizenship there, to avoid legal challenges over making her a 'stateless' person.
The other options being considered are prosecuting her in absentia for terrorism offences or bringing her to the UK to face investigation.
Also reported on Friday, The Mirror revealed that the first female British citizen found guilty of joining Islamic State has been released from prison last summer — after serving less than three years of her six-year prison sentence.
Tareena Shakil, 29, was jailed in 2016 after taking her toddler son to Syria to join Islamic State. The court was shown images of Ms Shakil brandishing firearms and she said she wanted to "die as a martyr."
With the collapse of the Caliphate, the British government has been in a quandary over what to do with its British passport holders who had travelled to the Middle East warzone to fight for terror groups and who now want to return.
The Telegraph reported on Friday that the U.S. is allegedly considering sending UK national terrorists captured in Syria to the American military base Guantánamo Bay, Cuba, after becoming tired of the 'soft' approach of the UK, with the newspaper revealing that a number of returning Islamist guerrillas will not be prosecuted but have been placed on "secretive" government rehabilitation programmes.
It is believed that the U.S. government wants to prosecute two members of the so-called 'Beatles' London-based terror cell, Alexanda Kotey and El Shafee Elsheikh, with one U.S. official telling the newspaper, "These guys have American blood on their hands."
Since Begum's story broke, a 2018 petition to the government to ban "all ISIS members from returning to UK" has surged from tens of thousands of signatories to almost 160,000, with thousands more signatures being added every hour.
https://www.breitbart.com/europe/2019/02/15/teen-isis-bride-unfazed-severed-heads-stockholm-syndrome-says-family/
--------
Al-Sudais: Kingdom, Muslim Nations Target of Disparaging Media Campaign
2019-02-15
MAKKAH/MADINAH – Muslim countries in general and the Kingdom in particular are witnessing a disparaging media campaign via satellite channels and websites these days, Saudi Press Agency (SPA) quoted Sheikh Abdulrahman Al-Sudais, Imam and Khateeb of the Holy Mosque in Makkah, as saying in his Friday sermon here.
This necessitates that all must unify their ranks and stand shoulder to shoulder in the face of this wild media frenzy and repulse whoever tries to undermine the Muslim countries or the security of the Two Holy Mosques, Al-Sudais asserted.
Al-Sudais added: "The brilliant and prudent youth of the Muslim Ummah should not allow themselves to be deceived by these media campaigns and tendentious rumors, as their aim is nothing but to destroy society, cause its disintegration and undermine its security and stability."
At the conclusion of the khutba, he supplicated to Allah Almighty to protect "the country of the Two Holy Mosques" (Bilad Al-Haramain), its creed (Aqeedah), leadership, security, and safety.
He also prayed that Allah Almighty may safeguard the Ummah in general from the machinations of the enemies lying in wait for it.
Sheikh Al-Sudais said: "A person who contemplates on the history of the Ummah will notice that most of the time Muslims are preoccupied by differences among themselves in good times when peace prevails, a state of relaxation and profuse intellectual creativity are replete.
"However, these differences dwindle when the Ummah is faced by a looming danger or an enemy lying in wait for them. They then resort to focusing on matters of top priority and are keen to maintain and protect their internal unity to counter the external enemy."
"All the people cannot be the same due to the difference in their levels of understanding and will. The difference among human beings can be positive and leads to diversity. But what is undesirable is that diversity should not lead to discord, partisanship, sectarianism, and animosity due to difference in ideas or school of religious thought.
"There should be no war of words, being suspicious about one another or any bloodletting. Whatever the differences, their main goal should be to obey Allah Almighty and His Prophet (peace be upon him). They should treat one another with compassion and fraternity. Harmony and cohesion should prevail among them," Sheikh Al-Sudais stressed.
Al-Sudais criticized the prevailing indulgence in materialism in this era.
Meanwhile, in his Friday sermon, Sheikh Abdulbari Al-Thubaiti, Imam and Khateeb of the Prophet's Mosque in Madinah, focused on the concept of "Emarat Al-Masajid" which encompasses building mosques and furnishing, maintaining, repairing, cleaning and keeping them neat and tidy. -- SPA
http://saudigazette.com.sa/article/559259/SAUDI-ARABIA/Al-Sudais-Kingdom-Muslim-nations-target-of-disparaging-media-campaign
--------
NATO: We Continue To Train, Advise and Assist Afghanistan Security Forces
15 Feb 2019
The two days NATO ministerial summit ended up with decisions including the revision of NATO mission for Afghanistan.
Jens Stoltenberg, Secretary General of NATO briefed the journalists on the conclusion of the second day meeting that focused on NATO's mission and operations in Afghanistan.
"The situation in Afghanistan remains difficult. But we also see ongoing peace process. Our Resolute Support Mission continues to train, advise and assist the Afghan security forces, as they fight terrorism and create the conditions for peace," said Stoltenberg.
He further expressed his satisfaction regarding the Afghan peace process coordinations between Zalmay Kjhalilzad, US special envoy for Afghan peace and the NATO allies.
"US envoy Ambassador Khalilzad has kept Allies closely updated of his efforts for a peace settlement. We fully support those efforts. We continue to consult on the implications of a possible peace deal," he added.
NATO's role in Afghanistan changed to advisory training and providing of technical assistance in the military operations since the start of 2015. In addition, the NATO provides funding of the Afghan security forces.
Mr. Stoltenberg also disclosed that the alliance decided during their summit in July last year to extend the funding of the armed Afghan forces until 2024.
https://www.khaama.com/nato-we-continue-to-train-advise-and-assist-afghanistan-security-forces-03309/
--------
Muslim Congresswoman Ilhan Omar tells Trump 'you have trafficked in hate your whole life'
Feb 15, 2019
Muslim Congresswoman IIhan Omar has pushed back against President Trump's call for her to resign due to comments she's made about the Israel lobby's influence on Capitol Hill, telling Trump "you have trafficked in hate your whole life."
Omar, a Representative for Minnesota's 5th congressional district, made the comments on Twitter on Wednesday. Along with Rashida Tlaib, she was one of the first two Muslim women elected to the lower chamber of Congress and the first woman of color elected from Minnesota.
Both lawmakers have been outspoken about their criticism of Israel's crimes against the people of Palestine.
"You have trafficked in hate your whole life—against Jews, Muslims, Indigenous, immigrants, black people and more," she told Trump on Twitter.
"I learned from people impacted by my words," Omar added in her tweet at Trump. "When will you?"
Her remarks followed Trump's call for her to resign and Vice President Mike Pence's tweet that she should face consequences for her words, such as being removed from the House Foreign Affairs Committee.
The 37-year-old lawmaker was born to a family of Somali refugees and represents Minneapolis, Minnesota, a district with a large Somali population.
Omar apologized Monday after Democratic leadership condemned a series of tweets—including one in which she wrote "It's all about the Benjamins"—suggesting that many fellow lawmakers are beholden to the pro-Israel lobbying interests of the American Israel Public Affairs Committee (AIPAC).
However, Omar also sent a message that she would not be cowed. "Listening and learning, but standing strong," Omar said in a tweet.
One of Omar's biggest allies in Congress, Representative Alexandria Ocasio-Cortez, a Democrat from New York,, jabbed at Trump following his call for Omar to resign.
"Unlike this President, Rep. @IlhanMN demonstrated a capacity to acknowledge pain & apologize, use the opportunity to learn abt history of antisemitism,+grow from it while clarifying her stance," Ocasio-Cortez said.
Senator Bernie Sanders, who is Jewish, reached out to Omar on Tuesday to offer his support. "I talked to Ilhan last night to give her my personal support," Sanders was quoted as saying. "We will stand by our Muslim brothers and sisters."
Some progressive allies have perceived the attacks on her due to anti-Muslim sentiments in Congress and have since thanked Sanders for reaching out.
"Ilhan is a vital, important new leader in Congress--and she's been facing a slew of Islamophobic attacks," Ilya Sheyman, executive director of MoveOn Political Action told The Daily Beast.
"We're proud to have supported her in her primary and general election campaign. We're eager to continue supporting her strong, principled leadership on the House Foreign Affairs Committee and across our shared priorities. She apologized for her tweet, and these endless bad-faith attempts to attack and undermine the only two Muslim women in the House need to stop," Sheyman added.
https://www.presstv.com/Detail/2019/02/15/588614/Muslim-Congresswoman-IIhan-Omar-Trump-trafficking-in-hate
--------
India
Pulwama attack: Islamabad denies any role, reaction mixed on Pak social media and TV
Feb 15, 2019
ISLAMABAD: Pakistan has denied having any role in the suicide attack in Kashmir carried out by Jaish-e-Muhammed, a terrorist organisation believed to be based on Pakistani soil.
Following Thursday's attack in Pulwama, Islamabad rejected any allegation linking the attack to Pakistan without any evidence.
India, however, strongly believes that the deadly suicide attack on it troops was the handiwork of Pakistan. The presence of Jaish chief Maulana Masood Azhar, reportedly in Bahawalpur region of Pakistan's Punjab province, gives credence to the Indian government and media's claims that Pakistan has long given safe haven to Jaish-e-Muhammed militants and accused it of having a "direct hand" in the Pulwama attack that left 44 CRPF troops dead. India has demanded Masood Azhar's extradition a number of times but Islamabad has always refused citing lack of evidence.
"The attack in Pulwama is a matter of grave concern. We have always condemned acts of violence anywhere in the world," Dr Muhammad Faisal, the Pakistan foreign office spokesperson, said in a tweet on Friday. "We strongly reject any insinuation by elements in the Indian media and government that seek to link the attack to Pakistan without investigations," he asserted.
A mixed sort of reaction was seen on social media and TV channels in Pakistan regarding the attack in the Kashmir valley and the Indian government and media's response towards it.
"2 terror attacks in Pakistan's 2 neighbours (Iran and India) this week, 2 Pak based militant outfits (jaish-ul-Adl & JeM) accepted responsibility for the attacks. Isn't the tail still wagging the dog? Who will believe Pak claims with LeT, JeM & "good Taliban" operating unhindered? … (sic)" tweeted Afrasiab Khattak, a prominent Pakistani politician, human rights activist and former senator.
Sherry Rehman, a Pakistani senator and former ambassador to the US, said Modi's India was escalating its response to a heinous terror attack in Kashmir by premising Pakistan's hand in it. "Yet Islamabad makes no gains from such an attack. Instead of a political response to years of brutal repression in Kashmir, hysteria is being amplified against Pakistan," Rehman said in a tweet.
https://timesofindia.indiatimes.com/india/pulwama-attack-islamabad-denies-any-role-reaction-mixed-on-pak-social-media-and-tv/articleshow/68016039.cms
--------
What Is Jaish-e-Mohammad, Why India Calls For Global Ban On Masood Azhar
15 FEBRUARY 2019
The Jaish-e-Mohammad terror group was founded in the early 2000s by Maulana Masood Azhar, a radical Islamist scholar and jihadist leader, who fought as a member of Osama bin Laden's group in Somalia in the early 1990s against US troops. He then used to be a leader of the terrorist group Harkat-ul-Mujahideen (HuM).
Azhar, against whom India has sought a global ban, was a founding member of bin Laden's International Islamic Front For Jihad against the Crusaders and the Jewish People formed in 1998.
A citizen of Pakistan, Azhar was arrested by police when he entered India in 1994 and was kept in custody in Jammu and Kashmir.
The HuM attempted to free him several times but failed. The group finally succeeded in December 1999 by hijacking an Indian Airlines plane carrying 155 passengers to Kandahar. He was one of those released by India to secure the release of the passengers hijacked by the HuM.
Shortly after his release, Azhar travelled to Afghanistan where he reportedly met with Osama bin Laden. Laden, along with Pakistan's Inter-Services Intelligence (ISI), the Taliban, and several Islamist fundamentalist groups supported Azhar in forming the JeM.
The venture was also reportedly supported by the chiefs of three major religious schools: Mufti Nizamuddin Shamzai of the Majlis-e-Tawan-e-Islami, Maulana Mufti Rashid Ahmed of the Dar-ul Ifta-e-wal-Irshad, and Maulana Sher Ali of the Sheikh-ul-Hadith Dar-ul Haqqania.
At a religious congregation held at the Binori mosque in Karachi on February 4, 2000, Maulana Mohammad Yousuf Ludhianvi, who was subsequently assassinated, and Mufti Shamzai, together announced the formation of the Jaish-e-Mohammad headed by Azhar to fight against India and the US.
About three-quarters of HuM's membership joined Azhar in JeM, which reportedly led to a violent rivalry between JeM and HuM.
Bin Laden failed in his efforts to patch up the differences and switched his support from the HuM to the JeM.
The JeM quickly gained notoriety for its attacks in Jammu and Kashmir. It carried out the first suicide attack in the history of Kashmir on April 19, 2000 when a suicide car bomb exploded outside the Indian Army's 15 Corp headquarters in Badami Bagh. It was the first suicide terrorist attack in India. One person was killed, and seven injured in the attack.
In October 2001, the group bombed the Jammu and Kashmir legislative assembly building, killing more than 30 people. On December 13, 2001, five heavily armed Pakistani militants entered the Indian Parliament complex and opened fire, killing nine people, including security personnel, and injuring 16 others. The perpetrators belonged to the Jaish-e-Mohammed and the Lashkar-e-Taiba. The attack led to a tense standoff between India and Pakistan.
Following the Indian Parliament attack, the US State Department added JeM to its foreign terrorist organisation (FTO) list. Pakistani authorities arrested Masood Azhar on December 29, 2001 for his involvement in the attack, but he was released a year later after the Lahore High Court ruled his arrest unlawful. The then Pakistan President Pervez Musharraf outlawed JeM in 2002. Although the ban did not end allegations that Pakistan's Inter-Services Intelligence (ISI) supported jihadi terrorist groups like JeM, it signalled an official withdrawal of any state support. The same year, JeM members gained international media attention by kidnapping and later beheading American journalist Daniel Pearl. The following year, the group attempted to assassinate Pakistani President Pervez Musharraf twice.
In order to protect itself from the repercussions of being on the U.S. FTO list, Azhar renamed the group Tehrik-ul-Furqan and reportedly distributed the organisation's financial resources to low-profile members for safekeeping. In 2003, shortly after the name change, Azhar expelled 12 leaders and the group splintered into two offshoots: Khuddam ul-Islam (KuI) which was headed by Azhar, and Jamaat ul-Furqan (JuF), led by Maulana Abdul Jabbar, which rejected Azhar's leadership.
Since 2015, JeM has been responsible for an increasing number of terrorist attacks in India. It is regarded as having a more aggressive strategy than other terrorist groups in the region. The group maintains close relations with the Taliban and Al-Qaeda in Afghanistan.
On November 29, 2016, three members of the JeM sub-cell Afzal Guru Squad, attacked and killed seven Indian army soldiers in Nagrota, Jammu Kashmir.
On January 2, 2016, the JeM conducted an attack on the Indian Air Force base in Pathankot, in Punjab. The attack left seven security personnel dead. The attack was planned by senior JeM figure Rauf Asghar, the brother of Masood Azhar. JeM's involvement in the attack was identified through forensic examination of the site, including DNA testing of the assailants. Online chat information indicated that a JeM handler was in contact with the assailants during their attack on the airbase.
The September 18, 2016 attack on an Indian Army camp in Uri, Jammu and Kashmir, was also carried out by the Jaish. Four heavily armed militants carried out a pre-dawn ambush on the brigade headquarters in Uri, near the Line of Control, killing 17 security personnel. Jaish-e-Mohammad's (JeM) Kashif Jaan, Rauf Asgar and Masood Azhar are believed to have masterminded the brazen attack.
On August 26, 2017, JeM militants conducted a terror attack on police in Pulwama, Jammu and Kashmir, which left eight security force members dead.
The JeM publishes an online journal, al Qalam Weekly, which contains extremist material and advocates terrorist attacks against India. The publication praises JeM attacks against Indian security forces and includes contributions from Masood Azhar.
The JeM held numerous rallies in early 2017, encouraging youths to conduct terrorist attacks against India.
The JeM adheres to a radical interpretation of Sunni Islam and supports the establishment of Islamic rule not only in Jammu and Kashmir but beyond. The group has called for attacks against all nations identified to have violated the rights of Muslims, in particular, Israel and the United States.
In Jammu and Kashmir, the group suffered a major blow when Noor Mohammad Tantray, considered the brain behind the outfit's revival in the Valley, was killed in an encounter at Samboora area in South Kashmir's Pulwama district on December 26, 2017.
On Thursday, February 14, in one of the deadliest terror attacks in Jammu and Kashmir's three decades of militancy, a Jaish suicide bomber rammed an explosives-laden vehicle into a CRPF bus in Pulwama district, killing at least 40 personnel and leaving many critically wounded.
India's call for listing Masood Azhar as a global terrorist has been continuously thwarted by China, a close friend of Pakistan.
Full report at:
https://www.outlookindia.com/website/story/india-news-what-is-jaish-e-mohammed-why-india-calls-for-global-ban-on-masood-azhar/325499
--------
Pulwama attack: 80 kg high-grade RDX used by Jaish terrorist, seven detained
Feb 15, 2019
Jammu and Kashmir Police have detained seven persons from Pulwama district of South Kashmir in connection with the deadly terror attack that left 40 CRPF personnel dead near Awantipora, officials said on Friday.
The youths were detained from Pulwama and Awantipora during the night on suspicion of links with planning the suicide attack, the first of its kind in which a terrorist of Jaish-e-Mohammed detonated an explosive-laden vehicle near a CRPF bus.
The overall planning is believed to be done by a Pakistani national, Kamran of JeM, who has been operating and moving in the areas of Pulwama, Awantipora and Tral of South Kashmir. The 'fidayeen' (suicide attacker) was identified as Adil Ahmad from Kakapora in Pulwama. He had joined the JeM in 2018.
According to initial investigations, the planning for the terror strike was done at Midoora area of Tral in South Kashmir. Police are also looking for another local JeM overground worker who was instrumental in arranging the explosive material.
High-grade RDX explosive, weighing about 80 kilogram, was used in the attack, officials said on Friday.
The attack in Pulwama has prompted CRPF to tweak standard operating procedures (SOPs) for convoy movement in the future, by providing additional security personnel in buses that transport troops to and from Kashmir valley. Home minister Rajnath Singh had also said in Srinagar that civilian traffic movement during plying of convoys will be restricted.
80-kg high-grade RDX used
Officials said a post-blast investigation conducted by security agencies has found that "high-grade RDX" of about 80 kg was detonated in the blast that was carried out by a Jaish-e-Mohammed (JeM) terrorist after he rammed his explosive laden SUV into the ill-fated bus--HR 49 F 0637--from the left side. The attack took place at the 272nd milestone on National Highway near Latoomode in Pulwama at about 3:33 pm.
Officials said the scattered remains of the bus, reduced to blackened bare frames due to the impact, does not reflect that an improvised explosive device (IED) was used to target it. The fatal damage can be wreaked by a better grade of explosive like RDX, they said.
The attacked bus was the fifth in the convoy of 78 vehicles which also included as many as 16 bullet-proof protection bunker vehicles that had joined the convoy an hour back from the last halt spot of Qazigund to guard troop movement. The suicide attack was a novel way to ambush the convoy by ramming an explosives laden vehicle, leaving little for the mobile contingent's protection units to do, the official said.
The terrorist drove the vehicle on the highway from a link road on the Kakapora-Lelhar side and was moving parallel to the bus belonging to the 76th battalion, and the investigators suspect the explosion was triggered, killing all 39 occupants.
Assistant Sub Inspector Mohan Lal, deployed on the highway as part of the road opening party (ROP), also got trapped in the blast and was the 40th trooper to be killed. The last such convoy had moved from Jammu to Kashmir on February 4 in 91 vehicles and had 2,871 personnel but all went well that day, they said. The movement of convoys was shut for the last few days due to bad weather in the valley.
Full report at:
https://www.hindustantimes.com/india-news/seven-detained-in-connection-with-pulwama-terror-attack/story-AjzF8tESBoI1fO5JZ8nvOI.html
--------
Pulwama attack: world condemns the terror act
FEBRUARY 15, 2019
Several nations, including the United States, Russia, and the United Nations, extend their support to India in the fight against terrorism.
World body United Nations and countries from across the globe, including the U.S., Russia, Australia, France, Saudi Arabia, Sri Lanka and Bangladesh, have condemned the brutal Pulwama terror attack carried out by Pakistan-based terror group Jaish-e-Mohammad (JeM), and extended their support to India in the fight against terrorism.
United Nations
U.N. Secretary General Antonio Guterres "strongly" condemned the terror attack and called for those behind the attack to be brought to justice.
"We strongly condemn today's attack in Jammu and Kashmir's Pulwama district and express our deepest condolences to the families of those who lost their lives and to the Government and people of India," Mr. Guterres's spokesperson Stephane Dujarric said at the daily press briefing on Thursday.
Responding to a question from PTI on the attack, he said, "We, of course, wish a speedy recovery to those injured and call for those behind the attack to be brought to justice."
When asked about New Delhi's appeal to the international community to support India's proposal to list terrorists, including JeM chief Masood Azhar, as a designated terrorist under the UN Security Council's Sanctions Committee and to ban terrorist organisations operating from territories controlled by Pakistan, he said the "issue of listing of terror organisations is one that is in the hands of the Security Council".
The U.S.
In a statement, the U.S. State Department said it was resolutely committed to working with the Indian government to combat terrorism in all its forms.
"The US condemns in the strongest terms the terrorist attack today on an Indian Central Reserve Police Force convoy in the Indian state of Jammu and Kashmir," State Department Deputy Spokesperson Robert Palladino said. He extended his deepest condolences to the deceased personnel and their families.
''The UN designated, Pakistan-based terrorist group Jaish-e-Muhammad has claimed responsibility for this heinous act. We call on all countries to uphold their responsibilities pursuant to UN Security Council resolutions to deny safe haven and support for terrorists,'' he said.
Cutting across party lines, over 50 Congressmen and Senators took to social media to express their solidarity with people of India and called for strict action against the JeM) and its state sponsors.
Russia
Russia stressed need to combat such "inhuman acts" with a decisive and collective response, without any double standards.
The Russian Embassy in New Delhi condemned in the strongest terms the horrific terror attack, which claimed the precious lives of CRPF personnel and left numerous people injured.
A statement from the embassy said, "We denounce terrorism in all its forms and manifestations and reiterate the need to combat these inhuman acts with decisive and collective response without any double standards."
The embassy conveyed its condolences to the grieving families and wished a speedy recovery of those injured.
Putin's message to Kovind, PM
In a message to President Ram Nath Kovind and Prime Minister Narendra Modi on Friday, Russian President Vladimir Putin said: "Please accept the most sincere condolences in connection with the loss of Indian law enforcement officers in the terrorist act in the state of Jammu and Kashmir. We strongly condemn this brutal crime. The perpetrators and sponsors of this attack, undoubtedly, should be duly punished.
"I would like to reiterate the readiness for further strengthening counterterrorist cooperation with Indian partners. In Russia, we share the grief of friendly people of India and hope for speedy recovery of the injured."
China
Chinese State Councilor and FM WangYi has written to External Affairs Minister Sushma Swaraj condemning the Pulwama attack and expressed deep sympathy to families of the victims and the injured, ANI quotes Chinese Envoy to India Luo Zhaohui as saying. "They stressed that China resolutely opposes and strongly condemns all forms of terrorism," Mr. Luo adds.
France
France's Ambassador to India Alexandre Ziegler reiterated that France would collaborate with India in its fight against terrorism.
"France most firmly condemns the heinous attack perpetrated in Jammu and Kashmir. Our thoughts go out to the families of the fallen soldiers. France has always been and always will be by Indias side in the fight against terrorism in all its forms," he tweeted.
Germany
"Horrible terror attack on a police convoy in the Indian State of #Jammu&Kashmir: at least 40 police personnel reportedly killed, many injured. We condemn terrorism in all its forms. Germany stands by its strategic partner #India," German foreign ministry wrote on the micro-blogging site.
Canada
Canadian High commissioner in India Nadir Patel condemned the cowardly terrorist attack. "Our deepest condolences to the families of the victims of today's cowardly terrorist attack in #Pulwama. Canada strongly condemns this attack, and stands with India in the fight against terrorism. #KashmirTerrorAttack #Pulwamaattack @MEAIndia @IndianDiplomacy @CanadainIndia," he tweeted.
Saudi Arabia
Saudi Arabia on Friday said it stood with India in its fight against terrorism and extremism and denounced the suicide attack as "cowardly" .
The Saudi Foreign Ministry said Riyadh denounced the explosion that killed a number of people and injured many others.
The official Saudi Press Agency, quoting a Foreign Ministry source, stressed the Kingdom rejects these "cowardly terrorist acts" and the Gulf Kingdom stood with the "friendly Republic of India against terrorism and extremism."
Riyadh also offered condolences to the families of the victims, the Indian government and the people and wished a speedy recovery to the injured.
UAE
The Ministry of Foreign Affairs and International Cooperation of the United Arab Emirates said in a statement that the UAE "condemns this terrorist act", and reiterates the country's "principled and unequivocal position rejecting all forms of violence and terrorism".
"The UAE stands in solidarity with the government and people of India in their fight against violence and extremism," the ministry said. The UAE also called on the international community to unify efforts in confronting extremism and terrorism that pose a threat to global security and stability.
Israel
Israeli Prime Minister Benjamin Netanyahu wrote to his Indian counterpart, "To my dear friend, Prime Minister of India Narendra Modi, we stand with you, the security forces and the people of India following this heinous terrorist attack. We send our condolences to the families of the victims."
Israel's Ambassador to India Ron Malka on Twitter: "Israel strongly condemns the terror attack in #Pulwama and stands by our Indian friends during this difficult hour. We send our deepest condolences to the CPRF and their families, the people of India and the Indian government following the terrible."
Czech Republic
"The Czech Republic strongly condemns today's terrorist attack perpetrated in Jammu & Kashmir. Our thoughts and condolences go out to the families of the victims. The Czech Republic will stand by Indias side in the fight against terrorism in all its forms," Czech Republic's foreign ministry tweeted.
Bangladesh
Bangladesh Prime Minister Sheikh Hasina expressed her distress over the Pulwama attack, adding that Dhaka remained committed to fighting terrorism and continue to maintain a zero—tolerance policy against terrorist activities.
"At this sad moment, we stand by the people and government of India. We offer was condolences to the members of the families who lost their dear ones. Our thoughts and prayers are speedy recovery of those who got injured," she said.
"Bangladesh remains steadfast in its commitment against terrorism of all forms and maintains a zero-tolerance policy against any kind of terrorist activities. We would continue to work and cooperate with international community including India to eradicate the menace of terrorism," she added.
Afghanistan
Spokesperson for Afghanistan's interior ministry Sediq Seddiqi tweeted: "While strongly condemning the heinous #KashmirTerrorAttack on CRPF personnel, we stand united with India to combat terrorism in any form as we have done it as a nation in the past 18 years."
Maldives
Maldives President Ibrahim Mohamed Solih expressed his condolences and condemned the terror attack.
"I strongly condemn the deadly terrorist attack in Kashmir today killing at least 40 people. We send our thoughts and prayers to those affected. The Maldives will continue to work with India and the international community to combat terrorism in our region and the world at large," he tweeted.
Sri Lanka
Sri Lankan Prime Minister Ranil Wickremesinghe said on Twitter, "I strongly condemn the brutal terrorist attack in Kashmir's Pulawama district — the worst-ever terror attack in Jammu and Kashmir since 1989. I express my condolences to @narendramodi and the families of police officers who lost their lives".
Former president and leader of the Opposition Mahinda Rajapaksa also took to Twitter to condemn the attack.
"I condemn the terror attack in Jammu and Kashmir... I extend my heartfelt condolences to the families of the deceased. The world should continue to combat terrorism," he said.
Bhutan
Tandi Dorji, Foreign Minister of Bhutan tweets: "Shocked and saddened to hear of the dastardly terrorist attack in Kashmir, which has resulted in the loss of 30 precious human lives. We strongly condemn this heinous attack and express our solidarity with the families of the victims, and the people and Government of India. Hope the perpetrators will be brought to justice."
Diplomatic Corps
The Diplomatic Corps in India also expressed "deepest sympathy" to the government as well as the families of this horrendous act.
"We firmly support the Government of India in their fight against terrorism," Hans Dannenberg Castellanos, the Ambassador of Dominican Republic and head of the Diplomatic Corps said in a statement.
Pakistan
Pakistan said the terrorist attack was "a matter of grave concern" even as it strongly rejected Indian media and government's allegations of the country's link to the strike "without" probe.
Full report at:
https://www.thehindu.com/news/national/pulwama-attack-world-nations-condemn-act-of-terror/article26281354.ece
--------
India to hold talks with US for ban on Jaish chief Masood Azhar
Feb 16, 2019
NEW DELHI: Amid widespread anger over the Pulwama terror attack, India and the US will 'very soon' hold another round of dialogue on terrorist designation proposals. JeM chief Masood Azhar will figure prominently in the talks, official sources here said, with Indian authorities likely to push the US to bring another resolution for a UNSC ban on the terrorist who is an accused in the Pathankot airbase attack and who continues to operate with impunity from Pakistan.
India and the US had in 2017 launched a new consultation mechanism for domestic and international terrorist designations, as announced in the 2017 joint statement issued after PM Narendra Modi's summit meet with President Donald Trump.
India sees US support in terrorist designation as evidence of US commitment to end terror in all its forms and manifestations.
After China blocked a US backed proposal in 2017 to designate Azhar a global terrorist by the UN Security Council, the US has been wary of bringing another such proposal until the time it is assured of support from China. The US is aware that another resolution, in the face of unrelenting Chinese opposition, can at best be an exercise in occupying the moral high ground.
India itself has been reluctant to push China on Azhar in the recent past, focusing instead on improving ties with China after the Doklam standoff. While Beijing did express sympathy Friday for the Pulwama victims and declared that it strongly condemned all forms of terrorism, it remained non-committal to supporting India's demand for an international ban on Azhar. Inclusion of Azhar in the UNSC sanctions list, as Indian officials have said in the past, would result in freezing of Azhar's financial assets, block supply of funds to JeM and also expose Pakistan's failure to check activities of terror groups targeting India.
The Pulwama attack though is certain to see India once again placing the Masood Azhar issue on top of its agenda with Beijing.
While India has been trying to convince all that improved Sino-Indian relationship has been one of the highlights of its foreign policy in the past 12 months, the fact is that this 'thaw' has seen practically no concession from China not just on Azhar but also other issues like India's NSG membership bid and CPEC, the flagship BRI project which passes through the Gilgit-Baltistan region.
Full report at:
https://timesofindia.indiatimes.com/india/india-to-hold-talks-with-us-for-ban-on-jaish-chief-masood-azhar/articleshow/68016890.cms
--------
Despite Pulwama attack, no change in China's stance on Masood Azhar
Feb 15, 2019
BEIJING: The dastardly attack on a CRPF convoy in Pulwama by Jaish-e-Muhammed (JeM) notwithstanding, China signalled on Friday that it would not change its stance on Masood Azhar, head of the Pakistan-based terrorist organization.
At a media briefing here, the Chinese foreign ministry made it clear that it would not support India's efforts to persuade the 1267 Committee of the UN Security Council to list Azhar as a global terrorist. As a permanent member of the Security Council, China has repeatedly blocked India's bid to list Azhar as a global terrorist, saying there is no consensus in the top group of the world body on this issue.
"I could tell you that the 1267 Committee of the Security Council has a clear stipulation on the listing and procedure of the terrorist organisations," Chinese foreign ministry spokesman Geng Shuang said, adding, "JeM has been included in the Security Council terrorism sanctions list. China will continue to handle the relevant sanctions issue in a constructive and responsible manner."
"China has noted the reports of the suicide attack. We are deeply shocked by this attack. We express deep condolences and sympathy to the injured and bereaved families," the spokesperson said, adding, "We firmly oppose and strongly condemn all forms of terrorism."
The ministry chose its words carefully saying it is opposed to "all forms of terrorism" instead of specifically condemning the attack in Pulwama.
The Chinese response came only after questions were raised at the regular media briefing of the foreign ministry. There was no specific response from Chinese foreign minister Wang Yi as one would have expected after a series of friendly meetings between Prime Minister Narendra Modi and Chinese president Xi Jinping last year.
The foreign ministry indirectly appealed to both India and Pakistan to avoid an altercation on this issue. "We hope the relevant regional countries will cooperate to cope with the threat of terrorism and jointly uphold regional peace and stability," Geng said.
There was no sign of meetings between Indian diplomats and Chinese officials on the Pulwama attack.
Full report at:
https://timesofindia.indiatimes.com/india/despite-pulwama-attack-no-change-in-chinas-stance-on-masood-azhar/articleshow/68015972.cms
--------
Trump bluntly tells Pakistan to end terrorism
Feb 15, 2019
WASHINGTON: The Trump White House on Friday bluntly asked Islamabad to "end immediately the support and safe haven provided to all terrorist groups operating on its soil" following the Pulwama attack, going much beyond a more cautious state department approach towards Islamabad.
Although the State Department also condemned the attack in the "strongest terms" and said the "United States is resolutely committed to working with the Indian government to combat terrorism in all its forms," it lamely called on "all countries to uphold their responsibilities pursuant to UN Security Council resolutions to deny safe haven and support for terrorists," — as if, given that the statement was about the Pulwama attack, there was more than one country playing host to UN-designated terrorists.
President Trump's office had no such equivocation as it implicitly accused Pakistan of fostering and inflicting terrorism on the region.
Terming it a "heinous" terrorist attack, the White House said "The United States calls on Pakistan to end immediately the support and safe haven provided to all terrorist groups operating on its soil, whose only goal is to sow chaos, violence, and terror in the region."
"This attack only strengthens our resolve to bolster counterterrorism cooperation and coordination between the United States and India," the statement added, going beyond the State Department's formulation that "The United States is resolutely committed to working with the Indian government to combat terrorism in all its forms."
President Trump has whittled down US aid to Pakistan to almost zero, a policy that does not sit well with many State Department bureaucrats who believe Washington should continue to lubricate a state closely identified with the use of terrorism as a policy instrument.
It's not often that the White House and the State Department read from a different page, but in this case, the White House unequivocally went beyond the rather circumspect formulation in Foggy Bottom to call out Pakistan for its terrorism.
It is not clear if this was the result of any direct intervention by Trump, who is not known to pull punches in identifying adversaries, and who does not see Pakistan in any considerate light given its long and transparent history of hosting terrorists.
Full report at:
https://timesofindia.indiatimes.com/india/trump-bluntly-tells-pakistan-to-end-terrorism/articleshow/68015603.cms
--------
J&K govt moves SC to transfer LeT terrorist from Jammu to Tihar
Feb 15, 2019
NEW DELHI: A day after the Pulwama terror attack in which 40 CRPF personnel were martyred, the Jammu and Kashmir government on Friday moved the Supreme Court seeking that Pakistani Lashkar-e-Taiba terrorist Zahid Farooq be shifted from Jammu jail to Tihar in the national capital, saying he is "indoctrinating" Indian inmates.
A bench of Justices L Nageswara Rao and M R Shah, agreed to examine the plea and issued notice to Centre and sought its response in four weeks.
Farooq was arrested by security forces while trying to cross border security fence on May 19, 2016.
The state government said that intelligence inputs received indicate that militants belonging to terror outfits like Jaish-e-Muhammad and LeT are indoctrinating the minds of other inmates lodged in the prison.
It further said that it has been reliably learnt that the prisoner and other similarly situated individuals have considerable local support and it cannot be ruled out that they may be receiving information, resources as well as other help to carry out terrorist related activities.
The state also sought shifting of the trial to Delhi saying it apprehends that transporting the militant to court and back to prison poses a threat to escorting policemen and common public.
State's standing counsel Shoeb Alam cited an example of an attack on a police party last year when policemen were killed and a Pakistani terrorist prisoner was freed from custody while on a hospital visit.
"The petitioner State has received confidential intelligence inputs which show that he poses a threat to national security in as much as his involvement in planning and designing terror attacks against the citizens/residents in India cannot be ruled out.
"To execute such nefarious schemes, it is understood that the prisoner and other similarly situated individuals have been mobilising support within the jail premises by influencing the minds and psyche of other inmates," the state government said.
Transfer of Farooq from his current prison in Jammu & Kashmir to a high security prison outside the state is in the interest of national security, it said.
"Foreign prisoners like the private respondent are radicalising and brainwashing local Kashmiri youth in prison. There is a concentration of prisoners with similar backgrounds and linkages to terrorist organizations in local prisons in the state of J&K," it said.
The effect of such radicalisation is that the brainwashed local youth who are inmates with these prisoners, are spreading the menace of terrorism and creating sympathisers by influencing, mobilizing against the state, it said.
"The petitioner state has received intelligence inputs that some similarly situated prisoners have affiliations with terror outfits like Jaish-e-Muhammad and Lashkar-e-Taiba, who have received specialized training in indoctrinating the minds of the other inmates lodged in the prison to turn against the State and its citizens.
Full report at:
https://timesofindia.indiatimes.com/india/jk-govt-moves-sc-to-transfer-let-terrorist-from-jammu-to-tihar/articleshow/68013769.cms
--------
U.S. backs India's right to self-defence over Kashmir attack - Indian government
FEBRUARY 16, 2019
NEW DELHI (Reuters) - The United States supports India's right to self-defence against cross-border attacks, India's foreign ministry said on Saturday after a deadly car bombing in disputed Kashmir raised tensions with rival neighbour Pakistan.
Prime Minister Narendra Modi has promised a strong response after a Pakistan-based militant group claimed responsibility for the suicide attack on a military convoy on Thursday that killed 44 paramilitary policemen.
India's government said it had evidence the group, Jaish-e-Mohammad (JeM), had the backing of Pakistan and demanded Islamabad take action. Pakistan has condemned the attack and rejected India's allegations.
U.S. National Security Adviser John Bolton spoke to his Indian counterpart Ajit Doval on Friday night, promising to help bring those behind the attack to justice, the foreign ministry said in a readout of the phone call.
"The two NSAs vowed to work together to ensure that Pakistan cease to be a safe haven for JeM and terrorist groups that target India, the U.S. and others in the region," the foreign ministry said.
"They resolved to hold Pakistan to account for its obligations under U.N. resolutions," it added.
India has for years accused Muslim Pakistan of backing separatist militants in divided Kashmir, which the neighbours both claim in full but rule in part.
Pakistan denies that, saying it only offers political support to the Himalayan region's suppressed Muslim people.
Modi, who is facing an election in the next few months, has called a meeting of political parties on Saturday to build support for action against Pakistan.
Indians have poured onto social media to vent their fury over the suicide bombing in Kashmir, with many of them calling for swift retribution against Pakistan as TV news shows hosted jingoistic debates.
When he swept to power at the head of a Hindu nationalist-led alliance in 2014, Modi vowed to pursue a tough line with Pakistan. The two countries have gone to war three times since independence from Britain in 1947, twice over Kashmir.
Full report at:
https://uk.reuters.com/article/uk-india-kashmir/u-s-backs-indias-right-to-self-defence-over-kashmir-attack-indian-government-idUKKCN1Q505K
--------
Will Pulwama terror attack cast a shadow on Kartarpur corridor?
Feb 15, 2019
The terror attack in Pulwama has raised doubts over its impact on the meeting between officials of India and Pakistan on the Kartarpur corridor project.
The two sides are scheduled to meet on March 14 to finalise the modalities of the much-awaited corridor, particularly its coordinates. Though India withdrew the "most favoured nation" status accorded to Pakistan and warned it of a "strong response", political leaders are hoping that tension stoked by the car bombing incident does not cast a shadow on the meeting.
Union minister of state with independent charge of housing and urban affairs Hardeep Singh Puri, who was in Amritsar for a party event, told reporters that in his view, it cannot be business as usual after the attack. The minister said it was the prerogative of the government to take measures and he has no doubt about its determination to take appropriate steps.
Responding to queries on the terror attack's impact on Kartarpur corridor project and Indo-Pak trade, he said there was no change in the deep state of Pakistan, which was conspiring terror activities in India. "On the one hand, Pakistan responded to (setting up) the corridor but on the other hand, it is supporting terror groups from its soil against India. How long will this go (on)?" he asked, reiterating his government's commitment to the project.
Punjab chief minister Capt Amarinder Singh, who urged the Centre to "teach Pakistan a lesson", hoped the suicide attack will not impact the Kartarpur corridor project. He said he was confident the corridor would be well protected, but there was a need for a change in attitude on the part of Pakistan if peace between the two counties was to be promoted.
Full report at:
https://www.hindustantimes.com/chandigarh/will-pulwama-terror-attack-cast-a-shadow-on-kartarpur-corridor/story-wEzFkX54zdZyGMXWJxahwM.html
--------
Pulwama attack: Top Indian security officials suspect Masood Azhar's nephew to be the mastermind
Feb 16, 2019
Top Indian security and counter-intelligence officials said the mastermind behind the horrific terror attack on a CRPF convoy in Pulwama is suspected to be Mohammed Umair, the son of Athar Ibrahim, who is the elder brother of Jaish-e-Mohammad founder and chief Masood Azhar.
While the bomber, 22-year-old Adil Ahmad Dar, was killed, officials who spoke on the condition of anonymity added that the bomb-maker is currently in Muzaffarabad in Pakistan-occupied-Kashmir (PoK). They did not provide a name for the bomb-maker and said he goes by several — all believed to be covers.
Officials said that conditions of the blast area are hindering investigations.
There's snow and slush, they added, and the blast was so powerful that mangled human remains and auto parts are all they have to work with. However, officials said they have found what they believe are parts of the axle of the vehicle used in the suicide bombing, and that they are hopeful that they can piece it together, perhaps even use it to trace its provenance and ownership.
None of the remains of the bomber, who drove a vehicle laden with explosives into a Central Reserve Police Force (CRPF) bus, have been found either.
According to the officials, Umair is currently operating in the Pulwama area, where Talha Rasheed, son of Abdul Rasheed Kamran, Azhar's brother-in-law, was killed in an encounter with security forces on November 7, 2016.
Officials said Umair was trained in terror operations in Afghanistan and moved into the Pulwama area after the death of his brother Usman Haider in a police encounter in Tral last October.
The JeM, which is behind recent terror strikes in India, including the Uri headquarters and Pathankot air base, is run in India by Rauf Asghar, the younger brother of ailing Masood Azhar.
A high-level National Security Guard's bomb team visited the spot and initial investigations suggest that the bomb was made of 100-150 kg of RDX.
Full report at:
https://www.hindustantimes.com/india-news/pulwama-attack-top-indian-security-officials-suspect-masood-azhar-s-nephew-to-be-the-mastermind/story-qp3tu0isE0jfCr0Sg3X1UN.html
--------
Pulwama attack: AMU student suspended over 'objectionable' tweet, FIR registered
February 15, 2019
An Aligarh Muslim University (AMU) student was Friday booked by the Uttar Pradesh Police over an objectionable tweet on the Pulwama attack in which 40 CRPF personnel were killed yesterday. Pakistan-based terror group Jaish-e-Mohammad (JeM) has claimed responsibility for the attack.
Basim Hilal, a resident of Kashmir, was booked under sections 153A (promoting enmity between different groups) of the Indian Penal Code and section 67A of the Information Technology Act. He has also been suspended by the varsity in this regard.
"We have come to know of the highly objectionable tweet (posted by Hilal). Taking immediate cognizance, he has been suspended by the university administration. We won't let the university be discredited. We have zero tolerance (towards such acts)," Omar Saleem Peerzada, AMU Public Relations Officer, was quoted as saying by ANI news agency. ,
Hilal is currently pursuing Bachelors of Science in Mathematics at AMU.
As many as 40 CRPF personnel were killed after a suicide bomber rammed his Scorpio SUV laden with explosives into a CRPF bus in south Kashmir. The bus, ferrying over 40 soldiers, was part of a convoy of 78 vehicles with 2,547 CRPF personnel, moving from Jammu to Srinagar. Most of the men were returning from leave to join duty in Srinagar, said sources.
JeM claimed responsibility for the attack and identified the bomber as a 20-year-old local resident from south Kashmir's Pulwama district.
Full report at:
https://indianexpress.com/article/india/pulwama-attack-fir-against-amu-student-over-objectionable-tweet-5586030/
--------
Europe
UK arms causing 'significant civilian' deaths in Yemen: British lords say
Feb 16, 2019
UK arms sales to Saudi Arabia since the start of the Riyadh-led war on Yemen have been causing "significant civilian casualties" in the country, a damning parliamentary report says.
The report, which was issued by the House of Lords International Relations Committee on Saturday, calls on Prime Minister Theresa May to stop arms sales to Riyadh "as a matter of urgency," describing the situation in the war-stricken country as "unconscionable."
The UK has licensed over £4.7 billion worth of arms exports, including missiles and fighter jets, to Riyadh since the deadly conflict began in 2015. May has so far faced down calls for a ban on the weapons sales despite the growing humanitarian disaster.
Britain has also been providing combat intelligence and target data to Saudi Arabia over the course of the war, which has killed thousands of Yemeni civilians and put millions more on the verge of famine.
"We do not agree with the government's assertion that it is narrowly on the right side of international humanitarian law in the case of licensing arms exports to the Saudi-led coalition," said Lord Howell, the committee's Conservative chairman.
"It is narrowly on the wrong side: given the volume and type of arms being exported to the Saudi-led coalition, we believe they are highly likely to be the cause of significant civilian casualties in Yemen, risking the violation of international humanitarian law.
"The government must address the root causes of the suffering – the conflict itself – and be prepared to suspend some key export licenses to Saudi Arabia and members of the coalition."
The brutal war is being led by Saudi Crown Prince Mohammed bin Salman, the kingdom's de facto ruler, who wishes to reinstate Yemen's fugitive former president, Abd Rabbuh Mansur Hadi, and destroy the Houthi Ansarullah movement.
Thousands of civilians have been killed, while thousands more have been injured. Collapsed infrastructure coupled with a partial blockade has also deprived most of the population of clean water and proper healthcare, while unleashing the worst cholera outbreak in modern history.
https://www.presstv.com/Detail/2019/02/16/588671/UK-Saudi-Arabia-arms-sales-Yemen
--------
US seeks European presence in northeast Syria
16.02.2019
U.S. Senator Lindsey Graham said Friday that President Donald Trump would ask European countries to send troops to establish a buffer zone in northeast Syria along Turkey's southern border.
Graham's remarks came at the Munich Security Conference in Germany.
Emphasizing the plan as a post-caliphate strategy, he said U.S. authorities discussed the issue in detail with Trump, who left the door open for leaving a certain number of American soldiers in the war-ravaged country.
"I'm hoping that President Trump will be coming to some of you and asking for your help and you'll say 'yes', and in return, the capability we have that's unique to the U.S. will still be in the fight in Syria," he said in remarks to the conference.
Graham pointed out that Joseph Dunford, the chairman of the Joint Chiefs of Staff, would discuss with his counterparts about sending troops to Syria.
Stating that Europe suffered from the Daesh threat, Graham said the post-Daesh strategy should be different than the fight against Daesh.
"If we don't have a game plan, Turkey will go into Syria and deal with the YPG threat," he said.
"The YPG Kurds in the eyes of Turkey are an offshoot of the PKK, and they will not withstand the YPG on their border. We owe it to Turkey, an ally, to fix this problem. We owe it to the SDF [Syrian Democratic Forces] not to leave and let another war come that could destroy them. Who will help us in the future if we do that? So we need a safe zone to deal with that problem. The troops in that safe zone also need to watch for the reemergence of ISIS. If we don't watch, Iran will be the biggest winner of the West withdrawing from Syria," he said.
Acting U.S. Defense Secretary Patrick Shanahan, in his addresses to journalists during NATO meetings in Brussels, said the U.S. would propose forming an observation force in northern Syria.
Full report at:
https://www.aa.com.tr/en/americas/us-seeks-european-presence-in-northeast-syria/1394441
--------
'Tough for Europe Muslims': Turkish-Belgian politician
15.02.2019
By Erbil Basay
BERLIN
A Turkish-Belgian politician on Friday decried the difficulties of living as a Muslim in Europe.
Being a Muslim in Europe is hard in terms of both religious belief and wearing a headscarf, Mahinur Ozdemir, 36, a Belgian-born Muslim parliamentarian, told a panel in Berlin.
"Being a Muslim in Europe is hard but being a Muslim in appearance is harder," Ozdemir told the panel, organized by the Turkish think tank Foundation for Political, Economic and Social Research (SETA) in Berlin.
Ozdemir said that as a Muslim woman she has faced difficulties in employment and education as well as in practicing politics.
Ozdemir made history as the first headscarf-wearing lawmaker in both the Belgian parliament and in Europe, and in 2015 she was expelled from the Humanist Democratic Centre (CDH) party for refusing to recognize the so-called Armenian genocide.
Muslims who dress in Islamic garb get intense media attention and scrutiny, she said, complaining: "You don't have the right to reply and you can be blacklisted."
Ozdemir said she is interested in helping Belgium through politics and despite the difficulties, and is very happy to be a European Muslim.
Turkey rejects the allegations of an Armenian genocide, saying the deaths of Armenians in eastern Anatolia in 1915 took place when some sided with invading Russians and revolted against Ottoman forces. A subsequent relocation of Armenians resulted in numerous casualties.
Islamophobia rose with arrival of Syrians, Afghans
Speaking at the same event, Bulent Guven, a Turkish-German political scientist, said that he faced similar troubles as a member of Germany's Social Democratic Party as his wife wears a headscarf.
"Europe has Islamophobia," Guven said, adding that this fear rose after more Muslims started to come to the continent in the 1960s.
Islamophobia hit a new peak in 2015 when more Syrians and Afghans migrated to Europe, he added.
Full report at:
https://www.aa.com.tr/en/europe/tough-for-europe-muslims-turkish-belgian-politician/1394158
--------
Mike Pompeo meets EU's top diplomat after Mike Pence's Iran accusations
February 15, 2019
US Secretary of State Mike Pompeo met with the EU's top diplomat in Brussels on Friday, a day after Vice President Mike Pence accused America's traditional European allies of trying to undermine US sanctions against Iran.
The meeting with Federica Mogherini, the EU's foreign policy chief, was scheduled before Pence's rebuke of European powers during a Middle East peace conference in Warsaw on Thursday, which Ms Mogherini skipped citing a scheduling conflict at NATO.
Ms Mogherini, who helped seal the 2015 nuclear deal between Iran and world powers, greeted Mr Pompeo in front of a bank of cameras at the EU's headquarters in Brussels before they headed into a conference room for the breakfast meeting, which was scheduled to last about an hour.
Ms Mogherini shook her head and waved off a question from the media about what she thought of Mr Pence's speech in Warsaw on Thursday, where he accused the European Union of trying to break the impact of US economic sanctions on Iran.
Mr Pence's unusually tough words for allies Germany, France and Britain reflect Washington's strategy to try to isolate Iran, in remarks that were likely to further strain transatlantic relations.
Mr Trump last year pulled the United States out of the 2015 Iran deal, under which Tehran agreed to curbs on its nuclear programme in return for the lifting of sanctions.
On Thursday, speaking at NATO before Mr Pence's comments, Ms Mogherini said the United States and the European Union had "different views" on the Iran nuclear deal and said upholding it was critical to European security because it prevented Tehran from developing a nuclear weapon.
European countries say they share Washington's concerns about Iran's involvement in wars in Yemen and Syria but believe withdrawing from the nuclear deal was a mistake, and have promised to try to salvage the deal as long as Iran continues to abide by it. In practice, European companies have accepted new US sanctions on Iran and abandoned plans to invest there.
France, Germany and Britain agreed in January to open a new channel for non-dollar trade with Iran to avert US sanctions, through a Special Purpose Vehicle (SPV) meant to help match Iranian oil and gas exports against purchases of EU goods.
Full report at:
https://www.thenational.ae/world/europe/mike-pompeo-meets-eu-s-top-diplomat-after-mike-pence-s-iran-accusations-1.826201
--------
Arab World
Senior MP: Damascus Gov't to Sue White Helmets for Conducting False Flag Chemical Attack
Feb 15, 2019
"The Syrian government will sue all those groups participating in fake chemical attacks in Syria after the British Broadcasting Corporation (BBC) in its recent reports acknowledged the false nature of chemical attacks in Eastern Ghouta," the Arabic-language Sputnik news agency quoted Jamal al-Za'abi, member of Syrian Parliament's Defense Committee, as saying.
Al-Za'abi reiterated that the White Helmets are working for Britain's intelligence service.
He pointed to the White Helmets' direct and continued involvement in false-flag chemical attacks in Syria, and said that such behavior will bring about negative consequences for the White Helmets.
The senior Syrian legislator pointed to sanctions imposed on the Syrian government on the pretext of alleged chemical attacks, and underlined, "Now that it has become clear that the terrorists have carried out false flag chemical attacks in Syria, the Damascus government will soon sue all sides that have been involved in fake chemical attacks and will ask for punishing them and paying compensation for what they have done."
Al-Za'abi said that the West will most probably continue fabrications on chemical attacks in Syria.
This comes as BBC has pointed to the false nature of a chemical attack in Syria's Duma region on April 7, 2018, and said that the UK has been informed about it.
BBC's correspondent, Riam Dalati, has said that everything that has been said about chemical attack by using sarin gas has been forged to put the most influence on public opinion.
Russia and Syria have on a multitude of occasions pointed out that the White Helmets have staged a number of provocations in Syria involving the use of chemical weapons in order to blame them on the Syrian government and provide Western countries with justification for intervention in the Arab Republic.
The notorious NGO has repeatedly been busted staging and filming false-flag attacks. Last April, the group published footage featuring doctors in Douma hospitals treating patients that had suffered from an alleged chemical attack by the Syrian Arab Army.
Reports of the purported use of chemical agents in Eastern Ghouta surfaced in April 2018 in some media, citing militants on the ground. A number of Western countries, including France, the US and the UK, quickly picked up the claims, and instantly accused Syrian President Bashar al-Assad of having dropped a chlorine bomb on civilians.
Damascus vehemently denied the allegations, denouncing the attack as a staged provocation to justify potential foreign intervention. Immediately after the purported incident, Moscow dispatched its chemical corps commission to inspect the site and determine whether there had been an actual chemical attack; the expert group, however, found no traces of chemical agents in Ghouta.
In a relevant development in late January, the Russian Foreign Ministry said at a briefing that Moscow is concerned over the fact that terrorists have not abandoned their attempts to stage chemical attacks against Syrian civilians.
The White Helmets have deployed equipment in several hospitals in the Syrian province of Idlib to film false flag chemical attacks and blame it on Damascus, Russian Foreign Ministry Spokeswoman Maria Zakharova stated, Sputnik reported.
"There are also serious concerns about reports that terrorists are not abandoning attempts to fake the use of chemical weapons against civilians. According to available information, a group of activists, the notorious pseudo-humanitarian organization, the White Helmets, have prepared the necessary equipment in several hospitals of Idlib to film such provocations", Zakharova added.
The spokeswoman elaborated that tensions were running high in the Idlib de-escalation zone, saying that Tahrir al-Sham militants are carrying out daily shelling of nearby settlements and actively building up their forces near the contact line with Syrian government forces.
In a relevant development on Tuesday, several Syrian Army troops were chemically injured in terrorists' toxic gas attacks on their positions in Southern Idlib in an incident that could push the war to another level.
The Arabic-language service of Russian Sputnik news agency reported that the terrorists attacked Sham al-Hava region in Southeastern Idlib with missiles armed with toxic gases.
It noted that two Syrian Army troops were injured in the chemical attack.
http://en.farsnews.com/newstext.aspx?nn=13971126000593
--------
Shanahan: We have destroyed Daesh's capabilities, it is no longer able to detain civilians
February 15, 2019
LONDON: Daesh's capabilities have been destroyed and it is no longer able to detain civilians, Acting US Secretary of Defense Patrick Michael Shanahan said Friday at the Munich Security Conference.
Shanahan also said that the global coalition to defeat Daesh has "eliminated the group's hold over 99 percent of the territory it once claimed as part of its so-called caliphate." "We have ensured ISIS no longer holds the innocent people of Syria or Iraq in its murderous iron fist."
Daesh has been defeated but has not disappeared and may take on a new form, the Acting US Secretary of Defense Patrick Michael Shanahan added.
Shanahan said he envisioned a "bigger and stronger" coalition to fight Daesh globally. "We will continue to support our local partners' ability to stand up to the remnants of ISIS."
Full report at:
http://www.arabnews.com/node/1452656/middle-east
--------
Tribal truckers, praying paramedics: mixed bag on last Daesh front
February 15, 2019
NEAR BAGHOUZ: As destitute civilians stumble out of the Daesh group's last enclave in east Syria, a mixed bag of unlikely characters are pitching in to help get them to safety.
They include a team of medics led by an American veteran and his children as well as a group of truckers from a remote Syrian town.
Close to 40,000 have fled Daesh's last Euphrates Valley bastions into territory held by the US-backed Syrian Democratic Forces, in pitiful conditions after weeks of bombardment and food shortages.
Citing security concerns, global aid agencies have kept their distance from the town of Baghouz where the jihadists are making a last stand and the SDF's limited humanitarian capacities cannot cope with the influx.
Enter the Free Burma Rangers (FBR).
Led by a US veteran and passionate Christian, David Eubank, the team of around 25 volunteers — including his wife and three children — is camped out on a plateau overlooking Baghouz that serves as the first stop for fleeing civilians.
"We're not qualified to be here. I asked God, what would I do here?" Eubank told AFP, dressed in military fatigues and a fishing hat, a pistol holstered on his hip.
"I felt God say: 'Give up your own way. Just come help,'" he said.
In the distance, about two dozen civilians could be seen shuffling toward the plateau from Baghouz.
Eubank and another volunteer were the first to descend the sandy bank to meet them, hoisting displaced women's overstuffed bags over their shoulders and helping children scramble up.
One bearded volunteer tended to a thin boy's chest wound, shouting for antibiotics in English as the child stared at him in confusion.
Eubank established the FBR in Burma in 1997, with a slogan drawn from a Bible verse calling on people to "preach good news to the poor" and "release the oppressed."
After Daesh swept across the region in 2014, the FBR expanded to Iraq, where Eubank, his wife and their three children became local celebrities for rescuing a young Iraqi girl after her mother was killed in fighting in Mosul.
What brought them to Syria? Another message from God, said Eubank's eldest daughter, Sahale.
"We feel like God sent us here, otherwise we wouldn't have wanted to come," said the 18-year-old blonde, who usually drives wounded people to the main civilian point further on but was using a quiet afternoon to study Thai in the shade of an armored personnel carrier.
When they're not treating civilians, the rest of the team spends their spare time jogging through the Syrian plain, praying, and doing "camp stuff," said 24-year-old volunteer Tyler Sheen.
Sheen, from Colorado, said he felt he was in the right place to witness the end of IS.
"It's the scourge, the most talked about evil in the world so I think it's a great place to be right now," he told AFP.
The volunteers inevitably strike an odd figure in the Syrian plain, surrounded by gruff Syrian Kurdish and Arab fighters with whom they can only communicate through translators.
When the SDF's spokesman visited their outpost recently, Eubank grabbed his hands to lead him in prayer as a translator stood between them, as if presiding over a marriage ceremony.
But if the Eubanks are inspired by goodwill, the truckers who form another key link in the evacuation of civilians from Baghouz are motivated by financial rewards.
Once displaced families are taken to a larger collection point further away, they are screened and guided onto the backs of cargo trucks to be driven about six hours north to the Al-Hol displacement camp.
Their 11 drivers are tribesmen from the town of Al-Shuhayl, hired by the SDF at a rate of 75,000 Syrian pounds ($150) for each round-trip, which usually takes two days.
"Wherever there's a trip we can earn from, we do it," said one driver in his forties, Farhan Al-Ali.
Some truckers said they rely on pills to stay awake through the 600-kilometer (380-mile) round trip.
"Sometimes we get to Al-Hol at two or three in the morning, then we drive all the way back to Shuhayl," said Abu Hamud, a 54-year-old driver with a red-and-white scarf draped over his head.
They are used to shuttling cattle or farming equipment, so the dozens of veiled women and children are an unusual — and fragile — load.
The International Rescue Committee, which works in world crisis zones, said Wednesday that 51 people, mostly newborn children, had died after arriving at Al-Hol or during the "precarious journey."
The United Nations has called on authorities to provide more suitable transportation like buses.
Full report at:
http://www.arabnews.com/node/1452636/offbeat
--------
ISIL Terrorists Killed in Iraqi Airstrikes on Militants' Positions in Syria
Feb 15, 2019
"The Iraqi choppers targeted ISIL's arms and ammunition depots in Syria near the border with Iraq's al-Anbar province," a senior provincial official in Iraq's al-Anbar province was quoted by the Arabic-language Al-Maloumeh news website as saying.
The official said that a number of ISIL terrorists were killed in the Iraqi airstrikes.
"The main goal of this attack was weakening the ISIL in a bid to prevent the terrorist group from getting close to al-Anbar province," he added.
In late December, Syrian President Bashar al-Assad allowed Iraqi fighter jets to conduct airstrikes against the positions of the ISIL terrorist group in the war-ravaged country without waiting to be granted formal authorization for the assaults.
Iraqi authorities have on occasions stated that they work closely with the Syrian government to monitor and target terrorist targets based on the efforts of intelligence and information departments of the security coordination committee formed between Baghdad, Damascus, Tehran and Moscow years ago.
http://en.farsnews.com/newstext.aspx?nn=13971126000697
--------
Corpses of Tens of US, ISIL Attacks Victims Found in Raqqa
Feb 15, 2019
"The dead bodies of at least 150 Syrian victims massacred by the ISIL were retrieved from Fakhikheh mass grave South of Tale al-Ba'as Garrison in Raqqa City," the Kurdish-language Hawar News website quoted local sources as saying.
Meantime, media activists said that the bodies of three civilians who had been killed in the US airstrikes were also discovered from two buildings in al-Haramieh and al-Taminat districts in Raqqa City.
In a relevant development earlier this month, the corpses of over 30 people who have been killed by the ISIL terrorists or in airstrikes by the US-led coalition were found from mass-graves and rubble of buildings in Raqqa.
Media activists in Raqqa reported on Wednesday that the civil workers have discovered the bodies of 28 people, including women and children, from a mass-grave near the village of Fakhikheh.
They added that corpses of 4 other civilians, including one child, killed in the US airstrikes, have been found from under the debris of a building in al-Haramiyeh and al-Badou districts in Raqqa.
After one year of occupation of Raqqa by the US and the Syrian Democratic Forces (SDF), the corpses of ISIL and US victims are everyday pulled out of the mass-graves and ruins.
In a relevant development late last month, tens of dead bodies of the victims of the US-led airstrikes and the ISIL's crimes were discovered from the debris of ruined buildings and mass graves in Raqqa, media sources said.
Media activists said the corpses of four civilians were retrieved from the debris of buildings ruined in US airstrikes last year in al-Sokna district of Raqqa city.
Moreover, four dead bodies of civilians were recovered from the buildings destroyed in US air assaults in al-Bayatareh in Raqqa city, the activists added.
They also said that the corpses of about 50 people, including women and children, were discovered from a mass grave in al-Fakhikheh South of Raqqa city.
Full report at:
http://en.farsnews.com/newstext.aspx?nn=13971126000530
--------
Terrorists Receive Severe Blow in Failed Attacks on Demilitarized Zone in Hama, Idlib
Feb 15, 2019
The Damascus Army units targeted a group of Islamic Turkistani Party terrorists who intended to penetrate to the government forces' military positions in Northwestern Hama from the surrounding areas of al-Haviz and al-Havija towns near Sahl al-Ghab region, killing a large number of terrorists and destroying their military equipment as well as forcing the remaining militants to retreat.
A large number of terrorists were forced to flee the scene after their comrades were killed and wounded in the Syrian Army attacks.
The Syrian Army troops also pounded and destroyed the military positions of Tahrir al-Sham terrorists near the town of Khan Sheikhoun in Southern Idlib.
Other Syrian Army units also targeted and pounded the terrorists' military positions in areas near the town of al-Sakik in Southeastern Idlib, inflicting heavy losses on them.
In a relevant development last Saturday, the Syrian Army's units in Northern Hama launched heavy artillery and missile attacks on Jeish al-Izza terrorists in regions near the town of Hasraya who intended to infiltrate into the army-controlled regions, destroying militants' strongholds and killing and wounding several of them.
Also, the army troops stationed in areas near the village of Zalin in Northern Hama targeted terrorists' positions in the town of al-Latamineh in response to their attacks, inflicting heavy damages and casualties on them.
The Syrian army forces also repelled an offensive by Tahrir al-Sham from al-Katibeh al-Mahjoureh region against military points in Eastern Idlib, killing and wounding several militants.
Full report at:
http://en.farsnews.com/newstext.aspx?nn=13971126000493
--------
US-Led SDF About to Declare End of ISIL in Eastern Euphrates
Feb 15, 2019
"After ISIL's foreign terrorists left the Eastern Euphrates and tens of them surrendered, the SDF took control of the al-Khanafera and Sheikh Mohammad regions in Baghouz town in Eastern part of Deir Ezzur," sources in Eastern Euphrates said.
They reiterated that the ISIL is only in control of several houses and a camp South of the Baghouz town in an area covering less than 1 square kilometers.
The London-based Syrian Observatory of Human Rights (SOHR), meantime, announced that the US troops and the SDF will soon declare the end of ISIL's presence in Eastern Euphrates as tens of non-Syrian and Western terrorists of the ISIL have retreated from that region.
In a relevant development last week, a senior source in the SDF said that the ringleader of the ISIL terrorist group Abu Bakr al-Baghdadi "is being protected by the Americans in Eastern Syria", adding that Washington plans to play a Hollywood-like scenario to declare end of the ISIL caliphate.
The Arabic-language website of Sputnik news agency quoted the source as saying that Baghdadi is at present being heavily protected by the American forces in a secret place in Eastern Euphrates region.
He added that the Americans are waiting for an opportunity to conduct heliborne operations by their marine forces in Southeastern Deir Ezzur and declare the capture of al-Baghdadi and end of ISIL on footage.
The source insisted that the time for the "above-mentioned theater is close", adding that the American forces have held SDF back from further advances in the ISIL-occupied regions in Eastern Euphrates to play the scenario.
US President Donald Trump said in early February that the country would likely announce soon that the entire ISIL terrorist group caliphate had been retaken in Syria and Iraq.
"It should be formally announced, sometime probably next week, that we'll have 100 percent of the caliphate," Trump stated during his remarks at a ministerial meeting of the US-led coalition member-states.
Earlier, the American president said during his second State of the Union address that it was time to return US troops deployed in Syria back home.
In December, Trump declared the ISIL terrorist group has defeated in Syria, and announced the US troop pullout from the country but gave no timeline.
Also earlier, a senior US administration official told reporters that Syrias Al-Tanf region would be the last place in the country that American troops leave as they implemented a planned withdrawal.
Full report at:
http://en.farsnews.com/newstext.aspx?nn=13971126000363
--------
Bahrainis stage nationwide rallies to mark eighth uprising anniversary
Feb 15, 2019
Bahrainis have held rallies across the tiny Persian Gulf kingdom to mark their eighth anniversary of the popular uprising against the ruling monarchy.
Pro-democracy protesters in several cities, including the capital Manama, called for an end to human rights violations and the release of rights activists.
They urged the Al Khalifah regime to relinquish power and allow the establishment of a just system representing all Bahrainis.
Several prominent Shia clerics including Sheikh Ali Salman and Sheikh Isa Qassim issued statements highlighting the commitment of the Bahrainis to peacefully pursue their demands for democracy.
Sheikh Ali Salman lashed out at a summit in the Polish capital Warsaw in which some Bahrain officials discussed the idea of normalizing relations between Bahrain and Israel.
On the sidelines of the US-organized summit, Bahrain's Foreign Minister Khalid bin Ahmed Al Khalifah told The Times of Israel on Thursday that Manama would "eventually" normalize ties with Tel Aviv.
His remark followed an earlier report by an Israeli news network that Bahrain informed Israel more than two years ago that it was interested in normalizing relations.
The report said Bahrain's foreign minister held a secret meeting with former Israeli foreign minister Tzipi Livni on the sidelines of the 2017 Munich Security Conference in Germany.
Sheikh Qassim called for a new type of relationship between the government and the people and urged the regime to realize peoples' right to decide their fate.
He cited lack of justice in political, economic, judicial and social areas the main problem in Bahrain and said the only solution to the problem is the active participation of people in those affairs.
Since February 14, 2011, Bahraini people have been holding peaceful protest rallies on an almost daily basis. They are complaining about widespread discrimination against the Shia minority in the kingdom.
Full report at:
https://www.presstv.com/Detail/2019/02/15/588615/Bahrain-Uprising-Anniversary-rallies
--------
Egypt official: Home-made bomb explodes near mosque, 3 hurt
February 15, 2019
CAIRO: An Egyptian security official says a home-made bomb has exploded near a mosque in Cairo's district of Giza, leaving three people wounded.
The official says the blast took place during Friday prayers near Al-Istaqama mosque in a busy square in the heart of Giza.
Police sealed off the entire district and diverted traffic as security forces searched for the culprits.
An Interior Ministry statement blamed members of the Muslim Brotherhood for the attack, which it said targeted a security checkpoint. The Islamist group has been banned in Egypt since 2013.
The official says the wounded, including a policeman, were rushed to a nearby hospital. The official spoke on condition of anonymity because he wasn't authorized to speak to the media.
Full report at:
http://www.arabnews.com/node/1452666/middle-east
--------
South Asia
Taliban: 'Soviet withdrawal is lesson to US'
16.02.2019
Washington should reconsider its strategy in Afghanistan, the Taliban said Friday, amid the 30th anniversary of the withdrawal of Soviet troops from the country.
In an interview with Anadolu Agency, Taliban spokesman Mohammad Suhail Shaheen said the U.S. should "let the Afghan people live peacefully and independently and rebuild their own country".
Emphasizing that it had been Moscow itself that had come to the conclusion that Afghanistan cannot be controlled or permanently occupied, Shaheen said this was one of the pillars of the Afghan peace process.
He further stressed that the logical conclusion of the current negotiations for a political settlement to the Afghan issue was the "full withdrawal of all foreign forces from Afghanistan and the establishment of an inclusive Islamic government".
"There was agreement that the Taliban's political office in Doha should be formally opened and the blacklist of the Taliban members removed," Shaheen said, adding this along with the release of Taliban prisoners would accelerate the peace process and create an atmosphere of trust.
Earlier this week, Russian Presidential Envoy for Afghanistan Zamir Kabulov backed the removal of sanctions on the Taliban in order to avoid placing obstacles on its members traveling to the peace meetings.
Commenting on the upcoming presidential elections, Shaheen said the Taliban did not believe in "electoral fairness under the occupation".
Urging the nominees to work for peace, he said "it is up to them to decide which role they will play. If negative, then the consequences will be matching. If it is a constructive one, it will be appreciated and supported," he said.
On Feb.15, 1989, the limited contingent of Soviet troops occupying Afghanistan for a decade completely withdrew from the country after more than 15,000 servicemen died over the past 10 years. The war was extremely unpopular in the USSR and is considered one of the main reasons behind the collapse of the Soviet state.
https://www.aa.com.tr/en/americas/taliban-soviet-withdrawal-is-lesson-to-us/1394424
--------
Myanmar court sentences two to death for Muslim lawyer's murder
February 15, 2019
A Myanmar court Friday sentenced two people to death for the murder of a Muslim lawyer and Aung San Suu Kyi advisor, after a drawn-out trial backlit by allegations of impunity with a main suspect still at large.
Ko Ni, whose work and faith made him a target of hate speech online by Buddhist nationalists, was shot in the head at point blank range outside Yangon airport in January 2017, while holding his infant grandson.
The brazen, daytime murder shocked the country and came about eight months after civilian leader Suu Kyi's administration entered office.
Ko Ni was a legal advisor to her National League for Democracy and had been working on plans to amend the 2008 military-drafted constitution, which gifts the armed forces control of defence and a quarter of parliamentary seats.
Critics have said the slow trial fell short of establishing a complete picture of what led to the murder, pointing to the military backgrounds of two suspects on trial and an elusive fugitive thought to be the mastermind.
Judge Khin Maung Maung sentenced gunman Kyi Lin, who also shot and killed a taxi driver while fleeing, "to death until he dies by hanging."
Though Myanmar has the death penalty it has not been carried out in at least 10 years, according to Amnesty International.
The shooter also received an extra 23 years and hard labour for weapons charges and the death of taxi driver Nay Win, who chased him after Ko Ni was gunned down.
Accomplice Aung Win Zaw, who was at the airport, was also sentenced to death.
Two other defendants Zeya Phyo and Aung Win Tun, who assisted at different stages of the plot, received five years and three years imprisonment with hard labour respectively.
Armed police, journalists and diplomats crowded the dilapidated courthouse in Insein, on the outskirts of Yangon, awaiting the verdict.
Myanmar was ruled by military-backed regimes for almost five decades. The 2008 charter enshrines the military's political power by giving it an effective veto over constitutional change.
It also bars presidential candidates with foreign spouses. The clause was believed to be aimed at Suu Kyi, who had a family with a British academic.
Instead she serves as state counsellor, a position that Ko Ni is said to have devised.
The NLD formed a committee this month to discuss changes to the constitution, a move opposed by military MPs.
Ko Ni had been one of the few high-profile Muslims still involved in politics in Buddhist-majority Myanmar, after the NLD failed to enlist any Muslim candidates in its historic 2015 election run.
The case is one of many that have marred the international legacy of former dissident hero Suu Kyi, who was criticised for not going to his funeral.
Full report at:
https://www.thejakartapost.com/seasia/2019/02/15/myanmar-court-sentences-two-to-death-for-muslim-lawyers-murder.html
--------
NATO continues in its critical role in developing Afghan national security forces: Shanahan
15 Feb 2019
The Acting Secretary of Defense Patrick Shanahan has said that the North Atlantic Treaty Organization (NATO) continues in its critical in developing the Afghan National Defense and Security Forces.
Speaking to reports at the end of a two-day NATO defense ministerial in Brussels on Thursday, Shanahan said "NATO is coordinated and aligned. We are together. We are helping to ensure a diplomatic settlement, with Ambassador Khalilzad in the lead."
In regards to the ongoing peace efforts, the Acting Secretary of Defense said "No outcome is predetermined, but as President Trump said in the State of the Union, after two decades of war, the hour has come to try for peace."
"Visiting both Afghanistan and Iraq, I was inspired by the devotion and teamwork of our NATO troops, working alongside our Afghan and Iraq partners," he said adding that "We have young people from Barcelona, Warsaw and Pittsburgh who grew up speaking different languages now serving beside each other and protecting each other in common missions."
In response to a question regarding the U.S. pullout plans from Afghanistan, Shanahan said "There will be no unilateral troop reduction. I mean, that was one of the messages of the meeting today. We'll be coordinated. We're together."
Full report at:
https://www.khaama.com/nato-continues-in-its-critical-role-in-developing-afghan-national-security-forces-shanahan-03310/
--------
Coalition airstrikes kill Taliban shadow judge in Laghman province
16 Feb 2019
A shadow judge of the Taliban group was killed in airstrikes carried out by the coalition forces in eastern Laghman province of Afghanistan.
The 201st Silab Corps of the Afghan Military in the East in a statement said the airstrikes were carried out in Mar Sangi area of Badpakh district on Friday.
The statement further added that the shadow judge of Taliban Mawlavi Lal Mohammad was killed along with four other militants in the airstrikes.
The other militants who were killed in the airstrikes have been identified as Taliban commander Mawlavi Fazaluddin, Abdul Ahmad, Mawlavi Nsir, and Abdullah.
The anti-government armed militant groups including Taliban have not commented regarding the deaths of the group's militants so far.
Full report at:
https://www.khaama.com/coalition-airstrikes-kill-taliban-shadow-judge-in-laghman-province-03312/
--------
Mogherini reiterates EU's 5-point offer to support peace in Afghanistan
16 Feb 2019
Federica Mogherini, the High Representative of the European Union for Foreign Affairs and Security Policy/Vice-President of European Commission, reiterated European Union's 5-point offer made in Geneva last year to support peace in Afghanistan.
According to a statement released EU, Mogherini reiterated European Union's offer during a meeting with the Afghan President Mohammad Ashraf Ghani in the margins of the Munich Security Conference on Friday.
"High Representative/Vice President Mogherini reiterated the European Union's concrete 5-point offer made in Geneva last November to support peace in Afghanistan: helping to make the peace process more inclusive; promoting reforms including in the security sector; supporting the reintegration of ex-combatants; having the EU as a guarantor of the peace process; and encouraging cross-border trade, infrastructure and regional connectivity. The EU has been working during these months with the Afghan counterparts to operationalise the five points," the statement said.
The statement also added "Federica Mogherini – who discussed the recent developments in Afghanistan also with the US Secretary of State Michael R. Pompeo this morning in Brussels – held with President Ghani an exchange of views on the need for the creation of an inclusive Afghan negotiation platform, representing Afghanistan's diverse social and political spectrum."
Full report at:
https://www.khaama.com/mogherini-reiterates-eus-5-point-offer-to-support-peace-in-afghanistan-03311/
--------
North America
Blinded by the Israel-Palestine conflict, American Muslims and American Jews overlook the need for domestic unity
By Elisabeth Becker-Topkara
February 15, 2019
The political tempest caused by Rep. Ilhan Omar's tweets this week seemed to pit Jews against Muslims: Republicans and Democrats alike demanded that Omar (D-Minn.), one of the first two Muslim women in Congress, apologize for tweets that employed common anti-Semitic tropes about Jews controlling the world through money.
At the same time, Muslim and Jewish Americans face heightened levels of violence in our country. Hate crimes against Muslims and Jews alike are on the rise. During the deadly Unite the Right rally in my city of Charlottesville, neo-Nazis marched with machine guns chanting "Jews will not replace us." A recently thwarted plot aimed to slaughter children, women and men in the peaceful New York enclave of Islamberg. Months ago, the single most deadly attack on Jews in U.S. history transpired, the killing of 11 congregants at Pittsburgh's Tree of Life synagogue. And our government has instated an unapologetic ban on immigration by some Muslims.
Amid this hatred, debates about the U.S.-Israel alliance wrap Jewish and Muslim Americans into an international conflict at the cost of domestic unity. And we simply can't afford that.
There is no doubt that our sociopolitical landscape is shifting and that minorities writ large face an expanded Overton Window — that is, greater tolerance of racist, xenophobic, anti-immigrant, anti-Semitic and anti-Muslim positions in public discourse. And discourse is far from innocuous. Discourse underlies and upholds violent acts. Beginning in 2015, the "alt-right" reinvigorated white nationalism, bringing together groups such as the Ku Klux Klan and neo-Nazis by combining Internet trolling with public marches that incited violence such as in Charlottesville. It is no wonder that Muslims and Jews feel increasingly unsafe in America's present and uncertain about America's future.
And yet, this week, Muslims and Jews have joined the fight over the meaning and veracity of Omar's claims about AIPAC, the lobbying group that aims to strengthen U.S. support for Israel. Some have likened the severity of her remarks to the donning of blackface by two of Virginia's highest lawmakers, with Republican Rep. Steve King (Iowa) requesting that Omar be removed from the House Foreign Affairs Committee. Others insist that her stern critique of the AIPAC lobby is justified and overdue, likening it to the National Rifle Association.
If we are to learn from the past, we must recognize that a "divide and conquer" mentality pitting ethnic, racial and religious groups against one another has always undermined democracy: from European colonialism to the Third Reich to the pre-genocide period in Rwanda, from South Africa's apartheid regime to America's era of Jim Crow.
Some groups across the United States have resisted division, instead building alliances between Muslims and Jews based on shared daily realities. The Sisterhood of Salaam-Shalom, for instance, aims to connect Muslim and Jewish women on a local level to collectively fight hate. Executive Director Sheryl Olitzky quotes the Talmud: " 'Who is a hero?' it asks. 'One who makes one's enemy into a friend.' " Her co-founder, Atiya Aftab, says, "Muslim and Jewish women share many similar challenges to our identity in America. . . . Together we can learn from each other and also stand up against acts of hate and bigotry together, especially in our recent political environment."
Other organizations, including the Muslim-Jewish Interfaith Coalition and the Muslim-Jewish Advisory Council, similarly unite these broad communities to overcome prejudices while building solidarity in the face of shared social challenges. When the Tree of Life congregants were attacked in Pittsburgh, Muslims from the area offered protection of the building during services. Following an anti-Islam rally in West Philadelphia last February, community members from Kol Tzedek Synagogue stood outside the Masjid Al-Jamia holding signs bearing words of support. Some major institutions are also taking a stand for unity. Jewish organizations have condemned President Trump's "Muslim ban." Muslim groups have raised money for Jewish victims of violence. The list, thankfully, goes on and on.
Still, such public alliances may come with a cost for individuals. Those advocating sustained dialogue and even friendship face critique from within their own communities. For instance, journalist Wajahat Ali's invitation to the 2018 Islamic Society of North America Conference was rescinded after he partook in the Muslim Leadership Initiative at the Shalom Hartman Institute and interviewed Jewish settlers in the West Bank. Ali's engagement with Zionists to understand another side of the same tragic story came at a cost.
When I departed from Israel, I was sent to an area for security screening at Ben Gurion Airport reserved for the most suspect travelers. As an officer asked me if I had any weapons during a thorough questioning and body search, I could not help but surmise that as a Jewish American, my work with Muslims had landed me in this select group (alongside, of course, many Muslims).
In the words of the late Israeli author Amos Oz, "The Israeli-Palestinian conflict has been a tragedy, a clash between one very powerful, very convincing, very painful claim over this land and another no less powerful, no less convincing claim." This tragedy came to life for me on a dusty hill in Hebron, where I stood in front of a single, ancient olive tree, a recent site of struggle between local Palestinians and Jews. "Both had papers saying that the land belongs to them," said our tour guide, as he told the painfully ironic story of blood shed over olive branches.
If we — American Jews and American Muslims — are to debate about Israel, what about also recognizing all that we share? Anyone who has walked through the stone-scented streets of Old Jerusalem has encountered a place of unity that cannot be ignored: the Dome of the Rock literally held up by the Wailing Wall, beside lines of Muslims praying toward Mecca, above men and women weeping at Judaism's most holy site. On my trip to Israel, I also visited the graves of our shared prophets in Hebron. On one side of the city's divide, a shopkeeper spoke of loss in the once-vibrant city shuk. "Do you hate Jews?" asked a man in our tour group. "I don't hate anyone," he responded. "I just want to live with dignity." On the other side, I entered the Cave of the Patriarchs, burial place of Abraham. Our tour guide shook his head. "I wonder how disappointed Abraham would be in all of us," he said.
Still, Israel is not all that matters, and our fixation is blinding us from the worrying domestic reality unfolding in front of our own eyes. The haunting memory of violence in my city of Charlottesville reminds me that we — Jews, Muslims and in fact all minorities — have common perils to face in the United States today. In focusing on our divisions, we erode the opportunity to build important alliances between Muslims and Jews in a precarious time for us all. We diminish our own power when we break apart. I wonder what great change could ensue, what new dreams may come, if we hold each other up instead of knock each other down — if we extend an olive branch.
Elisabeth Becker-Topkara is a postdoctoral fellow on the Religion & Its Publics project at UVA where she is also affiliated with the Institute for the Advanced Study of Culture. She is working on two books: her academic manuscript, "Unsettled Islam," and a memoir on interfaith marriage, "On the Edge the Worlds." Her research centers on Islam in Europe and the United States as well as interfaith alliances.
https://www.washingtonpost.com/religion/2019/02/15/blinded-by-israel-palestine-conflict-american-muslims-american-jews-overlook-need-domestic-unity/?utm_term=.64628620f71f
--------
Trump promises announcement on eradication of ISIS within '24 hours'
15 February 2019
President Donald Trump on Friday said the United States would be announcing the end of the ISIS in Syria within the next day.
"We have a lot of great announcements having to do with Syria and our success with the eradication of the caliphate and that will be announced over the next 24 hours," Trump told reporters at the White House Friday.
The US-backed Syrian Democratic Forces have been closing in on holdout extremists since September last year and a few hundred surviving ISIS members are now boxed into an area of around one square kilometer (less than half a square mile).
https://english.alarabiya.net/en/News/middle-east/2019/02/15/Trump-promises-announcement-on-ISIS-Caliphate-within-24-hours-.html
--------
US: Time to expand the international coalition against ISIS
15 February 2019
The top Pentagon official said Friday he foresees a "bigger and stronger" American-led international coalition combating ISIS extremist group globally as the US withdraws its troops from Syria.
Pat Shanahan, on his first trip abroad as the acting secretary of defense, made his comment after meeting in Munich with representatives of the dozen or so countries that provide troops in Iraq and Syria.
"While the time for US troops on the ground in northeast Syria winds down, the United States remains committed to our coalition's cause, the permanent defeat of ISIS, both in the Middle East and beyond," Shanahan said in remarks to reporters.
The US has about 2,000 troops in Syria and about 5,200 in Iraq.
President Donald Trump's decision in December to pull out of Syria angered some allies, confounded US military officials and prompted Jim Mattis to resign as defense secretary.
Gen. Joseph Votel, who as head of US Central Command is overseeing military operations against ISIS in Syria and Iraq, said last week that he was not consulted before Trump made his decision.
In an interview with CNN on Friday, Votel went a step further, saying, "It would not have been my military advice at that particular time ... I would not have made that suggestion, frankly."
CNN quoted him further as saying ISIS "still has leaders, still has fighters, it still has facilitators, it still has resources, so our continued military pressure is necessary to continue to go after that network."
Votel is leaving his post shortly.
Shanahan said the United States will "continue to support our local partners' ability to stand up to the remnants of ISIS," but he did not explain how that will be done.
A senior defense official, speaking later, said Shanahan did not discuss a timetable for the US withdrawal from Syria, which other officials have said is expected to be completed in April. The coalition partners did not take issue with the US withdrawal, indicating they see it as an irreversible decision, the official said, speaking on condition of anonymity to discuss the closed-door talks.
The focus of the meeting, on the topic of Syria, was how to avoid a security vacuum once US troops are gone, the official said. No representatives committed to keeping troops there after the US leaves, raising the possibility of clashes between Turkey - a US NATO ally - and the US-backed Syrian fighters known as the Syrian Democratic Forces, which suffered heavy casualties in fighting ISIS. The Turks view the Kurdish members of the SDF as terrorists and a treat to Turkey.
In his public remarks, Shanahan said that in Syria, ISIS has lost most of its leadership and resources - though he didn't say it's lost 100 percent of its territory.
"Together, we have eliminated the group's hold over 99 percent of the territory it once claimed as part of its so-called caliphate," he said. "We have ensured ISIS no longer holds the innocent people of Syria or Iraq in its murderous iron fist."
ISIS militants are holed up in the last sliver of land in eastern Syria as US-backed forces are closing in.
As ISIS retreats in Syria, some worry that substantial numbers of its fighters could migrate beyond the Middle East, to Africa, for example.
Gen. Thomas Waldhauser, commander of US Africa Command, said in an interview with a small group of reporters Friday that he is not yet seeing evidence of ISIS movements into Africa, although he said this cannot be ruled out.
Shanahan said he and his counterparts discussed the future of their coalition, which was developed during the Barack Obama administration after US forces took on ISIS directly in 2014 with a return of US troops to Iraq as advisers and the start of a bombing campaign against ISIS in Syria.
"I, for one, envision an even bigger and stronger coalition going forward - one that has evolved to meet the global threat posed by ISIS's offshoots and its murderous ideology," he said. It needs to look beyond Syria and Iraq to face the militants' broader threat in other parts of the world including Afghanistan and the Philippines, he said.
The senior defense official said Shanahan was not referring to increasing the number of members in the coalition - now totaling 79 - but rather adding to the quality of their contributions, including non-military offerings.
Ursula von der Leyen, the German defense minister and host of the Munich meeting, said there was agreement among participants that the fight in Iraq and Syria is not over.
Full report at:
https://english.alarabiya.net/en/News/middle-east/2019/02/15/US-Time-to-expand-the-international-coalition-against-ISIS.html
--------
US 'may pull some 1,000 troops from Afghanistan'
Feb 15, 2019
The United States may reduce the number of American troops in Afghanistan by at least 1,000, a US general says, attributing the decision to an efficiency drive by a new commander of NATO forces in the Asian country.
US Army General Joseph Votel, the head of the US military's Central Command, said the decision to cut some of the roughly 14,000 American troops in Afghanistan would be part of an effort by Army General Scott Miller — who assumed command of NATO forces in Afghanistan last September — to make better use of US resources.
"This is something that he (Miller) started as he got into the position here and was looking at how we (can) be as efficient and as effective as we can be on the ground," Votel said in an interview with Reuters during a trip to Oman on Friday.
The decision comes as the US has been holding talks with the Taliban militant group aimed at putting an end to the war in Afghanistan, which began with the US-led invasion in 2001.
The Taliban have claimed the US has promised them to withdraw half of its troops from Afghanistan, although the timing for that purported pullout has not been finalized.
According to Votel, though, the decision about the 1,000 forces is not linked to the talks with the Taliban.
Earlier this month, US President Donald Trump told Congress that he intended to bring home US forces from Afghanistan as negotiators made progress in talks with the Taliban militants.
Votel did not give a specific estimate of exactly how many forces may be withdrawn, but he answered a question of whether Miller would likely cut over 1,000 troops from Afghanistan under the efficiency drive by saying, "He probably will."
He also said some forces could be moved "over the horizon," supporting the war effort from overseas.
Full report at:
https://www.presstv.com/Detail/2019/02/15/588645/US-troops-Afghanistan-1000-Votel
--------
US vice president Mike Pence accuses Iran of Nazi-like anti-Semitism
February 15, 2019
AUSCHWITZ, Poland: US Vice President Mike Pence accused Iran on Friday of anti-Semitism akin to the Nazis following his visit to the Auschwitz concentration camp in Poland that had strengthened his resolve to act against Tehran.
"We have the regime in Tehran that's breathing out murderous threats, with the same vile anti-Semitic hatred that animated the Nazis in Europe," Pence told reporters on Air Force Two before landing in Munich.
He said that being in Auschwitz had made him reflect to "strengthen the resolve of the free world to oppose that kind of vile hatred and to confront authoritarian threats of our time."
His comments at the former Nazi concentration camp came a day after he said Iran was the "greatest threat to peace and security in the Middle East" at a conference on the region taking place in Warsaw.
Pence accused Washington's European allies of trying to break US sanctions against Tehran and called on them to withdraw from the Iran nuclear deal.
"Sadly, some of our leading European partners have not been nearly as cooperative. In fact, they have led the effort to create mechanisms to break up our sanctions," Pence said.
Pence added that his country will keep a strong presence in the Middle East, continue to stand shoulder to shoulder with allies, and work with coalition partners to defeat Daesh to make the region safe for peace and prosperity.
Full report at:
http://www.arabnews.com/node/1452741/world
--------
Mideast
As Iran sinks financially, Iraqi militias generate funds via protection rackets
By Michael Flanagan
15 February 2019
In areas rife with corruption, lawful behavior is often punished as the forces of law enforcement do not work for the people but for the often malignant forces wielding actual power.
Sadly, parts of Iraq are becoming feudal kingdoms with selective law enforcement designed to protect both the financial and the power interests of those locally in charge.
Being from Chicago, I am very familiar with this situation. The past of my city was rife with violent gangs "owning" defined territories "protected" from rival factions – "protected" at a cost to the businessman who pays and pays not to be attacked by his protectors.
Usually, the ordinary police were in on the scheme and were well paid to look the other way or even better paid to partake in the "protection" activities.
Protection rackets can be very lucrative. Violence awaits those that question the local ruling gang and there is no law enforcement neutral enough or powerful enough to seriously entertain a complaint.
So, locals with money or position pay and pay the gangs because there is no alternative. Either they pay for protection from the thugs or suffer violence from them – often coupled with indifference (or even criminal cooperation) of the police.
Iraq is quietly being divided into lucrative fiefdoms where those that wish to thrive or do any business at all must pay. In the North, the Kurds and Masoud Barzani are running their protection racket. It is more benign, less violent but just as iron-clad and lucrative as the others.
In the West, ISIS continues to exert undue influence and extorts monies from all comers looking to do business there. In the South, Iran exerts its influence through Iranian militias and other official and unofficial structures looking to shake down businessmen.
One of Iran's 'top earners' (as they are called in the American Mafia) is Asa'ib Ahl al-Haq (AAH). AAH is an Iranian-backed militia with its origins in Muqtada Al Sadr's Mahdi Amy.
When Muqtada made a tentative peace with the formal Iraqi government (and the Americans as well), AAH continued its attacks breaking-away from Al Sadr. Ironically, Asa'ib Ahl al-Haq translates to the "League of the Righteous."
As Iran sinks financially, the need for its militias in Iraq to generate their own funds has acutely risen. The League of the Righteous is extorting and "protecting" its way to financial independence.
Recently, Kuwaiti companies run by a daughter of the ruler Sabah IV of Kuwait paid a heavy protection price to AAH to be able to invest in the new airport complex in Diwaniyah Province. This was so open and notorious that it was actually reported in the newspapers. Better to pay than be bombed, rocketed or just killed outright.
In Baghdad, sides are being drawn in less obvious ways. The political parties are deeply involved in the protection rackets to control lucrative businesses and investments.
Recently, a prominent Baghdad restauranteur was arrested by security forces with AAH identification papers on him. This was reported by an equally prominent television station run by Amir Hakim. Amir Hakim is not of AAH but is a former leader of the Islamic Supreme Council of Iraq (ISCI) party when they were in power in Iraq a few years ago – a rival party to AAH.
Because it was reported that an AAH identity card was found on the man, the Iranian Party Bloc, al-Fateh, complained loudly that Hakim was using his media prominence to purposely target AAH, Iranian interests and Iran's newest acquisition, the Popular Mobilization Forces (the PMF).
A personage no less than the President of the Republic had to be ultimately involved. He called for calm and for restraint because the two parties were on the verge of open, armed conflict over the matter. Nothing less than his involvement was required to stave off bloodshed.
The upshot of this is that outside investment, already wary of the inconsistency of the ordinary rule of law in Iraq, are completely scared off by this activity. More than a few large, outside deals have utterly collapsed in the South particularly.
AAH's violent involvement in ordinary business activities in order to raise money has made it a pariah in the South of Iraq. Because of their brutality, they are also feared and, sadly, obeyed.
Iraq is twice burdened by its corruption and now lawless protection rackets. Both plagues are a direct result of the lack of dependable and honest law enforcement coupled with a court system that is independent and capable of enforcing the law.
Until these deficiencies can be cured, outside investment will be scarce and internal economic activity will be minimal. Iraq must free itself from these twin evils.
https://english.alarabiya.net/en/features/2019/02/15/As-Iran-sinks-financially-Iraqi-militias-generate-funds-via-protection-rackets.html
--------
Erdogan vows to carry Khashoggi case to intl. court
Feb 16, 2019
Turkish President Recep Tayyip Erdogan says his country is working to carry the case of the murder of Saudi dissident journalist Jamal Khashoggi in Istanbul to an international court.
Speaking in an interview with the A-Haber television channel, Erdogan said Ankara "is determined to bring this case before international justice," and calls on the United States to weigh in this case.
"We are determined to take this matter to the international court. Our justice ministry, foreign ministry and intelligence agency are working on this matter."
In October, a few weeks after the killing, four prominent rights groups - Human Rights Watch, Amnesty International, the Committee to Protect Journalists and Reporters Without Borders - urged the Turkish government to ask the UN to probe into the disappearance of the ill-fated journo.
Erdogan further criticized the US for "casting aside" the case of Khashoggi due to its bilateral ties with Saudi Arabia, urging Washington to "put its presence and weight" behind the issue.
"The CIA has not yet put its full weight behind this issue. We have a lot of expectations from the US on this matter. The US needs to put its presence, its weight here," he said.
Erdogan also noted that Turkey has not yet revealed all the information it has discovered about the killing of Khashoggi.
"We haven't given all the elements we have at our disposal," he noted.
After weeks of denial, Saudi Arabia admitted that Khashoggi had been killed on October 2 after entering the consulate to obtain the paperwork necessary for his upcoming marriage to Turkish woman Hatice Cengiz.
Turkey has said the journalist was killed by a team of 15 Saudis who strangled him, and Ankara has repeatedly asked Riyadh to identify the local who allegedly helped them dispose of the body, which has not been found.
Riyadh has arrested a number of senior Saudi officials allegedly involved in the murder. Khashoggi, a Washington Post contributor, was a fierce critic of Saudi Crown Prince Mohammed bin Salman, who denies any involvement in the murder.
Erdogan has already said that the order to slay Khashoggi had been issued from "the highest levels" of the Saudi government, suggesting that the crown prince had ordered such a gruesome murder.
Full report at:
https://www.presstv.com/Detail/2019/02/16/588670/Erdogan-Khashoggi-case-Saudi-court-salman-murder
--------
Israel injures 20 Palestinians along Gaza fence
Feb 15, 2019
At least 20 Palestinians have been injured by Israeli fire while protesting in the Gaza Strip to assert the right of displaced Palestinians to return to their land.
Ashraf al-Qedra, the spokesman for the Gaza Health Ministry, said in a Tweet that the victims had been injured during anti-occupation protests held east of Gaza City on Friday.
Tensions have been running high near the fence separating Gaza from the occupied territories since March 30, which marked the start of the protests.
Palestinian protesters demand the right to return for those driven out of their homeland by Israeli aggression.
The clashes in Gaza reached their peak on May 14, the eve of the 70th anniversary of Nakba Day, or the Day of Catastrophe, which coincided this year with Washington's relocation of its embassy from Tel Aviv to the occupied Jerusalem al-Quds.
More than 250 Palestinians have so far been killed and over 26,000 others wounded in the renewed Gaza clashes, according to the latest figures released by the Gaza Health Ministry.
Full report at:
https://www.presstv.com/Detail/2019/02/15/588661/Palestine-Gaza-Strip-right-to-return-protests-Israeli-fire
--------
Peace in Yemen can't be secured by submission to Israel: Ansarullah
Feb 15, 2019
The spokesman for Yemen's Houthi Ansarullah movement says peace and stability in the country cannot be established through submission to the Israeli regime, condemning the participation of representatives loyal to former Yemeni President Abd Rabbuh Mansur Hadi in a recent conference in Warsaw.
"The attendance of Khaled al-Yamani [the foreign minister of the former Yemeni regime] in the ludicrous conference points to the abasement of traitors to Yemen. The participation of the mercenary government in the event demonstrates that it is completely indecisive and submissive. Such a presence amounts to a national and religious crime," Arabic-language al-Masirah television network cited Mohammed Abdul-Salam as saying on Friday.
The Houthi official was referring to the Warsaw Conference, an international gathering organized by Washington in the Polish capital, which was held between February 13 and 14. US Secretary of State Mike Pompeo had earlier claimed the gathering would focus on "stability and peace, freedom and security" in the Middle East.
"The establishment of an administration in exile has forced former Yemeni regime officials to consent to normalization of ties with Israel, and follow in the footsteps of Riyadh and Abu Dhabi," Abdul-Salam said.
He went on to say that the Warsaw Conference was aimed at weakening the Palestinian cause. The official denounced as treachery the participation of delegates from countries involved in the ongoing military aggression against Yemen as well as Hadi loyalists.
"Peace in Yemen can't be secured through capitulation to Israel," the Ansarullah spokesman said.
Abdul-Salam then called on all Yemeni political factions to condemn the attendance of pro-Hadi representatives in the Poland event, emphasizing that Yemenis have always stood in solidarity with the Palestinian people.
Saudi Arabia and a number of its regional allies launched a devastating campaign against Yemen in March 2015, with the aim of bringing Hadi's government back to power and crushing Ansarullah.
According to a report by the Armed Conflict Location and Event Data Project (ACLED), a nonprofit conflict-research organization, the Saudi-led war has so far claimed the lives of around 56,000 Yemenis.
The Saudi-led war has also taken a heavy toll on the country's infrastructure, destroying hospitals, schools, and factories. The UN has already said that a record 22.2 million Yemenis are in dire need of food, including 8.4 million threatened by severe hunger. According to the world body, Yemen is suffering from the most severe famine in more than 100 years.
Full report at:
https://www.presstv.com/Detail/2019/02/15/588655/Yemen-Israel-Ansarullah
--------
Next war on Gaza must be the last, former Israeli minister says
Feb 15, 2019
Former Israeli Minister for Military Affairs Avigdor Lieberman has repeated his aggressive rhetoric against the Gaza Strip, saying the next war on Palestinian resistance movements operating inside the besieged coastal enclave "must be the last."
Lieberman said on Thursday that a recent Israeli military intelligence assessment indicated that the Israeli regime is likely to launch a major offensive against Palestinians either in Gaza or the occupied West Bank within the next 12 months.
He asserted that the assessment "is completely consistent with my assessments over the past year."
"The question now is not 'Will there be another confrontation with Hamas in the Gaza Strip?' but rather 'When will this happen?'" Lieberman said.
The 60-year-old leader of Yisrael Beiteinu political party also took jibes at the Israeli regime, claiming that it is "strengthening" Palestinian resistance groups through not launching a war on Gaza and easing sanctions against the sliver.
Lieberman went on to say that the transfer of Qatari funds and fuel to Gaza in addition to the expansion of its fishing area all serve to strengthen Ezzedine al-Qassam Brigades, which is the military wing of Hamas resistance movement.
The former Israeli minister of military affairs highlighted that public support for Hamas is increasing both in Gaza and the West Bank.
"The next confrontation must be the last confrontation. We must strike a hard and disproportionate blow on Hamas - completely break their willpower to continue to fight against us and destroy their belief that they could ever defeat us," Lieberman said.
Lieberman resigned from his post on November 14 last year, less than a day after Hamas and other resistance factions agreed to an Egypt-brokered ceasefire with Israel in Gaza.
Announcing his decision in a news conference, the hawkish Israeli official described Gaza truce as "a capitulation to terror."
Lieberman also vehemently objected to Israel's allowing Qatar to deliver $15 million to the financially-crippled strip to pay the salaries of government workers and civil servants last week.
"It is no secret that there were differences between the prime minister and I," Lieberman said. "I did not agree to allow entry of Qatari money [into Gaza], and I had to allow it only after the prime minister announced it."
The Israeli military frequently bombs Gaza, with civilians being the main target of such attacks.
Israel has also launched several wars on the Palestinian coastal sliver, the last of which began in early July 2014. The military aggression, which ended on August 26, 2014, killed nearly 2,200 Palestinians. Over 11,100 others were also wounded in the war.
The Gaza Strip has been under an Israeli siege since June 2007. The blockade has caused a decline in the standards of living as well as unprecedented levels of unemployment and unrelenting poverty.
Full report at:
https://www.presstv.com/Detail/2019/02/15/588641/Israel-Gaza-Lieberman
--------
Yemen's Houthis targeting aid warehouses, says Saudi relief aid chief
February 16, 2019
JEDDAH: Dr. Abdullah Al-Rabeeah, general supervisor of the King Salman Humanitarian Aid and Relief Center (KSRelief) has condemned Houthi militias in Yemen for preventing officials from the World Food Programme (WFP) from accessing WFP grain stores in Hodeidah.
Al-Rabeeah also listed a series of "heinous crimes" that he claimed had been committed by the Houthis, including the recruitment of child soldiers, the bombing of refugee camps, looting and confiscation of humanitarian aid, and "indiscriminate setting of mines in civilian areas."
He called on the UN and other organizations to intervene and stop "the Houthis' violations of human rights."
http://www.arabnews.com/node/1452806/saudi-arabia
--------
20 Palestinians hurt in border clashes, says Gaza ministry
February 16, 2019
GAZA: Palestinian medical officials said that 20 Gazans were wounded on Friday by Israeli fire during weekly clashes on the border, while Israeli police said one officer was hurt by an explosive device.
"Twenty injuries by the Israeli occupation forces with live ammunition," the Hamas-controlled Gaza Health Ministry said in a statement.
The Israeli army said that 11,000 "rioters and demonstrators" gathered at several points along the border barrier, with people throwing rocks at soldiers and the fence, as well as "several explosive devices and grenades" aimed at the troops.
"Troops responded with riot dispersal means and fired in accordance with standard operating procedures," a military spokeswoman told AFP.
Israeli police said an officer operating at the border was lightly wounded by shrapnel in his leg.
Palestinians in Gaza have for nearly a year gathered at least weekly along the border for often-violent protests, calling on Israel to end its decade-long blockade of the enclave. At least 250 Palestinians have been killed by Israeli fire since then, the majority shot during clashes, though others have been hit by tank fire or air strikes.
Two Israeli soldiers have been killed over the same period.
Israel says its actions are necessary to defend the border and stop infiltrations and attacks, which it accuses Hamas of seeking to orchestrate. Israel and Palestinian militants in Gaza have fought three wars since 2008.
Palestinians killed
Israeli troops on Jan. 25 fatally shot a Palestinian and wounded another as they threw stones at Israeli motorists in the occupied West Bank, the army said.
Soldiers "responded by firing at the suspects, who received medical treatment. One of the suspects later died of his wounds and another was injured," a statement said. Residents of the dead youth's village of Silwad, near Ramallah, named him as Ayman Hamed, 17.
Full report at:
http://www.arabnews.com/node/1452831/middle-east
--------
Africa
Bomb hidden in corpse kills Burkina Faso army doctor
2019-02-15
A bomb hidden in a corpse dressed in military uniform killed an army doctor and wounded two police officers in northern Burkina Faso, a security official said on Thursday.
Soldiers and police were sent to inspect the male body after it was discovered abandoned on a road in the town of Djibo near the border with Mali, according to the source.
The doctor "died in the explosion of a booby-trapped dead body containing an improvised explosive device", he said.
"The bomb was detonated by an attempt to turn the body over, directly killing the army doctor and wounding two other team members" on Tuesday, the official added.
A medical source in Djibo said the two wounded police officers were receiving treatment at a local clinic, with one in a critical condition.
Burkina Faso, in the heart of Africa's vast Sahel region, is struggling with a bloody Islamist insurgency as well as bouts of social unrest.
Last week saw three attacks, one of which killed five members of the security forces on the same day the president hosted a regional summit on the fight against terrorism.
https://www.news24.com/Africa/News/bomb-hidden-in-corpse-kills-burkina-faso-army-doctor-20190215
--------
US military denies taking part in raid on al-Qaeda site in Libya
15 February 2019
The US military denied on Thursday taking part in a raid on an al-Qaeda site in the Libyan city of Ubari, contradicting a statement by a Libyan official.
The spokesperson for Fayez al-Sarraj, head of the Presidency Council of the Tripoli-based Government of National Accord of Libya, said in a statement late on Wednesday that a site with a number of al-Qaeda members in Ubari was "raided" by joint US-Libyan forces.
"This joint work between the Presidency Council of the Government of National Accord and the US Government coincided with the meeting of US Secretary of State Mike Pompeo and Foreign Minister Mohamed Sayala at the Global Coalition to defeat Islamic State (ISIS) meeting last week", spokesperson Mohamed El Sallak said in the statement.
But US Africa Command, which is responsible for American troops in the area, said that although the United States supports what is describes as counterterrorism efforts of the UN-recognized Libyan government, US forces were not involved in the raid.
Full report at:
https://english.alarabiya.net/en/News/north-africa/2019/02/15/US-military-denies-taking-part-in-raid-on-al-Qaeda-site-in-Libya.html
--------
Jordan links deadly blasts to militant cell
February 15, 2019
AMMAN: Jordan said Friday that two deadly explosions which rocked the Salt region northwest of the capital Amman were apparently linked to a militant cell.
A security source had previously told AFP that old mines were behind Thursday's blasts which killed a farmer and three members of the security forces.
But analysis of the site found the blasts were caused by "homemade explosives buried in the ground matching the type used by a terrorist cell in Al-Fuhais" last August, government spokeswoman Jumana Ghneimat said.
She was referring to an August 11 bomb attack on a security patrol in the nearby town of Al-Fuhais that killed a police sergeant and wounded six others.
The Salt region was the scene of heavy clashes between gunmen and security forces after the attack which targeted a security patrol at a music festival.
Full report at:
http://www.arabnews.com/node/1452686/middle-east
--------
66 killed in Nigeria's northwest ahead of polls
15.02.2019
On the eve of Nigeria's general elections, at least 66 people are confirmed killed in attacks across eight settlements in the country's northwest, officials said Friday.
Samuel Aruwan, spokesman for the state governor, said the violence occurred on Thursday in Kajuru in the Kaduna state, an area long gripped by armed bandits or religious zealotry.
"Security agencies today reported the recovery of 66 bodies killed in attacks by criminal elements on various dispersed hamlets in the Maro Gida and Iri axis of Kajuru," Aruwan said in a statement.
"The government condemns the attacks and commiserates with the families of the victims. Security agencies have been deployed to the area and arrests have been made."
Aruwan called for calm and urged residents to avoid reprisals, suggesting the violence may be communal.
Local news medium Daily Trust, quoting local sources, said the victims include 22 children and 12 women.
Full report at:
https://www.aa.com.tr/en/africa/66-killed-in-nigerias-northwest-ahead-of-polls/1394162
--------
Nigeria delays presidential election until Feb. 23 over unspecified 'challenges'
By Max Bearak
February 15, 2019
YOLA, Nigeria — The attack came in the middle of dinner, and suddenly a calm night was filled with cries and Ruth Thama Gauji was fleeing again, her children bundled haphazardly onto her back.
In the decade since Boko Haram swept across northeastern Nigeria, she has lost count of the attacks, and last week's was much like ones in the past. One thing is different this time for Gauji, who found shelter in the nearby city of Yola: She wants to get back to her hometown of Shuwa as quickly as possible, even if it's risky. Only there will she be able to cast her vote in the country's presidential election, originally scheduled for Saturday but delayed until Feb. 23.
"I will vote for new leaders again and again until someone can kill off Boko Haram," she said.
The election was postponed early Saturday, just hours before polls were set to open. The election commission cited unspecified "challenges" in its announcement, amid reports that voting materials had not been delivered to all parts of the country, the Associated Press reported.
Nigeria's current president, Muhammadu Buhari, won the last election on promises of eliminating Boko Haram, a group that has since metastasized into two factions, the larger of which pledges allegiance to the Islamic State. Buhari, a former military general, succeeded in retaking most of the territory lost to the militants during their peak power in 2015, but 2018 brought a sharp rise in violence.
Nigeria is Africa's most populous country, and its most ­violence-stricken. More civilians were killed in targeted attacks in Nigeria last year than in either Yemen or Afghanistan, according to the Armed Conflict Location & Event Data Project. In addition to Boko Haram and the Islamic State's West Africa affiliate, which the U.S. military estimates have a combined 5,000 fighters, thousands more have joined ethnic militias that compete over scarce land coveted by both herding and farming communities. While Islamist militants killed hundreds of Nigerian soldiers in just the past year, overrunning barracks and capturing weapons, uniforms and vehicles, the ethnic militias operate across a much broader swath of central Nigeria and are proving far deadlier.
Nigerian riot police secure an office in Port Harcourt on Feb. 14, the last day of campaigning for Nigeria's presidential candidates. (Yasuyoshi Chiba/AFP/Getty Images)
The spiraling violence is a symptom of much more intractable challenges. The country's population is rapidly growing and is expected to overtake the United States' by 2050, though the United States is 11 times Nigeria's geographic size. Meanwhile, the average Nigerian is becoming poorer, and almost a quarter of the labor force is unemployed. There were more people living in extreme poverty in Nigeria than in India as of last year. Climate change and increased water usage are turning fertile areas into deserts. More than 13 million children do not regularly attend school. Millions more depend on humanitarian aid to survive.
Despite these challenges, Nigeria's government has some of the lowest spending per capita on health and education in the world. The country receives significant support from international organizations, as well as the United States and Britain, which held Nigeria as a colony until 1960. The U.S. government gave Nigeria more than $450 million in 2018, mostly for humanitarian aid relating to food and health.
Nigerians yearn for swift change, but this year's election pits Buhari, who has been in politics for much longer than most of his constituents have been alive, against the business tycoon Atiku Abubakar, also a former vice president. Between them are nine previous runs for president. The average Nigerian is 18 years old, but both Buhari and Abubakar are in their 70s; that gap fuels a sense of detachment from politics that is expected to depress voter turnout.
"In life, each person has the potential to be a builder or a destroyer. But most of us will be graduating without jobs. Thousands of us will be competing for just one vacancy. The only option seems to be criminality," said Musa Adamu Lawan, a student government leader at Adamawa State Polytechnic university in Yola. Neither of the candidates knows "what life is like for the youth now. They grew up during better times."
President Muhammadu Buhari, center, won the last election on promises of eliminating Boko Haram. (Ben Curtis/AP)
Buhari is banking on his relatively sound reputation for honesty in a country riddled with political corruption, and on marginal successes in economic growth and the fight against Boko Haram. His banners around Yola stress that his administration is a "moving train" that should be allowed to gather momentum. His opponents say he has anything but energy. An undisclosed illness kept Buhari in London for almost half of 2017, and he has denied rumors that he uses a body double.
Abubakar, widely referred to by his first name, Atiku, is riding the wave of public impatience. He is promising to double the economy in one presidential term, partly by privatizing divisions of Nigeria's mammoth state oil company. Nigeria is Africa's top oil producer, and Abubakar made much of his fortune as a businessman through Intels, his oil and gas logistics company. His autobiography is ­titled "Making Money," and many of his supporters hope he will help them do just that.
There is little by way of ideological difference between the candidates, and they are both Muslims belonging to the Fulani ethnic group. Abubakar used to be part of Buhari's All Progressives Congress (APC), even allowing Buhari to use his private jet during the 2015 presidential campaign, before defecting in late 2017. The race is expected to be tight.
"The election is about sentiment over substance all the way," said Nnamdi Obasi, a Nigeria analyst for the International Crisis Group. "Candidates move between political parties looking for better deals as if they were football clubs."
Abubakar used to be an ally to Buhari, the incumbent president, before defecting to the People's Democratic Party. (Luis Tato/AFP/Getty Images)
Abubakar's record as vice president has come under intense scrutiny in Nigeria and the United States. In 2006, he was accused of diverting $125 million in public funds toward his business interests. And four years later, a U.S. Senate report accused him of transferring $40 million in "suspect funds" to his American wife's bank account. He denies the allegations and has not been tried in court, and he recently traveled to Washington to clear up doubts that he would be allowed to enter the United States.
"The candidates seem to have no sense of the urgency of all Nigeria's ticking time bombs — corruption, the economy, insecurity. And you don't need to use your imagination to see what crises the future holds — they are already upon us," Obasi said. "Most of Nigeria is sinking."
One bright spot is a reduced chance of political violence in this year's election. Since Buhari and Atiku are both of the same religion and ethnic group, a sense of competition among Nigeria's diverse population is diminished. Nevertheless, each candidate has accused the other of sabotage and incitement.
Buhari's recent sacking of the country's chief justice, who would play a crucial role in resolving election disputes, prompted Abubakar to call Buhari an authoritarian. Buhari maintains that the judge failed to declare his personal assets, but the timing has struck many as politically motivated, and the United Nations joined Abubakar in condemning the move.
An election commission staffer separates ballot boxes ahead of the election. (Yasuyoshi Chiba/AFP/Getty Images)
Abubakar's party has also accused the independent election commission of failing to clean up voter rolls, leaving up to a million "ghost voters" whose names could be used in potential vote-rigging.
In Yola, the capital of Abubakar's home state of Adamawa, his money and success seem distant. Boko Haram has emptied many of the rural areas, driving up food prices. Three neat meals a day are unattainable for most.
Idris Usman earns $40 a month as a day laborer, building richer people's homes. He has done masonry for a decade and still has not saved enough to complete his own one-room house, which remains roofless.
"We want someone who loves the masses, not commands them," said Idris, who was undecided on who will get his vote.
Others had given up on the electoral process.
"No matter what, I am not voting. It is a pure waste of time. It is full of lies and scams. In one word, it is wahala," said Adama Suleiman, using a common Nigerian term for trouble. Suleiman's food stall was burned down amid violence tied to the 2015 election. On a recent day, she sat in a friend's restaurant, cleaning stalks of waterleaf, a local vegetable.
Full report at:
https://www.washingtonpost.com/world/africa/nigerians-head-to-the-polls-amid-a-resurgence-of-boko-haram-attacks-ethnic-violence/2019/02/14/48a84ecc-2d8b-11e9-8781-763619f12cb4_story.html
--------
Southeast Asia
'Politics is now a matter of life and death': Muhammadiyah warns against deepening polarization
February 16, 2019
Ivany Atina Arbi
Sectarianism is exacerbating political divisions in the country as voters now view politics as "a matter of life and death" and not a "worldly" issue in which differences are accepted, the leader of the nation's second-largest Islamic organization has warned.
In his opening speech at a leadership meeting in Bengkulu on Friday, Muhammadiyah chairman Haedar Nashir argued that religious absolutism seemed to have pervaded politics and caused division among the people.
"Politics is now a matter of life and death that breeds political war and fanaticism [...] Politics is no longer regarded as an issue of worldly affairs, which allows room for differences. It is now associated with faith, which is absolute," he said.
The two-day meeting, which was opened by President Joko "Jokowi" Widodo, aimed to address rising concerns over the use of religion in politics, particularly ahead of the 2019 legislative and presidential elections.
More than 500 Muhammadiyah national and local executives attended the meeting. The group, which runs thousands of schools and hundreds of hospitals, claims to have about 40 million members across the country.
Haedar warned against what he called the "unenlightened implementation of Islam", which could lead to problems such as extremism, intolerance, misinformation, the politicization of religion and also hate speech and hostility.
"Religion should be a blessing for all humanity."
During a visit to The Jakarta Post recently, Muhammadiyah secretary-general Abdul Mu'ti said the meeting in Bengkulu would have as its theme "The Path of Enlightenment in Religious Life".
The theme has been chosen because the group is concerned about the deepening political polarization in the country, particularly in the presidential election where the candidates are judged on how Islamic they are perceived to be.
"We see deep polarization in 2019," Mu'ti said. "Through the use of religious symbols and forums for political interests, such religious polarization is very apparent."
Muhammadiyah is therefore calling on people to choose the path of moderation in religion, also known as wasatiyyah, to ease tension during an election year.
"We promote the concept [of wasatiyyah] to prevent violence or extremism," Muhammadiyah executive Syafiq A. Mughni said, adding that Muslims should stop mixing religion with politics and focus on assessing the programs of election contenders.
Traditionally, Muhammadiyah has remained politically neutral, although many of its members have been involved in politics.
The group is closely associated with the National Mandate Party (PAN), which is backing Prabowo Subianto in the April election. However, its members or former members are also active in other political parties, including the Indonesian Solidarity Party (PSI), which backs Jokowi.
"Muhammadiyah does not endorse any candidate-pair and, therefore, allows its followers the freedom to make their own choices," Syafiq said.
The meeting in Bengkulu is expected to produce a set of recommendations.
In his speech, President Jokowi expressed his concerns about the rise of fake news and how he has been a victim of misinformation. He used the occasion to clarify rumors that he was ever a member of the now-defunct Indonesian Communist Party (PKI).
At the meeting, the President, who was born in 1961, displayed an edited photo of him standing in front of PKI leader DN Aidit, who was giving a speech in 1955.
"How could it be possible for me to be there when I was born some years later in 1961?" he asked, adding that many still believed the falsehood and used it against him politically.
In his speech, the President also reminded his listeners that Indonesia was a culturally and religiously diverse country, which was an asset that Indonesians should preserve.
Full report at:
https://www.thejakartapost.com/news/2019/02/15/politics-is-now-a-matter-of-life-and-death-muhammadiyah-warns-against-deepening-polarization.html
--------
Kuala Lumpur nabs six suspected militants in raids
Nadirah H. Rodzi
Feb 16, 2019
Six suspected militants, including a Singaporean businessman, have been arrested by the Malaysian police following a series of anti-terror raids across the country.
The men, aged 21 to 48, were nabbed in Johor, Selangor and Sabah between Dec 19 last year and Jan 28.
In the first swoop, a 48-year-old Singaporean was arrested in Johor Baru on Dec 19 with the help of Singapore's Internal Security Department. The Singapore authorities named him as Mohamed Kazali Salleh.
He funded a Malaysian militant of the Islamic State in Iraq and Syria (ISIS), Wan Mohd Aquil Wan Zainal Abidin, also known as Akel Zainal, and had been told to recruit militants for an attack in Johor Baru.
Also on Dec 19, a Bangladeshi cleaner, 31, was arrested in Selangor's Klang. He is believed to be an ISIS supporter and tasked with recruiting militants for the group.
The police detained two Malaysians, both 38, in Sepang on Jan 10.
Prior to their arrest, the duo - who worked as farm workers abroad - had been deported to Malaysia after the country they were in found that they had pledged their allegiance to ISIS.
"One of them even channelled funds to Malaysian militant Khairul Amizan Azmi, who is in Syria," Inspector-General of Police Mohamad Fuzi Harun said in a statement yesterday.
The police also nabbed a 21-year-old Filipino man on Jan 19 in Sabah. The authorities believe he is a member of the Abu Sayyaf militant group in the Philippines.
"The suspect was arrested in Kota Kinabalu and had snuck into the country in March last year. He has the expertise to operate an array of weapons, and he has connections to Abu Sayyaf leader Furiji Indama," Tan Sri Fuzi said.
The Abu Sayyaf has pledged allegiance to ISIS. Since 2017, the Malaysian authorities have detained 39 Abu Sayyaf militants.
The last man arrested was a 26-year-old South Asian. He was caught in Puchong on Jan 28 for harbouring a fellow countryman who is listed on Interpol's Red Notice for his involvement in terrorist activities.
Since 2013, Malaysia has arrested more than 400 people for suspected links to terrorism. The Muslim-majority country faces threats from self-radicalised ISIS sympathisers at home and regional militant groups that seek funding and refuge in South-east Asia.
Full report at:
https://www.straitstimes.com/asia/se-asia/kl-nabs-six-suspected-militants-in-raids
--------
Singapore detains alleged sponsor of Malaysian ISIS fighter
15 February 2019
A Singaporean man who gave financial support to a Syria-based ISIS militant from Malaysia has been detained under the city-state's tough internal security laws, authorities said Friday.
The arrest highlights the continued influence of Southeast Asian militants fighting with ISIS in Iraq and Syria in radicalizing people back home, even as the militants face defeat in the Middle East.
Singaporean businessman Mohamed Kazali bin Salleh, 48, is suspected of being a "close associate" of Mohamad Aquil bin Wan Zainal Abidin, believed to be the most senior Malaysian ISIS fighter in Syria, according to Singapore's Ministry of Home Affairs (MHA).
Kazali, who had been living in the Malaysian state of Johor next to Singapore, paid for the militant's trip to Syria in late 2013 to fight with ISIS and continued to support him financially, the ministry said.
In return, Aquil "kept him updated on his exploits on the battlefield," it said. Kazali became increasingly radicalized over time and pledged allegiance to ISIS chief Abu Bakr al-Baghdadi.
He shared news of Aquil's activities in Syria on social media to inspire others to travel there and was also prepared to finance them.
In December, he received instructions from Aquil to carry out an attack in Johor but he did not follow through for fear of being arrested, MHA said.
Deported
Kazali was arrested by Malaysian authorities in December and deported to Singapore, where he is being held under the Internal Security Act, which allows for detention without trial for up to two years.
A second person was also detained under the act -- Hazim Syahmi bin Mahfoot, a 28-year-old car exporter who was influenced by Kazali's radical views and was convinced by him to carry out attacks against ISIS's perceived enemies.
Full report at:
https://english.alarabiya.net/en/News/world/2019/02/15/Singapore-detains-alleged-sponsor-of-Malaysian-ISIS-fighter.html
--------
Singapore detains alleged sponsor of Malaysian IS fighter
February 15, 2019
Singapore, Feb 15 (AFP) A Singaporean man who gave financial support to a Syria-based Islamic State (IS) militant from Malaysia has been detained under the city-state's tough internal security laws, authorities said Friday.
The arrest highlights the continued influence of Southeast Asian militants fighting with IS in Iraq and Syria in radicalising people back home, even as the jihadists face defeat in the Middle East.
Singaporean businessman Mohamed Kazali bin Salleh, 48, is suspected of being a "close associate" of Mohamad Aquil bin Wan Zainal Abidin, believed to be the most senior Malaysian IS fighter in Syria, according to Singapore's Ministry of Home Affairs (MHA). Kazali, who had been living in the Malaysian state of Johor next to Singapore, paid for the militant's trip to Syria in late 2013 to fight with IS and continued to support him financially, the ministry said.
In return, Aquil "kept him updated on his exploits on the battlefield", it said. Kazali became increasingly radicalised over time and pledged allegiance to IS chief Abu Bakr al-Baghdadi.
He shared news of Aquil's activities in Syria on social media to inspire others to travel there and was also prepared to finance them.
In December, he received instructions from Aquil to carry out an attack in Johor but he did not follow through for fear of being arrested, MHA said.
Kazali was arrested by Malaysian authorities in December and deported to Singapore, where he is being held under the Internal Security Act, which allows for detention without trial for up to two years.
A second person was also detained under the act — Hazim Syahmi bin Mahfoot, a 28-year-old car exporter who was influenced by Kazali's radical views and was convinced by him to carry out attacks against Islam's perceived enemies.
Full report at:
https://www.india.com/news/agencies/singapore-detains-alleged-sponsor-of-malaysian-is-fighter-3575541/
--------
PPBM will split Malay-Muslim votes in Sabah, says PBS
Tracy Patrick
February 15, 2019
KOTA KINABALU: Parti Bersatu Sabah (PBS) president Maximus Ongkili said the entry of the Dr Mahathir Mohamad-led PPBM to Sabah could further divide the votes of the Malay-Muslim community in the state.
He, however, said opposition parties had no objection to Malayan-based parties entering the state.
The Bumiputera communities in the state are currently divided between Umno and Warisan.
Ongkili further emphasised that it's always beneficial for the state to be run by local parties. "I think it is better for Sabahans to unite and fight for their rights if a local party is in charge.
"The impact is bigger if the people of Sabah take the lead through an existing party like PBS. It will be easier for Sabah to achieve its development goals," he said.
PPBM's entry into Sabah has apparently not gone down well with Warisan.
Mahathir has said the party's entry into Sabah is aimed at stopping Sabah Umno leaders from causing any damage to the ruling government.
Meanwhile, Parti Solidariti Tanah Airku (STAR) president Jeffrey Kitingan told FMT that the former Sabah Umno leaders are likely to form a partnership with Gabungan Bersatu Sabah (GBS).
The GBS is a coalition of PBS, STAR and former Sabah Umno leaders who are in direct opposition to the current state government.
"Even if the former Sabah Umno leaders have become PPBM members, they will still be part of GBS. Only Umno is not part of GBS," he said.
He admitted the situation would become a bit complicated as the former Sabah Umno leaders would now be obliged to support the current Warisan-PH coalition government in the state.
FMT has reached out to former Sabah Umno secretary Masidi Manjun for comment.
The group's de facto leader Hajiji Noor left Sabah last night and is currently performing his Umrah.
Full report at:
https://www.freemalaysiatoday.com/category/nation/2019/02/15/ppbm-will-split-malay-muslim-votes-in-sabah-says-pbs/
--------
Pakistan
Pakistan's approach to Afghan peace has shaped international opinion: FM Qureshi
Feb 16, 2019
ISLAMABAD: Foreign Minister Shah Mehmood Qureshi on Friday said that Pakistan's approach for peace in Afghanistan had shaped the international community's opinion to give a negotiated settlement in Afghanistan a fair chance.
FM Qureshi said this during a panel discussion titled "Update on Afghanistan" during the Munich Security Conference (NSC), on Friday. The panel also included Uzbek Foreign Minister Abdulaziz Kamilov, former US secretary of state John Kerry and Afghan National Security Advisor (NSA) Hamdullah Mohib.
Addressing the MSC, FM Qureshi highlighted Pakistan's strong support in breaking the political stalemate in Afghanistan. He said that Pakistan had sincerely responded to the US request for facilitating the peace and reconciliation process in Afghanistan that led to direct US-Taliban talks in Abu Dhabi and Doha.
"Important breakthroughs have been achieved by the two sides as more progress is expected in the upcoming rounds of negotiations in Doha. Pakistan offered maximum cooperation and facilitation to the US Special Representative on Afghan Peace and Reconciliation, Ambassador Zalmay Khalilzad in his mission, which has been acknowledged by him and the Trump administration," he said.
The foreign minister briefed the audience about Prime Minister Imran Khan's long-standing vision for a peaceful settlement of Afghan conflict as opposed to finding a military solution.
FM Qureshi added that Pakistan's approach for peace in Afghanistan had shaped the international community's opinion to give a negotiated settlement in Afghanistan a fair chance, through an inclusive peace and reconciliation process that is fully led and owned by the Afghans themselves.
"Pakistan's vision is practical and sync with the ground realities of Afghanistan and the region. Pakistan has acted as an honest and reliable bridge between Afghanistan and the international community to share its hard-earned experiences to set the direction right for a peaceful resolution of the four decades old conflict," he said.
The foreign minister said that Pakistan has been supporting all peace and reconciliation efforts in Afghanistan as part of its shared responsibility with other regional countries and the international community. Pakistan desires to see a genuine and inclusive peace and reconciliation process with full Afghan ownership because such a process would provide the foundation for an intra-Afghan dialogue that would be the key towards resolving sensitive and critical national issues by the Afghans themselves, he added.
FM Qureshi further remarked that no country other than Pakistan would benefit more from peace in Afghanistan, because after Afghanistan no other country has suffered as much as Pakistan. It will, therefore, remain the torch bearer of finding security, stability and economic development and progress of the whole region could be ensured, he concluded.
https://www.pakistantoday.com.pk/2019/02/15/pakistans-approach-to-afghan-peace-has-shaped-international-opinion-fm-qureshi/
--------
International Court of Justice to take up Jadhav's case on Feb 18
Feb 16, 2019
ISLAMABAD: As the International Court of Justice (ICJ) formally commences a public hearing on the conviction of Indian spy commander Kulbhushan Jadhav from Feb 18, Pakistan's delegation for oral arguments departed for The Hague on Friday.
Attorney General Anwar Mansoor would lead the Pakistani delegation whereas Director General South Asia Dr Mohammad Faisal would lead the Foreign Office side.
The world court has set a timetable for public hearings from Feb 18 to 21 in The Hague and Harish Salve, who represents New Delhi, is expected to argue first on Feb 18. Then English Queen's Counsel Khawar Qureshi will make submissions on Feb 19 from Islamabad's side.
Then India will reply on Feb 20 while Islamabad will make its closing submissions on Feb 21. It is expected that the ICJ decision may be delivered by the summer of 2019.
"We are fully prepared with our strongest evidence being the valid Indian passport recovered from Commander Jadhav with a Muslim name," said the official, adding that Pakistan was committed to implementing the decision, irrespective of what decision came from the ICJ.
Commander Jadhav was captured in Balochistan in March 2016 and later confessed to his association with Indian intelligence agency Research and Analysis Wing (RAW) and his involvement in espionage and fomenting terrorism in Pakistan.
On May 18 last year, the ICJ through an interim order stayed Jadhav's execution after which the Foreign Office communicated to the world court that the government of Pakistan had instructed relevant departments to give effect to the ICJ order.
Pakistan has already furnished two counter-memorials on the Indian claims, which brought the case before the world court under the Vienna Convention on Consular Relations 1963. India filed its reply on April 17, 2018, to which Pakistan filed a detailed rejoinder on 17 July that year.
In reply to a question about Iran, the official said the government was convinced that Iran had no role in Jadhav's episode though he remained there for some time. "India wants to drag Iran into this dispute but we will not let it happen," he said.
New Delhi claimed that Jadhav was an innocent businessman who was kidnapped from Iran and tortured to confess to being a RAW agent, but the official believes that Indians had failed to prove the allegation despite repeated requests for evidence that Jadhav was kidnapped.
Likewise, Indians also failed to satisfy that Jadhav had retired from the Indian Navy and New Delhi also failed to explain when and why he was retired since he was only 47 years old when arrested.
Similarly, India needs to explain how Jadhav was in possession of an authentic Indian passport issued under a false "cover" Muslim name — Hussain Mubarak Patel — which he had used at least 17 times to enter/exit India.
India had been asked this question many times, even by highly respected Indian senior journalists such as Praveen Swami and Karan Thapar, but Indians declared this as irrelevant or mischievous propaganda.
Eventually, India argued that the passport was clearly a forgery, but refused to explain why a highly credible independent UK expert was wrong when he said it was an authentic Indian passport issued by the Indian authorities.
New Delhi demands that the ICJ order Pakistan to return Jadhav to India, but the international court had repeatedly explained that it was not a criminal court of appeal. The world court has also clarified in its earlier decisions that even if consular access was denied, the proper recourse would be an effective review to be reconsidered by the local courts.
Jadhav and his family, the official said, could invoke Article 199 of Pakistan's constitution by seeking the relief through the country's high court, but India launched proceedings in the ICJ, 14 months after Jadhav was arrested and a month after he was convicted, to seek a stay order without a hearing.
"Why is India asking for an order for the return of Jadhav in the face of the ICJ's decision and the independent expert evidence confirming Pakistan has effective review and reconsideration before the high court and the Supreme Court," the official asked. India has also failed to explain why May 21, 2008, Agreement on Consular Access between India and Pakistan, which was drafted by India and provides Article VI for either state to be entitled to consider a request for consular access about persons implicated in national security matters, does not apply in this case.
India has also failed to explain why highly respected UK-based military law experts are wrong when they say that Pakistan's high court and Supreme Court provide an effective review and reconsideration of the military court process.
In its detailed counter-memorial to the Indian claims, Pakistan has raised a number of questions like the existence of the customary international law about an "espionage exception" to consular access in view of obvious dangers of allowing a state-sponsored spy/terrorist untrammelled communication with the authorities of his sending state that despatched him to commit unlawful acts.
The counter-memorial by Pakistan has also drawn attention to a bilateral agreement on consular access between India and Pakistan that clearly qualifies consular access in matters of national security.
Full report at:
https://www.pakistantoday.com.pk/2019/02/15/international-court-of-justice-to-take-up-jadhavs-case-on-feb-18/
--------
Turkey thanks PM Imran Khan over FETO fight
Feb 16, 2019
ANKARA: Turkish parliamentarians have thanked Prime Minister Imran Khan in a letter over the ban of schools affiliated with Fetullah Terrorist Organisation (FETO), a terror group which was behind the 2016 defeated coup in Turkey.
"We welcomed the decision taken by the Supreme Court of Pakistan for the handing over of the FETO-run schools in the country to the Maarif Foundation of Turkey and listing FETO as a terrorist organisation," read the letter sent to Imran Khan.
In December 2018, the Supreme Court had ordered the government to declare FETO a terror group and to ban its affiliated schools in the country.
The top court also ordered the transfer of FETO's "movable and immovable assets" including schools, colleges, education centres and other similar entities to Turkey's Maarif Foundation.
Turkey's education body immediately took over the FETO-linked schools in Pakistan, the letter noted. "We would like to take this opportunity to thank the Pakistani authorities," said the letter penned by the friendship group between the parliaments of Turkey and Pakistan.
The concrete steps of Pakistani government against FETO "confirmed yet again the strong relations between our countries," it underlined.
"We would like you to know that our country will continue to provide every support to Pakistan, and, as in every other field, exert efforts for the purpose of developing education together," the letter added.
Speaking to Anadolu Agency on Friday, Ali Sahin, the head of parliamentary group, expressed support for PM Imran's decision.
Underscoring the FETO threat in some foreign countries apart from Pakistan, Sahin said, "We want Pakistan's decision to serve as a model for the other countries."
The 2016 coup bid, claiming 251 lives and injuring nearly 2,200 others, was orchestrated by FETO and its US-based leader Fetullah Gulen.
Full report at:
https://www.pakistantoday.com.pk/2019/02/15/turkey-thanks-pm-imran-khan-over-feto-fight/
--------
Qureshi urges German investors to benefit from Pakistan's pro-investor policies
Feb 16, 2019
ISLAMABAD: Foreign Minister Makhdoom Shah Mahmood Qureshi met German counterpart Heiko Maas on the sidelines of the Munich Security Conference on Friday.
The two foreign ministers expressed satisfaction at the current level of bilateral relations and agreed to translate the existing friendship and mutual goodwill into a strong political and economic partnership.
The foreign minister appreciated the trade and investment relations and welcomed the entry of Volkswagen into the Pakistani market. He invited other German companies to take advantage of Pakistan's investor-friendly policies, especially in the fields of energy, infrastructure development, agriculture, food processing, energy, mining, manufacturing, water and waste management, etc.
The two foreign ministers discussed a wide range of regional and international issues. Underscoring the importance of peace and stability in Afghanistan, the FM Qureshi stated that Pakistan was facilitating the ongoing talks between the US and the Taliban as a shared responsibility and in good faith. He hoped that the talks would result in an intra-Afghan dialogue leading to lasting peace in the country. He also highlighted the continued atrocities perpetrated by the security forces in the Indian Occupied Kashmir (IOK).
Full report at:
https://www.pakistantoday.com.pk/2019/02/15/qureshi-urges-german-investors-to-benefit-from-pakistans-pro-investor-policies/
--------
Pakistan gets ready to woo Saudi crown prince
Feb 16, 2019
ISLAMABAD: Pakistan was rescheduling flights, blocking-off luxury hotels, and- according to one report Friday- collecting 3,500 pigeons and colourful balloons to release during a welcome ceremony for Saudi Arabian Crown Prince Mohammed bin Salman.
Islamabad is hoping to sign a raft of investment deals and other agreements during the two-day visit, which begins Saturday and will include talks with Pakistan's Prime Minister Imran Khan and the powerful army chief, General Qamar Javed Bajwa.
Banners heralding the crown prince were already lining the streets of the capital Friday, while the Express Tribune newspaper reported that authorities were trying to catch so many pigeons for a welcome ceremony that they were forced to collect birds from other cities.
Police, the armed forces, and the Saudi Royal Guards will provide security, a senior Islamabad police official told AFP.
The capital's "red zone", which houses Parliament House and the Presidency, was to be sealed off, while civil aviation authorities have been told to reschedule flights during the prince's arrival and departure.
Authorities in the capital said two five-star hotels had been ordered to cancel all advance bookings as the rooms will be reserved for the prince's entourage.
Earlier in the week local media reported that the crown prince's personal belongings- including luxury vehicles and his own gym- were flown to Pakistan in two C130 airplanes.
The visit came as regional tensions spiked after neighbouring India accused Islamabad of harbouring militants behind a deadly attack in Indian-administered Kashmir.
At least 41 paramilitary troops were killed in a suicide blast Thursday, with Indian media reporting that the Pakistan-based Islamist group Jaish-e-Mohammed had claimed responsibility.
The crown prince, who is due to visit India after Pakistan, also continues to be tarnished by his alleged links to the brutal murder of Saudi journalist Jamal Khashoggi.
Saudi Arabia is reportedly preparing to sign a record investment package with Pakistan, including a $10-billion refinery and oil complex for the strategic Gwadar Port on the Arabian Sea.
Pakistan's foreign office spokesman said Islamabad is seeking to sign a number of other deals, including one "combating organised crime".
Khan has been courting its Gulf allies for months as he seeks to stave off an ongoing balance of payments crisis and reduce the size of any potential bailout from the International Monetary Fund.
The Wall Street Journal reported that Saudi Arabia and the United Arab Emirates have together offered Islamabad some $30 billion in investment and loans.
Saudi Arabia and Pakistan are also participating in talks with the US and other countries seeking to bring the Taliban to the table for peace negotiations with Kabul after more than 17 years of war.
Full report at:
https://timesofindia.indiatimes.com/world/pakistan/pakistan-gets-ready-to-woo-saudi-crown-prince/articleshow/68018064.cms
--------
Saudi crown prince's visit delayed by day
February 16, 2019
ISLAMABAD: The arrival of Saudi Crown Prince Mohammad bin Salman in the federal capital on his first two-day official visit to Pakistan has been delayed by a day for unknown reasons.
Earlier, the crown prince was due in Islamabad on Saturday (today) but, according to the Foreign Office, a slight change has been made in his schedule and now he is coming on Sunday.
MBS visit: Everything you need to know
Islamabad is describing the visit as a "historical one" which will help stabilise the crippling economy of the country as over $21 billion Memorandums of Understanding (MoUs) are likely to be inked between Pakistan and Saudi Arabia during the visit.
Not only the government but the opposition has also hailed the visit of the crown prince as Pakistan Muslim League-Nawaz (PML-N) president Shah­baz Sharif and Pakistan Peoples Party (PPP) co-chairman Asif Ali Zardari have welcomed the crown prince in their statements.
Unprecedented security measures are being taken for the visit of the crown prince as twin cities of Islamabad and Rawalpindi will be sealed for two days (on Sunday and Monday) and mobile service will remain suspended there.
Two separate receptions will be held in the Presidency and Prime Minister House in honour of the crown prince during which one-on-one meetings between Prince Mohammad bin Salman and President Arif Alvi and the prince and Prime Minister Imran Khan will take place. The crown prince will also meet Chief of the Army Staff Gen Qamar Javed Bajwa.
Media reports said the government had reserved several hotels for the big Saudi delegation. As many as 750 rooms have been booked in eight Islamabad hotels for the visiting delegation.
Prime Minister Khan and the crown prince will co-chair meetings of various joint working groups on trade, investment, energy, science, information and media.
The prince will be accompanied by a delegation of royals, key ministers and leading businessmen.
Twin cities of Islamabad and Rawalpindi have been put on high alert and Section 144 has been imposed in the capital with airspace shut down arrangements on Feb 17 and 18. According to police, 1,000 checkpoints have been set up across the twin cities, five in the limits of each police station.
As many as 300 Land Cruisers have been reserved for the visiting delegation and a gym has been set up in PM House for the crown prince.
Saudi investment
At a time when the country is struggling with the dwindling foreign exchange reserves, Pakistan expects a highest-ever investment announcement to the tune of about $21 billion during the visit of the Saudi prince.
Along with the crown prince, about 35 top Saudi investors will also visit Pakistan. The business delegation will have a business to business meeting with local businessmen on Monday, according to Commerce Secretary Younus Dagha.
The Saudi businessmen are interested in investment, particularly in Gilgit-Baltistan.
Speaking at a press conference on Friday, Adviser to the Prime Minister on Commerce and Investment Razak Dawood said Saudi investments would be on commercial basis and would have no government liabilities.
The biggest investment, he said, would be on setting up an oil refinery in Balochistan. However, he said it was unclear whether the products of the refinery would be consumed in Pakistan or exported.
The adviser said four MoUs would be signed between the governments of Pakistan and Saudi Arabia. The MoUs relate to the establishment of an oil refinery and petrochemical sector, renewable energy projects, mineral and mining sector and financing arrangements through the Saudi Fund for Development.
Mr Dawood said the Saudi-Pakistan Supreme Coordination Council had been established which would be co-chaired by the Saudi crown prince and Prime Minister Imran Khan. He said the council was aimed at uniting efforts and raising level of coordination between the two countries to achieve the mutually agreed political, economic and development objectives.
"Three pillars -- the political and security pillar, the economic pillar and the social and cultural pillar -- have been created and they would be managed by their own steering committees," he said.
The adviser said that Saudi investors were interested in Halal food, hotels and livestock.
He said that the visit of Crown Prince Muhammad Bin Salman would show investors and businessman around the world that Pakistan was the best investment and trade destination.
Opposition hails visit
PML-N president Shahbaz Sharif has welcomed the Saudi prince's visit to Pakistan and lauded his commitment to help the country in these most testing times.
He said the prince had built further on the golden tradition of unshakeable Pakistan-Saudi Arabia ties. He said the entire country would welcome the prince will fervour.
Full report at:
https://www.dawn.com/news/1464144/saudi-crown-princes-visit-delayed-by-day
--------
URL: https://www.newageislam.com/islamic-world-news/chief-imam-all-india-imam/d/117768
New Age Islam, Islam Online, Islamic Website, African Muslim News, Arab World News, South Asia News, Indian Muslim News, World Muslim News, Women in Islam, Islamic Feminism, Arab Women, Women In Arab, Islamophobia in America, Muslim Women in West, Islam Women and Feminism