New Age Islam News Bureau
8 May 2020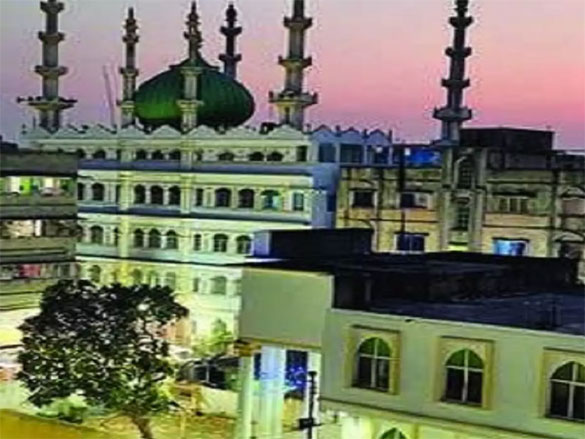 Kolkata: Imam offers mosque to set up quarantine centre
------
• Chennai: Row Over Bakery's 'No Muslim' Staff Text, This Amounts to A Hate Crime and An Attempt to Stigmatize A Community
• Kolkata: Garden Reach's Bangali Bazar Masjid Imam Offers Mosque to Set Up Quarantine Centre
• Ramadan 'Cyber Nights' Initiative Launched in Saudi Arabia
• Swedish City Plans to Erect 'World's Northernmost Mosque'
• National Day of Prayer Features Latter-Day Saints, Evangelicals, Catholics, Muslims, Jews And Hindus
• Muslim Rights Concern Criticized the Current Expulsion of Almajiris, Says, Prophet Muhammad Against It
• Booze Battle for Pakistan's Drinkers During Coronavirus Lockdown And Ramadan Absence of
• Far-Right Mosque Attacker Tells Norwegian Court He Wishes He Killed More
• Bangladesh Lifts Curbs on Mosque Prayers as Lockdown Eases
• Mosques in Singapore Raise $600,000 To Provide Meals to The Community During Ramadan
----------
India
• Chennai: Row Over Bakery's 'No Muslim' Staff Text, This Amounts to A Hate Crime and An Attempt to Stigmatize A Community
• Kolkata: Garden Reach's Bangali Bazar Masjid Imam Offers Mosque to Set Up Quarantine Centre
• '75 Of 94 In BSF Company Deployed In Jama Masjid Area Test Covid-Positive'
• Kerala Police Files FIR Against Zee Anchor Sudhir Chaudhary for 'Offending Muslims'
• UP: 9 policemen booked for lockdown violation
• Lucknow: FIR lodged for post against PM Modi
• UN body in favour of Indian advisories for fisheries sector
------
Arab world
• Ramadan 'Cyber Nights' Initiative Launched in Saudi Arabia
• Major Project Brings Saudi Arabia's Forgotten Mosques Back to Life
• ADCB posts $57m Q1 profit; Islamic finance income up 6pc
• Inside look at the 100-bed Mecca field hospital treating coronavirus patients
• UAE fights coronavirus: '10 million meals' campaign gets 14m meals and counting in Ramadan
• Dubai Sports Council announces Ramadan 5K Challenge
------
Europe
• Swedish City Plans to Erect 'World's Northernmost Mosque'
• Greek agronomist sees Ramadan as a time for recollection
• Meet the 100-year-old walking laps to fundraise for the NHS during Ramadan
• Ivory Coast: Upholding the spirit of Ramadan in isolation
• Muslim community support police
• London Mosques Broadcast Call To Prayer
-----
North America
• National Day of Prayer Features Latter-Day Saints, Evangelicals, Catholics, Muslims, Jews And Hindus
• Your Help Is Needed: Muslims in America Policy Poll
• Norway: Mosque attack trial opens in Oslo
• Senior US scientist says Trump administration ignored virus warnings
• Senate fails to override Trump veto of Iran war powers resolution
------
Africa
• Muslim Rights ConcernCriticized the Current Expulsion of Almajiris, Says, Prophet Muhammad Against It
• The fundamental connection between education and Boko Haram in Nigeria
• Indiscriminate shelling of Tripoli's civilians continues in holy Ramadan despite internationals
• calls for, and an LNA announced 'humanitarian' ceasefire
• Mouka Urges Muslims to Uphold Godly Virtues as Ramadan Commences
• Zakat Foundation Supports Muslims In Ramadan
• Faithful Undeterred At Ramadan, Even As Virus Spreads In Somalia
• Boko Haram Attack Borno Village
------
Pakistan
• Booze Battle for Pakistan's Drinkers During Coronavirus Lockdown AndRamadanAbsence of Precautionary Measures in Mosques May Result in Critical Situation
• Shia Groups Decry Sindh Govt's Decision to Ban Yaum-E-Ali Processions
• Imran announces gradual lifting of lockdown
• 1,500 hidden virus cases traced in Punjab among contacts of those returning from abroad
• Sindh minister warns centre of dangers of reopening businesses
-----
Mideast
• Far-Right Mosque Attacker Tells Norwegian Court He Wishes He Killed More
• Iranian, Uzbek Foreign Ministers Review Developments In Afghanistan
• Islamic bank, TürkEximbank ink $100M deal to aid SMEs
• Controversial restoration of converted mosque nears end
• Emphasis on developing cooperation among countries in fighting coronavirus
------
South Asia
• Bangladesh Lifts Curbs on Mosque Prayers as Lockdown Eases
• SumanthiranTo Rescue the Muslim Community Again, Left Orphans!
• Mullah BaradarMet with Zalmay Khalilzad In Doha
• Islamic finance gaining stronger foothold in China
-----
Southeast Asia
• Mosques in Singapore Raise $600,000 To Provide Meals to The Community During Ramadan
• Large-Scale Social Restrictions Fails to Flatten COVID-19 Curve In East Java: Task Force
• Labour union speaks out against govt's 'lenient' holiday bonus policy
• Scholar: Malaysia's virus fight above expectation
• Covid-19: 39 new cases, death toll remains at 107
• Cops to allow interstate travel on motorcycles, public transport
Compiled by New Age Islam News Bureau
URL; https://www.newageislam.com/islamic-world-news/chennai-row-bakery-no-muslim/d/121794
------
Chennai: Row Over Bakery's 'No Muslim' Staff Text, This Amounts to A Hate Crime and An Attempt to Stigmatize A Community
May 8, 2020
CHENNAI: A row has erupted over a T Nagar bakery publicising that it employs no Muslims to prepare food products. Legal experts have warned that this messaging amounts to a hate crime and an attempt to stigmatize a community.
In a WhatsApp post, Jain Bakeries and Confectioneries highlighted that all eatables available are "made by Jains" and "no Muslim staff" have been engaged for the purpose.
When contacted, Rakesh of Jain Bakeries and Confectioneries said the message was posted in response to an earlier message on eateries employing Muslims. "A WhatsApp message that originated from Sowcarpet urged people not to buy bakery products from shops in the area as they employed Muslims," he said.
When customers began questioning the T Nagar bakery about its staff, the bakery posted the offensive message, Rakesh said. "As we were receiving calls continuously, we decided to clarify. Our intention was only to keep our customer base intact and not to oppose any religion, as Muslims are also our customers," he told TOI.
However, senior advocate A Sirajudeen called this a deliberate attempt to ostracize a particular community. "The claim by the bakery that they did not employ Muslims to prepare food will incite people," he said.
Avoiding a minority community in social and business spheres infringed on their right to equality and affected religious harmony, he added. "The publisher of the advertisement is liable for prosecution under Sections 153 (provocation to cause riot), 153A, 505 (inciting commission of offence against another community) and 295A (insult a class of people) IPC," Sirajudeen said.
https://timesofindia.indiatimes.com/city/chennai/chennai-row-over-bakerys-no-muslim-staff-text/articleshowprint/75615905.cms
-----
Kolkata: Garden Reach's Bangali Bazar Masjid Imam Offers Mosque to Set Up Quarantine Centre
May 8, 2020
KOLKATA: It is the time of Ramzan and locals in a Garden Reach cluster have come together with a proposal that should bring hope to the Kolkata Municipal Corporation that is desperately looking for spaces to set up quarantine centres. On Wednesday, the imam of the Jamia Masjid Gausia, popularly known as Bangali Bazar Masjid, proposed to give the entire third floor of the mosque on Iron Gate Road for quarantine purpose.
"It is a 6,000sqft space that we are offering for both locals and those from adjoining areas. But if more space is needed, we are ready to make arrangements. The options include opening up two other floors and schools in our area. KMC may use this space for quarantine purposes. We have readied it to the best of our efforts," said Maulana Qari Md Muslim Razwi, the imam.
The idea of using part of the mosque as a quarantine centre, said Razwi, was discussed after both the local police and KMC officials approached them.
"I was aware there was some opposition to setting up such centres elsewhere and I decided to discuss it with residents of Bangali Bazar, Iron Gate Road and BichaliGhat Road. These are the people who offer their prayers here. The mosque is temporarily shut and it took a little bit of time to talk to everyone while maintaining social distance. However, we agreed on the plan and communicated it to the administration, including the Port division police," said Razwi.
Ward 134 councillor Shams Iqbal said his family has been associated with the development of the mosque for a long time. "Since most of us are praying from home now, I took this initiative on behalf of the KMC. I am happy that the locals and Imam Razwi welcomed the idea," he said.
The two wards — 134 and 135 — whose residents pray at this mosque have multiple containment zones. "There are containment zones at Paharpur, Shyamlal Lane, Kasai Moholla, Bengali Bazar, Iron Gate Road and BichaliGhat Road in Ward 135 and Ramnagar Lane, Fatehpur village and Maher Manzil in Ward 134," said a KMC official.
Imam Razwi and Iqbal said the original purpose of the initiative was to set up a quarantine centre for locals. "It was a collective decision that everyone should feel there is a home open for them so they do not shy away from going to the quarantine centre if advised by KMC or health department officials," Razwi said.
KMC officials said they will inspect the facility soon. "We are overwhelmed by the development. We hope others, too, come forward, especially since we suffered some setbacks in a few areas like Tiljala and Parnasree due to resistance from locals. We will ascertain that the mosque is not located in a crowded area and then accordingly communicate our decision," said a senior KMC official.
A local, however, claimed that the administration had approached them about the facility, but no final decision has been taken yet.
https://timesofindia.indiatimes.com/city/kolkata/imam-offers-mosque-to-set-up-quarantine-centre/articleshowprint/75611083.cms
------
Ramadan 'Cyber Nights' initiative launched in Saudi Arabia
May 08, 2020
RIYADH: The Saudi Federation for Cyber Security, Programming and Drones has launched its Ramadan "Cyber Nights" initiative. Participants will develop their cybersecurity skills through remote training sessions broadcast on the federation's social media platforms.
The sessions will cover 10 subjects including the investigation of digital crimes, bridging software gaps, understanding cyber attacks and setting up information security operation centers. The initiative will also grant several internationally recognized certificates.
https://www.arabnews.com/node/1671361/saudi-arabia
-----
Swedish City Plans to Erect 'World's Northernmost Mosque'
08.05.2020
The Swedish city of Luleå, the capital of its northernmost Norrbotten County, is rolling on with plans to house what has been described as "the northernmost mosque in the world".
otten's Islamic Centre is behind the idea. The plans to build a mosque in Hertsön, Luleå's largest residential area located outside the inner city and on the island of Hertsön, have been around since 2013.
"Previously, we had plans to build a huge building at a very high cost. The real cost had been around SEK 100 million ($10 million). Now it will be SEK 12 million ($1.2 million)", Norrbotten Islamic Centre Chairman Hesham Ahmed told national broadcaster SVT.
The money will be collected from fellow Muslims across Sweden online through "microfinancing". So far, the plot on Hertsön remains empty.
Luleå has roughly 50,000 inhabitants in its urban core and a total of 76,000 residents in the municipality as a whole. It houses a major harbour for shipping goods and a formidable steel industry that earned it the nickname "Steel City". It it is home to Sweden's northernmost university.
However, even if the money is gathered and the construction plans materialise, the Luleå Mosque still won't wrest the title of the world's northernmost mosque from the Nurd Kamal Mosque situated in Norilsk, Russia, as Luleå is located much farther to the south. Norilsk is the world's northernmost city with over 100,000 inhabitants. Located in the northern part of Krasnoyarsk Krai in Eastern Siberia, above the Arctic Circle, east of the Yenisei River and south of the western Taymyr Peninsula, its mosque is listed in the Guinness Book of Records as the most northerly-situated one in the world.
The architecture of the mosque has been adapted to the extreme climatic conditions of the Far North that include permafrost and harsh winters where temperatures below 40 degrees and blizzards are not uncommon. For instance, Norilsk's minaret tower, which is generally supposed to have a round shape, has a square base to offer more resistance to wind.
https://sputniknews.com/europe/202005081079237945-swedish-city-plans-to-erect-worlds-northernmost-mosque/
-----
National Day of Prayer features Latter-day Saints, evangelicals, Catholics, Muslims, Jews and Hindus
May 7, 2020
SALT LAKE CITY — It was obvious the 2020 National Day of Prayer was different a few hours before the representatives of six faiths offered prayers in an eerily empty White House Rose Garden on Thursday.
Each arrived alone, took a rapid COVID-19 test and wore masks, said Debbie Marriott Harrison, who prayed on behalf of The Church of Jesus Christ of Latter-day Saints. Other men and women represented evangelicals, Catholics, Muslims, Jews and Hindus.
Each sat separated from the others in an awkward-looking formation of folding chairs. The chairs were spread apart across the lawn of the Rose Garden, which normally is packed shoulder-to-shoulder for the event. Even after Vice President Mike Pence and his wife, Karen, stood together and prayed at the podium, they sat in chairs separated for social distancing.
"I ask all Americans to join their voices and their hearts in spiritual union as we ask our Lord in heaven for strength and solace, for courage and comfort, for hope and healing, for recovery and for renewal," he said.
Harrison, a member of the church's Washington, D.C., public affairs advisory committee, accepted a request from Elder Ronald A. Rasband of the Quorum of the Twelve Apostles to pray at the event.
"With the pandemic going on, I felt that it was a really special prayer day. I think many more people were paying attention today because we are all turning our hearts and our voices towards the Lord to help deliver us from all of this. It doesn't matter what faith you are. I feel very honored, very humbled, that I was asked to do it," said Harrison, who sits on the board of directors of Marriott International.
She said she was especially impressed by Brittany Akinsola, a nurse and pastor from Charlotte, North Carolina, who the president introduced for working 13-hour days as a volunteer comforting COVID-19 patients at the Samaritan's Purse field hospital in New York City's Central Park.
"Every morning when I wake up, at 3:30 in the morning, get ready, put my feet, I pray and I ask the good Lord, 'Please, conquer this vicious virus,'" Salerno said.
"Merciful Savior, heal and comfort the sick, so that with health restored, they may give you praise," said Sister Anida Martinez, a Catholic nun. "Divine physician, accompany our caregivers so that serving you with patience, they may heal wisely."
Rabbi Ariel Sadwin said the pandemic has altered the Jewish relationship with God. Jews have not been in their synagogues for nearly two months.
"These sacred places where we go to seek you and to derive inspiration three times a day, every day, are empty, dark and shuttered. Instead, all we have had is the sanctuary of our own homes and the limited allowable interactions," prayed the executive director of Agudath Israel, which represents Jewish congregations in three states and Washington, D.C.
"During the past weeks and months, our heads have bowed at places outside of our typical houses of worship, whispering in silent solitude for God to renew our spirit and carry us through unforeseen and seemingly unbearable hardships," the proclamation said. "Even though we have been unable to gather together in fellowship with our church families, we are still connected through prayer and the calming reassurance that God will lead us through life's many valleys."
The rabbi added, "Master of the world, you are the Rofeicholbasar, the healer of all flesh. We implore you to eradicate this awful plague from your earth, heal those who suffer, comfort those who mourn, sustain those who have lost livelihood."
Bishop Dwight Green of the Pentecostal Church of God in Christ said its membership has prayed for 12 weeks for deliverance from the coronavirus pandemic. Pastor Paula White, Trump's faith adviser and another evangelical, referred to Psalm 40:17.
"'You are my help and my deliverer,'" she recited, adding, "Do not delay, oh God. I declare no more delays to the deliverance of COVID-19. No more delays to healing and a vaccination. No more delays to restoration of this great nation, the United States of America."
U.S. Army Islamic Chaplain Lt. Col. Ibraheem Raheem prayed, as did First Lady Melania Trump, for the pandemic's victims and their families, as well as those fighting for their lives now.
"I pray for the many without jobs, food and shelter," Raheem added. "I ask that you would give all of our nation's leaders the wisdom and courage to lead us through this pandemic."
Harrison said she enjoyed meeting Raheem and will arrange an open house tour of the Washington D.C. Temple for some of those she met. The landmark Latter-day Saint building is under renovation.
"We are united in prayer today to ask a special blessing of deliverance, deliverance from this pandemic that has covered the earth in a devastating sickness," she prayed. "We ask that our doctors, nurses and caregivers can be blessed with special protection in recognition of their sacrifices and hard work. Please bless our scientists and doctors to develop effective treatments for those who are sick and who may become sick."
She also asked Heavenly Father to bless the nation's leaders with wisdom and judgment and for comfort for those who have lost loved ones.
Trump thanked the religions represented for feeding families, providing medical supplies to hospitals and providing spiritual strength and encouragement to their communities.
"So, once more, we call upon our Creator to guide us through these very complex steps, protect our people, rebuild our communities and restore our beloved nation to even greater heights," he said. "We will never forget, however, those that have been lost, those incredible souls, and the families of those souls that are going through so much. We will never forget you. We will be there for you. May God continue to strengthen our hearts and sustain our souls. May God continue to shed his divine grace upon this land, and may God bless the United States of America."
https://www.deseret.com/faith/2020/5/7/21251082/trump-prayer-mormon-catholic-muslim-evangelical-jews-white-house
-----
Muslim Rights Concern Criticized The Current Expulsion Of Almajiris, Says, Prophet Muhammad Against It
May 8, 2020
By SeunOpejobi
The Muslim Rights Concern, MURIC, on Friday criticized the current expulsion of almajiris from various Northern States to their States of origin due to the spread of COVID-19.
However, MURIC in a statement said: "Many states of the North have been expelling large numbers of almajiris back to their states of origin in recent times. For example, on April 21st, 2020, Kano expelled 432 almajiris to Katsina, 63 to Yobe, 198 to Kaduna, etc. Expectedly, the Northern states are beginning to take responsibility and there is every reason to believe that plans are already on ground to take good care of those almajiris on arrival in their home states. The motive behind it is commendable.
"However, the expulsions have coincided with the COVID-19 outbreak and this is our first concern. The children are being exposed to great danger. To make matters worse, significant numbers of these almajiris are testing positive to coronavirus thereby swelling the COVID-19 caseloads of their receiving states and making the management of this global pandemic more difficult for Nigerian authorities. Unfortunately, some of these almajiris are also escaping to southern states, potentially spreading COVID-19 to every nook and cranny of Nigeria.
"It is clear that the concerned Northern States appeared to have acted without consulting Islamic scholars who are at their beck and call. Islam opposes the idea of leaving a city under plague attack. The Holy Prophet Muhammad (peace be upon him) warned that, 'If a plague breaks out in a city and you are living there, do not leave it. And if you are about to enter a city and there is a plague there, do not enter there'
"The reported expulsions and arrangement of caravan-like trips for the expulsion of almajiris from some Northern states is therefore ill-advised and badly timed. The exercise is already being abused as some of the almajiris are allegedly escaping southwards. Worse still is the fact that some of them have already tested positive for COVID-19.
"Nigeria would have fared better if we had strictly followed the Islamic teaching on remaining in one place during a plague. Even the world would have been safer today but the phobia for anything Islamic did not allow world powers to take advantage of the wisdom in Islamdom for managing pandemics.
"We appeal to the security agencies to strictly enforce the ban on interstate travels, including stemming the tide of interstate almajiri 'exports'. Many of the index cases in some states have been traced to people who came in from outside such states. The police have a case to answer, particularly concerning trailers caught with human and animal cargoes in the south during the week. How did they ply the roads that lead to the south with several roadblocks along the line?
"As we round off, we enjoin Northern governors to postpone the expulsion of almajiris until the COVID-19 pandemic is over. Instead, the Federal Government, the Presidential Task Force on COVID-19 and the NCDC should collaborate with the concerned Northern states to gather all those almajiris in a few central locations, test them for the Coronavirus, isolate the infected and treat them promptly. That way, this scourge will be nipped in the bud among them and we would have prevented the spread of COVID-19 via infected almajiris to the whole of the country.
"Those in charge of the repatriation of almajiris must also ensure that the latter do not successfully escape down south where nobody understands their culture. We charge Nigerians to exercise patience by refraining from travels around this period and, better still, by staying at home, maintaining social distancing, using facemasks and washing their hands regularly or using sanitisers."
https://dailypost.ng/2020/05/08/stop-expulsion-of-almajiris-prophet-muhammad-against-it-islamic-group-tells-northern-govs/
------
Booze Battle For Pakistan's Drinkers During Coronavirus Lockdown And Ramadan
3 HOURS AGO
ISLAMABAD (AFP) - Drinking alcohol in Pakistan can be a complicated affair at the best of times, but for 25-year-old student Iram, the coronavirus pandemic has made getting a beer all but impossible.
Every spring, as the weather starts to heat up, she usually enjoys a cool brew or two.
However, this year the lockdown has compounded the annual booze shortage that comes during the holy month of Ramadan, making the task of finding a drink an even greater challenge.
"There is no more beer!" lamented Iram, an Islamabad resident who asked AFP to use a pseudonym for fear of reprisals in this conservative country where drinking is illegal for Muslims, even though many people enjoy a tipple.
"I checked with four bootleggers. Three had run out and the last one was offering 24 cans for 15,000 rupees (S$134)." The sum is equivalent to the monthly wage for many people, and Iraminitially baulked at the price. When she changed her mind a couple of days later, the beer was gone.
Similar scenes are playing out across Pakistan. In Lahore, the second-largest city after Karachi, things are "dry, dry, dry," said Daud.
In Pakistan, home to about 215 million people - 97 per cent of whom are Muslim - only a minority is thought to drink, but this includes the elites who can afford to buy imported alcohol.
"For Muslims in Pakistan, drinking alcohol is prohibited and talking about it is taboo," Pakistani novelist Mohammed Hanif once wrote in a column in the New York Times.
The largest legal supplier of alcohol is the Murree Brewery, in the garrison city of Rawalpindi, a legacy of the British Raj that produces a range of beers and spirits catering to Pakistan's "non-Muslims" and foreign residents.
"Normally, we still manage to get what we are looking for. But this year, it has become very complicated," said Hassan, a thirty-something banker living in Islamabad.
Ramadan this year came just as Pakistan was locked down in a bid to slow the spread of Covid-19, which has killed at least 585 people across the country with numbers rising daily.
For the last month and a half, the Murree Brewery, like many other manufacturers, was forced to halt production. Instead of producing drinks, Murree is now using alcohol to make hand sanitiser.
IsphanyarBhandara, Murree's chief executive, said Pakistan's alcohol shortage means drinkers are being forced to source home-made alternatives that are frequently unsafe.
"The only people who are thriving are the ones who already have imported alcohol in their stores and are selling them at jacked-up prices," Bhandara said.
"The other beneficiaries are the murderous people who are making home-made alcohol with low quality which is making poor people die." In April, at least 29 people died after drinking bootleg liquor, according to an AFP tally.
Pakistan will begin easing its nationwide lockdown over the weekend, but the move is not expected to have much impact on alcohol supplies, with liquor sales remaining off-limits for Ramadan.
Imported whisky of only average quality nowadays fetches about US$100 a bottle, compared to about US$60 this time last year, according to several smugglers and buyers.
Booze has a deep history in the country, from the country's revered founder Muhammad Ali Jinnah who was said to enjoy spirits to military dictator Pervez Musharraf's love of whisky.
Alcohol was legal for all Pakistanis to purchase until 1977, when then prime minister Zulfikar Ali Bhutto banned its sale in an attempt to fend off right-wing Islamist parties.
A senior police official said underground sales persist, with bottles smuggled into Pakistan through sparsely populated areas on the south coast.
"Busting Pakistan's liquor market is quite a task as the elite of the country makes the essential consumers," the official said.
Faced with so many obstacles and a month of sobriety, Daud, the lawyer in Lahore, said in the absence of booze he is smoking more hashish, which is produced in large quantities in northwest Pakistan.
https://www.straitstimes.com/asia/south-asia/booze-battle-for-pakistans-drinkers-during-coronavirus-lockdown-and-ramadan
-----
Far-right mosque attacker tells Norwegian court he wishes he killed more
By JAN M. OLSEN
7 May 2020
COPENHAGEN, Denmark (AP) — A Norwegian man suspected of killing his ethnic Chinese stepsister and then storming an Oslo mosque and opening fire last year said Thursday that it was an act of "emergency justice" and that he regretted not having caused more damage.
Philip Manshaus appeared at a court west of Norway's capital for the first day of his trial and denied charges of murder and terror read to him by a prosecutor, the Norwegian news agency NTB said. Manshaus has acknowledged the facts but denies the accusation, saying he opposes non-Western immigration.
Broadcaster NRK said that during his testimony Manshaus claimed the white race "will end up as a minority in their own home countries" and criticized those who "blackmail national socialism."
In court, Manshaus, 22, described how he killed his 17-year-old stepsister, Johanne ZhangjiaIhle-Hansen, by shooting her four times — three in the head and once in the chest — with a hunting rifle at their home in the Oslo suburb of Baerum on August 10, 2019. Ihle-Hansen was adopted from China as a 2-year old.
Shortly after that, Manshaus said he drove to a nearby mosque where three men were preparing for Eid al-Adha celebrations. He wore a helmet with a video camera attached and a bulletproof vest,
Manshaus was armed with a hunting rifle and a shotgun and fired four shots with the rifle at a glass door before he was overpowered by one of the men in the mosque at the time, Muhammad Rafiq.
A picture taken on August 10, 2019 shows medics with a stretcher near the al-Noor Islamic Center mosque where a gunman armed with multiple weapons went on a shooting spree in the Oslo suburb of Baerum. (Terje Pedersen/NTB Scanpix/AFP)
During the scuffle, two more shots were fired but no one was hit. Rafiq was slightly injured in the struggle. In his testimony, Manshaus said he wanted to kill Rafiq.
If found guilty, Manshaus could face up to 21 years in prison. The prosecutor has said it would consider a sentence where he would be sent to a secure mental facility for as long as he is considered a danger to others.
Terror suspect Philip Manshaus gives a Nazi salute as he appears for his hearing at a courthouse in Oslo on 7 October, 2019. (Heiko Junge / NTB Scanpix / AFP)
Norwegian media have reported that Manshaus was inspired by shootings in March 2019 in New Zealand, where a gunman targeted two mosques, killing 51 people, and in August 2019 in El Paso, Texas, where an assailant targeted Hispanics and left at least 22 dead.
Manshaus' plans and his reference to national socialism also recall those of Norwegian right-wing extremist Anders Behring Breivik, who in 2011 killed 77 people in a bombing and shooting rampage.
Breivik, who gave a Nazi salute in the court room, is serving a 21-year prison sentence for carrying out a terror attack. In October, Manshaus also gave a Nazi salute while appearing in court, apparently mimicking Breivik.
Norway's domestic security agency PST said it had a "vague" tip about Manshaus a year before the shooting, but it was not enough to act on because they had no information about any "concrete plans" of attack.
https://www.timesofisrael.com/far-right-mosque-attacker-tells-norwegian-court-he-wishes-he-killed-more/
------
Bangladesh lifts curbs on mosque prayers as lockdown eases
May 7, 2020
Bangladesh on Thursday allowed Muslims to attend prayer congregations in mosques as the government eased some of the lockdown restrictions amid the coronavirus outbreak which has infected 12,425 people in the country so far.
However, mosque leaders are not allowed to organise Iftar gatherings on the mosque premises in line with the social distancing rules, the Bdnews24.com reported
The mosques and devotees have been asked to comply with a set of safety protocols to hold prayer congregations, the Religious Affairs Ministry said.
Bangladesh announced a nationwide lockdown to enforce social and physical distancing norms on March 26 amid a surge in coronavirus cases and deaths.
The government subsequently restricted congregations at mosques to a maximum of five worshippers for the daily prayers, including the cleric and other officials, in an effort to bridle the escalating coronavirus crisis.
The Friday prayers were limited to 10 worshippers while only 12 devotees were allowed to participate in the Taraweeh prayers during Ramzan.
In keeping with the hygiene rules to reduce the risk of contagion, the new guidelines issued by the ministry said mosques are not allowed to use common carpets for prayers while devotees are required to carry individual prayer mats from home, the news portal reported.
Worshippers must wear masks to the mosques while maintaining a space of at least three feet between each other when they line up for the prayers.
Children, the elderly, any sick person or those engaged in treating the sick will not be allowed to participate in congregations
The novel coronavirus cases on Thursday crossed the 12,000 mark in Bangladesh as 706 more people tested positive in the last 24 hours, the health authorities said.
https://www.indiatoday.in/world/story/bangladesh-lifts-curbs-on-mosque-prayers-as-lockdown-eases-1675418-2020-05-07
-----
Mosques in Singapore Raise $600,000 To Provide Meals to The Community During Ramadan
08 May 2020
SINGAPORE- A total of 37 local mosques have come together to contribute $600,000 toward SGUnited Buka Puasa, a ground-up effort to provide meals for the breaking of fast to members of the Muslim community during the holy month of Ramadan.
The initiative aims to provide 20,000 meals a day to healthcare workers and their families, Muis' zakat beneficiaries, as well as other families who require meals during Ramadan.
Muis, which is the Islamic religious council in Singapore, had previously made a $1 million donation, and a further $980,000 came from the fundraising efforts of the Rahmatan Lil Alamin Foundation.
The mosques' contribution comes from community donations that would otherwise be used to cover expenses incurred during Ramadan, such as the provision of congregational meals, nightly prayers and the distribution of food to families in need.
Said Mr Helmy Isa, senior director of mosque and community development at Muis: "With mosques temporarily closed, we believe that these funds which are typically spent on mosques' Ramadan activities must be used to support other Ramadan initiatives that provide relief to those in need, such as our zakat beneficiaries."
The mosques have also partnered service providers to ensure that the delivery of meals to SGUnited Buka Puasa beneficiaries is timely and contactless.
Activity at Singapore's 70 mosques has neared a standstill, as all places of worship in the country have been closed to the public until at least June 1.
"Our mosques are committed to support the SGUnited Buka Puasa initiative as we strive to build on our social resilience and help one another to overcome this difficult period," said Mr Helmy.
https://www.straitstimes.com/singapore/mosques-here-raise-600000-to-provide-meals-to-the-community-during-ramadan
-----
India
'75 of 94 in BSF company deployed in Jama Masjid area test Covid-positive'
May 8, 2020
NEW DELHI: As many as 75 or more than three-fourths of the 94-strong company of BSF's 126 battalion, which was deployed in Jama Masjid area along with Delhi Police, have tested positive for Covid-19. This update came even as BSF reported the death of two of its Covid-positive personnel in New Delhi and CISF death of a head constable in Mumbai.
With 126 Covid-19 cases added over the past two days, BSF has overtaken CRPF both in terms of number of Covid-19 deaths and positive cases so far. As on May 7, BSF had reported two deaths and 193 Covid-positive personnel, two of whom have recovered.
In comparison, CRPF has reported 162 Covid-19 positive personnel so far (of which one is dead & 2 have recovered), ITBP 82 (all active cases based in Delhi) and CISF 33 cases (of which one died on Thursday).
BSF on Thursday announced the death of two personnel from Covid-19, including one who was already critically ill with a kidney ailment and contracted Covid-19 virus while visiting super-speciality clinics for treatment. He succumbed at a Delhi hospital after suffering a multiple organ failure.
Another 46-year-old BSF personnel who had died on May 4, a day after being admitted to Safdarjang hospital general ward for an unrelated ailment and later getting shifted to ICU, tested positive after a Covid-19 exam was run on his body prior to post-mortem. The result of the test came only on Wednesday.
Another head constable from CISF who was deployed at Mumbai airport and had tested positive only a day ago died at a hospital on Thursday. The total active cases in CISF so far are 32, spread across Delhi, Mumbai and Kolkata.
Home minister Amit Shah, in his condolence message following the death of two BSF personnel, said: "Deeply pained to know about the loss of our two brave @BSF_India soldiers, who were battling Covid-19. I join millions of Indians in mourning their untimely demise".
DG, BSF S SDeswal and all ranks also mourned the death of corona warriors of BSF. "Braving the challenges of securing frontiers, working with civil administration and while shouldering other essential responsibilities 41 new Covid-19 positive cases have been reported since yesterday. With the tracing of primary, secondary and tertiary contacts of earlier detected cases, testing of all such listed, mostly asymptomatic contacts , was undertaken on priority after immediately putting them in quarantine. Some results are positive and a majority, negative," a BSF spokesperson said on Thursday.
Meanwhile, CRPF added one more Covid-positive case on Thursday, taking the total number of infected personnel in the force to 162, of which 1 has died, 159 are active cases and 2 have recovered.
ITBP reported 82 Covid-19 positive cases as on May 7, all of which are in Delhi. In the last 24 hours alone, 8 personnel from an ITBP company deployed with Delhi Police and based at Rohini and 29 from the ITBP battalion at Tigri deployed for internal security duty have tested positive.
https://timesofindia.indiatimes.com/articleshowprint/75616596.cms
------
Kerala Police Files FIR Against Zee Anchor Sudhir Chaudhary for 'Offending Muslims'
08 May 2020
The Kerala Police on Thursday filed a first information report under non-bailable sections against Zee News Editor-in-Chief Sudhir Chaudhary for making incendiary remarks about the Muslim community in his show.
"The highlight of the show aired on 11 March was the 'jihad chart'," the FIR stated, according to The Quint."The accused presented a programme that is offending the Muslim religion."
In his prime time programme on Wednesday evening, Chaudhary used a diagram to break down the many ways he alleged Muslims are waging "jihad" on Hindus in India. Chaudhary claimed there was "hard" and "soft" jihad. The first category, the anchor alleged, included "population jihad", "love jihad" and "land jihad". "Soft jihad" included "economic jihad", "history jihad" and "media jihad".
Chaudhary then went on to focus on "zameen jihad", or land jihad, claiming, "Some people are playing the trick of capturing the government's land to change the population in terms of religion." He added that "Islamists" are even trying to "change the religion of land, jungles and rivers".
The TV anchor lambasted the Kerala Police and said he was being "awarded" for "exposing inconvenient facts." "Here's my Pulitzer Prize for reporting the truth," Chaudhary said in a tweet, attaching a copy of the FIR. "A clear message for media. If you don't toe the decades old pseudo-secular line you'll be behind bars."
Here's my Pulitzer Prize for reporting the truth.Sharing the citation— an FIR filed against me by the Kerala police under nonbailable sections.The award for exposing inconvenient facts.A clear msg for media.If u don't toe the decades old pseudo-secular line you'll be behind bars.
The allegations made by Chaudhary in his show were cheerfully received by many people on the internet, including Bharatiya Janata Party leader from Jammu and Kashmir, Nirmal Singh. However, others called out the programme's dog-whistle politics. One user drew a comparison to Radio Rwanda and its complicity in the 1994 Rwandan genocide.
https://scroll.in/latest/961349/kerala-police-files-fir-against-zee-anchor-sudhir-chaudhary-for-offending-muslims
-----
UP: 9 policemen booked for lockdown violation
May 8, 2020
LUCKNOW: The country-wide lockdown has brought forth stories of police personnel travelling 450km to deliver medicines on one call or organising birthdays of the elderly and children within hours, along with discharging their duty to enforce the lockdown.
However, as many as nine cops were also booked for harassing public in the name of lockdown enforcement or themselves violating norms in Varanasi, Hardoi, Sitapur, Sultanpur and Pilibhit.
Recently, in Varanasi, constables Rahul and Pradeep were accused of taking a bribe of Rs 5,000 from a group of youths playing carom. The constables had threatened them to pay up or face punishment for violating social distancing norms. The youths had approached senior police officers.
SSP Varanasi Prabhakar Chaudhary had ordered a probe and Pradeep was sent to jail as evidence against him was found. Investigation against Rahul is pending, said ASP Abhishek Agarwal.
In Hardoi, four cops including a sub-inspector were suspended in April on charges of extorting money from the driver of an essential services carrier. Sub-inspector Ashok Kumar and three constables deployed at Shahjahanpur border not only demanded money but also challaned the vehicle and detained its driver for several hours despite his valid pass.
In Sultanpur, station house officer of Chanda police station Praveen Yadav was booked for taking out a procession where his colleagues garlanded him and showered flowers on him. Locals had also participated, violating all norms of social distancing.
https://timesofindia.indiatimes.com/city/lucknow/up-9-policemen-booked-for-lockdown-violation/articleshowprint/75614776.cms
------
Lucknow: FIR lodged for post against PM Modi
May 8, 2020
LUCKNOW: Kaiserbagh police on Wednesday lodged an FIR against a user with a twitter handle mentioning Pakistani as location for posting derogatory remarks against Prime Minister Narendra Modi and a right wing organisation.
Kaiserbagh police sub-inspector Anil Kumar Singh lodged the FIR mentioning that while monitoring social media, he found that a man has posted derogatory remarks against the prime minister, a right wing organisation and the work done by government in Kashmir. A misleading video was also attached in the post.
The post has angered residents who are not ready to listen to the administration. The situation is explosive and can go out of control, he added.
https://timesofindia.indiatimes.com/city/lucknow/lucknow-fir-lodged-for-post-against-pm-modi/articleshowprint/75614812.cms
------
UN body in favour of Indian advisories for fisheries sector
May 8, 2020
NEW DELHI: The UN Food and Agriculture Organization (FAO) has recommended Indian advisories, prepared by ICAR institutes at Kochi and Barrackpore for fisheries sector during Covid-19 situation, as voluntary guidelines for securing sustainable small-scale fisheries under Asia-Regional initiatives for the benefit of fisheries sector across the globe.
Indian advisories - issued by ICAR-Central Institute of Fisheries Technology (CIFT), Kochi and ICAR-Central Inland Fisheries Research Institute (CIFRI), Barrackpore - have enlisted dos and don'ts for fishing and fish handling for both marine and inland fisheries for safety of workers and preventing the spread of Covid-19.
The CIFT has prepared advisories for the benefit of the fishermen, fishing boat owners, fishing harbour, fish market and seafood processing plants in 10 different regional languages, besides English and Hindi, while the CIFRI has prepared advisories for the stakeholders involved in fishing activities in rivers, estuaries, reservoirs and wetlands.
Referring to those Indian advisories and other best practices from other countries, the FAO noted that the small-scale fishers, fish workers and their communities are currently facing the threat of the Covid-19 pandemic which is affecting the entire value chain and the livelihoods depending on it.
"At the same time, there may be promising practices and opportunities that may contribute to the prosperous future of the sector," it said while flagging Indian examples and initiatives from other countries in support of small-scale fisheries during the Covid-19 crisis to facilitate information and experience sharing.
Noting it, India in its official statement on Thursday said, "This is a huge acknowledgement of the efforts by the Indian Council of Agricultural Research (ICAR) and its institutes. The global fishery sector is expected to benefit from these efforts of the Council."
https://timesofindia.indiatimes.com/articleshowprint/75615575.cms
------
Arab world
Major project brings Saudi Arabia's forgotten mosques back to life
RAWAN RADWAN
May 08, 2020
JEDDAH: Long-forgotten mosques across the vast lands of Saudi Arabia are being rediscovered in an exciting initiative.
With a budget of SR57 million ($15 million), the Prince Mohammed bin Salman Project for the Renovation of Historical Mosques has directed the renovation of 30 mosques in 10 regions across the Kingdom over a period of 423 days. The next phase plans to bring back to life a hundred more mosques of historical and geographical importance.
In restoration projects, there is often a delicate balance between preserving the property's past while providing the necessary modernization and maintenance to ensure the property's future.
JARIR AL-BAJALI MOSQUE Built: 631 /Pre-renovation/ Capacity: Unoccupied Total area: 350 sq. meters /Post-renovation/ Capacity: 135 Total area: 350 sq. meters
A mosque is not just bricks and mortar; its setting is also intrinsic to its religious value. Even when standing alone, it forms part of a larger composition and serves a grander purpose.
"Mosque design in the Kingdom show a significant difference from one region to the next," said Dr.Mihsin Al-Qarni, executive director of the project. Under the crown prince's directive, the restoration of historic buildings requires a collaborative effort.
"The renovation of historical mosques by professionals in the field — engineers, designers, urban planners, civil engineers, interior designers, environmental designers, artists and more — is important to ensure the preservation of the original urban identity of each mosque," said Dr. Fatma Jobran, an interior environmental design professional.
With mosques that range in age from 60 to more than 1400 years old, the main purpose of these restoration projects is to carry cultural heritage monuments into the future with the minimum change to their structure and characteristics, said Dr.Jobran.
"The cultural element of the renovation reflects the trend towards sustainability and green architecture, as the preservation and development of historical mosques contribute to highlighting the cultural dimension of the Kingdom," she said. One interesting aspect of the project was to shed light on mosques with intriguing designs that provide valued insight into the architectural style of their period.
QAFAR MOSQUE Built: 1916 /Pre-renovation/ Capacity: 170 Total area: 687 sq. meters /Post-renovation/ Capacity: 400 Total area: 600 sq. meters
"The weather is an important element when designing and building mosques, and builders used materials familiar to their regions to accommodate the weather conditions, as well to ensure that the mosque was open throughout the year," said Dr. Al-Qarni.
In mountain villages of the western region, mosques are characterized by the use of flat-shaped stones, a style known as Tuhami style. These mosques, located between the cities of Taif and Jazan, are characterized by stone constructions with roofs made of straw and branches.
In the southern region of Asir, building used "rain diverters," rows of angled tiles that protect the walls from the torrential downpours that are common here.
AL-HADITHA MOSQUE Built: 1956 /Pre-renovation/ Capacity: 65 Total area: 229 sq. meters /Post-renovation/ Capacity: 86 Total area: 280 sq. meters
One of the oldest mosques in the Makkah region, the Jarir Al-Bajali Mosque, is believed to date back to the 10 Hijri year, or 631. There are differing accounts of the origins of the structure, which is located about 100 km outside of Taif and has gone through several renovations. Many believe it was built by the prophet's companion Al-Bajali himself, while others say it was merely named after him. One of its most significant features is the use of thick logs for the ceiling and support beams.
In the southern islands of Farasan in the Red Sea, part of Jazan region, the traditional local style is a mix of rough stones, wooden beams, palm tree leaves and even coral and mud that has hardened over the years. Al-Taboot Mosque, with its three green domes, was believed to have been built approximately 300 years ago during Ottoman times, and went through a number of restorations by the local community before its significance was recognized by the project managers.
These mosques, with their diverse historical narratives and architectural styles, will soon be opened to worshippers once again.
https://www.arabnews.com/node/1671316/saudi-arabia
-------
ADCB posts $57m Q1 profit; Islamic finance income up 6pc
2 hours, 26 minutes ago
Abu Dhabi Commercial Bank (ADCB) said it has reported a net profit of Dh209 million ($56.9 million) for the first quarter of the year.
Announcing its results for the first three months to March 31, ADCB said the net interest and income from Islamic financing increased 6 per cent year on year to hit Dh2.789 billion ($759 million) on account of improved cost of funds.
Interest expense improved 29% year on year to Dh1.61 billion. This reflects the resilience of the ADCB franchise despite the difficult environment due to Covid-19 and low oil prices in the latter part of Q1-2020.
According to ADCB, its operating profit, excluding integration costs, increased 8 per cent year on year to Dh2.24 billion, primarily driven by cost synergies and higher revenues.
Operating expenses excluding integration costs decreased 7 percent year on year to Dh1.183 billion. The cost-to-income ratio excluding integration costs improved to 34.0% from 37.3% a year earlier, an improvement of 327 basis points (3.27%), supported by the Bank's disciplined cost control and realisation of cost synergies, it stated.
On its performance, Group CEO Ala'aEraiqat said: "In the face of the unprecedented economic and social challenges presented by Covid-19, ADCB's priority is to support customers, employees, business partners and communities above all other matters."
"The bank is leveraging its financial strength and expertise to play its role to respond to the current global emergency, in line with the policies and initiatives of the Government and the Central Bank of the UAE," he stated.
"ADCB was the first bank in the UAE to roll out a comprehensive programme of relief measures for customers, which include deferment of loan instalments, fee reductions and waivers, rescheduling of working capital facilities and temporary interest rate reductions for businesses. Over 32,000 customers have received deferrals under the TESS scheme to date. The Bank has also invested a total of Dh 9 million to support distance learning for students and to express gratitude to frontline healthcare professionals," he added.
"Full integration of UNB and Al Hilal Bank into ADCB was completed in an accelerated timeframe of 11 months, less than half the initial target. Run-rate synergy target revised to Dh1 billion from Dh840 million," said Eraiqat.
The bank has realised Dh185 million of synergies in Q1'20 and is on track to capture 75% of the revised target in 2020, with full target scheduled to be realised in 2021 as planned.
"Final integration milestone completed seamlessly on 2 April 2020, including the unification of banking systems and migration of former UNB accounts to the ADCB platform," he added.
http://www.tradearabia.com/news/BANK_367654.html
-----
Inside look at the 100-bed Mecca field hospital treating coronavirus patients
Ismaeel Naar
08 May 2020
Saudi authorities were able to build a field hospital with a capacity to hold 100 beds near the Kudaineighborhood in Mecca to treat coronavirus patients, according to a video shot from inside the premises.
The field hospital was built with the help of the Kingdom's armed forces in Taif in cooperation with the health authorities of the Mecca governorate.
According to the official spokesman for the Mecca's health authority Hamad al-Otaibi, the hospital is nearly 2 km away from the center of Kudaineighborhood and was build and equipped with the support of the General Department of Medical Services at the Ministry of Defense.
While the rest of Saudi Arabia has seen a lifting of lockdown restrictions, the governorate of Mecca and its densely populated neighborhoods remain under 24-hour curfew to stem the spread of the coronavirus.
Also, on Thursday, Saudi Arabia confirmed it was banning all gatherings and crowds of more than five people under new regulations issued by the Kingdom to curb the coronavirus outbreak, according to the Ministry of Interior.
https://english.alarabiya.net/en/coronavirus/2020/05/08/Watch-Inside-look-at-the-100-bed-Mecca-field-hospital-treating-coronavirus-patients.html
-----
UAE fights coronavirus: '10 million meals' campaign gets 14m meals and counting in Ramadan
May 8, 2020
Overwhelming donations secured 14 million meals for families and individuals affected by the Covid-19 pandemic in the UAE as the '10 million meals' campaign completed its second week.
Sheikha Hind bint Maktoum bin Juma Al Maktoum, wife of His Highness Sheikh Mohammed bin Rashid Al Maktoum, Vice-President and Prime Minister of the UAE and Ruler of Dubai, and Chairperson of the Board of Trustees of UAE Food Bank, said the overwhelming response from individuals and entities to support the '10 million meals' campaign throughout the holy month of Ramadan is a true manifestation of the UAE's social solidarity and cohesion.
Following Sheikh Mohammed's announcement of the campaign earlier in April, companies, humanitarian organisations, businessmen, government and private entities and the general public have rushed to make financial or in-kind donations towards providing meals or food parcels to support low-income individuals and families.
The campaign will continue receiving donations to provide food support for communities hard hit by the pandemic till the end of the holy month.
RTA chief Al Tayer and Al Hai, Deputy CEO of Dubai Airports, reveal how they've comprehensively and diligently adhered to government protocols during the pandemic.
UAE public transport usage has dropped by 70 per cent following the Dubai government's concerted and comprehensive preventive measures to curb the spread of Covid-19, it emerged on Thursday.
The measures have been implemented under the guidance of His Highness Sheikh Hamdan bin Mohammed bin Rashid Al Maktoum, Crown Prince of Dubai and Chairman of The Executive Council.
They have been followed up by His Highness Sheikh Maktoum bin Mohammed bin Rashid Al Maktoum, Deputy Ruler of Dubai and First Deputy Chairman of the Executive Council of Dubai.
The measures led to the number of daily public transport users decreasing from 1,300,000 to 400,000, a 70 per cent drop, according to Mattar Al Tayer, director general of the Roads and Transport Authority (RTA), who is member of the Crises and Disasters Management Higher Committee in Dubai.
"The procedures have been going as per the guidelines, given by Sheikh Mansour bin Mohammed bin Rashid Al Maktoum, Chairman of the Supreme Committee of Crisis and Disaster Management. All the precautionary measures were taken in coordination with the Dubai Police to ensure the safety of the metro users.
"In coordination with transport security, all the health measures and protocols were taken in cooperation with the Dubai Health Authority."
Al Tayer was speaking at a remote press conference organised by the Government of Dubai Media Office (GDMO) in collaboration with Dubai TV.
He and Jamal Al Hai, Deputy CEO of Dubai Airports, answered a series of questions from senior Arabic and English media figures in the UAE.
The media interaction, broadcast on Dubai TV channels, provided the latest updates on the Covid-19 situation in the emirate and measures taken by their organisations to support Dubai's efforts.
Al Tayer pointed out that part of the support the RTA has been giving to the health sector is providing taxi and bus services to those infected with Covid-19.
"We have also extended logistics support by providing transport services for delivery companies to deliver groceries and essential items to households. That was a much-needed, additional service for the public and the families and it has made their life easier.
Mattar Al Tayer: There was a huge demand for delivery services, so we stepped in to provide logistical support to Union Coop to give you an example. Our support helped speed up deliveries and offered people additional services that eased their lives.
Jamal Al Hai, Deputy CEO of Dubai Airports: from the beginning of the crisis, Emirates Airline doubled the number of journeys made for cargo operations. Passenger planes were converted into cargo planes to supplement logistics capacity.
"There was a huge demand for delivery services, so we stepped in to provide logistical support to Union Coop to give you an example."
The RTA follows international best practices in managing its public transport services and passengers, it was revealed during the press conference.
It follows the guidelines of the International Association of Public Transport (UITP) for public transport operators and passengers to safeguard public health amidst the pandemic.
All drivers wear masks and gloves and regularly use sterilisers. Their temperatures are checked at the beginning and completion of shifts.
In other measures, only three people including the driver are permitted to travel in a taxi. Plastic separators have been installed in all vehicles to create a protective barrier between the driver and passengers.
Signage on safe practices and etiquette to combat Covid-19 have been prominently displayed on public transport and stations while preventive guidelines have been distributed widely among passengers.
"We moved the cargo village from Al Maktoum Airport to Dubai International Airport to enhance the capacity and support for such operations. New routes have been opened to new destinations for import operations.
"There was no delay in securing all essential goods. The government has also provided extra warehouses for food, medicines and all the essentials. We have enough food stock and medicines."
In collaboration with the National Emergency Crisis and Disaster Management Authority (NCEMA) and embassies in the UAE, arrangements were made to ensure the smooth and safe transportation of passengers.
The strong relationships and coordination between Dubai Airport and other international airports enabled the efficient management of flight operations.
Al Tayer stressed that RTA is acutely aware of the pressures faced by local businesses due to the pandemic and is currently evaluating further measures to support them, particularly in the post-pandemic period.
As part of Dubai's significant investments in infrastructure, RTA has developed strategies and plans to develop its transport offerings over the next 15-20 years.
Strict preventive measures are in place for labour camps and transportation of blue-collar workers based on the guidelines of the Ministry of Health and Prevention.
"Life after Covid-19 is going to be different. Plans will be changed based on the impact of the current crisis and they will be revised every year," the RTA chief said.
https://www.khaleejtimes.com/coronavirus-pandemic/uae-fights-coronavirus-10-million-meals-campaign-gets-14m-meals-and-counting-in-ramadan
------
Dubai Sports Council announces Ramadan 5K Challenge
07-05-2020
DUBAI, 7th May, 2020 (WAM) -- The Dubai Sports Council, ASICS Middle East, 5:30 Run club, alongside Sun & Sand Sports, have partnered and launched a new initiative the "Ramadan 5K Challenge", a virtual challenge that gives members of the community access to a free training plan that involves 11 live training sessions.
To be held across three weeks, these sessions will be led by expert coaches and the finale for the participants will be a Virtual 5K Run on 15th May.
The Ramadan 5K Challenge (#Ramadan 5K Challenge) is open to citizens or residents of the UAE aged 16 and above, who can register through the website:
After registering, participants will get access to a 21-day training plan, which includes body conditioning sessions and even yoga, to be followed at home, and as well as access to live training sessions with expert coaches for extra motivation.
All live sessions will be live-streamed through Zoom, so participants will need to download the videoconferencing app on their smart gadgets and link their Zoom account to their Challenge Profile on the Ramadan 5K Challenge website.
If for some reason, a person is unable to attend the live sessions, he or she can still earn points by recording his/her complete training session and sharing it via email or to the chatbox.
http://wam.ae/en/details/1395302841310
-----
Europe
Greek agronomist sees Ramadan as a time for recollection
May 07 2020
Mudassir Raja
For the Muslims, Ramadan is a time of test, patience, forgiveness and generosity. This Ramadan has become more of a test of patience for some because of the novel coronavirus pandemic.
The holy month has always been an interesting and awakening experience for the non-Muslim expatriates in Qatar as they observe how people conduct themselves and how religious activity mixes with cultural values of the country while fasting.
Greek expatriate Vicky Damalou is an agronomist by profession with more than 15 years of experience in various agricultural businesses. She has been living and working in Qatar since 2009.
"This January I established my own business, providing agricultural and gardening education and advice. I believe that there is a big gap of organised knowledge related to gardening in the Middle East. In the large scale agriculture, that has grown rapidly in past four years in Qatar, there are growers and agronomists out there, with a huge amount of experience about growing food in the local conditions. However, this knowledge is not gathered and available to people that would like to start a farm or grow their own food in a garden. So, I decided to organise all the experience I have gained over the years that I have worked here, and make it available through my website."
"During the past two months (since the schools closed), I have cancelled my workshops and any work meetings and I am only working from home. I have focused on developing new courses and building my website."
The agronomist, like other people, is homebound during the virus outbreak. "I have also been spending most of my time with my daughter, doing home schooling, playing, cooking, doing gardening and chores, chatting and working out. My husband is also working mostly from home, so we spend much more time than before as a family. We try to have some routine during our days, like having breakfast all together, attending the Zoom classes for my daughter, while I am doing some housekeeping, then doing the school activities, cooking, working out via an online class at 3pm and after 6pm going for a walk, or watching a movie, theatre or dance. There is a very wide variety of online shows at the moment that we can choose from! This routine helps us a lot to be more productive and to avoid frustrations."
Vicky has been experiencing Ramadan in Qatar for many years but says it is different this year. "I have spent Ramadan in Qatar for many years, and I can say that this is the first year that I cannot notice any difference in our daily activities, related to Ramadan activities. It is unchanged because of the stay-at-home orders. Usually our schedules change, and, especially during the first days, we should always check the shop or restaurant timings before heading somewhere. This year this doesn't apply, as we don't go to any shops or restaurants.
"My first Ramadan in Qatar was back in 2009. On the first day of Ramadan back then, we went to the desert with friends and then we went to a restaurant for dinner, very close to Iftar time. The waiter served us the food, but we had in mind that we had to wait for the Iftar announcement. I remember it felt so awkward, having the food in front of me, but having to wait before I eat.
"After so many years in Qatar, now I know that fasting is something very personal and people follow it because it makes them feel better, physically and mentally. It is a time for recollection, prayers and decisions for a better way of living. Personally I have never tried it – I find it too hard but I might do so in the future. I would like to wish to all my Muslim friends out there a very blessed Ramadan! This year it is definitely a very different Ramadan for all of us and may these times bring only positive changes to the entire world."
https://www.gulf-times.com/story/662640/Greek-agronomist-sees-Ramadan-as-a-time-for-recoll
------
Meet the 100-year-old walking laps to fundraise for the NHS during Ramadan
7 May 2020
By Anja Popp
Some more inspiration from 100-year-old British Muslim Dabirul Islam Choudhury.
He's raised almost £90,000 so far for charities which help people affected by coronavirus here and in Bangladesh, as well as those delivering aid to refugees – by walking laps of his communal gardens whilst fasting during Ramadan.
https://www.channel4.com/news/meet-the-100-year-old-walking-laps-to-fundraise-for-the-nhs-during-ramadan
------
Ivory Coast: Upholding the spirit of Ramadan in isolation
07.05.2020
In Ivory Coast, Ramadan has been a time of confinement for millions of Muslims deprived of community prayers and traditional festivities. DW's correspondent in Abidjan, Julien Adayé, went to meet some of them in the Ivorian capital.
https://www.dw.com/en/ivory-coast-upholding-the-spirit-of-ramadan-in-isolation/av-53365824
-----
Muslim community support police
4 hrs ago
Croydon's Ahmadiyya Muslim community showed their support for some of the borough's frontline key workers recently with a donation of food.
Officers at Croydon Met Police took to Twitter to express their thanks on Wednesday (May 6), after revealing they were on the receiving end of dozens of freshly cooked meals courtesy of attendees of the Ahmadiyya Mosque in Croydon.
"We would like to say a huge thank you to the Ahmadiyya Mosque for their kind donation of meals for our police officers and staff," a Croydon MPS spokesperson said.
Like many boroughs across London, Croydon has seen an outpouring of volunteer actions to support key workers and the most vulnerable during the Covid-19 coronavirus crisis.
The Ahmadiyya community themselves are well-versed in volunteering and regularly undertake charitable actions like this outside of crisis moments like the current pandemic.
Frequent litter picks, soup kitchens and other communal efforts are staple's of the community's calender, under the tenet "Love for All, Hatred for None."
https://www.yourlocalguardian.co.uk/news/18434782.muslim-community-support-police/
------
London mosques broadcast call to prayer
7 May 2020
Tim Dieppe comments on the recent allowance for several mosques in East London to broadcast the Islamic call to prayer during Ramadan.
Mosques in London have been allowed to broadcast the Islamic call to prayer for the first time due to lockdown restrictions during Ramadan. The Metro reports that Waltham Forest Local Authority agreed that nine mosques could use speakers to broadcast the Adhaan at sunset daily throughout Ramadan, and again on Fridays for Juma prayers.
The East London mosque in Whitechapel has been broadcasting the Adhaan for many years, but this is a first for the Waltham Forest area. When Muslims hear the call to prayer that is a signal that they can break their fast which lasts during daylight hours in the month of Ramadan.
The Adhaan is recited in Arabic, and some phrases are repeated. The key phrases are the Takbir ('Allah is greater'), followed by the Shahada which is the basic statement of faith and one of the five pillars of Islam. A translation of these phrases is:
In essence, this is a proclamation. These phrases are not prayer directed to Allah, but a public declaration that Allah is God and that Muhammad is his messenger. It is a missional declaration.
It is evident that the Allah of the Qur'an is not the same as the God of the Bible. Allah is not a trinity and the Qur'an specifically denies the divinity of Jesus. The nature of Allah is fundamentally different to the nature of the God of the Bible. Allah is non-relational and unknowable, whereas the Lord God is essentially relational and seeking to be known. The comparison between Allah and the Lord God of the Bible is carried out in detail by Sam Solomon and Atif Debs in their book Not the Same God, published by Wilberforce Publications.
Some people have argued that the Apostle Paul's address to the Athenians in Acts 17 can be used to defend saying that Christians and Muslims worship the same God. However, this is not justifiable when the passage is looked at in detail as I have explained here.
Allowing more mosques to broadcast the Islamic call to prayer is a sign of the increasing influence of Islam in this country. Waltham Forest has 21.9% of the population identifying as Muslim, the eighth highest portion in the UK according to the last census. Broadcasting the call to prayer is likely to encourage more Muslims to move into the area and non-Muslims to move out, only increasing the concentration of Muslims in the area.
There is no doubt that in Muslim countries, Christians are not allowed to broadcast any call to prayer or act of worship. In many Muslim countries, Christians are heavily persecuted. Here in the UK we allow freedom of worship and freedom of religion, as we should. But freedom of worship does not need to extend to broadcasting a proclamation that Allah is greater and that there is no god but Allah.
Islam seeks to promote worship of Allah and to influence the culture towards worship of Allah. We can easily look at Islamic countries to see what it looks like for a culture to be heavily influenced by Islam. The UK is moving slowly in that direction. We already have 'sharia courts', sharia finance, and halal food in most supermarkets and restaurant chains. How much further will this go? As the nation moves away from following the Lord God of the Bible, other gods are waiting in the wings. Maximum freedom will only be maintained by recovering the Biblical foundations of our culture. Christians need to be missional, bold, and prayerful to achieve this.
https://christianconcern.com/comment/east-london-mosques-broadcast-call-to-prayer/
------
North America
Your Help Is Needed: Muslims in America Policy Poll
May 7, 2020
CAIR needs your help to set the national Muslim policy agenda for this year's election.
We are partnering with our friends at MPower Change, Emgage USA, Poligon, and JETPAC to hear directly from you about what you think are the most important issues in the 2020 election.
Will you help shape the national conversation? Please click the link below and share your thoughts before May 15th.
https://www.cair.com/press_releases/your-help-is-needed-muslims-in-america-policy-poll/
------
Norway: Mosque attack trial opens in Oslo
Rabia IclalTuran
07.05.2020
A Norwegian man suspected of attacking a mosque and murdering his stepsister pleaded not guilty as his trial opened on Thursday.
Philip Manshaus denied the charges of murder and terror as he appeared at a court in Oslo, according to Norwegian News Agency NTB.
He said that the attack was an "act of emergency justice", local media reported.
The trial will continue with testimonies of eyewitnesses.
If found guilty, Manshaus could face up to 21 years in prison.
The 21-year-old is accused of opening fire at the Al-Noor Islamic Centre in Baerum, on the outskirts of Oslo on August 10.
The attack took place one day before the Muslim religious holiday of Eid al-Adha.
One elderly man was injured at the mosque attack.
Manshaus allegedly killed his 17-year-old stepsister before attacking the mosque.
https://www.aa.com.tr/en/europe/norway-mosque-attack-trial-opens-in-oslo/1832791
------
Senior US scientist says Trump administration ignored virus warnings
08 May 2020
The Trump administration failed to prepare for the onslaught of the coronavirus, then sought a quick fix by trying to rush an unproven drug to patients, a senior US government scientist alleged in a whistleblower complaint.
Dr. Rick Bright, former director of the Biomedical Advanced Research and Development Authority, alleges he was reassigned to a lesser role because he resisted political pressure to allow widespread use of hydroxychloroquine, a malaria drug pushed by President Donald Trump. He said the Trump administration wanted to "flood" hot spots in New York and New Jersey with the drug.
"I witnessed government leadership rushing blindly into a potentially dangerous situation by bringing in a non-FDA approved chloroquine from Pakistan and India, from facilities that had never been approved by the FDA," Bright said Tuesday on a call with reporters. "Their eagerness to push blindly forward without sufficient data to put this drug into the hands of Americans was alarming to me and my fellow scientists."
Bright filed the complaint with the Office of Special Counsel, a government agency that investigates retaliation against federal employees who uncover problems. He wants his job back and a full investigation.
The US Department of Health and Human Services (HHS) issued a terse statement saying that Bright was transferred to the National Institutes of Health to work on coronavirus testing, a crucial assignment. "We are deeply disappointed that he has not shown up to work on behalf of the American people and lead on this critical endeavor," HHS spokeswoman Caitlin Oakley said.
According HHS, Bright has not reported to his new post. But his spokeswoman said that Bright is on sick leave, following his doctor's orders, and that HHS has provided him no details on his new role.
Bright's complaint comes as the Trump administration faces criticism over its response to the pandemic, including testing and supplies of ventilators, masks and other equipment to stem the spread. There have been nearly 1.2 million confirmed cases in the United States and more than 70,000 deaths.
Bright said his superiors repeatedly rejected his warnings that the virus would spread in the US, missing an early opportunity to stock up on protective masks for first responders. He said he "acted with urgency" to address the growing spread of COVID-19 — the disease the virus causes — after the World Health Organization issued a warning in January.
US Represebtative Anna Eshoo, D-Calif., chair of the House Energy and Commerce subcommittee on health, said she plans to hold a hearing into his complaint next week, and Bright's lawyers said he would testify. House Speaker Nancy Pelosi, appearing on MSNBC, called the complaint "very damaging."
In his complaint, Bright said he "encountered resistance from HHS leadership, including Secretary (Alex) Azar, who appeared intent on downplaying this catastrophic event."
During a Feb. 23 meeting, Azar, as well as Bright's boss, Assistant Secretary for Preparedness and Response Robert Kadlec, "responded with surprise at (Bright's) dire predictions and urgency, and asserted that the United States would be able to contain the virus and keep it out," the whistleblower complaint said.
Bright said White House trade adviser Peter Navarro was a rare exception among administration officials, extremely concerned about the potential consequences of an outbreak. He described working with Navarro to break a bureaucratic logjam and set up military transport from Italy for swabs needed in the US.
Navarro was the author of several urgent memos within the White House. Bright said Navarro asked for his help, saying the trade adviser told him the memos were needed to "save lives."
Navarro's memos to top officials raised alarms even as Trump was publicly assuring Americans that the outbreak was under control.
Bright's allegation that he was removed over his resistance to widespread use of the malaria drug was already public, but his whistleblower complaint added details from emails and internal communications while bringing to light his early attempts to acquire N95 respirator masks, which he said were ignored by superiors.
In late January, Bright said he was contacted by an official of a leading mask manufacturer about ramping up production. It was estimated that as many as 3.5 billion would be needed, while the national stockpile had about 300 million.
The complaint said that when Bright tried to press the issue about masks with superiors at HHS, he was ignored or rebuffed. "HHS publicly represented not only that COVID-19 was not an imminent threat, but also that HHS already had all the masks it would need," the complaint said.
As the epidemic spread in the U.S. and engulfed the New York metropolitan area, Bright alleges that political appointees at HHS tried to promote hydroxychloroquine "as a panacea." The officials also "demanded that New York and New Jersey be 'flooded' with these drugs, which were imported from factories in Pakistan and India that had not been inspected by the FDA," the complaint says.
Last month, the US Food and Drug Administration warned doctors against prescribing the drug except in hospitals and research studies. In an alert, regulators flagged reports of sometimes fatal heart side effects among coronavirus patients taking hydroxychloroquine or the related drug chloroquine.
Bright felt officials had "refused to listen or take appropriate action to accurately inform the public" and spoke to a reporter about the drug. He said he had to tell the public about the lack of science backing up its use, despite the drug being pushed by the president at press briefings.
"As the death toll mounted exponentially each day, Dr. Bright concluded that he had a moral obligation to the American public, including those vulnerable as a result of illness from COVID-19, to protect it from drugs which he believed constituted a substantial and specific danger to public health and safety," the complaint says.
On Jan. 20, according to the complaint, the WHO held an emergency call that was attended by many HHS officials, and WHO officials advised that "the outbreak is a big problem."
Trump has accused the U.N. agency of mismanaging and covering up the spread of the virus after it emerged in China. He has also said he wants to cut the WHO's funding.
Bright's agency works to guard against pandemics and emergent infectious diseases and is working to develop a vaccine for the coronavirus.
"Time after time I was pressured to ignore or dismiss expert scientific recommendations and instead to award lucrative contracts based on political connections," Bright said in the call with reporters. "In other words, I was pressured to let politics and cronyism drive decisions over the opinions of the best scientists we have in government."
Zachary Kurz, a spokesman for the agency where Bright filed his complaint, said the office couldn't comment or confirm the status of open investigations
https://www.presstv.com/Detail/2020/05/08/624873/us-coronavirus-Trump-warnings-Dr.-Rick-Bright
------
Senate fails to override Trump veto of Iran war powers resolution
08 May 2020
The US Senate has failed in its bid to override President Donald Trump's veto of a war powers resolution aimed at reining in his authority to use military action against Iran without congressional approval.
"This was a very insulting resolution, introduced by Democrats as part of a strategy to win an election on November 3 by dividing the Republican Party," Trump said. "The few Republicans who voted for it played right into their hands."
On Thursday, the Senate attempt was defeated with 49 senators voting in favor of the override and 44 opposing. The measure, however, needed two-thirds support to be approved.
The resolution called for "the President to terminate the use of United States Armed Forces for hostilities against the Islamic Republic of Iran or any part of its government or military, unless explicitly authorized by a declaration of war or specific authorization for use of military force against Iran."
Its chief sponsor, Democratic Sen. Tim Kaine of Virginia, described the measure as an important reassertion of congressional power to declare war, saying it was not about Trump or even the presidency.
"It's not insulting. It's our job,'' he said ahead of Thursday's vote, adding the measure was introduced "to stop an unnecessary war.''
"Congress needed to stand up in a bipartisan way to make plain that this president should not get into a war with Iran, or any war, without a vote of Congress," said Kaine. "Congress has expressed what is the popular will."
Trump's veto means he is capable of going solo in dealing with tensions in West Asia, a scenario deemed dangerous even by some Republican supporters of the commander-in-chief.
https://www.presstv.com/Detail/2020/05/08/624865/US-Congress-War-Powers-resolution-Iran-Donald-Trump
-----
Africa
The fundamental connection between education and Boko Haram in Nigeria
Madiha Afzal
May 7, 2020
On April 2, as Nigeria's megacity Lagos and its capital Abuja locked down to control the spread of the coronavirus, the country's military announced a massive operation — joining forces with neighboring Chad and Niger — against the terrorist group Boko Haram and its offshoot, the Islamic State's West Africa Province. This spring offensive was in response to a seven-hour attack by Boko Haram fighters that killed 98 Chadian soldiers in late March. Since then, the joint Nigeria-Chad-Niger military offensive has killed hundreds of Boko Haram militants.
In the past few weeks, Nigeria's economy has entered into a dangerous spiral due to plummeting oil prices and the economic costs of its lockdown — an existential threat to the country, some say. Meanwhile, the conflict in Nigeria's Lake Chad region, the epicenter of Boko Haram, has intensified.
Aside from its kidnapping of nearly 300 schoolgirls in Chibok in 2014, Boko Haram has not captured the world's attention the way global jihadist groups have. This is perhaps because its focus is local to northern Nigeria. Yet Boko Haram overtook ISIS as the world's deadliest terrorist group in 2015, and its violent insurgency, now more than 10 years old, has displaced more than two million and killed tens of thousands in the country.
Given Nigeria's unique context — it is roughly half Muslim and half Christian — and sheer importance as Africa's largest economy and the world's seventh most populous country, this conflict warrants our attention. As I argue in a recent report, the Nigerian military's kinetic action alone will not be enough to eliminate extremism in the country's North East region. Boko Haram emerged in a specific regional context in Nigeria and exploited long-standing grievances. Going forward, Nigeria's federal government will need to address those grievances if it is to consider its fight against the group successful.
Boko Haram literally translates to "Western education is forbidden." How does the group's ideology relate to education and why did it draw support in Nigeria's North East?
Post-9/11, conventional wisdom — which has not often held up to close empirical examination — has linked extremism and terrorism to a lack of education and poverty. In Nigeria's context, this is an easy explanation: Its North East region is poorer and has worse educational outcomes than the country's south. But the story isn't that simple.
There are three main narratives you hear in Nigeria on Boko Haram recruits: that they are not educated; that they are al-majiri, children who beg in the streets in return for food, housing, and education in a religious seminary (accounts suggest that the group's founder, Muhammad Yusuf, was an al-majiri); and that they were university students or graduates who tore up their "certificates," or degrees, to join Yusuf. Which of these is the real story?
To understand support for Boko Haram and how it relates to education, I conducted a quantitative analysis of public opinion survey data, as well as a qualitative study of textbooks, curricula, and the broader historical narratives in the country. I also visited Nigeria in the fall of 2019 and met with education officials, students, researchers, and journalists in Nigeria's North Central region, as well as education officials, professors, and journalists from the North East.
The Pew Research Center fielded a question on favorability toward Boko Haram to approximately a thousand respondents in Nigeria annually between 2013 and 2017. Looking at the data over time reveals that as Boko Haram's influence spread, and as its control of territory increased between 2013 and 2015, support for the group increased, in spite of its violence. That support was sustained as the group held territory until 2015. Support declined only after Boko Haram was countered militarily by the Nigerian state.
Looking at how support for Boko Haram in the northern regions relates to education reveals the following: Northerners' favorability toward Boko Haram does not fall linearly with education, suggesting that the conventional wisdom that a lack of education is associated with support for extremism does not hold.
In fact, the results show that for northerners with some years of education — peaking in most cases for those with junior secondary school degrees — support for Boko Haram is higher than it is for those with less education. These results in themselves do not rule out any of the three popular narratives for Boko Haram recruits and supporters (the poorly educated, the al-majiris, and university graduates). However, it suggests that a group all these narratives overlook — those with a few years of schooling beyond elementary school — might be particularly vulnerable.
How does education relate to support for Boko Haram? The explanation rests on grievances that already existed in Nigeria's predominantly Muslim north against the federal government's post-colonial, federally-imposed, Westernized system of education. The British had not exposed the more traditional north to this system in colonial times, fearing backlash, while the predominantly Christian south had already experienced it for decades. The north's grievances rest on four interrelated factors.
First, there is a lack of northern buy-in for the federal government's Western system of education. Many northern Muslims see this system as ideologically incompatible with their beliefs and as insufficiently representative. My interviewees said the federal government's "[text]books are from a different culture."
Second, Western education is also seen as responsible for poor educational outcomes in the north because it was imposed on a population not familiar with that system during colonization, in contrast to the south. To top it off, Islamic scholars in the north ended up being entirely disempowered and deemed illiterate.
Third, the system of Western education is blamed for the lack of job opportunities in the north, even for educated people, because of a lack of skills they acquire in that system. Unemployment is a symbol of "dashed expectations," leading to the youth "tearing up their certificates," or degrees. The argument goes something like this, as Andrew Walker notes in his book on Boko Haram: "We've seen those that go to school, they don't speak well or write well, they don't get a job, so why bother?" Yusuf, Boko Haram's founder, argued that college graduates should instead join the group and earn a better life in the hereafter.
Fourth, Western education is considered a symbol of the Nigerian state's corruption because it is Western-educated politicians and elites who are seen as presiding over that corruption.
How do my empirical results relate to this? I argue that it is some experience with the system of Western education that draws out northern grievances against it.
https://www.brookings.edu/blog/order-from-chaos/2020/05/07/the-fundamental-connection-between-education-and-boko-haram-in-nigeria/
-----
Indiscriminate shelling of Tripoli's civilians continues in holy Ramadan despite internationals calls for, and an LNA announced 'humanitarian' ceasefire
By Sami Zaptia.
7 May 2020:
The indiscriminate shelling of civilians in Tripoli has continued unabated over the last week or so despite the unilaterally declared humanitarian Ramadan ceasefire announced by the Khalifa Hafter led Libyan National Army on 29 April.
On Wednesday, Bu Sleem municipality condemned the latest shelling to hit civilians leading to 2 deaths and 8 injuries as well as damage to property and vehicles. The shelling was attributed to Hafter's LNA.
It must, however, be pointed out that the internationally recognized Libyan government based in Tripoli rejected the unilateral LNA ceasefire insisting that the Hafter's LNA had a track record of violating ceasefires and called for international monitoring of any ceasefire.
In its latest report to the UN Security Council on Tuesday (5 May), International Criminal Court (ICC) Prosecutor, Fatou Bensouda reminded that military commanders can be held responsible for crimes committed by their forces and have a duty to prevent such crimes.
Bensouda said her Office was working on new arrest warrants and was concerned about the high number of civilian casualties from airstrikes and bombings. She said the ICC was analysing information on possible crimes under the Rome Statute such as the intentional attacks on civilian sites and issues of proportionality.
Meanwhile, UNSMIL had reported in its latest civilian casualties report up to 31 March at least 131 civilian casualties (64 deaths and 67 injuries) in Libya. This figure represents an overall increase in civilian casualties of 45 per cent compared to the preceding period in the fourth quarter of 2019, it added. It reported that ground fighting was the leading cause of civilian casualties, followed by targeted killings, airstrikes, and improvised explosive devices.
The report said that the overall increase in civilian casualties was driven by the escalation of hostilities. It said that it is very concerned by the ''continued indiscriminate attacks and targeting of civilians in civilian populated areas and the increase in civilian casualties from the use of rockets and artillery, as well as from targeted killings by forces affiliated to the "Libyan National Army" (LNA).
''All parties to the conflict must respect their obligations under international humanitarian law including complying with the principles of distinction, proportionality and precautions in attack to prevent civilian casualties'', said Acting Special Representative for the Secretary General and Head of UNSMIL, Stephanie Williams.
UNSMIL renewed its call for all parties to the conflict to immediately halt all military operations, and allow the authorities to respond to the threat of COVID-19.
https://www.libyaherald.com/2020/05/07/indiscriminate-shelling-of-tripolis-civilians-continues-in-holy-ramadan-despite-internationals-calls-for-and-an-lna-announced-humanitarian-ceasefire/
------
Mouka Urges Muslims to Uphold Godly Virtues As Ramadan Commences
May 8, 2020
Mary Nnah
As Muslim faithful celebrates Ramadan, Mouka, the frontline company in the manufacturing of mattresses and beddings in Nigeria, urged Islamic scholars, leaders and believers, to sustain virtues of love, brotherhood, tolerance and care which they are known for.
Ramadan, a period of fasting, prayer, reflection and communal co-existence is the ninth month of the Islamic calendar which begins with the sighting of the crescent moon.
Commenting on the sacred period which is in fulfilment of the fourth pillar of Islam, the Chief Executive Officer of the Company, Raymond Murphy, said Muslims should see it as a time of peace and harmonious co-existence for a more united and prosperous nation
Murphy affirmed that in this period of penitence and self denial, Muslims should demonstrate what they preach for others to emulate and to be seen as epithet of uprightness.
The Mouka boss enjoined Muslims to use the fasting period to pray to Allah for the speedy containment of the coronavirus (COVID-19) pandemic which has infected hundreds of persons and cases of fatalities, a situation that has led to lockdown of some states in the country.
"This is crucial at this time of the deadly disease for socio-economic advancement and we strongly advocates preventive measures on (COVID-19) pandemic for a more robust Ramadan period and to avert increase in infection as well as death cases," he said.
He calls on them to keep to a healthy sleep culture which the company advocates, especially on Mouka quality mattresses. "A healthy sleep after fasting is necessary to ensure physical fitness for effective work performance," Murphy advised.
Mouka has remained committed to worthy initiatives that ensure the wellbeing of the people as they are at the core of its mission.
Recently, the company donated 500 mattresses to Lagos State Government for the enhancement of its COVID-19 isolation centres and another 200 to victims of the Abule Ado gas pipeline explosion which occurred in Lagos.
It also aided Ogun State Government with the donation of 200 mattresses for its COVID-19 isolation centres, as part of its corporate social responsibility (CSR) initiatives.
On its stables are quality brands such as Wellbeing orthopaedic mattresses, Dreamtime water-resistant mattress and Mondeo Spring mattress. Other products on its stables include MoukaMozzi, a three- variant brand of innovative insect repellent and wide range of pillows for a comfortable sleep.
https://www.thisdaylive.com/index.php/2020/05/08/mouka-urges-muslims-to-uphold-godly-virtues-as-ramadan-commences/
-----
Zakat Foundation Supports Muslims In Ramadan
May 8, 2020
THE Zakat and Sadaqat Foundation, Oyo State chapter, has identified with Muslims in this month of Ramadan through distribution of food items to individuals and households across the state.
The distribution ceremony took place in the three senatorial districts of the state with welfare packages to over 250 households.
The coordinator of the charity organisation in the state, Dr Nafiu Musa, said the gesture was meant to provide support for the beneficiaries and to cushion the effects of the hardships occasioned by the outbreak of coronavirus in the country.
According to Dr Musa, the gesture also represents one of the cardinal objectives of the foundation in taking care of the underprivileged in the society.
He stated that the foundation believed that private individuals and corporate bodies must continuously assist the government in making life better for the citizens, which informed the decision of the organisation to regularly provide assistance to the needy.
Musa said the foundation was poised to expand its operations to be able to reach out to more people in the society.
He commended staff members of the organisation for their efforts to get the package to the target households, especially in remote towns and villages.
Also, the foundation distributed packages to widows and orphans across the state with a view to ensuring that they have a memorable Ramadan.
The beneficiaries expressed appreciation to the foundation for its concern and promised to make the most of the packages.
https://tribuneonlineng.com/zakat-foundation-supports-muslims-in-ramadan/
-----
Faithful undeterred at Ramadan, even as virus spreads in Somalia
8 May 2020
Adan Abdullahi knows that visiting the mosque for evening prayers is forbidden. There is a curfew in place in the Somali capital, and authorities have pleaded with worshippers to stay home as coronavirus infections rise.
But it is the holy month of Ramadan -- one coinciding with a deadly outbreak that has officially claimed 39 lives but likely hundreds more in under-resourced Somalia -- and Abdullahi can think of no better time for faith, so refuses to follow the rule.
"When disaster strikes, you go to the mosque and pray so that Allah solves your predicament," the 42-year-old father-of three told AFP in Mogadishu.
But elsewhere in the city, as containment measures are ignored or half-heartedly enforced, graves are furiously being dug to accommodate a spike in unexplained deaths.
Known cases of coronavirus have jumped 14-fold since mid April to 873 but government officials suspect the true toll is vastly higher due to a lack of testing.
"We lack sufficient testing capabilities for people who are sick" and the doctors, nurses and medical personnel to man the hospitals and labs, said Mogadishu mayor Omar Mohamud.
Humanitarian agencies fear the fragile state, already confronting an armed insurgency, a record locust invasion and heavy flooding, will not cope should the virus spiral further.
"We are seeing widespread community transmission in a country that will not be able to handle a multitude of severely ill patients at once," said Richard Crothers, country director for the International Rescue Committee.
People with COVID-19 symptoms were being told to stay home to free up what scant hospital resources are available for the seriously ill, further suggesting the official count was off, Crothers added.
The World Health Organization warned on April 23 that unless the rate of transmission slowed rapidly, Somalia's parlous health care system would quickly be swamped.
Instead, the caseload has ballooned as the government has struggled to convince people of the seriousness of the disease sweeping the globe, and the need to stay home and avoid large gatherings.
Police on patrol use megaphones to urge bystanders to keep their distance, and posters in the streets carry government advice about the disease, but few pay attention.
"Nothing's changed here. We can still visit others, and go anywhere we want," said Ali Moallim Nur, shrugging off the health advice on a Mogadishu street.
A curfew has proved fruitless in the capital -- especially so during Ramadan, a time when Somalis visit each other's homes in the evening to break their fast together, and pray even more than usual.
Some idling at restaurants and cafes have been told to move on but police in the Muslim-majority country are reluctant to target the devout, or punish mosques that remain open for evening prayers, despite the blatant breach of curfew.
"Ramadan is all about devotion to Allah and going to his house for prayer. I still perform the prayers, and I understand there is COVID-19, but we pray God will save us from this disease."
But in Barakat, a Mogadishu suburb, cemetery worker Ali Maow said the number of burials doubled in April, with sometimes 25 bodies arriving on a single day.
"Before this coronavirus, it was maybe 10 or 12 a day -- you can see the increase. I can't say if they died because of the virus, but most are elderly," he said.
Mayor Mohamud said as many as 500 unexplained deaths occurred between April 19 and April 29 in Mogadishu, an anomaly city authorities suspect, but cannot prove, is linked to coronavirus.
Authorities must also contend with a stigma rife in Somalia that views those wearing face masks in public with suspicion and hostility.
"Hardly anyone is wearing face masks. Those that do are harassed, and called 'Mr Coronavirus', said Abdirahman Mohamed Jimale, a 22-year-old Mogadishu resident.
Mohamed Sharif, a chauffeur for an international agency, said he had to wear a face mask at work, but found people outright avoided him or even ran away in his presence.
https://www.dailymail.co.uk/wires/afp/article-8299731/Faithful-undeterred-Ramadan-virus-spreads-Somalia.html
------
Boko Haram Attack Borno Village
May 07, 2020
Suspected Boko haram insurgents have attacked Debiro community of Biu local government council of Borno state.
The assailants reportedly stormed the community on Wednesday, in five Toyota Hilluxes.
The local vigilante tried to fight back were overpowered by the terrorists.
Eye witnesses say the community primary school and other public buildings were set ablaze by insurgents.
It is also not yet clear if there were any casualties.
https://www.tv360nigeria.com/boko-haram-attack-borno-village/
-----
Pakistan
precautionary measures in mosques may result in critical situation
MANSOOR ALI
May 08, 2020
ISLAMABAD-The violation of Standard Operating Procedures (SOPs) amid COVID-19 outbreak in the majority of mosques in Islamabad is likely to push the capital into a critical situation if the violations continued for the next few days.
Despite the strict orders of the government and frequent warning from the medical experts, the masses in Islamabad are visiting the mosques with less or no precautionary measures and the religious clerics seem helpless to convince the masses to adopt the precautionary measures while coming to mosques.
In a consensus between the government and religious clerics it was decided that children and the people with the age of over 50 years are not supposed to visit the mosques and they should offer the prayers at homes, but still, a huge ratio of worshipers in all the mosques were elderly people with no masks or hand gloves.
It was further witnessed that very few numbers of mosques were having hand sanitizers in their entrances and the majority of mosques were lacking such a facility; however, the carpet in all the mosques were unfolded as per the directives of the government. The local base committee headed by the religious clerics was formed in order to convince the people to follow the directives and adopt all the SOPs fixed by the government in consultation with the government, but all these committees are symbolic and they are yet to play their positive role in convincing the people to adopt the precautionary measures.
Meanwhile, talking to The Nation, a citizen said that they have been offering prayer in mosques since the people were conditionally allowed in mosques after the agreement between the government and religious clerics.
He added that a large number of people were visiting mosques with no or less precautionary measures and there was no one to ask them to follow the directives or stop them from entering the mosques.
On the issue, a prayer leader of a mosque in Sitara Market said that they have been asking the elderly people to offer the prayer at homes but they regularly visit the mosque which is a huge concern for us and also for the Islamabad administration.
He demanded the government to strictly impose the SOPs and ask the elderly people to stay at home otherwise wait for the time when the situation would be out of control.
The Nation repeatedly called the concerned authority in Islamabad administration for their comment but the authority did not respond.
https://nation.com.pk/08-May-2020/absence-of-precautionary-measures-in-mosques-may-result-in-critical-situation
-----
Shia groups decry Sindh govt's decision to ban Yaum-e-Ali processions
May 8, 2020
Shia organisations on Thursday demanded that the Sindh government immediately withdraw its notification for banning religious gatherings on Yaum-e-Ali and said they would hold mourning congregations and processions on Ramazan 21 following the standard operating procedure (SOP), which President ArifAlvi and religious scholars had agreed on in a meeting in Islamabad last month.
On April 28, the Sindh home department had issued a notification and banned the Yaum-e-Ali processions, Mehfil-e-Shabeena and all other Majalis or religious gatherings, rallies and activities that are not deemed Farz (obligatory) during the ongoing holy month of Ramazan.
Addressing at a news conference at the Karachi Press Club on Thursday, various Shia leaders, including Jaffaria Alliance Pakistan President Allama Syed Razi Jaffer Naqvi, Shia Ulema Council Sindh President Allama Nazir Iqbal Naqvi, Zakirin-e-Imamia chief Allama Nisar Ahmed Qalandri and Dr Saiyed Hasan Arif, a procession permit holder, said the Sindh government needed to revisit the selective ban on the Azadari congregations because of its discriminatory nature and unfairness.
They said an agreement has already been reached between the federal government and religious scholars of all the sects that allowed all religious congregations, including Friday prayers, Taraweeh and Yaum-e-Ali processions, after following the 20-point SOP.
"Shia scholars have already limited their congregations to support the government's efforts to limit the coronavirus spread. However, the Sindh government has intentionally issued a notification that was not signed by an authorised official about banning the Yaum-e-Ali congregation," said Jaffer Naqvi. He remarked that the provincial government's act had hurt the emotions of millions of Shia Muslims.
He added that all Shia groups, religious scholars, Zakireen and scouts organisations had agreed to hold the Yaum-e-Ali congregations after following the SOP finalised by the federal government.
https://www.thenews.com.pk/print/655634-shia-groups-decry-sindh-govt-s-decision-to-ban-yaum-e-ali-processions
-----
Imran announces gradual lifting of lockdown
Syed Irfan Raza
May 08, 2020
ISLAMABAD: Prime Minister Imran Khan on Thursday announced lifting of the countrywide lockdown in phases from Saturday by reopening all construction-related industries and shopping centres for five days a week from Fajr [early morning] till 5pm and outpatient departments (OPDs) in hospitals.
The decision came on a day when Pakistan reported nearly 1,300 cases of Covid-19 and 48 deaths in 24 hours.
The prime minister announced the decision after a meeting of the National Coordination Committee (NCC) also attended by chief ministers of the four provinces.
As there was no consensus between the Centre and the provinces on restoration of public transport and rail and local fights services, these would remain suspended till further decision.
The Centre also urged the provinces to allow overseas Pakistanis coming from different countries to observe self-quarantine as the government has no such facility to accommodate 125,000 expatriates who wanted to return to the homeland. However, this proposal was also rejected by the provinces fearing it would cause the further spread of the deadly coronavirus.
"We are lifting lockdown in phases from Saturday because people like rickshaw and taxi drivers and [those from] working class are in trouble," Mr Khan said at a press briefing after the NCC meeting. He said the decision to lift the lockdown was made in consensus with the governments of four provinces and Azad Jammu and Kashmir and Gilgit-Baltistan.
On the occasion, Minister for Industries Hammad Azhar listed the industries, businesses and shops reopening from Saturday. These include steel and aluminium mills, paint manufacturing units, ceramics, tiles, pipe factories, electrical cables factories and hardware stores. He said all small markets in residential localities will also remain open five days in a week till 5pm.
Highlighting details of the NCC meeting, Minister for Planning and Development Asad Umar said six major decisions were taken unanimously: lockdown will be lifted in phases from Saturday; small markets will remain open from Fajr [early morning] to 5pm and no shop will be allowed to open in the night, except medical stores; markets and shops will remain closed for two days in a week so that the personnel of security agencies like police and Rangers deployed to ensure closure of shops at 5pm could take some rest; OPDs in hospitals will also be reopened so that patients of other diseases could get medical treatment; and schools will remain closed till July 15.
Earlier, the prime minister said he was adamant that public transport should be restored so that poor workers could return to their work places. "However, we could not reach consensus on the matter and I have asked Asad Umar, who is the head of NCOC, to keep negotiating the matter with provinces so that public transport could be reopened soon," he added.
PM Khan said the government with limited resources had to keep a balance between preventive measures to curb the spread of coronavirus and running the country's economy by reopening businesses and industries. However, he urged people to follow standard operating procedures (SOPs) devised by the government for different sectors as Covid-19 was still on the rise in the country and there was a global fear that a second wave of the viral disease could hit the world again.
"I have tasked Tiger Force volunteers with creating awareness among people about Covid-19 preventive measures. Now it depends on people's cooperation that how much we will succeed in the next phase," he added.
The prime minister said that in case of a new spike in Covid-19 cases, the government would have no option but to impose another lockdown across the country. He said the government had given the biggest relief package in the country's history to help the poor and daily wage earners who were the worst-affected segments of society due to the pandemic and reduced the prices of petroleum products that were lower than any other country in the region.
"The country's economy has been hit hard as we are expecting 35 per cent less tax collection this year as compared to the targeted revenue and exports have also declined," he added. Many small enterprises, he said, were on the verge of closure due to lockdown restrictions, adding that the government was also receiving requests from owners of restaurants for reopening of their business.
Talking about overseas Pakistanis who wanted to return to the country, the prime minister said that due to limited quarantine facilities, which only cater for 7,500 returnees, the government wanted to allow them for self-quarantine at their homes. "But in that case it will be the responsibility of coming passengers as to how they will keep their other family members, specially aged people, away from the disease," he added.
However, he said, the provinces had some reservations over the self-quarantine option and, therefore, the government could not bring all 125,000 overseas Pakistanis back to the country who were willing to come.
He said the nation was passing through a difficult phase but it had to be thankful to Allah Almighty that the intensity of Covid-19 in Pakistan was low as compared to the United States and European countries.
Prime Minister Khan thanked his Special Assistant on Social Welfare Dr Sania Nishtar for launching the Rs144 billion Ehsaas cash distribution programme for 12 million poor families under which more than Rs82bn had so far been disbursed.
About opening of OPDs in hospitals, the prime minister said the since all concentrations were focused on coronavirus-related matters, patients of other diseases like tuberculosis and cancer were being ignored.
Special Assistant to the PM on National Security Moeed Yousuf said that over 110,000 overseas Pakistanis have got themselves registered to return back to the country. He said 20,000 of them had already returned and 7,500 more were coming next week in 32 different flights. He urged the provincial governments to review their decision regarding the option of self-quarantine for the returnees. Otherwise, he added, not more than 7,500 Pakistanis would be coming in a week due to limited official quarantine facilities. "The ratio of positive Covid-19 patients coming from abroad is similar to the local number of patients," he said.
Prime minister's aide Dr Faisal said the virus was spreading in the country and the number of positive patients and deaths were increasing, but the intensity of the disease was still under control. "During the last two days the number of deaths remained 38 and 40," he added.
He said the viral disease had provided an opportunity to the government and the institutions concerned to strengthen the country's health system so that it could have a capacity to deal with such situations.
https://www.dawn.com/news/1555428/imran-announces-gradual-lifting-of-lockdown
-------
1,500 hidden virus cases traced in Punjab among contacts of those returning from abroad
May 08, 2020
Asif Chaudhry
LAHORE: The health department has traced 1,500 "hidden confirmed cases" of Covid-19 patients who were in close contact with the Pakistani citizens returning from abroad.
Most of these cases were traced in the provincial capital, Lahore, Rawalpindi, Gujrat, Gujranwala, Multan, besides a few from Faisalabad.
The teams working under the Central Contact Tracing (CCT) unit of the primary and secondary healthcare department complied details of these 1,500 people who tested positive for the virus.
Special secretary of the P&SHD Dr Ajmal Bhatti told Dawn all the hidden cases traced by the CCT unit were close contacts of the overseas Pakistanis who had returned home during the pandemic. Some of these patients got infected by the pilgrims returning from Iran and the members of the Tableeghi Jamaat who tested positive, he added.
He revealed that many of these patients had deliberately been avoiding tests, while others were unaware they were carriers.
"We traced and identified 26,000 contacts of 4,300 coronavirus positive patients in various parts of Punjab", Mr Ajmal said.
After screening of all these contacts, including women and children, 1,500 of them turned out to be positive for the virus, he said, adding that it was a massive activity that was done in collaboration with deputy commissioners and police.
"Had these patients not been traced and quarantined, the number of the positive patients in the province might have been much higher", the special secretary said.
Meanwhile, the Punjab province reported the highest number of deaths -- 26 -- in a day on Thursday, besides 504 new confirmed cases of the virus.
Out of the 26 victims, eight each died in Lahore and Multan, four in Gujranwala, three in Faisalabad and one each in Muzaffargarh, Rawalpindi and Sargodha.
Similarly, 239 out of 504 new cases, were reported from Lahore, while most of the others from Gujranwala, Gujrat, Rawalpindi, Faisalabad, Multan and Bahawalpur.
The spokesperson for the health department said on Thursday that 22 more patients turned critical in various public sector hospitals of Punjab during the last 24 hours.
Lahore was still on the top among the cities where virus-related deaths were being reported, with 68 deaths so far, followed by Multan 34 and Rawalpindi 31.
The spokesperson said that no new case was reported from the quarantine centres of Punjab which were housing Tableeghi Jamaat members and the pilgrims returning from Iran.
https://www.dawn.com/news/1555399/1500-hidden-virus-cases-traced-in-punjab-among-contacts-of-those-returning-from-abroad
------
Sindh minister warns centre of dangers of reopening businesses
May 08, 2020
KARACHI: As the federal government on Thursday announced further easing of the lockdown from Saturday allowing markets to open five days a week, the Sindh government warned that "May is very dangerous for Pakistan with regard to the spread of coronavirus" and made it clear that it would make its own decision "based on facts rather than emotions".
In a statement, Information Minister Syed Nasir Hussain Shah said the World Health Organisation and local experts of medical sciences had already warned that May would bring significant risk of fast spread of the virus and the provincial administration gave more weight to their assessments.
"The WHO has also warned all the countries that if they do not opt for more effective lockdowns in their respective countries, the coronavirus would spread so fast that it would be impossible to control it," he said. "Therefore, we should make decisions based on facts rather than emotions. The Sindh government also cares about the sentiments and businesses of the people, but the facts don't allow us to let all the businesses open at once. The main objective is to save the lives of the people first."
He cited a recent decision of the Balochistan government, which had extended the lockdown till May 19. Praising Balochistan, Mr Shah said if such a decision was taken by the Sindh government, the federal ministers would have lashed out at the Pakistan Peoples Party government.
"If we are insisting on a strong lockdown in the month of May, it is because of saving lives and taking care of health of the people. There's [no] personal gain involved in the strategy," he said. "The decision of keeping a lockdown in place till May 9 was taken by the federal government, which was announced by the federal minister and not by any minister of the Sindh government. It's now quite surprising that today the federal minister changed his opinion and is saying that all this was going wrong and people should be given leniency in the lockdown."
He advised the critics to think about the "double standards" of the federal government before criticising the Sindh government. He said the Sindh government was being portrayed as the enemy of the poor, while a uniform policy was being implemented across the country.
"The Sindh government implemented the same decisions that were taken during the meetings held between the federal government and the provincial governments. Despite all this, the sudden onset of criticism of the Sindh government is beyond our comprehension," the provincial minister said.
He said the Sindh government was repeatedly saying that if this pandemic spread beyond control, the country's health system was not capable of handling so many patients.
"The Sindh government wants that all the necessary decisions should be taken at the federal level because we fear that if this doesn't happen, it would send a wrong signal and the anti-Sindh government policy would be focused, which could be harmful for the people," added Mr Shah.
https://www.dawn.com/news/1555386/sindh-minister-warns-centre-of-dangers-of-reopening-businesses
------
Mideast
Iranian, Uzbek Foreign Ministers review developments in Afghanistan
May 7, 2020
Iranian Foreign Minister Mohammad Javad Zarif and his Uzbek counterpart AbdulazizKamilov held talks over the phone Thursday on bilateral relations, issue of coronavirus and developments in Afghanistan.
During his telephone conversation, Zarif also expressed sympathy with the Uzbek flood-stricken people.
The two foreign ministers also reviewed cooperation on the area of transportation as well as ways to contain coronavirus pandemic.
The deadly coronavirus radiating from Wuhan, China, in December 2019 has affected over 3,820,000 people across the world and killed over 265,000 people; while in Iran the number of the dead is over 6,300.
https://en.abna24.com/news//iranian-uzbek-foreign-ministers-review-developments-in-afghanistan_1034604.html
-----
Islamic bank, TürkEximbank ink $100M deal to aid SMEs
MAY 07, 2020
The Islamic Development Bank (IsDB) and TürkEximbank signed a syndicated Murabaha (interest-free) deal of $100 million to finance small and medium-sized enterprises (SMEs) and middle capitalization companies (MidCaps) in Turkey.
"The Murabaha Facility has a total tenor of 10 years, which demonstrates IsDB's commitment to support sustainable development of Turkey," the IsDB announced Wednesday.
"The new facility is built upon the success of a $270 million line of financing which had been extended by the IsDB to Turkish firms via TürkEximbank," it said.
It recalled that in the previous intervention, 57 firms, including 18 SMEs, benefitted from the financing, while 39 of them saw a rise in their workforce.
"Overall, the facility will play a significant role to alleviate the economic impact of the COVID-19 pandemic on the manufacturing sector by providing long-term funding to companies to finance their capital expenditures," it added.
The IsDB Group, established in 1975, has 57 member countries on four continents – Africa, Asia, Europe and South America.
https://www.dailysabah.com/business/economy/islamic-bank-turk-eximbank-ink-100m-deal-to-aid-smes
-----
Controversial restoration of converted mosque nears end
May 07 2020
The controversial restoration of the Hagia Sophia Mosque, which was opened to worship in 2013 after serving as a museum for 52 years, is about to be completed in the Black Sea province of Trabzon.
The restoration of the mosque will be completed by the end of June, but the surroundings of the complex will be open to visitors at the end of May, said İsmet Çalık, deputy regional director of Foundations in Trabzon.
Latest photos from the restoration have triggered backlash on social media, after the pictures showed concrete having covered the green space in the garden of the complex and walking paths covered in stones.
"Electricity and irrigation lines have been excavated on soil floors, which are currently used as construction sites. After the closure of these channels, greening and planting will be completed," he said.
Explaining that the General Directorate of Foundations has decided to make some new arrangements to increase the green area, Çalık said that some of the hard floors made of natural stones will be arranged as green areas.
"Although the restoration process showed some disruption from the planned due to COVID-19 pandemic measures, the work continues in line with the restoration projects approved by the Conservation Board," Çalık noted.
The Chamber of Architects had objected to the restoration project in the past and had claimed that the procedure was being operated improperly.
The Chamber also claimed that the historical building was prevented from being seen as a whole, and practices that covers the aesthetic values of the building were carried out during the process.
"Walking paths, which are claimed to be made of concrete, are made of natural stone material and this material is used in restorations all over the world," it said.
"The walking paths around Hagia Sophia are rearranged by only 90 square-meter and the claim that green areas around Hagia Sophia Mosque was destroyed through restoration is not true," it said.
After Mehmed II conquered the city in 1461, the church was likely converted into a mosque and its frescos were covered in whitewash.
The Hagia Sofia Mosque, which is regarded as one of the finest examples of Byzantine architecture, served as a museum for 52 years before it was reopened to worship to Muslims in 2013.
https://www.hurriyetdailynews.com/controversial-restoration-of-converted-mosque-nears-end-154557
------
Emphasis on developing cooperation among countries in fighting coronavirus
May 7, 2020
Referring to the friendly and developing relations between the two countries, the Presidents of Iran and Uzbekistan stressed the need for more efforts and interaction of officials in order to develop and strengthen comprehensive relations between the two countries.
Speaking by telephone on Wednesday, Dr Hassan Rouhani and ShavkatMirziyoyev congratulated each other on the arrival of the holy month of Ramadan to the two nations and all Muslims around the world and wished the acceptance of worships in this month, expressing hope that all nations could overcome problems with each other's help.
Referring to the difficulties and problems caused by the outbreak of coronavirus in most countries throughout the world, the two sides stressed the need to develop cooperation and empathy among governments and countries around the world to fight coronavirus.
In this conversation, the Presidents of Iran and Uzbekistan discussed the state of relations and cooperation between the two countries in various fields, calling for the development of relations and cooperation in various fields, including the development of banking cooperation, facilitating the issuance of visas for businesspeople and restoring trade and economic relations to the previous state by fully observing health protocols.
Referring to Iran's success in the fight against coronavirus and the production of equipment and facilities needed in this field, including diagnostic kits and ventilators, Dr Rouhani said, "The Islamic Republic of Iran is ready to share its experience and meet Uzbekistan's needs to fight coronavirus".
The President continued, "Unfortunately, some extravagant governments, led by the United States, are pursuing their own political goals and imposing pressure and sanctions on countries and nations, which we must stand up to".
During the same phone call, President ShavkatMirziyoyev of Uzbekistan also praised the achievements and actions of the Islamic Republic of Iran in the fight against coronavirus, saying, "The Islamic Republic of Iran has a special place in the region and the development of relations with this country is very important for us".
https://en.abna24.com/news//emphasis-on-developing-cooperation-among-countries-in-fighting-coronavirus_1034592.html
------
South Asia
Sumanthiran to rescue the Muslim community again, left orphans!
2020-05-08
By S.H. Moulana
We saw for the first time Muslim dead bodies being cremated in Sri Lanka against the Islamic practice and tradition a religious practice also followed by the Christians and Jews.
This was done despite the objection of the Muslim community in Sri Lanka. It was made clear that all who died through COVID-19 virus throughout the world received the normal burial and there is official provision by the WHO.
All the fake medical reasonings have been rejected by majority of the locals who deal in this field. Adding insult to injury there has been a half baked religious ruling that 'this is perfectly Ok' by someone who is responsible for religious rulings.
Religious authorities in Muslim countries are shocked to learn about the religious ruling okaying this practice here. Now Sumanthiran has come out again once more to rescue the helpless and leaderless Muslim community in Sri Lanka. We salute him for this selfless service to a community which is now left alone like an orphan. Please read below when Sumanthiran was out to rescue us once before in the parliament while our own members were obstructing him:
Muslim MPs representing the community in the country's parliament have created an utter disappointment for the entire community by their deafening silence plus by some MPs even shouting down MPs belonging to another minority community speaking on their behalf.
It is highly laudable despite having their own grievances they elected to speak on behalf of the Muslim minority on what it had to undergo in the hands of few extremists groups, who were supposed to be above the law.
It is really shocking to learn that one of the worst of these groups has made a public statement that it has the blessings of the president as well as the defense secretary's protection! Not only the entire country but the entire world saw how the twist and turn the attack on 'Fashion Bug' took.
The case on the attackers was disposed in world record time and I believe it is something should go into the Guinness Book of World Records. Everyone knows what led to the premature decision of this case, even for the annoyance of those guardians of law.
We are positive that the outcome of this case will give the encouragement for these extremist groups needed to commit more and more atrocities on the helpless minority.
I had the opportunity of listening to speeches made by various personalities on 'Religion, Reconciliation and Future'. I was impressed by the speeches made by Sumanthiran, and Javed Yousuf, the former ambassador to Saudi Arabia.
These are the pick of the lot although there were others not so impressive for many reasons; presentation, their reasons to convince the audience as well as their slight inclination towards the extremists, involved in current hate campaign. It is absolutely sad that those who could speak for the Muslim community, are not in the parliament and those who are in either cannot speak or do not want to speak for reasons better known to them. However, they are clever in interrupting those Tamil MPs, who are sticking their necks out for another fellow minority community, while addressing the parliament.
The Hansard will bear witness to all proceedings in the house as to who said what, when Muslim community's plight being discussed in the country's parliament. Let this be a warning for all Muslim MPs in the house. We see people are proudly quoting what their leaders have said in the State Council even before we got independence and I am afraid on which side of the history these Muslim MPs will remain in few decades time, when the generations to come start referring the past records!
One comforting thing, however, I see with pleasure is that a large number of the majority community including the learned Rev. Monks together with the educated Sinhala Buddhists are against the hate campaign of these extremist groups.
These groups have only succeeded in getting the support of uneducated and the few jobless masses. All what we urge from the government is to strictly enforce law and order in the country and nobody to be above the law. Have zero tolerance on those who create unrest in the country. Please don't allow anyone, I mean anyone, to tarnish the image of our beloved motherland!
http://www.asiantribune.com/node/93982
------
Mullah Baradar met with Zalmay Khalilzad in Doha
07 May 2020
The deputy political chief of Taliban Mullah Abdul Ghani Baradar met with Zalmay Khalilzad, the U.S. envoy for Afghan peace in Qatari capital of Doha.
Suhail Shaheen, a spokesperson for the political office of Taliban in Doha, said Mullah Baradar, leading a delegation of the Taliban leaders, met with Khalilzad in Doha.
According to Shaheen, the two sides held talks on the need to expedite the release of prisoners, launch of intra-Afghan talks and full implementation of the peace deal between Taliban and the United States.
On the other hands, the Taliban group is accused of stepping up attacks against as the officials warn that the continued violence could endanger the peace process.
Khalilzad issued a statement on Twitter last week, warning that the increase in number and lethality of Taliban attacks could endanger gains.
He said civilians still suffer from IEDs, targeted assassinations, and other consequences of the ongoing war, emphasizing that "To protect them all sides must act now to end the violence."
https://www.khaama.com/mullah-baradar-met-with-zalmay-khalilzad-in-doha-07781/
------
Islamic finance gaining stronger foothold in China
May 8, 2020
As this year's GDP growth of China, the world's second largest economy and major manufacturing hub, is forecast to reach a 44-year low of just 2.5%, there is enough ongoing in the background to prepare for a post-coronavirus rebound.
One such sector bustling with activity is Islamic finance which has grown in importance in China since the country embarked on its multi-decade mega-investment and development program of the New Silk Road, officially known as Belt and Road Initiative, or BRI. The fact that China started pursuing BRI projects across Central and Western Asia brings with it that is has to deal with project financing in a number of predominantly Islamic countries, which, in turn, is expected to spur growth of the Islamic finance sector of the wider region despite a virus pandemic that will eventually be overcome.
"Some of the BRI projects will go through core Islamic finance countries and therefore likely will be financed in Shariah-compliant ways," Mohamed Damak, global head of Islamic finance at S&P Global Ratings, said in an analysis of China's BRI ambitions.
The BRI, launched by Chinese President Xi Jinping in 2013, is one of the largest infrastructure and investment projects in the world in history, covering so far around 70 countries, as well as 65% of the world's population and 40% of the global GDP. China said it is ready to spend nearly $150bn a year in and together with the countries that have joined the initiative. Expanding across Central and Western Asia and eventually the Middle East, the BRI leads through many Islamic economies and jurisdictions that have a large base of Muslim consumers, so it is obviously advantageous for Islamic economy sectors, namely Islamic finance and halal trade, to join and contribute to the BRI.
On board are, among others, already a number of Islamic finance institutions, starting with the Islamic Development Bank which entered a cooperation with China-dominated Asian Infrastructure Investment Bank mainly to provide Shariah-based infrastructure financing for the BRI. The Industrial and Commercial Bank of China has opened a Shariah banking window tailored for BRI financing products, while Qatar National Bank and Qatar International Islamic Bank partnered with Chongqing-based Southwest Security to tap the capital market of the Gulf Cooperation Council (GCC) countries for Shariah-compliant BRI investments. Another major player, Chinese industrial conglomerate Hainan Group, has been issuing Islamic loans starting from 2015 and became the first corporation in mainland China to obtain financing through Islamic finance, with an initial focus on funding vessels for the maritime segment of the BRI.
As a result, Islamic finance has become a crucial element for the implementation of the BRI, and Islamic banks mainly from the Middle East and Southeast Asia have smelled the opportunity and began committing to investments not only in the BRI, but also in China directly after the country in the past years started amending banking regulations to facilitate the development of Islamic finance on its own soil.
This is a major step after China's interest in Islamic finance grew after the 2008/09 global financial crisis, which triggered a debate also in China over the greater sustainability and norms of Islamic finance as compared to a vulnerable conventional finance sector prone to toxic loans, as well as the ethical principles of Islamic finance which appeal to a new type of responsible investors, be it private or institutional.
While most of the Islamic financing activity China's is currently focused on projects outside the country, there is also development of the sector within China itself, albeit at a slower pace.
https://pakobserver.net/islamic-finance-gaining-stronger-foothold-in-china/?utm_source=rss&utm_medium=rss&utm_campaign=islamic-finance-gaining-stronger-foothold-in-china
------
Southeast Asia
Large-Scale Social Restrictions Fails To Flatten COVID-19 Curve In East Java: Task Force
AsipHasani
May 8, 2020
While other regions have claimed that large-scale social restrictions (PSBB) have helped flatten the COVID-19 infection curve, East Java health authorities say the policy has yet to flatten the curve in the provincial capital of Surabaya.
East Java COVID-19 task force curative management head Joni Wahyuhadi said the number of confirmed COVID-19 cases had continued to rise in Surabaya and its neighbouring regencies of Sidoarjo and Gresik, despite the imposition of PSBB in the regions since April 28.
Ten days after the policy was implemented, Surabaya and its satellite areas recorded that the number of confirmed cases had increased by 53.7 percent from 508 to 781. Surabaya has become the disease epicenter in the province with 592 confirmed cases and 78 fatalities as of Thursday.
The fatality rate in the area also remains high as it currently stands above 10 percent of total confirmed cases. The Health Ministry recorded 1,267 confirmed cases and 133 deaths in East Java on Thursday.
"Our evaluation from the epidemiological approach shows that the contact index and transmission rate have remained high," Joni told journalists on Thursday evening.
He added that the task force believed the policy had failed to flatten the curve due to low public obedience to health protocols, such as maintaining physical distance and wearing face masks.
days.
Governor Khofifah IndarParawansa said earlier that her administration would likely extend the PSBB for another 14 days if the policy had not succeeded in curbing COVID-19 transmission.
Apart from the increasing cases, health authorities have also discovered new clusters of virus transmission in the area, including in a factory owned by tobacco giant PT HM Sampoerna in Surabaya, where two workers died and 60 others were infected by the virus.
The provincial task force is scrambling to establish emergency hospitals in Greater Surabaya as COVID-19 referral centers are overcrowded.
According to data from health authorities, there are 403 beds at COVID-19 referral centers in Surabaya to handle 869 patients who need intensive care. In Sidoarjo, only 160 beds are available for 212 COVID-19 patients; while Gresik has 24 beds for 117 patients.
https://www.thejakartapost.com/news/2020/05/08/psbb-fails-to-flatten-covid-19-curve-in-east-java-task-force.html
-----
Labor union speaks out against govt's 'lenient' holiday bonus policy
RizkiFachriansyah
May 8, 2020
The Confederation of Indonesian Trade Unions (KSPI) has spoken out against a circular issued by the Manpower Ministry that would purportedly allow employers to cut holiday bonuses (THR) and postpone the distribution of financial incentives ahead of IdulFitri, amid the turbulence triggered by the COVID-19 pandemic.
KSPI chairman Said Iqbal said the circular violated Law No. 13/2003 and Government Regulation No. 78/2015, which stipulate that every employer is obligated to provide a holiday bonus to employees who have worked at the company for more than one year without any prior negotiation.
Employees who have been on the payroll for less than one year, meanwhile, have a right to receive an incentive provided in accordance to the duration of their employment, Said added.
"We must reject the ministry's circular; employers must provide 100 percent of their employees' holiday bonus. Providing less than full holiday compensation, or releasing the funds in installments is simply out of the question," he said in a statement on Thursday.
Said went on to say that the organization would file a lawsuit against the ministry's circular at the Jakarta State Administrative Court (PTUN) as he claimed the document had directly contradicted prevailing laws.
Furthermore, the labor organization would also set up emergency posts across 30 provinces where employees were able to safely report unfair compensation from their employers.
The COVID-19 pandemic has disrupted business activities as consumers stay home to curb the virus spread, resulting in weakening demand. Companies across the country, mainly those operating in the hospitality sector, have furloughed or laid-off employees.
Last month, the Industry Ministry discussed the possibility of providing businesses with soft loans to enable them to pay IdulFitri holiday bonuses as the economic downturn is forcing companies to withhold or cut the bonus payment.
thejakartapost.com/news/2020/05/08/labor-union-speaks-out-against-govts-lenient-holiday-bonus-policy.html
-----
Scholar: Malaysia's virus fight above expectation
08 May 2020
PETALING JAYA: Malaysia is beating brutal Covid-19 expectations, says Stewart Nixon, a research scholar at Australian National University (ANU).
According to Nixon – who is experiencing the movement control order (MCO) firsthand as a research visitor at Universiti Malaya – to the casual observer, the country's handling of the Covid-19 outbreak may seem bungled.
"Media reports highlighted a mass religious gathering later linked to thousands of infections and the Ministry of Women's advice that wives maintain a presentable appearance and avoid nagging under lockdown, " wrote the Crawford School of Public Policy research scholar in the East Asia Forum.
But he argued that "Malaysia's response deserves greater recognition as a meaningful example for countries that have insecure borders, significant mobile and vulnerable populations, larger households in denser living conditions and less than ideal political situations".
Nixon noted that the country's surge in infection came just two weeks after a political crisis that saw Perikatan Nasional taking over the Federal Government.
"Malaysia's efforts have been spearheaded by the reassuring leadership of Health director-general Datuk Dr Noor Hisham Abdullah, whose resume combines a depth of medical knowledge with formidable public policy experience. "He and the frontline professionals at the Health Ministry have been supported by politicians to lead the response rather than being overshadowed by them.
"Activities have been consistent and nationally synchronised and public messaging clear, factual and accessible across new and old media. A strong and well-resourced public service with depoliticised leadership is proving invaluable, " said Nixon, who added that central to the recent success was aggressive contact tracing and strategic testing.Like others, he said Malaysia struggled to scale up and broaden testing at the beginning of the surge.
"Without optimal testing volumes, Malaysia has had to rely on extensive tracing to identify persons of interest and was early to adopt random testing of cold and flu cases. Officials also approach persons of interest directly to compel screening.
"And since late March, virus hotspots have been quarantined under enhanced lockdowns and mobile testing has been deployed to all residents regardless of symptoms.
"All positive cases are hospitalised to prevent the spread of Covid-19 among households and communities, with makeshift hospitals erected to increase surge capacity, " he said, adding these measures respond to the testing and containment challenges facing Malaysia.
Nixon said Malaysia arguably had a clearer picture of community transmission and overall virus spread than Australia, despite appearing to have tested less.
"With increasing global evidence of widespread asymptomatic transmission and 80% of all infections presenting symptoms less severe than a common cold, testing biased by self-selection based on symptom presentation creates dangerous underestimations of a potential outbreak, " he said.
"Malaysia has fewer overall cases than Australia and much of its population has virtually no financial buffer to economic hardship, yet there is widespread support among citizens for the continuation of lockdown measures.
https://www.thestar.com.my/news/nation/2020/05/08/scholar-malaysias-virus-fight-above-expectation
-------
Covid-19: 39 new cases, death toll remains at 107
07 May 2020
By RASHVINJEET S. BEDI
PUTRAJAYA: Malaysia reported 39 more Covid-19 cases on Thursday (May 7), bringing the total number of infections in the country to 6,467.
Out of the 39 cases, only one is an imported case while the rest are local transmissions, with eight of them detected at a locality under the enhanced movement control order (MCO).
A total of 74 more patients were discharged in the same 24-hour span, which means 4,776 patients have recovered from Covid-19 since the outbreak began.
Health director-general Datuk Dr Noor Hisham Abdullah said this at the Health Ministry's daily Covid-19 media briefing on Thursday.
Malaysia's Covid-19 recovery rate is now at 73.9% out of the total number of positive cases.
There are only 1,584 active cases being treated at the country's health facilities at present.
There are currently 19 patients being treated at intensive care units (ICU) with eight on ventilator support.
No new deaths were reported, which means the country's death toll remains at 107.
https://www.thestar.com.my/news/nation/2020/05/07/covid-19-39-new-cases-death-toll-remains-at-107
------
Cops to allow interstate travel on motorcycles, public transport
07 May 2020
By AUSTIN CAMOENS
KUALA LUMPUR: Bukit Aman will allow public transport and motorcycles to make interstate journeys provided prior approval has been obtained during the conditional movement order (MCO).
Federal CID director Comm Datuk Huzir Mohamed (pic) on Thursday (May 7) said they came to the decision after assessing the current situation.
"I would like to remind everyone that only those with approvals would be allowed to use public transportation or motorcycles to make their trips.
He added that interstate travel would only be permitted to those who were stuck in their hometowns and needed to get back to their place of residence or to return to work.
"Those travelling from Kuala Lumpur would need to travel on May 7, while those from Perak, Johor, and Kelantan would be allowed to do so on May 8.
"Those in Perlis, Kedah, Penang, Melaka, and Pahang would be allowed to travel on May 9, while those from Selangor, Negri Sembilan and Terengganu would be allowed to make their trips on May 10," he said.
https://www.thestar.com.my/news/nation/2020/05/07/cops-to-allow-interstate-travel-on-motorcycles-public-transport
------
URL: https://www.newageislam.com/islamic-world-news/chennai-row-bakery-no-muslim/d/121794
New Age Islam, Islam Online, Islamic Website, African Muslim News, Arab World News, South Asia News, Indian Muslim News, World Muslim News, Women in Islam, Islamic Feminism, Arab Women, Women In Arab, Islamophobia in America, Muslim Women in West, Islam Women and Feminism