New Age Islam News Bureau
15 May 2015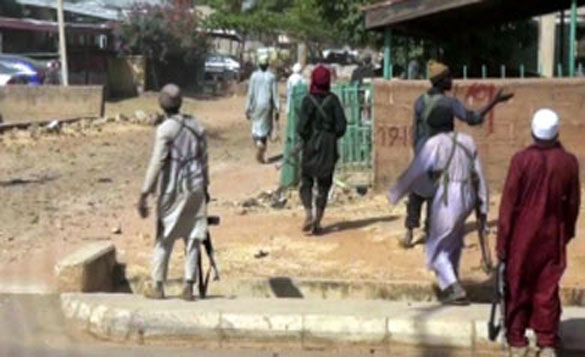 Over 60 Killed, Scores Injured As Troops, Boko Haram Clash, Photo: Premium Time
------------
Africa
• Chadian Army Kills 250 Boko Haram Terrorists
• Nigeria: Over 60 Killed, Scores Injured As Troops, Boko Haram Clash
• Nigeria: Boko Haram Members Killed While in Training in Iraq
• Four jihadists killed in clashes with Tunisian army
• Shelling in eastern Libya kills 8, including 7 children
• More than 350 child soldiers released by C. Africa armed groups: UNICEF
• Al-Qaeda-linked Belmokhtar group in N. Africa claims allegiance to IS
Arab World
• Tens of ISIL Terrorists Killed in Syrian Army Operations in Homs
• Syrian Army Kills Tens of Al-Nusra Terrorists near Border with Jordan
• Amid Battle with IS, Suicide Attacks Kill 10 Police in Iraq
• Is ISIS About To Send Women To Die On Suicide Missions?
• IS Leader Urges Muslims to Move to 'Caliphate': Recording
• Saudi-led coalition losing patience with Yemen truce breaches
• Stub It Out! 15% of Youngsters Hooked On Smoking In KSA
• Iranian shooting a clear violation of international law: Saudi FM
• IS at gates of Syria's Palmyra raising fears for ancient city
Pakistan
• Air Strikes Kill 17 Militants in North Waziristan: Officials
• Militant Commander among 13 Killed In Kalat Operation
• Sense of insecurity rising in Karachi, says JI Ameer
• 'Goodbye, my son!' — After spate of attacks, Shias flee Pakistan
• President says terrorism to be eradicated soon
India
• Road Signs with Muslim Names Defaced In Delhi, Hindu Outfit Own Responsibility
• India Suspects ISI-Backed Haqqani Network Behind Attack
• IS Hostage Crisis: Should We Believe Masih or Govt, Asks Victims' Kin
South Asia
• 6 Taliban Militants Killed While Transporting Suicide Vests in Badghis, Afghanistan
• Five insurgents killed in Kandahar
• Myanmar Muslim migrants 'drinking their own urine' to survive after Thailand refuses boat entry
Europe
• 700 'Terror Suspects' Have Travelled To Syria, Scotland Yard Says
• Baroness Warsi Warns How British Muslims Fear Government 'Cold War' Against Their Faith
• UNESCO Terms ISIL Looting of Archaeological Sites in Syria, Iraq as War Crime
• Nazir Afzal: Five things I've learned from Muslim women's groups
• Students were asked to sit apart, during a talk, at The University of Western Sydney
Southeast Asia
• Najib: Moderation Key in Fighting Anti-Islam Issues
• 4 Killed As Philippine Troops Clash with Abu Sayyaf
• Even Obama looks up to Najib's leadership, minister claims
• Nearly 800 Migrants Reach Indonesia, Others Sent Back to Sea
• Police arrest suspected IS member
North America
• FBI Uses National Security as Excuse to Suppress Muslim-Americans
• No Operational Linkage between ISIL in Iraq, Syria and Pakistan: US State Dept
• Obama to back Gulf allies against any 'external attack'
• Iraqi Who Worked for the U.S. Military Is Arrested in Texas in Link to Islamic State
• Rep. Steve King: There's No Anti-Muslim Discrimination in America
• US lamb producers eye growing Halal meat market
Mideast
• Protesters Call on Saudi Arabia Not To Execute Top Shia Cleric
• IS has no foothold in Gaza: Hamas
• Against US Wishes: Iran Sends Aid Ship for Yemen
• Houthi field commander killed: sources
• Israel army wounds 10 Palestinians in West Bank clashes
Compiled by New Age Islam News Bureau
URL: https://www.newageislam.com/islamic-world-news/new-age-islam-news-bureau/chadian-army-kills-250-boko-haram-terrorists/d/102974
---------
Africa
Chadian Army Kills 250 Boko Haram Terrorists
May 15, 2015
CHADIAN Army in early Thursday raid killed 250 Boko Haram militants as the nation's intervention against the Islamist group nears its fifth month.
According to a statement from the Army's Chief of Staff read early on Thursday May 14, 2015 on national radio, the insurgents were targeted in air strikes on three northeast Nigerian locations over the past three days,
Boko Haram, whose name roughly translates as "western education is a sin," is waging a violent campaign to impose Islamic law in Nigeria.
The war against the group has drawn in Nigeria's north-eastern neighbours Cameroon, Chad and Niger, with their troops carrying out raids against the militants.
http://allafrica.com/stories/201505141067.html
---------
Nigeria: Over 60 Killed, Scores Injured As Troops, Boko Haram Clash
May 15, 2015
Maiduguri — At least 60 people mostly suspected members of dreaded Boko Haram insurgents were feared dead in a clash between troops of the 7 Division, Nigerian Army around Kayamula village, just some few kilometres drive from 21 Armoured Brigade (Giwa Barracks) on Wednesday in Maiduguri, the Borno state capital.
Already, troops of the 7 Division, Nigerian Army on Thursday morning imposed a 24 hours curfew on the troubled city.
The imposition of the 24 hours curfew was contained in a statement signed by Colonel Tukur Gusau, the Deputy Director Army Public Relations
Gusau said "In view of the recent development within Maiduguri metropolis a 24 hour curfew is hearby imposed in the city. This is done to protect lives and property of innocent and law abiding people of Maiduguri".
Sources said, the attack was launched by suspected members of Boko Haram terrorists who attempted to invade the city with heavy weapons of mass destruction targeting military formations including 21 Armoured Brigade (Giwa Barracks) that came under deadly attacks last year.
A student at the University of Maiduguri (name withheld) for security reasons said, many stray bullets entered hostels injuring of two students.
Kayamula village of Konduga local government area of the state is south and about 20km drive from Maiduguri which has suffered series of deadly attacks by terrorists in the past. The village which is an agrarian community with a lot of Cashew plantations is a stone -throw to Giwa barracks.
Reliable sources revealed that, "35 members of the terrorists including women suicide bombers were killed by troops, while 27 residents near Kayamula and Alau Dam villages were slaughtered by insurgents after they were repelled and chased away by troops".
A resident, Mallam Abba Alau who participated in the mass burial of the slain residents by insurgents said, "we were able to bury our 27 people who were slaughtered by terrorists while fleeing but ran into our community and wrecked havoc before heading towards Sambisa Forest on Wednesday night".
Another source said, "no fewer than three security operatives were killed, with others injured when some women suicide bombers who disguised as fleeing residents of Bale village near Kayamula detonated their explosives near troops during operation.
Also, another dependable source told our Correspondent that the imposition of 24 hours curfew on Maiduguri and its environs by troops on Thursday morning was to allow security operatives trail and apprehend scores of suicide bombers, mostly women terrorists who sneaked into Maiduguri to cause havoc on residents.
"The curfew was declared because during the operation, many insurgents found at the scene of the attack had Improvised Explosive Devices (IEDs) tied to their bodies, and that security agencies suspected that some of them might have sneaked into Maiduguri city and nobody wants to take chances", the source stated.
http://allafrica.com/stories/201505150221.html
---------
Nigeria: Boko Haram Members Killed While in Training in Iraq
May 15, 2015
At least five Boko Haram members have been reportedly killed in faraway Iraq by Mosul Youth Resistance Movement on Wednesday, May 13.
This is the first report of the presence of Boko Haram militants in Iraq following the sect's allegiance to deadly ISIS and ISIS's acceptance of Boko Haram's allegiance.
According to reports by Basnews.com, the Boko Haram insurgents were attacked in the Dargaza neighbourhood of eastern Mosul.
Saed Mamuzini, Mosul's spokesperson was quoted by BasNews as saying, "The Nigerian Boko Haram militants were in Mosul to take part in a military training course conducted by Islamic State (IS)."
Boko Haram has abducted and killed thousands of people within the North-East region of Nigeria.
http://allafrica.com/stories/201505141069.html
---------
Four jihadists killed in clashes with Tunisian army
May 15, 2015
Four jihadists were killed Thursday in clashes with the Tunisian army in a mountainous region near the border with Algeria, the defence ministry said.
A statement said troops clashed with jihadists at dawn on Mount Sammama near Mount Chaambi, where the army has been battling militants since 2012.
Citing what it said was an initial toll it reported "four terrorists killed and others wounded", adding that there were no military casualties.
The defence ministry said soldiers had seized electronic supplies and destroyed a vehicle during the operation.
Tunisia has seen a surge in radical Islam since veteran president Zine El Abidine Ben Ali was ousted in the 2011 revolution.
Dozens of security forces have been killed since then in jihadist attacks.
http://english.ahram.org.eg/NewsContent/2/8/130306/World/Region/Four-jihadists-killed-in-clashes-with-Tunisian-arm.aspx
----------
Shelling in eastern Libya kills 8, including 7 children
May 15 2015
A Libyan medical official says eight people from one family, including seven children, were killed when mortar shells hit near their house in the restive eastern city of Benghazi.
Ashraf al-Saiti, a senior medical official at al-Jala hospital, says the shelling took place late on Thursday when the family's home in al-Salam district came under intense shelling from the nearby al-Sabri neighborhood, a stronghold of Islamic extremists.
He says the children were between five and 10 years old.
Fighting has been raging in Benghazi for nearly a year, mostly between army units and fighters loyal to the internationally-recognized government on one side, and Islamic extremists, including militants from an Islamic State affiliate, on the other.
The fighting has killed hundreds and displaced thousands.
http://www.thejakartapost.com/news/2015/05/15/shelling-eastern-libya-kills-8-including-7-children.html#sthash.26yQAlMd.dpuf
---------
More than 350 child soldiers released by C.Africa armed groups: UNICEF
15 May, 2015
Armed groups in strife-torn Central African Republic released 350 child soldiers Thursday, honouring a deal signed with UNICEF, the United Nations children's agency said.
"After two years of heavy fighting, the release of children by these groups … is a real step towards peace," said UNICEF's representative in Bangui, Mohamed Malick Fall.
"This was the start of a process that we hope will result in the release of thousands of children associated with armed groups in the Central African Republic," said Fall.
"Each of them will require extensive support and protection so that they can rebuild their lives and resume their childhood," he added.
The UN agency estimates that between 6,000 and 10,000 children are held by armed factions in the impoverished country long riven by coups, army mutinies and insurgency.
The latest coup was launched by the largely Muslim Seleka rebel alliance in 2013, ousting president Francois Bozize.
But some of the Seleka rebels went rogue, and embarked on a killing, raping and looting spree.
In response, Christian communities formed "anti-balaka" — or anti-machete — vigilante forces who hunted down Muslims in revenge attacks.
http://www.ngrguardiannews.com/2015/05/more-than-350-child-soldiers-released-by-c-africa-armed-groups-unicef/
---------
Al-Qaeda-linked Belmokhtar group in N. Africa claims allegiance to IS
May 15, 2015
The jihadist group of notorious one-eyed Algerian militant Mokhtar Belmokhtar has pledged allegiance to the Islamic State organisation, according to an audio recording broadcasted by private Mauritanian agency Al-Akhbar.
The Al-Murabitoun group was linked to Al-Qaeda, but one of its leading members, Adnan Abu Walid Sahraoui, said in the recording that it was now aligning itself with the IS organisation.
"The Al-Murabitoun movement pledges its allegiance to the caliph of Muslims Abu Bakr al-Baghdadi, thereby banishing divisions and dissent within the nation," said Sahraoui.
The Mauritanian news agency, which regularly publishes statements by jihadists, said it had identified the voice in the audio as that of Sahraoui and that he was now the new leader of the group.
AFP was unable to obtain immediate confirmation from other sources.
Al-Murabitoun was born out of a merger between Belmokhtar's "Signatories in Blood" and MUJAO -- one of the jihadist groups that had seized control of northern Mali in early 2012 to 2013.
Full report at:
http://english.ahram.org.eg/NewsContent/2/8/130258/World/Region/AlQaedalinked-Belmokhtar-group-in-N-Africa-claims-.aspx
---------
Arab World
Tens of ISIL Terrorists Killed in Syrian Army Operations in Homs
15 May 2015
Syrian government troops targeted ISIL's positions in the Central Homs province, and killed or wounded a large number of the militants, military sources in the province announced on Thursday.
The sources said the Syrian army men, in fresh round of operations in nearby areas of Palmyra and al-Sekhneh cities and Rahoum village in the Eastern countryside of Homs province, pushed back the fighter from their positions and killed scores of them.
On Wednesday, the Syrian air force conducted air strikes on positions of the Islamic State of Iraq and the Levant (ISIL) terrorists in Homs countryside, leaving a large group of them dead.
The Syrian air force targeted concentration centers of ISIL terrorists in Be'r Hawaya al-Shams to the North of Palmyra, Wadi al-Sukkar, al-Qarya al-Namozajia and al-Jabal al-Dahekar in the Eastern countryside of Homs province, an informed source said.
A large group of the Takfiri militants were killed.
Syria has been faced massive insurgency since 2011. Damascus has always reiterated that the solution to the crisis is only political based on an inter-Syrian dialogue and led by Syria without foreign interference.
http://english.farsnews.com/newstext.aspx?nn=13940224000665
---------
Syrian Army Kills Tens of Al-Nusra Terrorists near Border with Jordan
15 May 2015
The Syrian Armed Forces identified and targeted a group of terrorists near the border with Jordan in the Southern province of Dara'a, military sources announced.
The sources said that scores of the fighters of al-Nusra Front were killed or wounded in the army's operations near Nasib border crossing in the countryside of Dara'a.
The source added that the terrorist group also left behind its equipment and retreated from the fighting area.
On Tuesday, the Syrian Army, along with popular forces, have been successful to push back the militant groups from some of the battlefields in Dara'a province, and killed or wounded tens of the fighters.
Full report at:
http://english.farsnews.com/newstext.aspx?nn=13940224000426
---------
Amid battle with IS, suicide attacks kill 10 police in Iraq
May 15, 2015
Three near-simultaneous suicide car bombings on Friday targeted an Iraqi government compound and killed 10 policemen in Ramadi, where government forces are battling Islamic State militants, officials said.
The attack was part of a new push by the Islamic State group to capture areas still controlled by the government in Ramadi, the provincial capital of the western Anbar province.
The coordinated attack damaged part of the Anbar Police Headquarters building, killed the 10 policemen and also wounded at least seven, said a police officer. He added that two Humvees seized from the Iraqi army earlier were used in Friday's attack.
Fighting was still underway around the Ramadi compound, which houses most of the city's government offices, said Athal al-Fahdawi, an Anbar councilman.
Full report at:
http://english.ahram.org.eg/NewsContent/2/8/130321/World/Region/Amid-battle-with-IS,-suicide-attacks-kill--police-.aspx
---------
Is ISIS About To Send Women To Die On Suicide Missions?
13 May, 2015
The emergence of an ISIS wedding certificate - which allows jihadi brides to carry out suicide mission without the husband's permission - suggests the terror group will use more women to carry out their twisted attacks, a counter-terrorism expert has told MailOnline.
Written in Arabic and signed by husband and wife, the chilling document states the final decision over her life - and death - rests with Islamic State's leader Abu Bakr Al-Baghdadi.
Under 'conditions of wife' it says: 'If the Prince of believers [Baghdadi] consents to her carrying out a suicide mission, then her husband should not prohibit her.'
This is Islamic State's desperate attempt to force women to the battle-front to replace the countless male soldiers being slain in bloody battles across Iraq and Syria, experts have told MailOnline.
The document emerges amid the shocking reports that three teenage girls have fled ISIS from their stronghold in Mosul, Iraq, and are currently being hunted down the by the militants.
'This is the next stage up from foolish British girls being lured to become sex slaves,' according to the Director of the Centre for Security and Intelligence Studies at the University of Buckingham.
Full report at:
http://www.dailymail.co.uk/news/article-3079857/Is-ISIS-send-women-die-suicide-missions-Chilling-fanatic-wedding-certificate-states-jihadi-brides-carry-bombings-without-husband-s-permission.html#ixzz3aBu6y5Ev
---------
IS leader urges Muslims to move to 'caliphate': recording
15 May, 2015
BAGHDAD: The leader of the Islamic State group Abu Bakr al Baghdadi on Thursday urged Muslims to emigrate to his self-proclaimed "caliphate", in the jihadist supremo's first audio recording in six months.
"And we call upon every Muslim in every place to perform hijrah (emigration) to the Islamic State or fight in his land wherever that may be," he said.
The voice reading the half-hour speech appeared to match previous audio recordings of Baghdadi, the latest of which was released in mid-November.
As did his previous speech, the audio tape recording released on Thursday comes a few days after media reports that he might have been seriously wounded in a strike by the US-led coalition bombing IS in Iraq and Syria.
Full report at:
http://tribune.com.pk/story/886795/is-leader-urges-muslims-to-move-to-caliphate-recording/
---------
Saudi-led coalition losing patience with Yemen truce breaches
15 May 2015
The Saudi-led coalition against Iran-backed Huthi rebels in Yemen warned on Thursday that its restraint "would not last long" in the face of continued breaches of a truce.
In a statement carried by the official Saudi Press Agency it said Iran-backed Shiite Huthi rebels "continue violating the truce for the second day in a row."
The coalition accused the militia of shelling Saudi troops in the border zone.
Inside Yemen, the rebels "continued moving their machineries, carrying out military operations, and targeting citizens' homes" with tanks and missiles in six provinces including Aden, it said.
Full report at:
https://en-maktoob.news.yahoo.com/saudi-led-coalition-losing-patience-yemen-truce-breaches-223131340.html
---------
Stub it out! 15% of youngsters hooked on smoking in KSA
15 May 2015
An expert has expressed serious concern at the increasing number of youngsters, particularly schoolchildren, getting addicted to smoking, and has urged the authorities to raise the prices of cigarettes.
Professor Mohammad bin Jabir Yamani, chairman of Naqaa society, said: "The percentage of smokers among young people varies from 13 to 15 percent. The number is rising among school-aged children also."
He said that the society has treated around 10,000 smokers, of which 60 percent completely gave up smoking.
Yamani said female smokers in the Kingdom form less than 6 percent, and hoped that the number is on the decrease. The society is working to decrease the number of smokers through targeting public education.
He confirmed that the society is coordinating with other societies and the Ministry of Health to raise the price of tobacco products in the Kingdom because they are less than those in other parts of the world. "The low prices encourage many people to buy tobacco products, in addition to other activities, which calls for concentrating on the education sector."
Yamani's comments came during a meeting of the Naqaa general assembly and the budget of 2014 and 2015, and the opening of a new branch in Hafr Al-Batin.
http://www.arabnews.com/saudi-arabia/news/746991
--------
Iranian shooting a clear violation of international law: Saudi FM
15 May 2015
The Iranian navy's shooting at a Singapore-flagged tanker in the Gulf on Thursday is a clear violation of international law, Saudi Arabia's foreign minister said, according to Reuters news agency.
Saudi Foreign Minister Adel al-Jubeir told reporters after Gulf nations' Camp David summit with U.S. President Barack Obama that the behavior must stop.
http://english.alarabiya.net/en/News/middle-east/2015/05/15/Iranian-shooting-at-clear-violation-of-international-law-Saudi-FM.html
---------
IS at gates of Syria's Palmyra raising fears for ancient city
May 15, 2015
Islamic State group fighters advanced to the gates of ancient Palmyra Thursday, raising fears the Syrian world heritage site could face destruction of the kind the jihadists have already wreaked in Iraq.
IS fighters were battling Syrian troops less than two kilometres (barely a mile) from the remains of one of the most important cultural centres of the ancient world, Syria's director of antiquities said.
The jihadists reached the oasis town after a lightning advance across the desert in which they overran government forces in fierce fighting that cost the lives of 110 combatants, the Syrian Observatory for Human Rights said.
"Palmyra is under threat," said Observatory director Rami Abdel Rahman.
Antiquities director Mamoun Abdulkarim said he was in touch with colleagues still in Palmyra every half hour
Full report at:
http://english.ahram.org.eg/NewsContent/2/8/130259/World/Region/IS-at-gates-of-Syrias-Palmyra-raising-fears-for-an.aspx
--------
Pakistan
Air strikes kill 17 militants in North Waziristan: officials
15 May, 2015
ISLAMABAD: Pakistani air strikes on Friday killed at least 17 militants in the country's restive tribal areas bordering Afghanistan, security officials said, part of a major operation against the Taliban.
The strikes came two days after the massacre of 45 minority Ismaili Muslims in Karachi claimed by the Islamic State group (IS) and the Taliban's Jundullah faction which has previously reportedly allied itself to IS.
The air force jets targeted militants' hideouts on the edge of the Afghan border in the thick mountainous forests in the Wareka Mandi area of Shawal district in North Waziristan tribal region, 65 kilometres (40 miles) west of its capital Miranshah.
"The air force jets pounded the areas close to the Afghan border in thick forests and killed at least 17 militants. Three compounds and five vehicles were also destroyed in the action," a security official in Miranshah told AFP.
The official said that the killed militants included Uzbek and Afghan nationals and members of the Tehreek-i-Taliban Pakistan (TTP).
Full report at:
http://www.dawn.com/news/1182151/air-strikes-kill-17-militants-in-north-waziristan-officials
---------
Militant commander among 13 killed in Kalat operation
15 May, 2015
QUETTA: The Frontier Corps (FC) on Friday continued into its second day the search operation in Johan area of Kalat district, FC spokesperson said.
Thirteen militants, including a Baloch Republican Army (BRA) commander, have been killed so far while six have been injured in the search operation that started yesterday.
Two militant hideouts, three explosive-laden vehicles and four motorcycles have also been destroyed.
The militants were reportedly involved in attacks on public transport and oil tankers on RCD highway.
On April 15, Prime Minister Nawaz Sharif met Army chief General Raheel Sharif to discuss national security and the law and order situation of Quetta.
Sources privy to the development told The Express Tribune that Operation Zarb-e-Azb might be expanded to Balochistan to fight against Baloch insurgents as well.
The army launched Operation Zarb-e-Azb against militants in North Waziristan in June 2014.
During his visit, the army chief presided over a law and order meeting at the Frontier Crops Balochistan Headquarters office.
The meeting came days after a sickening orgy of bloodshed played out in a remote town of southern Balochistan on April 11 when 20 construction workers were methodically massacred in a predawn attack on their camp near Turbat city in Kech district of Balochistan
http://tribune.com.pk/story/886937/militant-commander-among-13-killed-in-kalat-operation/
---------
Sense of insecurity rising in Karachi, says JI Ameer
15 May, 2015
KARACHI: Incidents like Karachi bus carnage draw serious questions on the effectiveness of the Karachi operation, chief of Jamaat-e-Islami (JI) Senator Sirajul Haq said on Thursday.
"The massacre of the members of Ismaili Community has exacerbated the sense of insecurity among the residents of the city," the JI chief said after visiting the injured at Aga Khan Hospital in Karachi.
He said that some elements were out to destabilise Pakistan. "Foreign agents are active in the country," he said.
People had heaved a sigh of relief on the targeted operation against the criminals. Although, Rangers and the civil administration are taking action, terrorists continue to strike with impunity, he said.
Full report at:
http://tribune.com.pk/story/886769/attack-on-ismaili-community-sense-of-insecurity-rising-in-karachi-says-ji-ameer/
---------
'Goodbye, my son!' — After spate of attacks, Shias flee Pakistan
15 May, 2015
QUETTA: After losing one of his two sons to the worst attack against minority Shias in Pakistan's history, Ali was determined for the other to find a new life abroad.
"Go," he told Iqbal Hussain, who left his job and family behind after losing his brother Mohammad Hassan to join thousands of others on treacherous waters in search of hope.
In the Shia-dominated Mari Abad quarter of Quetta, each family has tales of death and exile.
Sectarian violence — in particular by hardliners against Shias, who make up roughly 20 per cent of Pakistan's 200 million people — has claimed thousands of lives in the country over the past decade.
Full report at:
http://www.dawn.com/news/1182142/goodbye-my-son-after-spate-of-attacks-shias-flee-pakistan
---------
President says terrorism to be eradicated soon
15 May, 2015
ISLAMABAD: With terrorist attacks continuing to occur in different parts of the country, President Mamnoon Hussain claimed on Thursday the scourge of terrorism was on its last legs.
"The scourge of terrorism is taking its last breath, owing to effective actions by the government against terrorists," he said while addressing delegates attending the National Defence University's Workshop on National Harmony at the Presidency.
Mr Hussain said the terrorist attack in Karachi on Wednesday had served to expose the "desperation of terrorists".
"The cowardly terrorist attack on Wednesday was an attempt by anti-state elements to create fissures and despondency in society," he said.
The armed forces, the president said, had achieved commendable successes against terrorists and expressed the hope that the country would soon get rid of terrorism and extremism.
Over the past decade the nation had to endure many brutal acts of terrorism. However the nation not only bravely stood up to the terrorists but also took successful actions against them.
Full report at:
http://www.dawn.com/news/1182099/president-says-terrorism-to-be-eradicated-soon
---------
India
Road Signs with Muslim Names Defaced In Delhi, Hindu Outfit Own Responsibility
May 15, 2015
Signages of roads named after Muslim personalities such as Emperor Akbar and Firozshah, among others, were found defaced late Wednesday. The names have been blackened and posters of right-wing group — Shiv Sena Hindustan — were pasted on them.
The posters read, 'Bharat mein Islamikaran manzoor nahi. Safar mein mushkilen aaye himmat aur badti hai. Koi agar raasta roke toh zaroorat aur bhardti hai. Jai Hind! Jai Bharat! (Islamisation will not be tolerated in India. Our courage only grows when our journey meets difficulties. Our need only grows when our path meets with obstacles)'.
The names of Rajinder Singh (national president), Charan Singh (national general secretary), Dinesh Kumar (national secretary) and Vinay Sonkar (secretary) of Shiv Sena Hindu-stan were also on the poster.
Outfit president Rajinder Singh said around 17 members, in three teams, carried out the "operation" between 11 pm and 1 am on the intervening night of May 13-14.
Full report at:
http://indianexpress.com/article/cities/delhi/road-signs-with-muslim-names-defaced-hindu-outfit-says-we-did-it/99/
---------
India suspects ISI-backed Haqqani network behind attack
Indrani Bagchi,TNN | May 15, 2015
NEW DELHI: India is not buying the theory that the Taliban was behind the attack in the Park Palace guesthouse in Kabul on Wednesday. Instead, Indian suspicion points to the Haqqani-LeT network which take instructions directly from the ISI in Pakistan.
"Taliban monitor their attacks minute by minute," said a source. In case of Wednesday night's attack, the Taliban spokesperson sent a claim in an emailed statement the following morning.
In the statement, Taliban spokesman Zabihullah Mujahid said one of the insurgents' operatives carried out the attack with the aim of killing foreign citizens in retaliation for the US and its allies supporting the Kabul government of President Ashraf Ghani. "The occupying forces should realize that they are not safe from our attacks under any cover or in any location," Mujahid said.
In May 2014, the supposed Taliban attack on the Indian consulate in Herat turned out to have been carried out by LeT. The big attack on the Indian embassy in Kabul in 2008 was also carried out by the Haqqani network, ostensibly under instructions from Pakistan.
http://timesofindia.indiatimes.com/india/India-suspects-ISI-backed-Haqqani-network-behind-attack/articleshow/47291430.cms
---------
IS hostage crisis: Should we believe Masih or govt, asks Victims' kin
May 15, 2015
Upset by the revelations of Harjit Masih, the 40th hostage who escaped IS militants in Iraq, the family of the other 39 men now want the Indian government to immediately clear the air about their fate. The frustrated families are also unsure of whom to trust: Masih, who claims that all 39 have been killed or the government, which disagrees with him. "On one hand, Masih is claiming that the abducted Indians have been killed and on the other, External Affairs Minister Sushma Swaraj is saying that there are eight sources who say that the abducted Indians are not dead. No one has any proof to substantiate their claims," said Sarwan Singh, a resident of Singoana in Amritsar district whose brother Nishan Singh is among the 39 men whose fate is unclear.
Full report at:
http://indianexpress.com/article/india/india-others/is-hostage-crisis-should-we-believe-masih-or-govt-asks-victims-kin/
---------
South Asia
6 Taliban Militants Killed While Transporting Suicide Vests In Badghis, Afghanistan
15 May, 2015
At least six Taliban militants were killed following an explosion inside a car while they were transporting suicide bombing vests.
The incident took place in Badghis province in western part of the country, local officials said Thursday.
The officials further added that the Taliban militants were looking to use the suicide bombing vests for a coordinated attack on Afghan security forces.
Provincial police chief Mohammad Qayum Angar said the militants were transporting the suicide vests inside a car from Herat province to Bala Morghab district of Badghis.
The Taliban militants group has not commented regarding the report so far.
Badghis is among the relatively volatile provinces in western part of the country where anti-government armed militants are actively operating in a number of its districts and often carry out insurgency activities.
Full report at:
http://www.khaama.com/6-taliban-militants-killed-while-transporting-suicide-vests-in-badghis-1097
---------
Five insurgents killed in Kandahar
15 May, 2015
Five insurgents have been killed during separate gun battles with security forces in restive Kandahar province.
Local officials say the gun battles erupted after groups of Taliban militants attacked security check posts in Kasi and Jar areas of Marouf District around 09:00 AM yesterday.
Five militants were killed and two others wounded during the clashes. One soldier also wounded in the clashes.
No terrorist network has commented on the reports yet but it comes during a serious of attacks carried out by Taliban militant group across the country.
Their latest attack was in Kabul on Wednesday night that according to UN left 14 civilians killed and several others wounded.
These attacks are taking place after Taliban announced their spring offensive earlier this month.
http://www.khaama.com/five-insurgents-killed-in-kandahar-3357
---------
Myanmar Muslim migrants 'drinking their own urine' to survive after Thailand refuses boat entry
15 May, 2015
Myanmar migrants left abandoned at sea after being refused entry to Thailand have been forced to drink their own urine to survive, it has been reported.
At least ten people have died on the fishing boat which has been stranded in the Andaman Sea for the last week with up to 350 Rohingya Muslims on board, the BBC has reported.
An estimated 6,000 Myanmar refugees have been left abandoned as other countries in Southeast Asia turn boats carrying hundreds of people away.
The region finds itself in a spiralling humanitarian crisis as members of Myanmar's 1.3 million Rohingya Muslims attempt to flee persecution in the Buddhist-majority country.
According to reports, more than 120,000 members of the Muslim minority have boarded ships to other countries in a bid to escape.
Smugglers however have now started to abandon ships, leaving migrants to fend themselves, in the face of a crackdown by the security forces of other countries.
Full report at:
http://www.independent.co.uk/news/world/asia/myanmar-muslim-migrants-abandoned-at-sea-drinking-their-own-urine-to-survive-after-thailand-refuses-boat-entry-10249854.html
---------
Europe
700 'terror suspects' have travelled to Syria, Scotland Yard says
15 May, 2015
More than 700 Britons of "significant concern" have travelled to Syria, the country's top counter-terrorism officer has disclosed.
Mark Rowley, the Metropolitan Police assistant commissioner, revealed the new figure as he said he was becoming increasingly concerned that young people who would once join street gangs are now turning to terrorism.
More than a third of the 700 suspects who have been to follow jihad in Islamic State are now back in Britain, Mr Rowley confirmed.
The "make up" of terrorism is changing with more girls, women and younger boys becoming involved, he said.
"It is a replication of gang crime," said Mr Rowley.
"Young people who were getting drawn into gang crime, particularly those with troubled histories, are now turning to this."
Data released by the Met showed last year saw the largest number if terrorism arrests on record.
Full report at:
http://www.telegraph.co.uk/news/uknews/terrorism-in-the-uk/11605362/700-terror-suspects-have-travelled-to-Syria-Scotland-Yard-says.html
----------
Baroness Warsi warns how British Muslims fear Government 'Cold War' against their faith
15 May, 2015
British Muslims fear the Government is fighting a "Cold War" against their faith which could result in an increase in extremist radicalisation, a former Conservative minister has warned.
Sayeeda Warsi, who was Britain's most senior Muslim minister until she resigned last year, told The Independent that plans to crack down on so-called non-violent extremism announced earlier this week could be counter-productive and alienate mainstream Muslims from British society.
She warned that the new policy must be "applied consistently across all communities" and include "all forms of extremism" without criminalising thought.
Significantly, Baroness Warsi's stance has been backed by the think-tank Quilliam, which has advised the Home Secretary Theresa May on anti-extremism policies.
Haras Rafiq, the organisation's Managing Director, said the Government's new policy risked leaving the Muslim community feeling disenfranchised.
Full report at:
http://www.independent.co.uk/news/uk/politics/baroness-warsi-warns-how-british-muslims-fear-a-government-cold-war-against-their-faith-10251249.html
---------
UNESCO Terms ISIL Looting of Archeological Sites in Syria, Iraq as War Crime
15 May 2015
Director-General of the United Nations Educational, Scientific and Cultural Organization (UNESCO) Irina Bokova said that destruction and looting of the archeological sites by the ISIL terrorists in Syria and Iraq should be condemned as war crimes.
"The stakes are high," Bokova said in the inaugural session of Cultural Property Under Threat (CPUT) Conference in Cairo on Wednesday.
"The destruction and looting of archaeological sites and museums (by terrorists in Syria and Iraq) have reached unprecedented levels," she further added.
"We must consider it for what it is: A war crime," she stressed.
The conference is being held in Cairo in response to the destruction of ancient temples and artifacts in Iraq by the ISIL group as well as the looting and smuggling of antiquities in Iraq, Syria, Egypt and Libya.
http://english.farsnews.com/newstext.aspx?nn=13940224000522
---------
Nazir Afzal: Five things I've learned from Muslim women's groups
15 May, 2015
Hundreds of people from the UK have travelled to support or fight for jihadist organisations in Syria and Iraq, according to official UK figures. Most of them are thought to have joined the group that calls itself Islamic State.
But many groups in the UK, set up by Muslim women, are now actively working to stop people joining extremist groups.
Nazir Afzal is a former chief crown prosecutor for the Crown Prosecution Service for north-west England. He prosecuted the Rochdale sexual grooming cases in 2012, has also worked closely with these women's groups.
Here he outlines five things they have taught him.
1. Community schemes work best.
Government anti-radicalisation measures like Channel and Prevent, though said to be "tried and tested", are not working. The latest figures show that more than 1,000 people have gone to Syria. We need to replace these top-down schemes with ones based in the community, run by new people.
Full report at:
http://www.bbc.com/news/uk-32723381
---------
Students were asked to sit apart, during a talk, at The University of Western Sydney
15 May, 2015
The segregation of men and women in a lecture theatre during a talk by a radical Muslim group - which was last year forced to cancel a Sydney Opera House sermon about honour killings being 'morally justified' - was against university rules, officials have insisted.
During the talk organised by The University of Western Sydney's Muslim Students Association in Parramatta, Hizb ut-Tahrir Australia spokesperson Wassim Doureihi and preacher Mohammed Hoblos reportedly instructed female students to sit at the back of the lecture theatre.
Meanwhile, men were allowed to sit in the front 'five rows', the Daily Telegraph reports.
A UWS spokesperson told Daily Mail Australia: 'As a proud supporter of gender equality, the university does not support the segregation of men and women at any university event or public forum on a university campus.'
Full report at:
http://www.dailymail.co.uk/news/article-3082687/Men-woman-Muslim-group-breaks-university-rules-segregating-sexes-talk-given-member-radical-organisation-Hizb-ut-Tahrir.html#ixzz3aBs8Mwan
---------
Southeast Asia
Najib: Moderation key in fighting anti-Islam issues
15 May, 2015
PUTRAJAYA: Moderation is the key to fight against Islamophobia, liberalism and extremism, said Datuk Seri Najib Tun Razak.
The Prime Minister said the Government believed that the wasatiyyah (moderation) approach was the most suitable way to deal with the issues plaguing the Muslim world today.
"We are constantly shown a negative image of Islam through the world's mainstream media, in television, and even in video games.
"Some say that Islamophobia is a USD200mil industry.
"The case of Charlie Hebdo and the Prophet Muhammad caricatures have been defined in Europe as freedom of expression.
"However, freedom of expression should not be mistaken as a freedom to offend, to the extent of inciting violence and hatred.
"We cannot take the easy path and pin the blame on the enemies of Islam. But it is important for us to reflect on the issues and challenges faced by Islam.
"Adopting extremist approaches and closed-minded views on certain issues will certainly paint a negative picture of Muslims in the eyes of others.
Full report at:
http://www.thestar.com.my/News/Nation/2015/05/14/najib-razak-moderation-key-to-fighting-issues-against-islam/
---------
4 killed as Philippine troops clash with Abu Sayyaf
May 15 2015
The Philippine military says troops overran a bomb factory of Abu Sayyaf militants after a firefight that killed three insurgents and a soldier in the country's restive south.
Military commander Rear Adm. Reynaldo Yoma said troops clashed with 25 militants who also included one Malaysian on Basilan Island on Thursday.
The four-hour battle left one soldier dead and seven wounded, and on the side of the militants, three killed and three wounded.
The Abu Sayyaf, a loose grouping of around 400 Muslim rebels, has turned to ransom kidnappings, extortion and other crimes to survive years of battle setbacks dealt by U.S. military-backed Philippine offensives.
http://www.thejakartapost.com/news/2015/05/15/4-killed-philippine-troops-clash-with-abu-sayyaf.html#sthash.4JktpjmS.dpuf
---------
Even Obama looks up to Najib's leadership, minister claims
15 May, 2015
KUALA LUMPUR, May 15 — Datuk Seri Najib Razak's adept handling of the country has received the seal of approval from top leaders across the globe, a federal minister declared today as he defended the prime minister amid calls for his resignation.
Datuk Seri Hasan Malek, who is domestic trade, cooperatives and consumerism minister, said Najib has the support of countries such as the United States, China and Turkey.
"The world recognises the leadership of this country, Datuk Seri Najib. Whether you like it or not, this and that, Obama looks up to Najib's leadership," Hasan said in his speech at a Malaysia Competition Commission (MyCC) event here, referring to US President Barack Obama.
"Also the president of China, even Turkey. These are all world leaders," he added, referring to Xi Jinping and Recep Tayyip Erdoğan.
http://www.themalaymailonline.com/malaysia/article/even-obama-looks-up-to-najibs-leadership-minister-claims#sthash.CeNe7RXg.dpuf
---------
Nearly 800 Migrants Reach Indonesia, Others Sent Back to Sea
15 May, 2015
Bangkok/Jakarta. Nearly 800 "boat people" were brought ashore in Indonesia on Friday but other vessels crammed with migrants were sent back to sea despite a UN call to quickly rescue thousands set adrift in Southeast Asian waters.
Smugglers have abandoned ships full of migrants, many of them hungry and sick, in the Andaman Sea following a Thai crackdown on human trafficking. Thailand is the first stop on the most common trafficking route used by criminals preying on Rohingya Muslims fleeing persecution in Myanmar and Bangladeshis seeking to escape poverty.
"The latest information we have is about 794 people were found in the middle of the sea and brought ashore by fishermen at 5 a.m. on Friday morning," Khairul Nova, a search and rescue official in Langsa, a town in Aceh, told Reuters by phone.
"They are now in a warehouse by the port as a temporary arrangement," Nova added.
Nearly 1,400 migrants have landed in Aceh on Indonesia's western tip, and over 1,000 have landed in Malaysia. Aceh is just across the Malacca Strait from Thailand and Malaysia.
Full report at:
http://thejakartaglobe.beritasatu.com/news/nearly-800-migrants-reach-indonesia-others-sent-back-sea/
---------
Police arrest suspected IS member
15 May, 2015
The police are interrogating Muhammad Riduansyah and five of his family members following his arrest at Juanda International Airport on Thursday.
Riduansyah is suspected of being a member of the Islamic State (IS) organization.
East Java Police spokesperson Adj. Sr. Comr. Dwi Setyorini said Riduansyah was arrested when he was about to depart for Syria via Penang, Malaysia.
"He is on the National Police's most wanted list," she said here on Friday.
Riduansyah's official domicile is in Gunung Lingkas village, East Tarakan district, North Kalimantan.
http://www.thejakartapost.com/news/2015/05/15/police-arrest-suspected-is-member.html#sthash.SIBOMjWj.dpuf
---------
North America
FBI Uses National Security as Excuse to Suppress Muslim-Americans
15 May, 2015
WASHINGTON (Sputnik) — The FBI is making an effort to "evilize" Islam, Siblani explained, by implying that Muslim-Americans are killers.
"Of course they do [place restrictions on Muslim-Americans] all the time, like putting new laws and regulations," Siblani said on Thursday. "Right now they are putting too much emphasis on the internet."
In light of allegations about terrorist attacks being carried out in the United States, the US government is stripping Muslims of their rights as US citizens, Siblani claimed.
"They are taking our rights under the Patriot Act. It's getting more difficult. I mean they harass people. If you are an Arab or Muslim you're coming in, they harass the Hell out of you."
Moreover, the US authorities are using what is happening in the Middle East, he argued, to enforce stricter laws on Muslims living in the United States, all in the name of homeland security.
"You want to be secure or you want your rights? I want them both, but the government is not giving me a choice"
Full report at:
http://sputniknews.com/us/20150515/1022163040.html#ixzz3aBwNKMj8
---------
No operational linkage between ISIL in Iraq, Syria and Pakistan: US State Dept
15 May, 2015
Amid growing concerns over Islamic State in Iraq and Levant's (ISIL) growing influence in the region after pamphlets were found near the site of an attack on a bus in Karachi, the US State Department said on Thursday that connections between the Islamic State (IS) in Iraq and Syria and Pakistan or South Asia rhetorical.
During the daily press briefing, Press Office Director Jeff Rathke was asked about concerns regarding ISIL's capabilities.
"In general terms, we certainly are concerned about the possibility of ISIL influence spreading."
On an IS affiliate claiming responsibility for Wednesday's attacks, Rathke said that so far they did not believe there was any operational linkage between groups.
"Up until now, our estimation has been that these are primarily of a rhetorical nature, not of an operational linkage between ISIL in Iraq and Syria and Pakistan or South Asia."
He refused to comment on the details of the attack as an investigation is underway led by the Pakistani authorities.
http://tribune.com.pk/story/886804/no-operational-linkage-between-isil-in-iraq-syria-and-pakistan-us-state-dept/
---------
Obama to back Gulf allies against any 'external attack'
15 May 2015
President Barack Obama has vowed to back Gulf allies against any "external attack," seeking to reassure them of Washington's commitment to their security amid Arab anxiety over US-led efforts to reach a nuclear deal with Iran.
Obama, hosting the six-nation Gulf Cooperation Council for a rare summit at the Camp David presidential retreat, pledged that the US would cooperate with them to address what he called Iran's "destabilizing activities in the region."
"The United States will stand by our GCC partners against external attack and will deepen and extend cooperation that we have," Obama told reporters, with Gulf leaders standing by his side at the end of the talks.
Full report at:
http://www.aljazeera.com/news/2015/05/obama-holds-security-talks-gulf-arab-leaders-150514170745879.html
---------
Iraqi Who Worked for the U.S. Military Is Arrested in Texas in Link to Islamic State
15 May, 2015
WASHINGTON — An Iraqi man who worked as a translator for the American military before moving to the United States in 2009 was arrested on Thursday in Texas by F.B.I. agents who say he pledged allegiance to the leader of the Islamic State last year and misled them about his travels to Syria.
The Justice Department said that the man, Bilal Abood, 37, a naturalized American citizen who lives in Mesquite, a Dallas suburb, was charged with lying to an agent after he denied last month that he had pledged loyalty to Abu Bakr al-Baghdadi, the head of the self-described Islamic State.
An examination of his computer, seized in July under a search warrant, showed that on June 19 he had written on Twitter, "I pledge obedience to the Caliphate Abu Bakr al-Baghdadi," officials said. The caliphate is the unified Muslim state that Mr. Baghdadi claims to have created, which is also known as ISIS or ISIL.
Full report at:
http://www.nytimes.com/2015/05/15/us/iraqi-who-worked-for-the-us-military-is-arrested-in-texas-in-link-to-islamic-state.html?_r=0
---------
Rep. Steve King: There's No Anti-Muslim Discrimination In America
15 May, 2015
Iowa Congressman Steve King find it "appalling" that Homeland Security Secretary Jeh Johnson wants to "give voice to the plight of Muslims living in this country and the discrimination they face." He says Muslims don't face discrimination in America.
Iowa talk radio host Jan Mickelson played King a clip of Johnson's remarks at a February summit on violent extremism, asking incredulously, "So the guy that we put in charge of homeland security thinks that it's his job as chief of the homeland security to give voice to Muslims while calling Islam the religion of peace?"
"This is just appalling to think that the man who's in charge of protecting Americans domestically would take a position like that, Jan," King responded.
"The president can dredge up his Crusader history and try to leverage that back against us to guilt us," he said, referring to President Obama's remarks at the National Prayer Breakfast, "but what's this discrimination that's going on against Muslims in this country? I'm not seeing it. I mean, they're beheading Christians on the shores of the Mediterranean Sea, and some people are speaking ill of that component. So where are the moderate Muslims speaking up?"
http://radio.foxnews.com/2015/05/14/rep-steve-king-theres-no-anti-muslim-discrimination-in-america/
---------
US lamb producers eye growing halal meat market
15 May, 2015
Lamb and sheep meat producers in the US have refocused their sights on Americas Muslim families to expand business.
The American Lamb Board is hoping it can entice the 5.7 million Muslims living in America and their $98 billion spending power, according to a report aired on National Public Radio this week in its food section, The Salt.
Megan Wortman, the executive director of the American Lamb Board, whose report was aired on NPR, told Luke Runyon of Harvest Public Media and KUNC in northern Colorado that the board's members have planned large media campaigns for "pasture-to-plate lamb" in Muslim hotspots such as Detroit, Chicago and New York.
The report notes that meat producers are cognisant of the "halal" animal slaughtering and processing procedures in order to make their product acceptable for Muslim families.
Americans in general are not particularly fond of lamb, consuming about a half-pound of lamb a year. On the other hand, they eat 50 pounds of beef and almost 90 pounds of chicken annually.
Full report at:
http://tribune.com.pk/story/886546/us-lamb-producers-eye-growing-halal-meat-market/
---------
Mideast
Protesters call on Saudi Arabia not to execute top Shia cleric
15 May, 2015
Protesters in Iran and India urged Saudi Arabia's to halt plans for executing a prominent Shia cleric Ayatollah Nimr al-Nimr.
Clerics protesting in the Iranian city of Qom said Saudi Arabia will pay a heavy price if it executes the religious leader, warning the execution could trigger "an earthquake" that would lead to the downfall of the Al Saud dynasty. His sentence is expected to be carried out soon.
The protesters also chanted slogans against the Saudi regime and called for the cleric's immediate release.
Protests were also witnessed in India where scores of people poured into Lucknow streets to demand the cleric's immediate release.
The protestors expressed their strong opposition to the Saudi government's decision.
A Saudi court had in October 2014 sentenced Nimr to death after convicting the anti-government protest leader of "sedition".
Full report at:
http://tribune.com.pk/story/886526/protesters-call-on-saudi-arabia-not-to-execute-top-shia-cleric/
---------
IS has no foothold in Gaza: Hamas
15 May 2015
GAZA: Islamic State sympathizers in the Gaza Strip are making their presence felt on social media, but the enclave's Hamas rulers said on Thursday the group has no real foothold in the Palestinian territory.
Statements signed "Supporters of the Islamic State" have appeared recently on Twitter and several websites, accusing the group Hamas of arresting dozens of militants and threatening attacks in Gaza.
Hamas said it had detained what it described as "lawbreakers" after an explosion earlier this month near a Hamas security headquarters and another blast outside the headquarters of the UNRWA.
A senior security official loyal to Hamas described the explosions, for which no group has claimed responsibility, as no more than "noise bombs," saying Islamic State existed "only on the Internet" in Gaza.
Full report at:
http://www.arabnews.com/middle-east/news/746881
---------
Against US Wishes: Iran Sends Aid Ship for Yemen
15 May 2015
Iran has dispatched a civilian cargo ship full of aid for the people of Yemen and it's not surprising. It's necessary and of its international responsibility.
Amid the lull in fighting, Iran is not taking any chances though. An Iranian naval escort in the Gulf of Aden and Bab al-Mandaab Strait will see to it that the humanitarian aid reaches its destination.
Riyadh and the Pentagon claim it is "unnecessary" for Iran to provide an escort for their ship! They even accuse Iran of "planning some sort of stunt", which is absurd. Obviously, they are not happy to see Iran deliver any aid, even though it is legal and pretty much urgent:
- Yemen has suffered through an illegal war and blockade. Despite the threats and challenges, Tehran is determined to help. It will deliver vital medicines to clinics and hospitals and respond in times of crisis with further humanitarian relief and aid – work that could save many lives on the ground.
Full report at:
http://english.farsnews.com/newstext.aspx?nn=13940224000903
---------
Houthi field commander killed: sources
15 May 2015
Abu Ali al-Hakim, the field and military commander of the Iran-backed Houthi militia in Yemen, has been killed, sources told Al Arabiya News Channel on Friday.
Hakim, who is considered to be second in command below Abdulmalik al-Houthi, was reportedly killed after sustaining injuries prior to the ceasefire which was announced on Tuesday.
He was blacklisted by a U.N. Security Council resolution, which placed arms embargo on the militia in April.
The Saudi-led coalition started a five-day humanitarian truce on Tuesday.
http://english.alarabiya.net/en/News/middle-east/2015/05/15/Houthi-field-commander-killed-sources.html
---------
Israel army wounds 10 Palestinians in West Bank clashes
15 May 2015
Rubber bullets and live fire by Israeli soldiers wounded at least 10 Palestinians on Friday during clashes in the northern West Bank city of Nablus, security sources and witnesses said.
The Israeli army confirmed the clashes, but denied its forces used live rounds.
More 1,000 settlers from nearby Jewish settlements were bussed into the city to visit Joseph's Tomb early in the day, and soldiers blocked off roads leading to the pilgrimage site, Palestinian witnesses and security sources said.
The Palestinians protested, some throwing stones, before clashes broke out with the army.
A spokeswoman for the military said the army had "escorted" up to 3,000 Jewish visitors to the tomb since Wednesday evening, and that a crowd of some 200 Palestinians had approached the area throwing stones and burning tyres.
Full report at:
http://english.alarabiya.net/en/News/middle-east/2015/05/15/Israel-army-wounds-10-Palestinians-in-West-Bank-clashes-.html
----------
URL: https://www.newageislam.com/islamic-world-news/new-age-islam-news-bureau/chadian-army-kills-250-boko-haram-terrorists/d/102974