New Age Islam News Bureau
4 Sept 2014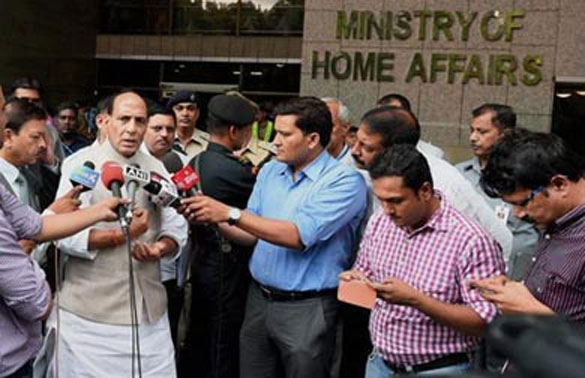 Centre has sounded an alert to all States and security agencies to take possible precautionary steps in view of the al Qaeda's threat to the country. File photo PTI
-------------
India
• Centre Sounds Alert as Al-Qaida Terror Video Targets India
• Far away from home, Yazidi student in Delhi prays for family's safety
Arab World
• Group of 10,000 ISIS Fighters Now Controls a Territory the Size of Britain
• Iraqi Airstrike Kills 45 Terrorists in Fallujah
• Syrian airstrike kills 10 children in east Syria
• Egypt's Sisi: Stalled Mideast peace process fuels jihadists
• Iraq: ISIS leader's top aide killed in air strike
• Path to Jihad: From Upscale Cairo to ISIS Beheadings
• 183 Rebels Surrender to Syrian Authorities
• ISIS wants inmates freed to help create Lebanon base
• Al Qaeda-held Saudi diplomat in Yemen makes video plea
North America
• Sotloff's Family Challenges ISIS for Debate on Islam
• ISIS Barks Louder, But It's No Al-Qaeda: Expert
• A 'Concerned' US Is Monitoring the Rise of Anti-Semitism Worldwide
• Kerry appoints a special representative to Muslim communities as IS menaces rise
• Canadians held Americans hostage in Syria: report
• U.S open to new Gaza resolution if it helps truce
Pakistan
• IS literature circulated in parts of Khyber Pakhtunkhwa
• Jamaat-i-Islami blasts PTI govt for 'removing' Islamic contents from syllabus
• Outlawed TTP says 25-30 militants killed in Zarb-e-Azb
• Qadri won't end rally until Sharifs ousted
• Altaf directs MQM lawmakers to submit resignations
• 'This is the first time Parliament has stood united against undemocratic forces': Senator
• New TTP group 'Jamaat ul Ahrar' breaks away from Mullah Fazlullah
• Imran, Qadri will be responsible for any instability: Shahbaz Sharif
• TTP splinter group spokesman rebuts militant death figures
• Govt, opposition Jirga hold talks with PAT
• PTI told PAT not to enter parliament: Qureshi
• Govt accepts all demands except PM's resignation: Imran
• Zardari says middle ground will have to be found to resolve crisis
South Asia
• Taliban truck bombs in Afghanistan kill 18, wound 150
• Post-Nato Afghanistan: Hizb-e-Islami intensifies efforts for active role
• Taliban ready to play role in ending violence in Afghanistan
• Religious extremists killed Faruqi in planned way
Southeast Asia
• Sabah politician faces sedition charge over Facebook post on Islam
• Amid PPS crackdown, Najib says cannot allow anyone to do as they please
• Thailand picks team for talks with Muslim rebels
Africa
• Helicopters bomb Islamists' sites in Libya's Benghazi
• Rights groups call for S. Sudan arms embargo to end 'atrocities'
• S. Sudan President Calls for Integration of Former Militia Groups
• Nigeria: Military Takes Delivery of New Hardware, Insurgents' Death Toll Rises to 130 in Bama
Europe
• Global drive to stop Jihadis going to Syria, Iraq
• IS militants vow to 'de-throne' Putin over Syria support
• Cameron and Obama vow to 'confront' Islamic State
• General denies Fiji Muslims face UN hostage backlash
• Two mosques attacked in Germany's Lower Saxony
• French far right weekly irked over 'Muslim minister'
• UK: Syria strikes possible without Assad invite
• Kyrgyz Envoy Hails Iran's Regional Diplomacy
Mideast
• Opposition tells Israel PM to seize 'diplomatic opportunity' with moderate Arab states
• Israel raids, closes Palestinian Al-Aqsa Foundation
• Israeli strike in Gaza kills Saudi fighter
• 200 Palestinian bodies found in Tel Aviv mass graves
• We underestimated Gaza fighters: Israeli official
Compiled by New Age Islam News Bureau
URL: https://www.newageislam.com/islamic-world-news/new-age-islam-news-bureau/centre-sounds-alert-as-al-qaida-terror-video-targets-india/d/98900
-----------
India
Centre Sounds Alert as Al-Qaida Terror Video Targets India
PTI | Sep 4, 2014
NEW DELHI: The Centre on Thursday sounded a countrywide alert after an al-Qaida video appeared in which the terror outfit threatened to carry out campaign in India.
Home minister Rajnath Singh went into a huddle with top security officials as an initial assessment of the Intelligence Bureau (IB) found the video to be genuine.
An alert has been issued by the home ministry to all states and security agencies to take possible precautionary steps, home ministry officials said.
Security agencies feel the video could be an attempt by al-Qaida to carry out fresh recruitment in the sub-continent as it stares at diminishing influence vis a vis the ISIS.
Singh, who discussed the issue with top security officials, later told reporters that the Prime Minister's Office has been informed about the video.
Ministry officials said an assessment is being made about the presence of al-Qaida in the country.
The IB, which constantly monitors the activities of terror outfits operating in the country and its neighbourhood, is expected to send the report in this regard within a day or two, officials said.
US media and intelligence agencies said that al-Qaida has established a new branch to wage "jihad" in India, "return the Islamic rule" and impose Sharia in the Indian sub-continent.
The creation of the group called "Qaedat al-Jihad in the Indian Subcontinent" was announced by As Sahab, al-Qaeda's official media outlet, in a lengthy video posted on social media outlets including YouTube.
Al-Qaida is active in Afghanistan and Pakistan, but the group's leader Ayman al Zawahiri said "Qaedat al-Jihad" would take the fight to India, Myanmar and Bangladesh.
Zawahiri said the group will defend the "vulnerable in the Indian subcontinent, in Burma, Bangladesh, Assam, Gujarat, Ahmedabad, and Kashmir..." and "your brothers in Qaedat al-Jihad did not forget you and that they are doing what they can to rescue you from injustice, oppression, persecution, and suffering".
http://timesofindia.indiatimes.com/india/Centre-sounds-alert-as-al-Qaida-terror-video-targets-India/articleshow/41697550.cms
-----------
Far away from home, Yazidi student in Delhi prays for family's safety
Sep 4, 2014
Three years ago, when he came to India to study pharmacy, Hussein (name changed) was just another Iraqi student pursuing his dream of a better future. Today, that dream is perhaps the last thing on his mind. One of the two Yazidis left in India, he fears for the safety of his family back home — as well as his own.
Hussein says his family had to leave their home in Shekhan district and flee to the mountains because of the advancing Islamist militant group ISIS, which has been targeting his religious community. "Seventy people from my community were forced by the ISIS to convert at gunpoint. My family fled our home for fear of the advancing ISIS forces and are living in the mountains but Kurdish forces are constantly trying to push them back," says Hussein.
"ISIS has given an ultimatum that they will kill 150 families this Friday. I am worried about my parents, brothers and sisters. There are very few people from my religion and we are being targeted by ISIS. I want the Indian government to help us," says the 25-year-old, who was among 16 students from the community who came to study at the Rajiv Gandhi University of Health Sciences in Bangalore.
He says contact with his family has been limited to a few SMSes every three or four days, when one of his brothers comes down from the mountains to the city to buy rations and gets to charge the family's mobile phone.
Fourteen of Hussein's Yazidi college mates went back home for the vacations. Some of them have since gone missing while others are living in the mountains, surviving on the limited rations that the Kurdish forces dole out. Hussein and another student stayed back to study — something that he has barely done in the past few days.
He took leave from his college principal for the trip to Delhi so that he could help his family and community by highlighting their plight.
In Delhi, Hussein lives in fear of being attacked by fellow Iraqi students given the vitiated atmosphere at home. In the 10 days that he has been here, he has shifted hotels twice, finally taking refuge in a religious place in central Delhi with the help from a relief organisation. Hussein is being helped in his efforts to garner support for his community by an NGO called the Live Values Foundation, which has now relocated him to a safe location.
"Our MP Vian Dakhil (who recently highlighted the plight of the Yazidis in Iraqi Parliament) was supposed to come to India and meet Prime Minister Narendra Modi. But she was injured in a helicopter crash. Now a three-member delegation will come to India to talk to the Indian government about the plight of the Yazidis," he says.
http://indianexpress.com/article/india/india-others/far-away-from-home-yazidi-student-in-delhi-prays-for-familys-safety/
--------
Arab World
Group of 10,000 ISIS Fighters Now Controls a Territory the Size of Britain
The Independent | Sep 4, 2014
ISIS now controls territory the size of the UK, is making £600,000 a day from selling oil and ransoming hostages and has a fighting force of 10,000 militants, according to a leading expert.
Matthew Olsen, a senior US counter-terrorism official, said the Islamic State, also known as ISIS, was "an extremely dangerous organisation operating in a chaotic part of the world" and saw itself "as the new leader of the global jihadist movement".
ISIS began in Syria during the rebellion against President Bashar Assad, but took huge swathes of northern Iraq earlier this year.
Olsen said Isis had expanded quickly partly because of the weakness of the governments of Syria and Iraq.
"ISIS threatens to outpace al-Qa'ida as the dominant voice of influence in the global extremist movement," he said, according to the Daily Telegraph.
But he added: "As formidable as ISIS is as a group, it is not invincible. With a broad coalition of international partners, we have the tools to defeat ISIS based on a determined and comprehensive all-of-government approach."
Air strikes by US warplanes in combination with attacks by Iraqi and Kurdish troops had showed Isis was "vulnerable to coordinated and effective military action", he said.
"The strikes have begun to sap ISIS's momentum and created the space for Iraqi and Kurdish forces to take the offensive," he said.
But Olsen warned there were others who could pose a threat to the West. "ISIS has captured our immediate focus, but it is only one of the myriad groups that pose a threat to us at the terrorist landscape evolves," he said.
http://timesofindia.indiatimes.com/world/middle-east/The-rise-of-ISIS-Group-of-10000-fighters-now-controls-a-territory-the-size-of-Britain/articleshow/41692643.cms
-----------
Iraqi Airstrike Kills 45 Terrorists in Fallujah
Sep 4, 2014
The Iraqi air force fighter jets killed 45 terrorists of the Islamic State of Iraq and the Levant (ISIL), including the so-called Saudi Emir in Fallujah.
"The air force hit a group of ISIL members in Fallujah district where 45 terrorists have been killed, including Saudi Emir. In a related development, the army destroyed four vehicles loaded with arms belonging to the ISIL," a security source said on Wednesday.
http://english.farsnews.com/newstext.aspx?nn=13930613000352
-----------
Syrian airstrike kills 10 children in east Syria
04 September 2014
BEIRUT: A Syrian government airstrike hit a bus carrying civilians in eastern Syria Wednesday, killing at least 13 people, most of them children, opposition activists said.
But the government in the capital, Damascus, blamed ISIS for the incident, describing it as "yet another massacre" committed by the extremist group.
Activists said the aircraft-fired missile struck the bus in the village of Shoula as it was traveling to Damascus from the eastern Deir al-Zor province.
The civilians on the bus were the latest victims in Syria's civil war, which is now in its fourth year and which has killed more than 190,000 people, according to the United Nations.
The conflict has pitted forces loyal to President Bashar Assad against rebels and others fighting to topple him, including increasingly powerful Islamist extremist groups. One of the militant groups, the Al-Qaeda-breakaway ISIS, has taken over roughly a third of both Syria and Iraq, and declared a self-styled caliphate spanning the Iraq- Syria border.
The Local Coordination's Committees group said 13 people were killed in Wednesday's airstrike, while the Britain-based Syrian Observatory for Human Rights put the death toll at 16, including 10 children. It says the death toll was likely to rise because there were many wounded.
Syrian government airstrikes frequently target opposition-held areas of the country. Eastern Syria is controlled for the most part by the ISIS group.
The Syrian government, in a statement on state TV, blamed ISIS for the "massacre" in Shoula. It also put the death toll at 13 and said most of the victims were women and children.
Assad's forces have recently stepped up their attacks against ISIS while the United States is bombing the militant group's positions in Iraq. Washington is also considering extending its airstrikes to target the group in Syria.
On Tuesday, ISIS extremists released a video showing the beheading of a second American journalist, Steven Sotloff, and warned President Barack Obama that continuing airstrikes against the group in Iraq will be met with the killing of more Western captives.
The footage - depicting what the U.S. called a sickening act of brutality - was posted two weeks after the release of video showing the killing of James Foley and just days after Sotloff's mother pleaded for his life.
http://www.dailystar.com.lb/News/Middle-East/2014/Sep-03/269430-syrian-airstrike-hits-bus-killing-13-most-of-them-children-activists.ashx#ixzz3CNUAoHjK
-----------
Egypt's Sisi: Stalled Mideast peace process fuels jihadists
04 September 2014
CAIRO: Egyptian President Abdel-Fattah al-Sisi blamed the stalled Israeli-Palestinian peace process for fueling regional militancy, as Washington tries to shore up support to combat ISIS jihadists.
Sisi, a former army chief who overthrew Islamist president Mohammad Morsi last year, is battling jihadist militants in the Sinai Peninsula who have killed scores of policemen and soldiers.
The retired field marshal has sought to link his oft-criticized campaign against Islamist opposition and militants with the fight against organizations such as ISIS, which controls swath of Iraq and Syria.
On Wednesday, however, he singled out the floundering peace process which he said contributed to a "fertile environment for the growth and spread of extremism, violence and terrorism."
Long drawn out U.S.-brokered negotiations between Palestinian president Mahmoud Abbas and Israel collapsed in April with both sides blaming each other.
"What strengthens this environment, and gives excuses to those who exploit religion and terrorism, is the continuation of the Palestinian cause for decades without an equitable resolution," his office quoted him as saying in a statement.
Full report at:
http://www.dailystar.com.lb/News/Middle-East/2014/Sep-03/269446-egypts-sisi-stalled-mideast-peace-process-fuels-jihadists.ashx#axzz3CHCdG2lQ
-----------
Iraq: ISIS leader's top aide killed in air strike
4 September 2014
Islamic State of Iraq and Syria leader Abu Bakr al-Baghdadi has lost his aide after a strike on the ISIS-held city of Mosul, the Iraqi defense ministry said Thursday.
Another ISIS figure was also declared dead, the ministry added. Baghdadi has declared himself a caliph, or leader of an Islamic state, after his group seized key territories in Iraq.
http://english.alarabiya.net/en/News/2014/09/04/Minister-ISIS-leader-s-aide-killed-after-strike-on-Mosul.html
-----------
Path to Jihad: From Upscale Cairo to ISIS Beheadings
By Reuters | Cairo
4 September 2014
After leaving his upscale Cairo neighbourhood to fight with the Islamic State of Iraq and Syria group, Younes says he learned how to work as a sniper, fire heavy weaponry and behead prisoners using the proper technique.
One year later he harbours the kind of ambition that could create a security nightmare for Egyptian authorities: to return home and hoist ISIS' black flag in Egypt as his comrades have over large swathes of Iraq and Syria.
Eventually, says Younes, he and other Egyptian fighters in ISIS intend to topple Egypt's U.S.-backed government and extend their caliphate to the biggest Arab nation.
"We will not be able to change the situation in Egypt from inside, but Egypt is to be opened from abroad," Younes, who asked that his last name be withheld, told Reuters in an interview conducted by Facebook.
Full report at:
http://english.alarabiya.net/en/perspective/analysis/2014/09/04/Path-to-jihad-from-upscale-Cairo-to-Islamic-State-beheadings.html
--------
183 Rebels Surrender to Syrian Authorities
Sep 4, 2014
One hundred and eighty-three wanted militants from cities across Syria surrendered to the authorities.
They are from Damascus and it countryside, Lattakia, Homs, Hama, Aleppo, Raqqa, Daraa and Deir Ezzur.
Two hundred and fifty-four gunmen from Madaya town in Damascus Countryside turned themselves in to the authorities in August.
http://english.farsnews.com/newstext.aspx?nn=13930612000518
-----------
ISIS wants inmates freed to help create Lebanon base
04 September 2014
BEIRUT: With the release of Islamist prisoners topping the demands of extremist militants holding security personnel in Arsal, a long-held suspicion was confirmed: ISIS has a stake in Lebanon, and the Roumieh prison lies at the heart of the matter.
The first inkling came in June, when the group posted a video on YouTube, promising in song to force the closure of Roumieh.
The assembled men, all masked and surrounded by a store of weaponry with their signature black-and-white flag overhead, sang in unison "I am saddened by the circumstances of prisoners in Roumieh Prison, oh brothers," before signing off as the "Lions of ISIS."
Nearly three months later, the feline motif resurfaced in connection with the extremist group, this time depicting the gruesome beheading of captured Lebanese Army soldier Ali al-Sayyed on an ISIS-affiliated Twitter page, with Abou Misaab Hafid al-Baghdadi tweeting "Now you know who are the Lions of ISIS."
Full report at:
http://www.dailystar.com.lb/News/Lebanon-News/2014/Sep-04/269499-isis-wants-inmates-freed-to-help-create-lebanon-base.ashx#ixzz3CNTwOIWz
-----------
Al Qaeda-held Saudi diplomat in Yemen makes video plea
04 September 2014
A Saudi diplomat kidnapped in Yemen by Al-Qaeda and held since 2012 has appealed for Riyadh to negotiate his release, in a video posted on YouTube.
Abdullah al-Khalidi, deputy consul in the southern port city of Aden who was kidnapped on March 28, 2012, appears in the nearly two-minute video with his head covered and sporting a long beard.
In the video posted online Tuesday and released by Al-Qaeda's Al-Malahem Media, Khalidi said he has so far spent two years and five months in captivity.
Militants from Al-Qaeda in the Arabian Peninsula (AQAP) said they seized Khalidi in a bid to secure the release of female prisoners in Saudi Arabia and to raise a ransom.
Full report at:
http://www.yourmiddleeast.com/news/al-qaedaheld-saudi-diplomat-in-yemen-makes-video-plea_26372
-------------
North America
Sotloff's family challenges ISIS for debate on Islam
4 September 2014
The family of Steven Sotloff, the second American journalist beheaded by Islamic State of Iraq and Syria militants, said he was "a gentle soul," and challenged the group's leader to a debate on the peaceful teachings of the Muslim holy book, the Quran.
The group, which has captured territory in Syria and Iraq, released a video on Tuesday of Sotloff being beheaded. U.S. officials confirmed its authenticity on Wednesday. President Barack Obama vowed to "degrade and destroy" the group.
Barak Barfi, a friend of Sotloff who is serving as family spokesman, began a prepared statement from the family in English, remembering the slain journalist as a fan of American football who enjoyed junk food, the television series "South Park" and talking to his father about golf.
The 31-year-old Sotloff was "torn between two worlds," the statement said, but "the Arab world pulled him."
"He was no war junkie ... He merely wanted to give voice to those who had none," Barfi said outside the family's one-story home in a leafy Miami suburb.
arfi ended the statement with off-the-cuff remarks in Arabic, saying "Steve died a martyr for the sake of God."
He then challenged Islamic State leader Abu Bakr al-Baghdadi to debate Islam, saying, "Woe to you. You said the month of Ramadan is the month of mercy. Where is your mercy?"
"God does not love the aggressor," added Barfi, who is an Arabic scholar and research fellow at the New America Foundation think tank in Washington.
Full report at:
http://english.alarabiya.net/en/News/2014/09/04/Sotloff-s-family-challenges-ISIS-for-debate-on-Islam-.html
-----------
ISIS barks louder, but it's no Al-Qaeda: expert
4 September 2014
An imminent large-scale attack on the United States by Islamic State of Iraq and Syria (ISIS) militants is not likely, and the group is not comparable to pre- Sept. 11 al-Qaeda, a leading U.S. counterterrorism expert said.
Speaking at an event hosted by the Brookings Institute, the director of the National Counterterrorism Center, Matthew Olsen, said that despite its dramatic rise, the militant group lacked the capacity that al-Qaeda once had to carry out such attacks on American cities, according to The Guardian.
Olsen was speaking a day after the release of a video showing ISIS militants beheading Steven Sotloff, the second American journalist to suffer such a gruesome death in a month.
He acknowledged that the militant group had made dramatic territorial gains in Syria and Iraq, but played down the risk of a spectacular al-Qaeda-style attack in a major U.S. or European city, adding: "There is no credible information that [ISIS] is planning to attack the United States."
Full report at:
http://english.alarabiya.net/en/perspective/analysis/2014/09/04/ISIS-barks-louder-but-it-s-no-Al-Qaeda-expert.html
-----------
A 'concerned' US is monitoring the rise of anti-Semitism worldwide
04 September 2014
Jewish leaders converged on the State Department to discuss rising anti-Semitism across the globe, which is of "deep concern" to the Obama administration, US officials said this week.
Meeting with the group for four hours on Tuesday, US Secretary of State John Kerry shared in worries over "the prevalence and pervasiveness of anti-Semitic threats and attacks," the State Department said.
US Assistant Secretary of State for Democracy, Human Rights and Labor Tom Malinowski and Special Envoy to Monitor and Combat Anti-Semitism Ira Forman led the discussions, attended only briefly by the secretary. Several other senior State Department officials participated the meeting.
Jewish representatives included leaders from the Jewish Federations of North America, the Conference of Presidents of Major American Jewish Organizations, B'nai B'rith, the Anti-Defamation League, the American Jewish Committee and European Jewish communities.
While generally satisfied with efforts by the State Department to mobilize against the rising movement, several figures in attendance told The Jerusalem Post that Kerry's presence was merely a "photo op."
Full report at:
http://www.jpost.com/Diaspora/A-concerned-US-is-monitoring-the-rise-of-anti-Semitism-worldwide-374380
-----------
Kerry appoints a special representative to Muslim communities as IS menaces rise
04 September 2014
The US Department of State held a ceremony, Wednesday 3 September, to "honour the appointment of Special Representative to Muslim Communities Shaarik Zafar" as mentioned on its website.
The special representative is to drive the Secretary of State's agenda on issues that have impacted Muslim communities around the world. The position will also underscore the important role all faith communities can play in promoting pluralism and countering hateful ideologies.
"Those who killed Foley and Sotloff do not represent the real face of Islam" stated Secretary of State John Kerry in his speech during the ceremony Wednesday, "the real face of Islam is peaceful."
The Islamic State (IS) had released a video on 19 August showing the beheading of James Foley, an American journalist abducted in Syria in late 2012. Foley was killed by a masked man who, in the video, said that his murder was a response to US operations against IS in northern Iraq. American journalist Steven Sotloff also appeared in the video with the threat that he was next, should the US continue its strikes against IS. This past Tuesday, IS released a video beheading Sotloff' before his death the journalist stated – in a message seemingly scripted by his captors – that he is paying the price for US operations in Iraq.
Full report at:
http://english.ahram.org.eg/NewsContent/2/8/109959/World/Region/Kerry-appoints-a-special-representative-to-Muslim-.aspx
-----------
Canadians held Americans hostage in Syria: report
04 September 2014
OTTAWA: Three Canadians were directly involved in the kidnapping of two American journalists by Islamist militants in Sryria, Canada's public broadcaster reported Wednesday.
Citing unnamed sources, the Canadian Broadcasting Corporation said the trio -- whose identities are unknown -- forced captives Theo Curtis and Matt Schrier to reveal their computer passwords, then drained their bank accounts and racked up credit card bills.
They also wrote to the two journalists' families pretending to be the men, the CBC said. The Canadian government said it is investigating.
Curtis and Schrier were held in captivity together between 2012 and 2013. Curtis was released by the Al-Qaeda affiliated Al-Nusra Front last month while Schrier escaped last year.
Ottawa has said as many as 130 Canadians are fighting overseas with extremist groups. Some estimates put the figure much higher.
http://www.dailystar.com.lb/News/World/2014/Sep-03/269462-canadians-held-americans-hostage-in-syria-report.ashx#axzz3CHCdG2lQ
-----------
U.S. open to new Gaza resolution if it helps truce
4 September 2014
The United States is open to a new U.N. resolution on Gaza but only if it contributes to sustaining the Israeli-Palestinian ceasefire, the U.S. envoy to the United Nations said Wednesday.
Ambassador Samantha Power told reporters that a resolution must "do no harm" to the ceasefire that has been holding in recent days and Israeli-Palestinian talks that are scheduled to resume in Cairo, and should "play a positive role in supporting a durable solution."
"Nothing underscores the urgency of securing ... a negotiated two-state solution like the crisis in Gaza and the heartbreak that so many people on both sides suffered throughout that crisis," she said.
Hanan Ashrawi, a senior figure in the Palestine Liberation Organization, told a news conference here Tuesday that the Palestinians are demanding a commitment to the 1967 borders and a deadline for the end of Israel's occupation, adding when pressed that "within three years, the occupation should end."
She also criticized the failed U.S. peace initiative by U.S. Secretary of State John Kerry, saying it allowed Israel "to persist in policies" that she characterized as unilateral and abusive.
Full report at:
http://english.alarabiya.net/en/News/middle-east/2014/09/04/U-S-open-to-new-Gaza-resolution-if-it-helps-truce.html
-----------
Pakistan
IS literature circulated in parts of Khyber Pakhtunkhwa
04 September 2014
PESHAWAR: A group belonging to the militant Islamic State group, formerly known as the Islamic State of Iraq and Al Sham (ISIS), has distributed a booklet in parts of Khyber Pakhtunkhwa and tribal areas, particularly in Afghan refugee camps.
The booklet in Pashto and Darri is titled Fateh (victory) and has the images of the IS flag and Kalashnikov on its cover. It is said to have been distributed in some areas of Afghanistan as well.
According to informed sources, a small group of activists led by an Afghan national has distributed the booklet.
It calls upon people to support the IS which has occupied large swathes of territory in Iraq and Syria.
It says the caliphate declared in parts of Iraq and Syria will expand to Khurasan, comprising Pakistan, Iran, Afghanistan and Central Asian countries.
Full report at:
http://www.dawn.com/news/1129775/is-literature-circulated-in-parts-of-kp
-----------
Jamaat-i-Islami blasts PTI govt for 'removing' Islamic contents from syllabus
04 September 2014
PESHAWAR: The Jamaat-i-Islami on Wednesday blasted the Khyber Pakhtunkhwa government led by its partner, the Pakistan Tehreek-i-Insaf, for 'removing' Islamic contents from syllabus taught in public and private sector schools of the province and adjoining tribal areas.
"The provincial government has removed lessons on the life of Holy Prophet Mohammad (Peace Be upon Him), His wives and four caliphs from textbooks and inducted contents about Ranjit Singh, Raja Dahir, and Khan Abdul Ghaffar Khan, who had campaigned against the British Raj and carried out non-violence movement in the Indian sub-continent," JI provincial chief Professor Ibrahim Khan told party workers in Sarai Naurung area of Lakki Marwat.
According to a news release issued here, Professor Ibrahim said his party had formally conveyed its reservations to the provincial government about changes in syllabus and had tabled recommendations to the relevant quarters for it.
He said neither the government had taken the JI into confidence on making objectionable stuff part of textbooks nor had the government shared anything on it with the party.
Prof Ibrahim says his party won't let government function if qualms not addressed
Professor Ibrahim said his party had repeatedly asked the provincial government not to change syllabus and retain material on Islamic teachings and values, including jihad, but to no avail.
Full report at:
http://www.dawn.com/news/1129807/ji-blasts-pti-govt-for-removing-islamic-contents-from-syllabus
-----------
Outlawed TTP says 25-30 militants killed in Zarb-e-Azb
04 September 2014
ISLAMABAD: Spokesman of the proscribed Tehreek-e-Taliban Pakistan (TTP) on Wednesday said that 25 to 30 militants were killed in the ongoing military operation Zarb-e-Azb in North Waziristan Agency (NWA).
According to a statement, Ehsanullah Ehsan claimed more than five dozen civilians were killed in military air strikes. He said all explosives making factories had been shifted elsewhere before the launch of Zarb-e-Azb.
It is pertinent to note here that earlier today, Inter Services Public Relations (ISPR) said that security forces have so far killed 910 terrorists in the ongoing military offensive in NWA.
http://www.thenews.com.pk/article-158689-Outlawed-TTP-says-25-30-militants-killed-in-Zarb-e-Azb
-----------
Imran, Qadri will be responsible for any instability: Shahbaz Sharif
04 September 2014
LAHORE: Chief Minister Shahbaz Sharif has said some elements through an "attack on Islamabad" tried to humiliate the democratically elected parliament, but unity of all political forces made them face shame and disgrace.
Shahbaz said he was sure that after Javed Hashmi several leaders of the Pakistan Tehreek-i-Insaf would display the same moral courage so they were not counted among enemies of Pakistan and democracy.
A press release quoted the chief minister as telling a delegation of PML-N members of the Punjab Assembly here on Wednesday.
The chief minister claimed Imran Khan through collusion with Dr Tahirul Qadri had announced the "political death" of his party. The PTI leadership was disturbed at Imran's "autocratic" and "undemocratic" attitude and quitting the party, he added.
Full report at:
http://www.dawn.com/news/1129748/imran-qadri-will-be-responsible-for-any-instability-shahbaz
-----------
New TTP group 'Jamatul Ahrar' breaks away from Mullah Fazlullah
04 September 2014
PESHAWAR: The Tehreek-i-Taliban Pakistan (TTP) led by Mullah Fazlullah appear to have suffered a serious blow as the newly formed splinter group Jamatul Ahrar claims that it has the support of 70 to 80 per cent of TTP commanders and fighters. The group says they are not under TTP's command any more.
Speaking to Dawn, Ehsanullah Ehsan, the spokesperson for the new group Jamatul Ahrar, claimed that they were administratively a separate group now. Responding to a query if they would follow the orders of the TTP Ameer, he said: "We, Jamatul Ahrar, have been administratively separated from them now."
When questioned further about the control exercised by the Mullah Fazlullah-led Taliban, Ehsan said: "I'll not comment on this question, however, I can claim about 70 to 80 per cent of the TTP, including Swat, is now part of TTP Jamatul Ahrar".
Full report at:
http://www.dawn.com/news/1129827/new-ttp-group-jamatul-ahrar-breaks-away-from-mullah-fazlullah
----------
'This is the first time Parliament has stood united against undemocratic forces': Senator
September 4, 2014
ISLAMABAD: Senator Raza Rabbani on Thursday acknowledged Parliament's failure to deliver on numerous fronts, but minced no words when it came to protecting the institution's sanctity.
In a fiery address to the joint session of Parliament, the senior Pakistan Peoples Party (PPP) leader lashed out at fellow lawmakers for not delivering to the public before shifting criticism to Imran Khan and Tahirul Qadri.
"This is not the first attack on Parliament. There have been such attacks in the past but this is the first time that all parliamentary and democratic forces have stood firm in their defence against such an attack," said Rabbani
While recognising that elections had been rigged, the seasoned politician said the PPP had only accepted the results to save the entire system. He said the current situation on the streets of Islamabad could have been prevented if the government had paid heed to the 'just' demands of protesters.
"Only a united National Assembly can tackle the challenges faced by the democratic setup in Pakistan," he said.
Full report at:
http://tribune.com.pk/story/757743/this-is-the-first-time-parliament-has-stood-united-against-undemocratic-forces/
-----------
Qadri won't end rally until Sharifs ousted
04 September 2014
ISLAMABAD: Rejecting rumours that the PAT was calling off its sit-in, Tahirul Qadri said Wednesday that "we will not move from here unless this government is ousted from power". Talking to the participants of his sit-in, Qadri said that "he would neither cave in to tyranny and oppression nor compromise". He reiterated that the PAT would not back off from its demand for the resignation of Prime Minister Nawaz Sharif and Chief Minister Shahbaz Sharif. "I reject rumours that we are calling off our sit-in," he maintained.
The PAT leader said that Monday's attack on the PTV was carried out by the ruling Pakistan Muslim League (PML-N) and responsibility lies with Prime Minister Nawaz Sharif and the federal ministers. He claimed that PML-N's trained "Gullu Butts", a reference to a ruffian said to be a PML-N worker who vandalised public property during a clash between police and Minhaj ul Quran workers in Lahore, were responsible for the attack. The PAT leader also threatened the opposition leader in the National Assembly Syed Khursheed Shah to watch himself otherwise things may get out of hand.
Full report at:
http://www.dailytimes.com.pk/islamabad/04-Sep-2014/qadri-won-t-end-rally-until-sharifs-ousted
-----------
Altaf directs MQM lawmakers to submit resignations
04 September 2014
KARACHI – Muttahida Quami Movement (MQM) chief Altaf Hussain on Wednesday directed his party's lawmakers to submit their resignations to Nadeem Nusrat, deputy convener of the party.
There are 24 MNAs and seven senators in the parliament. "I give all assemblies one week to improve their functioning," the MQM chief said, adding the parliament was 'full of drama.' During the day, it was reported that the MQM chief was upset with some party leaders as well as the ongoing political crisis, and he said that he would request his supporters to relieve him of party leadership.
Full report at:
http://www.dailytimes.com.pk/national/03-Sep-2014/altaf-directs-mqm-lawmakers-to-submit-resignations
-----------
TTP splinter group spokesman rebuts militant death figures
04 September 2014
PESHAWAR: Jamaatul Haraar, a splinter group of the outlawed militant group Tehreek-e-Taliban Pakistan (TTP) denied on Wednesday a loss of over 900 militants in ongoing military operation in North Waziristan. "We have lost between 25-30 militants," said splinter group spokesman Ehsanullah Ehsan in a press statement that he emailed to newspaper offices from an undisclosed location. The denial comes when the military said that more than 900 militants were killed in operation Zarb-e-Azb since its launch on June 15 reclaiming the lost ground from the Taliban. "We moved our hardware and bomb-making factories to safer places before the operation even started," Ehsan said. He was critical of media running the military-fed information without any verification from the Taliban.
http://www.dailytimes.com.pk/national/04-Sep-2014/ttp-splinter-group-spokesman-rebuts-militant-death-figures
-----------
Govt, opposition jirga hold talks with PAT
04 September 2014
ISLAMABAD: The government and opposition jirga held dialogues with Pakistan Awami Tehreek (PAT) at the residence of former interior minister Rehman Malik here on late Wednesday night, Geo News reported.
Speaking to media, Federal Minister Ahsan Iqbal said there was advancement in the talks, adding they had agreed to continue dialogues process.
Ahsan Iqbal further said next round of talks with PAT would be held at 8:00PM tonight. He was optimistic that they would give good news to the nation after reaching at any conclusion.
PAT leader Raheeq Abbasi, Ameer Jamaat-e-Islami (JI) Sirajul Haq, Liaquat Baloch and Rehman Malik were also present on the occasion.
http://www.thenews.com.pk/article-158725-Govt,-opposition-jirga-hold-talks-with-PAT
-----------
PTI told PAT not to enter parliament: Qureshi
04 September 2014
ISLAMABAD - The joint sitting of the parliament on second day (Wednesday) witnessed a divide in political parties over PTI lawmakers' resignations, as some parties kept asking the speaker to immediately accept their resignations while others put weight behind handling the political turmoil with patience.
A dozen of PTI lawmakers facing slogans of 'shame' marked their presence in the house declaring that their party will never be part of any plan against parliamentary democracy and their workers were not involved in attack on PTV centre.
Some political factions termed allowing these members to enter the house after their tendering resignations a legal glitch, while others viewed that conspiracies were still being hatched so the situation should be tackled with patience and care. A treasury lawmaker even warned government to not indulge in political dialogue with protesting party (PTI) before accepting their resignations.
Sensing the tense atmosphere after heated discussion, Opposition Leader in NA Syed Khursheed Shah lauded speaker for giving chance to PTI members to share their point of view on the floor of the house. "Mian Sb (PM) this is victory of a parliament as you are sitting on your seat and they came here to share their point of view," he said, hinting to the seemingly vanishing romance of PTI and PAT.
Full report at:
http://www.nation.com.pk/national/04-Sep-2014/pti-told-pat-not-to-enter-parliament-qureshi
-----------
Govt accepts all demands except PM's resignation: Imran
04 September 2014
ISLAMABAD: Pakistan Tehreek-e-Insaf (PTI) chairman Imran Khan has said that the government has accepted all the demands except resignation of the Prime Minister, Geo News reported.
Addressing the participants of the sit-in late Wednesday night, Imran Khan said they were fighting a decisive war in which they would get freedom or remain slaves.
Khan said the rulers who were not ready to listen them, had agreed to form a commission to investigate rigging in elections. He said he wanted a system where there was same law for powerful and oppressed people and everyone get justice.
http://www.thenews.com.pk/article-158727-Govt-accepts-all-demands-except-PM%E2%80%99s-resignation:-Imran
-----------
Zardari says middle ground will have to be found to resolve crisis
04 September 2014
ISLAMABAD: Former president Asif Ali Zardari said on Wednesday that the prevailing political situation needs to be resolved through concerted efforts.
He was presiding over a Pakistan People's Party meeting to review the political crisis griping the country since August 14.
Zardari told the meeting that prime minister's resignation was not acceptable through pressure and a middle ground will have to be found to resolve the issue.
He said that Pakistan could not afford any crisis, adding that resignation demand was not justified.
http://www.thenews.com.pk/article-158712-Zardari-says-middle-ground-will-have-to-be-found-to-resolve-crisis-
-----------
South Asia
Taliban truck bombs in Afghanistan kill 18, wound 150
04 September 2014
GHAZNI, Afghanistan: Taliban insurgents detonated two powerful truck bombs outside the office of Afghanistan's spy agency and a police compound in the central town of Ghazni Thursday, killing 18 people and wounding around 150, the provincial governor said.
The attack, the biggest in recent weeks, comes days after the National Directorate of Security, the intelligence arm that is leading the fight against the insurgents, was targeted in the east.
Ghazni Provincial Governor Musa Khan Akbarzada said a team of 19 insurgents was involved in the attack which also targeted a quick reaction team housed in the police compound. The explosions, which shattered windows in the town, were followed by gunbattles with Afghan forces, he said.
http://www.dailystar.com.lb/News/World/2014/Sep-04/269515-taliban-truck-bombs-in-afghanistan-kill-18-wound-150.ashx#ixzz3CNTqGC8d
-----------
Post-Nato Afghanistan: Hizb-e-Islami intensifies efforts for active role
September 4, 2014
ISLAMABAD: With discussions regarding a 'national unity government' in Afghanistan currently underway, the Gulbuddin Hekmatyar-led Hizb-e-Islami Afghanistan (HIA) has increased efforts to secure a possible active role in the country following the withdrawal of foreign forces.
Two of Hekmatyar's sons met Afghan presidential candidate Dr Ashraf Ghani and other key leaders in Kabul recently to share HIA's concept for a post-Nato Afghanistan.
"We travelled to Kabul, met Dr Ghani and discussed certain matters, including the peace process," Hekmatyar's son Jamaluddin told The Express Tribune on Wednesday. Jamaluddin's brother Habibur Rehman accompanied him in meetings with Afghan leaders.
According to a senior HIA leader, Hekmatyar – who is a former prime minister – sent his sons to 'personally' assure Ghani of the group's support. The leader, who wished not be named, said Hekmatyar had directed HIA leaders to vote for Ghani in the June 14 runoff. Ghani is widely believed to be ahead of rival Dr Abdullah Abdullah in the race for the country's top slot.
Full report at:
http://tribune.com.pk/story/757582/post-nato-afghanistan-hizb-e-islami-intensifies-efforts-for-active-role/
-----------
Taliban ready to play role in ending violence in Afghanistan
04 September 2014
The Taliban militants group in Afghanistan touted the group's role as trouble shooters, bridge builders and problem solvers in a bid to ally the North Atlantic Treaty Organization's concerns.
Taliban following a statement released ahead of the NATO summit in Wales, claimed that the group is the true representative of the Afghan people.
The statement further added that the group can play a central role in resolving the ongoing crisis of Afghanistan.
"The Islamic Emirate has arisen out of this nation and shared in all its toils and sacrifices. Due to this the Afghan nation has firm belief in the Islamic Emirate," the statement by Taliban said.
Full report at:
http://www.khaama.com/taliban-ready-to-play-role-in-ending-violence-in-afghanistan-8579
-----------
Religious extremists killed Faruqi in planned way
04 September 2014
The family of slain Sheikh Nurul Islam Faruqi at a press conference said they suspect that religious extremists had killed him in a planned manner.
Sheikh Faruqi's son Ahmad Reza Faruqi said this in a written statement at their Rajabazar residence in the capital yesterday.
Criminals slit the throat of Faruqi, also a presidium member of the Islamic Front Bangladesh and a presenter of Islamic programmes in two private television channels, at his house on August 27.
Reza said his younger brother Faisal Faruqi had filed a case of murder and robbery after the incident when he and another brother were abroad.
He, however, said the killers came to their house with a well planned way to kill his father not committing a robbery in the house.
The Faruqi's family members demanded proper investigation, arrest of the killers and exemplary punishment for them.
Full report at:
http://bd.thedailystar.net/city/religious-extremists-killed-faruqi-in-planned-way-40145
-----------
Southeast Asia
Sabah politician faces sedition charge over Facebook post on Islam
04 September 2014
A Sabah Reform Party member, David Orok, has been charged with sedition for a Facebook post deemed insulting to Islam and the Prophet Muhammad.
The Star reported that Orok was charged at the Sessions Court in Kota Kinabalu today.
He allegedly committed the offence on July 4.
Orok is the latest opposition politician to be dragged into Putrajaya's sedition dragnet.
He pleaded not guilty to the charge under Section 4(1)(c) of the Sedition Act. He can be fined up to RM5,000 or jailed a maximum of three years.
He was unrepresented in court today and subsequently released on RM7,000 bail.
The court, however, ordered him to surrender his passport and to report to the Tuaran police station once a week until his trial. The date has not been fixed.
Orok allegedly committed the offence at a house in Kampung Roun, Jalan Labuaya, Topokan in Tuaran.
Full report at:
http://www.themalaysianinsider.com/malaysia/article/sabah-opposition-politician-faces-sedition-charge-over-facebook-post-on-isl#sthash.ViAG6CLg.dpuf
-----------
Amid PPS crackdown, Najib says cannot allow anyone to do as they please
BY JOSEPH SIPALAN
SEPTEMBER 4, 2014
KUALA LUMPUR, Sept 4 — Datuk Seri Najib Razak said today that while the government welcomes any civilian effort to combat crime, they must act within the ambit of the law and cannot do as they please.
He said the public should not challenge the authorities when it comes to law enforcement, stressing that this is the only way the country can maintain peace and security.
"There was a group that wore uniforms and gave themselves ranks... they committed an offence. Anyone who commits an offence in the eyes of the law, must accept the fact that the rule of law must prevail," Najib said today, without naming the group.
"We cannot allow anyone to do as they please," he added in his speech after presenting national medals of honour to police, military and civilian personnel involved in Ops Daulat.
The police recently launched a crackdown on the Penang Volunteer Patrol Unit (PPS) after Inspector-General of Police (IGP) Tan Sri Khalid Abu Bakar declared the group illegal.
http://www.themalaymailonline.com/malaysia/article/amid-pps-crackdown-najib-says-cannot-allow-anyone-to-do-as-they-please#sthash.QcRQMV54.dpuf
-----------
Thailand picks team for talks with Muslim rebels
04 September 2014
BANGKOK — Thailand will assemble a peace negotiating team by the end of the week to revive talks with Muslim separatists whose insurgency in the south of the country has cost thousands of lives in the past decade, the military junta said on on Wednesday.
Udomdet Sitabutr, secretary-general of the National Council for Peace and Order (NCPO), as the junta is formally known, said talks, brokered by Malaysia, would "definitely move forward" and that Prime Minister Prayuth Chan-ocha will appoint team members to lead the Thai delegation.
"We will have soldiers, lawyers and academics on the team," Udomdet said.
The insurgency is based in Pattani, Yala and Narathiwat provinces in Thailand's so-called "Deep South."
Thailand is a mainly Buddhist country and resistance to central government rule in the three Muslim-majority provinces has existed for decades, resurfacing brutally in 2004.
More than 6,000 people have died since then, according to Deep South Watch, which monitors the violence. Successive governments have failed to quell the unrest.
Full report at:
http://www.saudigazette.com.sa/index.cfm?method=home.regcon&contentid=20140904217038
----------
Africa
Helicopters bomb Islamists' sites in Libya's Benghazi
4 September 2014
Government forces and helicopters belonging to a Libyan renegade general bombed ammunition sites of suspected Islamist militants in the eastern city of Benghazi, a military commander and residents said.
Islamist forces have been trying to take the civilian and military airport from government forces in the port city, a confrontation forming part of a broader picture of anarchy in the North African country three years after the ouster of Muammar Qaddafi.
Western powers and Libya's neighbors fear the oil producer will turn into a failed state. A weak government is unable to control former rebels who helped topple Gaddafi but now fight each other for power.
Wanis Bukhamada, commander of army special forces in Benghazi, told Reuters his forces had attacked with artillery several ammunition stores in camps held by Islamists late on Wednesday.
Full report at:
http://english.alarabiya.net/en/News/2014/09/04/Helicopters-bomb-Islamists-sites-in-Libya-s-Benghazi.html
-----------
Rights groups call for S. Sudan arms embargo to end 'atrocities'
Sep 4, 2014
South Sudanese rights groups demanded Thursday an international arms embargo for their conflict-wracked nation, as millions of dollars worth of newly-bought weapons fuel an almost nine-month long civil war.
"As long as these weapons are imported into South Sudan, they are likely to be used to commit further atrocities," the petition reads, signed by over 30 South Sudanese and international organisations.
Groups who signed the petition, which calls for an "immediate, comprehensive arms embargo", include the country's Law Society and Human Rights Society.
International groups include Amnesty International, Global Witness and Human Rights Watch.
Thousands of people have been killed and more than 1.8 million have fled a civil war in the country, sparked by a power struggle between President Salva Kiir and his sacked deputy Riek Machar.
Aid workers have warned of famine if fighting continues.
"Both sides in this conflict have used small arms and light weapons to commit war crimes and crimes against humanity," the petition reads, sent to east Africa's IGAD bloc, asking them to request a UN Security Council ban.
Full report at:
http://english.ahram.org.eg/NewsContent/2/8/109954/World/Region/Rights-groups-call-for-S-Sudan-arms-embargo-to-end.aspx
-----------
S. Sudan President Calls for Integration of Former Militia Groups
Sep 4, 2014
Juba — South Sudanese president Salva Kiir has directed that members of other armed groups covered by a general amnesty be integrated into government institutions, his office said on Wednesday.
Presidential spokesperson Ateny Wek Ateny said a percentage will be integrated into the national army (SPLA) and police service, while other will return to civilian life.
"A committee is working on the integration process because it will be the one to devise a mechanism for integration because not all of them will be observed in the national army," Ateny said in a statement on Wednesday.
"This is a process which requires time. The committee is working on it," he adds.
The presidential aide praised the "nationalistic approach" taken by the former militia groups, saying their actions would have negatively impacted the security situation in the country should they have opted to rejoin the current rebellion as some others did.
Full report at:
http://allafrica.com/stories/201409040402.html?aa_source=mf-hdlns
-----------
Nigeria: Military Takes Delivery of New Hardware, Insurgents' Death Toll Rises to 130 in Bama
Sep 4, 2014
In what looked like a move to reinforce the troops fighting Boko Haram terrorists in North-eastern Nigeria, the Nigerian army Monday night deployed over 30 armoured tanks to Borno, Adamawa and Yobe States that were recently ordered by the federal government to crush the insurgency.
THISDAY confirmed the movement of about two trailer loads of over 30 tanks around 9 pm along the Abuja-Lokoja Expressway.
This is just as the Borno youth vigilantes, popularly known as the Civilian JTF, yesterday dispelled reports that Boko Haram terrorists had taken over Bama, the second largest town in Borno State, stating that it was the insurgents, who had recorded major casualties during their fight with the military on Monday, losing 130 members with 35 others arrested.
The insurgents, who had launched an early dawn raid on Bama, were repelled by the military and prevented from entering Maidugri, the state capital.
Full report at:
http://allafrica.com/stories/201409030442.html?viewall=1
-----------
Europe
Global drive to stop jihadis going to Syria, Iraq
04 September 2014
PARIS: New laws make it easier to seize passports. Suspected fighters are plucked from planes. Authorities block finances and shut down radical mosques. And behind the scenes, Silicon Valley firms are under increasing pressure to wipe extremist content from websites as Western intelligence agencies explore new technologies to identify returning fighters at the border.
Governments from France to Indonesia have launched urgent drives to cut off one of the ISIS' biggest sources of strength: foreign fighters. At the heart of the drive is mounting concern that the organization is training the next generation of international terrorists.
Those fears have gained urgency from the group's horrific methods: A British militant is suspected of beheading two American journalists, and a Frenchman who fought with the ISIS is accused in a deadly attack on a Jewish museum in Belgium.
With each video that ricochets around social networks, the militants gain new recruits.
Britain has taken a particularly active role in censoring content deemed to break the country's strict rules against extremist propaganda. U.K. officials recently revealed they have been granted "super flagger" status on sites such as YouTube, meaning their requests to remove videos with grisly content or that encourage terrorism are fast-tracked.
Full report at:
http://www.dailystar.com.lb/News/Middle-East/2014/Sep-04/269489-global-drive-to-stop-jihadis-going-to-syria-iraq.ashx#ixzz3CNUVPMRF
-----------
IS militants vow to 'de-throne' Putin over Syria support
Sep 4, 2014
Islamic State militants have issued a threat to President Vladimir Putin, vowing to oust him and "liberate" the volatile North Caucasus over his support of the Syrian regime.
The General Prosecutor's Office of Russia demanded that access to the address, which was posted on YouTube on Tuesday and features what jihadists say is a Russian-supplied fighter jet, be blocked.
"This is a message to you, oh Vladimir Putin, these are the jets that you have sent to Bashar, we will send them to you, God willing, remember that," said one fighter in Arabic, according to Russian-language captions provided in the video.
"And we will liberate Chechnya and the entire Caucasus, God willing," said the militant. "The Islamic State is and will be and it is expanding God willing."
"Your throne has already teetered, it is under threat and will fall when we come to you because Allah is truly on our side," said the fighter. "We are already on our way God willing."
In the same video, several fighters, some dressed in traditional Muslim robes, threaten Syrian leader Bashar al-Assad from atop the fighter jet.
Full report at:
http://english.ahram.org.eg/NewsContent/2/8/109929/World/Region/IS-militants-vow-to-dethrone-Putin-over-Syria-supp.aspx
-----------
Cameron and Obama vow to 'confront' Islamic State
04 September 2014
David Cameron and Barack Obama have said they are determined to "confront" militant group Islamic State.
Writing in the Times ahead of a Nato summit in Wales, the UK and US leaders said people who wanted an "isolationist approach" misunderstood the situation.
They also said Nato must have a strong presence in eastern Europe to warn Russia against interfering in Ukraine.
Meanwhile, two senior UK figures have called for talks with Syria's President Assad to reinforce efforts against IS.
The US is using air strikes against the group but so far Britain has not done so.
'Barbaric killers'
In their joint article, Mr Cameron and Mr Obama said those who called for isolationism "misunderstood the nature of security in the 21st Century".
Full report at:
http://www.bbc.co.uk/news/uk-29057534
-----------
General denies Fiji Muslims face UN hostage backlash
September 4, 2014
SUVA: Fiji's army chief on Thursday dismissed as "sick" a suggestion the Pacific nation's Muslim minority will face a backlash if 45 UN peacekeepers taken hostage by al Qaeda-linked al Nusra Front rebels in the Golan Heights are harmed.
Brigadier General Mosese Tikoitoga also defended the action of his troops in surrendering to the rebels, even though a contingent of 75 Filipino peacekeepers who defied an order to lay down their weapons all escaped unscathed.
Tikoitoga, speaking to reporters in Suva just hours after the UN Security Council demanded the Fijians' immediate release, said the location of the Blue Helmets was still unknown.
He also revealed that talks with their captors had hit a "lull" but said specialised UN negotiators flown in from New York to deal with the crisis had told him this was normal in a hostage situation.
Full report at:
http://tribune.com.pk/story/757709/general-denies-fiji-muslims-face-un-hostage-backlash/
-----------
Two mosques attacked in Germany's Lower Saxony
World Bulletin / News Desk
04 September 2014
Two Turkish mosques in Germany's Lower Saxony state has come under attack by unknown assailants.
The molotof cocktail attack on the Haci Bayram mosque in Oldenburg over the weekend was an attempt of arson, police said.
German authorities have begun an investigation into the attack on the mosque, which is bound to the Turkish Religious Affairs department and serves as an official Turkish diplomatic mission for Turkish citizens abroad.
No one was injured in the attack, which was said to be politically motivated, and only minimal damage was reported.
Another attack on a Turkish mosque, again bound to the Turkish Religious Affairs department, took place in the city of Mölln. This was the second attack on the mosque in two weeks.
There have been five attacks in mosques around Germany in the past 30 days, four of which involved attempts of arson.
http://www.worldbulletin.net/todays-news/143735/two-mosques-attacked-in-germanys-lower-saxony
--------
French far right weekly irked over 'Muslim minister'
04 September 2014
PARIS: A far-right weekly has sparked a firestorm of controversy by describing France's new education minister as a "Moroccan Muslim" and calling the appointment of the 36-year-old rising star a "provocation."
Moroccan-born Najat Vallaud-Belkacem is the first woman in French history to hold the office of education minister, the latest step in a brilliant career for the telegenic protegee of President Francois Hollande.
But far-right magazine Minute splashed a picture of her on the cover of its latest issue that hit newsstands on Wednesday with the caption: "A Moroccan Muslim at the national education (ministry). The Najat Vallaud-Belkacem provocation." It is not the first time the magazine has sparked outrage.
Earlier this year, it featured a cover picture of France's black Justice Minister Christiane Taubira and headlines which read: "Crafty as a monkey" and "Taubira gets her banana back." In French, getting your banana back is roughly the equivalent of recovering the spring in your step. The head of the ruling Socialist Party, Jean-Christophe Cambadelis, called for the magazine to be sued.
Full report at:
http://www.arabnews.com/world/news/624776
-----------
UK: Syria strikes possible without Assad invite
4 September 2014
Strikes against the Islamic State of Iraq and Syria (ISIS) inside Syria could be launched without an invitation from the Syrian government, British Prime Minister David Cameron said Thursday, raising one of the first justifications for foreign military action in Syria without the government's consent.
Speaking at the start of this week's NATO summit in Wales, Cameron suggested that under international law, the West does not need an invitation from Syrian President Bashar al-Assad to attack ISIS within Syrian borders due to the illegitimacy of his government, according to a report in The Guardian.
Describing ISIS as a direct threat to the UK, Cameron also stepped up his case for British involvement in U.S. airstrikes against ISIS targets in Iraq, although he stopped short of declaring his country would definitely join the U.S. mission.
The prime minister also indicated his interest in forming an international coalition to carry out operations in Iraq. Since late August, Washington has been pushing for an international campaign against ISIS, including attempts to recruit partners for potential joint military action.
Full report at:
http://english.alarabiya.net/en/News/middle-east/2014/09/04/UK-Syria-strikes-possible-without-Assad-invite.html
-----------
Kyrgyz Envoy Hails Iran's Regional Diplomacy
Sep 4, 2014
Kyrgyzstan's Ambassador to Tehran Asanbeyk Osman Aliyev underlined that Iran's wise and logical diplomacy in the region has helped the regional states to maintain their independence.
"Iran's balanced regional diplomacy over the past 35 years has prevented big powers from imposing their aspirations," the Kyrgyz envoy said in a meeting with senior managers and chief editors of Fars News Agency here in Tehran on Wednesday.
He pointed out that the recent political changes in his country have resulted in paying attention to the issue of energy security, and said, "We need cooperation with strong countries to achieve this goal and Iran is surely a good choice."
The Kyrgyz envoy noted that Iranian and Kyrgyz nations are followers of Islam, and called for the expansion of diplomatic ties between the two states.
He said Iran with a population of 80 million can easily help resolve the problems of Kyrgyzstan which has only a population of 6 million.
Full report at:
http://english.farsnews.com/newstext.aspx?nn=13930612001636
-----------
Mideast
Opposition tells Israel PM to seize 'diplomatic opportunity' with moderate Arab states
04 September 2014
Israel's shared interests with the "moderate axis" in the Middle East are a historic chance for diplomatic progress, the Knesset Caucus for Regional Cooperation stated Wednesday.
The caucus, led by MK Nitzan Horowitz (Meretz), hosted a conference at Tel Aviv University with two think tanks, Molad: The Centre for the Renewal of Israeli Democracy, and Mitvim: The Israeli Institute for Regional Foreign Policy, attended by MKs from Meretz and Labour.
Horowitz referred to Prime Minister Binyamin Netanyahu's statements that there is a new "diplomatic horizon" following Operation Protective Edge as a mirage.
"Netanyahu knows very well that there is a unique opportunity for major diplomatic action in the Middle East together with all the moderate factors, but he does not want it and does everything to sabotage it so he can survive politically.
Full report at:
http://www.jpost.com/Israel-News/Politics-And-Diplomacy/Opposition-tells-PM-to-seize-diplomatic-opportunity-with-moderate-Arab-states-374381
-----------
Israel raids, closes Palestinian Al-Aqsa Foundation
World Bulletin / News Desk
04 September 2014
Israeli authorities have ordered the closure of a Palestinian NGO devoted to defending Jerusalem's Al-Aqsa Mosque from Israeli violations after Israeli forces stormed its office in the northern city of Nazareth and confiscated documents and equipment, according to another Palestinian NGO.
"Large forces from Israel's intelligence and police apparatus stormed the office of the Amarat al-Aqsa Institute in Nazareth and forced employees to leave," the Aqsa Foundation for Endowment and Heritage – likewise devoted to defending Al-Aqsa – said in a statement.
"During the raid, Israeli troops confiscated all equipment and documents before producing an order – signed by Defense Minister Moshe Ya'alon – closing the association and banning its activities," the foundation added.
Full report at:
http://www.worldbulletin.net/headlines/143701/israel-raids-closes-palestinian-al-aqsa-foundation
------------
Israeli strike in Gaza kills Saudi fighter
04 September 2014
GAZA: A Saudi fighter who had broken away from the Islamic State to join the Palestinian combat in Gaza was killed last week when Israeli missiles targeted the vehicle he was traveling in.
Sources said Sultan Farhan Rajih Al-Harbi broke away from the IS because of the crimes it committed in the areas it seized.
London-based Al-Hayat said Al-Harbi was originally from Hafr Al-Batin. Also known as Khallad Al-Jazrawi and Abu-Ma'dh Al-Harbi, he spent over 5 years in Saudi jails because he tried to join combatants in Iraq via Kuwait but was arrested at the borders.
Al-Harbi told his family he was going on a desert trip at the start of the Hijra year but was away for days. His worried relatives informed Civil Defense authorities but it was found out later he was in Yemen.
Full report at:
http://www.arabnews.com/featured/news/625061
-----------
200 Palestinian bodies found in Tel Aviv mass graves
World Bulletin / News Desk
04 September 2014
It has been revealed that the remains of dozens of Palestinians killed during the Israeli-Arab in 1948 were found in six mass graves in the Jaffa district of Tel Aviv on Wednesday.
The graves were found when ground subsided as builders carried out renovation work in the area, an official at the Muslim cemetery there told AFP.
The bodies are believed to belong to the victims of a massacre carried out by right-wing Jewish militias in the former Arab district.
As-Safri newspaper reported that up to 200 bodies may be in the graves, with an unknown additional number in the other graves.
Full report at:
http://www.worldbulletin.net/world/143479/200-palestinian-bodies-found-in-tel-aviv-mass-graves
------------
We underestimated Gaza fighters: Israeli official
04 September 2014
TEL AVIV: A senior army intelligence official has admitted that Israel underestimated the tenacity of Gaza fighters and did not expect a 50-day conflict to last so long, but he insisted they were soundly beaten.
The conflict, which ended with a cease-fire last week, killed more than 2,100 Palestinians, as well as 66 soldiers and six civilians on the Israeli side, in the bloodiest battle between the Jewish state and Gaza militants for years.
"If you'd asked me two months ago, I wouldn't assess that it's going to take us 50 days," the official told journalists in English at a briefing in Tel Aviv late Tuesday.
"We thought it's going to take them a shorter time to understand what happened, and we are mistaken here. It's a tactical assessment mistake, but it's a mistake," said the official, speaking on condition of anonymity. He said the training of some Hamas militants had impressed him, but that there were no "surprises" for Israeli forces.
Full report at:
http://www.arabnews.com/middle-east/news/624816
-----------
URL: https://www.newageislam.com/islamic-world-news/new-age-islam-news-bureau/centre-sounds-alert-as-al-qaida-terror-video-targets-india/d/98900