New Age Islam News Bureau
11 Dec 2013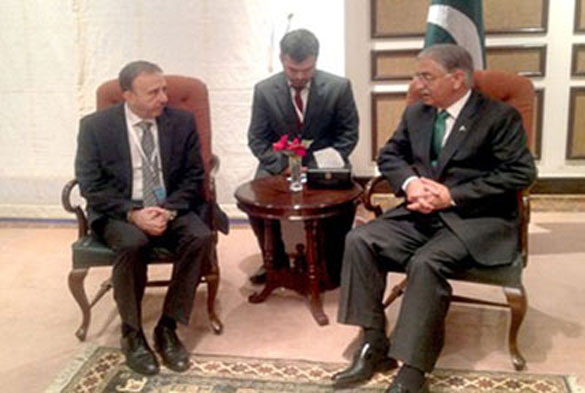 Islamabad declaration rejects any military intervention in Syria
--------------
Africa
• Central African Republic: Over 80 Nigerians Killed in Bangui
• French kill 19 Islamists in Mali: French army
• Saharawi PM Denounces Morocco's "Support" to Terrorism to Destabilize Region
• Kenya: Cops Accused of Executing Muslim Cleric
• Anarchy at door, West starts to rebuild Libyan army
Arab World
• Syria: Lashes in Town Square for 'Adultery' As Sharia Law Reigns
• Salafi Dawa Accuse Brotherhood Youth of Insulting Them
• Syria regime has killed 2,900 'with knives': Opposition
• Decade after arrest, the now-executed Saddam Hussein's legacy looms over Iraq
• Saudi jihadist jailed 16 years over plot to kill top cleric
• Muslim Brotherhood calls for referendum boycott
• Gulf states call on foreign forces to leave Syria
• 'Heritage studies needed to record rich Saudi history'
• World churches should take feasible steps for deterring terrorists' supporters in Syria
South Asia
• Jamaat-e-Islami Leader Given Last-Minute Stay of Execution in Bangladesh
• US conducting 'psychological war' in Afghanistan: Karzai
• Three killed in nocturnal violence of Jamaat-Shibir
• Jamaat: Political killing, if Quader Molla executed
• Jamaat-e- Islami calls dawn-to-dusk Hartal for Molla
• Social media helps stall Mollah hanging
• Six nabbed for killing Sayedee witness
• Suicide bomber attacks foreign troops in Afghanistan
Europe
• Taliban magazine urges jihad - urging recruits to leave behind children or elderly parents
• Muslim Sharia Believers to March Against Sale of Alcohol in London's East End
• Ban-Ki-Moon expresses concern over deliberate attacks of religious sanctities in Syria
• UK expresses concern over Molla's execution
• UN job application question points to pro-Palestinian bias, watchdog says
• WUC Urges Respect for UDHR on International Human Rights Day
• Former French Jihadi Warns of Syrian Rebels with '9/11 Ideology'
India
• Karzai heads to India waving wish list of military hardware
• Bihar Police have no proof against six 'terrorists' arrested in November
• Sunni clerics' body to hold peace conference
• Kerry holds talks with Foreign Secretary
• Nitaqat in Saudi Arabia had no major impact on Indian workers: Govt
Pakistan
• Islamabad declaration rejects any military intervention in Syria
• Pakistani Hindu Refugees Stage Demonstration outside UN Office on Rights Day
• Pakistani doctor wins $1m to fight child deaths
• Karachi violence kills at least three, 110 suspects arrested
• Social Media: New Dimension of Violence against Women
• Darul Uloom Haqqania issues fatwa promoting polio vaccination
• Pakistan trying to turn new page in ties with neighbours: PM
• Pakistani court stops airing of Indian, foreign films on TV
• Hindu's in Karachi to hold Bhajan and Qawali night on New Year
North America
• US hopes India will persuade Karzai on troops
• Kerry calls PM Sheikh Hasina, talk current events
• The success of Egypt's transition relies on respect for human rights: US congresswoman
• US suspends non-lethal assistance into northern Syria
Southeast Asia
• MCA adds voice to concern over Umno's growing extremism
• Try to resolve Shia, Sunni divide, suggests Suhakam chief
• Malaysia should ratify human rights treaties for UNSC seat
Mideast
• Palestinians see worrisome trend in rise of 'honour killings'
• Israel holding 5,000 Palestinian prisoners
• Turkey top provider of humanitarian aid overseas
• Ex-army chief Halutz: Israel prefers Assad over Islamists in Syria
Compiled by New Age Islam News Bureau
URL: https://newageislam.com/islamic-world-news/central-afri-republic-80-nigerians/d/34808
-----------
Africa
Central African Republic: Over 80 Nigerians Killed in Bangui
Dec 11, 2013
At least 83 Nigerians have been killed in the Central African Republic capital Bangui in the latest wave of sectarian violence following months of political crisis, a community leader told Daily Trust yesterday.
The CAR has been in chaos since rebel leader Michel Djotodia ousted President Francois Bozize in March.
Fuelled by ethnic rivalries, the conflict has also now become sectarian in nature as Djotodia installed himself as the first Muslim leader in the Christian-majority country, sparking months of bloody clashes between rival fighters.
A Nigerian community leader resident in Bangui, Muhammad Kalanbai, who spoke to Daily Trust by telephone yesterday,said most of the Nigerians killed in the latest violence were Muslims from the North.
"As I am speaking to you now, there are 16 bodies of Nigerian Muslims at the Ali Baglo mosque in Bangui, who were not buried because of the violence," said Kalanbai, who is the leader of northern Nigerians living in that country.
"Just last week over 67 Nigerian Muslims were killed by the supporters of Bozize. We are under serious attack.
"As I am talking to you now, you can even hear gunshots. I narrowly escaped being killed yesterday," he added.
Reuters news agency reported that much of the wide-scale violence that has killed hundreds in the last week has eased but reporters in Bangui saw a mosque set on fire, houses looted and cars torched yesterday.
Residents reported several lynchings overnight too.
Kalanbai told Daily Trust yesterday that supporters of Bozize were being given protection by the French forces, instead of restraining them.
"The French forces, instead of protecting civilians, ended up only backing the rebels who are busy killing Muslims with machetes, daggers and other weapons," he said.
He said that the Nigerian Muslims living in the country were "now rushing to the Nigerian embassy in Bangui for protection."
He urged the Federal Government to evacuate them back to Nigeria.
"We are calling on President Goodluck Jonathan to come to our rescue by sending aircraft to bring us back to Nigeria. Our lives are in serious danger," Kalanbai said.
He said other African countries, including Cameroon, Chad and Mali, had already sent planes to evacuate their nationals.
Thousands of Nigerians live in CAR, mainly in the capital Bangui. They are mostly from northern Nigeria, and are involved in diamond mining and trading activities.
A significant colony of Nigerian expatriates has sprung up in a Bangui neighborhood known as New Ikoyi, apparently named after the highbrow Lagos suburb, according to online encyclopaedia Wikipedia.
FG not aware
The Federal Government yesterday said it was unaware of the killing of Nigerians in CAR. Foreign Affairs Ministry spokesman, Mr Ode Ogbole, when contacted, said he was hearing about the incident from our reporter.
"I am hearing this from you but I will contact our Central African Republic mission to find out about the report," he said.
Daily Trust could not reach the Nigerian embassy in Bangui by telephone last night.
In his reaction, a former Nigeria diplomat, Ambassador Sulaiman Dahiru, said the situation required urgent evacuation of Nigerian nationals.
He told Daily Trust by telephone that the Nigerian embassy in Bangui should immediately begin efforts to ensure the safety of Nigerians. Dahiru said the African Union (AU) has not been proactive in the CAR crisis, and urged the organisation to do more to contain the situation.
Meanwhile, French authorities yesterday said two of its troops were killed in combat overnight in Bangui.
Reuters news agency reported that the two soldiers, who were among the 1,600 France deployed to its former colony, died after coming under attack at close range during an overnight patrol.
According to Celestin Christ Leon, a spokesman for the African peacekeeping force in Bangui, a rebel commander was harassing people, who called the French to come and help them.
"They came and tried to disarm the Seleka but gunfire erupted," he said.
In the Fouh neighbourhood, civilians armed with wooden clubs and machetes attacked a mosque and nearby houses.
"We found arms in their mosque. We don't want to see Djotodia and his Muslims here anymore," said one man at the scene, who wielded a large knife and refused to give his name.
Reuters reported that at least six people were lynched overnight, mainly during violence targeting Muslims, according to residents in Benz-vi and Miskine, Bangui neighbourhoods.
The Central African Republic is rich in diamonds, gold and uranium but despite such resources, most people remain poor. The country has seen little stability in five decades and France has intervened more times since independence in 1960 than in any of its former colonies.
It also lies at a crossroads of conflict in the heart of Africa, with Sudan, South Sudan and Somalia to the east, the Islamist threat in the Sahel region to the north and the revolts of the Great Lakes to the southeast.
http://allafrica.com/stories/201312110485.html?viewall=1
-----------
French kill 19 Islamists in Mali: French army
Dec 11, 2013
French troops killed 19 Islamist militants during an army operation in Mali's rebel-infested northern desert on Tuesday, a French military source told AFP.
"A French military operation is underway north of Timbuktu. French troops are facing a pretty determined group. At the moment, 19 members of this group have been killed," the Bamako-based source said.
"The French troops haven't reported any deaths or injuries. We are in control of the situation."
A French-led offensive in January drove Islamist groups linked to Al-Qaeda out of the cities of northern Mali, including Timbuktu, Gao and Kidal, after they occupied them in the wake of a coup in Bamako last year.
But the jihadists have continued to launch periodic strikes on the French, Malian and African peacekeeping forces.
http://english.ahram.org.eg/NewsContent/2/9/88803/World/International/French-kill--Islamists-in-Mali-French-army.aspx
-----------
Saharawi PM Denounces Morocco's "Support" to Terrorism to Destabilize Region
Dec 11, 2013
Chahid Al Hafed — Prime Minister of the Saharawi Arab Democratic Republic (SADR) Abdelkader Taleb Omar on Sunday denounced Morocco's "support" to terrorism, in a bid to destabilize the region, undermining the settlement of Western Sahara question in line with international resolutions.
"SADR has several clues about Morocco's support to terrorism and criminal groups aiming at destabilizing the region and undermining the settlement of Western Sahara issue according to the principles and resolutions of the United Nations on decolonization," Taleb Omar told APS at the end of the International Conference on Women's Role in Liberation Movements.
Saharawi army and security bodies (Gendarmerie and Police) "are mobilized to fight against every form of terrorism and criminality that benefit from Morocco's support, especially drug trafficking."
Saharawi Prime Minister said the visit of more than 700 human rights activists and humanitarian aid workers to the refugee camps and the Saharawi territories liberated since the beginning of 2013 was the best answer to Moroccan propaganda alleging that the Saharawi State and the Polisario Front are unable to ensure security in the region.
http://allafrica.com/stories/201312100799.html
-----------
Kenya: Cops Accused of Executing Muslim Cleric
Dec 11, 2013
HUMAN rights groups at the Coast have said Muslim cleric Hassan Suleiman Mwayuyu who was shot dead last Thursday could have been executed by the police, They said Mwayuyu had contributed to a report recently released by a Muslim organisation over extra judicial killings in Coast.
Last month, Muslim for Human rights presented the report to the US government in Washington D.C, expressing dissatisfaction with their alleged support and funding of Kenya's Anti-Terrorism Police Unit. Muhuri, ATPU have continued to violate human rights in the course of their duties which have seen the killing of a number of terror suspects.
Muhuri appealed to the US to protect and promote the rights of Kenyans by not supporting a unit that "violates human rights". The group handed over the 92-page report to the US government on November 20, which Mwayuyu is said to be among the biggest contributors.
The report which details a history of credible allegations against the ATPU since at least 2007, is based on over 40 interviews with victims, witnesses, and other individuals with knowledge of the ATPU's operations. "The Kenyan government has credited its Anti-Terrorism Police Unit (ATPU) with providing a robust counterterrorism response, thwarting dozens of terrorist plots, and arresting or killing dozens of terrorist suspects," read part of the report.
Speaking to the star yesterday, Muhuri project officer Peter Shambi confirmed that Mwayuyu was part of the report. "We suspect Mwayuyu was executed for contributing to the report which is anti- ATPU. We have also received intelligence that all those who gave information on the report are being targeted for execution," Shambi said.
Mwayuyu was father-in-law to the late terror suspect Salim Nyiro, who was killed in Mombasa on June 17 with Kassim Omollo. According to a report by Muhuri, 17 terror suspects are suspected to have been executed this year.
This include Samir Khan, whose body was found on the side of the road with marks of torture in April last year, the drive-by shooting of Sheikh Aboud Rogo in August last year, and Sheikh Ibrahim Ismail and three others in who were shot in October 2013, both of which lead to riots in Mombasa.
In June this year, more than 20 terror suspects expressed fears that the anti terror police unit is out to execute them. Among those fearing for their lives includes Abubakar Sharif, alias Makaburi, an ally of the late Sheikh Rogo and his son in-law Swale Abdulmajid. Makaburi has since condemned the Thursday killings. He accused an alleged 'hit squad' for being behind the killings of Muslim clerics among other suspects at the coast.
"Police are killing indiscriminately because they have immunity. This is getting serious and we cannot allow this to continue. We must now protect ourselves," he said. Mwayuyu was shot dead when gunmen attacked a passenger vehicle traveling from Mombasa to Ukunda on that fateful Thurday evening. According to trailed the minibus from Likoni before blocking it at Tiwi at 6.13pm. They ordered everyone to lie down and surrender their belongings.
Some eyewitnesses said the gunmen did not steal anything from the passengers and only targeted the cleric who is also a tailor at Msikiti Nuru area in Ukunda. However, police said the gunmen robbed the 29 passengers off their cash and mobile phones before shooting dead the cleric who refused to surrender.
According to an autopsy report, Mwayuyu was killed in a hail of bullets. Ngali Mbuuko, a pathologist at Coast General Hospital, told the Star on Phone that the cleric was shot eight times in the head, neck and abdomen at close range. The cleric's family has also accused the police of execution. Addressing the media at Coast General Hospital on Friday, Mwayuyu's family said the attackers had targeted him.
They said the gunmen trailed him from Mombasa for several hours using a saloon car. His son, Ali Hassan, said the gunmen did not steal anything from the passengers and only targeted his father. Kwale police boss Richard Mugwai however said police are still treating the incident as a simple case of robbery with violence so people should not panic.
Haki Africa yesterday challenged the Police to investigate the cleric's death.
"The fact that the killers had guts to shoot the cleric without worrying of being identified means that they must be working with powerful forces .We are challenging the police to fully investigate the shooting and let Kenyans know who was behind it," said Haki Africa executive director Hussein Khalid.
http://allafrica.com/stories/201312110501.html?viewall=1
-----------
Anarchy at door, West starts to rebuild Libyan army
Dec 11, 2013
TRIPOLI – On a dusty parade ground outside Tripoli, young recruits march and bark out slogans for the new Libyan army that Western powers hope can turn the tide on militias threatening to engulf the North African country in anarchy.
Their boots are new and their fatigues pressed, but Libya's army recruits will need more than drills to take on the hardened militiamen, Islamist fighters and political rivalries testing their OPEC nation's stability.
Two years after NATO missiles helped rebels drive out Muammar Gaddafi, Libya is under siege from former rebel fighters who now flex their military muscle to make demands on the state, seize oilfields and squabble over post-war spoils.
With Libya's army still in the making, Western powers are keen to halt chaos in the key European oil supplier and stop illicit arms spilling across North Africa.
Prime Minister Ali Zidan last month stood by in London as US Secretary of State John Kerry and Britain's William Hague pledged support. Just weeks earlier, Zidan himself was briefly abducted from a Tripoli hotel by militiamen.
Everyone agrees Libya needs help. But after four decades of Gaddafi rule, Libya's stuttering decision-making, fragile leadership and chronic disorganisation hamper cooperation.
Infighting between broadly liberal and Islamist camps in the assembly, and their network of militia allies, muddies Western efforts to stabilize a country where NATO's intervention was seen as a model two years ago.
"What happens next depends on outside pressure. If we don't make a compromise, we'll lose Libya," said Tofiq al-Shahibi, a leader with the National Forces Alliance party. "If we think we can build our country without outside help, we will fail."
Libya's new army is already being tested. The worst clashes in Tripoli since 2011 killed more than 40 people last month, forcing quasi-legal militias to withdraw from the capital and leave the nascent army to patrol for now.
In Benghazi, where Islamist militants assaulted the US consulate last year killing four Americans including the ambassador, Libya's special forces are now taking on the same hardline group Washington blames for the September 2012 attack.
Turkey, Italy, and Britain are leading the way with promises to train around 8,000 troops and police in skills from infantry basics to forensics. Other recruits are graduating from programmes in Jordan.
But Western military support is in its infancy. The army struggles even to pin down how many troops it has, including new recruits, ex-Gaddafi soldiers and militiamen drafted into the ranks.
Parliament is deadlocked between the mainly liberal National Forces Alliance, often linked to militia fighters from the mountain redoubt of Zintan, and the Justice and Construction party or JCP, a wing of the Muslim Brotherhood, frequently associated with fighters from coastal Misrata and Tripoli.
Disputes run deep through the interior and defence ministries, where former rebels, including hardline Islamists, have been reintegrated and put on the state payroll in an attempt to control their fighters.
"We can do capacity building and training and advice, but ultimately if the Libyans don't sort out the basic political problem then it is all on the margins," one Western diplomat said. "They need to come to some national consensus about what kind of country they want."
Former fighters have plagued Libya's central government since the fall of Tripoli in August 2011 when rebels from rival cities into the capital and entrenched themselves in fiefdoms.
This year former rebel commanders in the east and tribes in the west have taken over gas pipelines, ports and oilfields, cutting off crude shipments to demand ethnic or regional rights.
Balanced against those militia, officials say the army has 5,000 troops in training overseas and 10,000 in Libya. At least 3,000 were in Tripoli after the militia withdrawal last month and special forces units are in Benghazi, one diplomat said.
Italy and Turkey are training police. Britain will start early next year giving training to 2,000 infantry troops with instruction mostly given overseas.
Washington is still considering cooperation proposals, including a plan for groups of Libyan soldiers to rotate though Bulgaria for training.
Adm. William McRaven, the commander of U.S. Special Operations Command, has said the U.S. military was working to train 5,000 to 7,000 Libyans. He acknowledged a risk that some recruits tied to militias may not have "clean records."
"We all recognise the circumstances that are here. This is a new state, this is a developing state, that carries some baggage with it," U.S. Ambassador Deborah Jones told reporters this week. "I am very optimistic."
So much of the training takes place overseas because few of Libya's partners are willing to commit advisors on the ground.
Turkey trained 800 police cadets who graduated in February, but so far Libya has been unable to send a second batch because of state "decision-making" problems, one official said.
"We set up training. On day one, no one shows up. The second day, they promise us eight recruits, and only two show up. It's frustrating," another diplomat said.
Lack of modern equipment, basic skill levels and limited army facilities make training difficult; Gaddafi-era rivalries between departments mean coordination is often non-existent.
Some Libyan forces start from scratch. Coast guards, for example, often went out without life-jackets before training started and borrowed fishing vessels to make voyages to sea.
"They are trying to reform a non-system, they are trying to reform what didn't operate and make it into a rational system at break-neck speed," said Peter Rundell, deputy head of an EU mission that trains border guards and customs workers.
Increasing Western aid could not come too soon for Zidan's fragile government. The Libyan premier may now see a chance to capitalise on growing popular discontent with the militias to speed up recruitment and regain some control of the capital.
Tripoli's residents are frustrated. Gunmen armed with anti-aircraft cannons on trucks earlier this year besieged ministries to force political demands on the assembly and have fought turf wars in the capital and Benghazi.
One Tripoli battle at the start of November was sparked by a personal feud after one militia briefly arrested a leader from a rival group for driving an unlicensed car. He was freed, but returned with his militiamen and a gun battle broke out.
Armed protests at oil ports and production facilities have cut the country's oil exports to 10 percent of the normal 1.4 million barrels per day output and forced the government to import fuel and cut back on electricity in the capital.
November's clashes in Tripoli were sparked when angry residents marched on the base of a militia from Misrata to demand they leave the capital. Gunmen opened fire with anti-aircraft guns fastened to a truck.
Faced with popular anger, the Misratans and rival Zintani brigades pulled out of their bases, where army patrols and police are now stationed. Some fighters agreed to join the regular army; others left with their heavy weaponry.
"Each one wants to keep their weapons, not because of the government, but because they are aware the others didn't hand theirs over yet. To be on the safe side," said Saleh Gaouda, a lawmaker allied to Libya's Islamists.
At the 2nd Brigade army camp outside Tripoli, recruits are keen to sign up, dumping their bags, blankets and baseball caps on the parade ground before drill officers in aviator glasses run them through their first day of training.
Officers complain of a lack of space at the camp, where recruits get three months of basic training in army discipline and fitness before they get near any weapons. But they sense a shift in the military's fortune.
"We are getting more and more everyday," base commander, Brigadier Faituri Gabil said. "Everything needs time, we are just starting and it is difficult. We have lots of militias and lots of different ideas, now the army is winning."
http://www.saudigazette.com.sa/index.cfm?method=home.regcon&contentid=20131211189221
----------
Arab World
Syria: Lashes in Town Square for 'Adultery' as Sharia Law Reigns
Dec 11, 2013
Syrian cities under rebel control are being ruled by a strict interpretation of Islamic, or Sharia, law - as a video surfaced this week showing a man being served with lashes demonstrates.
Sharia courts are run by groups associated with Al Qaeda, including the Al-Nusra Front and the Islamic State in Iraq and Syria (ISIS). The Authority of the Sharia system apparently applies to all areas of daily life, and have the power to dole out capital punishment.
Many of these courts are in the northern areas of Syria - rebel strongholds - and have armed militias which carry out punishments, according to reports.
The video shows a youth being whipped on adultery charges. The accused was brought to the town square and lashed in front of hundreds, including teenagers and young children. The sentence was read and the young man was hit dozens of times in the back, neck, and legs by a man wearing black executioner-style garb.
Full report at:
http://www.israelnationalnews.com/News/News.aspx/174976#.UrZNl9JDsqM
-------------
Salafi Dawa Accuse Brotherhood Youth of Insulting Them
Dec 11, 2013
Salafi Dawa Vice-Chief Yasser Borhamy said Salafi Dawa leaders and its political arm the Nour Party are being insulted continuously by Muslim Brotherhood youth on the streets and in mosques and now they have "started gathering in front of our houses and making several threats."
He called on Brotherhood leaders to order their youth to stop following members of the Salafi Dawa and Nour Party. He said, "The Brotherhood leaders watch their youth planning their campaigns against us on social media platforms," although they are able to stop them.
In a statement on Tuesday, the Nour Party said, "The Brotherhood staged marches led by figures known to the Salafis at Abu Kebeer in Sharqiya. These marches passed by mosques affiliated to the Salafi Dawa and its leaders' houses. They [the marches] tried to assault them through insults." The statement added that Brotherhood figures took part in the attack against the main mosque of the Salaf Dawa in Herbeit village, near to the homes of Salafi Dawa figures.
Full report at:
http://www.egyptindependent.com/news/salafi-dawa-accuse-brotherhood-youth-insulting-them
--------
Syria regime has killed 2,900 'with knives': Opposition
Dec 11, 2013
Syrian President Bashar al-Assad's forces have killed some 2,900 people "with knives," the opposition National Coalition said in a new report.
The publication, timed to coincide with International Human Rights Day, accuses Syrian government forces of carrying out "at least 20 massacres that involved the slaughter of 2,885 people" with knives and other crude weapons.
The victims, the report said, include "more than 200 children and 120 women."
The Coalition said the killings amounted to "a series of organised crimes of genocide."
It said the 81-page report was based on open source reporting, investigations by international organisations and the testimony of both survivors and opposition activists.
Among the incidents documented in the report are the deaths of at least 110 people in the town of Houla in central Homs province on May 25, 2012.
The United Nations concluded that the majority of those killed in the incident were summarily executed, and local residents said the attack was carried out by pro-regime militias.
Full report at:
http://english.ahram.org.eg/NewsContent/2/8/88786/World/Region/Syria-regime-has-killed-,-with-knives-Opposition.aspx
-----------
Decade after arrest, the now-executed Saddam Hussein's legacy looms over Iraq
Dec 11 2013
Baghdad: A decade after Saddam Hussein's arrest, the now-executed Iraqi dictator's legacy of conflicts, sanctions and repression still exact a heavy toll on the country.
And as oil-rich Iraq grows increasingly important to the global economy and regional diplomacy, his legacy of a slow-moving, hierarchical bureaucracy and corrupt decision-making processes have hamstrung a country looking to rebuild.
Former members of Saddam's now-banned Baath Party are still regularly barred from public office, politicians tar opponents as "Baathists", and surging violence is typically blamed on some combination of Saddam supporters and Sunni militants.
Full report at:
http://www.indianexpress.com/news/decade-after-arrest-saddam-hussein-s-legacy-looms-over-iraq/1206319/
-----------
Saudi jihadist jailed 16 years over plot to kill top cleric
Dec 11, 2013
A Saudi court has jailed an Al-Qaeda-linked jihadist for 16 years for plotting to kill the kingdom's grand mufti, Sheikh Abdul Aziz bin Abdullah al-Sheikh, and other clerics, media said Wednesday.
The sentence, which includes 40 lashes and a 16-year travel ban, was handed down on Tuesday by a court in Riyadh specialising in terrorism cases, the local Okaz daily reported.
According to Okaz, the jihadist was convicted of "recruiting several people to assassinate the kingdom's grand mufti, several clerics, important personalities and security officials".
The official SPA news agency said the defendant was convicted of "receiving books inciting adoption of the deviant ideology and assassinating security officials and important personalities" in the kingdom, without specifying that the grand mufti was targeted.
The convicted man, who has not been named, has one month to appeal.
Full report at:
http://english.ahram.org.eg/NewsContent/2/8/88844/World/Region/Saudi-jihadist-jailed--years-over-plot-to-kill-top.aspx
-----------
Muslim Brotherhood calls for referendum boycott
World Bulletin / News Desk
Dec 11, 2013
Although a main support bloc for ousted Egyptian president Mohamed Morsi has not yet decided whether or not to participate in an upcoming constitutional referendum, several jailed pro-Morsi figures are calling to boycott the vote.
Egypt plans to hold a popular referendum – expected sometime in mid-January – on an amended version of the 2012 constitution, which was suspended by the military in the wake of Morsi's July 3 ouster by the army.
Amendment of the constitution is a central pillar of an army-imposed roadmap for political transition, unveiled by the army following Morsi's ouster this summer.
Morsi supporters, for their part, reject the roadmap, decrying Morsi's removal more than five months ago as an illegitimate military coup against a democratically elected president.
Leading Muslim Brotherhood member Mohamed al-Beltagi, currently in jail on multiple charges, said in a message conveyed through a visitor that the draft constitution should be "put in a garbage can, not to a referendum."
Full report at:
http://www.worldbulletin.net/?aType=haber&ArticleID=124744
-----------
Gulf states call on foreign forces to leave Syria
Dec 11, 2013
KUWAIT CITY: Gulf Arab states called on Wednesday for the withdrawal of "all foreign forces" from Syria, where Iran-backed Shiite militias from Iraq and Lebanon are supporting regime troops against mostly-Sunni rebels.
The Gulf Cooperation Council "strongly condemned the continued genocide that (President Bashar) Assad's regime is committing against the Syrian people using heavy and chemical weapons... calling for the withdrawal of all foreign forces from Syria," the six nations said in a statement.
http://www.arabnews.com/news/491006
-------------
'Heritage studies needed to record rich Saudi history'
Dec 11, 2013
The Kingdom needs to introduce studies at higher education institutions to ensure the country adequately documents its rich history including the expansions of the two holy mosques. This was one of several recommendations issued at the National Heritage Forum at Madinah's Taiba University recently. Delegates said the Saudi Commission for Tourism and Antiquities (SCTA) should ensure this happens.
About 100 national and international scientists, researchers and specialists are taking part in the forum.
In a workshop entitled "The role of municipalities in the preservation of urban heritage," governors of the regions said the government should allocate special budgets at municipal level for the development of heritage sites. Prince Sultan bin Salman, chairman of the SCTA, praised agencies and individuals for restoring the country's ancient sites and turning them into attractive tourist destinations.
Full report at:
http://www.arabnews.com/news/490851
----------
World churches should take feasible steps for deterring terrorists' supporters in Syria
Dec 11, 2013
Occupied Jerusalem, (SANA) - Greek Orthodox Archbishop of Sebastia, Archbishop Atallah Hanna, said that world churches should take feasible measures for pressuring governments and sides which are supporting terrorists in Syria so as to deter them.
Archbishop Hanna called for a universal Christian move for solidarity with Syria which "is bleeding and undergoing an unprecedented terrorist attack" that targets it people, unity, history and religious amity.
Full report at:
http://213.178.225.235/eng/22/2013/12/11/517101.htm
----------
South Asia
Jamaat-e-Islami Leader Given Last-Minute Stay of Execution in Bangladesh
AFP
2013-12-11
DHAKA: Bangladesh's highest court on Tuesday halted the execution of a top Islamist just 90 minutes before he was to become the first person executed for war crimes committed during the country's bloody independence fight.
Supreme Court chamber judge Syed Mahmud Hossain stopped the execution of Abdul Quader Molla, a senior leader of the Jamaat-e-Islami party described by prosecutors as "the Butcher of Mirpur", until 10:30 am Wednesday (0430 GMT), the court registrar said.
"The execution has been halted pending a hearing on Wednesday," the registrar told AFP, without elaborating.
Defence lawyer Shishir Munir said they were seeking a last-minute review of Molla's execution order as the country's constitution enshrines rights for a death-row convict to have his appeal heard in the Supreme Court.
Molla has been convicted of mass murder and rape during the Bangladesh's 1971 independence war against Pakistan.
Earlier in the day, Bangladesh's secular government had said it would go ahead with the execution of Molla at one minute past midnight – despite a global outcry over the lack of a right to appeal.
Full report at:
http://www.dawn.com/news/1061714/jamaat-leader-given-last-minute-stay-of-execution-in-bangladesh
-----------
US conducting 'psychological war' in Afghanistan: Karzai
Dec 11, 2013
President Hamid Karzai accused the United States of conducting psychological war against the Afghan people in one of his strongest attacks to date on Washington's policy in his country.
Karzai's broadside came in an interview with French newspaper Le Monde amid a row over a security accord that would allow some US and some NATO troops to operate in Afghanistan after 2014 on a mission focused on training, and countering Al-Qaeda-linked extremists.
Karzai initially endorsed the security pact, but has since refused to sign and issued fresh demands. He said the signature could take place after the presidential election in April.
Some 75,000 NATO troops are due to leave Afghanistan at the end of 2014.
Full report at:
http://english.ahram.org.eg/NewsContent/2/9/88799/World/International/US-conducting-psychological-war-in-Afghanistan-Kar.aspx
-----------
Three killed in nocturnal violence of Jamaat-Shibir
Dec 11, 2013
Jamaat-Shibir activists unleashed a reign of terror in several districts leaving three people killed following the news that Abdul Quader Molla would be executed last night. Of the three, a mother Sumi Akter and her daughter seven-year-old Sanjida were killed when Shibir men torched a parked covered van at 10pm onthe Bogra By-pass Road of Gazipur, the place where a teenage boy Monir Hossain was burnt to death. He too was in a covered van with his father. The incident left two more covered van passengers Sadia, 2, sister of Sanjida and their father Adam Ali, 40,criticallyburnt. Police Superintendent Abdul Baten said the covered van was heading towards Bogra. The victims were on way to their village home at Ullapara in Sirajganj from Rupganj of Narayanganj. The family failed to board any bus and they managed the van of Partex Group for the journey. As the driver pulled it up for a short break on Pubail Roada group of activists Jamaat-e-Islami and its student wing Islami Chhatra Shibir came in a flash procession and threw a petrol bomb at the van. As the mother and her seven-year-old daughter were traveling in the driver's cabin they could not manage to come out of the vehicle. The father with his two-year-old daughter jumped out of the van with little injuries. Full report at:
http://www.dhakatribune.com/crime/2013/dec/11/three-killed-nocturnal-violence-jamaat-shibir#sthash.QlrtPOHK.dpuf
-----------
Jamaat: Political killing, if Quader Molla executed
Dec 11, 2013
'The government is unwilling to provide him minimum constitutional and legal rights,' they claimed
When it was confirmed by the government that death row convict Abdul Quader Molla would be executed last night, Jamaat-e-Islami issued a statement saying that it would be a political killing if the government had executed him.
Jamaat acting ameer Mokbul Ahmed said: "The government is unwilling to provide him [Quader Molla] minimum constitutional and legal rights and thus it will be considered as a political killing."
Full report at:
http://www.dhakatribune.com/politics/2013/dec/11/jamaat-political-killing-if-quader-molla-executed#sthash.oVxNqqZh.dpuf
-----------
Jamaat-e- Islami calls dawn-to-dusk Hartal for Molla
Dec 11, 2013
Jamaat-e- Islami called a further dawn to dusk countrywide Hartal on Wednesday in protest of the death sentence against Quader Molla and with demand of his release.
It's acting secretary general Shafiqur Rahman declared it in a press release at around 12:30am on Wednesday.
The press release alleged that the government planned to kill Quader Molla using judiciary.
Earlier on Tuesday Chamber Judge of the Supreme Court stayed the execution of Molla till 10:30pm. Molla's execution scheduled at 12:01 am.
However, Molla did not appeal for clemency to president as junior Law Minister Quamrul Islam told last night.
http://www.dhakatribune.com/bangladesh/2013/dec/11/jamaat-calls-dawn-dusk-Hartal-molla#sthash.nMUdixXE.dpuf
-----------
Social media helps stall Mollah hanging
World Bulletin / News Desk
Dec 11, 2013
Bangladesh's Jamaat-e-Islam leader Abdul Quader Mollah, who was originally due to be hanged in the early hours of Wednesday morning, has had his death penalty delayed twice following an appeal.
Meanwhile, social media websites like Twitter have been going wild with tweets and tags calling for the execution to be stopped completely. Groups in Turkey have also played a major role in calling the execution off.
World Bulletin's editor Akif Emre also joined in the calls to stop the hanging. On his personal Twitter account he tweeted "Execution of Jamaat-e-Islami party leader in #Bangladesh should be stopped immediately #stopexecutionBangladesh".
Full report at:
http://www.worldbulletin.net/?aType=haber&ArticleID=124732
----------
Six nabbed for killing Sayedee witness
Dec 11, 2013
Police arrested six people in connection with killing Mostafa Hawlader, a prosecution witness for the prosecution in the case against condemned prisoner Jamaat-e-Islami leader Delawar Hossain Sayedee. Mostafa was injured in an attack by miscreants and succumbed to his injuries early yesterday at Dhaka Medical College Hospital. Unidentified miscreants stabbed Mostafa, 58, in his house at Hoglabunia village of Parerhut under Indurkani police station of Zianagor in Pirojpur early Sunday. His wife Hasina Begum also sustained minor injuries as she tried to resist the attackers who entered the house by digging the earthen floor.
Full report at:
http://www.dhakatribune.com/law-amp-rights/2013/dec/11/six-nabbed-killing-sayedee-witness#sthash.uZkVGoqf.dpuf
-----------
Suicide bomber attacks foreign troops in Afghanistan
REUTERS
2013-12-11
KABUL: A suicide bomber attacked a convoy of foreign troops near the international airport in the Afghan capital, Kabul, on Wednesday, a military official said, but there were no immediate reports of casualties.
Confirmation of the attack from the Nato-led International Security Assistance Force (Isaf) came soon after a Reuters witness reported a large blast near the sprawling and heavily guarded facility, which is used by civilians and the military.
"We can confirm reports of a suicide bomber who attempted to attack an Isaf convoy today," Isaf spokeswoman Lieutenant Colonel Latondra Kinley said.
"The attacker was killed and there were no Isaf casualties to report." Sayed Ghafar Sayed zada, the deputy Kabul police chief, also said the blast appeared to be the result of an insurgent attack.
Full report at:
http://www.dawn.com/news/1061890/suicide-bomber-attacks-foreign-troops-in-afghanistan
---------
Europe
Taliban magazine urges jihad - urging recruits to leave behind children or elderly parents
Dec 11, 2013
The Taliban has issued a fresh appeal to Muslims in the West to launch attacks at home or fight in foreign battlefields, urging recruits to leave behind children or elderly parents.
The message appeared in the fourth edition of Azan, an English-language magazine published by al-Qaeda in the Arabian Peninsula.
Written by a man claiming to be a Western-born Jihadi operating in Afghanistan or Pakistan, the call to arms appeared along with an homage to the Honda 125 in its Steeds of War feature, crediting the $700 motorbike with helping defeat "crusader" forces.
The magazine, modelled on the better-known Inspire and published by the Taliban in Khurasan (the Afghanistan and Pakistan region), is designed as a recruitment tool for impressionable young Muslims living in the West.
Its cover story, written by Abu Salamah al-Muhajir, offers practical advice for jihadi wannabes, overturning excuses such as wanting to finish college studies or not wanting to leave behind a wife.
Full report at:
http://www.telegraph.co.uk/news/worldnews/al-qaeda/10503925/Taliban-magazine-urges-jihad-and-profiles-the-Honda-125.html
----------
Muslim Sharia Believers to March Against Sale of Alcohol on Fashionable Brick Lane in London's East End
Dec 11, 2013
The Shariah Project, a London-based Muslim group, is to march through Brick Lane on Friday against the drinking and sale of alcohol along the nightlife spot.
Members of the group believe the consumption or selling of alcohol to be "sinful" under Islamic law and should be "strictly prohibited".
They hope that the rally, scheduled for the afternoon following Friday prayers, will illuminate the ills of alcohol.
Spokesman for the group Abu Rumaysah, said: "There's a lot of problems in the area like anti-social behaviour caused by drinking and a lot of the Muslims are involved in selling alcohol in their shops."
Full report at:
http://www.ibtimes.co.uk/articles/529044/20131210/sharia-muslim-group-march-brick-lane-sale.htm
------------
Ban-Ki-Moon expresses concern over deliberate attacks of religious sanctities in Syria
Dec 11, 2013
New York, (SANA)- U.N. Secretary-General, Ban Ki-moon, expressed deep concern over the deliberated attacks on the religious sanctities in Syria and representatives of the church, calling for maintaining the safety of the kidnapped nuns of Thecla convent in Maaloula.
On December 2, a takfiri terrorist group attacked the archeological city of Maaloula in Damascus Countryside and perpetrated sabotage acts in the city and broke into Thecla convent and kidnapped the Mother Superior and 12 nuns.
In a statement posted at the website of the UN News Center on Tuesday, Ki-Moon expressed the UN rejection of targeting the persons according to their religion, religious and ethnic belonging.
Full report at:
http://213.178.225.235/eng/21/2013/12/10/516889.htm
------------
UK expresses concern over Molla's execution
Dec 11, 2013
Britain opposes the death penalty in all circumstances
Referring to the execution of war criminal Abdul Qader Molla, Britain has expressed concerns over the use of death penalty in Bangladesh.
In a statement issued yesterday evening, British Senior Foreign Office Minister Baroness Warsi said: "I am deeply concerned at reports of plans to execute Abdul Qader Molla in the coming days.
"The UK calls again for Bangladesh to implement a moratorium on the death penalty leading to the eventual abolition of the death penalty."
Britain opposes the death penalty in all circumstances as a matter of principle and considers that its use undermines human dignity and that there is no conclusive evidence of its deterrent value.
Full report at:
http://www.dhakatribune.com/foreign-affairs/2013/dec/11/uk-expresses-concern-over-molla%E2%80%99s-execution#sthash.KN5rgtow.dpuf
-----------
UN job application question points to pro-Palestinian bias, watchdog says
Dec 11, 2013
NEW YORK – Looking for a job at the UN Office of the High Commissioner for Human Rights in Geneva? You might have to prove you support the Palestinians first, according to watchdog organization UN Watch.
On Tuesday, UN Watch unveiled a written exam question it obtained from the OHCHR that the watchdog group says was administered to job applicants two years ago.
Here is the question, reproduced in full on UN Watch's blog: "WRITTEN EXERCISE "The Special Rapporteurs on the Right to Adequate Housing, on the Rights to Water and Sanitation and on the Right to Food have been sending allegation letters to Israel raising concerns about the demolition of houses, water tanks and agricultural structures in the West Bank throughout 2011.
Full report at:
http://www.jpost.com/Diplomacy-and-Politics/UN-job-application-question-points-to-pro-Palestinian-bias-watchdog-says-334627
-----------
WUC Urges Respect for UDHR on International Human Rights Day
Dec 11, 2013
On the occasion of the International Human Rights Day, the World Uyghur Congress (WUC) calls on the international community to urge the People's Republic of China (PRC) to respect and abide by the core principles enshrined in the Universal Declaration of Human Rights (UDHR) as it prepares to take its seat on the UN Human Rights Council (HRC). The WUC also calls on President Xi Jinping to use this occasion to ensure that he be the first President of the PRC to fully embrace the UDHR, as well as the PRC's national constitution, especially as it applies to the protection of Uyghurs' basic human rights.
Since 1950, the international community has annually commemorated the UDHR on 10 December, following its recognition by the UN General Assembly as the International Human Rights Day. Its raison d'etre, or justification for existence, has since been to "bring to the attention 'of the peoples of the world' the [Declaration] as the common standard of achievement for all peoples and all nations." To this day, the UDHR uniquely acts as the universally-recognised benchmark for the protection of human rights, including freedom of speech, religious belief and expression.
Full report at:
--------------
Former French Jihadi Warns of Syrian Rebels with '9/11 Ideology'
Dec 11, 2013
A French Islamist who fought as part of a jihadi rebel faction in Syria has said that foreign fighters with a "9/11 ideology" could return to the West, where they would pose a definitive security threat.
In an interview with the BBC the anonymous former rebel fighter told of how he had fought for an unnamed Islamist brigade, before leaving after it pledged its allegiance to Al Qaeda's Islamic State of Iraq and al-Shams (ISIS), saying that he opposed the brutal methods of the group - but not necessarily its vision for Syria.
The interview offers an intriguing insight into the mindset, ideology and motivations of the increasingly dominant Islamist rebel movement in Syria, which has eclipsed the more secular Free Syrian Army. It also once again highlights the growing security concerns shared by most Western countries over the increasingly large number of Western-born Islamists fighting in Syria - and the prospect of there return to their countries of birth at some point in the future.
Western states have recently opened diplomatic channels with the largest such faction - the Syrian Islamic Front (SIF) - in a bid to gain their support for upcoming peace talks in Geneva. The move has also been seen as an attempt to drive a wedge between the non-Al Qaeda-aligned factions fighting under the banner of SIF, and Al Qaeda franchises such as Al Nusra Front and ISIS, with whom they sometimes coordinate operations, particularly in the north of the country.
Full report at:
http://www.israelnationalnews.com/News/News.aspx/175001#.UrZNi9JDsqM
-----------
India
Karzai heads to India waving wish list of military hardware
Reuters | Dec 11, 2013
NEW DELHI: Afghanistan is pressing India to supply military helicopters, tanks and artillery as it tries to shore up security through regional alliances before the withdrawal of most NATO-led foreign troops by the end of 2014.
President Hamid Karzai will use a visit to India at the end of this week to push for progress on a "wish list" of military equipment he handed New Delhi in May.
India has invested $2 billion in aid and reconstruction and trained scores of Afghan officers, but has so far stopped short of arms transfers for fear of provoking Pakistan, as well as armed groups in Afghanistan.
Pakistan and India have been locked in a long struggle for influence in Afghanistan, both fearing an unstable state on their doorsteps.
Kabul wants India to deliver on a strategic partnership agreement signed in 2011 that allowed for the transfer of "war-like stores," or lethal equipment. It argues that India's security is tied to a stable Afghanistan.
Full report at:
http://timesofindia.indiatimes.com/india/Karzai-heads-to-India-waving-wish-list-of-military-hardware/articleshow/27211673.cms
-----------
Bihar Police have no proof against six 'terrorists' arrested in November
Deeptiman Tiwary,TNN | Dec 11, 2013
NEW DELHI: In the first week of November, Bihar Police arrested over a dozen people accusing them of being a part of an illegal fund transfer racket involving Pakistan that was suspected to be case of "terror funding". Media reports from Patna, quoting police sources, said that the accused could be linked to ISI and Indian Mujahideen (IM) and could have even funded Patna blasts. There was even speculation on "Hindu terror" as four of the accused were Hindus.
A month after investigations, Bihar Police is yet get any evidence linking the accused to any terror outfit or even the fund transfers to any act of terror. The National Investigation Agency (NIA), which is investigating two blast cases in Bihar, has not even bothered to question the accused in custody.
Full report at:
http://timesofindia.indiatimes.com/india/Bihar-Police-have-no-proof-against-six-terrorists/articleshow/27201981.cms
-----------
Sunni clerics' body to hold peace conference
Rakhi Chakrabarty,TNN | Dec 11, 2013
NEW DELHI: In the backdrop of the communal riots in Muzaffarnagar that left thousands homeless and sectarian conflicts across the sub-continent, the Jamiat Ulama-i-Hind (JuH), a body of Sunni Muslim clerics, is gearing up for a peace conference to seek solutions from Islam to problems plaguing the region, prime among them being terrorism.
Clerics from countries of the region, including Pakistan, Bangladesh, Myanmar, Sri Lanka, Nepal and Maldives, as well as Islamic scholars from the US and the UK will debate and discuss ways to combat terrorism perpetrated in the name of Islam, for instance.
"Like in India, communalism is a problem in, say, Pakistan, Bangladesh or Sri Lanka where minorities are being persecuted. At the conference, Islamic scholars will seek to resolve and assuage such sectarian strife in the light of Islam," said Maulana Mahmood Madani, general secretary of JuH.
Full report at:
http://timesofindia.indiatimes.com/india/Sunni-clerics-body-to-hold-peace-conference/articleshow/27196939.cms
-----------
Kerry holds talks with Foreign Secretary
Dec 11, 2013
US Secretary of State John Kerry has held wide-ranging talks with visiting Foreign Secretary Sujatha Singh on key issues, including the regional situation with respect to Afghanistan, Pakistan and Bangladesh.
No official statement on the meeting, pictures of which were posted on the twitter feed of the South and Central Asia Bureau of the State Department, were made available from either side.
However, officials familiar with the talks described it as a highly useful meeting.
Mr. Kerry is believed to have "enjoyed a positive conversation" with Ms. Singh, which was followed by a series of meetings with other top officials of the State Department, including Deputy Secretary of State William Burns, Under Secretary of State for Political Affairs Windy Sherman and Assistant Secretary of State for South and Central Asia Nisha Desai Biswal.
Full report at:
http://www.thehindu.com/news/international/world/kerry-holds-talks-with-foreign-secretary/article5446869.ece
--------------
Nitaqat in Saudi Arabia had no major impact on Indian workers: Govt
PTI | Dec 11, 2013
NEW DELHI: The government on Wednesday said the "nitaqat" implemented by Saudi Arabia to streamline their labour market and identify illegal workers did not have any any significant adverse impact on India workers owing to the extension of grace period twice.
"The grace period has been extended twice — first up to July 3, 2013 and second up to November 3 this year. The policy has not had any significant adverse impact on Indian workers in Saudi Arabia except on those who were working there without proper valid documents," overseas Indian affairs minister Vayalar Ravi told Lok Sabha.
He said, "The grace period allows even workers without valid papers to have their status regularized".
Giving details, Ravi said that more than 1.4 million Indians availed concessions during the grace period.
Full report at:
http://timesofindia.indiatimes.com/nri/middle-east-news/Nitaqat-in-Saudi-Arabia-had-no-major-impact-on-Indian-workers-Govt/articleshow/27221441.cms
-----------
Pakistan
Islamabad declaration rejects any military intervention in Syria
Dec 11, 2013
Islamabad, (SANA)-The Asian Parliamentary Assembly on Tuesday reiterated its rejection of any military intervention in Syria, saying that the Syrian people alone determine their destiny through dialogue.
The Assembly unanimously adopted Islamabad declaration which calls for a cease-fire in Syria, boosting the political dialogue and restoring peace to the country, stressing rejection of any threat to use force in order to resolve conflicts.
The declaration considered that the foreign occupation, extremism and terrorism are evil issues that form an aggression on the humanity as a whole.
Al-Lahham: Syrians facing proxy war led by the West and carried out by terrorists
Earlier, Speaker of the People's Assembly Mohammad Jihad al-Lahham met on Tuesday Chairman of the Senate of Pakistan Nayyar Hussain Bukhari on the sideline of the meetings of the 6th plenary session of the Asian Parliamentary Assembly (APA) being held in Pakistan.
Full report at:
http://213.178.225.235/eng/21/2013/12/11/517028.htm
-----------
Pakistani Hindu Refugees Stage Demonstration outside UN Office on Rights Day
Dec 11, 2013
Over a hundred Hindu refugees from Pakistan held a protest outside the office of United Nations (UN) here on the occasion of International Human Rights Day.
They submitted a memorandum addressed to UN Secretary General Ban-ki-Moon at the United Nations information centre demanding Indian citizenship to refugees. Protestors said that para-military religious terrorist outfits in Sindh have been harassing and terrorising Hindus.
The trail of harassment, murder, abduction, kidnapping of girls and their forced conversion as well as un-consensual marriages with the Muslims backed by the security establishment.
Such a situation is resulting in a gradual exodus of Sindhi Hindus from their historical and indigenous land - Sindh, and the Islamic Republic of Pakistan, said Khemu Kalani (name changed), one of the protestors who along with 114 other Hindus came from Sindh province of Pakistan on a tourist visa to India via Rajasthan.
Full report at:
http://www.newindianexpress.com/nation/Pakistani-Hindu-Refugees-Stage-Demonstration-outside-UN-Office-on-Rights-Day/2013/12/11/article1939566.ece
-----------
Pakistani doctor wins $1m to fight child deaths
2013-12-11
ISLAMABAD: A Pakistani doctor won a $1 million grant on Tuesday to fight early child mortality in a small fishing village in southern Pakistan in a contest financed by an American entrepreneur to find innovative ways to save lives, The Caplow Children's Prize said.
A proposal by Anita Zaidi, who heads the pediatrics department at the Aga Khan University in Karachi, beat out more than 550 other applications from more than 70 countries.
The prize was founded and funded by entrepreneur Ted Caplow to find impactful and cost-effective ways to save children's lives, according to a press release announcing the results.
Zaidi said in a telephone interview that her project will focus on reducing child mortality rates in Rehri Goth, on the outskirts of Karachi.
Full report at:
http://www.dawn.com/news/1061719/pakistani-doctor-wins-1m-to-fight-child-deaths
-----------
Karachi violence kills at least three, 110 suspects arrested
2013-12-11
KARACHI: A suspected robber on Wednesday mysteriously died in Gulistan-i-Jauhar police station while a targeted operation by the Rangers was carried out in different areas of the city, DawnNews reported.
A robbery case suspect detained in Gulstan-i-Jauhar police station died under mysterious circumstances.
His body was shifted to a hospital.
The cause of death would be known after a post mortem and an inquiry was conducted.
The bodies of a woman and child were found in a house situated in Saeedabad are of Baldia's Ittehad town.
Full report at:
http://www.dawn.com/news/1061900/karachi-violence-kills-at-least-three-110-suspects-arrested
-----------
Social Media: New Dimension of Violence against Women
Increasing cyber crimes hurting girls: speakers
Dec 11, 2013
ISLAMABAD: Speakers at a panel discussion on Tuesday said the increasing trend of cyber crimes against women were hurting girls who face subsequent loss of personal freedom, mobility, recreation and most importantly educational and employment opportunities.
They condemned the rising trend of cyber crimes against women and said a large number of girls were becoming victims of this kind of violence which includes harassment via email, cyber stalking, exploitation, tampering, cyber pornography, defamation, morphing, visual surveillance and tracking.
The Aurat Foundation Gender Equity Programme (GEP) supported by the USAID organised the panel discussion titled "Social Media: New Dimension of Violence against Women". The main purpose of the discussion was to highlight violence faced by women, especially girls, due to the negative uses of social media.
Full report at:
http://www.dailytimes.com.pk/default.asp?page=2013\12\11\story_11-12-2013_pg11_1
-----------
Darul Uloom Haqqania issues fatwa promoting polio vaccination
Dec 11, 2013
PESHAWAR: A religious scholar known as the "Father of the Taliban" has issued a fatwa urging parents to immunise their children against polio and other fatal diseases, adding that vaccinations comply with Islamic law.
The edict by Maulana Samiul Haq, who heads the Darul Uloom Haqqania seminary, comes more than a year after the Pakistani Taliban banned polio immunisation following a fake CIA vaccination programme meant to help track al Qaeda chief Osama bin Laden. The ban has led to a surge in polio cases in Pakistan that threatens worldwide efforts to eradicate the infectious crippling disease, which is also endemic in Nigeria and Afghanistan.
Full report at:
http://www.dailytimes.com.pk/default.asp?page=2013\12\11\story_11-12-2013_pg1_4
-----------
Pakistan trying to turn new page in ties with neighbours: PM
Dec 11, 2013
ISLAMABAD: Prime Minister Nawaz Sharif said on Tuesday Pakistan was trying to turn a new page with its neighbours and prepared to look at the larger picture.
Addressing the Asian Parliamentary Assembly (APA) in Islamabad, Nawaz also stressed greater connectivity among the Asian countries for their mutual development and prosperity.
According to the prime minister, the newly elected parliament was working to address the challenges confronting the country and had forged a national consensus on how to deal with terrorism and poor economy. He said there was need to address the crippling energy crisis and the government was striving on war-footing to combat the energy deficiency, attract foreign investment, mobilise domestic resources and jump-start economic growth.
Full report at:
http://www.dailytimes.com.pk/default.asp?page=2013\12\11\story_11-12-2013_pg1_3
-----------
Pakistani court stops airing of Indian, foreign films on TV
Dec 11, 2013
A Pakistani court has stopped the screening of foreign films, serials and television shows, especially Indian content, on the country's TV channels, triggering panic and outrage among exhibitors and viewers.
While staying the beaming of foreign content, Lahore High Court Justice Khalid Mahmood Khan on Tuesday ruled that Indian films and television serials were included in "Negative List" under the current bilateral trade regime.
He also directed the federal government and the Pakistan Electronic Media Regulatory Authority (PEMRA) to submit a detailed reply in this regard at the next hearing on December 12.
Full report at:
http://www.thehindu.com/news/international/south-asia/pakistani-court-stops-airing-of-indian-foreign-films-on-tv/article5447536.ece
-----------
Hindu's in Karachi to hold Bhajan and Qawali night on New Year
Yudhvir Rana,TNN | Dec 10, 2013
AMRITSAR: A night full of bhajan's , hymns, Sufi songs and Qawali's is what the Karachi based Hindu NGO Pakistan Hindu Seva Welfare Trust (PHSWT) has planned for entering in the New Year while carrying forward the message of peace and promoting interfaith harmony and dialogue for a peaceful coexistence.
"Today we held a meeting in the office of Arts Council and began the process of enrolling singers and qawal's with PHSWT who would be performing during bhajan and quawali night on December 31st" said Sanjesh Dhanja while talking to TOI on Tuesday while adding that qawali's with only spiritual and religious lyrics would be sung during the function.
Full report at:
http://timesofindia.indiatimes.com/india/Hindus-in-Karachi-to-hold-Bhajan-and-Qawali-night-on-New-Year/articleshow/27195069.cms
-----------
North America
US hopes India will persuade Karzai on troops
AFP
2013-12-11
WASHINGTON: The United States expressed hope Tuesday that India would persuade Afghan President Hamid Karzai to sign a deal allowing US troops to stay, as lawmakers voiced outrage at the delay.
Testifying before a Senate committee, a senior US official voiced confidence that Afghanistan would eventually complete an agreement for some 12,000 US troops to stay after 2014, despite Karzai's insistence that he will leave the decision to his successor.
"His upcoming visit to India could, I think, be quite influential, because he highly respects and has good relations with the Indian government," said James Dobbins, the US special representative on Afghanistan and Pakistan.
Full report at:
http://www.dawn.com/news/1061884/us-hopes-india-will-persuade-karzai-on-troops
----------
Kerry calls PM Sheikh Hasina, talk current events
Dec 11, 2013
United States Secretary of State John Kerry called Prime Minister Sheikh Hasina and discussed the current events in Bangladesh, on Wednesday. The phone call comes in light of the pending execution of Jamaat-e-Islami leader Abdul Quader Molla and the on-going dialogue between Awami League and the BNP. US embassy in Dhaka spokesperson Kelly McCarthy confirmed the conversation to the Dhaka Tribune. "I can confirm that Secretary Kerry spoke with Sheikh Hasina today (Wednesday) about the current events in Bangladesh," she said. Full report at:
http://www.dhakatribune.com/bangladesh/2013/dec/11/kerry-calls-pm-talk-current-events#sthash.5XwkvQc4.dpuf
-----------
The success of Egypt's transition relies on respect for human rights: US congresswoman
Dec 11, 2013
The success of Egypt's democratic transition relies on respect for human rights, upholding the rule of law, and protecting civil society, a US congresswoman said.
Egypt witnessed a steady increase in human rights abuses by the Muslim Brotherhood-led government of toppled Islamist president Mohamed Morsi, Ileana Ros-Lehtinen said.
"There was a precipitous increase in the arrests of journalists, a widespread crackdown on opposition demonstrators, wanton disrespect for the rule of law, and an overall deteriorating state of human rights throughout Egypt," she said.
Ros-Lehtinen made the remarks at a joint subcommittee hearing on human rights abuses in Egypt on Tuesday.
She also condemned violence by Brotherhood loyalists following Morsi's ouster by the military in July amid mass protests.
Full report at:
http://english.ahram.org.eg/NewsContent/1/64/88825/Egypt/Politics-/The-success-of-Egypt%E2%80%99s-transition-relies-on-respec.aspx
-----------
US suspends non-lethal assistance into northern Syria
Dec 11, 2013
The United States has suspended all non-lethal assistance into northern Syria after Islamic Front forces seized headquarters and warehouses belonging to the opposition's Supreme Military Council (SMC), a U.S. Embassy spokesman in Ankara said.
Fighters from the Islamic Front, a union of six major rebel groups, took control of the Free Syrian Army (FSA) bases at the Bab al-Hawa crossing on Syria's northwestern border with Turkey late Dec. 6.
Turkey shut its side of the border crossing, in Hatay province, due to a reported increase in clashes on the Syrian side, customs sources told Reuters. There was no immediate confirmation from Turkish officials.
Full report at:
http://www.hurriyetdailynews.com/us-suspends-non-lethal-assistance-into-northern-syria.aspx?pageID=238&nID=59382&NewsCatID=359
-----------
Southeast Asia
MCA adds voice to concern over Umno's growing extremism
Dec 11, 2013
KUALA LUMPUR, Dec 11 — With such themes as "1Melayu" emanating from the Umno general assembly last week, ally MCA today expressed apprehension over the worsening extremism among the party's grassroots that it said would impede national reconciliation.
With the Chinese party already bleeding support from the community over a perceived reluctance to confront Umno, MCA president Datuk Seri Dr Chua Soi Lek warned that the racial tone of the debates could undo Umno president and Prime Minister Datuk Seri Najib Razak's efforts to unite the country's multiracial communities.
"We feel strongly that the issues raised by some of the delegates would cause concern among the non-Malays, although we know this is not reflective of the top leadership," Dr Chua told a press conference after chairing what would be his last central committee meeting before MCA begins party polls next week.
Full report at:
http://www.themalaymailonline.com/malaysia/article/mca-adds-voice-to-concern-over-umnos-growing-extremism#sthash.IJ5Su0A7.dpuf
-----------
Try to resolve Shia, Sunni divide, suggests Suhakam chief
Dec 11, 2013
The Malaysian Human Rights Commission, or Suhakam, has called for a dialogue between the country's predominant Sunni Muslims and the tiny number of Shia Muslims.
Suhakam chairman Tan Sri Hasmy Agam, saying the Federal Constitution provided for freedom of different communities to practise their faith, called for such a freedom to be extended to other denominations within Islam.
"If other Muslim countries can have Shias and Sunnis living side by side, why can't Malaysia?" asked Hasmy, adding that the sensitive issue could still be solved through dialogue.
Hasmy said despite followers of two schools involved in violent conflicts elsewhere, both groups should work out their differences through dialogue.
Full report at:
http://www.themalaysianinsider.com/malaysia/article/if-other-muslim-countries-can-have-shias-and-sunnis-why-cant-we-asks-suhaka
-----------
Malaysia should ratify human rights treaties for UNSC seat
Dec 11, 2013
KUALA LUMPUR — Non-profit groups urged Putrajaya today to ratify key international human rights treaties as Malaysia is seeking a spot on the United Nations (UN) Security Council.
Human rights watchdog Association for the Promotion of Human Rights (Proham) and anti-extremism group Global Movement of Moderates (GMM) said that the ratification of the UN's International Convention on the Elimination of All Forms of Racial Discrimination (ICERD); the International Covenant on Economic, Social and Cultural Rights; and the Convention against Torture and Other Cruel, Inhuman or Degrading Treatment or Punishment, must be placed on the country's top agenda.
Full report at:
http://www.themalaymailonline.com/malaysia/article/ngos-malaysia-should-ratify-human-rights-treaties-for-un-security-council-s#sthash.tfoP0qYo.dpuf
-----------
Mideast
Palestinians see worrisome trend in rise of 'honor killings'
Dec 11, 2013
A silvery green olive grove set in the red soil of a Palestinian village is a crime scene - testament to a practice so sensitive that it is spoken of only in whispers.
One night in late November, Rasha Abu Ara, a 32-year-old mother of five, was beaten to death and strung from a gnarled tree branch as a gruesome badge of "family honor" restored.
The woman's alleged sin was adultery, and her killer was either her own brother or husband, security sources told Reuters. Both are behind bars while an investigation continues.
Her murder brought to 27 the number of women slain in similar circumstances in Palestinian-run areas this year, according to rights groups - more than twice last year's victims.
The rise has led Palestinians to question hidebound laws they say are lax on killers, as well as a reluctance to name and shame in the media and society, which may contribute to a feeling of impunity among perpetrators.
Full report at:
http://www.jpost.com/Middle-East/Palestinian-see-worrisome-trend-in-rise-of-honor-killings-334645
----------
Israel holding 5,000 Palestinian prisoners
Dec 11, 2013
RAMALLAH – A Palestinian organization on Tuesday said that the Israeli occupation is holding thousands of Palestinian prisoners in its jails.
The Palestinian Prisoners Club (Nadi Al-Asir) said in a statement on the occasion of the Universal Declaration of Human Rights, adopted on 10 December 1948, that Israeli is holding 5,000 prisoners in its in 23 prisons and detention camps in Israel and in the West Bank.
The club said that the prisoners include 200 children, 15 females, 15 members of Palestine Legislative Council, 135 in administrative detention without trial.
The organization added that 1400 sick prisoners behind Israeli bars of whom 140 are chronically or terminally ill, and some are on the verge of death.
It added that four Palestinian prisoners died due to medical negligence since the beginning of this year of whom three died inside Israeli jails and the fourth died weeks after release.
According to the organization, 95 percent of Palestinian prisoners suffered from physical and psychological torture in Israeli prisons and detention camps. It said that while interrogated, the prisoners are subjected to forms of cruel treatment as humiliation, intimidation, shouting, sleep deprivation, prolonged shackling in painful positions, isolation in cells and even beatings.
Full report at:
http://www.saudigazette.com.sa/index.cfm?method=home.regcon&contentid=20131211189213
------------
Turkey top provider of humanitarian aid overseas
Dec 11, 2013
Turkey is among the countries raising the highest levels of foreign aid, by increasing the amount of funds it provides for nations abroad by 30-fold in the past 10 years, according to official data.
Turkey is carrying out humanitarian and development support activities in over 100 countries across five continents, with its total outgoing foreign aid reaching over $3.4 billion, a written statement disclosed by the Prime Ministry Public Diplomacy Coordination unit has said.
The state was behind most of the assistance sent abroad, as the official development assistance jumped to $2.53 billion in 2012 from $76 million of 2003. The country was also named as the country raising its assistance most on an annual basis for two consecutive years in 2011 and 2012, among the OECD countries, by increasing the aid by 38 and 98 percent consecutively.
Full report at:
http://www.hurriyetdailynews.com/turkey-top-provider-of-humanitarian-aid-overseas.aspx?PageID=238&NID=59355&NewsCatID=338
-----------
Ex-army chief Halutz: Israel prefers Assad over Islamists in Syria
Dec 11, 2013
Israel's preference is for Bashar Assad to remain in power rather than see radical Islamist forces take control in Syria, the former army chief of staff is quoted in Wednesday editions of the daily tabloid Maariv as saying.
Dan Halutz, who served as IDF chief of staff during the 2006 military campaign in Lebanon, told a gathering in Moscow that the prospect of Al-Qaida affiliated elements ruling Damascus in place of the Assad regime would be more problematic from Jerusalem's standpoint.
"The regime in Syria is killing its citizens on a daily basis, but we need to admit that the opposition in Syria is comprised primarily of very extremist Muslims like Al-Qaida," the former IDF chief is quoted as saying in Maariv. "The question that needs to be asked is, 'What is good for Israel?' It's an important question, because we need to ask ourselves if we want to replace this bad regime with a very bad regime which we don't know. And this is something that we need to seriously consider."
Full report at:
http://www.jpost.com/Defense/Ex-army-chief-Halutz-Israel-prefers-Assad-over-Islamists-in-Syria-334644
-----------
URL: https://newageislam.com/islamic-world-news/central-afri-republic-80-nigerians/d/34808