New Age Islam News Bureau
31 Dec 2016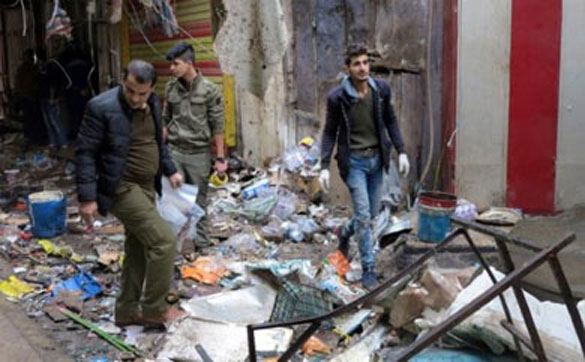 Iraqi security forces gather at the site of a bomb attack at a market in central Baghdad, Iraq December 31, 2016. REUTERS/Ali al-Mashhadani
-------
• Celebrating New Year's Eve Means Devil Is Working On You: Sydney Sheikh
• President Obama Pulls Plug on Bush-Era Muslim Registry Program
• 250,000 Killed In Russian Action In Aleppo: Jamaat-e-Islami, Pakistan
• Over 120 ISIL Terrorists Killed in Clashes with Syrian Army in Eastern Homs
Australia
Celebrating New Year's Eve Means Devil Is Working On You: Sydney Sheik
--------
North America
• President Obama Pulls Plug on Bush-Era Muslim Registry Program
• Daesh Top Gun Is An American, John Georgelas Aka Abu Yahya
• Catholic Organizations Praise End of Muslim Registry
• Pro-Islam billboards get more hate calls from Dallas
• Muslim group hosts holiday dinner for Jane and Finch community
• Christmas reminds us there is no 'clash of civilization'
--------
Pakistan
• 250,000 Killed In Russian Action In Aleppo: Jamaat-e-Islami, Pakistan
• US Sanctions Seven Pakistani Entities
• Process for NSG membership politicised: Pakistan
• Two people injured in blast outside mosque in Rahim Yar Khan
• Imran suggests Zardari to lead opp grand alliance
• US 'intervenes' in Pak-India water dispute
--------
Arab World
• Over 120 ISIL Terrorists Killed in Clashes with Syrian Army in Eastern Homs
• Baghdad Blasts Kill 25 As Mosul Fighting Intensifies
• ISIS Leader Baghdadi Is 'Still Alive, Still Leading'
• Russia hopes UN Security Council endorses Syria truce deal
• Aleppo: Russian Fighter Jets Continue to Bomb ISIL Centres in Al-Bab
• ISIL Positions in Palmyra Energy Regions Shattered in Russian Air Raids
• Syrian Army Hits Nusra Centres Badly at Border with Lebanon
• ISIL Terrorists Fail to Prevail over Gov't Positions in Deir Ezzur City
• Syria: Over 50,000 Militants Join Newly-Initiated Nationwide Ceasefire
• Syria: Gov't Forces Ward off Terrorists' Offensive in Northern Hama
• Syrian Army Continues to March on ISIL's Centres in Eastern Homs
• Heavy Infighting Erupts between Terrorist Groups in Idlib Province
• KSA invites Iran for talks on Haj return
--------
India
• ED Files Money Laundering Case Against Zakir Naik, IRF
• China Blocks India's Move On Masood Azhar
• UAE Church 'Working' For Release Of Abducted Indian Priest
• J&K: Pakistan shelling resumes in Poonch after a night long lull
• Israel issues travel warning for India, cites immediate threat of attacks
• Pak gave national ID card to slain Taliban leader Mullah Mansour: Minister
--------
South Asia
• Myanmar Says Will Take Back 2,415 Citizens From Bangladesh
• Taliban leader among 4 killed in Nangarhar province
• BGB turns back three boats, 106 Rohingyas
--------
Southeast Asia
• Myanmar Official Calls Malaysian Aid Plan For Rakhine Muslims 'an Insult'
• Home Bakers Fume Over McDonald's Halal Cake Lockdown
• Philippines blames Islamic militants over bombings
• Nation's contribution towards peace, security
• Catholic group in Indonesia accuses Islamic leader of insulting Christianity
• Indonesia sends aid to Rohingya Muslims in Rakhine
--------
Mideast
• Resistance Against Israel Only Way To Save Palestine: Iran MP
• Turkey Plane Transfers Daesh Terrorists From Aleppo To Yemen: Report
• Turkey charges journalist with 'terror propaganda'
• With clock ticking, Palestinians pin hopes on Paris summit
• Iran FM: Syria ceasefire as 'major achievement'
• Turkey tacitly criticizes US for stirring Russia tensions
• Abadi urges Iraq-Turkey cooperation based on 'respect for sovereignty'
• Five senior PKK figures detained in southern Turkey: Interior Ministry
--------
Africa
• Tunisia Says Returning ISIS Militants Will Be Arrested
• Desist From All Forms Of Ungodly Act, Chief Imam Tells Muslims
• Nigeria: Sultan of Sokoto urges vigilance against anti-Islam laws
• Uganda: Nakasero Mosque Raid Was Search Operation , Says Police Chief
--------
Europe
• Merkel Says Islamist Terrorism Is Biggest Test For Germany
• Europe steps up security measures as New Year nears
• CAIR-LA Chief Wishes More Had Been Killed in Russian Plane Crash
• Local Muslims Hope Islamophobia Will Be Not Be Ignored In 2017
Compiled by New Age Islam News Bureau
URL: https://www.newageislam.com/islamic-world-news/new-age-islam-news-bureau/celebrating-new-year's-eve-means-devil-is-working-on-you--sydney-sheik/d/109558
--------
Celebrating New Year's Eve Means Devil Is Working On You: Sydney Sheikh
December 31, 2016
Sydney sheik Feiz Mohammed has warned Muslims they should avoid festive celebrations — including New Year's Eve and Christmas — and has attacked women's rights groups, telling ­Islamic women to wear
Hijabs.
Sheik Feiz, who has a large online following with almost two million YouTube views, described non-Islamic festivals as leading to a path away from Allah.
"Any festivity or celebration built on other than Islam is a negative, prohibited festivity. We are not allowed to anticipate, participate, in any shape, manner or form," he told supporters earlier this month. "When we finish our prayers, many Muslims you see them preparing themselves for their celebrations to come … what are we going to do for New Year's Eve tonight? Where are we going to go? Who are we going to watch? Where's the best fireworks at?"
He said Muslims could be easily influenced by non-Muslims.
"If they do this — that's the way you've got to do it. That means happiness, enjoyment, that means ecstasy, that means comfort, that means happiness, that means joy. That means relief. No, it does not — it means the devil is working on you," he said.
The preacher, who speaks at Liverpool and Auburn Islamic centres in Sydney's southwest and west, spoke about how Muslims traditionally were banned from leaving their homes during "non-Muslim celebrations".
He suggested that if Muslims were drawn towards the celebrations, they were turning their backs on their religion. "If you believe this is accurate, is acceptable, is their right and (are) celebrating, you're one of them," he said.
"However, if you go on the ­belief 'I just want to join in and have the fun, have a night out, enjoy myself, but I don't believe in all this nonsense' … this is the path you continually ask Allah to keep away from — how can you participate? Where's the logic in this?"
He said Muslims who celebrate non-Islamic festivities were "deaf, dumb and blind" for failing to stay true to Islamic teachings.
He also said if a hijab "shapes the body", it unveiled the body "like she's naked" and suggested Islamic women who did not properly wear Islamic clothing would not enter "paradise".
"A woman wearing tight hijab, tight jeans, tight whatever they may be, is in fact wearing nothing. Haram. A woman wearing clothes that are transparent, you can see through them, haram. She must try her upmost to keep the eyes of men away from her."
Sheik Feiz said people who wanted to "liberate" Muslim women from wearing the hijab would ultimately use them as "commodities".
The Islamic leader, who has delivered sermons attacking Harry Potter and called for the beheading of Dutch politician Geert Wilders, has kept a low profile since returning to Australia in 2010 after a three-year study tour in Malaysia and Lebanon.
http://www.theaustralian.com.au/news/nation/celebrating-means-the-devil-is-working-on-you-sheik-tells-muslims/news-story/0a2739c40ce96c7ca7f82d5f356f7cca
--------
President Obama Pulls Plug on Bush-Era Muslim Registry Program
Dec 31, 2016
In the final weeks of his tenure as commander in chief, President Barack Obama Dec. 22 pulled the plug on a controversial Bush-era Muslim registry program to cheers from the South Asian American community.
Obama disbanded the National Security Entry-Exit Registration System, created in response to the Sept. 11, 2001 terrorist attacks. Desis Rising Up & Moving, along with several Indian American and South Asian American groups, organized a petition drive to disband the program, and delivered over 350,000 signatures to the White House Dec. 12.
In a press release issued shortly after the president made the announcement, the Department of Homeland Security noted that it had ceased use of the program – which collected data on immigrants from Pakistan and Bangladesh along with other countries – in 2011. Males over the age of 16 from those countries were fingerprinted, photographed, and interviewed at the point of registry, and required to check in with Immigration and Customs Enforcement on a periodic basis.
"The program was redundant, captured data manually that was already captured through automated systems, and no longer provided an increase in security in light of DHS's evolving assessment of the threat posed to the United States
by international terrorism," said the agency.
"The regulatory structure pertaining to NSEERS no longer provides a discernable public benefit as the program has been rendered obsolete," stated DHS.
Indian American attorney Tejas Shah, who leads Franczek Radelet's immigration practice and co-chairs the South Asian Bar Association's immigration panel, hailed Obama's move. "There is no regulatory framework anymore for the new administration to target specific communities. The new president will have to start from scratch," he told India-West.
President-elect Donald Trump espoused the idea of a Muslim registry throughout his campaign, and has continued to advocate for a ban on immigration from countries which have been "compromised by terrorism." He brought up the proposal afresh Dec. 21, after a Tunisian migrant with ties to the Islamic State attacked an open-air market in Berlin, and killed 12 people.
"You've known my plans all along," Trump responded, when a reporter at a press conference asked whether the attack had changed his mind about a Muslim registry or a temporary ban on Muslims.
Trump senior aide Kellyanne Conway clarified the president-elect's remarks in an interview with CNN, saying Trump does not support an out-and-out ban on Muslims, but wants to add greater scrutiny to immigration from "countries where we know they have a higher propensity of training and exporting and in some cases harboring terrorists."
Shah told India-West the president-elect's position is unclear as to whether religion will be a significant factor in determining who will be barred from entering the U.S., and clarified that the NSEERS program looked at countries with a high risk of terrorism.
He predicted that the president-elect would not target Muslims from India, as the country is not viewed as supporting terrorism. But he cautioned that Trump has surrounded himself with "people with unusual ideas" who may support a ban on Muslims from any country.
South Asian Americans Leading Together issued a press statement after Obama's announcement thanking DHS and the White House for disbanding the NSEERS program. The organization noted that over 80,000 men were forced to register and over 13,000 individuals were placed into deportation proceedings, but there were no terrorism-related convictions as a result of the program.
"SAALT and South Asian Americans nationwide have experienced firsthand the ways programs such as NSEERS have decimated our trust in law enforcement. Today's announcement begins us on the path to restore some of that trust," stated the organization.
DRUM member Mohammad Jafar Alam, a survivor of the original NSEERS program in 2003, said in a statement: "I know exactly what a program like NSEERS does to a person and their family. The extreme mental, emotional distress, the financial problems, the pressures on a family and the isolation that happens is a punishment not just for one person, but everyone involved."
"NSEERS had millions of dollars spent and was useless in the role it was supposed to have on safety. Instead, money was wasted and our communities and all the families involved with Special Registration, were altogether punished. We commend the Obama Administration for responding to our call and ending this program," said Alam.
http://www.indiawest.com/news/global_indian/president-obama-pulls-plug-on-bush-era-muslim-registry-program/article_cf841ca2-cebd-11e6-9223-1fecf78cd464.html
--------
250,000 Killed In Russian Action In Aleppo: Jamaat-e-Islami, Pakistan
December 31, 2016
KARACHI - The local chapter of the Jamaat-e-Islami (JI) marked Friday as a protest day against violence against Muslims and their ethnic cleansing in Syria and Myanmar.
In this regard, at least 150 protest demonstrations and corner meetings were staged by the JI across the city after Friday prayers.
JI leaders Younous Barai, Abdul Rasheed, Abdul Jameel, Muhammad Yousaf, Khalid Zaman and others addressed the demonstrations. JI activists carrying placards and banners participated in the demonstrations. Besides JI workers, a large number of people from all walks of life participated in the meetings and protest demonstrations.
The protest day was observed ahead of a march being staged here on Sunday. The march would be taken out on Shahrah-e-Qaideen.
Addressing the protesters, JI leaders said that brutalities against Muslims of Aleppo and Myanmar were the most barbaric act in the known history. They said that 250,000 Muslims had lost their lives in Aleppo due to the Russian action. They said that more than 3.5 million Muslims were forced to leave the country. They said that all the massacre and devastation was caused in the name of countering the US sponsored "terrorism".
The JI leaders said that unfortunately the United Nations and the Organisation of Islamic Conference were playing the role of spectators. The leadership of the Muslims bloc was dancing to the tunes of international powers, they said.
On the other hand, they said, Myanmar's army was subjecting local Muslim population to rape, skinning, execution and forced exodus.
Also, JI Karachi chapter's preparations for the march have entered the final phase. Routes have been set for the march. Moreover, several prominent religious scholars, seminaries and social figures have assured the JI Karachi chief of their active participation in the march and support to the JI in its struggle against the oppression of Muslims in Syria and Myanmar.
http://nation.com.pk/karachi/31-Dec-2016/250-000-killed-in-russian-action-in-aleppo-ji
--------
Over 120 ISIL Terrorists Killed in Clashes with Syrian Army in Eastern Homs
Dec 30, 2016
The army men repelled ISIL's attack on their positions Northeast of T4 airbase, killing 70 militants and destroying seven tanks and 12 machinegun-equipped vehicles of the terrorists.
The army soldiers targeted a vehicle of ISIL near the al-Awamid Height close to al-Quaryatayn, leaving 6 terrorists dead.
The army troops, meantime, clashed with ISIL terrorists in another flank near T4 airbase, killing 50 terrorists and destroying three tanks and five vehicles.
The army's artillery and missile unis also shelled the positions of al-Nusra Front (recently renamed to Fatah al-Sham Front) in al-Kan mountain in al-Rastan region in Northern Homs. There is still no report on possible casualties.
The resistance forces also targeted Fatah al-Sham's centres in the village of Sa'an al-Aswad, killing several militants, including their commander Mohammad al-Zahayk Abu Abideh.
Also, the army soldiers repelled terrorists' offensive against their positions on Salamiyah-Homs road on Thursday, and inflicted heavy loss and damage on the ISIL, Fatah al-Sham and Ahrar al-Sham.
After clashes with a terrorist group which had attacked the Salamiyah-Homs road from al-Ameriyeh, the Syrian army units could ward off their offensive and inflicted heavy losses and injuries on them, forcing the remaining militants to flee towards al-Badiyeh (Desert) region.
Also, the army forces targeted the ISIL terrorists with artillery fire in Northern al-Mushrefiyeh region in Eastern Homs which killed most of the militants and smashed their military vehicles.
Also, in Northern Homs, the al-Nusra Front's gathering centers in Tir Ma'alla village came under attack, which destroyed their military vehicles.
The Syrian troops also pounded the bases and supply routes of Ahrar al-Sham terrorists in Um Sharshouh village in Northern Homs with artillery fire, blowing up one of the militants' bases and their military vehicles and killing a large number of them.
http://en.farsnews.com/newstext.aspx?nn=13951010000236
--------
North America
Daesh Top Gun Is An American, John Georgelas Aka Abu Yahya
27th December 2016
A 32-year-old American has emerged as one of Islamic State's (Daesh) top leaders, a recent report by Graeme Wood in The Atlantic magazine revealed. What propelled John Georgelas aka Abu Yahya to the top of the jihadist group?
'A staggering mastery of Islamic law'
Was it poverty that turned him to terror? No, he was born into an upper-middle class family in Texas. Perhaps, it was American foreign policy? No, there is no indication that he was displeased with the 1845 incorporation of the Republic of Texas into the US
It was ideology that drove him into the arms of the IS. Financed by rich Arabs in Texas, Yahya studied Islam. Initially attracted to Sufism, he soon turned to Dhahirism, an "ultraliteralist legal school". He has a "staggering mastery of Islamic law" and can even compose poems in classical Arabic off the top of his head. This helped him win support within the terror group
'Why We Hate You & Why We Fight You'
Yahya now produces the glossy IS magazines Dabiq and Rumiyah. The pellucid article titled "Why We Hate You & Why We Fight You" reads like a distillation of every conversation I have ever had with a jihadist, writes Wood
Some liberal journalist would like you to believe that we do what we do because we're simply monsters… The fact is, even if you were to stop bombing us and usurping our lands, we would continue to hate you because our primary reason for hating you will not cease to exist until you embrace Islam IS's Dabiq magazine
http://www.newindianexpress.com/opinions/2016/dec/27/daesh-top-gun-is-an-american-1553338.html
--------
Catholic Organizations Praise End of Muslim Registry
Dec 30 2016
Catholic organizations and other faith groups say they are happy with the Obama administration's last-minute decision to end a type of national Muslim registry.
The National Security Exit-Entry Registration System, known as NSEERS, began under the George W. Bush administration following the 9/11 attacks and asked that men from some countries in the Middle East register with the U.S. government when they arrived in the U.S. It continued during President Barack Obama's two terms in office even as organizations, including Catholic groups, have long called for its demise.
In late December, weeks before his administration comes to a close, Obama announced that the program was ending under his watch.
"I'm glad the president took action to end a program that by all accounts wasn't effective and undermined core American values," said John Gehring, the Catholic program director at Faith in Public Life, an advocacy group in Washington.
Catholic Legal Immigration Network Inc., known by the acronym CLINIC and based in Silver Spring, Maryland, said the decision was a victory.
"Not only was it discriminatory" and failed to lead to the capture of terrorists, said CLINIC Executive Director Jeanne Atkinson in a Dec. 22 news release, but also it broke apart families as people were deported, some for causes such as being a day late after having to tend to an emergency.
While the program asked that immigrants from North Korea also register, NSEERS "in effect targeted immigrant Muslims," said Jordan Denari Duffner, a research fellow at Georgetown University's Bridge Initiative, which seeks to educate others about Islamophobia as well as raise awareness about prejudice and discrimination toward Muslims.
Some see the end of the registry as a way to make it difficult for an incoming Donald Trump administration to target Muslims through such a program but others warn that the president-elect's public views during the campaign signal tough days ahead for Muslims in the country, with or without a registry.
"Throughout the campaign, and since, Trump and his advisers have demonstrated that they see the religion of Islam as a primary source of violence and terrorism," said Duffner. "But they also want to avoid charges of religious discrimination. Things like NSEERS and 'extreme vetting,' rather than a 'Muslim ban,' allow Trump's administration to still focus on Muslims without running into constitutional issues or a major public outcry."
Full report at:
http://www.americamagazine.org/issue/catholic-organizations-praise-end-muslim-registry
--------
Pro-Islam billboards get more hate calls from Dallas
Dec. 30, 2016
DALLAS — An Islamic grassroots organization that funded 12 billboards across Dallas and Fort Worth to combat misinformation about Islam has been receiving more hate calls in Dallas than in other cities participating in the nationwide campaign.
The Islamic Circle of North America used mosque donations to fund the billboards spread across the city's highways, the Dallas Morning News reported. The billboards read "ISLAM = Racial Equality" and provide a hotline phone number and website for "Why Islam?"
New Jersey's hotline call center manager Imam Jawad Ahmed said the group should do more of these campaigns in Dallas because of the amount of hate responses to the billboards.
"They would just curse the Muslims in general and say things like racial slurs, go back to your country, or get out of America, things like that."
The group received 75 phone calls during the first five weeks the billboards were up in Dallas. While the hotline did receive calls cursing Muslims, Ahmed said most callers were non-Muslims that wanted to learn more about the religion.
Full report at:
https://www.news-journal.com/news/2016/dec/30/pro-islam-billboards-get-more-hate-calls-from-dall/
--------
Muslim group hosts holiday dinner for Jane and Finch community
31 DEC 2016
The Ahmadiyya Muslim Jama'at Canada organized and hosted a highly successful holiday dinner for those in need in Toronto on Dec. 22.
Hundreds of men, women and children from the Jane and Finch community, including leaders of various Christian groups, gathered at the Driftwood Community Recreation Centre to partake in this unique event.
"The Ahmadiyya Muslim Jama'at Canada is taking a leadership role in offering social services and giving back to those who need it the most; this is a fundamental teaching of Islam," said Muslim youth leader and event organizer, Abid Mirza.
This event marks the launch of a campaign by the Ahmadiyya Muslim Jama'at Canada aimed to help alleviate some of the prevalent issues faced by the Jane and Finch community. Several free workshops and seminars have been planned at the recreation centre for next several months to help achieve this objective.
"As Ahmadi Muslims, we endeavour to provide ongoing support and permanent solutions to the challenges faced by those who are less fortunate. This is the teaching of Islam and the practice of the founder of Islam, Prophet Muhammad (peace be upon him)," continued Mirza.
Full report at:
http://www.insidetoronto.com/news-story/7042134-ureport-muslim-group-hosts-holiday-dinner-for-jane-and-finch-community/
--------
Christmas reminds us there is no 'clash of civilization'
Dec. 30, 2016
At an interfaith discussion in which I recently participated, one of my co-panelists, a Muslim Canadian politician, remarked on his surprise at encountering a copy of the Bible in Arabic while in the Middle East. This mundane incident demonstrates how deeply certain imagined geographies of difference have been internalized. Christianity is depicted as a European and North American religion, and Islam as a Middle Eastern one. It is considered natural for the Bible to be printed in English, but is represented as strange and surprising in Arabic — even though the prophets Moses and Jesus spoke Semitic languages far closer to Arabic than to English.
The "Judeo-Christian world" is severed from the "Islamic world" as if this separation is essential and eternal, written in our sacred texts. Conflict between them is attributed to primordial divisions rather than contemporary geopolitics.
In a 1990 essay professing to uncover "The Roots of Muslim Rage," British American historian Bernard Lewis conjured up a centuries-long "clash of civilizations" between Muslims and the West: the "perhaps irrational but surely historic reaction of an ancient rival against our Judeo-Christian heritage."
Members of Donald Trump's incoming administration are fervent believers in the civilizational conflict between Christianity and Islam. Michael Flynn, Trump's pick for national security adviser, has described Islam as a "malignant cancer" and told Fox News in 2015 that he has been "at war with Islam, or a component of Islam, for the last decade." In a speech this August to the Ahavath Torah Congregation in Massachusetts, Flynn exhorted the crowd to defend America's "foundation of Judeo-Christian principles, values, norms" against the encroaching Muslim menace.
Steve Bannon, appointed as chief strategist, spoke of "the long history of the Judeo-Christian West struggle against Islam" in a 2014 talk at the Human Dignity Institute at the Vatican. Trump himself informed CNN viewers that "Islam hates us," in an interview during the election.
As Fawaz Gerges of the London School of Economics observed, "Trump traffics in a similar 'clash of civilizations' narrative to that of Al Qaeda and ISIS."
The "clash of civilizations" story may be useful for drumming up jingoistic animosity, but tells us little about actual reality.
The shared histories of Christians and Muslims belie the assertion that they sit on opposing sides of an immutable divide. In the 7th century CE, the nascent Muslim community found refuge from oppression with the Christian ruler of Abyssinia. And the prophet Muhammad made covenants to protect various groups of Christians under his aegis. "Whensoever any distress or discomfort shall overtake [Christians], Muslims shall hold themselves in duty bound to aid and care for them," read the Covenant with the Christians of Persia.
Some of the oldest Christian communities in the world still live in the Middle East, where they are now struggling to survive the regional instability and sectarianization wrought in part by the "war on terror." For instance, the Christian population of Iraq plummeted from 1.5 million to 200,000 following the U.S.-led invasion in 2003. Iraqi Muslims celebrated Christmas this year to show solidarity with their heavily persecuted Christian compatriots.
The wars happening now are not between "Islam" and the "Judeo-Christian West," but involve collaborations of violence that transcend this supposedly "ancient rivalry." Saudi Arabia, for example, has been using cluster bombs made by the United Kingdom in its devastating campaign in Yemen, and is being aided and abetted in its atrocities by arms deals with the United States and Canada. This is not a "clash of civilizations" but a collusion of militarisms.
Full report at:
https://www.thestar.com/opinion/commentary/2016/12/30/christmas-reminds-us-there-is-no-clash-of-civilization.html
--------
Pakistan
US sanctions seven Pakistani entities
ANWAR IQBAL
Dec 31, 2016
WASHINGTON: The US government has announced sanctions against seven Pakistani entities allegedly associated with the country's missile programme, says an official notification.
The notification by the US Department of Commerce said that the entities added to the Export Administration Regulations (EAR) list "have been determined by the US government to be acting contrary to the national security or foreign policy interests of the United States".
All seven have been placed on the entity list under the destination of Pakistan. They are identified as: (1) Ahad International, Suite 5-6, 2nd Floor, Empress Tower, Empress Road, Lahore, and 2nd Floor, Nomro Centre, Badami Bagh, Lahore; (2) Air Weapons Complex (AWC), AWC: E-5, Officers Colony, Wah Cantonment; (3) Engineering Solutions Pvt. Ltd., 726, G-11/2, Ibne-Sina Road, Islamabad; (4) Maritime Technology Complex (MTC), Plot 94, Karachi, and MTC System Division, PN Dockyard, Karachi; (5) National Engineering and Scientific Commission (NESCOM), NESCOM Headquarter, Plot 94, Sector H-11/4, Islamabad; (6) New Auto Engineering (NAE), NAE: 72, Industrial Area, Peshawar Road, Rawalpindi; and (7) Universal Tooling Services, a.k.a., the following three aliases: —Forward Design and Manufacturing; —MSM Enterprises; and —Technopak Engineering, Deen Plaza, 68/62, Adamjee Road, Saddar P.O. Box 1640, GPO Rawalpindi; G-7, Nimra Centre 7, Badami Bagh, Lahore; 31/B Faisal Town, Lahore, Punjab; and Model Town, HMC Road, Taxila.
Pakistan has always denied any wrongdoing in connection with its nuclear or missile programme, and Dawn was unable to verify if the names and addresses given were correct or in any way linked to the country's missile programme.
According to the notification, the US government determined that there was reasonable cause to believe, based on specific and articulable facts, that these "government, parastatal, and private entities in Pakistan are determined to be involved in activities that are contrary to the national security and/or foreign policy of the United States".
The conduct of these seven entities "raises sufficient concern that prior review of exports, re-exports or transfers (in-country) of items subject to the EAR involving these persons, and the possible imposition of licence conditions or licence denials on shipments to the persons, will enhance (the department's) ability to prevent violations of the EAR".
The placement on the list imposes a licence requirement for all items subject to the EAR and a licence review policy of presumption of denial.
The licence requirements apply to any transaction in which items are to be exported, re-exported, or transferred (in-country) to any of the entities or in which such entities act as purchaser, intermediate consignee, ultimate consignee, or end-user.
In addition, no licence exceptions are available for exports, re-exports, or transfers (in-country) to the persons being added to the entity list in this rule. The restrictions will also apply to acronym used by these entities to help exporters, re-exporters and transferors.
The notification does not specify the violations these entities are supposed to have committed and does not give details of the items they are supposed to have exported, imported or re-exported.
Published in Dawn December 31st, 2016
http://www.dawn.com/news/1305487/us-sanctions-seven-pakistani-entities
--------
Process for NSG membership politicised: Pakistan
Dec 31, 2016
ISLAMABAD: Pakistan is open to separating its civilian and military nuclear facilities and signing the additional protocol to International Atomic Energy Agency's (IAEA) safeguards agreement, but worries that the process for membership of Nuclear Suppliers Group (NSG) has become too politicised.
"We have told the international community that if this is an objective criteria, we can do it because we don't have any intent to mix civilian and military fuel cycle service. Those cycles are already separate," Director Strategic Plans Division (SPD) Dr Adil Sultan said while speaking at a round table conference at the Strategic Vision Institute (SVI) on the criteria proposed by Ambassador Rafael Grossi, the facilitator of the discussion in NSG on membership for non-NPT countries.
"We can also agree to additional protocol if it is only about civilian programme," he added.
Separation of civilian and military nuclear facilities and signing of the additional protocol are two main issues among the four points that are considered to be designed to block Pakistan's candidature. Mr Grossi's proposed criteria have a total of nine conditions.
Mr Sultan explained that technically Pakistan's civilian and military programmes were already separate and only procedural process was required to notify that to the IAEA.
The SPD official believes that the intent behind the proposed criteria is "not to have a separation plan, but to throw up a road block against Pakistan's candidature. … it's politically motivated".
Recalling the Pakistani proposal to India for a bilateral ban on nuclear testing made earlier this year, Dr Sultan said "whatever Pakistan does or offer gets little resonance".
He suggested that Pakistan should further strengthen its credentials by doing things that do not affect its national security so that when eventually a formula is agreed, Pakistan does not get knocked out.
Dr Sultan, however, cautioned against perpetually complaining against discrimination. "That's not how the system works, we would have to do out-of-box thinking to ensure that we are not left out when the formula is developed and applied to the non-NPT states aspiring for NSG membership".
Full report at:
http://www.dawn.com/news/1305484/process-for-nsg-membership-politicised-pakistan
--------
Two people injured in blast outside mosque in Rahim Yar Khan
Dec 31, 2016
At least two people were injured in a blast near a mosque in Rahim Yar Khan's Shafi Town area on Friday.
Rescue officials quoted by DawnNews claimed there were two attackers, a man and a burqa-clad individual. The burqa-clad attacker allegedly blew themselves up while the other fled, according to rescue officials.
Local police sources told Dawn the burqa-clad attacker was a man who succumbed to his injuries after attempting to carry out a suicide attack.
Deputy Superintendent Police Chaudhry Ashraf also said the explosion was a suicide attack. He said two people were injured in the attack.
Local police sources claimed two Counter-Terrorism Department (CTD) officials were targeted by the attackers as they come out of the mosque after Friday prayers. The mosque is situated close to a Counter-Terrorism Department (CTD) office.
Punjab Law Minister Rana Sanaullah while speaking to DawnNews said it was a suicide attack targeting CTD and police officials "but thankfully there was no loss."
"Some people were injured. We are still receiving details about the attack."
"The CTD is conducting operations all over Punjab. Threats do exist. This has happened before, when a CTD officer was targeted. CTD officers are aware of the threat alert," Sanaullah said.
Full report at:
http://www.dawn.com/news/1305358/two-people-injured-in-blast-outside-mosque-in-rahim-yar-khan
--------
Imran suggests Zardari to lead opp grand alliance
31-Dec-16
KARACHI: Former president and PPP Co-chairman Asif Ali Zardari can lead the 'grand opposition' movement of political parties on a single point agenda of the Panama Papers scam, according to PTI chairman Imran Khan.
"Corruption has exposed crocodiles in the government and the country," said the Pakistan Tehreek-e-Insaf (PTI) Chairman Imran Khan while talking to the media after the meeting of PTI city's core-committee here on Friday. "If the head of the government is involved in corruption, who will initiate accountability in the country?" he said, adding, "Our rulers know well that if they ratify and amend the National Accountability Bureau (NAB) law than they (Ruling Elite) will be nabbed. Panama Papers is a war for the future of Pakistan and we have to win it," he added.
"We want to bring back all stolen and looted money to the country and invest it on the nation's education and health as well as build socio-economic development," he said, adding, "This looted money will built a great health and education system in Sindh and Punjab."
"Finance minister Ishaq Dar is architecting schemes to convert black money into white and for making money, Prime Minister Nawaz Sharif is destroying the country," Imran remarked. He said PTI could talk on a single point agenda of the Panama Papers issue with the PPP and all political parties could unite behind Asif Zardari to lead the movement of the joint opposition against the government.
"Mughal kings are currently ruling Punjab and many armed groups have the patronage of these Mughals in the province. There are lots of armed groups that exist in the province but no action has been taken against them," he remarked. Imran directed the party office bearers of Karachi to chalk-out a comprehensive strategy before 2018 general elections and strengthen party organization within the metropolis. PTI should take advantage of a 'political vacuum' due to MQM related issues, he added.
Full report at:
http://dailytimes.com.pk/pakistan/31-Dec-16/imran-suggests-zardari-to-lead-opp-grand-alliance
--------
US 'intervenes' in Pak-India water dispute
December 31, 2016
ISLAMABAD - Pakistan yesterday said it will appreciate a positive US role in reconciliation with India on water issues but stressed that World Bank should not shirk its IWT responsibilities.
This came as US Secretary of State John Kerry telephoned Finance Minister Ishaq Dar on Friday, telling him that the US wanted to see an amicable solution on issues relating to Indus Water Treaty (IWT).
Being the broker of this water sharing agreement, it's the World Bank which has a legitimate dispute resolution role; and if it fails then International Court of Justice is the only venue to get justice.
But the Bank, in a move termed 'seriously prejudiced' by Islamabad, has put to a 'pause' the formation of a Court of Arbitration on Pakistan's request to decide the dispute with the neighbouring country over India's constructing two hydroelectric power plants on rivers flowing into Pakistan.
Kerry told Dar that WB president had recently informed him about Pakistan's complaints against India regarding IWT, adding his country would like to see the two South Asian states to find an amicable solution, an official statement issued by Islamabad said.
Dar told him that US support on the principles and legal position of Islamabad on Indus Water Treaty will be greatly appreciated. But he told him that IWT was an international commitment and it is the responsibility of the World Bank (WB) to make sure that India honours this treaty so that water rights of hundreds of millions of Pakistanis are protected.
He said that the Court of Arbitration (CoA) is the legal requirement and appointment of the chairman of CoA must be fulfilled by the bank. He added that the WB president had been in touch with him in writing and also on telephone during the current month. Dar in a letter to WB president had expressed serious concern over the decision of halting the process of empanelment of the CoA Pakistan had sought.
Earlier this week, Foreign Secretary Aizaz Ahmad Chaudhry said India's violation of the treaty would set a dangerous precedent for other countries to behave similarly, but remained hopeful that India would refrain from such actions.
Earlier, the World Bank Group announced a pause in the separate processes initiated by India and Pakistan under the IWT to allow the two countries to consider alternative ways to resolve their disagreements.
The announcement temporarily halted the appointment of a Neutral Expert, as requested by India, and the CoA chairman, as requested by Pakistan.
World Bank President Jim Yong Kim in a statement said they had done this "to protect the Indus Waters Treaty" and help India and Pakistan consider alternative approaches to resolving conflicting interests.
"This is an opportunity for the two countries to begin to resolve the issue in an amicable manner and in line with the spirit of the treaty rather than pursuing concurrent processes that could make the treaty unworkable over time," he said.
Secretary Kerry in his phone talk also appreciated the improvement in economic indicators of Pakistan and congratulated Dar on this achievement.
The finance minister shared with him the latest developments in the economy and the Pakistan Stock Exchange and said that all economic indicators had improved over the last three years. He also said that the government after having achieved macro-economic stability was now focused on achieving higher sustainable and inclusive economic growth.
Kerry recalled that his association with Senator Ishaq Dar went back to the days when he was Leader of Opposition in the Senate. The minister warmly acknowledged his association with Secretary Kerry and said that he considered him a friend and supporter of Pakistan and it was always a pleasure to work with him.
The finance minister also congratulated Secretary Kerry on his statement of this week on the Middle East peace process and Palestinian rights.
Full report at:
http://nation.com.pk/national/31-Dec-2016/us-intervenes-in-pak-india-water-dispute
--------
Arab World
Baghdad Blasts Kill 25 As Mosul Fighting Intensifies
By Kareem Raheem and Stephen Kalin | BAGHDAD/ERBIL, IRAQ
Two bombs claimed by Islamic State killed 25 people in central Baghdad on Saturday, as fighting intensified in the northern city of Mosul where government forces are trying to rout the jihadists from their last major stronghold in the country.
The blasts, including one suicide attack, tore through a busy market in the Sinak neighborhood, police said. A pro-Islamic State news agency said the assailants had targeted Shi'ite Muslims, whom they regard as apostates.
Islamic State has continued to launch attacks in the heavily fortified capital, even after losing most of the northern and western territory it seized in 2014.
The recapture of Mosul would probably spell the end for Islamic State's self-styled caliphate, but the militants would still be capable of fighting a guerrilla-style insurgency in Iraq, and plotting or inspiring attacks on the West.
The second phase of a U.S.-backed offensive launched on Thursday following weeks of deadlock has encountered fierce resistance. Conventional U.S. forces deploying more extensively in this phase are now visible very close to the front lines.
The third day of the renewed push saw heavy clashes on the southeastern and northern fronts.
BATTLE FOR MOSUL
An elite Interior Ministry unit continued to push on Saturday through the Intisar district, where a U.S.-trained army unit had struggled to advance for after entering the southeast district last month.
Heavy gunfire was audible and attack helicopters fired overhead as hundreds of civilians fled their homes, a Reuters cameraman said.
In the north, a separate army unit pressed towards the border of Mosul proper after recapturing several outlying villages in the past two days.
There is a battle in Argoob area, which is considered the gateway to Hadba," Lieutenant Colonel Abbas al-Azawi said by phone, referring to a strategic northern neighborhood.
Since the offensive began on Oct. 17, elite forces have retaken a quarter of Mosul in the biggest ground operation there since the 2003 U.S.-led invasion that toppled Saddam Hussein. Prime Minister Haider al-Abadi has said the group would be driven out of Iraq by April.
Although the militants are vastly outnumbered, they have embedded themselves among Mosul residents, hindering Iraqi forces who are trying to avoid civilian casualties. Despite food and water shortages, most civilians have stayed in their homes rather than fleeing as had been expected.
One resident reached by phone late on Friday said a rocket had landed on a house in the eastern Mithaq district, killing six members of one family.
"We have not seen Daesh since the Iraqi forces restarted their offensive," he told Reuters. "We hear the sounds of large car bombs. Today I heard no fewer than 10 huge explosions."
(Reporting by Kareem Raheem and Ahmed Rasheed; Writing by Stephen Kalin; Editing by Michael Perry and Andrew Heavens)
Source: http://www.reuters.com/article/us-mideast-crisis-iraq-blasts-idUSKBN14K06L
--------
ISIS leader Baghdadi is 'still alive, still leading'
31 December 2016
The Pentagon said Friday it believes that ISIS chief Abu Bakr al-Baghdadi is indeed alive, despite repeated efforts by the US-led coalition to take out the militant group leader.
Baghdadi has kept a low profile, despite having declared himself the leader of a renewed caliphate, but last month released a defiant audio message urging his supporters to defend the northern Iraqi city of Mosul.
It is not clear if he is in the besieged city, where he declared his caliphate in 2014 after the ISIS group seized territory covering much of eastern Syria and northern Iraq.
"We do think Baghdadi is alive and is still leading ISIL (ISIS) and we are obviously doing everything we can to track his movements," Pentagon spokesman Peter Cook told CNN.
"If we get the opportunity, we certainly would take advantage of any opportunity to deliver him the justice he deserves," he said.
"We're doing everything we can. This is something we're spending a lot of time on."
A combo of two handout pictures released by the US Department of State's Bureau of Diplomatic Security (L) and by Iraqi Ministry of Interior shows photographs of Abu Bakr al-Baghdadi. (AFP)
In mid-December, the United States more than doubled the bounty on the shadowy ISIS leader's head to $25 million.
Full report at:
https://english.alarabiya.net/en/News/middle-east/2016/12/31/ISIS-chief-Baghdadi-is-still-alive-still-leading-.html
--------
Russia hopes UN Security Council endorses Syria truce deal
Dec 30, 2016
Russia has called on the UN Security Council to adopt a Russian-drafted resolution that aims to support a ceasefire agreement brokered by Moscow and Ankara in Syria.
The UN Security Council started closed consultations on the measure on Friday morning.
"We hope that tomorrow morning, we can go for a vote and adopt it unanimously," Russia's Ambassador to the UN Vitaly Churkin said on Friday.
The draft resolution endorses the agreement that also commits the Syrian government and the opposition to enter into direct talks at the end of January in the Kazakh capital, Astana.
The talks aim to reach a political solution to put an end to years of Takfiri violence in the Arab country.
The all-Syria ceasefire is holding across the country despite initial instances of violations by foreign-backed militants, a monitoring group and militant sources said.
The ceasefire agreement excludes the most brutal of terror outfits operating in Syria, namely Daesh and Jabhat Fateh al-Sham, formerly known as al-Nusra Front.
The truce was mediated by Moscow and Ankara, which were respectively representing the Syrian government and the anti-Damascus militants.
Ankara has stepped up its cooperation with Moscow recently, prompting speculation that Turkey might be moving away from the United States, which is supporting Kurdish fighters and militant groups in Syria.
Full report at:
http://www.presstv.ir/Detail/2016/12/30/504141/Russia-UN-Syria-truce-deal
--------
Aleppo: Russian Fighter Jets Continue to Bomb ISIL Centres in Al-Bab
Dec 30, 2016
The Turkish Armed Forces confirmed in a statement that at least 12 ISIL members were killed in Russian air raids South of al-Bab.
The Turkish military also said one of its soldiers was killed and five others were wounded in an ISIL attack to the South of al Azrak.
Also, Turkish warplanes carried out several airstrikes on ISIL's defense lines in al-Bab and Daglabash, destroying 17 targets and killing 26 militants, the statement said.
On Monday, the Russian Air Force started targeting ISIL's positions in the town of al-Bab to back up the Turkish Army and its militant allies for the first time since the start of the Euphrates Shield Operation in Northern Syria.
Full report at:
http://en.farsnews.com/newstext.aspx?nn=13951010000784
--------
ISIL Positions in Palmyra Energy Regions Shattered in Russian Air Raids
Dec 30, 2016
The Russian jets began Friday's aerial campaign by targeting the ISIL's positions in the gas rich towns of 'Arak and Sukhnah, destroying a number of supply trucks destined for Raqqa province.
The Russian Air Force further bombed a gathering of ISIL in Jabal (mount) Sha'er, killing a number of terrorists.
The Russian Air Force has also been striking a number of mountaintops Norrth of Palmyra.
Reports said earlier today that the Syrian Army troops engaged in fierce clashes with ISIL in three different points in Eastern Homs, inflicting at least 126 casualties on the militants.
The army men repelled ISIL's attack on their positions Northeast of T4 airbase, killing 70 militants and destroying seven tanks and 12 machinegun-equipped vehicles of the terrorists.
The army soldiers targeted a vehicle of ISIL near the al-Awamid Height close to al-Quaryatayn, leaving 6 terrorists dead.
Full report at:
http://en.farsnews.com/newstext.aspx?nn=13951010000749
--------
Syrian Army Hits Nusra Centers Badly at Border with Lebanon
Dec 30, 2016
The army soldiers restarted hitting Fatah al-Sham's concentration centers in Wadi al-Bardi in Western Ghouta after the terrorist group refused to accept terms of surrender.
The army men engaged in fierce clashes with Fatah al-Sham at a number of points in the Wadi al-Bardi region this afternoon to recapture the few villages along the Lebanese border that are still under the control of the Al-Qaeda offshoot near the border-crossing into the Beqa'a province.
Reports said earlier today that the army troops, backed up by the country's military helicopters, stormed terrorist groups' positions in Wadi al-Bardi region in Western Ghouta, killing and wounding a number of militants.
The army soldiers, receiving intensive aerial support from army choppers, struck the defense lines of Fatah al-Sham Front in al-Hosseiniyeh and Basimeh from Majma Kaftaro direction, inflicting a heavy death toll on the militants.
The choppers also targeted Al-Nusra bases in Jaroud Basimeh in Wadi al-Bardi.
Reports said also today that the terrorist groups that had contaminated drinking water of Damascus a couple of days ago shut off the gas flow to the city in its countryside hours ago, forcing millions of civilians into dire humanitarian situation.
The militants damaged the gas pipelines that flow through the Eastern Qalamoun town of Jaroud and supply gas for residential areas in Damascus city and its countryside.
Full report at:
http://en.farsnews.com/newstext.aspx?nn=13951010000696
--------
ISIL Terrorists Fail to Prevail over Gov't Positions in Deir Ezzur City
ec 30, 201
The army soldiers fended off ISIL's offensive that was aimed at breaking through the government forces' positions in al-Roshdiyeh neighborhood, killing and wounding a number of them and destroying their equipment.
The ISIL that suffered major casualties in the failed attack pulled the remaining of its forces back from the battlefield to evade more losses.
In relevant developments in the province on Wednesday, the army soldiers engaged in several-hour-long fierce clashes with ISIL terrorists who had attacked heavily on their positions in al-Roshdiyeh neighborhoods, killing a large number of the militants.
The ISIL pulled the remaining pockets of its militants out of battlefield after they failed to prevail over the government troops' positions.
The Syrian Air Force also pounded ISIL's positions in Nursery and Petrochemical Faculties in the neighborhoods of al-Huweiqa and al-Kanamat and in surrounding areas of Deir Ezzur airbase South of the city.
Full report at:
http://en.farsnews.com/newstext.aspx?nn=13951010000521
--------
Syria: Over 50,000 Militants Join Newly-Initiated Nationwide Ceasefire
Dec 30, 2016
Massdar news reported that the Russian Defense Ministry has released the hereunder list of militant groups which have joined the ceasefire in Syria till December 30, 2016:
1. Faylaq al-Sham with over 4,000 militants
The militant group is active in Aleppo, Idlib, Hama and Homs provinces.
2. Ahrar al-Sham with about 16,000 fighters
The full name is Harakat Ahrar al-Sham al-Islamiyah.
The militant group has been carrying out combat operations against government forces in Aleppo, Damascus, Dara'a, Idlib, Lattakia, Hama and Homs provinces.
3. Jeish al-Islam with around 12,000 fighters
The militant group has been fighting against the Syrian army in Aleppo, Damascus, Dara'a, Deir Ezzur, Lattakia, Hama and Homs provinces.
4. Thuwar al-Sham with around 2,500 militants
The militant group has been clashing with the army men in Aleppo, Idlib and Lattakia provinces.
5. Jeish al-Mujahedeen with about 8,000 militants
The militant group has been battling the army soldiers in Aleppo city and the provinces of Aleppo, Idlib and Hama.
6. Jeish Idlib with more than 6,000 fighters
Jeish Idlib conducts combat actions in the Idlib province.
7. Jabhat al-Shamiyah with about 3,000 people
The militant group has been fighting government forces in Aleppo, Idlib and Damascus provinces.
On Thursday, Turkey's former Ambassador to the US said that the Syria truce negotiated by Russia and Turkey was "only a first step" down a road towards political settlement, but it might prove to be long-lasting due to the ability of the parties to speak to the government and the militants.
Full report at:
http://en.farsnews.com/newstext.aspx?nn=13951010000333
--------
Syria: Gov't Forces Ward off Terrorists' Offensive in Northern Hama
Dec 30, 2016
The army soldiers and popular forces repelled Jund al-Aqsa's assault on their positions in the predominately Christian village of Mhardeh, killing and wounding a number of them.
In the meantime, unknown assailants targeted the vehicle of a senior commander of the Free Syrian Army in Northern Hama. There is yet no report on the identity and conditions of the commander, but unofficial reports said he has been badly injured and is in vital conditions.
In relevant developments in the province last week, Syrian Army troops and Air Force targeted the gatherings and movements of Jeish al-Fatah coalition of terrorist groups in different parts of Hama province, inflicting major losses on the militants.
The army's artillery units shelled the positions of Jeish al-Fatah in the village of Khirbet al-Naqous, killing a nine-member group of terrorists and destroying their equipment.
The artillery units also targeted ISIL's positions in several villages in Aqayrabat region, killing a number of them.
Full report at:
http://en.farsnews.com/newstext.aspx?nn=13951010000479
--------
Syrian Army Continues to March on ISIL's Centres in Eastern Homs
Dec 30, 2016
The army soldiers attacked the hilltops surrounding the small but key village of Sharifah and engaged in fierce clashes with ISIL that lasted for nearly 6 hours.
The army men, backed up by the Russian allies, managed to liberate all the hilltops surrounding Sharifah, forcing the ISIL to pull back its forces to avoid sustaining more casualties.
More that 50 terrorists were killed, while 3 tanks, 1 armored vehicle and 5 machinegun-equipped vehicles were destroyed in the attack.
Sharifah is expected to be liberated by the army troops in coming hours as the ISIL terrorists are surrounded from three directions overlooking their positions inside the village.
In relevant developments in the province on Thursday, the army troops continued anti-terrorism operations in Eastern Homs and targeted ISIL's positions near Palmyra, inflicting heavy casualties and damages on the militants.
The Syrian army units, supported by the artillery and missile fire, pounded the ISIL's moves and gathering centers near Tadmur, al-Bayarat, Jazal, Western Qasr al-Hayyar and Abu Kala dam in Eastern Homs.
Full report at:
http://en.farsnews.com/newstext.aspx?nn=13951010000198
--------
Heavy Infighting Erupts between Terrorist Groups in Idlib Province
Dec 30, 2016
Ahrar al-Sham and Jund al-Aqsa suffered major losses after they clashed with each other fiercely in Kafr Ein intersection near Khan Sheikhoun.
Jund al-Aqsa has fully joined Fatah al-Sham Front (previously known as the al-Nusra Front) after its differences with Ahrar al-Sham grew up in recent months.
Field sources in Syria reported on Tuesday that a group affiliated to Fatah al-Sham in the Southern parts of Idlib killed two ringleaders of the 'Idlib Free Army' in Ma'rat Harama village.
"A security unit of al-Nusra Front attacked the headquarters of the Idlib Free Army and fled the scene after killing two field commanders of the group, namely Younis Zariq and Ahmad al-Khatib," the sources said on Tuesday.
Full report at:
http://en.farsnews.com/newstext.aspx?nn=13951010000423
--------
KSA invites Iran for talks on Haj return
Dec 31, 2016
RIYADH - Saudi Arabia has invited Iran to discuss a return of its nationals to next year's Haj after Iranians were excluded from the pilgrimage following a major diplomatic row, reports said Friday.
The Al-Hayat daily reported that Riyadh's pilgrims minister Mohammed Bentin had opened discussions with more than 80 countries, including Iran, to work out the details of the 2017 Haj. "Iran's Haj delegation was invited to come to the kingdom" for preparations, the paper said.
The Arab News daily said Riyadh would welcome pilgrims for Haj and the umra rite "irrespective of their nationalities or sectarian affiliations, including Iranian pilgrims".
More than 1.8 million faithful took part in this year's Haj, but Iranians stayed at home after tensions between Riyadh and Tehran boiled over following a deadly stampede during the 2015 pilgrimage. Iran says it lost 464 people in the crush outside Makkah.
They were among more than 2,300 people killed in the worst ever disaster to strike the Haj - one of the five pillars of Islam.
Iran and Saudi Arabia are at odds over a raft of regional issues, notably the conflicts in Syria and Yemen in which they support opposing sides.
Full report at:
http://nation.com.pk/international/31-Dec-2016/ksa-invites-iran-for-talks-on-haj-return
--------
India
ED files money laundering case against Zakir Naik, IRF
December 31, 2016
THE ENFORCEMENT Directorate (ED) has registered a case of money laundering against controversial preacher Zakir Naik and his organisation Islamic Research Foundation (IRF). The agency's Mumbai zonal office has registered an ECIR, which is equivalent to an FIR, against Naik and others after taking cognizance of a case registered by NIA under the Unlawful Activities (Prevention) Act (UAPA) against them, sources said.
The ED, according to sources, will specifically look into the charges of money laundering against the accused and the proceeds of crime in its probe. The agency has already scanned some banking transaction documents and other details against Naik and IRF and is soon expected to issue summons to take the probe forward.
The NIA probe found that Naik's organisation had granted scholarship to a Rajasthan youth named Abu Anas, who allegedly joined the Islamic State (IS) later and attempted to go to Syria. The agency is investigating if he used the scholarship money.
The NIA had claimed that the IRF provided scholarships amounting to Rs 80,000 to Anas, a resident of Tonk in Rajasthan, in October 2015.
He was arrested by the NIA in January this year and has been chargesheeted since.
http://indianexpress.com/article/india/ed-files-money-laundering-case-against-zakir-naik-irf-4452472/
--------
China blocks India's move on Masood Azhar
December 31, 2016
CHINA ON Friday blocked India's proposal to list Pakistan-based JeM chief Masood Azhar as a designated terrorist by the United Nations, triggering a sharp reaction from India which termed it as an "unfortunate blow".
Indian investigating agencies had found Azhar to have masterminded the attack on the IAF base in Pathankot in January this year. India had shared all evidence with the UN in this regard.
NIA Files Chargesheet Against Jaish-e-Muhammad Chief Masood Azhar
"This decision by China is surprising as China itself has been affected by the scourge of terrorism and has declared opposition to all forms of terrorism. As a consequence of this decision, the UN Security Council has again been prevented from acting against the leader of a listed terrorist organisation," said Ministry of External Affairs (MEA) spokesman Vikas Swaroop.
Asserting that India's submission was supported by all other members of the 15-member Sanctions Committee, the MEA said: "The international community is aware that the Pakistan-based Jaish-e-Mohammed, which is proscribed by the United Nations, has been responsible for innumerable terrorist attacks on India, including the Pathankot air base attack. The inability of the international community to list its leader, Masood Azhar, is an unfortunate blow to the concerted efforts to effectively counter all forms of terrorism, and confirms prevalence of double standards in the fight against terrorism."
Full report at:
http://indianexpress.com/article/india/china-blocks-indias-move-on-masood-azhar-4452453/
--------
UAE church 'working' for release of abducted Indian priest
Dec 30, 2016
DUBAI: A vicar in the UAE has said he has got "strong indications" to believe that Father Tom Uzhunnalil, the Indian priest who was abducted nearly nine months ago from war-torn Yemen, is alive, a media report said on Friday.
The Apostolic Vicariate of Southern Arabia said it is making "all efforts to secure a safe release" of the priest kidnapped from Aden in March, Khaleej Times reported.
A video of Uzhunnalil had surfaced this week in which he made an appeal to the Indian government, Pope Francis and Bishop Paul Hinder, to save his life.
Hinder, who is based in Abu Dhabi, is the current Vicar Apostolic of the vicariate.
"The features of the person speaking in the video bear a close likeness to Father Tom. However, the source of the video, the date of its creation and the circumstances under which it was recorded are unknown. Even though we have no information about Father Tom's present whereabouts, we have strong indications to believe that he is still alive," the vicariate said in a statement.
The church said it has made countless appeals from the highest levels to secure Uzhunnalil's release as well as made concrete efforts by way of working in close collaboration with both international and local diplomatic channels, it reported.
"Paul Hinder is in touch with the different channels, which are working and leading the dialogues to secure a safe release. More details cannot be disclosed at this stage," the statement said.
The bishop has led calls for prayer throughout the churches in the vicariate for Uzhunnalil. During the Christmas mass, the bishop and thousands gathered at the cathedral parish of St Joseph's Abu Dhabi to pray for the priest's safety.
Full report at:
http://timesofindia.indiatimes.com/world/middle-east/uae-church-working-for-release-of-abducted-indian-priest/articleshow/56260647.cms
--------
J&K: Pakistan shelling resumes in Poonch after a night long lull
December 31, 2016
AFTER a night long lull, Pakistani troops re-started targeting forward Indian positions in Poonch sector on Saturday morning. Sources said that latest shelling from across the Line of Control came around 7.45 am and it was continuing in Degwar area where a civilian was killed in an hour long shelling on Friday evening. The Indian army troops were retaliating.
On Friday evening, Pakistani troops had resorted to intense mortar shelling on forward Indian positions in Khari Karmara and Degwar areas. The shelling from across the LoC, which was effectively retaliated by the Indian side, had stopped after an hour at 6.05 pm and since then, there has been tenuous calm along the border in Khari Karmara area.
Full report at:
http://indianexpress.com/article/india/jk-pakistan-shelling-resumes-in-poonch-after-a-nigh-long-lull-4452745/
--------
Israel issues travel warning for India, cites immediate threat of attacks
Dec 31, 2016
Israel's anti-terrorism directorate issued a travel warning for India on Friday, citing an immediate threat of attack on Western and tourist targets, particularly in the south-west region of the country.
The Counter-Terrorism Bureau, in a statement released by the prime minister's office, raised the alert level and said it corresponded to a "concrete basic threat".
"A particular emphasis should be put on events in the coming days in connection with beach and club parties celebrating the New Year where a concentration of tourists will be high," part of the warning said.
he statement recommended that tourists avoid participation in such parties. It also called on families in Israel to contact their relatives in India and tell them of the threat.
In addition, it recommended avoiding markets, festivals and crowded shopping areas. Unusually, the warning was published on Friday evening in Israel, after the start of the Jewish Sabbath, when government offices close for business.
The directorate did not say what prompted the warning.
The south-west part of the country -- which covers popular holiday destinations such as Goa, Pune, Mumbai and Cochin -- are particularly at risk, it said.
An Israeli Embassy spokesperson in New Delhi confirmed the warning and reiterated: "Israel has issued a travel advisory surrounding New Year's Eve celebrations events in south-west India, with specific regard to beach parties, clubs and highly-populated tourist sites."
India remains a popular tourist destination for Israeli citizens and according to Jewish Post an estimated 20,000 former Israeli soldiers travel to India every year.
Israeli citizens and Jewish sites in India have been attacked in the past, the most infamous incident occurred during the 2008 Mumbai terror attack when members of the Pakistani-based terror group Lashkar-e-Taiba (LeT) targeted the local Chabad House, among other sites, in Mumbai.
Full report at:
http://www.hindustantimes.com/india-news/israel-warns-citizens-against-travel-to-india-cites-immediate-threat-of-attacks/story-yZu8aYKfl4QDkf5y7JduXO.html
--------
Pak gave national ID card to slain Taliban leader Mullah Mansour: Minister
Dec 30, 2016
Slain Afghan Taliban supremo Mullah Mansour, who was killed in a US drone strike inside Pakistan, was issued a Pakistani national identity card in 2005, interior minister Chaurdhy Nisar admitted on Friday.
Khan, however, blamed the past government of overtly issuing ID cards and passports to foreigners.
The minister said the incumbent government paid enough attention to the issue of fake CNICs and passports, adding that it was not only difficult, rather it is impossible to work honestly in the country.
Mansour was issued a Pakistani computerised national identity card in 2005, Geo News quoted Khan as saying.
Mansour and another male combatant were targeted on May 21 by multiple unmanned aircraft operated by US Special Operations forces as the duo rode in a vehicle in a remote area near the town of Ahmad Wal in Pakistan's restive Balochistan province close to the Afghan border.
Mansour had assumed the leadership of Taliban in July 2015, replacing Taliban founder and the one-eyed reclusive long-time spiritual head Mullah Mohammad Omar in Pakistan in 2013.
Khan said, "The government cancelled 32,400 passports and blocked 22,3000 CNICs during last three years. It also verified 101 million CNICs across the country." he said.
"The past government merely cancelled 500 passports."
"Besides this, around 95 million unregistered mobile SIM cards were blocked in just 90 days," he added.
Full report at:
http://www.hindustantimes.com/india-news/pak-gave-national-id-card-to-slain-taliban-leader-mullah-mansour-minister/story-t5FSQkAzyLWFhny0BuXNXI.html
--------
South Asia
Myanmar says will take back 2,415 citizens from Bangladesh
December 30, 2016
Myanmar today said it will take back 2,415 citizens from Bangladesh, only a tiny fraction of the 300,000 people who Bangladesh says are Myanmar citizens taking refuge there and should go home.
Tension has been rising between the neighbours over Myanmar's treatment of ethnic minority Rohingya Muslims, about 50,000 of whom Bangladesh says have fled there since the Myanmar army launched a crackdown on its side of their border in October.
Myanmar has for decades said Rohingyas are illegal immigrants from Bangladesh and it has declined to grant them citizenship.
Bangladesh says the Rohingyas are Myanmar citizens and it has refused to grant refugee status to those who have fled there, many from communal violence and Myanmar army crackdowns over the past decades.
"There are only 2,415 Myanmar citizens, according to our data," Kyaw Zaya, director general of Myanmar's Ministry of Foreign Affairs, told Reuters, referring to the number of Myanmar citizens in Bangladesh.
"We always stand with our number," he said, adding he had "no idea" about the Bangladesh figure of 300,000.
He said the Myanmar government had a plan to take back the 2,415 in 2017.
Bangladesh had earlier summoned the Myanmar ambassador in Dhaka to demand the "early repatriation of all Myanmar citizens from Bangladesh," its foreign affairs ministry said in a statement, giving the figure of 300,000.
Security has deteriorated sharply in Myanmar's northwestern Rakhine State, home to many Rohingyas, since attacks on security posts near the border with Bangladesh on Oct. 9 in which nine police officers were killed.
The government of predominantly Buddhist Myanmar has blamed militants with links to Islamists overseas for the attacks and poured troops into the region.
Rights groups and residents say widespread abuses have occurred during the Myanmar military operation over the weeks since then.
Full report at:
http://www.thedailystar.net/country/myanmar-take-back-2415-rohingyas-1337926
--------
Taliban leader among 4 killed in Nangarhar province
Dec 31 2016
A group leader of the Taliban militants was killed along with three others during an operation in eastern Nangarhar province of Afghanistan.
According to the local security officials, the Taliban leader was killed during an operation in the restive Achin district, once a stronghold of the ISIS loyalists.
The officials further added that the operation was conducted by the Special Forces late on Friday night and several weapons along with explosives were also seized during the raid.
According to the officials, another Taliban leader was arrested during a separate operation conducted in Bati Kot district of Nangarhar.
The Taliban leader was also arrested during a Special Forces night raid on Friday night, the officials added.
Full report at:
http://www.khaama.com/taliban-leader-among-4-killed-in-nangarhar-province-02585
--------
BGB turns back three boats, 106 Rohingyas
2016-12-30
The drives continued for around 24 hours since Thursday morning in which the Rohingyas were intercepted at Naf River, Ukhia Upazila of Cox's Bazar and Naikkhongchharhi Upazila of Bandarban.
Taknaf-based BGB 2 Battalion's Major Md Abu Russel Siddiqui said three boats, each carrying at least 10 Rohingyas, tried entering Bangladesh's territorial water via Jombongkhali point.
"BGB patrol teams turned them back into Myanmar," he told bdnews24.com.
Cox's Bazar-based BGB 34 Battalion's Commander Lt Col Imran Ullah Sarker said 76 Rohingyas were pushed back from Ukhia's Balukhali, Anjuman Parha and Ghumdhum point of Naikkhongchharhi.
Full report at:
http://bdnews24.com/bangladesh/2016/12/30/bgb-turns-back-three-boats-106-rohingyas
--------
Southeast Asia
Myanmar Official Calls Malaysian Aid Plan For Rakhine Muslims 'an Insult'
2016-12-30
Myanmar's home affairs minister said on Friday that a "food flotilla" that a Malaysian Muslim organization plans to send to restive northern Rakhine state to help ethnic Rohingya affected by communal violence is "an insult."
Lieutenant General Kyaw Swe, who served as minister of border affairs under the previous government, made the comment to reporters after a meeting of Myanmar's central anti-human trafficking organization about the boats laden with 200 metric tons of rice, medical aid, and essential supplies for Rohingya Muslim communities, which are scheduled to depart Malaysia on Jan. 10.
"It is impossible to accept it because it doesn't make any sense," he said. "It must be done as a government-to-government matter. They can't go straight to Rakhine state."
"It shouldn't be accepted, and we won't accept it," he said. "If they want to do it, then they have to do it through the foreign affairs ministry and must inform the central government. We can't accept it if they just do it with the Rakhine state government."
"It is an insult," he said. "We won't accept it. We are sorry."
Zaw Htay, spokesman of the President's Office, warned on Wednesday that the organization, which has not yet obtained permission from the Myanmar government to enter the country, can do so when the boats arrive or risk being stopped or attacked by Myanmar security forces, and its crew deported.
The Indonesian government has already sent 10 shipping containers of food, baby food, and clothes for Rohingya affected by the violence in northern Rakhine.
The two predominantly Muslim countries called on Aung San Suu Kyi, Myanmar's de facto leader, to allow unimpeded humanitarian access to the areas affected by violence when they and other member states of the Association of Southeast Asian Nations (ASEAN) met with her on Dec. 19 to discuss the crisis in northern Rakhine.
Two suspected attackers detained
In the meantime, security forces that have been deployed in northern Rakhine since deadly Oct. 9 attacks on three border guard stations have detained two more suspected attackers—Kodi Mula and Mamut Arlong—in predominantly Muslim Maungdaw township, the State Counselor's Office announced Friday.
Authorities have detained roughly 600 people in connection with the raids during which nine officers were killed and subsequent violence between security forces and armed men in northern Rakhine. Nearly 90 others have been killed in the crackdown.
The State Counselor's office also said a village administrator from Gwasone village in Maungdaw township had been kidnapped on Dec. 29 by six armed men.
Security forces and authorities are investigating the matter, along with the apparent murders of three other Muslim men who worked in local administrative capacities in their communities.
The men, who all were found dead in the past week, are said to have collaborated with government authorities as they continue to try to round up those who raided the border guard stations.
The security lockdown and search for suspects has forced about 50,000 Rohingya to flee to neighboring Bangladesh, according to the Myanmar government, where some have accused troops of arson, rape, and murder.
On Friday, the Myanmar government said it will take back 2,415 of the estimated total 300,000 of its citizens who have taken refuge in Bangladesh during the past decades, amid growing tension between the two countries about the recent tens of thousands of Rohingya who have sought refuge there, Reuters reported.
Bangladesh has refused to grant the Rohingya refugee status because it considers them citizens of Myanmar, while Myanmar considers the Rohingya illegal immigrants from Bangladesh.
"There are only 2,415 Myanmar citizens, according to our data," Kyaw Zaya, director general of the foreign affairs ministry told Reuters, referring to the number of Myanmar citizens in Bangladesh.
Appeal to U.N.
The crisis prompted 23 Nobel laureates, politicians, philanthropists, and activists on Thursday to urge the United Nations to intervene in the situation.
They wrote an open letter to the U.N. Security Council asking it to add the crisis to its agenda as an urgent matter, calling it "a human tragedy amounting to ethnic cleansing and crimes against humanity" and requested that the secretary-general visit the country in the new few weeks.
The signatories also blasted Aung San Suu Kyi, the country's de facto leader and a Nobel Peace Prize winner herself, for not doing enough to protect the Rohingya, who are denied citizenship and rights to basic services such as education and health care in Buddhist-majority Myanmar.
"If we fail to take action, people may starve to death if they are not killed with bullets, and we may end up being the passive observers of crimes against humanity which will lead us once again to wring our hands belatedly and say 'never again' all over again," the letter said.
In a related development, a Rakhine volunteer group in the town of Thandwe started monitoring the citizenship process for Muslims on Dec. 24, the group's leader Myint Moe told RFA's Myanmar Service.
Full report at:
http://www.rfa.org/english/news/myanmar/myanmar-official-calls-malaysian-plan-for-rakhine-muslims-an-insult-12302016152002.html
--------
Home bakers fume over McDonald's halal cake lockdown
BY YISWAREE PALANSAMY
December 31, 2016
KUALA LUMPUR, Dec 31 ― Home bakers, both Muslim and non-Muslim, are aghast over McDonald's Malaysia's policy barring cakes without halal certification from its premises.
Most questioned the necessity for such restrictions, with one claiming that even Muslim countries in the Middle East did not impose such rules.
Some also lamented the implication of such a rule on the country's state of affairs.
"I am totally against this! How would you know this cake is halal or not anyway? If I, a Muslim baked the cake and it is bought by a non-Muslim customer, they will be penalised?" Roslinda Rusli of TortebyLinda told Malay Mail Online when contacted.
"What if it's a Muslim who bought my cake and carries it into McDonald's? I don't know what's happening in this country! So particular of everything."
Roslinda, a former cabin crew member, said that she has been baking for five years now, and did not apply for a halal certification because she only uses halal ingredients, as she is Muslim.
"What do you want us to do to get the halal certification? This is just ridiculous. I used to fly to Abu Dhabi quite often when I was a flight attendant, but as a Muslim country, even they don't do things like this," she added.
Norhaslina Rahman, a self-taught baker and fondant expert who bakes from home, also shared Roslinda's sentiment, calling the move "ridiculous".
She complained that obtaining halal certification was arduous, even for Muslims, and said that many like her were only baking for side income.
"But I want to ask, this McDonald's ruling, does it extend to Muslims too? Norhaslinda said.
Roziah Daud who runs Let's Eat Cake Enterprise, an online cake store, also criticised the policy, and argued that the basic ingredients for cakes were generally halal items such as flour, eggs and sugar.
She also said that in her over 20 years' experience, she has never come across any porcine-derived baking ingredients.
"This should not even be a problem. At times, when you go to other ordinary cafes, they don't ask you where your cake comes from and whether it is halal or not. Stop vetting people's privacy! If the cake is for their own consumption, how could you impose a rule like this?" she said angrily.
Others such as Shanta Daniel also questioned the practicality of small bakers securing halal certification for each and every cake, saying they frequently introduced new flavours and varieties.
Chitra Singam, another baker, said authorities could help clear the confusion by explaining halal requirements clearly, claiming that some Muslims had more restrictive interpretations than others.
"Some Muslims want the whole premise to be halal, but others are cool as long as the food and the preparation that goes into it are halal. So which is it now?," she asked.
McDonald's Malaysia on Thursday confirmed that it has enforced a policy barring customers from bringing cakes without halal certification into its premises.
It told Malay Mail Online that while it generally did not allow outside food and drinks in its restaurants, it made an exception for birthday cakes.
Full report at:
http://www.themalaymailonline.com/malaysia/article/home-bakers-fume-over-mcdonalds-halal-cake-lockdown
--------
Philippines blames Islamic militants over bombings
30 DECEMBER 2016
MANILA: The Philippine government blamed Islamic militants Friday for bomb attacks that left 52 people injured during the mainly Catholic nation's Christmas holidays. An explosion ripped through fight fans watching a boxing match in the central town of Hilongos late Wednesday, while six people were hurt in a roadside bomb attack on the southern island of Mindanao the same night. Police said 13 people were also injured in another blast outside a Catholic church during Christmas Eve mass on Mindanao on Saturday. "It looks like they are employing diversionary tactics elsewhere to ease military pressure on them," Defence Secretary Delfin Lorenzana told reporters. Two small Mindanao-based Islamic militant groups, the Bangsamoro Islamic Freedom Fighters (BIFF) and the Maute group, are suspected of involvement in the blasts after they formed a tactical alliance and began sharing bomb-making technology, he added. The BIFF is a breakaway faction of the Moro Islamic Liberation Front, the country's largest Muslim rebel group, which has been observing a ceasefire with the government. President Rodrigo Duterte, who began his six-year term in June, has sought to pursue peace negotiations with the front, while ordering a crackdown on Mindanao rebel factions that spurned his peace drive.
Full report at:
http://www.nst.com.my/news/2016/12/200631/philippines-blames-islamic-militants-over-bombings
--------
Nation's contribution towards peace, security
BY RAMLI H. NIK -
31 DECEMBER 2016
AT the outset, Malaysia's unequivocal support in promoting international peace and security as stipulated in the United Nations Charter, pursued by the first prime minister Tunku Abdul Rahman Putra Al-Haj, is a most commendable foreign policy guidance for a small and developing nation. With this very concept, our commitment in most security issues has intensified consistently over the years and gained recognition at regional and international levels. Malaysia's role as a member of the United Nations Security Council (UNSC) in pursuing international peace and security has been significant, with a strong commitment from the Malaysian Armed Forces (MAF) on many perspectives. FIRST, three years after gaining independence, following the UNSC Resolution 143 (1960), the UN Force in the Congo (ONUC) was established to facilitate the withdrawal of Belgian troops, maintain law and order, and establish and legitimise the post-colonial government of Congo. Given our experience in implementing the concept of winning the hearts and minds of the people, in July 1960, the then Malayan Armed Forces, was selected to participate in ONUC, whereby a contingent of 1,947 military personnel known as the Malayan Special Force (MSF) was dispatched to operate in Congo. Upon completion of its tour of duty in July 1963, UNSC was very impressed with MSF's performance with the mandate achieved in Congo. In recognition of our credibility in promoting peace and security, on Jan 1, 1965, Malaysia was selected to serve as a non-permanent member of the UNSC. Thus, Malaysia is on record as the first state from Southeast Asia to serve at the policy decision-making level at the UN and this caused an upset in the Republic of Indonesia. SECOND, although in the1970s to 1980s we were inactive in UN peacekeeping operations, Malay-sia's international approach was guided by the basic objective of seeking friendship to secure mutually beneficial relations and a stable political security environment in the region, all of which are essential to the progress and prosperity of the country. Nevertheless, Malaysia remained firmly committed to promoting international peace and security. In its selection as a non-permanent member in the UNSC seat 1989/1990, Malaysia received 143 votes out of 170 of the member states of the UN, which clearly indicated our strong record of international commitment around the world. The second tour as a member of the UNSC gave the impetus for MAF to participate actively in UN peacekeeping operations, irrespective of the weather or terrain in its deployment. For example, MAF participated by sending infantry battalions and other military components in the United Nations Transition Assistance Group in Namibia, United Nations Transitional Administration in Cambodia, United Nations Protection Force in Bosnia Herzegovina, and the United Nations Mission in Somalia (UNOSOM). As a result, the UNSC gave the honour to Malaysia on Jan 18, 1994, when Lieutenant-General Aboo Samah Aboo Bakar, was selected as the first Malaysian force commander of UNOSOM II. In the history of peacekeeping operations since 1948, Aboo Samah was also the first force commander from Southeast Asia. Also, this was another successful contribution by MAF in peacekeeping operations after a lapse of nearly three decades of being inactive in international peace and security efforts. THIRD, with Malaysia's steadfastly participating in almost all peacekeeping missions conducted by the UN, our selection for the non-permanent seat in the UNSC for 1999/2000 was another victory. We received good support, with 174 votes out of 192 member states of the UN for the third term. This is an international endorsement of Malaysia's concerted effort in facilitating the peace-building or post-conflict building of war-torn countries. To further enhance our effort as a member of the UNSC, Malaysia pursued other aspects to play a meaningful role in the security issues on two fronts. Malaysia was enlisted as a member of the UN Special Committee of the Peacekeeping Operations (C-34 Committee) for further improvement in terms of deployment and security peacekeepers. In fact, C-34 was established by the General Assembly Resolution 2006 (XIX) on Feb 18, 1965, to conduct a comprehensive review of all issues related to peacekeeping operations. Furthermore, in terms of coordination and speed of deployment of Malaysian contingents, including military or police observers to UN mission areas, in accordance with the Department of Peacekeeping Operations (DPKO) procedures at the UN Headquarters, MAF boldly approved the appointment of a military adviser in the rank of colonel at the Malaysian Permanent Mission to the UN in New York in January 1996. Thus, Malaysia is not only the first Asean member to have a military adviser dedicated to peacekeeping duties at the Permanent Mission of Malaysia, but also joins the military community of 45 member states at the UN in New York with military advisers or police advisers. Of significance, as a member of the UNSC, Malaysia introduced the concept of security and development for implementation in peacekeeping missions to lay the foundation for sustainable peace and development, thereby addressing the deep-rooted, structural causes of violent conflicts in a comprehensive manner. The UN accepted the concept and renamed it Disarmament, Demobilisation and Reintegration, adopted by the UNSC Resolution 1171 (1998) for implementation in peacekeeping missions. Owing to our consistent commitment in UN missions, in particular the deployment of the Royal Military Police in May 2003, consisting of a self-sustained unit of 125 personnel to serve in the UN Mission of Support in East Timor (UNMISET), as part of the International Police Unit in support of the Timor-Leste National Police, another honour was given to Malaysia, when Lieutenant-General Khairuddin Mat Yusof was selected to become the force commander of UNMISET in June 2003. FOURTH, in its selection as the UNSC non-permanent member for the fourth term in 2015/2016, Malaysia attained 187 votes from the 193 member states of the UN, with one abstention. This is a testimony of our good standing in the international community, especially in the area of global peace and security. During this fourth term, two major commitments were pursued by Malaysia to further exert its influence in the international arena: one, Prime Minister Datuk Seri Najib Razak agreed to provide an infantry battle group for the UN Standby Force for peacekeeping operations during the UN Peacekeeping Summit in New York on Oct 2, 2015; and two, as the president of UNSC, Malaysia focused on the open debate on new threats and challenges in preventing the proliferation of weapon of mass destruction, related materials and technologies of non-state actors in August. This was well debated among members of the UNSC, including the secretary-general of the UN.
Full report at:
http://www.nst.com.my/news/2016/12/200726/nations-contribution-towards-peace-security
--------
Catholic group in Indonesia accuses Islamic leader of insulting Christianity
30 DECEMBER, 2016
A Catholic group has filed charges against an Islamic leader for insulting Christianity based on a sermon he gave urging Muslims not to allow Christians to greet them "Merry Christmas."
Habib Rizieq, the founder of the Islamic Defenders Front (FPI), was reported to the police by the Union of Catholic University Students of the Republic of Indonesia (PMKRI) for a video sermon, in which he allegedly insulted Christianity.
The accusations against Rizieq came after the North Jakarta District Court ruled that it would proceed with the blasphemy trial against Jakarta's Christian governor Basuki Tjahaja Purnama. FPI is reportedly the group that spearheaded the three massive protests calling for Purnama's imprisonment.
In the video, Rizieq said that Muslims should not allow Christians to greet them Merry Christmas because it is saying happy birthday to the child of God.
According to Sydney Morning Herald, he quoted the third verse of sura 112 from the Quran which stated, "He (God) neither begets nor is begotten." Rizieq allegedly said, "If Jesus is the son of God, then who would be the midwife?"
Catholic University Students Union leader Angelo Wake Kako said that Christians were offended by Rizieq's remark.
"We felt insulted and hurt by the hate statement from Habib Rizieq. It mirrored the lack of tolerance towards diversity in Indonesia, which has been nourished by our ancestors and by us," said Kako.
Sponsored Watch Your Favorite Christian Films, 24/7. Click Here To Start Your Free Trial Today
According to Breitbart, PMKRI, also reported two other people for uploading Rizieq's speech on social media.
Jakarta Police spokesman Argo Yuwono said that the case will be investigated to determine whether a crime has taken place.
Full report at:
http://www.christiantimes.com/article/catholic-group-in-indonesia-accuses-islamic-leader-of-insulting-christianity/69160.htm
--------
Indonesia sends aid to Rohingya Muslims in Rakhine
Dec 31, 2016
JAKARTA • Indonesia has officially sent humanitarian aid to the ethnic Rohingya minority in Rakhine state, Myanmar, national news agency Antara reported.
Speaking at the launch event at Tanjung Priok Port in North Jakarta, President Joko Widodo said: "I hope the Rohingya ethnic minority in the Rakhine state will find peace with the various efforts we have made and will continue to make for them."
Ten freight containers filled with instant noodles, baby food, wheat, cereals and sarongs were dispatched on Thursday. These items were requested following several discussions between Indonesian Foreign Minister Retno Marsudi and the government of Myanmar.
Violence has escalated in the impoverished Rakhine state after nine border guards were killed in coordinated attacks in October. In the ensuing crackdown by the Myanmar military, an estimated 50,000 Rohingya Muslims have been displaced, with most fleeing to Bangladesh.
Yesterday, Myanmar said it will take back 2,415 of its citizens next year, a fraction of the 300,000 Rohingya that Bangladesh claims are Myanmar citizens who should be repatriated from Bangladesh.
Mr Joko, who was accompanied by Ms Retno and State Secretary Pratikno, highlighted the importance of diplomacy in solving humanitarian crises.
"Indonesia's diplomacy has achieved the task without unnecessary uproar. Our compassion and care have been conveyed," he said, according to news site Jakarta Globe.
This was a veiled reference to neighbouring country Malaysia's "megaphone diplomacy", where Prime Minister Najib Razak referred to the unrest in Rakhine as "genocide".
Malaysia also called for the 10-country bloc Asean to coordinate humanitarian aid and investigate alleged atrocities committed against the Rohingya.
In contrast, Jakarta Globe reported that Ms Retno personally met Myanmar's de facto leader, Ms Aung San Suu Kyi, earlier this month to express concerns over violence against Rohingya Muslims and request that humanitarian aid from Indonesia be accepted.
Malaysia will also offer aid - in the form of a "food flotilla" - which will leave for Rakhine on Jan 10. It is expected to deliver almost 200 tonnes of rice, medical aid and other essential supplies.
Full report at:
http://www.straitstimes.com/world/indonesia-sends-aid-to-rohingya-muslims-in-rakhine
--------
Mideast
Resistance against Israel only way to save Palestine: Iran MP
Dec 30, 2016
A senior Iranian lawmaker says resistance against the Israeli regime's excessive self-indulgences is the only way to save the Palestinian people and liberate all their occupied lands.
"Today, all the Palestinian revolutionaries have come to the conclusion that the only way for [the Palestinians'] salvation is resistance against Israel's excessive demands until all of the country's territories are liberated," Chairman of the Iranian Parliament's Committee on National Security and Foreign Policy Alaeddin Boroujerdi said on Friday.
He pointed to a planned meeting between the president of the Palestinian Authority, Mahmoud Abbas, and Israeli Prime Minister Benjamin Netanyahu in Moscow and said such negotiations would "certainly bear no fruit."
Boroujerdi added that the Palestinian Authority has constantly suffered setbacks since it started to going down the wrong path of compromise and reconciliation with the Israeli regime.
The Iranian legislator emphasized that the Palestinians themselves must handle their own affairs.
Russian Foreign Ministry spokeswoman Maria Zakharova said in September that the Palestinian Authority president and the Israeli prime minister have agreed "in principle" to meet in Moscow as Russia hopes for the revival of the so-called peace talks.
She added that it was not clear when the meeting would take place, saying, "The most important thing is to pick the right timing. Intensive contacts on this are ongoing."
Palestinian leaders earlier had rejected the idea of open-ended talks with Israel, saying any future negotiations with the Tel Aviv regime should have a time cap.
The latest round of the so-called peace talks between Israelis and Palestinians, which was organized by the United States, collapsed in 2014.
Tel Aviv's illegal settlement activities in the occupied lands and its refusal to release senior Palestinian prisoners were among major reasons behind the failure of the talks.
On December 23, the UN Security Council adopted an unprecedented resolution demanding an end to Israel's construction of settlements in the occupied West Bank, including East Jerusalem al-Quds.
The UNSC resolution, which was approved with 14 votes in favor and one abstention from the US, has drawn huge anger in the occupied territories. The Tel Aviv regime has vowed that it would do whatever it can to compensate for the impact of the "shameful" resolution.
More than half a million Israelis live in over 230 illegal settlements built since the 1967 Israeli occupation of the Palestinian territories.
The continued expansion of Israeli settlements has created a major obstacle for the efforts to establish peace in the Middle East.
http://www.presstv.ir/Detail/2016/12/30/504112/Iran-Palestinian-Authority-Israel-Mahmoud-Abbas-Benjamin-Netanyahu-Alaeddin-Boroujerdi
--------
Turkey plane transfers Daesh terrorists from Aleppo to Yemen: Report
Dec 30, 2016
Yemeni sources say a Turkish plane transporting scores of Daesh Takfiri terrorists has landed in the Aden International Airport in southern Yemen.
Yemen's al-Masirah news website reported that the plane carried 150 terrorists who were evacuated from Syria's northwestern city of Aleppo after Syrian government forces fully retook control of the city.
On December 22, the Syrian army said Aleppo had completely returned to government control after the last batch of civilians and militants were evacuated.
Yemeni security sources said the terrorists landed in the airport that is under the supervision of Emirati forces, who are taking part in the Saudi military campaign against Yemen, the report added.
Full report at:
http://www.presstv.ir/Detail/2016/12/30/504151/Turkey-Daesh-Aleppo-Yemen
--------
Turkey charges journalist with 'terror propaganda'
Dec 31, 2016
ANKARA - An Istanbul court Friday charged a prize-winning journalist with "terror propaganda" over a series of social media postings and articles, state media reported, as fears grow over freedom of expression in Turkey.
Ahmet Sik was detained a day earlier over tweets about the outlawed Kurdistan Workers' Party (PKK), proscribed as a "terror organisation" by Turkey, the European Union and the United States.
He was also remanded in custody over articles for the Cumhuriyet opposition daily that criticised the Turkish secret services, state-run news agency Anadolu said.
Award-winning Sik is one of the country's best-known journalists and previously was in jail between 2011 and 2012.
Anadolu reported Sik was also accused of making propaganda for the ultra-leftist Revolutionary People's Liberation Party-Front (DHKP-C) and the group led by US-based cleric Fethullah Gulen blamed for the July 15 failed coup against President Recep Tayyip Erdogan.
Gulen's movement is referred to by Turkish authorities as the "Fethullah Terrorist Organisation" (FETO). The movement insists it is a peaceful group promoting 'moderate' Islam.
In recent years, there have been sporadic attacks by radicals from the outlawed DHKP-C, which seeks a Marxist revolution in Turkey among the working classes but also espouses a fiercely anti-Western and anti-NATO agenda.
Before Sik was taken to court, he refused to answer police questions, Hurriyet reported.
"Journalism cannot be questioned like this. This is a repetition of what happened five years ago," the investigative journalist was quoted as saying by his lawyer.
The author of several books including one of the few full-scale investigations into Gulen, who lives in self-imposed exile in Pennsylvania and denies any links to the attempted putsch.
The book, called "The Imam's Army", examines how Gulen supporters infiltrated the Turkish bureaucracy and built up an alliance with the ruling party that has since collapsed.
Sik had previously been imprisoned for 375 days during the investigation into the so-called Ergenekon alleged coup plot against the government.
Full report at:
http://nation.com.pk/international/31-Dec-2016/turkey-charges-journalist-with-terror-propaganda
--------
With clock ticking, Palestinians pin hopes on Paris summit
Dec 31, 2016
RAMALLAH: After a pair of diplomatic victories, the Palestinians are now setting their sights on a Mideast peace conference in France next month in a bid to rally support as they prepare for the uncertainty of the Trump administration.
The Palestinians are hopeful that a strong international endorsement in Paris will insulate them from what they fear will be a close alliance between President-elect Donald Trump and Israeli Prime Minister Benjamin Netanyahu.
With their hopes for gaining independence in a deep freeze, the Palestinians had a rare week of optimism. First, the U.S. allowed the U.N. Security Council to adopt Resolution 2334, which declared Israeli settlements on occupied lands illegal. Then, U.S. Secretary of State John Kerry delivered a farewell speech that harshly criticized Israeli settlements, saying Israel's continued construction was imperiling hopes for a peace agreement and endangering the country's democracy.
Palestinian officials say they are now counting on the French-hosted Mideast peace conference to build on the momentum and set clear terms of reference for any future negotiations with Israel. Some 70 nations are expected to attend, although Israel and the Palestinians will not be participating.
"The tools we have now are Security Council Resolution 2334, the Kerry speech and the Paris conference," said Husam Zumlot, a senior adviser to Palestinian President Mahmoud Abbas. He said the Palestinians would seek to make the resolution "a base for any political initiative."
The Palestinians seek the West Bank and east Jerusalem, territories captured by Israel in the 1967 war, for an independent state. They say that Israeli settlements in these areas, now home to about 600,000 Israelis, are threatening their hopes for independence by taking in lands where they hope to establish their state.
The latest U.N. resolution, along with Kerry's speech, essentially endorsed the Palestinian position by calling for the pre-1967 lines to serve as the reference point for a final border. Netanyahu, who opposes a return to the 1967 lines, has condemned the moves as "skewed" and "shameful." Netanyahu says all disputes must be settled through direct negotiations without any preconditions, and that any international pressure undermines the negotiating process.
In a speech on Thursday, Netanyahu dismissed Israel's conflict with the Palestinians as a "marginal issue." The real issue, he said, is the "collapse of entire nations, of entire states in internal conflict, and in the wars of radical Islam over the future of the Arab world and the Muslim world."
With the gaps so wide, and with little faith in the U.S. as a neutral broker, the Palestinians have long tried to engage the international community in their conflict with Israel, seeking membership in the U.N. and other international bodies to promote their cause.
"We are going to end the old formula of direct talks with Israel under U.S. sponsorship," Zumlot said. "Now we have the tools to do that."
That strategy appears even more critical as Trump prepares to assume the presidency. While the president elect has not outlined a Mideast strategy, he has given a number of signs that he will be far more sympathetic to Netanyahu than was the Obama White House.
His campaign platform made no mention of Palestinian independence, an objective of Republican and Democrat presidents for the past two decades, and his choice for ambassador to Israel has strong ties to the West Bank settler movement. He has promised to move the U.S. Embassy from Tel Aviv to Jerusalem, despite Palestinian objections, and says Obama has treated Israel with "total disdain."
"Stay strong Israel, January 20th is fast approaching!" Trump wrote on his Twitter feed shortly before Kerry's speech on Wednesday.
Netanyahu replied with his own tweet, thanking Trump for his "warm friendship" and "clear-cut support for Israel."
Full report at:
http://nation.com.pk/international/30-Dec-2016/with-clock-ticking-palestinians-pin-hopes-on-paris-summit
--------
Iran FM: Syria ceasefire as 'major achievement'
Dec 30, 2016
Iran's foreign minister has praised the Syria-wide ceasefire deal, brokered by Russia and Turkey, as a "major achievement" on the diplomatic front, saying the world must now work to target terrorism at the roots.
"Ceasefire in Syria is a major achievement. Let's build on it by tackling the roots of extremist terror," said Mohammad Javad Zarif on a post on his Twitter page on Thursday.
The remarks came after the Syrian army announced a nationwide ceasefire, which took effect at midnight, adding that the deal does not apply to the Takfiri Daesh and Fateh al-Sham (formerly known as al-Nusra Front) terror groups as well as their affiliates.
The countrywide ceasefire came one week after the Syrian army announced full control over Aleppo when the last remaining militants were evacuated along with civilians from the eastern sector of city under a truce deal mediated by Ankara and Moscow.
On Thursday, Zarif discussed the truce with Russian Foreign Minister Sergei Lavrov on the phone. The two sides agreed for Tehran and Moscow to hold constant consultations in preparation for the upcoming peace talks in Astana, Kazakhstan.
The top Iranian diplomat also elaborated on his thoughts about ways of tackling terrorism and extremism in an essay titled How to Handle the Enabling Conditions for Extremism and Terrorism, published in The Iranian Review of Foreign Affairs biannual political analysis publication.
In the article, he said the blame game between the West and the East does nothing to eradicate the "twin problems of terrorism and extremism," calling for "genuine cooperation" among world countries to confront the "cancerous phenomena."
Zarif emphasized the need for the international community to get rid of terrorism and extremism "as effectively as possible," saying the two challenges "are neither confined to any part of the world, are exclusive to one religion, nor can they be combated on a regional basis and then only through heavy reliance on military hardware."
"It is easy for us in West Asia to blame the West as the ultimate culprit in our problems…Simultaneously, it has been even more convenient for the West to blame us – Muslims in the West Asia region – irrespective of our divergence, disagreements and even disputes and conflicts," he said.
Zarif further wrote, "Finger-pointing in both directions, and within the region, is perhaps the easiest diversion for everybody. But this is neither accurate nor helpful, as our world has become far more complicated than ever before."
Another refutable approach, Zarif said, was the adoption of "myopic views of a complex situation" and "shortsighted self-serving policies."
As an example, Zarif pointed to statements by the national security advisor of a major regional state who has said "extremists and the Syrian forces will destroy each other on the battlefields of Syria."
Full report at:
http://www.presstv.ir/Detail/2016/12/30/504057/Iran-Zarif
--------
Turkey tacitly criticizes US for stirring Russia tensions
Dec 31, 2016
Turkish Foreign Minister Mevlut Cavusoglu has tacitly criticized the United States for ratcheting up tensions with Russia, saying a return to Cold War hostilities is in no one's interest.
Speaking to reporters in Turkey's southern Antalya Province on Friday, Cavusoglu said new tensions between Washington and Moscow "will serve nothing but add to the existing problems."
"We do not want to go back to the Cold War era. There is already a pile of problems around the world," the Turkish foreign minister said.
Ties between the administration of US President Barack Obama and the Kremlin have considerably worsened over the past months, with US officials escalating tensions with accusations of Russian interference in the November 8 presidential election in the US and releasing information that they say corroborates the allegations of Russian meddling.
On Thursday, Obama ordered a series of new sanctions against Russia over the allegations and the expulsion of 35 Russian diplomats, accusing them of being suspected spies. The US president also imposed sanctions on two Russian intelligence agencies.
Russia has denied the claim that it hacked American computers to influence the election. The Russian Foreign Ministry on Friday proposed to President Vladimir Putin of Russia that a similar number of US diplomats be ejected from the country in retaliation. Later on the day, however, President Putin refused to retaliate in kind, saying Russia "will not create problems for US diplomats."
Full report at:
http://www.presstv.ir/Detail/2016/12/31/504171/Turkey-Cavusoglu-US-Russia-stirring-up-of-tensions
--------
Abadi urges Iraq-Turkey cooperation based on 'respect for sovereignty'
Dec 30, 2016
Iraqi Prime Minister Haider al-Abadi and Turkish President Recep Tayyip Erdogan have held a telephone conversation, in what is seen as a major step towards settling a yearlong feud over the presence of Turkish forces in northern Iraq.
According to a statement posted on the Iraqi premier's official website, during the phone conversation, which was initiated by Erdogan on Friday evening, the Turkish president first congratulated Abadi on Iraq's recent victories against the Daesh Takfiri terrorist group in Mosul.
Erdogan also "expressed Turkey's support for Iraq" and stressed respect for "the sovereignty and territorial integrity" of the Arab country, adding that Ankara would "employ all its capacity to help Iraq in its war against Daesh."
The Turkish leader noted that Iraq's imminent victory in the Daesh-held northern city would send a clear message to those seeking to target "the brotherly relations" between the two countries.
Describing the "unity and stability" of Iraq and Syria as "a top priority," Erdogan also called for mutual cooperation in the fight against terrorist groups.
Abadi, for his part, stressed the importance of Iraq's sovereignty and the immediate resolution of the Ankara-Baghdad tensions through concentrating efforts on curbing terrorism.
The Iraqi prime minister also called for constructive cooperation between the two countries "based on brotherly relations and good neighborly ties, as well as mutual respect for sovereignty and territorial integrity."
Abadi went on to say that Baghdad is working hard to provide security and prosperity for all Iraqis by regaining full control over the country.
Relations between the two countries were strained last December, when Turkey deployed some 150 soldiers, equipped with heavy weapons and backed by about two dozen tanks, to the Bashiqa military camp on the outskirts of Mosul, where a major operation is underway by Iraqi forces to liberate the city from Daesh terrorists.
Ankara claimed the deployment was part of a mission to train and equip Iraqi Kurdish forces in the fight against Daesh.
Full report at:
http://www.presstv.ir/Detail/2016/12/30/504160/Iraq-Turkey-Abadi-Daesh-Mosul-Bashiqa
--------
Five senior PKK figures detained in southern Turkey: Interior Ministry
Dec 30, 2016
The Turkish Interior Ministry says at least five high-profile figures of the Kurdistan Workers' Party (PKK) have been arrested during a series of counter-terrorism operations against the militant group as well as its affiliate, the Kurdistan Communities Union (KCK), in the southern part of the country.
A Ministry source, requesting not to be named, said the five were arrested in the southeastern provinces of Sanliurfa and Diyarbakir in addition to the Mediterranean southwestern province of Antalya.
They were charged with establishing, controlling and and membership in a terrorist group.
One of the detainees, identified only by the initials H.A., reportedly worked in the northeastern Syrian city of Qamishli on the border with Turkey for Hawar News Agency (ANHA).
Two others, who went by the initials S.A. and E.A., met and held talks with top terrorists at PKK positions in Mount Qandil in the far-flung mountains of Iraq's semi-autonomous Kurdistan region.
Full report at:
http://www.presstv.ir/Detail/2016/12/30/504111/Turkey-arrest-PKK-militant-figures-Kurdistan-Communities-Union-KCK-Sanliurfa-Diyarbakir-Antalya
--------
Africa
Tunisia says returning ISIS militants will be arrested
30 December 2016
Returning Tunisian militants will be immediately arrested and judged under anti-terrorism laws, the prime minister said, seeking to calm fears over the homecoming of some of the country's several thousand foreign fighters.
Tunisia is among the countries with the highest per capita number of militants, a problem linked to widespread radicalization among disillusioned youth and a loosening of security controls after Tunisia's 2011 uprising.
More than 3,000 Tunisians are known to have travelled abroad to wage jihad, according to the interior ministry. Last week, the interior minister said 800 had already come back to Tunisia, without giving details on what had happened after their return.
Prime Minister Youssef Chahed said returnees would be dealt with according to a 2015 anti-terrorism law that is designed to ease the arrest and prosecution of suspected militants.
"Those who come back will be arrested immediately after their arrival on Tunisian soil and will be judged under the anti-terrorism law," Chahed told state TV late on Thursday.
Comprehensive records
He also said authorities had comprehensive records on militants who had left the country. "We have all the details on them, we know them one by one, and we have taken all the necessary measures," he said.
The comments by Chahed, a member of the secularist Nidaa Tounes party, came amid a fierce political debate over how to deal with foreign fighters.
Some secularist politicians have called for them to be stripped of their nationality, though the right to citizenship is protected under the constitution.
Politicians from the Islamist party Ennahda, part of the governing coalition, have said Tunisia is still responsible for returning militants and that the government cannot prevent them from coming back.
Berlin attack
The debate intensified after a deadly Christmas market attack in Berlin believed to have been carried out by a Tunisian, Anis Amri, whom Italy and Germany had earlier failed to deport.
It has also been fueled by military setbacks for ISIS in neighboring Libya and in Iraq, with the expectation that Tunisians fighting with the group will start to return in larger numbers.
Tunisia's anti-terrorism law was passed last year in the wake of two major attacks against foreign tourists by ISIS gunmen, the first at the Bardo museum in Tunis, and the second on a beach in the Tunisian city of Sousse.
The law was criticized by human rights groups concerned about an authoritarian backlash by Tunisian security forces.
https://english.alarabiya.net/en/News/north-africa/2016/12/30/Tunisia-premier-says-returning-militants-will-be-arrested.html
--------
Desist From All Forms Of Ungodly Act, Chief Imam Tells Muslims
Dec 31, 2016
Muslims worldwide have been advised to eschew all forms of unholy acts capable of bringing negative image to Islam.
Speaking at the Turbanning and Award ceremony of Ekemode central Mosque in Igando new town Lagos, Chief Imam, Daaru Na'im central Mosque Isheri-Olofin, Asheikh Imran Abdul-Majeed Eleha gave the charge urging Muslims to desist from all forms of ungodly act.
According to him: "Muslims Awarded and Turbanned worldwide should not be involved in an act that would drag Islam into the mod but rather exhibit Godly character worth emulating by everybody which is an act of Ibada." (true worship) .
In the same vein, Alhaja Mudirakat Ekomode Thomson the Iya Adinni Ekemode central Mosque, urged Muslims to emulate the Prophet and imbibe the teachings of the Prophet. "I am pleased to be identified amongst Muslims that strive to model the teachings of the Holy Prophets by contributing to the building of Mosque, rendering service to Orphanages, less privilege, and caring for the elderly."
Full report at:
http://www.nigeriatoday.ng/2016/12/desist-from-all-forms-of-ungodly-act-sheikh-eleha-tells-muslims/
--------
Nigeria: Sultan of Sokoto urges vigilance against anti-Islam laws
Dec 30, 2016
By: Isah Ibrahim
Source: All Africa
Gusau — The Sultan of Sokoto, Alhaji Sa'adu Abubakar has urged the National Assembly and state assemblies to shun bills capable of causing religious crisis in the country.
The foremost monarch, the head of Muslims in Nigeria, made the appeal yesterday in Gusau, Zamfara State at the closing ceremony of this year's state Qur'anic recitation competition organized by the state Quranic Memorisation and Tajweed board.
Abubakar called for consistent vigilance on all bills brought by any group or individuals that could lead to religious controversy. According to the Sultan, Muslims would not accept any law or amendment of some sections of the constitution that contradicts the teachings of the Holy Qur'an.
Abubakar, who was specifically reacting to the recent bill on gender equity that was brought before the National Assembly but was subsequently rejected by the Senate, said the issue of inheritance as contained in the bill was totally opposed to various verses in the Holy Qur'an, and such issues should not be considered and supported by the Muslims lawmakers.
He said Muslims in Nigeria were in large numbers in the country, hence the relevant authorities and stakeholders should be mindful of any issue that could contravene the teaching of the holy book: the Qu'ran and Islamic religion, to ensure a sustainable peace and harmony of all Nigerians.
Full report at:
https://muslimvillage.com/2016/12/30/121575/nigeria-sultan-sokoto-urges-vigilance-anti-islam-laws/
--------
Uganda: Nakasero Mosque Raid Was Search Operation , Says Police Chief
29 DECEMBER 2016
By Joseph Kato
Kampala — The Inspector General of Police, Gen Kale Kayihura, has said the raid on Tuesday at Nakasero Mosque was as a result of information revealed by a Muslim suspect in connection to the killing of Maj Sheikh Kiggundu. Maj Kiggundu was gunned down on November 26 at Masanafu Trading Centre in Rubaga Division, Kampala.
Gen Kayihura while addressing the media on Wednesday, said the suspect gave police investigative team clues on how critical evidential materials on crime were being kept in the mosque. He said the suspect guided them on how and where the rudimentary murder weapons could be recovered.
"First of all it was not a raid on the mosque. It was a search. We have one suspect in our custody that has been truly coordinative and shared this information. Our investigations team went and searched the mosque and recovered the weapons," Gen Kayihura said.
However, Sheikh Miladu Kaluuma, a member of Nakasero Mosque executive, dismissed Gen Kayihura's claims as a concoction aimed at portraying Tabliq Muslims as murderers.
"Police is using media ... against us. Who can believe that bullets and magazines were found here? We want to tell whoever said that they picked murder weapons here to find another story because that one shall not work," Sheikh Kaluuma said while speaking to thousands of Muslims who turned up for Wednesday afternoon prayers.
Citing an example of where a suspect stated that Gen Kayihura was convincing him to lie against Sheikh Kamoga, in the on-going trial of Muslim killings, Sheikh Kaluuma said police claims of picking weapons at the mosque are intended to fill the gaps in Sheikh Yahaya Mwanjje's file. Sheikh Mwanjje was arrested a day after Maj Kiggundu was killed.
"You [Gen Kayihura] once went to Luzira to convince some of the suspects to lie against Sheikh [Yunus] Kamoga over Muslim killings. Our brothers are being tortured at Nalufenya without trial. Your actions are intended to break our mosques," Sheikh Kaluuma said.
Gen Kayihura said police was not against [Tabliq] mosques but they are left with no options once places of worship turn into crime centres. "We don't say it was good to search a place of worship but we had to do it when there is information about criminal acts being planned from there. Many places of worship have been used to commit crime. No one fights Muslims," Gen Kayihura said.
Full report at:
http://allafrica.com/stories/201612290220.html
--------
Europe
Merkel says Islamist terrorism is biggest test for Germany
Dec 31, 2016
Islamist terrorism is the biggest test facing Germany, Chancellor Angela Merkel said on Saturday in a New Year's address to the nation, and she vowed to introduce laws that improve security after a deadly attack before Christmas in Berlin.
Describing 2016 as a year that gave many the impression that the world had "turned upside down," Merkel urged Germans to forsake populism and said Germany had an interest in taking a leading role in addressing the many challenges facing the European Union.
"Many attach to 2016 the feeling that the world had turned upside down or that what for long had been held as an achievement is now being questioned. The European Union for example," Merkel said.
"Or equally parliamentary democracy, which allegedly is not caring for the interests of the citizens but is only serving the interests of a few. What a distortion," she said in a veiled reference to claims by the far-right party Alternative for Germany (AfD) that is stealing votes from her conservatives.
Liberals across the Atlantic have hailed Merkel as an anchor of stability and reason in a year that saw the Donald Trump elected as U.S. president, Britain vote to leave the EU and U.S-Russia relations deteriorate to Cold War levels.
She compared Brexit to a "deep incision" and said that even though the EU was "slow and arduous", its member states should focus on common interests that transcend national benefits.
"And, yes, Europe should focus on what can really be better than the national state," Merkel said. "But we Germans should never be led to believe that each could have a better future by going it alone."
It was her second allusion to the populist AfD, which wants Germany to leave the EU and shut its borders to asylum seekers, more than one million of whom arrived in the country this year and last.
The record number of migrants has hurt Merkel's popularity and fueled support for the AfD, which says Islam is incompatible with the German constitution. But her conservatives are still expected to win the general election in nine months.
Merkel, who is seeking a fourth term, has made security the main election platform for her Christian Democrats (CDU).
In her speech, she said the government would introduce measures to improve security after a failed Tunisian asylum seeker drove a truck into a Christmas market in the capital on Dec. 19, killing 12 people in the name of Islamic State.
He was shot dead by Italian police in Milan on Dec. 23 and investigators are trying to determine whether he had accomplices.
A YouGov poll conducted after the attack found that 73 percent of Germans were in favor of more resources for the police and 60 percent backed more video surveillance in public spaces.
http://nation.com.pk/international/31-Dec-2016/merkel-says-islamist-terrorism-is-biggest-test-for-germany
--------
Europe steps up security measures as New Year nears
Dec 31, 2016
Authorities in major European capitals have beefed up security over fears of terror attacks ahead of New Year festivities, erecting concrete blockades in city centers and boosting police numbers.
Thousands of police and military personnel have been deployed to protect the civilians in Paris, Berlin, Brussels, Madrid and Rome, among other European cities, particularly at landmarks across the continent.
In the German capital Berlin, where a terrorist affiliated to the Daesh Takfiri group rammed a truck into a Christmas market and killed a dozen people early last week, police on Friday closed the Pariser Platz square in front of the Brandenburg Gate, one of Berlin's most important monuments, and prepared to deploy some 1,700 extra officers.
The area, blocked off by concrete barriers, would also be protected by armored cars and fireworks have also been called off in certain areas of the city.
"Every measure is being taken to prevent a possible attack," said Berlin police spokesman Thomas Neuendorf, adding that some police forces would be armed with sub-machine guns, an unusual tactic for German police.
In the western German city of Cologne, where some 600 women were sexually assaulted and robbed outside the main train station during New Year's Eve celebrations last year, police have placed new CCTV cameras to monitor the station square.
In Frankfurt, home to the European Central Bank and the country's biggest airport, over 600 police forces will protect the New Year's Eve festivities, twice as many as last year.
In the northern Italian city of Milan, where security forces gunned down the perpetrator of the Berlin truck attack, security checks were established around Piazza del Duomo, the city's main square. In the southwestern port city of Naples and in the capital Rome, trucks were banned from entering city centers.
Police and soldiers also carry machine guns outside Rome's tourist attractions, including the Colosseum.
French police officers walk in front of a 'Ghost Train' as they secure a Christmas market on the Champs Elysees avenue in Paris, on December 20, 2016, as part of security measures in the aftermath of an attack in Berlin, Germany.
In the Spanish capital Madrid, an extra 1,600 police officers will be on duty on the weekend. Police have also controlled access to the city's central Puerta del Sol square by erecting barricades and restricting the merrymakers to 25,000 people in the area.
In the Belgian capital Brussels, where Daesh terrorists killed 16 people and wounded over 150 others thorough a number of bomb attacks back in March, the authorities are mulling over canceling New Year fireworks.
Full report at:
http://www.presstv.ir/Detail/2016/12/31/504164/Europe-Germany-Berlin-terror-attack-Daesh-Madrid-Milan-Paris
--------
CAIR-LA Chief Wishes More Had Been Killed in Russian Plane Crash
DECEMBER 30, 2016
The Twitter bio of Hussam Ayloush, the executive director of the Los Angeles chapter of the Council on American-Islamic Relations (CAIR), describes him this way:
Human rights and civil rights activist. Community organizer. CAIR-LA Exec Director. Son. Husband Father of 5.
But this "human rights and civil rights activist" let his mask slip a bit too far with a Christmas tweet, in which he said:
I'm sad about the crashed Russian military jet. The TU-154 could have carried up to 180 military personnel instead of just 92!
Ayloush is also an executive board member of the California Democratic Party.
In throwing his hat in the ring to be a 2017 assembly district delegate, Ayloush sounded all the right progressive notes about how the California Democratic Party was on the front lines in defending "civil rights" in the looming Age of Trump:
I am running again as a delegate to ensure that our CA Democratic Party continues to engage and empower our diverse CA communities, protect civil rights, and advocate for immigrants and workers rights. In the Trump era, we need the CA Democratic Party to lead the rest of the country in challenging any and all potential abuses. I have served as CADEM Executive Board Member and Delegate for several years and had the honor of working with many of our county and state's Democratic activists.
But his thirst for the blood of Russian soldiers was too much even for many on the Left. Hard-Left pro-jihad writer Max Blumenthal tweeted in response to Ayloush's bloodlust:
Disgusting. But I know @CAIRNational is better than this outlandish fanatic.
Ayloush, seeing his pretense as a "human rights and civil rights activist" crumbling in the eyes of the very people he has fooled so well and for so long, swiftly deleted the tweet and began backpedaling. That will probably be good enough for the California Democratic Party, as well as for Max Blumenthal and anyone else who thinks that CAIR is a decent organization, but anyone else should consider Ayloush's record. His tweet about wanting more Russians dead was not surprising.
SPONSORED
This is the same "outlandish fanatic" who called for the overthrow of the U.S. government in a tweet after Trump was elected. He has refused to condemn Hamas. He has refused to condemn Hizballah. He solicited money for the Holy Land Foundation, which was later shut down for funneling charitable contributions to Hamas, at a rally where Muslims screamed: "Death to the Jews!"
None of this is surprising, given that Ayloush is a CAIR employee. CAIR is an unindicted co-conspirator in a Hamas terror funding case, so named by the Justice Department. Several former CAIR officials have been convicted of various crimes related to jihad terror. CAIR's cofounder and longtime Board chairman (Omar Ahmad), as well as its chief spokesman (Ibrahim Hooper), have made Islamic supremacist statements. (Ahmad denies this, but the original reporter stands by her story.) A California chapter distributed a poster telling Muslims not to talk to the FBI, and a Florida chapter distributed pamphlets with the same message. CAIR has opposed virtually every anti-terror measure that has been proposed or implemented, and has been declared a terror organization by the United Arab Emirates.
This incident was illuminating in another way as well. The Southern Poverty Law Center classifies me as a "hate group leader," though I have never celebrated anyone's death, called for anyone to be killed, solicited money for any terror group, or refused to condemn any terror group. Yet the Southern Poverty Law Center does not consider Hussam Ayloush to be a "hate group leader," although he has done all of those things.
Full report at:
https://pjmedia.com/homeland-security/2016/12/30/cair-la-chief-wishes-more-had-been-killed-in-russian-plane-crash/
--------
Local Muslims Hope Islamophobia Will Be Not Be Ignored In 2017
31 DEC 2016
Islamophobia continues to affect many communities around the country, including right here in Washtenaw County. Earlier this year, anti-Islam messages were written at the University of Michigan's Diag. As the New Year approaches, local Muslims hope for a better future in 2017.
Listen Listening...1:54 WEMU's Jorge Avellan reports on local Muslims hoping for a safe 2017.
Mosab Ameur is an international Muslim student from Morocco, who is currently living in Washtenaw County. He says anti-Muslim comments made by politicians, such as Donald Trump, add to the Islamophobia.
"But what puts basically the fear in me is his followers. That's the problem because his followers are people who deal with them in camps, in church, in busses, in the street, in restaurants, and so forth."
While Mosab does fear for his life sometimes, he said Islamophobia needs to be addressed and not ignored, especially when it hits close to home, just like when a threatening letter was sent to an Islamic center in Ann Arbor earlier this year.
"We would love to meet this person who put this note, have a cup of tea, and discuss."
Evelyn Alsutany is the organizer of the Islamophobia Working Group in Ann Arbor. One of their goals is to create a safe and inclusive environment for Muslims. She says you can help eliminate stereotypes by challenging how Muslims are negatively portrayed in movies and television.
Full report at:
http://wemu.org/post/local-muslims-hope-islamophobia-will-be-not-be-ignored-2017#stream/0
--------
URL: https://www.newageislam.com/islamic-world-news/new-age-islam-news-bureau/celebrating-new-year's-eve-means-devil-is-working-on-you--sydney-sheik/d/109558
New Age Islam, Islam Online, Islamic Website, African Muslim News, Arab World News, South Asia News, Indian Muslim News, World Muslim News, Womens in Islam, Islamic Feminism, Arab Women, Womens In Arab, Islamphobia in America, Muslim Women in West, Islam Women and Feminism, Moderate Islam, Moderate Muslims, Progressive Islam, Progressive Muslims, Liberal Islam